Our Verdict
Grand Dunman will gather interest as D15's first mega development since Mandarin Gardens in a relatively low density neighbourhood. With 2 other new launches in the vicinity, will Grand Dunman stand out as the closest development to an MRT station and with some units boasting sea views in the distance? 
59
min read
| | |
| --- | --- |
| Project: | Grand Dunman |
| District: | 15 |
| Address: | 2 – 18 Dunman Road |
| Tenure: | 99 Years |
| No. of Units: | 1,008 |
| Site Area: | 271,620 sqft |
| Developer: | SingHaiyi Group |
| TOP: | Est. 2027 |
When the first wave of mega developments (>1,000 units) emerged when I was old enough to consider a property of my own (2018 onwards), I was pretty sceptical about them.
Off the top of my head, we had the likes of Avenue South Residence, Jadescape, Parc Esta, Florence Residences, Parc Clematis, Normanton Park, and of course, who can forget the 2,203 unit Treasure at Tampines, which easily smashed Singapore's record for the most number of units in a condo development.
In my mind, I was doubtful about the demand for them from several angles – as a new launch, if people would take to having so many neighbours and vying for the limited facilities available (think 1 tennis court for more than 1,000 residents). From a resale angle, I considered how a particular 3 Bedroom unit at Treasure at Tampines would compete with 760 other potential 3 Bedroom units that may be up for sale upon TOP and similarly for its rentability. Well, you get my point.
Alas, I was to be proven wrong as all of these developments have not only sold out in the years that followed but also saw healthy price increases in the process. What I thought was a downside (a large number of units) ended up being an advantage as it allowed developers to stage the prices up bit by bit with every chunk of units sold.
If memory doesn't fail me, we haven't seen a mega development since Normanton Park in 2021 and none in District 15 since Mandarin Gardens in 1986, almost a decade before I was born. This makes Grand Dunman all the more exciting to review.
Will Grand Dunman replicate the successes of its mega development predecessors, thriving on its laundry list of facilities and unit types for different segments of buyers? Add its convenience to the CBD and Paya Lebar Central either by car or by public transport, partial sea and unblocked landed views for some units as well as an abundance of food options nearby to that list and I hope you're as excited as I am to check out this new development.
With further ado, let's go!
Grand Dunman Insider Tour
Grand Dunman is the development of the Dunman Road GLS site which SingHaiyi won for $1.28 billion ($1,350 psf) in 2022, triumphing CDL, the only other bidder in the exercise by 20%. It must be noted here, however, that Tembusu Grand was acquired at a cheaper land cost of $1,302 psf, so it'll be interesting to see the actual final pricing here.
With 1,008 units, Grand Dunman will be the first mega development in D15 in more than 40 years when it TOPs in 2027.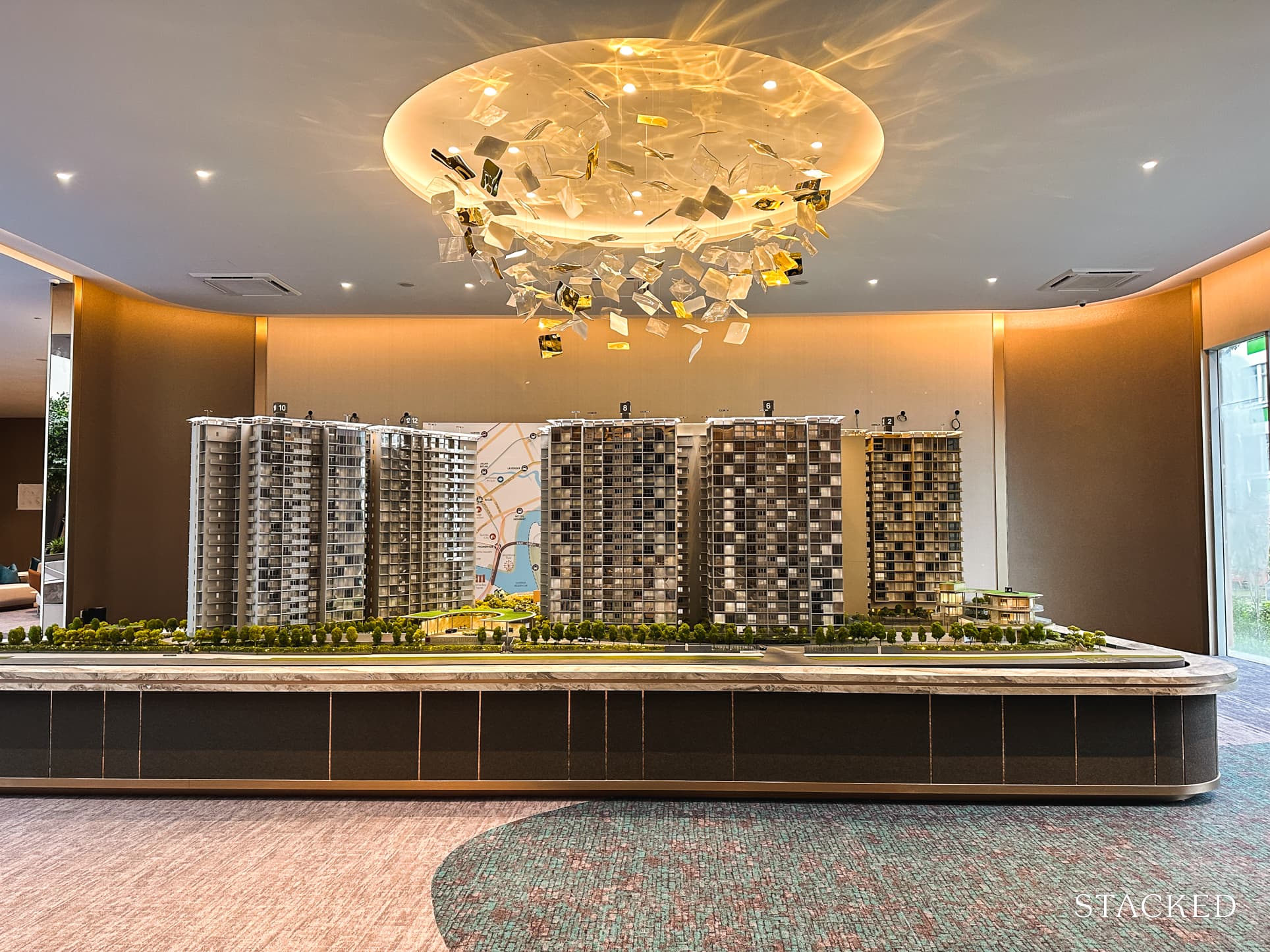 Grand Dunman comprises 7 blocks of 18 storey apartments, split between 6 blocks of Luxury Collection and 1 block of the more premium Grand Collection. The architects have adopted a modern facade with the Luxury blocks clad in "titanium" and the Grand block in champagne gold. The Grand block definitely stands out from all the other blocks and you can check out the exact colour at the 5 Bedroom show flat.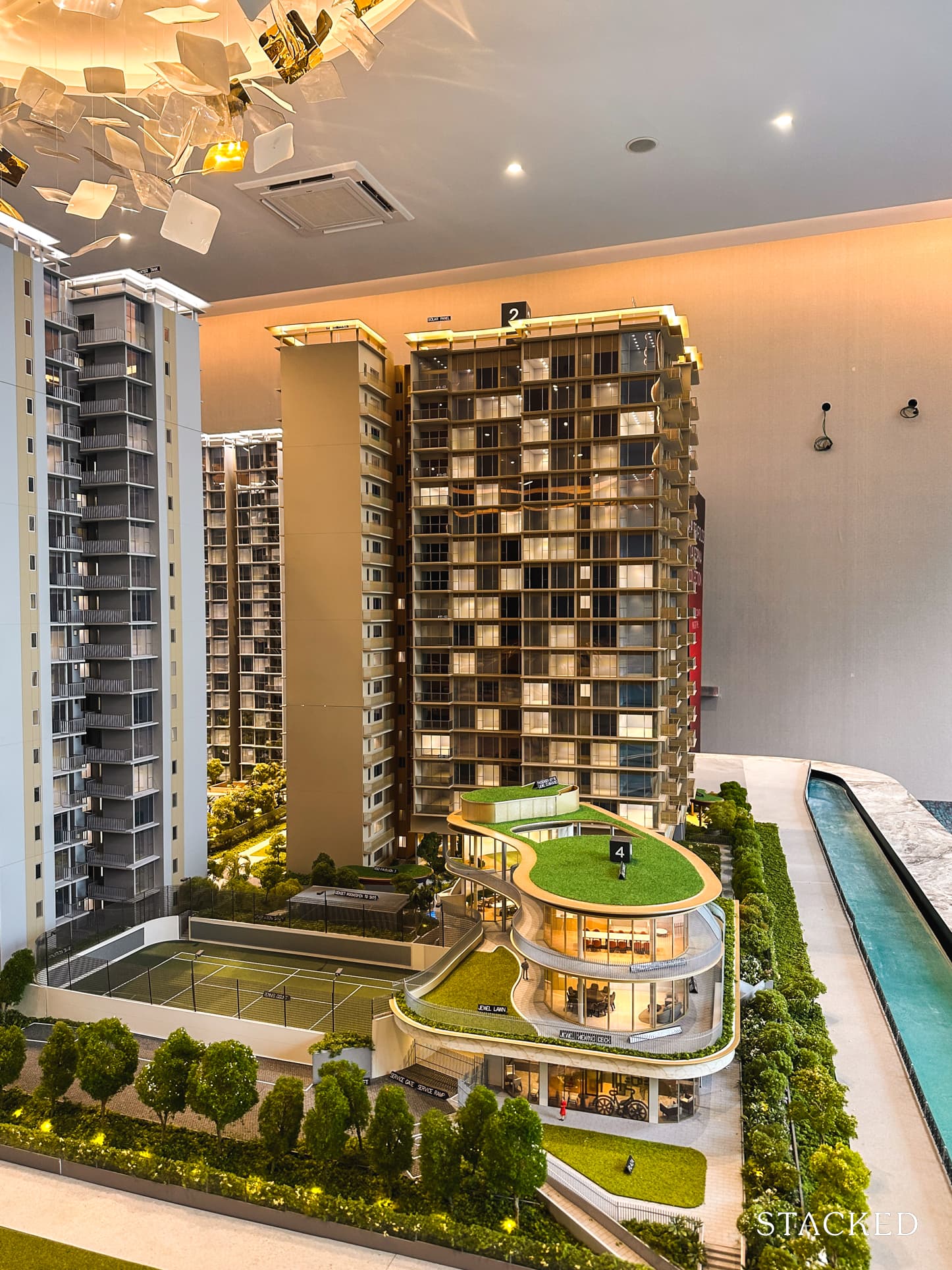 That said, I think it's hard to get a real representation of what the colour would look like from the show flat model, as the colour can change a lot in real-world conditions (differing sunlight, cloudy days, etc).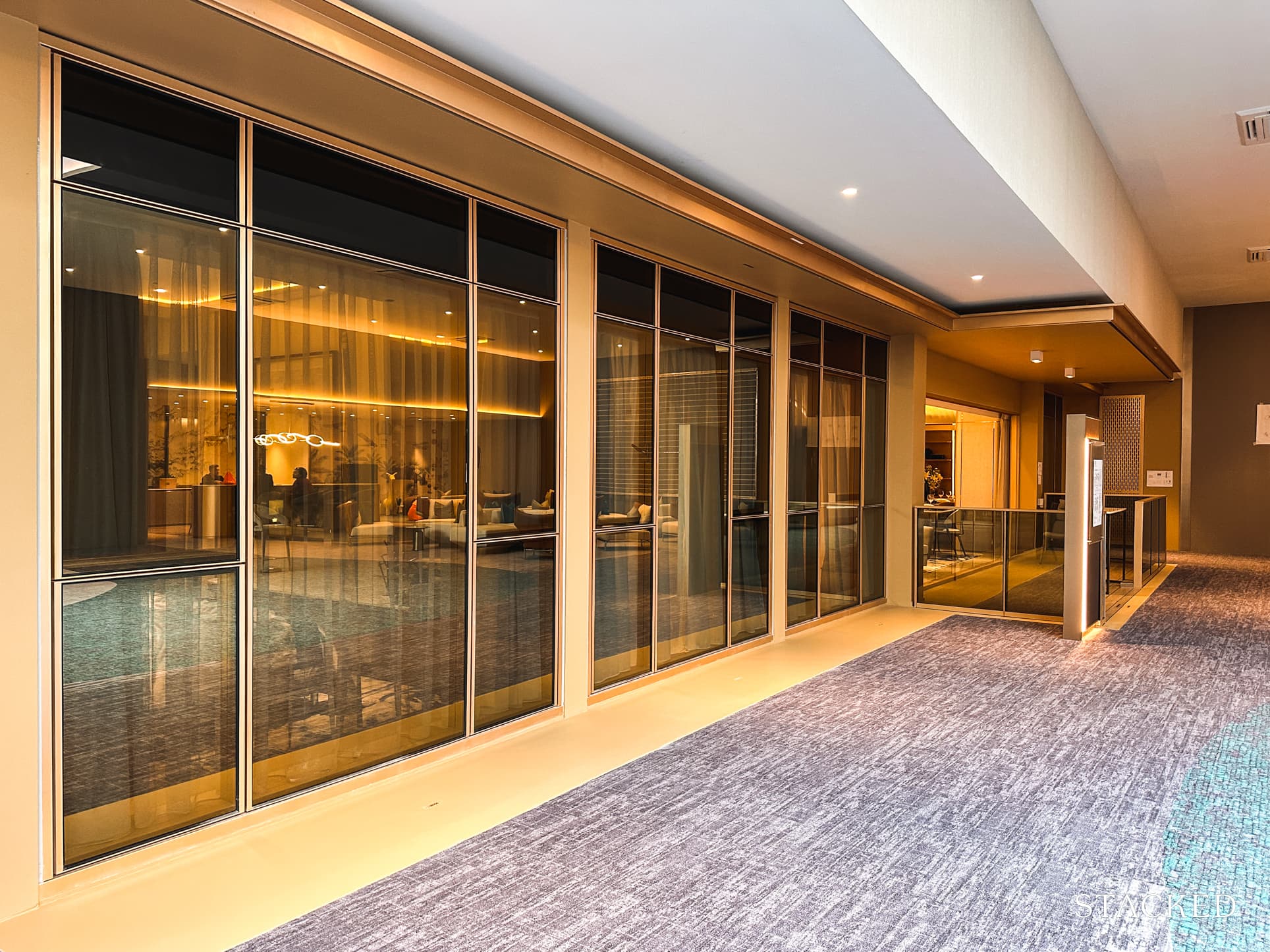 Let's just say that this block of gold will divide opinions. Personally, I don't think the colour chosen was overly ostentatious but design is always a matter of personal preference. It's not going to be the first residential condo clad in gold – you had the likes of Klimt Cairnhill and One Shenton and looking at their CCR locations, you could argue that this is perhaps exactly what some buyers might be looking for.
Nevertheless, you can't argue against the fact that the developers have attempted to go against the grain, and Grand Dunman certainly will stand out once it is built.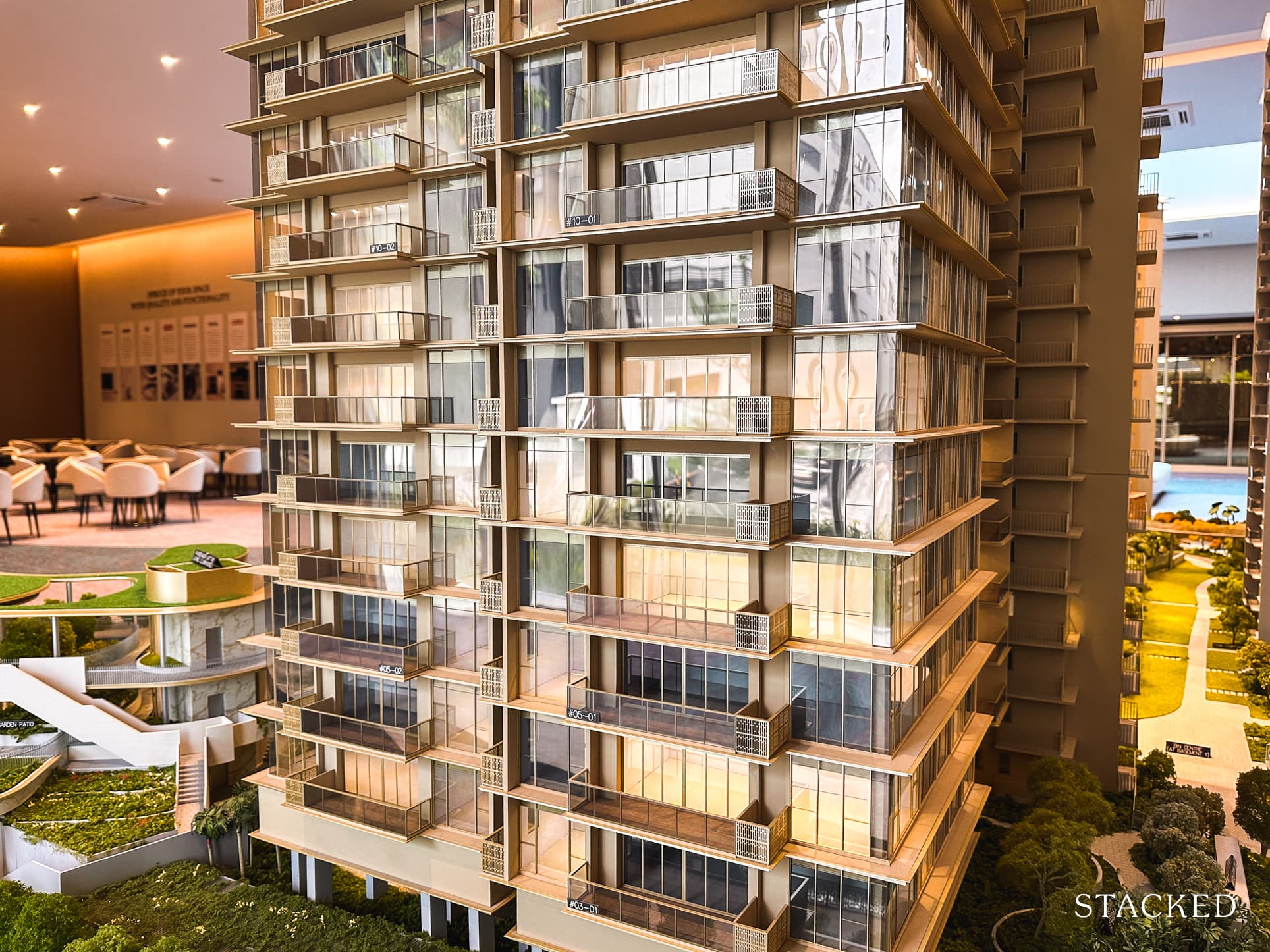 Besides the colour, the Grand Collection units will feature more intricate detailing for the AC ledge grills. Naturally, this block will have the best views of the development, with a view towards the Geylang River and Kallang Basin.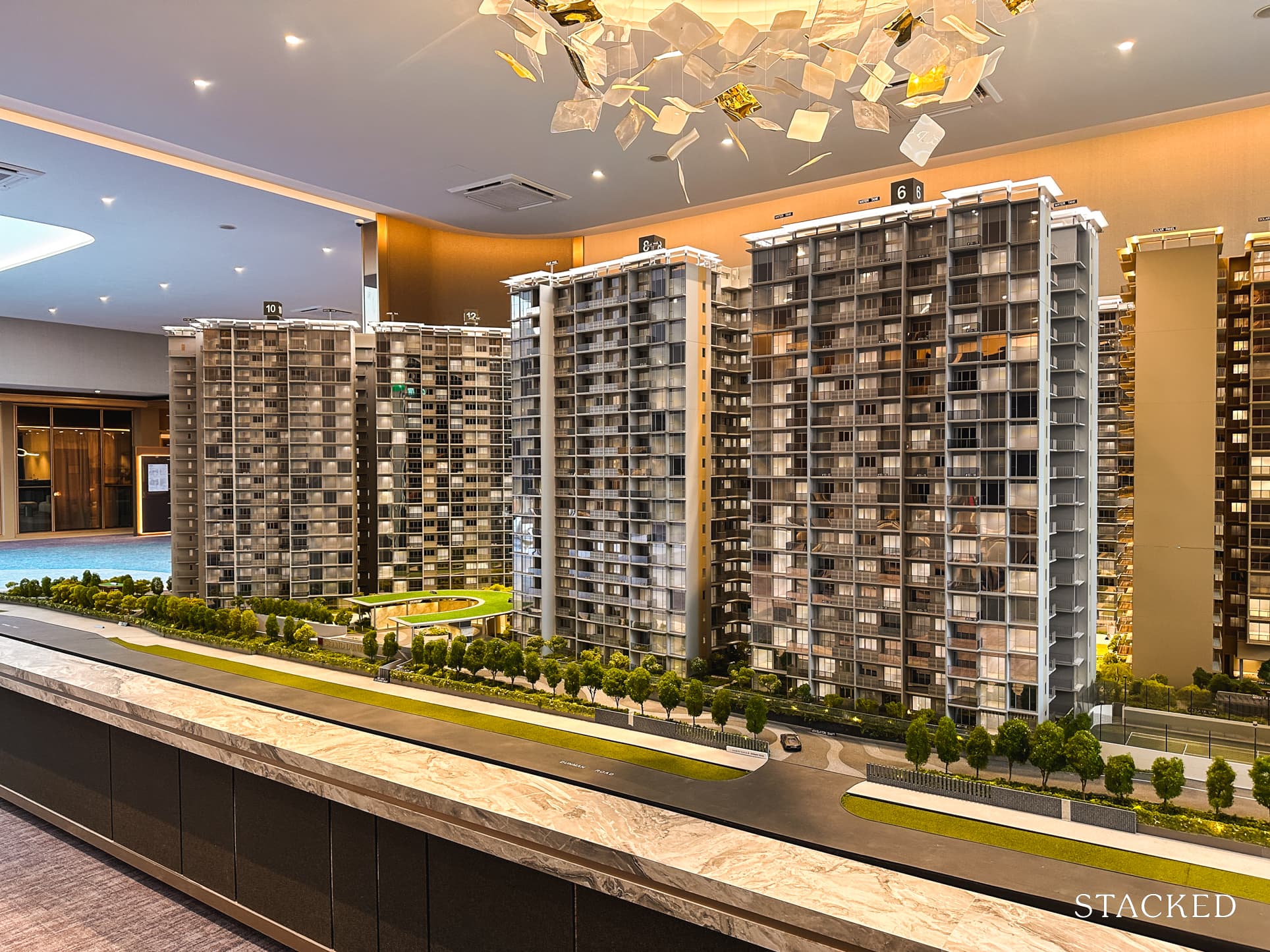 The entrance to the development will be along Dunman Road and I view this as a rather prestigious address to have. Growing up in D15, I've always associated it with landed homes and in more recent years, condos that have sprouted up along the area so I think Grand Dunman will certainly be an icon that people associate with this address in the near future.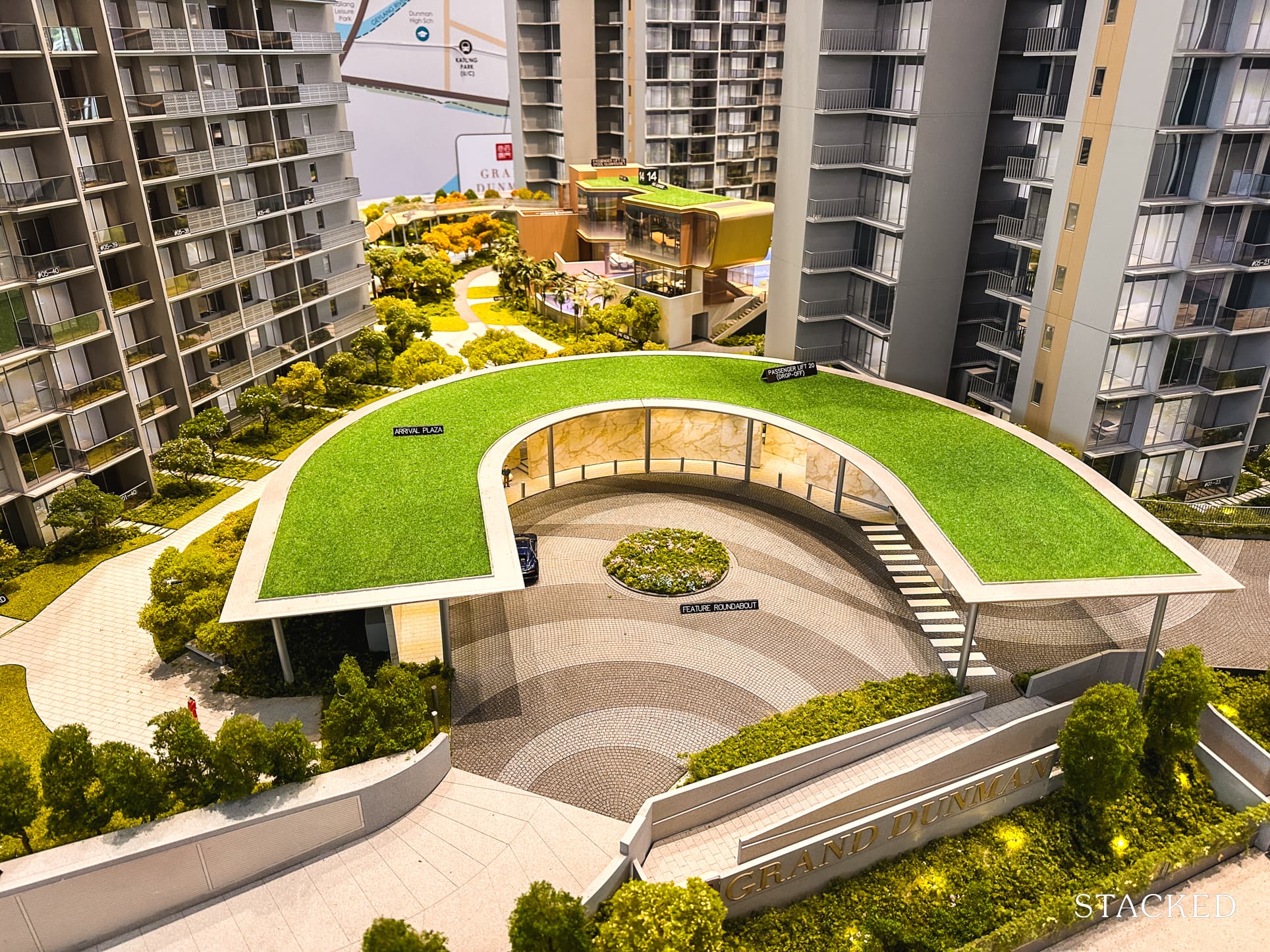 I was surprised though, to see that there is only 1 entrance and exit from the development for 1,008 units. As big as the arrival court may be, I won't be too shocked if it gets pretty jammed during peak hours. I think it was a conscious decision by the developers to build a long driveway leading to the drop-off area, so as to prevent congestion from building up along Dunman Road.
The long driveway into the development gives an elevated sense of grandeur and we have seen a similar approach at the likes of luxury condos such as Martin Modern and Perfect Ten among others. There's a feature roundabout for a sheltered pick up and drop off here and from what I understand on the ground, early morning hasn't been too much of a problem for the mega developments which have TOP-ed, since people go to work at different times which is further aided by the proliferation of WFH.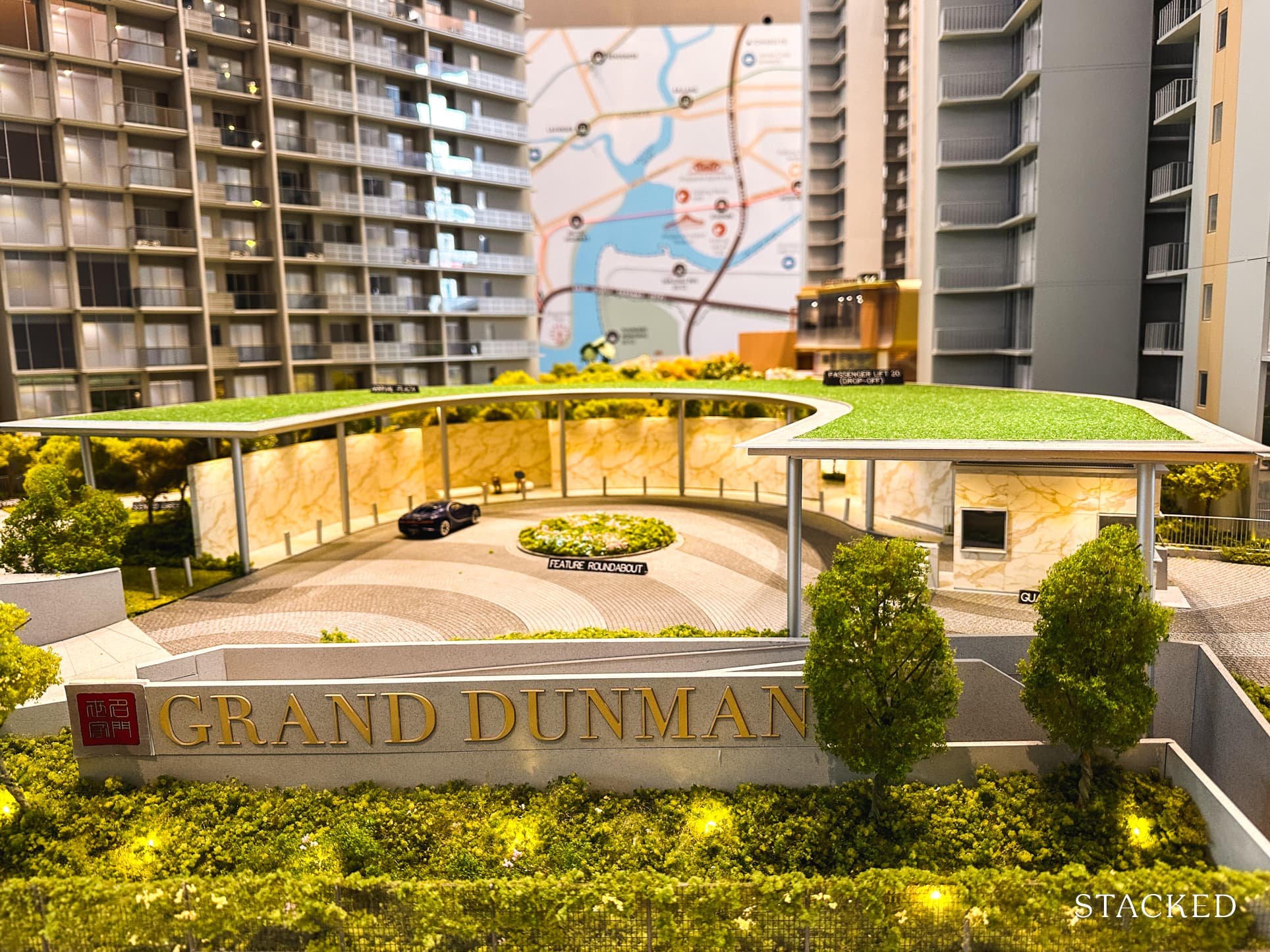 For me though, the most impressive part has got to be Grand Dunman's 1-to-1 car park lot to resident ratio. This has been an increasingly rare feature (and a sticky point for some new launch buyers who find out they can't fit all their cars), especially for condos which are close to the MRT station so kudos to the developers for having to pay a premium to the authorities to have this executed. 1,008 car park lots (with a number of them being EV charging lots) is really an underrated feature and SingHaiyi had to build 3 storeys of basement parking in order to accommodate this (which had to incur extra costs). Considering that Grand Dunman has a good number of larger-sized units, I think this will definitely be a welcome addition for many.
There are quite a number of 1/2 bedroom units here too (which are likely to be rented out), so for the bigger units you could expect to be able to accommodate more than one car in the family.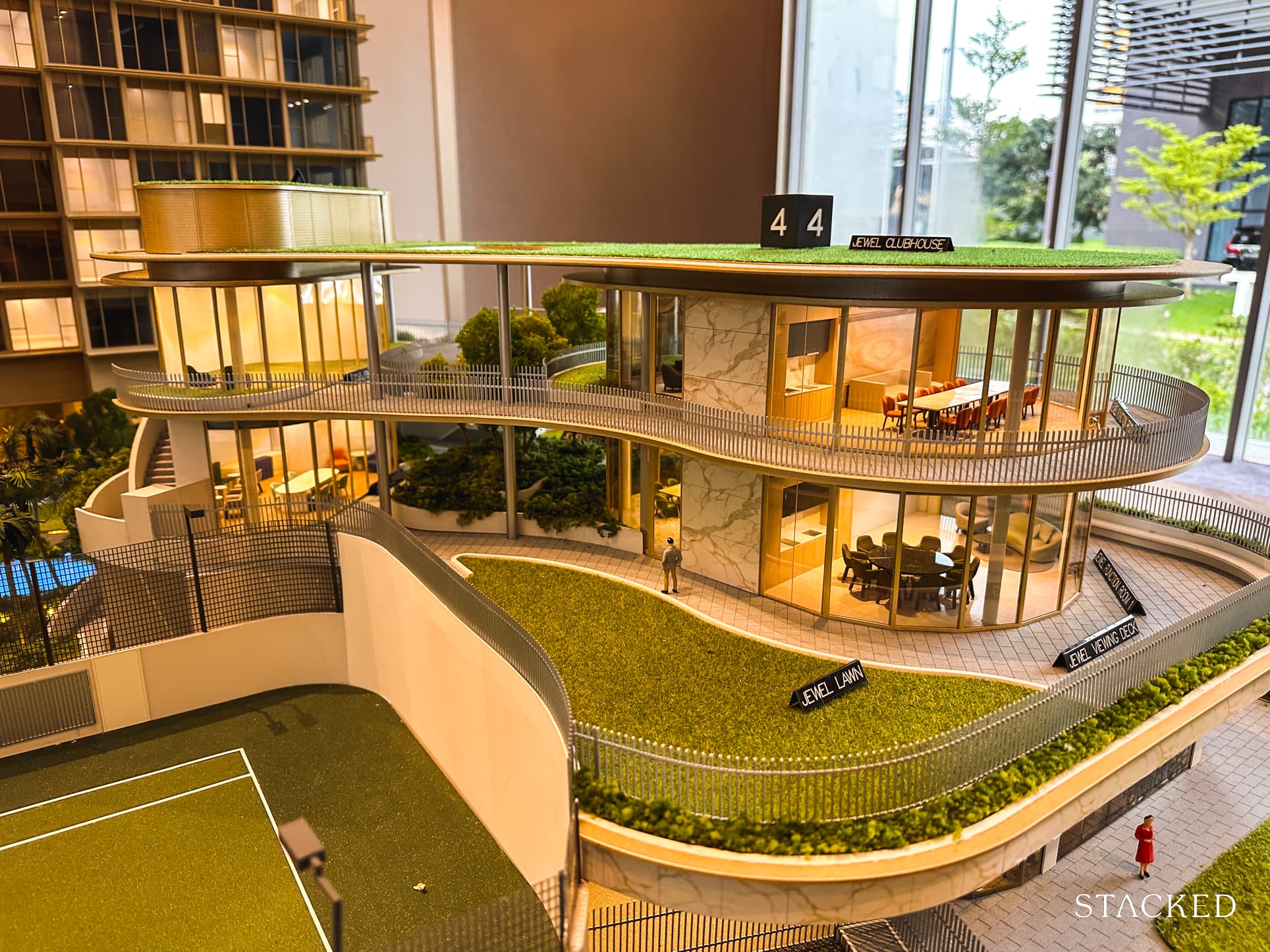 As with the advantages of a bigger plot of land, there are 2 clubhouses within Grand Dunman, with the Jewel Clubhouse at the western end of the development and the Pool Clubhouse being situated (obviously) near the 80m lap pool instead. Both of these are 3-storeys and have a number of function rooms within to facilitate small and large gatherings.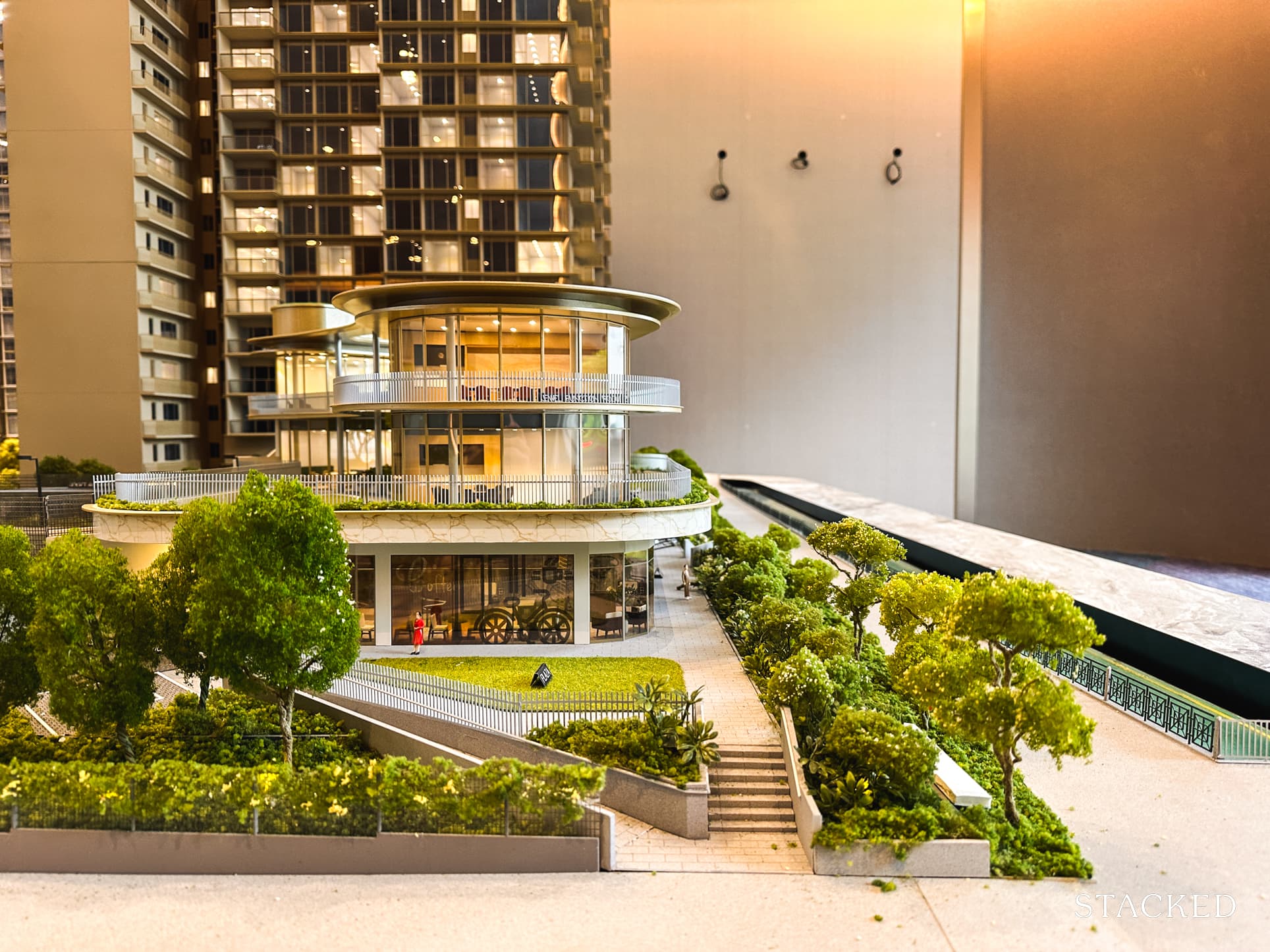 I'll start with the Jewel Clubhouse, which features an eye-catching circular design. Located next to the park connector along Geylang River and closest to the Dakota HDB blocks, the first floor will feature 5 commercial units that will be accessible to the public. Residents benefit from this too especially if there's going to be a convenience store that opens late. These shops will be managed by the developers for now (which is always better than it being sold to individual landlords), and there are hopeful plans for a cafe, etc that can add to the lifestyle benefits.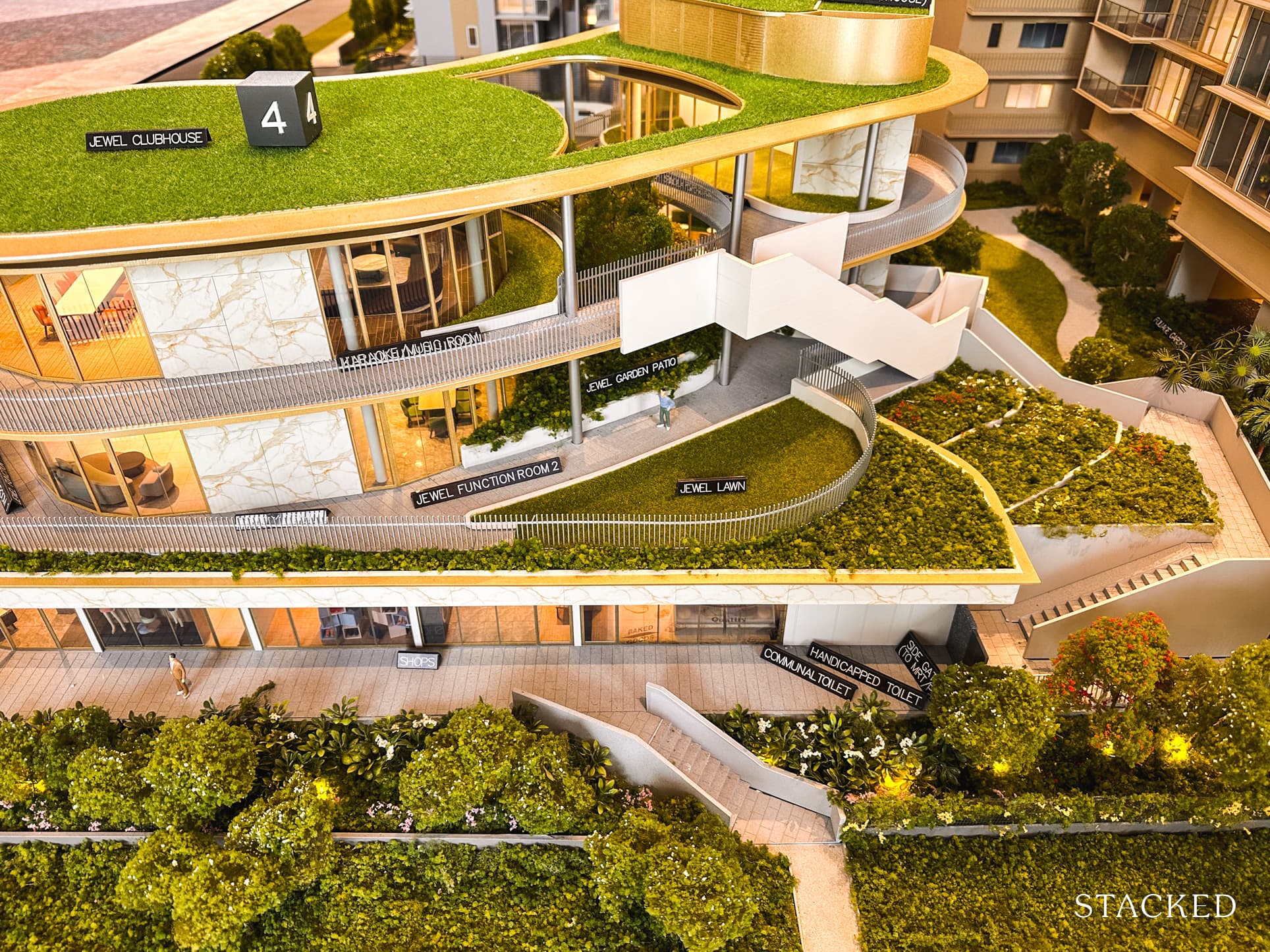 On the 2nd floor, there are 2 function rooms that will look out towards Geylang River as well as a Library for your quiet enjoyment. There's also a viewing deck and garden patio here if you prefer the outdoors or a breath of fresh air.
On the 3rd floor, things get more exciting. There's going to be a golf simulator cum games room here and while I don't have the renderings of this, it does sound like a pretty fun space to be, especially given the resurgence of aspiring golfers in recent years. A Karaoke cum music room is also available for those who may be more musically inclined. A 3rd function room is also available here for those hosting friends, presumably with slightly better views of the Geylang River being a floor higher.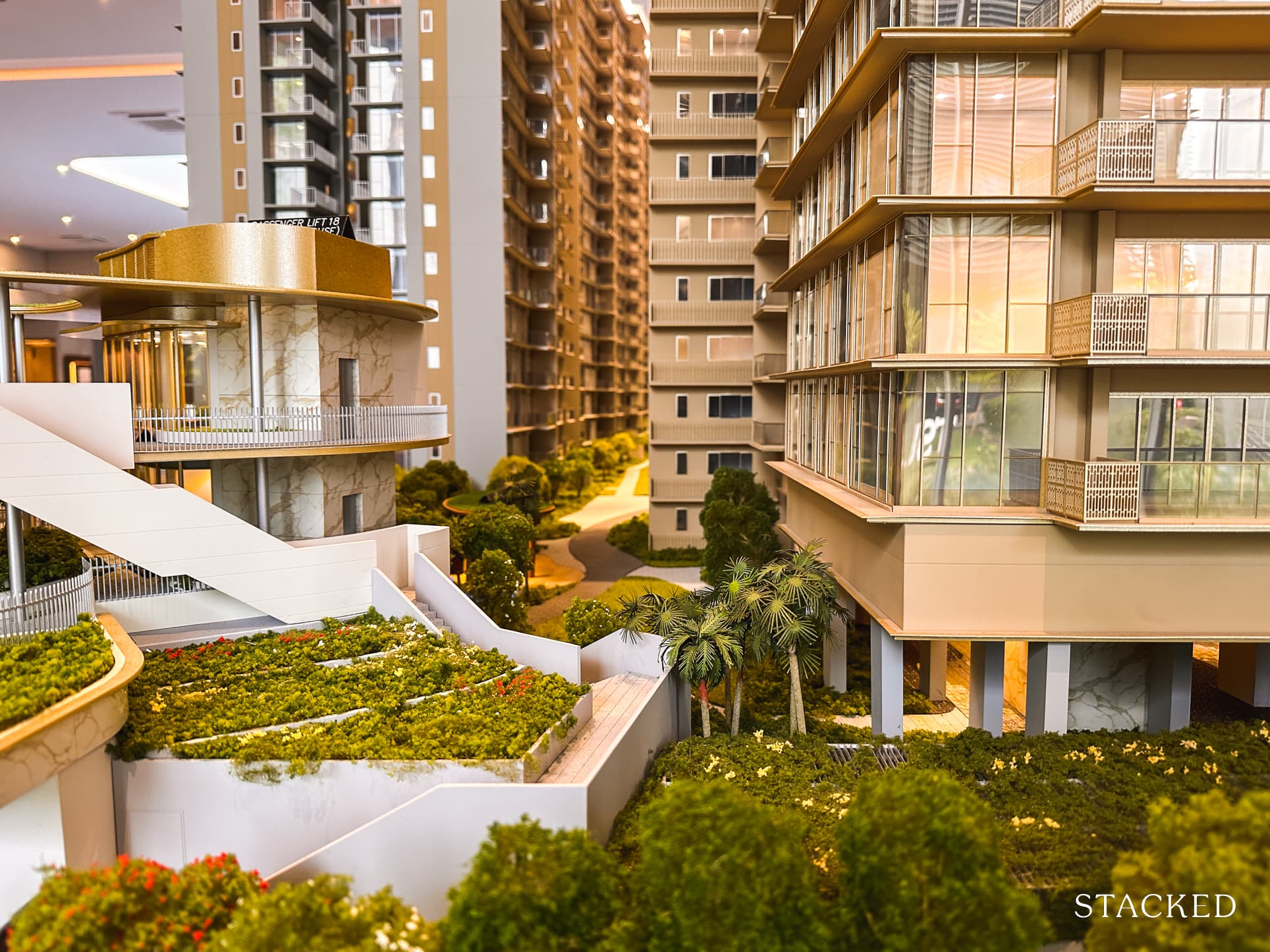 This is also the closest to the Grand Collection, which I suppose is an additional benefit to paying the premium here. Do also note that the lowest floor of this premium block will clear the highest point of the Jewel Clubhouse (even though the show flat model doesn't exactly represent that well).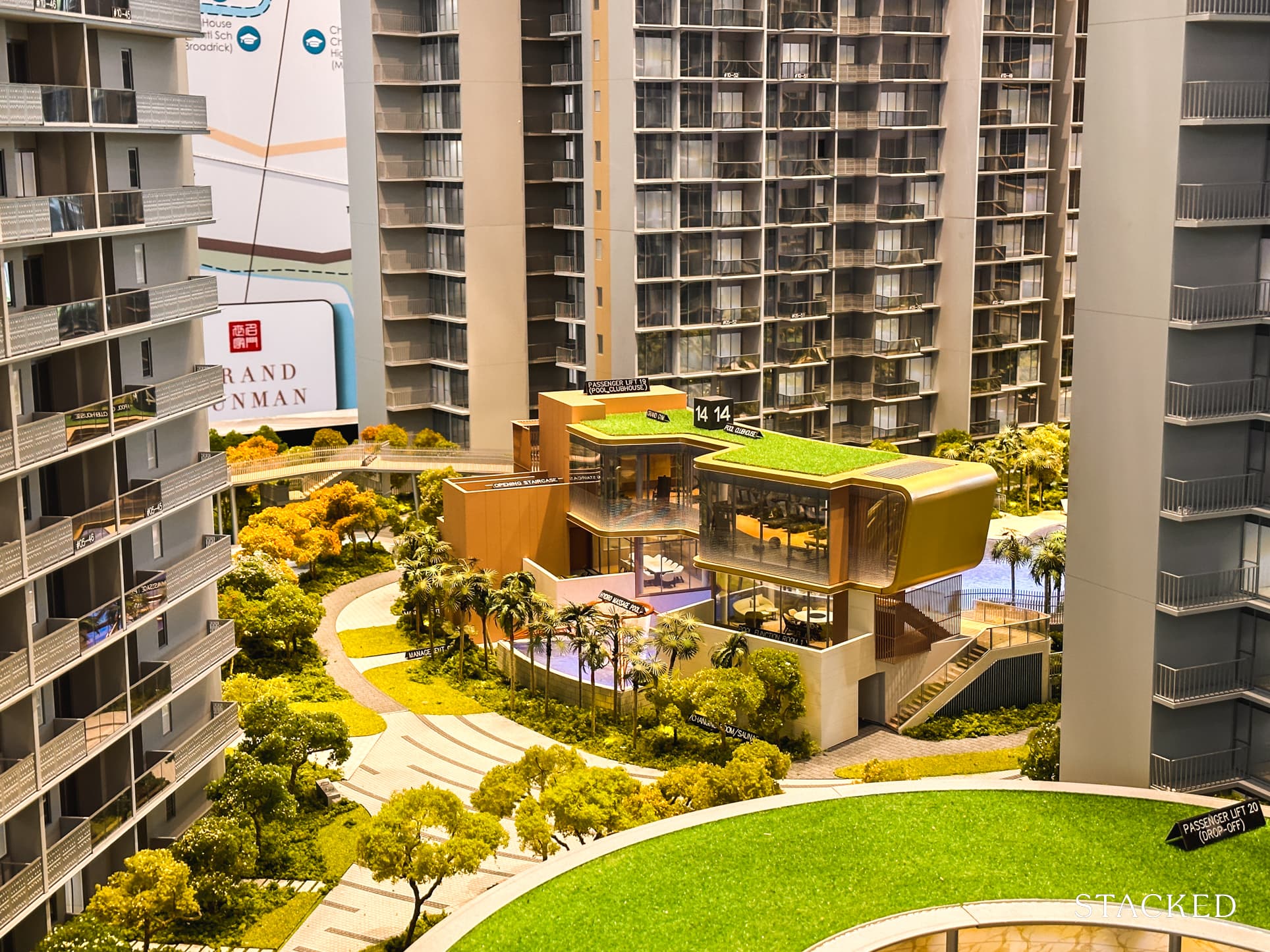 The second Clubhouse in Grand Dunman is the Pool Clubhouse, which is located between the residential blocks. It is actually an impressive piece of architecture, cantilevering over the 80m lap pool. There are 2 function rooms on the 2nd floor overlooking the pool, making it 5 air-conditioned function rooms in total so far. This should be sufficient to meet the needs of its 1,008 units on a regular weekend.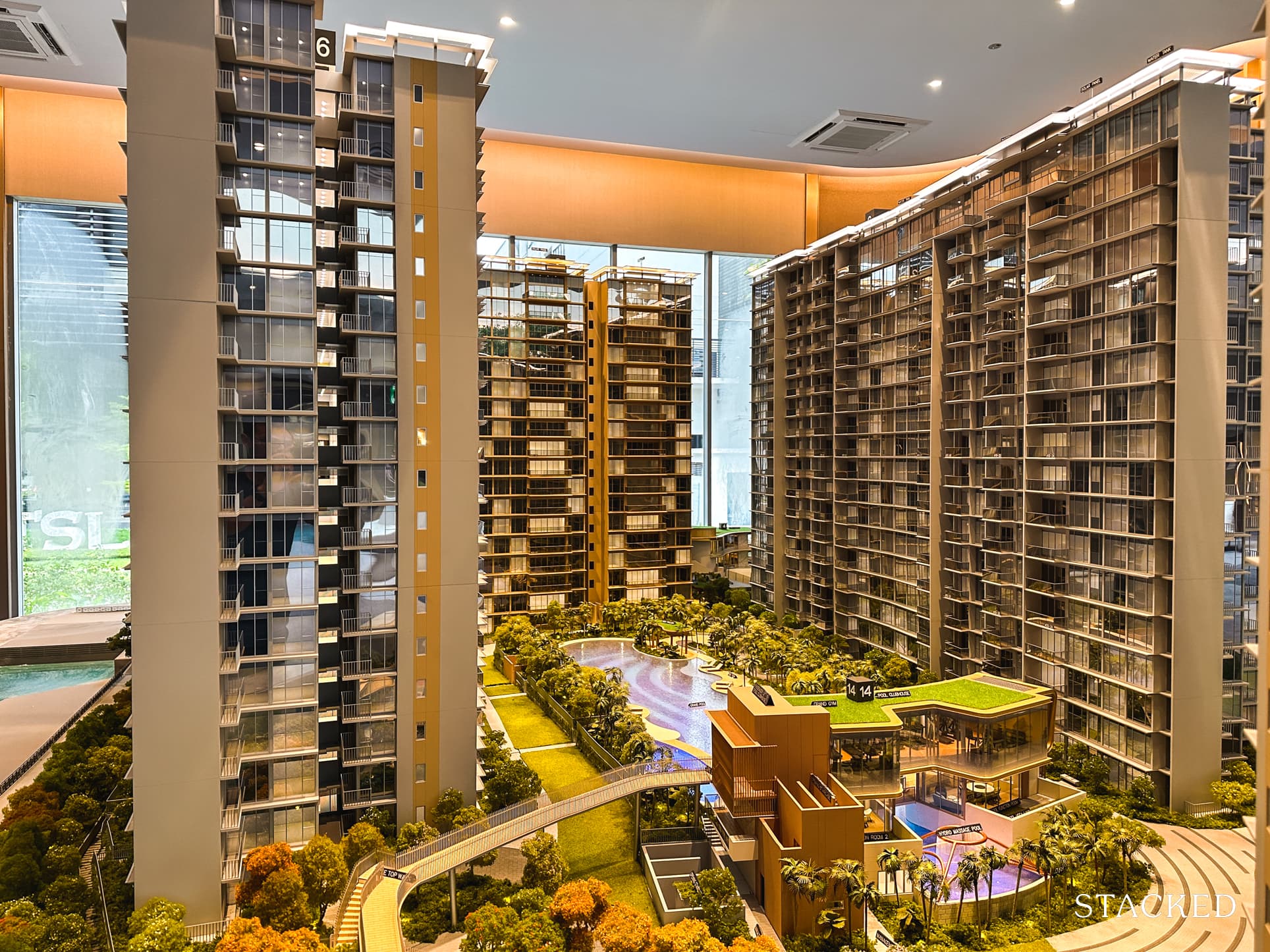 The only gym in the development looks over the pool to give the gym-goers further motivation as they 'battle it out' with the swimmers on who the fitter of the 2 will be. The developers were keen to emphasise that as opposed to other developments, they have dedicated 1.1% of the total GFA to the gym, which is more than many developments (you can see it does take a sizeable space on the highest floor). It will comprise at least 6 treadmills and 4 cycling machines but with more than 1,000 units, it may still be packed during the peak hours (but I do appreciate that at least there's more provision for this which is typically overlooked).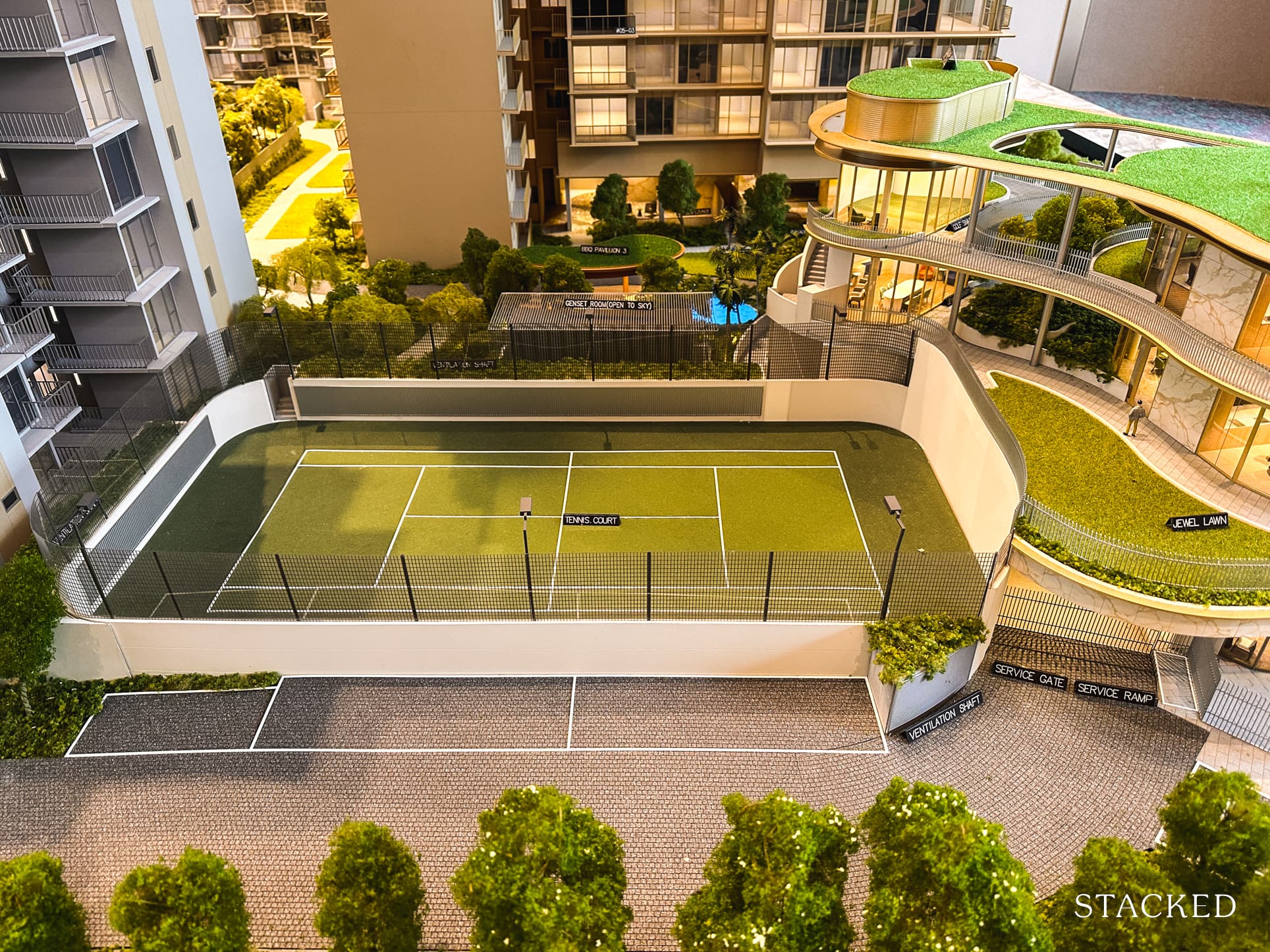 Continuing on the trend of sports facilities, there's also 1 tennis court located beside the Jewel clubhouse. You don't need a genius to tell you that it's going to be difficult (or maybe near impossible for peak hours) to book a court here and I'll leave it at that. Not many condos, even mega ones, have 2 courts to speak of (Parc Esta, which is one of them nearby just has 1 tennis court too). For fun's sake, compare Grand Dunman to D15's last mega development – Mandarin Gardens, which has 8 units less than Grand Dunman and yet 4 times the number of tennis courts. What a difference 40 years make!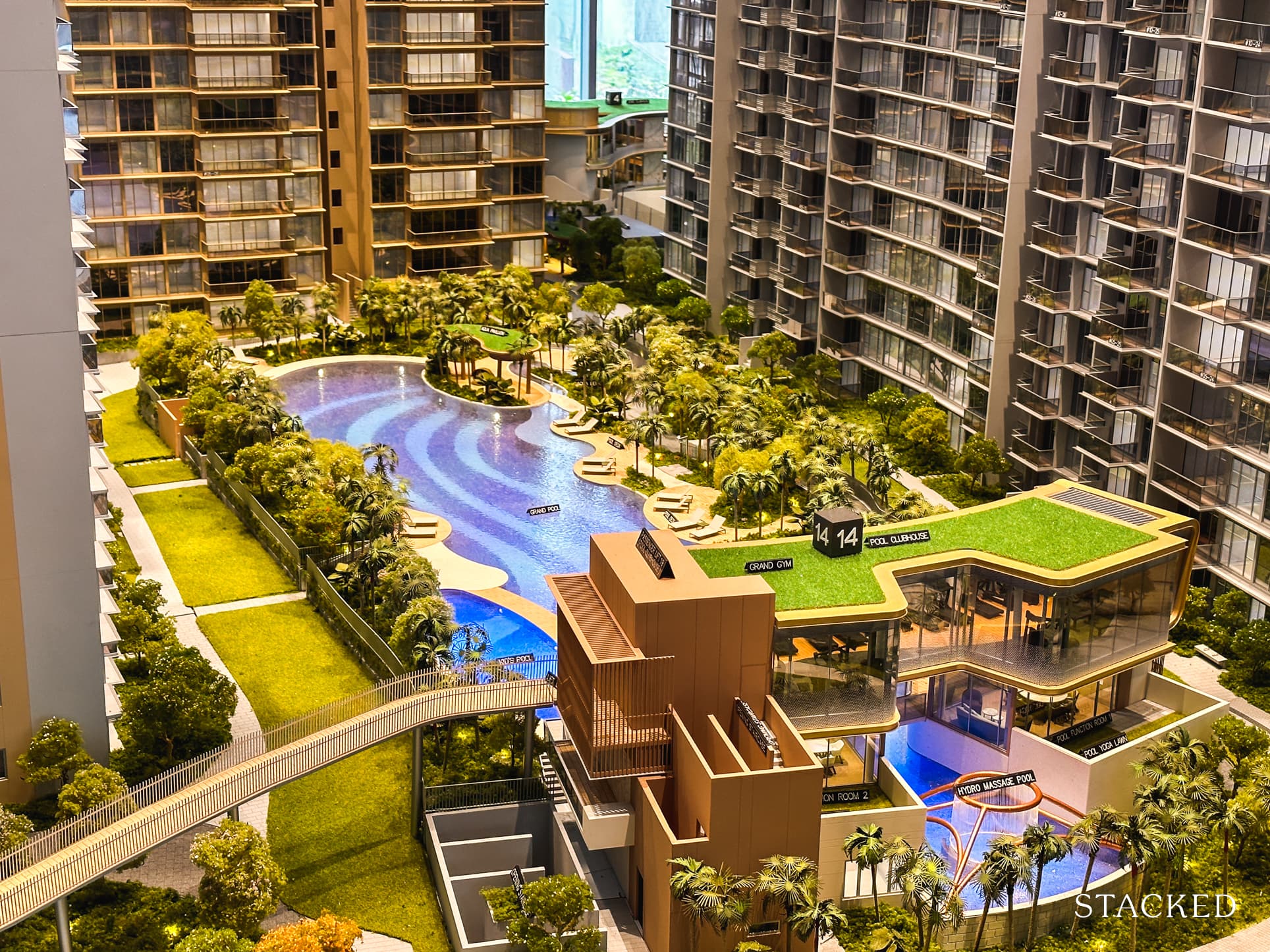 I previously mentioned the 80m lap pool, which will be the main pool in the development. This is pretty much in line with or better than some of the other mega developments that I mentioned in my introduction with the exception of Parc Clematis and Treasure at Tampines, both of which have a crazy number of pools. The Grand Pool, as it is termed here, will not be your boring rectangular shape but features more of a lagoon shape without sacrificing its actual length.
The especially unique part of this pool is the ability to swim underneath the clubhouse to emerge at the Hydro Massage Pool, which I thought was a rather cool and intriguing feature.
Besides the Hydro Massage Pool, there is also the Kid's Pool surrounding the main Grand Pool. There are also a couple of jacuzzi spots and pool decks around the 80m lap pool, depending on whether you prefer to be in the water or the sun.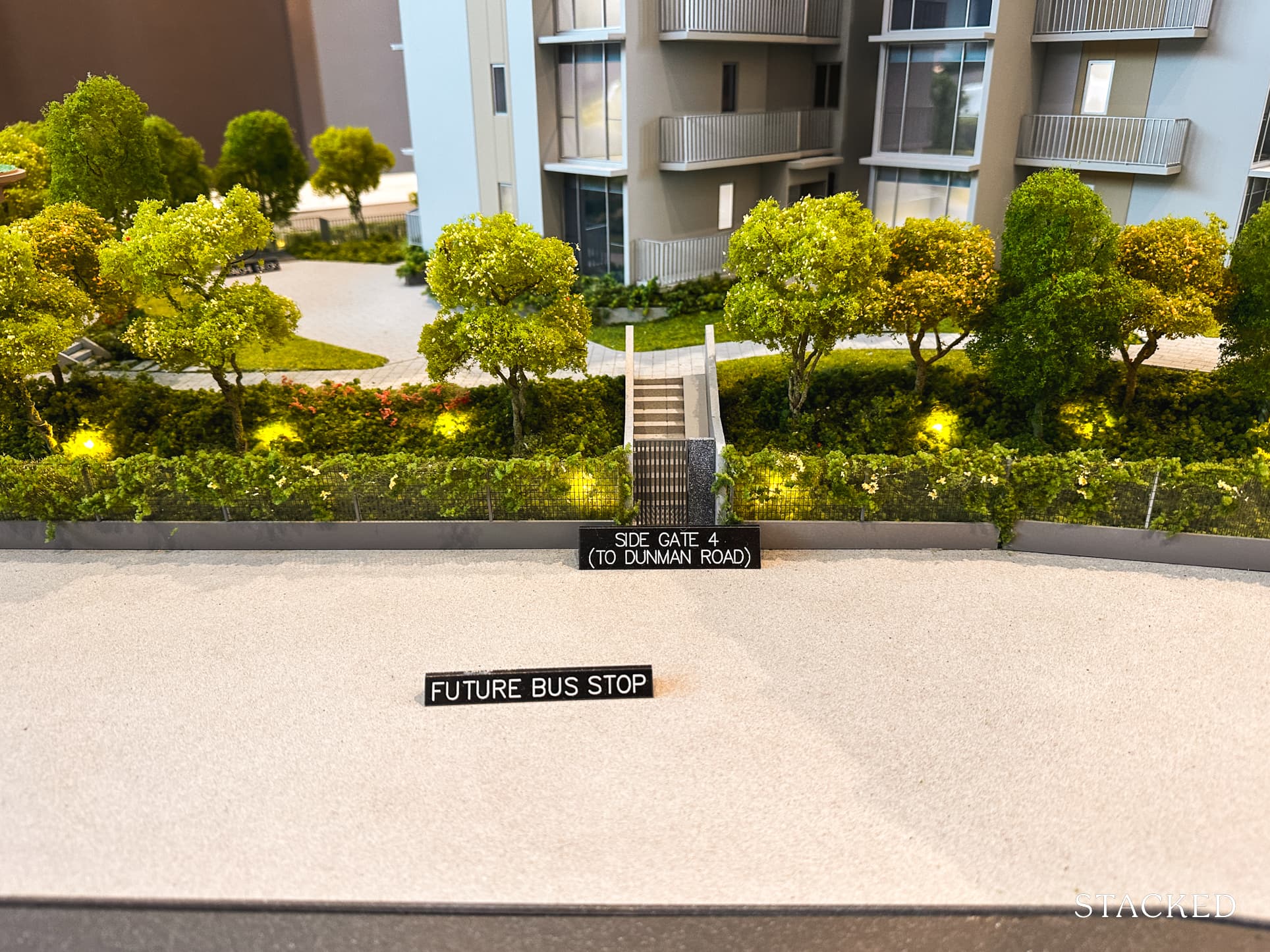 If you prefer to head out for exercise instead of staying in, there are side gates (4 in total) leading to the park connector and you can easily take a walk or jog along the Geylang River at your doorstep. If you're in the more intense sports (volleyball, basketball, badminton etc), OCBC Arena is a couple of stops via MRT as well.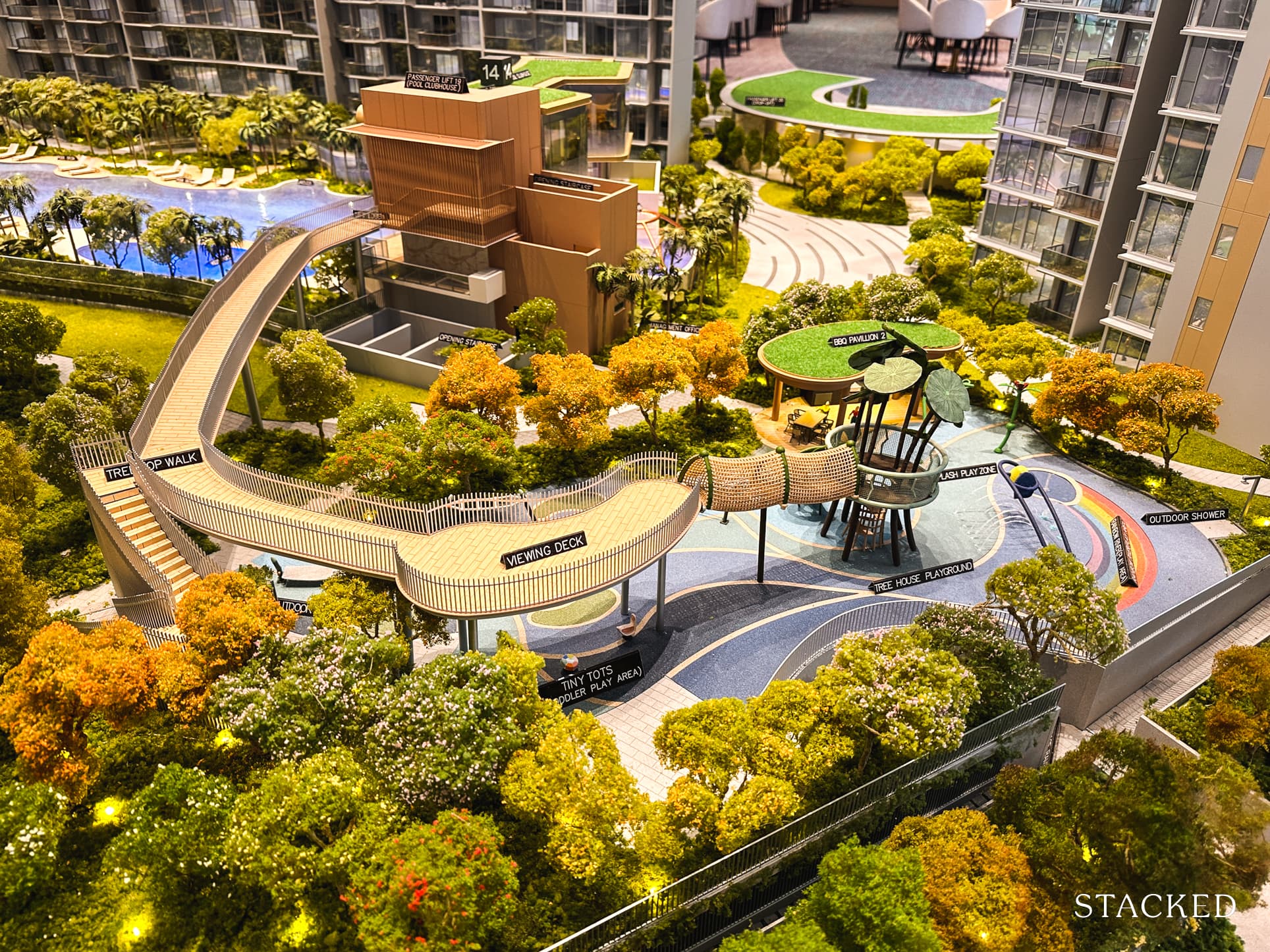 I particularly like the amount that has been put into the curating kids' facilities here. There is a Treetop Walk from the Pool Clubhouse that leads you down to the playground area. Kids can be led directly to the Tree House Playground (the adults can take the stairs) and I think the kids will love climbing down this. There are also numerous splash zones nearby so you can be sure that your kids will get a pretty wet respite on a hot day here. The entire area will be covered in child-friendly rubber mats so you can be more relaxed when they roll and tumble around.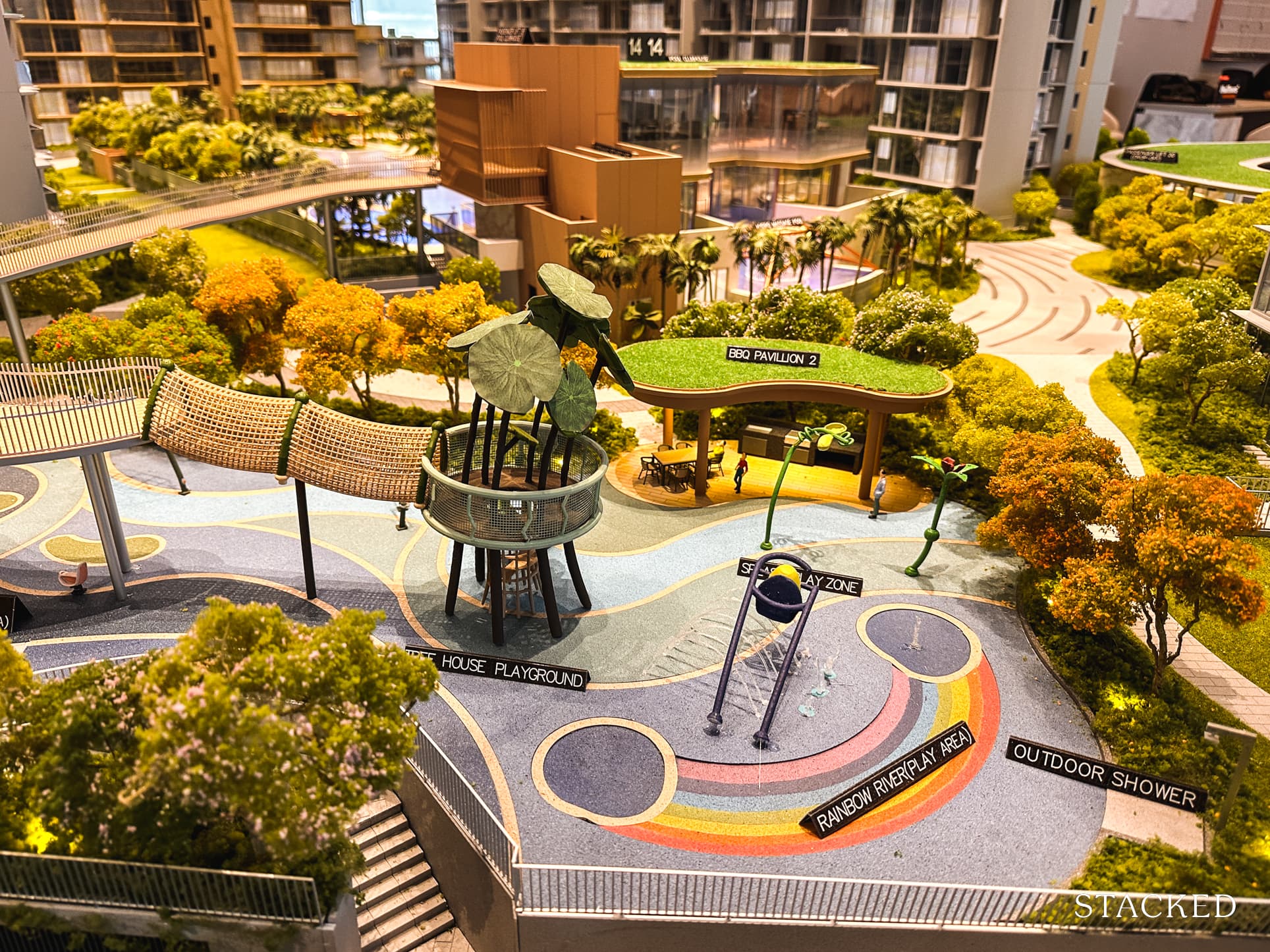 If you're thinking of holding a kid's party here, there is a BBQ pavilion right here. Perfect for watching over the kids!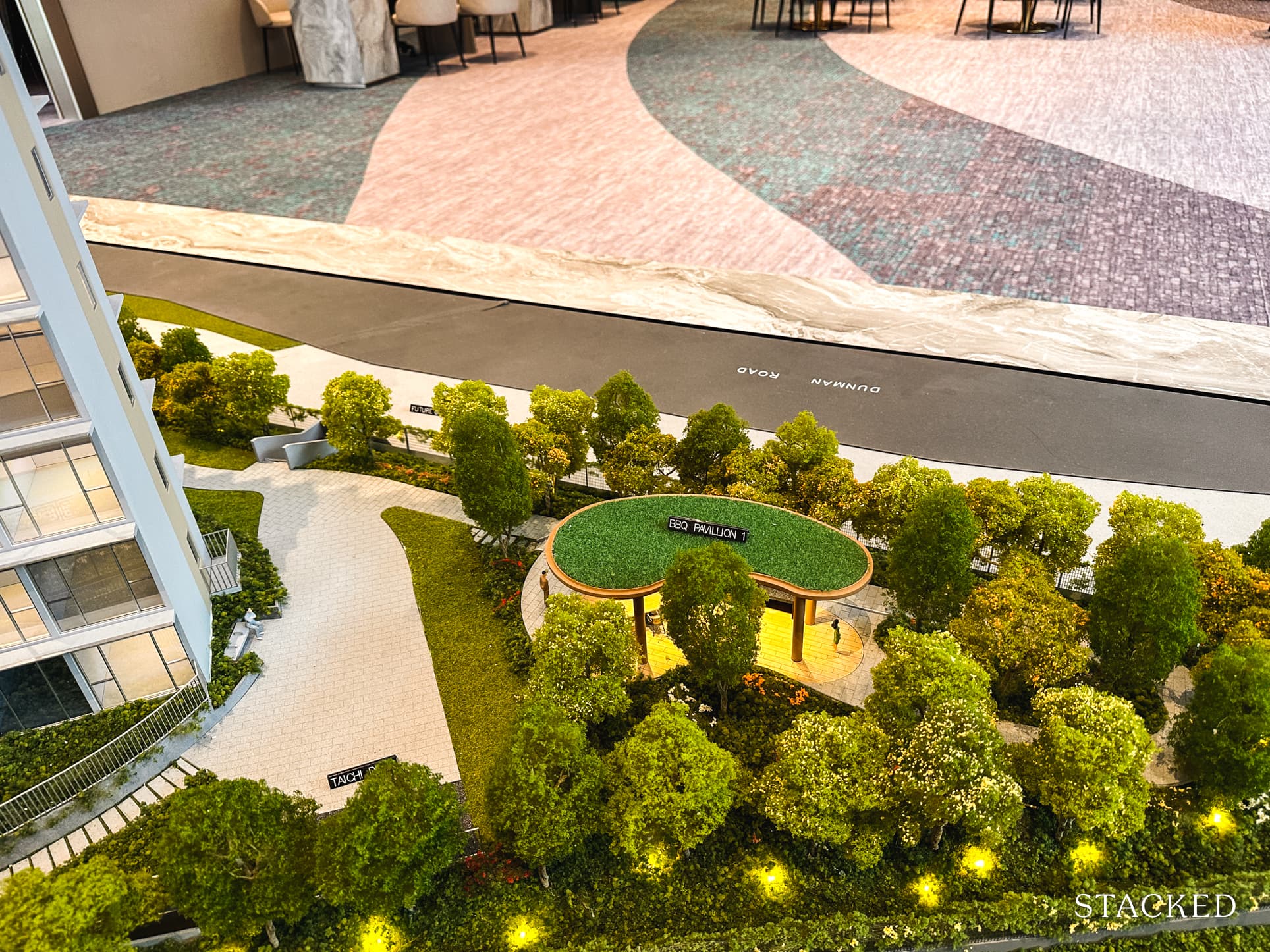 In case you are wondering, there are 2 other BBQ pavilions at Grand Dunman, with 1 at the eastern end of the development beside the Tai-chi Deck and another that is close to the tennis court beside the tranquil pond. This one above would be my undoubted preferred spot, given that it's set away from everything else and is more private.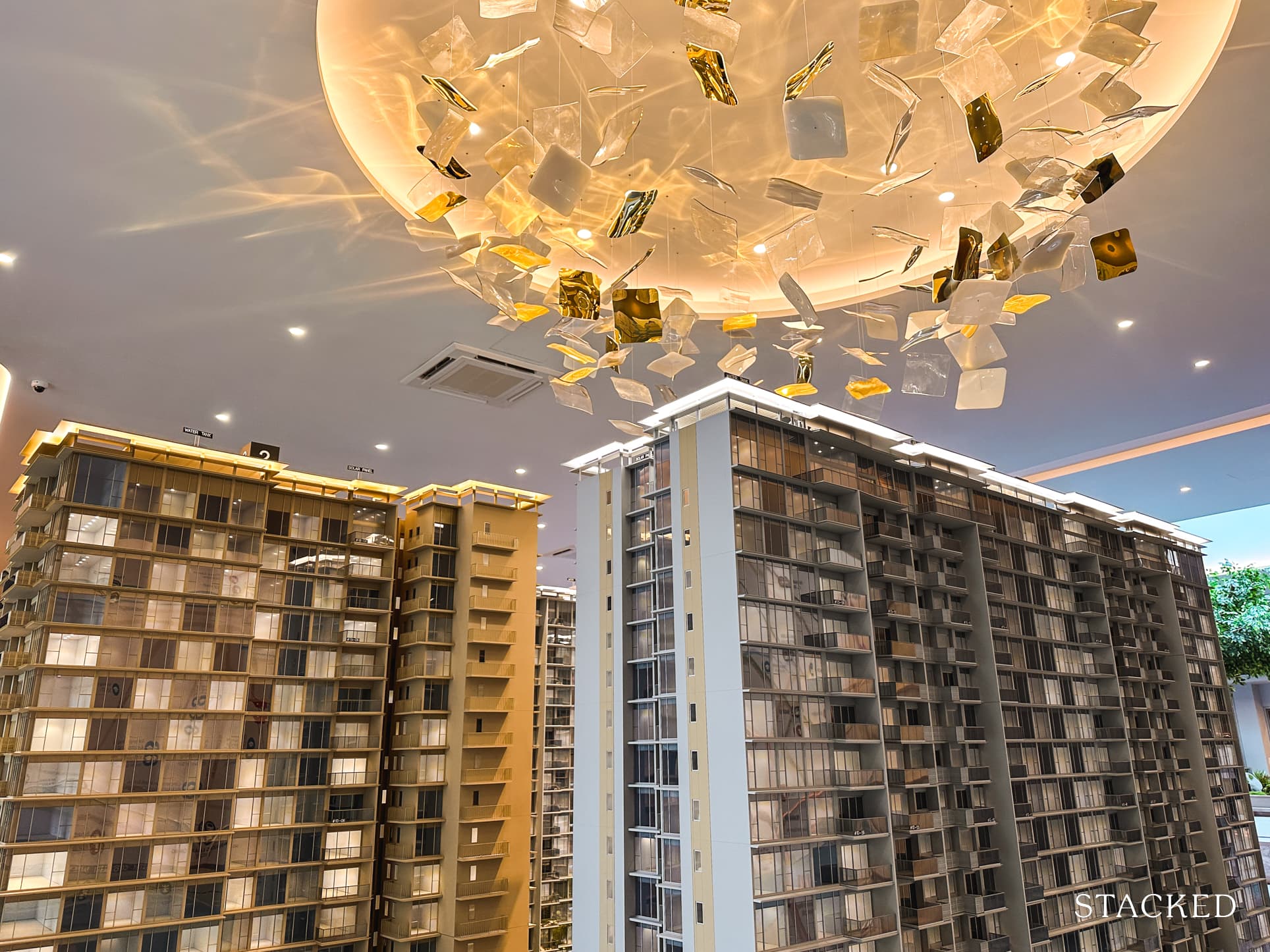 Just note, there are no actual penthouses here (at least, what I term penthouses with outdoor terraces). Each block will have a top storey with higher ceiling heights, which is what you'd typically find in most new launches today.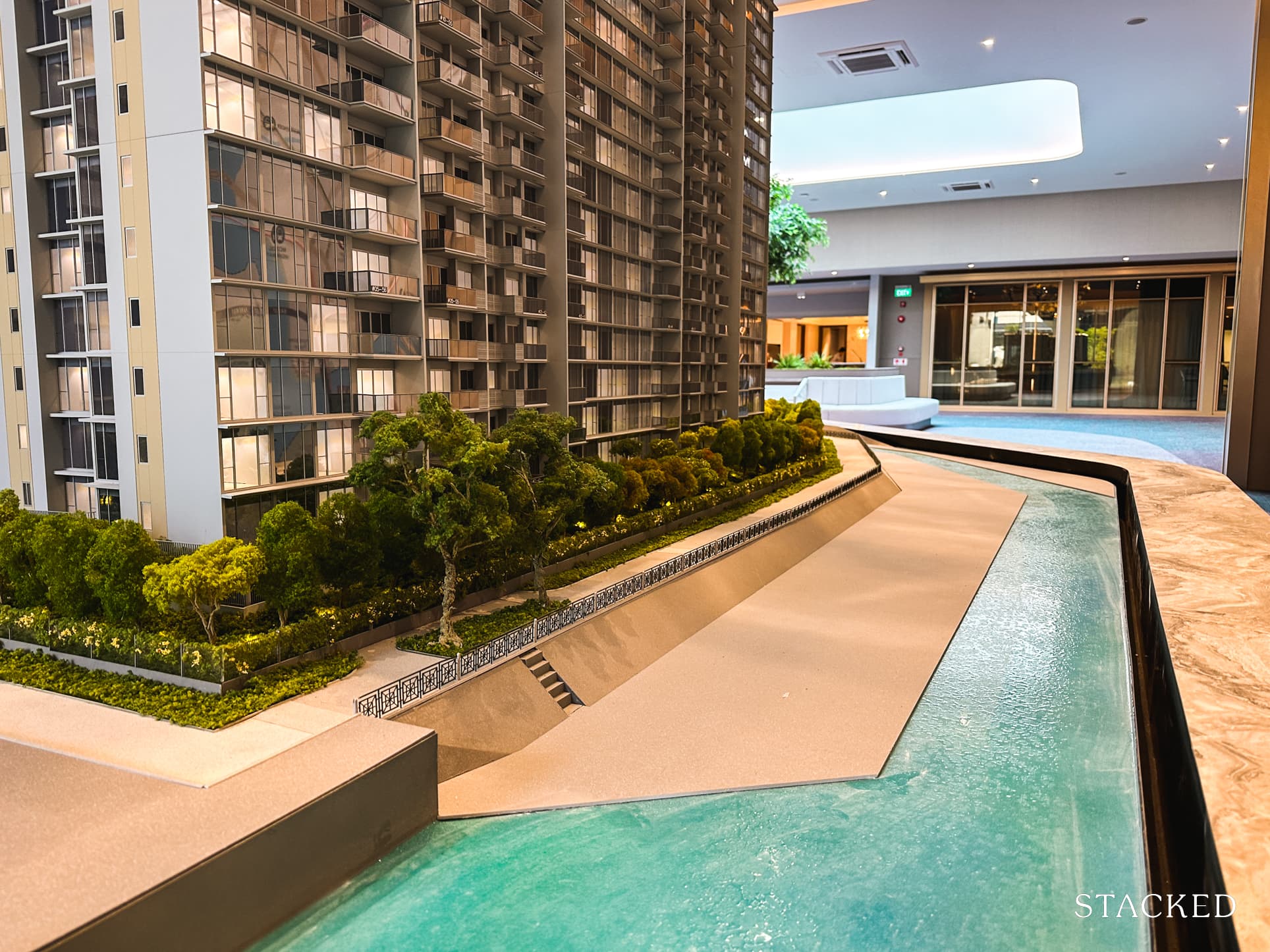 Another highlight to note is that Grand Dunman is mostly surrounded by water. While the canals aren't necessarily the prettiest waterfront views, it does mean you have some separation between Grand Dunman and the neighbouring estates.
Plus, besides the 12-storey HDB block 18-storey Waterbank at Dakota opposite, most of the surrounding areas are of low-lying landed houses. This means that you will get to enjoy relatively unblocked views towards the sea and East Coast Park, and more importantly, the landed estate should guarantee that this wouldn't change in the future.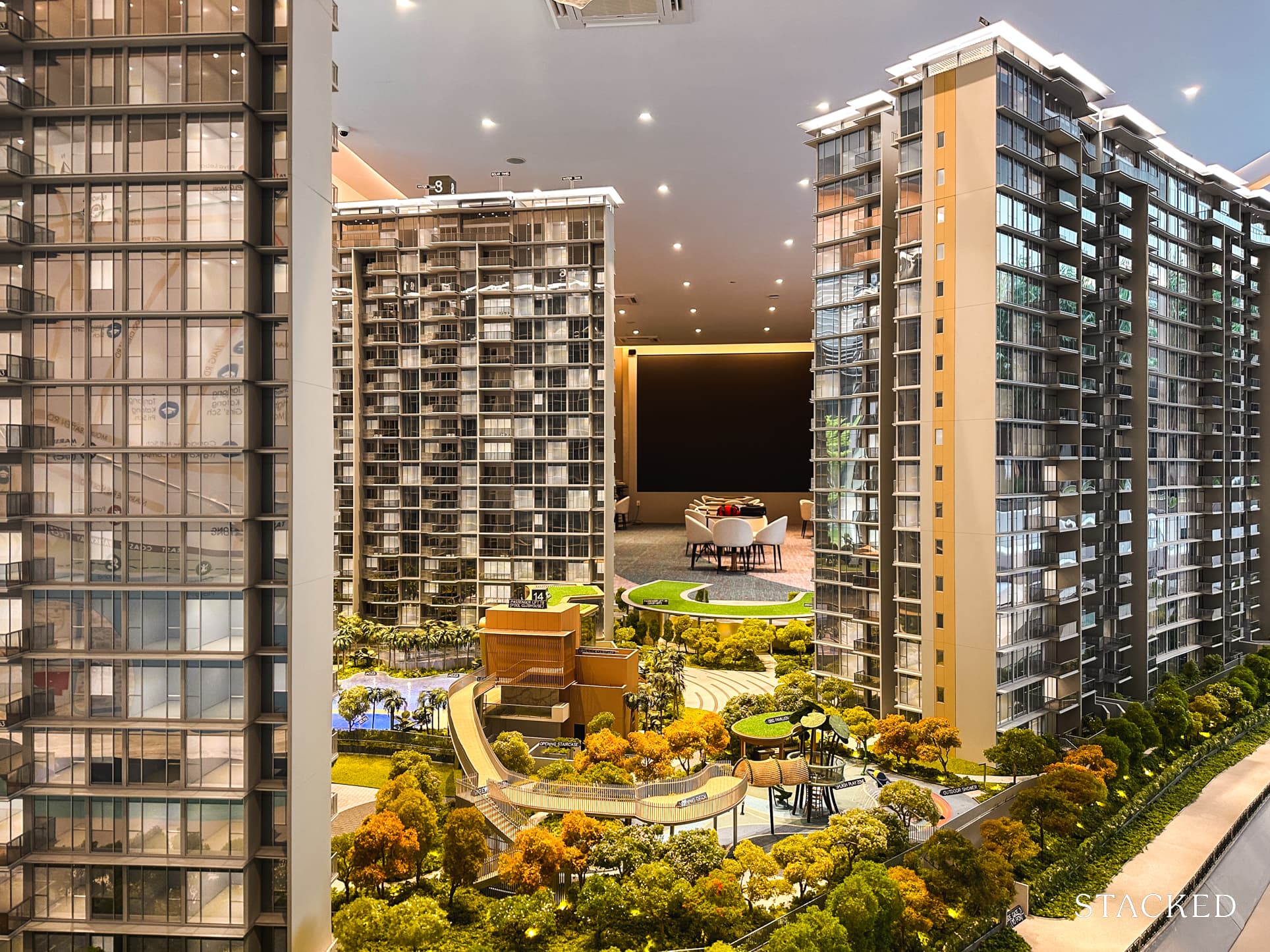 In general, I think that the facilities here are sufficient to meet the needs of the residents. Sure, the solitary tennis court may not be much but that is really the norm in the market these days. The best way to navigate around that is probably to have friends – especially those living in resale condos nearby – they might just be your lifesaver!
With that, let's move to the show flat units!
Grand Dunman – 2 Bedroom + Study Type 2BR S1 (72 sqm/775 sq ft) Review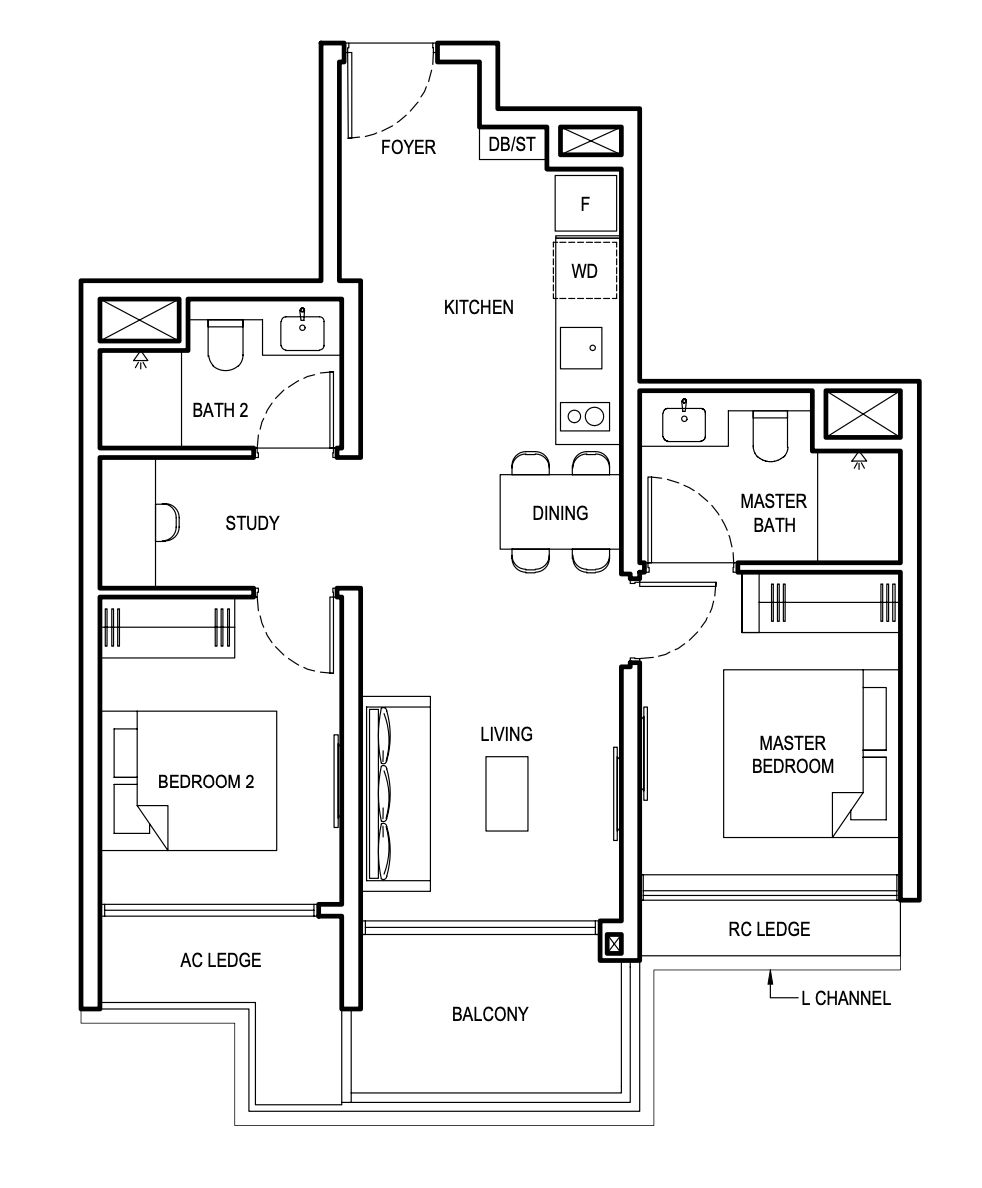 All 2 Bedroom units at Grand Dunman (except the dual key ones) have a dumbbell layout, which is the more efficient choice considering the size of the units. The sizes range from 667 sq ft to 797 sq ft (excluding top floor units which include the void space), with the smaller units having 1 bath and the larger ones coming with 2 baths and/or a study.
So yes, that's right, you don't have a regular 2 bedroom 2 bathroom unit at Grand Dunman.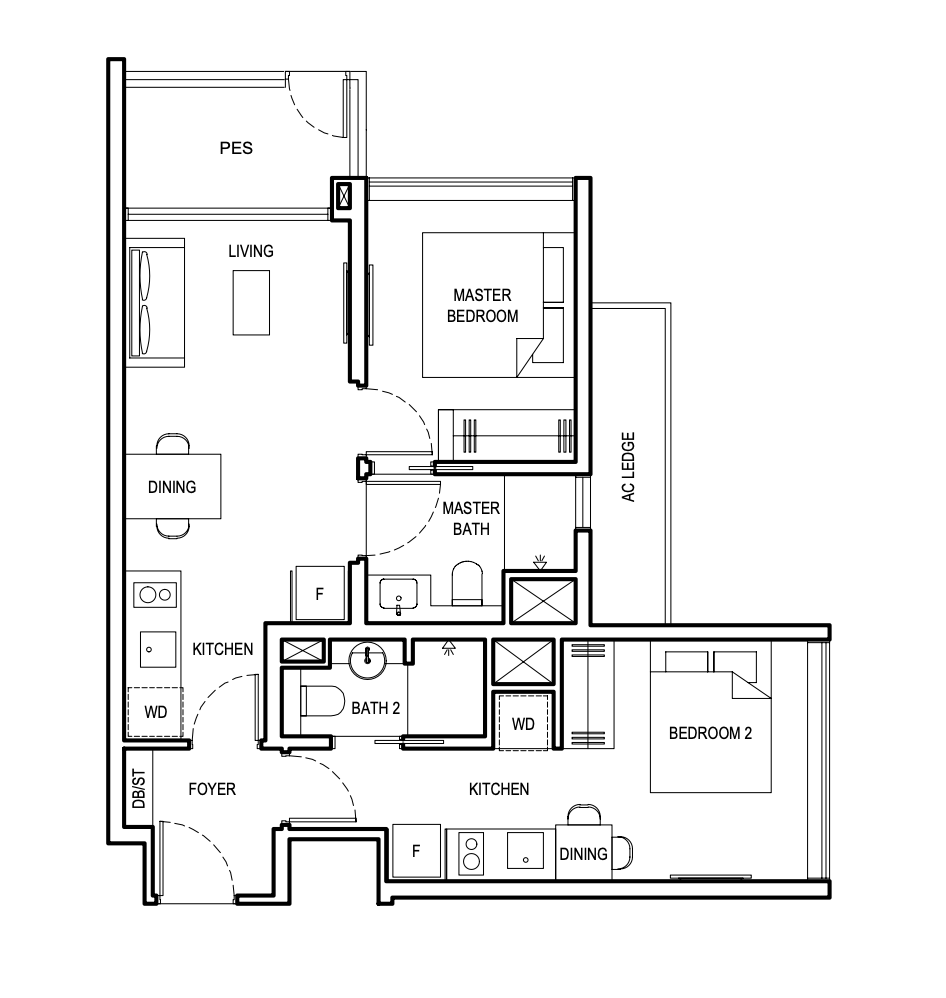 The pleasant surprise here would certainly be the inclusion of dual key units, which is quite rare to find for 2 Bedroom layouts (the one shown above is 721 sq ft). It's all the more attractive given the more punishing measures on 2nd property purchasers.
This particular 775 sq ft show flat unit is the second largest 2 Bedroom unit and comes with a Study. The smallest 2 Bedroom on offer starts at 667 sq ft (just one bathroom) and goes up to 797 sq ft. All units come with porcelain tiles for the common areas and engineered timber for the bedrooms. The ceiling height is in line with the market at 2.8m.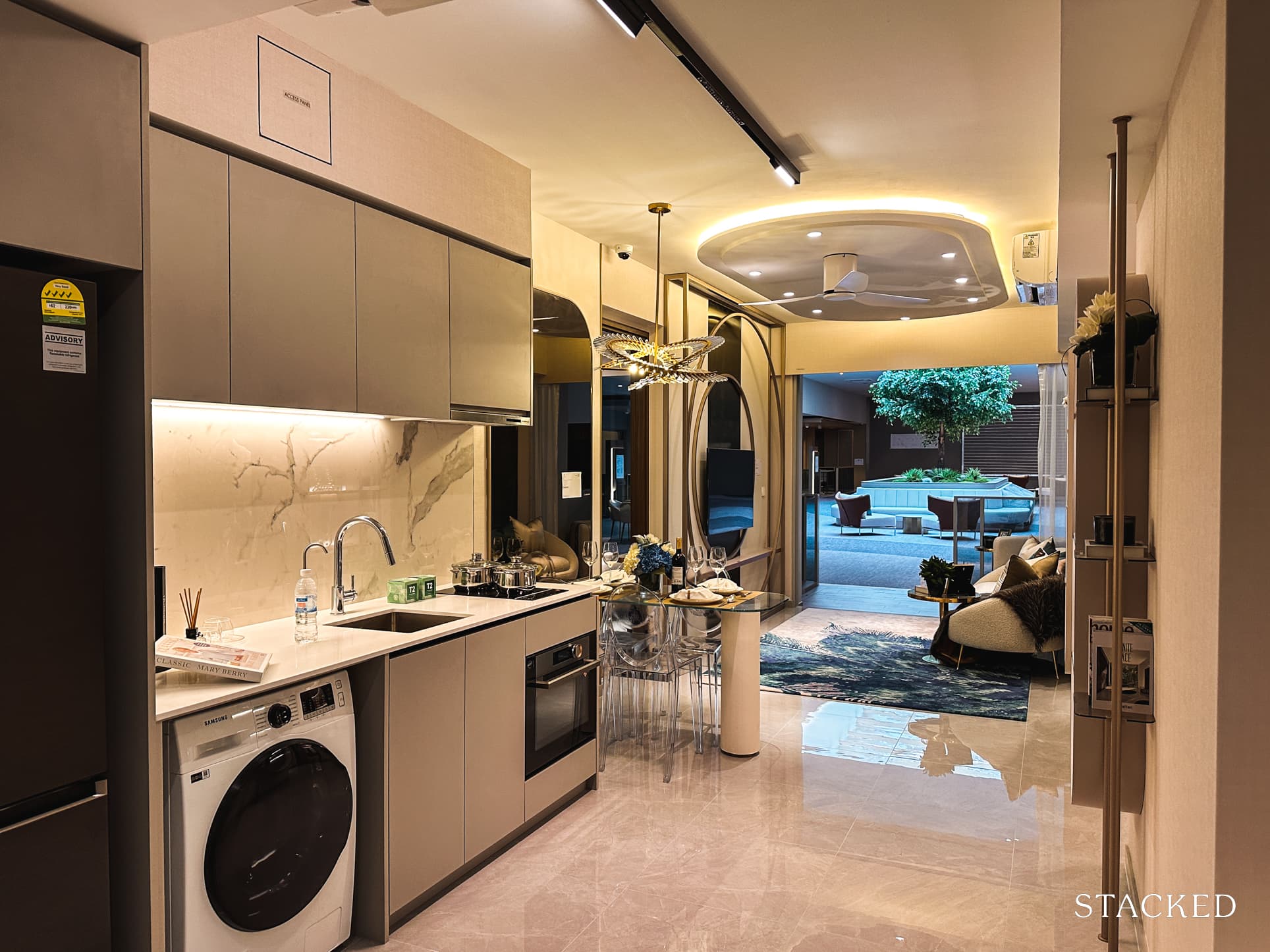 As you enter the unit, you are greeted by the open-concept kitchen on the left, with top and bottom built-in cabinets along with the Franke sink and mixer. There's even a water filter tap provided here, which is not common among new launches (the last I saw something like this was at Nyon).
Also as part of the provision, you get a quartz countertop and the backsplash done in large format tiles.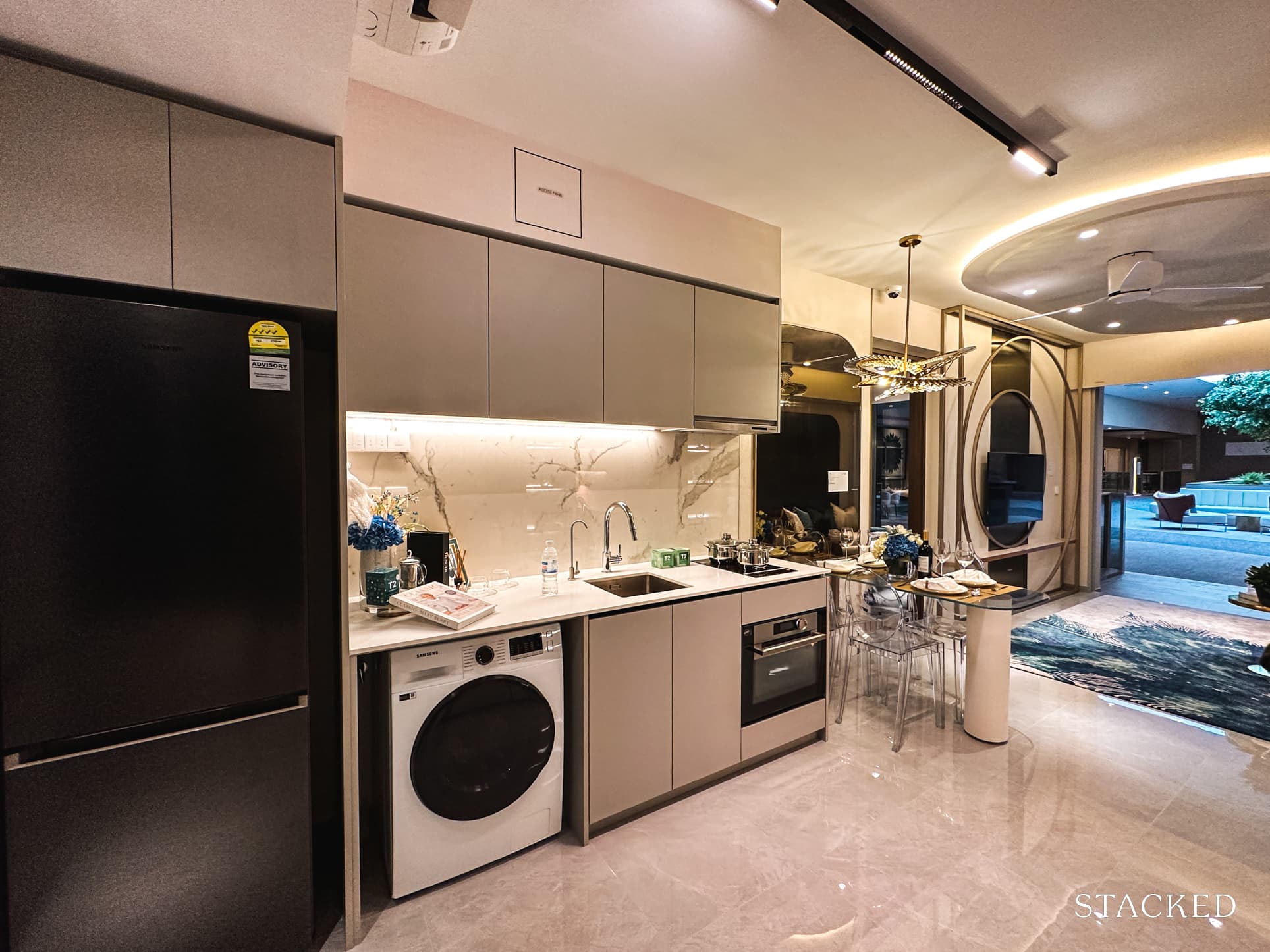 The eagle-eyed among you might notice the mass market Samsung fridge and washer/dryer contrast against the luxury De Dietrich oven and induction hob that the developers are also providing. There's a good reason for this disparity as the Samsung appliances were supposedly the only ones that met the regulator's "4 tick" criteria for the eventual Green Mark Platinum certification.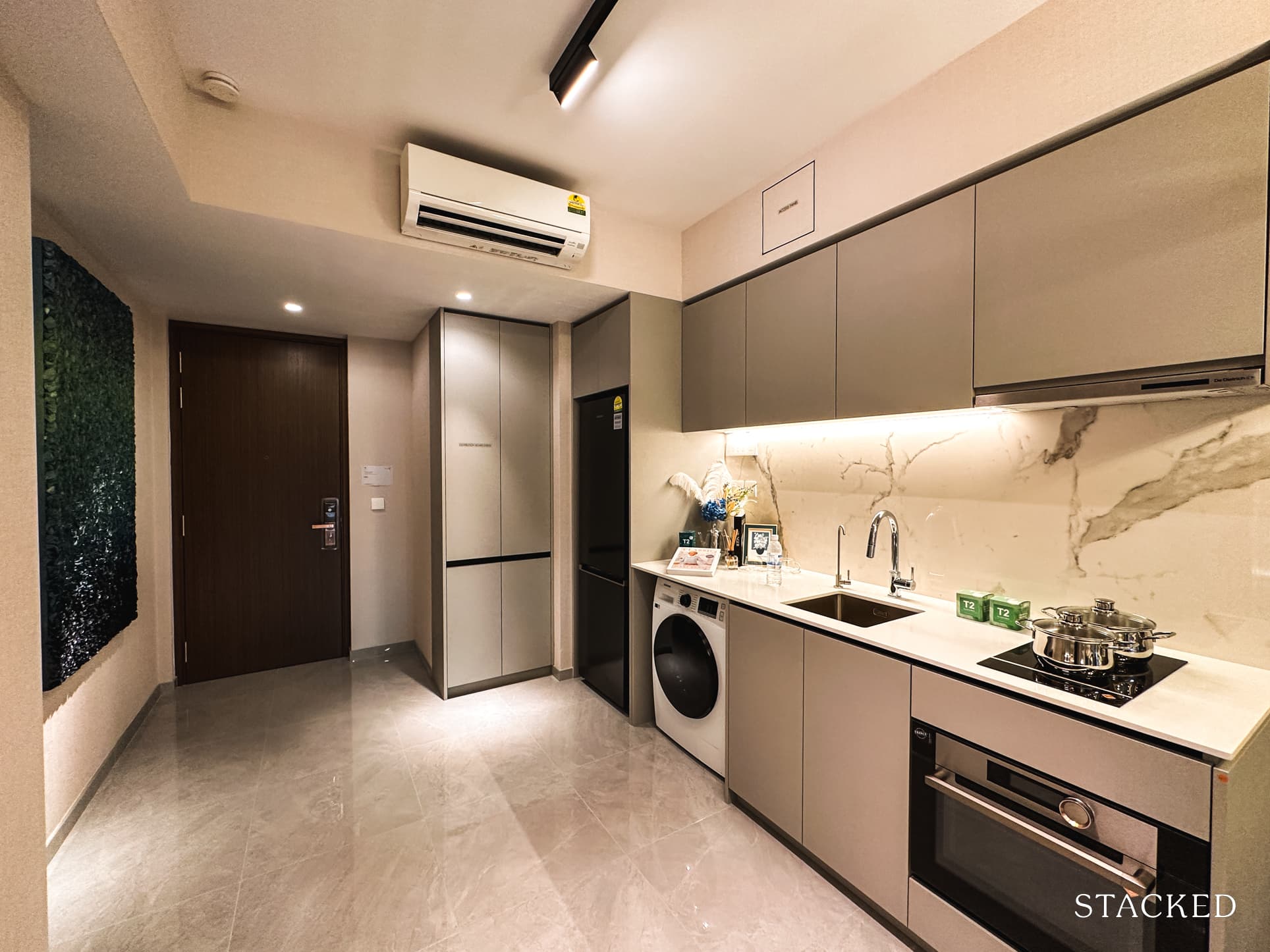 Overall, the kitchen area is wide enough in combination with the entryway, which is in line with what you might expect for a 2 Bedroom unit of this size.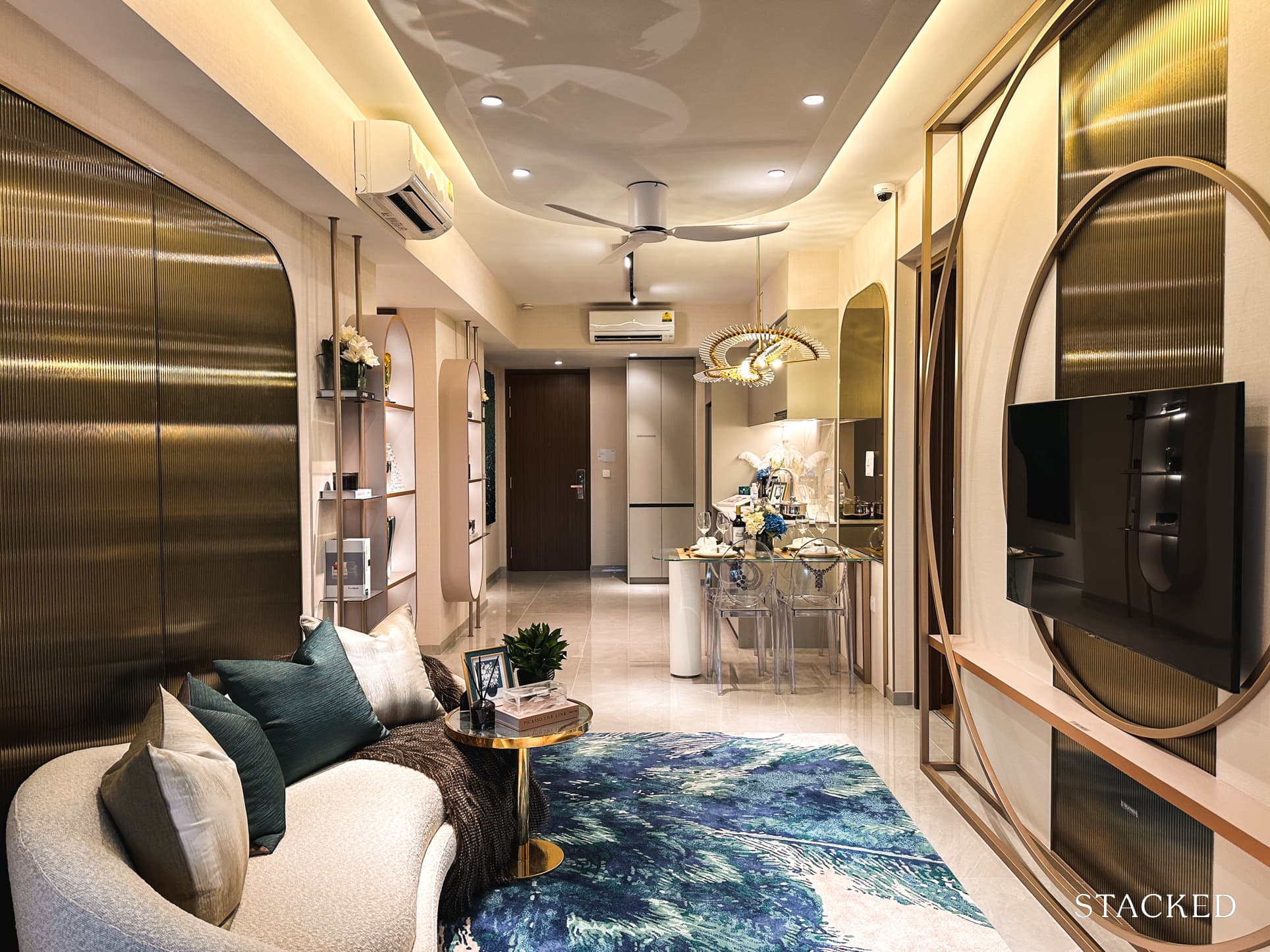 And in accordance with the Green Mark platinum certification, all units regardless of size will have ceiling fans installed in the living room. It's a plus if you're practical but perhaps a minus if you're someone who's keen on aesthetics. Well, I'm in the camp of the former so this definitely gets a thumbs up from me. A standing fan (besides a Dyson) doesn't look any more aesthetic in my opinion so I would prefer a ceiling fan, especially if it comes with the unit! I reckon most Singaporeans are more practical in nature anyway, so this would be a bonus.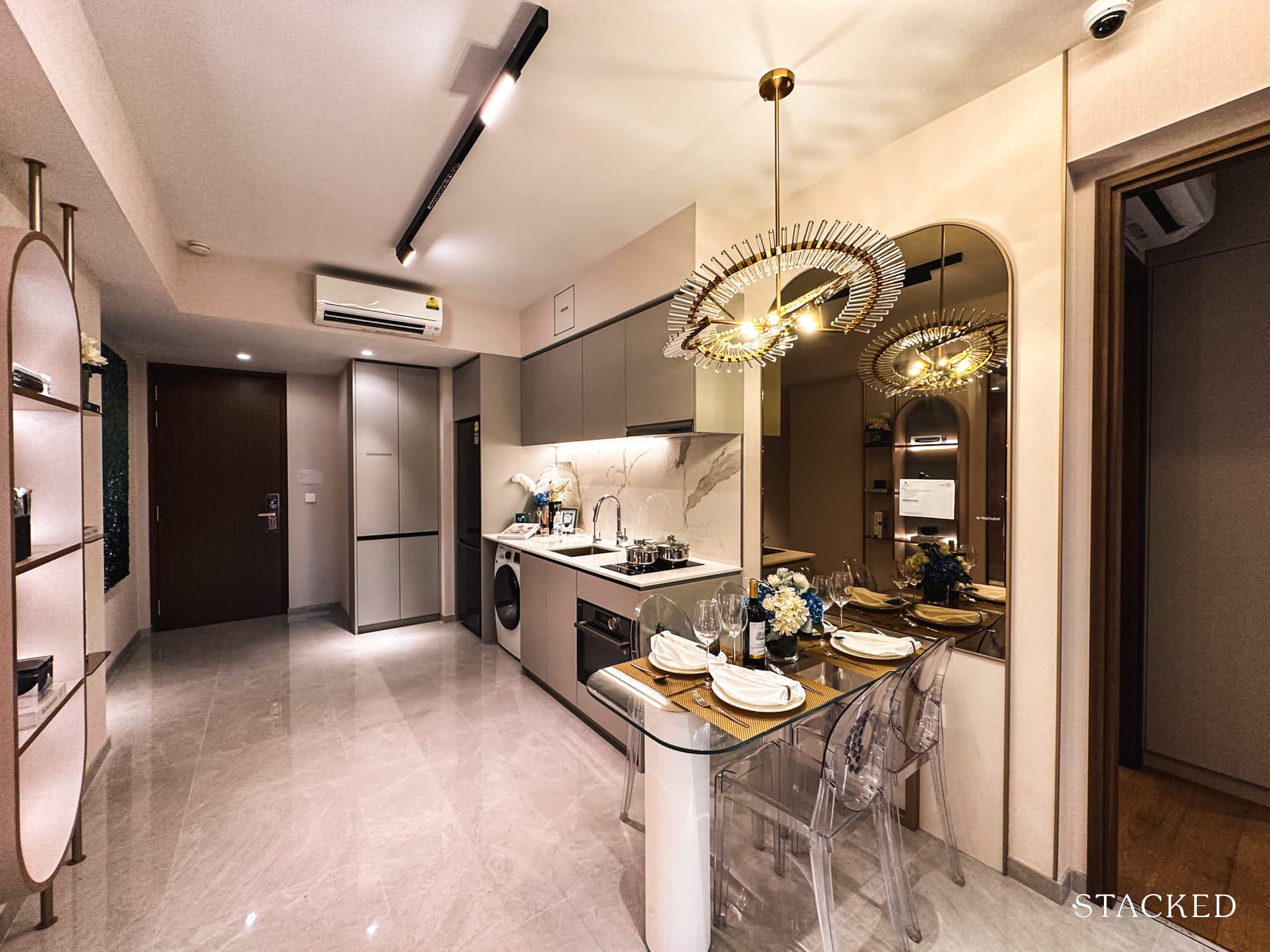 Next, I did find that the dining area was actually rather small. While they did manage to place a 4-seater dining set here, which is in line with other developments, the seats are close to the kitchen countertop and the master bedroom door. Not to mention that the table chosen is already a relatively narrow one (and see-through, for that matter) so there seems to be not much wriggle room around this.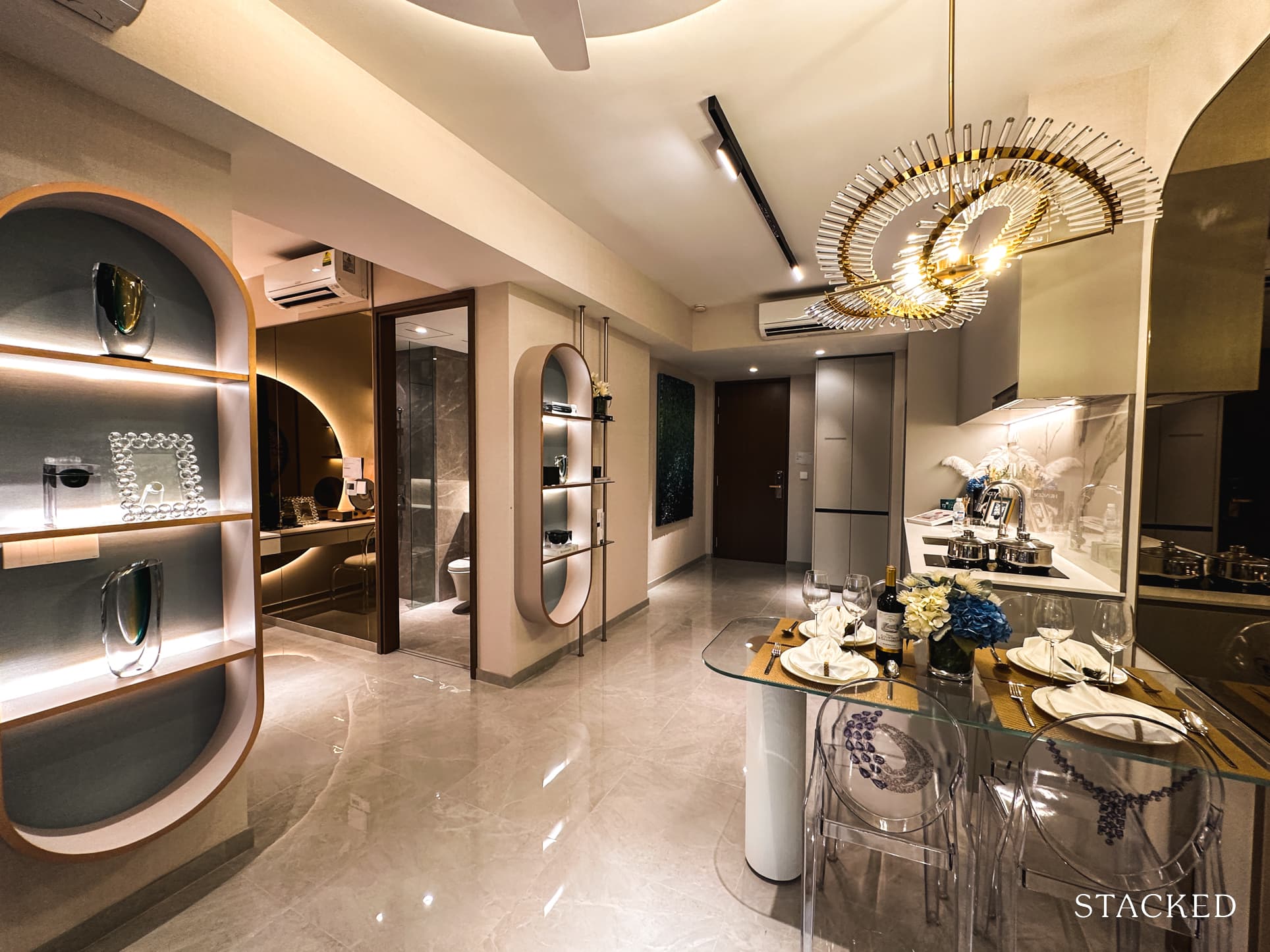 The space is still quite wide though, so at least you could do with a longer pull-out dining table, if you need something more flexible to fit more people.
My only conclusion as to where the space has gone (since 775 sq ft is not small for a 2 Bedroom) is that they have a slightly larger than average common bedroom (10 sqm) and balcony (6 sqm).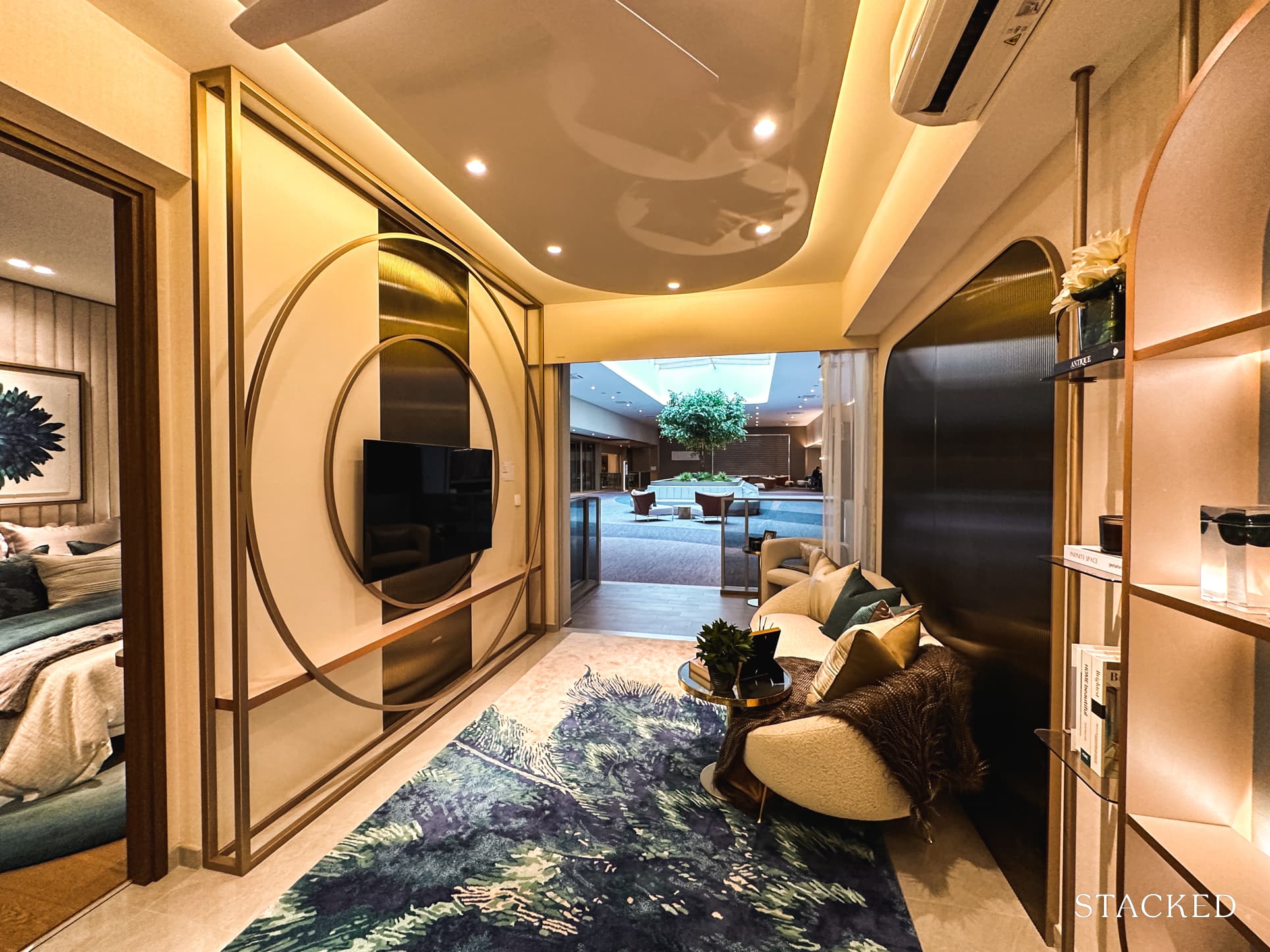 The living room has a decent width and has room for a 3-seater couch and a small "coffee table" as they have done here. The size is in line with market standards so no surprises here.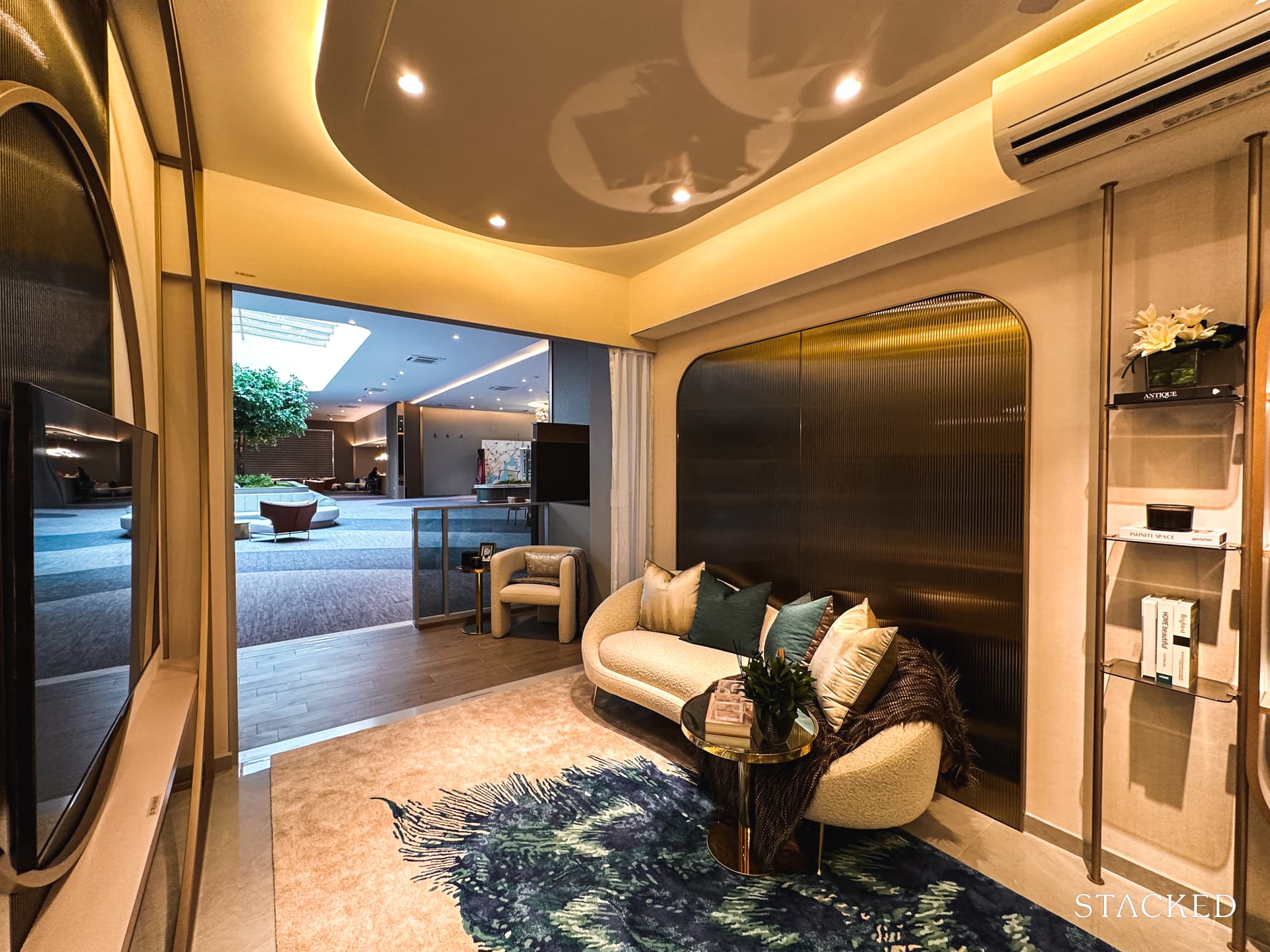 The balcony which is adjacent to the living room is slightly larger than average at 6 sqm in size. It's spacious considering the overall size of this unit and one that you would definitely appreciate if you enjoy outdoor spaces.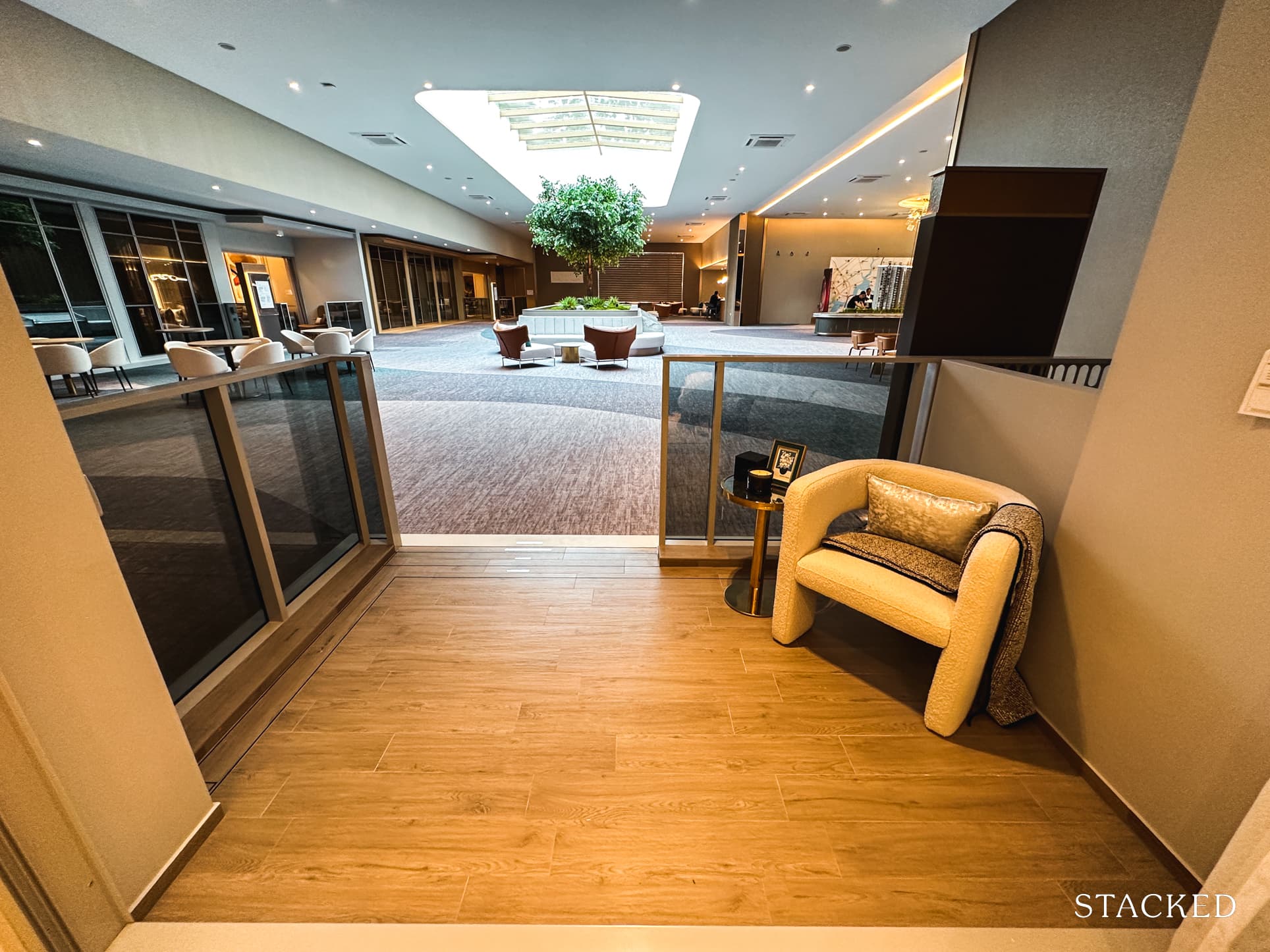 I suppose the considerations here would be for the unblocked view units + water views, so it makes sense to have a larger-than-average space to enjoy the outdoors.
They have only placed a non-outdoor proof 1-seater (which is a rather strange design choice) and a small coffee table here with plenty of room to spare so this goes to show how spacious the space actually is. Considering the size of the dining area, the better plan might just be to move your dining area alfresco since it'd probably be more comfortable that way. I've visited a couple of 600+ sq ft new condos with such a setup and it does help to make the interior space look more spacious as well.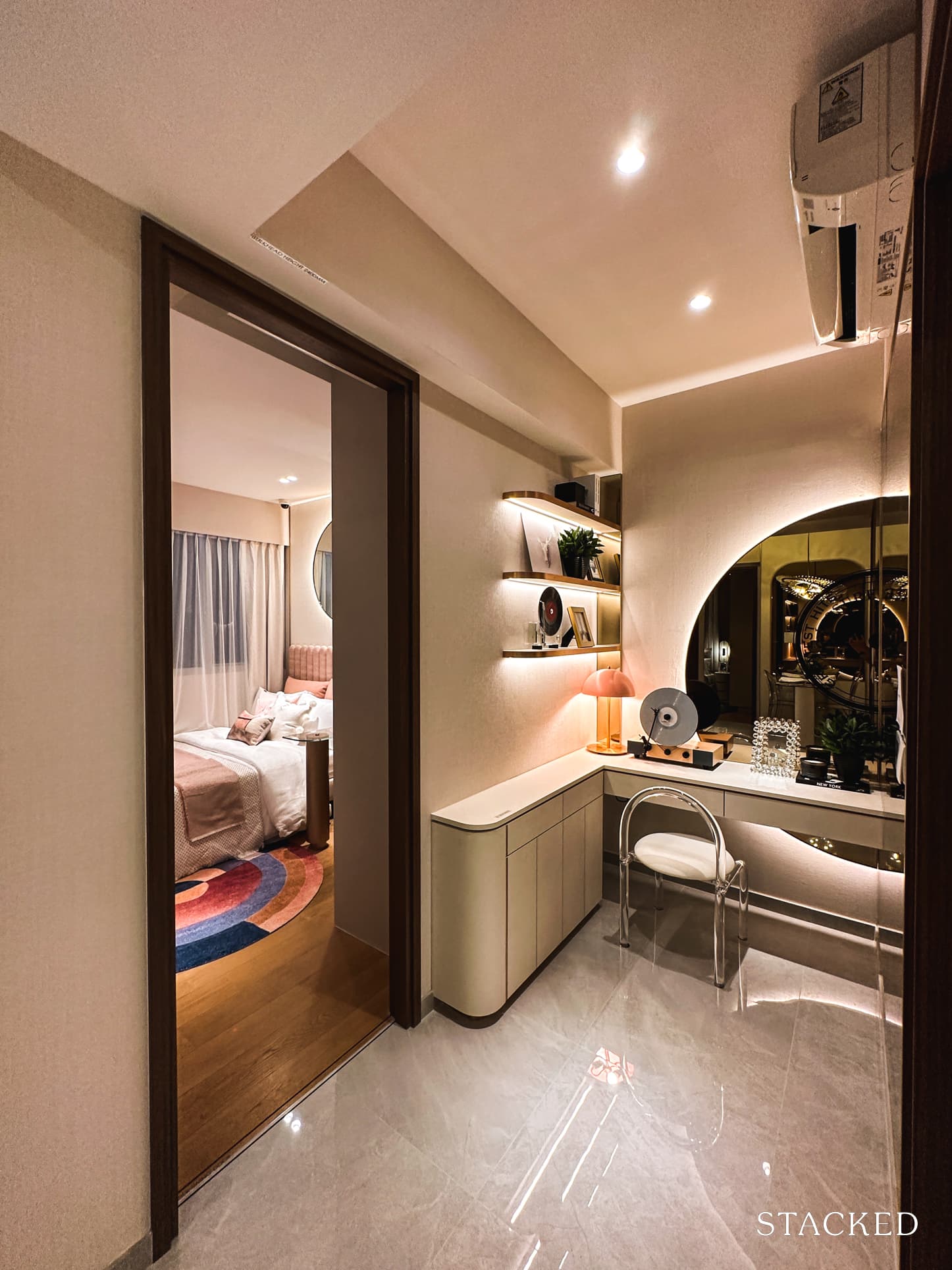 The Study is placed in between the Common Bedroom and Bath 2 and will come with its own air-conditioning unit as well. With the WFH trend continuing, this space is a plus for those who have the budget for it. It's about 4 sqm in size so you can go about building some top and bottom cabinets to store your extra stuff too.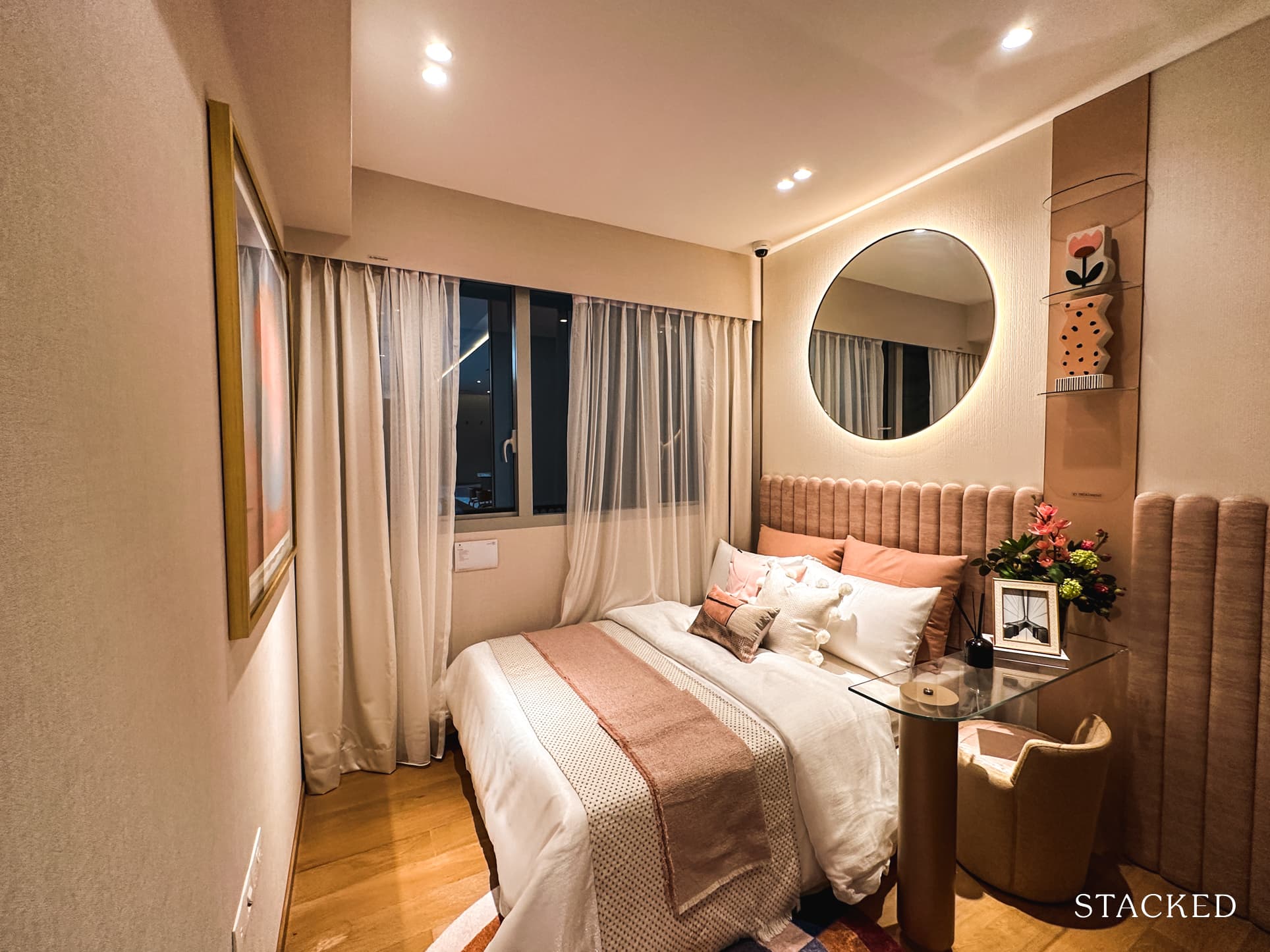 Moving on to the common bedroom and it is surprisingly well-sized at 10 sqm (which is precisely what the developers are trying to offer here – every bedroom should be able to fit a queen-sized bed). It's actually almost identical in size to the Master Bedroom (11 sqm) and marginally larger than the average 9 sqm in other new condos.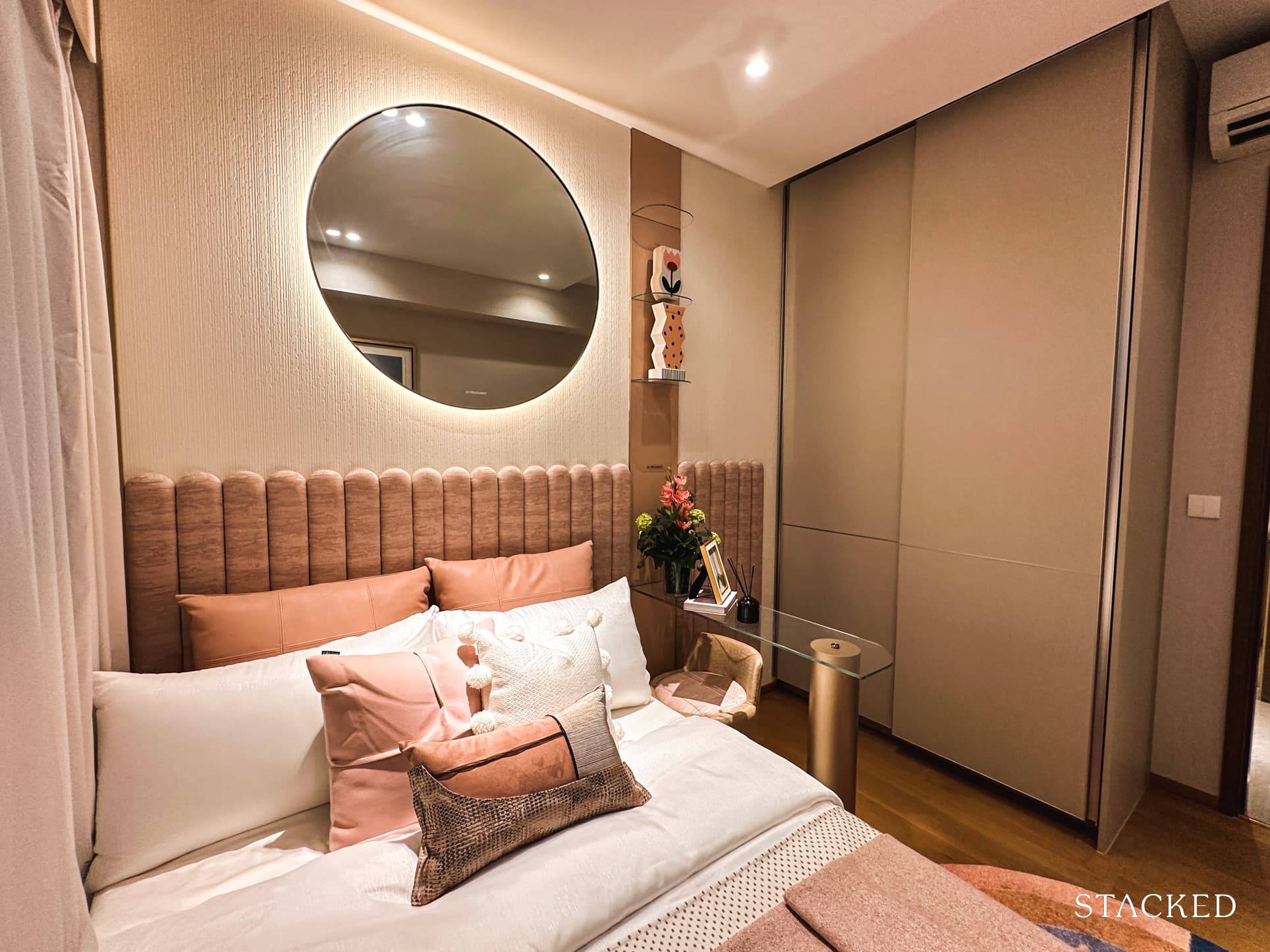 This room has been done up quite practically with room for a Queen size bed and even a small study table if you flush the bed right to the end so it can serve as a work desk (albeit a small one) or a dresser depending on the occupant. Do note that the windows for this bedroom will only be half height as the a/c ledge will be just outside. As always, the 2-panel sliding wardrobe will be a standard provision by the developer.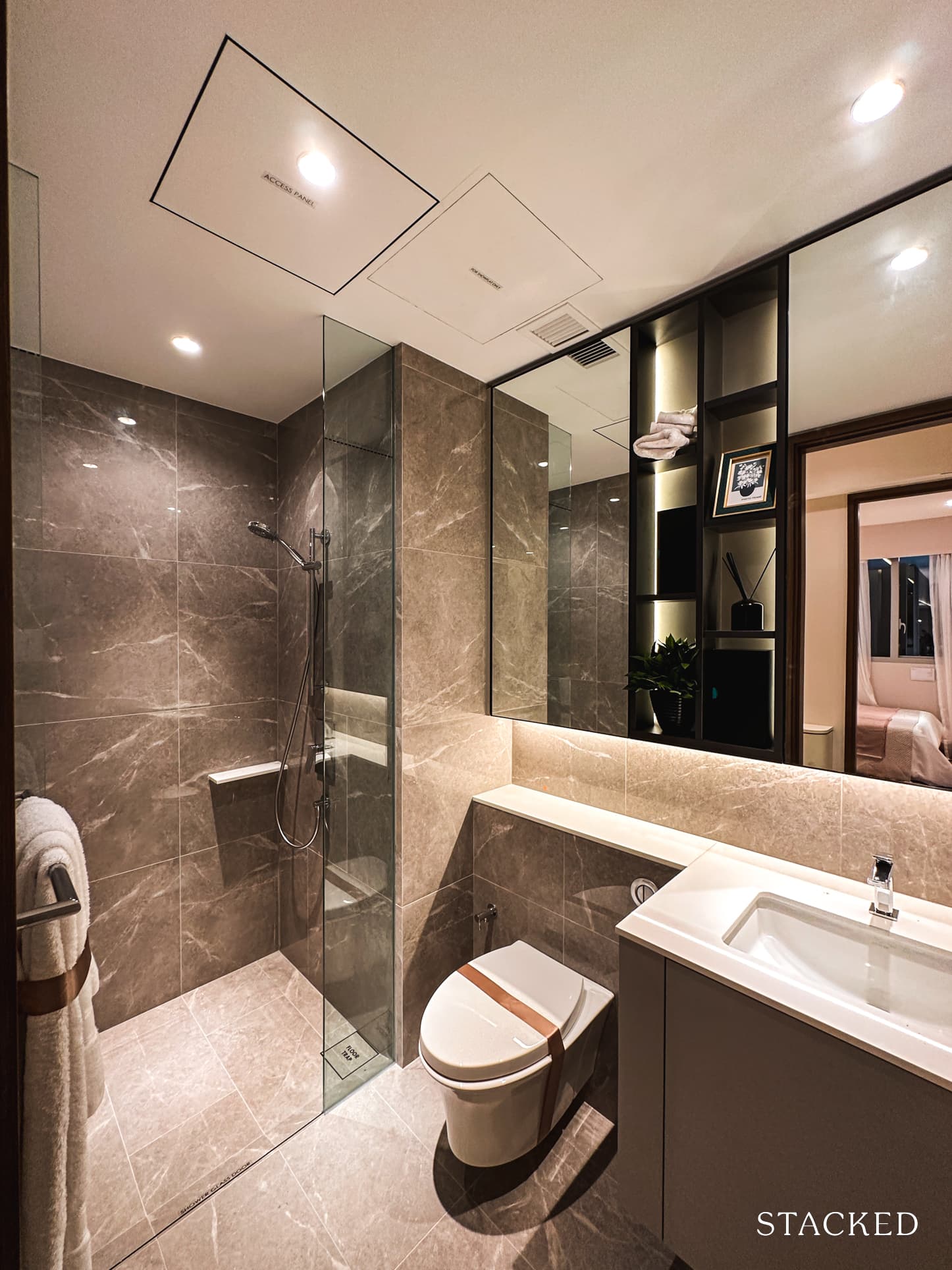 The common bath just across is of an average size at 4 sqm. As expected, you won't have windows here and so this will rely on mechanical ventilation. You get the standard built-in cabinets and mirrors above the sink provided by the developers.
The wall hung w/c and sink are from Kohler and the basin mixer and shower set (non-rain shower) are from Gessi. Interestingly, my very own bathroom uses the exact same combination of brands so of course I'll say that they're good brands to use!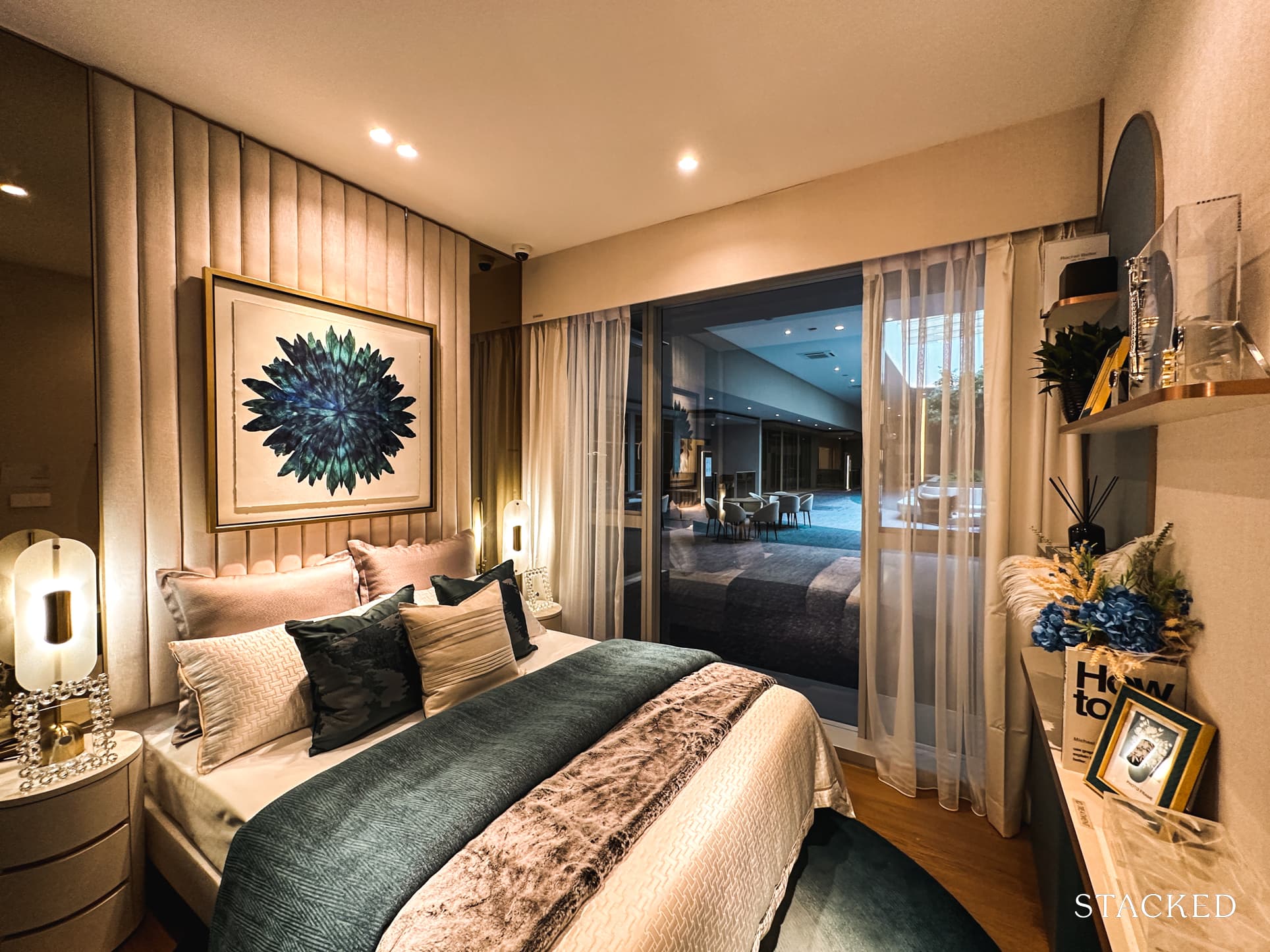 The Master Bedroom is sized at 11 sqm which again is actually only marginally (10%) bigger than the common bedroom. The main difference is definitely the floor-to-ceiling windows that you get here, making this room look more spacious somehow.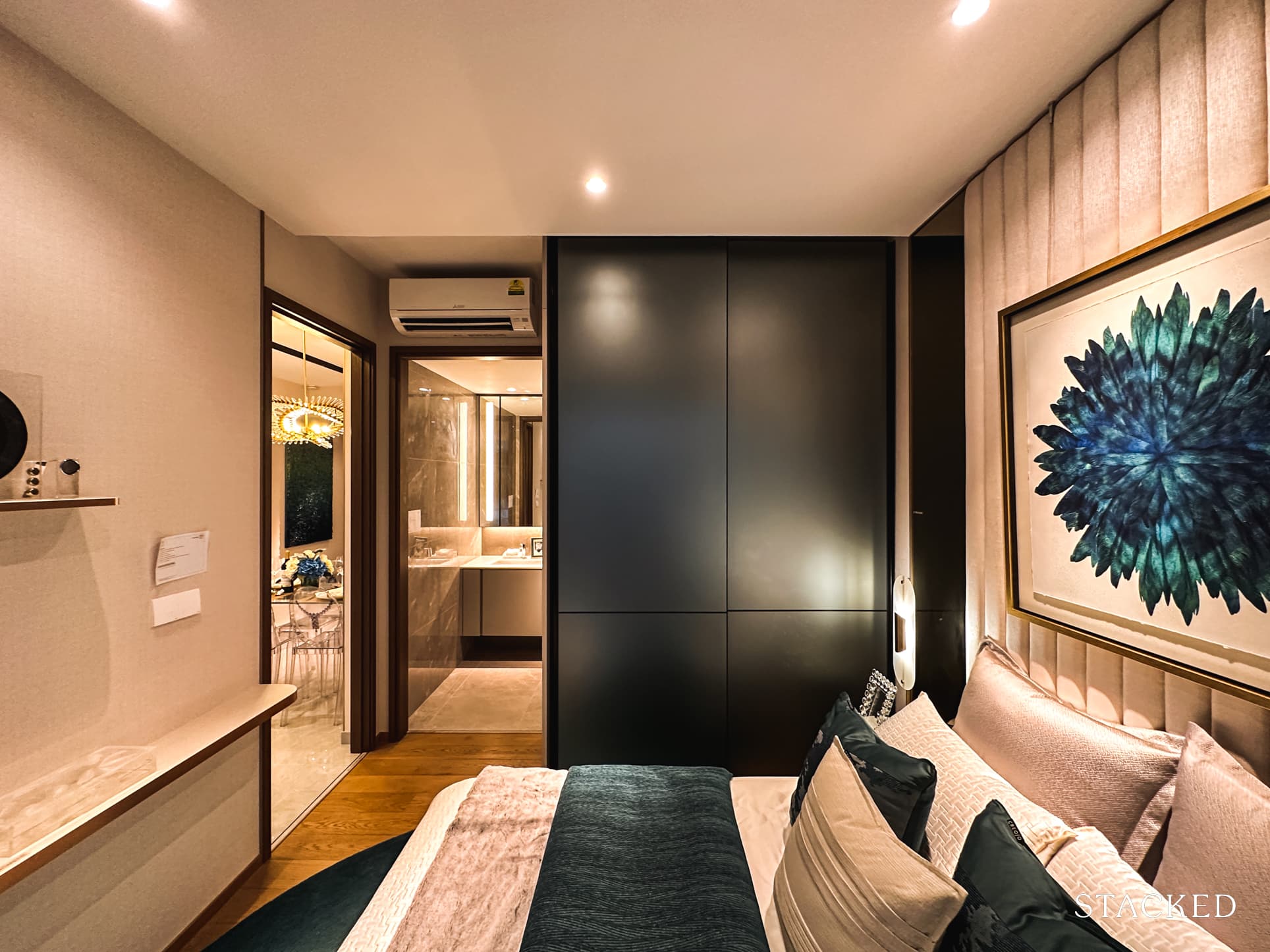 A Queen would be perfect if you're going for 2 well-sized side tables as the developers have done here. The finish of the built-in wardrobe is slightly different from the common bedroom, with a satin mirror finish instead, giving it a bit more of a lux touch.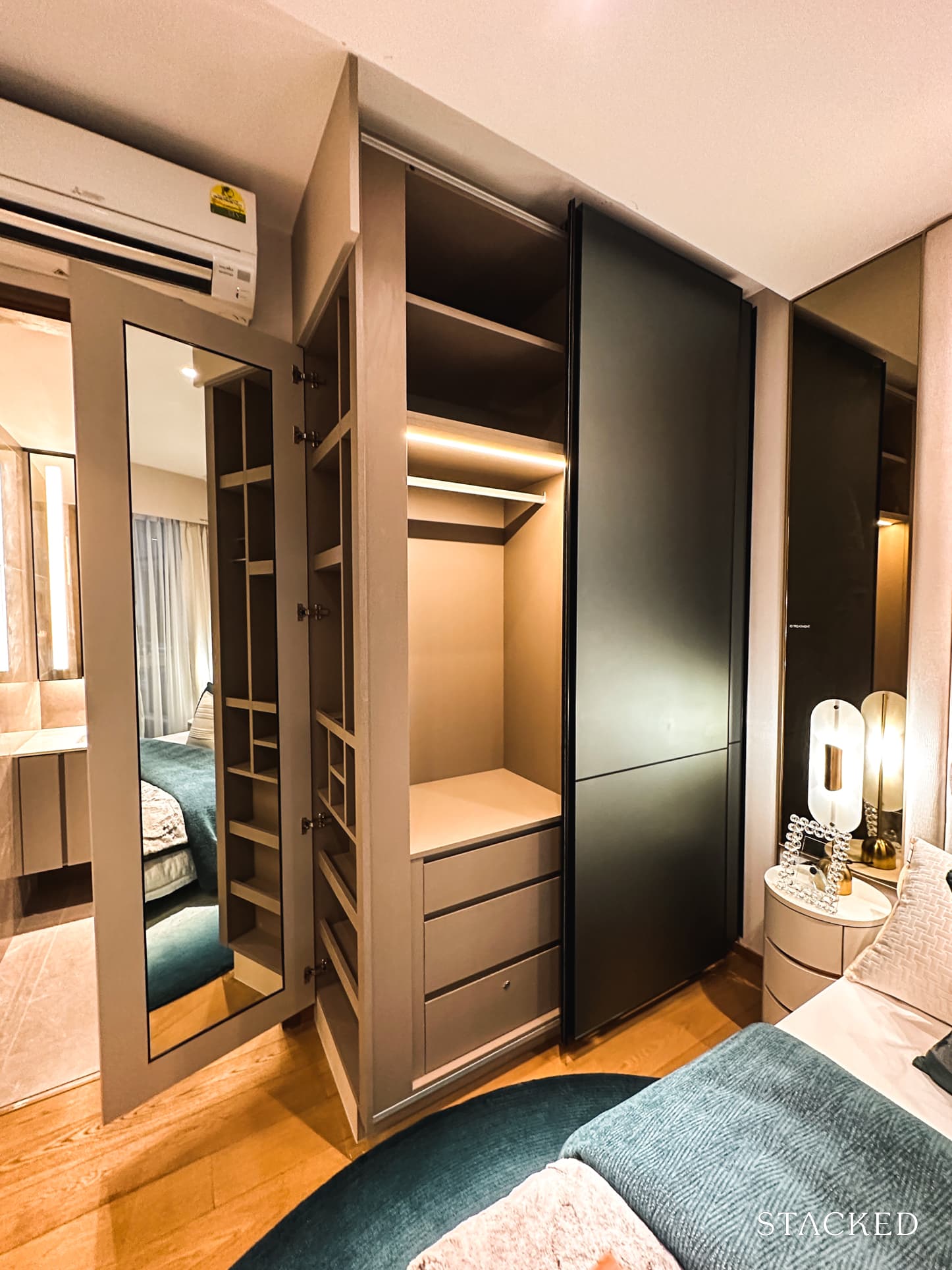 You do also get the usual special treatment for the wardrobe, with a tall mirror and additional cabinetry to store your accessories by the side.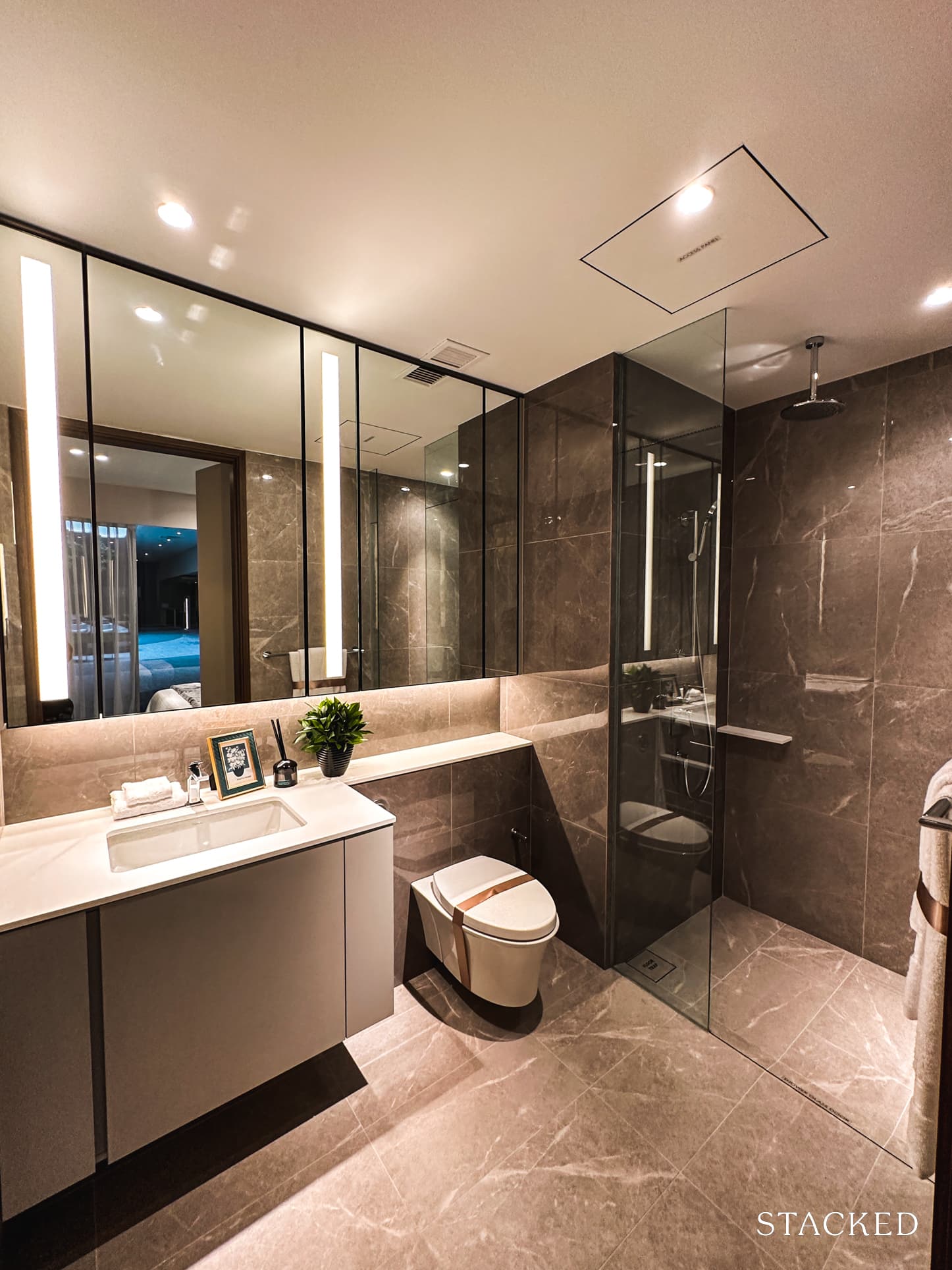 As for the Master Bath, it is 5 sqm and similarly doesn't come with windows for natural ventilation. The bathrooms are similar in terms of their design and provisions, which include premium fittings from Gessi and Kohler with the exception of a more premium rain shower that you only get for the Master Bath.
Grand Dunman – 3 Bedroom + Study Type 3BR LS (104 sqm/1,119 sqft) Review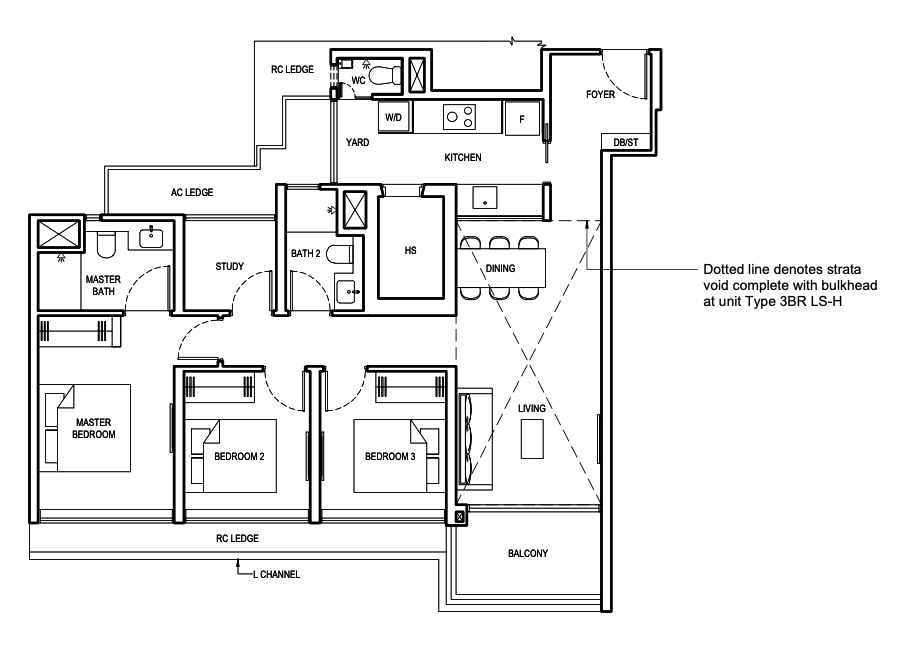 The 3 Bedroom units at Grand Dunman range from 926 sq ft to 1,475 sq ft (excluding top floor units which include the void space), with a number of different variations. Some of the practical layouts have either a Store or Home Shelter while others have foyer space for the entrance and the common bedroom. Of course, whether the latter ones constitute "wasted space" is dependent on your personal preference.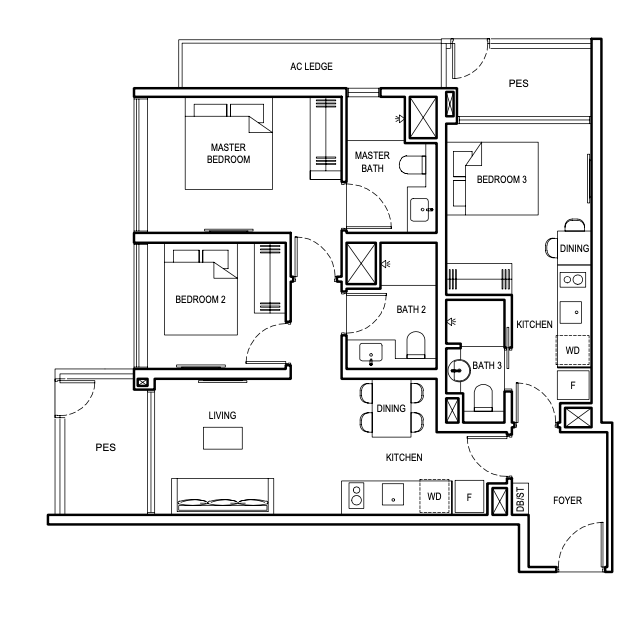 As with the 2 Bedroom units, the pleasant surprise here is the inclusion of dual key units, which means you can generate rental income, maintain privacy and (hopefully) not incur ABSD all at the same time! This show flat unit is the largest 3 Bedroom unit in the Luxury Collection and comes with a yard and home shelter.
As standard, all units have porcelain tiles for the common areas and engineered timber for the bedrooms. The ceiling height is in line with the market at 2.8m. All units will have a ceiling fan provided for in the living/dining area as part of the developer's push for a more sustainable new-generation home.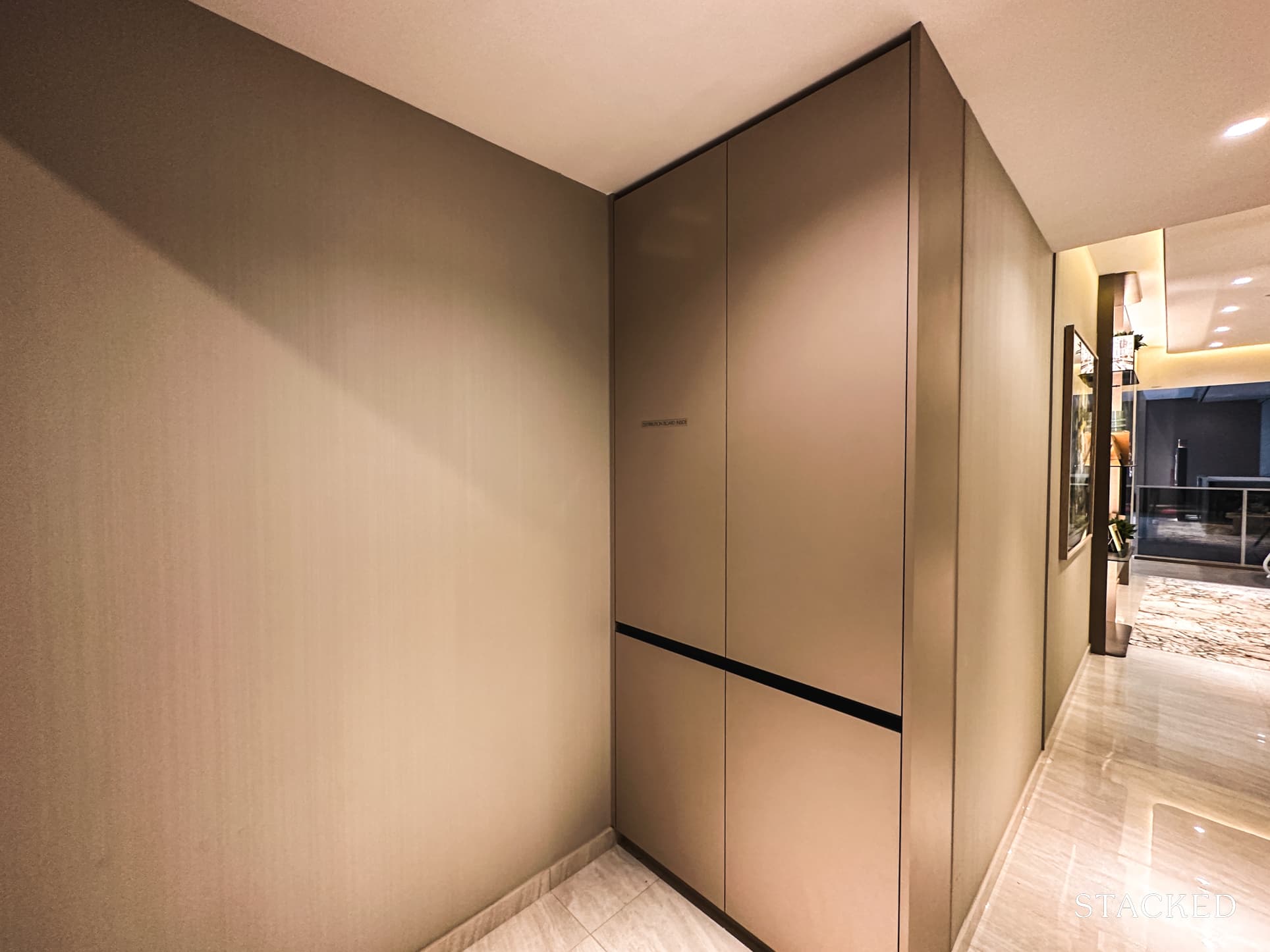 Coming into the unit, there is an L-shaped foyer that leads you first to the enclosed kitchen on the right. It's a perennial debate between privacy and efficiency for units with such a layout, but I'm leaning towards the former (as long as it's not excessive) when units are in the ~1,100 sqft range and above.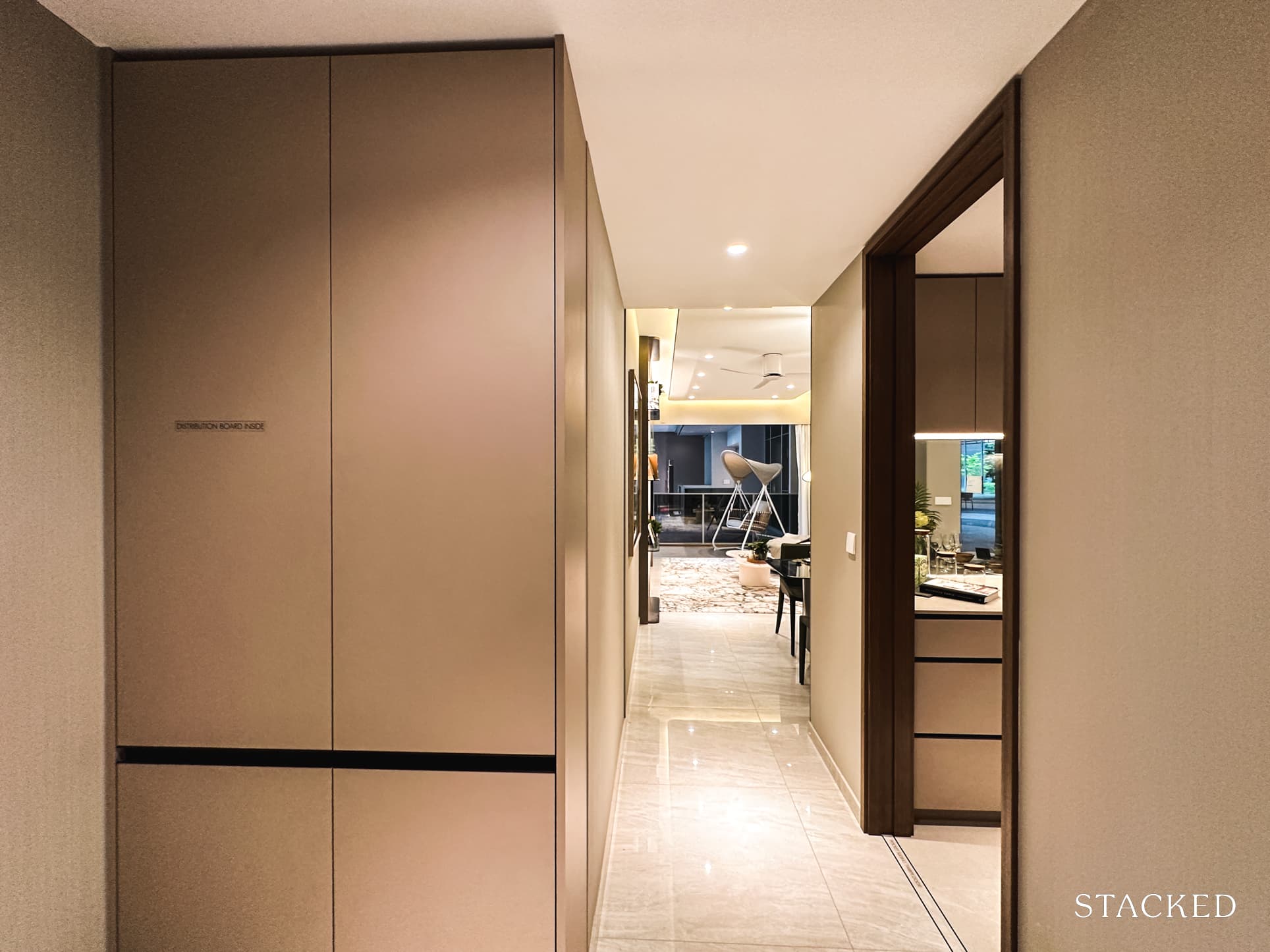 You do at least have some storage space for your shoes, which is something people tend to overlook.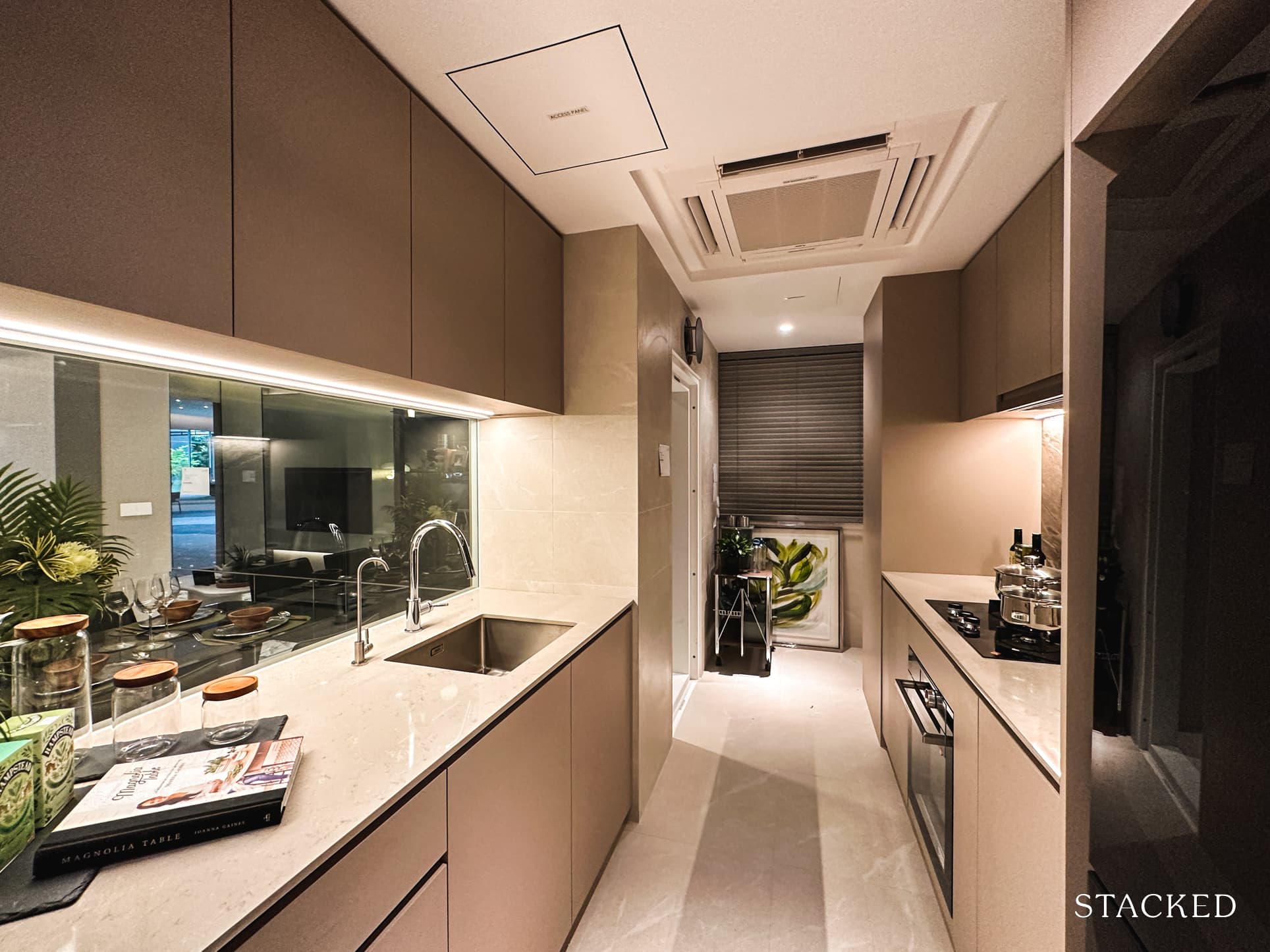 The kitchen has countertops on both sides, providing you with more areas for food preparation. There's a glass panel for the side facing the dining area so it's good for letting some light in as well as allowing you to keep watch over your kids if they are outside. The Franke sink and mixer and water filter are here as well.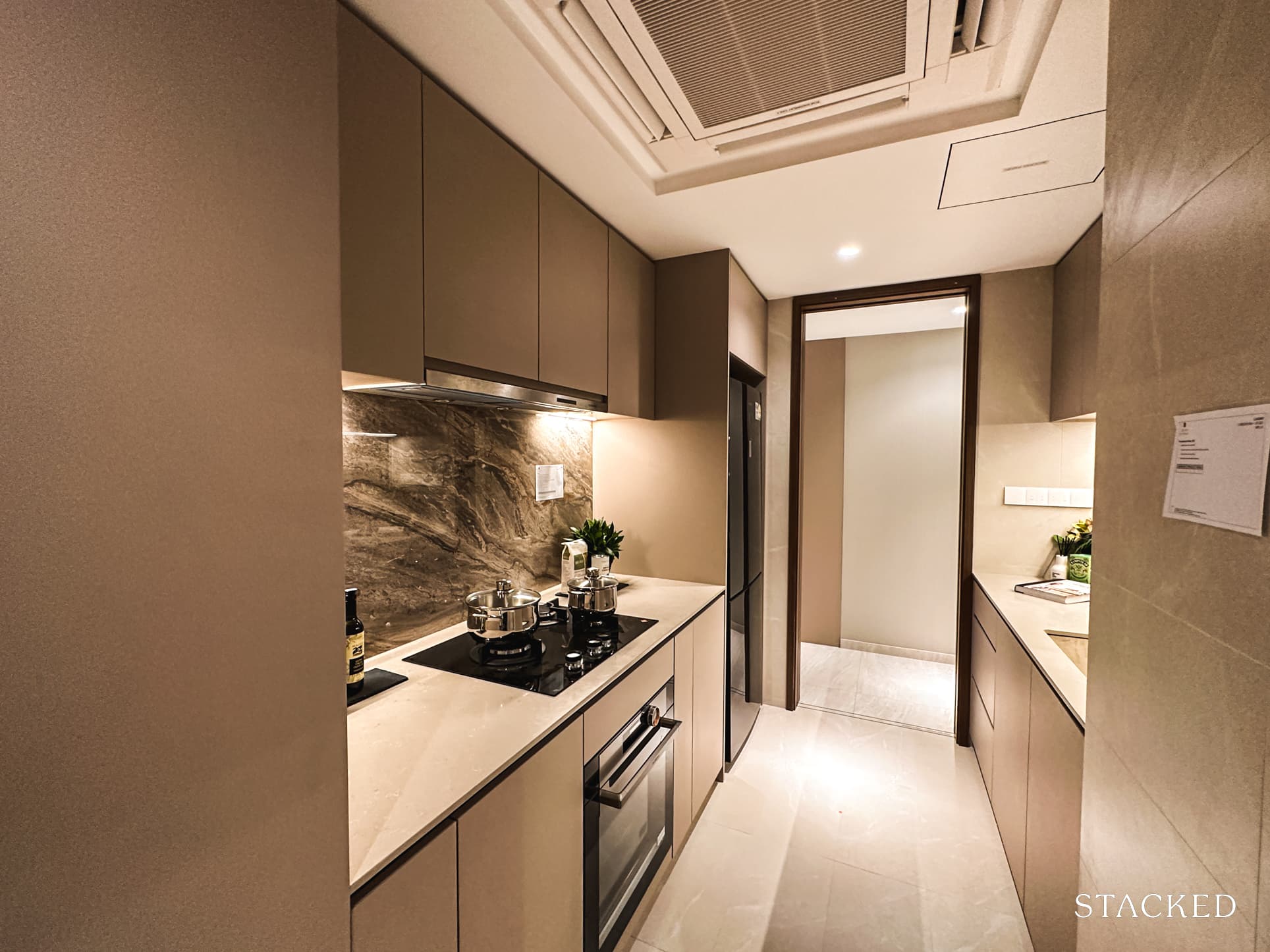 On the other side is where you will find the premium (both in terms of prestige and pricing) De Dietrich oven, hood, and 3-burner hob as well as a more luxurious marble-like quartz backsplash. Open flame stoves are appreciated by many Asian households so I'm sure its inclusion will be well received.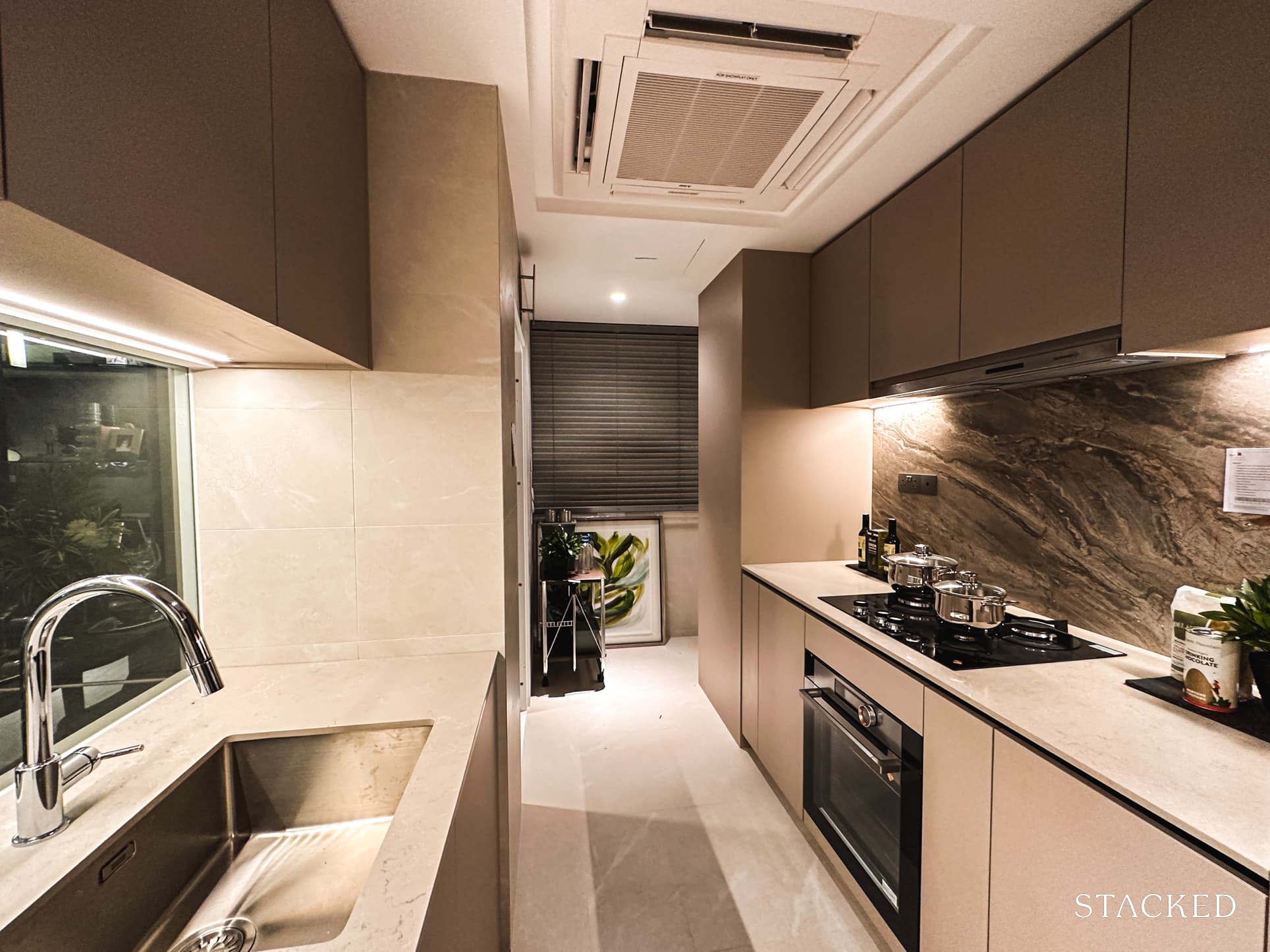 Top and bottom built-in cabinets come as standard, with a spice rack included as well. And as usual, the fridge will be by the door, and a separate washer and dryer just beside the w/c at the end of the kitchen. Just like the 2 Bedroom unit, the move to use Samsung appliances (fridge, washer, dryer), was done due to requirements for Green Mark Platinum. Remember, saving the environment starts with us!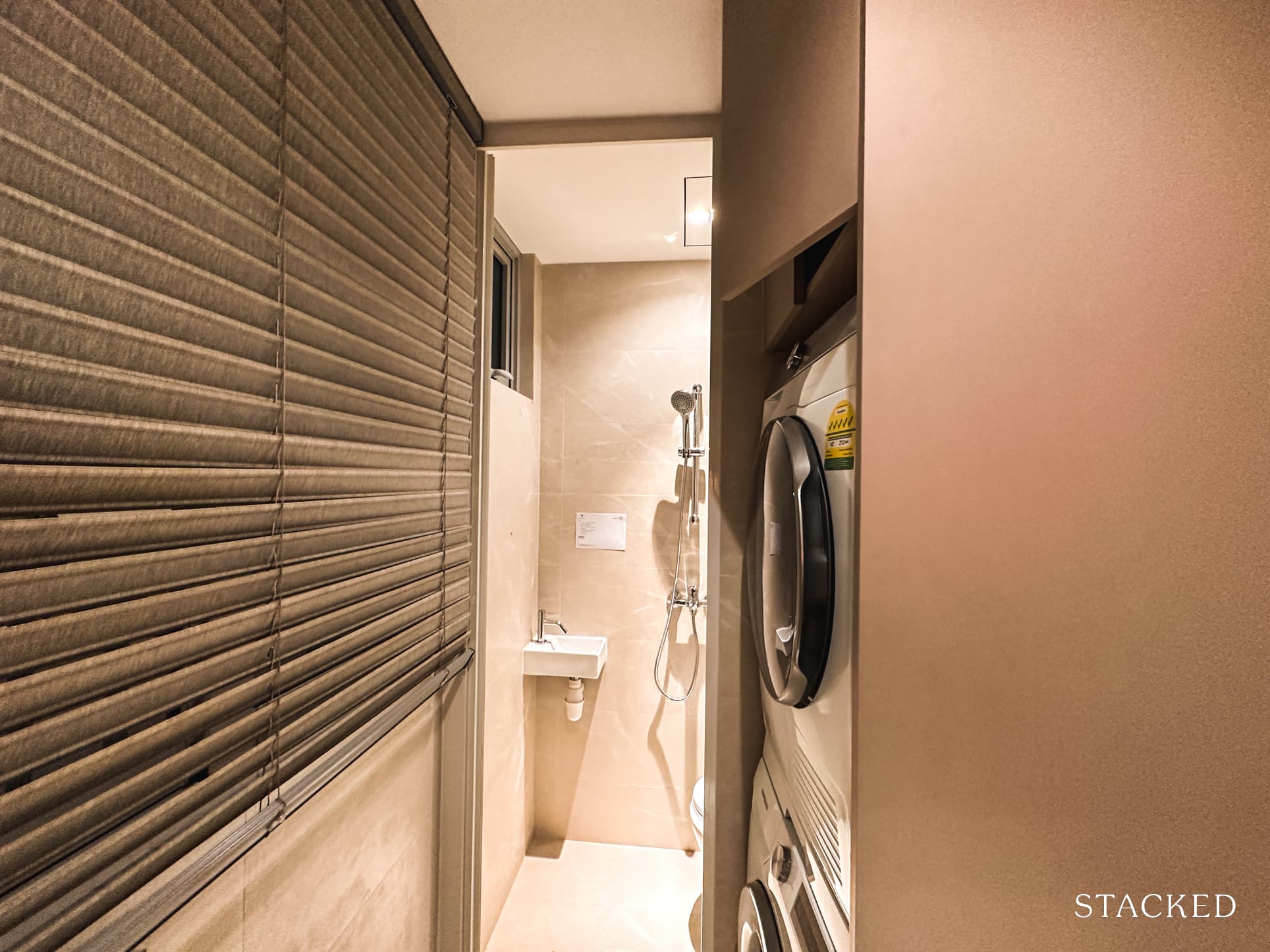 Further into the kitchen is where you have the household shelter (4 sqm), yard, and additional w/c. You definitely don't have that much space here to move around, so installing something like a laundry system would come in handy here.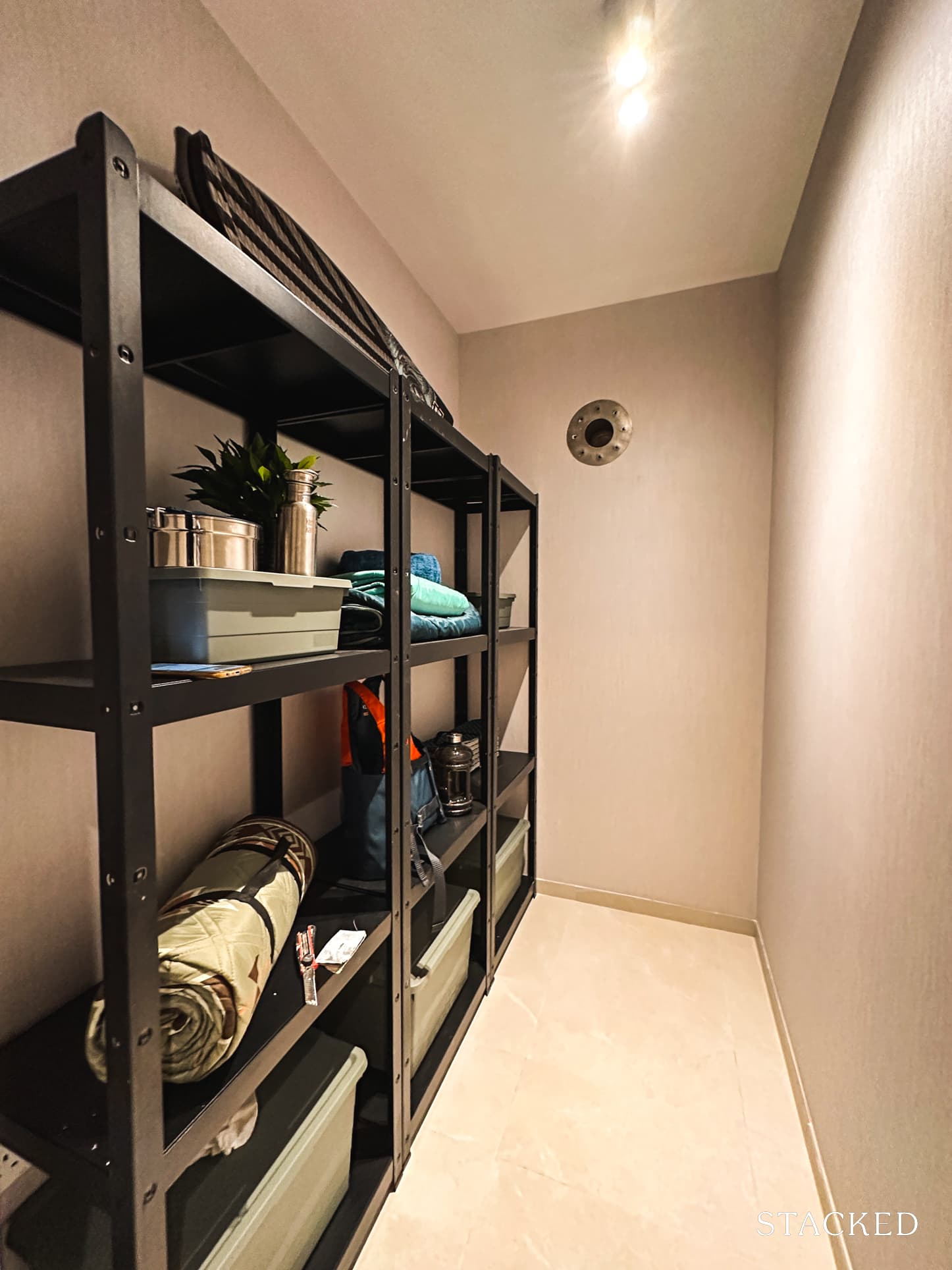 The household shelter comes in handy as a storeroom or a helper's room while the windows in the yard allow for your clothes to dry naturally if you decide against using the washer that day.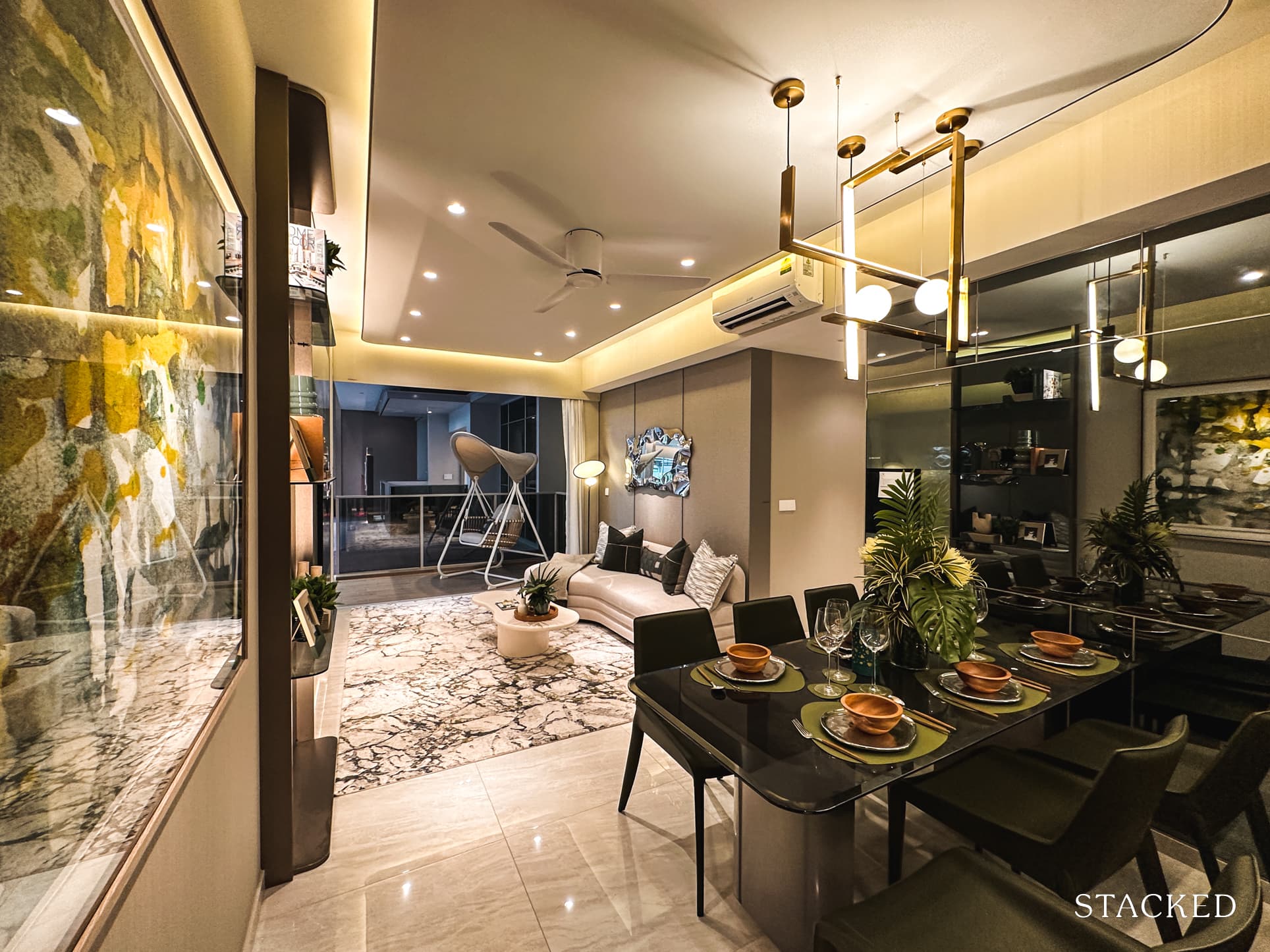 Back to the dining area and the maximum capacity is for a 6-seater as the developers have done here. It's definitely a larger space than the one found in the 2 Bedroom show flat but it is still a rather compact space.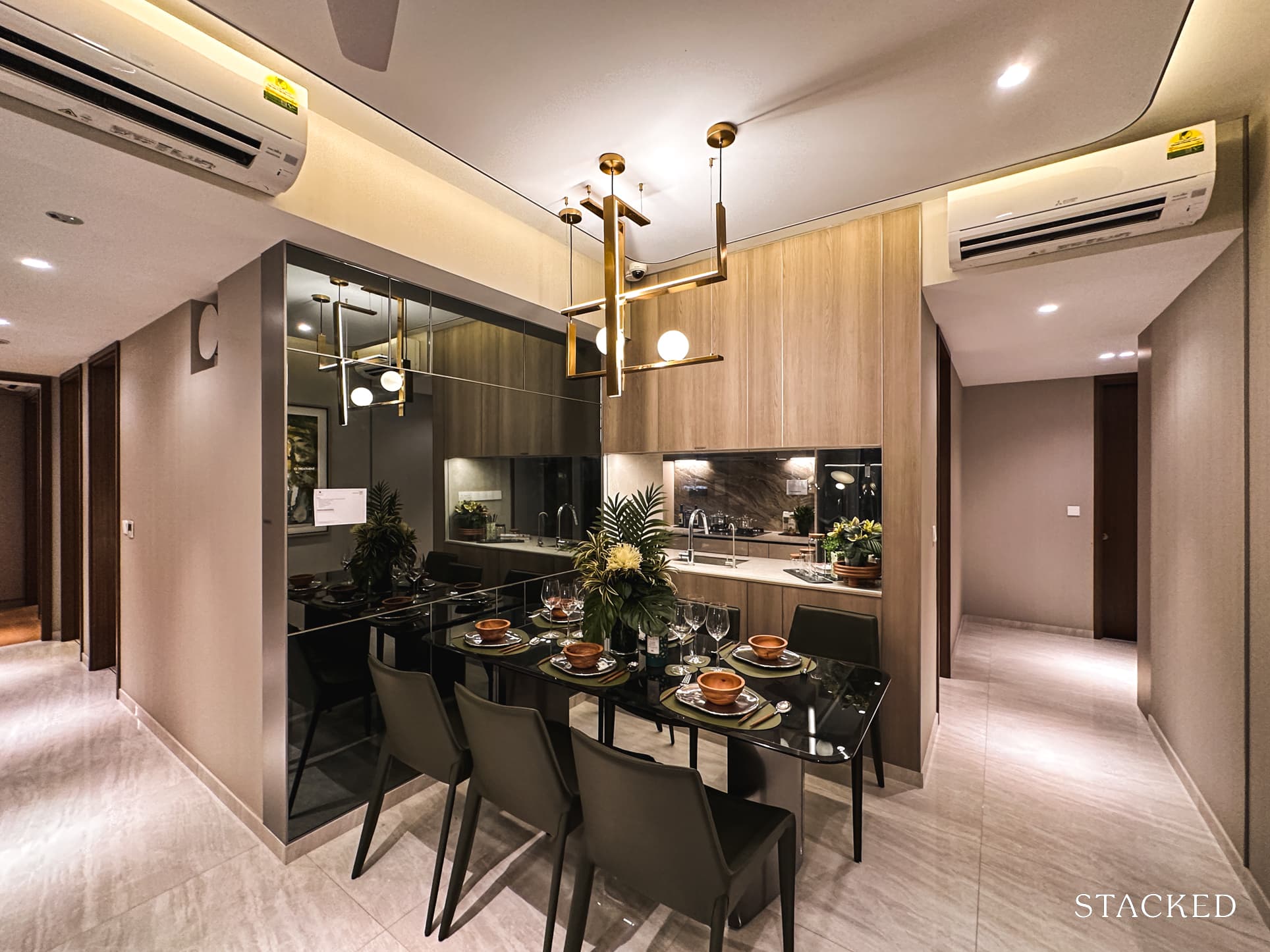 When pushed out, the chairs on one side will certainly infringe on the corridor to the bedrooms. While aesthetically it may not be that ideal, this is a reason why many have opted for bench seating on one side for such a layout.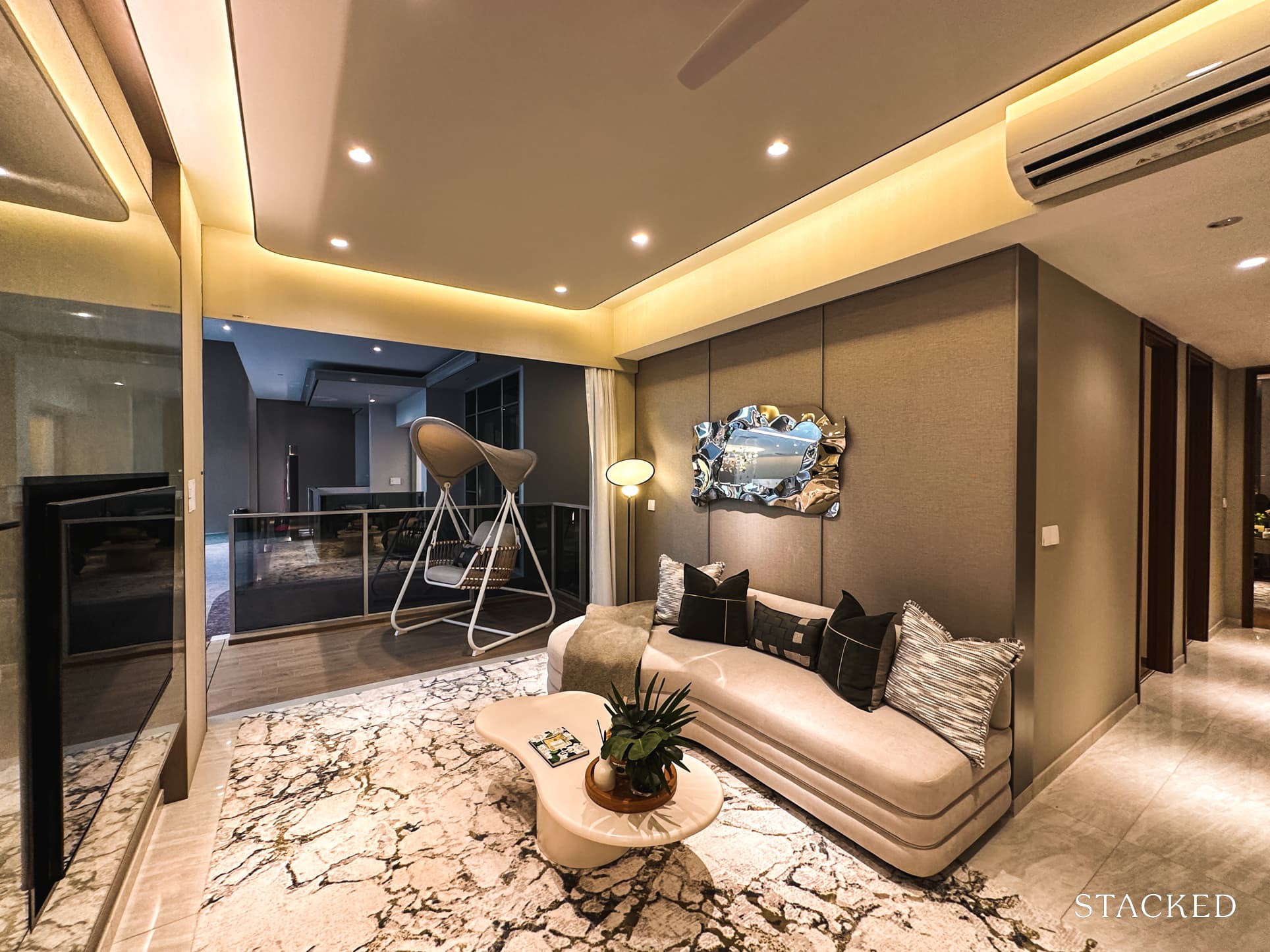 Turning our attention to the living area, it is decently sized and it does feel quite a bit more generous when you consider the length of the sofa placed. It's probably a 4-5 seater couch size and a good length for a 3 Bedroom unit.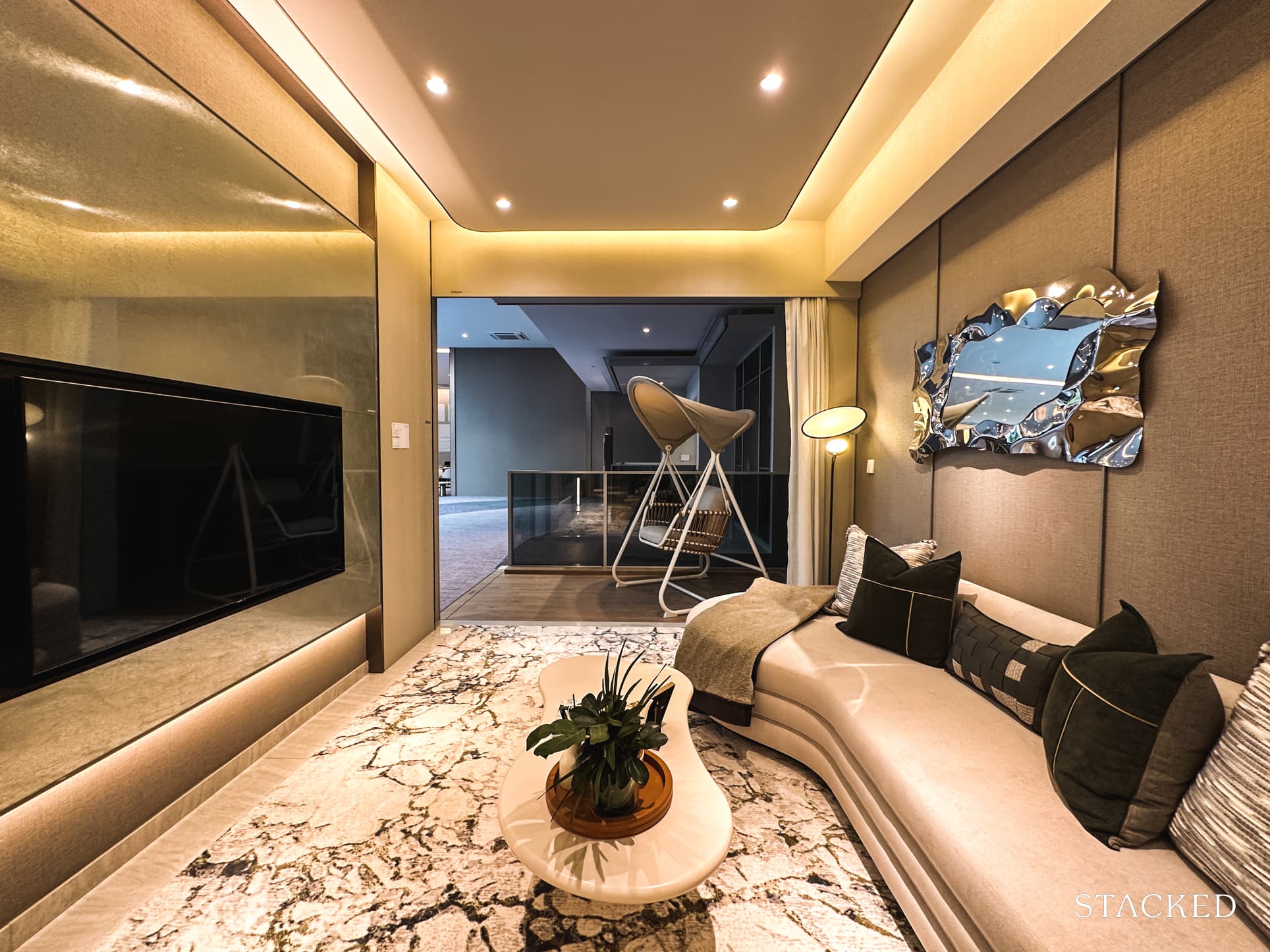 Width wise it is a bit more standard, especially when you consider that there hasn't been a proper TV console placed here, which is the visual trick that most show flats do anyway.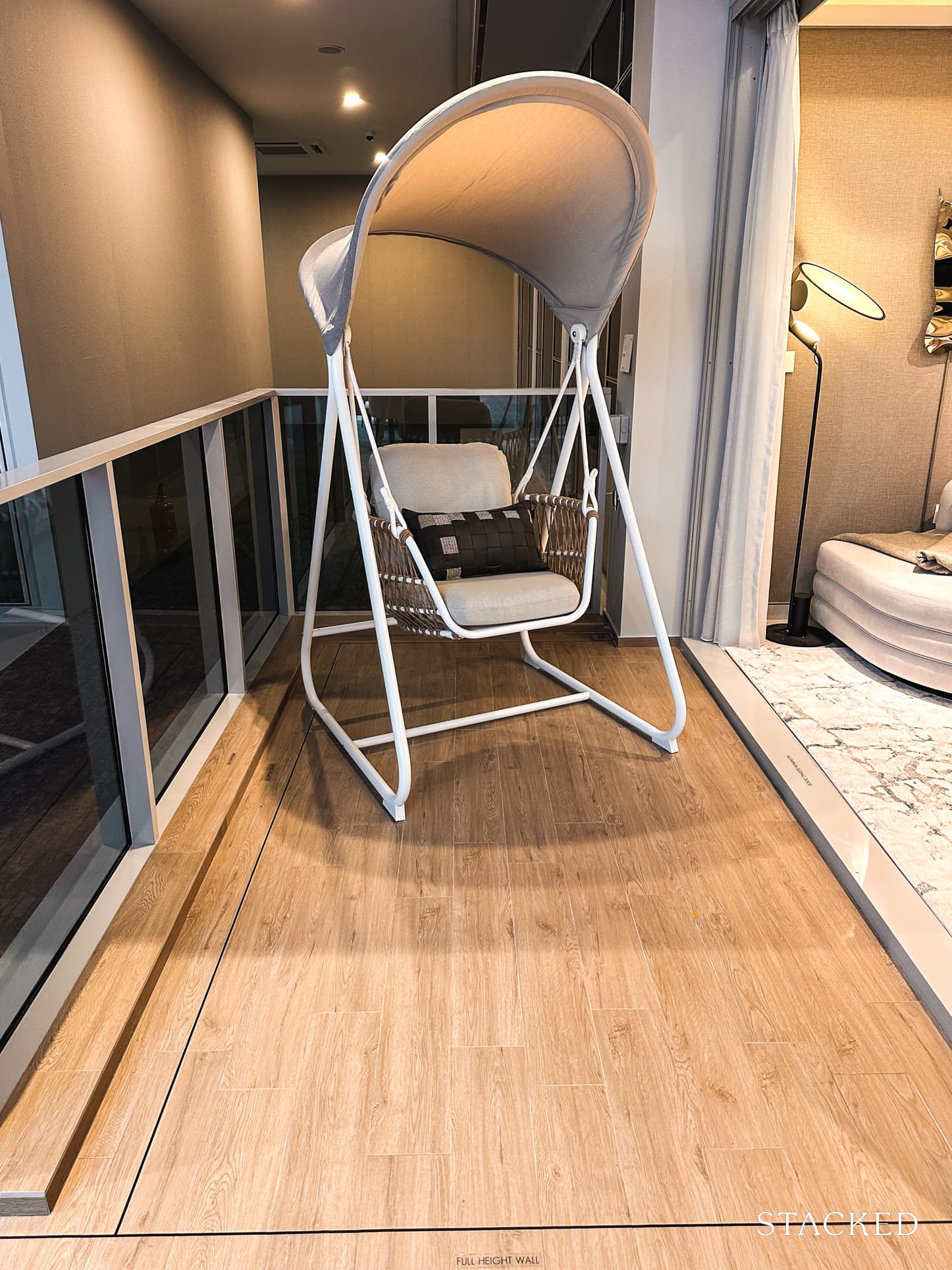 The adjacent balcony is 6 sqm, which is the same size as the one in the 2 Bedroom show flat despite this unit being almost 50% bigger. I think that's a good thing since it means that internal space is maximised as I feel that this size is more than sufficient for an ordinary family anyway. The space has been kept sparse but you can see that even an outdoor swing can be placed here with excess space around it, which you could perhaps use as a mini herb garden or coffee area if you wish.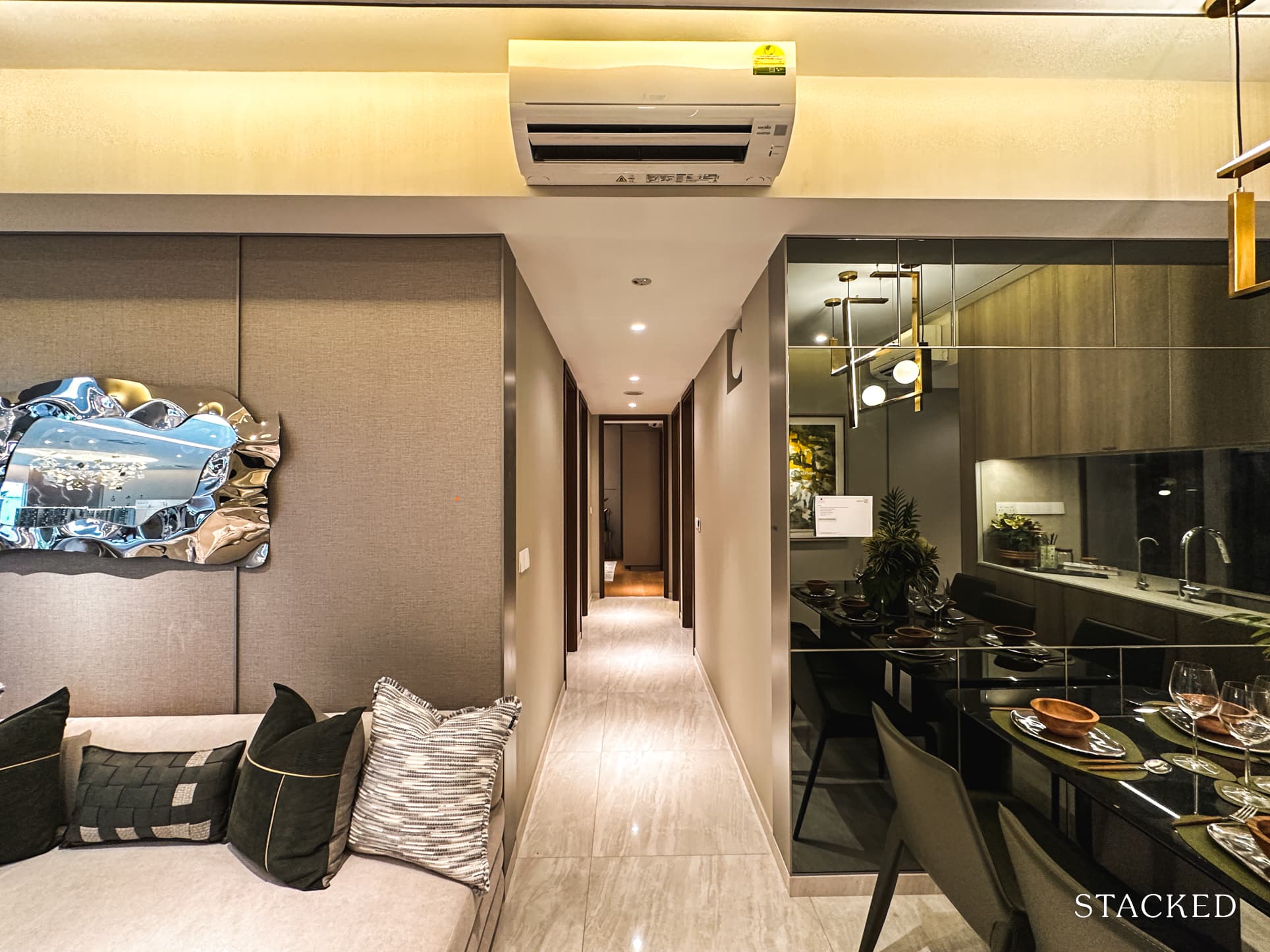 Now, let's check out the rest of the bedrooms in this 3 Bedroom unit.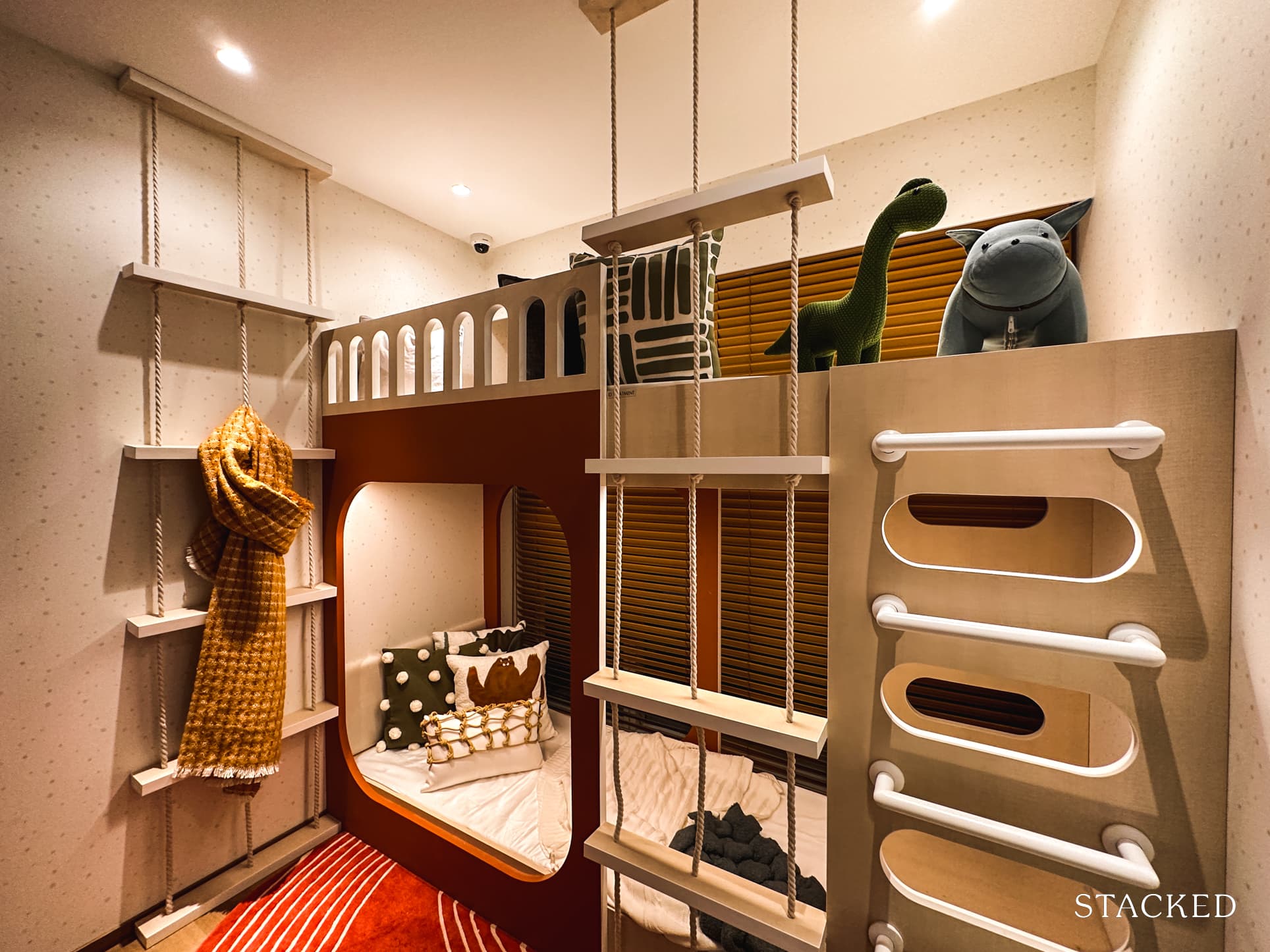 Bedroom 3 is 9 sqm in size and has been done up as a double-decker kid's room. It's always fun to see what the show flat interior designers can come up with because it always seems to be something different for the kid's room!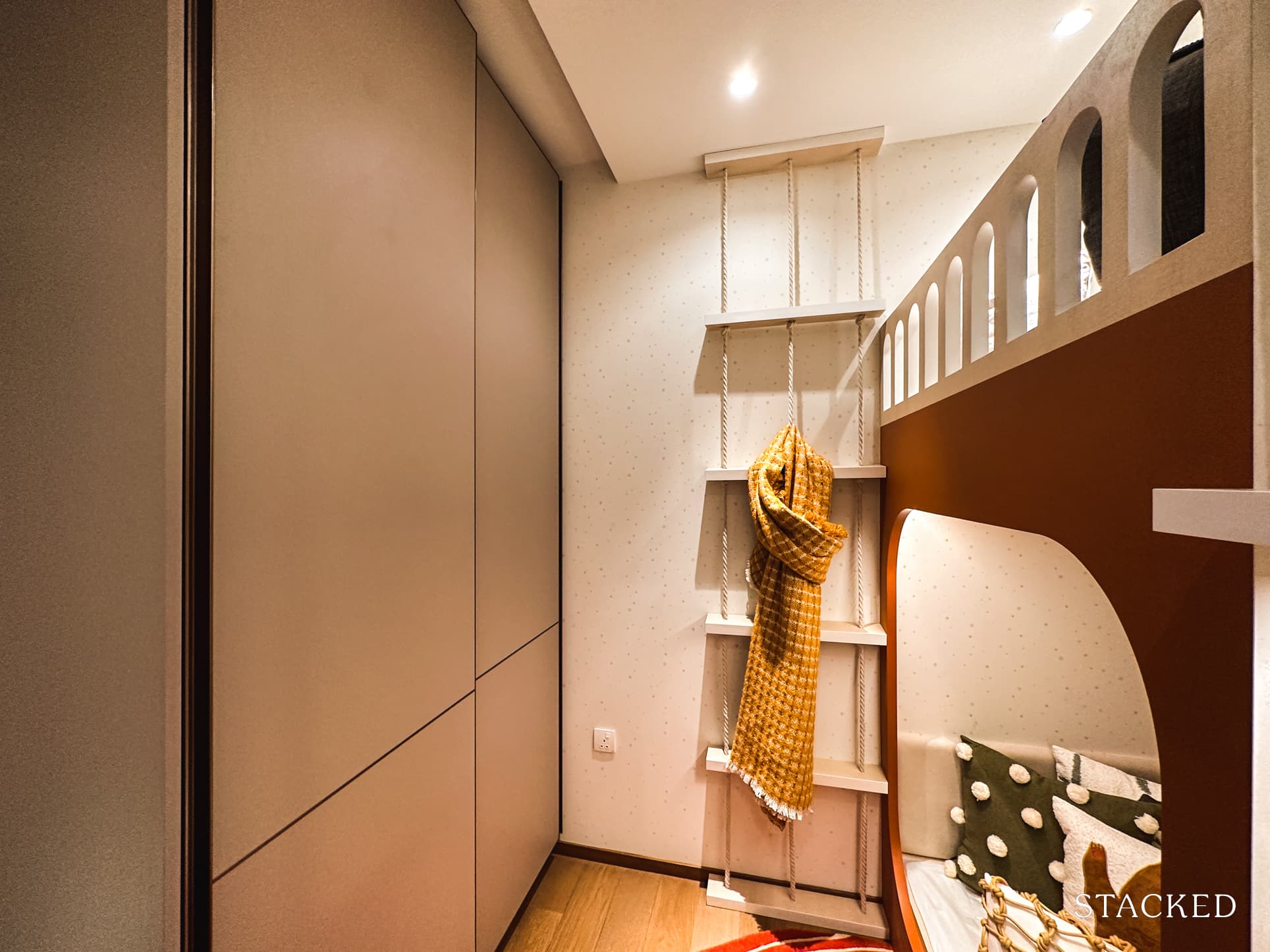 Despite a 2.8m ceiling, which is not high for condos, they have done it up to be quite an attractive room for kids.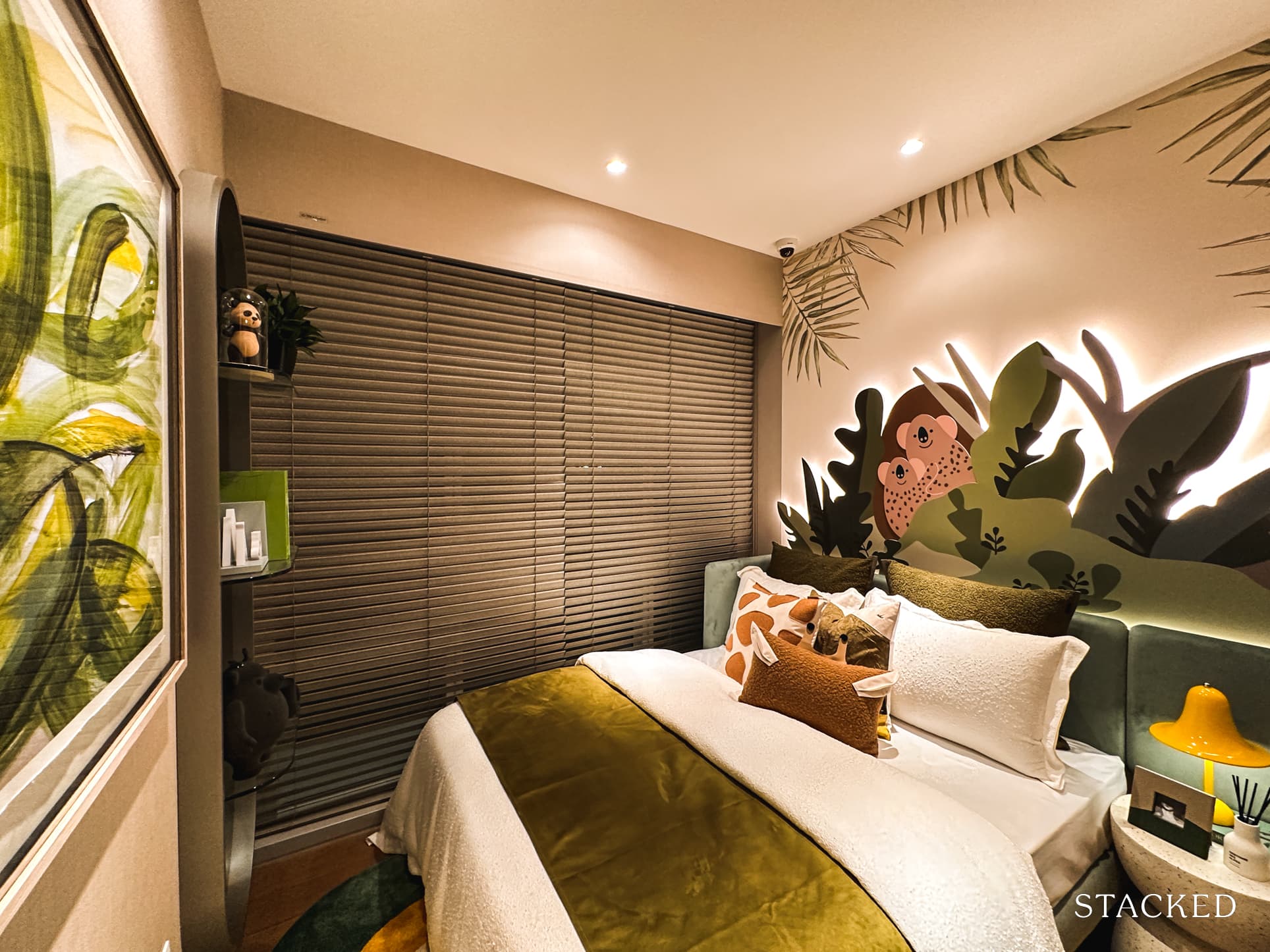 Bedroom 2 has the same size of 9 sqm and while this room also looks to be another kid's room, a Queen sized bed is placed here instead. It's typical to showcase a room with a Single bed and the other with a Queen bed to show the variations in the layout you can opt for.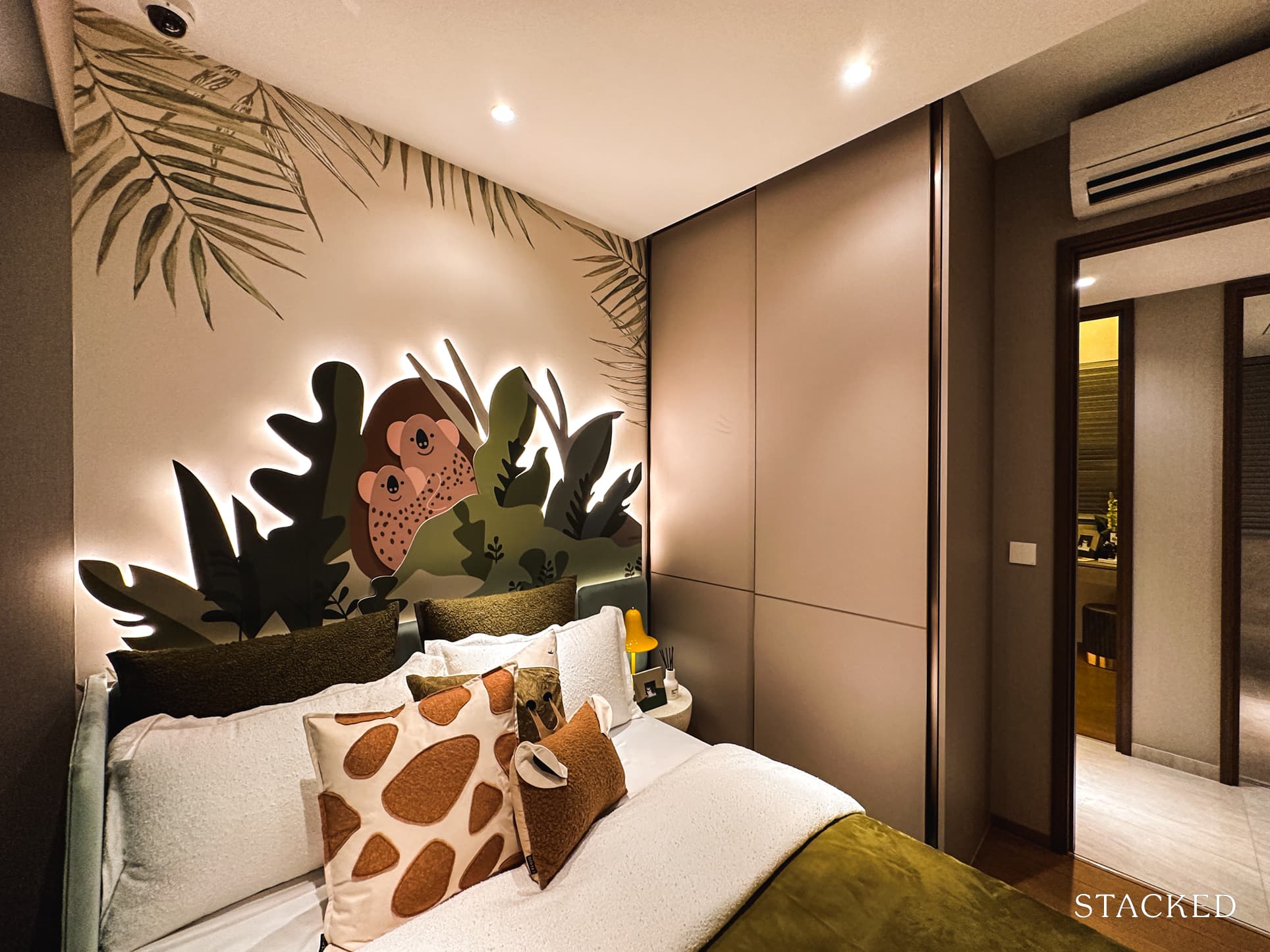 With a Queen bed, the space does feel more limited, as you will only be able to afford a side table without room for much else. As standard, there will also be the usual 2-panel built-in wardrobe for the bedrooms.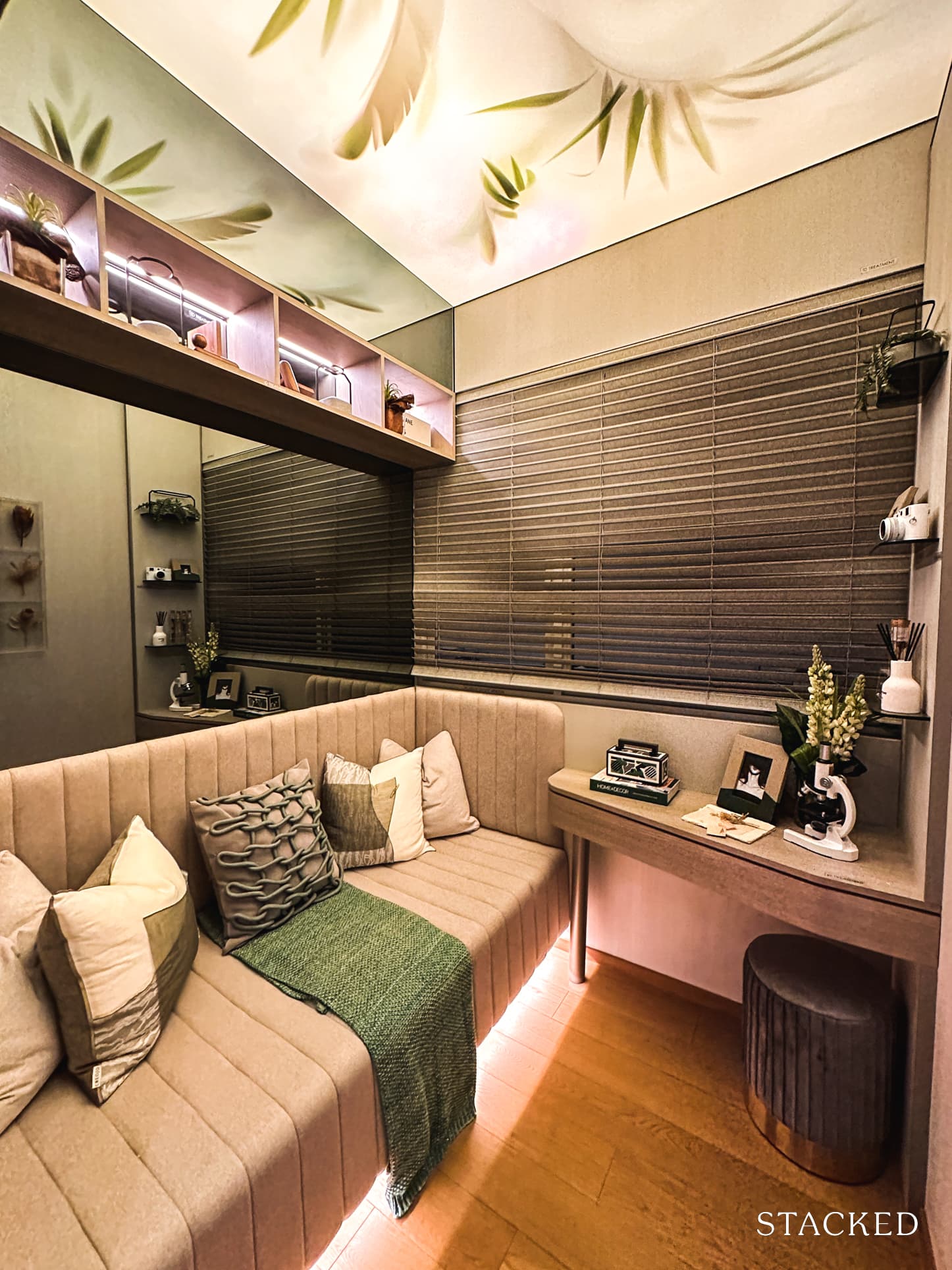 As this is the largest 3 Bedroom layout, it also includes a 4 sqm Study that comes with an aircon unit and windows of its own. It's a very helpful space to have as you have multiple options to utilise this room. You can have it as a traditional study or even as a toddler's room, helper's room, or simply an additional store (though I feel that the latter will be a bit of a waste since you already have a household shelter).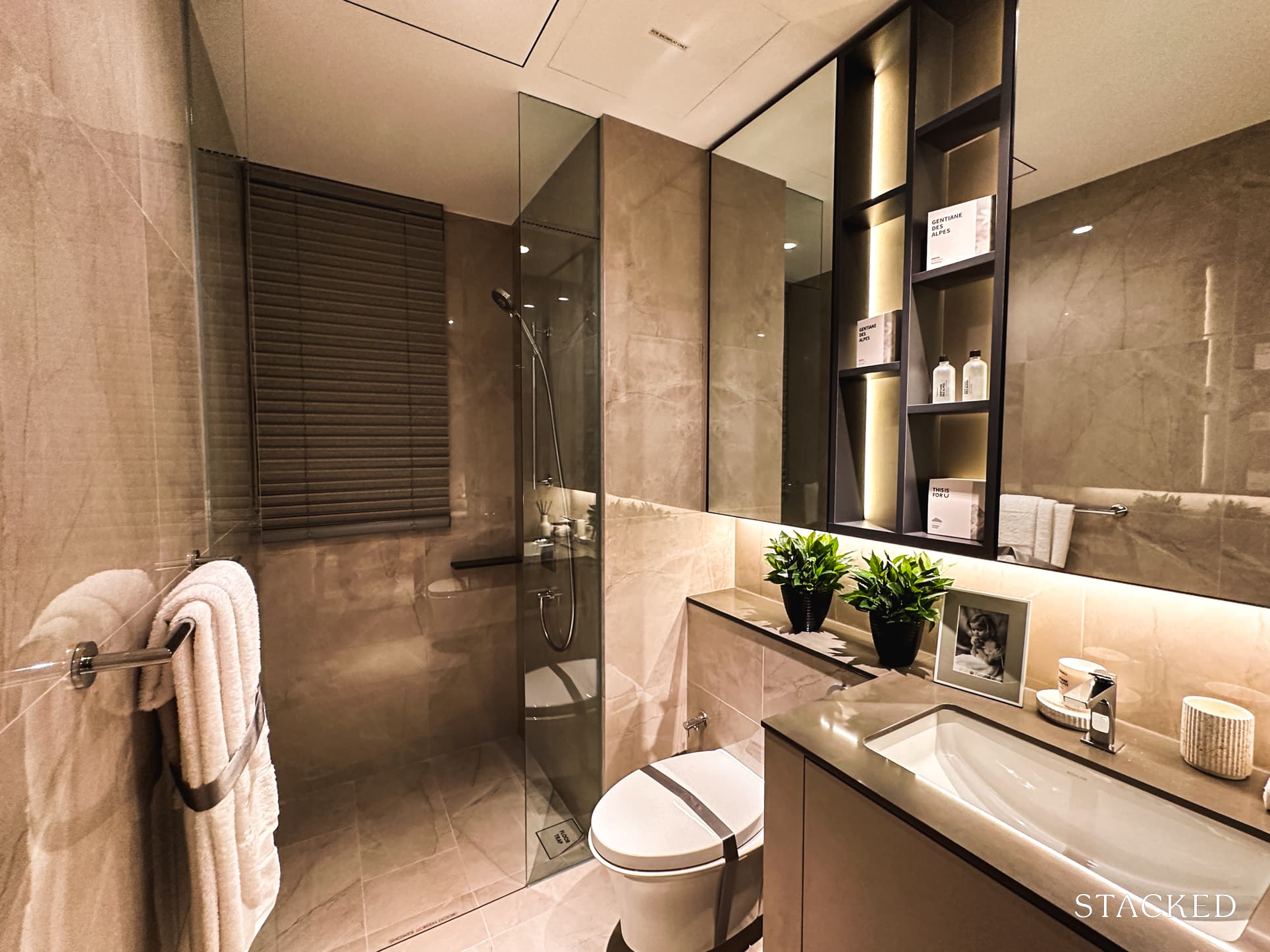 All the common bedrooms will share Bath 2, which is 4 sqm in size. As this layout counts as a "corner stack", there will be a window for the common bath! It's always a huge plus to have natural ventilation, so it's great to see that here. Standard fittings here will include the Kohler sink, wall hung w/c, and Gessi tap and shower mixer. As per what you'd see for the units at Grand Dunman, the rain showers will only be reserved for the Master Bath.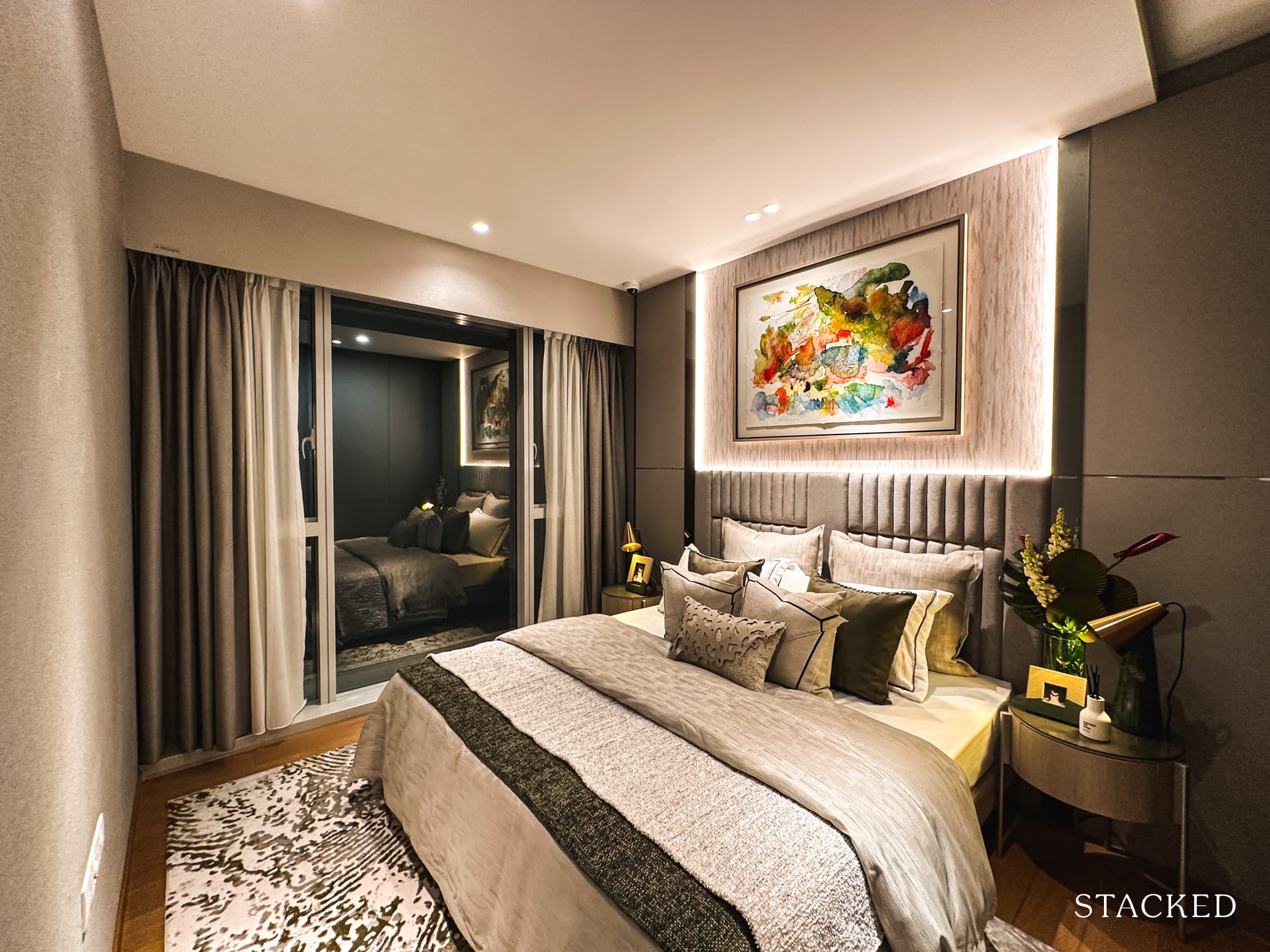 As for the Master Bedroom, it's a good and very comfortable size at 14 sqm. As a result, you are 'rewarded' with the opportunity to place a King sized bed with plenty of leftover room. The large panel windows also definitely play a part in making the room feel more spacious.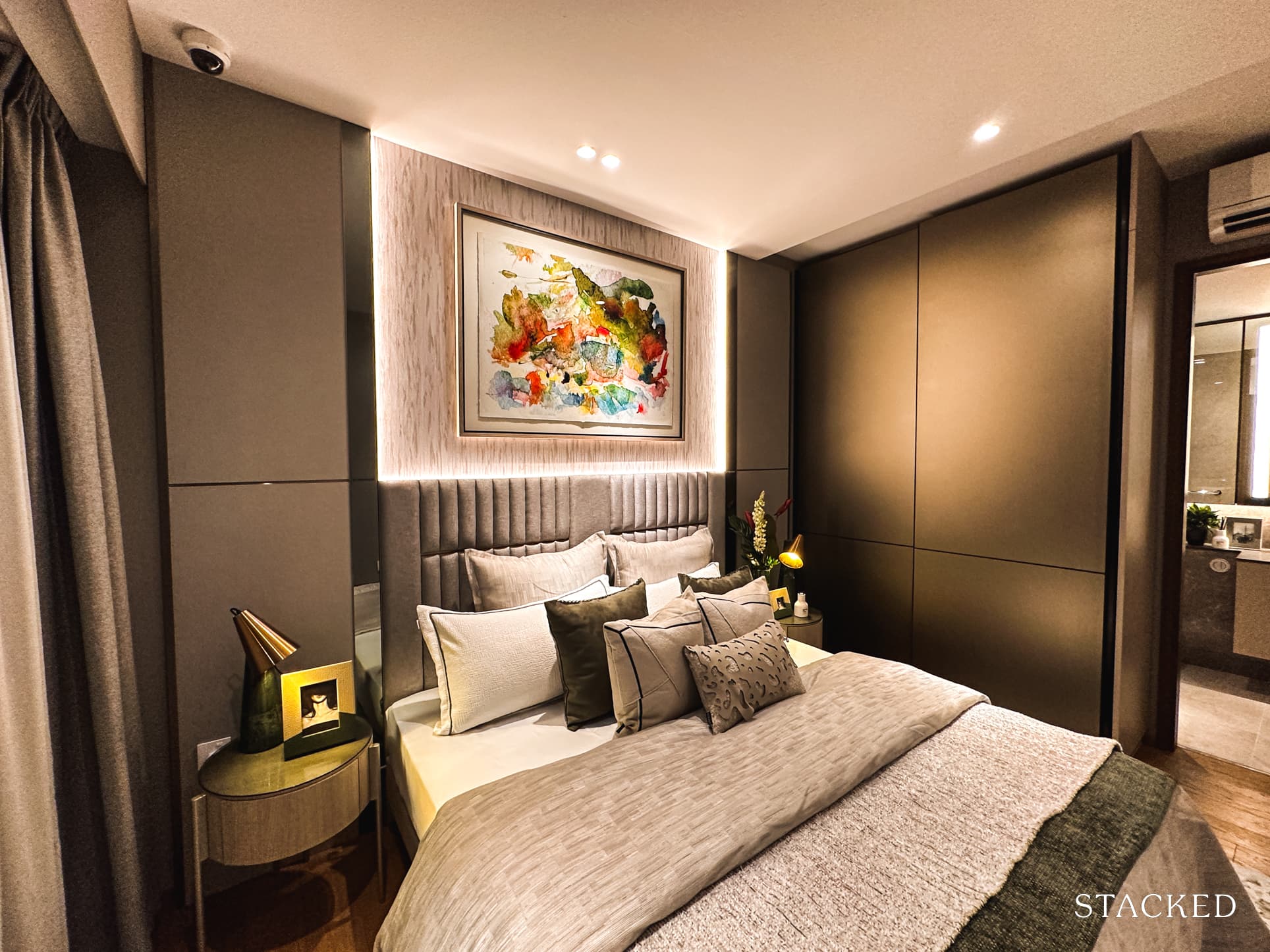 As always, you do have some special treatment here in terms of the satin wardrobe finish, as well as the built-in mirror and accessories storage panel by the side.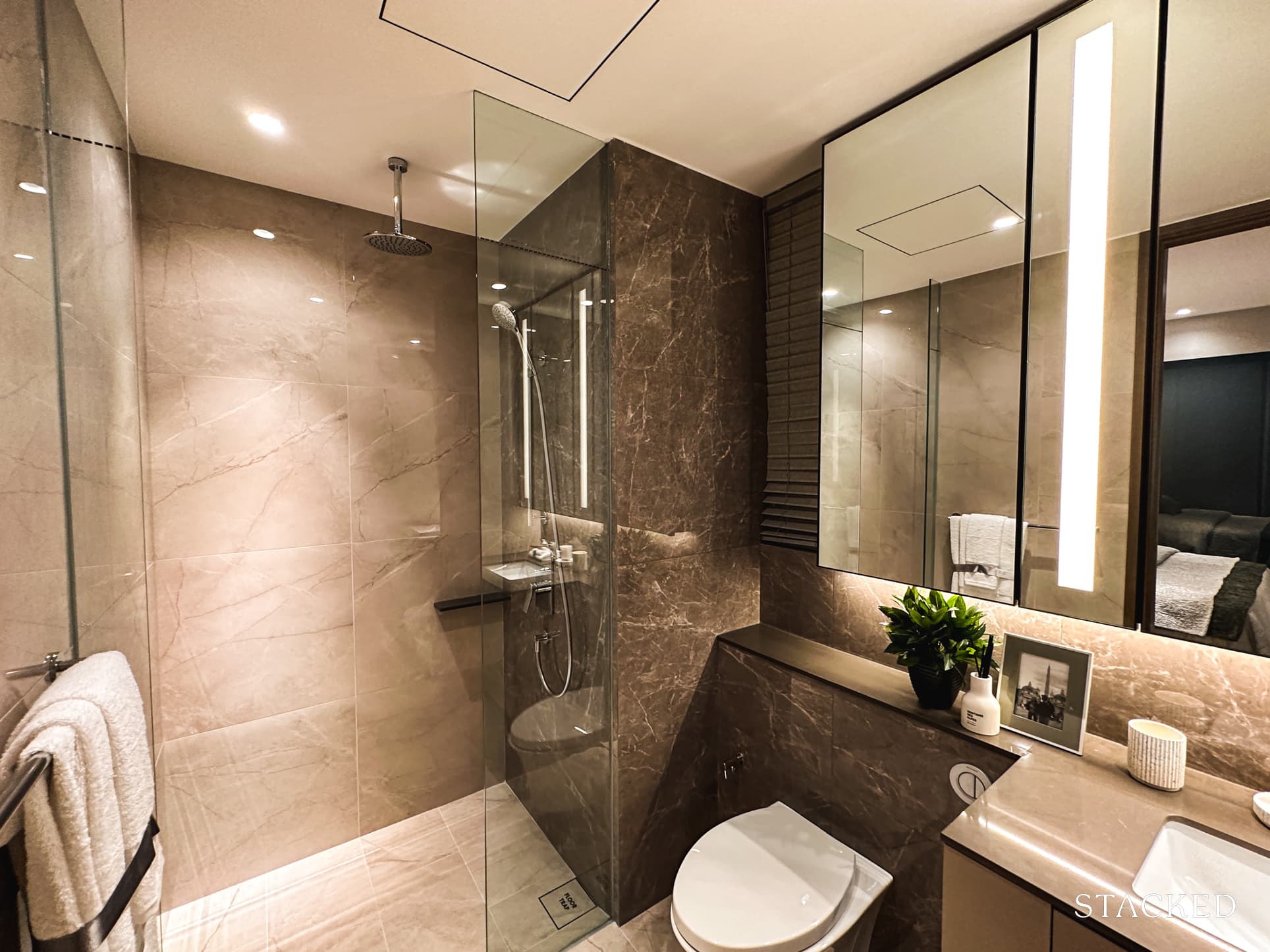 Finally, the Master Bath, which is just slightly larger than Bath 2 at 5 sqm. While it also comes with a window, it's surprisingly a smaller one compared to the other bathroom. The main difference for this bathroom is the Gessi rain shower that you get here in addition to the Gessi mixer and tap as well as the sink and wall-hung w/c from Kohler.
Grand Dunman – 4 Bedroom Type 4BR L (133 sqm/1,432 sq ft) Review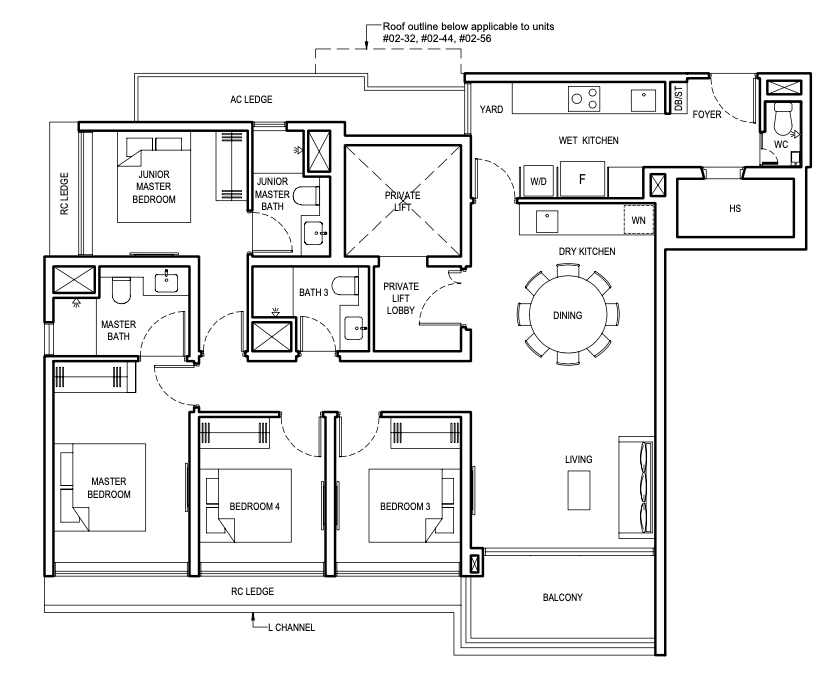 This is the largest 4 Bedroom type within the Luxury Collection at Grand Dunman with the others ranging from 1,292 sq ft to 1,421 sq ft. The smallest layout does not have a private lift while the others do, which is great considering the mega nature of this development. On the other hand, the 4 Bedroom units within the premium Grand Collection range between 1,787 sq ft to 2,314 sq ft.
As standard, all Luxury Collection units have porcelain tiles for the common areas and engineered timber for the bedrooms. Also, the ceiling height is in line with the market at 2.8m. All units will have a ceiling fan provided for in the living/dining area as the developers look to push for the Green Mark Platinum rating.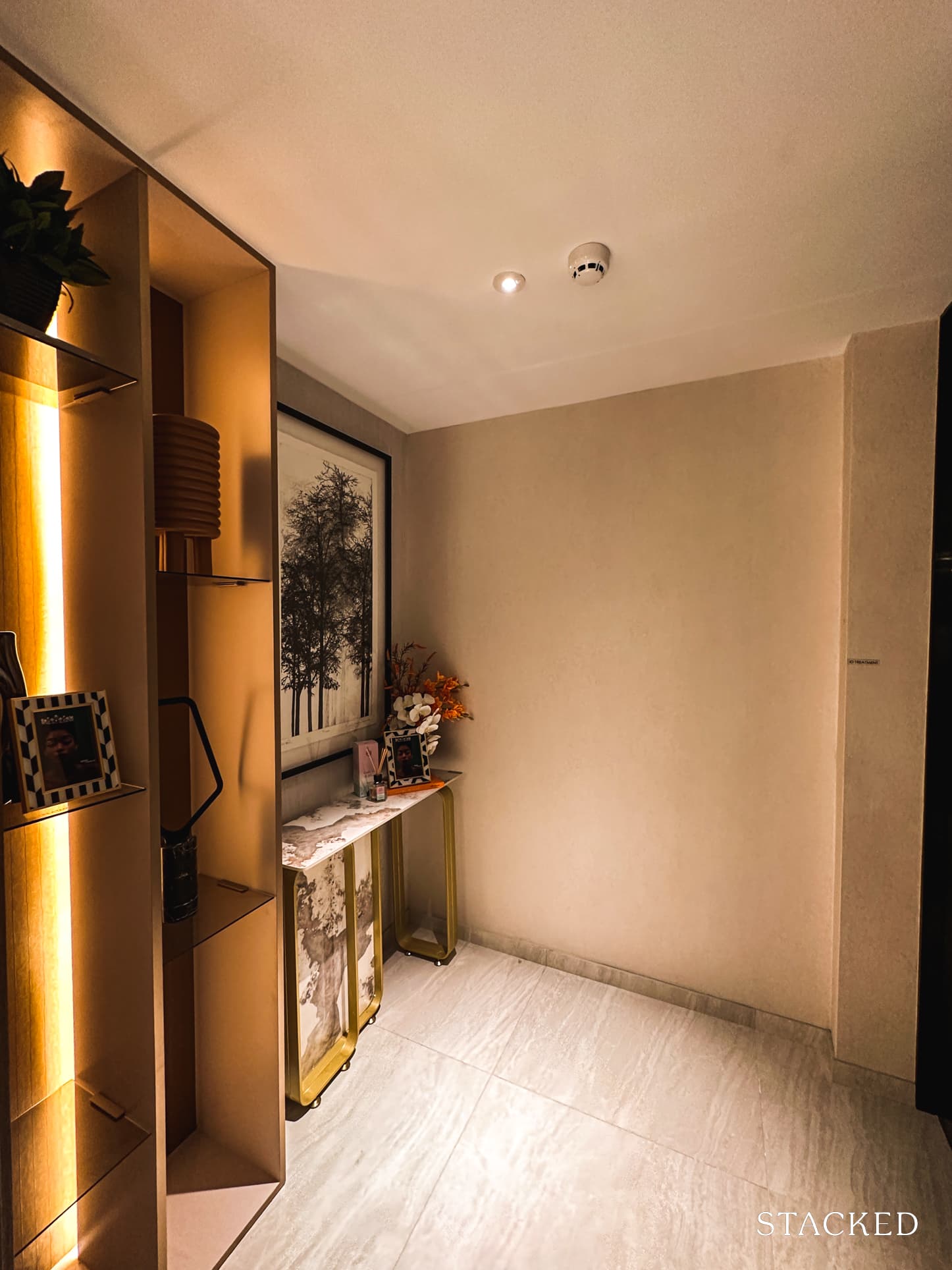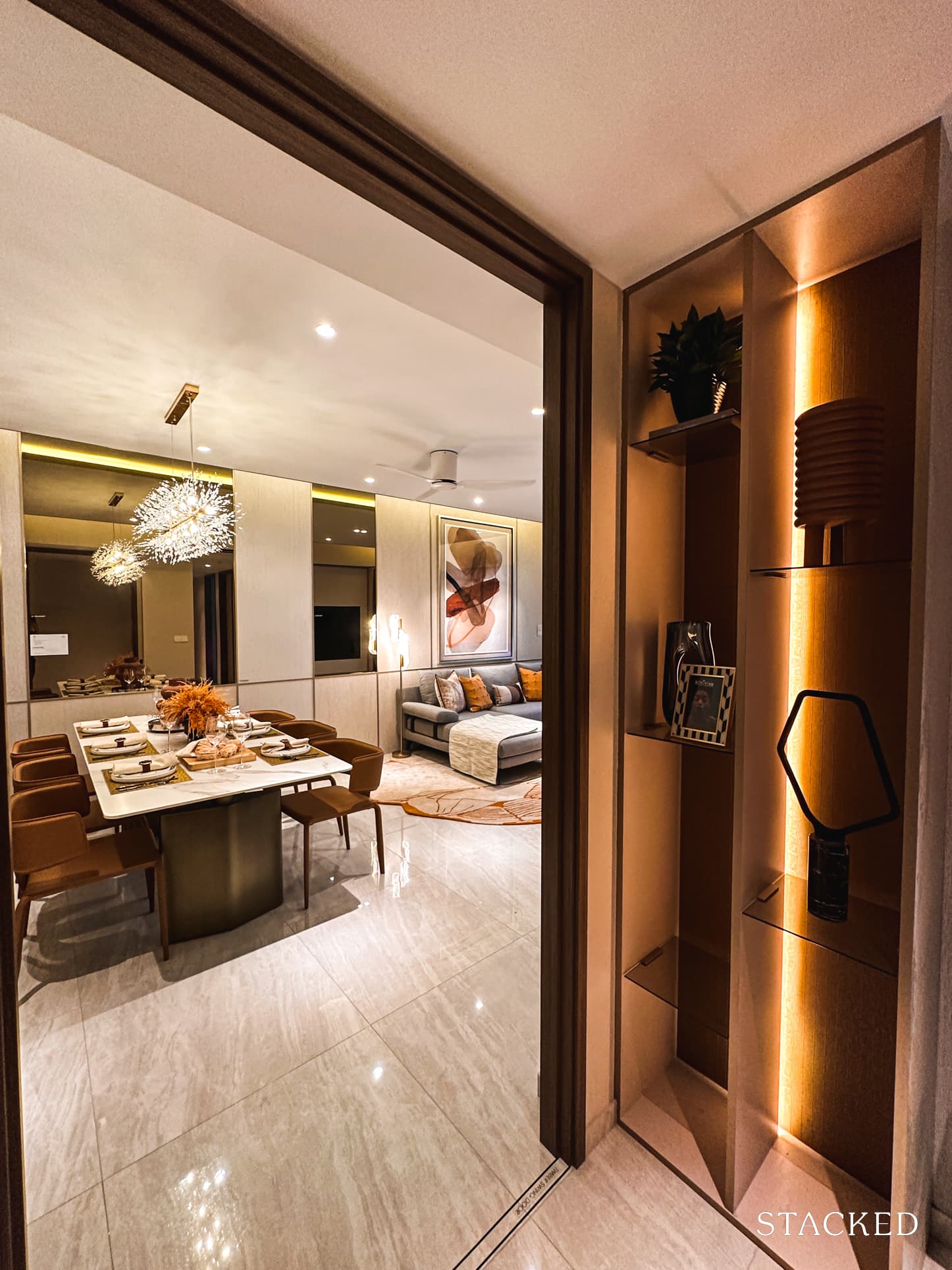 Stepping out of your private lift, you are welcomed by the 4 sqm private lift lobby. I've always liked this concept as it serves as a holding area and gives you more privacy when there are other residents in the same lift. There aren't any built-in shoe cabinets provided here so you have the option of either building one or simply buying it off the rack.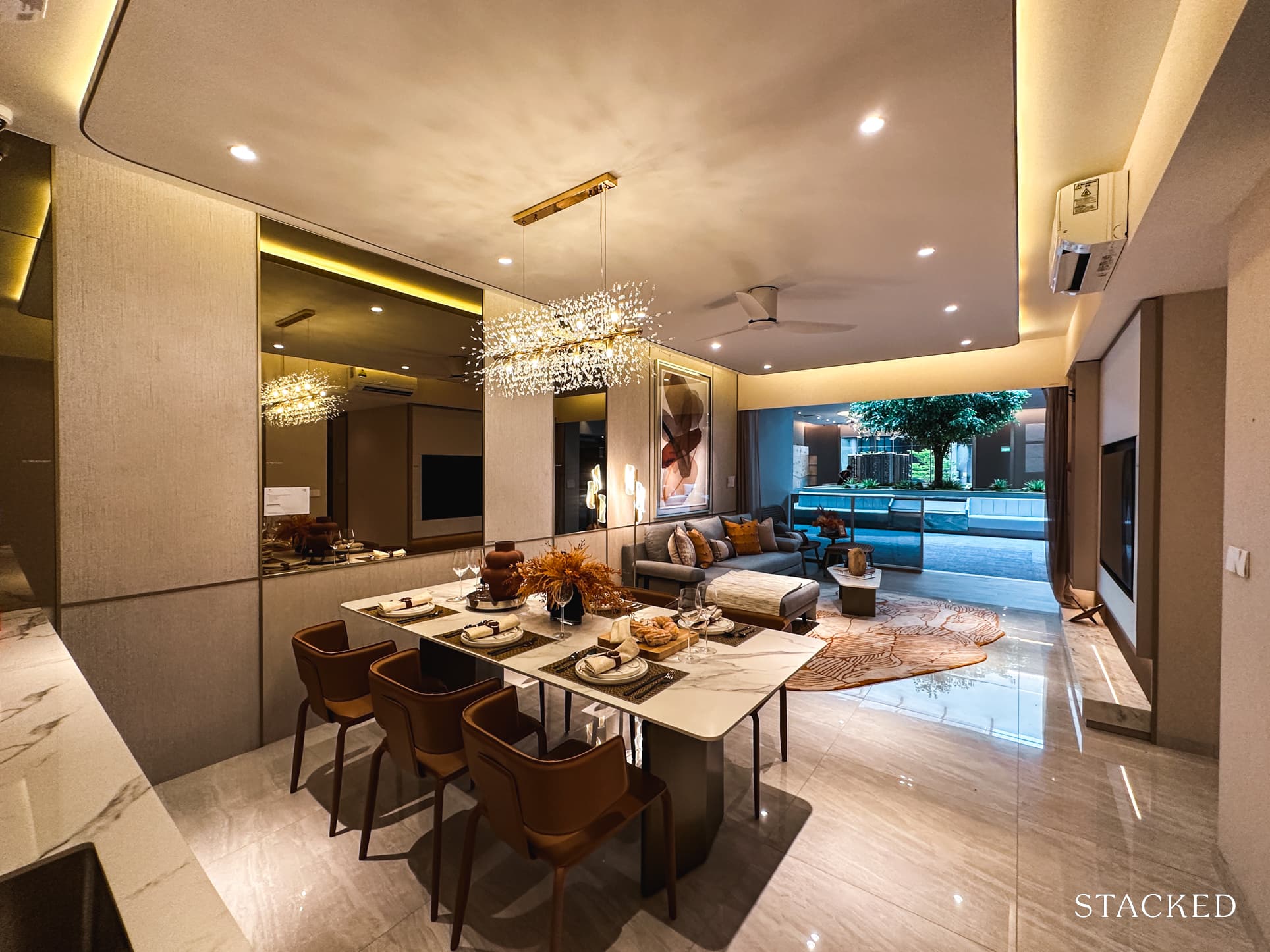 The first thing that greets you as you enter the unit is the 6-seater dining table. I've had some reservations about the compact dining areas in the 2 and 3 Bedroom show flats but you are definitely in a more spacious spot here. With a rectangular table, the length seems to be capped at 6 but at least you have plenty of room for those seated to move about. You would be able to do 8 too, but perhaps that would be better in a round table format instead.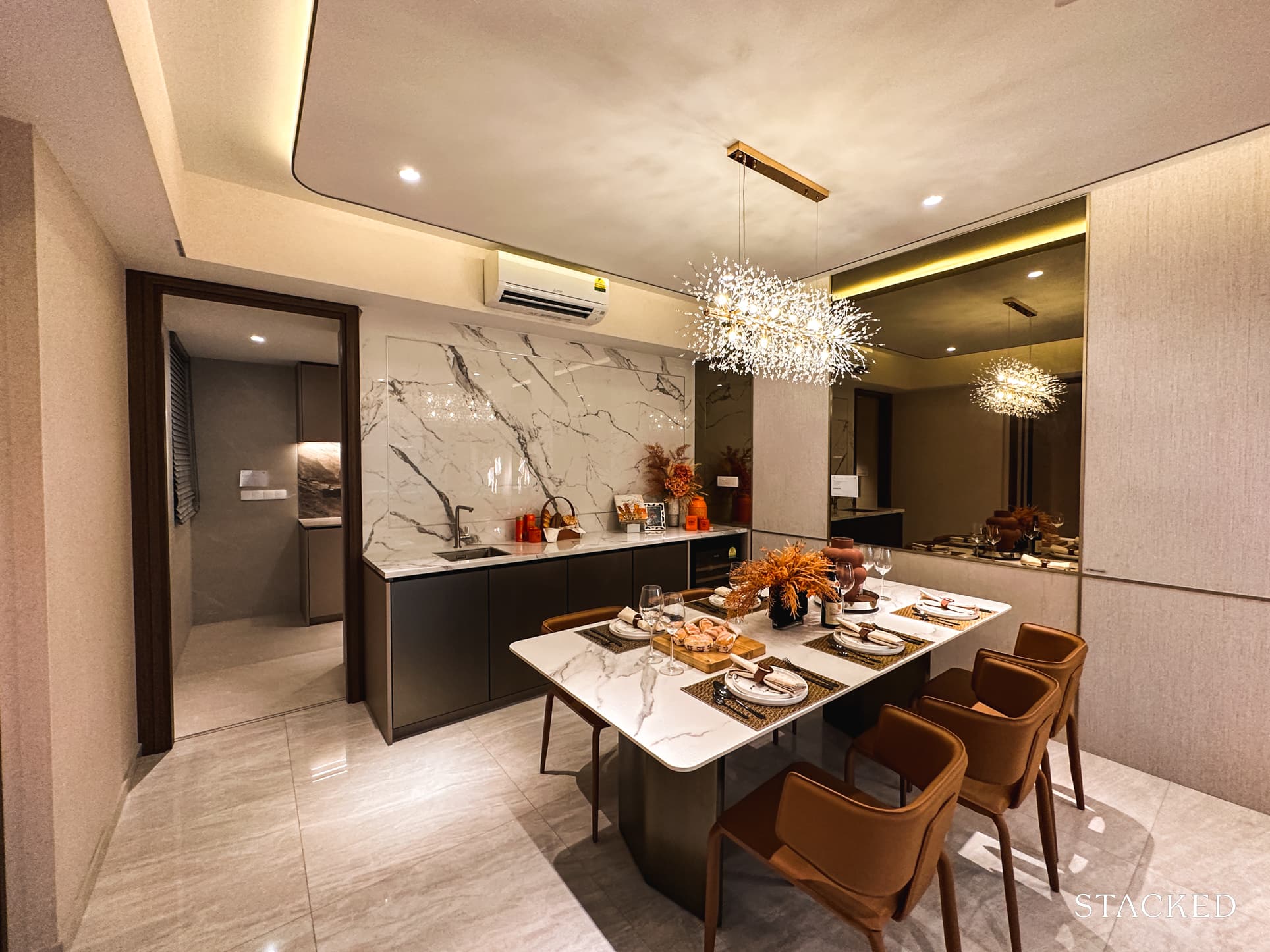 What I enjoy about larger units is that they tend to include a dry kitchen, or an additional countertop at the very least. It's more of the latter here, with a Franke sink and mixer, a Vintec wine chiller, and some bottom cabinets. They are helpful especially for buffet-style meals you may have when large groups of friends come by.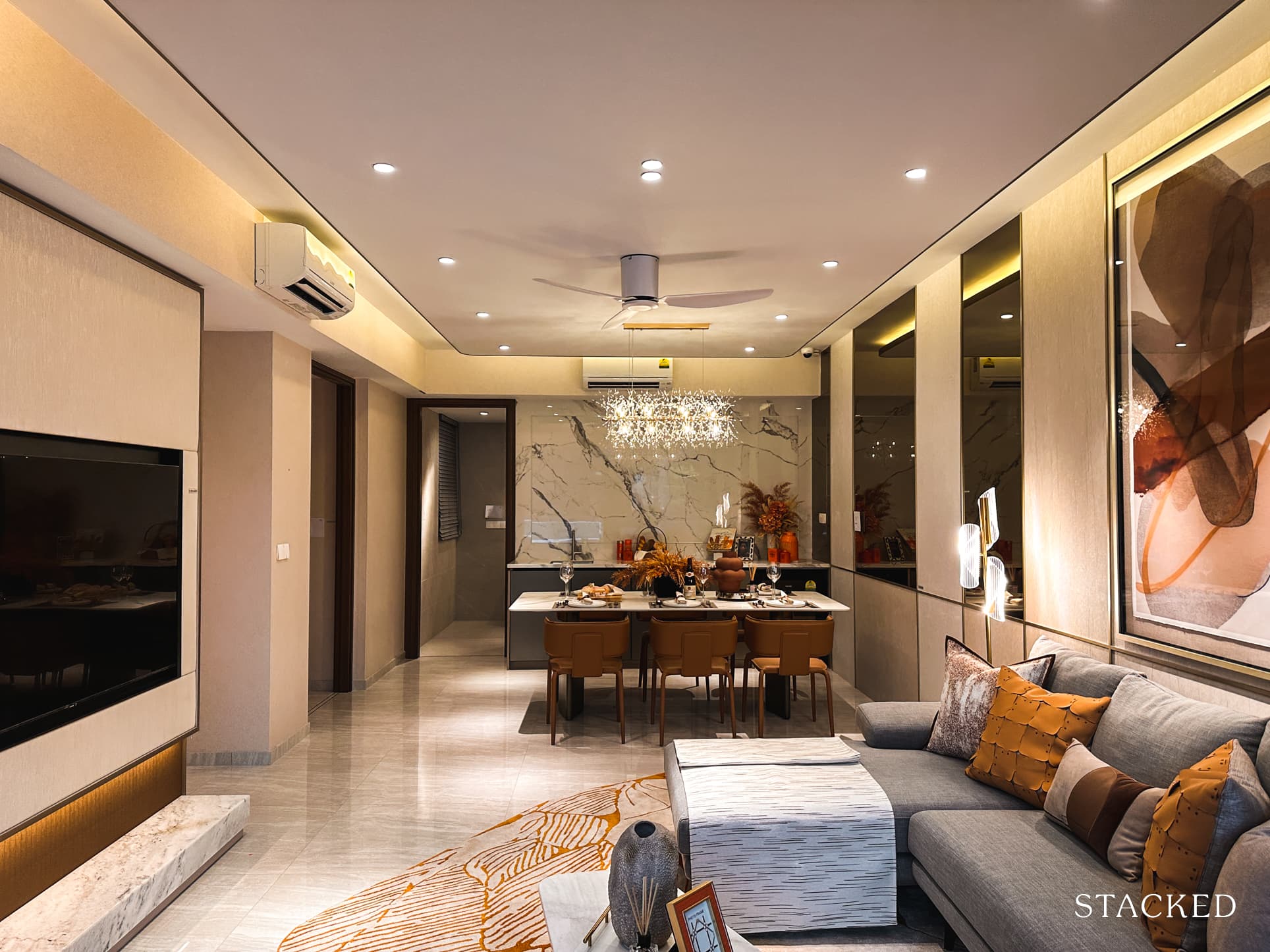 It's also here where the developers have made a deliberate attempt to make this unit look more luxurious. As opposed to a standard white wall, they will install a marble-like large slab porcelain piece that is continuous to the similar-looking countertop. Since such large slabs of porcelain are uncommon, there will be a border as part of the design to accommodate smaller pieces around it.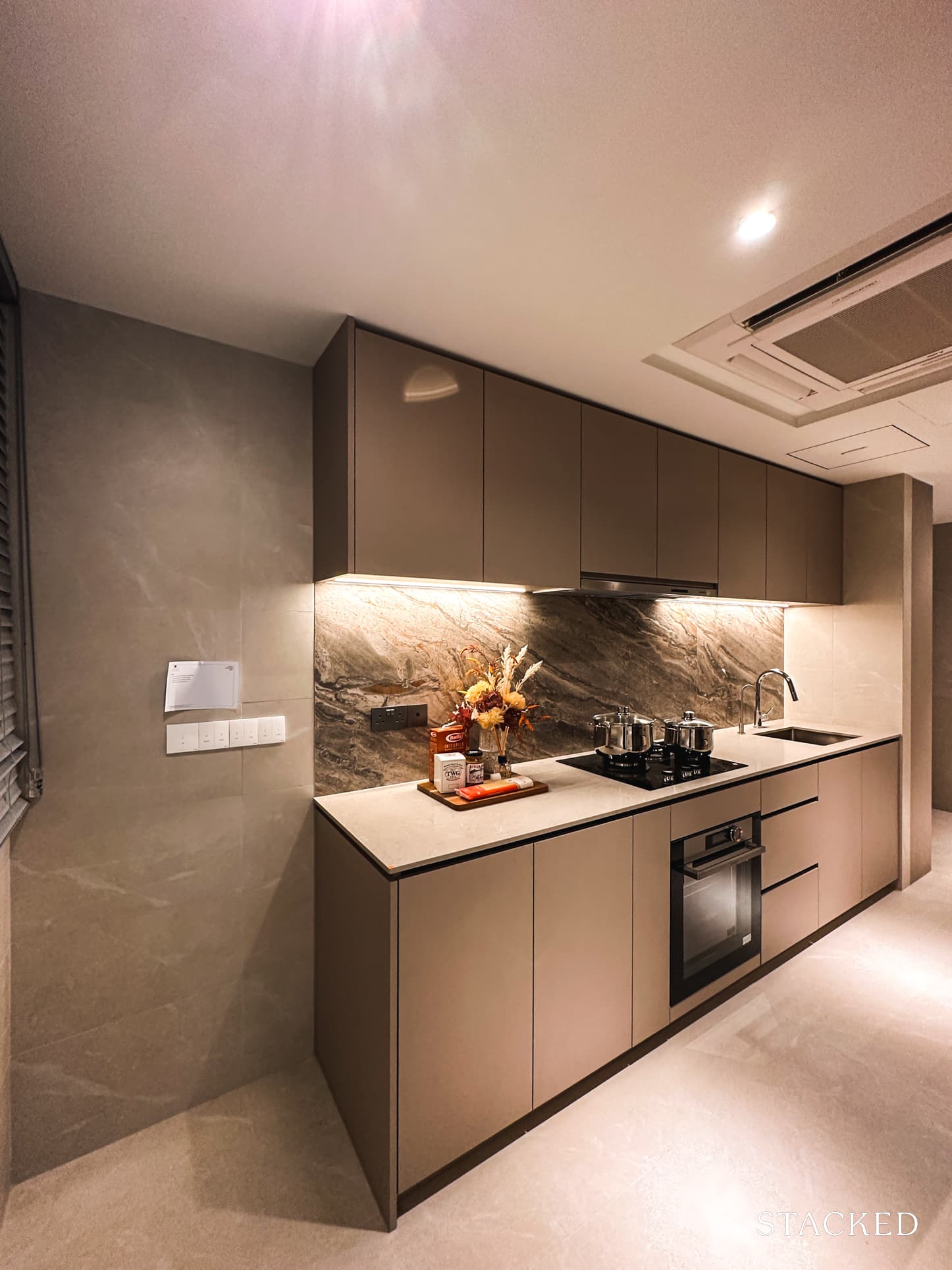 As for the wet kitchen, the designated yard is what first greets you. Not sure if this is immediately apparent but this empty space which also has a window is where you can install an overhead clothes rack if you prefer to dry your clothes naturally (you do already have a dryer provided).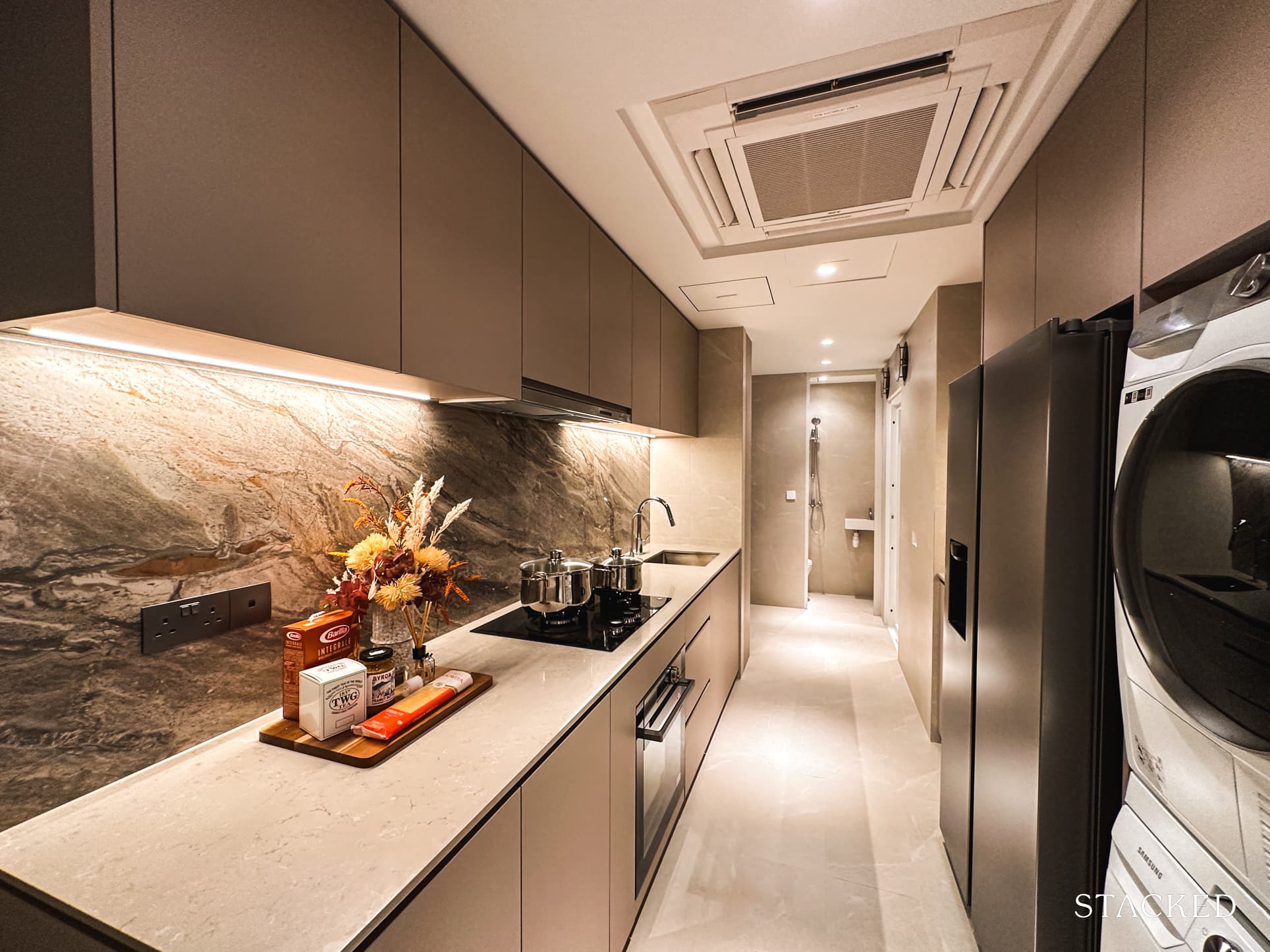 In the kitchen, there is a decent amount of countertop space on one side to work with, complete with plenty of top and bottom cabinets on both sides of the kitchen. The Franke sink, mixer, and water filter (brand to be confirmed) are on the side of the countertop.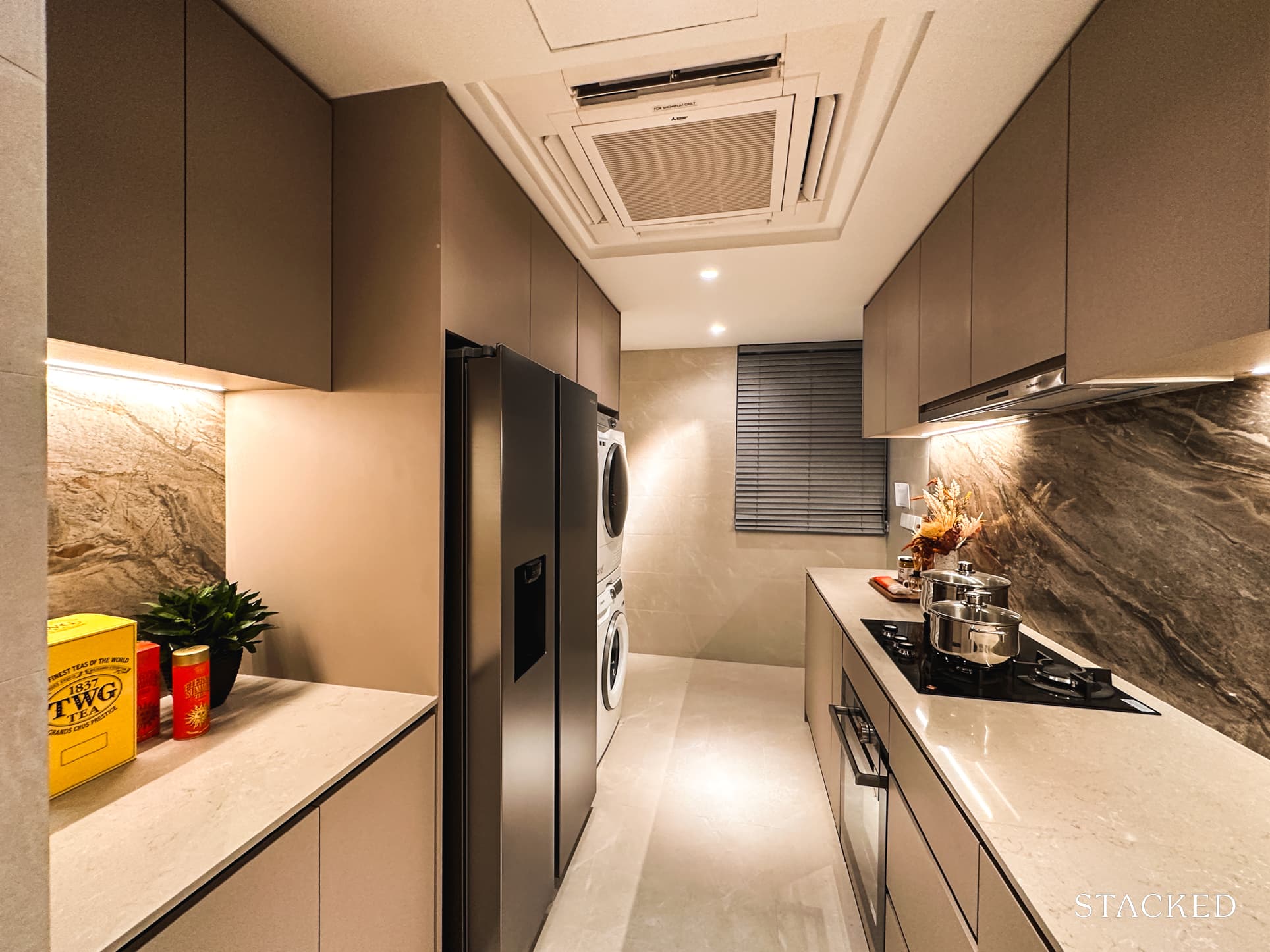 The developers will be providing the premium De Dietrich 3-zone burner hob, hood, and oven and the Samsung 2-door fridge and separate washer and dryer. The latter products may stick out like a sore thumb against its more pricey alternatives but again, these were only chosen as they were able to meet the Green Mark Platinum criteria.
Beside the 2-door Samsung fridge is a small recess that I've always found quite practical for that coffee machine and/or rice cooker that you use daily. Given that this is in the kitchen, I see this area more as a utility one rather than for an aesthetic purpose.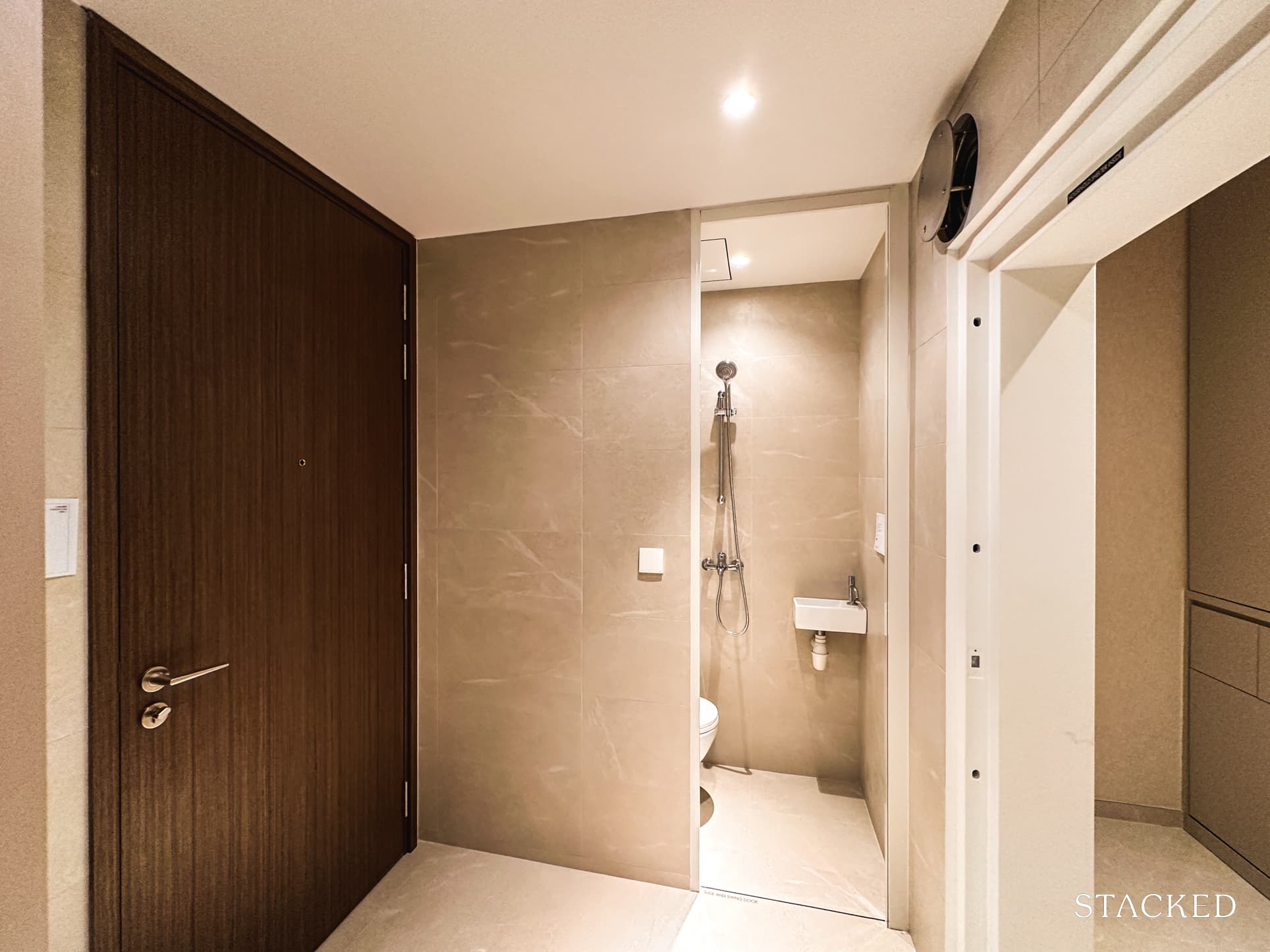 Moving further into the wet kitchen is where you will find the side door that leads to the main lift lobby (since you already have a private lift lobby of your own) so this is where you'll be collecting your food deliveries/groceries.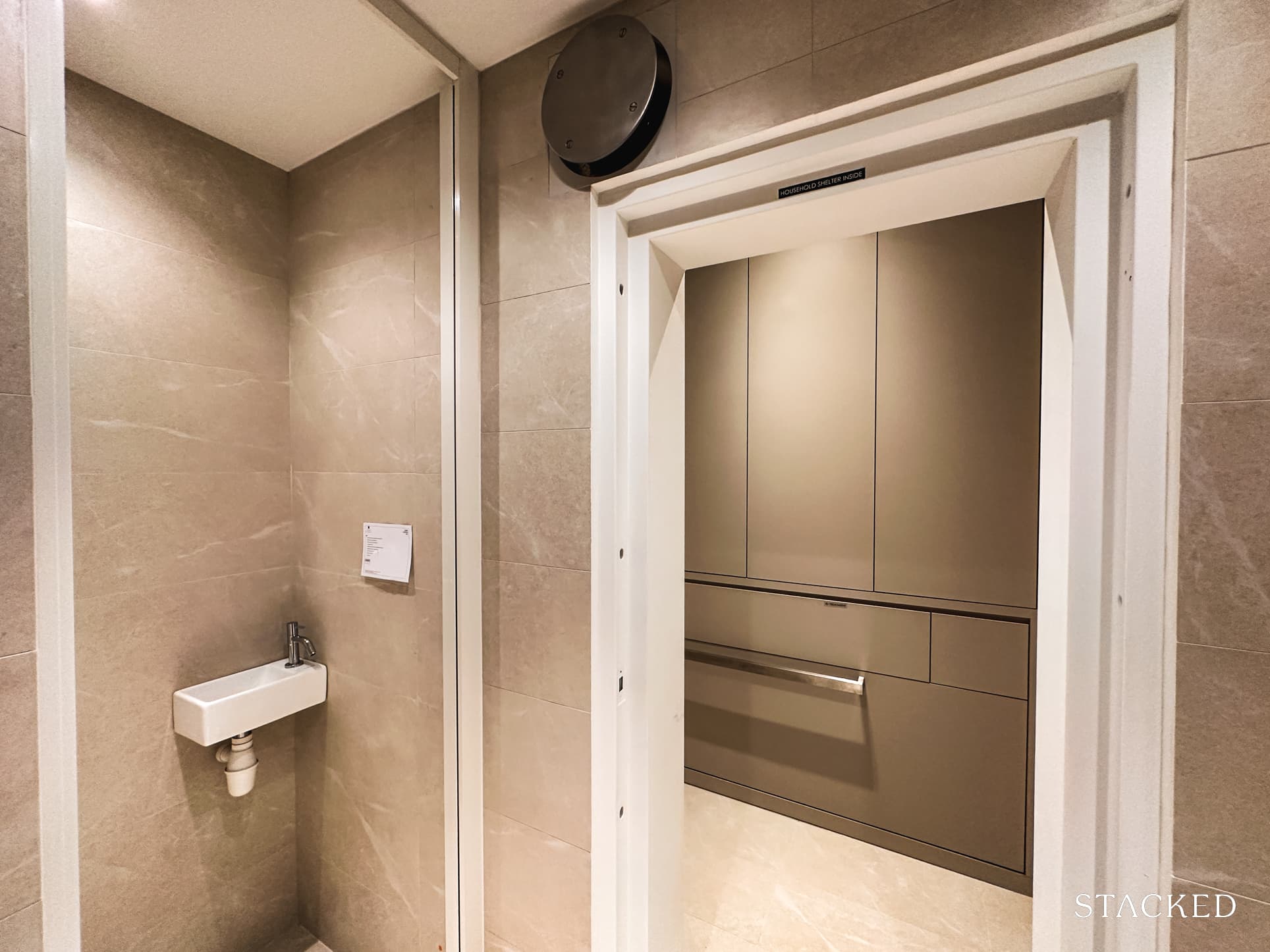 Besides that, there is the spare w/c here and the 4 sqm household shelter which will invariably be used as a helper's room for such units aimed at bigger families.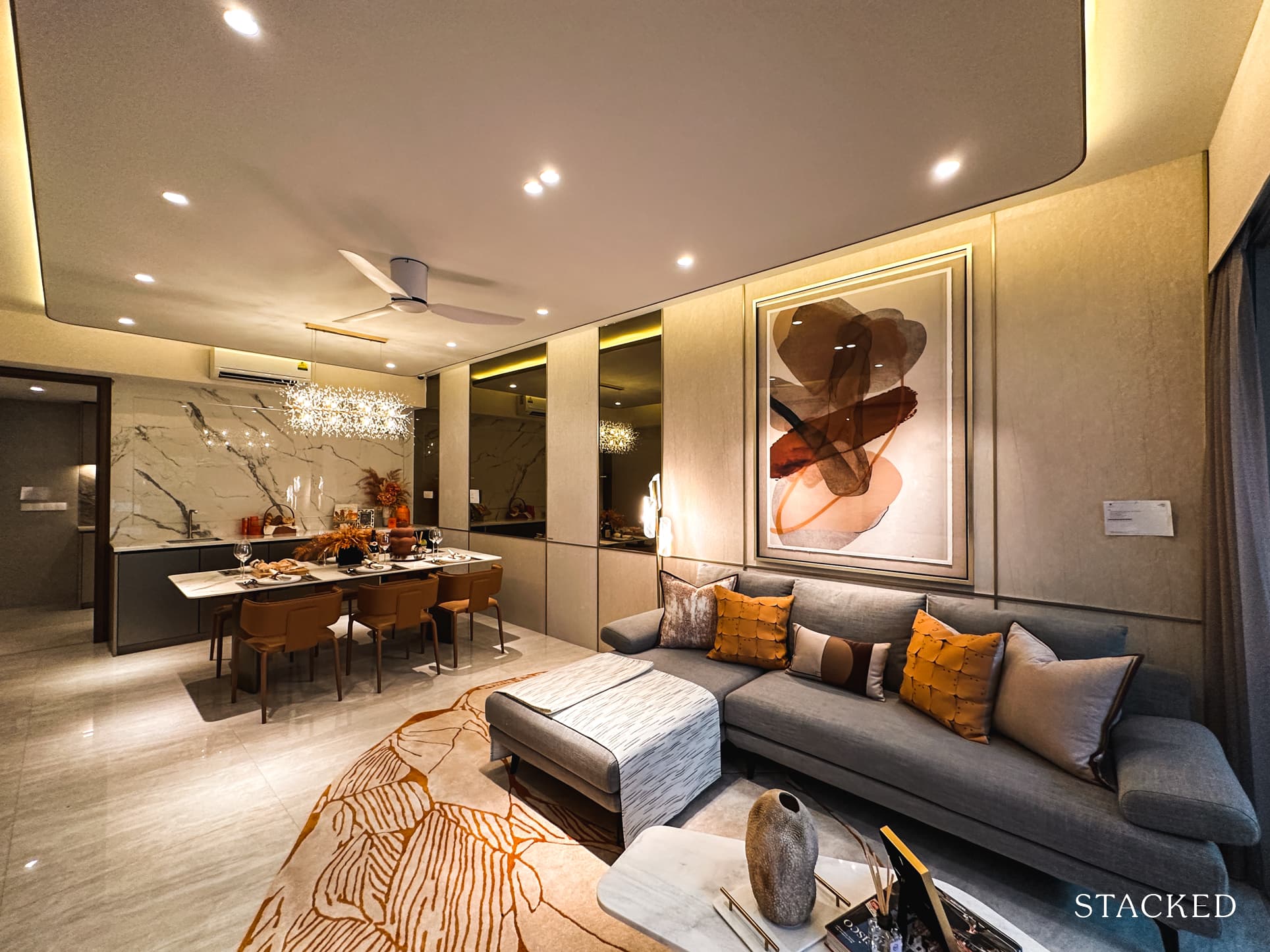 Back to the living area and this one is considerably more spacious than those you find in the 2 and 3 Bedroom show flats. Which is understandably so, given the size disparity (and hence demographic) between them.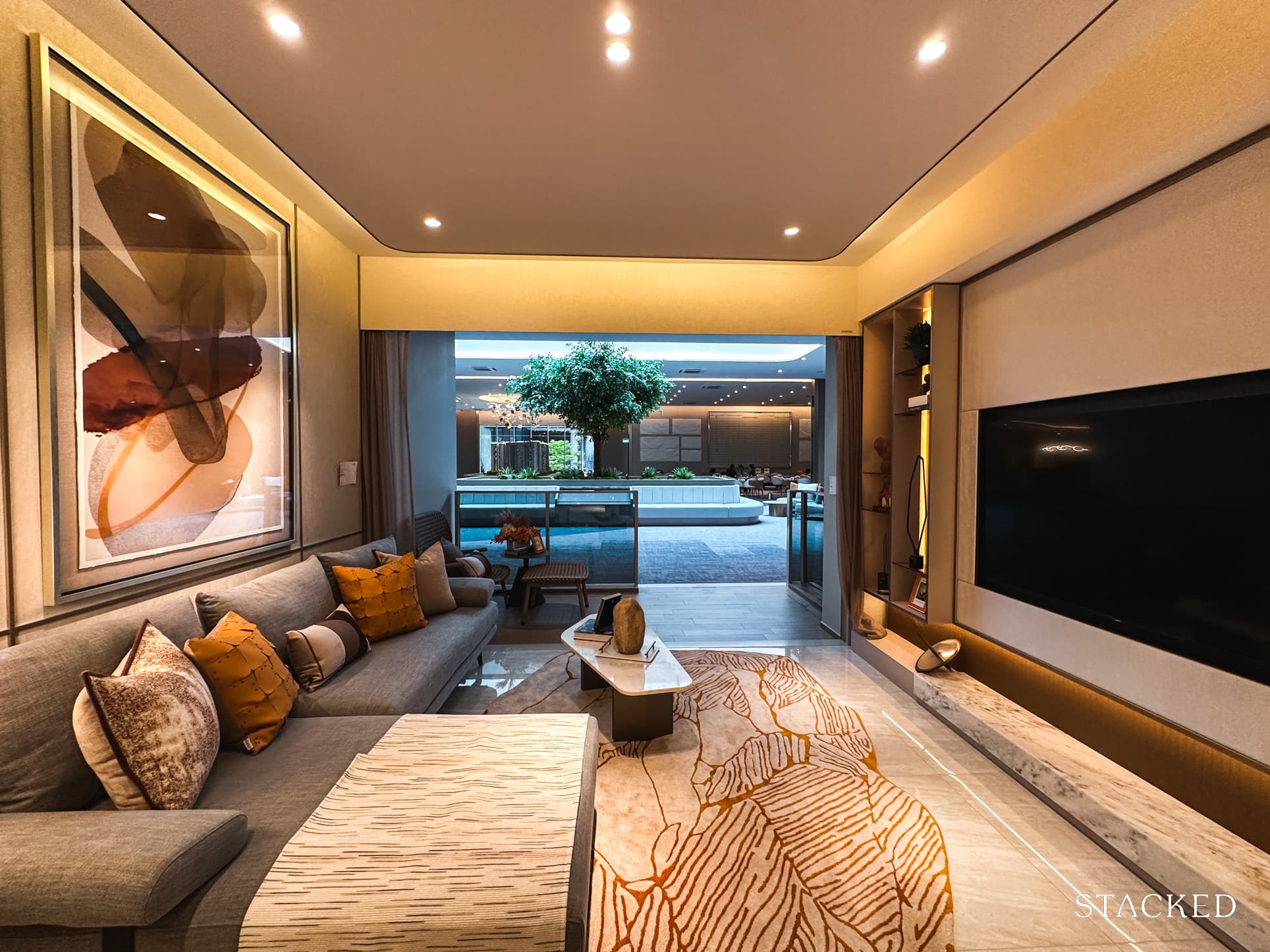 There's a full L-shaped sofa here, with what looks to be space for 6 people when maximised. The distance between the wall and the couch is also good with plenty of walking room if you choose to go with the usual coffee table and TV console.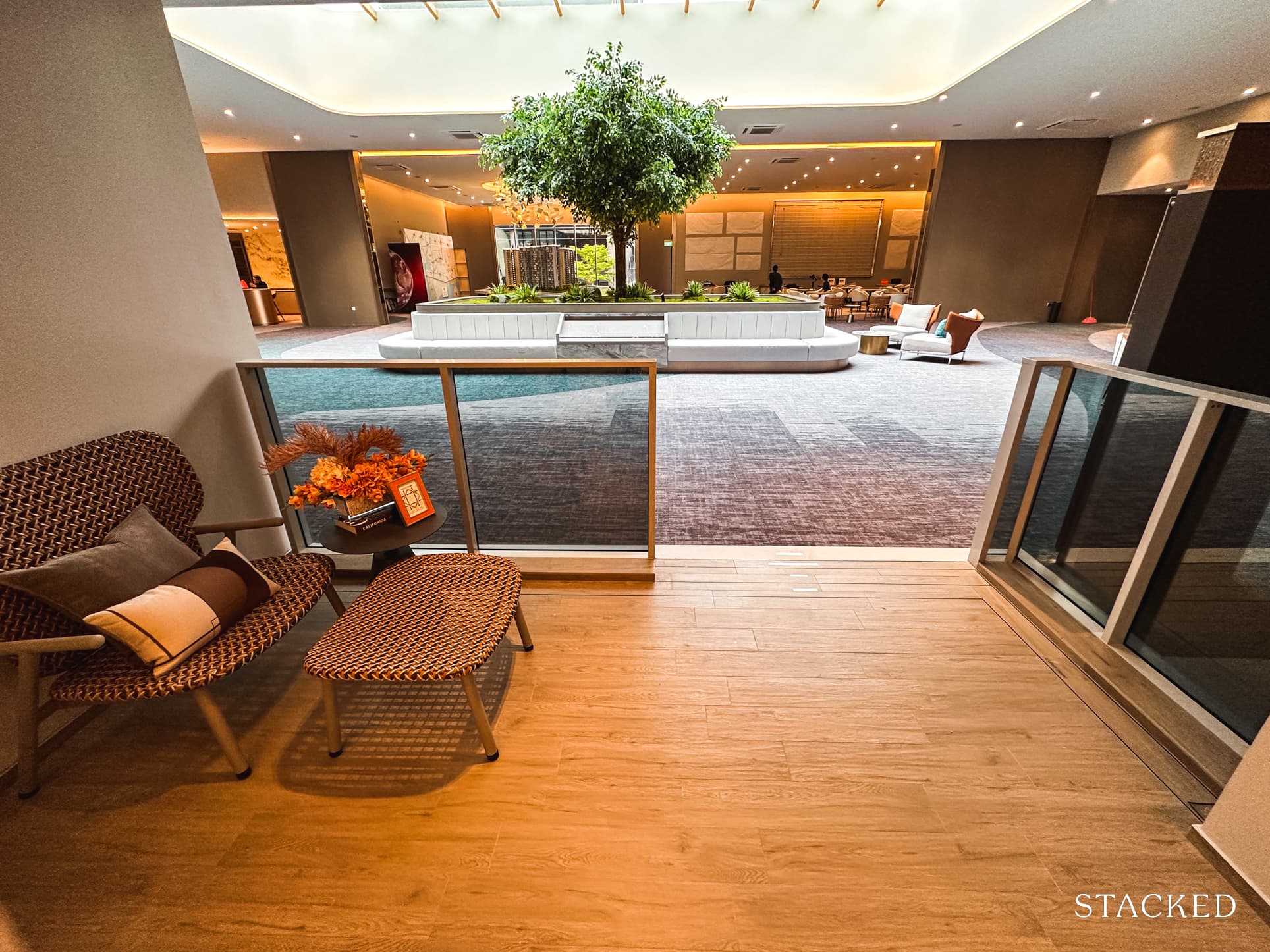 As for the balcony, at 8 sqm, I feel that it combines the practical needs of a bigger family (since this is a 4 Bedroom) without being overly spacious such that it becomes a waste. The developers have not done much to the balcony with a simple chair and ottoman but you are always free to exercise more creativity here.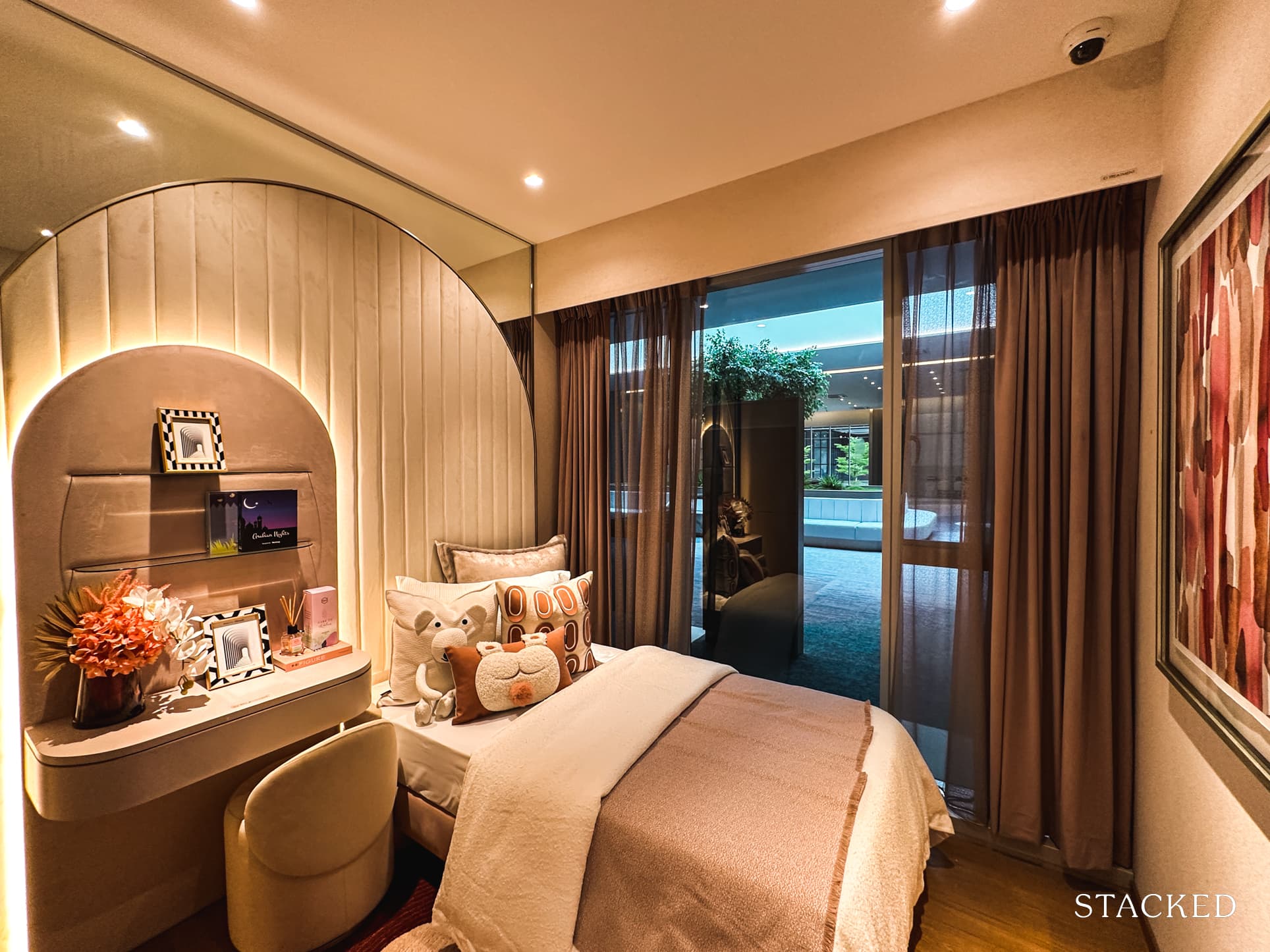 Both the 4 bedroom layouts have a standard corridor layout, with Bedrooms 3 and 4 being 9 sqm each. Starting first with Bedroom 3, placing a Single bed would make the whole room a lot more practical as it leaves space for a small study table or dresser as shown here.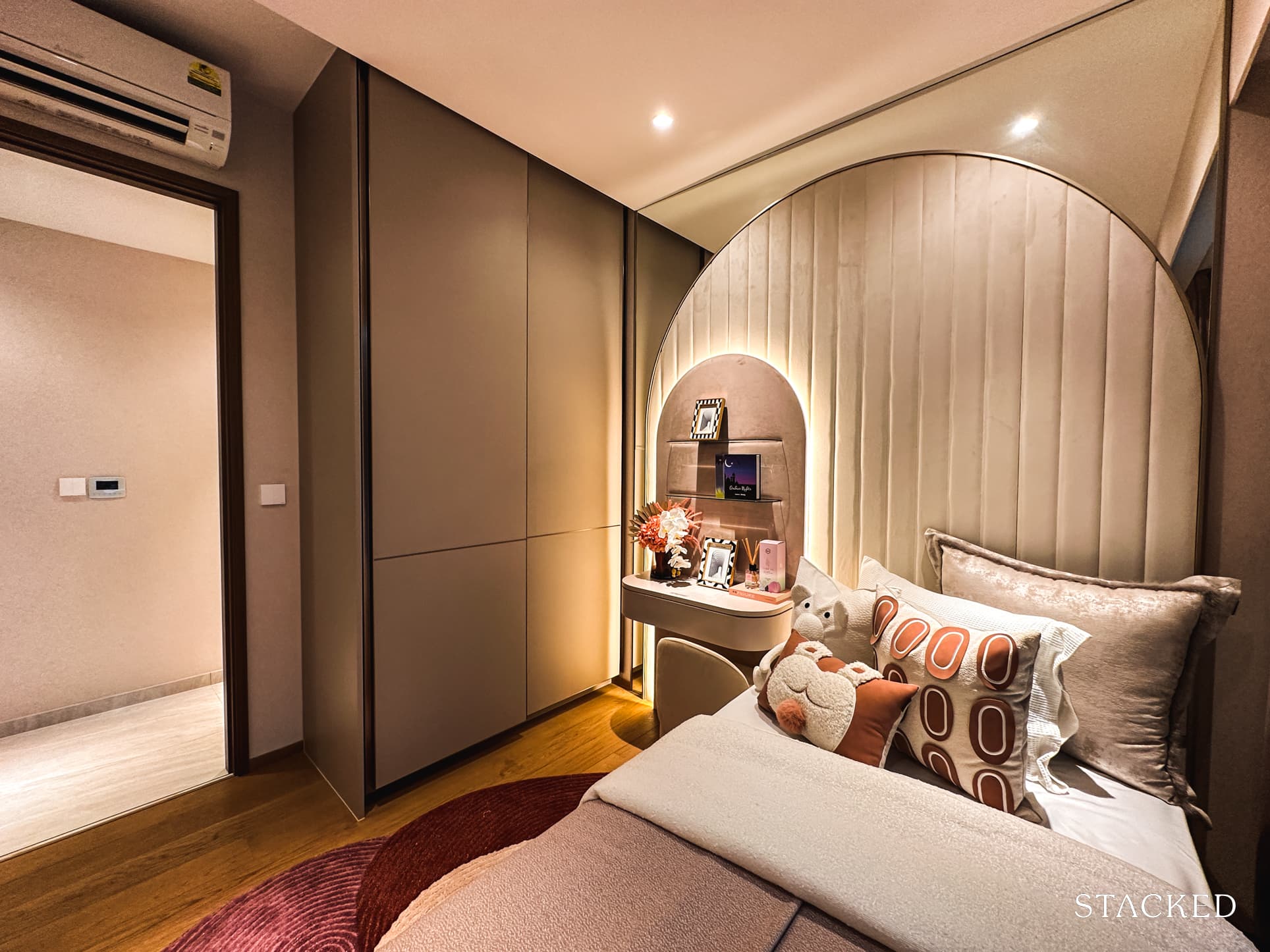 You could also opt to go for a Queen sized bed, although that may mean that you would end up only with a small bedside table.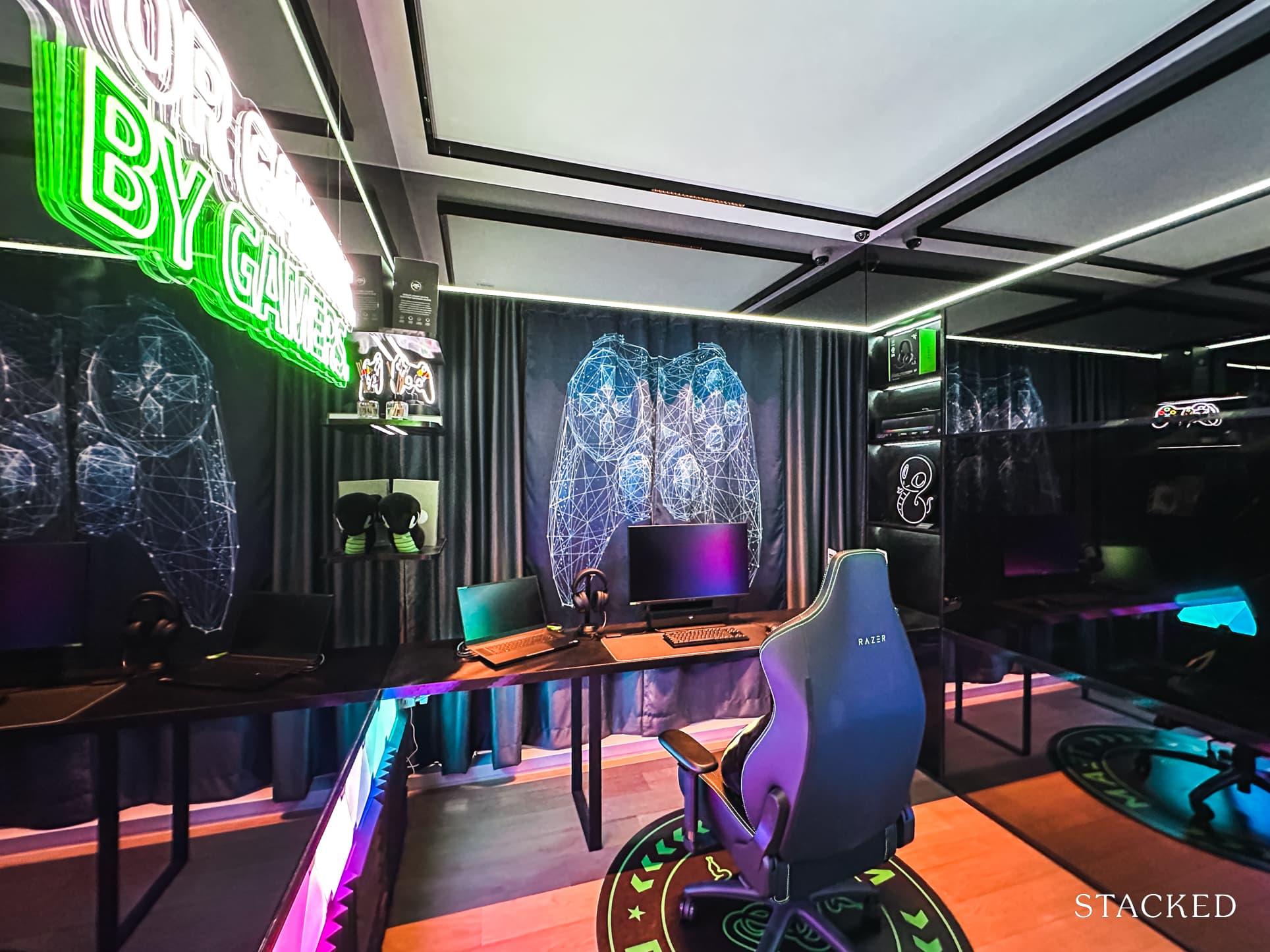 Bedroom 4 is definitely the highlight of the show (for me, at least). SingHaiyi partnered with Razer to create this one-of-a-kind gaming room. This is reportedly Razer's first partnership with a developer as part of a show flat. Definitely ticks off the cool factor box!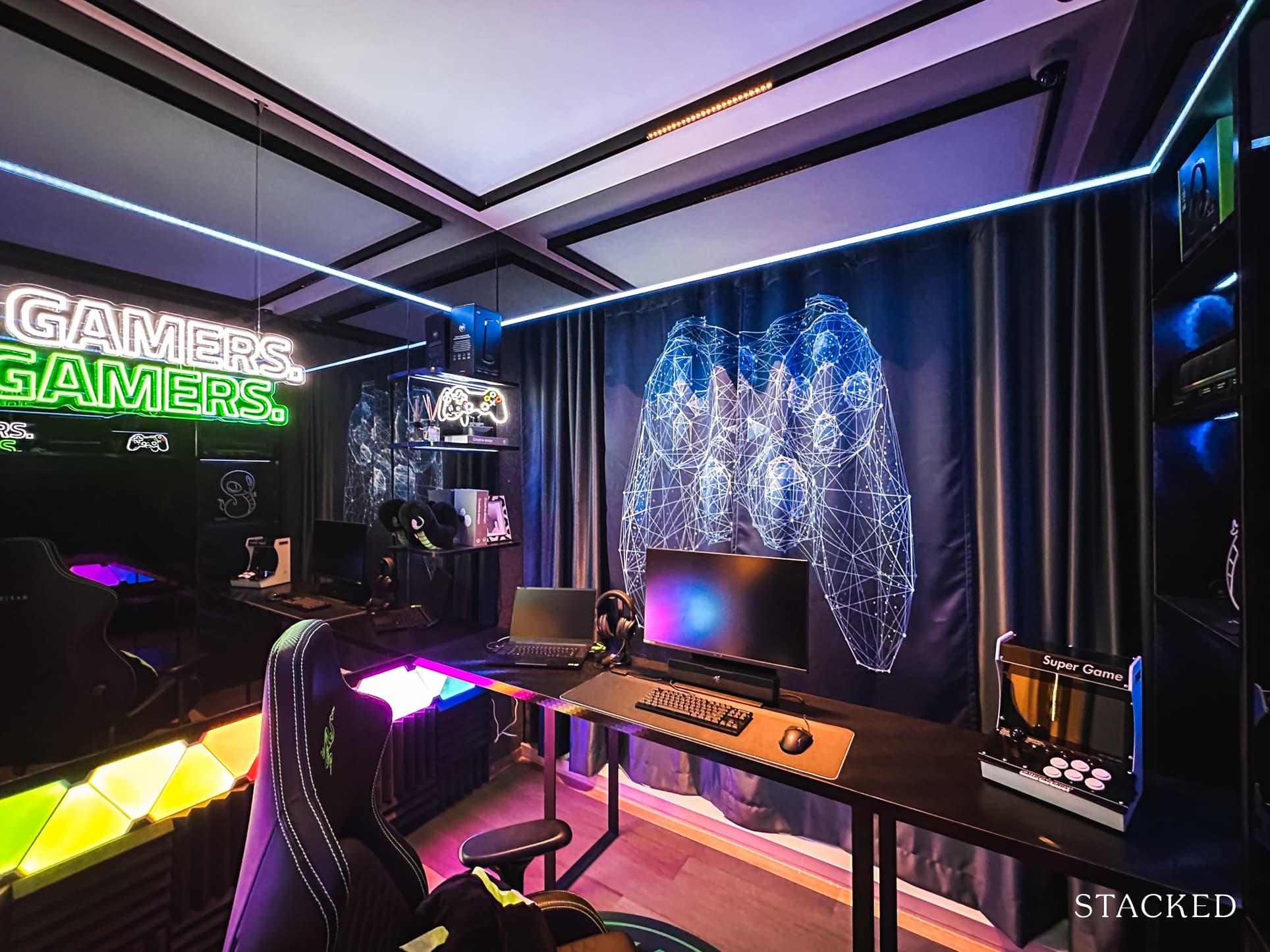 Complete with a Razer gaming chair, keyboard, laptop, and some fancy logos and lights, this is really a gamer's paradise to me. Of course, the disclaimer here is that I am no professional gamer so I may be completely off the mark here. For me, this is just a creative demonstration of how this room can look if you prefer it to be something other than an ordinary bedroom.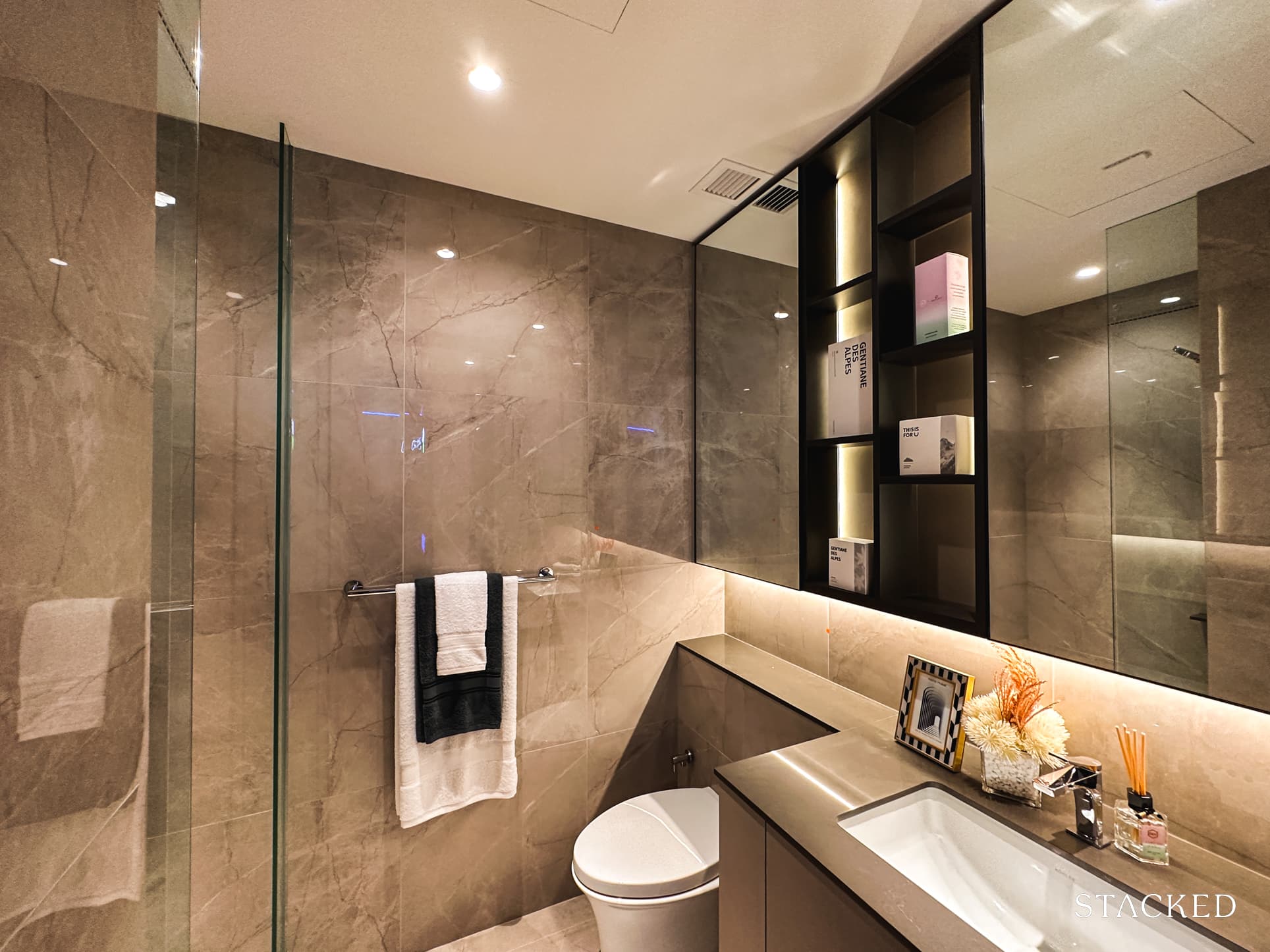 Bath 3 will be shared by the occupants of Bedrooms 3 and 4 as well as guests. It is of an average size of 4 sqm without any windows sadly for natural ventilation. You get the standard built-in cabinets and mirrors above the sink provided by the developers. The wall hung w/c and sink are from Kohler and basin mixer and shower set (non-rain shower) are from Gessi. Likewise, I'll say that these are fantastic brands since I use them in my house myself and it's been so far so good.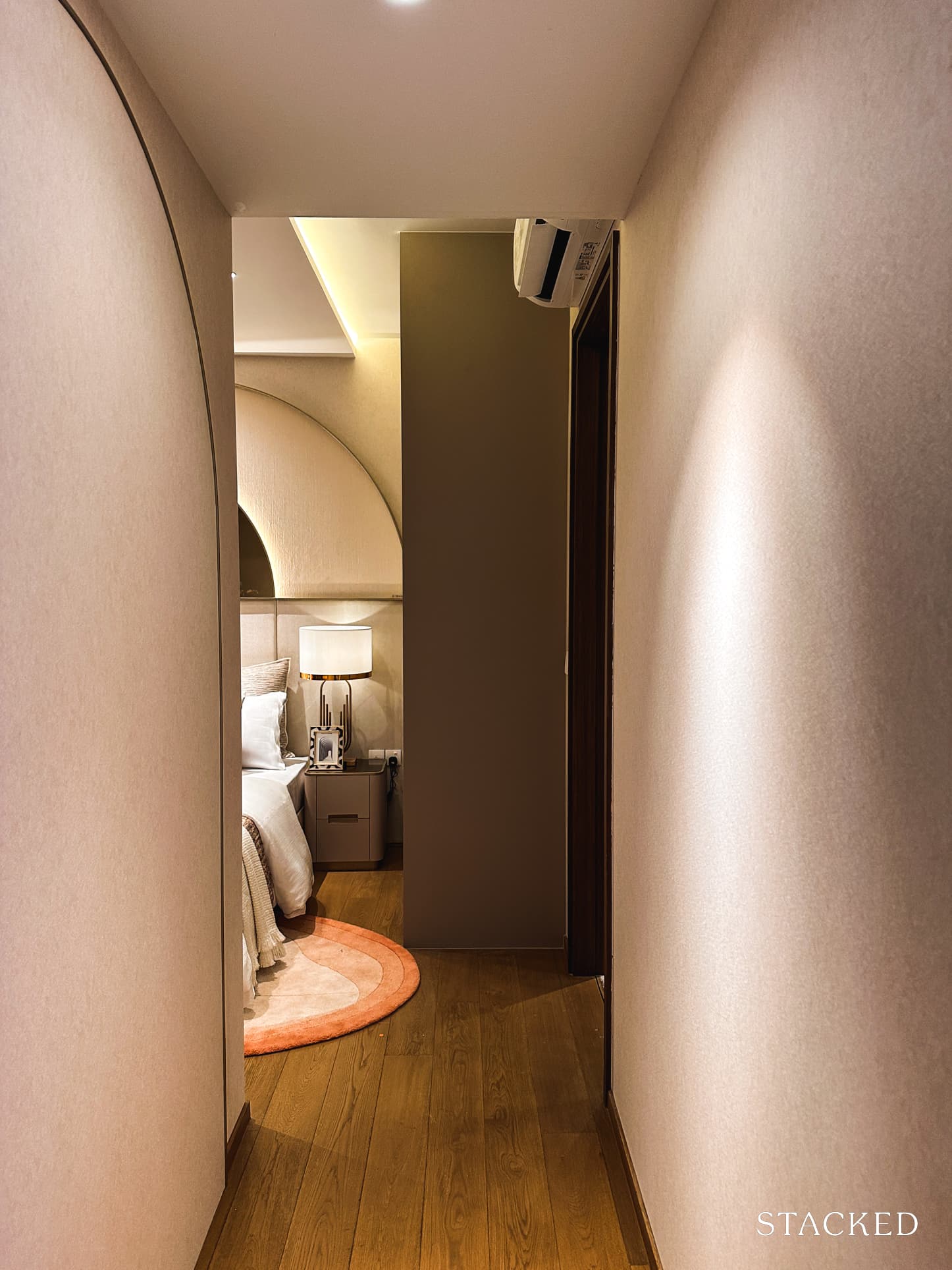 There is a Junior Master Bedroom in this unit, which typically means that it comes with an ensuite bathroom. The bedroom itself is 12 sqm in size, although you should note that a couple of sqm is lost to the long walkway into the usable space itself. I reckon it's probably around 10 sqm instead, which makes it just marginally larger than the other common bedrooms here.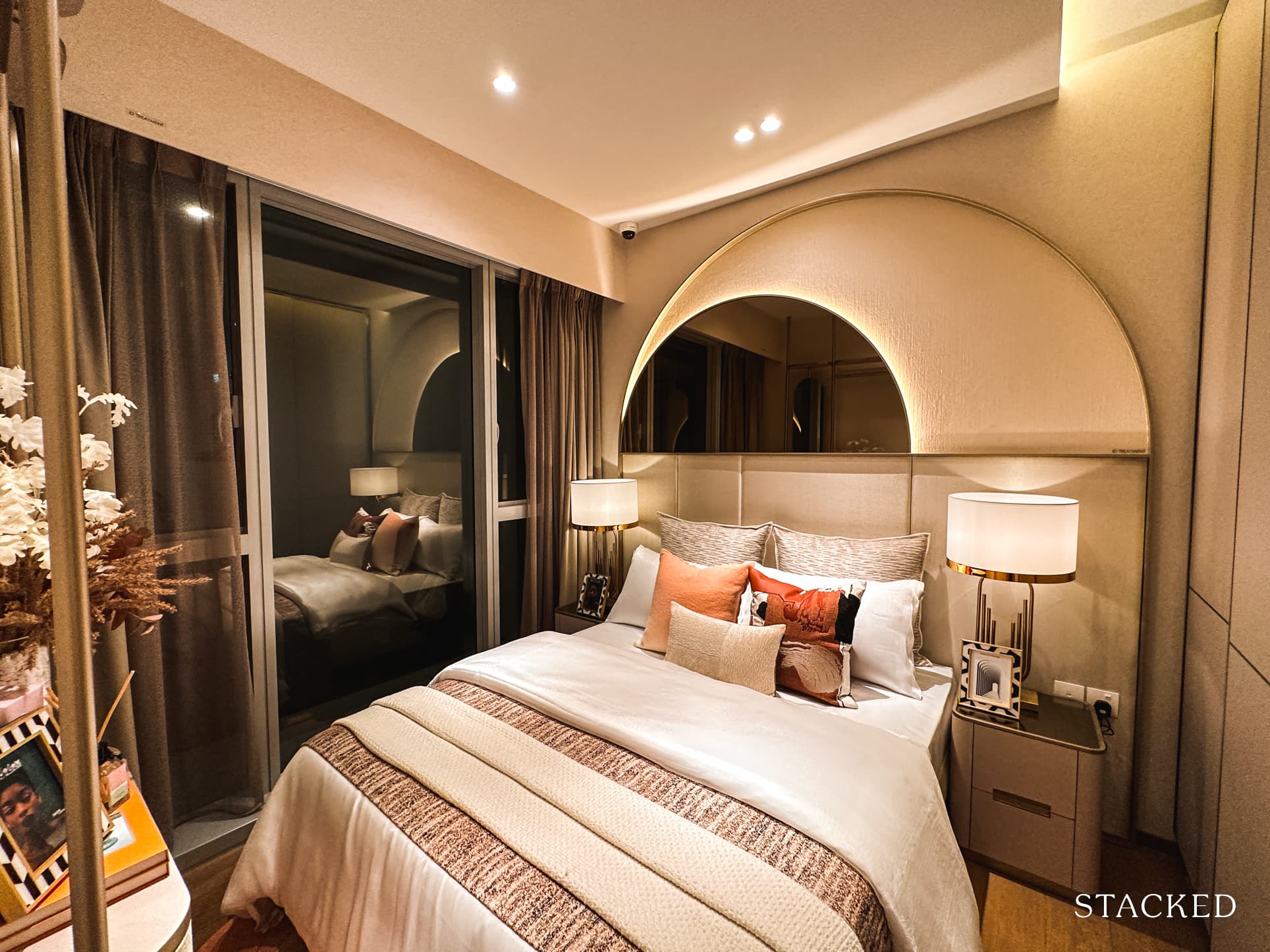 You have room for a Queen size bed and a couple of side tables, although you should note the size of the tables in relation to your ability to access the built-in wardrobe too. Full-length windows are standard here, as with the other bedrooms.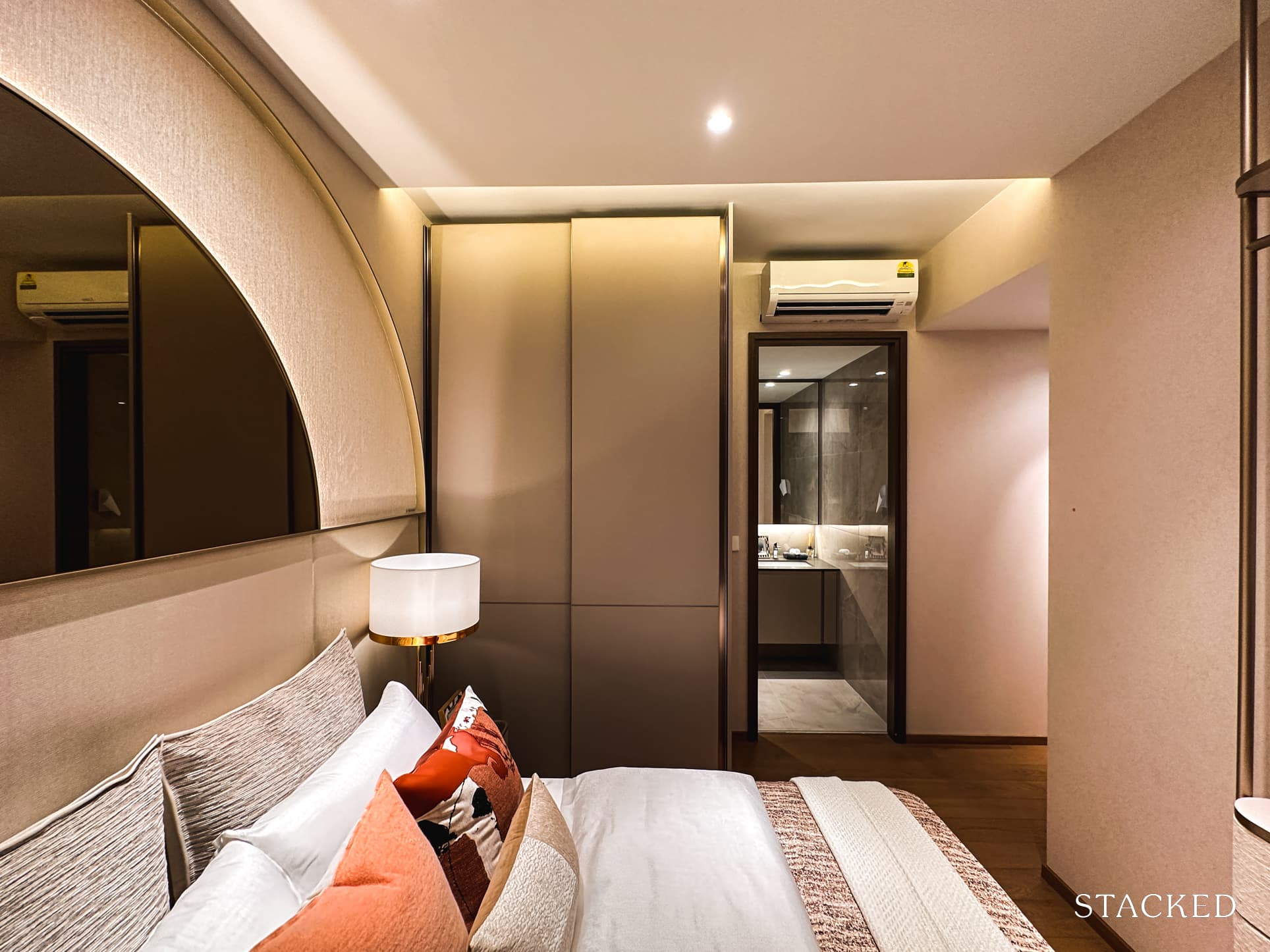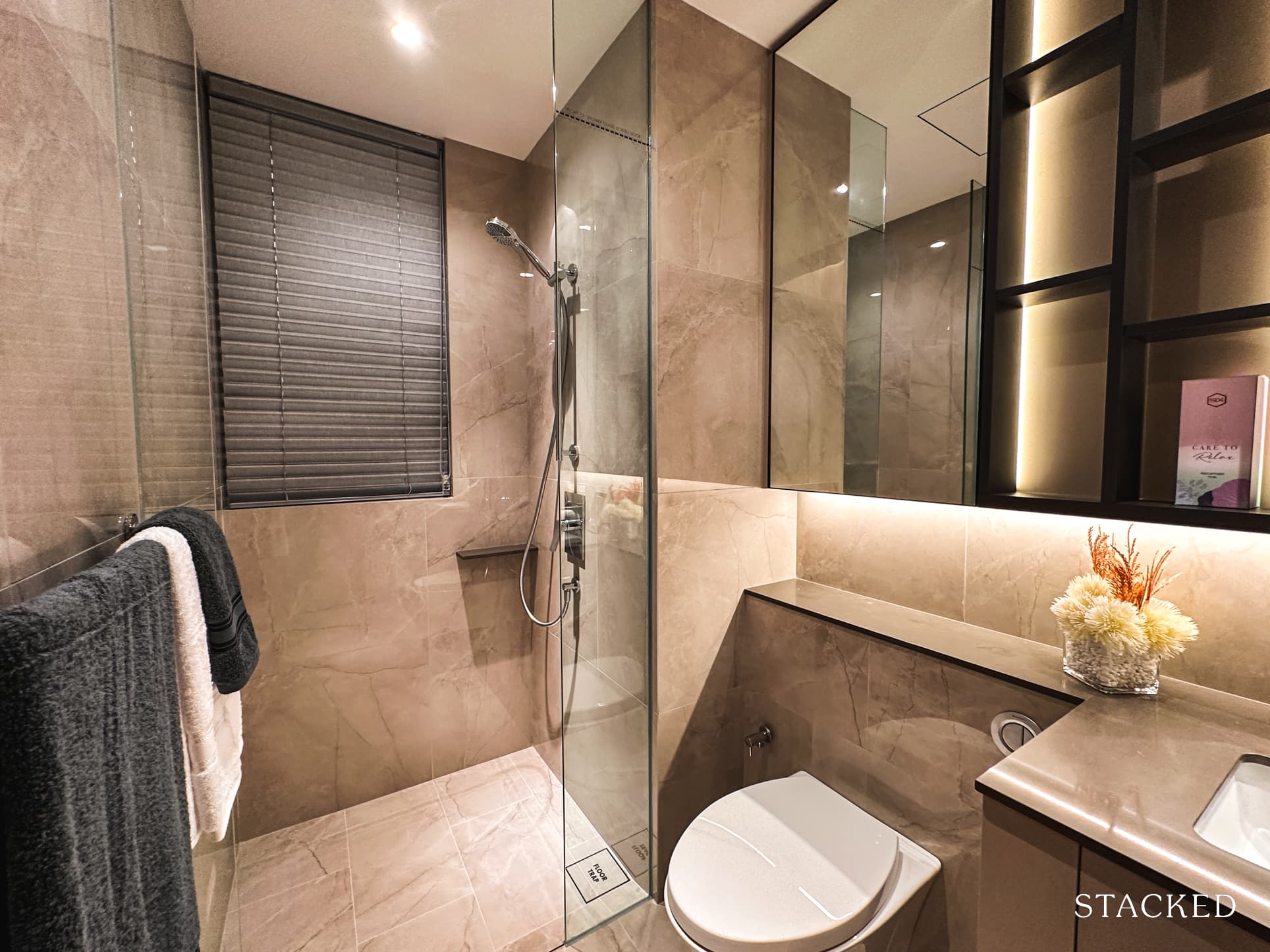 As for the ensuite Junior Master Bath, it is marginally bigger than Bath 3 at 5 sqm and comes with a window for natural ventilation. Standard provisions are given here including the wall hung w/c and sink from Kohler and basin mixer and shower set from Gessi. I did wish that they had provided a rain shower here but that seems to be reserved solely for the Master Bath.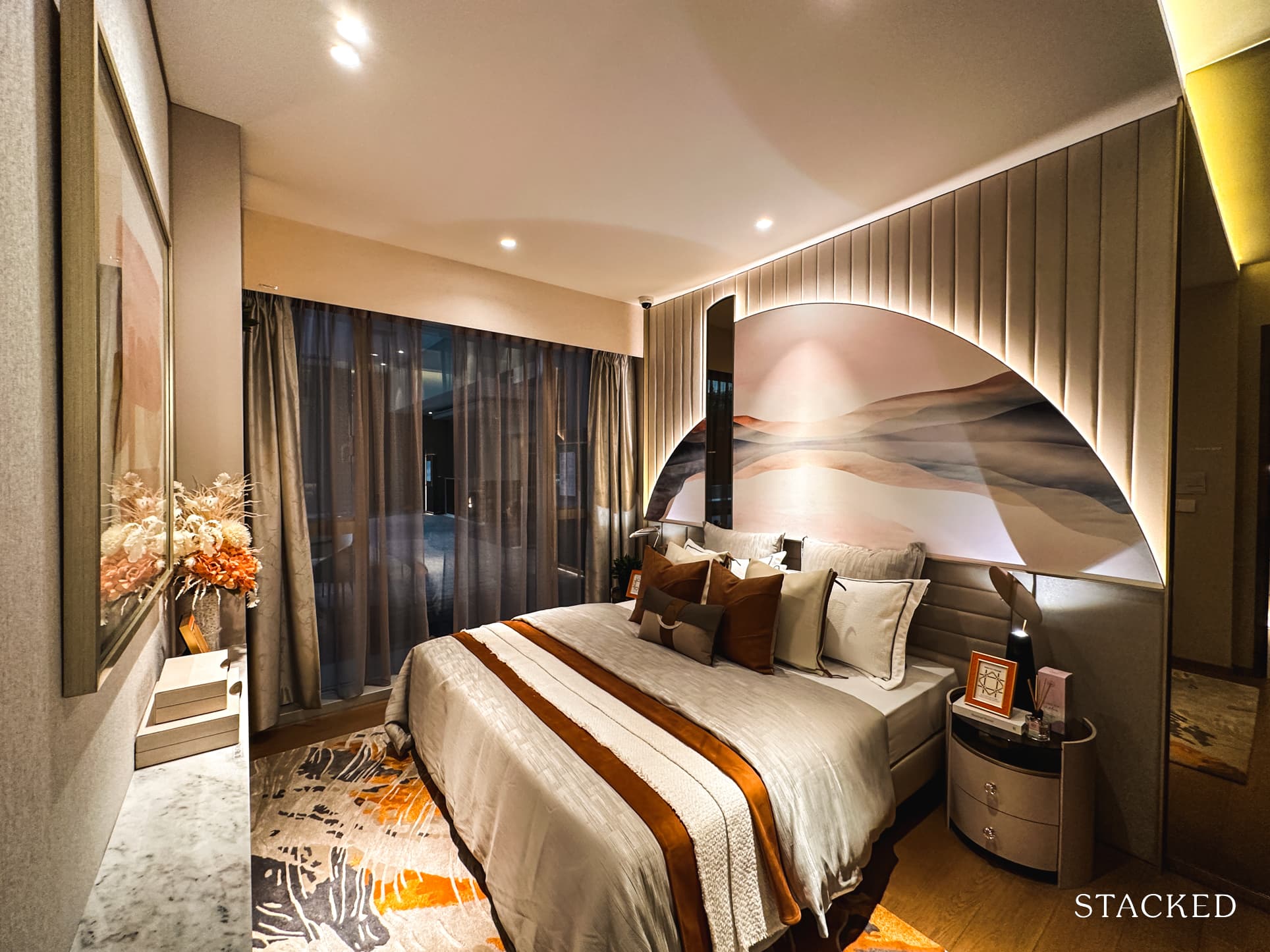 Moving on to the Master Bedroom and while it's only 1 sqm larger than the Junior Master, it feels quite a bit bigger than it because of its regular shape. Hence, a King size bed would fit well here and will be roomy enough to place a small TV console or an equally compact chest of drawers at the foot of the bed.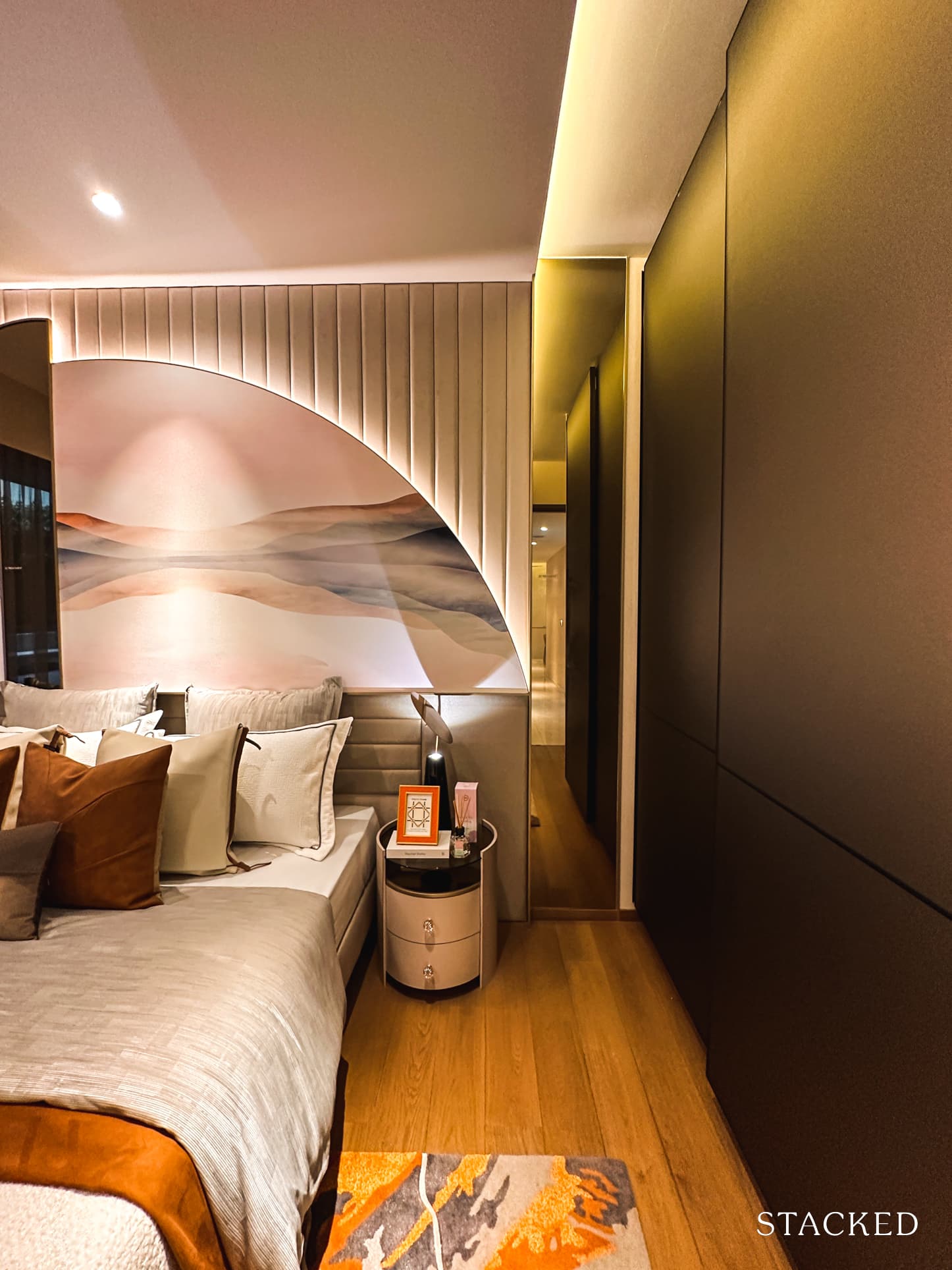 There's also enough leeway to have the bedside tables without making the room look claustrophobic.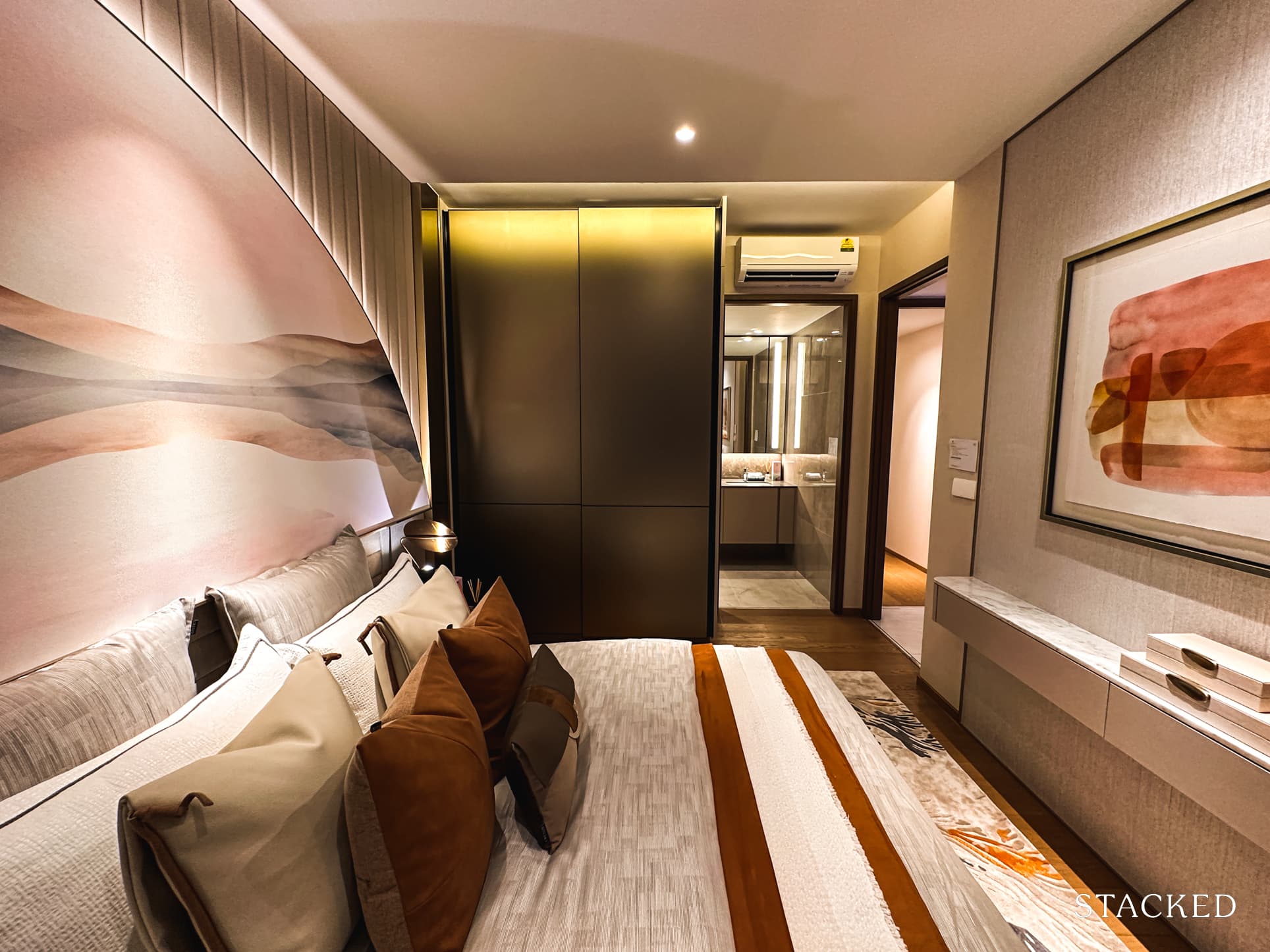 The built-in wardrobe in the Master Bedroom will also have a satin mirror finish, giving it more of a luxurious touch compared to the other bedrooms.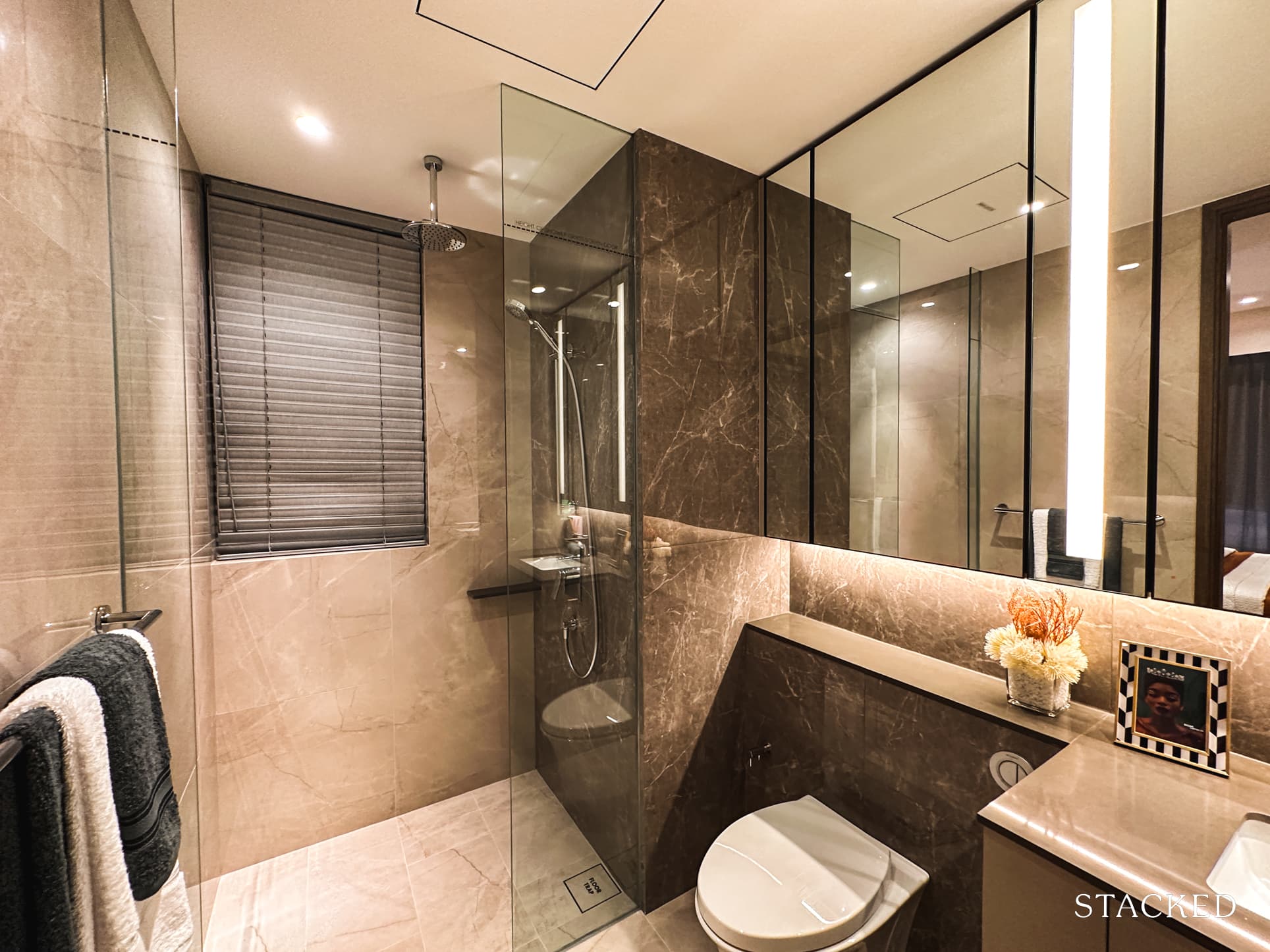 Finally, for The Master Bath, it is 5 sqm and equal in size to the Junior Master Bath. It's useable and has everything you need so as long as you're not someone who has a particular want for a large bathroom, this one works well.
You have quality fittings in the Gessi rain shower and mixer and Kohler wall-hung w/c and sink. Plus, you also have a window here for natural ventilation, which is always appreciated.
Grand Dunman – 5 Bedroom Type 5BR G2 (198 sqm/2,131 sq ft) Review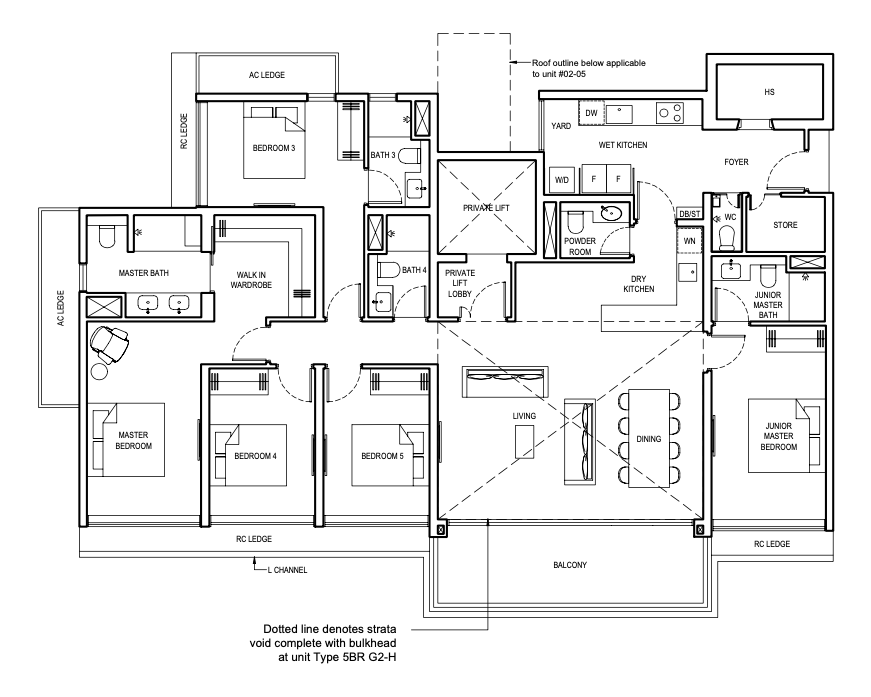 This 5 Bedroom show flat unit is part of the Grand Collection, the only premium block at Grand Dunman. As I reviewed earlier, this entire block is going to be clad in champagne gold which will definitely stand out from the crowd. Excluding the 10 Penthouse units (which range from 2,379 to 3,068 sq ft), this will be the second largest unit available at Grand Dunman so expectations are definitely high here. Only the Grand Collection units feature marble floors for the common areas and engineered timber for the bedrooms so we are off to a good start. Though surprisingly, the ceiling height remains at 2.8m for all floors except the top floor units.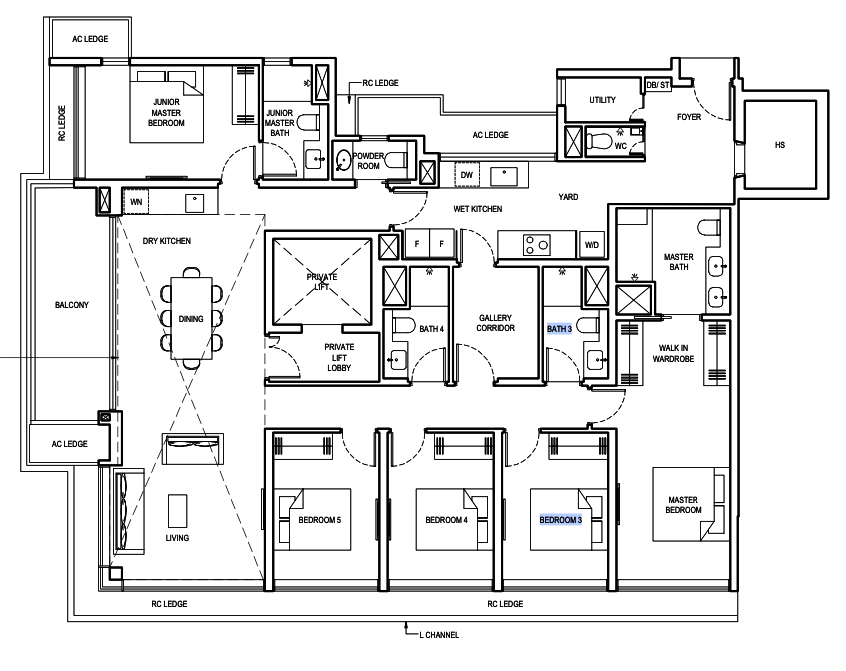 Both 5 Bedroom layouts are part of the Grand Collection and will feature private lifts and lift lobbies. These private lift lobbies are what you may expect as standard for luxury but trust me, you'd be surprised at how there are still developments that come without one. I think it's important to ensure that privacy is maintained, especially since these buyers have chosen units with a private lift.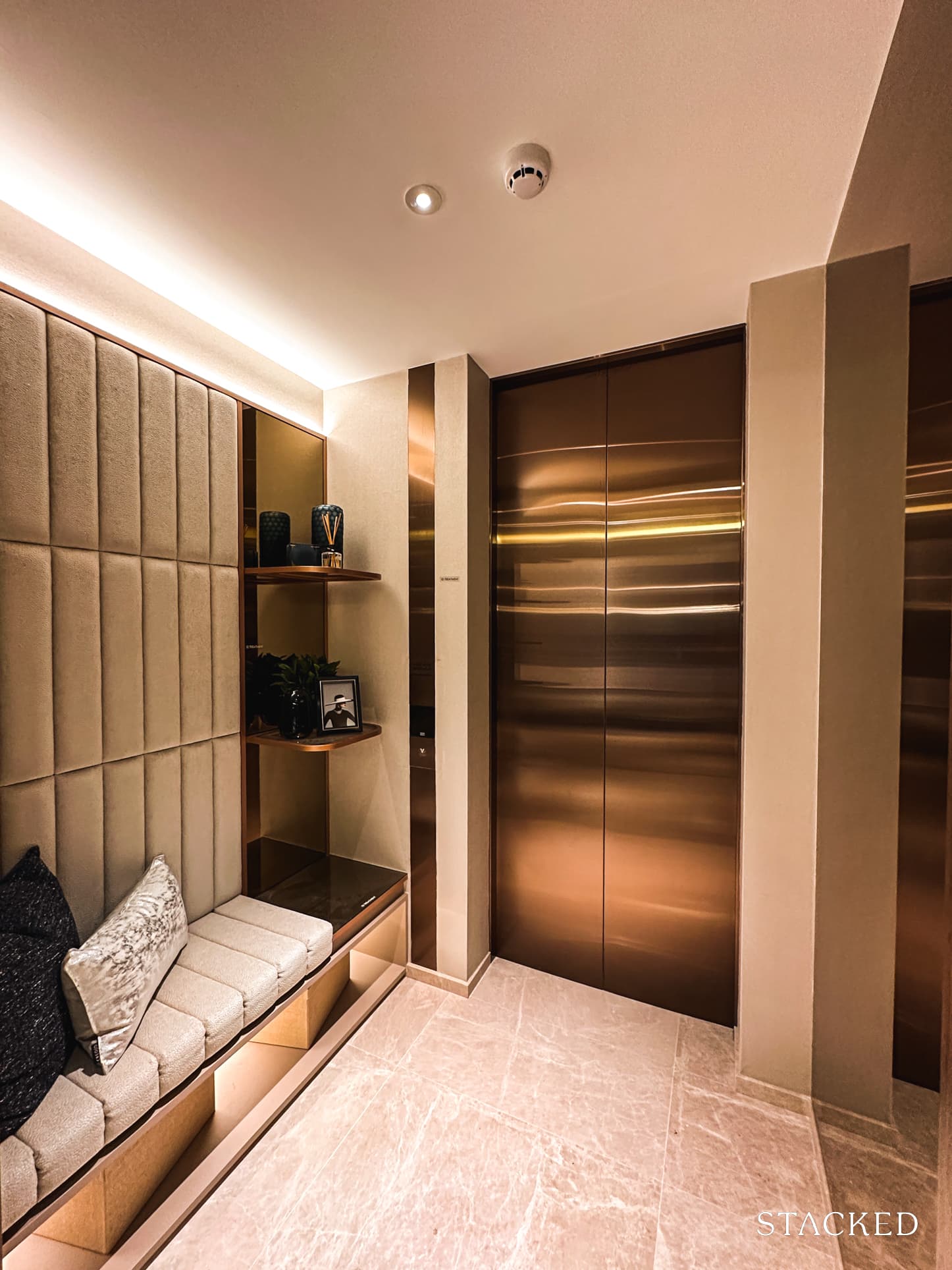 The one here is 3 sqm and will be a blank slate where you can decide whether you prefer a loose piece of furniture such as a bench or shoe cabinet or a more permanent fixture such as a built-in cabinet.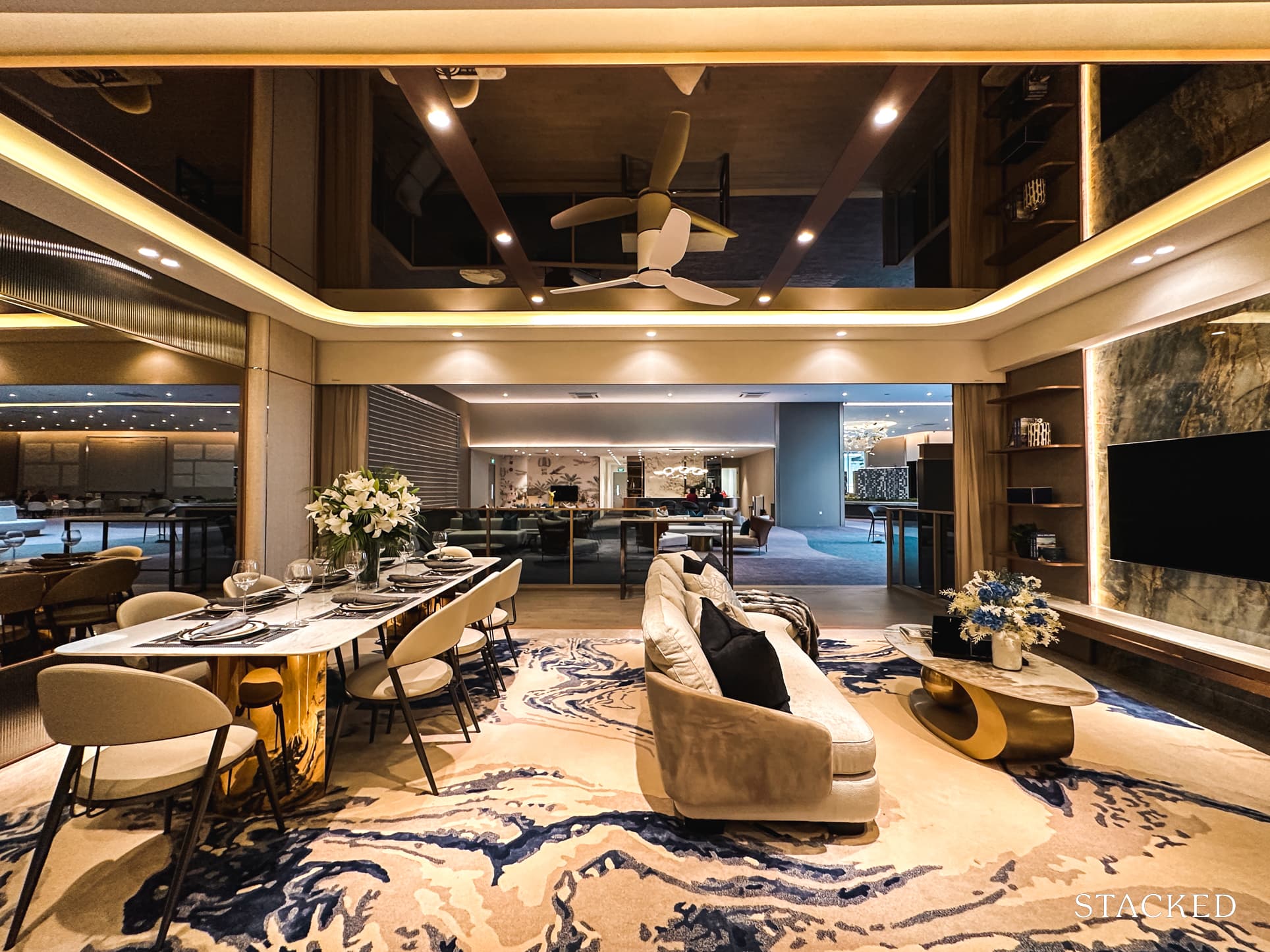 Coming out of the private lift lobby is where you are greeted by the living and dining areas, which are laid out in parallel. I've always preferred this layout as it allows more interaction between groups and serves as additional seating if required. It is also more flexible, and you are able to place more emphasis on the dining or living, whichever you need to dedicate more space to.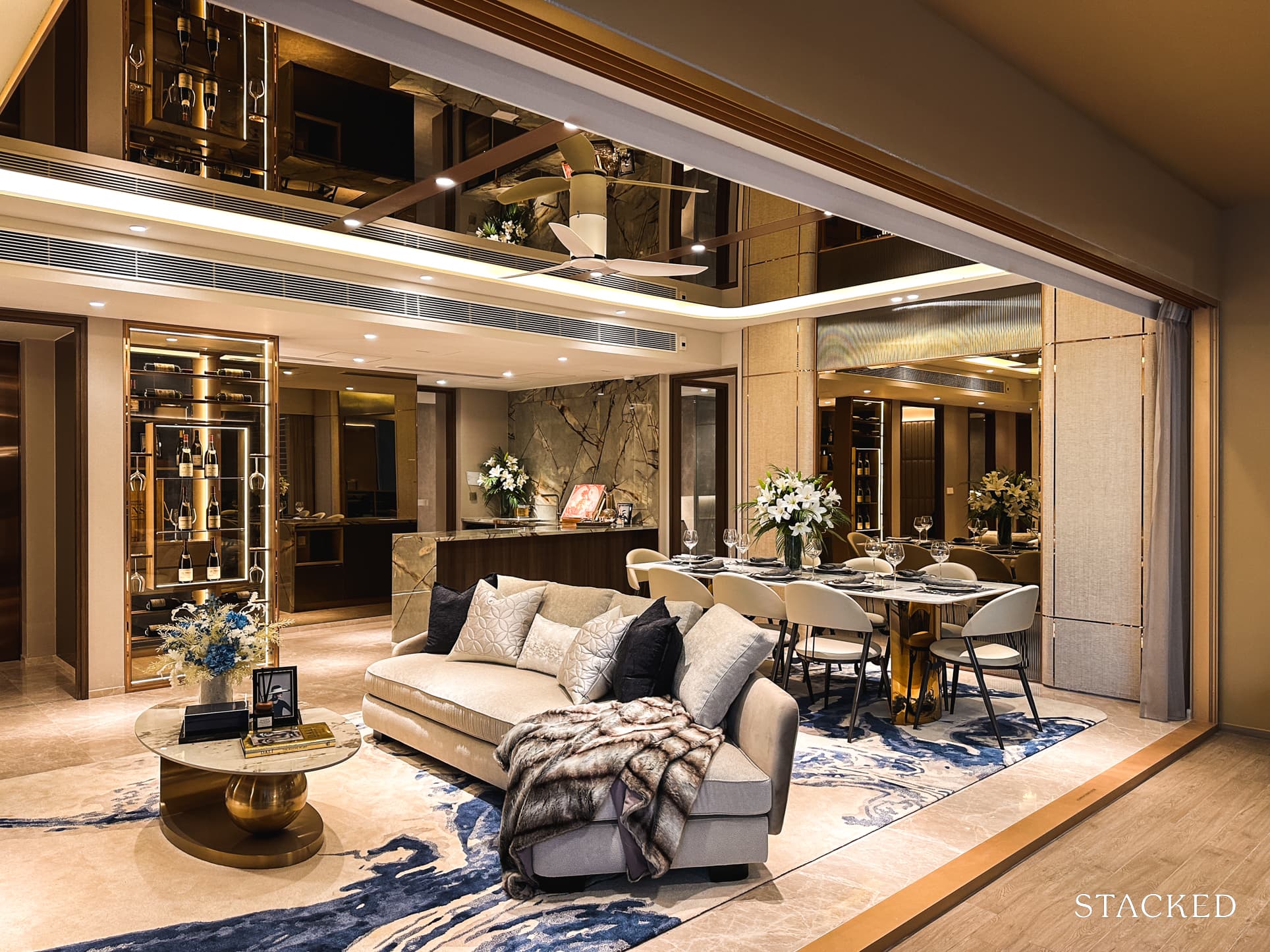 In a touch of luxury, the air-conditioning will be ducted so the not-so-aesthetic-looking aircon units will be out of sight. It's definitely a premium feature that you only get at the high-end condos. You still do have the ceiling fan that is present in every unit to meet the Green Mark Platinum requirements, but I do suppose some buyers would like some differentiation for this, given that it's the Grand Collection.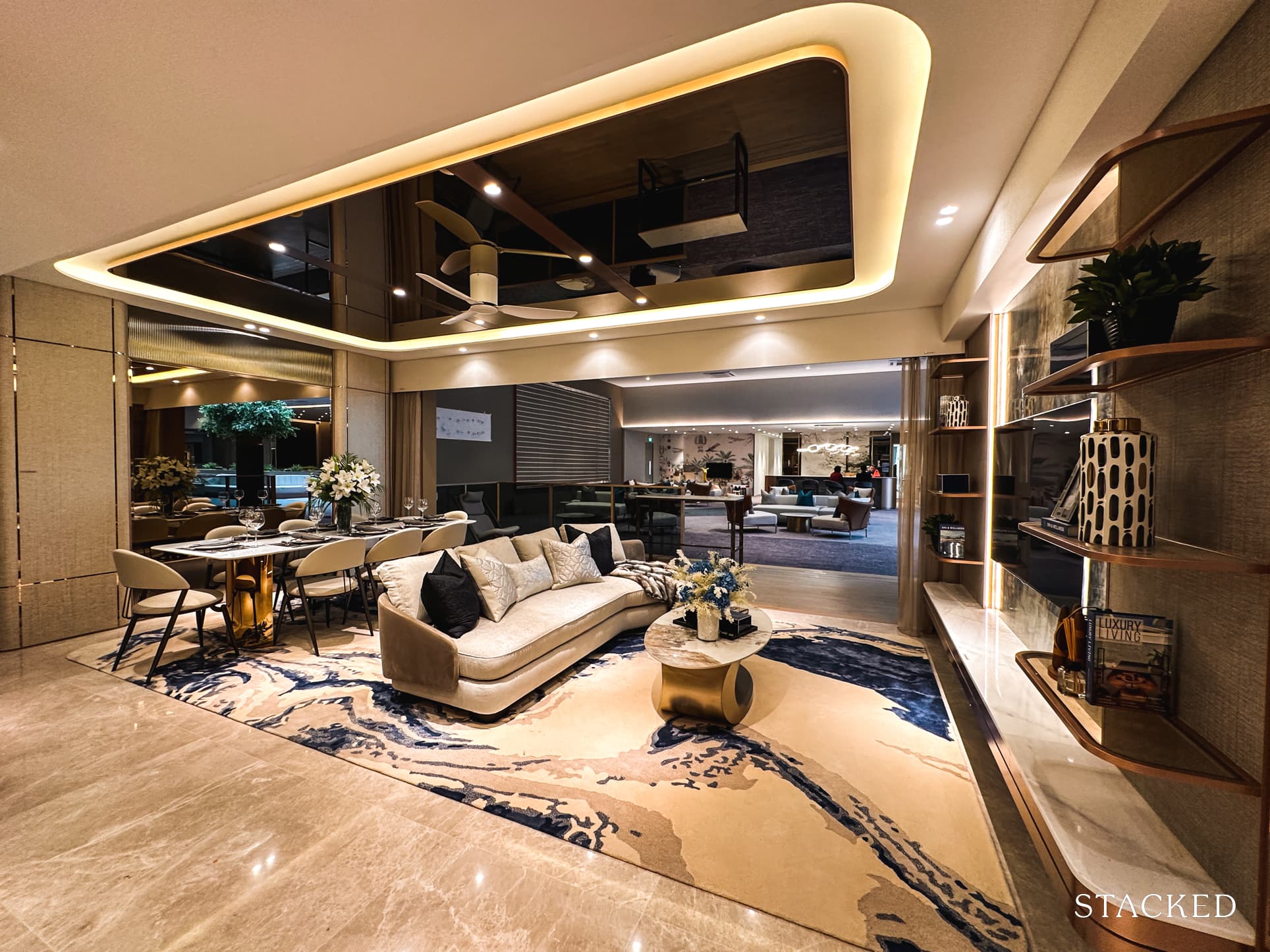 As you can already tell, this is a pretty vast amount of space when it comes to a new launch and one that only a privileged few can own.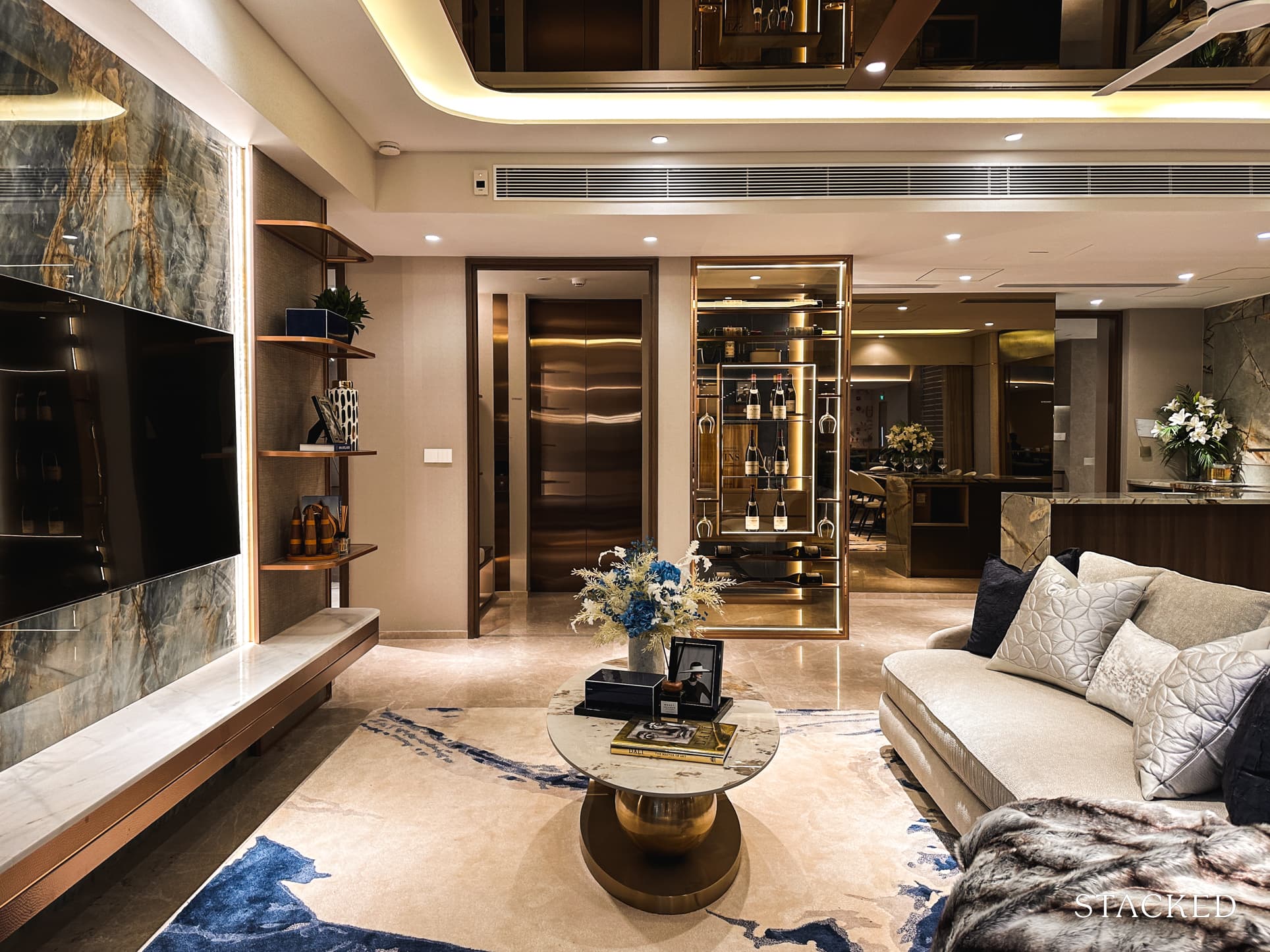 The living area can accommodate a sizeable couch, or you could also opt for a smaller one with lounge chairs by the side.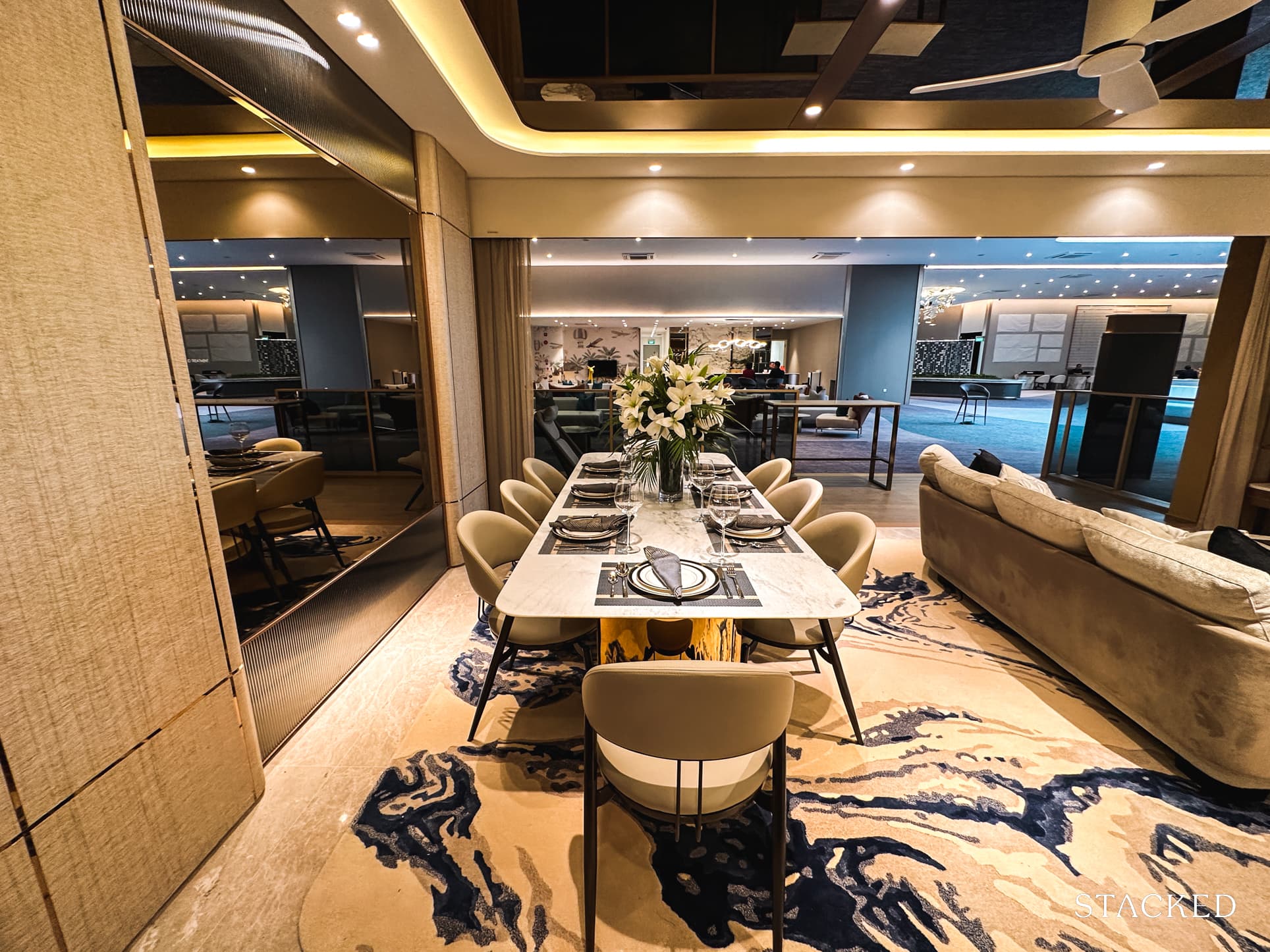 As for the dining, I really like the sheer length of the dining table that you can place here. It's currently an 8-seater and you can tell that there is space available on all ends.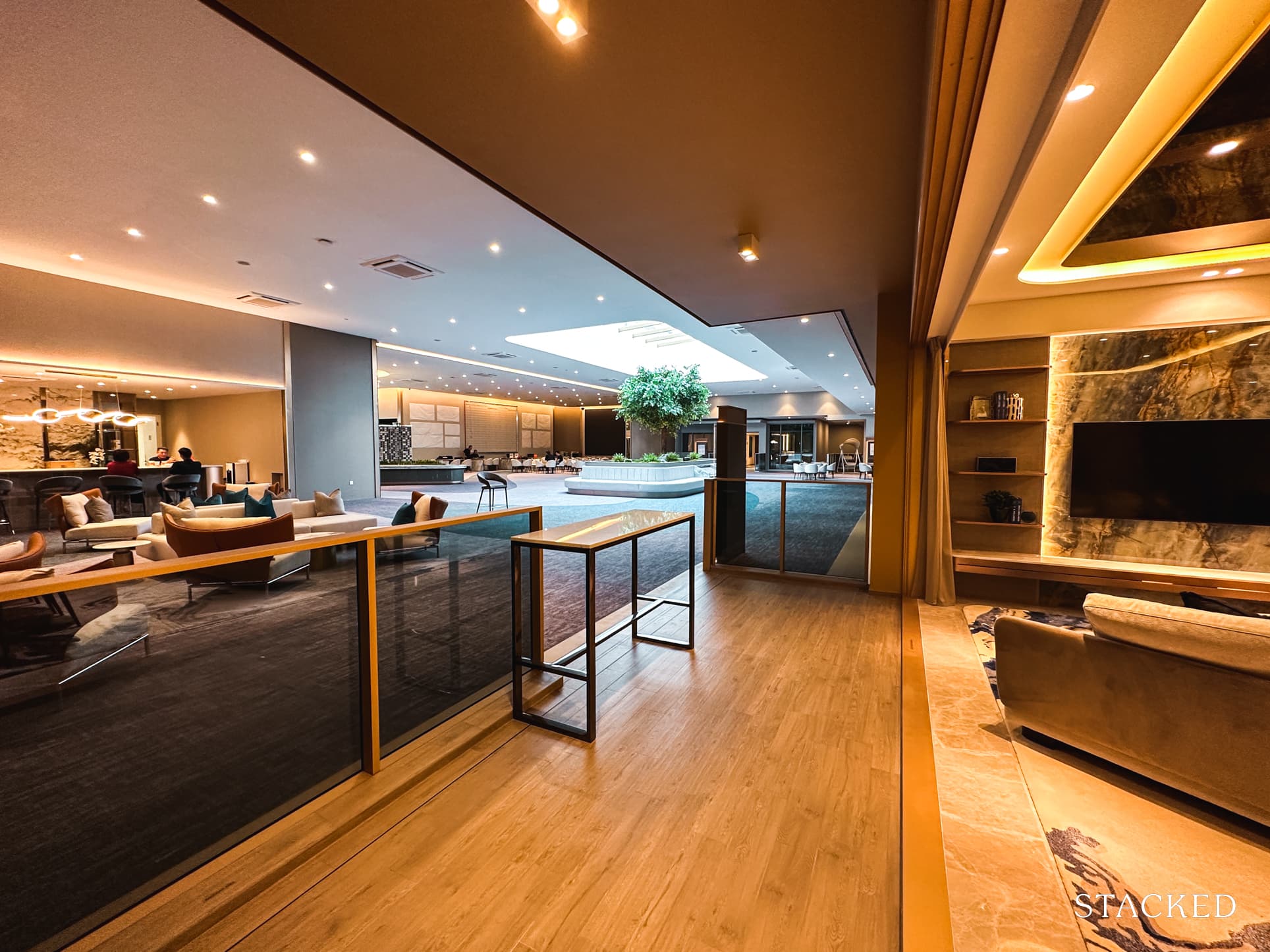 The balcony here is humongous too at 15 sqm and for context, it is larger than the Master Bedroom in the 4 Bedroom show flat and the same size as the Junior Master here. It's a great space especially if you host often and what's helpful is that you also have an unlocked view of the neighbourhood to look out to (provided you are on the higher floors).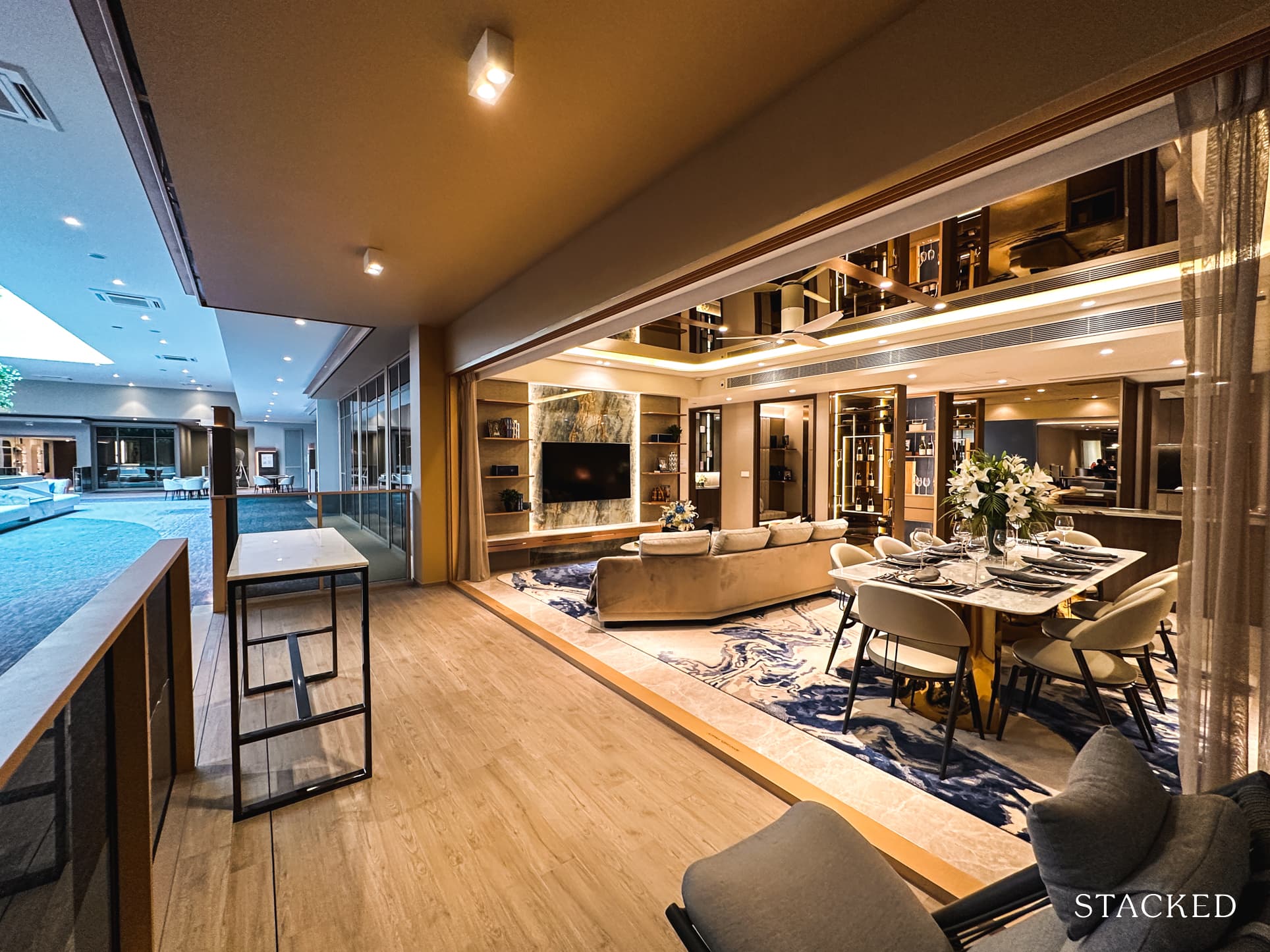 You could easily have a couple of zones in this area, from a secondary dining space to perhaps a workout area or garden.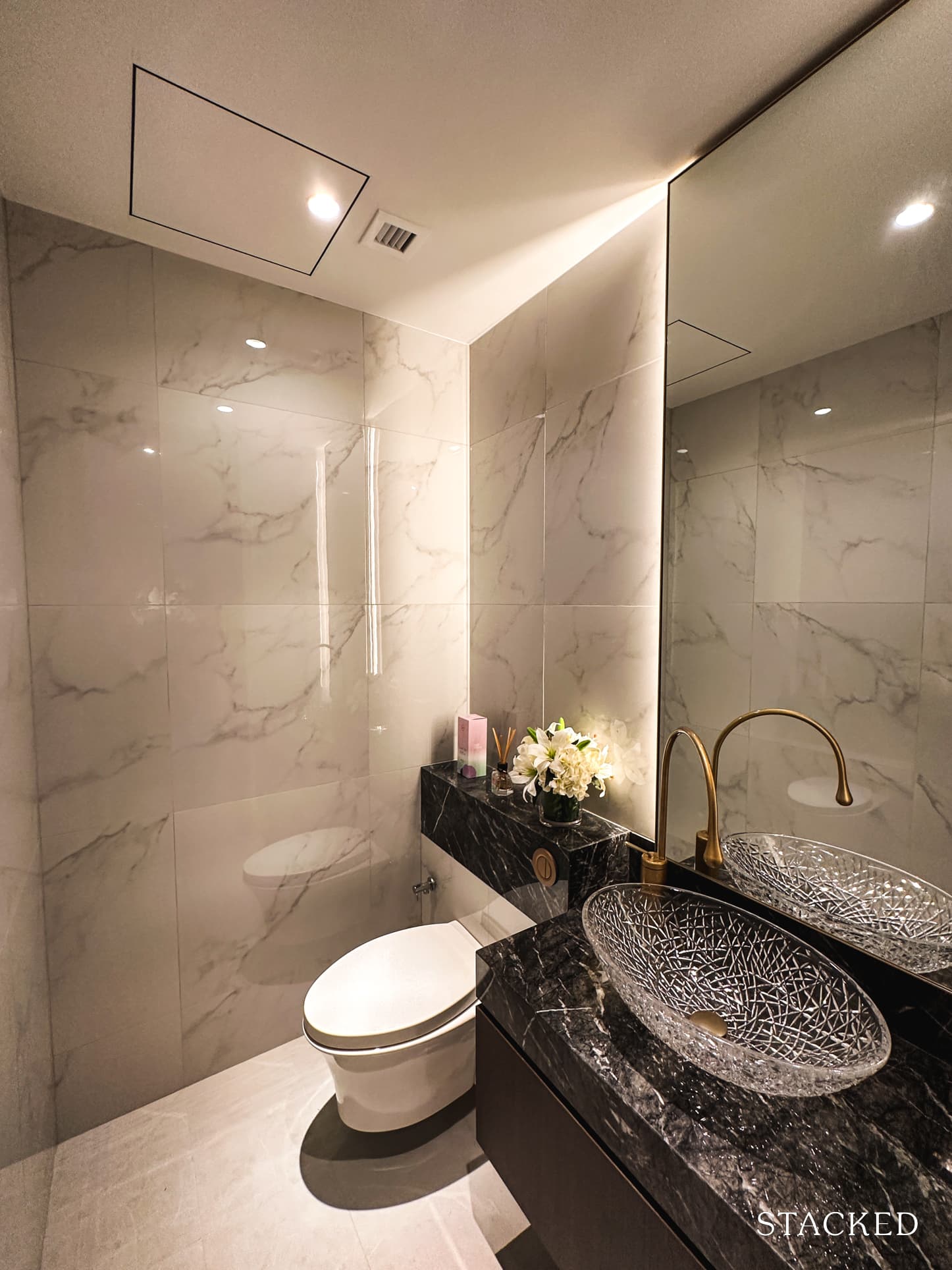 Powder rooms are designed to make an impression on your guests and the one here beside the dry kitchen is certainly trying to do that. The porcelain wall tiles do look simple and understated but the developers have gone all out with the Gessi iconic teardrop mixer and crystal-looking basin for more of an "if you know, you know" moment for guests.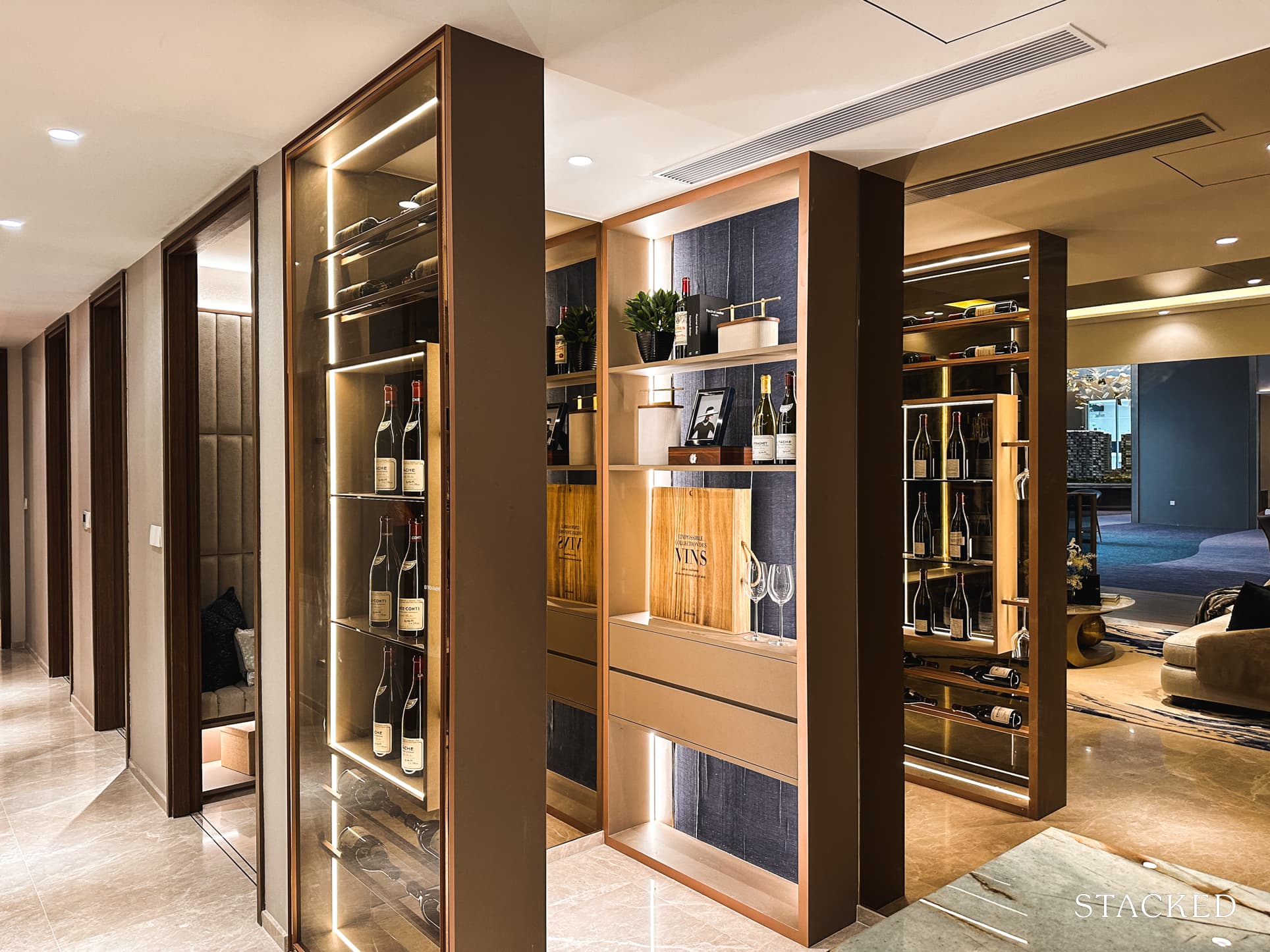 Heading on to the dry kitchen area where you see the wine collection area is actually part of the ID and not the actual provision by the developer (so yes, this space will be empty). If you're into hosting friends and family, having a mini wine cellar of sorts does sound rather cool and good use of what would have been an empty spot anyway. Frankly, it does seem to be a bit of a wasted space, but thankfully that's not something this unit is short of anyway.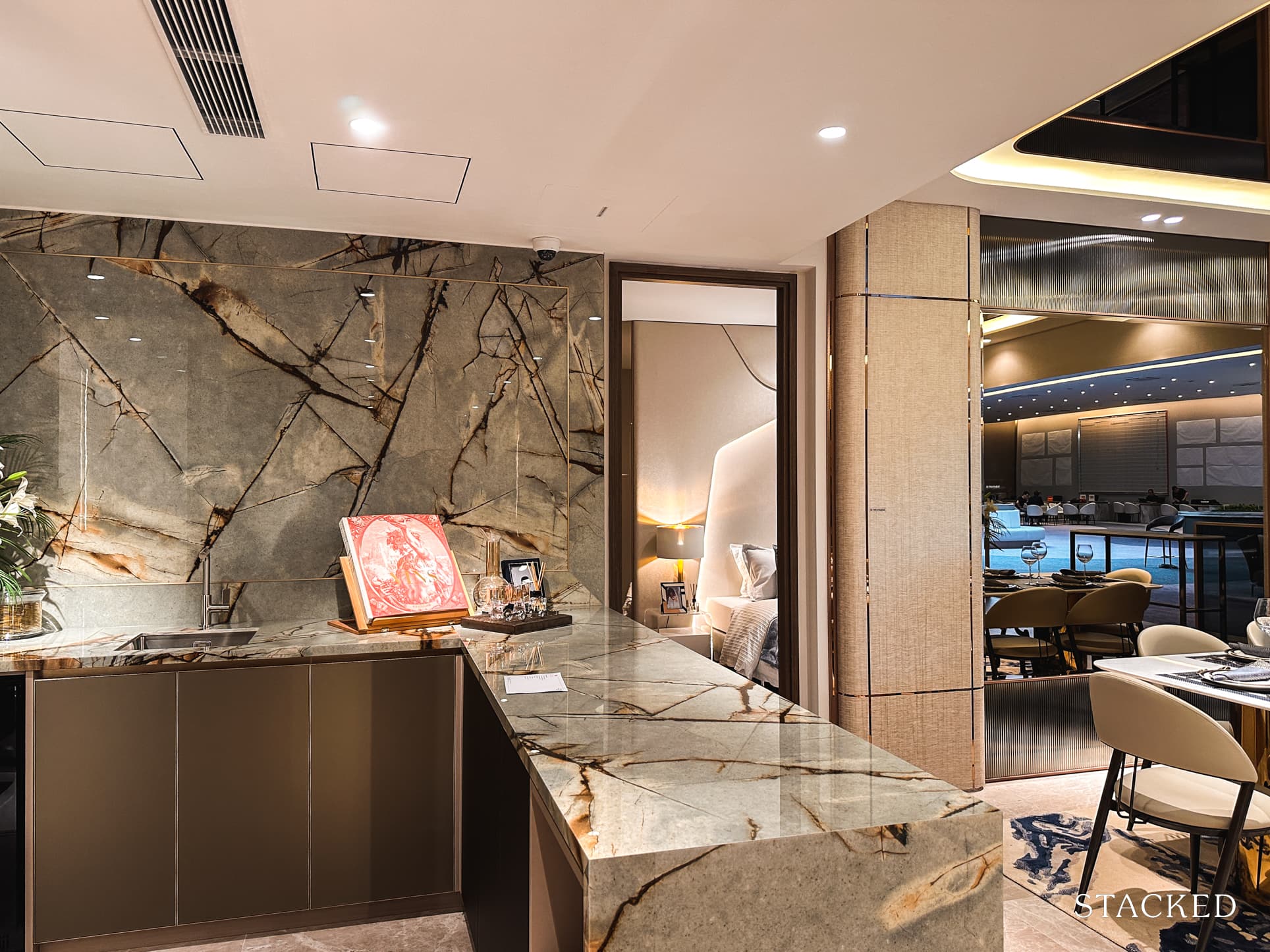 The dry kitchen has a generous countertop and backsplash with a similar design that is meant to wow and impress you and your guests. It has a marble-like design that is meant to bring out the grandeur and luxurious nature of a unit that is expected to cost in excess of $5 million.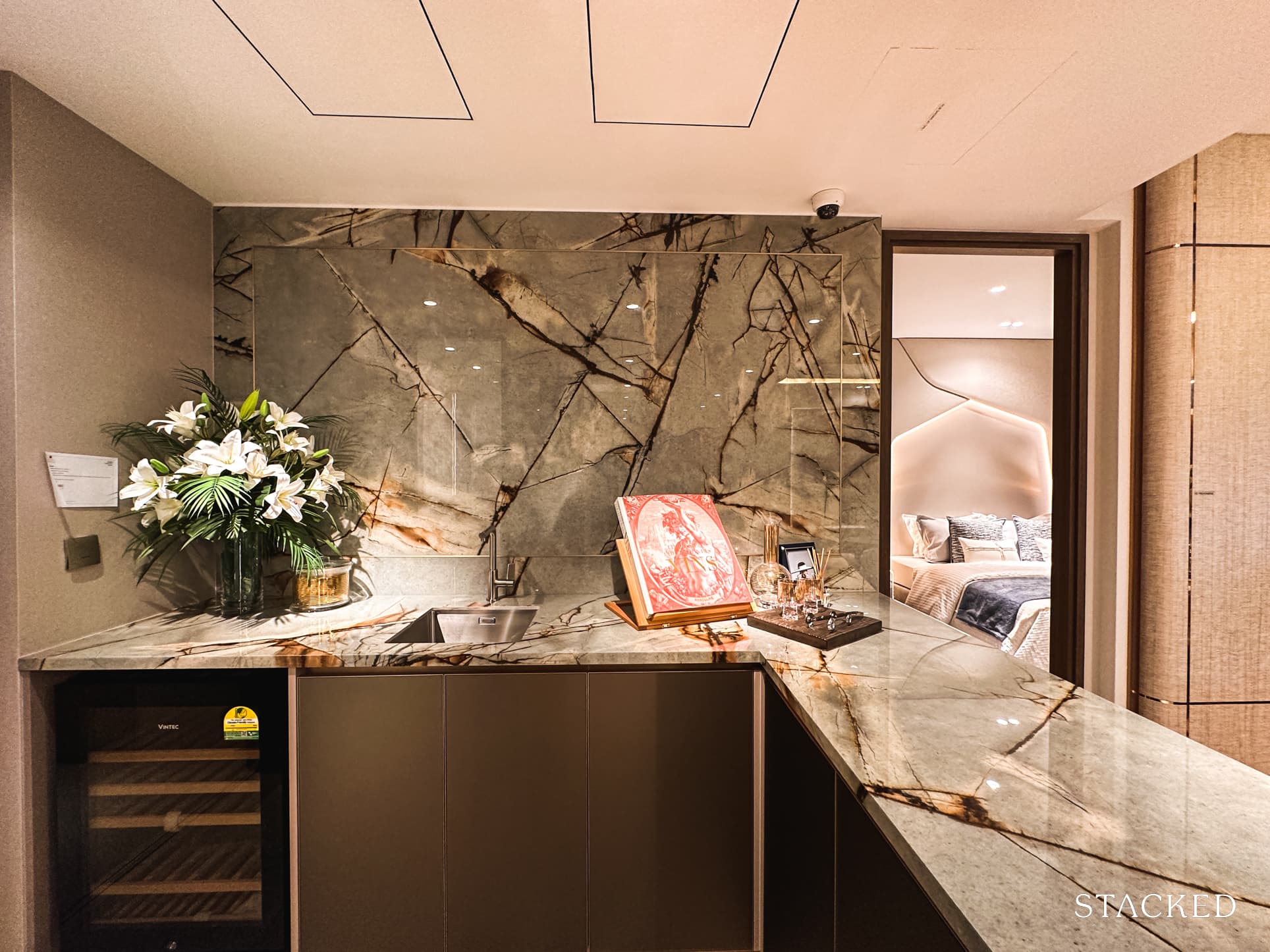 The countertop is great when you have buffet-style meals for guests while the bottom cabinets will be practical additions for your additional cutlery and plates. There's also a Franke sink and mixer as well as a Vintec wine chiller which will be perfect for hosting without having to enter the wet kitchen.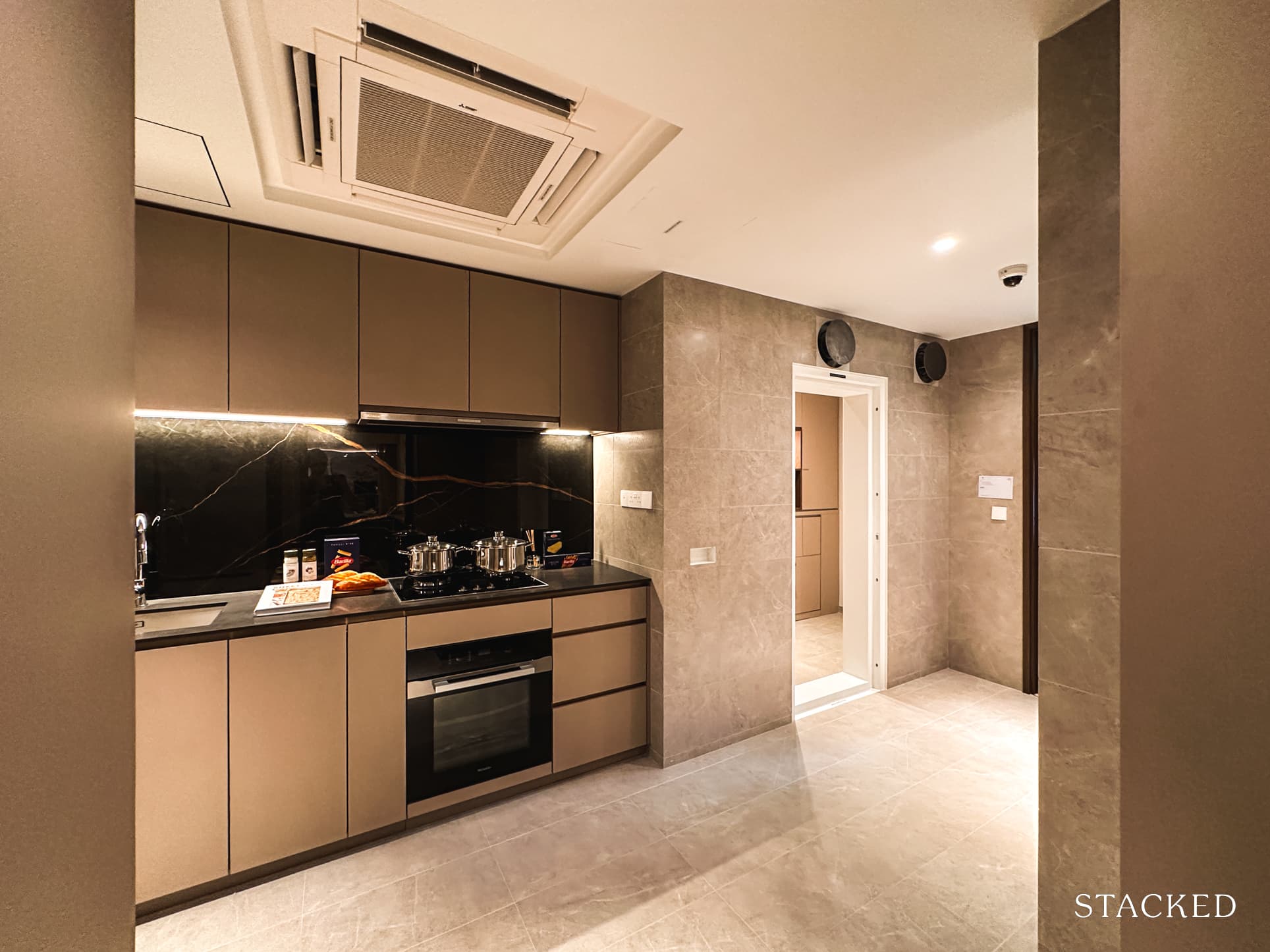 The wet kitchen is very big on paper but I felt that it could have been better optimised, although you definitely do get the impression of the luxury of space once you step in. There's a big area around the foyer beside the side door that leads to the main lift lobby (since you already have a private lift). While I would ordinarily say that it's great for drying clothes, the windows for this kitchen are on the other side and this space does not seem to have much purpose.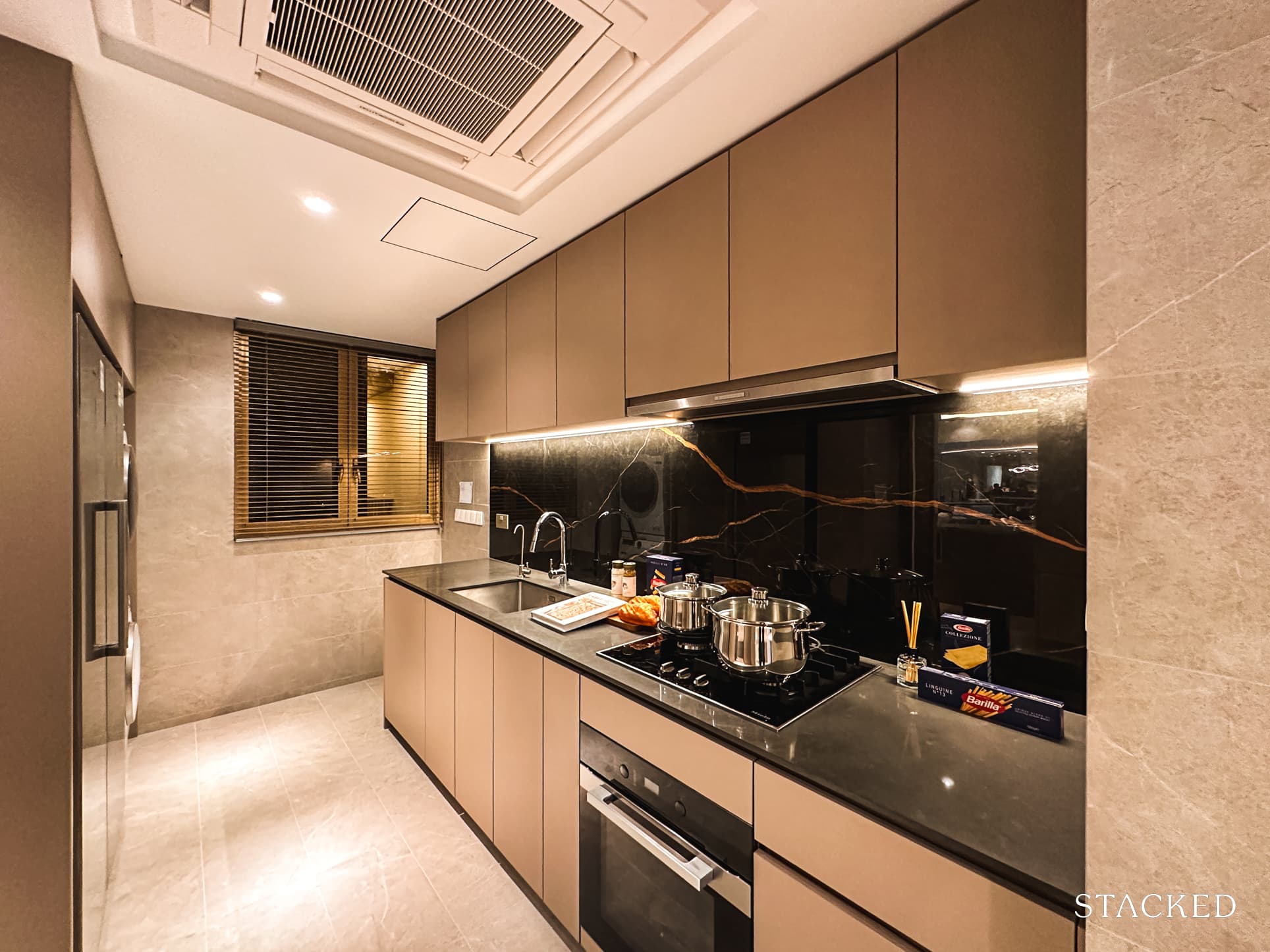 As such, the countertop space in the wet kitchen of this 5 Bedroom unit is somewhat limited. It is restricted to small pockets of space along 1 side of the kitchen. Of course, if you were to include the countertop space available in the dry kitchen, it's going to be more than enough but I do think that most people would prefer their food preparation done in the wet kitchen.
Brands used for the Grand Collection are different as you get a Miele hood, oven, and 3-zone gas hob (instead of a De Dietrich one). It's a high-end German brand that does not need any introduction and you will likely be familiar with them if you're shopping around for an apartment of this quantum.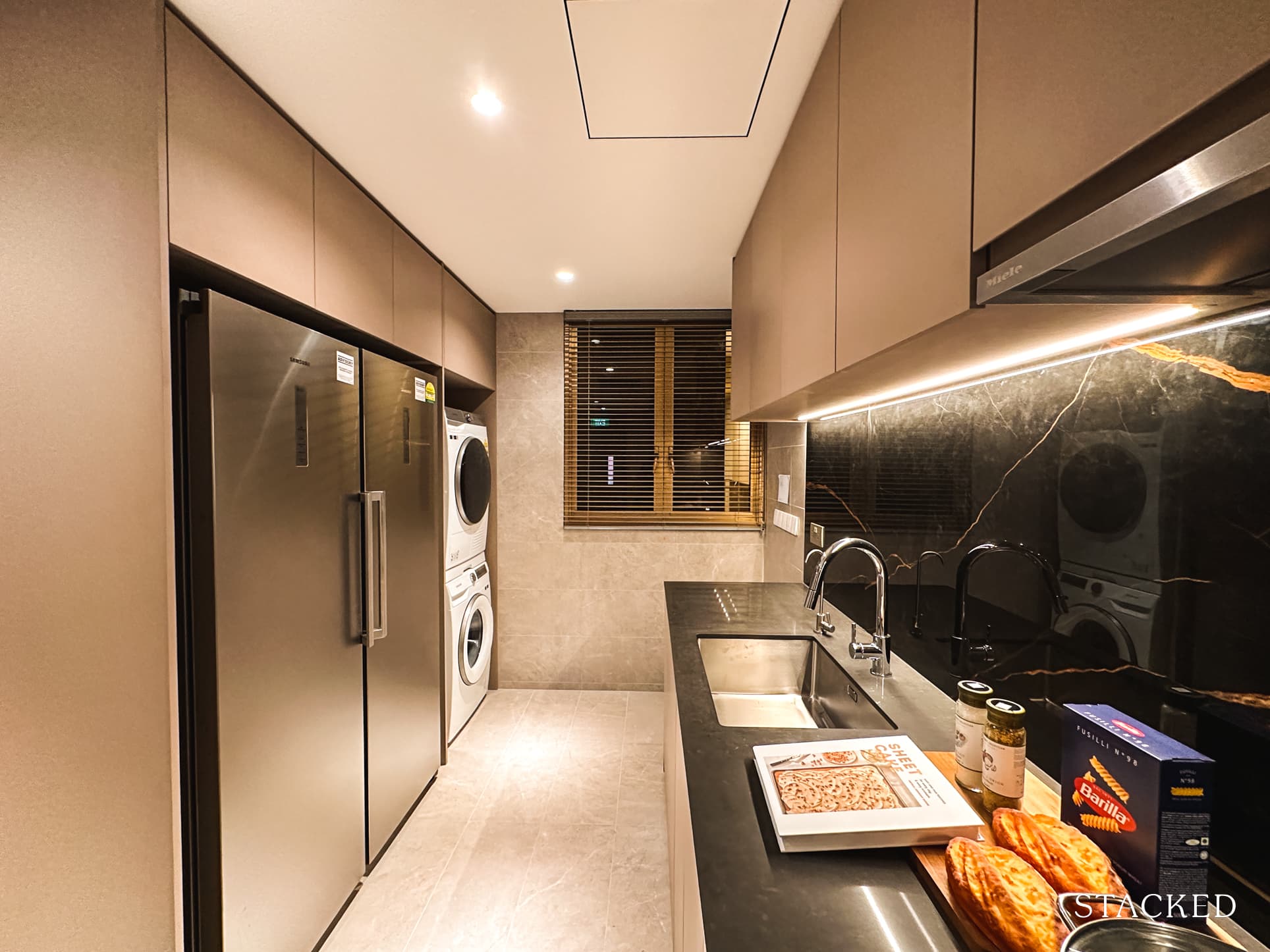 On the opposite side, there's a separate washer and dryer from Samsung as well as a 2-door freezer and fridge from Samsung as well. As mentioned earlier in the other unit reviews, Samsung has been the brand of choice due to its strong energy efficiency rating that the other premium brands don't provide.
Furthermore, there's a yard area around the washer/dryer which you can use to supplement your dryer after your clothes are washed. Windows here will help to ensure that they get dry naturally.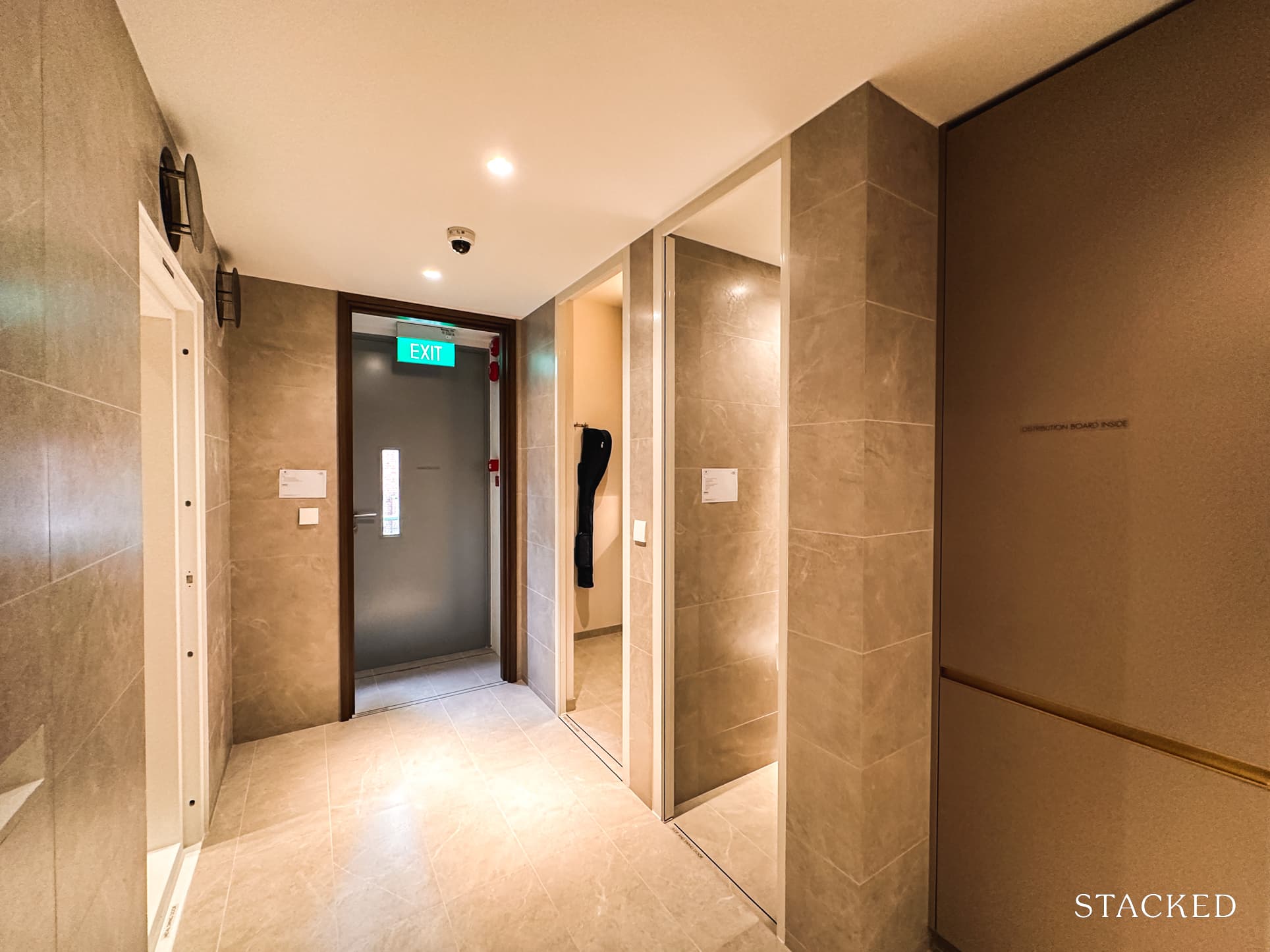 On the other side of the kitchen is where you have both a 4 sqm household shelter and a 3 sqm store. For a unit of this size, it's likely that you will have a helper and you can pick either of the 2 as a room for her.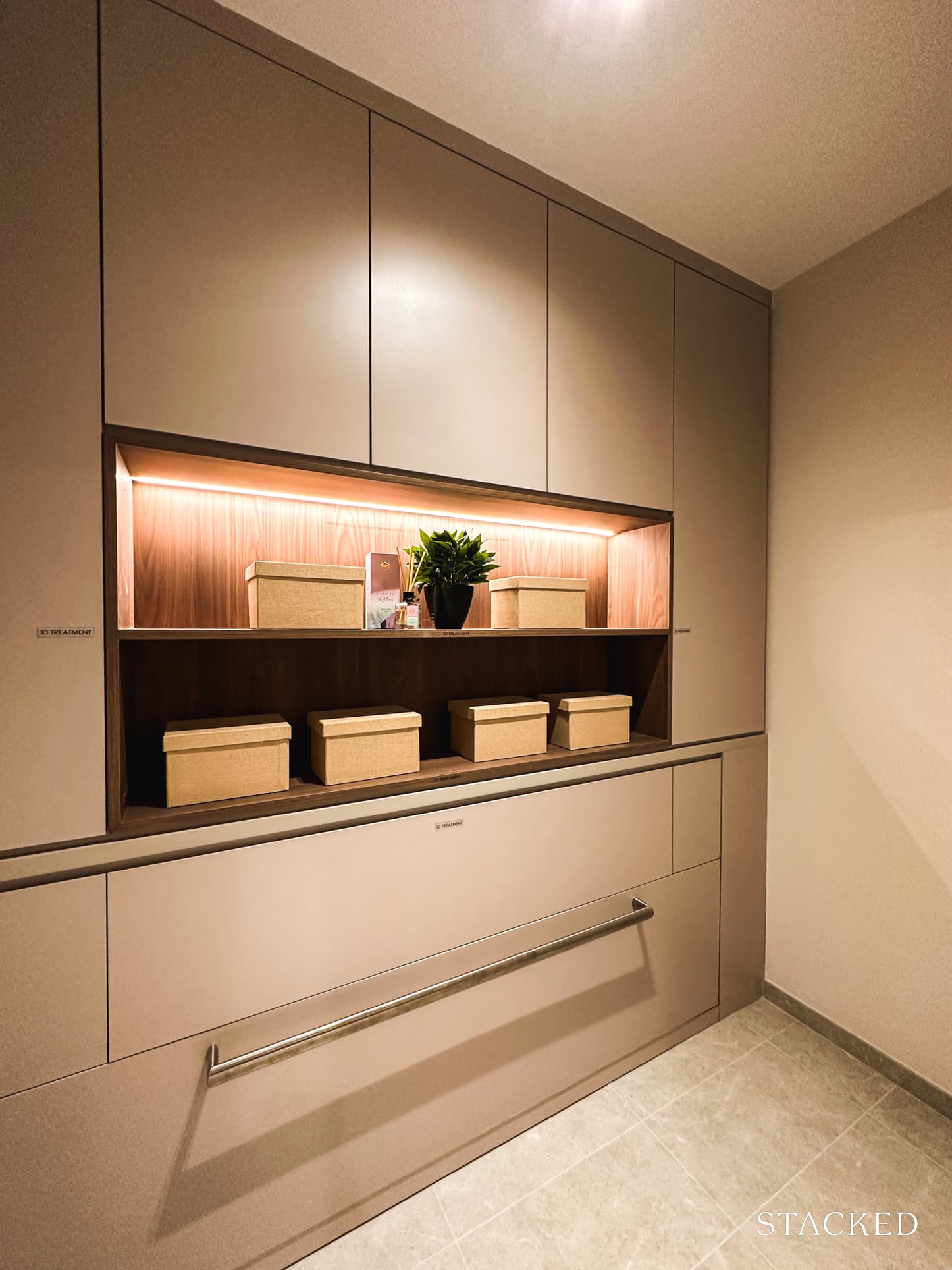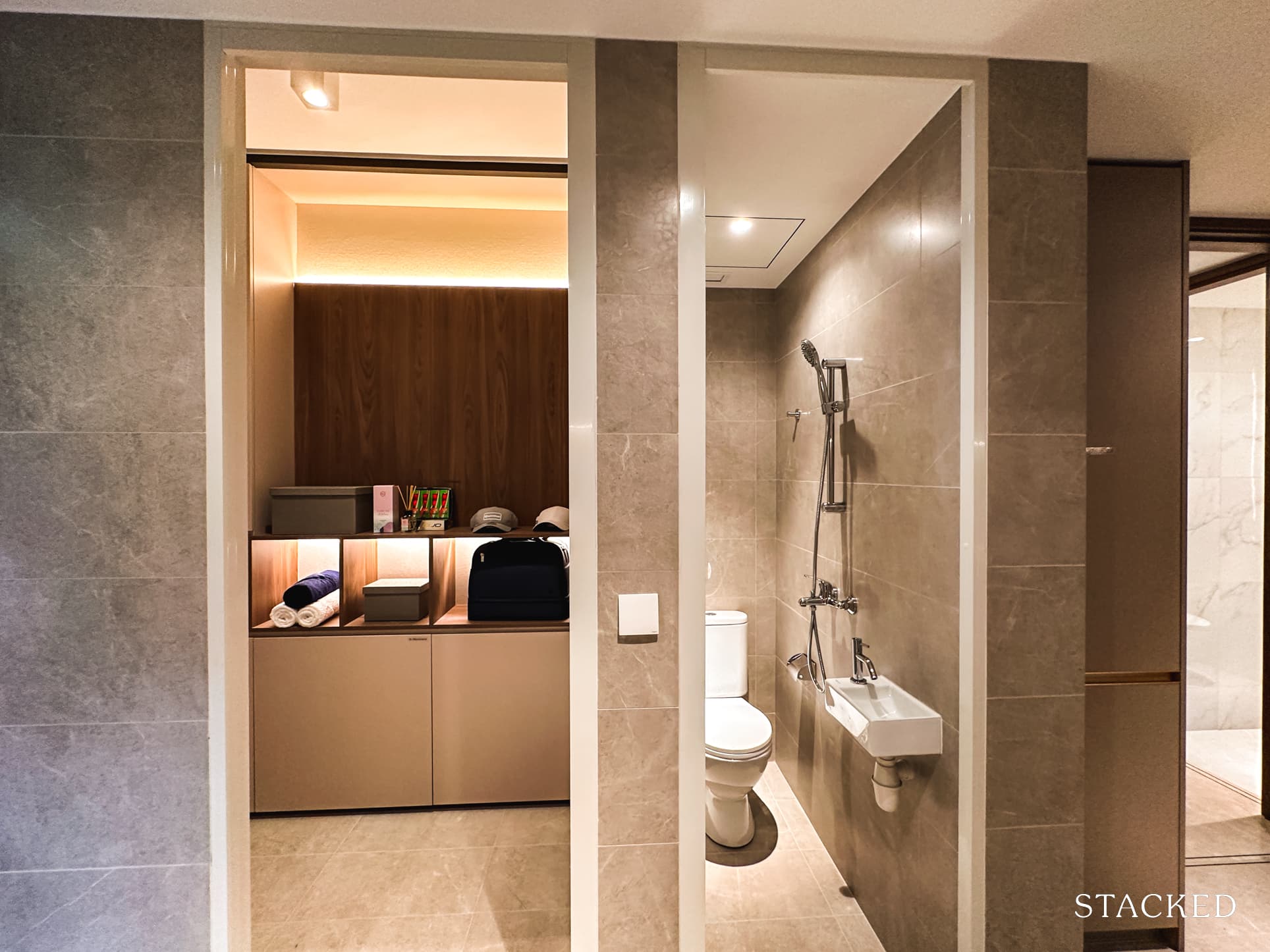 As for the vacant room, I am certain that the occupants will find a way to stockpile enough items to fill it. There's an additional w/c here too.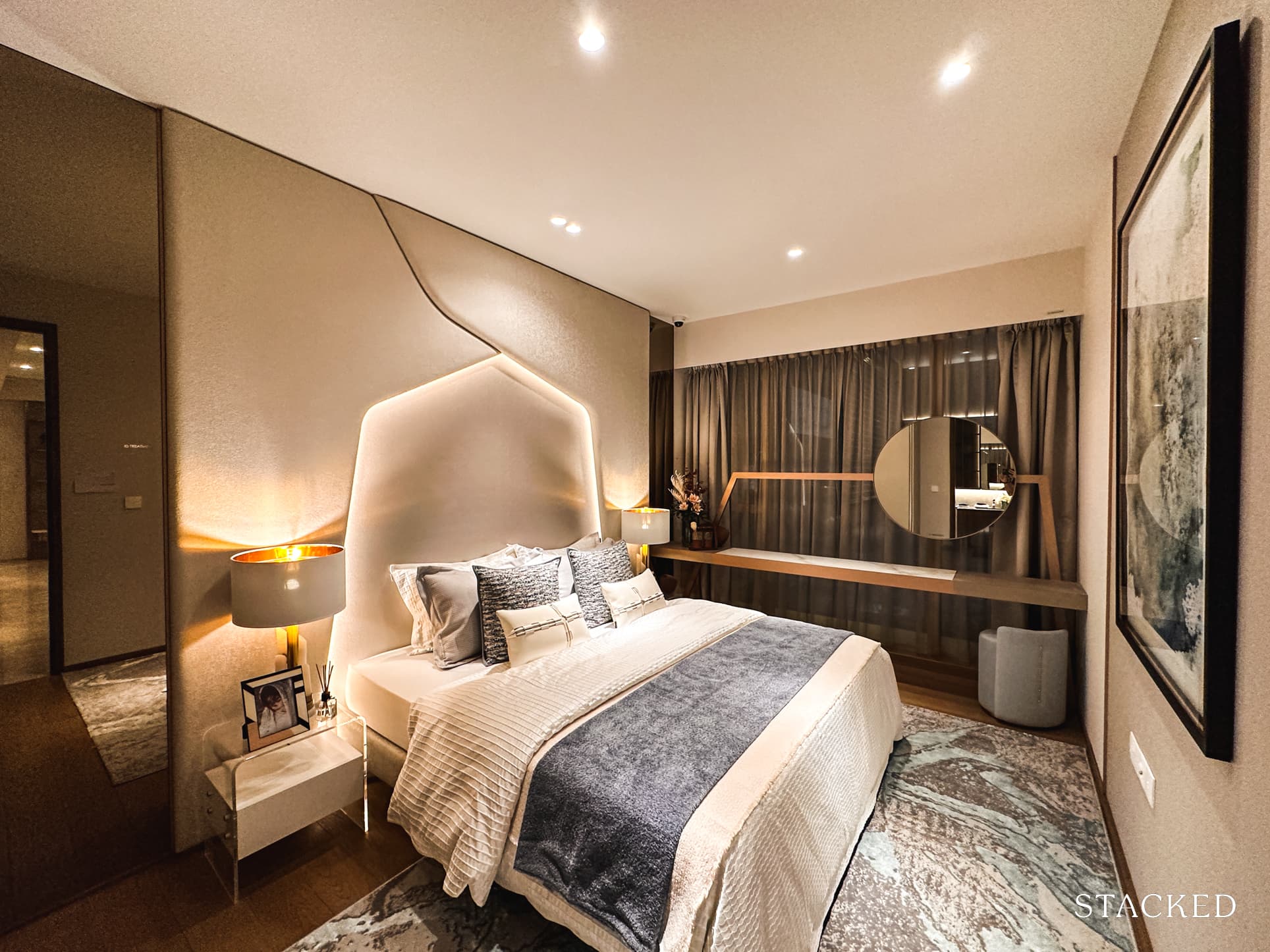 Moving back to the bedrooms, this unit has a dumbbell layout of sorts, with the Junior Master located away from the other bedrooms. It's definitely a layout I prefer as it gives additional privacy especially when you have a multi-generational family living together or even as a guest room who may prefer their own space.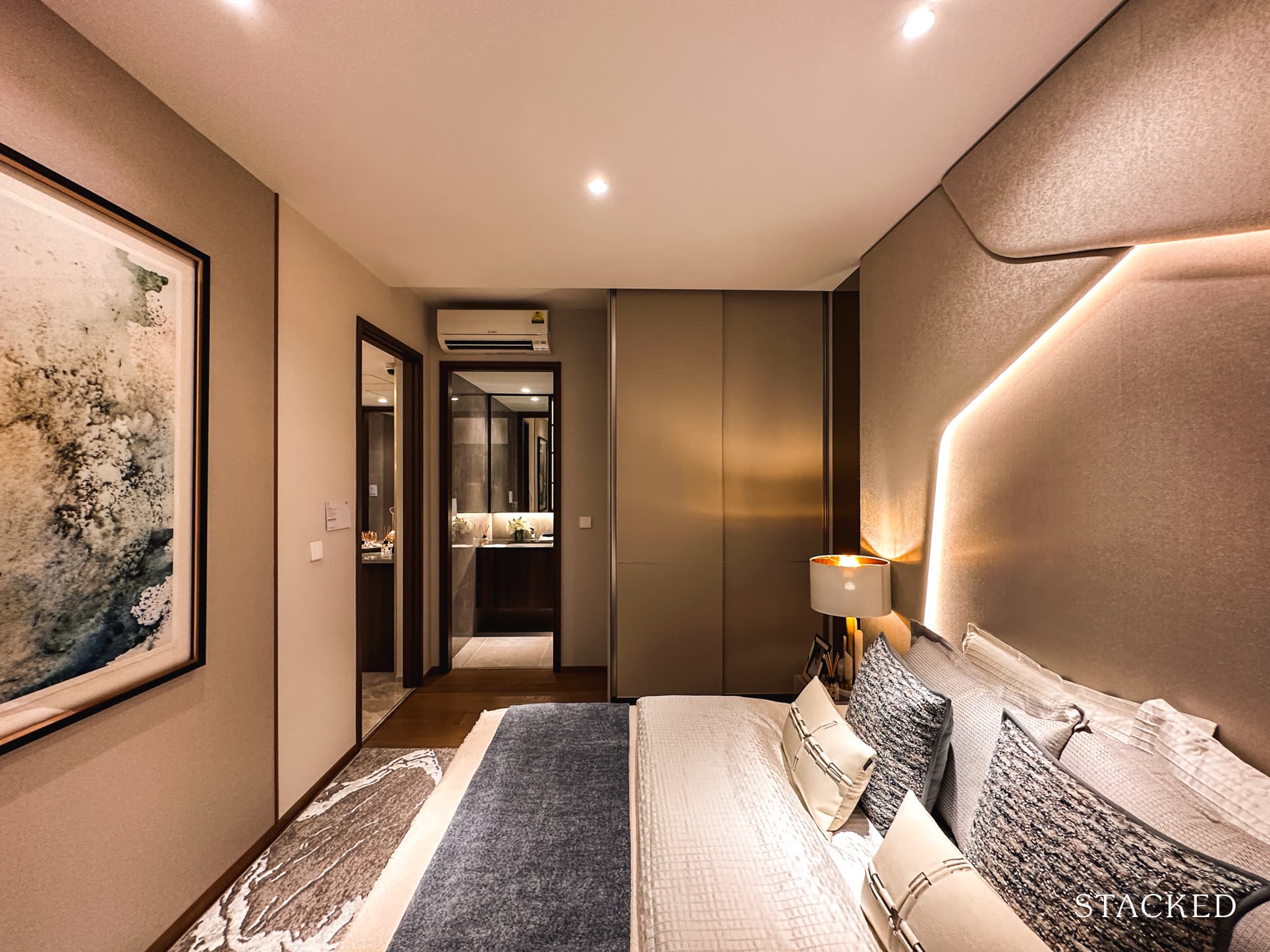 At 15 sqm, this Junior Master is impressively big and feels like every inch of it. It is substantial and can easily fit a King size bed with plenty to spare. They built a study along the side of the window and it is definitely a good move given the full-length windows and unblocked views outside of this particular stack. If you prefer, you probably won't need such a long table and can go for a combination with a dresser instead.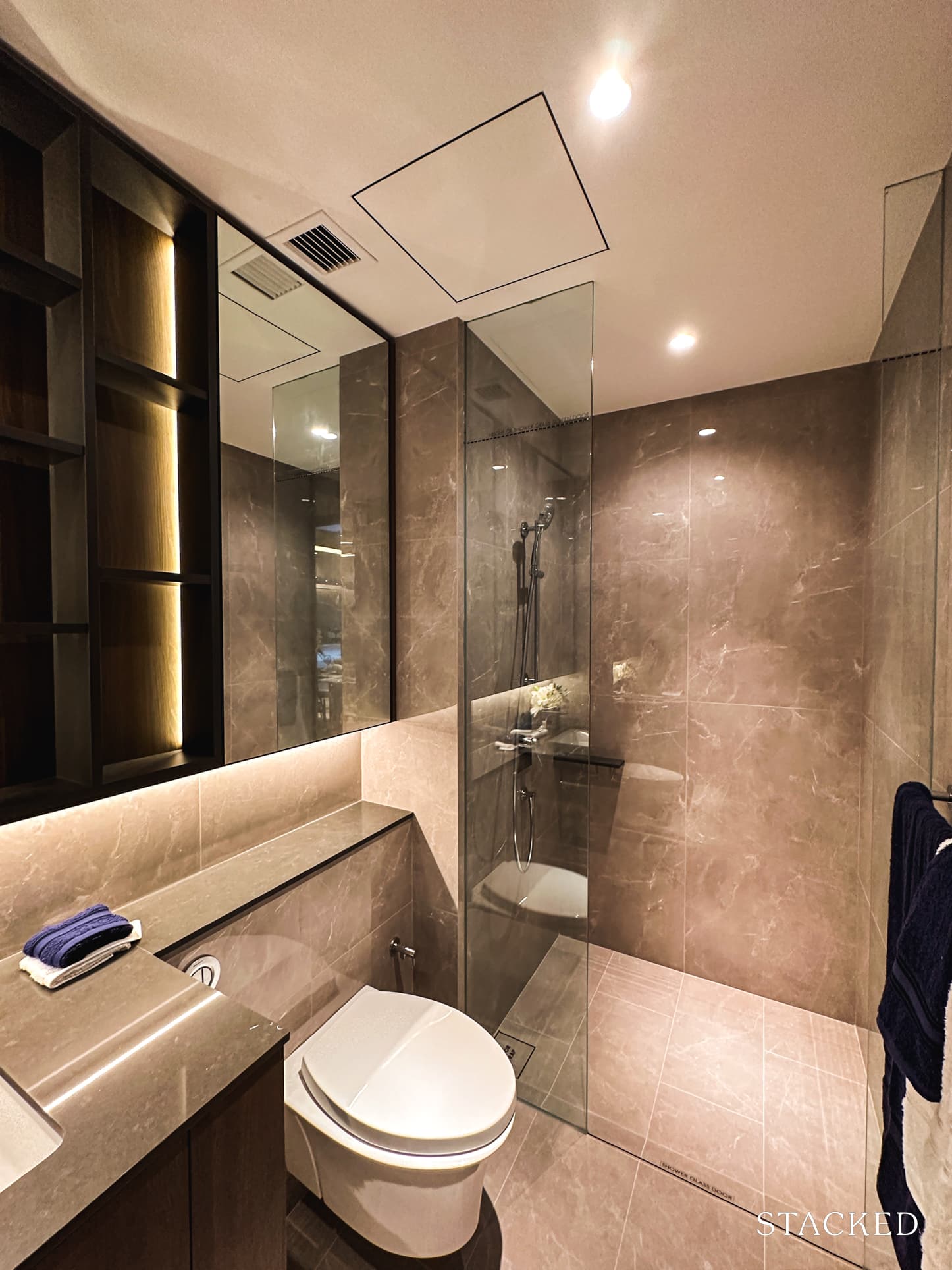 The Junior Master Bath is a decent size at 5 sqm. It comes with your standard bells and whistles including a Gessi shower set and mixer as well as a Kohler sink and wall-hung w/c. It would have been great to include a rain shower here, which I was surprised by the omission given that it was the Grand Collection. No windows here so you will be relying on mechanical ventilation.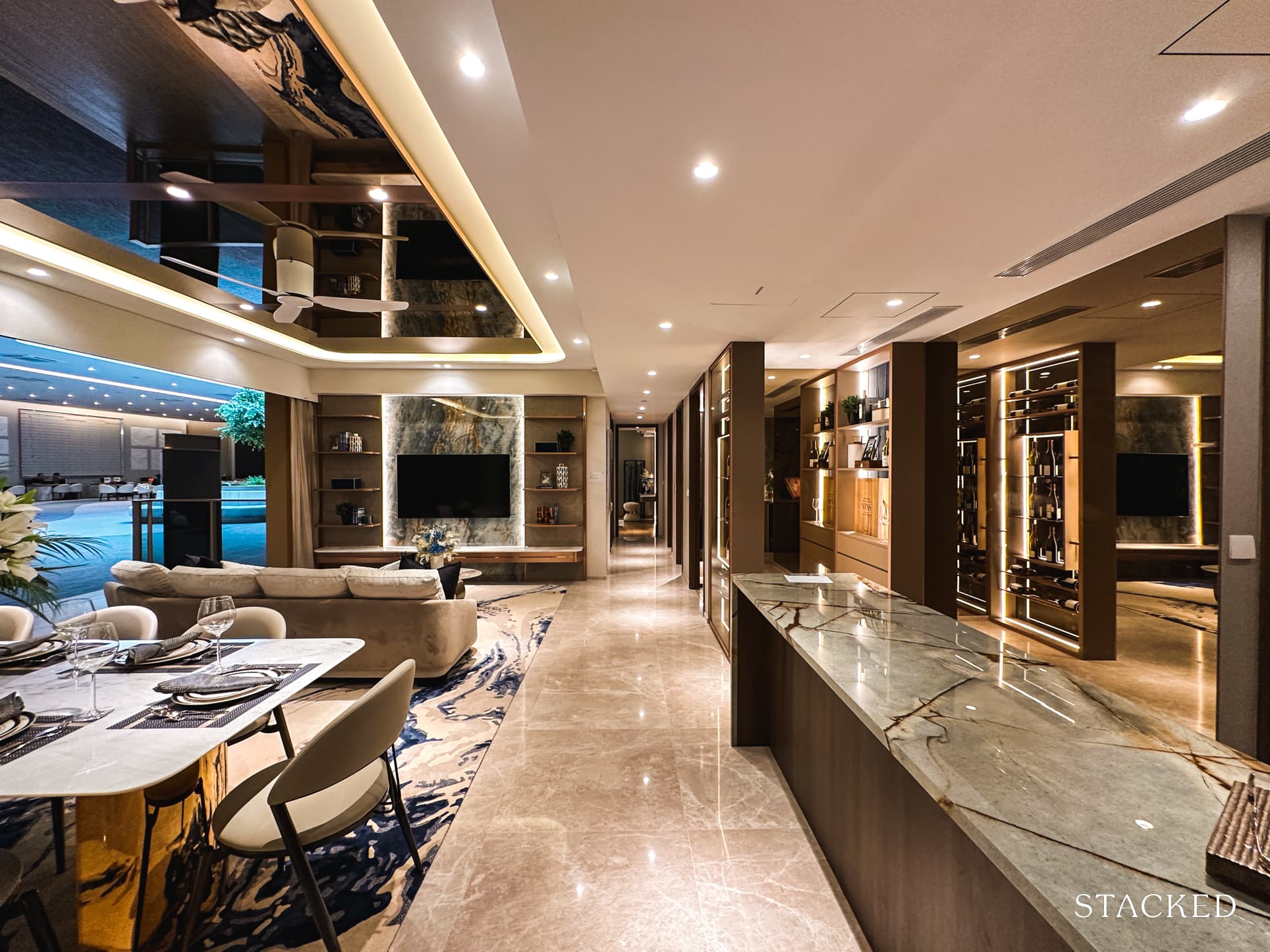 Moving to the other common bedrooms on the other side, we will start with Bedroom 5 at 11 sqm. It's identical in size to the adjacent Bedroom 4 and definitely more generous in size than the typical common bedroom.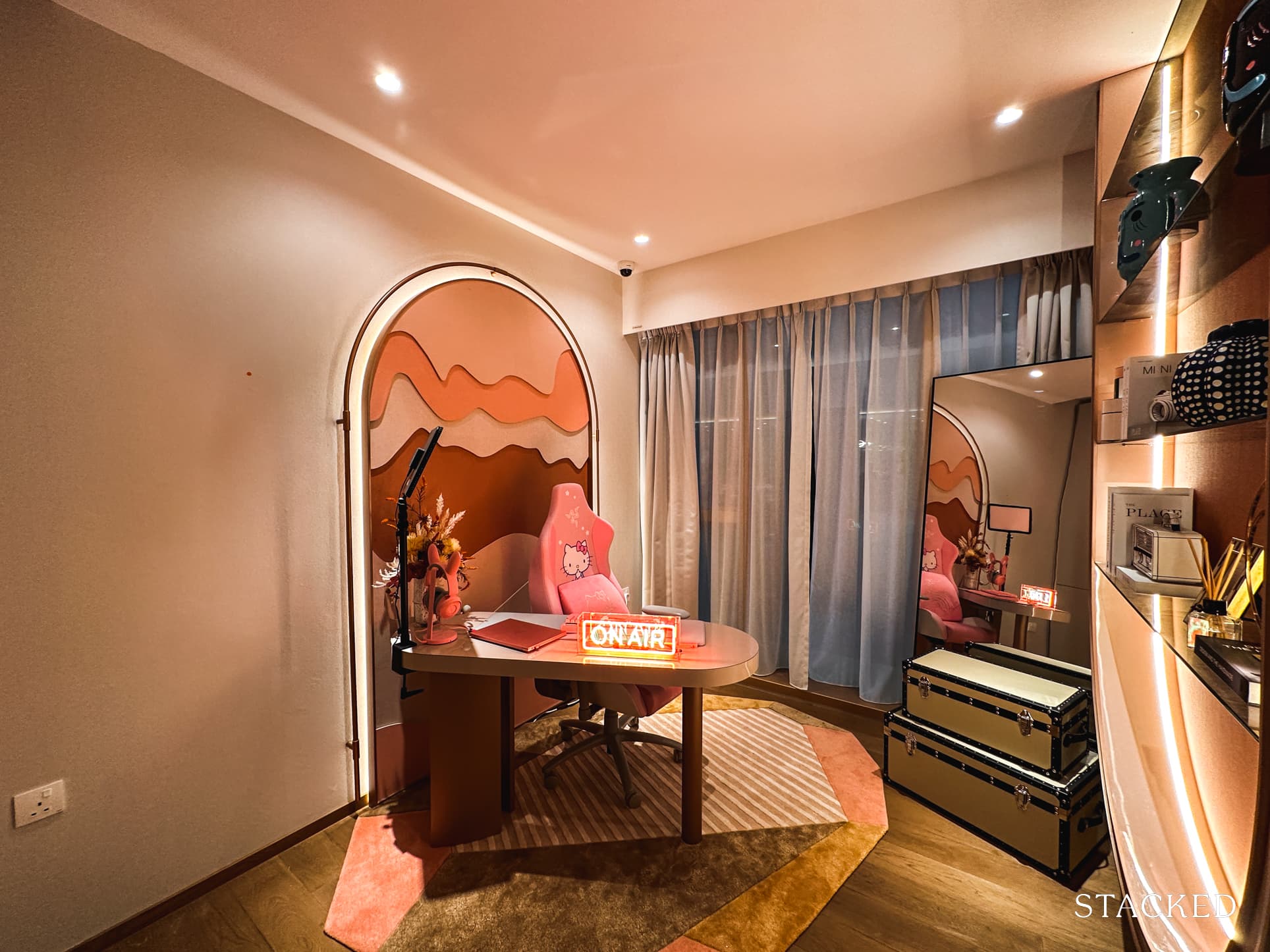 Bedroom 5 is what you might find as an example of a content creator haven. In partnership with Razer, a room complete with Razer's pink-themed products including a gaming chair, laptop, and keyboard are all here.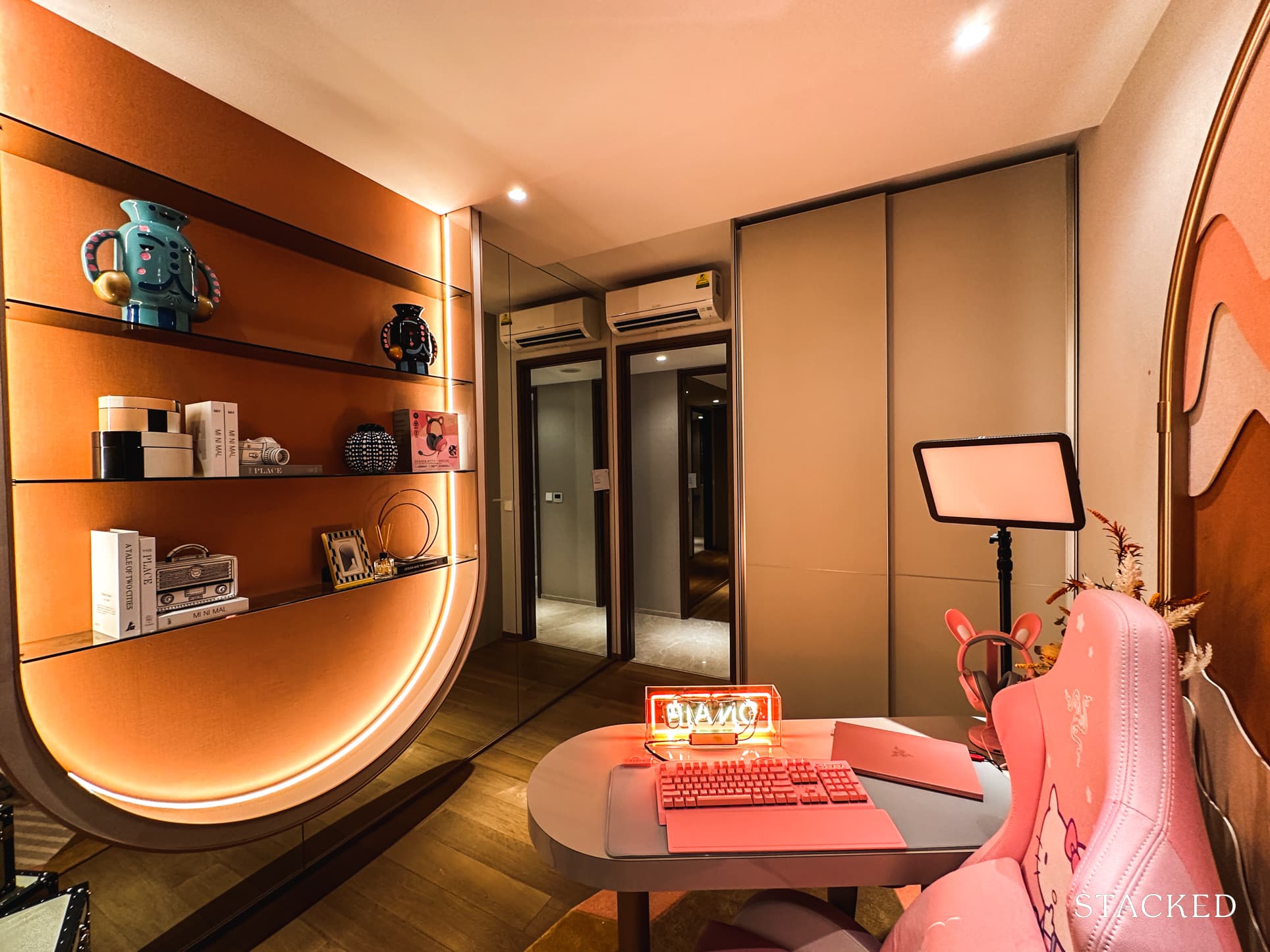 It's an innovative partnership and I definitely have to give it to SingHaiyi for their creativity to try something different. So of course, for the more "standard" folks out there, while it may be difficult to envision the room with a bed, Bedroom 4 does just that for your reference.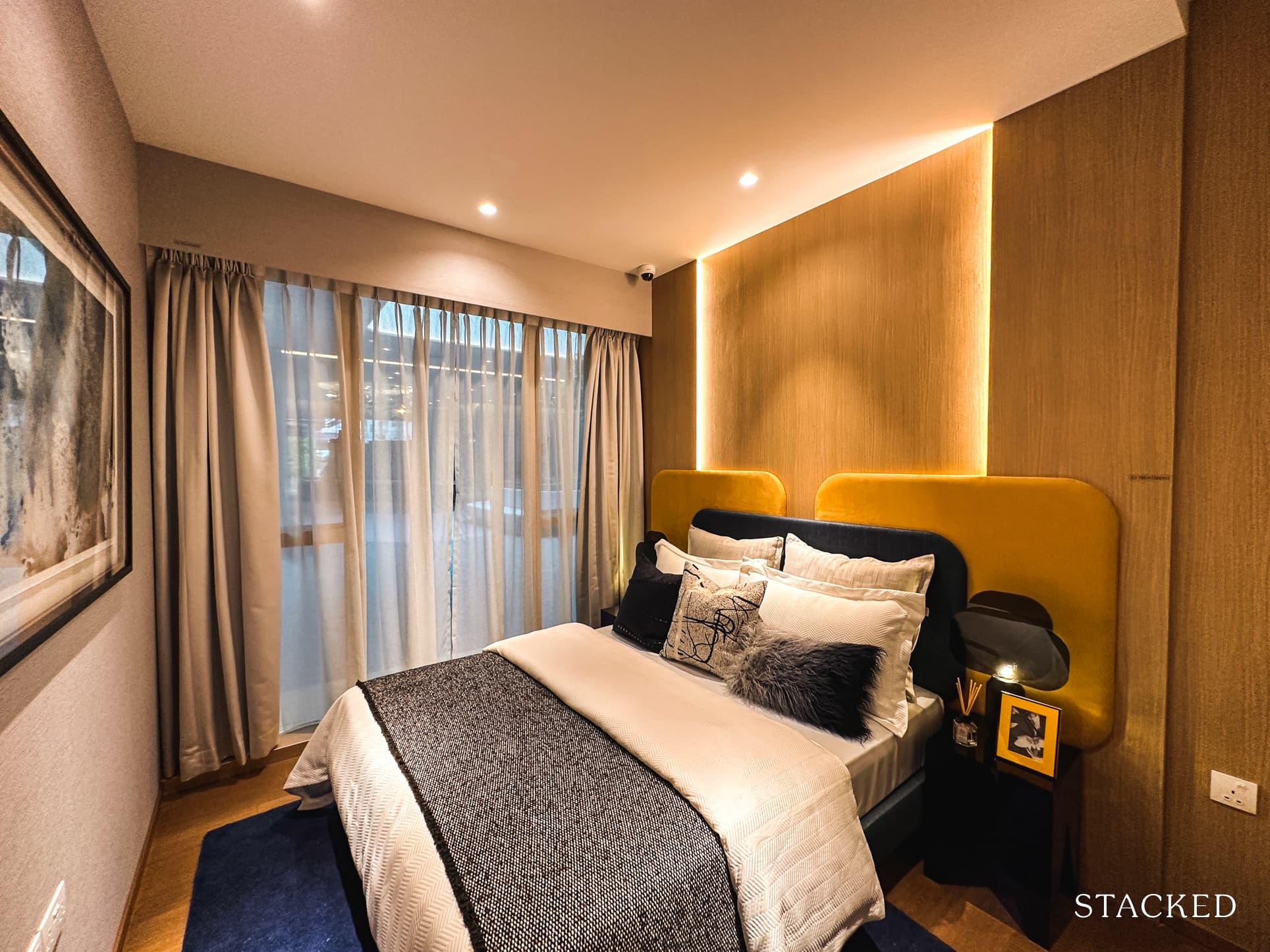 Bedroom 4 is your standard bedroom, except that it is now larger than normal. It still fits a Queen size bed (of course), but can now accommodate slightly larger bedside tables, especially if you only require them on 1 side. If you have a school-going child, it may be better to have a Single bed to accommodate a study table here as well.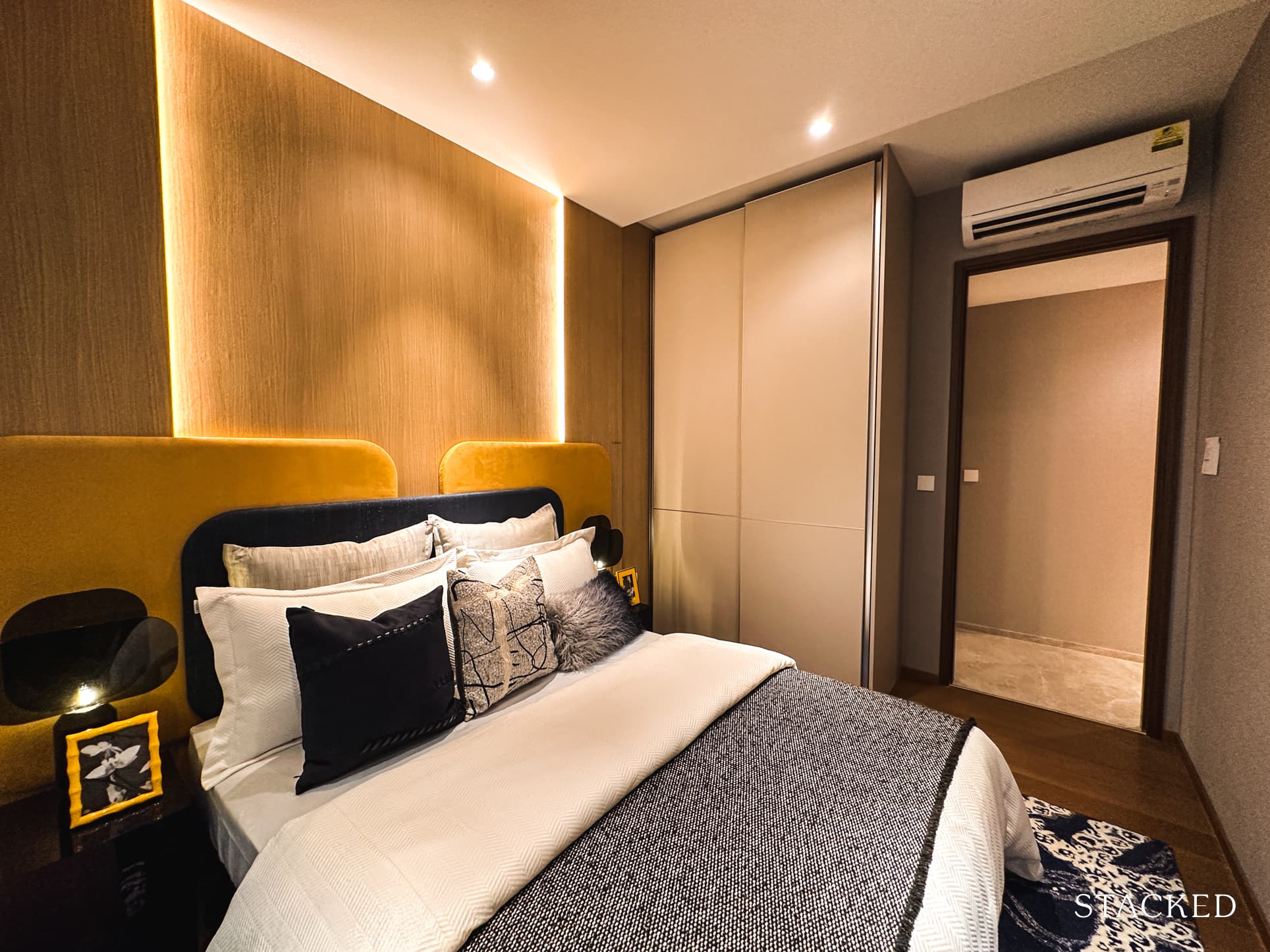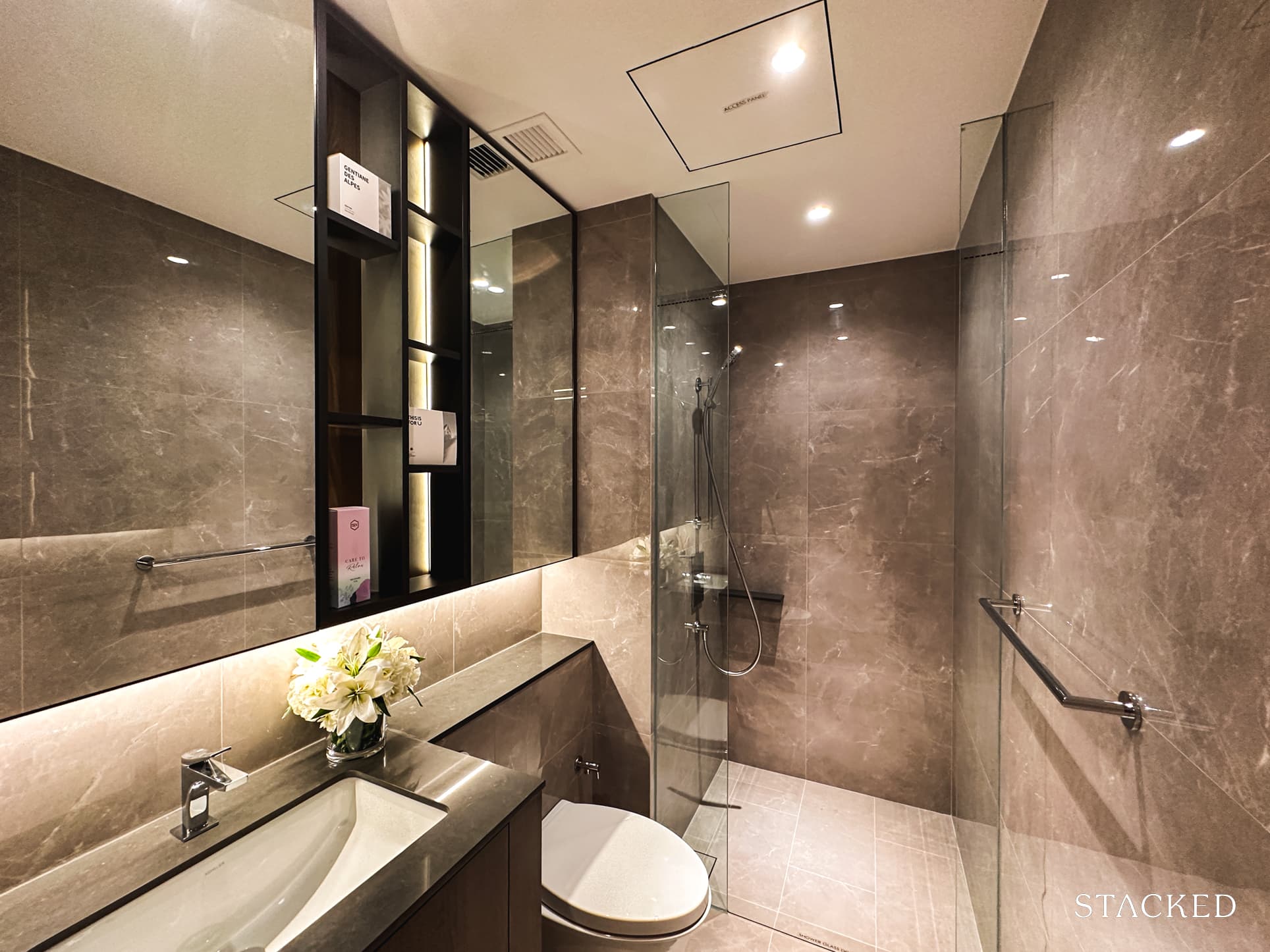 The common bath just across that will be shared with the 2 common bedrooms is of an average size of 4 sqm. You won't have windows here and will rely on mechanical ventilation. Standard built-in cabinets and mirrors above the sink are provided for by the developers. The wall hung w/c and sink are from Kohler and the basin mixer and shower set (non-rain shower) are from Gessi.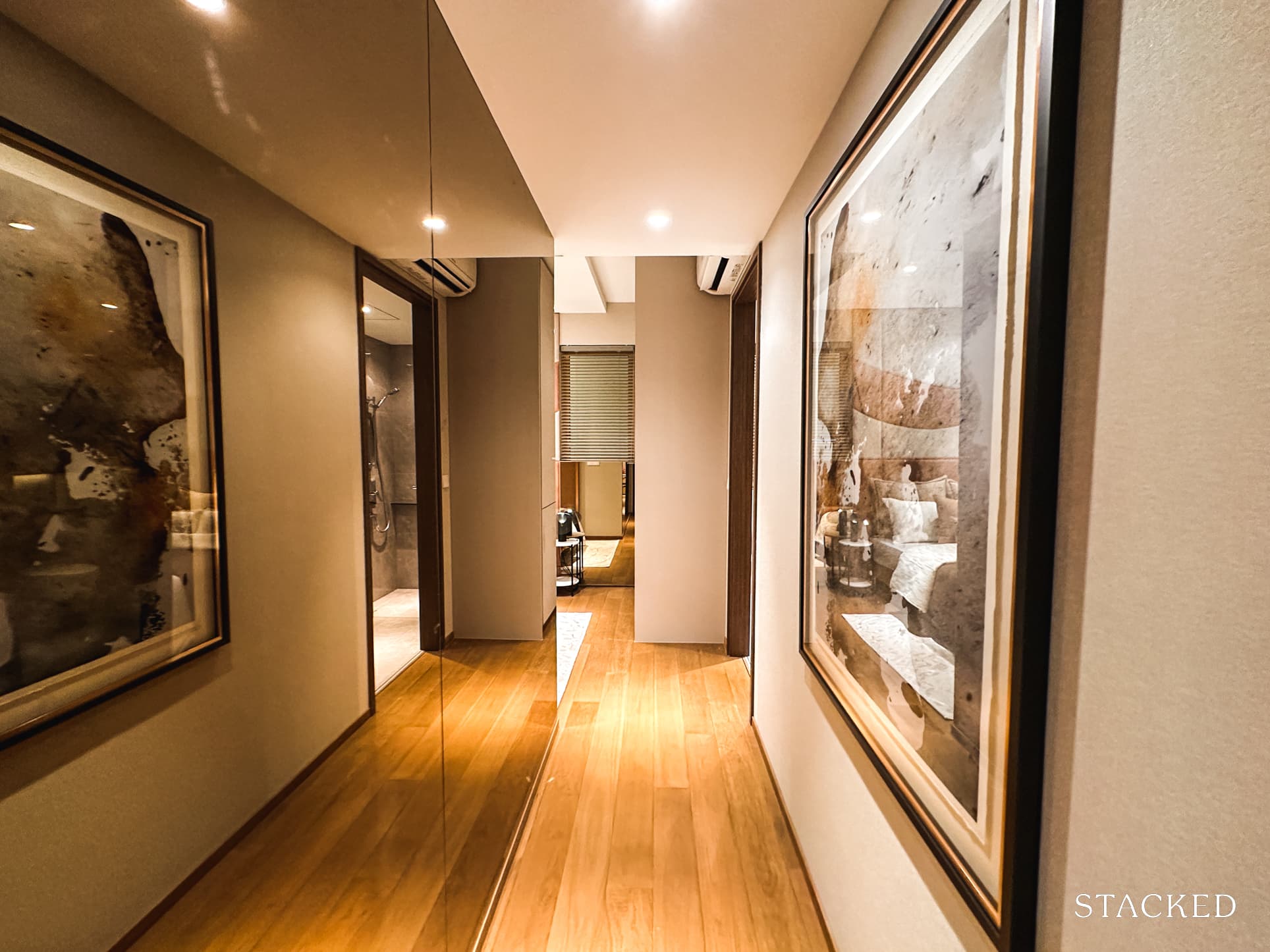 Bedroom 3 is a common bedroom but actually comes en-suite and is in fact the same size as the Junior Master at 15 sqm. However, this is an example of how important good layouts are. While they are the same size, this room has a long walkway leading to the bed and the actual area is probably more like 12-13 sqm. Unfortunately, this had to be done to accommodate the huge wardrobe space of the Master Bedroom.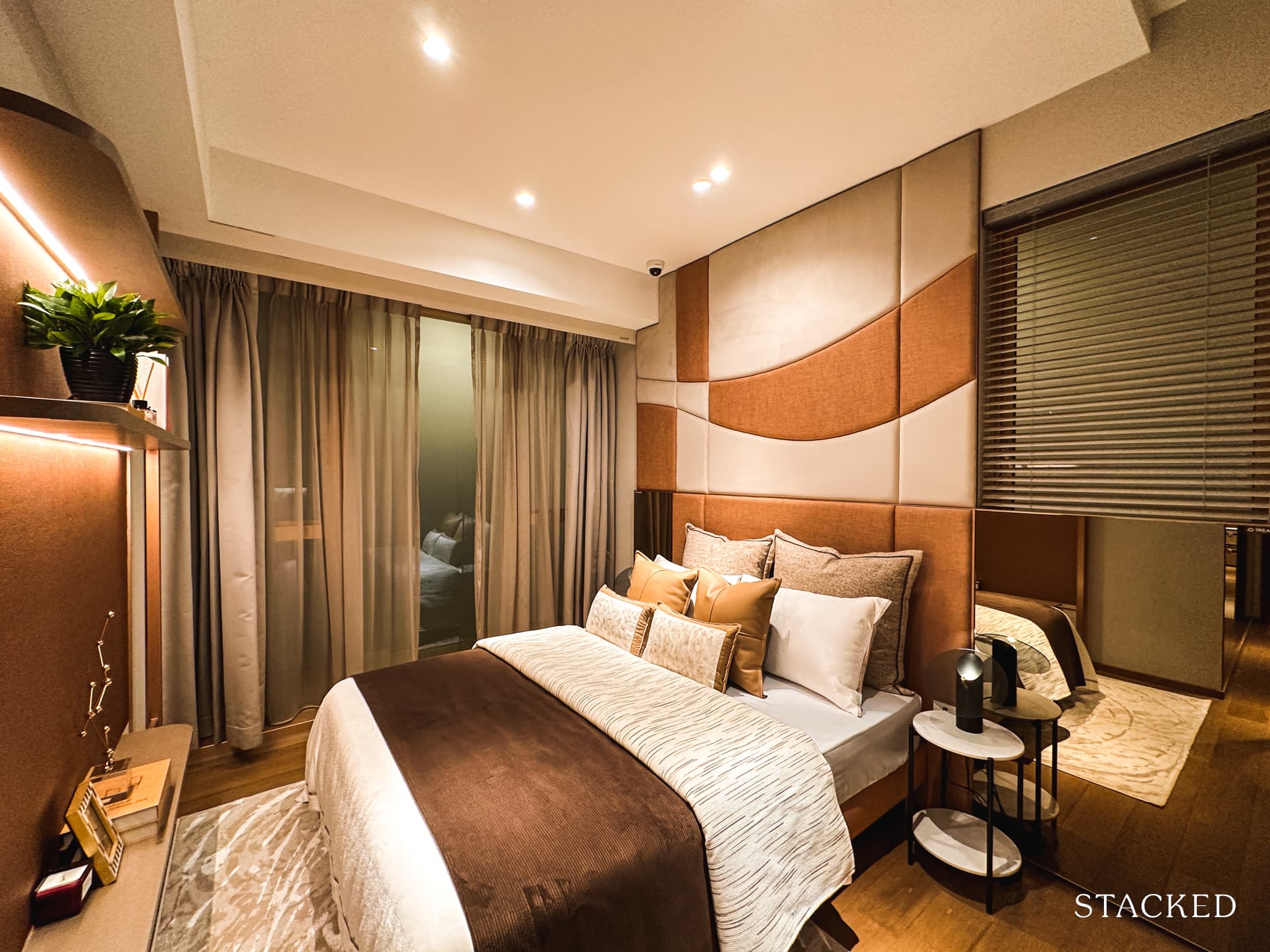 Of course, it's not a small room by any measure and still probably larger than the other common bedrooms even after the long walkway. Hence, a Queen bed will still leave plenty of space for you to play around with. Bedside table, study table, tv console, or a dresser – you can take your pick as to which might be the most suitable for you!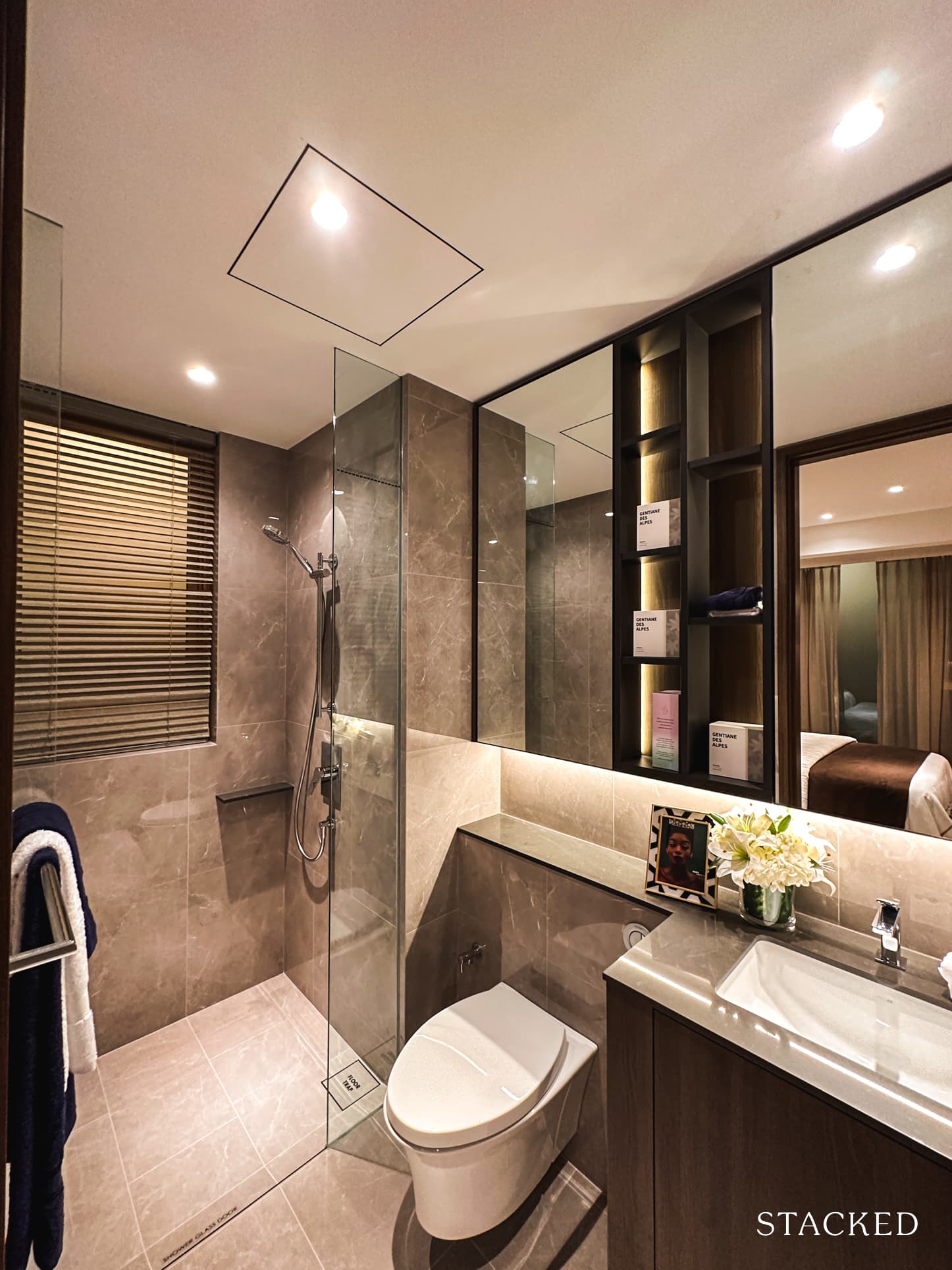 The ensuite bath (Bath 3) is of the same size as the common bath earlier at 4 sqm. It comes with the same premium fittings and sanitary ware, including a Gessi shower set and mixer and Kohler wall-hung w/c and sink. The main difference is the presence of a small window, which can help to dry the bathroom more naturally.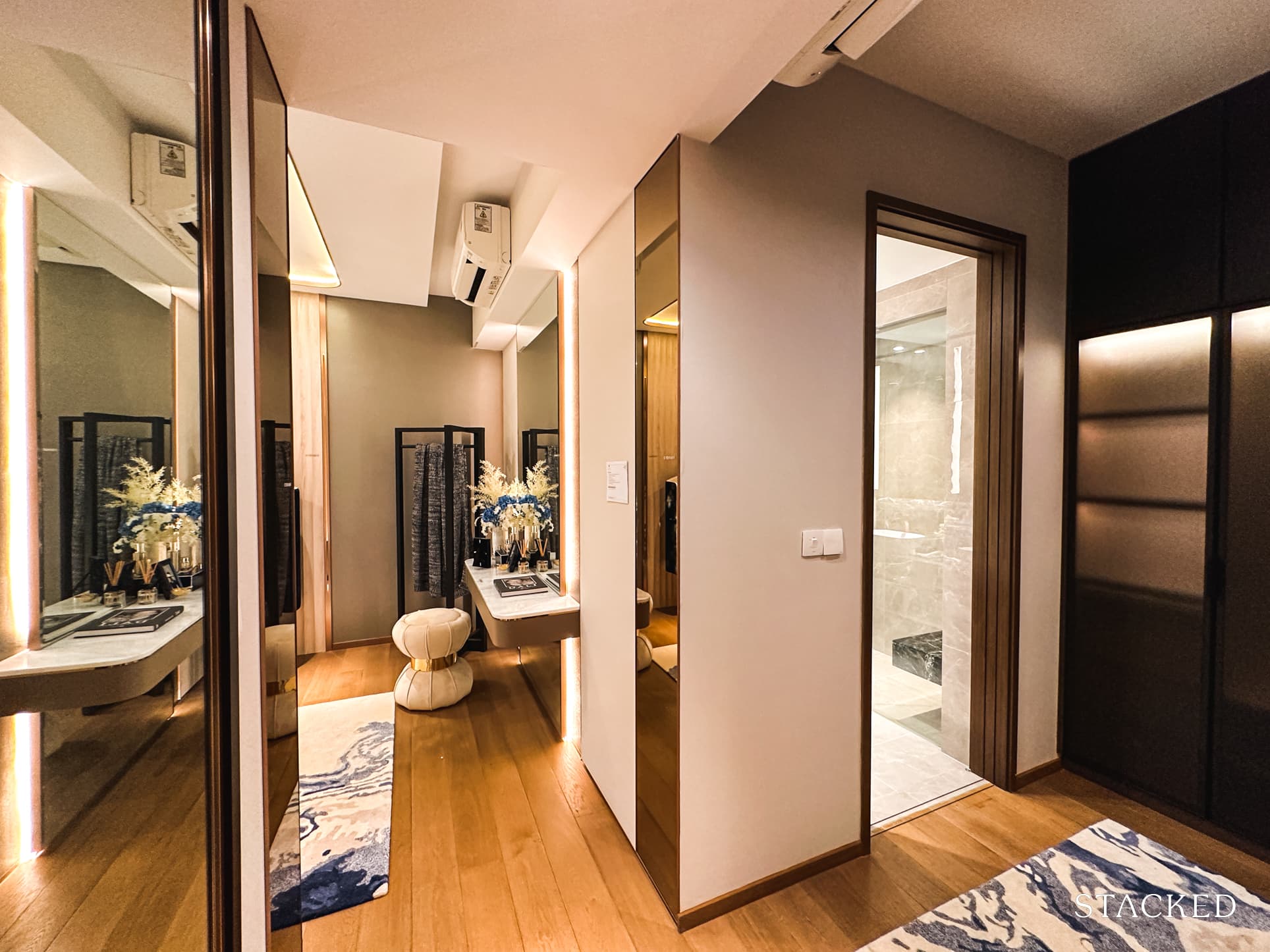 You must be excited to check out the Master Bedroom! After all, this is the second largest non-penthouse unit at Grand Dunman. Well, let's just say that it is massive. There are literally 2 different areas in this room, with the exact size breakdown as well. When you enter, you get a full-fledged walk-in wardrobe to your right.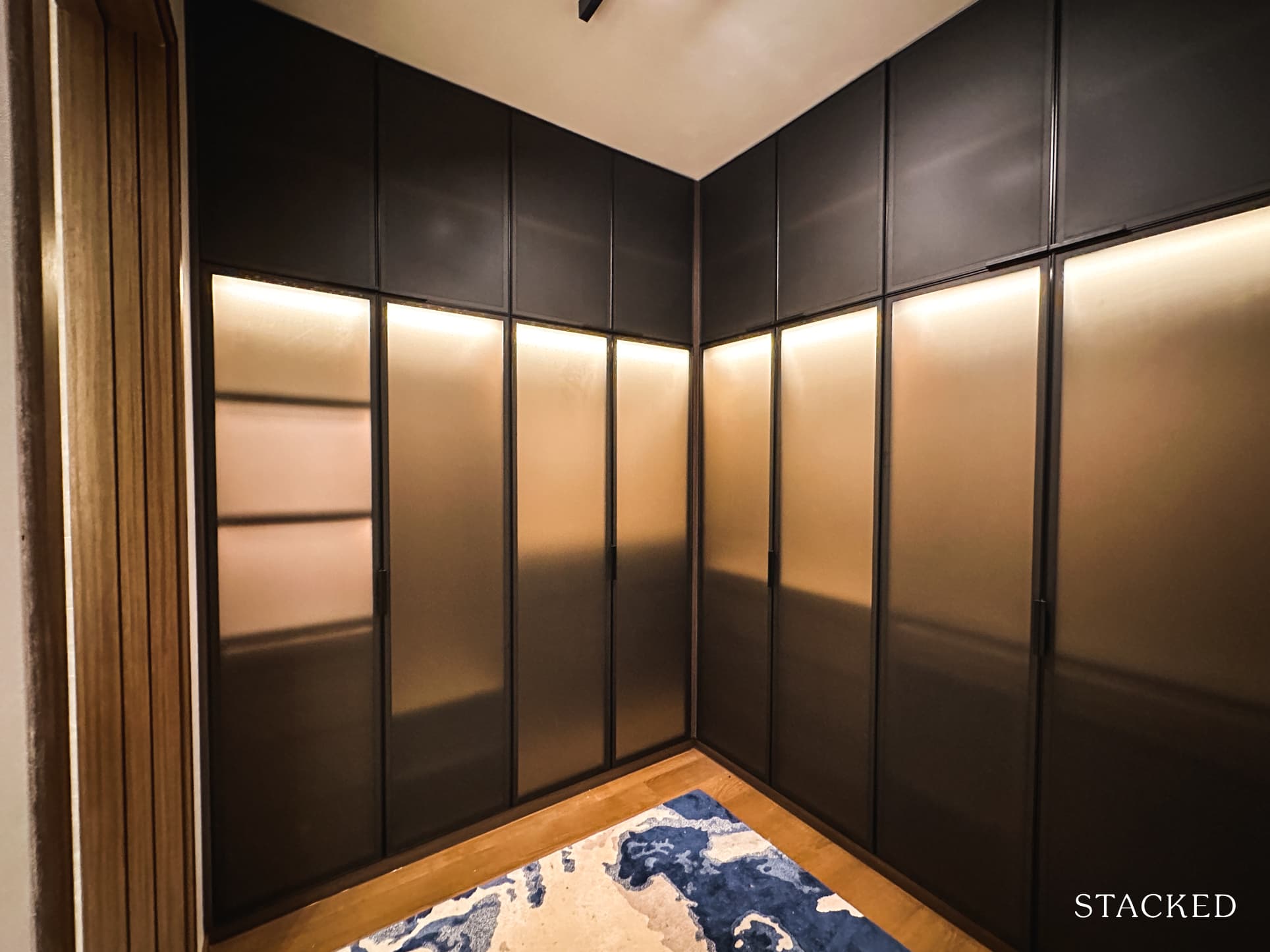 This L-shaped area itself is 8 sqm, the size of the common bedroom in some condos! It comes with more of a gunmetal finish, giving the walk-in wardrobe a luxurious and modern touch. No more complaints about how insufficient the space for the built-in wardrobes are!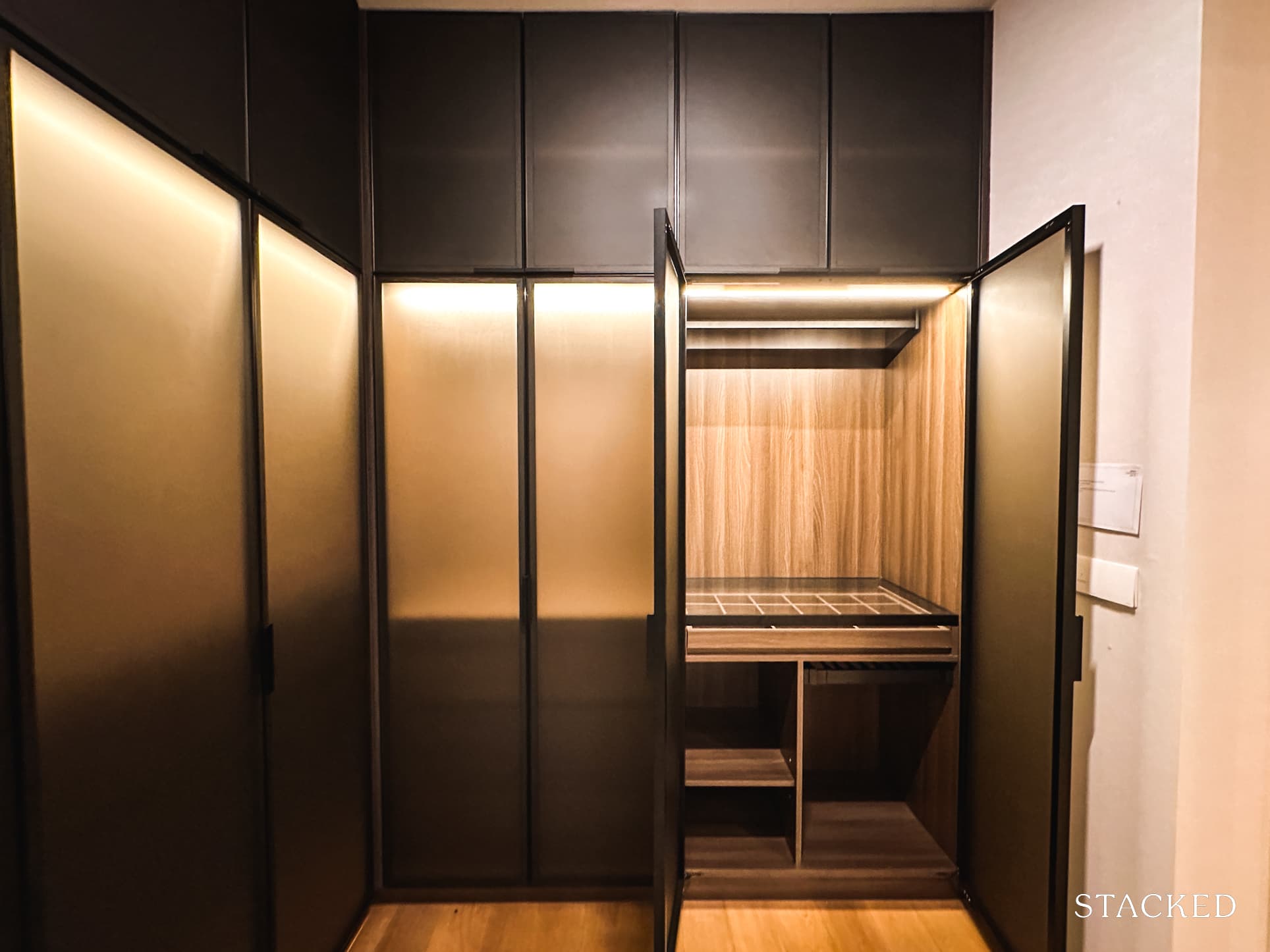 It comes with various different sections, with a good mix for long dresses, accessories, and the like.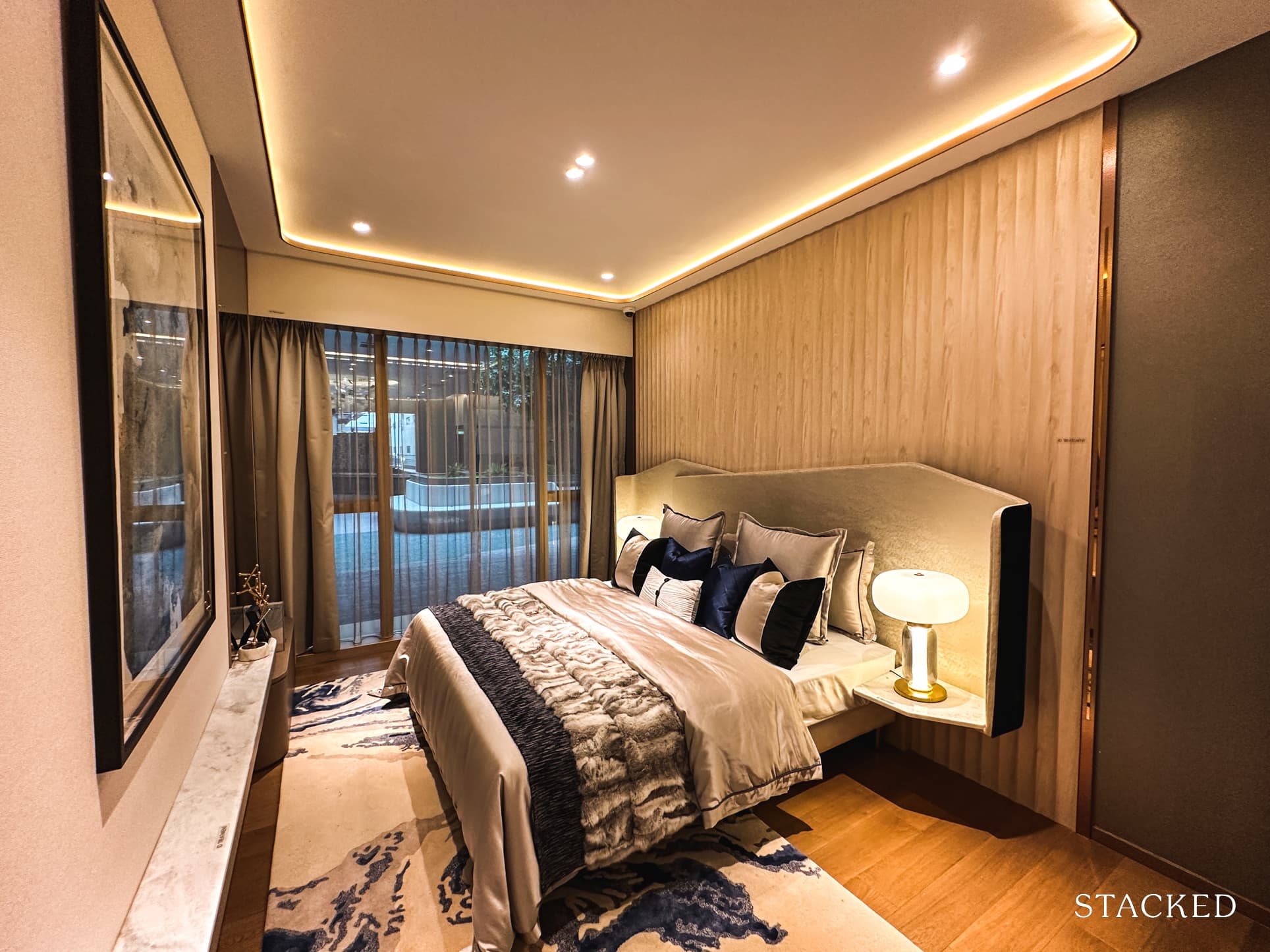 The Master Bedroom itself (excluding the walk-in wardrobe) is an additional 17 sqm, making this room around 25 sqm! That is huge by most standards and it is very evident here. Despite having a dresser and a king-size bed, the room still feels like it has lots of pockets of space, which is great to see.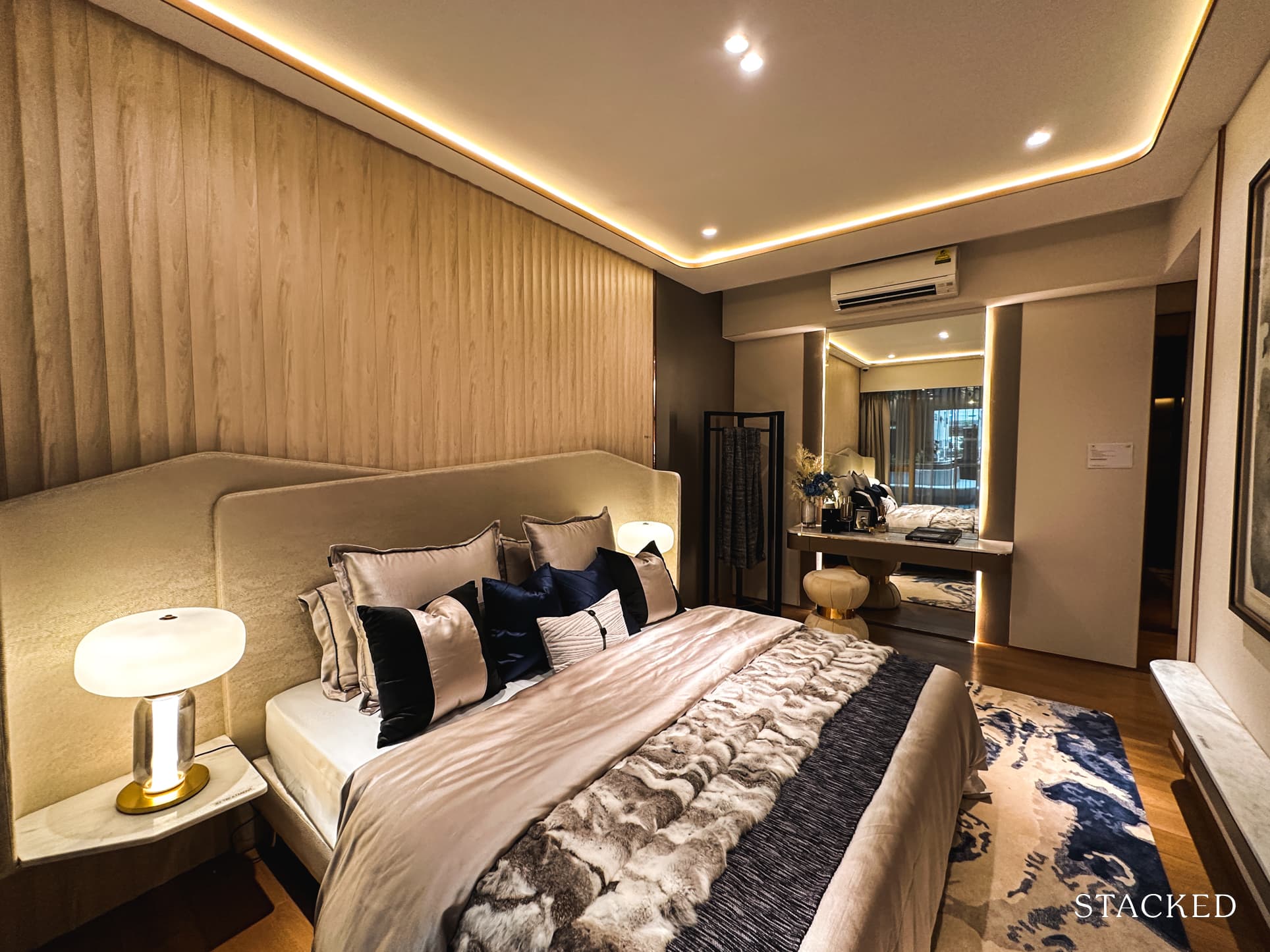 You could definitely still have extra storage built, if you needed.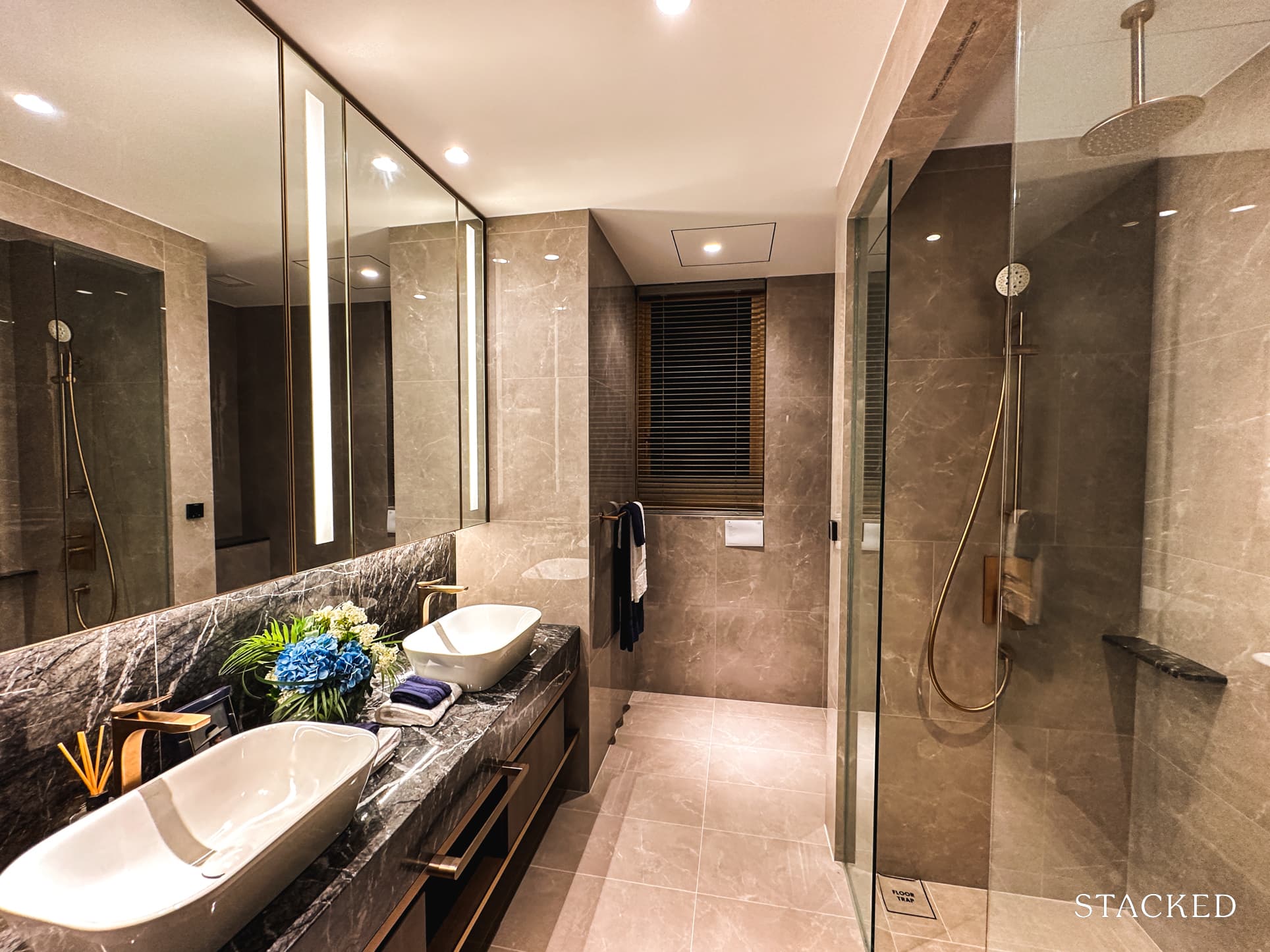 Last but not least, the Master Bath, which has a little trick up its sleeve. In a first-of-its-kind move, there will actually be an Amerac-branded steam room within the shower stall itself.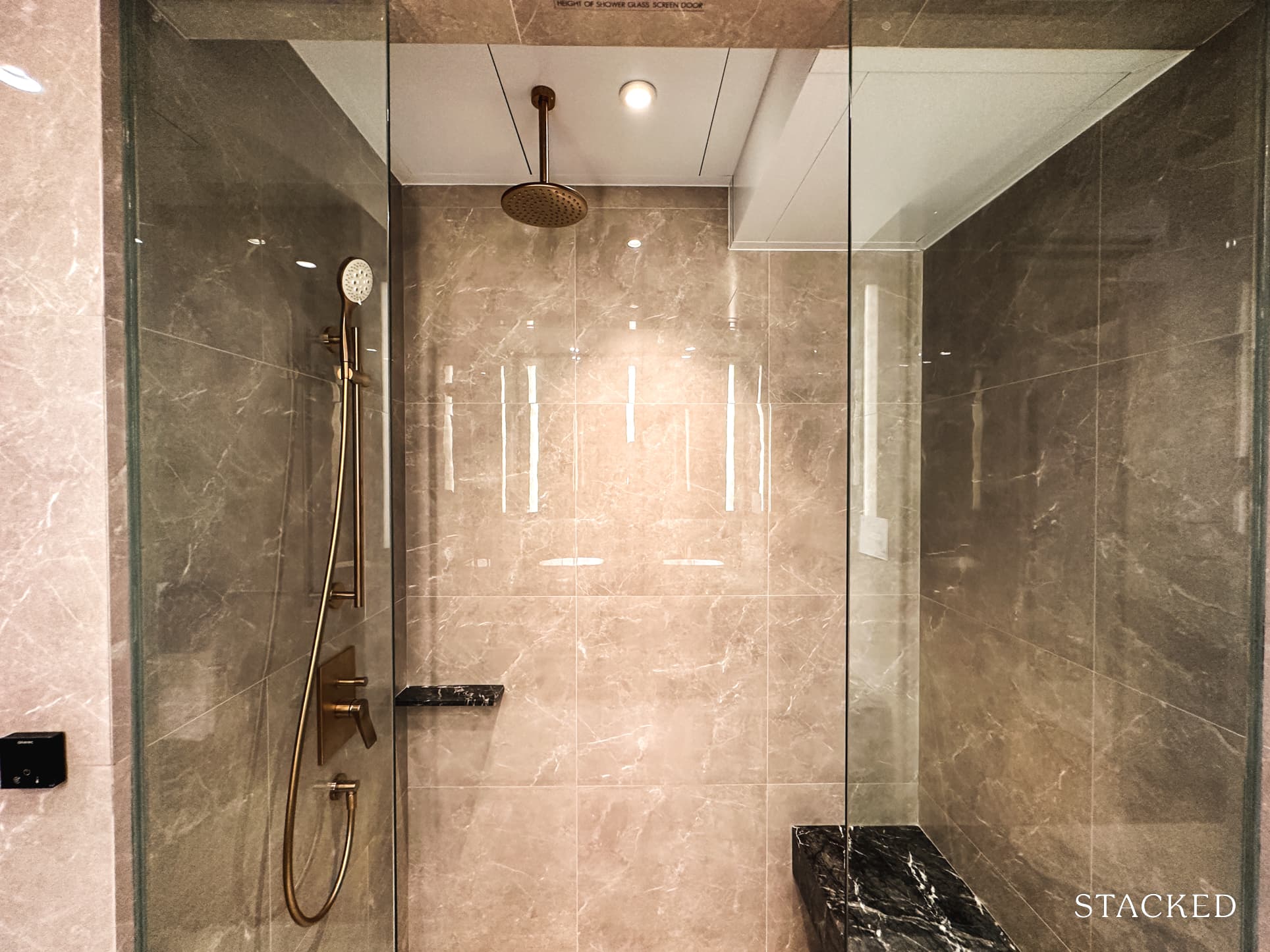 It's the first time I've seen this in any new launch condo for years so I really appreciate that the developers have tried to do something new here. A built-in marble ledge will be in the shower stall for you to enjoy the steam if you were wondering. This was to replace the usual bathtub that you might see in the higher-end category. It's one of those things that we like to classify as luxury, but in day-to-day use it may be a white elephant for some people.
Depending on how this turns out, I could see this becoming the new must-have for luxury units as there's less and less space to accommodate a bathtub.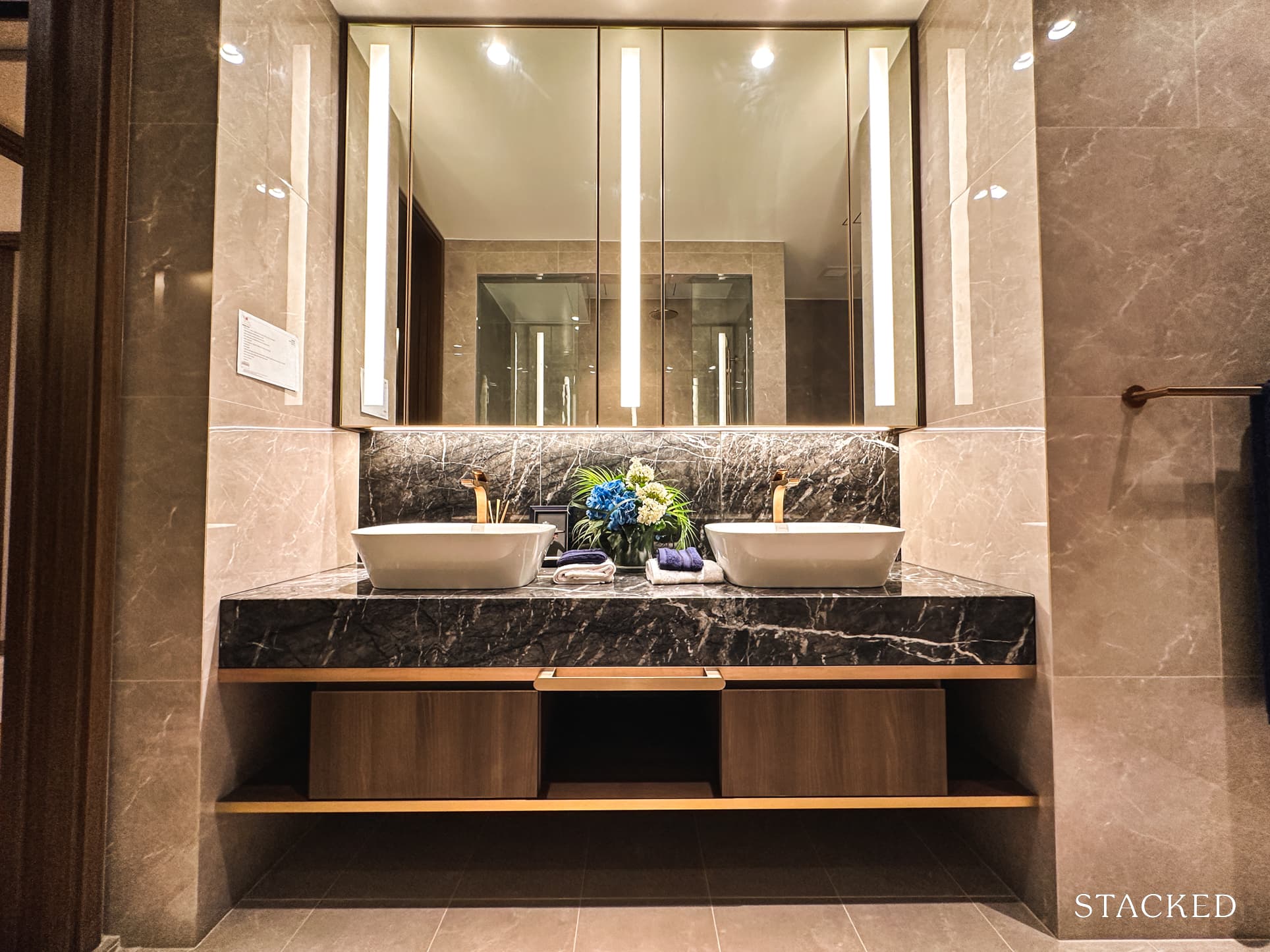 Besides that, you get gold-accented Gessi taps and his and hers sinks so no more fighting over who gets to brush their teeth first! The wall-hung w/c by Kohler is hidden by the corner just beside the window.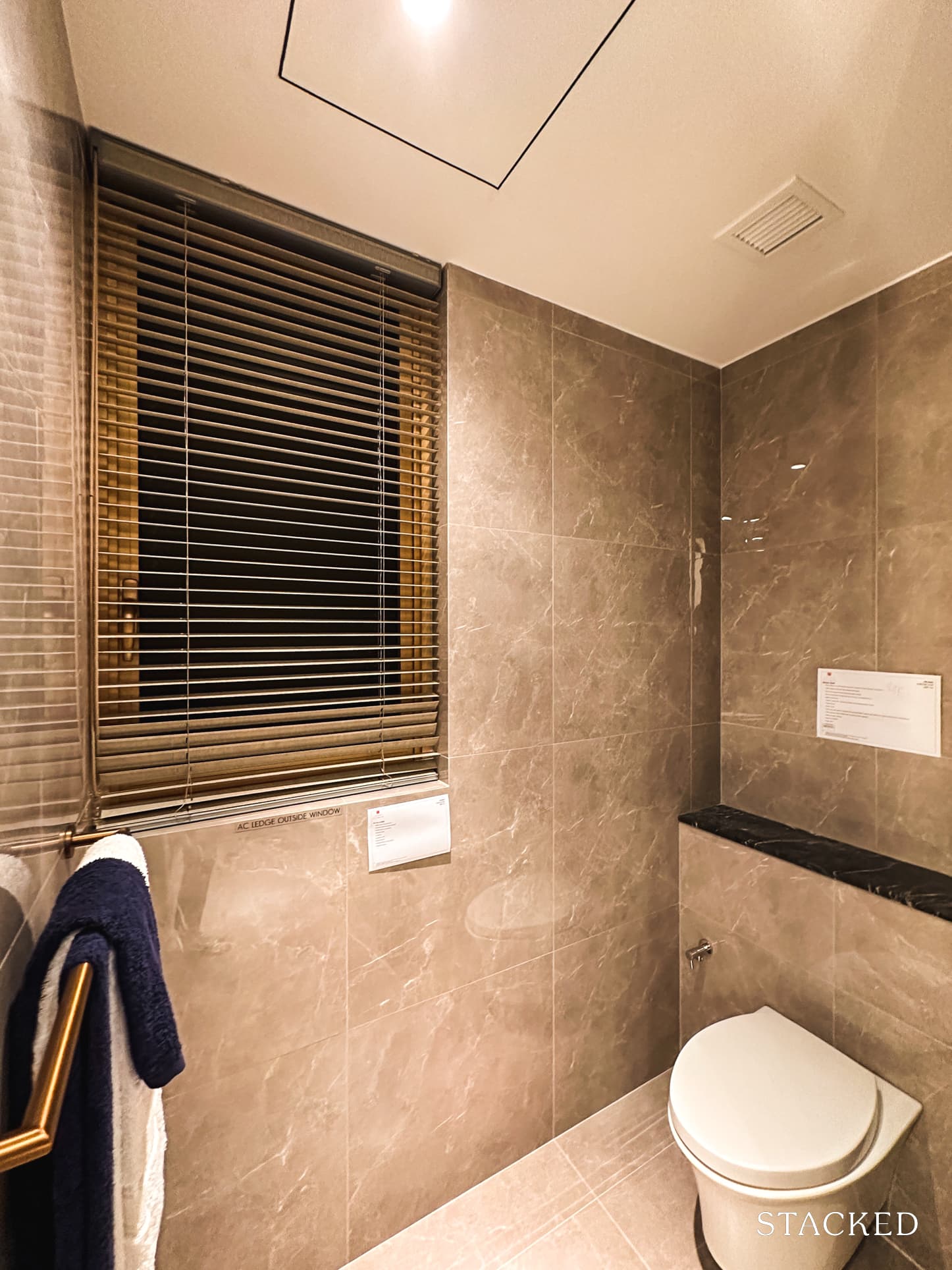 Grand Dunman Location Review
Let there be no doubt that Grand Dunman is in a great location. I caveat that it's familiar territory for me, having lived here all my life (at least up till 2 weeks ago when I moved out).
For food options, you get the famed Old Airport Road Food Centre, which is just across the street. With 168 stalls, it is one of the largest hawker centres in Singapore and is popular amongst tourists and locals alike. If you're in the mood for something more specific, the Tanjong Katong Road stretch is a similar distance away, giving you options from local (Eng's Wanton Mee, Ponggol Nasi Lemak, Heng Long Teochew Porridge) to more upscale options (Seng House, Little Italy, Oven & Fried Chicken). I haven't even gotten to the cafes around the area so you get my point – this area is known to be a foodie paradise and rightfully so.
For your daily necessities, the closest supermarket would be the NTUC beside Old Airport Road Food Centre, although that isn't the shortest at about 9 minutes away on foot. That said, the nearby malls such as Leisure Park, Paya Lebar Quarters and Parkway Parade do have different supermarkets to suit your choice but they are an MRT stop or a short drive away.
As for your children's educational needs, there is only 1 primary school within 1 km but this very one (Kong Hwa) is known to be a prestigious primary school under the Hokkien Huay Kuan affiliation. Secondary schools wise, Broadrick Secondary is around the corner and my alma mater Dunman High (many students there attended Kong Hwa in my time) is also just 4 minutes away by car.
Nearest MRT: Dakota MRT (230m, 3 mins walk)
Public Transport
| | | |
| --- | --- | --- |
| Bus Station | Buses Serviced | Distance From Condo (& Est. Walking Time) |
| Bef Old Airport RdStop ID: 81199 | 10, 16, 16M, 30, 30e, 31, 32, 33, 401 | 50m, 1 min |
| Aft Old Airport RdStop ID: 81191 | 10, 16, 16M, 30, 30e, 31, 32, 33 | 160m, 2 mins |
Schools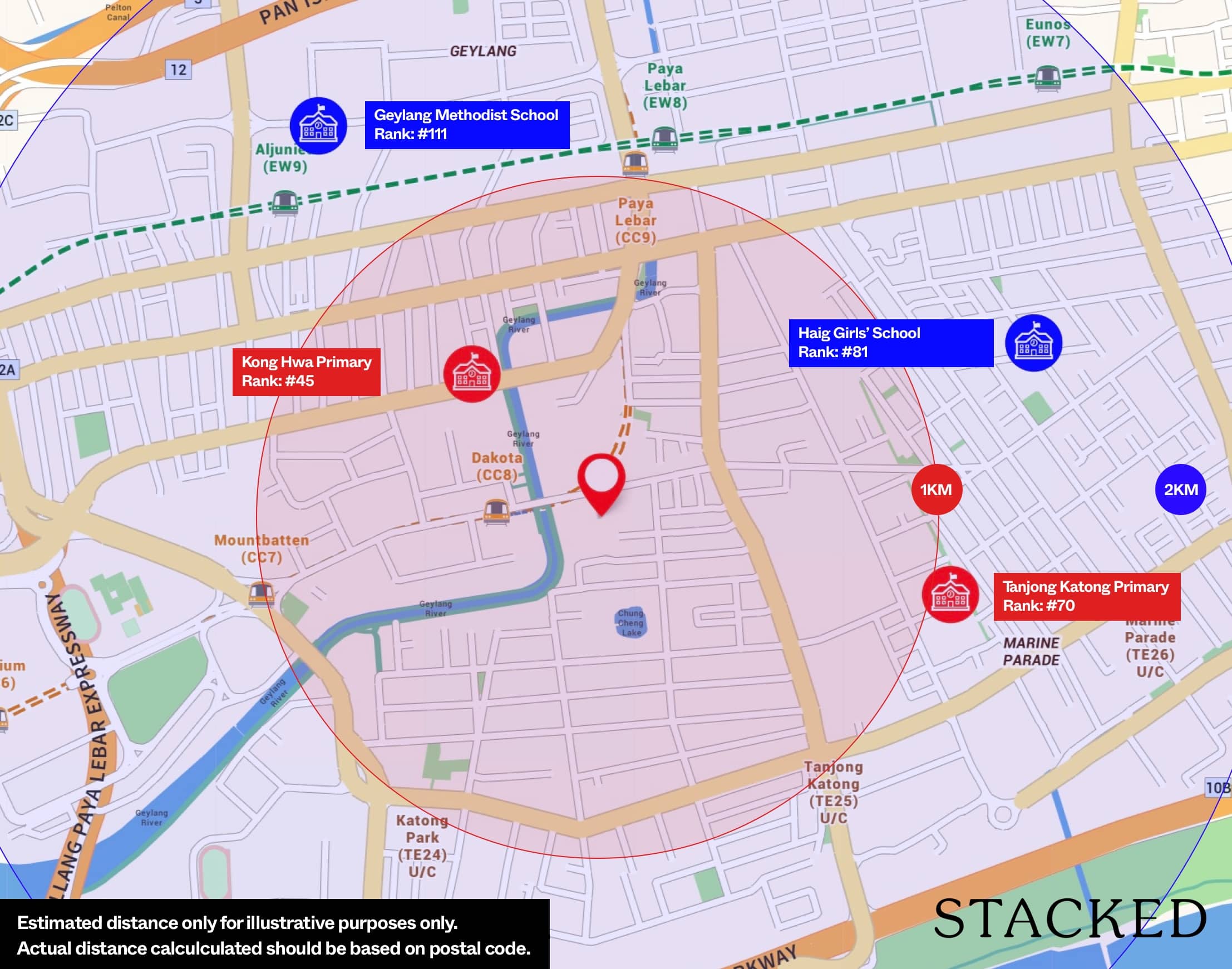 | | |
| --- | --- |
| School | Distance From Condo (& Est. Walking Time) |
| Kong Hwa School | <1km |
| Tanjong Katong Primary School | <2km |
| Haig Girls School | <2km |
| Geylang Methodist Primary | <2km |
Malls / Amenities
| | |
| --- | --- |
| Destination | Distance From Condo (& Est. Driving Time) |
| Leisure Park | 2.4km, 5 mins |
| Kallang Wave Mall | 2.6km, 6 mins |
| Paya Lebar Quarter | 2.2km, 6 mins |
| Parkway Parade | 2.6km, 7 mins |
Private Transport
| | |
| --- | --- |
| Key Destinations | Distance From Condo (Fastest Time at Peak Hour [0830] Drive Time) |
| CBD (Raffles Place) | 7.0km, 10 mins |
| Orchard Road | 9.8km, 14 mins |
| Suntec City | 4.3km, 5 mins |
| Changi Airport | 14.4km, 12 mins |
| Tuas Port (By 2040) | 46.4km, 45 mins |
| Paya Lebar Quarters/Airbase (By 2030) | 2.2km, 4 mins |
| Mediapolis (and surroundings) | 16.6km, 18 mins |
| Mapletree Business City | 15.0km, 18 mins |
| Tuas Checkpoint | 35.2km, 30 mins |
| Woodlands Checkpoint | 25.2km, 22 mins |
| Jurong Cluster (JCube) | 21.6km 26 mins |
| Woodlands Cluster (Causeway Point) | 25.0km, 24 mins |
| HarbourFront Cluster (Vivo City) | 11.9km, 12 mins |
| Punggol Cluster (Waterway Point) | 15.6km, 16 mins |
Immediate Road Exits: 1 – onto Dunman Road, which takes you to Nicoll Highway in less than 5 mins.
Grand Dunman Developer Review
SingHaiyi Group
SingHaiyi Group was delisted from the Singapore Exchange in 2022, having previously been named SingXpress Land before being renamed to its current name in 2013 following the majority stake of Gordon Tang and his wife, Celine Tang. SingHaiyi does not have the most developments in town but does boast of several residential developments that have recently TOP-ed including another mega-development in Parc Clematis, The Gazania, The Lilium as well as commercial developments such as 9 Penang Road, which now serves as UBS' Asia-Pacific flagship office.
Grand Dunman Stack Analysis
Unit Mix
| | | | |
| --- | --- | --- | --- |
| Type | Size | No. of Units | % Mix |
| 1 BEDROOM | 452 – 581 sq ft | 92 | 9% |
| 1 BEDROOM + STUDY | 549 – 710 sq ft | 112 | 11% |
| 2 BEDROOM | 667 – 893 sq ft | 119 | 12% |
| 2 BEDROOM + STUDY | 775 – 1,012 sq ft | 137 | 14% |
| 2 BEDROOM DUAL KEY | 721 – 872 sq ft | 34 | 3% |
| 3 BEDROOM | 926 – 1,163 sq ft | 126 | 13% |
| 3 BEDROOM + STUDY | 1,119 – 1,335 sq ft | 103 | 10% |
| 3 BEDROOM DUAL KEY | 1,044 – 1,227 sq ft | 36 | 4% |
| 3 BEDROOM FLEX | 1,098 – 1,302 sq ft | 18 | 2% |
| 3 BEDROOM (GRAND) | 1,475 – 1,819 sq ft | 32 | 3% |
| 4 BEDROOM | 1,292 – 1,518 sq ft | 87 | 9% |
| 4 BEDROOM (GRAND) | 1,787 – 2,314 sq ft | 34 | 3% |
| 5 BEDROOM | 1,679 – 1,690 sq ft | 34 | 3% |
| 5 BEDROOM (GRAND) | 2,131 – 2,616 sq ft | 34 | 3% |
| PENTHOUSE | 2,336 – 3,068 sq ft | 10 | 1% |
While the GFA has more or less been maximised, what is unique is that the developers have gone against developing as many units as they could (~1,400) but instead chose to focus on building fewer but overall larger units (3 bedroom units and up make up 51% of the total unit mix).
It makes sense when you consider the demographics of the neighbourhood. While Dakota is primarily an HDB estate, the surrounding Mountbatten landed enclave is home to many established businessmen and professionals. The wider D15 is much of the same too either with a large number of private landed estates and condos. This puts Grand Dunman in a prime position (along with the other D15 launches of course) to capture the needs of singles or young couples starting out on their property journey, children who wish to live close to their parents or the older generation who may prefer downsizing to single level living over the hassle of a landed home.
Hence, these buyer segments are clearly defined without an overemphasis on 1 particular group. About 50% of units are 1 and 2 Bedrooms, capturing singles or those starting out with their starter home while the larger units clearly require deeper pockets. Buyers in the latter segment are probably more middle-aged and in the prime of their careers or even those in retirement who wish to downsize their properties.
And as mentioned, the addition of the dual key units here provide some flexibility for owners who want to stay and rent out a portion of the home for some rental income.
Best stacks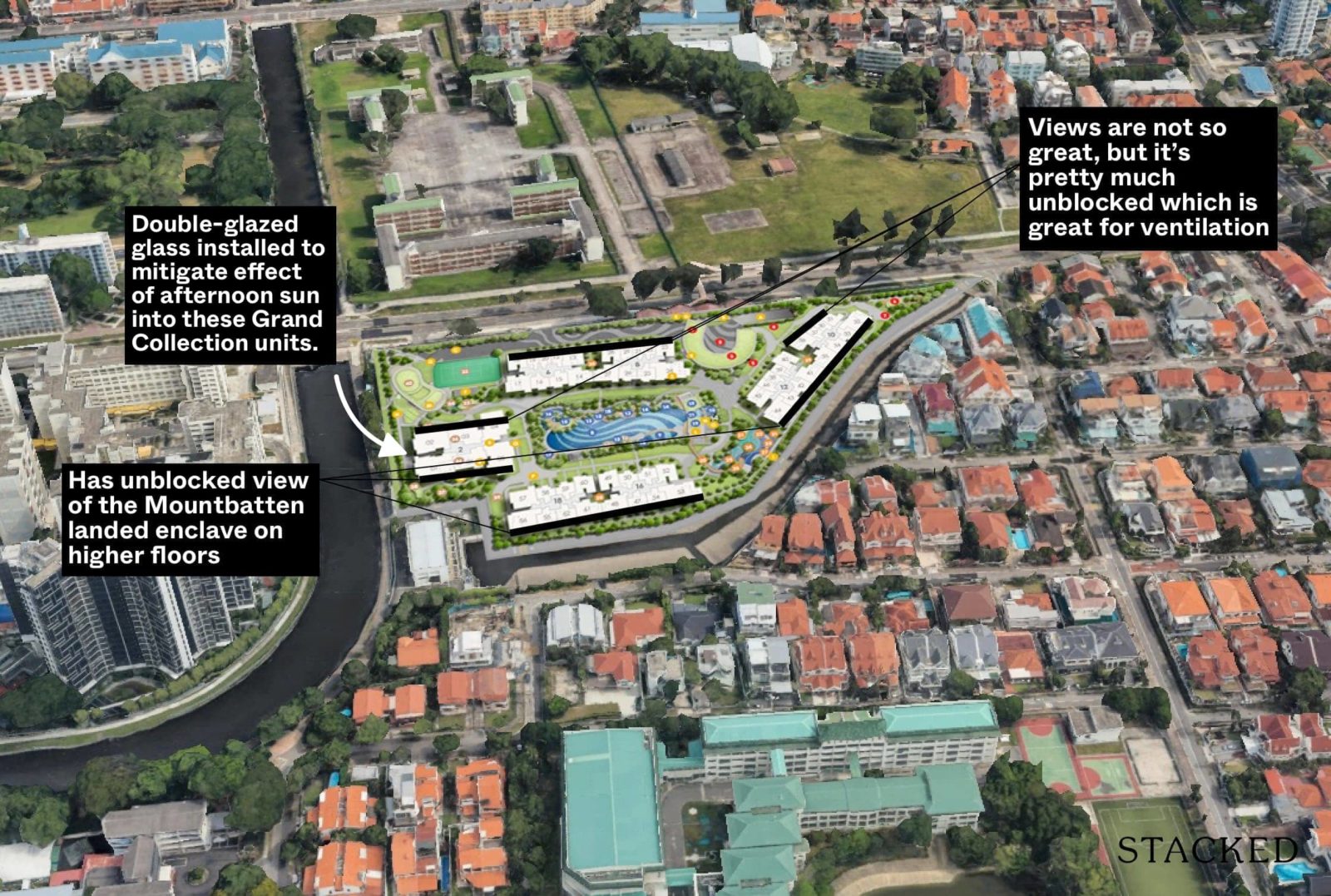 Visually, it will not be difficult to recognise what the developers have chosen as their most premium block. The Grand Collection (Block 2) will feature the fanciest and largest units in a champagne gold-clad building.
South and South-East facing units are the best-facing ones in my opinion. They get an unblocked view of the Mountbatten landed enclave on the higher floors, an aspiration that some Grand Dunman owners may have in future or a reminder for those who have spent many years of their lives living there. These units will also get views of the sea in the distance, looking through the pockets between the condos along Meyer Road and Amber Road. It's going to be a distance away but the good thing is the low-rise nature of this estate, allowing you plenty of wind flow throughout the day.
North-facing units are not too shabby either. While they don't have much views to speak of, you pretty much get an unblocked view here so ventilation and airflow should be good here as well.
Afternoon Sun Analysis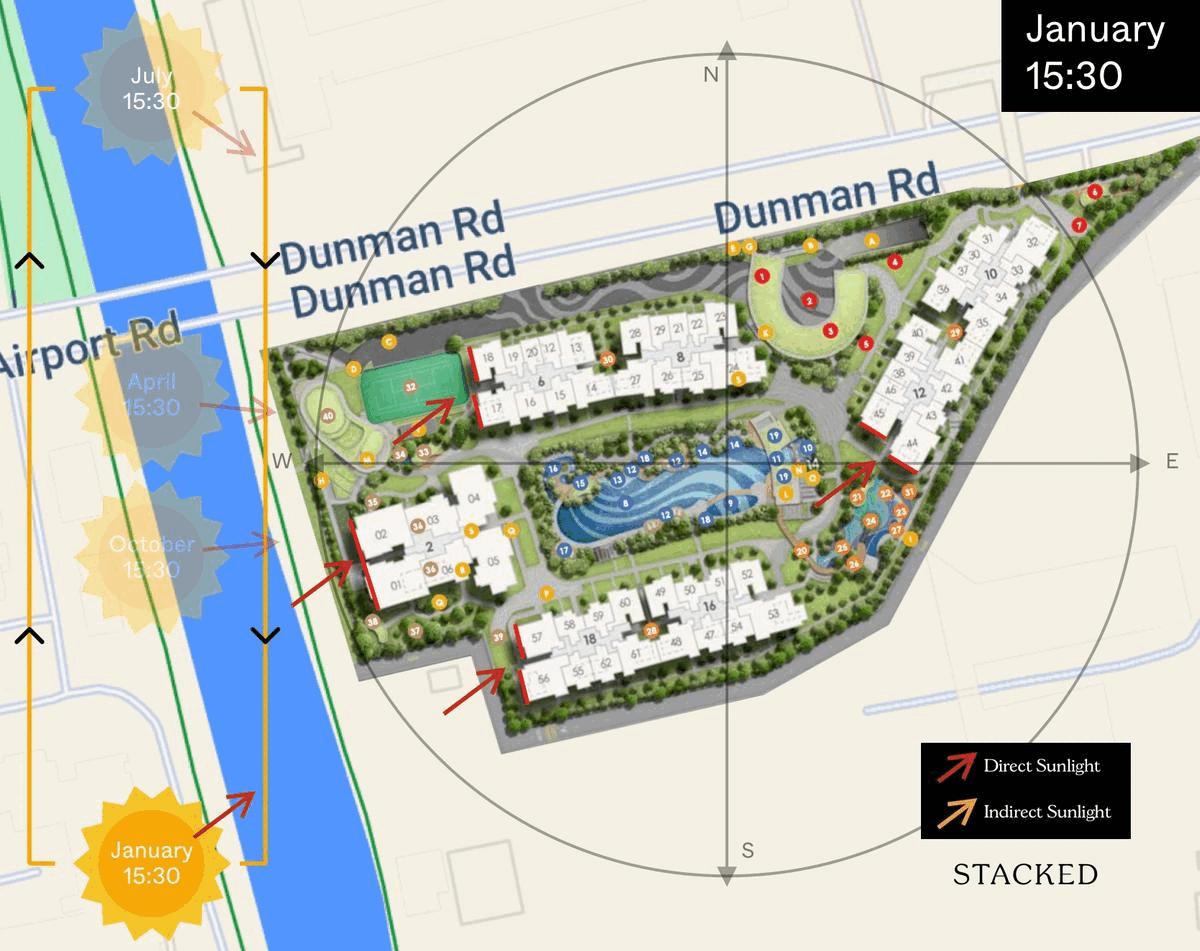 As mentioned, Dunman Grand generally has a north and south facing, resulting in a few stacks having direct afternoon sun coming in. Unfortunately, two stacks (01 and 02) do have the direct west sun coming in. However, the developers have installed double-glazed glass walls to reduce the impact of the sun.
Grand Dunman Price Review
If you are considering Grand Dunman, you will undoubtedly compare it against its neighbouring developments. So here is how it stacks up!
| | | | | | |
| --- | --- | --- | --- | --- | --- |
| Development | Units | Psf | TOP | Tenure | Price Gap |
| Grand Dunman | 1,008 | $2,500 | 2028 | 99 Years | |
| Tembusu Grand | 638 | $2,474 | 2027 | 99 Years | (1%) |
| The Continuum | 816 | $2,725 | 2027 | Freehold | +9% |
| Dakota Residences | 348 | $1,695 | 2010 | 99 Years | (32%) |
| Waterbank at Dakota | 616 | $1,740 | 2013 | 99 Years | (30%) |
As you would already know, there are 2 other prominent new launches in the D15 vicinity – The Continuum, which we reviewed and Tembusu Grand. Both are not too far from Dunman Grand with The Continuum at Thiam Siew Avenue being the closer of the 2. While both developments have about 20% and 40% fewer units than Grand Dunman respectively, they are not small by any measure and offer full condo facilities that can rival Grand Dunman. Of course, The Continuum is the only Freehold option of the 3, hence the higher price point.
As the average psf for Grand Dunman has not been officially released, it may be priced at an average of $2,500 psf, marginally above that of Tembusu Grand given its higher land bid price. Both developments are 99 Years and while I can make a case that Tembusu Grand is in a slightly more 'atas' neighbourhood, I would say that I am grasping at straws here as the majority of buyers will probably look past this and prioritise convenience. In that case, Grand Dunman has the edge here given its closer proximity to an MRT station with 3 mins being really near (although it does depend on how far your block is from the side gate).
On the same note, The Continuum is even further away from the MRT but has the advantage of being the only freehold option of the 3. Facilities-wise, only The Continuum will have sky facilities and a conserved bungalow as a clubhouse. The freehold premium is there, but only at 9% more than Grand Dunman's estimated price.
All that said, I would argue that Grand Dunman probably has the best views of the lot. Neighbouring HDB blocks are not that near and some stacks will get views of the sea in the distance along with an unblocked panoramic view of the Mountbatten estate.
So it really comes down to what you are looking for – if you are insistent on a freehold development, The Continuum is the only option. If you prefer somewhere with closer access to the MRT with a number of stacks getting sea and landed views, Grand Dunman will be the best pick of the lot.
I have also included 2 resale options in the comparison. While there are several others along Dunman Road, most of them tend to be more boutique in nature (<100 units type developments) and hence I did not find it meaningful to include them.
Waterbank and Dakota Residences are rather popular among locals and foreign tenants alike and understandably so due to their convenient location. If you're interested, the former was launched at ~$1,200 psf in 2010 while the latter averaged ~$950 psf at its 2008 launch. Needless to say, the prices we are considering here today are nowhere close to those more than a decade ago.
They are now about 30% cheaper than Grand Dunman, which I would say is rather significant considering that these developments are not that old. As with most resale developments, the main difference comes down to size and quantum. These condos tend to have larger units e.g. 1,023 sq ft 2 Bedroom being the smallest at Dakota Residences when you can have a 3 Bedroom at that size here at Grand Dunman. Hence, the psf difference may not make that big a difference after you factor in the overall quantum. It's a constant debate between a spanking new house or a larger unit which may require additional costs renovating as well.
Now that we've looked at an overview of the pricing in the area, let's take a deeper look at the numbers in detail.
It must be stated that these are just estimates on our part as word on the ground indicated that the pricing for Grand Dunman would be similar to Tembusu Grand. As such, I derived the minimum $PSF by looking at the cheapest transacted so far for each bedroom type (in terms of $PSF), and also averaged out the $PSF for 1-5 bedroom units in Tembusu Grand.
| | | | | |
| --- | --- | --- | --- | --- |
| Bedroom | Min Size | Est. Starting | Est. Min $PSF | Est. Avg $PSF |
| 1 Bedroom | 452 | $1,069,432 | $2,366 | $2,505 |
| 1 Bedroom + Study | 549 | $1,298,934 | $2,366 | $2,505 |
| 2 Bedroom | 667 | $1,555,444 | $2,332 | $2,472 |
| 2 Bedroom Dual Key | 721 | $1,681,372 | $2,332 | $2,472 |
| 2 Bedroom + Study | 775 | $1,807,300 | $2,332 | $2,472 |
| 3 Bedroom | 958 | $2,212,980 | $2,310 | $2,419 |
| 3 Bedroom Dual Key | 1044 | $2,411,640 | $2,310 | $2,419 |
| 3 Bedroom Flex | 1098 | $2,536,380 | $2,310 | $2,419 |
| 3 Bedroom + Study (Luxury) | 1119 | $2,584,890 | $2,310 | $2,419 |
| 4 Bedroom | 1292 | $3,074,960 | $2,380 | $2,413 |
| 4 Bedroom (Luxury) | 1432 | $3,408,160 | $2,380 | $2,413 |
| 5 Bedroom (Luxury) | 1690 | $3,978,260 | $2,354 | $2,466 |
| 3 Bedroom (Grand) | 1475 | $3,407,250 | $2,310 | $2,419 |
| 4 Bedroom (Grand) | 1787 | $4,253,060 | $2,380 | $2,413 |
| 5 Bedroom (Grand) | 2131 | $5,255,046 | $2,466 | $2,466 |
Grand Dunman Vs The Continuum Vs Tembusu Grand
You can't consider buying a unit at Grand Dunman without first looking at the transactions of two other new launches nearby: The Continuum and Tembusu Grand. Here's how much buyers were willing to pay for units at the respective new launches as well as the average estimate for Grand Dunman:
Project
Tenure
Completion
Type
Average ($)
Average ($PSF)
Tembusu Grand
99-year
Est. 2027
1 Bedroom + Study
$1,321,108
$2,505
2 Bedroom
$1,667,864
$2,472
2 Bedroom + Study
$1,865,101
$2,511
3 Bedroom
$2,395,591
$2,419
3 Bedroom + Study
$2,853,958
$2,433
4 Bedroom
$3,475,778
$2,413
5 Bedroom
$4,220,000
$2,466
The Continuum
Freehold
Est. 2027
1 Bedroom + Study
$1,533,667
$2,740
2 Bedroom
$1,777,373
$2,679
2 Bedroom + Study
$1,976,360
$2,743
3 Bedroom
$2,785,783
$2,740
3 Bedroom + Study
$3,520,593
$2,844
4 Bedroom
$3,624,833
$2,753
Grand Dunman
99-year
Est. 2027
1 Bedroom
$1,132,260
$2,505
1 Bedroom + Study
$1,375,245
$2,505
2 Bedroom
$1,648,824
$2,472
2 Bedroom Dual Key
$1,782,312
$2,472
2 Bedroom + Study
$1,915,800
$2,472
3 Bedroom
$2,317,402
$2,419
3 Bedroom Dual Key
$2,525,436
$2,419
3 Bedroom Flex
$2,656,062
$2,419
3 Bedroom + Study (Luxury)
$2,706,861
$2,419
4 Bedroom
$3,117,596
$2,413
4 Bedroom (Luxury)
$3,455,416
$2,413
5 Bedroom (Luxury)
$4,167,540
$2,466
3 Bedroom (Grand)
$3,568,025
$2,419
4 Bedroom (Grand)
$4,312,031
$2,413
5 Bedroom (Grand)
$5,255,046
$2,466
Due to the freehold nature at The Continuum, you'll find that every bedroom type carries a premium over Tembusu Grand. Based on past transacted $PSF, this ranges between 8.4% to 16.9%:
| | |
| --- | --- |
| Type | Continuum-Tembusu Grand Premium |
| 1 Bedroom + Study | 9.4% |
| 2 Bedroom | 8.4% |
| 2 Bedroom + Study | 9.2% |
| 3 Bedroom | 13.3% |
| 3 Bedroom + Study | 16.9% |
| 4 Bedroom | 14.1% |
Assuming Grand Dunman is competitive with Tembusu Grand, these premiums would also apply. Based on transactions so far, it seems that the smaller units aren't that much more expensive in The Continuum. An 8-10% premium for a freehold condo is pretty good as we'd come to expect freehold projects to be priced around 15% more than their leasehold peer.
That said, both developments have different sizes, layouts, size, locations and so on, so it's hard to make any generalisations here.
Now let's compare the 2 and 3 bedroom units in all 3 developments. I'll be making a comparison to the cheapest of these units as we have to make a comparison to the starting indicative $PSF of Grand Dunman.
Tembusu Grand 2-bedroom unit (667 sq ft)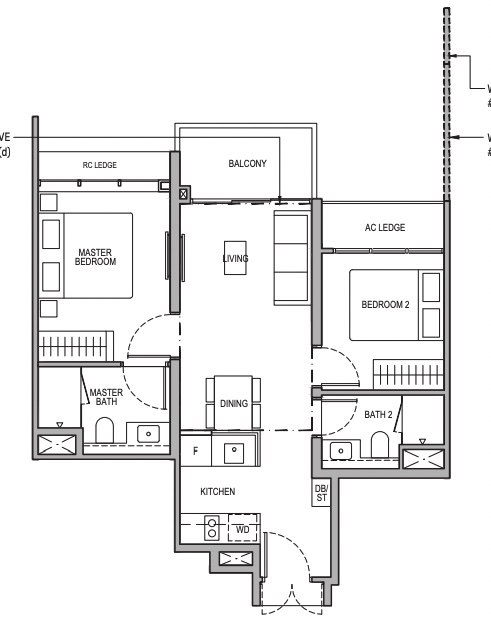 The cheapest 2-bedroom unit at Tembusu Grand went for $1,556,000 ($2,280 psf) on level 1. It has a dumbbell layout that's very typical of new launch 2 bedroom units today. It's pretty efficient and comes with 2 bathrooms.
The Continuum 2-bedroom unit (646 sq ft)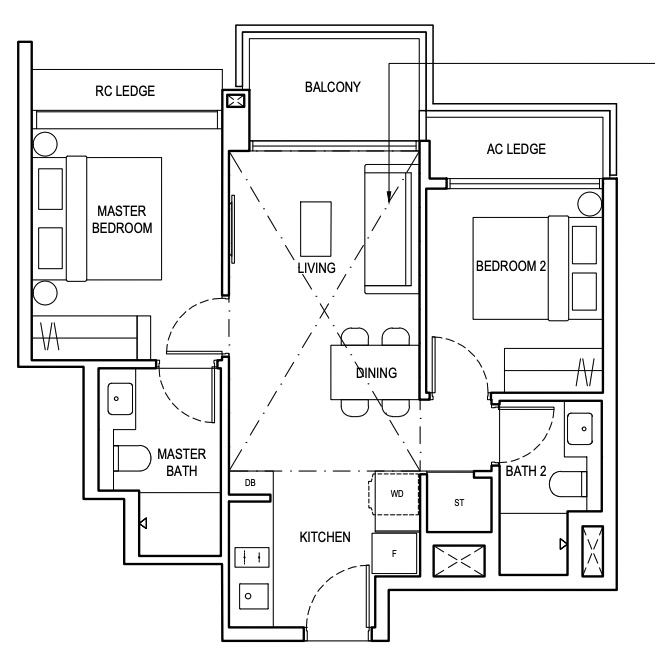 The cheapest 2-bedroom unit that was sold here went for $1,670,000 ($2,586 sq ft) on level 2. This is 7.3% more than the cheapest unit at Tembusu Grand which is actually not much at all considering the difference in tenure.
In terms of layout, both are very similar as they sport a dumbbell layout, except The Continuum doesn't have an entry as it opens right into the kitchen. Moreover, it managed to eke out a small storage area. Other than that, they're pretty much similar.
It was pretty smart that the unit is slightly smaller, allowing for a lower quantum which made The Continuum's 2-bedroom prices here seem quite competitive to Tembusu Grand.
Grand Dunman 2-bedroom unit (646 sq ft)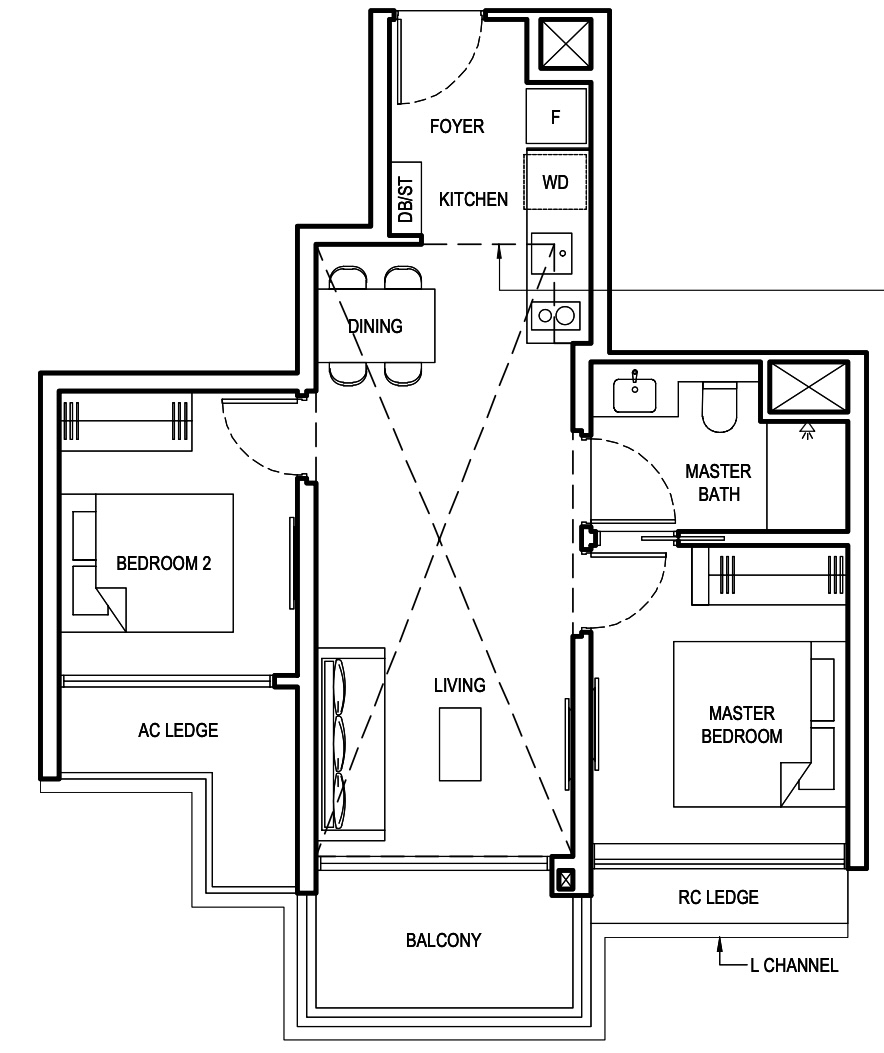 Assuming a starting $PSF of $2,280 psf, the 2-bedroom here would go for $1,472,880. This would actually be cheaper given it's smaller than Tembusu Grand, so it's likely that the developer would be incentivised to price higher – especially given their land cost was higher, to begin with.
Here's what the floor plan looks like:
The 2-bedroom layout may look similar to both Tembusu Grand's and The Continuum's – but it only has 1 bathroom which is a huge difference!
The fact that the size is similar to Tembusu Grand (and identical to The Continuum) but comes with just 1 bathroom makes this layout not as uncompetitive. Assuming it's priced at the same $PSF, it'd be a hard sell over Tembusu Grand's 2-bedroom 2-bathroom unit. Plus, they're similar in size.
The area between the dining and living looks pretty awkward, though I suppose it's subjective. Depending on your needs, it could be a communal study/office area or a long table that acts as a dining for large groups.
The AC ledge also seems to be unnecessarily big as it not only spans the width of the bedroom, but has an L shape that runs to the balcony too.
Overall, Tembusu Grand and The Continuum's layout are better optimised. The Continuum's layout here wins in my opinion given it's much more efficient as it lacks an entryway which they've managed to turn into a store.
Next, let's look at the 3 bedroom layouts between the 3 developments.
Tembusu Grand 3-bedroom unit (990 sq ft)
The smallest 3-bedroom unit has a respectable 990 sq ft. The cheapest unit in terms of the price went for $2,288,000 ($2,310) on level 02 which is decent for a D15 3 bedroom new launch. Here's what it looks like: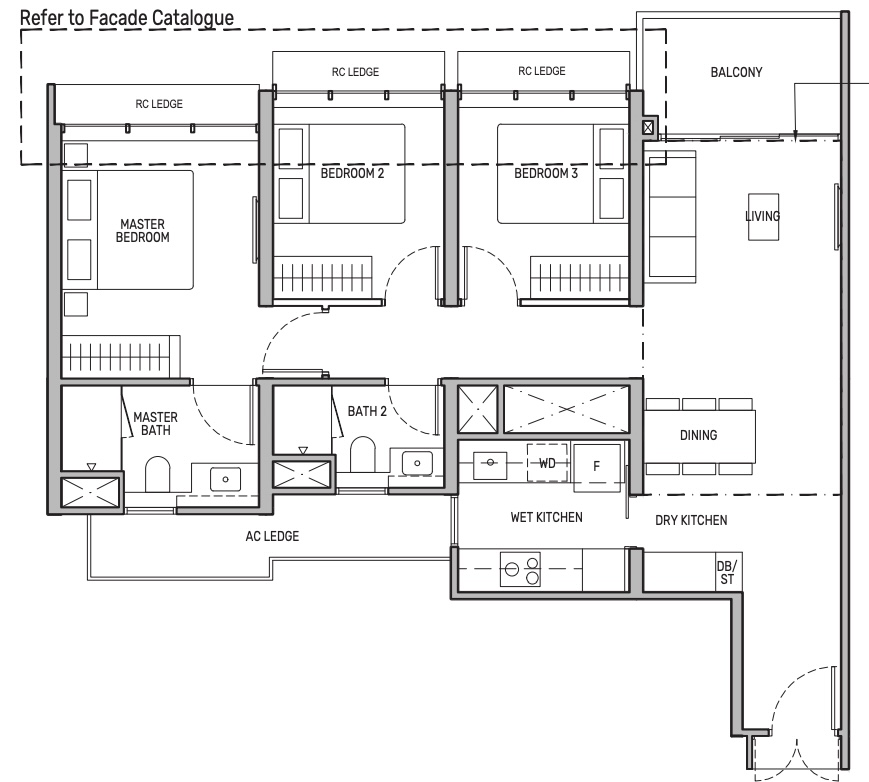 Coming in, there's a long entryway which I'm not a huge fan of as it's less efficient. Foyers like this are great if there's a right angle to it as this adds to greater privacy, but this one looks straight to the living area.
Heading in, there's a space for a dry and wet kitchen. Expectedly, there's no service yard or utility room given this is the compact size for a 3-bedroom unit. The dining area is quite tight but that's expected for this size too.
One thing to note is that the AC ledge is quite big as it spans across 2 bathrooms. The rest of the unit has the typical hallway and 3 bedrooms.
A great aspect of this layout is that both bathrooms are ventilated. This is not very common, especially for the smaller 3-bedroom units, so it's nice to see that here. The kitchen is also naturally ventilated which is pretty much necessary if you're into heavy cooking.
The Continuum 3-bedroom unit (872 sq ft)
The Continuum really pushed for a compact 3-bedroom unit coming in at 872 sq ft. The cheapest unit here went for $2,306,000 ($2,645) for a level 03 unit. This is just 0.7% more than the 99-year leasehold Tembusu Grand's smallest 3-bedroom. You can really see how the use of size makes the pricing of The Continuum really competitive.
Here's what the unit looks like: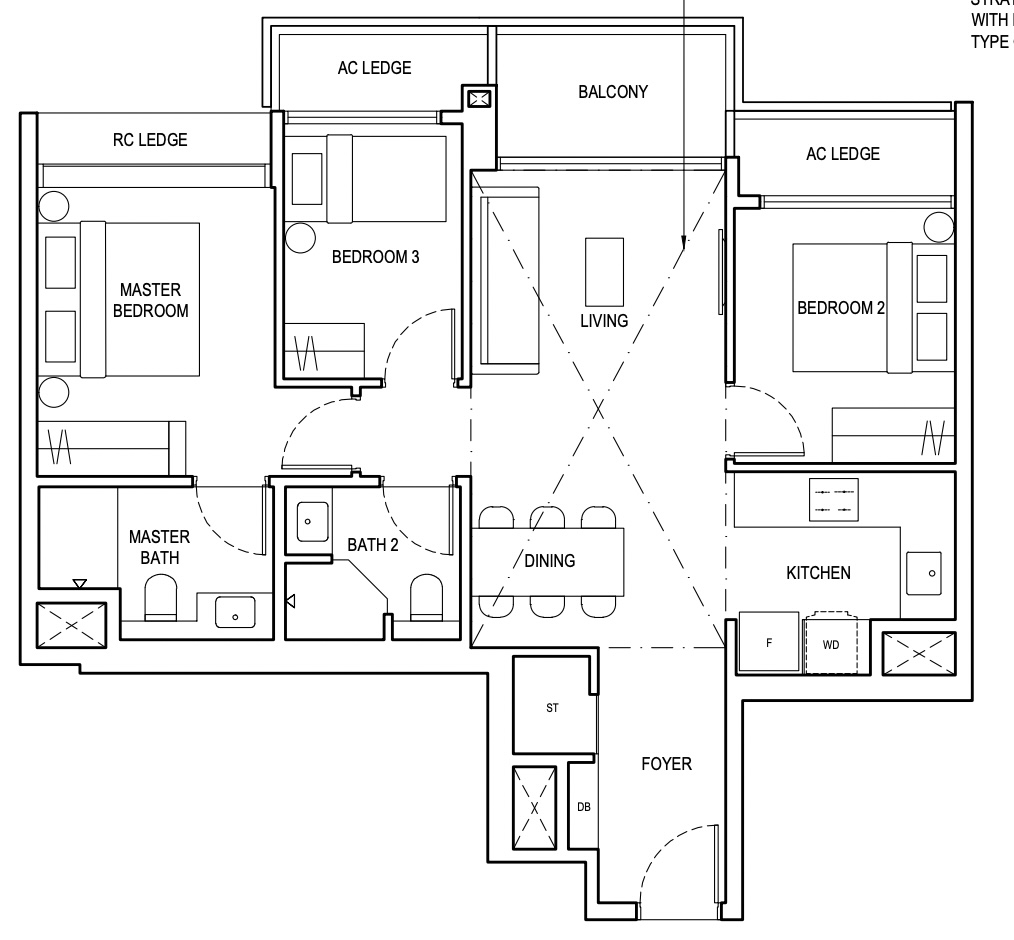 Immediately, you'll see that it sports a dumbbell layout which is useful given its size. However, it still has quite a big foyer for a unit this small. There's no dry kitchen separation, unlike the unit at Tembusu Grand. You'll also notice that there's no natural ventilation in the bathroom or the kitchen. One of the bedrooms is also quite small – allowing for just a single bed without room for much more.
This unit does have a store though, which is always useful. Considering the size, I think this is pretty decent as it allows families to purchase a freehold unit in District 15 for close to a new 99-year leasehold development.
Grand Dunman 3-bedroom unit (958 sq ft)
Grand Dunman's 3 bedroom sits in the middle of Tembusu Grand and The Continuum's smallest 3 bedroom. At Tembusu Grand's lowest $PSF, the unit would go for $2,212,980 ($2,310 psf).
This would make it cheaper than Tembusu Grand since we assumed it's going to be around the same price, but has a smaller layout. Here's what it looks like: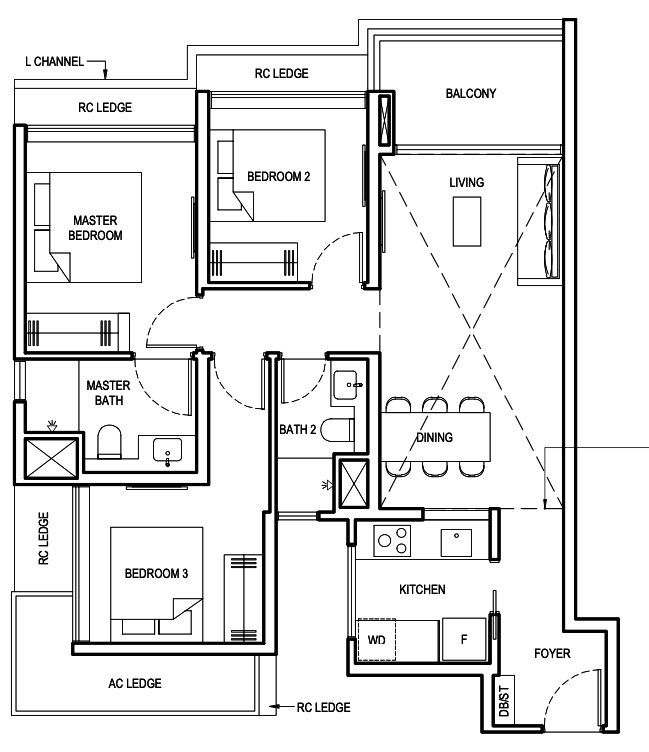 Grand Dunman's Type C1 layout features a long entranceway which is great for privacy (given the 90-degree angle), but not so much in terms of space efficiency. There's also a walkway through bedroom 3 which is nice in terms of privacy, but it does take up space which is valuable for such a small unit.
Despite these features though, Grand Dunman manages to pull this layout off with decently-sized bedrooms (unlike with The Continuum) while having ventilated bathrooms and a kitchen. The dining area is also acceptable, and I can imagine families on a budget wanting to stay near an MRT favouring Grand Dunman's 3-bedroom unit over Tembusu Grand's given its small size (and hence, more palatable quantum).
Between all 3 layouts, The Continuum would be the less favoured here. It's great considering the size, but there's no natural ventilation in the bathrooms and kitchen. And while the dumbbell layout makes for a more efficient space, it does have some sacrifices in terms of privacy. The occupant(s) in bedroom 2 would have to cross the living area to reach the bathroom, and despite the saved space due to the dumbbell layout, bedroom 3 is really small. As such, The Continuum is really more for those on a tighter budget but who wish to own a freehold condo in District 15. In this aspect, Grand Dunman seems more liveable, and with the added advantage of being next to an MRT too.
It's hard to say if Tembusu Grand is better here. In this regard, it'll be down to factors other than layout – price, location, density etc, so it's hard to jump to form a concrete opinion here just based on layout alone.
Grand Dunman Vs Dakota Residences Vs Waterbank At Dakota
Here's what the prices of the nearest resale condos to Grand Dunman look like:
Project
Tenure
Completion Year
Type
Average ($)
Average ($PSF)
Dakota Residences
99-year (2007)
2010
2 Bedroom
$1,721,833
$1,678
3 Bedroom
$2,195,000
$1,672
4 Bedroom
$3,192,500
$1,715
Waterbank At Dakota
99-year (2009)
2013
1 Bedroom
$867,400
$1,705
2 Bedroom
$1,424,444
$1,578
3 Bedroom
$2,200,769
$1,773
4 Bedroom
$2,836,667
$1,805
If you look at the 2 bedroom units, you'll find that prices here are actually on par or more (in Dakota Residences case) than what the new launches are offering. A look at the $PSF tells you that these units must be really big since their $PSFs are nowhere near $2,000.
Having an overall resale price that's similar to new launch prices (regardless of the size) is a pretty good sign. Birth rates are declining, people are getting used to the idea of living in small spaces and designs are becoming more innovative at allowing us to utilise small spaces better.
This results in a larger number of people willing to make the comparison between large 2 bedders and small 2 bedders. Some buyers may even feel large units have "wasted space" that isn't worth paying for, and would rather pay a higher $PSF for a newer condo with better accessibility and more modern facilities.
Of course, all of these are just opinions – but in all fairness, it is rare to see resale prices transacting for more than what new launches are offering. Still, let's go down to the units to have a deeper understanding of what's at play here.
First off, we'll take a look at what the 2-bedroom unit at Dakota Residences offers:
One look and you'll know the bane of the late 2000s era: Planters and bay windows, which take up a lot of space.
The dining area is quite cramped, and the living area doesn't offer that much more than what new launches offer today. The bedroom sizes are also a bit of a letdown considering the overall size of the unit The good thing is it does come with a household shelter, though it may not necessarily be that useful for a 2-bedroom unit. At over 1,000 sq ft, it's bigger than many 4-room flats in Singapore, but can't even find space for a service yard.
To top it off, this unit went for $1.7 million ($1,662) and it's on a low floor – level 4.
By comparison, if we assumed a buyer of Grand Dunman manages to snag a 2-bedroom + study unit (775 sq ft) for $1,807,300 (at Tembusu Grand's minimum $PSF), then it's really just around 6-7% more. Here's what that unit looks like: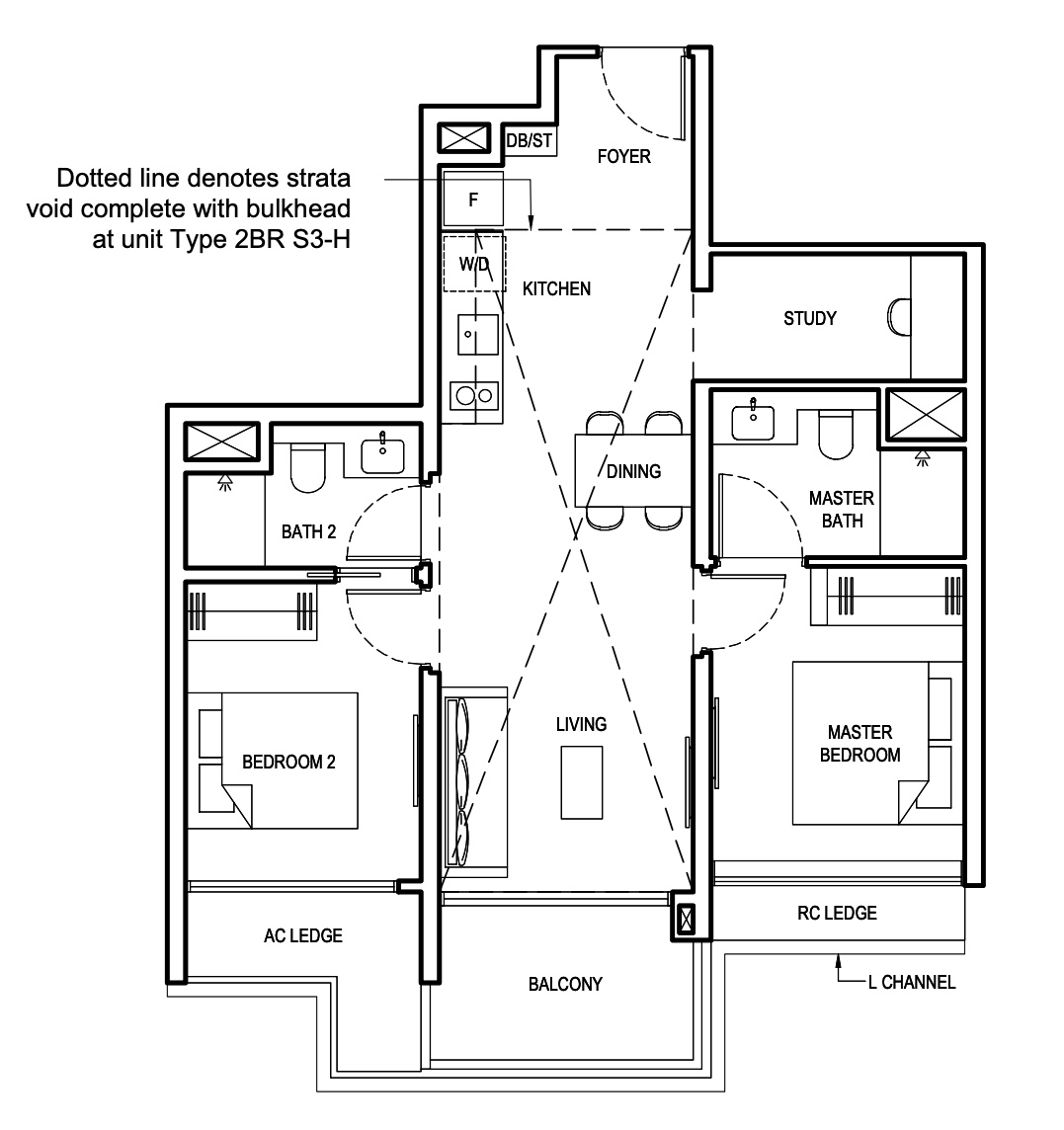 This unit is efficient and arguably more functional than the one at Dakota Residences. It does have a small kitchen, but it does come with a study area. Its bedrooms are also of decent size. Considering the price isn't that different, I can see how the high prices of Dakota Residences can help support the prices of new launches here.
Going by the logic of new launches being more desirable due to their newness, this similarity in prices helps act as a strong foundation for Grand Dunman and Tembusu Grand's resale prices in the future.
It's the same story as the 2-bedroom units at Waterbank At Dakota. The most recent affordable 2-bedroom unit went for $1,510,000 ($1,711 psf) on level 06 and comes in at 883 sq ft.
Here's what the layout looks like: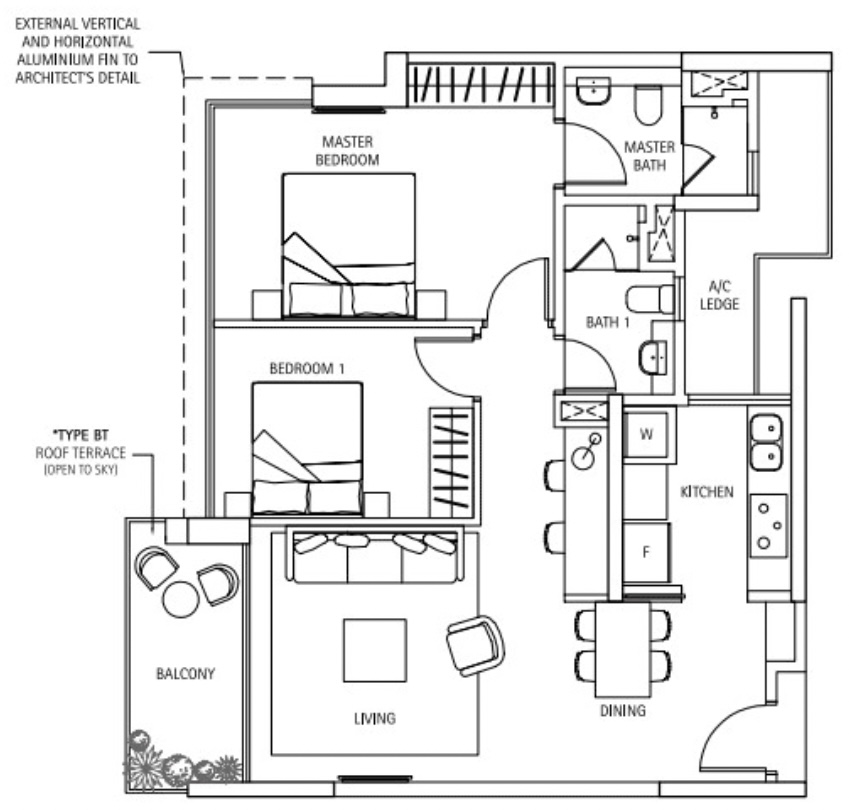 The layout is actually quite good. There's no wasted foyer space, planters or bay windows. It has a decent ventilated kitchen, both bathrooms are ventilated and the master bedroom is really spacious! There's even space along the hallway which could act as a small study zone. My only pet peeve is the AC ledge that stretches past 2 bathrooms.
Overall, I do like the resale offering here. But at around $1.5 million, you can see why the new launch Grand Dunman seems competitive – it's closer to the MRT and it would have over 10 years more in its lease. This brings me back to my previous point – resale prices here are strong, and it's good that it's relatively close to the new launch prices such that it can act as a support.
Now that we've seen the 2-bedroom units, let's have a look at the 3-bedroom resale units.
First off, here's what the smallest 3-bedder in Dakota Residences looks like:
What you will probably first notice here is the many bay windows and planters in the layout. Which probably explains why a 1,300 sq ft unit can't fit in a proper yard area. There is a small area just after the kitchen and before the household shelter, but at this size, I really expected more since the door swings outwards and it could be difficult with a retractable clothes hanger. This is the size of a premium 3 bedroom unit and those are expected to come with a WC, utility room and yard.
The most recent transaction for this layout went for $2.18m ($1,660 psf) in April 2023 and it was for a 17th-floor unit.
By contrast, the cheapest 3-bedroom unit at Grand Dunman would approximately cost just slightly more at $2.2+ million (based on Tembusu's $PSF). However, you can expect this to be on the lower floors. The unit would definitely be less functional though, as it doesn't have a utility room or WC. But for homeowners who do not expect to live with a helper or keep little things, paying just over $100,000 – $200,000 (or more, for higher floors) is very acceptable for a new condo that's just as close to the MRT.
Let's now also compare to Waterbank At Dakota's smallest 3-bedroom unit: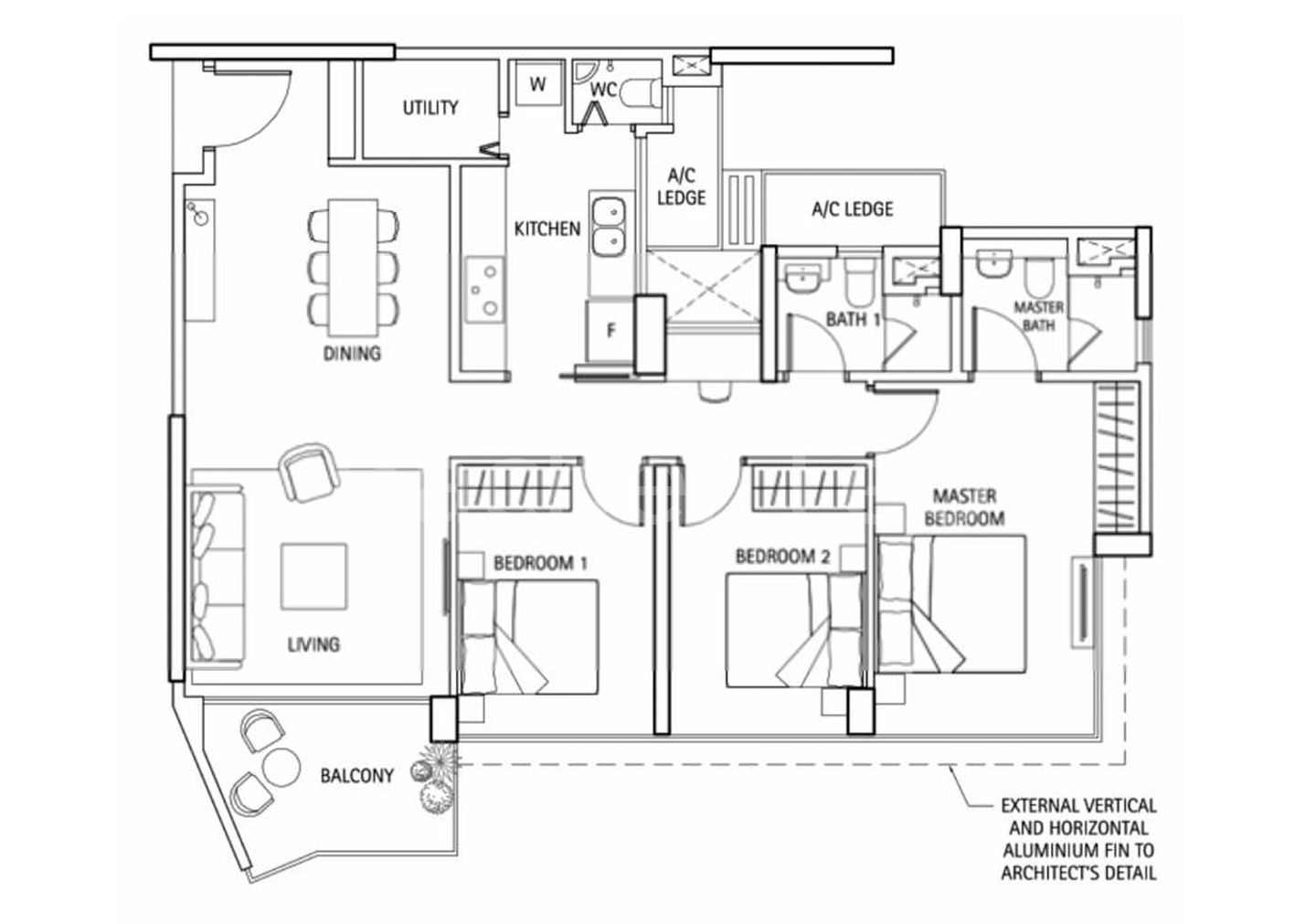 The smallest 3-bedroom that transacted recently went for $2.2m ($1,947 sq ft) on the 4th floor. This layout seems more practical as the area to hang clothes isn't obstructed by the utility door. It's got minimal foyer space which opens up to a wall, providing greater privacy. The dining area is decent, and the master bedroom is huge. It's also got a pretty good-sized AC ledge that lets you comfortably place 2 compressors with ease. The kitchen along with both bathrooms is also naturally ventilated.
Seeing this, Waterbank At Dakota is quite competitive. Going for the cheapest 3-bedroom at Grand Dunman would set you back approximately $2.3m+. It also doesn't come with the "premium" features of a 3-bedroom unit – a utility room, washer and a service yard.
While there are 3-bedroom buyers who absolutely need these features, there are those who are contented with a compact 3-bedroom. And since the price isn't too far off, Grand Dunman is pretty competitive for such buyers.
Buyers seeking the premium 3-bedroom layout would have to fork out approximately $2.7m (estimated for the 3-bedroom FLEX unit). This is about 22% more than if you purchased the resale unit here. 22% does seem like a fair amount given its location and newness.
Considering both bedroom types and both condos in line with Grand Dunman's estimated pricing and layouts, it seems that the prices of resale properties nearby do hint at good price support for Grand Dunman.
Rental analysis
As a broad overview, here's what the average rental yields look like based on Squarefoot Research's data. Selected condos are within 1km of Dakota Residences: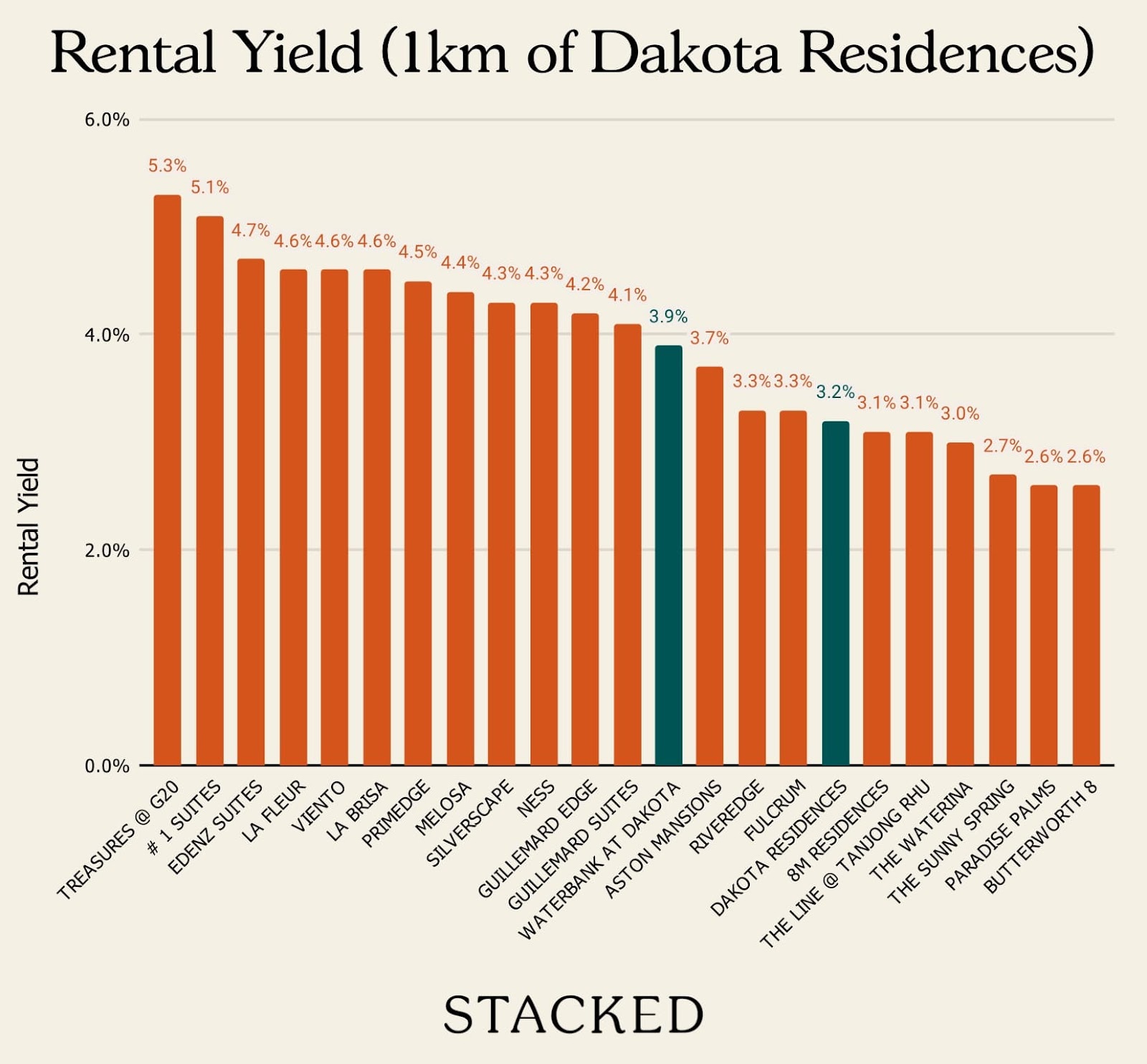 At first glance, you'll see that Waterbank At Dakota and Dakota Residences aren't at the top of the graph here. But I'd be very forgiving here due to the numerous D14 Geylang properties that generally have small units – and as such, low prices. These properties do not tend to appreciate much – however, their rental yields are high due to the strong demand in the area.
This is one of the highlights of the area – rental demand. Slightly more than half of projects here see yields of over 4%. Now let's take a closer look at the yields for each bedroom type:
| | | | | | |
| --- | --- | --- | --- | --- | --- |
| Project Name | Bedrooms | Average Monthly Rent ($) | Average Price | Yield | Jan – May 2023 Vol. |
| Dakota Residences | 2 | $5,400 | $1,721,833 | 3.76% | 10 |
| | 3 | $6,746 | $2,195,000 | 3.69% | 12 |
| | 4 | $8,963 | $3,192,500 | 3.37% | 8 |
| Waterbank At Dakota | 1 | $3,898 | $1,022,000 | 4.58% | 28 |
| | 2 | $4,500 | $1,720,000 | 3.14% | 9 |
| | 3 | $6,147 | $2,200,769 | 3.35% | 31 |
| | 4 | $8,400 | $2,836,667 | 3.55% | 2 |
This data is obtained by looking at the average rental from January 2023 – May 2023 (so far) against the prices from the same period.
You can see that the 1 bedroom units at Waterbank At Dakota had 28 contracts and a strong yield of 4.58%. The remaining 2-4 bedroom units have yields of around 3+% which is very decent.
Overall, I can safely say that the area has strong rental demand, and Grand Dunman's positioning next to the MRT would be seen as more favourable by tenants moving forward as accessibility and convenience is usually a top priority for tenants.
Compared to available new launches
Now that we've taken a detailed look at how the 2 and 3 bedroom compares to prominent new launches and resale units around, let's see where it's positioned within today's new launch market.
Disclaimer: As prices here are taken from Tembusu Grand, its position within the chart should be taken with a pinch of salt. The reason is that Tembusu Grand's size and bedroom type does not match up to Grand Dunman's perfectly. It is likely to be higher given its land cost too.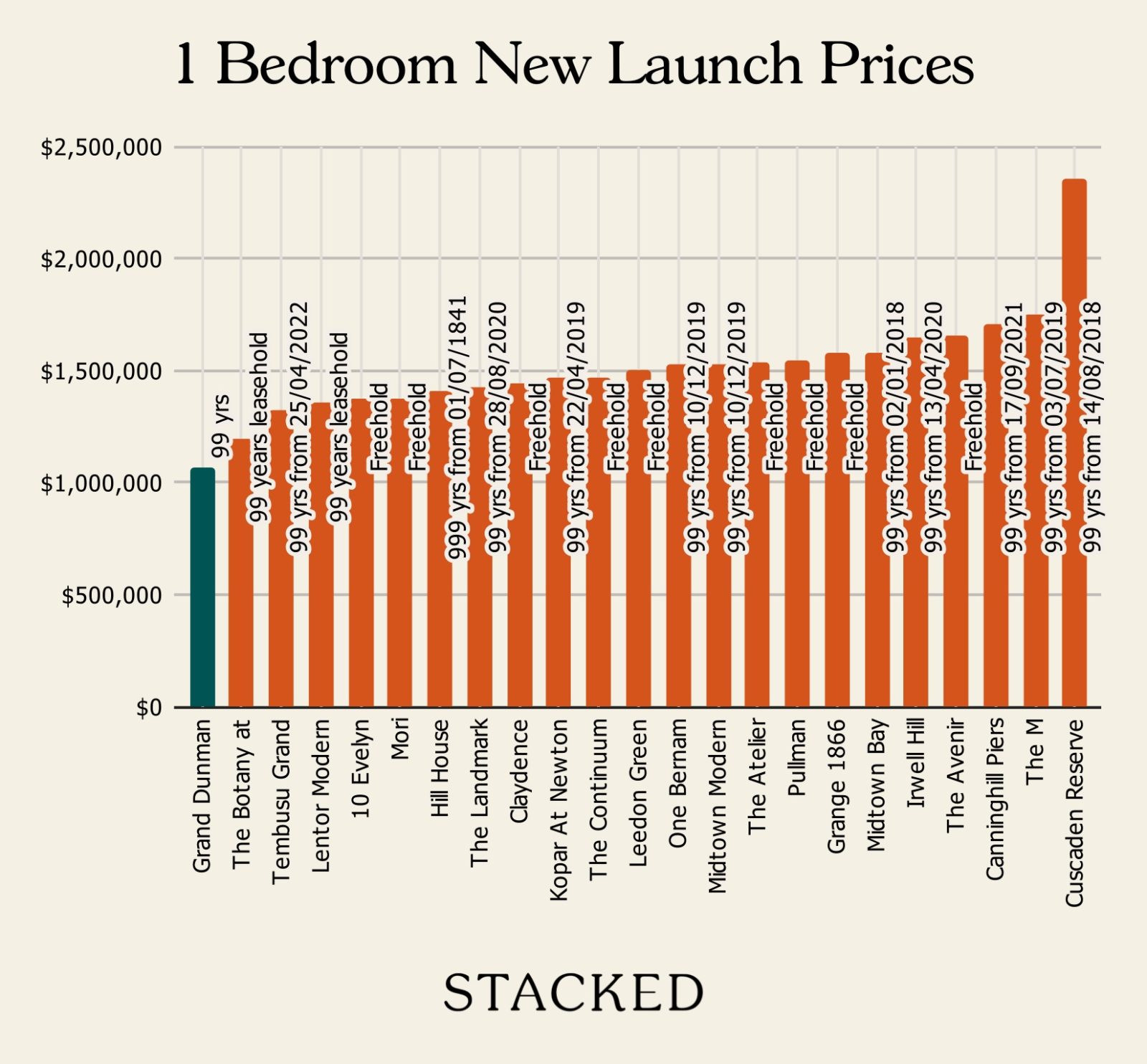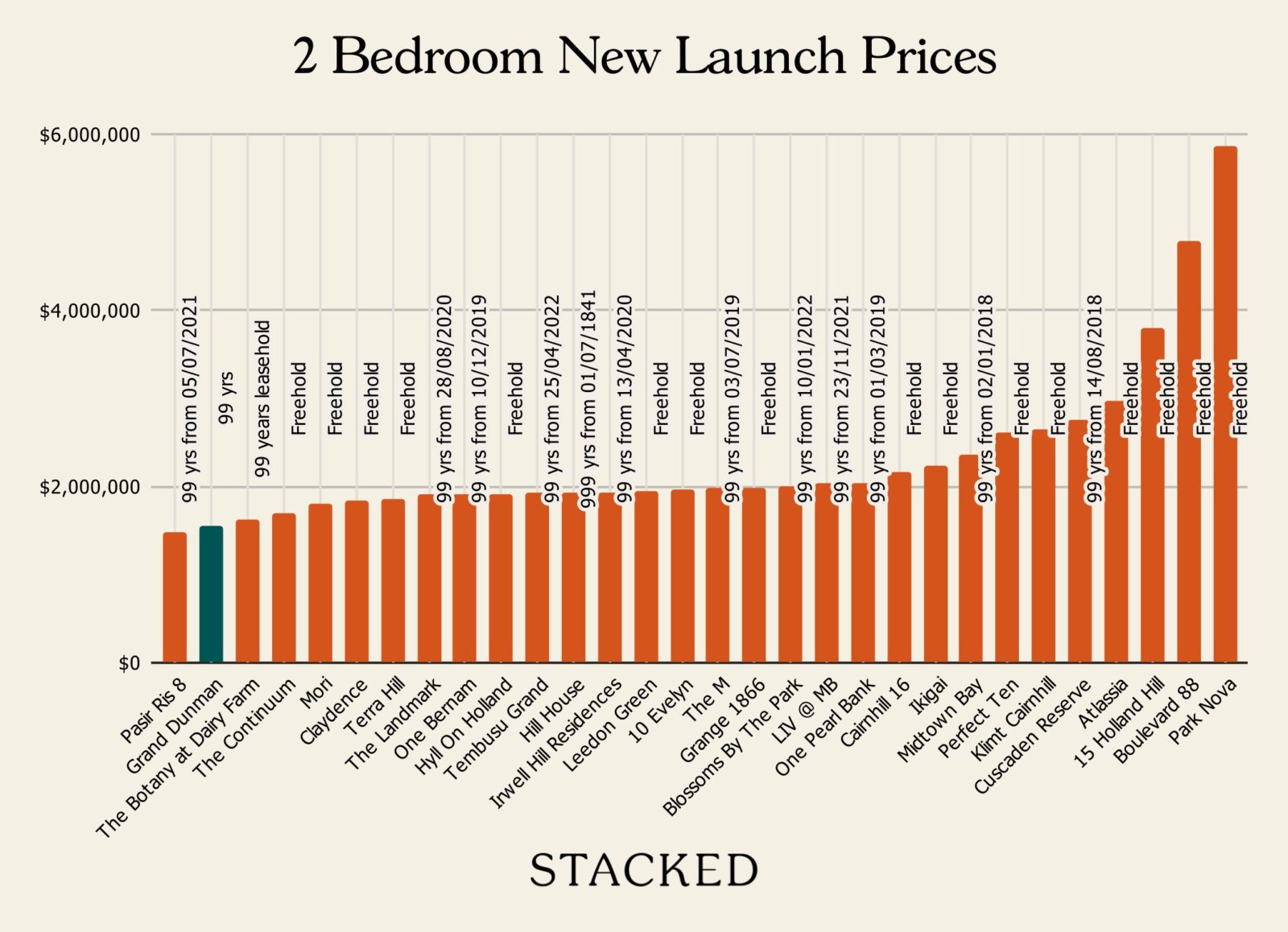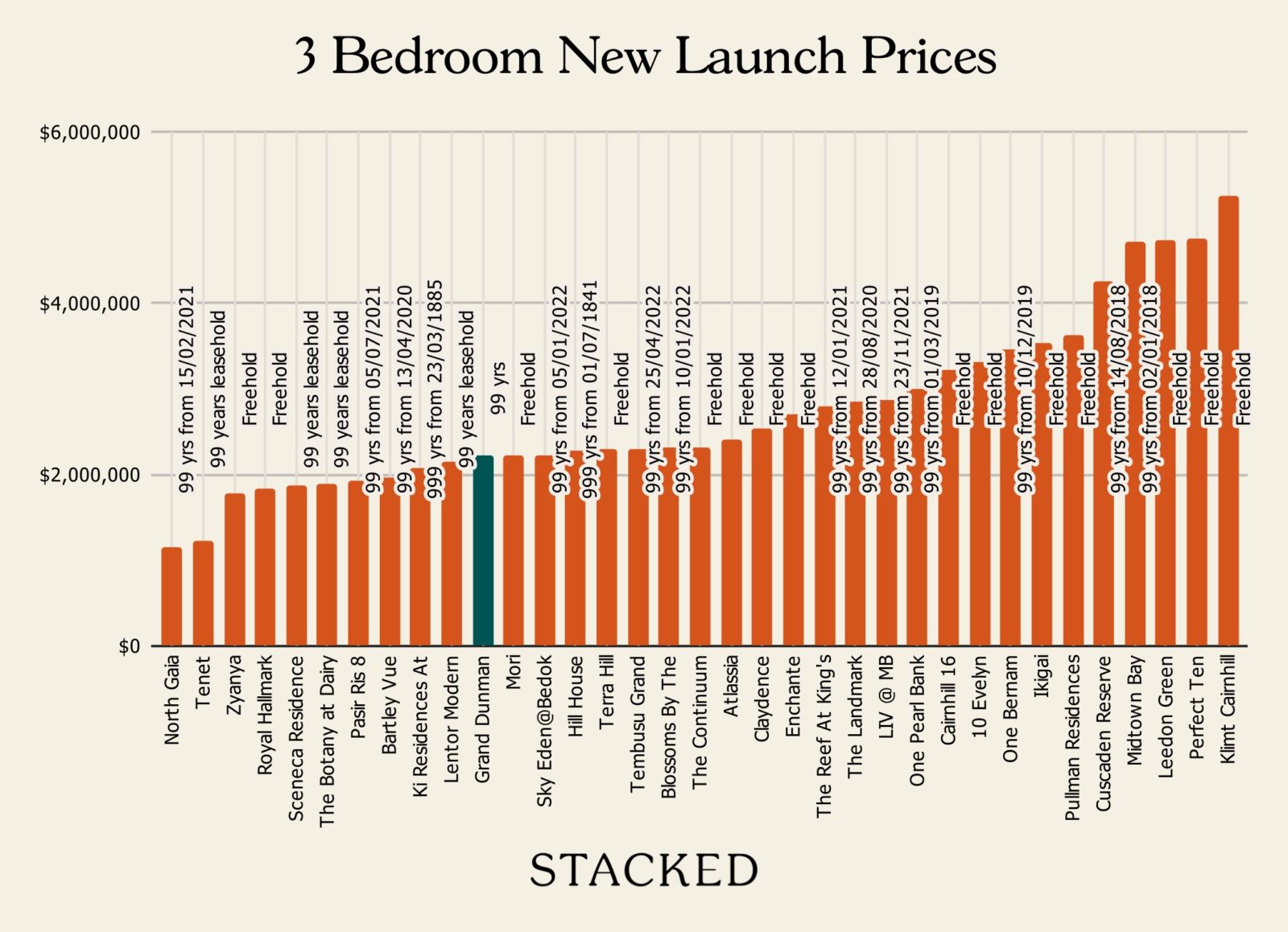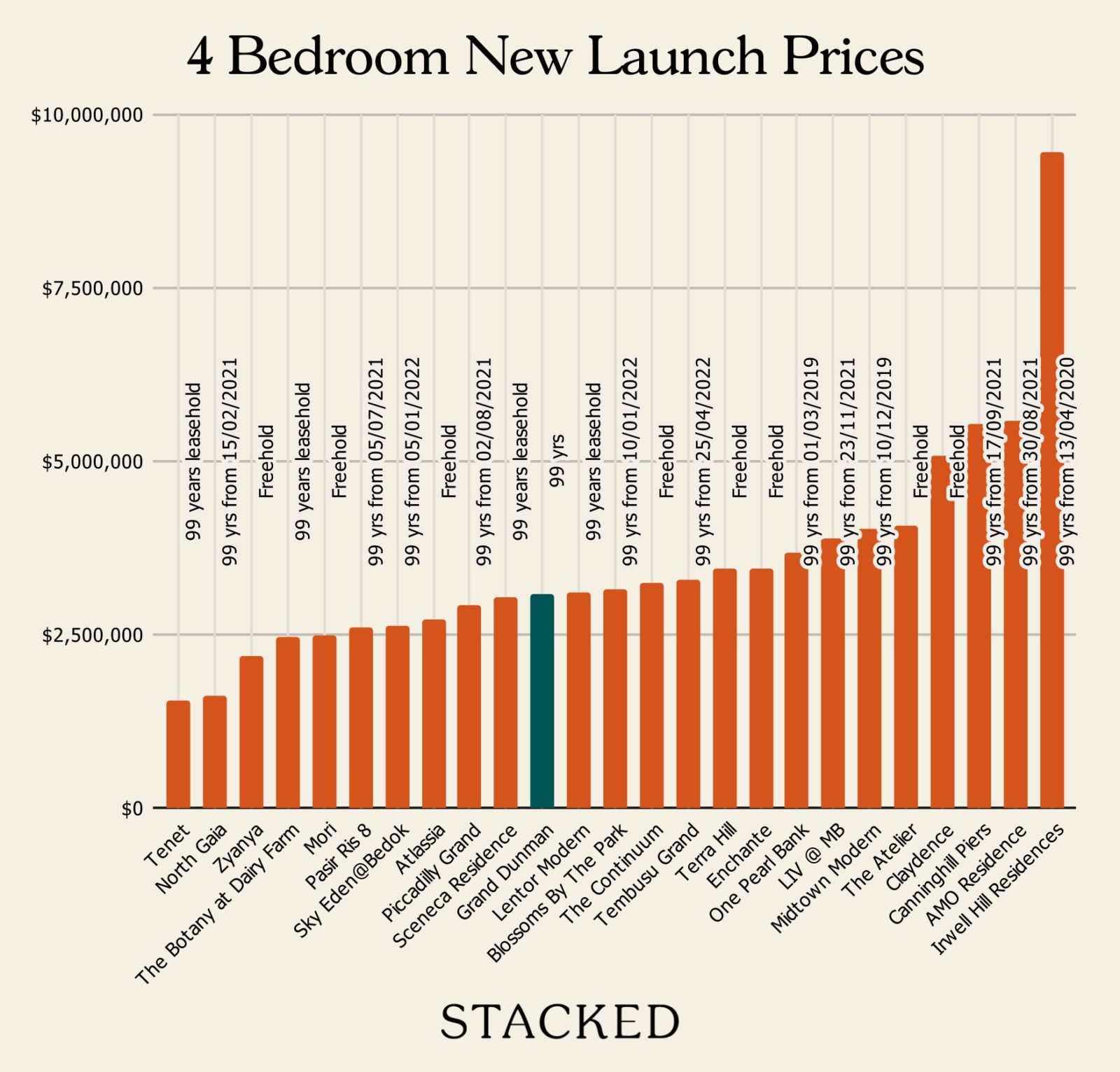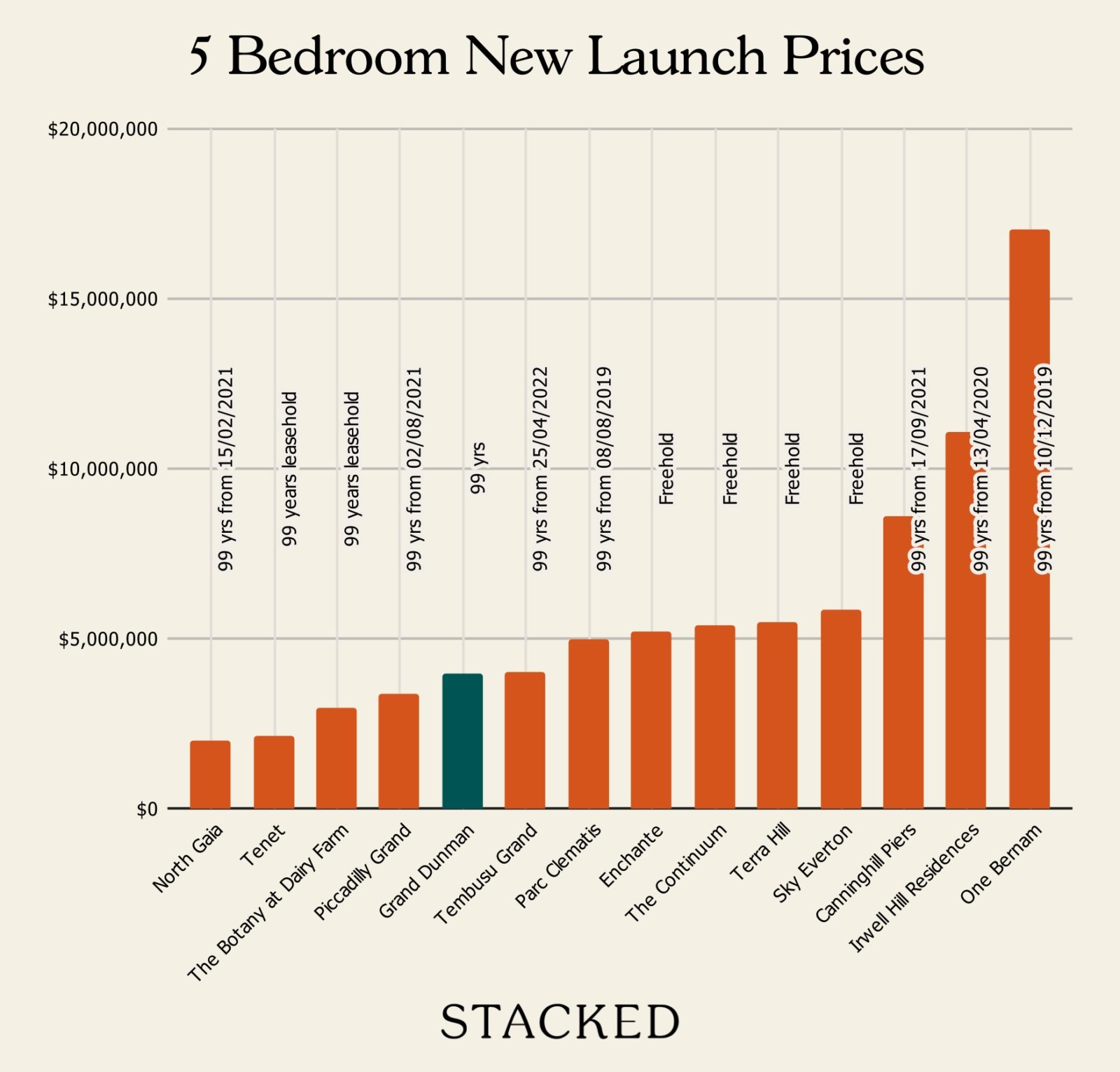 Considering where we are today, I'm not surprised to see Grand Dunman's positioning as one of the more affordable new launches, especially since we've used Tembusu Grand's minimum $PSF at launch.
In terms of 1-bedroom units, Grand Dunman appears to be the cheapest, however, it's likely to have a higher $PSF than the minimum at Tembusu Grand. As such, I can expect it to be within the bottom 3 in terms of prices.
What this means is that it's still one of the cheapest new launches you can get in the market today. It's even cheaper than Mori which is regarded to be in a poorer location (although Mori is freehold).
As for the 2-bedders, it once again appears to be the cheapest 2-bedroom new launch in the market. The reason why Tembusu Grand ranks higher now is that all the smallest 2-bedroom units have been sold.
However, Grand Dunman's 2-bedroom unit has only 1 bathroom, so it remains to be seen how the developers would price it (and what the market would accept).
In this sense, the smallest 2-bedroom is less competitive as the freehold The Continuum doesn't cost that much more – and you get 2 bathrooms as highlighted before. The proximity to the MRT would likely be the big factor for buyers here, which could still tip the scales in favour of Grand Dunman.
3-bedroom units here also appear to be quite reasonable as a mega development situated right next to an MRT. It costs more than the integrated Lentor Modern, but Grand Dunman's location is very mature unlike the former. It's also more expensive than developments like Zyanya which is small, Pasir Ris 8 which is far away yet not expensive enough to be competing with CCR developments.
You'll also see that for the 4-bedroom units, The Continuum costs less than Tembusu Grand here and only slightly more than the estimated price of Grand Dunman. That's because its smallest 4 bedroom is 1,227 sq ft, unlike Tembusu Grand's 1,432 sq ft unit which is one of The Continuum's advantages (freehold for less).
In terms of the 5-bedder, there really isn't much of a choice, to begin with. It can't be expected to be competitive with The Botany or Tenet, yet the next available 5-bedder is priced quite far away at $5 million.
Overall, I'd say that Grand Dunman is positioned just nicely and where we'd expect it to be in the current new launch market.
Appreciation Analysis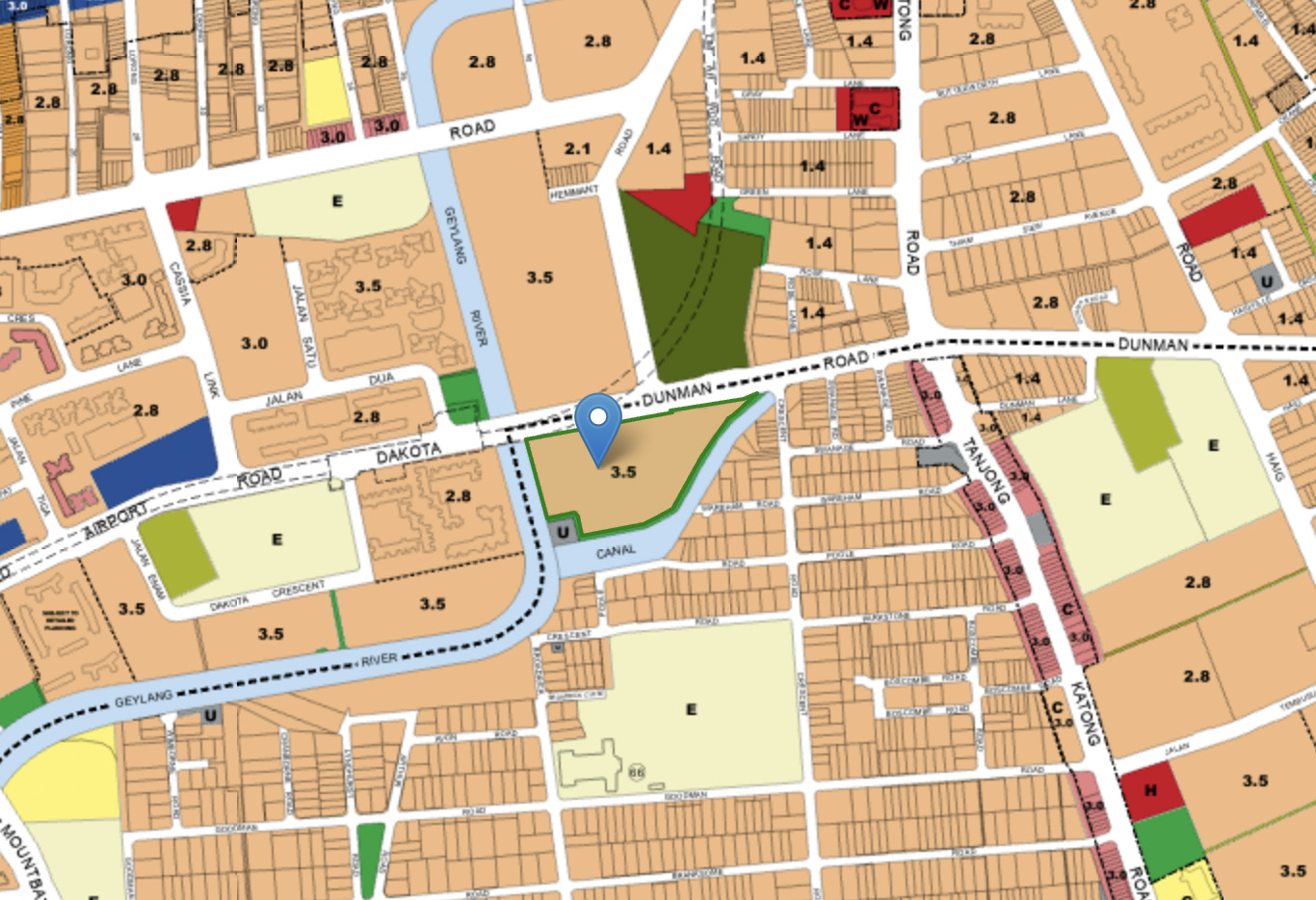 Paya Lebar Central Commercial Centre
While Grand Dunman is located in D15, it is close to the boundary and near Paya Lebar in D14. This area has undergone significant transformation over the last decade. I recall studying in the McDonald's at the old SingPost centre while schooling, and that was the only mall here back then, which was sparse, to begin with. Now, there are 3 shopping centres and very significant Grade A office space available. Many MNCs have offices at PLQ, including Bayer, JLL, Roche and Great Eastern. The continued demand for office space at Paya Lebar will help to boost demand for housing in close vicinity, which may be helpful from both a rental yield and price support perspective.
Established D15 neighbourhood with MRT connectivity
You can't call yourself a Singaporean if you haven't heard of this phrase – "East side, best side". And you can feel free to disagree with me, but D15 is the crown jewel of the East. My friends who live here want to continue living here, and friends who don't live here want to live here. I'm partial to D15, having grown up and attended schools here. The combination of good schools, good food, proximity to the seaside and the CBD in a culturally rich neighbourhood means the district's offering will remain attractive for some time to come. A 2019 PropertyGuru survey found that 1 in 3 Singaporeans desired to purchase a property here so it's clear that its appeal is not only for me.
First D15 Mega Development in 4 decades
This will be D15's first mega development since Mandarin Gardens and the thing about them is this – while they create added competition when you are trying to sell or rent out your unit, the converse is also true. The steady sale of these units either by the developers or owners after TOP will likely help to inch prices up bit by bit (if the macroeconomic factors are in your favour of course) and there will likely be no shortage of transactions here. This will help to provide further price support for your unit when you consider your own move (sell/rent) in the future.
What we like
Good varied unit mix with dual key units

Very near the MRT

Seaview and unblocked views of the estate for some stacks

1:1 car park lots
What we don't like
–

One tennis court

–

Overall colour scheme can be divisive
Our Take
Grand Dunman is the final piece of the D15 new launch trilogy in 2023 (excluding the smaller launches) and there is much to consider and compare between the 3 (The Continuum and Tembusu Grand are the other 2).
There's no question about MRT connectivity – Grand Dunman takes the cake here and is the closest (driving distance wise) to the CBD. It's also one of the better ones for affordable food options, since Old Airport Road Food Centre is just round the corner.
The main gripe might be the high density living with 1,008 units across a land plot of ~272,000 sq ft of land with each unit being "allocated" 269 sq ft as opposed to 330 sq ft for Tembusu Grand and The Continuum (both interestingly have the same ratio).
And sure, the overall design may not be a hard yes for everyone, particularly those who prefer something a little more minimalist.
Nevertheless, Grand Dunman is also the only one that can boast of partial sea views for a number of stacks and this has always been a draw for D15 properties, although I caveat that these sea views will be a distance away.
The product here at Grand Dunman ticks many boxes for singles and families alike. In reality, the 3 major D15 launches all have selling points of their own but all boast of full condo facilities and being in a mature neighbourhood. (And having 1:1 car park lots despite being close to the MRT is really quite an underrated selling point for Singaporeans who can't seem to live without their cars).
And as you might be able to tell from the past few years, Singaporeans seem to have great affection for mega developments, with the last prominent example being Normanton Park in 2021. Despite a delay due to a no-sale license, it completely sold out, affirming the appeal of such expansive projects. However, a common challenge faced by these colossal developments is their lack of proximity to an MRT station. Exceptions like Parc Esta and JadeScape are few and far between.
In this context, Grand Dunman presents a unique proposition. Not only is it part of the coveted category of large-scale developments, but it also holds a distinct advantage in its close proximity to the MRT. This undoubtedly ranks high among its major selling points, making it an enticing prospect in a market that cherishes both the grandeur of mega developments and the convenience of MRT connectivity.
What this means for you
You might like Grand Dunman if you:
Enjoy the advantages of a mega development:

Mega developments tend to have more facilities that cater to residents with varied interests 

Appreciate the landed and partial sea views:

South and Southeast facing stacks boast of unblocked views of the nearby estate and partial sea views in the distance for the higher floors. It's a rare privilege that not many can boast of. 
You may not like Grand Dunman if you:
Prefer your personal space:

No matter how many facilities there are, Grand Dunman will be a mega development with more than 1,000 units. This means that there will always be someone around somewhere so you generally won't get the gym or pool to yourself, ever.

The design isn't to your liking:

With the champagne gold and titanium look, the overall design may not be to the tastes of everyone. However given it's other plus points and target demographic, this is likely to be a non-issue for most.
End of Review
Join our Telegram group for instant notifications
Join Now
Matt K