Condo Reviews

D Leedon Condo Review: Too big for its own good?
Sean
July 28, 2019

23

min read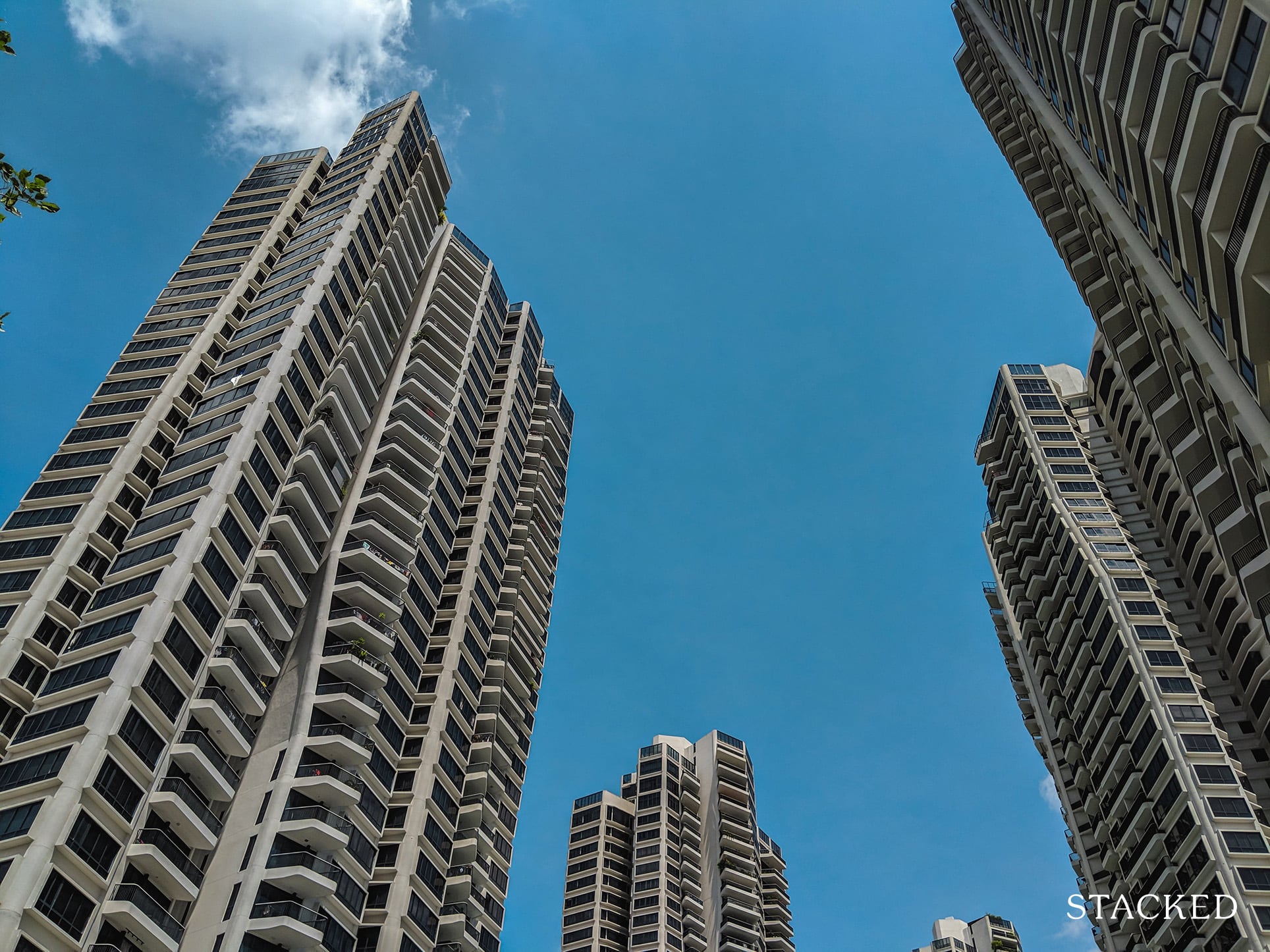 It feels a bit too soulless and if I had to make a comparison, I prefer the homely feel of the Interlace. But it has an iconic design, the blocks are spread out far enough from each other that you do not really feel the 1,715 units, it has all the facilities that you need and even the necessary amenities. It's close to Farrer Road MRT station and occupies a great spot on Farrer Road. Perhaps, even the best spot.
Reviewed by Sean on July 28, 2019
What we like
Near MRT

Near good schools

Lots of facilities

Great views for higher floors
What we don't like
—

Overcrowding for some facilities

—

Does not feel homely
23
min read
About this condo

| | | | |
| --- | --- | --- | --- |
| Project | D'Leedon Condo | District | 10 |
| Address | Leedon Heights | Tenure | 99 Years |
| Site Area | 840,049 sqft | No. of Units | 1,715 |
| Developer | CapitaLand | TOP | 2014 |
Most people in Singapore would know about the D Leedon condo. After all, it has been thrust into the spotlight in so many ways. It was, and still is, the record amount for an en bloc deal in Singapore, at a staggering $1.3 billion. Yes, you've read that right – BILLION dollars. It was also designed by internationally renowned and award-winning Zaha Hadid Architects. Which, sadly, was before Zaha Hadid passed on in 2016. It also offers by far the highest views in the Holland Village area.
With all that in mind, it is easy to understand why I have such high expectations of the D Leedon condo. It is an interesting project, no doubt, and a huge undertaking by Capitaland, even for a company that size. The last big project that we visited, the Interlace, left a great impression. Does the D Leedon condo match up to our high expectations? Let's find out.
About the D Leedon Condominium
D Leedon was completed in 2014. The entire site consists of seven towers, 36 storeys each, proudly standing in the very centre of the District 10 area, which spans across Ardmore, Bukit Timah Hill, Holland Road, and Tanglin. As the highest residential development in this prime district, the condo boasts different landscape themes, including a mesmerising view of the whole city, especially the Orchard Road City skyline and calming greenery of the Bukit Timah Nature Reserve and the Singapore Botanic Gardens.
As covered, the development was designed by internationally renowned architect Zaha Hadid, who was clearly inspired by the near surroundings. The seven towers allow residents to admire the surrounding neighbourhood, whereas the condo itself is designed with the mountain ecosystem in mind, integrating rock, forest, water, foothills, and meadows into its theme.
The entire development stretches across approximately 840,049 sqft (square feet), spanning over eight hectares of land. As said, it consists of seven high rise buildings with 1,715 residential units. It also includes 12 exclusive semi-detached houses. The rest of the area is covered by integrated landscaping and numerous recreation facilities, including outdoor fitness facilities, three party houses, and large swimming pools.
D Leedon Condo Insider Tour
Facilities in D Leedon
Two 50-metre Lap Pools
Dipping Pools
Jacuzzi
Water Gym
Children's Wet Play Pool
Eco-pond
Reflecting Pools
Tennis Courts
Basketball Court
Dance Studio
Golf Simulator Room
Race Track
Maze Garden
Sculpture Garden
Scent Garden
Hanging Garden
Chess Garden
Two Clubhouses
Function Rooms
Party House
Barbeque Pits
Reading Rooms
Games Rooms
Karaoke Rooms
Screening Rooms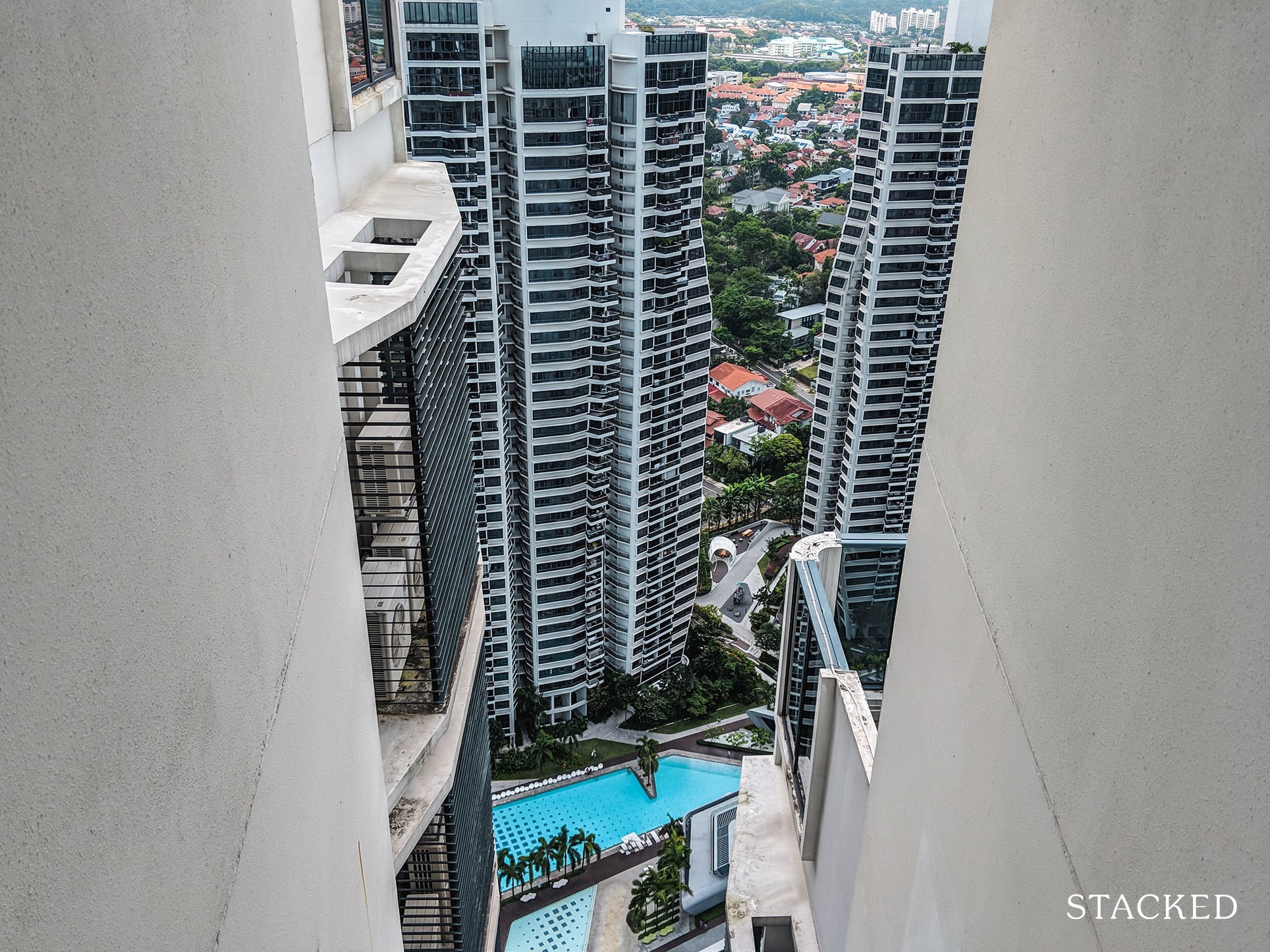 At more than 840,000 square feet, the D Leedon condo is gigantic, which translates into large areas of gardens and common areas. I tried to get a shot from the top floor to show off the scale of the development, but as you can see, you can only get the unblocked views from the units.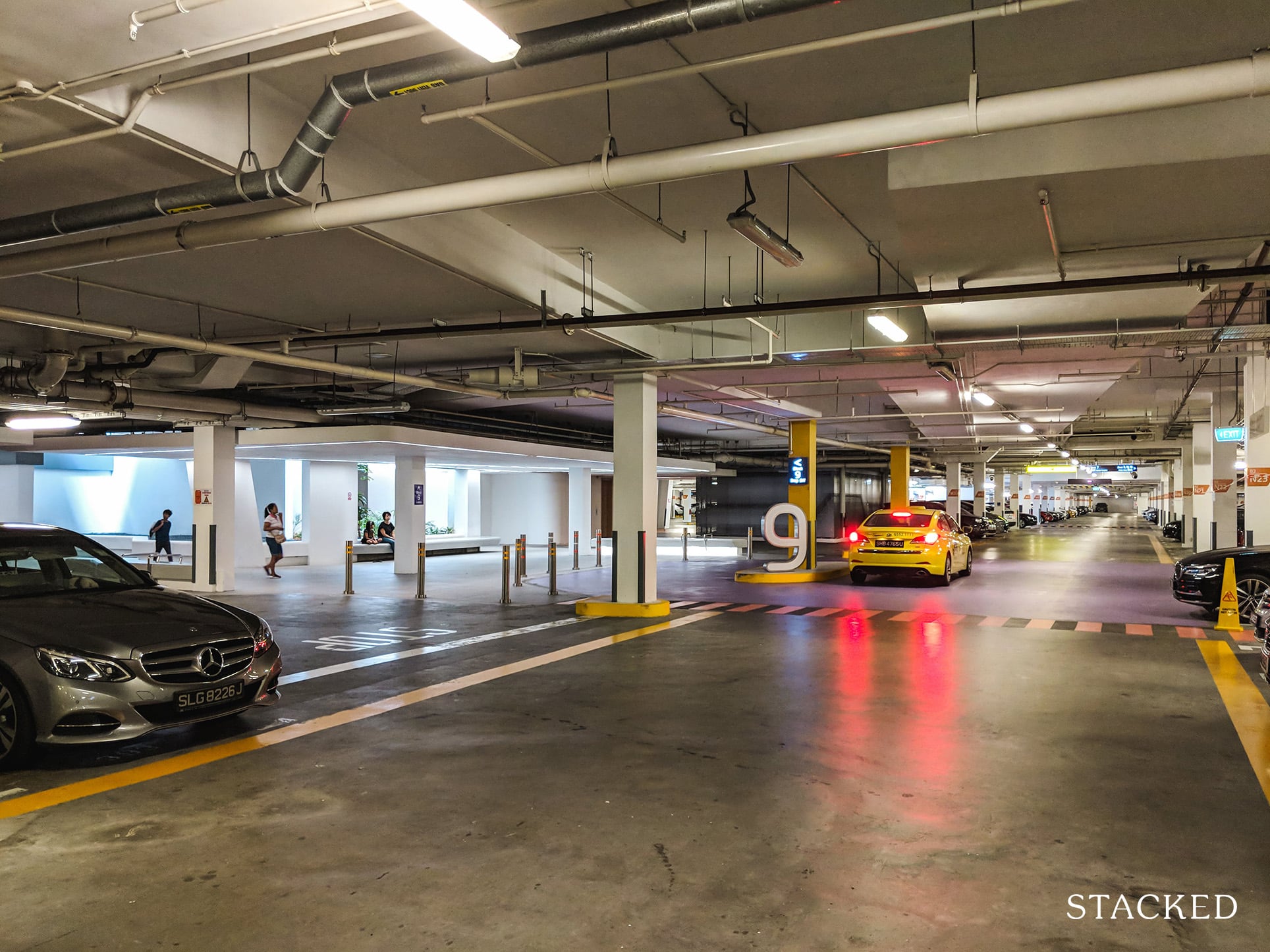 With such a big development, you can be sure that the carpark is just as big. And it doesn't disappoint as the allocation is one carpark lot per unit. I would expect a condominium like this to have lots of rental units, so carpark lots should be ample. Honestly, it is so big here that it even rivals some shopping centres in Singapore. For those who lean more towards the forgetful side, you could easily lose track of where your car is!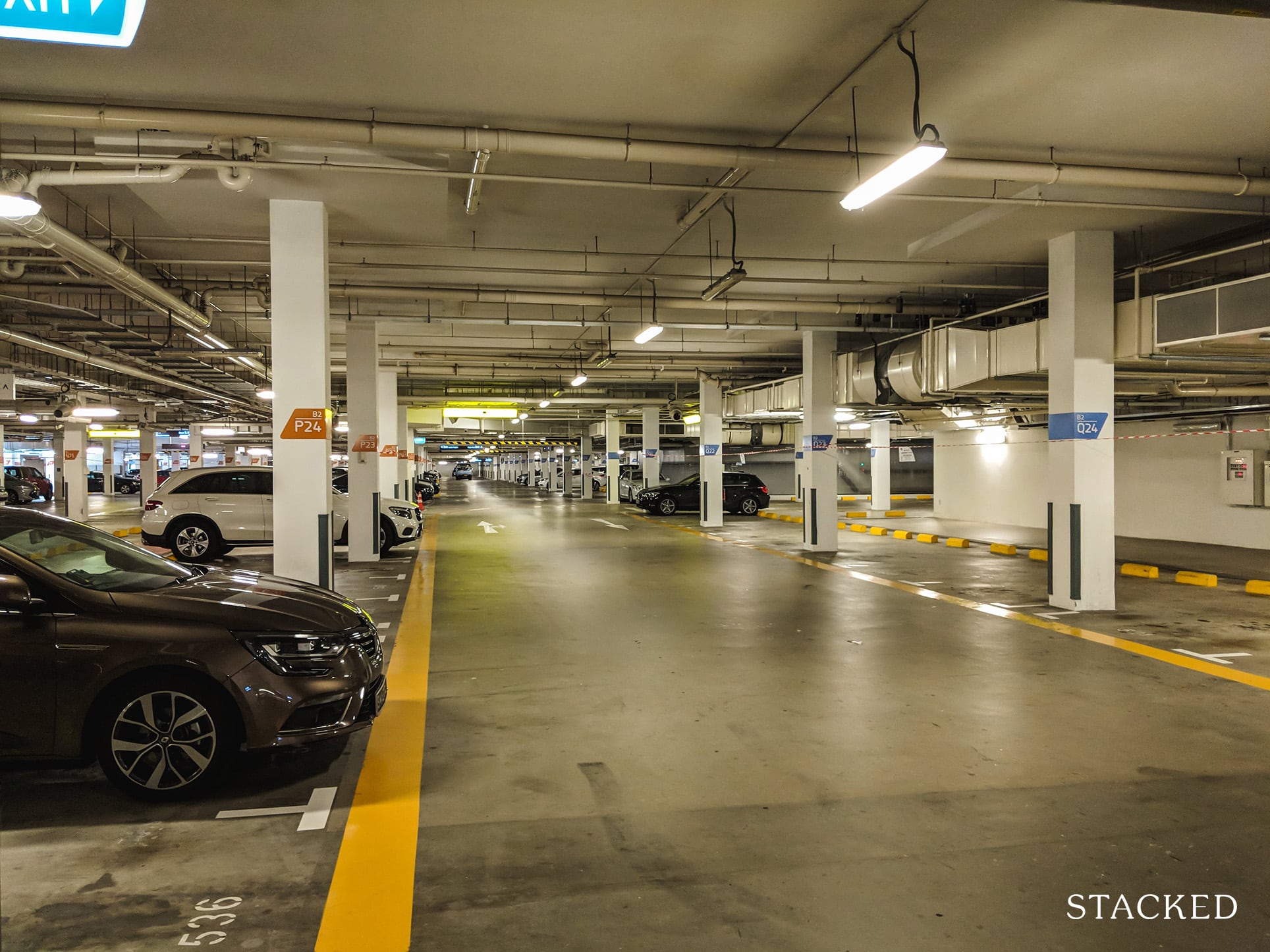 The carpark at the D Leedon condo does not have the high-end finishing like in some carparks I've seen, but I can understand why, as the cost must be exorbitant for a carpark this big. I'm no expert on carpark flooring, but it does appear to be of a higher grade than the regular carpark floor.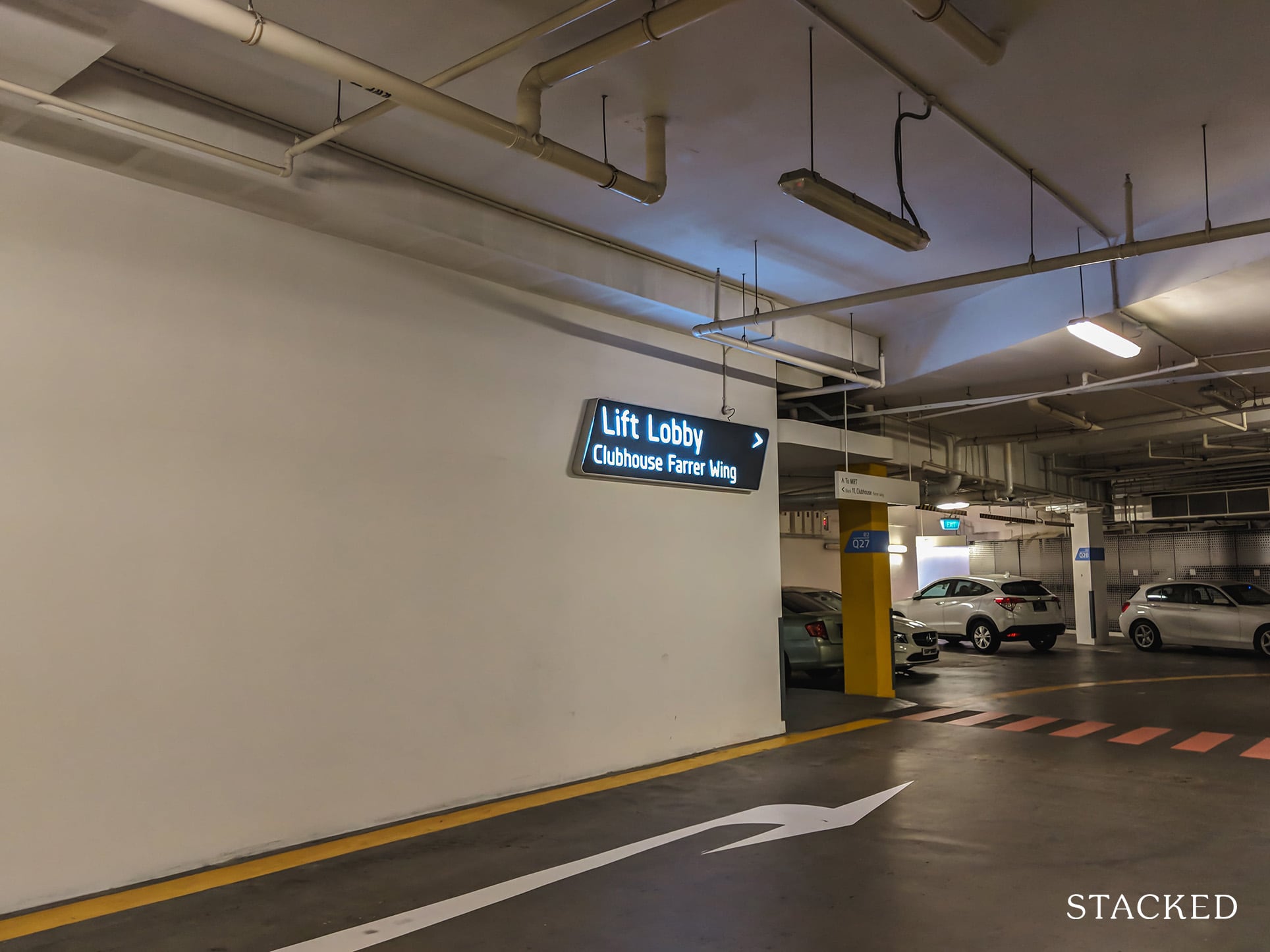 Thankfully, each tower and the different clubhouses are clearly and brightly labelled.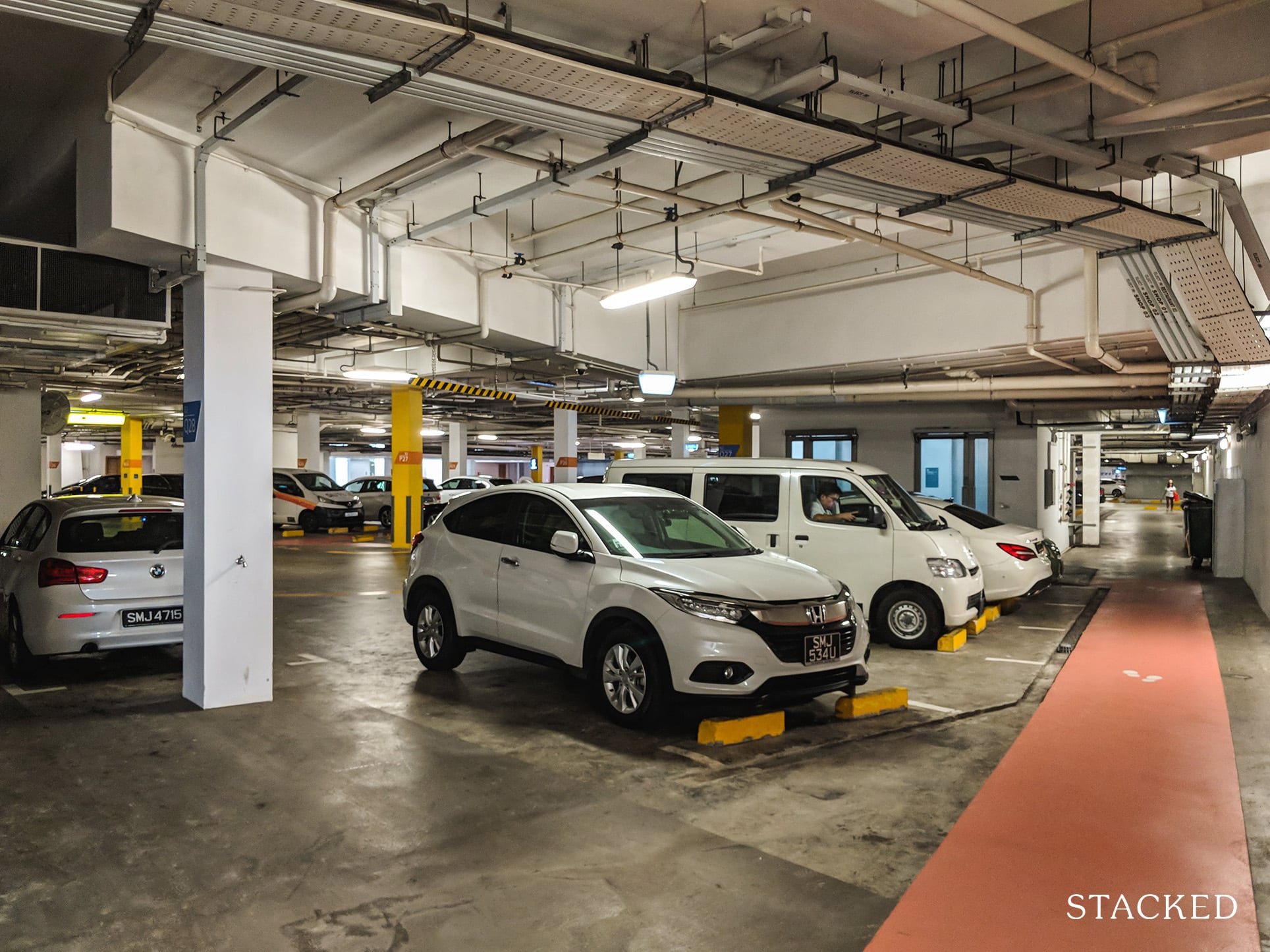 They even marked out a footpath to lead you to the most important place of all – the side gate that leads you to the MRT station.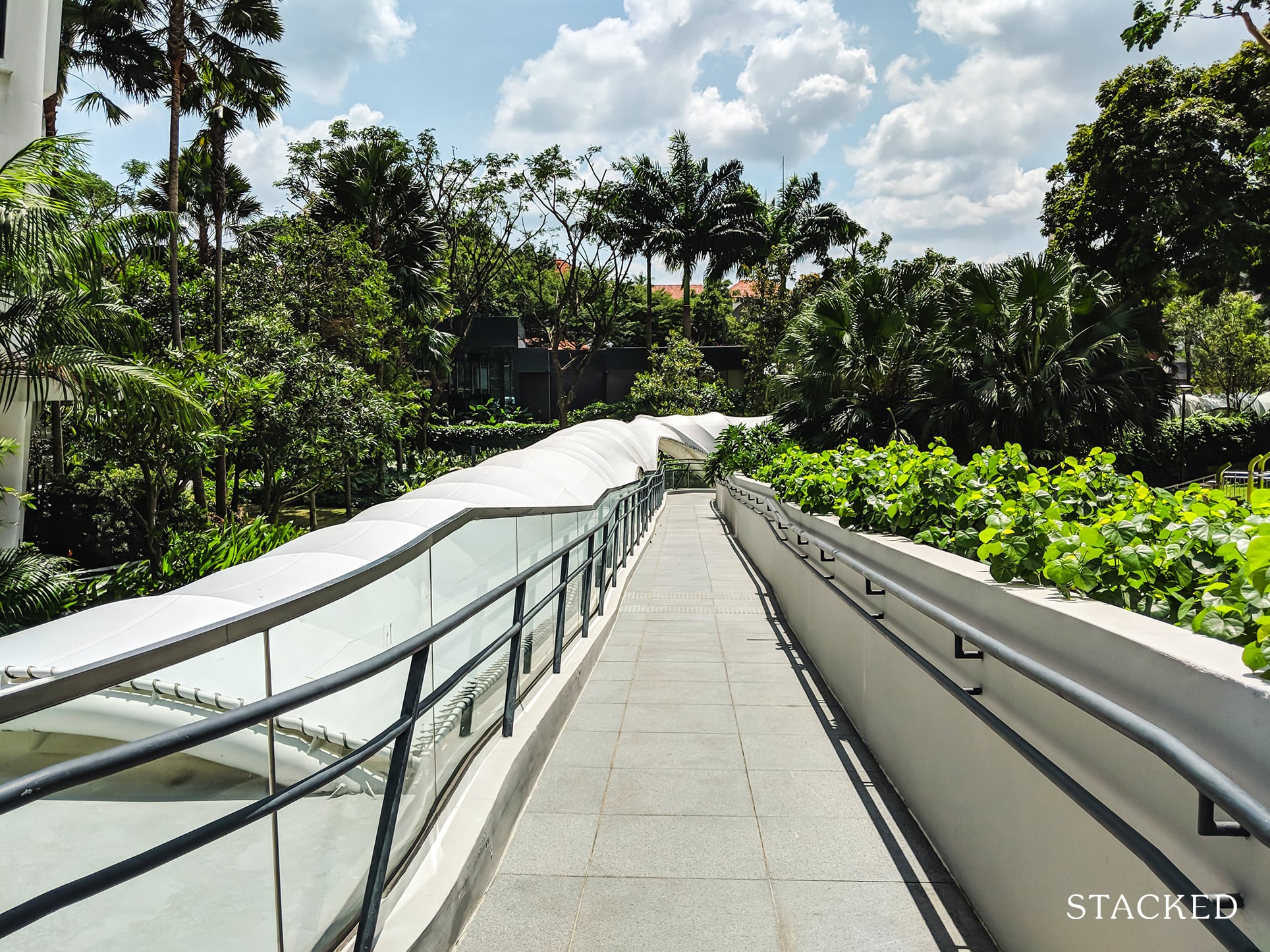 You can either go from the first level or via the long sheltered tent.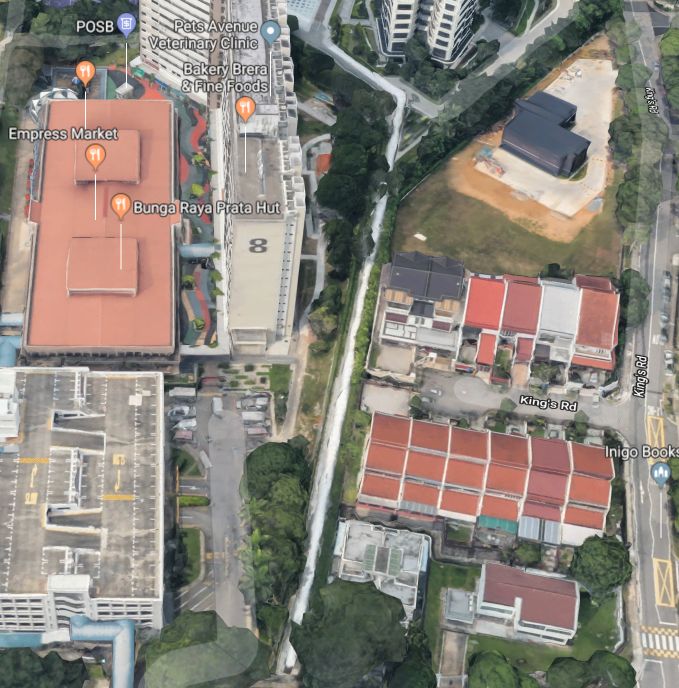 And when I say long, I really do mean long, as you can see from the screenshot on Google maps. It's frankly quite bizarre when you look at it from this angle, almost like a long drain leading out of the development. Based on our measurements, it looks to be around 200m, or 3-4 minutes of walking.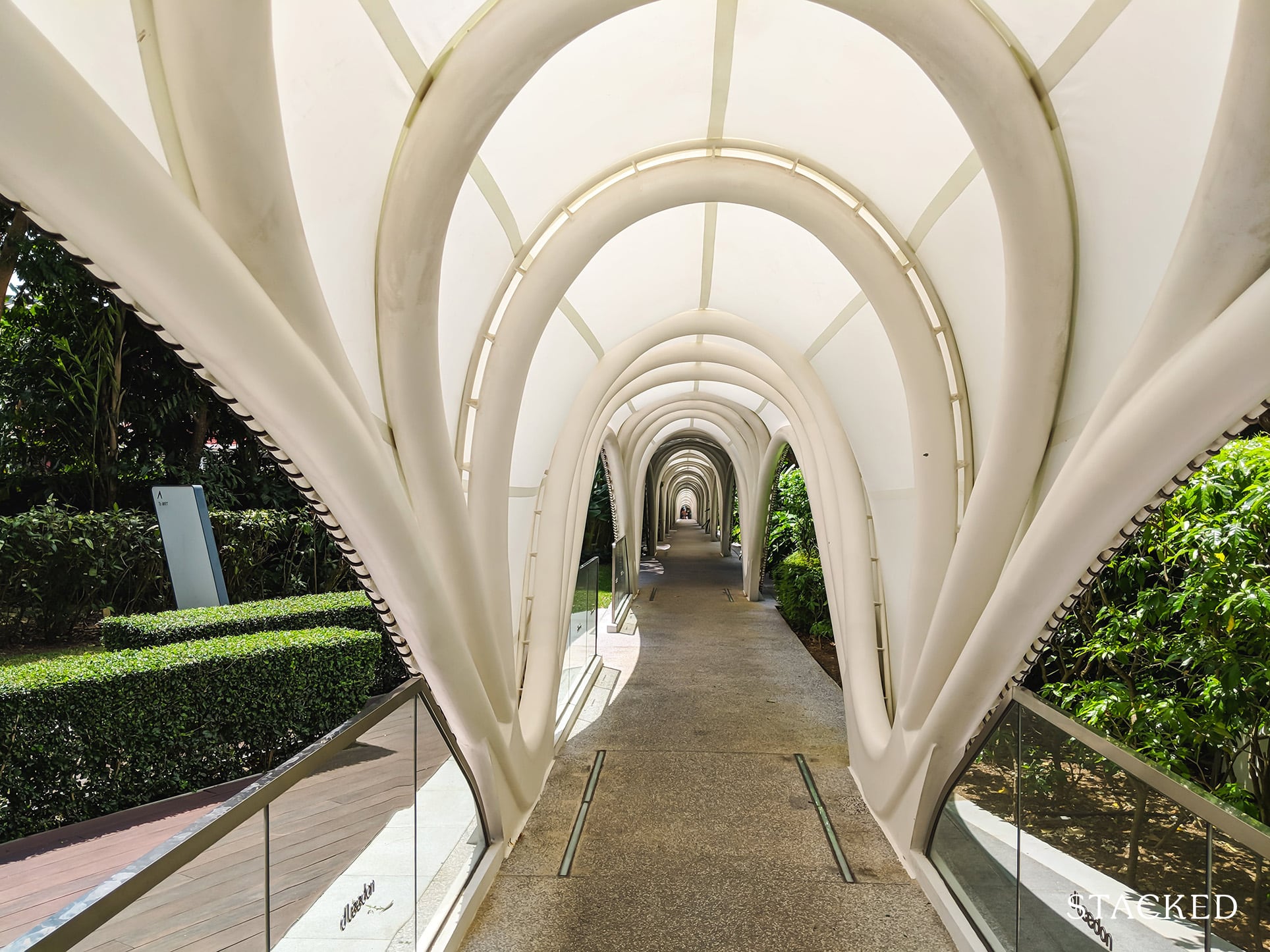 I wouldn't say it's far, but it certainly is not near either. Thankfully there is a shelter to offer some respite on hot days or relief from the rain on wet days. On second thought, it actually looks like it's a temporary structure, and they have yet to build the new one. Once you are out of the side gate, though, the crossing (or overhead bridge) to get to Farrer Road MRT station is really near. It's a pity that once you are out of the development, there is no shelter anymore.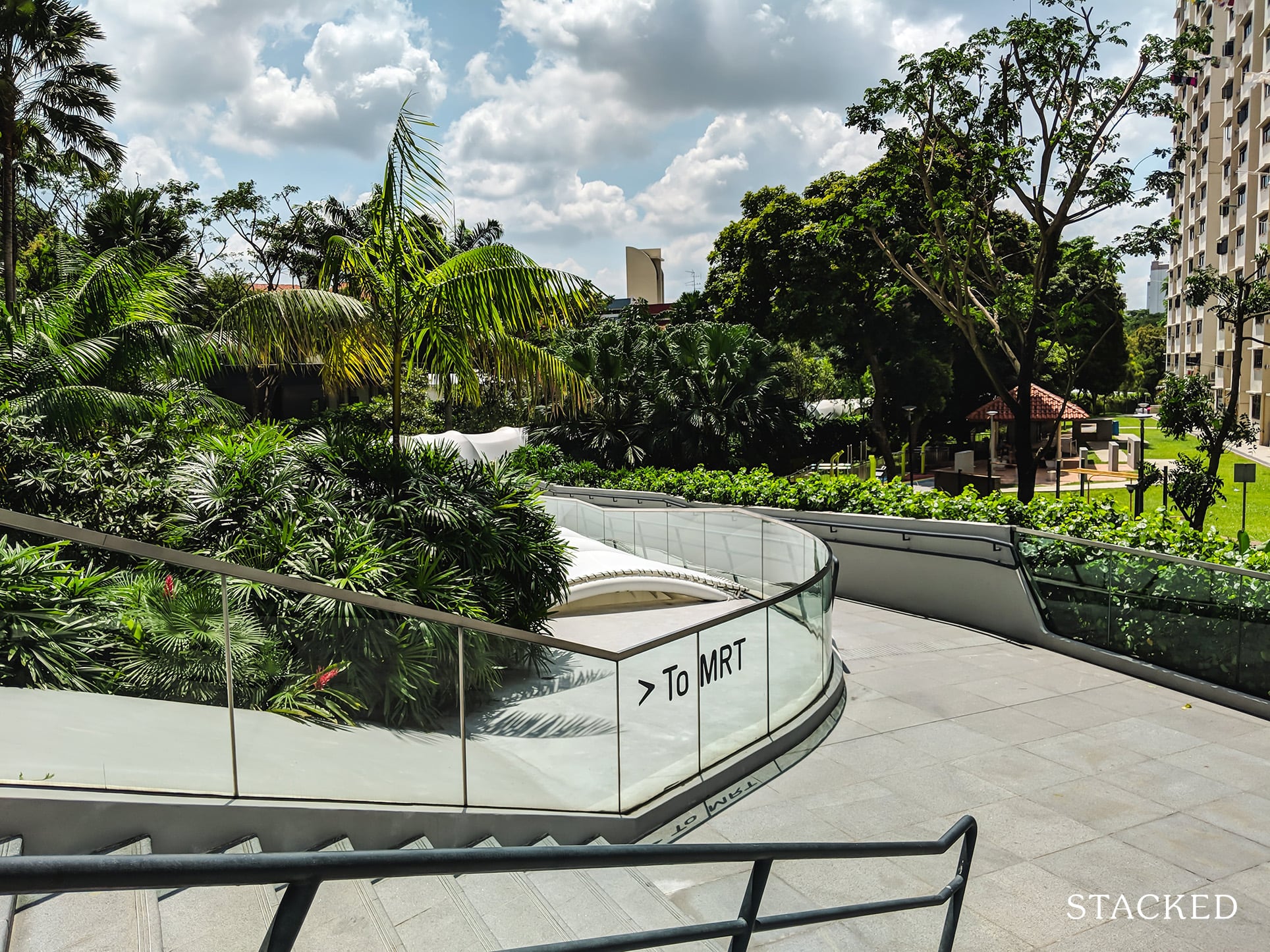 Once you come back up, it will lead you to a staircase…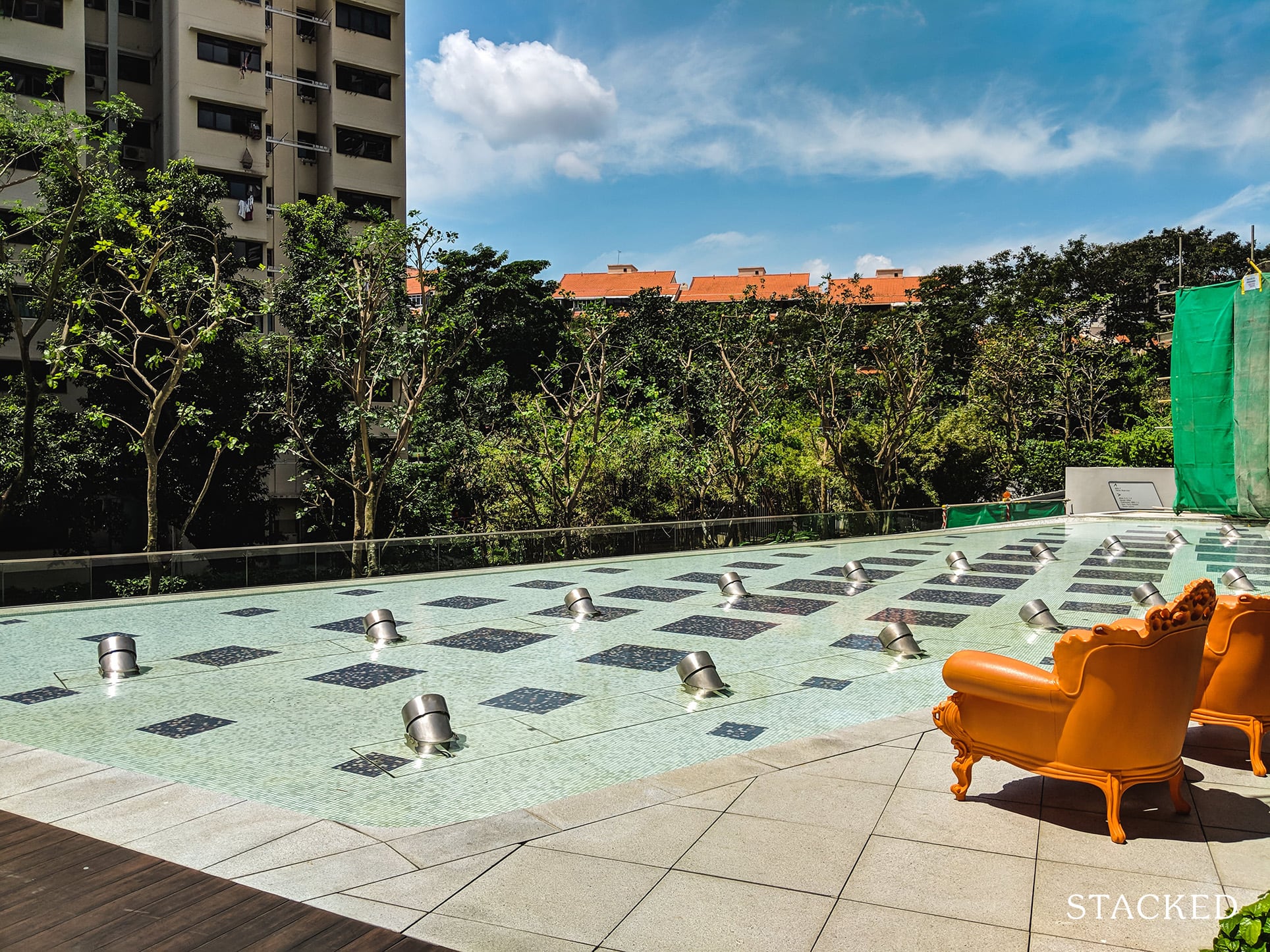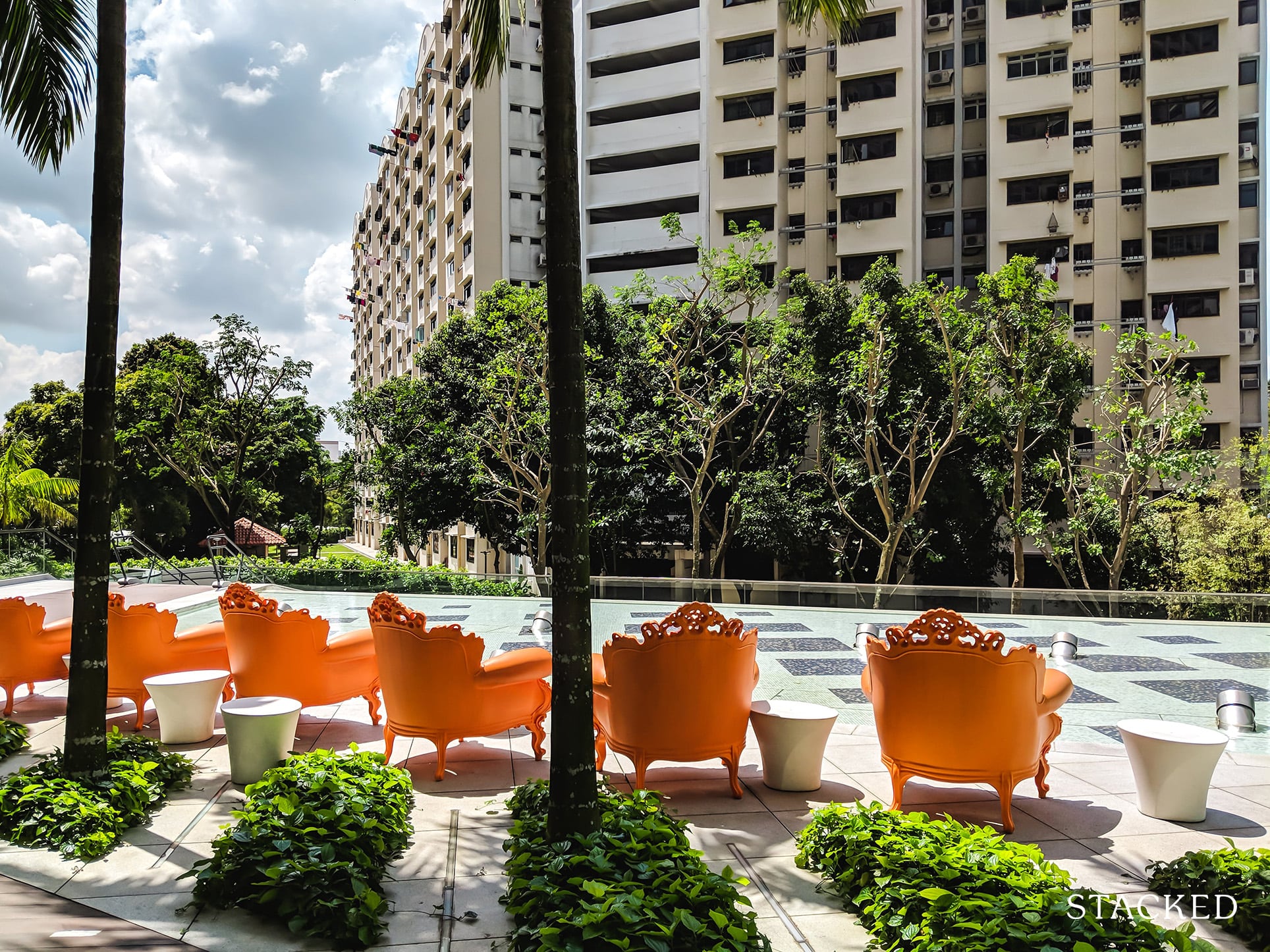 … and to a huge water feature area, with rather hip-looking orange chairs to rest on. I quite like this space, although it faces another block. It's quiet, and for some reason, you see fewer people here.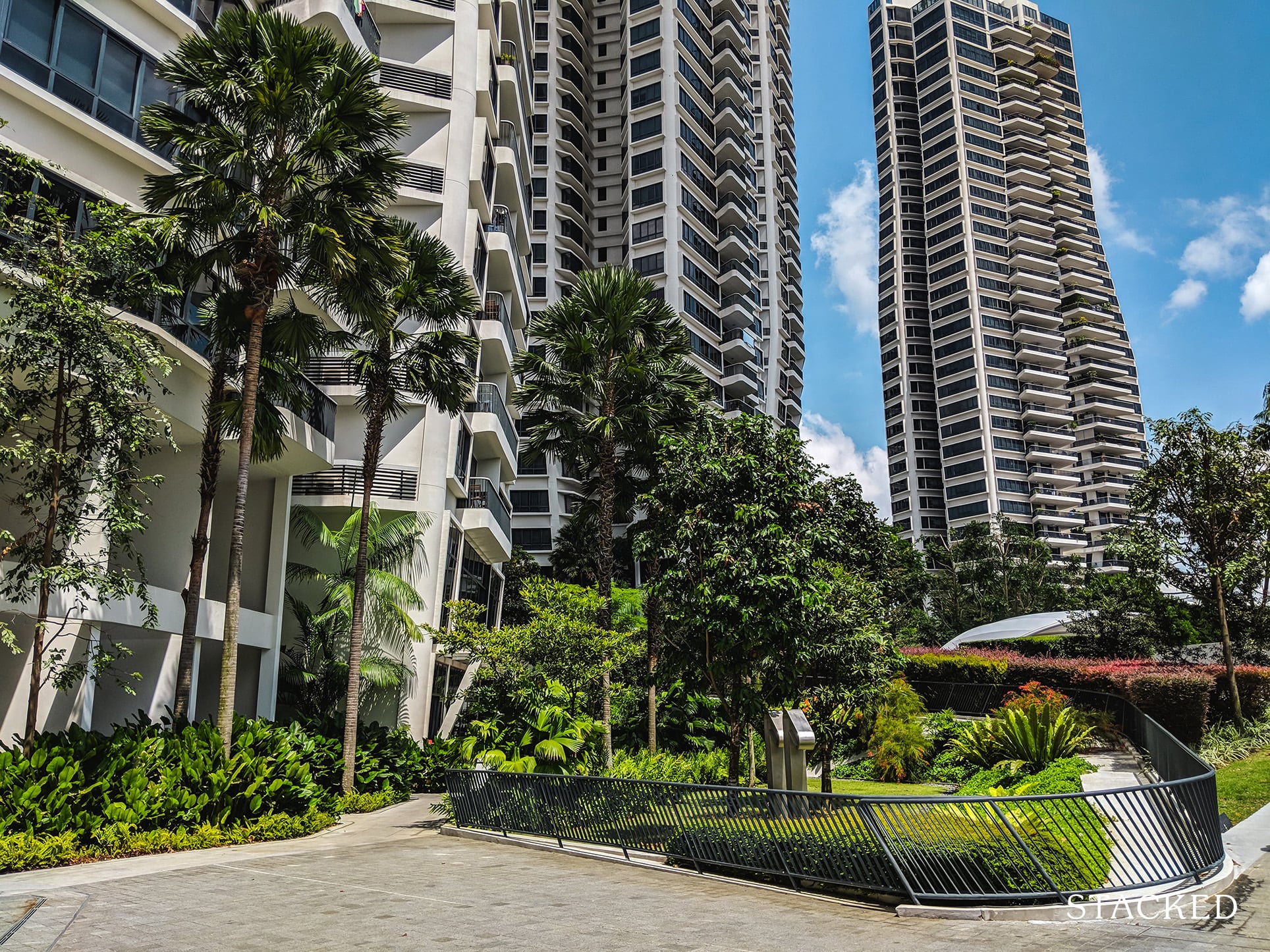 I like how each block has its own lettering in front of it. The trees and greenery certainly go a long way toward making the place look more welcoming, as the sheer amount of buildings and concrete can get too much.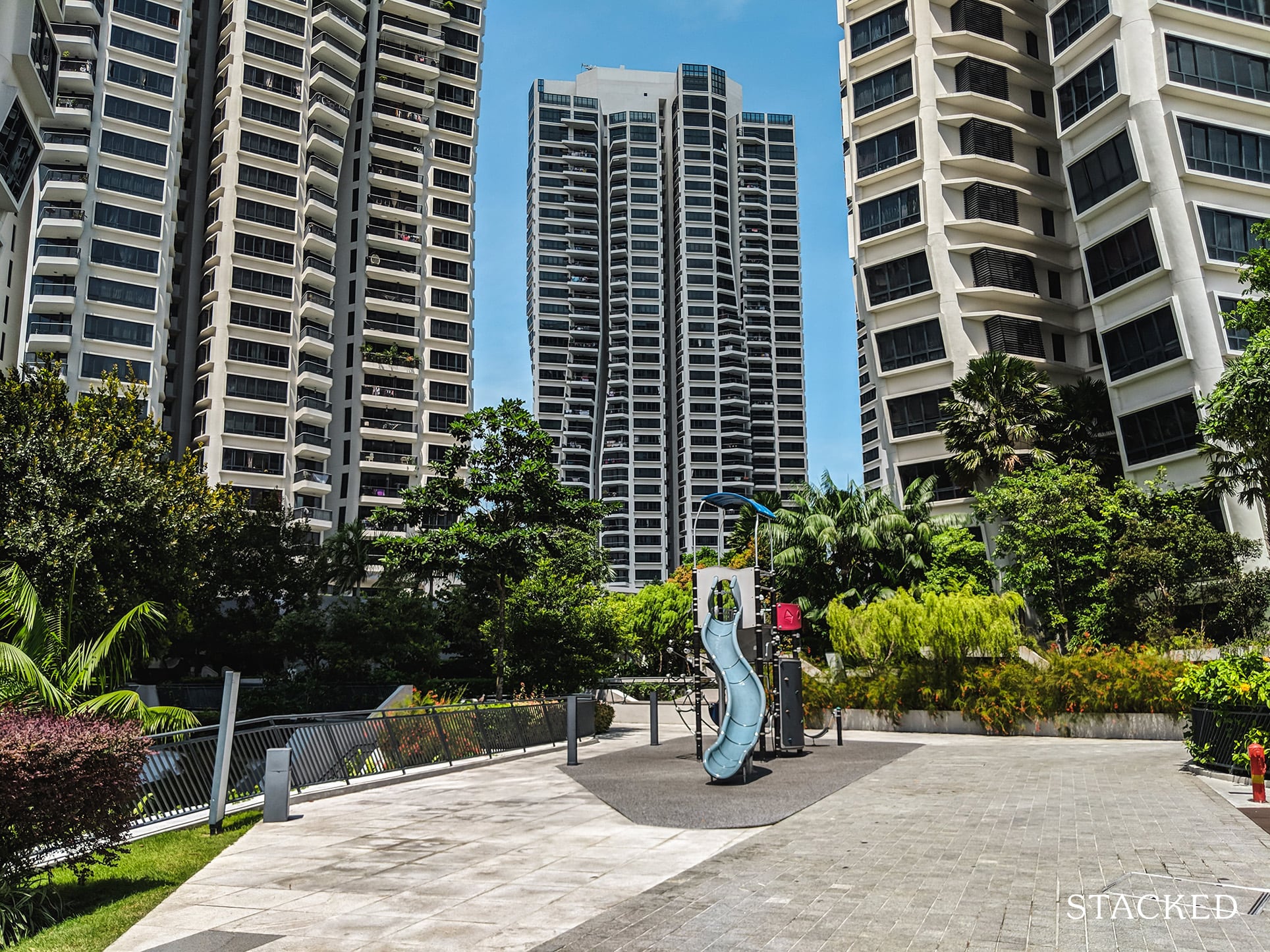 The playground space is relatively big, but the actual equipment itself is quite small. It looks very sparing, as if a grown-up applied the Konmari method and stripped out all the fun of a playground, leaving it with its essential functions.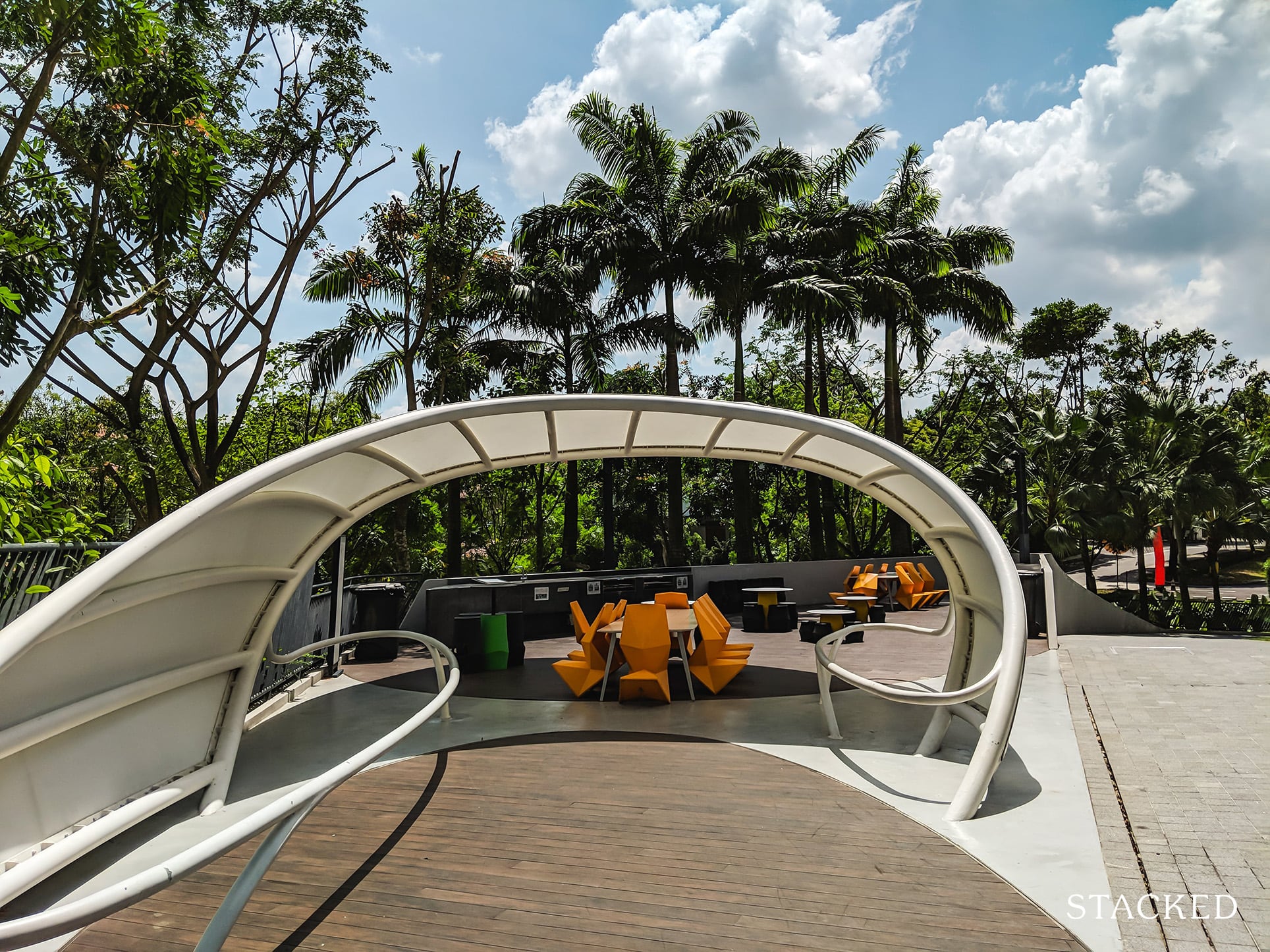 One of the many barbeque areas scattered from the D Leedon condo.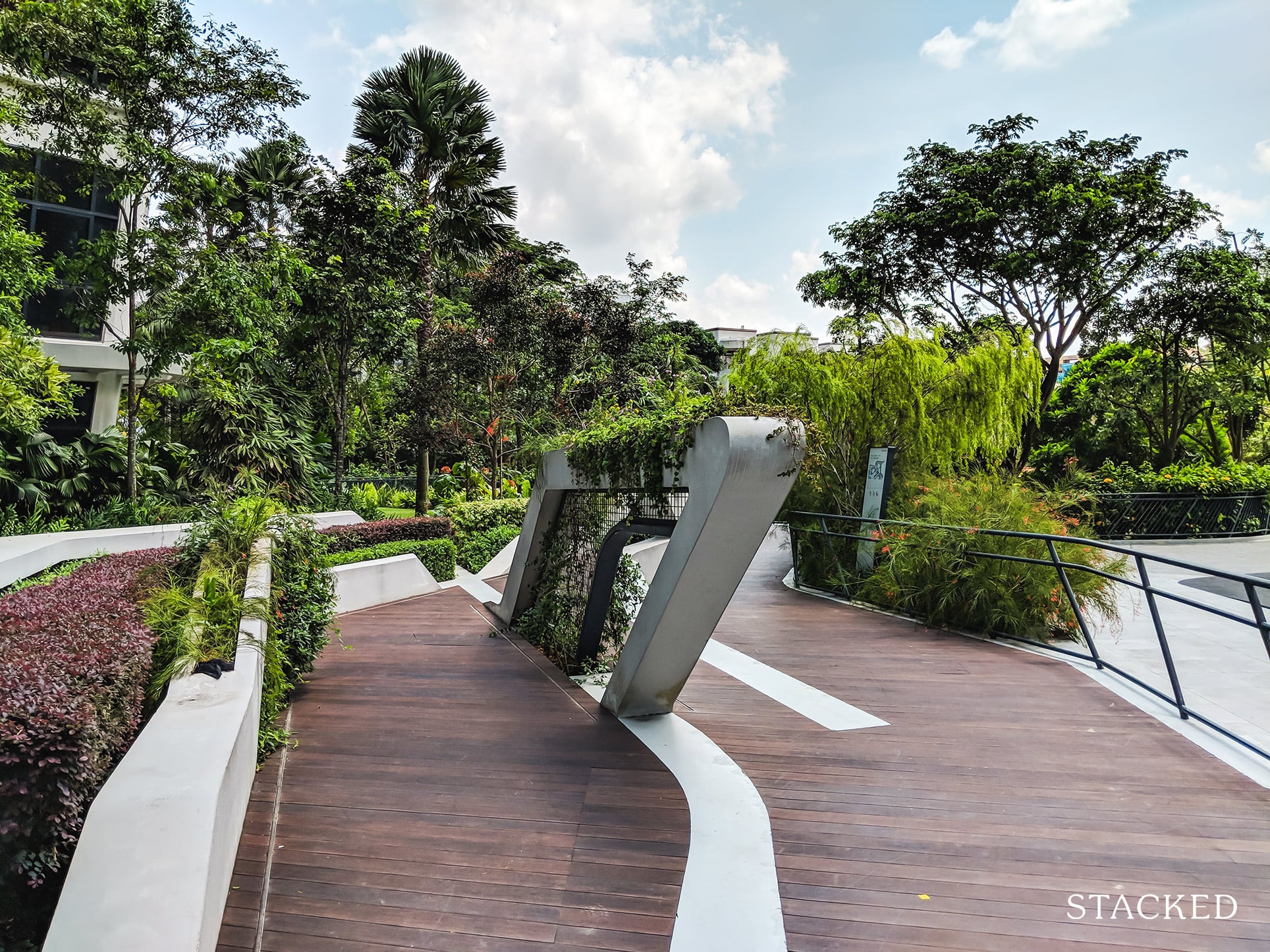 This was supposed to be the Hanging Garden. There are a total of 6 garden themes around – the Sculpture Garden, Scent Garden, Kinetic Garden, Maze Garden, and the Chess Garden. Personally, these spaces don't do much for me. I don't think they were very well-implemented, and it looks as if they ran out of ideas on what to do with all these spaces.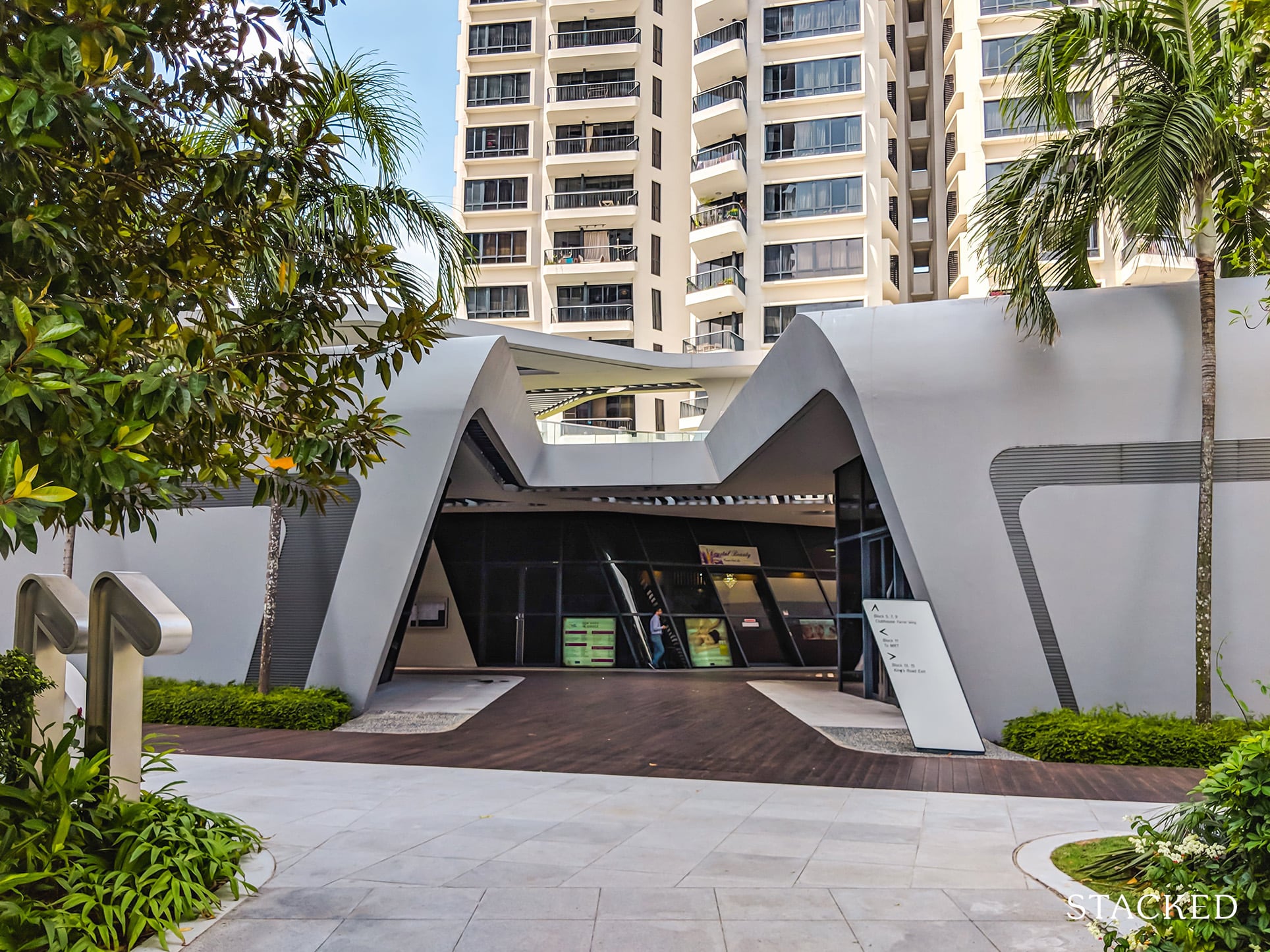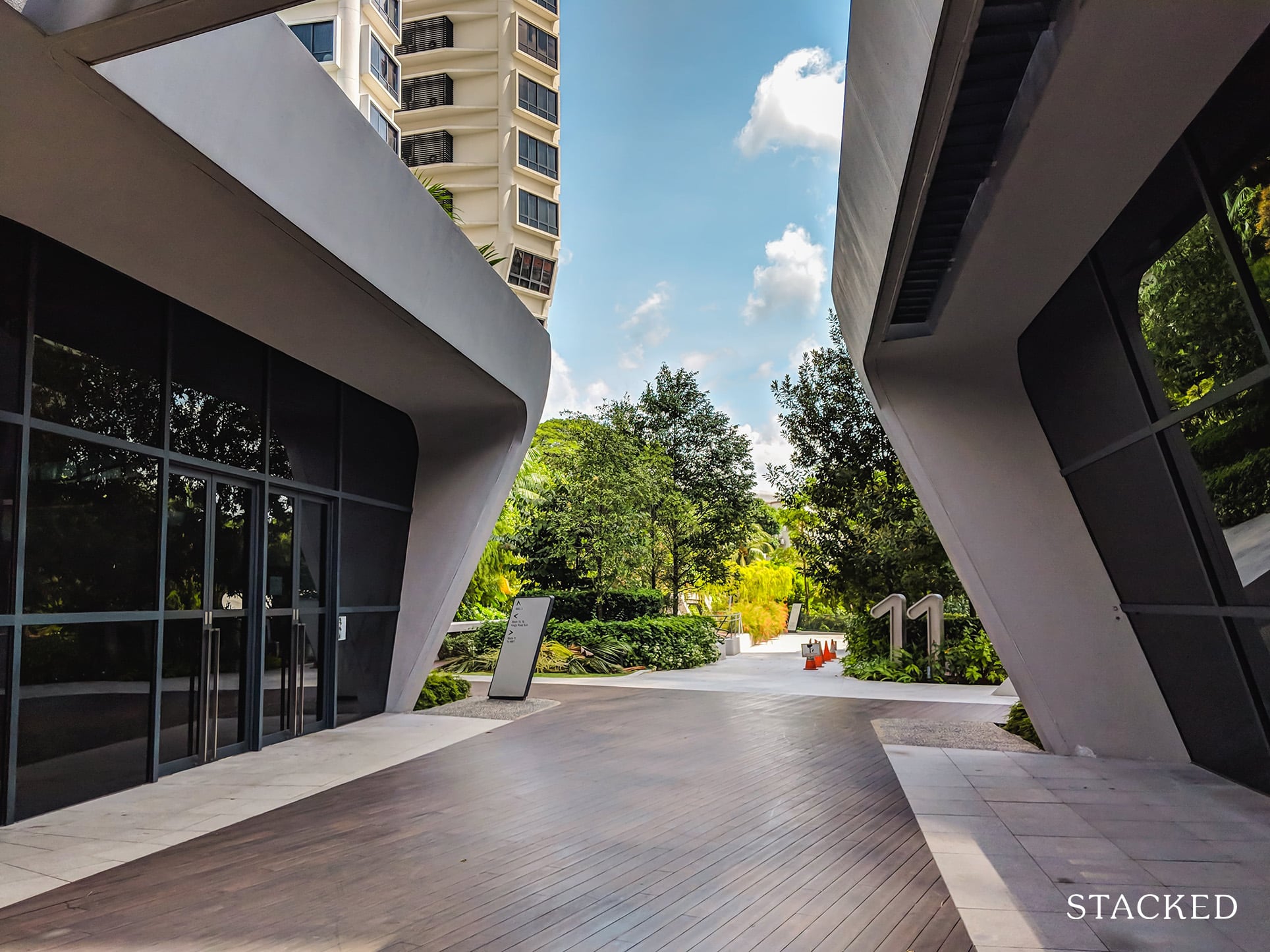 There are two clubhouses in the D Leedon condo, which is very much welcome given the number of units.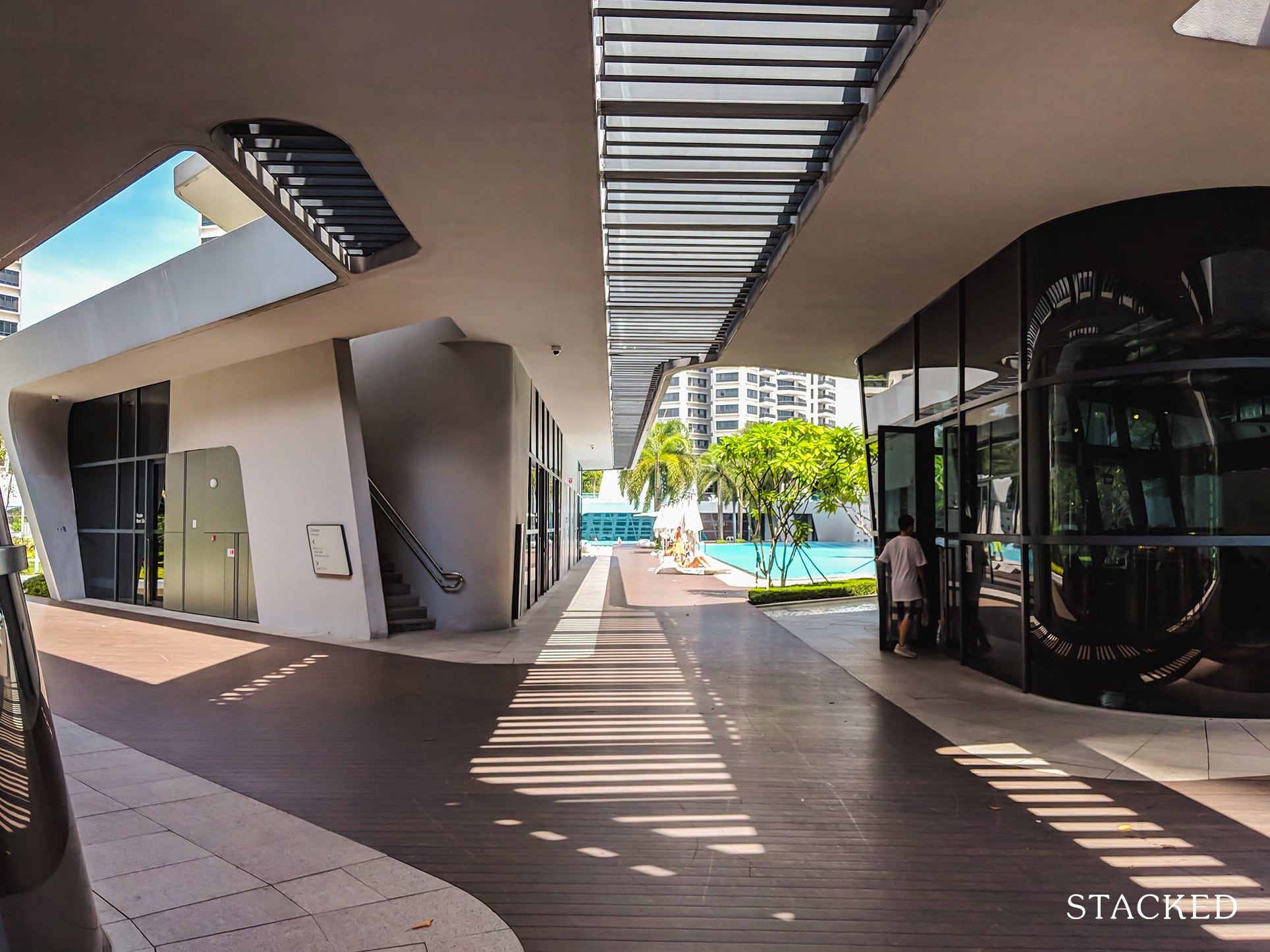 It's quite spacious here with really wide walkways and dark glass for privacy for each of the commercial shops here. However, I think it's a bit of a strange move here as it does not show off the vibrancy of the shop interiors, and it has too much of a nightclub-ish vibe. I totally get it for the function rooms or reading rooms for privacy, but the commercial units should be clear glass as it makes it so much more inviting for others on the outside to come in and take a look.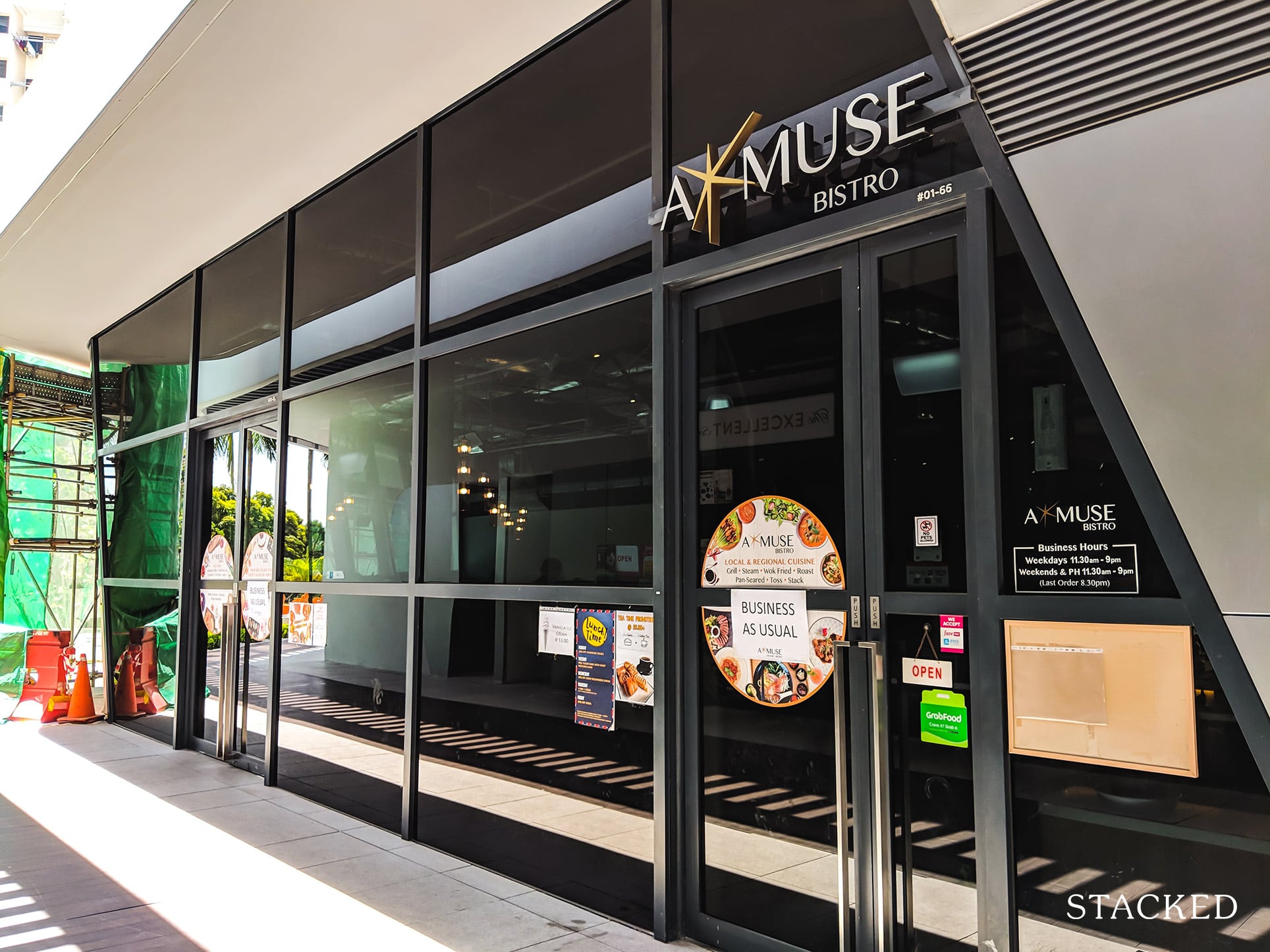 I do like that there are various options for eating, and I think that there are enough residents that the businesses here will be able to survive. But as mentioned earlier, I think the darkened glass really makes life more difficult for these businesses. The dark facade is more commonly used for businesses that want some exclusiveness, but it is rather inappropriate here.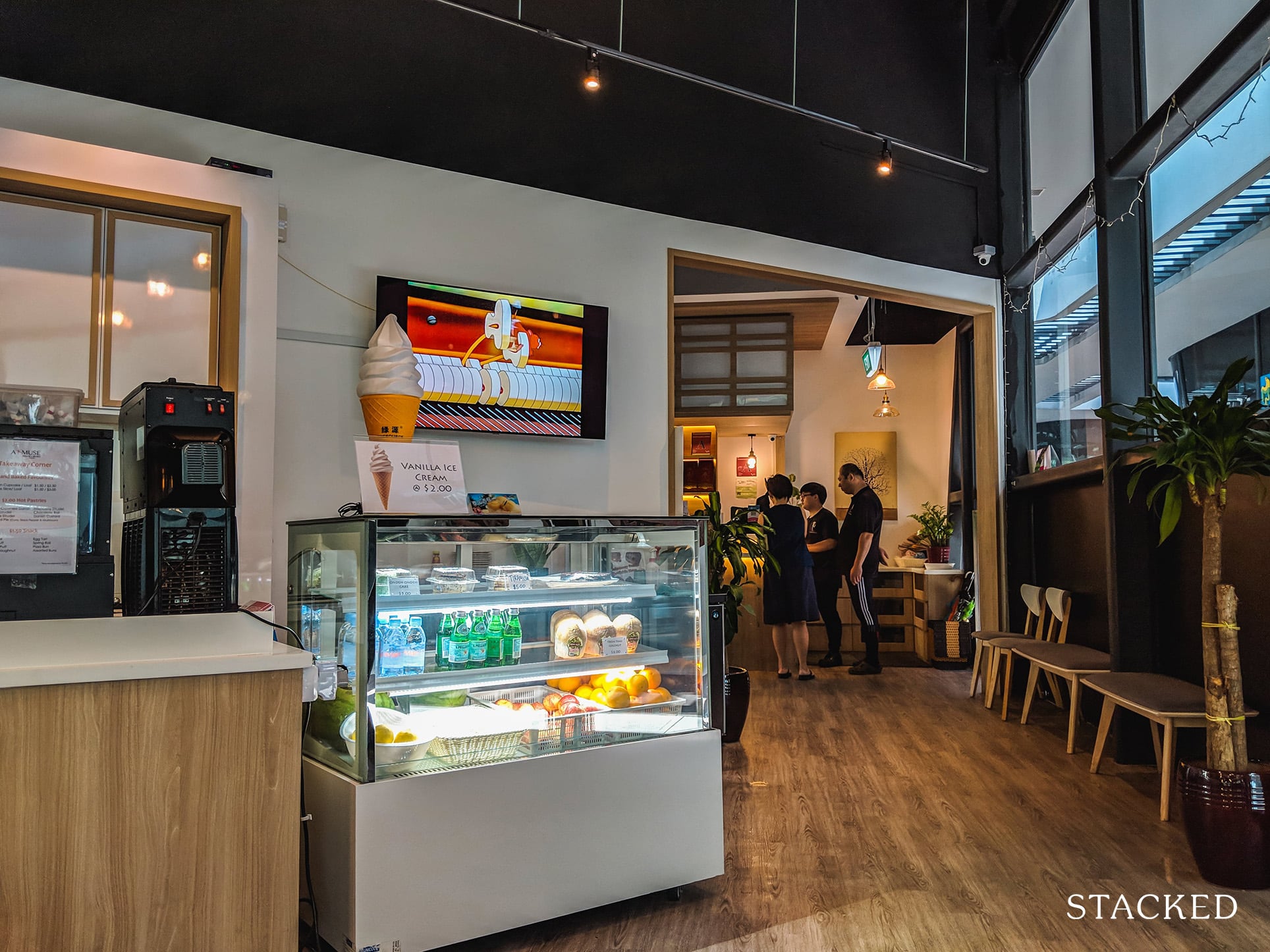 It is incredibly convenient to have different eating establishments in your own development. On lazy days when you don't feel like cooking, you'll be really thankful for a comprehensive food centre.
Another thing that I really wished all condominiums had (although I know it isn't feasible), is a mini supermarket. Expect prices to be slightly higher, but that is just the trade-off for convenience.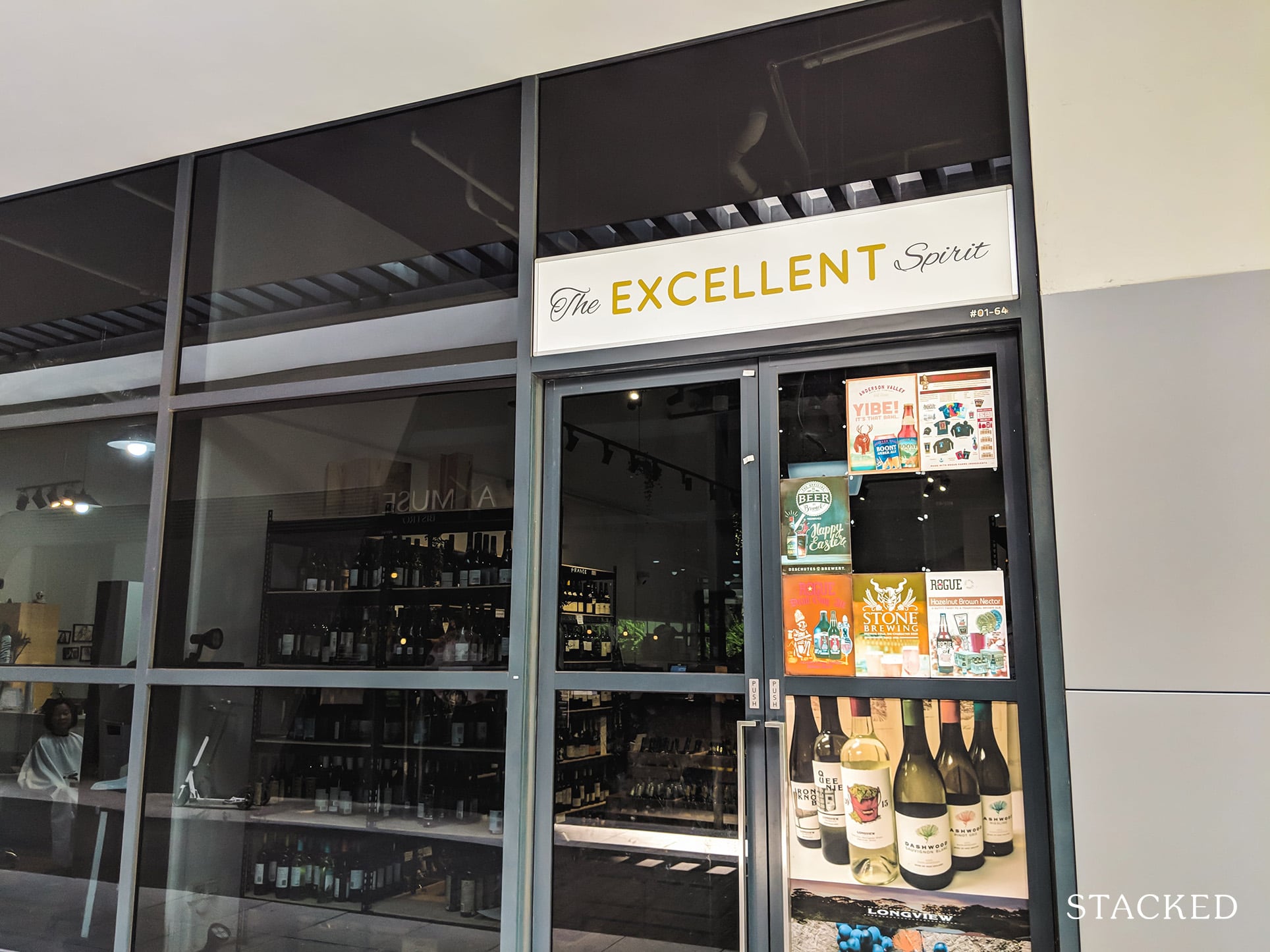 There is also a shop specialising in alcoholic drinks, a salon and a clinic. Just like the Interlace, it is pretty much a mini town in its own right.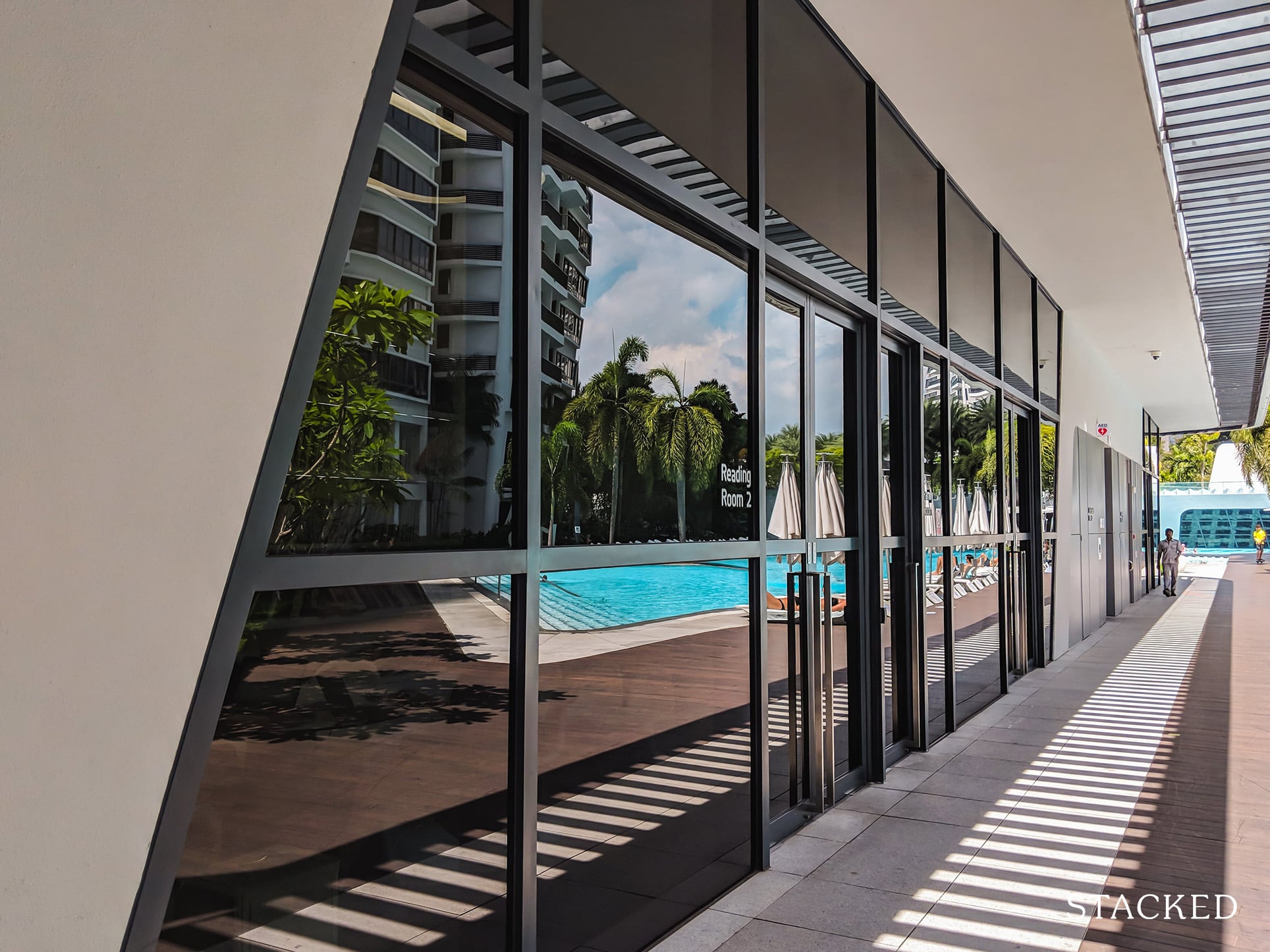 Moving down the clubhouse, you have a reading room.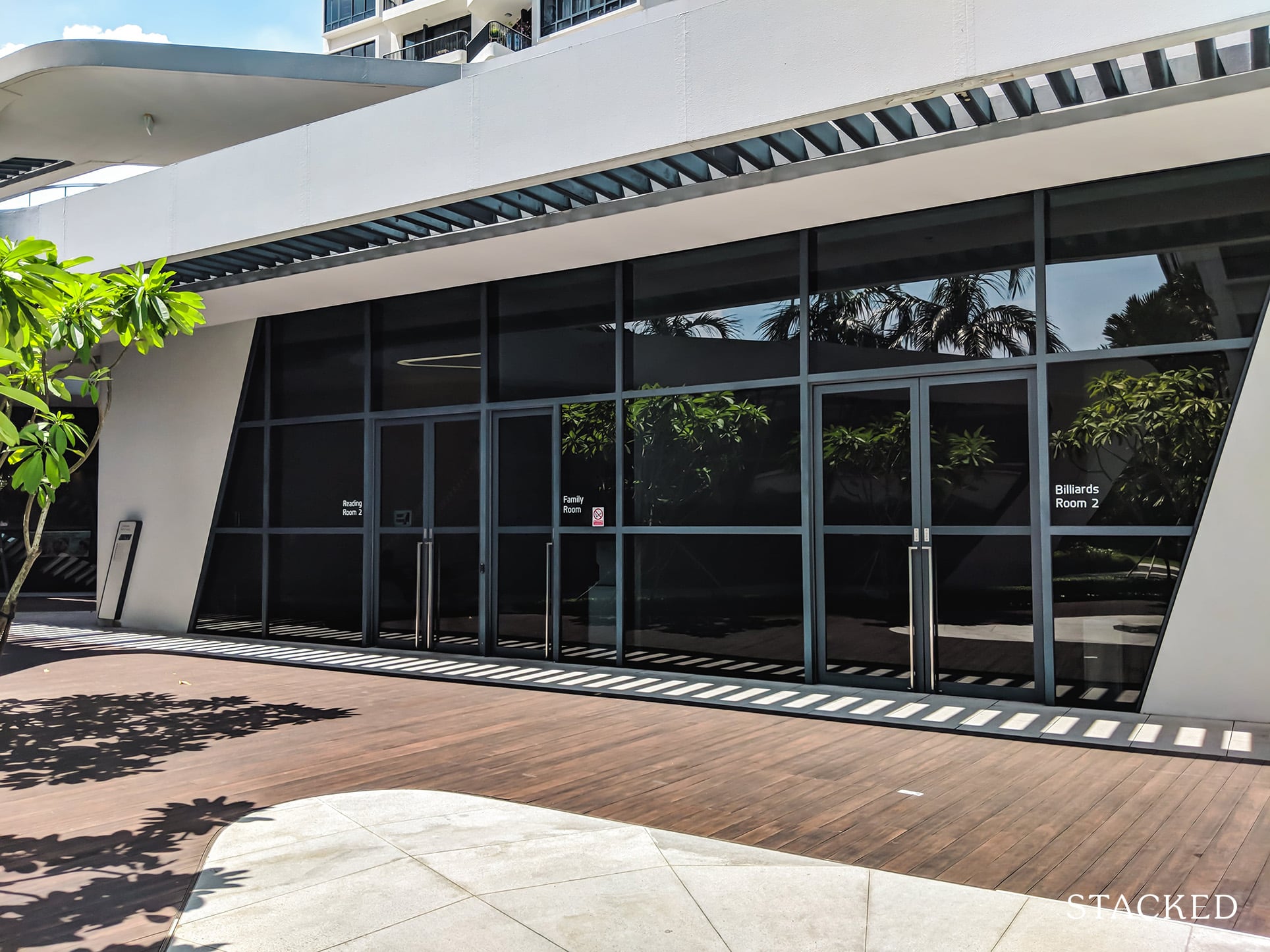 Next, there's a family room and billiards room. Note how for the reading and family rooms, there is the number 2 next to it, which means there are multiple rooms spread around the development!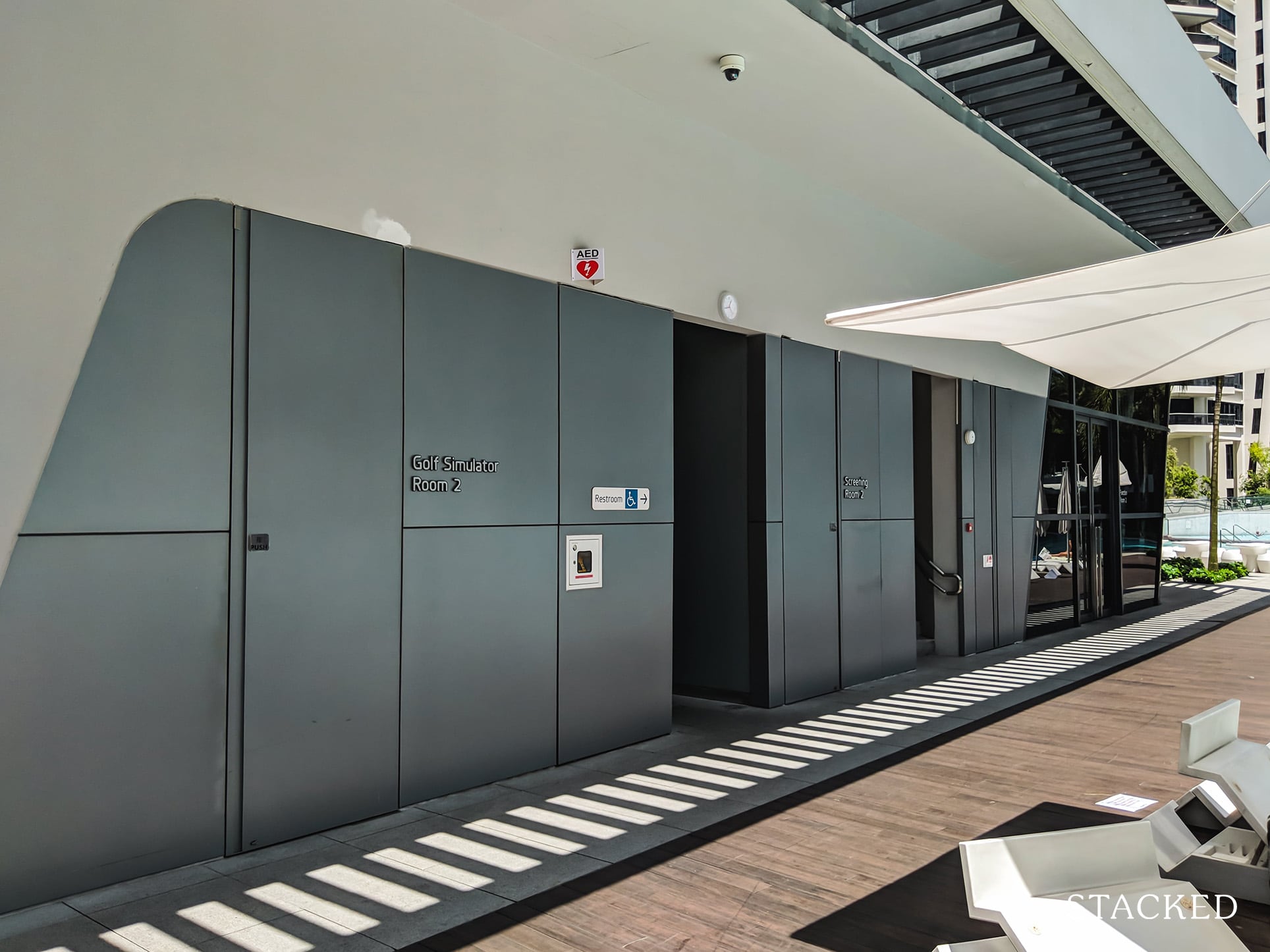 Lastly, at the end of the clubhouse is a golf simulator room and a theatre room as well. I think the golf simulator is a super-niche facility, as there aren't many people that play golf in land-scarce Singapore. So to have 2 of these rooms here is a bit of an overkill.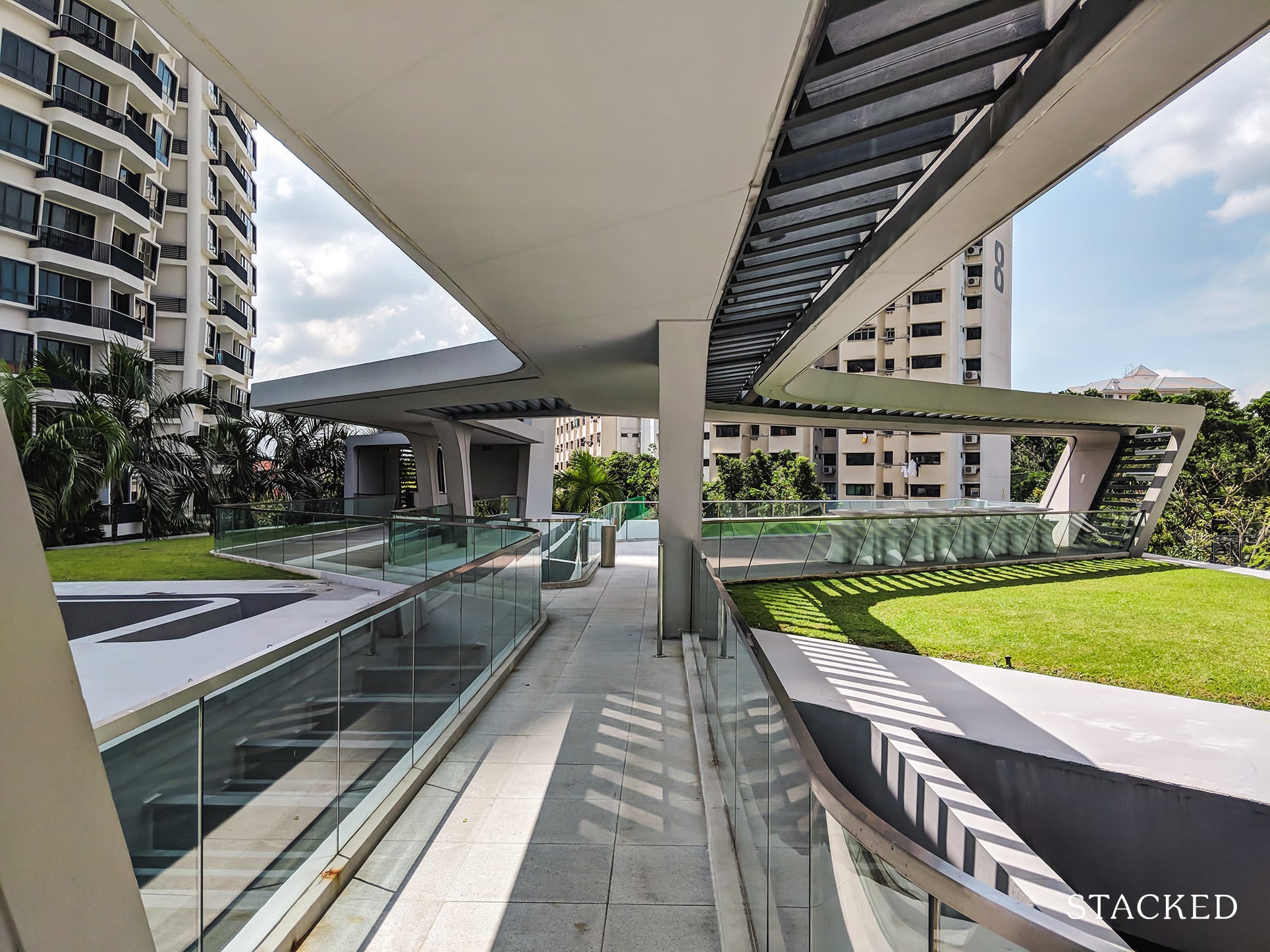 This is the top of the clubhouse, where it is just a bunch of narrow walkways and shelter. It certainly adds to the design on the outside, but again, it really does not offer much functionality beyond that. I can't help but feel that it's a missed opportunity to do something with this space. Like, why build grass patches on top of it? Sure, it might look nice in photos from the top floors, but that is it.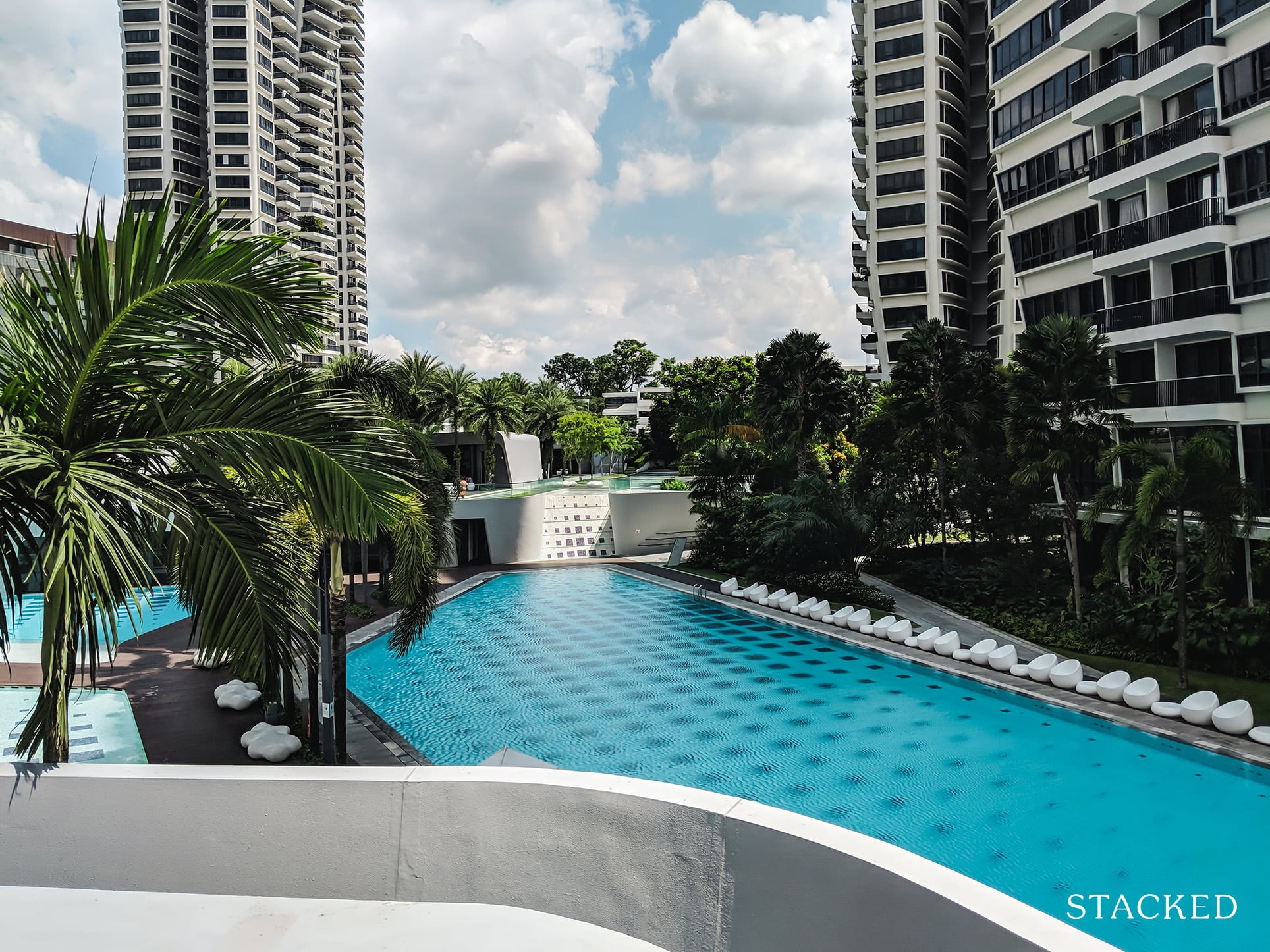 The end of the second level offers a view of the pool.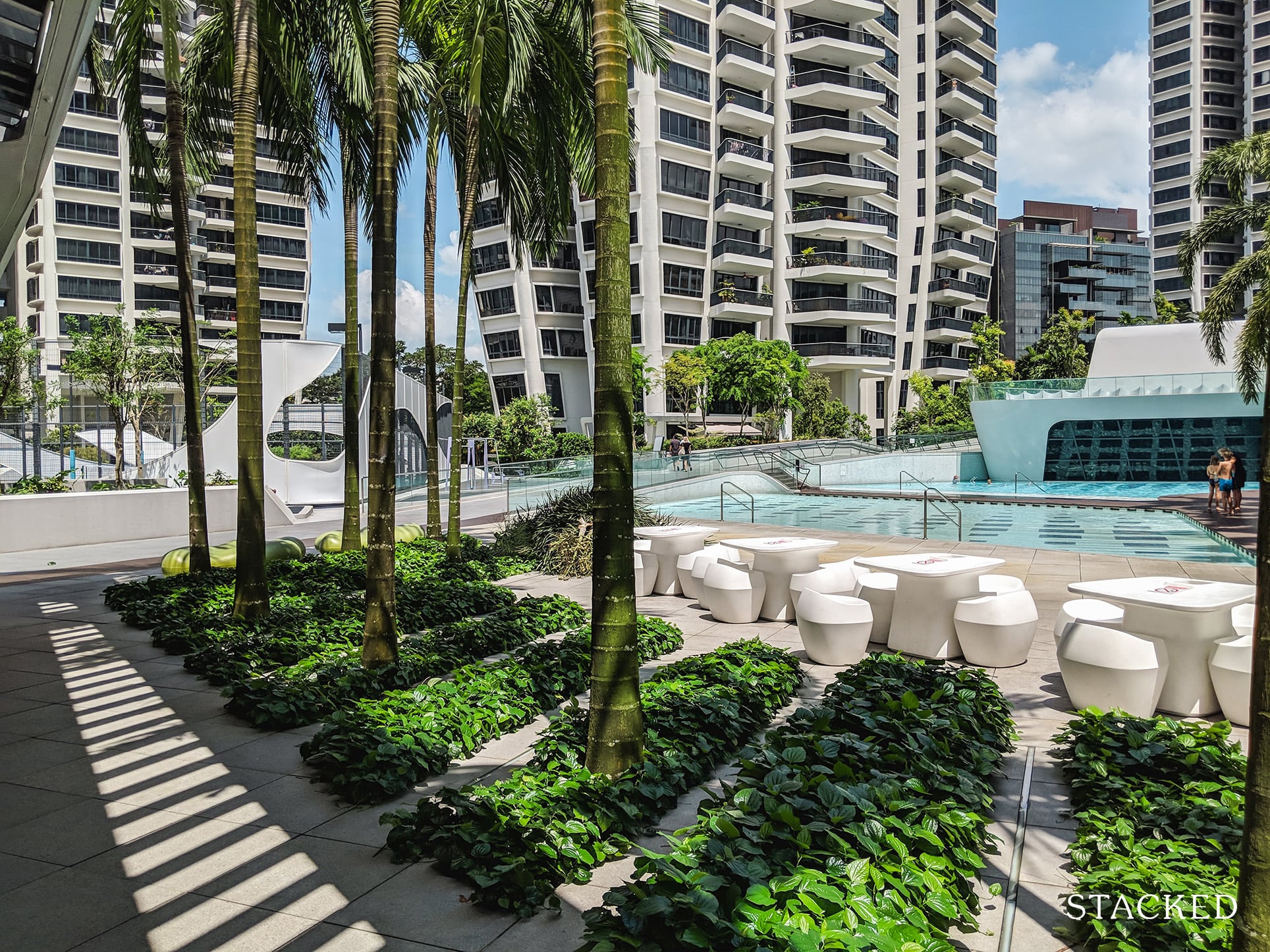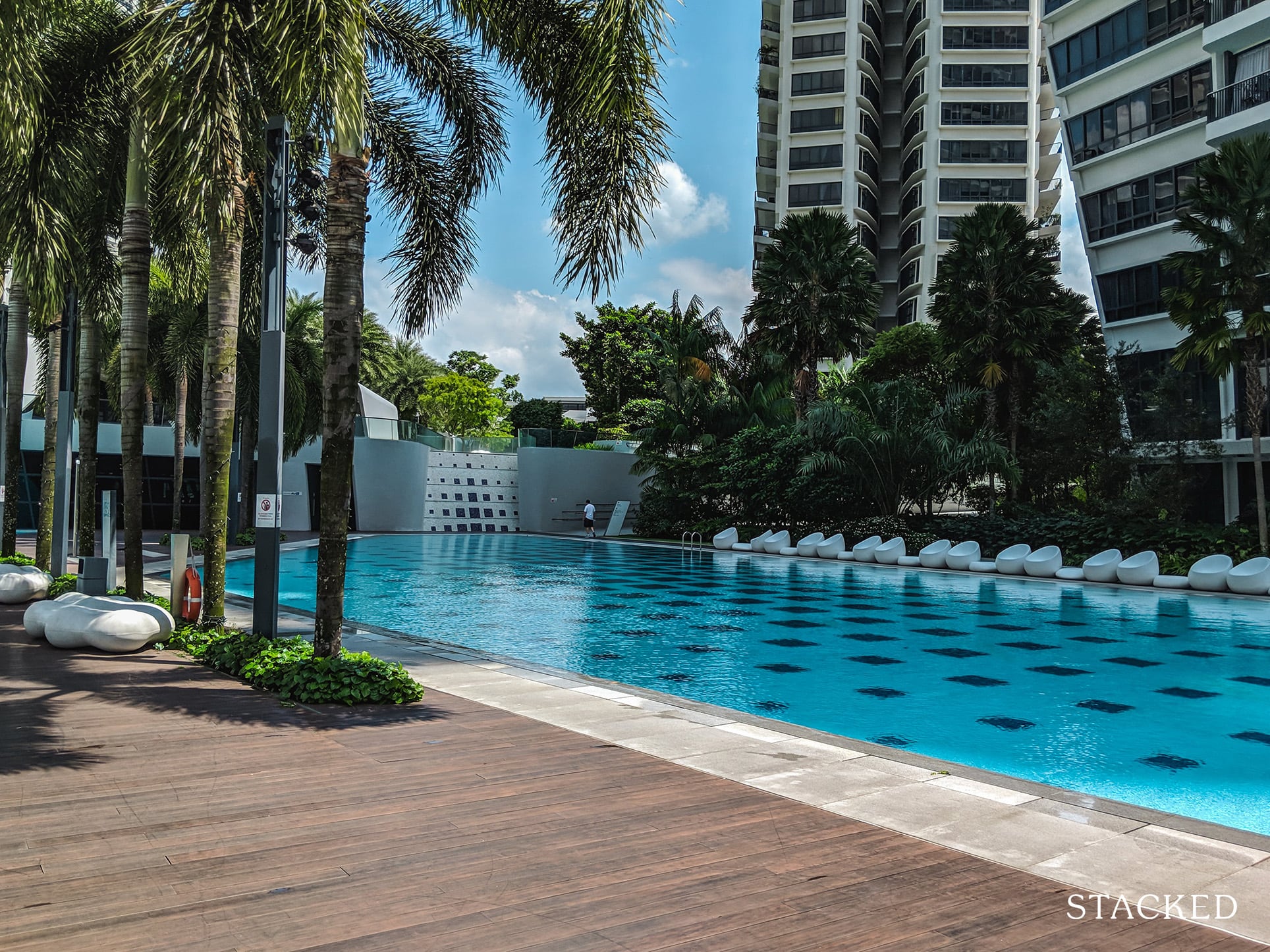 The swimming pool here is a large one, at 50m in length as you'd expect for such a large development. There are two large swimming pools, one of which will be shown later. It would be awesome if they had combined both pools into one massive lagoon in the middle, it would certainly be a great attention grabber!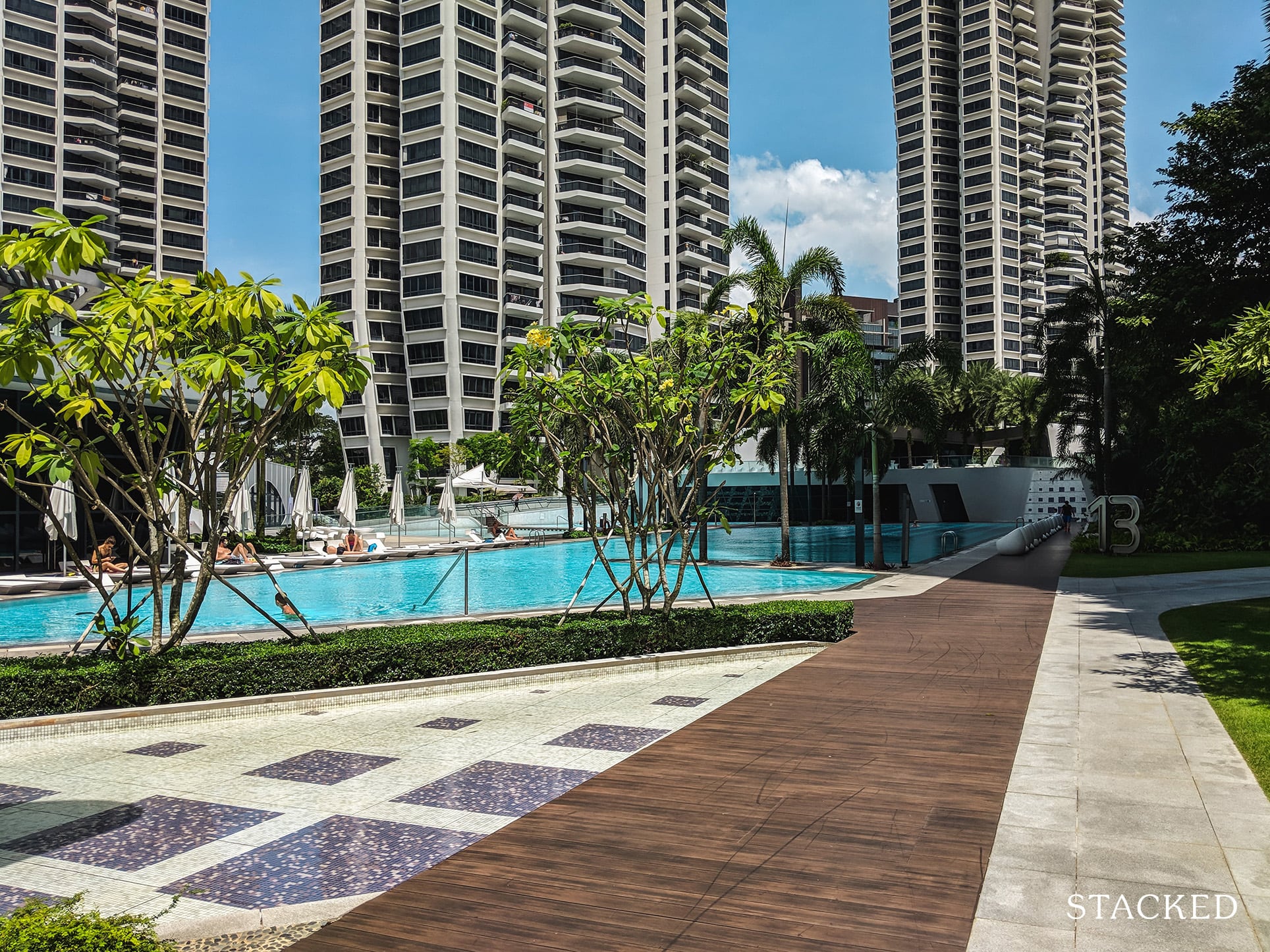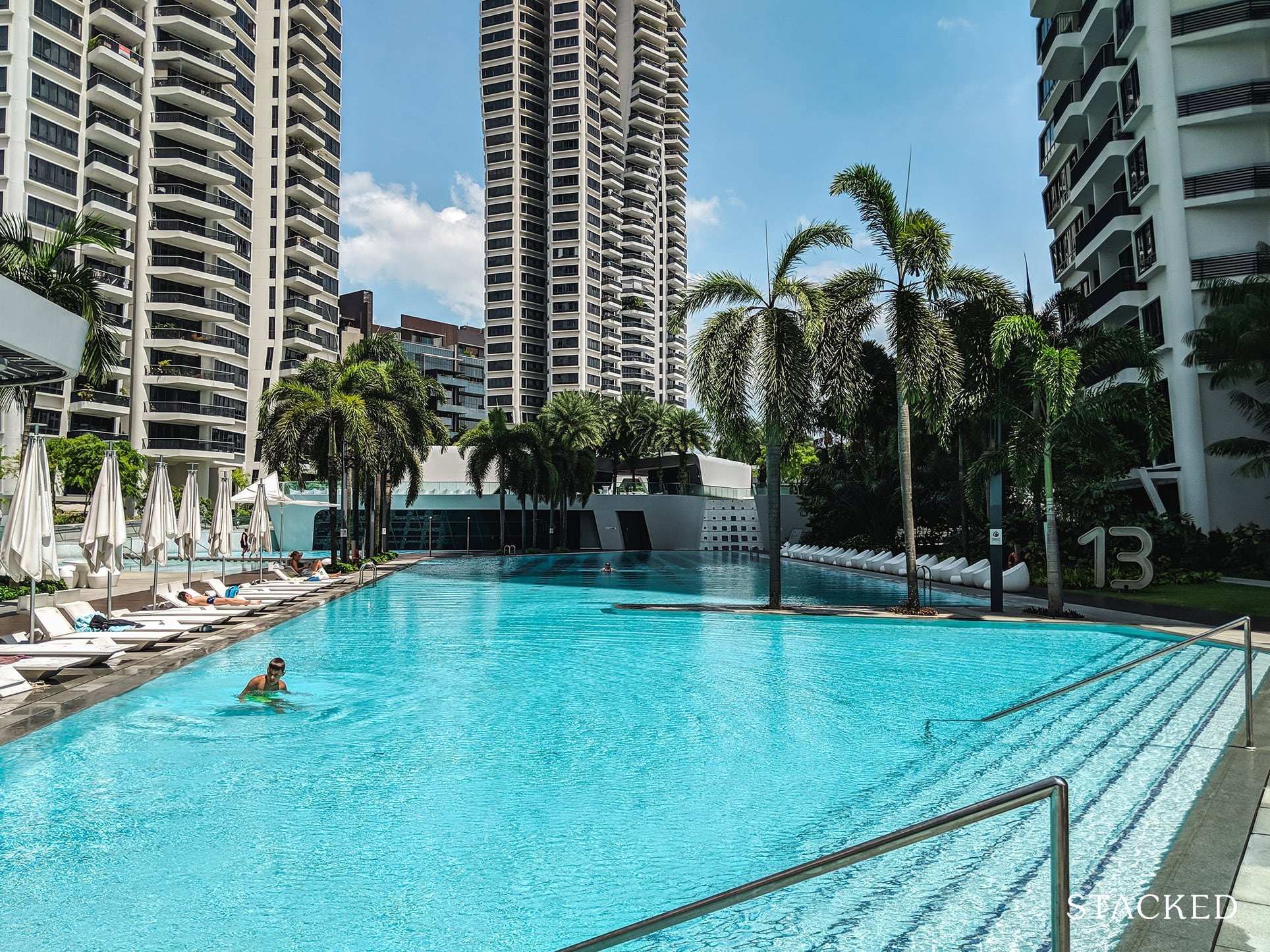 Just before the main pool, there is a shallow area for younger children to wallow in. There are also quite a lot of deck chairs and seating lined on both sides of the pool. But with this many units, don't expect to ever have a quiet moment by the pool.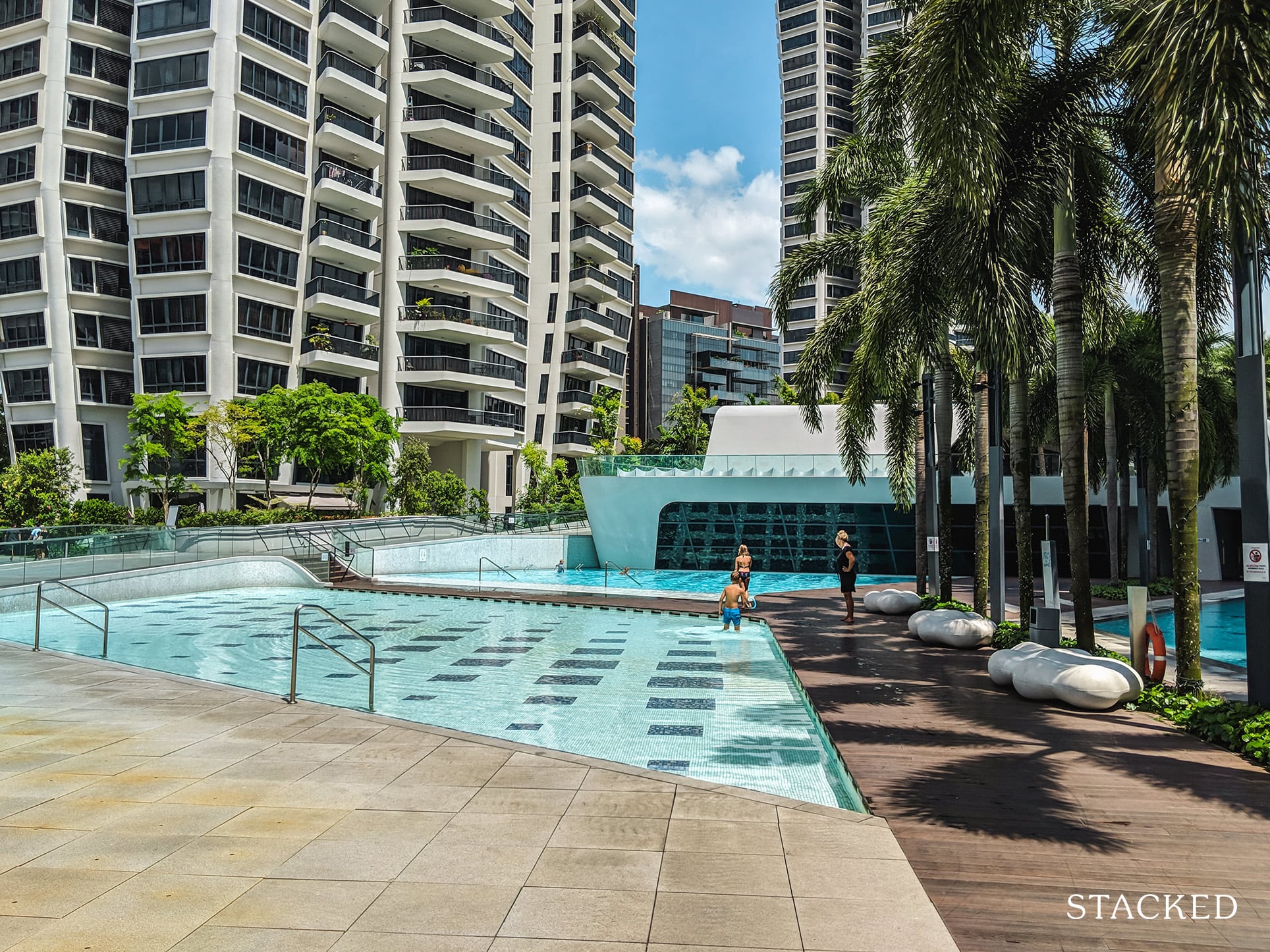 The two kid's pools by the side are of a very decent size, which is great for children to wade around in safely.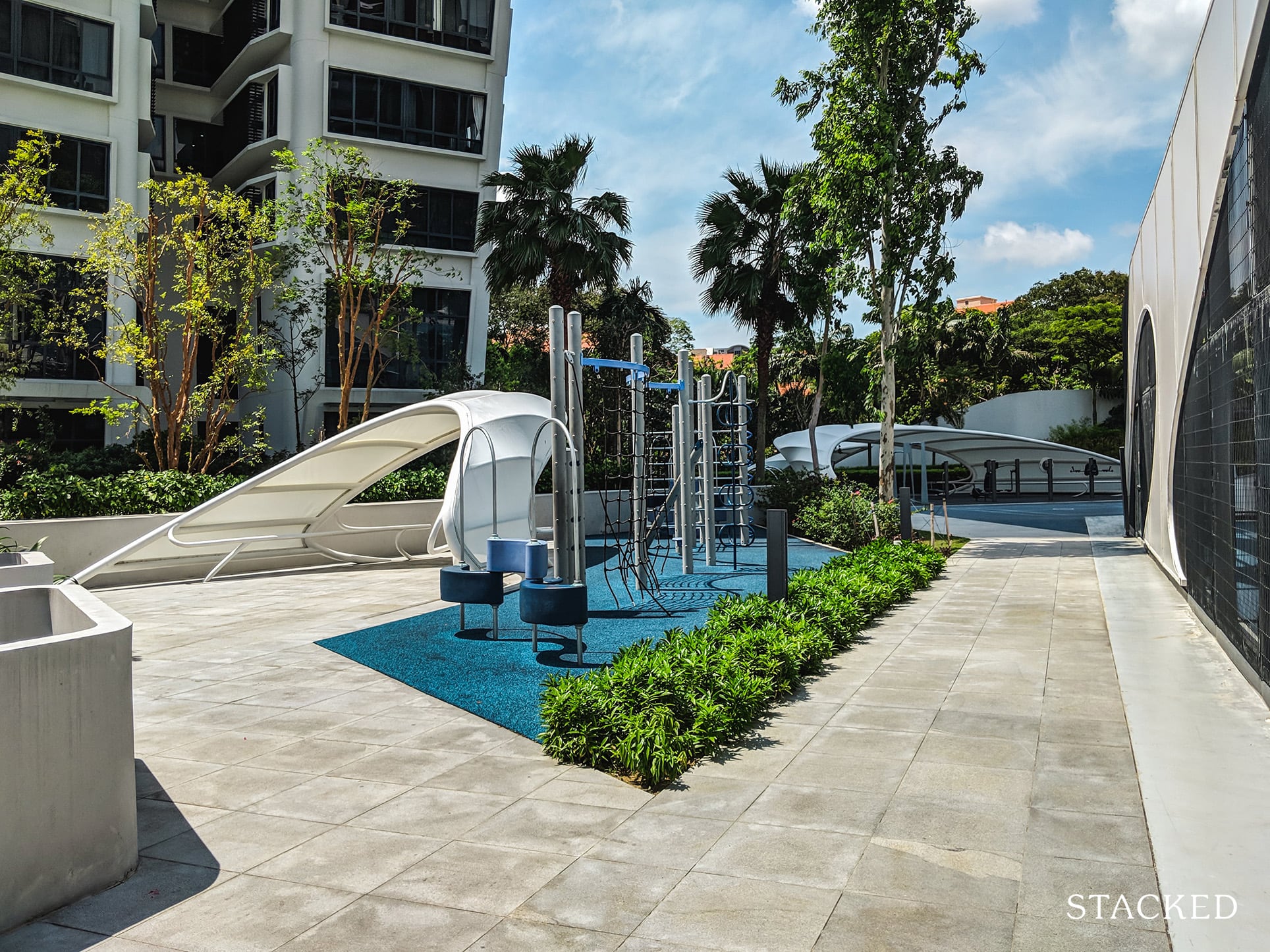 At the side of the swimming pool are a couple of fitness stations. If you have young kids, you probably would not want them to be climbing on this unsupervised.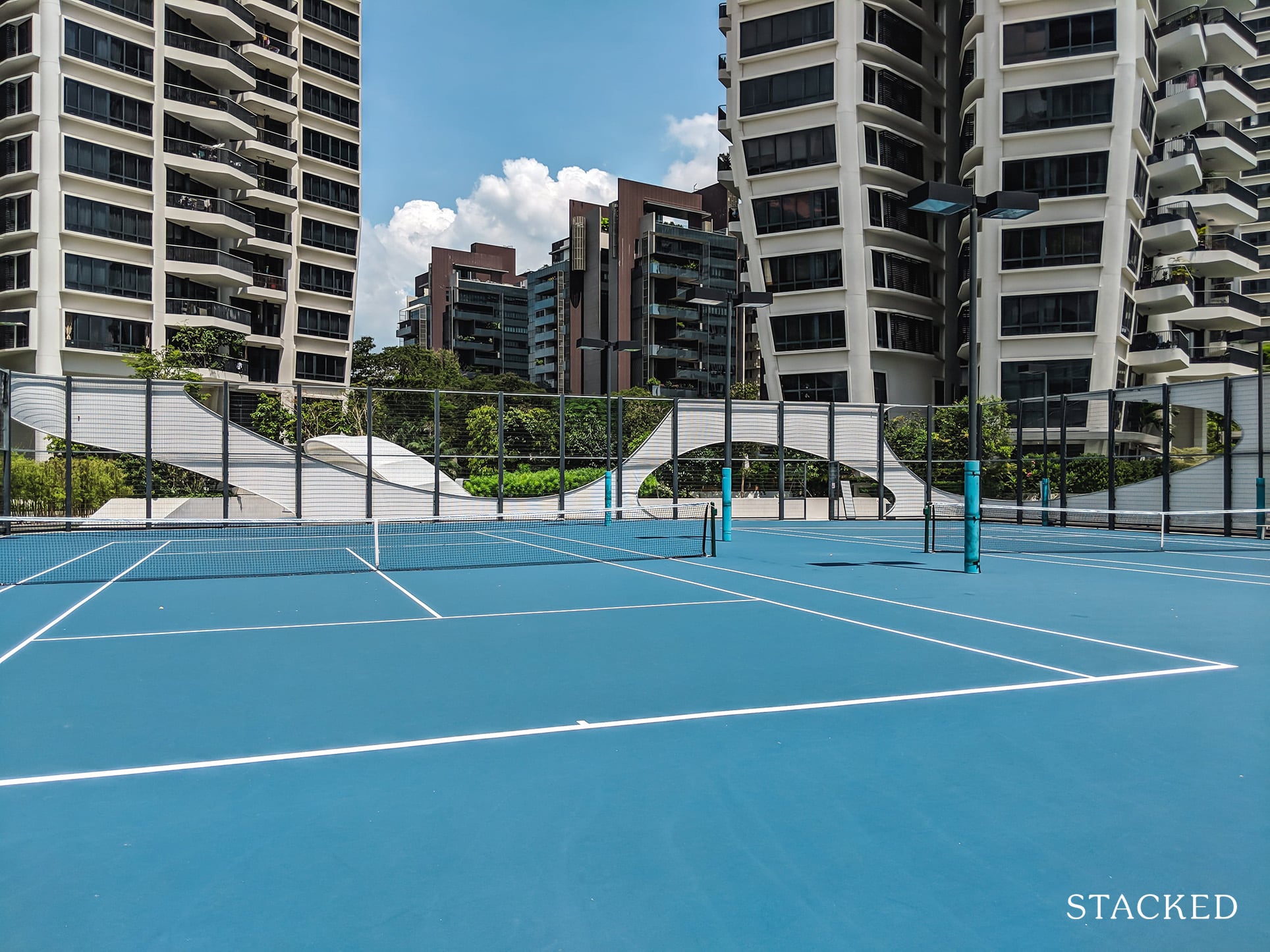 There are two tennis courts here as well, and if you think that is too few for a 1,715 unit development, there is still one more at the far corner of the condominium.
By the side of the tennis courts, you have a multi-purpose court that looks as if it can be used for badminton.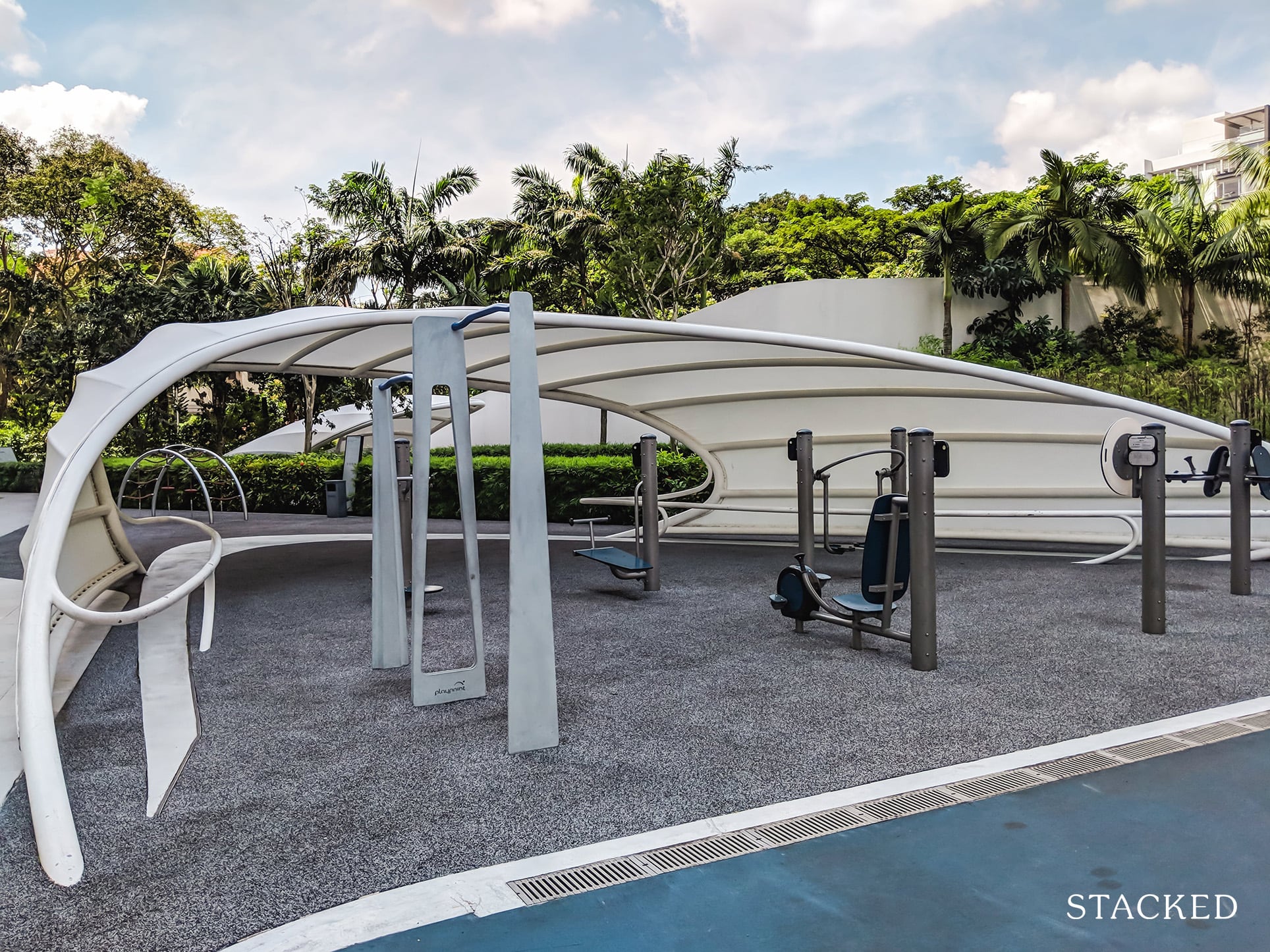 Next to that is an outdoor fitness station, of which there are multiple spread around the D Leedon condo.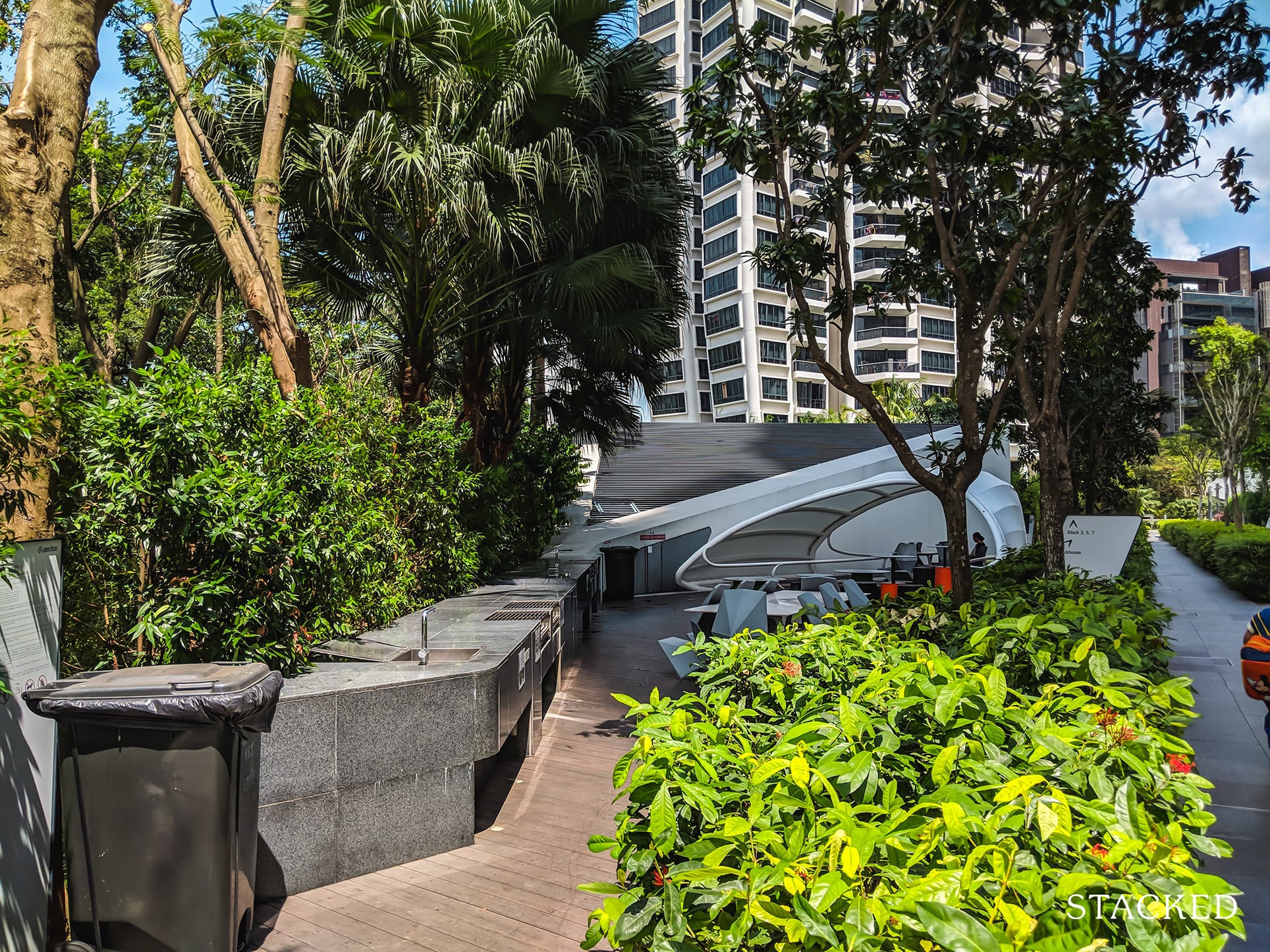 You also get quite a number of barbeque areas in different sections of the development. It's good that the developers did include shelter, even though it does not cover the entire area.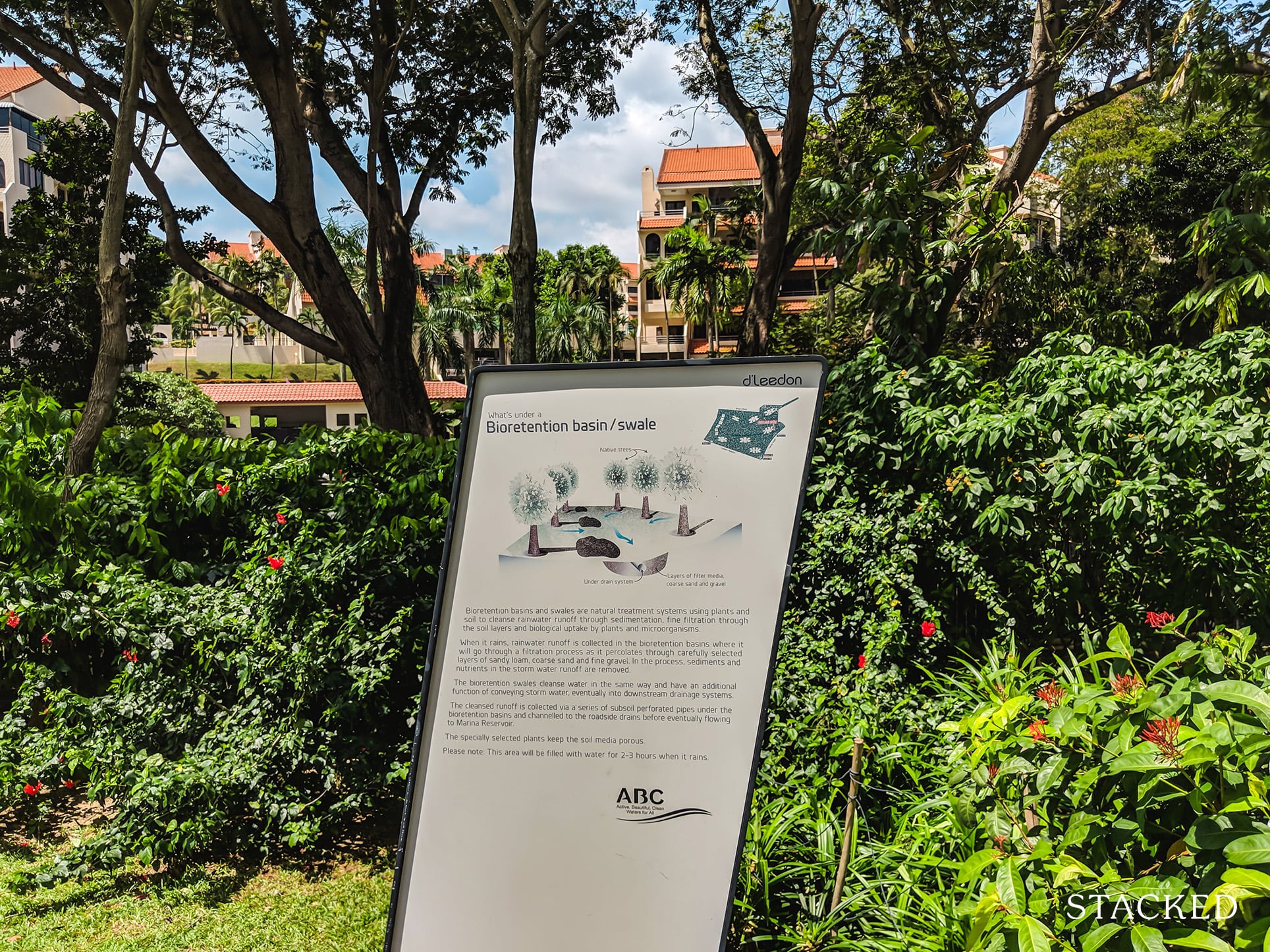 Just an interesting sign along the way showing how the irrigation system works, in case you are curious.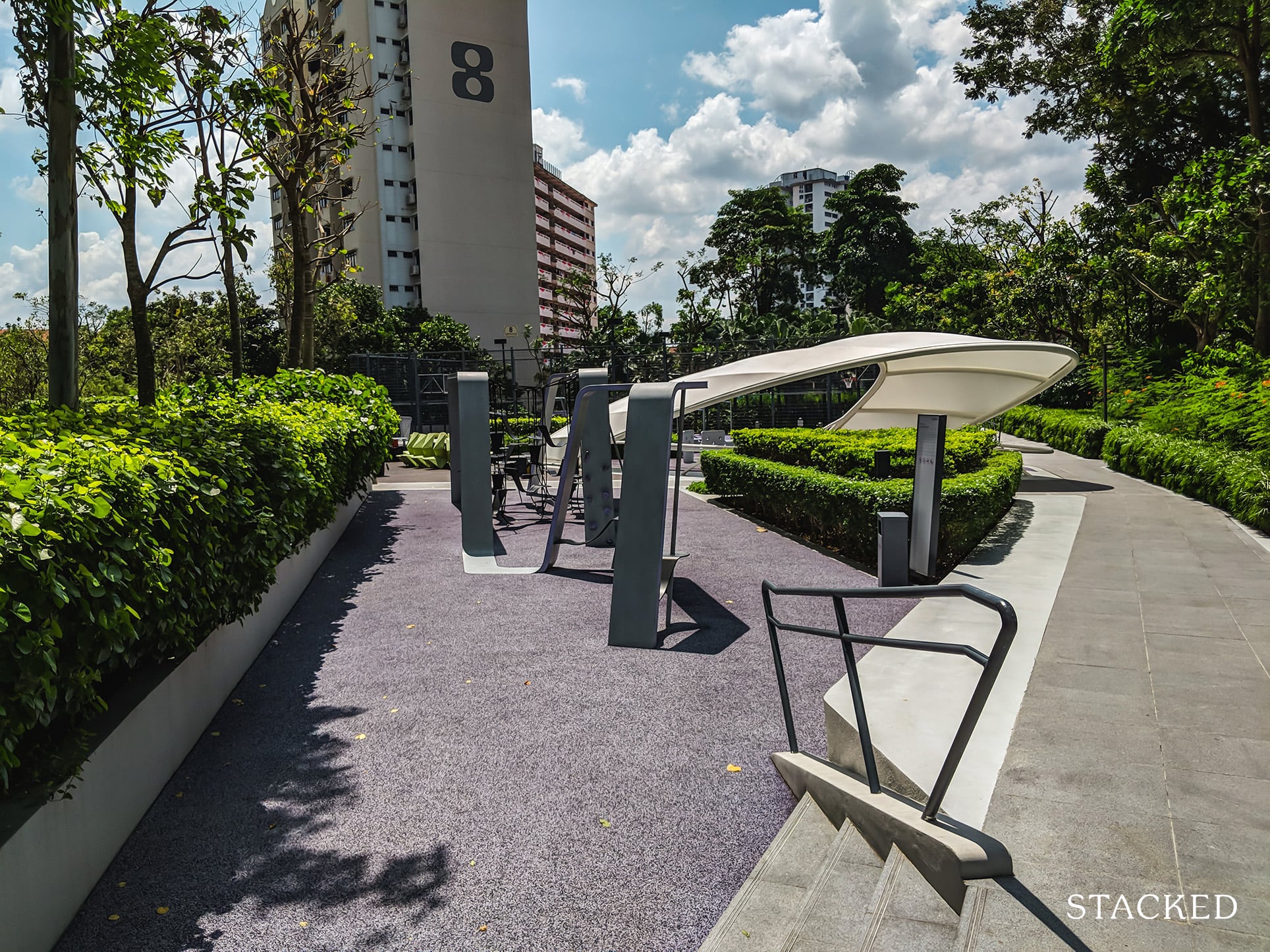 It really seems like there are fitness stations everywhere that would make even the Health Promotion Board proud. Honestly, after reviewing a number of developments, I don't think I have ever seen any of these being used. You really only need one of these. It's not as if people are clamouring to use them that you need to space out fitness stations across the development. I could be wrong, but I feel that there could be a better use for all these spaces.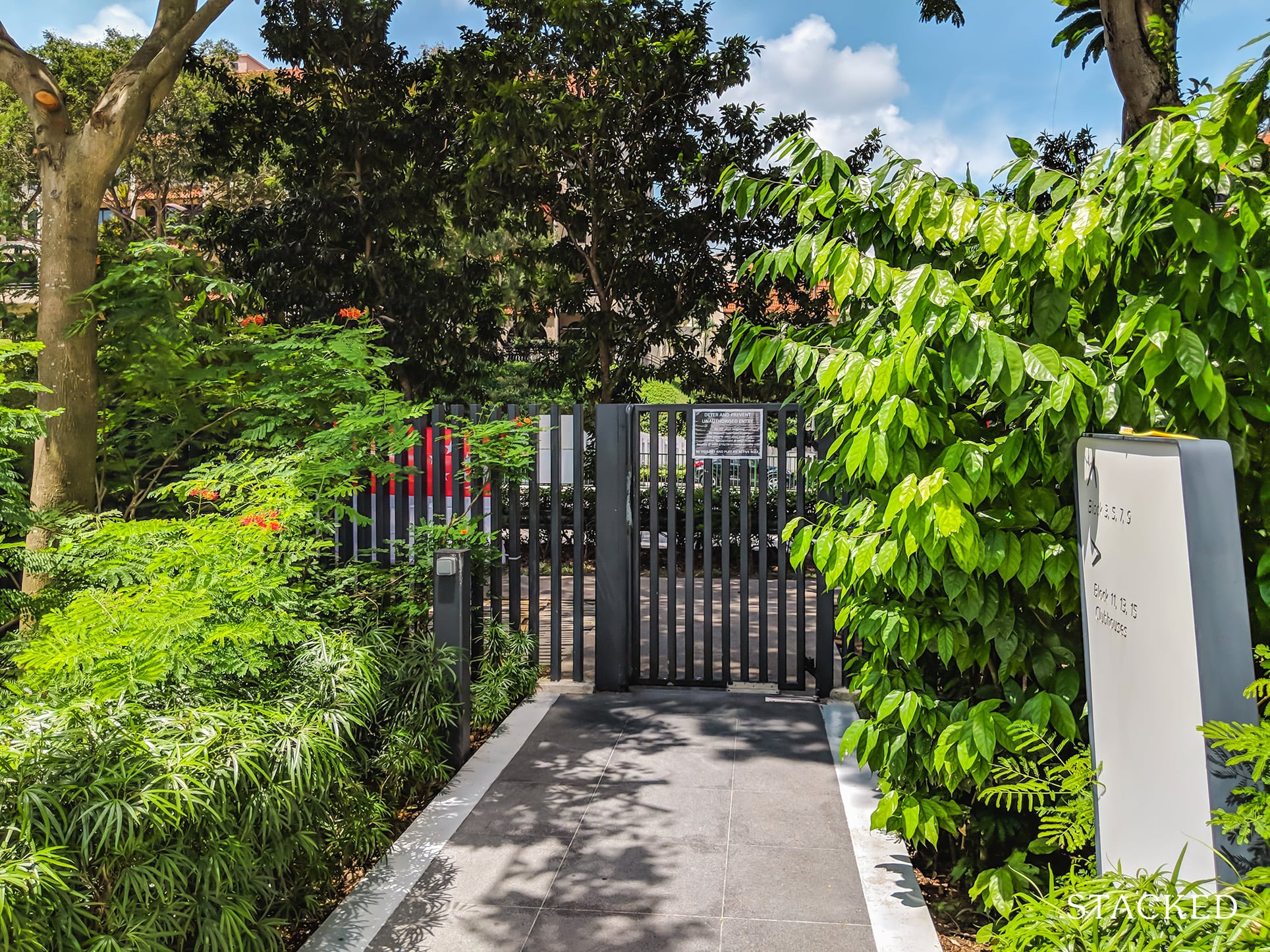 There is a side gate here that leads you to the main Farrer Road. You can also access the Empress Road market from here, as well as the main bus stop. One thing to note here is that the Empress market is a small food court, so relying on buying dinner here can leave you with limited options after a while. They seem to cater more for the lunch crowd.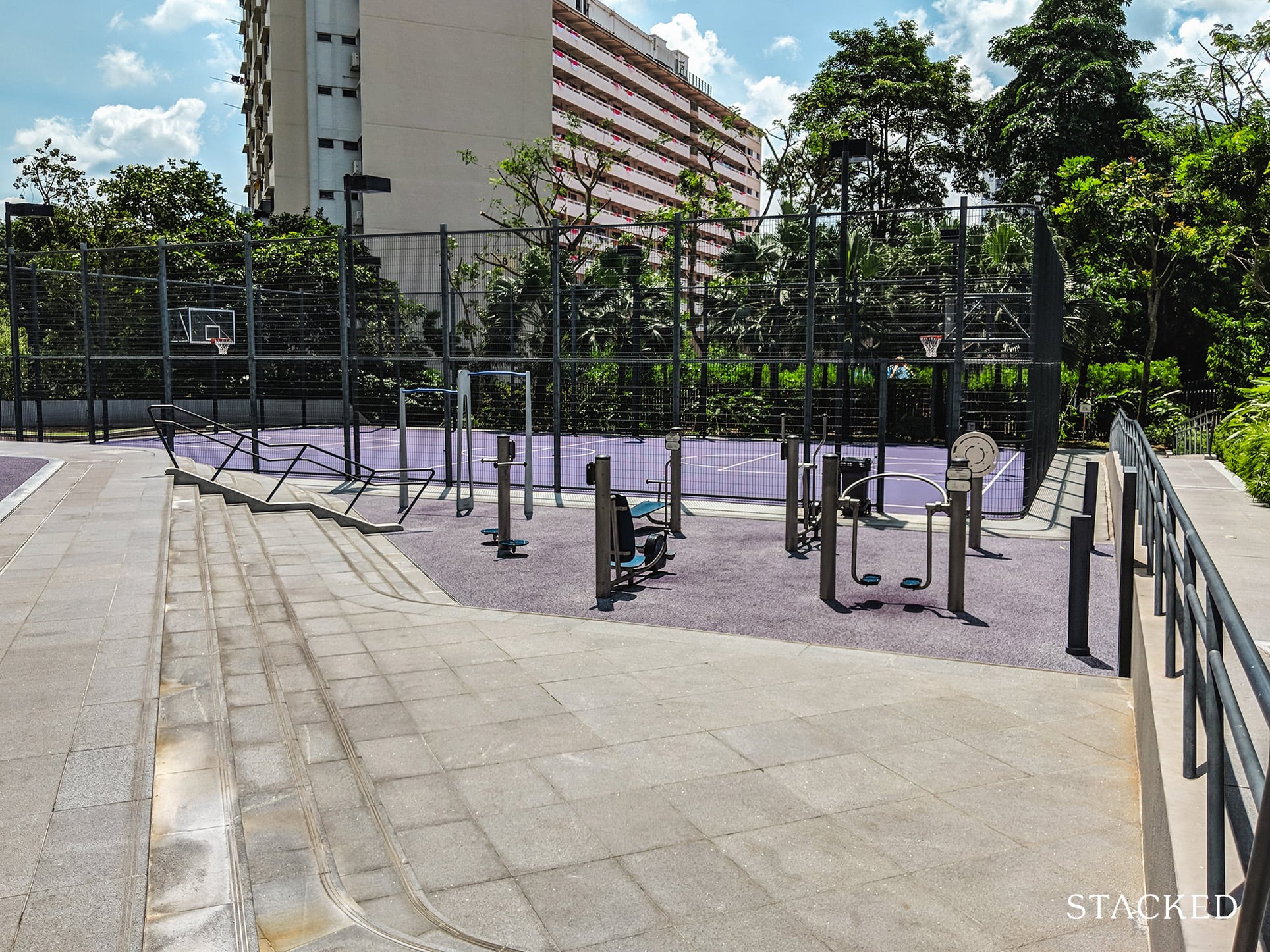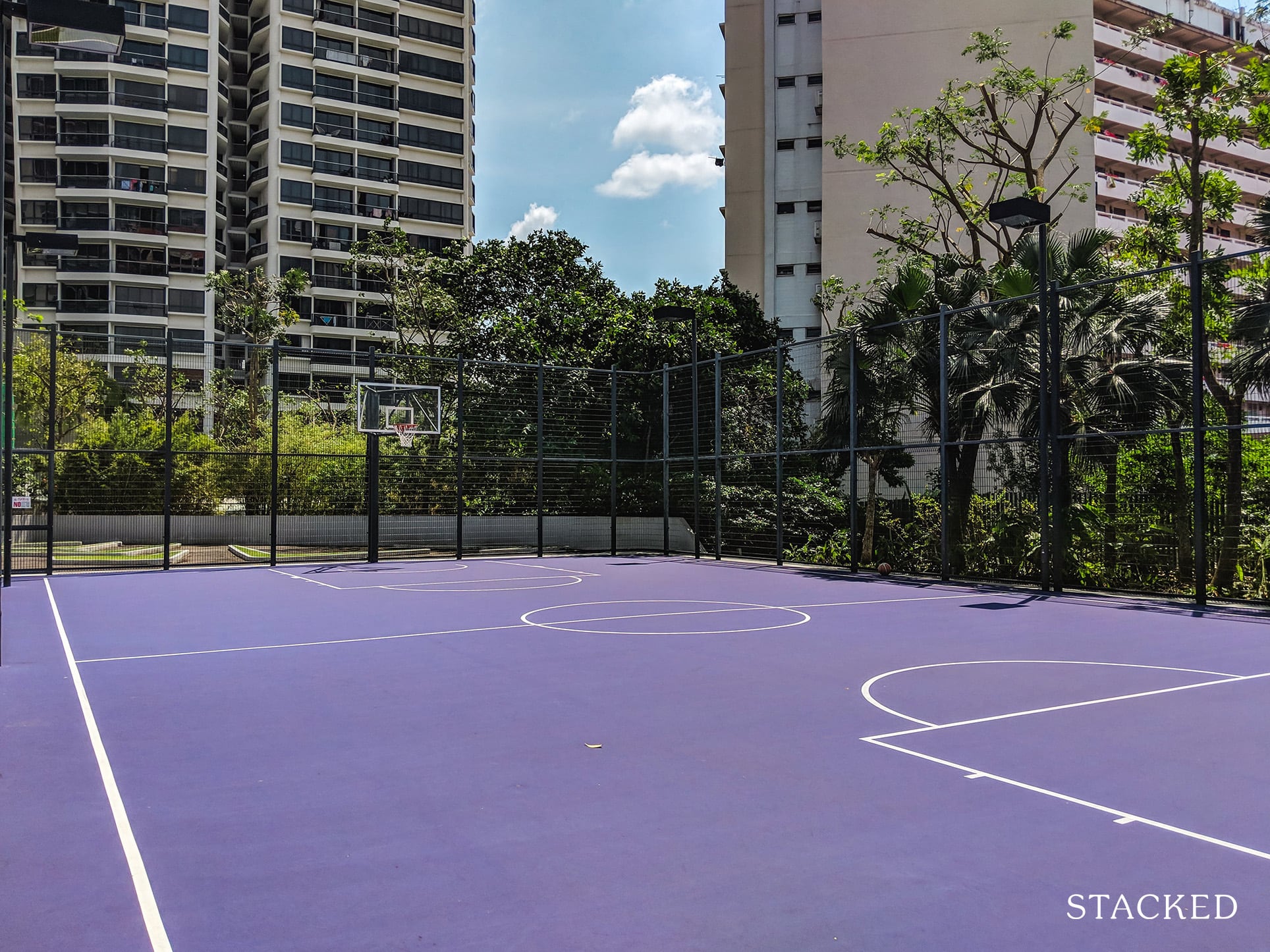 Thankfully aside from the glut of fitness stations, there is a full-sized basketball court in an attractive shade of purple. If you haven't seen it already, the D Leedon condo is one of only 52 condos in Singapore with a basketball court!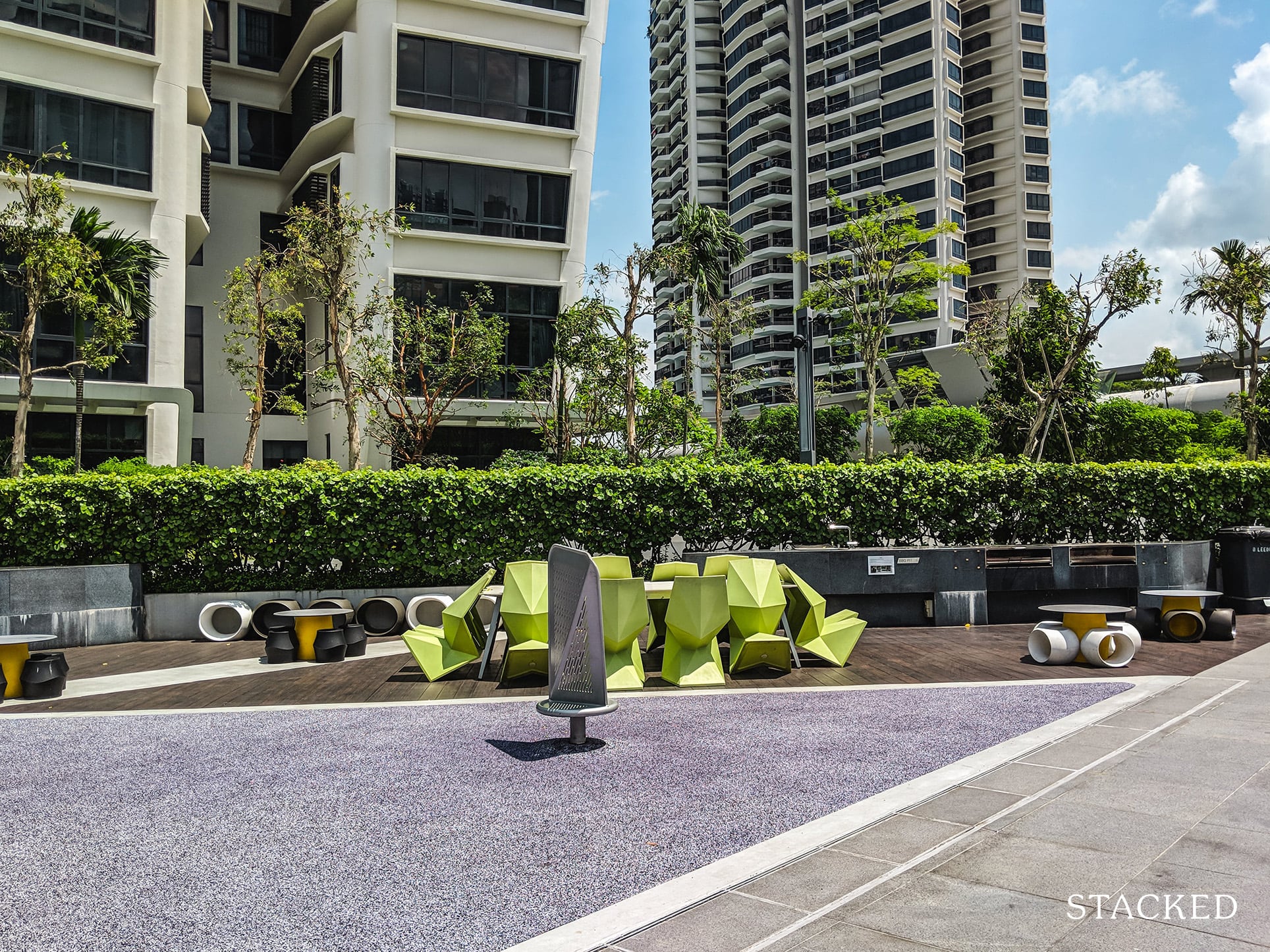 More barbeque areas, this was is without any shelter, unfortunately.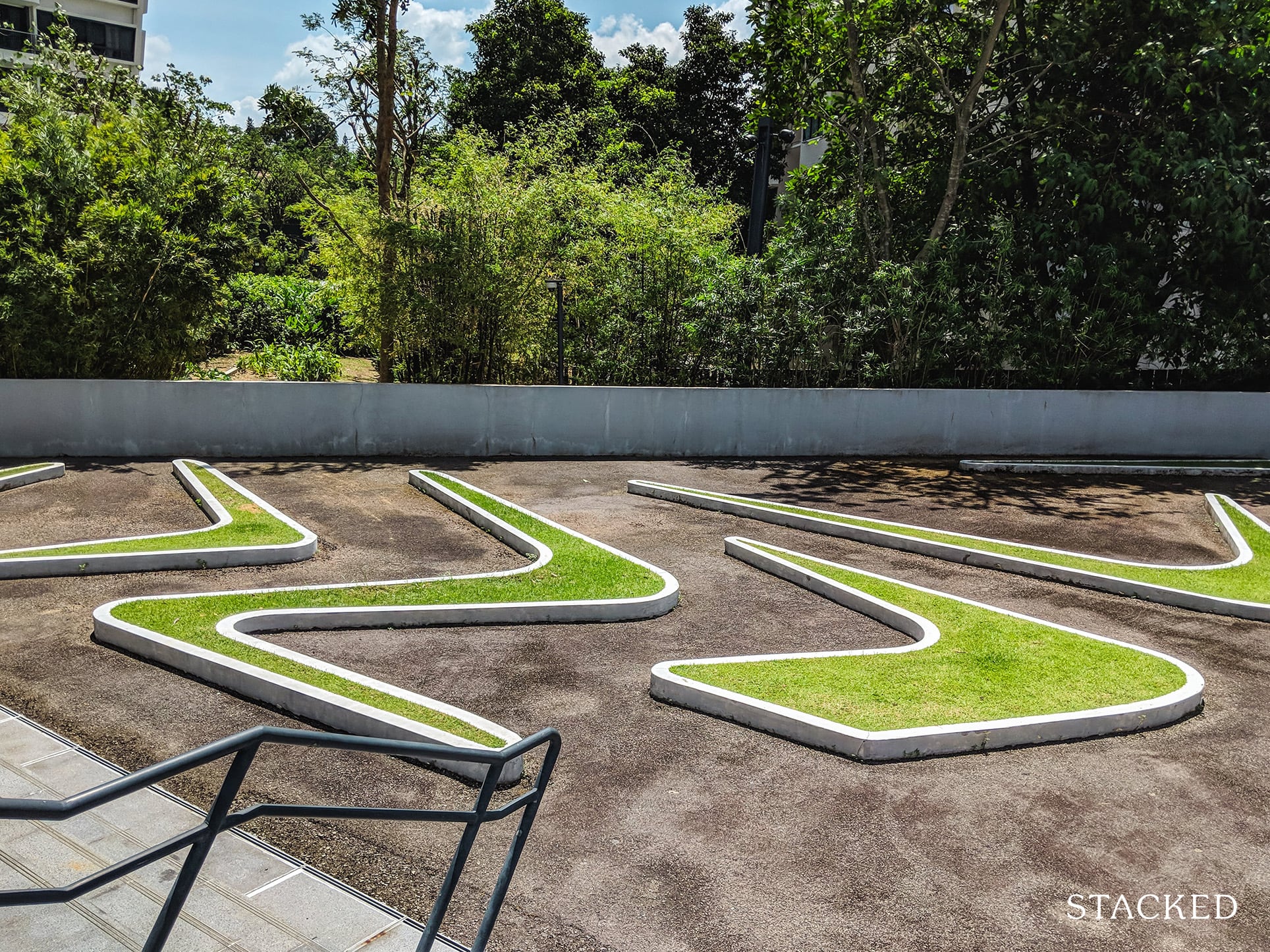 This is the first I've seen in any condo development, a mini race track. It's unique for sure. I'll give it that, but whether it would be well utilised is another story.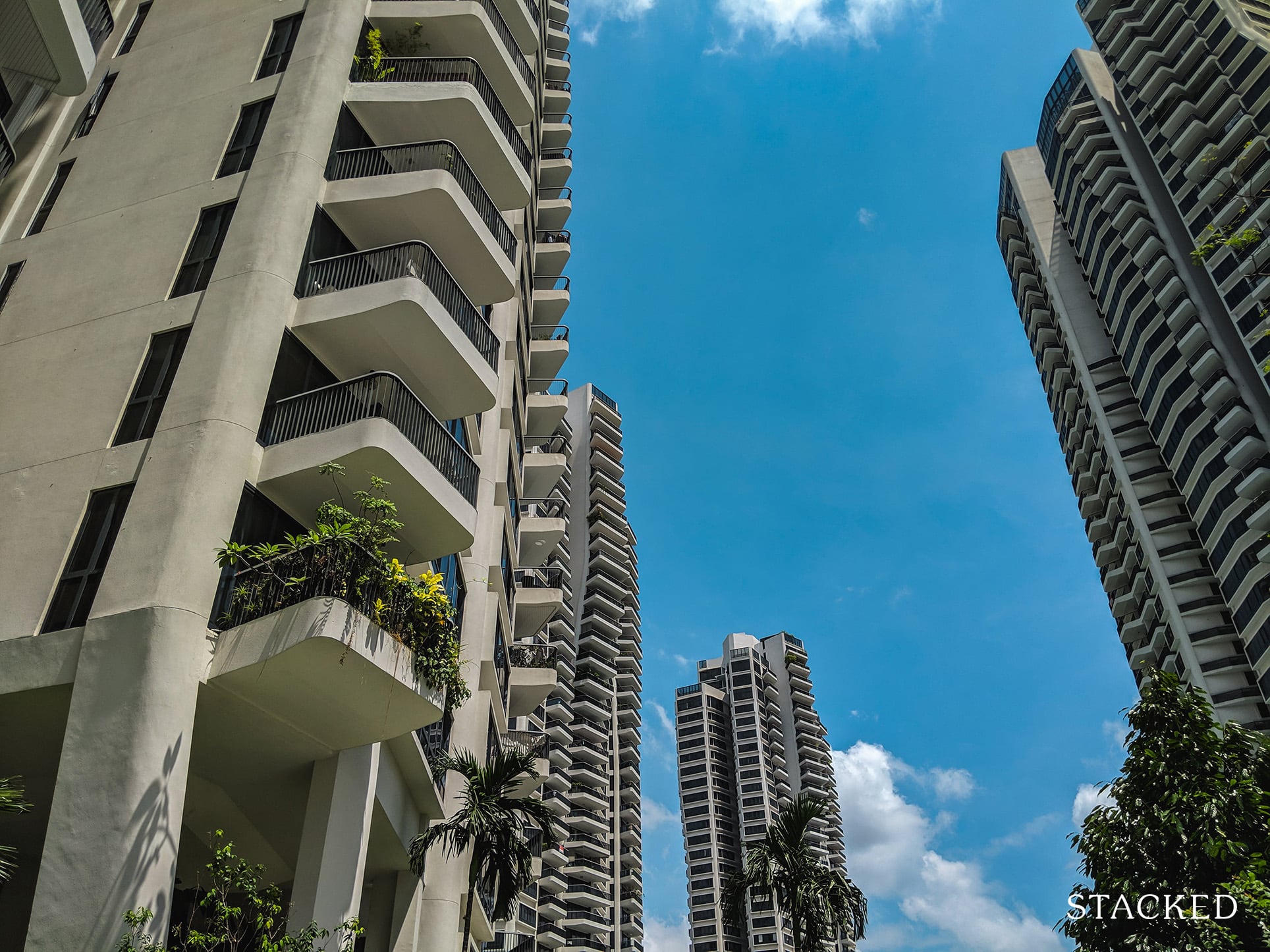 Just taking a moment to appreciate a Zaha Hadid creation. Indeed, it does give you a futuristic vibe.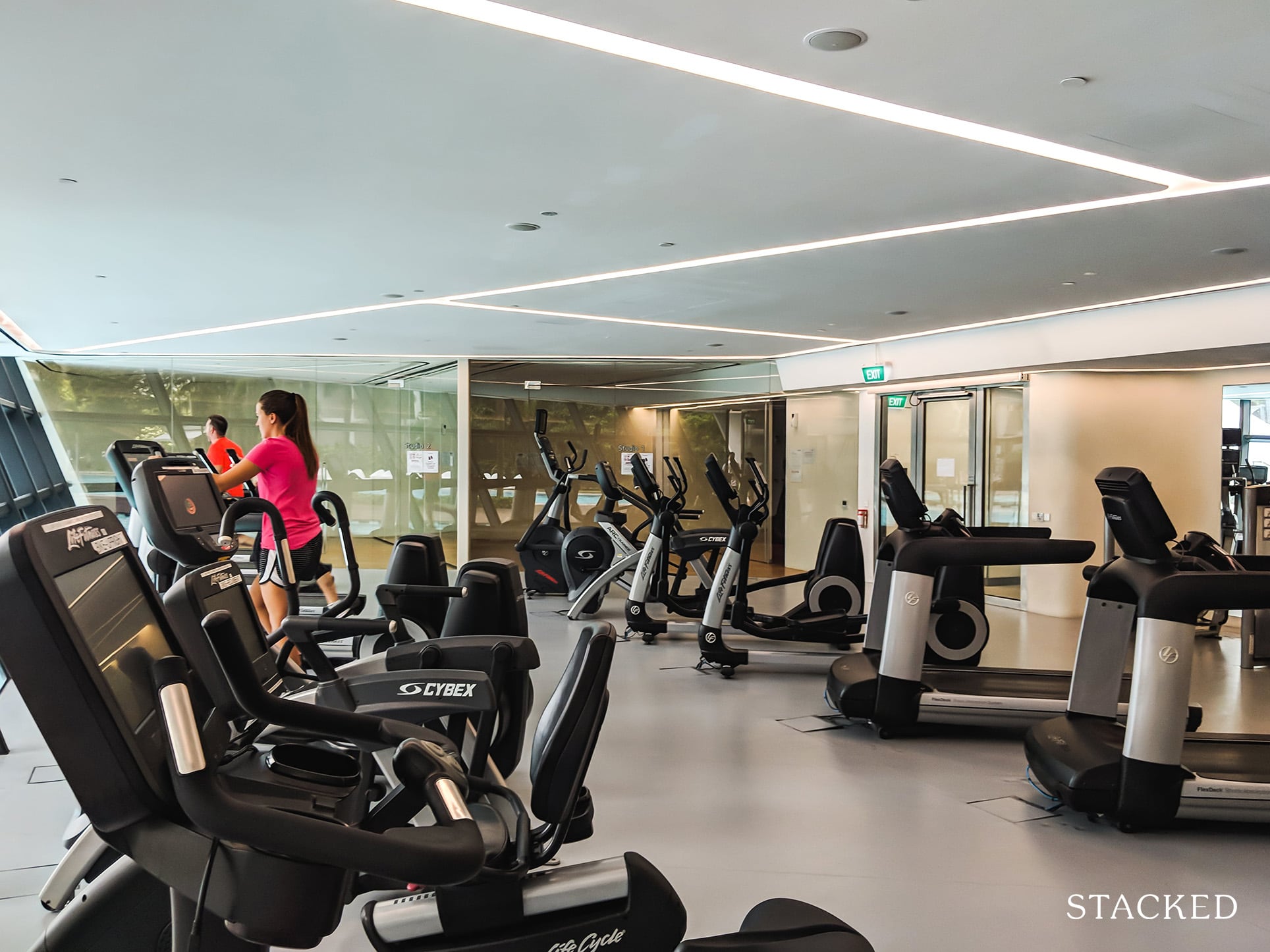 At the end of the swimming pool is the second clubhouse with the gym right at the bottom. It is undoubtedly bigger than the average condo gym, with numerous exercise machines. But for this many units, I think it can be overly crowded during peak hours. The gym should really be bigger, or maybe even have more than one gym instead of all the outdoor fitness stations.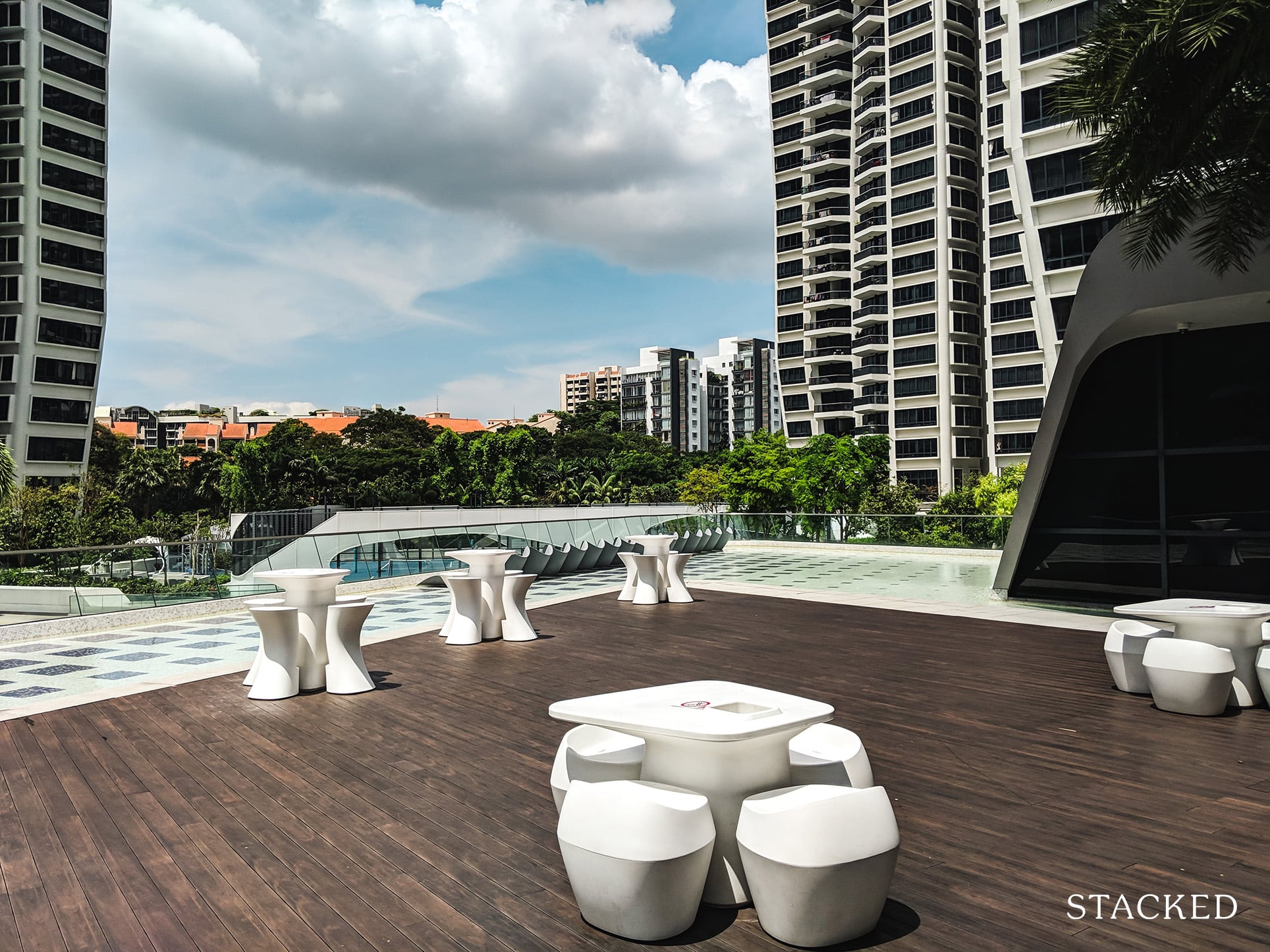 Above the gym is the second clubhouse and a large viewing deck.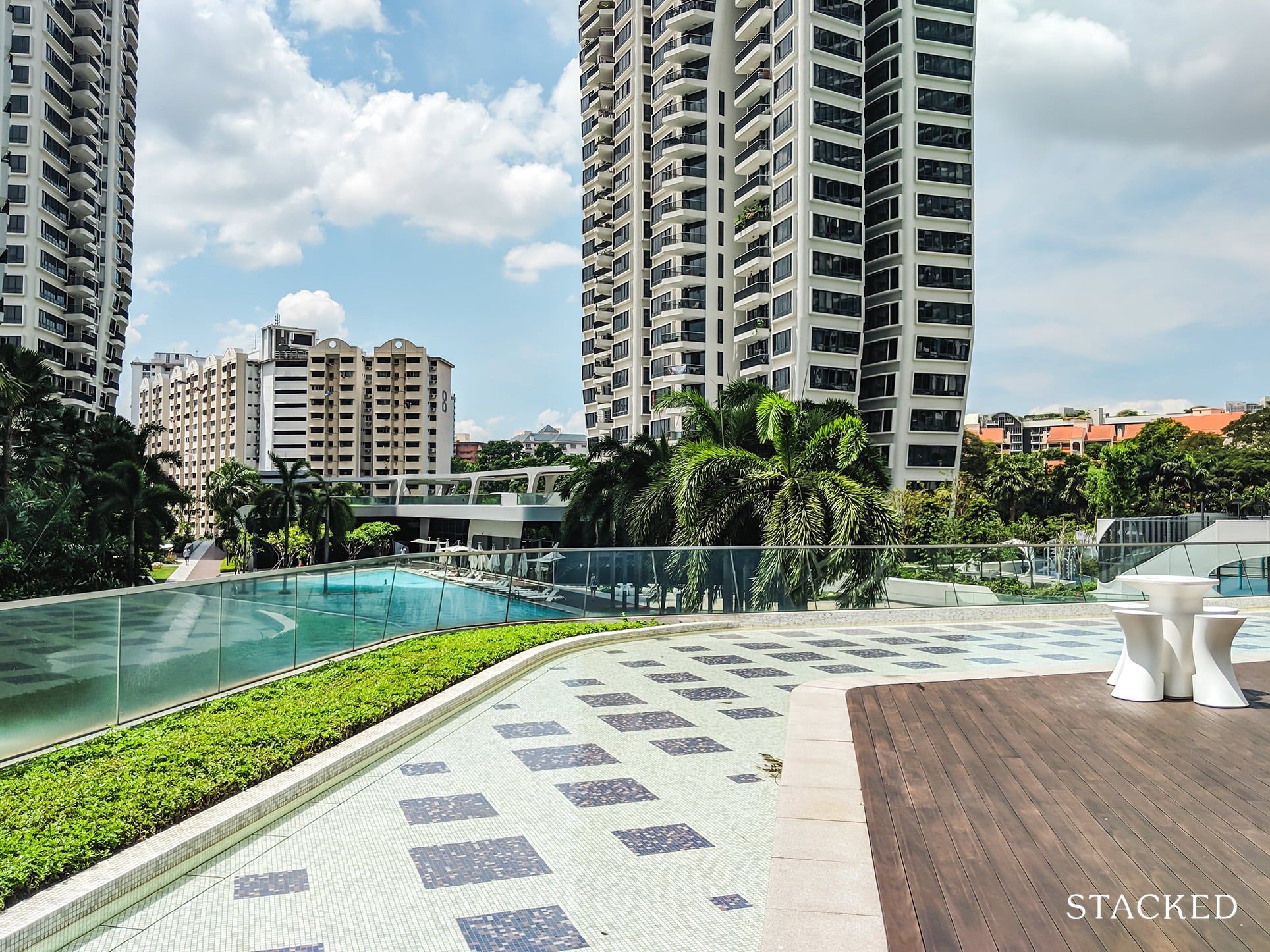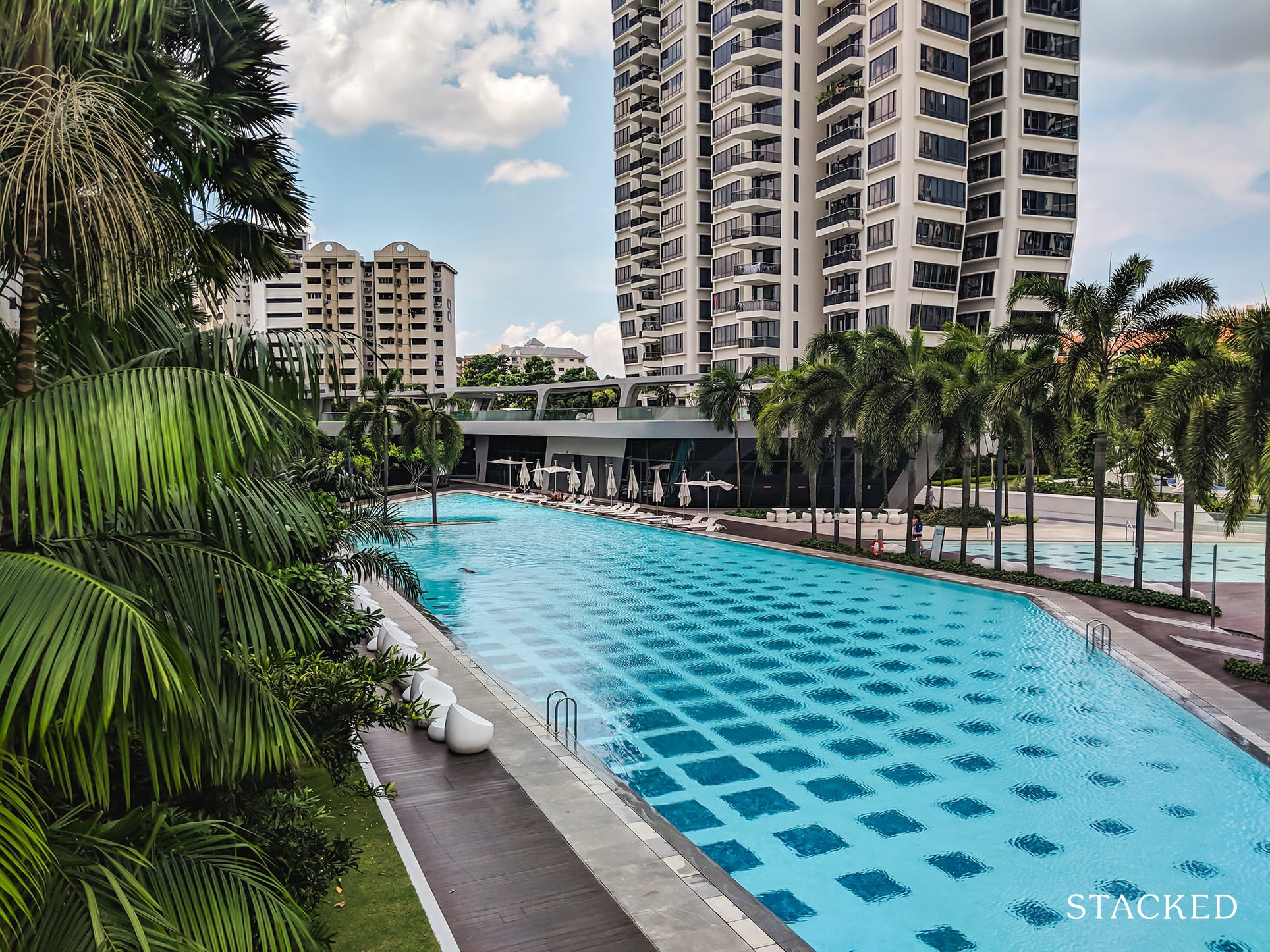 There is a long water feature that surrounds the deck, where you get another view of the first swimming pool.
You know that a developer has a lot of land to work with when their water features are bigger than some condo swimming pools!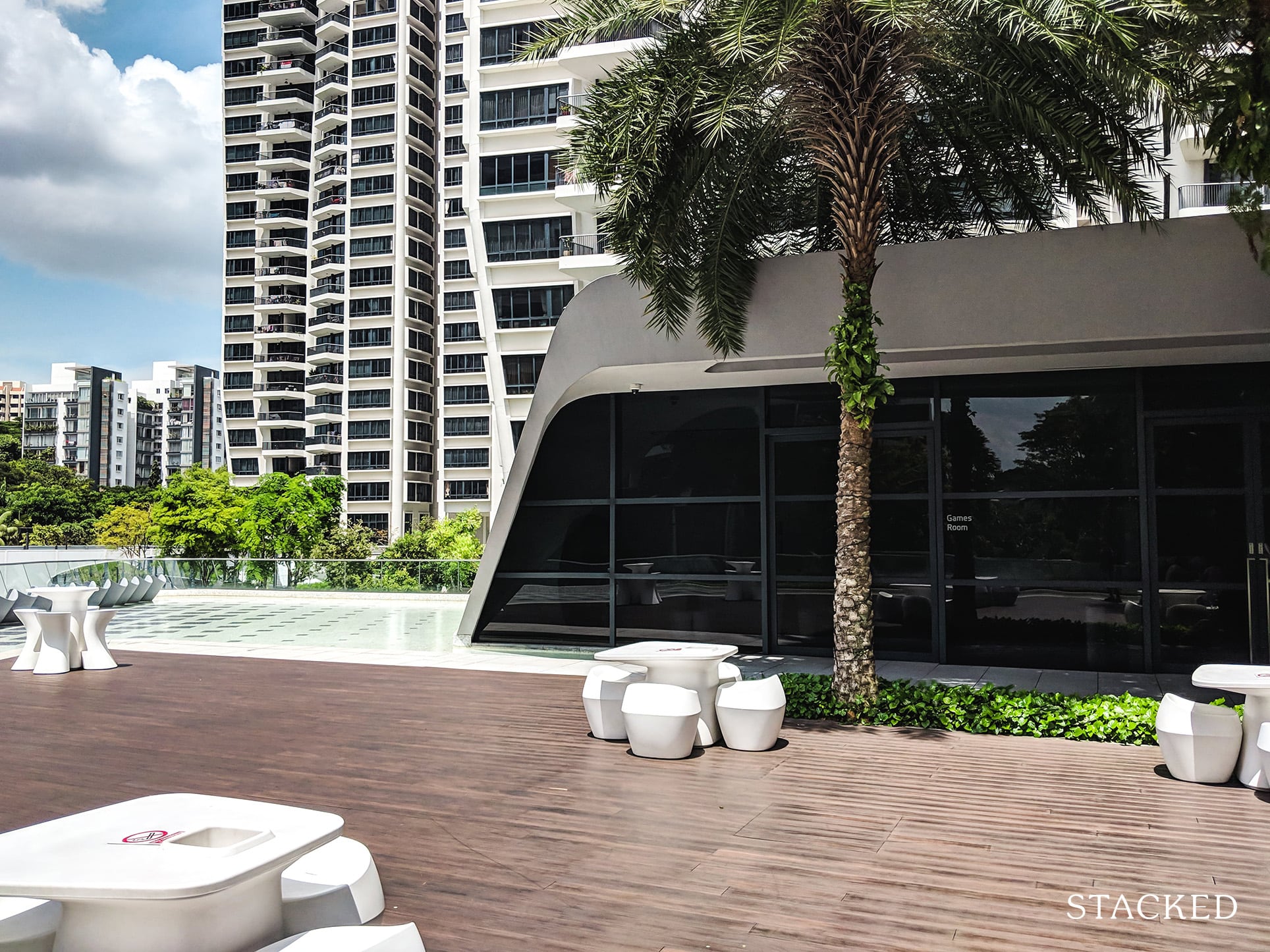 The start of the second clubhouse features a games room.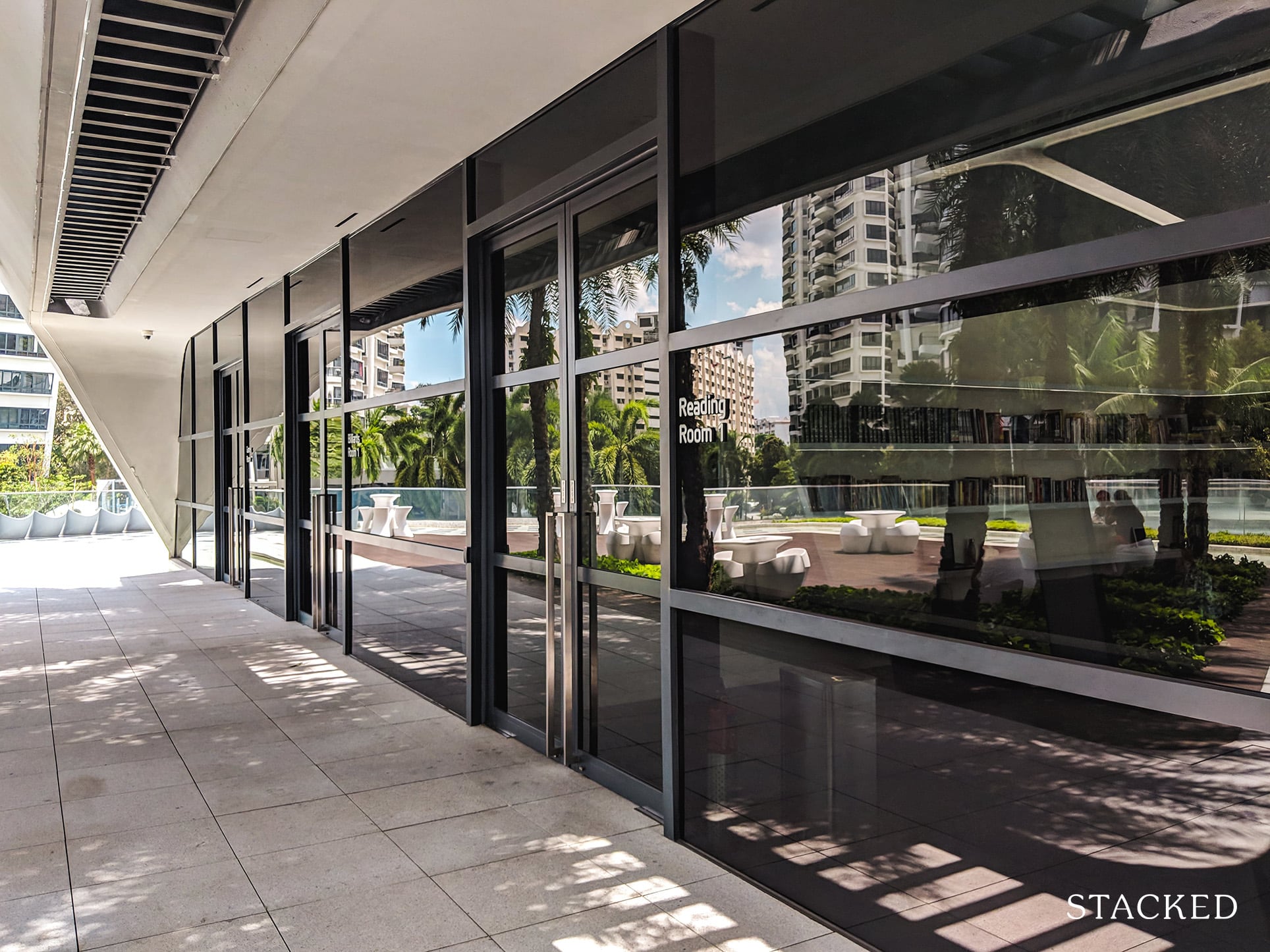 And the second reading and billiard room.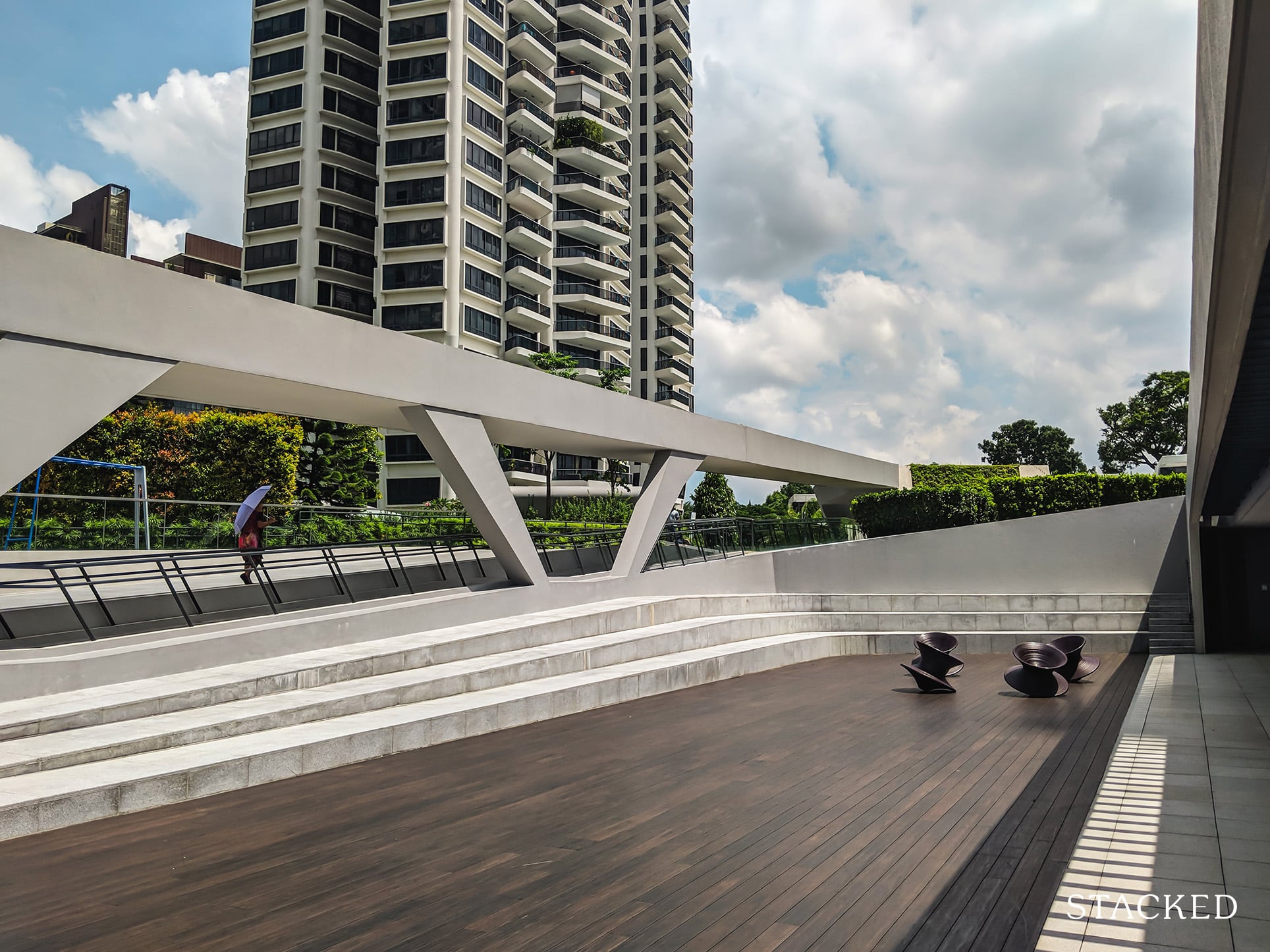 Just an empty space with some decorative sculptures. This space looks great for Taichi.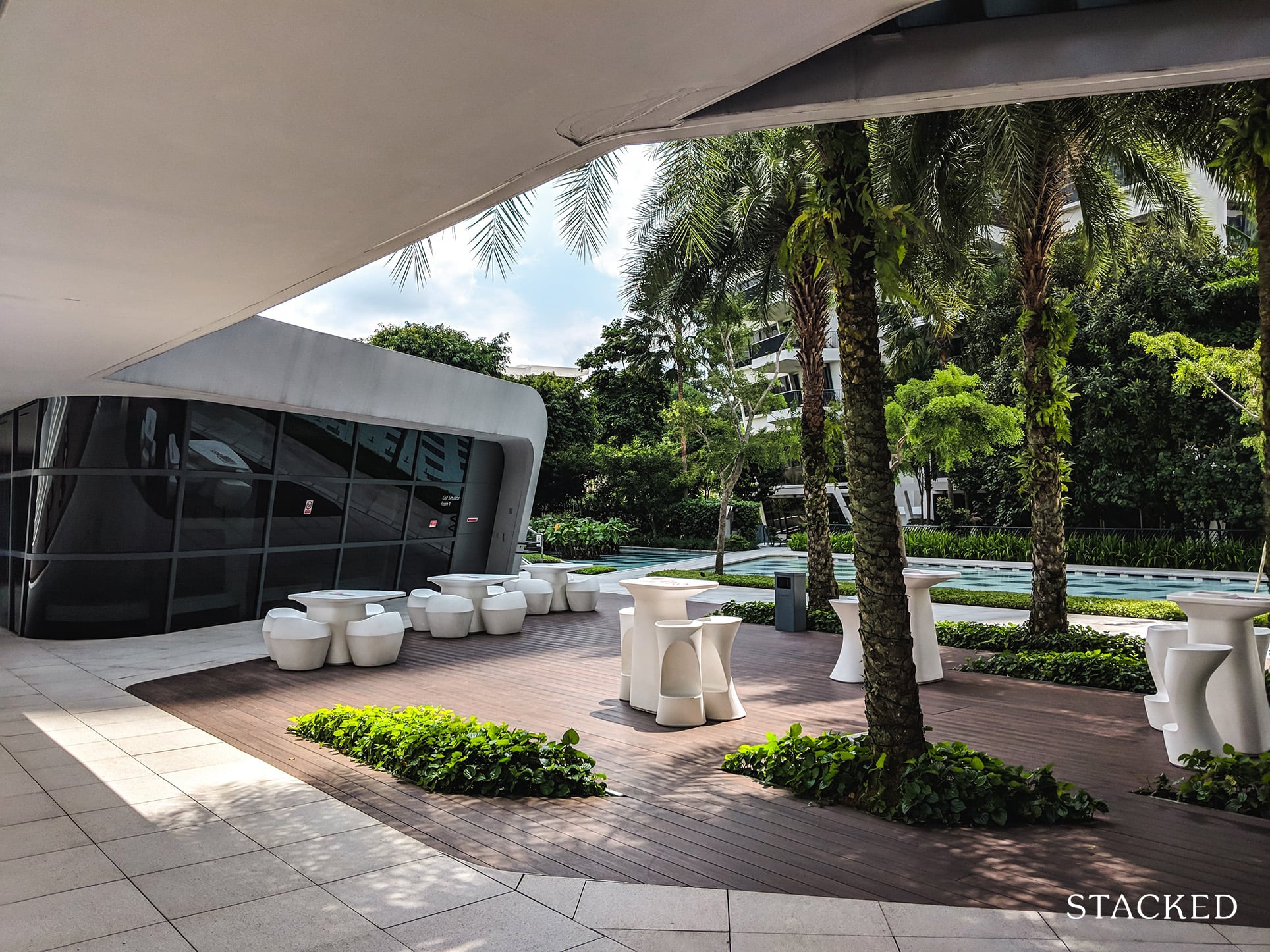 More seating spaces between the clubhouse.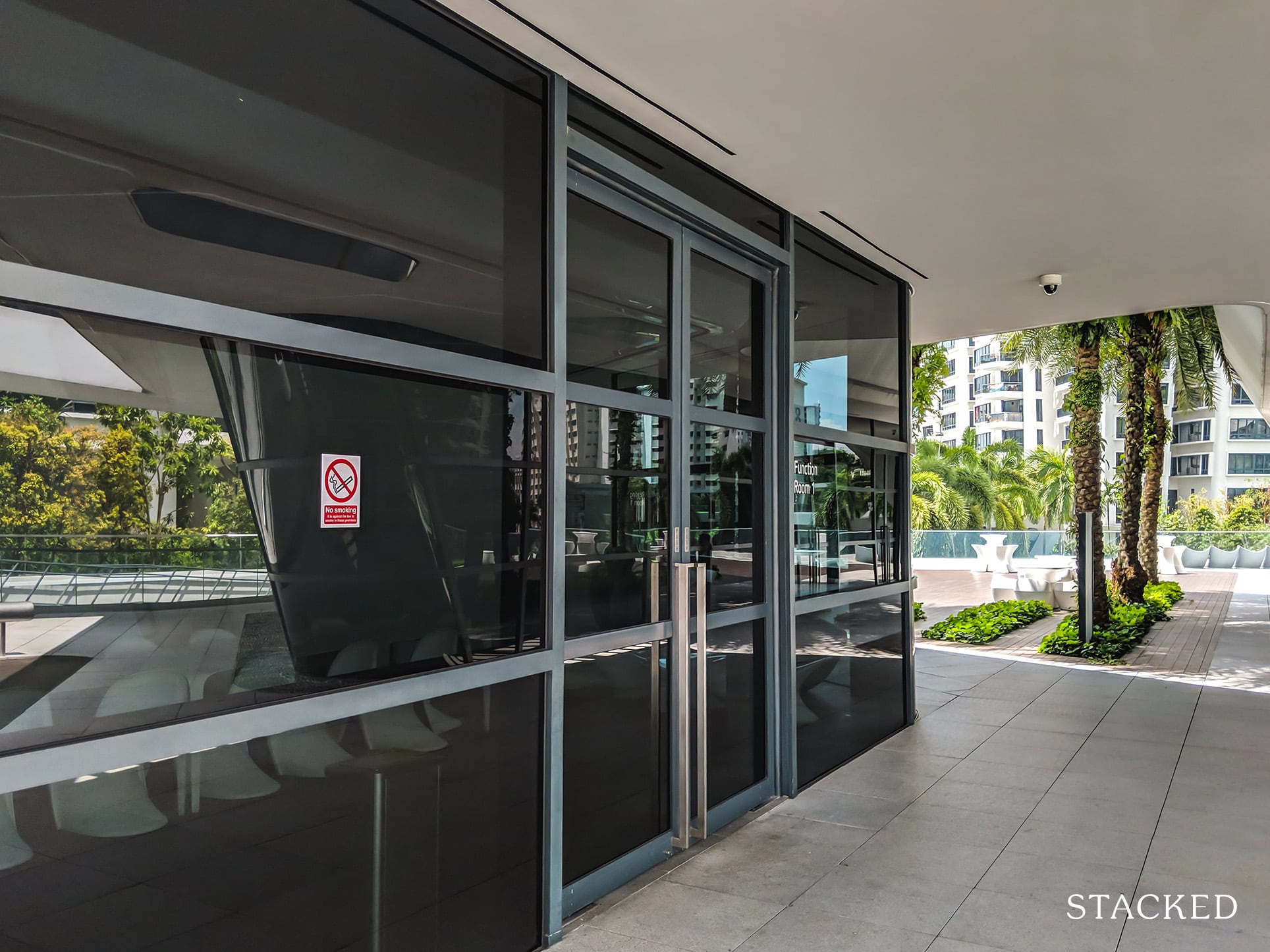 And there is another function room here too.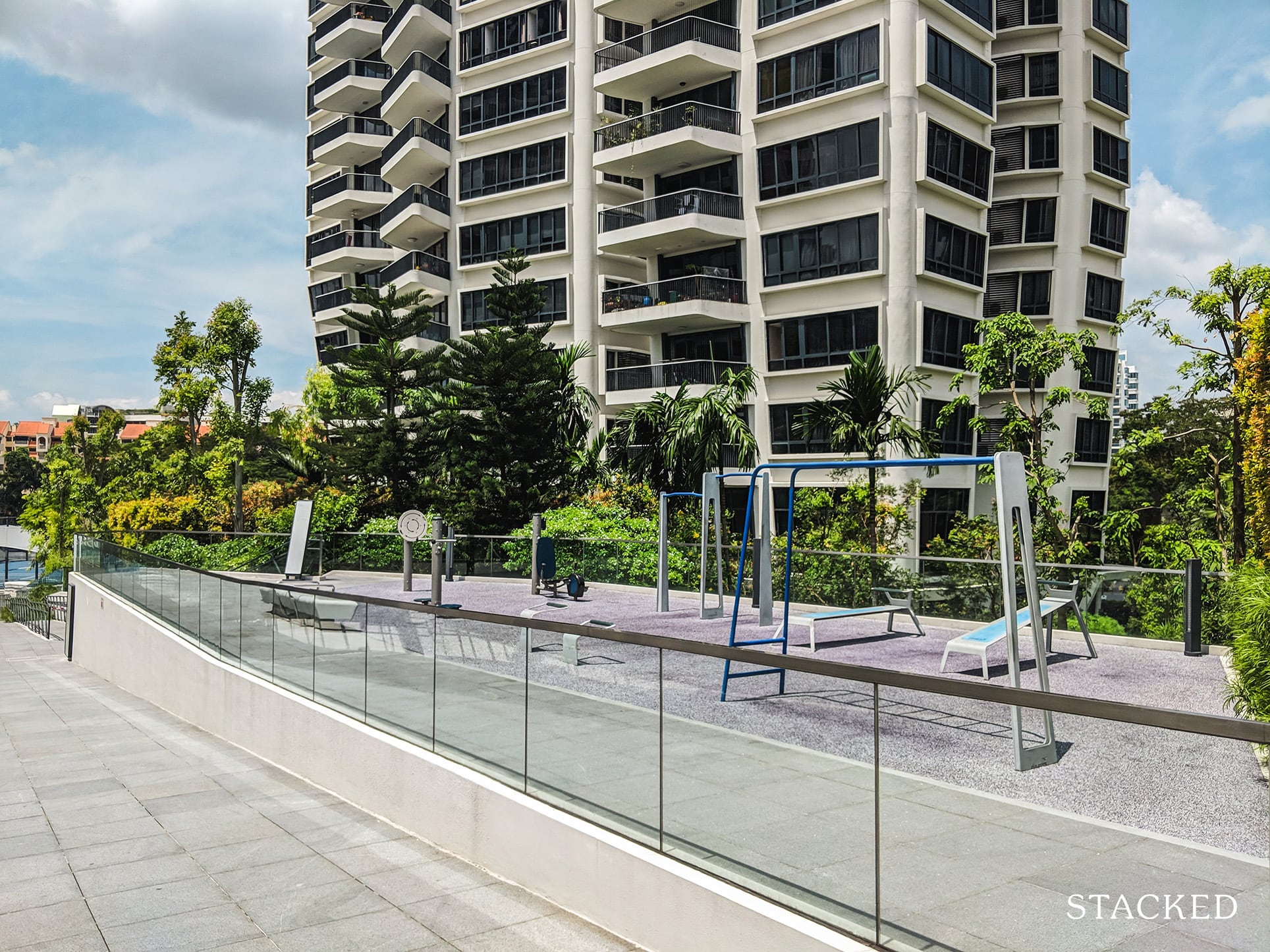 Well, what do you know? It's another outdoor fitness station!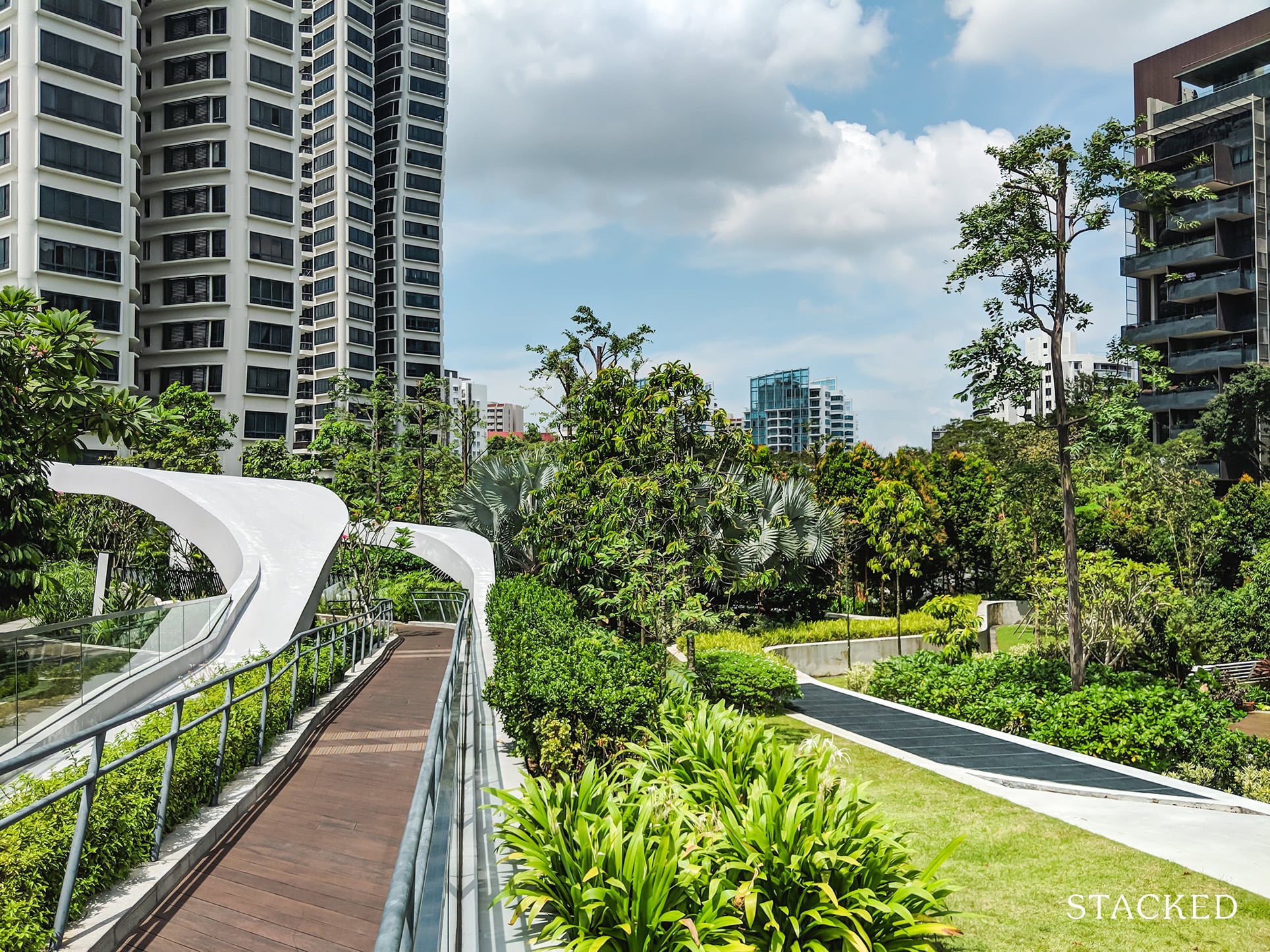 Just to show off the greenery and how much land there is available.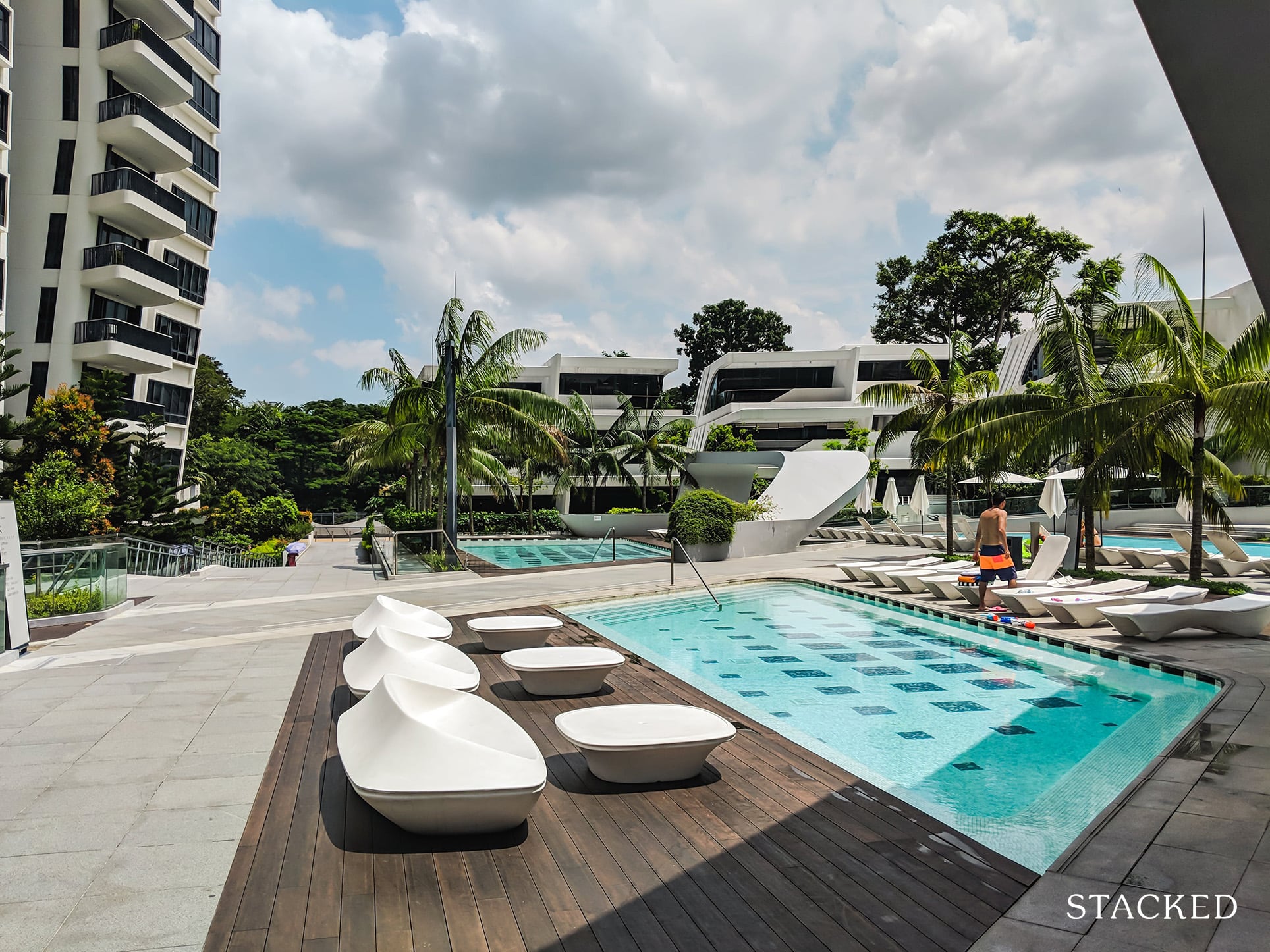 Once you walk further down the pathway, you'll get to the second swimming pool area, complete with two wading pools and a proper lap pool.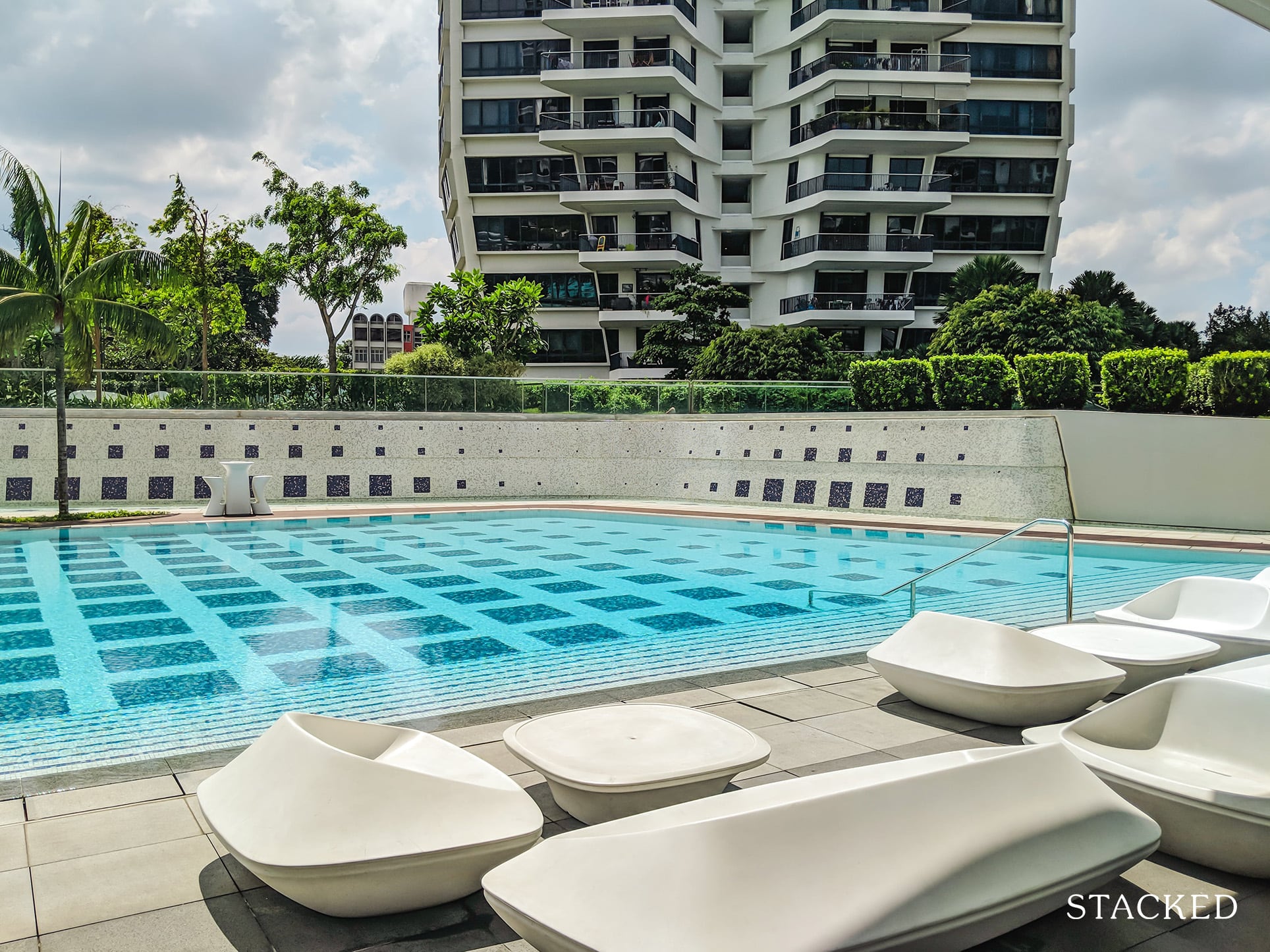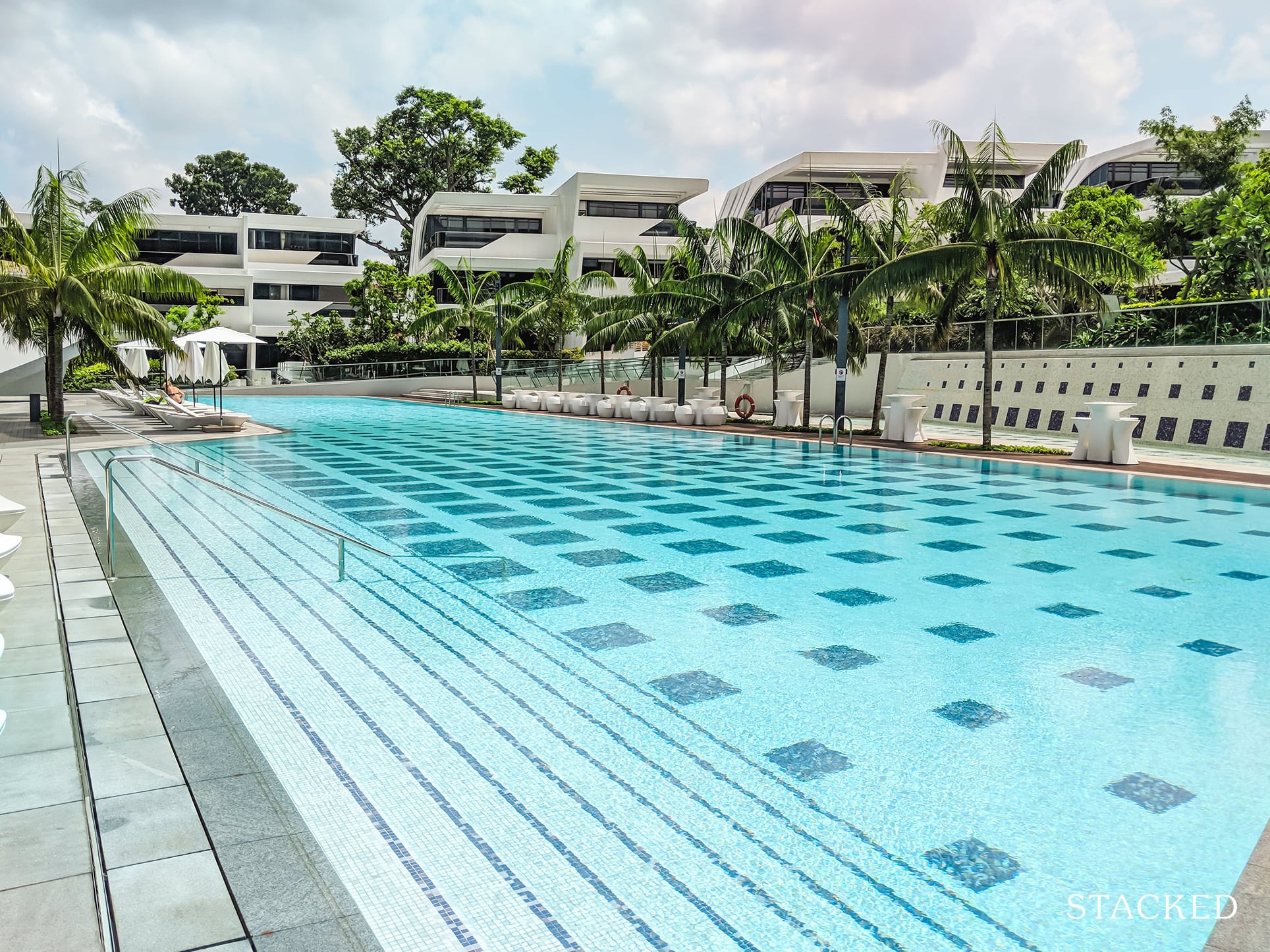 This pool area feels quieter and more private for sure. Perhaps also because it is near the low rise villas.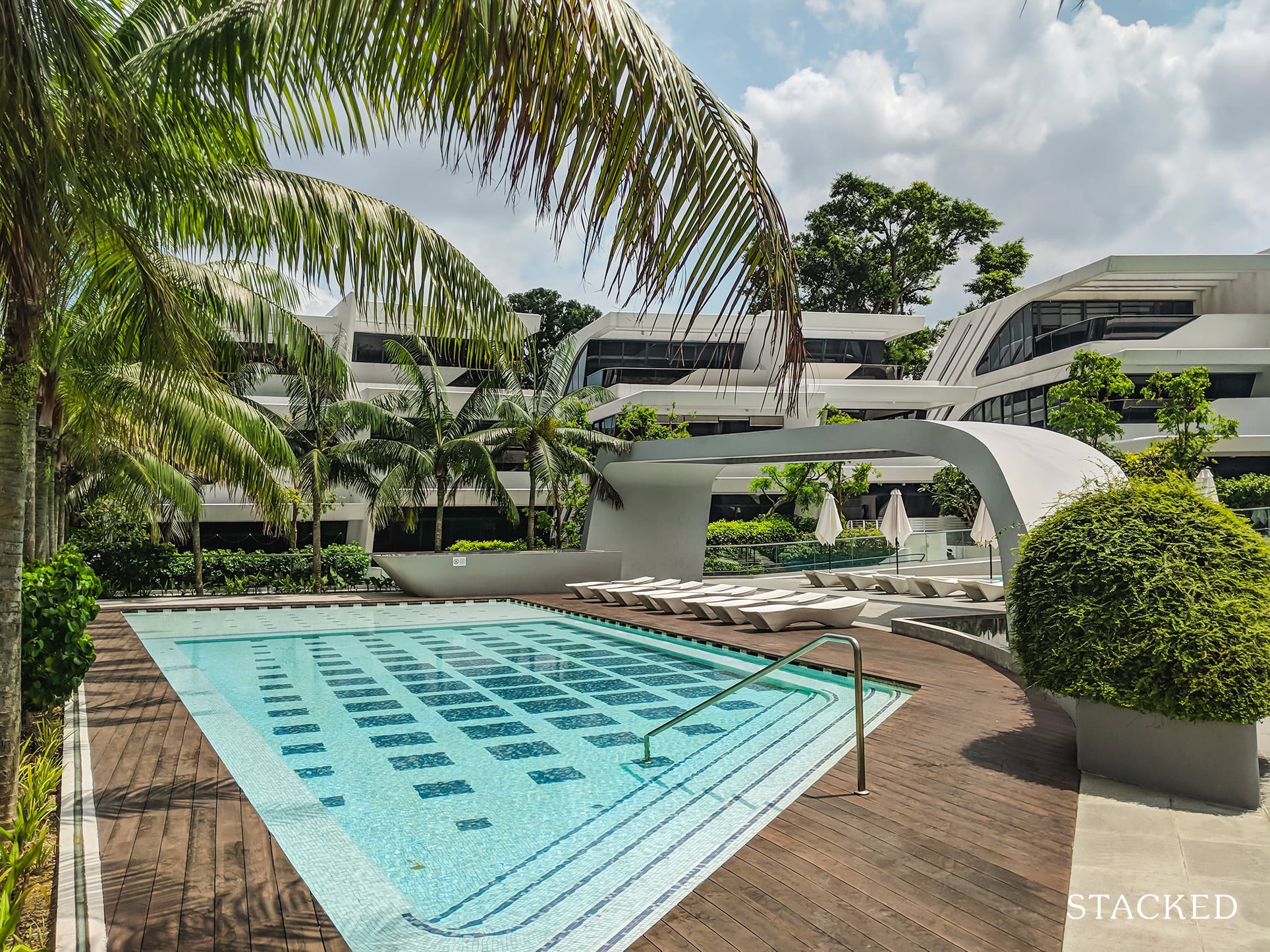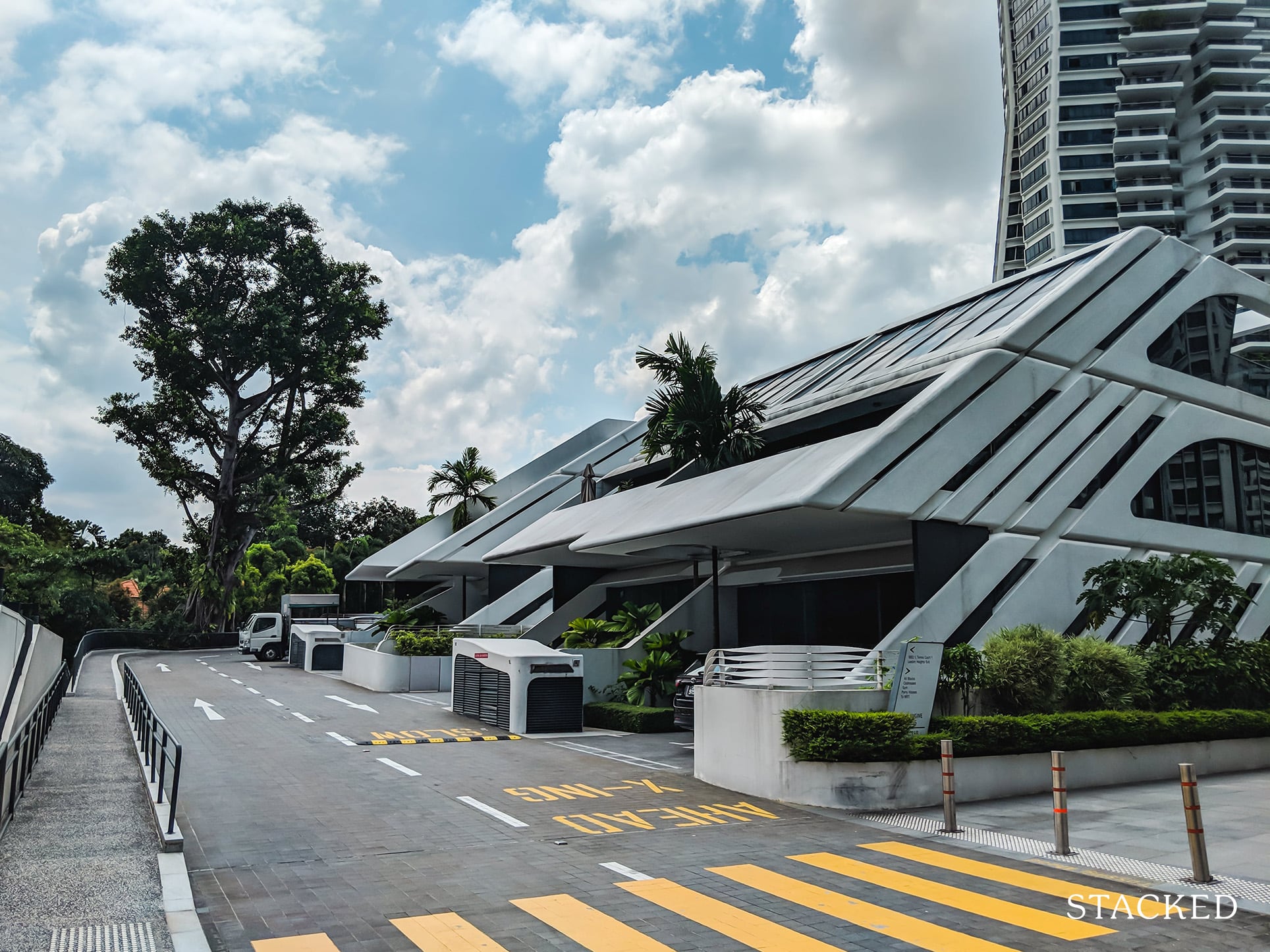 This could be an option for those who want a landed-living feel with lots of space but also care about the security and facilities that a condo provides.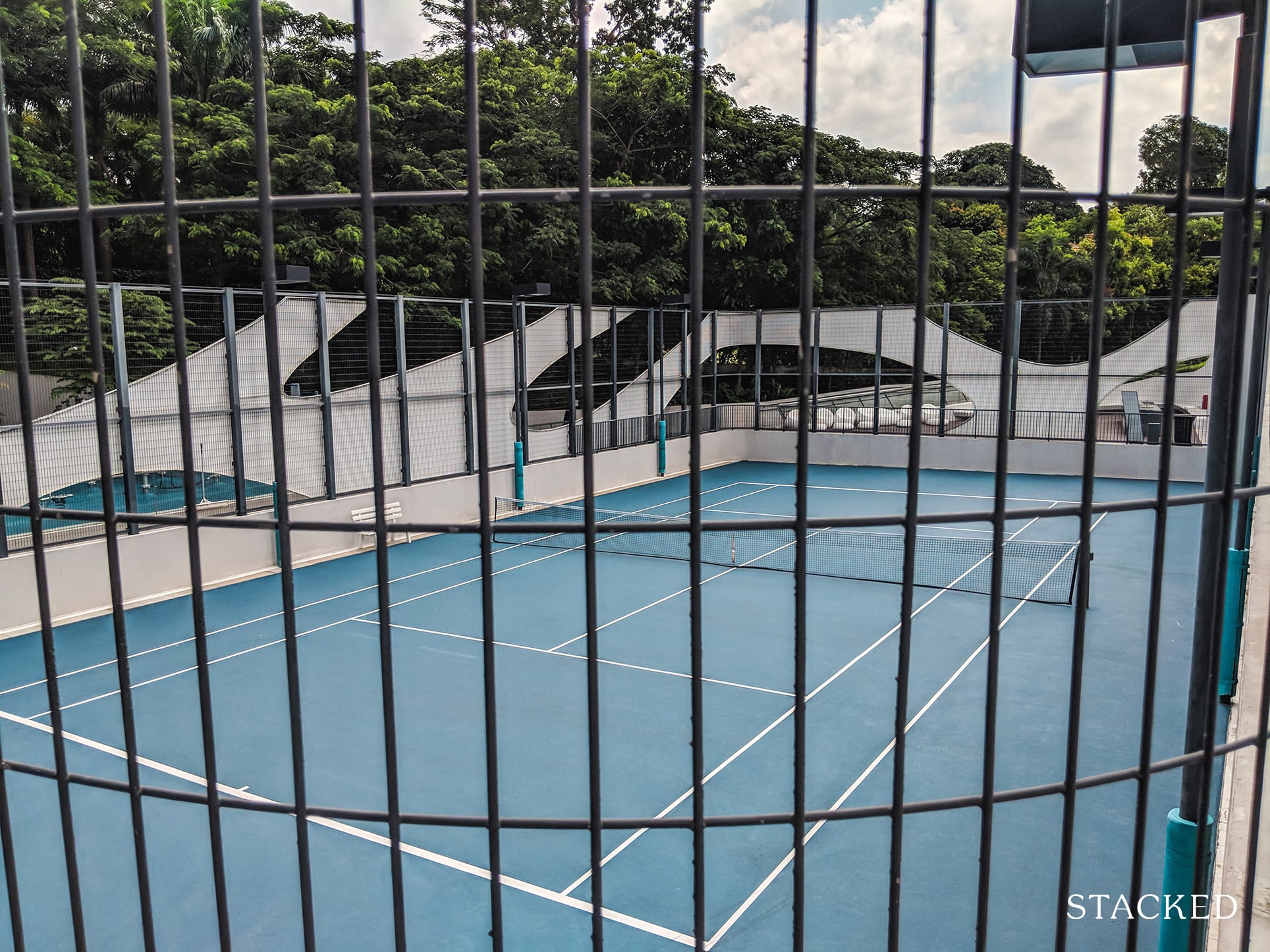 As promised, round the back, there is a third tennis court. This comes along with more seating spaces, a barbeque pit, and another fitness station. Like the second pool, this area is generally more secluded and feels a lot more private.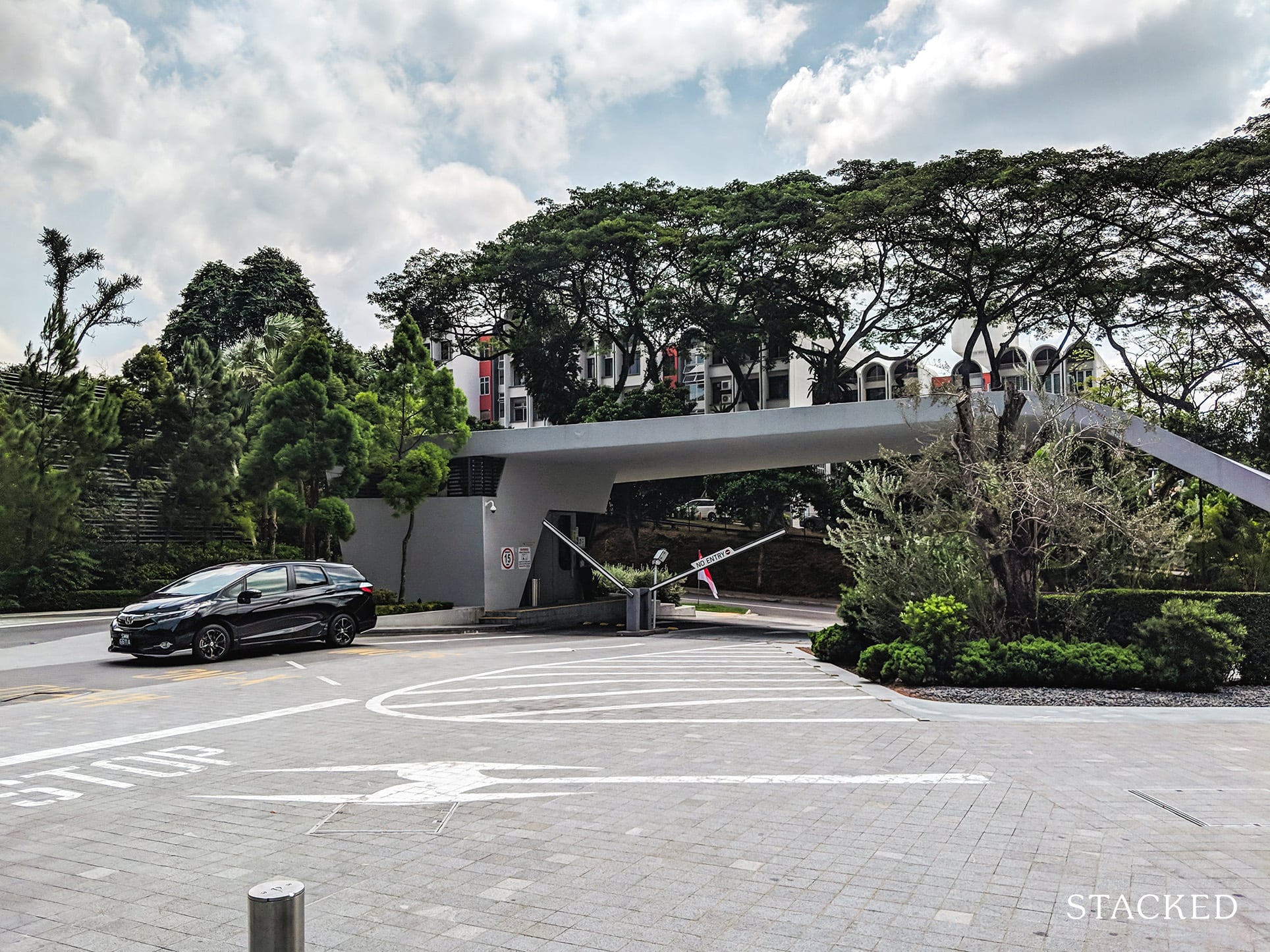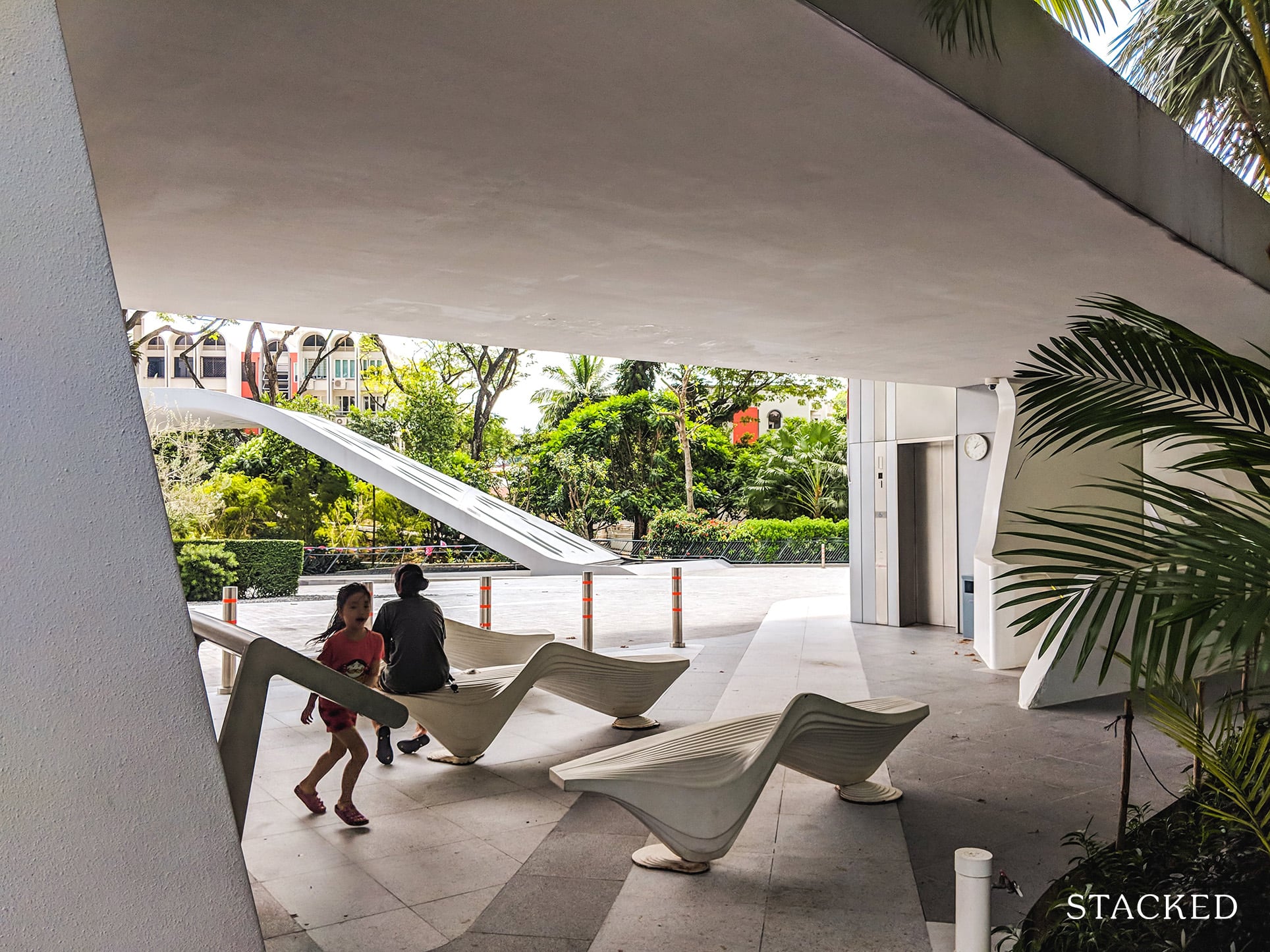 There is a main drop off point that is sheltered, which you can access from the basement.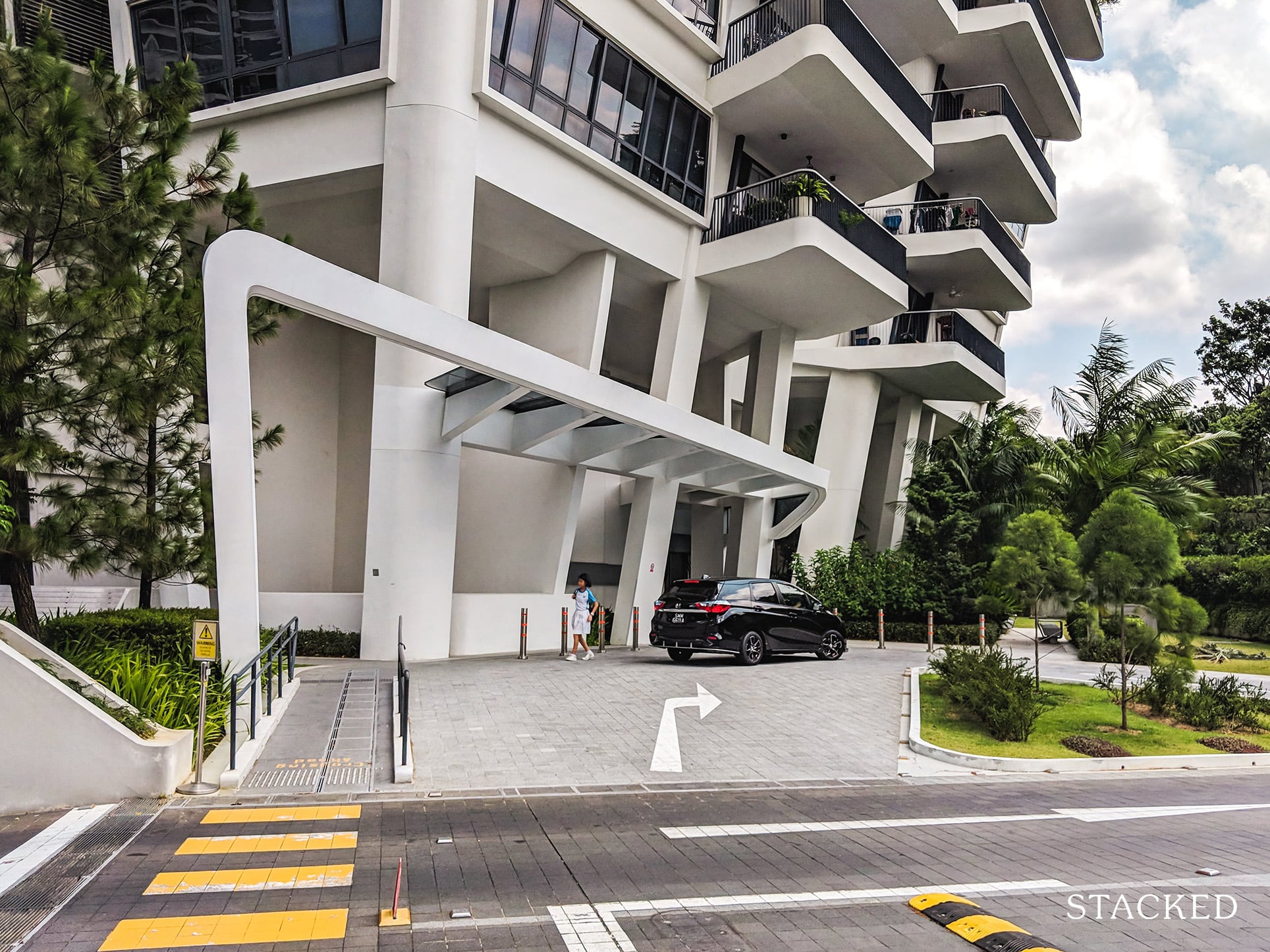 Each tower also has its own sheltered drop off point.
D Leedon Condo Location Review
The D Leedon condo is located along Farrer Road and, as the largest development in the area, is quite a sight to behold as you are driving along Queensway or from Farrer Road. Even though you cannot access the development from the main road, it is on the better side of Farrer Road in my opinion.
But first things first, let's get the main issue of the location out of the way. Farrer Road is terrible when it comes to peak hours. So in the early mornings and knock off-work hours, Farrer Road gets really heavy traffic. This is unsurprising because it is a major road that connects the PIE and AYE. So the trade-off for accessibility to the major highways is the heavy traffic flow.
So why do I say that the D Leedon condo is on the better side of Farrer?
Because it is on the same side as the landed GCB enclave, the network of small roads leading to Leedon Heights and King's Road (which is the two entrances of the D Leedon condo) is actually very convenient. So unlike condos like Gallop Gables and Sommerville Park on the other side, where there is nowhere else to go, you can get to places like Holland Village, Coronation, Hwa Chong, and even Sixth Avenue through all the small roads. Of course, this is not something you will be doing all the time, but when the main roads are all jammed up, it is a super convenient option to have.
So if you come back via Queensway, it is an easy turn in at Leedon Heights. If you are driving to town, you would not have to do a U-turn at Empress Road. Instead, you can go via Leedon Heights and out from Cornwall Gardens. This leads you to Holland Road, from which you can drive straight to Orchard or turn right to go towards Queenstown.
Basically, if you drive, the D Leedon condo is a very convenient position to be in. It is really central and close to a lot of major places. For example, you can easily get to Dempsey in less than 5 minutes. Metropolis Business Park and Star Vista are also about 5 minutes. Holland Village is less than 5 minutes, too, and with the upcoming redevelopment, it is set to offer even more shops and restaurants in the future. This, in particular, is quite exciting, as I always felt that the Holland area was in need of more sprucing up to support the number of residents in the area.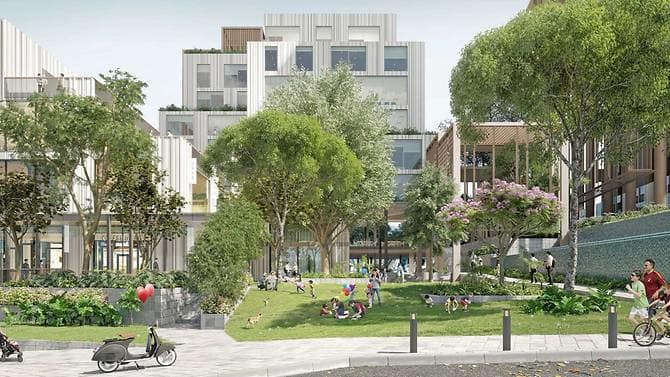 The planned revamp includes three zones. Commons Square, which is set to hold events such as weekend markets. Communal Green, which is a courtyard flanked by shops that lead to a water court and terraced water feature. And finally, Pocket Park, which opens into Lorong Mambong, the main street in Holland Village.
For other nearby recreational facilities options, it is definitely not as critical as the D Leedon condo is actually quite self-sustaining, with its own shops and food places. The nearest place would be Empress Market, which is just right next door. It is not the busiest of markets, but it will do the job for fresh food. The hawker centre is also really great for cheap local food, but as mentioned earlier, don't expect anything at night as most stalls will be closed.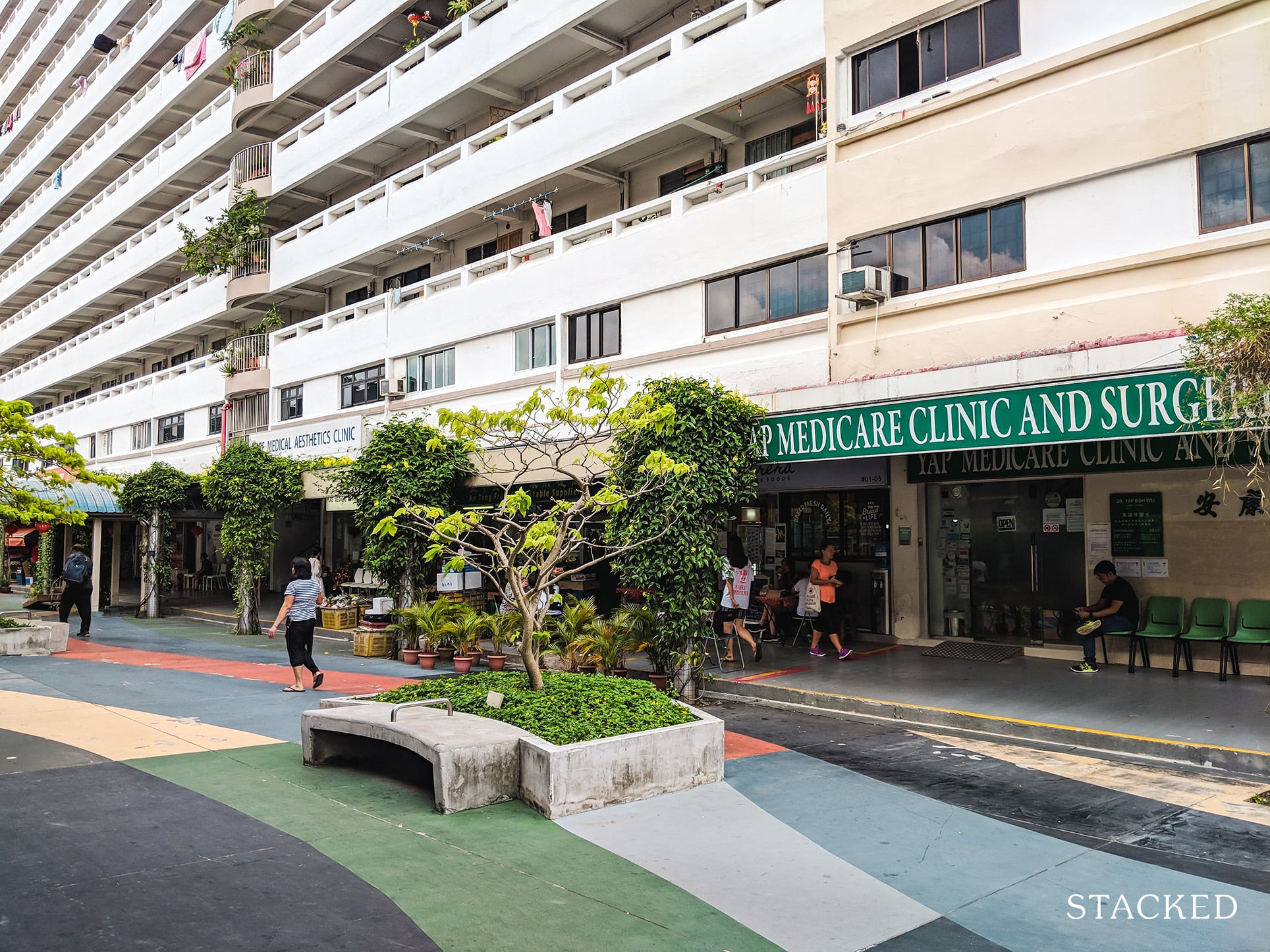 There are also quite a few shops there which are useful. Two fruit shops, artisan bread and meat, clinics and dry cleaning are all you really need. For emergency or late-night cravings, there is a 7 Eleven on hand.
As I pointed out earlier in the review, the D Leedon condo has one of the furthest apart (from the main development) side gates that I have encountered. From the edge of the development, just to get to the side gate is a good 2-3 minute walk in itself. But from there, it is quite quick to get to Farrer Road MRT station. This is on the Circle Line, which I always felt was the least convenient MRT line, but it is certainly better than nothing.
From here, it is one stop away from Holland Village MRT station, as well as Botanic Gardens, which allows you to change to the Downtown Line. The next stop at Caldecott will link you to the upcoming Thomson East Coast Line.
Finally, the D Leedon is rather prime for schools as it is within the treasured radius of Nanyang Primary School (and Nanyang Kindergarten). It is not that far of a walk, and it is a very straightforward route down King's Road. On that note, St Margaret's Secondary School is equally near as it is just opposite Nanyang Primary School. Within driving distance would be Raffles Girls Primary School, Queenstown Primary School, Nanyang Girl's High School, Hwa Chong Institution, National Junior College, Anglo-Chinese School (International) and Hwa Chong International School. As you can see, the D Leedon condo is in a fantastic place for reputable schools, and it is something that parents would want to take note of.
D Leedon Condo Development Site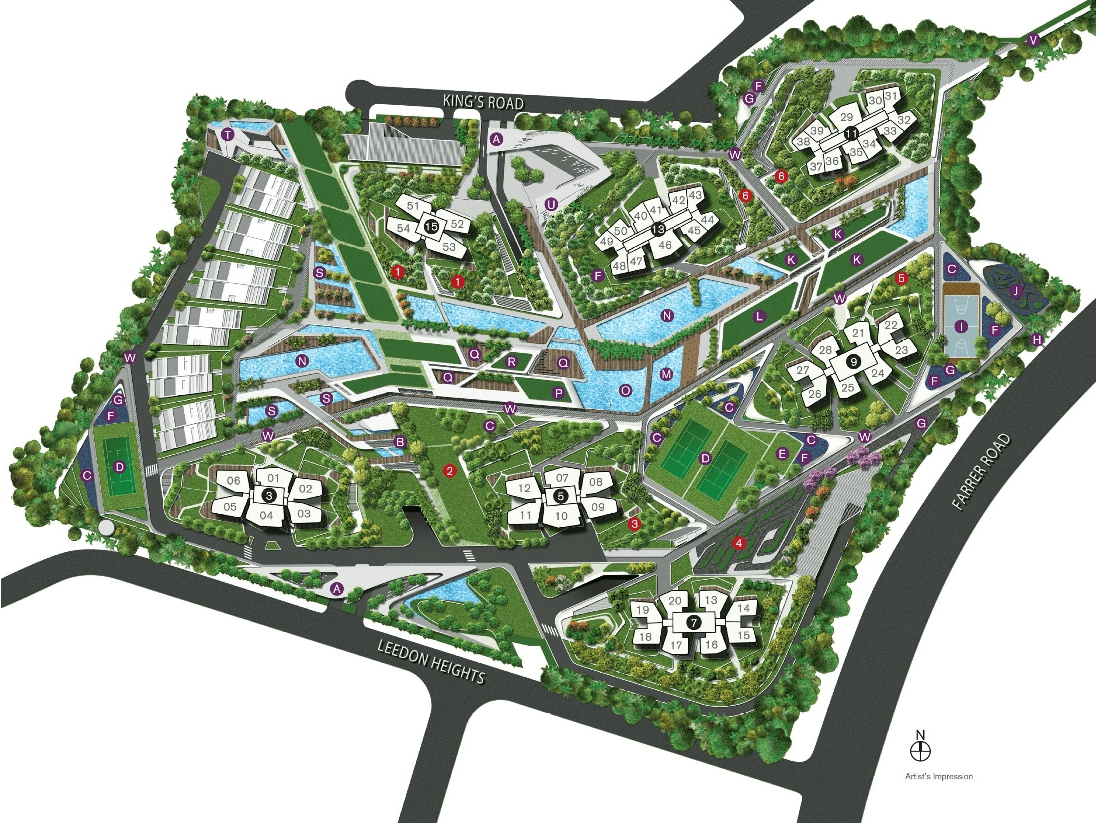 For regular readers, you will know by now that I love developments that have two different entry points. Particularly with a development as big as this, having two is the least I would expect. The Leedon Heights entrance does present a bit of an issue, as it is more tricky to turn out onto the main road as the cars go by quite fast and your view is blocked. Residents in the neighbouring Leedon Residence use this road too, so during peak hours, there usually is a build-up of traffic.
It is undoubtedly a big piece of land, but you have to take note that it is about the same size as the Interlace, except that it houses more than 700 units! You will definitely see people all the time here, and if you do like more peace and privacy, then I would not recommend the D Leedon as the project for you.
As all the towers here are really tall, you do actually get quite a lot of open common areas. This is a good thing, but I just do not think that the common areas are well-planned or well-utilised. Don't get me wrong. The D Leedon condo certainly ticks all the boxes and more in terms of facilities. But I just feel that they could have done more with the space provided. Instead, everything is just done to a generic standard.
Here is the D Leedon unit mix:
Unit mix

| Unit Type | Size (sqft) |
| --- | --- |
| 1-bedroom | 592 – 840 sqft |
| 2 bedroom and 2+1 bedroom | 786 – 1,216 sqft |
| 3 bedroom and 3+1 bedroom units | 1,076 – 1,873 sqft |
| 4 bedroom | 1,615 – 2,443 sqft |
| Garden House | 3,703 – 6,534 sqft |
| Penthouse | 2,852 – 6,265 sqft |
The D Leedon condo covers all the units you could possibly be looking for, ranging from the 1 bedroom all the way to the huge Garden House units. The sizes are slightly above average for the smaller units, but for the bigger units, they are very impressive.
D Leedon Condo Prices Review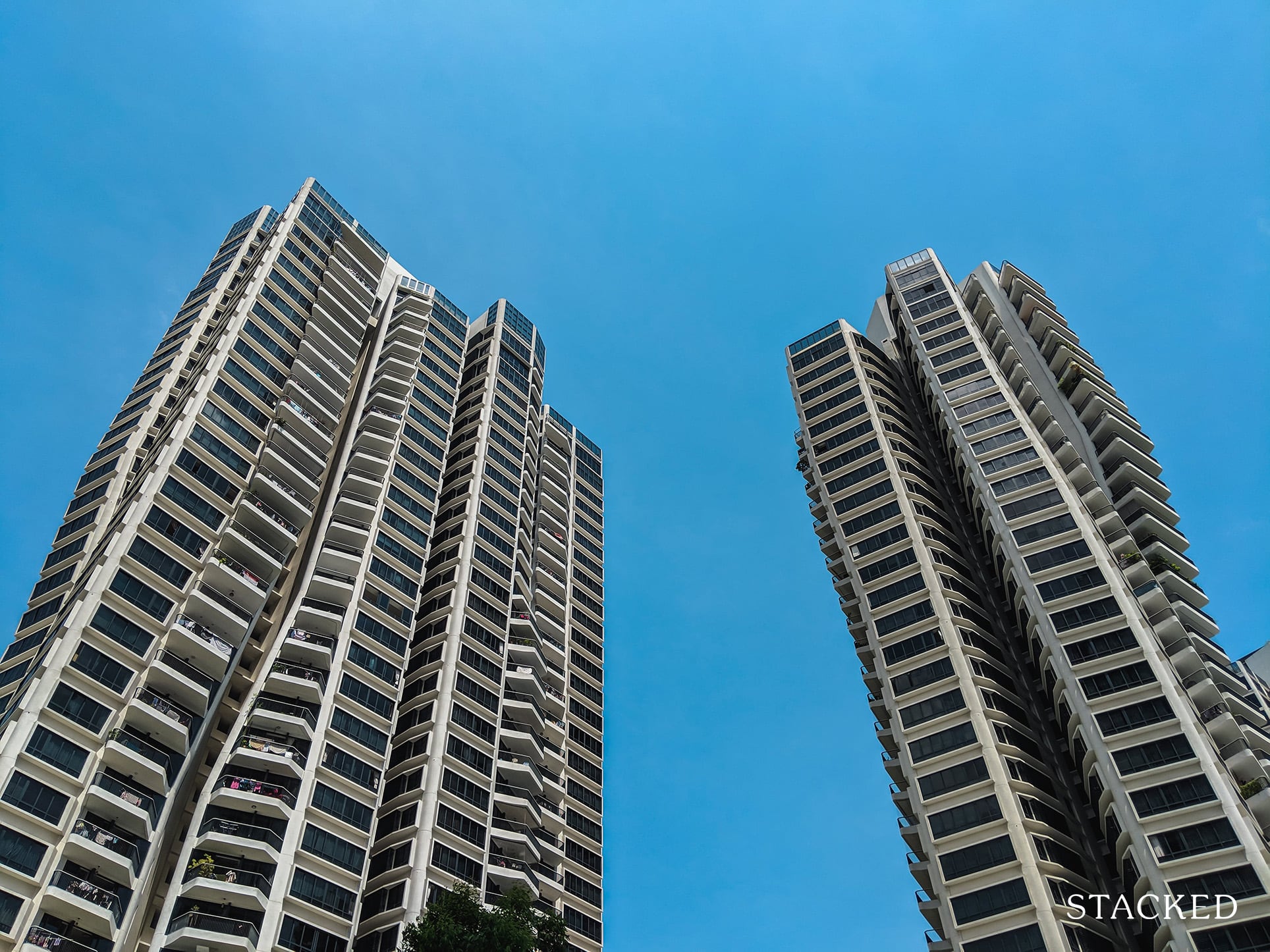 Surrounding developments

| Project Name | Tenure | TOP | Average Price (PSF) |
| --- | --- | --- | --- |
| D'Leedon | 99 years | 2014 | $1,609 |
| Sutton Place | Freehold | 1989 | $1,175 |
| Spanish Village | Freehold | 1987 | $1,301 |
| The Levelz | Freehold | 2004 | $1,576 |
| Waterfall Gardens | Freehold | 2010 | $1,663 |
| Gallop Gables | Freehold | 1997 | $1,701 |
| Woollerton Park | Freehold | 1990 | $1,782 |
| Gallop Green | Freehold | 2002 | $1,812 |
| Leedon Residence | Freehold | 2015 | $2,682 |
I'm sure that most of you would have spotted the 99-year leasehold status, which sticks out like a sore thumb amongst all the freehold condos in the Farrer area. Just going by the average prices over the last 6 months, it is hard to recommend that the D Leedon condo is of a good value when some of the surrounding condos are going for a less PSF but are freehold.
Of course, it isn't the apples to apples comparison, as for many of the examples, the trade-off would be poorer facilities and much older developments. But if we are going by prices alone, it does not look great for the D Leedon condo.
Our Take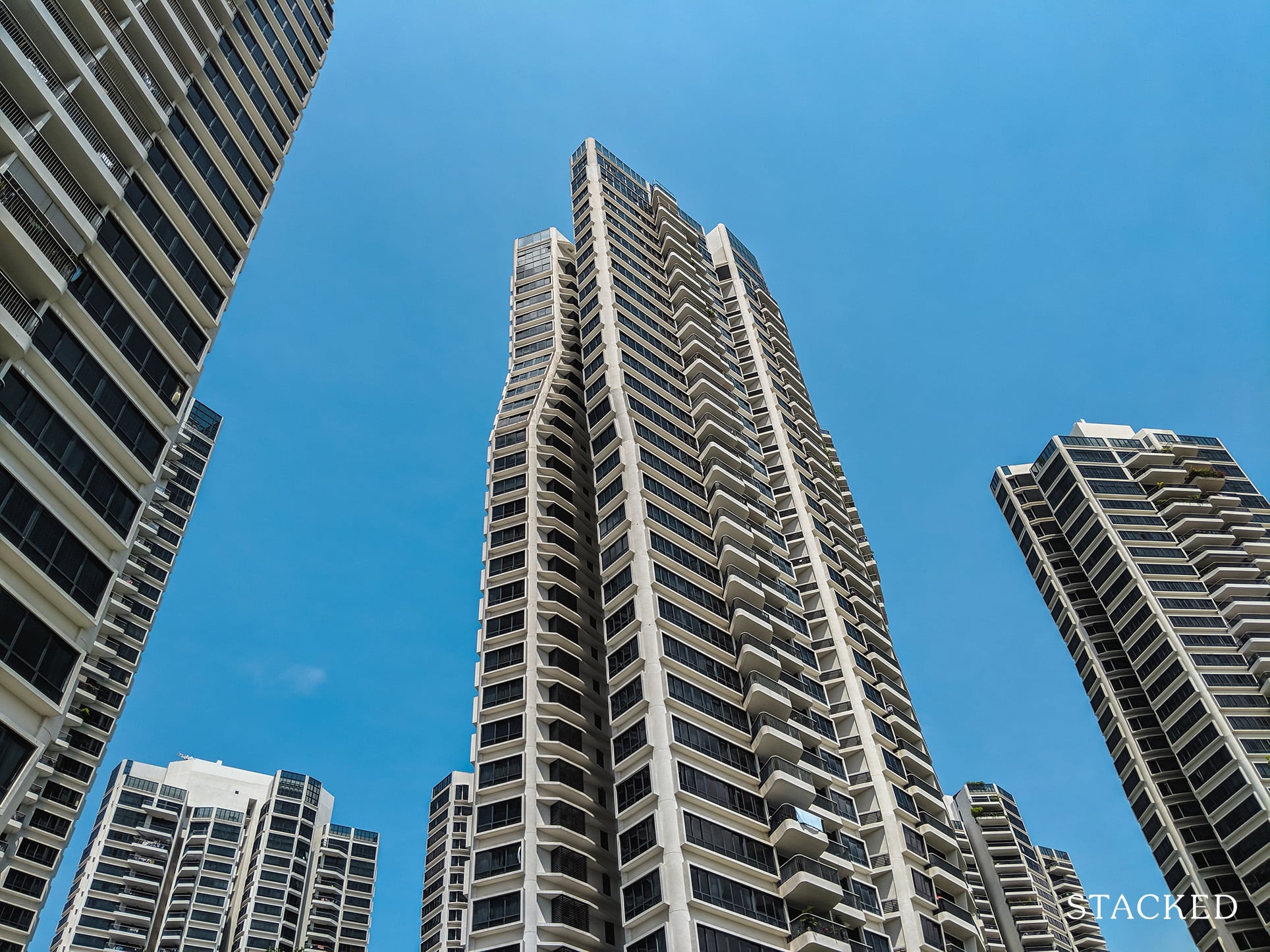 I don't speak for everyone, of course, but personally, the D Leedon condo is not my cup of tea. It feels a bit too soulless, and if I had to make a comparison, I prefer the homely feel of the Interlace.
Of course, many might consider it a vibrant setting to spend their lives. D Leedon definitely has its strong points. It has an iconic design, and the blocks are spread out far enough from each other that you do not really feel the 1,715 units. It also offers a very large diversity of facilities and necessary amenities. It's also close to Farrer Road MRT station and occupies a great spot on Farrer Road. Perhaps, even the best spot.
What this means for you
You might like the D Leedon condo if:
You're all about the location. It's fair to say that the D Leedon condo is located in an excellent spot, right on the main Farrer Road and close to the Farrer Road MRT station. On to of that, it's surrounded by nearby recreational facilities and amenities, such as shopping centres, schools, parks, supermarkets, and more!
You want a wide range of facilities. D Leedon has every single facility you could've asked for, including tennis courts, swimming pools, clubhouses, themed gardens, a mini race track, jogging tracks, a food centre, and more.
You might not like the D Leedon condo if:
You prioritise privacy. With so many residential units, you can expect to see people all the time. If you value privacy, it means that D Leedon might not be the best condo for you.
You'd like something more intimate. Stretching over eight hectares, the D Leedon development is huge and can be overwhelming for those used to smaller developments. Its high rise buildings can also be seen as a bit intimidating.
What this means for you
You might like the D Leedon condo if:
• You are all about the location.On the main Farrer Road, and close to Farrer Road MRT station. Not to mention, all the good schools
• You want a wide range of facilities.It has every single facility that you could ask for, maybe except a dedicated futsal court.
You might not like the D Leedon condo if:
• You prioritise privacy.With this many units, you can expect to see people all the time, there is probably never a quiet moment.
• You like something more intimate.The D Leedon is huge, and can be overwhelming for those used to smaller developments.
End of Review