Condo Reviews

Cyan Condo Review: One of the Biggest Swimming Pools in Bukit Timah
Sean
July 12, 2019

18

min read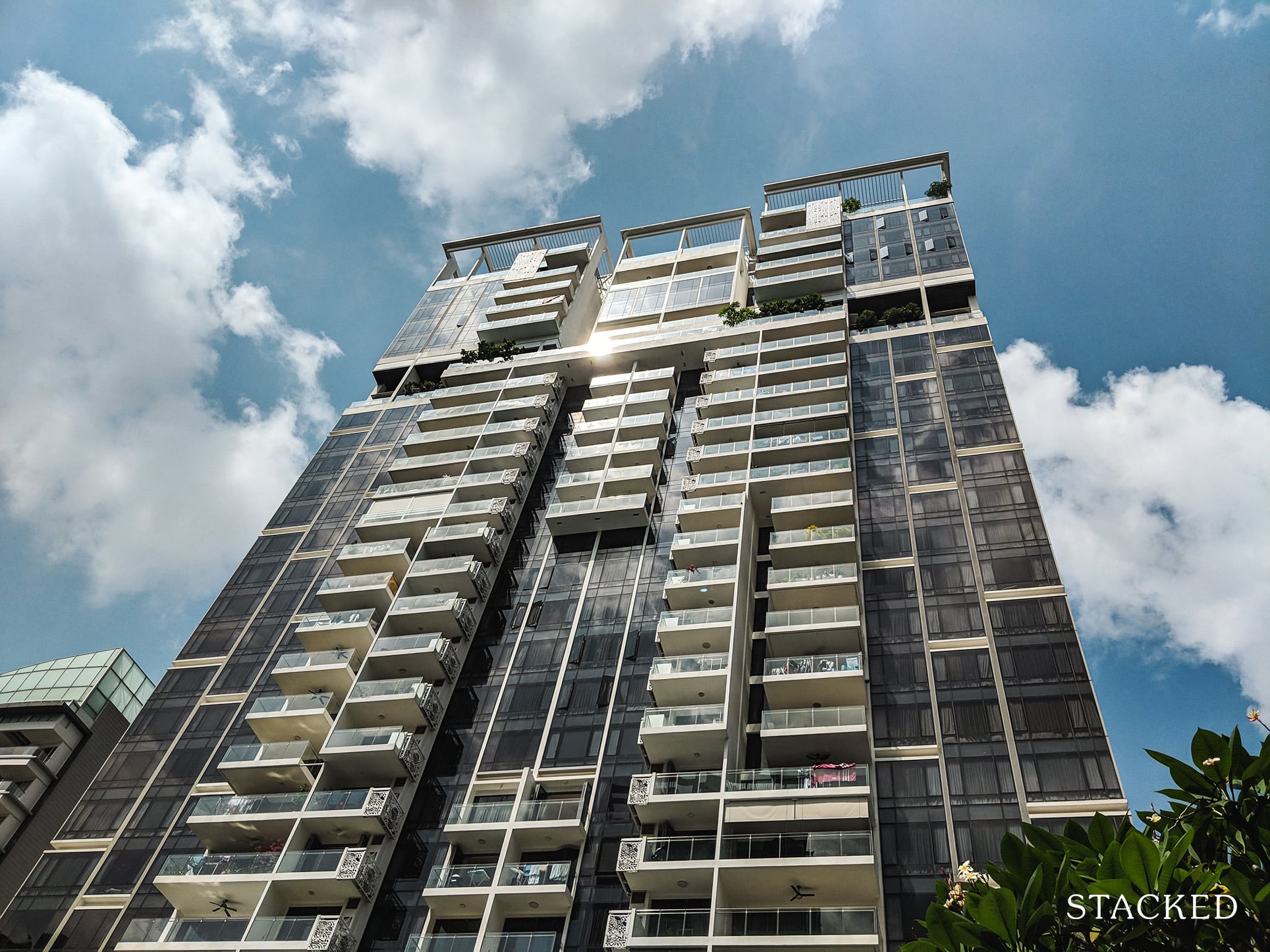 The Cyan condo has fantastic facilities, and a great location if your focus is on the kids in the future. Maintenance could do a better job though.
Reviewed by Sean on July 12, 2019
What we like
Great swimming pool

Tonnes of outdoor and common area space

Location near good schools

Walkable to MRT interchange
What we don't like
—

Only one entrance through Keng Chin Road

—

Shoddy upkeep in areas
18
min read
About this condo

| | | | |
| --- | --- | --- | --- |
| Project | Cyan | District | 10 |
| Address | Keng Chin Road | Tenure | Freehold |
| Site Area | 161,000 sqft | No. of Units | 278 |
| Developer | Far East Organization | TOP | 2014 |
The Bukit Timah stretch after Balmoral is one of the most in-demand areas for residential living in District 10. Now, I know that sounds like a big claim, but you will understand when you see how close this area is to some of the top schools in Singapore. Of course, living in Bukit Timah is not just about the good schools, there is also the relaxing greenery and the added space to think about as well. Which brings us to our review on the Cyan condo today. Being one of the newer condominiums on this esteemed stretch, will this be enough to win you over? Let us go right into our review on the Cyan condo!
Cyan Condo Review Location
The Cyan condo is located on Bukit Timah Road which sports many other older developments. You have the mighty old dame – Wing on Life Garden, and the newest being the low rise Robin Residences. Looking at all the other residential enclaves in Bukit Timah, I do like this area for a number of reasons. One, you can see the potential of the land from all the en bloc deals that went through in the past few years, with City Towers and Crystal Towers (now known as Juniper Hill) being the prime examples. Since the majority of the developments here are old (Wing on Life Garden, Palm Spring, The Legend and Honolulu Tower), one thing that is worth pointing out would be the redevelopment of the area in the future. Just be prepared for all the noise and construction that would come along with it.
Number two. Many of the developments here are located quite deep inside, so what is great about the Cyan is its prime location on the front of Bukit Timah Road. It's a pity the bus stop is not located right outside, but if you go out through the side gate it is actually just a 2-minute walk. The downside is the road noise, but that is something I would be willing to put up with for the additional convenience.
I can read the next thought on your mind: Is there an MRT nearby?
Fret not, because there is not one, but two MRT lines (one is upcoming) located at Stevens MRT station. I think that the walk is not far at all, while Google says 7 minutes (I did it in 5, just saying).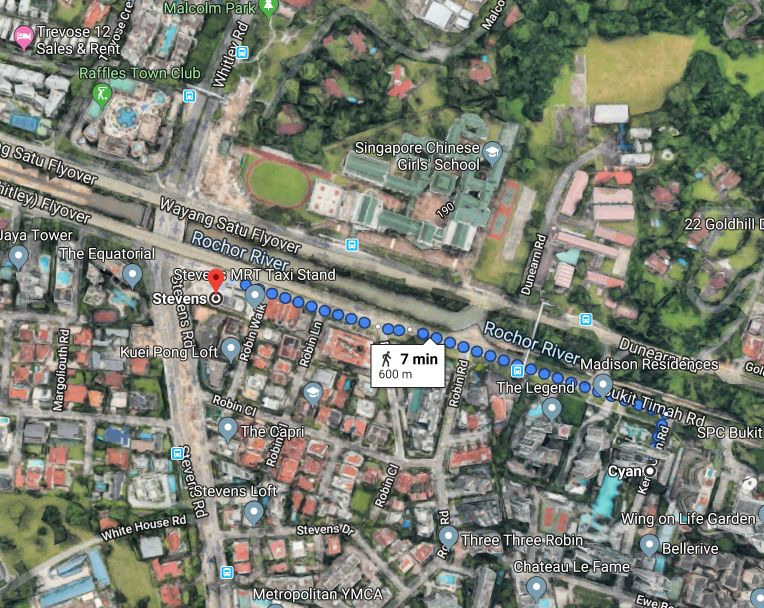 Currently, the Downtown line is under operation and in 2021, the Thomson-East Coast Line will come online. Having the Downtown line is fantastic because you can get to places like Bugis and the CBD really quickly and without having to even change train. Stevens is also in between three interchanges, Botanic Gardens, Newton and Little India. This lets you access the Circle Line, North South Line, and North East Line super easily and is all you really need.
For those looking to buy the bigger units here, driving would still be important. I must say that Bukit Timah isn't always the best in terms of traffic. In my experience, it can get really slow-moving along this area during peak hours. Particularly because at the junction between Stevens Road and Whitley Road, many cars will be turning right to get to the PIE. Another bugbear would be if you are coming home along Dunearn Road, you would not be able to U-turn directly at where the Cyan condo is, and instead will have to drive further down to Chancery to make a U-turn. Nevertheless, for those who drive, Bukit Timah Road is the longest road in Singapore and driving to most places would be easy enough.
Everyone knows that in this area, the two most famous schools are Singapore Chinese Girls School and Anglo Chinese School (Barker). Oh and St Joseph's Institution is just a little further down. And it is because of the location of these schools which have gone some way to contributing to the demand and prices of property in this area. If you are a would-be parent (my heartiest congratulations), you would be pleased to know that both schools are incredibly nearby. Plus if you have a boy and a girl, you are very much sorted out as Cyan is right smack in the middle of both these schools. And also as a responsible parent, you will be heartened to know that there are overhead bridge crossings that lead to both schools. Which is important as the traffic on Bukit Timah Road and Dunearn Road can be quite heavy.
This might sound like an ode to the location of the Cyan, but I cannot stress enough how crazy some Singaporean parents can get when it comes to schools for their children. (See: Parents fined for lying about home address to get child into popular primary school). So having this aspect settled can be a huge relief and will be a reason why the value of this location will hold even in the future.
Another thing that I like about the location currently is that other than the area around the Cyan condo, most of the surrounding consists of low rise developments and landed housing.
This is great as for most of the units, you will be able to get unblocked views that extend quite far out.
In particular, the view towards the Barker area is full of lush greenery and seeing such a view after a busy day at work can be really calming on your senses.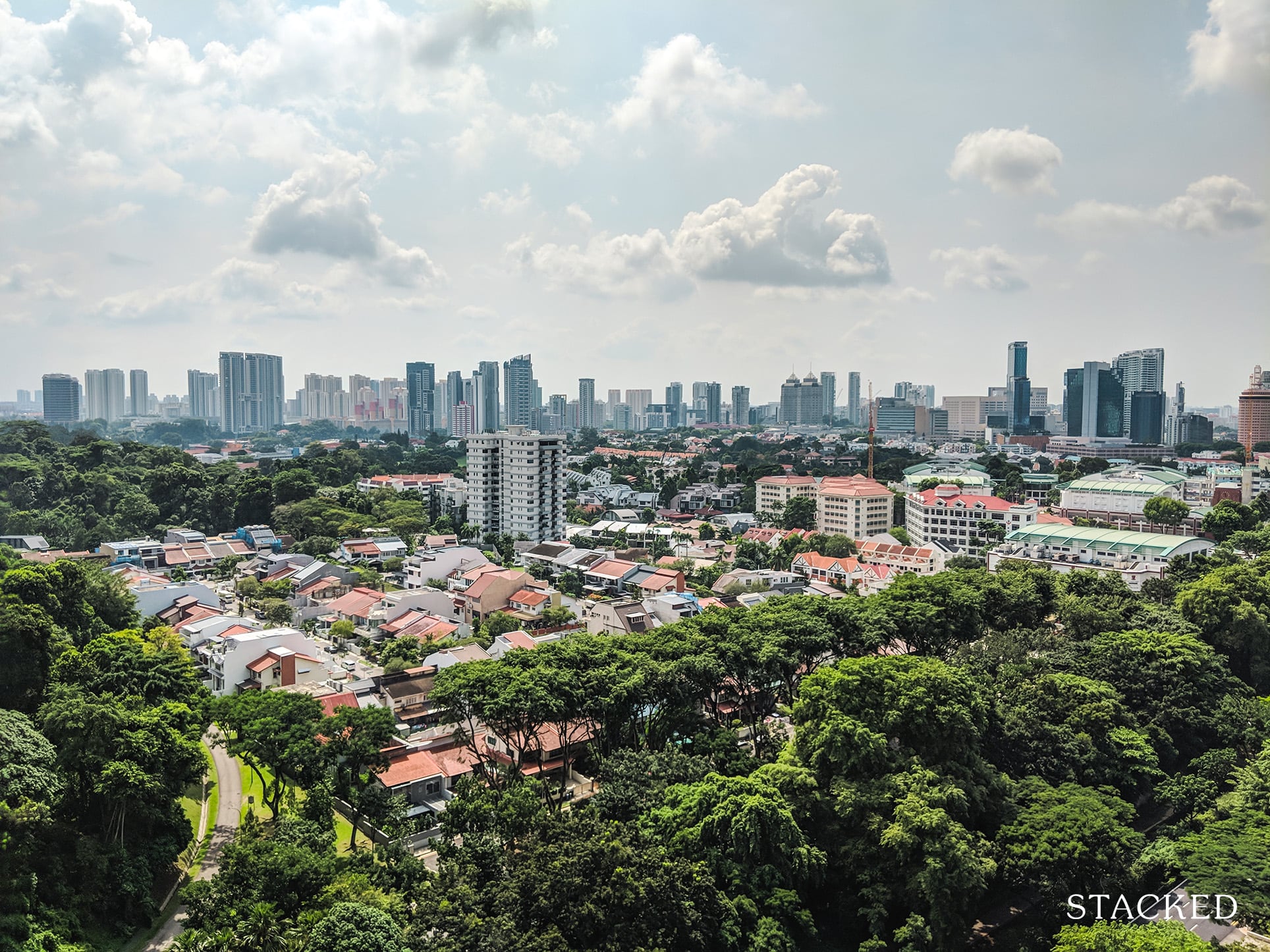 With all that said, there are certain downsides to living in a low-density residential area. One of which is the accessibility to amenities. Don't get me wrong, I don't think that it is all that bad here. It's just that my benchmark for how accessible amenities are would be in a 1 to 2-minute walk radius. So for the Cyan condo, Alocassia Apartments is about a 6-minute walk away. There is a Cold Storage that is big enough for most of your needs, but you shouldn't expect the widest range here. Probably the best thing here would be the drive-through McDonalds and the Subway, which is really convenient if you need to get some food.
The next best option would be Balmoral Plaza, but this would be an almost 10-minute walk. To be fair, there is a lot more to gain here from the longer walk. Just to name a few, Spizza, WaffleTown, and Smiths Authentic British Fish and Chips are some of the mainstays here. There is even space for another Subway! As a local, I do wish there was a hawker centre within walking distance. You could walk to Stevens to take the train to Newton as an option, which isn't all too bad.
All in all, the Cyan condo has a pretty good location. It's not perfect by any means, but for most of the clientele that is looking in these sorts of estates, I think that most of the major requirements will be fulfilled here.
Cyan Condo Review Development Site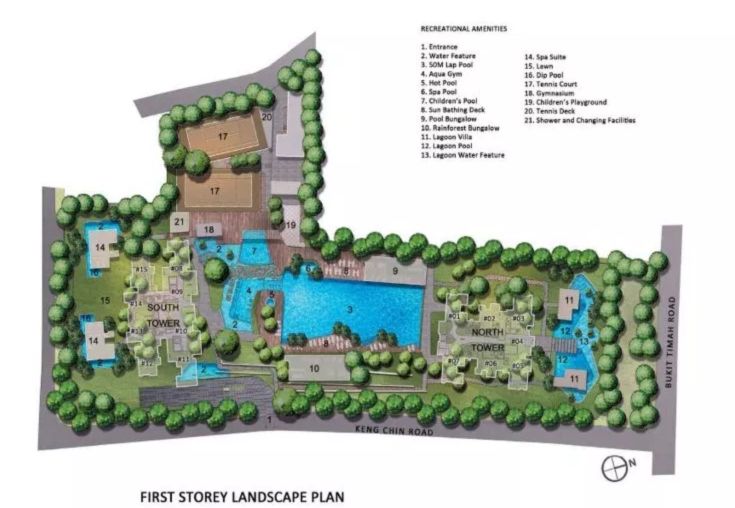 On the surface, the Cyan condo might seem like a very typical condominium layout, but when you look at it closely I find that the layout is actually very well thought out and makes perfect sense. It sits on a pretty long length of land, with a small area that juts out which the developers have cleverly used to build two tennis courts. For 278 units this is certainly more than generous. It's a smart move to put the tennis courts at the side, as you can isolate the noise away from the blocks.
One of the major selling points when the development was first launched was the fact that the majority of the land would be dedicated to landscaping and facilities. After seeing it for myself, I can safely say that it is absolutely true. To get this amount of common space in a city project is really awesome and quite a stark difference to the Belle Vue Residences which we reviewed recently.
More importantly though, is that both towers are set quite far apart, so even though for certain units you are facing your neighbour, it is far apart enough that it feels quite private. If you are after ultimate privacy, the units facing Bukit Timah Road will be your best bet, as the land in front of it is all low rise and will offer the best views of the city too. It is also a good move on the developer's part to build the facilities and landscaping so as to push the North Tower further back and allow for a good frontage from the main road. This does not take away all the road noise but it certainly helps a bit.
Now, the downside of this development would be that it only has one entrance to get in and out. Keng Chin Road is not the biggest of roads, and it serves all the developments in the area, like Bellerive, Chateau Le Fame, and Chiverton, just to name a few. Thankfully, as the Cyan condo is located closest to the main road, you do get the best of it. But it definitely can get jammed during the peak hours and you could wait quite long to turn out to the main Bukit Timah Road when traffic is heavy.
The units here cover a wide range:
Unit mix

| Unit Type | Size (sqft) |
| --- | --- |
| 1-bedroom | 679 – 710 sqft |
| 2-bedroom | 1,016 – 1,165 sqft |
| 3-bedroom | 1,480 – 2,159 sqft |
| 4-bedroom | 1,722 – 2,003 sqft |
| Penthouse | 2,453 – 2,691 sqft |
The unit sizes are commendable at the Cyan condo, with each category being above the average of most new launches nowadays.
Insider Tour
3-tiered Clubhouse
50m Lap Pool
Dining Pavilion
Gym
Jacuzzi
Lagoon Villas
Pool Bungalow
Spa Pool
Tennis Courts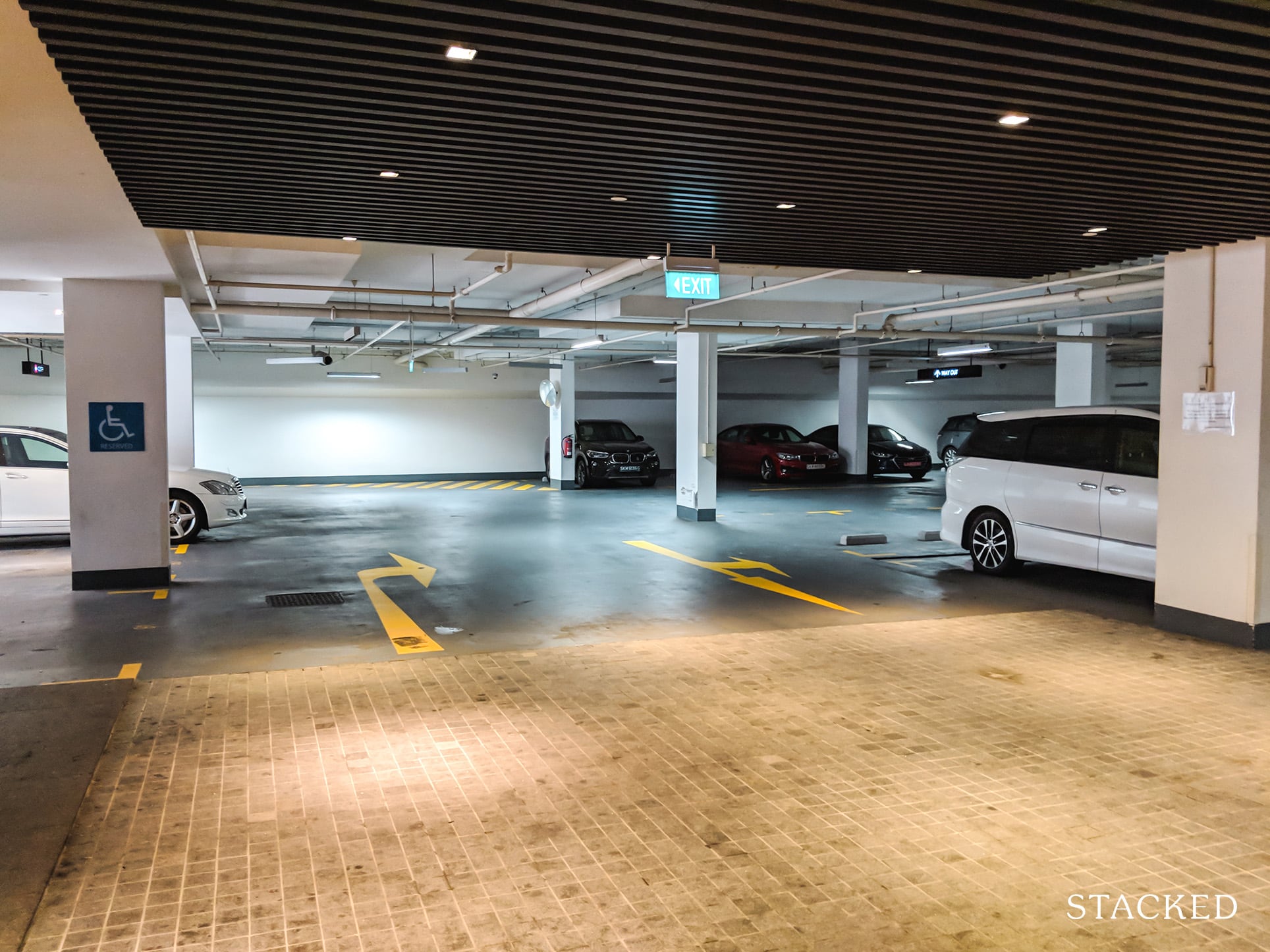 The carpark at the Cyan condo is up to the standard of a high end condominium.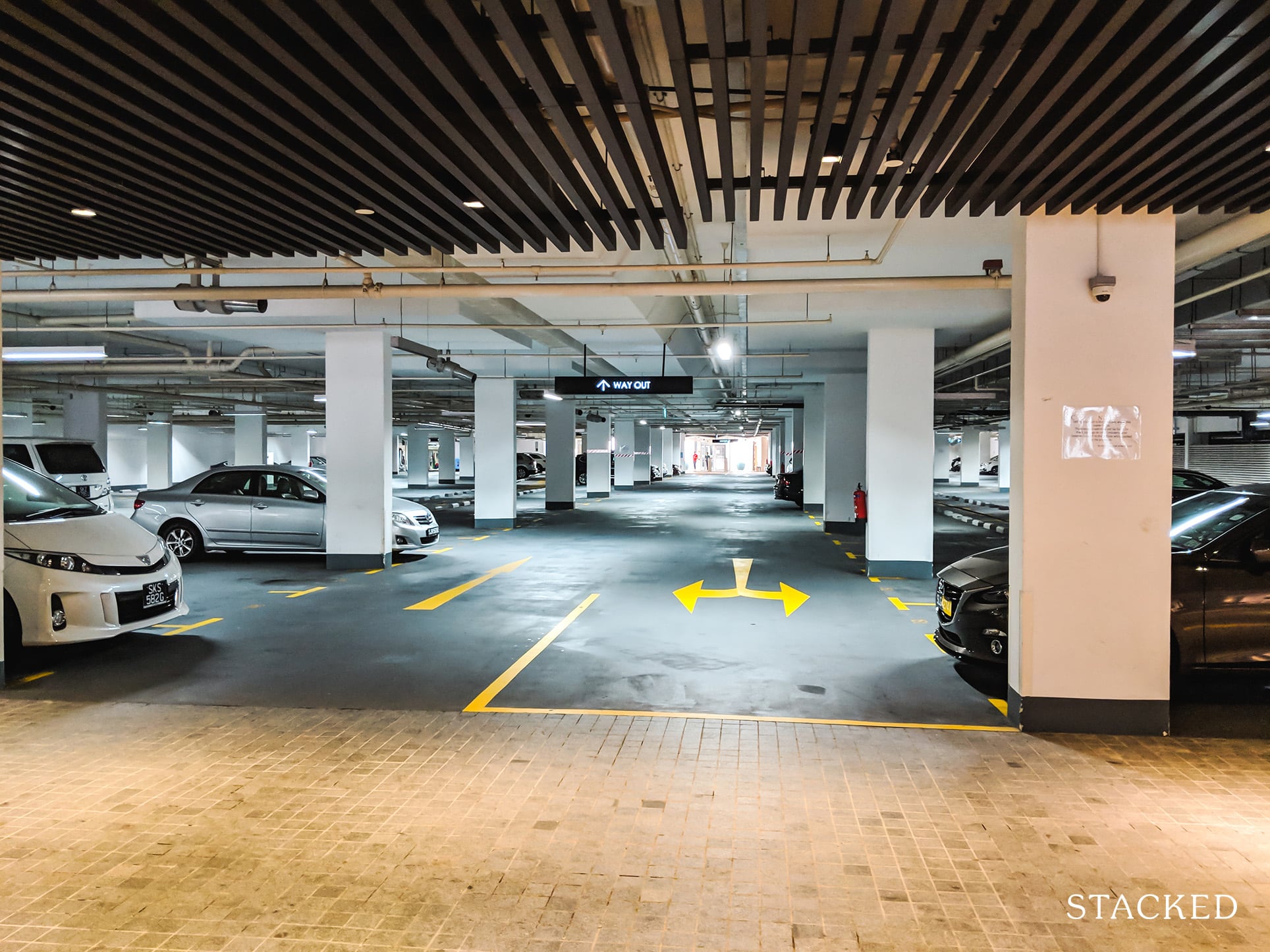 It's certainly bright enough and as you can see there is ample carpark lots if you do drive.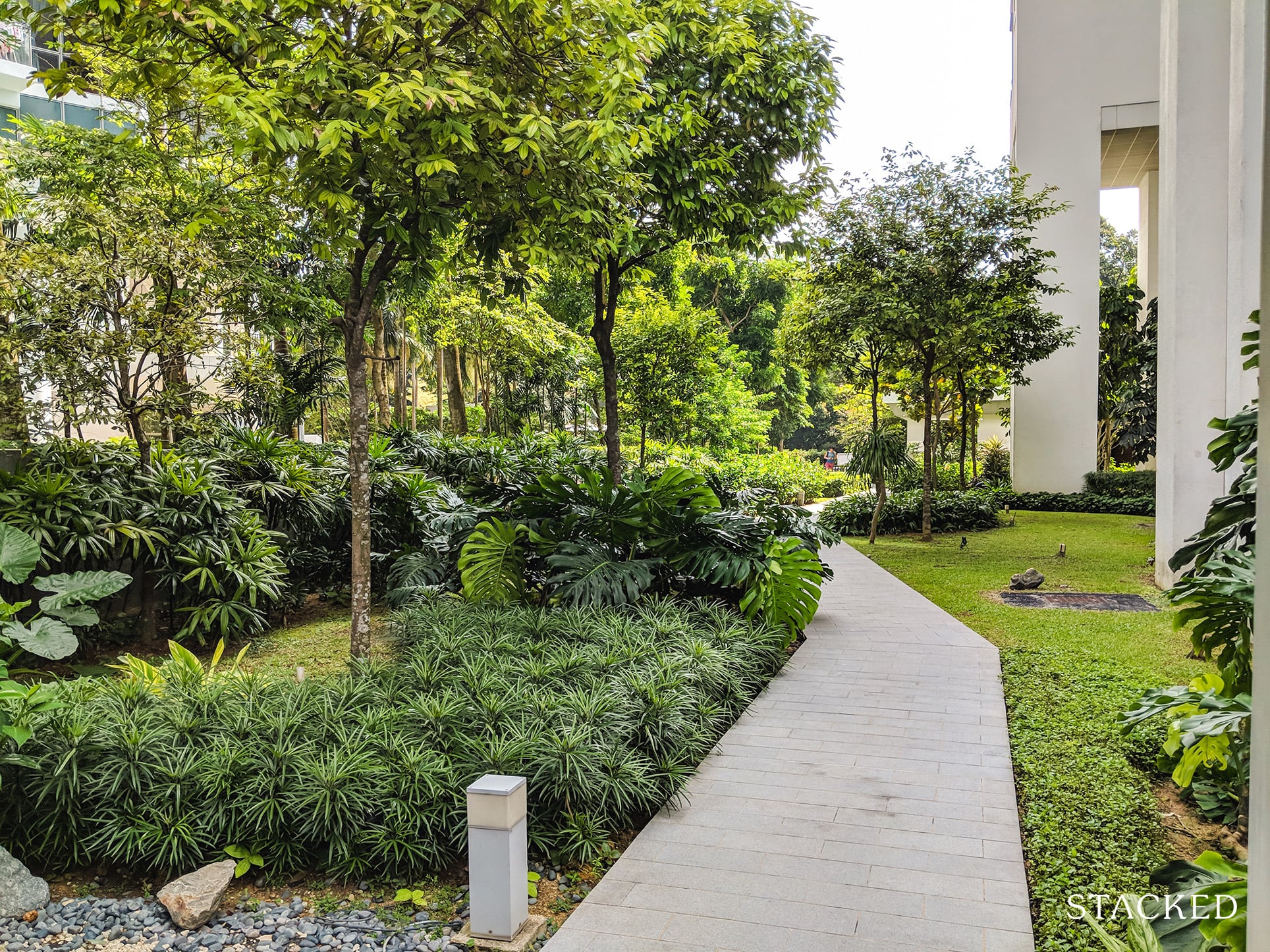 Moving up to the first level, the land size is spacious enough for you to have a walk at night, or just to walk your dog.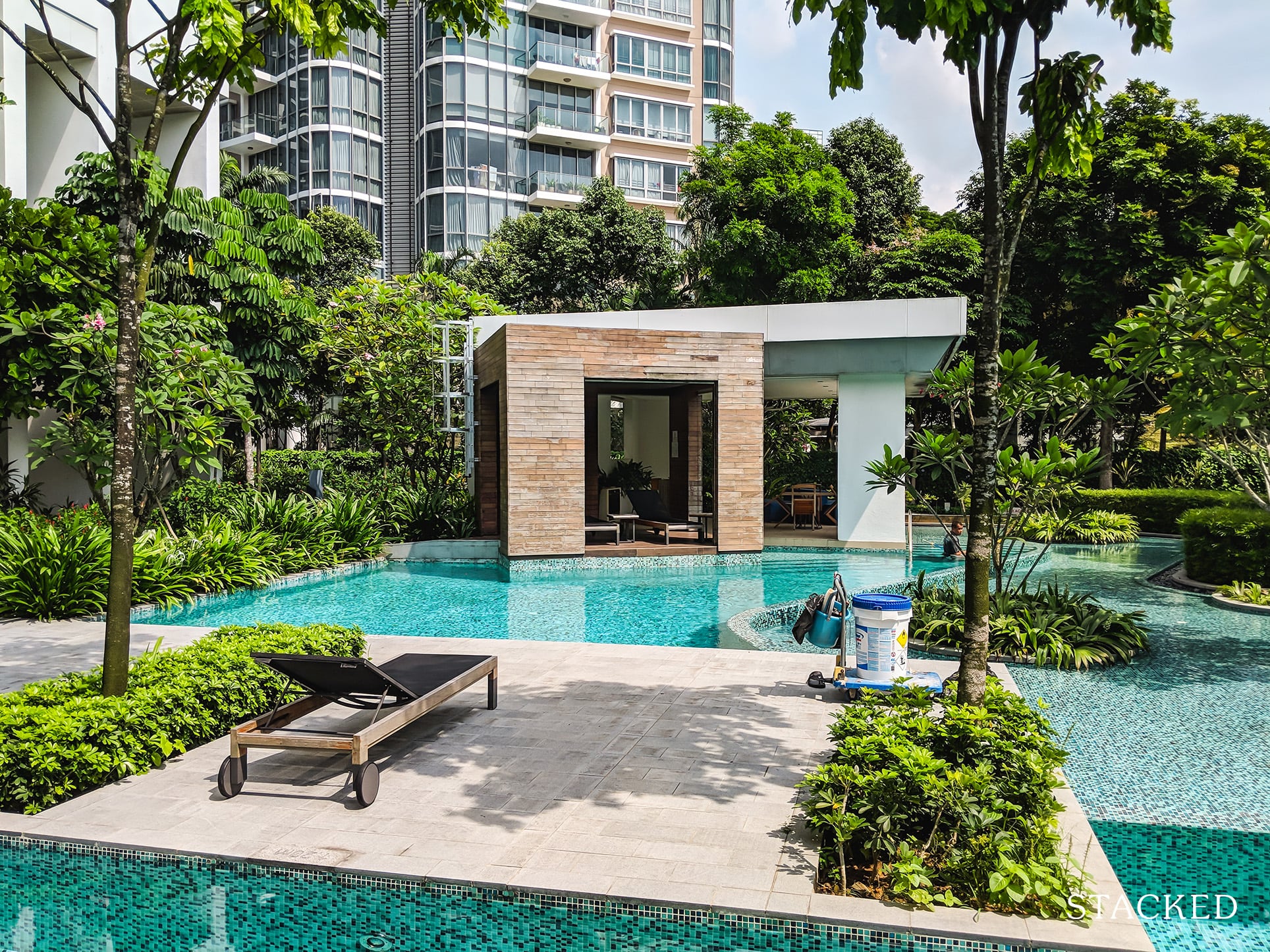 This is the frontage between the first block and Bukit Timah Road. It is beautifully landscaped, and it looks like a lackadaisical place to hangout and while the day by. On the day I was there, they had their maintenance crew cleaning the pool, which is always a good sign.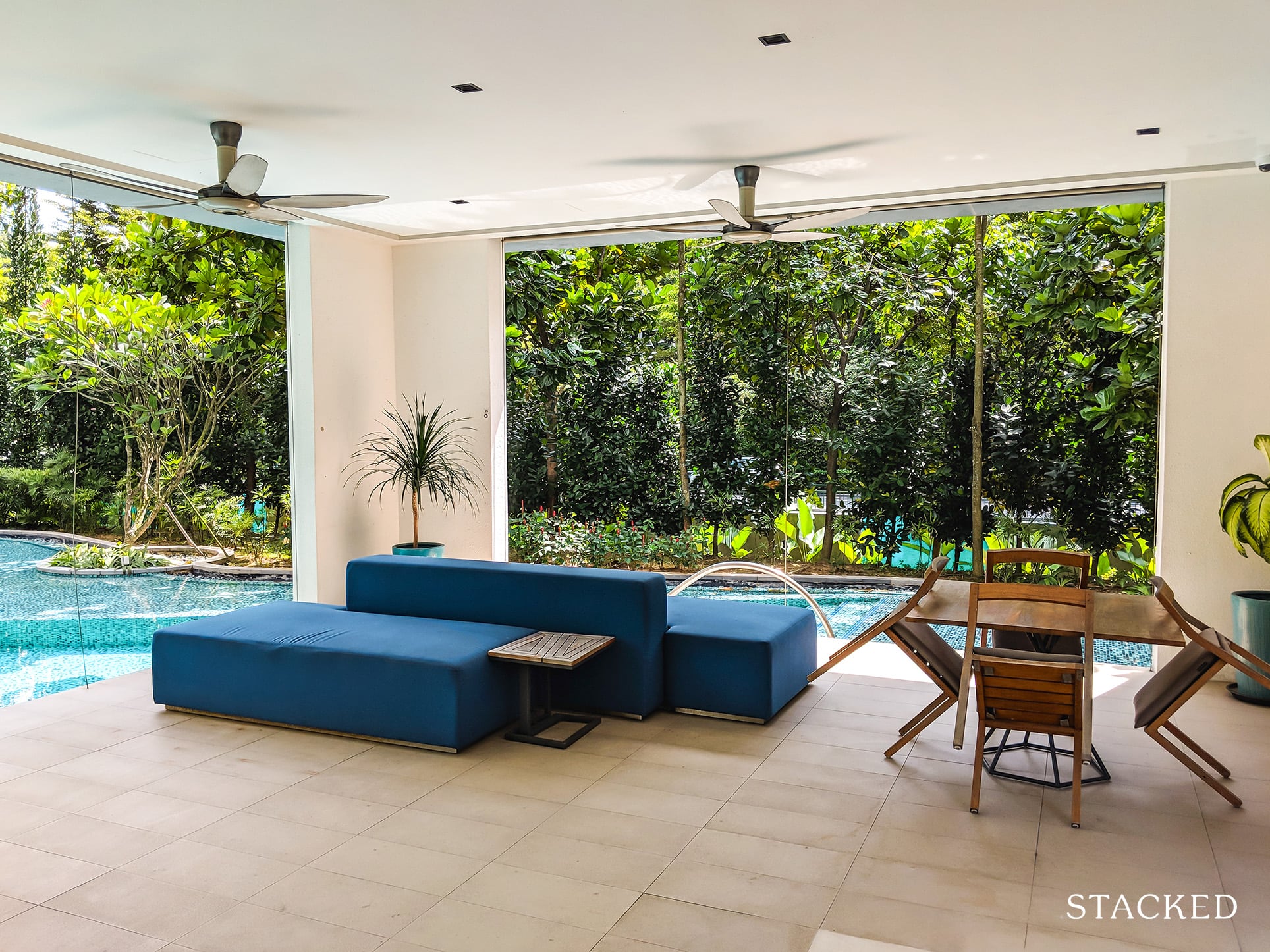 There are two lagoon villas on each side of the swimming pool, with couches and seating areas. If you ask me, these areas look severely under-utilised. Which is understandable because the Cyan condo has A LOT of seating areas and places to entertain your guests.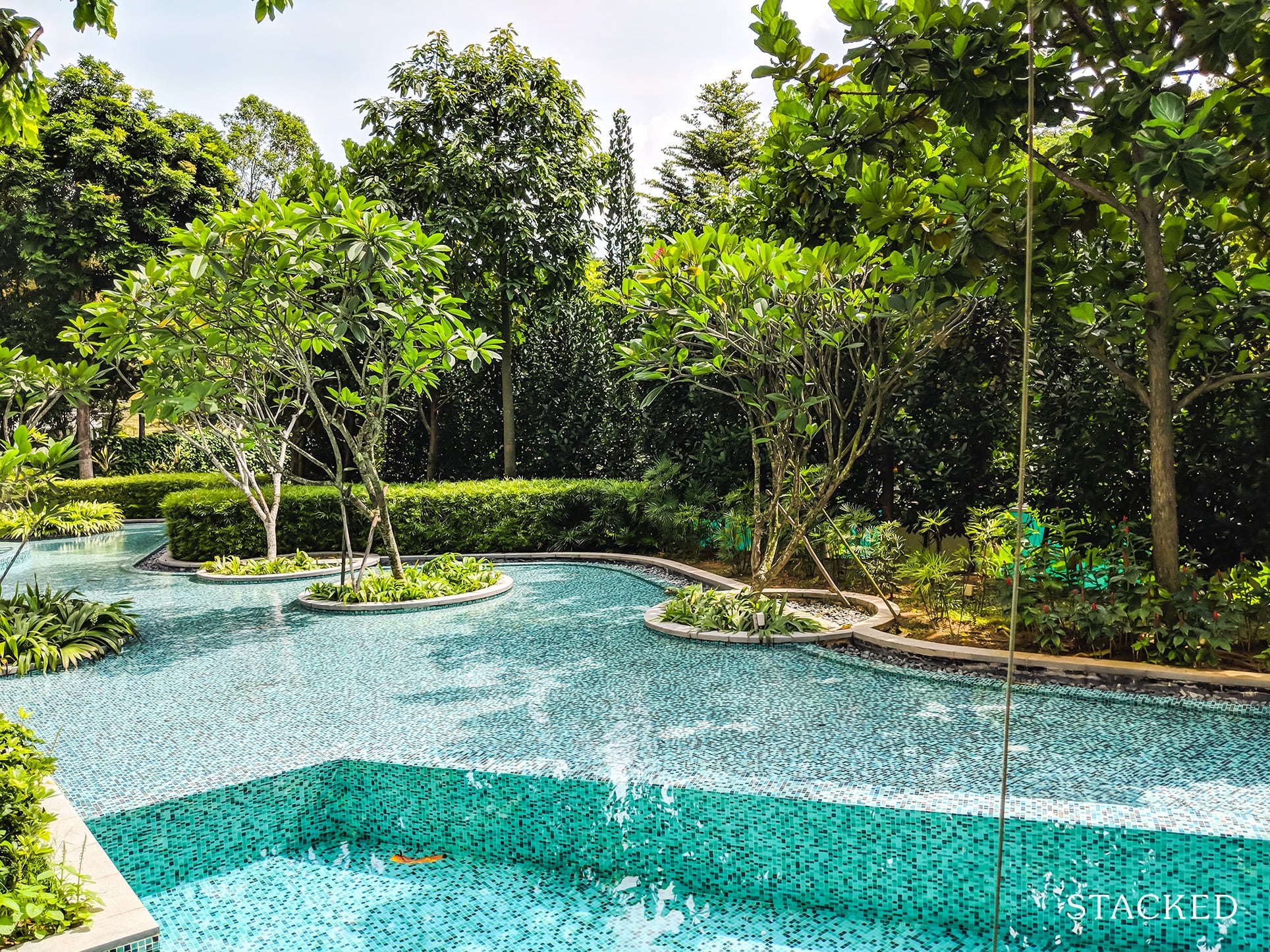 I really like this area, because other than the traffic noise reminding you that you are still living in the city, it just gives off a very relaxed ambience. To be fair, this was a weekday visit, but with so much common space and just 278 units, I cannot imagine the place feeling overcrowded at any time.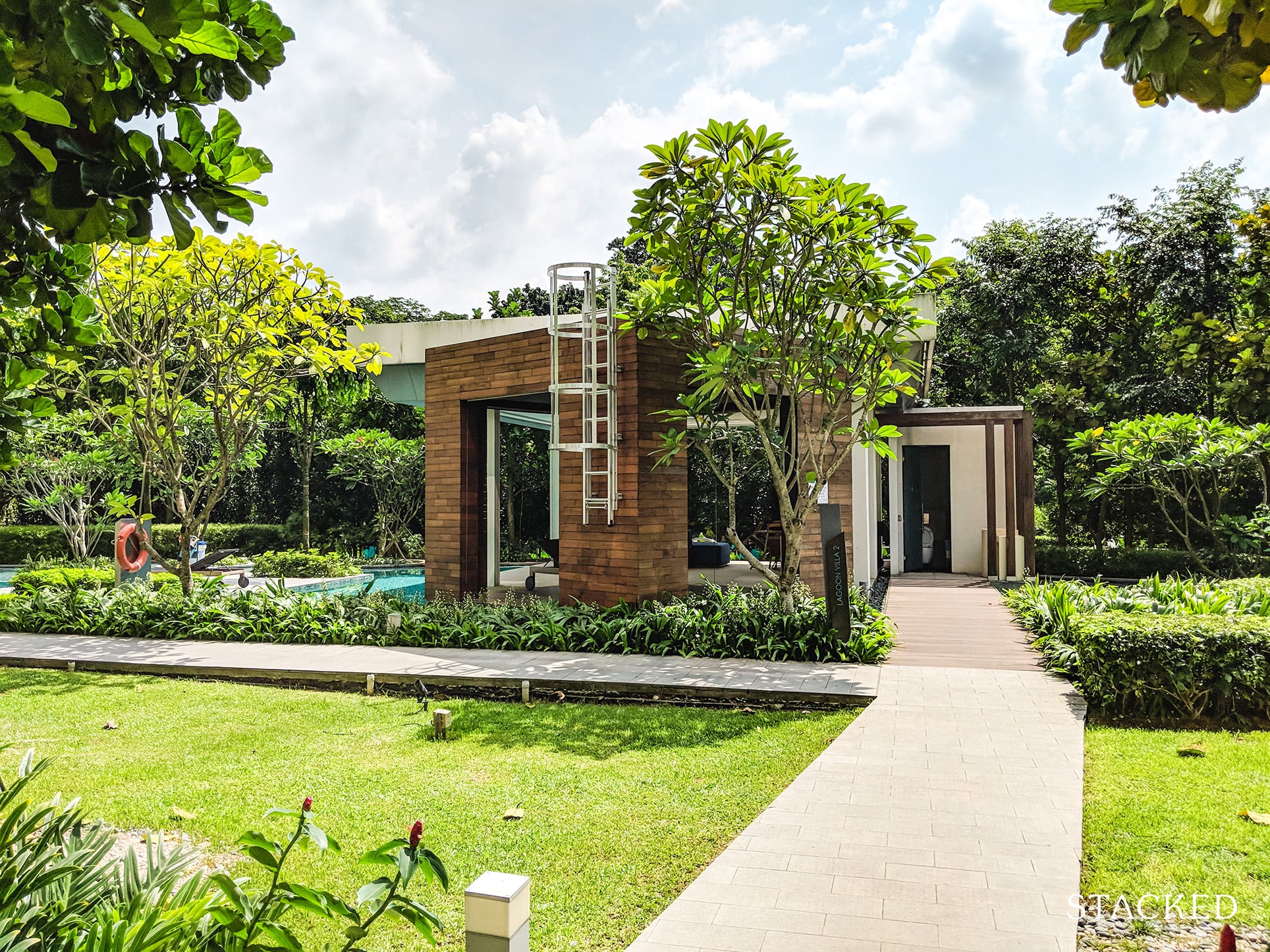 Leaving the lagoon villas behind, it was time to explore the crown jewel of the Cyan condo, the 50m lap pool.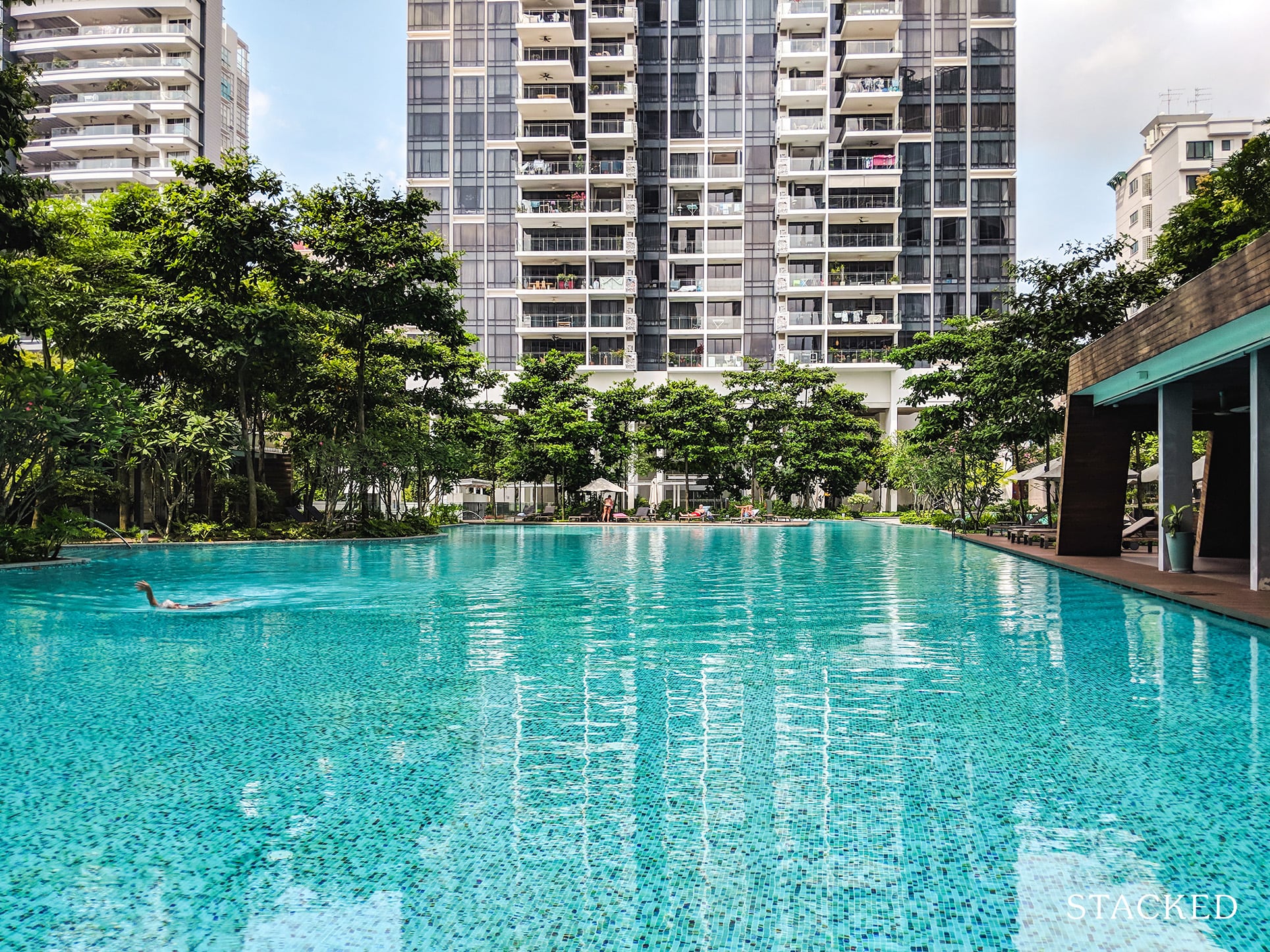 I have to say, I was really impressed with the pool. This is what sets it apart from the other condominiums in the area for sure.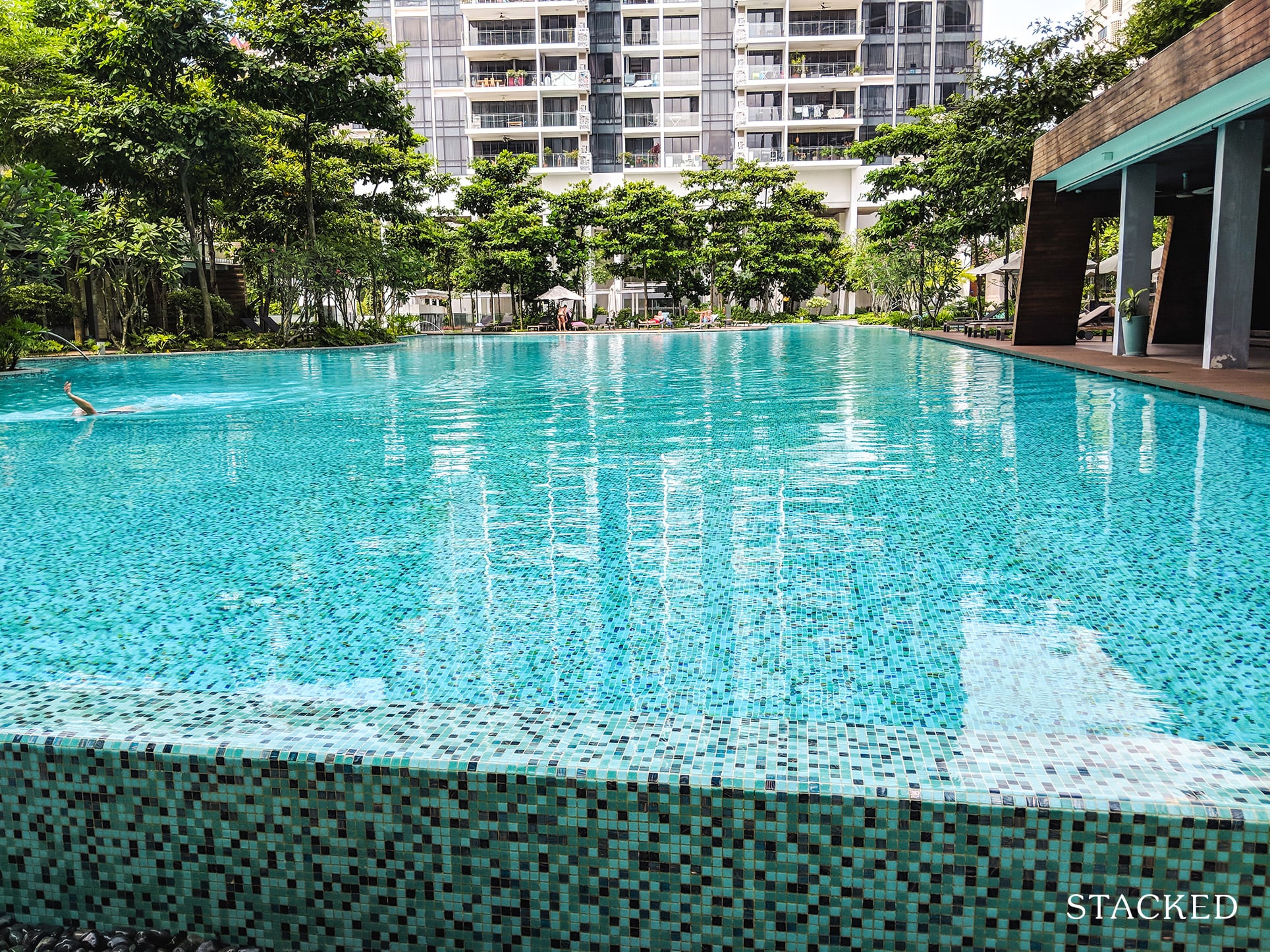 In case you were under any sort of impression of it, the swimming pool here is indeed an infinity pool.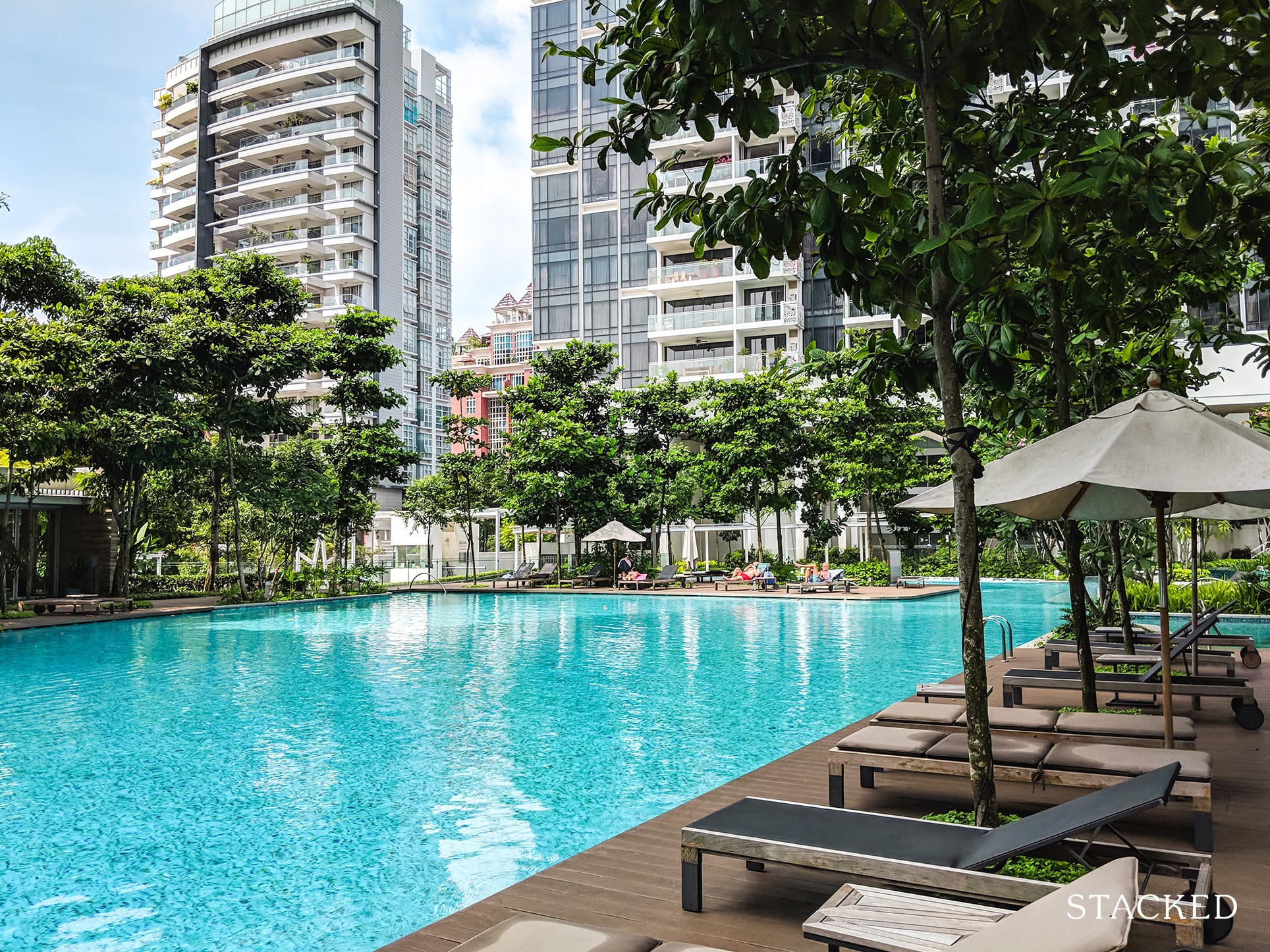 It's a superb size, and it seems even bigger than the 50m that was stated. I think another reason why it's brilliant is that there are only two blocks in the development and they are totally separated by this pool. This means you get a lot more privacy and a sense of openness – I'm a huge fan of this layout, by the way. As a resident, do you really want to feel like you're being watched from all angles when you are swimming? Yeah, me neither. Oh, and as you'd expect, the swimming pool is surrounded by cushioned deck chairs.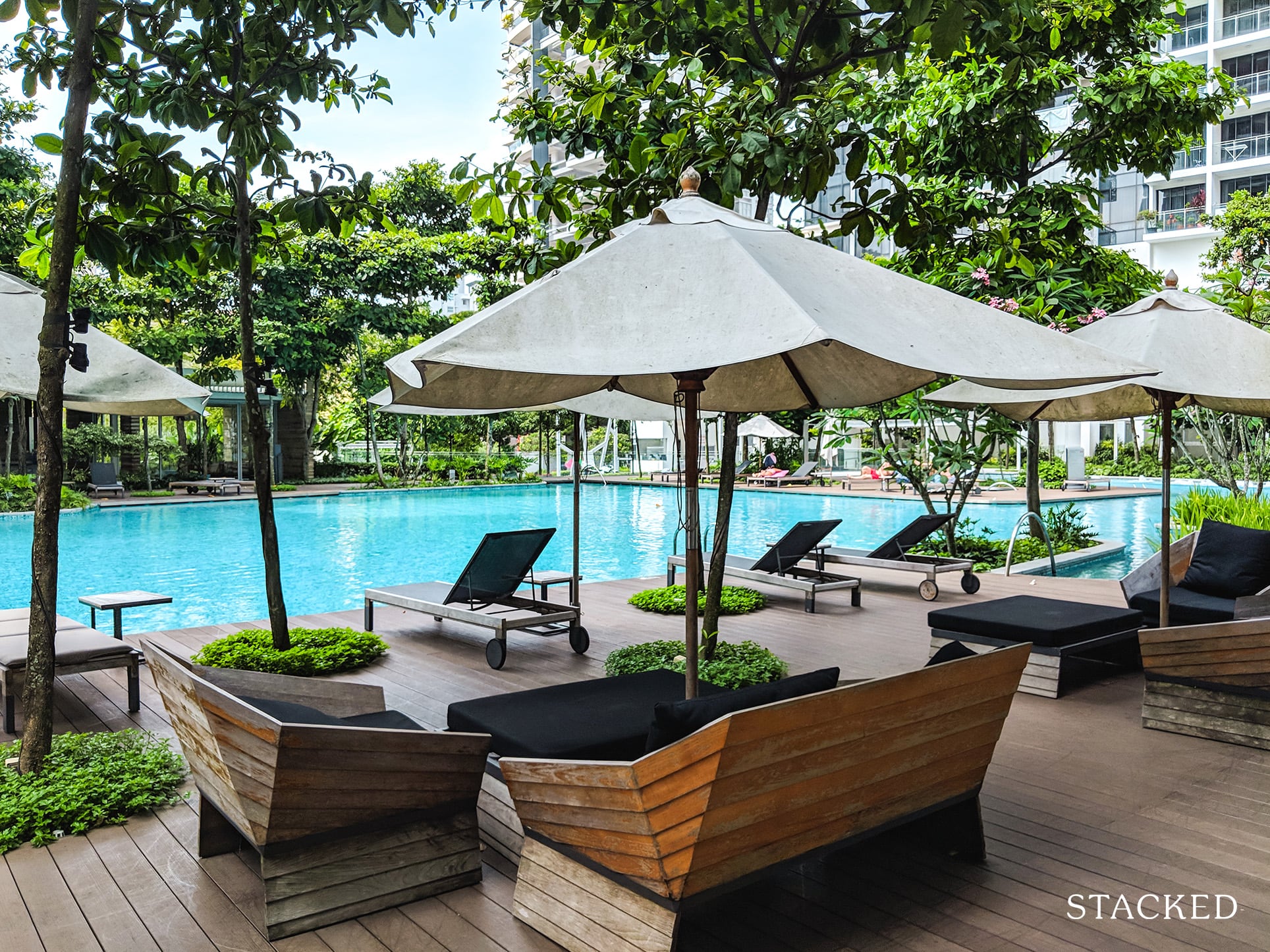 The style is almost reminiscent of a beach resort, and if there was some sort of pool service and beach towels, that would be awesome (at the expense of your monthly maintenance).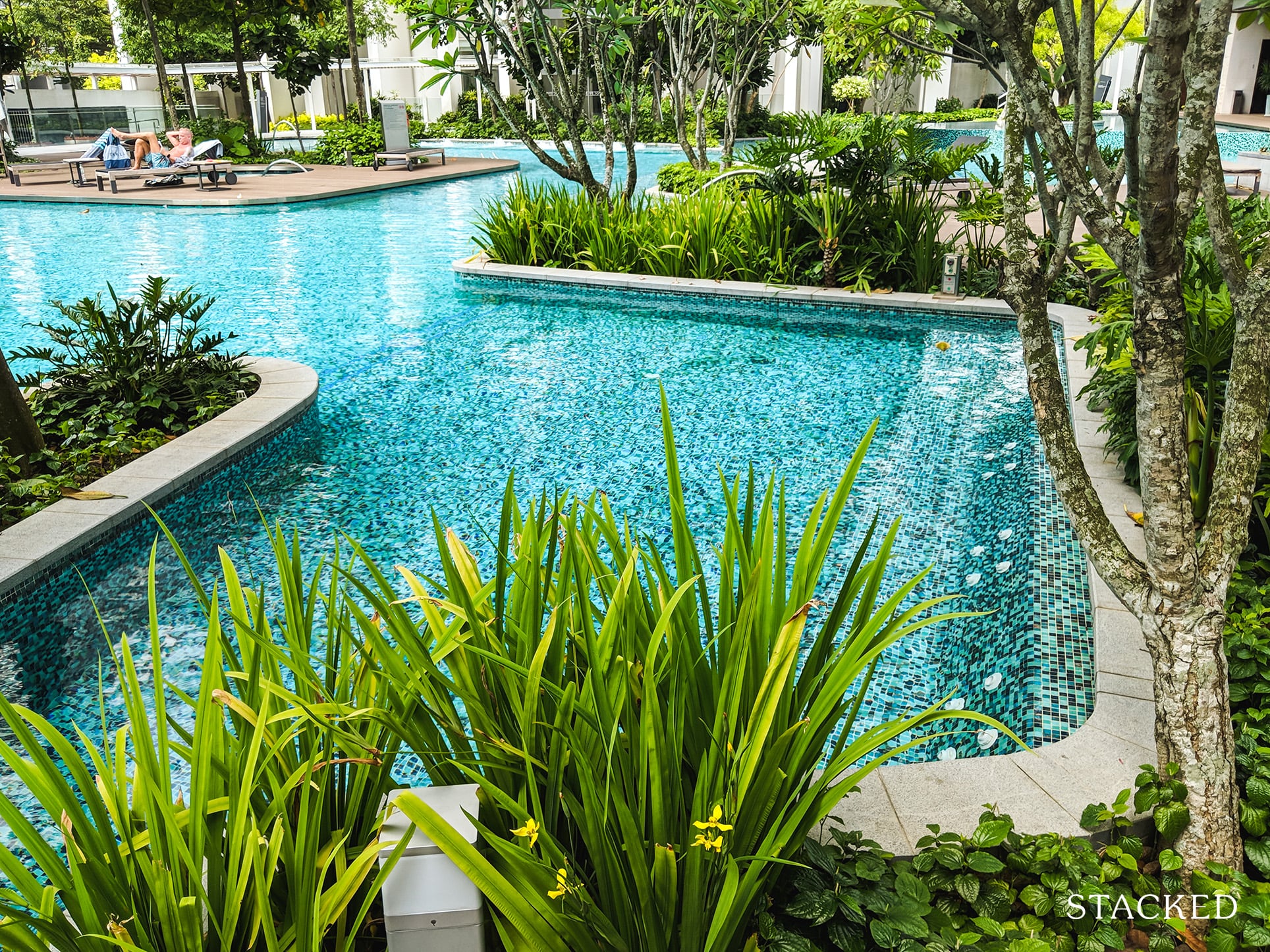 With a swimming pool this big, you do get your own little nook to hideaway, which also doubles up as a jacuzzi.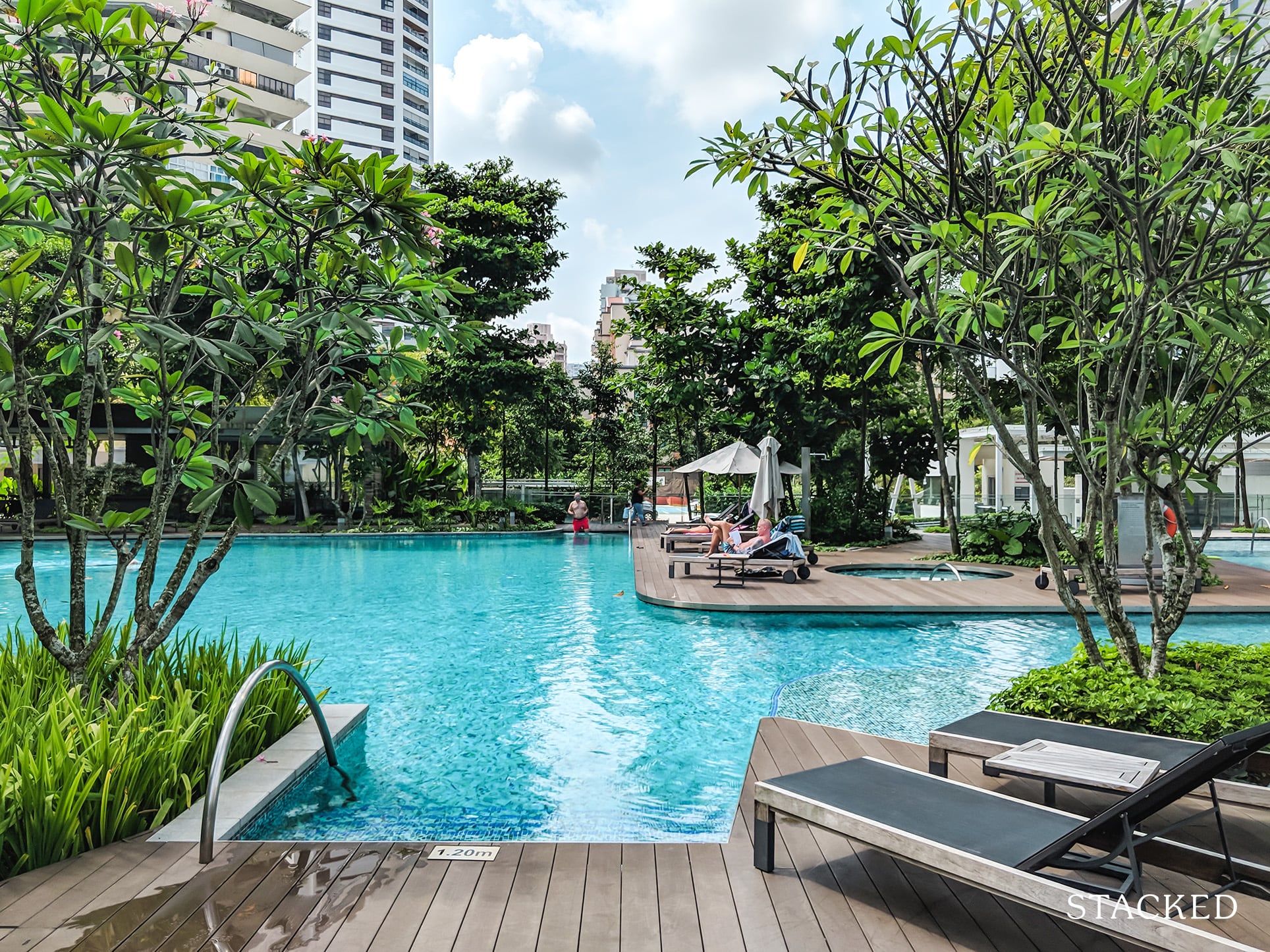 There is also a jacuzzi spot right in the middle of the deck.
Over on the side, there is also provision for a kids swimming pool.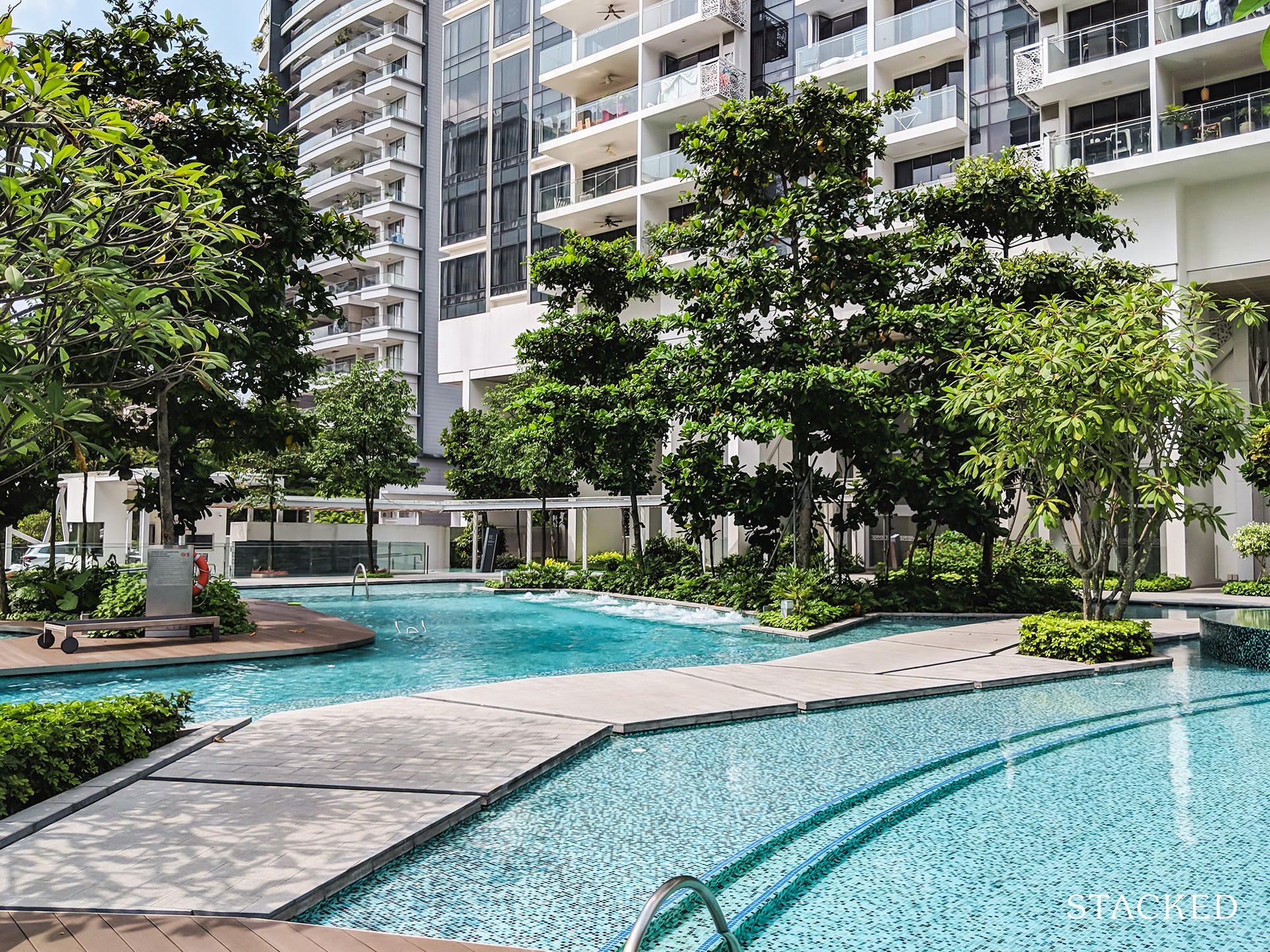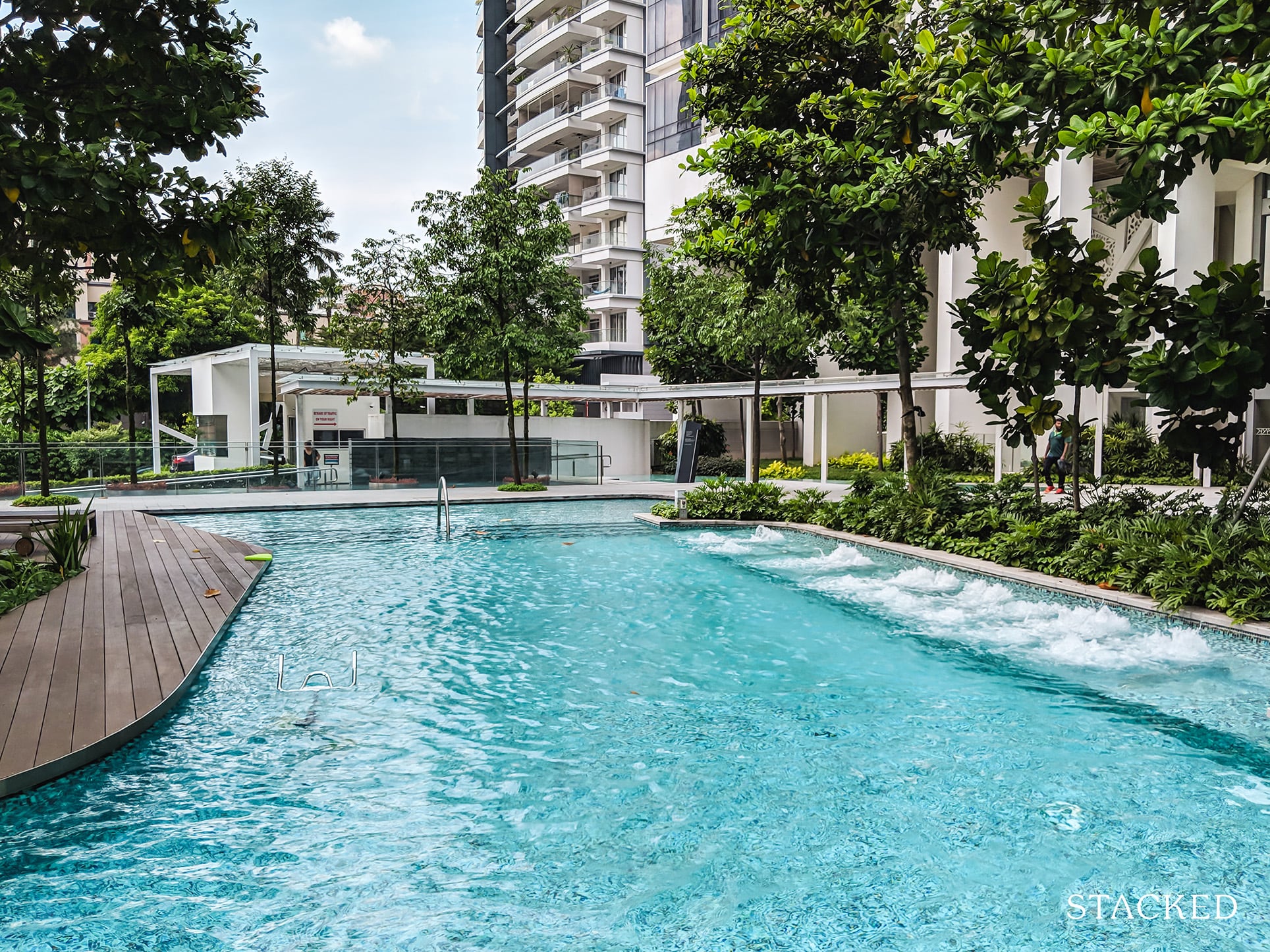 Well, what do you know, there is even space for an aqua gym at the back.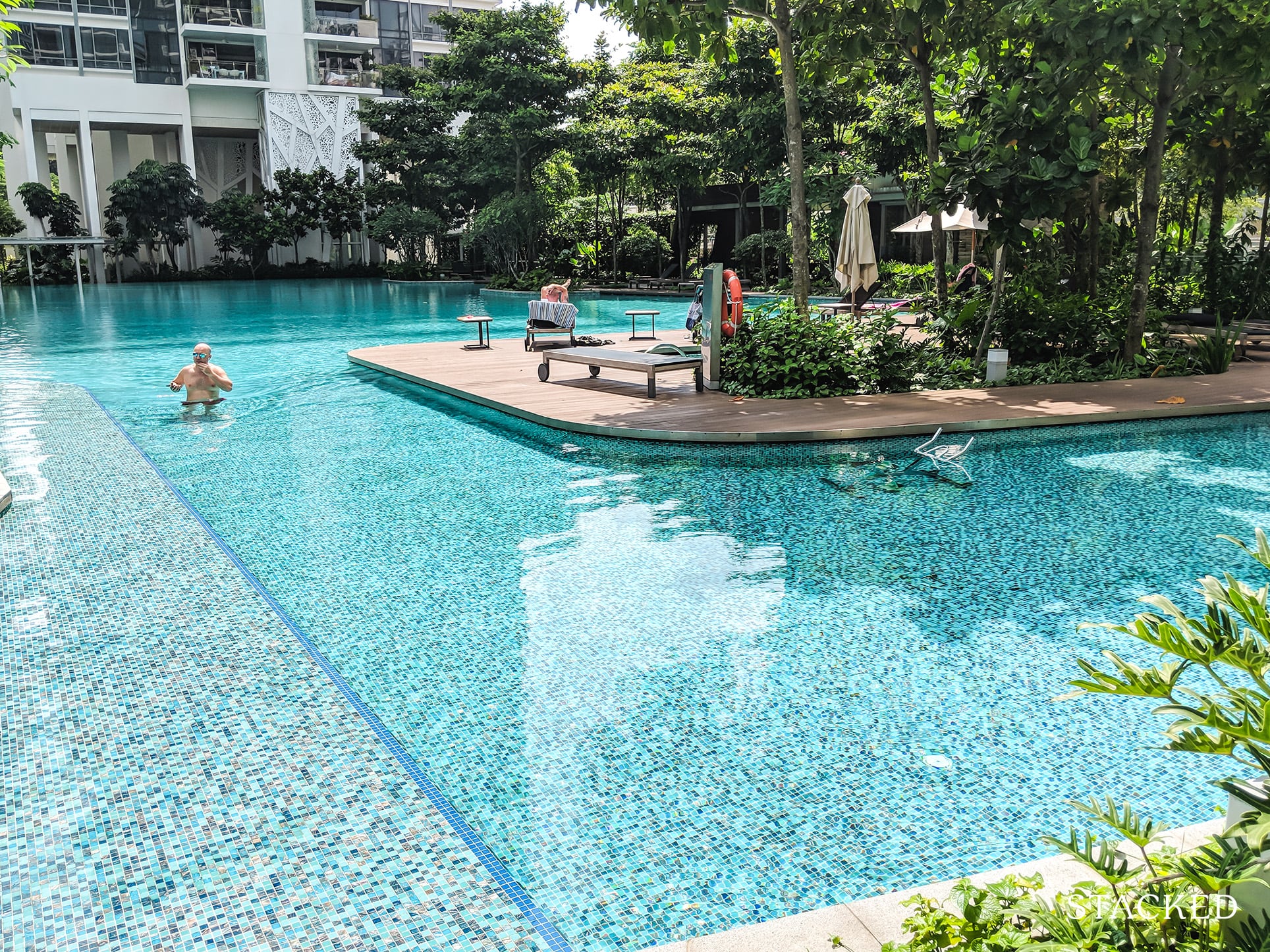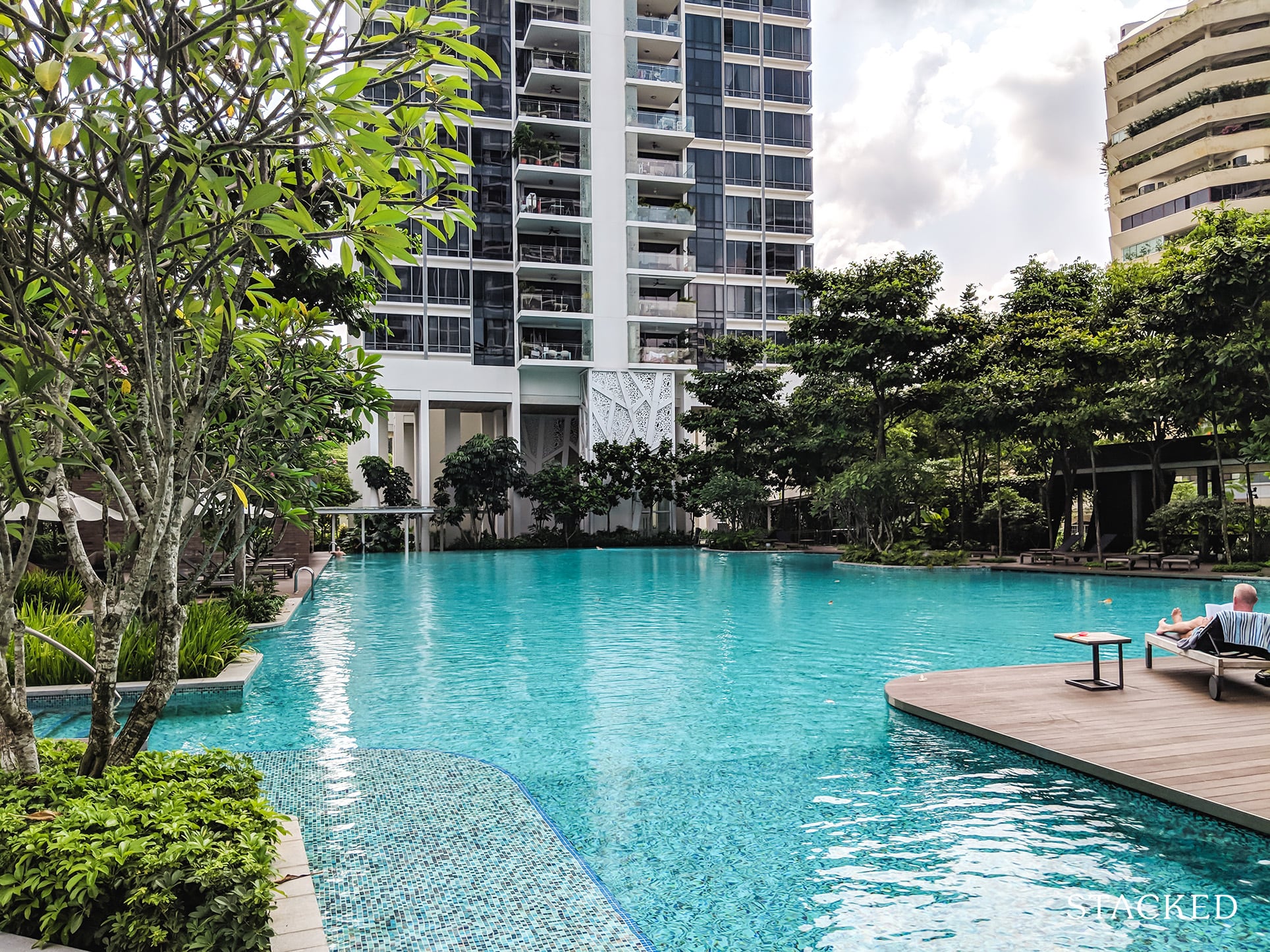 Just to show you the view of the pool from the other side.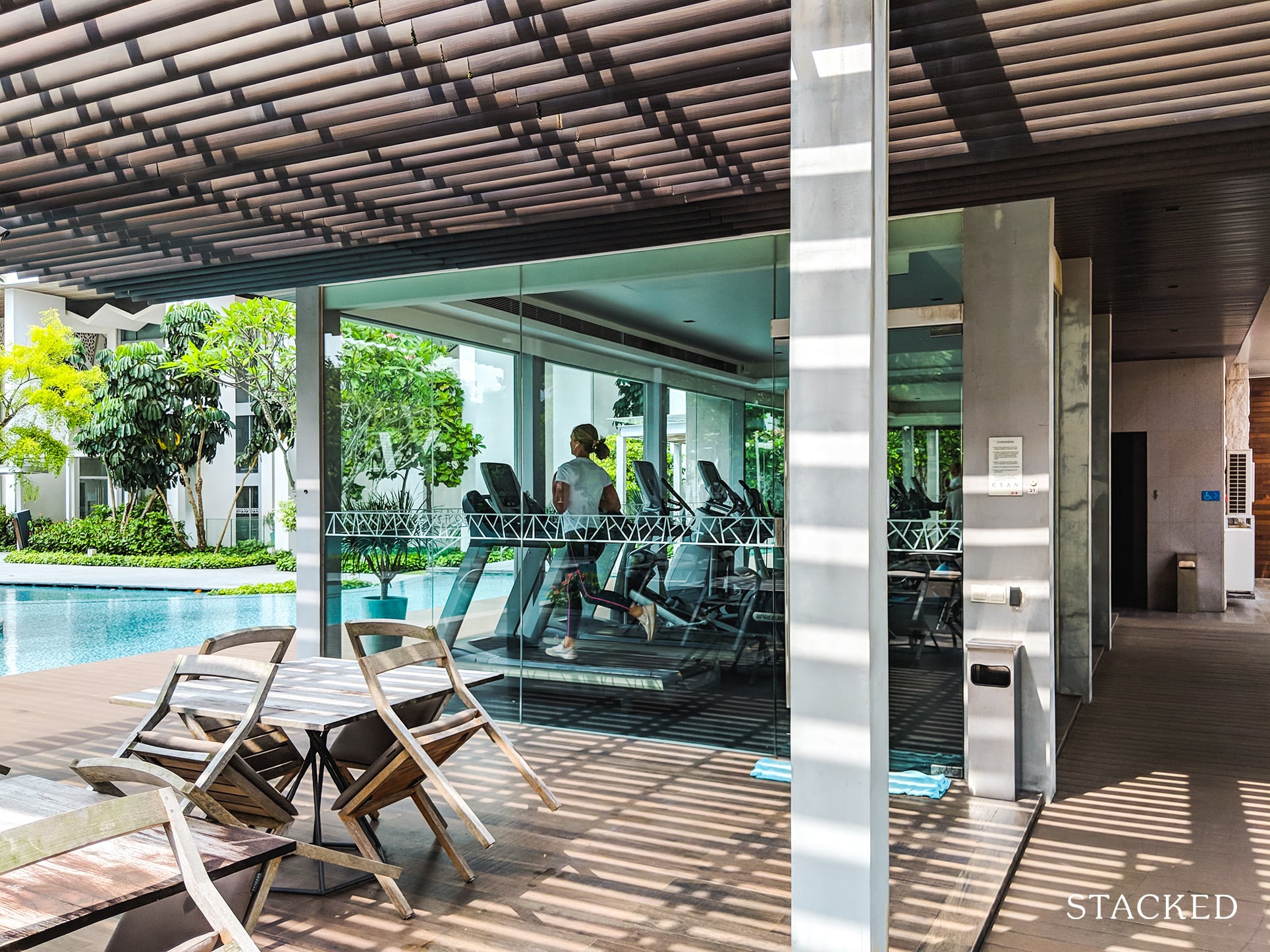 The gym is an average size for a condo of this size. It does have the benefit of a nice view though.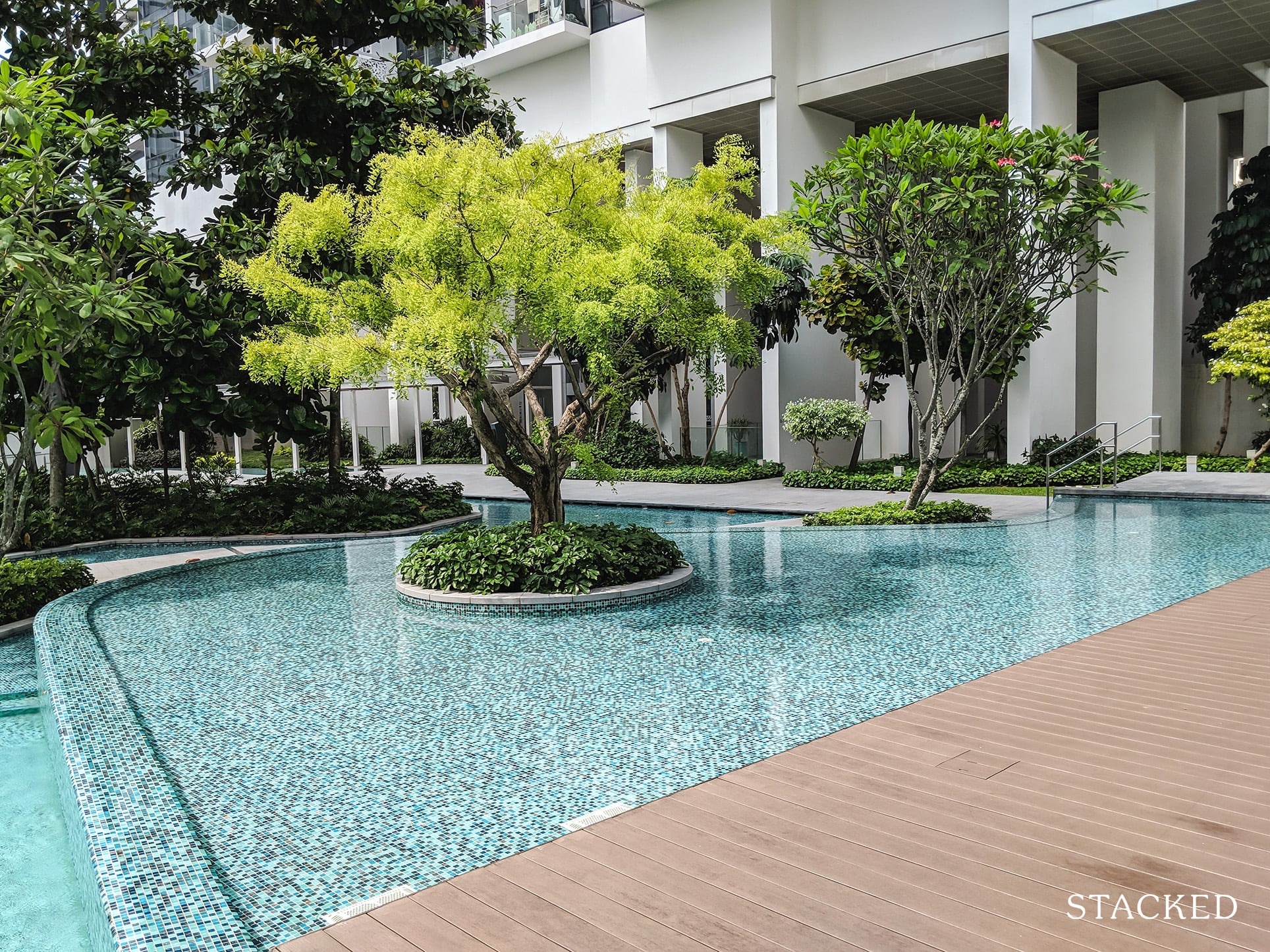 Which is basically this.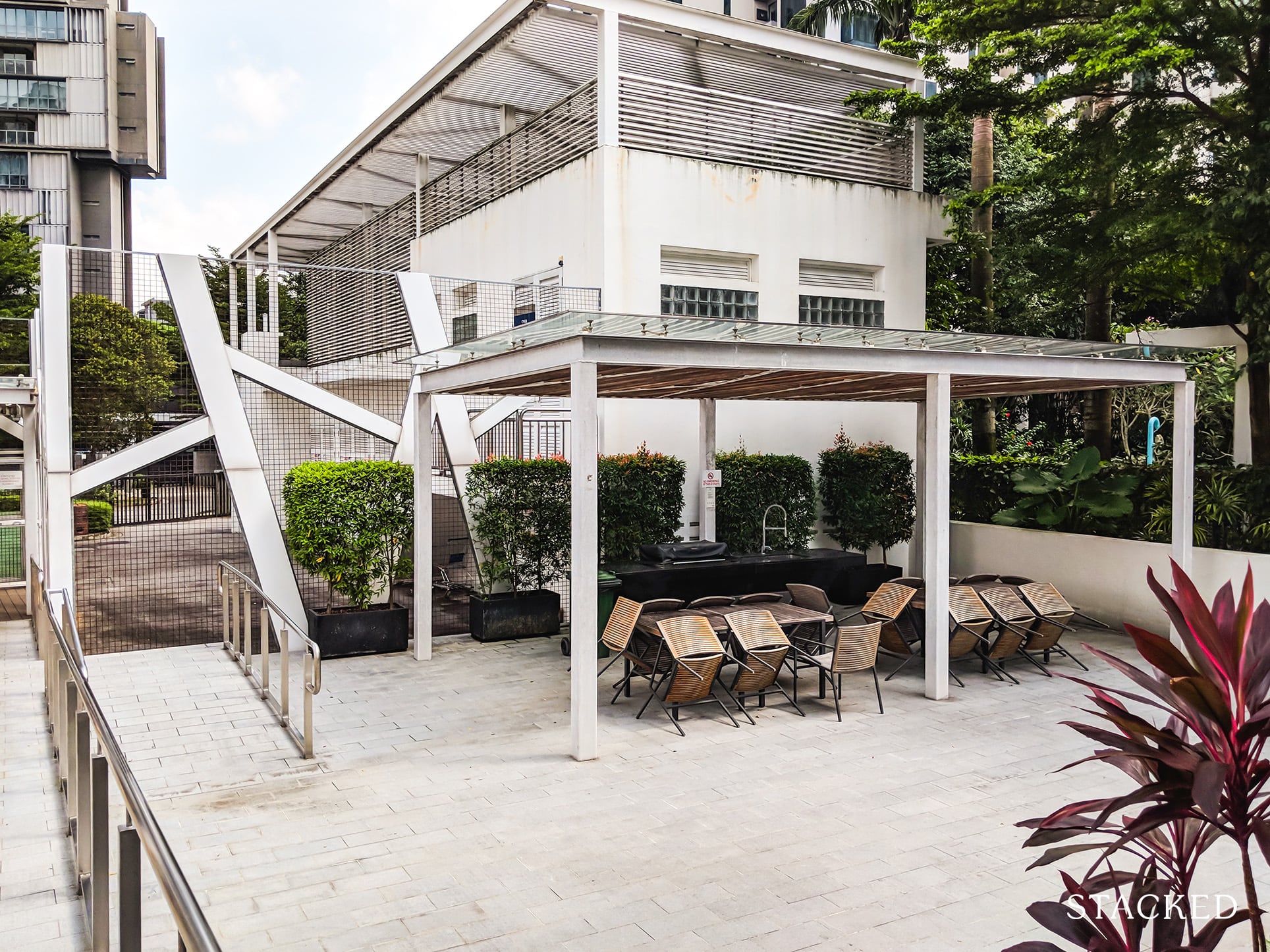 Right after the gym, you have a barbeque area with lots of seating options and is thankfully sheltered as well. It was here that I noticed that some of the areas were not as well kept as the rest. The floor was discolouring and it just looks old.
This was taken to showcase both the tennis courts and also to highlight how some of the areas are quite poorly maintained. For a condominium that was built in 2014, this is not really acceptable.
Read this next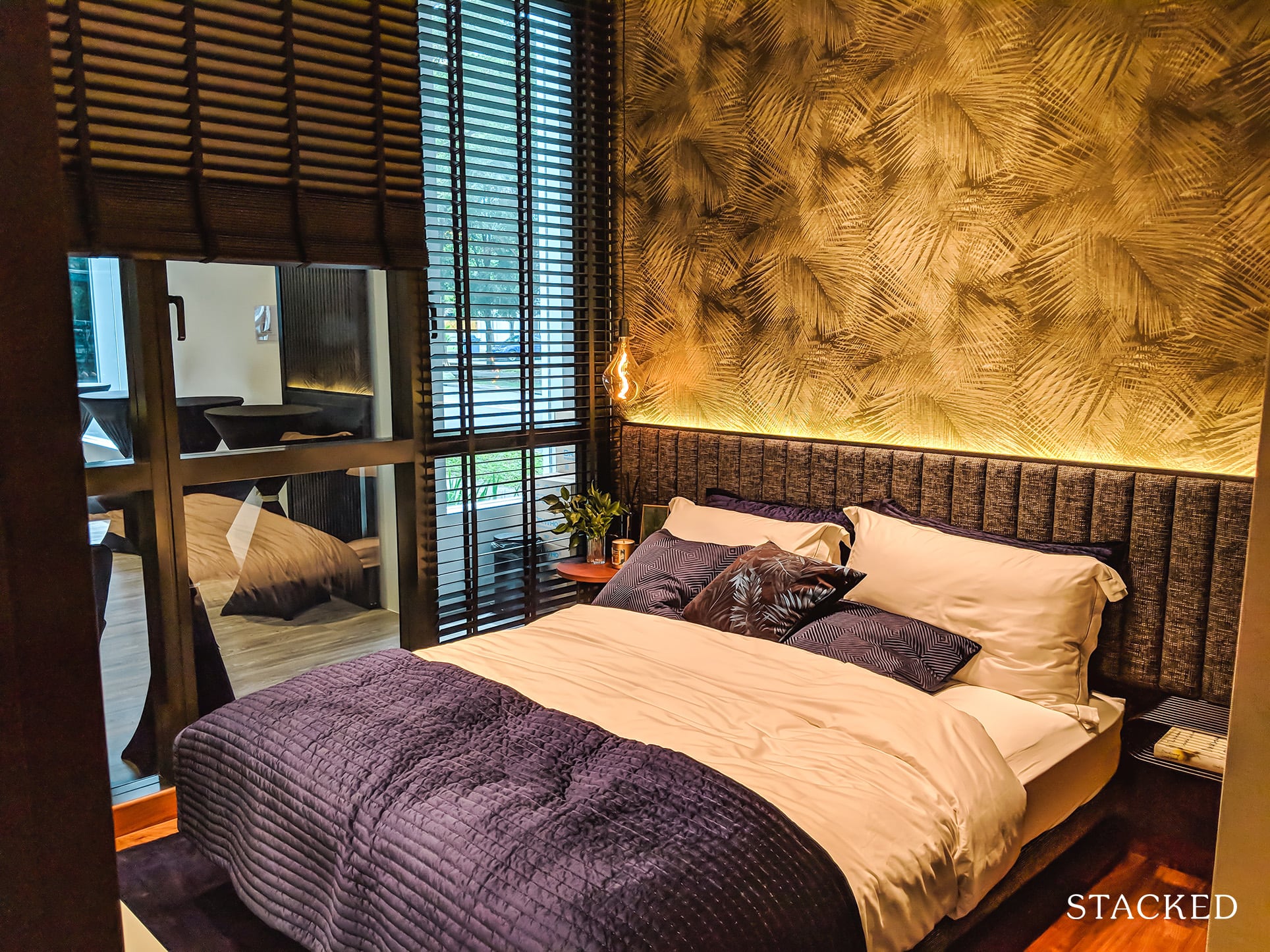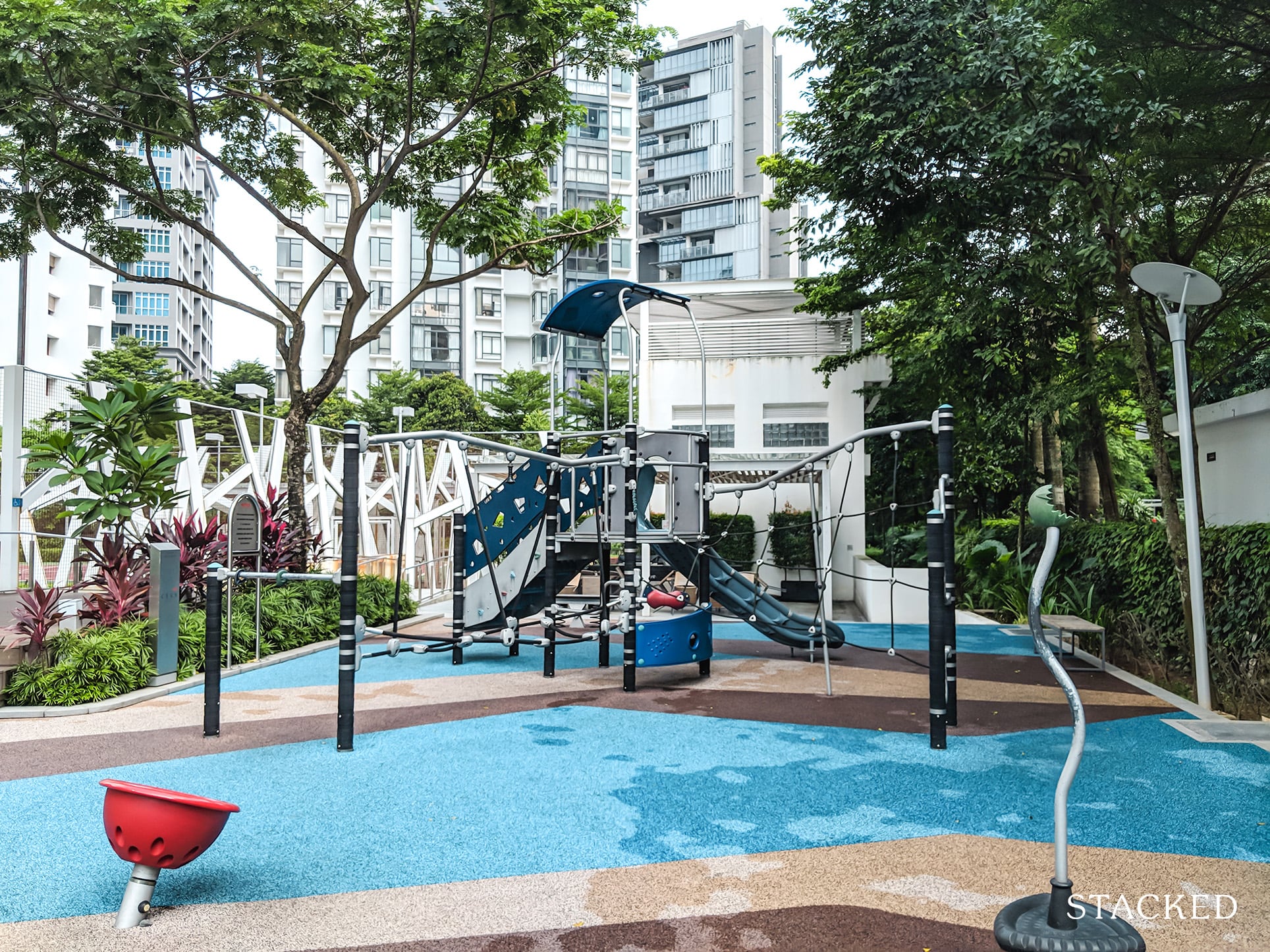 After seeing the barbeque pits and tennis court, I was half expecting the playground to be in a less than appealing condition. But to my surprise, it was actually quite well kept.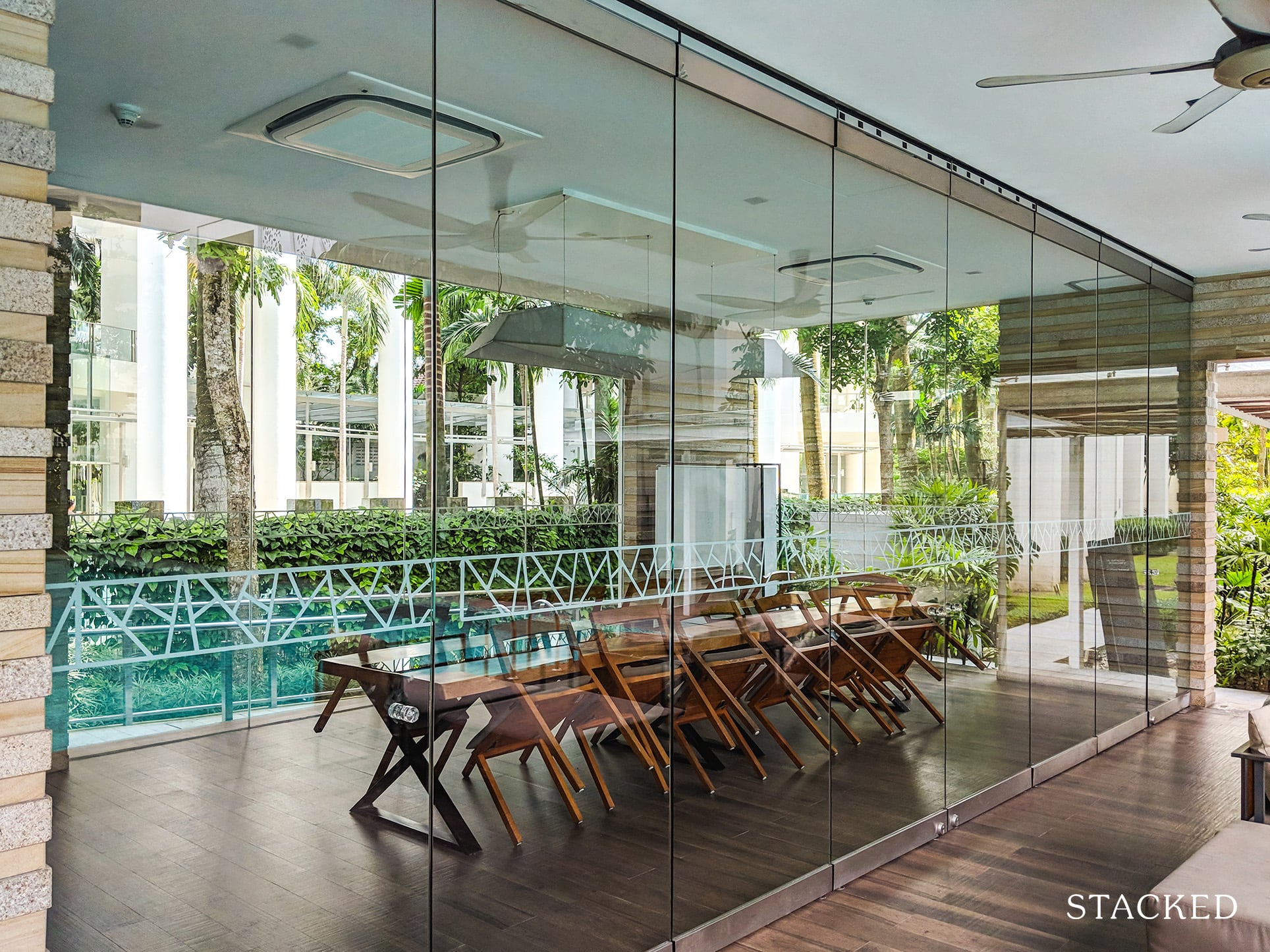 Running along one side of the swimming pool, you have a nice function room that is fully air-conditioned or the sliding doors can be opened up too.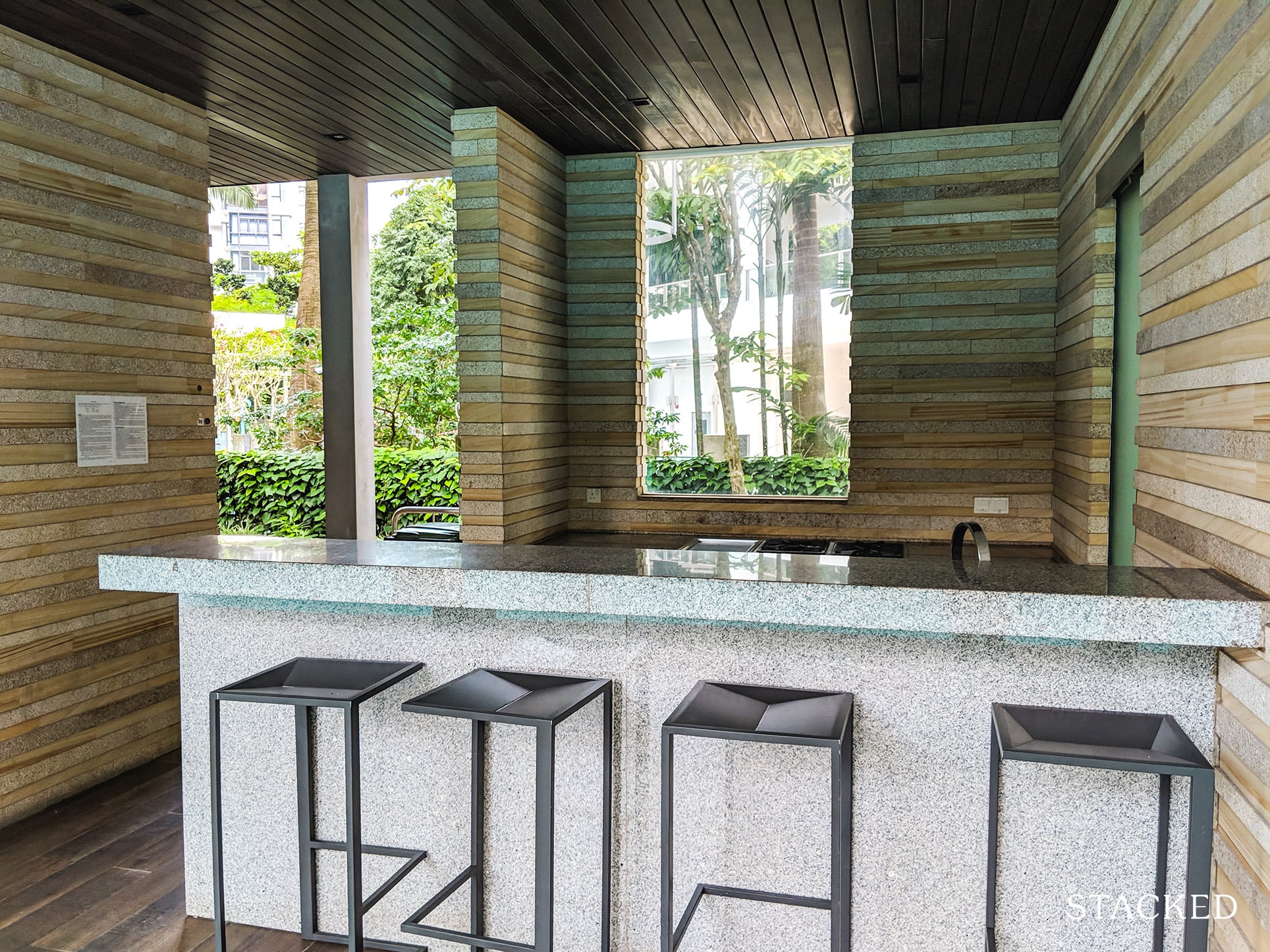 Next to it is an outdoor bar counter and kitchen area.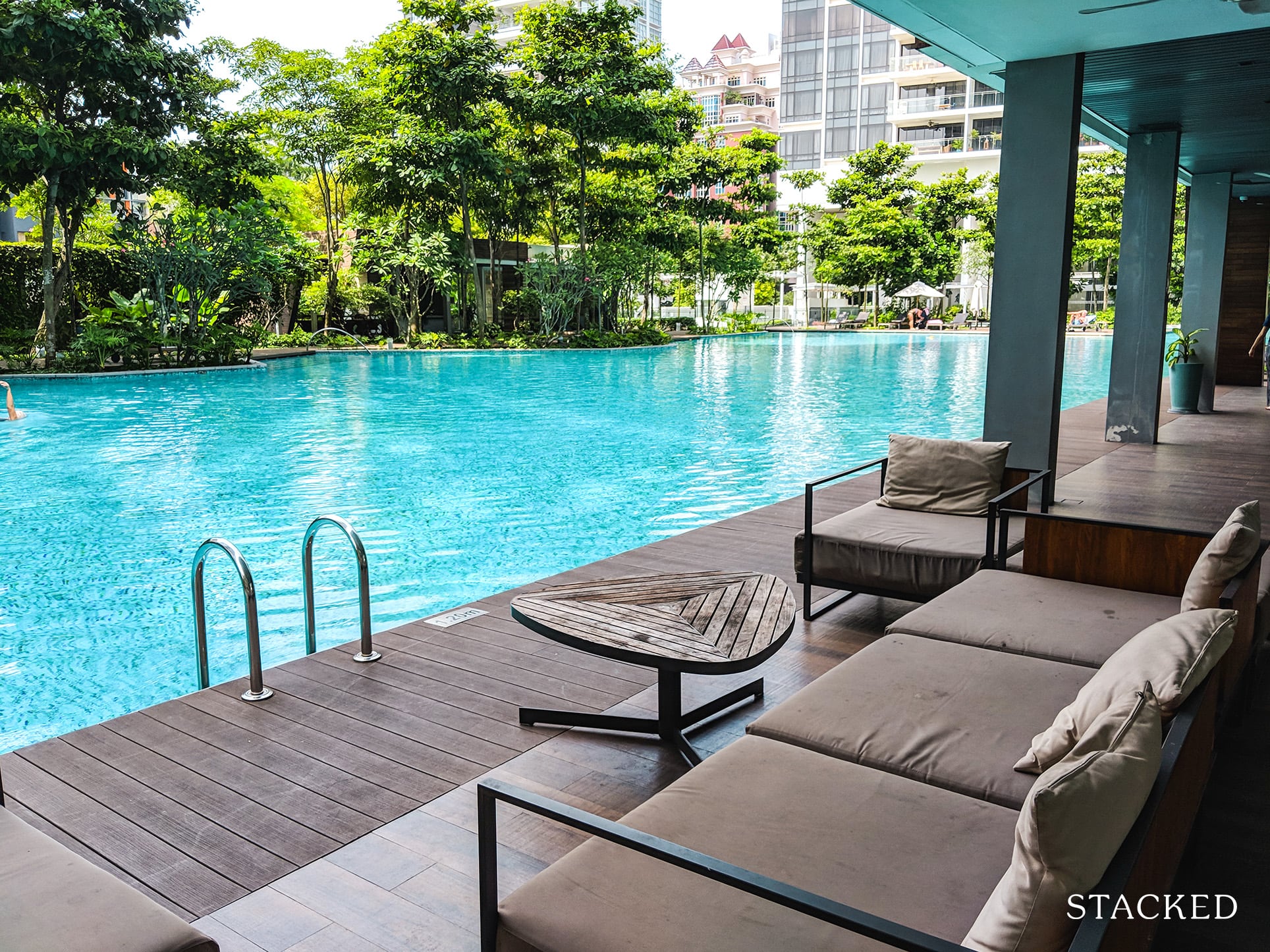 And finally, an outdoor seating area that faces the swimming pool.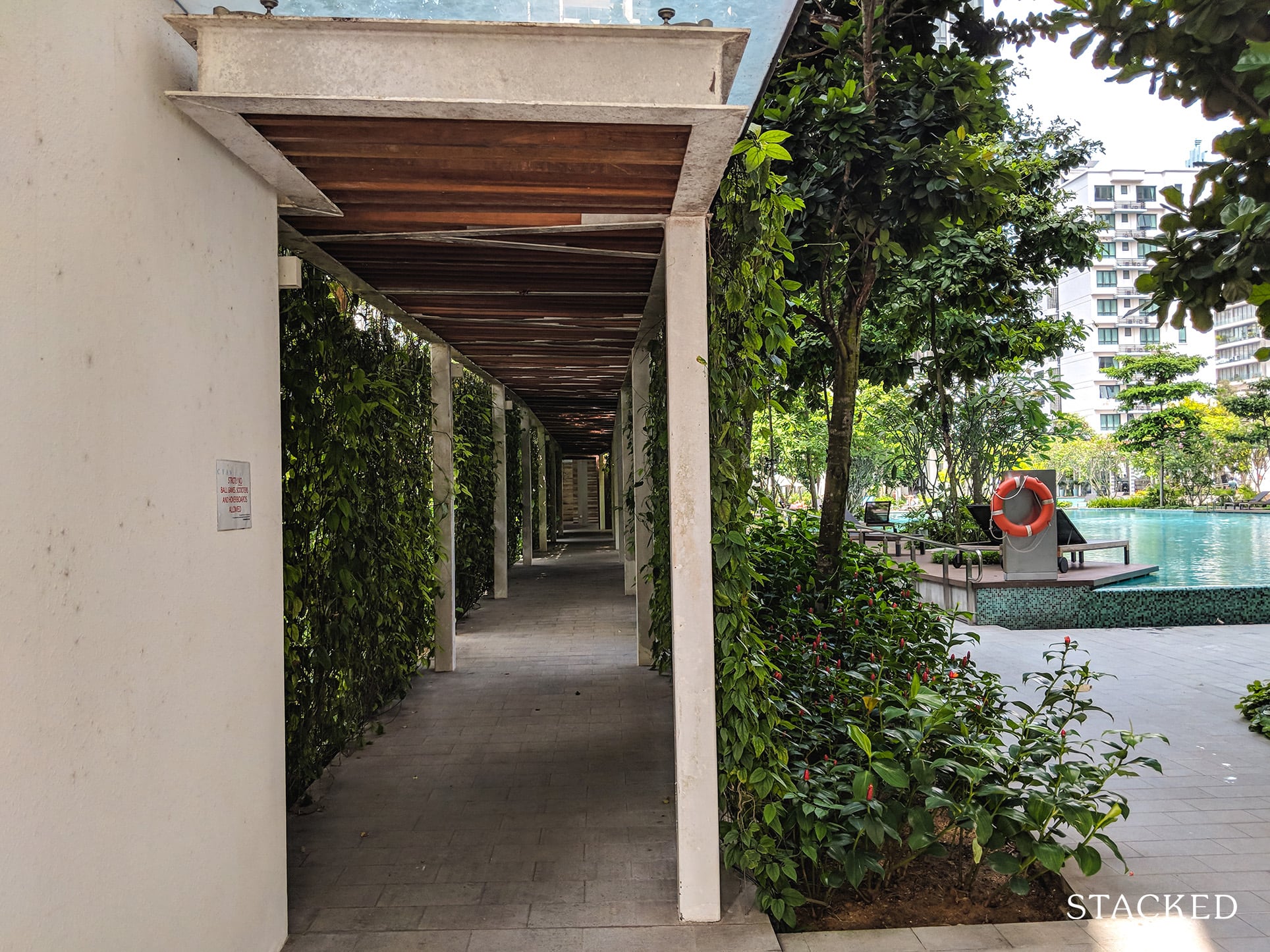 Now on the other side of the swimming pool is a sheltered walkway with plants covering the sides. This was one of the other areas that looked to be in a bad shape (rusting?) considering the development is only 5 years old.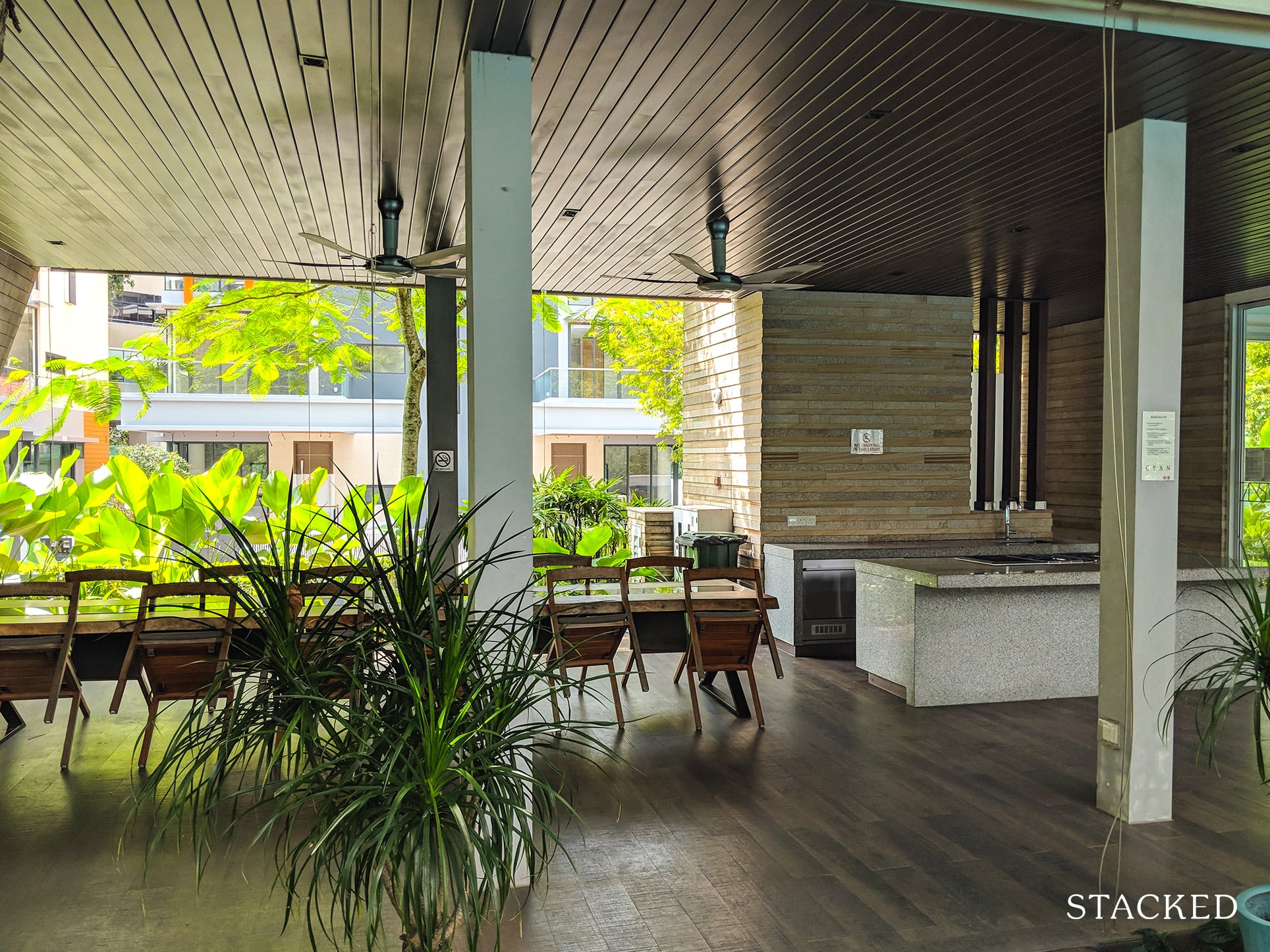 Moving beyond that is an open-air dining concept complete with a long table and lots of seats. You also get a kitchen island and cooking equipment. If you do own a smaller unit here, the many dining areas around makes a lot of sense for you to entertain your guests.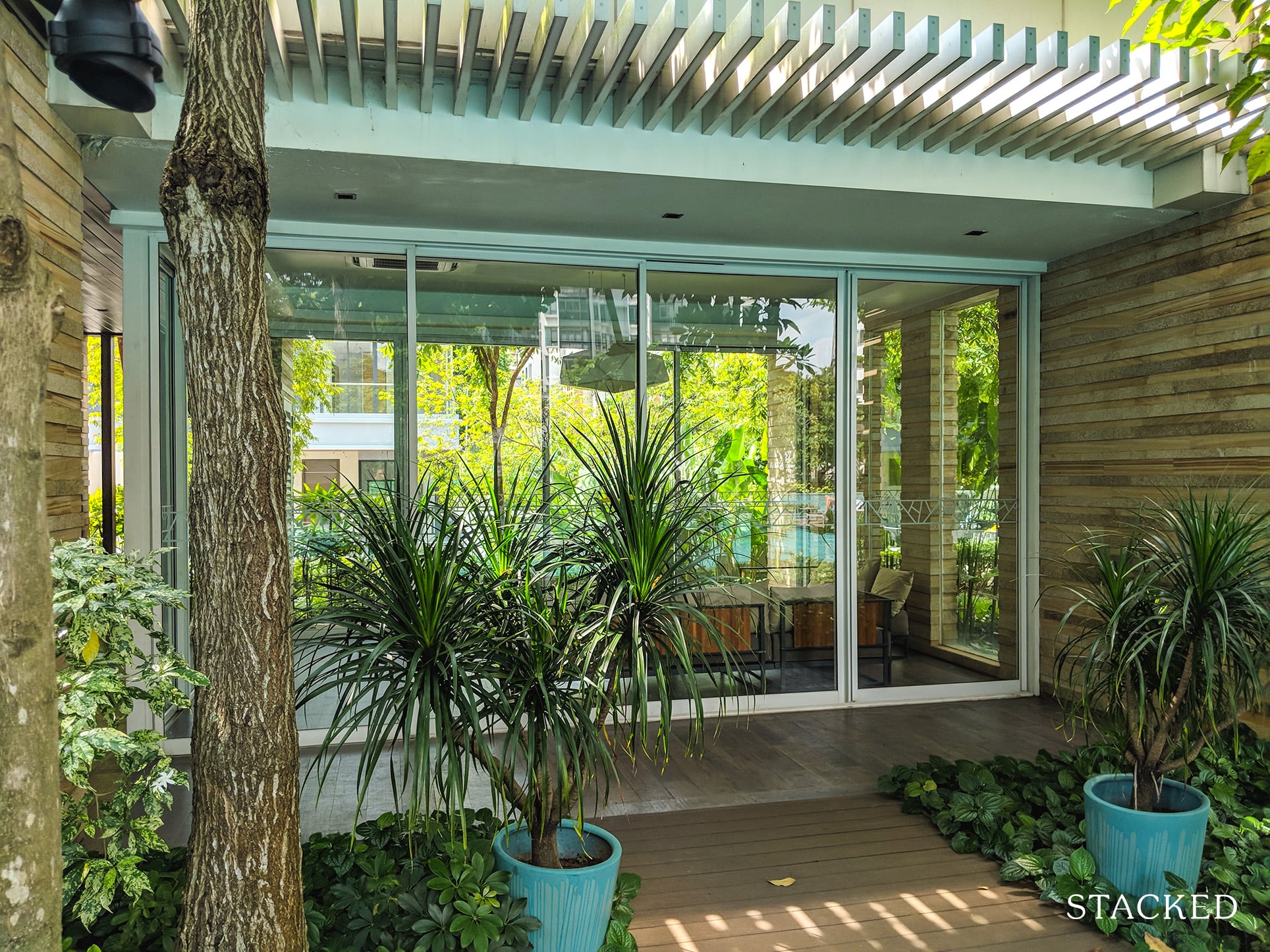 There is also an indoor air-conditioned area right next to it, with even more space to entertain.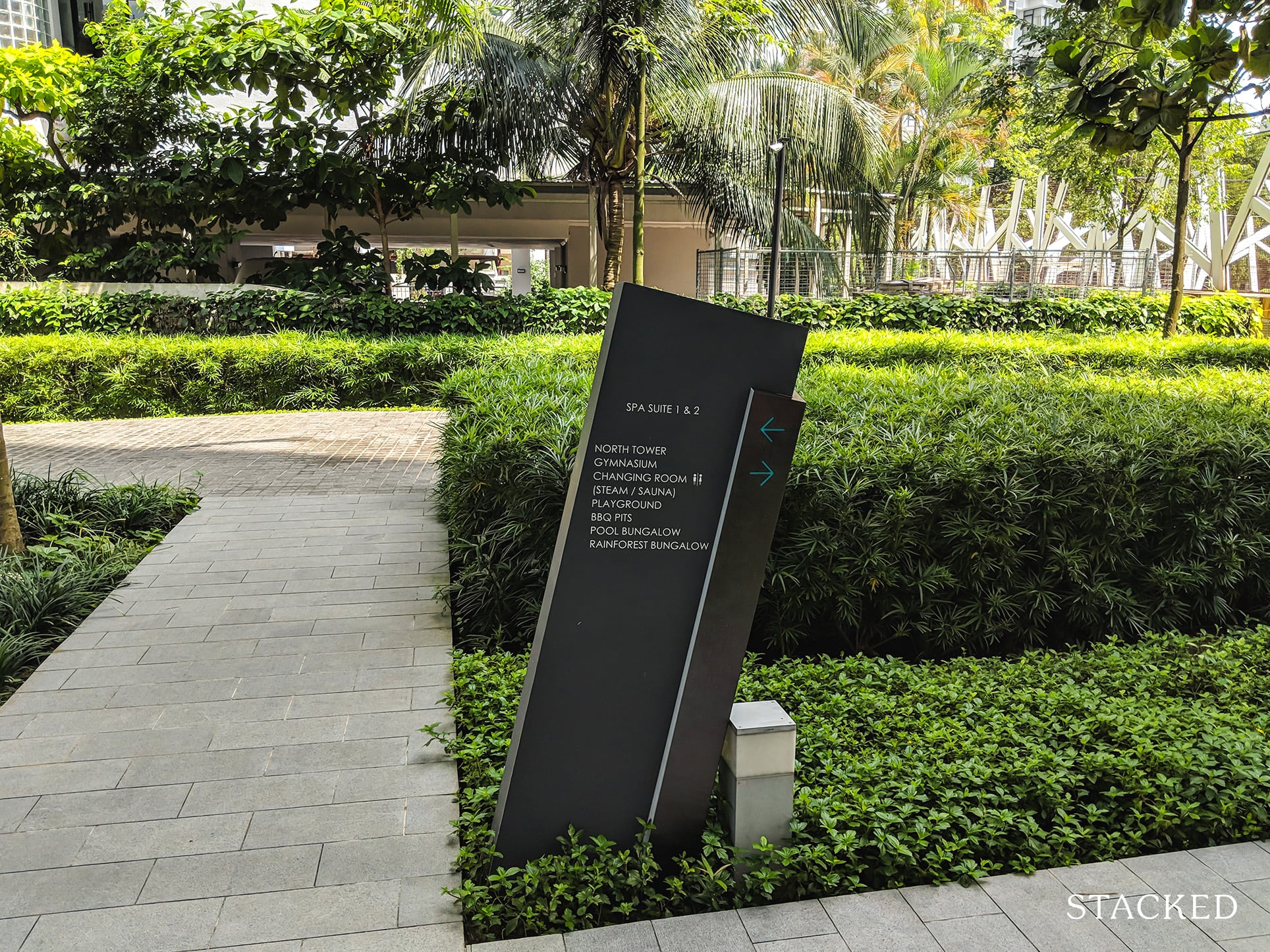 If you thought that was the end of all the common areas, you thought wrong! Round the back, you will find the spa suites. Which are like the laguna villas at the front, just without the pool.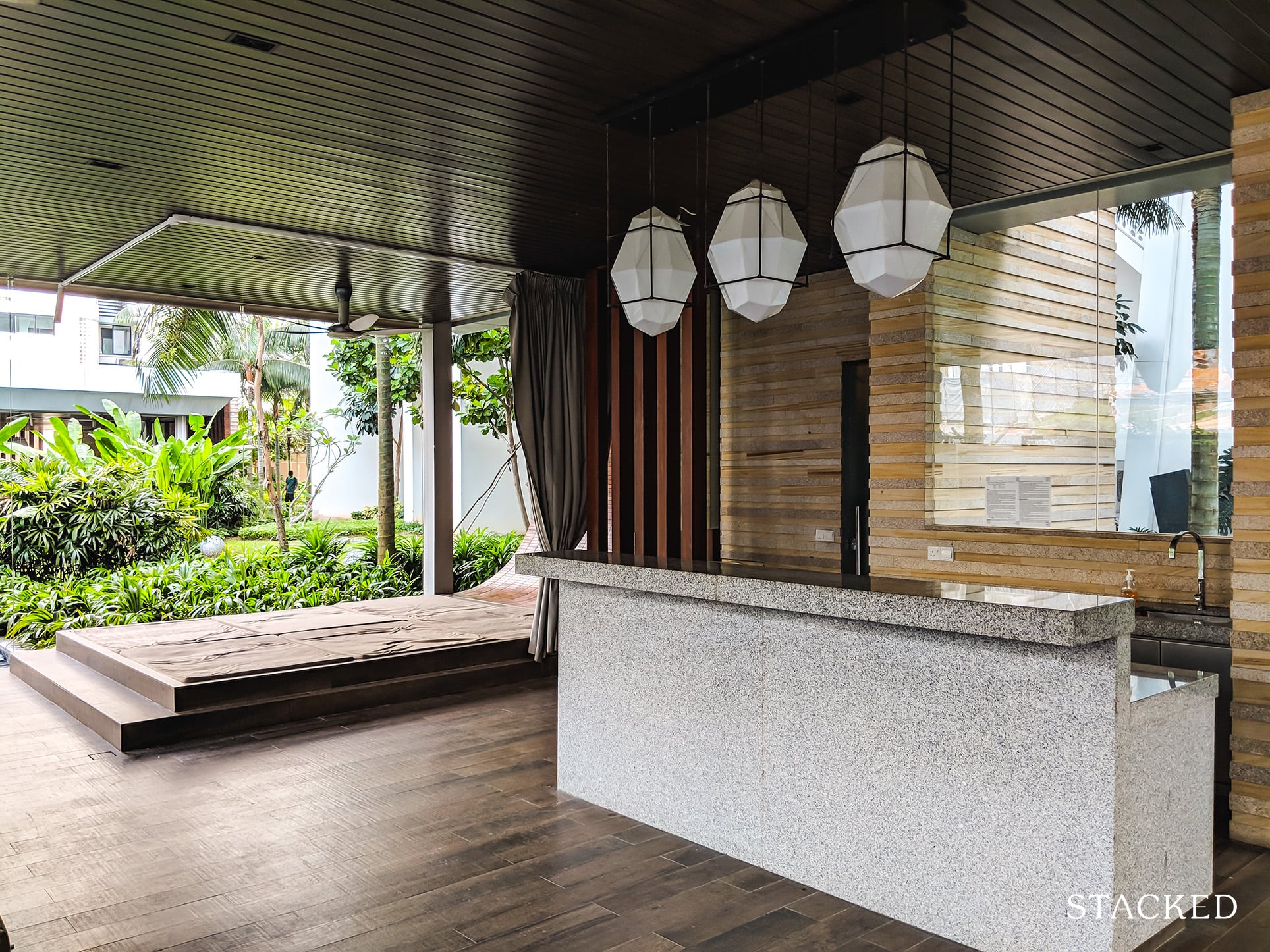 It's basically two covered huge cabanas with dining functionality and lots of seating.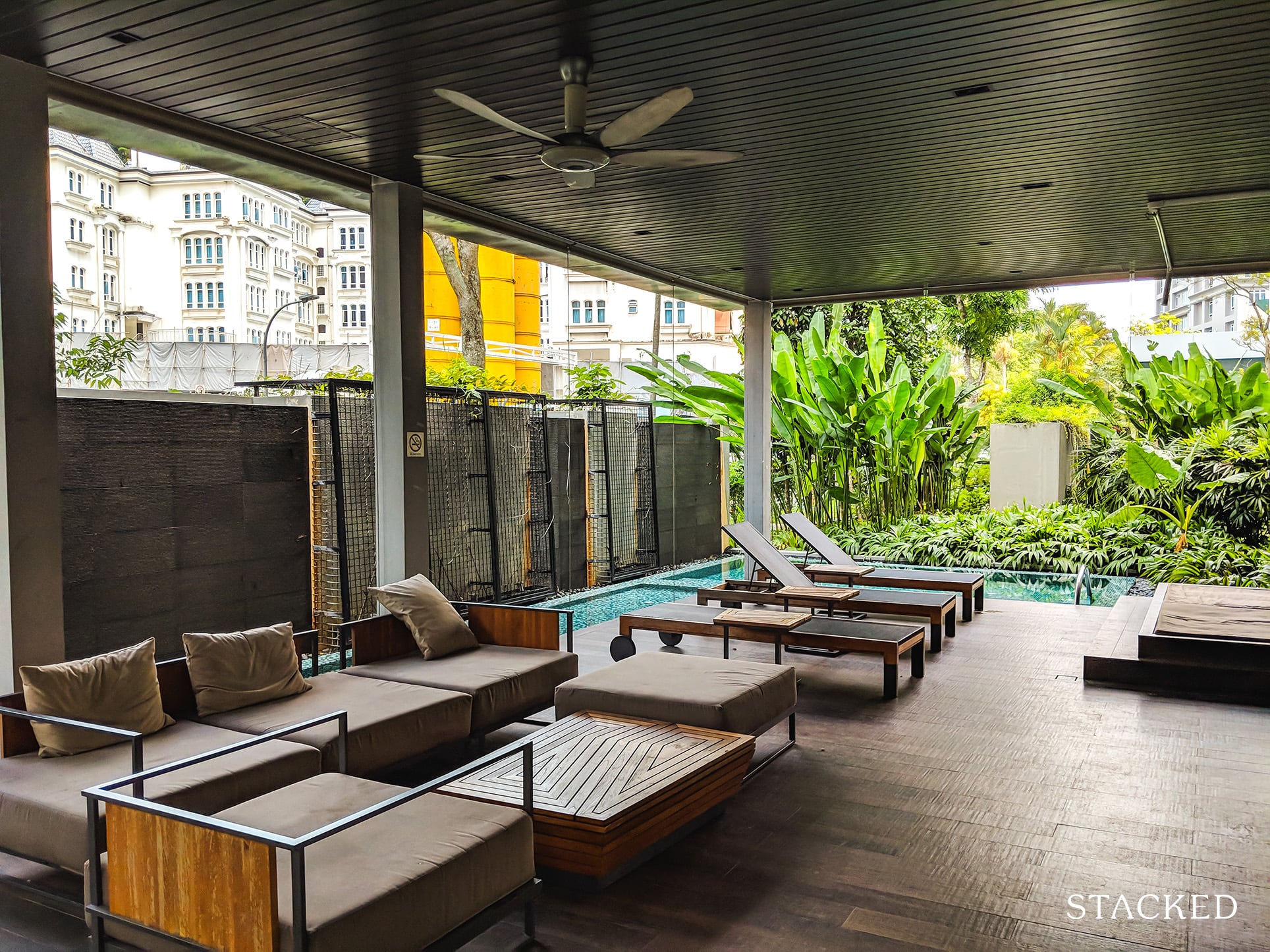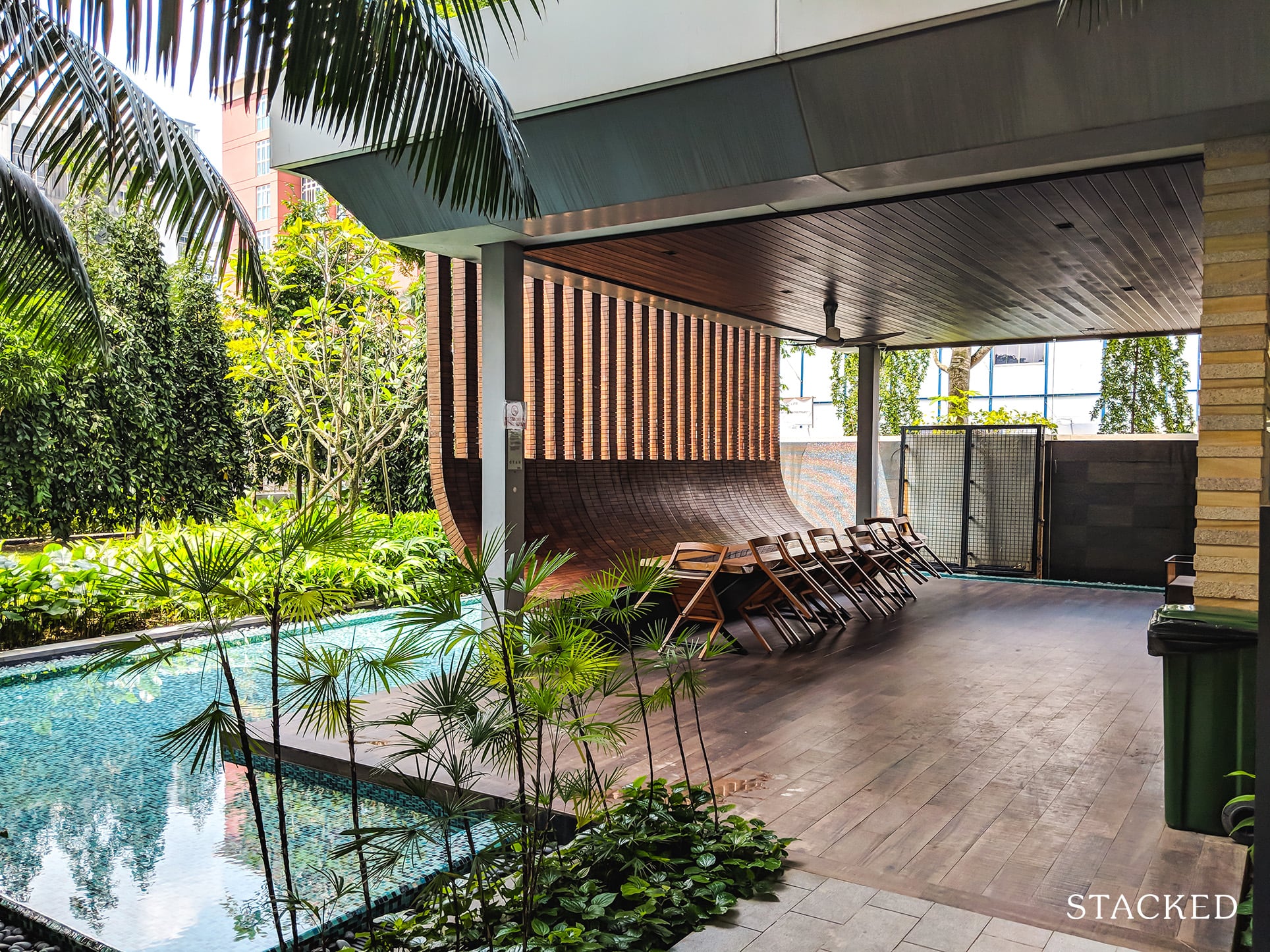 Just look at the amount of space and seating options that are available. You have the luxury of so many different types of options. I can't quite decide if this is a good thing or just an overkill at this point.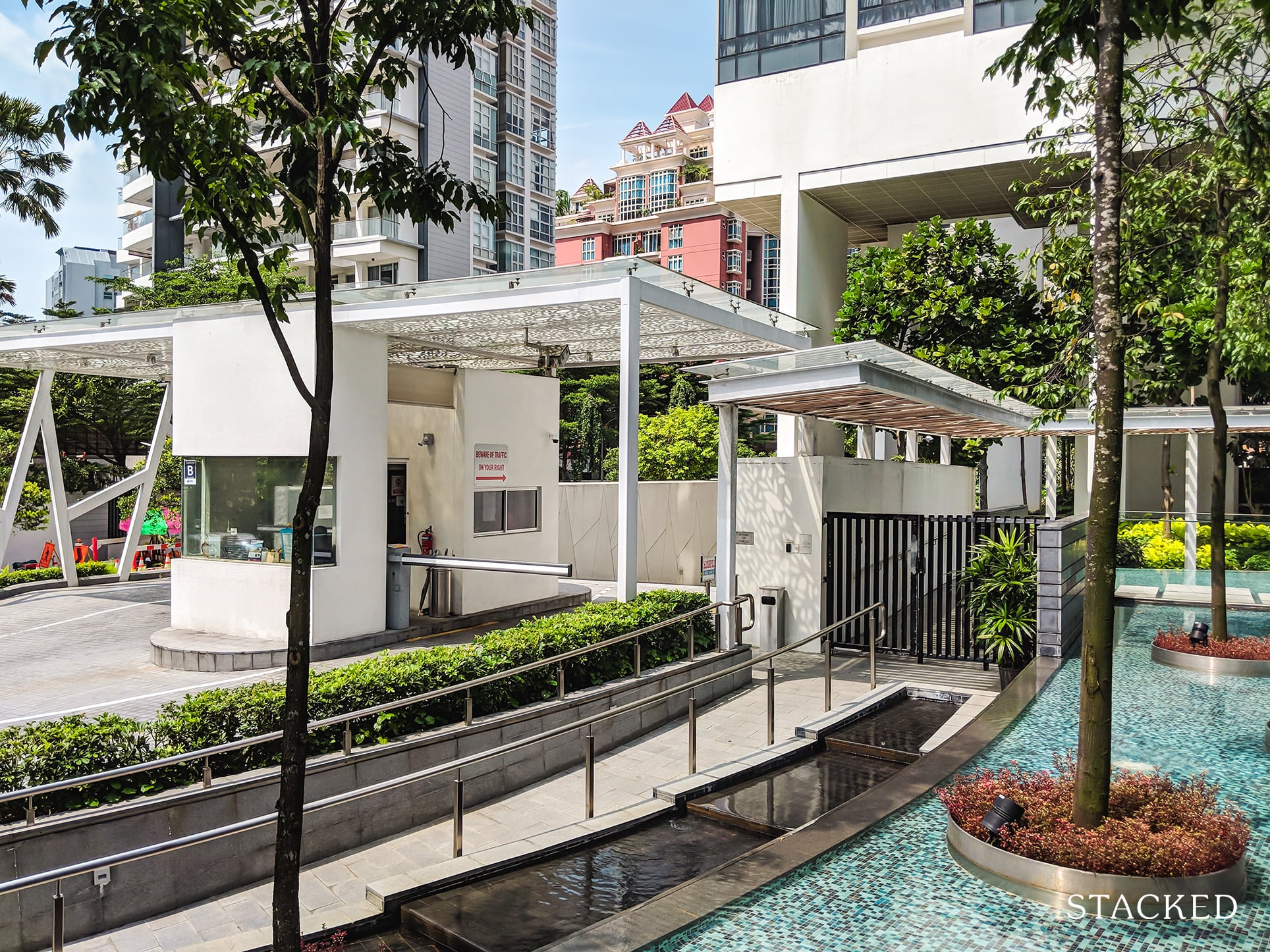 The entrance of the Cyan is gated obviously for additional security.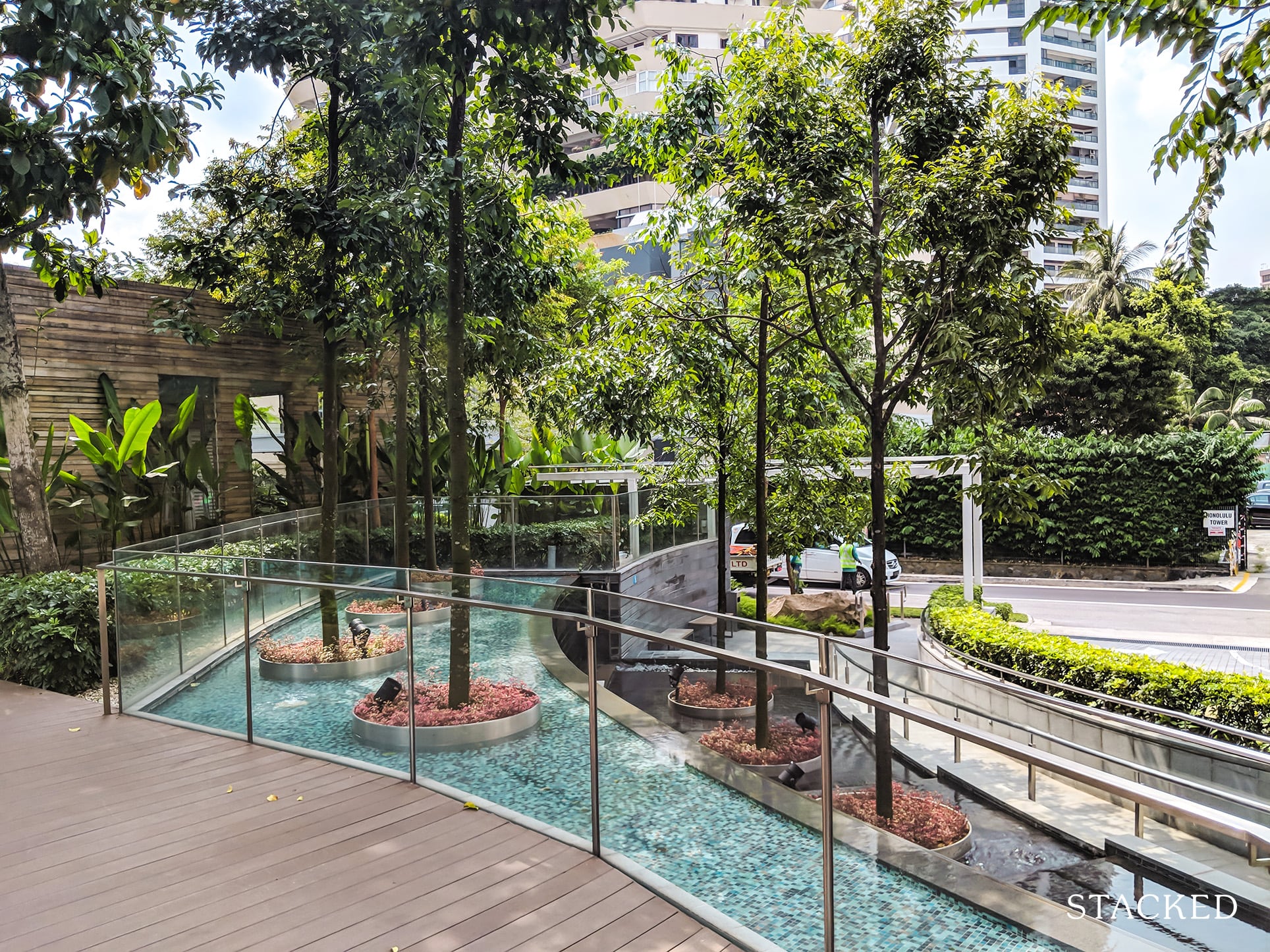 For a development with this much space, I'm surprised that there isn't a proper drop off point. It's not the end of the world however, as on rainy days, the taxi driver will have to drive into the underground carpark to drop you off or pick you up.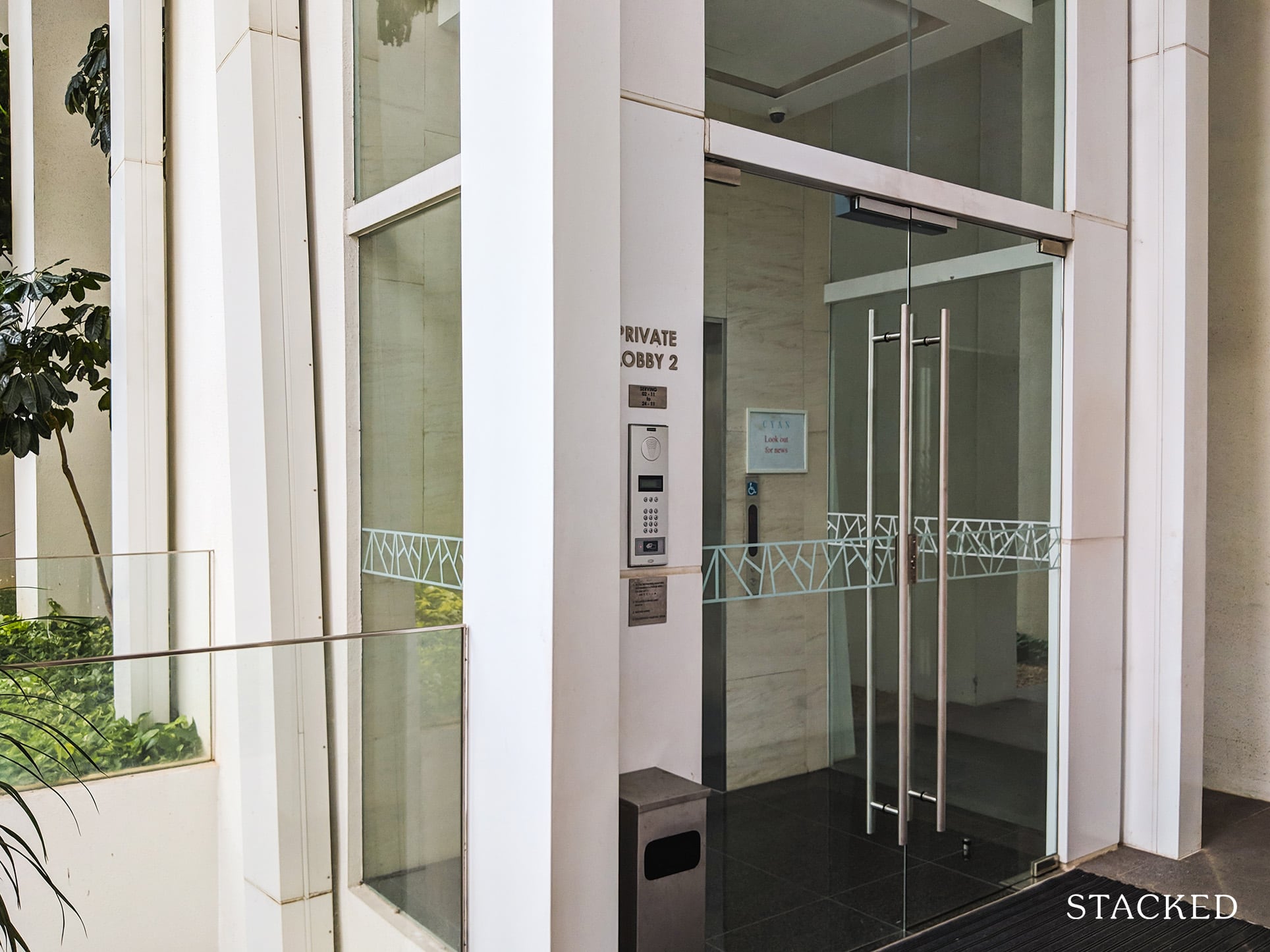 Each unit here has private lift access, which adds to the exclusivity of the development.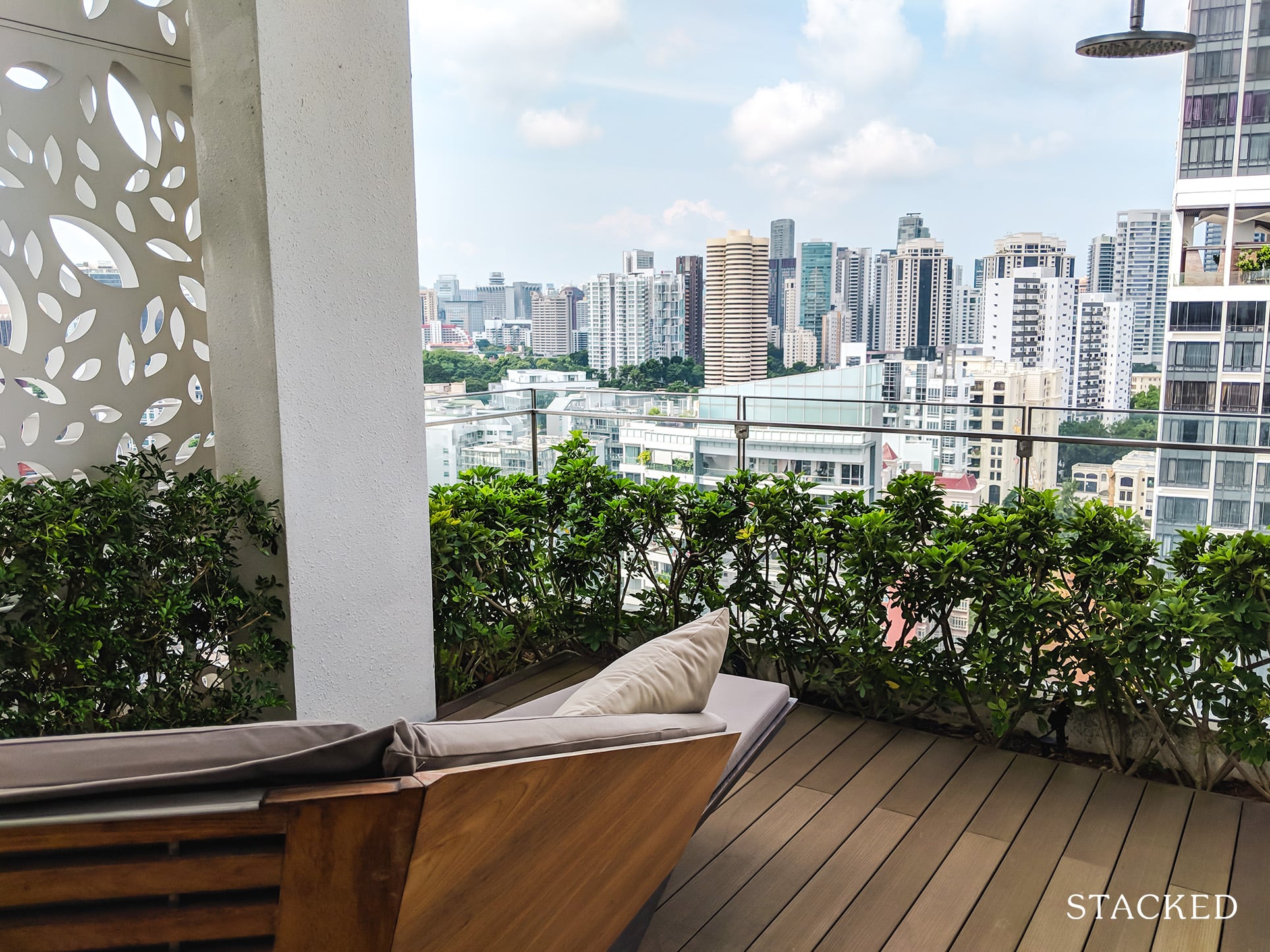 Both towers have an open space carved in the middle that offers more seating and dining areas to rest and relax.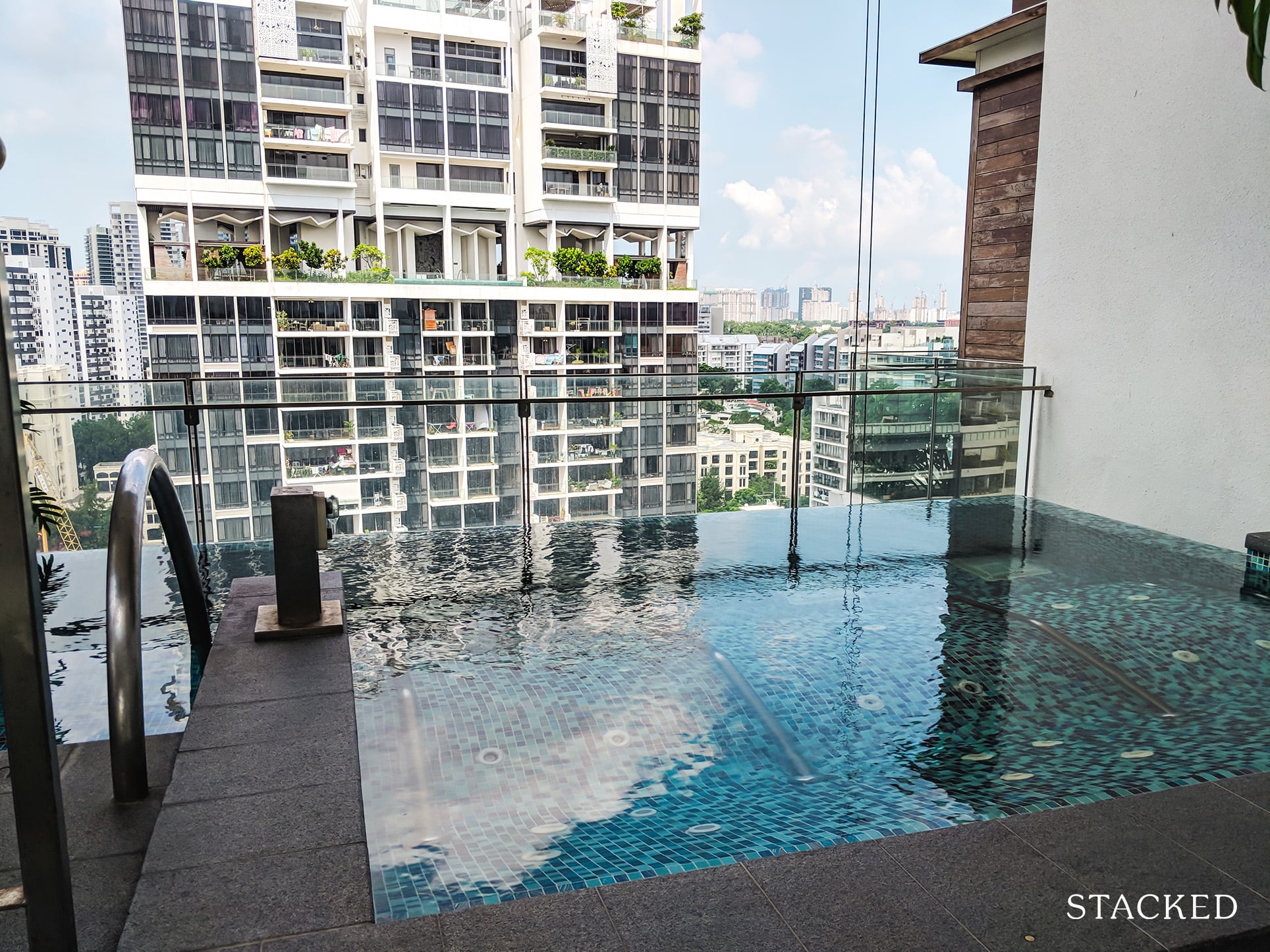 There is even a spa pool here to enjoy the views from higher up.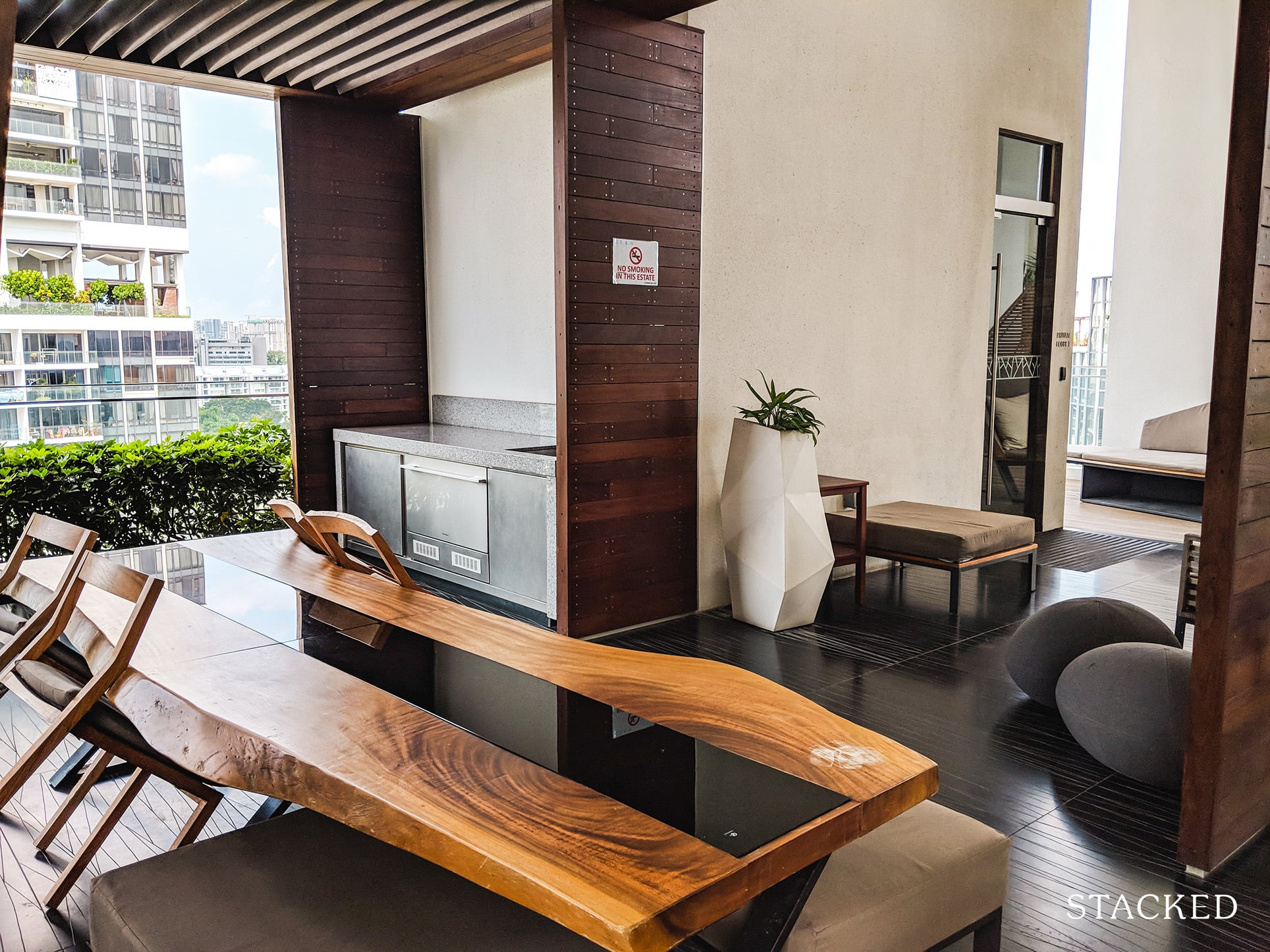 I know I might sound like a broken record at this point. But, wow are there so many different types of dining spaces here.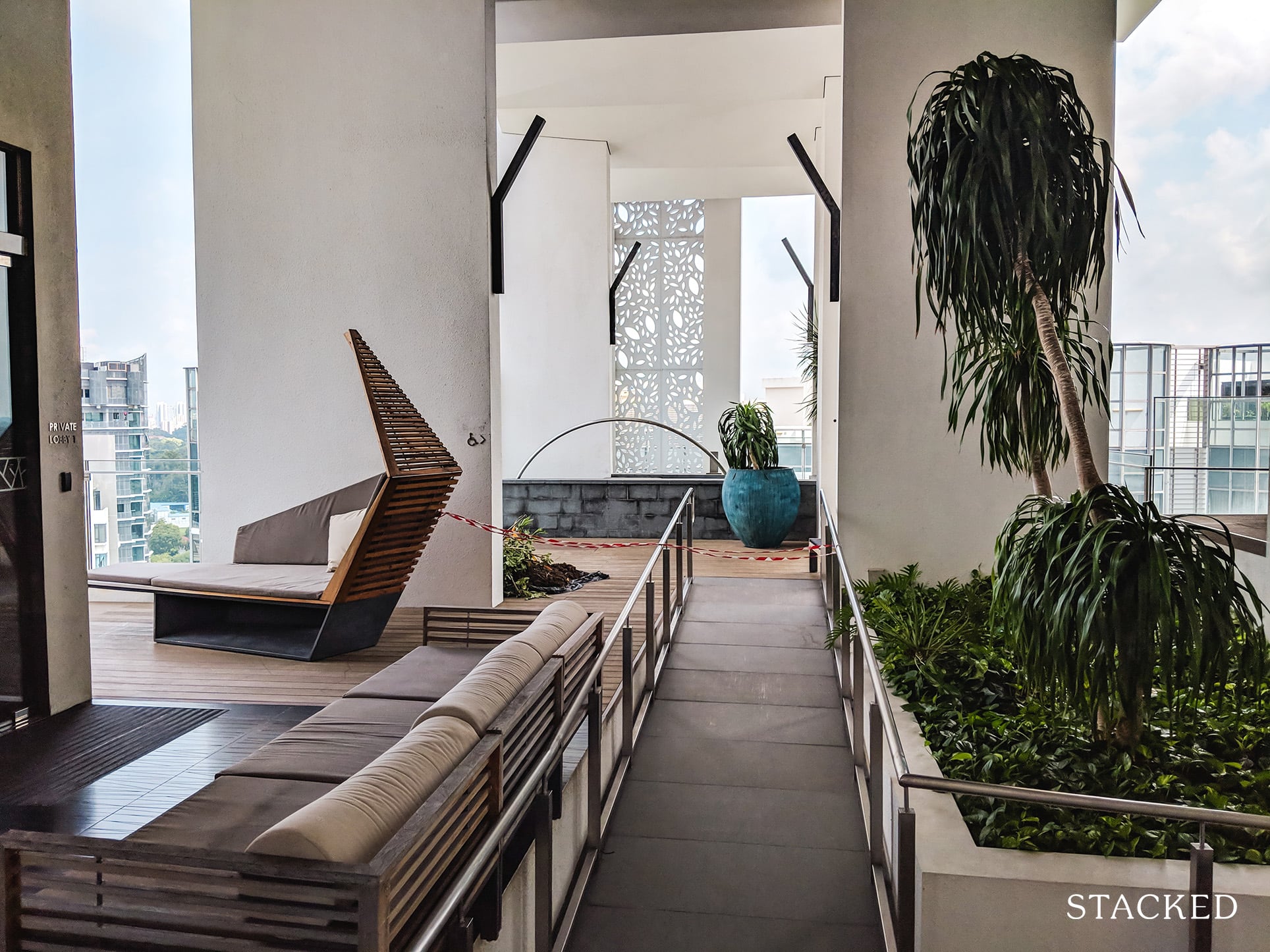 It's just so many different spaces for you to sit and watch the world go by. I do like the high ceilings here though, it gives such a nice feeling of openness.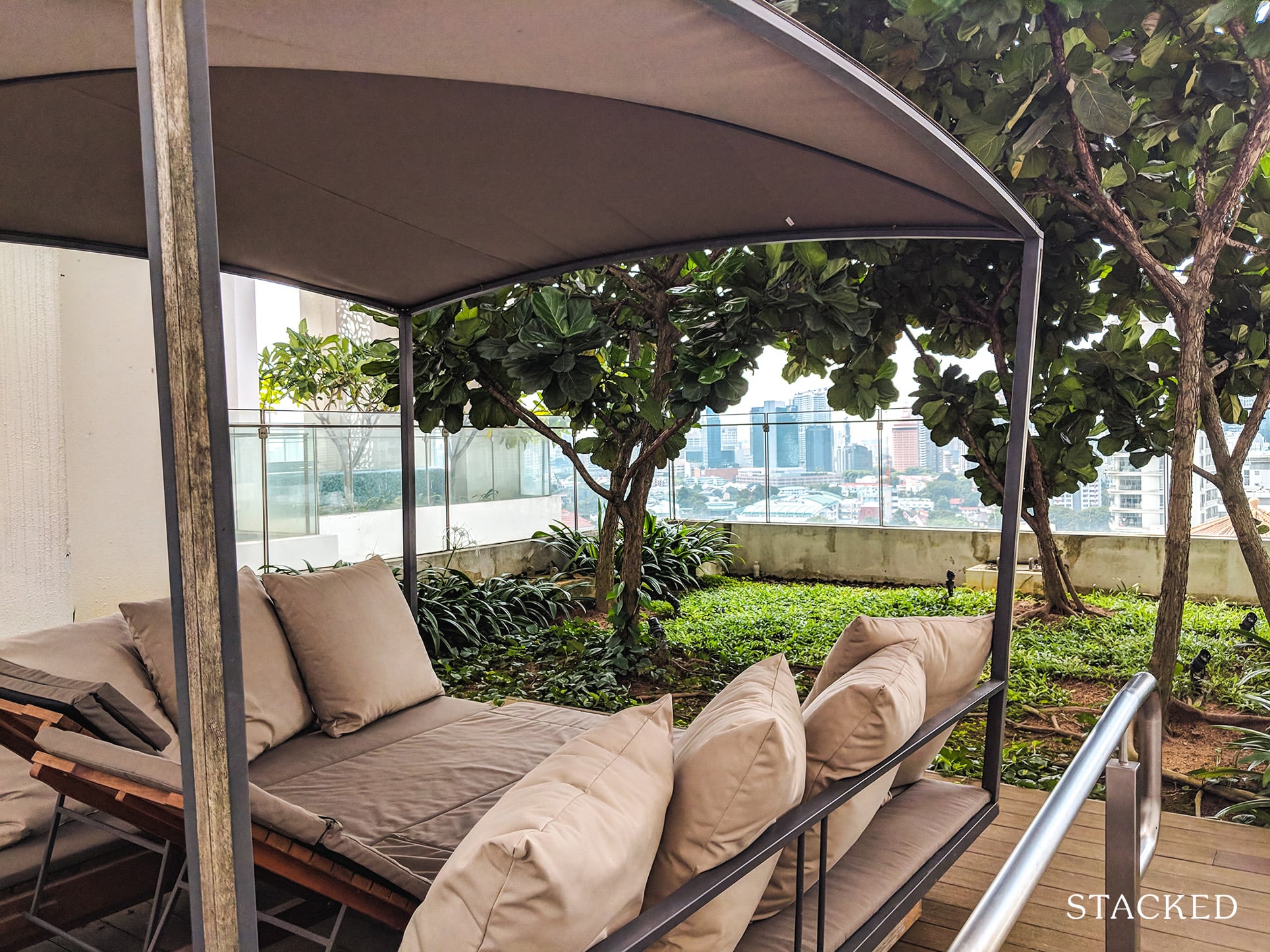 In the middle of each tower, there is a large sofa/cabana seating too.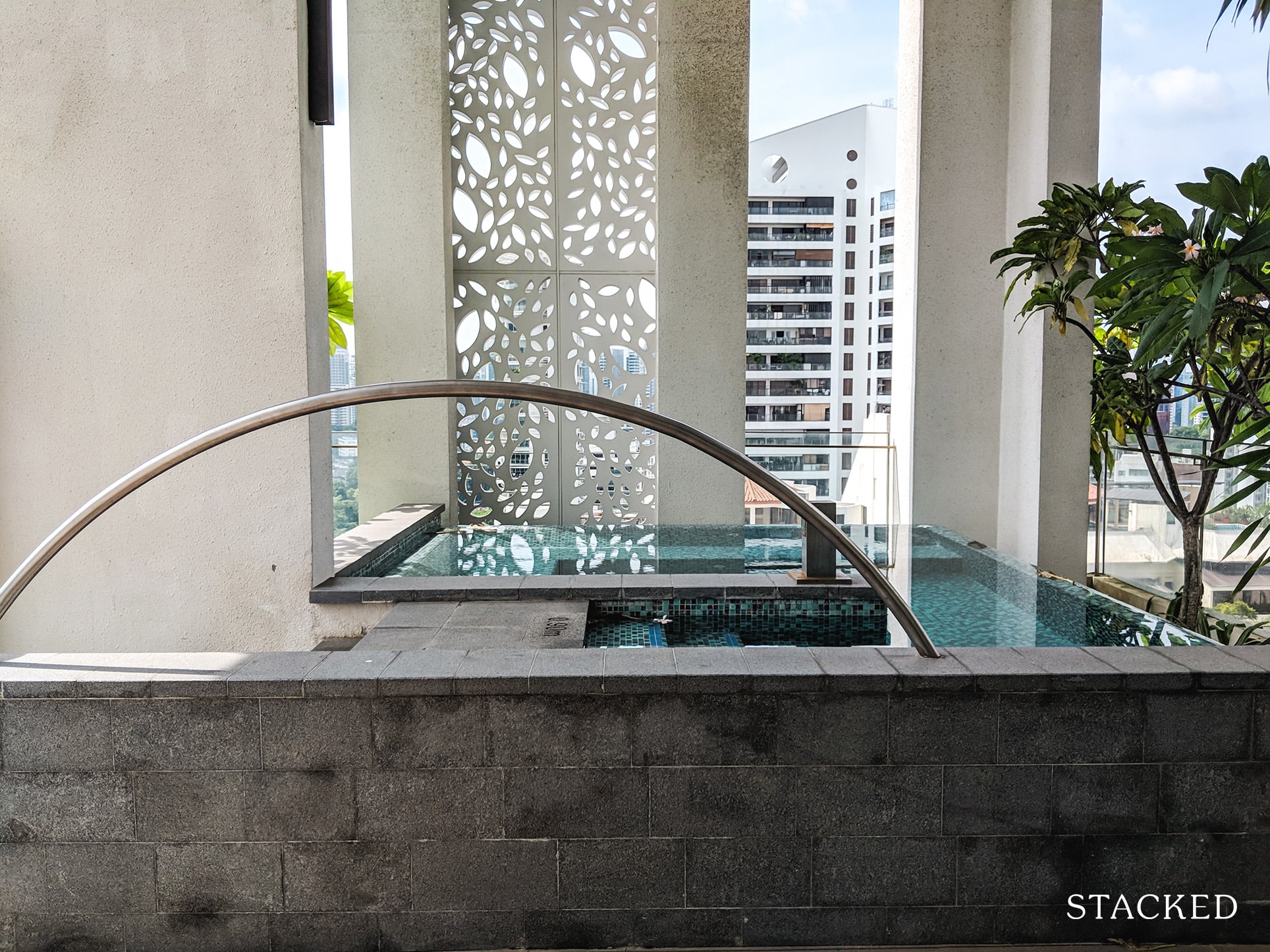 Now on the other side of the tower block, you'll find another spa pool with a different facing.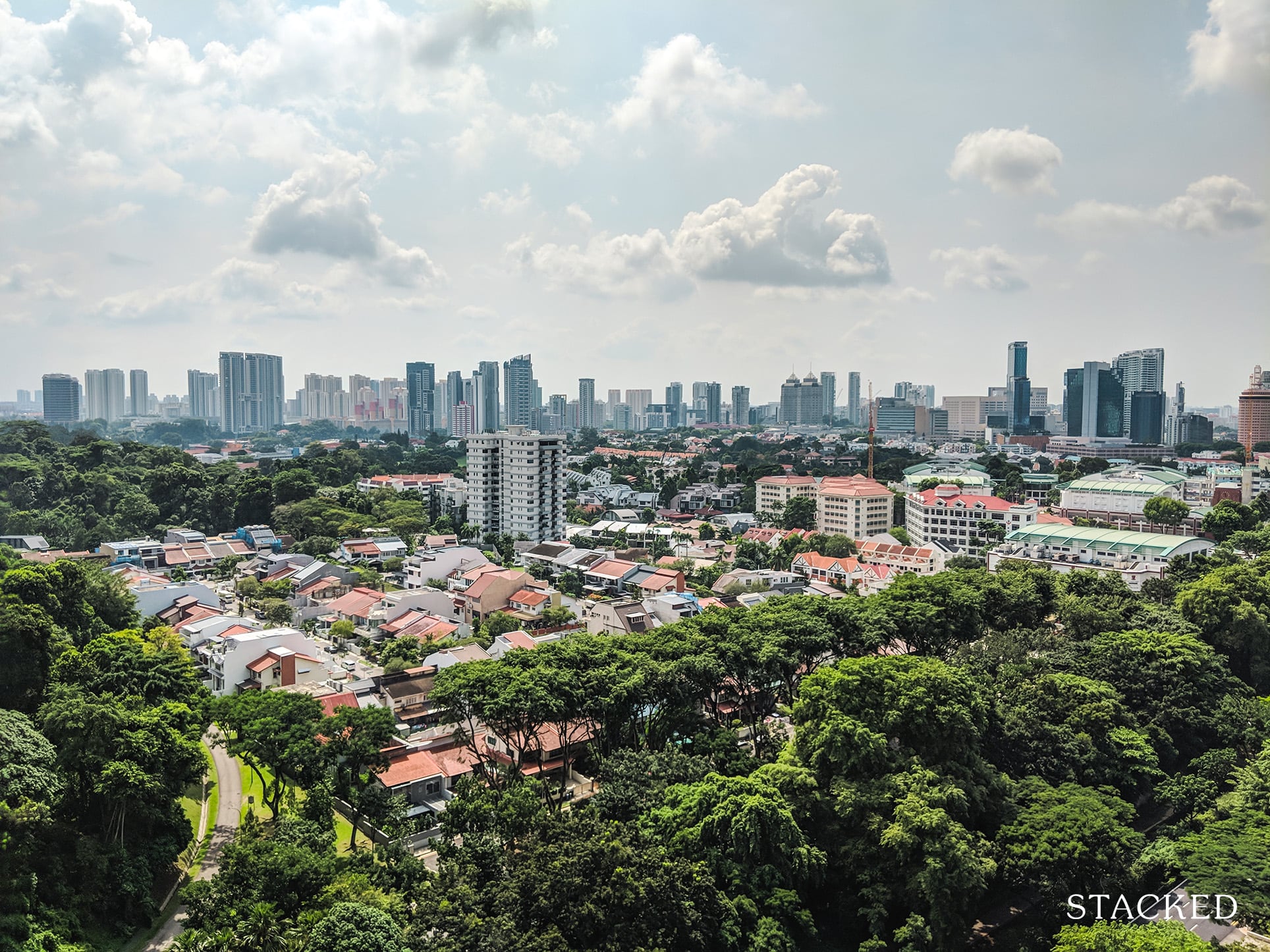 And it offers the best views in the house for me. Like I said earlier in the review, the views towards this side are spectacular. Most of the Barker side are low rise residential areas, and as such the views are just splendid from here.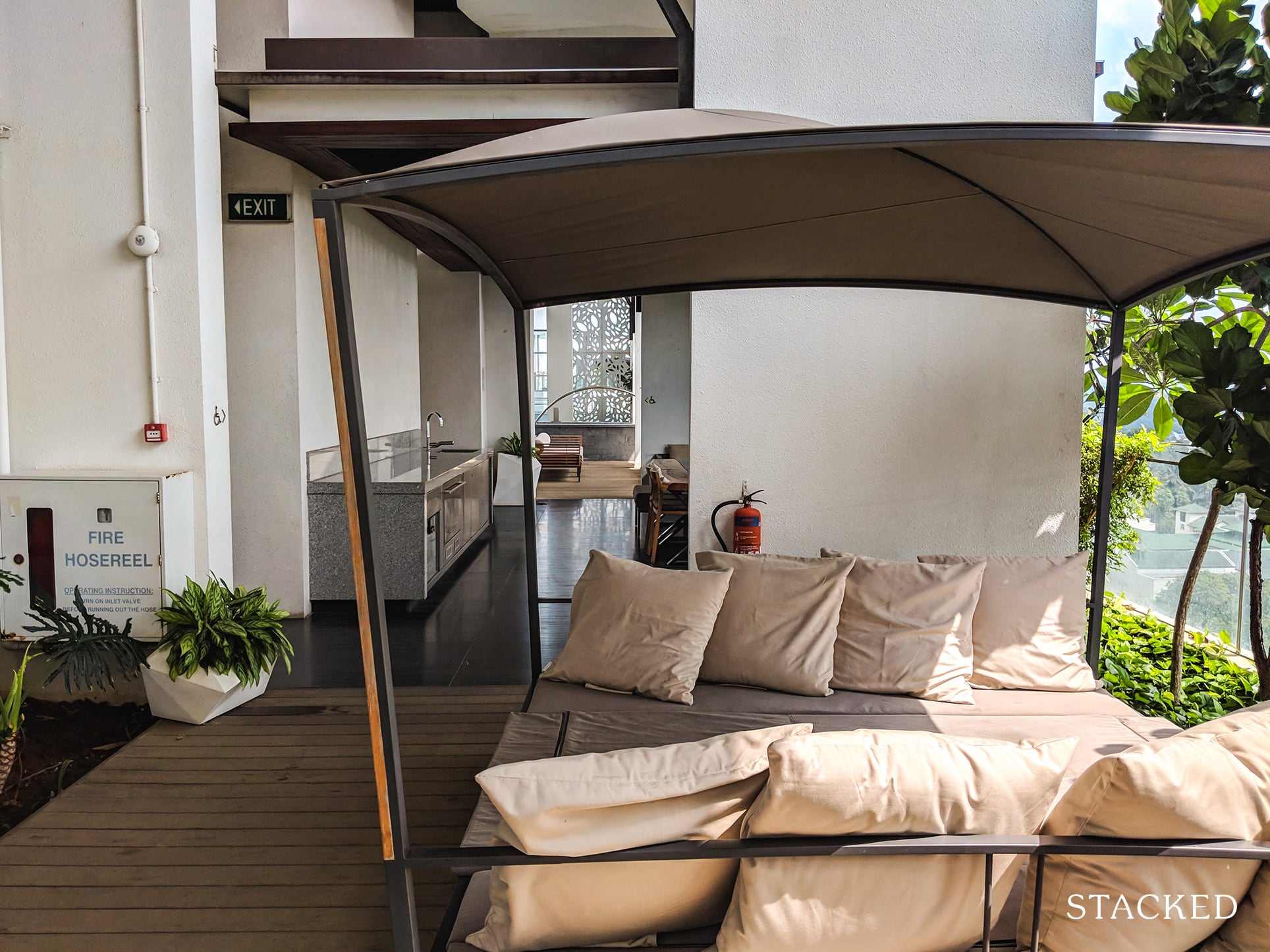 Yet more seating areas. Does Far East have some special access to an outdoor furniture company or something!?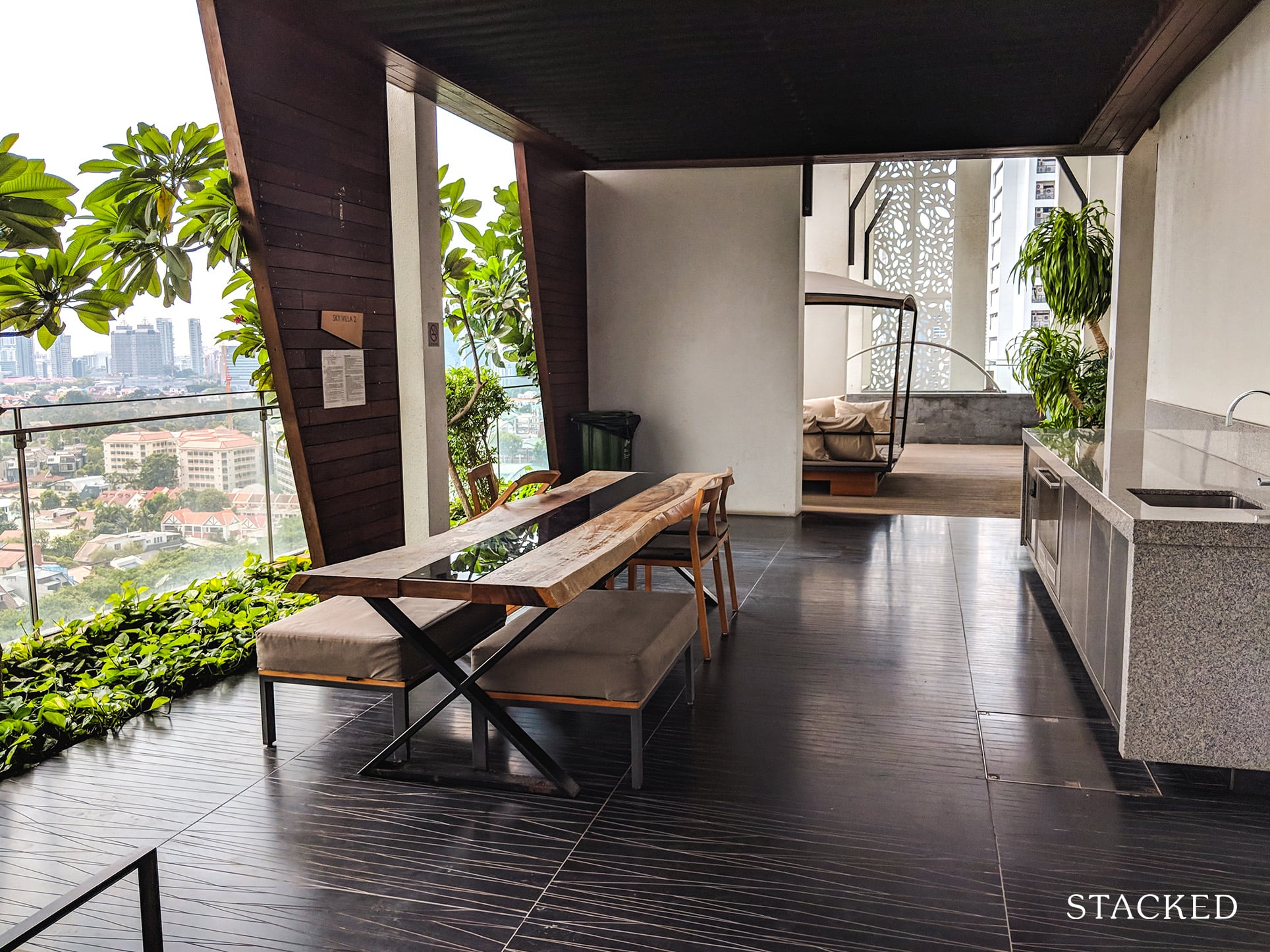 In the middle, you have another barbeque area and kitchen facilities.
Finally, there are more seating areas next to the barbeque section, overlooking the best views.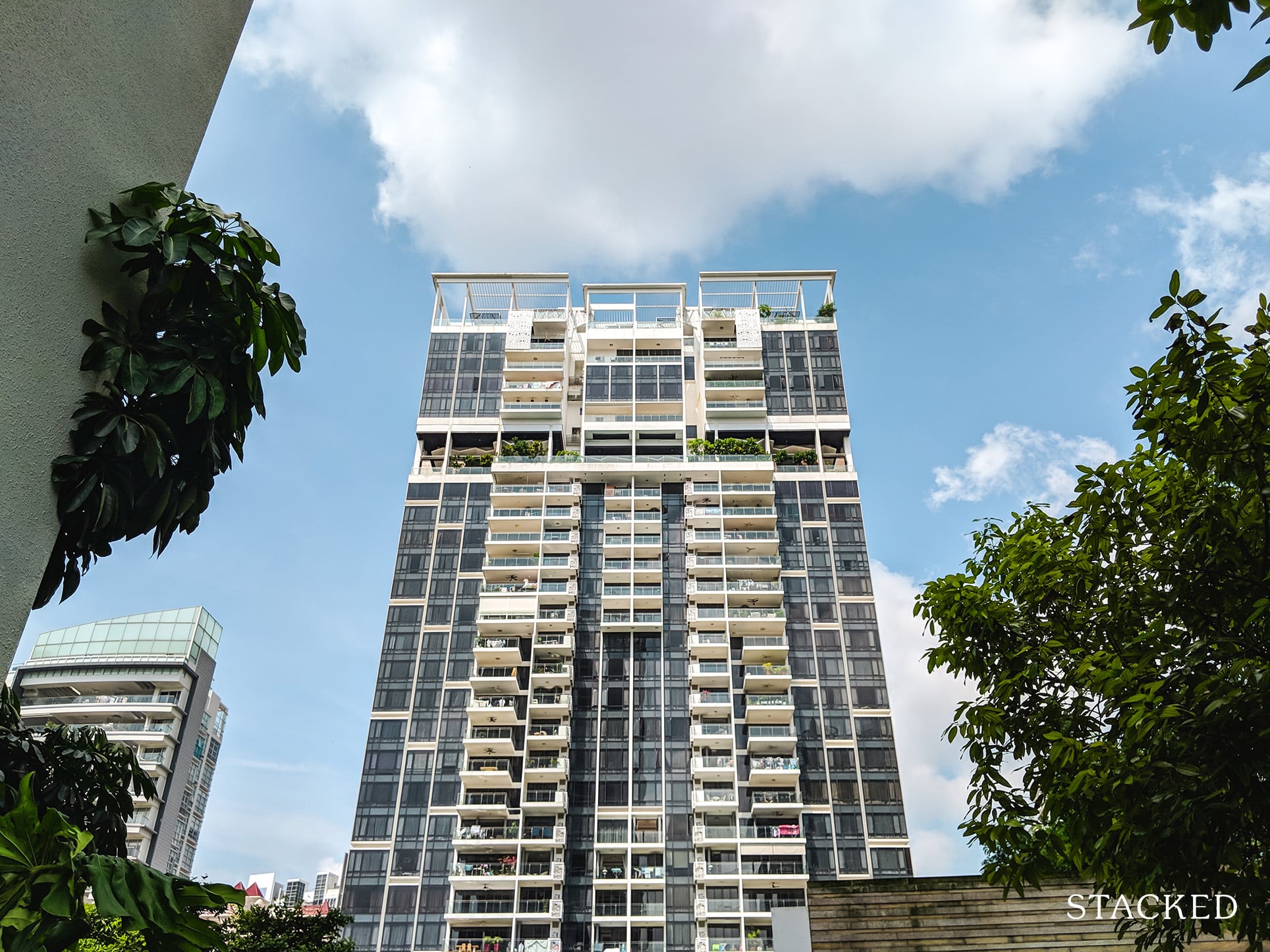 | Project Name | Tenure | TOP | Average Price (PSF) |
| --- | --- | --- | --- |
| Cyan | Freehold | 2014 | $1,940 |
| The Princeton | Freehold | 1999 | $1,368 |
| Stevens Loft | Freehold | 2003 | $1,571 |
| Wing On Life Garden | Freehold | 1982 | $1,577 |
| Palm Spring | Freehold | 1997 | $1,610 |
| One Robin | Freehold | 2009 | $1,617 |
| Bellerive | Freehold | 2011 | $1,647 |
| Proximo | Freehold | 2005 | $1,804 |
| Sui Generis | Freehold | 2010 | $1,852 |
| Belmond Green | Freehold | 2004 | $1,866 |
| Volari | Freehold | 2012 | $2,048 |
| Robin Suites | Freehold | 2016 | $2,269 |
I think that at under $2,000 PSF for a freehold condo in Bukit Timah that is within walking distance to an MRT station represents fair value, particularly when you look at some of the new launch prices nearby. Plus, I like that it comes on a sizeable piece of land as well.
Especially if you are looking at this specific area and want something more modern that would be near to good schools for the future, this would be a great fit for that.
Our Take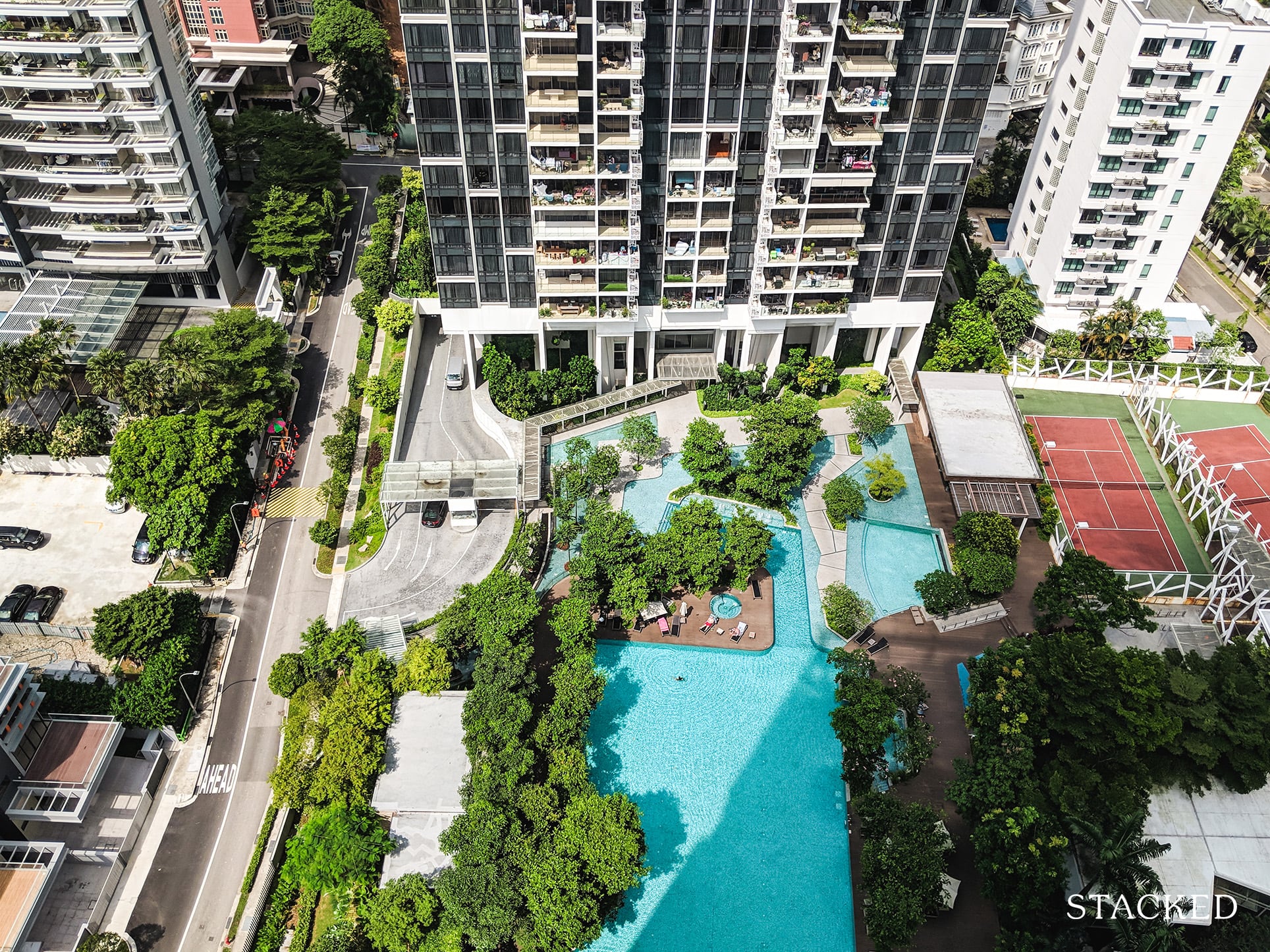 After spending some time at the Cyan condo, I can safely say that this development offers quite the complete package for someone looking at a modern lifestyle but wants to live in the Bukit Timah area. The swimming pool and general wide range of facilities are downright impressive. Also because many of the condos in the immediate vicinity are old, the Cyan sticks out like a sore thumb, in a positive way.
With that said, I am disappointed with how some of the areas have been maintained despite the condo being only 5 years old at this point. And it is a bit of a strange one as well because the swimming pool and water features have been maintained to a high standard. It is just other areas that look a bit run down and is an eyesore to look at. I'm not sure if it is shoddy workmanship to begin with or an oversight by the maintenance team but I do hope this is something that they work on.
What this means for you
You might like the Cyan condo if:
• You love outdoor spaces.Hands down this development has the most outdoor space for relaxing or to entertain your guests
• You want to be near good schools.The location is almost unbeatable if you are looking for good schools for your kids.
You might not like the Cyan condo if:
• You want to be close to amenities.While it is not far, if you truly want convenience there are better developments suited for that.
• You want peace and quiet.This part of Bukit Timah is definitely more crowded and busy, so it would not be the most peaceful of places.
End of Review