HDB Reviews

Belvia DBSS Review: Great, Convenient Surroundings In The East But Not The Best DBSS
Sean
May 19, 2022

33

min read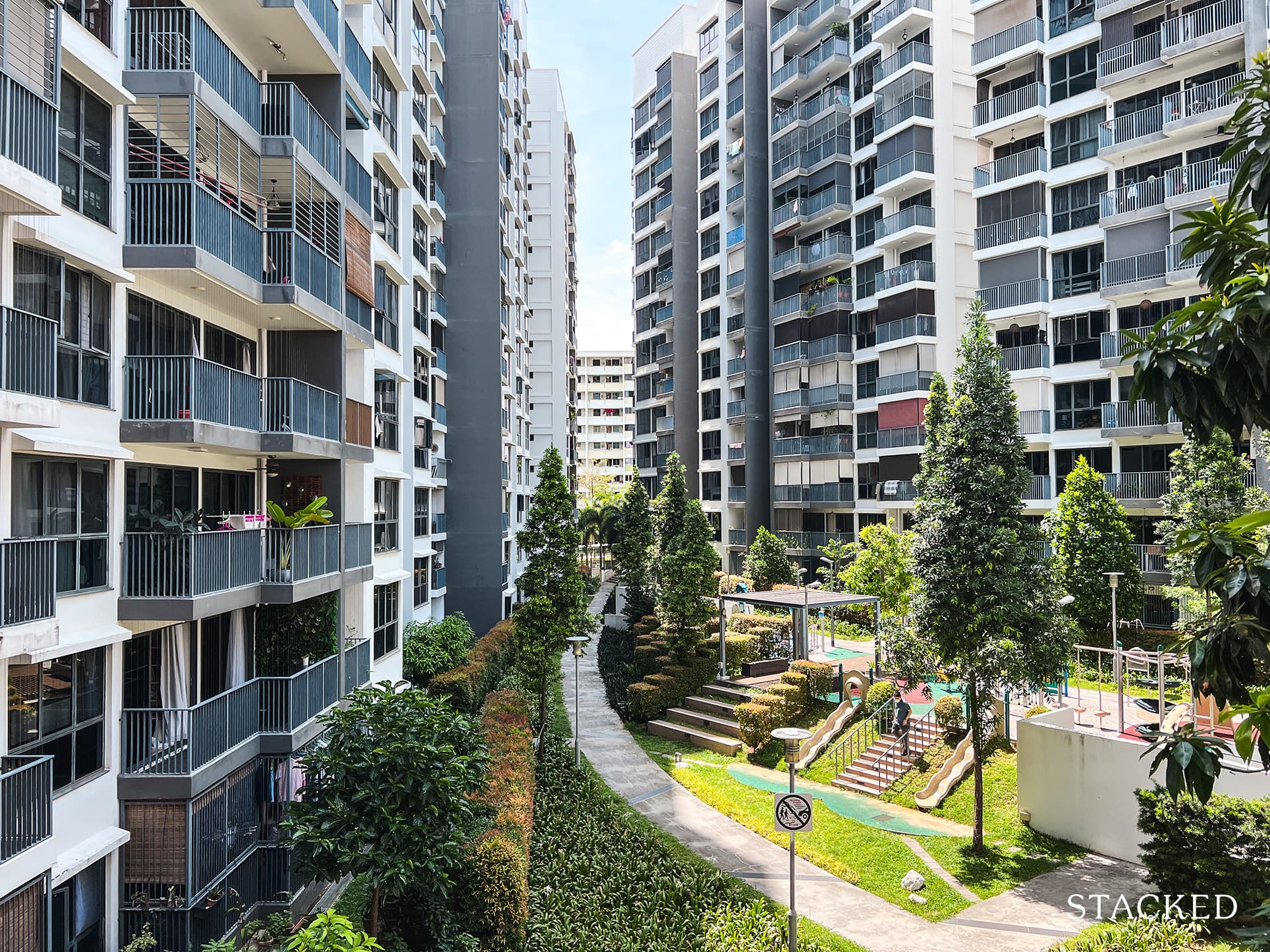 Reviewed by Reuben on May 19, 2022
What we like
Within walking distance to Bedok North MRT station

Convenience to basic amenities right across the street with supermarket, Fast food and food centre.

Close proximity to Bedok Reservoir

Panoramic Bedok Reservoir view for North facing stacks (high floors only)

On a clear day, South facing stacks could get a glimpse of CBD area
What we don't like
—

Inner stack units are too close to opposite block; hence it lacks privacy

—

Smaller unit sizes as compared to BTOs
33
min read
| | |
| --- | --- |
| Project: | Belvia DBSS |
| HDB Town | Bedok |
| Address: | 747A-C, 748A-C Bedok Reservoir Crescent |
| Lease Start Date: | August 2014 |
| No. of Units: | 488 |
Out of all the DBSS developments in Singapore, Belvia is probably the least well known. Perhaps due to its smaller plot of land, it is easier to overlook it when it comes to the rest.
Like many other DBSS though, it came out for the wrong reasons and this time it featured the tirade of a resident known as Ms Tang.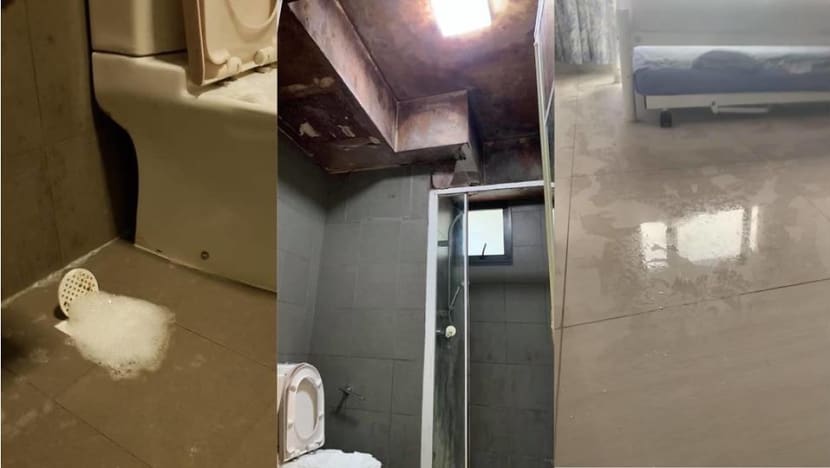 There were claims by her that there were toilet leaks and contamination in her flat which resulted in health issues. However, the HDB and PUB investigated the matter and found that everything was in order, moreover, the resident may similar complaints in the past two residences of hers and no other resident in the precinct made such complaints – putting the truthfulness of her case into questions.
Based on what we know though, Belvia does not have any widely-reported issues on workmanship unlike other DBSS like Trivelis. It's also a pretty sought-after residence given its location within walking distance of the MRT and surrounding amenities.
So if you're looking out for a DBSS, would Belvia be a serious contender for you? Read on to decide for yourself!
Belvia DBSS Insider Tour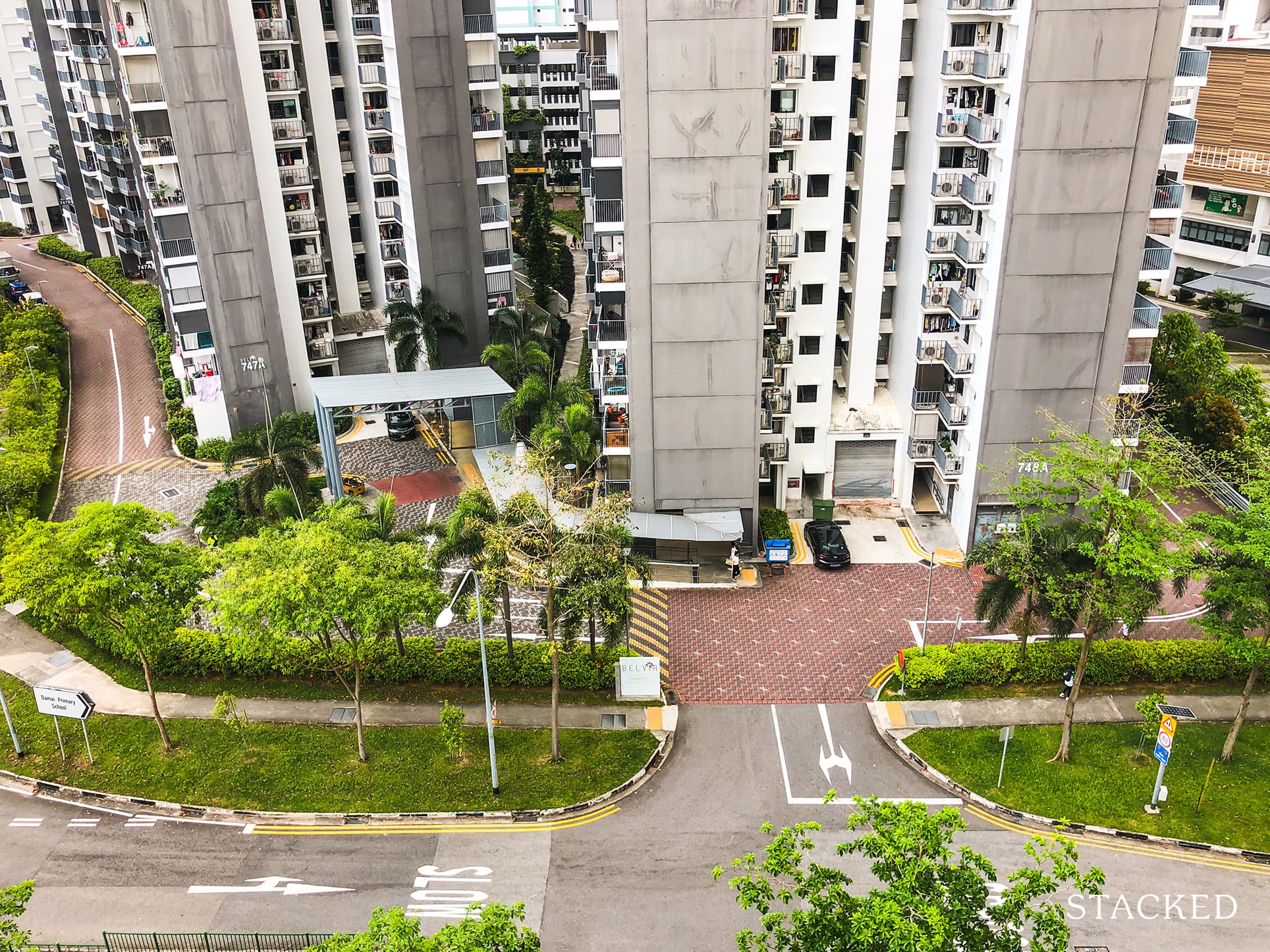 I'm sure I wouldn't be alone when saying that the arrival of Belvia is a rather underwhelming affair. Turning into the one and only ingress/egress of the development from Bedok Reservoir Crescent, you're immediately greeted by the sight of a void deck and the waste refuse area of block 748A.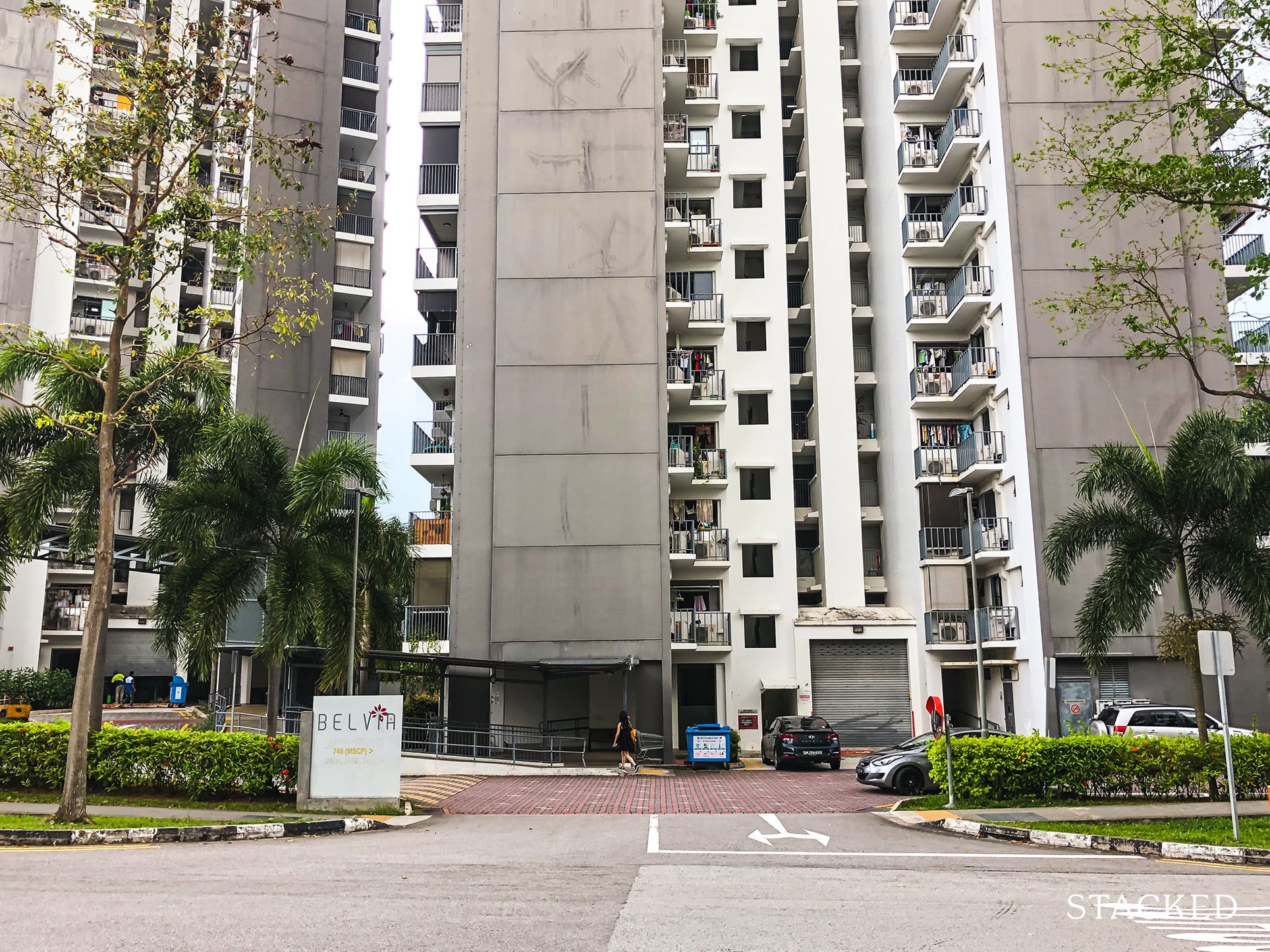 While it's no condo, I must point out that many other HDBs and DBSS I've reviewed had a much more lasting impression compared to this. For example, I really like that Trivelis had an upslope entrance that built a heightened sense of arrival to the area. Natura Loft had a very wide and circular arrival area that seemed very welcoming.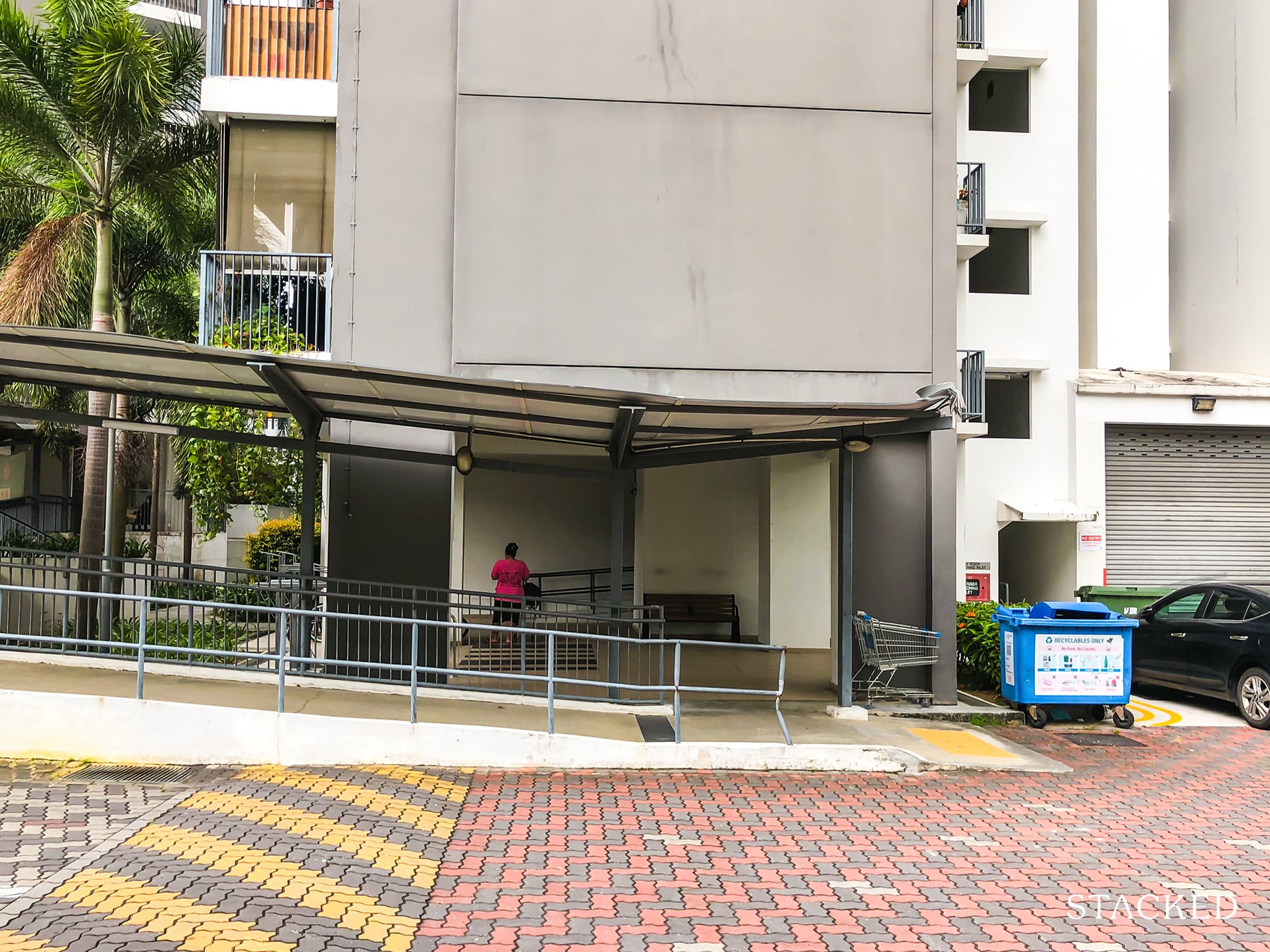 Of course, this boils down to the plot shape and size, and I feel that the limitations here meant that there wasn't much of a choice.
I'm also not a fan of a single entrance and exit which can result in slower traffic during peak hours, but this shouldn't be much of an issue considering there are only 488 units here. There are HDB developments with over 1,000 units but only a single entrance/exit and is still chugging along okay.
Turning left, you'll reach the development's one and only drop-off point: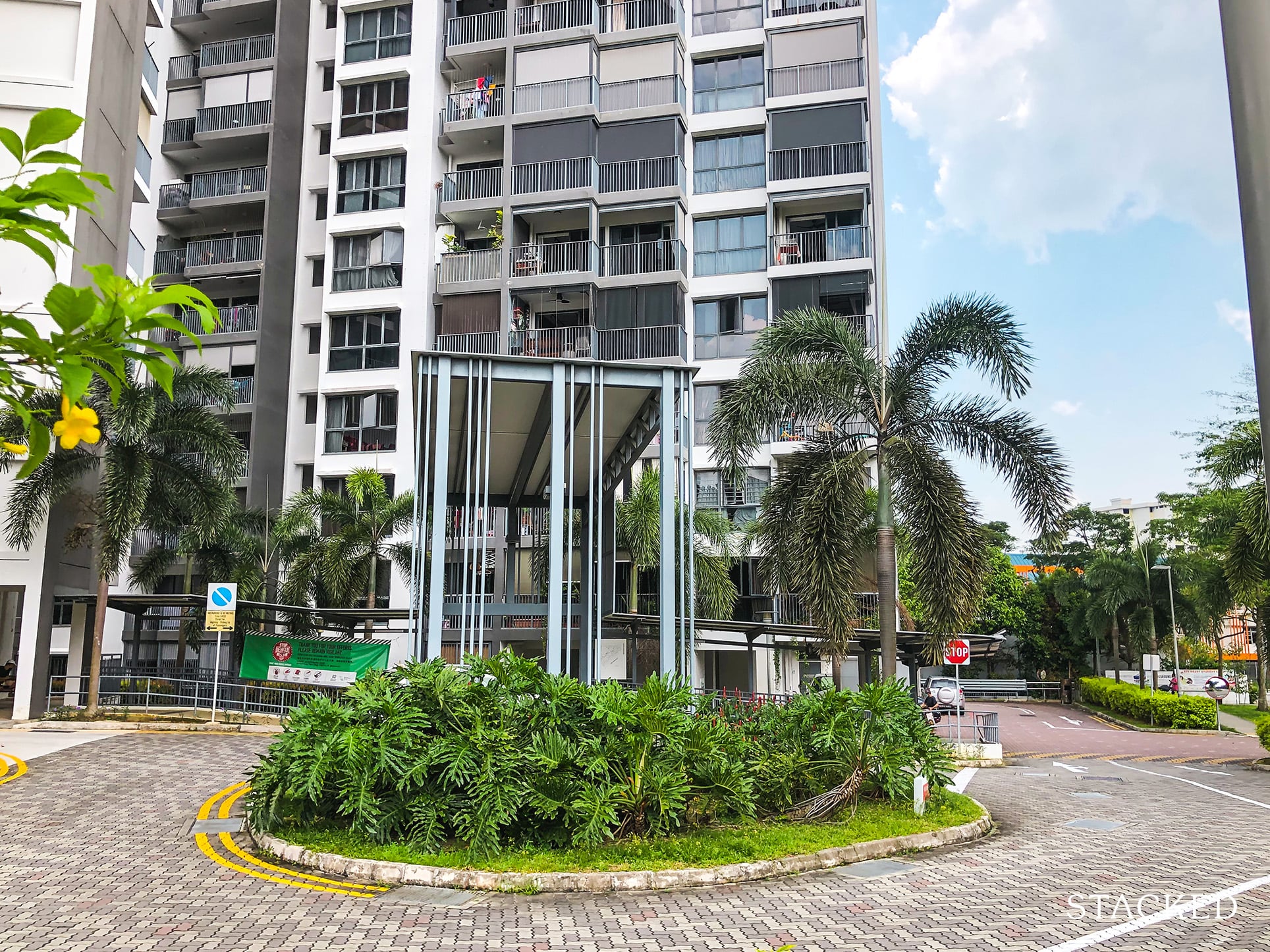 This is not very favourable considering there are six residential blocks here, and I'm willing to look past this if the service roads are wide enough for drivers to pick up and drop off passengers, while easily making a 3-point turn without having to go to the ends of the development. But that is not the case with Belvia.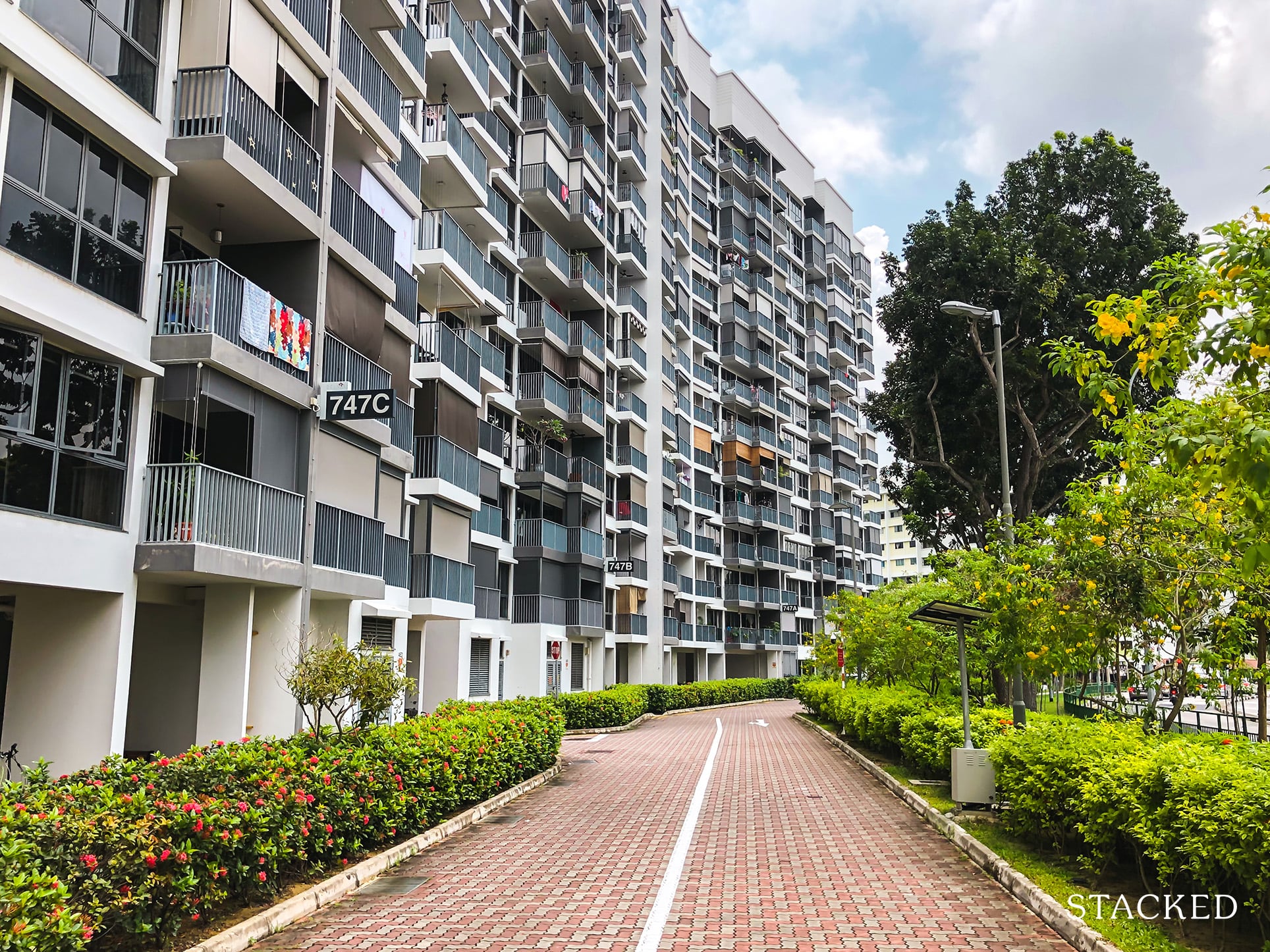 Here, you'll find that the service roads leading up to the last blocks in the development are very narrow, making it quite a hassle for passenger pick-ups.
Back to the drop-off point, you'll see that it sports a roundabout design which makes this quite convenient for drivers to exit without having to do a 3-point turn. However, it can only fit one car under the shelter at a time. Since this is the only drop-off, that means some residents might have to wait in line for others to drop off during wet weather if they want to avoid the rain!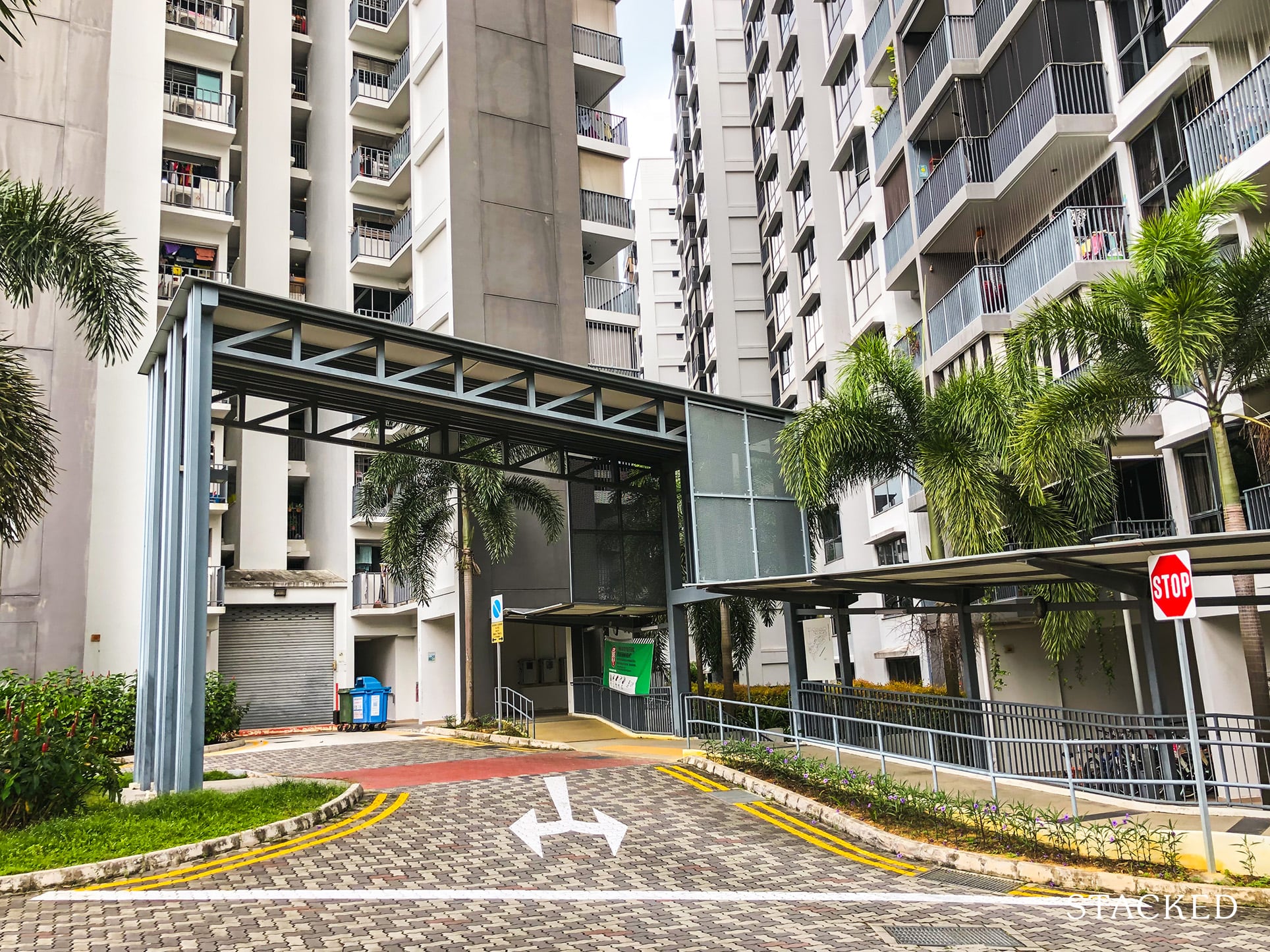 You'll also notice something unique about the main drop-off – it shares the driveway of the refuse chute for block 747A. While it's not a big deal, some residents might end up waiting around for their pick-up at the exact time when the refuse collection is being done, resulting in less-than-pleasant smells greeting you before you set off your day. Moreover, the waste collection truck would take up quite a large area of the drop-off point, making it quite cramped.
Aside from that, the drop-off also lacks a seating area which is a glaring omission that's aggravated by the fact that this is literally the only drop-off you need a seating area for!
Again, I would chalk this down to the limitation of the plot. Given that this is ultimately public housing, maximising the number of units here would make sense. Considering the small and odd-shaped plot, residents who choose to stay here must be willing to accept some of the development's shortcomings such as this one.
Next, let's check out the car park at Belvia which is of a multi-story variety.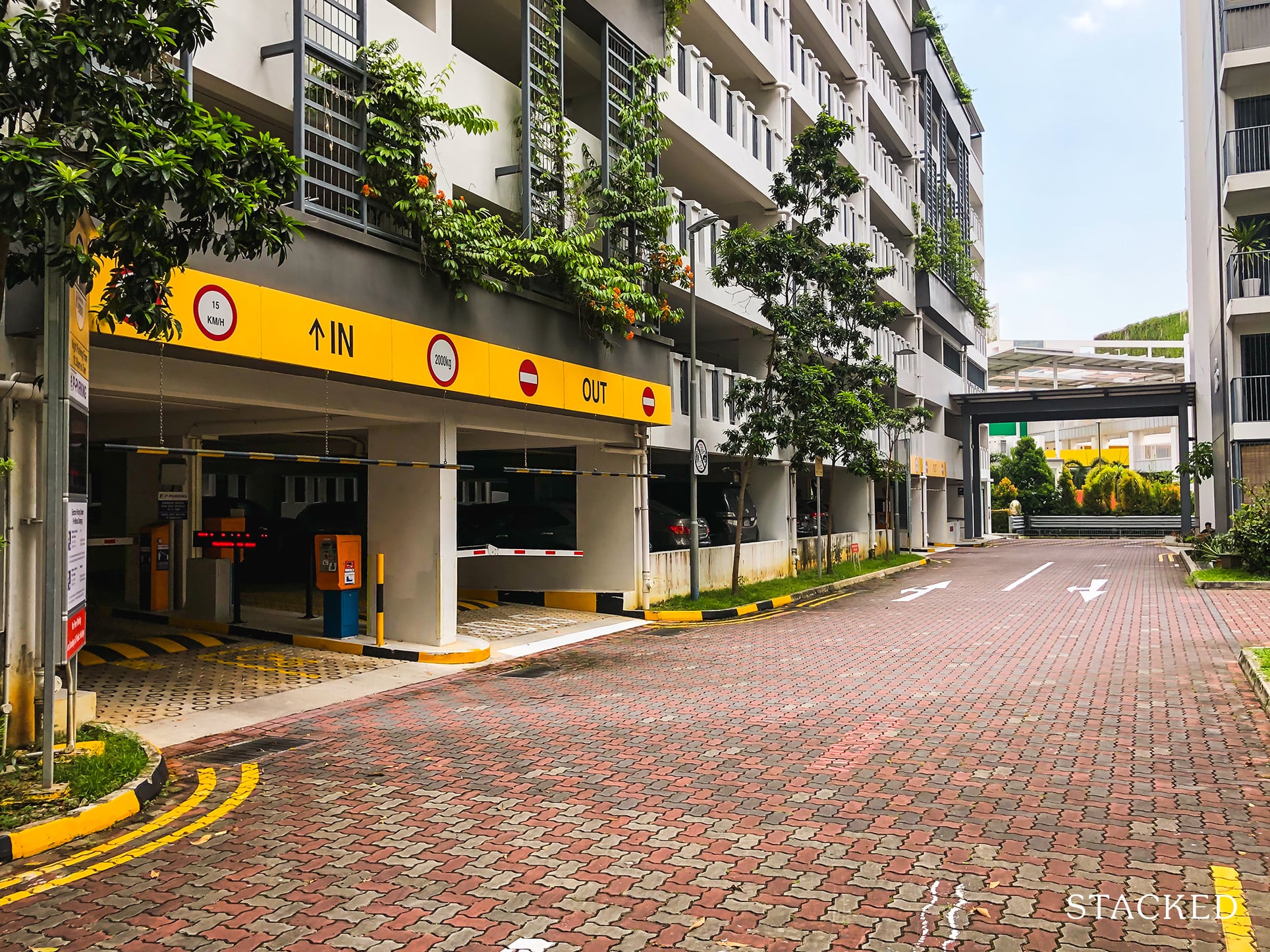 Before we do that, let me explain the situation using the site plan below: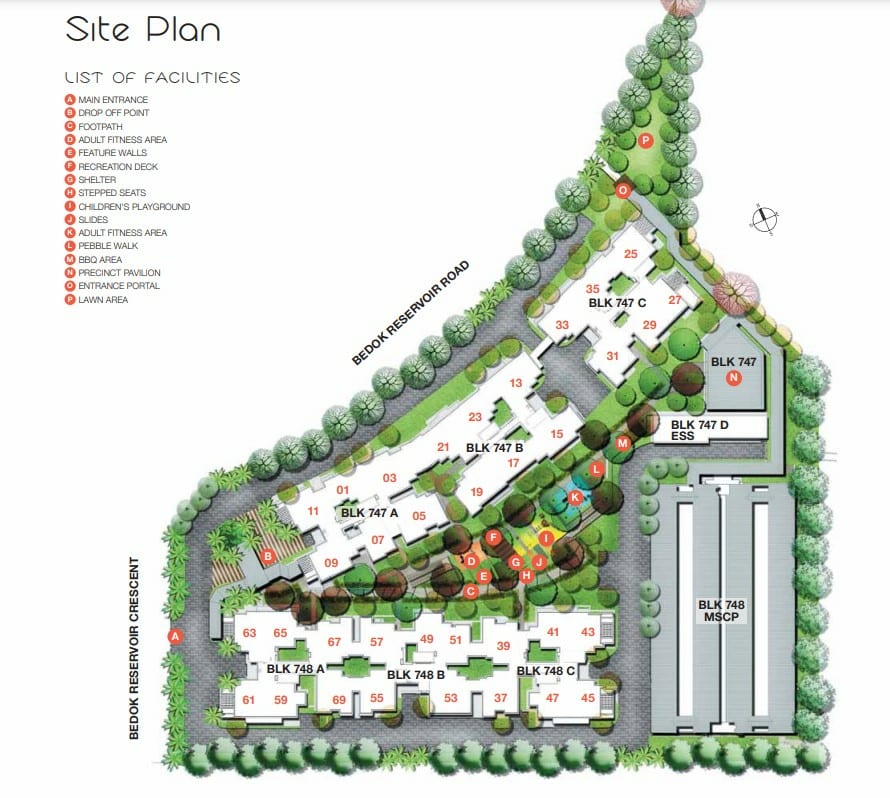 Notice how the service roads at Belvia DBSS do not connect? This means that those heading to the multi-storey car park would need to drive along the service road located only on the south side. The lack of connection here is not that big a deal, but what it means is that drivers would need to make a 3-point turn at the end. This is not a very uncommon layout in an HDB though. Even the "premium HDBs" like SkyTerrace@Dawson built by the renowned architect SCDA face this issue.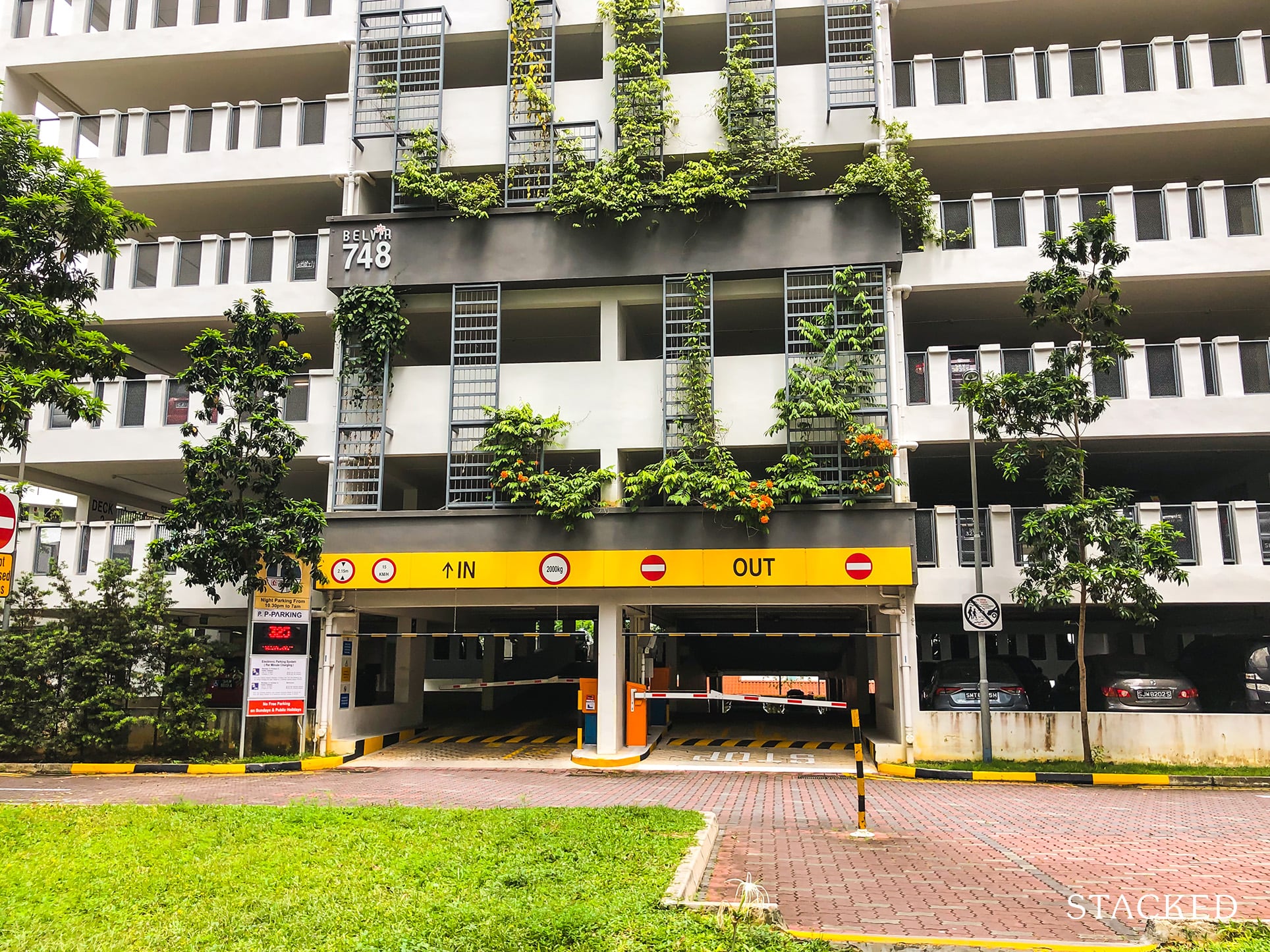 The car park here is 7 storeys high, and from the outside, you can see that it sports a clean white and grey look – in line with the overall development. I do also like that there's some effort in the landscaping here considering the installation of plant walls on the side featuring some nice creeping plants.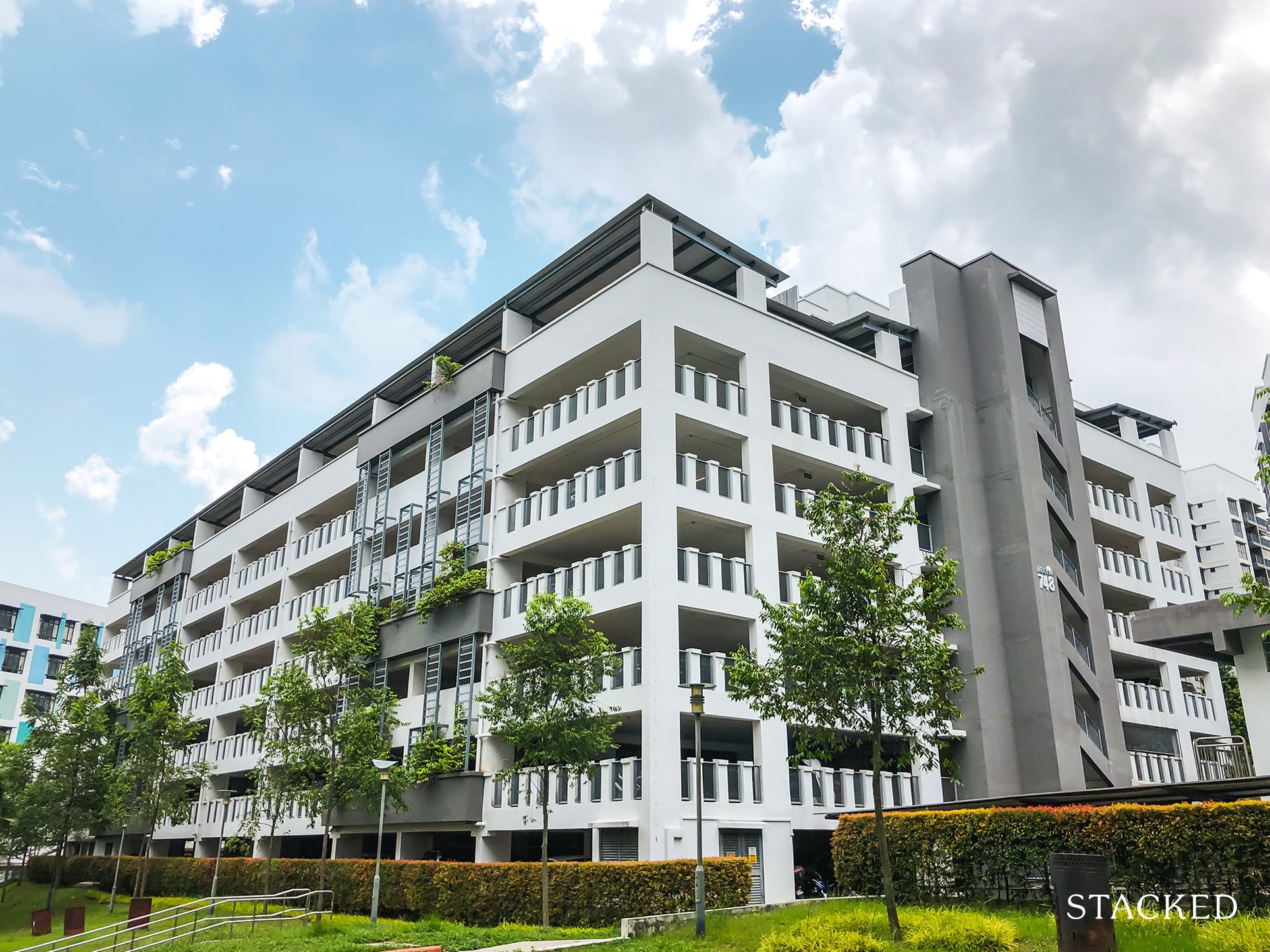 Heading inside, you'll find the car park to be pretty typical. It's got good natural ventilation and is sufficiently spacious – much like any other multi-storey car park.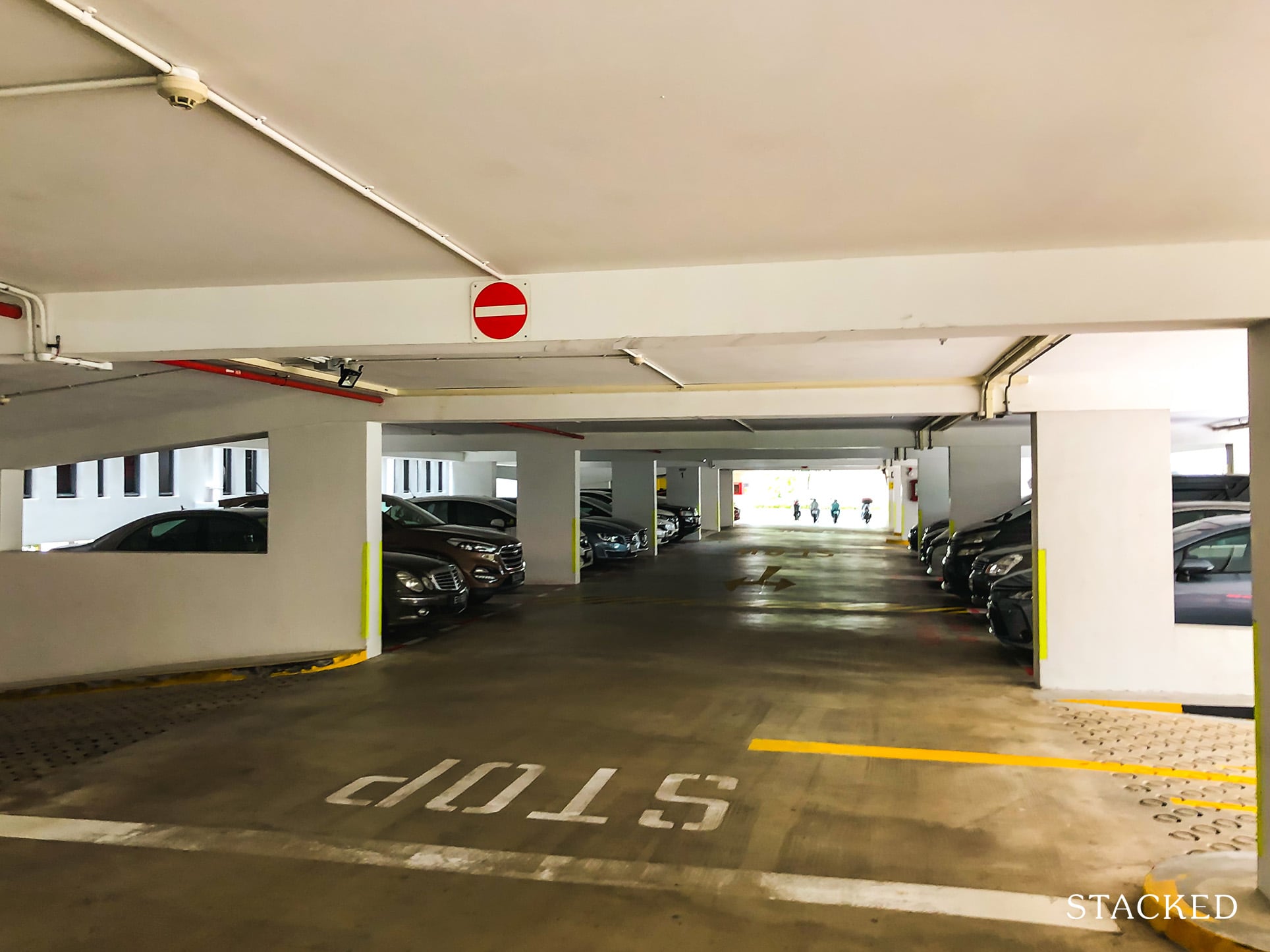 It's from here that you'll notice another shortcoming of the small plot – the proximity of the car park block to the units: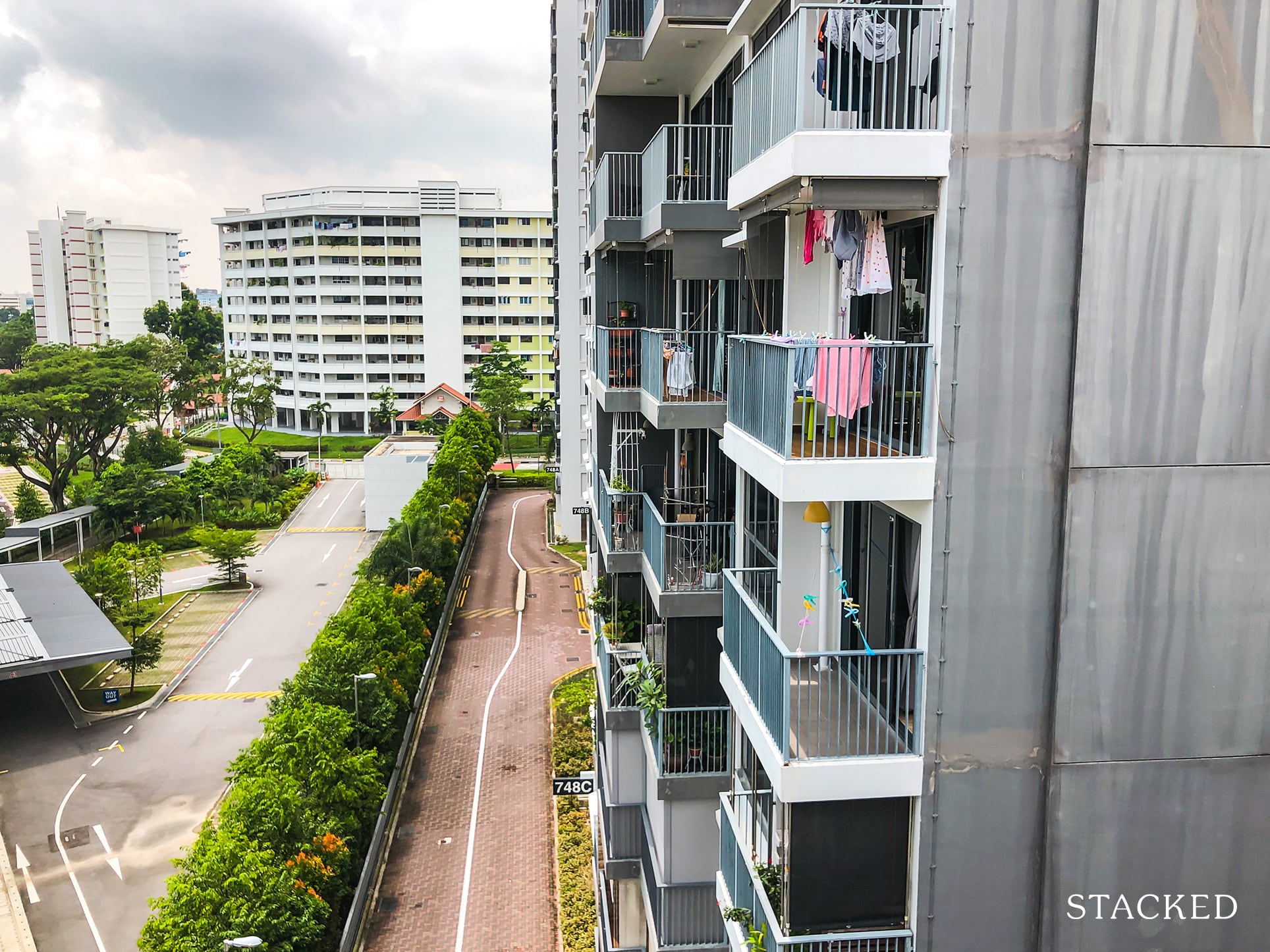 On a positive note, the block closest to the car park does not have a direct facing. In fact, only the balcony is exposed – but not the living room. The service yard, however, directly faces the car park although I feel this is not a big deal considering that's not a place where privacy is a concern.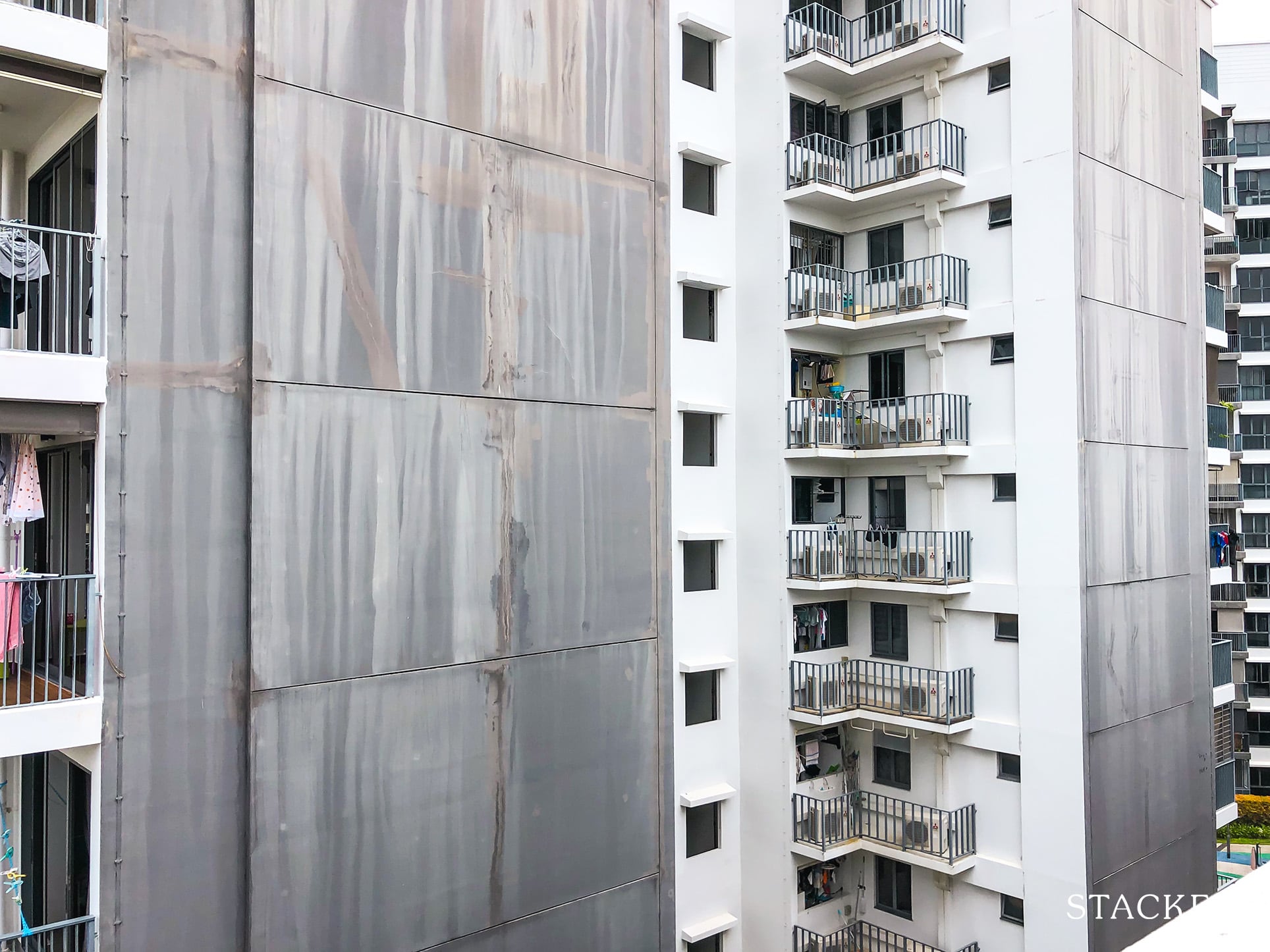 This is in contrast to the layout at Pasir Ris ONE DBSS, where the car park is laid out parallel to the opposite block, making it very intrusive. Moreover, the direct facing results in noise pollution permeating through the unit more than in this case.
The units at block 747B, however, have a more direct facing although it's not too near the car park: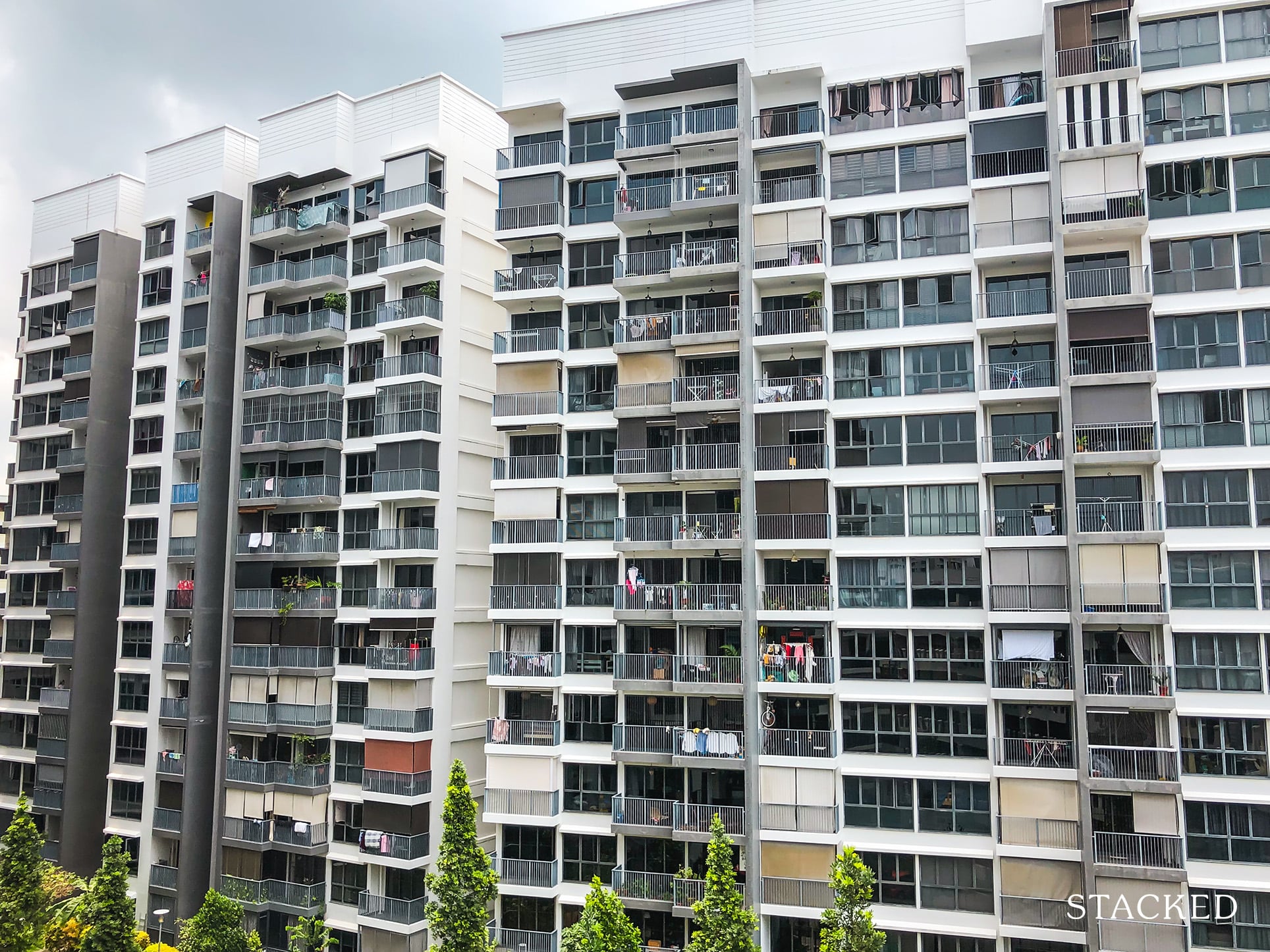 The distance is around 28 metres from the car park, depending on which stack you're measuring it against. This is quite close, although 28 metres is a fairly common distance between blocks in other HDBs.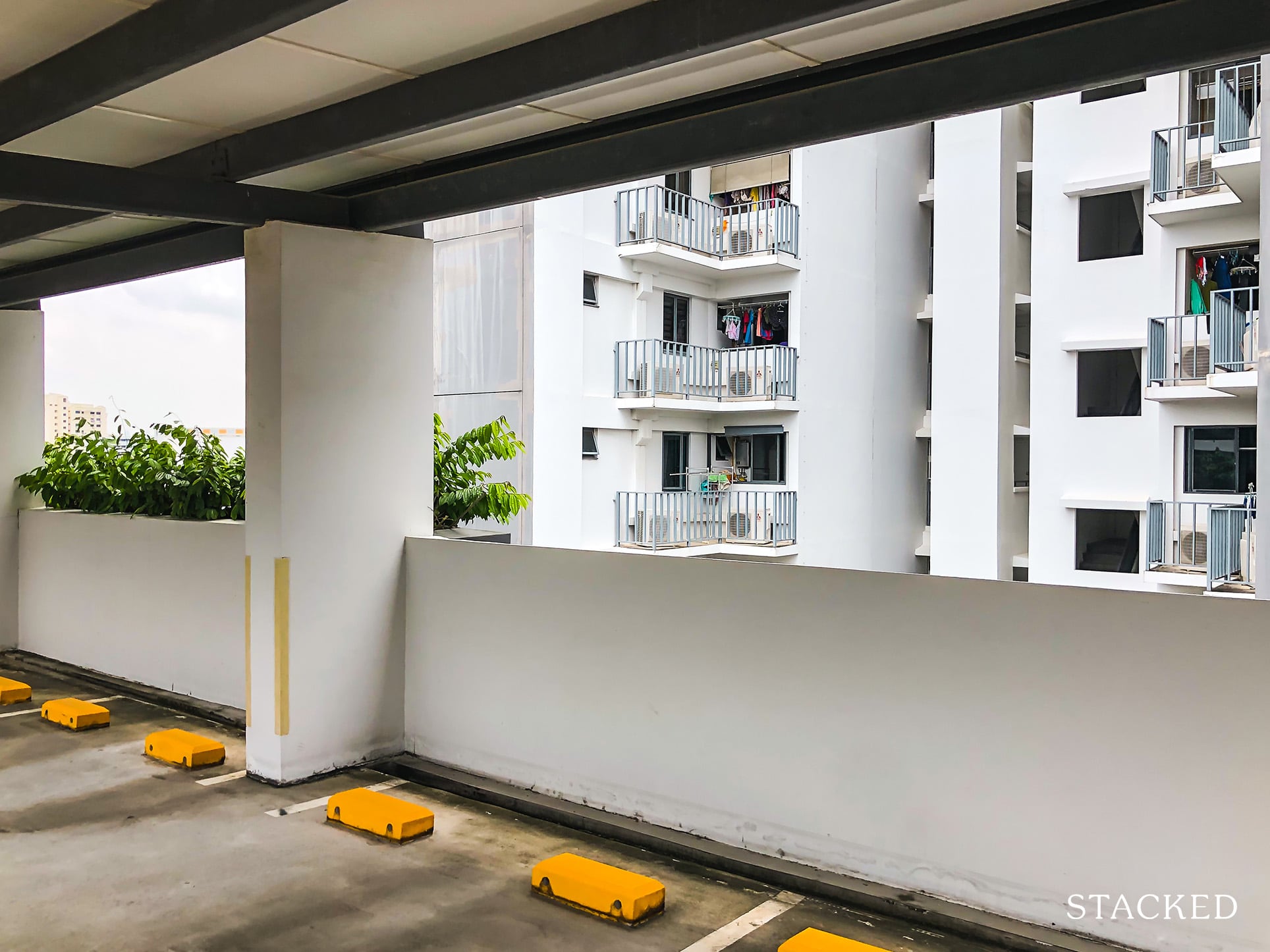 Potential buyers of inner-facing stacks here would either be too close to the opposite unit or face the car park. There's no way around it given the layout – do view the unit in person if you're purchasing one of these units to adequately gauge if you're comfortable with it.
Normally, I would move onto the rooftop of the car park to showcase the garden which I've come to expect after viewing many HDBs and DBSS. However, I can only disappoint here.
Belvia's car park rooftop is nothing more than a… car park. Surprise surprise!
There's really nothing here apart from this being the last resort to park if the entire car park is full for some reason.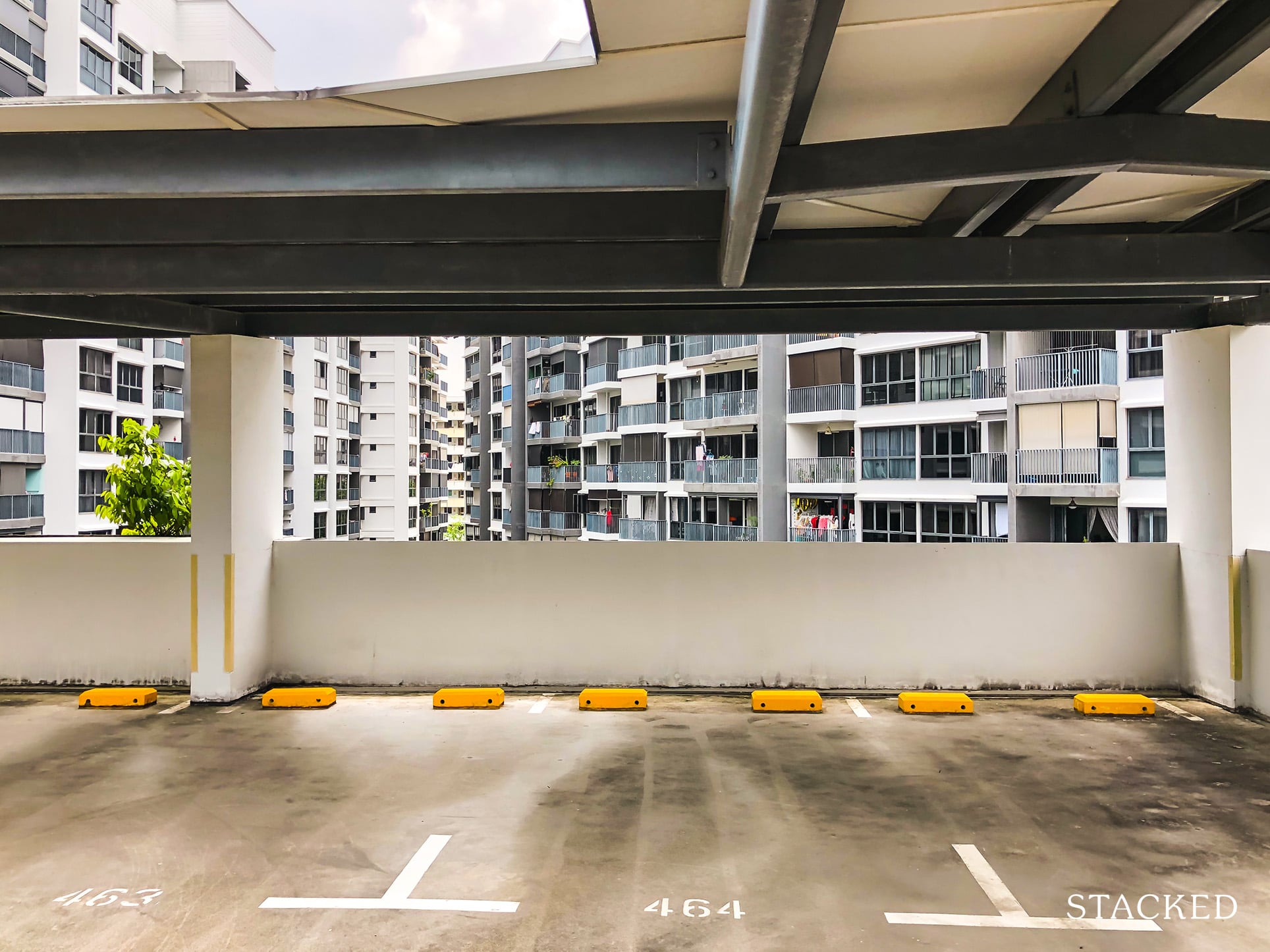 Not having a rooftop garden (or any garden in the development) does put the development at a disadvantage for a few reasons:
The lack of visual interest. Car parks are the ugliest structures in any development, so having some landscaping at the top gives residents on higher floors something else that's pleasant to look at (even if you can't use it).
Being within quick reach of nature – this is particularly useful for those with pets or just want a safe space to walk/run around with their kids.
I must point out though that in Belvia's case, not having a rooftop garden isn't too bad because there are at least two parks nearby: Bedok Reservoir Park and Bedok Town Park.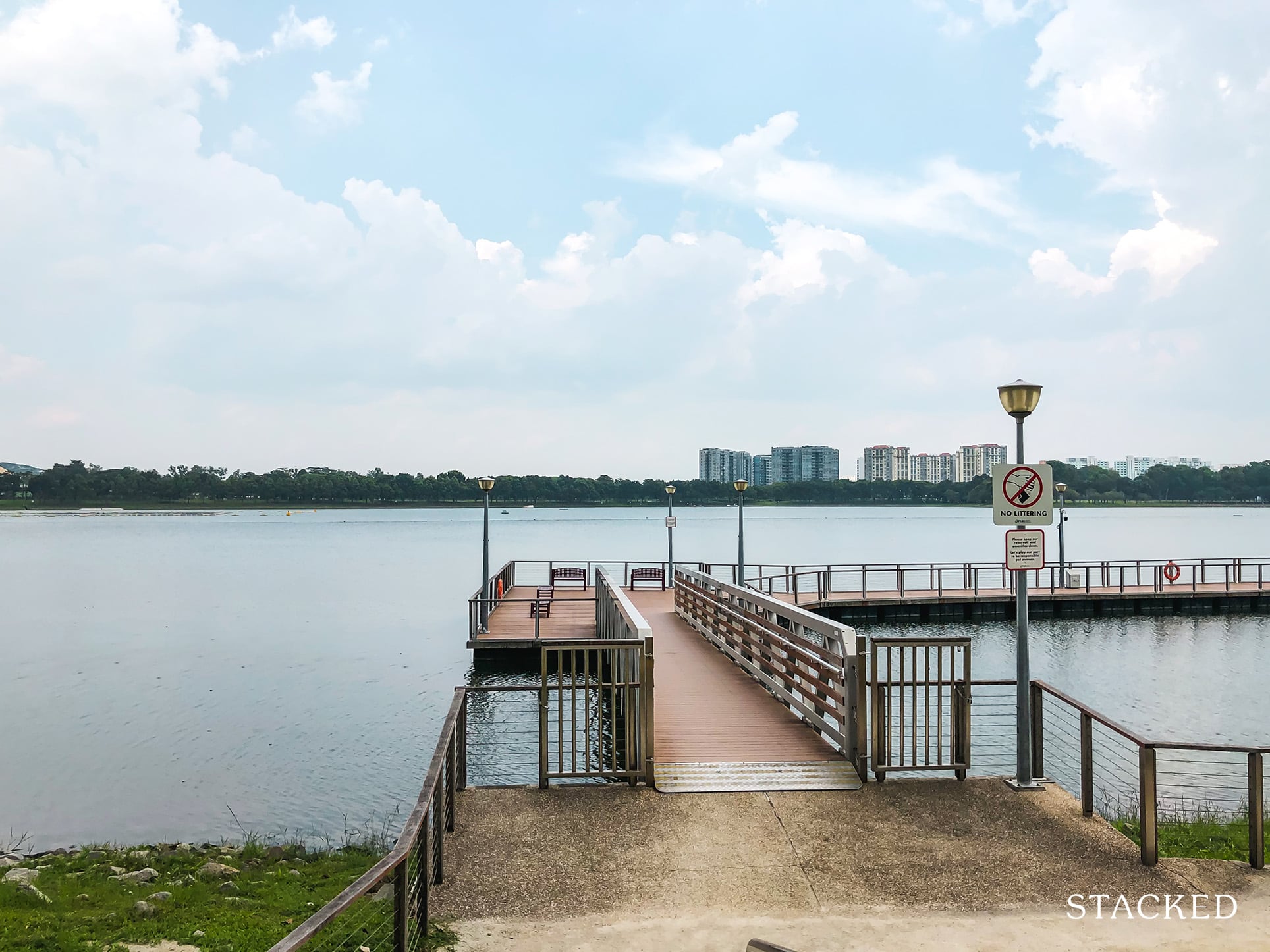 Moreover, with a rooftop deck, the car park to units comes quite close to the 1-1 ratio. There are 469 lots in total for 488 units so it is considered decent for an HDB.
Because of this, residents may find it redundant to have a rooftop garden here altogether.
Speaking of visual interest, it's from the car park rooftop that I noticed some really dirty and unsightly patches around: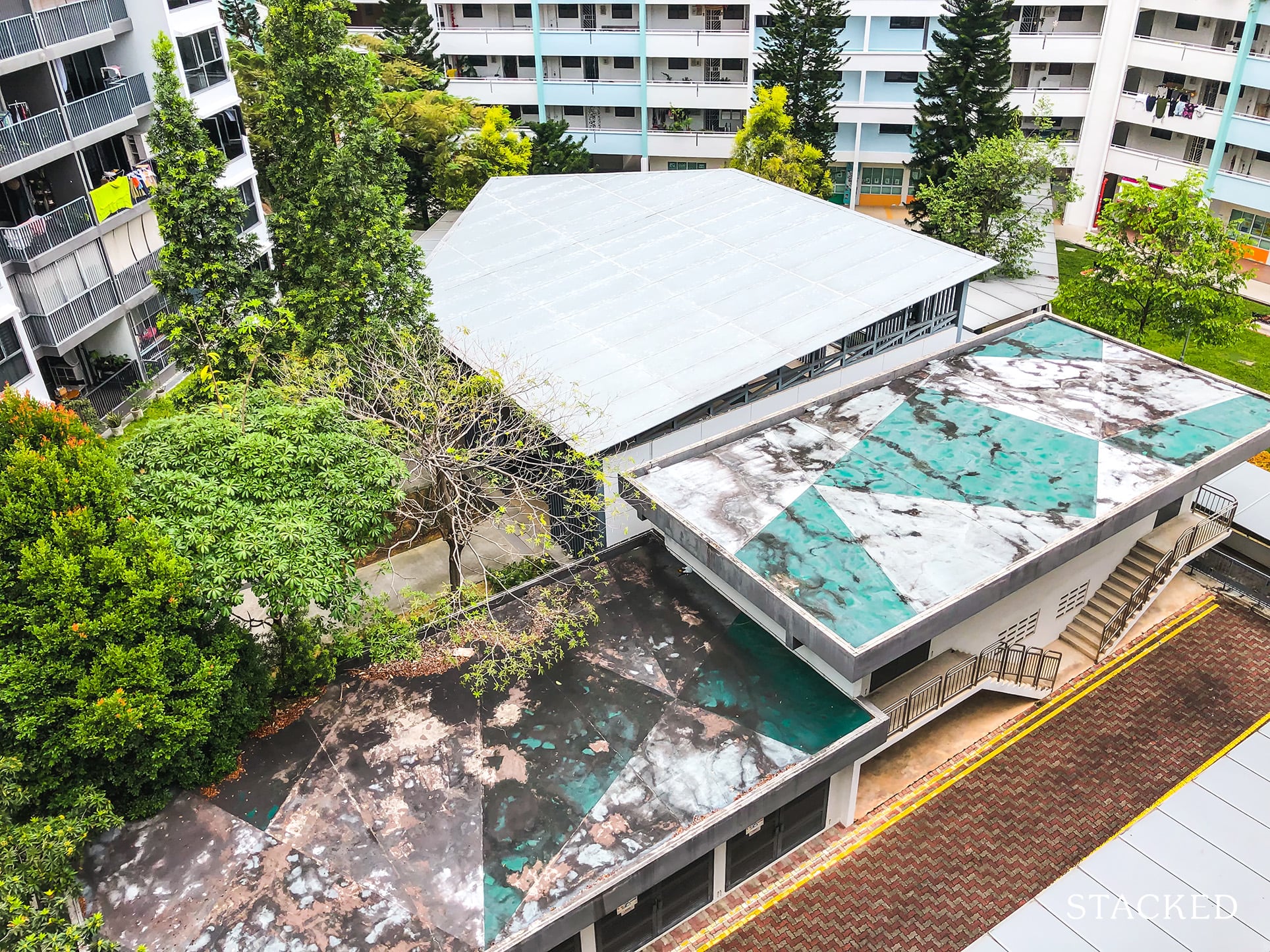 I liked the initial intention of having these triangular patterns on the top of the blocks here that provides a more interesting look, however, it's clear that it's in need of much maintenance/cleaning. Viewing it from here, I can't help but feel that this development has been ignored by the town council.
Now that we're done with the car park tour, let's head back down to check out the facilities!
Heading to the centre of the development, you'll find Belvia's one and only playground.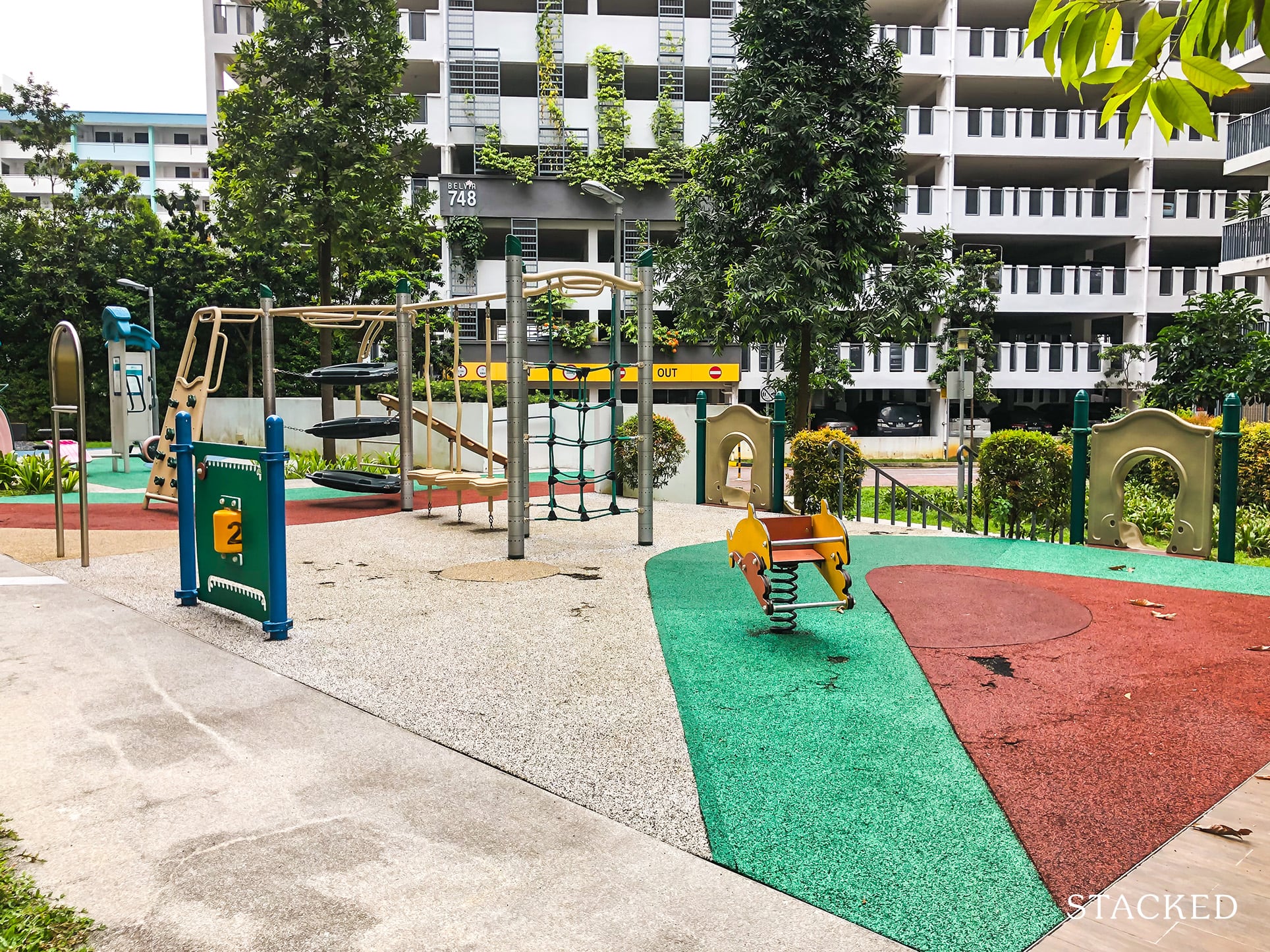 The playground has a small variety of climbing structures suitable for older children as well as one spring rider and a block rolling thing that toddlers use. The playground is not as appealing as those found in newer ones – I would've preferred a more colourful or themed playground, but I think anything with a climbing structure is good enough.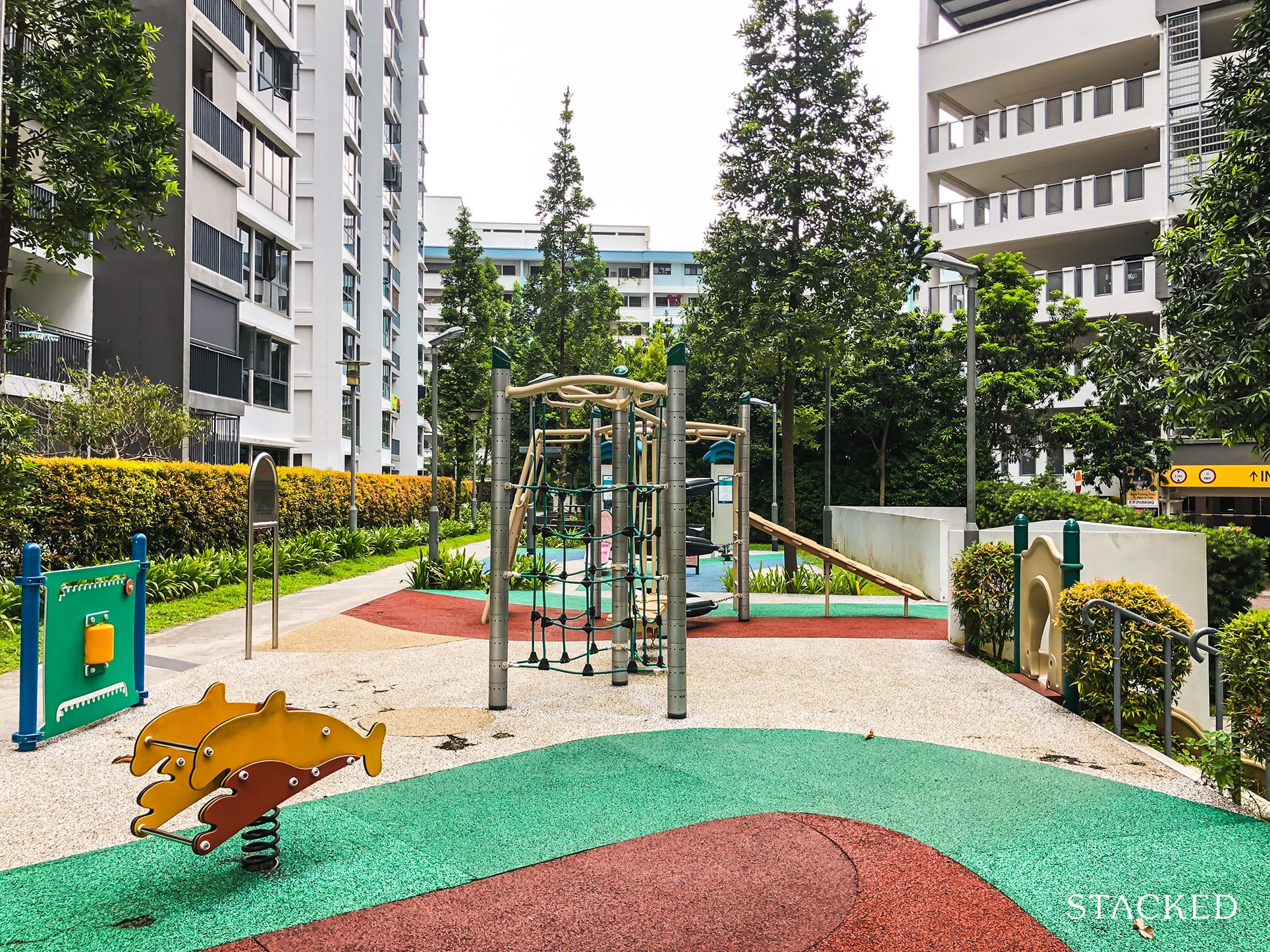 The patches here also look like they're in need of some maintenance, a theme that echoes from the lack of maintenance on the roof of certain structures earlier.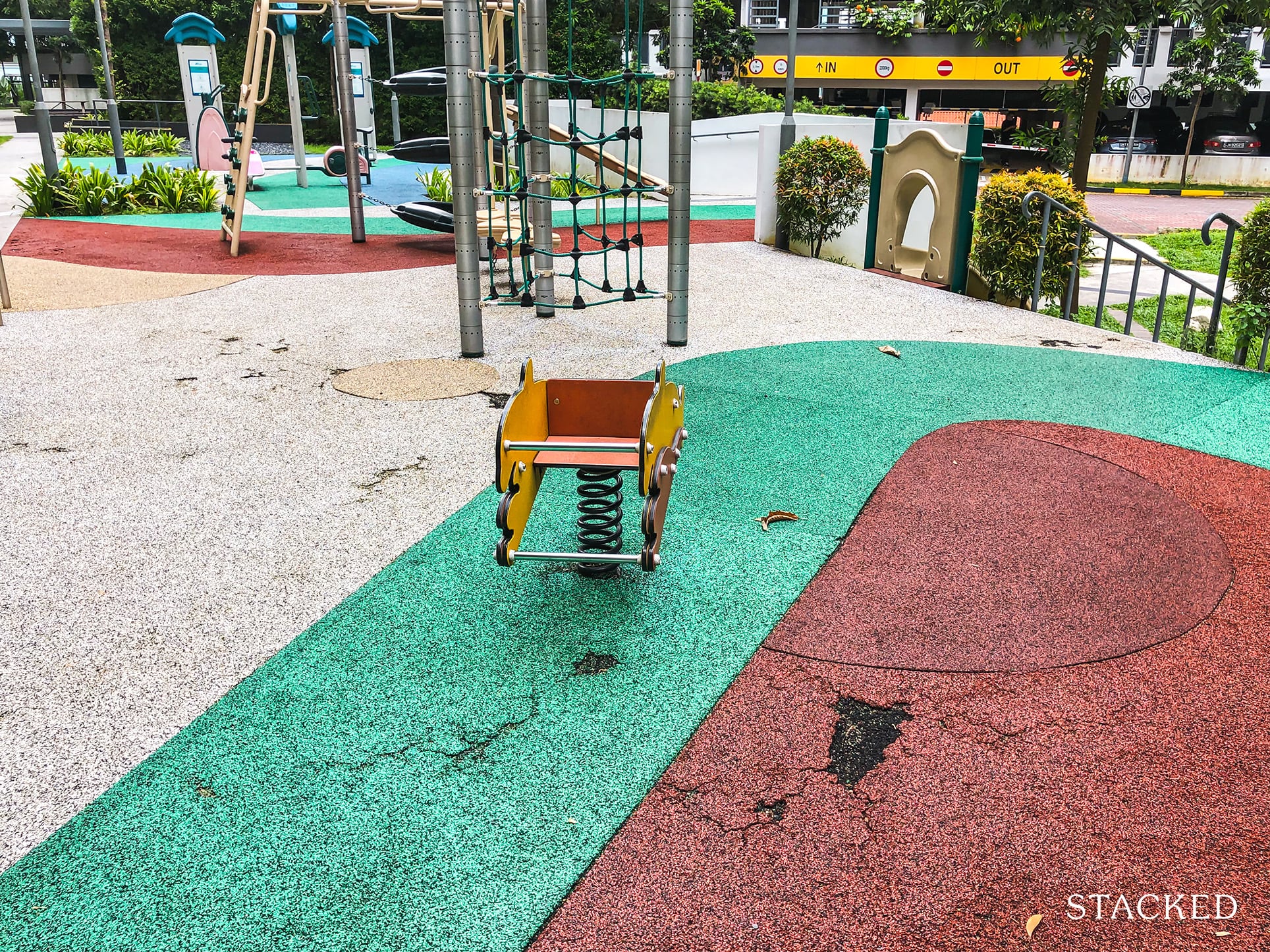 What's great are the two slides off the side here that lead to the lower part of the playground: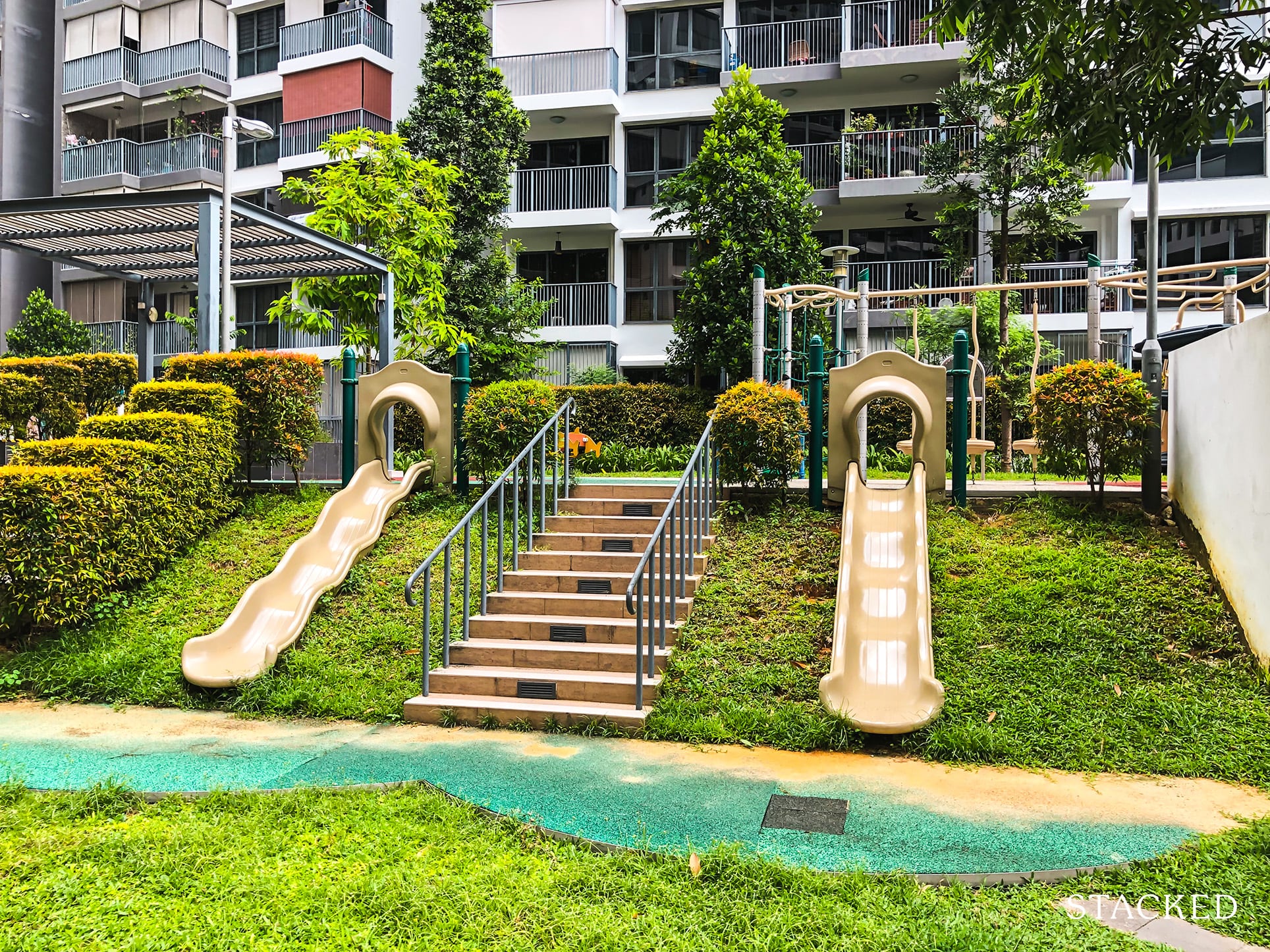 I can imagine this to be lots of fun and is a great motivator for children to work out as they run up the stairs each time.
Nearby, there's also a seating area for parents who are watching over their children. It's only partially sheltered here though, so during a hot day, this shelter wouldn't be much of a help.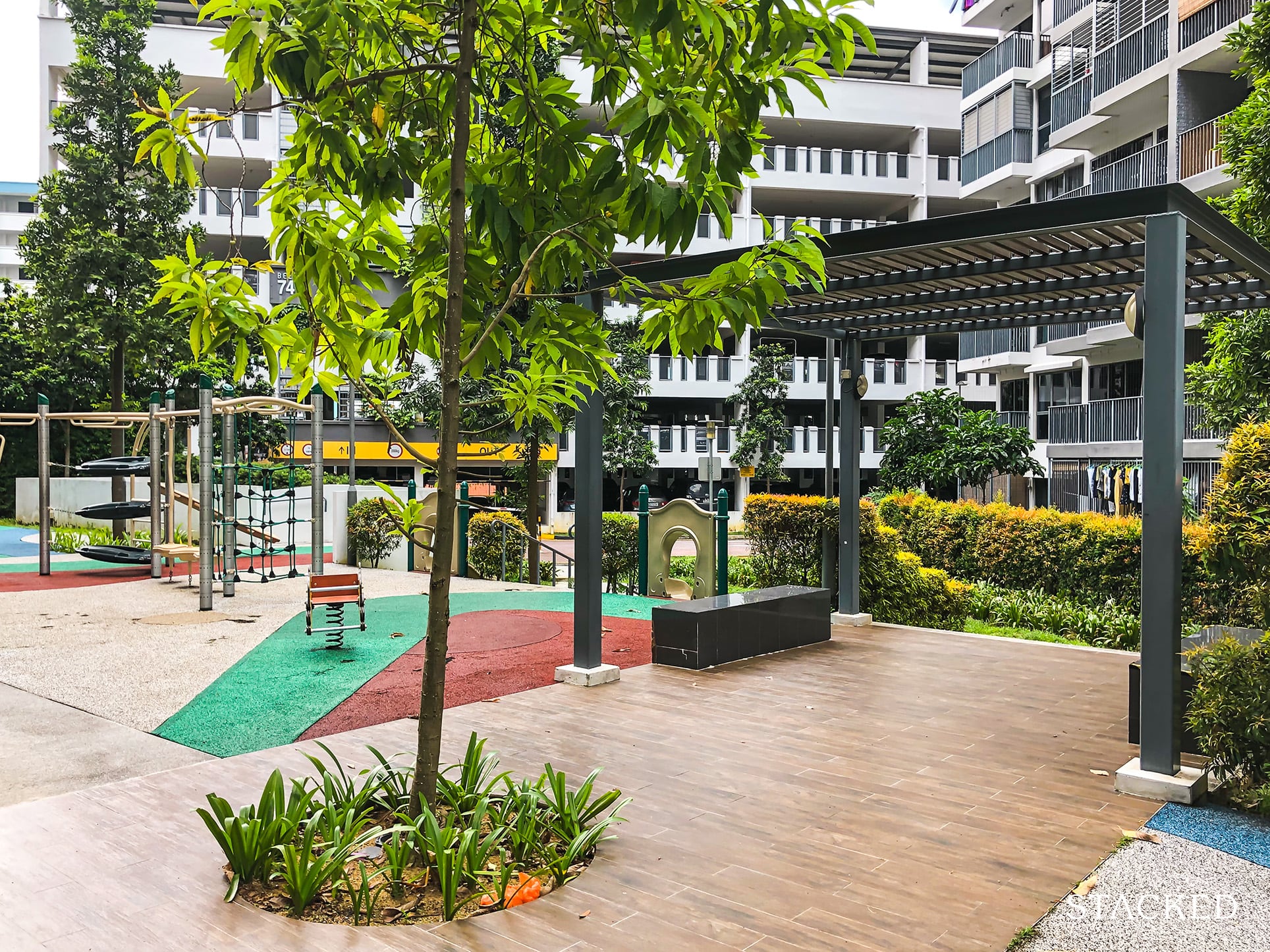 I do wish that there were more seats here though – and better if it's sheltered, but I suppose this is another limitation of the small plot of land.
Next to the playground is the Adult Fitness Area – at least that's what it's officially called.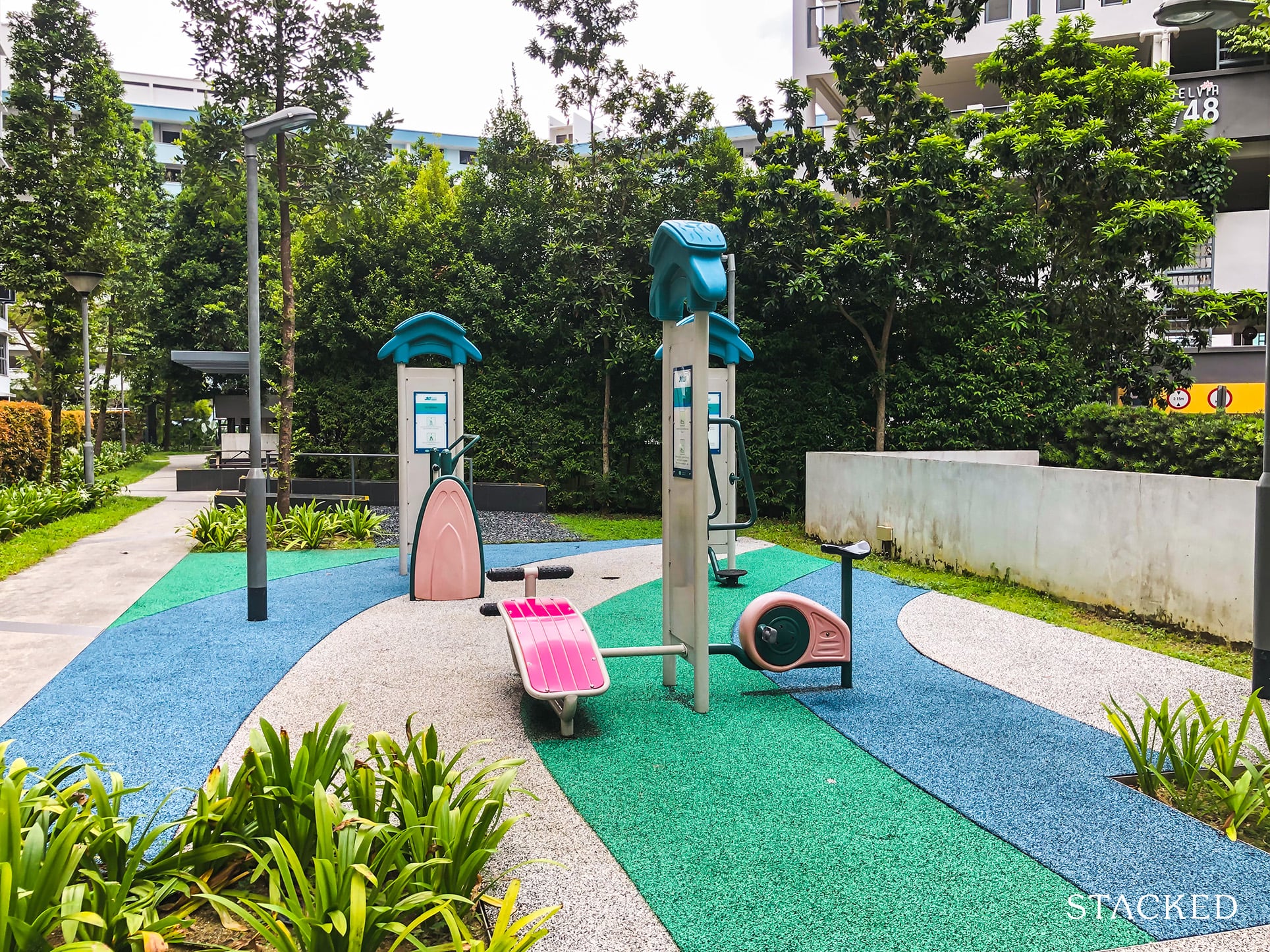 To me, it still looks like a playground but for adults. The colour and material combination really looks like something a playground would be made of, so this is quite a strange choice for me.
It's also lacking in terms of equipment. I've seen HDB developments with a far more impressive range of equipment, so for those who value such facilities, you'll find Belvia to be lacking.
Similar to the playground, you'll also notice the wear and tear of the ground here, so I do think that maintenance is somewhat due here. Moreover, there's a lack of seats here too – a very common feature near fitness areas which is useful for your stretching or if you just need some rest, so it's a little disappointing not to have them here.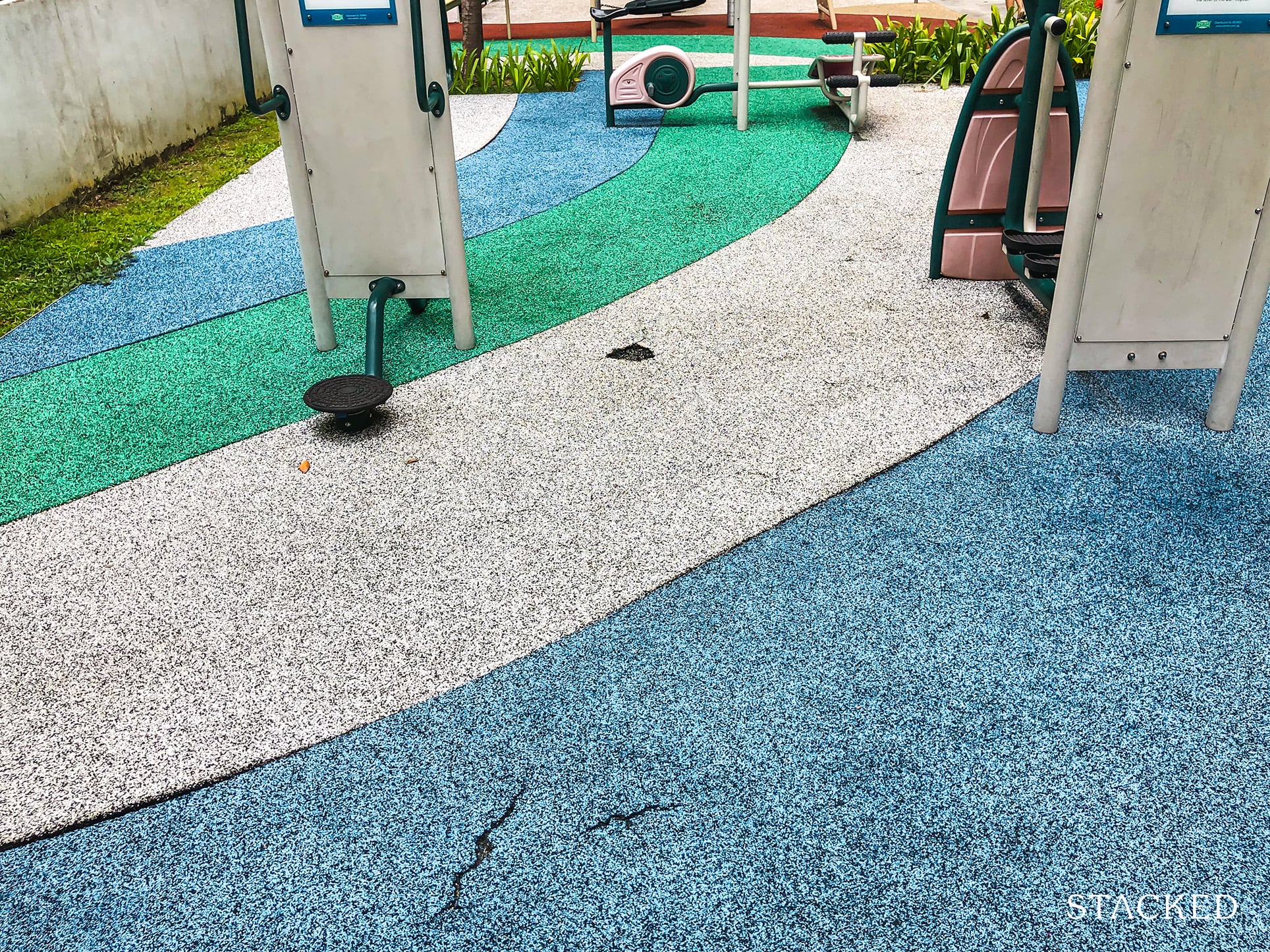 Right next to that is what is called the "Pebble Walk", or the foot reflexology area. This is quite a sizeable one, and from the looks of it, I think having a longer railing could really help the initial phase of getting in!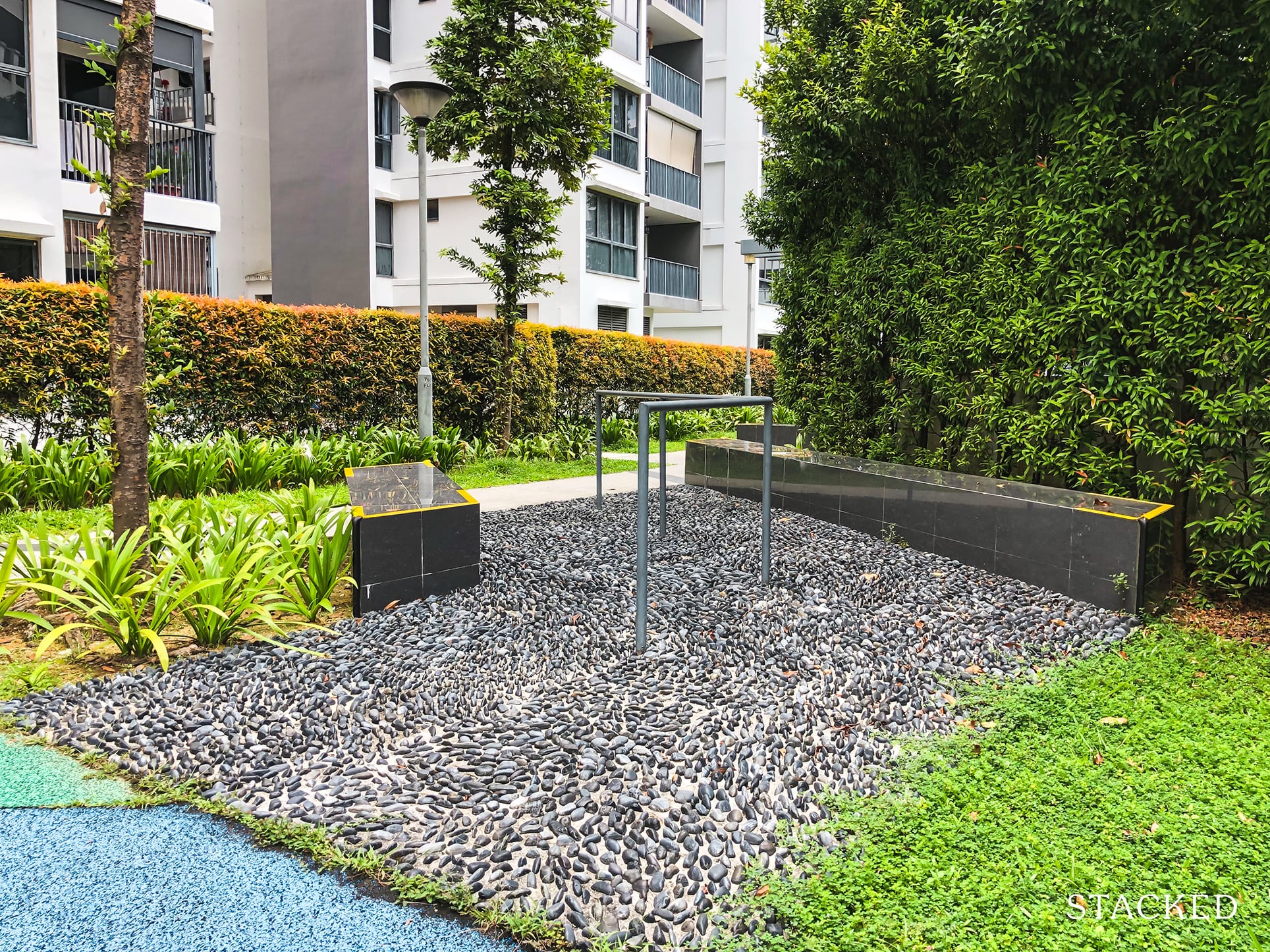 One thing I'd like to highlight is the sharp corner of the bench seating. It's a safety hazard, and I think it's for that reason that a yellow tape was pasted around to warn passersby. And if you look carefully, you'll see that cushion pads were added here – something tells me that an accident may have occurred here that prompted this. It's really unfortunate that a landscaping design can ultimately pose a safety hazard.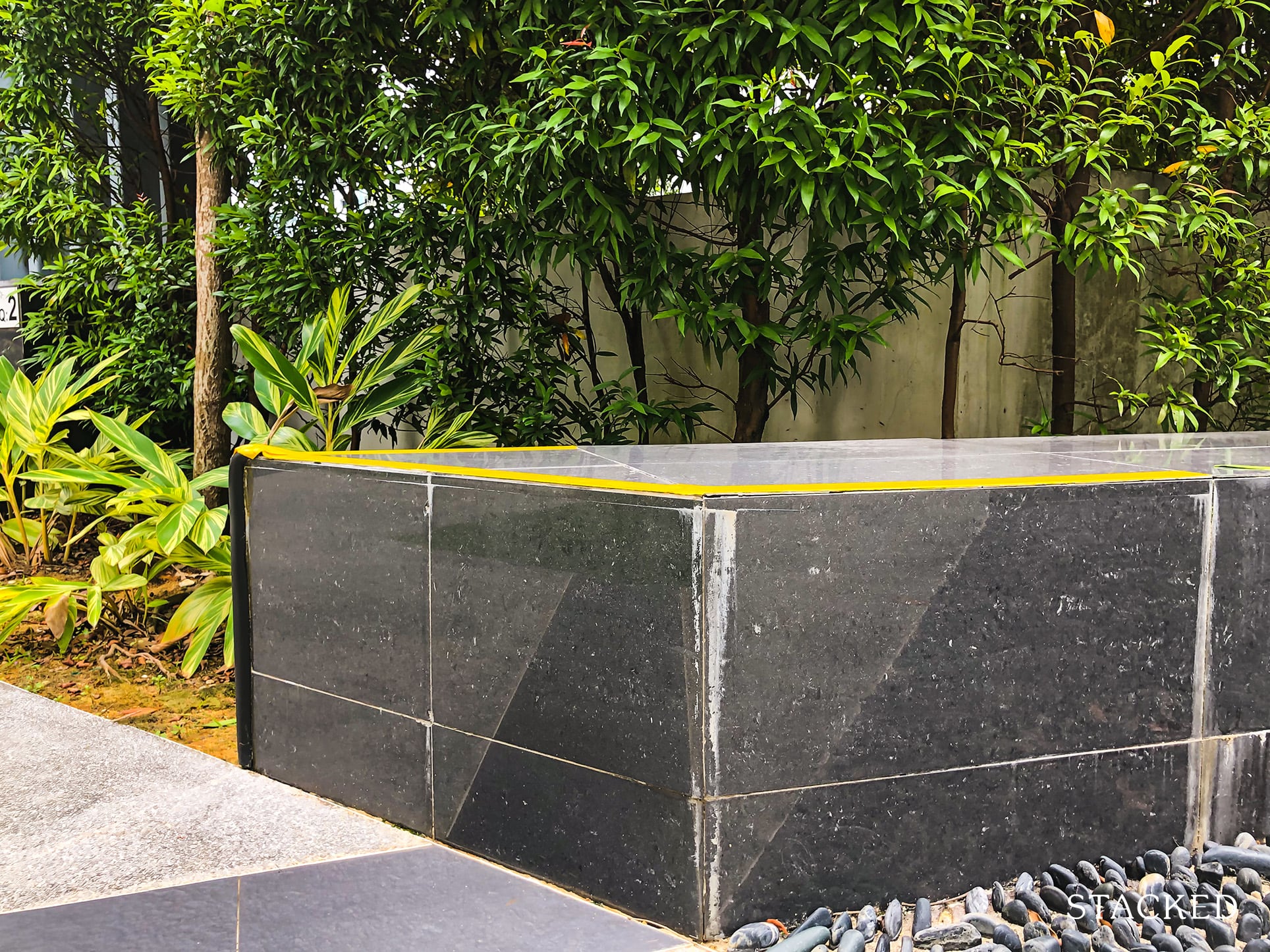 Further down, you'll find Belvia's barbeque pit area – a facility that several DBSS offers. Belvia has a total of two barbeque pits which I think is sufficient for a development of this size. However, do note that both pits are pretty close to each other. As such, it could be a pretty tight affair if you have to share this with someone else. Moreover, there is only 2 bench seating area and one table.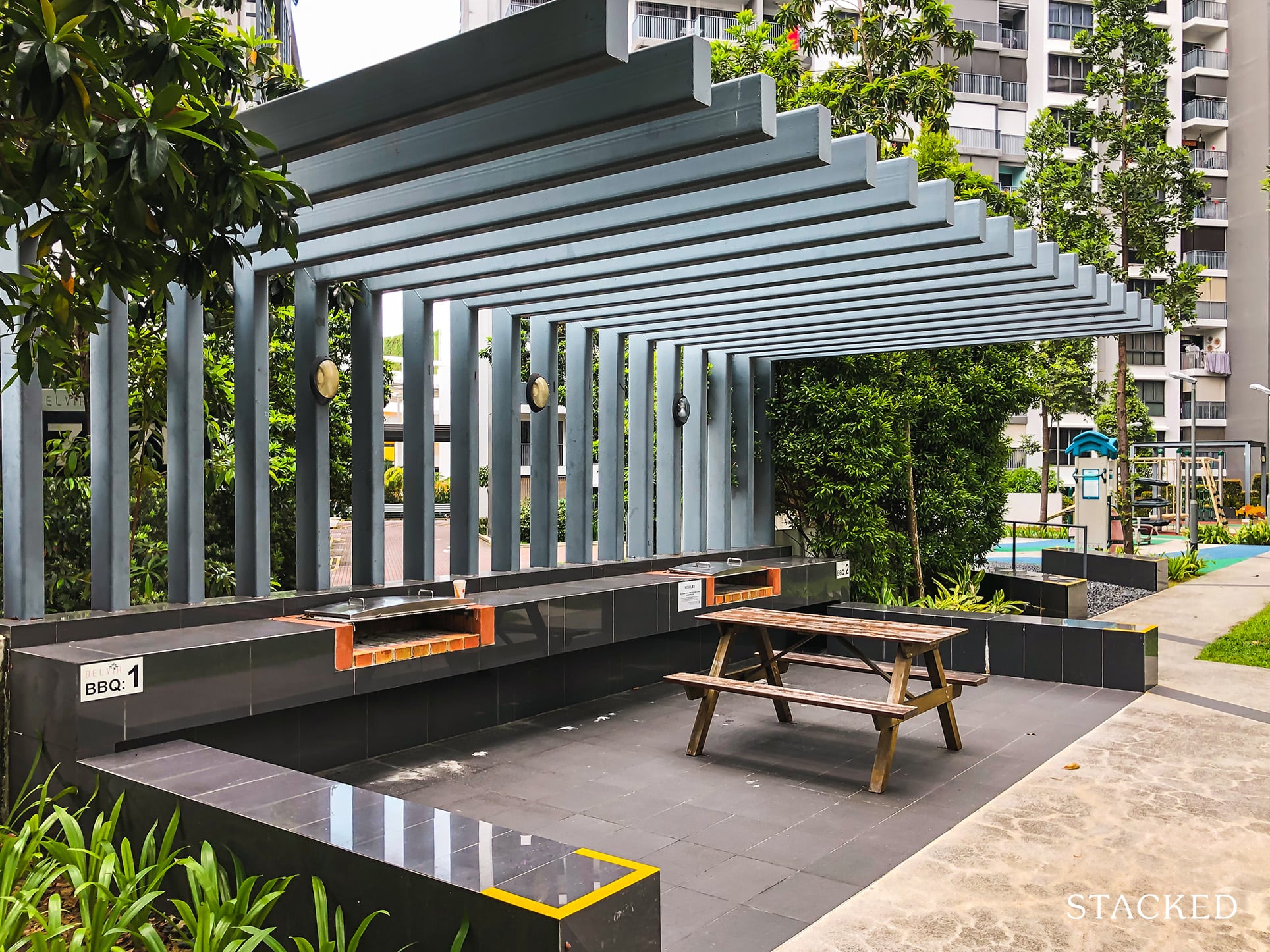 It's a little sad if I may add. Just two hard benches and one table is quite compact, and there aren't any other seating areas nearby too unless you walk across the fitness area playground which is a tad bit anti-social.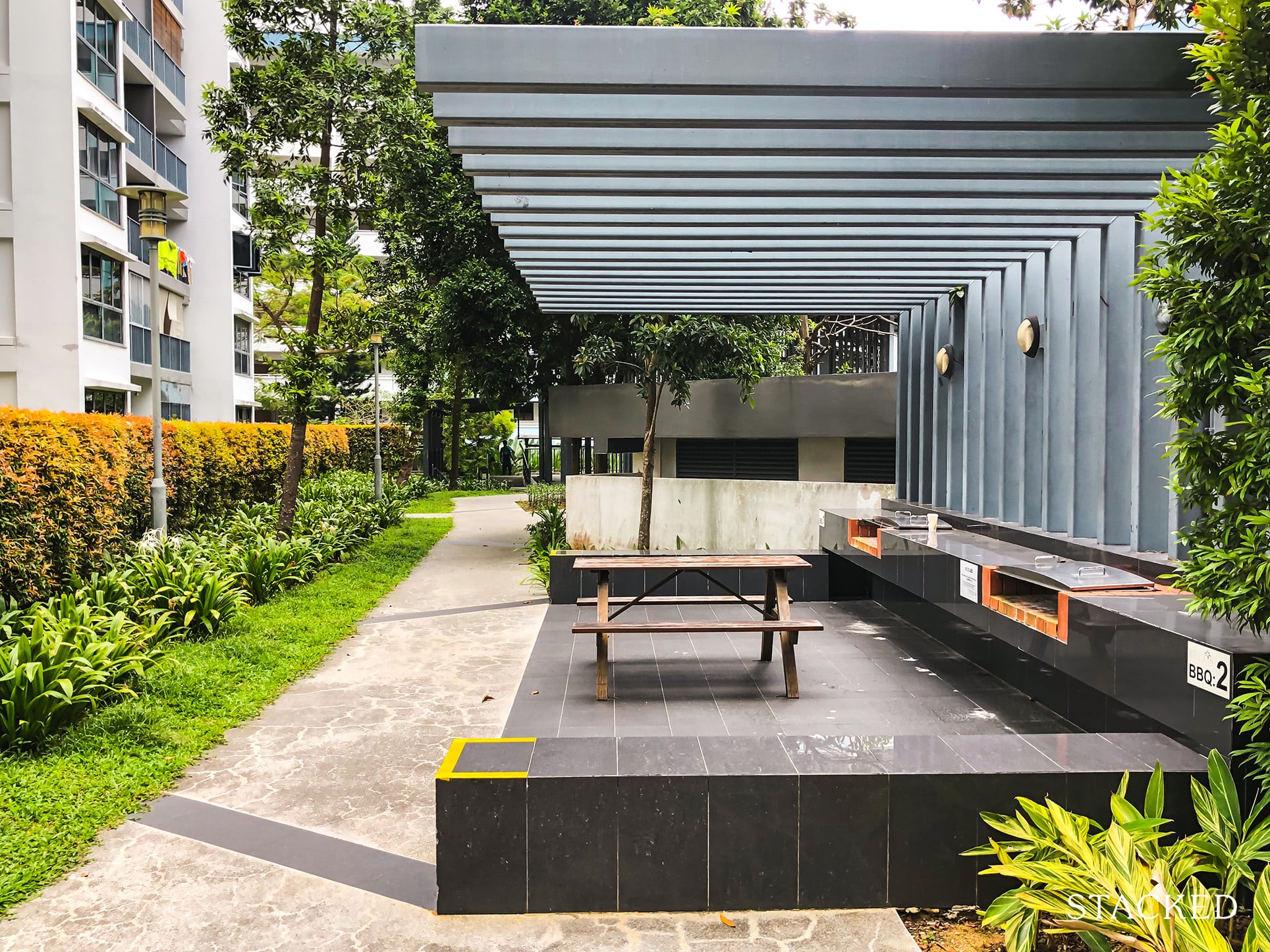 Do you also notice what is lacking? A washbasin! This could come in really handy for any barbeque pit area. Lake Vista DBSS has a washbasin at its barbeque pit area, so we really appreciate that developer's attention to detail.
The area is also only partially-sheltered via a trellis, so you'll likely have to call off your barbeque event during wet weather.
Just like the playground and fitness area, it also looks like the barbeque pit area is in need of some maintenance. Perhaps one is scheduled soon as the place does look like it's in much need of some sprucing up!
Overall, being around Belvia's only facility area gives me a familiar feeling… and it's not a good one.
That's because it reminds me of Pasir Ris ONE DBSS- the area is small in size and the facilities here are so close that the surrounding blocks feel like it's caving you in.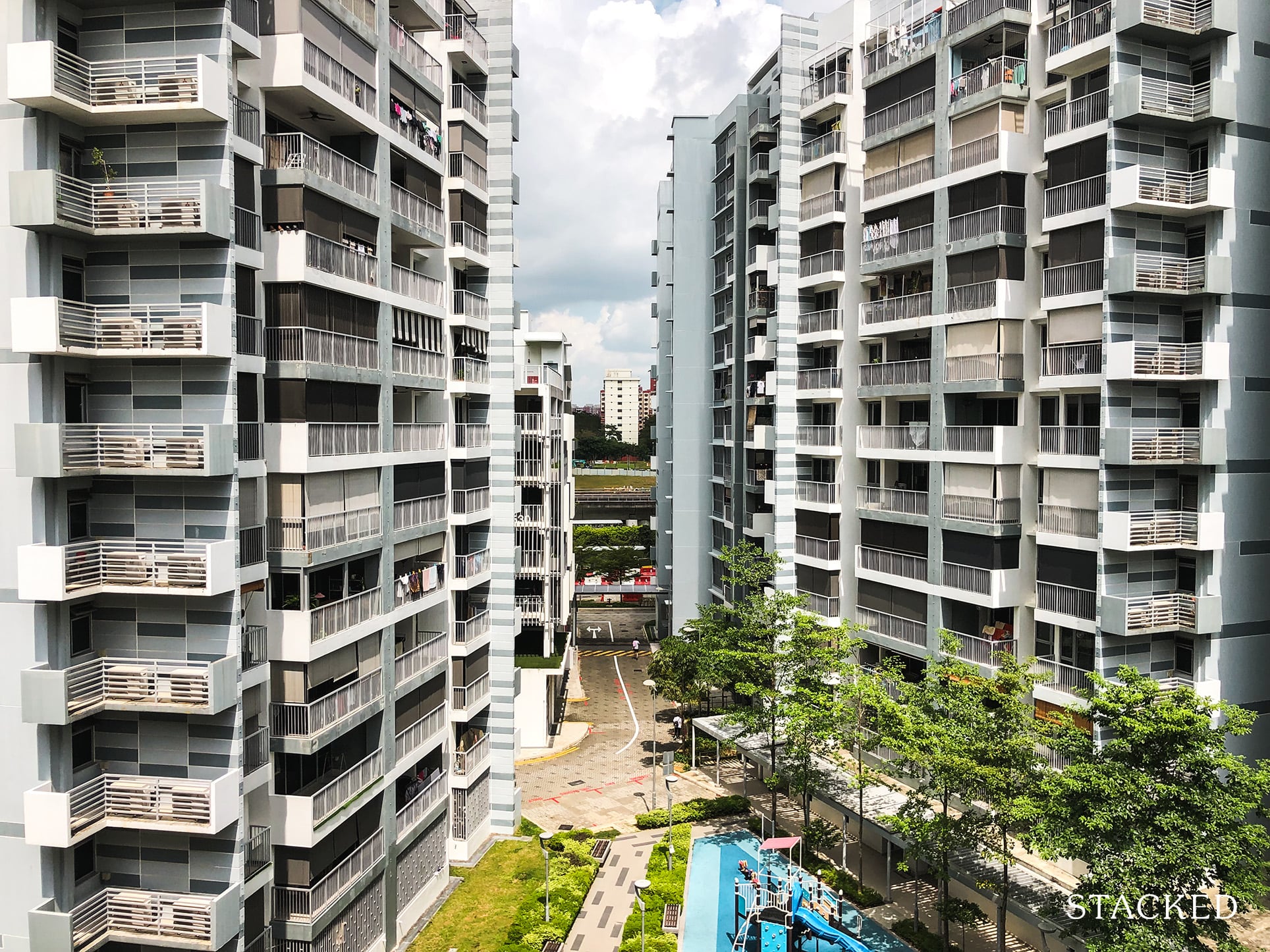 Just looking at the fitness area from this angle, you can see how close the residential quarters are to it. This means more noise and a lack of privacy on both sides.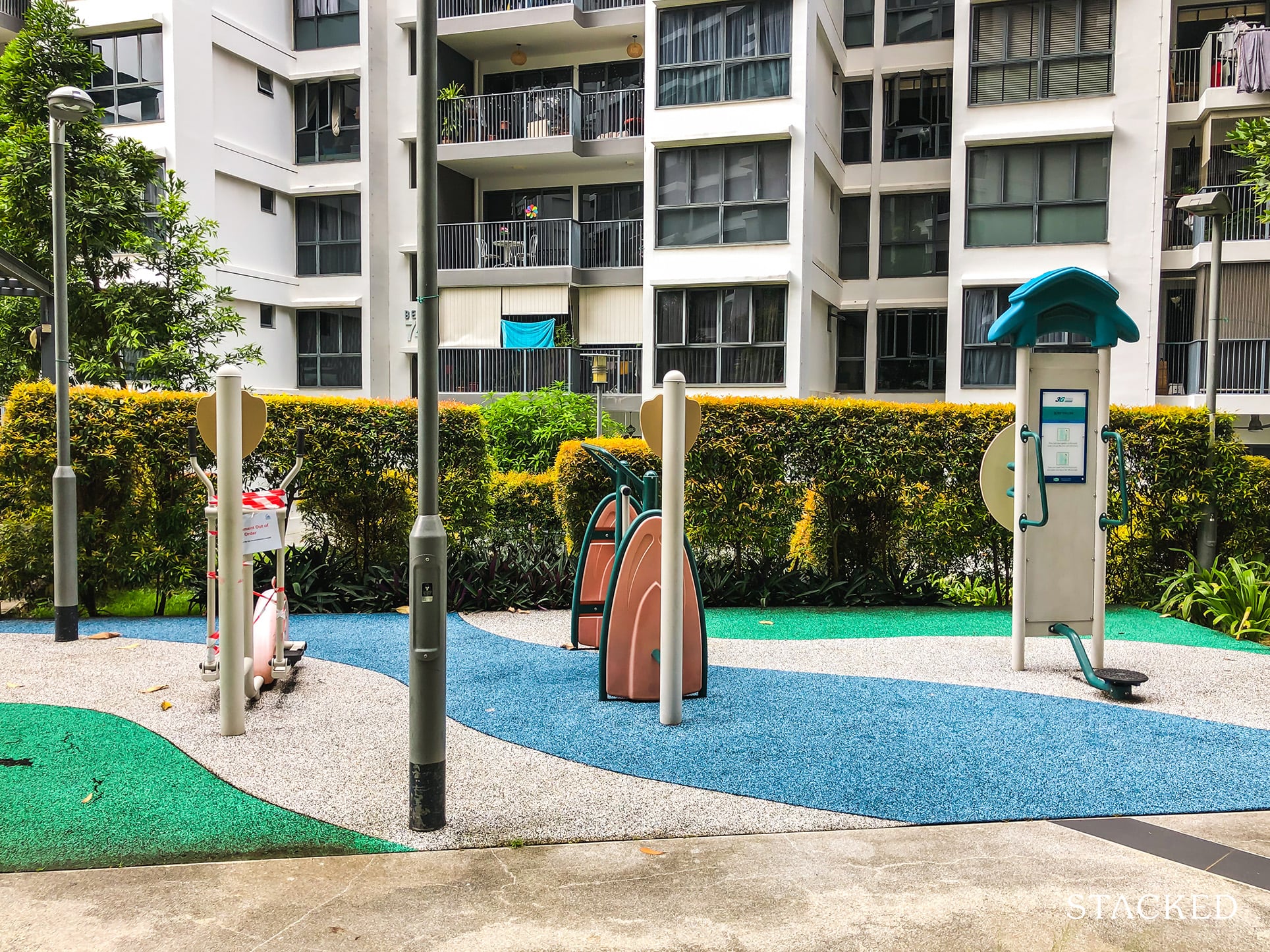 And it's not just the fitness area, but every part of this facility area since it's in the centre of the development. The situation is worse closer to the barbeque pits given it's the source of smell and noise too.
Now that we're done with the main facilities, let's head on over to the Precinct Pavilion. This one is pretty decent in size, however, the location is a little lacking. It's located all the way to the back of the development which is the furthest point from the drop-off area. This means that guests would have to walk across the development to reach it.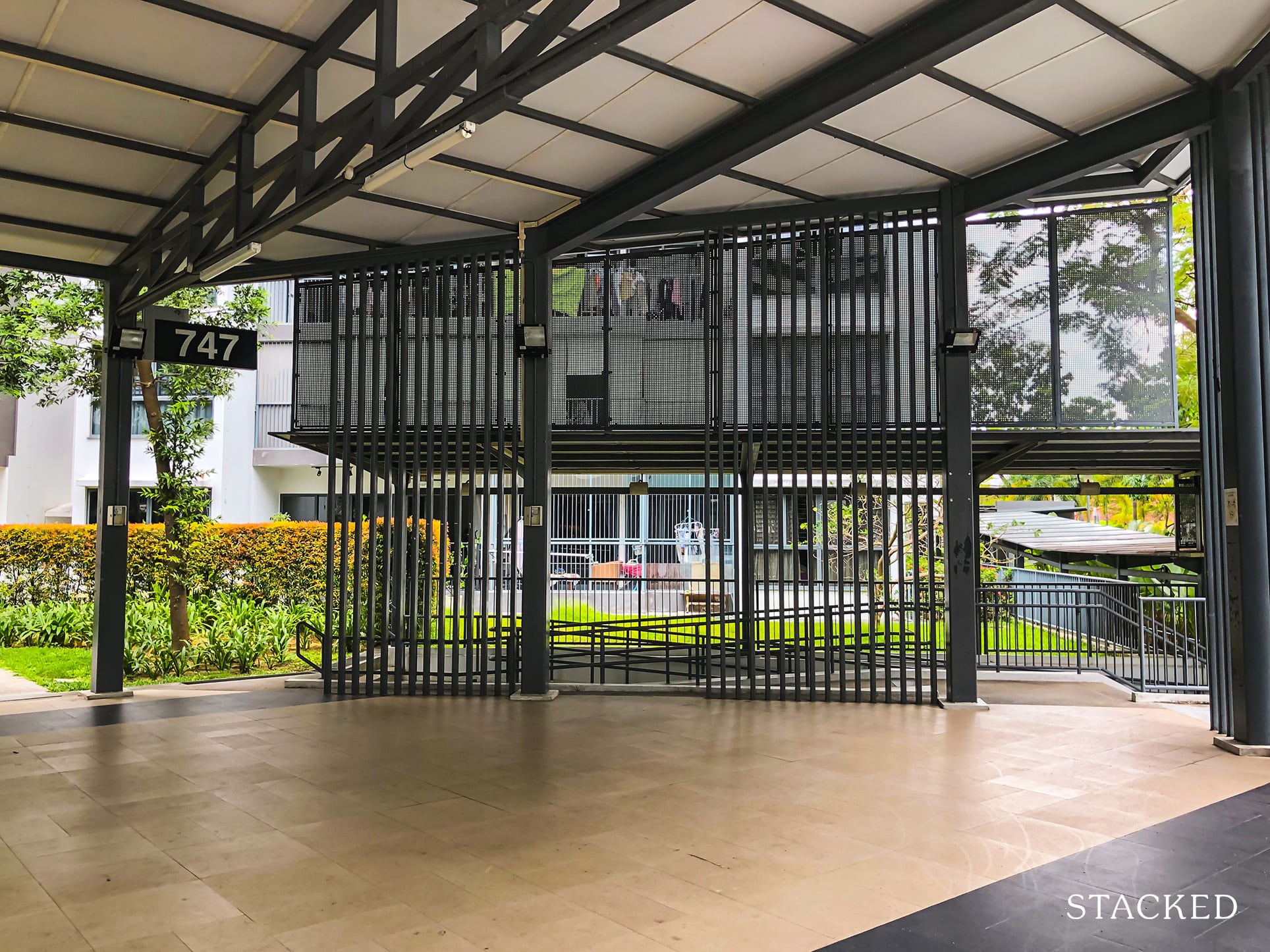 Moreover, the loading and unloading bay may be physically close to the Pavilion, however, it is an uphill walk to reach it. Therefore, caterers here would have to navigate the walkway and put in more effort to bring the heavy items up!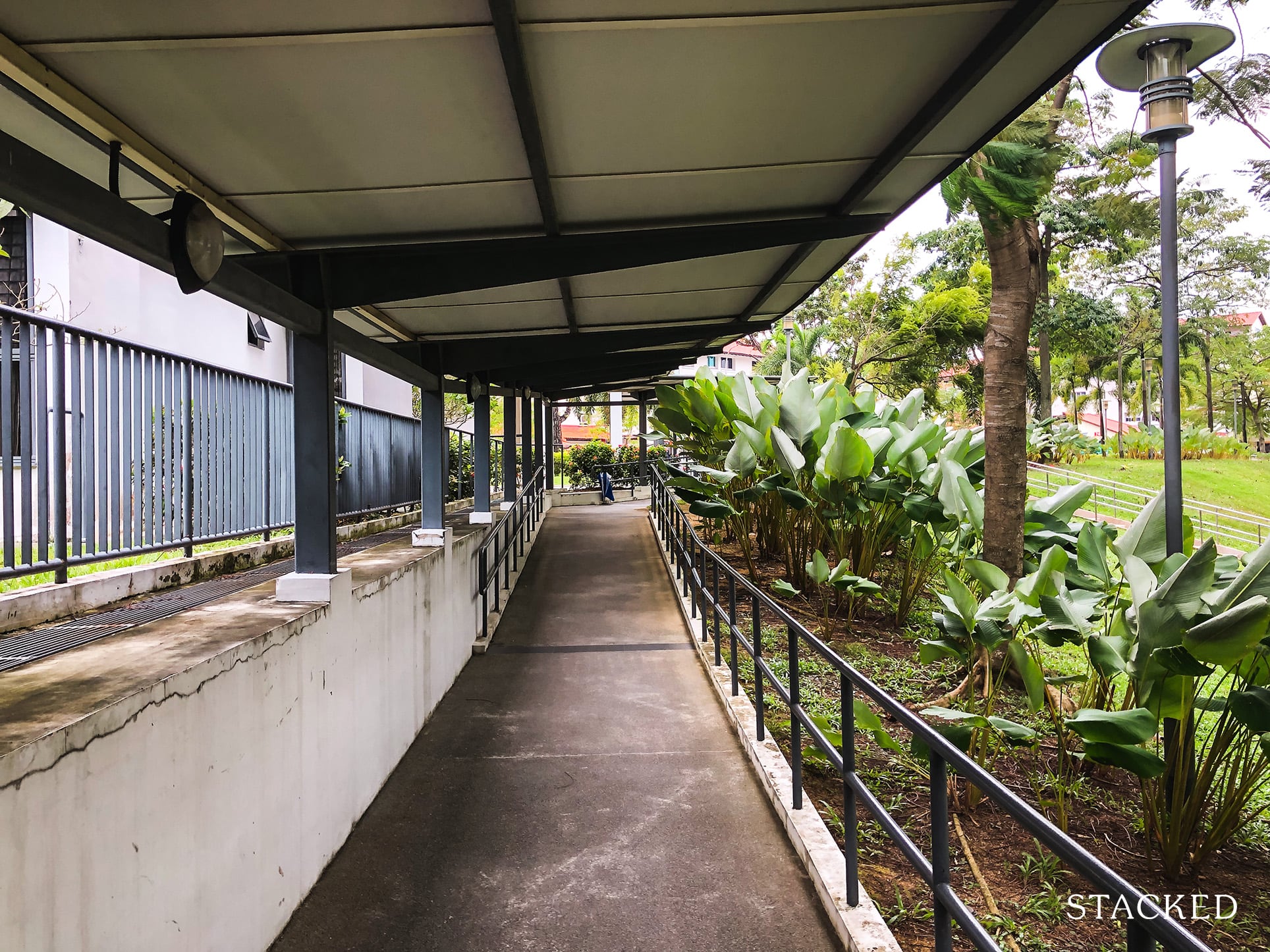 The pavilion is quite an open area so it's not as private as certain stacks and neighbouring blocks are able to see the space. Usually, for more private events, a curtain is put up which does mitigate this problem.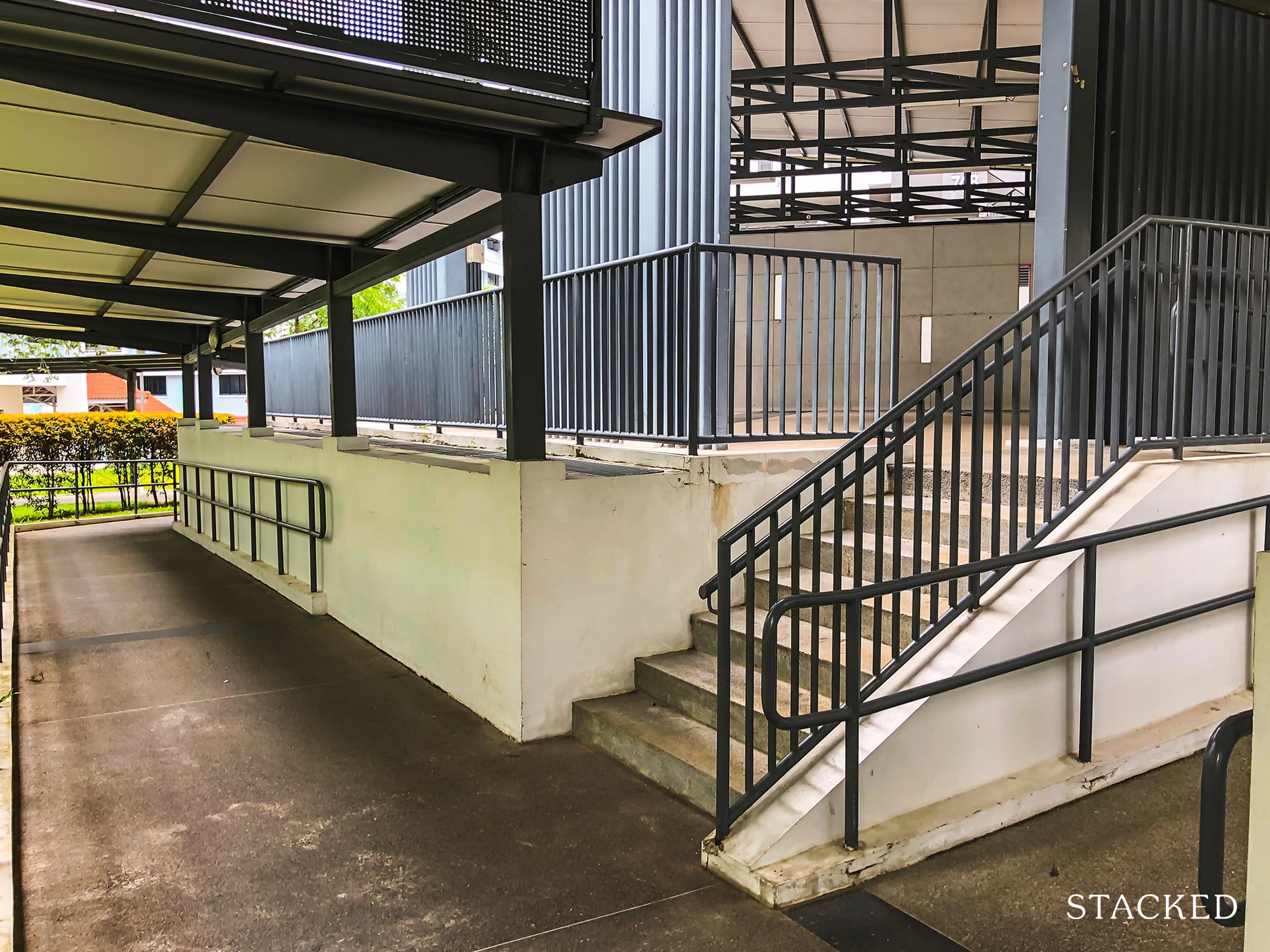 One thing I don't like about this space is the lack of fans and chairs. It's nice to have, but not quite a big deal as they can be provided by your event planner. There are electrical points here, in case you're wondering, so it's not as bad as it seems!
Now that we're done with all the facilities, let's head up to check out what the common corridor looks like!
The void deck area has some bicycle parking spots as well as comfortable bench seating, but apart from that, there's nothing exciting to talk about. It also does have a bit of a dated feel to it.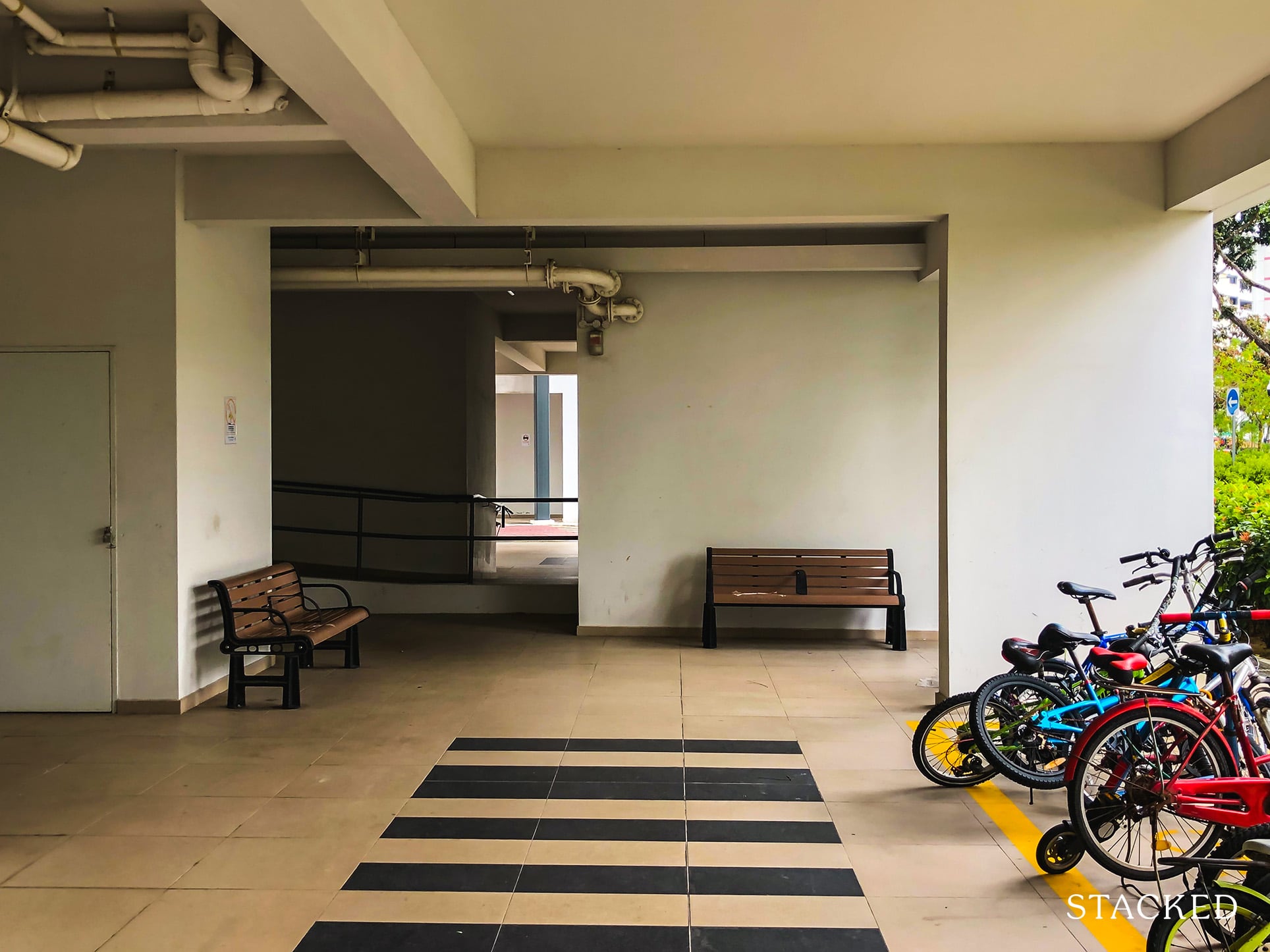 Heading to the lift lobby, you'll find that Belvia is not gated. This is the norm for most HDBs and DBSS, as only a handful such as The Peak @ Toa Payoh, Lake Vista @ Yuan Ching and Trivelis have gates for added privacy. If having a gated area is important to you, perhaps you can consider one of the aforementioned DBSS – though they're in vastly different locations!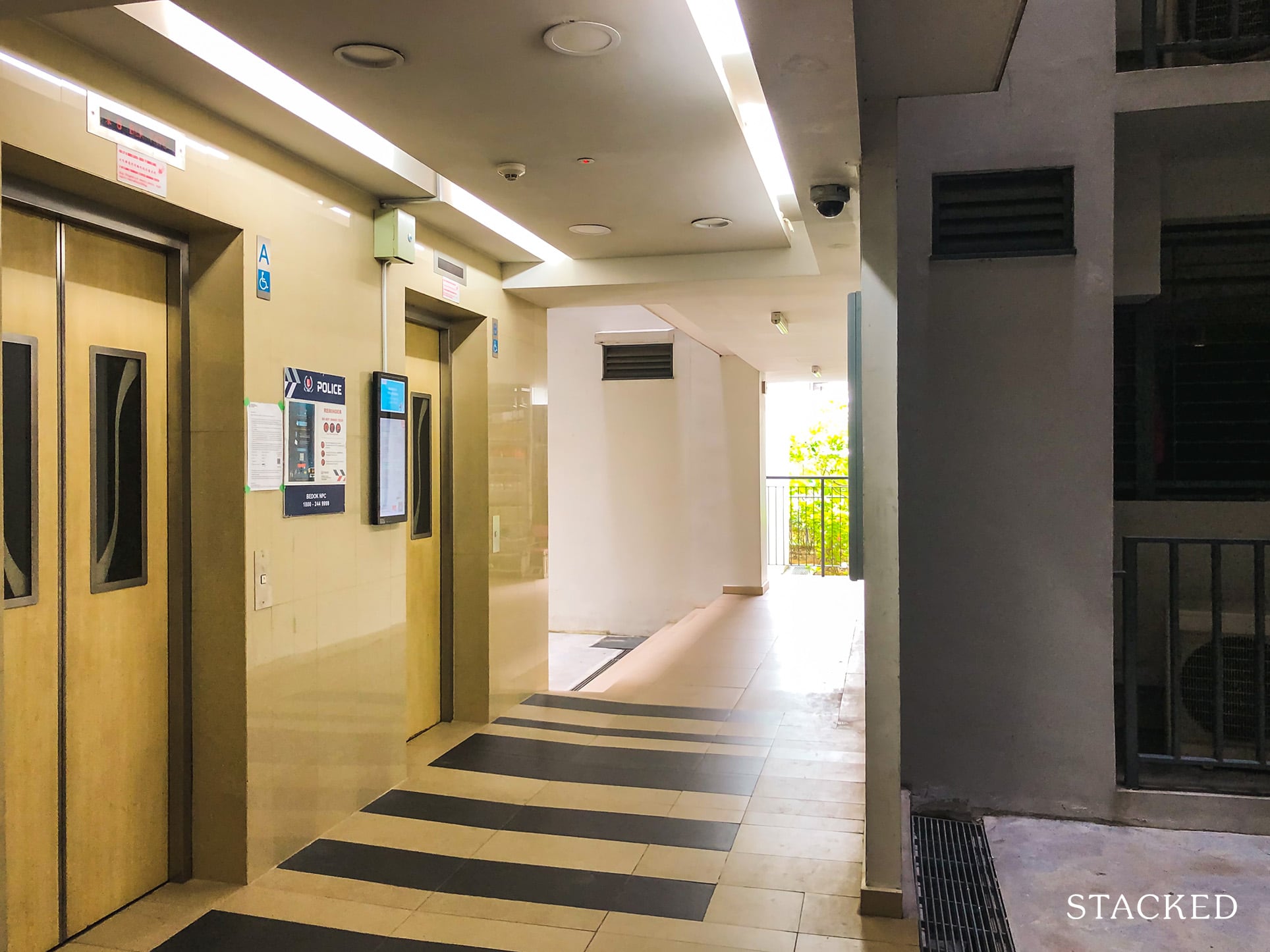 The lift lobby itself looks a little dated. I can't quite figure out why, perhaps it's the colour, but I do prefer the modern lift designs in newer HDBs such as the one at SkyVille@Dawson or SkyPeak@Bukit Batok with their metallic frame.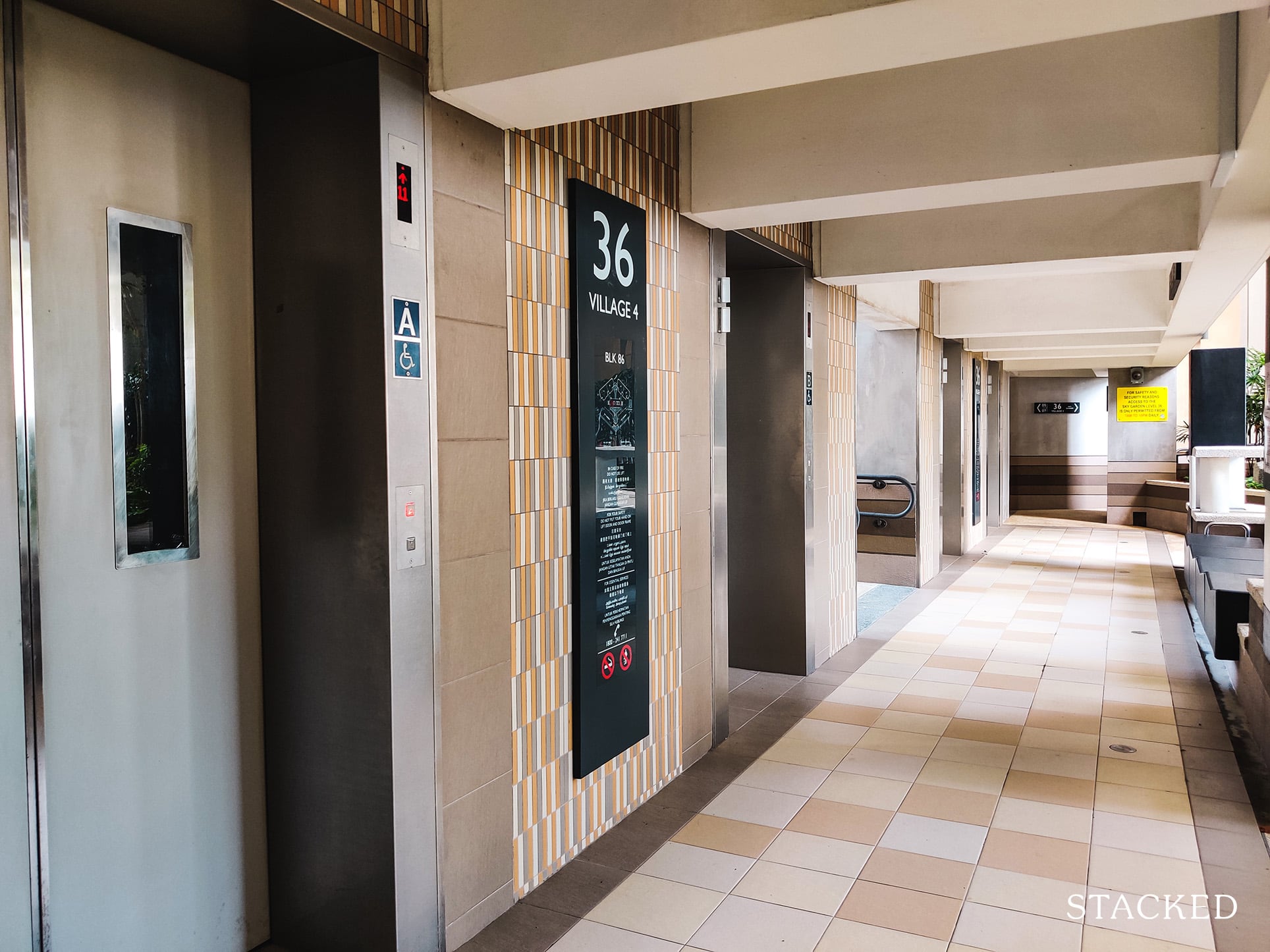 Heading out onto the common corridor, you'll find that the pathways here are quite narrow. As a result, it'll be hard for residents to leave items such as their shoe rack outside.
But what's even more of a concern is just how close some of the resident's units are to each other: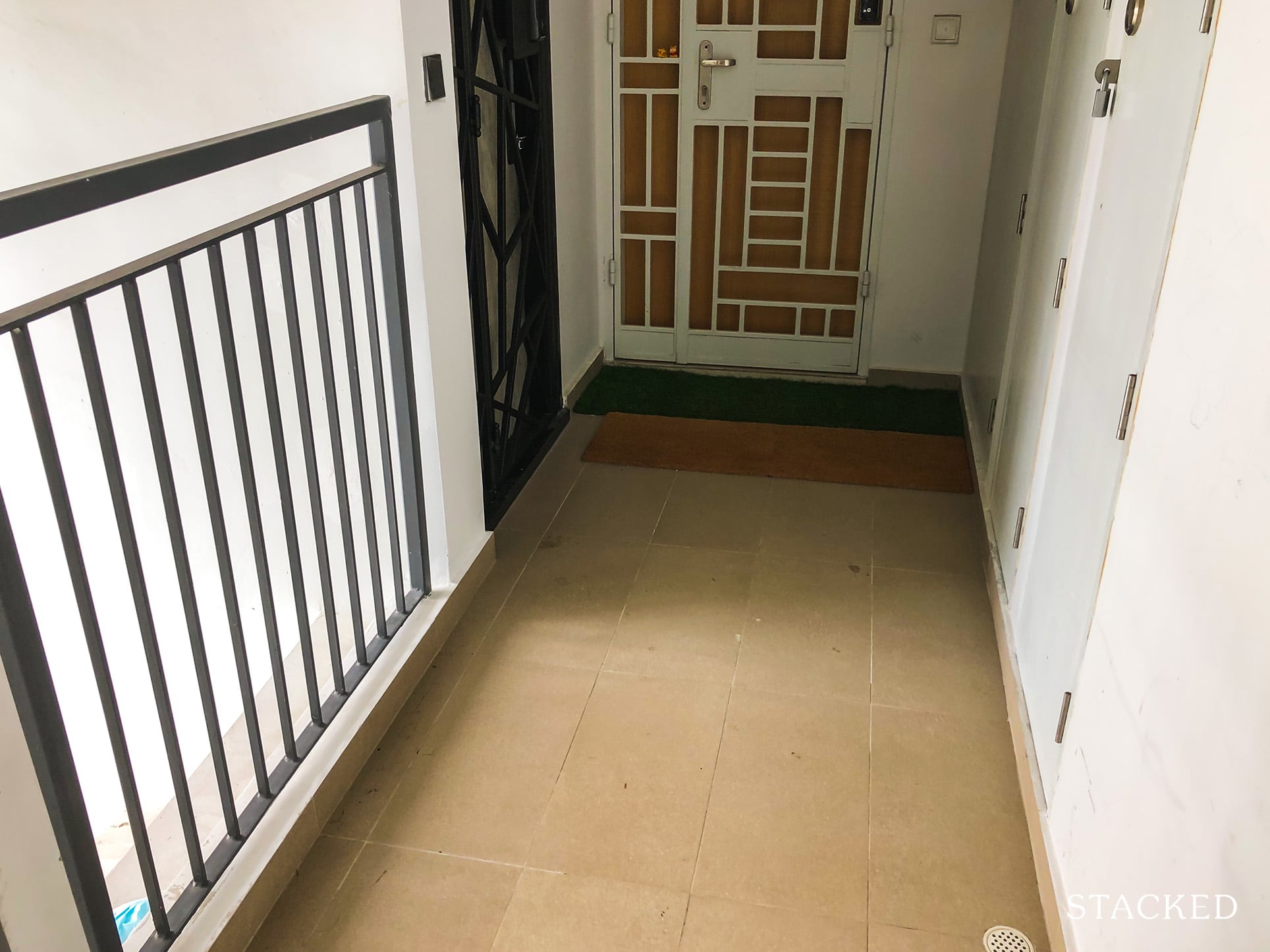 I mean just look at how close these two residents' units are to each other (black gate on the left, white gate on the front). Both units do not even have space to put anything out front because the gate would swing in its direction. It's so close that I can imagine this to be a source of conflict.
For example, you can't even put a rug outside since it'll encroach into the neighbour's space out front in some way or form. You'll need to have a very unbothered neighbour to live peacefully while having your rug outside.
Other stacks have units that are side by side – not as bad as in the previous case, but you can see how tight it is for both units to have a shoe rack.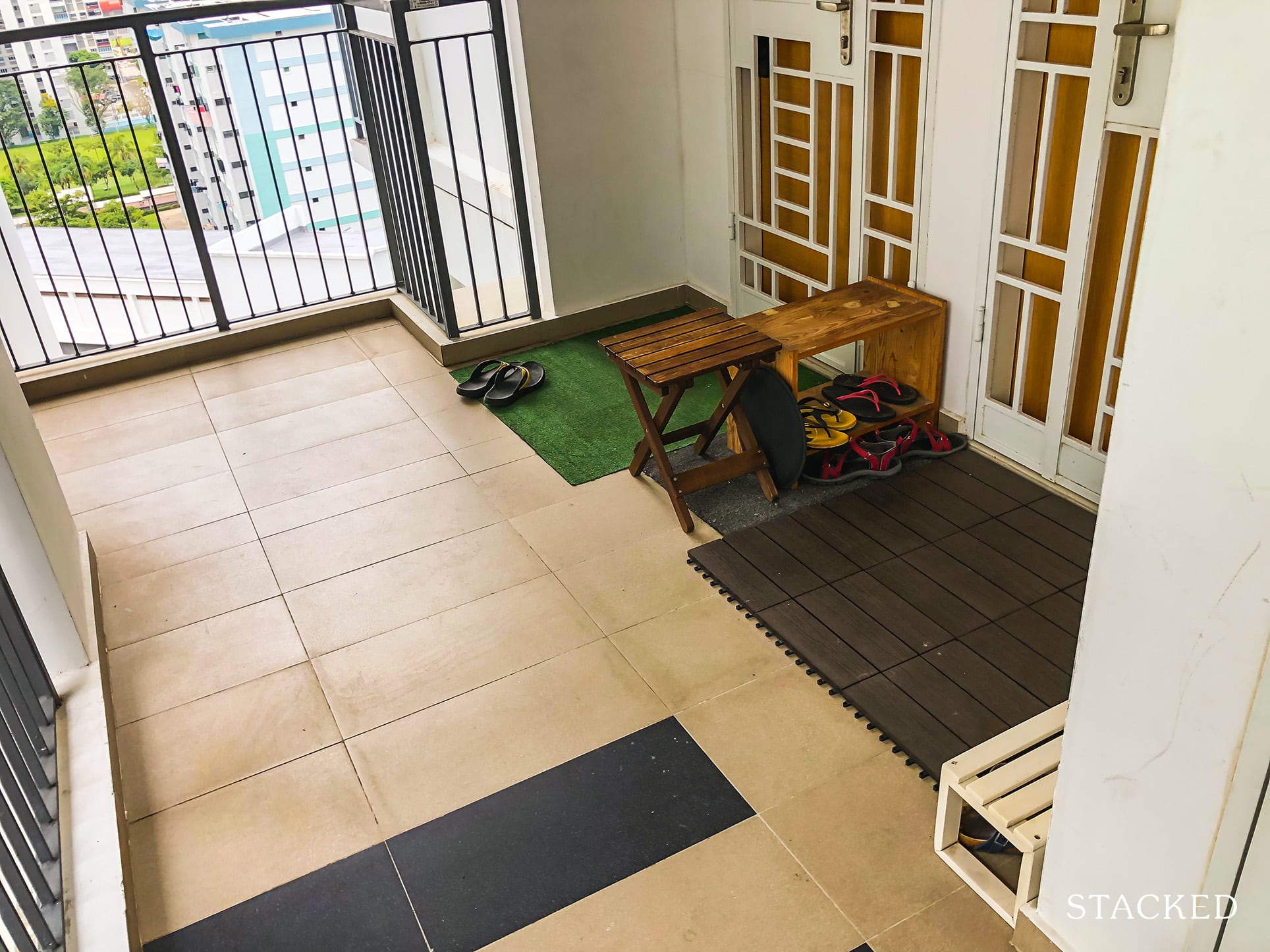 In this picture, you'll find that the gates are just opposite each other. If one side opens the gate, it'll almost hit reach the main gate of the opposite neighbour!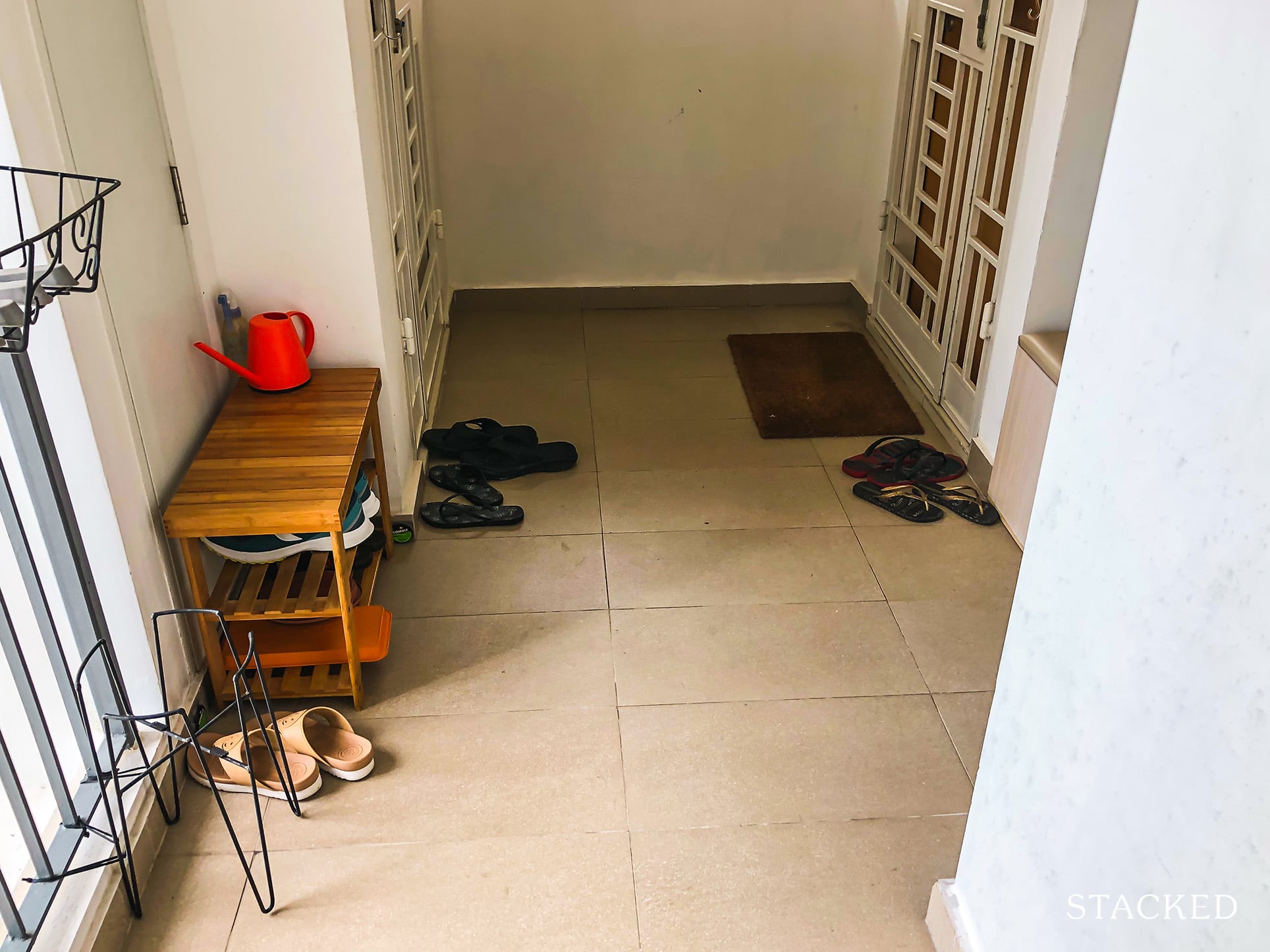 Some stacks are on their own – these are the ones that are more private and in this resident's case, they could even have a shoe rack outside without encroaching into other people's space.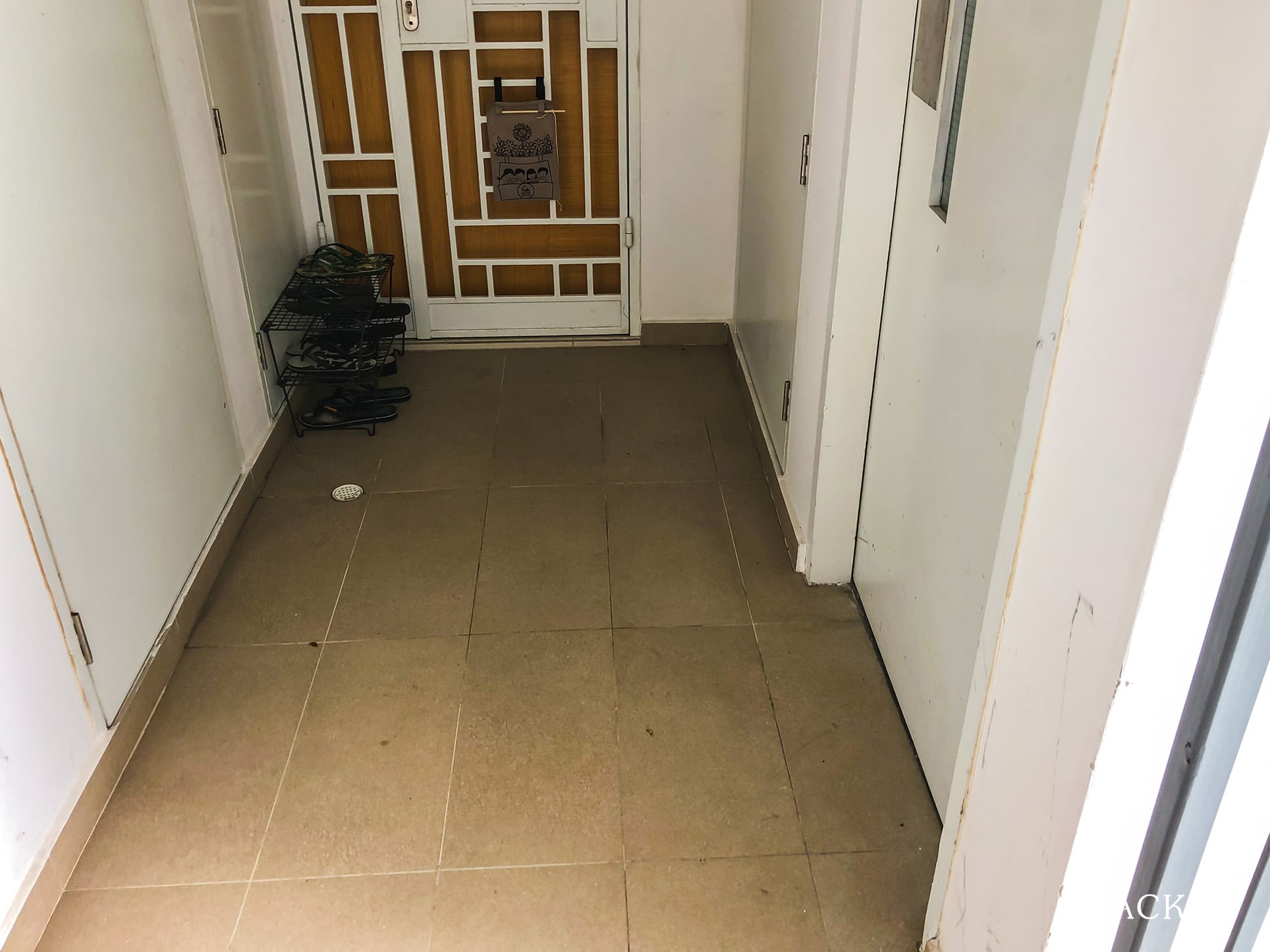 I've mentioned this before in my other reviews. Size and layout are important but remember – your experience about a home isn't just the actual home, but the journey to your home too. If you have a quarrel with your neighbour about the space outside your home, it could leave a bad feeling in you whenever you return home, so this is something to take note of.
Of course, not every stack is this bad. Certain stacks are quite private like this one: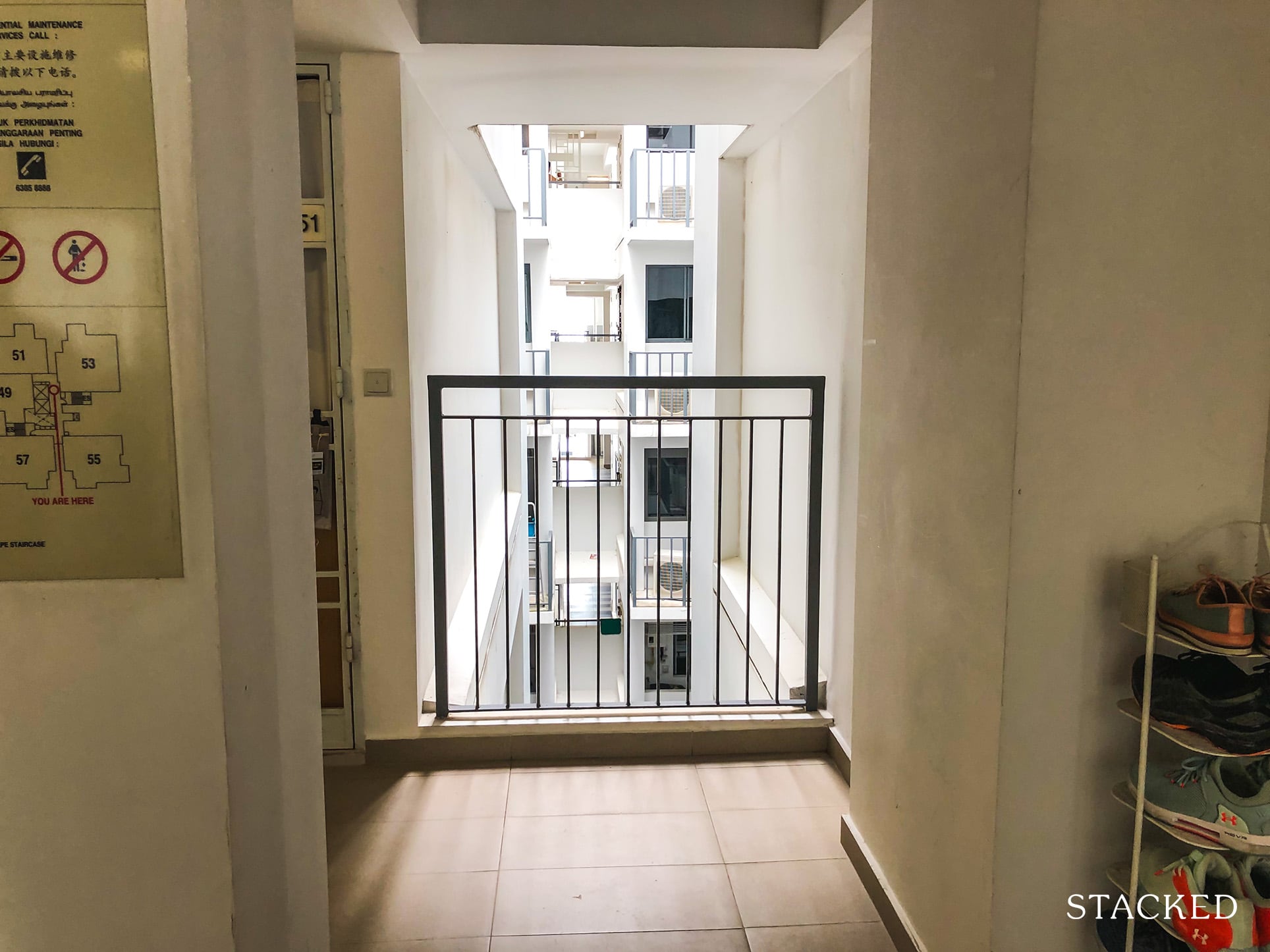 There's even an ample amount of space along the railing too!
You'll also find that some units will have their kitchen facing the opposite block's corridor itself. This isn't too bad given it's not in the general line of sight for people coming home. Some HDBs have it worse such as the one at SkyVille@Dawson where several units' kitchens face the corridor.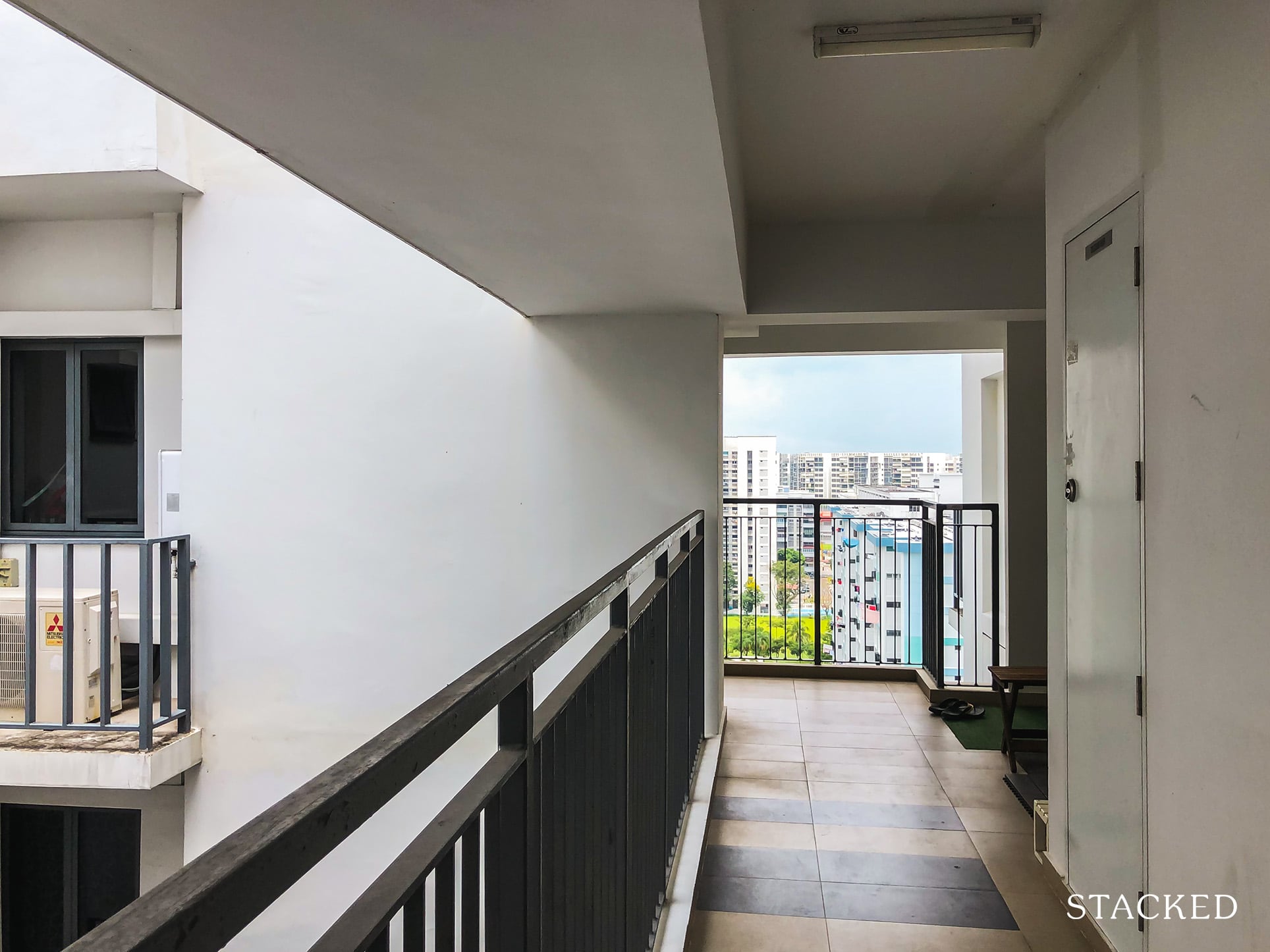 Some of the service yards here also face a void space which is a little sad, to say the least. I'm not so sure how much wind or light passes through here, but from the looks of it, I do not think it's great.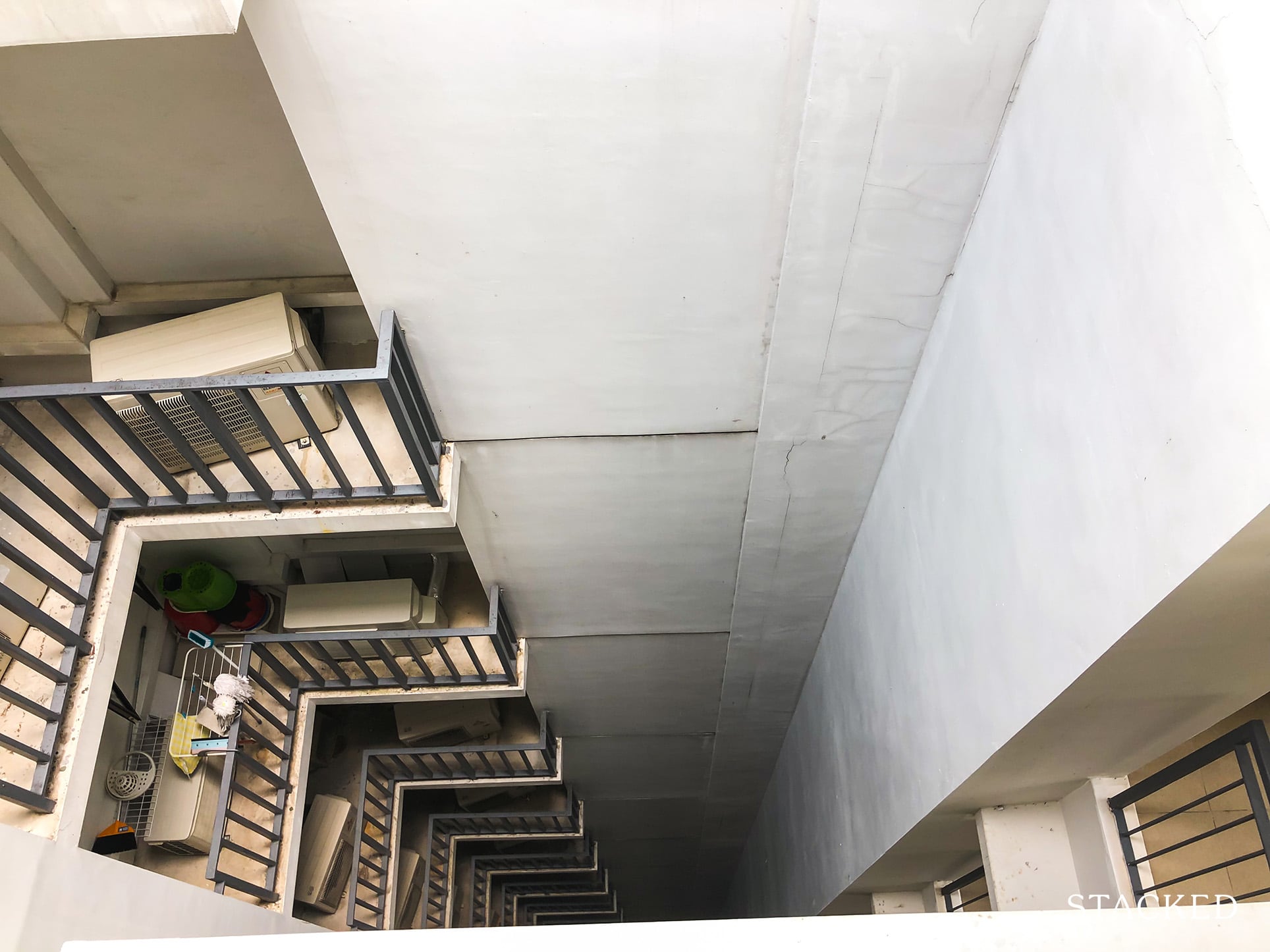 This results in less sunlight and ventilation which is important for a service yard. If you're a resident of one of these units and feel that this is not the case, feel free to drop us an email to share your experience of staying here!
I'd like to end the common corridor on a positive note: while the area is narrow and small, it's certainly very open. That is because there are no thick concrete walls that line the common corridor, only railings. This allows more light and cross-ventilation into the area.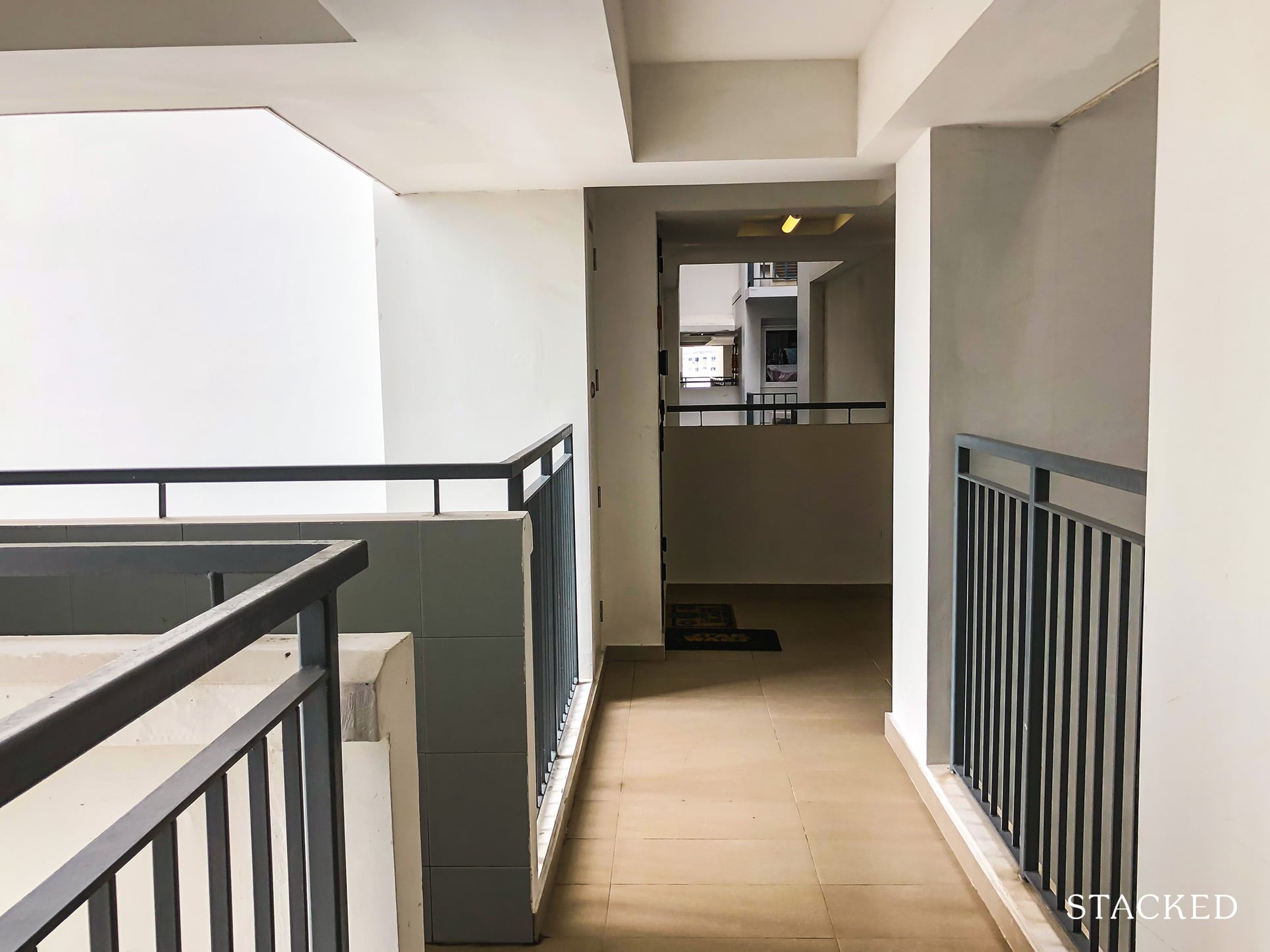 Belvia DBSS Location Review
Belvia's location is where things start to look up for the better. For one, the resident's basic amenities are met through the supermarket and F&B option right across the street at Reservoir Village: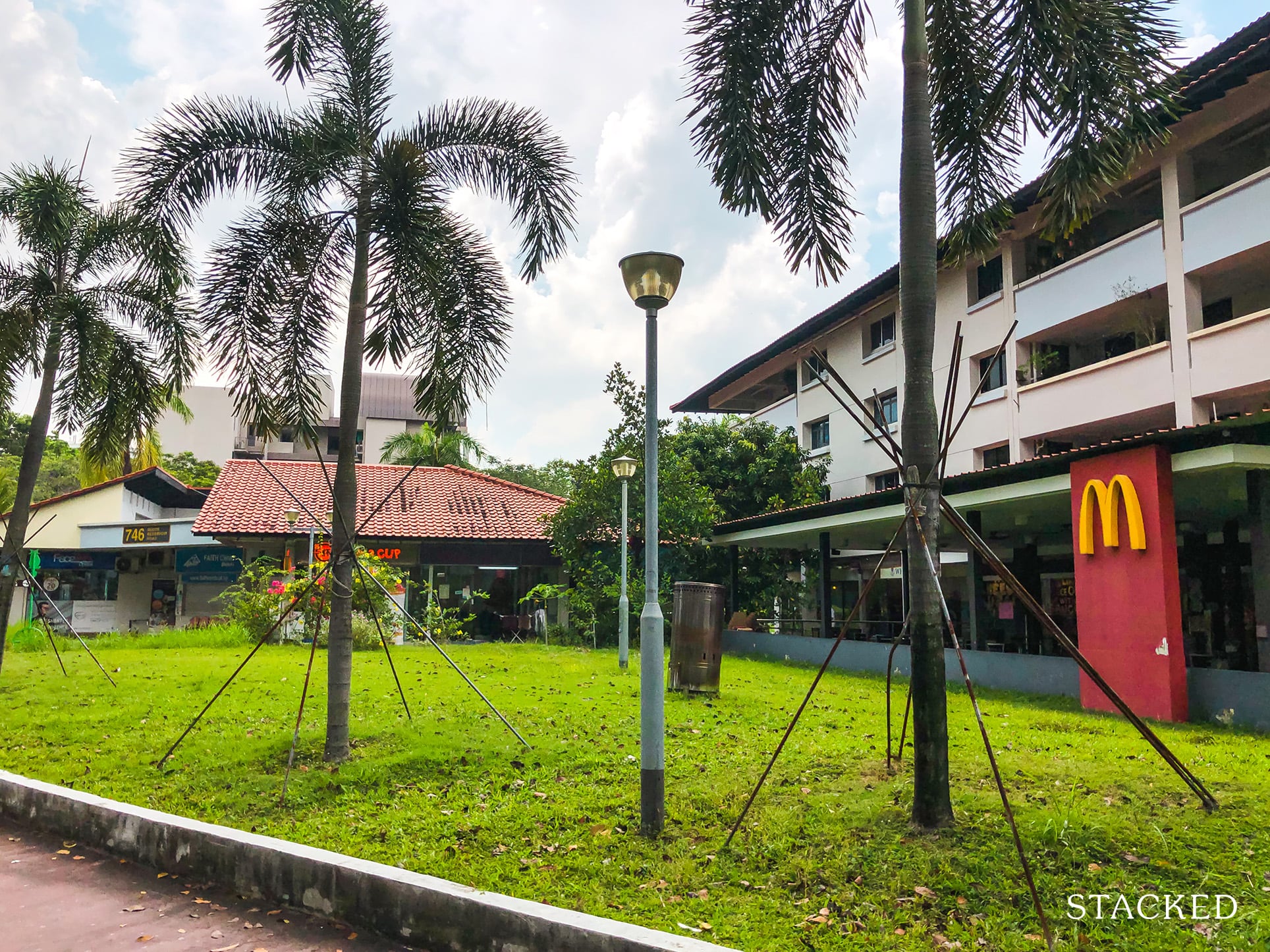 Those golden arches bring this place up a notch in my books.
There, you'll find an NTUC Supermarket which is about a 2-minute walk away, and in block 739A, there's a Sheng Siong which is about a 4-minute walk away. Having two major supermarkets within a 5-minute walk makes the grocery runs here a breeze, so that's a huge plus in terms of amenities.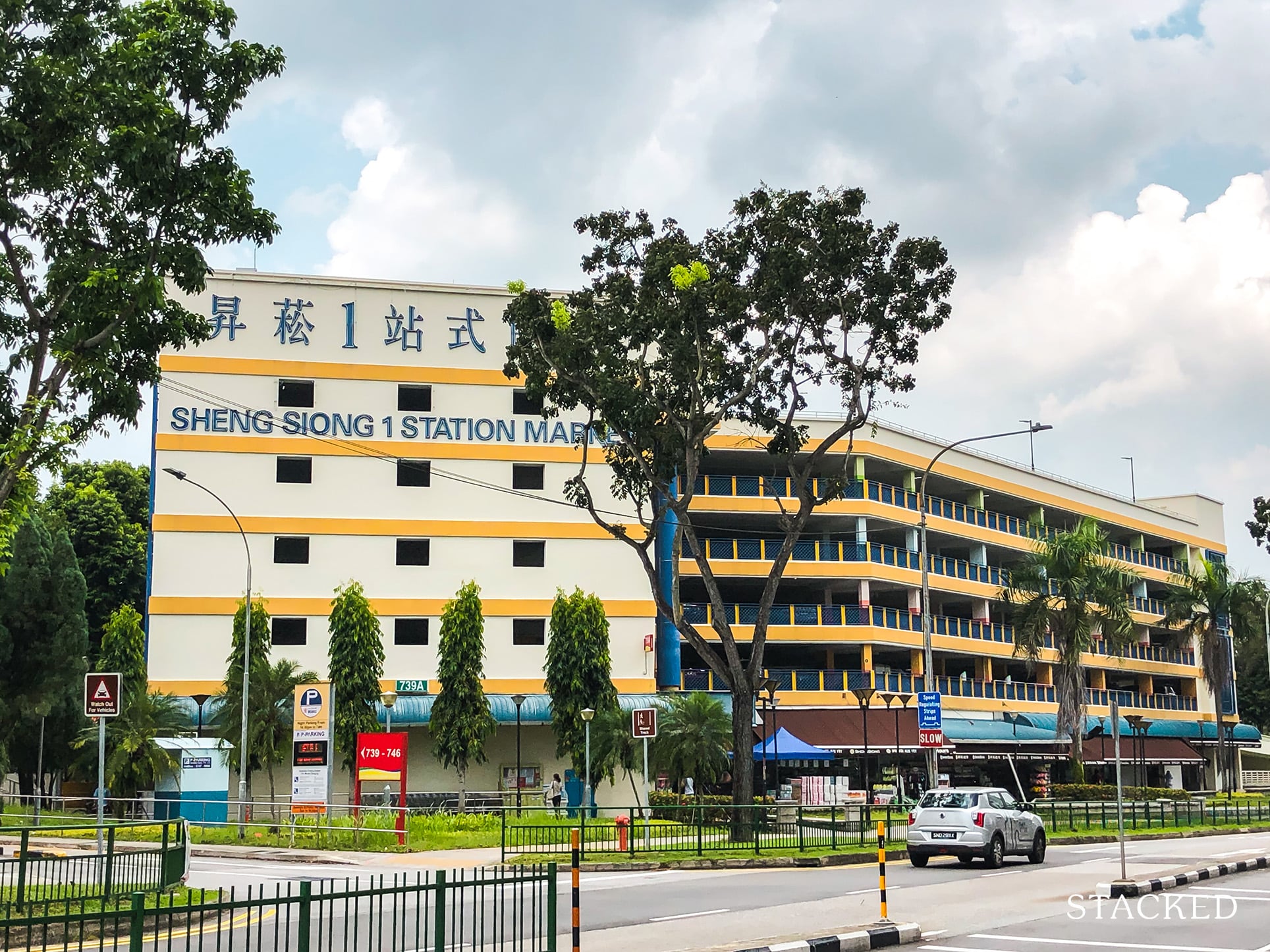 There's also an eating house at block 704 which is just about a 2-minute walk away comprising 8 stalls in total. As such, even though Belvia does not have its own commercial outlets, the surrounding HDBs have sufficient ground-level amenities to make this area very liveable for residents living in Belvia.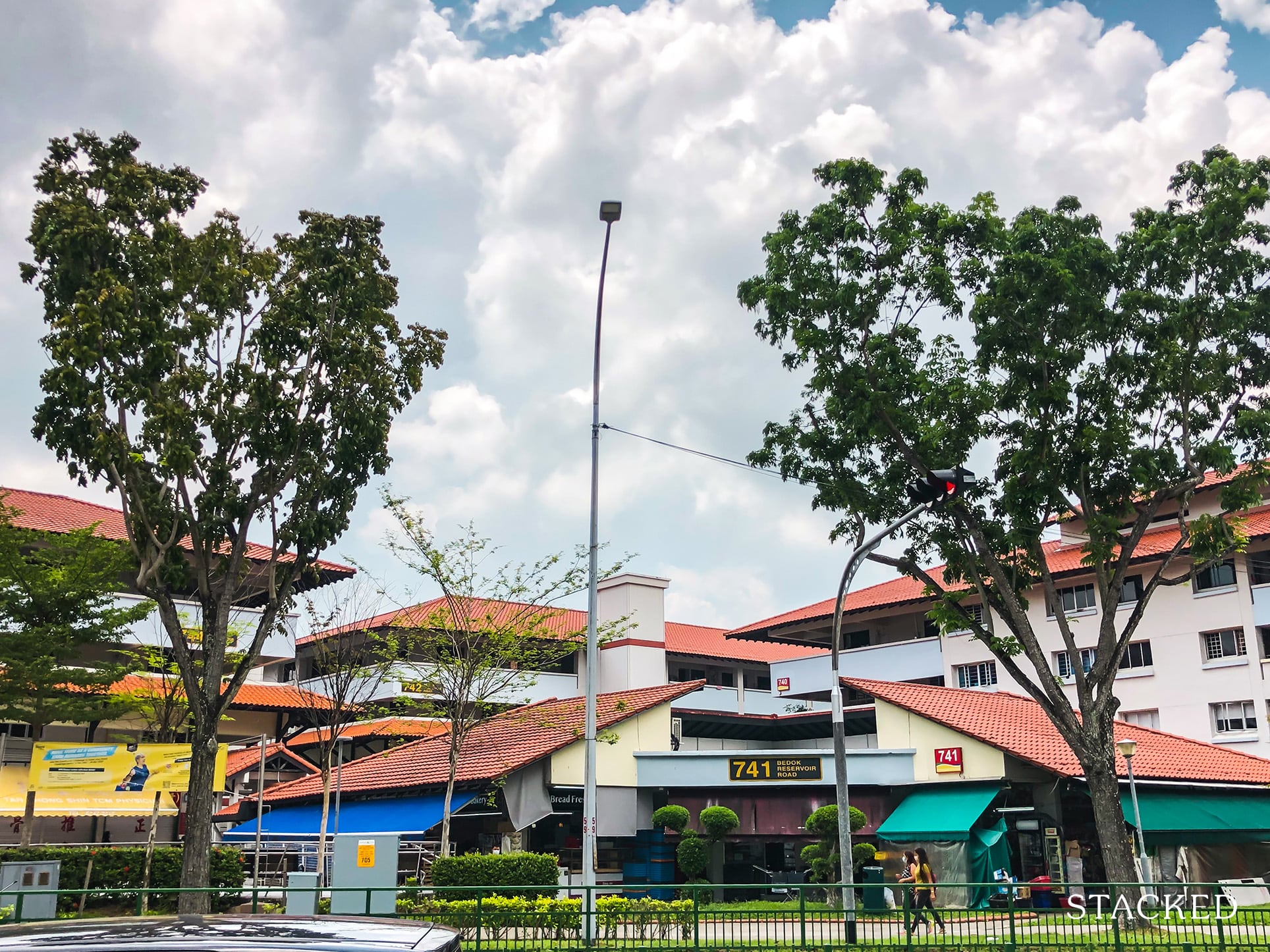 Aside from daily amenities, you'll also notice that Belvia does not have a preschool in its development. It's very common for HDB developments and DBSS to feature a preschool in their compound, so it's a little disappointing not to find one here. That said, there are six (two in block 743 itself) preschools within walking distance to Belvia located in the other HDB compounds.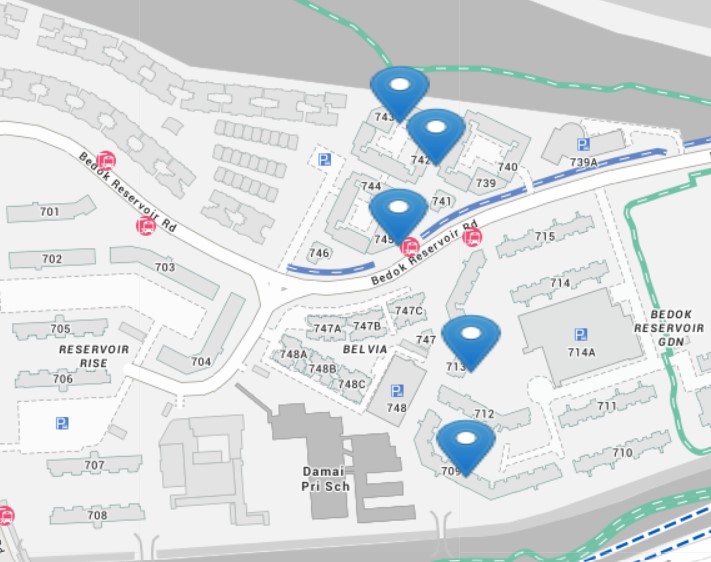 As such, Belvia's development may not be self-sufficient or adequate at all given its lack of any F&B, supermarket or preschool – but the surrounding HDBs help pulls up its desirability (benefits of a mature estate!).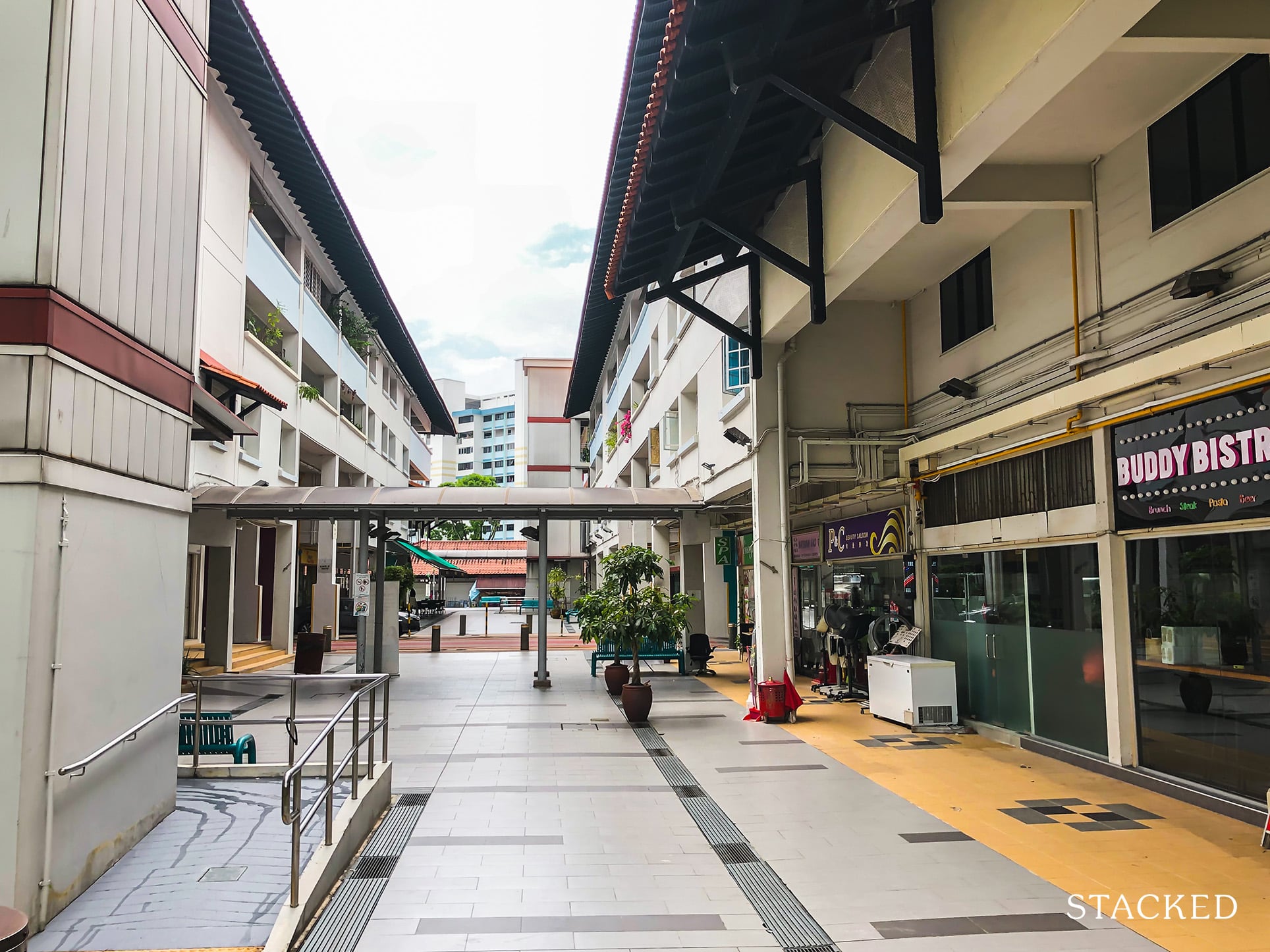 Another thing that Belvia is known for, and is probably the highlight of the place, is its proximity to nature. Belvia is about a 5-minute walk to Bedok Reservoir Park, as residents can cut through block 744 to directly reach the reservoir.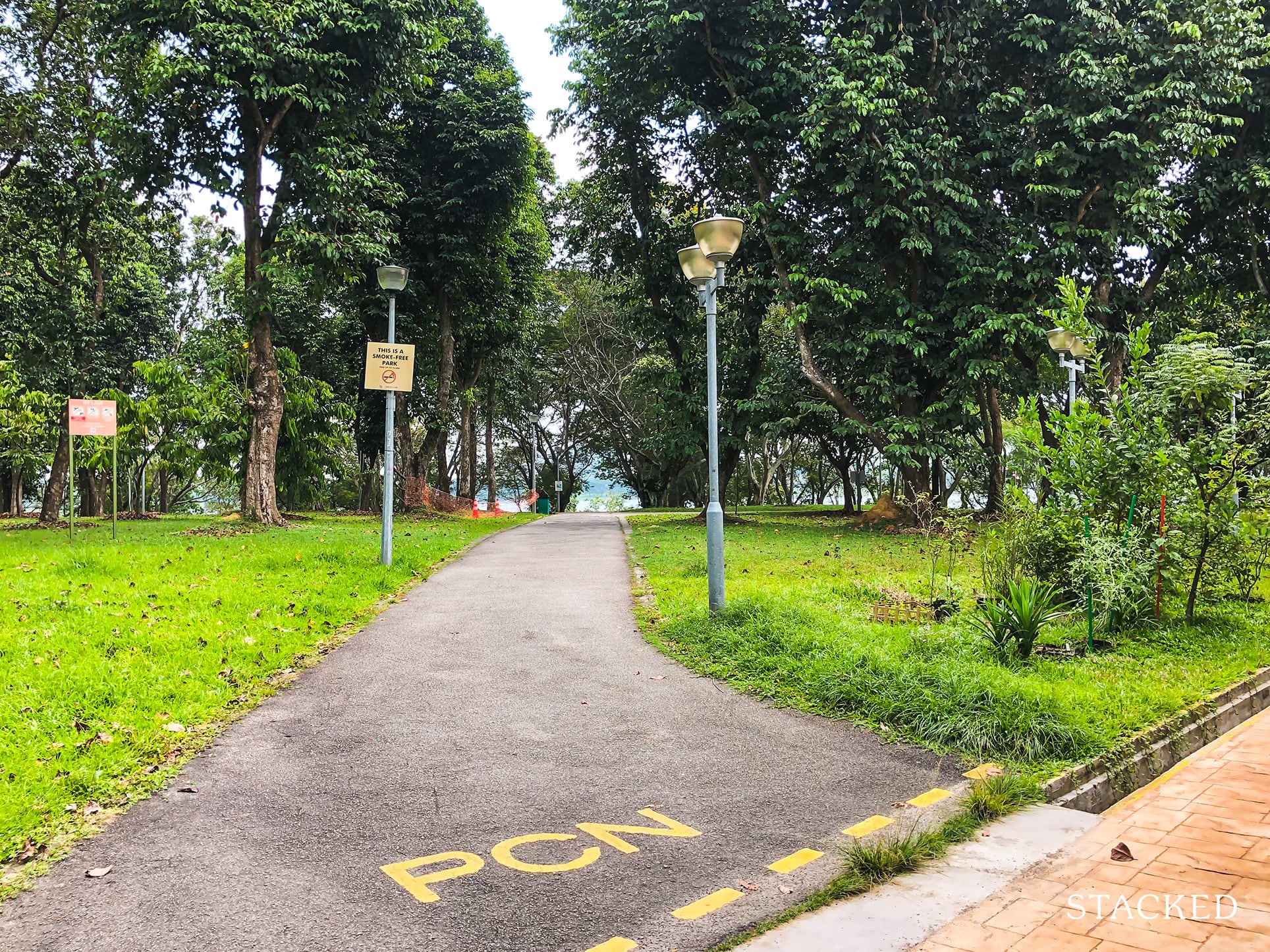 The park has nice long pathways where you can run, cycle and walk your pets safely. There are also ample seating areas around for you to just relax in!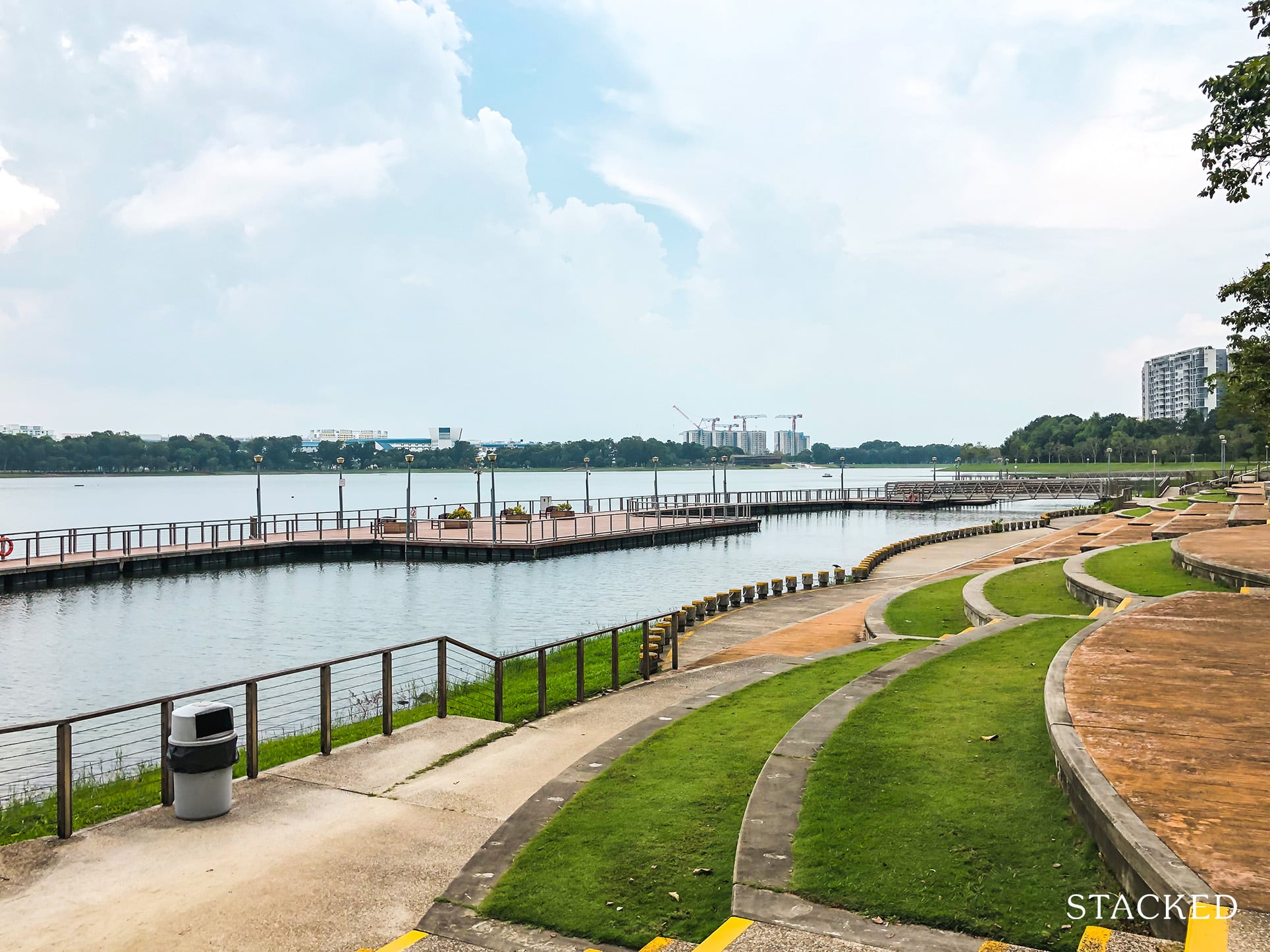 You'll also notice that the Park Connector Network runs across here. The network here is part of the Eastern Coastal Loop that connects to East Coast Park and Pasir Ris Park without having to go on the roads. This makes it much safer for families or cycling enthusiasts who are worried about road safety.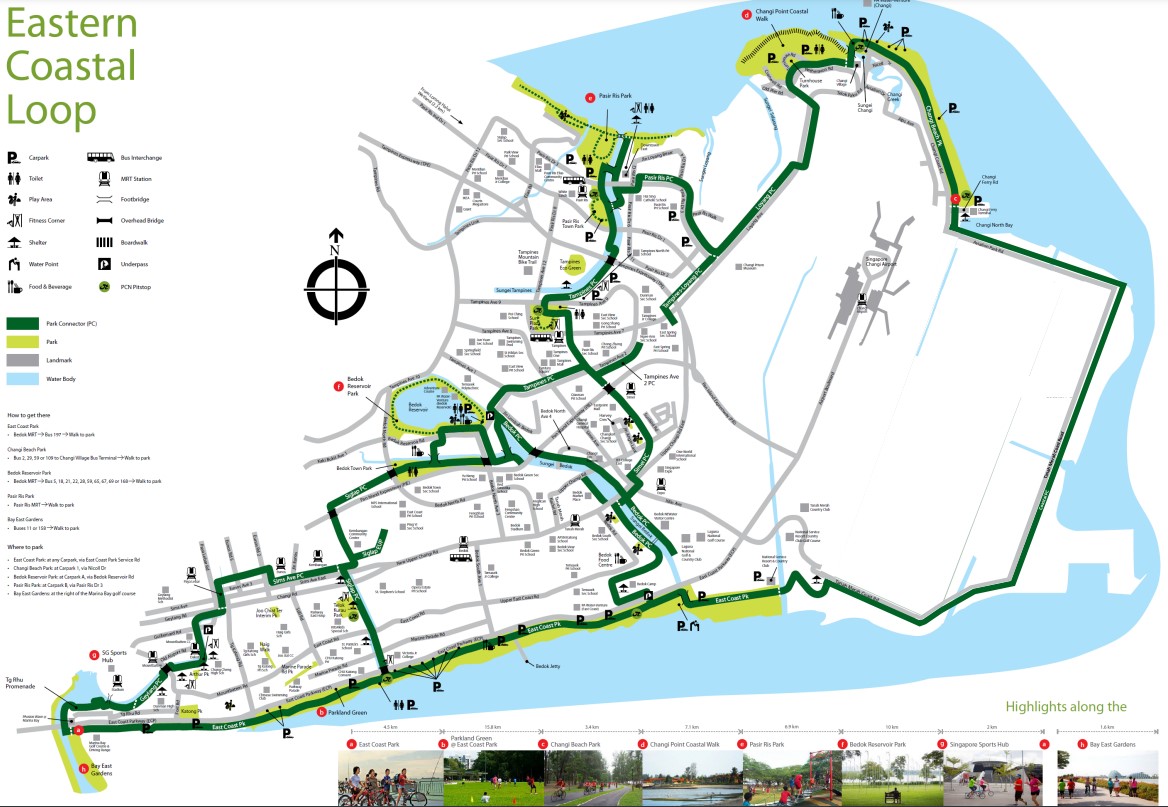 I've always stressed the benefits of having a Park Connector nearby given it's a fun and free way of staying active. Moreover, the quick access here gives residents who are working nearby a good alternative mode of travel for work.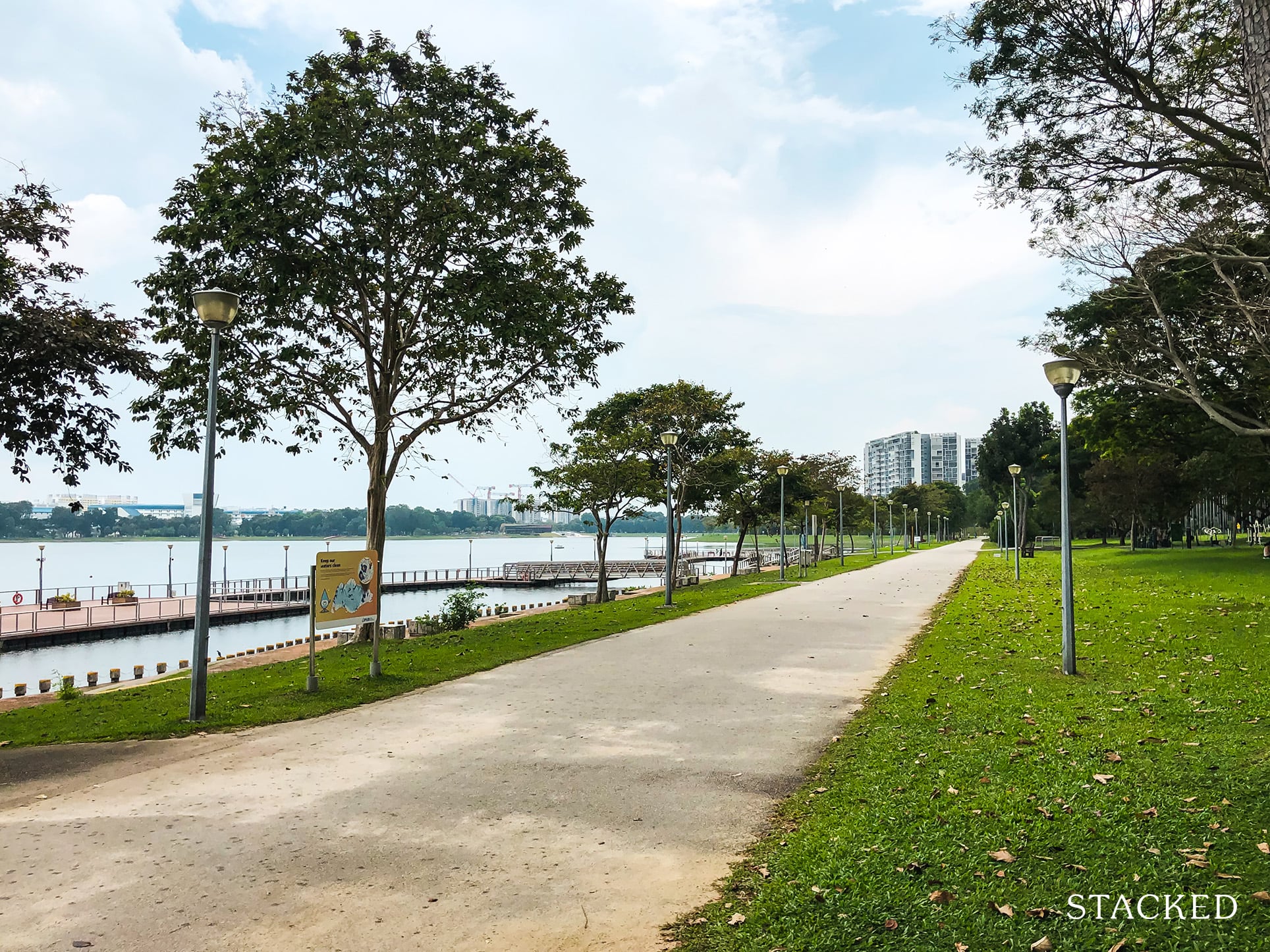 Belvia DBSS Public Transport
| | | |
| --- | --- | --- |
| Bus station | Buses Serviced | Distance From HDB (& Est. Walking Time) |
| 'Blk 745' | 2N, 5, 21, 59, 65, 228, CT18 | 1-5 minutes depending on the block |
| 'Blk 713' | 5, 21, 59, 65, 228, CT18 | 1-5 minutes depending on the block |
Closest MRT: Bedok North MRT (DTL), about a 7-minute walk.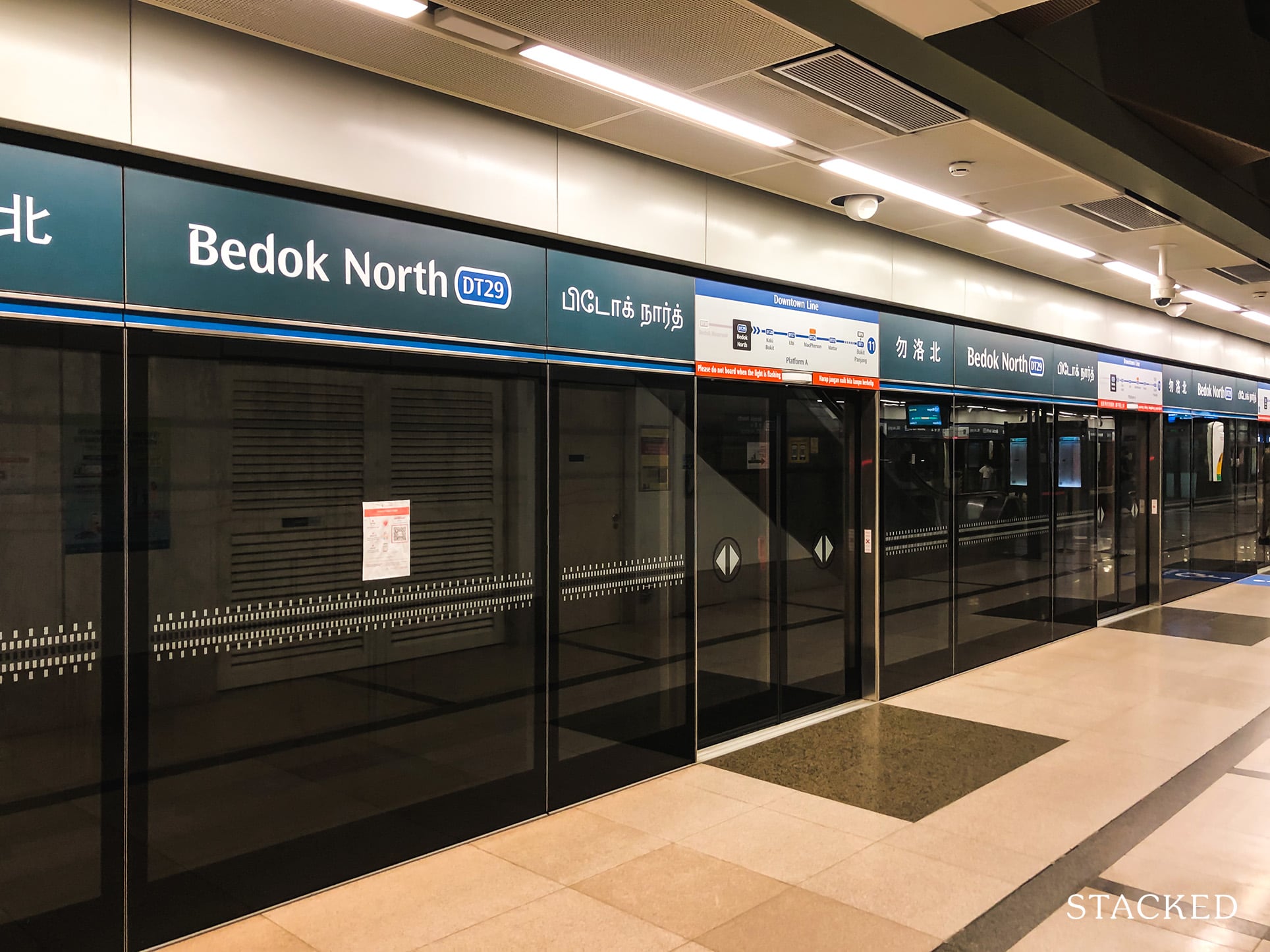 Aside from its convenient location, it's clear that Belvia's distance to the MRT helps sell the development more.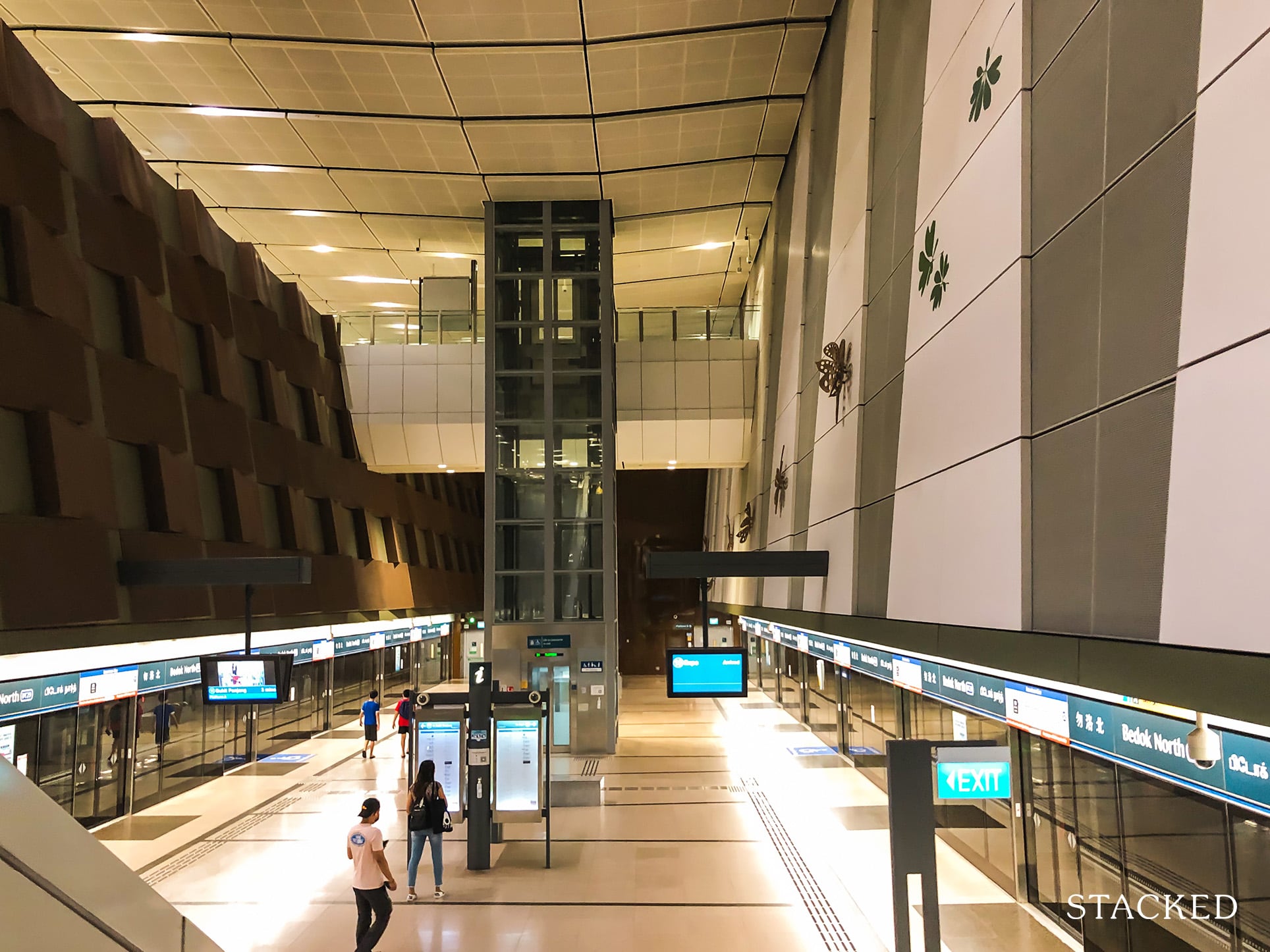 A 7-minute walk to the MRT is really decent. Residents staying here can expect to reach Raffles MRT (EWL) directly in 33 minutes (assuming you leave at 8 AM based on the timings from OneMap). This even includes the 7-minute walk to Bedok North MRT and the 6-minute walk from Telok Ayer MRT to Raffles Place MRT!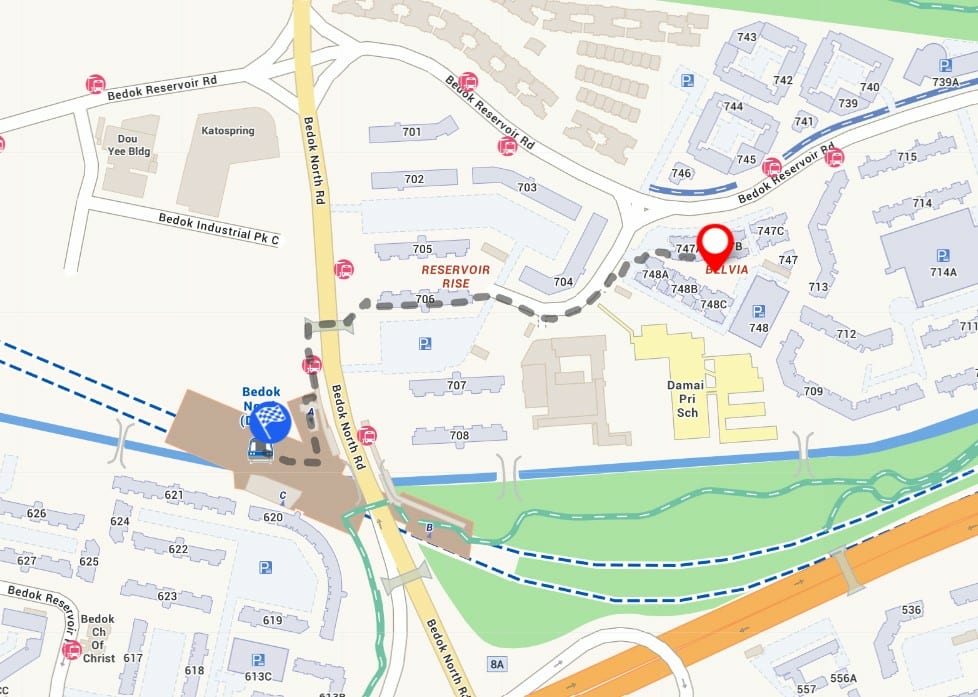 As such, buyers of Belvia are likely those who want to stay on the east side (because East Side Best Side?) yet want the quick accessibility to town.
You should know that the route towards the MRT is unsheltered – and there are no detours you can make to avoid the wet weather either.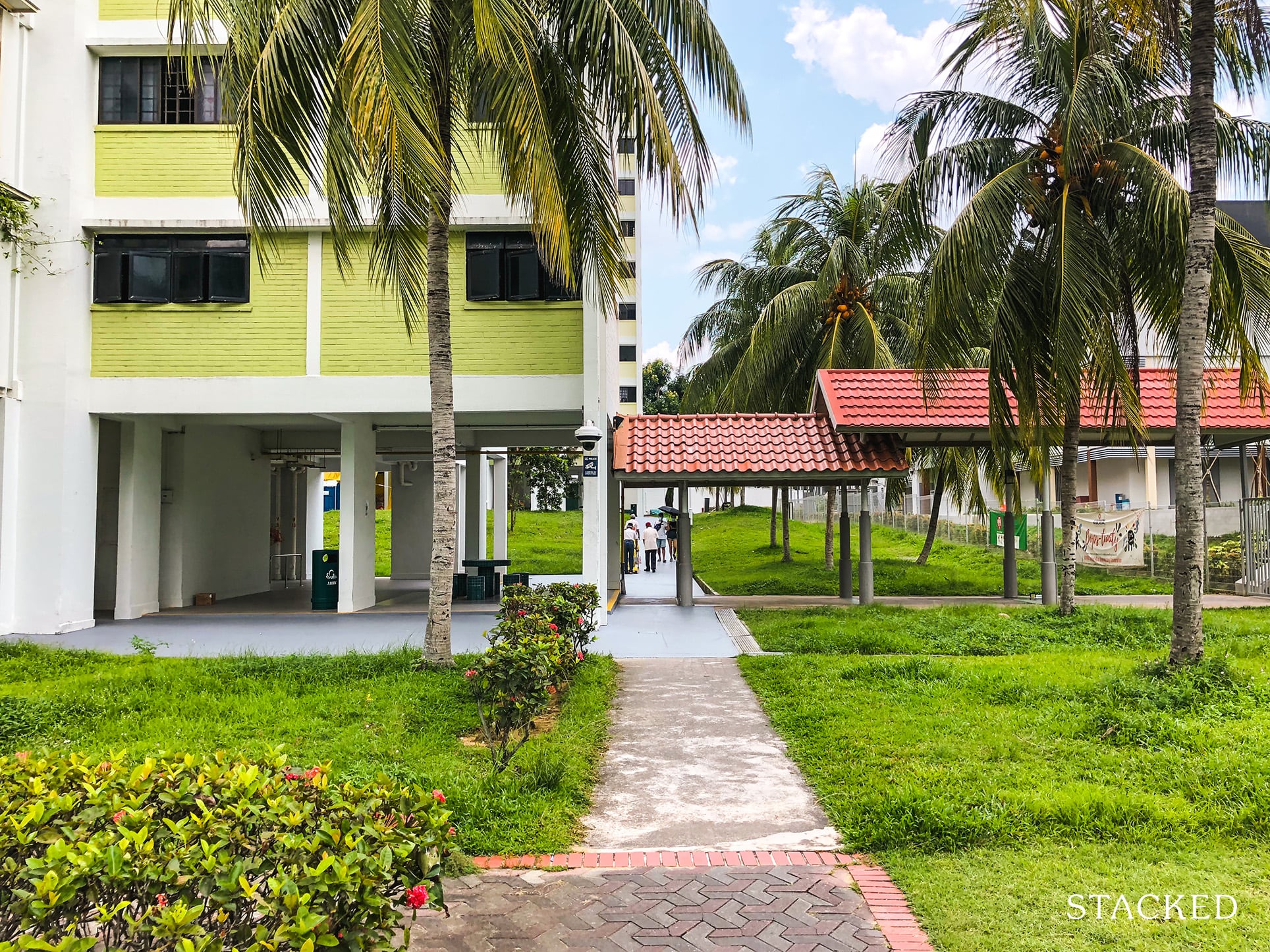 Bus accessibility here is also quite extensive. Residents can find direct services that take them all the way up to Pasir Ris, Toa Payoh and the central area. Bus 65 even takes you directly to Harbourfront!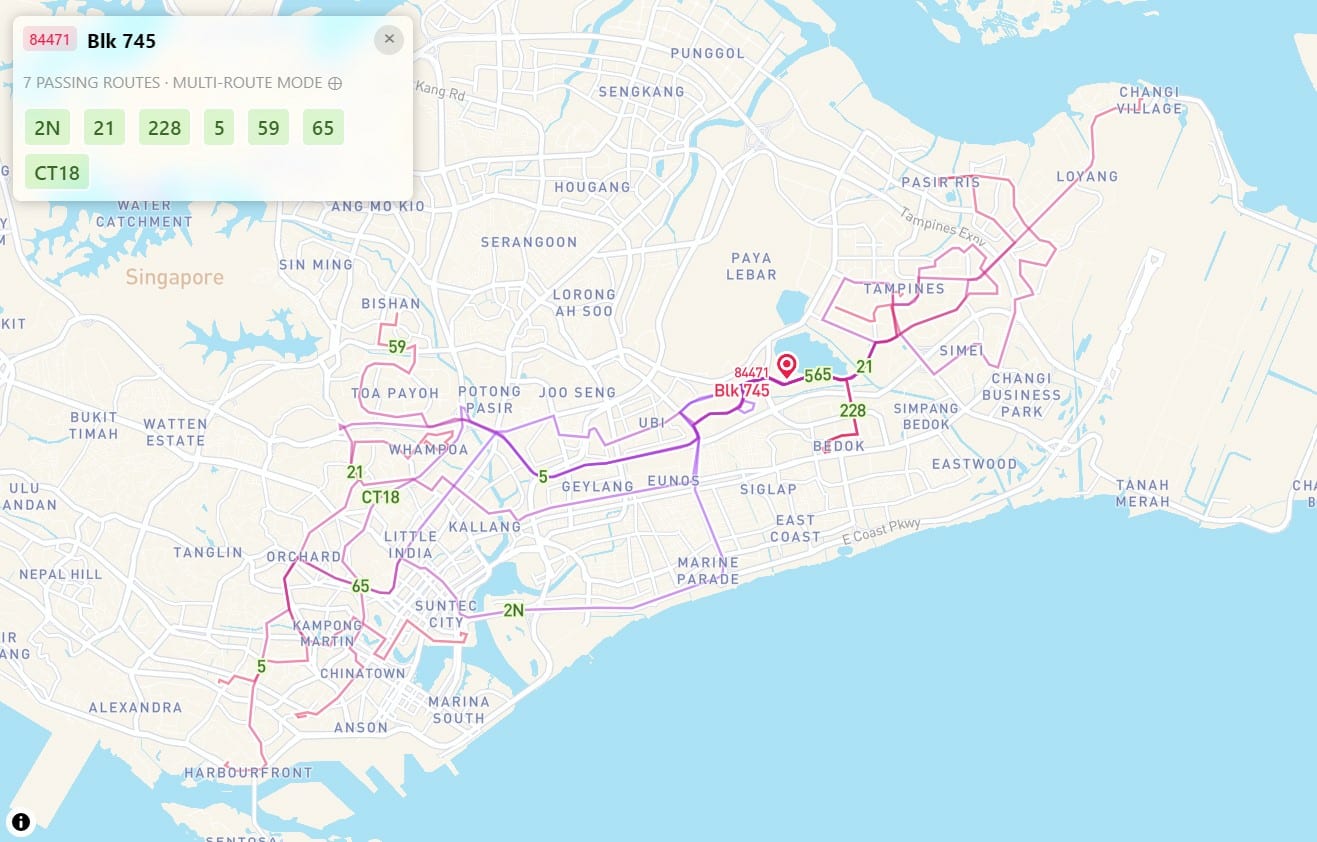 Similar to the path towards the MRT, the walk to the bus stop is also completely unsheltered, so you'll need to brave the weather be it rain or shine (and it's really hot these days!).
Private Transport
| | |
| --- | --- |
| Key Destinations | Distance From HDB (& Est. Peak Hour Drive Time) |
| Raffles Place | 15.9 km (21 mins drive) |
| Orchard Road | 13.9 km (19 mins drive) |
| Suntec City | 11.4 km (20 mins drive) |
| Changi Airport | 11.4 km (19 mins drive) |
| Tuas Port | 47.5 km (1 hr and 3 mins drive) |
| Paya Lebar Quarter | 5.7 km (9 mins drive) |
| Mediapolis | 21.5 km (27 mins drive) |
| Mapletree Business City | 20.8 km (30 mins drive) |
| Tuas Checkpoint | 43.9 km (57 mins drive) |
| Woodlands Checkpoint | 30.9 km (39 mins) |
| Harbourfront Cluster | 18.9 km (27 mins) |
| Punggol Cluster | 10 km (18 mins) |
Source: OneMap. Driving times are based on peak hour traffic.
Immediate road exit:
Bedok Reservoir Crescent.

Summary:
Drivers can very easily access the PIE that connects to the CTE in a couple of minutes to get around. From Belvia, it takes just around 20 minutes to get to Raffles Place, making it a very convenient place to live in for those who work in town.
Groceries
| | |
| --- | --- |
| Name of Grocery Shop | Distance from HDB (& Est Time) |
| NTUC Fairprice | 300m (3-min walk) |
| Sheng Siong Supermarket | 400m (4-min walk) |
Schools
| | |
| --- | --- |
| Educational Tier | Number of Institutes |
| Preschool | 7 |
| Primary School (Within 1KM) | 1 |
| Secondary School | 3 |
| Junior College | 1 |
| Other Tertiary Institutes | 2 |
| | |
| --- | --- |
| School | Distance From Condo (& Est. Walking Time) |
| PCF Sparkletots Preschool @ Bedok Reservoir-Punggol Blk 713 | 0.2 km (2 mins walk) |
| Sunflower Preschool | 0.2 km (2 mins walk) |
| Kidskingdom @ Bedok Reservoir | 0.3 km (3 mins walk) |
| Kidz Kulture Schoolhouse | 0.4 km (4 mins walk) |
| Little Footprints Preschool | 0.4 km (4 mins walk) |
| PPIS Child Development Centre – Bedok Reservoir | 0.3 km (3 mins walk) |
| Damai Primary School | 0.2 km (2 mins walk) |
| Yu Neng Primary School | 1.6 km (18 mins walk) |
| Telok Kurau Primary School | 1.7 km (20 mins walk) |
| Fengshan Primary School | 1.7 km (20 mins walk) |
| Red Swastika School | 1.9 km (22 mins walk) |
| Damai Secondary School | 1 km (11 mins walk) |
| Ping Yi Secondary School | 1.5 km (17 mins walk) |
| Bedok Green Secondary School | 1.9 km (22 mins walk) |
| Temasek Polytechnic | 3 km (18 mins via bus) |
| Temasek Junior College | 3.2 km (27 mins via bus) |
| Victoria Junior College | 4.5 km (34 mins via bus) |
| ITE College East | 4.5 km (28 mins via bus) |
Belvia DBSS Additional Pointers
Lack of schools within a 1 KM radius
For parents with young children, do take note that there is just one primary school in the area: Damai Primary. It's also not considered a popular school if that is something that matters to you.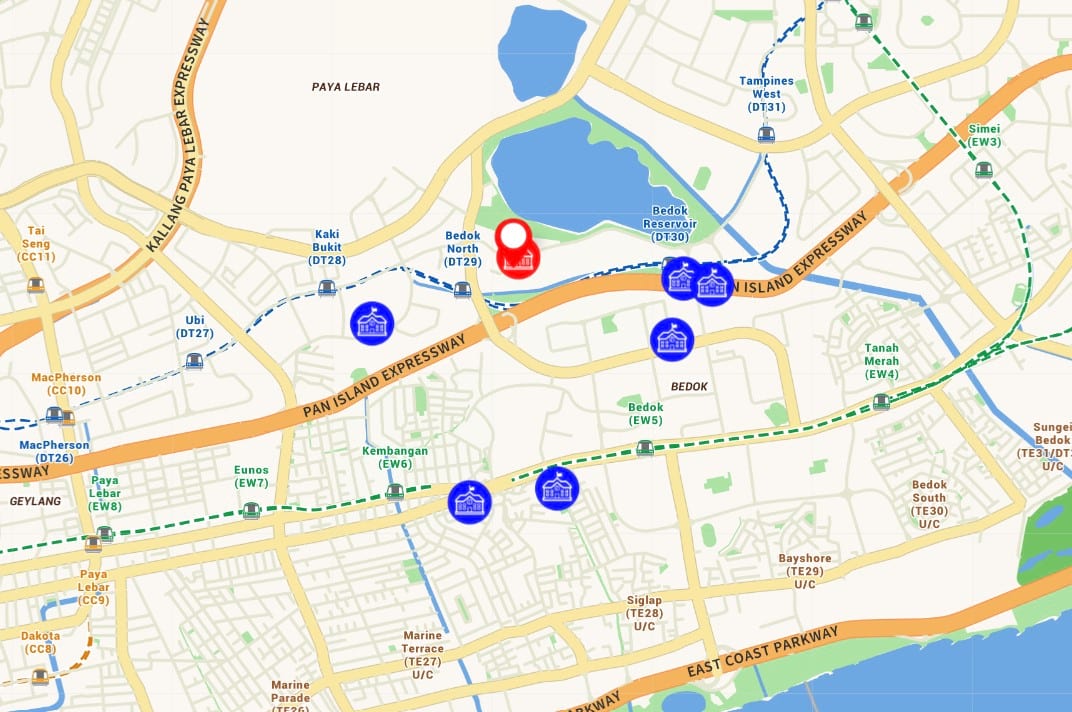 Unique layout with a potential dual-key purpose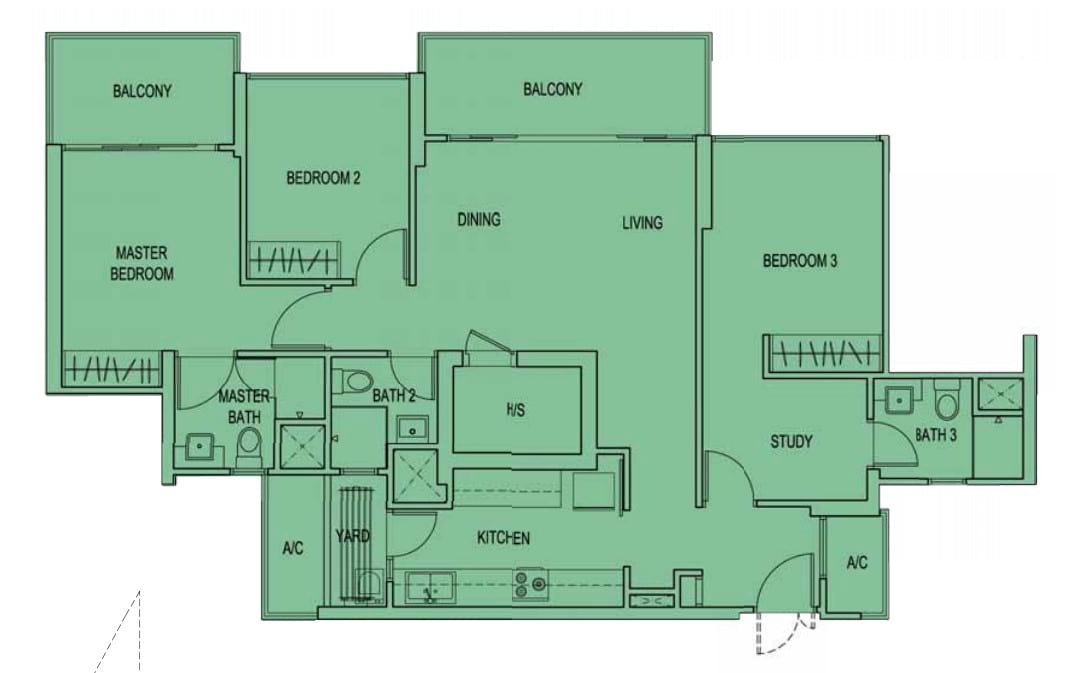 Belvia DBSS comes with a really unique HDB layout that I've never seen before. Stepping in, you're immediately greeted by a foyer area and the entrance to the study/bedroom 3. Further in, you'll find another entrance that leads to the main kitchen and the living room. If this sounds familiar, that's because this shared foyer space is the premise of a dual key unit.
Residents can install a door on the first left turn in to separate bedroom 3 and the study from the main living area for multi-generational living or just to rent out. There is also a separate AC ledge that can cater specifically to this bedroom/study area.
As such, this unit is suitable not just for families but smaller families who live with their grandparents or who wish to rent out a studio unit. The study can easily be converted to a pantry area with a sink given that the water outlet from the bathroom can be channelled there.
Belvia DBSS Site Review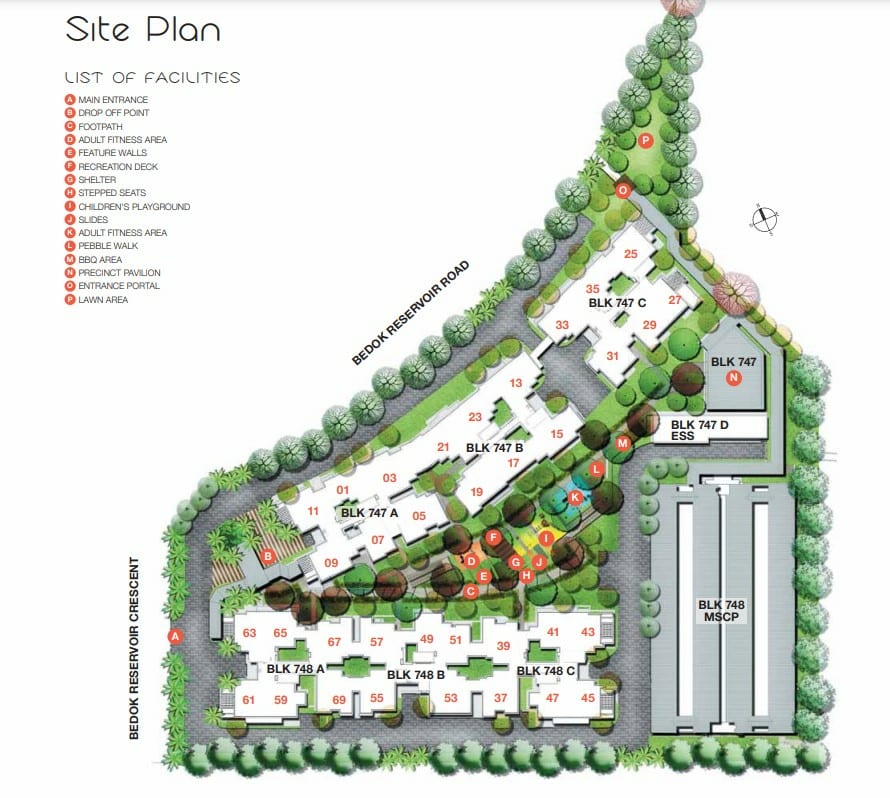 Belvia DBSS comprises 6 blocks and has a total of 488 units with a mix of 3, 4 and 5-room flats. The blocks here are around 14 to 15 storeys high, so it's not exactly as towering as DBSS such as Natura Loft, but the surrounding HDBs here are also not high given the older HDBs around and the reservoir up north.
In terms of design, you'll find that Belvia plays it safe with a black and white colour palette similar to Trivelis. From what I can see, some of the paint here is fading away and is in need of some touch-up.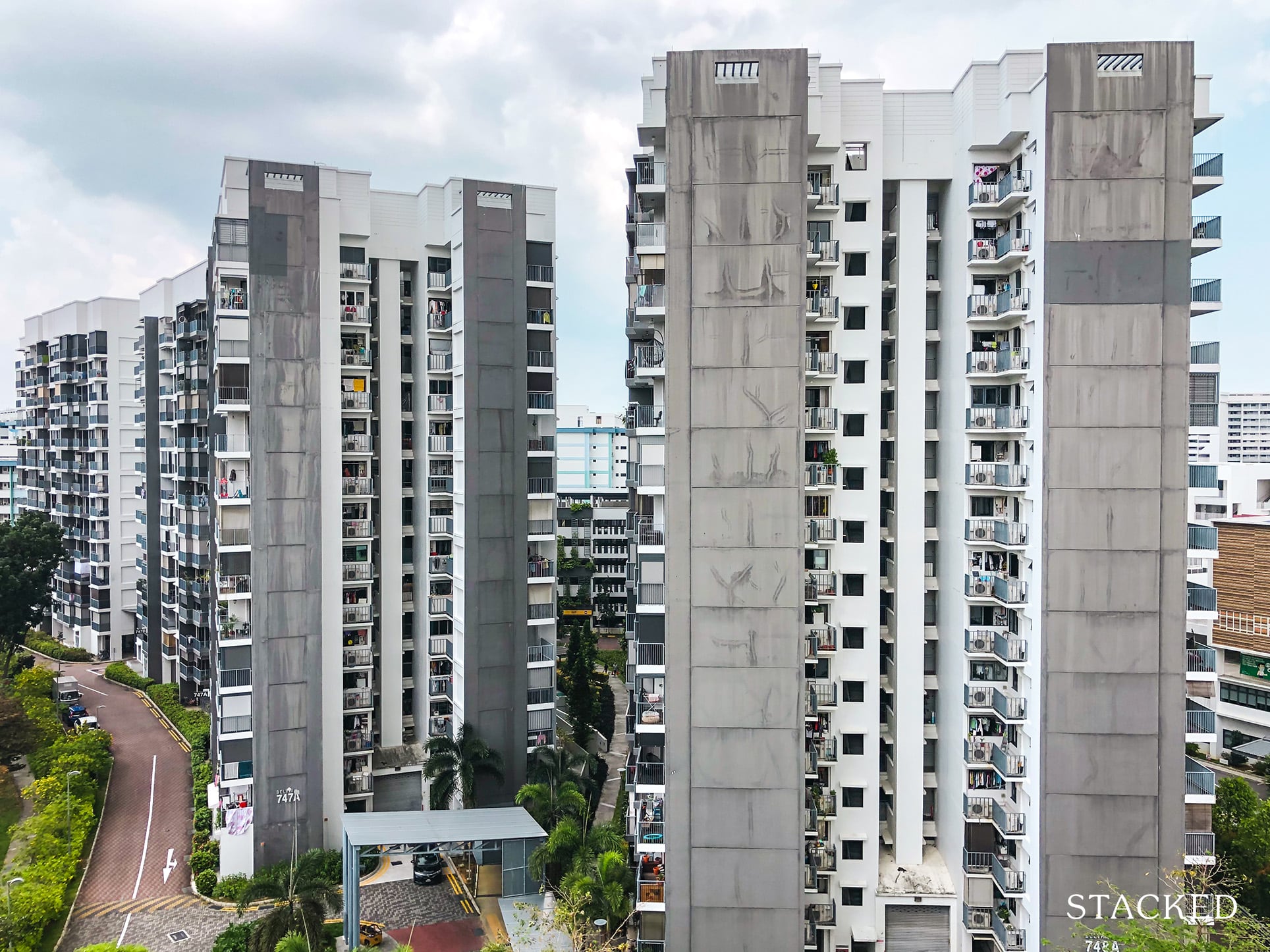 Walking around, you'll find that the development feels very caved-in. This is due to the odd and small plot of land that Belvia has to work with, resulting in almost every part of the inside feeling cramped. This picture clearly showcases what I mean: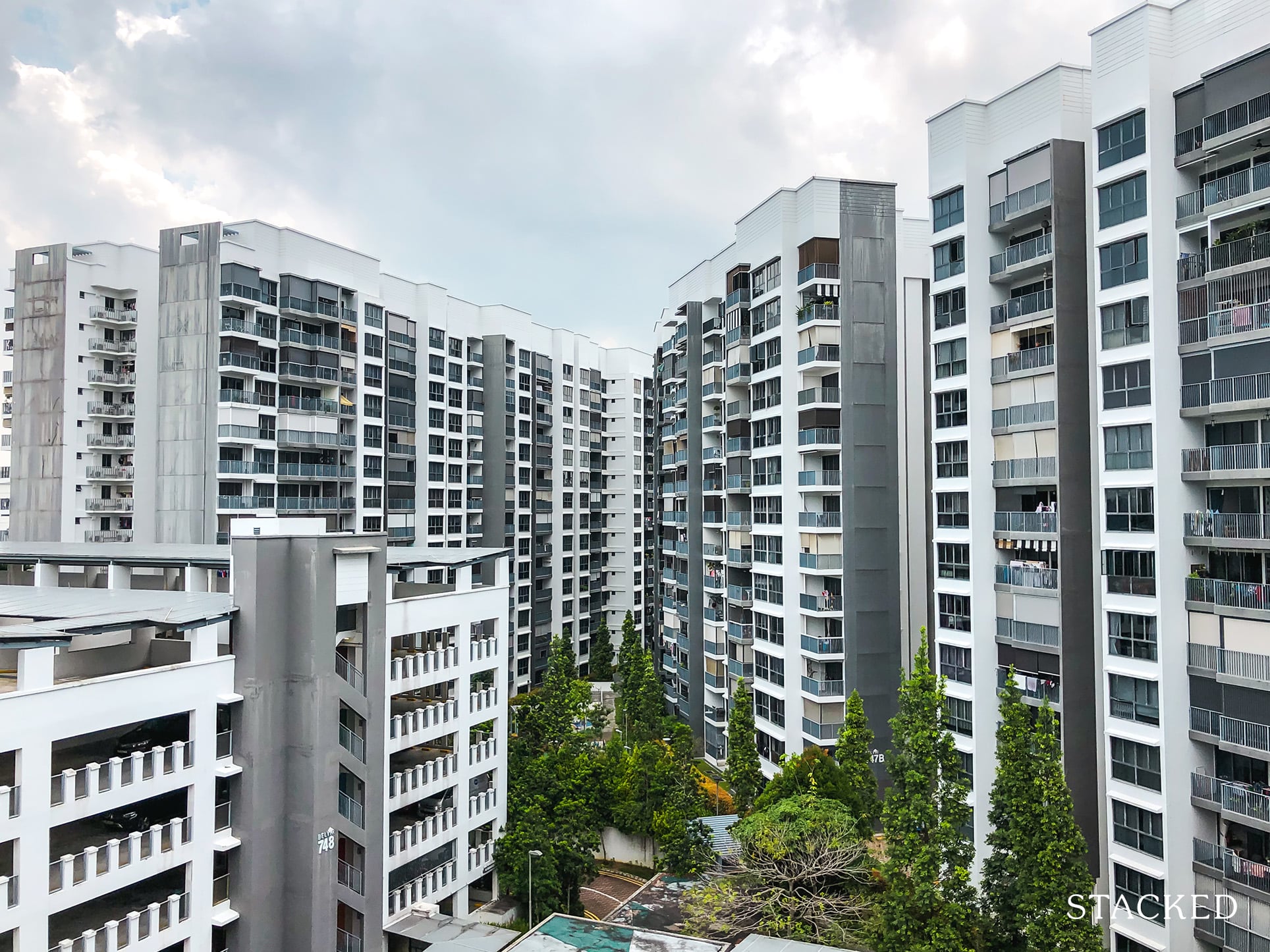 It's just an unfortunate downside of such a plot. As you can see, those who stay in blocks 747A and 748A will be very close to their neighbours – about 10 metres at its closest!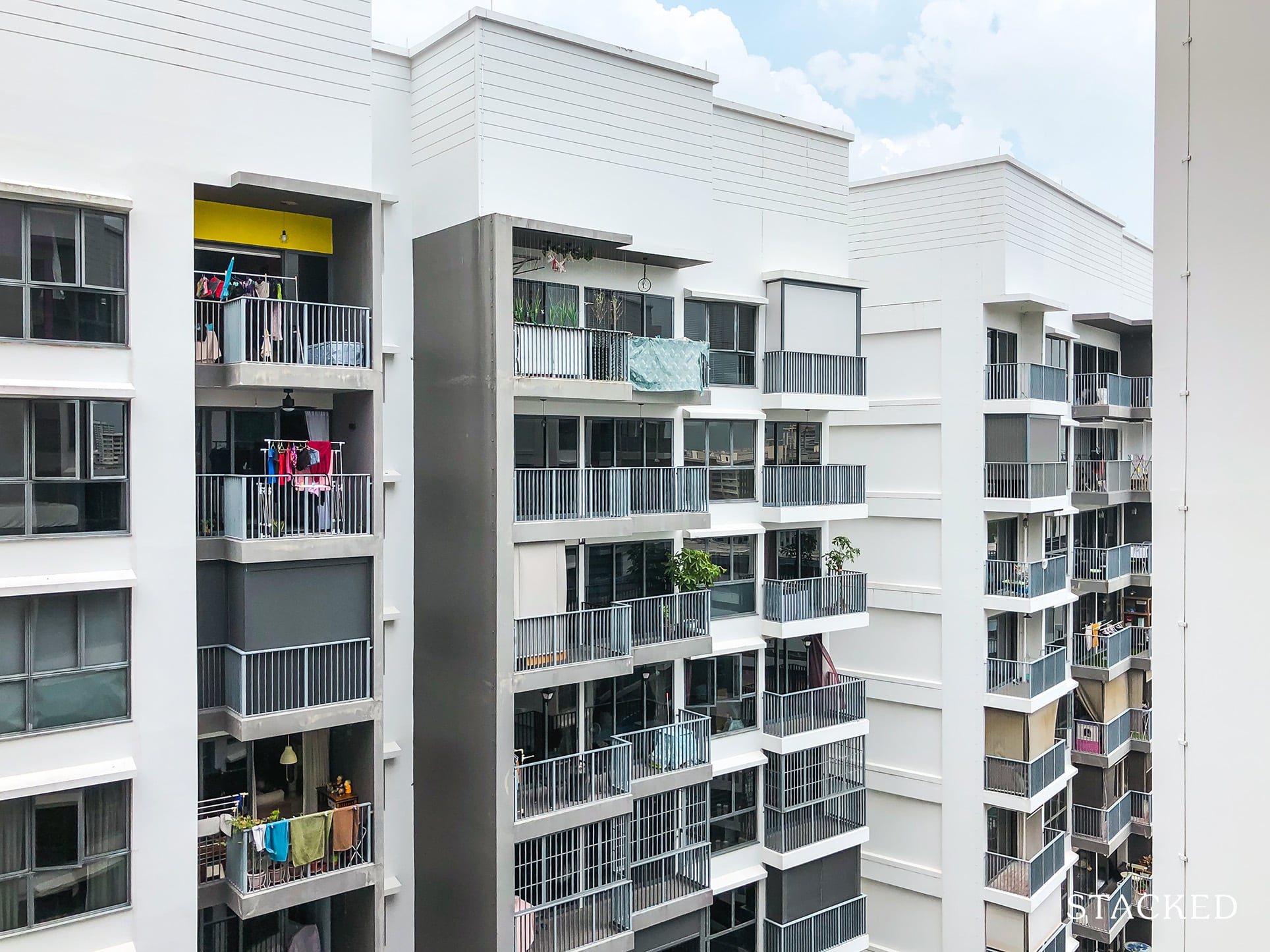 Another key aspect of this DBSS is the presence of master bedroom balconies. You can tell from the facade that outdoor space is bountiful here – so those who appreciate such spaces may find units here suitable.
Apart from that, I do appreciate the landscaping elements within the development. You'll find that the walking paths here are neatly lined with trees and shrubbery where it can, so that's good.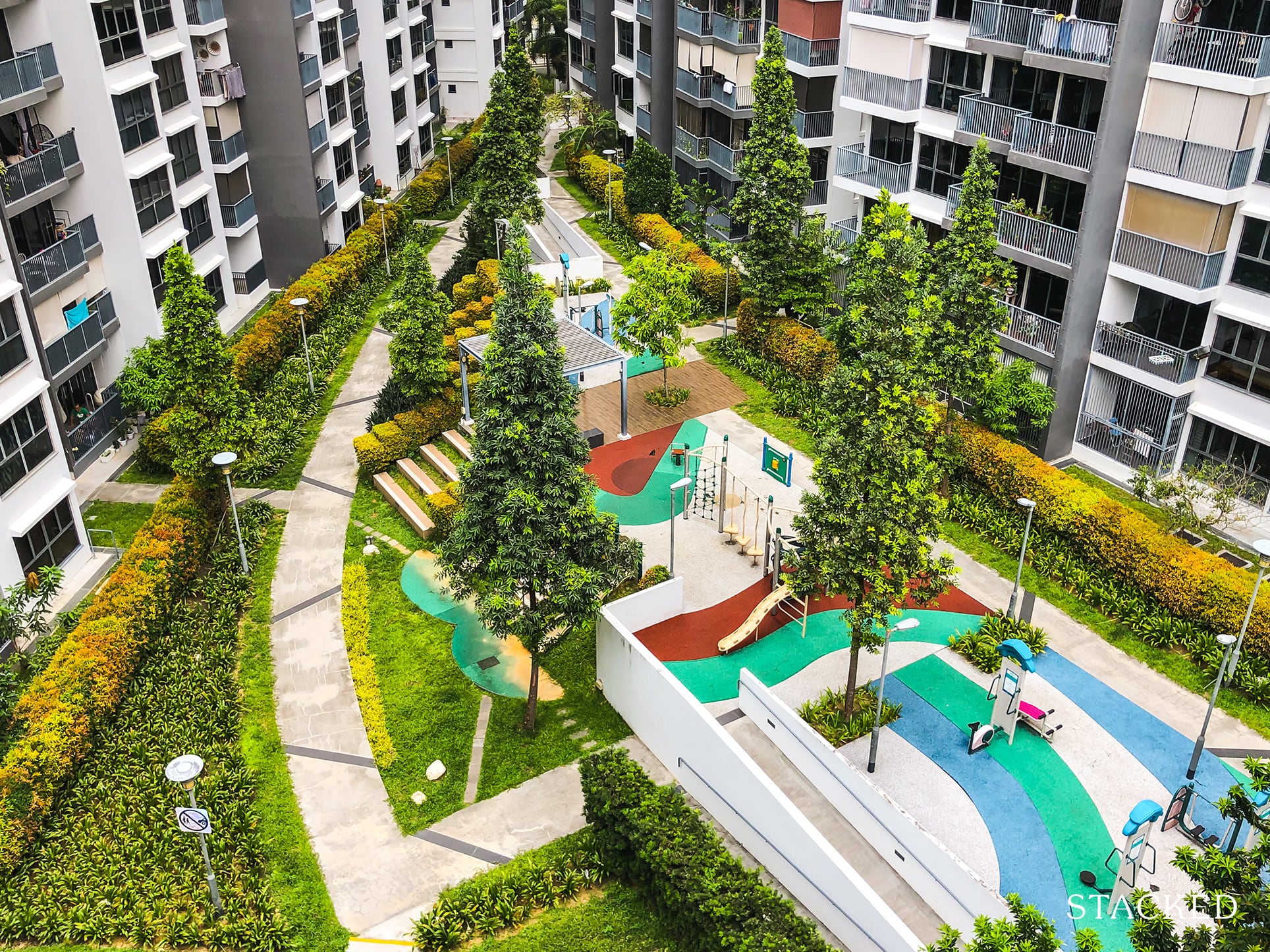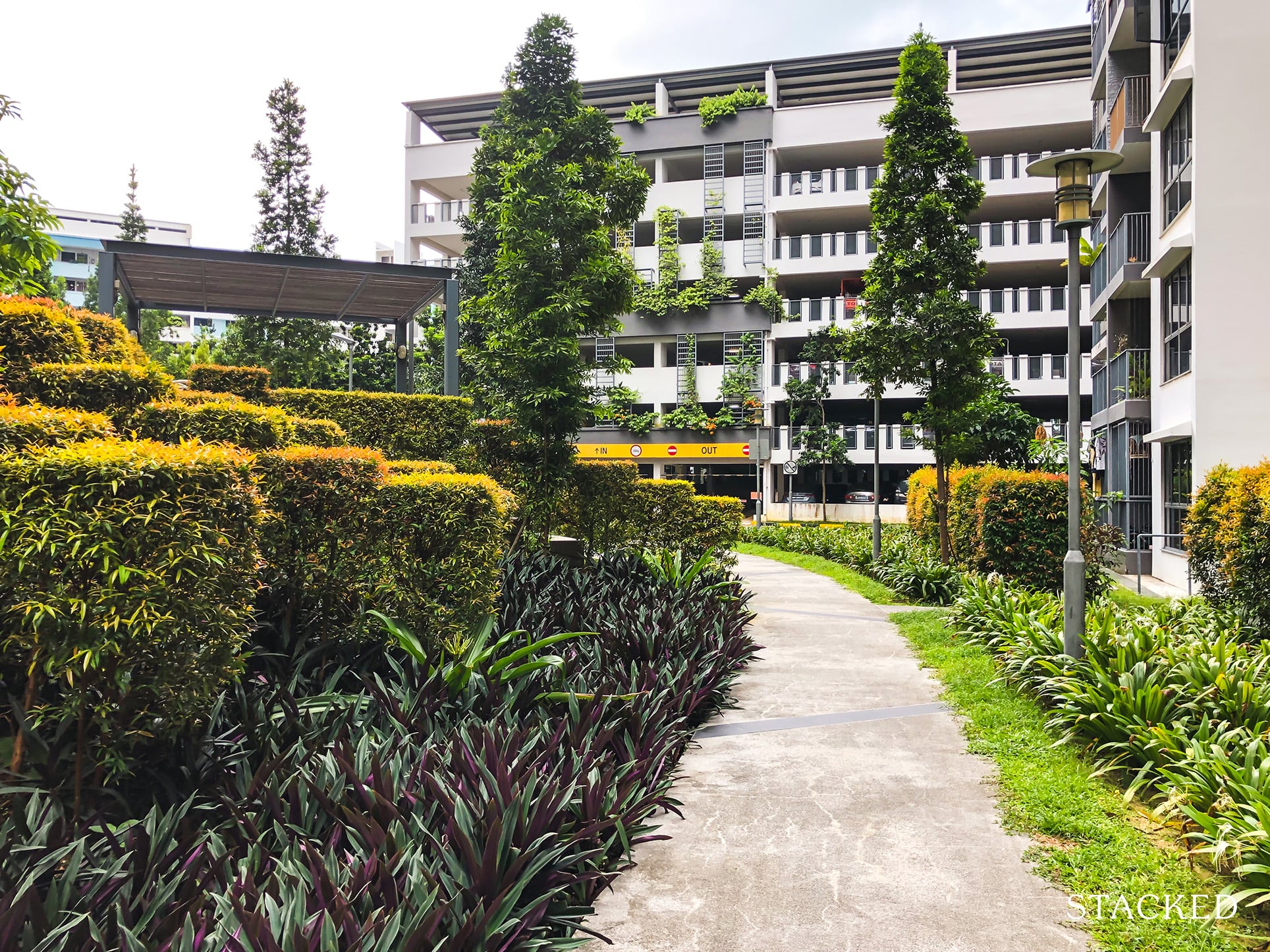 You'll also come to appreciate the medium height shrubbery here not only beautifies the landscape around but also acts as a privacy barrier for the ground floor units!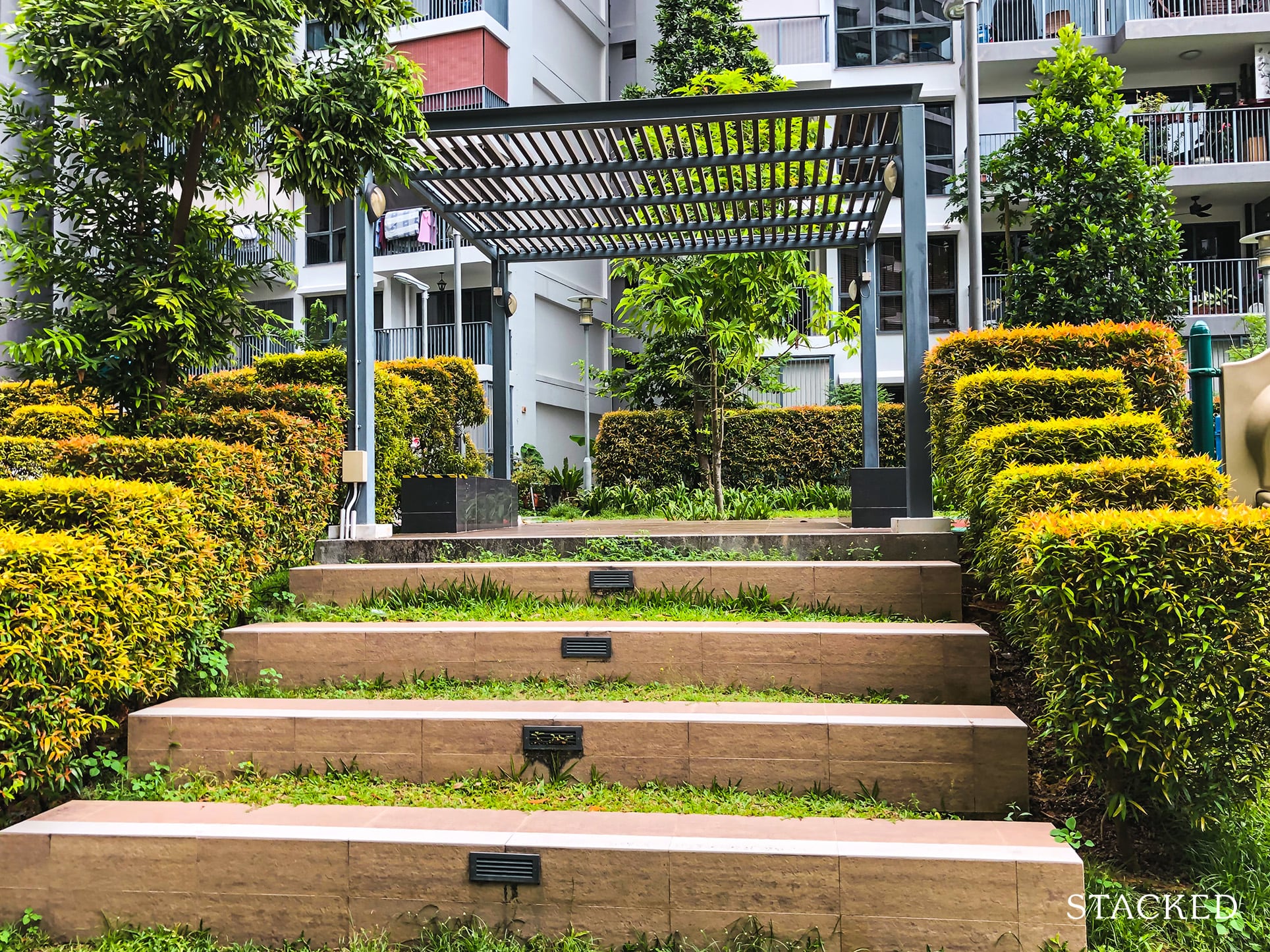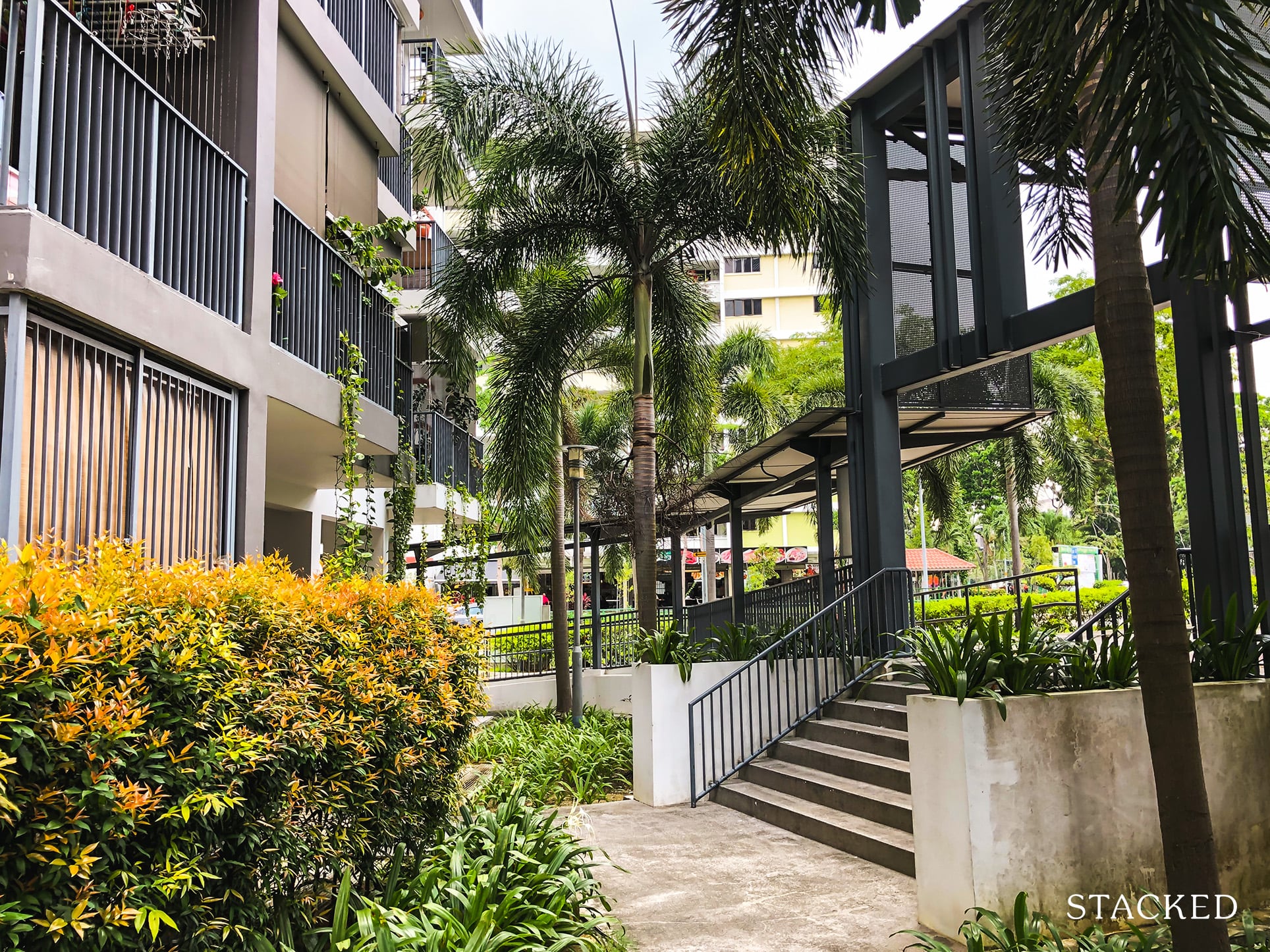 Other than that, there's really nothing else worth highlighting about the development here. The small plot and cramped feeling within the development are enough of a downside to overshadow any other positive aspects of the development (if any).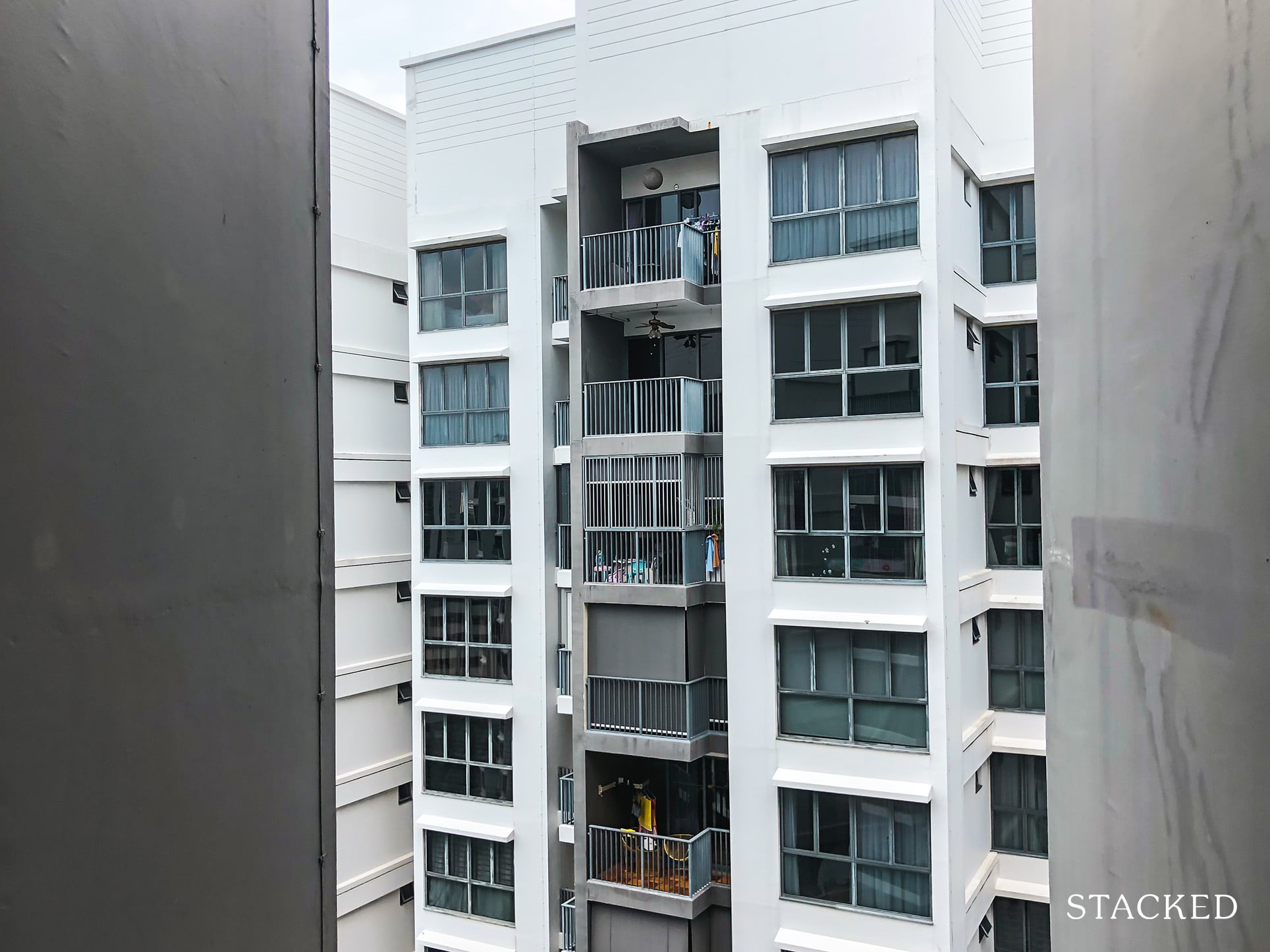 Unit Mix
| | | | | |
| --- | --- | --- | --- | --- |
| Block | 3 Room | 4 Room | 5 Room | Total |
| 747A | 14 | 27 | 40 | 81 |
| 747B | – | 41 | 40 | 81 |
| 747C | – | 54 | 26 | 80 |
| 748A | 29 | 29 | 28 | 86 |
| 748B | 30 | 29 | 14 | 73 |
| 748C | 29 | 29 | 29 | 87 |
| Total | 102 | 209 | 177 | 488 |
Belvia DBSS Stack Analysis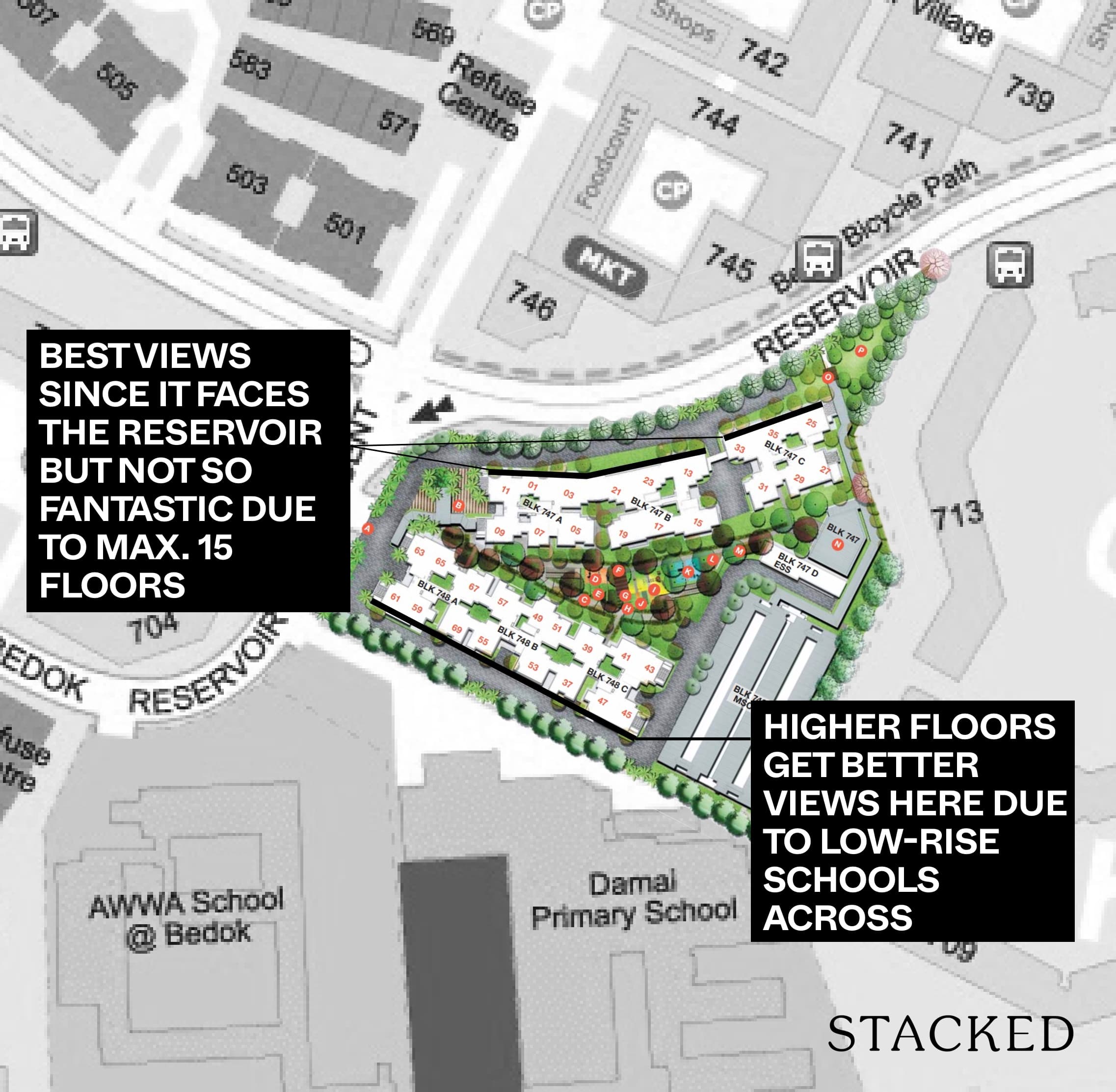 The best stacks here belong to both the south and north-facing outer stacks. On the south side, you'll be overlooking the low-rise Damai Primary school onto the park ahead:
On the north side, units are treated to views of the reservoir assuming they are high enough.
Unfortunately, it was not possible to capture the reservoir view from the unit along the common corridor, but here's one that was found online: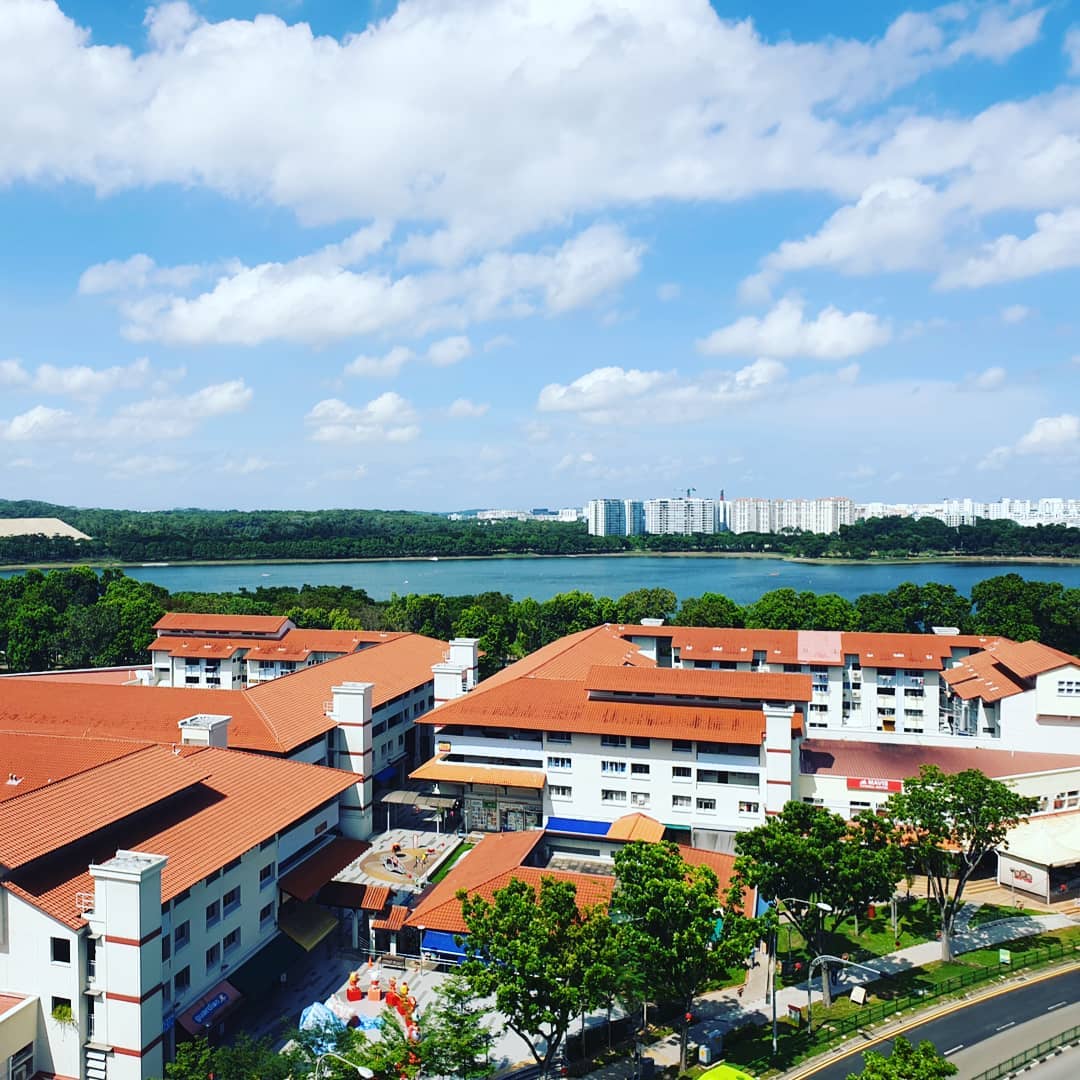 Considering the floors only go up to 15 storeys here, we don't think the views get that much better than this.
If you're looking to purchase an inner-facing stack, we'd consider block 748C since it is the furthest away from the opposite block and it does not face the multi-storey car park directly even though it's right next to it.
Belvia DBSS Layout Analysis
3-Room Flat Type 1 (66 sqm)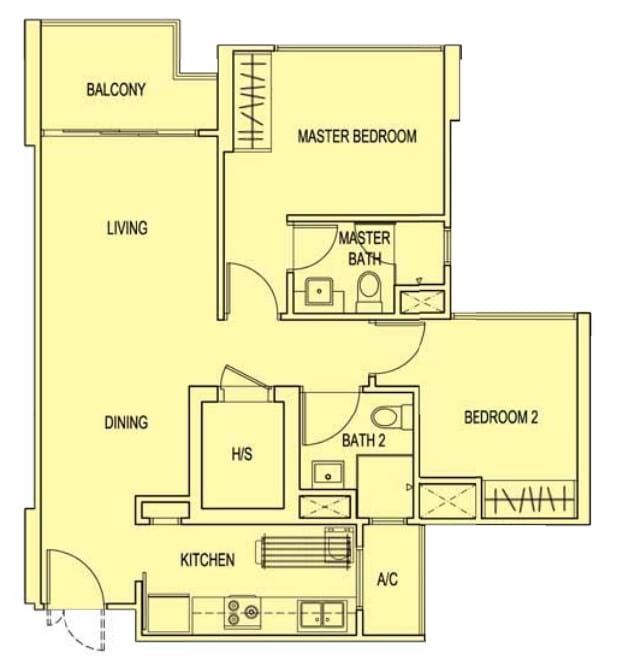 | | |
| --- | --- |
| Pros | Cons |
| Squarish and efficient unit layout | Smaller than usual BTO |
| The unit comes with a small foyer; which gives a sense of privacy from neighbours peering into the unit. | Tight bedroom space. |
| Unit comes with Balcony space, great for those that value some outdoor space area | Lack of proper yard area to hang laundry. |
Belvia DBSS 3 Room Pros & Cons
4-Room Flat (87 sqm)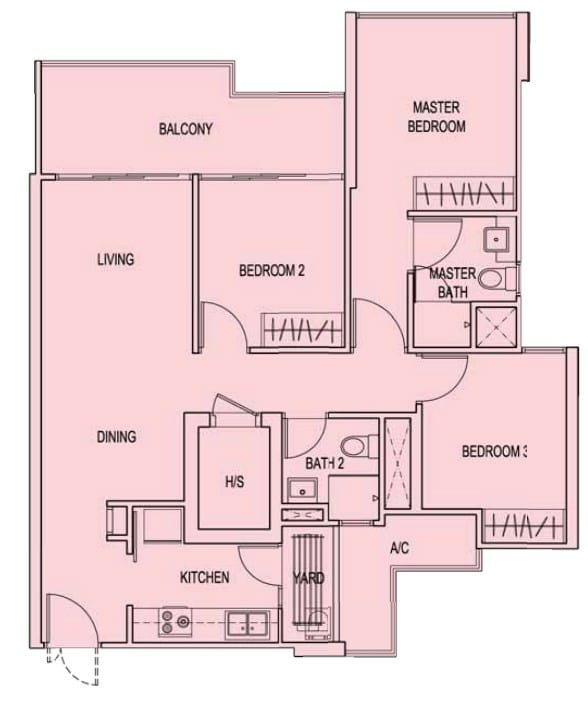 | | |
| --- | --- |
| Pros | Cons |
| The unit comes with a proper yard area for laundry | The Overlarge balcony area does take up space. |
| Squarish and efficient unit layout; decent for families | Smaller than usual BTO |
| Neatly flushed wardrobe in common bedroom 1 | Tight bedroom and kitchen area |
| The unit comes with a small foyer; which gives a sense of privacy from neighbours peering into the unit | |
| The unit comes with Balcony, great for those that value some outdoor space area | |
Belvia DBSS 4 Room Pros & Cons
5-Room Flat (105 sqm)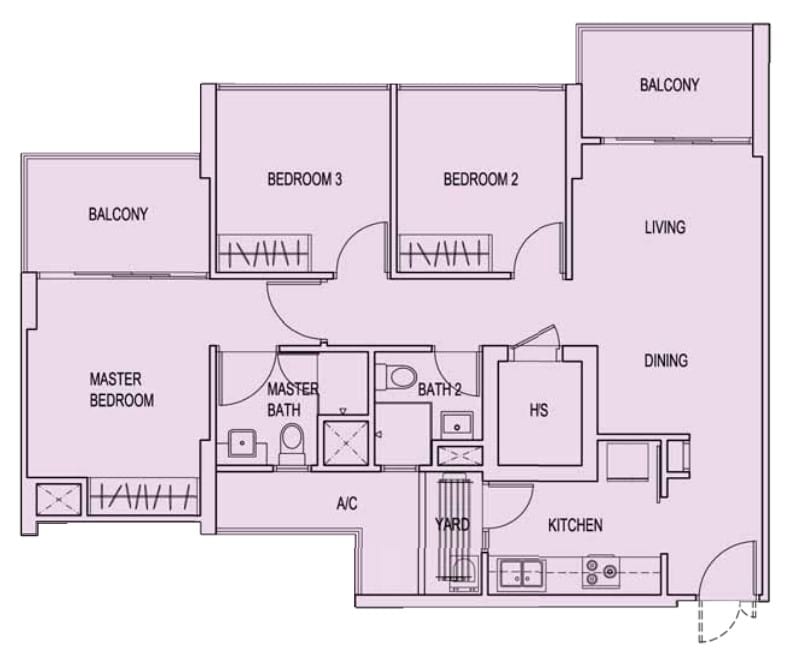 | | |
| --- | --- |
| Pros | Cons |
| The unit comes with a proper yard area for laundry. | Smaller than usual BTO |
| Squarish and efficient unit layout; decent for families. | Tight bedroom area |
| Good size master bedroom with an attached balcony. | Two overlarge balcony area takes up space. |
| The unit comes with a small foyer; which gives a sense of privacy from neighbours peering into the unit. | |
| The unit comes with a Balcony; great for those who value some outdoor space area | |
Belvia DBSS 5 Room Pros & Cons
Belvia DBSS Pricing Review
| | | | | |
| --- | --- | --- | --- | --- |
| Project | Lease Start Date | 3 ROOM | 4 ROOM | 5 ROOM |
| Bedok Reservoir Garden | 1980 | $356,178 ($453 psf) | $440,000 ($427 psf) | $543,150 ($411 psf) |
| Belvia DBSS | 2014 | $497,500 ($702 psf) | $692,450 ($745 psf) | $785,833 ($696 psf) |
| Ping Yi Greens | 2016 | $469,029 ($642 psf) | $630,415 ($634 psf) | $810,833 ($676 psf) |
| Reservoir Rise | 1980 | $343,706 ($444 psf) | $441,991 ($451 psf) | – |
| Reservoir Village | 1986 | $330,000 ($416 psf) | – | – |
Source: HDB. Data from April 2021 to May 2022 (incomplete)
Belvia does not have many competitors in the area, and that's probably why it can command quite a high price. On average, the 3-room flat here is almost $500,000, while the 4-room flat is almost $700,000. Where does this make Belvia stand in terms of affordability based on the past 1 year's worth of data?
It puts it in the top 7% of the most expensive 3-room flats and the top 11-12% of the most expensive 4/5-room flats that you can buy in Singapore. As such, buying a flat at Belvia means paying top dollar for an HDB flat.
But not all residents here have really benefited from this high price. Here's a look at the starting price at Belvia:
| | | |
| --- | --- | --- |
| Type | From | To |
| 3-Room Flat | $387,000 | $415,000 |
| 4-Room Flat | $494,000 | $576,000 |
| 5-Room Flat | $648,000 | $727,000 |
Source: PropertyGuru
It seems that residents who purchase the 5-room flat units have seen only around 14% gains over 10 years (launched in 2011). This isn't much at all considering how the market has moved and more importantly for a subsidised flat. However, those who purchased the 4-room flats here seem to have made gains of around 30%. While it is more, it's still pretty average for subsidised housing.
If you look around the immediate vicinity, HDB flats here are also not cheap if you factor in how old they are. Bedok Reservoir Garden for example has a lease start date of 1980 – this makes it 42 years old!
The closest comparison in terms of locality and age here is Ping Yi Greens. Ping Yi Greens is 2 years newer than Belvia and it's further from the MRT (Bedok MRT, EWL). It's also not quite within walking distance to the MRT (about 13 minutes), but at least it has a direct bus there with a total journey time of 7 minutes.
Ping Yi Greens has a slightly lower quantum/$PSF for the 3 and 4-room flats, but its 5-room flat seems to cost more in terms of quantum (though the $PSF is still lower). The size of the units here is slightly bigger too. For example, Belvia's 3-room flat is just 66/67 sqm, while at Ping Yi Greens, it's 68 sqm. The 4-room flat at Belvia is 87 sqm, while at Ping Yi Greens, it's 93 sqm.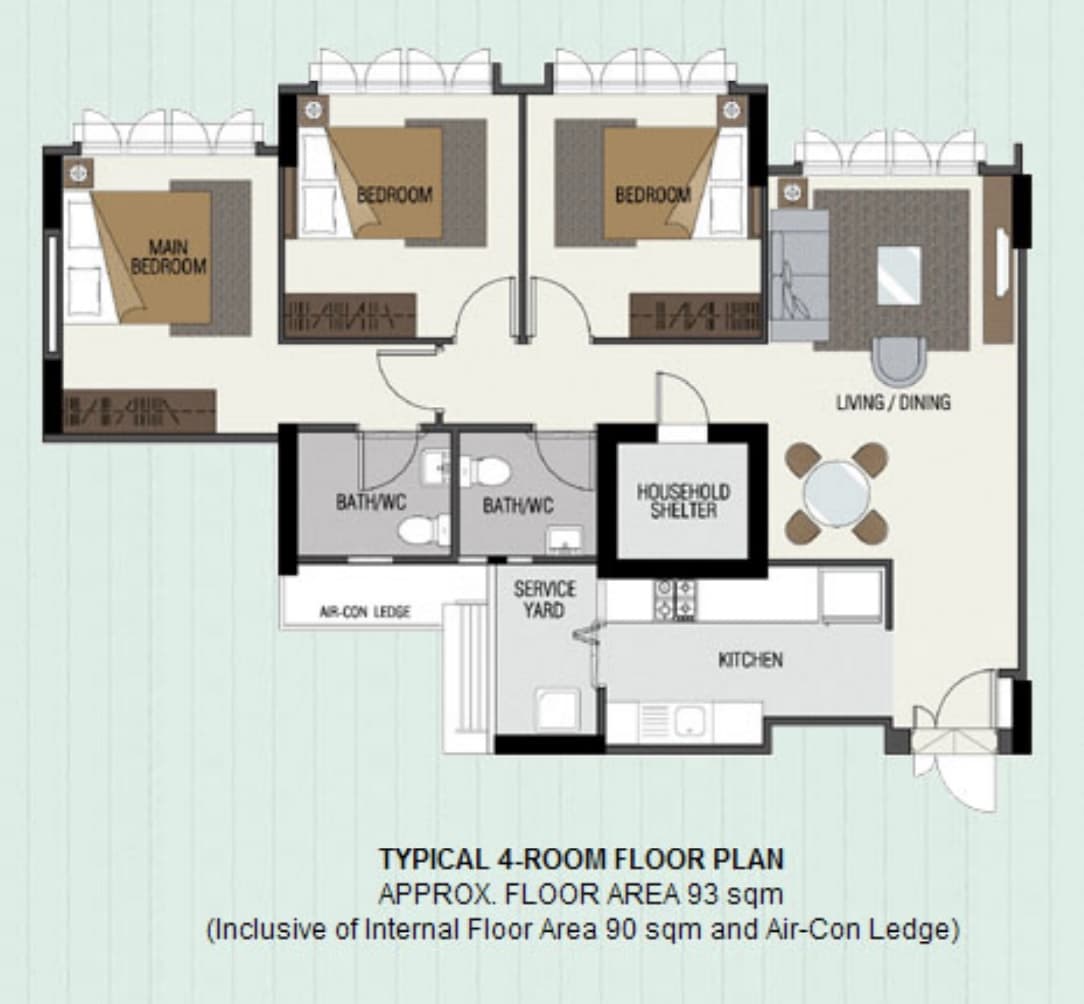 The living area is a tad bit short, however, I do like that it has a long kitchen countertop and a decent service yard where you can put the washer and dryer on either side. The bedrooms here are also more spacious than those in Belvia.
There are only 28 5-room flats in Ping Yi Greens though, and it's 113 sqm in size. Contrast this to the 105 sqm 5-room flat in Belvia DBSS and it's clear why the quantum is higher.
I think that the choice between Ping Yi Greens and Belvia DBSS isn't so straightforward unless you're only in the market for a DBSS due to the balcony it provides. Ping Yi Greens is more spacious and has more internal living areas too. However, it is further away from the MRT and the reservoir/parks around, hence, if these two factors are important for you, Belvia DBSS's premium may seem worth it.
Ultimately, I do think that for what the development offers, the price is relatively fair. Sure, it's not the nicest of developments out there. However, it's within a mature estate close to nature and also within walking distance to an MRT that takes you to town in under 40 minutes – door to door. There also aren't that many new HDB options with these positive attributes in the east, so if you can look past the development's flaws, then this isn't such a bad price to pay!
Our Take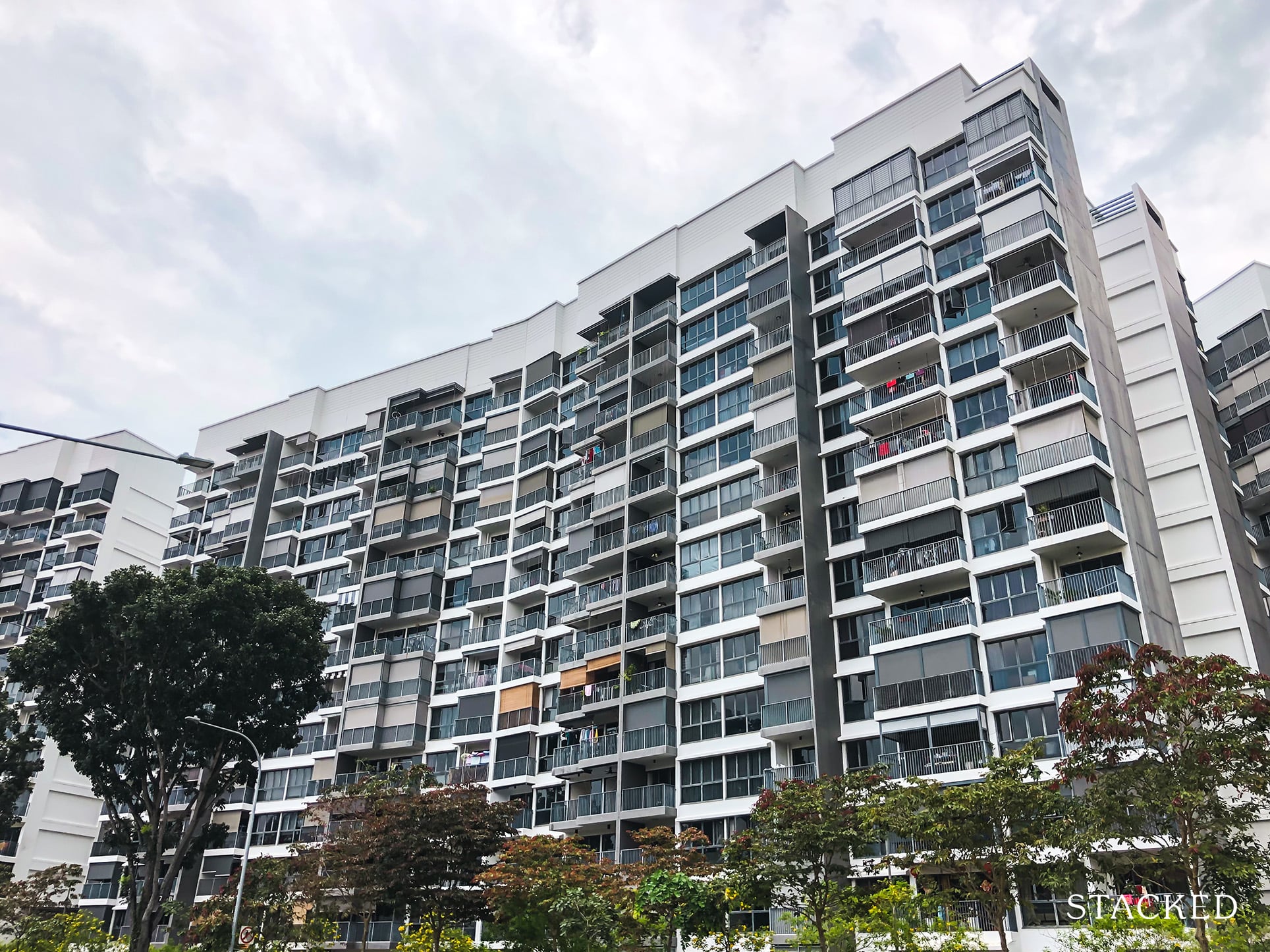 Let's face it, you aren't going to buy Belvia for the development itself.
It's not exactly a development that boasts lots of open space, its common corridors are narrow and some stacks are just too close to each other. The facilities aren't impressive at all with just one playground and one fitness area. The barbeque pit is average and the blocks are very close to each other. It also lacks a car park rooftop garden and many parts of the development are in need of maintenance.
Moreover, it does not have any special features like a gated lift lobby unlike at The Peak @ Toa Payoh and Lake Vista @ Yuan Ching.
The views are decent at best if you can score a higher floor unit facing the reservoir, but ultimately, it's still only 14/15 storeys high so this is always a restriction. Getting such a unit is also really rare, a quick check online shows only units with inner-facing views available.
However, it is in a fairly advantageous location within walking distance to Bedok North MRT. Moreover, it's close to two parks and the Park Connector Network. Its proximity to F&B is just opposite and two major supermarkets earn the estate its mature status.
It's also a new-ish development (less than 10 years old as of this writing), making it a rarity for an HDB in the locality. And if you're on the hunt for an affordable home with a sizeable balcony in the east, then I must say that you're left with not much of an option.
In other words, once you filter down your location and age criteria, you're kind of stuck with having to decide between Belvia DBSS or another new HDB nearby which there aren't that many to choose from.
What this means for you
You might like Belvia DBSS if you:
• Are looking for convenience in the east:While 7 minutes is not exactly near the MRT, it is considered to be within walking distance to many. It's also close to amenities around, including 2 major supermarkets. Its tranport links via the bus is pretty decent too, allowing you to reach town in around 30-35 minutes door-to-door.
• Want to be close to nature:Being just a few minutes' walk to Bedok Reservoir has its perks. Moreover, the proximity to the Park Connector is a huge plus!
You may not like Belvia DBSS if you:
• Want to stay in a spacious development:Belvia DBSS is probably as cramped as it can get. With stacks as close as 10m to each other, narrow corridors and certain stacks having their main doors too close to each other, residents looking for privacy and spaciousness should look elsewhere.
• Are on a tight budget:Unless you absolutely want to stay in the east and need something new-ish, remember that Belvia DBSS is priced close to the top 10% of HDBs you can buy out there. Considering the various flaws we've uncovered, you could likely get something else better if you aren't so picky on the location.
End of Review