Analysis

A Buyer's Case Study With Stacked: Kopar At Newton
Ryan
October 3, 2020

13

min read
Introductory Consultation (First meet)

A couple of years ago, no one would have actually thought of Instagram as a place for people to begin their home buying journey.

But fast forward to today, and the Covid-19 situation has shown how there are many ways to go about purchasing a home – be it through Zoom, Instagram, or any other social media platform out there.

In this case, our clients actually came across our Instagram stories, before moving on to read our review on the Trilight in Newton.

This was actually quite early on during the circuit breaker phase, so while we unfortunately weren't able to meet up for the first consultation, Zoom did serve as an effective means for our first "meet up".

As usual, the first consultation is important for us to understand our client's objectives and reasons for wanting to purchase a home. Truthfully, some people may not even be ready to move – be it financially or emotionally – and the first conversations are useful to ascertain that. You really don't want to be in a position where you are financially overstretched – any reputable agent will make that his/her initial priority. 

So given that they weren't as up to date with the Singapore property market, we started with a quick 101 on what they absolutely need to know moving forward. We went through the usual things that we'd look out for in any potential purchase – integration (shopping, MRT, transformation), comparables in the area, holding period, and sustainability for the property.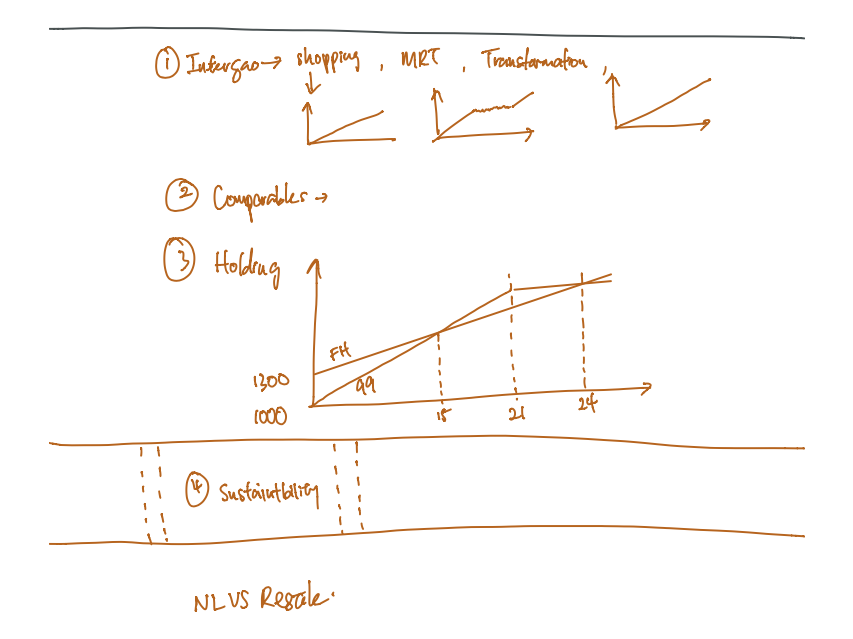 They had a strong reason for wanting to look for a new place (children's education is always a big motivation), but it wasn't a pressing need at that point in time – unless the right place came along. 

Through the call, we were able to conclude their main criteria for this potential new home:

2 km radius to SJI for their son in the future
At least a 3 bedroom, with provision for a helper
6 – 7 years stay, in view of a landed home in the future
They had done some preliminary research in the area, and had landed on Montebleu as a possibility as they liked the layout. But here was the main point of contention, the wife liked older resale properties, while the husband preferred new launches! So they were comparing the merits of a resale like Monte Bleu versus a new launch in the area like Kopar. 

To be fair, this is quite a common scenario for most couples. Not everyone has exactly the same tastes, as well as what they value the most in a home. Interestingly enough, space and privacy is usually something women value more, whereas guys seem to value something more modern with good facilities as a priority (just a casual observation).

Now that we've cleared up the requirements, let's get right down to how we helped them arrow in on the right purchase. 

Buyer Proposal – How We Researched

Since this wasn't a case of being undecided on a location to live in, it does make the decision making process a lot easier – they know where they want to live, they just don't know what is the best option for them. (That said, along the way the possibility of JadeScape was mooted, but given their unfamiliarity with the area it was quickly scrapped).

In cases like this, it is extremely important to help the clients know exactly the pros and cons of a resale condo versus a new launch property (something we've covered quite comprehensively here). This is because once they are aware of their needs and priorities, the choice of which to go for becomes a whole lot clearer.

To make things easy for them, we created a proposal with an analysis on Kopar as well as a deeper look into the resale condos in the area. 

Resale Condo Analysis

To begin, we tackled the option of a resale condo first – the Montebleu.

For the benefit of those who are unfamiliar with the project, it is a freehold condominium in District 11 built in 2010 with a total of just 151 units. 

The unit they were eyeing was a 1,475 square feet 4 bedroom unit.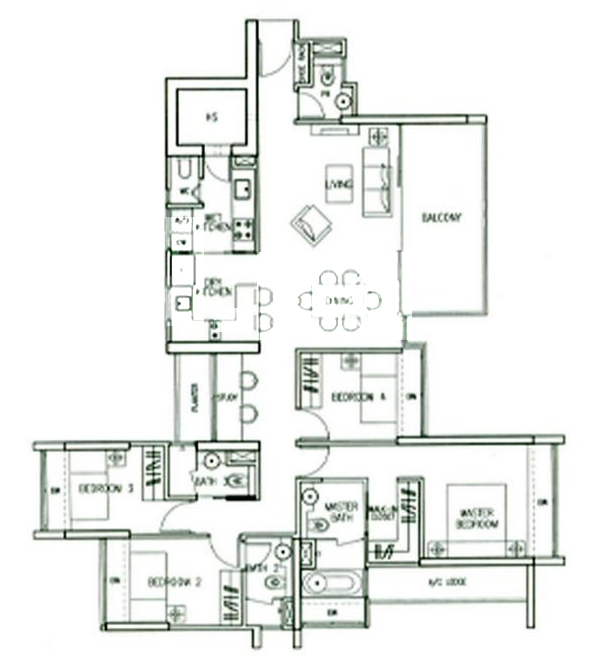 To give them a sense of where it stands in the area, we compared it with close comparables (pricewise), Ansley and Axis. 

As always, there are certain caveats that you should know here: the unit sizes and floor levels aren't separated, but that is mainly because of a lack of transactions.

From here you can see that the Montebleu enjoyed the highest appreciation, which you can possibly attribute to it being the biggest project out of the three with the best unit mix. 

Read this next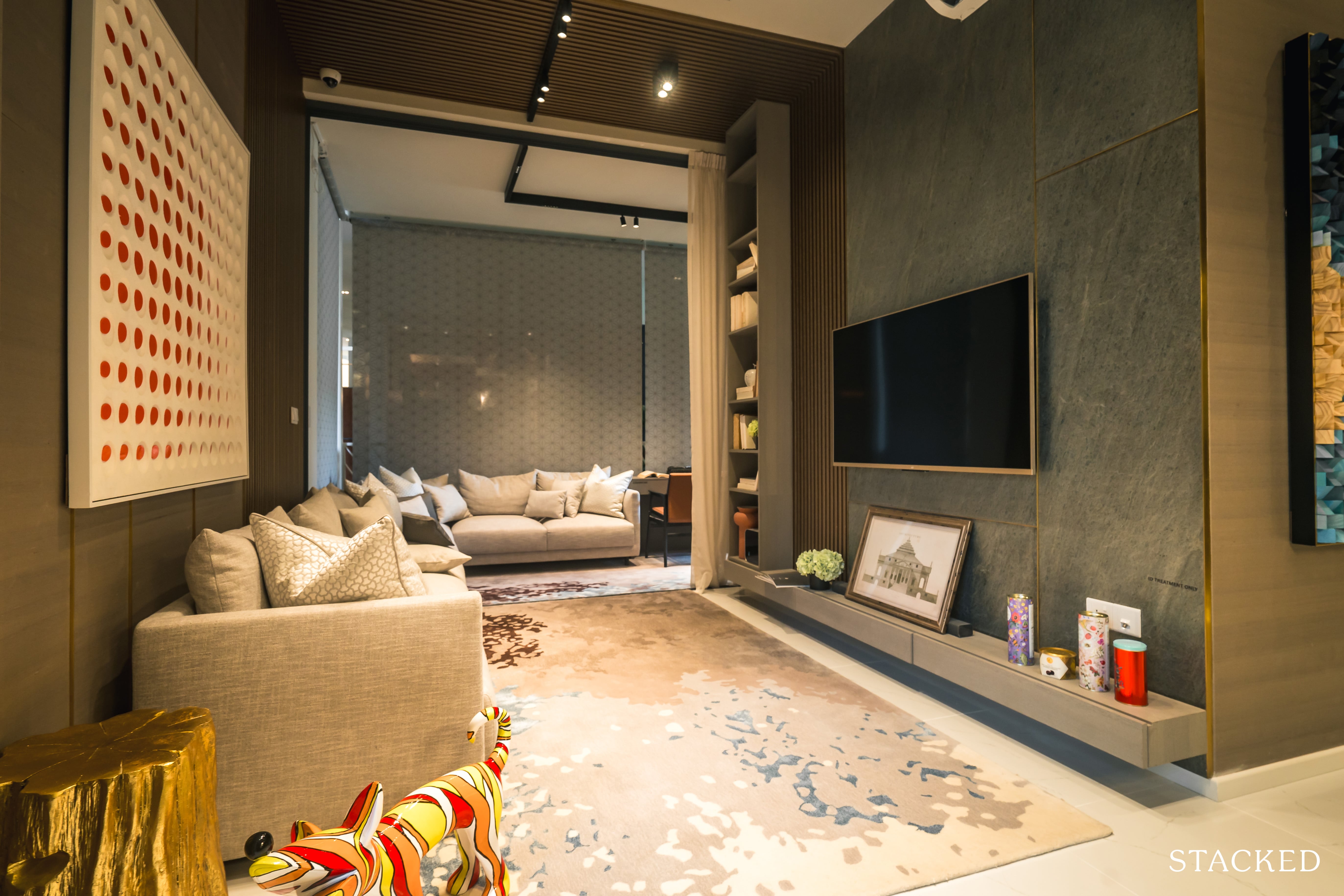 Safe to say, because it had the larger number of units and hence more transactions, Montebleu enjoyed the most relevant prices as the next sale could always refer to the most recently updated price as a benchmark. 

Compare this to something like the Axis, where the last 4 bedroom unit was sold in April 2017. With no recent sales, it would be difficult to justify any steep increase in prices. 

Next, looking deeper into the unit mixes of the developments, we can see that more than 50% of the units in Montebleu and Ansley are 1,000 square feet and above. Now, this isn't always a sure thing, but our hypothesis is that larger units tend to have a higher possibility of being owned by a homeowner rather than an investor. 

Again, if you contrast this to the Axis, where an overwhelming majority are smaller units, you'd usually see more PSF stagnation because investors have made rental returns and are more willing to "sell and move on" as opposed to a homeowner who will be more adamant about their selling price. 

Note that at this point, Singapore's average resale appreciation between 2015 to 2019 was approximately 12.79%, so the Montebleu and Ansley have actually performed quite well in the resale market. 

Clearly if we had to pick one, Montebleu would be the preferred choice out of the three. 

Kopar at Newton Analysis

Next up, we take an in-depth look at Kopar.
Again, for those who are unfamiliar with Kopar, it is a new launch 99 year leasehold development located on Makeway Avenue at Newton. It is slated to be completed in 2023 with a total of 378 units. (If you're interested to find out more, read our full review here). 
For those who know their stuff, the Newton/Novena area is chock full of mostly freehold condos. This is why to the surface observer it may seem that the Kopar is like a fish out of water.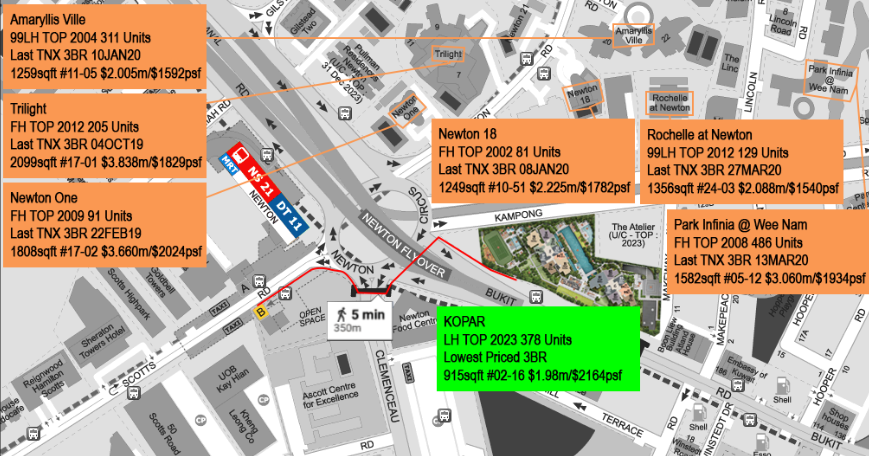 But based on our study, the current supply of unit sizes of 3 bedroom and above in the area is typically priced at $3m and above, save for Amaryllis Ville, Rochelle at Newton, and Newton 18. The primary factors for these lower quantum prices can be contributed to the difference in tenure and significantly smaller project size and poorer facilities.

As an example, the closest leasehold comparable – Amaryllis Ville would be 19 years older than Kopar in 2023. Even with the age gap, they are transacting at a very similar quantum – purely because of the larger unit sizes.

Because of these points, Kopar stands out as an affordable 3 bedroom option for a new full-facility condominium well within Newton MRT and a 1 km proximity to ACS Junior. These are important traits to consider when debating on the value-retention factor for Kopar to combat its leasehold tenure. 

To further add on, the demand for a leasehold project in the area can be seen from Amaryllis Ville too, which saw an average of 4.82% resale transactions over the number of units in the last two years (2018/2019). Rental demand is also very healthy – with a total of 94 rental contracts in 2019 alone. The 3 bedroom units have averaged a 2.9% yield – this is despite the older age of Amaryllis Ville and its further location away from Newton MRT.

To provide a further background into the comparables, we presented a list of the numbers of the surrounding projects.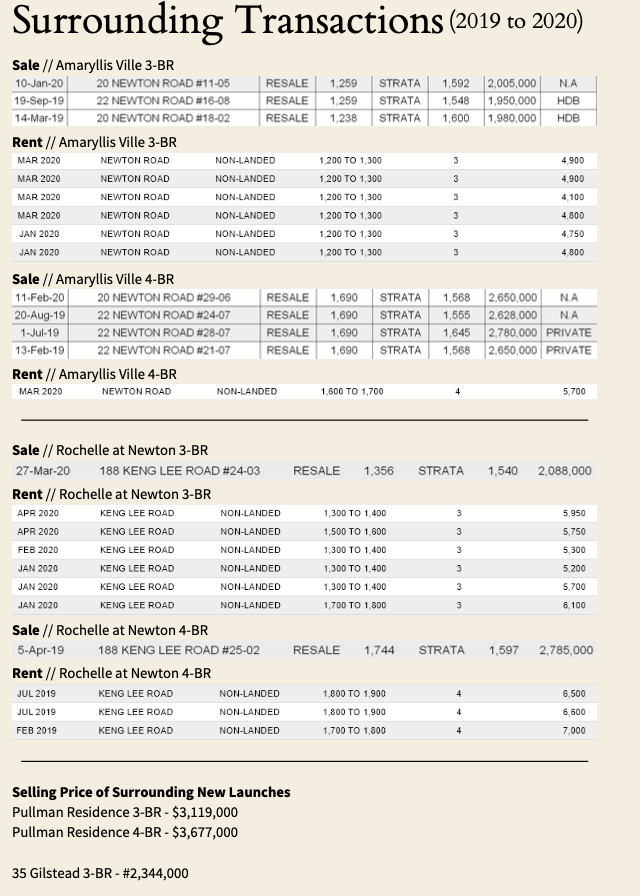 Another thing that would help keep the value of Kopar in the next few years is the rental support. Unlike other districts, there aren't specific industries here that we can identify to be the primary tenant pool. But based on the recent transactions recorded, we found that transaction volumes here are very healthy – even for older projects with less facilities. 

Let's not forget that Newton MRT serves both the NEL and DTL – catering to a larger audience pool. 

One last group of tenants that we can expect will be families looking to rent for the address proximity to ACS Junior. These families will usually be local and take up a longer lease, something that will be attractive to landlords. 

As the newest full-facility condominium in the area, this will definitely be a popular choice among tenants. Remember, a tenant does not care whether a project is leasehold or freehold. 

Second Call

Now all this was happening during the circuit breaker period, so viewing any of the properties was out of the question.

Still, we did what we could to facilitate our clients with screenshots from Google Earth as well as any virtual tours that we could obtain. 

Over the call, we went through the comparisons and everything they needed to know about the resale condos versus Kopar in that area. 

But here's the thing that you should know about the resale market – you aren't always going to get the unit you want (it's always a matter of timing), and unlike new launches, you are totally subject to the irrational pricing due to emotional homeowner sellers. 

So while they liked the layout of the 1,475 square feet 4 bedroom unit, the one currently on sale was the slightly bigger 1,593 square feet (with a less ideal layout). 

We spoke to the agents marketing the unit, and found out that the last rejected offer was at $2.45m and to close would be at $2.5m and above. 

This effectively means that:

At that price point, we would be buying in at the highest transacted price of the project. While we don't expect owners there to engage in any sort of fire sale, others will have a good buffer from their entry price to sell close to or lower because of the new benchmark that we'll set if we are buying at that price. 

Unless a 4 bedroom is absolutely necessary, the target audience for a 4 bedroom in the secondary market will always be smaller than a 3 bedroom – so you can expect a longer time to sell. 

With that, it was only logical to turn our attention to the new launch, Kopar instead (to the delight of her husband). 

Final Purchase

One advantage of buying a new launch over a resale is definitely the freedom of choosing an ideal unit. Like we mentioned above, when it comes to resale units you will be limited to what is on the market at that point in time, and you'd sometimes have to compromise on certain liveability aspects if you really want to stay in that development. 

Naturally because this unit would be for our client's own stay and not an investment unit, more considerations would have to be made to consider liveability aspects and a good balance between unique features of the unit (facing etc), and its price.

Here's the thing – not every development is priced the same way. There are developments that price the per floor jump consistently at the same premium, and there are others that price depending on the facing and the clearance of views. In the case of Kopar, the price jumps were not evenly spread across levels. As an example, floors 14 to 15 had a jump of $40k, whereas floors 6 to 8 had jumps of $15k. 

Since the variance here is quite big, it could result in widely differing units for the same quantum.

To illustrate (at the time this proposal was done):

#08-11 (Stack 11, Floor 8) – $2.513m
#18-07 (Stack 7, Floor 18) – $2.513m

So despite a 10 floor difference, you can see what a big contrast a different stack would make to the price.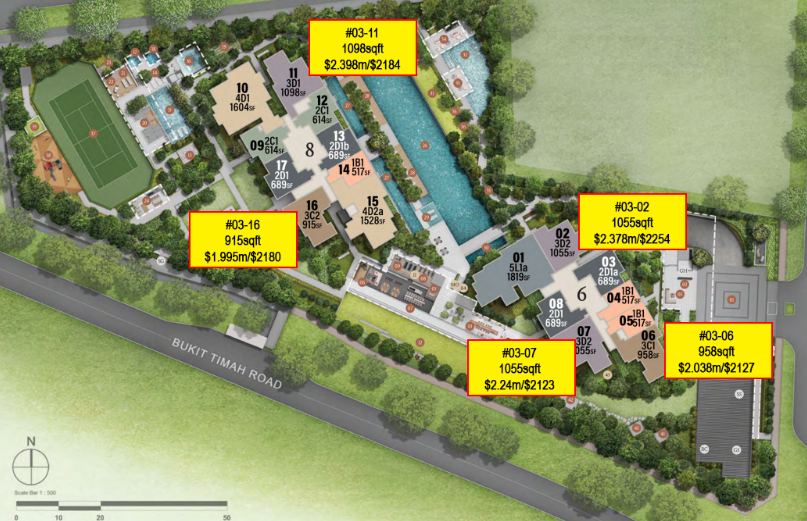 It's quite clear here then that Stack 11 is a more premium stack – a big reason is because of the relatively unblocked views in that general direction. 

But given that their aim was to stay for 6 – 7 years, the real question is – is it worth it to pay the premium for a better stack?

As we've written about it before (read here), we won't be going into it in absolute detail here. But to cut a long story short, buying the most premium stack wouldn't always guarantee you the best appreciation moving forward – and not just blindly buy the "best".

So because one of the major selling points of Kopar is the (relative) affordability of the 3 bedroom quantum against the surrounding projects, it makes sense to leverage on that as much as possible since the holding period isn't particularly long.

In other words, the quantum here has to be well priced against the surrounding comparables for a good chance to exit in the future. 

Our clients did have concerns about road noise for the less premium stacks, but at the price differences we did feel that the premium was quite tough to swallow. Plus those facing Bukit Timah Road (at a high enough floor) will enjoy quite good unblocked greenery views as well. 

So with all that in mind, we shortlisted a few ideal units to choose from and thankfully they were able to get their first choice once the showflat reopened in Phase 2.

As to the final unit bought, we of course wouldn't be disclosing that to maintain the privacy of our clients. 

Ultimately, you could say that there isn't conclusive proof that this purchase would pay off as researched and predicted, this of course can only be seen in a couple of years. And truth be told, we make no claims to be able to predict the future – no one can. But as with any property purchase, you'd want to make the most informed decision to minimise the risk as much as possible. In this case, we feel that this purchase has ticked off most of the boxes of what our client was looking for, and all possible research has been done to ensure that this is the right purchase for them.