BTO
5,000 New HDB Flats At Mount Pleasant: Should You Wait For This Heritage Site Transformation?
Ryan J
July 15, 2023

6

min read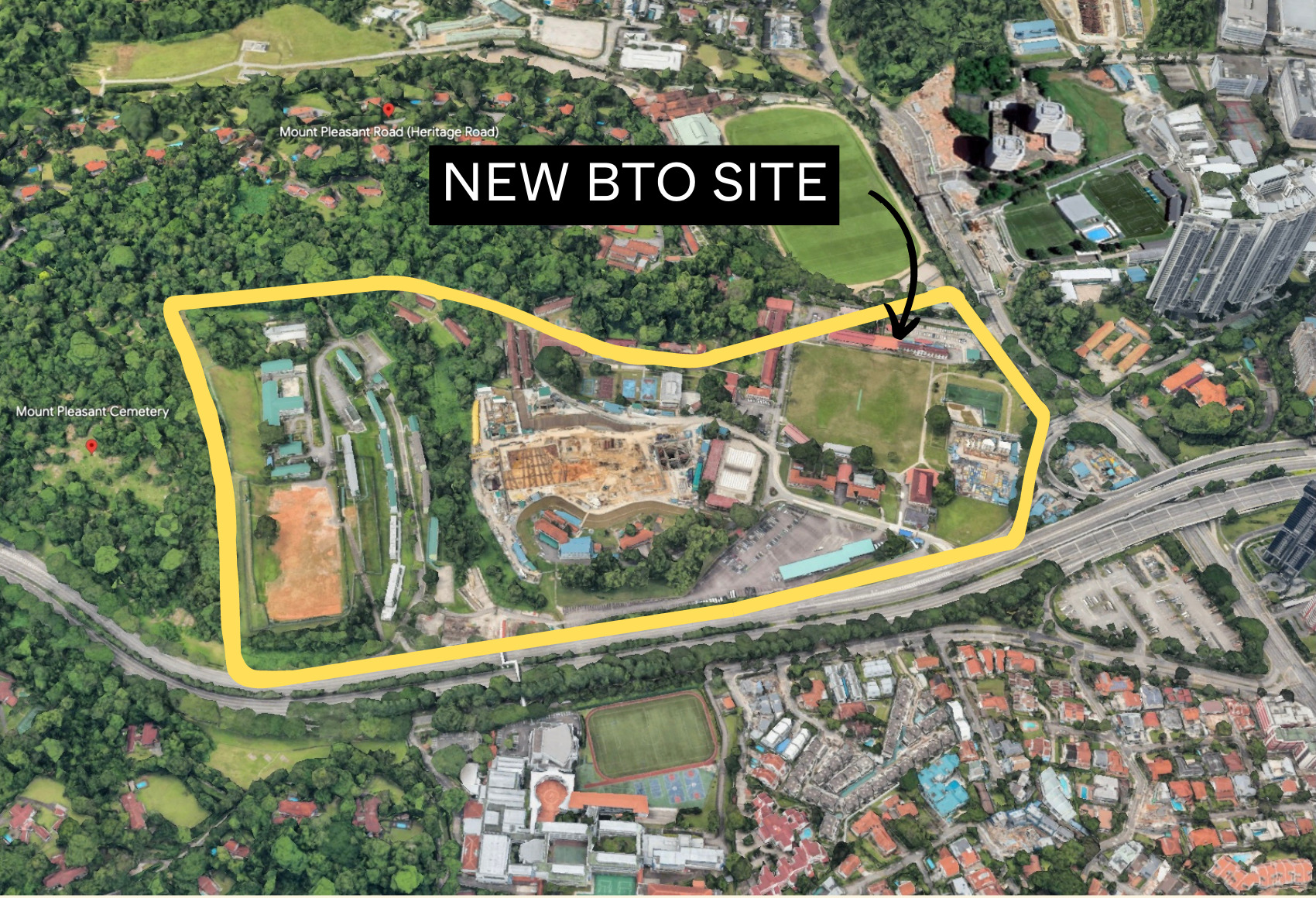 6
min read
It's probably not a coincidence that, with the Ridout Road Black & White bungalows seeing so much drama, the Mt. Pleasant site has come up again. Originally mentioned by HDB back in 2021, this upcoming site isn't just centrally located: it's also a heritage site, which will include the Old Police Academy and the Black & White bungalows currently there. Here's what we can expect:
The Mt. Pleasant Site
Most Singaporeans will recognise the area as the location of the Old Police Academy (OPA). There have been quite a few art exhibits and events here in the past.
The parcel is located around the spot where Thomson Road intersects with the PIE, just southwest of the Singapore Polo Club and east of Kopi Sua Cemetery.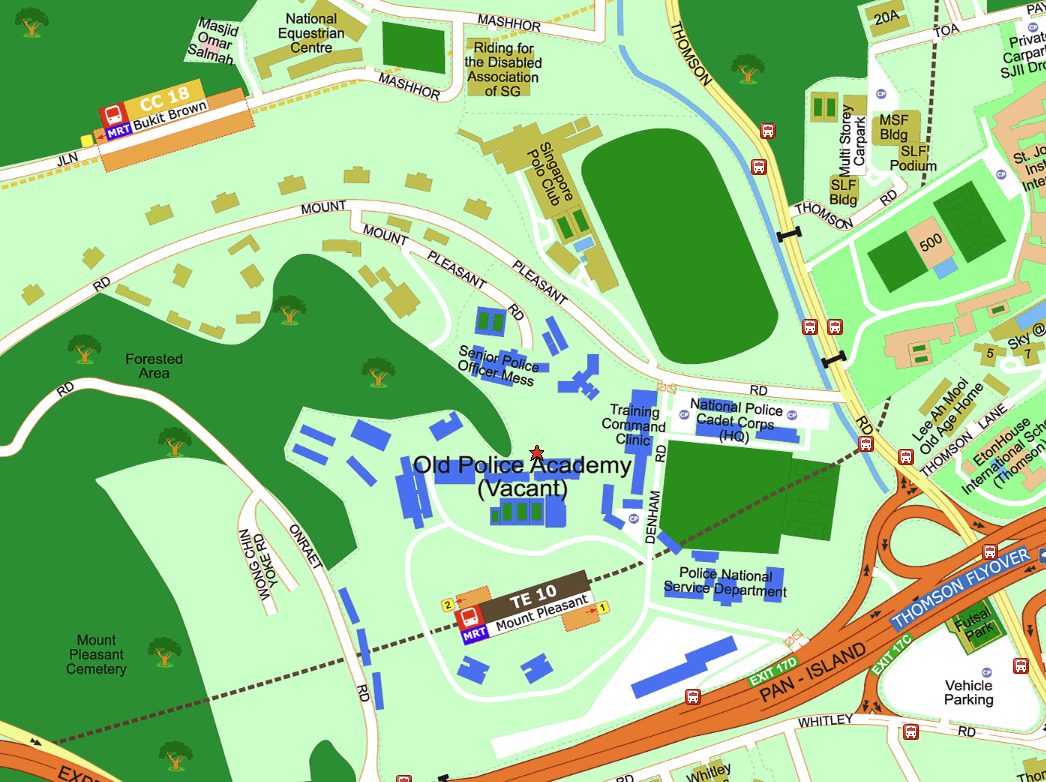 This is predominantly a landed area, with some freehold landed projects like Whitley Villas and The Whitley Residences located just across the PIE.
Part of the Polo Club (3.3 per cent of the club's land space) will be acquired, but the impact should be minimal. Key areas like the stables, field, and clubhouse are unaffected.
On the opposite side (toward the direction of the Polo Club), it's mostly a lot of greenery, and the Mount Pleasant Heritage Trail.
There will be room for an estimated 5,000 flats, with the BTO launch likely to happen in 2025. The total size of the estate is around 33 hectares, or about one-third of Bidadari. Coincidentally, there are also 33 Black & White bungalows in this area.
What's Different From Other HDB Sites?
What's unique about this site – besides the central location – is the heritage element. Four blocks from the Old Police Academy will be conserved, along with a part of the old parade ground and the Black & White bungalows in the area.
There are even new names for two roads to showcase and preserve the distinctiveness of the estate, Mount Pleasant Avenue and Old Police Academy Road.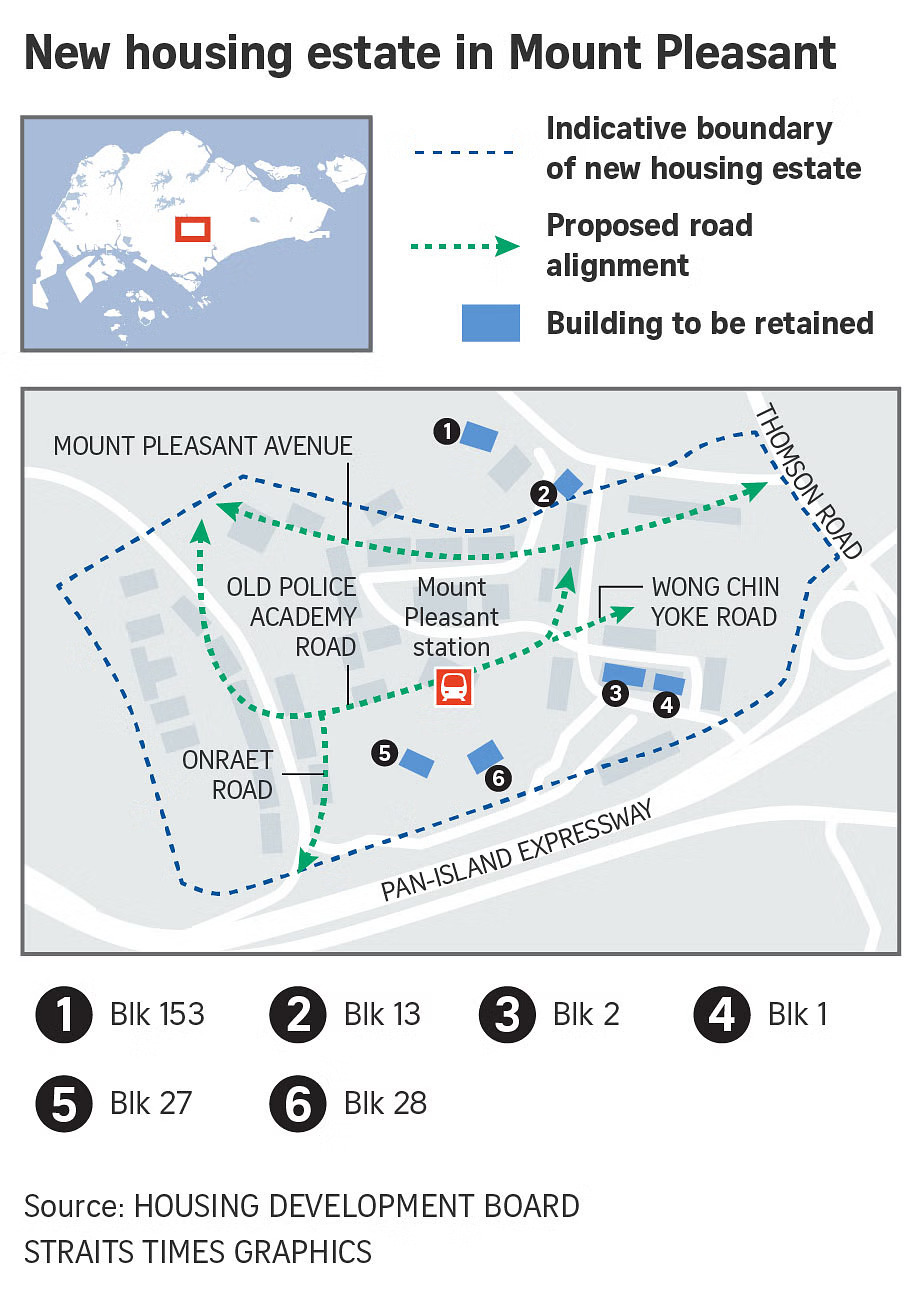 (The four blocks from OPA will be repurposed for the residents' uses, whilst two additional blocks are up for proposed conservation).
Some other old elements, like a large drill training shed and the remnants of a 50 x 30 metre pool, may also be partly preserved. The shed will probably be repurposed as an event space, but unfortunately, it doesn't seem like residents will be getting a pool; right now it seems the starter blocks on the pool may just become seating.
Word On The Ground: Expectations on the Mt. Pleasant site 
Uncertainty of PLH status
A potent combination of low density + MRT access
Possible taboos over nearby burial sites
Near good primary schools
This could signal a change in the use of Black & White bungalows
1. Uncertainty of PLH status 
There's no word yet on whether this site will be under the Prime Location Housing (PLH) scheme, and we've heard differing opinions.
Most of the realtors we spoke to felt it would be, as this is ultimately a District 11 (Core Central Region) location. However, at least one analyst in The Straits Times has said it may not be, and some realtors have heard the same from more senior associates.
The nearby MRT station (Mt. Pleasant MRT) admittedly only gives access to one line, the TEL. Also, low-density, high-greenery areas are desirable but tend to come with the drawback of being more ulu. This location is rather far from Toa Payoh Central, for example.
That being said, we're also inclined to think PLH status is likely. This is on account of future resale value. Singaporeans have shown, time and again, that they're willing to pay top dollar for greenery views and exclusivity (Bukit Timah is a testament to that).
If this is a non-PLH location, with no clawback for subsidies and only a five-year MOP, then it's a huge windfall for the lucky 5,000 who get it.
2. A potent combination of low density + MRT access 
As mentioned above, Mt. Pleasant MRT is nearby. It's too early to determine the exact walking time, which will also vary between blocks; but it seems likely to be walkable for almost all the residents.
You could also possibly walk to Bukit Brown MRT on the Circle line, but this seems likely to be a much longer walk. The easier way to access the Circle line would be one stop away at Caldecott MRT station, which is also on the Thomson East Coast line.
This is a low-density area facing landed homes on one side, and a heritage trail on the other. This alone is a big draw for many families. But add in the convenience of having an MRT station nearby, and we predict this will be the most desirable launch site that year (2025).
One realtor commented that, if a private condo was launched on that spot today, we'd likely be looking at upward of $2,600 psf.
3. Possible taboos over nearby burial sites
There are two burial sites nearby, and not just one. Kopi Sua Cemetery is one of them, but Bukit Brown is close to Kopi Sua (there are some misconceptions that they're the same cemetery, but no, Kopi Sua is not a part of Bukit Brown).
Being near or even on a cemetery is something most Singaporeans have grown to accept. Bishan, after all, was built over a cemetery; but in its earlier days, this did have some impact on desirability.
We expect some homeowners will object to location on the grounds of taboos (Feng Shui and such), but that this objection will dissipate with time.
There are also some homeowners who will consider the cemeteries part of the location's heritage, as both commonly appear in Instagram shoots and nostalgia sites.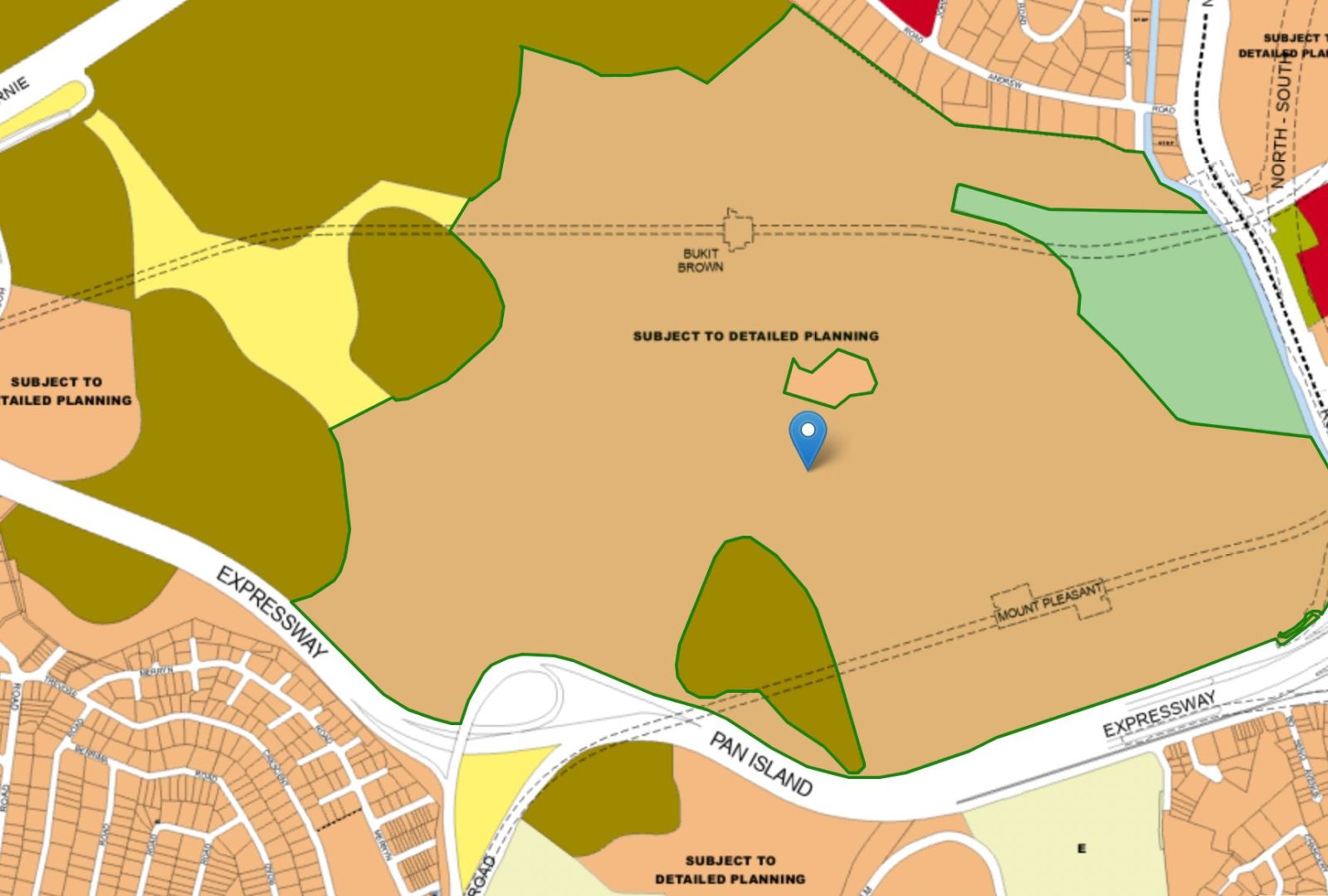 Nevertheless, given that these are prime areas, after all, you could consider that these pieces of cemetery land will be exhumed. According to atlasobscura, the number of cemeteries in Singapore has been cut from 213 in 1978, to 60 in 2011.
It's likely that these sites will be transitioned in the future, given the centrality of the land.
4. Near good primary schools
Depending on the location of the block, you could be within the coveted 1 km radius of 4 primary schools – Anglo-Chinese School, CHIJ Primary (Toa Payoh), Marymount Convent School, and Singapore Chinese Girls Primary School.
However, moving closer to Mount Pleasant Road would mean that this would be cut down by 2 primary schools, CHIJ Primary and Marymount Convent.
5. This could signal a change in the use of Black & White bungalows 
This may be the start of a change. The Ridout Road saga has shown that keeping the bungalows for rich tenants makes for bad optics. Intended or not, there's an elitist air to it that will irk some Singaporeans.
The proposed change in the use of these bungalows – making them more accessible to the public or transforming their function altogether – can help to mitigate such negative perceptions. The conversion of these architectural gems into community hubs, museums, art spaces, or even heritage centres could give them a fresh lease on life. Such reimagining of these historical structures could retain their aesthetic charm while adding functional value for the broader community.
This approach promotes the idea of collective ownership and inclusivity. It ensures that these bungalows aren't seen merely as markers of wealth, but as shared cultural assets that embody Singapore's rich heritage. The unique blend of architectural styles seen in these Black & White bungalows tells a story of Singapore's colonial past – a story that all Singaporeans should be able to access and appreciate.
If this is well received, we wouldn't be surprised if we see more such bungalows turned to other uses in the future.
With just 5,000 units, it's going to be a very slim chance that you'll win one of these. But if you're going to buy a home close to 2025, this may still be one to wait for. Follow us on Stacked so we can update you in the future, and inform you of the latest developments in the Singapore property market.