Buying
50 New Launch Condos With Units Remaining (Updated September 2022)
Ryan J
September 12, 2022

15

min read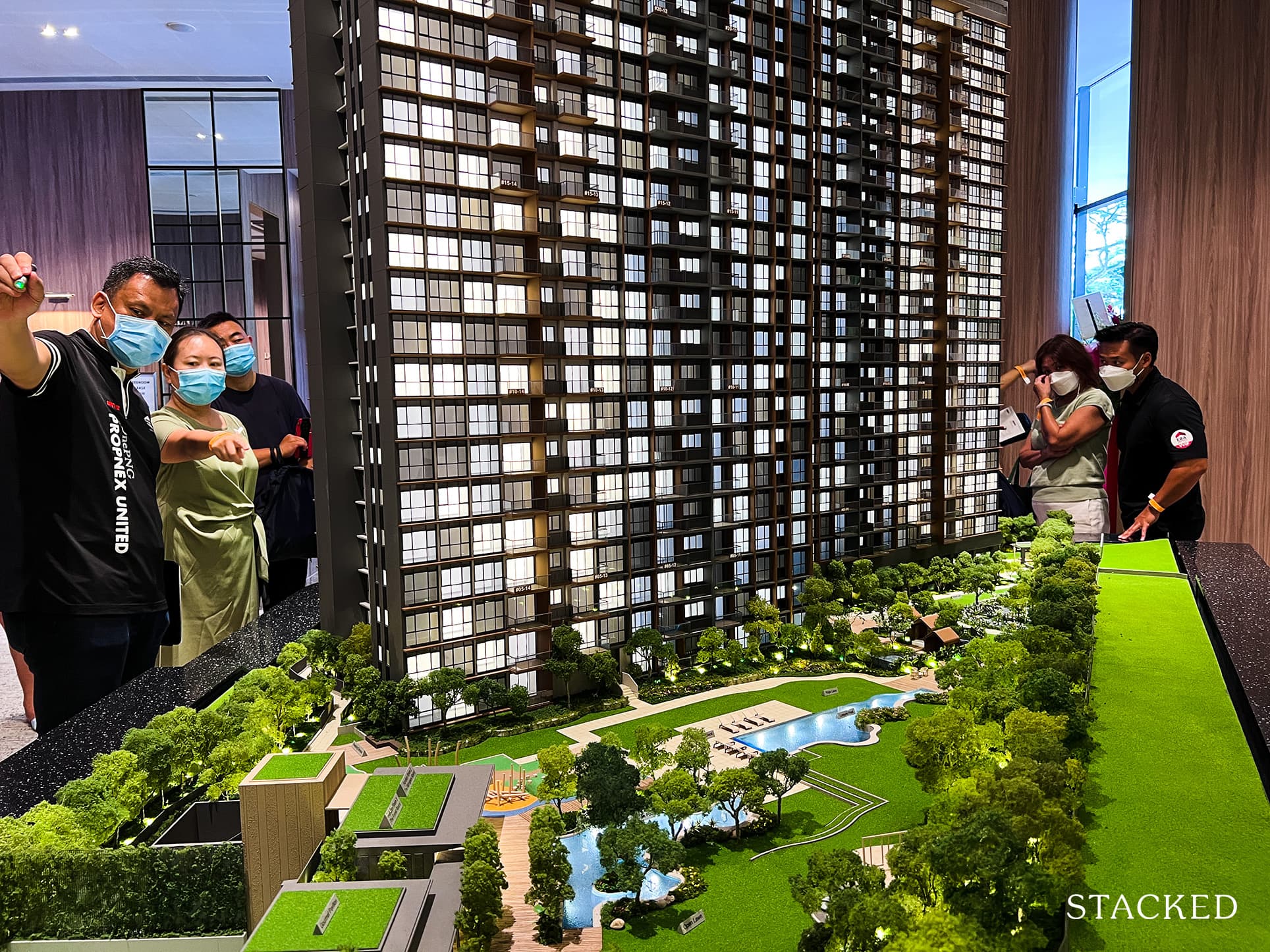 15
min read
New launch condo units are still moving fast, despite the increasingly higher prices. If you've been keeping a close watch over the numbers, it is quite shocking to see how quickly the units have moved. There were a few condos that you might think were in a little bit of a sticky situation at the beginning of 2022, but today they're close to selling out.
As you might expect, the surge of HDB upgraders has also seen larger three and four-bedder units quickly get bought out; although for singles and the more investment-minded, some projects still show a good number of shoebox/one-bedder units remaining (especially in the CCR). If you want to have an overall view of the remaining supply, here are the ones to look out for at the moment (as of early September 2022).
PS. We know the pain of having to find out what units are remaining, so for more detail please check out our new new launch portal here!
Here are the new launch condos with remaining units as of 12 September 2022 separated by region:
New Remaining Units (West Region)
Many of the previous projects here like Midwood, Dairy Farm Residences, Normanton Park, Kent Ridge Hill Residences, Clavon, Verdale, and Mont Botanik are now sold out. There are only three projects left with any significant number of balance units: Parc Clematis, Forett @ Bukit Timah, and Ki Residences.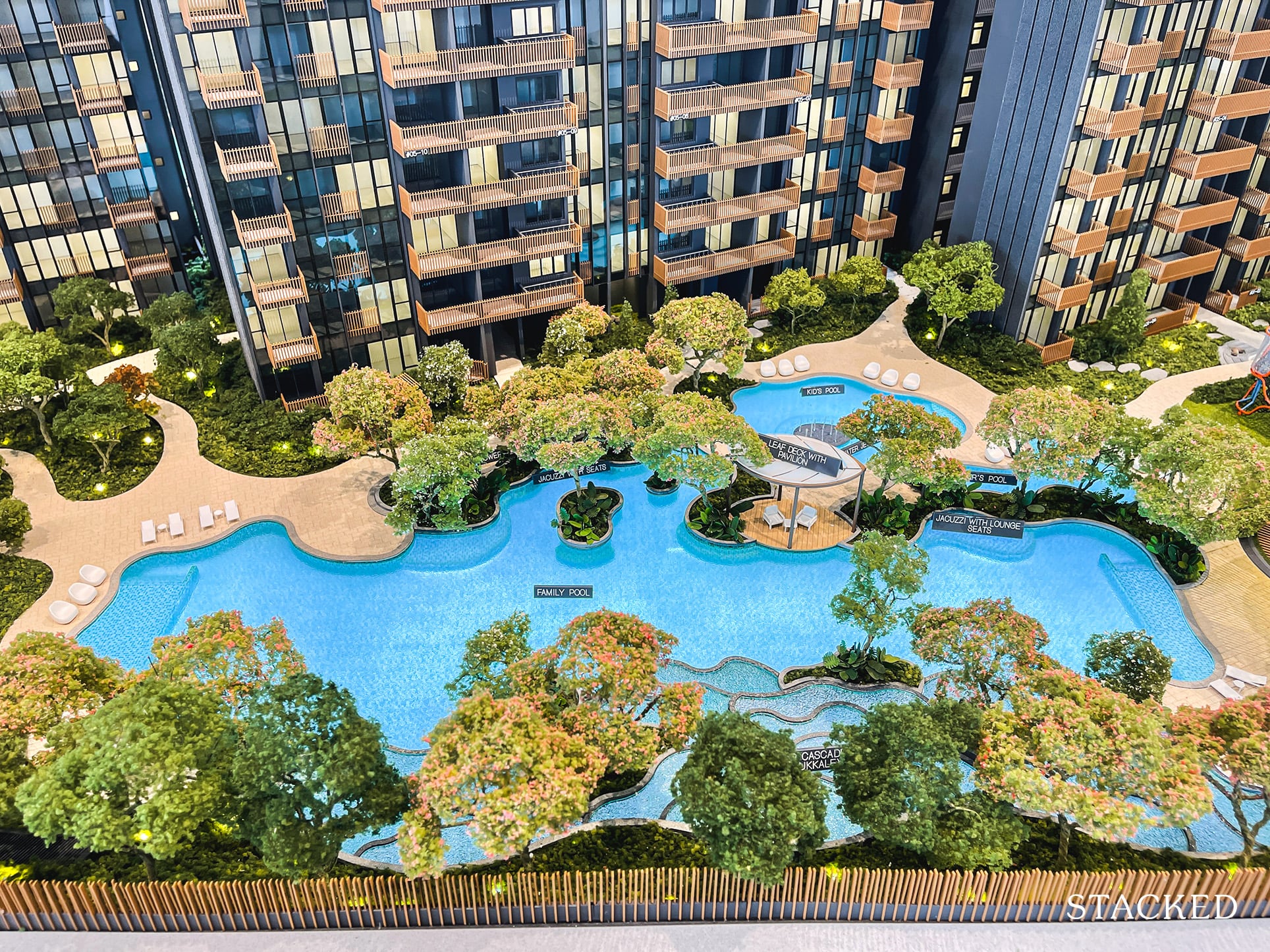 1. Parc Clematis
Location: 8F Jalan Lempeng (District 5)
Developer: Sing-Haiyi Gold Pte. Ltd.
Lease: 99-years
TOP: 2023
Number of units: 1,468
Parc Clematis has been on the market since 2019, and is finally on the verge of clearing out its massive inventory. There are only two four-bedders left, but still 16 5-bedder units.
Price would be the reason: the larger 1,711 sq. ft. units have been transacting at just over $3 million, frankly beyond the budget of most HDB upgraders. In addition, buyers who can afford such a high quantum may prefer a more exclusive or private development, than one with 1,468 units! As such, we're not surprised that these are the last few units to go.
For those who want strata-titled houses (landed), there are four still available at Parc Clematis.
The main draw of Parc Clematis are the extensive facilities and land size, both characteristic of mega-developments. There are some 400,000+ sq. ft. of common facilities, divided over three different zones with varied themes.
Parc Clematis is also just a seven-minute drive to Clementi Mall, and about a four-minute drive to NUS. It's also obviously getting more attractive as we inch closer to the completion of this mega-development in 2023.
2. Forett @ Bukit Timah
Location: 32A Toh Tuck Road (District 21)
Developer: Qingjian Perennial Pte. Ltd.
Lease: Freehold
TOP: 2024
Number of units: 633
The units left at Forett @ Bukit Timah are mainly two-bedders, which range from 570 to 732 sq. ft. A little too small for family units, so we don't see HDB upgraders showing much interest; but lifelong singles or young couples may be interested.
As we mentioned in a recent piece too, the two-bedders here have quite an unconventional layout – but one that works quite well. Instead of the usual kitchen by the entryway, this one is located between the master bedroom and the living. As such, this allows for a rare enclosed kitchen, as well as one that comes with windows for ventilation! It's a seemingly minor point that many first-time homeowners tend to overlook, but if you do cook a lot can make a world of difference!
We note that the two-bedders can transact for under $1.7 million. While that's not the cheapest two-bedder by a long shot, bear in mind this is for a freehold, Bukit Timah-area property; in that context, it might be considered decent value in today's low supply market.
Forett is only around a four-minute drive to the Beauty World area, and those who missed out on projects like The Linq @ Beauty World may want to give it a second look.
If you're not a firm believer in freehold status though (e.g., you want a higher rental yield from leasehold projects), the two-bedders here may be of less interest.
3. Ki Residences
Location: 2 Brookvale Drive (District 21)
Developer: Hoi Hup and Sunway
Lease: 999-years
TOP: 2024
Number of units: 660
Only three-bedders are left at Ki Residences. At 861 to 960 sq. ft., these are a bit smaller than a 4-room flat, but still viable for some families. These units have transacted at around $1.9 million; a bit of a reach for HDB upgraders, but fair for a District 21 condo that's effectively freehold (999-years). The problem is also at this more compact sizing for 3-bedders, it becomes a bit less useful to families as some do not have a yard or utility.
The area around Sunset Way is mostly low-density, with a lot of landed housing. This provides a high degree of privacy, and some good unblocked views. Sunset Way itself has also become something of a foodie haven; so this is a good overall environment for family units.
What you do need to beware of is the lack of accessibility – there's no MRT station nearby, so this is a condo for those who drive. There's been speculation that an MRT station on the CRL will be located near Maju Camp given its proximity to Ngee Ann Poly and SUSS.
New Remaining Units (Central Region)
Several projects here have a good number of one or two-bedders available. However, we'll look at the projects that have the larger number of three or four-bedders remaining, as this is the size sought by family buyers.
You can find these balance units in One Pearl Bank, The Landmark, Kopar @ Newton, and Pullman Residences.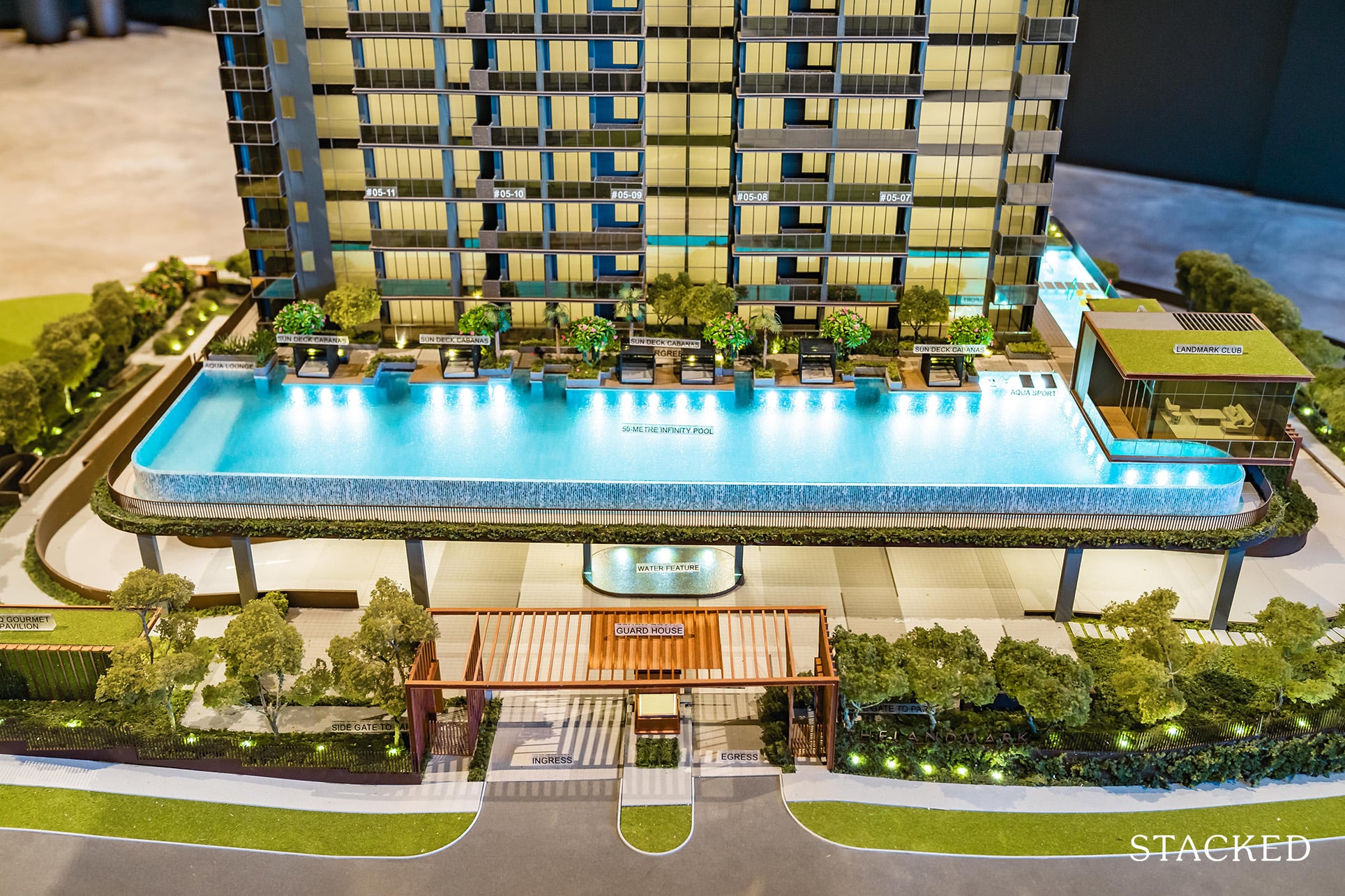 1. One Pearl Bank
Location: 1 Pearl Bank (District 3)
Developer: CapitaLand
Lease: 99-years
TOP: 2023
Number of units: 774
One Pearl Bank is redeveloped from its iconic predecessor, which was famed for its circular structure. There was some griping about the price even at launch, and that may explain why its sizeable three-bedders are slow to move.
At around 1,098 to 1,399 sq. ft., the three-bedders are quite generously sized – the larger ones will beat some 5-room flats. However, even the lower-floor ones can transact at around $2.69 million, while higher floor units have seen a quantum as high as $3.88 million. These prices are simply out of reach for most Singaporeans.
However, you get what you pay for in terms of convenience: From One Pearl Bank's main entrance, the route will be sheltered throughout and should take you about 3 minutes to Outram Park MRT station which will be an interchange with 3 MRT lines (East-West, North-East, and the upcoming Thomson-East Coast).
The surrounding areas are also loaded with amenities, from family-friendly pubs in the Keong Saik area, to eateries and shops in Chinatown. 
2. The Landmark
Location: 173 Chin Swee Road (District 3)
Developer: MCC Land
Lease: 99-years
TOP: 2025
Number of units: 396
The Landmark only has one, two, and three-bedder units. As the launch was not too long ago in November 2020, there are still a good number of balance units left.
The three-bedder units range from 1,076 to 1,399 sq. ft., enough to beat some 5-room flats. The quantum hovers at around $2.45 million, but can fall to around $2.28 million on the lower floors.
What you're paying for is proximity to Chinatown, and you can walk to the Chinatown MRT in roughly 11-minutes (note that One Pearl Bank above is closer, but with a massive price difference).
Although it's a bit less conveniently located than One Pearl Bank (see above), buyers may want to consider the price difference; if you don't mind a longer walk, units here are much more affordable.
3. Kopar at Newton
Location: 6 Makeway Avenue (District 9)
Developer: Chip Seng Eng Corporation Ltd.
Lease: 99-years
TOP: 2023
Number of units: 378
Kopar at Newton has 20 of its four-bedders left to clear out, and eight of its five-bedders. The three-bedders range from 1,055 to 1,089 sq. ft., with transactions quite firmly pegged at about $2.76 million.
The location is convenient, as you'd expect from its District 9 location. Residents are less than a five-minute drive to United Square mall, and a six-minute drive to Novena Square itself. The heart of the Orchard shopping belt is only about a seven-minute drive, so residents have pretty much the best amenities at hand. You can also walk to Newton MRT station easily, which hosts the Downtown and North South lines.
For some people, the chief issue is the price, relative to its leasehold status. Kopar is a leasehold project surrounded by freehold alternatives. And even with its central location, some buyers may balk at a $2.7 million+ price tag for a 99-year leasehold.
4. Pullman Residences
Location: 18 Dunearn Road (District 11)
Developer: El Development Pte Ltd.
Lease: Freehold
TOP: 2023
Number of units: 340
Pullman Residences has 56 three-bedder units still to clear. At 1,163 to 1,378 sq. ft., these should be comfortable for most family units. However, the large unit sizes, coupled with the development's luxury status, will leave most Singaporeans priced out. The three-bedders have transacted for over $3 million even on the lower floors, and have reached a whopping $3.8 million from the 18th floor upward.
This development is definitely for the high-end buyer, with the Pullman brand providing features like a concierge service with housekeeping etc. The bigger units here come with private lift access too, and even the lowest level unit starts from 17m above ground level.
One of the issues some buyers had here is because of the high monthly maintenance cost. We understand this has been brought down a little, but if you aren't using the facilities much anyway, this can really add up.
Nonetheless, this is one of the closest condos to Newton MRT station, as it is located just across the road. It's also a quick drive to Novena Square from here, and about a six-minute drive to Orchard under good conditions.
Buyers who like Kopar at Newton (above), but want a freehold alternative, might want to scope out Pullman Residences.
New Remaining Units (North Region)
As far as family-sized units go, there aren't many left among the new projects here. The Florence Residences and Sengkang Grand Residences are now sold out, at Amo Residence is pretty close. The two projects that still have significant numbers of three and four-bedders to choose from are Bartley Vue, and The Watergardens at Canberra.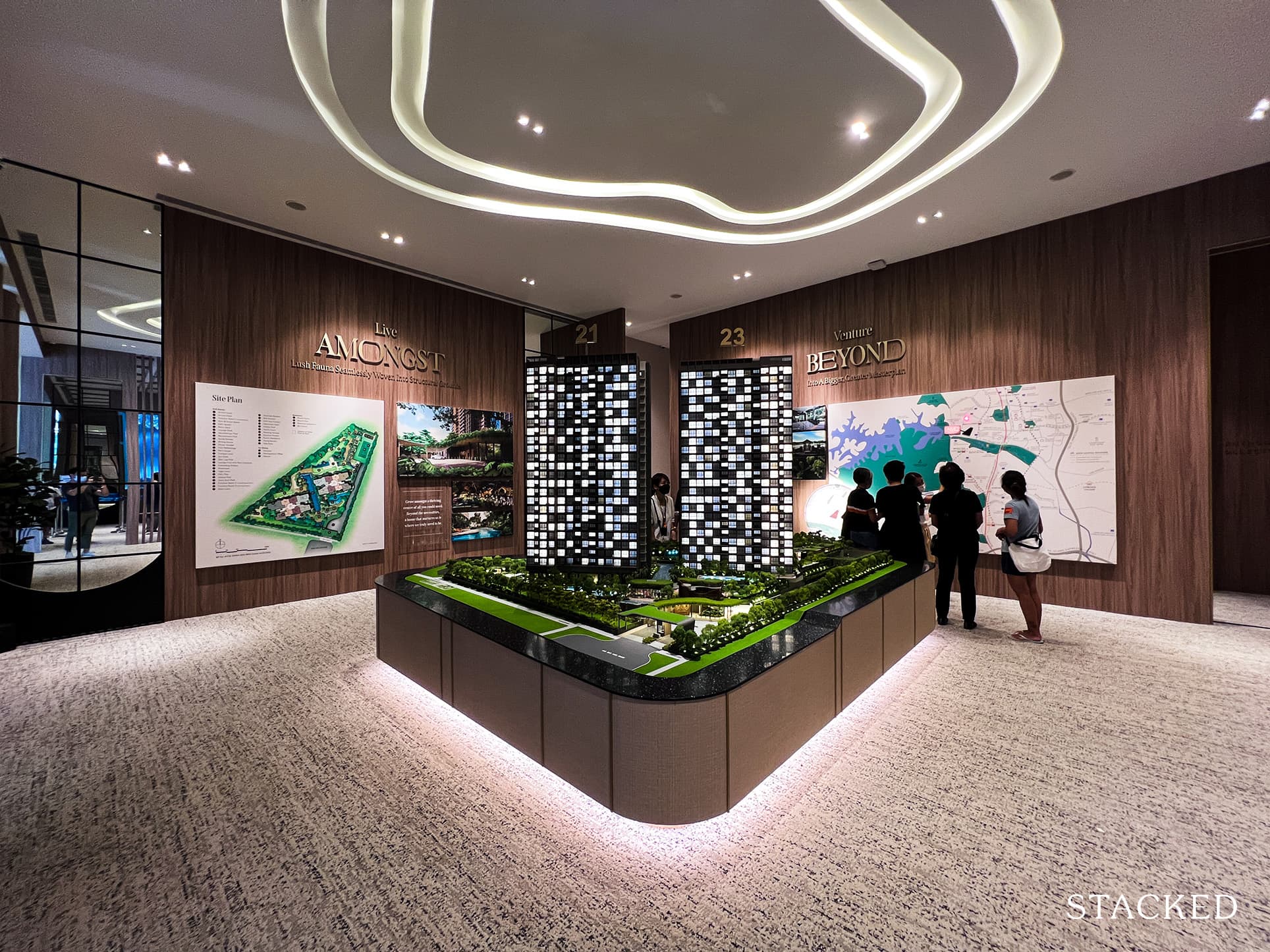 1. Bartley Vue
Location: 6 Jalan Bunga Rampai (District 19)
Developer: Wee Hur Development
Lease: 99-years
TOP: 2026
Number of units: 115
Barley Vue still has 26 three-bedder units, ranging from 947 to 1,044 sq. ft. These have so far transacted at around $1.8 million, a bit high but manageable for some HDB upgraders still.
There are also seven of the 4+1 bedder units left. These 1,356 sq. ft. units transact at around $2.5 million.
Bartley Vue mainly capitalises on the close by Bartley MRT station, which is quite a short walk from the condo. This will make Bartley Vue one of the few condos in a low-density area, that also has walking access to the MRT station. Note that the unit count is also very low (115 units), so this development has a high degree of privacy.
That said, one drawback of Bartley Vue is that immediate amenities are quite sparse; and you will have to venture out for most daily necessities. This makes it a condo for those who prize exclusivity over immediate conveniences.
2. The Watergardens at Canberra
Location: 37 Canberra Drive (District 27)
Developer: UOL and Kheng Leong
Lease: 99-years
TOP: 2026
Number of units: 448
The Watergardens at Canberra still has 18 of its four-bedder units up for grabs. These large 1,302 to 1,528 sq. ft. units go for around $1.9 million, which is very reasonable for the size.
The three-bedders (1,109 to 1,163 sq. ft.) transact at around $1.6 million, which is ideal for upgraders; but there's only four left, so they may be gone by the time you're reading this.
Canberra is, admittedly, still a bit of an underdeveloped and ulu area, hence the highly affordable prices. But buyers who are in it for the long haul will likely benefit, as upcoming developments like Bukit Canberra will significantly improve the area.
The Watergardens at Canberra will also likely be seen as a second opportunity, for buyers who missed the Parc Canberra EC launch. The Watergardens is probably just as close to Canberra MRT station too, at about a 5-minute walk away.
New Remaining Units (East Region)
New projects here are on the small side, with some like Zyana and Atlassia having just 27 and 39 units respectively. As such, there isn't much in the way of balance units. However Amber Park, the headline development here, still has 14 of its large five-bedder units to sell. Pasir Ris 8 also has a good number of three-bedders remaining.
Sky Eden @ Bedok which just launched, has sold out 75 per cent of its units on the first day of launch.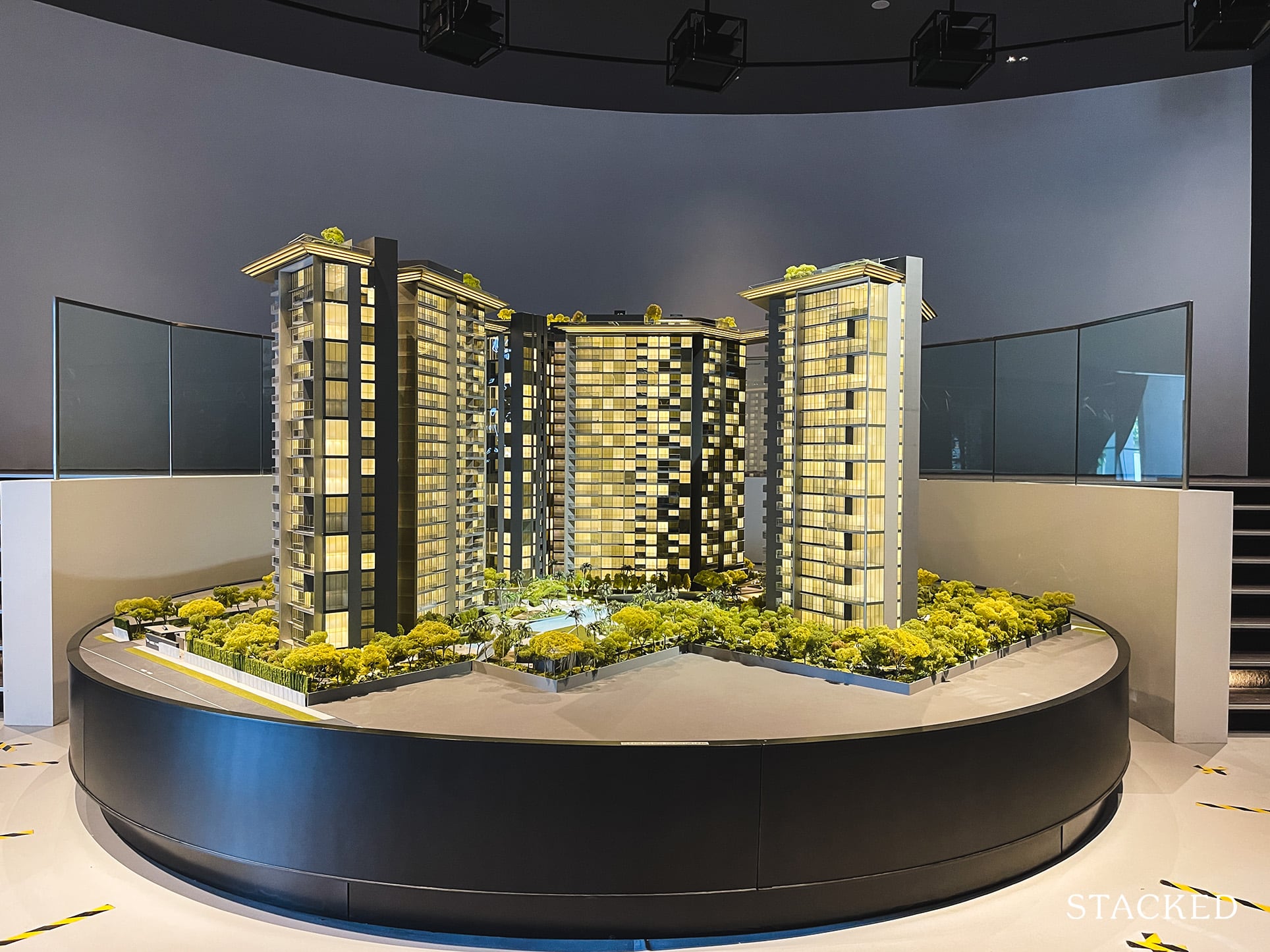 1. Amber Park
Location: 14 Amber Gardens (District 15)
Developer: Aquarius Properties Pte. Ltd.
Lease: Freehold
TOP: 2024
Number of units: 592
Amber Park is one of the more prestigious developments in District 15, and the price tag is equally impressive. However, the five-bedder units (2,045 to 2,336 sq. ft.) are going to be harder to move. Transactions have been at around $5.4 million, and there just aren't many buyers with the sheer purchasing power to own these last 14 units. Typically at these price points, local buyers will prefer to look at landed properties, and so it does require a certain niche group of buyers that will prefer the condo route.
Amber Park will have close walking access to Tanjong Katong MRT on the Thomson East Coast line, which is up next year. This condo is situated within an expatriate enclave, and very close to Parkway Parade (you can even walk there, if you can handle a 10-minute stroll).
About a 10-minute walk will take you to the lifestyle stretch along East Coast Road, where you'll find i12 Katong, as well as a number of family-friend pubs and hipster restaurants.
2. Sky Eden @ Bedok
Location: 799 New Upper Changi Road (District 16)
Developer: Frasers Property Ltd.
Lease: 99-years
TOP: 2027
Number of units: 158
Sky Eden @ Bedok has launched, and sold 75 per cent of its 158 units on launch weekend. This development has two-bedders that range from 657 to 743 sq. ft., three-bedders that range from 893 to 1,087 sq. ft., and four-bedders that are up to 1,032 sq. ft. It's the redevelopment of the former Bedok Point, so this will be a residential with commercial units on the 1st storey. There are 12 commercial units here, and from what we've heard so far it's still undecided at this point if this would be managed.
Sky Eden is close to the centre of Bedok; at about a 3-minute walk to Bedok Mall. This provides a wide range of day-to-day amenities, as well as access to the Bedok MRT station (the station is across from Bedok Mall). Bedok Hawker Centre is really near too, and there's a widespread variety of popular stalls here.
Sky Eden may also be of interest to landlords, or those who work in the Changi Airport/Changi Business City area. Bedok MRT is only one stop away from Tanah Merah, which is the interchange to the airport – and this condo may present an alternative to the upcoming Sceneca Residence.
One drawback, however, is the proximity to a busy stretch of road, and the lack of greenery in the immediate surroundings. They have tried to make up for it with the sky garden on every level (between both blocks), and the facility offerings is quite decent for the number of units.
3. Pasir Ris 8
Location: 8 Pasir Ris Drive 8 (District 18)
Developer: Allgreen Properties Ltd. and Kerry Properties Ltd.
Lease: 99-years
TOP: 2026
Number of units: 487
This is the condo that caused a big stir with its price hikes, and how many units were sold during launch weekend. So it may come as a surprise to some, that there are still 30 three-bedder units remaining. These range from 1,023 to 1,302 sq. ft., with recent transactions at around $1.92 million.
That's a bit hefty for Pasir Ris, but the price tag is due to this being an integrated development (Pasir Ris 8 has an entire retail mall component, along with childcare facilities).
As an alternative to their own mall component, White Sands – the major mall for this neighbourhood – is just next door.
Proximity to Pasir Ris MRT is a definite plus point, as this is an integrated development after all; and as of now Pasir Ris MRT has access to two train lines (East – West Line and Thomson – East Coast Line). While Pasir Ris is a fringe region, the area around Pasir Ris is something of a hub, so residents probably won't feel any real inconvenience.
If you'd like the full updates on new launch availability, please visit our new platform here.
For more updates on the Singapore private property market, follow us on Stacked. Also check out our reviews of new and resale properties alike, to help pick out your ideal home.