Units Of The Week

5 Unique HDBs Above 1,500 Sqft (Special Penthouse + Multi-Gen Flat)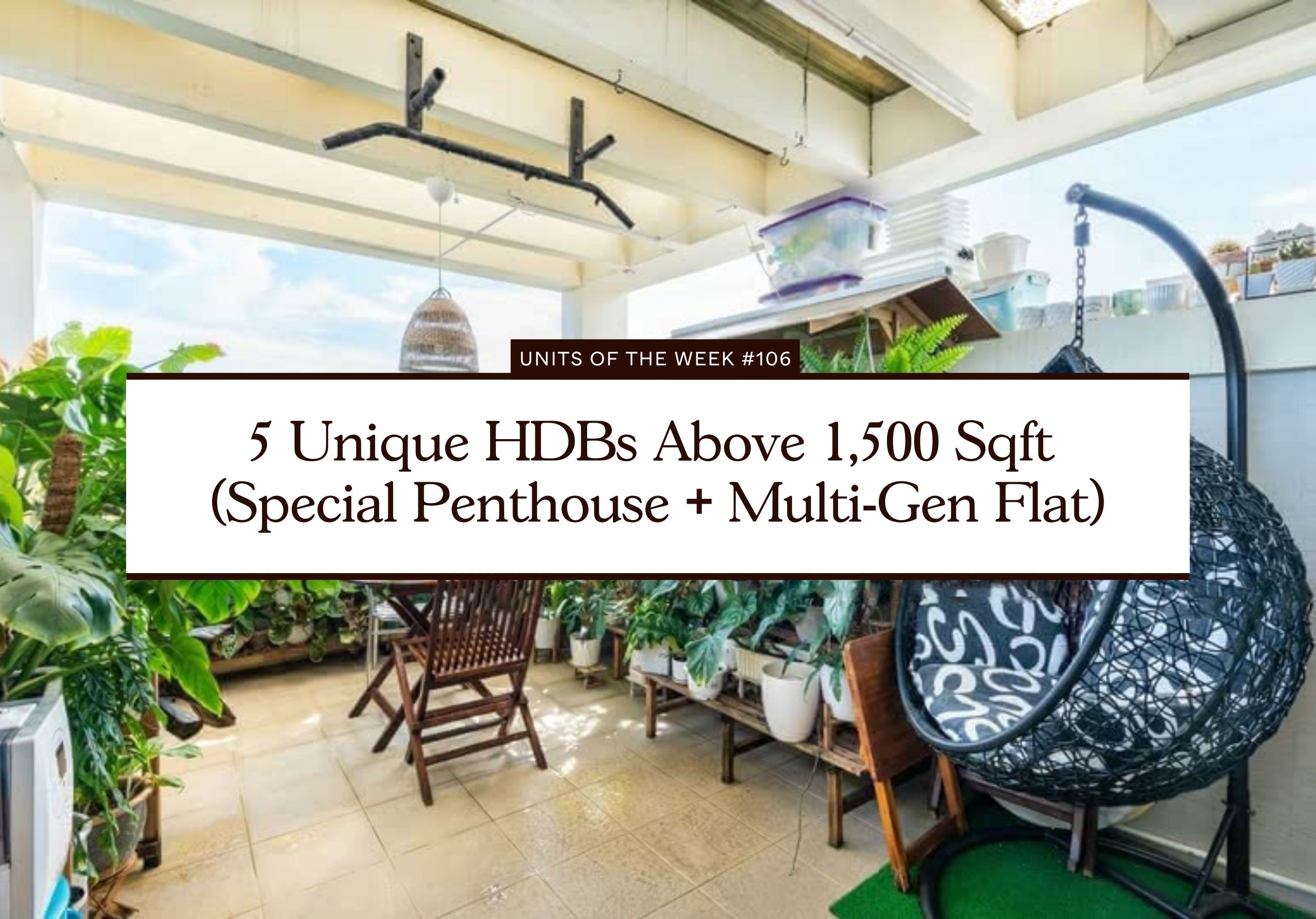 There's no stopping the desire for large HDB units in Singapore. The prime targets are always the usual, Executive Maisonettes, Executive Apartments, and Jumbo flats.
While we do have the few usual suspects, we have also found two very special units that are rare to come by. One is an HDB penthouse unit in Pasir Ris, and the other is a Multi-Gen flat found in Tampines.
Missed last week? You can view the previous issue here.
You can also join our free weekly newsletter so you stay up to date on our latest curations weekly.
Now let's get on with the list of curated units this week!

1

156 Pasir Ris Street 13
$1,200,000
| | |
| --- | --- |
| Address: | 156 Pasir Ris Street 13 |
| Tenure: | 99-year leasehold |
| Size: | 2,034 sqft |
| $PSF: | $589.97 PSF |
| Developer: | Housing & Development Board (HDB) |
| TOP: | 1993 |
Why I like it
If you are looking for something totally unique, this is probably just as rare as a landed HDB – a Executive Maisonette Penthouse unit. Located in Pasir Ris, this is a giant beast of a unit at 2,034 square feet in size. It has a really special balcony on the first floor, which the owners have done up in a really cosy almost greenhouse style with lots of plants.

What's good here also is that you have a ground floor room that is decently sized (most EMs will have their bedrooms on the top floor). So this can still be a ideal spot if you have elderly parents that won't be able to climb up the stairs daily.

For now, it is quite a long walk to Tampines East MRT station, but this will improve once the upcoming Pasir Ris East MRT is up – at about a 7-minute walk.

– Ryan

2

449 Hougang Avenue 10
$888,888
| | |
| --- | --- |
| Address: | 449 Hougang Avenue 10 |
| Tenure: | 99-year leasehold |
| Size: | 1,571sqft |
| $PSF: | $565.5 PSF |
| Developer: | Housing & Development Board (HDB) |
| TOP: | 1990 |
Why I like it
Don't be mistaken by the size listed, it's definitely not 15,719 square feet in size. This is a regular Executive Maisonette sized at 1,571 square feet. On the first floor is the living, dining, balcony and a study. And on the second floor is the 3 bedrooms.

What's especially great about this unit is the convenience of its location. It is very close by to Punggol Park (that has a pond), and you are also just right next to Serangoon Park Connector, that can take you up and down the Sungei Serangoon (to the Waterway @ Punggol, or towards Hougang Avenue).

Besides the nature attractions, you are also within a 7-minute walk to Buangkok MRT station on the North East line. Sengkang Grand is slated to be completed next year, so along with that you'd get various amenities such as a hawker centre and a shopping mall.

– Druce

3

125 Tampines Street 11
$900,000
| | |
| --- | --- |
| Address: | 125 Tampines Street 11 |
| Tenure: | 99-year Leasehold |
| Size: | 1,690 sqft |
| $PSF: | $532.54 PSF |
| Developer: | Housing & Development Board (HDB) |
| TOP: | 1985 |
Why I like it
This is a large Executive Maisonette that is a spacious 1,690 square feet in size. As per usual with Executive Maisonette's, it is split over two levels, but the room on the first floor is on the smaller side. That said, bedrooms on the second floor are very decent in sizes. The space is also very decently renovated, so unless you want something absolutely cutting edge, you could get away with very minimal renovation works.

Location wise, you are situated next to a Butterfly Garden and Tampines Park. You are also about 7-minutes walk away from Simei MRT station, which has Eastpoint Mall serving as a shopping attraction for the area. That said, do note that Treasure at Tampines is just next door so you will have to deal with some construction noise till its completion (supposedly 2023).

– Reuben

4

123 Serangoon North Avenue 1
$850,000
| | |
| --- | --- |
| Address: | 123 Serangoon North Avenue 1 |
| Tenure: | 99-year leasehold |
| Size: | 1,614 sqft |
| $PSF: | $526.64 PSF |
| Developer: | Housing & Development Board (HDB) |
| TOP: | 1984 |
Why I like it
This is a very sizeable Executive Maisonette located at Serangoon North. It's a well-renovated one too, and I really like that open kitchen layout along with the colours used. The layout is a standard one, with a small utility at the first floor (along with the kitchen, living/dining), and the 3 other bedrooms on the second floor.

What's really cool though, is the unblocked greenery view (it faces Hwl Yoh Green).

The not so good part though, is that it currently isn't near an MRT station as Kovan MRT station is quite some distance away. That said, there will be the Serangoon North MRT station that will be within walking distance to look forward to that is targeted to open in 2030.

– Stanley

5

460 Tampines Street 42
$980,000
| | |
| --- | --- |
| Address: | 460 Tampines Street 42 |
| Tenure: | 99-year leasehold |
| Size: | 1,786 sqft |
| $PSF: | $548.71 PSF |
| Developer: | Housing & Development Board (HDB) |
| TOP: | 1987 |
Why I like it
This is a very rare multi-generation flat that is fantastically sized at 1,786 square feet. Because it is set on just one level, it also offers more space than your typical Executive Maisonette as those are on two levels instead (stairs take up additional space).

As such, this offers 3 bedrooms on one side, along with a studio and kitchenette setup (like a dumbbell unit). There is also an access balcony that offers two different access points into the unit itself.

Location wise, it's very good too. Tampines East MRT station on the Downtown line is just located outside, and you are also very near to Tampines North Park. Schools are also a big draw here, with Tampines North Primary, East View Secondary, Gongshang Primary, Dunman Secondary, Ngee Ann Secondary, Pasir Ris Secondary, and East Spring Secondary all within close range.

– Sean