Units Of The Week

5 Stylishly Renovated HDB Units That Are Ready To Move In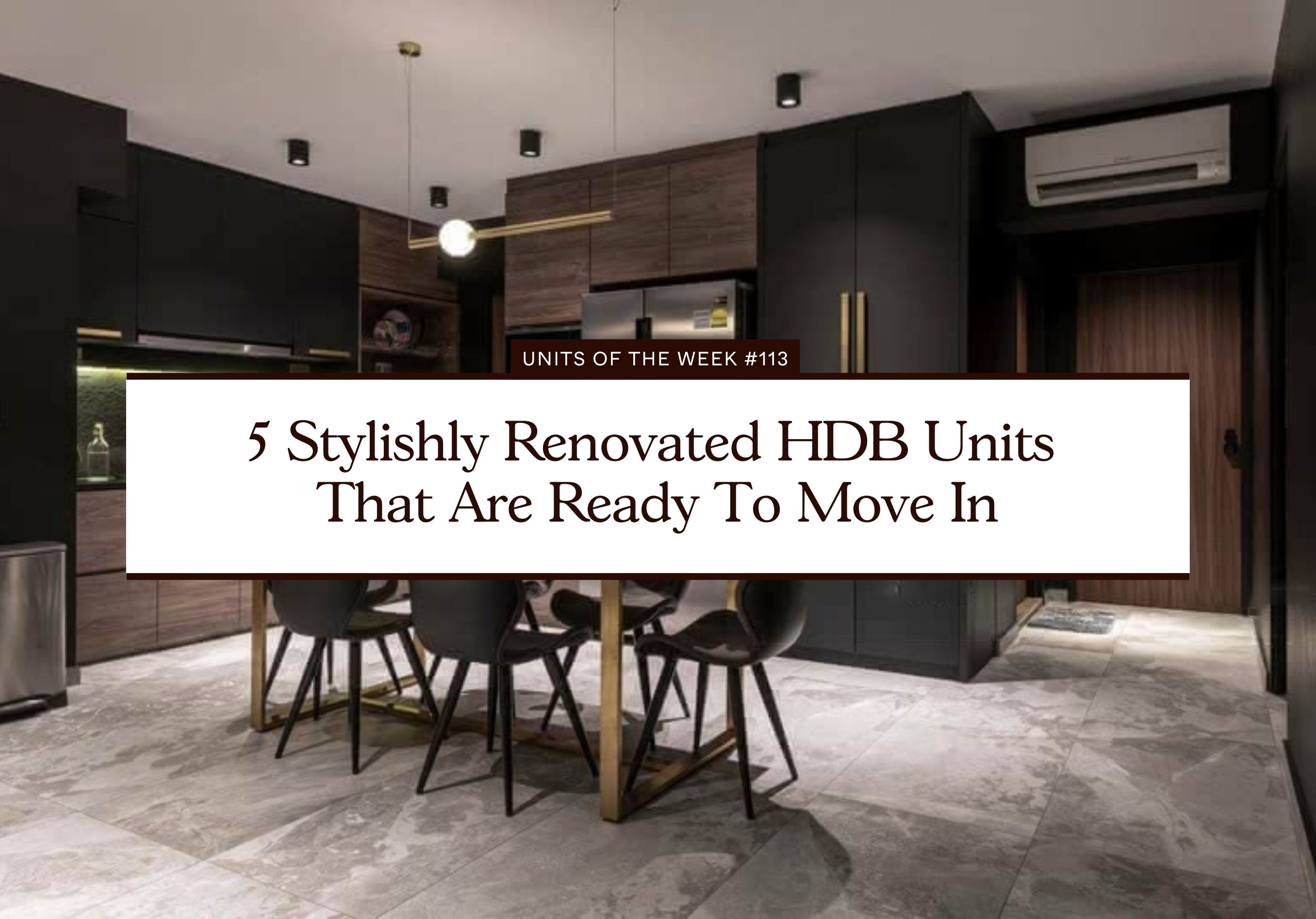 This week, we are back to looking at the still very hot resale HDB market. While the opening up of the Malaysian borders should go some way to help with the construction timelines, looking for a readily renovated unit is still very much in demand.
Here are some of the nicely renovated HDB units that we've come across this week!
Missed last week? You can view the previous issue here.
You can also join our free weekly newsletter so you stay up to date on our latest curations weekly.
Now let's get on with the list of curated units this week!

1

455C Ang Mo Kio Street 44
$928,000
| | |
| --- | --- |
| Address: | 455C Ang Mo Kio Street 44, 563455 |
| Tenure: | 99-year Leasehold |
| Size: | 1,000 sqft |
| $PSF: | $928.00 PSF |
| Developer: | Housing & Development Board (HDB) |
| TOP: | 2018 |
Why I like it
If you didn't know already, the blocks opposite (Blocks 562 to 565 at Ang Mo Kio Avenue 3 have been selected for the Selective En bloc Redevelopment Scheme), so you should be anticipating some construction noise in the future. There's no indication yet what this may be, but according to the article, the land can accommodate blocks of around 36 storeys compared to the current 13 storey blocks. It could even be an integrated development, or perhaps there is a need for more space to construct the upcoming MRT station.

Okay back to the unit. This particular one is actually called Teck Ghee Parkview, and was built in 2018 so it is as new as they come. At 1,000 square feet for a 4-room flat, it is a decent size but the biggest attraction here is that it is renovated really lavishly. For those looking at a more luxurious environment, this one is definitely very classy and the darker colours and down lights work very well together.

You are also just next to Ang Mo Kio Avenue 3 park, and Chong Boon Food centre, so there are some amenities nearby to look forward to.

– Ryan

2

45 Kim Cheng Street
$740,000
| | |
| --- | --- |
| Address: | 45 Kim Cheng Street, 160045 |
| Tenure: | 99-year Leasehold |
| Size: | 947 sqft |
| $PSF: | $781.41 PSF |
| Developer: | Housing & Development Board (HDB) |
| TOP: | 1949 |
Why I like it
Kim Cheng Street is probably one of the less well known streets in this Tiong Bahru area (most people are more familiar with Seng Poh or Moh Guan Terrace). Nevertheless, it is still in a very desirable location as you are right next to the Tiong Bahru market and food centre, and of course in the very hip Tiong Bahru enclave so you will be near all the usual cafes and bars.

You are also within walking distance to Tiong Bahru MRT, and Tiong Bahru Plaza (and the upcoming Havelock MRT station). It isn't the biggest shopping mall around, and you aren't going to get your Orchard Road shops, but there is a more than decent variety of restaurants and even a cinema.

The unit itself is a 3-room 947 square feet unit – certainly a good size for a 3-room HDB unit today. As with many of the units in the area, it is very nicely furnished. I especially like that red brick feature wall behind the sofa. Though you should note that this is a walk-up apartment, one of the few drawbacks of living in this area.

– Druce

3

410A Coral Spring
$600,000
| | |
| --- | --- |
| Address: | 410A Fernvale Road, 791410 |
| Tenure: | 99-year Leasehold |
| Size: | 1,033 sqft |
| $PSF: | $580.83 PSF |
| Developer: | Housing & Development Board (HDB) |
| TOP: | 2010 |
Why I like it
Staying in Sengkang might not always be everyone's first choice, but there's no doubt that the place is slowly becoming a favourite for many younger families. As a location itself, you aren't close to an MRT station, but there are several perks up its sleeve.

For one, you are located right outside Seletar Mall. It has a Uniqlo, and other usual suspects like a Hai Di Lao (among many others), a movie theatre, and a NTUC Fairprice Finest. Right next to the mall is Fernvale LRT station, which is a few stops away from Sengkang MRT station (and Compass One). You can also walk to the Punggol Park Connector, which provides a scenic walk along the Sungei Punggol towards attractions like Sengkang Riverside Park and My Waterway @ Punggol.

The unit itself is a 1,033 square foot 4-room HDB. It's done up in a handsome minimalist style, with the dark vinyl flooring and the pleasing white bricked feature wall.

– Reuben

4

310B Punggol Walk
$758,000
| | |
| --- | --- |
| Address: | 310B Punggol Walk, 822310 |
| Tenure: | 99-year Leasehold |
| Size: | 1,206 sqft |
| $PSF: | $628.52 PSF |
| Developer: | Housing & Development Board (HDB) |
| TOP: | 2015 |
Why I like it
Waterway Terraces is undoubtedly one of the more iconic HDB designs around, and even despite its poorer than usual maintenance, it is still very much a draw given its location. You are right by the waterway at Punggol, so there's the water views to be happy about. You are also a very pretty walk to My Waterway @ Punggol and Waterway Point which is basically the hub of Punggol. There's a wide variety of shops here, a cinema, supermarket, and also the MRT station and bus interchange. Piermont Grand is currently next door and under construction so you will to deal with some noise, but this should be wrapped up by 2023.

This unit is a 5-room 1,206 square feet unit so living and dining spaces are very decent. There's a study space carved out by the living area, which could be useful for the lucky ones that are still WFH.

– Stanley

5

338B Anchorvale Crescent
$760,000
| | |
| --- | --- |
| Address: | 338B Anchorvale Crescent, 542338 |
| Tenure: | 99-year Leasehold |
| Size: | 1,216 sqft |
| $PSF: | $625.00 PSF |
| Developer: | Housing & Development Board (HDB) |
| TOP: | 2017 |
Why I like it
Anchorvale Parkview is as new as they come for an HDB. It enjoys a location right by Sengkang Riverside Park, which is by the Sungei Punggol so the views are currently unblocked and quite wonderful. You are also walking distance to Sengkang Sports Centre, so there's a ton of things to do in the area for families. While you aren't near an MRT station, you are about 4 minutes walk away from Farmway LRT station.

The unit is a 5-room 1,216 square feet one. While originally 3 bedrooms, one bedroom has been hacked here for a very luxurious master bedroom with a very nice walk-in wardrobe.

– Sean