Units Of The Week

5 Stylish And Modern Bachelor Pads You Can Immediately Move Into
Stacked
October 20, 2021

7

min read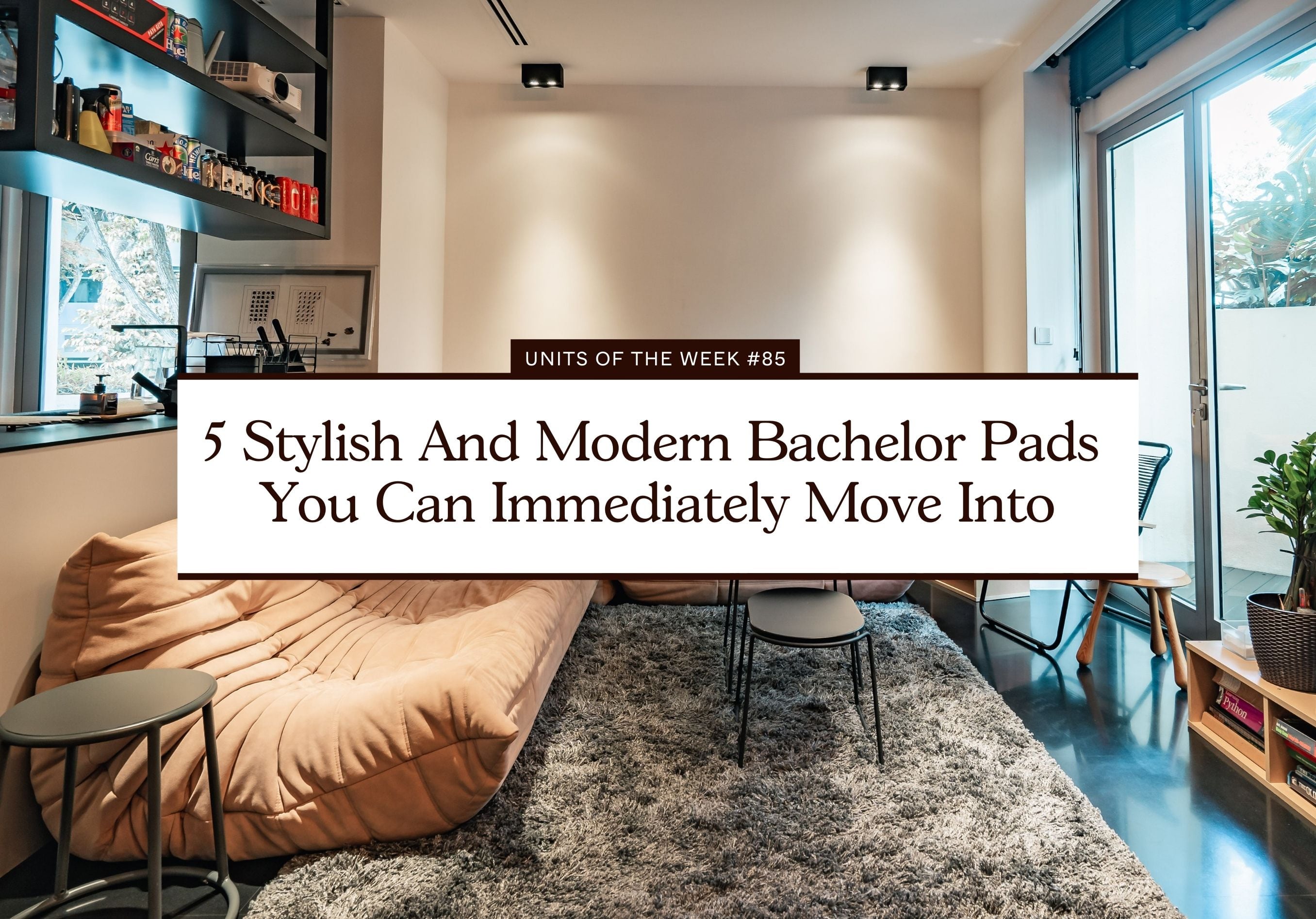 The pandemic has brought about all sorts of changes to our lives – one of which is the realisation of the importance of home. With the amount of time spent at home, some younger singles are more aware of the need for their own space and privacy.
So this week, we've decided to highlight a few 1 and 2 bedroom units that are impeccably designed for a single to move straight into. If you are willing to pay the premium for a well-renovated and ready to move in home, these are a few to look at.
Missed last week? You can view the previous issue here.
You can also join our free weekly newsletter so you stay up to date on our latest curations weekly.
Now let's get on with the list of curated units this week!

1

Studio 3
$ 1,860,000
| | |
| --- | --- |
| Address: | Studio 3 |
| Tenure: | Freehold |
| Size: | 883 sqft |
| $PSF: | $2,106.46 PSF |
| Developer: | FORTUNE DEVELOPMENT PTE LTD |
| TOP: | 2005 |
Why I like it
This 2 bedroom apartment is located at Shanghai Road – for those of you who don't know this is centrally located at District 10. It is set a little further in, but once you walk out, you are close to a lot of eateries, as well as the revamped and increasingly popular Great World City.

The apartment itself is called Studio 3, and despite being built in 2005 it still does look relatively modern. The unit is not a bad size at 883 square feet, and is definitely more than enough for a single to live in. While the floor plan does indicate that there is an enclosed kitchen, major renovation works have been done to open it up – so the space does look more open and bright.

I do like the design of the interior, the white and black theme does look rather stylish and sleek.

– Ryan

2

Seaside Residences
$2,000,000
| | |
| --- | --- |
| Address: | Seaside Residences |
| Tenure: | 99-year Leasehold |
| Size: | 764 sqft |
| $PSF: | $2,617.80 PSF |
| Developer: | East Vue Pte Ltd |
| TOP: | 2021 |
Why I like it
Seaside Residences is a newly completed condo (which we've reviewed recently here). If you've got a unit on a high enough floor, the sea view is certainly an appealing one, and that large swimming pool on the ground floor is certainly one that you'd want to be chilling in on a weekend.

This 2 bedroom unit is slightly larger than today's average 2 bedder unit at 764 square feet. It isn't my preferred dumbbell layout, but a rather standard 2 bedroom layout.

I really like the design of this one. While some may say that the over-reliance on black can make the space feel smaller, with the right lighting it does look sleeker and somewhat more cosy as well. The unit also comes very well furnished – with smart lights and automation. From motorised curtains to a ziptrak in the balcony, and the premium laundry system Steigen too. Even the kitchen comes with a Wells Water dispenser installed.

– Druce

3

The Aston
$2,535,000
| | |
| --- | --- |
| Address: | The Aston |
| Tenure: | Freehold |
| Size: | 1,410 sqft |
| $PSF: | $1,797.87 PSF |
| Developer: | Parryview Holding Pte Ltd |
| TOP: | 2002 |
Why I like it
The Aston is an old development that was built in 2002 so I can't say the exterior is the most appealing. It is freehold and has just 80 units though, so it is pretty exclusive. Plus, I really can't fault the location. Food choices nearby are plentiful, and the upgraded Great World City is just a short walk away (that and the upcoming Great World MRT station on the Thomson East Coast line).

This is a ground floor unit sized at 1,410 square feet. While it sounds big on paper, do note that there's a large patio space. So this is definitely one for those that enjoy outdoor living (the patio does come with an extended shelter and fan). The unit is well-designed with an industrial theme to it, so more towards the concrete and dark coloured side.

– Reuben

4

Mill Point
$2,050,000
| | |
| --- | --- |
| Address: | Mill Point |
| Tenure: | 999-year Leasehold |
| Size: | 1,012 sqft |
| $PSF: | $2,025.69 |
| Developer: | SB Development Pte Ltd |
| TOP: | 2004 |
Why I like it
Mill Point is a development in the Zion/River Valley area. Like most of the developments here, it is centrally located and close to a lot of food options. Zion Hawker Centre is just downstairs, and Great World City is just opposite the road. With the upcoming MRT station on the Thomson East Coast line, connectivity will be further improved too.

This is a 2 bedroom unit sized at 1,012 square feet so it is quite a good size. It has an interesting longish layout, which mimics the long length of the building. Because of that, it has a dumbbell layout with the bedrooms on opposite ends so it grants more privacy to occupants!

The design of the space is nice, it looks modern and with the woody elements and tan coloured furniture it gives off a very warm and homely feel.

– Stanley

5

The Loft
$1,980,000
| | |
| --- | --- |
| Address: | The Loft |
| Tenure: | 99-year leasehold |
| Size: | 861 sqft |
| $PSF: | $2,299.65 PSF |
| Developer: | Capital Residential Ltd |
| TOP: | 2002 |
Why I like it
The Loft @ Nassim represents one of the most affordable ways to stay in the prestigious Nassim area. Of course, some people may point at the leasehold status but that's always going to be a point you'd have to live in if the location is a priority for you.

This is a sizeable 1 bedroom unit (861 square feet). While the balcony is quite big, the interior is spacious enough for 2 people to move around. I really like the design of the interior, with the smooth black flooring and the choice of furniture – it does look like an ideal choice for a bachelor that enjoys the relative peace in Nassim.

– Sean