Units Of The Week

5 Spacious 3 Bedroom Homes For $1.5 Million (1,400 Sqft And Up)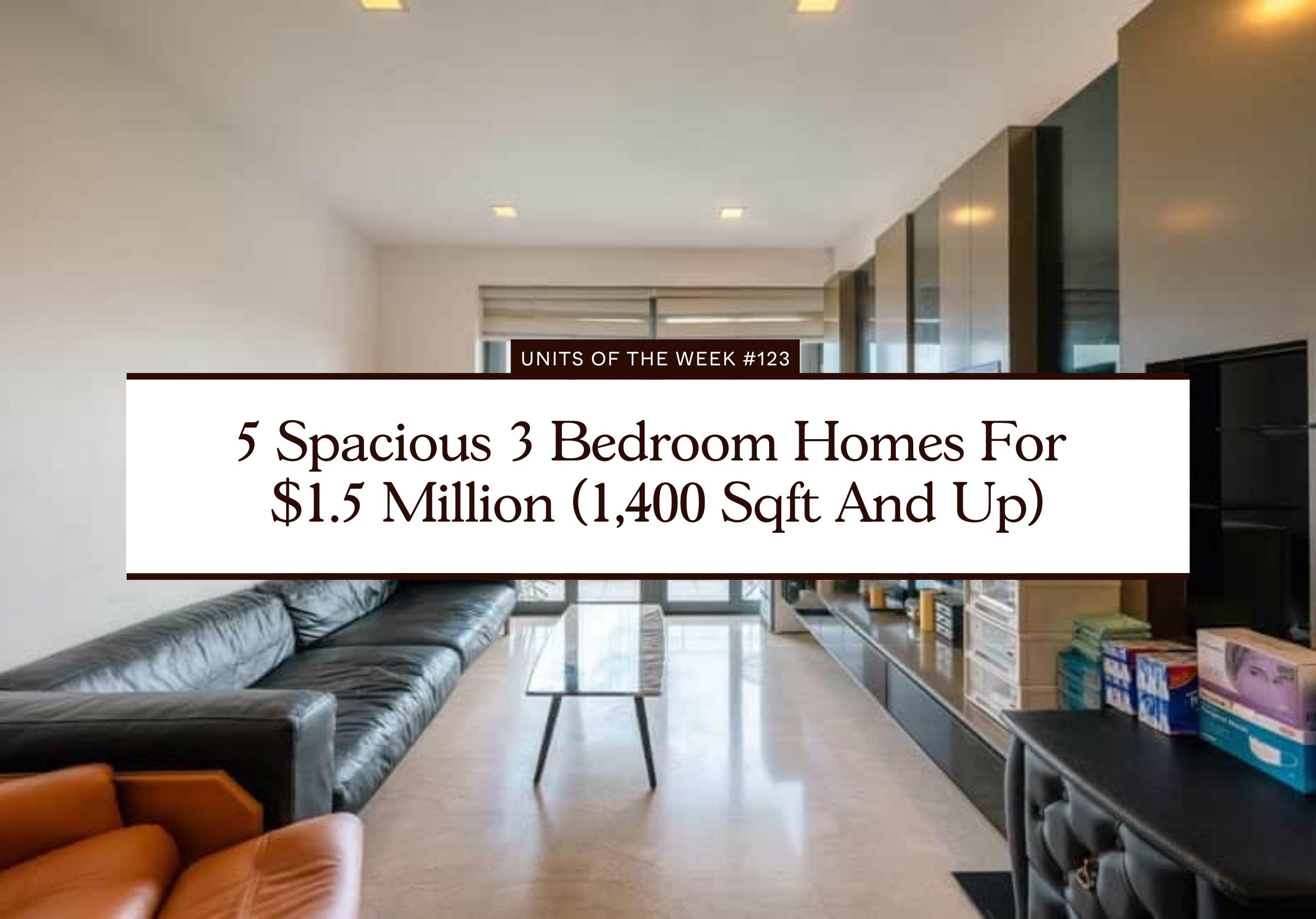 You may have heard about the record-breaking HDB at Dawson selling for $1.418 million dollars. Some have said it's a ridiculous price for an HDB, while others pointed out that for its size and location, that is a fair price. Moreover, its $PSF pricing is still low.
So this week, we decided to curate homes that have a similar price point to the Dawson 5-room flat and also have 3 bedrooms to boot! One of them even has a loft just like the Dawson flat!
Missed last week? You can view the previous issue here.
You can also join our free weekly newsletter so you stay up to date on our latest curations weekly.
Now let's get on with the list of curated units this week!

1

Northvale
$1,400,000
| | |
| --- | --- |
| Address: | 69 Choa Chu Kang Loop 689672 |
| Tenure: | 99-year Leasehold |
| Size: | 1,669 sqft |
| $PSF: | $838.83 PSF |
| Developer: | Capitaland Limited |
| TOP: | 1998 |
Why I like it
If you're looking out for a west-side condo that's near to an MRT, perhaps this listing might be of interest to you. It's right opposite the Choa Chu Kang bus interchange and is just a 3-minute walk to the MRT. This also means it's closeby Lot One shopping mall where you'll find a host of amenities that meets your daily needs such as an NTUC FairPrice.

The condo is also right next to Choa Chu Kang Park and is situated along the Park Connector, so nature lovers or those that love to take regular walks would find this very suitable.

I've picked this unit due to its large size and location on the ground level. The huge PES is a delight for those who love gardening, and since space is a focus here, you'll be happy to see that all the bedrooms, living and dining room provides ample amount of living space!

In other words, the unit is perfect for families who want more space and wouldn't mind ground-floor living.

– Ryan

2

Sherwood Towers
$1,500,000
| | |
| --- | --- |
| Address: | 1 Jalan Anak Bukit 588996 |
| Tenure: | 99-year Leasehold |
| Size: | 1,539 sqft |
| $PSF: | $974.66 PSF |
| Developer: | Ocean & Capital Properties Pte Limited |
| TOP: | 1980 |
Why I like it
Sherwood Tower's exterior doesn't really inspire much. It's got the typical look of a 70s/80s condo, and due to its age (it's 42 years old!), the building does look like it's in need of some touch-up.

However, its location is superb, and at 1,539 sqft, this development continues to remain relevant for those looking at large homes in the prime Bukit Timah area that's also affordable (due to its old age and leasehold nature).

First off, it's just 5-minutes to Beauty World MRT (DTL) – this puts residents within 25-minutes to Raffles Place MRT – and that's door-to-door! It also sits atop Bukit Timah Plaza, a strata-mall that's actually quite successful in meeting residents' daily needs such as having a FairPrice outlet and a bunch of F&B eateries. One could argue that buying into the "charm" of Sherwood Towers is also buying into the "charm" of the strata malls nearby!

Unit-wise, it's clear that the large size can be felt in the bedrooms where queen or king-sized beds can be fit inside with side tables and still have room for a study table. The living room is open and spacious with lots of light coming in, and there's even a balcony for residents to enjoy an unblocked view towards the greenery!

From what I can see, there isn't much fixtures or fittings in the living/dining, so the new owner could save some cost and time in not having to hack away the carpentry.

– Druce

3

Summer View
$1,450,000
| | |
| --- | --- |
| Address: | 5 Geylang Lor 12 398986/td> |
| Tenure: | Freehold |
| Size: | 1,497 sqft |
| $PSF: | $968.60 PSF |
| Developer: | Unknown |
| TOP: | 1998 |
Why I like it
Summer View may not be located near an MRT, but its location in Geylang does bring a host of amenities to residents staying here. Apart from the numerous shops nearby, there's also the Sims Vista Market and Food Centre that's about an 11-minute walk away. While it is in Geylang, it isn't as noisy as you think given it's quite some distance from the main Geylang Road too.

The unit comes in at 1,497 sqft and offers 3 bedrooms and 3 bathrooms, two of which have an attached bathroom that fits a bathtub. At this size, you also have a utility in the kitchen that can house a helper.

The living room is huge and since the unit does not come with a balcony, all of the space is dedicated to internal floor space only. And the master bedroom is also one of the biggest I've seen so far in this series.

Those looking to perhaps put a 4th bedroom in here could also do so by carving out some of the living area and shift that to the space before the hallway to both the common bedrooms – this is possible given that there are windows along there too.

– Reuben

4

The Quintet
$1,399,000
| | |
| --- | --- |
| Address: | 40 Choa Chu Kang Street 64 689103 |
| Tenure: | 99-year Leasehold |
| Size: | 1,571 sqft |
| $PSF: | $890.52 PSF |
| Developer: | Frasers Centrepoint Homes |
| TOP: | 2006 |
Why I like it
The Quintet is located in the north and while it's considered to be an "ulu" area, this development is around a 5-minute walk to Yew Tee MRT. But it's not just the proximity to the MRT that's great – the development is a full-fledged one meaning there's a large pool (several pools actually), a tennis court and even a basketball court! This makes it perfect for families since there would always be activities you can engage in on the weekend without having to leave the compound.

Another highlight to its location is its proximity to the Rail Corridor (or Green Corridor). This trail goes all the way south to the Tanjong Pagar area and is a lot of fun cycling/walking in.

The unit itself is not too efficient considering the amount of bay windows used here, so you might not feel the full effect of the size. However, it does come with a very practical layout – including a ventilated yard, a ventilated utility room that fits a small bed and even a household shelter to store items. This does make up for the inefficiency in the bay windows. Moreover, the aircon ledge is quite efficient in size too!

– Stanley

5

Hilltop Grove
$1,400,000
| | |
| --- | --- |
| Address: | 134 Hillview Avenue 669619 |
| Tenure: | 99-year Leasehold |
| Size: | 1,485 sqft |
| $PSF: | $942.76 PSF |
| Developer: | AFP Hillview Pte Ltd |
| TOP: | 2002 |
Why I like it
This particular unit caught my attention since it's the top floor at Hilltop Grove – meaning it has a high ceiling which you can take advantage of by building a loft (and the owner here did it). While I'm not a fan of lofts as a bedroom since waking up to stairs isn't my idea of convenient living, this one here is found within the bedroom itself so it could be used as a study area.

However, this does mean that it's smaller in terms of internal floor area compared to the other units on our list today. The living, dining and bedroom space is decent enough a 3-bedroom unit. It also has a ventilated yard and a utility room for a helper.

The location is probably where it falls short considering it's not even within walking distance to any MRT. That being said, it's also situated right next to a forest and sandwiched between two landed home clusters – so those looking at peace and quiet could find this to be a suitable development, so long as you own a car!

– Sean