Units Of The Week

5 Sizeable HDB Units Above 1,300 Sq ft Priced Under $600,000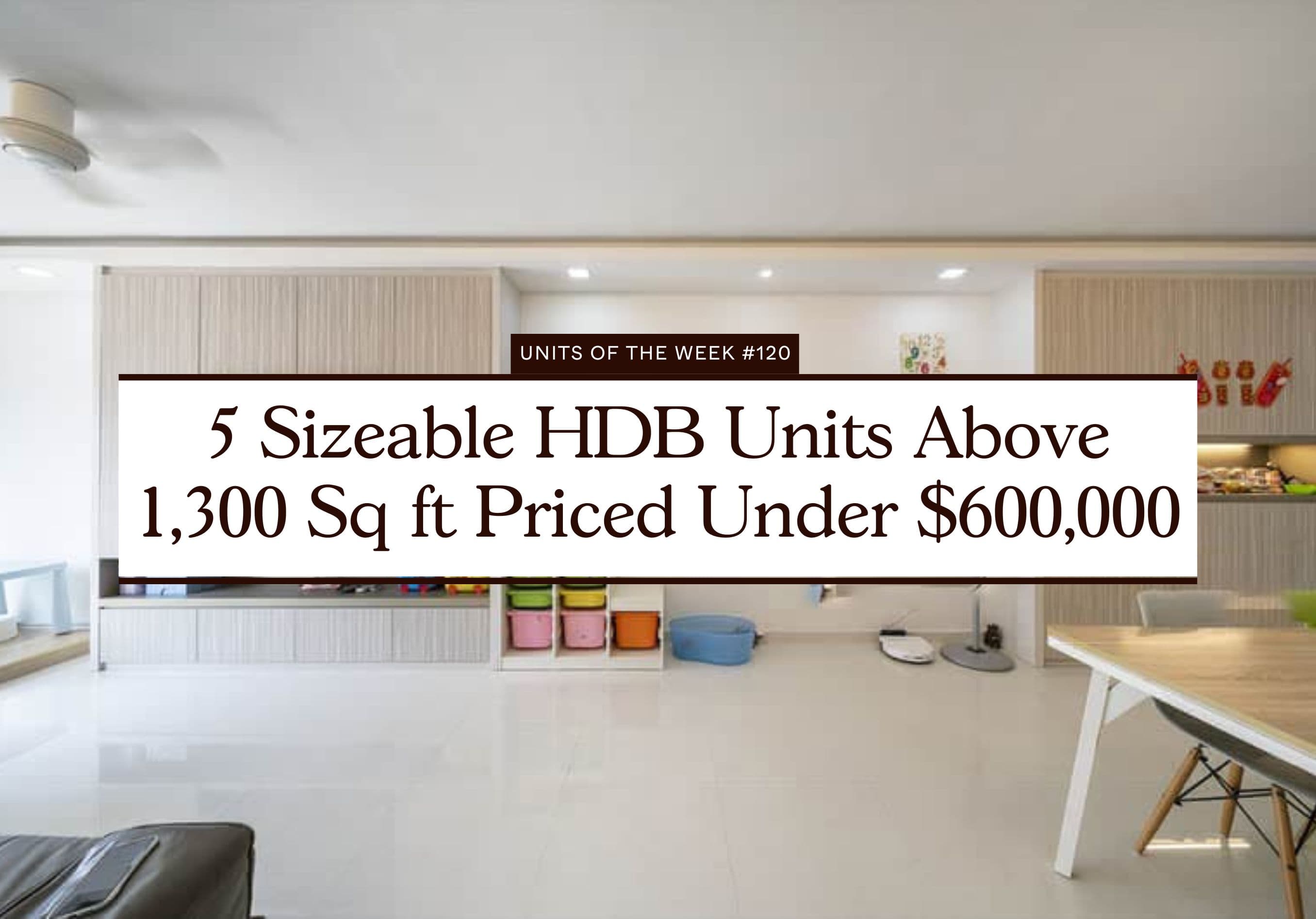 This week, we are back to looking for spacious HDB units as there seems to be no lack of demand for such homes in Singapore. With the recent news of Pasir Ris and Woodlands resale HDB hitting the notable million-dollar mark, it's clear that many people prioritise having the luxury of space over everything else.
Missed last week? You can view the previous issue here.
You can also join our free weekly newsletter so you stay up to date on our latest curations weekly.
Now let's get on with the list of curated units this week!

1

509 Choa Chu Kang Street 51
$598,000
| | |
| --- | --- |
| Address: | 509 Choa Chu Kang Street 51 680509 |
| Tenure: | 99-year Leasehold |
| Size: | 1,463 sqft |
| $PSF: | $408.75 PSF |
| Developer: | HDB |
| TOP: | 1993 |
Why I like it
This 5-room HDB in Choa Chu Kang is really well sized at 1,463 square feet. It was built in 1993, and comes with quite a functional layout, with the bedrooms on one side of the living/dining and the study and kitchen on the other. You do actually have a balcony space but this here is enclosed and part of your living room.

You are situated next to the KJE so some road noise is probably expected, but the good thing here is that you are quite closely located to Choa Chu Kang MRT station, which will house the future Jurong Regional Line. Plus, Lot One Shopping Centre and the bus interchange is right here so it is all rather convenient. For those after some green, you are located across from Warren Golf Course, and Choa Chu Kang Park isn't too far away as well.

– Ryan

2

566 Choa Chu Kang Street 52
$568,000
| | |
| --- | --- |
| Address: | 566 Choa Chu Kang Street 52 680566 |
| Tenure: | 99-year Leasehold |
| Size: | 1,378 sqft |
| $PSF: | $412.19 PSF |
| Developer: | HDB |
| TOP: | 1993 |
Why I like it
This spacious 5-room HDB unit at Choa Chu Kang is close to the Yew Tee HDB developments that we recently featured in our piece on 5 unique HDB architecture and floor plans. As with flats of this size, you do have a decent sized living and dining, but not many people would like the master bedroom being straddled in between the kitchen, common bedroom, and the living area. So while you do have good space here, the walk to the common bathroom for those living in the common bedrooms is probably not the most ideal location.

As for the location, you are literally next door to Yew Tee Point and Yew Tee Square. While these aren't fantastic malls like the kind that you'd find at Jurong East, it is still decent enough for weekly groceries and dining out on the weekends. You are, of course, next to Yew Tee MRT station as well. For kids, Kranji Primary School is located just opposite, and Yew Tee Primary is quite close by too.

– Druce

3

351 Tampines Street 33
$598,000
| | |
| --- | --- |
| Address: | 351 Tampines Street 33 |
| Tenure: | 99-year Leasehold |
| Size: | 1,356 sqft |
| $PSF: | $441.00 PSF |
| Developer: | HDB |
| TOP: | 1994 |
Why I like it
Just like the condos over at the neighbouring Flora Drive, the location of this unit isn't the best if you are looking for something that has good access to the MRT station. The closest by is Tampines East MRT station on the Downtown line, and that is too far of a walk if you have to do it daily. You are also close to the TPE, which is great for connectivity, but thankfully you aren't at the block that is directly facing it.

On a brighter note, East Spring Primary School is located just across the road, and it is also a short walk away from Tampines Mart, where you'll find a wet market, Giant supermarket, kopitiam, and several other local food outlets. You do also have a mini mart just downstairs, so it is quite convenient for groceries.

The unit itself is 1,356 square feet, and features a long-ish living and dining room, with the master bedroom tucked in the corner. The home is still relatively well designed, so you might not need to invest in a ton of renovation work.

– Reuben

4

461 Choa Chu Kang Avenue 4
$587,000
| | |
| --- | --- |
| Address: | 461 Choa Chu Kang Avenue 4 680461 |
| Tenure: | 99-year Leasehold |
| Size: | 1,324 sqft |
| $PSF: | $443.35 PSF |
| Developer: | HDB |
| TOP: | 1998 |
Why I like it
Choa Chu Kang seems to be the home of well-sized units, and this one at Choa Chu Kang Avenue 4 is no different. At 1,324 square feet, it is a good size despite the triangular nature of the layout. That slant does give a slight private entrance to the unit, and it is quite a conventional layout with all the bedrooms situated along a hallway. It still looks rather modern too, so perhaps its just more of the furniture that you have to concern yourself with.

Location wise, you are next to a park, and just situated along the Sungei Peng Siang so you do get to enjoy some water views. You are also just across a ton of forested area, along Tengah Way, which will be cleared for the Tengah Town, with residential, commercial, and education plots all coming up on the URA Master Plan. While you aren't near an MRT station today, the upcoming Choa Chu Kang West on the Jurong Regional Line will help matters in the future.

Sunshine Place Market is also at a walkable distance away.

– Stanley

5

506 Woodlands Drive 14
$580,000
| | |
| --- | --- |
| Address: | 506 Woodlands Drive 14 730506 |
| Tenure: | 99-year Leasehold |
| Size: | 1,313 sqft |
| $PSF: | $441.74 PSF |
| Developer: | HDB |
| TOP: | 1997 |
Why I like it
So unlike some of the Choa Chu Kang units that you may have seen above in the same vintage, those who are more concerned about the bathroom situation may find this layout to be a lot more palatable as the common bathroom is located right at the entrance of both common bedrooms. The living and dining areas are very well-sized here, with the L-shaped layout a good way to segregate the dining and living space. At 1,313 square feet, you do have some wiggle room to be creative with the space.

In terms of the location, you are about 7 minutes away from Woodlands MRT station, which connects both the North South and Thomson East Coast lines. Causeway Point is also equally nearby, although you do have a NTUC Fairprice at a really walkable distance at Woodlands Avenue 1. Vista Point is also near enough too, with other perks like a Giant Supermarket, and McDonald's (among others).

– Sean