Units Of The Week

5 Old But Freehold & Spacious 3 Bedroom Condos You Can Buy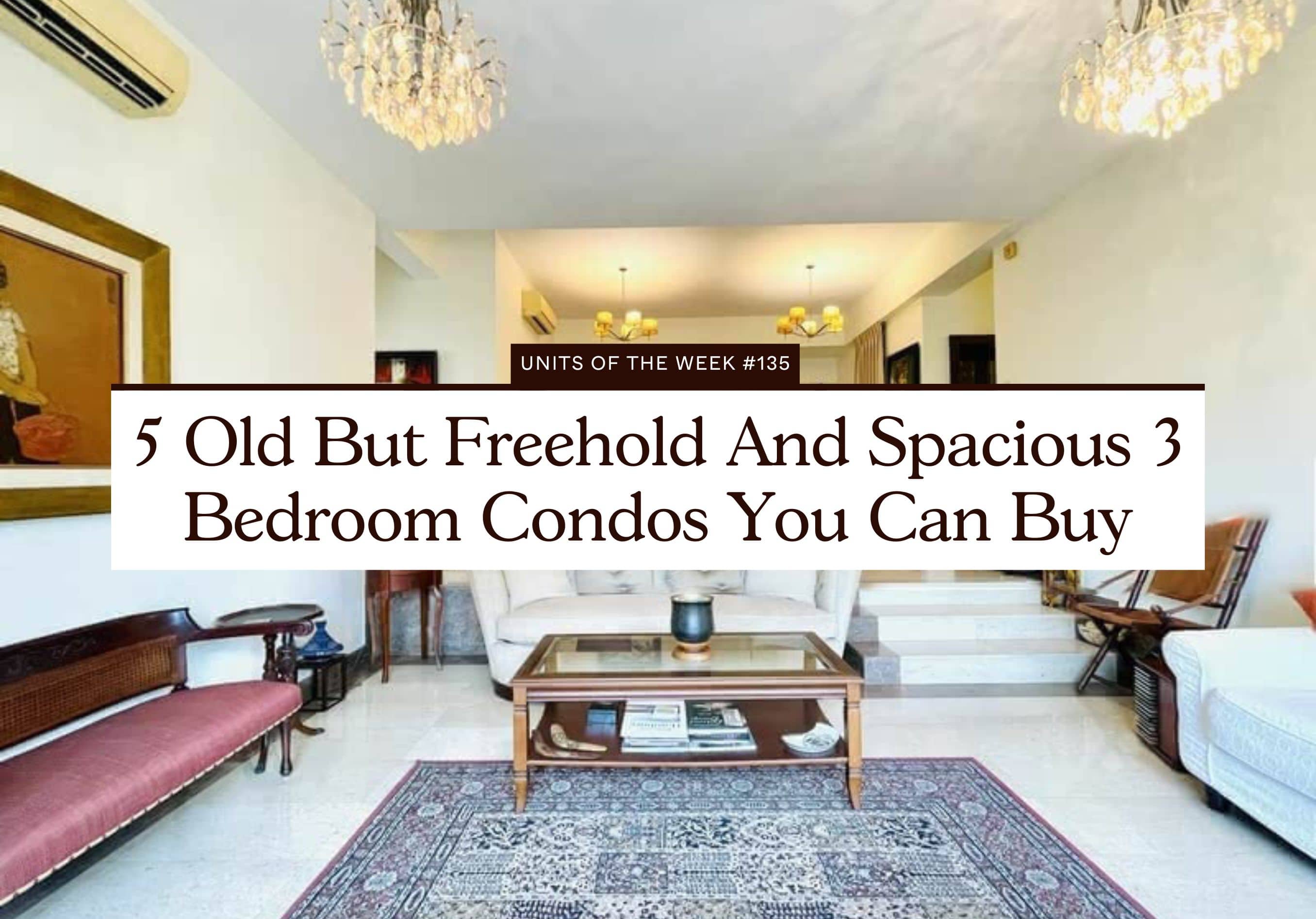 If you're in the new launch market, you're probably used to seeing 3 bedrooms having a shared living/dining space, or not having a utility yard at all (something that even every HDB of all flat types have!). This makes it almost impractical for a full-fledged family to live in – and this is even more prevalent for households with a helper.
Turning to the resale market, there are many large 3 bedrooms out there, many of which are found in older condos.
And for those looking to hold for the long-term without worrying about price depreciation, buying a 999-year leasehold/freehold property is a safer bet especially for such old properties.
So in the spirit of finding large units that meet these criteria, we've curated 5 such listings that we think is more than enough space for a family looking out for 3 bedrooms and are freehold/999-years!
Missed last week? You can view the previous issue here.
You can also join our free weekly newsletter so you stay up to date on our latest curations weekly.
Now let's get on with the list of curated units this week!

1

Ocean Park
$3,988,000
| | |
| --- | --- |
| Address: | 530 East Coast Road 458970 |
| Tenure: | Freehold |
| Size: | 2,100 sqft |
| $PSF: | $1,899.05 PSF |
| Developer: | Primelands Pte Ltd |
| TOP: | 1983 |
Why I like it
While the name is perhaps more well known as a theme park in Hong Kong, the Ocean Park in Singapore is quite an overlooked condo in an area full of newer sea view condos. It's an old development undeniably, having been built in 1983. It is freehold though, and the location will be improved by the upcoming Marine Terrace MRT which will just be a short walking distance away. You are also within walking distance to Marine Terrace Market & Food Centre and you can get to East Coast Park via the Siglap Park Connector.

As you might imagine for an old condo, it has 304 units on a sizeable plot of land. The units are also impressive in size, this 3 bedroom unit is 2,100 square feet, an unheard of size in today's new market. You do get unblocked views all around (given two sides are surrounded by schools) as well. 

For those who like the alfresco vibes, the balcony in the living room is big enough to fit a 3 seater lounge chair or you could change that up for a 4-6 seater outdoor dining set. The rooms also comes with balconies that have a partial sea view and the living and dining areas are nicely segregated.

– Ryan

2

Village Tower
$3,950,000
| | |
| --- | --- |
| Address: | 35 Mount Sinai Rise 276955 |
| Tenure: | Freehold |
| Size: | 1,830 sqft |
| $PSF: | $2,158.47 PSF |
| Developer: | Village Properties Pte Ltd |
| TOP: | 1983 |
Why I like it
The Village Tower isn't the most conveniently located condo, but it's location does also mean that you get to enjoy more relatively tranquil surroundings. It's not too bad though, as there is a sheltered park connector outside the development that leads to Dover MRT in 10 mins. You are also within 1 km of the renowned Henry Park Primary School, which is definitely a selling point.

It's a freehold boutique development with only 46 units, and was built in 1983. The unit itself is large at 1,830 square feet for a 3 bedroom units. The dark parquet flooring is used throughout the living and bedrooms – contrasting with the light coloured walls. The wwner has utilised the indents of the living room walls to build up some storage/display shelves so the space is maximised, and there is a spacious kitchen with an island that can double as a dining area, and there is still ample space to move around even with the island. 

– Druce

3

Park East
$2,800,000
| | |
| --- | --- |
| Address: | 9 Jalan Tua Kong 457264 |
| Tenure: | 999-year Leasehold |
| Size: | 1,690 sqft |
| $PSF: | $1,656.80 PSF |
| Developer: | City Developments Limited |
| TOP: | 1994 |
Why I like it
To be sure, Park East is not one of those condos that you'd be looking at if being close to an MRT is a priority, as it's under a 15 min walk to Bedok MRT and Bedok Mall. You do have a wide array of food options in the area though, along Upper East Coast Road. 

It's on the lower end of a mid sized development with 211 units, and also sits on a sizable plot of freehold land. Unsurprisingly, this is one of the older developments around too, having been built in 1994. 

At 1,690 square feet for a 3 bedroom unit, the space is definitely a plus point here. The living and dining are currently segregated, and the owner is currently using the living as a chill hang out spot which currently sits two 5-6 seater sofas. The kitchen wall has been replaced with a glass panel allowing more light through, and there is a rather unique kitchen layout with hood and hob fitted on a small island counter. 

– Reuben

4

The Makena
$2,950,000
| | |
| --- | --- |
| Address: | 123 Meyer Road 437934 |
| Tenure: | Freehold |
| Size: | 1,582 sqft |
| $PSF: | $1,864.73 PSF |
| Developer: | Hong Leong Holdings Limited |
| TOP: | 1998 |
Why I like it
The Makena is just across the road from the luxurious Meyer House, and because of the park located just outside, you naturally will be able to enjoy that as well at your doorstep. It will be within an 8 min walk to the upcoming Tanjong Katong MRT station (expected completion 2024), and it is also a short walk to East Coast Park via the underpass located just outside the development. 

It's an older freehold development built in 1998, with 504 units. 

There is a spacious sunken living area which clearly demarcates the living and dining (it's 1,582 square feet in size), and the bedrooms are all huge enough to fit a double bed, study table and wardrobe with ample space to move around still. I do like the u-shaped kitchen though, as there is more storage space available. 

– Stanley

5

Nouvelle Park
$2,180,000
| | |
| --- | --- |
| Address: | 133 Poh Huat Road West 546685 |
| Tenure: | Freehold |
| Size: | 1,668 sqft |
| $PSF: | $1,306.95 PSF |
| Developer: | Greenery Pte Ltd |
| TOP: | 1994 |
Why I like it
Located in District 19, some people may be surprised to learn that some of the condos here are actually of the freehold variety. Nouvelle Park is a small development of just 108 units, and is situated among a landed enclave. It's also within 1 km to the well known Rosyth School, which is undoubtedly a boon to parents.

This is a 1,668 square foot ground floor unit, that has direct access to the pool. The layout is definitely rather unconventional, as it is a longish instead of a more rectangular or squarish one. You do have an extra family room in addition to the living and dining area which are both very sizeable – great for those who love to host. Because of the long layout, there is a long walkway from the family room to the living and dining area but the owner has done up cabinets for storage that line the walkway so the space is not wasted. There is also a long mirror that lines this walkway which creates an illusion of space. Finally, you do have good sized bedrooms here which are able to fit a double bed, study table and wardrobe. 

– Sean