Units Of The Week
5 Lesser-Known Freehold 2-Bedroom Condos $995K And Under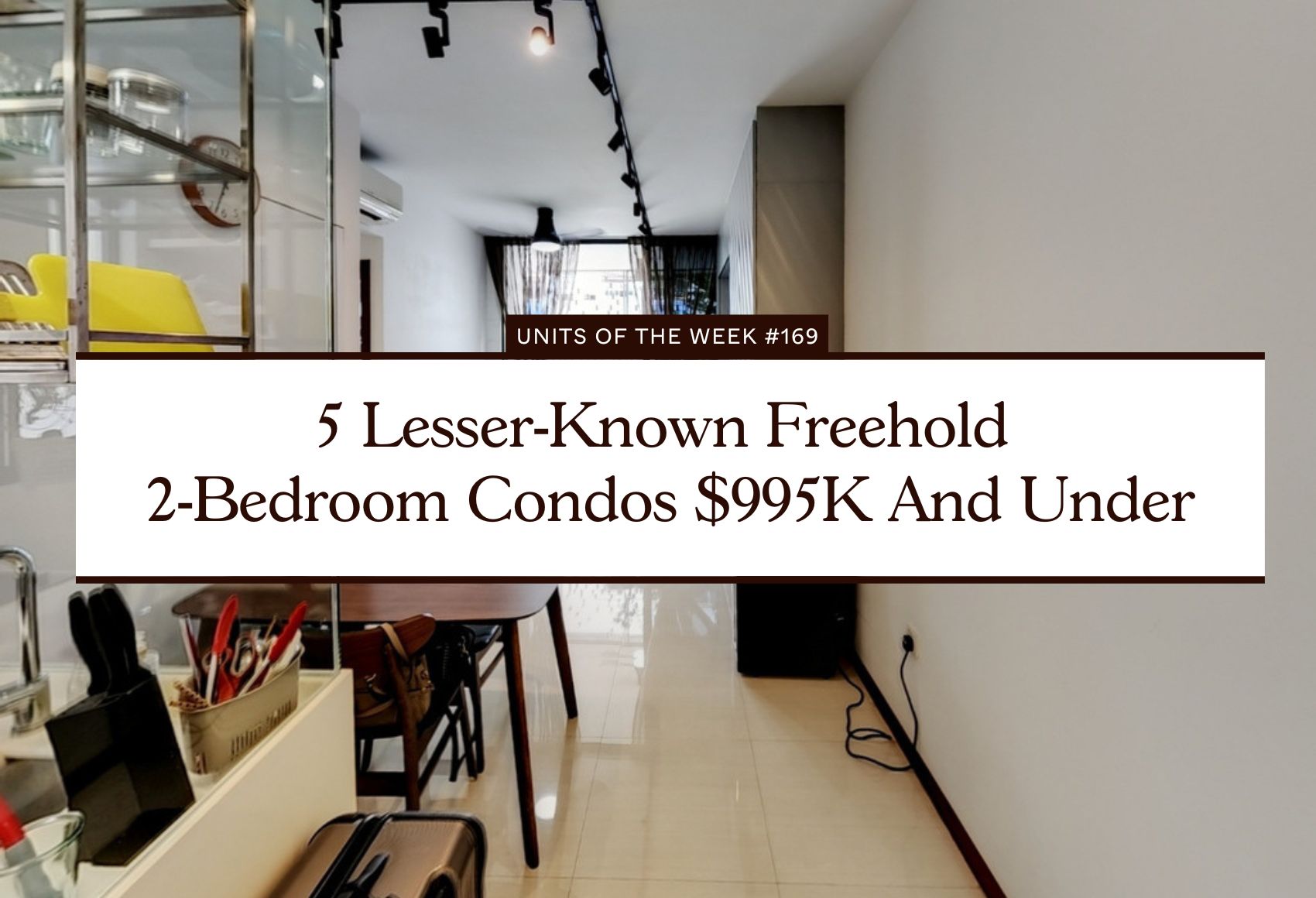 7
min read
Continuing our search for affordable and freehold housing, we take a look at 2-bedroom apartments this week. With a budget under $995K, these units might have a more compact floor plan or a less convenient location.
Missed last week? You can view the previous issue here.
You can also join our free weekly newsletter so you stay up to date on our latest curations weekly.
Now let's get on with the list of curated units this week!

1

Palmera East
$888,000
| | |
| --- | --- |
| Attribute | Info |
| Address | 29 Lorong Melayu |
| Tenure | Freehold |
| Size | 560 SQFT |
| $PSF | $1,585 PSF |
| Developer | World Class Property (Telok Kurau) Pte Ltd |
| TOP | 2013 |
Why I like it
Located in a largely landed enclave in Kembangan, this unit in Palmera East is sized at 550 square feet and has two bedrooms and one bathroom.

Despite its more compact layout and size, what I like about this apartment is that it has a squarish floorplan to make space usage more efficient. Furthermore, it does have a home shelter to store away clutter, which comes in handy when living in smaller apartments like this.

While there's only one bathroom, it is well-sized and comfortable to unwind from a busy day. The open-concept kitchen, along with the balcony, does make the living and kitchen area feel more spacious, too.

Palmera East might be a low-rise project, but it still offers unblocked views of the neighbouring landed enclave. Due to the general freehold nature of the neighbourhood, it's good to note that the surrounding views won't be changing too.

In terms of location, it's a short 4-minute walk to Kembangan MRT Station (East-West line) with several bus stops nearby. For those looking to grab a bite, the nearby Changi Road houses plenty of cafes and eateries within its shophouses. Alternatively, Eunos Cresent Hawker Centre is around an 8-minute walk away, which houses many hawker delights and a wet market.

Sims Avenue Park Connector is located right in front of the development, which is connected to East Coast Park.

– Ryan

2
Spazio @ Kovan
$938,000
| | |
| --- | --- |
| Attribute | Info |
| Address | 767 Upper Serangoon Road |
| Tenure | Freehold |
| Size | 560 SQFT |
| $PSF | $1,675 PSF |
| Developer | Spazio Land Pte Ltd |
| TOP | 2017 |
Why I like it
For a compact apartment, this 560 square feet unit has a rather efficient layout to make it quite a functional home. With two bedrooms and a bathroom, I appreciate that the layout is squarish and efficient to minimize any wastage of space.

Unlike most compact homes, this unit has a proper dining area that is able to accommodate a four-seater dining set. Additionally, both bedrooms can fit a double bed with ample walking space left.

To solve the issue of having only one bathroom, a jack-and-jill door has been installed to make the space feel more seamless. The huge window panels located in the common areas are also great for brightening and widening the space. For those who prioritise having a private environment to call home, this is a corner unit, so there won't be an issue of neighbours passing by your unit.

Location-wise, it's around a 12-minute walk to Serangoon MRT (North-East and Circle line) and NEX. Residents can choose to take the bus instead since there's a bus stop right outside of the project.

– Druce

3

M66
$930,000
| | |
| --- | --- |
| Attribute | Info |
| Address | 66 Moonstone Lane |
| Tenure | Freehold |
| Size | 646 SQFT |
| $PSF | $1,439 PSF |
| Developer | Agrow Realty Pte Ltd |
| TOP | 2016 |
Why I like it
Overlooking the scenic Kallang River, homeowners who want to enjoy a riverfront view under a budget might like this unit located in M66.

Sized at 646 square feet, this unit comes with two bedrooms, a bathroom and a powder room. Seeing that the bathroom is only accessible from jack-and-jill doors from the two bedrooms (making both the rooms ensuite), the powder room is a great addition for guests.

As one of the biggest draws of the unit, the balcony is good-sized and is able to accommodate outdoor furniture and enjoy unblocked river views. It also allows more natural light to flow into the unit, making it bright and breezy.

Located around a 12-minute walk away from Potong Pasir MRT Station (North-East line), there are various food options and eateries within walking distance of the area. There is also the option to head to Blk 69 Geylang Bahru Market and Food Centre to pick up affordable food and groceries, too.

Outdoor lovers would have the option to take a short walk to Kallang Park Connector, which leads right to Kallang Riverside Park.

Last, but not least, it's within close proximity to many well-known institutions, including Cedar Girls' Secondary School and St. Andrew's Junior School.

– Reuben

4
Singa Hills
$995,000
| | |
| --- | --- |
| Attribute | Info |
| Address | 33 Jalan Singa |
| Tenure | Freehold |
| Size | 657 SQFT |
| $PSF | $1,514 PSF |
| Developer | Ecco Development Pte Ltd |
| TOP | 2016 |
Why I like it
This compact but functional apartment is sized at 658 square feet and is great for those who appreciate lots of natural sunlight. It offers two bedrooms, a bathroom and a balcony, along with high ceilings to make the space feel more spacious.

Facing away from the main road in the North direction, it offers a quiet and tranquil environment without much effects of the afternoon sun. The bedrooms also have full-length windows to allow in more natural light and make the space feel more spacious. It's also great that the living and dining areas are nicely separated to give a more distinct sense of the space.

Singa Hills is around a 13-minute walk to Kaki Bukit MRT station (Downtown line). There's also the Blk 630 Bedok Reservoir Market and Food Centre but it's a more than 10-minute walk.

– Stanley

5
Airstream
$950,000
| | |
| --- | --- |
| Attribute | Info |
| Address | 26 St Michael's Rd |
| Tenure | Freehold |
| Size | 624 SQFT |
| $PSF | $1,522 PSF |
| Developer | Millennium Homes (Singapore) Pte Ltd |
| TOP | 2014 |
Why I like it
Sized at 624 square feet, this unit stands out in its irregular layout, which is great for those who want a unique home. When looking at its layout, this apartment has two bedrooms, a bathroom, a balcony and a home shelter.

One unique feature is that the balcony is located in the master bedroom and is shaped like a triangle that offers unblocked views of the Kallang River and the neighbouring low-rise residential homes.

This apartment also comes with bay windows, which the previous owners have converted into sitting areas to better maximise the usage of the space, however, it may not be for everyone as bay windows are generally less functional.

The apartment is also brightly lit with plenty of windows throughout the house, which is great for those who like a well-lit and well-ventilated unit. There is a home shelter located in the common bedroom, which can also be used as a walk-in closet. Given the odd layout, however, the common bedroom struggles to fit beds larger than a Single configuration, especially since the household shelter door opens outwards.

In terms of neighbourhood amenities, it is within a 15-minute walk to Boon Keng MRT ((North-East line) and Potong Pasir (North-East line) MRT Station. There are numerous food options in the vicinity, which is great for those who want to grab a convenient bite nearby.

It's also located next to the Kallang River and a short walk to the Kallang Park Connector, which eventually connects to the Kallang Riverside Park.

– Sean