Units Of The Week

5 Freehold Homes With A Private Pool Under $2 Million
Stacked
September 15, 2022

9

min read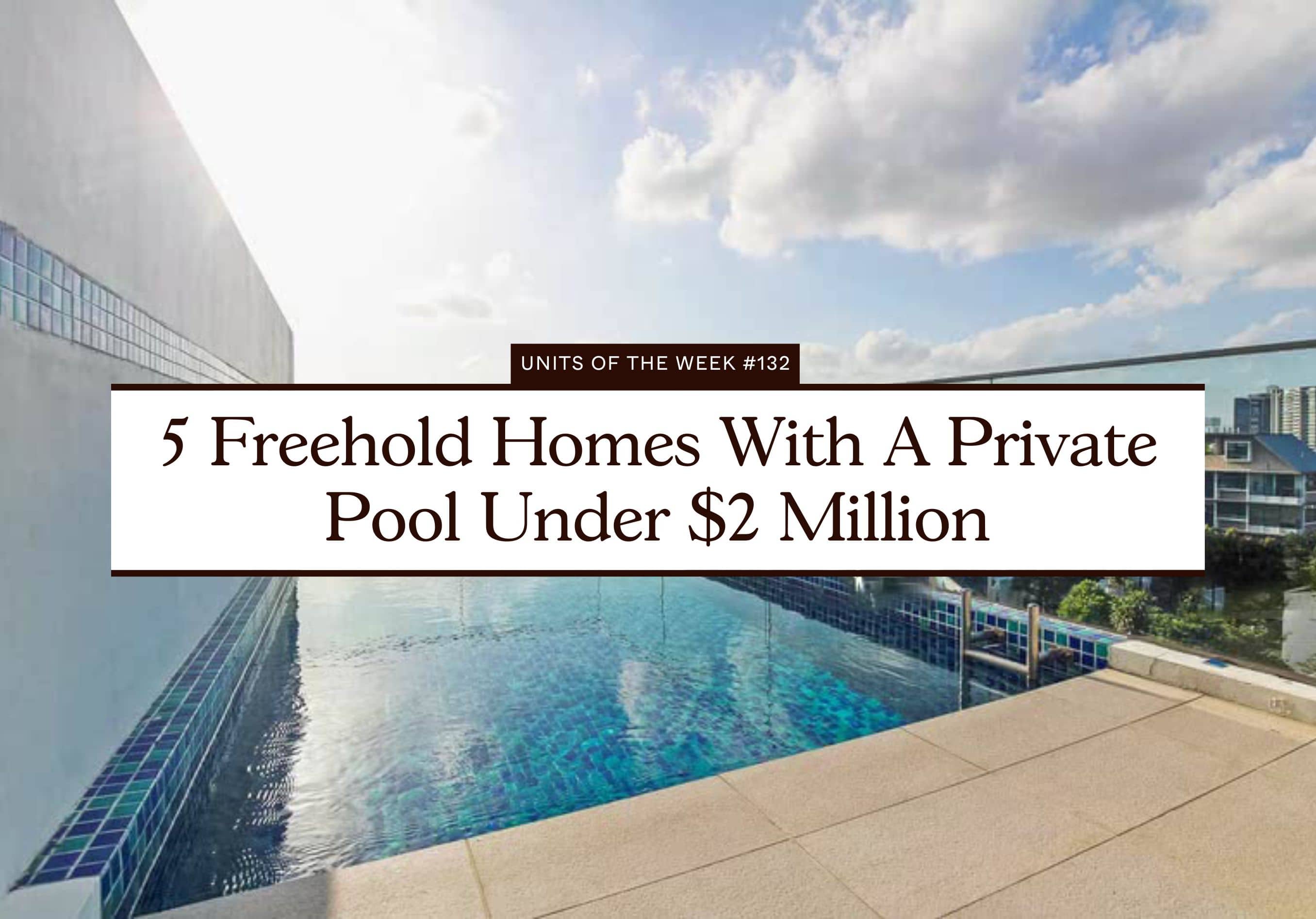 Whether you like to swim or not, most people would find it hard to turn down the allure of boasting that they have a private pool at home. Because besides taking a dip in private on a hot day, there is also the attraction of just having a body of cool water as a view.
Do note though, that you will have higher maintenance expenses here as well. Pool cleaning costs will definitely be something you have to add to your monthly costs.
For those who've always wanted to have a private swimming pool, you may be surprised to learn that there are units that you can get for $2 million and under – and freehold ones too.
Missed last week? You can view the previous issue here.
You can also join our free weekly newsletter so you stay up to date on our latest curations weekly.
Now let's get on with the list of curated units this week!

1

City Studios
$1,500,000
| | |
| --- | --- |
| Address: | 30 Race Course Lane, Singapore 218745 |
| Tenure: | Freehold |
| Size: | 1,023 sqft |
| $PSF: | $1,466.28 PSF |
| Developer: | Success Century Investment Pte Ltd |
| TOP: | 2010 |
Why I like it
This location may not be for everyone, but it is still a convenient one nonetheless. It's only about a 4-minute walk to Farrer Park MRT, and City Square Mall is not far off too. There will be further upgrades to the area too once Piccadilly Grand is up (it has a commercial component).

For those looking at primary schools, this is about 1 km to St Margaret Primary.

As you can probably tell by the name, City Studios is a boutique development with just 28 units and shops on the ground floor. This is a 2 bed 2 bath penthouse duplex unit. 1,023 sq ft is a good size on paper for a 2 bedder, but of course the pool and stairs do take up quite abit of space.

The pool is actually quite decently sized, and comes with a jacuzzi facing Farrer park field. It's a nice unblocked view for now, but do note that this has been earmarked for residential properties in the future. The unit itself is simply done up with consistent white finishings throughout, and a sleek black spiral staircase which creates a nice contrast.

– Ryan

2

One Robey
$1,630,000
| | |
| --- | --- |
| Address: | 1 Robey Crescent 546256 |
| Tenure: | Freehold |
| Size: | 1,195 sqft |
| $PSF: | $1,364.02 PSF |
| Developer: | Goodland Ventures Pte Ltd |
| TOP: | 2016 |
Why I like it
If my memory doesn't fail me, this isn't the first time we've listed a project at One Robey. Location wise, it's not the best when it comes to convenience. You are about a 13-minute walk to Kovan MRT station, and as a result, Heartland Mall as well. That said, you are situated in a landed enclave, which does grant you an unblocked landed facing. It's also less dense, and in quite a quiet spot. For families, you are within the magic 1km mark to Rosyth School.

This is a relatively new project that was completed in 2016, and yes, it is freehold. It has just 18 units, and 1,195 sq ft for a 3 bedroom unit is not bad at all – but for a penthouse duplex unit with a private pool, certain areas of the house are compromised. Like the kitchen, for example, which is rather compact for a 3 bedder, may not be suitable for families that do alot of cooking.

The pool is a decent size for a family though, and comes with a sundeck too.

– Druce

3

Daisy Suites
$1,330,000
| | |
| --- | --- |
| Address: | 35 Daisy Road Singapore 359455 |
| Tenure: | Freehold |
| Size: | 1,044 sqft |
| $PSF: | $1,273.95 PSF |
| Developer: | SingBuilders Pte Ltd |
| TOP: | 2015 |
Why I like it
Daisy Suites is another freehold property that is located about a 10-minute walk away from Woodleigh MRT and Woodleigh Mall. Once that is completed, it will definitely add a lot more usefulness to the area as it is quite a sizeable mall. You could also walk in the other direction to the mega NEX, although it would probably be much easier to just take the bus.

This is a small freehold project with just 25 units. Like many others, you do have unblocked landed views here, and it is just a little off the main road.

It is a compact size of 1,044 sq ft for a 3 bedder. More so because the large pool and balcony takes up close to half of the living space. As such, it is more suited for individuals/families who don't mind the smaller living area and enjoy being outside.

– Reuben

4

Spottiswoode 18
$1,249,000
| | |
| --- | --- |
| Address: | 18 Spottiswoode Park Road 088642 |
| Tenure: | Freehold |
| Size: | 893 sqft |
| $PSF: | $1,398.66 PSF |
| Developer: | Unknown Developer |
| TOP: | 2015 |
Why I like it
Spottiswoode Park is in a great spot if you do work in the CBD area. It's sort of in the fringe area of the main office district, and close enough that you can walk daily but live in a more residential, and less busy zone. Nevertheless if you do need the train, you are about an 8-minute walk to Outram MRT (NE, EW, TEL) where there are 3 lines, and about a 3-minute walk to the upcoming Cantonment MRT station on the circle line.

This is on the lower end of a mid-sized development with 251 units, so you do have your usual facilities (there's even a tennis court). On paper, 893 sq ft for a 1 bedder is pretty huge – however this unit is a duplex with the entire second level being the pool and upper terrace, and there is also a balcony on the lower floor so the living area is rather small but ought to be sufficient for a single individual or couple. This is a penthouse unit though, so you do have a huge upper terrace which makes for a nice rooftop hangout space, as well as an unblocked view towards Sentosa.

5

Hertford Collection
$1,998,000
| | |
| --- | --- |
| Address: | 40 Hertford Road 219408 |
| Tenure: | Freehold |
| Size: | 1,347 sqft |
| $PSF: | $1,483.30 PSF |
| Developer: | Chelsford Green Pte Ltd |
| TOP: | 2013 |
Why I like it
The Hertford Collection is set within a cluster of small developments that is walking distance to KK Women's and Children's Hospital. You are also about a 10-minute walk to Farrer Park MRT and City Square Mall. It's not as convenient, but you are definitely in a less busy spot as well. On the other hand, you are within 1km to ACS Junior, SJI Junior, and St Margaret's Primary.

This is a freehold boutique development with just 25 units. The unit itself is a spacious single storey 2 bedroom plus study at 1,347 sq ft – with both bedrooms able to fit double beds.

The open concept kitchen does make the space feel bigger, but you do also have the possibility to enclose it. The private pool itself does stretch across the unit, so you do have a view of it from the master bedroom as well. For those who dislike climbing the stairs, this would be a good option.

And although it is on a lower floor, the houses opposite are also low rise so you don't have buildings towering over you.

– Sean