Units Of The Week

5 Beautifully Designed HDB Units That Are Ready To Move In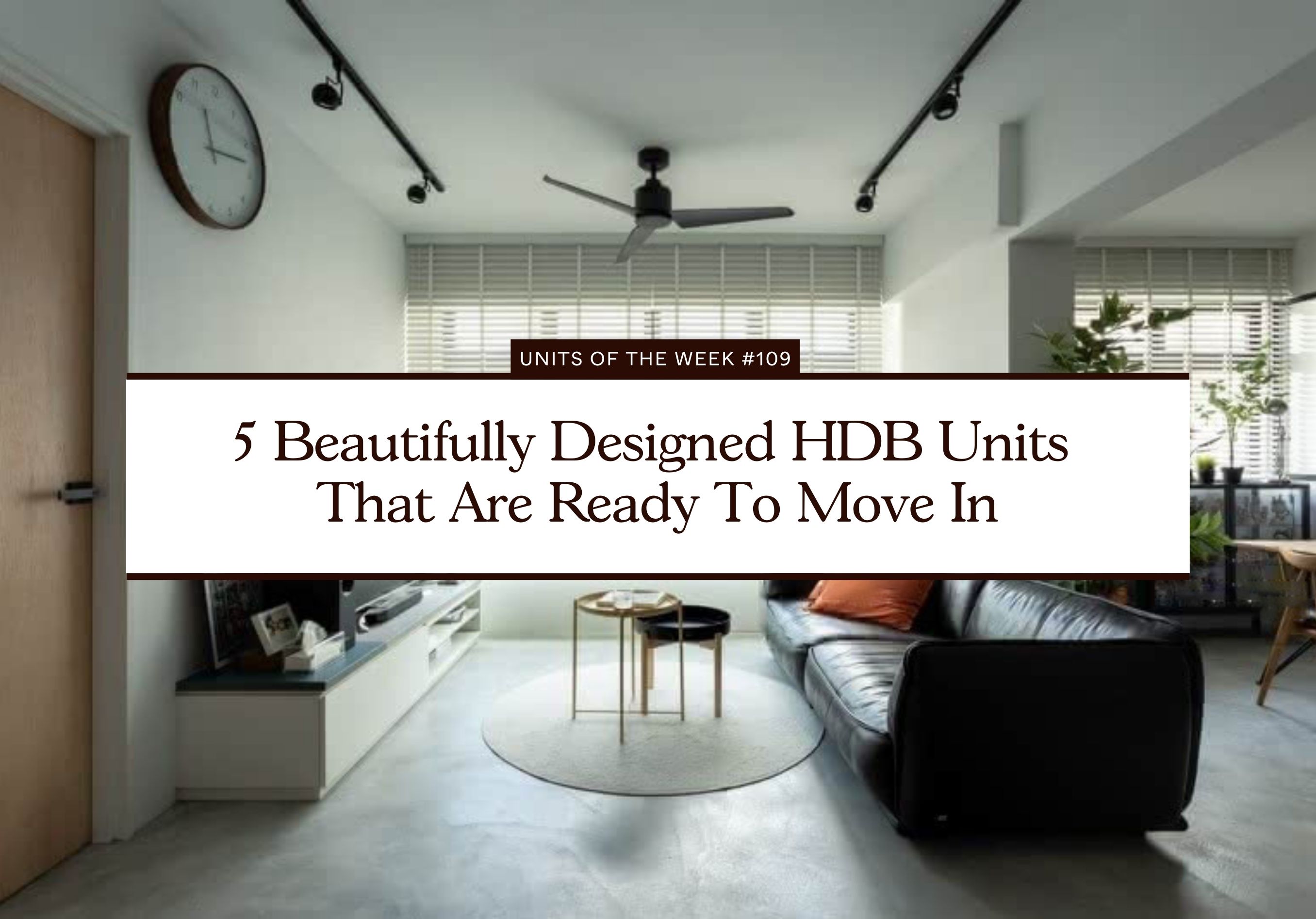 With the recent news of a $1.39 million Pinnacle @ Duxton unit that was sold, it was inevitable that resale HDB's would be in the news again. Prices have risen for the 21st straight month, and it's hard to see when the demand is going to subside.
As with the construction costs, units that are ready to move in would still command a premium. As such, we've compiled some of the best-designed HDB units, for those that have a need to move in quickly.
Missed last week? You can view the previous issue here.
You can also join our free weekly newsletter so you stay up to date on our latest curations weekly.
Now let's get on with the list of curated units this week!

1

286A Compassvale Crescent
$600,000
| | |
| --- | --- |
| Address: | 286A Compassvale Crescent |
| Tenure: | 99-year Leasehold |
| Size: | 1,000 sqft |
| $PSF: | $600.00 PSF |
| Developer: | Housing & Development Board (HDB) |
| TOP: | 2016 |
Why I like it
This unit at Compassvale Boardwalk admittedly isn't the closest to walk to an MRT station at about under a 10-minute walk to Sengkang MRT station. That said, it's really only 3 stops away by bus, where other than the MRT station you'll find the Compass One shopping mall as well. You are also close by to Nan Chiau Primary, Springdale Primary, and Compassvale Primary so schools are quite sorted here. Additionally, you are very close to Sengkang Sculpture Park, which is quite a differentiated spot for some greenery and exercise.

The unit itself is a 4-room HDB sized at 1,000 square feet. It's a really nicely decorated one, with the cement screed floor and the black painted walls providing a contrasting look. There's also unique detailing such as the patterned tiling on the kitchen floor, and the lighting fixtures are really cool too.

– Ryan

2

365C Upper Serangoon Road
$750,000
| | |
| --- | --- |
| Address: | 365C Upper Serangoon Road |
| Tenure: | 99-year Leasehold |
| Size: | 990 sqft |
| $PSF: | $757.58 PSF |
| Developer: | Housing & Development Board (HDB) |
| TOP: | 2016 |
Why I like it
For those looking for something new, this HDB unit at Hougang Meadow is a 4-room apartment sized at a compact 990 square feet. It was completed in 2016, and the apartment is beautifully renovated. It is definitely one for those who prefer something on the minimalist side, but it's not a dull one either as you get pops of colour from the colours and materials used in the kitchen.

Right now, the unit is configured to reflect a 2 bedroom instead, so you get a giant master bedroom (which could still be an option for smaller families).

Location wise, it is about 7-minutes walk away from Hougang MRT station. You are also within walking distance to Hougang Mall as well as The Midtown (part of Midtown Residences) – with a number of commercial offerings like a gym, a smattering of food and beauty studio options and the like. Hougang Avenue 5 Park is nearby too and you can walk to the Serangoon Park Connector, that boasts a scenic walk with views over the Sungei Serangoon.

– Druce

3

130A Lorong 1 Toa Payoh
$1,038,000
| | |
| --- | --- |
| Address: | 130A Lorong 1 Toa Payoh |
| Tenure: | 99-year Leasehold |
| Size: | 1,000 sqft |
| $PSF: | $1,038.00 PSF |
| Developer: | Housing & Development Board (HDB) |
| TOP: | 2017 |
Why I like it
There's no doubt that Toa Payoh Crest is in a very enviable location. Aside from the fact that Toa Payoh is very central in itself, this development is close to (about 5 minutes away) Caldecott MRT station on the Thomson East Coast and Circle line. If really need to, you can also walk to Braddell MRT on the North South line – which is a little further away at 7 minutes. Aside from that, you are also nearly next door to CHIJ Primary and Secondary, and along with SJI International.

The unit itself is a 4-room flat that is 1,000 square feet in size. It was completed only in 2017, so you are getting it as new as can be on the resale market. You also get the advantage of being on a high floor, and it is really nicely furnished too – definitely move-in ready at this point.

– Reuben

4

78 Lorong Limau
$888,000
| | |
| --- | --- |
| Address: | 78 Lorong Limau |
| Tenure: | 99-year Leasehold |
| Size: | 1,000 sqft |
| $PSF: | $888.00 PSF |
| Developer: | Housing & Development Board (HDB) |
| TOP: | 2018 |
Why I like it
Whampoa Dew is a very new development located in the Whampoa area (of course), but while the location is definitely central, it isn't really close by to an MRT station as Boon Keng MRT is about 12-minutes walk away. You can walk by the Park Connector at Sungei Whampoa though, for something a little more pleasant. The good thing is the open green space opposite is still considered to be a park under the URA master plan, so even that little bit of openness is great to see as the area is quite dense.

It's a 1,000 square foot 4-room HDB unit. It has quite a luxurious look to it, with swathes of neutral greys and dark wood. Fittings are high end too, and you get the advantage of a ready built smart home system as well.

– Stanley

5

87 Zion Road
$990,000
| | |
| --- | --- |
| Address: | 87 Zion Road |
| Tenure: | 99-year Leasehold |
| Size: | 1,259 sqft |
| $PSF: | $786.34 PSF |
| Developer: | Housing & Development Board (HDB) |
| TOP: | 1974 |
Why I like it
Having been built in 1974, this unit is old, that's for sure. But it's in a very unique location as it is an isolated block at the intersection of Zion Road. This means that you get open views all around, and while that may change in the future according to the master plan, you are still in the clear for now.

It's a convenient location as you are very close to the upcoming Havelock MRT station on the Thomson East coast line, and very near as well to the revamped and very popular Great World City shopping centre. Naturally, this means you can also walk to the Robertson Quay stretch, and the hipster Tiong Bahru is just as close by.

The unit itself is a sizeable 1,259 square feet 5-room HDB. It's well-renovated, and while not in a style that everyone would like, it's not super outlandish either. It certainly does have quite a luxurious look about it, and there's little reno works that would need to be done.

– Sean