Selling
3 Homeowners Share Their Biggest Regrets Selling Their Property At The Wrong Time
Ryan J
April 5, 2023

8

min read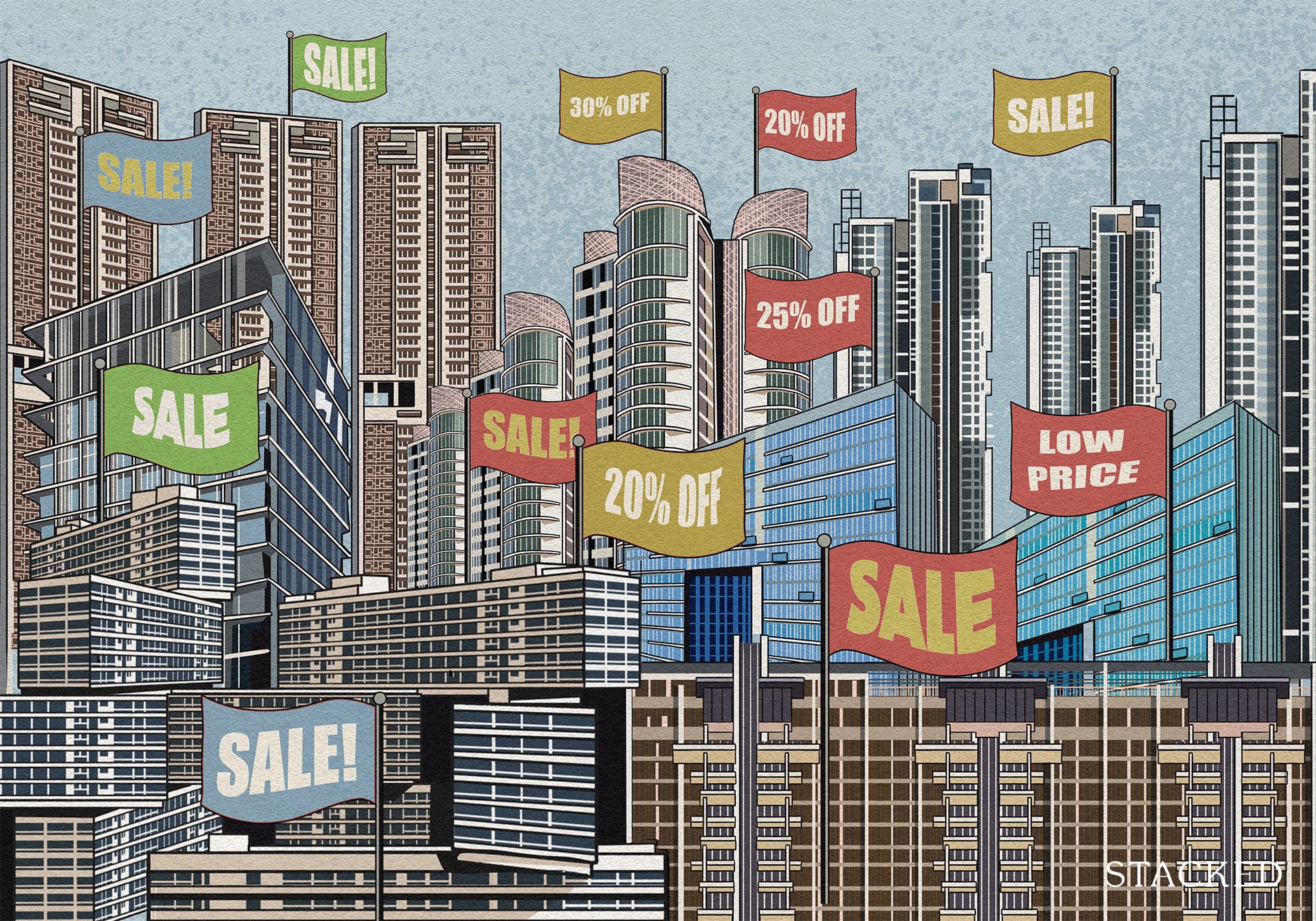 8
min read
The internet is chock full of successful homeowners stories; and with so many realtors advertising sales above valuation, it can paint an overly optimistic picture of the Singapore property market. But while real estate may not be as risky as, say, options trading, that doesn't mean it's risk-free. It's important to also learn from those who've been forced to sell at the wrong time, and the subsequent issues they faced:
1. Selling a one-bedder after the shoebox craze
Reader DK was one of the investors who joined the shoebox craze, which had its heyday sometime in 2012. DK points out that, at the time, ABSD rates were so low that a small second property was still attractive:
"The ABSD was only three per cent*, and for my one-bedder, the ABSD was only about $20,000. This is covered by just half a year of rental, so it seemed like a good opportunity".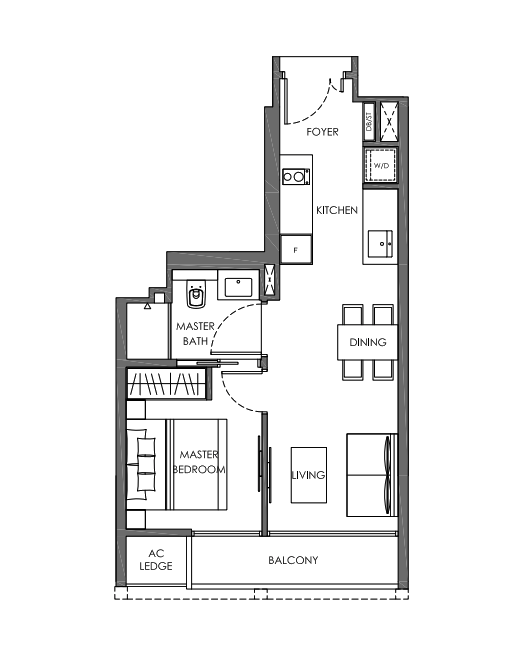 DK bought a resale one-bedder, both for a lower price and so that he could get rental income immediately. Unfortunately, Singapore's rental market softened from 2013 onward.
DK says that when he started renting, rates were just over $4 psf. But by May 2017 when he decided to sell, rates had fallen to $3.35 psf. He had also seen a slew of intensified cooling measures since then, and had finally accepted the measures were permanent** and would keep prices down. He felt compelled to sell.
"But by the time I sold the ABSD rate had risen to 10 per cent, and by then TDSR was also introduced*. The shock factor of these measures was still fresh and recent in market memory."
DK said his realtor did conduct many viewings, and he did get many inquiries; but the potential buyers tended to be singles rather than landlords, as had been the case in the past. He says:
"I think cooling measures and the weak rental had cut short the dreams of investors by that point."
DK soon found the singles demographic to be very price-sensitive. He claims the TDSR* was a major factor, as singles would find it harder to qualify for a home loan (e.g., a single earning $5,000 a month would need to keep total debts at $3,000 a month or under, inclusive of all debts such as car loans, education loans, and so forth).
*The TDSR was actually introduced in 2013 and he refers to the lowered LTV of 80% to 75% instead.
Ultimately, DK sold the unit at $718,000, which was "not far" from the initial buying price. Adding in property taxes and maintenance fees, DK says he just about broke even. Nonetheless, many of DK's friends and family had the wrong idea and often congratulated him on "buying at the right time", when the ABSD and prices were lower.
DK had to explain that, if he did buy at the right time, any benefits had been reversed by selling at the wrong time. "If I had held longer until the market adapted to the TDSR and new ABSD rates," DK believes, "I would have seen a real return. Imagine if I sold it today (2023) instead of 2017."
*To be precise, ABSD rates before 2013 were one per cent of the first $180,000, two per cent on the next $180,000, and three per cent on the remainder.
**When the cooling measures first appeared on the market, they were described as temporary measures to prevent a property bubble. The consensus today is that the measures are likely permanent, as they have only intensified over the years.
2. Starting to sell right before new cooling measures
Reader KT and his partner owned a three-bedder in the Katong area, which they had bought in 2004. In August 2018, the couple decided to sell the unit, as KT would be working in Australia indefinitely. He says:
"As you know, in August 2018, there were new cooling measures and higher ABSD. The painful part is that we'd found a realtor and started marketing our house, exactly three days before the cooling measure."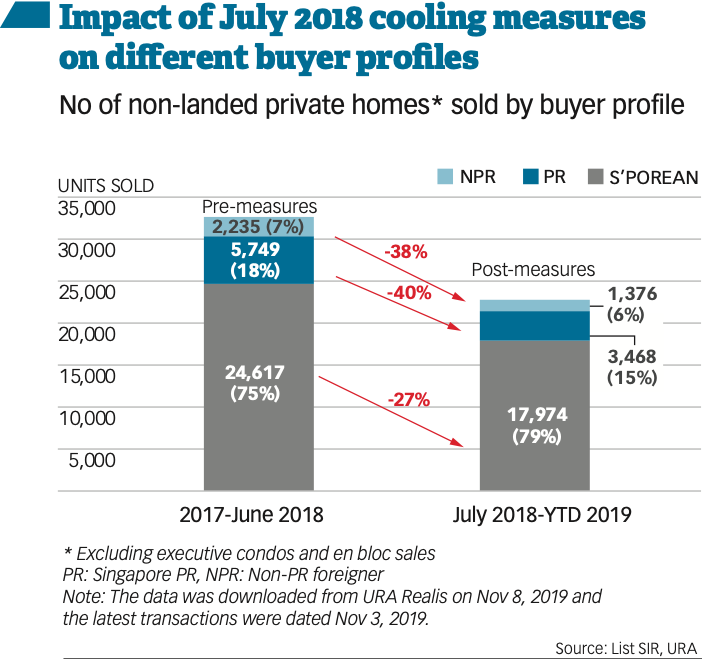 KT says the effect was immediate:
"Before we even sold the house I was quite confident because my ex-boss was interested in buying. I felt sure that he would be a sort of fall-back buyer if we couldn't get a better price. But right after the news, he texted me and said he was unlikely to buy now because of the higher ABSD."
KT's realtor also didn't paint an optimistic picture. The couple was warned that cooling measures had a psychological effect on the market; and regardless of the ABSD amount, buyers would shift to a "wait and see" stance in case prices dropped.
This left KT in a dilemma:
"We either moved first and trusted the realtor to manage the sale while we were abroad, or rushed to sell now and get a lower price. This was quite a stressful time, as we were also looking for a new home abroad."
In the end, KT sold at a "slight loss" which he describes as being less than five per cent below valuation. Even so, he feels he got lucky as – over the next two months – the realtor was only able to secure two serious offers.
KT says the experience shattered his former illusions about the safety of the property market, as "no matter how safe property is, you can still end up being one of the unlucky few who suffers a loss."
3. Selling during the Covid pandemic
No one wants to be a seller during times like the Covid pandemic (at least, at the very beginning when things were most uncertain); but for homeowners like Carol, it wasn't a matter of choice. Carol owned a single-bedder in the Thomson Road area, which was also her first home. But in January 2020, Carol got engaged and decided to sell the unit as it would be too small to raise a family in.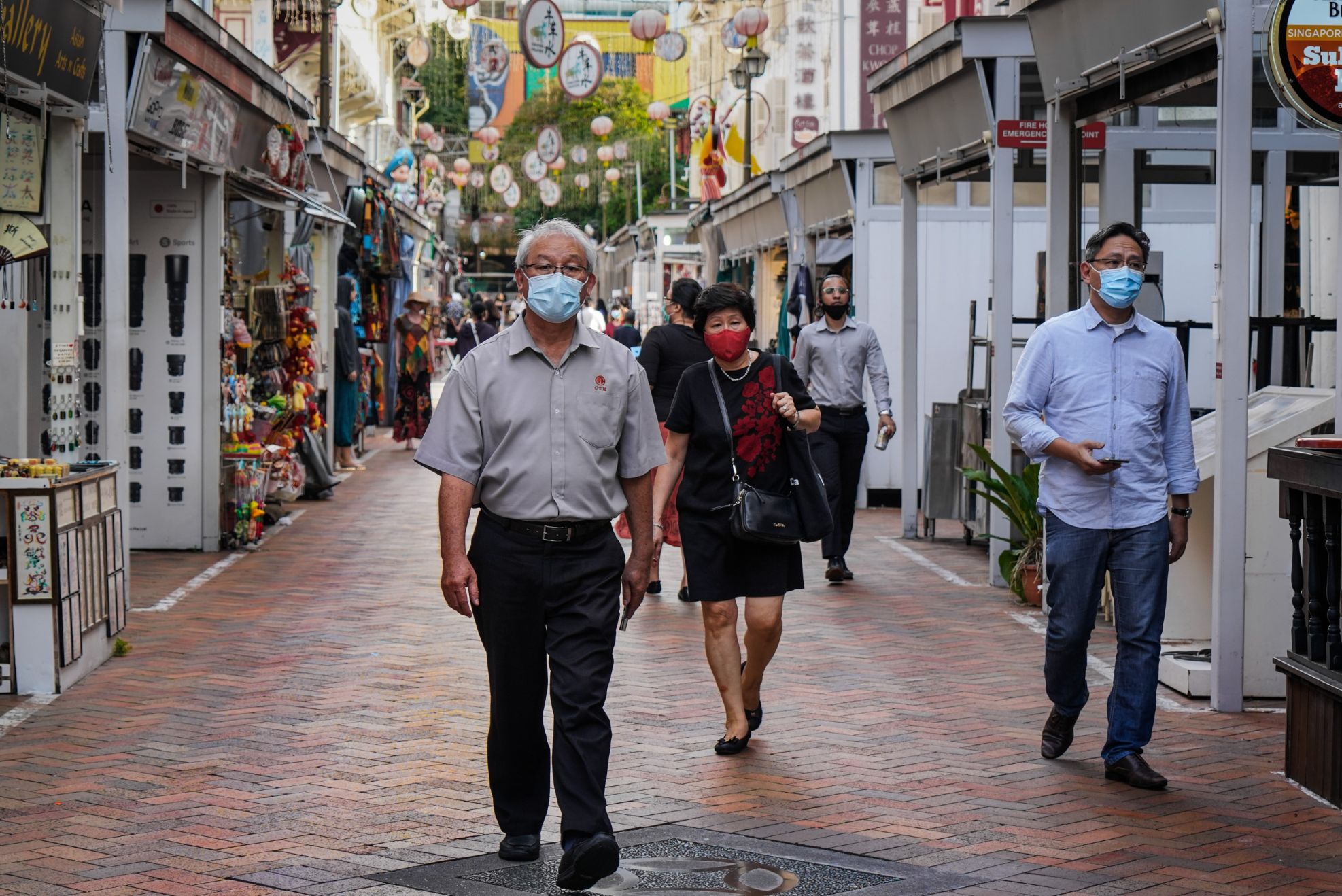 Her timing was unfortunate, as exactly a month after she engaged a realtor, Singapore raised alert levels to DORSCON Orange. Her property still hadn't been sold by April, when the Circuit Breaker kicked in and brought an end to viewings. Carol says:
"I hoped at least after the Circuit Breaker things would go back to normal, but there were restrictions on viewings for a long time afterwards. There was also hesitation because no one was sure where the market was headed."
As such, Carol jumped at the chance to sell, once the first seller has been satisfied with just pictures and a virtual tour. She says this was "around one month after the Circuit Breaker."
In hindsight, Carol says she was anxious and made a mistake. Not only was the buyer's offer on the low end, but she also failed to consider other issues – such as the fact that it was difficult for her to buy a home under pandemic restrictions too.
"In hindsight, I should have waited," Carol says, "As it took just as long to find a new place anyway. Instead, I accepted an offer that was barely at the market valuation, even though I had made renovations just three years before."
The real pain, however, crept in at the tail end of the pandemic. Between 2021 and 2022, property market prices soared to new levels – and had Carol waited just a few months more, she could have tapped into the surging demand for homes.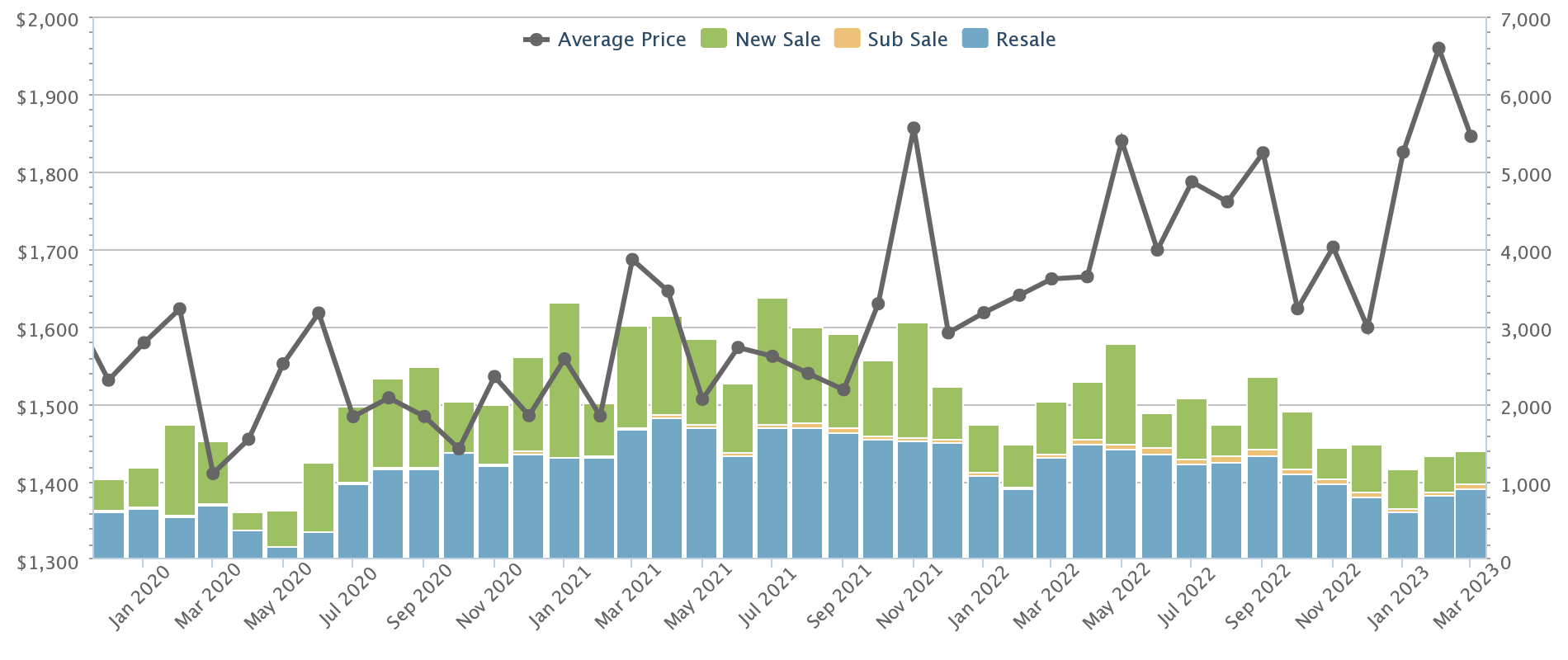 "I regret listening to my friends and relatives," Carol says, "Who told me Covid was going to cause property prices to fall and that I better sell now? The market today is the direct opposite of what they predicted."
One consequence of accepting a lower price is a location much further from her workplace. Carol says that, had she held on, she could have pursued a higher-priced unit and remained in the Thomson area, where she has a job that requires her to be on-site by seven in the morning.
As is, Carol's new home is a resale condo in the Serangoon area. While larger than her previous home (it's a three-bedder), Carol says that her smaller sale proceeds didn't even cover the full down payment.
While there are ways to guess at the odds of resale gains (e.g., looking at profitable versus unprofitable losses, and price history), these stories all boil down to one lesson: that's holding power.
In the end, most losing transactions boil down to urgency: they happen to sellers who, for whatever reason, cannot wait to ride out the down periods, or improbable events such as Covid. It's a good reason to ensure you've got sufficient funds or backup plans, in case of bad timing.
For more homeowner stories and experiences, follow us on Stacked. You can also check out our in-depth reviews of new and resale properties alike, in the Singapore real estate market.