Property Picks
10 Small Freehold Condos With Less Than 150 Units But Still Offer A Tennis Court & Swimming Pool
Ryan J
July 28, 2022

9

min read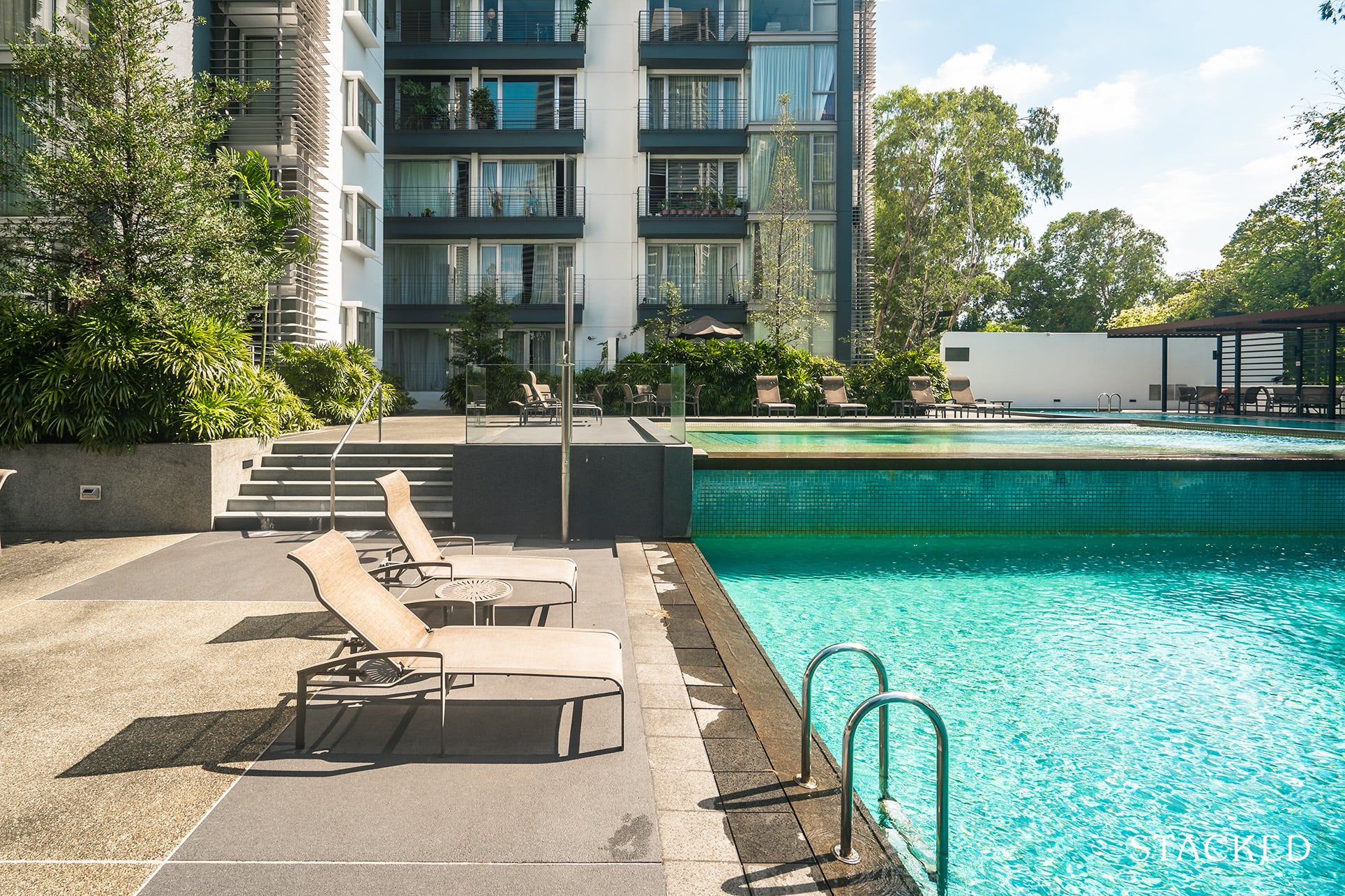 9
min read
Besides a freehold lease, most people justify the premium for a condo because of the facilities on offer. 50m lap pools (or just multiple swimming pools), tennis courts, and gyms are just some of the typical facilities that developers have to build to attract homeowners.
That said, having these many facilities are usually reserved for the bigger developments because of a combination of economies of scale and maintenance costs. But not everyone enjoys such large developments because this can come at the expense of privacy and a more quiet environment. Invariably, with 1,000 units, it's bound to get crowded even on weekdays – just visit a condo like D'Leedon and you'll understand.
As such, some home buyers love small developments, for privacy and exclusivity. Unfortunately, small developments also tend to come with tiny common areas; that can mean a swimming pool that's not quite Olympic-sized, or a lack of tennis courts and landscaped retreats. For those who want the best of both worlds, here are some small freehold projects (under 150 units) that still maintain proper full-sized facilities:
1. Robin Residences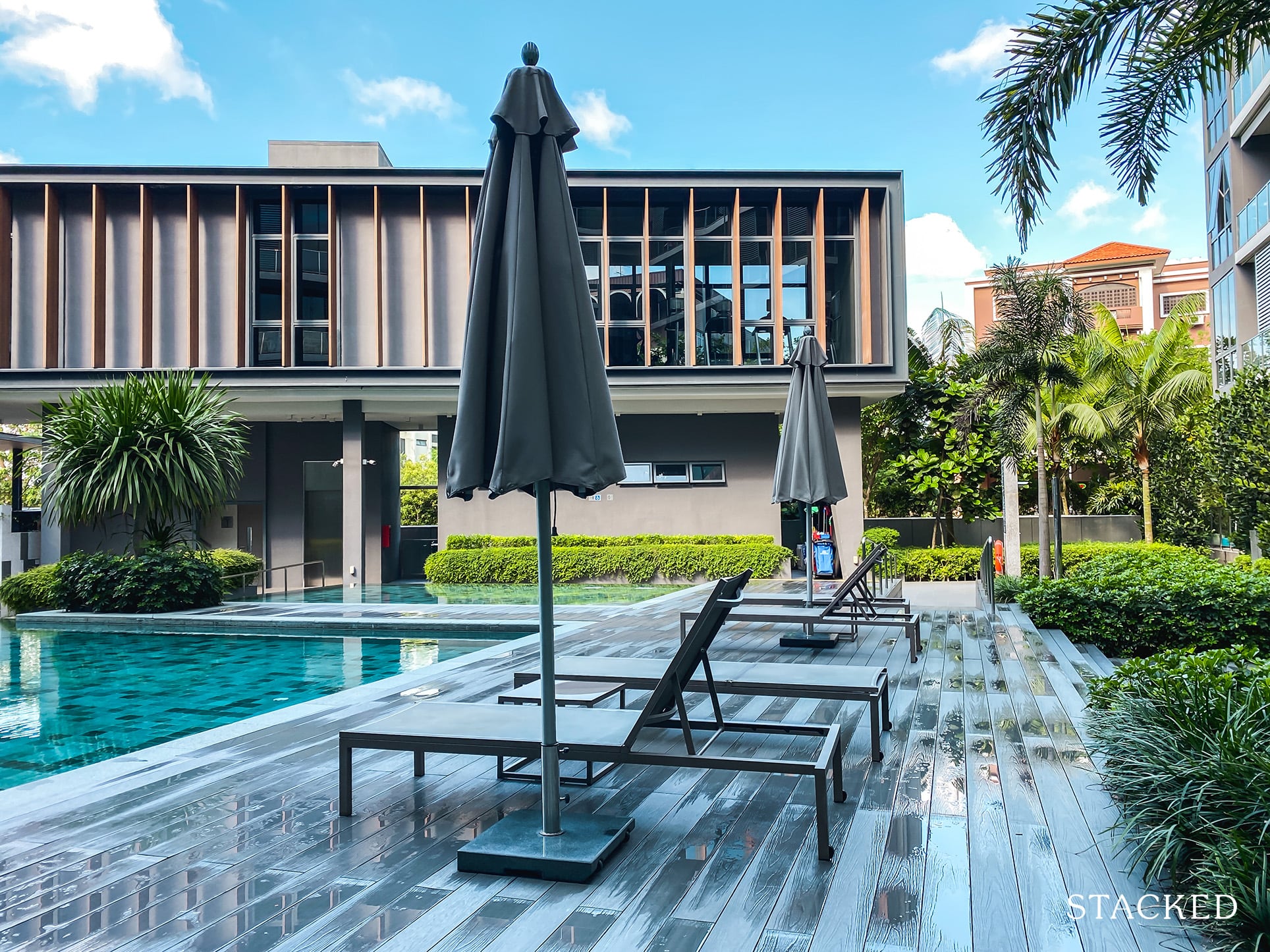 Location: 1 Robin Drive (District 10)
Developer: Sing Holdings (Robin) Pte. Ltd.
TOP: 2015
Lease: Freehold
Number of units: 134
Average PSF: $2,173
Highlights:
Robin Residences is one of the most accessible projects in the Bukit Timah area. It's only four minutes walk to Stevens MRT station, which has access to both the Downtown Line (DTL) and Thomson-East Coast Line (TEL). It is also next door to Alocassia Apartments, which houses a drive-through McDonald's, Subway, and Cold Storage.
Note that Stevens MRT is just one stop away from Newton; so this could be a viable alternative to the abundant slate of Newton-area launches (e.g., Kopar at Newton, Pullman Residences, and so forth).
The other main appeal is you are just directly across from Singapore Chinese Girls School, and Anglo-Chinese School (Primary).
The facilities here are not wide-ranging, but they're top-notch: a full-size pool, tennis court (located on the rooftop), and a clubhouse with a gym are quite rare for developments this small. The outdoor dining area, located on the rooftop, really takes advantage of the Bukit Timah location – it looks out over the neighbourhood's low-density areas (mostly landed enclaves), and abundant greenery. Ground floor units here also have ceiling heights of close to 4 metres (even the bedrooms), so for something a little more spacious you can look out for these.
Given that it has great attributes, it is quite surprising to learn that despite the low unit count, it had to be saved by a bulk purchase deal a few years ago.
2. The Levelz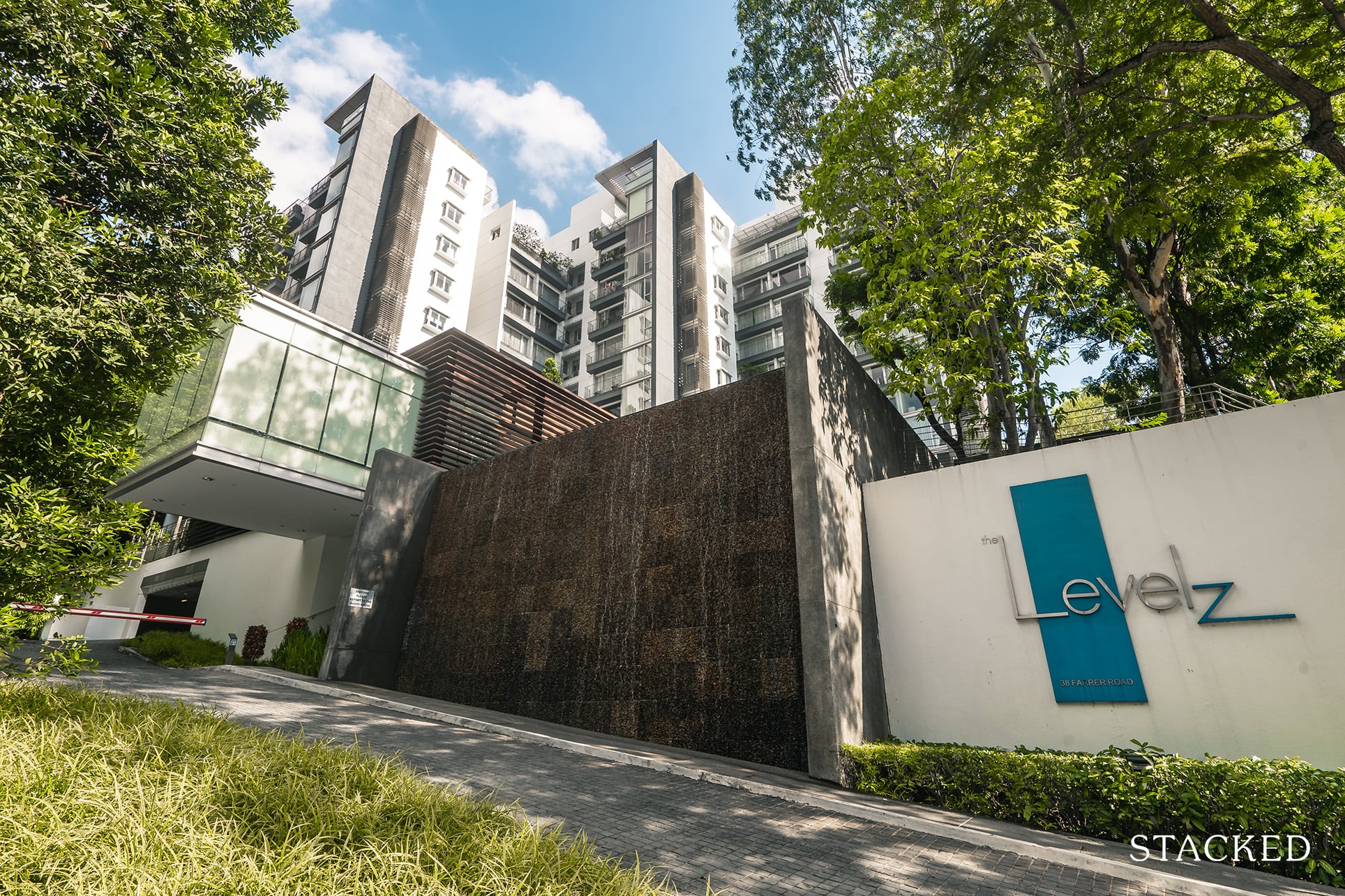 Location: 38 Farrer Road (District 10)
Developer: CapitaLand Residential
TOP: 2004
Lease: Freehold
Number of units: 126
Average PSF: $1,778
Highlights:
The Levelz trades off landscaped areas for more facilities. While there's less room to stroll, this is one of the few small condos that manages to pack in three-swimming pools; and facilities like the gym are sizeable (comparable even with much larger projects). There's even a tennis court which when you consider that Stirling Residences has 10x the units and just one tennis court as well, is a true luxury today. Car park lots are plentiful here as well, as aside from the penthouse units most are the smaller 1 and 2 bedroom units – and there's more tenants here than own stay families.
We also have to say that, given the crazy home prices in 2022, the resale units here have been surprisingly affordable. In March of this year, for example, a 979 sq. ft. unit transacted at just $1.8 million (around $1,838 psf), which is not what you'd expect from an exclusive, District 10 condo.
In terms of accessibility, this is up for debate. Farrer Road MRT (Circle Line) is a rather long 11-minute walk, and not everyone would consider that convenient. Nonetheless, once you do get there, you're only one train stop from Holland V and its food and nightlife.
If you feel that condos such as D'Leedon (1,715 units) have a good location but are too large for your taste, do view The Levelz. It's across the road, and provides a higher degree of privacy. That said, this condo is not for those who prioritise a more tranquil environment. The swimming pools face the main Farrer Road, and is one of those areas that is constantly busy and noisy. You could look for units that face the back of the development which are quieter, but the main facility area will always be a more noisy environment.
Read this next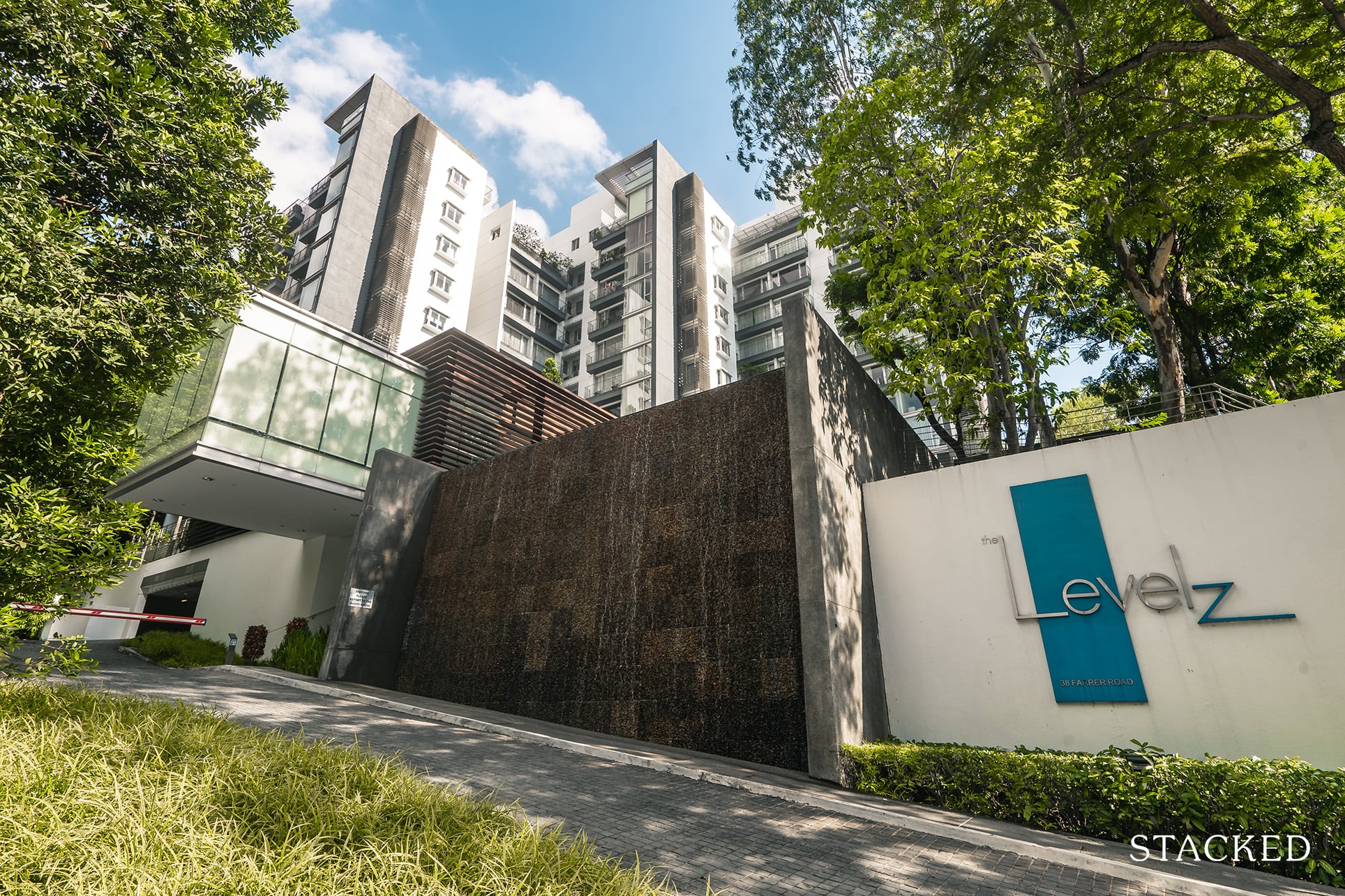 3. Island View
Location: 38A Jalan Mat Jambol (District 5)
Developer: Island Homes Development
TOP: 1984
Lease: Freehold
Number of units: 72
Average PSF: $1,455
Highlights:
This is a boutique development for buyers who prize living space above all. Island View is an 80s style condo, where units are gigantic (by today's standards), are double-storey, and have wide terrace-style balconies. The typical unit sizes here around 3,500 sq. ft., which is almost impossible to find among newer condos.
The facilities are lavish given the small unit count; but some home buyers may consider the Squash court a waste (unless, of course, you happen to be one of the rare people actually fit enough to play Squash).
Despite its age, Island View is coming back on the radar. Besides the abundantly huge units, Pasir Panjang MRT (Circle Line) has made the condo much more accessible. This is just a six-minute walk away.
Buyers here are probably banking on an en-bloc sale in the future. There are quite a few recent transactions in the past few years which would make a en-bloc deal right now hard to come by. But for those who buy for an en bloc in mind, this condo has a small number of owners, coupled with advanced age, freehold status, and now an MRT station nearby.
4. Amber Point
Location: 1 Amber Road (District 15)
Developer: Vermilio Investment Pte. Ltd.
TOP: 1991
Lease: Freehold
Number of units: 100
Average PSF: $1,696
Highlights:
The Amber Road area is jam-packed with one condo after another, and tenants (this is an expat area) are quite aggressive in making comparisons. Amber Point is one of many boutique developments in the area, with some – such as The Aristo @ Amber and Amber Gardens – having even fewer than 50 units.
As such, Amber Point having full-sized facilities like a swimming pool and tennis court could be an important differentiator (although some may consider the Squash courts less relevant).
At $1,696 psf, Amber Point may also interest those who are scouting out new condos like Nyon and the redeveloped Amber Park. The sizeable units here (around 1,699 sq. ft.) are at a quantum of around $2.8 million. By contrast, similar-sized units in Nyon and Amber Park are likely to be at the $3.5 million mark.
If you don't mind an older condo, the location of Amber Point is virtually as good as these newer alternatives. Investors, however, need to beware of the oversaturation of boutique condos in this area.
Tanjong Katong MRT station (TEL line), incidentally, will just be located right outside from this condo once it's up next year.
5. Marine View Mansions
Location: 97 Marine Parade (District 15)
Developer: –
TOP: 1988
Lease: Freehold
Number of units: 30
Average PSF: $1,587
Highlights:
Marine View Mansions offers incredible location, size, and price for a Marine Parade area condo… if you can get past the dated façade.
Unfortunately for Marine View Mansions, the newer developments like Marine Blue next to it really show its age through contrast – this condo screams 1980s architecture, thanks to the curved balconies. But if you can put that aside, consider that these units are across the road from Parkway Parade Mall and the future Marine Parade MRT (TEL Line) which makes it incredibly convenient.
Not only is Parkway Parade the main mall of the area, but it's also surrounded by a hawker centre, HDB neighbourhood shops, and Parkway Centre (more or less an entire building dedicated to tuition and enrichment). Besides the convenience, just 30 units with a swimming pool and a tennis court is really a luxury for the owners here.
The only drawbacks would be the oversaturation of boutique condos in the Marine Parade area, the proximity to the road (avoid lower floor units), and the ageing façade.
6. Meyer Park
Location: 81 Meyer Road (District 15)
Developer: Capital Realty Pte. Ltd.
TOP: 1985
Lease: Freehold
Number of units: 60
Average PSF: Not available (drop us a note and we'll look for you)
Highlights:
With the recent launch of luxury condos like Meyer Mansion, it's inevitable that buyers would start scouting nearby alternatives. One of these nearby condos, dating back to the '80s, is Meyer Park.
At a mere 60 units, this project provides the same level of exclusivity you can expect from newer launches like Meyer House, Meyer Mansion, etc. And like many condos from its era, it features full-sized facilities despite the low unit count.
Meyer Park is only an eight-minute walk to Katong Park, the site of a future MRT station on the Thomson-East Coast Line. A little further down, towards Tanjong Rhu Road, is the venerable Singapore Swimming Club (club members who are considering Waterside may want to look at Meyer Park, as a quieter and more private option).
As with many exclusive areas like Meyer Road, however, the inherent drawback is a lack of across-the-road amenities. There's little in the way of retail or food nearby, and you'll have to drive out to the Katong area (about five minutes drive).
At this point it is up for collective sale at $420 million, so it remains to be seen if you can even purchase a unit here in the future.
A note on Hawaii Tower and The Sovereign
Hawaii Tower and The Sovereign are both close alternatives to Meyer Park; this cluster of condos are all located along the same stretch toward Katong Park. Like Meyer Park, these are small condos that offer full-sized facilities.
The key difference is Meyer Park is the absolute smallest in unit count (60 units), whereas Hawaii Tower has 135 units, and The Sovereign has 87 units. Age-wise, all of the condos were built in the '80s, and are freehold.
As such, these three developments are close alternatives; and it will likely come down to comparing individual unit layouts.
7. Avalon
Location: 23 Anderson Road (District 10)
Developer: Leonie Court Pte. Ltd.
TOP: 1999
Lease: Freehold
Number of units: 82
Average PSF: $2,010
Highlights:
Usually, we'd expect a large hotel appearing nearby to be a dis-amenity; but the construction of Novotel on Stevens seems to have had no effect. According to some long-time residents we spoke to, there has been no noticeable increase in noise or traffic. It does have the upside of some restaurants that you can walk just across the road to. These aren't budget options by any means (The Gyu Bar, In Piazza, and Winestone, just to name a few), but it's nice to be able to get to dinner so quickly on a Sunday night.
As you'd expect from an Anderson Road condo, Avalon is not the cheapest option – but this has to be viewed in context. A 1,765 sq. ft. unit recently transacted for around $3.39 million; which is pretty decent for a freehold condo, that's a mere six-minute drive to the heart of Orchard Road.
The biggest draw for families, however, will be school access – Singapore Chinese Girls' School is within the one-kilometre Home School Distance (HSD).
Some of the downsides here include the road noise that you might get from Stevens Road, and that it isn't within walking distance to an MRT station.
8. Beaverton Court
Location: 45 Mt. Sinai Rise (District 10)
Developer: Beaverton Properties Pte. Ltd.
TOP: 1984
Lease: Freehold
Number of units: 54
Average PSF: $1,651
Highlights:
Beaverton Court is rather isolated; and coupled with its low unit count, this is an ideal project for those averse to crowds. The key feature here, like Island View above, is unit size. This is a typical '80s style condo, featuring units that are in excess of 3,100 sq. ft, which are usually double-storey. With a swimming pool and tennis court for just 54 units, you can be sure that you won't see too many people using them on the weekends.
The second point of interest is the proximity of nearby schools. The School of Science and Technology, and Henry Park Primary, are both within the one-kilometre HSD. Singapore Polytechnic can be under a five-minute drive – and some might consider it possible to walk (it's around 12 minutes).
Singapore Polytechnic is also located in the same area as the Dover MRT station (East-West Line), so while it's quite a nice walk along the Ulu Pandan park connector, the distance also means that it can be prohibitive if you had to walk daily.
That being said, Beaverton Court is best for home buyers who drive. The walk to the MRT station; and also that the area is quite limited in terms of amenities (although we're told some residents walk around 10 minutes to Pandan Valley condo, where they use some of that project's shops and services).
It is currently in a quiet spot along Mount Sinai Rise, and just across is a forested area. But do take note that this will change in the future as this is marked as a residential zone in the URA Master Plan.
Other condos you can consider:
The following are smaller condos that also have full-size facilities:
| | | | | | | | | | | | |
| --- | --- | --- | --- | --- | --- | --- | --- | --- | --- | --- | --- |
| Project | Units | Tenure | 6 Months $PSF | No. of Gains | Average Gains (Total) | Average Gains (%) | No. of Loss | Average Loss (Total) | Average Loss (%) | Total Transactions | % Profitable Transactions |
| Robin Residences | 134 | Freehold | $2,173 | 2 | $84,000 | 7.30% | 1 | -$20,000 | -1.00% | 3 | 67% |
| The Levelz | 126 | Freehold | $1,778 | 10 | $108,000 | 7.20% | 4 | -$55,300 | -2.80% | 14 | 71% |
| Gallop Gables | 102 | Freehold | No Data | 2 | $557,500 | 15.80% | 2 | -$137,250 | -5.40% | 4 | 50% |
| Island View | 72 | Freehold | $1,455 | 4 | $382,500 | 10.50% | 0 | $0 | 0.00% | 4 | 100% |
| King's Mansion | 72 | Freehold | $1,871 | No Data | No Data | No Data | No Data | No Data | No Data | No Data | No Data |
| Amber Point | 100 | Freehold | $1,696 | 1 | $650,000 | 30.20% | 1 | -$50,000 | -2.30% | 2 | 50% |
| Marine View Mansions | 30 | Freehold | $1,587 | 1 | $360,000 | 11.80% | 0 | $0 | 0.00% | 1 | 100% |
| Arthur Mansions | 41 | Freehold | No Data | No Data | No Data | No Data | No Data | No Data | No Data | No Data | No Data |
| Hawaii Tower | 135 | Freehold | No Data | 5 | $379,400 | 13.50% | 2 | -$50,556 | -1.90% | 7 | 71% |
| Meyer Park | 60 | Freehold | No Data | No Data | No Data | No Data | No Data | No Data | No Data | No Data | No Data |
| The Sovereign | 87 | Freehold | No Data | 1 | $700,000 | 16.30% | 0 | $0 | 0.00% | 1 | 100% |
| Avalon | 82 | Freehold | $2,010 | 4 | $475,000 | 18.90% | 0 | $0 | 0.00% | 4 | 100% |
| Beaverton Court | 54 | Freehold | $1,651 | 3 | $560,000 | 13.10% | 0 | $0 | 0.00% | 3 | 100% |
| Hillview 128 | 90 | 999 yrs from 12/10/1885 | $1,087 | 6 | $98,667 | 10.50% | 0 | $0 | 0.00% | 6 | 100% |
Source: URA
For more on the Singapore private property market, follow us on Stacked. We'll also provide you with in-depth reviews of new and resale properties alike.