Property Picks
10 Bigger-Sized Condos With Less Units For Lower Density Living (400,000 Sqft And Up)
Ryan J
March 2, 2022

12

min read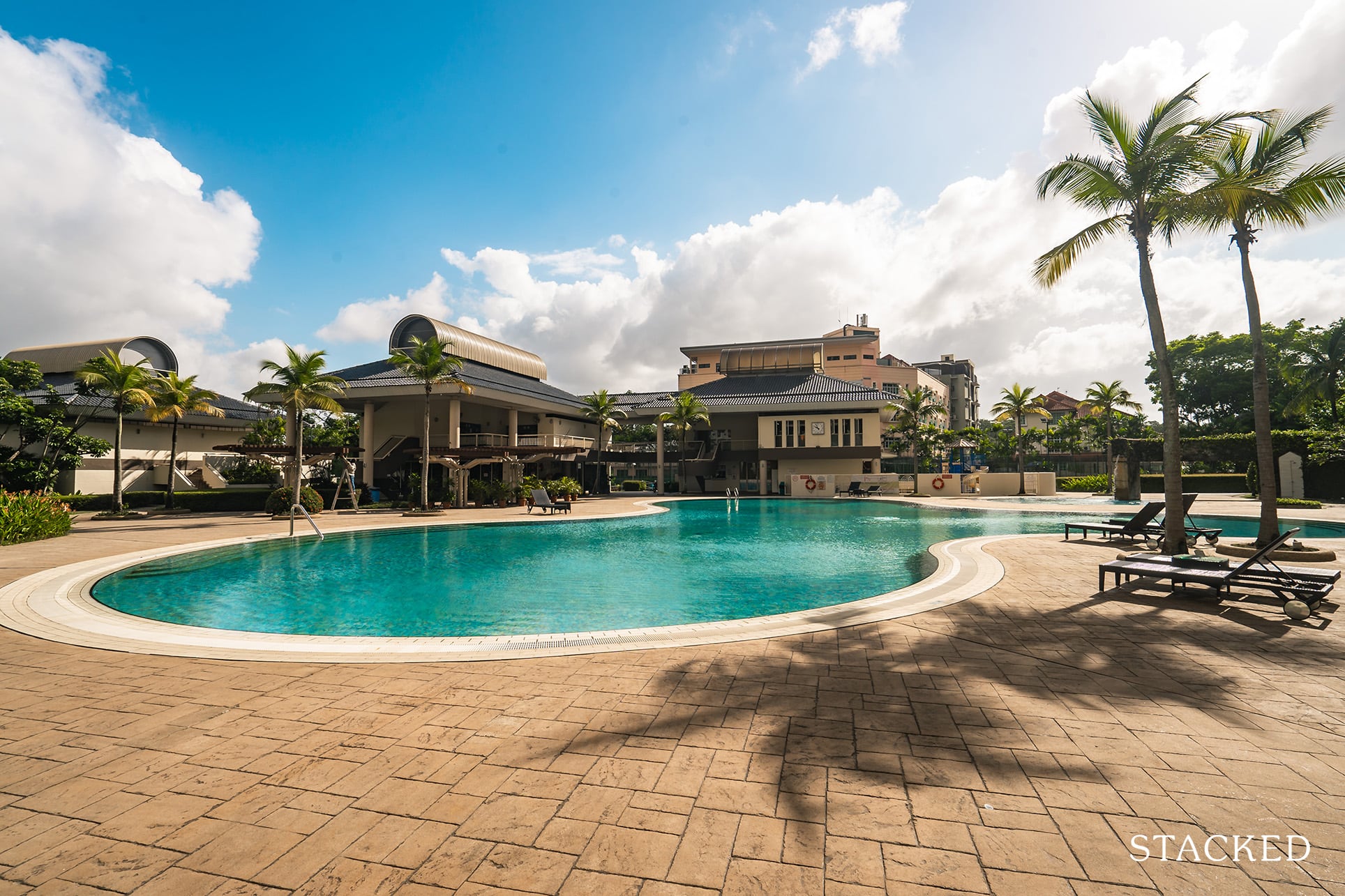 12
min read
In land-starved Singapore, having a home with a big estate can really be a major selling point. And while it isn't universally true, a condo with a bigger land area often means more facilities or better spacing between blocks.
So although we've covered mega-developments before (800,000 square feet and up), there are some that may feel these are too big for their tastes. There can be problems that come with the added size too, such as a long 10-minute walk just to walk out of the estate to get to the bus stop. Or if you visit the clubhouse daily and stay at the end of the estate, the extended walk each day may just get tedious after a while.
As such, for those buyers who want a big development for more the feeling of spaciousness, but are hesitant of something that is way too huge, here's a selection of large developments of land sizes between 400,000 to 600,000 square feet to consider:
1. Lagoon View
Land size: 535,127 square feet
Location: 5000J Marine Parade Road (District 15)
Developer: Not on record
Lease: 99-year lease
TOP: 1977
Number of units: 480
Last seen prices (psf):
| | | |
| --- | --- | --- |
| Lowest | Median | Highest |
| $1,081 | $1,113 | $1,154 |
Notable highlights:
Lagoon View is a truly old-school condo, with 70's era sizes. It's also incredibly simple to compare, there's only one unit type and size, which is a 3 bedroom 3 bathroom unit of size 1,647 sq. ft. It also offers an unimpeded sea view, being right on the edge of East Coast Beach. 
(In its prime, Lagoon View was quite famous for having one of the best views in Singapore).
It should be no surprise then, that the main amenity is access to the beach (the condo overlooks the East Coast Lagoon Food Village). Lagoon View is also likely to benefit from upgrades in the neighbouring Bayshore area, which is around a four-minute drive from this condo. This will add a lot of retail stores and diners, which are short in the immediate vicinity.
Plus, the upcoming Siglap MRT station on the Thomson East Coast line will certainly add a ton more convenience to the area. It is nearly right outside the estate (Laguna Park is slightly better placed), so you will have better connectivity in the future.
The downside, however, is a lack of facilities. There's no swimming pool to speak of (although the sea is just across, it's not quite the same thing!). There are tennis courts, however, which could be a fair tradeoff for some.
The other major issue would be lease decay: this condo is already 45 years old. While it's immaculately well maintained for its age, we don't see many investors being enthusiastic about this (its large size also makes an en-bloc attempt more difficult).
One final point – you don't have sheltered parking here, neither do you have shelter to the block. In Singapore's unpredictable rainy weather, this could be a real bummer if you are looking for affordable sea views.
2. Elias Green
Land size: 516,872 square feet
Location: 1 Elias Green (District 18)
Developer: Elias Developer Pte Ltd
Lease: 99-year lease
TOP: 1994
Number of units: 419
Last seen prices (psf):
| | | |
| --- | --- | --- |
| Lowest | Median | Highest |
| $779 | $792 | $813 |
Notable highlights:
This is one of the most affordable condos right now if you need a big home. At a median price of $792 psf, you'll be able to find units at 1,500+ sq. ft. still transacting at around $1.2 million. It also offers a somewhat similar size category to Lagoon View, with unit sizes here ranging from 1,367 to 1,668 sq. ft.
To be blunt, Elias Green is not in the most exciting or accessible location. The closest MRT station (Pasir Ris) is about a 20-minute walk, and the lack of nearby retail can be a challenge. Elias Mall is the closest point of convenience at a four-minute drive, but it's not the closest if you want to walk. 
If you pick this condo, do it for the spaciousness, and the fact that it has a surprisingly high degree of privacy for such a large project (only 419 units despite the massive land size).
We would avoid picking a block facing the TPE however, as you do get a bit more road noise from that direction.
3. Savannah Condopark
Land size: 590,637 square feet
Location: 31 Simei Rise (District 18)
Developer: CDL
Lease: 99-year lease
TOP: 2005
Number of units: 648
Last seen prices (psf):
| | | |
| --- | --- | --- |
| Lowest | Median | Highest |
| $829 | $904 | $978 |
Notable highlights:
Savannah Condopark is still thematically one of the most interesting condos in Singapore, and we wish developers still made bold experiments like this. As the name implies, Savannah Condopark has a savannah theme, replete with animal statues, and a simulated waterfall in the pool area. It's pretty feature-packed too, with a bowling alley and karaoke room.
It's a lot of fun and has a resort-like vibe that you don't see in most of the cookie-cutter projects these days.
That said, Savannah Condopark is sadly not great for convenience. Upper Changi MRT station on the Downtown line is more than a 20-minutes walk away, and you're going to have to drive/take the bus even for your day-to-day amenities (although there supposedly is a shuttle bus).
The closest point of convenience is Eastpoint Mall, and that's about a seven-minute drive away.
We do see it having more appeal, however, if you work in the Changi area. It's only about an 11-minute drive to Changi Business City, and just under a 10-minute drive to Changi Airport.
4. Faber Garden Condominium
Land size: 544,632 square feet
Location: 2 Angklong Lane (District 20)
Developer: UOL
Lease: Freehold
TOP: 1984
Number of units: 233
Last seen prices (psf):
| | | |
| --- | --- | --- |
| Lowest | Median | Highest |
| $1,122 | $1,122 | $1,122 |
*last transaction in March 2021
Notable highlights:
Faber Garden Condominium doesn't have the most attractive façade, and more than one buyer has frowned and asked why it looks like an HDB block.
But that's just the '80s aesthetic at play – this condo has reasonably good facilities on the inside and massive units. With just 233 homes in such a large area, it's possible to find units that range from 1,500 to 2,800+ sq. ft. As such, if you are looking for the best land ratio to units, the Faber Garden condo represents the best bang for your buck on this list.
This has the effect of driving up the overall quantum, and some buyers may baulk at forking out over $2.2 million for a condo built in the mid-80s. However, the significant size, coupled with freehold status, may suffice to compensate.
As an added bonus, Faber Garden has MRT access, as Bright Hill MRT on the Thomson East Coast Line (TEL) is right outside. For those concerned about primary schools, the ever-popular Ai Tong Primary is located within the treasured 1km radius.
This does give it some good upside potential despite its age; if only buyers can see past the ageing façade, and swallow the high quantum from the sheer unit sizes. There may be some that will be targeting this for an en-bloc in the future, although the last time it tried was in 2018 at a price of $1.18 billion.
5. Parc Palais
Land size: 523,642 square feet
Location: 47 Hume Avenue (District 21)
Developer: CDL
Lease: Freehold
TOP: 1999
Number of units: 517
Last seen prices (psf):
| | | |
| --- | --- | --- |
| Lowest | Median | Highest |
| $1,279 | $1,395 | $1,548 |
Notable highlights:
Parc Palais is tough to categorise. On the one hand, it's near the Rail Mall and Hill V2, which are only a three to five-minute drive. On the other hand, MRT access (Hume MRT will only be in operation in 2025) is close but not quite convenient, requiring an 11-minute walk. Walking to the MRT station will be an easier task as it is downhill, but a lot more difficult walking back, as it will be uphill instead.
And while Parc Palais has blocks that will give a nice view of surrounding greenery, some of them also have a view blocked by Summerhill across the road (in the facing of Hume Avenue). 
This puts in the "good, but don't know if it's good enough" category when weighed against other Bukit Timah condos.
The price is not what we'd call cheap for the average buyer; you'll probably see a quantum of about $1.8 million for a 1,200+ sq. ft. unit. Whether that's fair depends on how much you value freehold status.
Also, there are many comparable alternatives nearby, like Summerhill and Symphony Heights; and we can't really give a strong edge to any of the three. View all three if you can, and see which one resonates with you. 
6. Lakepoint Condominium
Land size: 562,285 square feet
Location: 2 Lakepoint Drive (District 22)
Developer: JTC
Lease: 99-years
TOP: 1983
Number of units: 304
Last seen prices (psf):
| | | |
| --- | --- | --- |
| Lowest | Median | Highest |
| $658 | $658 | $658 |
Notable highlights:
Set aside the ageing '80's style façade, and you'll see Lakepoint Condo is one of the best deals in District 22.
This condo is just around a five-minute walk (from the back entrance) to Lakeside MRT on the East-West Line (EWL), and you can stroll into Chinese Garden in around 10 minutes (or bike there in four minutes). This is both convenient and provides a nice amount of green space for families. The best part is the walk to the MRT station is sheltered all the way (although it starts only from the outside of the development).
Lakeside Primary and Yuan Ching schools are both within walking distance, at six and nine minutes respectively.
Coupled with the nice unit sizes (units of about 1,880+ sq. ft. still transact at around $1.24 million), this is a solid choice for families. Units can also be truly massive, reaching up to over 3,200 sq. ft., but even these manage to transact at just around $2 million.
There are, unfortunately, few significant retail or dining amenities across the road; but you are getting the green space and MRT station as a trade-off.
If you are considering a unit, do note that Lakepoint condo did attempt a collective sale at $640 million, but given offers were below the reserve price, it is currently in a "private treaty negotiation process".
7. Bullion Park
Land size: 515,171 square feet
Location: 160 Lentor Loop (District 26)
Developer: Far East
Lease: Freehold
TOP: 1993
Number of units: 472
Last seen prices (psf):
| | | |
| --- | --- | --- |
| Lowest | Median | Highest |
| $1,237 | $1,331 | $1,472 |
Notable highlights:
Please see our detailed review of Bullion Park for more details.
Read this next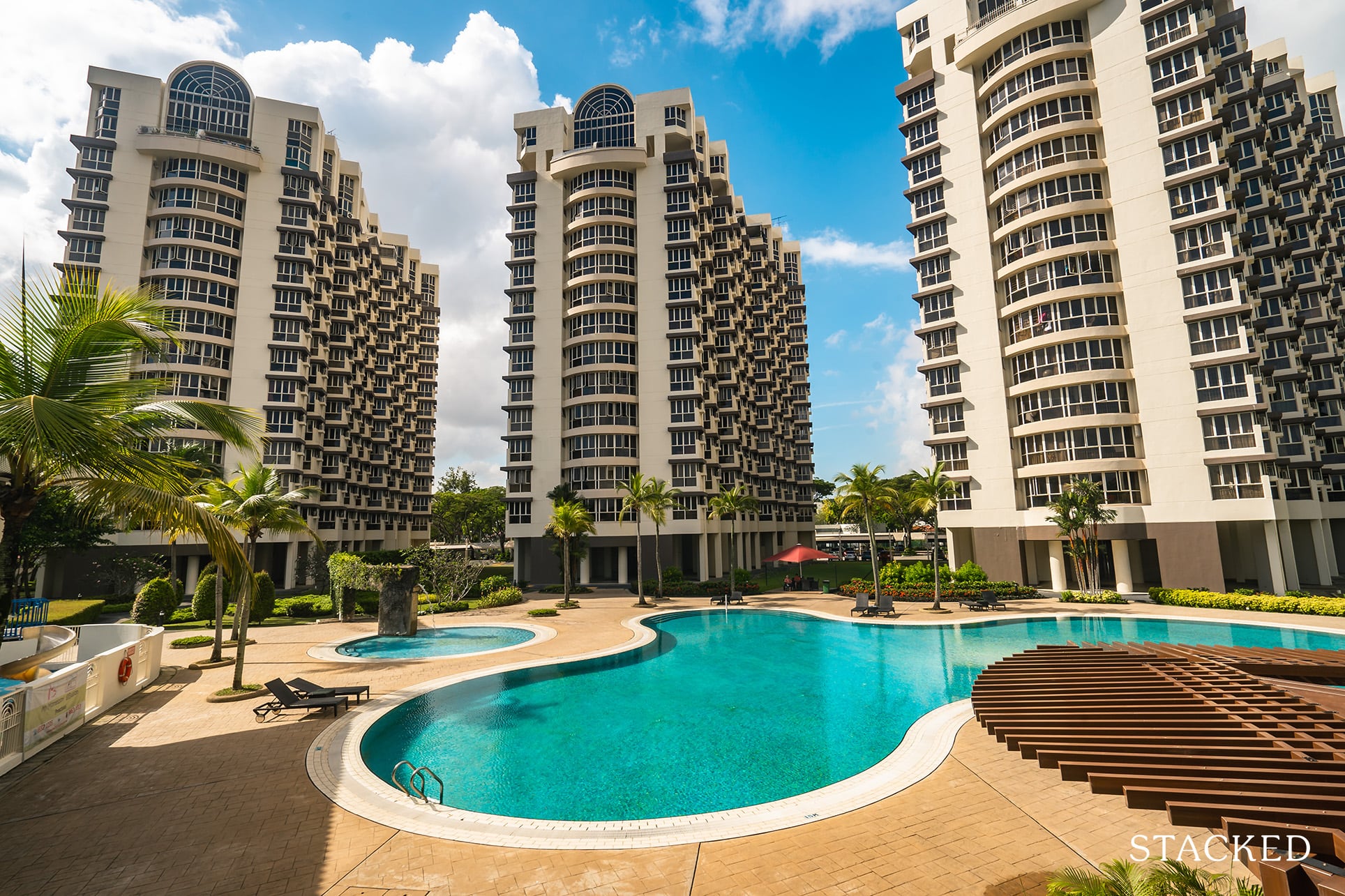 In quick summary, Bullion Park is a trade-off: you get space and privacy at a very reasonable price. However, the location is a bit far-flung and quite inaccessible by public transport. You can walk through the landed estate to get to Lentor MRT station, which is about an 11-minute walk.
The key appeal is the combination of price, size, and freehold status – units here transact at just above $1.6 million and are a spacious 1,230+ sq. ft. Overall, this condo is good for larger families who need the space, and who don't mind having to drive or use PHVs.
8. Grande Vista
Land size: 608,709 square feet
Location: 2 Cactus Drive (District 28)
Developer: Teo Soo Huan Pte Ltd
Lease: 999-years
TOP: 1992
Number of units: 292
Last seen prices (psf):
| | | |
| --- | --- | --- |
| Lowest | Median | Highest |
| $949 | $1,148 | $1,268 |
Notable highlights:
Grande Vista is fantastic for homebuyers who value low-density housing. It's situated at the end of the road in a predominantly landed enclave; and with a small unit count of 292, it offers a high degree of privacy.
Like most properties in low-density areas, you gain privacy at the expense of some conveniences. There aren't any MRT stations within walking distance (although there is a shuttle bus provided), or any major malls nearby; but frankly, homebuyers who want the exclusivity of a landed area probably don't want the noise and traffic these attract.
(There's also a nearby family mart that, while not huge, can provide most basic groceries).
We'd also point out that, on the opposite side of Ang Mo Kio Street 66, you'll find a hub for ST Engineering and companies like 3M. This may appeal to home buyers who work in the area.
For the number of units too, families will be happy with the number of facilities. There are two tennis courts, a squash court, and a basketball court as well.
9. Corals at Keppel Bay
Land size: 417,962 square feet
Location: 1 Keppel Bay Drive (District 4)
Developer: Keppel Bay Pte Ltd
Lease: 99-years
TOP: 2016
Number of units: 366
Last seen prices (psf):
| | | |
| --- | --- | --- |
| Lowest | Median | Highest |
| $2,222 | $2,458 | $2,593 |
Notable highlights:
For homebuyers looking at a more upmarket option, Corals at Keppel Bay provides quick access to Sentosa, while still being on the mainland.
The condo is just an eight-minute walk to Harbourfront MRT – a huge convenience since this station is an interchange between the Circle Line (CC) and North-East Line (NEL).
This is, of course, also where you'll find Harbourfront and Vivocity, which are major retail and dining hubs. While this area around Harbourfront can be considered densely packed, this is might be offset by the waterfront view. In terms of open waterfront views, it is arguably the best of the lot.
Corals at Keppel Bay is never going to be competitive in the price category, and doesn't aim to be; this is an indulgence for homeowners. Expect a quantum of around $2.2 million, even for just a 990 sq. ft. unit. There are units that exceed 2,500 sq. ft., at breath-taking transaction amounts of $7 million and up.
10. Botannia
Land size: 430,556 square feet
Location: 29 West Coast Park (District 5)
Developer: CDL / Leonie Court Pte. Ltd.
Lease: 956-years
TOP: 2009
Number of units: 493
Last seen prices (psf):
| | | |
| --- | --- | --- |
| Lowest | Median | Highest |
| $1,312 | $1,408 | $1,507 |
Notable highlights:
Botannia offers very sizeable units for their price point, especially given their virtually freehold status (956-year lease). This is one of the few condos where you can get a 1,240+ sq. ft. unit at around $1.64 million, despite being fairly new – Botannia is barely 13 years old this year. The landscaping is rather nice as well, as you can probably tell by the name of the development.
Location-wise, there isn't an MRT nearby; but Clementi Mall (across from Clementi MRT) is a major retail amenity, at around an eight-minute drive. Most of your lifestyle, shopping, and dining needs will probably be met in this location.
The chief issue with Botannia is the number of residential developments coming up nearby. Whistler Grand, Parc Riviera, and Twin VEW can all provide future competition; and some investors may be concerned about this.
Nonetheless, this Botannia provides a good option for larger families, who want a bigger home without lease decay issues.
For more curated condo picks for different buyers, follow us on Stacked. We also provide in-depth reviews of new and resale condos alike.