Tour A 24-Year-Old Resale HDB Transformation: How A Couple With A $120k Reno Budget Built A Cosy Wabi Sabi Home
Renovation Journeys
Tour A 24-Year-Old Resale HDB Transformation: How A Couple With A $120k Reno Budget Built A Cosy Wabi Sabi Home
WRITTEN BY Stacked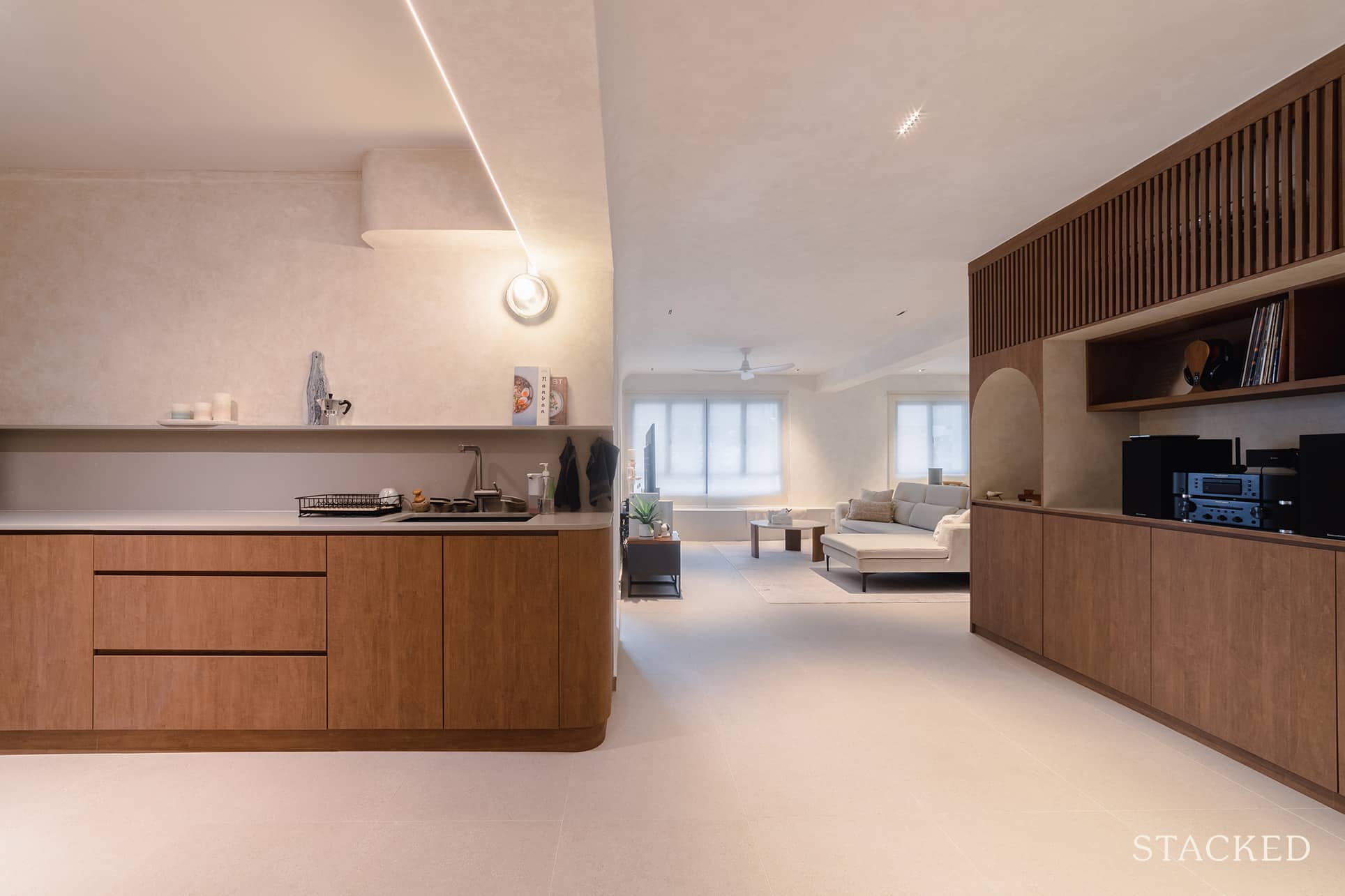 8
min read
Like many couples during the pandemic, Gwen (*not her real name for privacy reasons) and her husband were looking for a place bigger than their previous home.
As such, they were on the hunt for older resale HDBs where the floor area is typically bigger than those recently built.
Besides the size requirements, it had to be located closer to the West as that was where their families were both at.
The place had also to be a close walking distance from the train station, and near either a park or a park connector as they have a dog.
Also, one of the windows had to be floor-to-ceiling, or ¾ of the way at the very least. This was because they used to have a balcony in their first home, and it was their dog's favourite hang out place.
Their home buying journey concluded with a resale HDB completed in 1998 and located on Senja Road. The unit ticked all but one of the checkboxes in the couple's list of criteria.
Even if they ended up getting a unit on a low floor instead of one on a higher floor, Gwen said they still felt blessed to have found the place as their home.
The couple had to do a full overhaul to make the place suit their lifestyle. Presently, they are staying at their home together with their dog, enjoying the fruits of their renovation journey (you can follow for more updates here @ruo.home).
How The Renovation Journey Turned Out
Gwen admitted that they had no idea what it would cost them for a full renovation, which is why they did not have a budget initially.
But after speaking to two IDs, the couple decided to allocate $100K since they were going to do a complete overhaul. In the end, it still came up to around $120K. Chalk it down to the problems of the pandemic.
As for the style of their home, Gwen said that that they really liked the Wabi Sabi style, and she believes that their home is very much influenced by that.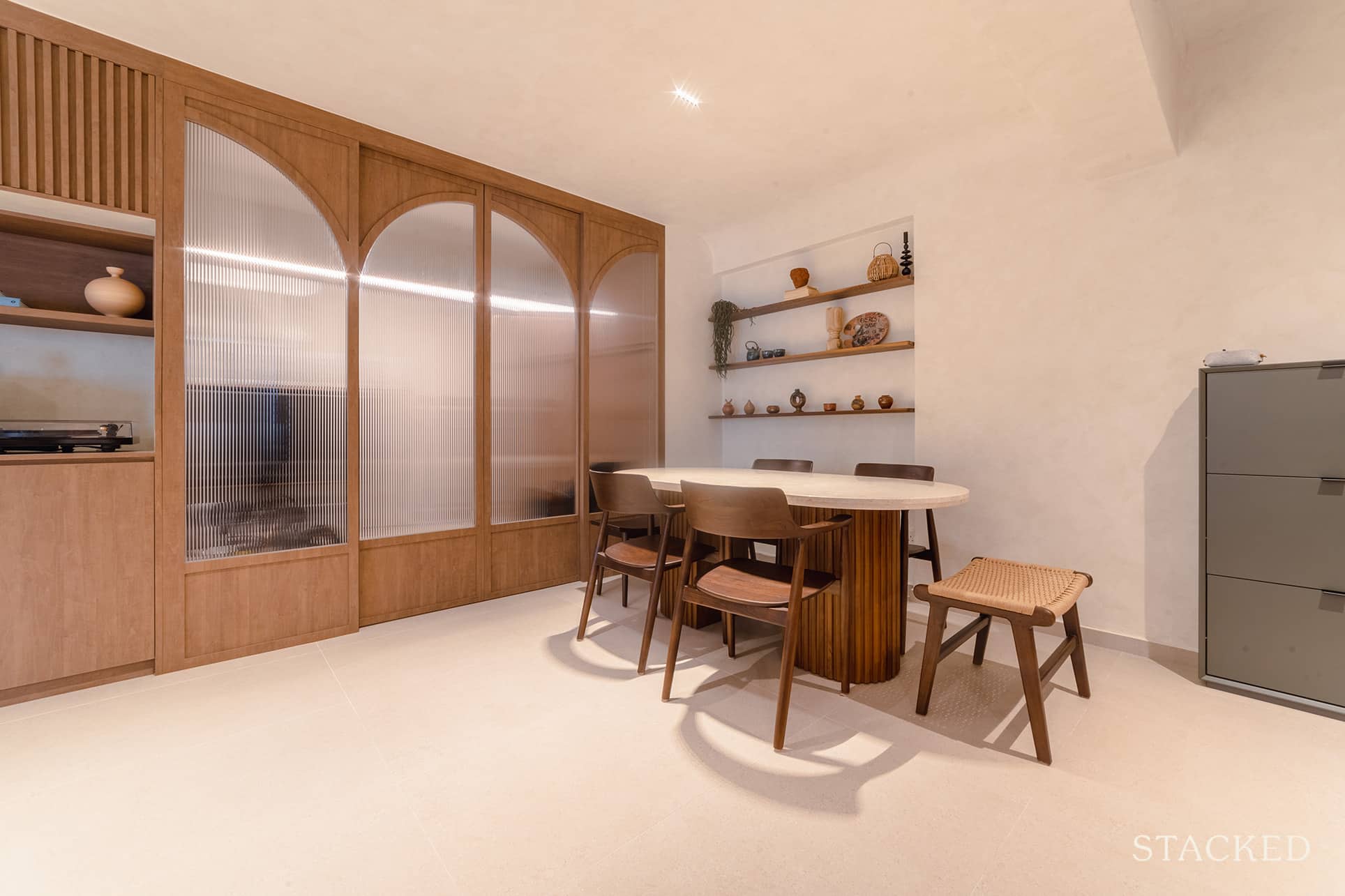 "We like things simple that would hopefully not go out of style easily," she added.
The other must-haves that they included was for their home to be easy on the eyes and one that would age well in years. It should also be easy to maintain or clean, especially since they have a dog in the house.
"We learned what we want and what we do not want from our first home, so it's easier this time around," Gwen said.
Below are photos of their before and after floor plans. As you will see, they have made a lot of major changes to make sure the layout of their entire home aligns better with their living habits.
Let's tour their home as Gwen shares with us the specific transformation it went through.
Living Room
Here you will see one of the major changes they did with their home, moving the living to where the original study room and bedroom #3 were. Bedroom #3 was actually split in half to accommodate a bigger living and master bedroom while at the same time providing more privacy.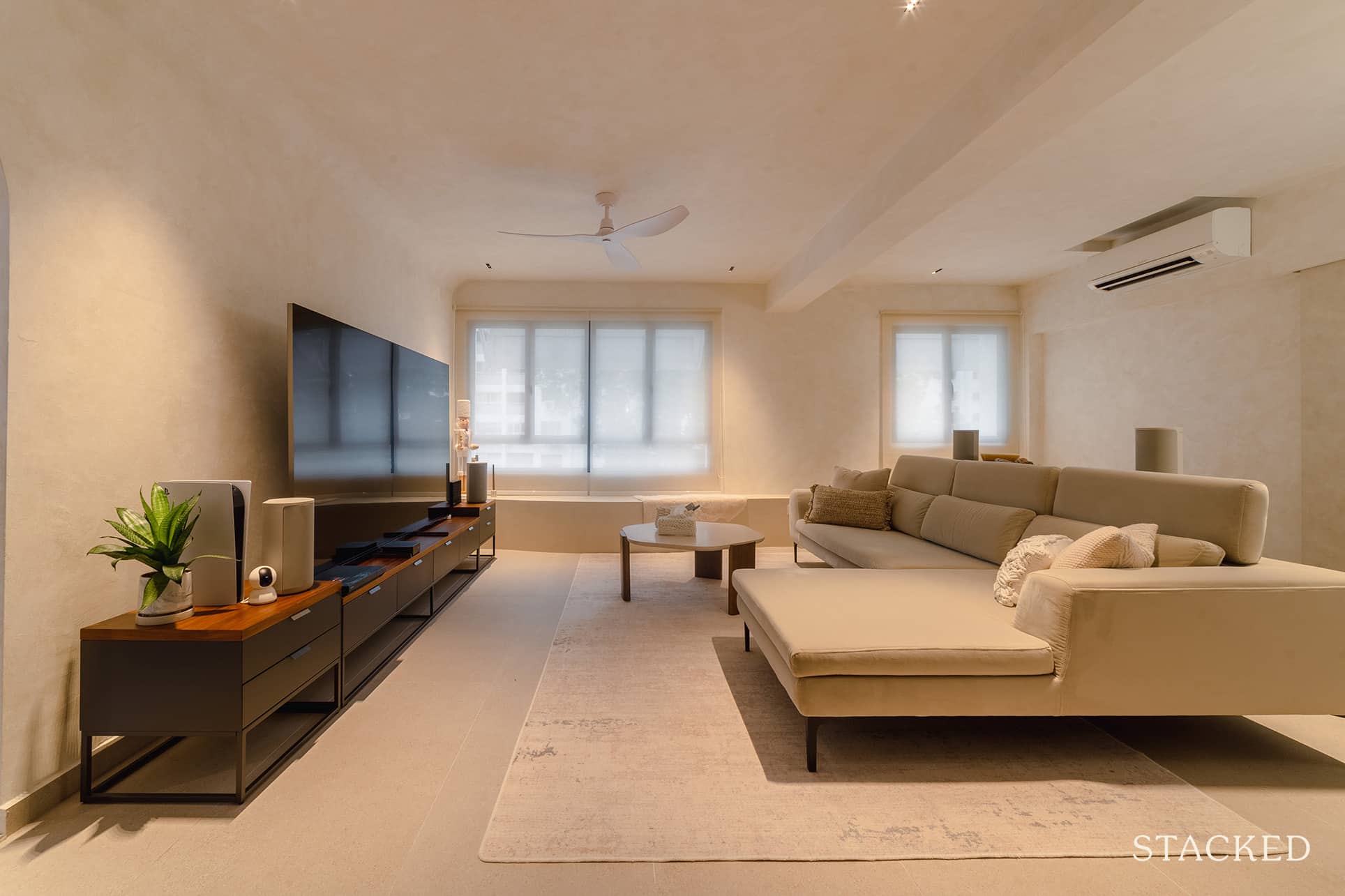 They also added a curved bench for their dog, who loves to people watch. And as mentioned at the beginning, the windows in the living room are at ¾ height, which was one of their requirements.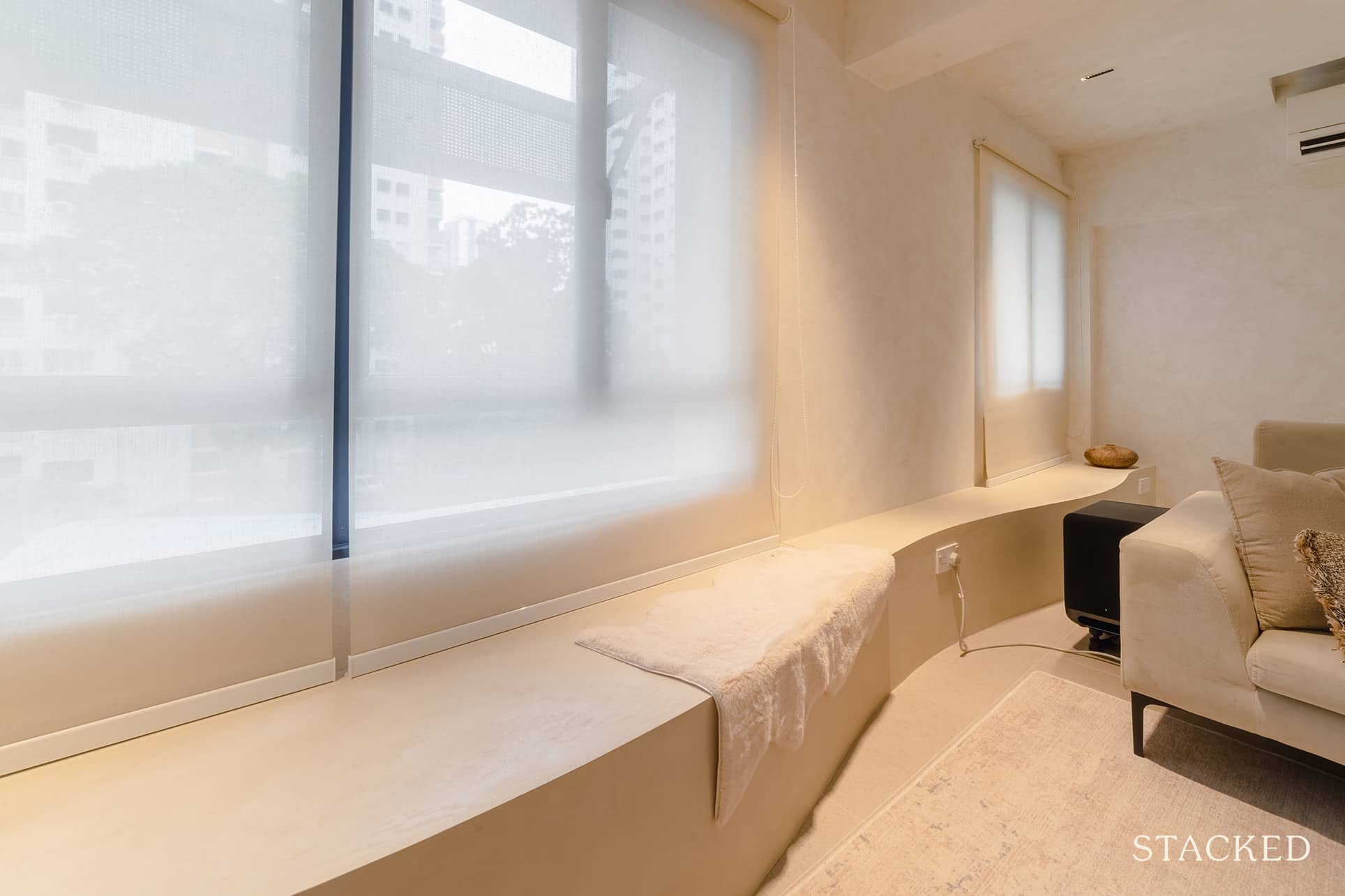 Store Room
Gwen admitted that when they first viewed the house, the walkway was very narrow and dark. Since they don't need so many rooms, they decided to remove the storeroom as well. "I know it's not something people would normally go for," she said, "but in our previous home, we didn't have a storeroom, and there wasn't a need for it."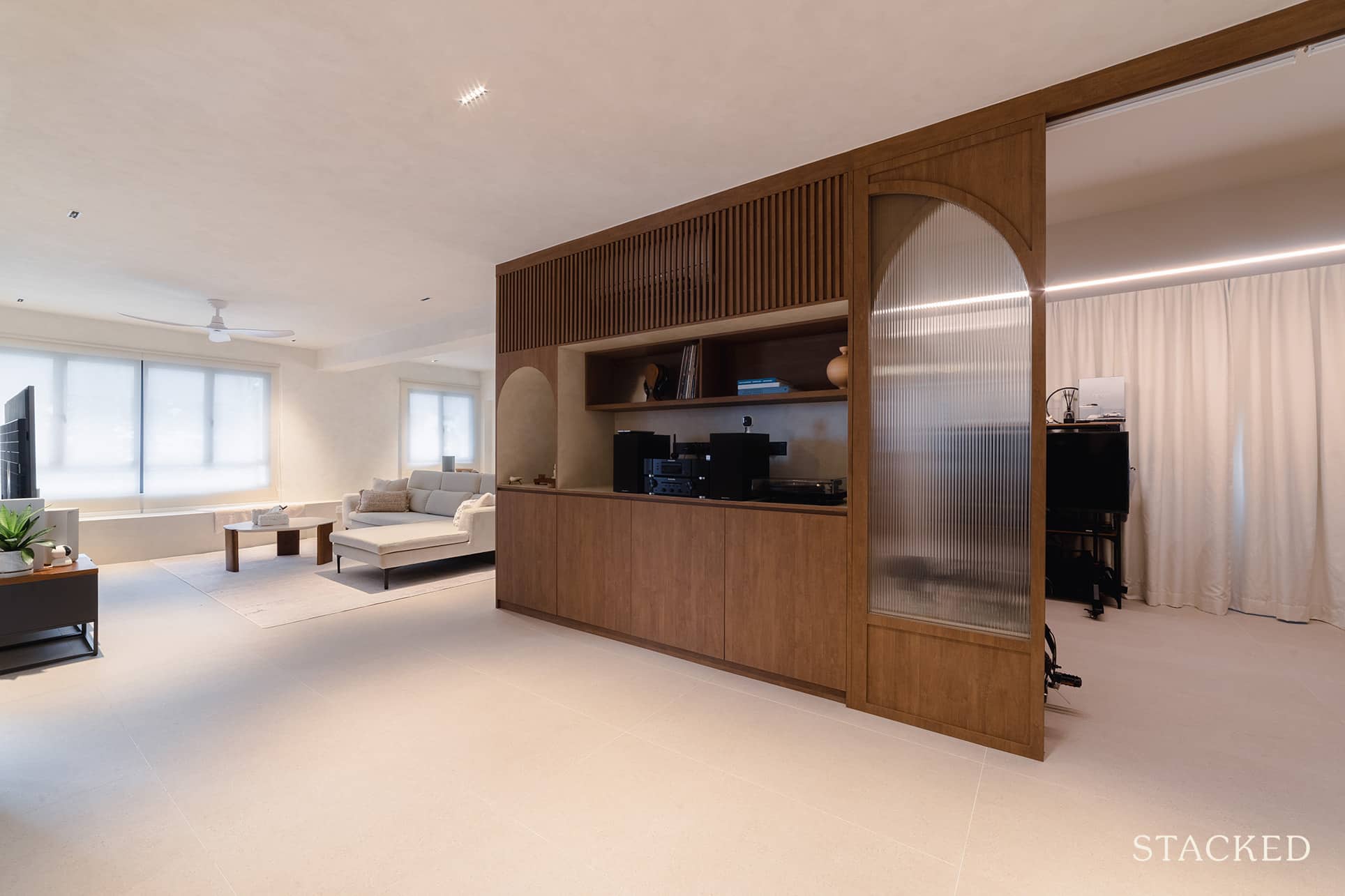 One of the benefits of removing the storeroom was that it helped them keep their items to a minimum and prevented them from hoarding. And removing the walkway allowed them to open up the house.
Kitchen And Dining Area
As for the kitchen, this was also opened up and they used the space allocated originally for living/dining for their actual dining area.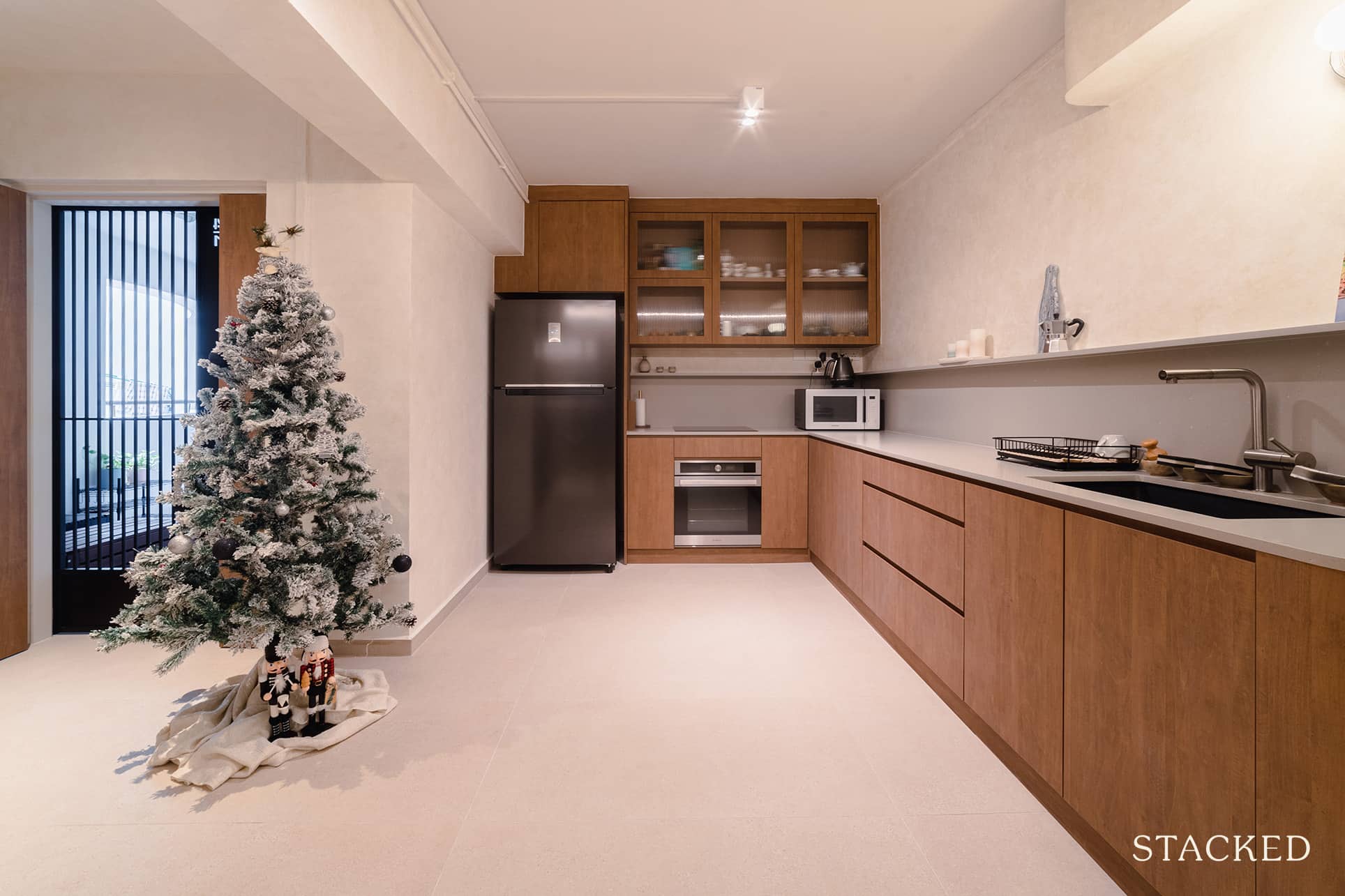 This means that as soon as you enter the house, you can immediately see the dining table right from the entrance. They decided to tuck it in a corner, parallel to the entrance, so they could have a lot of walking and running space.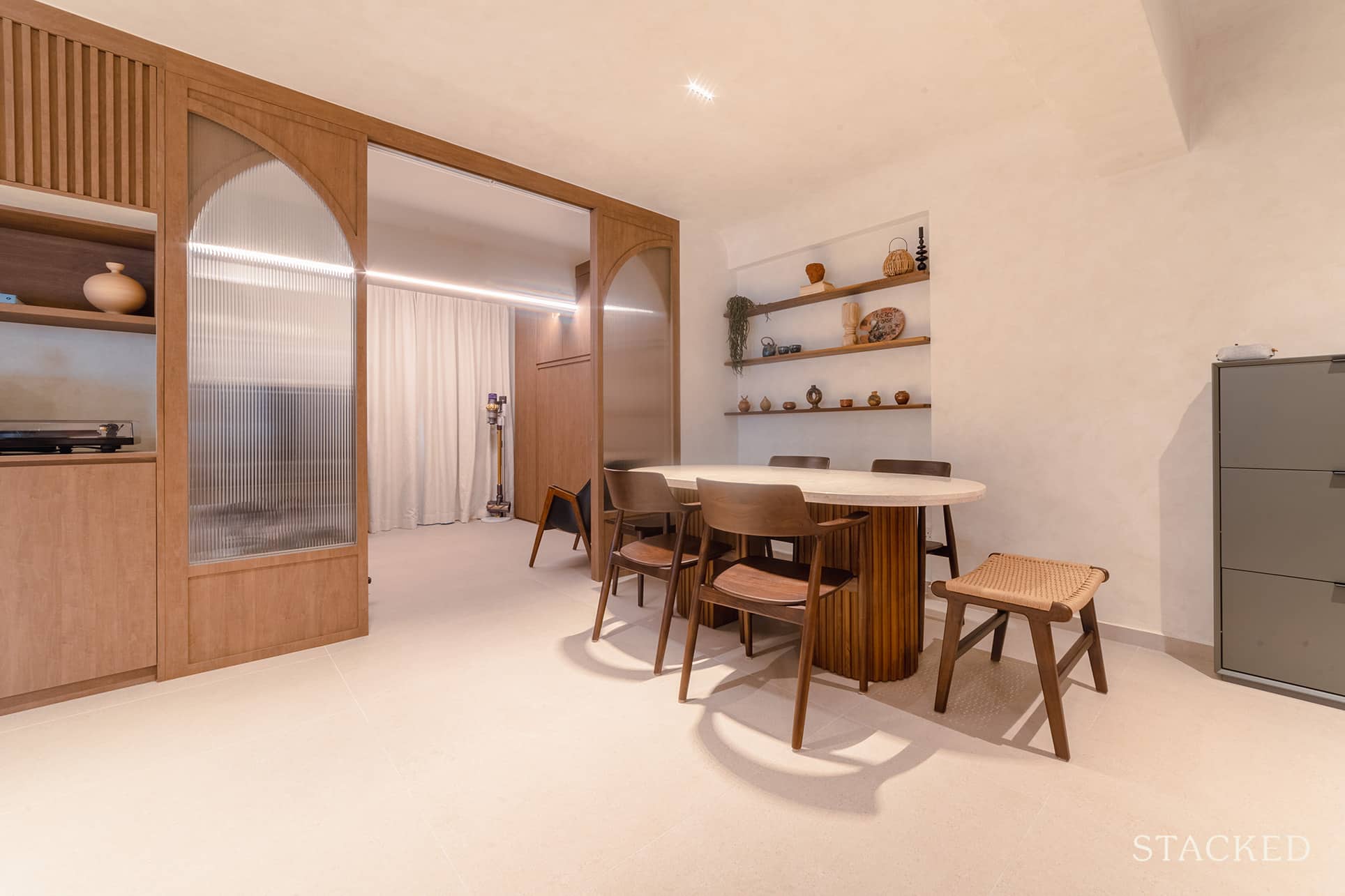 Master Bedroom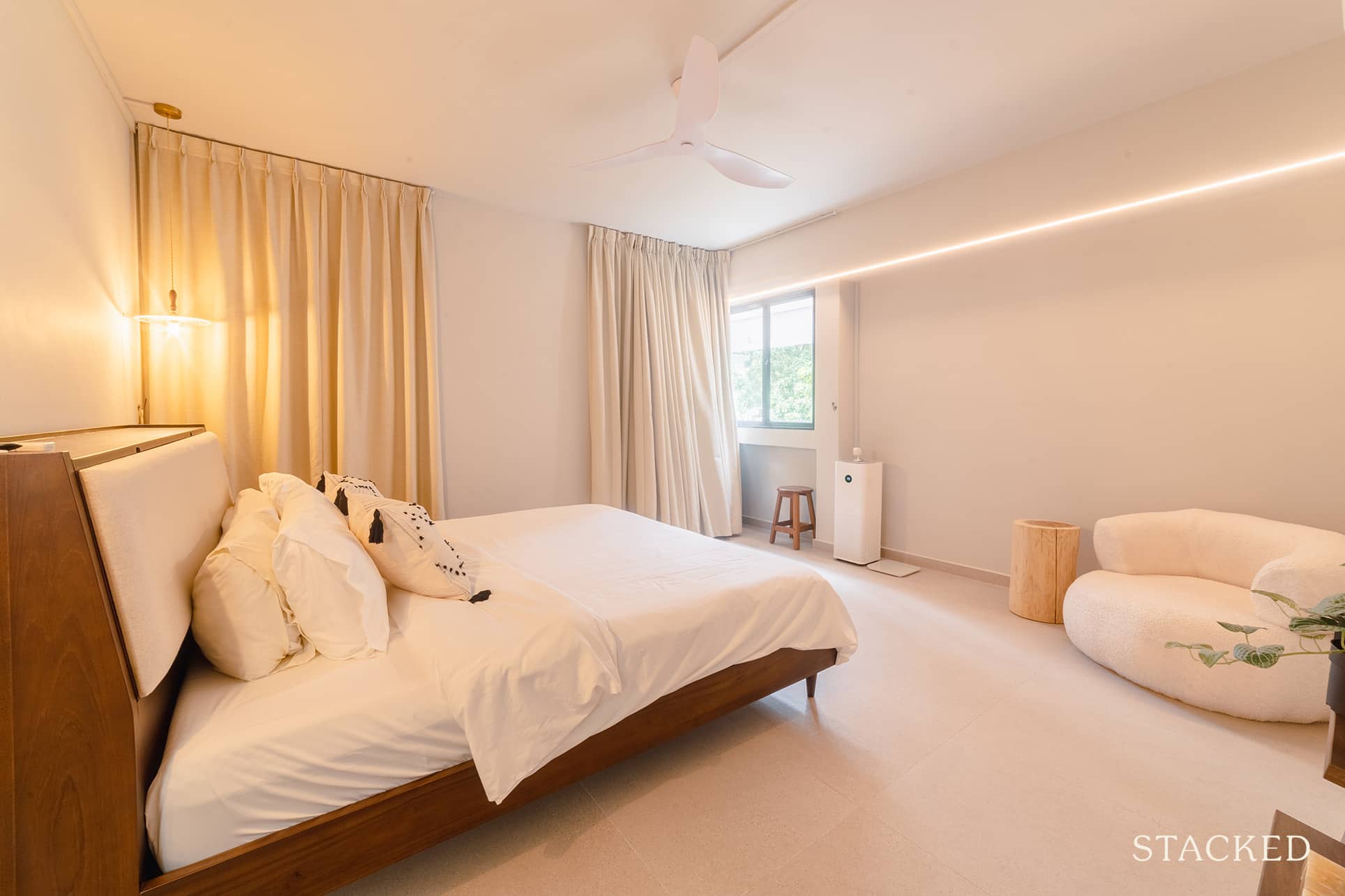 Their master bedroom was where the original bedroom #3 and bedroom #2 were, which makes it luxuriously large and spacious. It looks to be a wonderfully comfortable place to relax in, characterised by the soft bouclé fabric armchair, and mood lighting at the ceiling. The original master bedroom, on the other hand, was converted to a walk-in wardrobe area, separated by a curtain.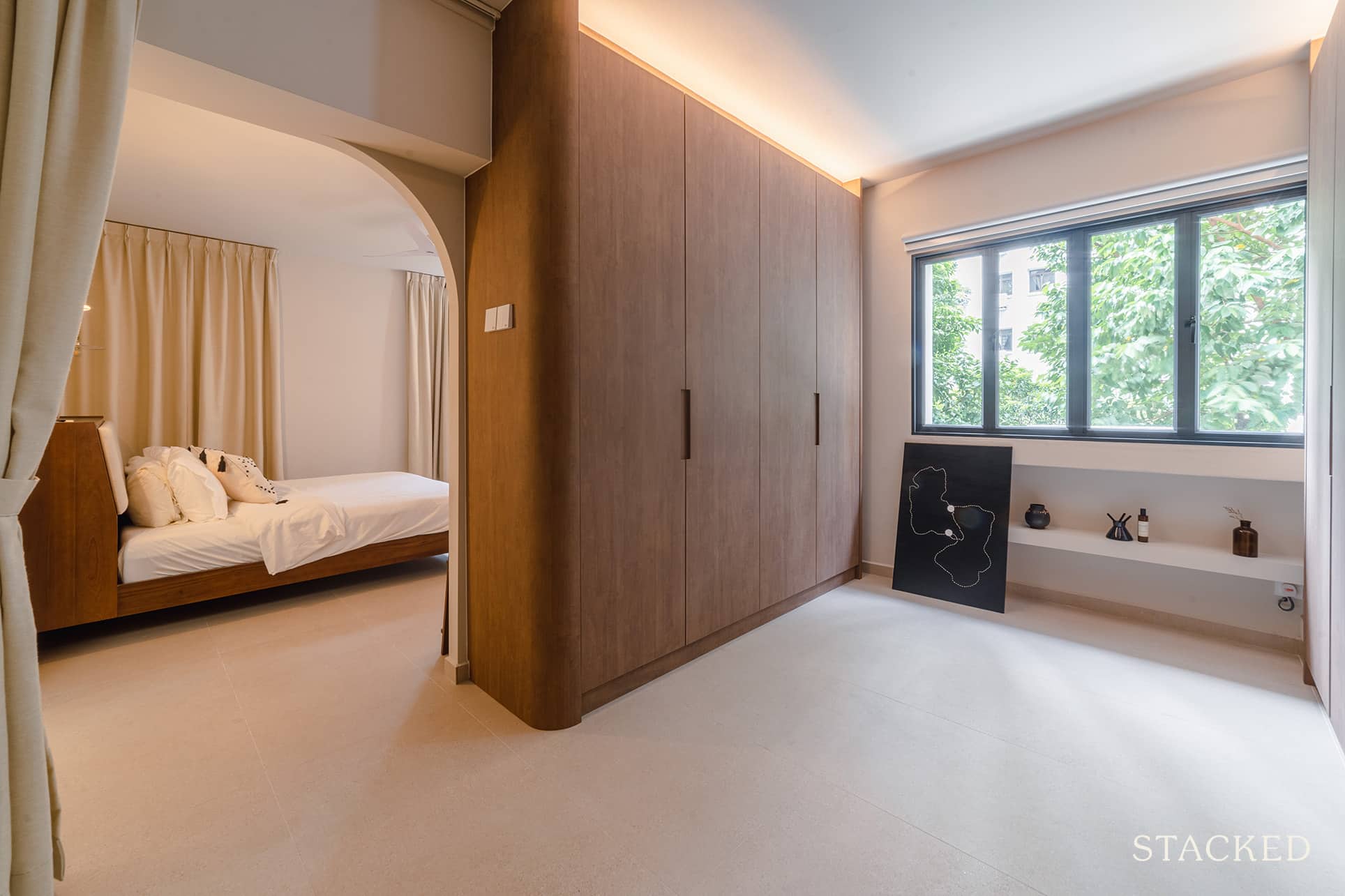 Like the master bedroom, the walk-in wardrobe will be the envy of many. It's not so much the availability of storage space, but the swathes of empty space in the middle that keeps it minimalist yet with the soft curves from the arch of the doorway and wardrobe helps to keep it cosy looking.
Guest Room
The couple took part of the living area and the balcony and converted it to a guest room, which also doubles as a game room for her husband.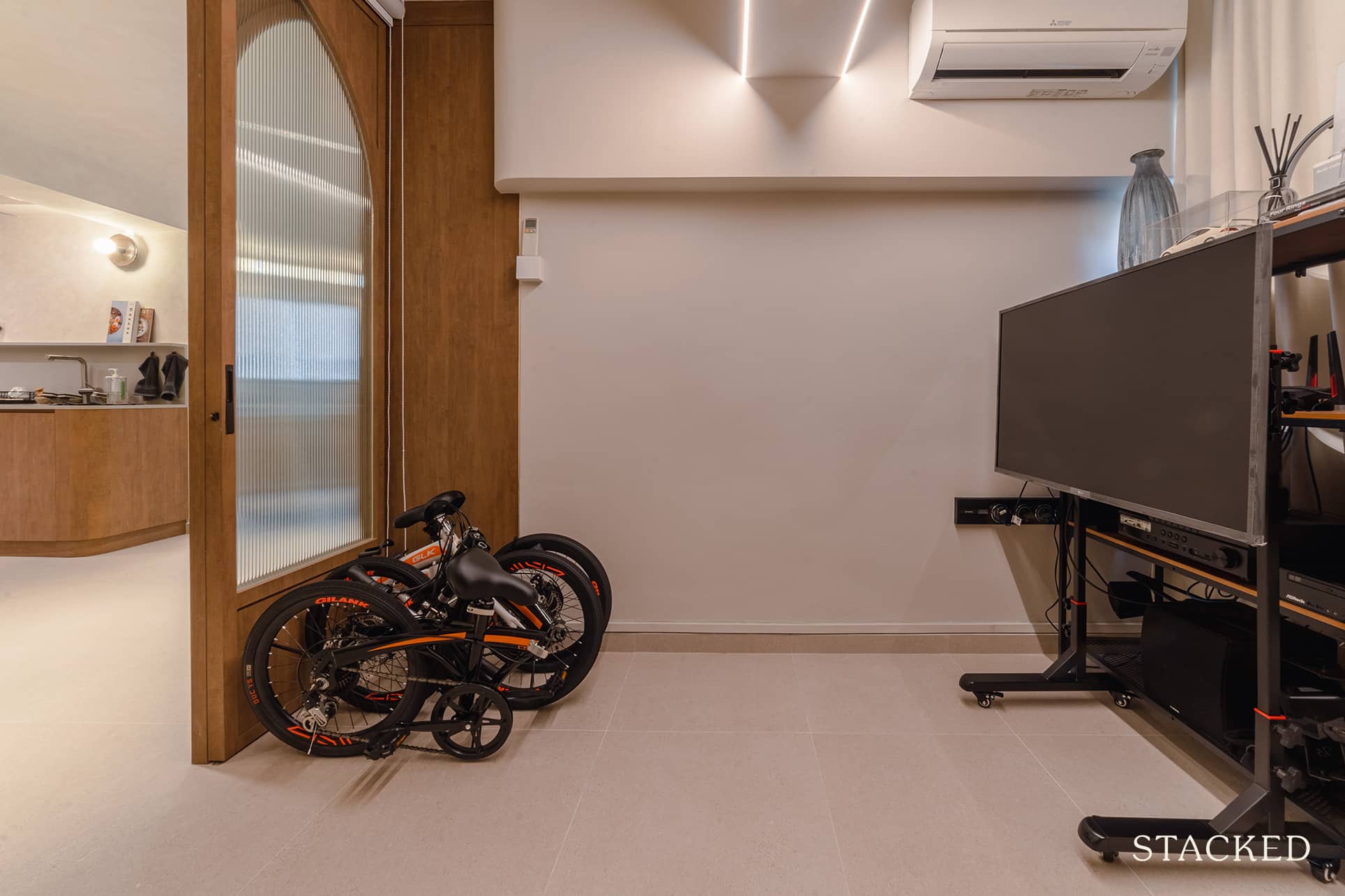 As he had a driving rig which took up a lot of space in the room, they managed to have their ID accommodate a queen size Murphy bed.
Service Balcony
The entrance to the service balcony used to be in the kitchen, but they decided to seal it up as they both didn't like the idea of having a toilet in the kitchen.
They opened up a curved entrance from the living room and included a dog wash area where the laundry rack is. Gwen said that it's such an important fixture as they used to have a balcony in their previous place. So they had to include an area in the current one where they can easily wash up after each walk.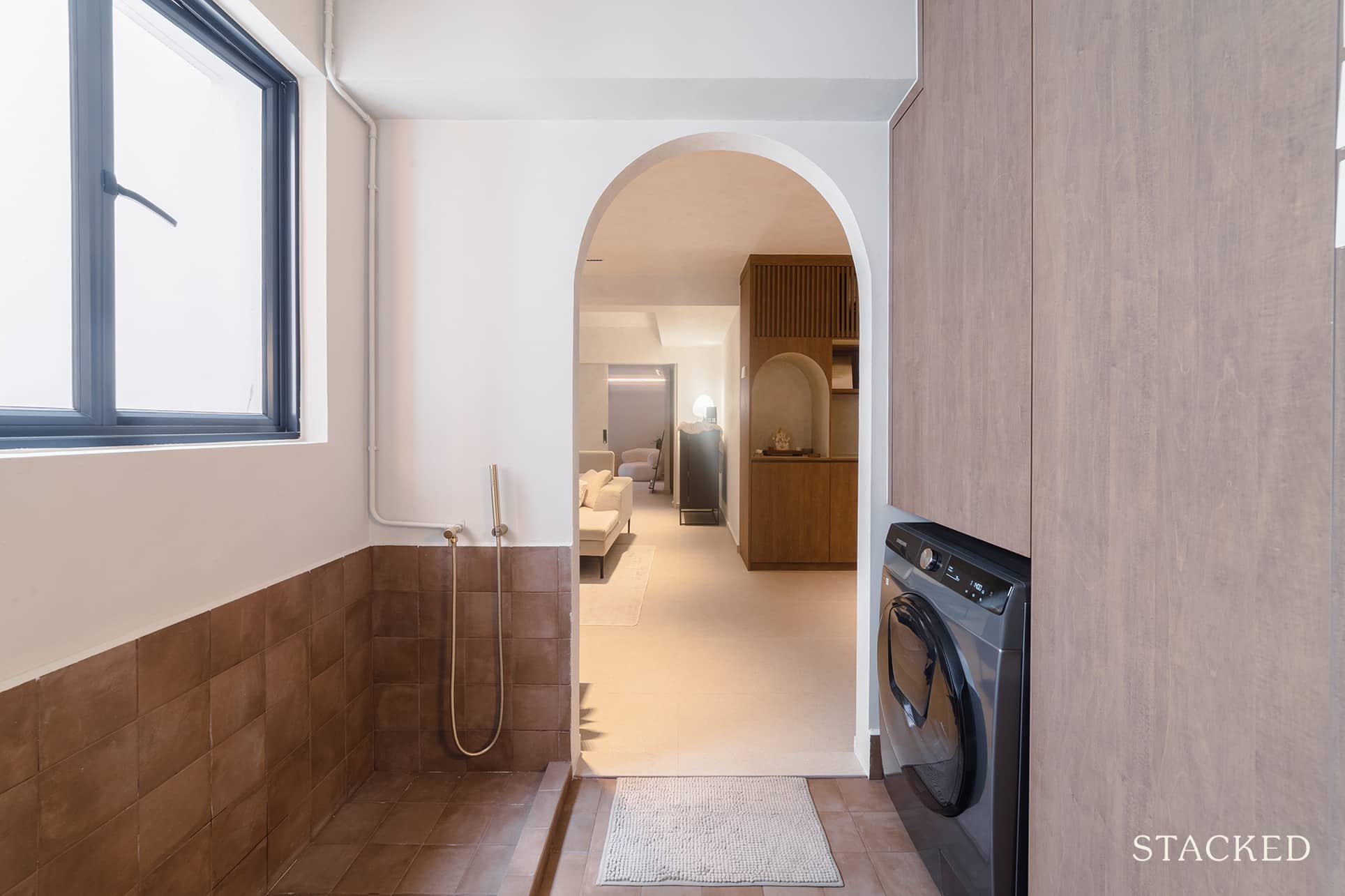 Bathrooms
Gwen said it was her husband who decided on everything in the bathroom.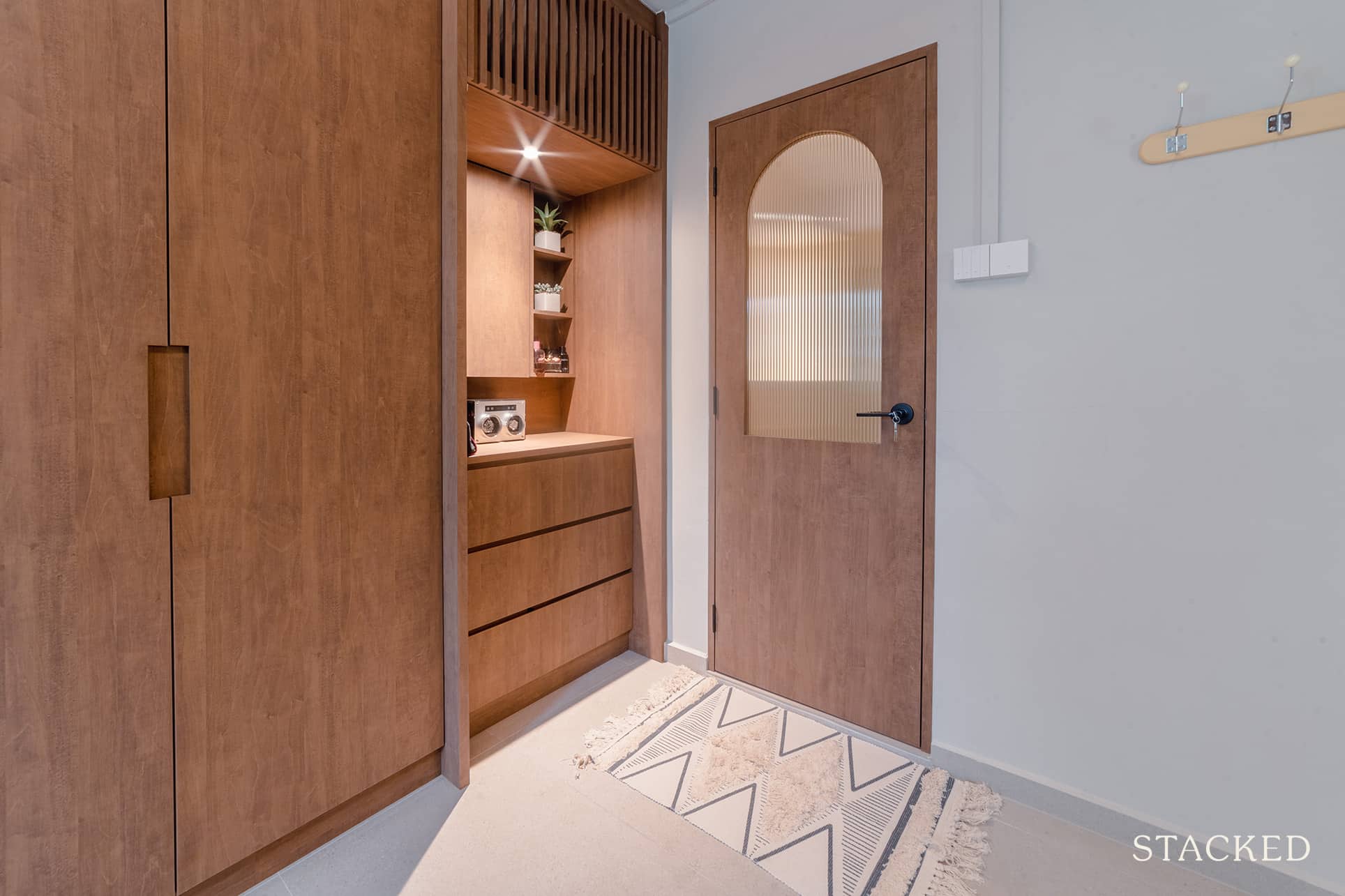 "He spends the most time in it, thus, he gets to make all the important decisions," she shared. To create the illusion of space, they extended the bathroom area in the master bedroom.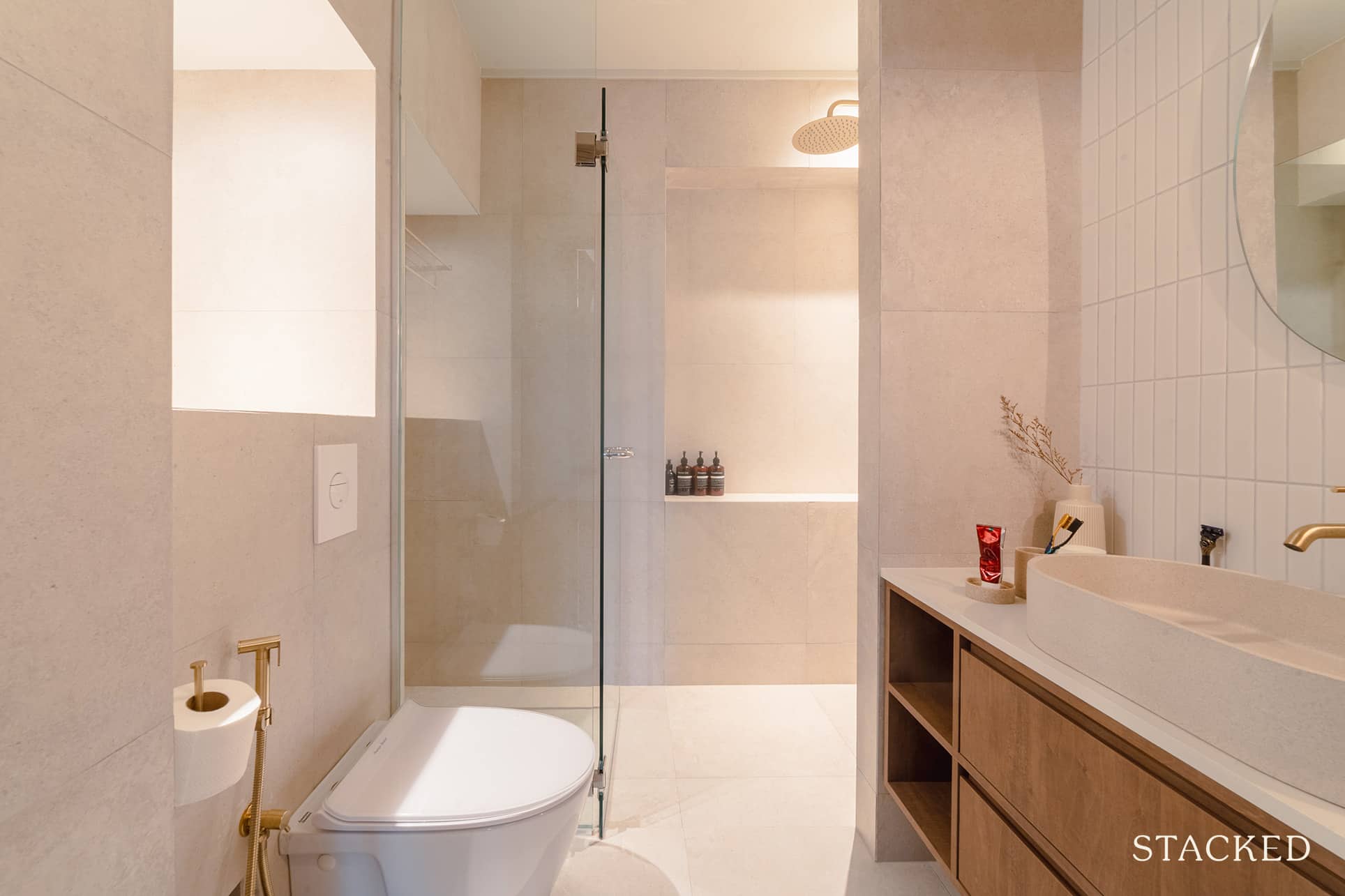 For the guest bathroom, they had to move the basin to the service yard as the space was very small. It makes a lot of sense for them as they also had the dog wash area outside.
Bringing The Vision To Reality
Gwen confirmed that the final outcome of their reno journey is similar to what they had envisioned. "We were clear on what we wanted and our ID was able to translate that for us."
Their ID was Serene and Yuhui from INTR Studio.
She admitted, though, that they had to make compromises on some of their wants because of budget constraints.
For their furniture sourcing process, Gwen said they decided to bring along their sofa, wine cabinet, and TV console sideboard from their previous home. These furniture pieces were all from Castlery.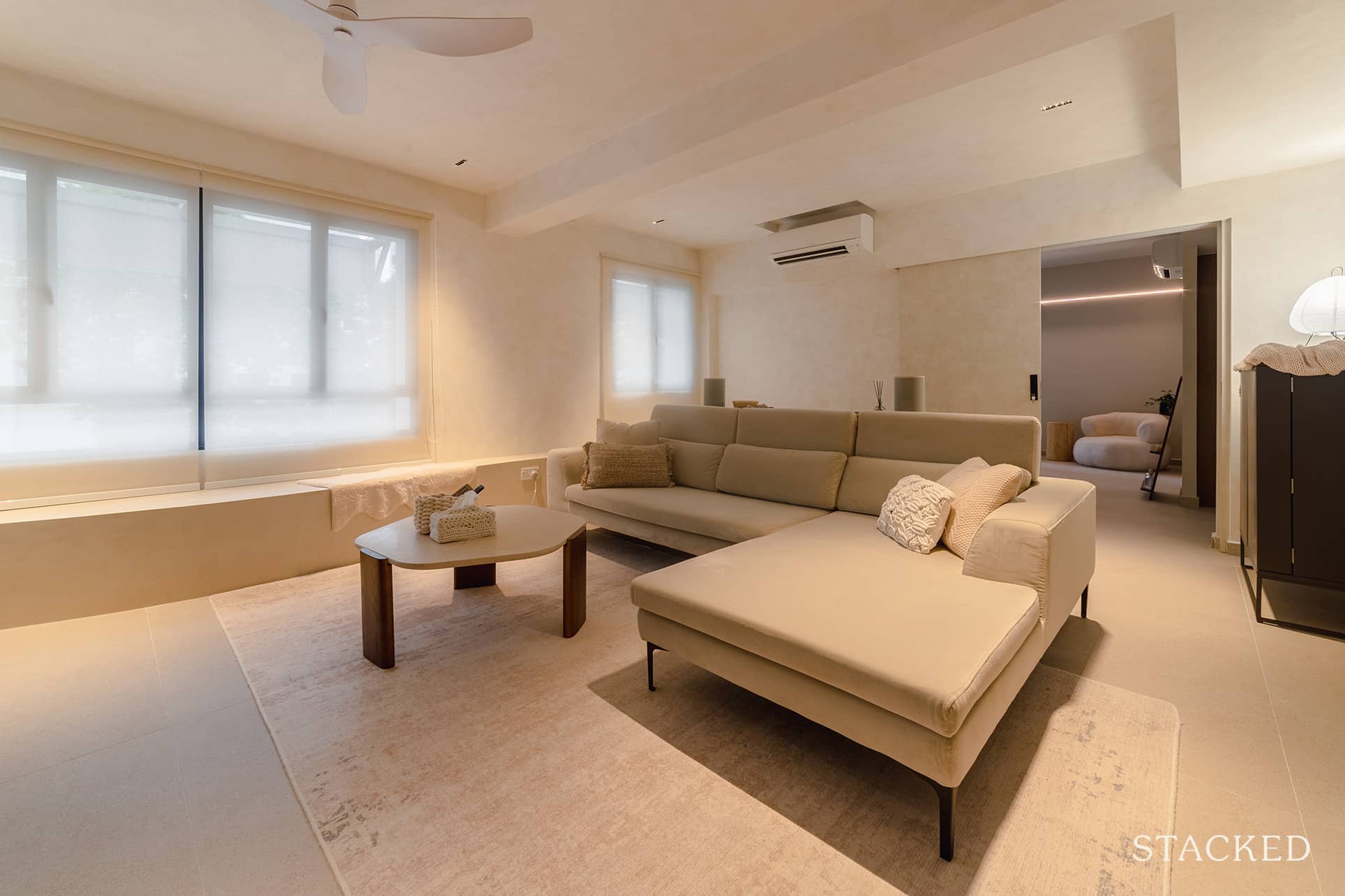 "We upholstered the sofa so it would better suit the theme of our home," she added. "Other than that, we custom made our bed from Second Charm and dining table from Rooma."
To round up, they sourced for their mirrors, a coffee table, and hanging lights from Taobao.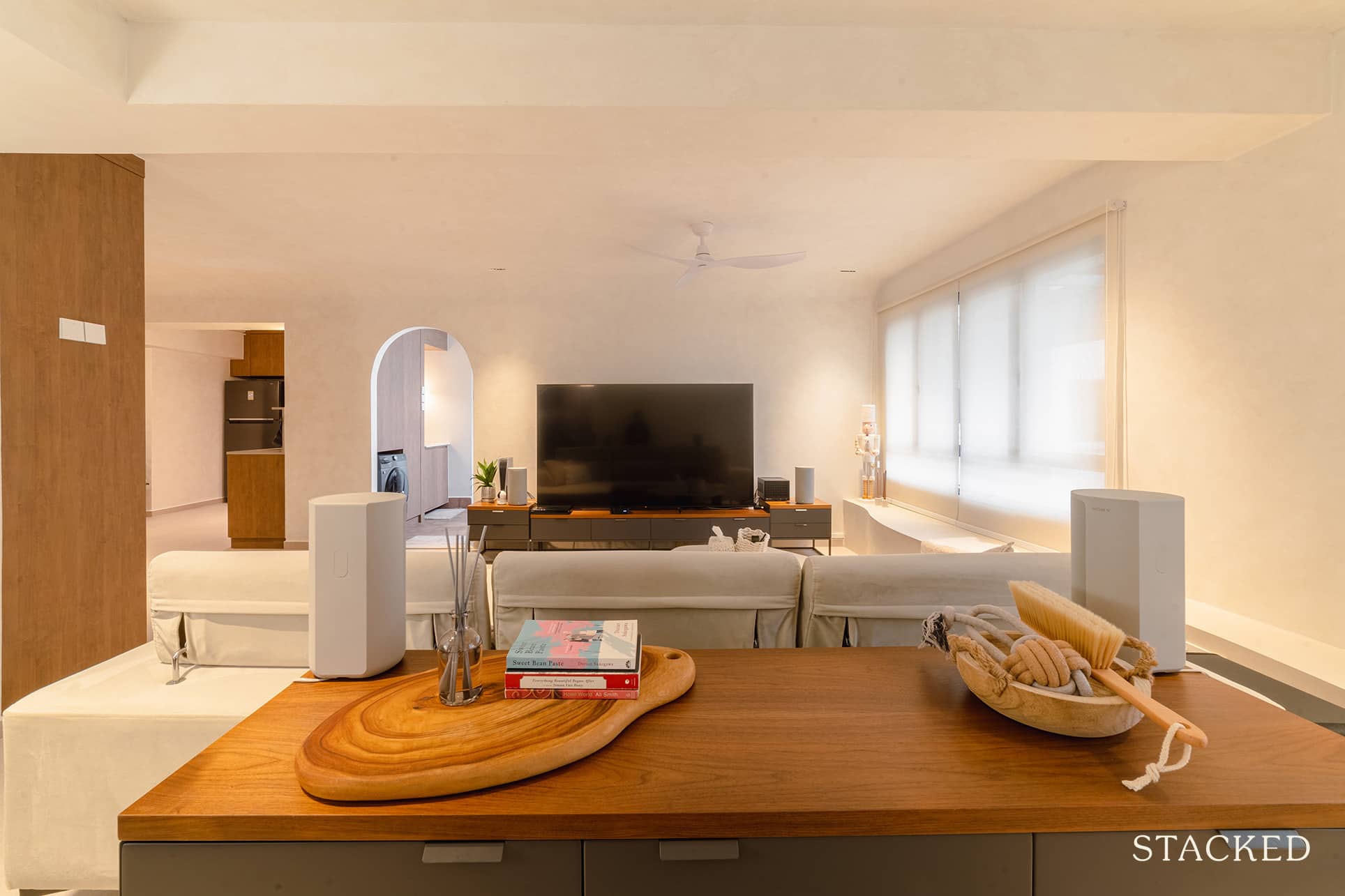 When we asked Gwen what they consider to be the best area in their home, she quickly answered that it's the service yard and the living room. "Serves a purpose and fits the aesthetic," she replied.
Lessons Learned From A Successful Reno Journey
While the couple didn't really encounter challenges through their journey, they did have to overcome three specific hurdles.
One was to work within the budget, and two was to plan for their guests as they hacked away all the rooms in the house. Finally, there's bathroom ventilation. As all their bathrooms didn't have a window, Gwen said they had to try to figure out how to keep them well-ventilated.
And if there was one mistake that Gwen said they won't repeat again, it's going for hanging cabinets in their kitchen, specifically those that are above their stove.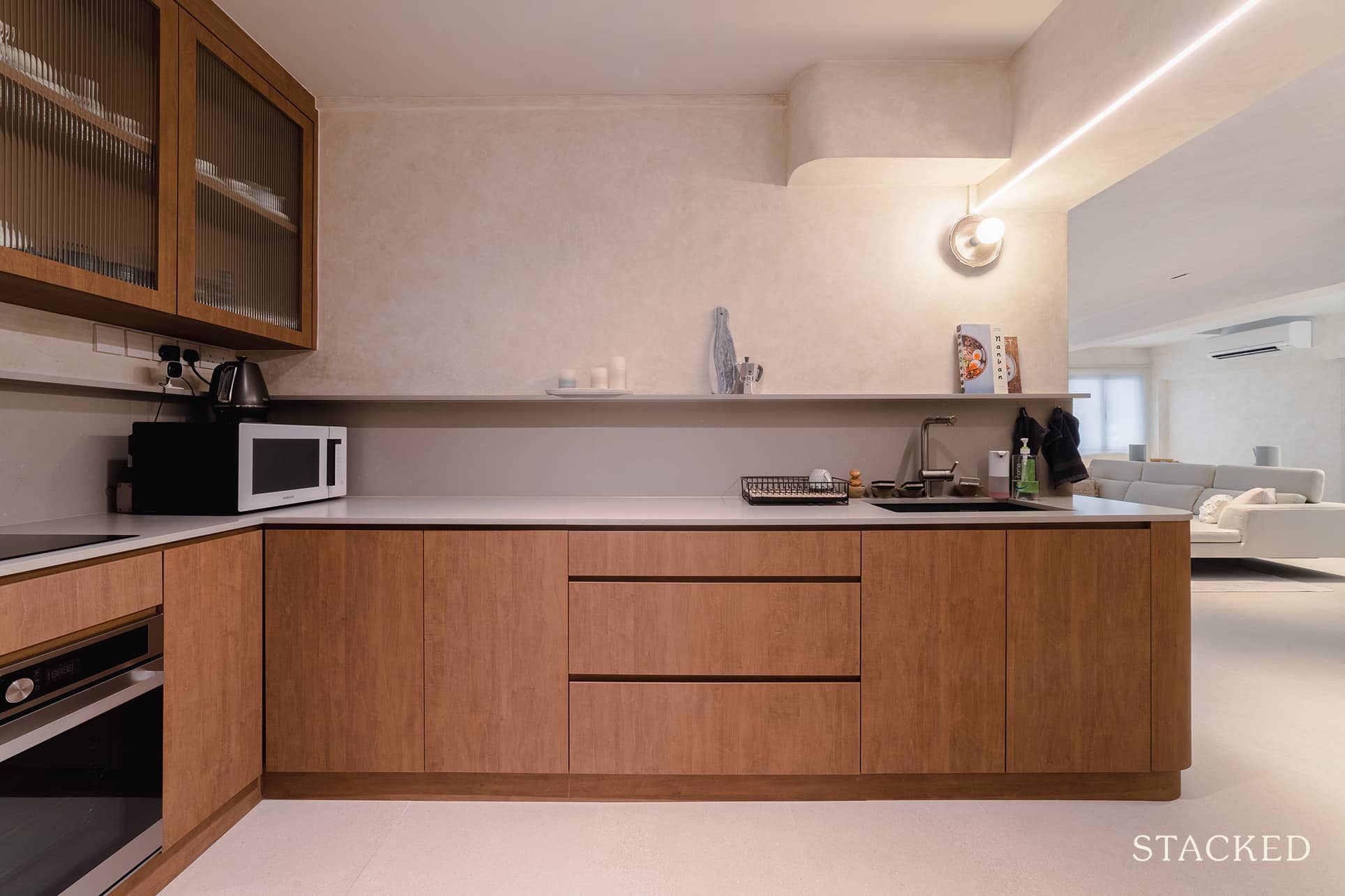 "Our ID recommended us not to, but we still went ahead with it," she revealed. "I didn't want a hood with the hanging cabinet as I don't cook a lot. I do regret my choice now."
She said that every time she steams something, the steam ends up going to the hanging cabinet.
To this effect, Gwen and her hubby learned how significant it is to find an ID that clearly understands their wants and needs.
"Both Serene and Yuhui were very open to bounce off ideas with us and recommend solutions. They were creative, so I wasn't worried about getting a proposal that looks like a template."
Finally, her advice to those looking to renovate their place was to make their home belong to them.
"Everyone has a different lifestyle and preference. That's why it's important to design and spruce up your home according to your likes and needs. In this way, you have a unique home that belongs to you only."
Shop The Look
SHARE