A 30-Year-Old HDB Gets A Timeless Transformation Into A Mid-Century Modern Home
Home Tours
A 30-Year-Old HDB Gets A Timeless Transformation Into A Mid-Century Modern Home
WRITTEN BY Stacked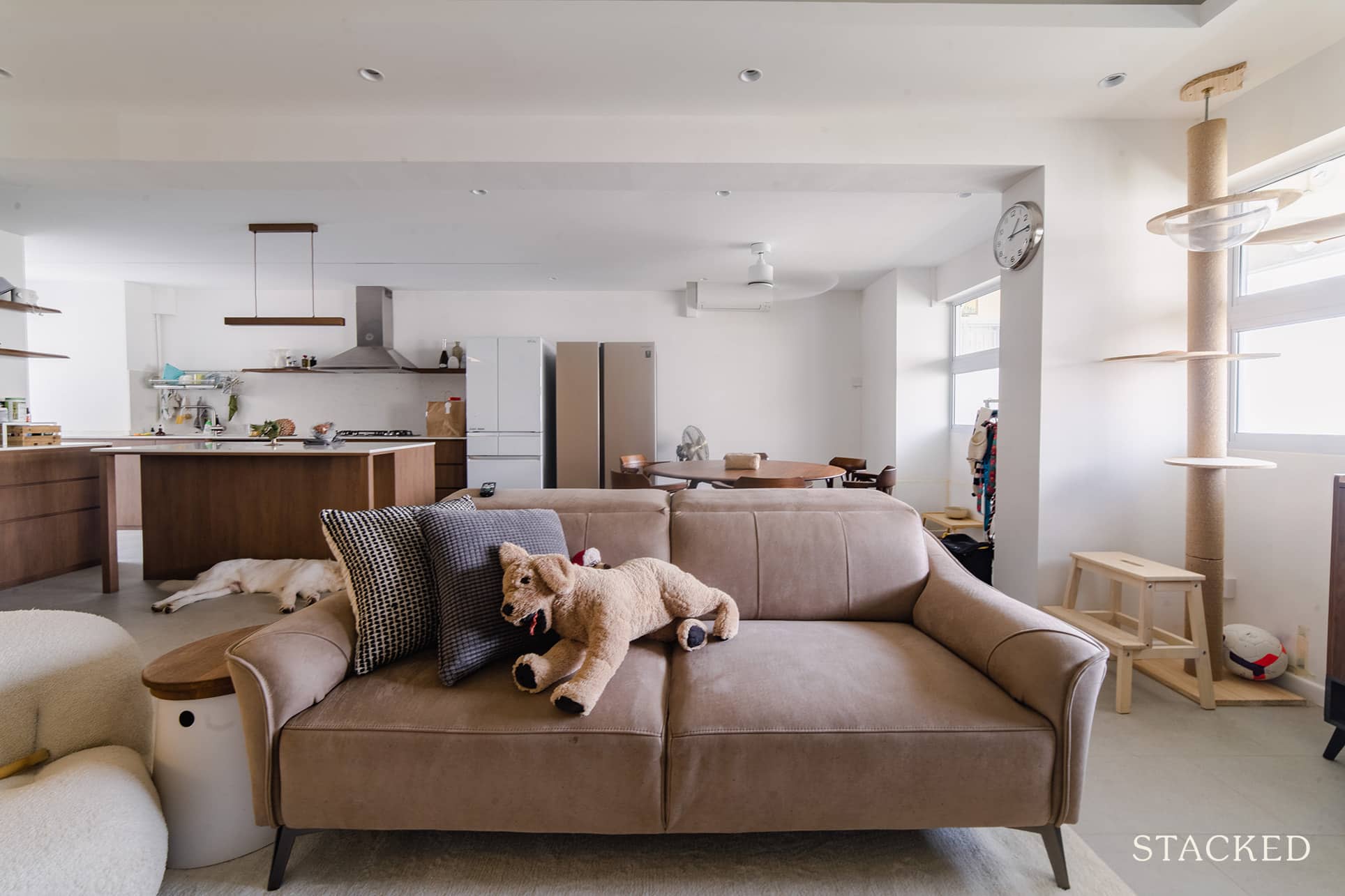 9
min read
For their 30-year-old HDB resale flat, Shan Ping and Wayne (@h.ooo.me) wanted to have a style that could stand the test of time.
"Something warm, but clean. Something with space for random oddities and maybe the occasional mess," she added.
These preferences led them to consider the mid-century modern style – where clean lines, dark wood, and light coalesce. They also loved how there's always room for transformation and the use of loose furniture pieces, which allows for great flexibility, especially since they're hoping to stay at their place for a longer time.
While it could be quite challenging to renovate a 30-year-old flat, the couple's new home made it somehow worth the hurdles because of the number of advantages it presents.
Even though their home is the third out of 4 houses they viewed in total, it definitely felt like "the one," as Shan Ping puts it, once they stepped in.
"It ticked all the boxes – squarish layout with a sizeable living area, bright, clean, and with the potential for an open plan kitchen," she said. "We've gone to houses with odours, and trust us, it's not the best experience."
She said that Wayne had yet to get his permanent residency after their marriage, so the resale route was their only choice.
Fortunately, it's a non-issue for them since they prefer the space that older units have and the amenities that come with mature estates, such as supermarkets, dental clinics, and multiple coffee shops within a few minutes walk.
Also, it really helped that they both lived around the area – Shan Ping grew up right across the street, while Wayne had lived around the area before. As such, they were very familiar with the area already.
Let's take a look at how their home turned out.
How The Renovation Journey Turned Out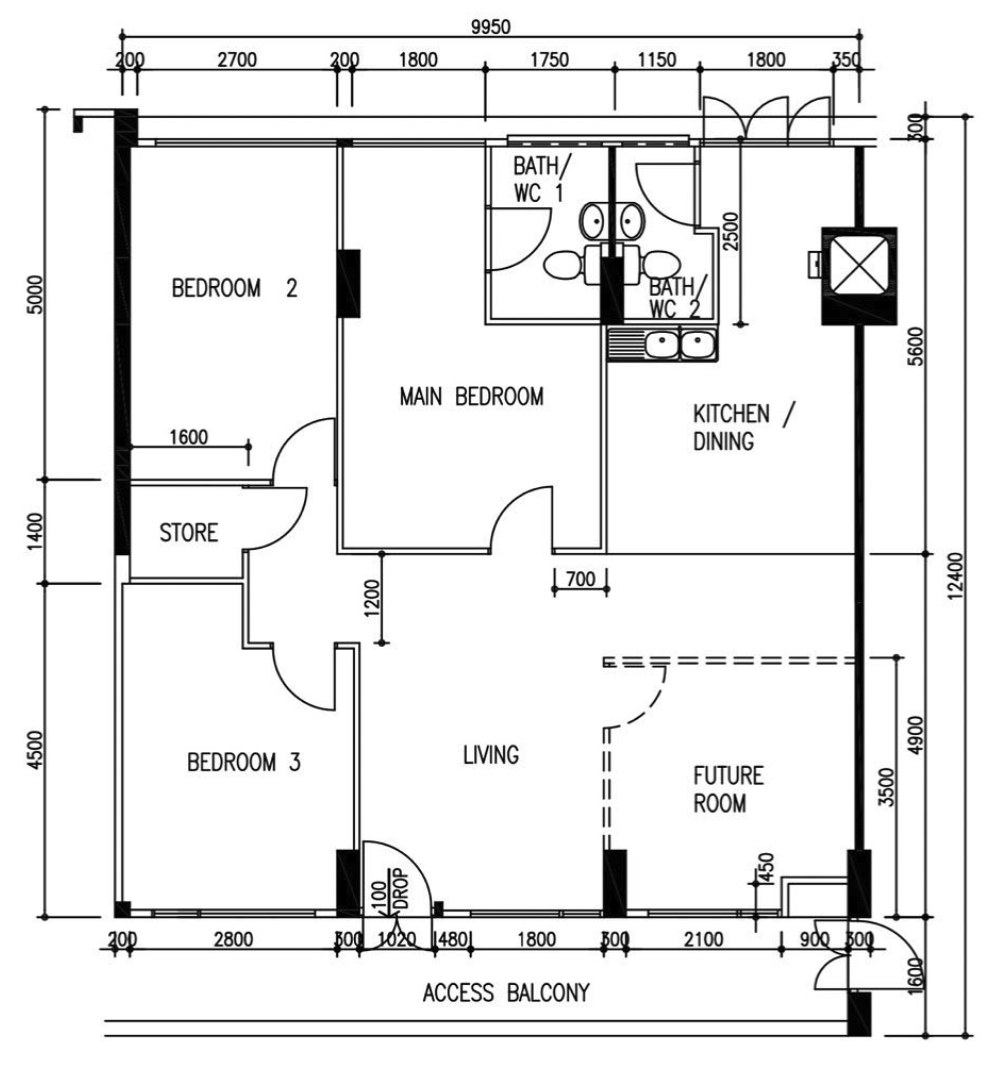 Their initial budget for the renovation was $50,000, with an addition of around $30,000 for the fittings and furniture.
However, the couple later found out that it wasn't realistic after going to different design firms. Given the necessary rework required in older flats, they needed to increase their renovation budget.
What they appreciated the most, though, was that their ID presented them with three very good designs with differing budgets. While they decided to settle for the middle ground of $65,000, there was another variable costing another $10,000, bringing the renovation cost to a total of $75,000.
Here's what they did for each room of the house.
Living Room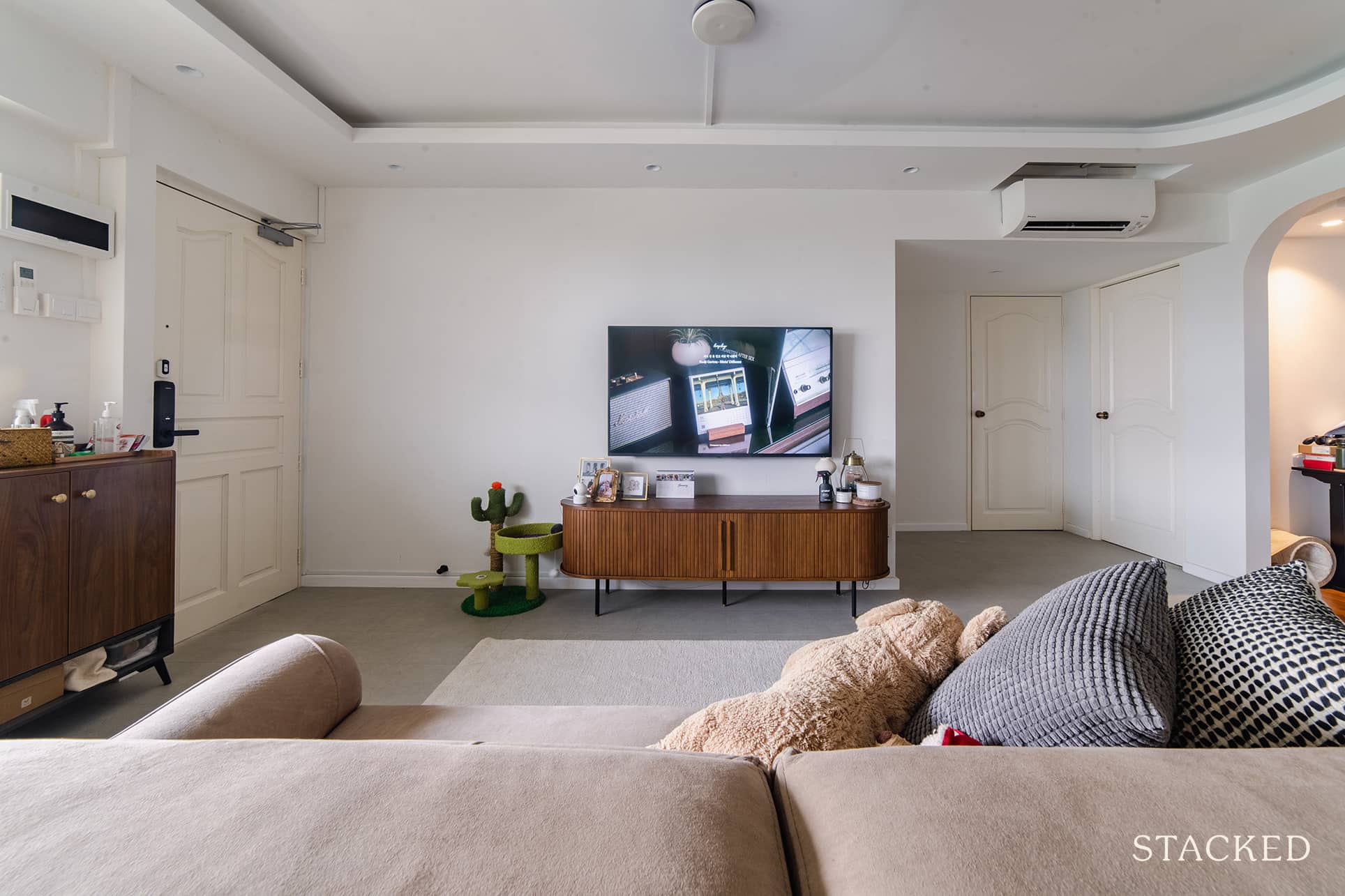 Right from the get-go you'll immediately notice how their living room has no built-in furniture, allowing them to rearrange it in any way they choose.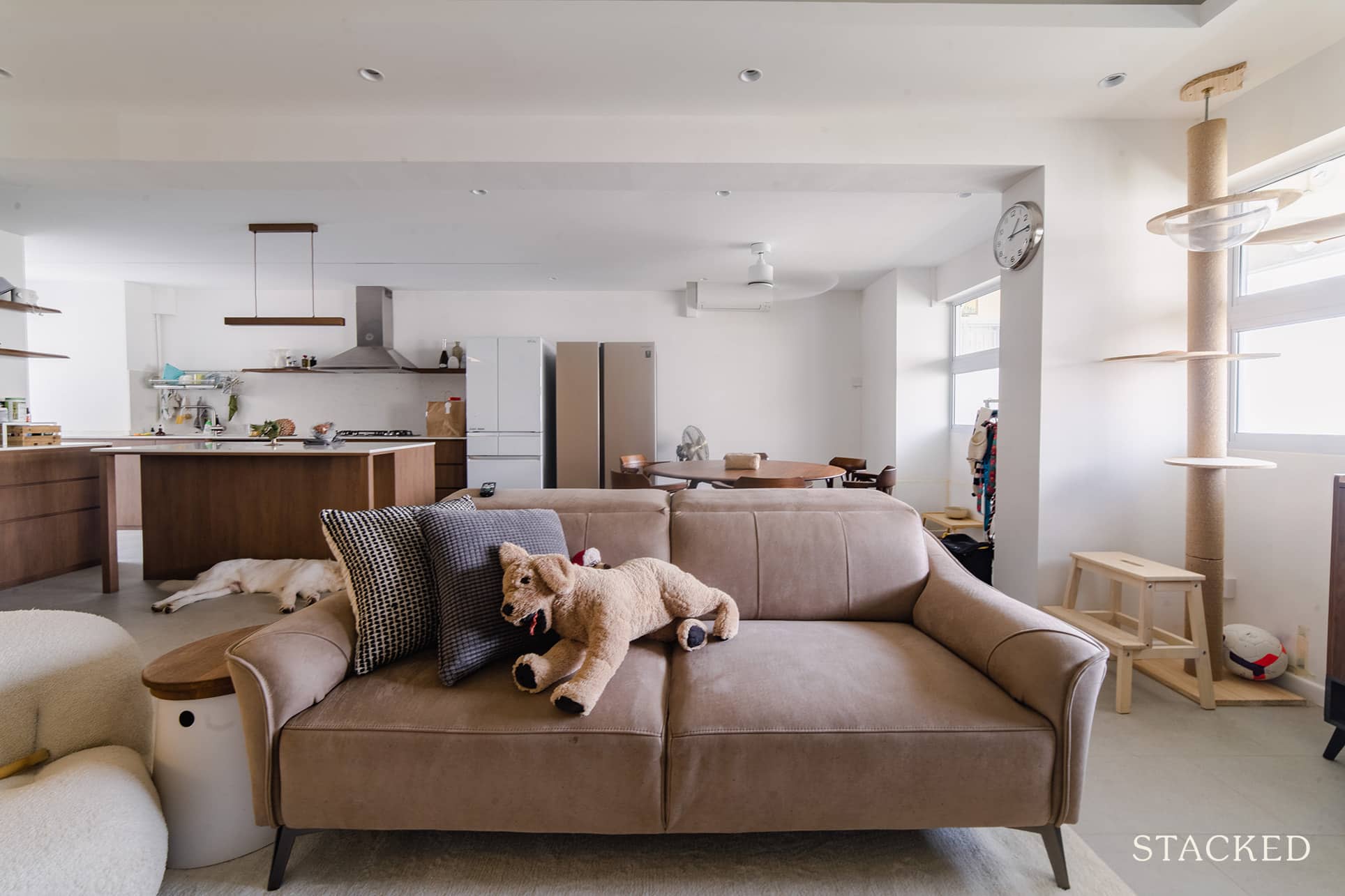 As with their mid-century modern theme, they chose to go with a walnut shade of brown for the TV console as well as the console by the main door.
Dining Area
The dining table sits just behind the living room sofa, and rather interestingly they've decided to go with a round table instead. Materials and colour choices remain consistent prioritising dark wood for a warm and cosy ambiance.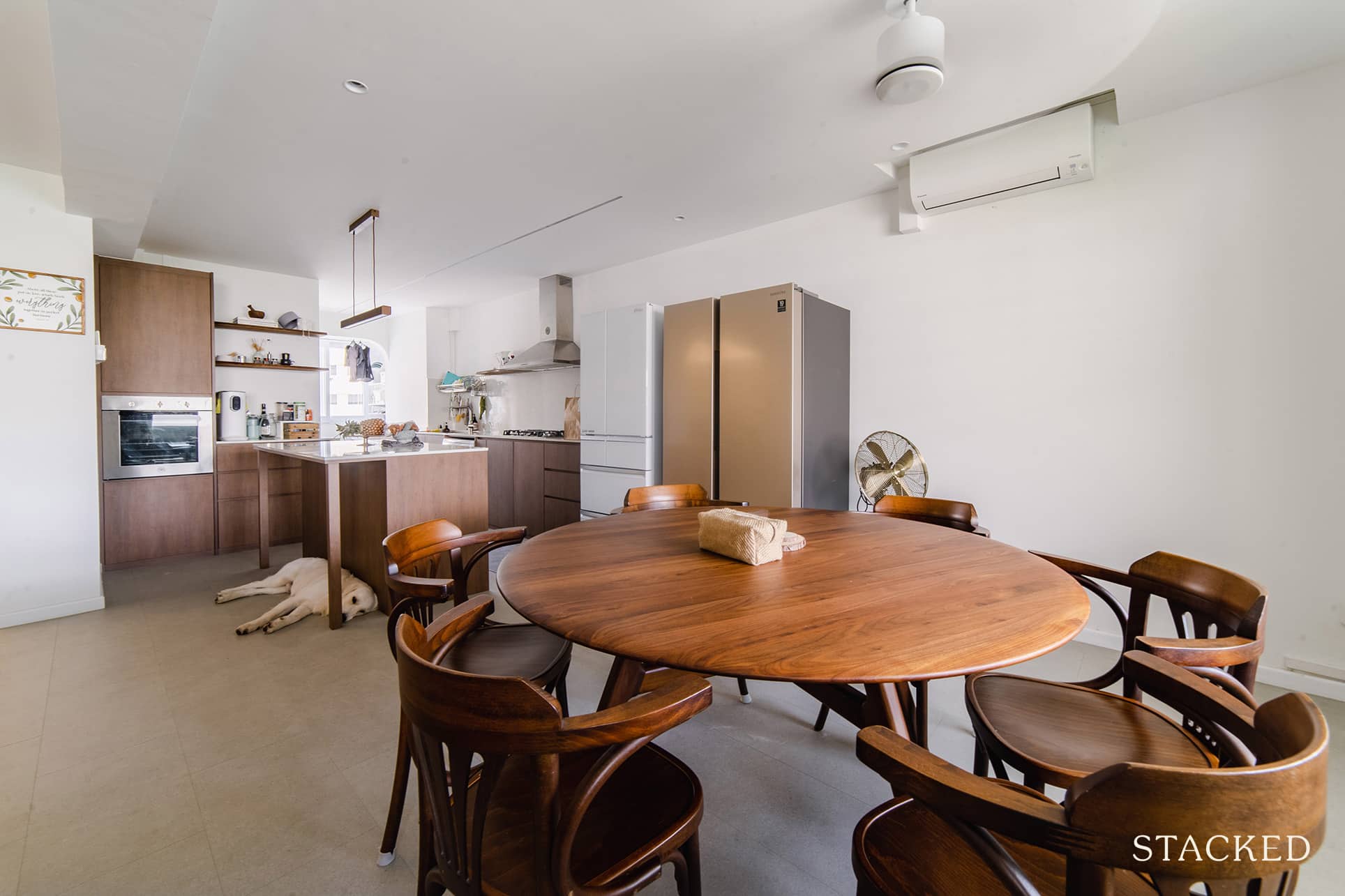 Kitchen
As you may have noticed by now, their living, dining, and kitchen area share one seamless space.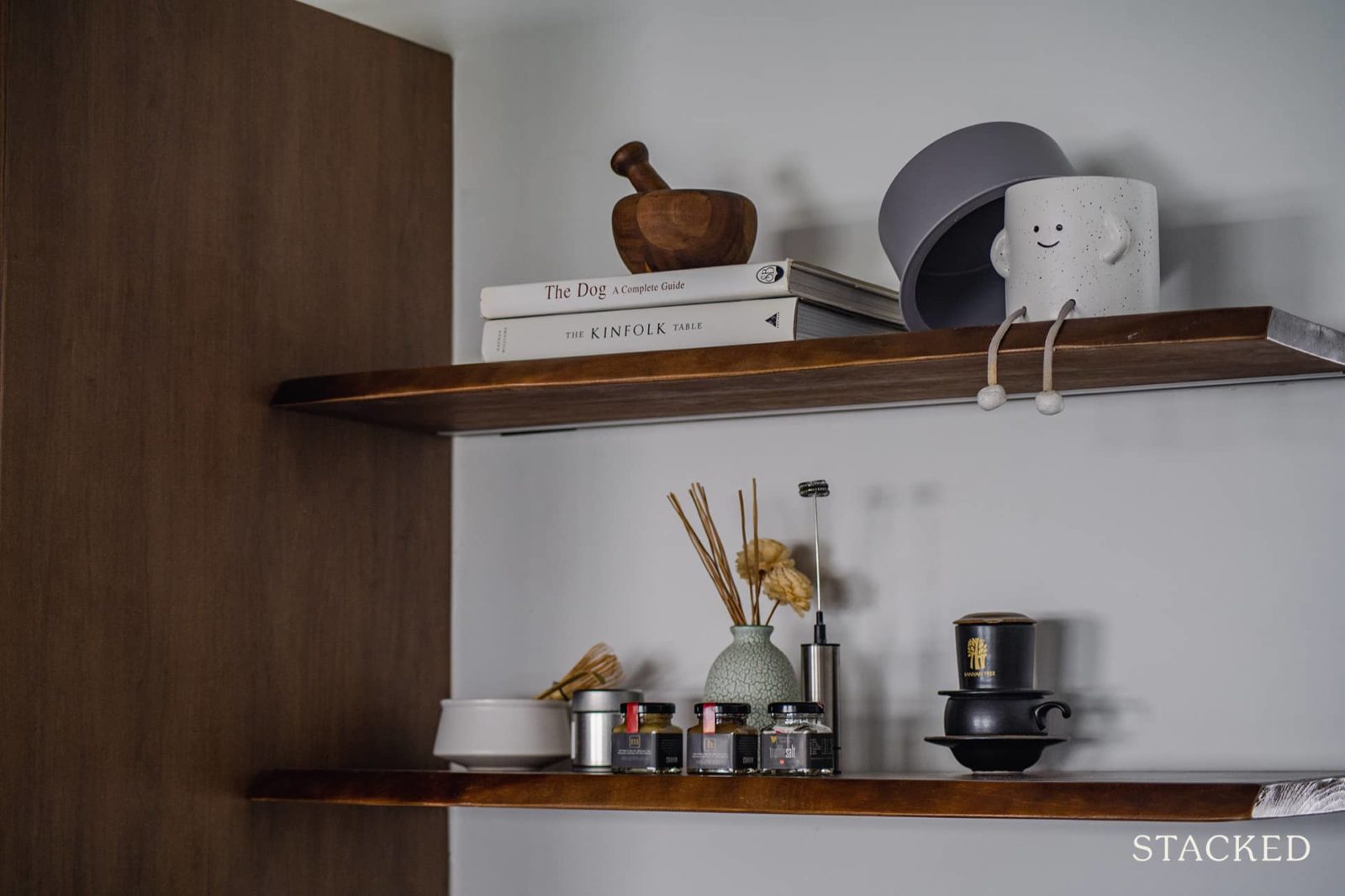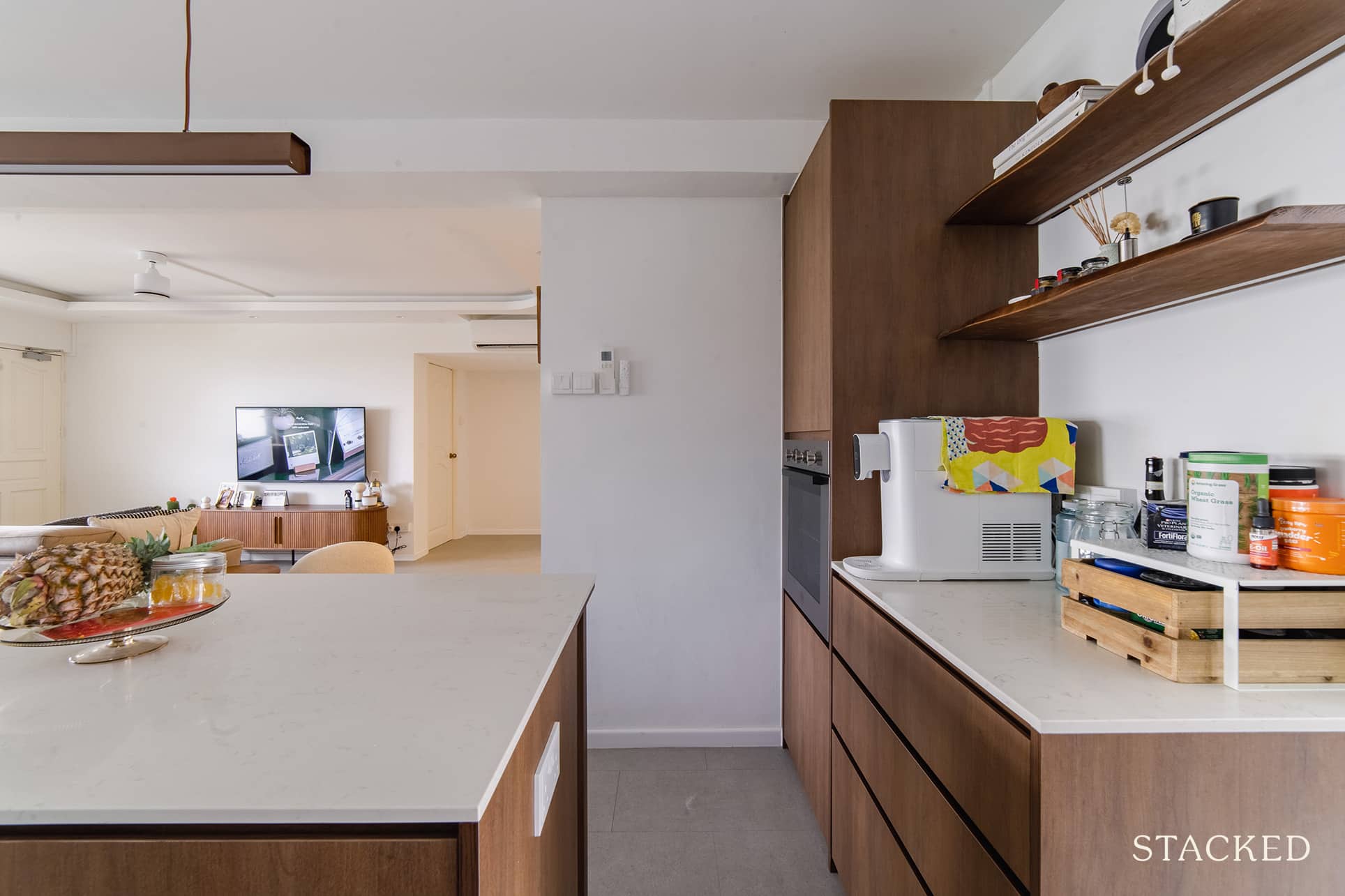 They implemented a full open concept because Shan Ping said it made sense to them. "We would then always be found in the same space instead of in individual closed-off rooms."
Bedroom
They initially wanted an open study, but she said that their ID came up with an ingenious idea of sealing up half the master bedroom, making it into an open study. At the same time, access to the ensuite was carved out by the common bedroom, which is adjacent to the MBR.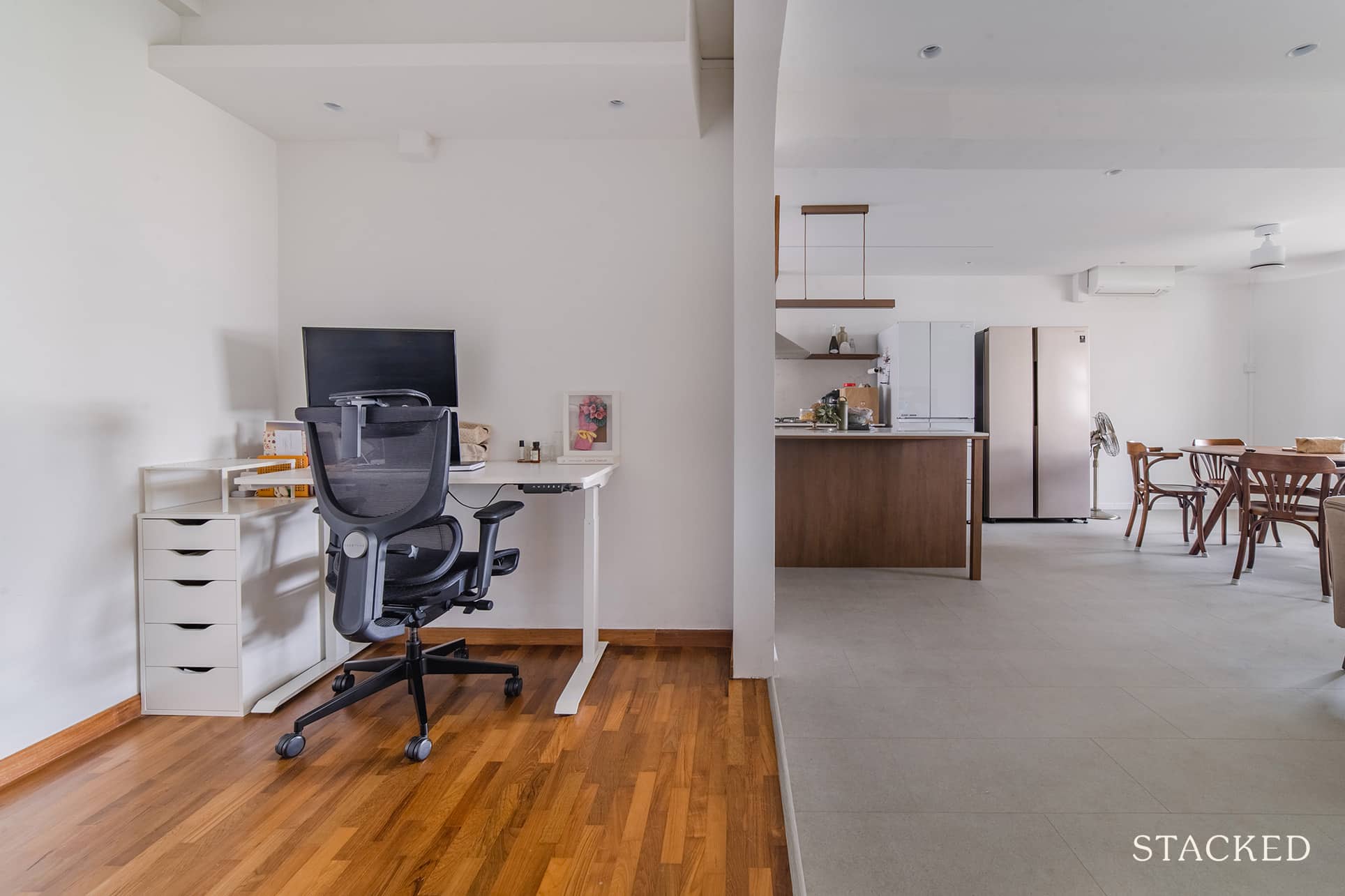 The couple was very pleased with the outcome. "We now have a walk-in wardrobe we never asked for and also, a comfortable-sized MBR with more privacy, and a good-sized open study."
"We honestly think this is the most unique part of our home, and something we've yet to see in all the other home accounts on IG that we stalk," they added. "And we've only heard of our idea being implemented in other subsequent homes!"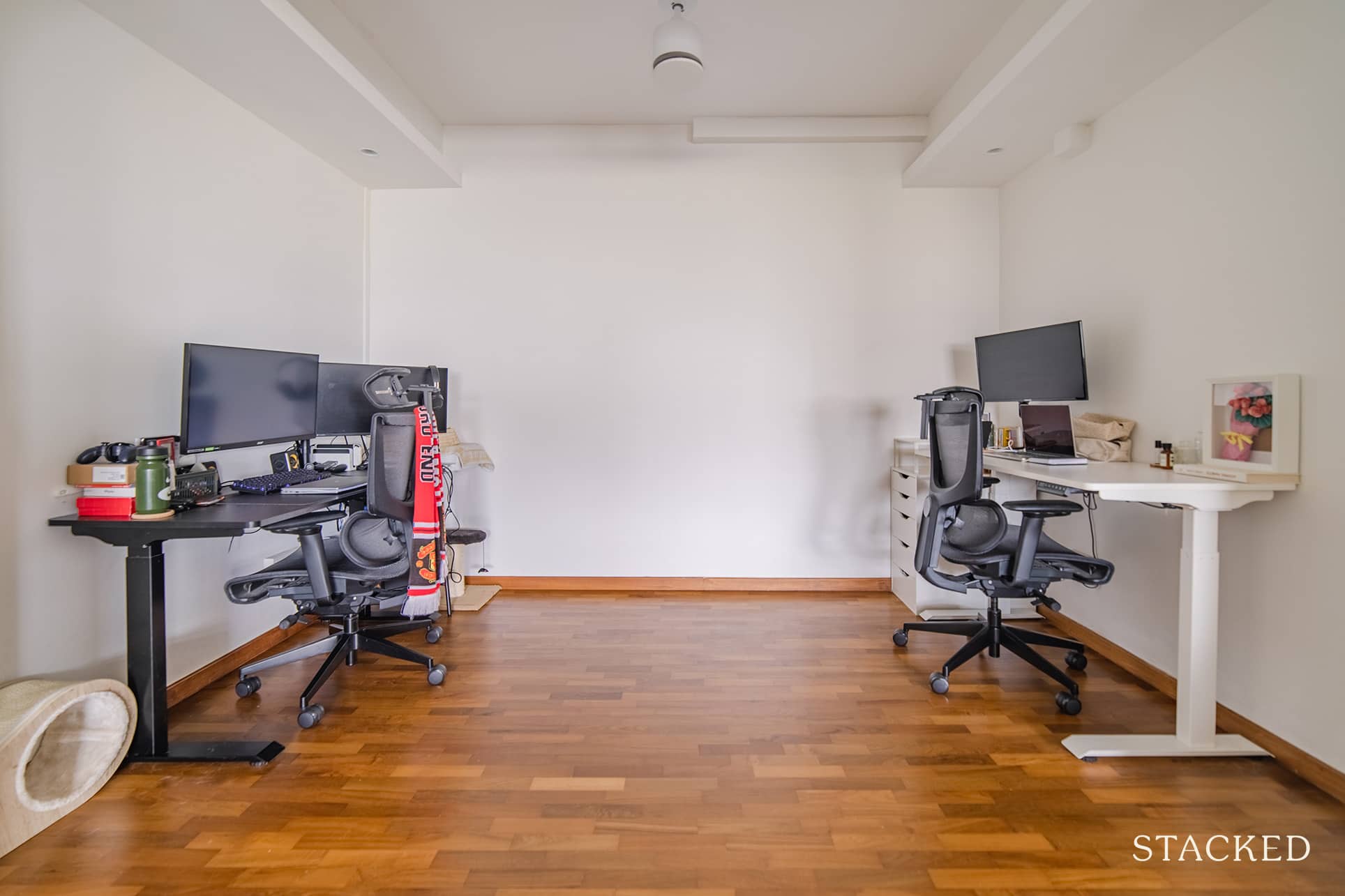 The study area and the bedroom share the same wooden floor tile design which makes it very warm and cosy as well.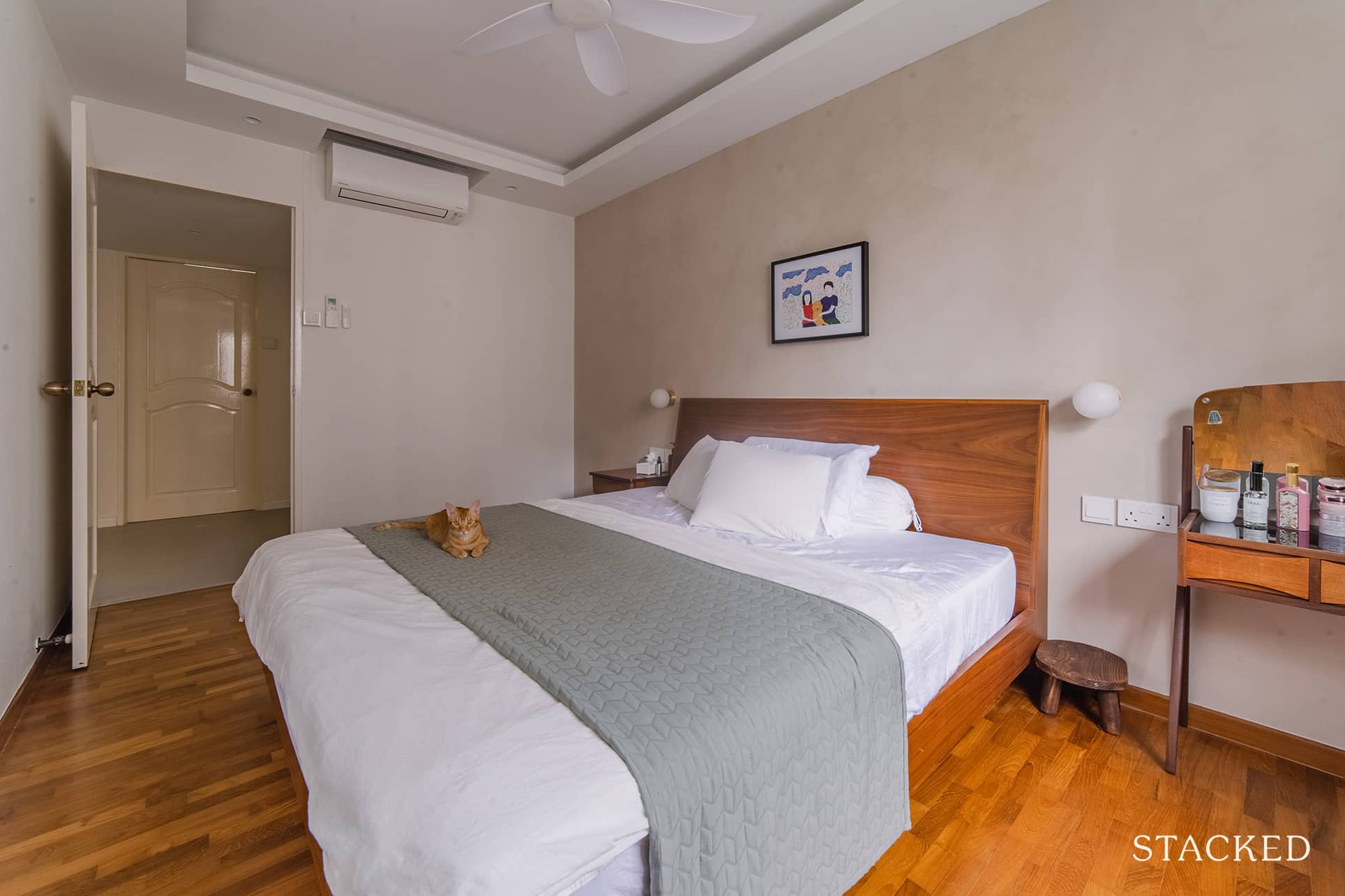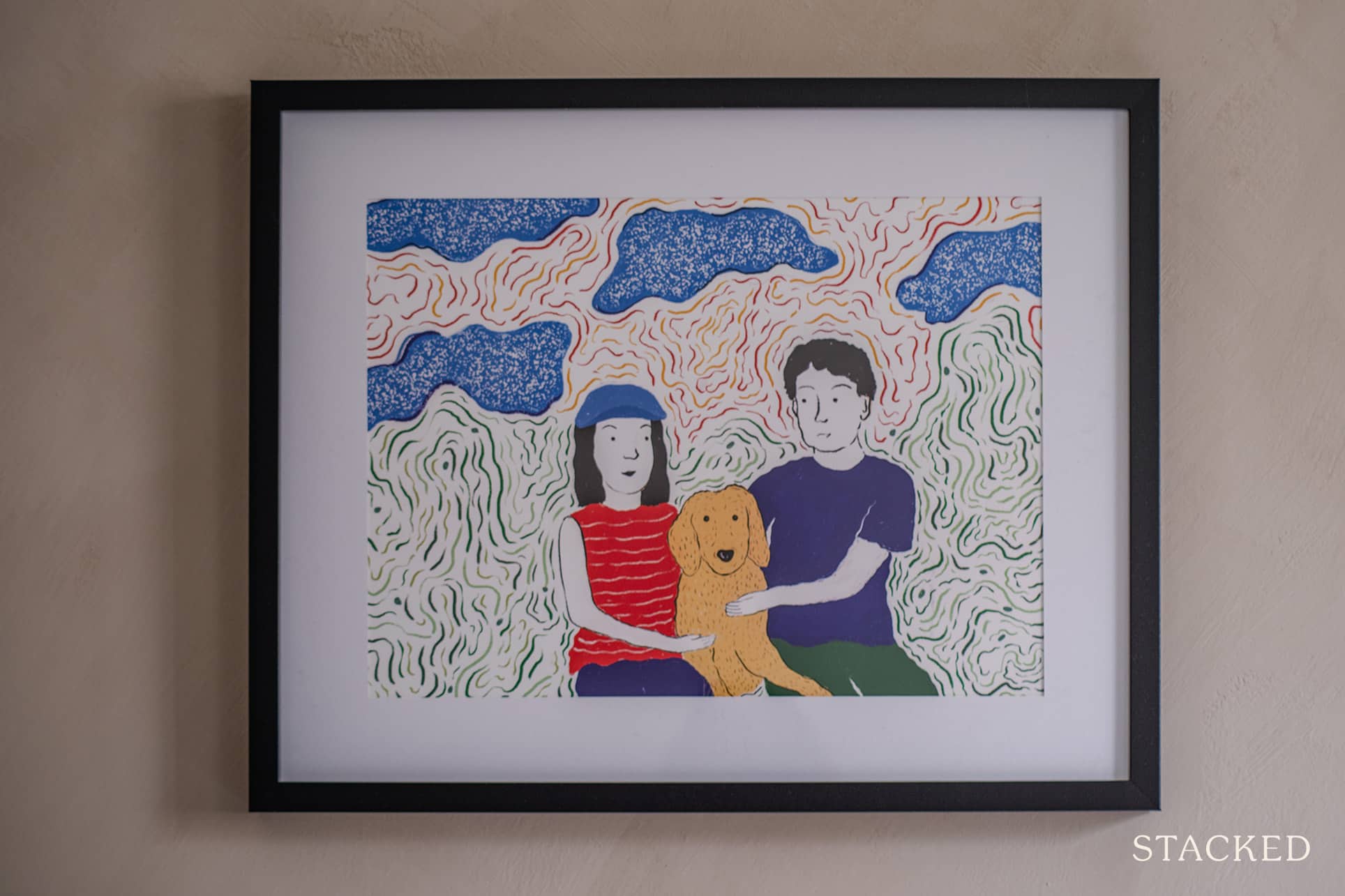 And of course, the keen eye would spot the commissioned Dirtydoodies poster set above their bed!
As for the rest of the master bedroom, the carved-out access to their ensuite bedroom created enough space to accommodate a walk-in closet.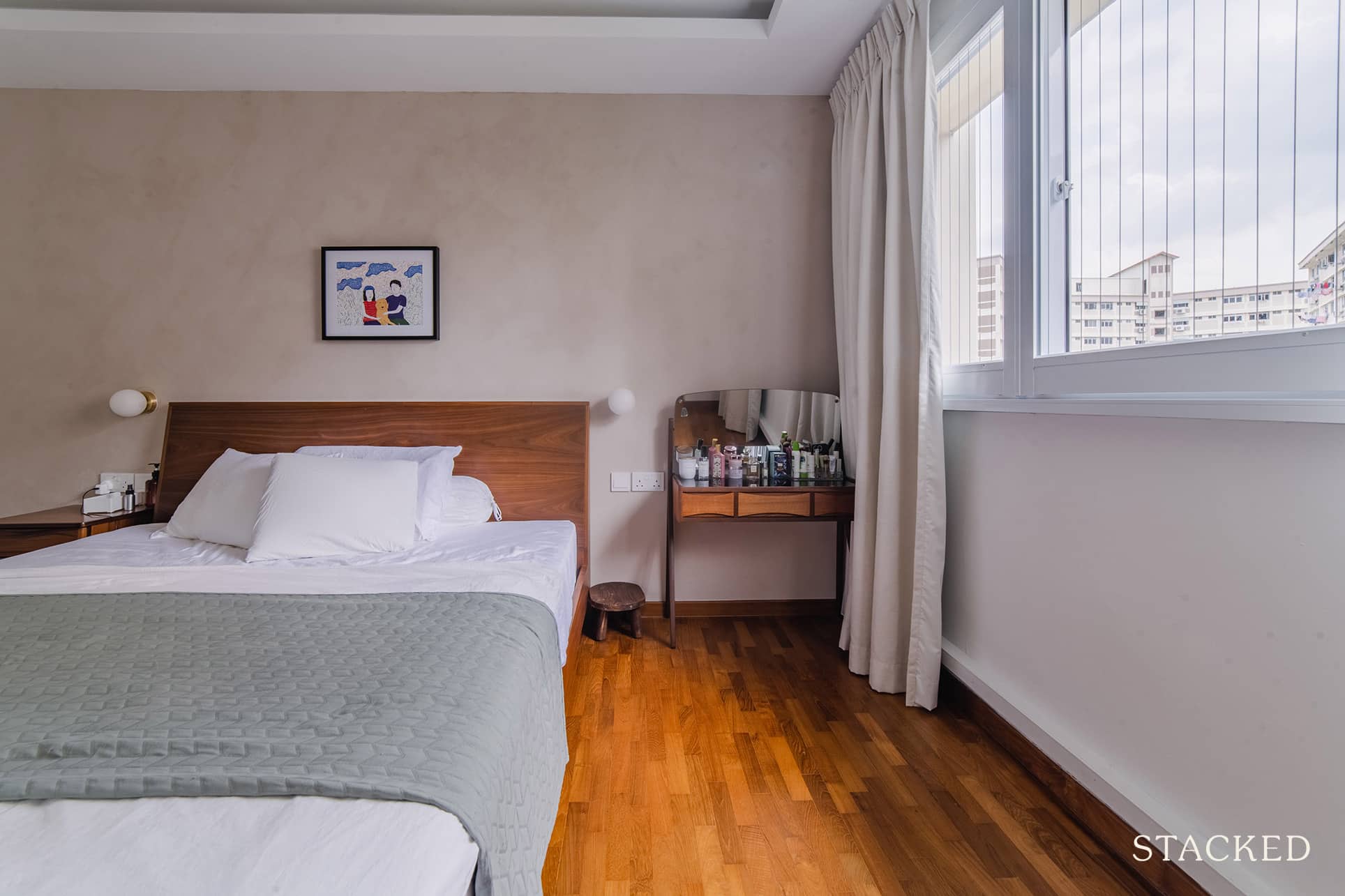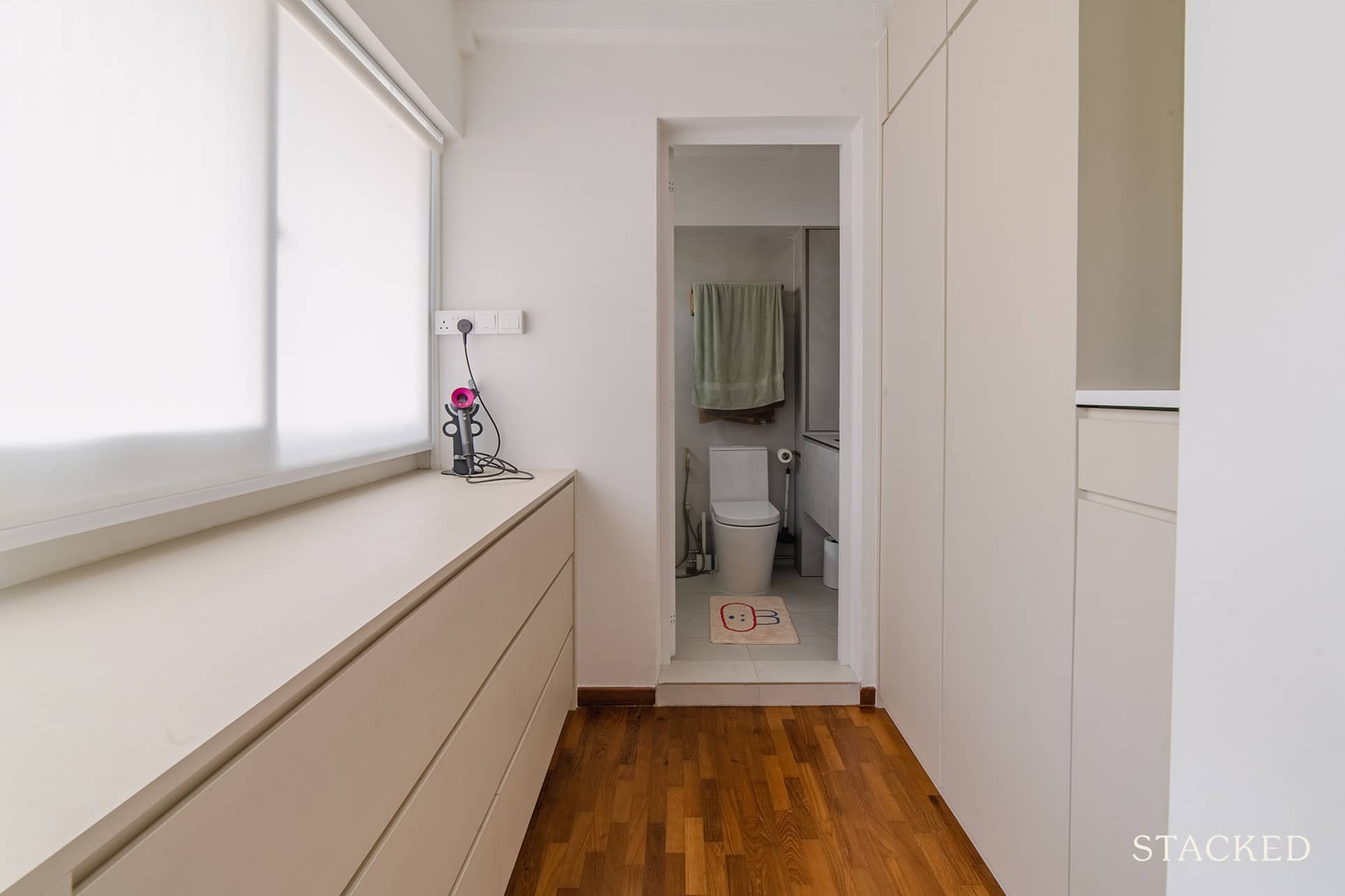 Bathroom
Clean lines and a pendant light helped the master bathroom to remain consistent with the overall style of the home.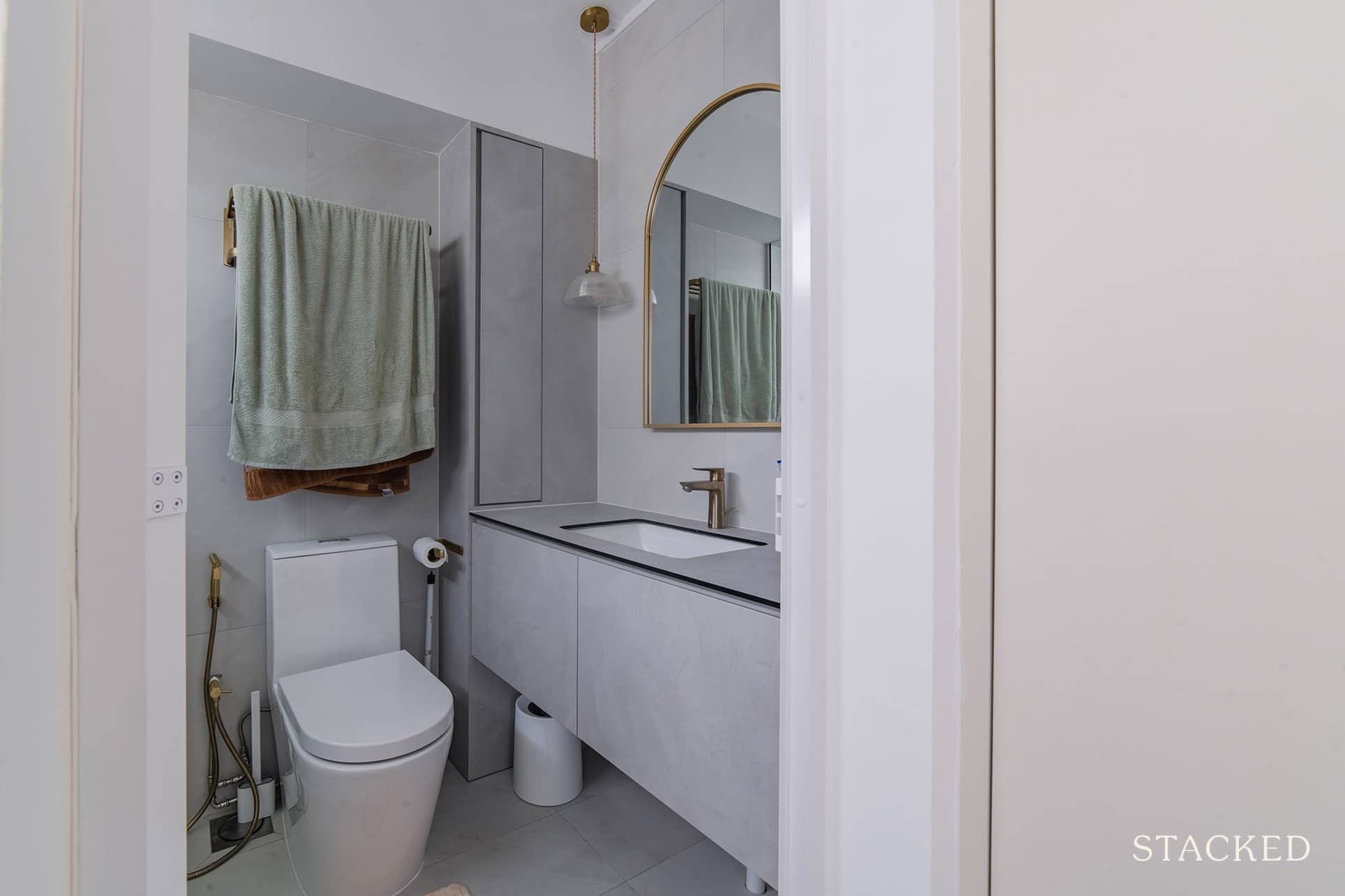 For the common bathroom, they had to enlarge it to be able to make space for a proper-sized vanity.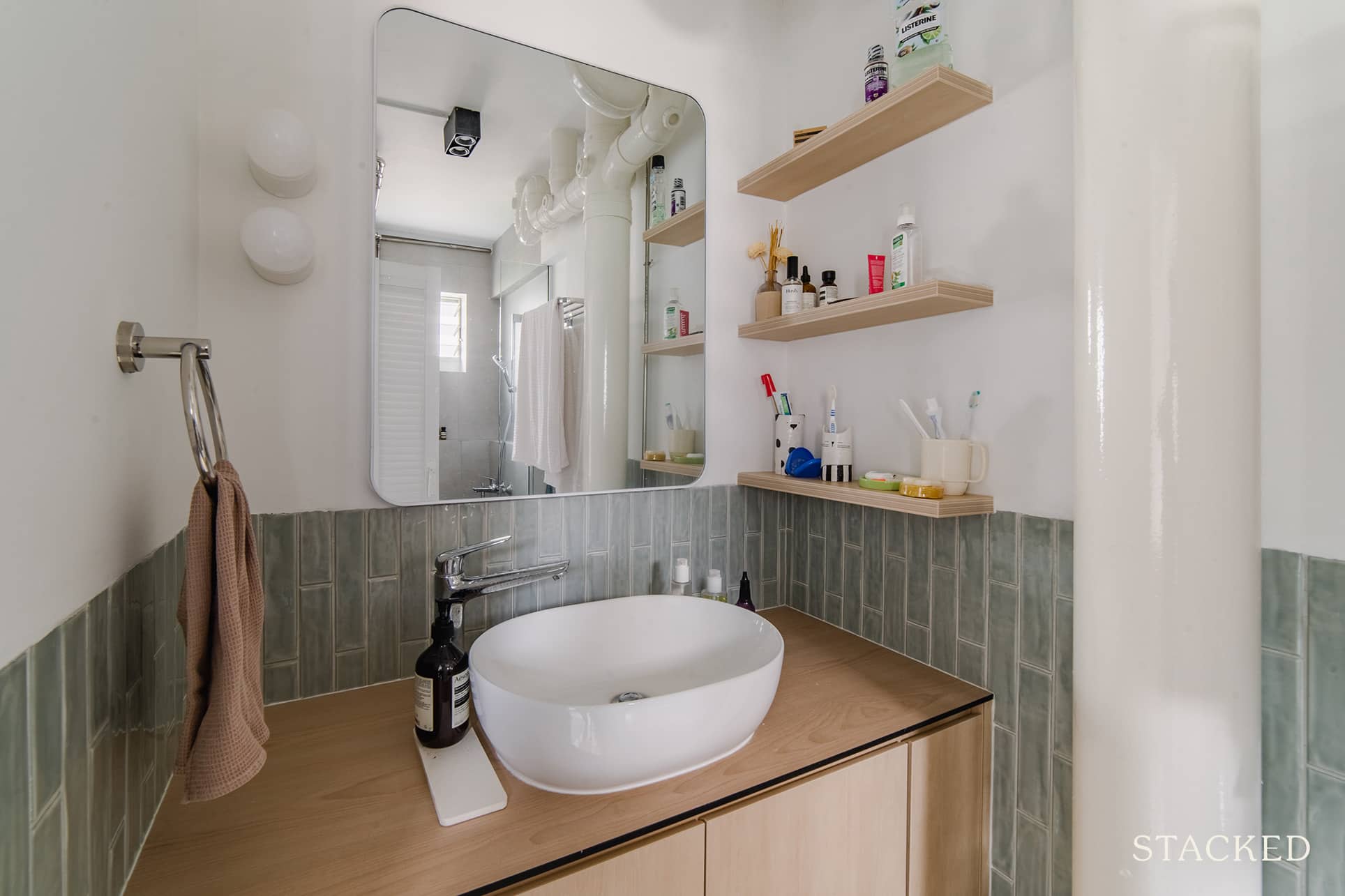 Bringing The Vision To Reality
So, was the outcome similar to what they envisioned before the project started? Shan Ping said they did get what they planned for according to their final renders and that it's only normal to tweak and transform ideas as they go along, depending on feasibility and cost.
Their interior designer was Hui Ling from Buildbuilt, and their project manager was Ivan. "Both worked incredibly well together and we really loved this system where they had a designated designer and a more technical person to handle all the nitty gritty measurements and logistical issues."
The couple believed this really sped up processes and communications and was one of the reasons why they chose this firm. Apart from the clear role designation, they were also very transparent upfront with the initial quotation. Their ID even had a process whereby they came to look at the house to personally check what needed to be done before giving them the initial quote. This helped ensure that there aren't any "hidden" costs that may "suddenly pop up" when works start.
"Also, the entire company felt very organised and it helped a lot with the initial credibility building when deciding on them," added Wayne.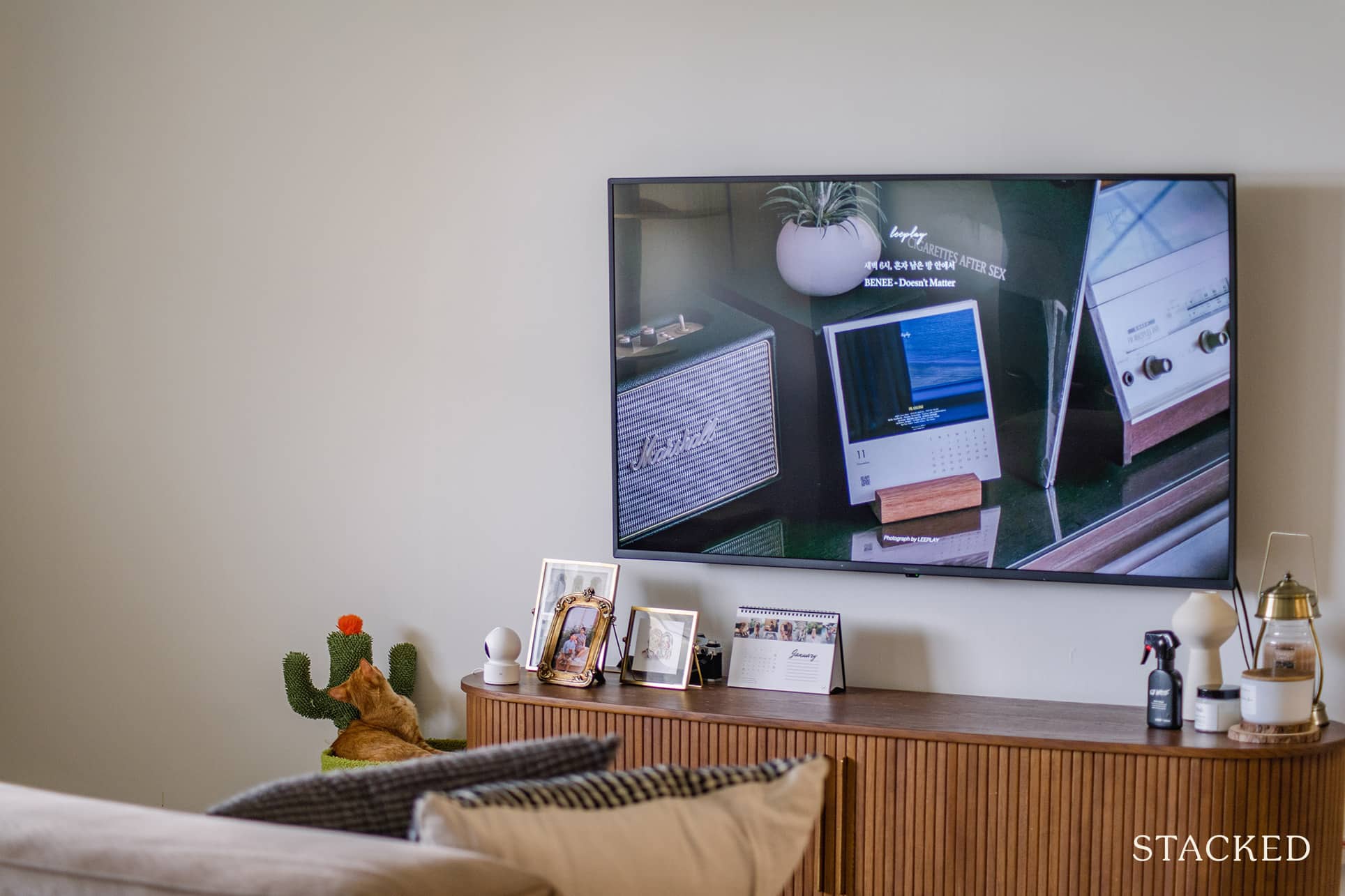 As for their furniture sourcing process, the couple prioritised the hands-on experience. While a lot of people choose to go down the route of buying furniture with Taobao, they prefer not to take any risks.
"We really couldn't deal with the uncertainty and hassle of receiving faulty furniture, dealing with awkward delivery schedules, and the trouble of combing through reviews in Chinese," said Shan Ping. As such, all their fittings and furniture were sourced locally. They took note of where some homeowners got their furniture from, and they also got a few recommendations from personal friends.
"But most importantly, we really enjoyed being able to see and touch our furniture before purchasing and I believe it helped in the entire cohesiveness that we've now created," she added.
The couple found it hard to pick what they consider the best area of their home because they said they love every part of it, and Shan Ping said that every part of their home serves its own purpose really well.
"But we would say, the largest change would probably be the common bathroom. It's now a really nice space for doing your business." It's also in a style that's very different from the rest of the house, giving a breath of fresh air to the otherwise brown-toned home.
Lessons Learned From A Successful Reno Journey
The room with the most changes was also the one where the couple encountered the greatest challenge in their journey. They said the original common bath was far too tiny to manoeuvre around for a shower or to keep a wet and dry area, which was a priority for them.
They filed a request to enlarge the bathroom and switch the wet area around to the other side with a wider width. Unfortunately, HDB rejected their application, so they had to settle for keeping the wet area in the original narrow set-up.
However, even after the amendment, it took almost another two weeks for HDB to go through their application despite very clear instructions from their ID. This significantly delayed the start of their renovations, which pushed timelines back.
The other hiccup they encountered was regarding the gas pipe routing approval. The couple compared the approval process they experienced to a ball game passed from one person to another. And without PUB's approval, they could not proceed with the rest of the works, which resulted in another renovation delay.
"But I would say, apart from playing the patience game, we were rather blessed with no other significant challenges," Shan Ping contently said.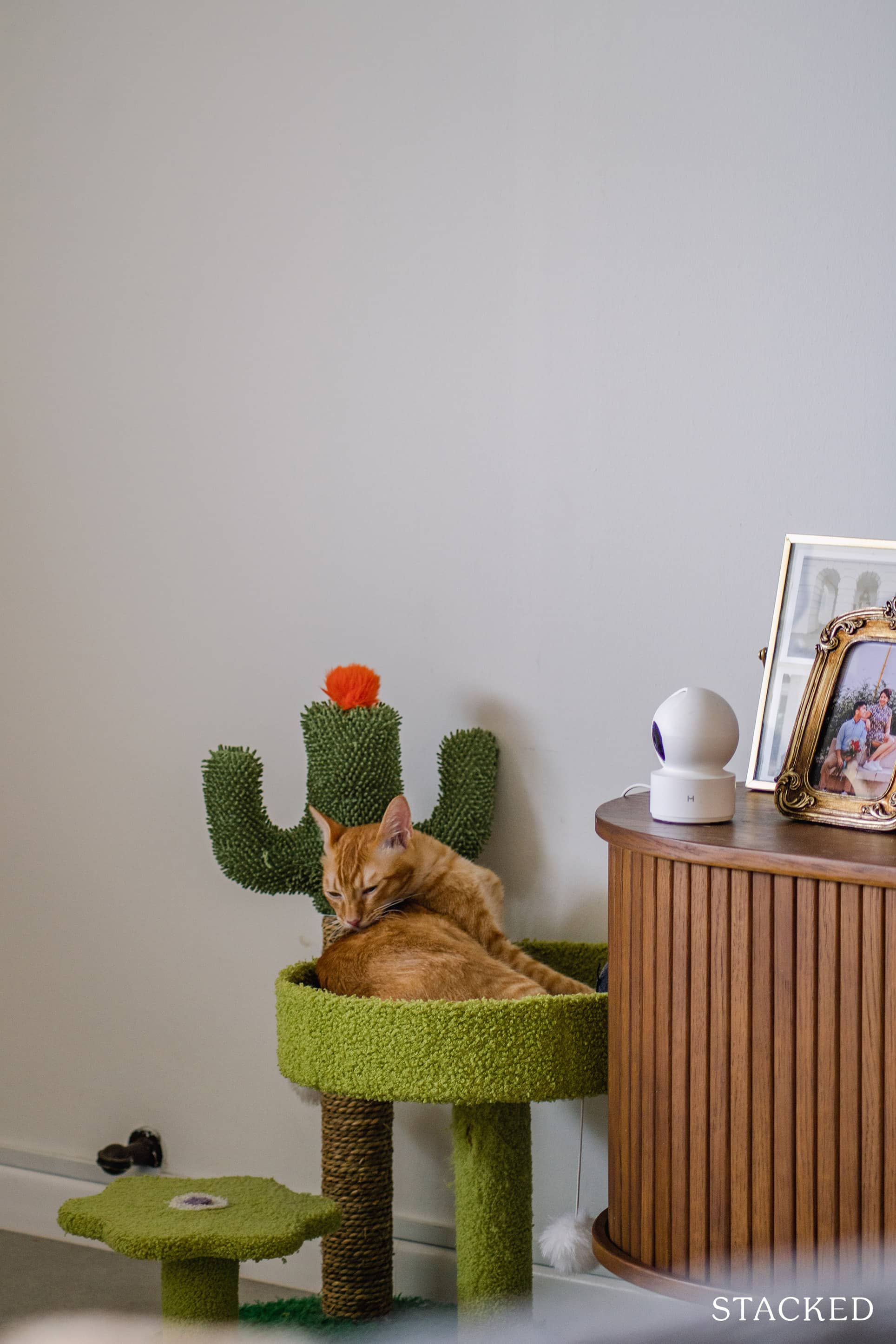 Finally, one of the lessons the couple learned from their experience was to keep their eyes open. They were always on the lookout for inspiration from other homes, which is why they gladly chose to create their own account (@h.ooo.me) to give back to the community.
The pair also learned how important it is to visit the house during renovation at night. "The artificial light, instead of sunlight, can bring out a lot of defects and unevenness in the walls and plastering, which is important to get rectified before handover."
Shan Ping and Wayne give this insightful advice to those who are planning to or are in the midst of sprucing up their homes.
"Know your priorities, be open to exploring alternatives, and have fun! You only get to do it (hopefully) a few times in your life so make each experience count!"
SHARE