7 Portable And Chic Table Lamps To Brighten Your Space
7
min read
If you're looking to add some flair to your space, a portable table lamp might just be something that is worth considering. They can come in a wide variety of colours for an additional pop, or even when not lighted up, the often curvy shapes can be a great stylish complement to your home.
I've covered the first part on 7 stylish portable lamps that you can bring around with you, if nothing has quite caught your eye yet – here are 7 more!
1. Marset FollowMe Portable Table Lamp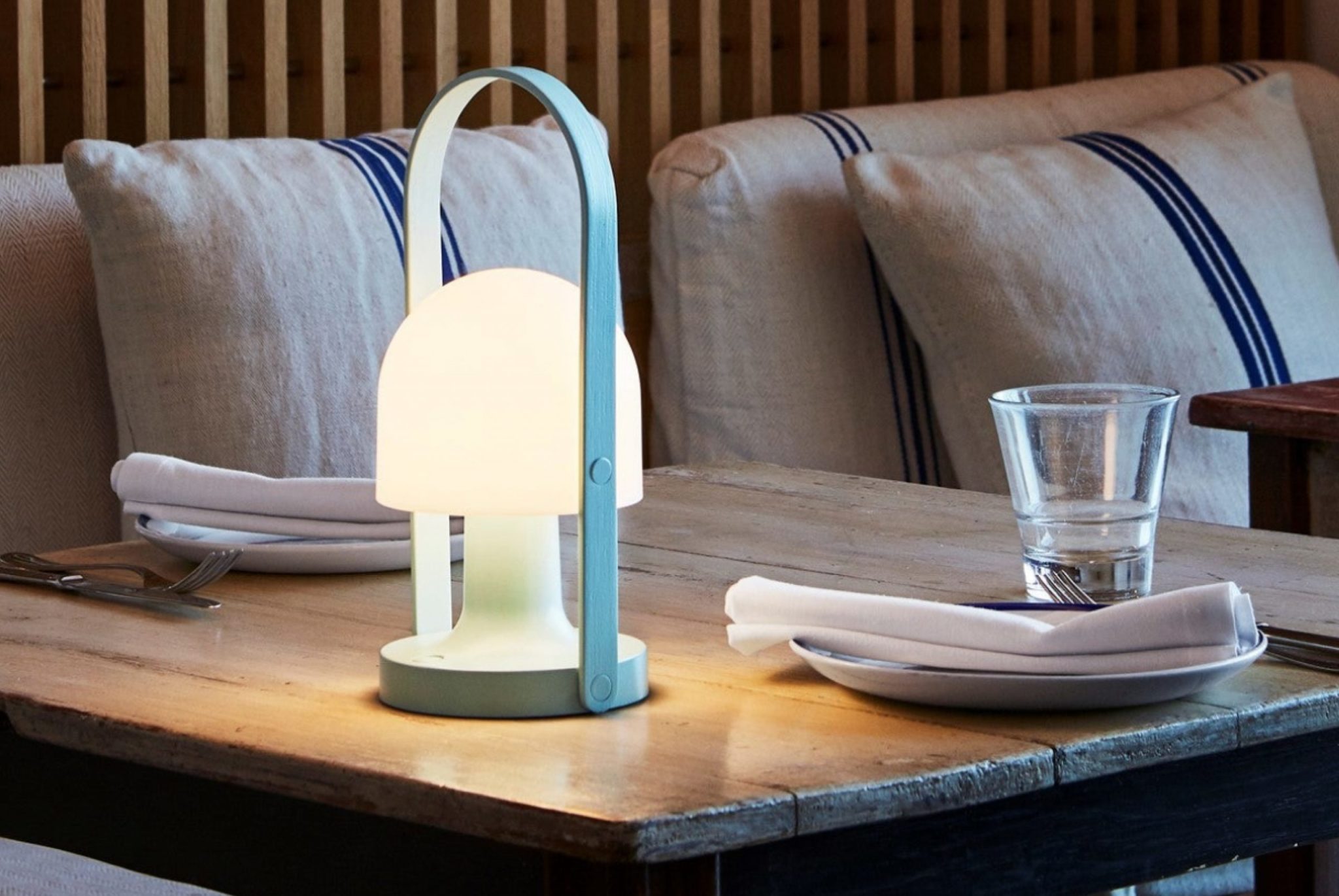 Marset FollowMe may not be from the past century, but since its release in 2014, it has already become a classic all on its own. Its playful and chic designs allow you to carry it anywhere (thus the name). The wood veneer hoop that extends above the lamp is not just a design style, but doubles as a handle for carrying it. While it may look perfectly stylish sitting on your bedside table, not many lamps can also look just as good on a picnic by the beach.
Made from polycarbonate material, Marset FollowMe has a height of almost 30 centimetres. It's compact enough for you to bring anywhere. The battery can be recharged via USB and can hold its charge for up to 10 hours. This lamp also has three light output settings, so you can adjust the intensity of the light to your preference.
2. &Tradition Flowerpot VP9 Portable Table Lamp
Drawing inspiration from Verner Panton's original Flowerpot Lamp from the 1960s, this portable version exudes the same sleek silhouette design. This lamp is produced by &Tradition – a Danish company known for combining tradition with innovation by bringing classic designs to contemporary times.
What I love about this lamp is that while it still retains its mid-century style, it's also up-to-speed with contemporary lighting technology. It has an integrated touch dimmer to adjust the brightness of the LED lamp easily. It recharges via a USB port, with charges lasting up to 10 hours. The Flowerpot VP9 Portable Table Lamp comes in various colours, from striking reddish brown to bright pale sand. My favourite? That stunning matte black edition that will look great in any minimalist home.
3. &Tradition Setago Portable Table Lamp
Here's another classic design from &Tradition. This time the lamp came from the creative mind of Spanish artist and designer James Hayon. The design of the Setago Portable Lamp got its inspiration from Japanese lamps, but the name is actually the Spanish word for mushroom.
(The Spanish word for mushroom is hongo according to Google, so I'm not sure about that. According to the Spanish waiter at my local tapas restaurant, mushrooms are also called "lo más caro del menú" )
It has a dimmable LED bulb and a touch-sensitive dimmer switch. The lamp's up time is up to 10 hours, giving off soft and consistent lighting. Its cute and offbeat design helps elevate the mood of any space. While it can be used both indoors and outdoors, I wouldn't bring it out when it's raining because it's not weatherproof, which is the kind of camping mistake that's only hilarious after the fact.
4. Mūn Rechargeable Lantern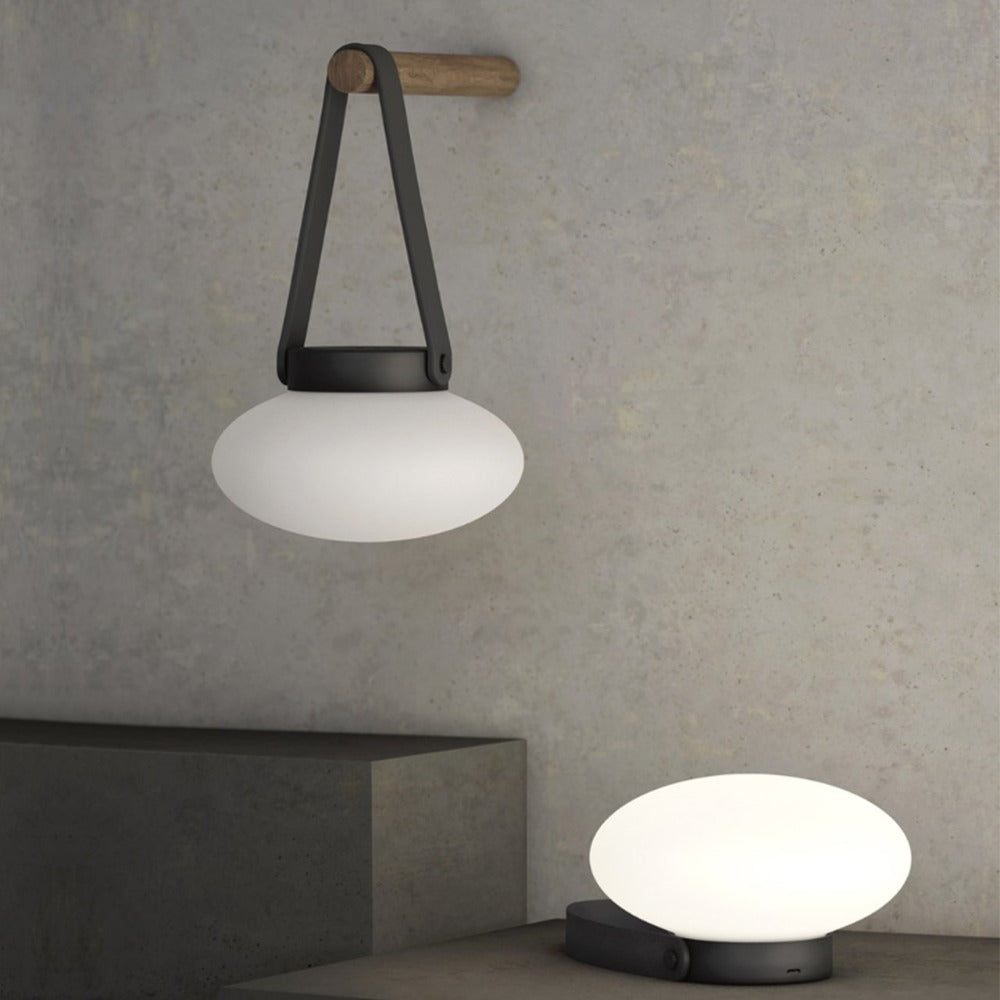 The Mūn Rechargeable Lantern is a fusion of form and function, bringing together Asian design with a timeless aesthetic. OEO Studio, creators of this lamp, couldn't have said it better, "The design of Mūn is compelling and minimalistic, with a subtle, sophisticated appearance – almost mystical as the movement of the tide as the Moon orbits the earth." I can clearly see this as a great addition to any home with a Japan-esque vibe.
The soft curve of the lamp is a playful and sculptural adaptation of the moon. This rechargeable lantern comes with a sturdy silicon strap that allows it to be hung indoors or outdoors. Also, the Mūn Rechargeable Lantern also comes with three dimming options and three lighting styles. If you don't have anywhere to hang this lamp, you can simply place it on a table, and it will not lose its poetic effect.
5. ferm LIVING Meridian Dimmable LED Lamp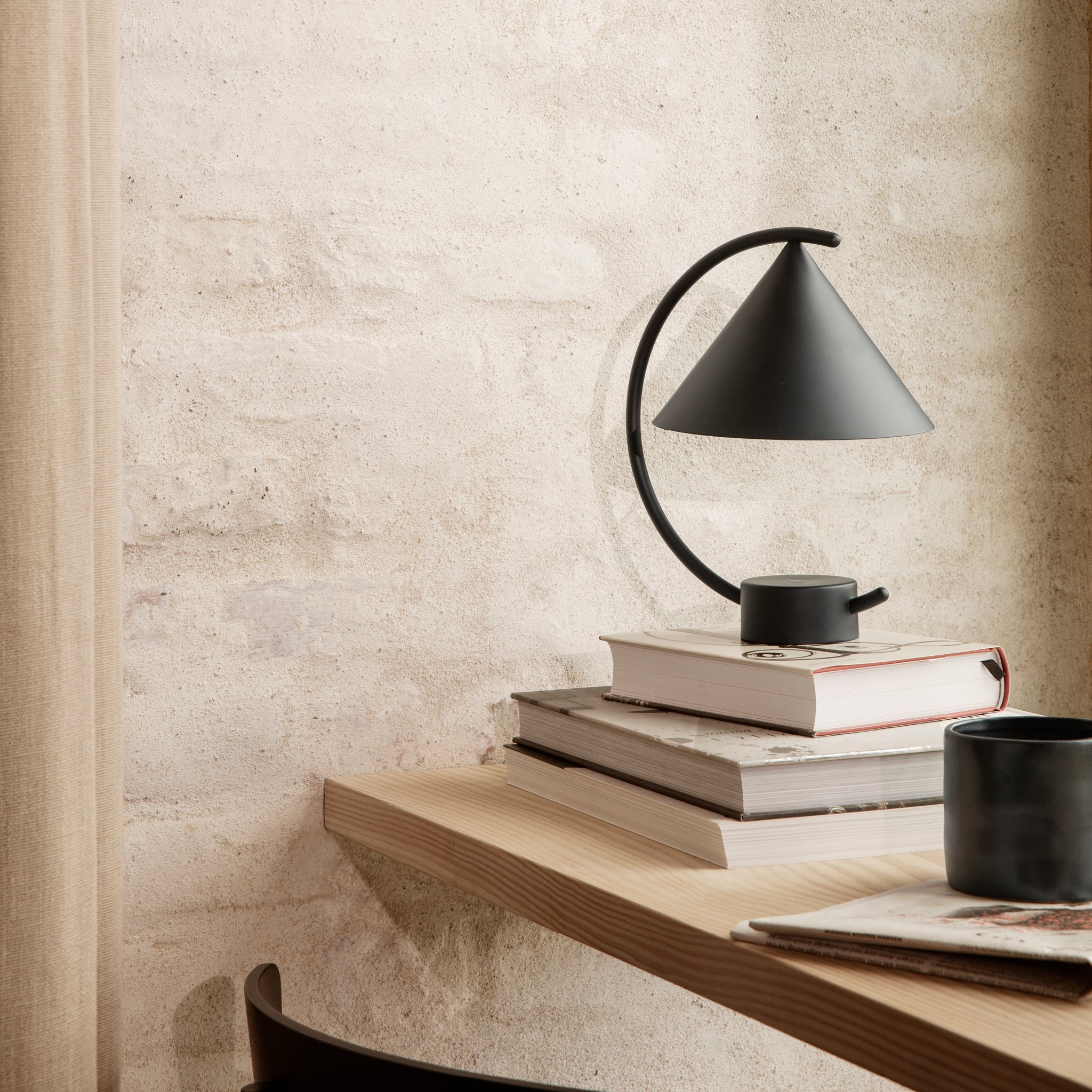 Here's another stylish portable lamp for those with Scandinavian-themed homes. Produced by Danish brand ferm LIVING, the Meridian Dimmable LED Lamp is more than your usual lighting gadget. It's a work of art, a sculpture consisting of simple geometric elements. What I particularly like about its design is that it's aesthetically clean.
The Meridian table lamp has an integrated LED light source, which is also dimmable. The lamp can provide up to 12 hours of uptime when fully charged. Even if you don't need extra lighting, the sculptural design in itself can help add an accent to any space.
It's also kind of fun to watch people stick their hand under it when you lie and say it's the latest Reiki-no touch massage aid.
6. HAY PC Portable lamp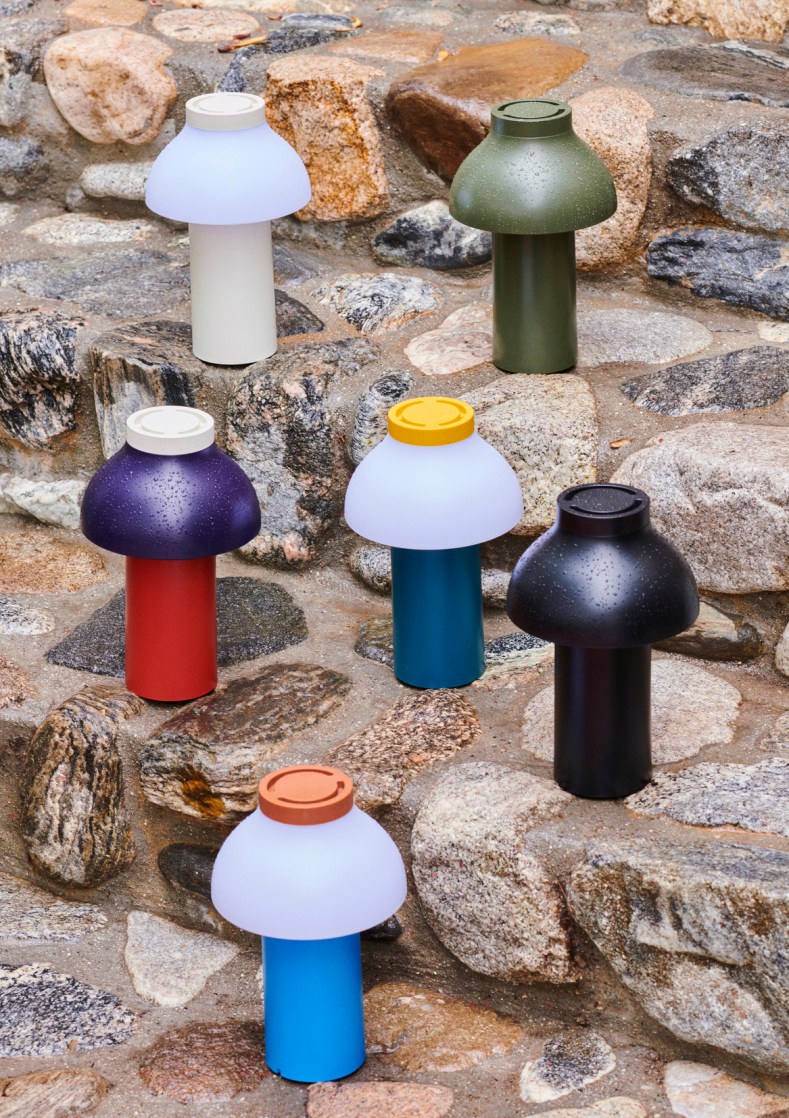 Here's a playful yet elegant take on lamp designs by French designer Pierre Charpin. In collaboration with Danish brand HAY, Pierre created this HAY PC Portable Lamp to express his artful approach to everyday objects. The lamp was intentionally created for home use. But I can see how cafes, restaurants, and other dining establishments can benefit from it, especially since this lamp is also waterproof.
With a polycarbonate diffuser, HAY PC Portable Lamp distributes light in a downlight and ambient style. Aside from being water-resistant, its matte material can also withstand scratches. It has a sturdy base as well, so carrying this lamp is as easy as holding a drink (when sober). It comes in various colours, from simple white to a more elaborate dusty red.
7. Bontà by Davide Oldani for Artemide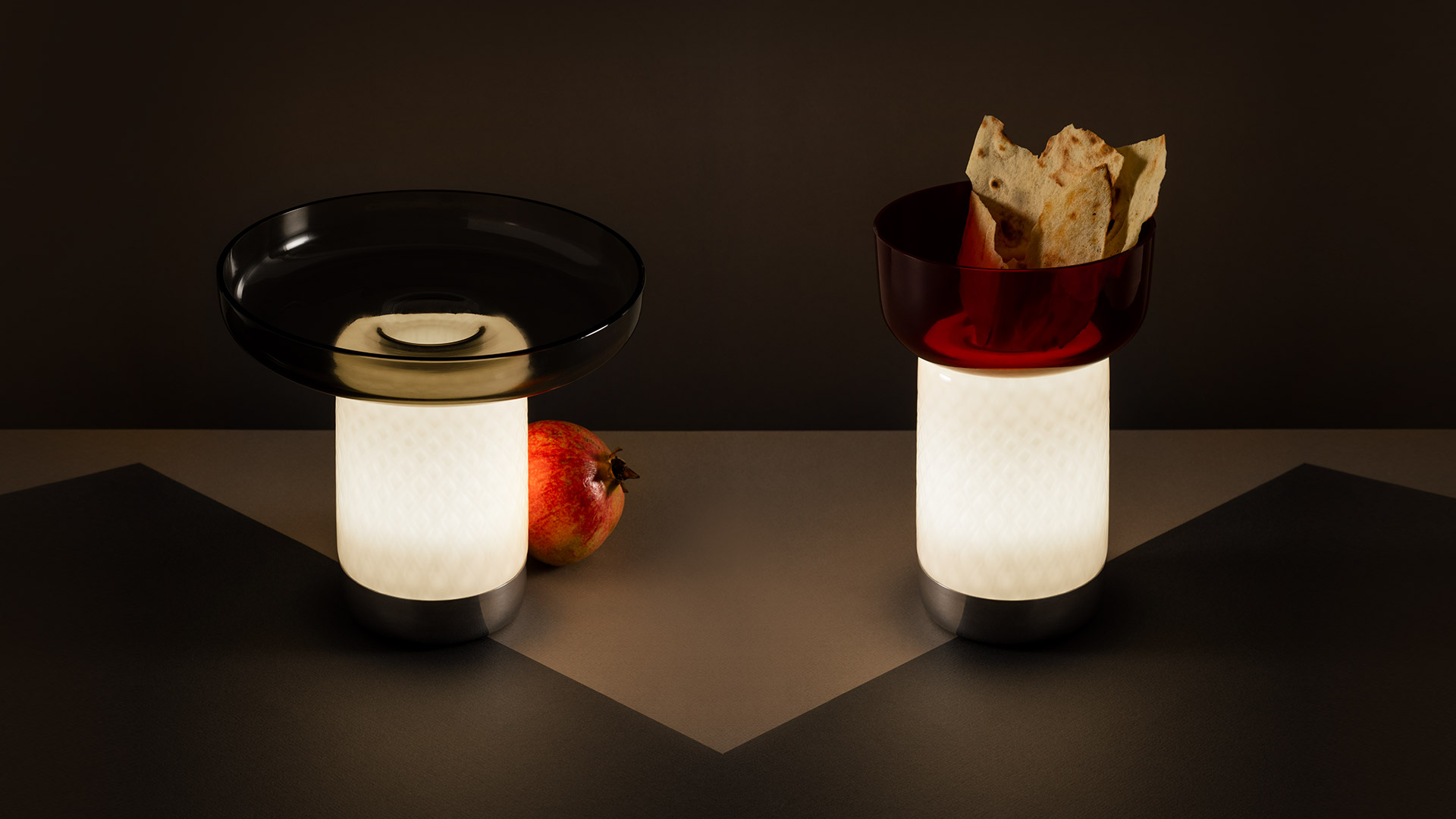 Create a festive atmosphere with this Bonta Dimmable LED Table Lamp. Designed by chef Davide Oldani for Artemide, this portable lamp shows the clear connection between light and food. The lamp's base is where it diffuses light, and the upper recess holds a glass bowl to hold food. I can imagine other uses for the bowl though – a stylish jewellery dish, for instance.
The Bonta portable lamp comes with two hand-worked glass bowls, including a wider one. It also has a dimmer slider to adjust the light intensity easily. It comes in various colours and is rechargeable, so you don't have to worry about power cords spoiling the aesthetics.
SHARE