6 Interesting 4-Room HDB Layout Ideas For DINK Couples
9
min read
Until that magical time comes when we can specify the type of layout we want in our BTO flat, there will always be the need to reconfigure a space because of our lifestyles.
And perhaps it's as a result of our falling birth rates, but you could say there is a trend of couples that have really made units like a 4 or 5-room HDB catered completely to their own.
In other words, these DINK (dual income, no kids) couples have the luxury of space to create a more unique environment.
But there are still some important factors to think about:
For example, without children, you may be more likely to host gatherings with friends and family. So, a home with a spacious living area, outdoor space, and perhaps even a dedicated entertainment room can be appealing.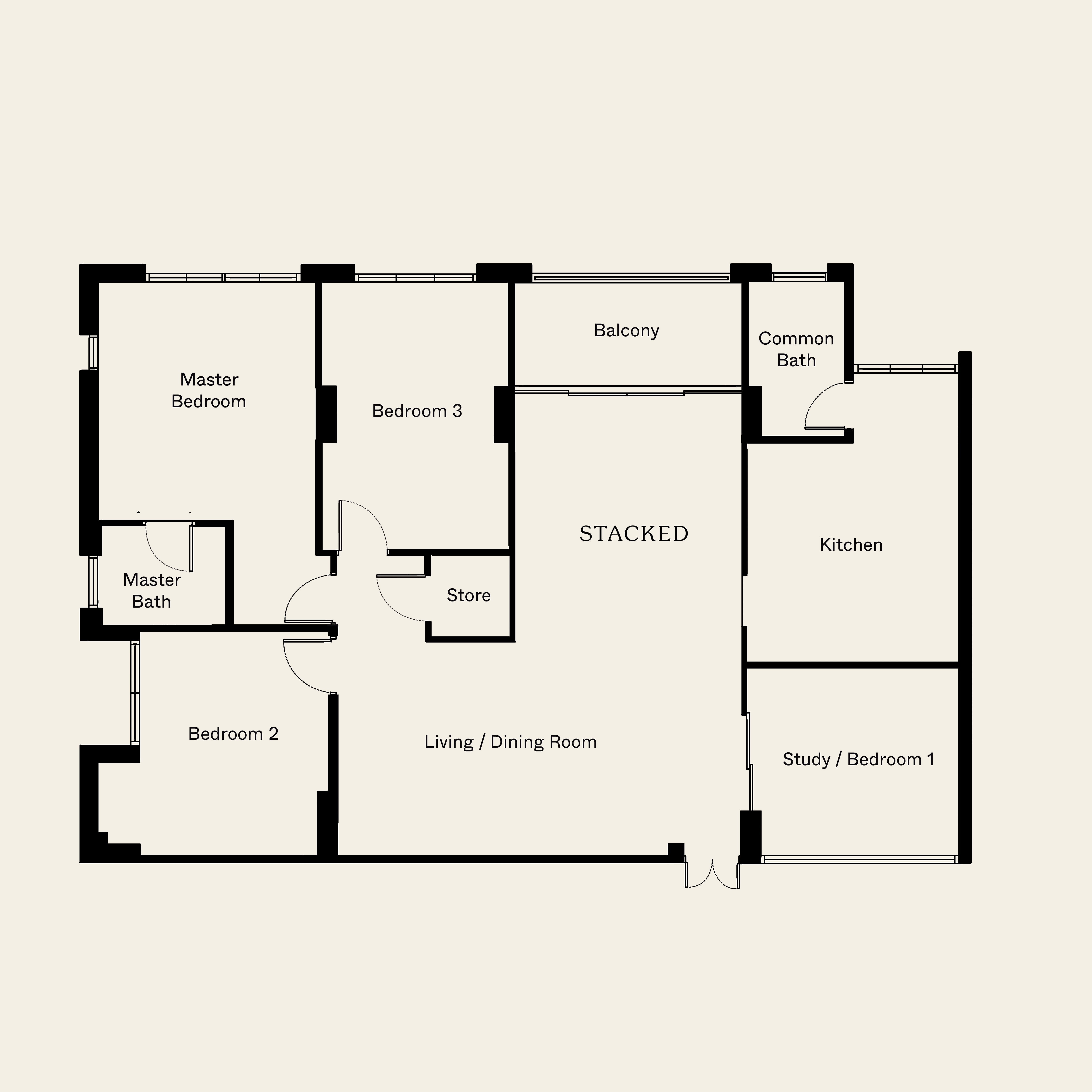 Additionally, with both you and your partner working, having a quiet, distraction-free workspace at home is crucial, especially in the era of remote work.
To help you further, we've put together 6 layout ideas to transform a 4-room HDB unit to fit a more balanced lifestyle. These layouts take into account your desire for a space to entertain, a home office area, and a space to work on hobbies or other interests.
Of course, not all HDBs have the same floor plan, so we'll need a base layout we can work with. Here's a sample 4-room HDB that we'll be using to show different layout options.
The flat you're about to renovate may not look exactly like this, but at least it can give you a good head start on what particular layout options you can choose to have.
1. Guest-Room-Ready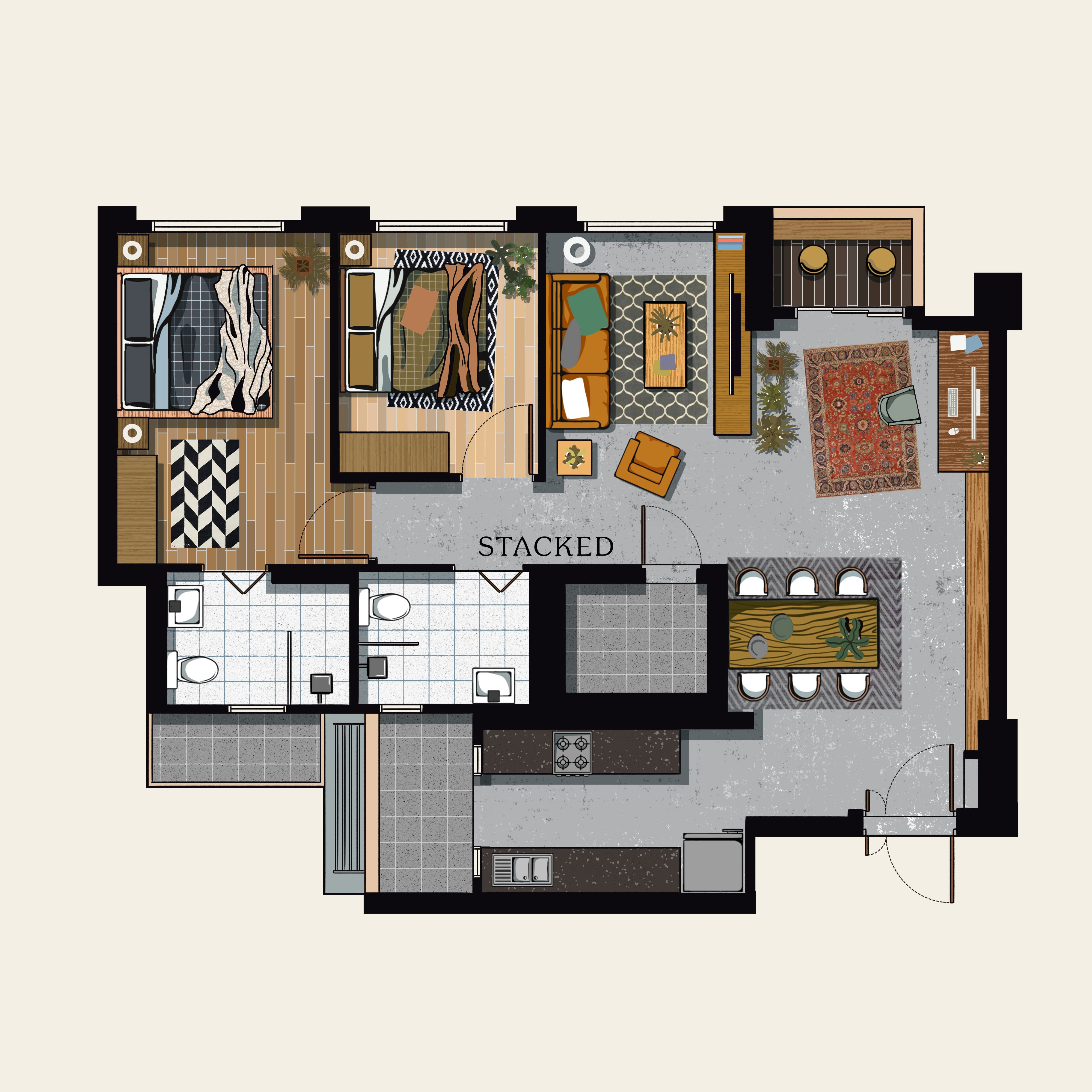 As much as you'd want to utilise the space completely for other activities, you may sometimes have the need to house friends/family when they come over. While you could have a foldable bed or a murphy bed, these ad-hoc options are just not as comfortable.
So if you do have ambitions to be a really hospitable host, here's a layout that still works with a guest room.
By hacking away the first bedroom adjacent to the original living area, we're opening up the space so that we can move the sofa as well as the TV in that particular area. Doing so opens the space and removes the long dark hallway leading up to the master's bedroom.
The original living room now becomes a space where you can set up a desk and computer. If you have an indoor hobby, you can use this space for your workshop as well, and with the balcony to the side, you can have plenty of light in this space as well.
Of course, you could just swap the positions of the living and study room, but that would really be dependent on which you prioritise more.
2. For Those Who Love To Cook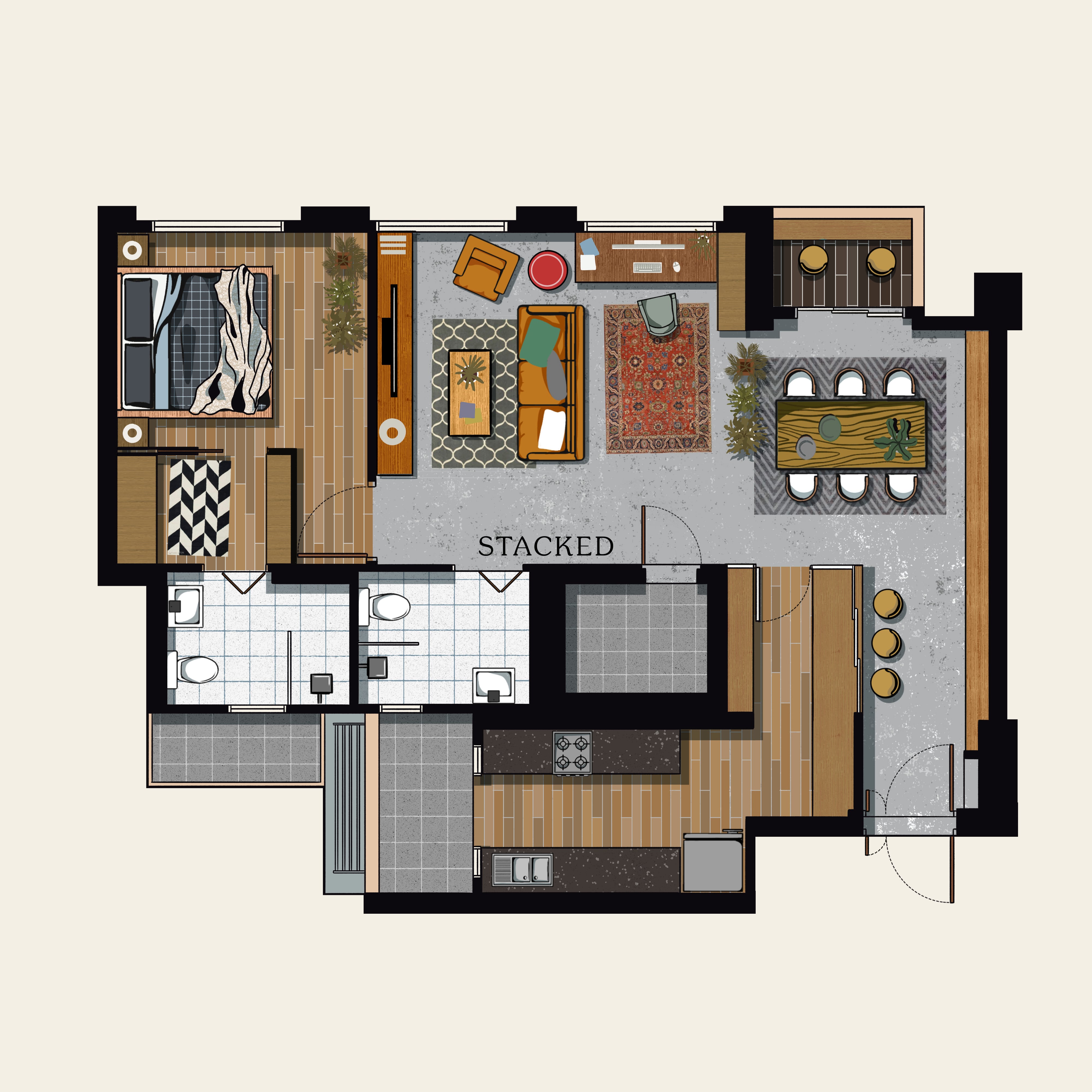 Do you see yourselves in the kitchen most of the time preparing your favourite dishes? How about a bigger space to entertain your guests? This layout helps you achieve the lifestyle that you want in your home.
Let's start with the kitchen. Compared to the other floor plans in this list, this one aims to maximise the area, extending the kitchen up to the space where part of the original dining area is. As a result, it creates a dry and wet kitchen area, allowing you and your partner to prepare while having great conversations with your guests.
It's not only the kitchen that gets a boost in floor space, as the living room and dining area get to have a large open space, making them seamless as well. Hacking away both two adjacent bedrooms immediately allows natural light to flood in, making the entire home bright and airy. This moves the dining to a more prominent space near the balcony, so if you do have nice views this would be an even better move.
This design has some drawbacks, though, and it starts with the entryway. As you can see, to be able to expand the kitchen space, the entryway ended up being smaller. The home office setup also sits right between the living and dining, which could be quite hard if you need to work on something when you have guests.
3. Bright & Airy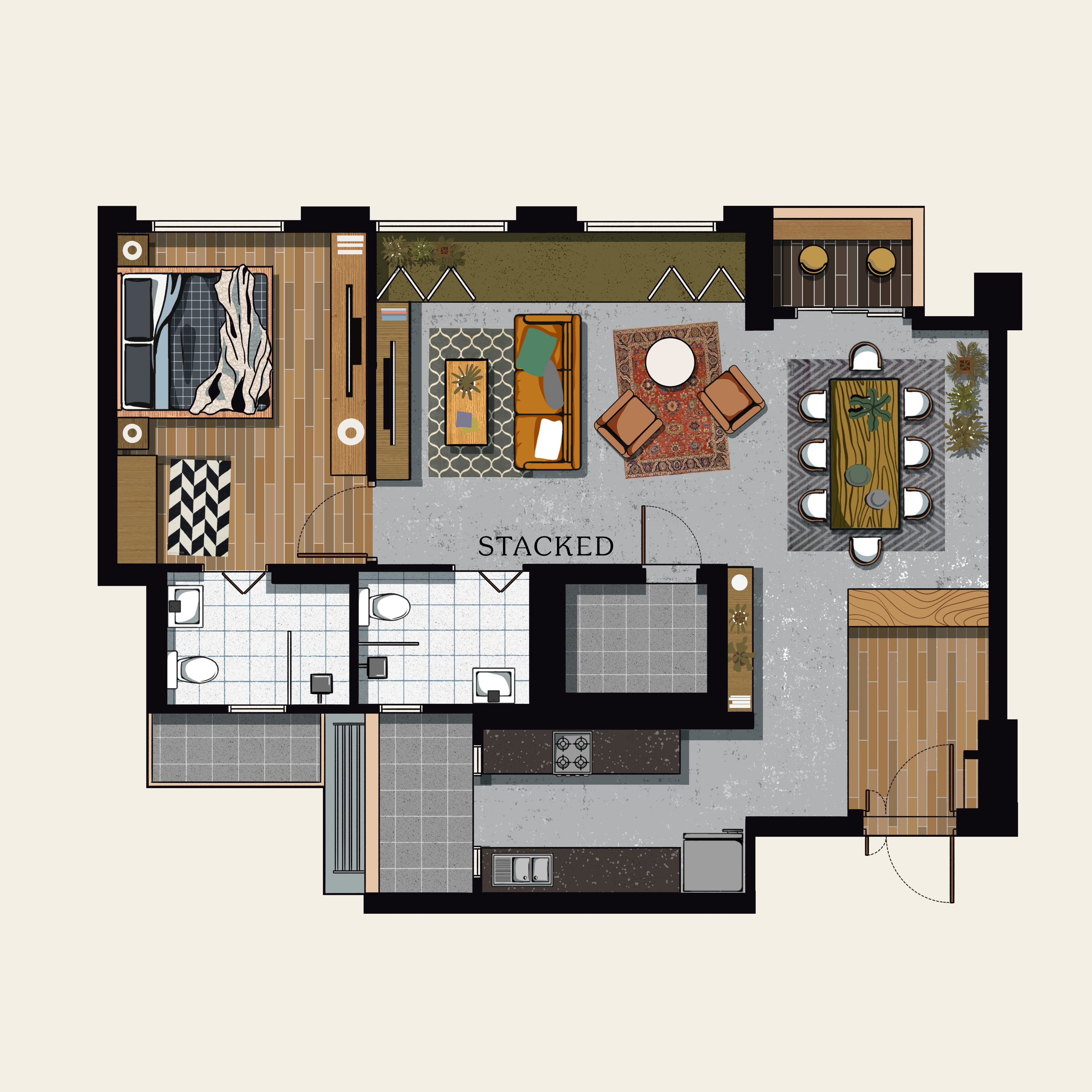 One of the reasons why some couples choose one similar-looking unit over the other is the view. And if you and your partner are planning to stay most of your time at home, you wouldn't want to just have a good home layout and decor but a great view of the outdoors as well.
So how do you exactly capitalise on the great view that your home offers? In this floor plan, we did not only remove the two bedrooms but also arranged the layout so that the focus is on the windows that open up to a great view.
The idea of an expanded kitchen was also discarded in favor of a foyer at the entrance, offering another level of privacy to the home when the door is open. As soon as you pass through the foyer, though, a grand view of the living and dining room makes a memorable impression (just like this home here).
You could also create a longer "balcony" space with plants and a demarcated area with bi-fold doors. Not everyone wants to have plants placed all over the home, so if you are slightly more OCD or minimalist, this could be an interesting way to go about it.
4. Private WFH Setup
Whether you've got a permanent WFH setup or you need a home office that's free from distractions, this layout should be able to serve you well.
Just like the first layout on this list, guest-room-ready, this one has the first bedroom completely removed with the living room shifted to its place. The room adjacent to the MBR was designated as the home office, with a sliding door leading out to the small hallway and a hinged door leading directly to the master.
This setup allows you easy access to your home office whether you're in the living area or in the bedroom. Plus, it gives you the privacy you need when you're working, even if your partner is entertaining guests.
Take note that the entrance to the master bedroom is only through the home office/study, which in turn helped to accommodate a walk-in closet.
With the living room relocated and the dining area moved inward further near the balcony, there's also enough space for a kitchen island. These days an island table is a great addition as it becomes a gathering point for visitors as well as a place where you and your partner can have some light meals.
5. Open Study Room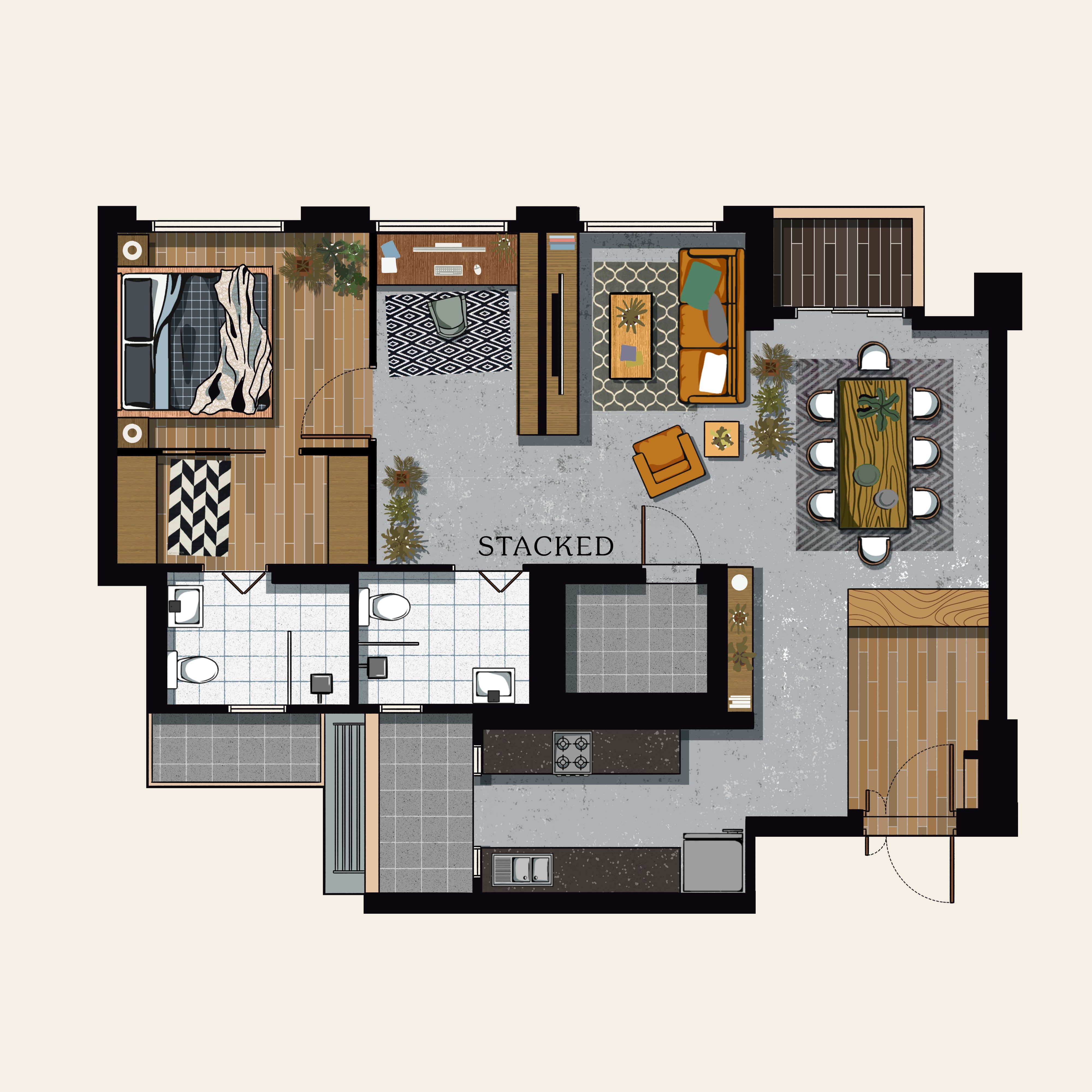 This layout is very similar to the previous one except for these two major differences: there's a foyer instead of a kitchen island, and the home office is not fully enclosed.
It's a great option if you're not working from home full time, allowing you to have your own space for work without completely isolating yourself from the rest of the house. At the same time, this also clearly separates your bedroom from your home office, which according to psychological studies, is beneficial for restful sleep and better productivity.
Another benefit of having this layout is that your bedroom has its own doorway and is not shared by your home office. It also retains the walk-in closet space that leads next to the master bathroom.
Doing away with the kitchen island and opting for a foyer allows for an extra level of privacy. By creating a buffer zone between the front door and the main living and dining area, it provides a space to welcome guests and to transition from outdoor to indoor activities.
6. For Fitness Enthusiasts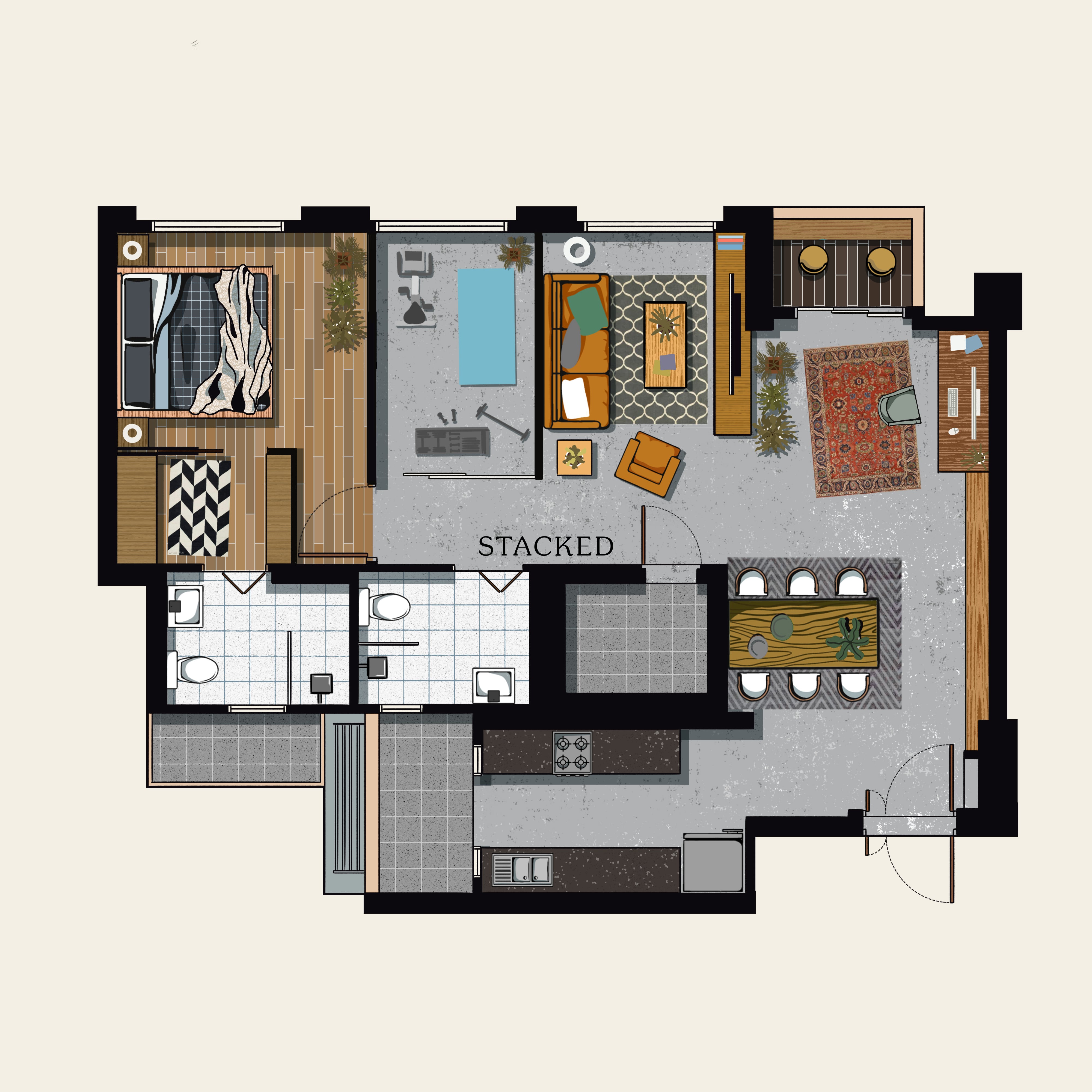 This layout is all about having your own fitness centre at home by converting one of the rooms accordingly. Both bedrooms except the MBR have been hacked away to also accommodate a larger living area.
The MBR wall facing the fitness room has been moved outward since the latter doesn't need too large of a space. As such, you get to have a bigger bedroom and a small walk-in closet as well.
While we didn't place any foyer in this floor plan, you can certainly add this option, but you'll have to do away with the home office setup. Installing a foyer means having to move the dining area to where the home office is, which is right beside the balcony.
Even with your home gym having a room of its own, you can still maximise the flow of natural light in the home by opting to install a glass wall and sliding door.
Do you have any other interesting 4-room layouts to share with other readers? Feel free to connect with us at hello@stackedhomes.com.
SHARE