10 Interesting Apartment Decor Ideas For A One-Of-A-Kind Space
12
min read
One of the best things about having your own home is being able to decorate it to make it truly your own.
Here's how I changed my own space from this: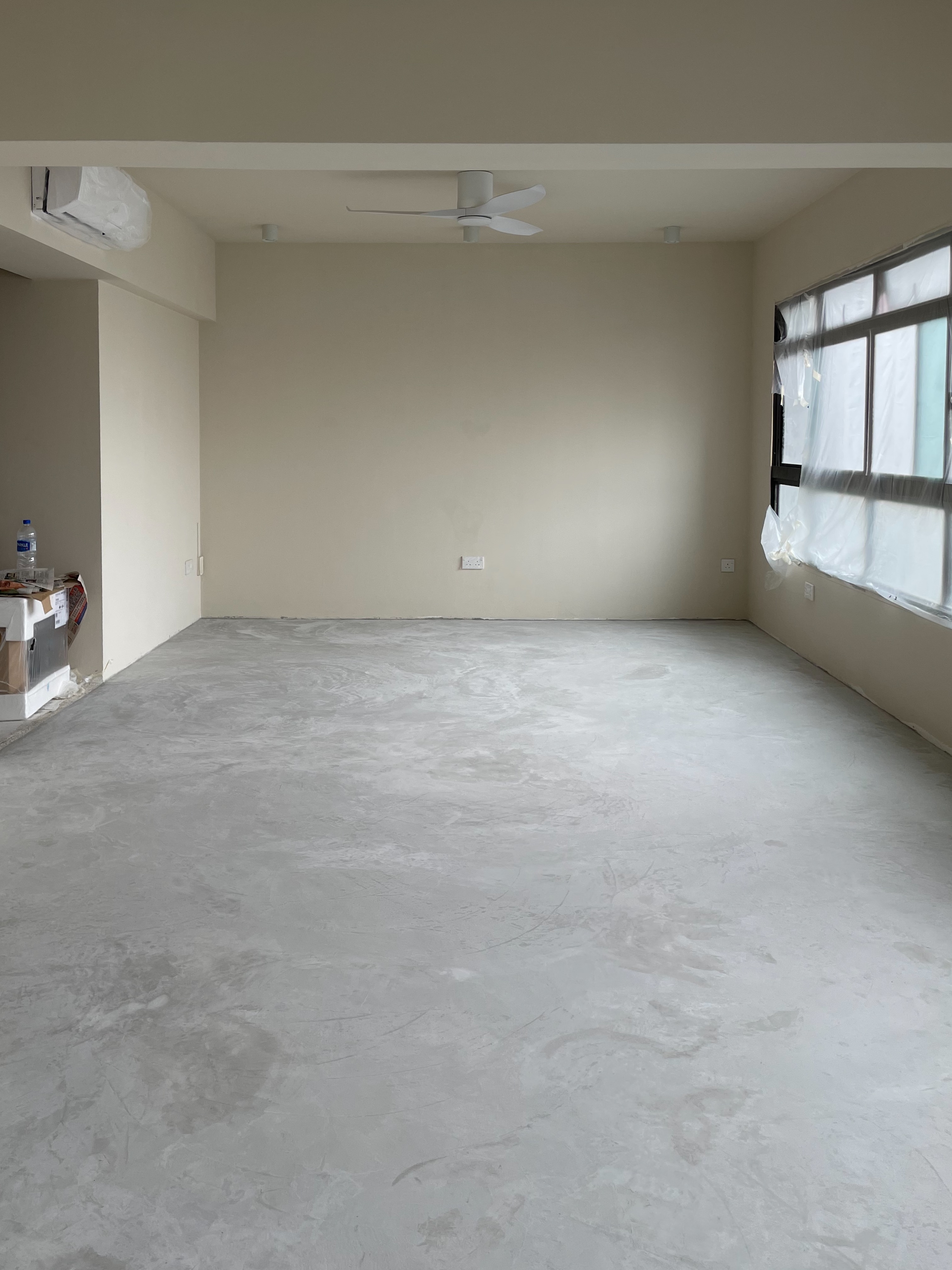 To this: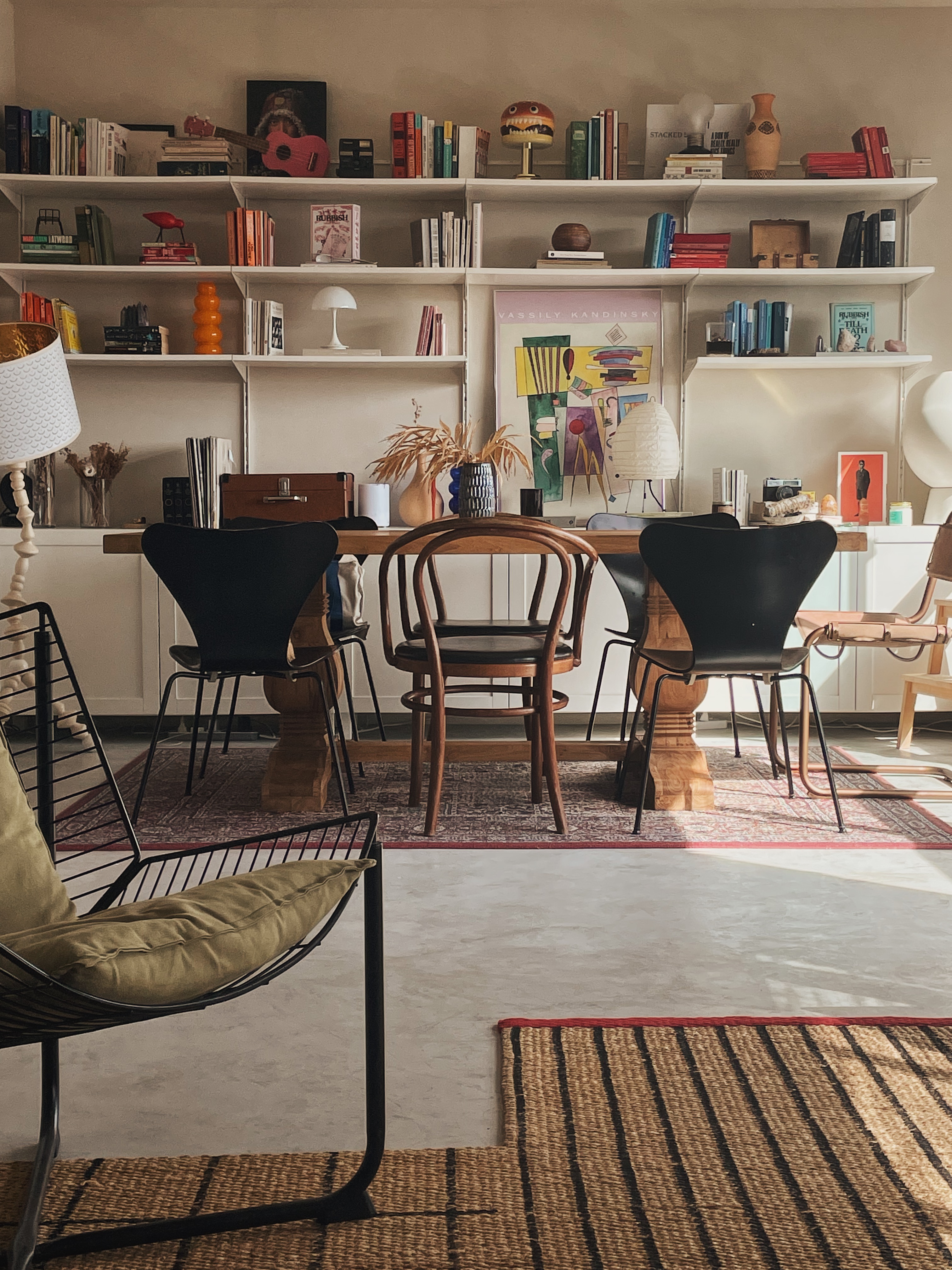 To be sure, decorating a house is that it's not a one-time project (you can see my own personal journey here @madspatial). I'm constantly finding new inspiration and swapping out pieces to keep my space feeling fresh and exciting. It's like a blank canvas that I get to play with and make my own (especially now that we have the Stacked Store).
If you're looking to add some personality and charm to your own house, I've got you covered. I've put together a list of 10 decor ideas that have worked wonders for me, from creating cosy reading nooks to adding unique statement pieces. Let's transform your house into a space that truly feels like home.
1. Open Shelving
People usually opt for closed cabinetry, as it is neater. But I do like open shelving as it allows you to really display your objects that can give the space a lot more character (custom art, unique lamps, or books from your travels).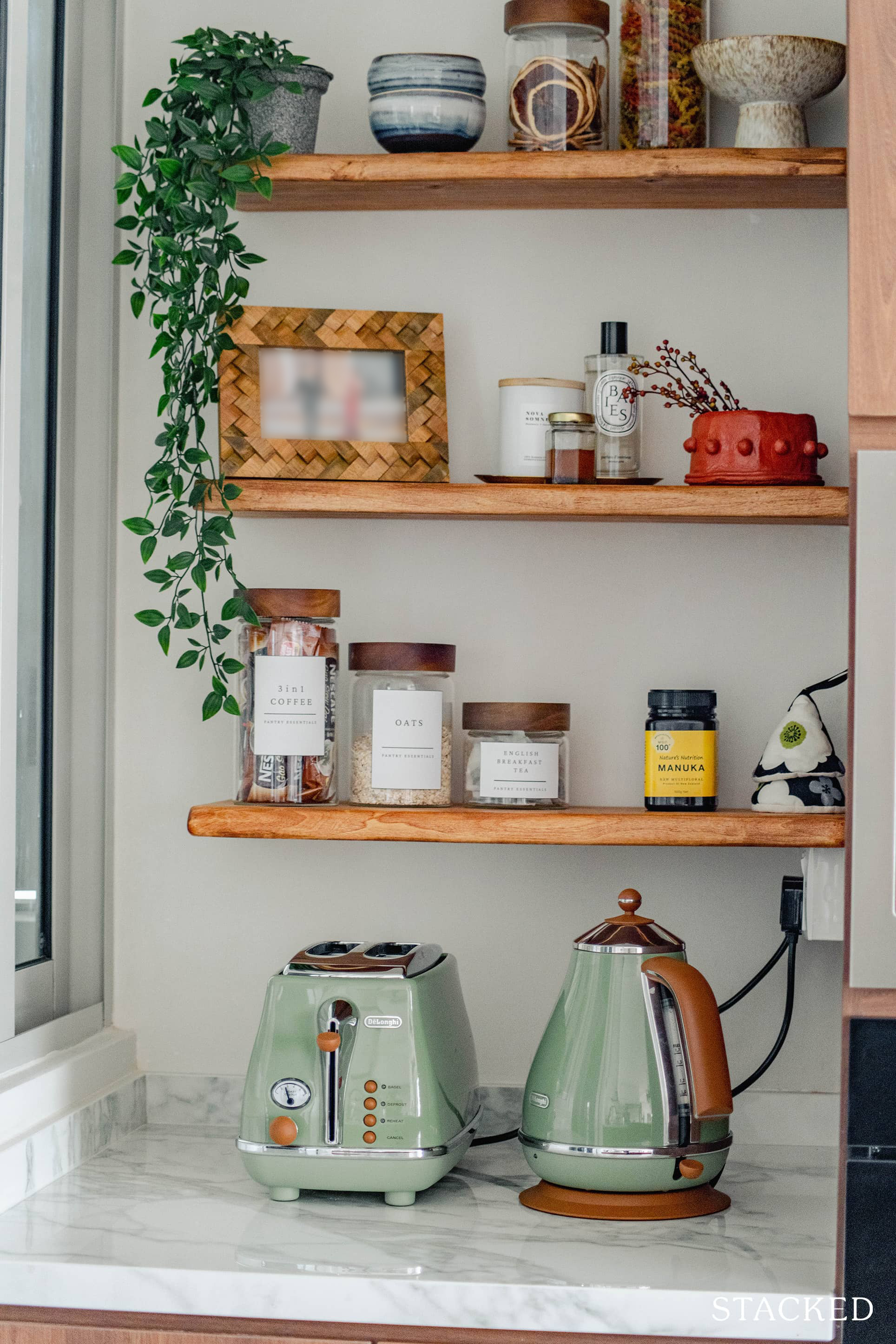 The most common area where this is installed is in the kitchen. Installing closed cabinetry can sometimes make the area even more constricting, which is another plus point for open shelving. Setting this up is as simple as adding open shelves to a blank wall in your kitchen and using them to display your favourite dishes, glasses, and cookbooks.
But you don't have to limit yourself in the kitchen, though. Even the living room or the bedroom can benefit from having open shelving decor (Vitsoe or Frama open shelvings are popular).
While you can certainly mix and match objects, from books and plants to decorative boxes and baskets, it's also important to consider their functionality. Make sure the items you display on your shelves are things you use regularly and can access easily.
Remember to keep it simple, though. It can be tempting to fill your open shelves with lots of objects, but sometimes less is more. Consider using just a few carefully chosen things to create a minimalist, streamlined look.
2. Mix And Match Chairs
Adding personality to your apartment decor can be as simple as mixing and matching chairs. You can vary the height and style of chairs and create a truly eclectic look. Here is where your playful nature can go unbridled by considering different shapes, sizes, and materials and pairing them together in unexpected ways.
For instance, you can experiment with proportions and create a dynamic and visually interesting look, such as pairing a small stool with a larger armchair or a low-slung lounge chair with a tall bar stool. Or you can also play with textures and materials, like pairing a woven wicker chair with a sleek metal one or a plush velvet chair with a wooden one.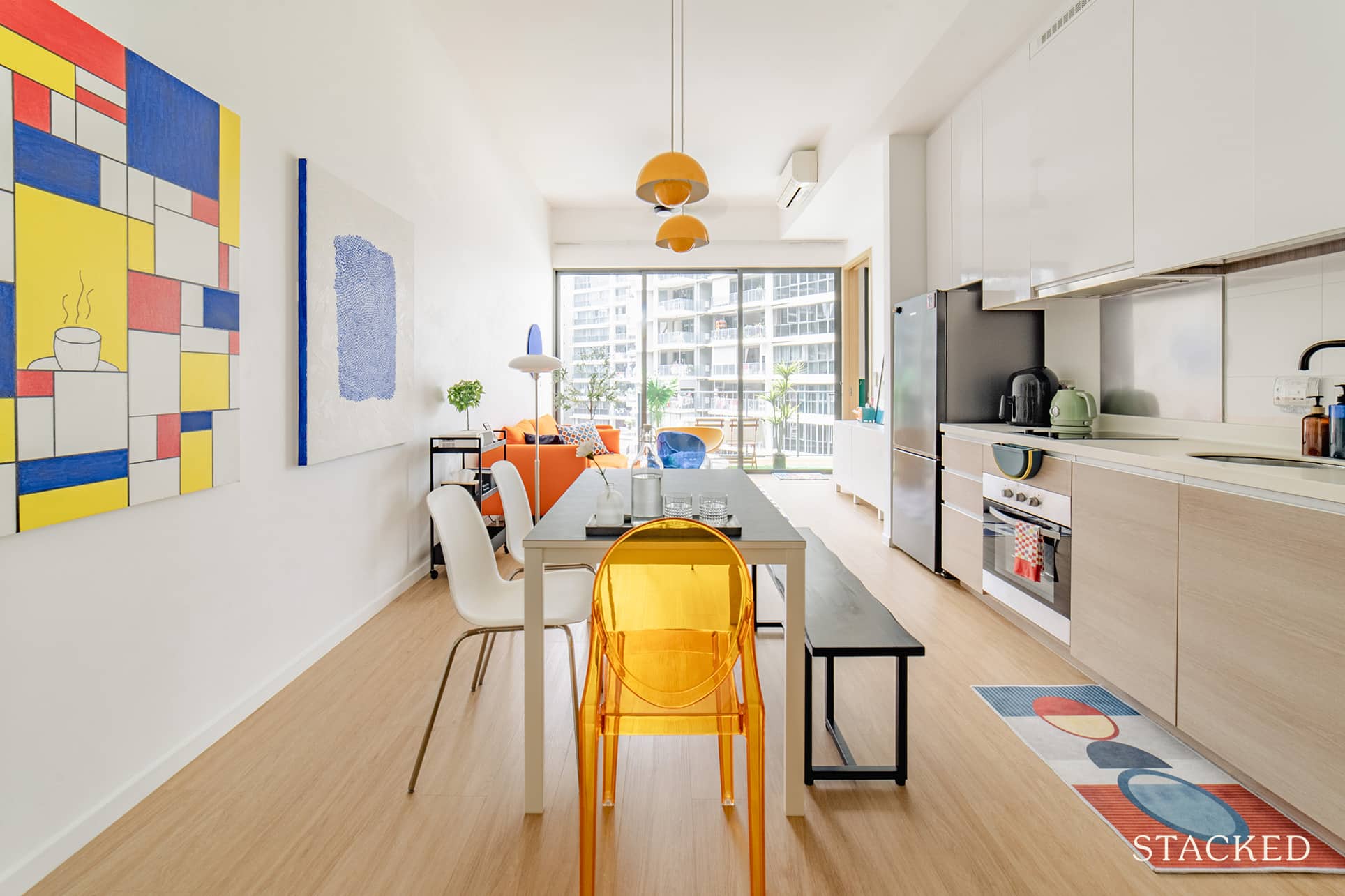 If you feel like you this approach may end up looking too disjointed, you can always use a unifying element to tie them together. This could be something like a shared shape or material, or you can also add seat cushions with complementary colours or patterns to make them feel more cohesive.
Mixing and matching chairs can also quickly add a pop of colour to a rather bland and boring apartment decor. Chairs with bold colours like red, yellow, or blue can create a playful and energetic atmosphere.
3. Add Colour With A Rug
Some people may be a little hesitant because of the upkeep, but a rug is a great way to add colour to a space.
If you're looking to make a statement with your rug, consider choosing a bold colour. For instance, A vibrant red, blue, or yellow rug can add a fun and energetic pop of colour to your apartment decor.
On the other hand, if you prefer a more understated look, you can always go with a rug with a neutral colour palette. This time, you'd want to choose a cream or beige carpet to add warmth and texture to your space without overwhelming the rest of your decor.
You can also mix and match colours by pairing a blue rug with a red sofa or a yellow rug with a green accent pillowcase to create a playful and colourful look.
The design of the rug also plays a big part in how the colour is presented. Rugs with a geometric or floral pattern, or a more abstract design, can create a modern and unique look.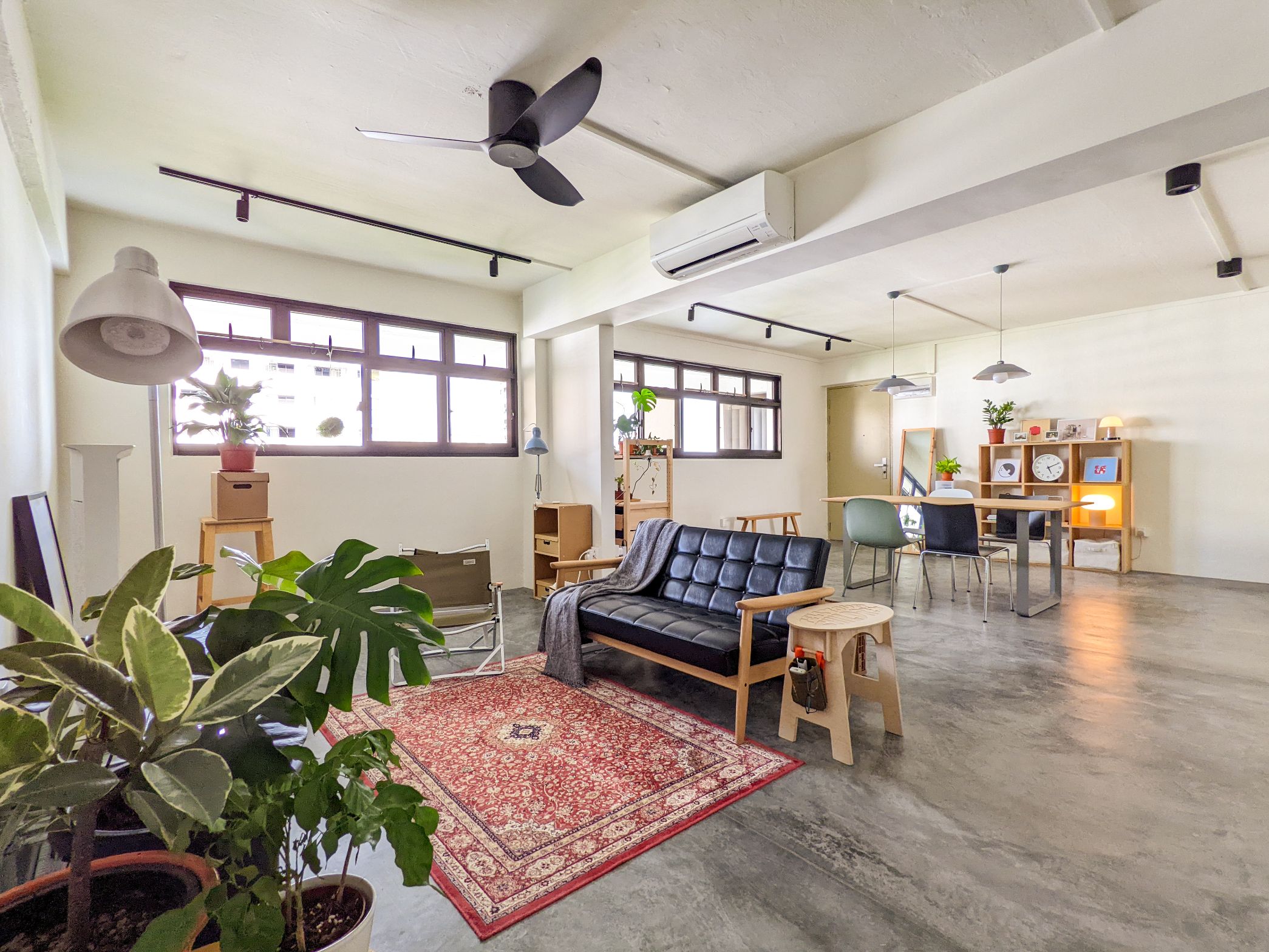 A vintage rug is a great option if you prefer to add character and history to your apartment decor. Look for a colourful, intricate rug, and pair it with a simple, neutral sofa or chairs to let the rug be the focal point.
4. Add Sconces
While table lamps and floor lamps can bring additional lighting and style to your home, there's nothing like adding sconces to create mood and ambient lighting. And if you use dimmer switches or adjustable bulbs, you can have the perfect level of light in your space.
Some of the awesome places where you can set up sconces include the living room and the bedroom. You can use it to highlight artwork or other decorative elements in your apartment. For instance, placing sconces above a gallery wall or a statement piece of art to create a dramatic and stylish look.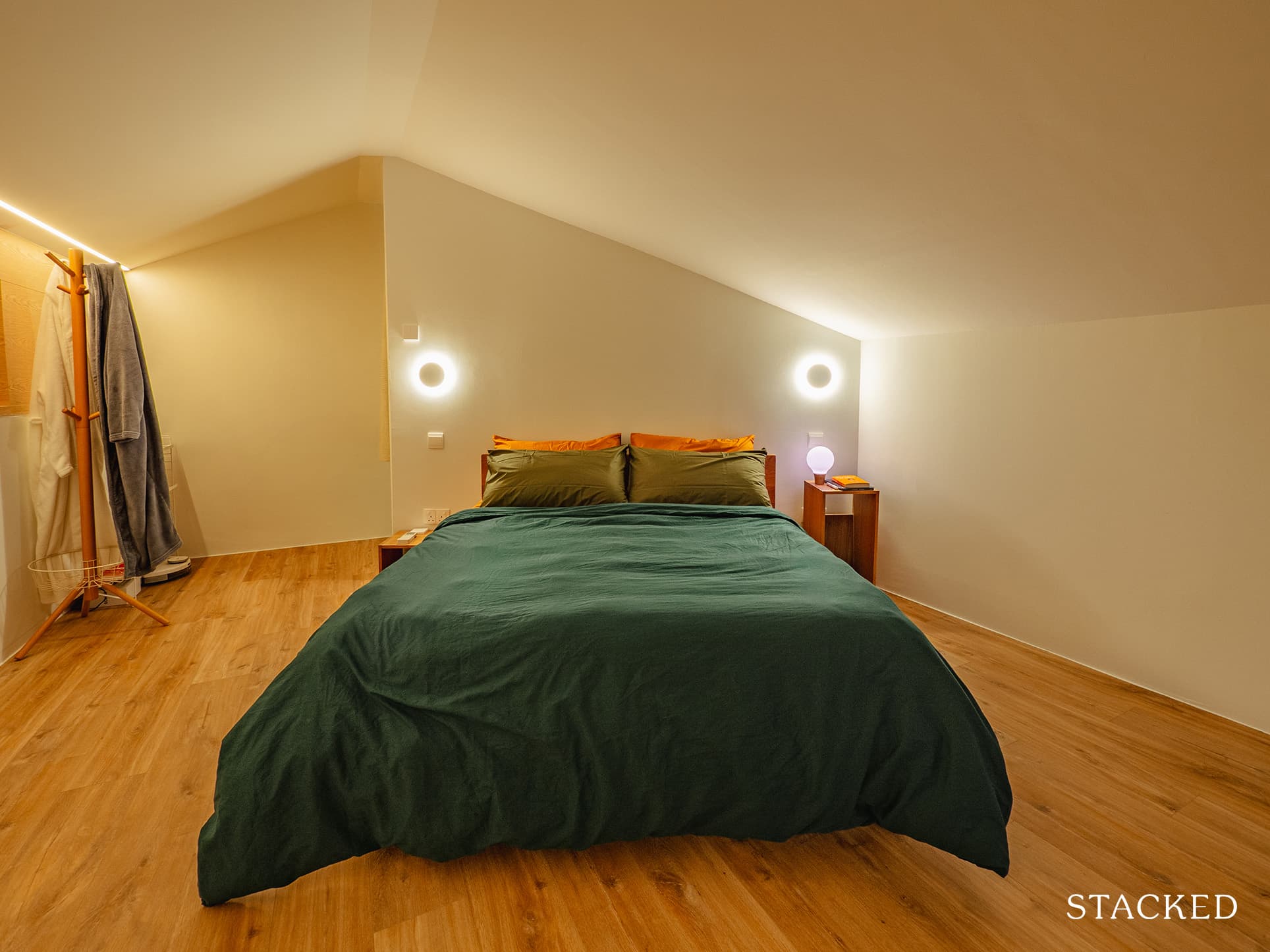 And if you're aiming for a cosy and intimate feel in your bedroom, you can use sconces instead of bedside table lamps and have them installed on either side of your bed.
When choosing sconces, it's important to consider the current style and aesthetic of your apartment. It should match the overall look of your space, whether that be modern, rustic, or bohemian.
In case you're unable to install hardwired sconces or plug-in ones, you may also opt for battery-operated sconces. These can be easily installed and removed and can be an excellent option for renters or anyone looking for a low-commitment lighting option.
5. Gallery Wall
Creating a gallery wall can be a fun and rewarding project that allows you to showcase your personal style and creativity.
To begin with, you need to choose a focal point for your gallery wall, such as a statement of art or a large photograph. Doing this will help give your gallery wall a cohesive look and guide your design choices. Some homeowners even create them for their gallery walls, such as a collection of black and white photographs or a series of botanical plants.
With the focal point now established, you can start expressing your creativity by playing with the layout. You can try a symmetrical grid, a salon-style arrangement, or a more freeform, organic layout.
Other approaches include using a variety of frames to add texture and depth, as well as mixing and matching artwork. You can combine photographs, paintings, prints, and even 3D objects like a vintage mirror or woven tapestry.
Try incorporating personal items such as family photos, postcards, or other mementos to give your gallery wall a personal touch. And if you want to make this area warm and inviting, consider using a spotlight or track lighting to showcase your favourite pieces.
6. Use The Ceiling
Using the ceiling as a design element is an often overlooked but highly effective way to add interest and dimension to your apartment. By incorporating the ceiling into your decor scheme, you can create a visually stunning space that feels open, airy, and full of character.
One of the common ways to decorate your ceiling is to paint it. Painting your ceiling is an easy and affordable way to add a pop of colour or create a unique focal point. For instance, you can use a bold hue to make a statement or use a stencil to create a fun and playful pattern.
An alternative to painting is wallpapering to add a fun and unexpected twist to your decor scheme. Remember to choose a pattern or texture that complements your existing decor for a cohesive and stylish look.
For apartments with high ceilings, adding wooden beams can create a cosy, rustic feel. Paint them a contrasting colour or leave them natural for a warm and inviting touch. And if you want to go all out, you can also hang art from the ceiling, such as a series of mobiles, a collection of floating shelves, or even a hanging garden for a unique and visually stunning display.
On the other hand, an apartment with a low ceiling can benefit from adding a statement light fixture. It's a great way to draw the eye up and create a sense of height in your apartment. Consider a chandelier, pendant light, or even a collection of hanging lanterns for a dramatic effect.
7. Walls And Ceiling In The Same Colour (Not White)
Using the same colour for your walls and ceiling is a bold design choice that can make your apartment feel more cohesive. While white is a popular colour for this technique, there are many other colours that can be used to achieve a similar effect.
If you want to make a statement, choose a bold and vibrant colour for your walls and ceiling. Rich jewel tones, such as deep blues, greens, or purples, or warm and cosy earth tones, like terracotta, ochre, or rust, can all help create a dramatic effect in your space.
For a more subtle look, you can also opt to go with a soft or neutral colour that will blend seamlessly from wall to ceiling. Choose soft pastels or muted greys and blues to create a calming and serene atmosphere, or go with warm beiges and taupes to add a touch of elegance and sophistication.
You can also use different shades of the same colour – a darker shade for your walls and a lighter shade for your ceiling – for a cohesive and monochromatic look. If you combine this with a colourful rug, throw pillows or wall art, you can create a striking contrast against a monochromatic background.
8. Textured Wall Art
Compared to flat artwork, textured wall art can add an extra layer of visual interest and tactile appeal to your walls. By incorporating fabric wall hangings, 3D sculptures, or tapestry, you can create a visually stunning space that feels both unique and inviting.
Fabric wall hangings are perhaps the simplest to implement as you will only have to look for pieces made from natural materials like cotton or linen for a soft and tactile feel. While you can certainly buy these pieces online from Instagram, Etsy, etc., you can also create your own, especially if you're into tufting.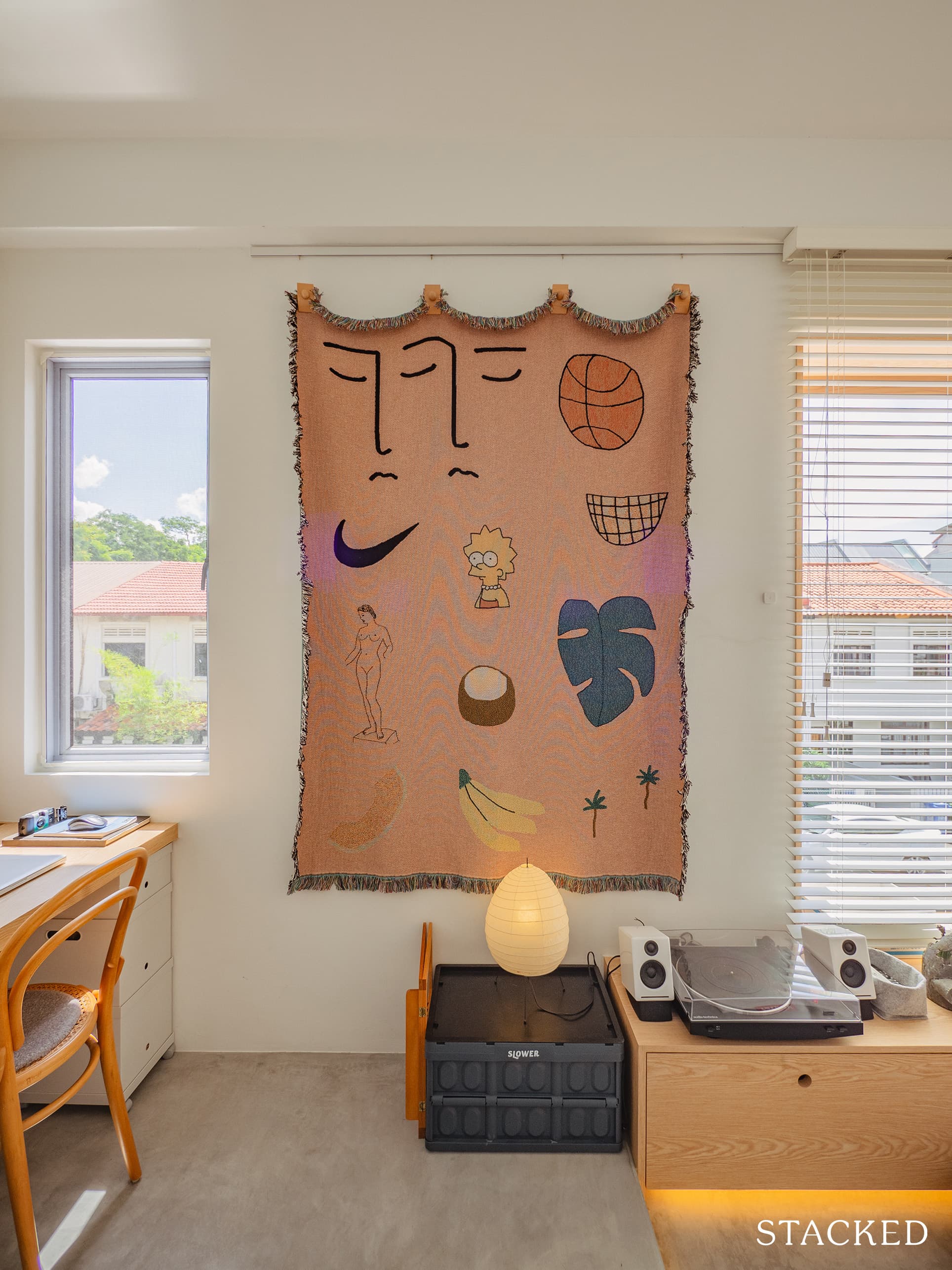 Your options for textured wall art don't end there as you can also hang 3D sculptures for a more dramatic effect. Go with pieces made from materials like wood, metal, or even paper for a striking and expected touch. You can even have the sculpture customised with a 3D printer.
Remember the gallery wall decor idea? You can take this to the next level and make it textured art by mixing in other materials in your gallery. Even open shelving has its place here, using small shelves to hold decorative pieces such as small plants and memorabilia.
9. Install A Divider
Installing a divider in your apartment can serve several purposes. Not only does it create a visual separation between different areas, but it can also add an element of privacy and help maximize your living space.
A bookshelf, for instance, is a versatile and practical divider that can also add storage and display space. Go with a bookshelf that complements your existing decor and use it to divide your living room from your dining area or to create a small home office in the corner of your bedroom.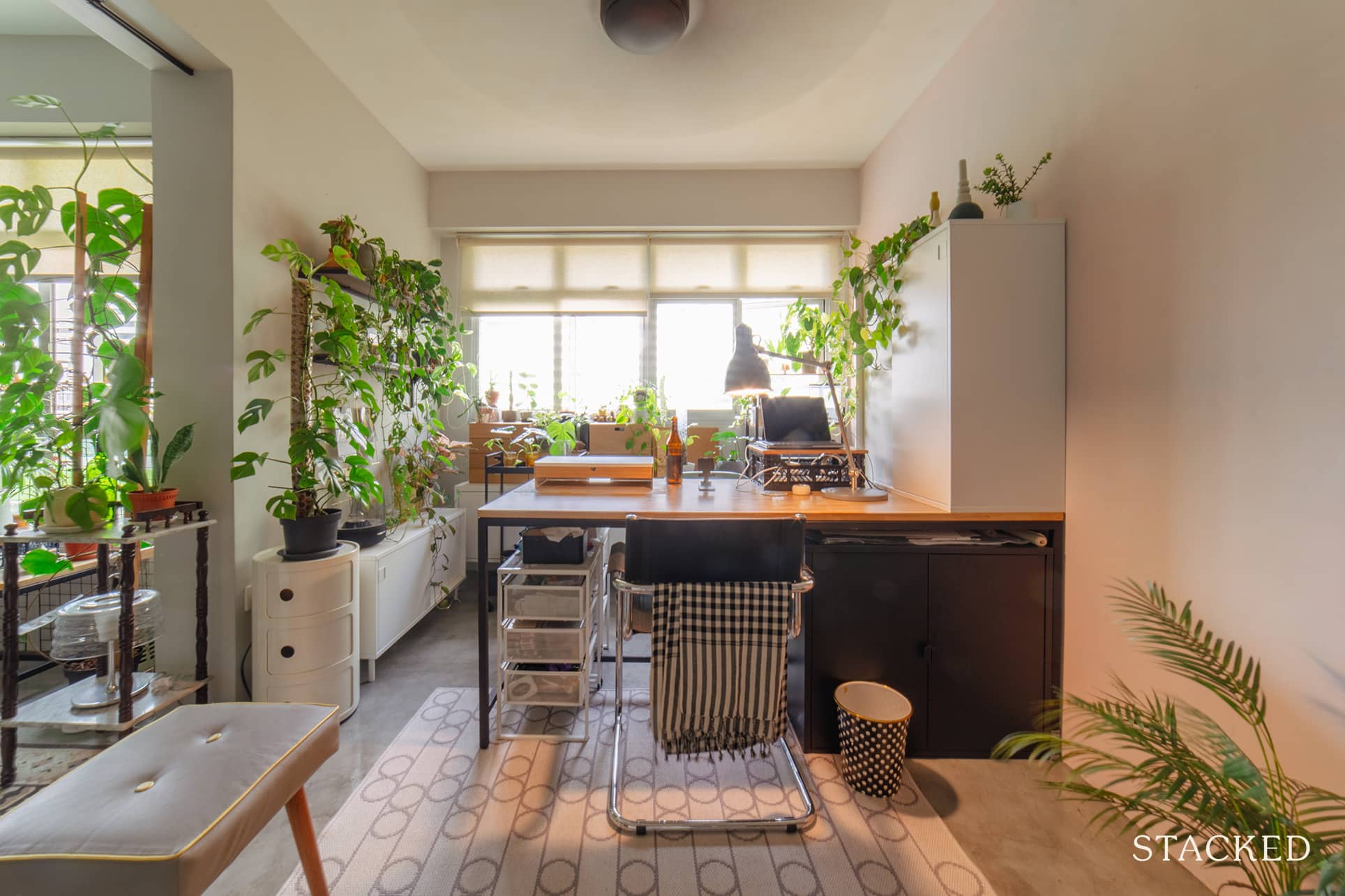 Another option is a folding screen which you can easily move from room to room. But if you want to make it more permanent, adding both privacy and style to your apartment, installing a sliding door is the way to go.
And if you want to make things simpler and more affordable, you can always hang a curtain. Choose a fabric that complements your existing decor and hang it from the ceiling using a tension rod. This is a great option for creating a makeshift dressing room or dividing a shared bedroom.
10. Bed Headboard As A Shelf
Let's admit it. Most of us do other things in bed besides just sleeping, such as reading a book or magazine and using our tablets, phones, or even laptops.
By using a bed headboard as a shelf, not only will you have a place to display your decorative items, but it can also serve as storage for books, magazines, and other bedside essentials.
Display your favourite decorative items, such as photos, artwork, candles, or plants, adding a personal touch to your space while creating a cosy and inviting atmosphere at the same time. You can also add storage baskets to provide a stylish and practical way to store books and magazines.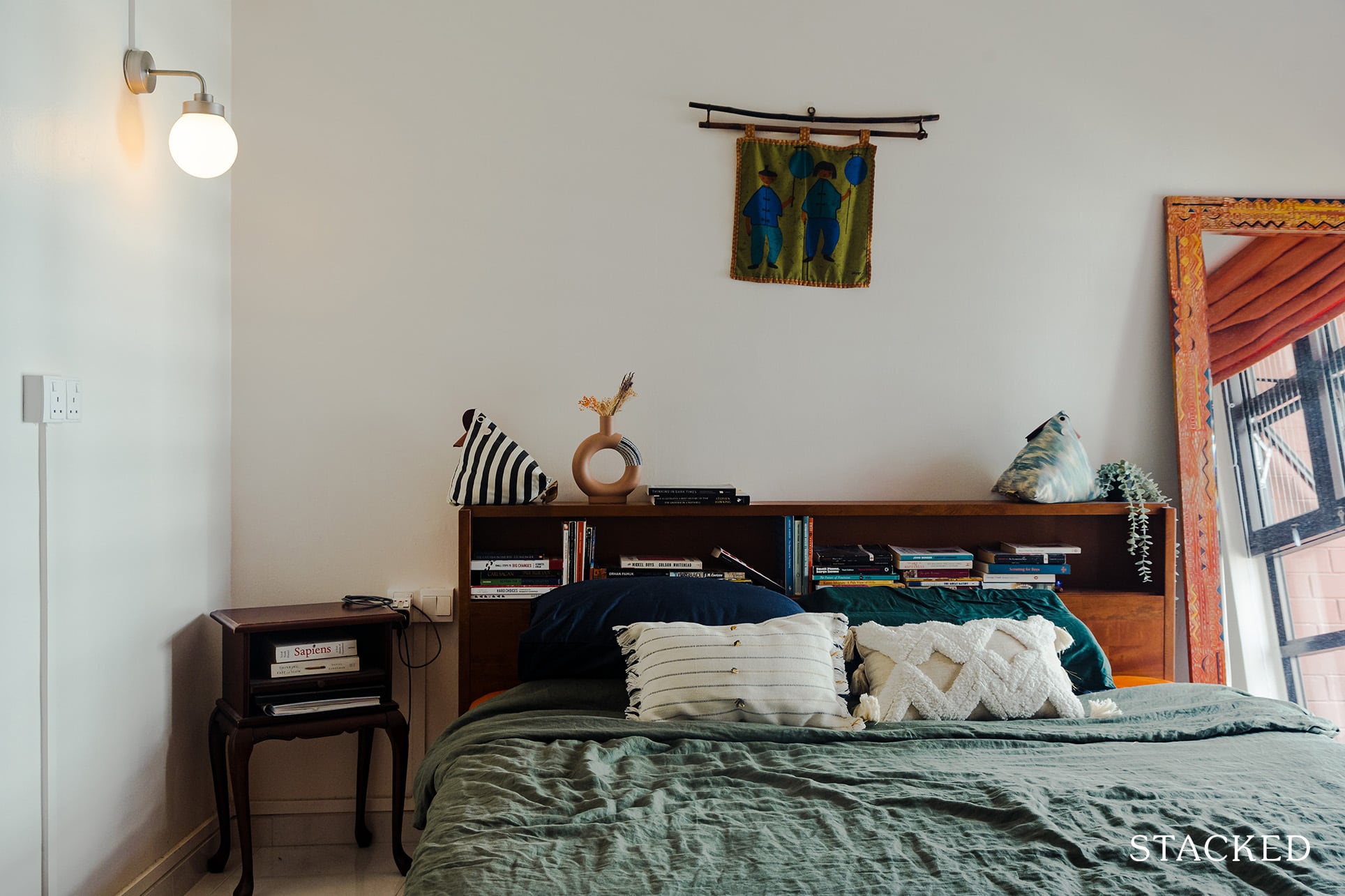 Other items you can place on a bed headboard to help create the ambience are warm lights.
With lights and sound, you can customise any space to the ambience that you desire, and the bed headboard can be a great area to hold these items. Reading lights allow you to adjust the intensity and its angle, plus Bluetooth speakers can add a unique and personalised feel to your bedroom.
And if you can't find a headboard that suits your preferences, you can always consider it as a DIY project. Repurposing an old door or window frame and adding shelves or hooks can help you create a unique and one-of-a-kind headboard that doubles as a shelf.
SHARE