10 Illegal HDB Renovations You May Not Be Aware Of (Beware A $5,000 Fine)
Decor Advice
10 Illegal HDB Renovations You May Not Be Aware Of (Beware A $5,000 Fine)
WRITTEN BY Adriano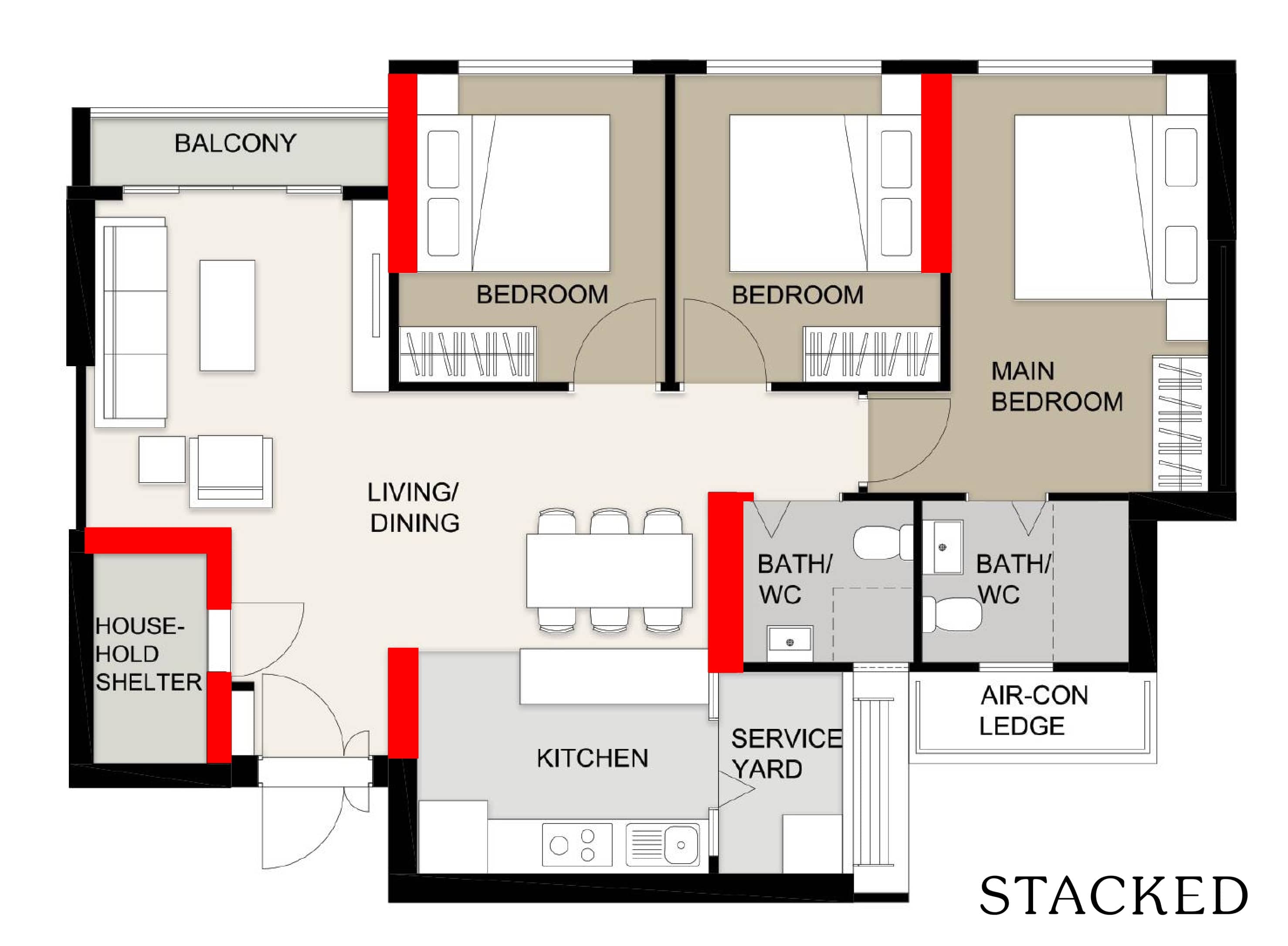 8
min read
It's always fun to see how creative HDB homeowners can get with their homes.
But while it's fun to be creative on the various aspects you'd like to have installed in your home, it's important to know the guidelines to find out what is approved and what is not.
In fact, around 190 HDB flats have done some sort of illegal renovation work in the past 3 years. And for those who are concerned about the financial penalties, those who have got caught can face a fine of up to $5,000 if convicted.
To make sure that your renovation process is as smooth as possible, here are 10 illegal HDB works that you need to keep in mind when designing your next HDB home.
1. Hacking Structural Walls
Judging from our Living In series on YouTube, there's no doubt that hacking walls is one of the most popular renovation works that homeowners like to do.
There are many reasons why it makes sense to do so despite the high costs. From opening up the home, to reconfiguring spaces to suit your lifestyle, it's a big part of what makes a home for people.
Especially with the falling birth rate trend in Singapore, families are smaller today. Some may just prefer having a bigger living area than having 3 proper bedrooms in the house.
In fact, you can actually get quite unique with your floor plan layout, which I've written a piece on a 4, and 5-room HDB flat example.
But before you go knocking down all the walls in your flat, do know that not every wall can be hacked down – even if you are willing to pay for it.
For most units, obtaining prior written approval from HDB is necessary for any demolition or hacking of walls (even for both partial and complete). Since the key concern is to maintain the structural integrity of the building (to ensure the safety of all residents), any alterations that might affect the external facade, form of the building or public safety are not allowed.
Especially for folks who own executive mansionettes, hacking and removing structural members such as reinforced concrete walls, columns, beams, slabs and staircases are considered illegal.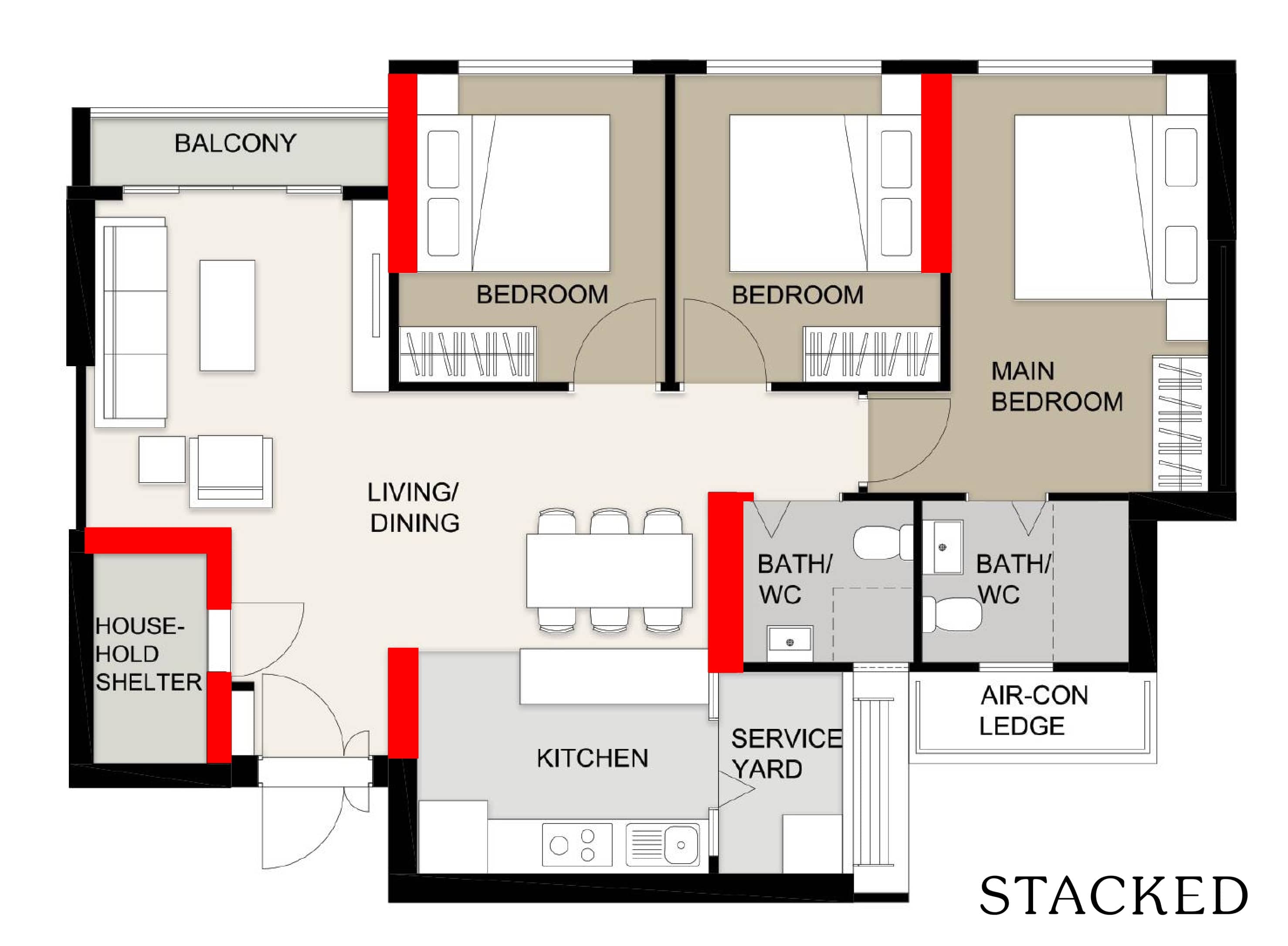 So do be sure that you've engaged contractors that are approved on the Directory of Renovation Contractors (DRC) to avoid committing any faults and offences. It's always better to be safe than sorry! Do your homework and check with HDB thoroughly on the types of renovation allowed for the unit before committing to it.
Otherwise, the simple way is to check your HDB floor plans and take note of any bolded lines – those are walls that are off-limits from hacking.
2. Changing Your Main Unit Door to a Non-Fire Rated Door
While this doesn't apply to all HDB flats, it's still good to have a fire-rated door (just to have peace of mind). There are two instances where it's compulsory though:
If your HDB flat's main door entrance is along the fire escape route
For flats that have their main door within 3 metres from the nearest lift or staircase, a ½ hour fire-rated door is required. Make sure that the contractor you have engaged is licenced with HDB as a permit is required before you can change any fire-rated doors.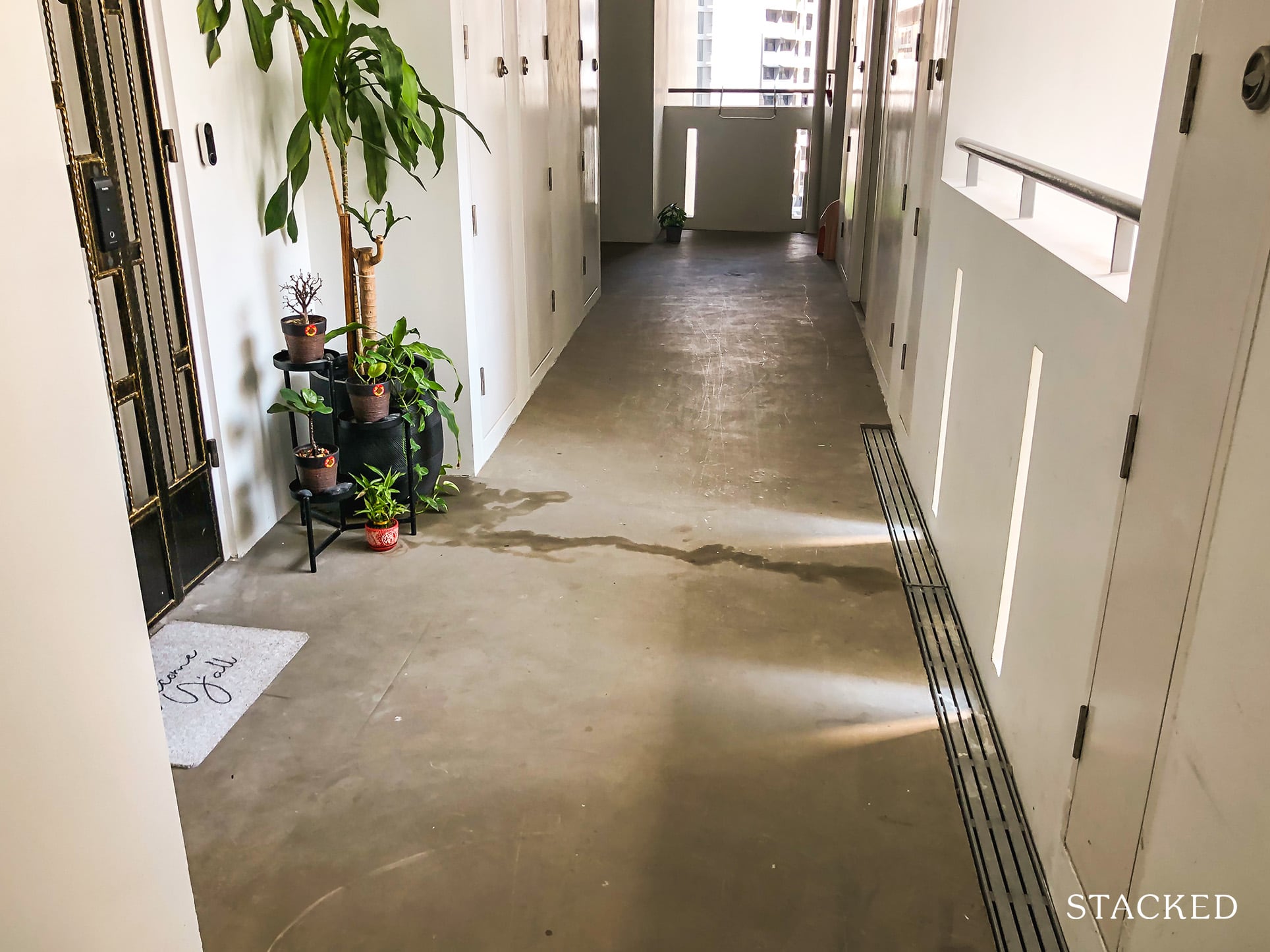 For units that have the main door not within 3 metres from the nearest lift or staircase, a solid wooden door is sufficient and no permit is required.
If HDB has already provided a fire-rated door for your flat originally, any door replacement would also have to be fire rated.
This usually affects newer HDBs that already have double-leaf main doors installed (which are originally provided by HDB). A permit from HDB is also required to make any alterations to the door.
It's an offence to infract on these rules, so be sure to check on your unit's requirements before making any alterations to your main door.
3. Exceeding the Approved Height Limit of Your Flooring
If you're like most Singaporeans, chances are you've already set eyes on that marble, terrazzo or parquet flooring for your new home.
While expensive, flooring is a crucial element to creating the aesthetic of your space and it's usually one of the first few things homeowners would like to change when it comes to their new home. Even so, there are guidelines to follow when it comes to replacing your flooring finishes.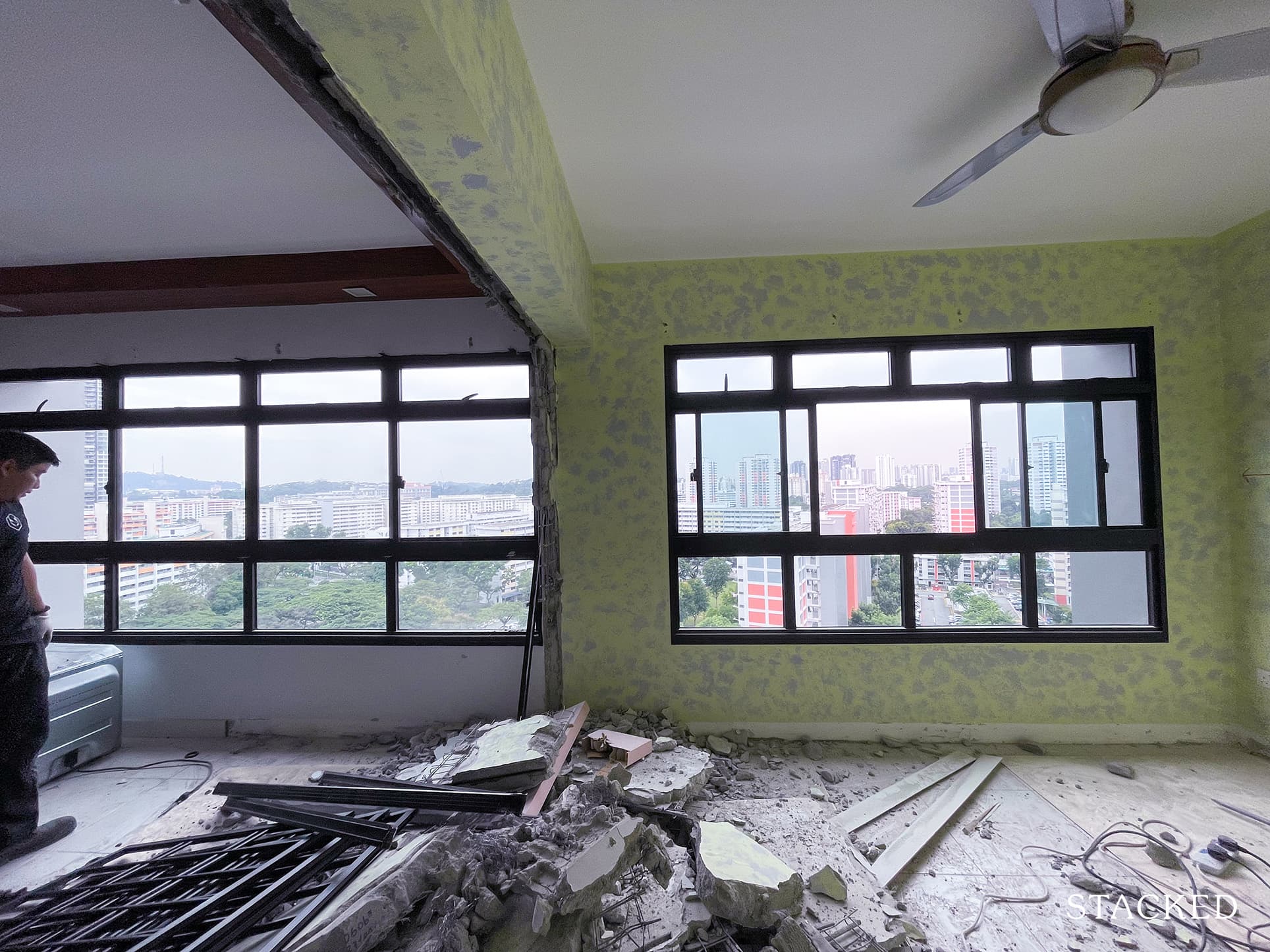 So it's important to note that your new floor finish and screed must not exceed the approved 50mm. This thickness includes using any concrete or other materials and applies to your balcony, kitchen, bathroom or toilet. For those who are not familiar, a lightweight screen top-up is usually required to readjust your home's floor level, thermal insulation or acoustic insulation.
Do note that if you want to hack the floor to replace it completely, you will need a permit to do so (floor hacking if not done properly can affect the overall structure of the home). That said to save on cost, you can consider overlaying the existing floor – but this cannot exceed the approved 50mm either.
Read this next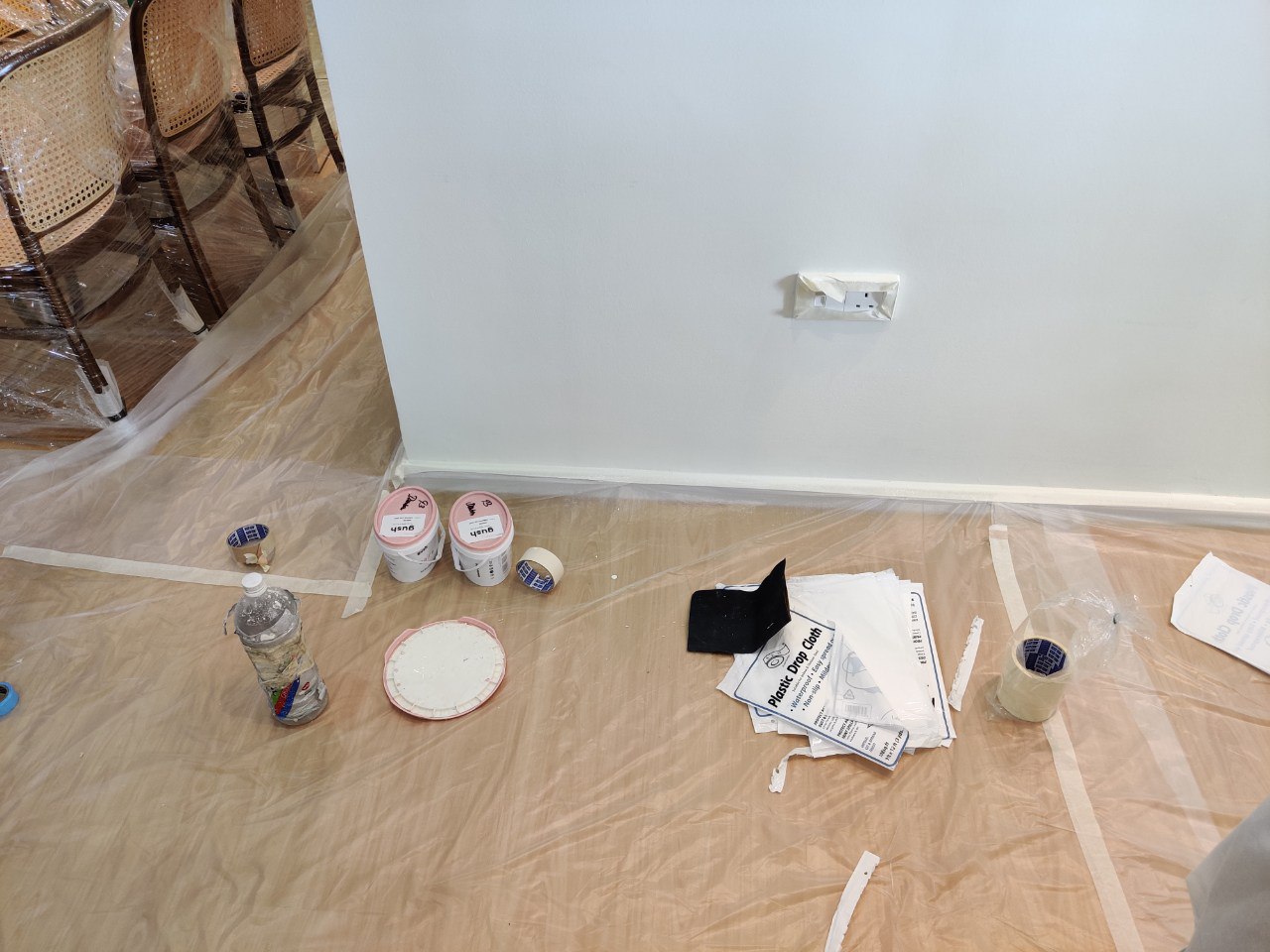 4. Concealing Exposed Pipes
It's a personal pet peeve of mine, and I'm sure many homeowners will agree that those bulky PVC-coated pipes in your bathroom and snakey gas pipes in your kitchen are not the most aesthetically-pleasing variables.
Like hacking structural walls, it's important to note that not all pipes are approved for concealing.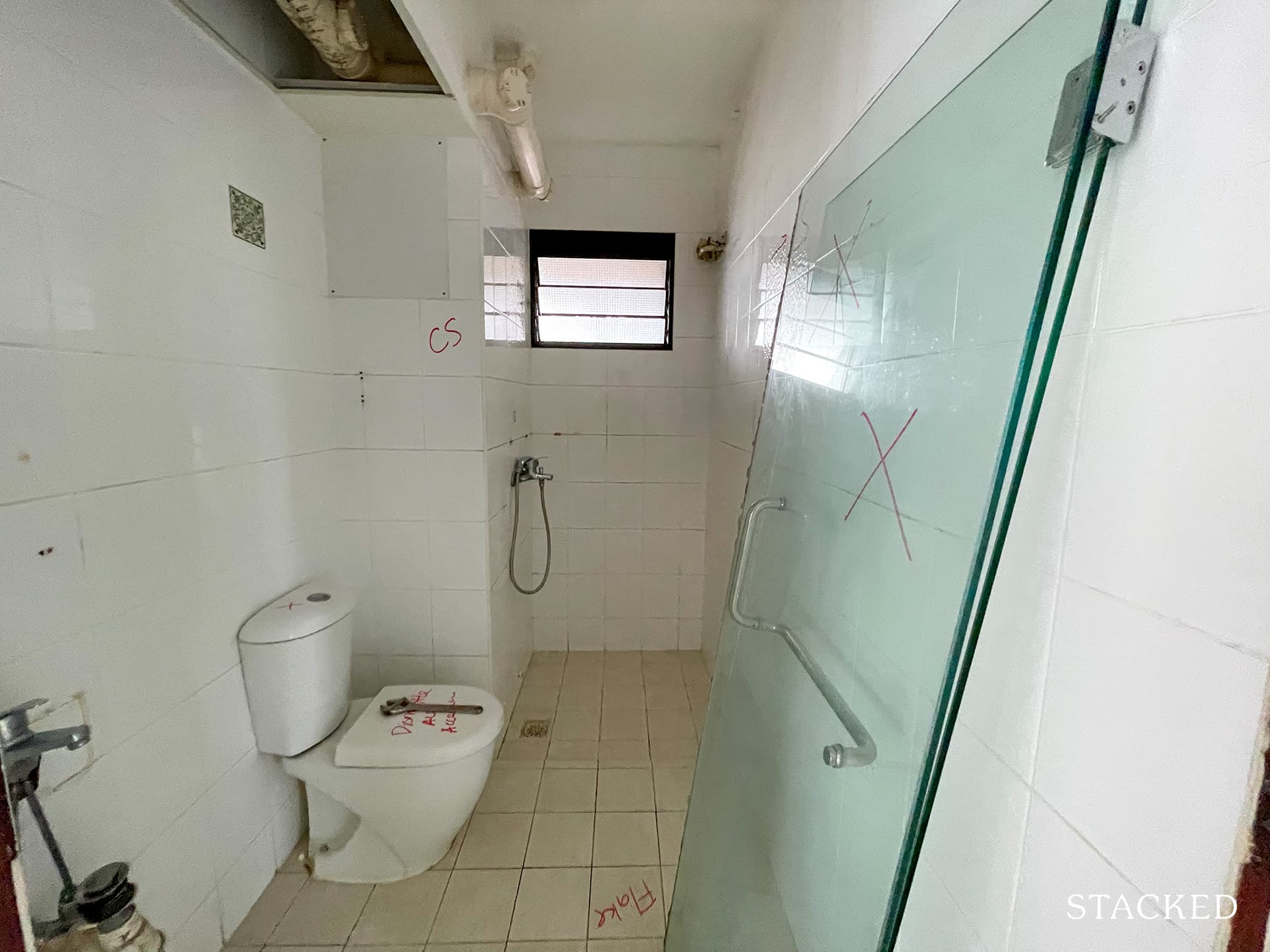 The general rule of thumb is that plumbing pipes can be concealed, but try to leave the gas pipes in your kitchen alone.
Bathroom PVC pipes
For those who are adamant about hiding those chunky PVC pipes from view in your bathroom, HDB states that an access opening of 600mm by 600mm is required so that future inspections and maintenance can be done. Make sure that those numbers are adhered to before choosing your next bathroom cabinets to conceal those pipes.
Kitchen Gas Pipes
Gas pipes can technically be concealed, but there has to be at least a 600mm width and height opening to ensure inspection and maintenance of the gas riser pipe. It also has to be fully ventilated (and removable too)!
I'd advise you to check out the guidelines on HDB for further clarification.
5. Removing BTO bathroom floor and wall tiles in the first 3 years
Resale HDB flat owners can skip to the next point.
For new Build To Order (BTO) flats, they come with waterproof membranes laid below the floor tiles. This is done to prevent water from leaking to the floor below you. As such, you aren't allowed to touch the floor and wall tiles in the bathroom for the first 3 years. A common workaround is to overlay the existing walls and floor, but as with point 3 do ensure that the new floor level doesn't exceed the magic number of 50mm.
6. Adding a Loft or Mezzanine or a Platform bed
With the little land that we have, coupled with shrinking home sizes, it's totally understandable why homeowners would want to maximise the space that they have.
This is especially so for HDB loft units (as rare as they are), as homeowners have likely paid a premium for them.
And so while I understand why these homeowners would want to maximise the high ceilings in their units by creating a loft or mezzanine, this addition is, unfortunately, not approved.
There have been multiple cases of homeowners who have illegally added mezzanine floors to their flats and got caught. This happened to a homeowner who spent $40,000 to increase the space of the 700 sq ft apartment. The consequence? They had to reinstate the flat to its original state and pay an additional fine of up to $5,000.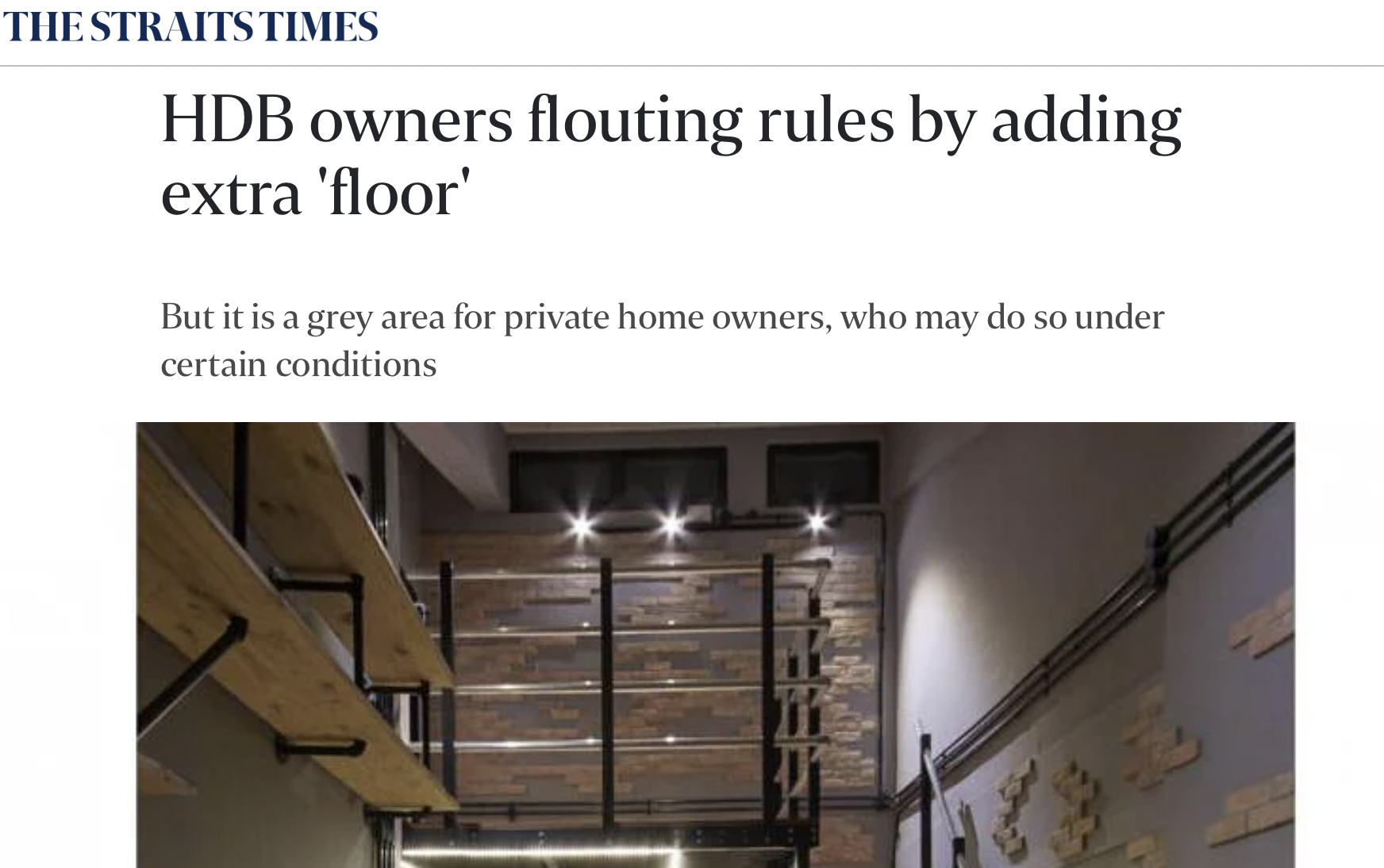 In response to the issue, HDB stated that (and I quote), "Flat owners are not permitted to extend the floor area of their flat by covering over void areas, as such extensions may result in additional load on the structure and compromise the structural integrity of the building".
Since the issue now boils down to the structural integrity of the building and infringement of URA's guidelines of illegally increasing your unit's GFA, I'd say it's best just to find other alternatives to spruce up your home.
If you're thinking of a platform bed, you should also know that this is technically not allowed. According to HDB, when installing a hardwood platform on the floor, no storage is allowed in the void between the platform and the floor. It's presumably for weight restriction reasons, but this seems a bit of a grey area if you ask me.
7. Removing Bomb Shelter Door
Bomb shelters only appeared as a fundamental part of HDB flats from 1996, which is why you might not find it in older resale flats!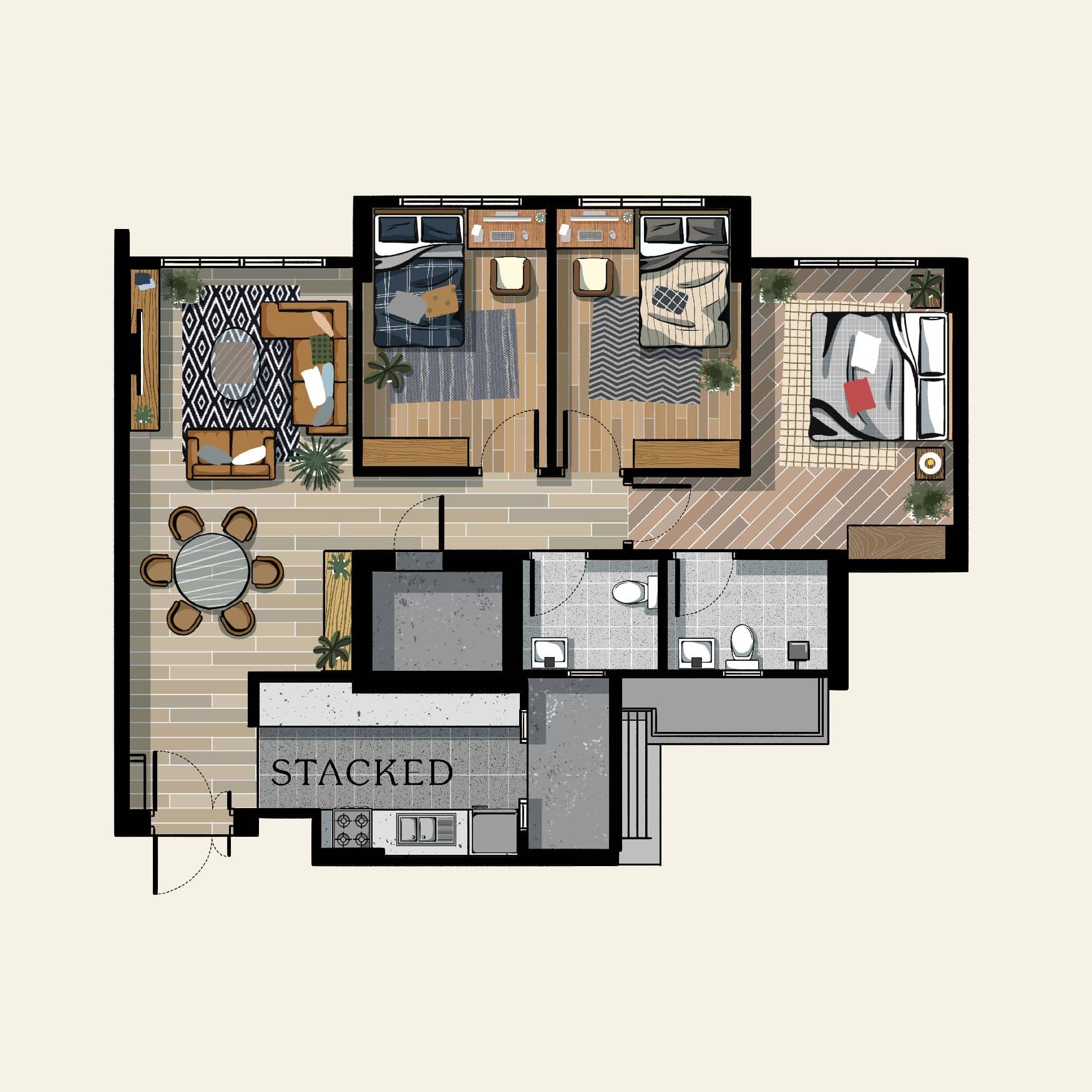 That being said, the bomb shelter is considered a structural component of the unit and is reinforced with materials that make it, well, fit to be a bomb shelter. Hence, homeowners are not allowed to knock down or drill the external and internal walls as it might affect their function.
Thus, tampering, removing or altering the shelter's door is not allowed.
There are other things you can do though, to improve its appearance of it. You can build an entire feature wall that effectively "hides" the door seamlessly, or cover it with wallpaper.
8. Installing Fixtures Outside Your Flat
I've seen many variations of HDB owners decorating the common walkway in front of their homes with their personal decorations. Most of it is harmless, but there are some that really push it to a new level.
Enter the glass fish tank.
As much as I'd like to argue that it does serve as an interesting visual for neighbours (I would enjoy the view), HDB has said that it could pose a safety concern. Essentially, these common spaces are meant for the public and should not be obstructed, which could be problematic during evacuations.
The general rule of thumb is to leave at least 1.2m of space along the common corridor.
Otherwise, you might want to consider purchasing the recess area through the Sale of Recess Area Scheme. It's not available to everyone, so do read the link to find out more.
9. Having Fish Tanks Exceeding 600kg Per Room
On the topic of fish tanks, there are also further restrictions even in your own home.
So unfortunately for marine lovers, there's a limitation to the size of the fish tanks that you can install in your HDB flat. The total allowed weight of a fish tank should weigh no more than 600kg per room – and this is inclusive of all accessories (water pumps, water, sand, corals, plants) that are found within the fish tank and is supported on a 4-legged rack.
If your aquatic pets do exceed the set limit, an application to HDB would be required on your end to receive the legal permit to continue rearing your fish friends.
Do note that the maximum dimensions of the fish tank should not exceed 2m in length and 1m in width. The water depth must be kept within 0.5m too.
10. Permanently Covering The Planter Box
Some HDB flats come with beautiful planters (which are also known as smaller versions of a balcony) that are perfect for homeowners to practice honing their green thumbs indoors.
Not everyone will have a use, of course, so it's only natural that you'd want to convert the space for other uses. As such, do note that the installation of any grilles, windows or structures to permanently enclose the planter area is not actually allowed. You can use removable wooden planks to cover it to still use the space, so just make sure it's not permanently covered and you'll be fine!
Are there any more HDB renovation no-nos, or renovation stories that you want to share? Feel free to let us know at hello@stackedhomes.com
SHARE