Advice
Which 1 Bedroom At The Poiz Residences, Park Colonial Or Sennett Residence Would Be A Better Investment?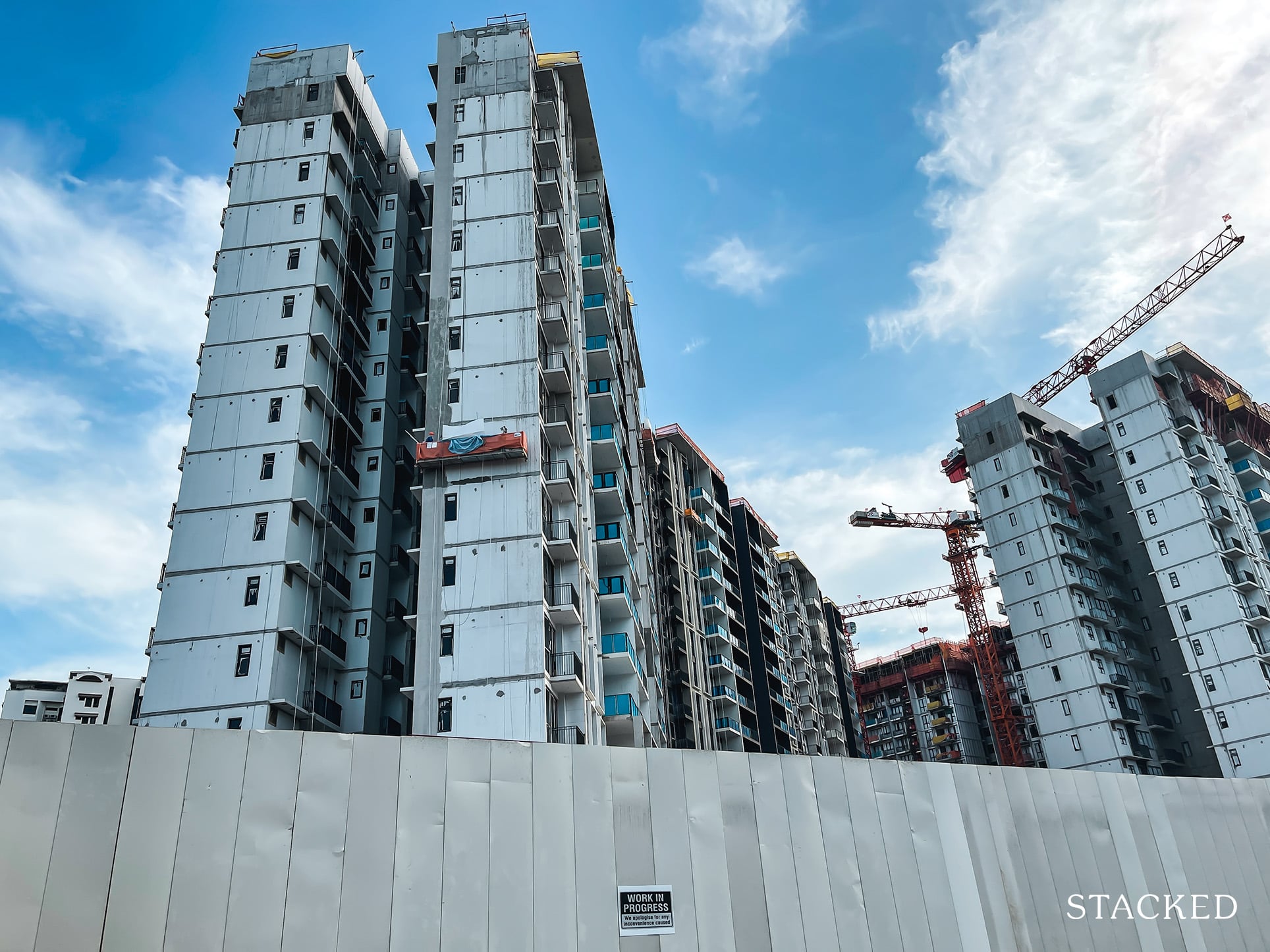 10
min read
Hi there,
I am a single looking for a studio/1 bedroom unit (preferably 1 bedroom) around the RCR region with a budget of around $920k. This is an investment for now and I plan to rent it out.
As such, high rentability and rental yield would be the most important. Convenience to amenities and transport as well, reasonable MCST fees would be plus points too.
Lastly, the viability of exit strategy would be a consideration for the longer term as well.
Currently, I've been looking at/considering The Poiz Residences, Sennett Residence, and Park Colonial. But I am also open to any other suggestions that may meet my considerations.
Thank you for the help in advance!
---
Hey there!
Thank you for writing to us and for sharing about your intended investment purchase. Potong Pasir and Woodleigh area has certainly developed well over the past few years, and for those who bought in the earlier days, they'd certainly be happy campers indeed. Still, there will be more residential developments added into the area and with the population growth, more amenities were also added, just like the new Poiz Centre and the upcoming Woodleigh Mall. The area is also sought after among potential tenants that work in the vicinity of the city centre.
While the supply of HDB upgraders in the future won't exactly be your target market when it is time to exit, the inflow of demand for the bigger units will still have a hand to play in driving the average prices of the developments up.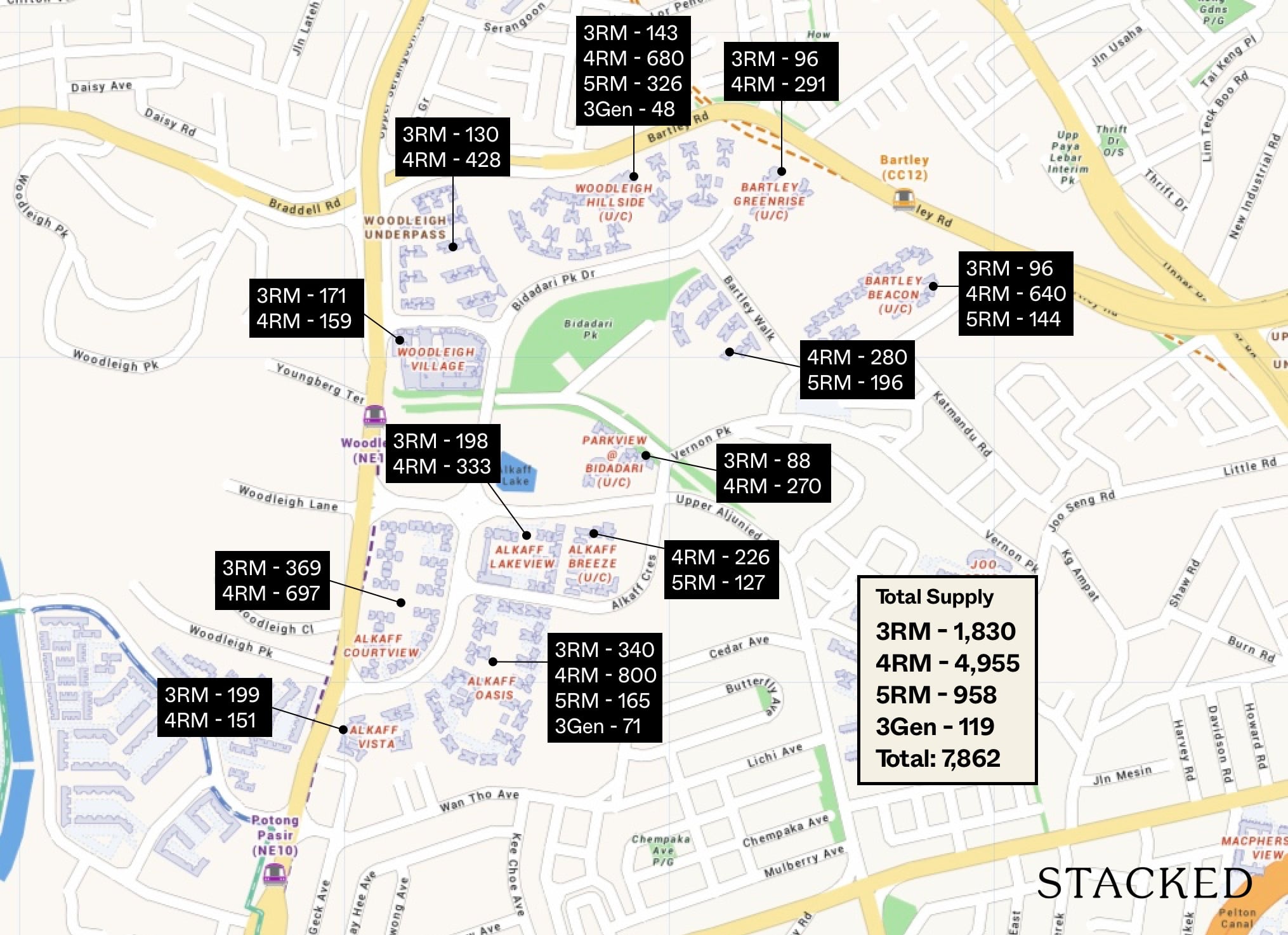 Let us share some of our thoughts on each development, and which we think may be a more suitable choice.
The Poiz Residences
The Poiz Residences is a mixed-use development with sheltered access to the Potong Pasir MRT station right at your doorstep. It offers convenience to amenities, plenty of food options in the development, and it's also close to the HDB estate of Potong Pasir. With over 700 units, The Poiz Residences offers decent and relatively well-maintained facilities, and you could also say that it is sufficient for the number of units in the development.
Having achieved TOP in 2018, The Poiz Residences is a pretty new development. Looking at the driving and public transport accessibility from the project and coupled with the real estate movement in this estate, there should certainly still be a good demand for such a place in the near future. The current price stands at $17xx PSF on average, which is considered reasonable for a mixed-used development in the RCR region. With the support of new developments flourishing around the estate and the new HDB Bidadari upgraders in the future – The Poiz Residences prices are pretty protected as it's transacting at a lower PSF still.
For the sizes you are looking at, there are Studio+Study areas up to 1 bedroom+Study unit, with sizes ranging from 420 sqft up to 592 sqft. From the past transactions, quantum-wise; it is relatively reasonable for the smaller-sized studio units with prices ranging in the $7xxk.
However, studio units may be less ideal for one that loves to entertain or have family/friends staying over. With the lack of proper walls and doors separating the current sleeping and living space, privacy may be an issue for studio unit types. As such, the proper one bedder units with a dedicated sleeping and living space may still be a preferred choice as compared to an open layout plan, as the open layout caters to a smaller group of buyers when it comes to future exit. Rental-wise, it is highly sought after among tenants for the convenience of amenities and public transportation added with its proximity to the City.
Perhaps the most remarkable thing so far is that The Poiz Residences has recorded 94 profitable transactions (at the time of writing), and ZERO unprofitable transactions so far. Given it is newer than Sennett Residence, it was launched at very competitive prices to Sennett, hence the good performance in the resale market.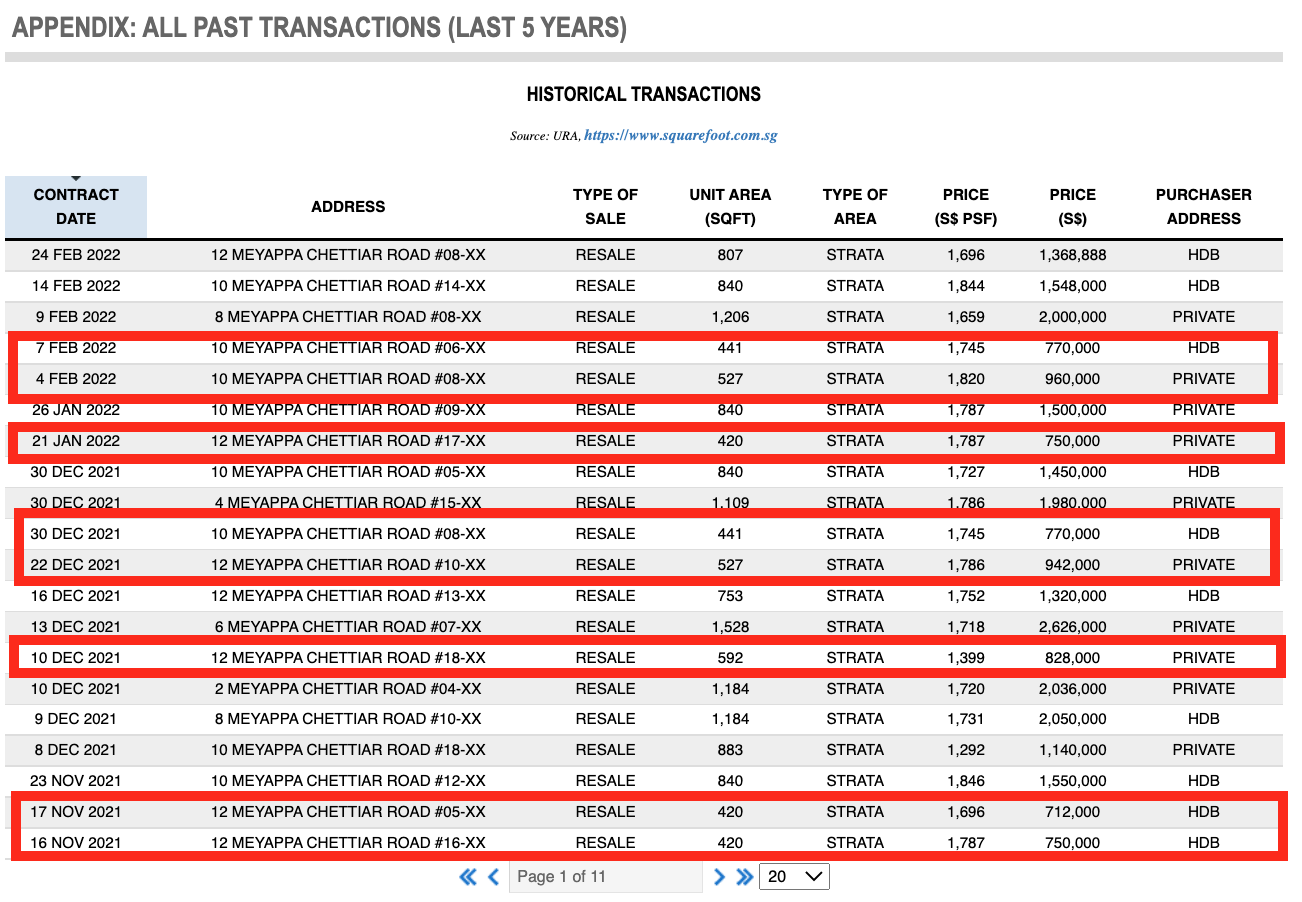 Layout analysis: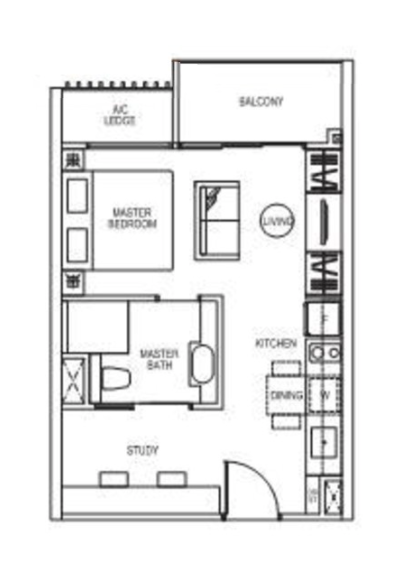 At 441 sqft, the Studio+Study layout is squarish and efficient – it's as efficient as can be for such a space. The unit opens up to a good-sized study area, which could potentially be converted into a decent size single bedroom that could fit in a single-size bed. Adding on, the area could be divided easily with the provision of a jack & jill bathroom; this is great, especially for potential buyers/investors/tenants that prefer a separation of space for WFH or to accommodate more pax.
Sennett Residences
Located right at the station entrance of the Potong Pasir MRT station and along the main road for bus connectivity, Sennet Residence ticks the box for convenience to public transportation and road connectivity. Location and connectivity-wise are comparable to Poiz Residences as it is located just the opposite. It is just a few stops shy of Dhoby Ghaut MRT and a few minutes' drive from Orchard. Sennett Residences is definitely not short of amenities, with your neighbourhood coffee shops around the corner, The Poiz Centre opposite, it is convenient at your doorstep. If that isn't sufficient, the upcoming Woodleigh Mall would be just one MRT station away.
For those that take the MRT daily, Sennett Residence has a side gate that leads directly to the entrance of the MRT station.
This project has a variety of 1 bedroom layouts though all are open kitchen concepts with sizes ranging from 484 to 603 sqft. In a way to differentiate this project from Poiz Residences, one bedder units here come with separated living and sleeping space an ideal layout, especially for those that value privacy when family/friends stay over.
The convenience of being beside the MRT station does not come without repercussions. The traffic noise from the constant heavy traffic and frequent buses are definitely difficult to ignore. Do also be mindful that most of the one bedder unit stacks are East/West facing, thus it may get hot during certain hours of the day. Potential buyers may be less inclined towards direct east and west-facing units, unless it ticks most of the boxes for their other needs – so do compare direct east/west facing units with the other stacks.
Prices have generally remained stable over the years with its current PSF – $16xx PSF, which is slightly lower than The Poiz Residences. Considering a large number of upcoming developments in District 13 and the huge increase in residential supply, we could see some potential appreciation, which however may be hindered internally by investor-owned units – 129 rental contracts recorded in Y2019 out of 332 units.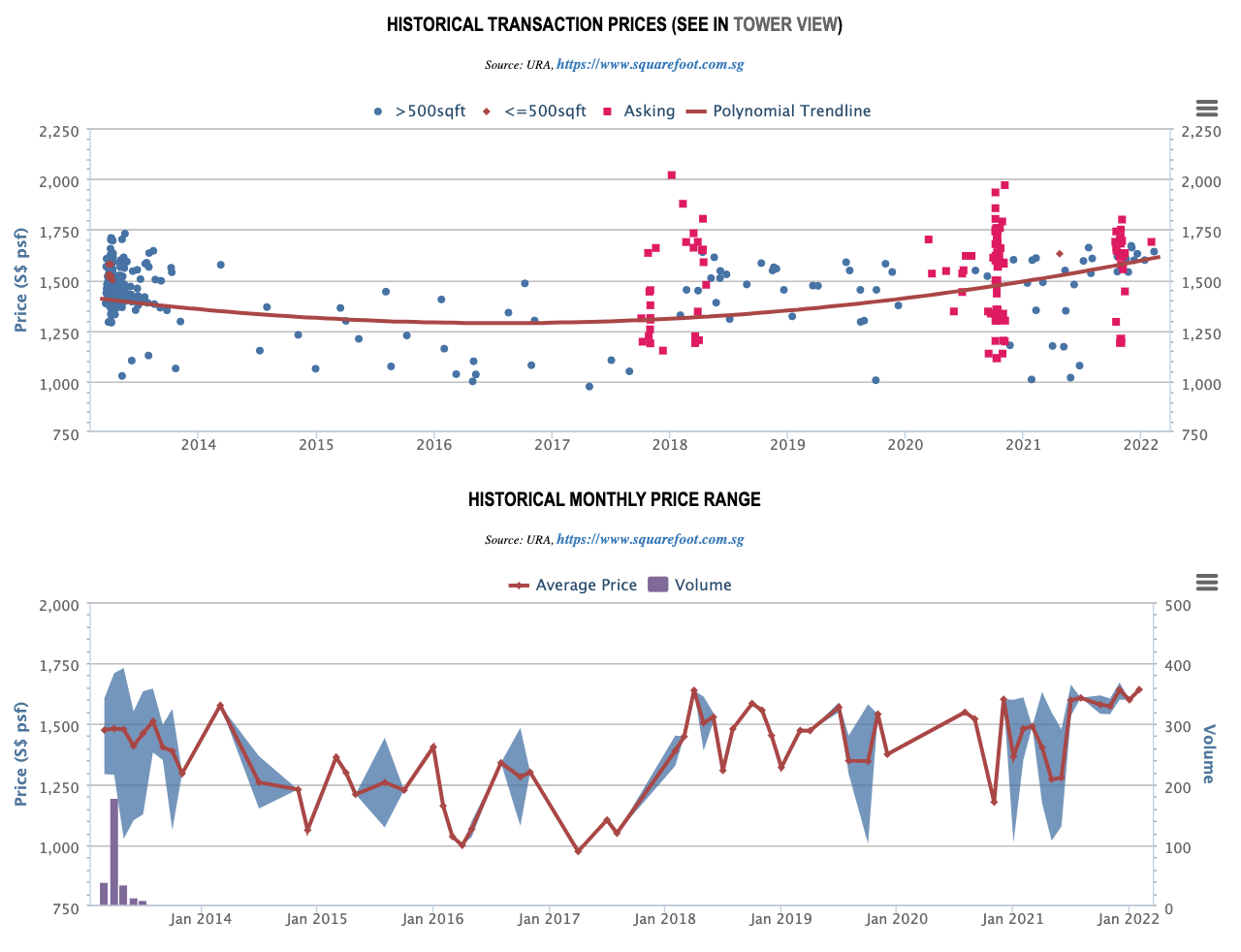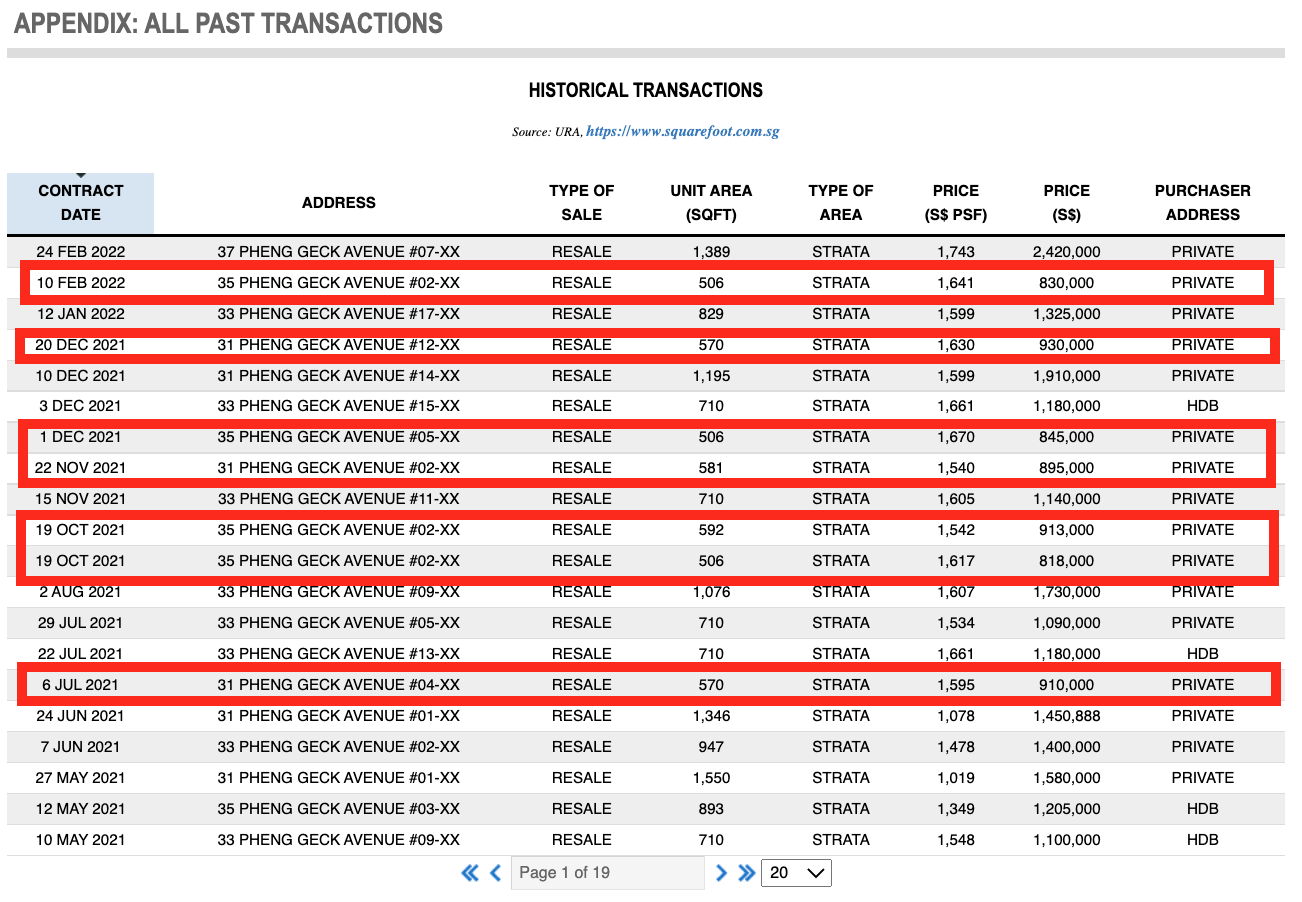 Layout analysis: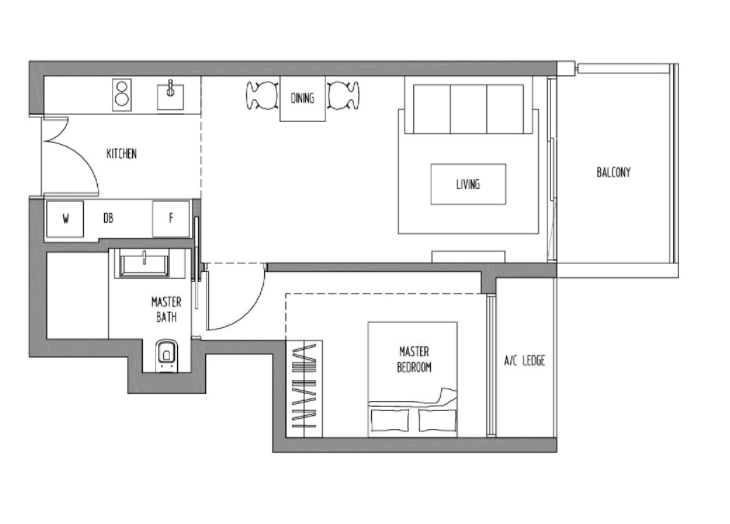 At 582 sqft, the one bedder unit is spacious in size. A size that is somewhat similar/equal to the current 2B1B unit in today's new launches. The unit opens straight to the kitchen area which is equipped with cabinets on both sides. It then opens to a spacious-sized living and dining space area, which is great for entertaining guests as it can accommodate a 4-seater dining area and a good-length sofa.
The unit also comes with a decent-sized bedroom, though we are not a fan of the bathroom accessible via the bedroom, which may be inconvenient or less private especially when you have guests over. Frankly, it is rather odd to have the bathroom entrance located right at the back of the bedroom door.
Park Colonial
Park Colonial was one of those developments that had their completion date pushed back because of the pandemic.
This full-facility project has a side gate that leads to the entrance of the underpass to the Woodleigh MRT. With the huge residential supply coming in from HDB and private non-landed, we can expect a significant transaction volume in the future secondary market. However, Park Colonial has priced its units upwards quite aggressively since launch day, also because there is certain price protection from the even higher-priced Woodleigh Residences.
While we expect the prices to be well-protected given the well-designed theme, home-stay characteristics, a large supply of HDB pipeline, and the highly-priced competitor (TWR) transacting above Park Colonial's current prices, it remains to be seen how much higher prices in this area can go. We definitely recommend holding this project until the BTOs achieve their Minimum Occupation Period (MOP) to capture the largest target audience possible or investors on the lookout for relatively new development with new facilities and MRT accessibility.
If anything the relationship between Park Colonial and Woodleigh Residences is somewhat similar to Sennett Residence and Poiz Residences – just in an inverse fashion. Park Colonial is the one without a mall (but it's just the opposite) and is better priced.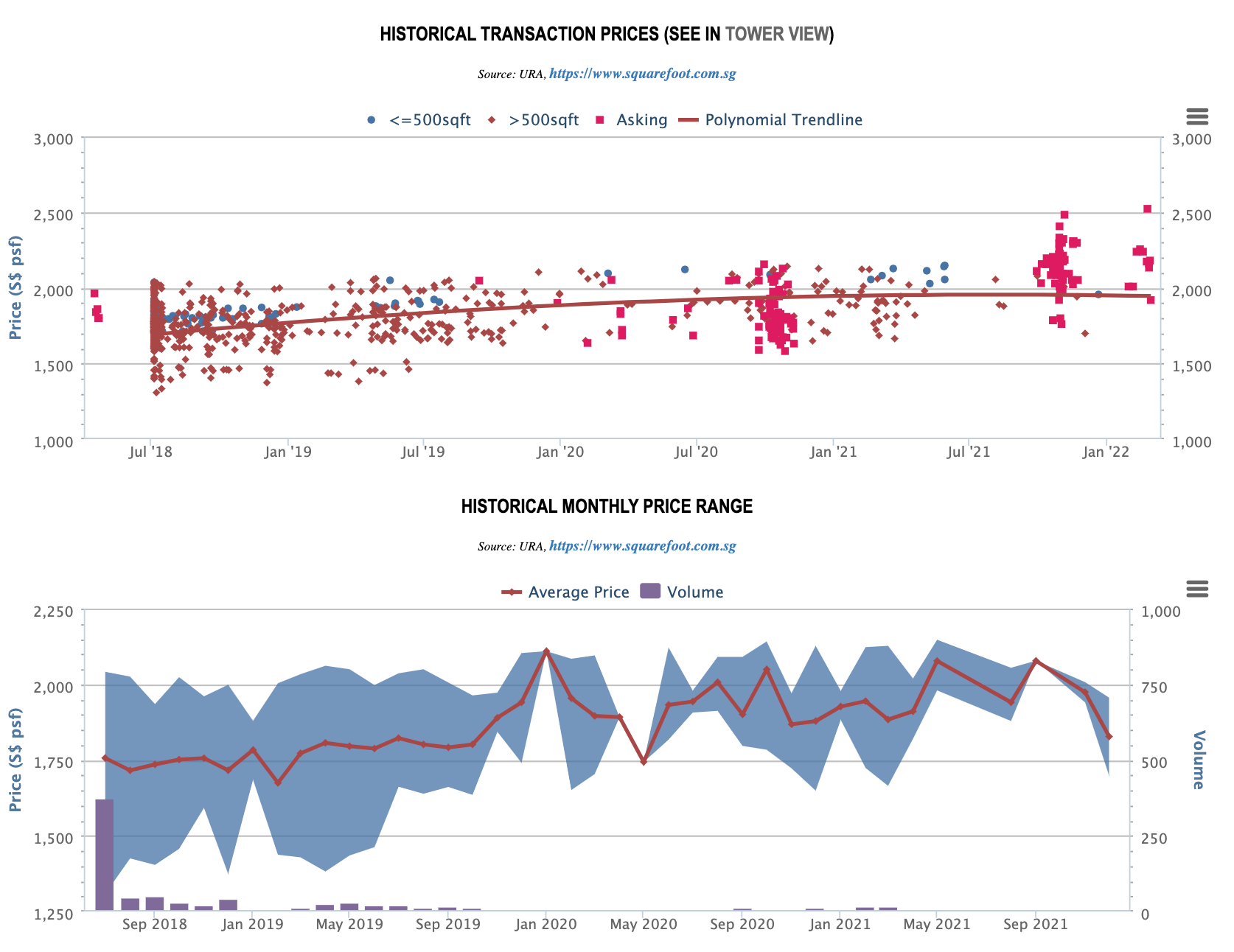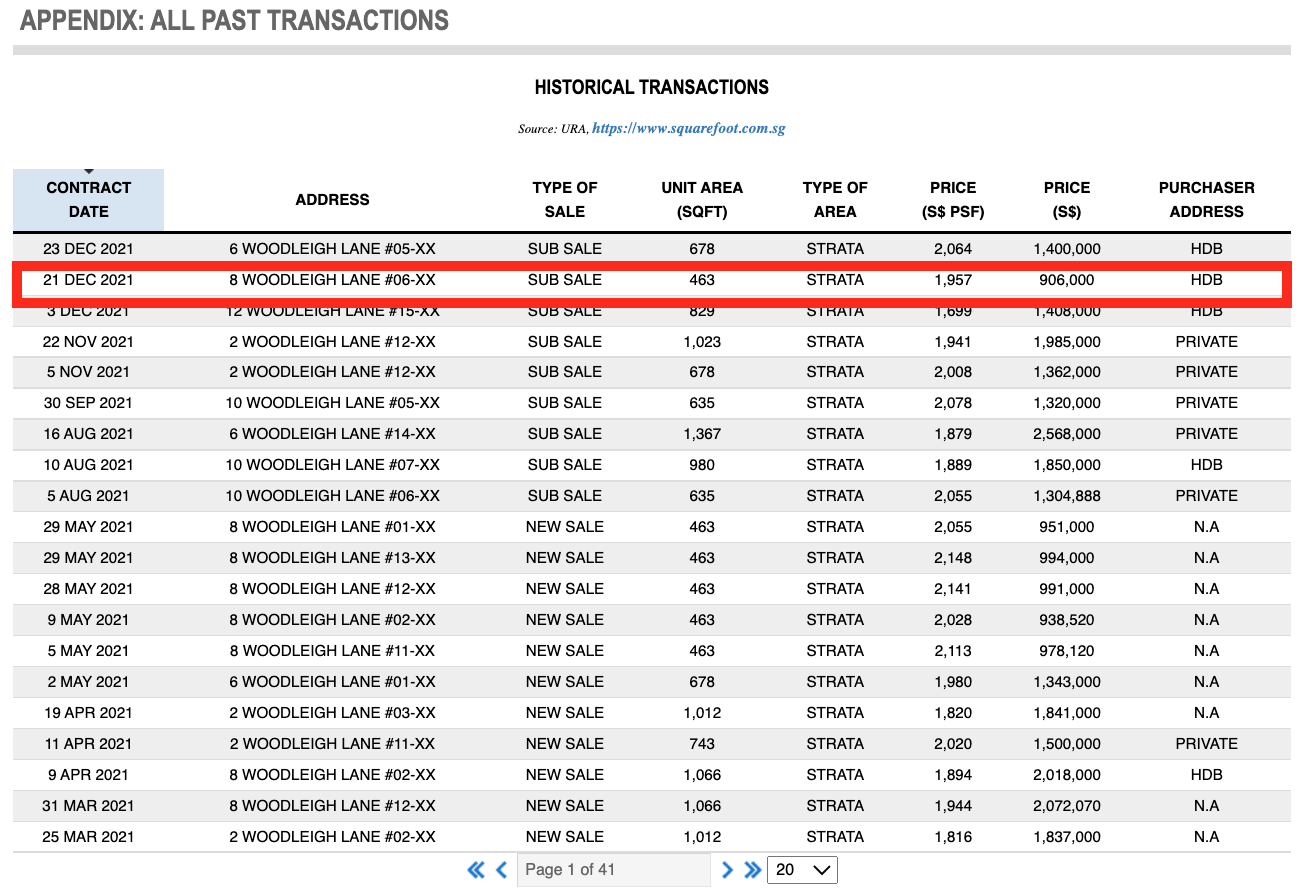 Layout analysis: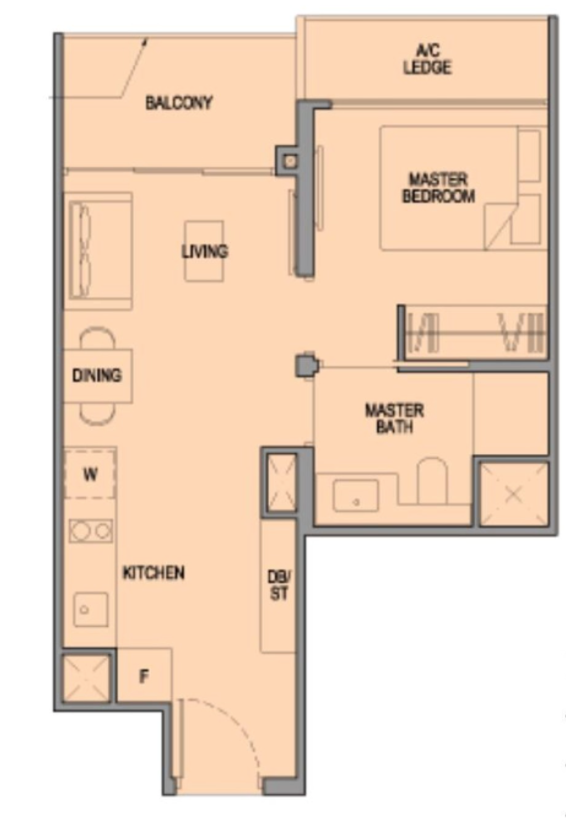 At 464 sqft, it is decent in size for today's newly launched one-bedroom units. As we always see in most one bedder unit layouts, the unit opens straight up to the kitchen area. We do like the extra storage cabinet provided which integrates together with the DB box; this is a thoughtful design, especially for one bedder unit sizes, which usually lack storage spaces.
Adding on, we are a fan of the jack & jill bathroom access for one bedder units, as guests will not need to enter through the bedroom to access the bathroom.
Conclusion
Poiz Residences would attract tenants that value convenience to amenities, food options, and transportation. All in all, Poiz Residences would be the better pick if you are solely looking at rental yield. From the data below, we can see that the smaller unit size offers a good rental yield of 3.7% gross.
Added with its lower entry price added with its mixed development profile, we do foresee Poiz Residences to remain attractive in the longer term.

Sennett Residences is better if you appreciate a smaller community with decent facilities and yet with quick access to the MRT entrance and bus connectivity right by the side gate. You do have good unit sizes at an affordable quantum, but however, do be mindful of East and West facing stacks that may be harder to exit. Adding on, Sennett's rental yield for the one bedder unit is slightly lower, this is likely due to its higher quantum as compared to Poiz Residences studio unit sizes.

As it is pretty hard to gauge the rental potential for a newly TOP project like Park Colonial, we do foresee prices to be relatively competitive to the older developments in the vicinity. Fuelled with rental demand and an uptrend in rental prices in recent months, we do foresee project Park Colonial to generate decent rental yield, especially since it is the newest kid in the block and the tendency of potential tenants to pay a premium for would be higher.
Ultimately though, the final quantum that you can get today at Poiz Residences is hard to ignore in the comparison between these 3 developments.
Thank you and we hope that the above pointers would help you in making your decision.
Have a question to ask? Shoot us an email at hello@stackedhomes.com – and don't worry, we will keep your details anonymous.
Looking for a home? Feel free to reach out to us here for a more in-depth consultation.
For more news and information on the Singapore private property market or an in-depth look at new and resale properties, follow us on Stacked.