HDB Reviews

Waterfront II @ Northshore Review: Stunning Sea Views And Unique Layouts But Is Far
Sean
March 28, 2022

30

min read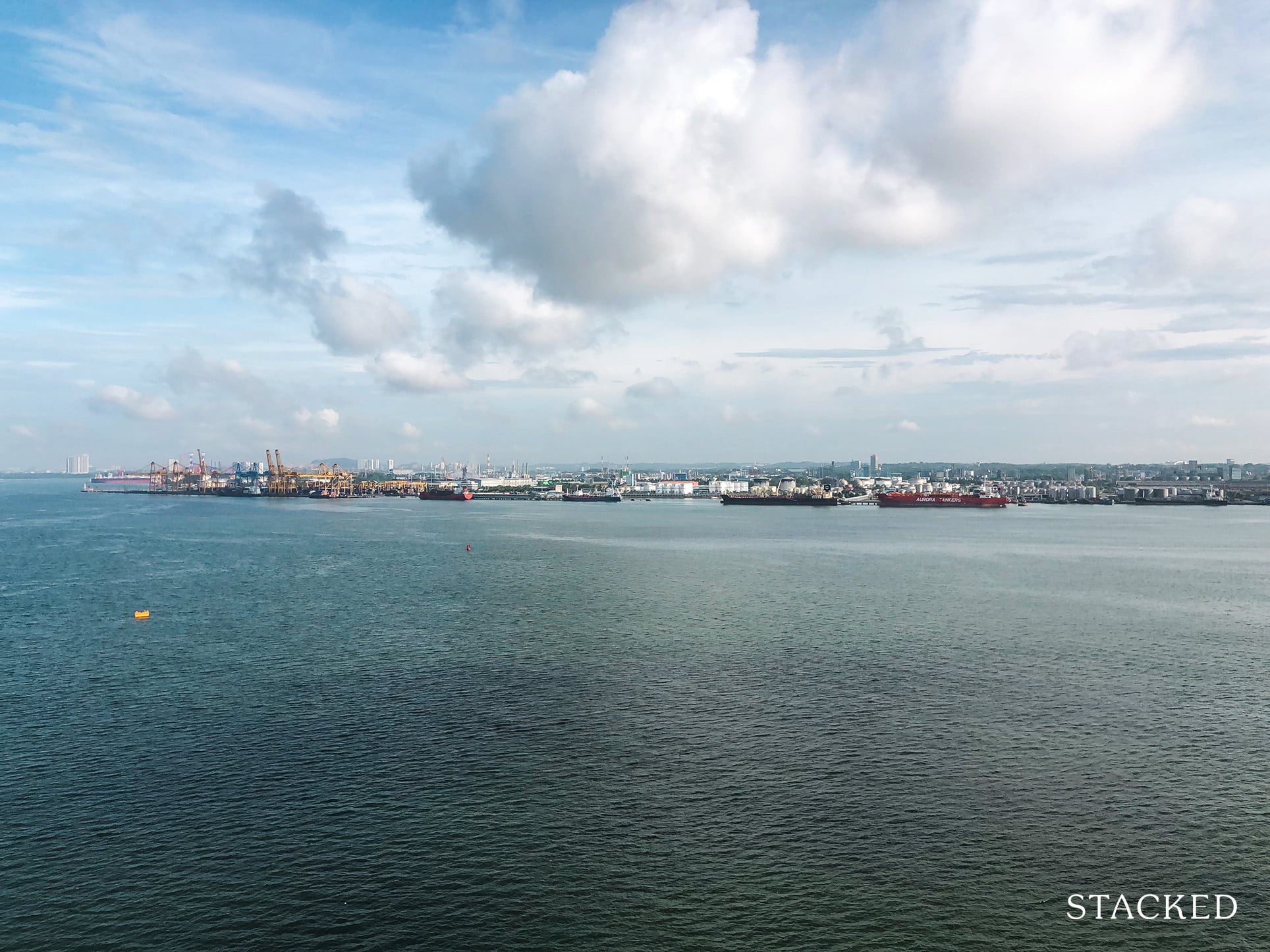 Reviewed by Sean on March 28, 2022
What we like
Self-sustaining development that's integrated with Northshore Plaza

Seafront living at affordable quantum

Unique layout plans and good unit mix

Next to the Park Connector

Underground parking with direct access to your block
What we don't like
—

Far from the MRT

—

Quite a walk to the LRT

—

Very far from the city centre

—

Development facilities could be better
30
min read
| | |
| --- | --- |
| Project: | Waterfront II @ Northshore |
| HDB Town | Punggol |
| Address: | 419A-D, 420A-D Northshore Drive |
| Lease Start Date: | 2021 |
| No. of Units: | 903 |
While Waterfront II @ Northshore (sometimes referred to as Punggol Northshore to refer to both Waterfront I & II) isn't our first waterfront HDB to be reviewed, it is very distinct because of its sweeping unblocked views of the sea as it is very rare for an HDB. Just have a look at the other waterfront HDBs in Punggol to compare for yourself (Waterway Terraces and Punggol BayView).
But what's the real difference, you may ask.
Well, it's the first HDB to be right next to the sea, giving certain residents here the privilege of having unblocked and direct sea views. Just take a look at this video from our Living In series to see what I mean, the views are just absolutely majestic.
As a result of this, many homebuyers in the future who are looking for unblocked sea views will likely scour the north-facing HDBs along this stretch for their ideal home. With a limited supply, it would be interesting to see how resale prices here play out in the future.
However, despite all the buzz about the views, there are concerns here to think about – with the primary one being its location. For some, staying in Punggol is a tough pill to swallow given how far it is from the city centre – and the Punggol Northshore area is a faraway place within Punggol itself (being by the sea has its disadvantages).
So if you are looking for a waterfront property, should Waterfront II @ Northshore be a serious consideration? Let's find out in our usual HDB tour!
Waterfront II @ Northshore Insider Tour
I'll admit, arriving at the Punggol Northshore BTOs (Waterfront I & II @ Northshore) does leave you with a tinge of excitement. There is no grand reveal upon arrival since the main attraction (the sea views) are pretty much hidden behind the development and away from the main road, leaving you in anticipation.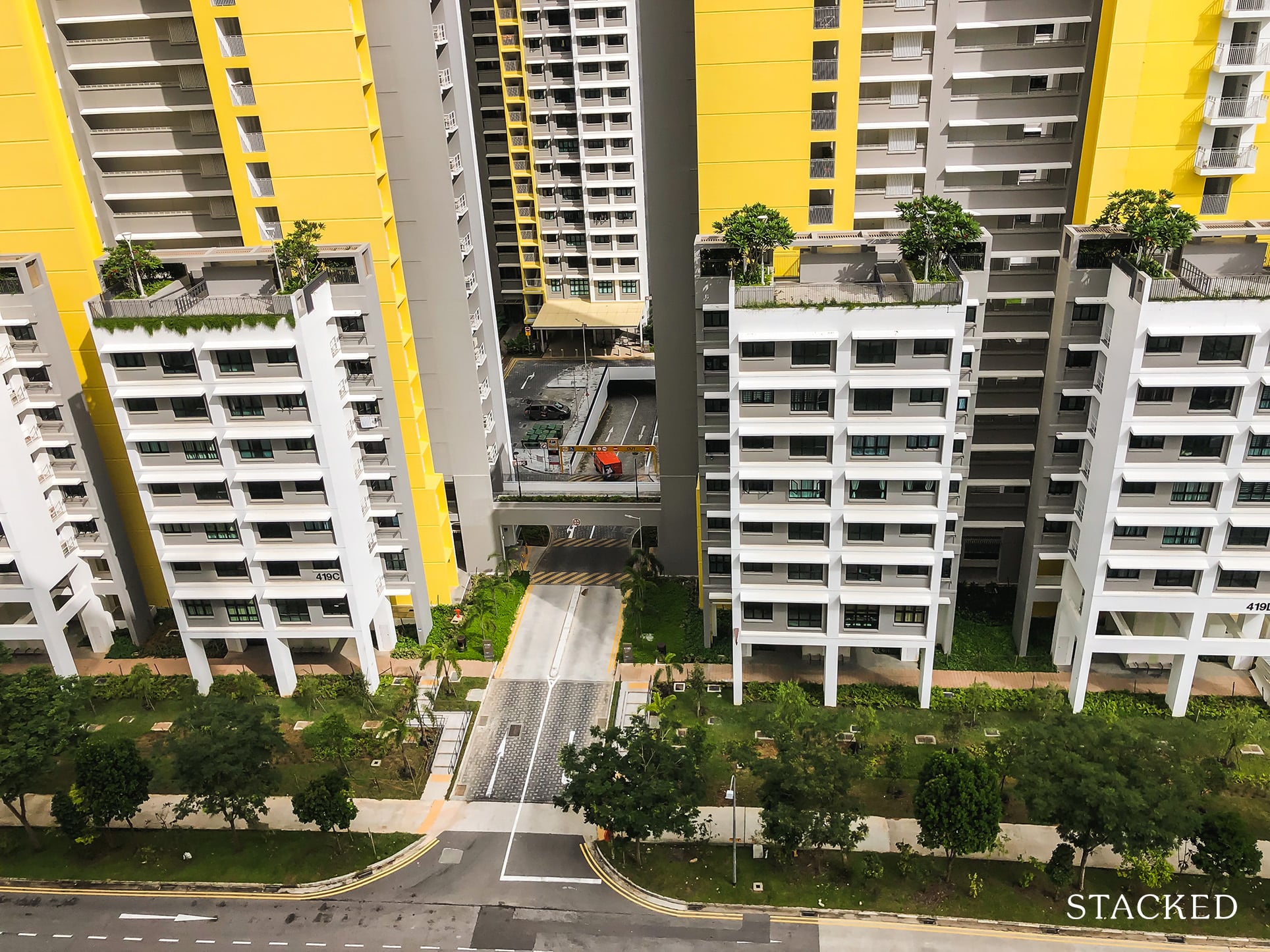 Finding Waterfront I & II could be a little confusing though. From the outside, there was no development signage which I'm more accustomed to seeing. Somehow, having the name does establish some form of presence. I'm always reminded of the large signs that greet visitors and residents when turning into SkyVille@Dawson – it is quite a sight that makes the HDB feel more special.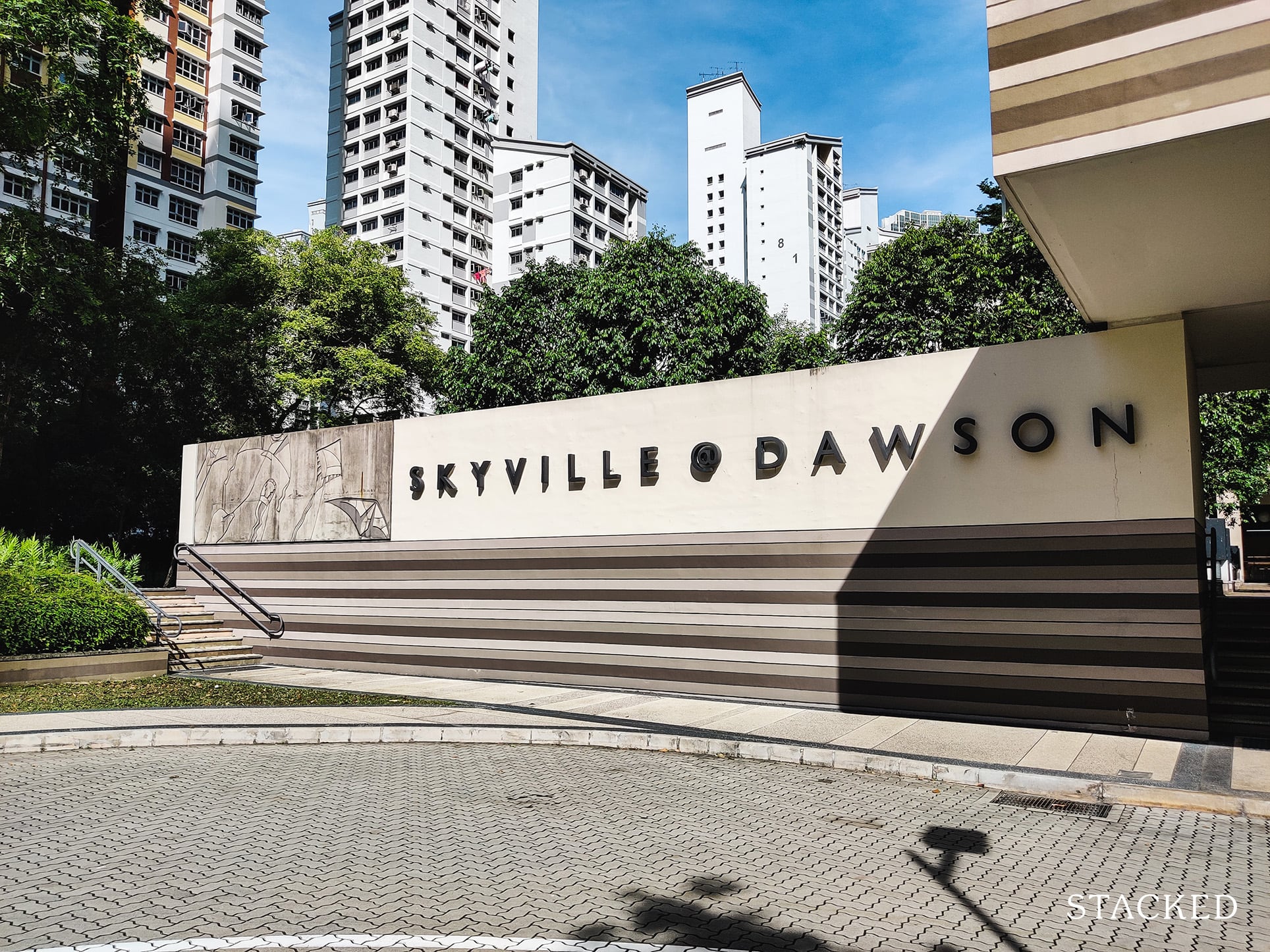 Turning in from Northshore Drive, you are greeted by a decently-sized ingress and egress. On both sides, you'll notice the development name "Waterfront II @ Northshore" etched onto the directional board.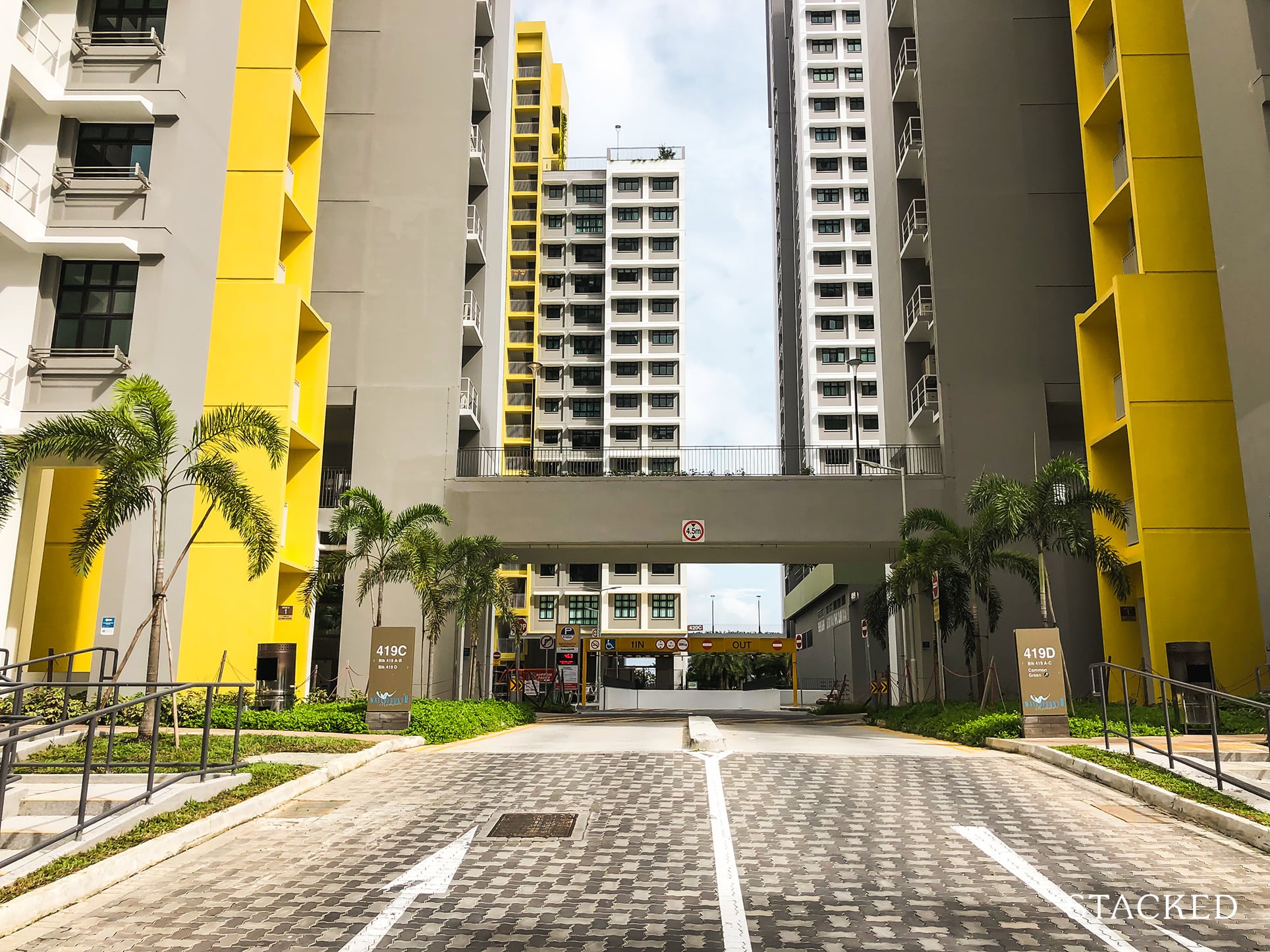 From here, it's not very apparent where the drop-off points are. Instead, you'll find the ramp down the basement car park straight ahead.
Turning left and heading further into the development, you'll find two drop-off points here.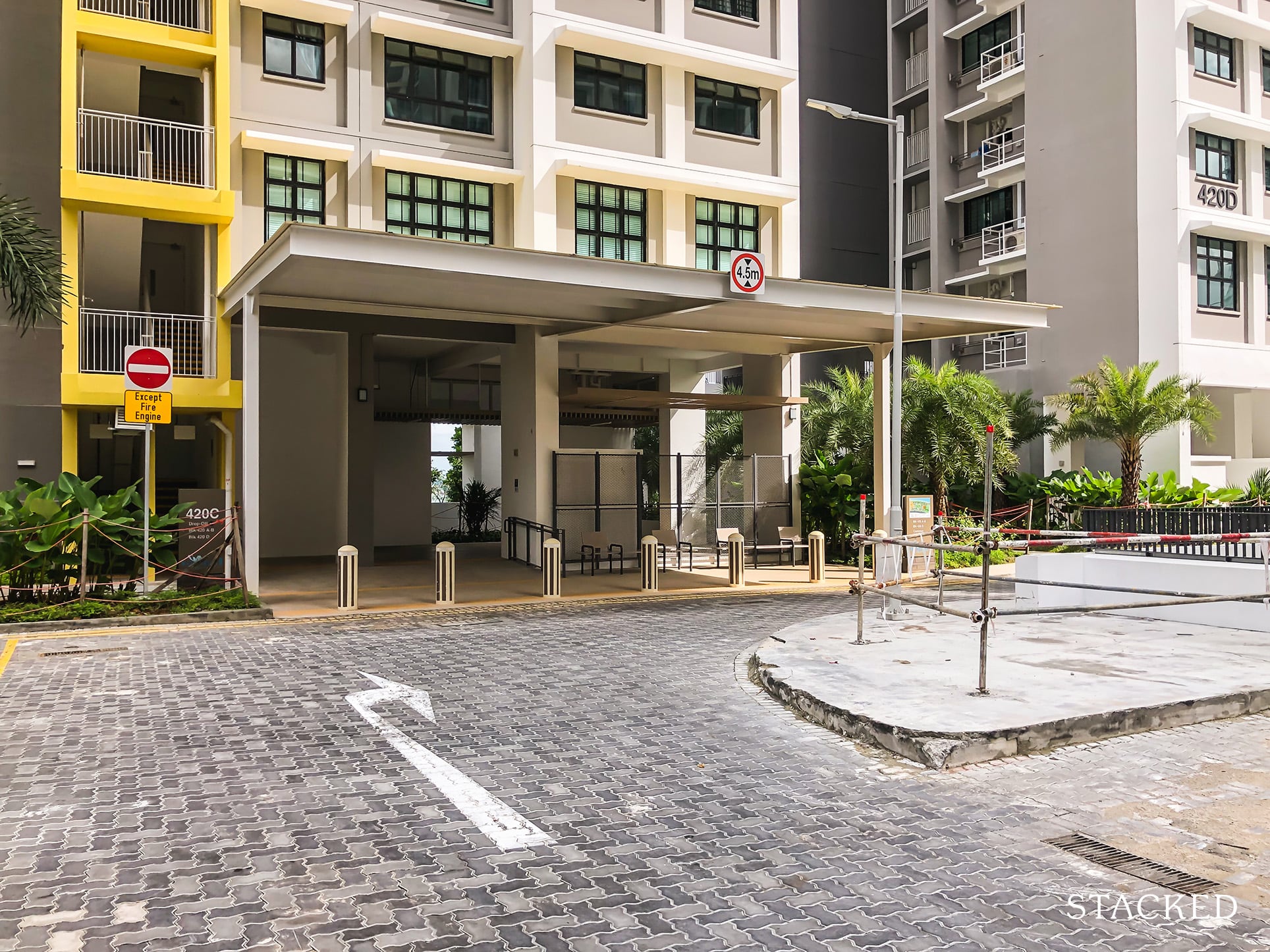 The first is located at block 420C. This is the secondary drop-off point which is close to the basement car park exit point. From here, you'll see that it adopts a roundabout design, allowing drivers to seamlessly pick up and drop off passengers which is much better than having to do 3 point turns. It's also sheltered, probably a must at this stage for any drop-off to be considered decent.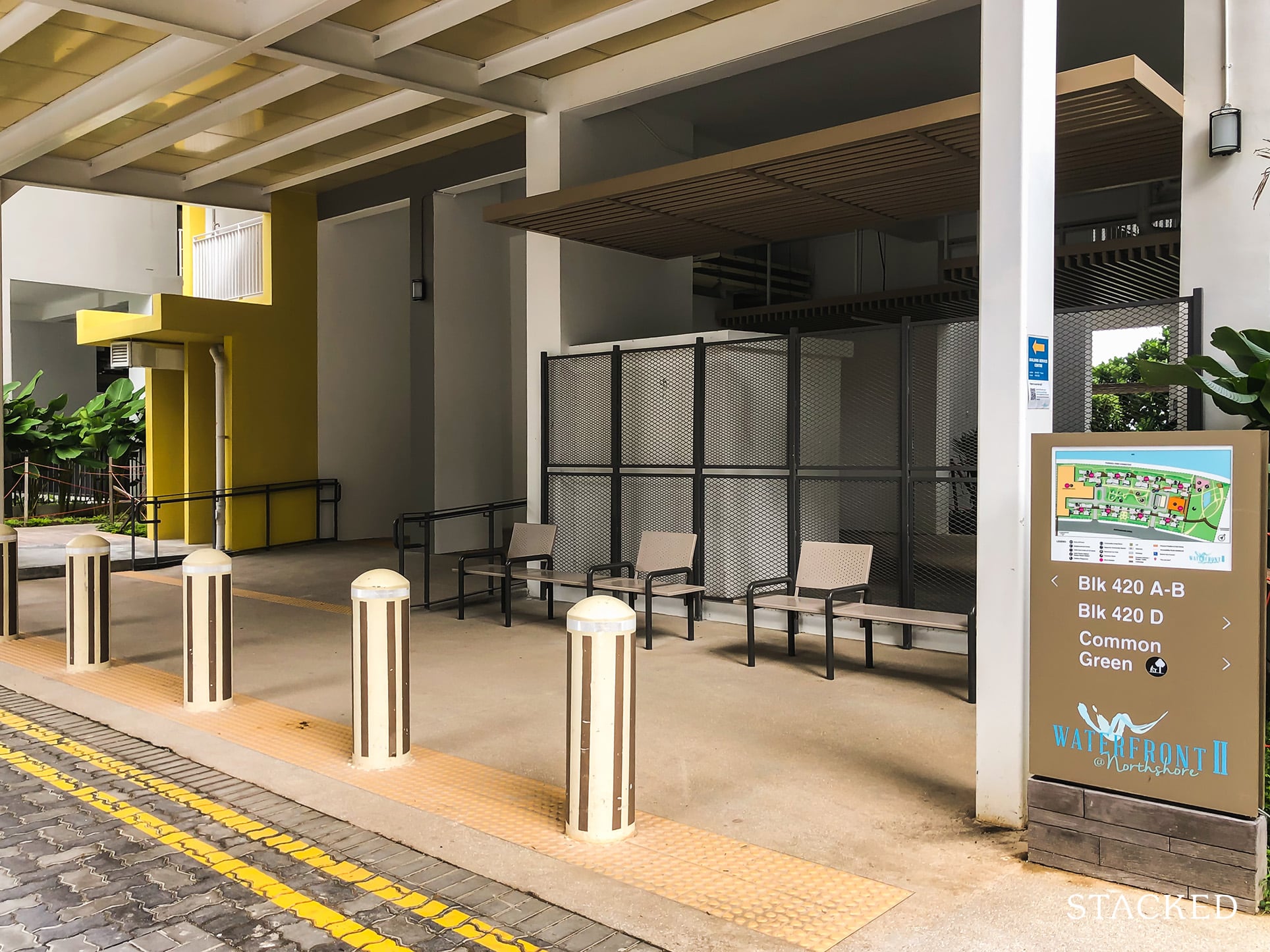 The drop-off here has a good amount of seating provided, but what's interesting here is the seat design. Usually, you'll see benches with a full backrest or no backrest at all, but this one seems to be a hybrid between the two. Well, I'm all for having a least some form of back rest. Sitting on a bench without any backrest can be tiring after a while, not to mention the stress it puts on your body – an even more pertinent point for the elderly!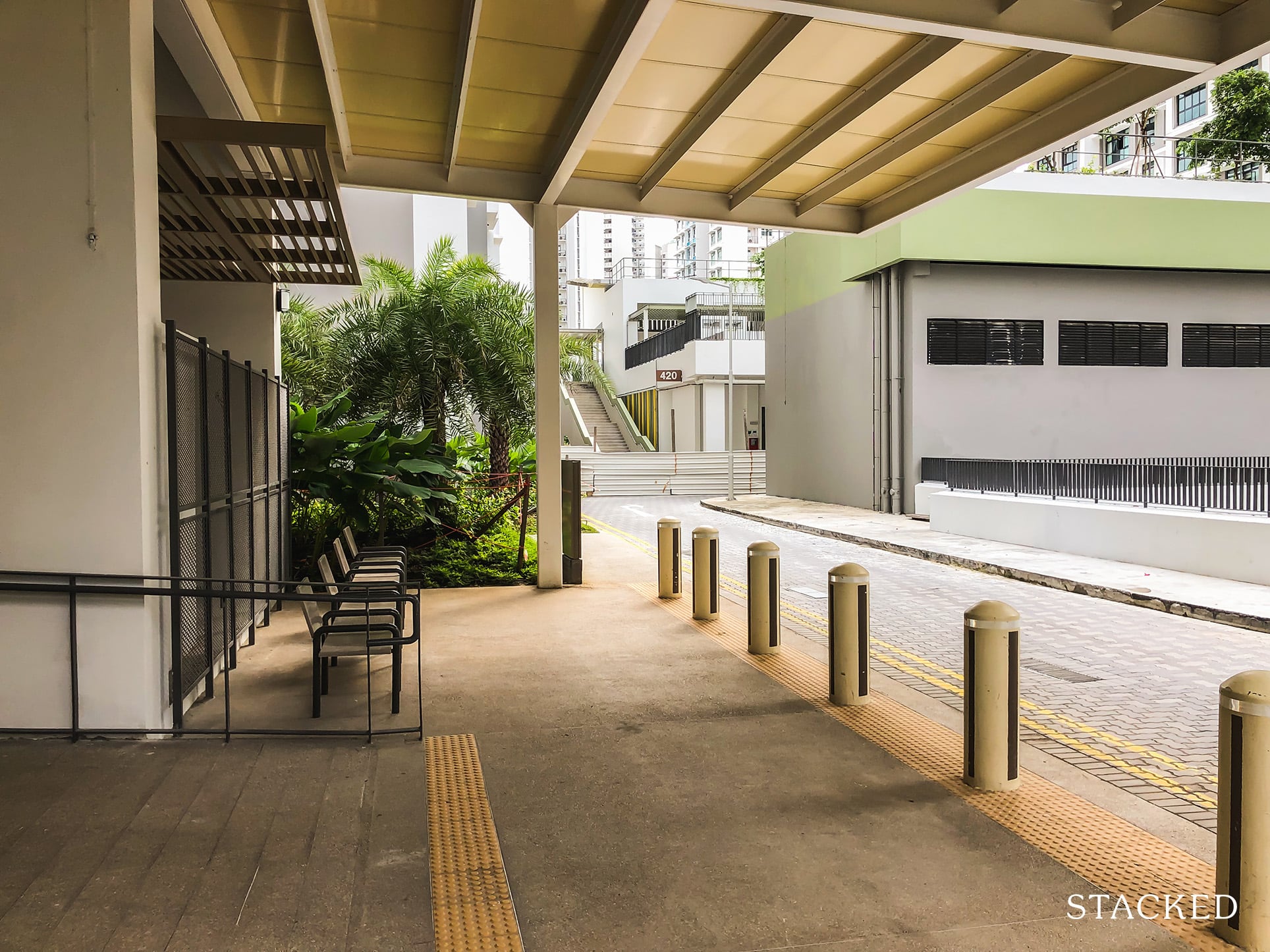 While I do appreciate the ample number of dropping points here, do bear in mind that the lane is wide enough for just 1 vehicle at a time like most other roundabouts. I do prefer drop-offs that allow for overtaking, such as the one at Trivelis, and with just 2 drop-off points for 8 blocks, some drivers may end up having to wait for others to move on.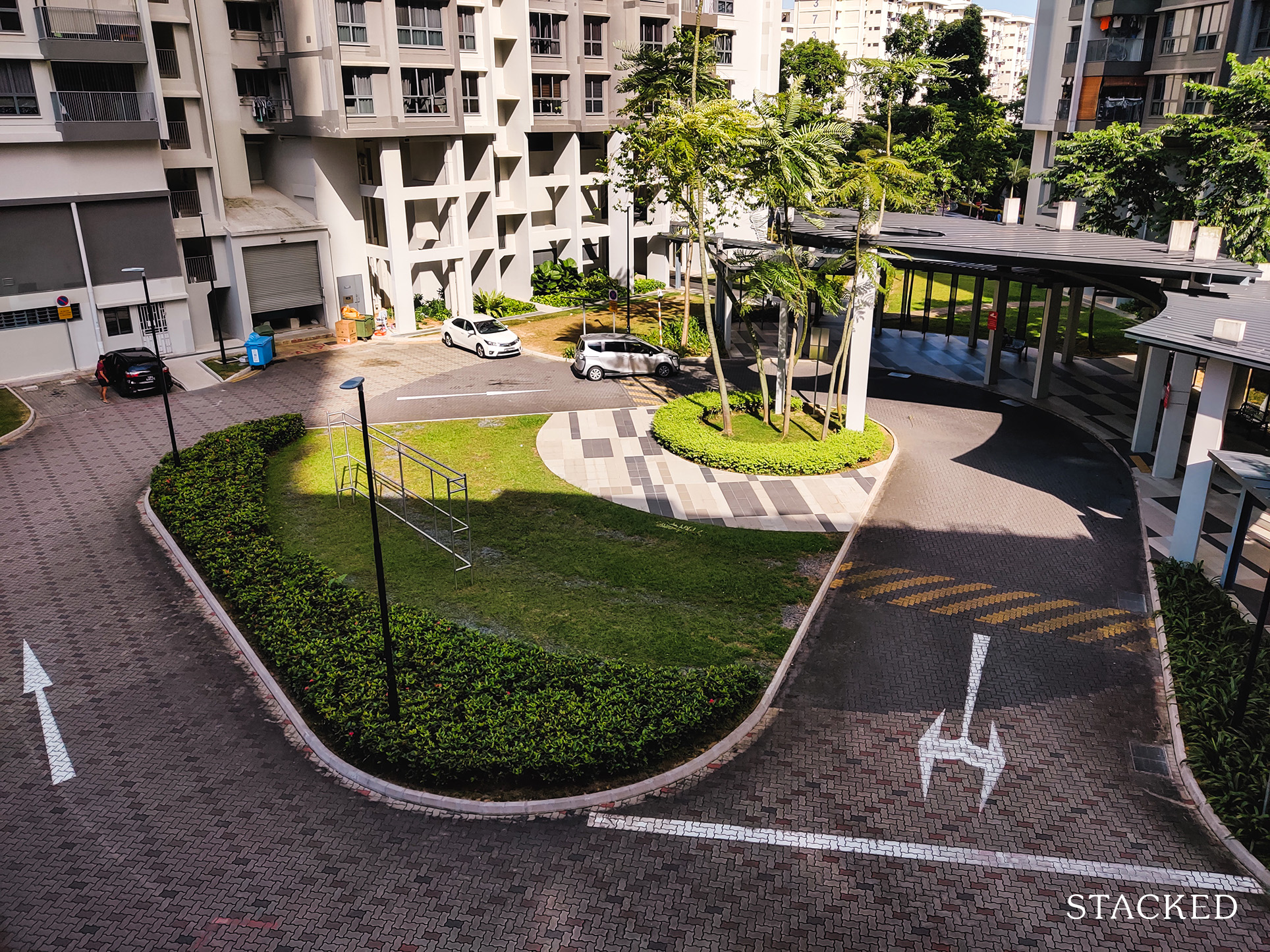 Another thing to note here is the number of dedicated loading and unloading lots: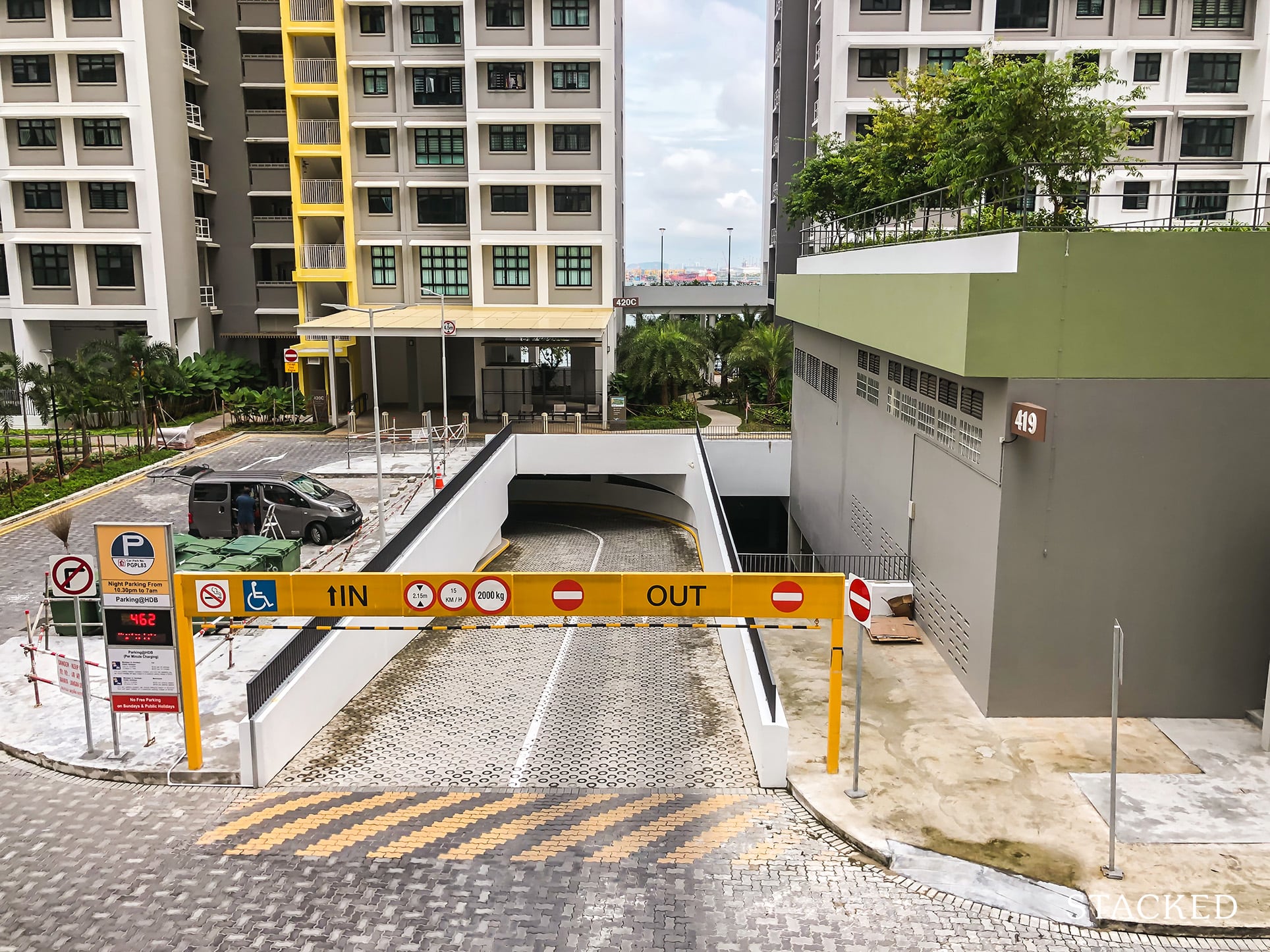 This is particularly handy for delivery companies dropping items off – whether it's groceries or construction material. But before you chalk this unique point out as something positive, I must add that this is more of a compromise than a plus.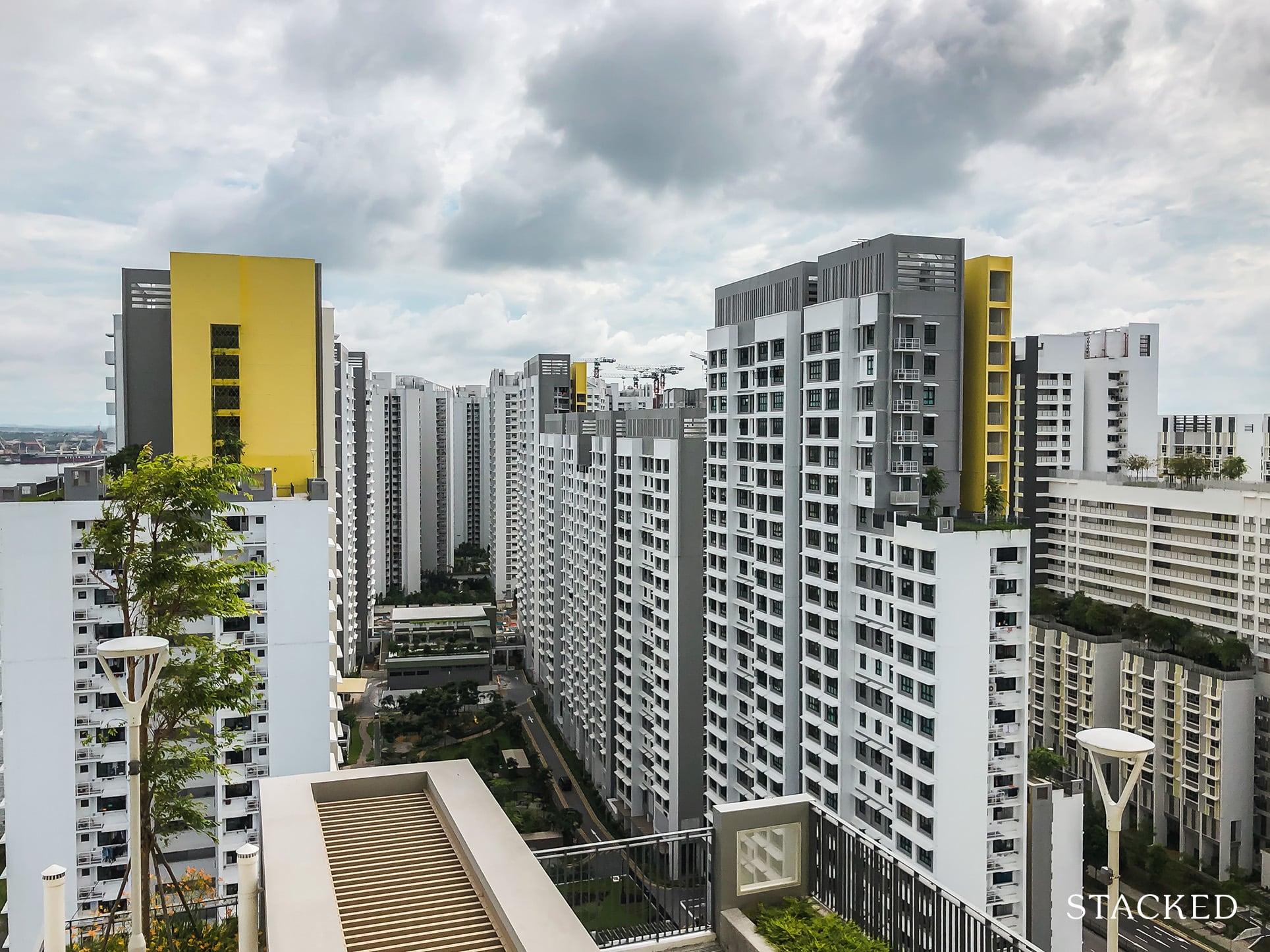 Since there are only 2 drop-offs here, some blocks are actually located quite far from these points. Where many HDBs have dedicated loading/unloading bays near the respective blocks, Waterfront II @ Northshore only has 2 which are situated on the north side. This could be quite a hassle since these deliveries have to be wheeled over. Of course, delivery vans could use the basement car park which I'll get to later, but bigger vehicles would not have this option.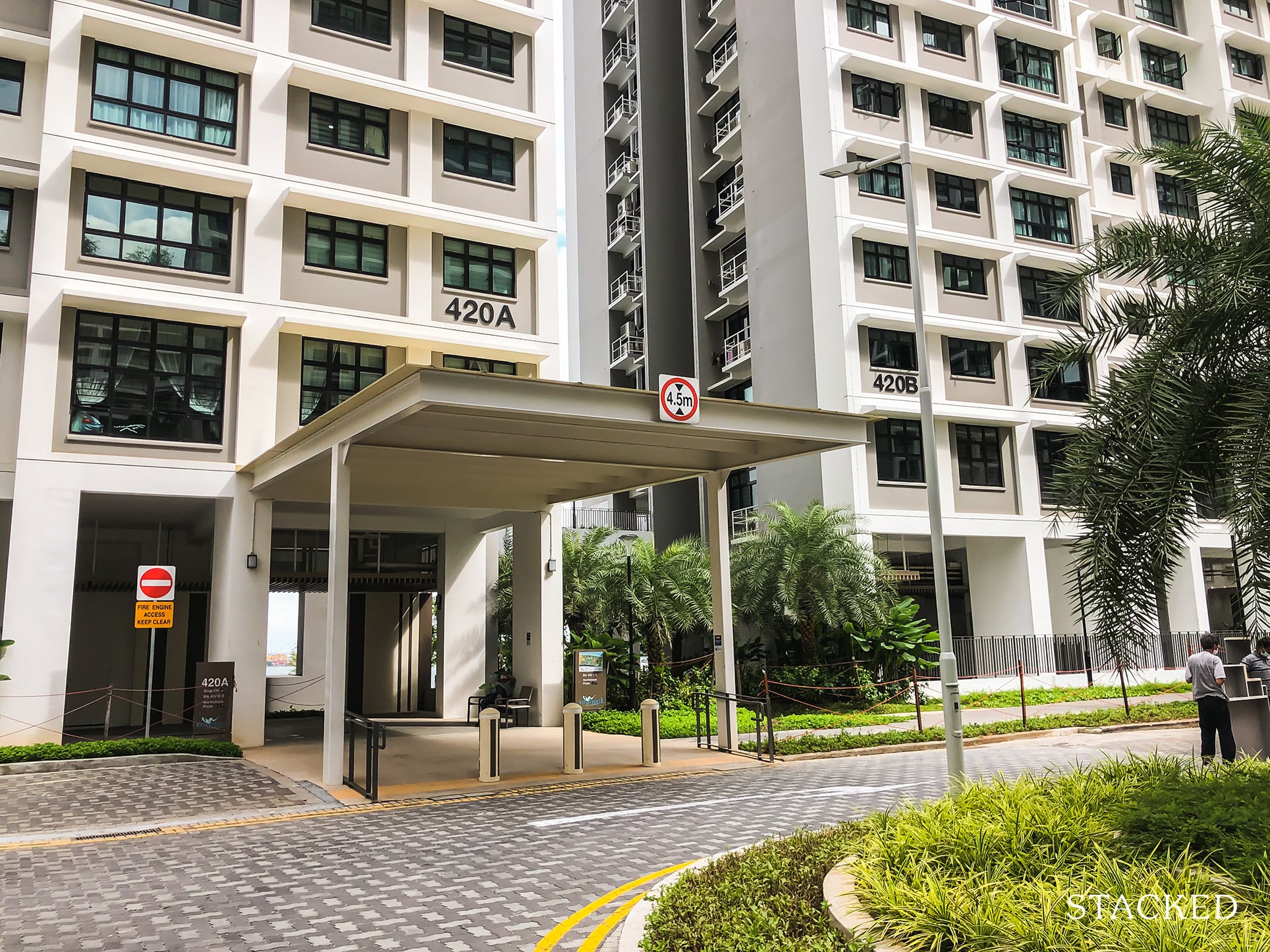 Heading eastwards, you'll find the main drop-off point. It sports a similar roundabout design with the same dedicated delivery vehicle lots too. It's also nicely sheltered and comes with ample seating in the same quirky style as the other drop-off.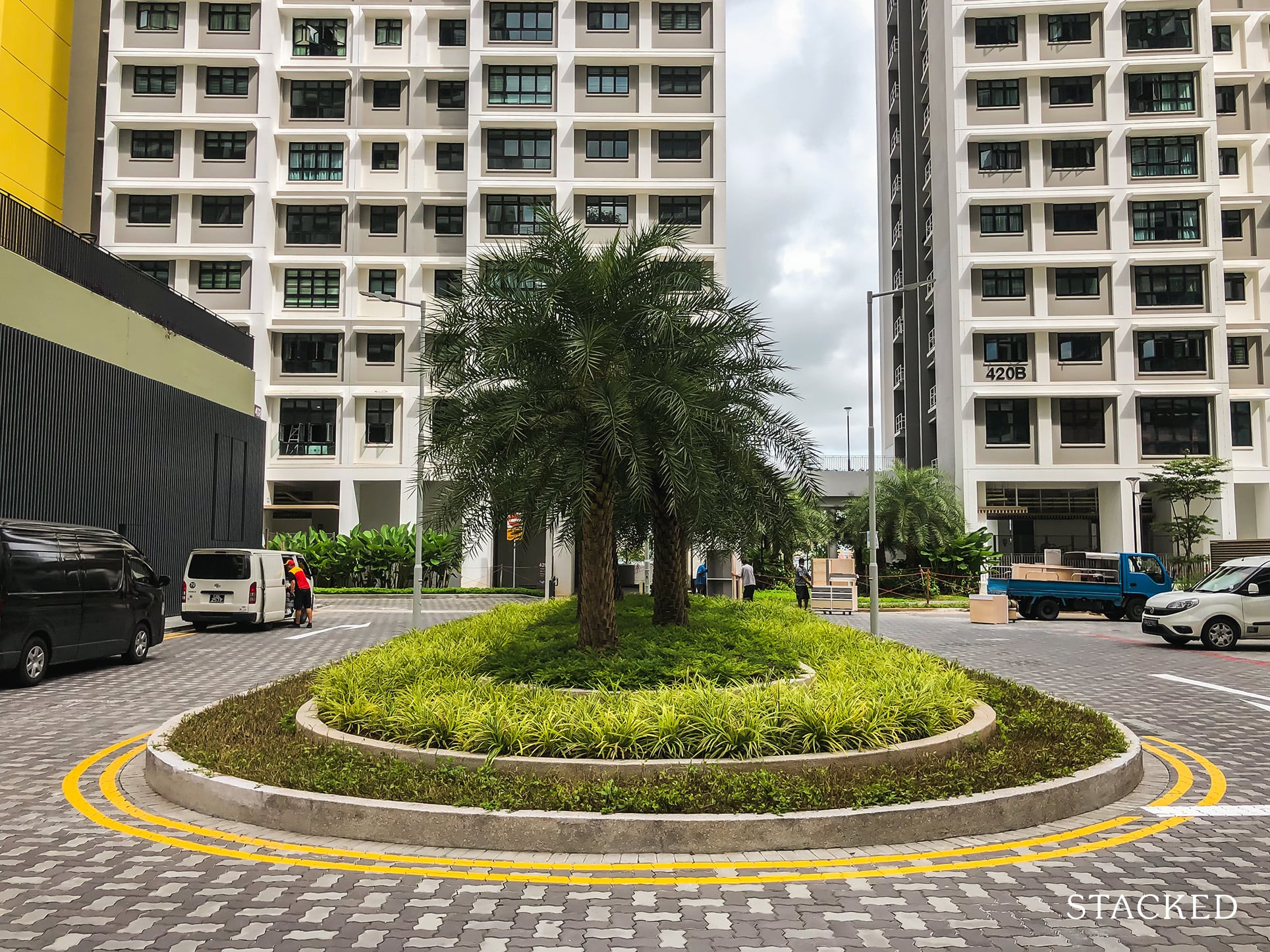 I'd like to highlight that the landscaping at the main drop-off point is really well done. As the main arrival area of the development, having a centrepiece like this sets the tone for any visitor or resident coming home. It's crucial for luxury homes, nice to see in mass-market condos, and definitely a bonus in HDBs. So it's a surprising welcome for me here!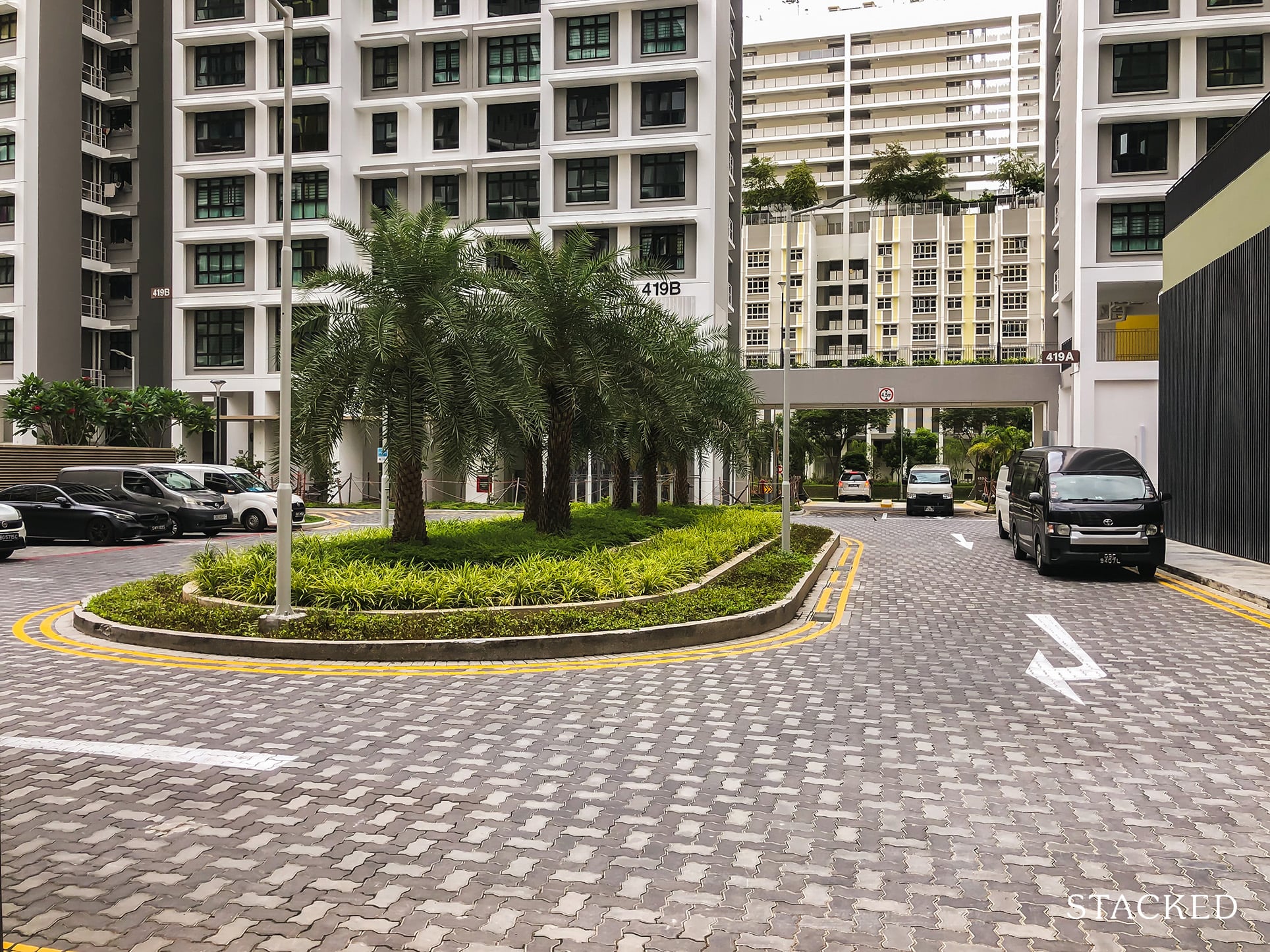 You can really see the different shades of greenery that are meticulously planted within 3 neatly layers, with what I think is an excellent choice of trees that go very well with the theme of the development. Very welcoming indeed!
The downside to having just 2 drop-offs is obvious – residents staying in blocks away from these points would need to be picked up or dropped off along the service road if they want to alight right at the foot of their block. This could be an issue during wet weather.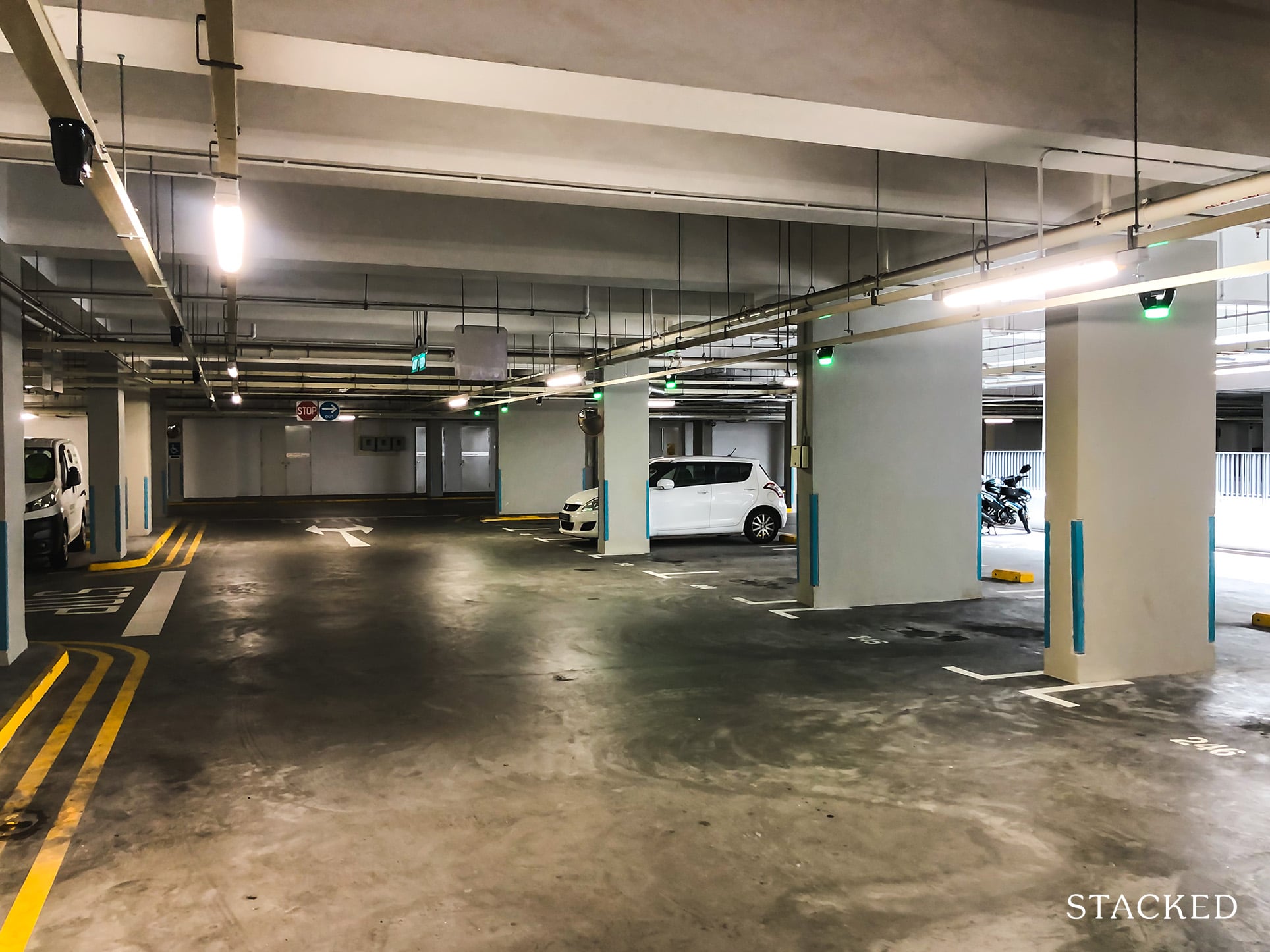 Up next, we have the basement car park. This car park is unique in that it connects to Waterfront I – another similar development next door, as well as Northshore Plaza II 0 a neighbourhood mall. It has 2 entrances and exits – one is located at Waterfront I @ Northshore and another at Waterfront II @ Northshore.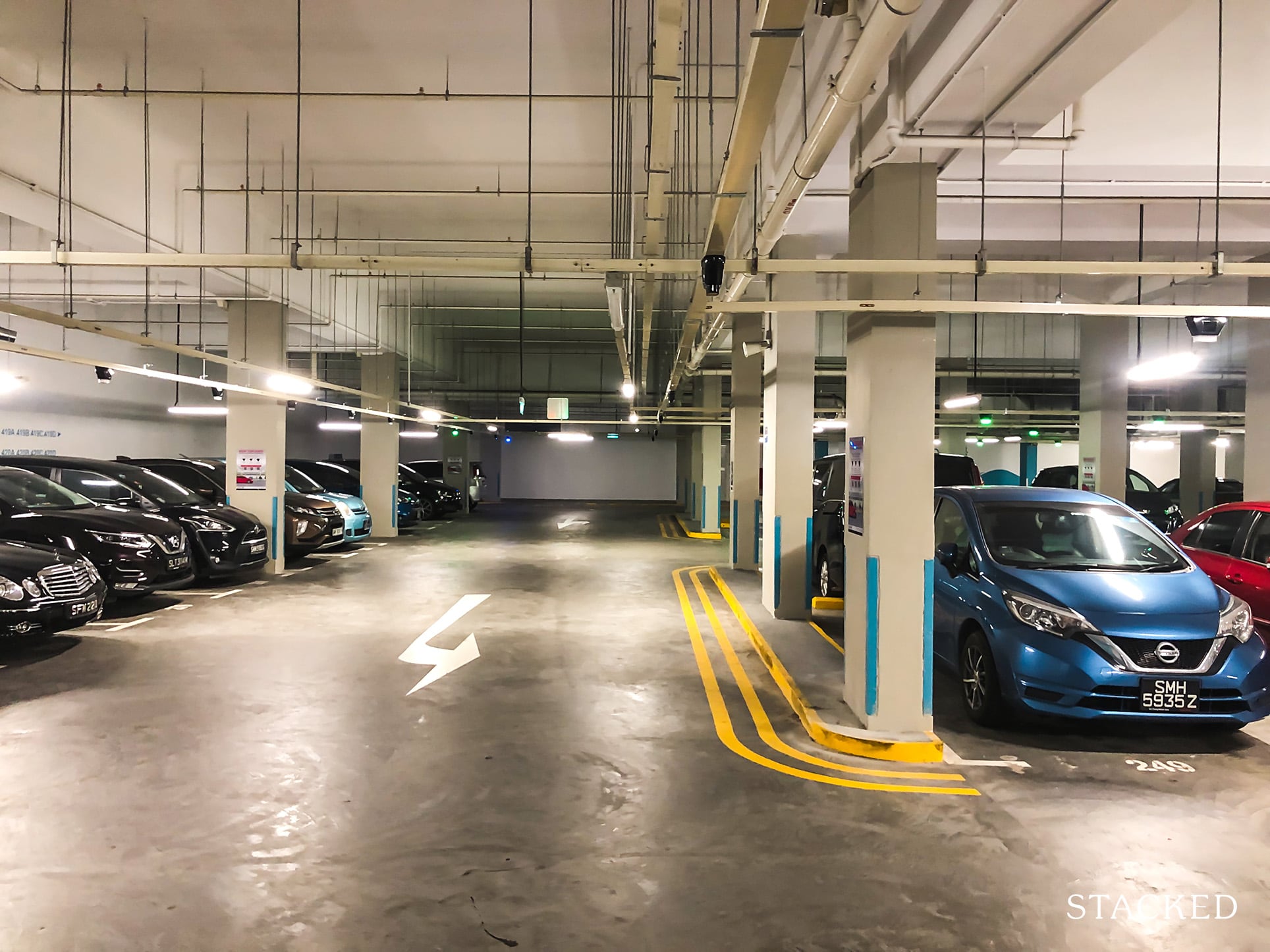 Given how common multi-storey car park structures are in HDBs, the underground parking here really does not feel like I'm in an HDB estate at all. It really feels more like a car park in a shopping mall. Not that there's anything good or bad here – it's just different.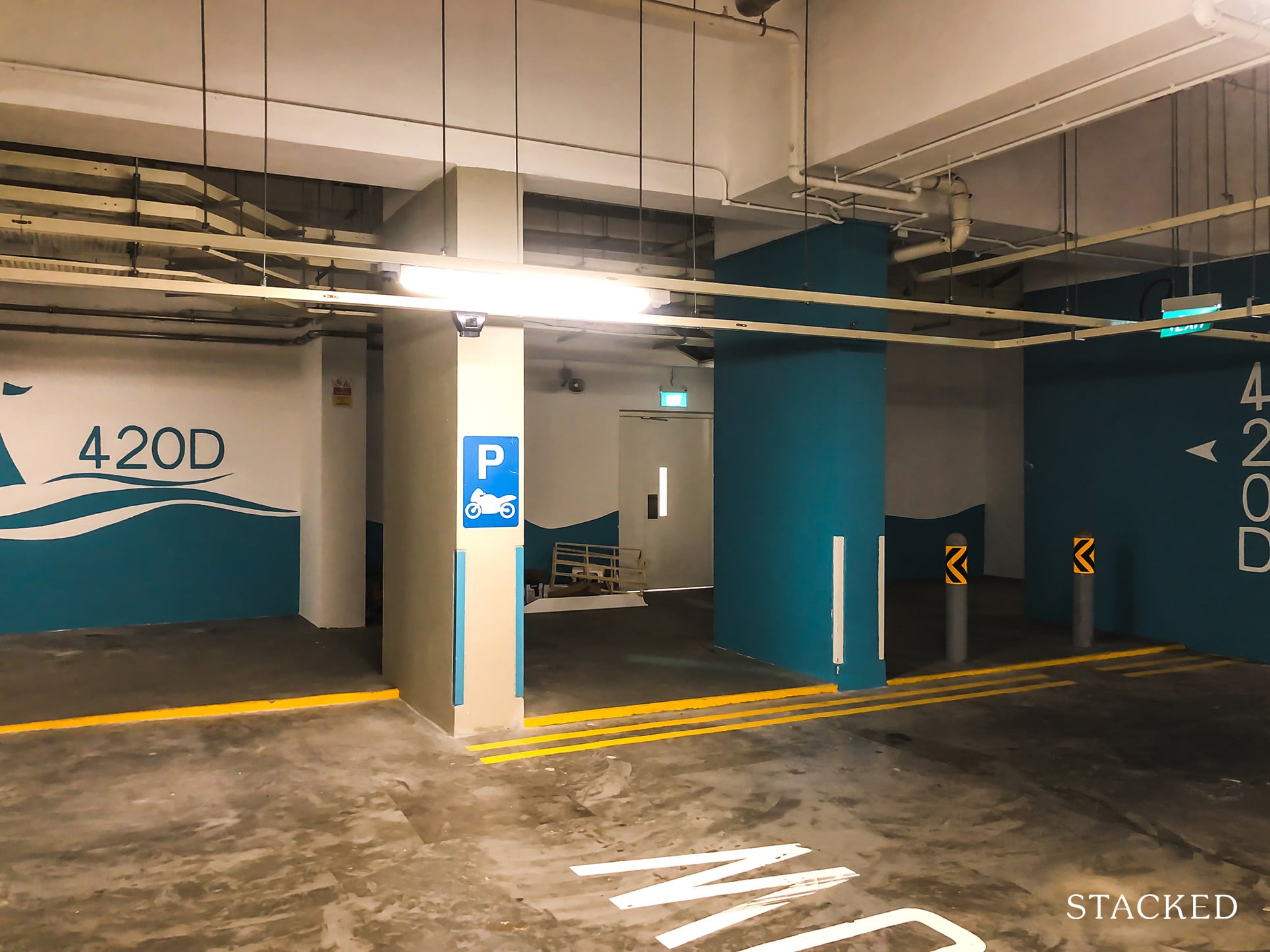 One aspect that really gives this feeling is the light indicator above each lot – a common sight in a commercial car park.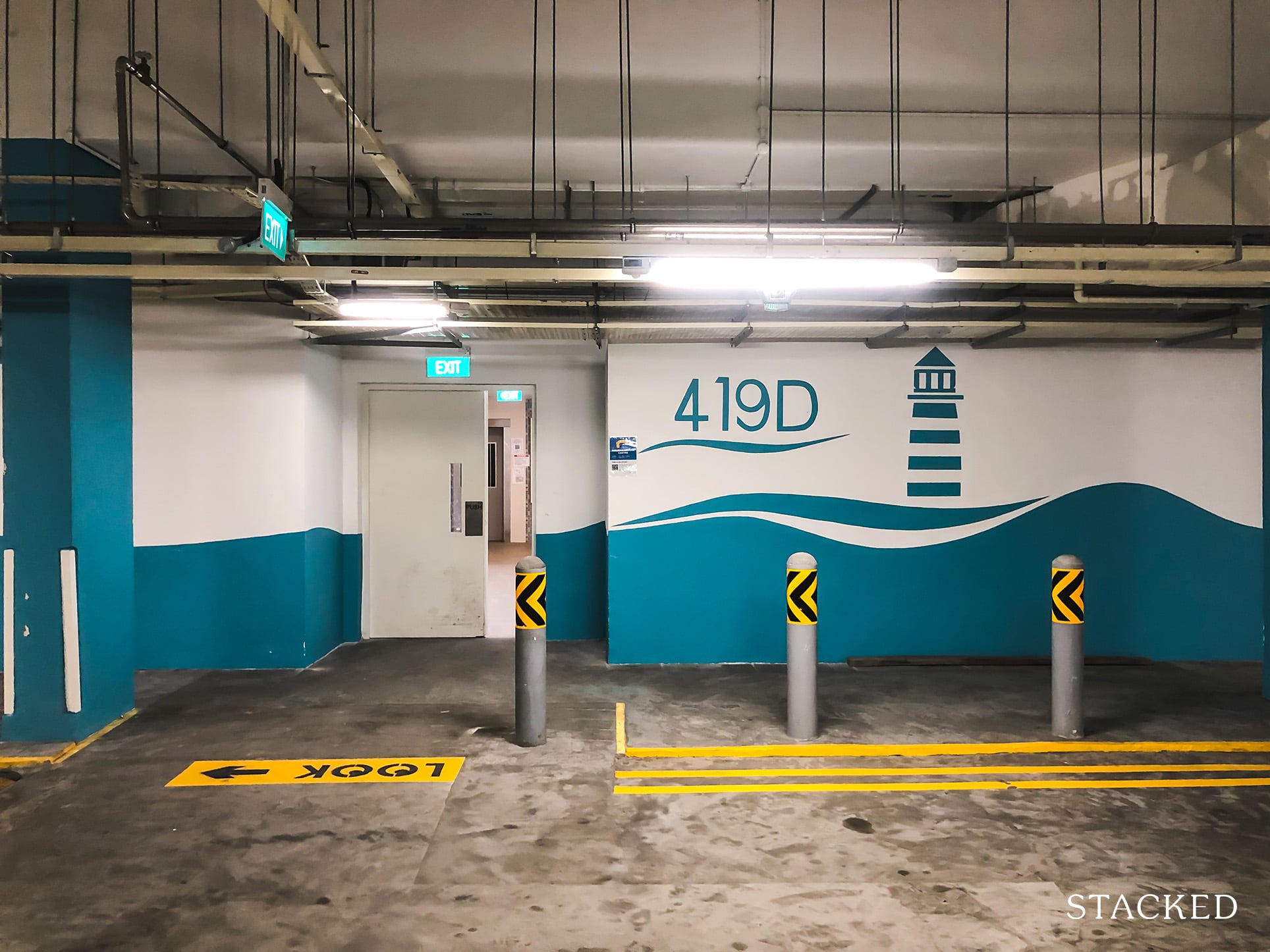 I also like the beach theme going on here that clearly colour codes and labels each block – making it easy for residents and visitors to find their way around here.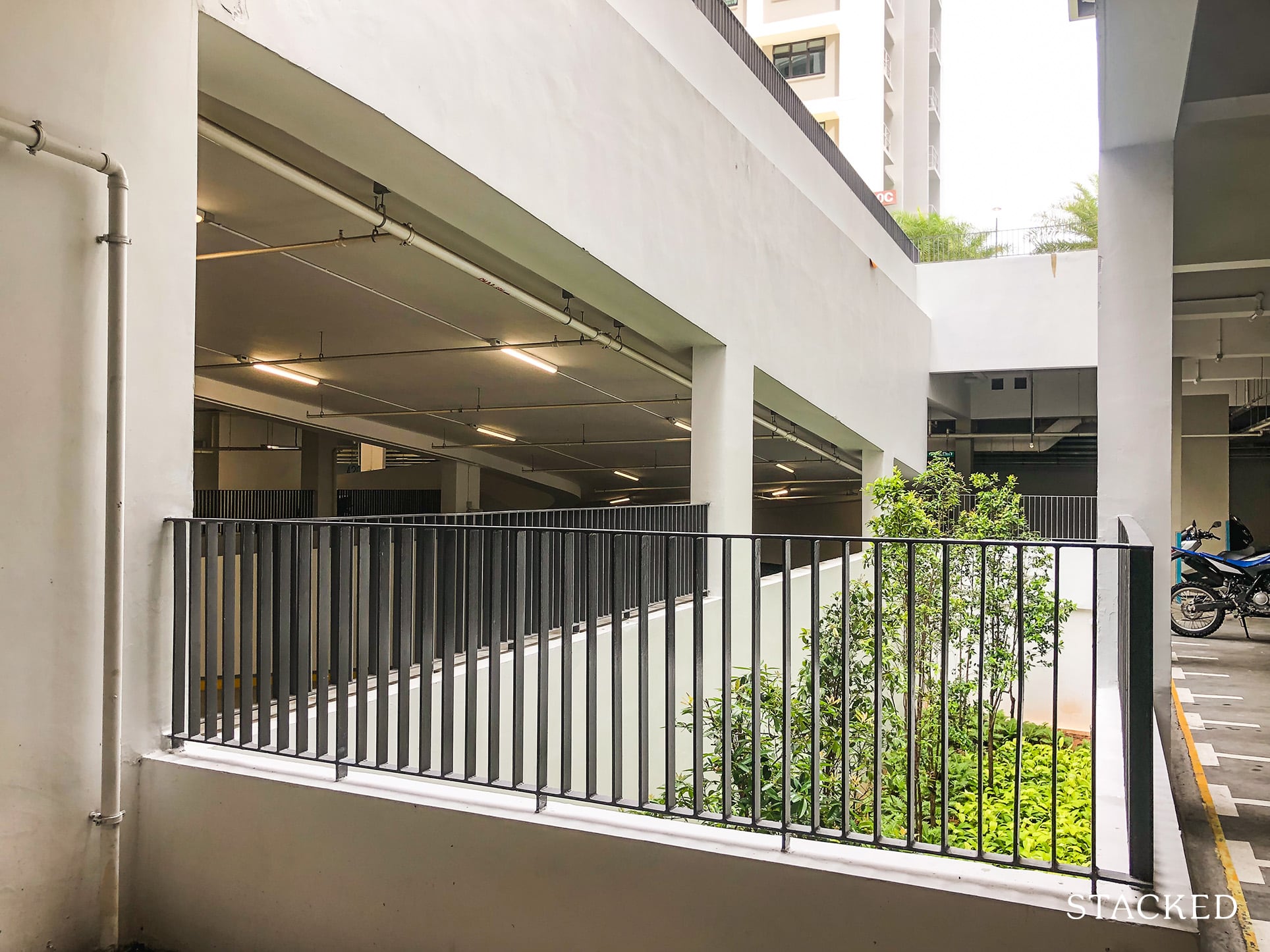 Drivers would also be glad to know that while it is an underground car park, the air wells here are very wide and lets an ample amount of sun in. As such, there is no musty car park smell that's common in a fully underground car park that depends on mechanical ventilation.
Since this car park is underground, there is really no need for any link bridges here. Unlike HDBs where you'll need to walk from the car park to your block, residents can easily park directly below their block and take the lift up. This is an unparalleled level of convenience that few HDBs provide, so buying a unit here is also buying into such a convenience!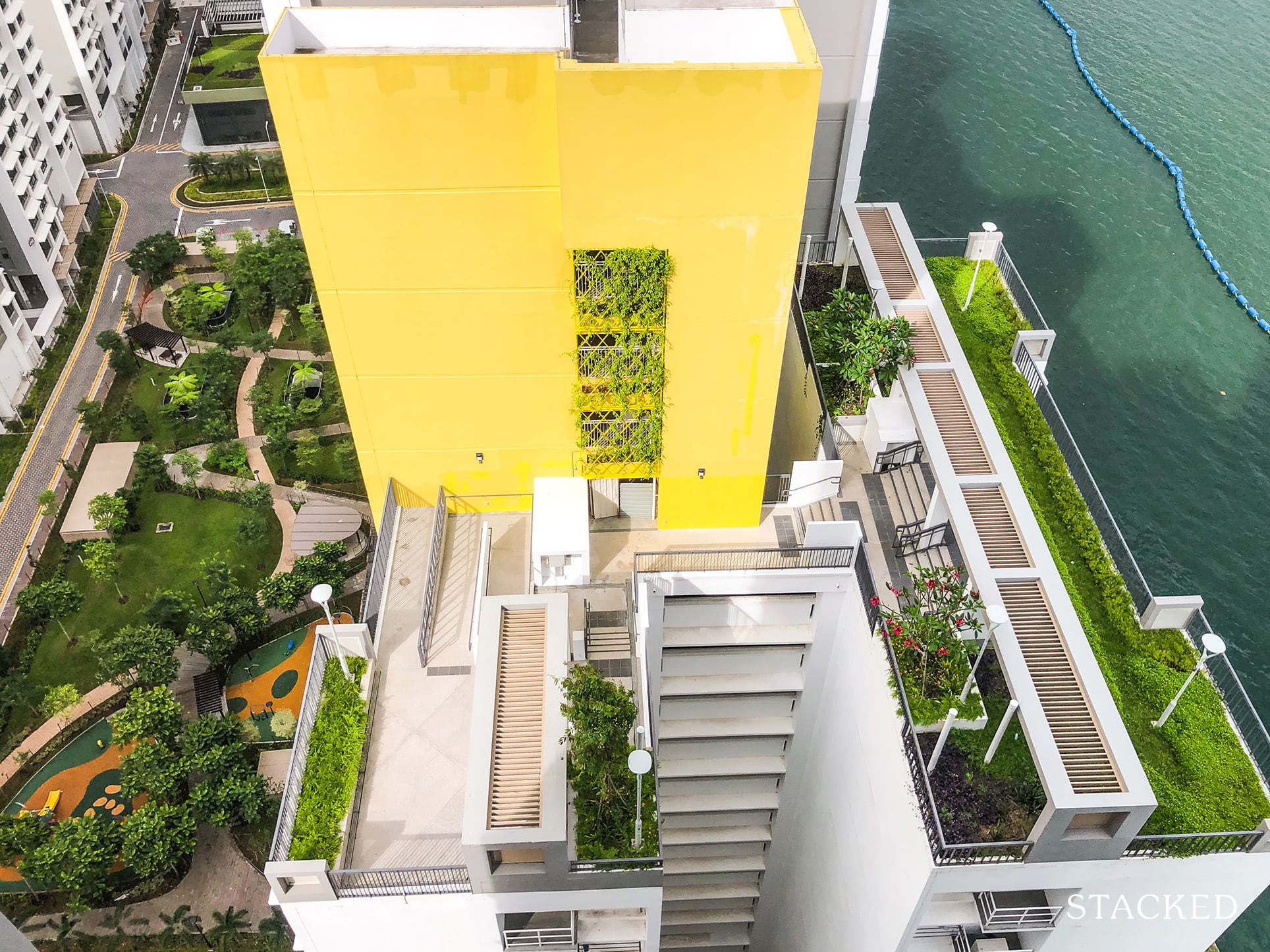 As there is no multi-storey car park, there isn't a car park rooftop garden. Residents looking for greenery wouldn't be disappointed though, as all blocks here have some form of greenery on different levels – an even better proposition than having it atop the car park. Do note that some blocks have more than others – notably those that are facing the road (probably to compensate for the lack of a sea view?).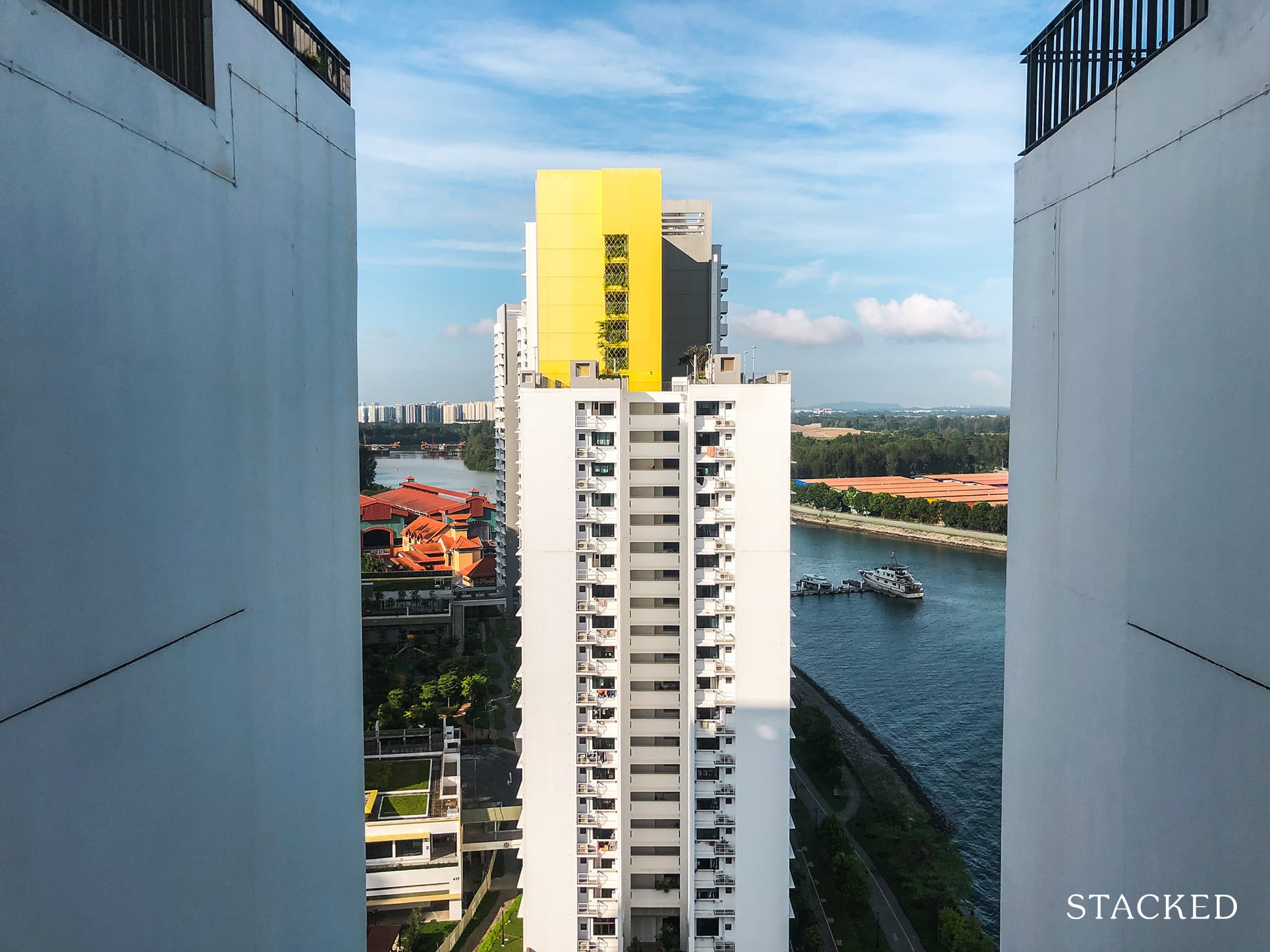 I was not able to access these gardens given how new the development is, so my commentary on it would be quite short. Overall, I can see plenty of greenery here, and there is outdoor seating available too!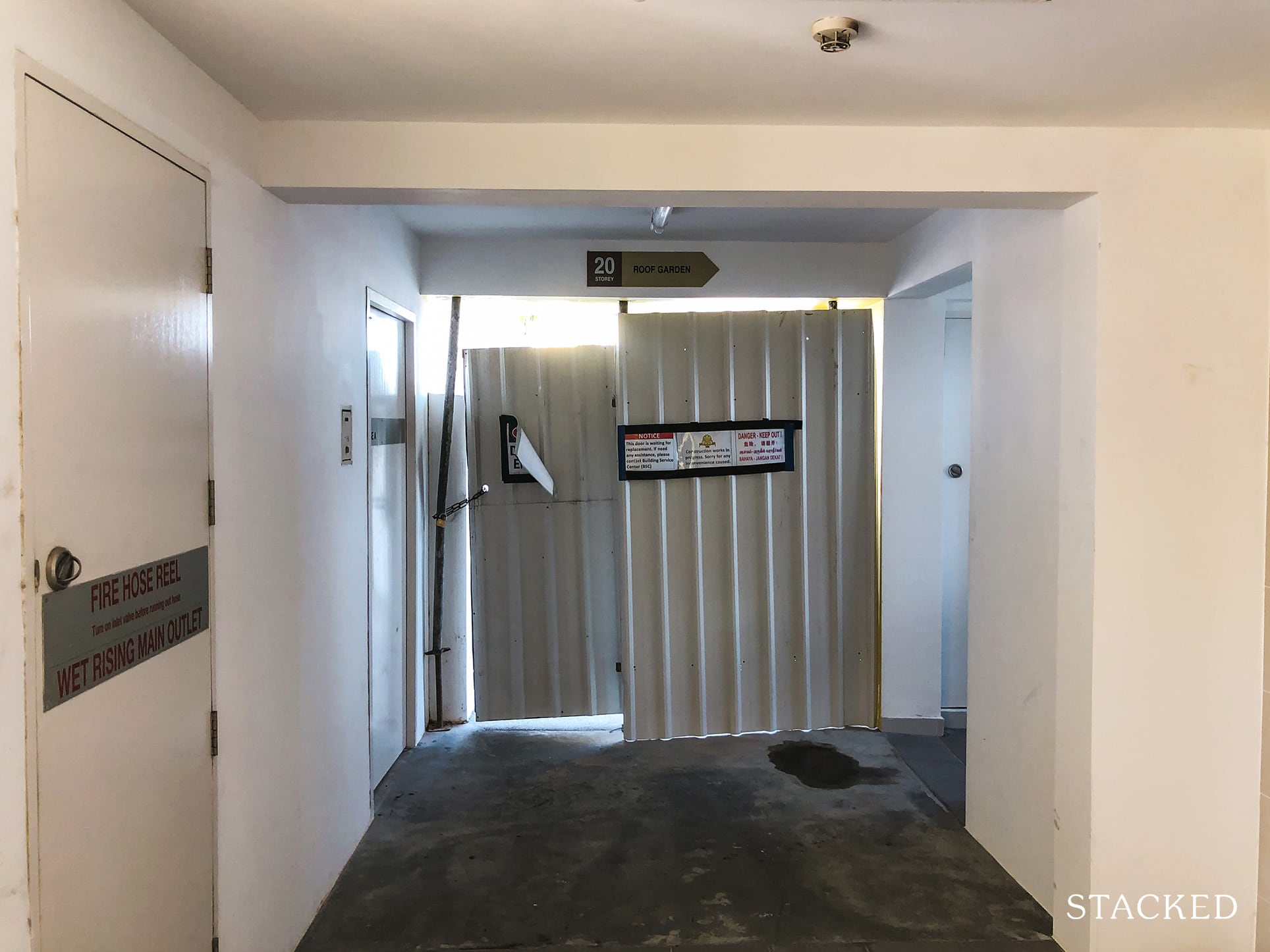 The area is quite windy considering its right next to the sea, and the vast open space allows residents to enjoy the panoramic sea view.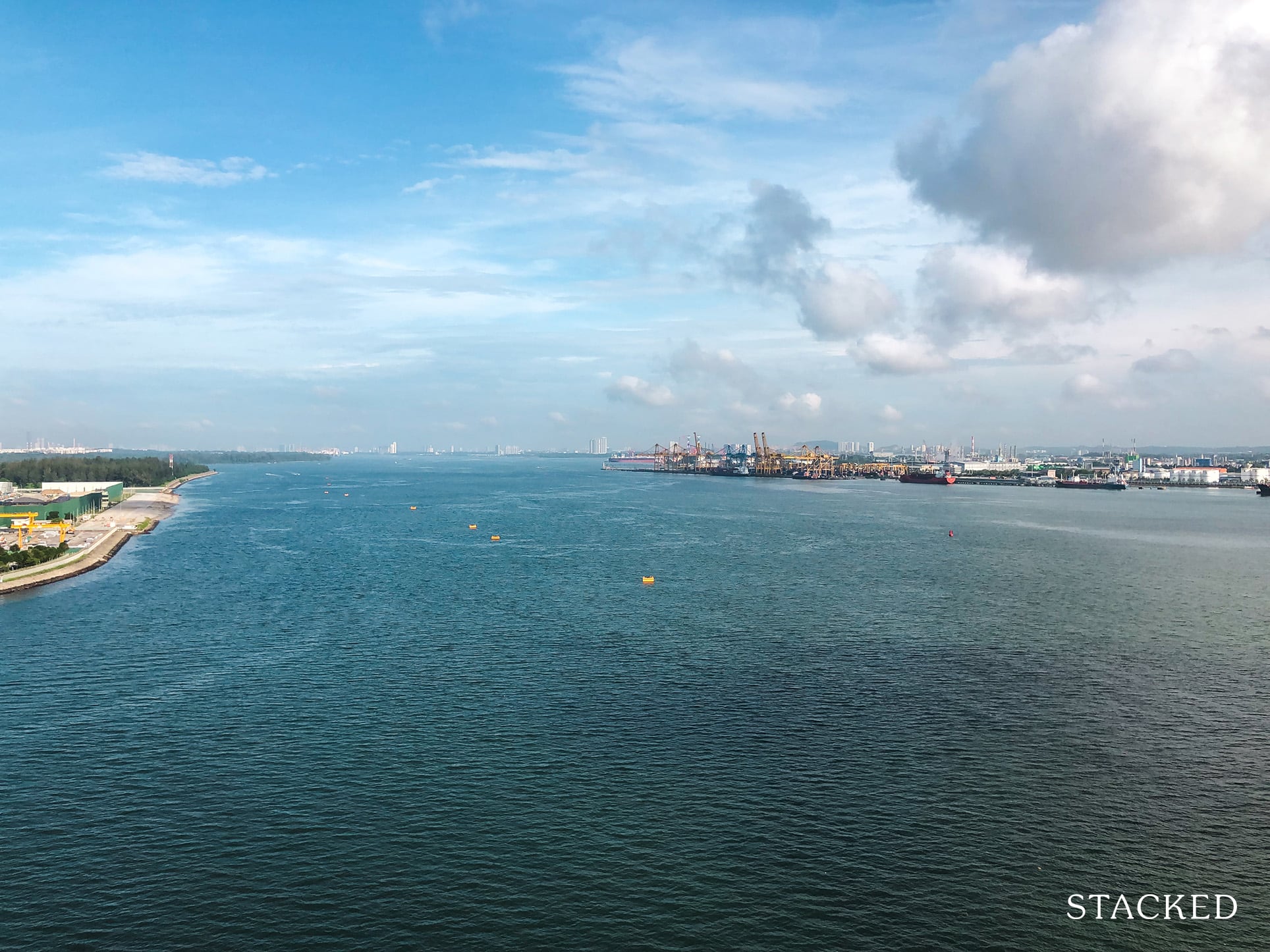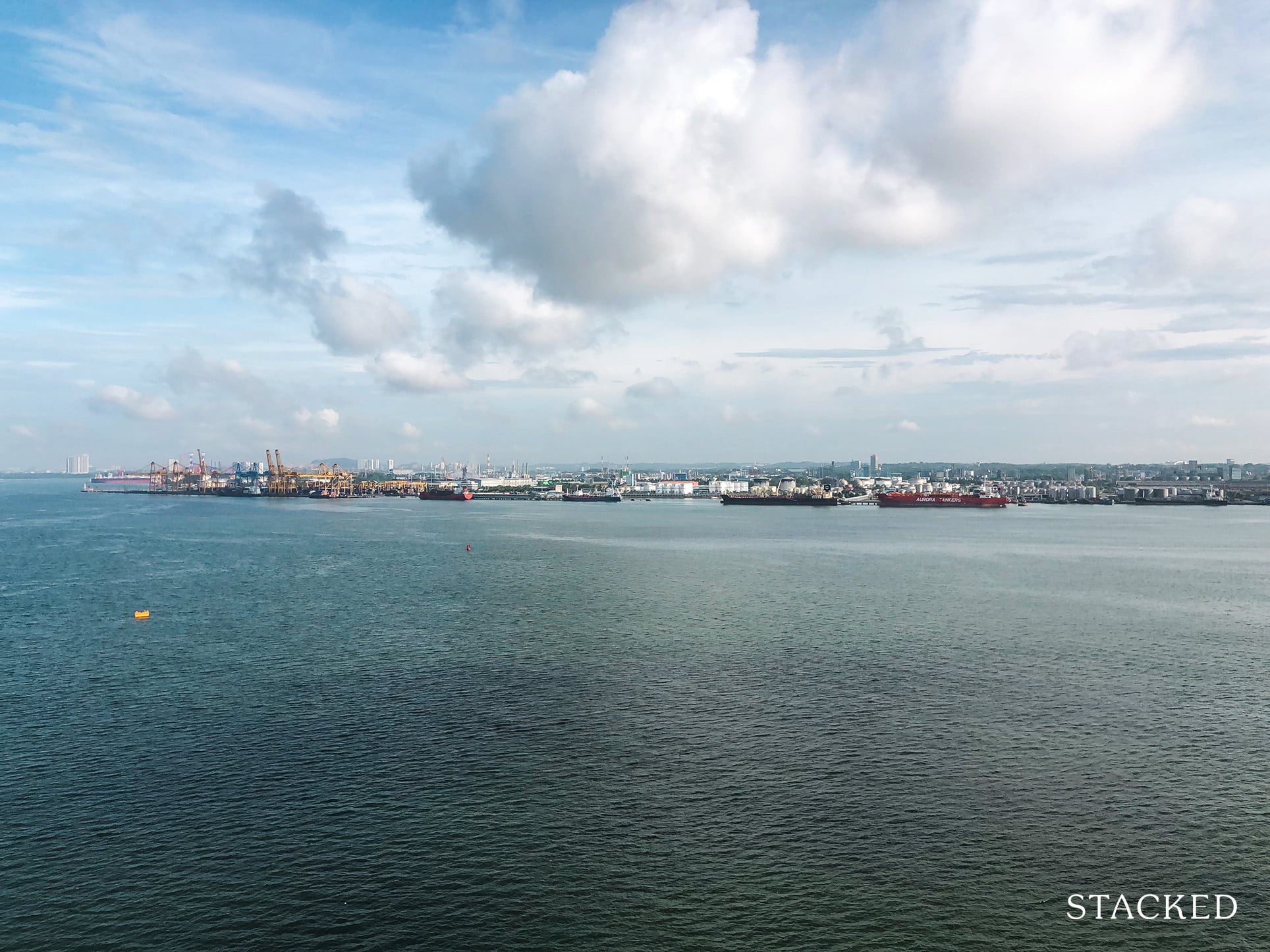 And this is, without doubt, the highlight of the development. You'll easily find photos and videos of residents showing off showcasing their direct sea views from their homes. This is unprecedented for an HDB. Units do not even have to be on a sufficiently high floor to overlook the sea due to how close it is to it, with only a narrow park connector strip separating the development from the sea.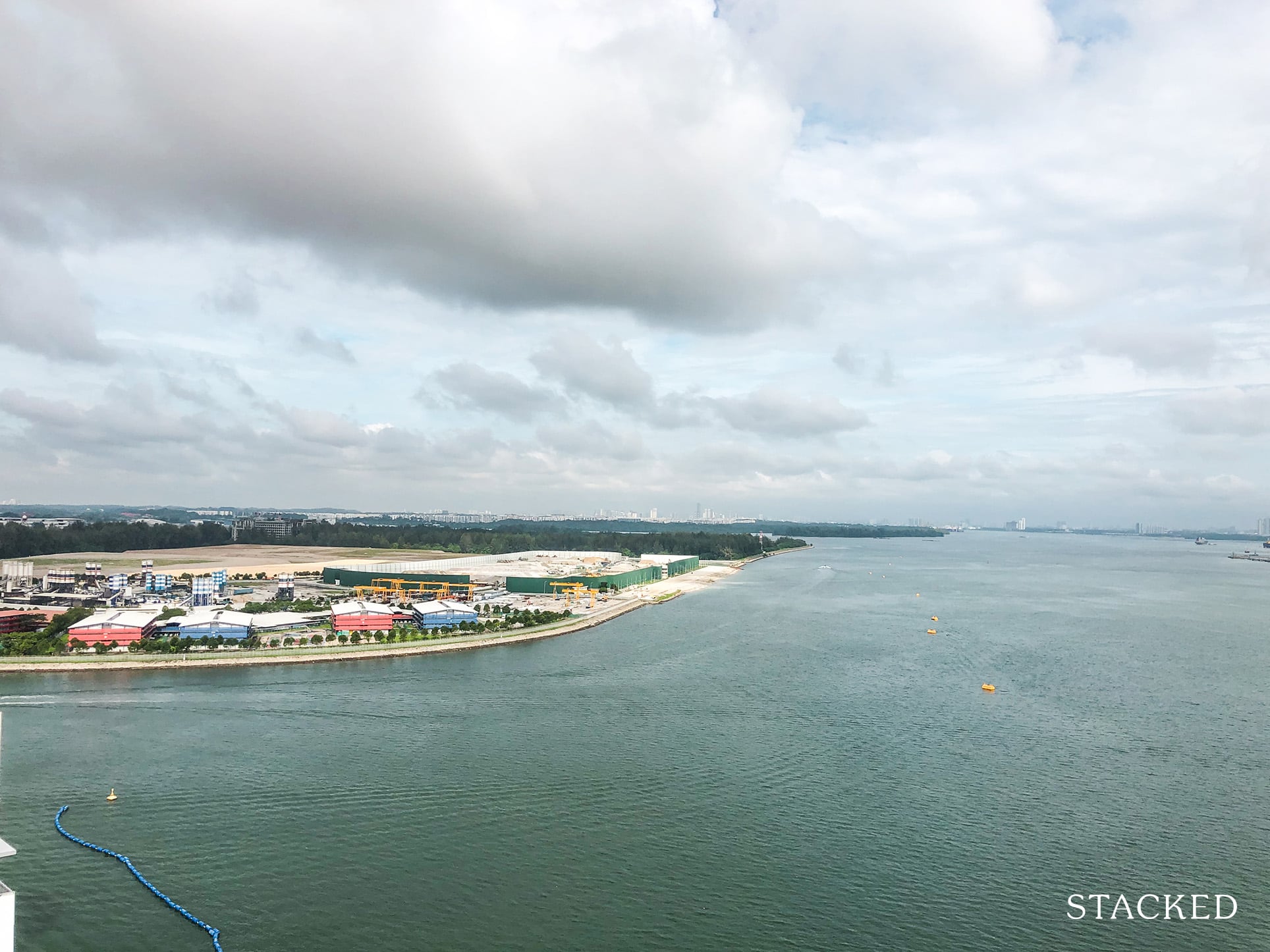 There are some downsides to being close to the sea though. Residents at Punggol have given us feedback that due to the proximity to the sea, rust and mould are more noticeable. Certain smells are also pungent and probably hazardous due to the industrial area at Pasir Gudang, resulting in some residents even closing off their windows and balconies for most of the day.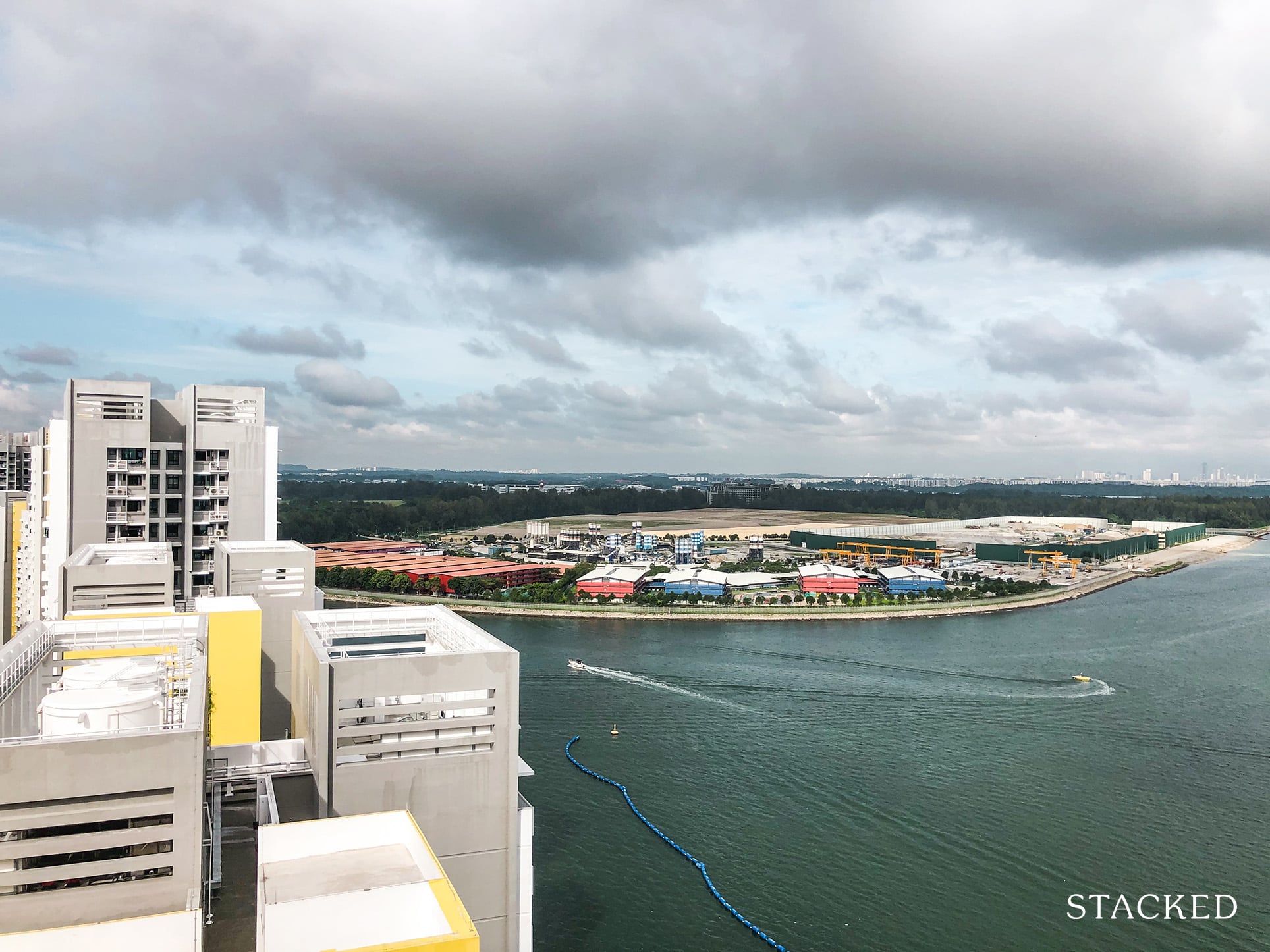 Even though this property is still far from its first MOP, buyers in the future should pay close attention to the environment on viewing – opening the windows on both ends to have cross ventilation so that you can better gauge the living environment, assuming you're one to prefer natural ventilation.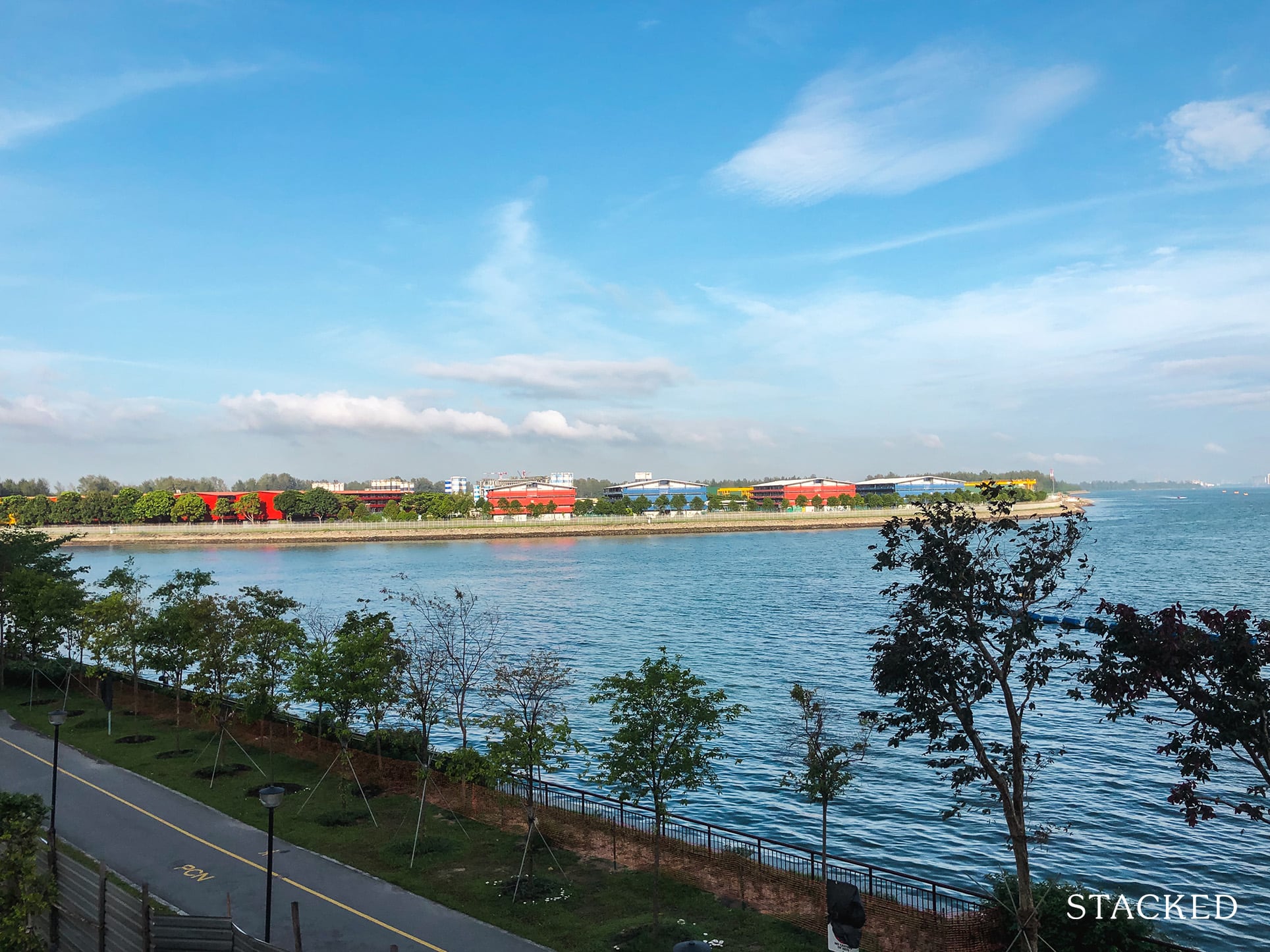 Some have also commented that even though there is a sea view, it's definitely not comparable to the one at East Coast since the horizon is more beautiful as compared to looking at Johor's industrial sector.
And to that, I'd say that we really can't be complaining that much since we are talking about subsidised housing here. A sea view like this is way better than looking into your neighbour's home which is the case for most HDB flats. Of course, if it's between a sea view that's decent (but not fantastic) or an amazing greenery view such as the one at SkyParc @ Dawson, then the choice is clear.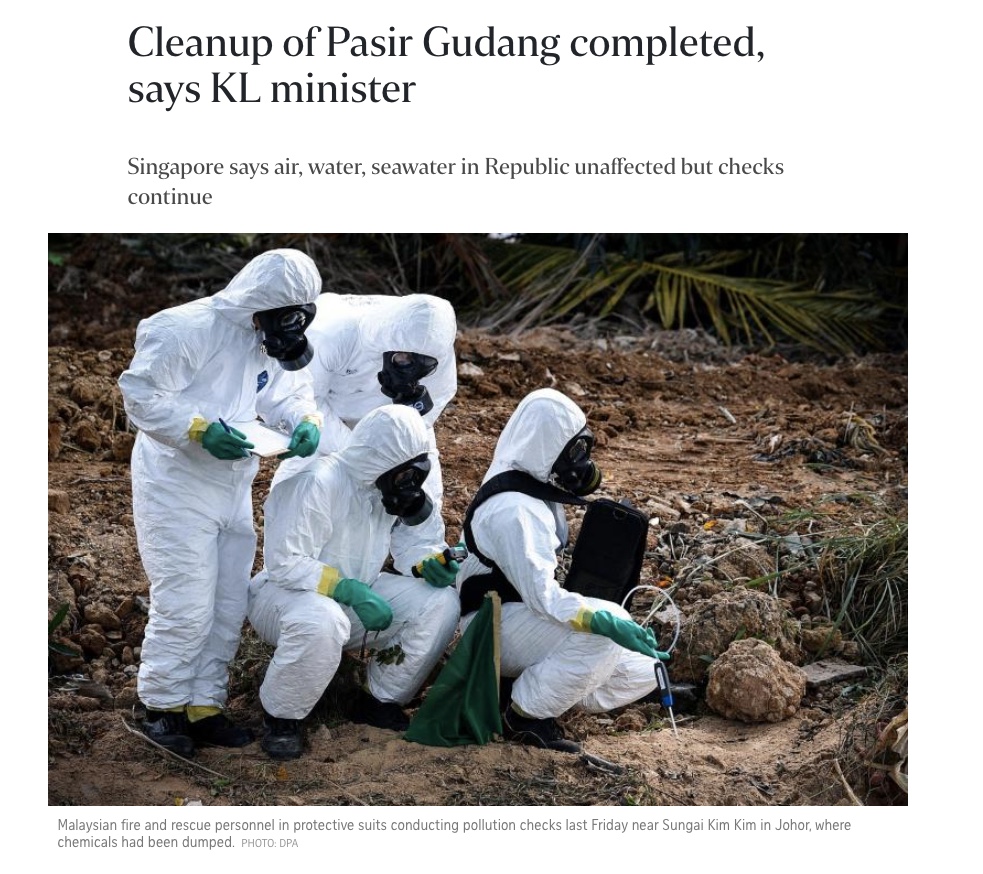 My only concern would be its proximity to the industrial area which could pose a health concern during freak accidents. It's not as uncommon as you may think. In 2019, Pasir Gudang faced a chemical spill that was a result of the illegal dumping of toxic waste. A recent fire also broke out at a factory there, resulting in a fireball observed on the mainland. While it is still some distance away, buyers who are health conscious (especially young parents) may want to factor these negative traits in. That's 2 major incidences in 3 years, who knows what else really goes on that's not reported?
Now that you've seen the rooftop gardens and sea view, let's head back down to check out the facilities that Waterfront II @ Northshore has to offer!
There are two areas where the facilities are held – one at the centre of the development, and the other located on the extreme east side.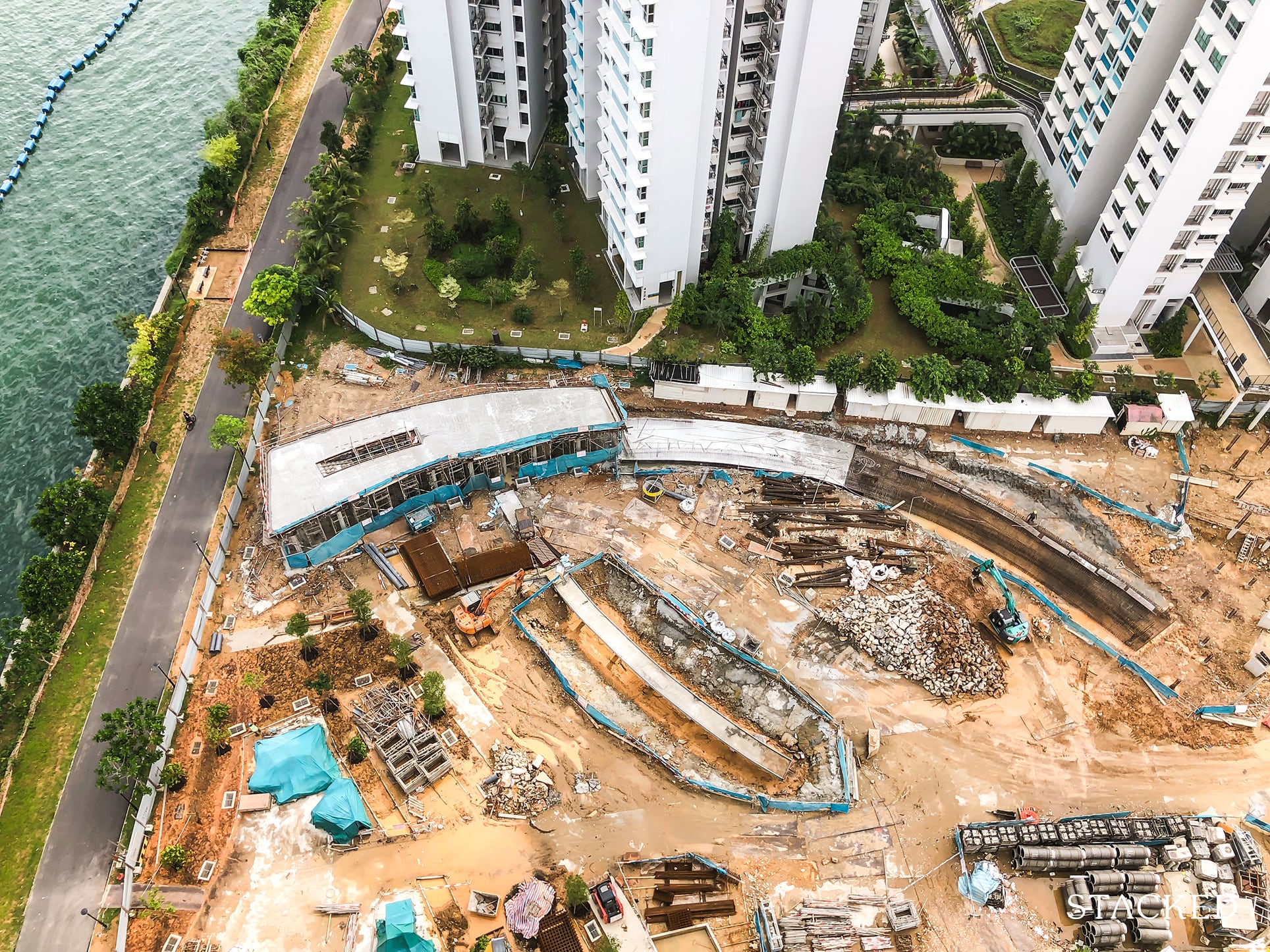 Unfortunately, the facilities on the east side are also incomplete, so there isn't much to say here. From the plans though, it looks like a good green buffer between Waterfront II @ Northshore and the neighbouring development!
At the heart of the development, you'll find the playground and fitness areas.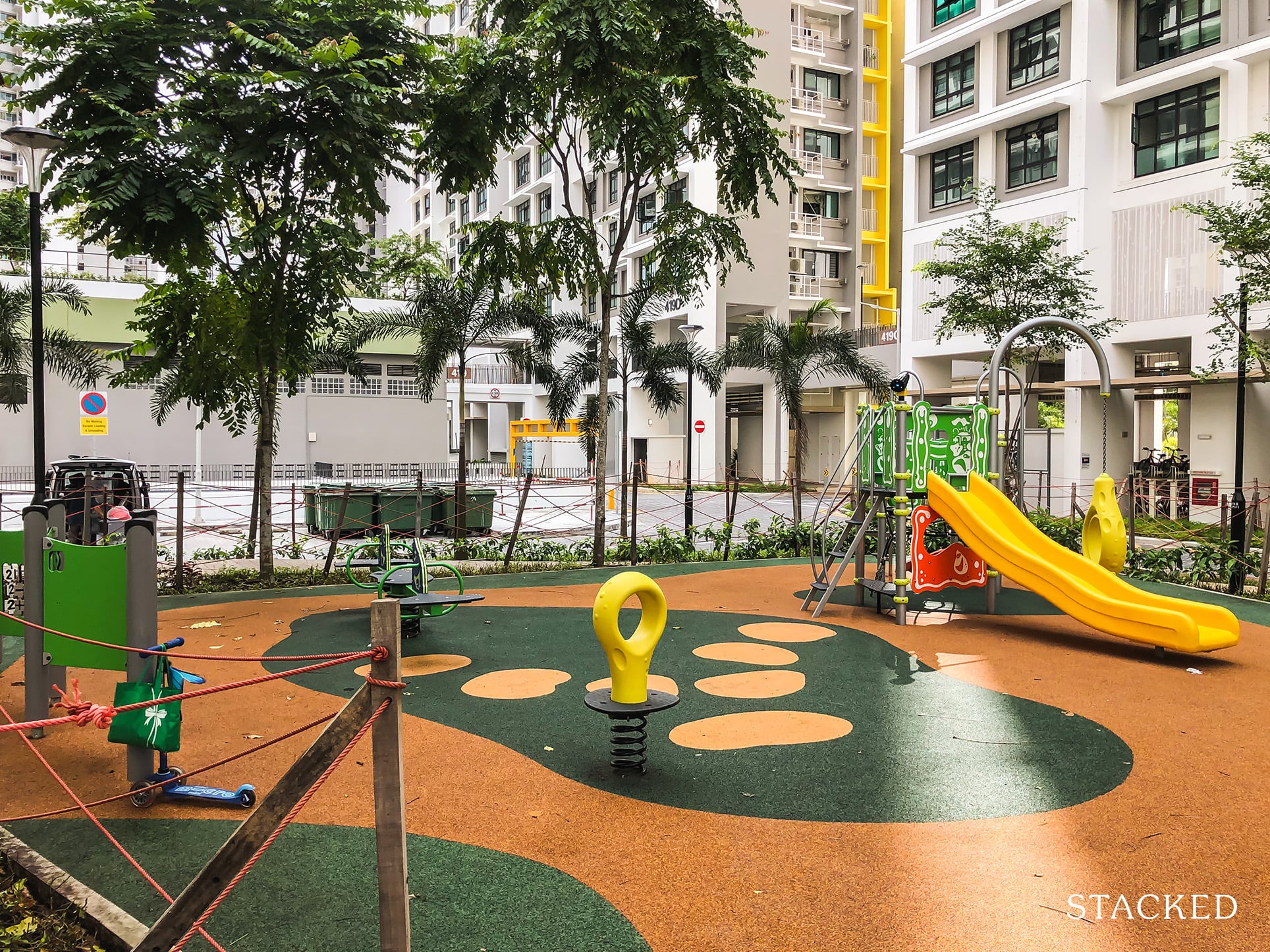 There's nothing really notable about the playground here. It's relatively small in size too, so as the only playground for the entire development, this does feel inadequate. Time will tell if the opening of the other playground would make things better!
One thing that you should know is that the playground is flanked by two service roads. While there are barriers up, parents should still be mindful of their little ones since it's easy to run through them given they aren't solid barriers.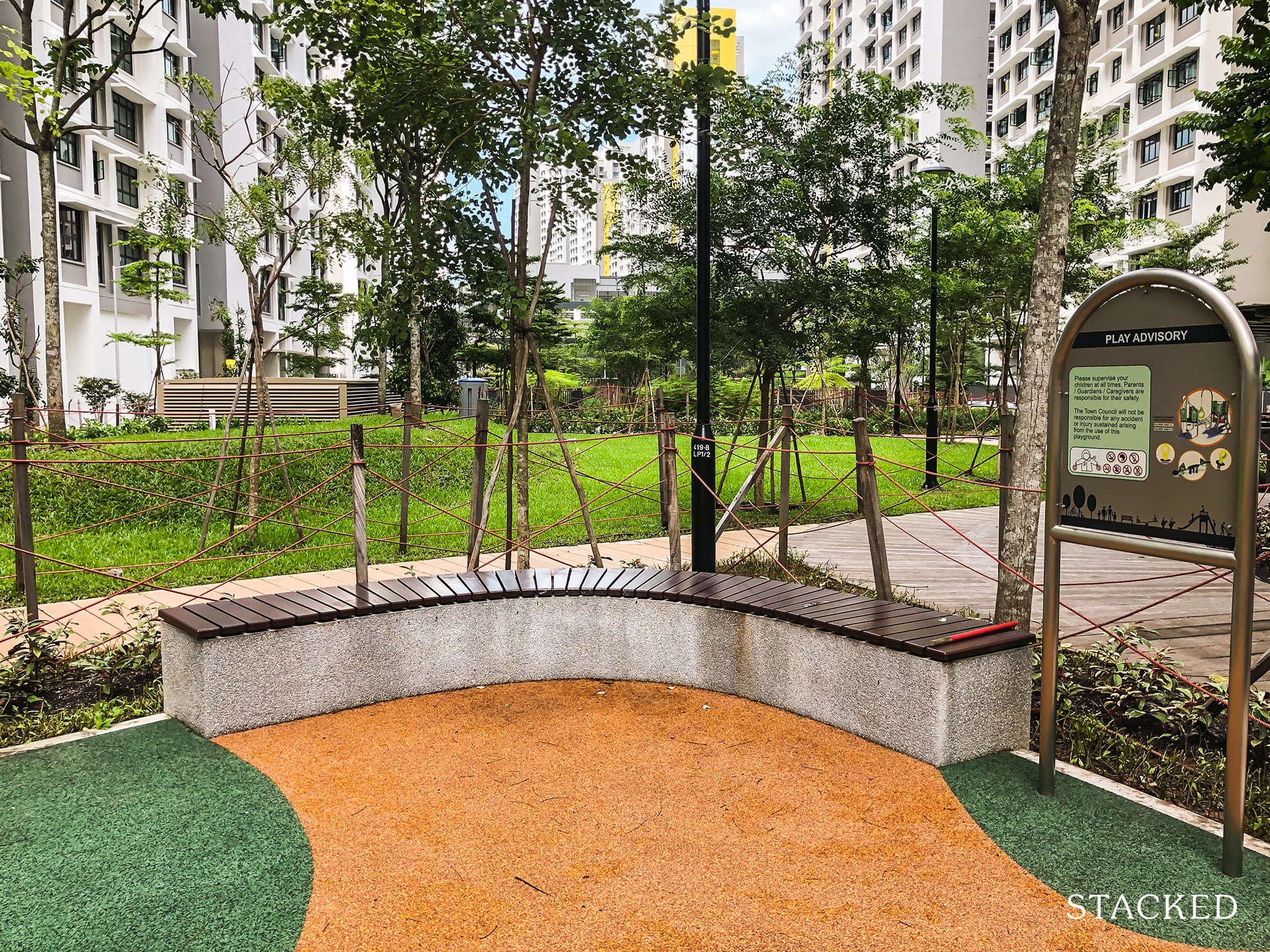 Those supervising their children would also be glad to know that seats are provided. However, there is no shelter here, so there isn't much comfort to expect during hot days.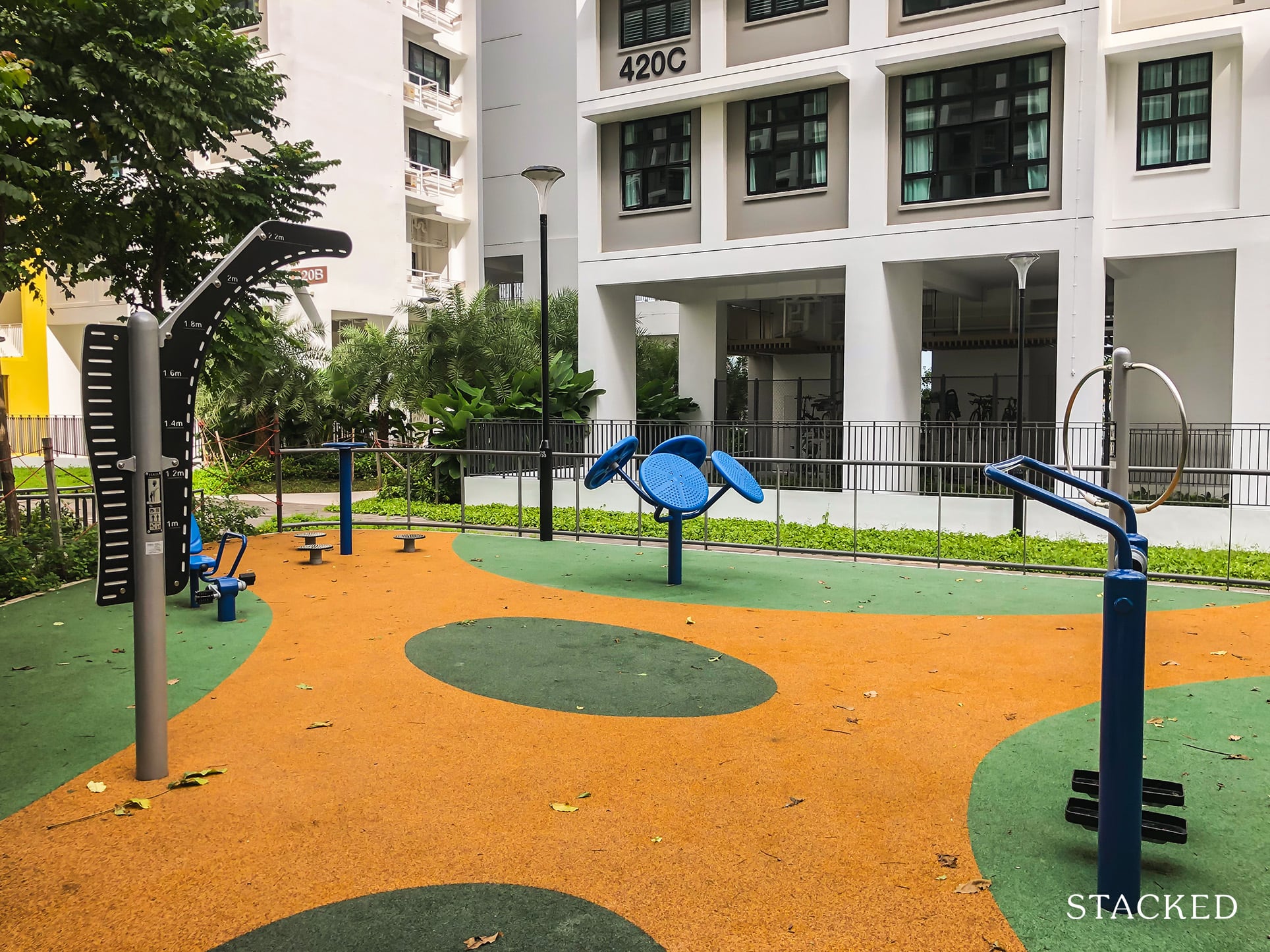 Next, we have the fitness area – both the adult and elderly fitness equipment are combined into one. There really isn't much to say here except that the facility on offer here is rather small, possibly inadequate. Again, this could be compensated by the newer facilities on the east end – something that we have yet to look into!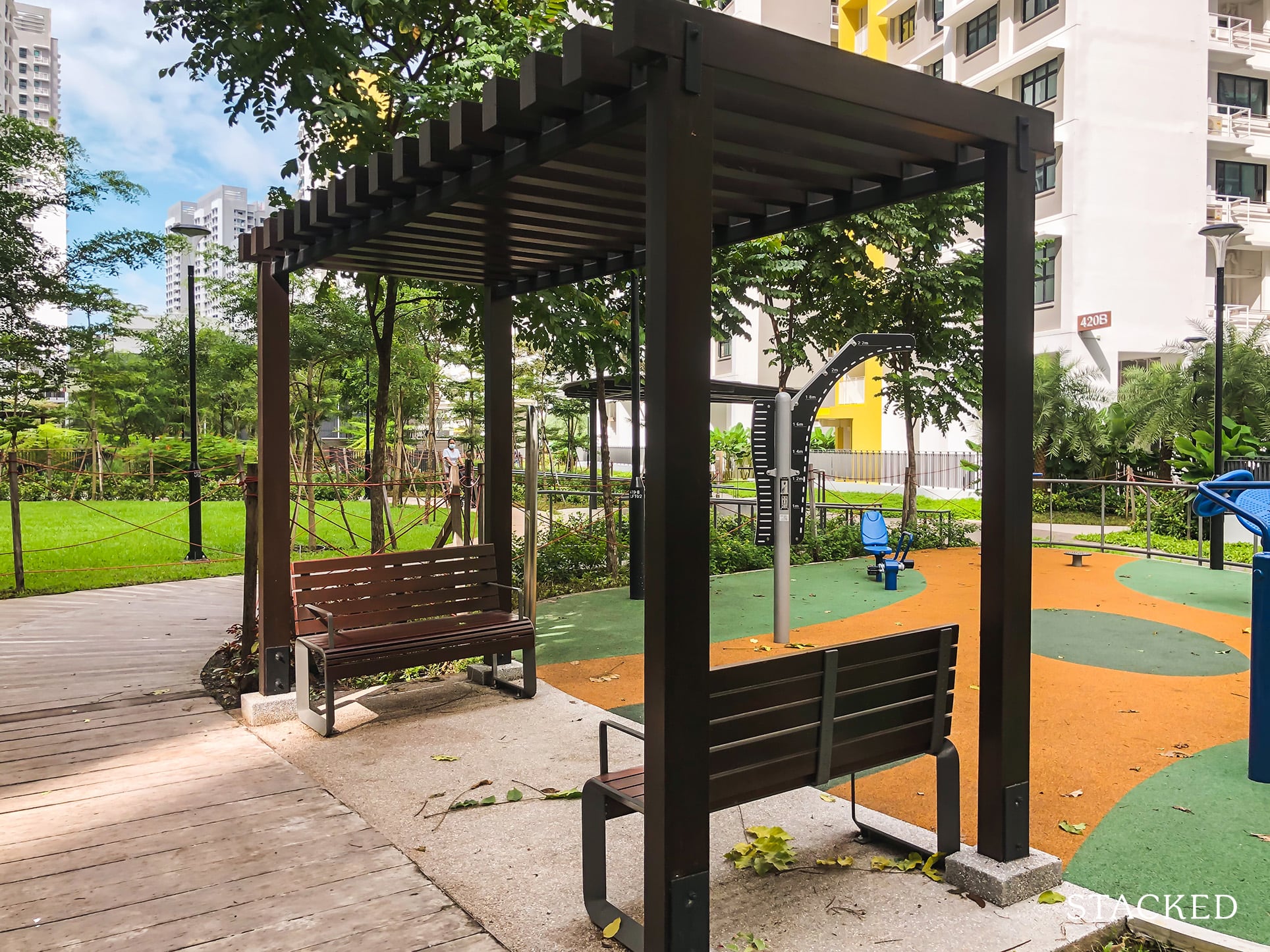 Like the playground, there are seating areas too to just relax or to catch your breath. These ones are sheltered so it's great for those who want to get some respite from the hot sun/wet weather.
Next up, we have the precinct pavilion. This one is quite special because unlike most pavilions that are located on the ground, this one is on the second storey.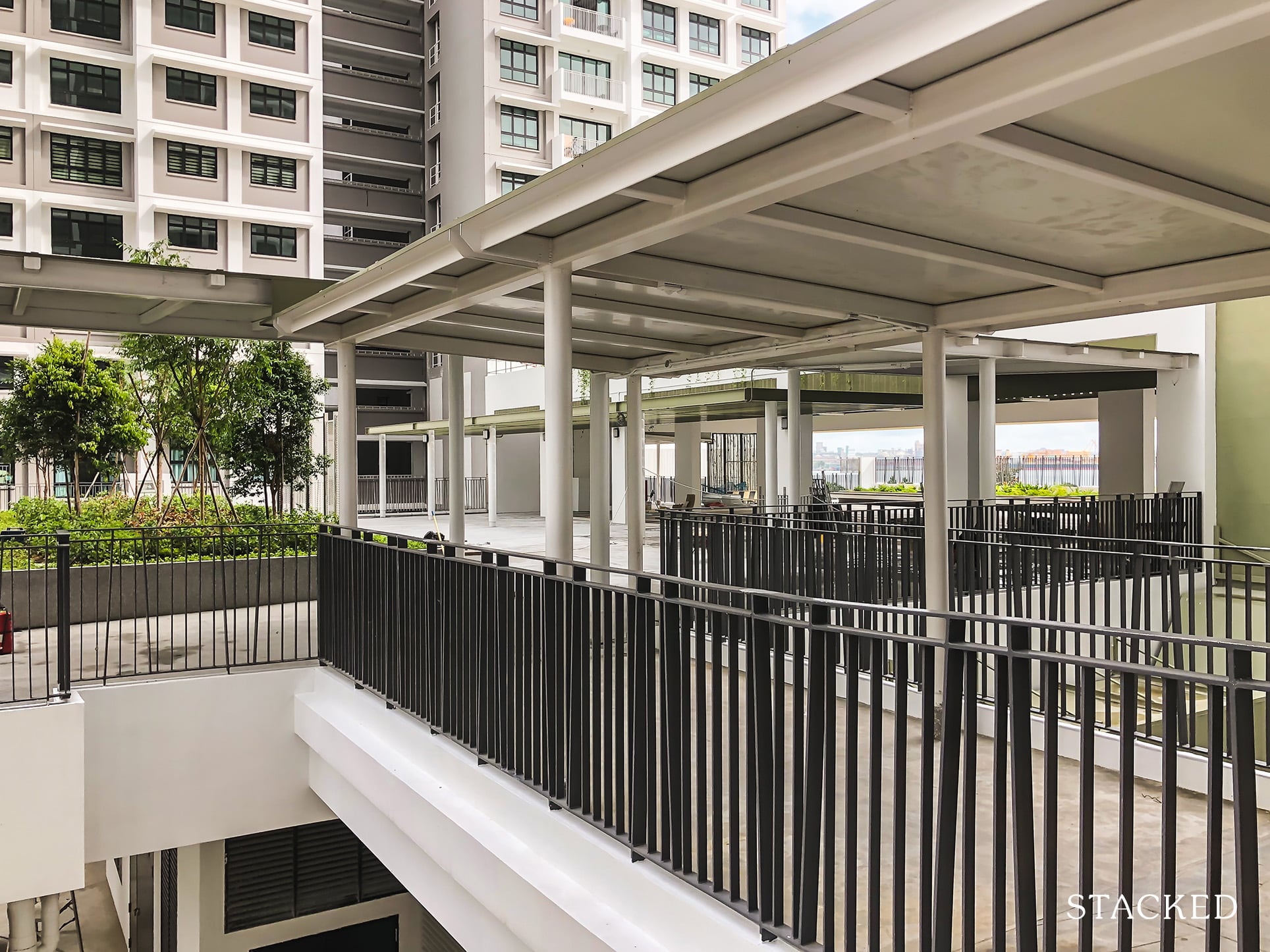 There are pros and cons to this. The con is it's just harder to reach since it's on the second level, so it's a little more obscure for visitors who are not acquainted with the place. Moreover, I did not spot any lift access at block 420 where the pavilion is, so a huge question mark remains on just how accessible this place really is. It's likely that visitors are expected to head up to the residential block and connect through the linkway to block 420. This does mean more traffic along the common corridors for residents on these levels.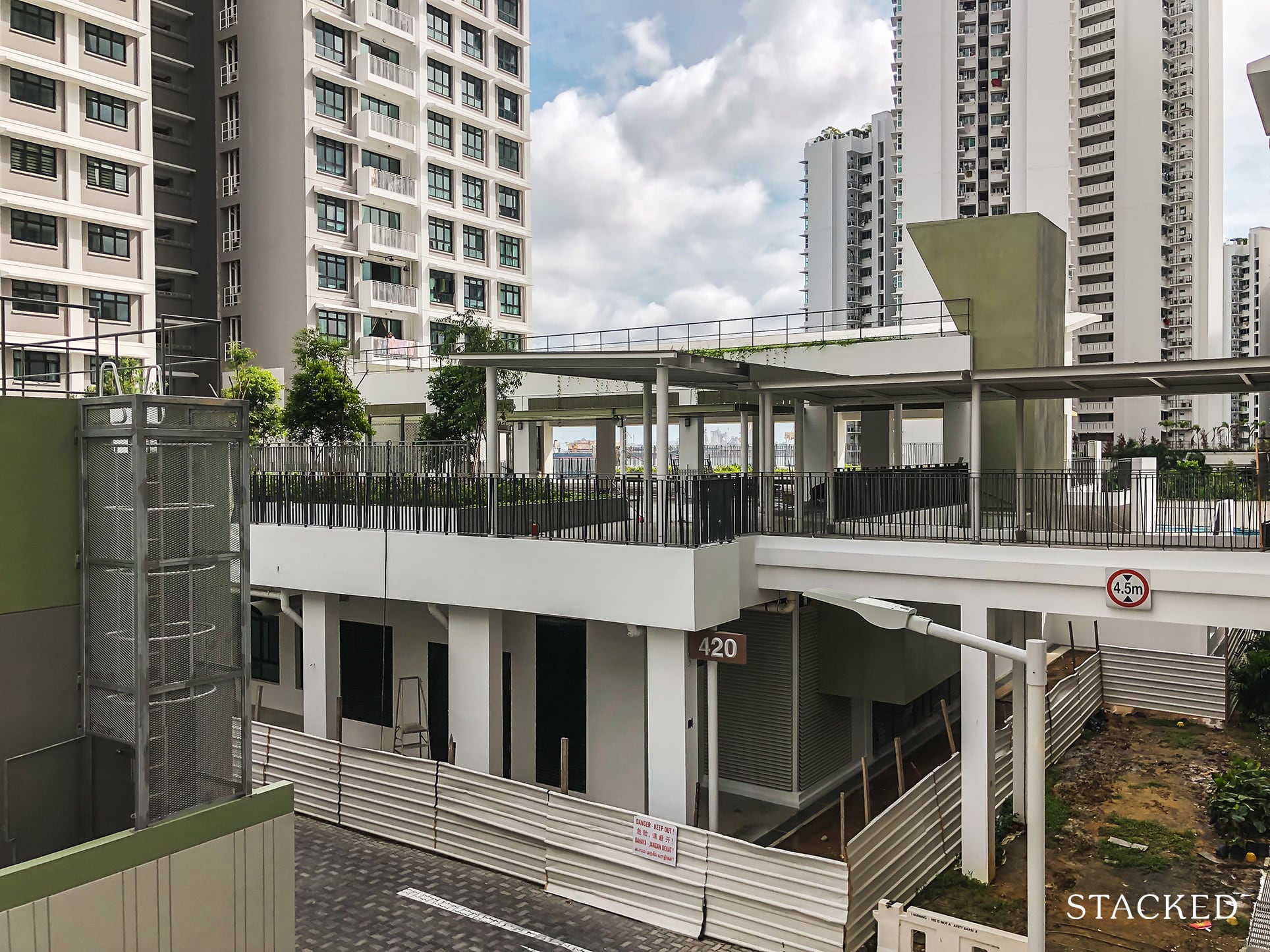 For residents who eventually move in and get to see the site, please do let us know what it's really like here!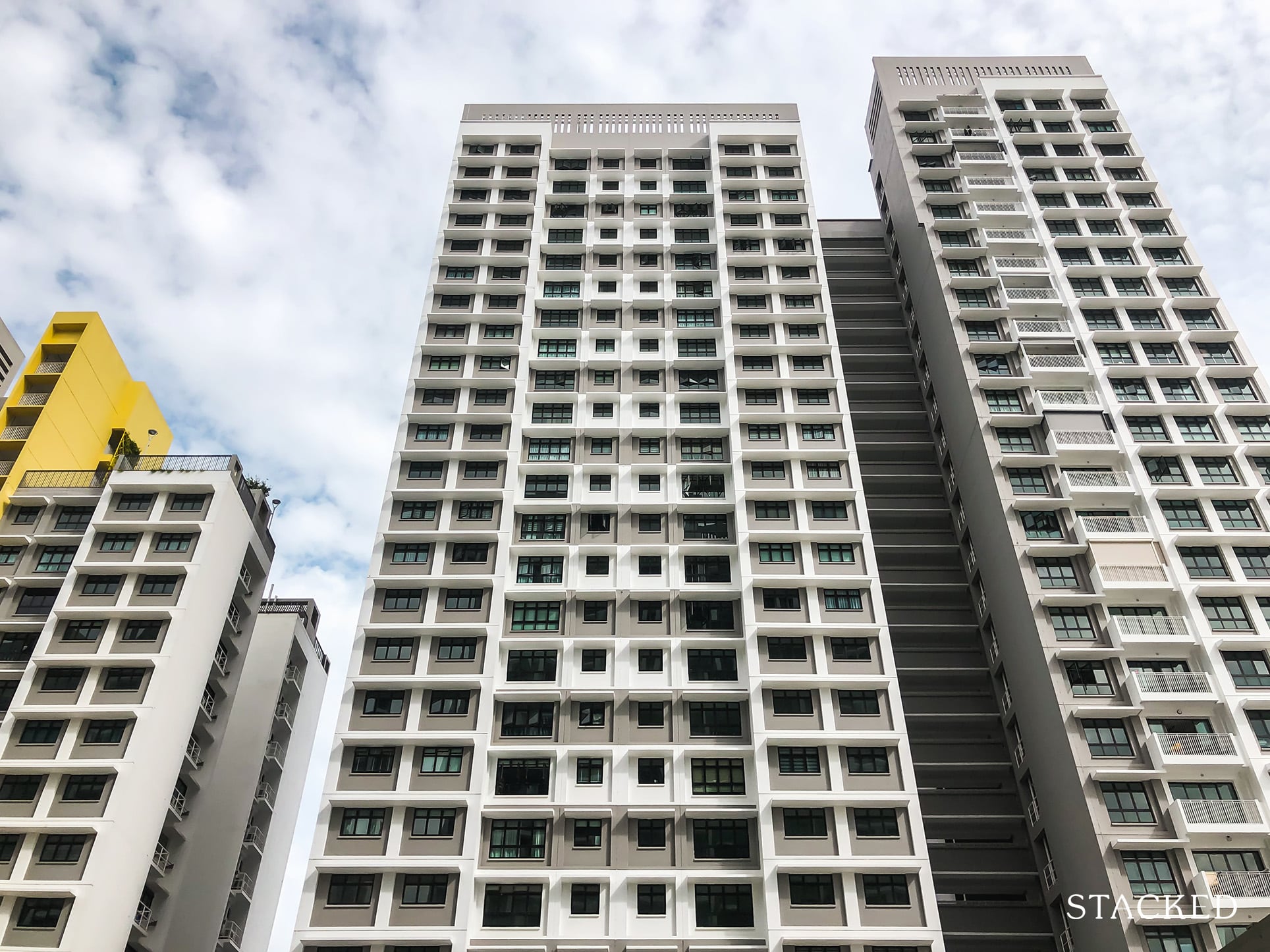 Another thing to note is that it's also very close to the neighbouring blocks, so residents near the pavilion would undoubtedly face lots of noise when events are held here.
The good thing about being higher up is simply the view. From the picture, you can tell that the sea view is visible from here. It may not be as breathtaking as the view from the rooftop garden, but having a view is certainly better than no view!
Now that we are done with the facilities, let's check out what the common corridor looks like.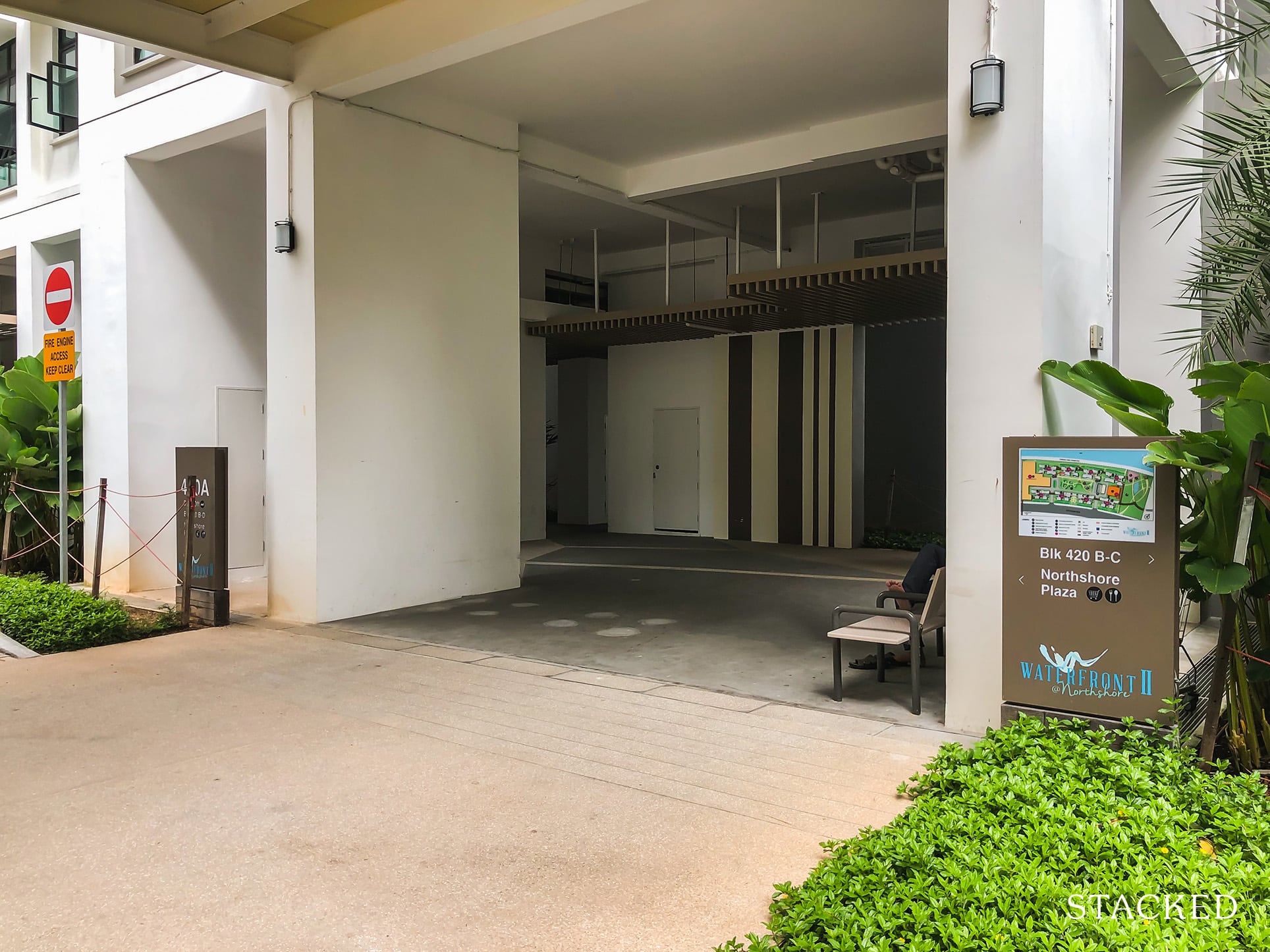 Heading to the block, you'll find the void deck to be quite modern looking. It's a very open space but doesn't feel empty since the floors are nicely tiled and there are no dead ends here.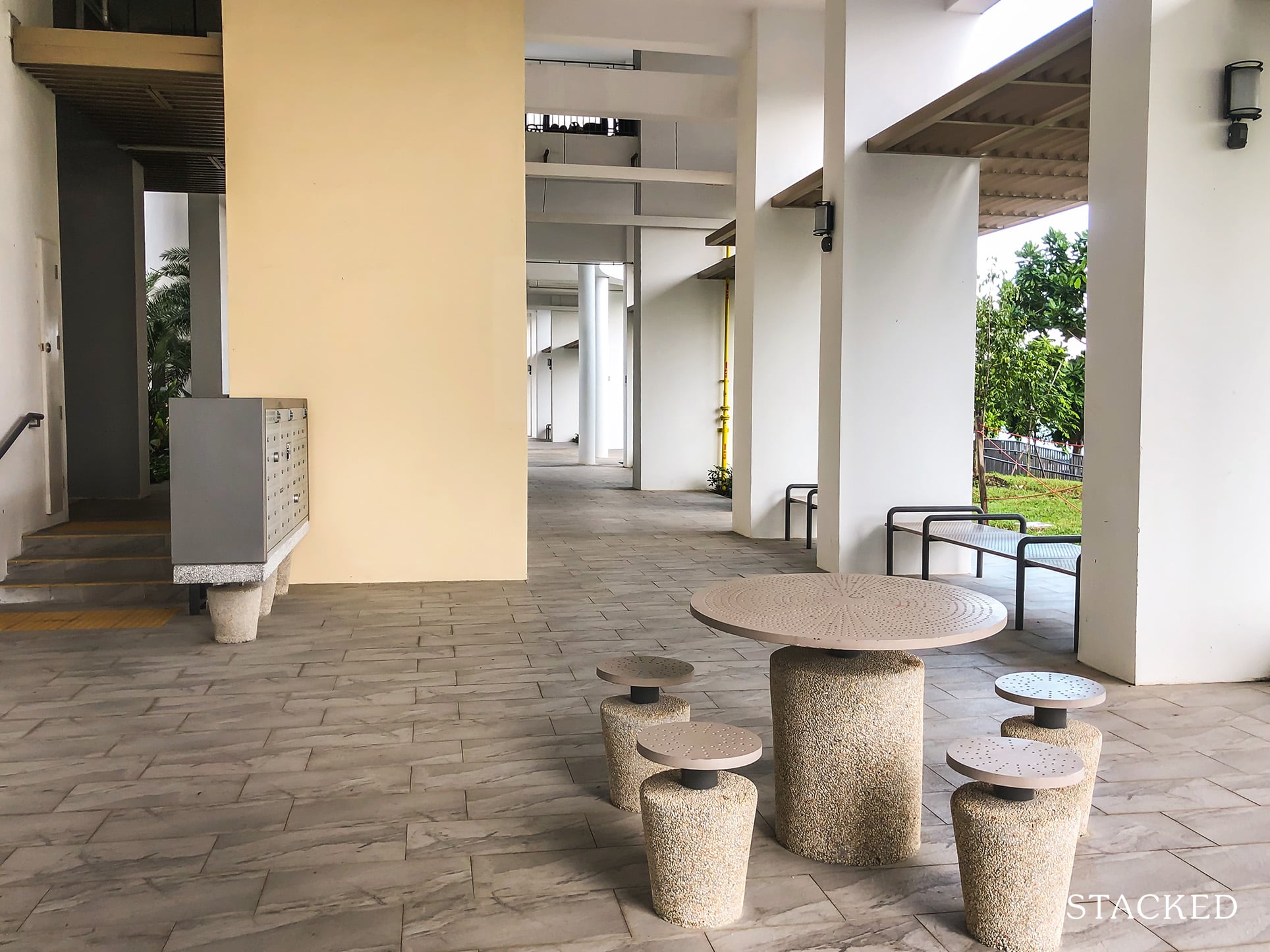 There are also some chairs and tables here that has a nice modern design that goes well with the overall theme of the development. Overall, it's a much more welcoming environment, and the little details here really make a difference. I certainly hope to see this in more HDBs moving forward!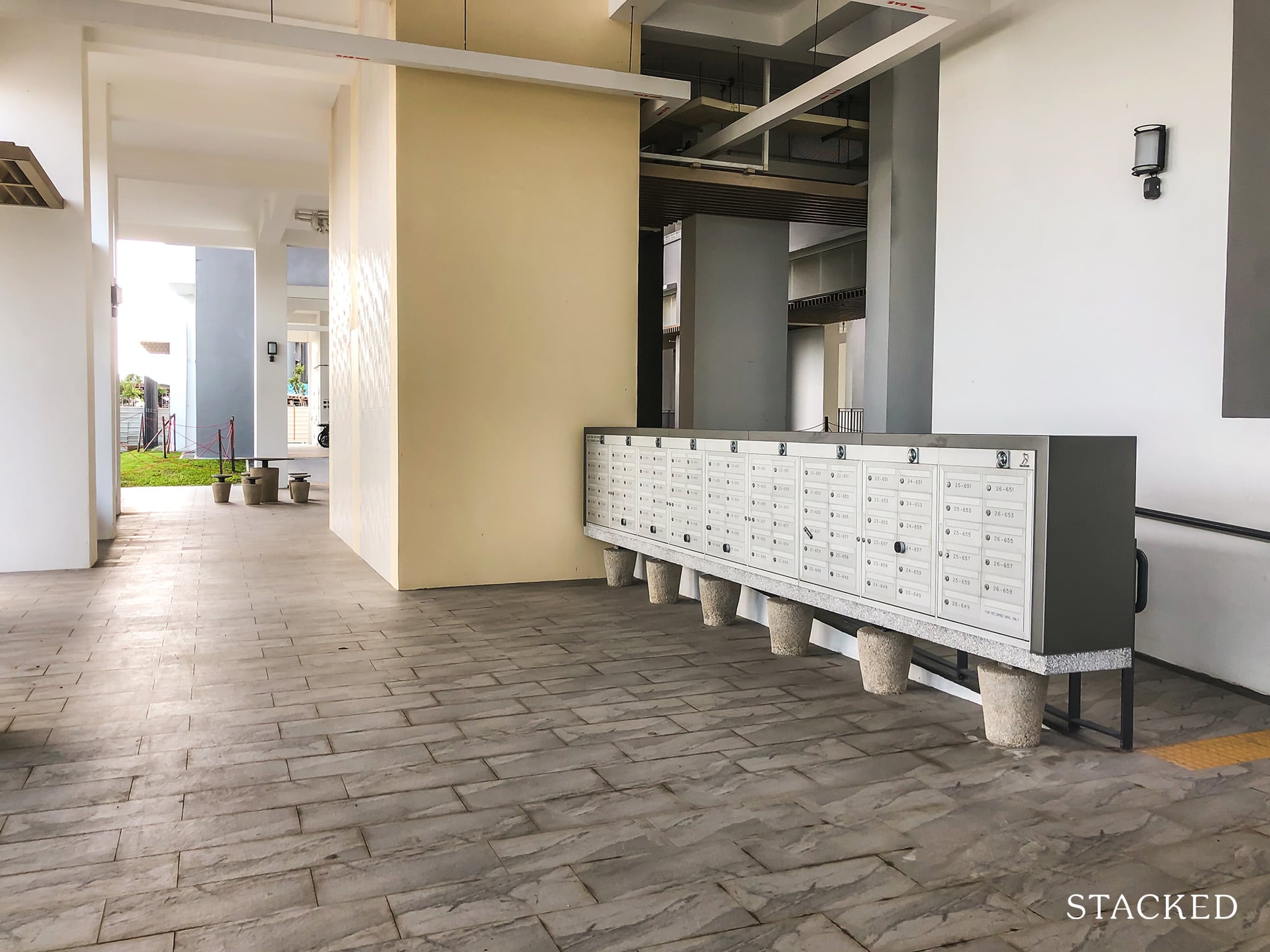 The lift lobby is also quite open and spacious, with 2-4 lifts serving 4-10 units per floor (depending on the block).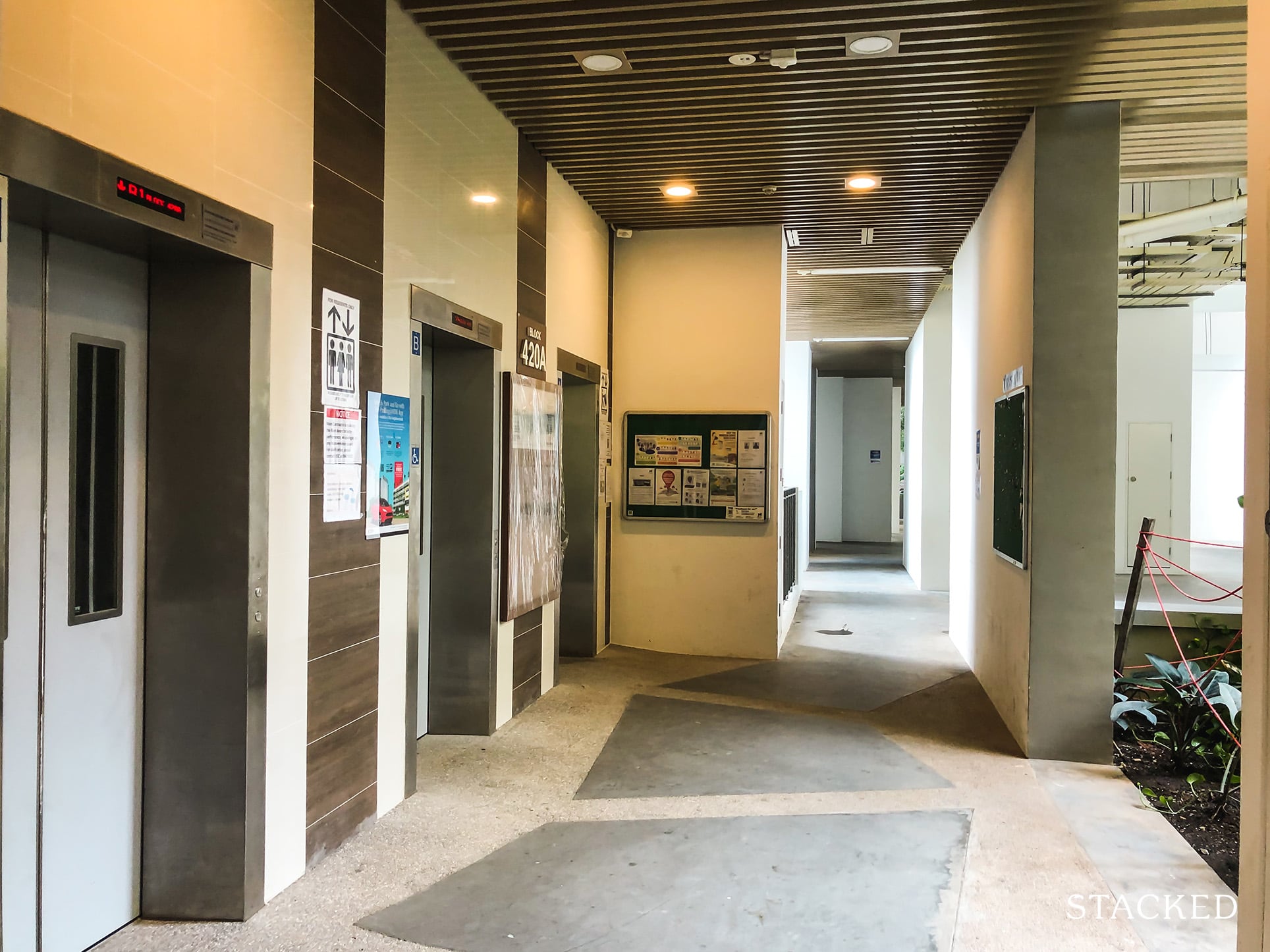 Heading up to the common corridor, you'll find that the stacks here are quite well spaced out. Each unit has sufficient space out front to house things like a shoe rack. The corridor is also sufficiently spacious and does not feel claustrophobic since it opens up to the view outside.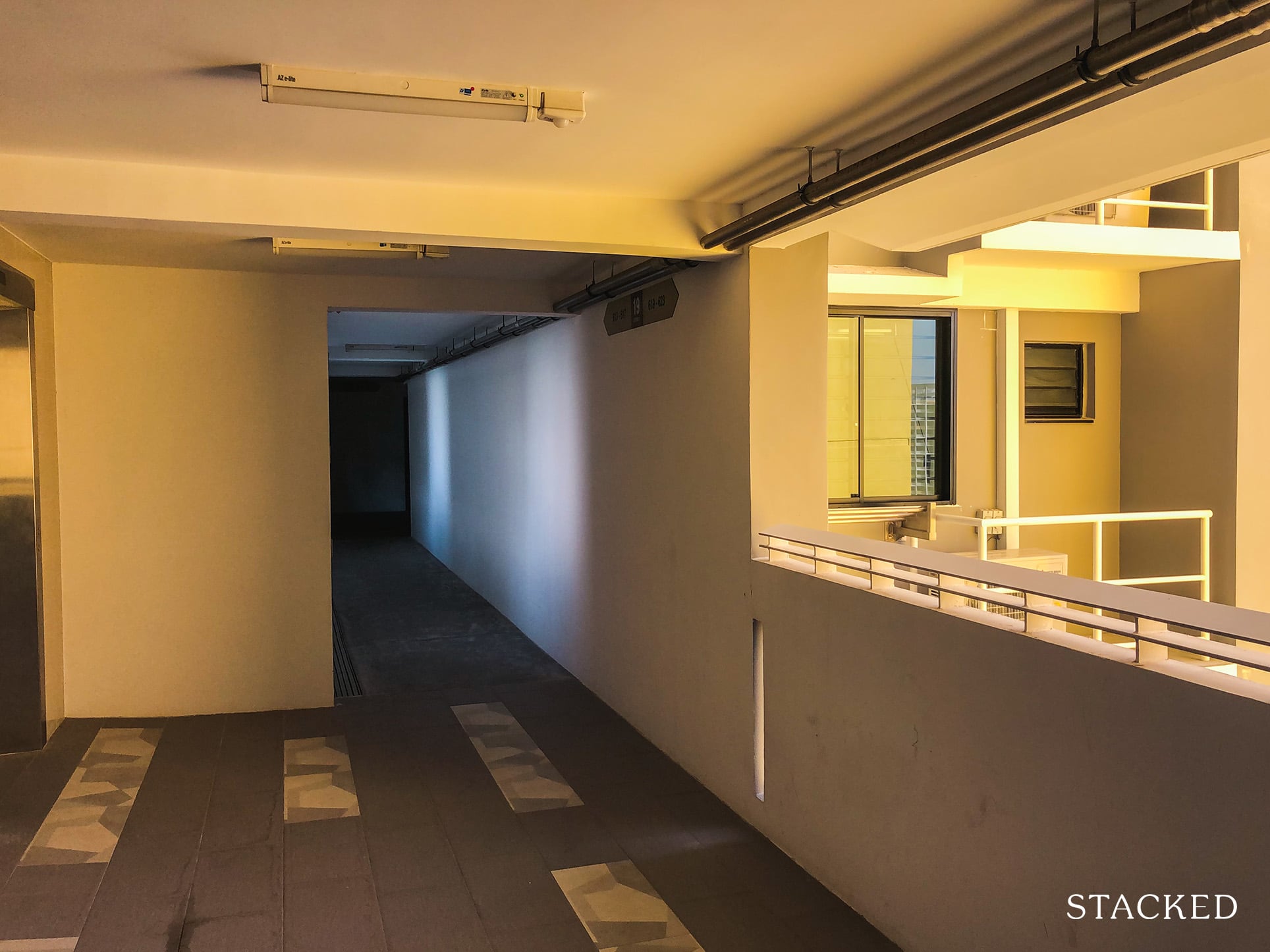 As with most HDBs with long corridors, certain units have windows facing the corridor itself. This does pose a privacy issue, but in most cases, this would be the service yard where privacy is not tantamount.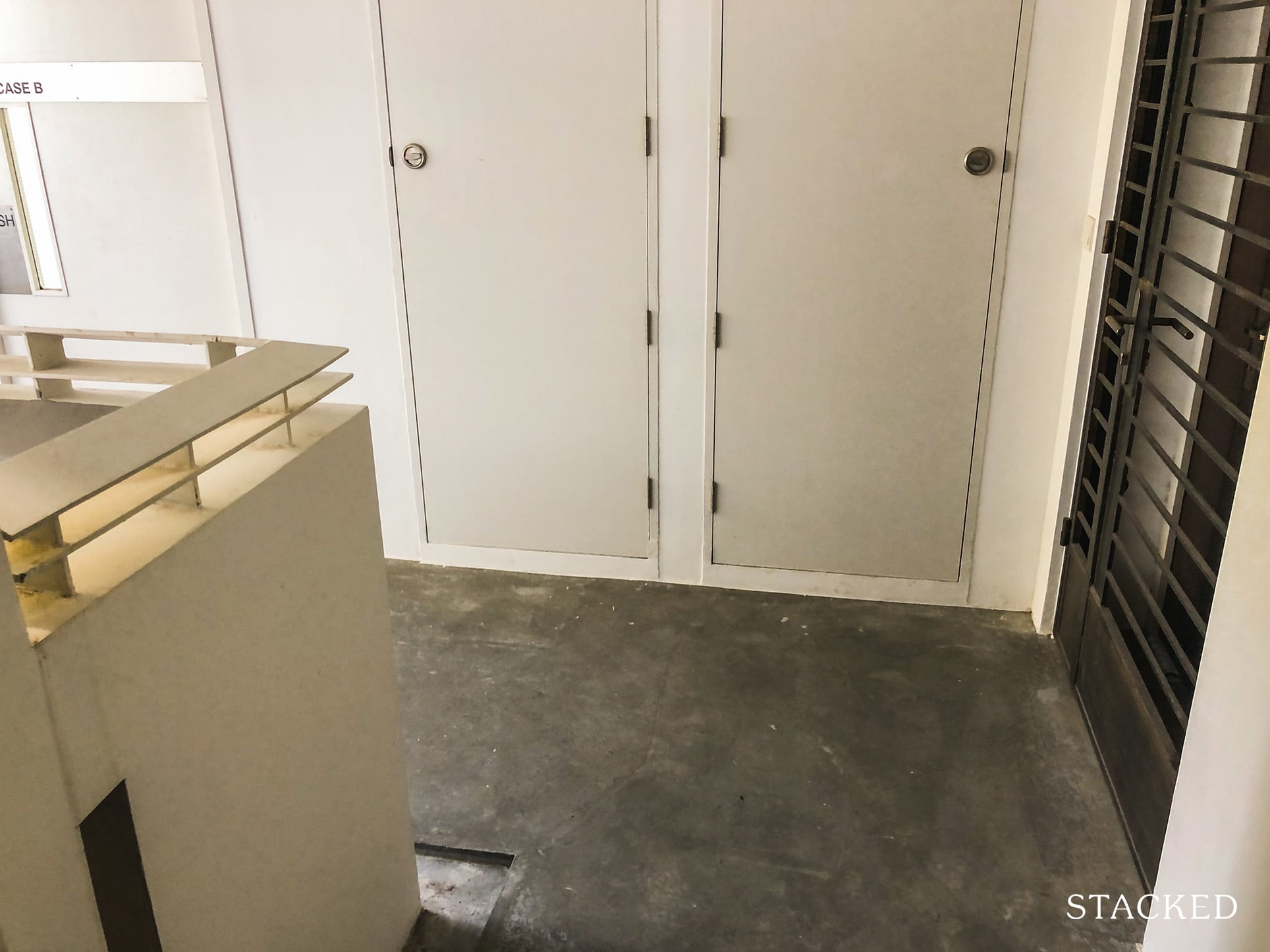 Overall, the development was just built (and still being built in some places), so only time would tell whether or not the development would be well-maintained. My thoughts are that due to its proximity to the sea, perhaps repainting would be needed faster than other HDBs further inland!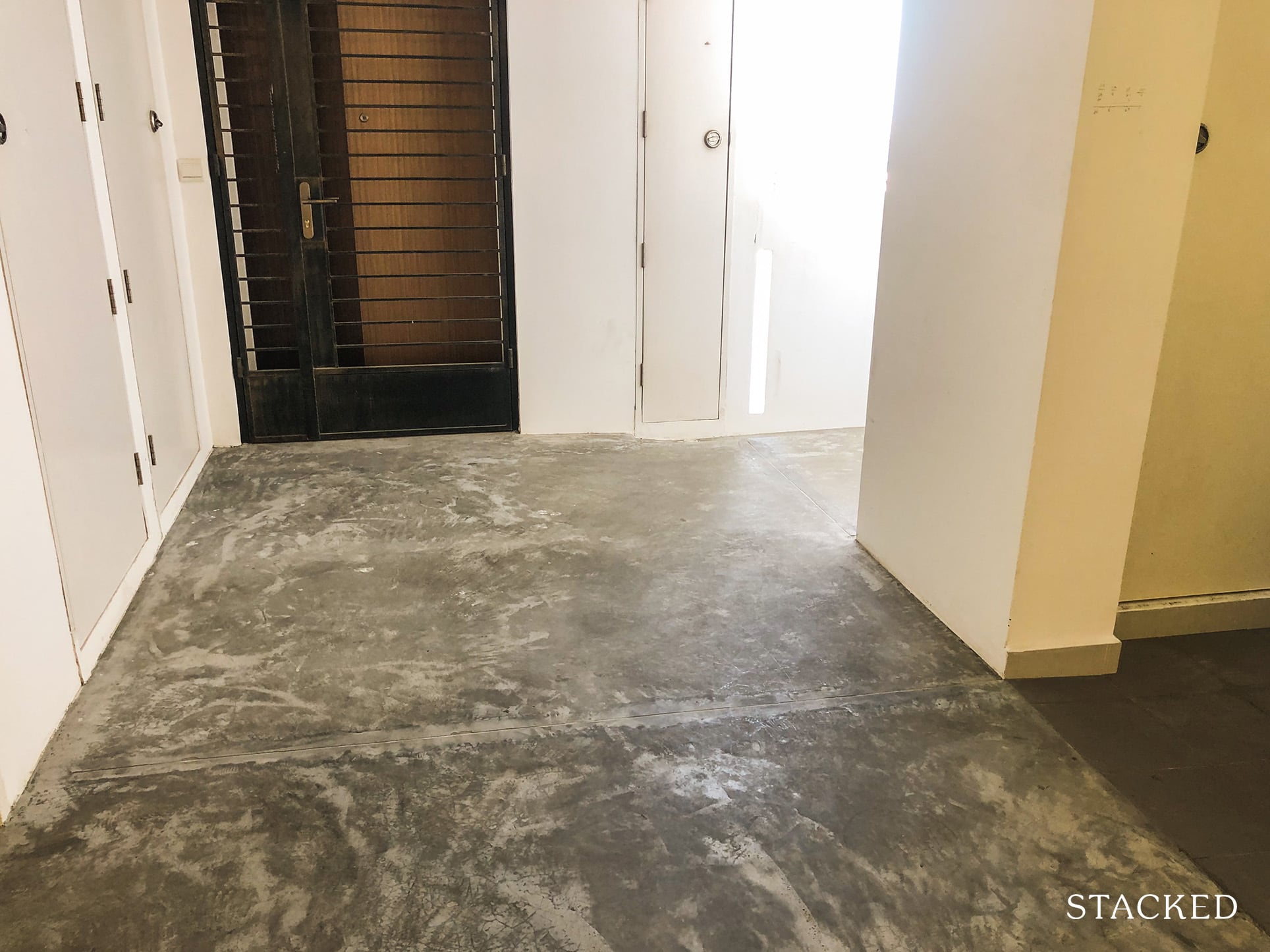 The final point I'd like to touch on is the amenities here. Waterfront II @ Northshore is thankfully a self-sustaining development. I know you have not yet seen any amenities located on the first floor of any of the blocks yet, but this is again something unique about this development.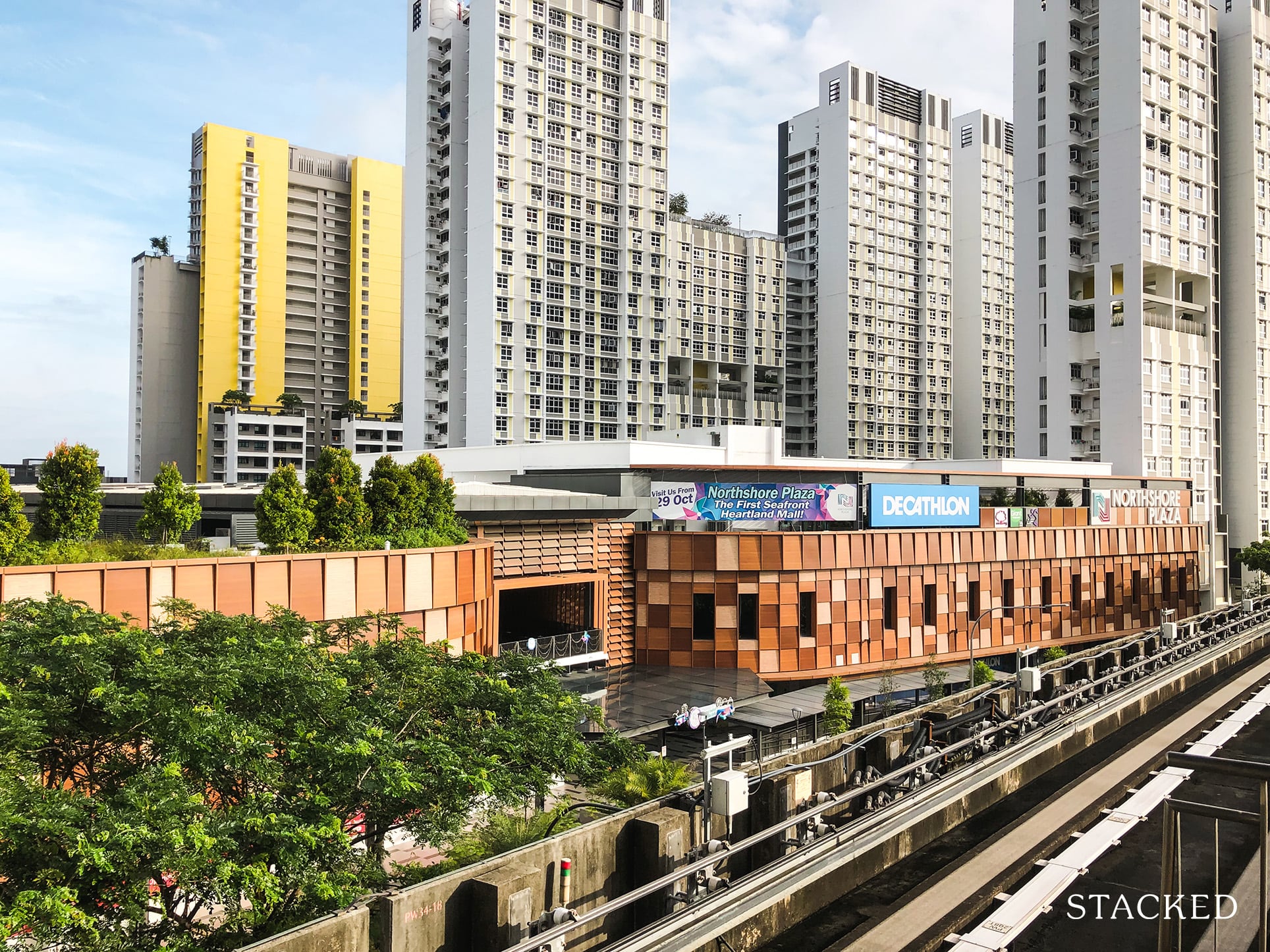 That is because the development is situated right next to Northshore Plaza II and as mentioned, even shares the same car park!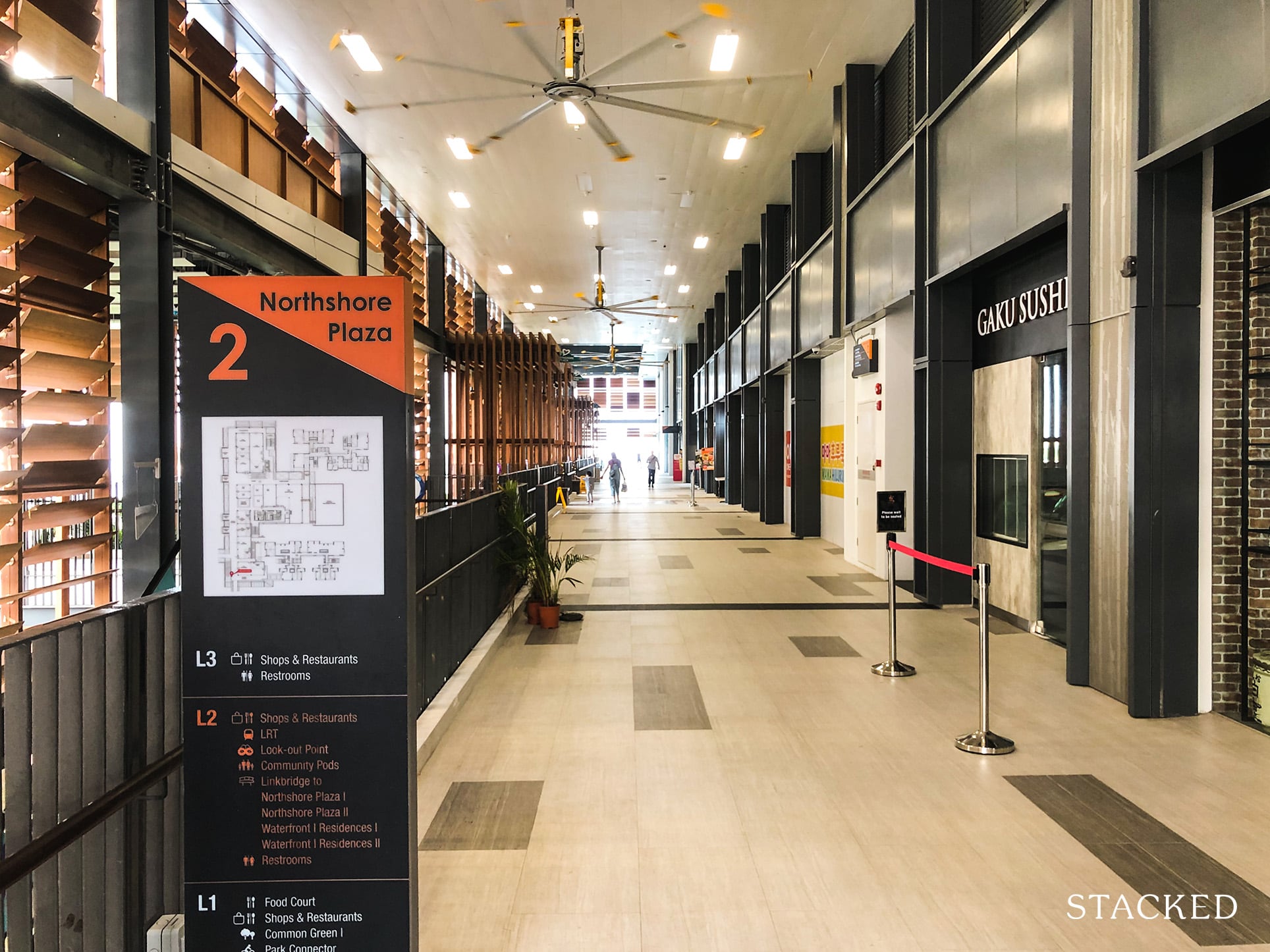 In the words of HDB:
Northshore Plaza is the first seafront New Generation Neighbourhood Centre to be built in an HDB estate, offering residents a unique waterfront shopping experience. It houses a supermarket, food court, restaurants, eateries, shops, childcare centre, and enrichment centres.

HDB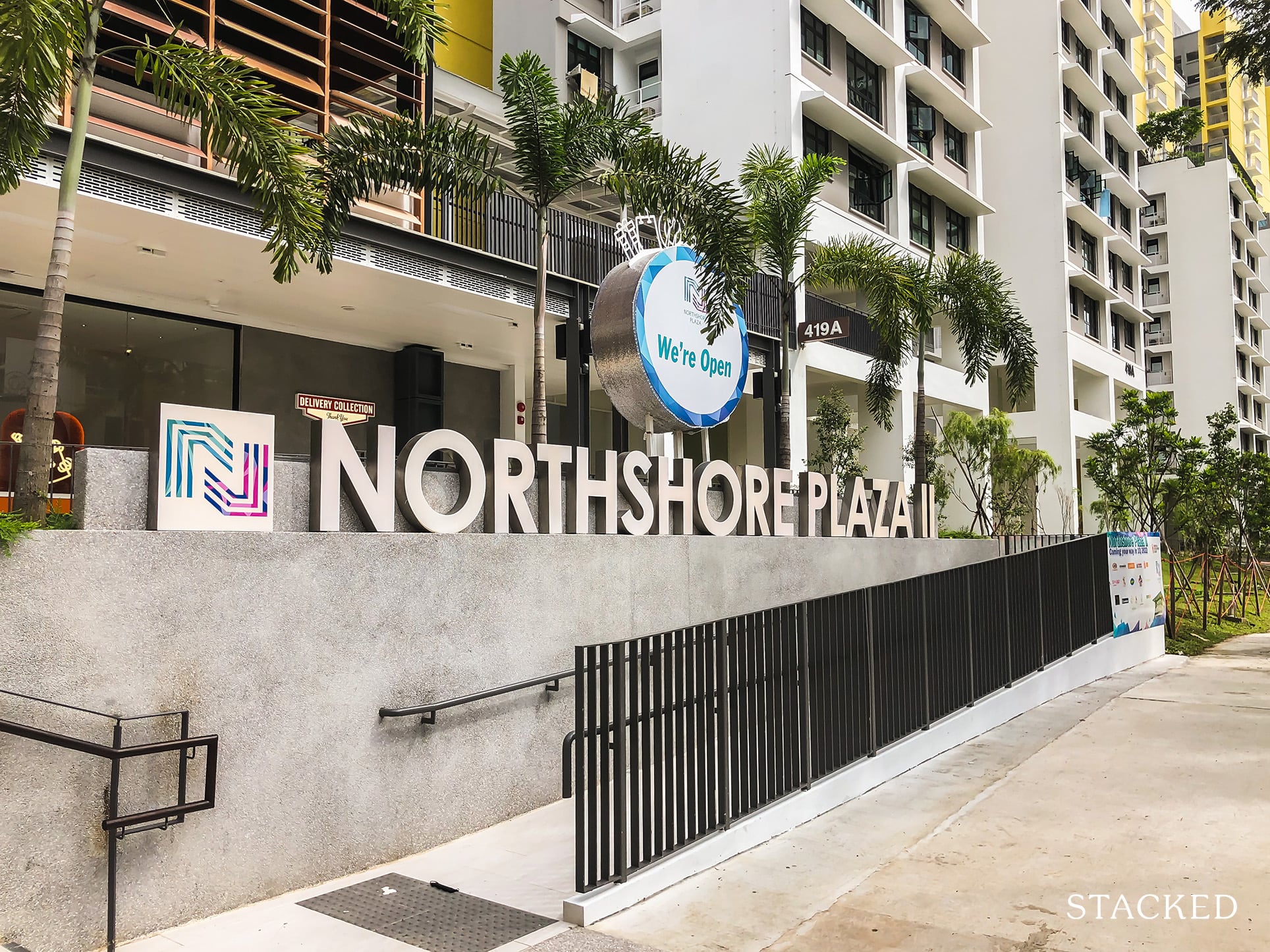 The mall is really more of an essential component to Waterfront II @ Northshore considering how far-flung it is, so it's great to see that the HDB considered and followed through with this necessary infrastructure.
Residents can also connect directly to the mall via levels 1 and 2 (level 2 link bridges are unsheltered).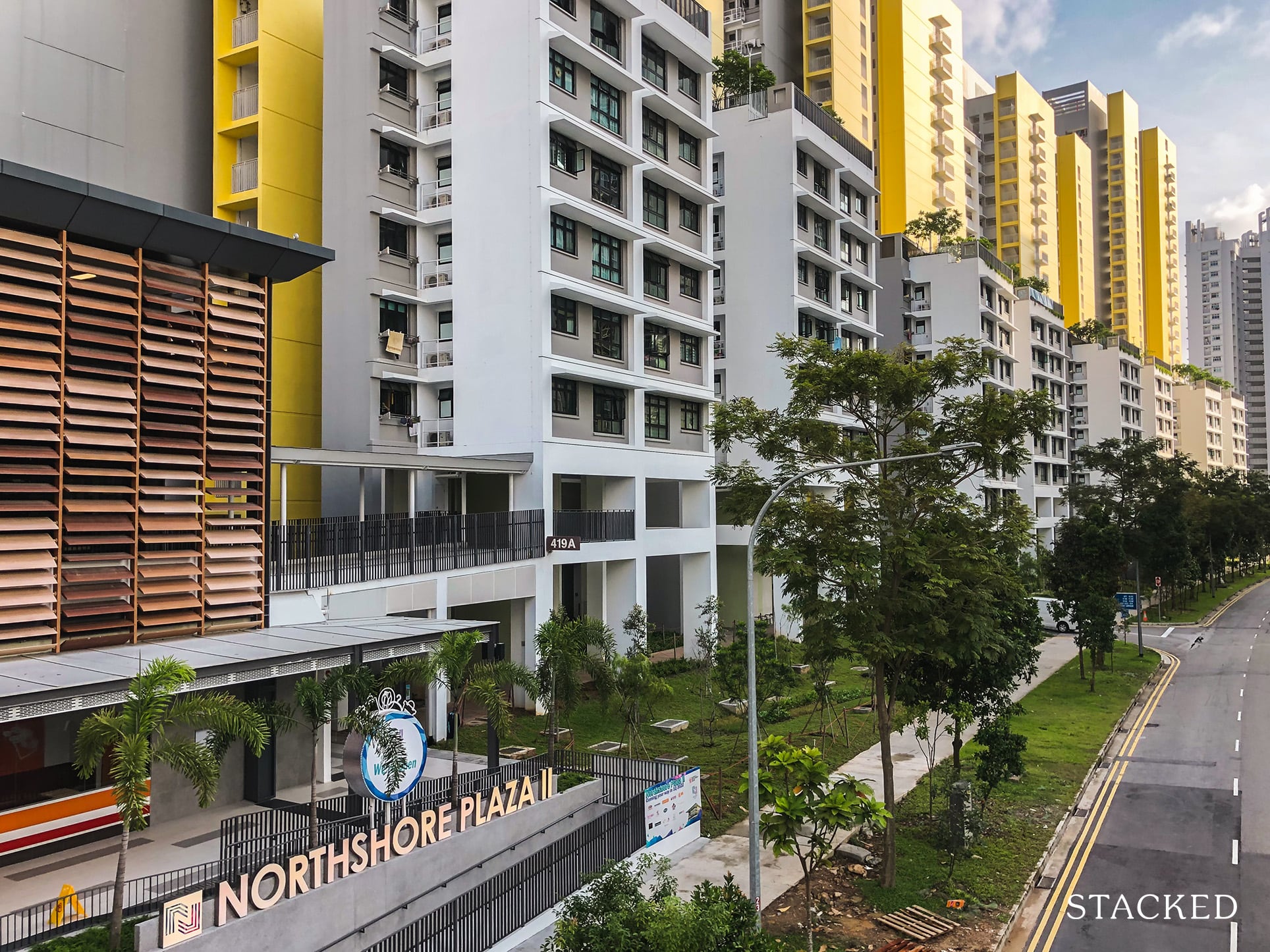 The tenants slated to come on board is also something that residents can look forward to, including a Daiso and a Guardian.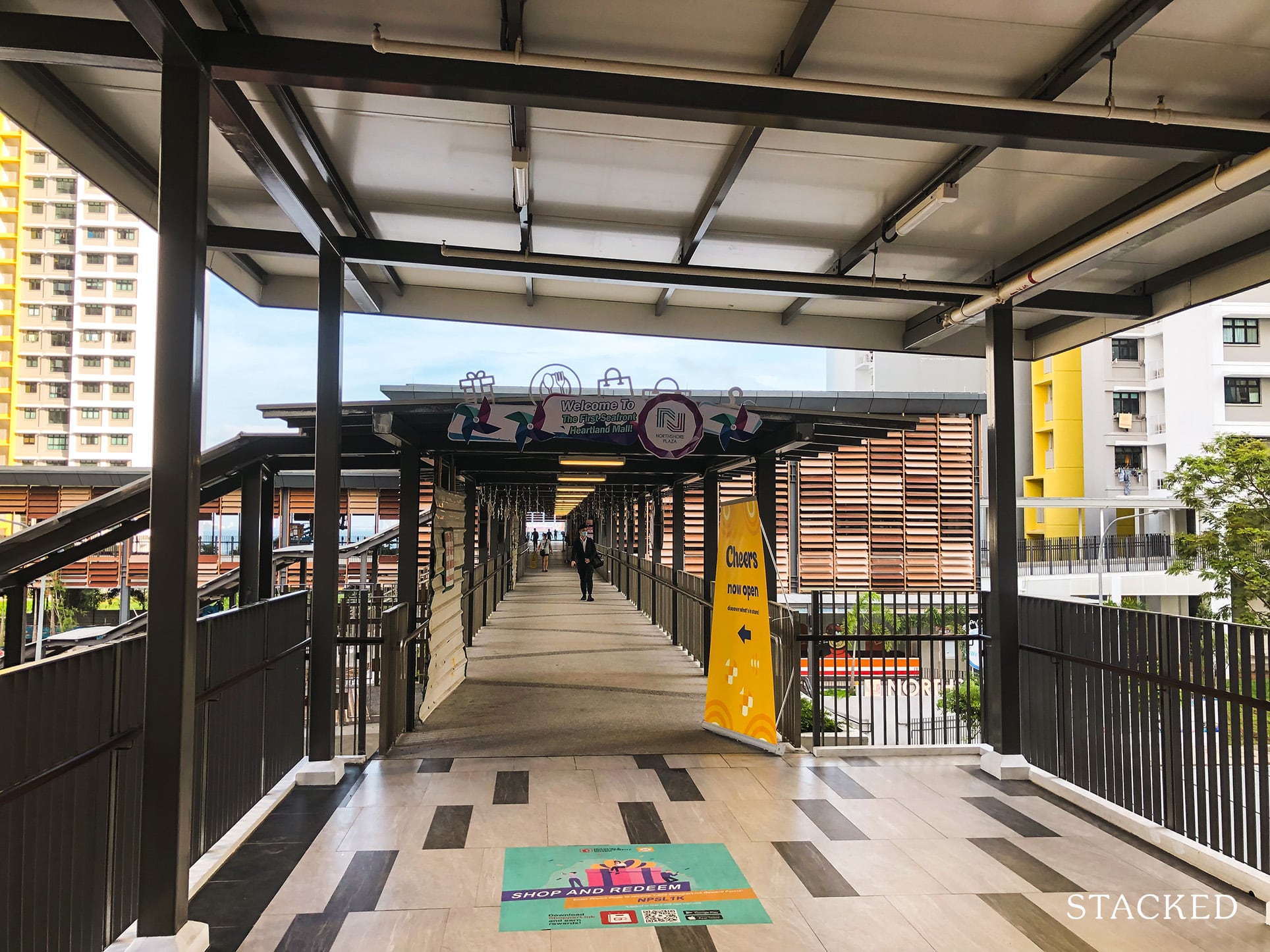 Just opposite Northshore Plaza II is Northshore Plaza I which is more mature and has more shops opened. It currently houses a Mcdonald's, HaiDiLao Hot Pot and an Anytime Fitness gym!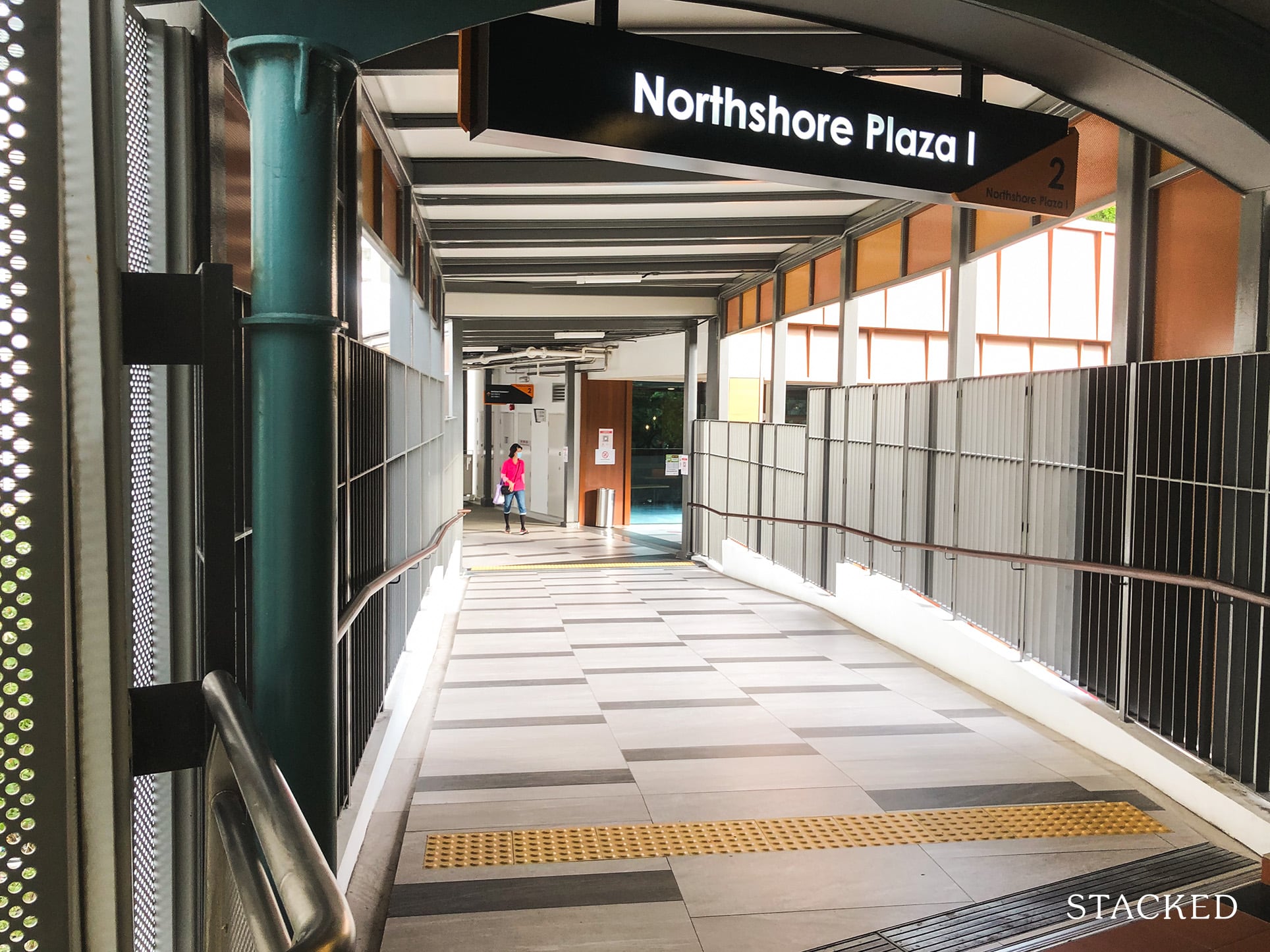 Read this next
Waterfront II @ Northshore Location Review
Waterfront II @ Northshore's location is good and bad, depending on your own priorities and viewpoints. Let's start with the good. It's nice to be by the sea given the waterfront living lifestyle. However, it's bad that it's by the sea given how far it is from the transport nodes built to accommodate other Punggol residents further in.
As a result of this, the neighbourhood malls Northshore Plaza I & II have come about to provide the much-needed amenities here, making it a self-sustaining area. It's great if you don't have to travel to work much or work in Punggol, however, having to travel out of the estate could be a real hassle.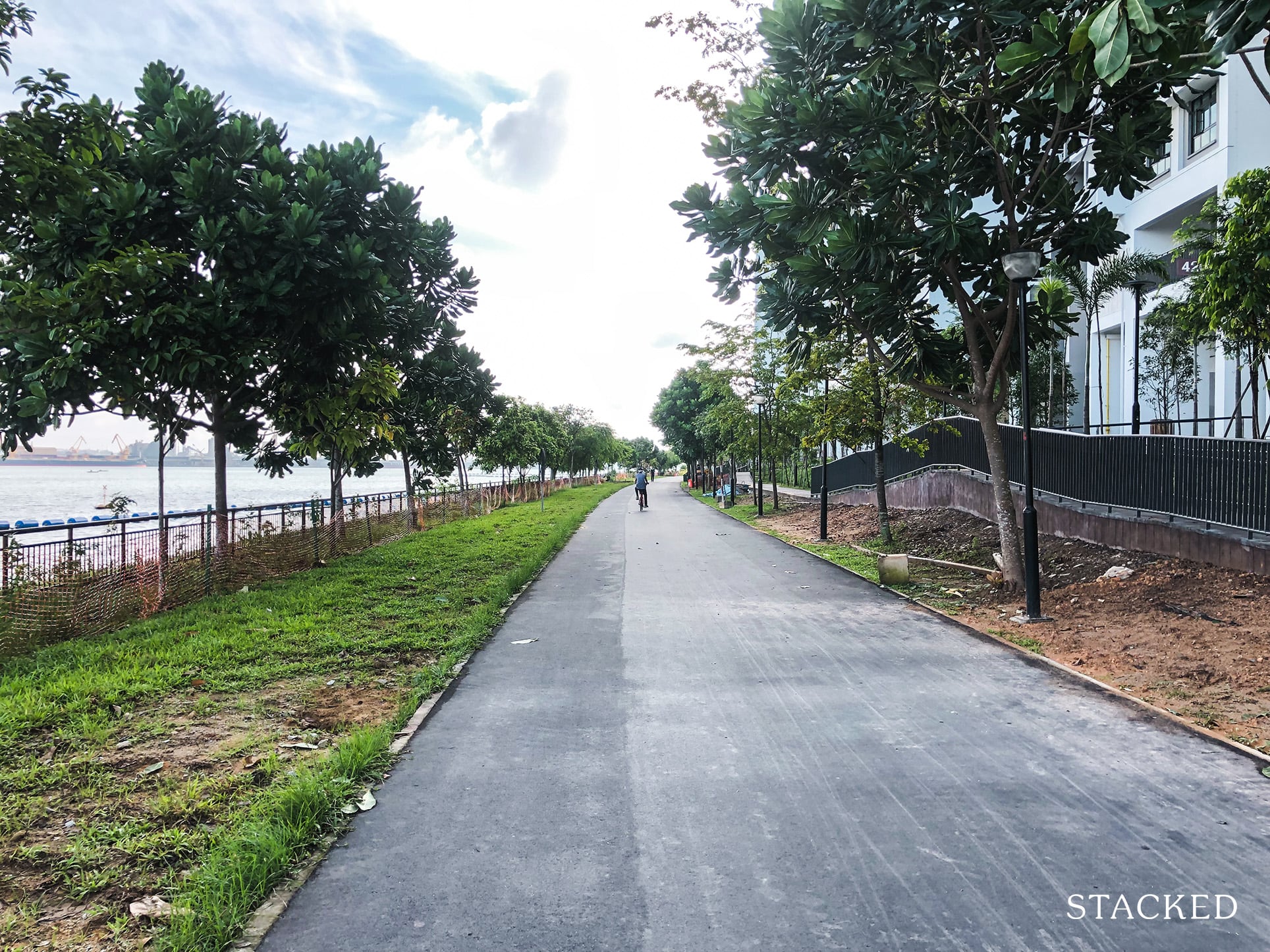 While all this looks quite gloomy, Waterfront II @ Northshore does offer immediate access to the Park Connector. The Park Connector is the only buffer between the sea and the development, as a result, most units would have the enviable waterfront view right at their window.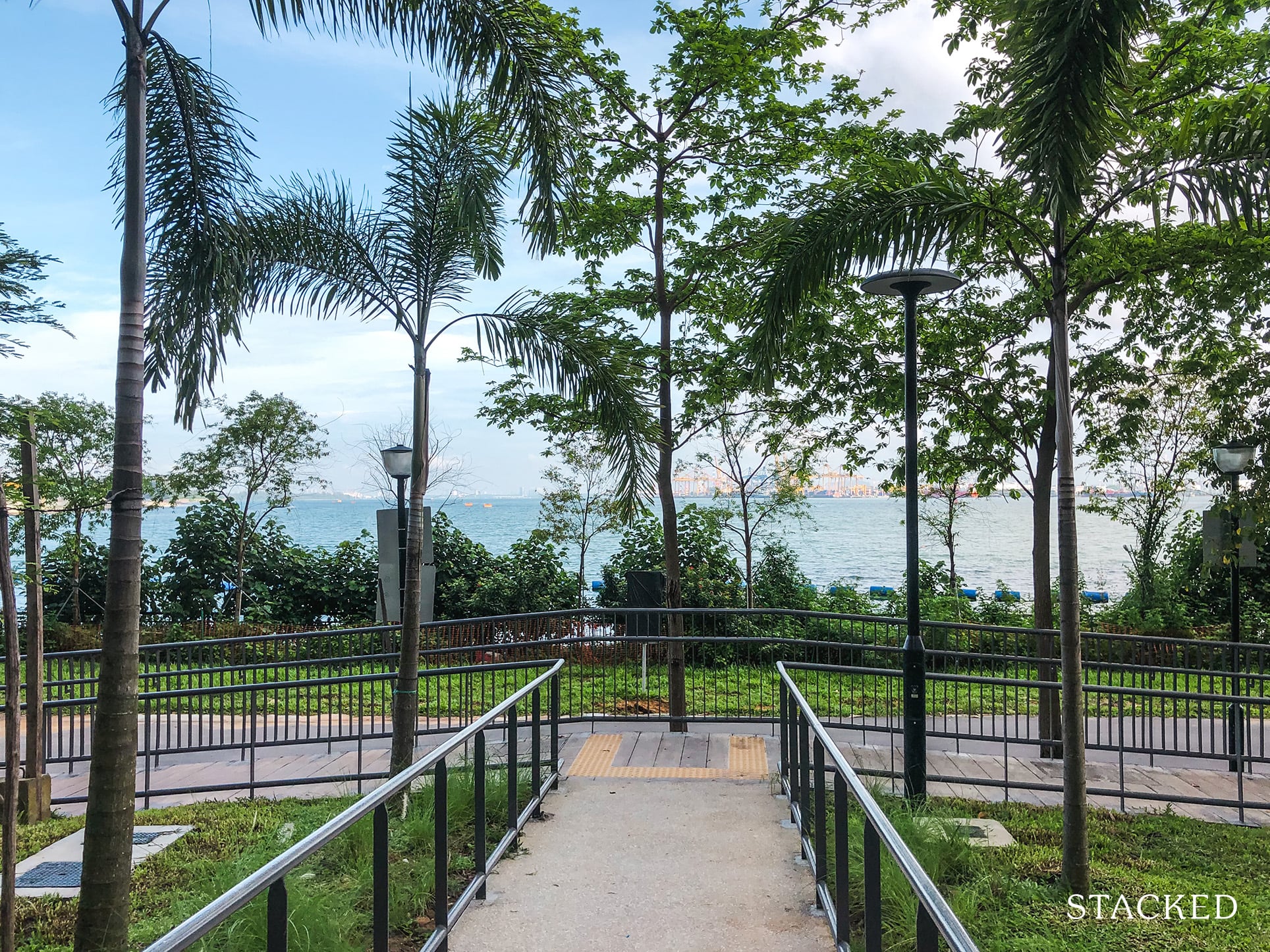 Residents can undoubtedly connect to the Park Connector seamlessly from within the development, and numerous paths lead up to it.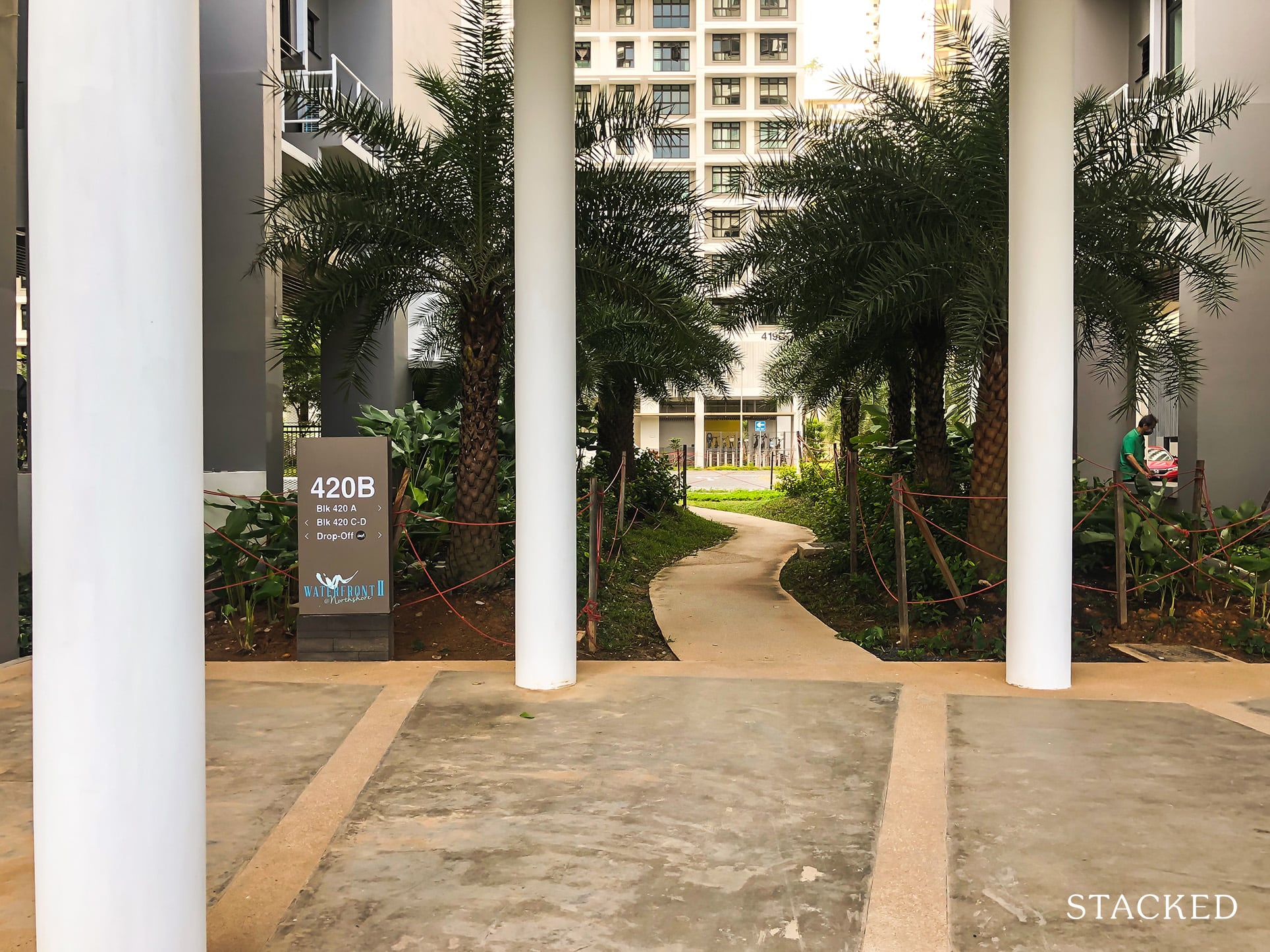 And as the area is quite new, some parts are still lacking in the landscaping department and it would be exciting to see this area mature over time.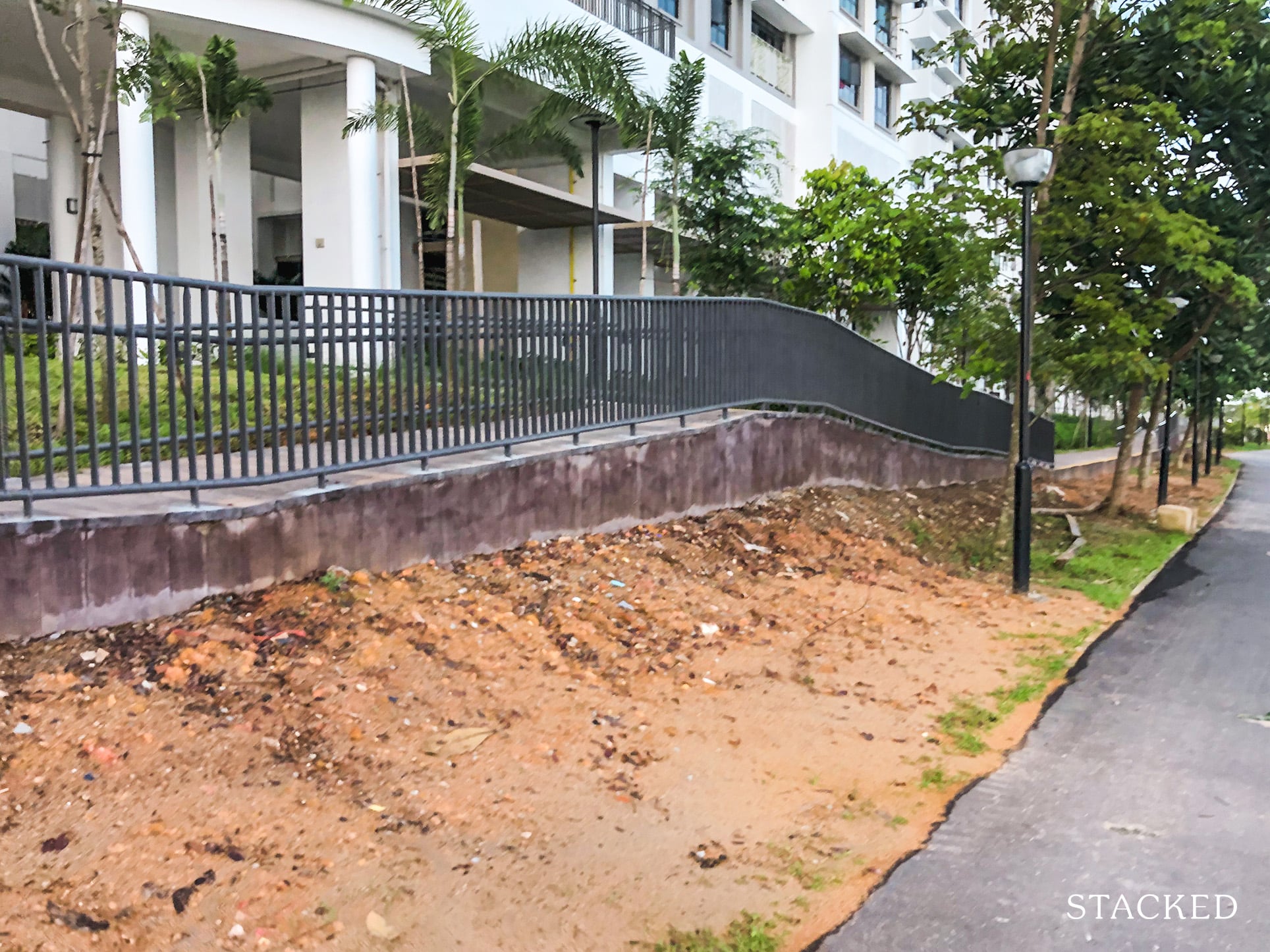 Since cycling is probably what a lot of residents would do here, it's natural to find bicycle parking spots.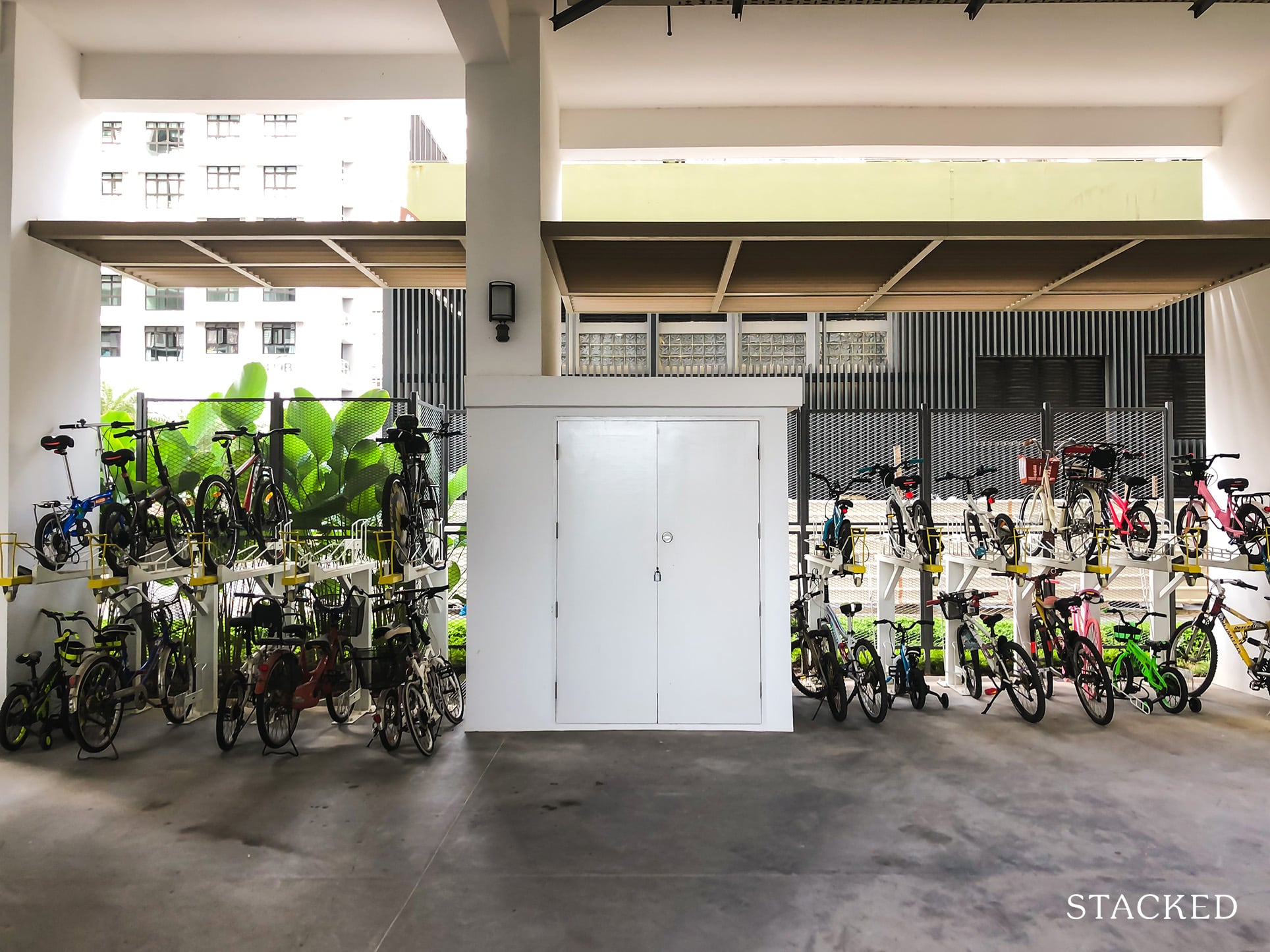 That being said, the spots I came across are fully utilised at the moment, so those looking to park their bicycles outside their unit would probably have to use the corridor since the space in front would likely encroach into their neighbour's common area.
Waterfront II @ Northshore Public Transport
| | | |
| --- | --- | --- |
| Bus station | Buses Serviced | Distance From HDB (& Est. Walking Time) |
| Punggol View Pr Sch | 382, 382G, 50 | 200m (3 min walk) |
| Blk 301A | 84 | 280m (3 min walk) |
Closest MRT: Punggol MRT station; About 10 min by LRT + walk (depending on the block). While Punggol Coast MRT is coming up, it's still quite some distance away. Residents would be better off taking the LRT to Punggol MRT.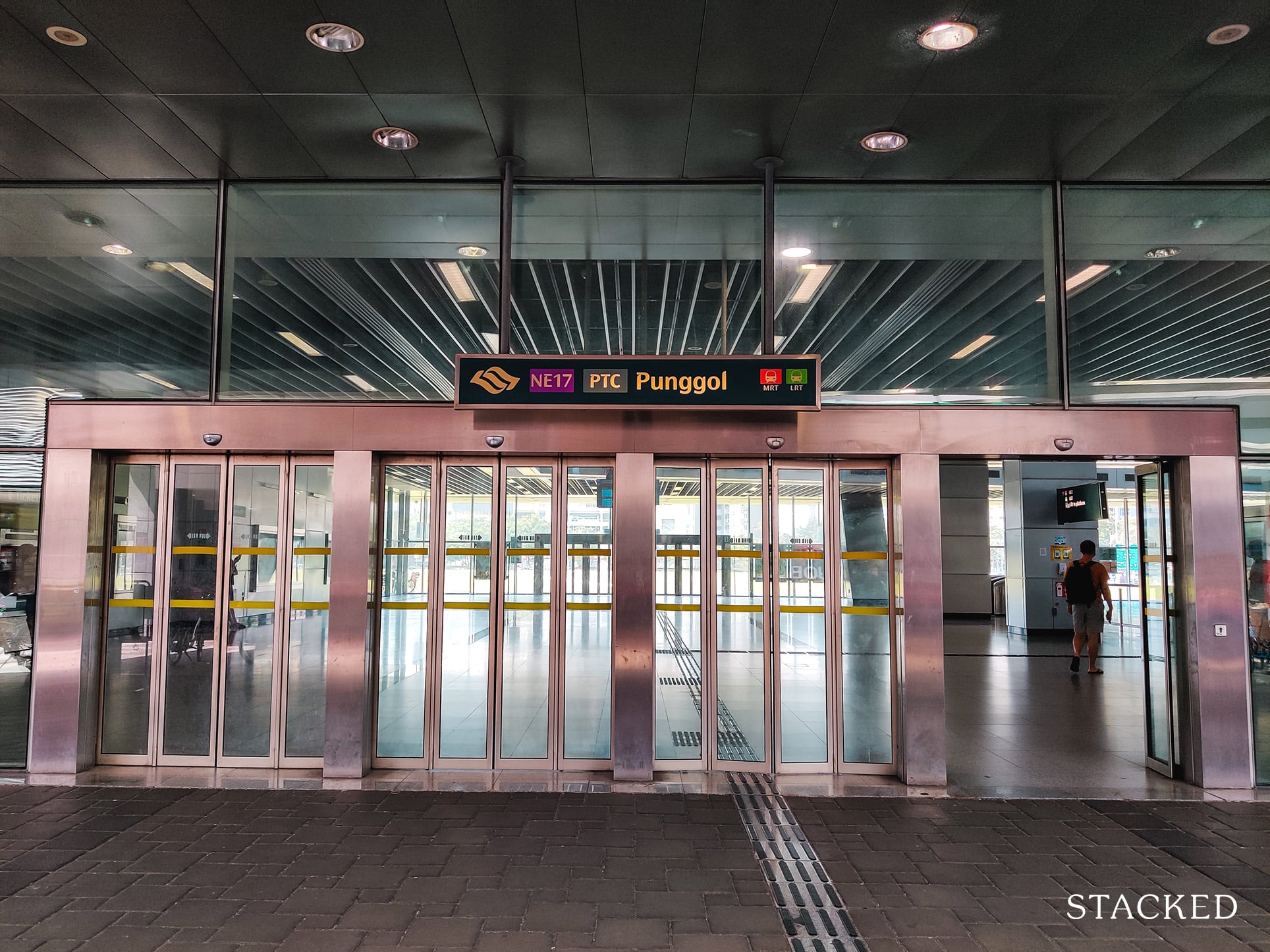 Getting to the MRT is 3 LRT stops away, with the nearest station being Samudera LRT station via Northshore Plaza. The good news is that this is a sheltered journey throughout, so residents do not have to worry about braving the wet weather when travelling.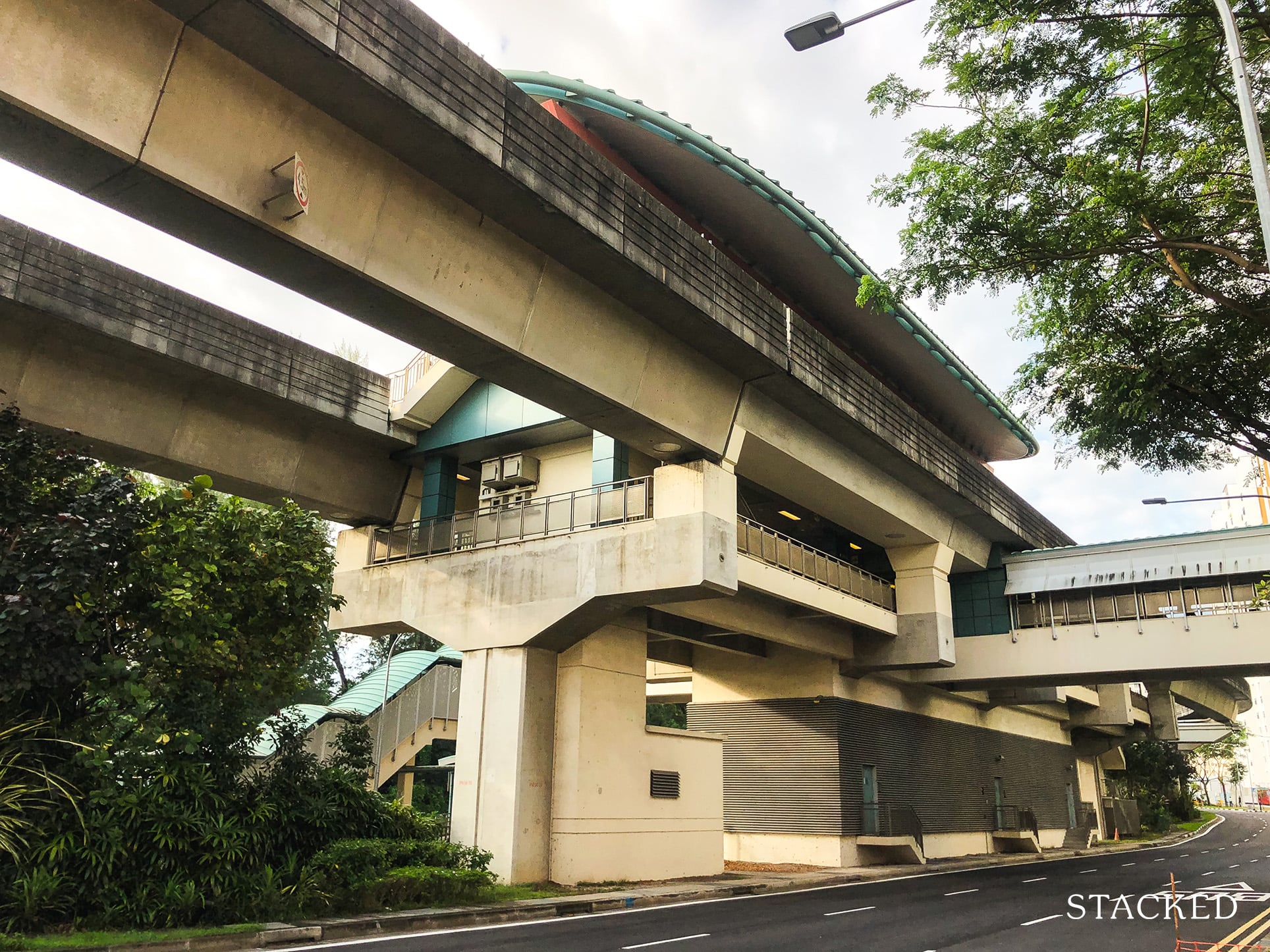 However, it is about a 5-8 minute walk away to the LRT – a distance that's quite acceptable. The only issue with taking the LRT is just the time it takes to get to the main MRT station, not to mention the queues that form during peak hours.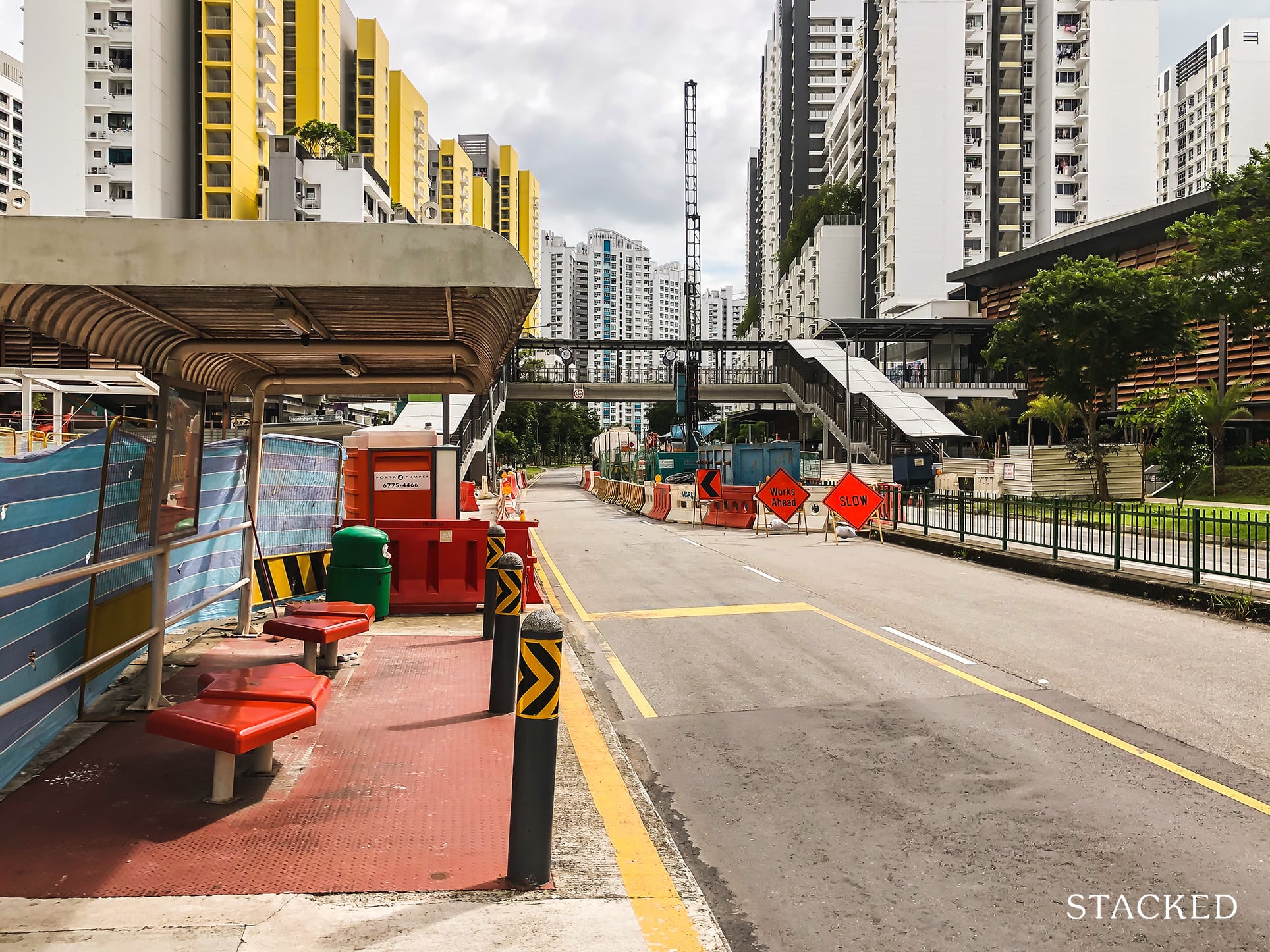 There is also an option to take the one and only bus service that ply along Northshore Drive: bus 384. It's 5 stops away from the main station and about an 8-minute ride, so it should take about the same amount of time as the LRT if you include the walking time.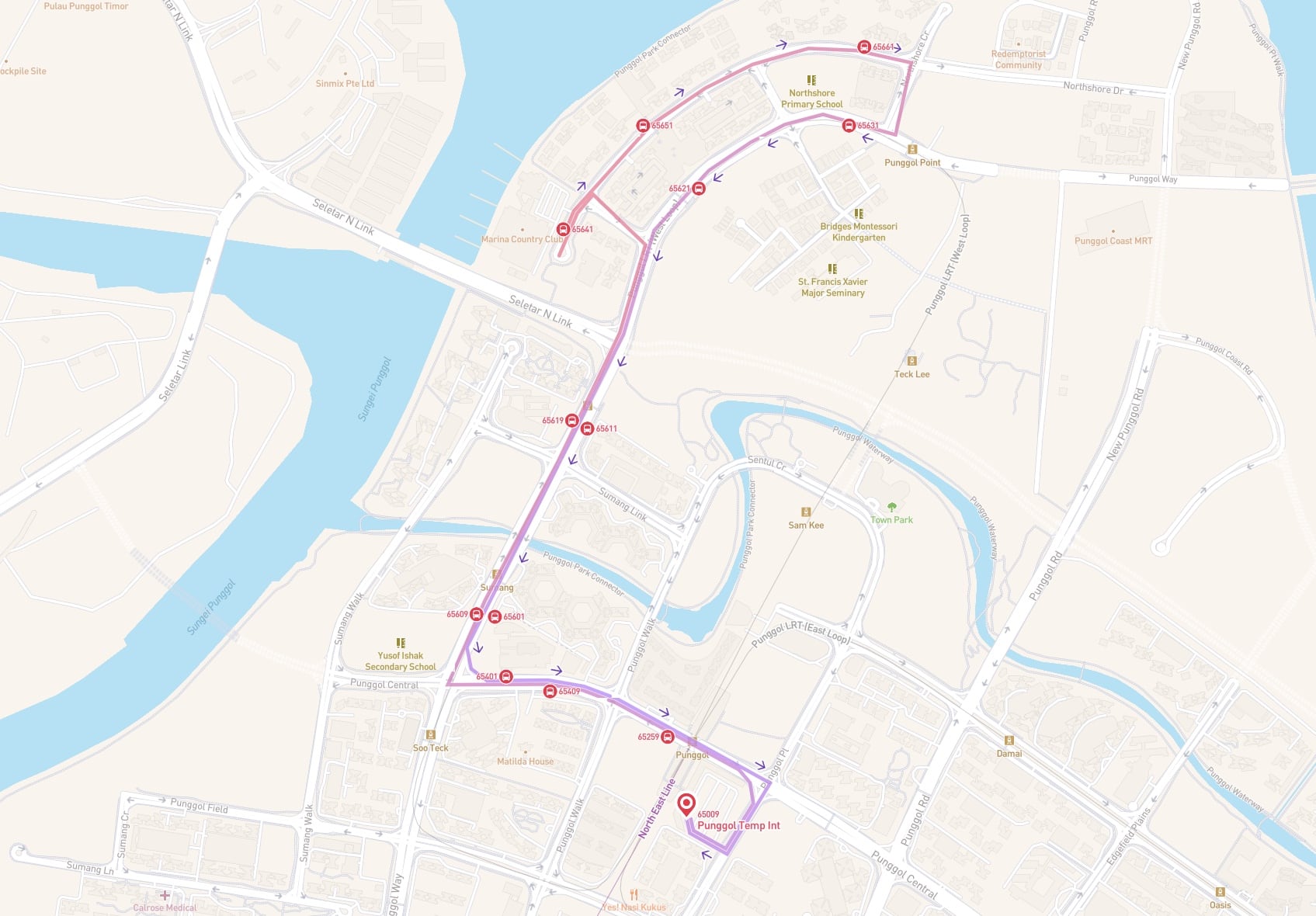 Private Transport
| | |
| --- | --- |
| Key Destinations | Distance From HDB (& Est. Peak Hour Drive Time) |
| Raffles Place | 20.9 km (29 min drive) |
| Orchard Road | 20 km (29 mins drive) |
| Suntec City | 20.1 km (27 mins drive) |
| Changi Airport | 17.6 km (25 mins drive) |
| Tuas Port | 49.1 km (1 hr and 7 mins drive) |
| Paya Lebar Quarters | 14.2 km (21 mins drive) |
| Mediapolis | 29.4 km (36 mins) |
| Mapletree Business City | 28.9 km (38 mins) |
| Tuas Checkpoint | 45.5 km (1 hr and 1 min) |
| Woodlands Checkpoint | 23.3 km (31 mins) |
| Harbourfront Cluster | 26.7 km (33 mins) |
| Punggol Cluster | Within Punggol |
Immediate road exit:
Northshore Drive
Summary:
Driving is almost essential if you choose to live here unless you do not mind the long commute or work close by. Its location on the outskirts of Punggol makes the car journey rather arduous given it is the furthest from the expressway entry. While things have improved over the years, bear in mind that traffic congestion is still an issue within the estate.
Groceries
| | |
| --- | --- |
| Name of Grocery Shop | Distance from HDB (& Est Time) |
| Giant Supermarket (Northshore Plaza I) | 250m, 4-min walk |
Schools
| | |
| --- | --- |
| Educational Tier | Number of Institutes |
| Preschool | 4 |
| Primary School (within 1km) | 7 |
| Secondary School | 5 |
| Junior College | 1 |
| Polytechnics | 0 |
Preschool
Skool4Kidz Centre – Within the development
MOE Kindergarten @ Valour – 270m (3 min walk)
School4kidz Centre – 450m (6 min walk)
My First Skool – 550m (7 min walk)
Primary School
Northshore Primary School – 300m (4 min walk)
Punggol Cove Primary School – 1.1m (14 min walk)
Punggol View Primary School – 1.4km (17 min walk)
Punggol Green Primary School – 1.7km (19 min walk)
Oasis Primary School – 1.7m (19 min walk)
Valour Primary School – 1.8km (20 min walk)
Edgefield Primary School – 1.9km (21 min walk)
Secondary School
CHIJ St. Joseph's Convent – 18 min by bus
Edgefield Secondary School – 1.1km (13 min walk)
Compassvale Secondary School – 24 min by bus.
Greendale Secondary School – 1.5 km (18 min walk)
Punggol Secondary School – 900m (10 min walk)
Junior College
Tampines Meridian Junior College – 27 min by bus (requires 1 transfer)
Waterfront II @ Northshore Additional Pointers
Punggol Digital District (PDD)
This is, without doubt, the most exciting transformation to look forward to in Punggol.
Over the past 12 years, you can see a lot of exciting changes happening to the Punggol area, so it's very safe to say that this district has a lot more potential going forward – namely the Punggol Digital District.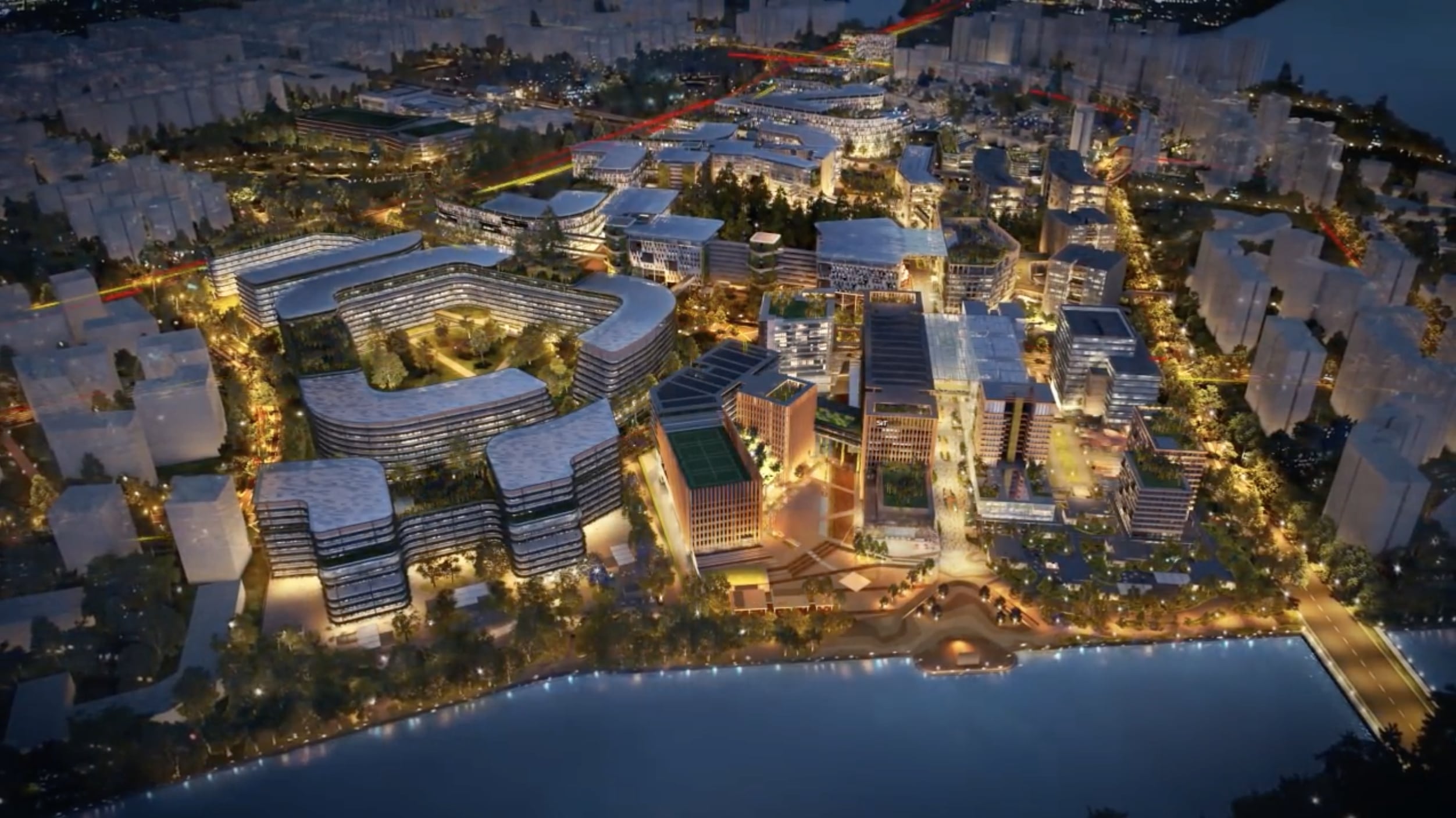 The Punggol Digital District will provide major support for Singapore's drive towards being a "Smart Nation". The district is set to bring about over 28,000 jobs in the area via the integration of Singapore Institute of Technology (SIT) and JTC's Business Park, serving mainly the Cybersecurity and digital technology industry.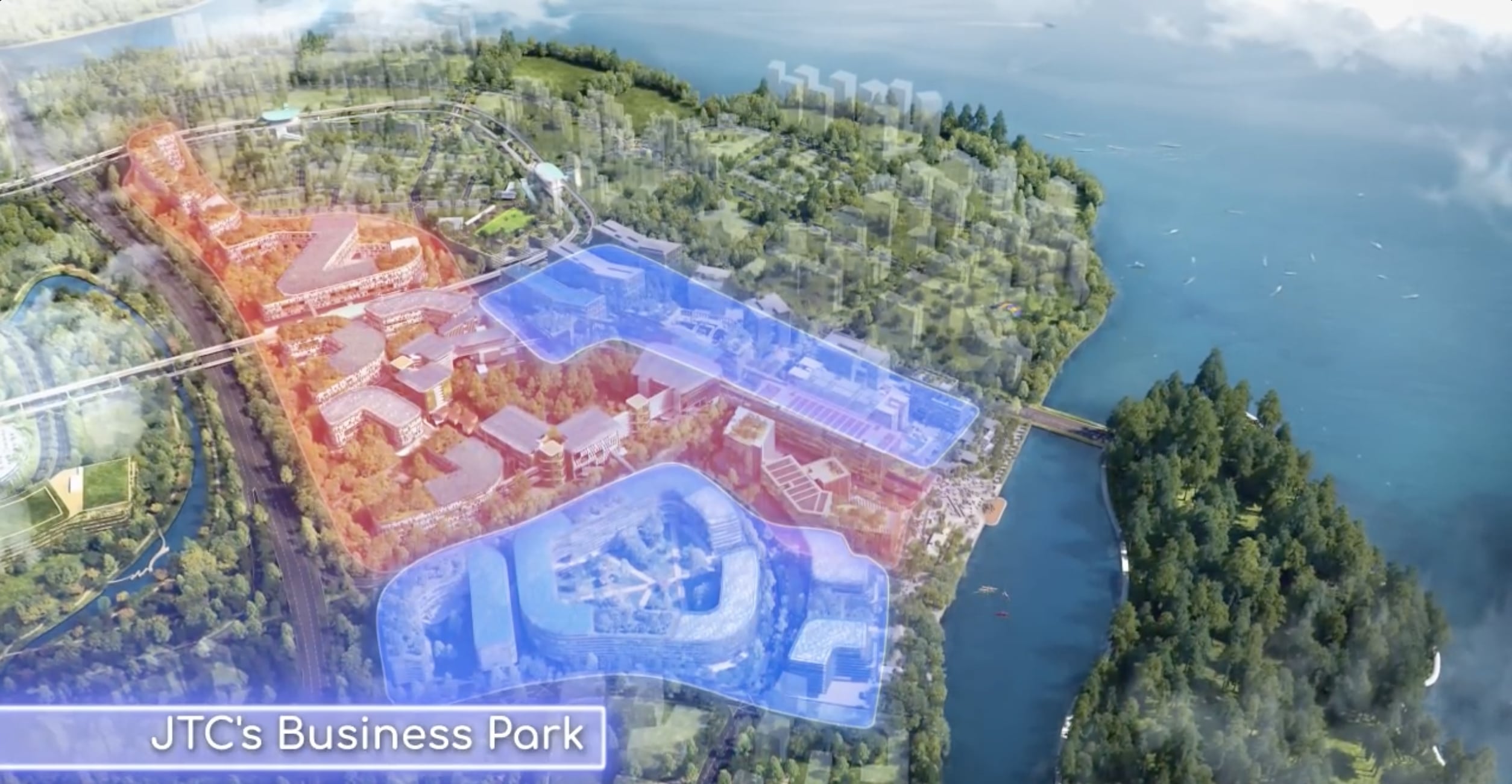 But it's not just jobs and an increase in rental demand that residents can look forward to. More retail and dining amenities can also be expected, especially along the eastern end of the "Campus Boulevard" which overlooks the waterfront.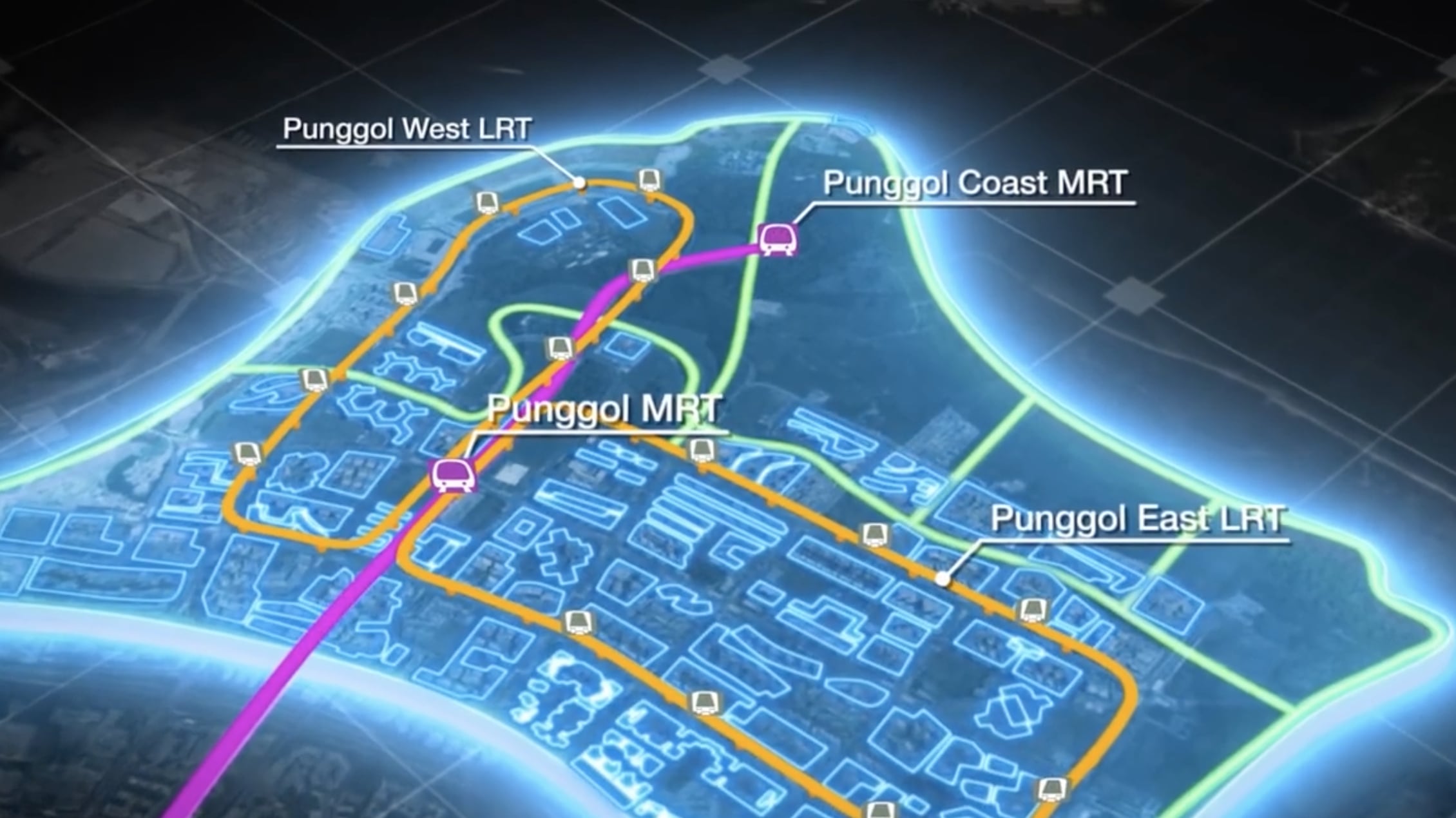 The largely undeveloped space would seamlessly integrate with the existing Park Connector Network that is also PMD-friendly. A new MRT station (Punggol Coast MRT U/C 2024) would also be opened there.
Still faces teething issues
For many years, residents at Punggol have been complaining of having to wait up to an hour to access the expressways (namely the KPE and the TPE). The situation was so bad that the LTA even brought forward the extension of Punggol Central Road by almost 1 year.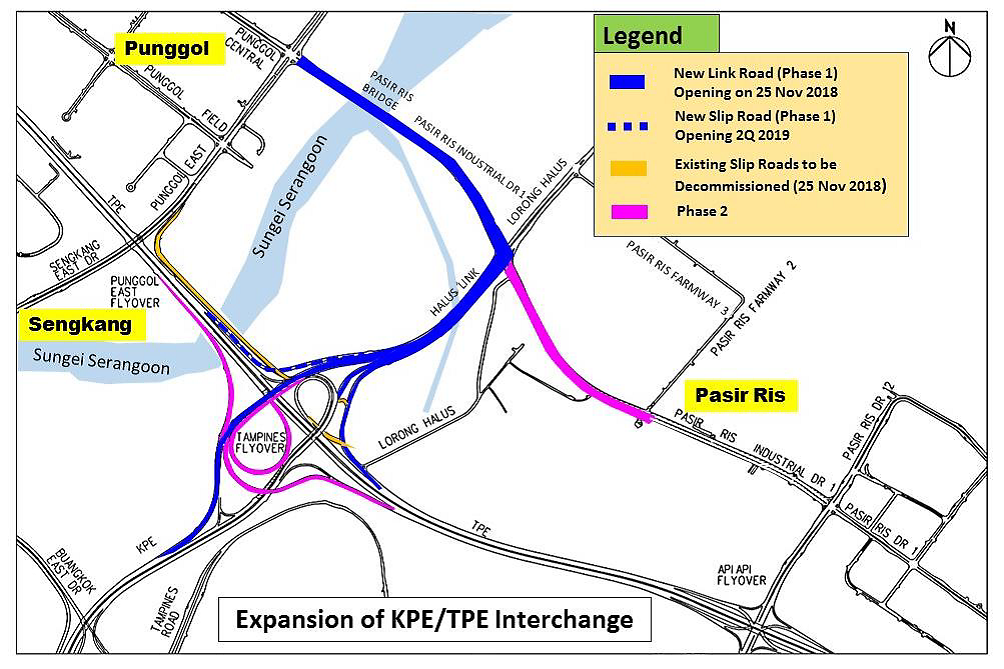 As the estate continues to grow in size (it has an estimated 187,800 residents as of September 2019, I would think that Punggol still has some way to go in terms of improvement in connectivity and amenities, which brings me to my next point.
More amenities & connectivity coming up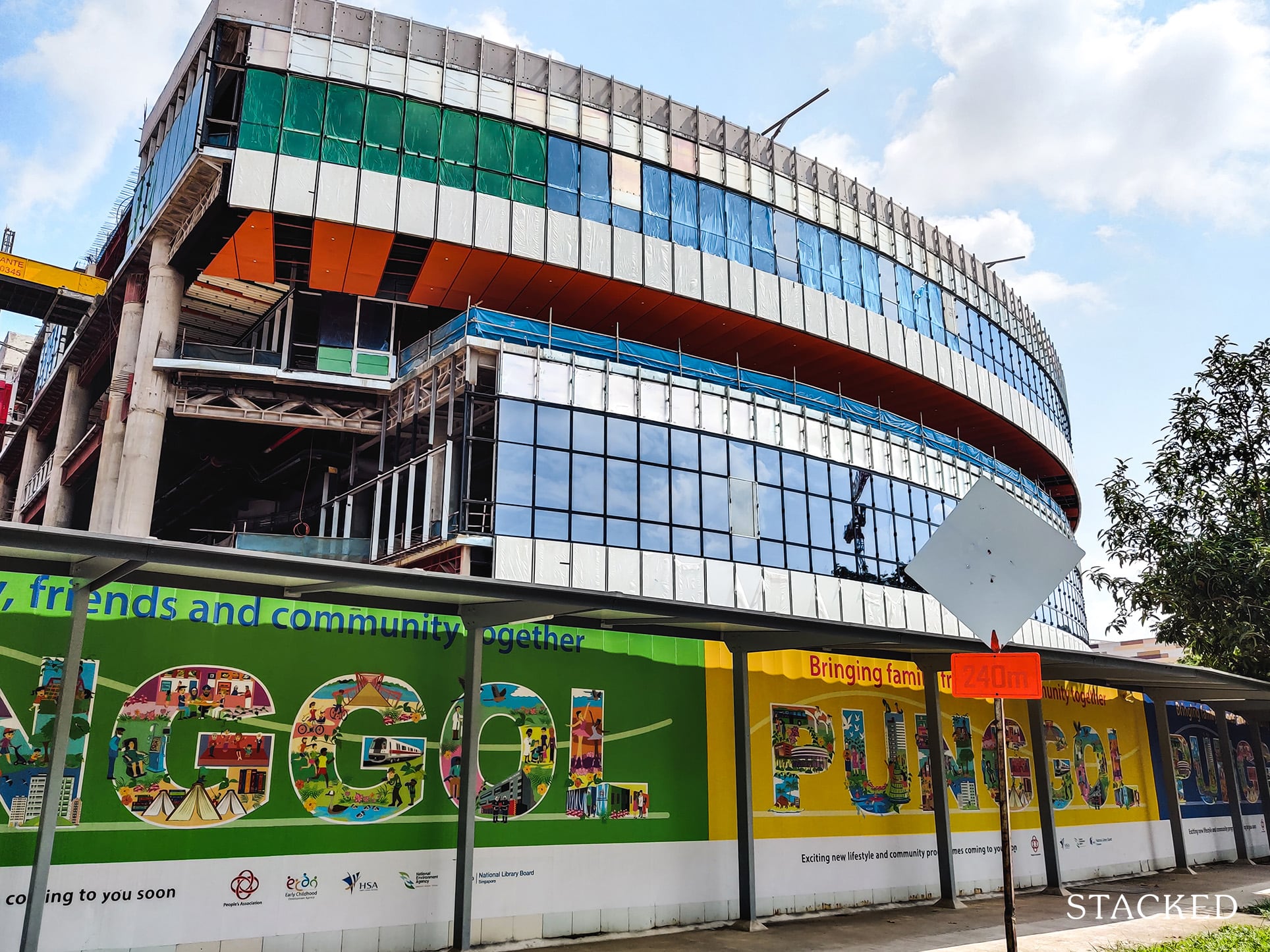 Punggol will soon see some exciting new amenities including the Punggol Town Hub and the Regional Sports Centre.
The town hub will feature a public library as well as a hawker centre and a childcare centre. It will also offer large viewing decks for visitors to admire the surrounding areas.
Yes, this is the feature that got many residents here to say "finally, we have a hawker centre!".
The Regional Sports Centre will boast 5 pools and an over 5,000-seater football stadium.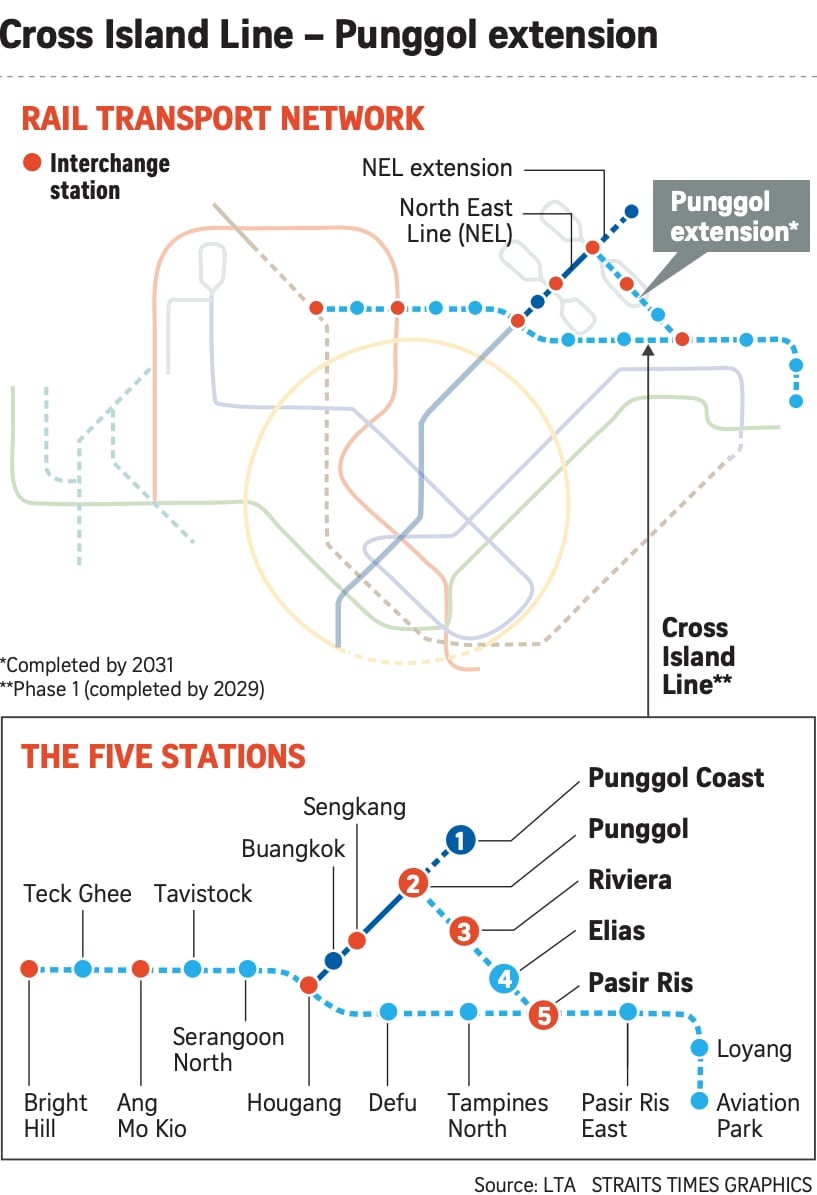 In addition, the upcoming Cross Island Line will connect with Punggol MRT, making it an interchange on its own. This will give even greater access to residents here who want to visit the east as it reduces the existing travel time from 40-45 minutes down to just 15-20, and it will be ready by 2031.
Waterfront II @ Northshore Development Site Review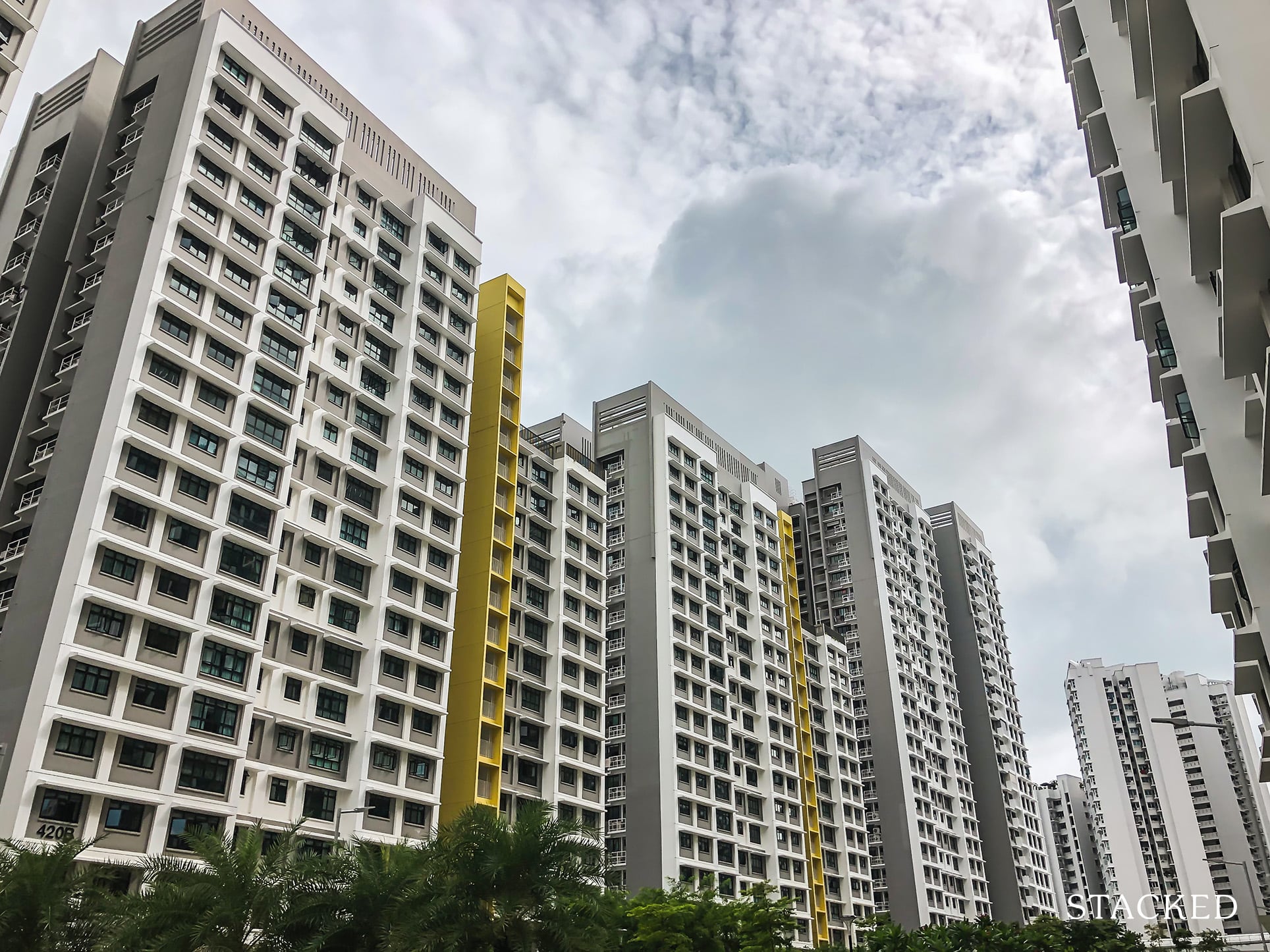 Waterfront II @ Punggol obtained its TOP in August 2021, making it less than 1 year old as of this writing. As such, the first units to reach the MOP is in 2026 – by then, Punggol would have been a lot more developed, so it would be exciting to see what prices would look like for one of Singapore's best waterfront HDBs!
From the tour so far, you may have noticed some peculiar things about this development:
Why are there designated parking lots along the drop-off point?
Why does the development have an underground car park?
Why are there only 2 drop-offs while all the other blocks do not have a drop-off point?
Why is the playground/fitness areas combined and small in size?
Why is the pavilion on level two?
The answer to this is obvious once you look at the site plan.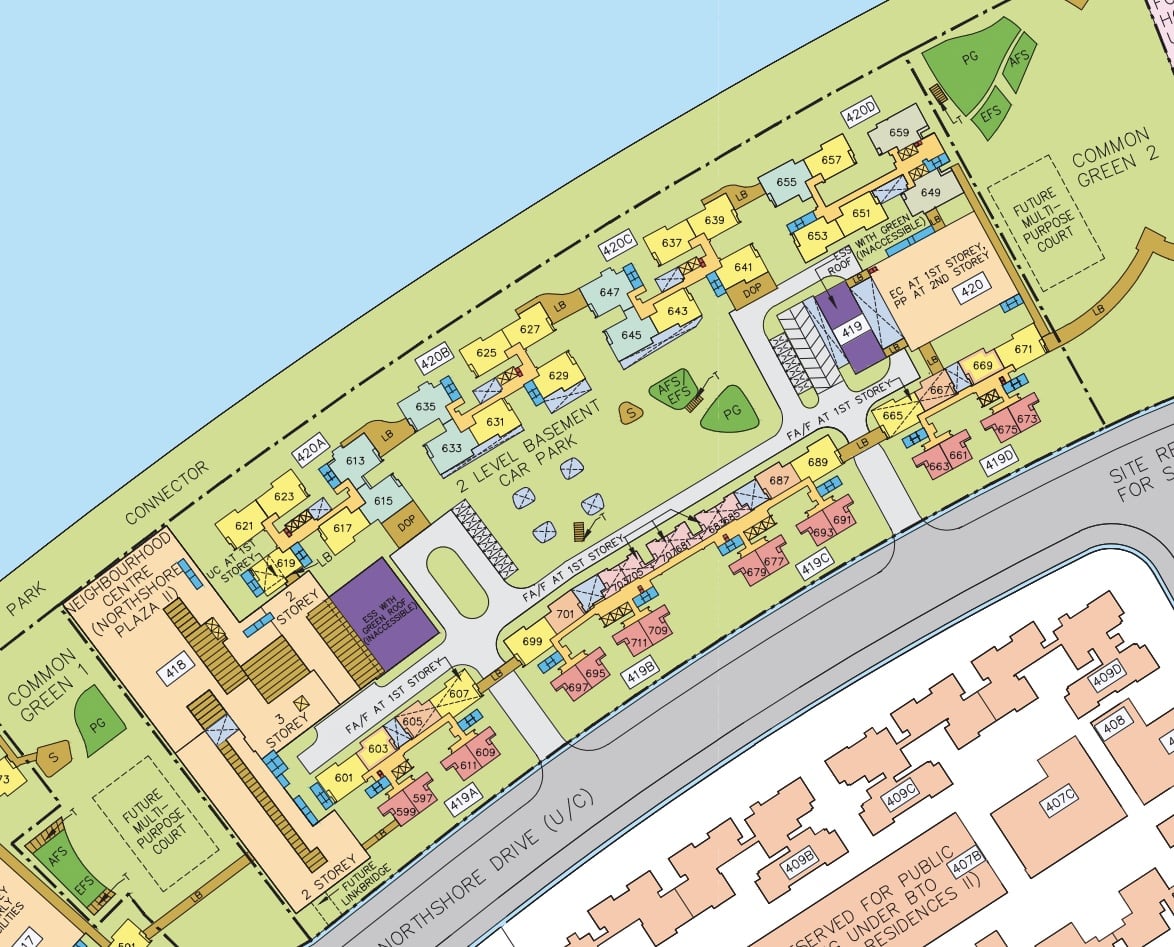 The land parcel here is seemingly narrow. With blocks located on both the northern and southern side, not a lot of room is left in the centre of the development for more facilities and transport infrastructure. As such, the development goes off-road in certain aspects that seem very common for other HDBs.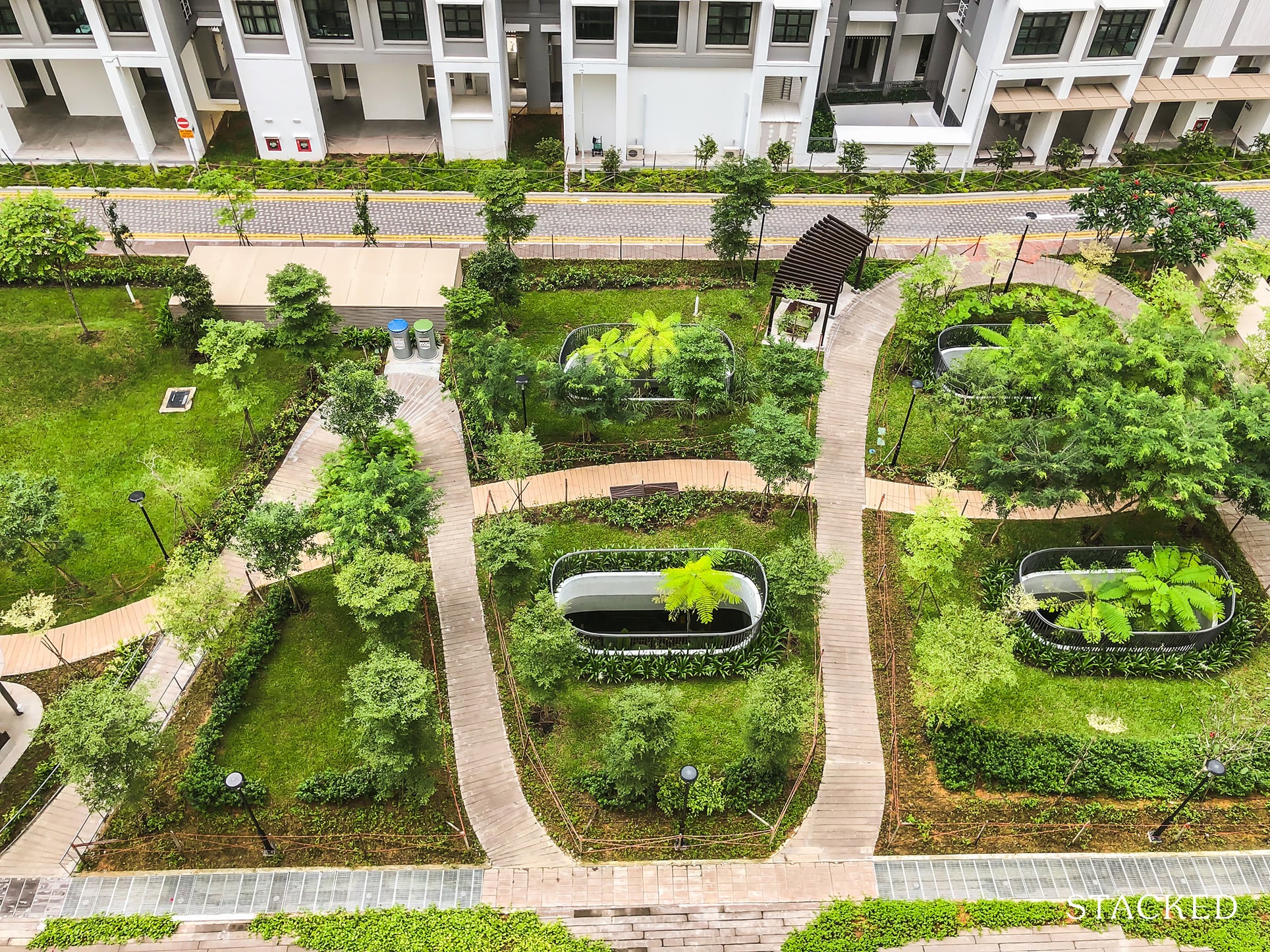 While the development isn't as open and spacious as others like SkyPeak @ Bukit Batok, there is quite a bit of greenery on the rooftop gardens that are scattered across the blocks as pointed out earlier, as well as the centre of the development.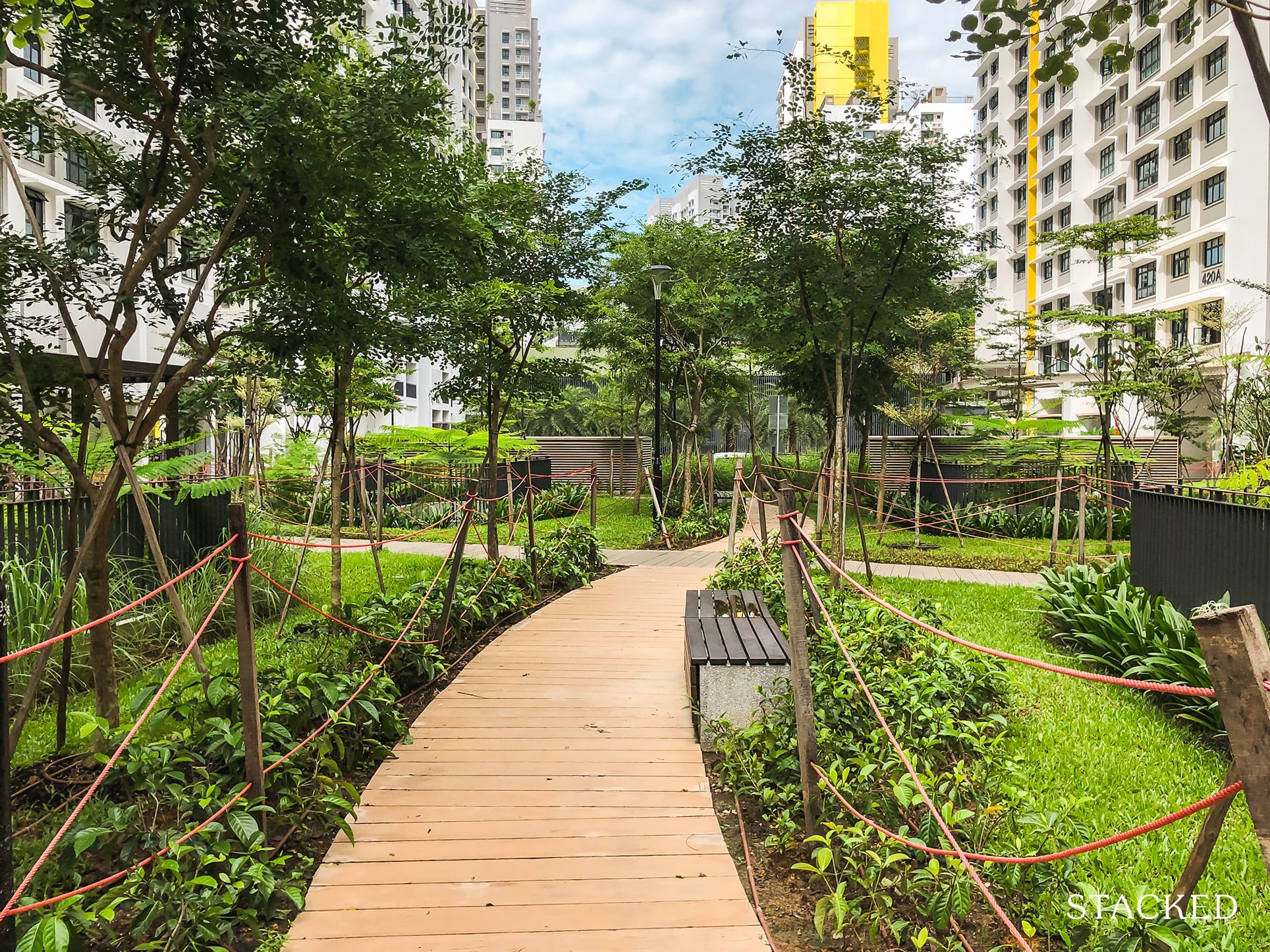 Over here, you'll find walking paths that are perfect for those who are looking to walk their pets or simply have a stroll without using the Park Connector.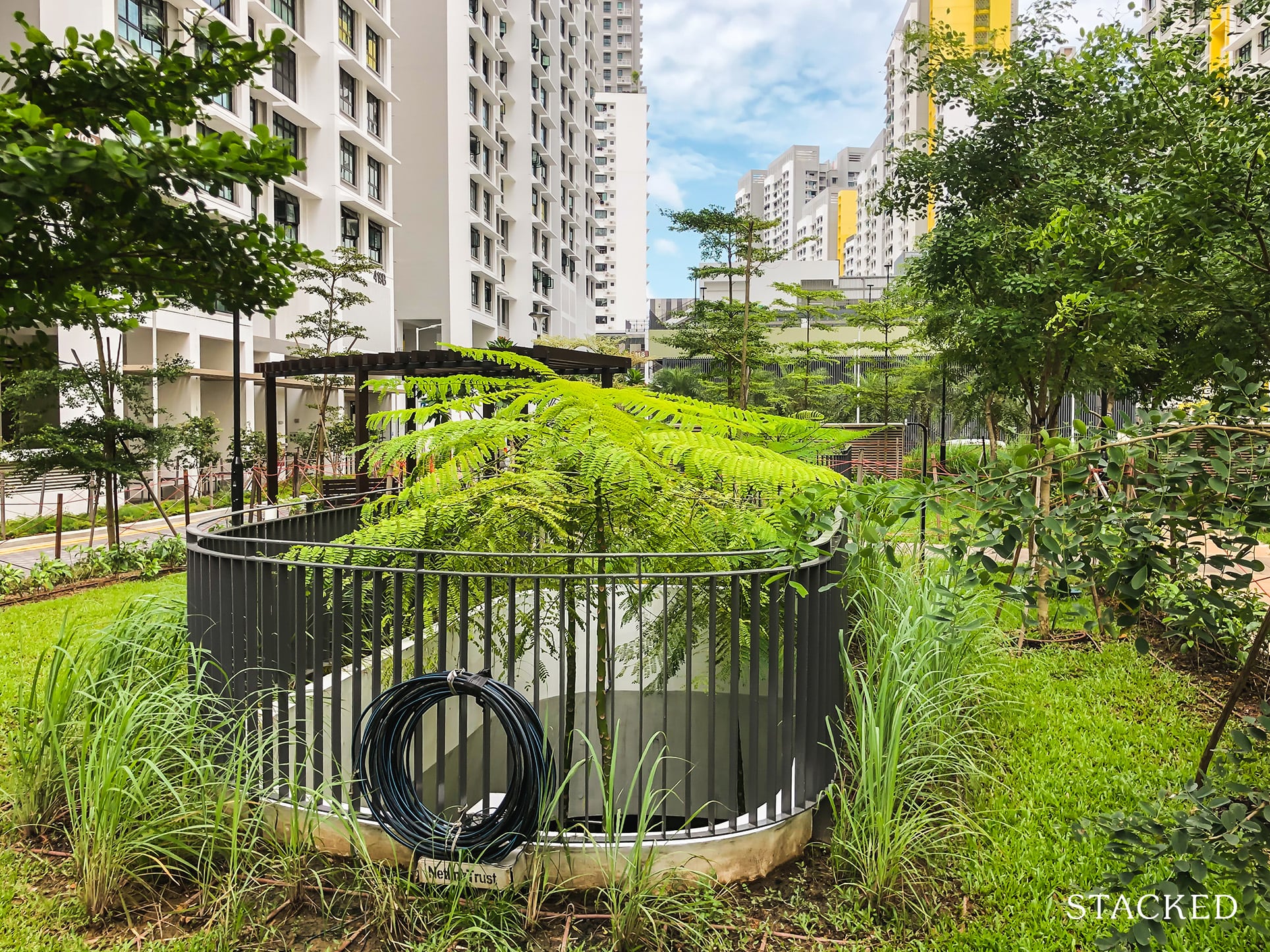 You'll also see the cleverly-designed air wells that connect to the basement car park here, with trees protruding out to break the concreteness of it.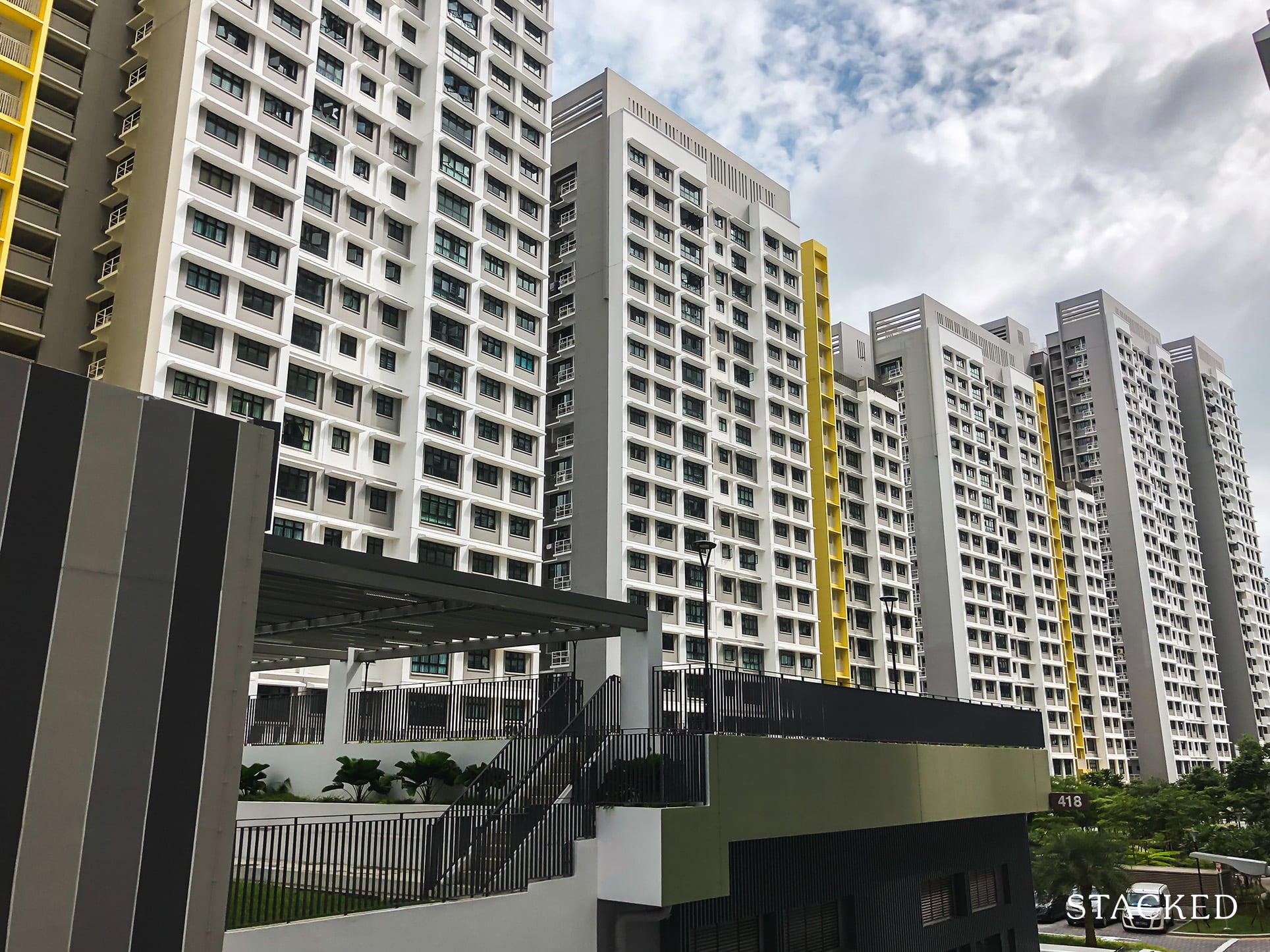 Overall, the development is 8 to 26 storeys high, depending on the block and stack. It sports a nice bright yellow, grey and white colour combination which makes it very bright and cheery.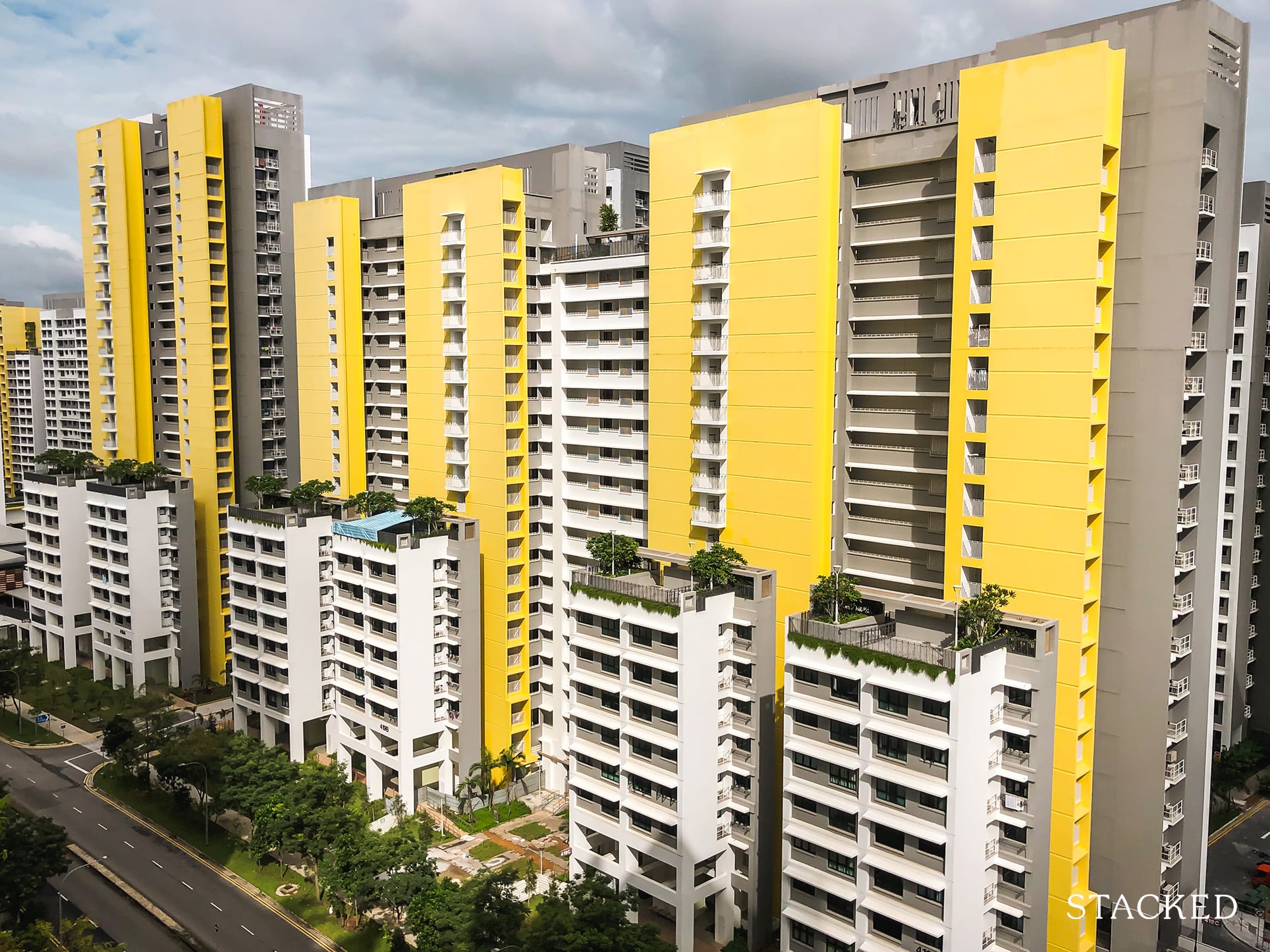 At this stage, I'd like to highlight some unique features of this development. Do you notice something special about this floor here?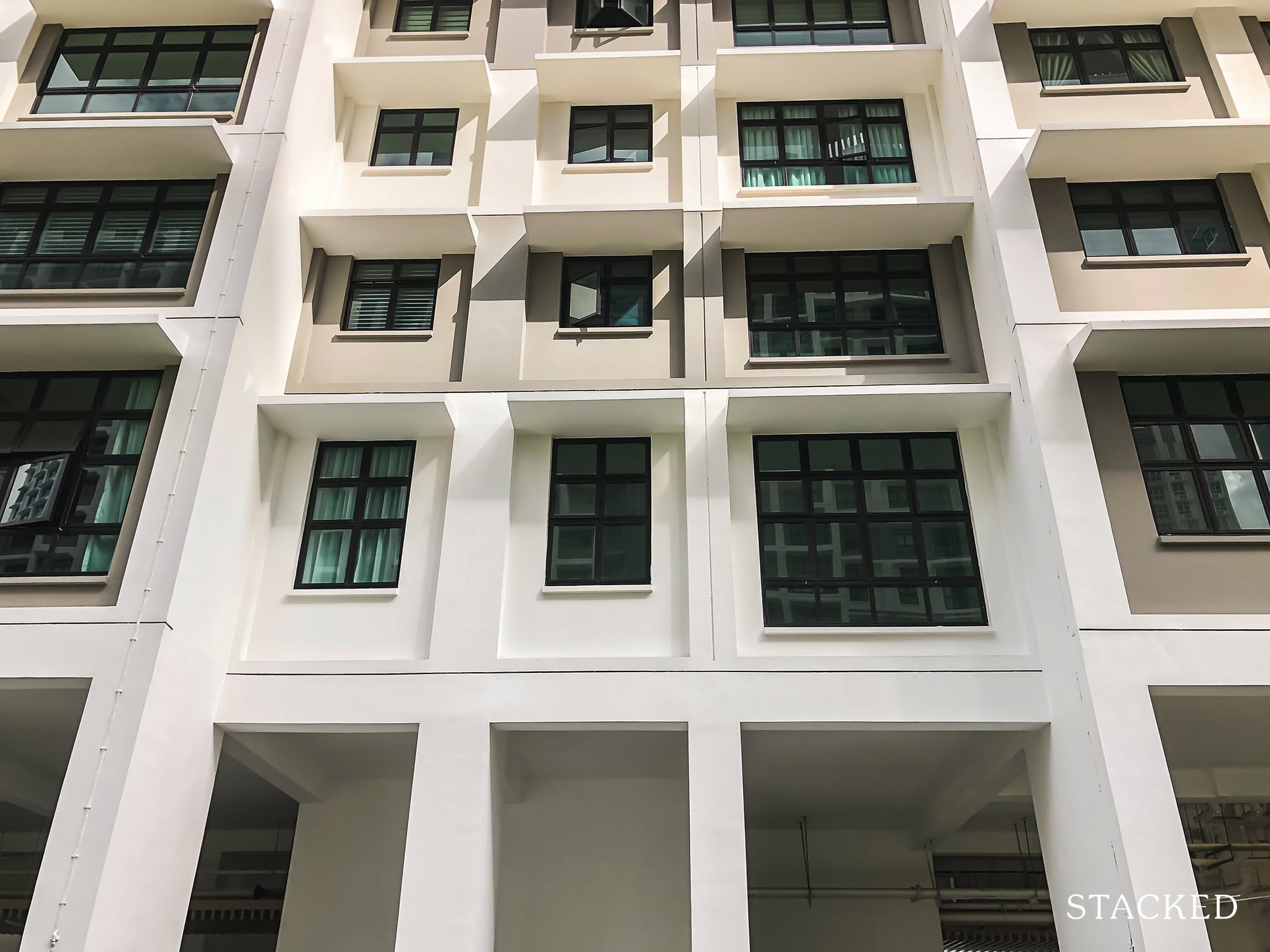 The level two units have higher ceilings compared to other units in the development! Usually, lower floor units tend to be less desirable due to lesser privacy and more noise, so this higher ceiling may very well help to compensate for this.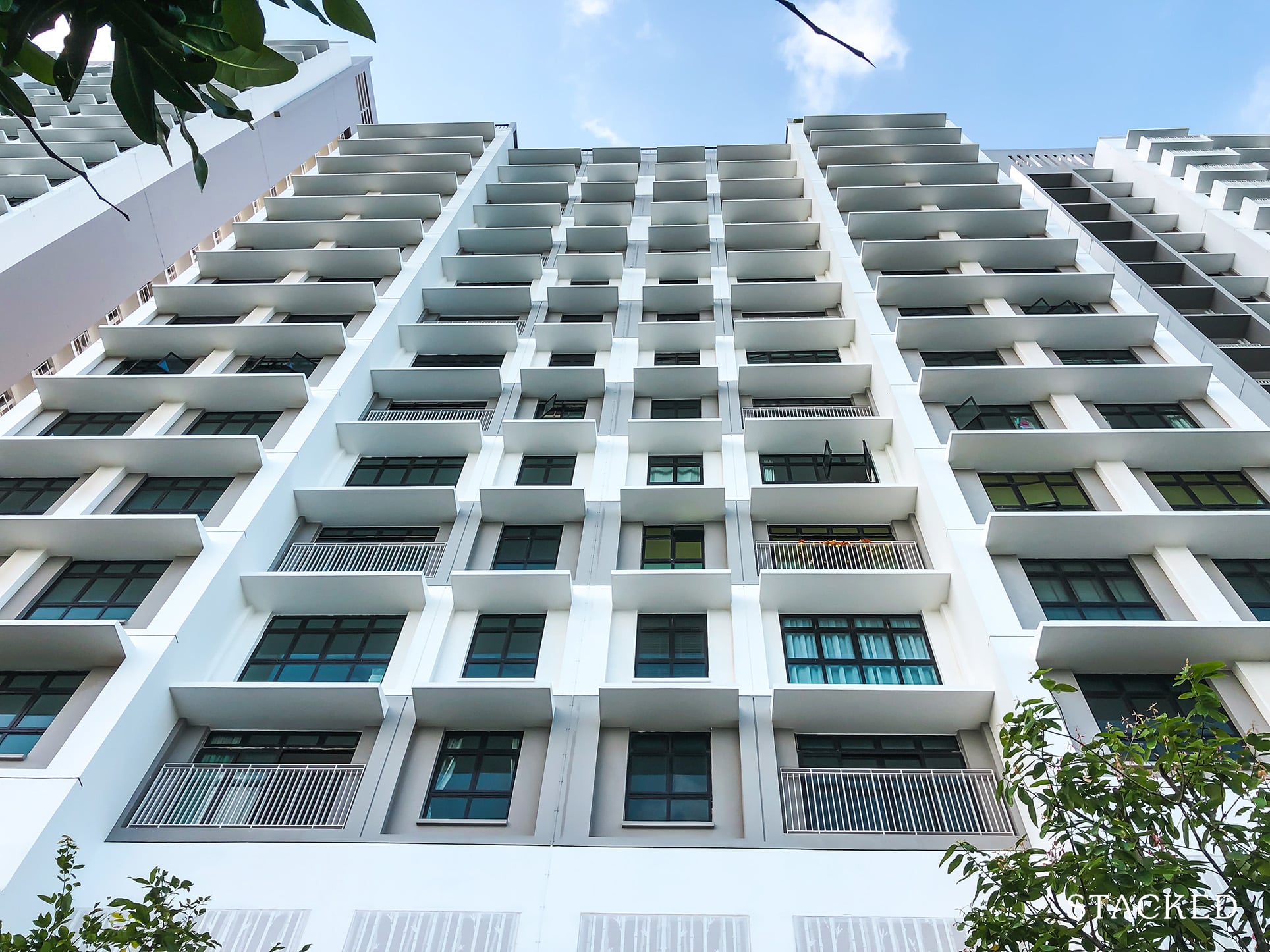 You should also know that certain stacks come with Juliet windows, particularly seafront-facing units. Not many HDB developments offer this, another that comes to mind is Waterway Terraces I & II. Can you see that alternate levels here have a sort of "balcony"
These are Juliet windows and they come with a safety balustrade fitted to the exterior of the building while the full-height window can slide open fully, giving the impression of openness. This helps with cross ventilation too!
Do note that only seafront units have this feature – the inner-facing stacks or those that face the road do not have this, adding to the premium nature of the seafront units.
And because of how close the development is to the sea, you won't have to get on a high level to enjoy the views. The second level connects the blocks to one another via link bridges that also offer such a view: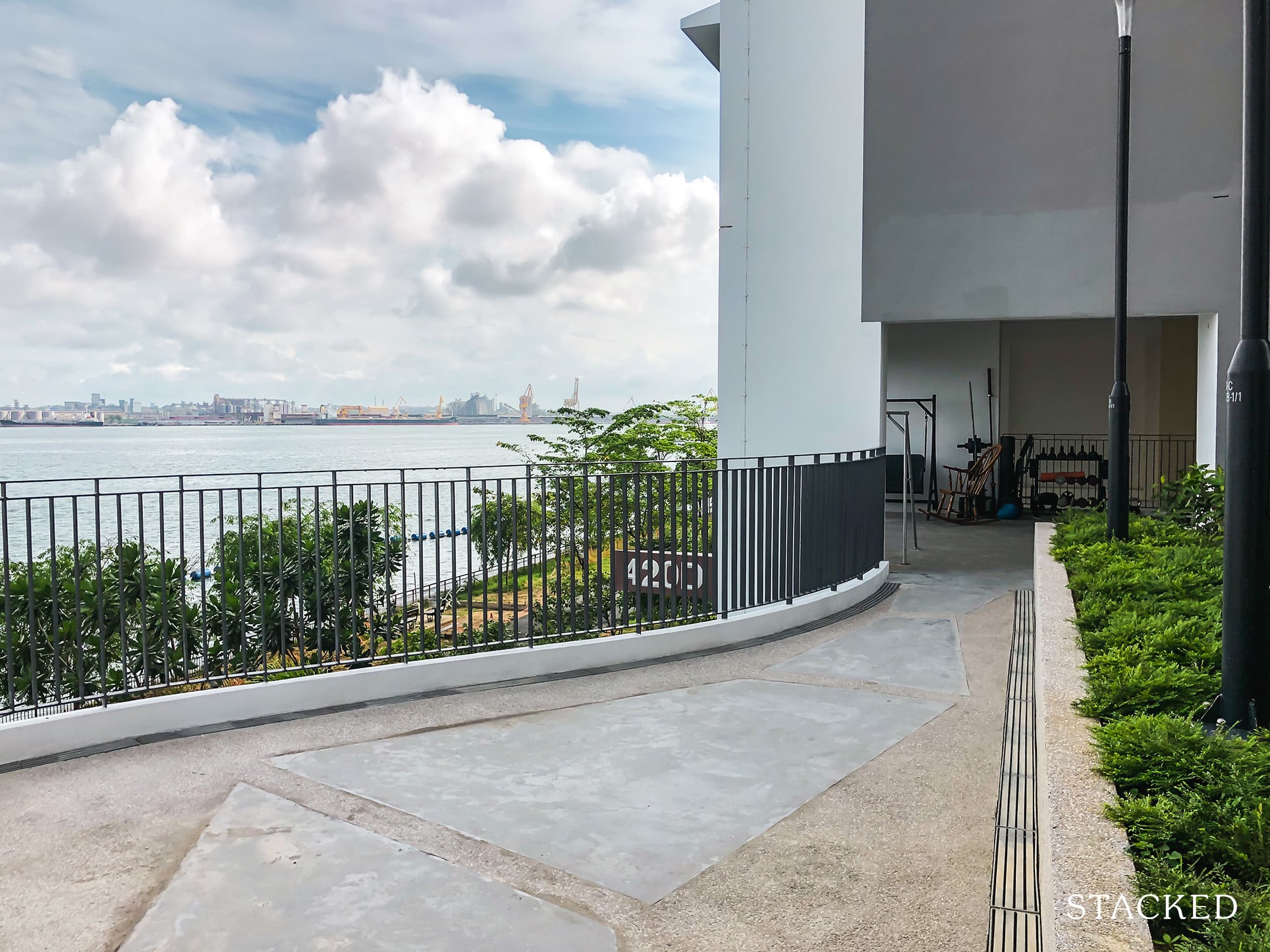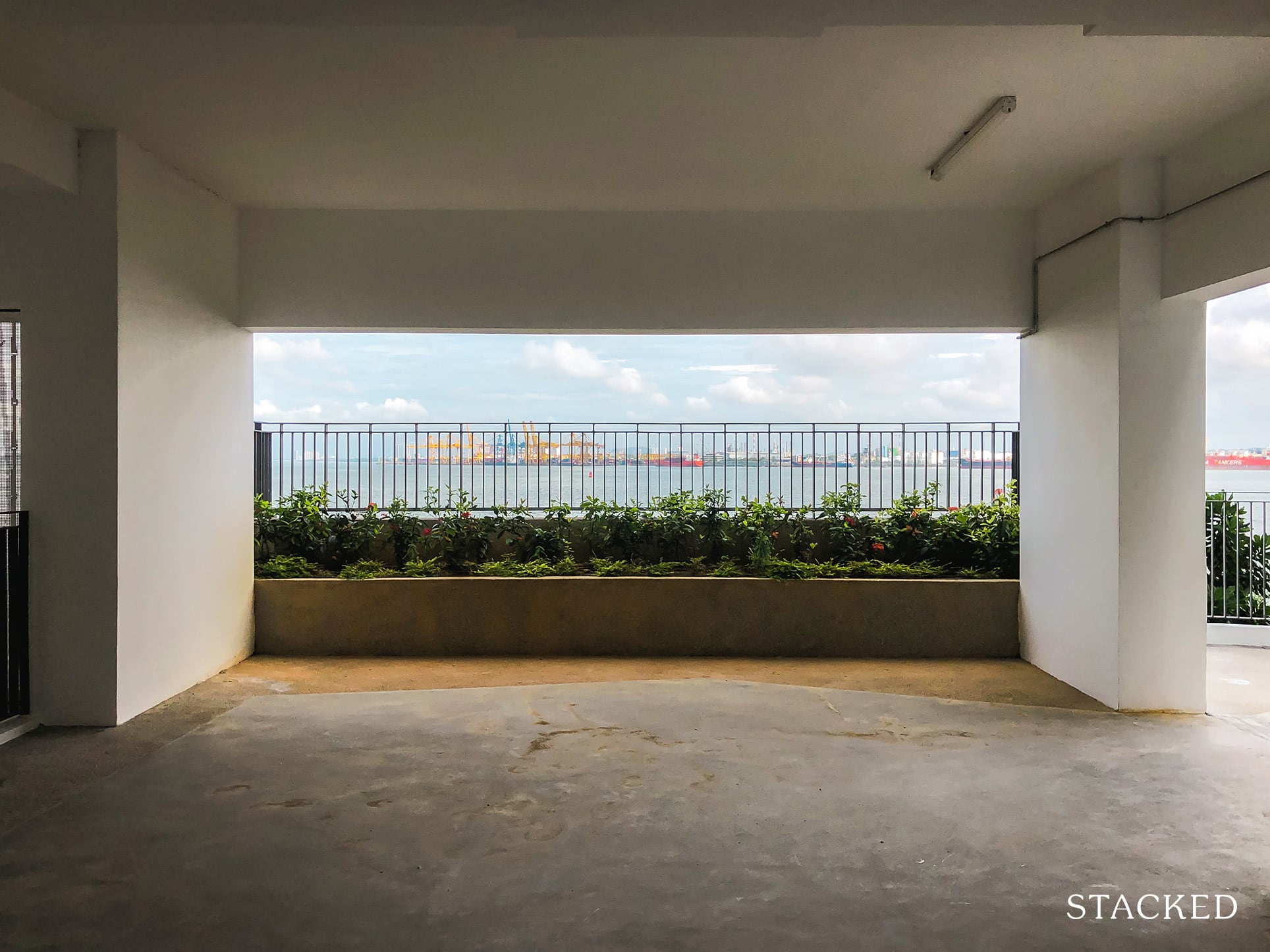 Residents/visitors can also just chill by the void deck to enjoy the sea breeze.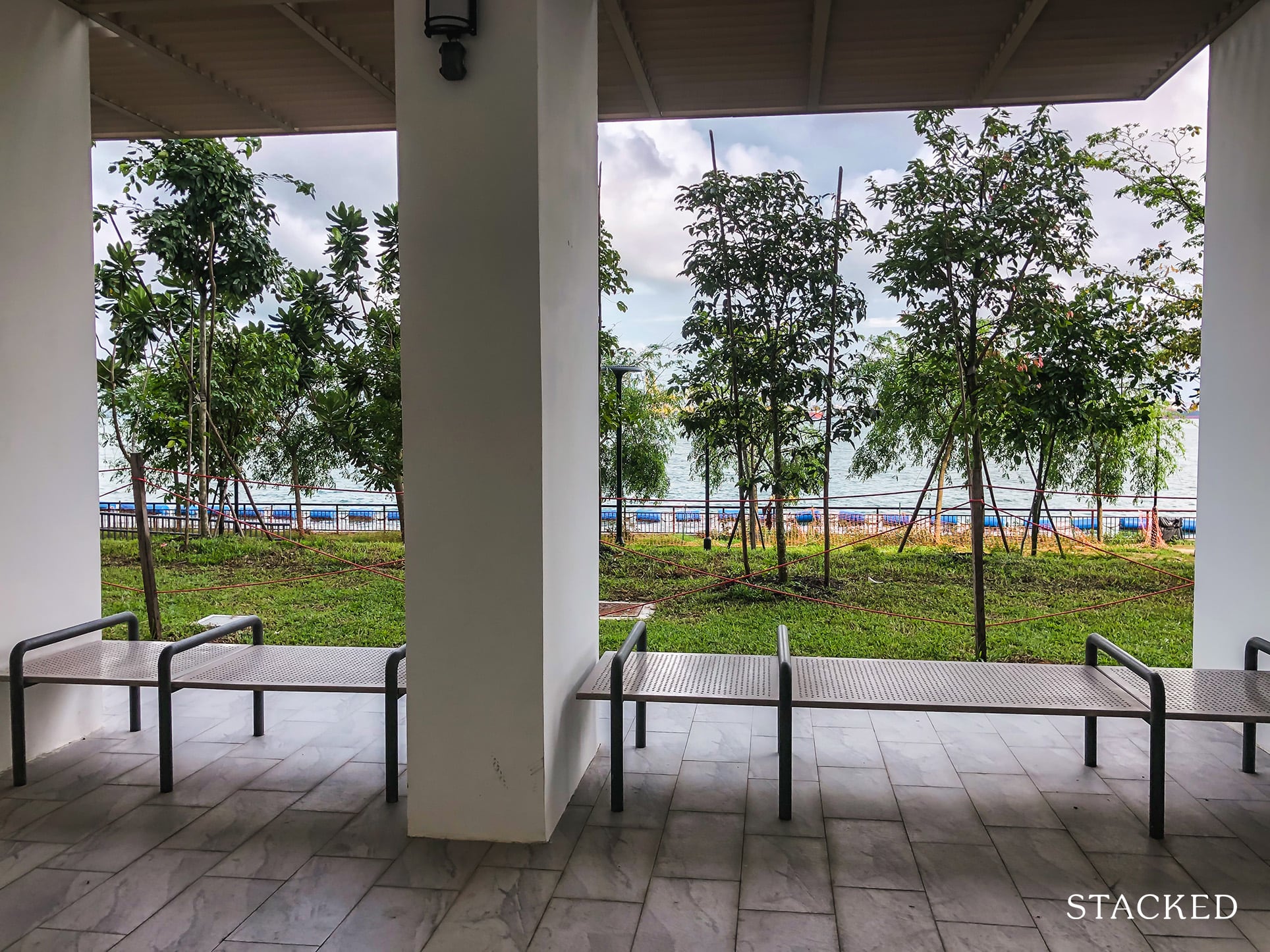 Finally, I'd like to highlight that the site plan indicates future amenities/facilities on the first level for stacks 607, 705, 707, 683 and 665. As the development is still rather new, I did not get a chance to showcase these, so if you stay here and do know what's developed eventually, do let us know in the comments below!
Unit Mix
| | | | | | | | | |
| --- | --- | --- | --- | --- | --- | --- | --- | --- |
| Blocks | No. of Storeys | 2 Room Flexi (Type 1) | 2 Room Flexi (Type 2) | 3 Room | 4 Room | 5 Room | 3Gen | Total |
| 419A | 08/18/25 | – | 24 | 38 | 43 | – | – | 105 |
| 419B | 08/18/20 | – | 26 | 19 | 18 | – | – | 63 |
| 419C | 08/18/20 | 55 | 26 | 19 | 18 | – | – | 118 |
| 419D | 08/18/25 | 55 | 26 | 39 | 44 | – | – | 164 |
| 420A | 19/25 | – | – | – | 73 | 47 | – | 120 |
| 420B | 15/19 | – | – | – | 58 | 35 | – | 93 |
| 420C | 15/19 | – | – | – | 58 | 35 | – | 93 |
| 420D | 26 | – | – | – | 75 | 24 | 48 | 147 |
| Total | | 110 | 102 | 115 | 387 | 141 | 48 | 903 |
Waterfront II @ Northshore Stack Analysis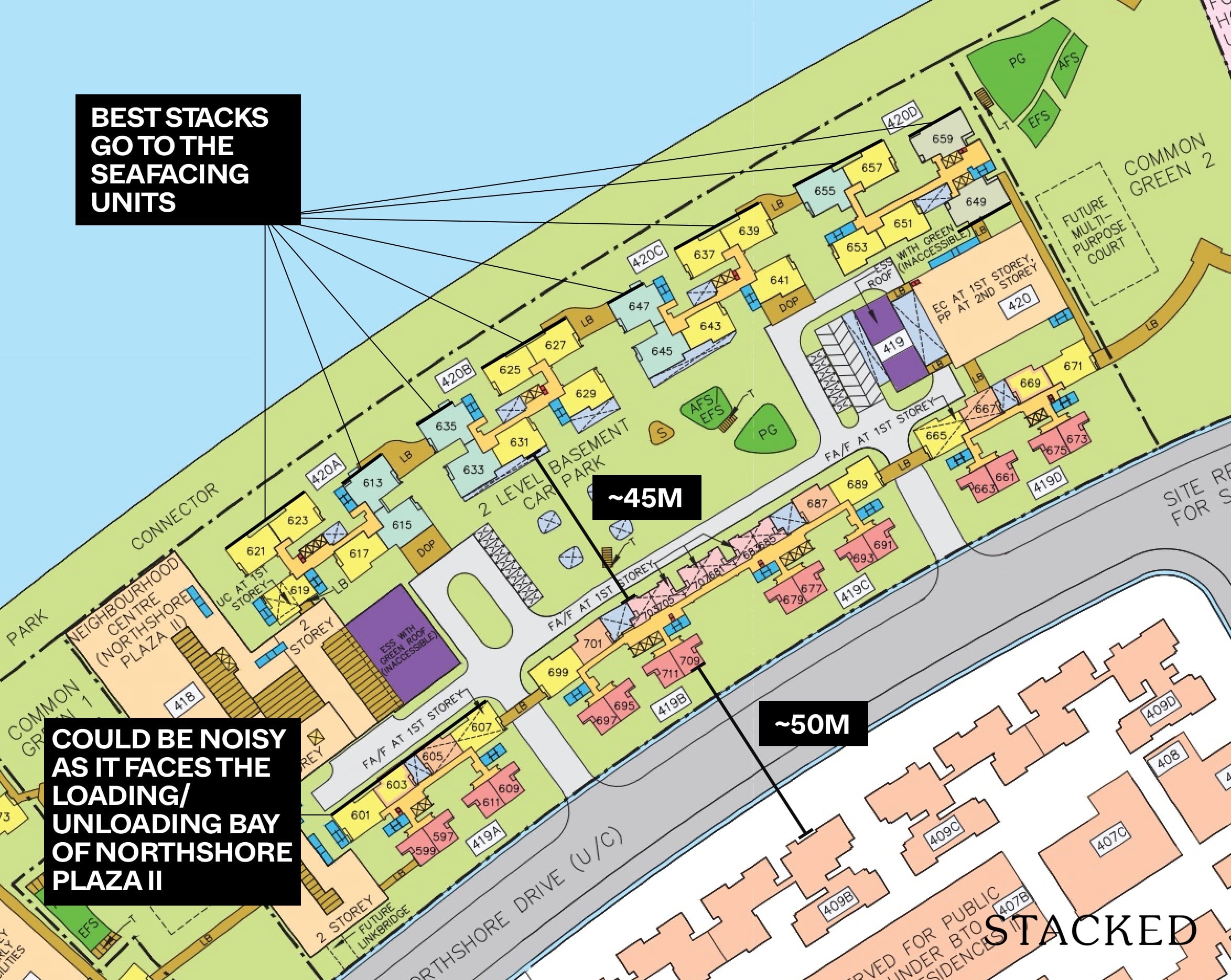 If it isn't obvious at this stage, the best stacks are the sea-facing ones. It faces the Park Connector, so it's not as noisy as facing the main road, and it faces the sea, so no one can really peer into your home either.
Here's what the sea facing views look like from the unit: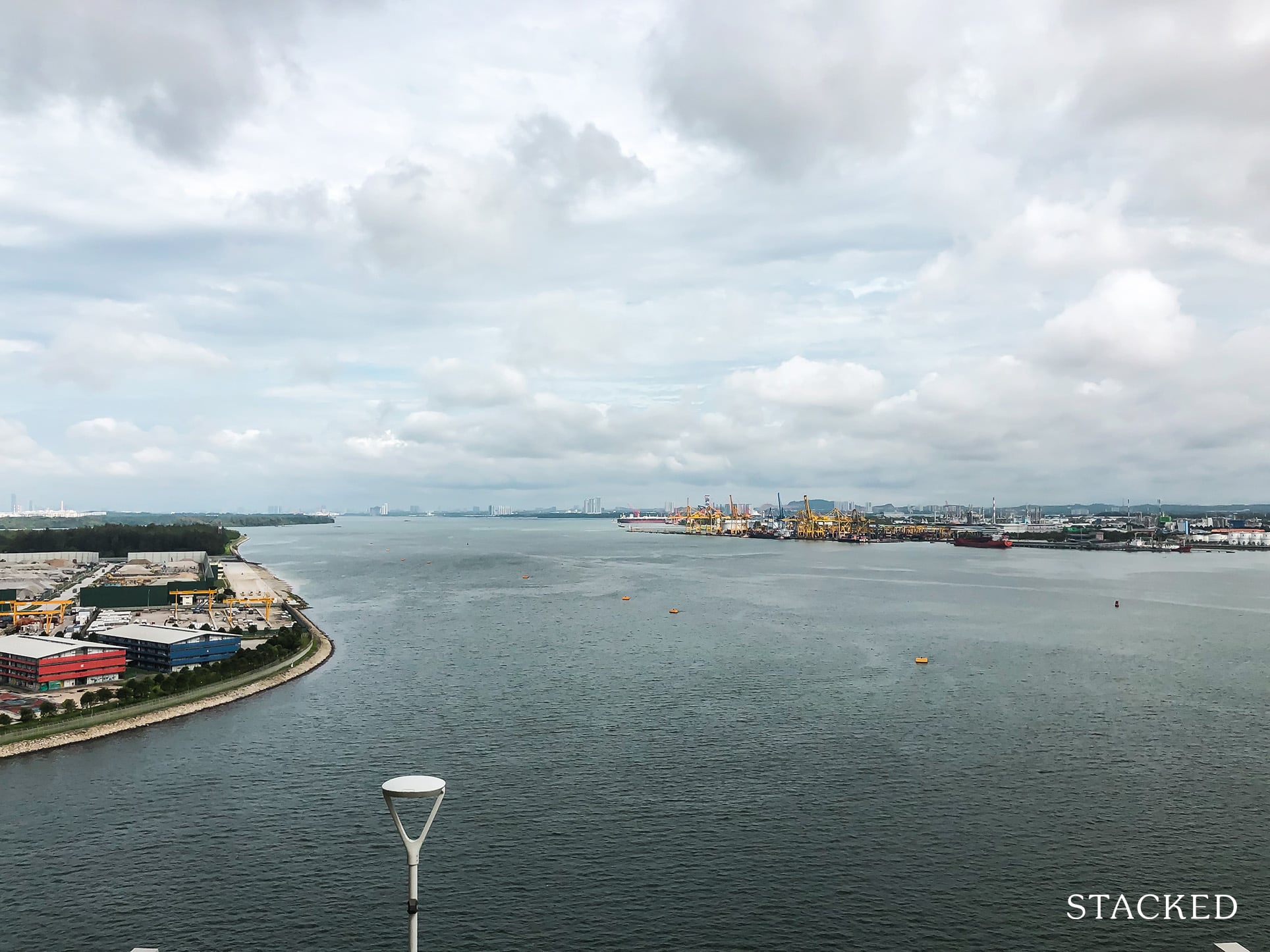 Stacks facing the main road would be directly facing the opposite HDB, Northshore Residences II: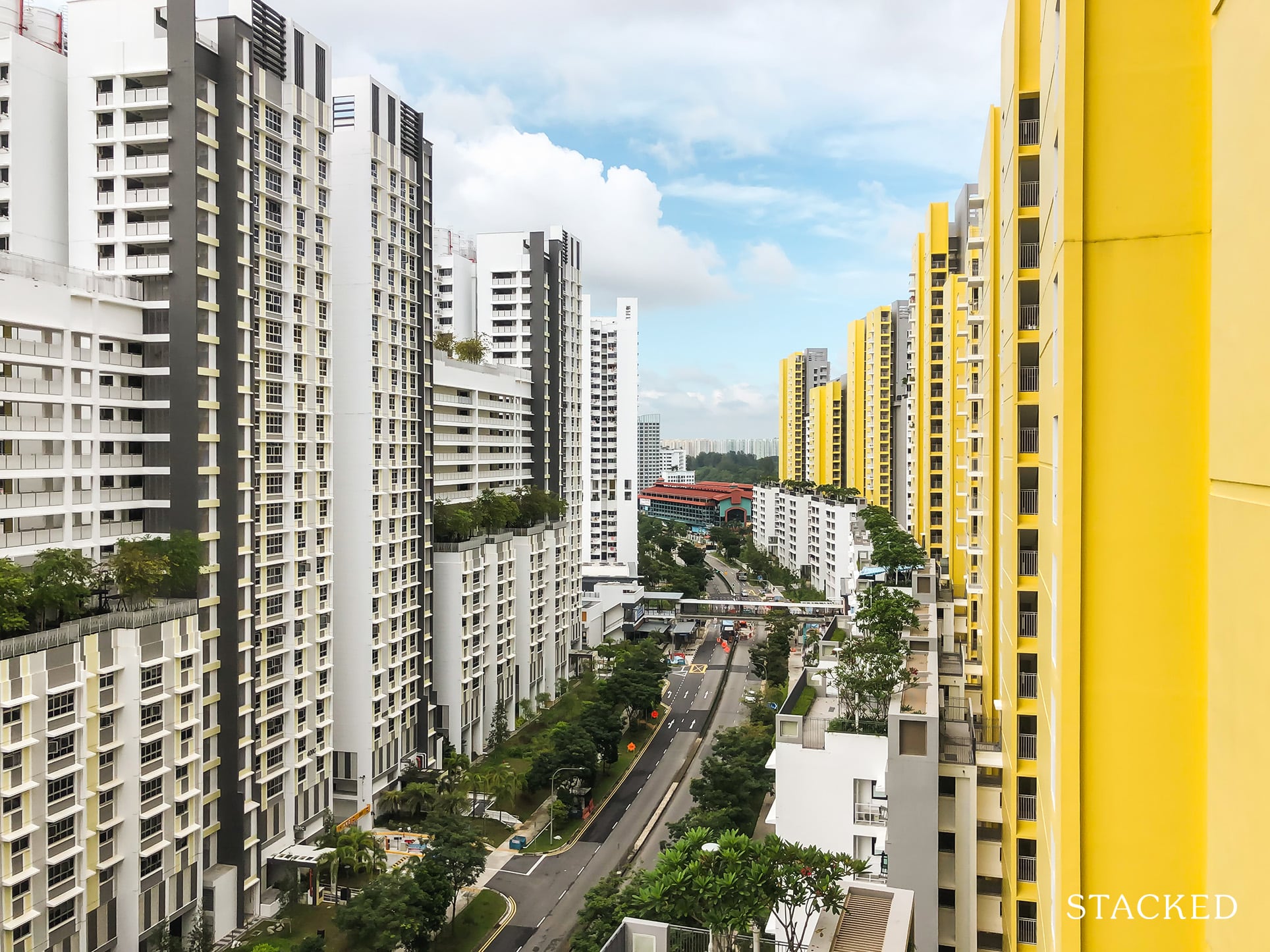 Inner-facing stacks do have quite a respectable distance between them at around 45 metres: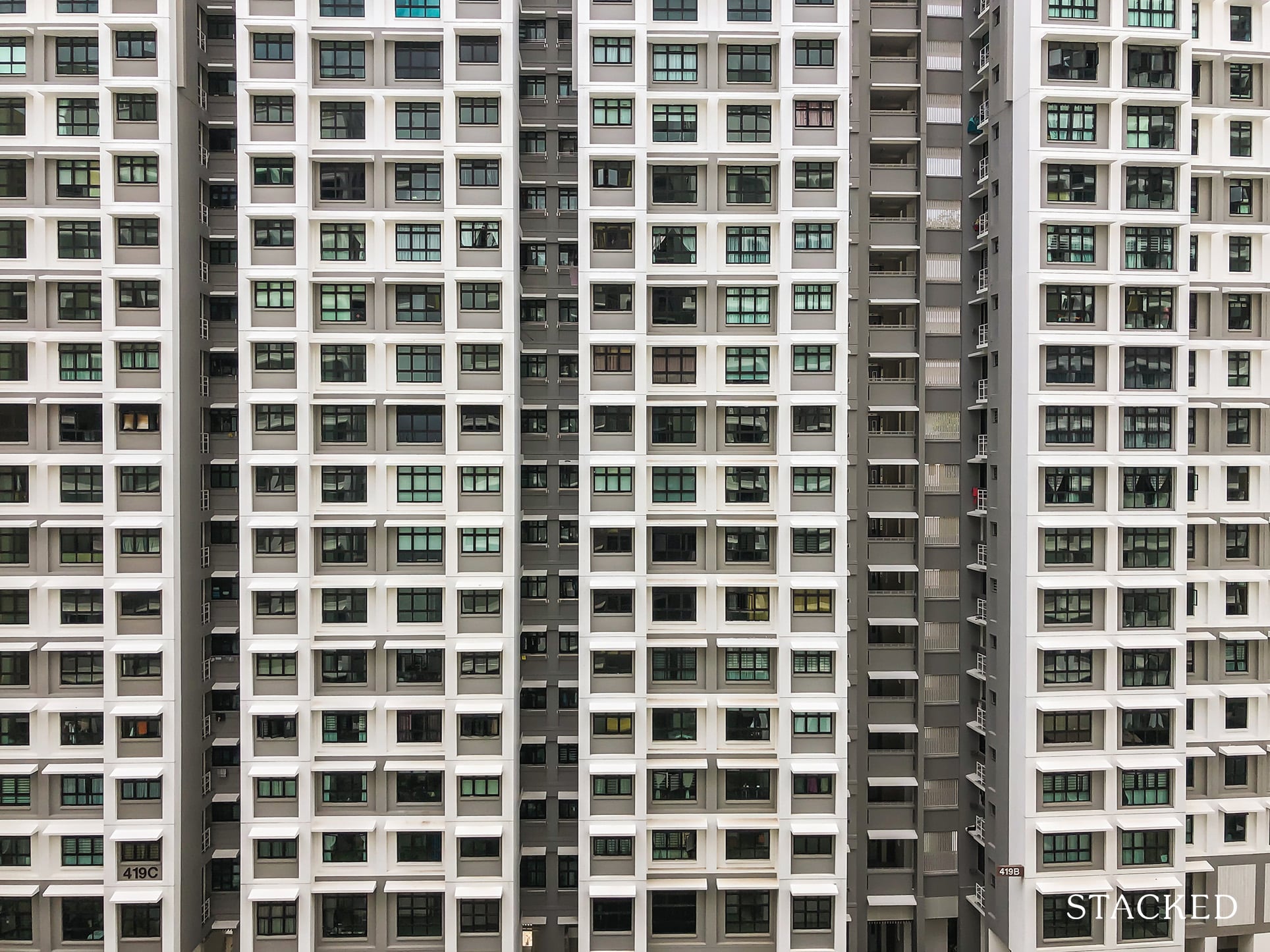 Do be mindful that stacks 601, 603, 605 and 607 faces the loading and unloading bay of Northshore Plaza II so do expect some noise throughout the day even though the stacks start from level 5. It's likely that units here would have to contend with cigarette smoke too, particularly those on the lower floor (5-10) as drivers/workers take their break here.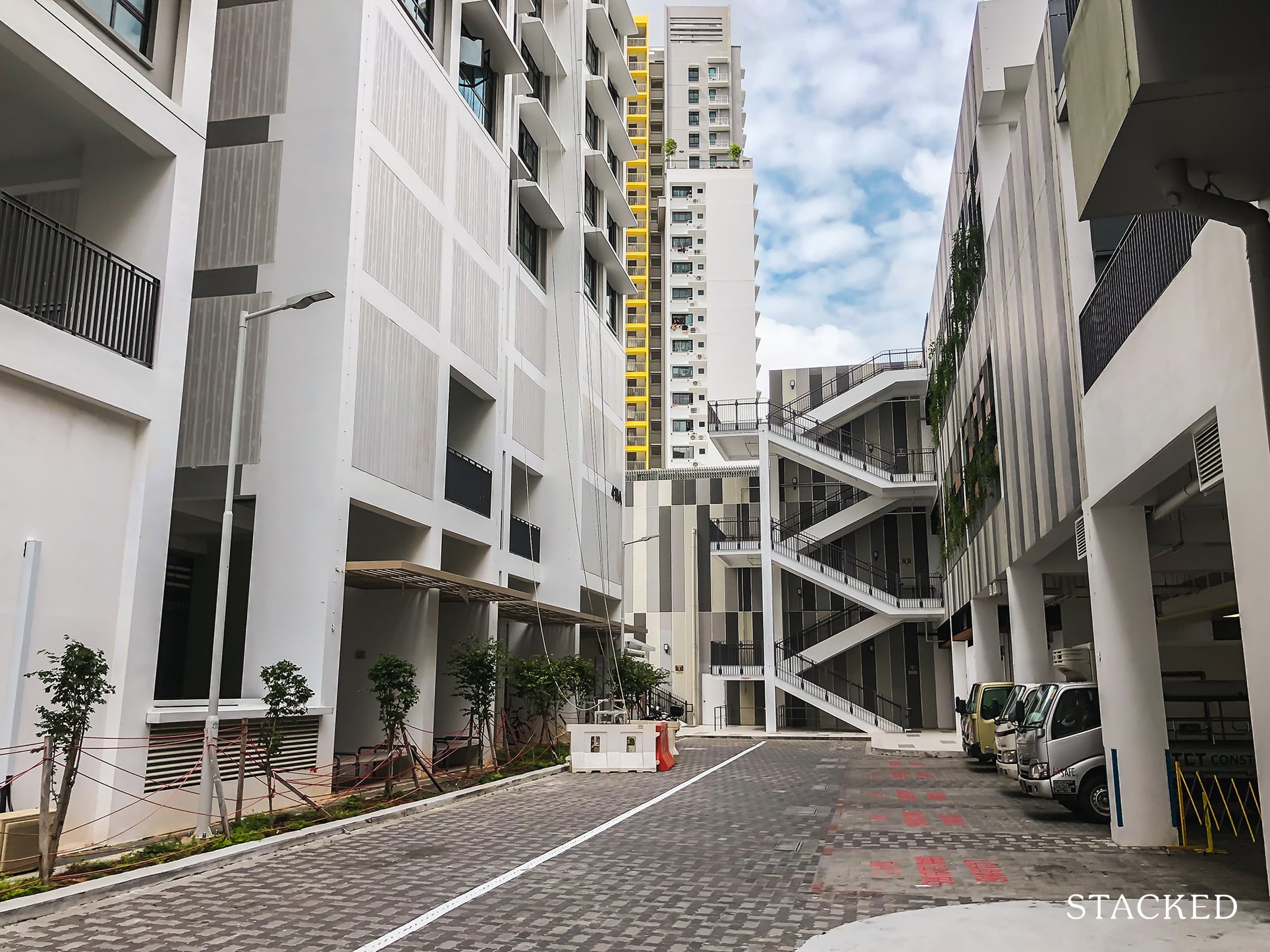 Waterfront II @ Northshore Layout Analysis
2-Room Flat Type 1 (38 sqm)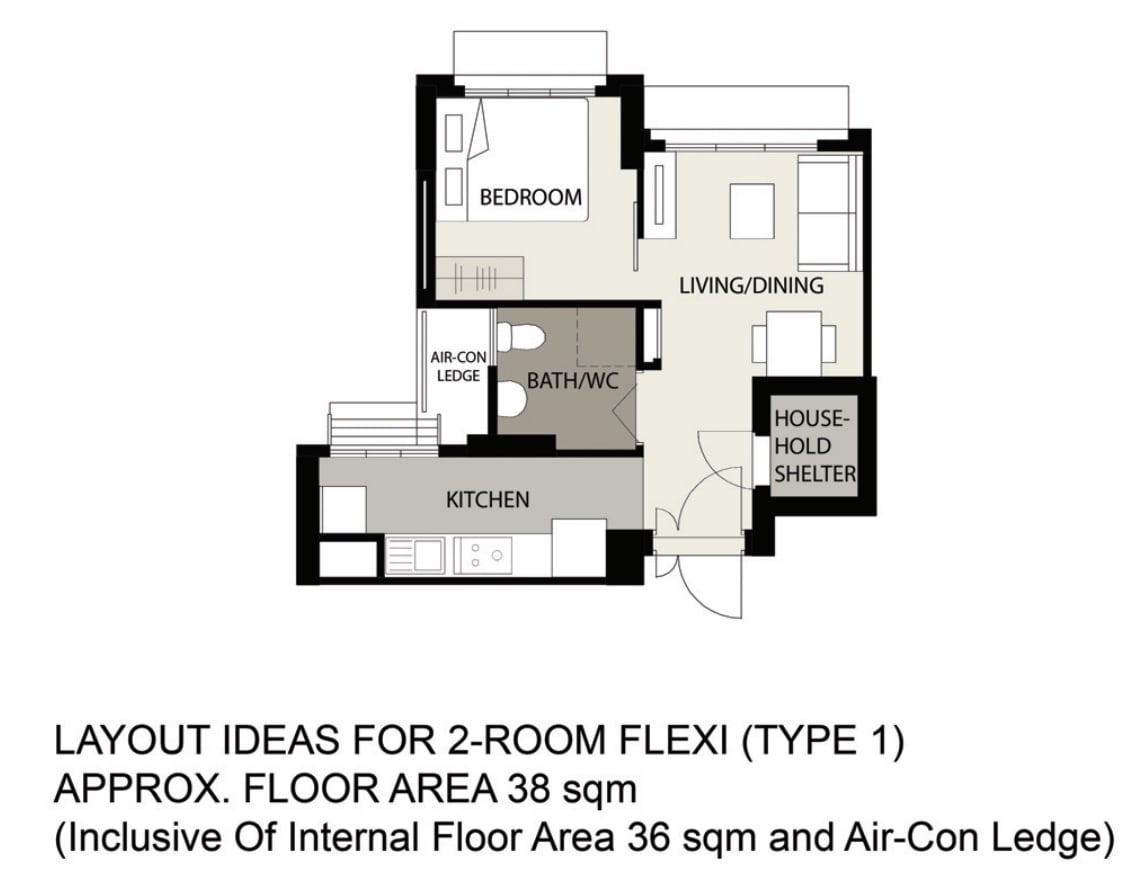 | | |
| --- | --- |
| Pros | Cons |
| Good sized kitchen, able to do plenty of cabinet space. | Tight living, dining and bedroom space |
2-Room Flat Type 2 (47 sqm)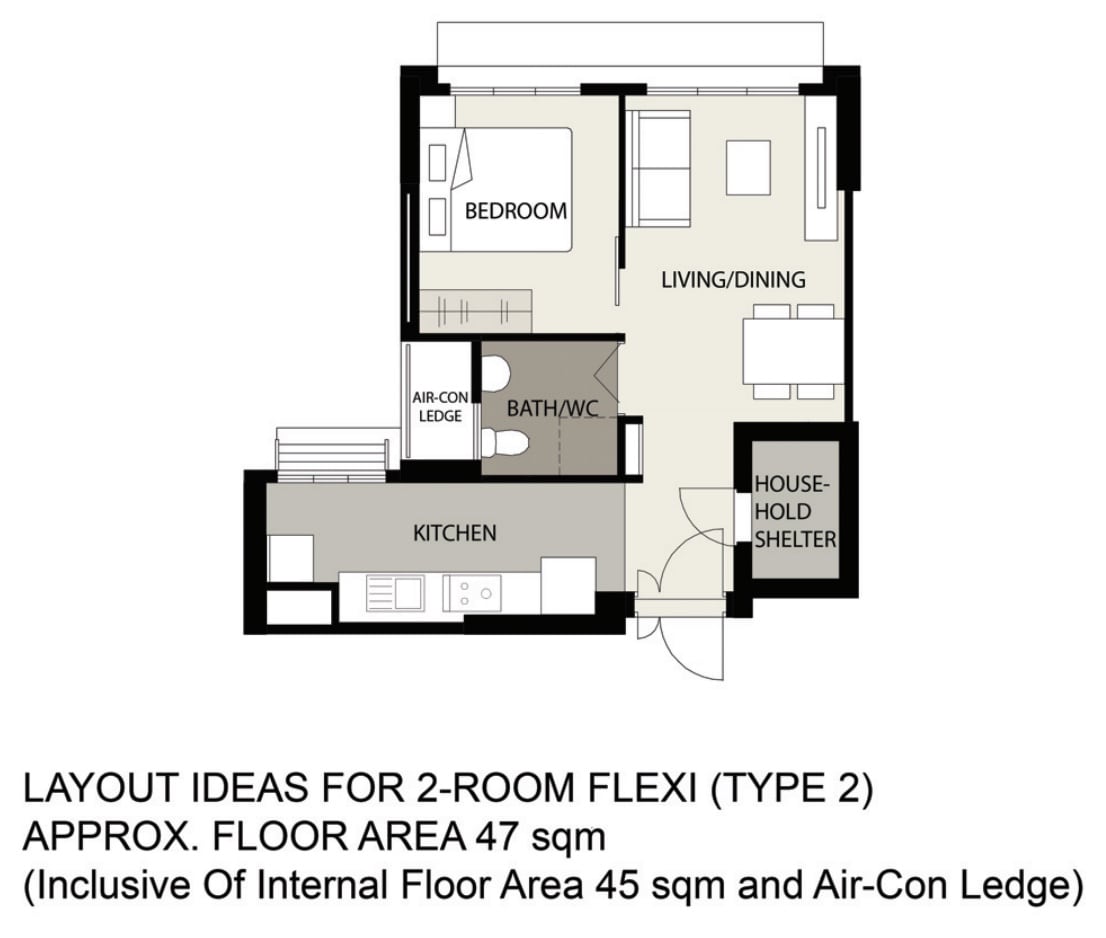 | | |
| --- | --- |
| Pros | Cons |
| Good sized kitchen, able to do plenty of cabinet space. | Less ideal, bathroom entrance. Straight to the dining area. |
| Decent size Living, Dining and bedroom space. | |
3-Room Flat (67 sqm)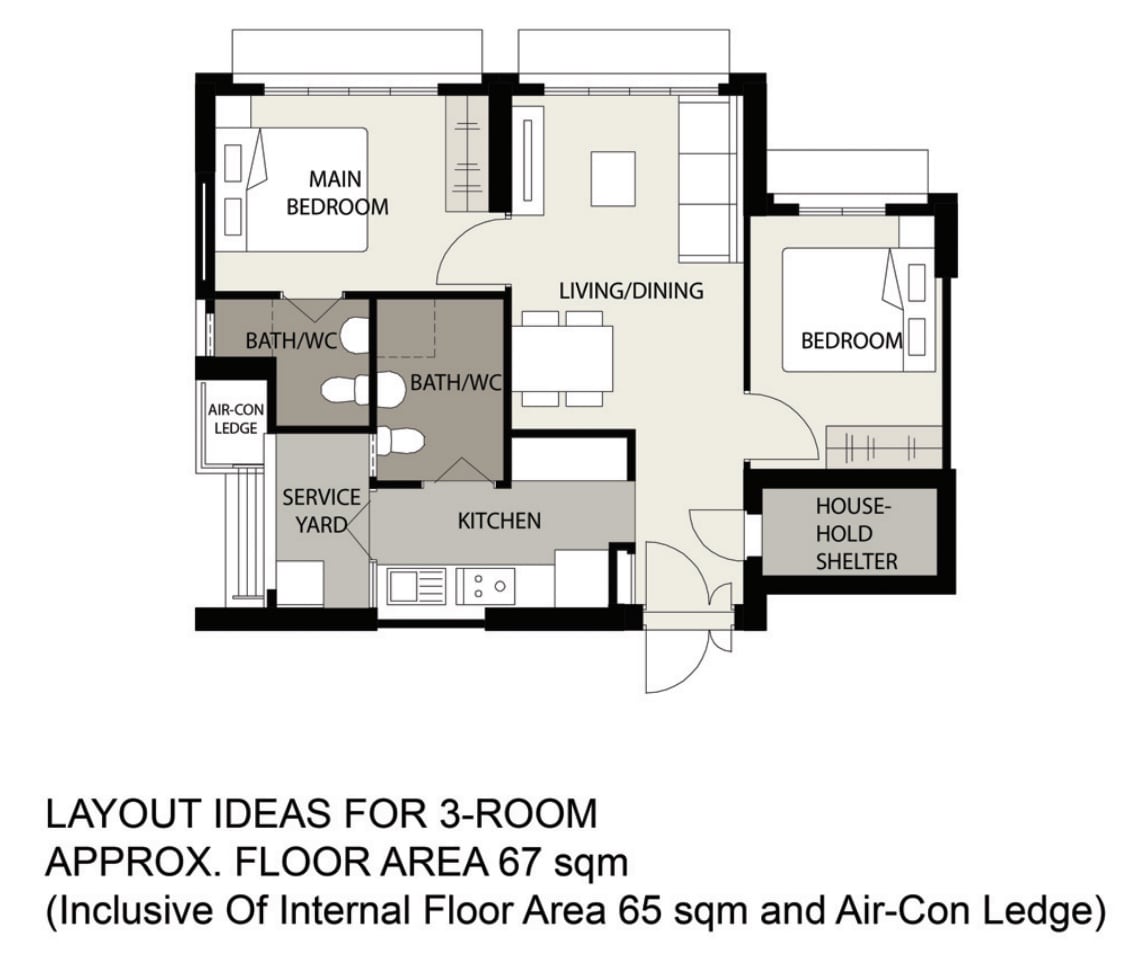 | | |
| --- | --- |
| Pros | Cons |
| Efficient dumbbell layout | Tight master wardrobe |
| Good sized kitchen, able to do plenty of cabinet space on both sides of the wall. | |
| Decent sized living, dining and bedrooms. | |
4-Room Flat (94 sqm)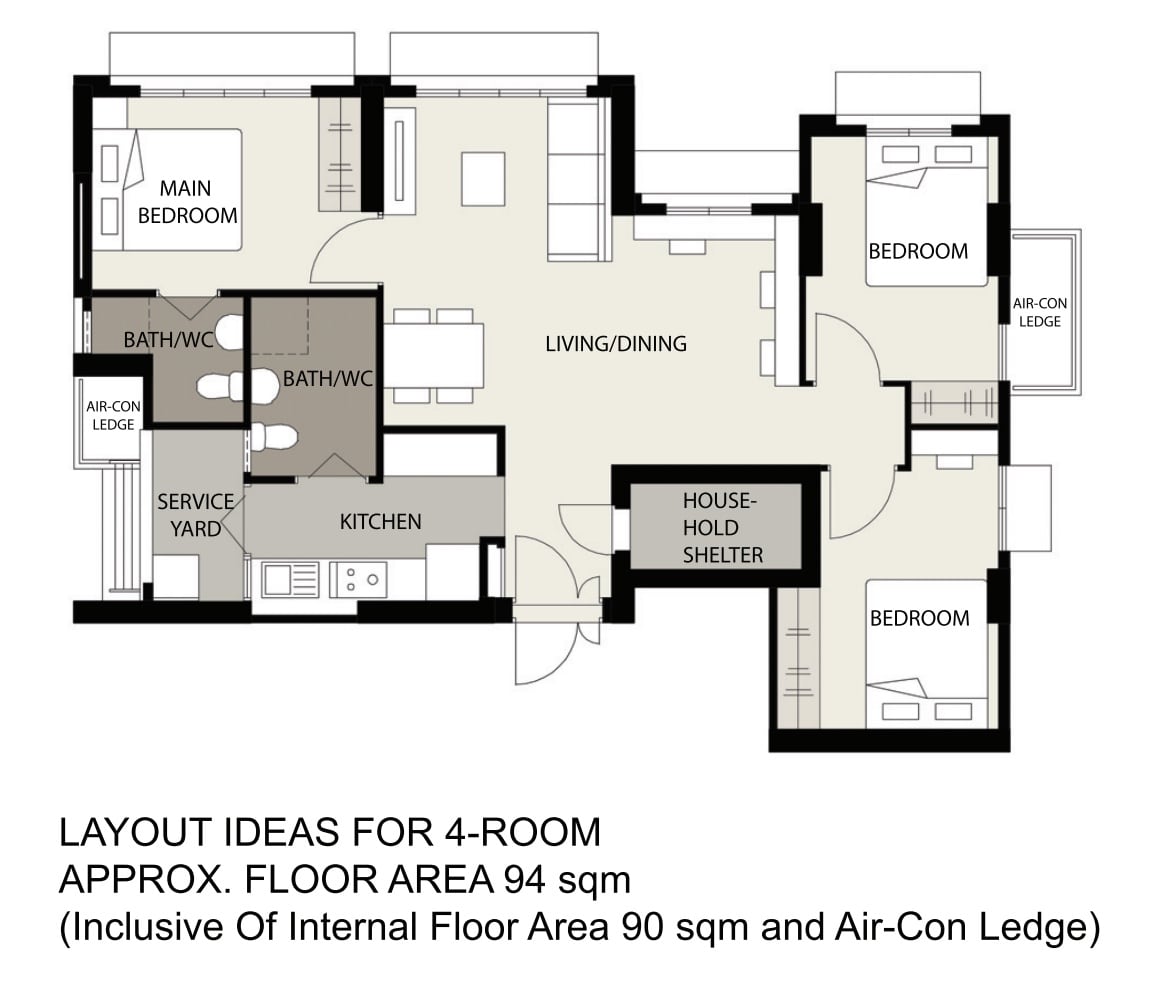 | | |
| --- | --- |
| Pros | Cons |
| Efficient dumbbell layout. | The main door opens straight to the dining/kitchen area; lacks privacy. |
| Spacious bedroom size | |
| A good sized kitchen which allows great flexibility of space. | |
5-Room Flat (115/112 sqm)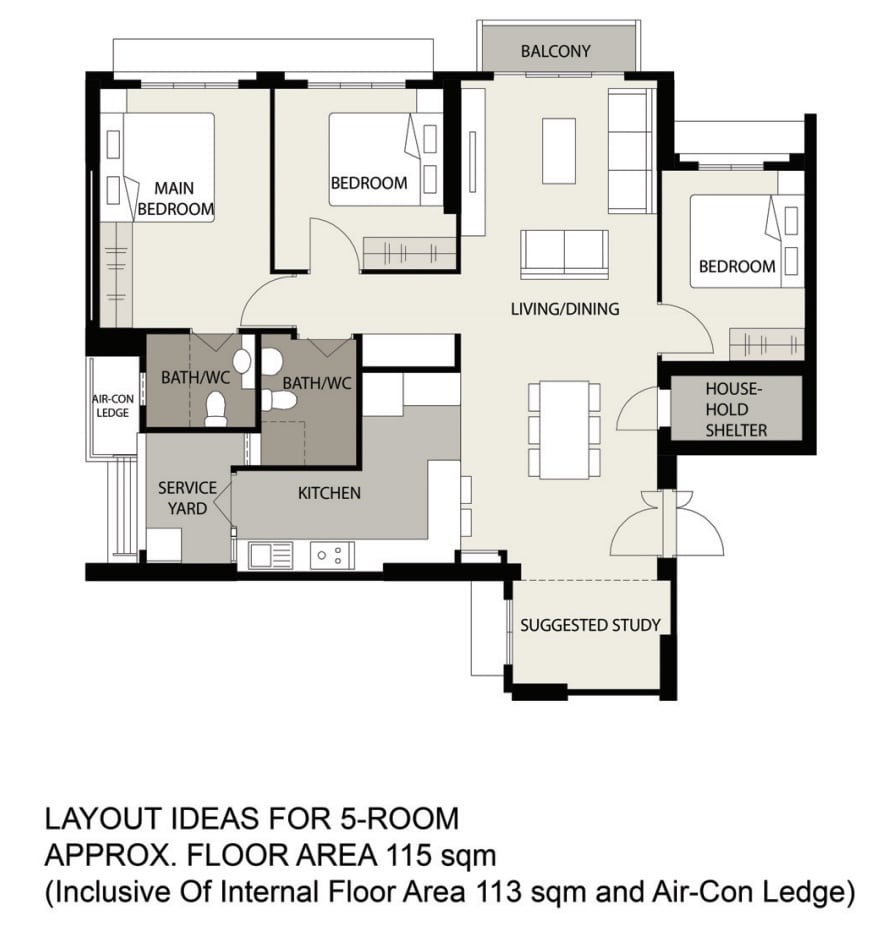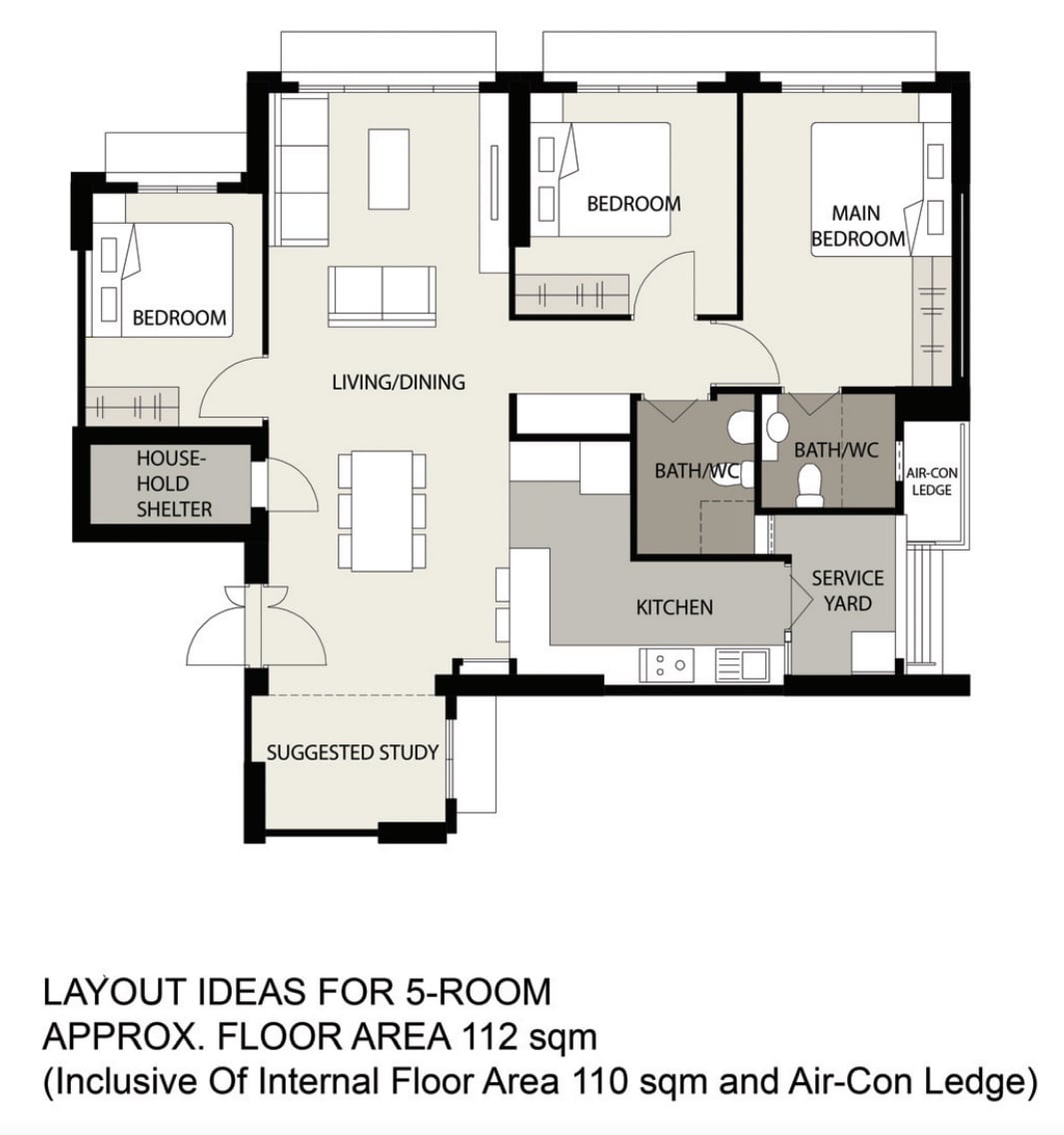 | | |
| --- | --- |
| Pros | Cons |
| Efficient dumbbell layout | The main door opens straight to the dining/kitchen area; lacks privacy. |
| Spacious bedroom size | |
| A good sized kitchen allows great flexibility of space. | |
| Certain stacks come with balcony space; great for those that enjoy some outdoor area. | |
3Gen Flat (123 sqm)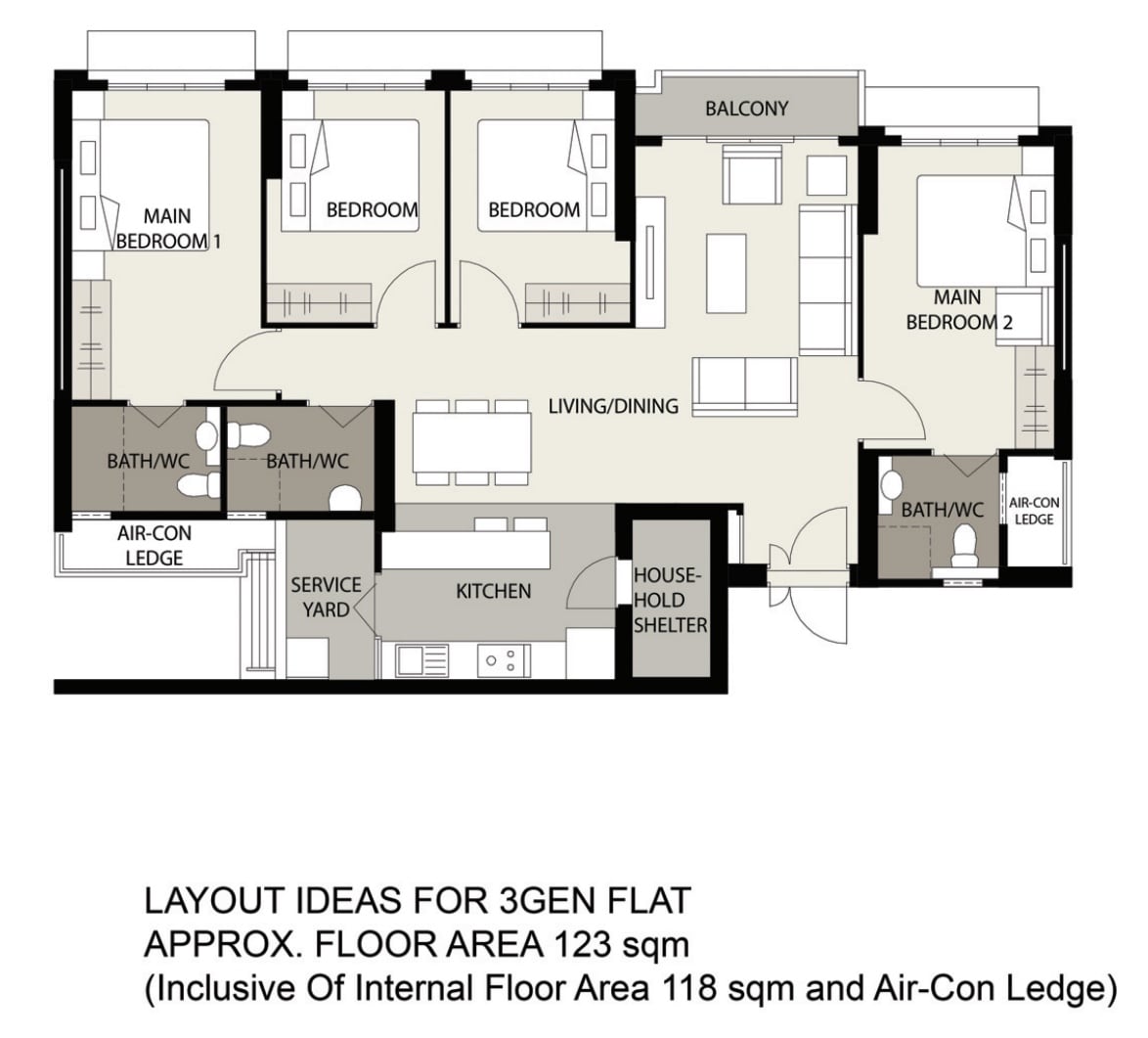 | | |
| --- | --- |
| Pros | Cons |
| Efficient dumbbell layout | The main door opens straight to the dining/kitchen area; lacks privacy. |
| Spacious bedroom size | |
| A good sized kitchen which allows great flexibility of space. | |
| Unit comes with balcony space; great for those that enjoy some outdoor area. | |
| Separated living and dining area. | |
Our Take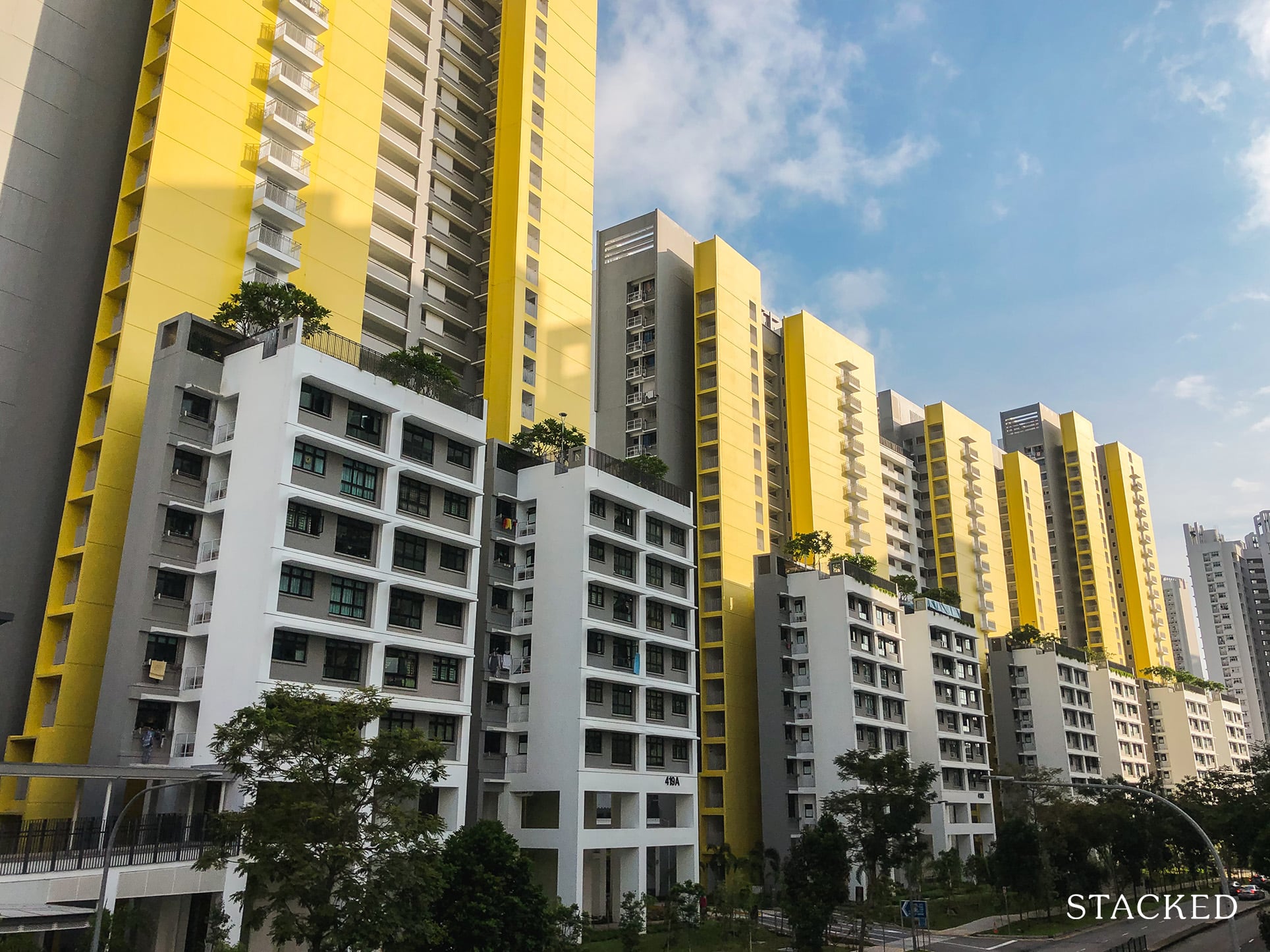 I'll admit – there's a lot going on for Waterfront II @ Northshore. The sweeping sea views, the direct connection to Northshore Plaza II as well as having an underground car park. The multiple layers of rooftop gardens across all blocks also puts residents in easy reach of getting some fresh air and good views of the sea. It is a very unique proposition if the sea views are your highest priority.
Moreover, it's right next to the Park Connector, an amenity I have always been fond of as it's a fun, healthy and free way to exercise or just bond with your loved ones.
But while this is usually enough to keep me satisfied, I must say that the development isn't really worth the buzz that the HDBs at Punggol Northshore gets. Objectively speaking, if you do not work nearby/in Punggol and are not interested in the sea view, then you could be better off looking at another development altogether considering how far-flung this development is from other estates/town.
And for those who are new to waterfront living at Punggol, it may be worth your time researching whether such an option is truly viable for you. Reports of chemical smell are commonplace enough to warrant some concern here, so even though the sea here isn't pungent, the industrial area may pose a concern.
What this means for you
You might like Waterfront II @ Northshore if you:
• Want to live near the sea:Waterfront II @ Northshore is right next to the sea separated by just the park connector. You can't really get any closer than this for an HDB!
• Want quick access to amenities nearby:With Northshore Plaza II integrated with the development, and Northshore Plaza I just opposite, residents can certainly look forward to lots of convenience here!
You may not like Waterfront II @ Northshore if you:
• Are concerned about pollution:Despite the sea view, Waterfront II @ Northshore does face the industrial area of Johor where residents have reported burning smells once in a while.
• Work in the central area:Residents would need to take the LRT, then the MRT to town – this can be a considerable amount of time over the years!
End of Review