Units Of The Week
Units Of The Week Issue #12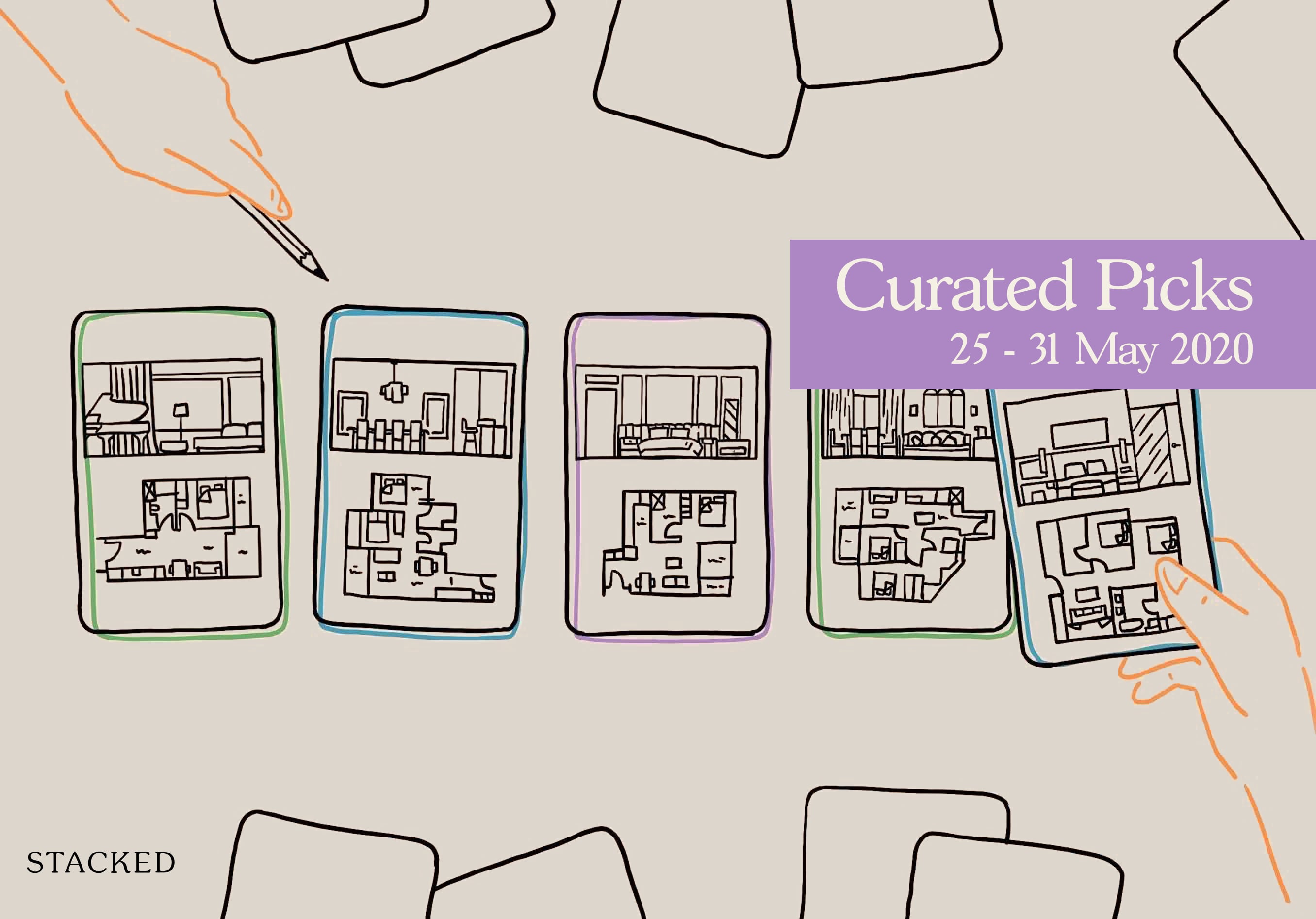 4
min read
For those celebrating the public holiday today, Selamat Hari Raya!
We know most people were looking forward to a gradual reopening of businesses in Singapore, with Real Estate being one of them – but it was not to be. It's been especially tough for those looking to sell their resale homes, with buyers understandably more keen to actually view the house being making a decision.
Nevertheless, you can still do your research online first while waiting for the situation to ease up! This week, we have a mix of old and new developments for your perusal – one of which features a stylish interior with wonderful views.
Missed last week? You can view the previous issue here.
You can also join our free weekly newsletter so you stay up to date on our latest curations weekly.
Here we go, these are the Units Of The Week for the week of 25 May 2020.

1

Clementi Park
$1,900,000
| | | | |
| --- | --- | --- | --- |
| Project | Clementi Park | District | 21 |
| Address | 137 Sunset Way | Tenure | Freehold |
| Size | 1,657 sqft | $PSF | $1,146.65 |
| Developer | City Development Limited | TOP | 1985 |
Why I like it
If you greatly value spacious living spaces and more serene environments, older developments such as this one at Clementi Park is hard to ignore.

Let me stress, you'd have to really value these characteristics as this development is located quite a distance into Sunset Way – it'll be tough without a car for sure.

Inconveniences aside, you get a truly serene living environment, big living spaces and a rather magically decorated front yard.

– Ryan

2

Astoria Apartment
$3,310,000
| | | | |
| --- | --- | --- | --- |
| Project | Astoria Apartment | District | 09 |
| Address | 6 Cairnhill Rise | Tenure | Freehold |
| Size | 1,830 sqft | $PSF | $1,808,74 |
| Developer | Changteik Towers Pte Ltd | TOP | 2005 |
Why I like it
One glance at the Astoria Apartment and you'd know its an old development, with its red bricked facade a dead giveaway.

Like Ryan's selection of the week, old developments are still favoured by people mainly because of the spacious layouts and this one is no different. The other main selling point is the location at Cairnhill, as it is a short walk to the back of Paragon and the main Orchard Road.

Another plus point, it's well renovated!

– Druce

3

Citylights
$1,900,000
| | | | |
| --- | --- | --- | --- |
| Project | Citylights | District | 08 |
| Address | 82 Jellicoe Road | Tenure | 99 years |
| Size | 1,442 sqft | $PSF | $1,317.61 |
| Developer | CapitaLand Residential | TOP | 2015 |
Why I like it
Citylights might be more than 10 years old now but it is still a strong contender if you are looking at the Kallang area. Given how close it is to Lavender MRT, amenities, and the prized river view, you can't go very wrong with this location if you are looking for an own stay option.

There are quite a number of units for sale, so have your pick!

– Reuben

4

Eight Riversuites
$1,980,000
| | | | |
| --- | --- | --- | --- |
| Project | Eight Riversuites | District | 12 |
| Address | 2 Whampoa East | Tenure | 99 years |
| Size | 1,830 sqft | $PSF | $1,081.97 |
| Developer | UE Development (Bendemeer) Pte Ltd | TOP | 2016 |
Why I like it
There are a number of positives for this unit. Close proximity to Boon Keng MRT, penthouse views over the city (fireworks views included), and quite a stylish interior to boot.

This condo might have been in the wrong side of the news recently, but it still remains a very feasible option in this part of the city. Even without the open rooftop with jacuzzi, the liveable layout is quite well organised.

– Stanley

5

Robinson Suites
$1,222,000
| | | | |
| --- | --- | --- | --- |
| Project | Robinson Suites | District | 01 |
| Address | 50 Robinson Road | Tenure | Freehold |
| Size | 495 sqft | $PSF | $2,468.69 |
| Developer | 50 Robinson Pte Ltd | TOP | 2016 |
Why I like it
At 495 square feet, this unit isn't going to win any awards for spacious living. But, it's one major selling point is its coveted freehold status, something that not many other developments in this part of Singapore can boast of.

Needless to say, the location is unbeatable if you are working in the CBD. Especially even if after the Covid-19 situation is over and you still are required to go back to office – living where you work really saves a ton on commute time.

Again, it's a really small living space (even with study included), so just take note on that.

– Sean