Condo Reviews

Trilight Condo Review: Exclusive Modernity at Newton

A modern and sleek condo just a 6-minute walk away from Newton MRT.
Reuben
January 18, 2020

18

min read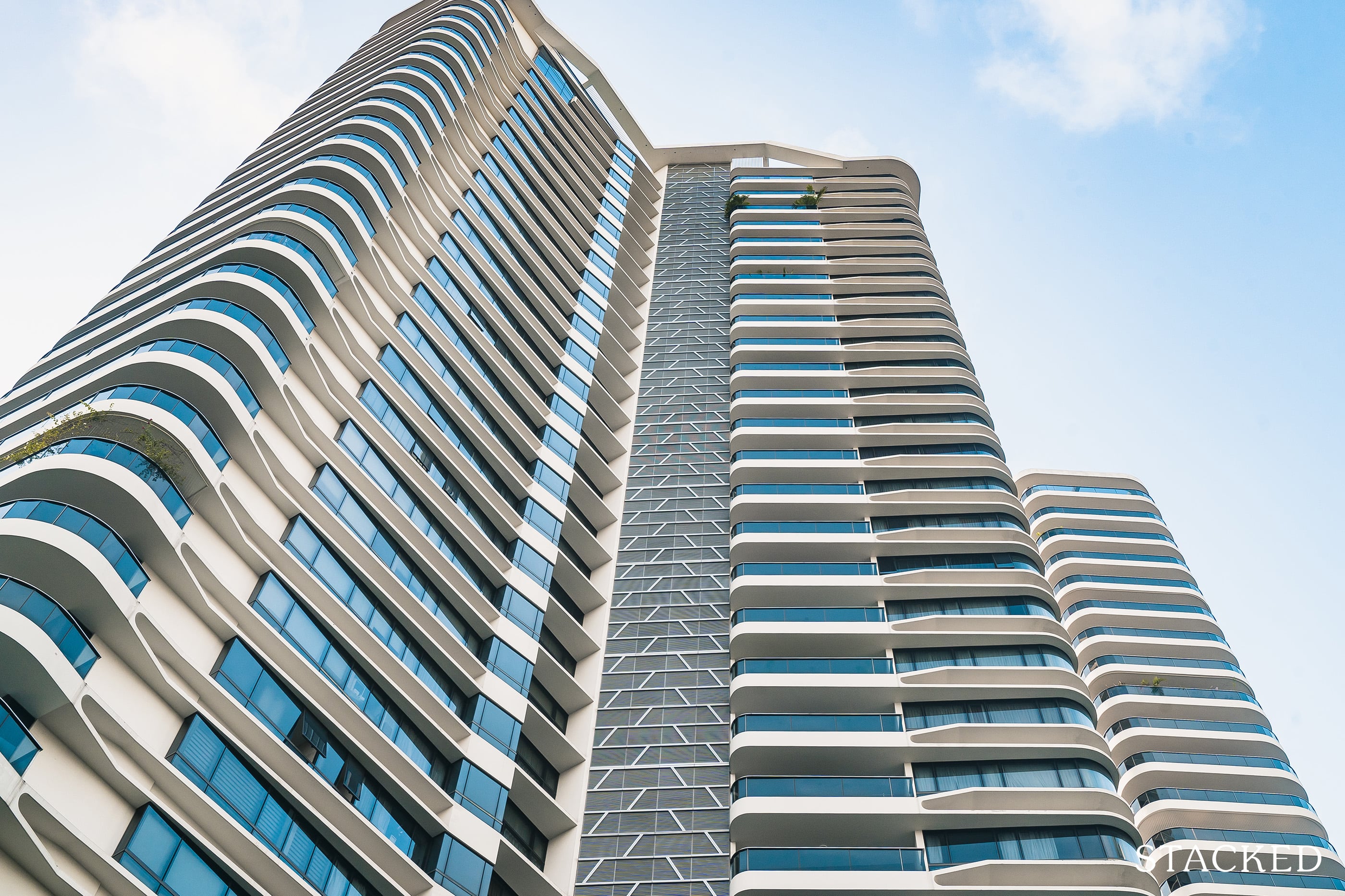 Trilight looks set to please anyone who prefers a modern and sleek condo, even with newer condos coming up in the area. However, despite its facilities, the condo grounds doesn't really have a ton of space for kids to run about.
Reviewed by Reuben on January 18, 2020
What we like
Exclusive nature

Can walk to Newton

Timeless design
What we don't like
—

"Hemmed in" feeling

—

Traffic at Newton
18
min read
| | | | |
| --- | --- | --- | --- |
| Project | Trilight | District | 11 |
| Address | Newton Road | Tenure | Freehold |
| Site Area | 111,240 sqft | No. of Units | 205 |
| Developer | Pacific Rover Pte Ltd | TOP | 2012 |
2 timeless skyscrapers vibe a sense of elegance along District 11 as a coincidental top-down view reveals a curious architectural tidbit.

Built in 2012, the Trilight condo offers itself as a freehold development along Newton Road.

From the outside, the development's white-washed design inspires a modern-esque feel that goes hand in hand with the district's allure.

Upon entrance however, visitors of its 'inner courtyard-like' facilities will immediately feel a sense of sequestered protection from the towering 30-storeyed columns to either side.

Yet more than the usual architecturals and shrubbery that surround and seclude, a particularly elusive architectural point lies unbeknownst to most.

I'm not about to spoil the surprise, so once you're done checking out this little top-down 'thumbnail' on Google Maps' 3D views, feel free to join us on our little tour around the project!

Trilight Insider Tour
Facilities in Trilight
Barbeque Area
Basement car park
Clubhouse
Gymnasium room
Jacuzzi
Lap pool
Playground
24 hours security
Steam bath
Tennis courts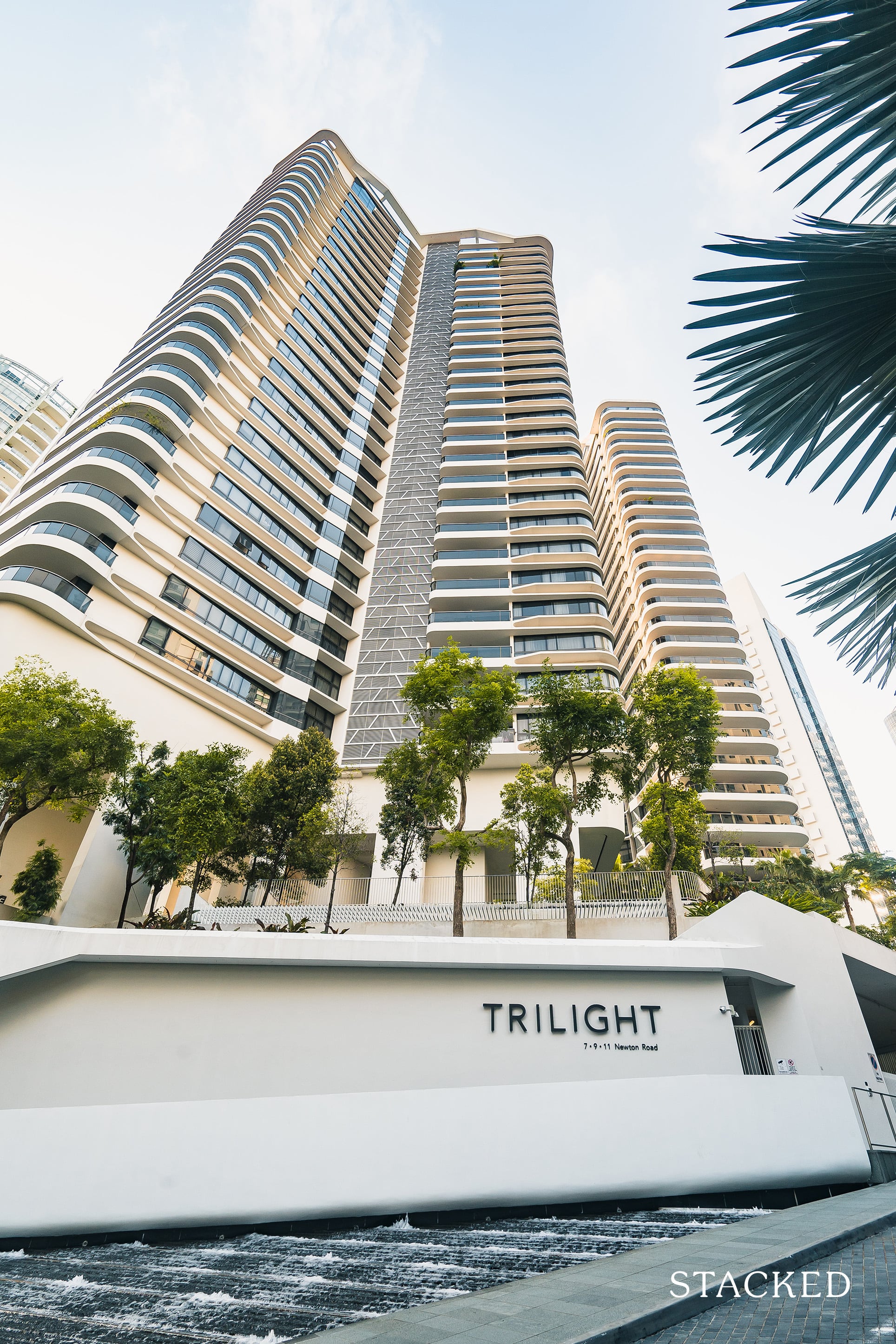 2012 was 8 years ago. Yet there is something about the Trilight condo that looks remarkably modern. Even in an era of sleek glass and dark-hued condos, I'd go as far as to say that the Trilight condo is right up there in terms of its exterior looks.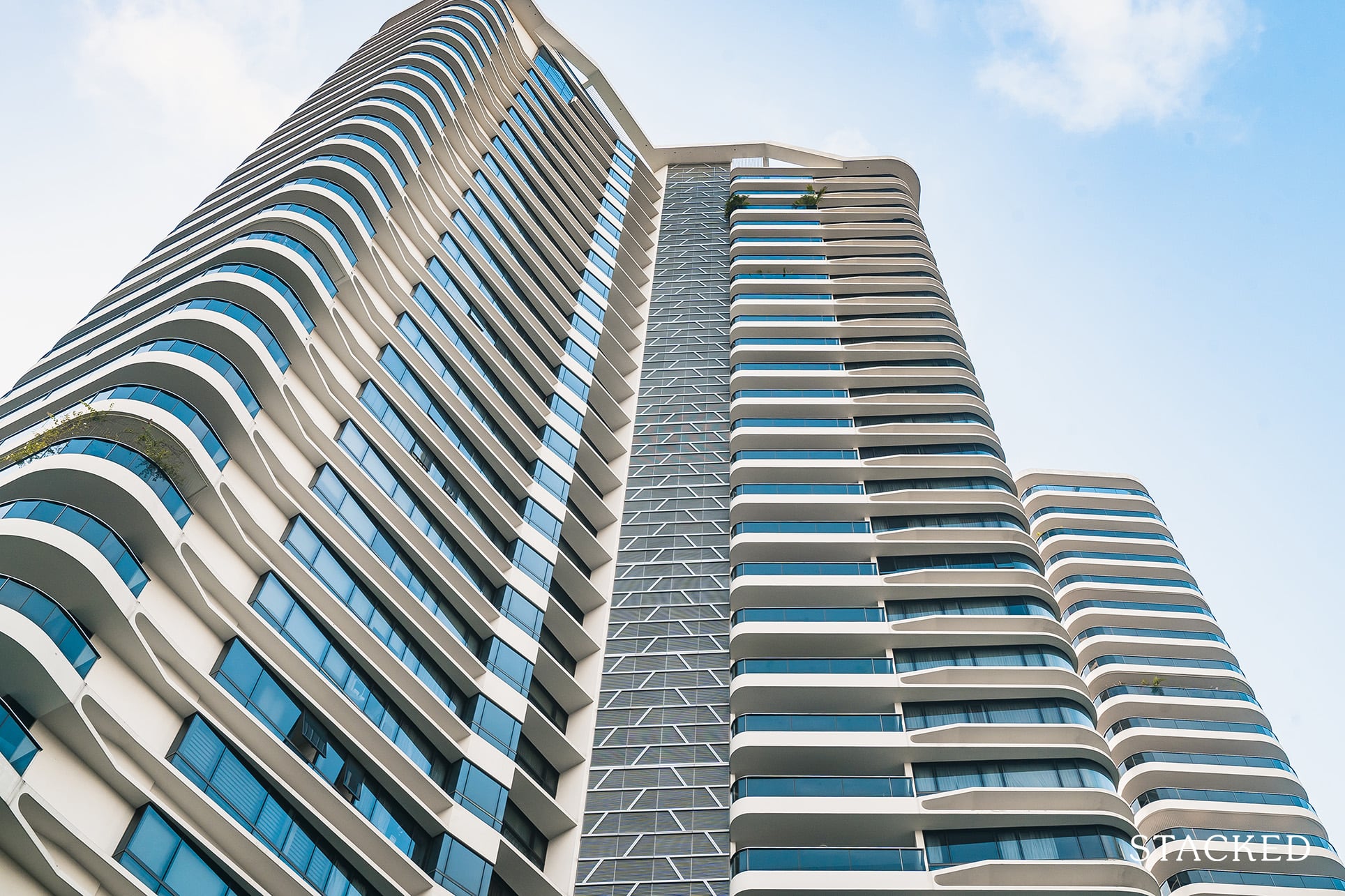 In a densely populated condo area like Newton, I wouldn't say that the Trilight condo stands out particularly. It's only when you observe closer that the little details begin to pop out. Even if you can't appreciate modern architecture, the main takeaway is its timeless design – which is important if you are looking to stay for the long haul.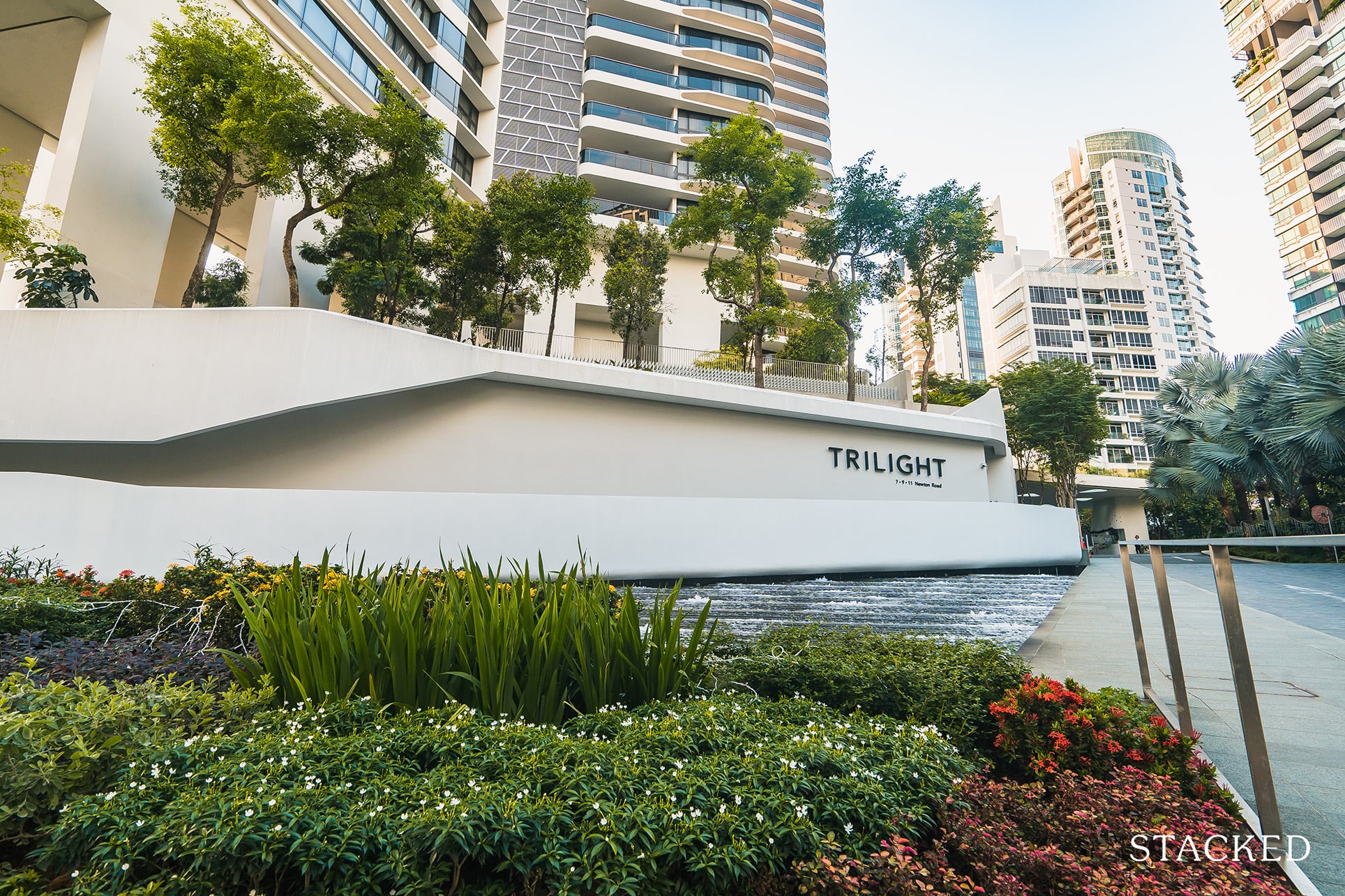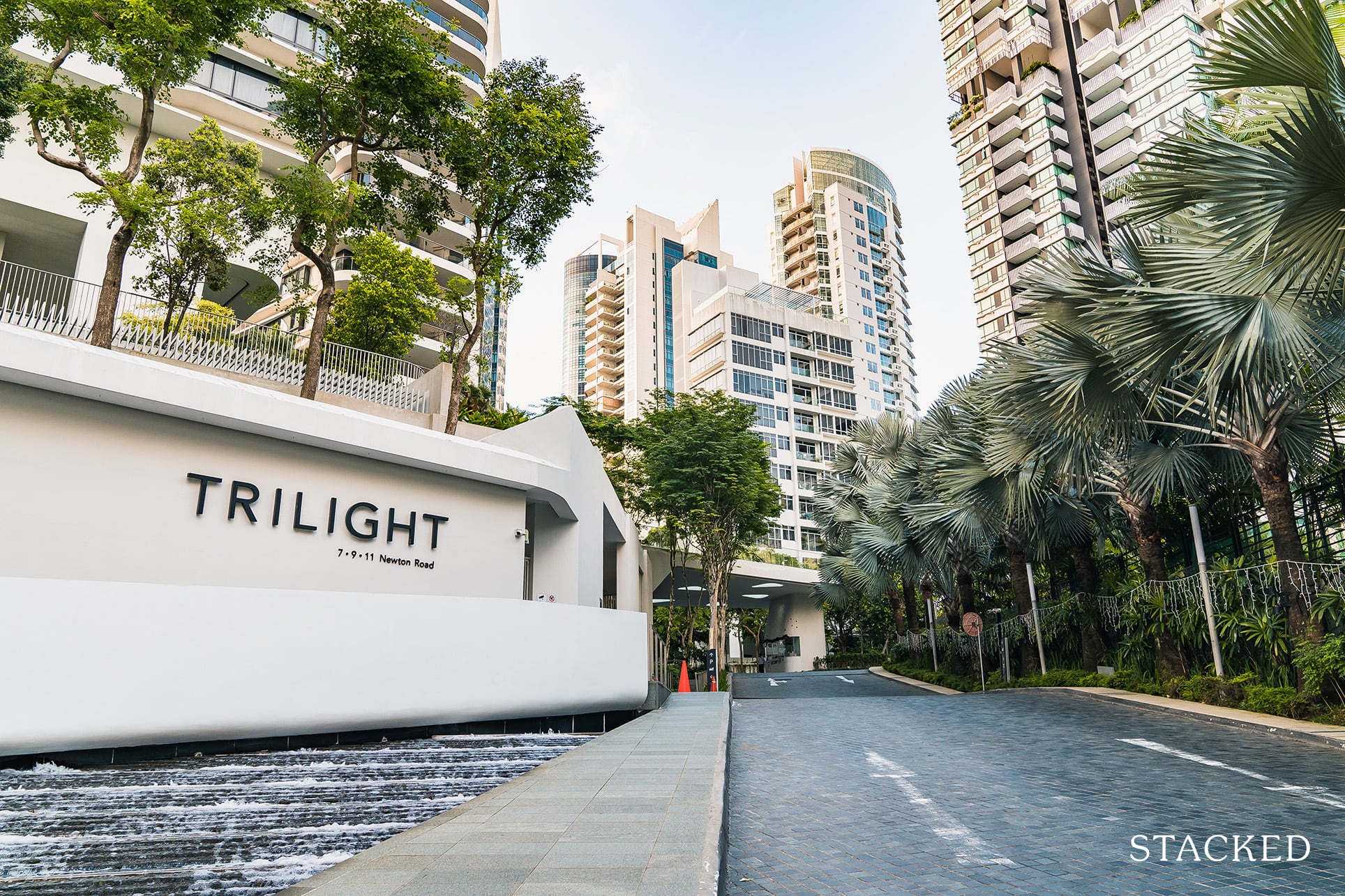 It certainly is a welcoming sight at the entrance of the Trilight, with the landscaping and cascading waterfall. The entire plot is actually on elevated grounds, hence the sloping driveway to get to the entrance. Because it's a long driveway, the angle isn't too steep so if you walk a lot it's really not too bad at all. Interestingly enough, the Trilight is the only development along this stretch that sits on raised grounds.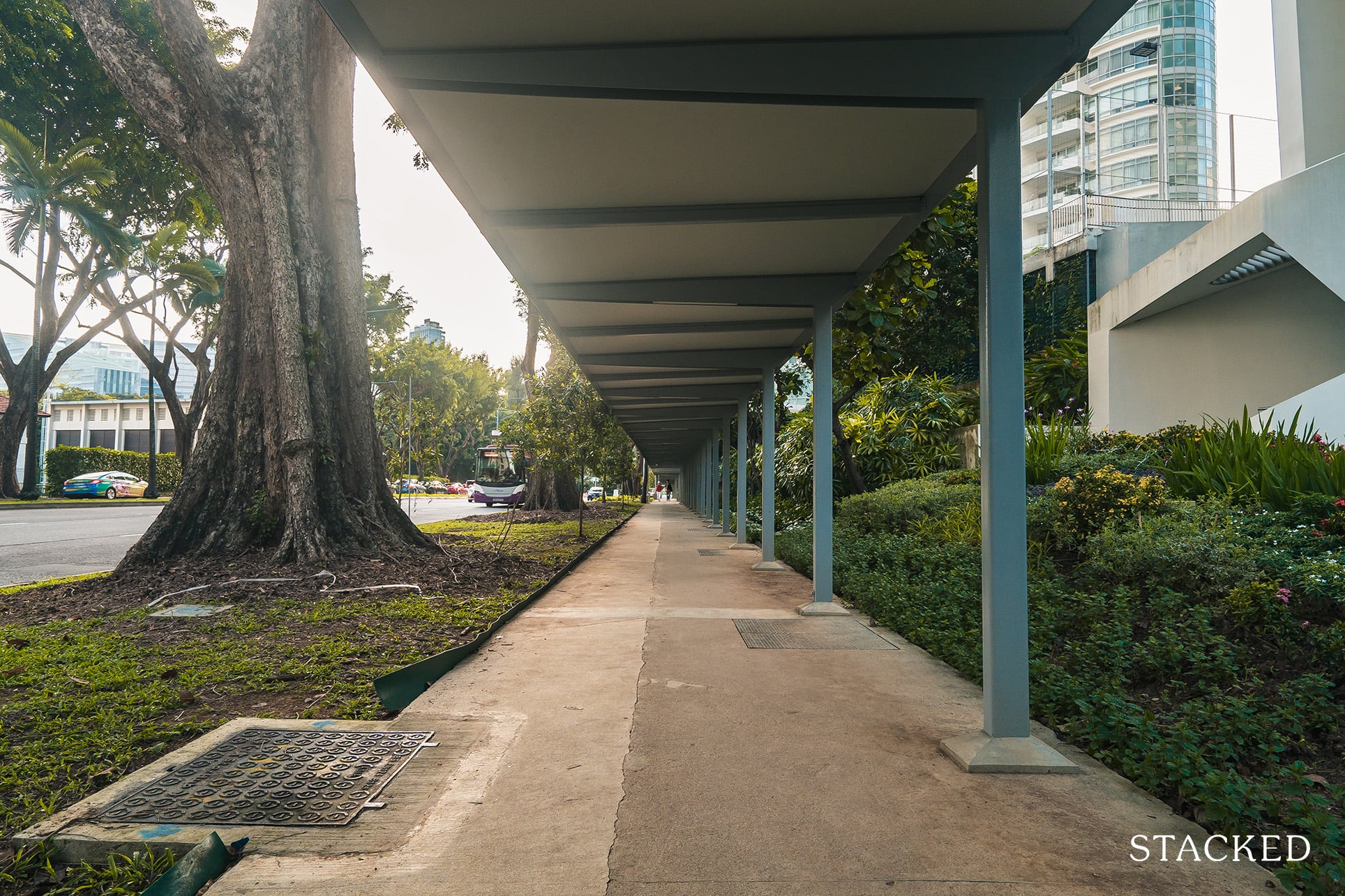 It's worth mentioning here that there is a very useful sheltered walkway on the main road that leads all the way to the bus stop. On the other hand, there isn't any shelter from the side gate to the main road. So for that short stretch, you'll still need to bring along your umbrella.
The drop off point is hugely spacious, with the skylights from the top providing some light during the day. Weirdly enough, the driveway and entrance of the Trilight are shared with another condo – 15 Newton. That said, I wouldn't worry too much about additional traffic clogging up the road as there are only 10 units there!
*An interesting point: The developers of Trilight actually intended to buy over the land that 15 Newton occupied but bulked at the price. So when 15 Newton was built Trilight had to share this driveway with them by law. This was actually a court case back in 2009!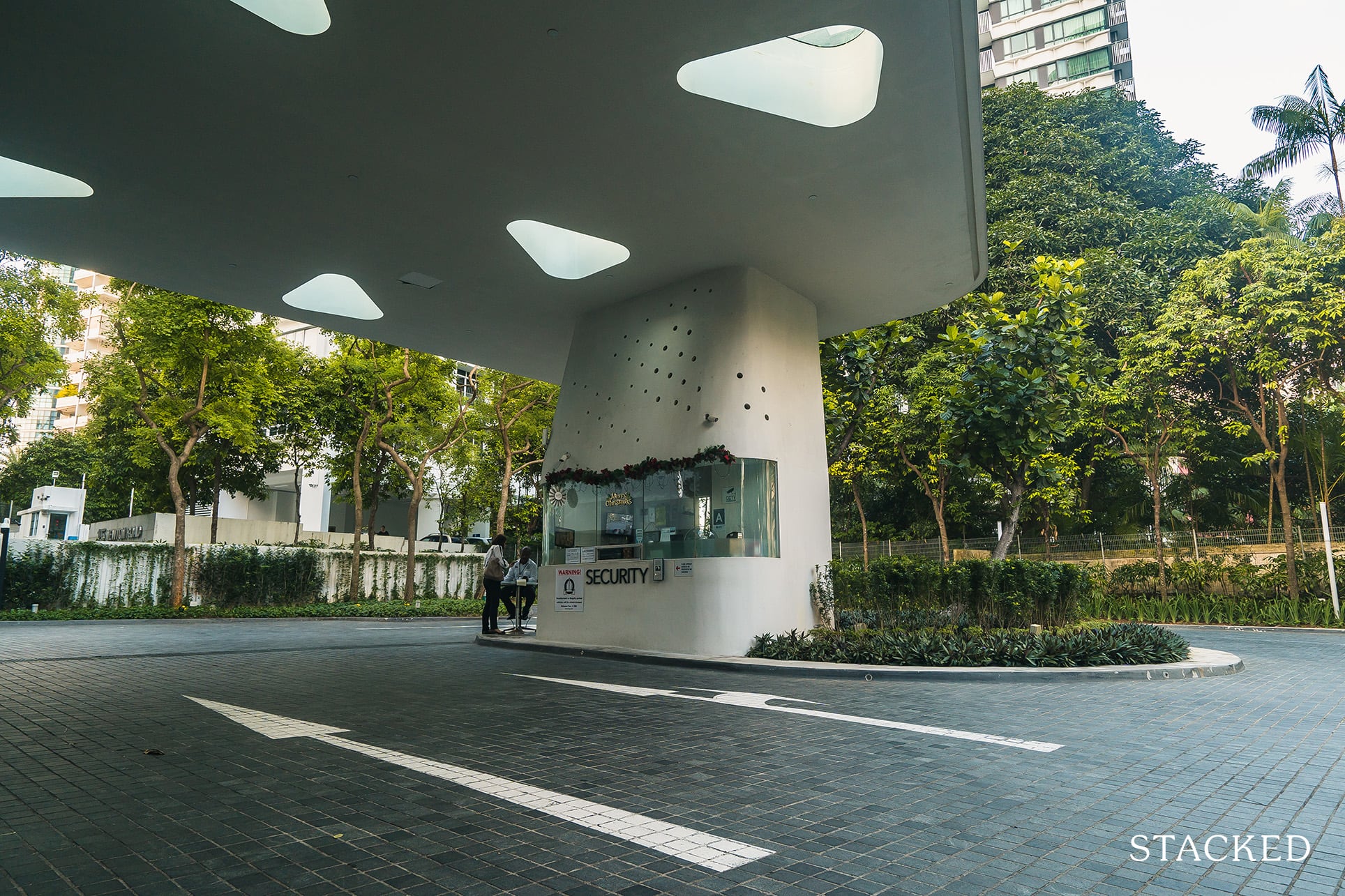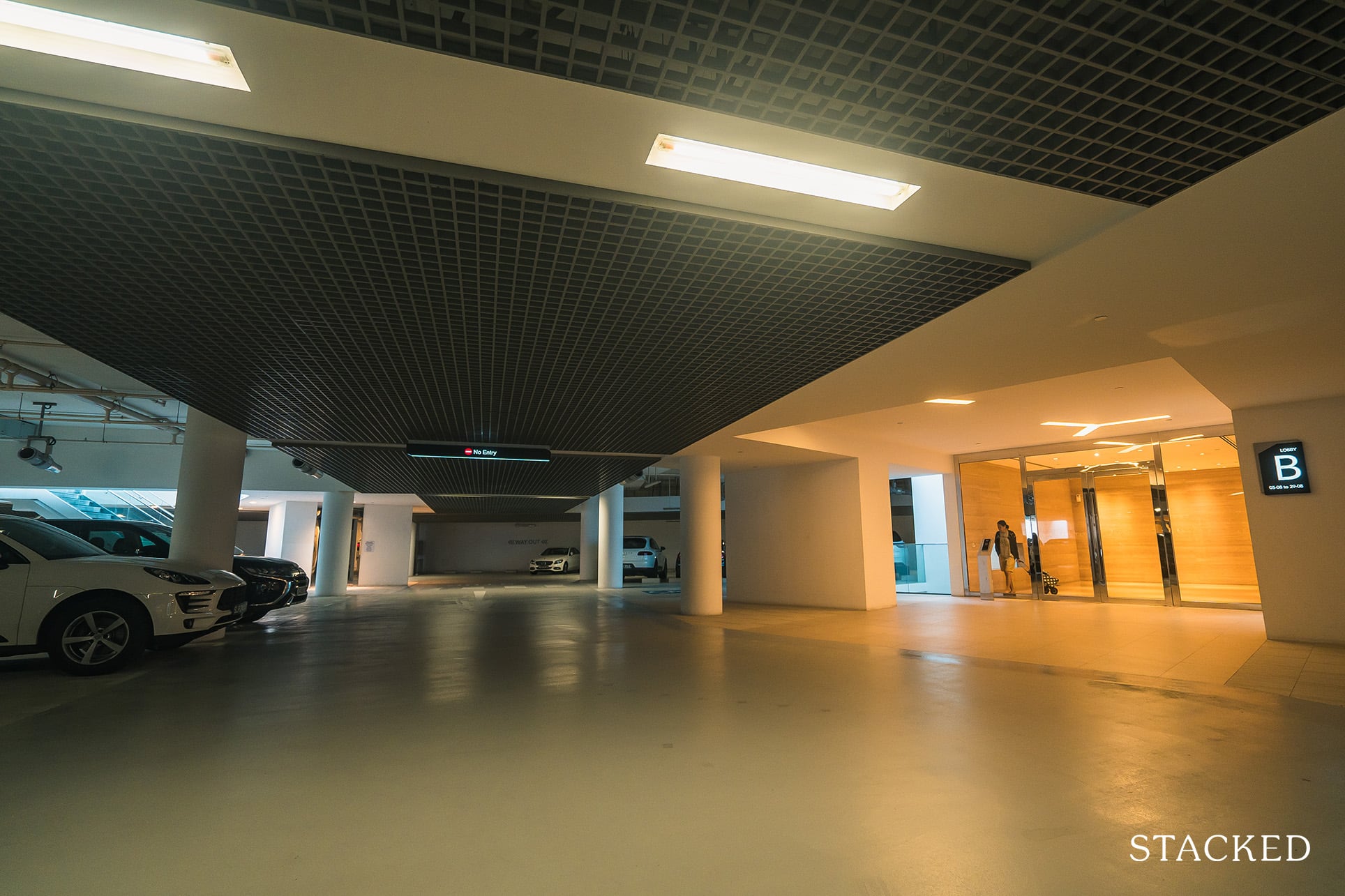 The carpark clearly has ample space, with the driving paths being super easy to navigate due to the wide berths. Given the condos high-end nature, residents who own luxury limos (7 series/S-class) can rest a little easier.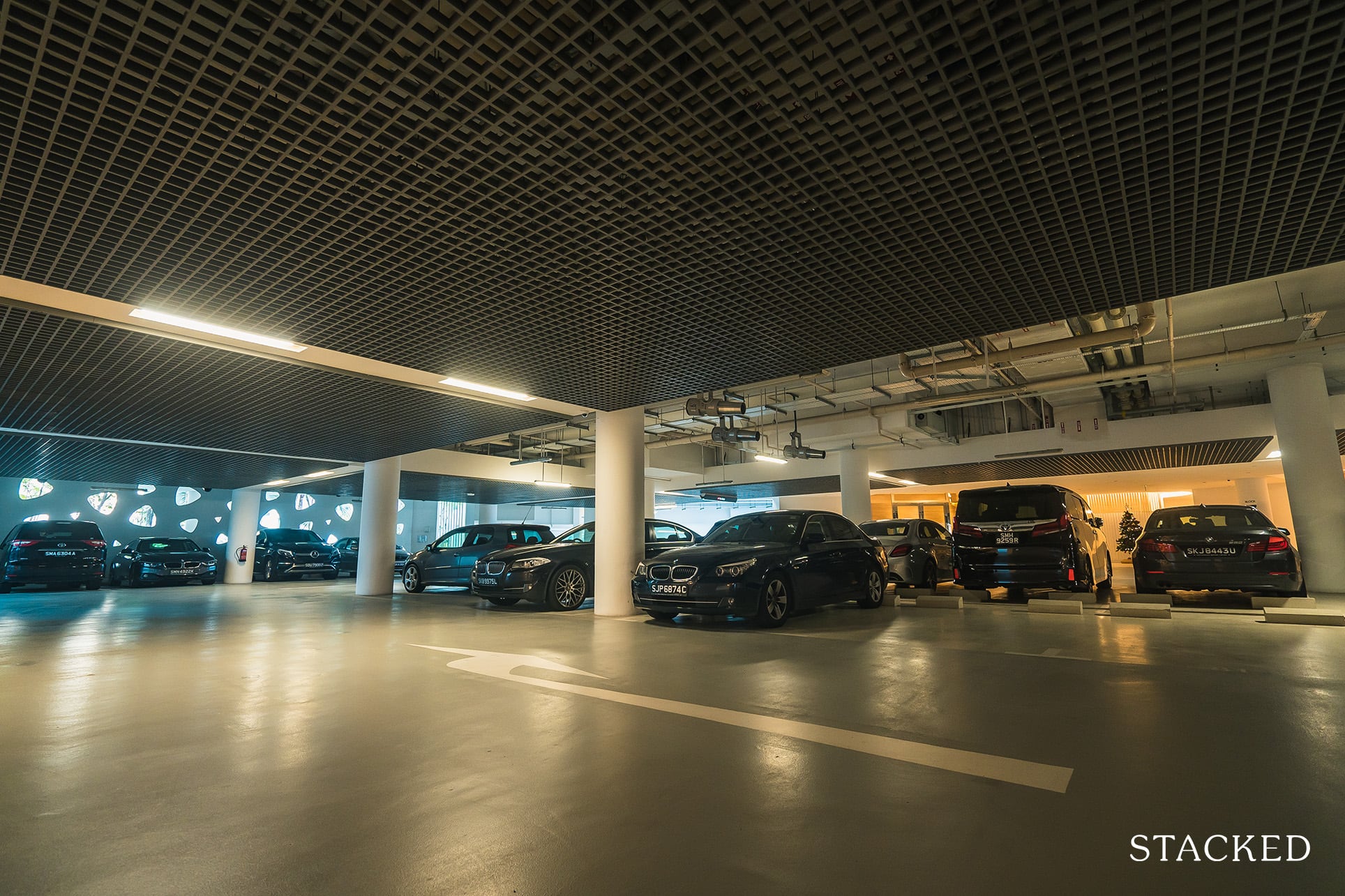 A minimum standard of most high-end condos would be the smooth epoxy flooring and the Trilight condo easily delivers that in spades. If I had to nitpick, I'd say it's a tad dark, but for most people, I think this would not be an issue at all.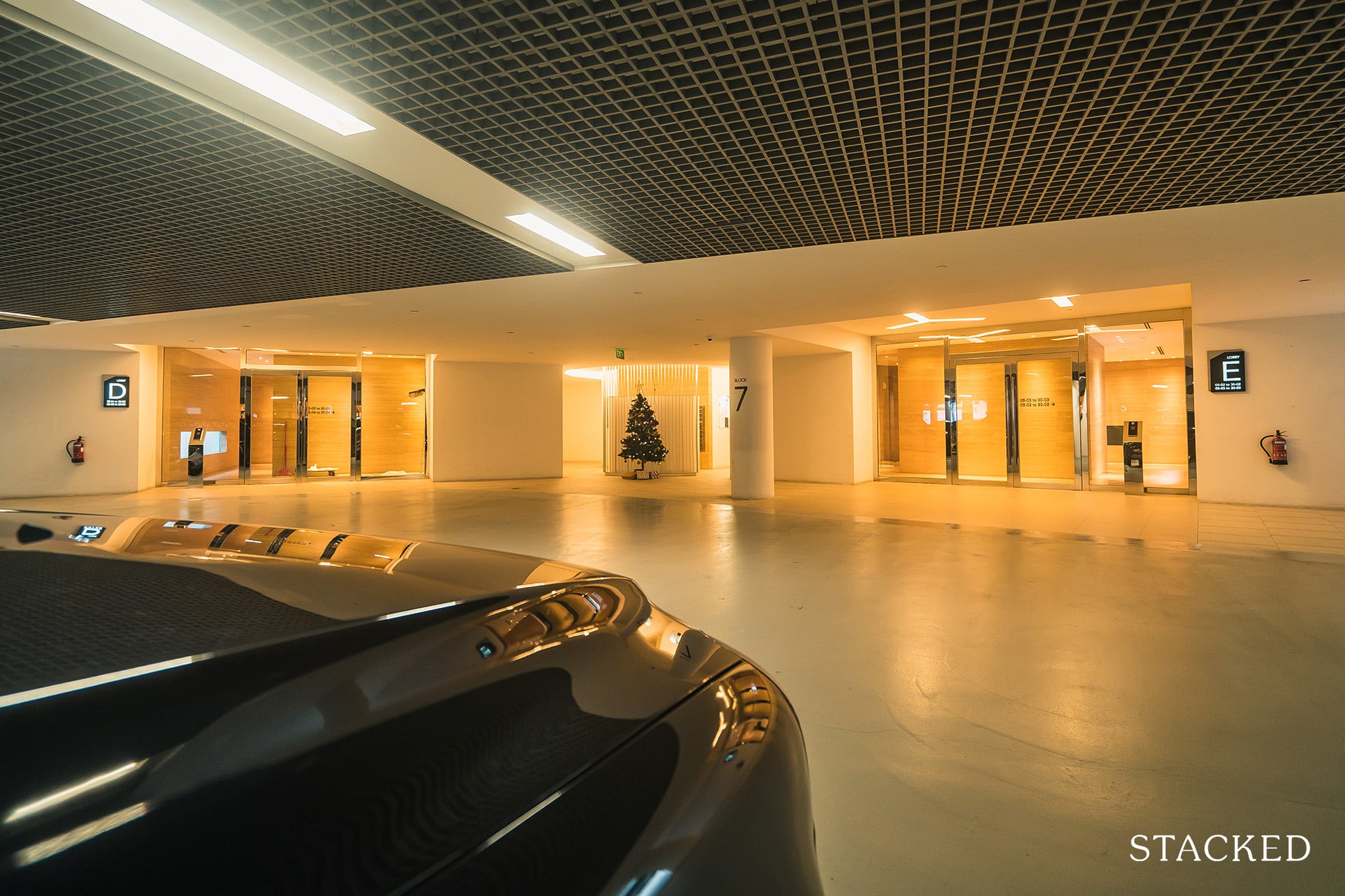 The lobby's design is befitting of its premium status. It's bright, cheery, and welcoming at the same time.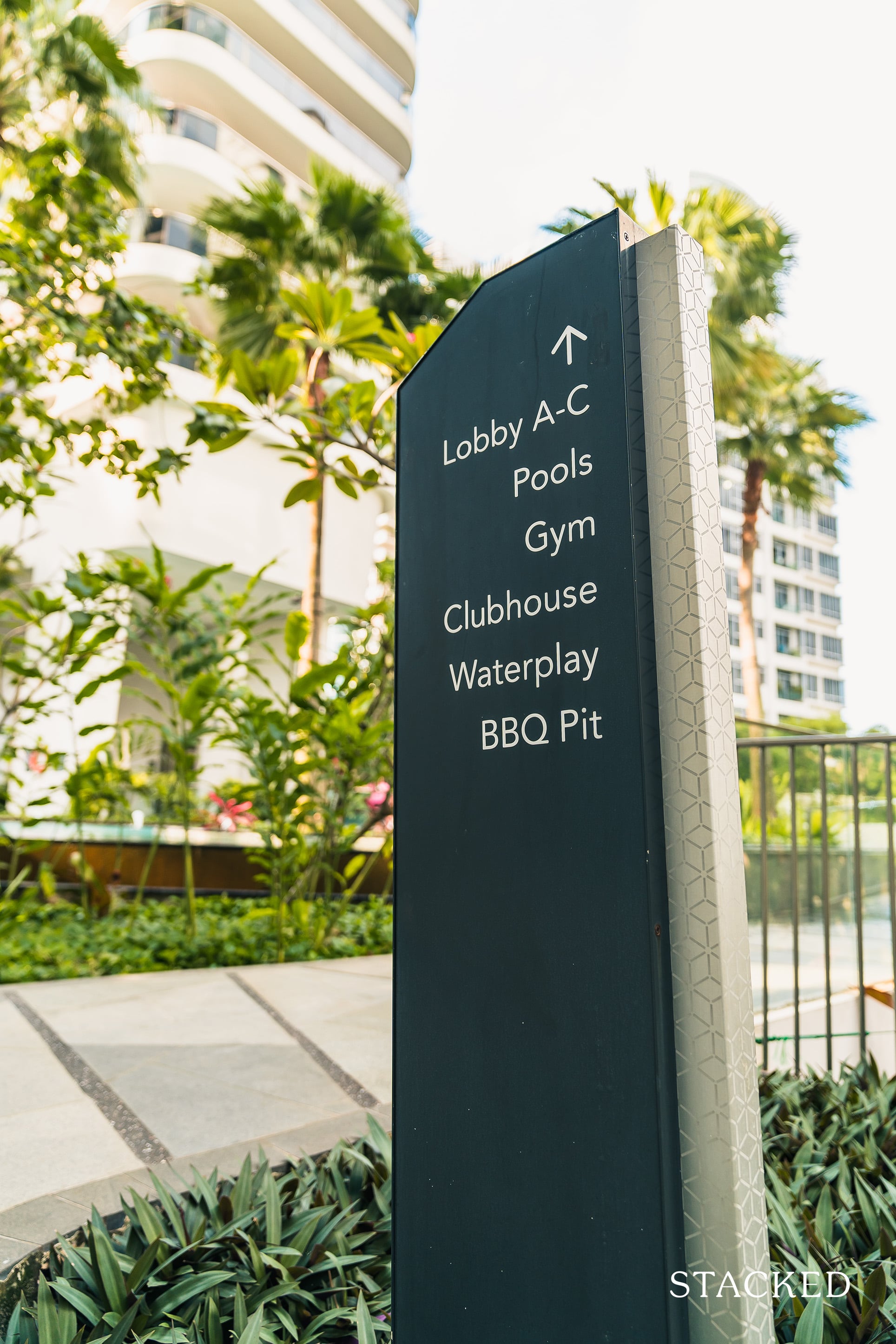 Let's take a look at the ground level of the Trilight.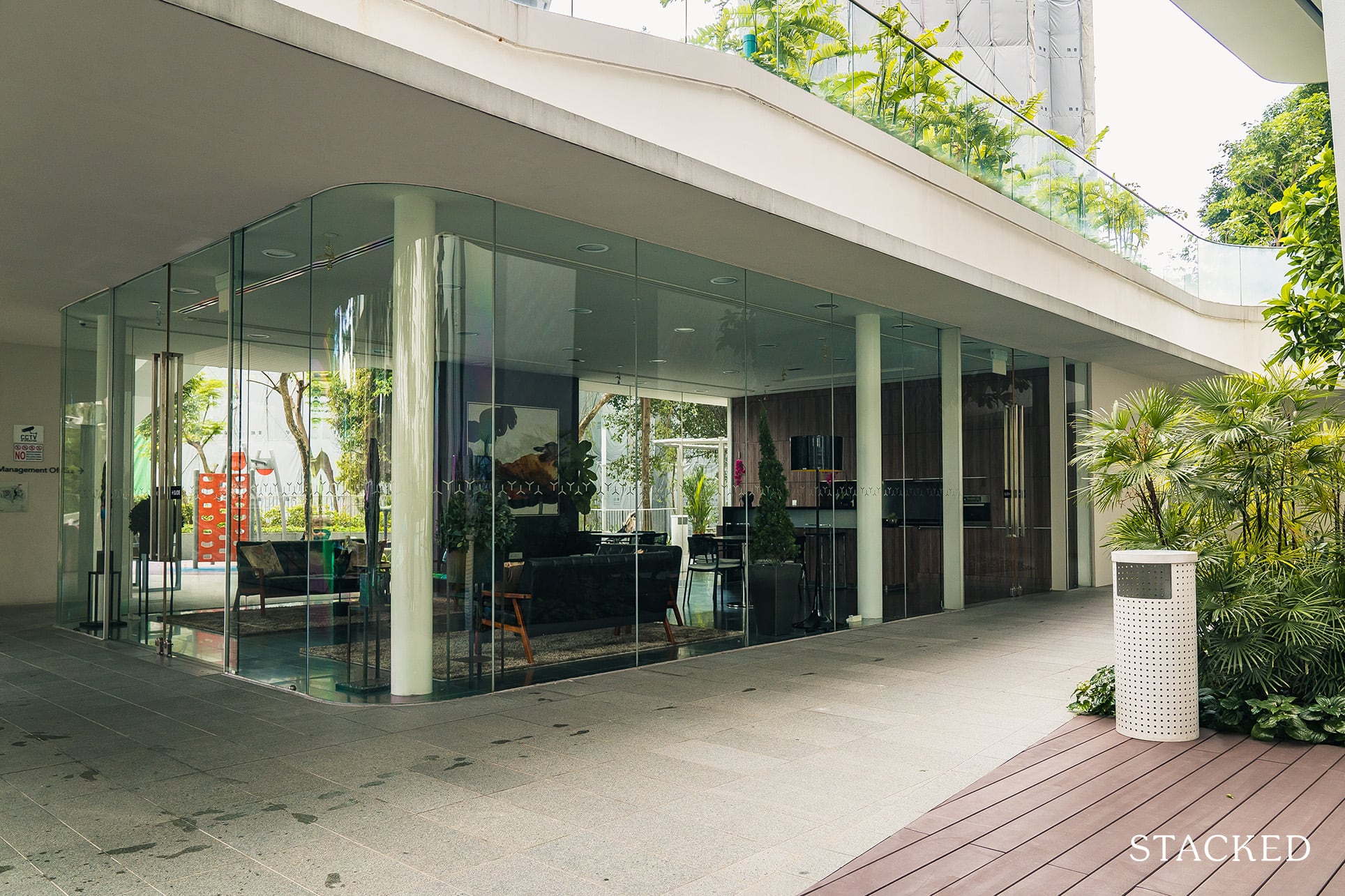 Once you get up through the lift, you'll immediately notice the clubhouse on the left. It's not the biggest space, but the all-glass design is quite striking. The first level is the function room, with the top being an open viewing gallery that is accessible via the lift too.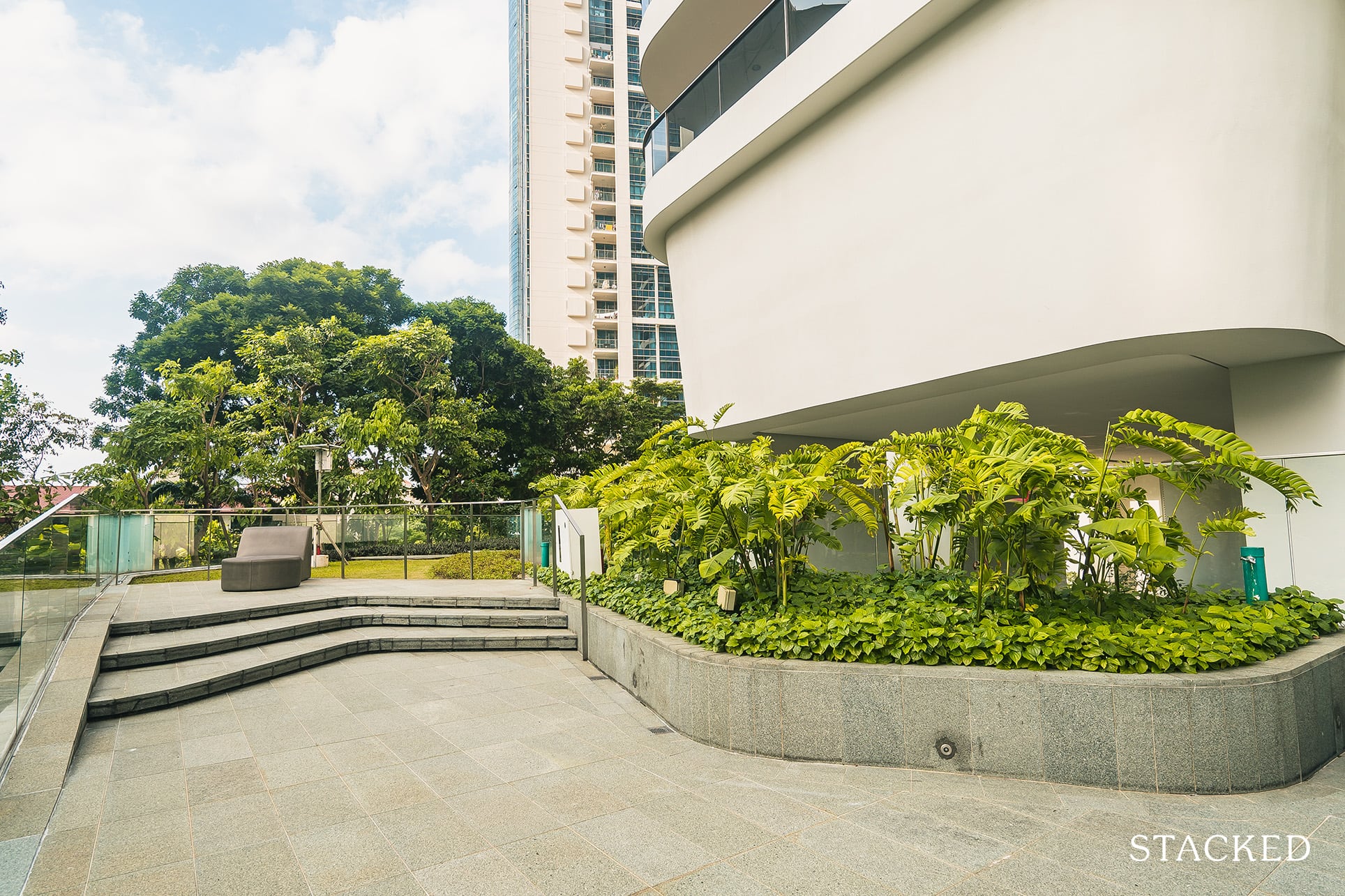 The viewing deck is decent, but it could really do with more lounging chairs.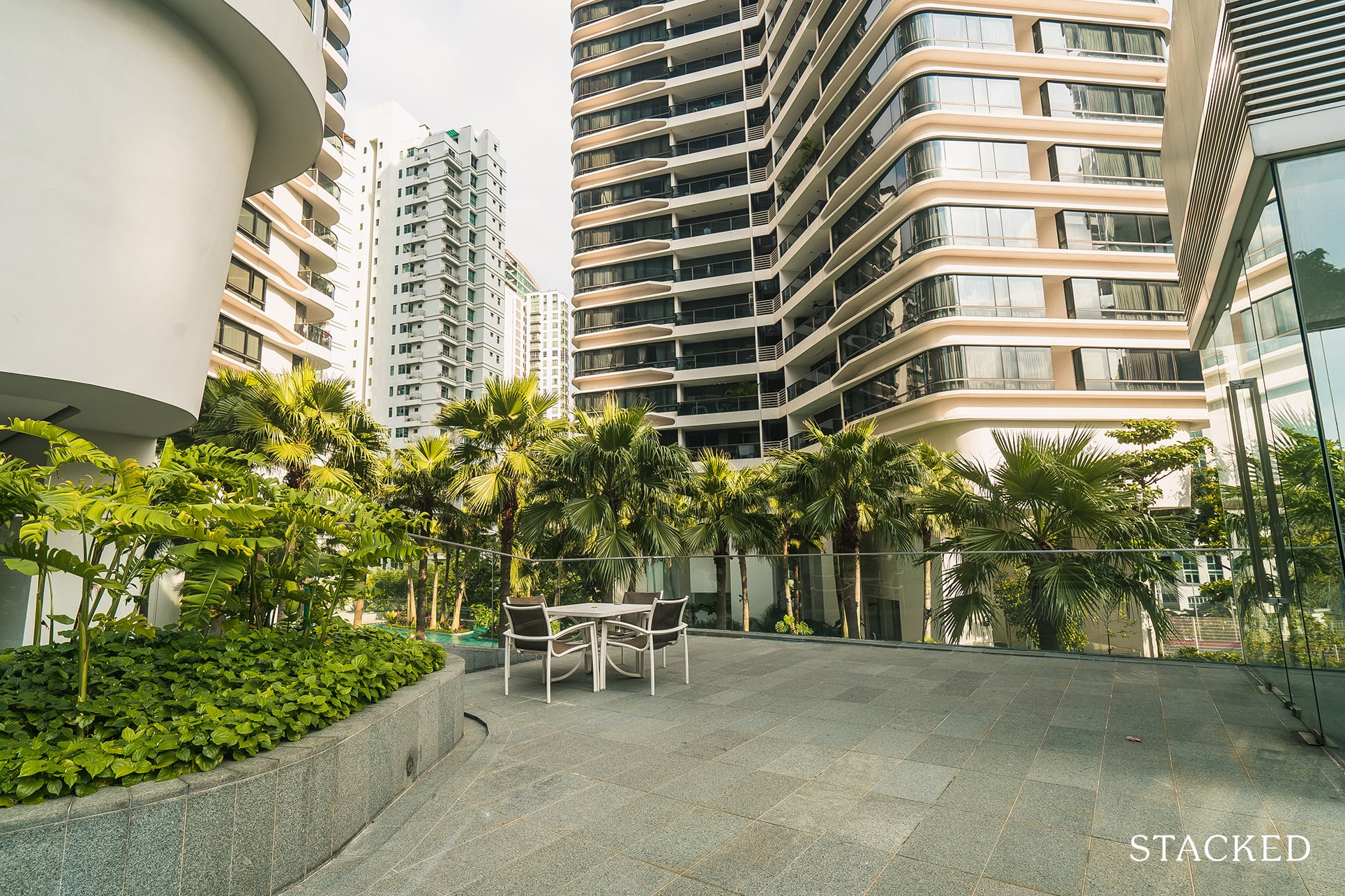 It's a bit sad with just the two chairs and a table.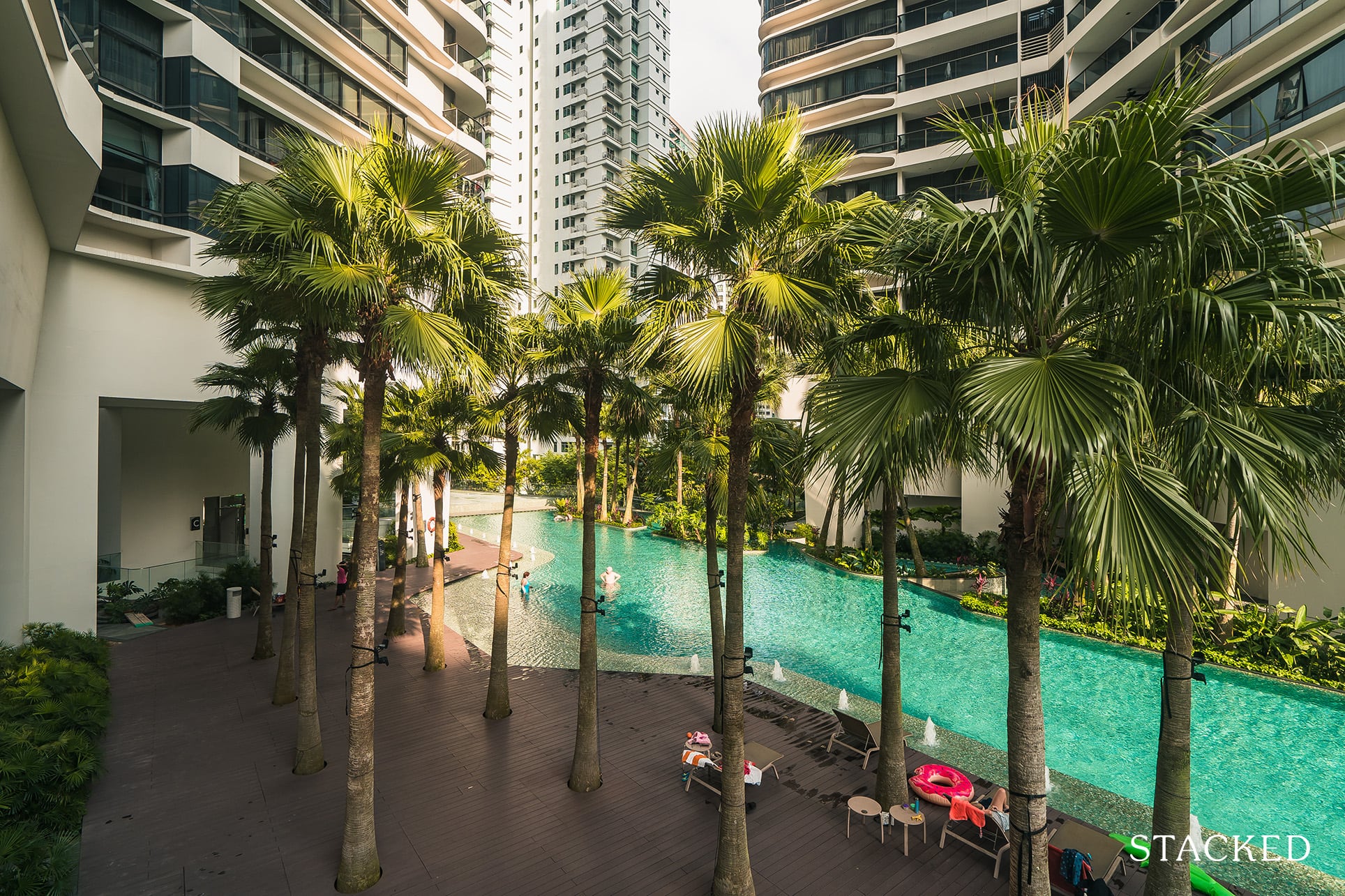 Particularly as the deck does give you a good view overlooking the swimming pool.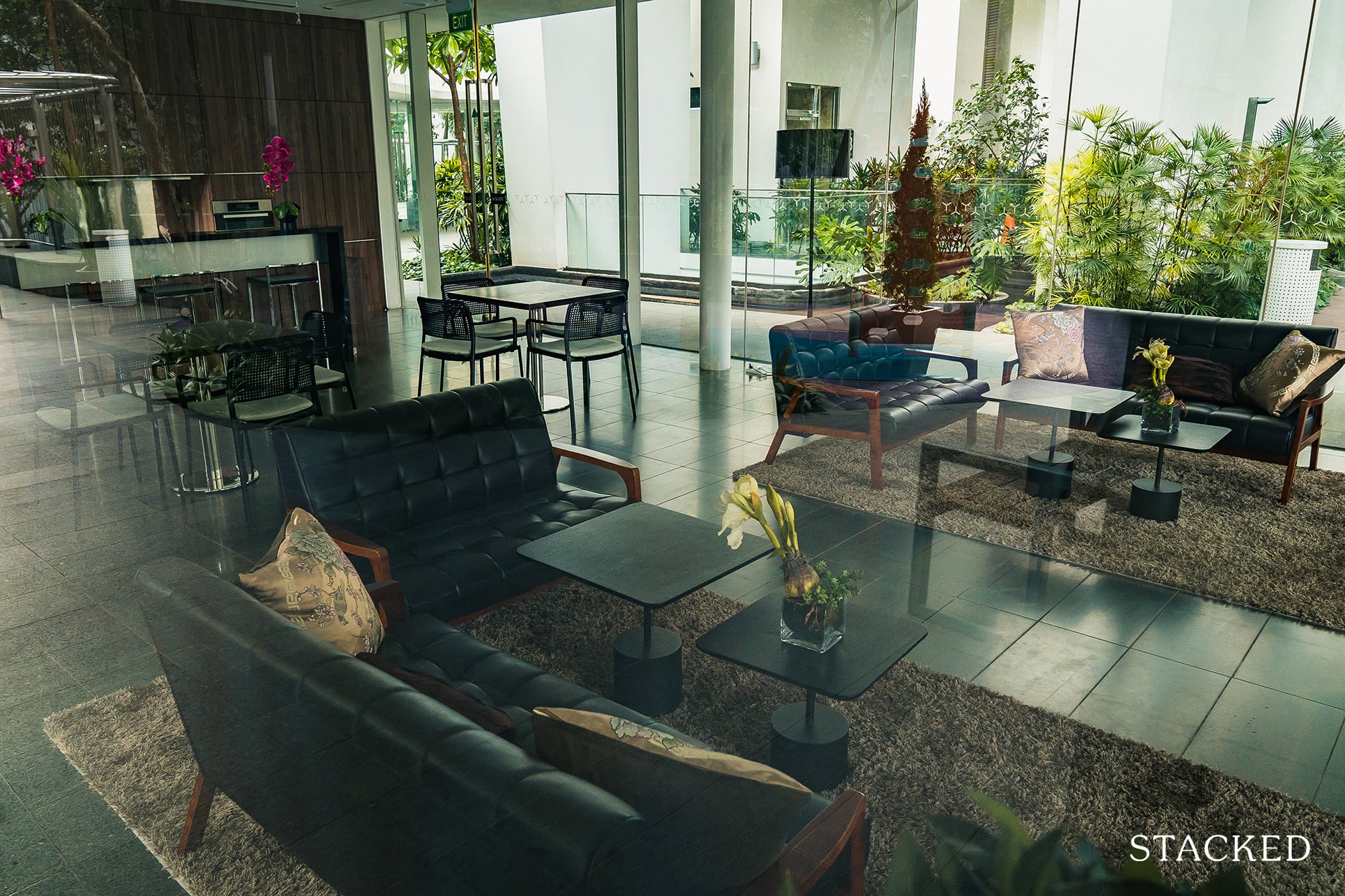 What makes the clubhouse standout is really the function room. Scratch that, it's really more deserving of a fancier term – let's call it "the lounge" from here on. While I can't attest to the comfort of the sofas, the loungers look smart and the carpet helps soften the look of the place. Most importantly, there are kitchen facilities so you can hold a dining party here. Perhaps the only real downside here is the lack of privacy due to it being glass all round.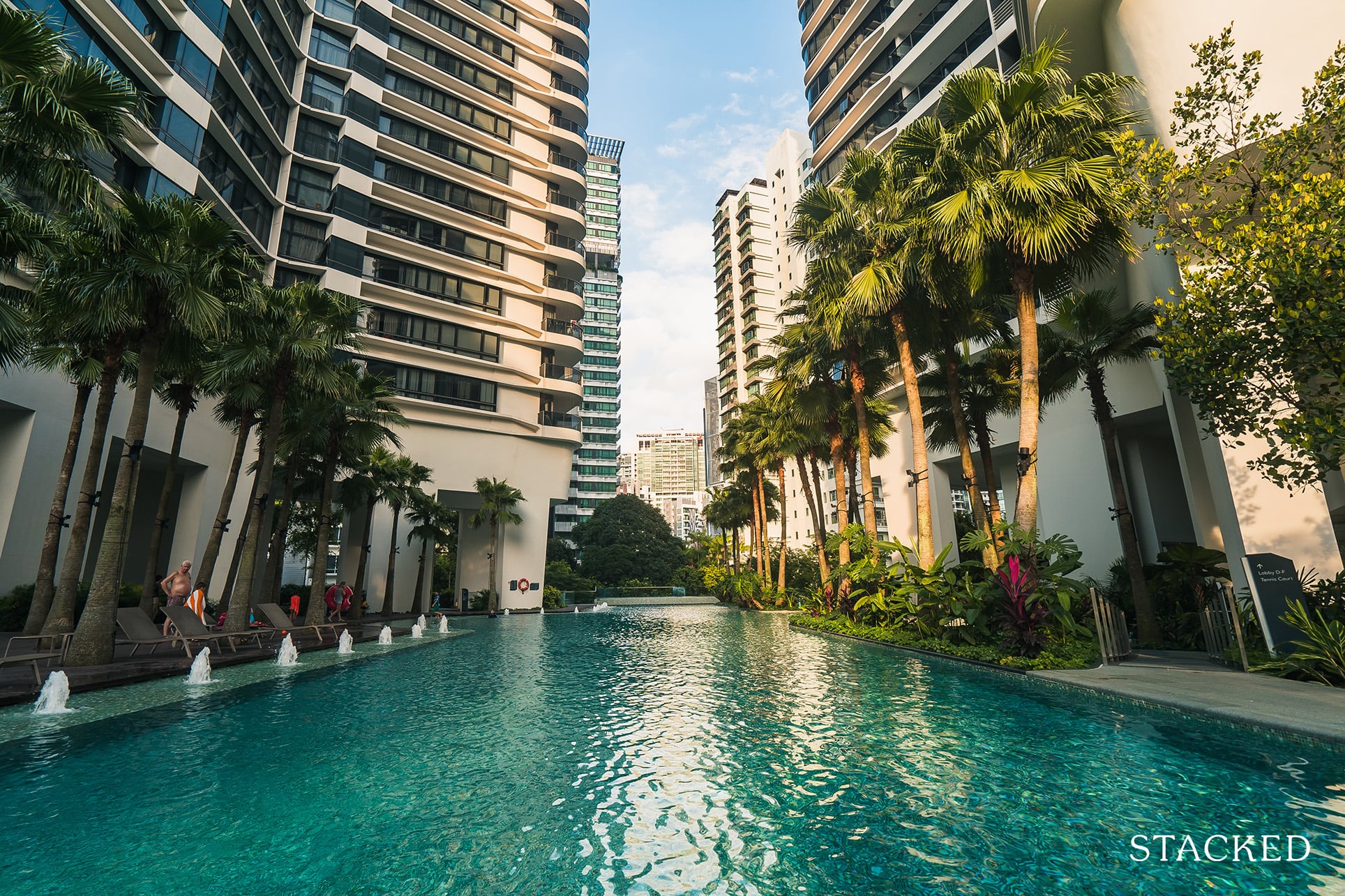 As with most condos, the biggest highlight is the swimming pool. It's a good size for the 205 units, both length and breadth wise. Just in front of the pool is a small children's pool as well.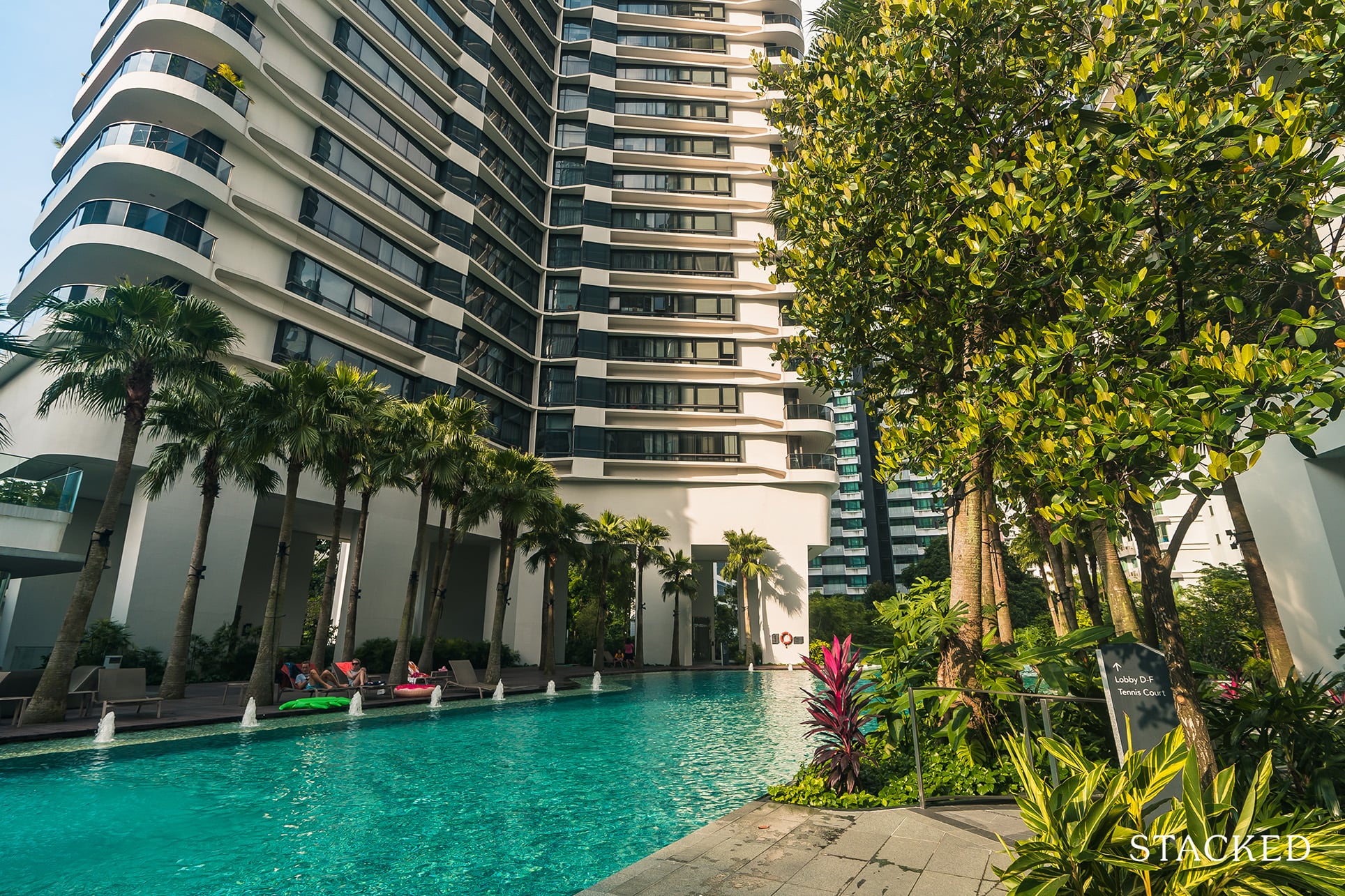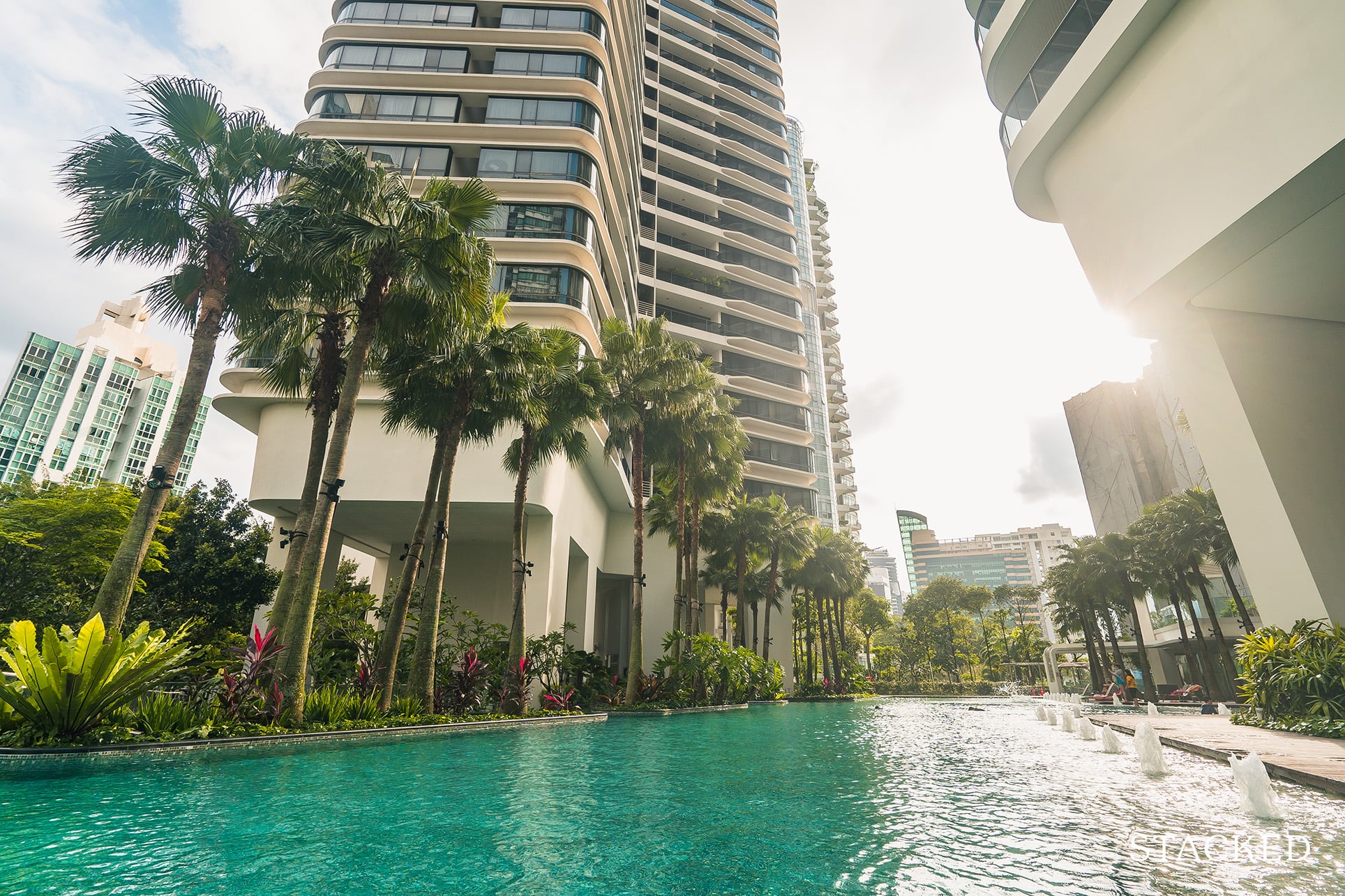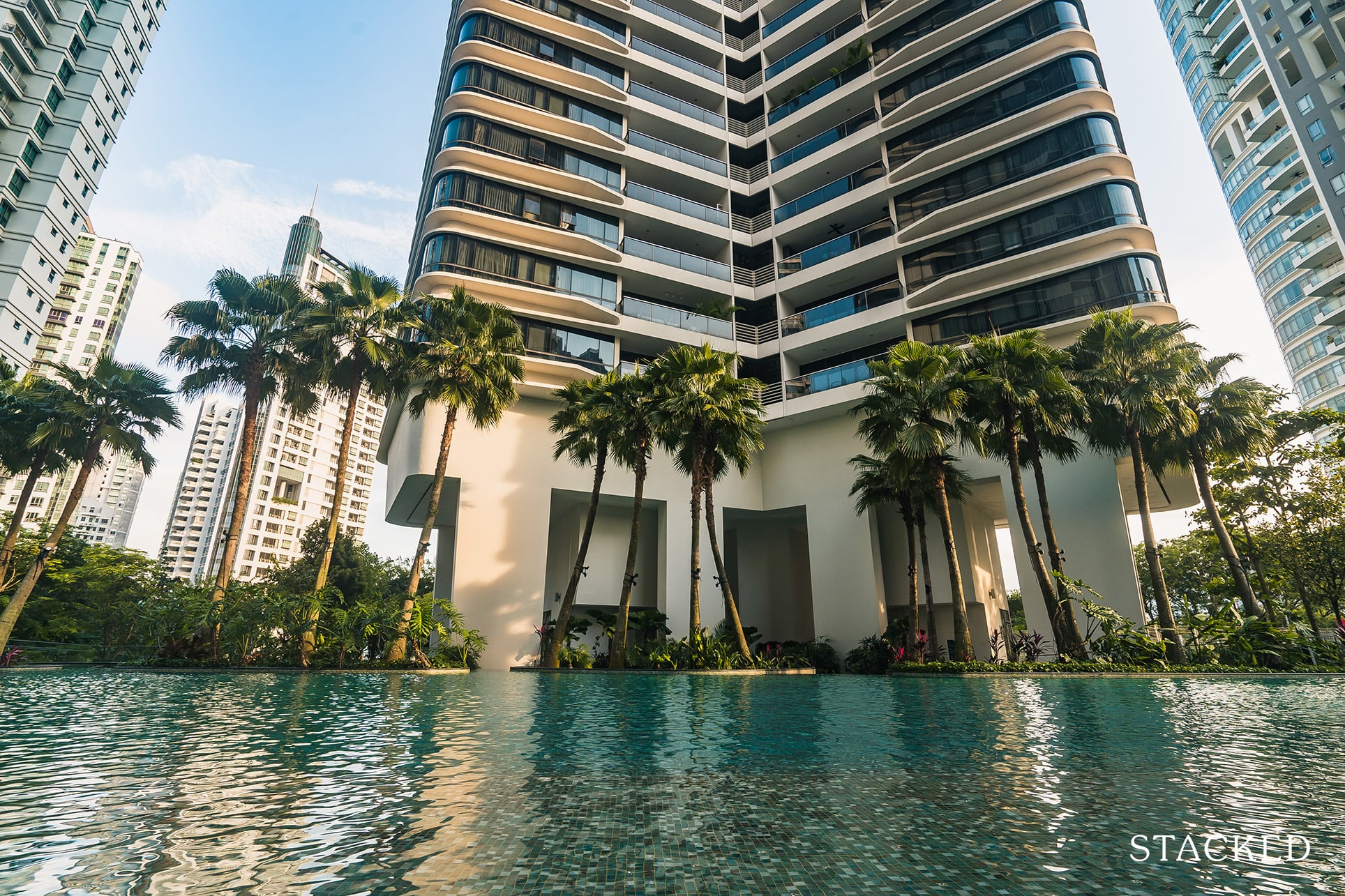 The palm trees planted along the side does go some way into helping to ease out the concrete nature of the Newton area, but it would be a lot nicer if there were more of it.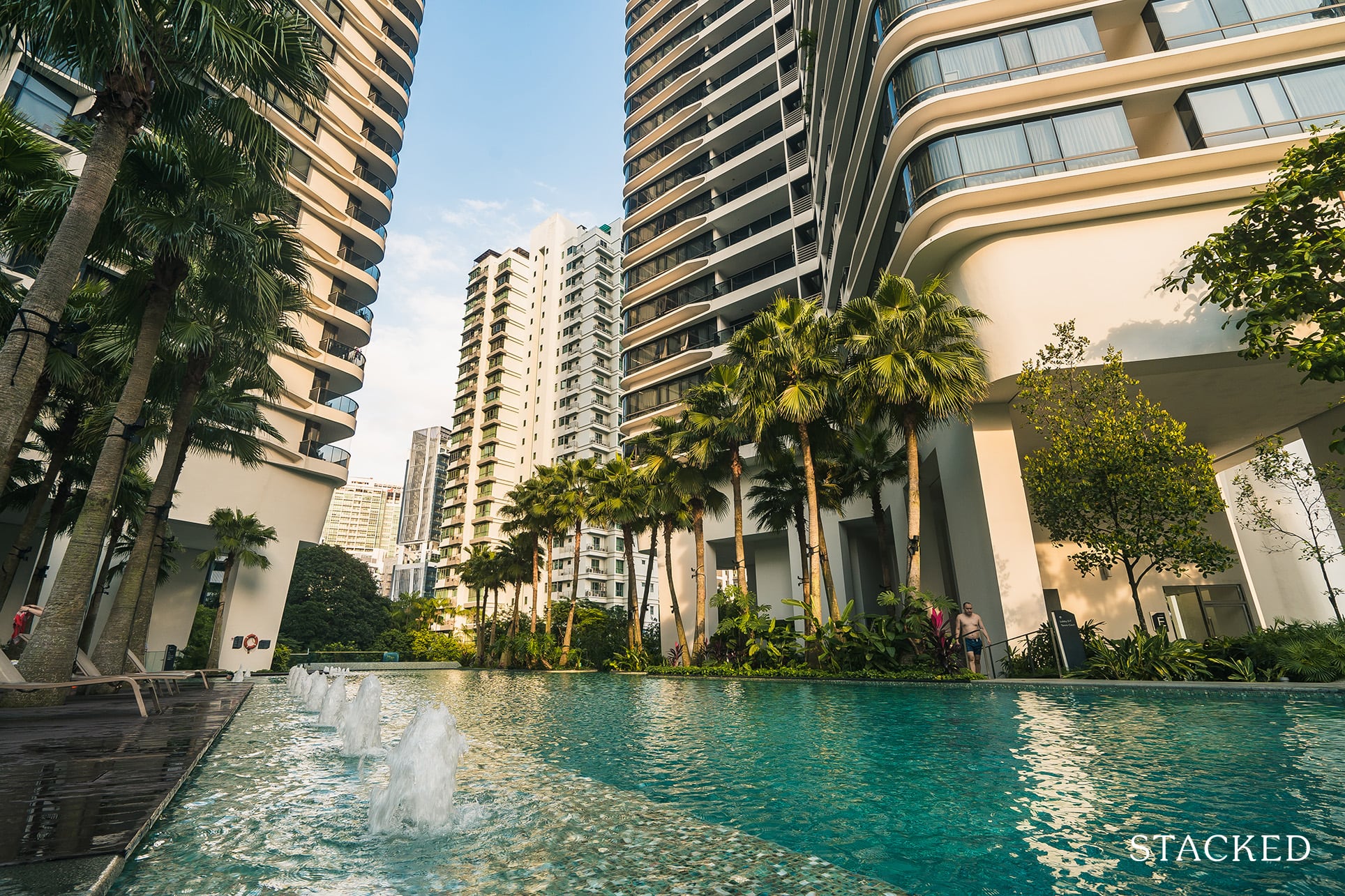 In a way, you can't help but feel 'oh so tiny' here especially when you look up at these two 30-storey behemoths towering over you.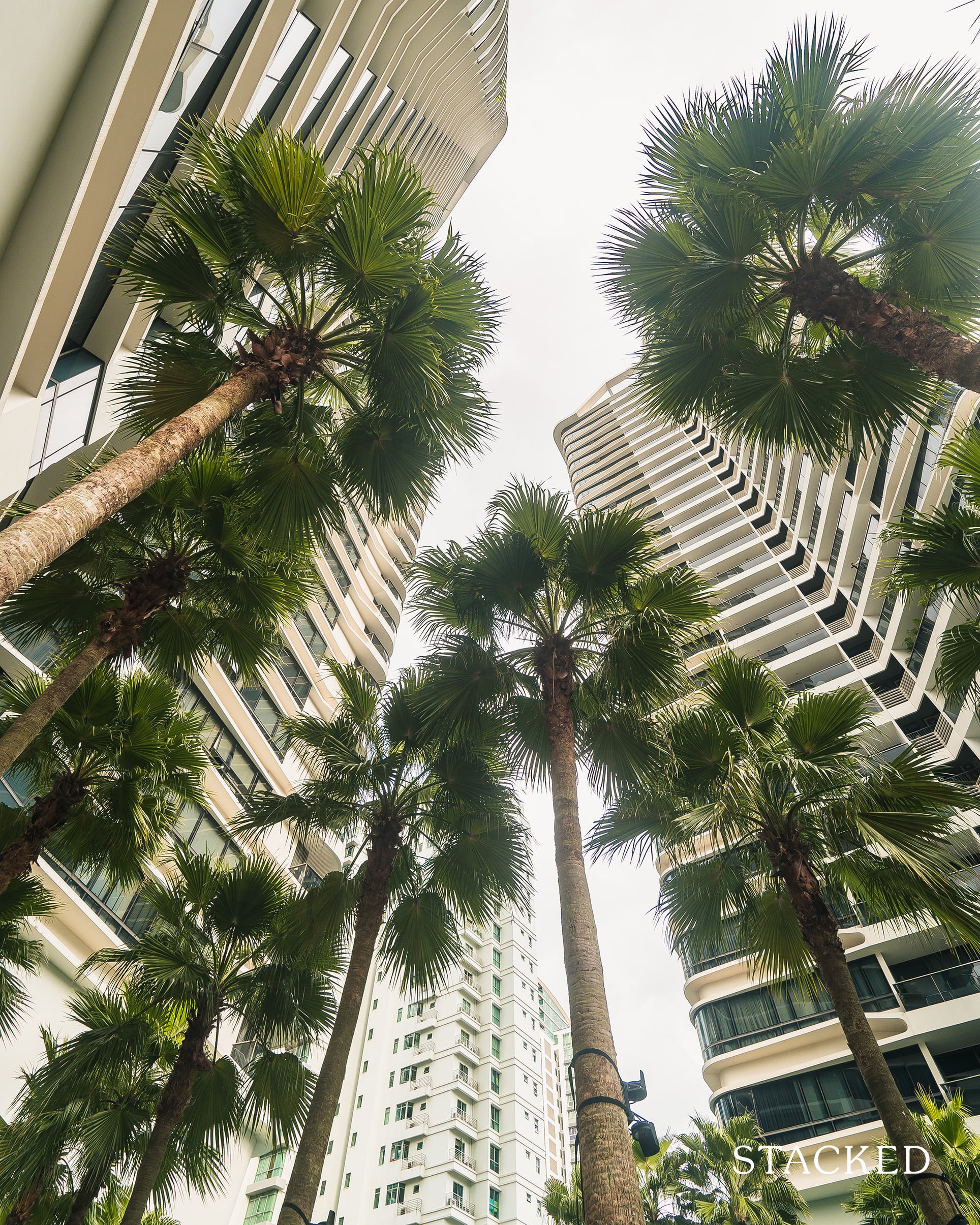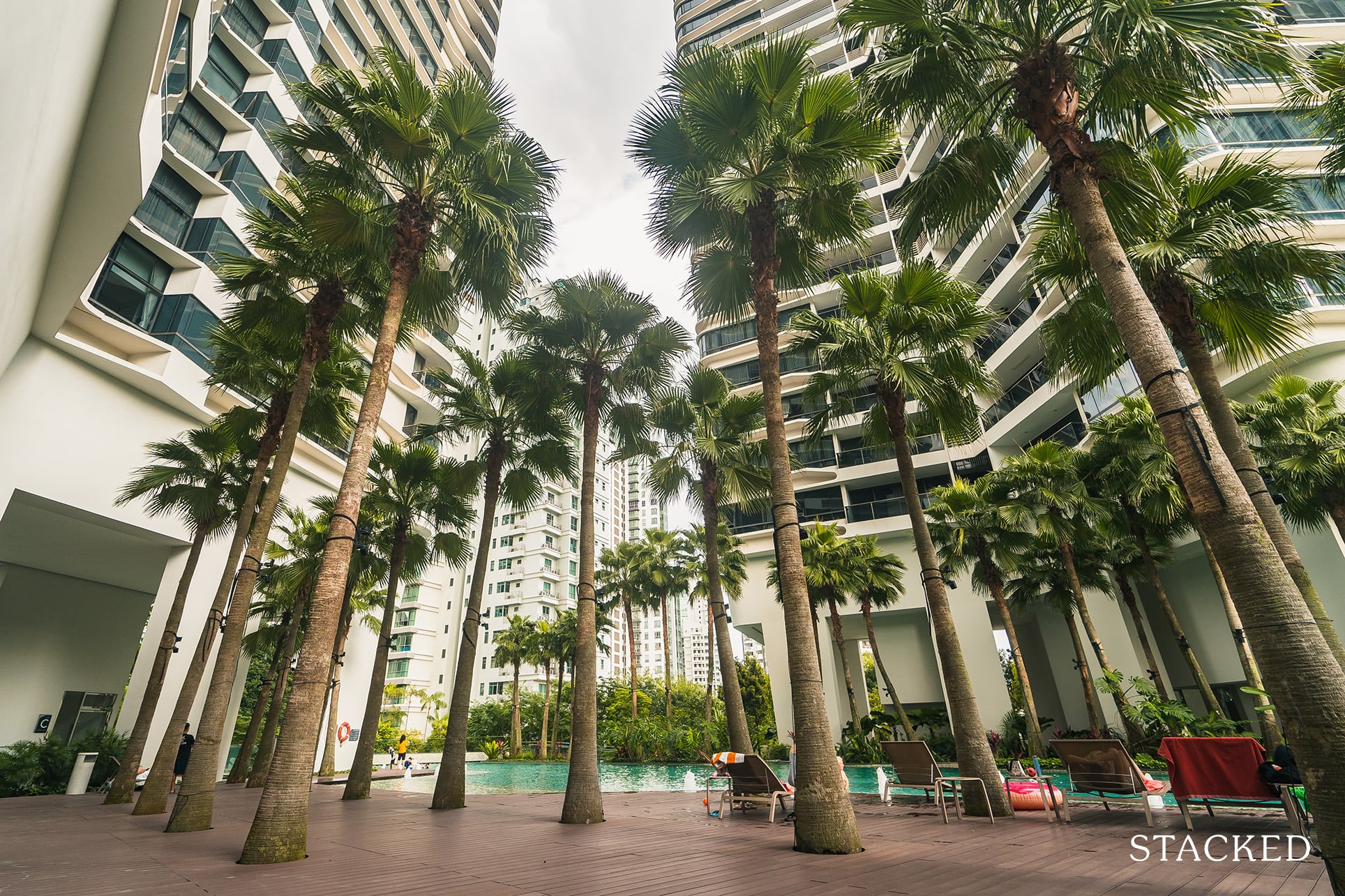 There are deck chairs that are laid alongside the pool, but there aren't many so you might find them all taken up on the weekends and holidays.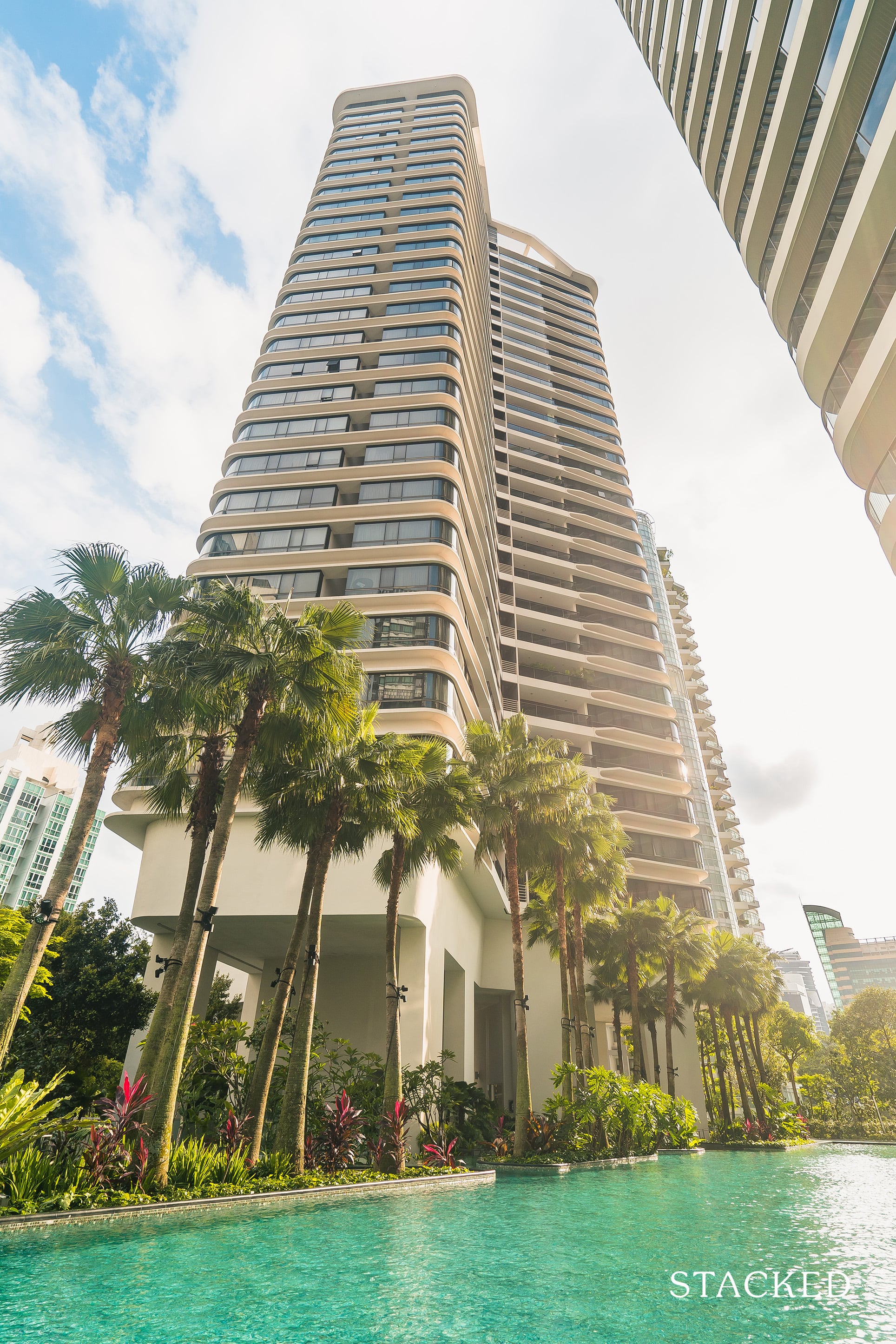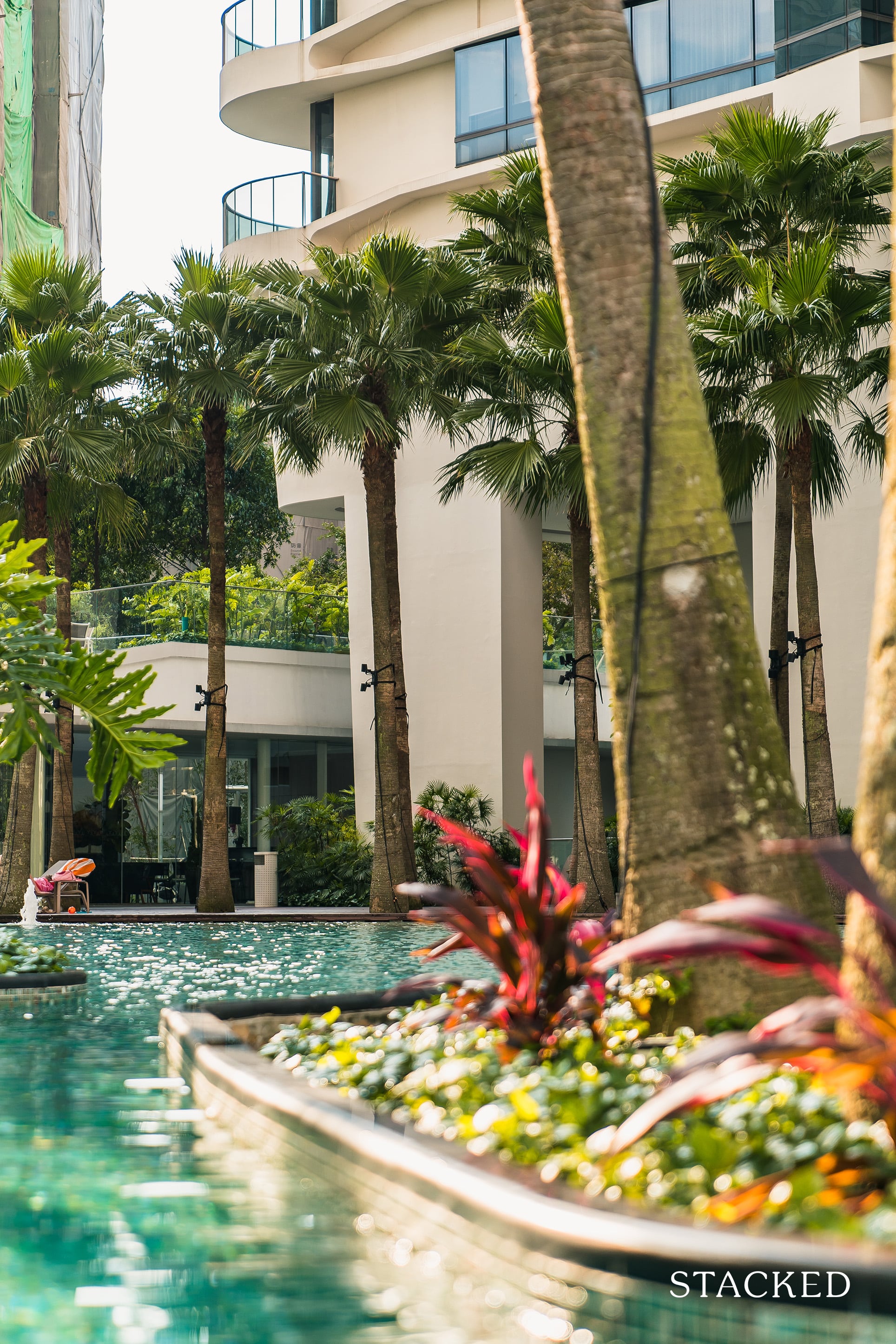 One of the cool features of the swimming pool is this small stream that veers off towards the side.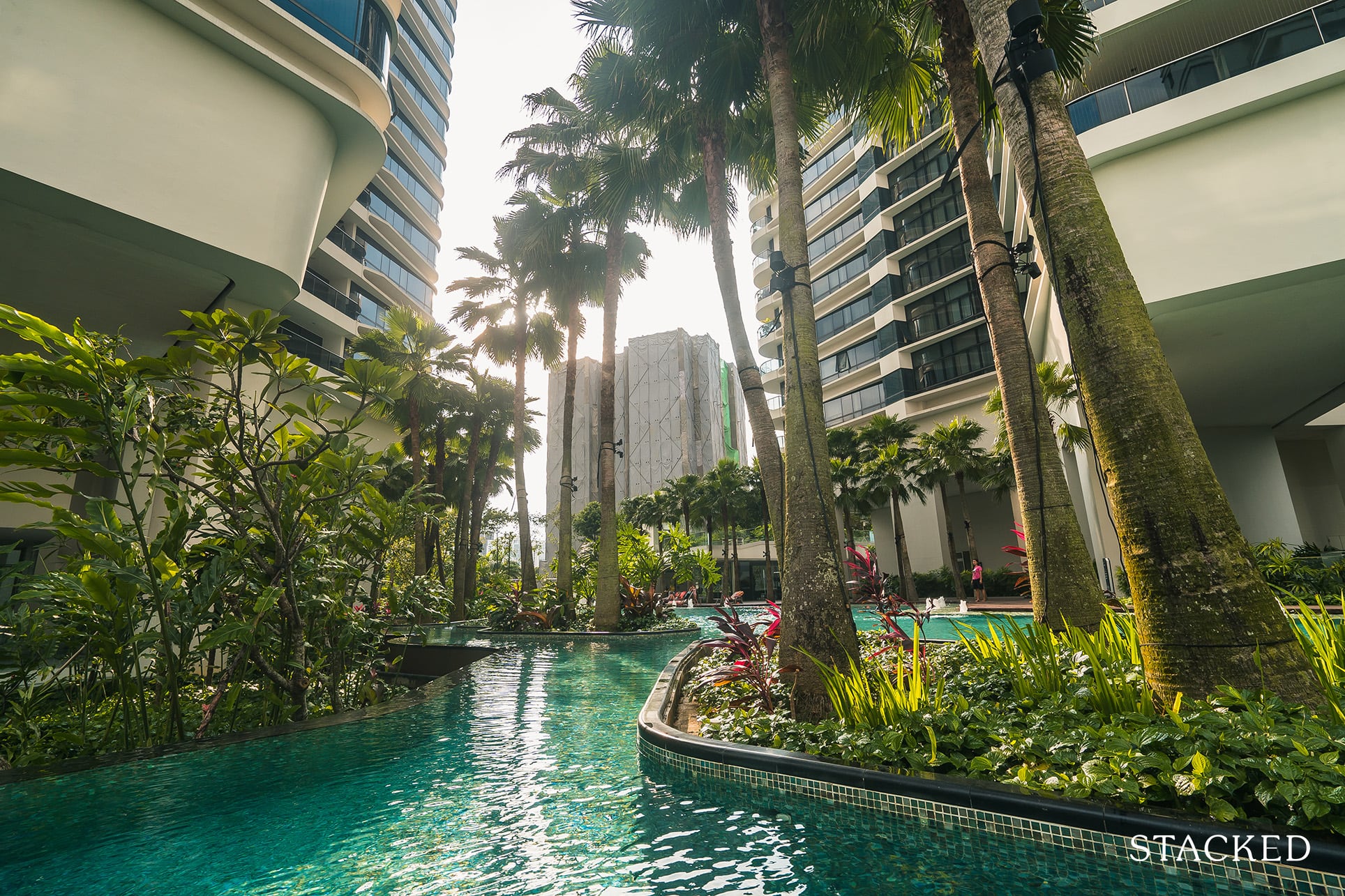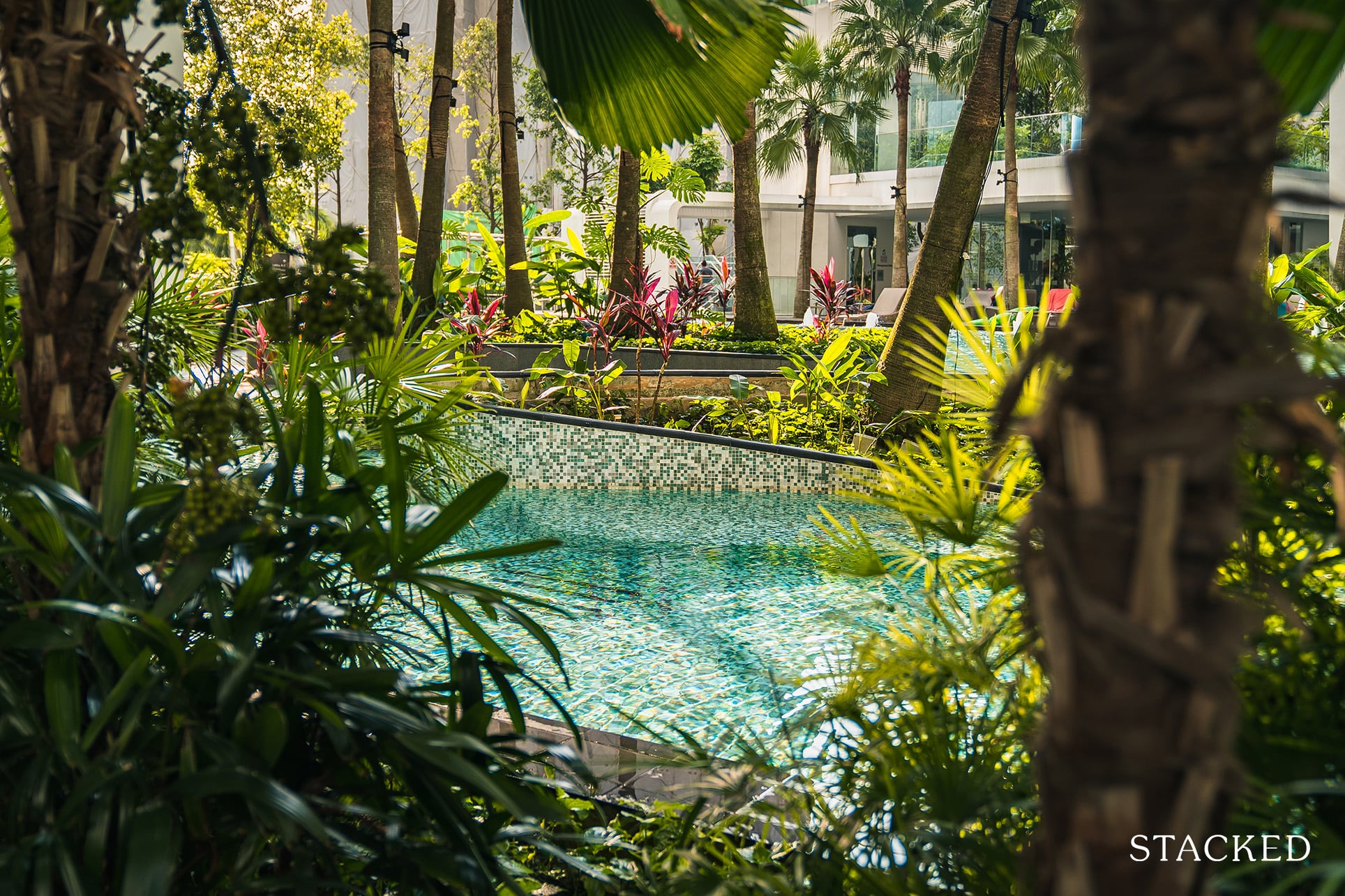 It allows for a quiet spot that is covered with more lush plants and greenery – perfect for you to hide away and relax.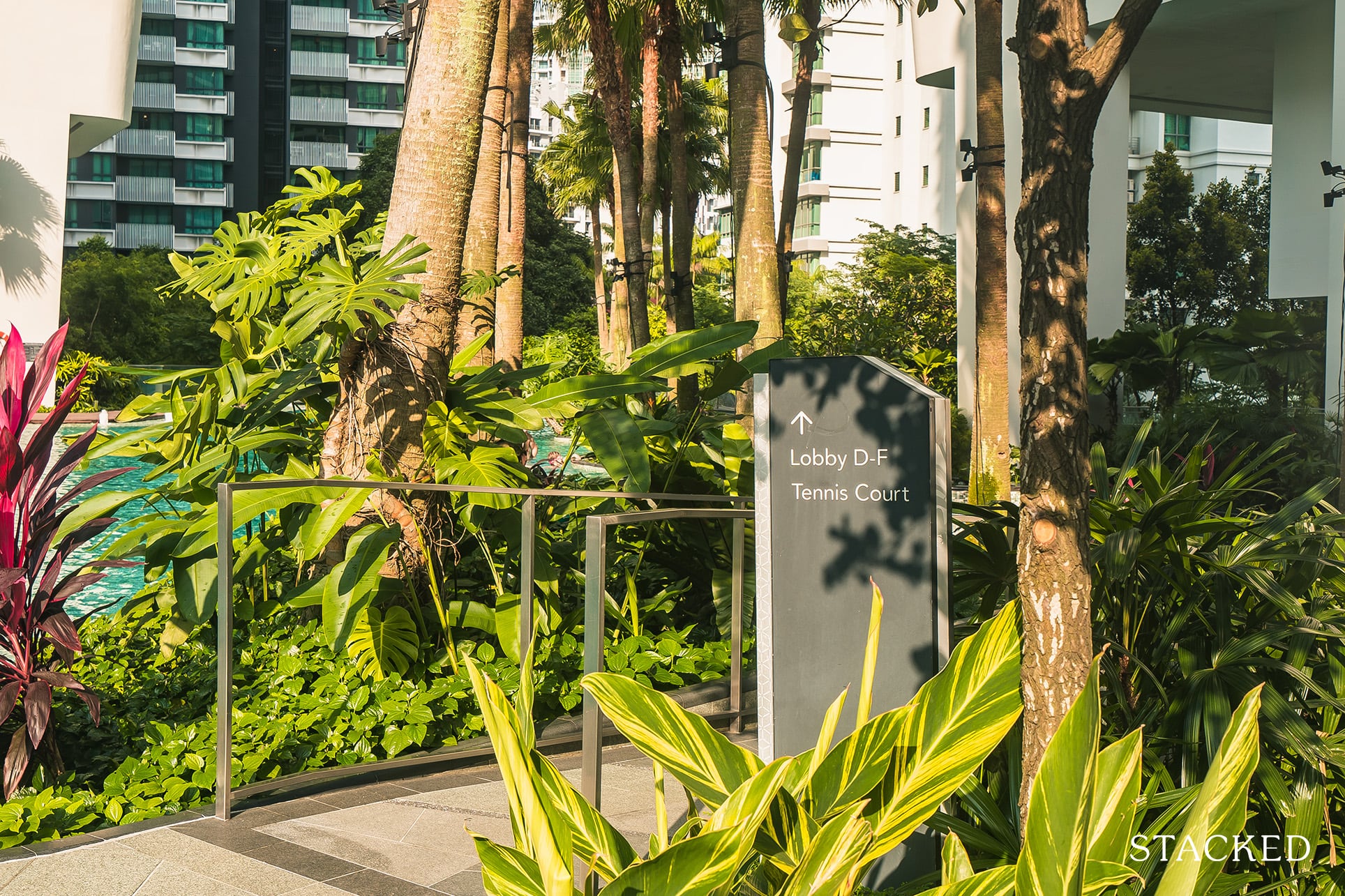 Considering the Trilight only has 205 units, it's great that you have a tennis court available.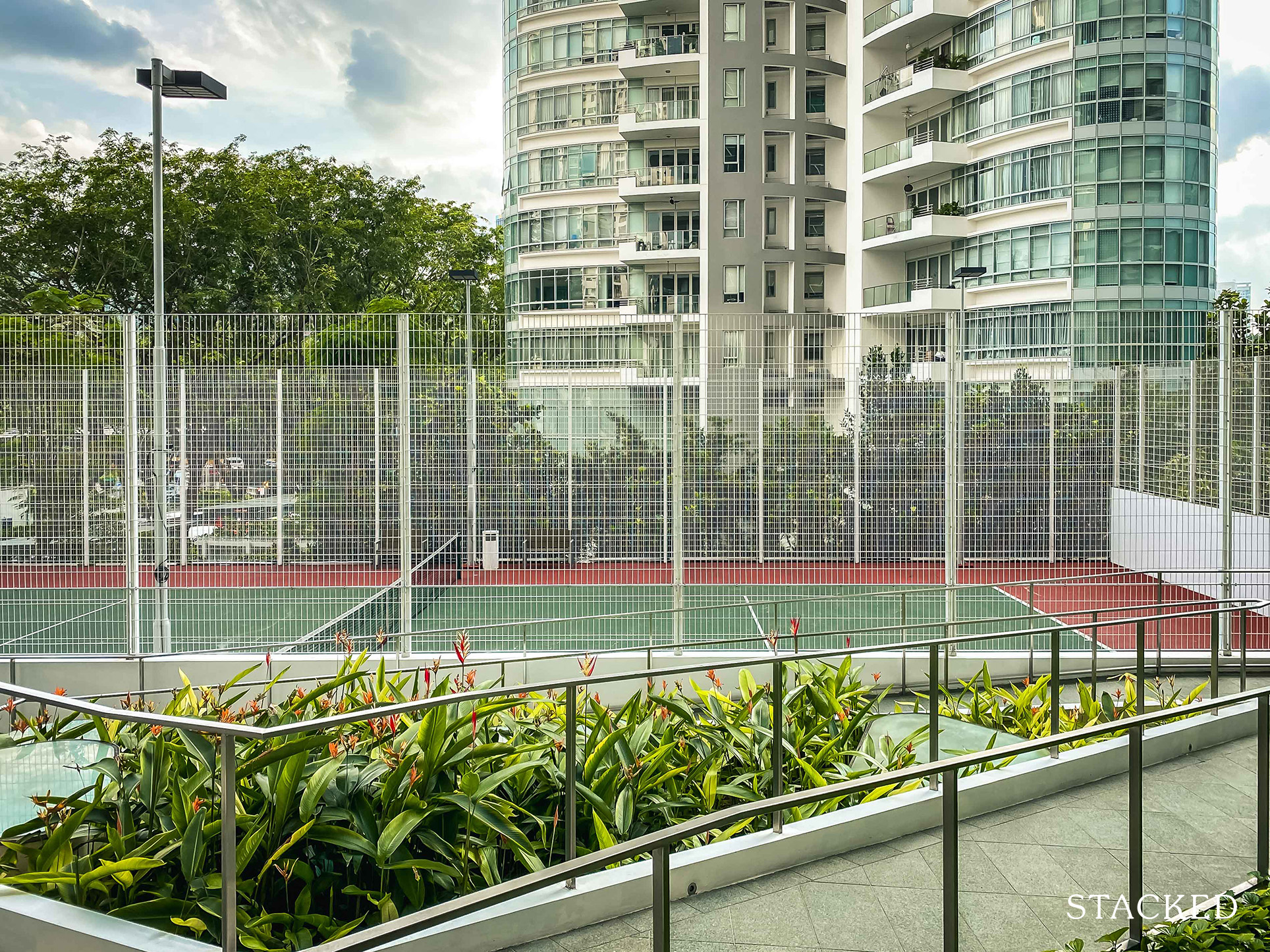 What's more, you can see that it has been maintained really well.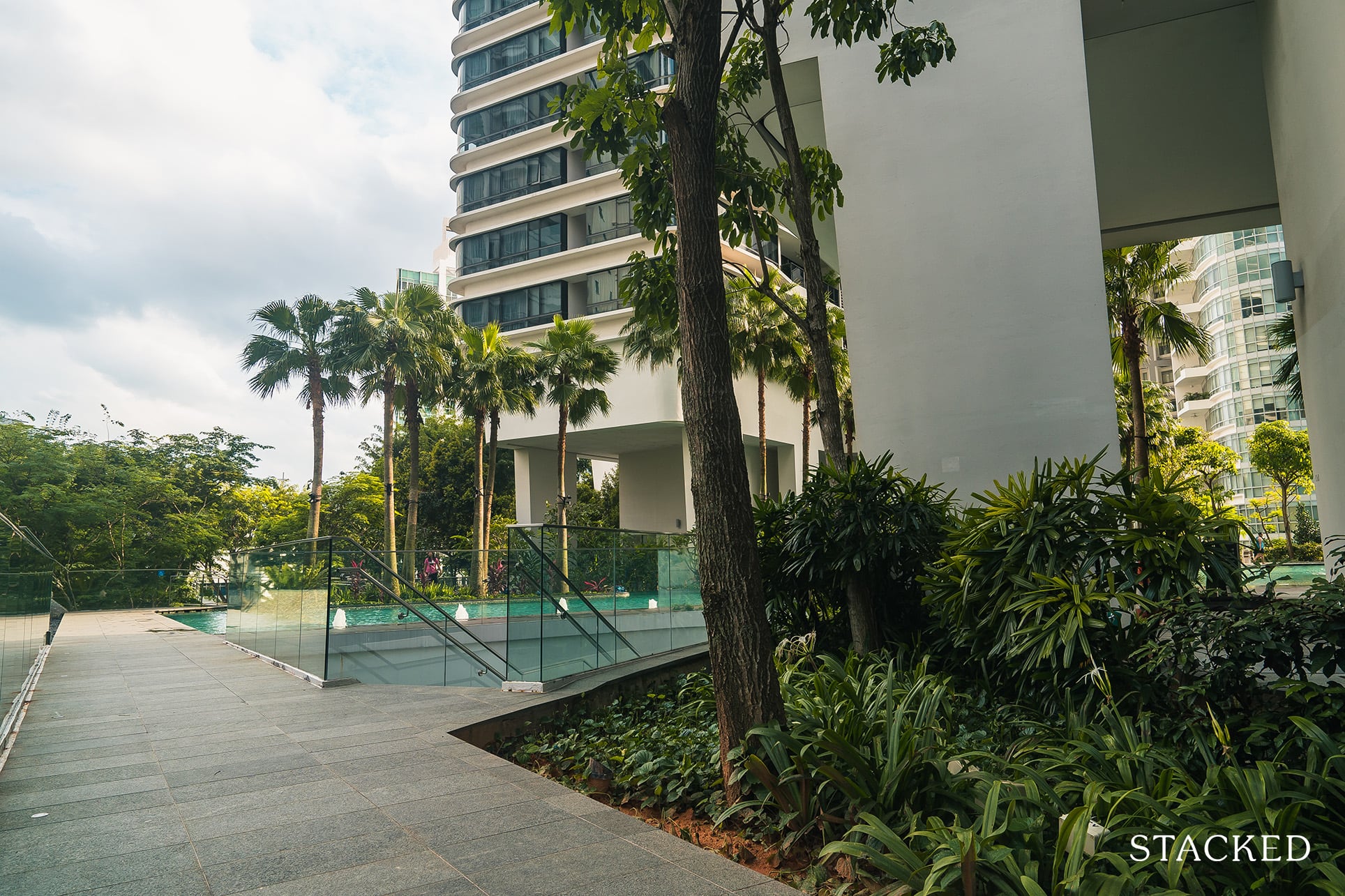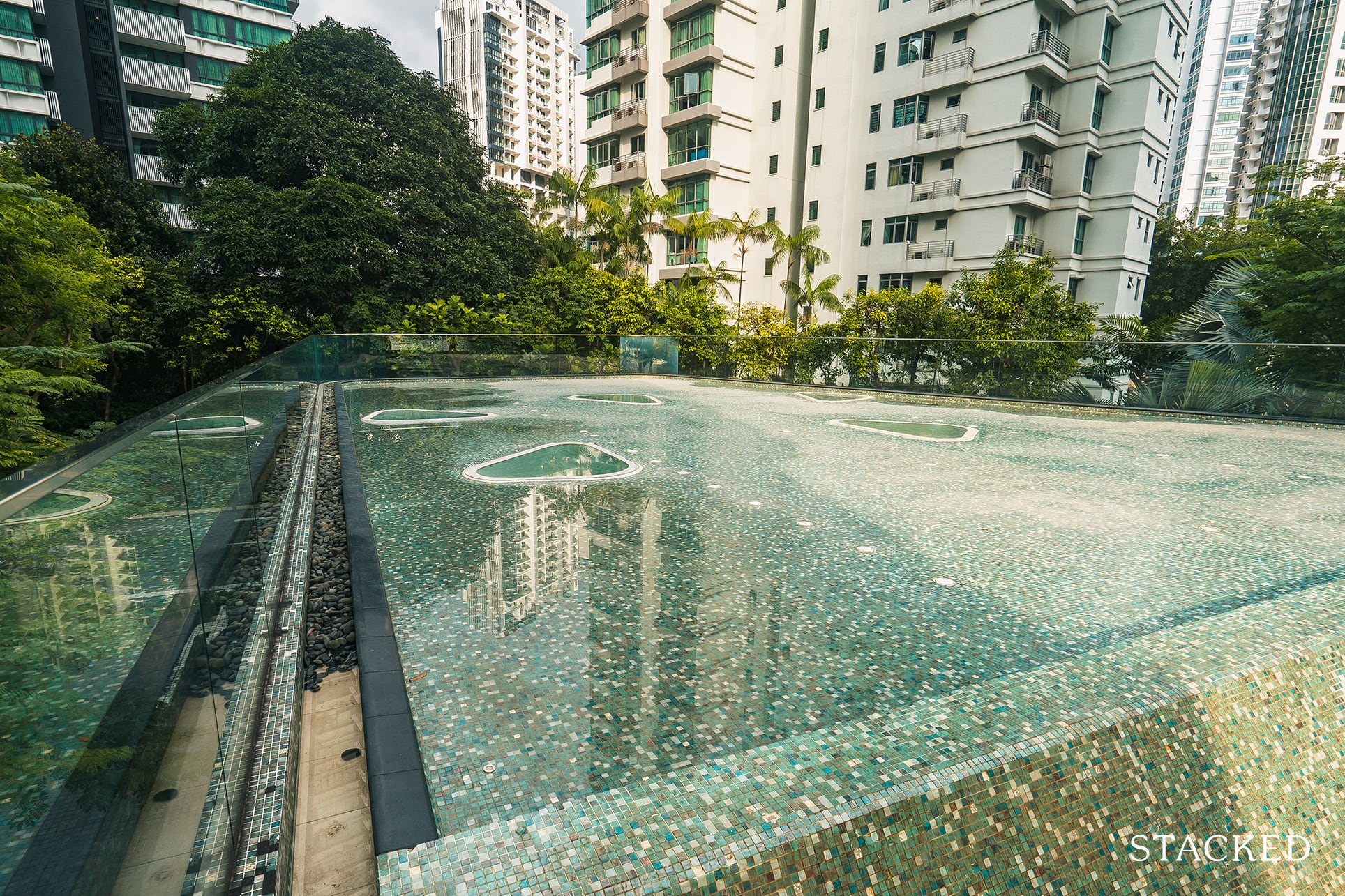 On the left is actually the reflection pool (the one above the guardhouse). At this point it was almost completely dried up, probably due to some renovation works. With the right lights at night, I can imagine it to be a really nice ambient feature.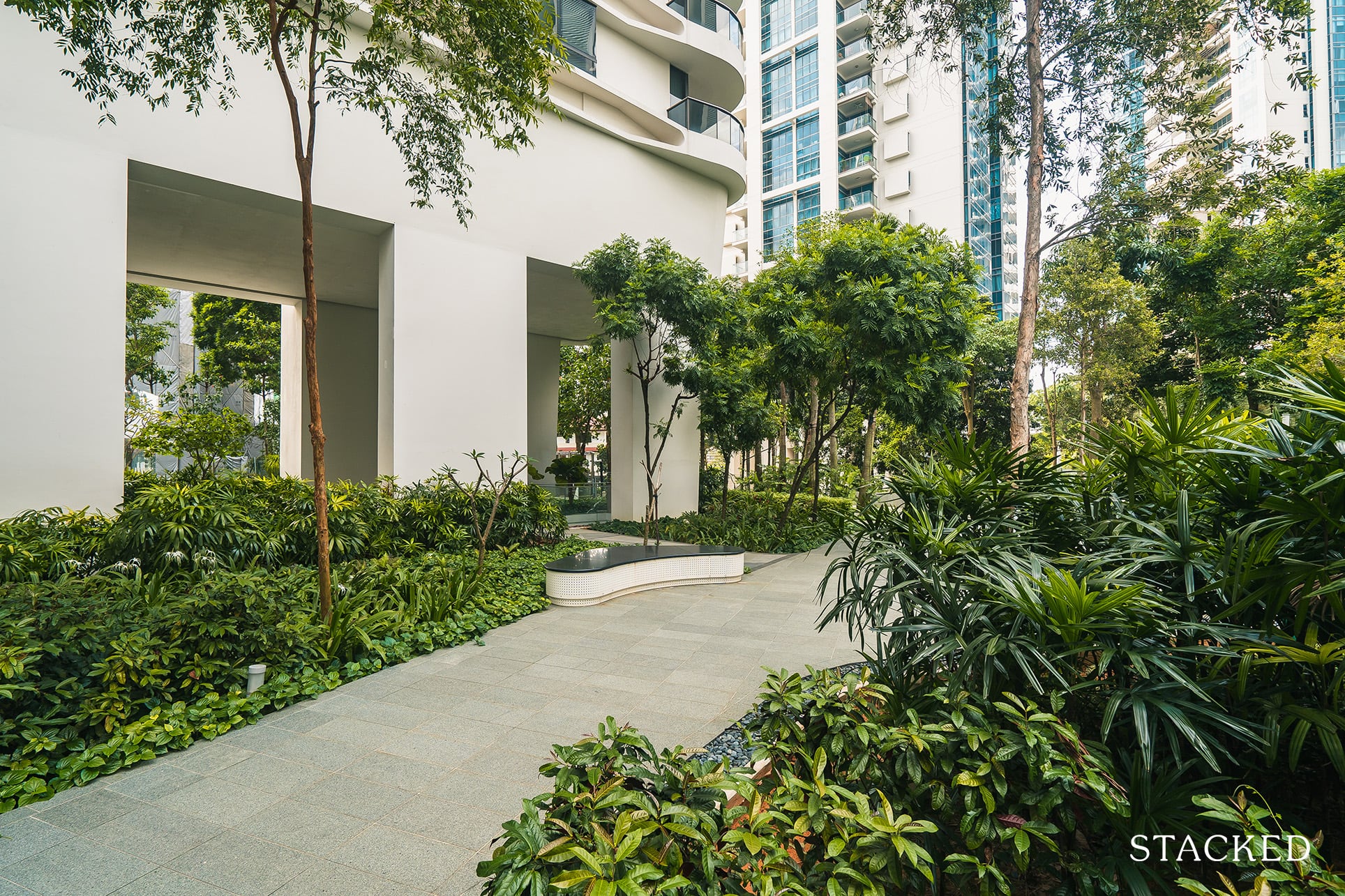 If you haven't noticed by now, the Trilight isn't a very big development. There is a pathway that circles around the two blocks, which you can use to walk a small dog but it isn't really conducive if you want to jog/run. I wouldn't say Newton Road is great to run along either. Your best bet is probably along the canal by Kampong Java but that's really one of the disadvantages of living in Newton.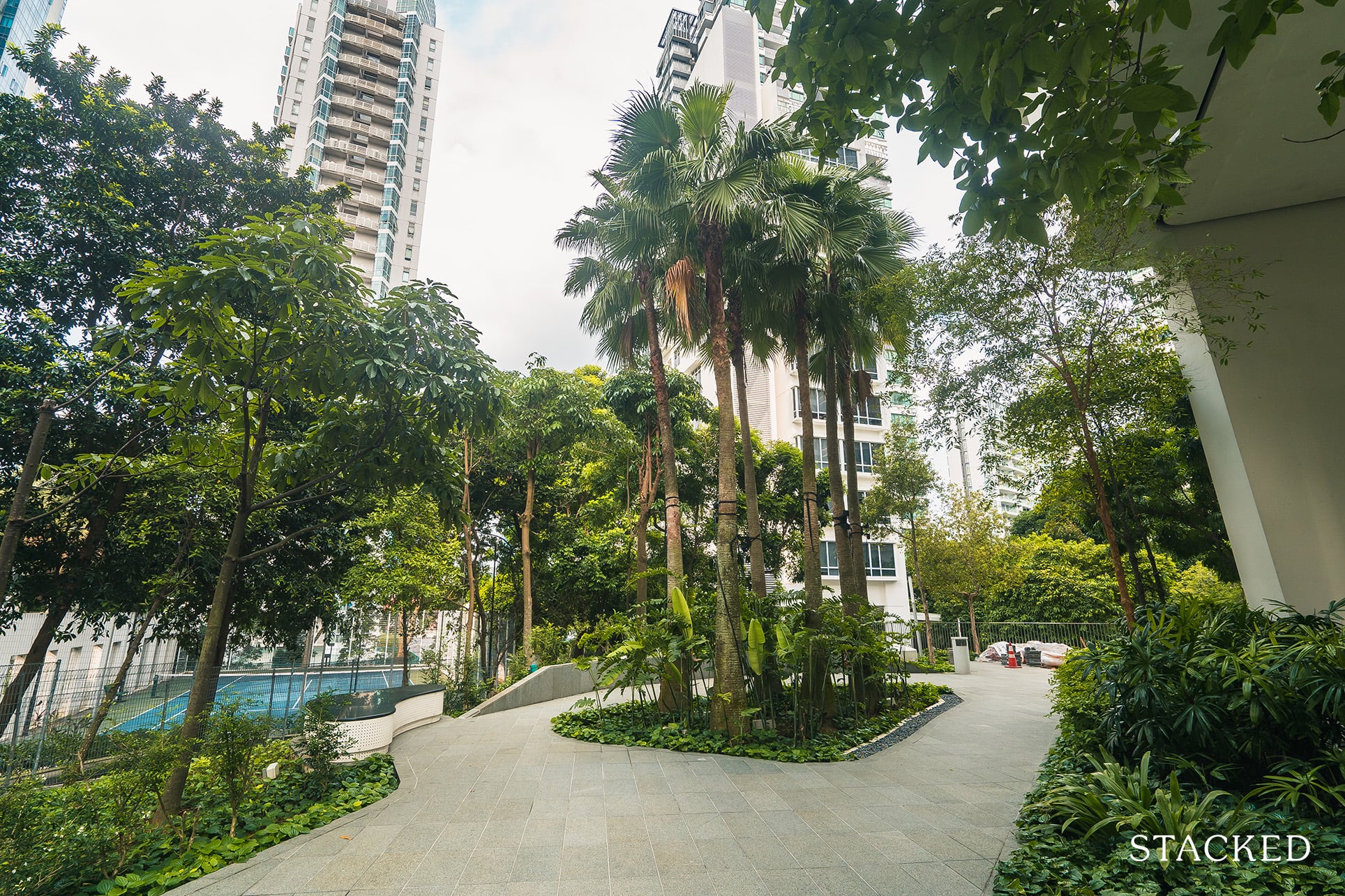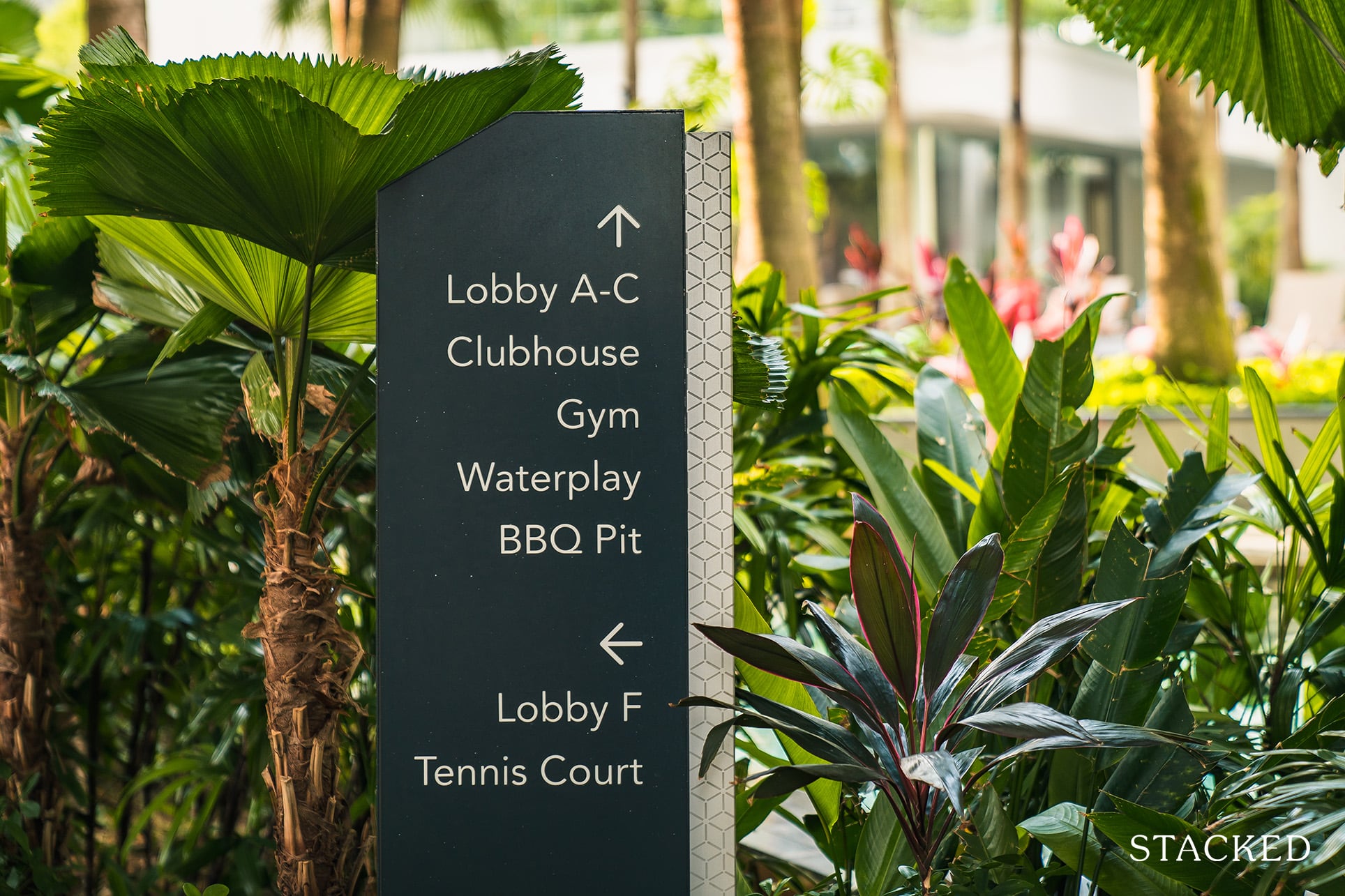 Next up, the gym and BBQ pit.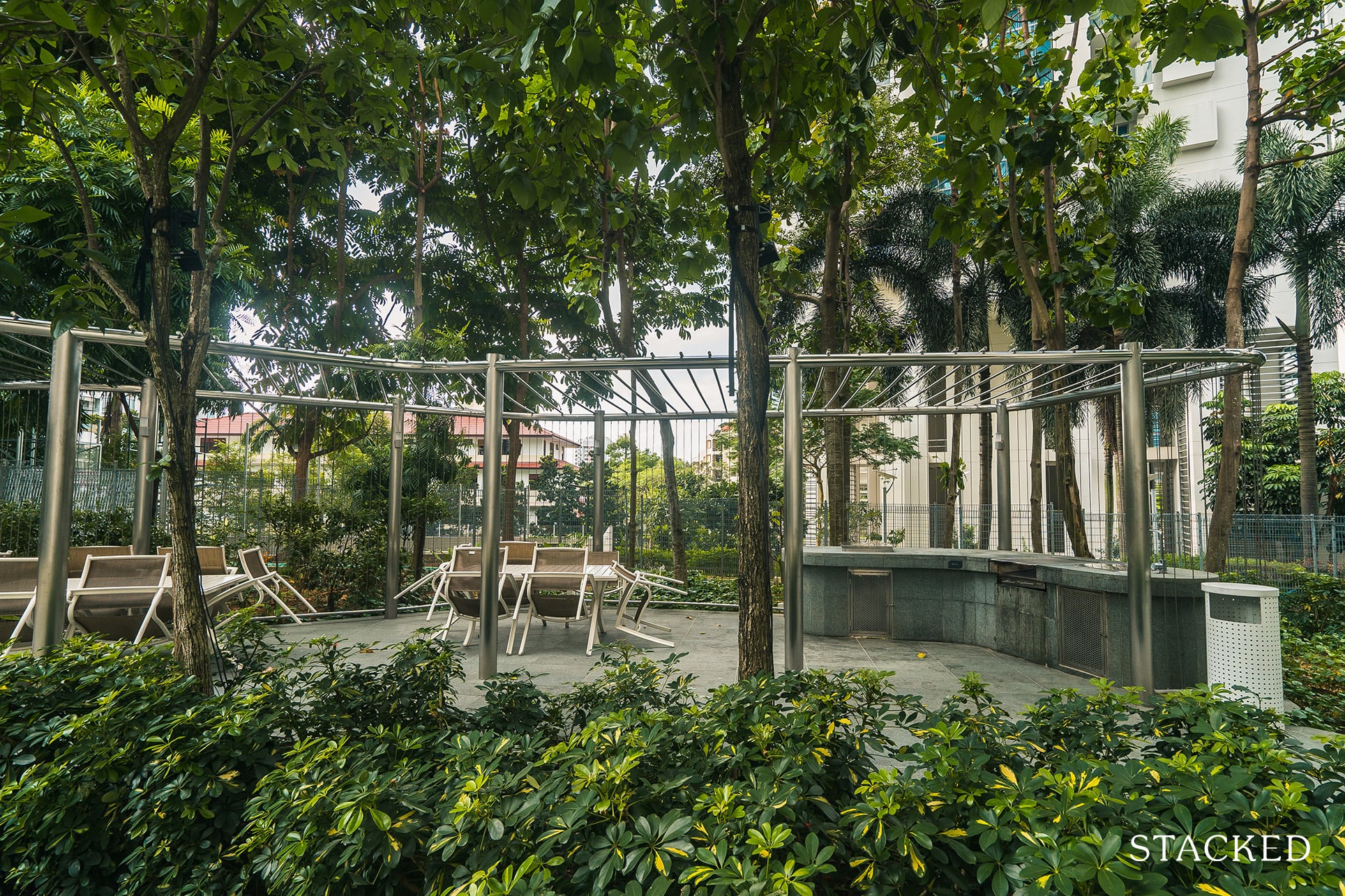 The barbecue pit is nestled in a more private spot, which is the good part. So you can make more noise and see fewer people.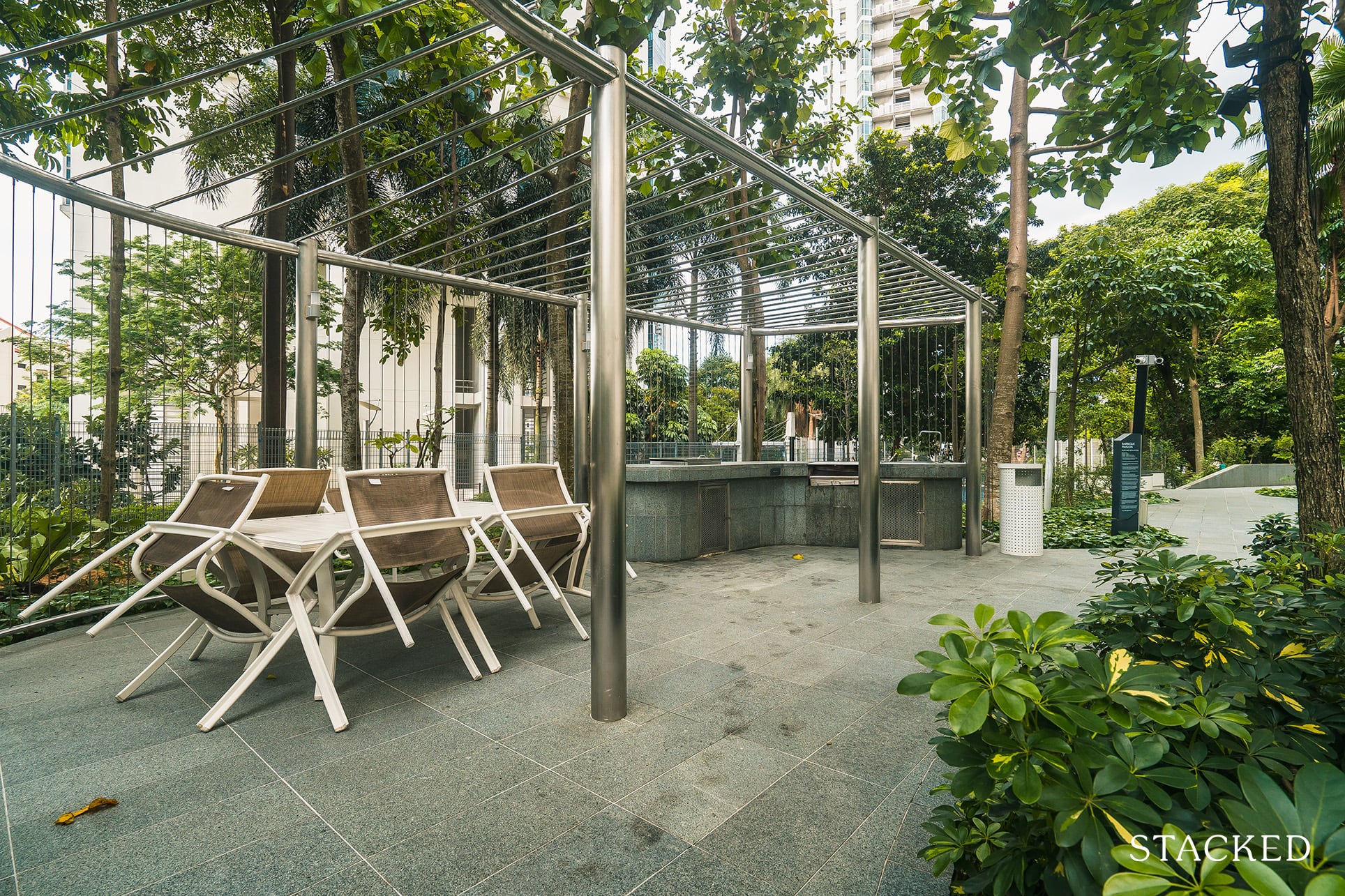 The not so good part is the very apparent lack of shelter – a glass panel over the top would be a very welcome rejuvenation update.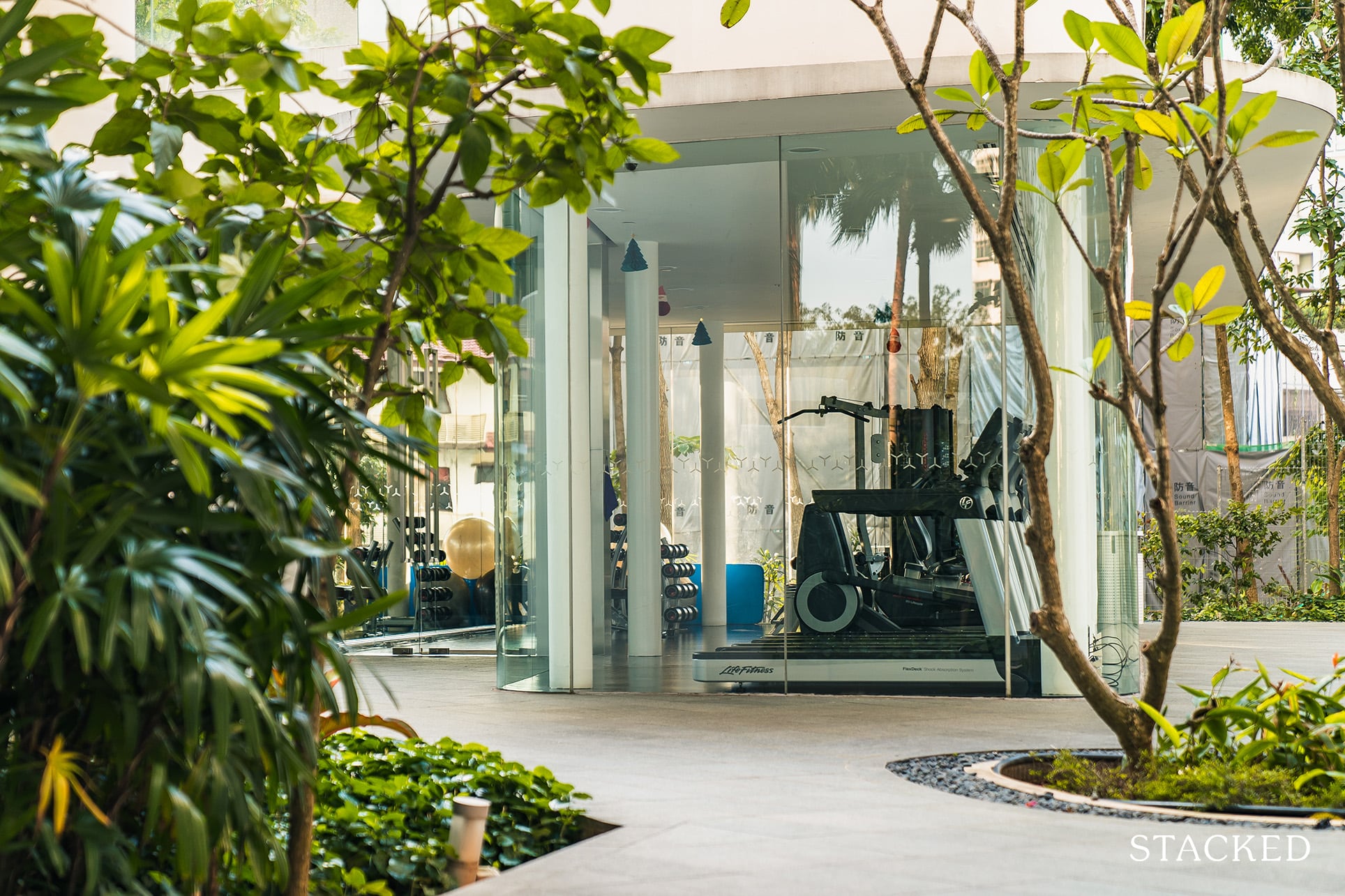 The Trilight condo gym is located quite close to the BBQ pits.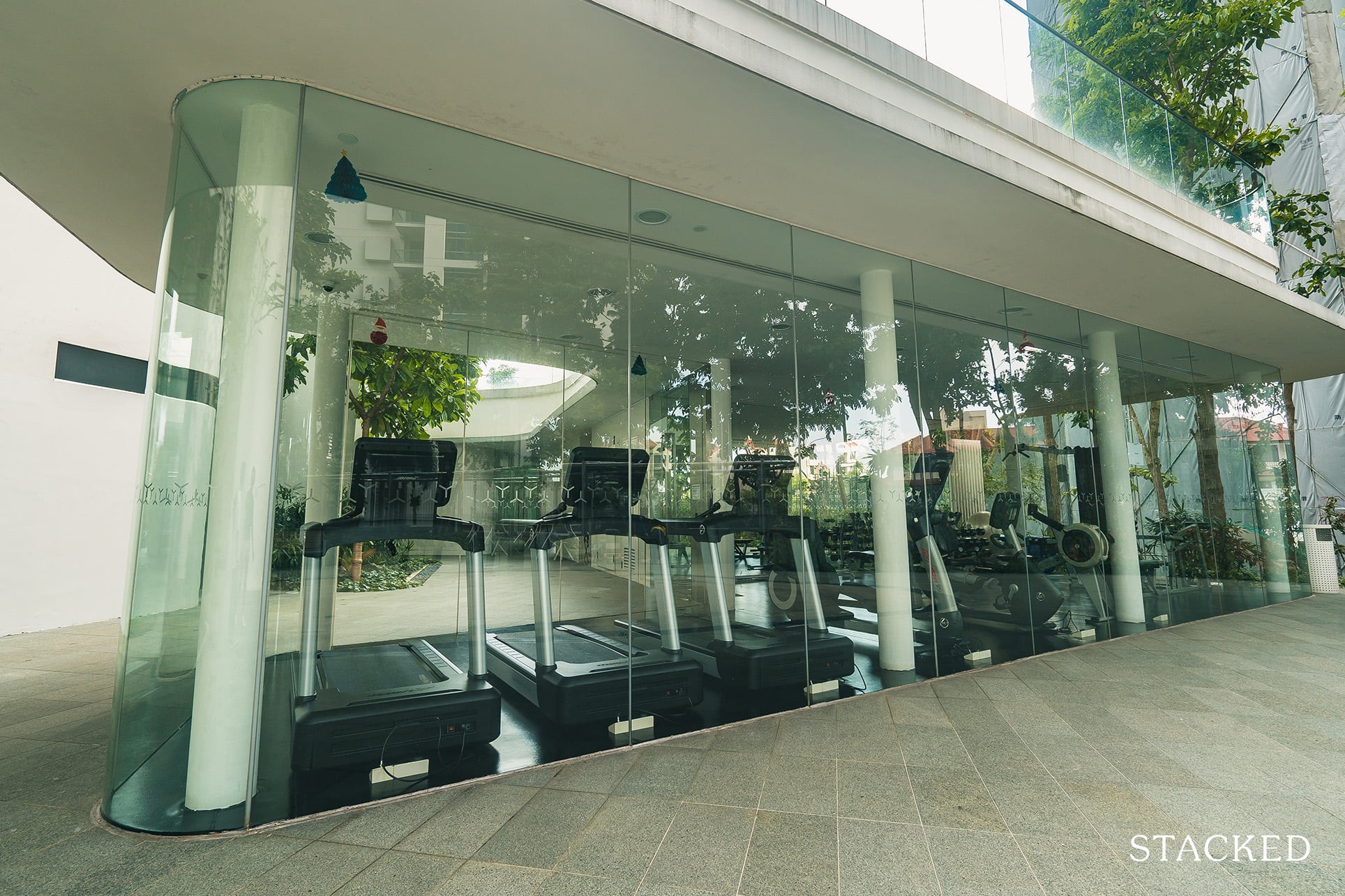 It's a really good size, with a sufficient number of equipment and weights. On the other hand, I wouldn't say that the view is exactly workout inspiring, seeing as it faces the BBQ pits.
Perhaps the sight of food roasting on the grill might just push you to go that extra mile 😉 (…or not)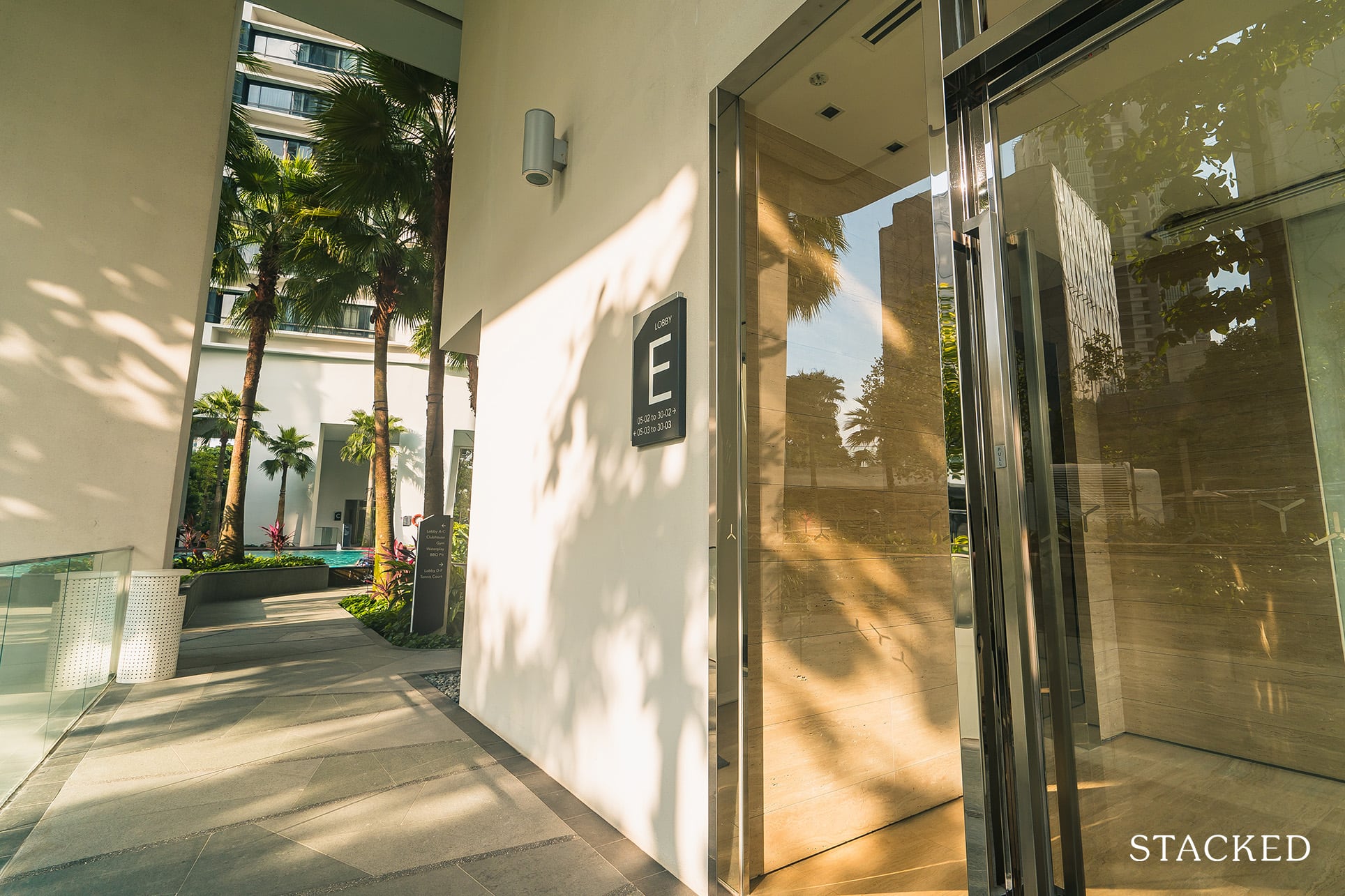 Lastly, each lobby is air-conditioned. You'll definitely need your access card here too, as every unit has private lift access.
Trilight Location Review
Nestled a stone's throw away from Singapore's timeless Newton Food Centre, the Trilight is actually closely packed into a cluster of condos that include Newton One and Residences @ Evelyn.

Yes, the immediate area isn't the most appealing for its nature offerings – but for what the locale lacks in flora, it certainly makes up for with unbridled transport convenience.

Transport
| | | |
| --- | --- | --- |
| Bus Station | Buses Serviced | Distance From Condo (& Est. Walking Time) |
| 'Opp Newton Life Ch' | 5, 54, 124, 143, 162, 162M, 167, 167e, NR1 | 160m, 2-min walk |
| 'Opp Newton Station Exit C' | 48, 66, 66B, 67, 170, 171, 700, 700A, 960, 960e | 350m, 4-min walk |
Closest MRT: Newton MRT – 450m, 6-min walk, Novena MRT – 1km, 12-min walk

The addition of the Downtown Line in 2015 made Newton MRT one of Singapore's most central stations to date.

In fact, convenience of public transport access to the 3 major clusters (Toa Payoh, Little India and Orchard) from the Trilight outmatches even that of private transport.

The '6-min' path to the MRT is covered for the most part save for that little stretch along Newton Flyover – so be sure to bring an umbrella in the event of wet weather (…or not, depending).

What's more, in the event of any unlikely maintenance works to Newton MRT station, the Novena MRT station serves as an alternative just north of the condo. The pathway there is mostly sheltered save for a few 'road crossings'.

Finally, the presence of some express and night buses from the immediate bus-stops will go some way in easing convenience to specific locales at various times of the day.
| | |
| --- | --- |
| Highway/Major Road | Distance From Condo (& Est. Off-Peak Drive Time) |
| Bukit Timah/Scotts Road | 800m, 2-min drive |
| Thomson/Moulmein Road | 850m, 2-min drive |
| Orchard Road | 2km, 4-min drive |
| Victoria Street | 3km, 6-min drive |
| Adam/Farrer Road | 3.9km, 5-min drive |
| CTE | 2km, 4-min drive |
| PIE | 2.1km, 3-min drive |
| ECP | 4.9km, 8-min drive |
| KPE | 6.8km, 7-min drive |
| BKE | 8.5km, 8-min drive |
| AYE | 8.8km, 9-min drive |
| SLE | 11.6km, 10-min drive |
| TPE | 11.8km, 10-min drive |
| KJE | 13.6km, 12-min drive |
Private transport accessibility: Excellent

We recently crafted a piece on the upcoming Sloane Residences (along Balmoral Road) located relatively close by to the Trilight.

Its duo 'major road entrance' (after the initial exit) meant easy access to various districts and allowed alternate driving paths in the event of bad traffic situations.

The Trilight's situation just next to Newton Circus closely parallels this ease-of-access by allowing residents straight-forward routes to the Little India, Orchard and Bukit Timah districts (not to mention the Novena cluster).

One point to note is that those headed towards the Newton Circus roundabout will have to first maneuver a U-turn along Newton Road. This involves cutting to the right across 3 (usually busy lanes) in just over a 100 metres after the initial condo exit.

For reference, it also takes about 15 minutes to get to One Raffles Place (CBD landmark) by car during peak hours.

Groceries
| | |
| --- | --- |
| Name of Grocery Shop | Distance From Condo (& Est. Off-Peak Drive Time) |
| Cold Storage – United Square | 900m, 3-min drive OR 700m, 9-min drive |
| Cold Storage – Velocity | 1.5km, 5-min drive |
| FairPrice – Square 2 | 1.5km, 5-min drive |
| FairPrice Finest – Scotts Square | 1.8km, 6-min drive |
In essence, the Trilight residents' closest grocery options come from the Novena cluster of shopping malls. As mentioned earlier, most of the path to the area is shaded so it makes for a comfortable 'walking-trip' in that sense.

If residents are looking at wider variety, an entire bunch of offerings open up along Orchard Road and even the Little India district – though a little further off, yet perhaps more authentic and culturally immersive.
Shopping Malls

| | |
| --- | --- |
| Name of Shopping Mall | Distance From Condo (& Est. Off-Peak Drive Time) |
| Novena Shopping Mall Cluster | 850m, 3-min drive OR 800m, 10-min walk |
| Start of Orchard Cluster | 2km, 6-min drive |
| Farrer Park Cluster (City Square Mall etc.) | 3.2km, 10-min drive |
| Cluny Court Cluster (Bukit Timah) | 3.8km, 8-min drive |
| Toa Payoh Heartland Cluster | 3.8km, 10-min drive |
| Bugis Cluster | 4km, 12-min drive |
As you'd observe (and expect), an entire array of entertainment, food and recreational options are made available to residents at the Trilight.

More importantly, all these areas are easily reached by MRT – courtesy once again to the incredibly helpful Downtown Line.

Of course, driving to the malls are always an option, but if you factor in potential jams, parking hassles (fees included) as well as fuel efficiency (short distance rides), most would naturally opt for the former.
Schools
| | | |
| --- | --- | --- |
| Name of School | Education Level | Distance From Condo (Est. Off-Peak Drive Time) |
| EtonHouse Pre-School (Newton) | Preschool | 450m, 4-min walk |
| Far Eastern Kindergarten | Preschool | 550m, 6-min walk |
| Pat's Schoolhouse Buckley | Preschool | 550m, 7-min walk |
| St. James' Church Kindergarten | Preschool | 650m, 8-min walk |
| Newton Kindergarten | Preschool | 750m, 9-min walk |
| Anglo-Chinese Primary (Winstedt Road) | Primary | 2.1km, 6-min drive OR 1.2km, 15-min walk |
| St. Joseph's Institution (Junior) | Primary | 2.4km, 8-min drive OR 15-min walk |
| Anglo-Chinese Primary (Barker Road) | Primary | 3.2km, 10-min drive OR 1.2km, 14-min walk |
| Farrer Park Primary | Primary | 2.7km, 8-min drive |
| Hong Wen School | Primary | 2.9km, 9-min drive |
| Singapore Chinese Girls' School | Primary | 3.2km, 9-min drive |
| CHIJ Primary (Toa Payoh) | Primary | 3.6km, 8-min drive |
| Stamford Primary | Primary | 3.8km, 10-min drive |
| St. Andrews' Junior | Primary | 5km, 10-min drive |
| Bendemeer Secondary | Secondary | 2.1km, 6-min drive |
| ACS Secondary (Barker Road) | Secondary | 3.2km, 9-min drive |
| St. Joseph's Institution | Secondary | 3.3km, 8-min drive |
| Singapore Chinese Girls' School | Secondary | 4.5km, 9-min drive |
| St. Margaret's Secondary | Secondary | 4.6km, 10-min drive |
| St. Andrew's Secondary | Secondary | 4.9km, 10-min drive |
| Ngee Ann Polytechnic | Tertiary | 8.9km, 16-min drive |
| Hwa Chong Institution (JC) | Tertiary | 4.9km, 10-min drive |
| St. Andrew's Junior College | Tertiary | 6.1km, 13-min drive |
| National Junior College | Tertiary | 6.7km, 13-min drive |
| Raffles' Junior College | Tertiary | 7.9km, 13-min drive |
| Curtin Singapore | Tertiary | 3.8km, 9-min drive |
| UBD Business University | Tertiary | 3.8km, 9-min drive |
| NUS Faculty of Law + Public Policy | Tertiary | 4.1km, 9-min drive |
| SMU | Tertiary | 4.7km, 14-min drive |
| University of Newcastle | Tertiary | 5.1km, 16-min drive |
| James Cook University | Tertiary | 7.8km, 14-min drive |
It is clear that the diversity and quality of the preschools around the Trilight (all within walking distance of the condo) are well provided for.

Now the Trilight also happens to be in the middle of a boys' 'mission-school' triangle. ACS Barker, ACS Winstedt and St. Joseph's Institution.

For parents who are dropping their kids off at ACS Barker, it is worth noting that you will have to first undergo a lengthy U-turn process along Bukit Timah Road before the usual crowded drop-off points.

What some parents do is drop their kids off before the U-turn at the overhead bridge – though be mindful of traffic nuances if you decide to do the same!

For parents considering more options, there are also a couple more Primary and Secondary schools along both the Bukit Timah Education Belt as well as Bishan/Toa Payoh districts just past the 10-minute drive radius.

A plethora of Junior Colleges in this part of Singapore will also accede to Tertiary Education demands/convenience.

Additional Pointers

Those considering the Newton/Novena area might bemoan a lack of immediate nature offerings.

Fortunately for those who drive (or are willing to spend on car-hiring services), both the Botanic Gardens and MacRitchie Reservoir Park (including surrounding water catchment areas) offer themselves as unique and recreational-worthy areas to unwind and blend-in with nature.

The neighbouring Novena/Stevens Park also add to this list.

As mentioned earlier, the string of mall clusters within near proximity of the condo provide a diverses amount of dining selections. More than that, however, both the Newton and Pek Kio Food Centre (as well as a range of street-side restaurants) are also within a stone's throw of the residential – allowing residents a range of economical yet culturally diverse fare.

Coming from a foody, this is truly one of the bigger perks of living in the Novena/Newton area.

Novena has long been termed as a medical district amongst its other offerings. In fact, its surrounding area also lies host to a range of top-notch medical facilities. They include Mount Elizabeth (Novena/Orchard), Farrer Park, Tan Tock Seng as well as KK Women's and Children's hospital to name a few.

With an entire range of beauty, health and fitness-related clinics scattered across these entities, residents can maximise choice-value without compromising traveling time.

Trilight Development Site Review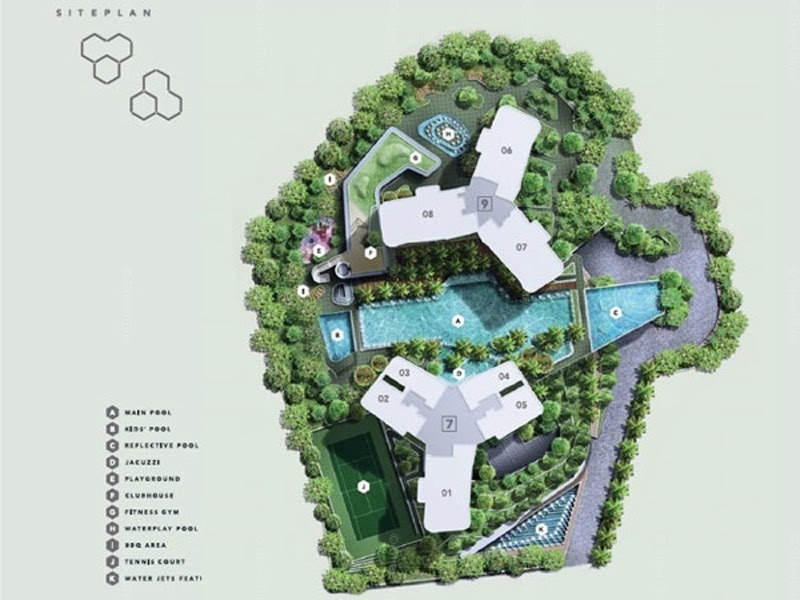 The Trilight condo sits atop a rather sizable 111,240 square feet plot of land – considering its situation at the highest elevation point in the Newton area amidst a cluster of high-end private residential developments.

Admittedly, a good portion of this land area is filled with 'man-made' greenery that adds to the exclusive, yet necessary 'seclusion' factor that you feel when you enter the condo.

Naturally, this comes at the expense of an increased variety of facilities – though the effort that developers Ho Bee Land Limited have invested into sprucing up both the gym as well as clubhouse (full glass windows and furnishings) goes unnoticed.

Having the playground and kids pool by the Clubhouse/First BBQ pit also means that busy parents will be able to enjoy at least a small bit of the party themselves!

Finally, the position of the tennis court away from the busy roads will also ensure 'pollution-free' air for the racket enthusiasts living here.
Unit Mix

| | | |
| --- | --- | --- |
| Unit Type | No. Of Units | Size of Units (sqft) |
| 2-Bedroom | 104 | 1,109 – 1,227 sqft |
| 3-Bedroom | 74 | 2,099 – 2,110 sqft |
| 4-Bedroom | 24 | 2,336 sqft |
| Penthouse | 3 | 5,177 – 5,802 sqft |
An interesting historical tidbit about the Trilight's unit mix is that developers Ho Bee had initially arranged for a total of 152 units to be architected – consisting only 3 and 4-bedders (and penthouses).

Following the increasing market demand in 2-bedder units at that point in time and the foreseen lack of demand for larger-roomed units, they eventually decided to scrap a staggering 50 4-bedders to make room for nearly two times as many 2-bedders (104).

A result of that is the above-average unit space we observe today in the Trilight's 'last-minute' 2-bedder units.

Unsurprisingly, potential 3-bedder suitors visiting the condo's new launch (more than a decade ago) had a tough choice deciding between the almost similarly spaced 3 and 4-bedder unit.

The 3-bedders' much larger-than-average unit space meant that the 4-bedders could be built just a little larger without incurring too much flak from the public.

It also ensured that the well-heeled visitors who were looking to buy into the development would naturally be forking out more for the 'uncompromisingly' larger units here.

Of course, the presence of surrounding developments meant more choices for buyers either way and the larger units here offered a breath of fresh air in that regard.

What's more, the reduced 4-bedder units also put put an 'exclusivity' feel to it (and hence better demand) – so good on Ho Bee for making the change just prior to construction.

Zooming in a little closer to home, residents of the Trilight are also guaranteed a rather sizable balcony across the unit tiers. Though this could be a boon or bane, most side with the former given the larger unit spaces and potentially incredible views from these balconies with the right units.

Best Stacks
Stacks with the least afternoon sun
Stack 5 has no afternoon sun throughout the year as its windows face the north-east and south-east direction. All other stacks have some exposure to the west.
Stacks 1 and 6 have the most exposure to the afternoon sun, considering how the longer length of the stack is exposed in the direction of the west as compared to the shorter length of stack 8.
Trilight Price Review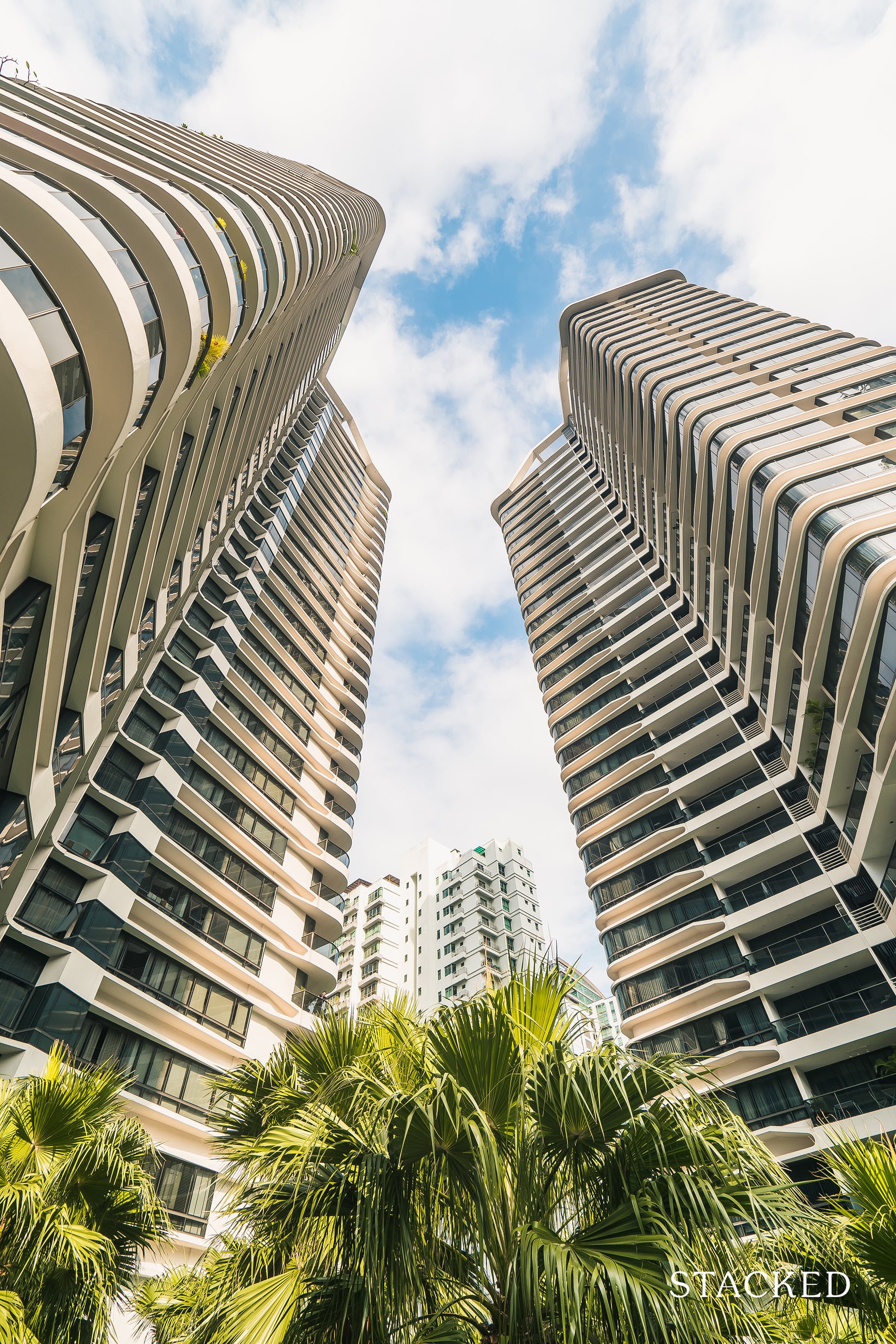 | | | | | |
| --- | --- | --- | --- | --- |
| Project Name | Tenure | TOP | Average Price (PSF) | Comparison Point |
| Trilight | Freehold | 2012 | $1,855 | – |
| Residences @ Evelyn | Freehold | 2007 | $1,939 | Immediate Proximity |
| Newton One | Freehold | 2009 | $2,039 | Immediate Proximity |
| L'viv | Freehold | 2013 | $2,074 | Immediate Proximity/ Similar Age |
| Gilstead Two | Freehold | 2014 | $1,965 | Immediate Proximity/ Similar Age |
Given the condo's relative proximity to the MRT and its surrounding cluster of residential developments, our price review comparisons for today will mainly involve those within immediate proximity of the Trilight as well as a special guest you might have read up on in one of our earlier pieces.   
Surprisingly, the Trilight seems to be at the bottom of the surrounding developments' current average PSF.

Yet that wasn't always the case.

When Trilight made its first sales in late 2009, it was averaging $1,742 PSF.

At that time, prices for Newton One had already risen to $1,676 PSF from its initial $1,323 PSF sales from mid-2016. Similarly, the quantum for Residences @ Evelyn was already at $1,583 PSF, up from its initial sales of $1,343 PSF – also from mid-2016.

As the two newer condos (L'viv & Gilstead Two) popped up in the following years, making initial average sales of $2,227 and $2,153 PSF in early and mid-2010 respectively, the Trilight's price began to rise slightly based on the locale's increased average quantum and demand. 

Fast forward a couple of years and all three of the 'newer' condos (including the Trilight) quantum values have dipped following the expiration of their novelty.

In fact, the two former condos have also relatively leveled out in PSF.

Perhaps one of the bigger reasons the Trilight currently commands the lowest PSF in this range of condos is the fact that its larger unit layouts naturally make each unit more 'expensive' and hence the 'lowered PSF' to ensure higher resale success.

And so here's the addition of the surprise guest (as promised).

Now if you were to compare the Trilight to our recently reviewed Park Infinia at Wee Nam, you'll see a stark contrast in appreciation trends.

The Trilight initially appreciated slightly before dipping back to its first launch quantum. On the other hand, Park Infinia has been steadily peaking in quantum ever since its launch mid-2015.

The key reason for this?

Park Infinia has a stand-out characteristic that everyone wants to buy into. Massive free space in a region with tightly packed residential developments that offer little workarounds – the Trilight included.

Finally, one quick tip for those looking to buy into the higher floors (10 and above) of Newton One.

Most of the windows here are frosted over to maintain a level of privacy for the Istana – which the condo coincidentally has views over so be prepared before heading down for a tour if the condo is on the cards!

Appreciation Analysis

If you were to sneak a peek at Masterplan 2019 and search up 'Trilight', you'll observe the usual suspects that include residential development, utility, educational institutions, and even religious site allocations.

What you might also notice is that the entire plot of land next to the Newton MRT station is a reserved site. And if you pop onto google maps, you'll further realise that it's currently barren and unoccupied (as are a couple of other plots alongside) – a rare sight to behold in Singapore these days.

And we all know what happens to beautiful plots of land like these.

They get mercilessly excavated and pounded to make way for new architectural sites.

Dark musings aside, we've seen the impact of new developments on its immediate neighbours. Price trends tend to rise in the surrounding existing developments (especially the older, 'cheaper' ones) and naturally, the Trilight should be no different.

Unfortunately, there are 5 residential developments in the immediate area to 'absorb' this demand (or increased quantum in that sense).

What's more, given the initial increase in noise factors from the construction site, we might even observe a brief alternating dip in quantum here.

Of course, all this is based on the construction of a hypothetical residential development on this plot of land.

IF the plot of land were to make way for a shopping mall or similar entertainment amenity, the PSF impact on the condos would be a tad more positive.

Even then, a sudden jump in appreciation stats in the short to medium future for the Trilight do not look to be on the cards given the relatively low 'upgrading works' of the vicinity cited by Master Plan 2019 when matched against other major districts (Newton medical offering upgrades aside).

So at the end of the day, is there any chance at appreciation?

Well, one other thing to note is that we've seen the Newton/Novena area undergoing pockets of rejuvenation over the past couple of years in terms of condos being torn and rebuilt.

Given how it is such a popular area, developers will constantly return based on the demand. With constant redevelopment, the district quantum average will naturally be propped up over a period.

At this time of writing, current new launches in the area include the Kopar, Pullman Residences, 35 Gilstead, Neu @ Novena and even Chancery Court (once its launched). 

Based on all that, we can definitely see prices increasingly slightly over the years, though the lack of any stand-out characteristics of the Trilight and the presence of it surrounding neighbours once again reiterates the point of a very improbable hike in prices anytime soon.

Our Take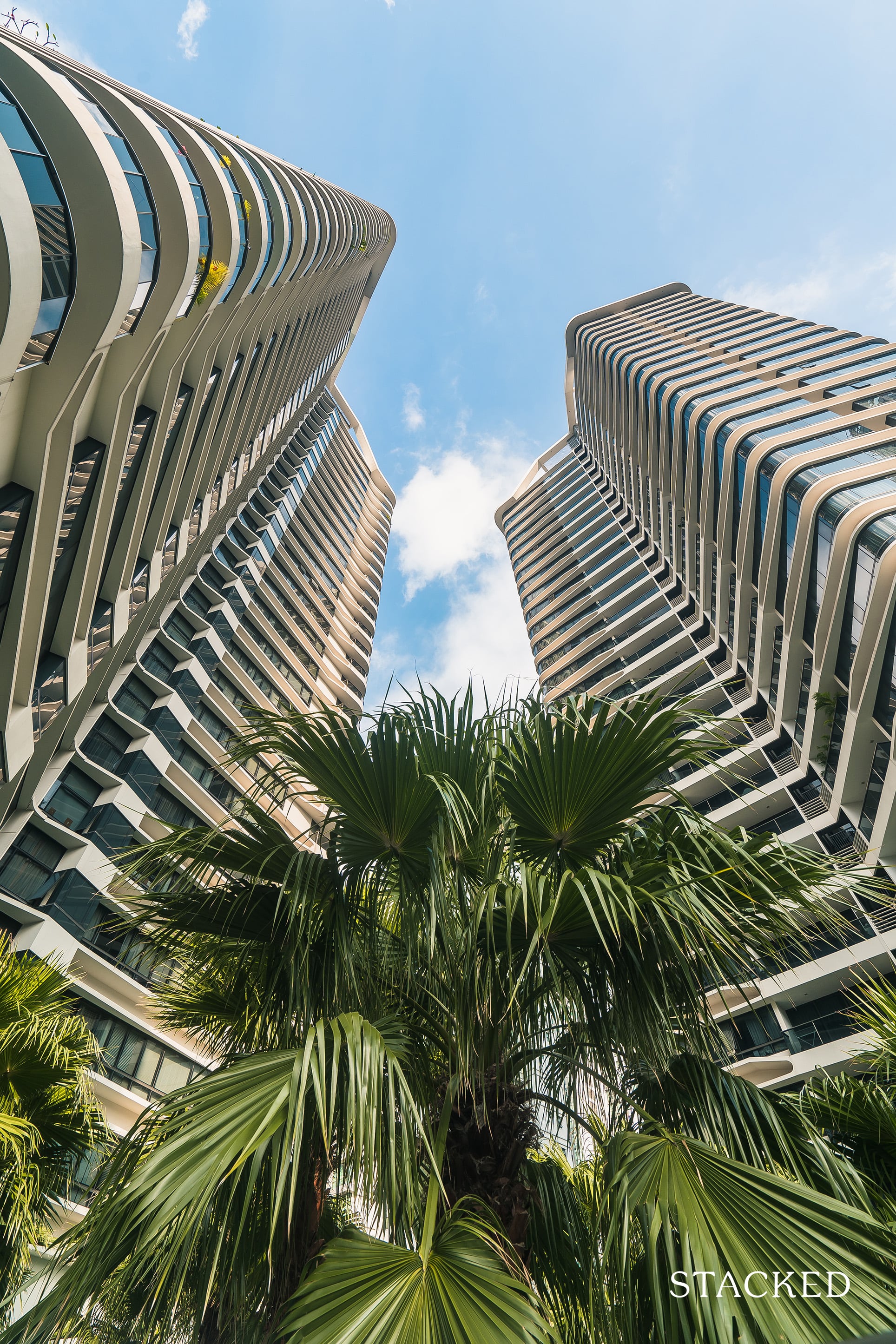 Regarding the Trilight, it is definitely a worthy consideration for homelookers looking to buy into the Newton/Novena area. The increased convenience stemming from easy access to these two districts as well as solid (central) public/private transport offerings and large unit spaces goes a long way in easing and enriching the lives of residents here.

What's more, the freehold status and general district demand also ensures an unlikely severe dip in prices in the short to mid term.

However with rental yields currently averaging 2.68% and an unlikely hike in unit quantum in the short to mid term, investors are better off looking at other developments in the surrounding area.

Also based off this little 'case study', I've compiled a brief pointer that might help potential homeowners/investors in the future.

In crux, avoid buying into larger-than-average new launch units in a competitive and upper middle price range cluster if appreciation is the main target.

Instead, look at developments with specific plus points that standout from their neighbouring competitors – like Park Infinia at Wee Nam for example.

In conclusion, the Trilight does present itself as a wonderful homestay option for larger families (or for those who really value space). Just be sure to secure a slightly higher floored unit to avoid the roadside musicals during peak hours!
What this means for you
You might like the Trilight if you:
• Want something modern and timeless:With its sleek minimalist design, the Trilight will still hold its own even as newer developments take center stage in the Newton area.
• Value exclusivity:While this isn't a boutique condo per se, at 205 units it is never really going to feel overcrowded.
You might not like the Trilight if you:
• Prefer open spaces:Trilight might not have many units at all, but the Newton/Novena area is jammed pack with high-rise condos and it definitely feels much tighter in space here.
• Have a young family:While there is the usual kids pool and playground, there isn't really a ton of space for young kids to frolic about.
End of Review