Property Stories
Touring Li Hwan Terrace: Affordable Freehold Landed Living From $3 Million In District 19
TJ
April 9, 2023

12

min read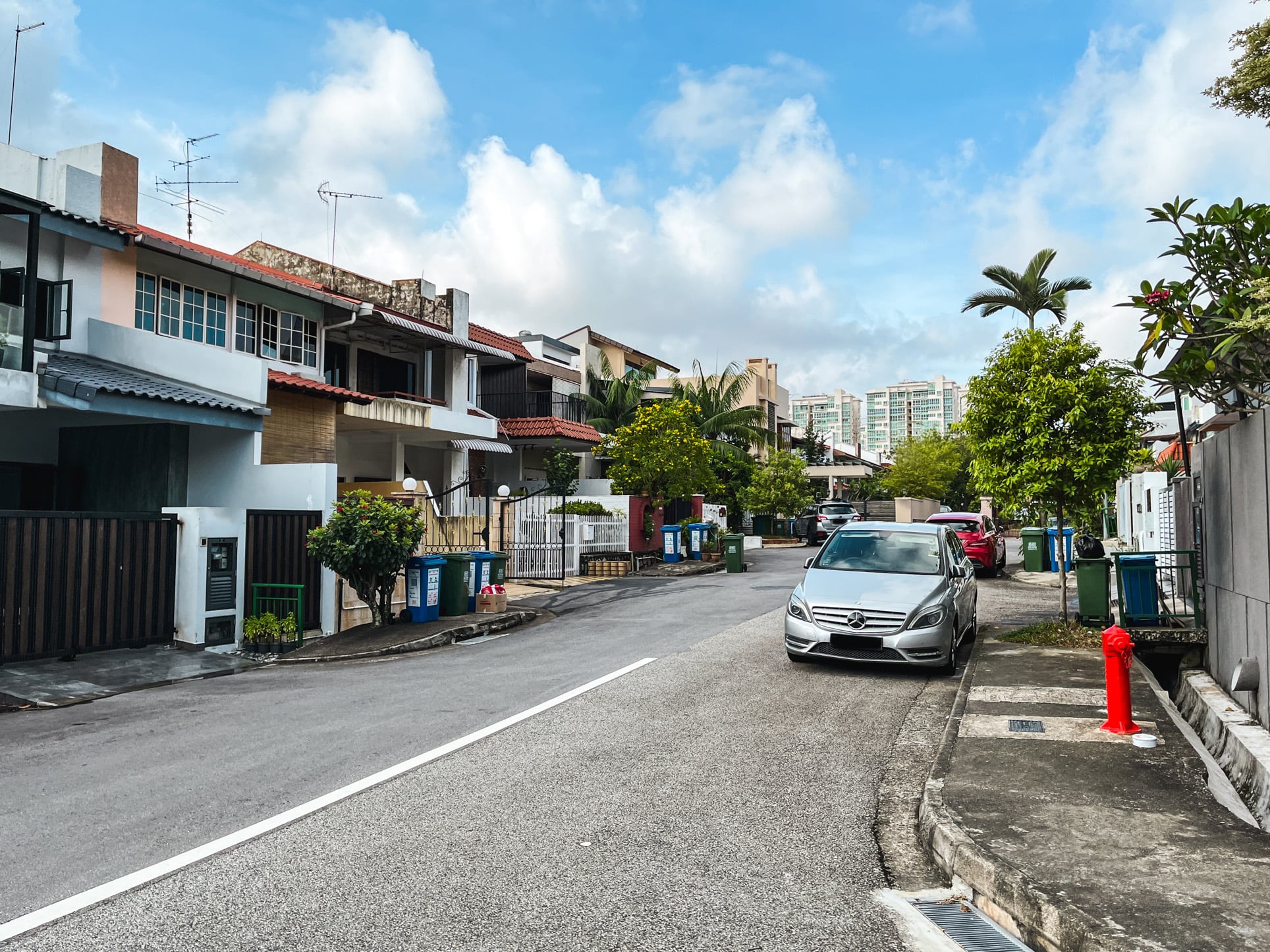 12
min read
Whether you're on Facebook, or reading an article from local publications, you'll probably be overwhelmed by talk about how property prices are sky-high and increasing. This is especially so for landed housing (of which there's only ~5% in Singapore).
So I was surprised to find a freehold landed estate for which the last 3 sales have had decreasing PSF and decreasing transacted prices, not increasing! Since most Singaporeans, like myself, love a "bargain", so to speak, I thought Li Hwan Terrace and the surrounding Li Hwan streets would be a good area to feature in today's post, so off we go!
Note: This is based on sales information from Edgeprop, in which the last 3 sales at the time of writing, all in 2022, ranged from $3.38 million to $3.67 million. All 3 sales were for terrace units. Interestingly, the most recent sale (Oct 22) actually transacted at the lowest price (of the 3 sales in 2022), despite being the largest unit (almost 50% bigger at 2,520 sq ft!) Since the asking price/transacted price is often influenced by price history in Singapore, you could potentially have room to bargain if looking for a property in the area. Of course, this would depend on how much the seller wants to sell. Many have a "take it or leave it" attitude since the landed property is known to be a good store of value and a scarce asset in Singapore!
Of course, the prices are also dependent on the condition of the property (if it's old and is in need of a full rebuild). This is often why you can't compare psf prices for the landed property directly!
If you're not familiar with the area, it's north of Braddell Heights Estate, which I've toured previously, and off Lorong Chuan – not to be confused with 2 nearby estates with similar names, Tai Hwan and Mei Hwan. To be more specific about where we're touring, it's the triangular region bounded by Li Hwan Drive (a major arterial road in the enclave), Ang Mo Kio Avenue 1/Lorong Chuan (the 2 roads lead onto each other) and Burghley Drive, which separates the area from Serangoon Gardens.
Note: Serangoon Garden Way, with all its amenities (restaurants, banks and Chomp Chomp hawker centre), is about a 13-minute walk away.
The area consists of several roads, which are parallel to each other but somewhat haphazardly arranged (in that we have cul-de-sacs off cul-de-sacs), such as Li Hwan Drive, Li Hwan Terrace, Li Hwan View, Li Hwan Close and Li Hwan Place. Something interesting about the estate is that 2 of the cul-de-sacs actually end in roundabouts which aren't very common in Singapore in the first place!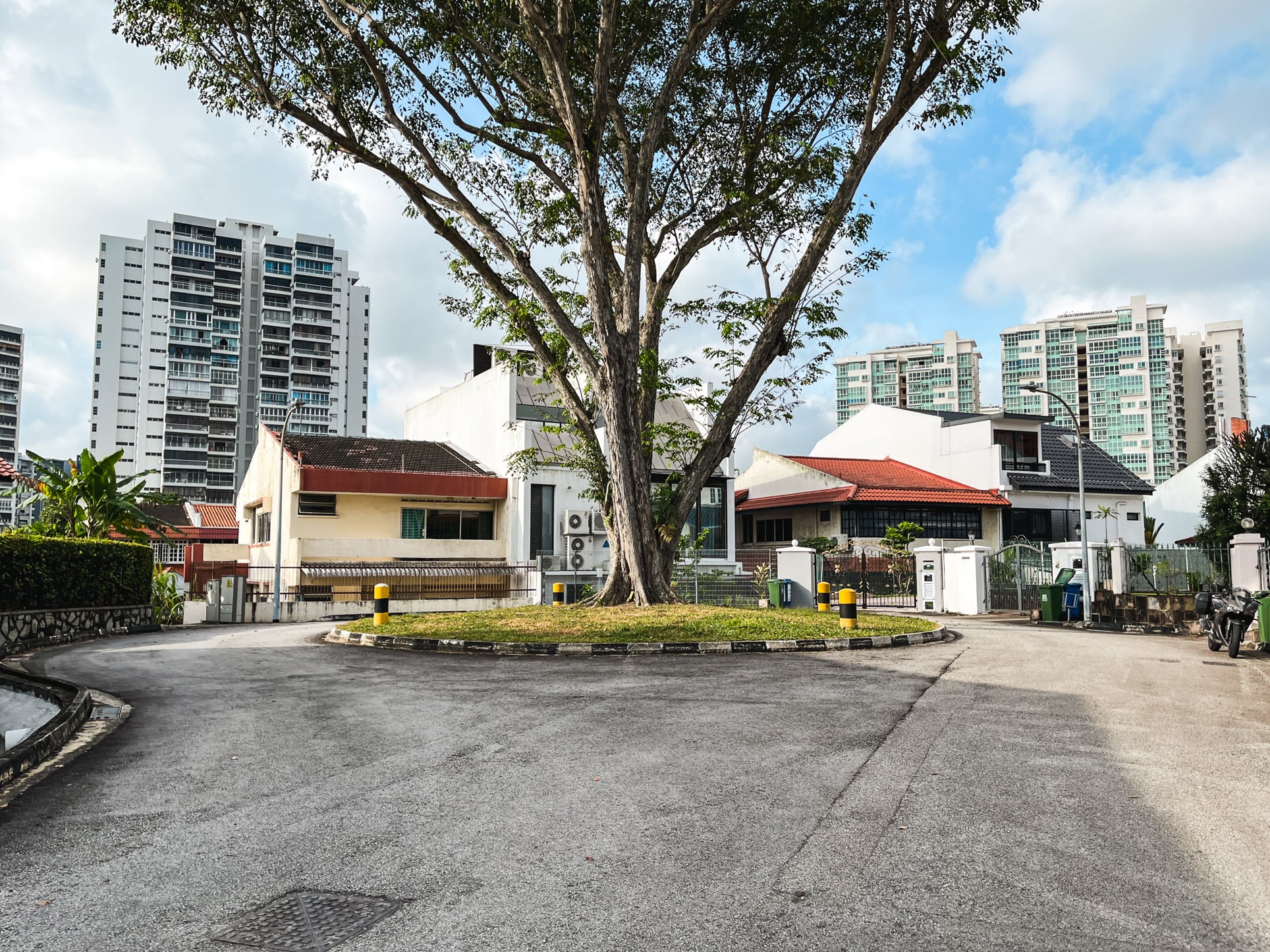 Note how the houses behind Li Hwan Terrace are on much lower-lying land – at least 1 or 2 stories lower! It's almost always desirable to be on higher ground!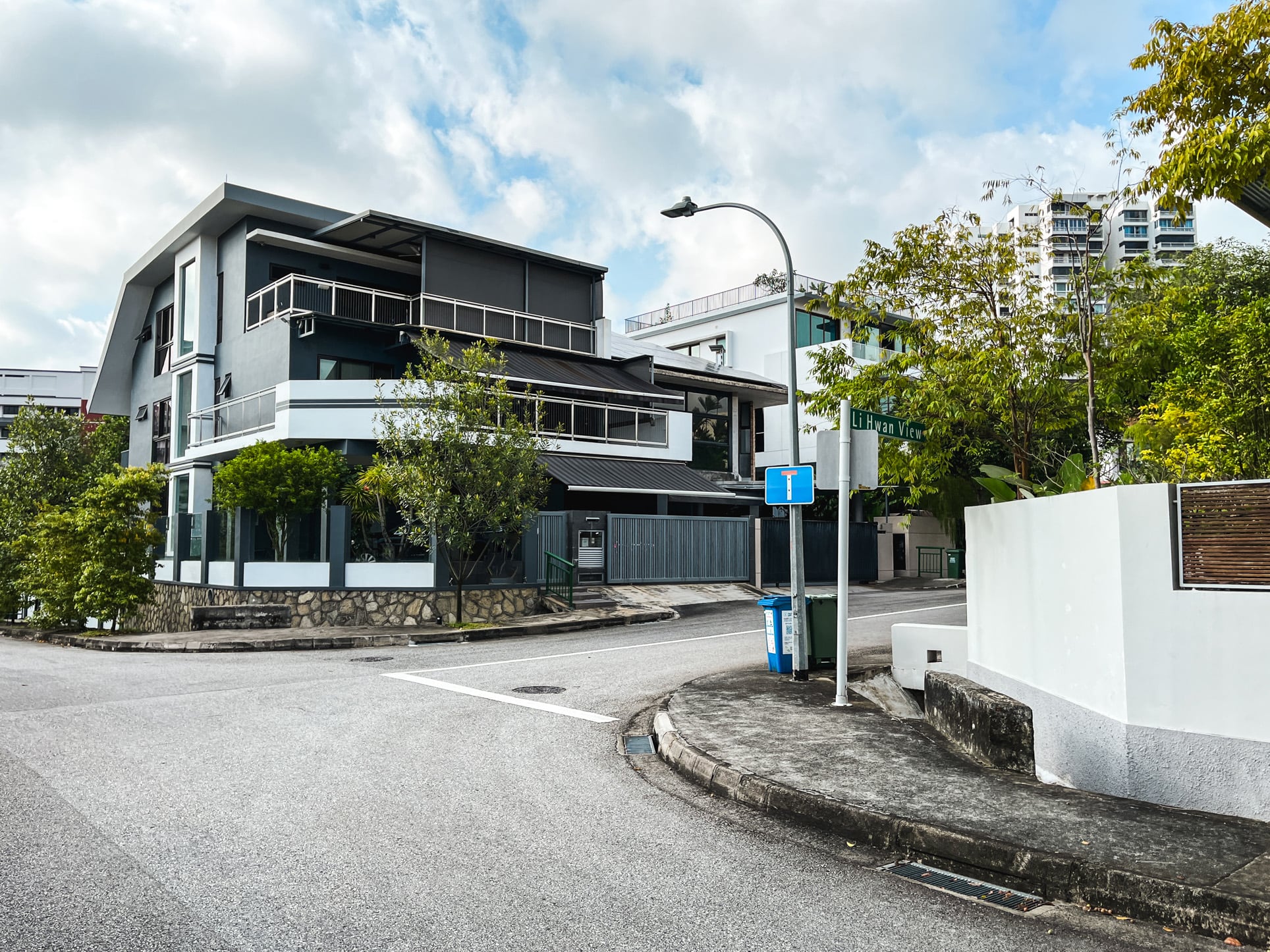 I am going to walk out of Li Hwan Terrace so you can see exactly how sloping the area is.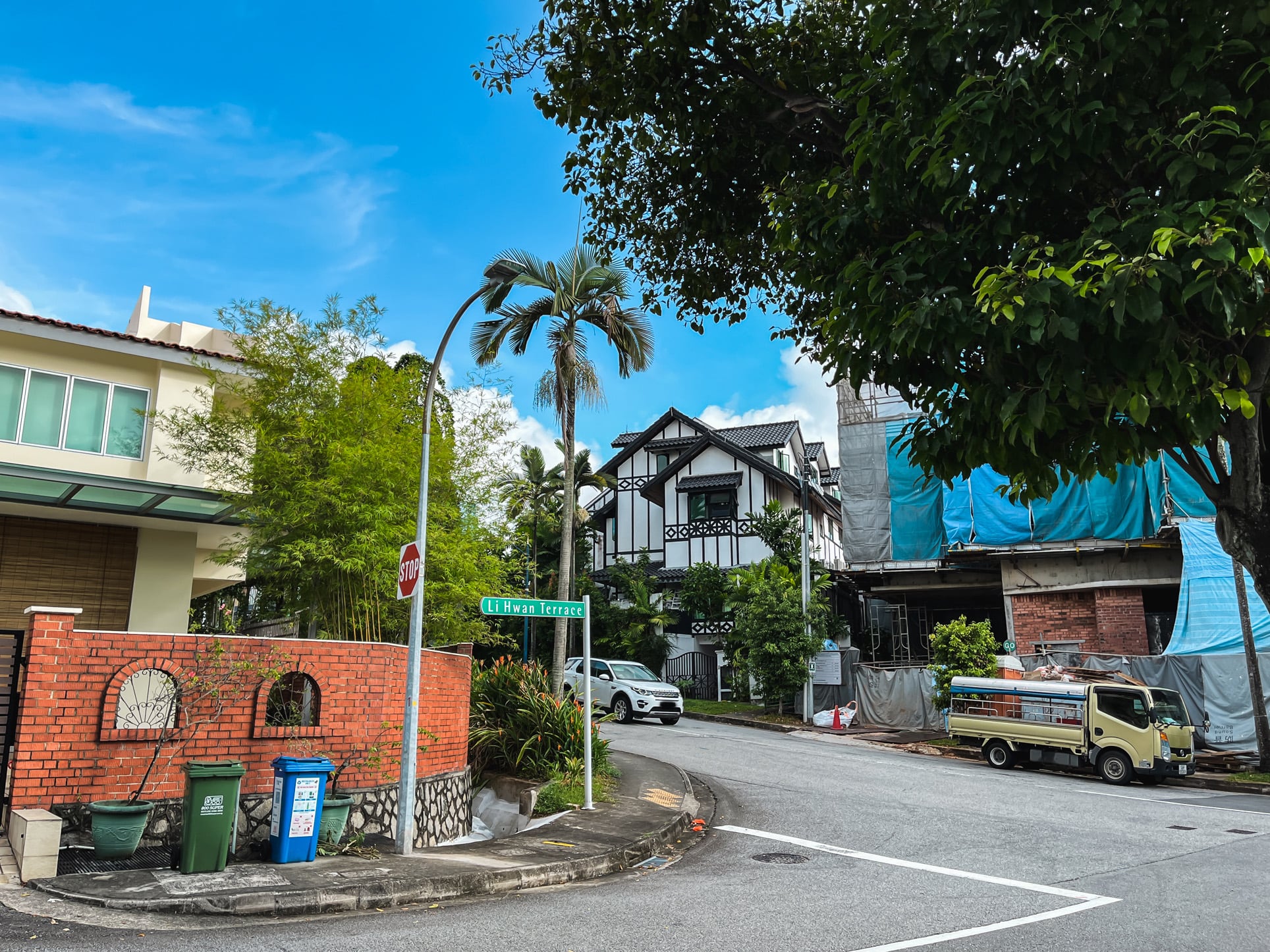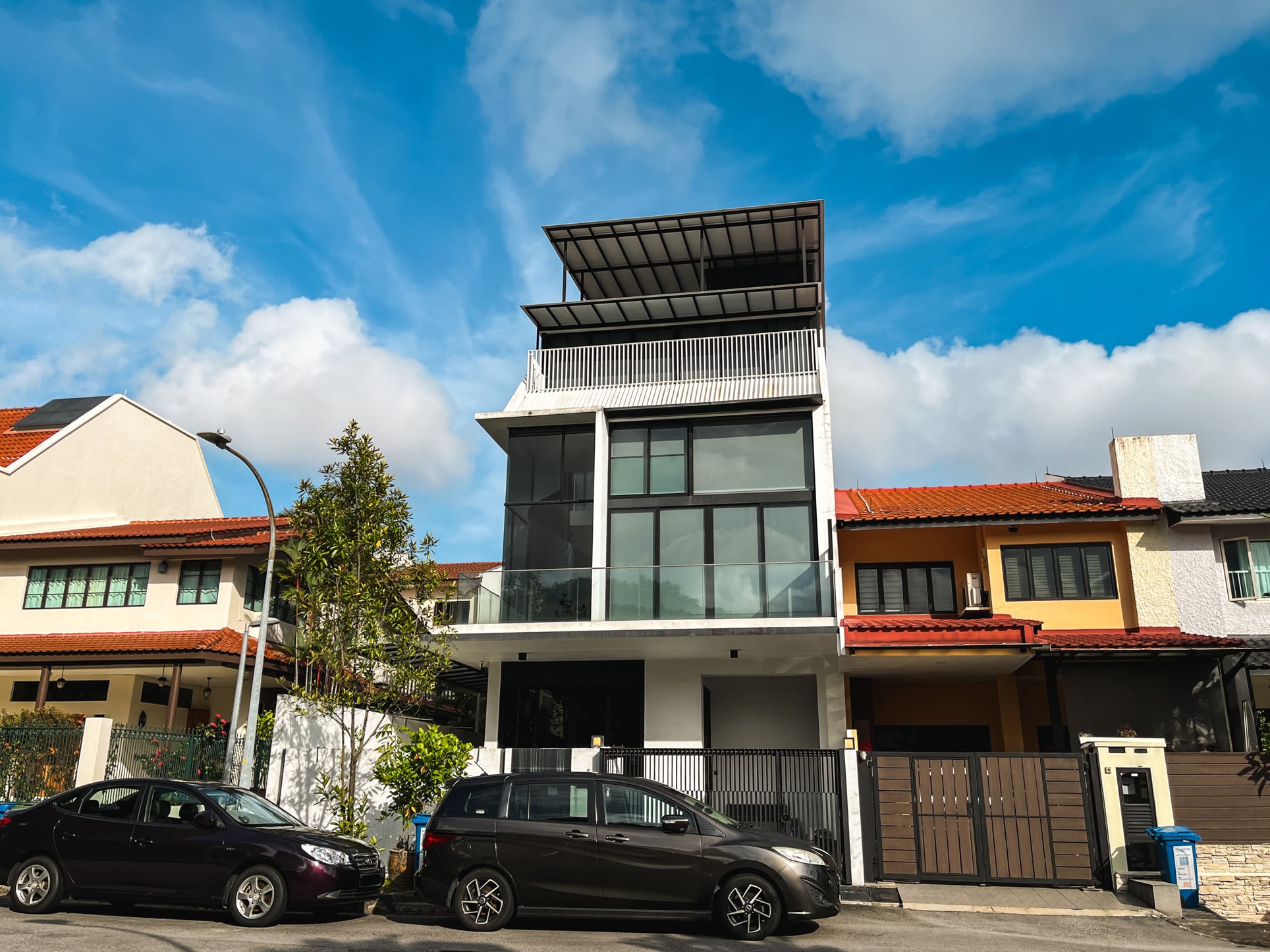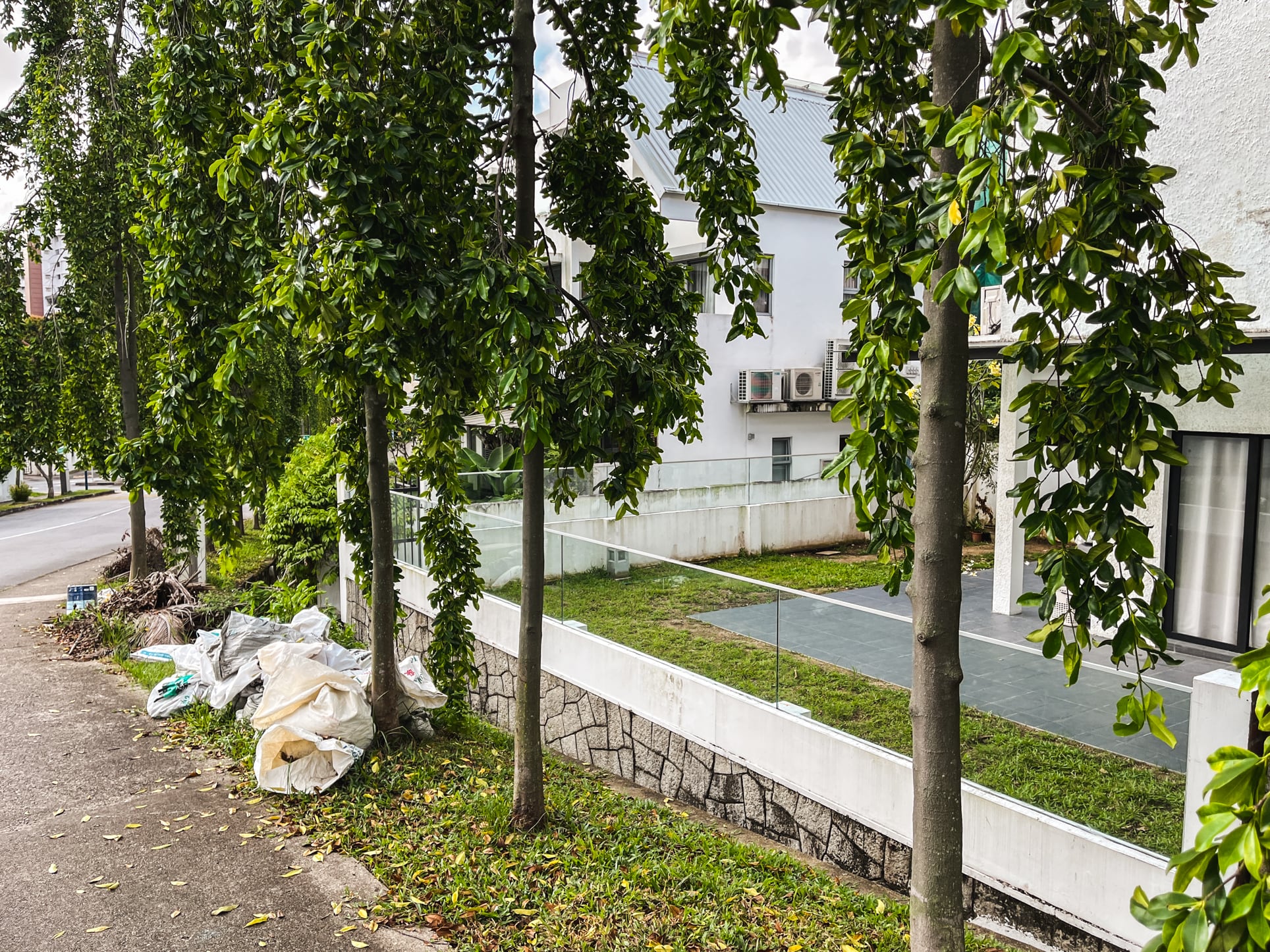 Anyway back to Li Hwan View.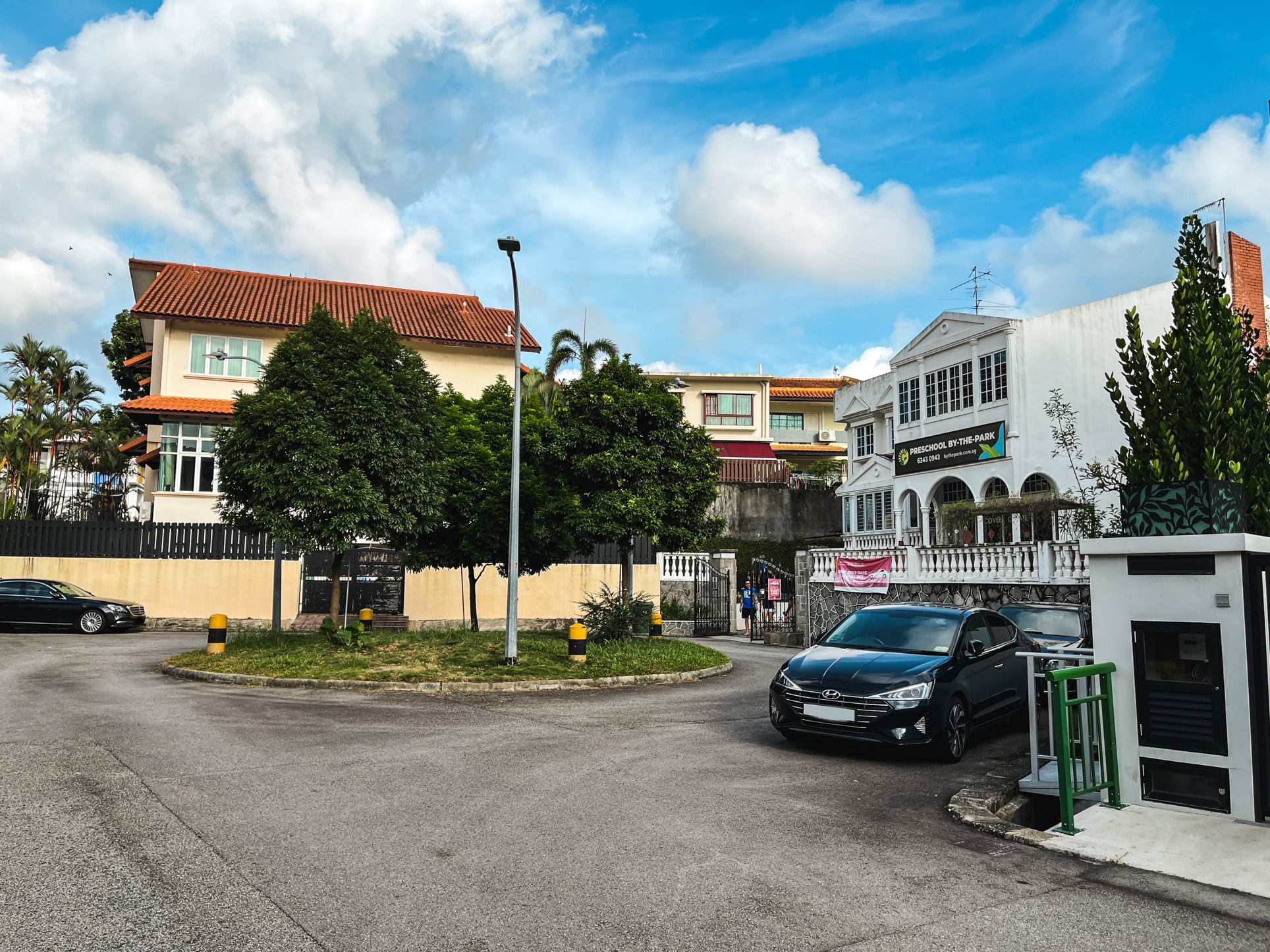 There is a small footpath just beyond the left of the photo leading onto Li Hwan Close, which is super handy, as there is an overhead bridge from Li Hwan Close over to Mei Hwan Drive playground on the other side of the road. You do not need to climb up to get to the overhead bridge as this area is so elevated, it's about the same height as the overhead bridge!
(Behind the playground are condos, so it does not lead to an HDB estate with its amenities, unfortunately. There is, however, an HDB estate across Lorong Chuan: so basically you use the overhead bridge to get to Mei Hwan Drive then cross Lorong Chuan to get to the HDB.)
Alternatively, you can walk out of Li Hwan View and turn right onto Li Hwan Terrace. It looks like it's a dead end but there's a flight of stairs at the end of the road that cuts down to Cardiff Grove and then again to Lorong Chuan, at which you can cross over to the HDB.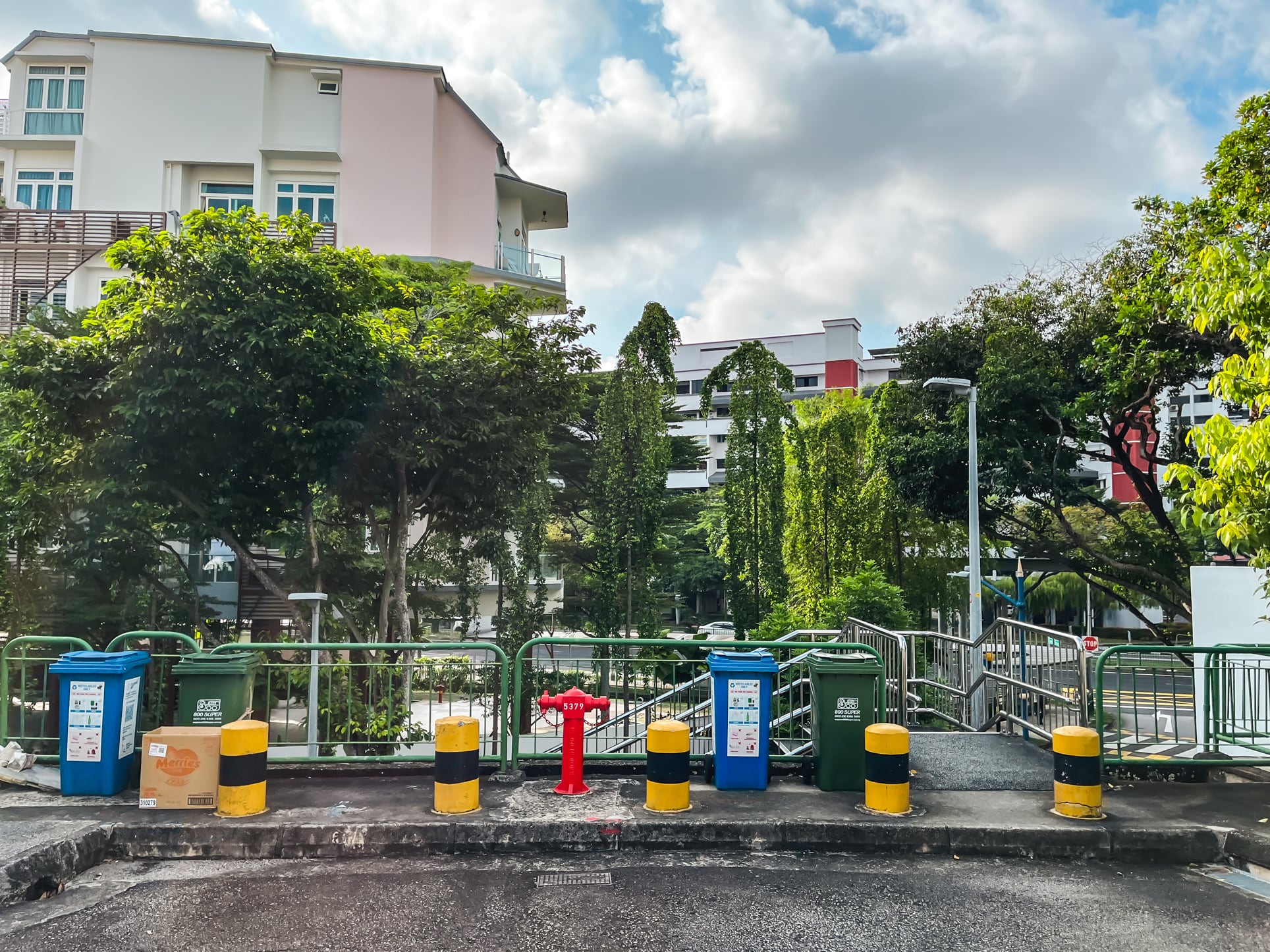 The red/white building is the HDB so you can see it's pretty close by. Over at the HDB, there's Teck Seng Bee Claypot rice, Pints & Cones Ice cream, 147 Seafood Restaurant and Kimly Dim Sum. For non-food amenities, there's the usual barber (Barber'z Paradise) as well as a tuition centre (EduEdge English Specialists.) Walk a bit more (about 18 minutes) and you reach FairPrice, McDonald's, Redman by Phone Hua and even NEX Serangoon! Much better than your typical neighbourhood mall!
So the estate is really pretty well-connected in terms of amenities within walking distance, which makes up for the fact that there aren't any shophouses within the actual estate. (Let's not forget Serangoon Gardens up North too.)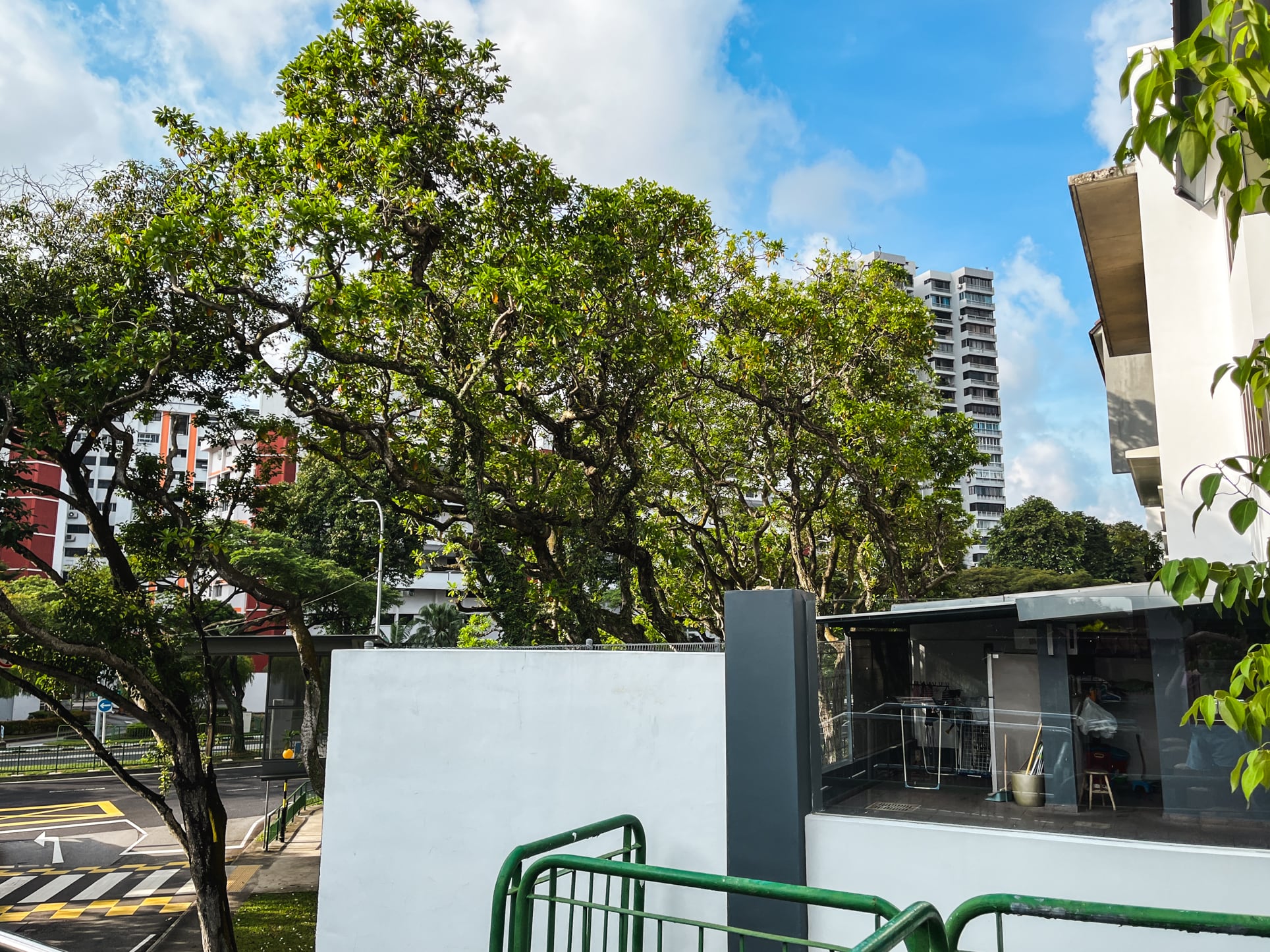 Now that we've seen Li Hwan Terrace, let's walk out and back down the slope to Li Hwan Place.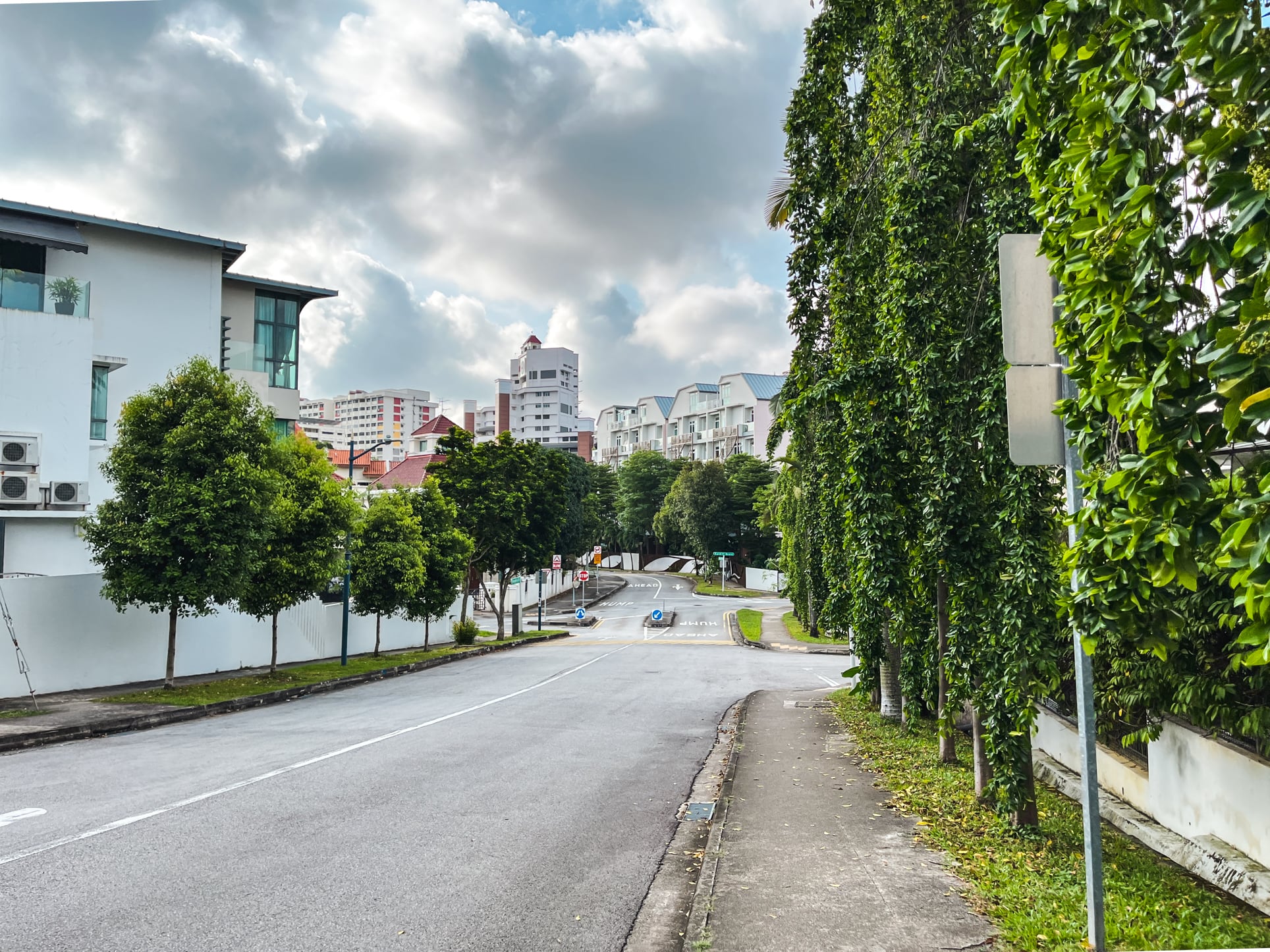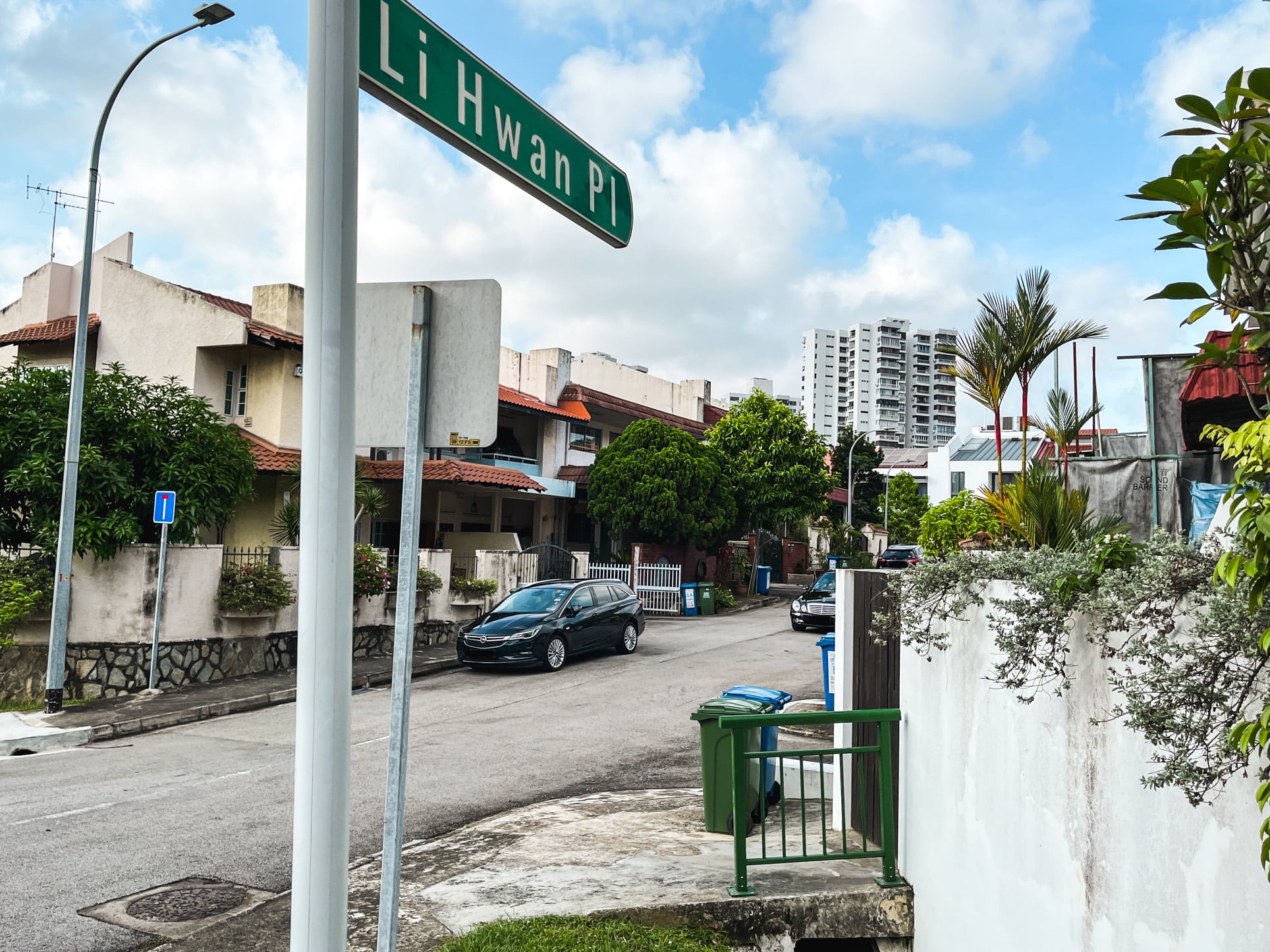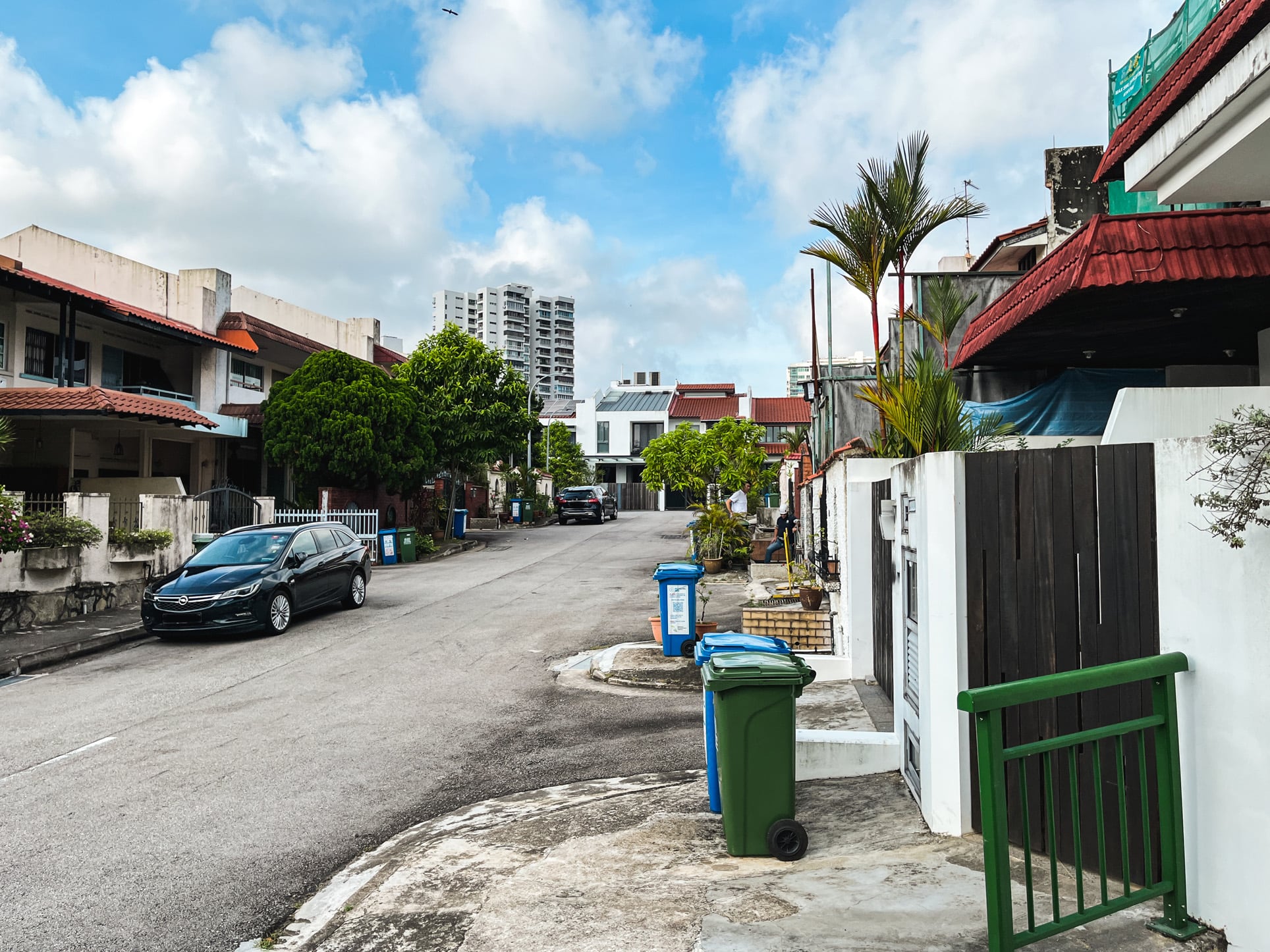 It's very similar to all the roads in the Li Hwan estate, with the exception of Li Hwan Drive (which is much bigger and busier through the road.) Basically, the roads here are mostly broad and spacious, with few parking issues, even when the houses are terrace units.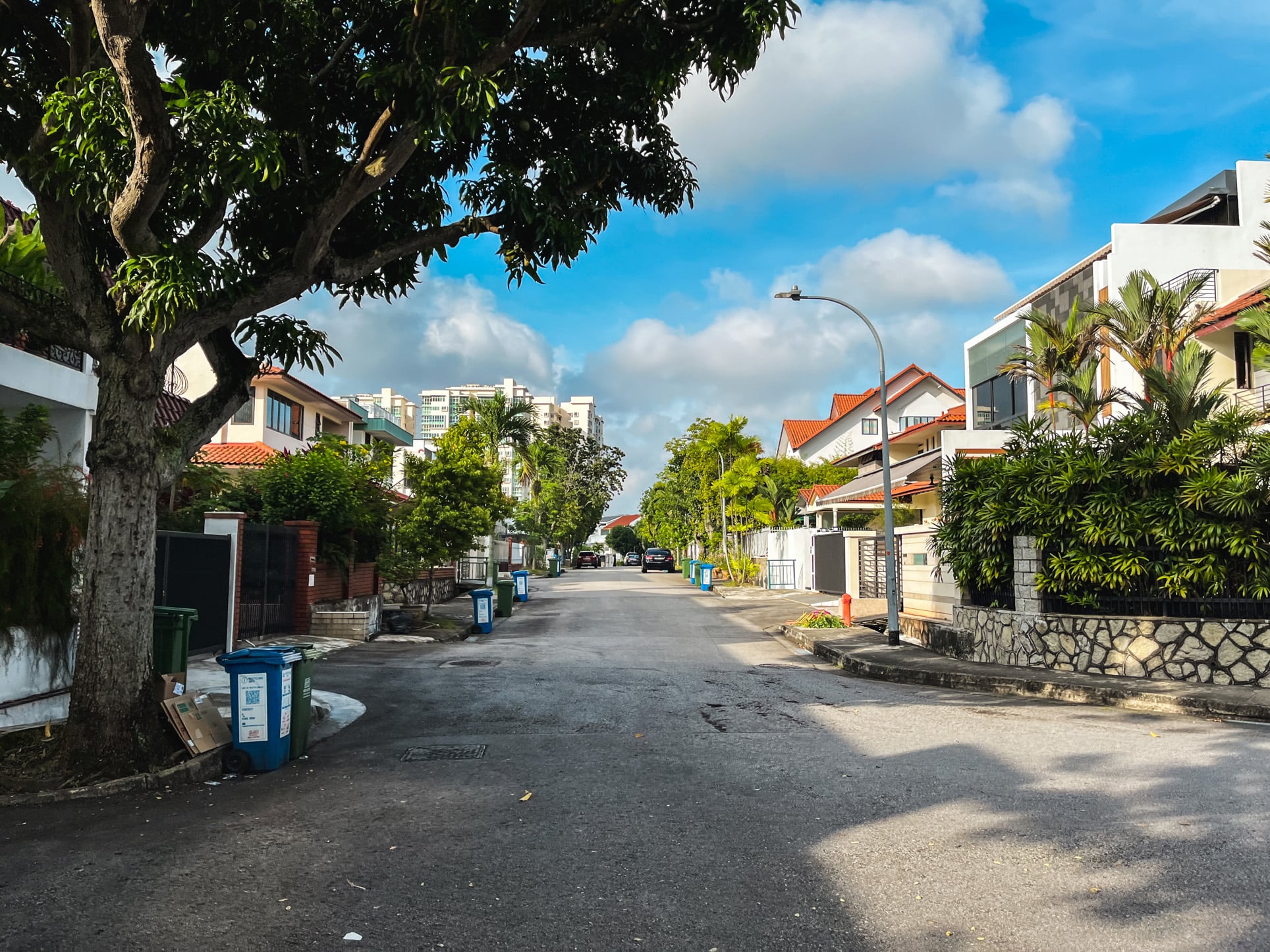 So now that we've seen Li Hwan Terrace/View/Place, let's head over to the other half of the estate and check it out!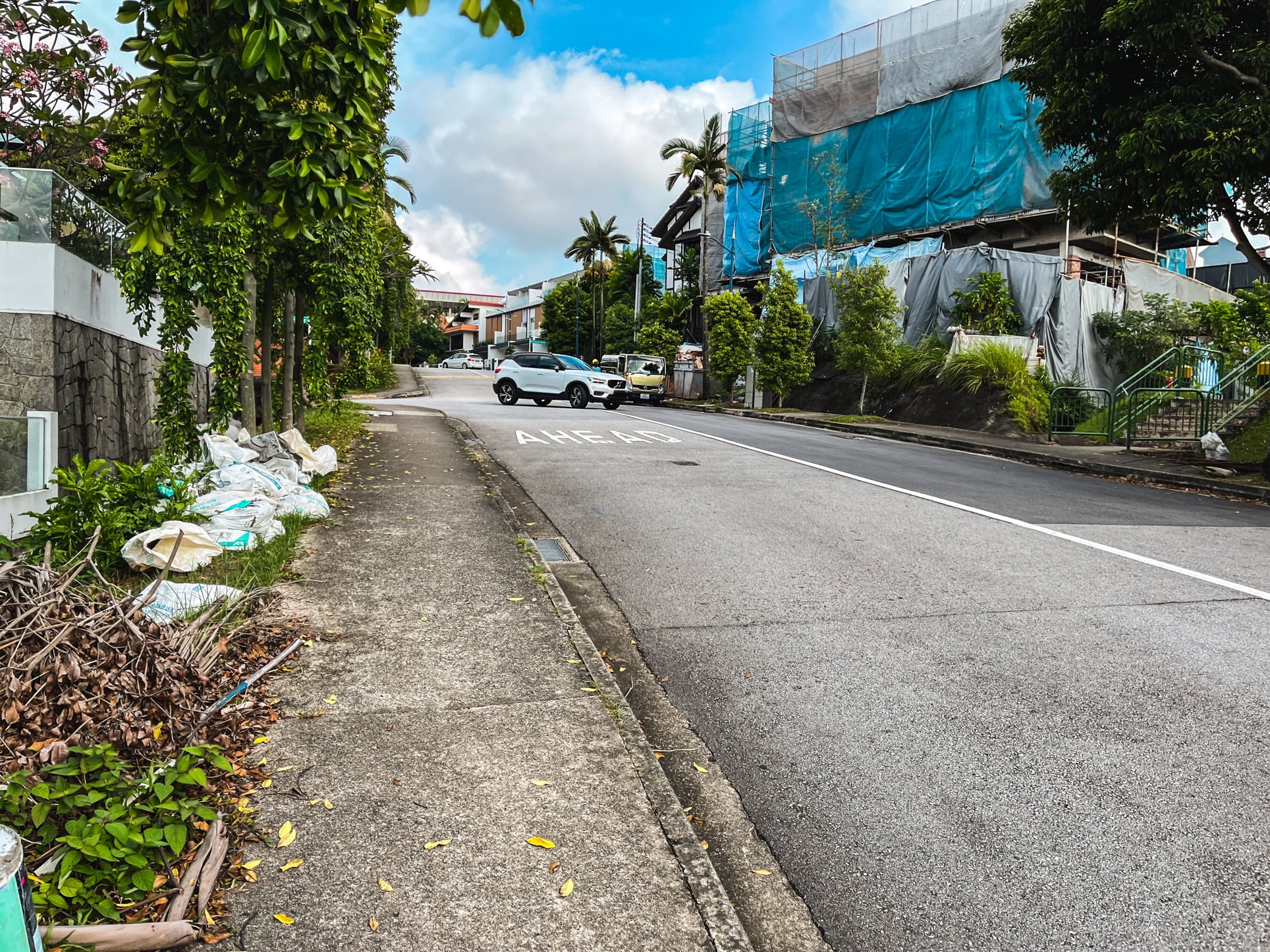 Walking back up the slope. Note the huge house covered in blue that's being renovated – this is along Burghley Drive, so you see what I mean about the houses here being bigger than the ones in Li Hwan!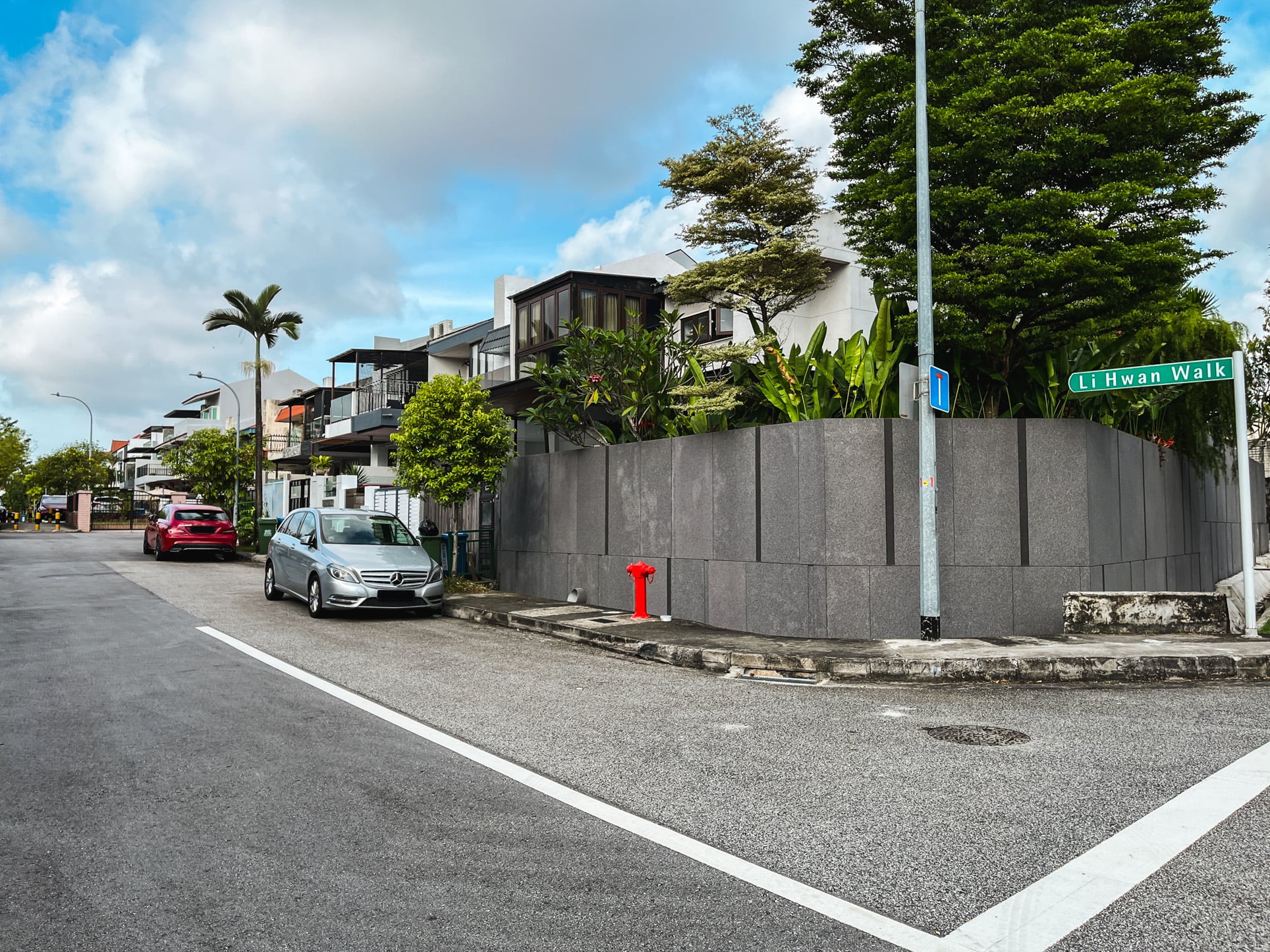 At the end of this street, in between the 2 houses you see on the left of the photo, is an alleyway which allows you to walk over to Li Hwan Close (where we find Lorong Chuan Overhead Bridge.) One thing that stood out is how well-designed this estate is in terms of pedestrian access! With some landed estates, 2 roads are so close to each other but you have to do a huge walk around to get from one to the other, because there is no through the path. However, at Li Hwan, most of the cul-de-sacs have footpaths leading to other parts, providing one with a shortcut!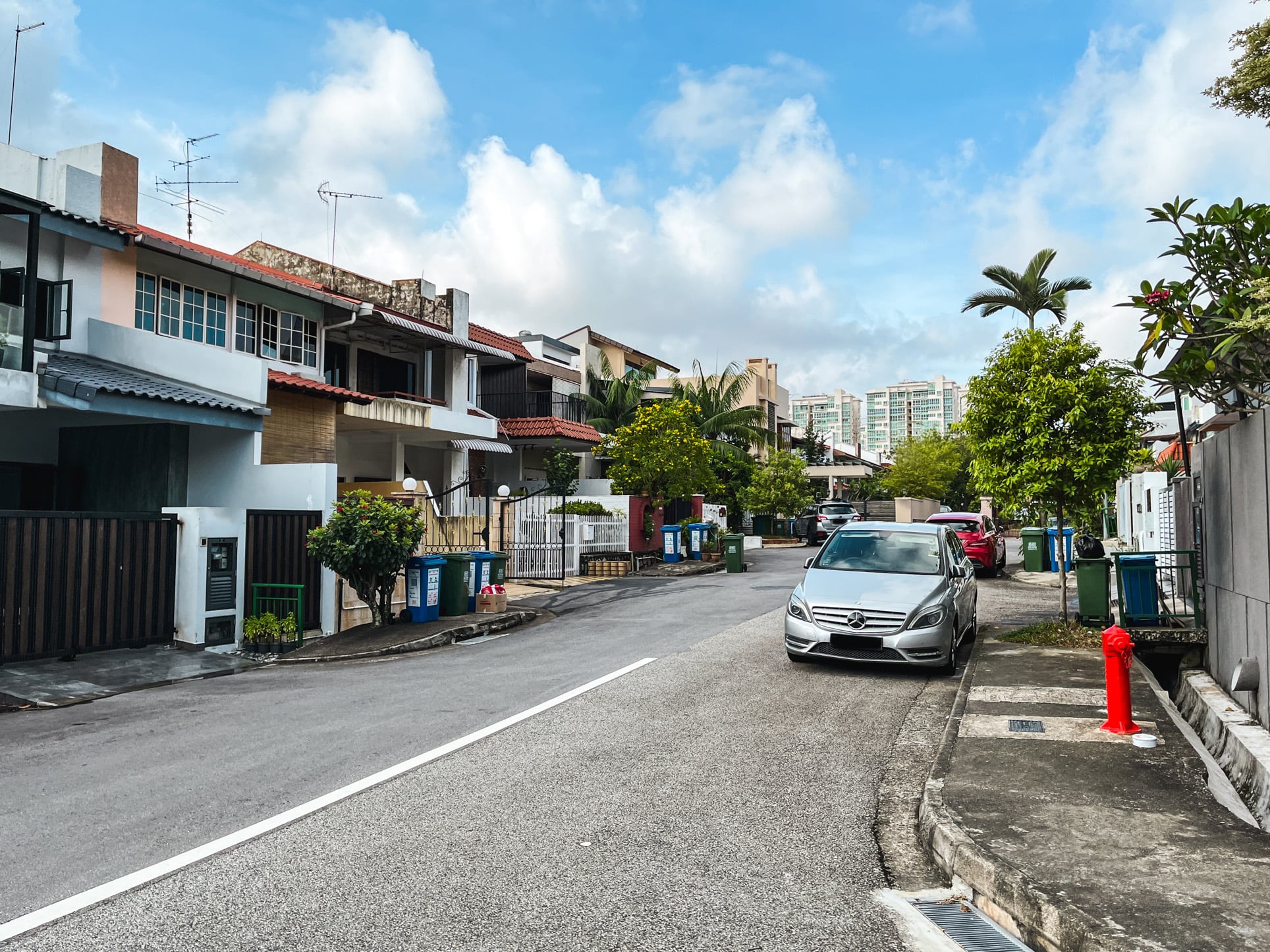 Continue down Burghley Drive and a stone's throw away is CHIJ Our Lady of Good Counsel, a primary school. Suffice it to say, the houses within Li Hwan estate should have no issue qualifying for the 1 km criteria!
Behind CHIJ is the Church of St. Francis Xavier, which has a columbarium as well as Chartwell Drive Park, 1 of the bigger playgrounds in the area. The Park is not big but it's quite charming. On the subject of play areas, there isn't a dedicated playground within Li Hwan, but there are 3 nearby: the one over at Mei Hwan that I previously mentioned, this one at Chartwell Drive Park and another over at Tai Hwan Terrace (just slightly beyond Li Hwan Drive.)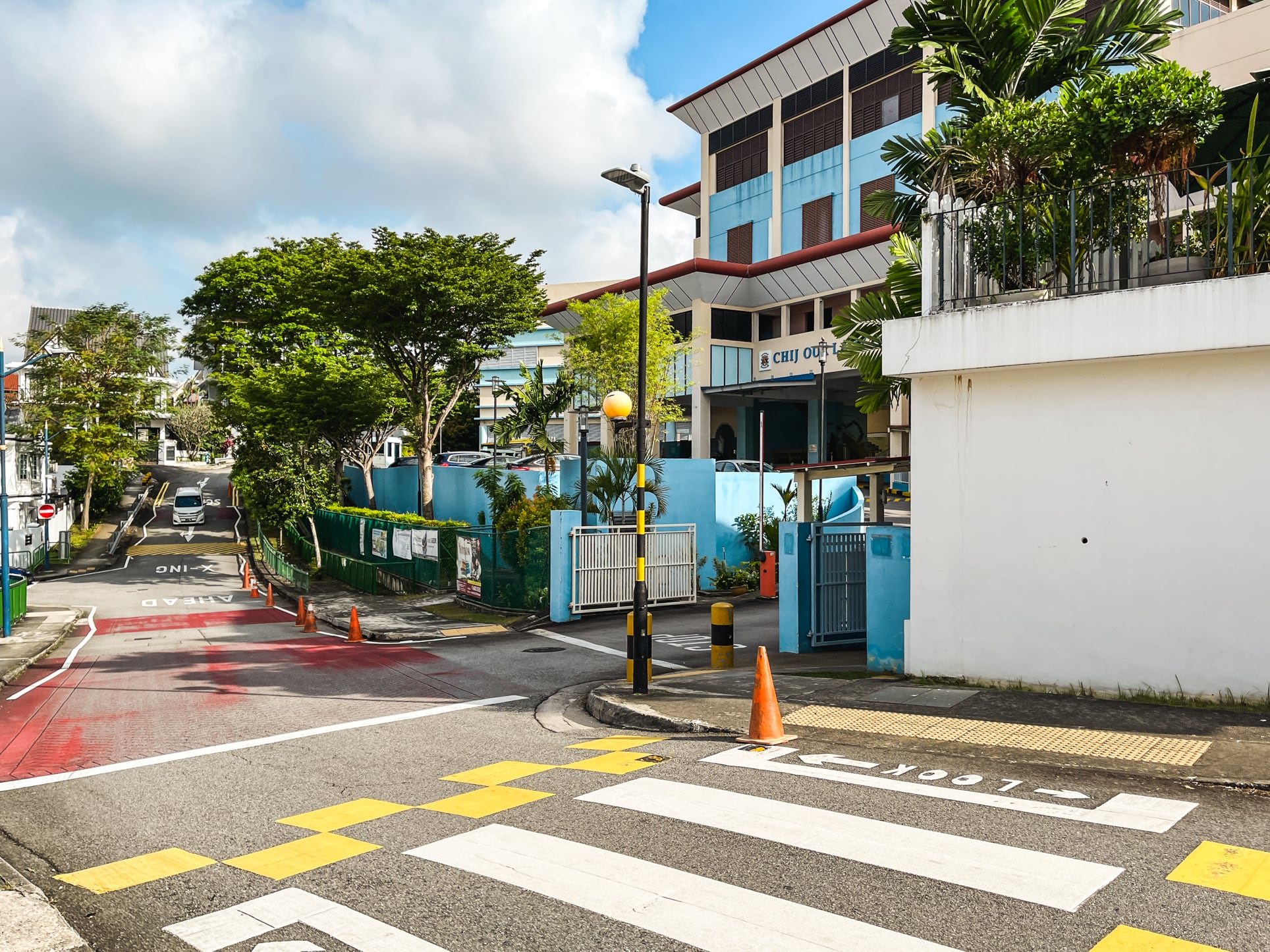 Unfortunately, the only way to access some of the streets here in Li Hwan estate is via Burghley Drive so residents may be affected. (They can, however, drive in via Lorong Chuan and Cardiff Grove. If they do so, they will reach Li Hwan before they reach CHIJ so hopefully, the jam will not be as bad… ….) Residents of Li Hwan Drive and Li Hwan Close are luckier, as they can enter via Ang Mo Kio Avenue 1/Lorong Chuan, and not have to head onto Burghley Drive.
Head further down Burghley Drive, past CHIJ, and you have to walk up an even steeper slope. You'll find Burghley ActiveSG Squash and Tennis Centre, a worker's dormitory as well as other recreational facilities such as a Secret Garden Park, Bar, Taekwondo Institute and Dance School there.
Note: the trampoline park there has been closed for some time now!
We've covered almost all the roads in this estate, and that just leaves us with the biggest one of all: Li Hwan Drive.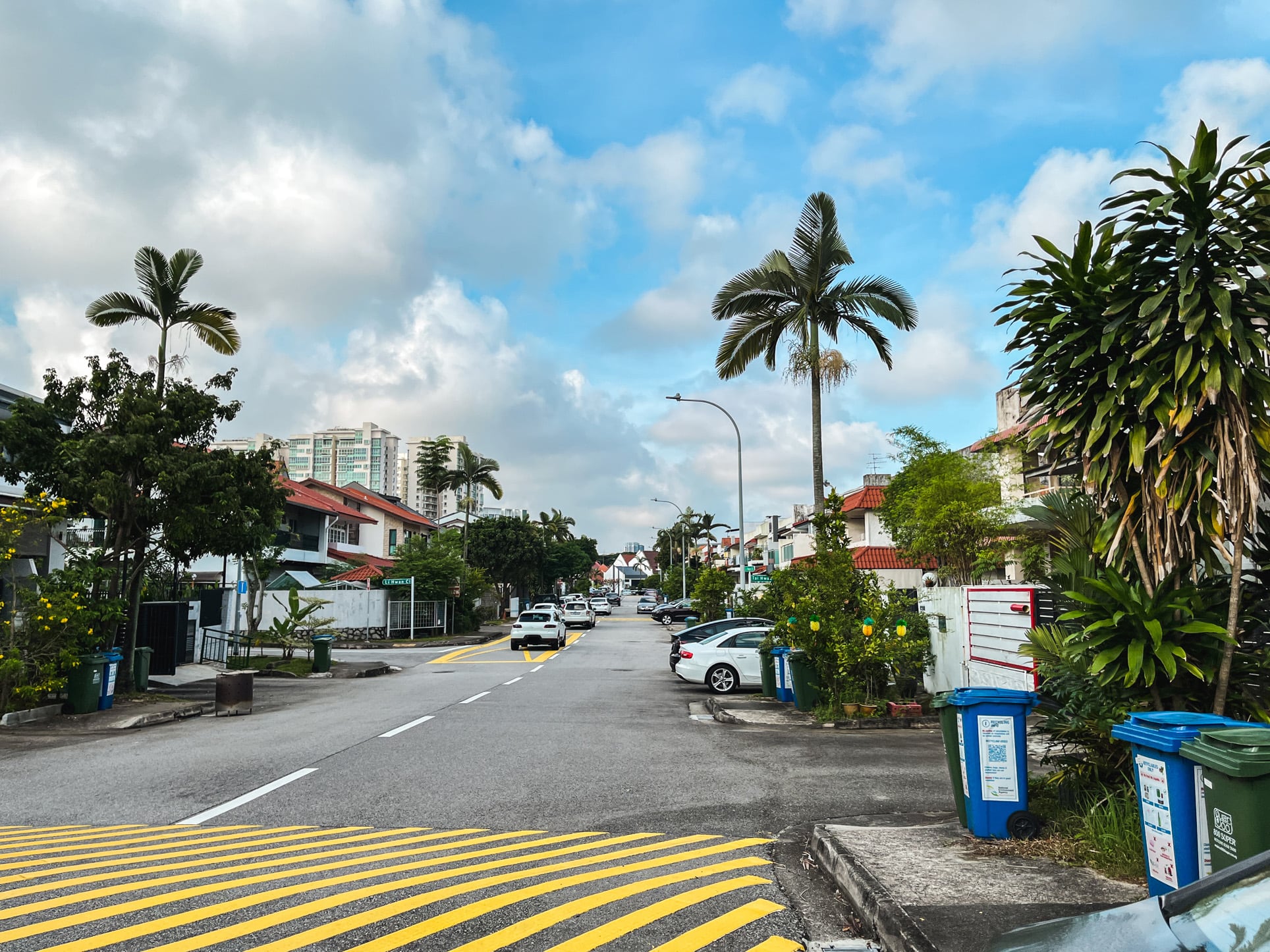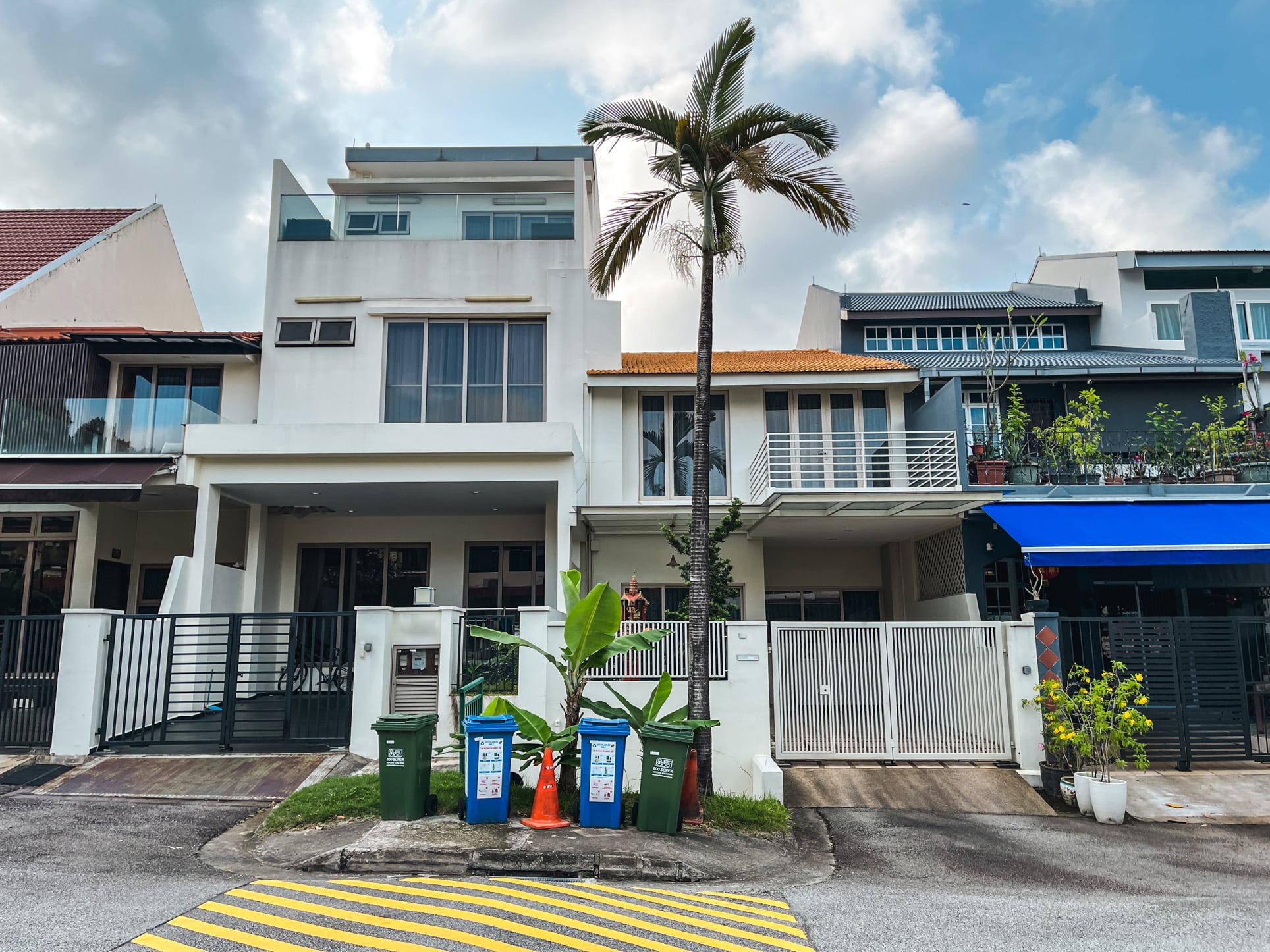 There is a good mix of properties here – both terrace units and semi-detached. Generally, the impression I got was that Li Hwan had bigger properties compared to Tai Hwan but, of course, that is just based on visual inspection and not actual property data! (i.e. I may be wrong.)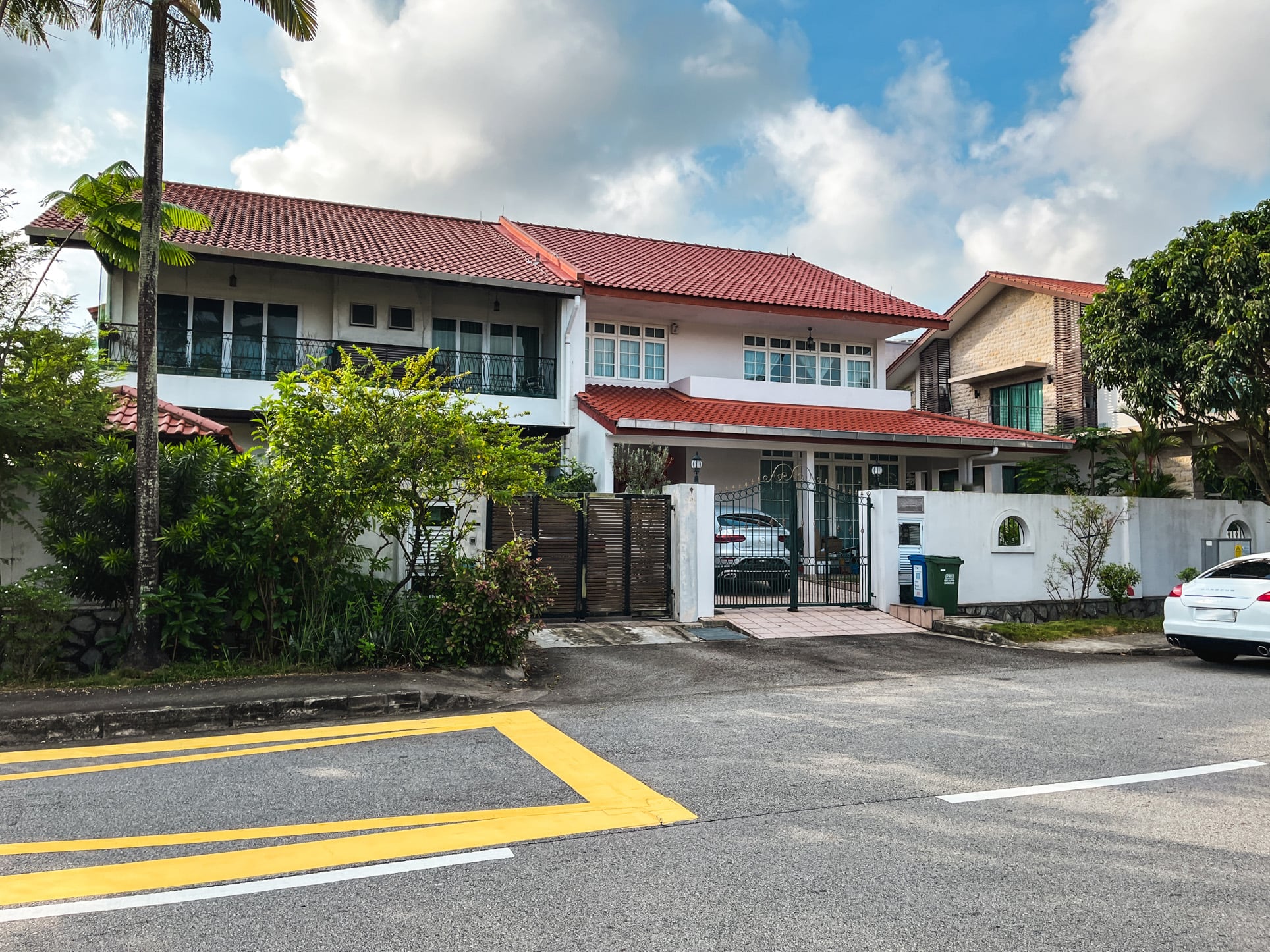 Although the road is a dotted white line (i.e. street side parking should be allowed), I must note that Li Hwan Drive is a very busy road. Cars were traversing it up and down almost non-stop. (Not as busy as Kovan which I previously toured but definitely not as quiet as one would expect given it's a landed estate. I think it could be you can drive to Serangoon Gardens by way of Li Hwan Drive Serangoon Gardens, as we know, is a very busy and popular area. (Plus there are lots of properties in the area!)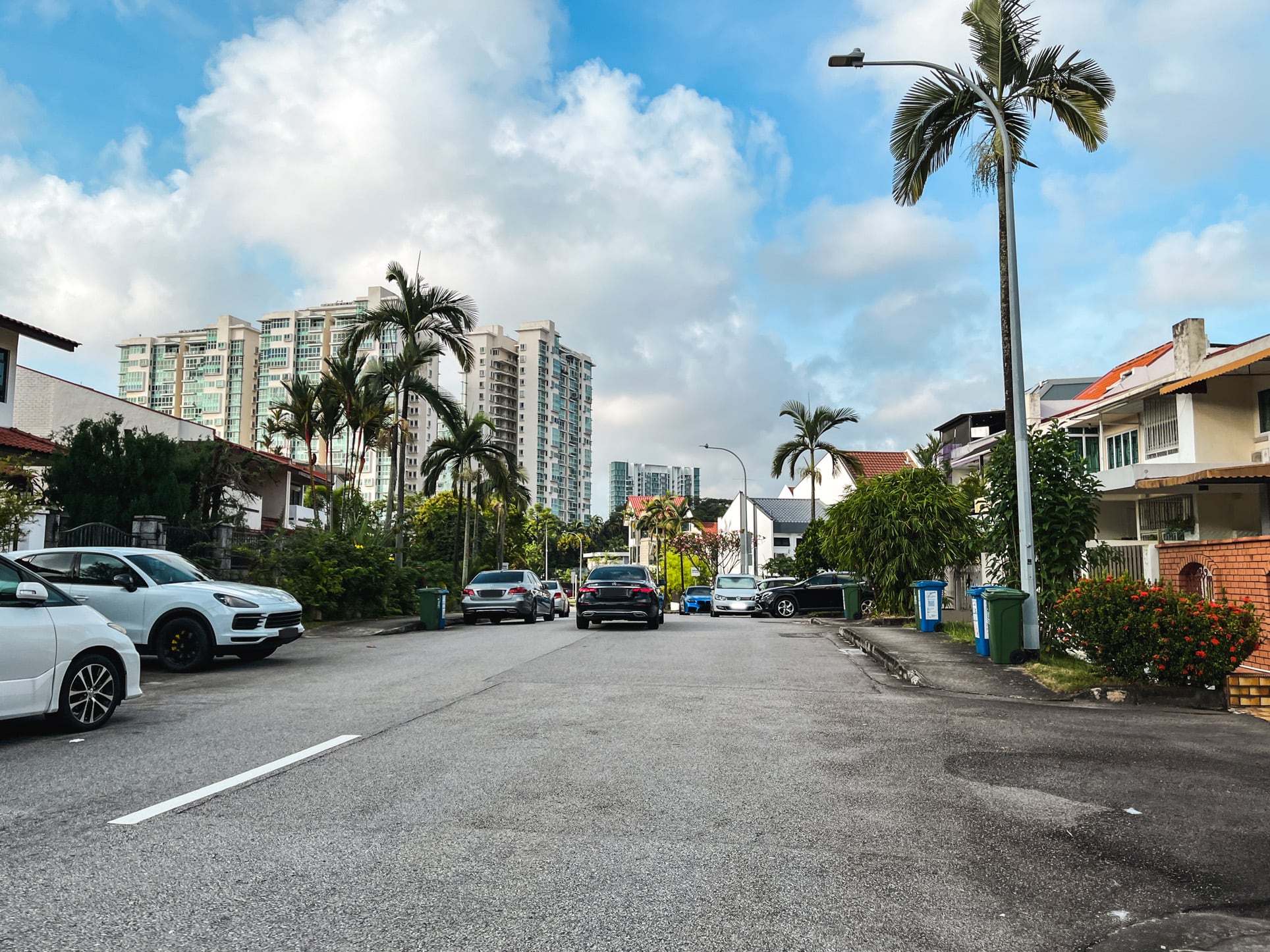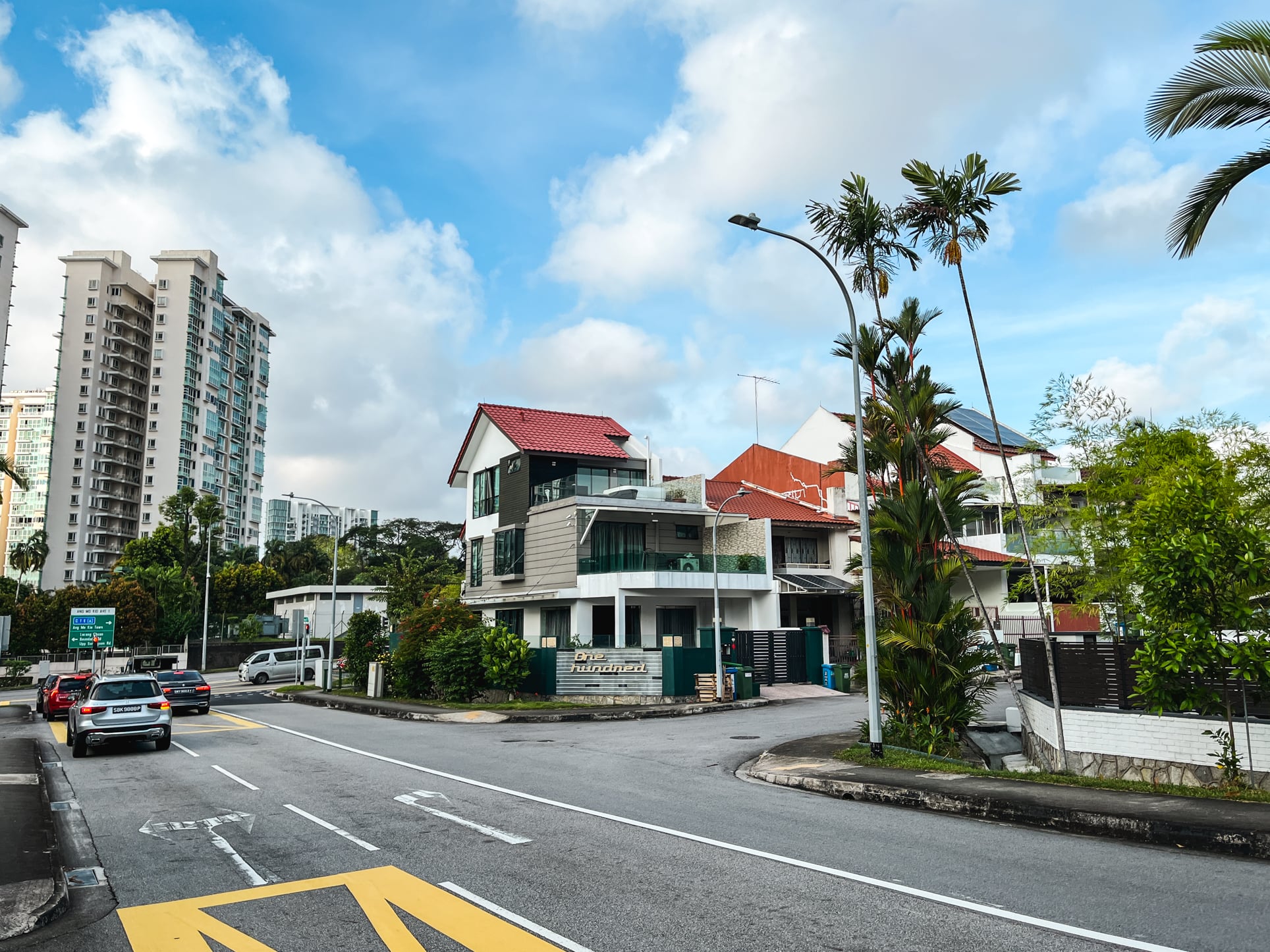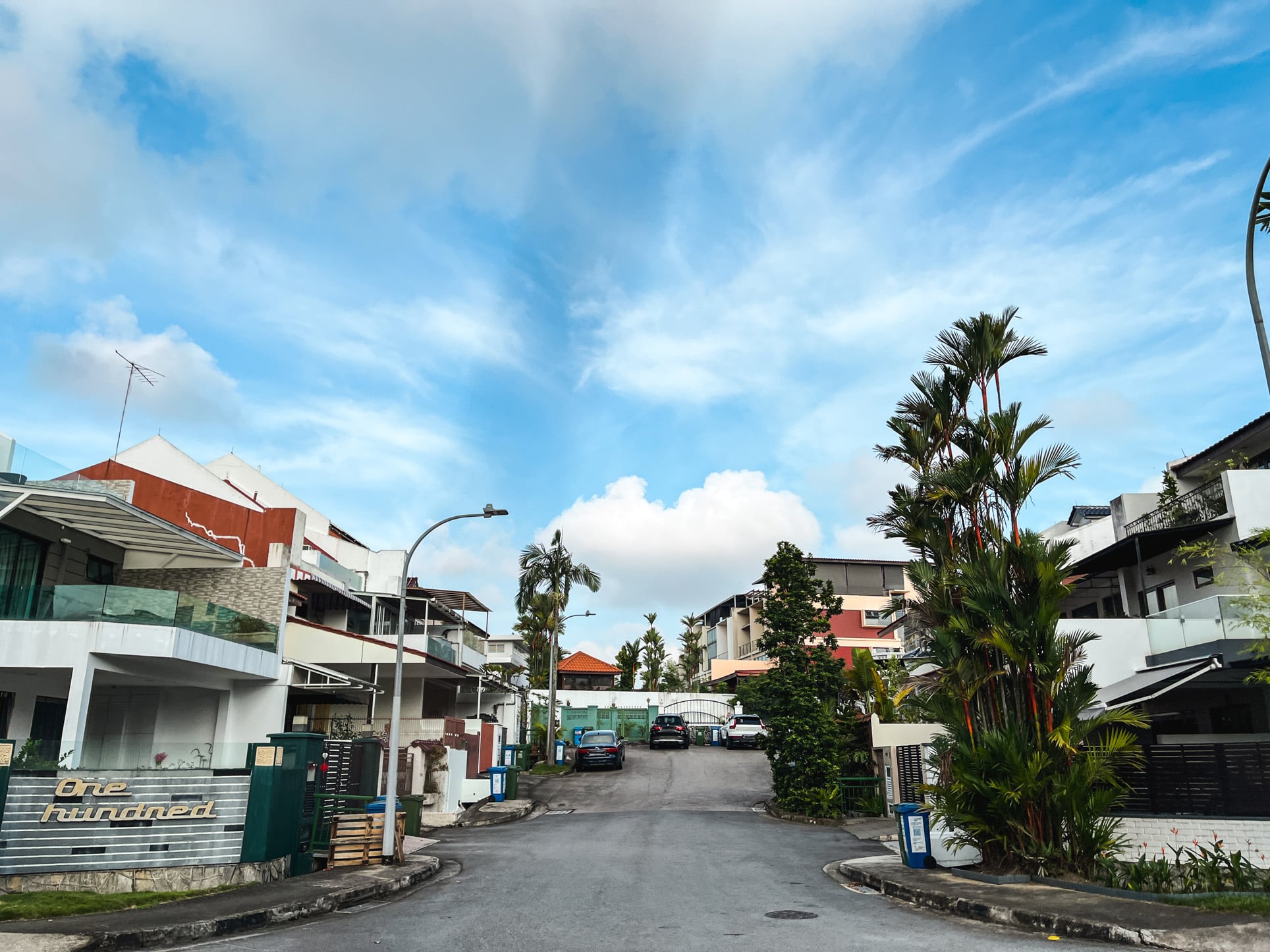 Another thing to highlight is that when I tour estates near schools, I sometimes find notices asking parents not to park outside the houses. I didn't see any here so either not many parents drive their kids to/from school OR the parents are very well-behaved OR the residents are very tolerant! What do you think?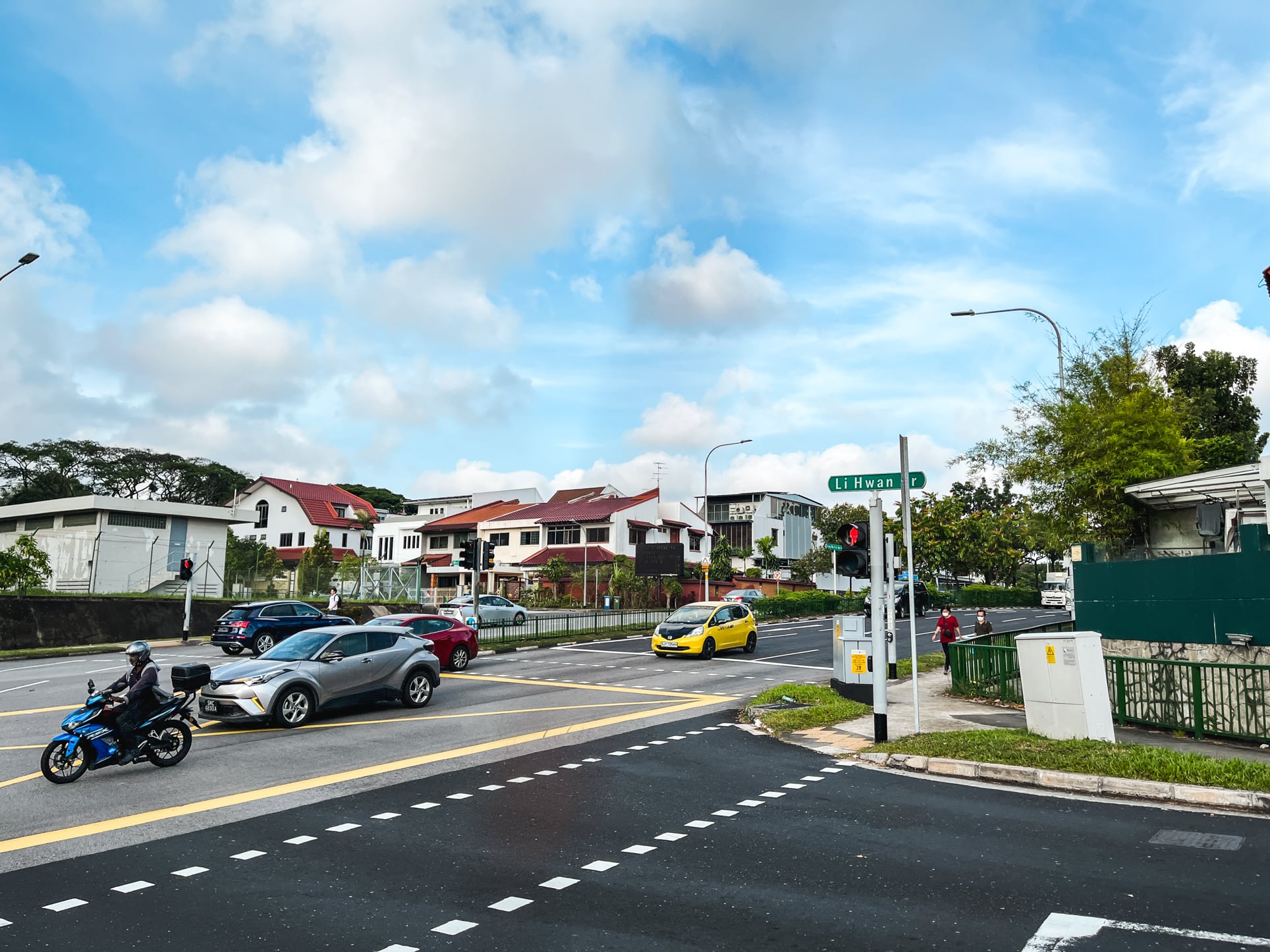 There is a bus stop if you keep walking down this way.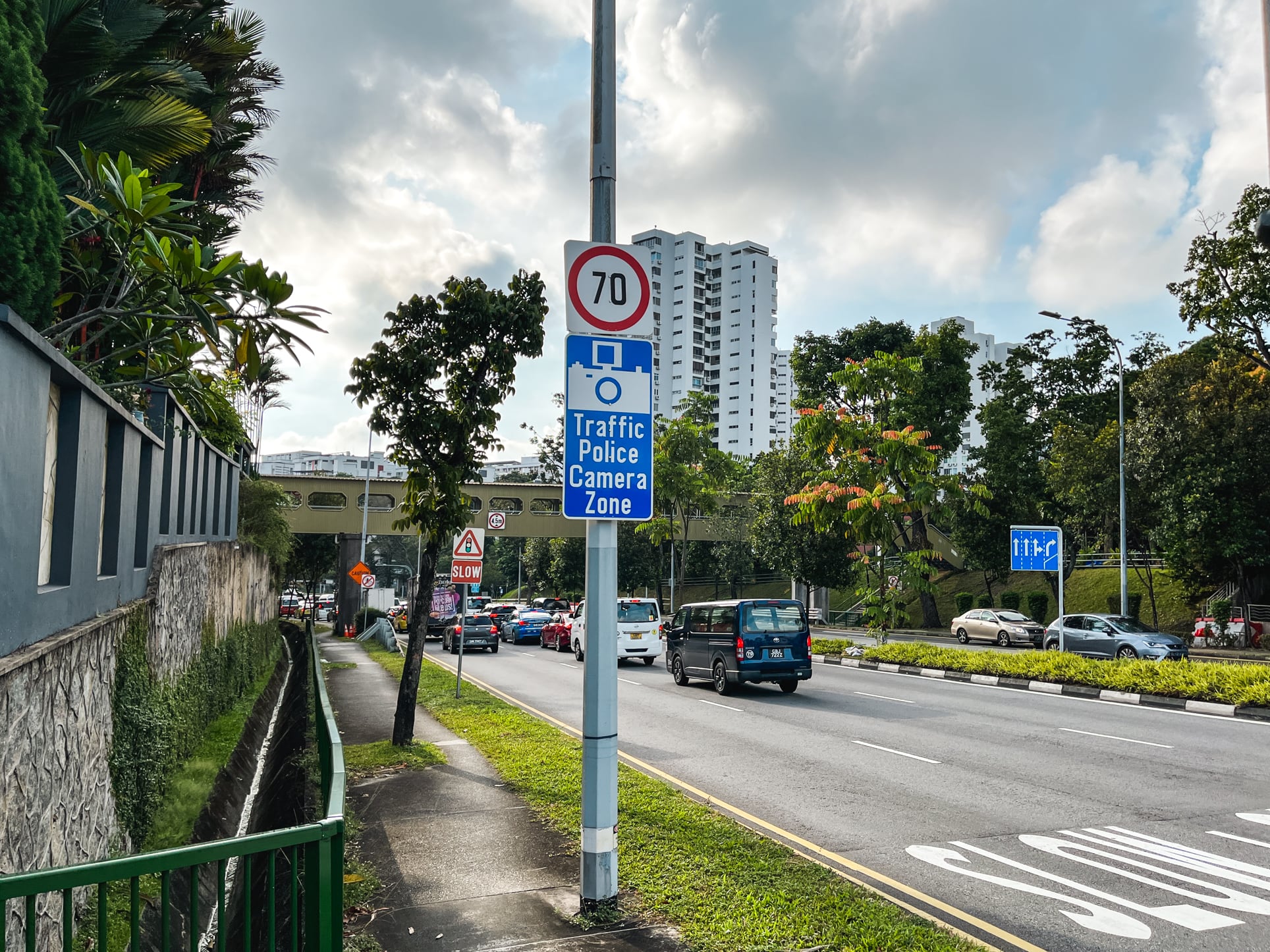 The overhead bridge in the distance is the one from Li Hwan Close over to Mei Hwan. I walked over but it didn't seem possible to access the overhead bridge from this level.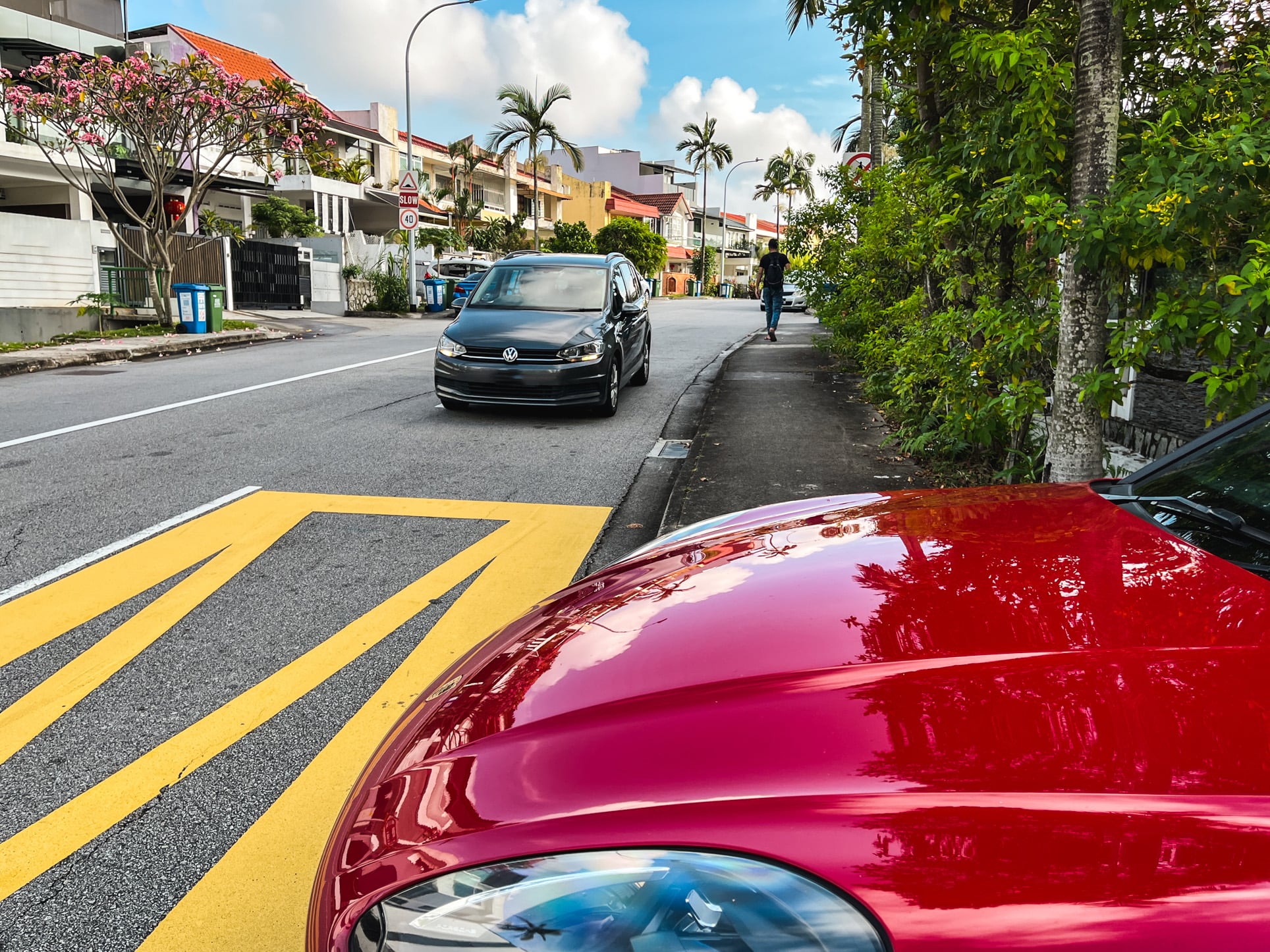 I took this photo to highlight that, at the bottom of Li Hwan Drive, where there's a single white line and cars can't park along the road, some residents have no choice but to park in such a way that the cars block the pedestrian path. (They're actually parking at their gate so there's no issue there. However, if you were pushing someone in a wheelchair or a kid in a pram, you would have to push them on the main road which some people may not feel comfortable doing, as the road is quite highly utilised.)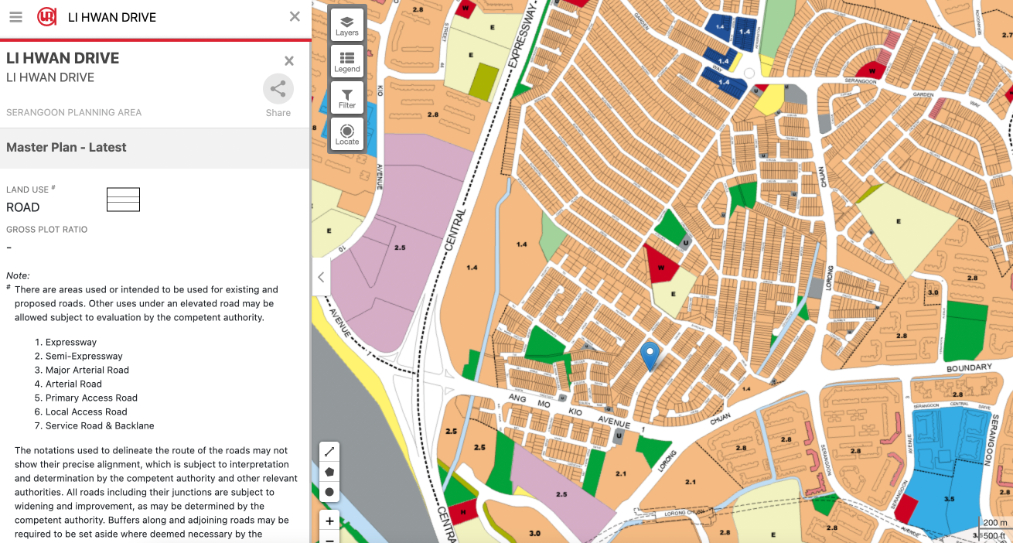 Another thing to highlight is that, north of Ang Mo Kio Avenue 1 and Lorong Chuan, there are not many empty residential plots left for development. (Most of the land seems to have been developed already.) I only see a few small ones around Serangoon Gardens. This could imply that the supply of landed housing here will be fairly constant, at least in the near future. (But, of course, nothing is given in Singapore. We could see CHIJ moving to Tengah and being re-used as residential land one day. Who knows?)
We've now come to the end of today's tour. How did you find it?
Initially, I was thinking, oh dear, the estate doesn't have much character: the houses and street look pretty similar and there's nothing much around the area. Nowhere to eat/drink/shop. (This is why this article has fewer photos than my usual post.) However, although you don't get rows of small shophouses that we often see in landed enclaves, the area is very, very conveniently located for larger shopping centres, such as NEX mall! I can see how it would be a desirable place to live for people who prefer modern malls and larger retail chains to old-school independent small shops. (As well as parents who want their kids to get into CHIJ.)
Let me know in the comments if there are any other areas you'd like a tour of! (And to the reader who asked for a tour of Serangoon Gardens, I promise to get around to it soon. I was originally going to do that but got distracted by the declining price trend here!)