Property Stories
Touring Kimsia Park: Freehold Landed Homes In Orchard Which Are Not As Pricey As You Might Think
TJ
April 23, 2023

10

min read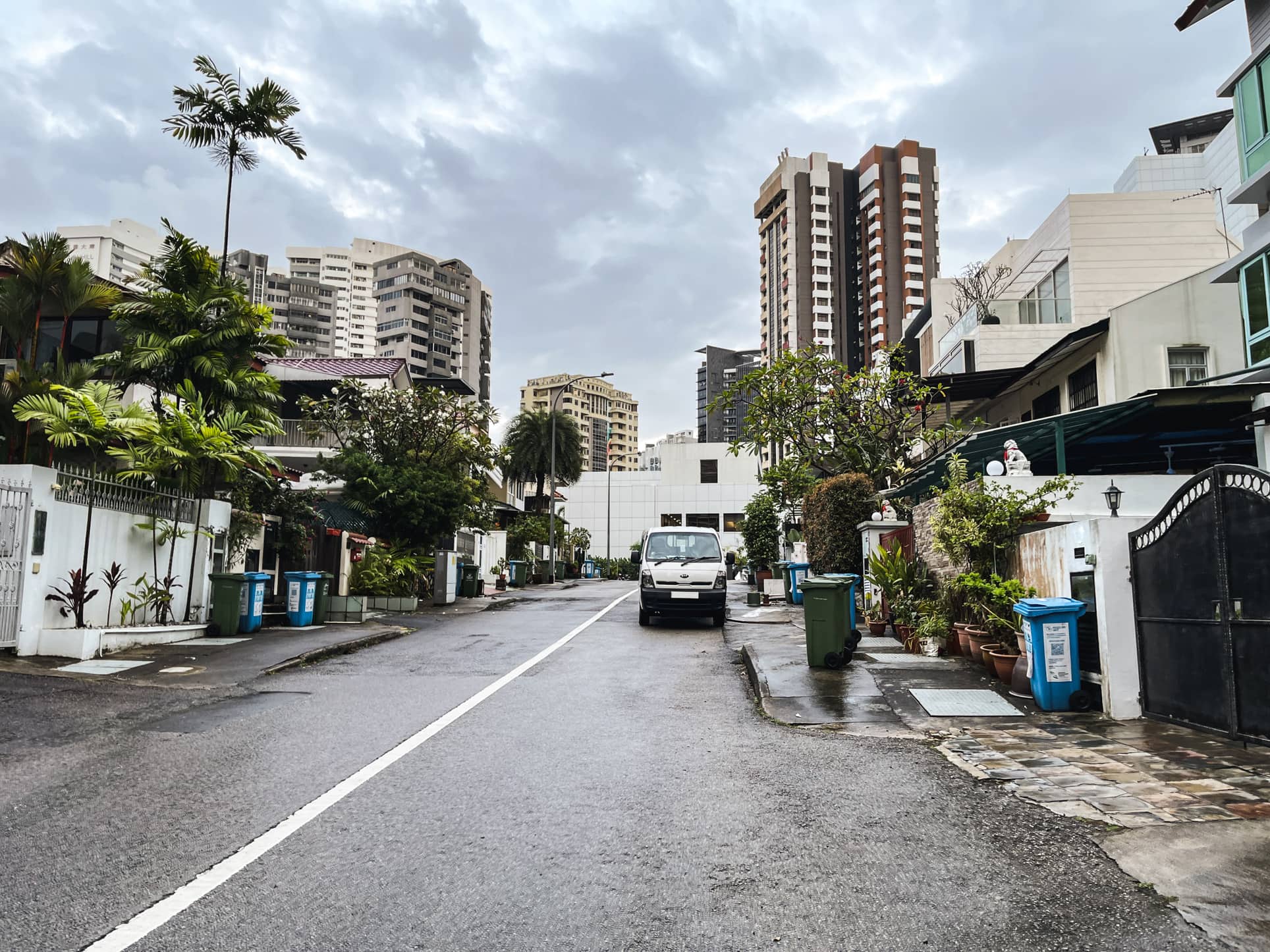 10
min read
When people think of Orchard Road, shopping and malls are the first things to come to mind. Landed houses, not so much. Even then, one would imagine that you would need to be a Crazy Rich Asian to afford a house there.
Hence, I was somewhat surprised to find that property listings started from $5.8 million (at the time of writing.) Now I'm not suggesting that $5.8 million is a small sum, but given that a terrace at Nallur Road is also going for $5.8 million (albeit a newer property), landed houses at Lucky Plaza suddenly don't seem as expensive as I had previously thought.
Note that I'm not saying "expensive" and not "unaffordable"- something may not be that expensive but is not necessarily affordable! Also, if you're thinking where on earth is Nallur Road- that's exactly my point! (It's in the East if you really wanted to know.)
First, let's define the area we're looking at, namely Jalan Kayu Manis, Jalan Lada Puteh and Jalan Jintan, 3 roads off Nutmeg Road, which is behind Lucky Plaza/Tangs and Scotts Plaza. Owning a landed house in Orchard Road is, as you can see, pretty exclusive – there are only so many properties here! (There are a few more over at Paragon, but not many, as well as some near Four Seasons Hotel, but the latter are more expensive.)
The very small area that we are looking at.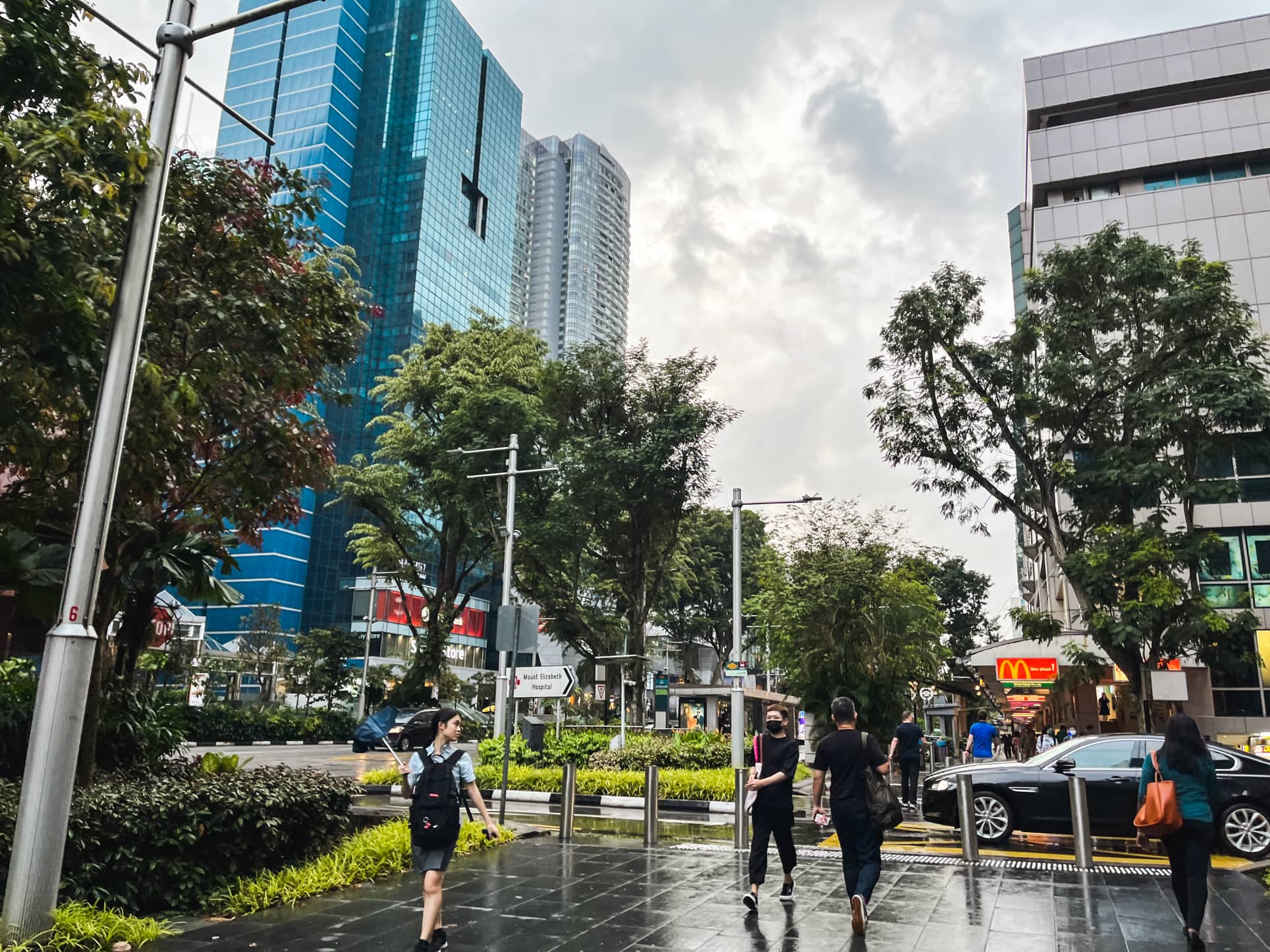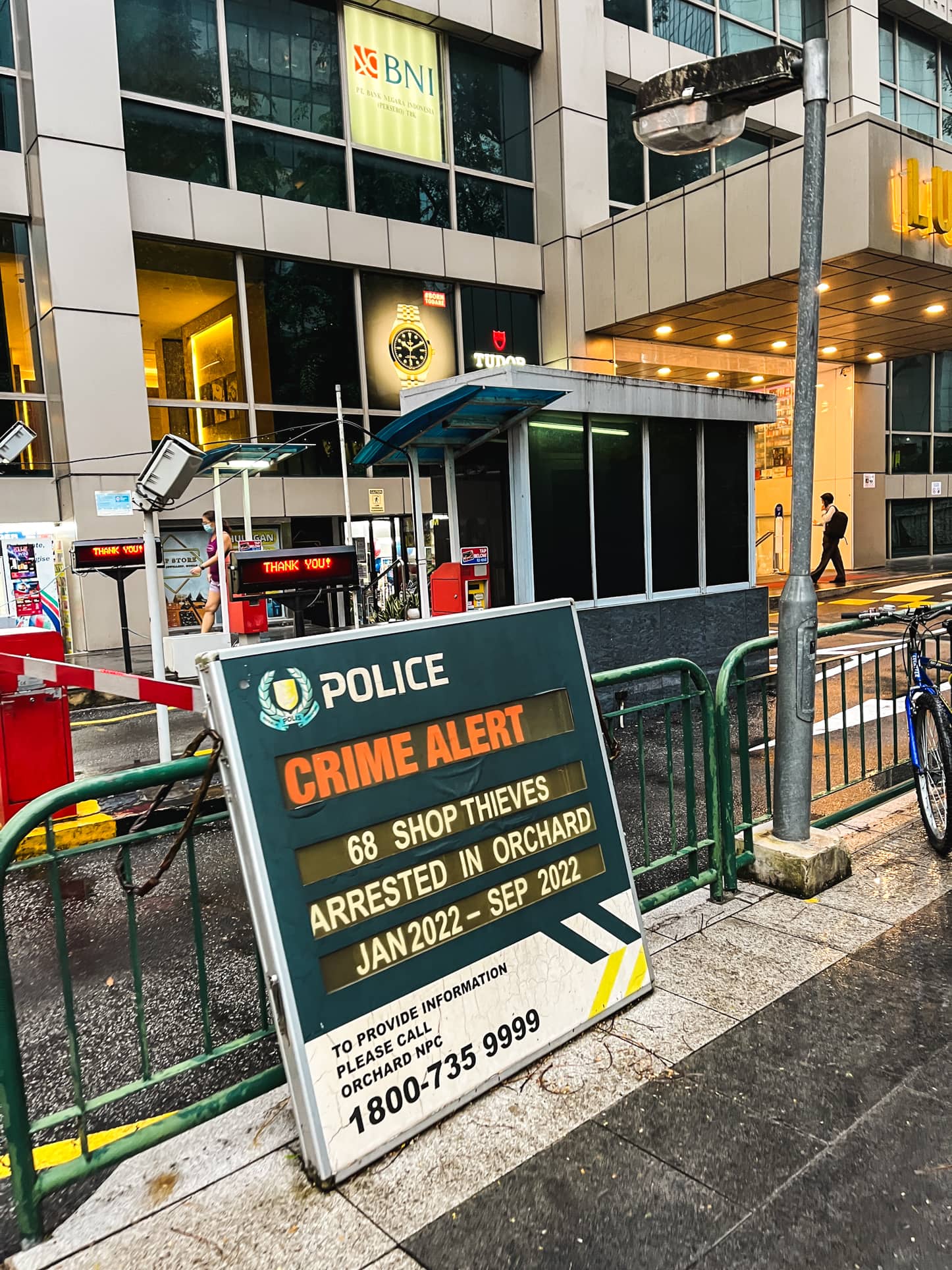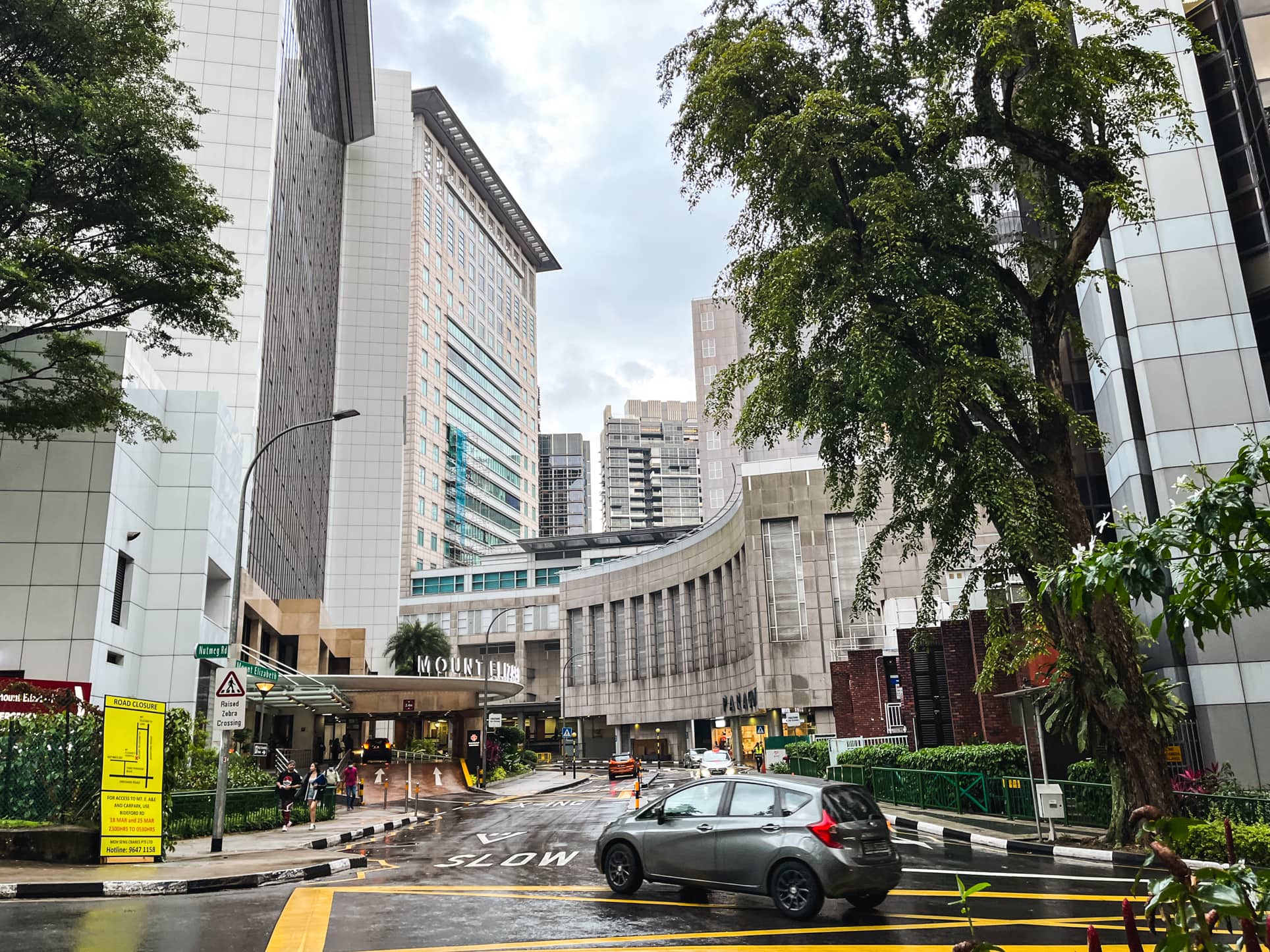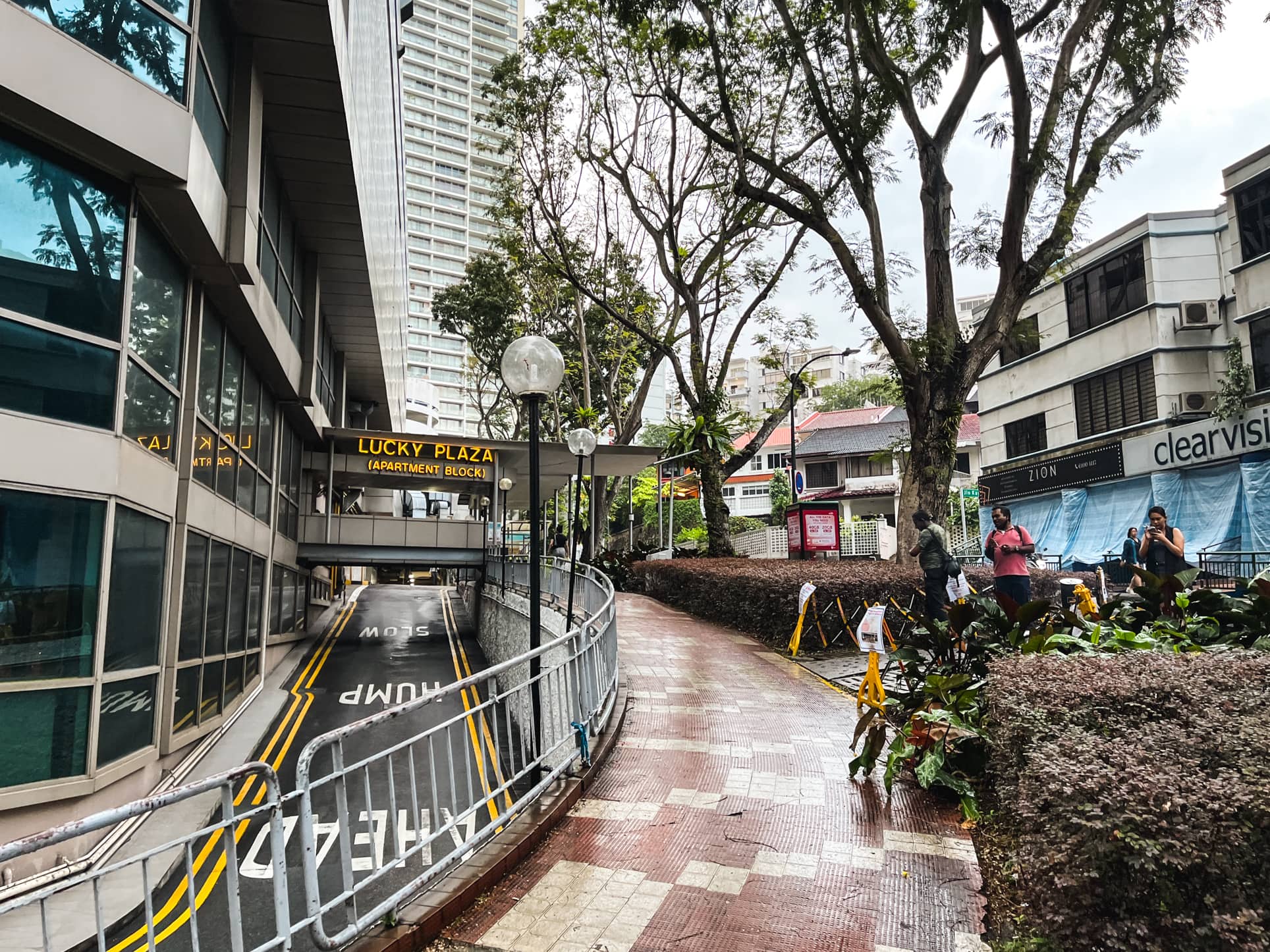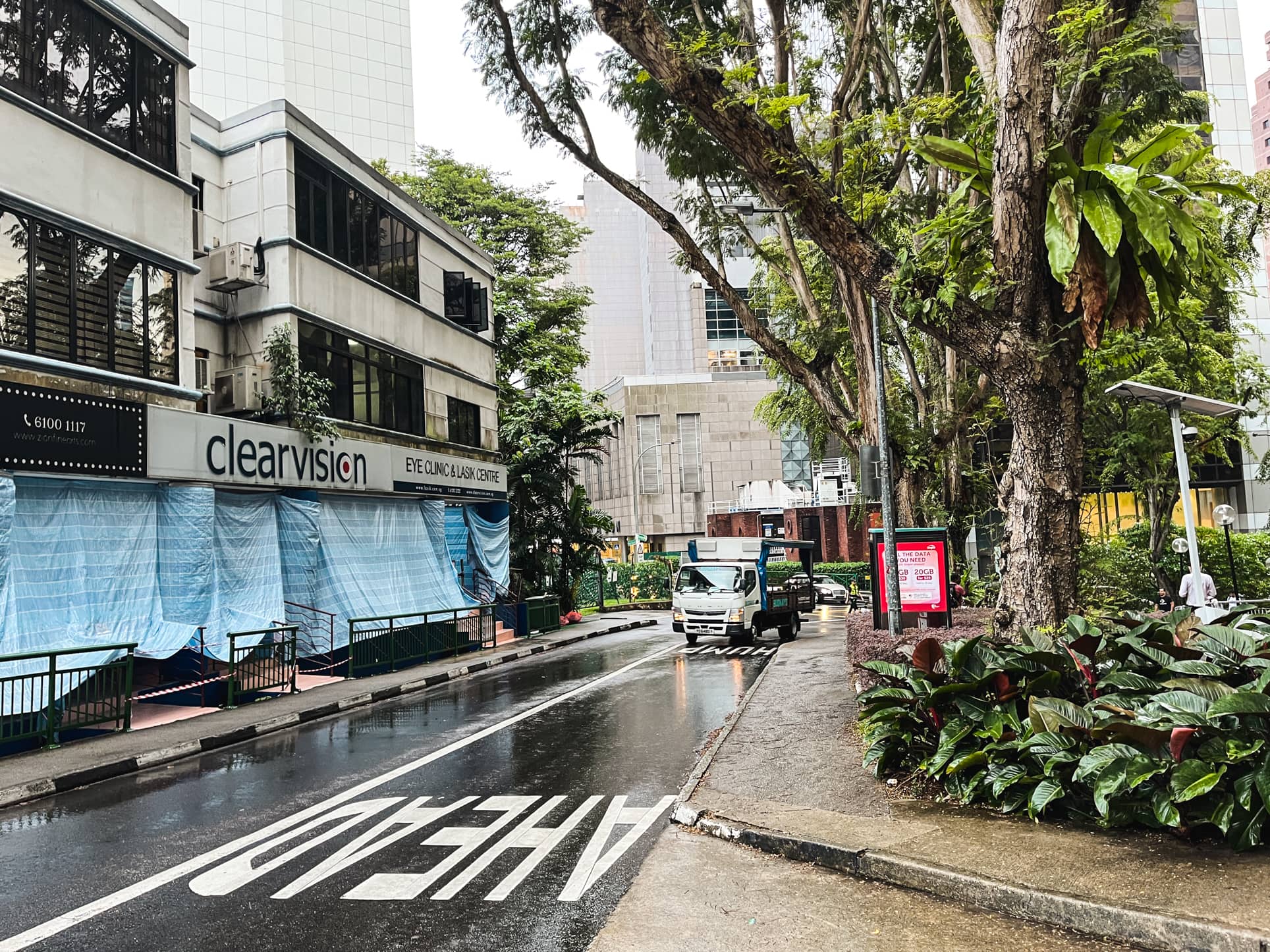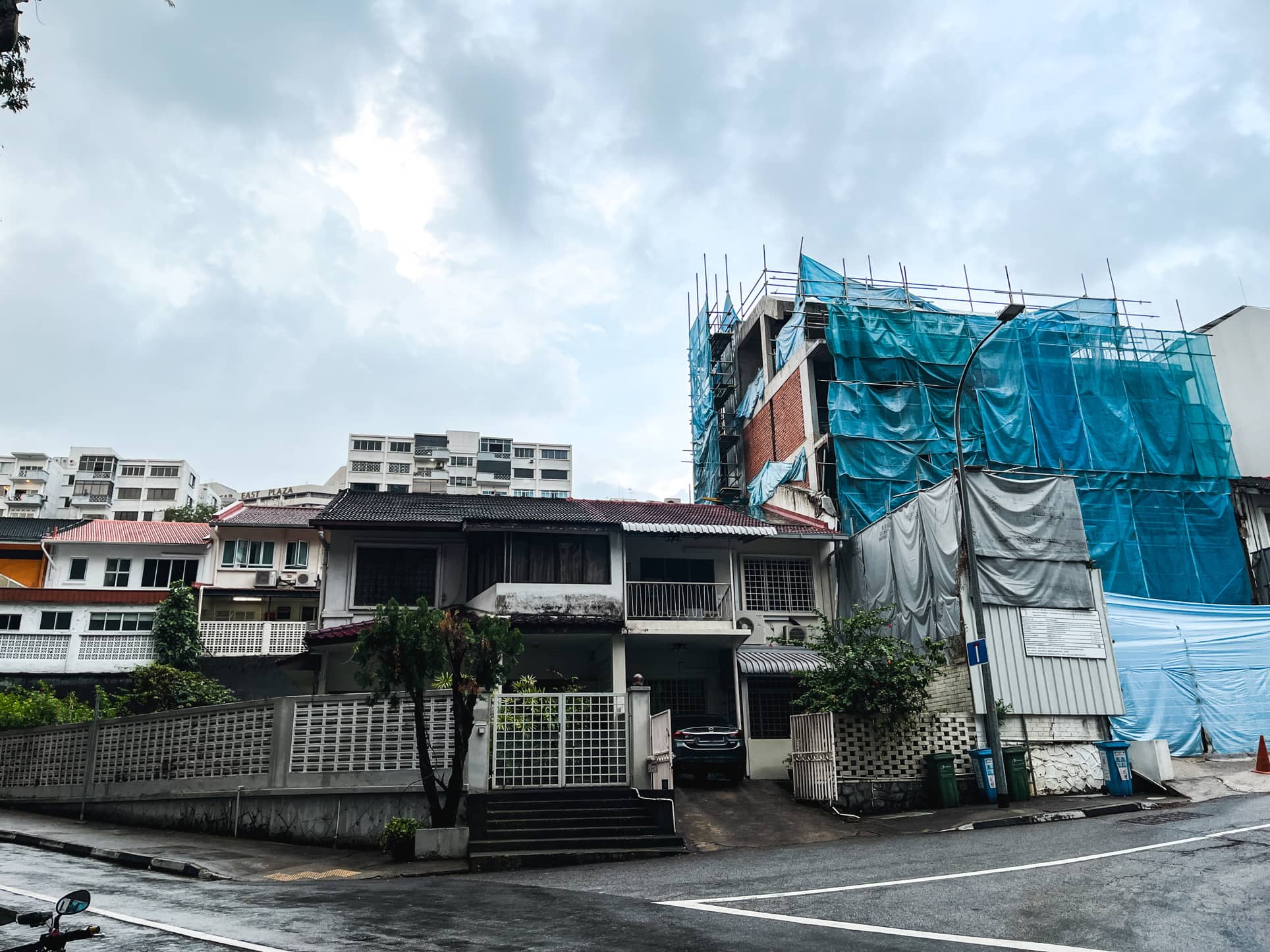 No offence to anyone living there, but the houses were older than I expected. I guess I thought Orchard Road meant modern and glitzy, but the properties are more down-to-earth. Although there is something being rebuilt on the right so maybe that will be more in line with what I had thought! (Also note the serious plot ratio maximisation potential- that building looks twice as tall as the older ones!)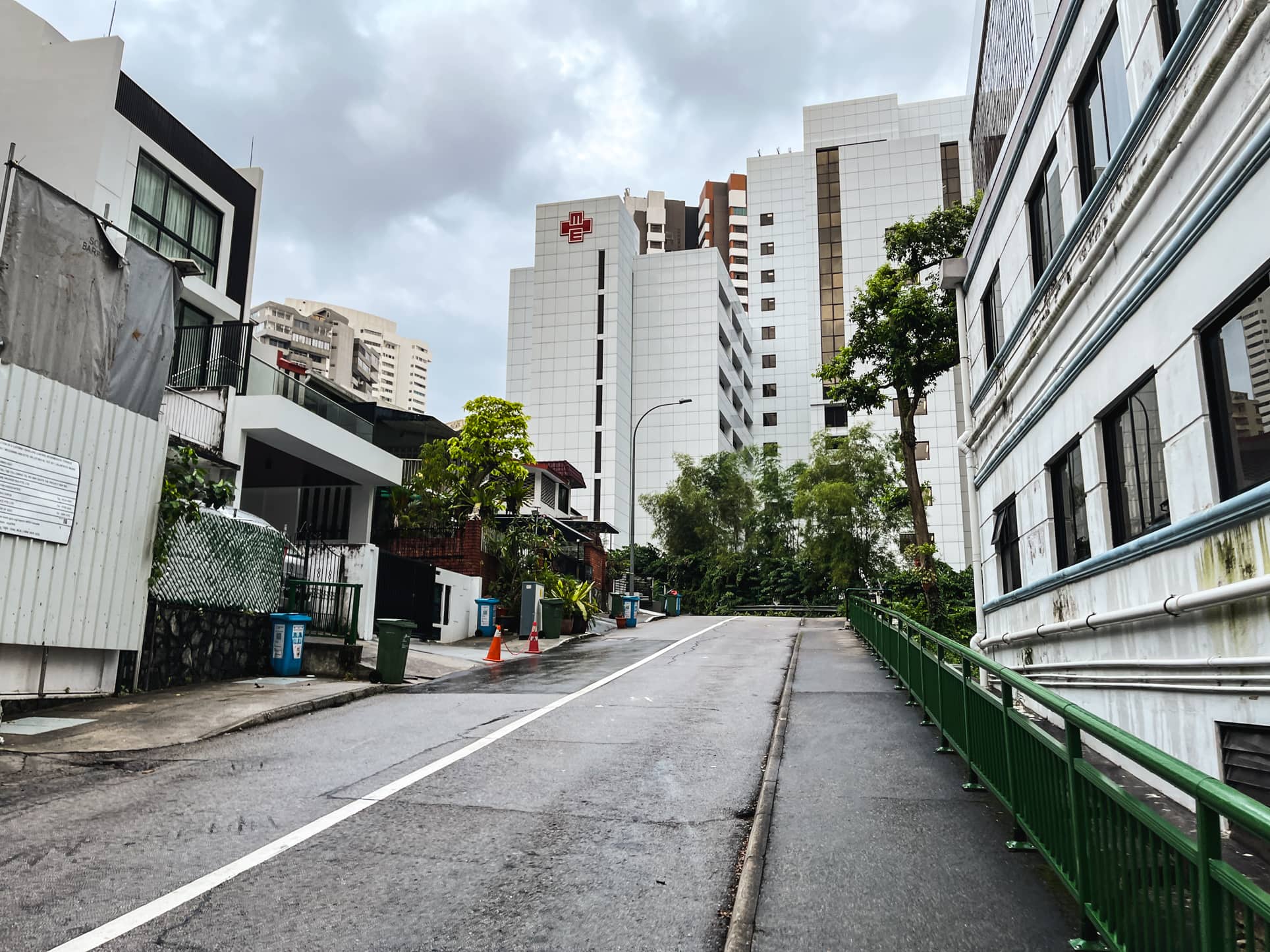 Do note how the properties on the first row (to the right) are located below the next row (on the left) – the ground floor for that row of properties might really be more like a semi-basement and may not receive too much light or wind.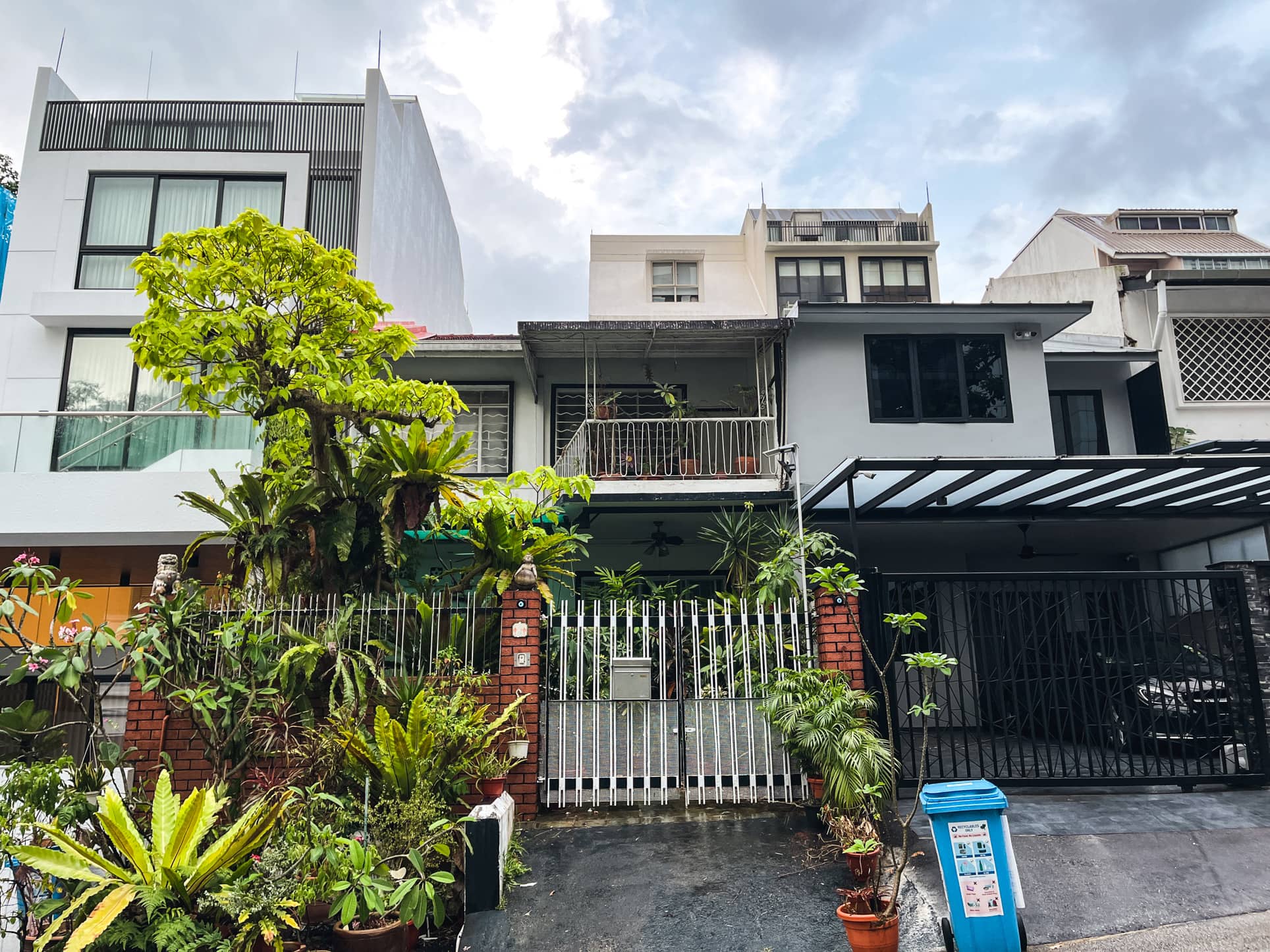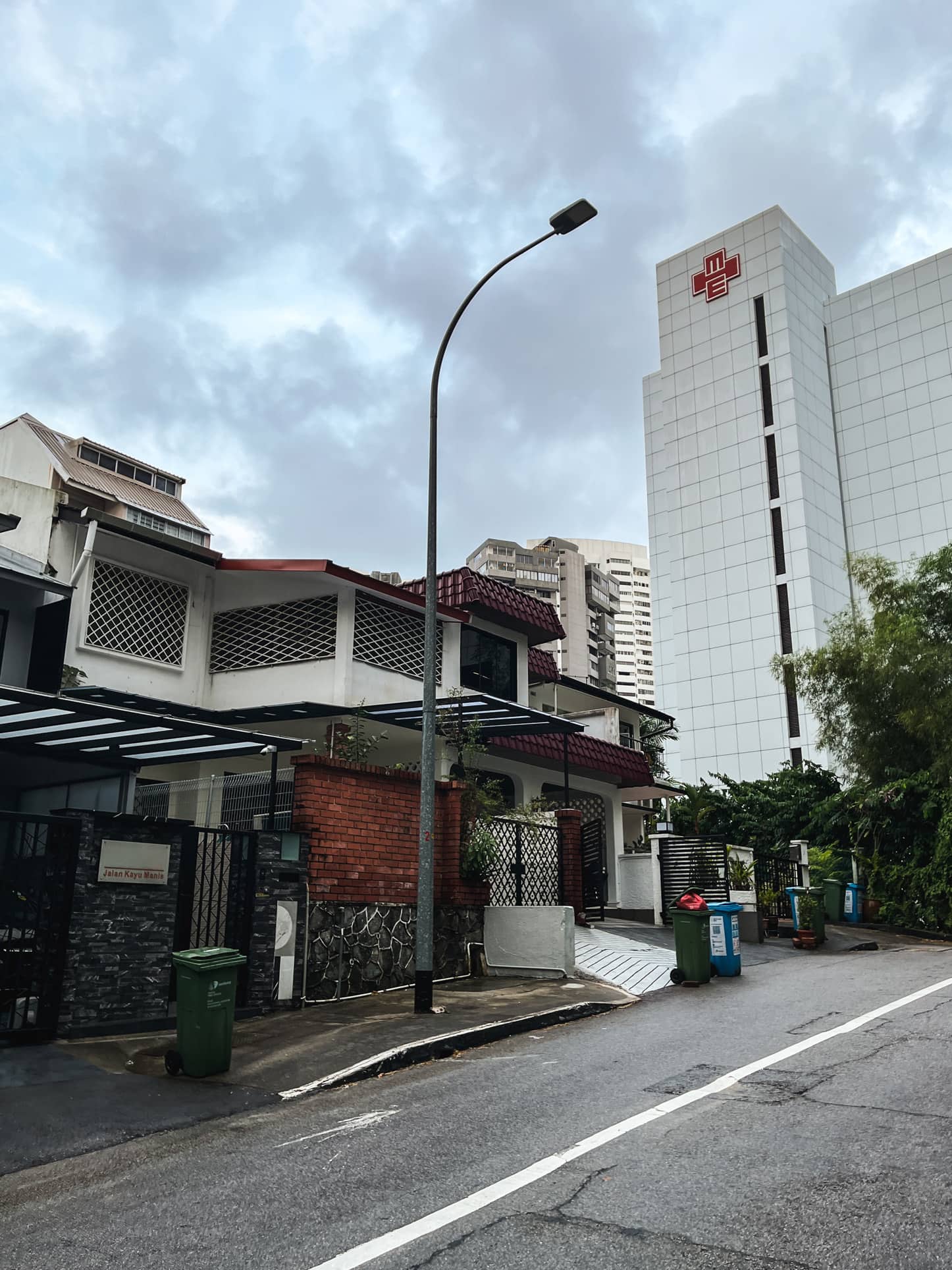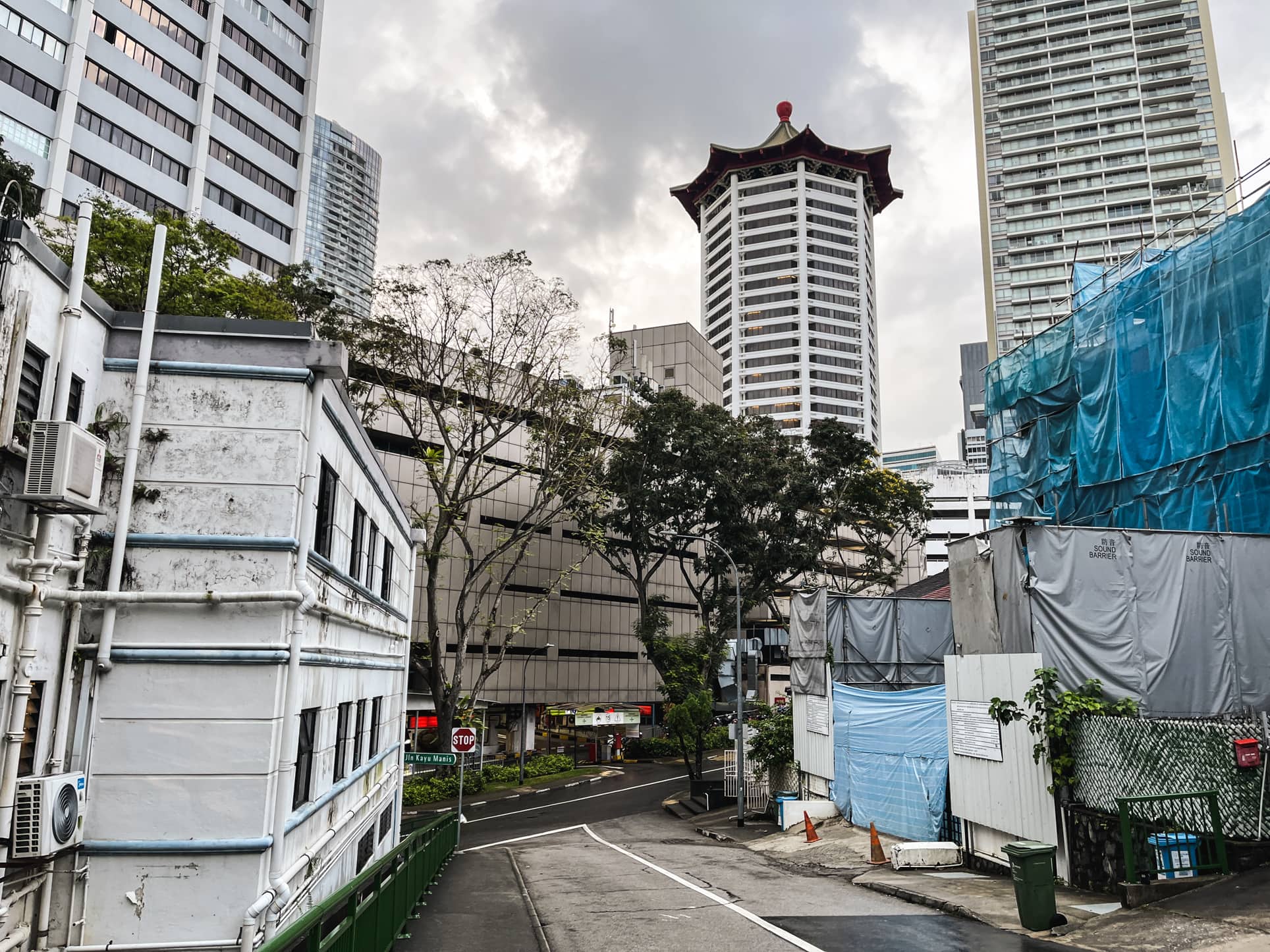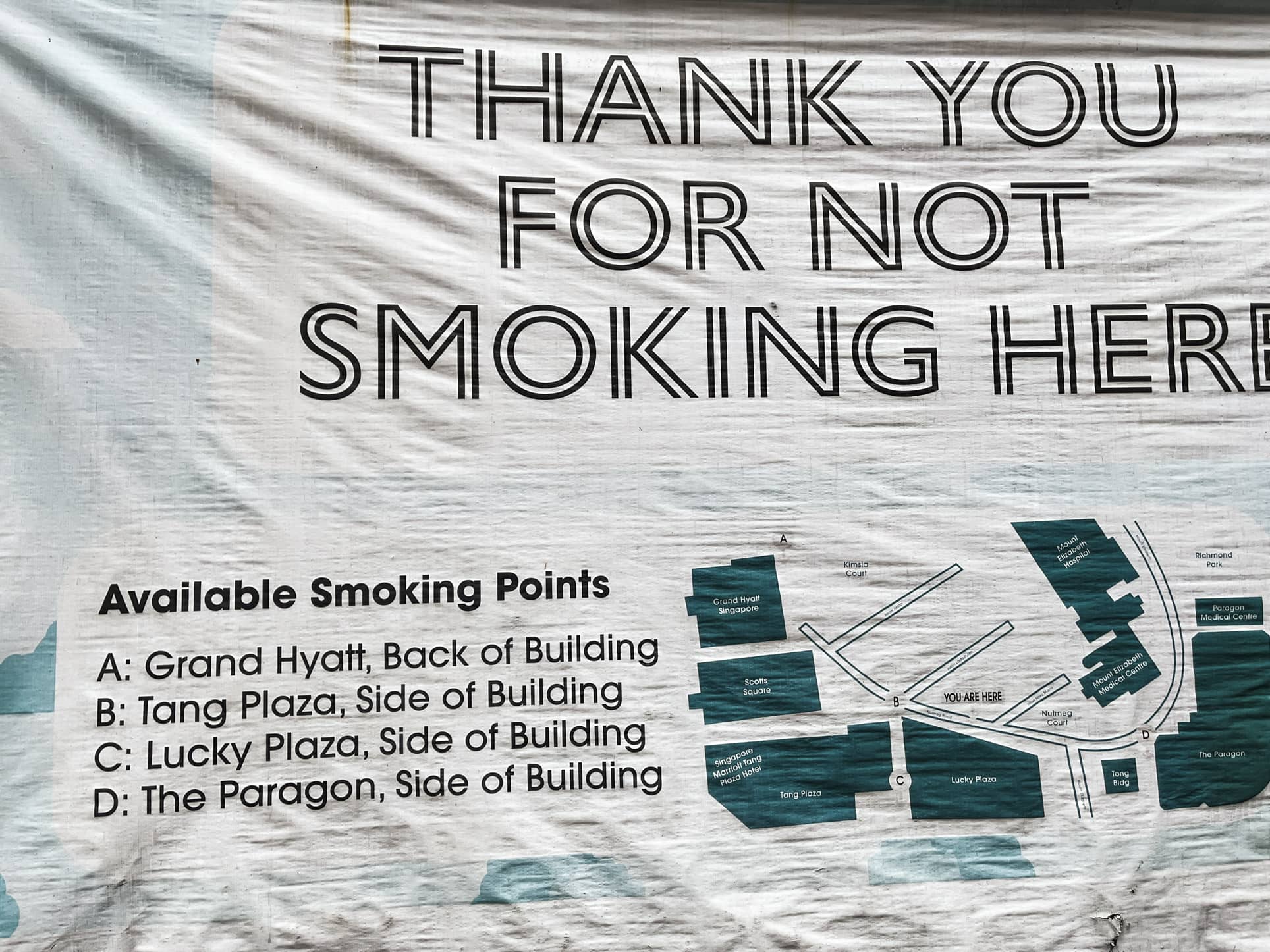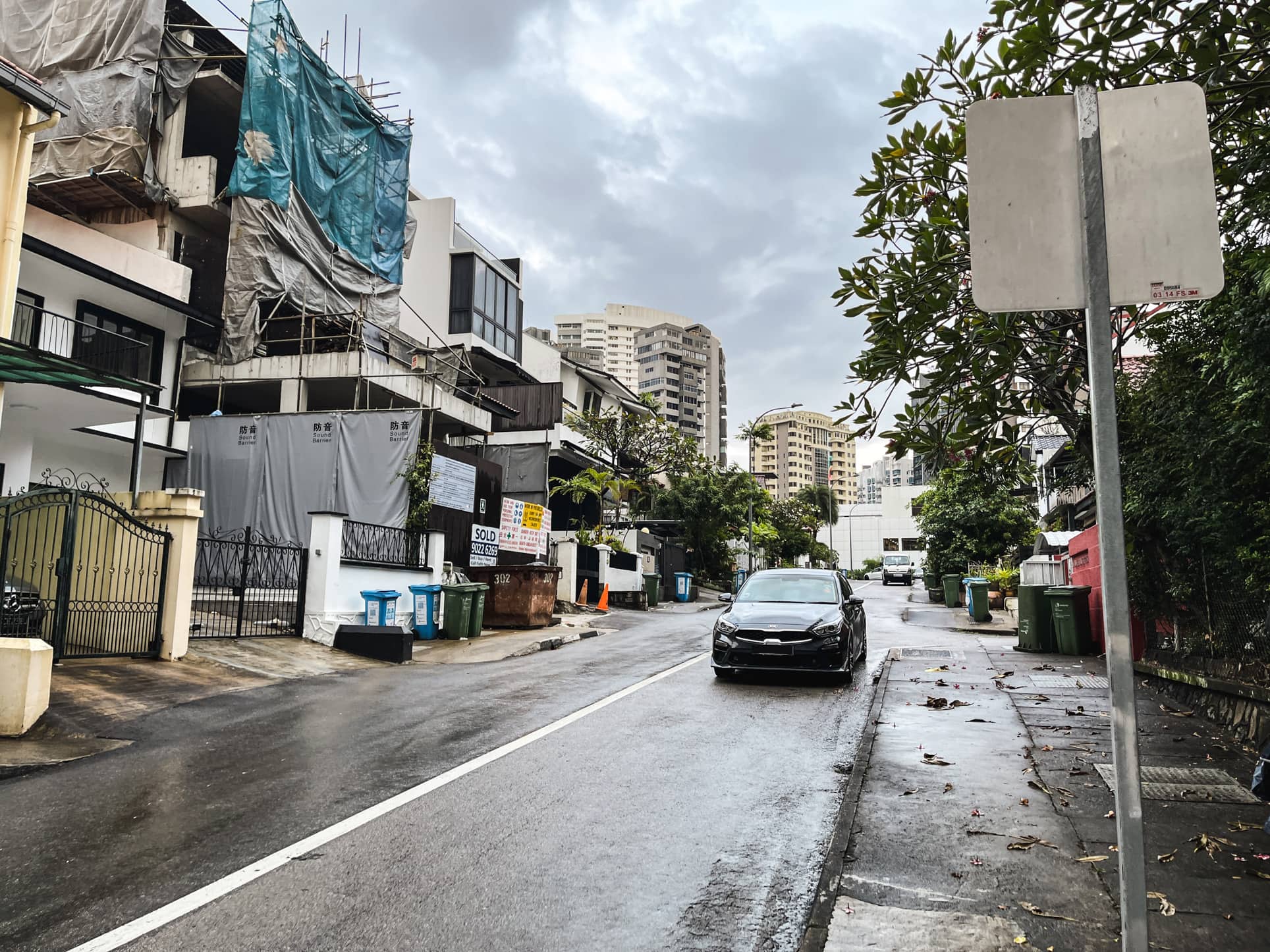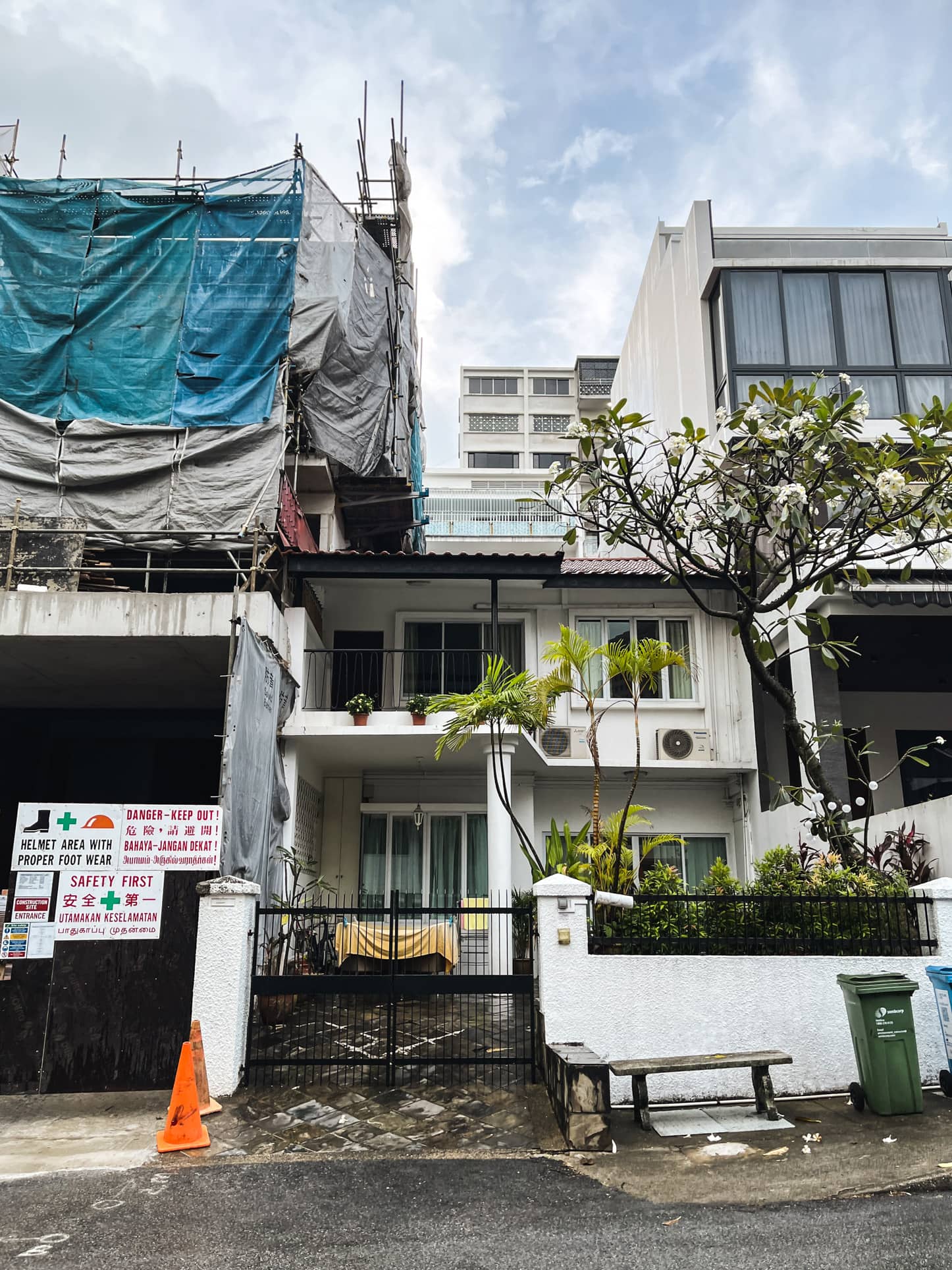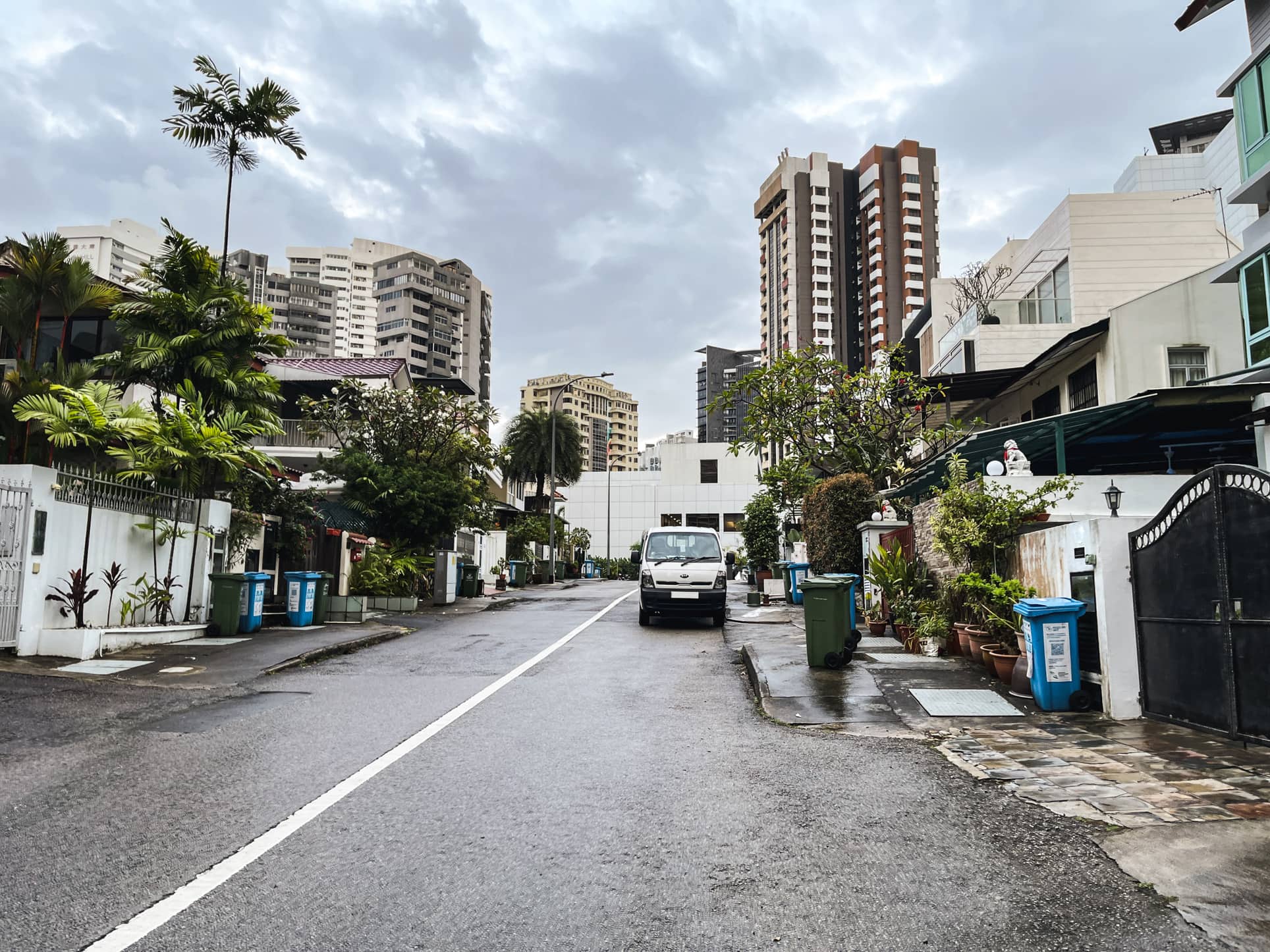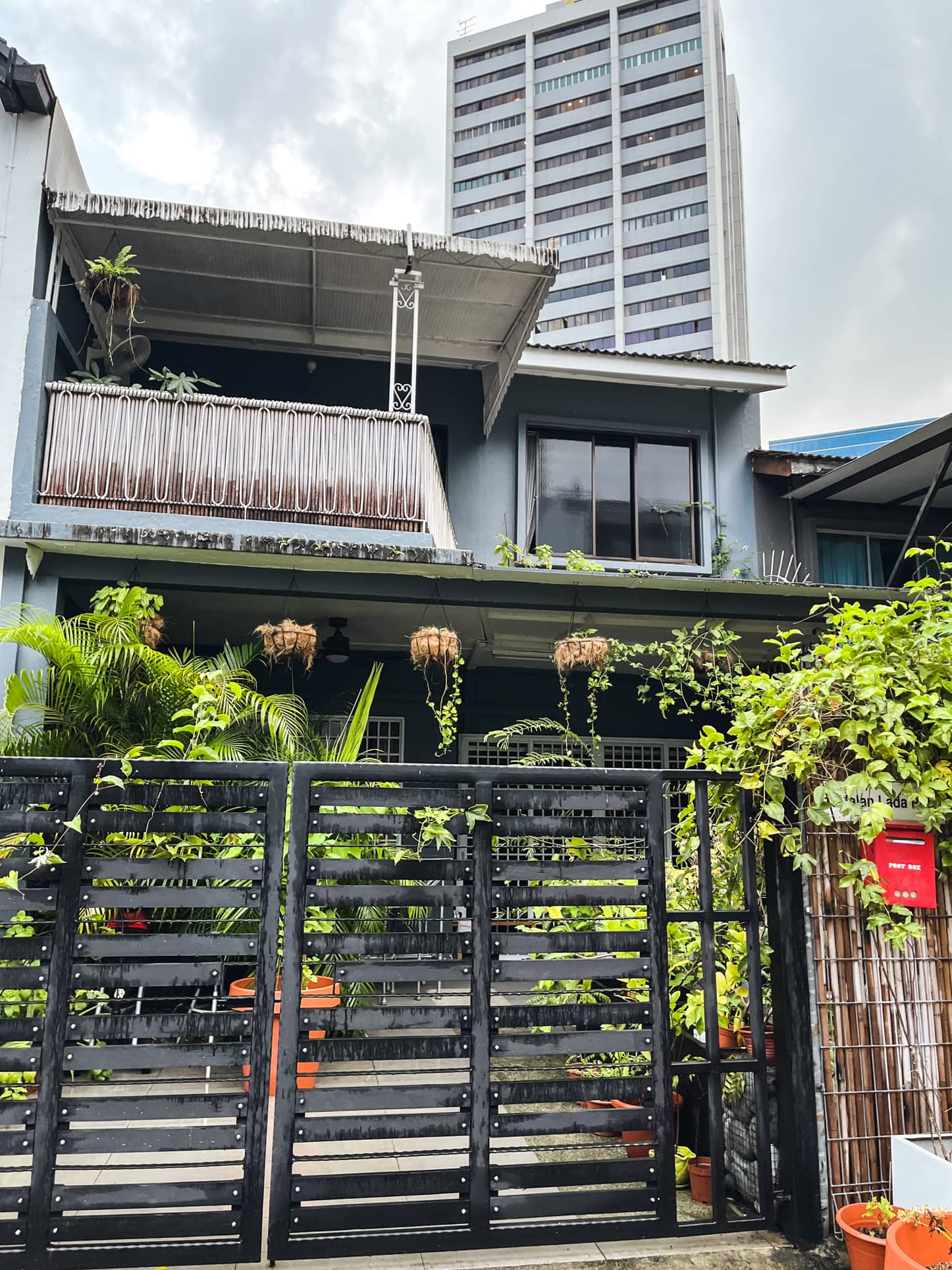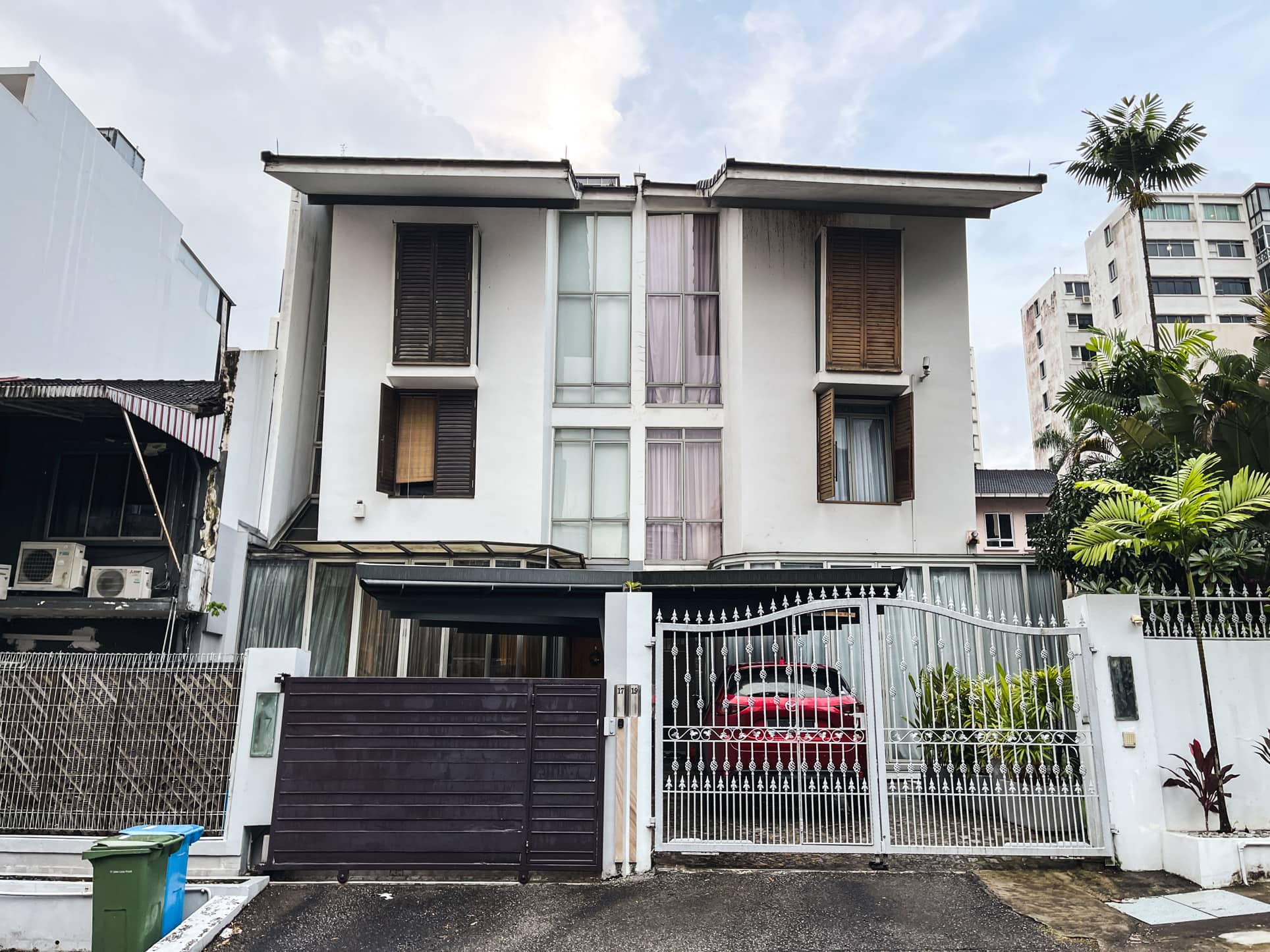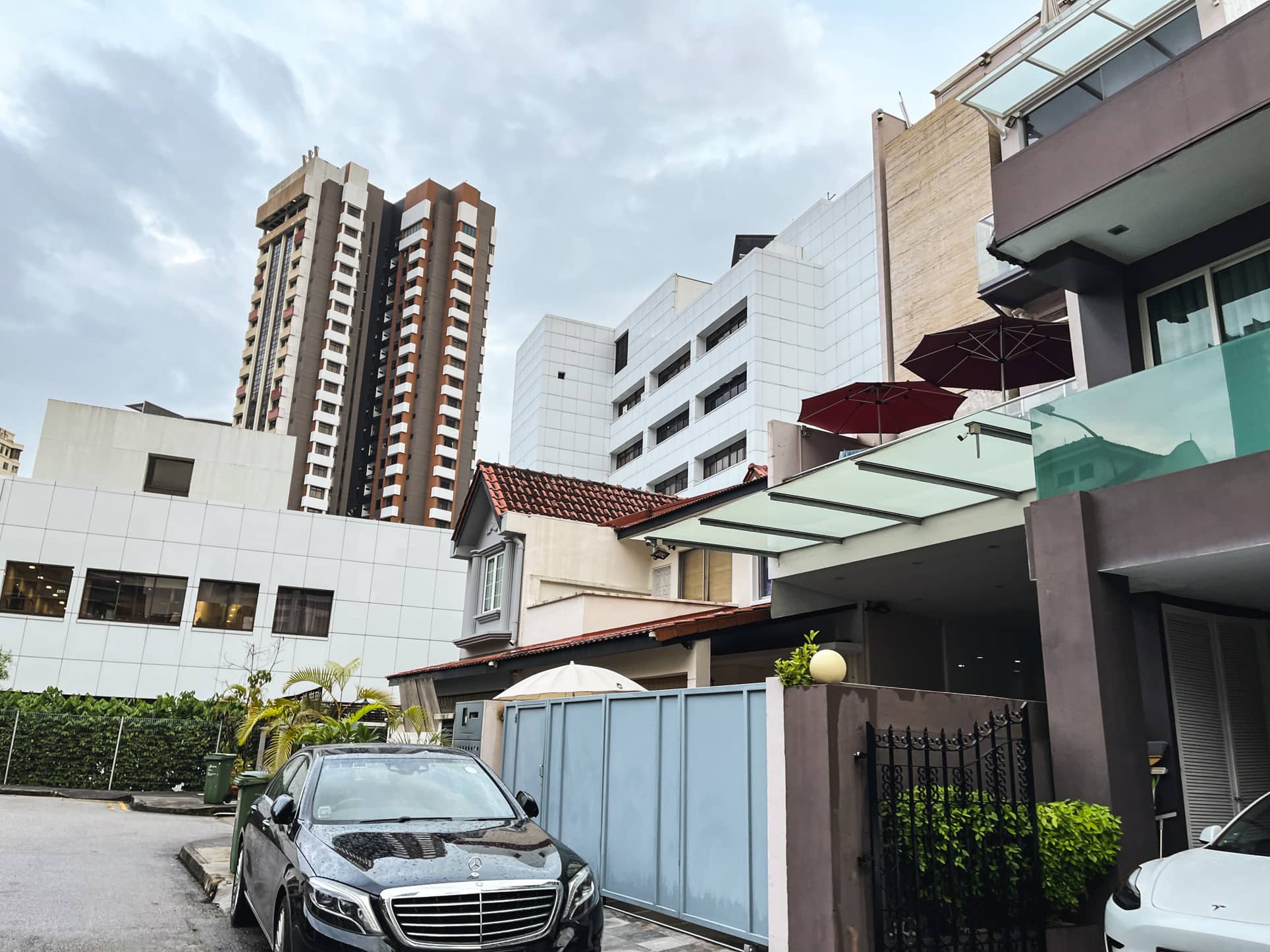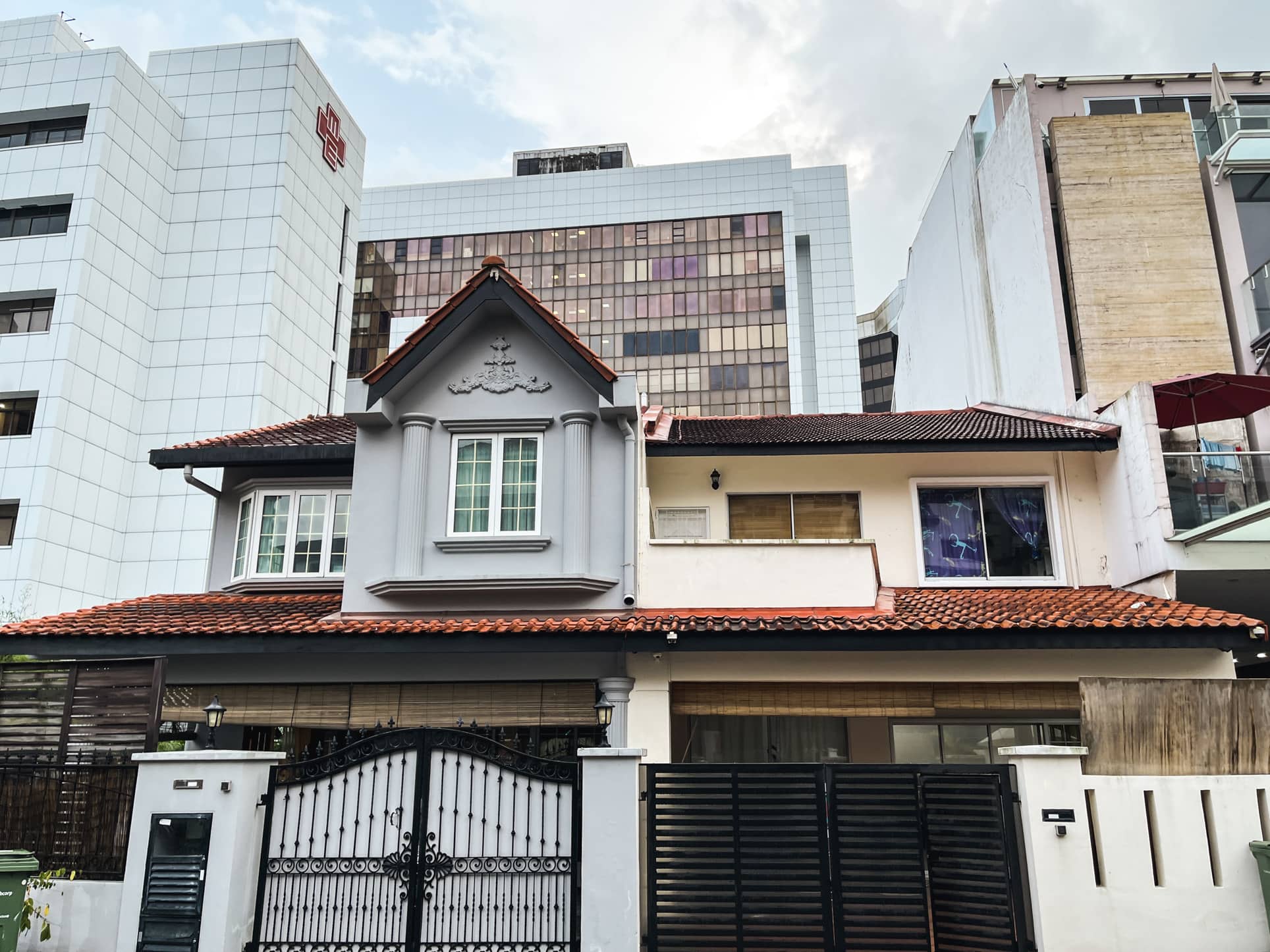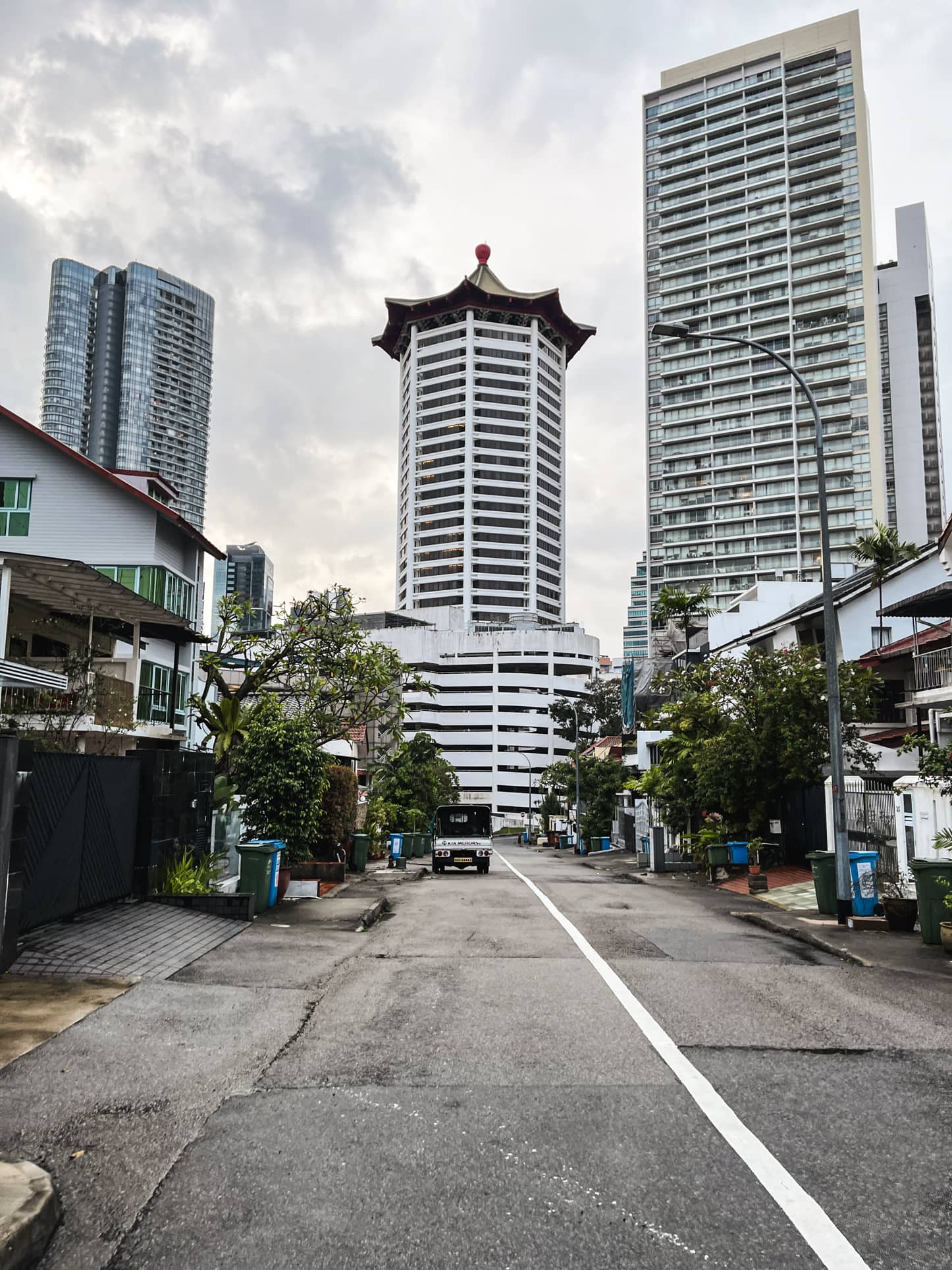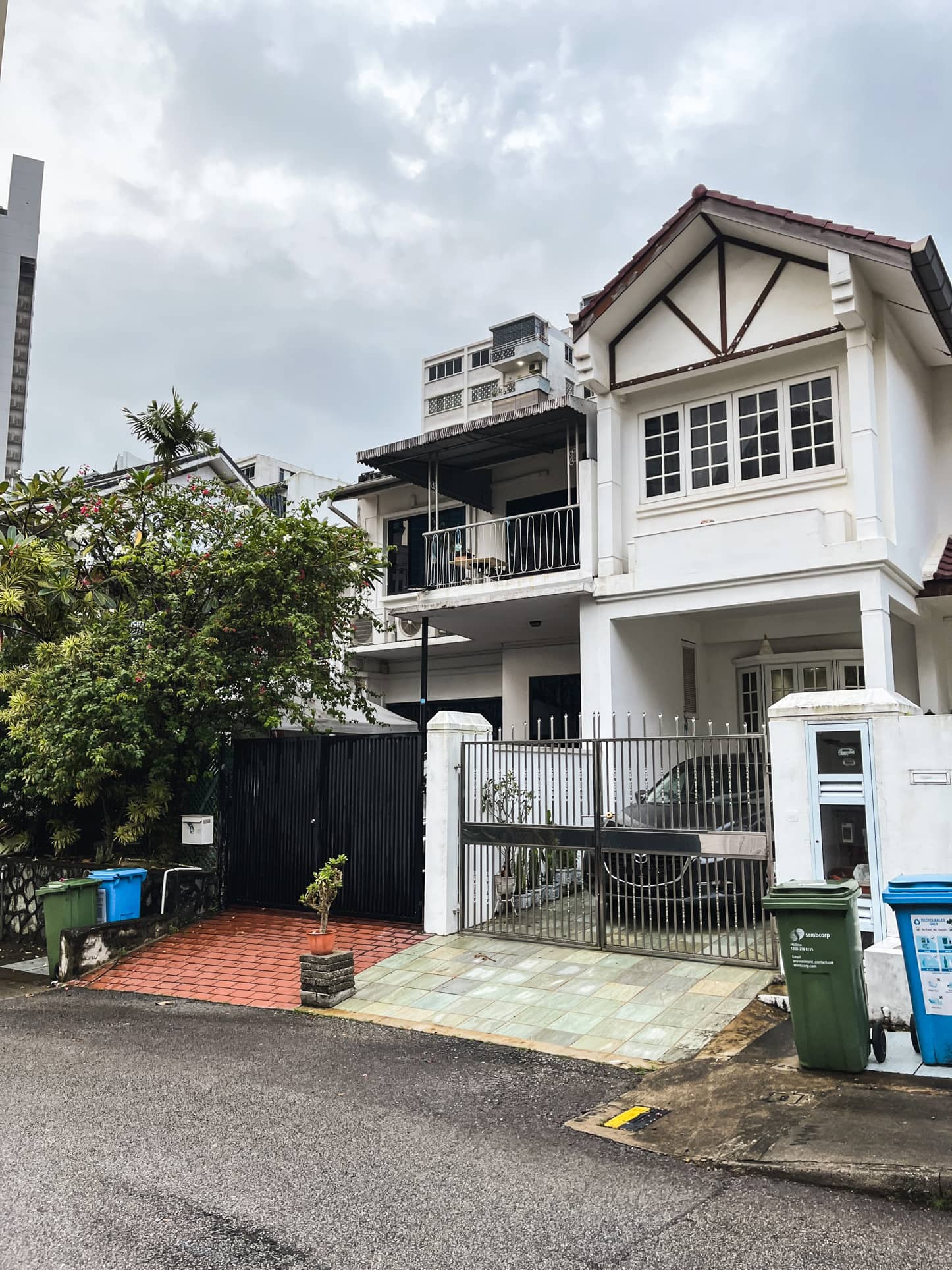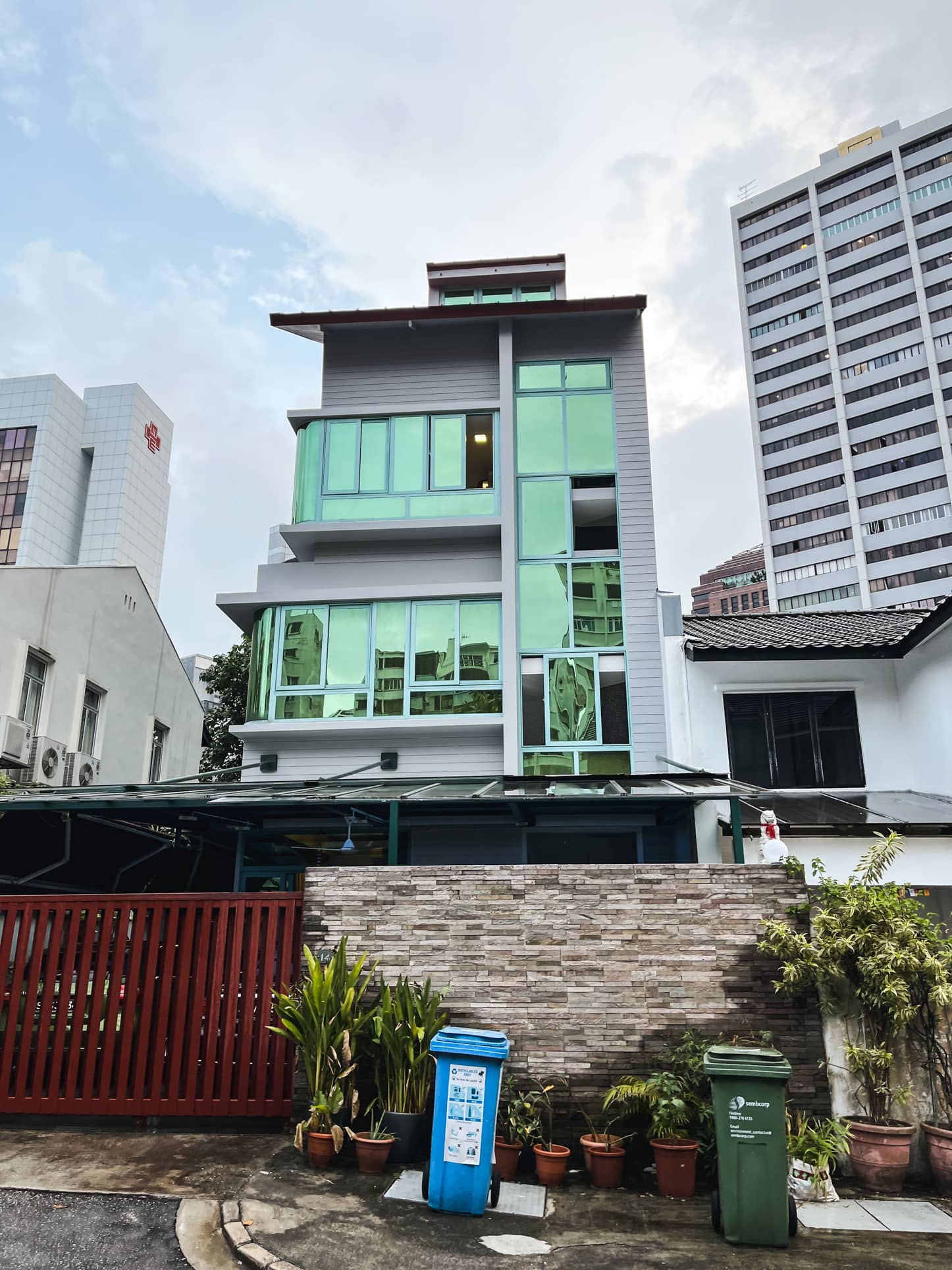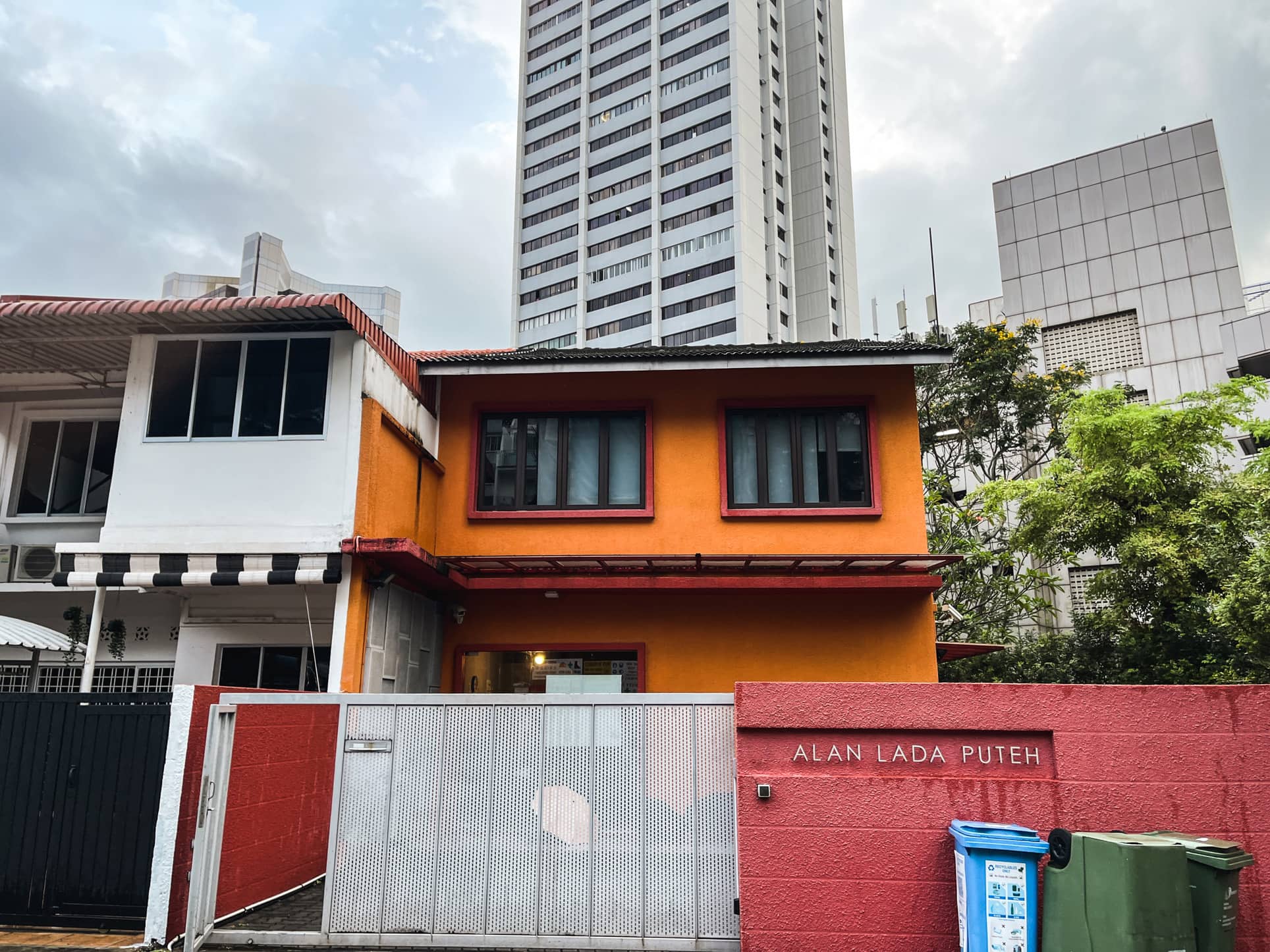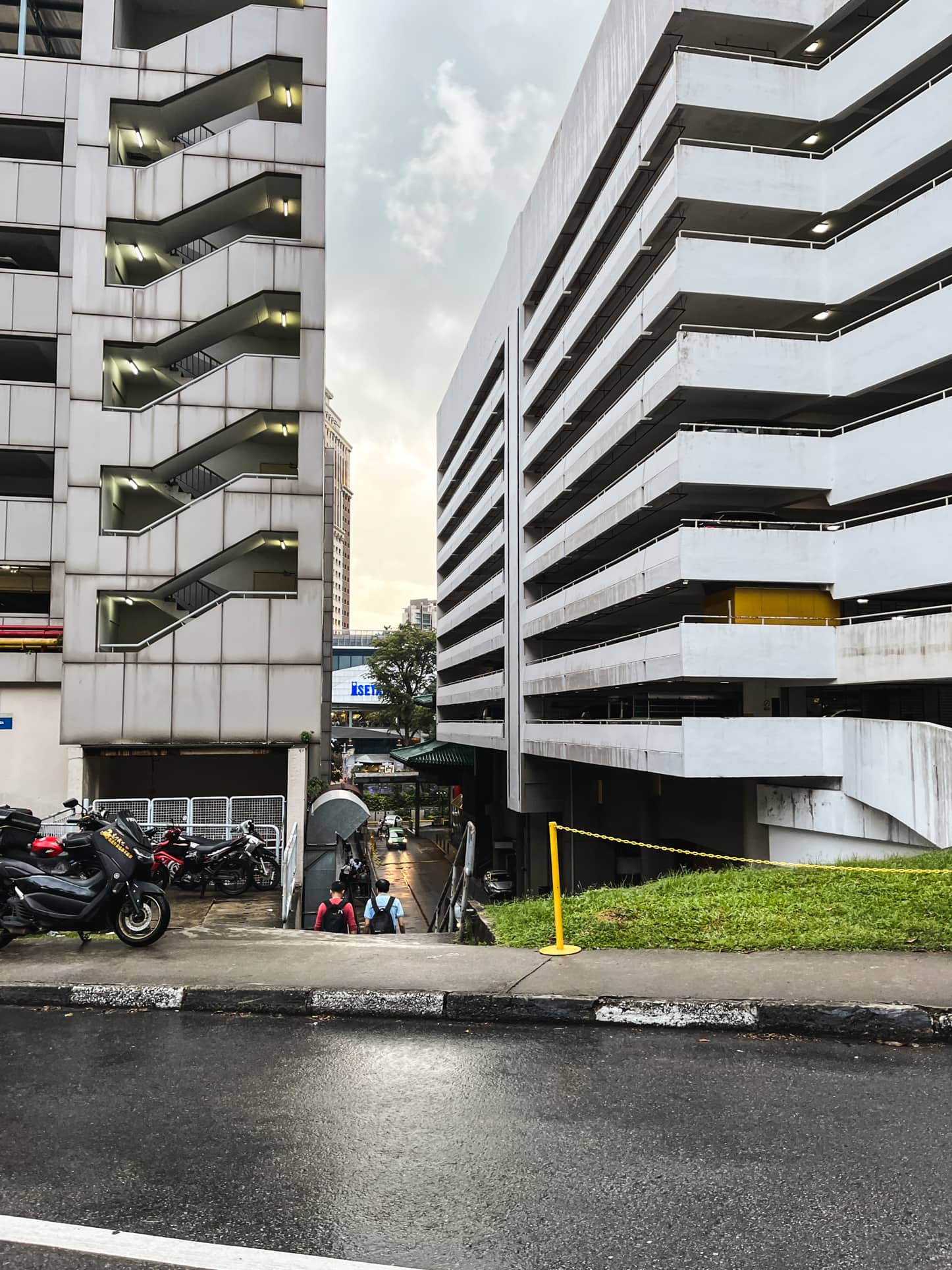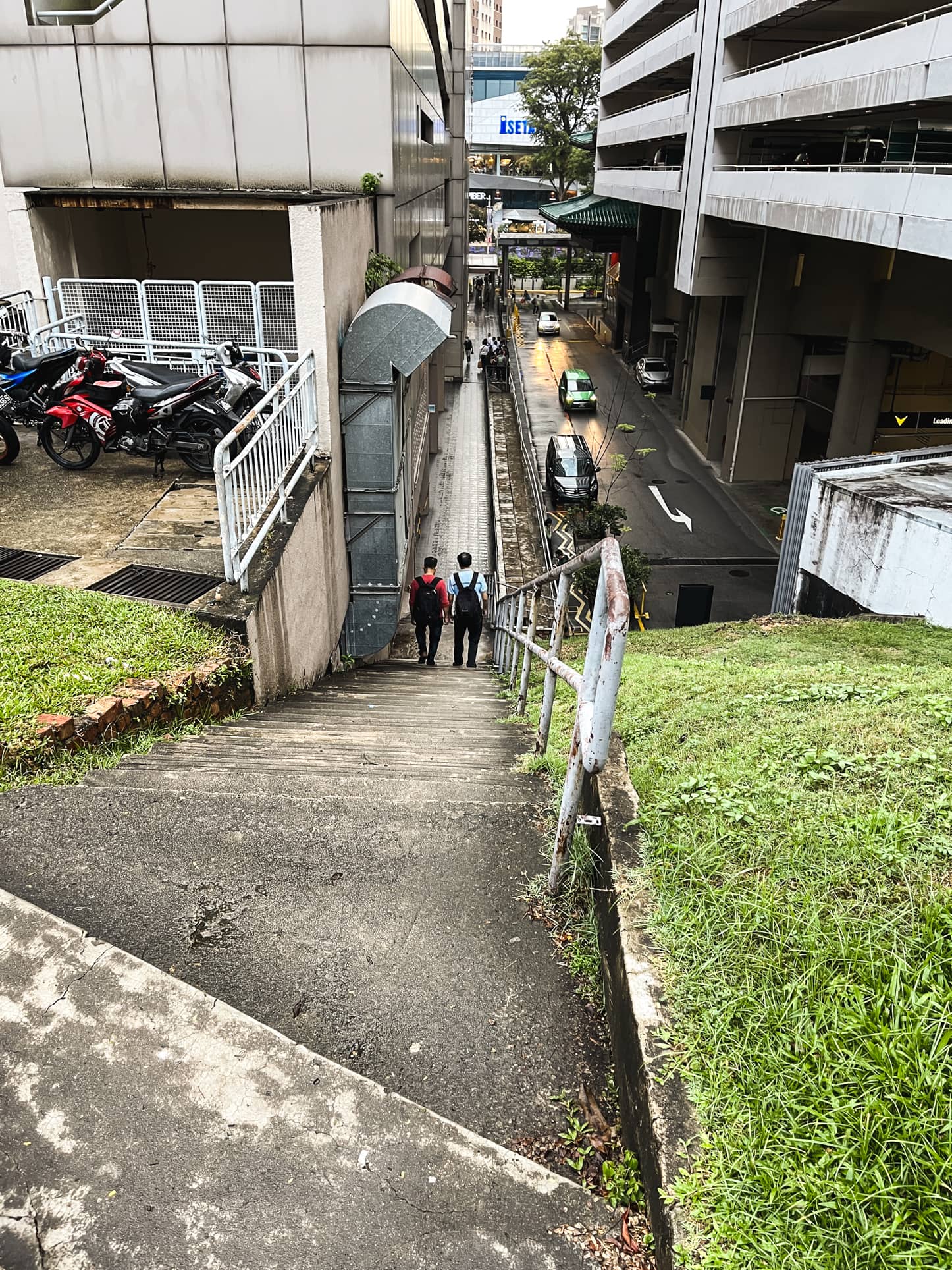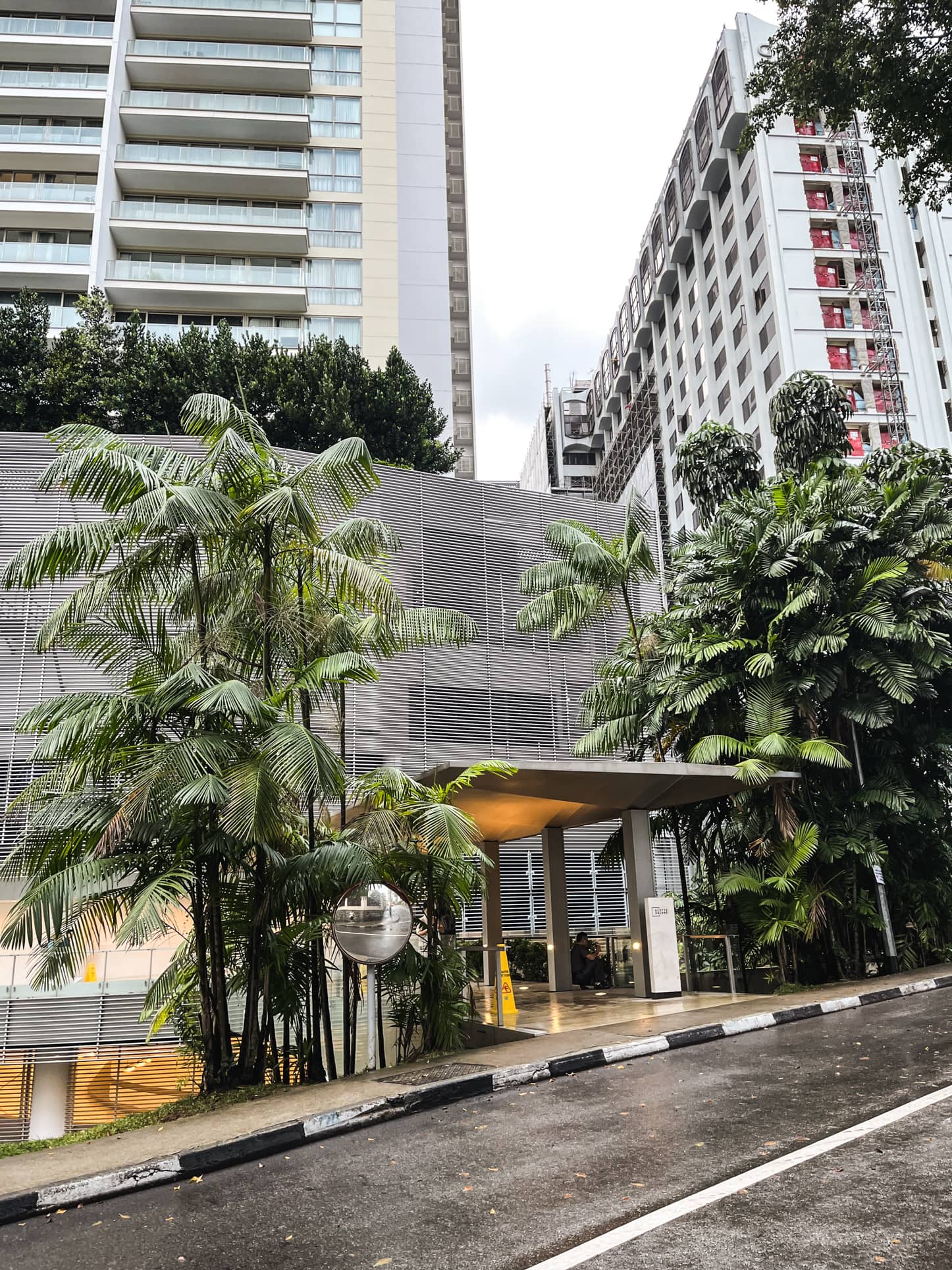 This time into Scotts – which obviously has escalators and elevators inside! Plus, it doesn't involve any climbing of stairs! It would make life really convenient for elderly residents of the area, as they can easily get to Orchard Road here.
(Perfect for those who don't have a large social circle as they can while their time away window shopping or sitting at a cafe, whilst waiting for younger family members to get home from school or work. Moreover, seniors who used to drive and then have to stop after a certain age, would certainly enjoy how independent and mobile they can be here. Obviously, HDB estates also offer easy access to many amenities, but most landed estates tend to be quite inaccessible without a car, and getting a taxi all the time isn't always an option for everyone.)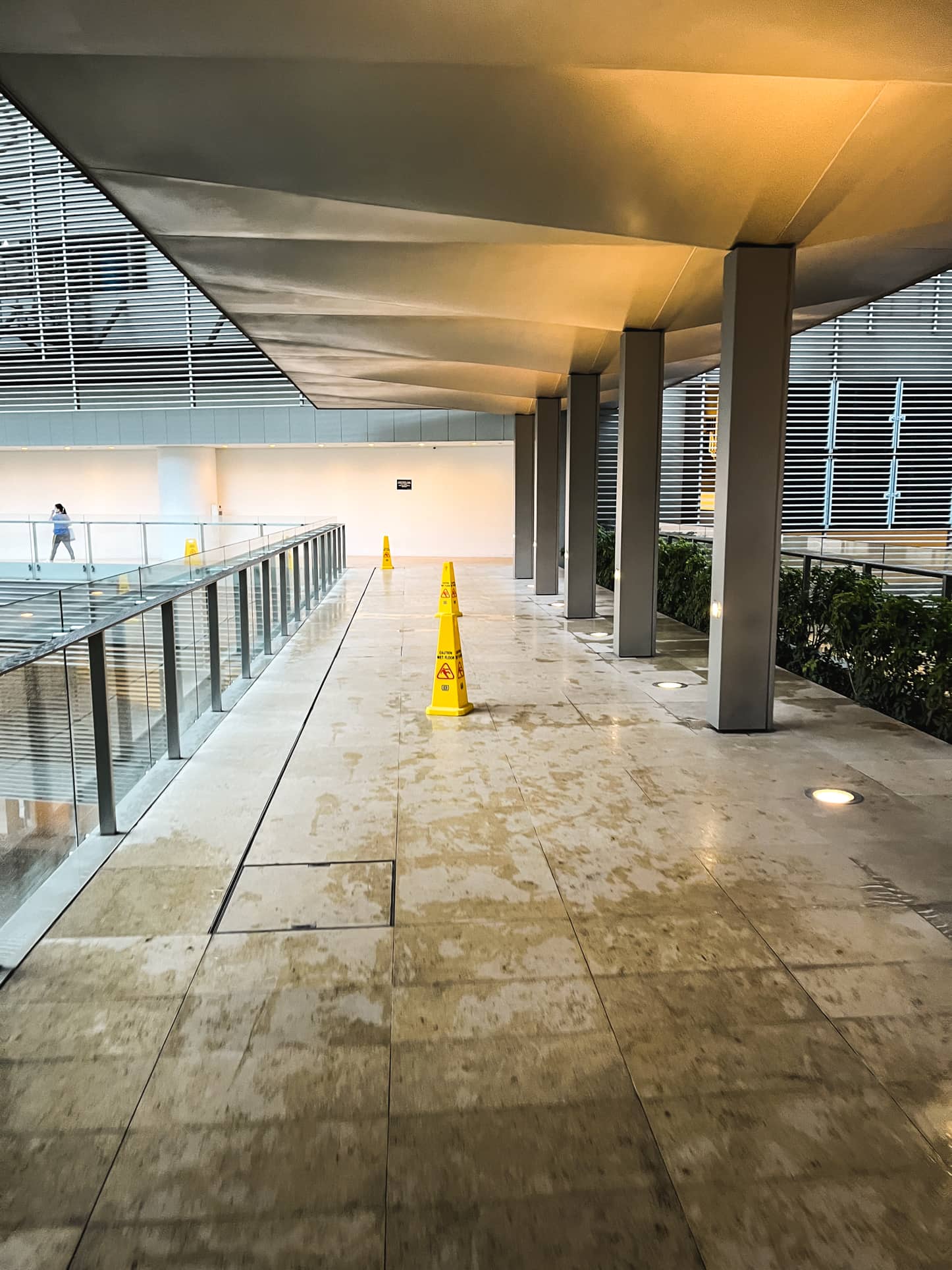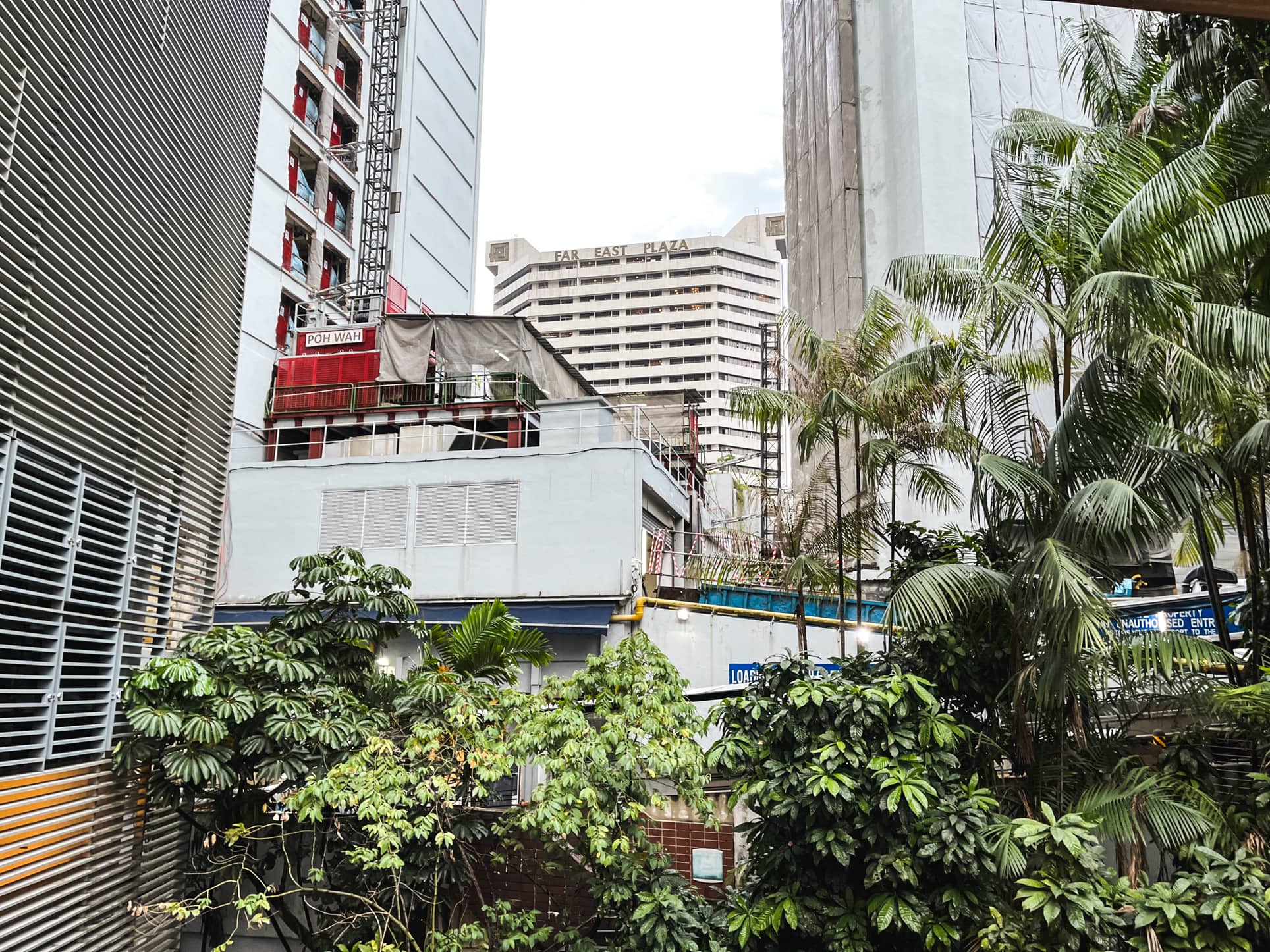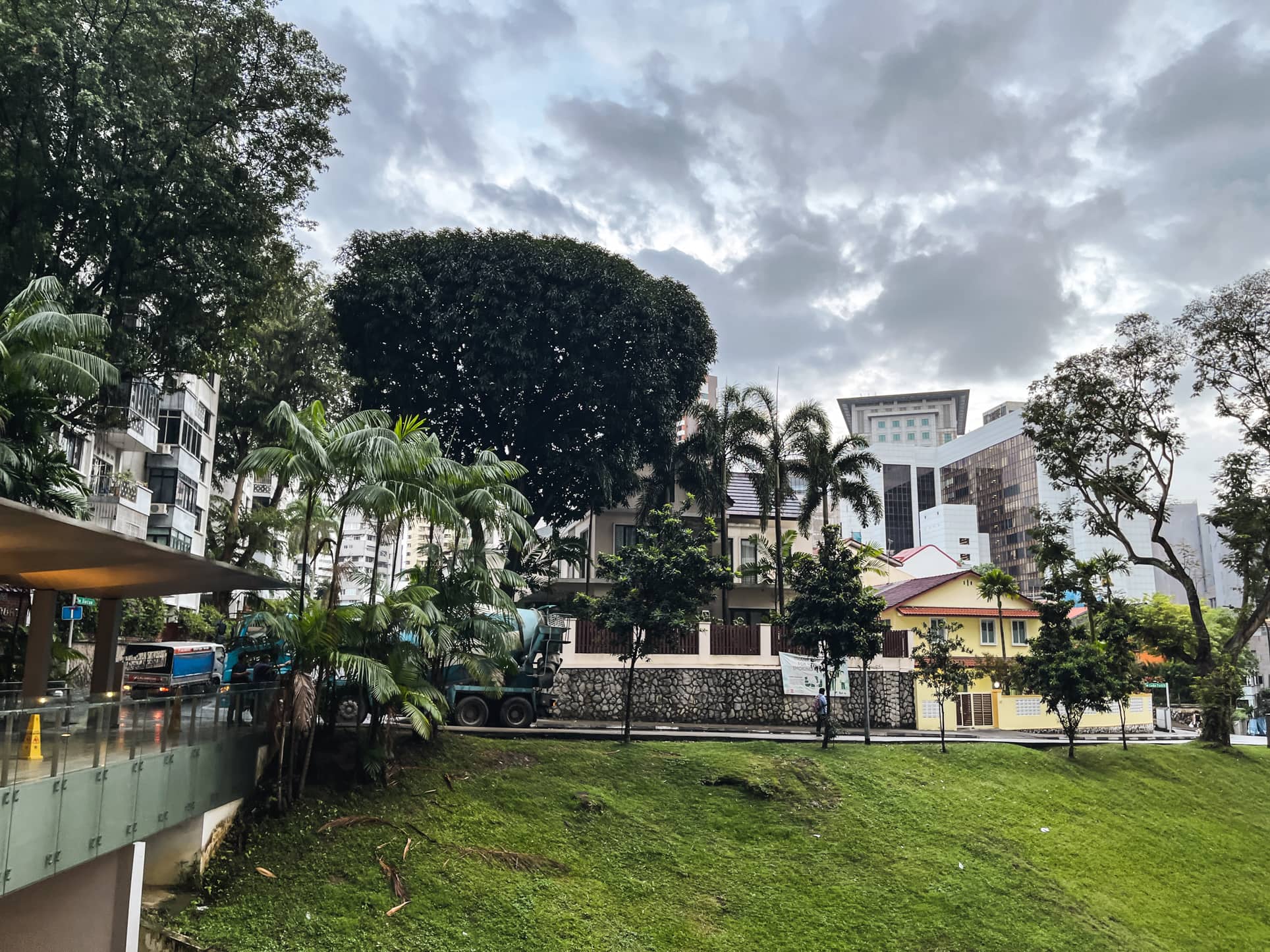 Oh and before I forget, for anyone concerned about noise and dust from the Grand Hyatt renovation, it's supposed to finish in Q1 2023. (So it should be done now but I couldn't find news about the reopening, and the last time I was there a few weeks ago, it was still under renovation.)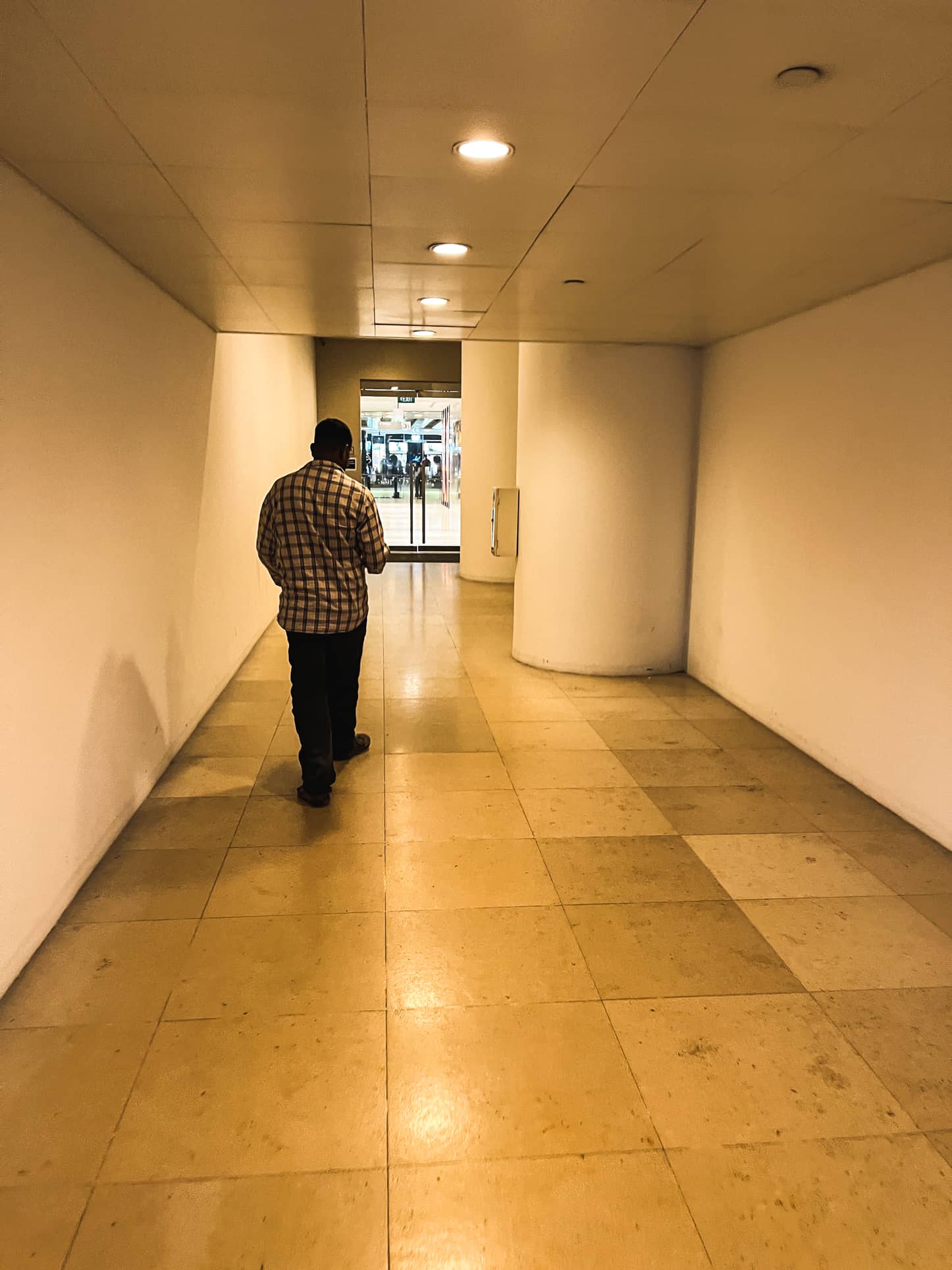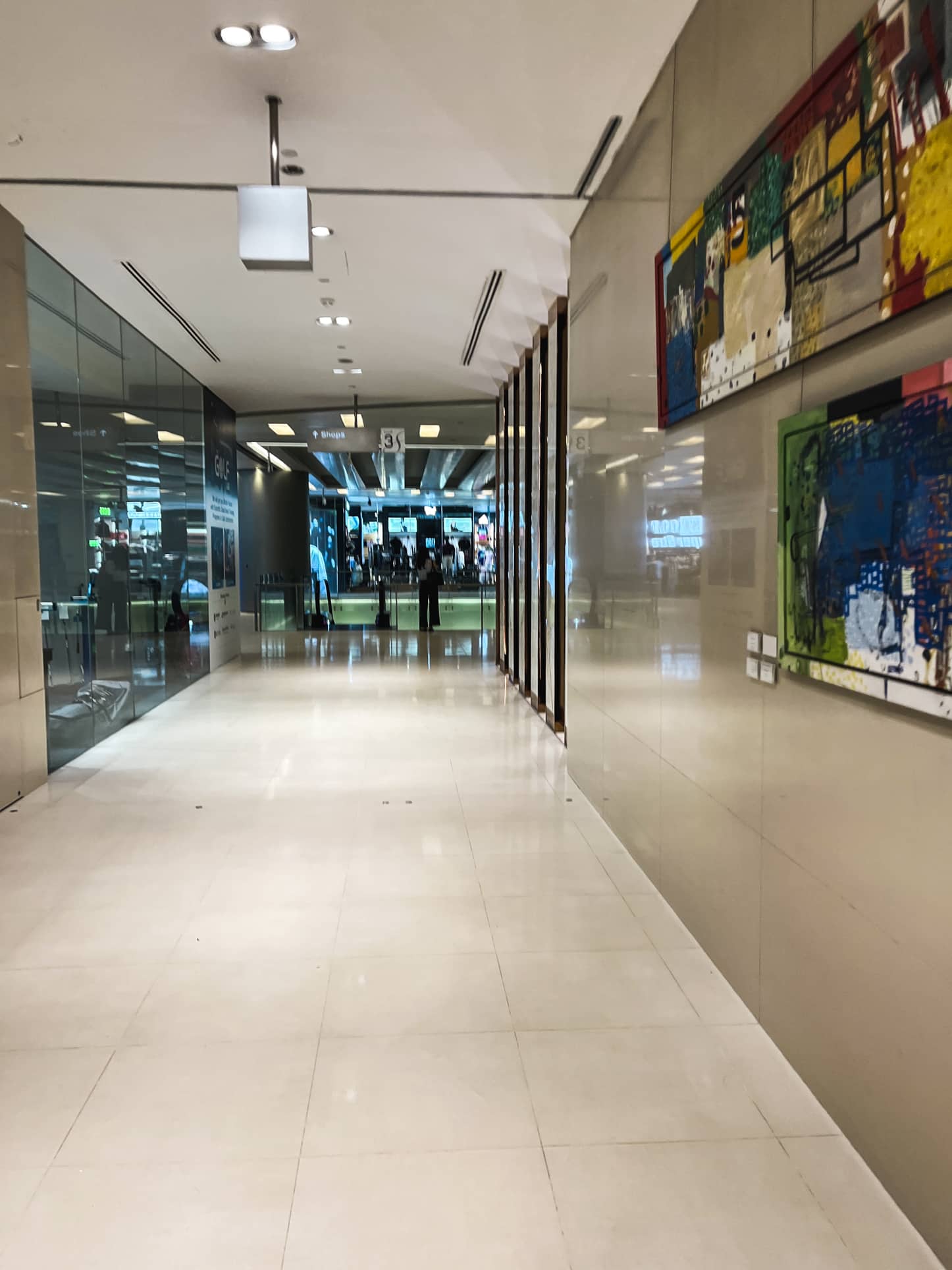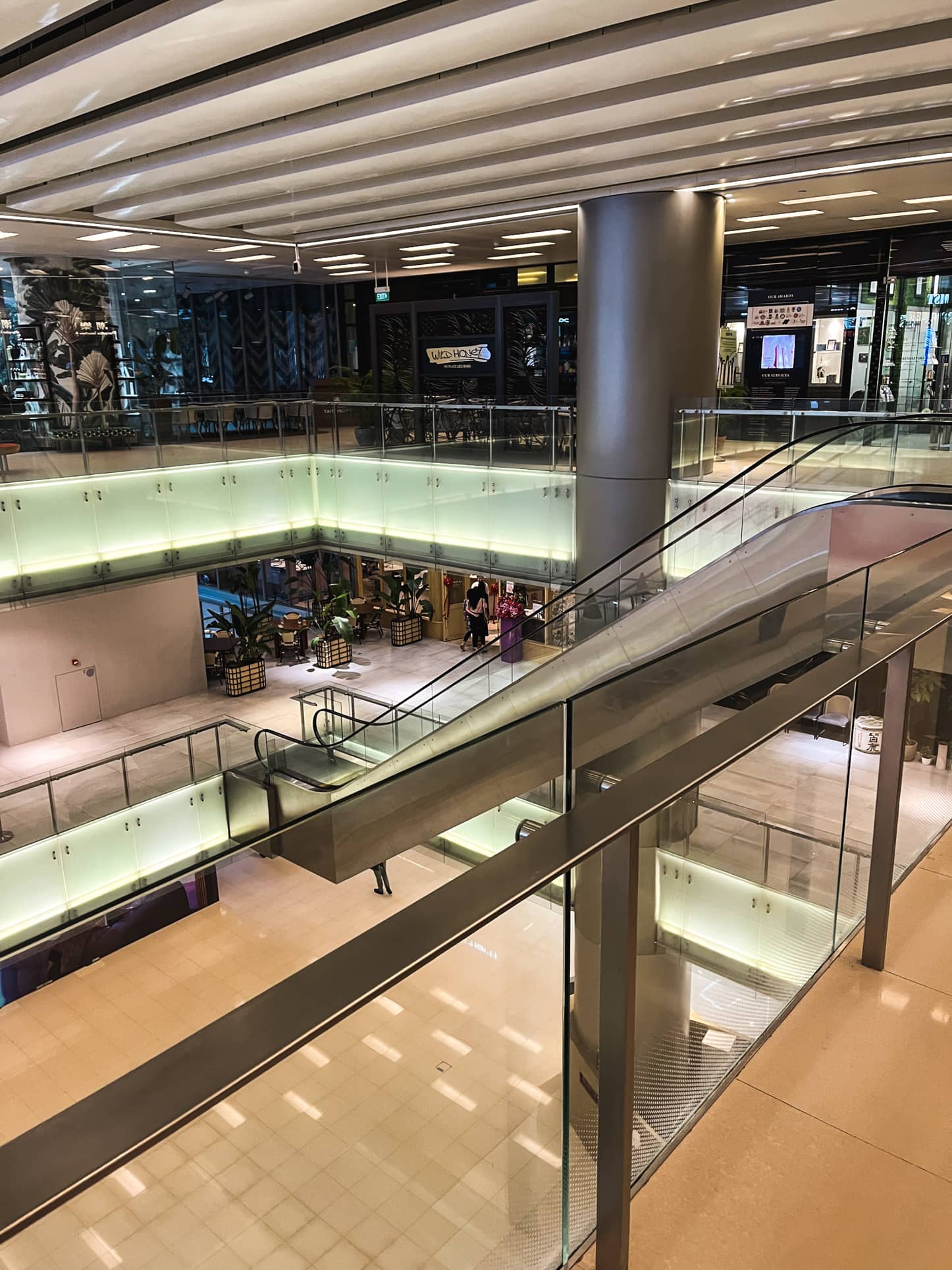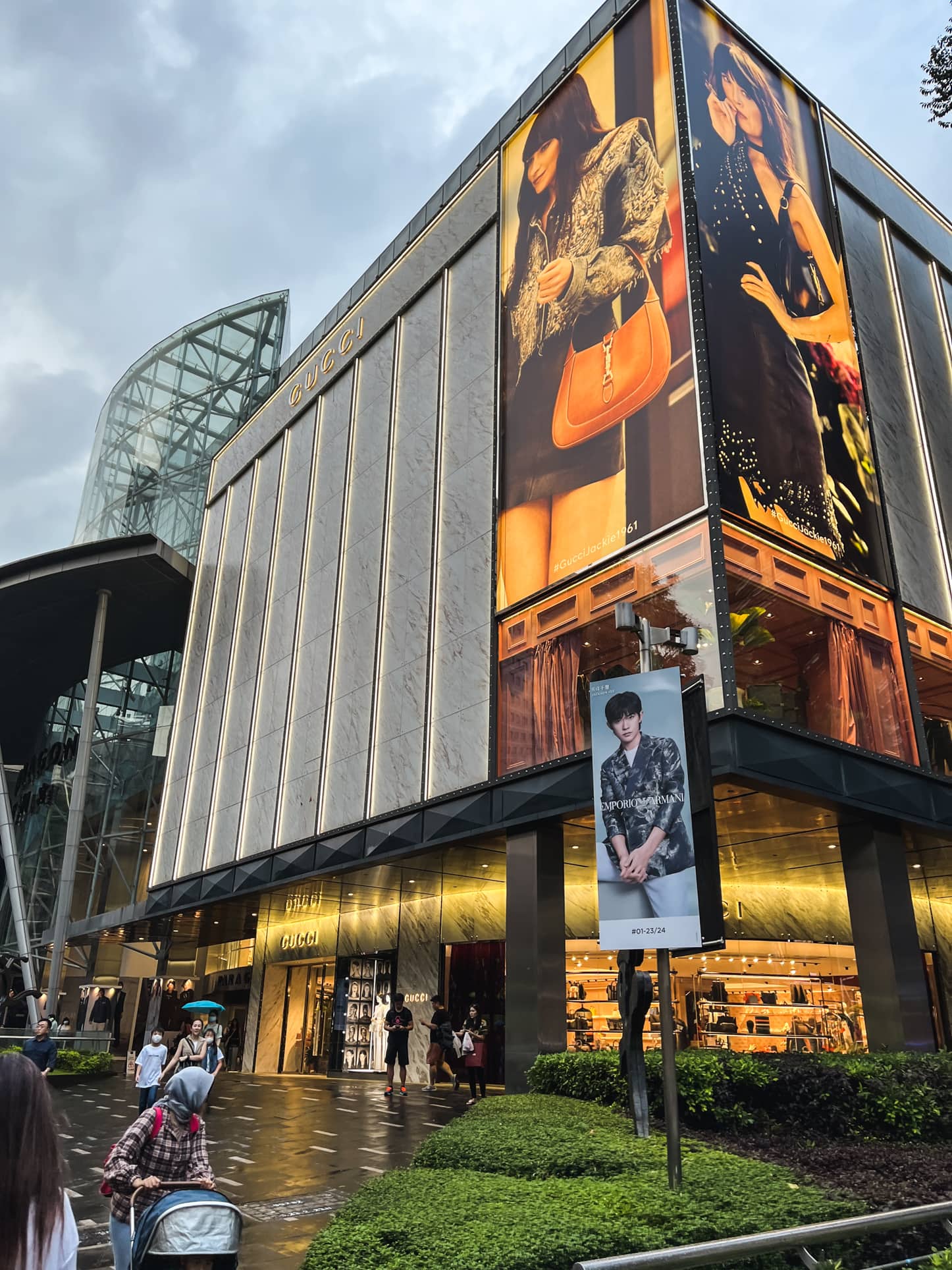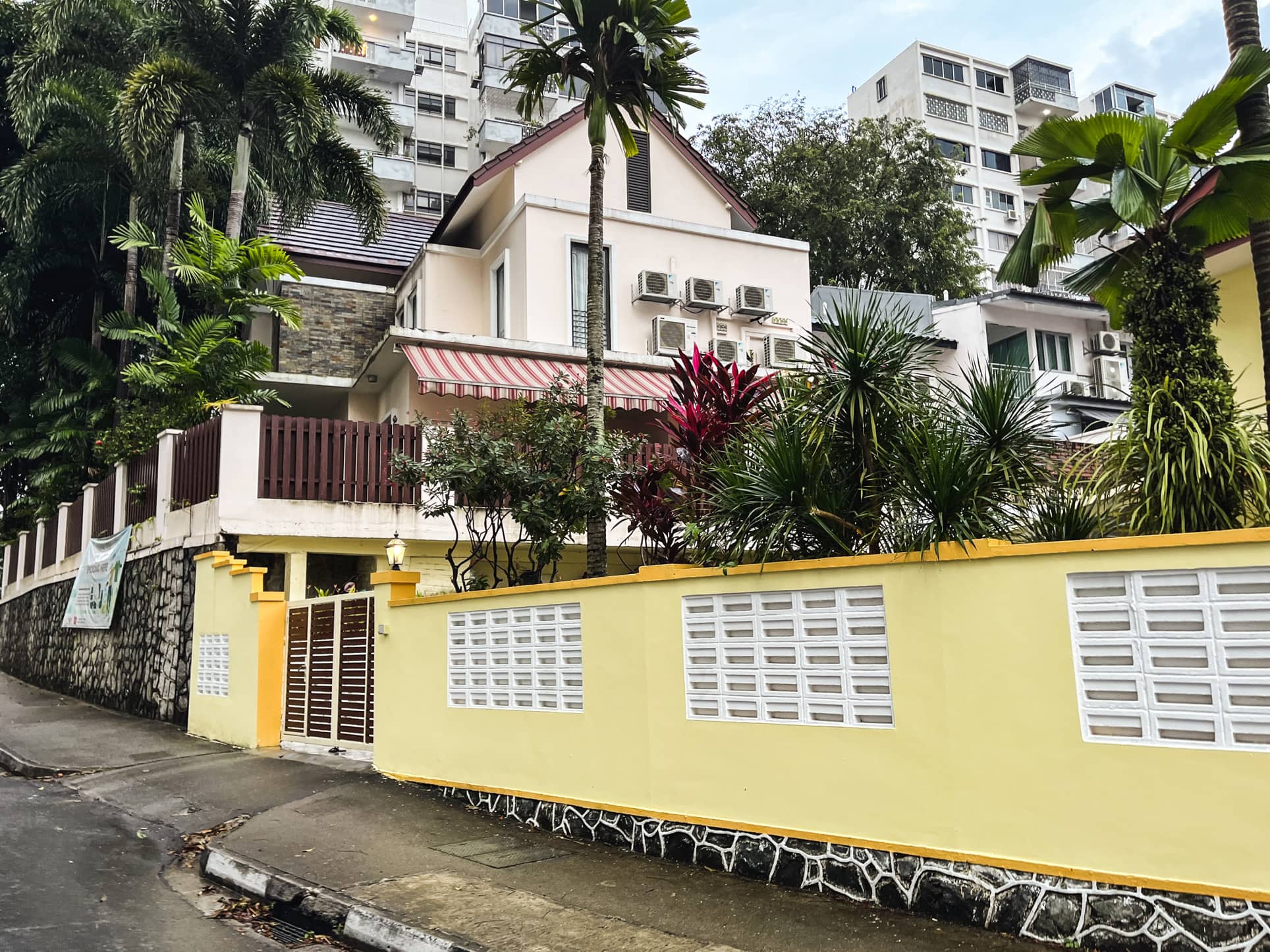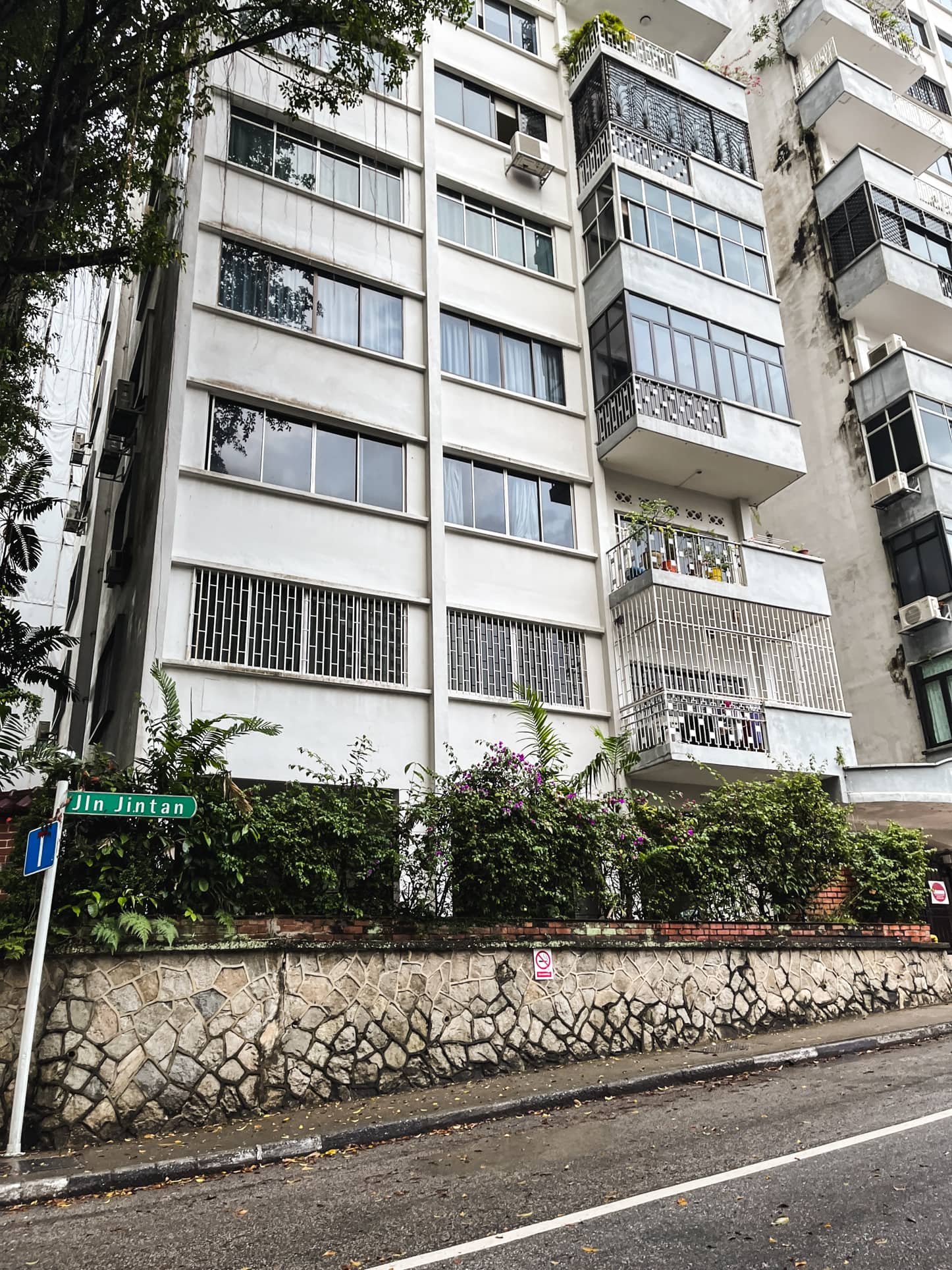 Note: there were some for sale at the time of writing but one also mentioned that an en bloc committee had already been formed so keep in mind that, if you buy a house here, a major construction project might be happening at your doorstep if an en bloc goes ahead!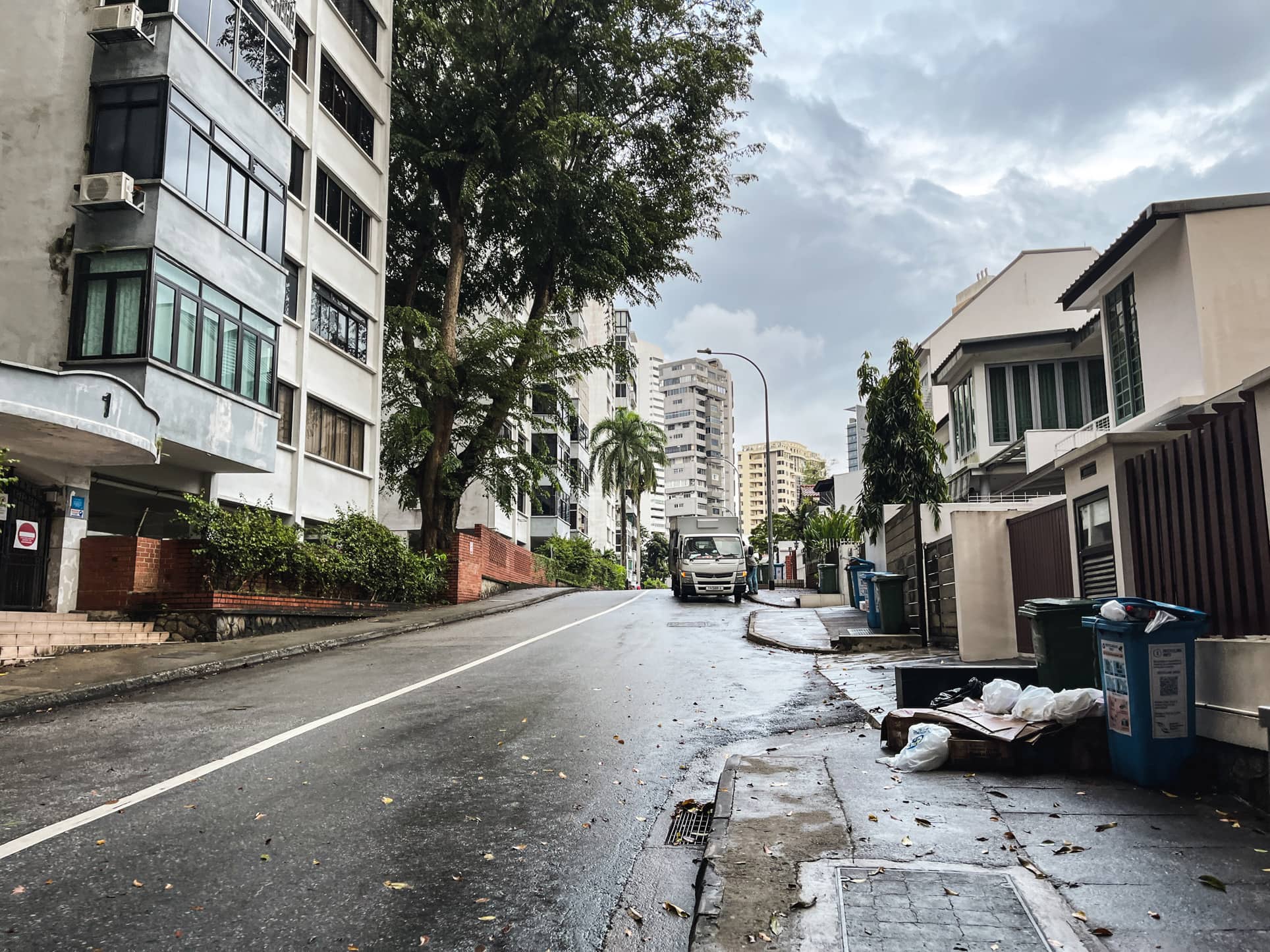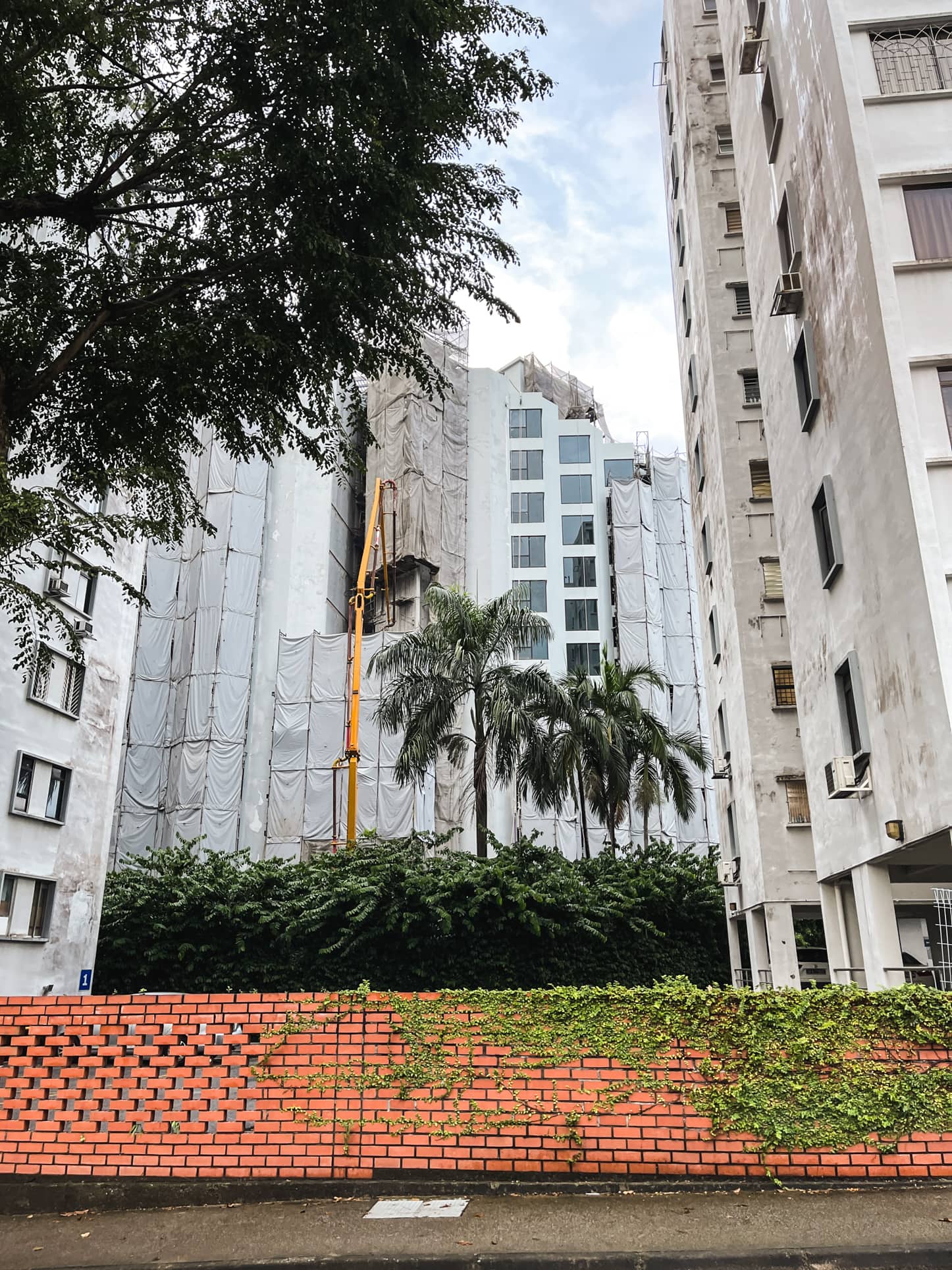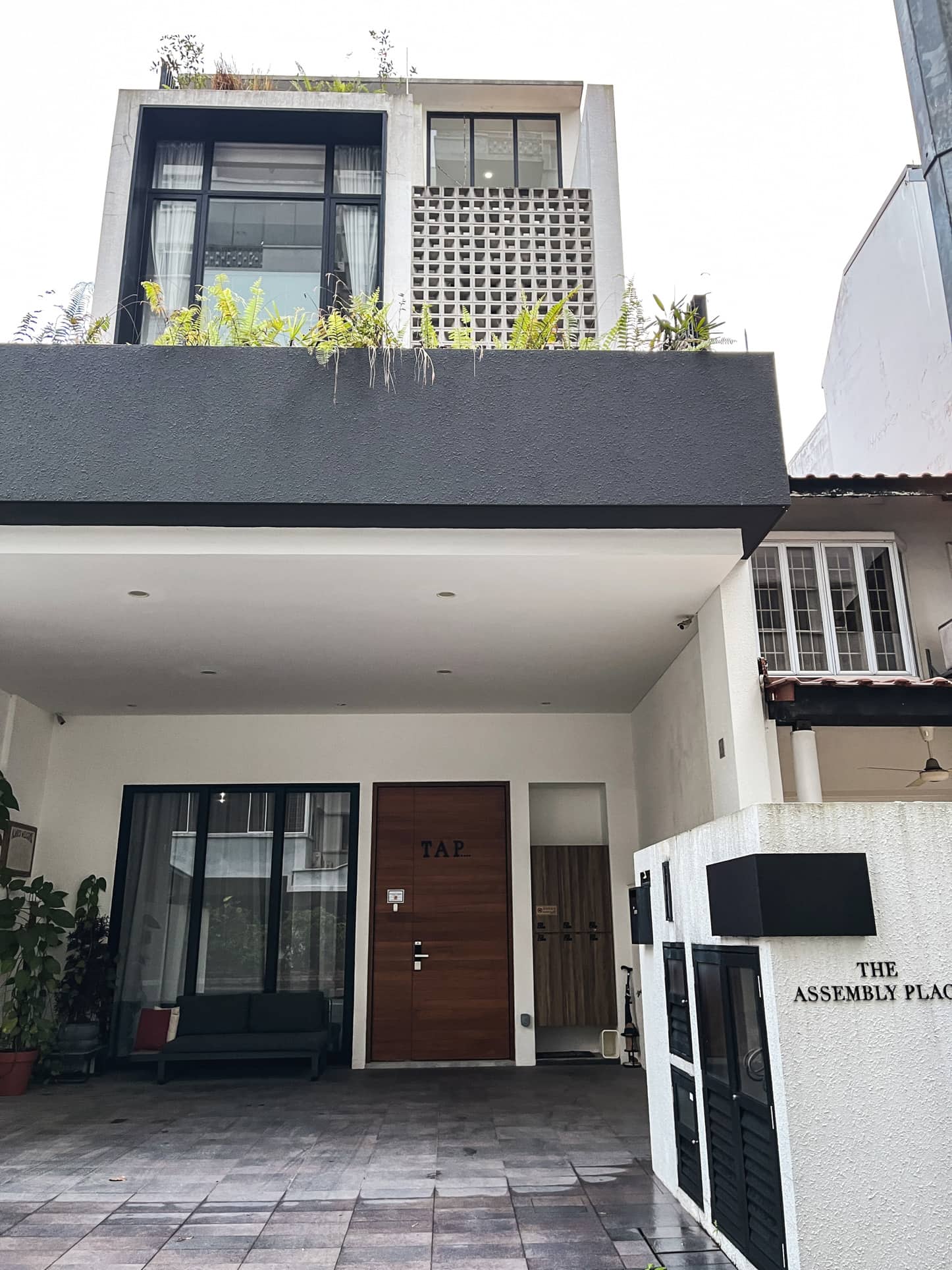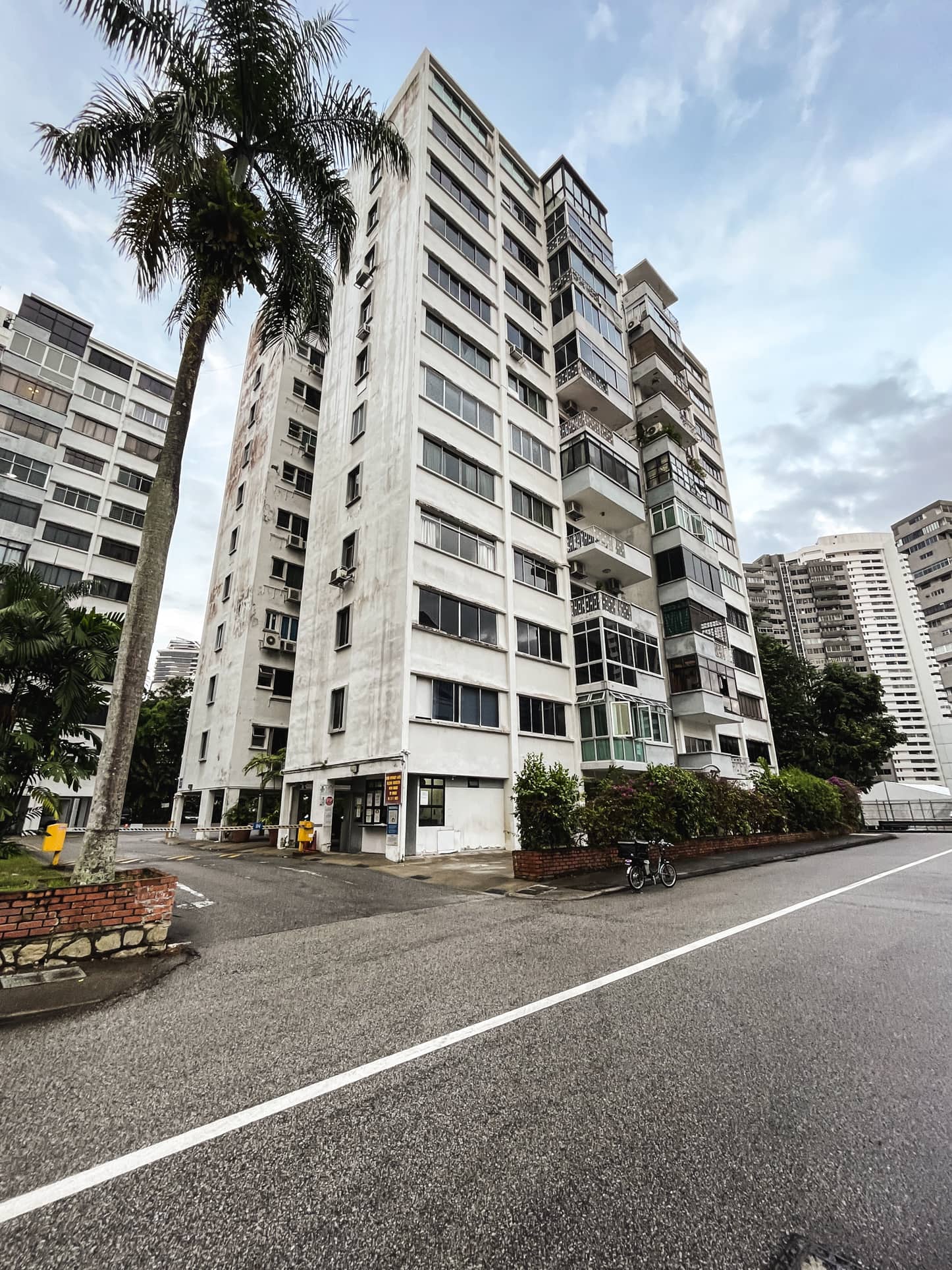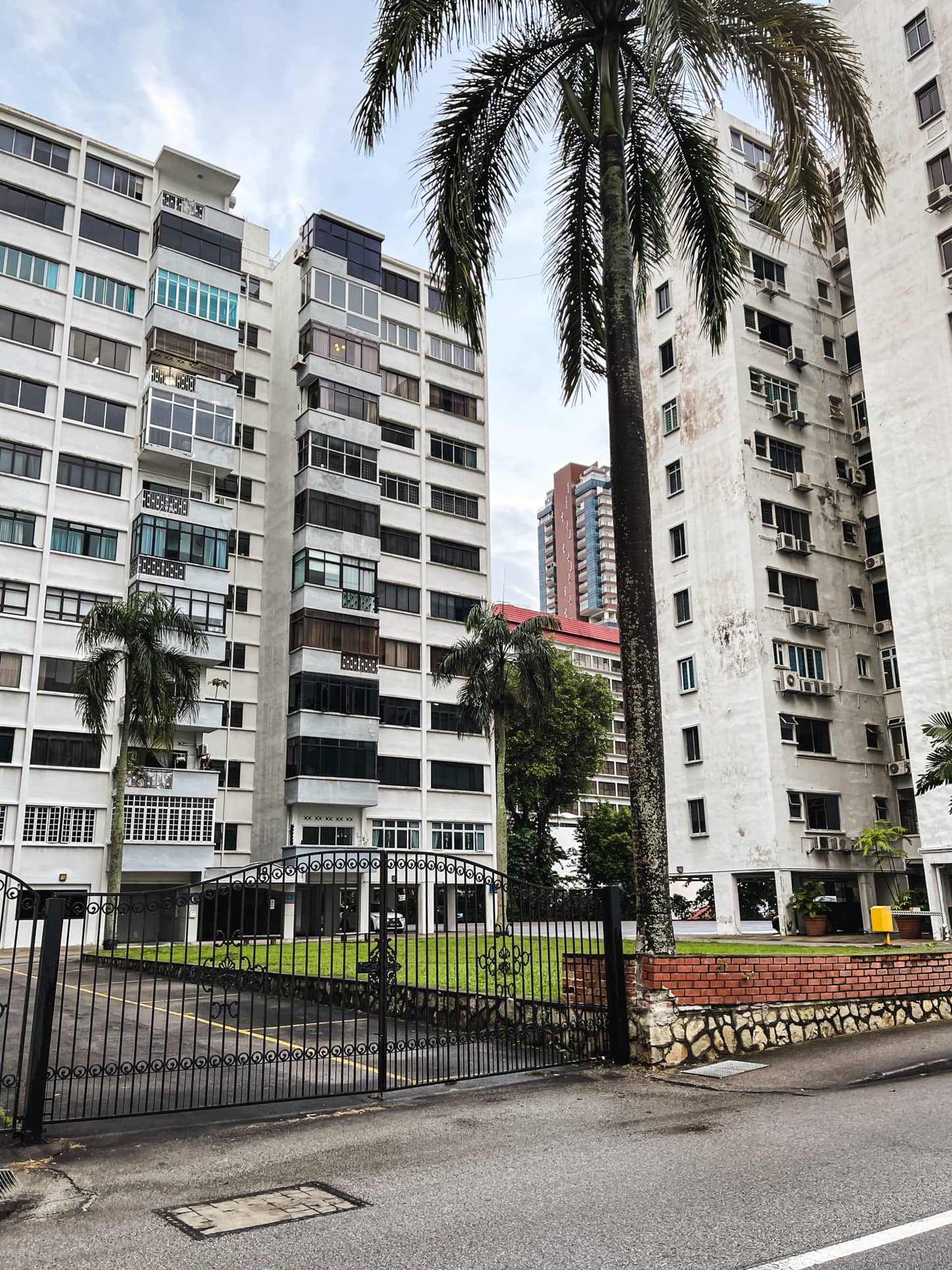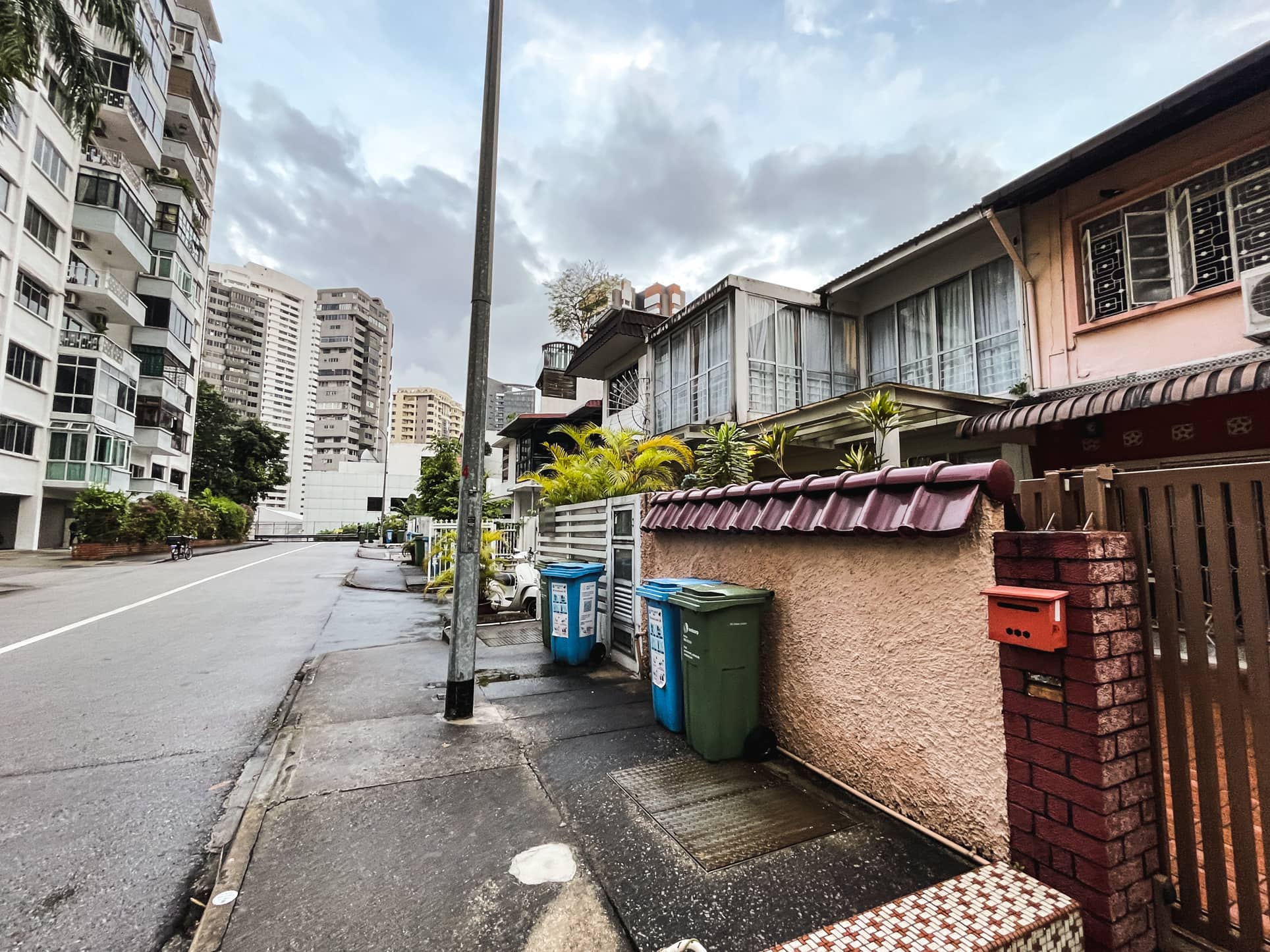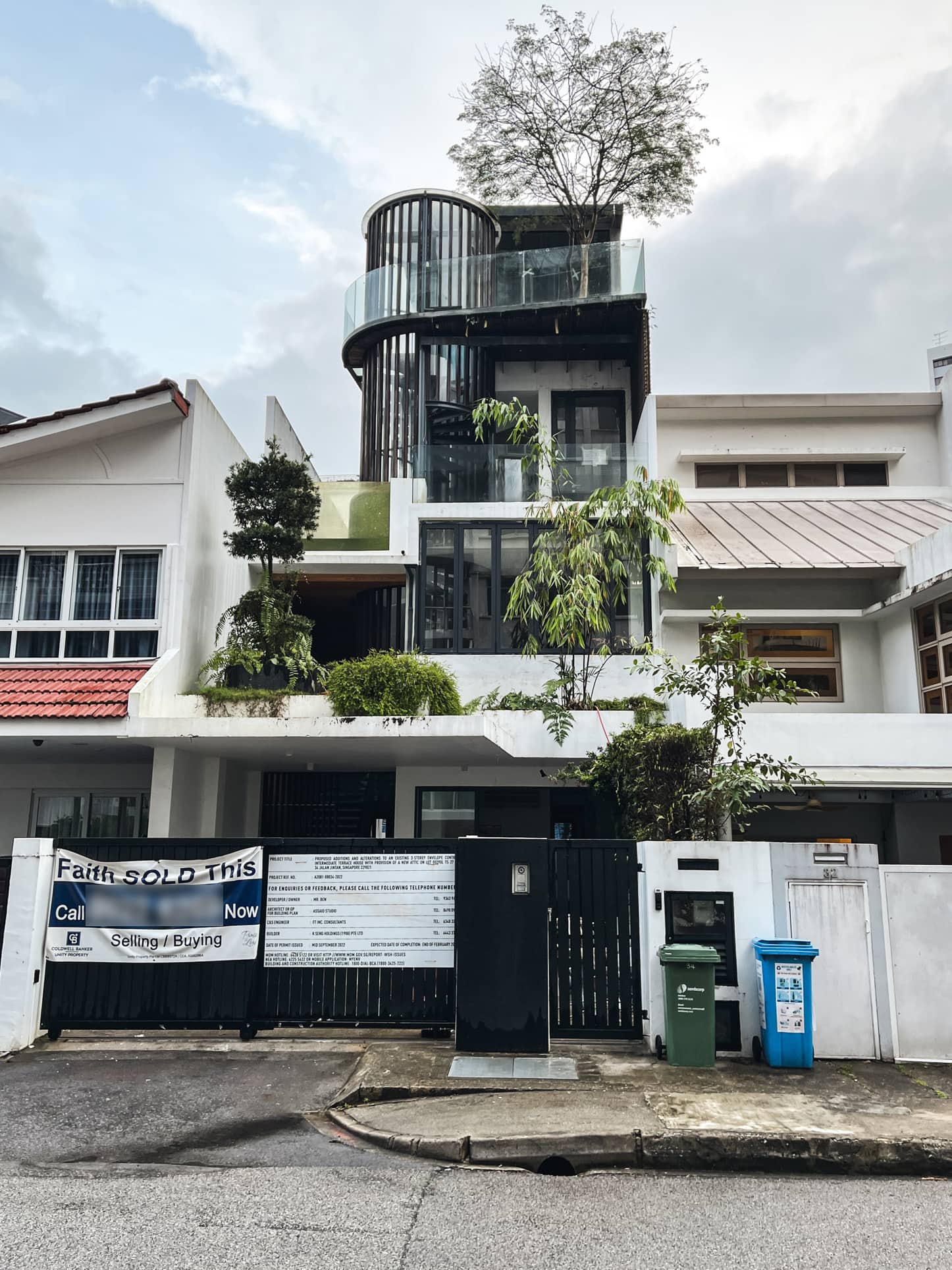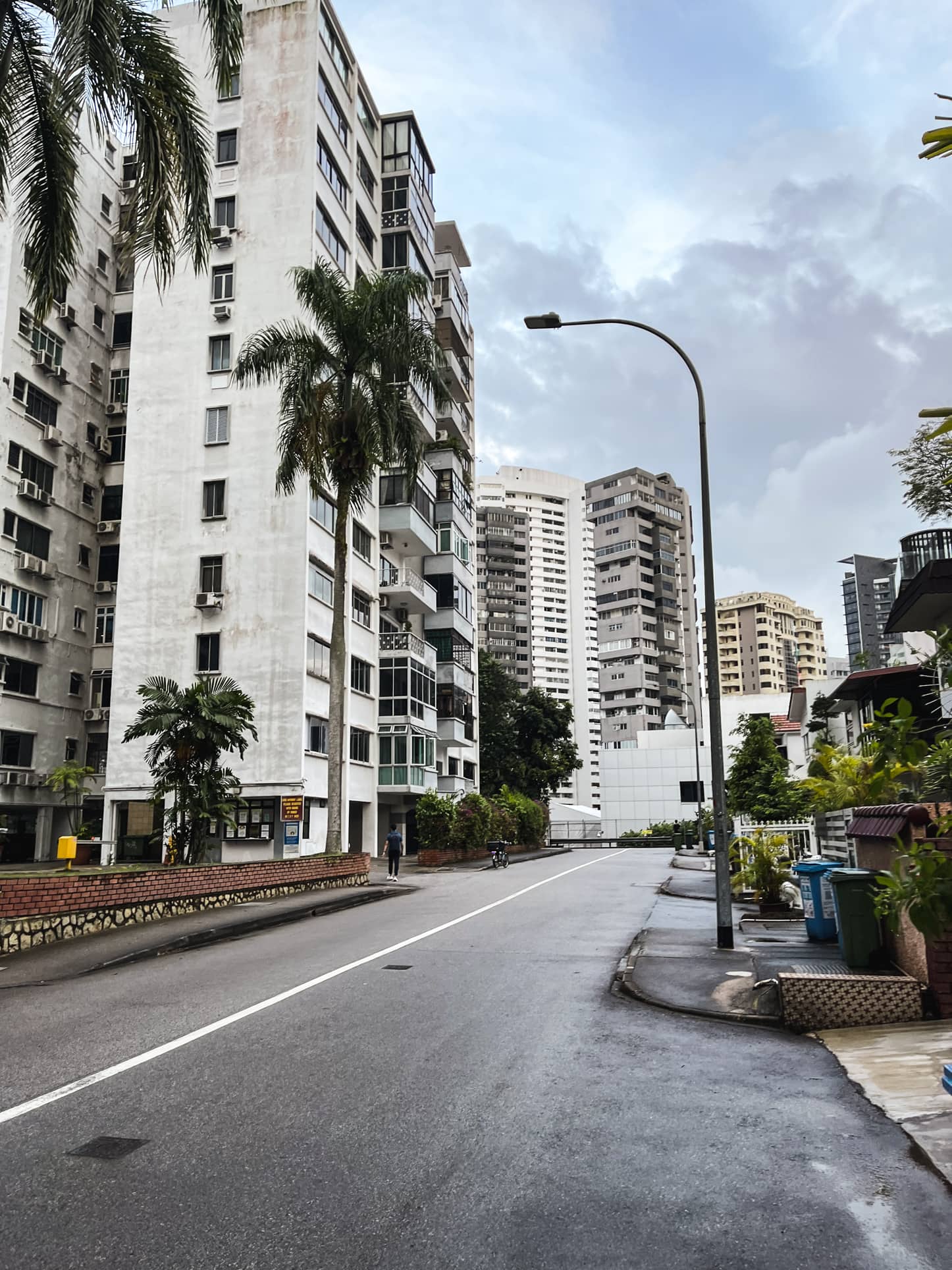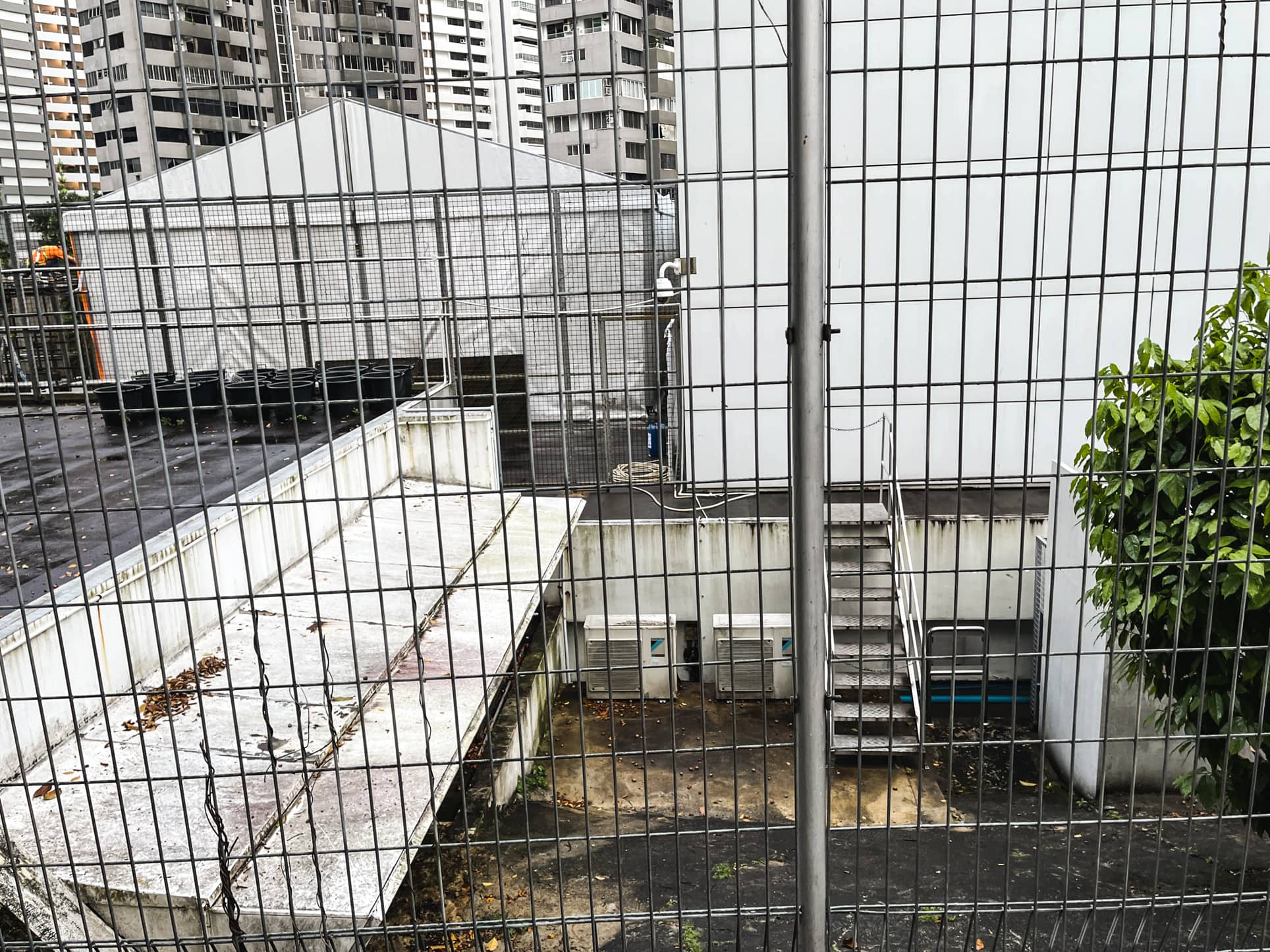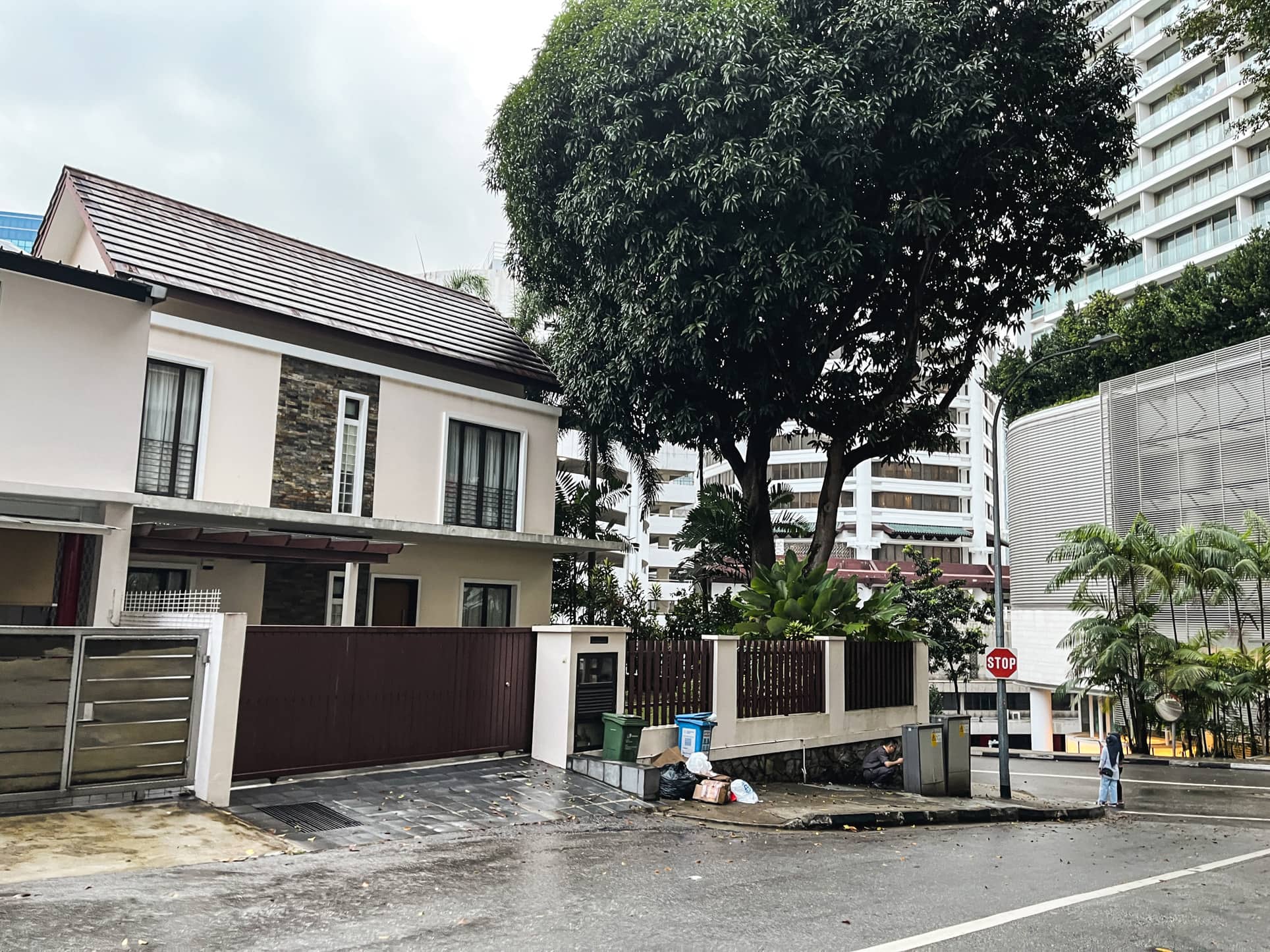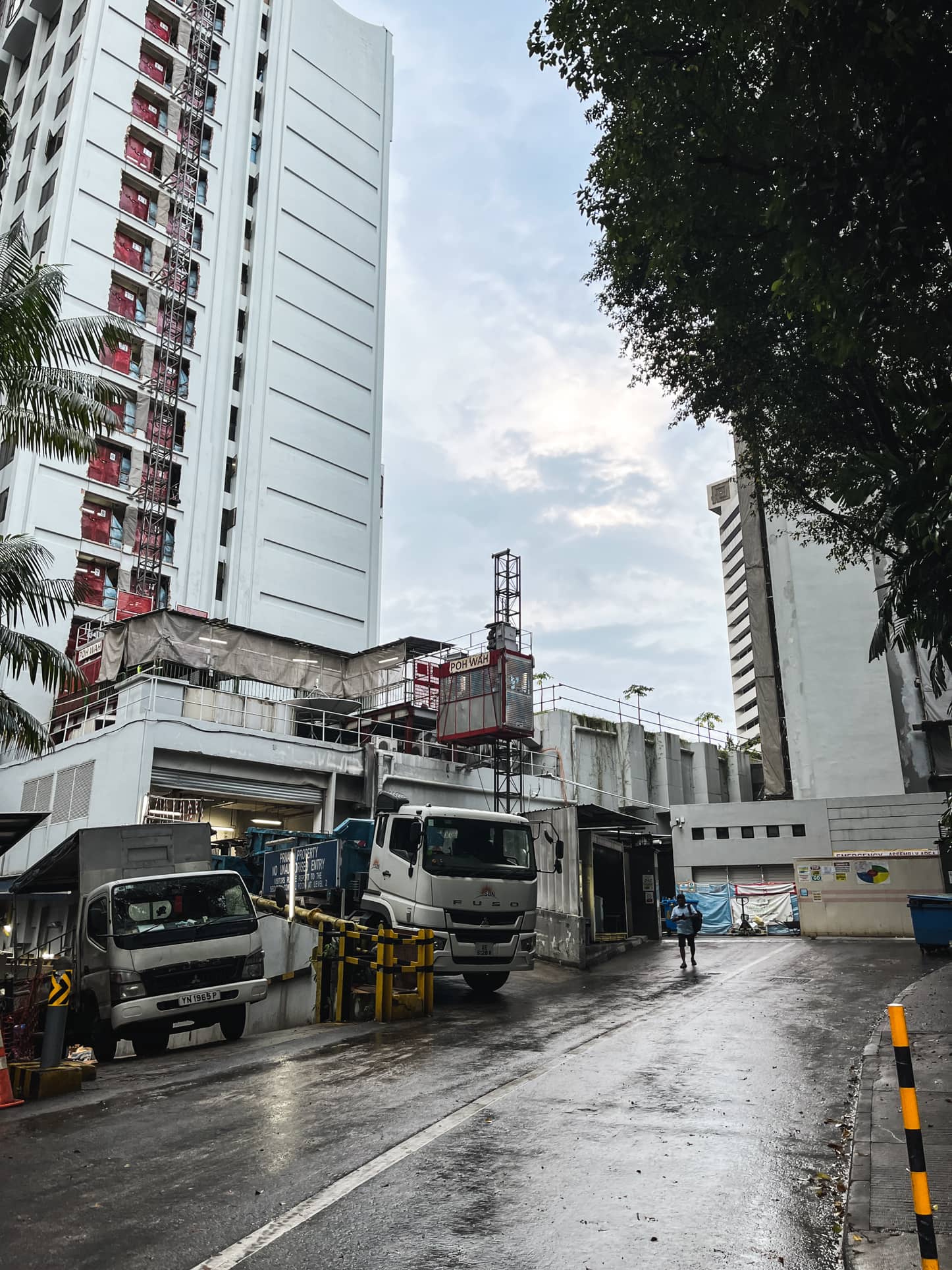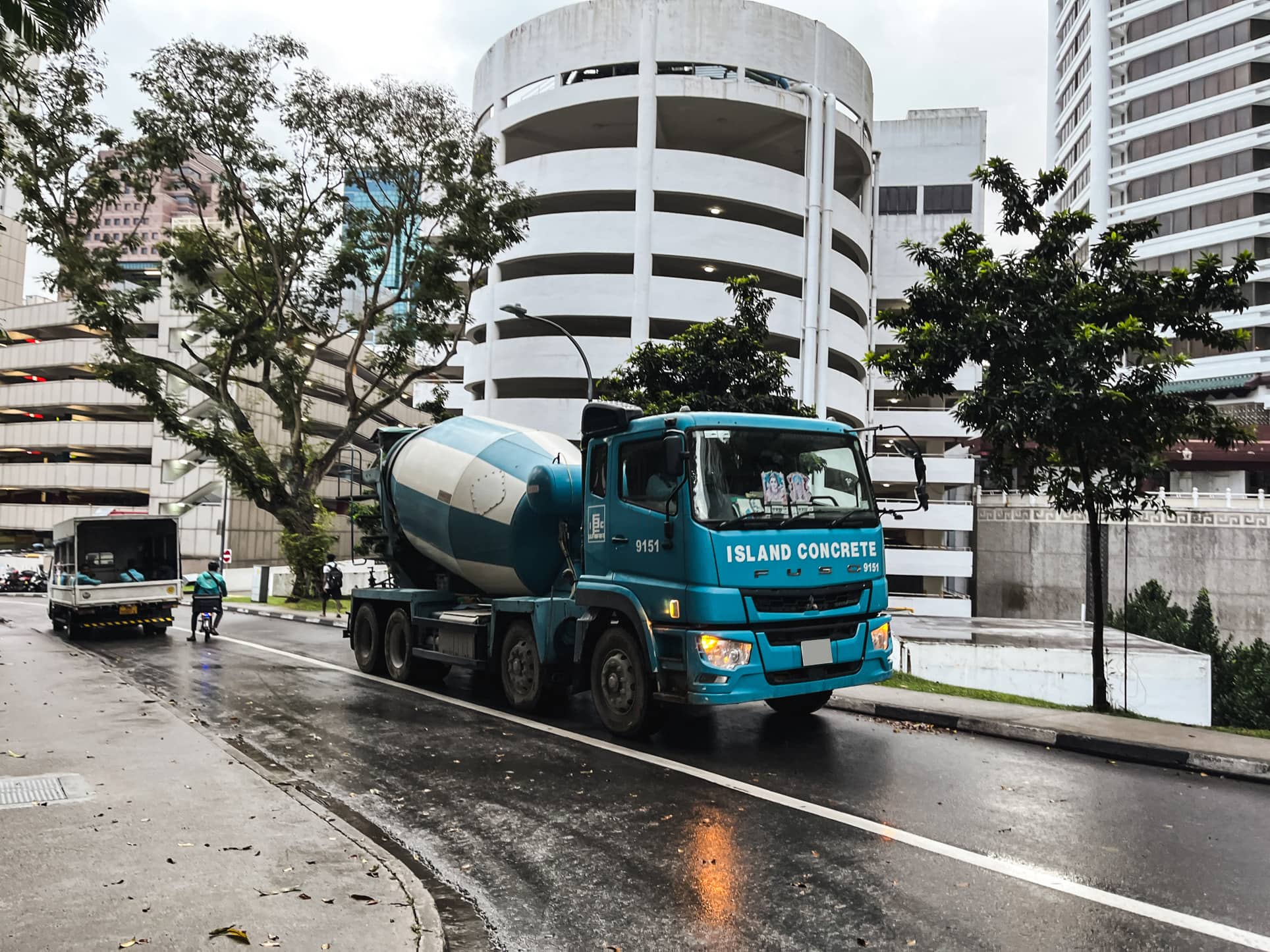 Now that we've come to the end of the tour, what did you think?
I actually assumed that, given that we are in Orchard Road, there would be no Primary Schools nearby but according to yoursingaporemap, ACS (Junior) is actually within 1 km! Personally, I wasn't that keen on this area before I did the walkabout but seeing the entrance into Scotts changed my mind (not that I have the budget!) Funny how small things can make properties look more or less attractive to you, no?
Let me know what you thought of the area as well as what some of your dealbreakers/dealmakers are!