New Launch Reviews

The Jovell Review: 29,063 sqft Swimming Pool
Reuben
October 10, 2019

15

min read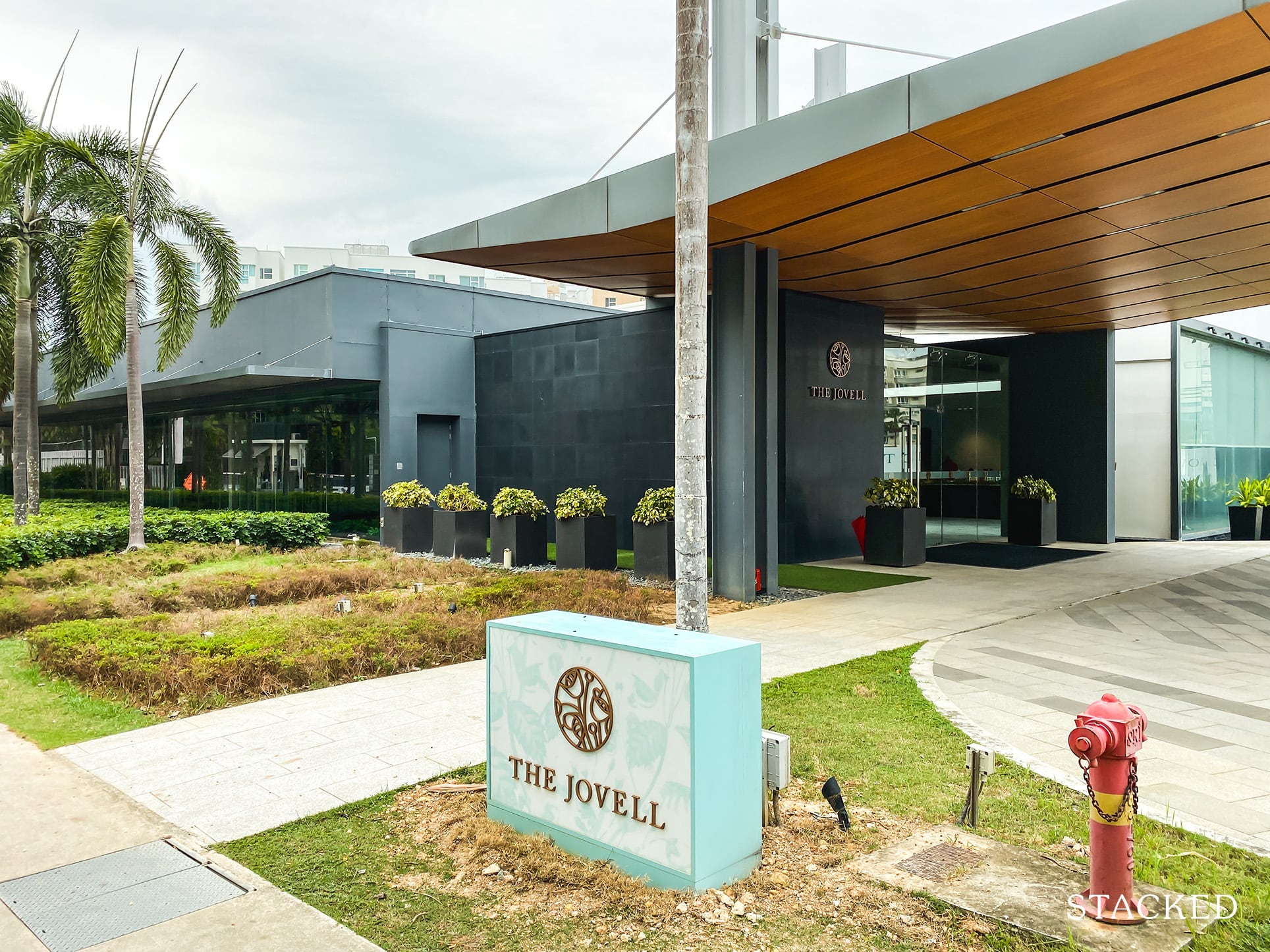 The unit sizes in The Jovell are generally small (with the exception of the 2-bedroom premium units), so if you are looking to raise a family here (or for those working outside the east), you might want to consider somewhere else. However, the condo is perfect for those working in the airline industry and for those who can sacrifice convenience for the gorgeous lagoon in the center of the development.
Reviewed by Reuben on October 10, 2019
What we like
HUGE swimming pool

Good mix of facilities
What we don't like
—

Not near MRT

—

Unit layouts are not fantastic
15
min read
About this condo

| | | | |
| --- | --- | --- | --- |
| Project: | The Jovell | District: | 17 |
| Address: | Flora Drive | Tenure: | 99 years |
| Site Area: | 242,558 sqft | No. of Units: | 428 |
| Developer: | Tripartite Developers Pte Ltd | TOP: | 2023 |
Located just 10-minutes' from Singapore's global hit sensation, The Jewel, lies the slightly humbler estate of Flora Drive – from which The Jovell is expected to rise come 2021.
Tucked away from the hustle and bustle of crowded shopping malls, clamorous MRT stations, and frenzied traffic junctions, it has been touted as District 17's next 'haven of peace'.
428 units will occupy 9 low-rise blocks (8-storeys) on a rather large plot of land.
Its biggest highlight?
An incredible island-like structure plopped in the middle of a 29,063 square foot leisure pool that runs through nearly the entire length of the development.
Complemented with rope-like bridges and a waterfall-themed stone alcove that will come fitted with cold and hot Jacuzzis, there is little doubt as to the condo's tranquil-like appeal.
Factor in the condo's affordability and it really does seem like a crowd-pleaser.
Yet somehow the condo has only managed 22% sales since its launch last September. Why is this the case? We headed down to its show flats to find out more.
Insider Tour
Clubhouse
Function Rooms
Lounge
Gym
BBQ Pits
Leisure Pool
Jacuzzi
Playground
Kids Pool with Water Sprouts
Rope Island
Pool Island
Lounge Pavilions
Sun Decks
Poolside Boardwalk
Outdoor Fitness Stations
Landscape Deck
Putting Green
Hammock Grove
Reading Pods
Tennis Court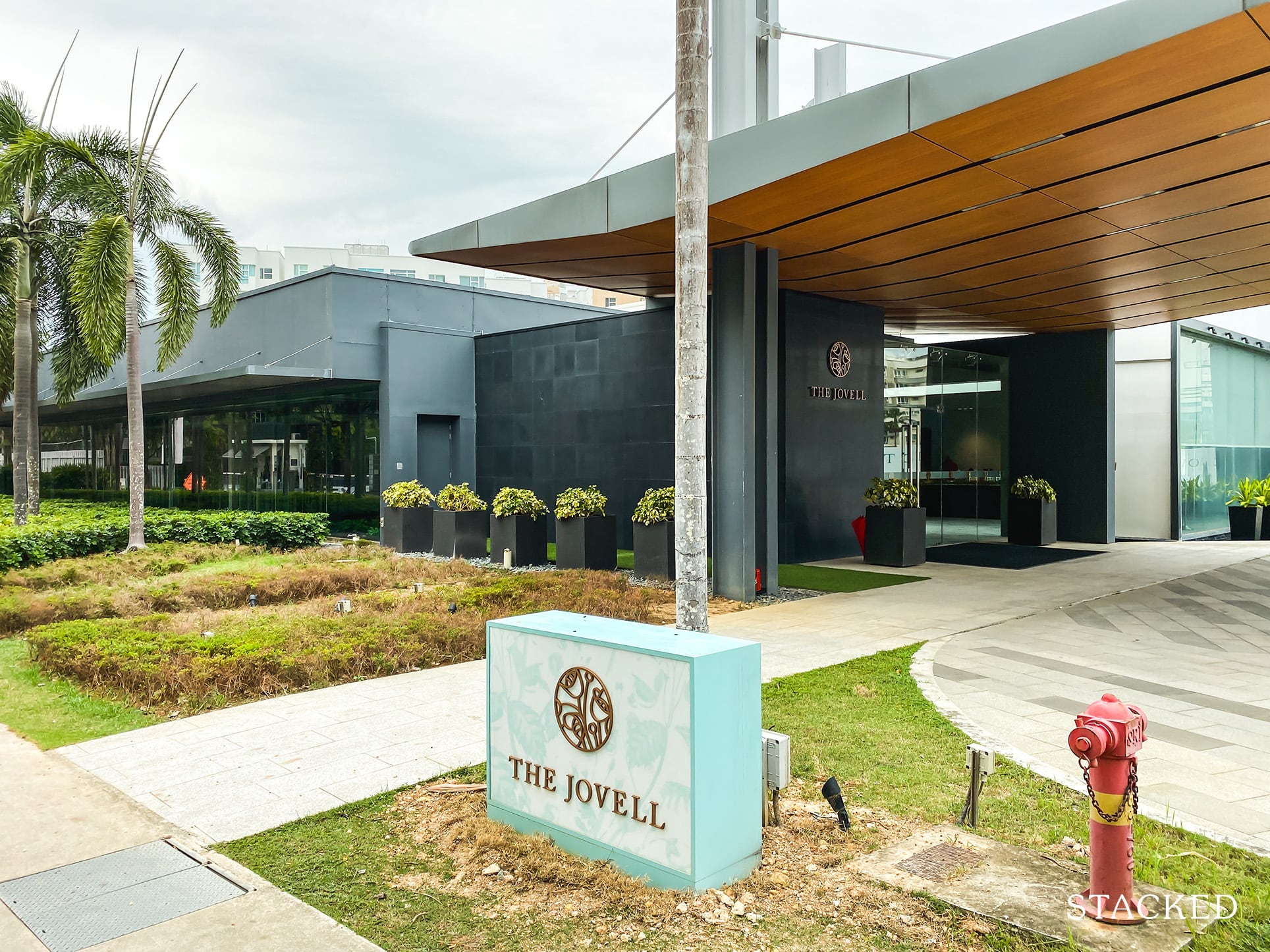 Is it just me or are developers starting to put in more effort to set themselves apart? Considering this is a mass-market project, the attempt in branding here is commendable. If you happened to be wondering about the origins of the name Jovell, it is actually derived from the Jovellana Violacea, which is a flower from Chile.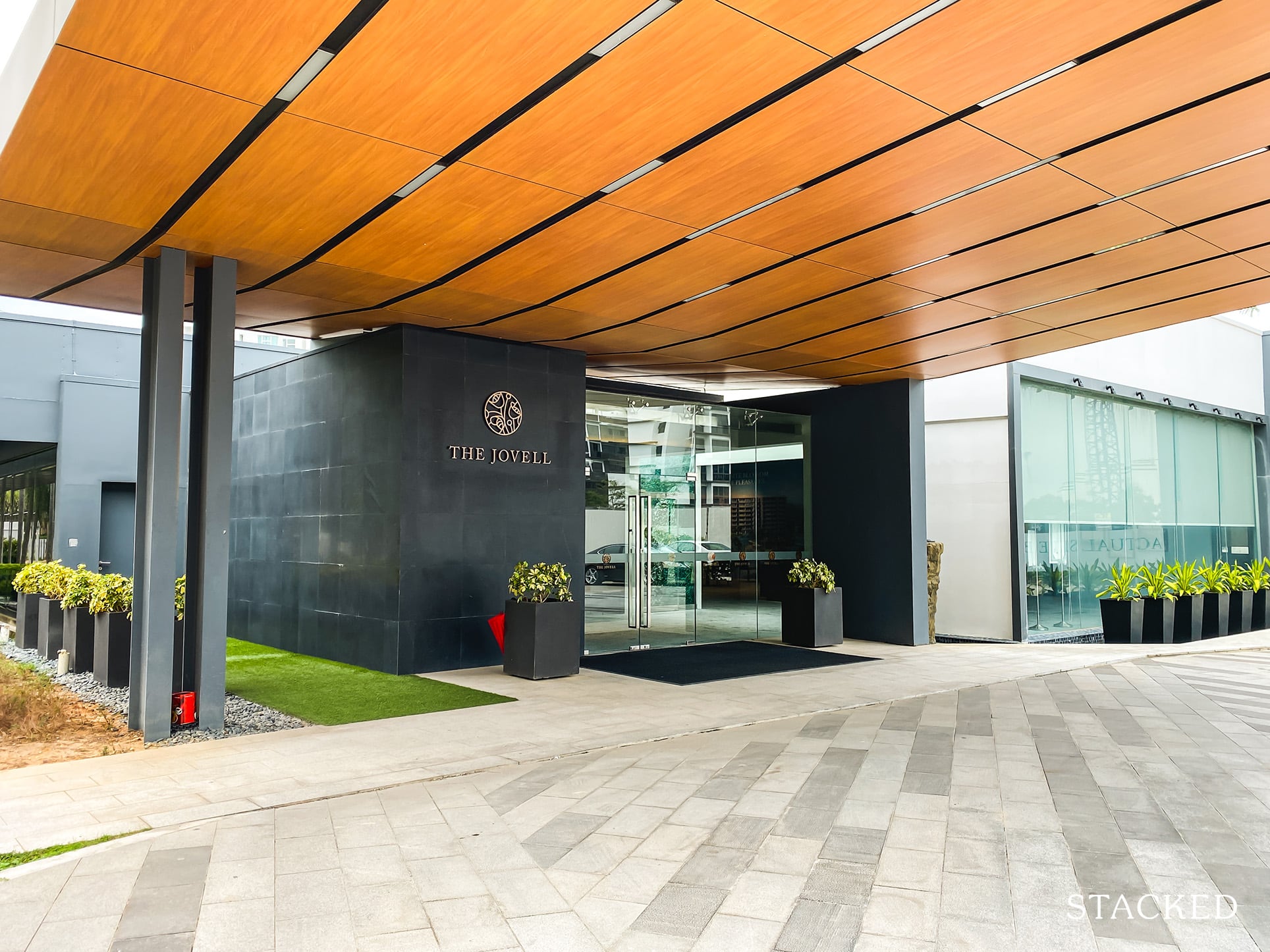 You would be hard-pressed to believe that this is a relatively affordable project from the front entrance to the show flat. Hopefully, this attention to aesthetics will follow on throughout the rest of the project!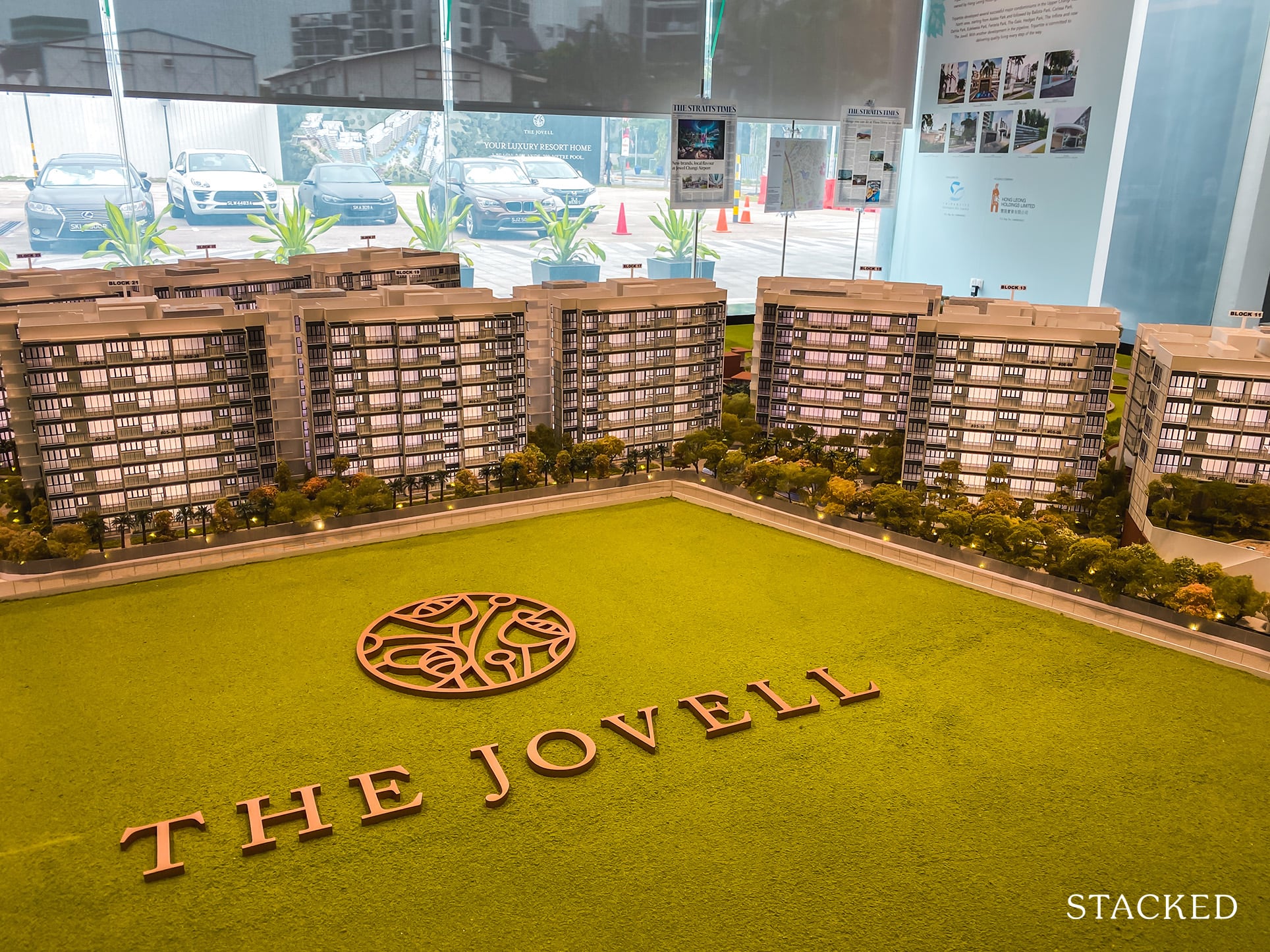 The Jovell sits on a very irregularly shaped piece of land. At approximately 242,558 square feet it is quite a big piece of land. Frankly, it's a good-sized space for 428 residential units, especially when you compare it to other new launches like the Treasure at Tampines (2,203 units for over 650,000 square feet of space).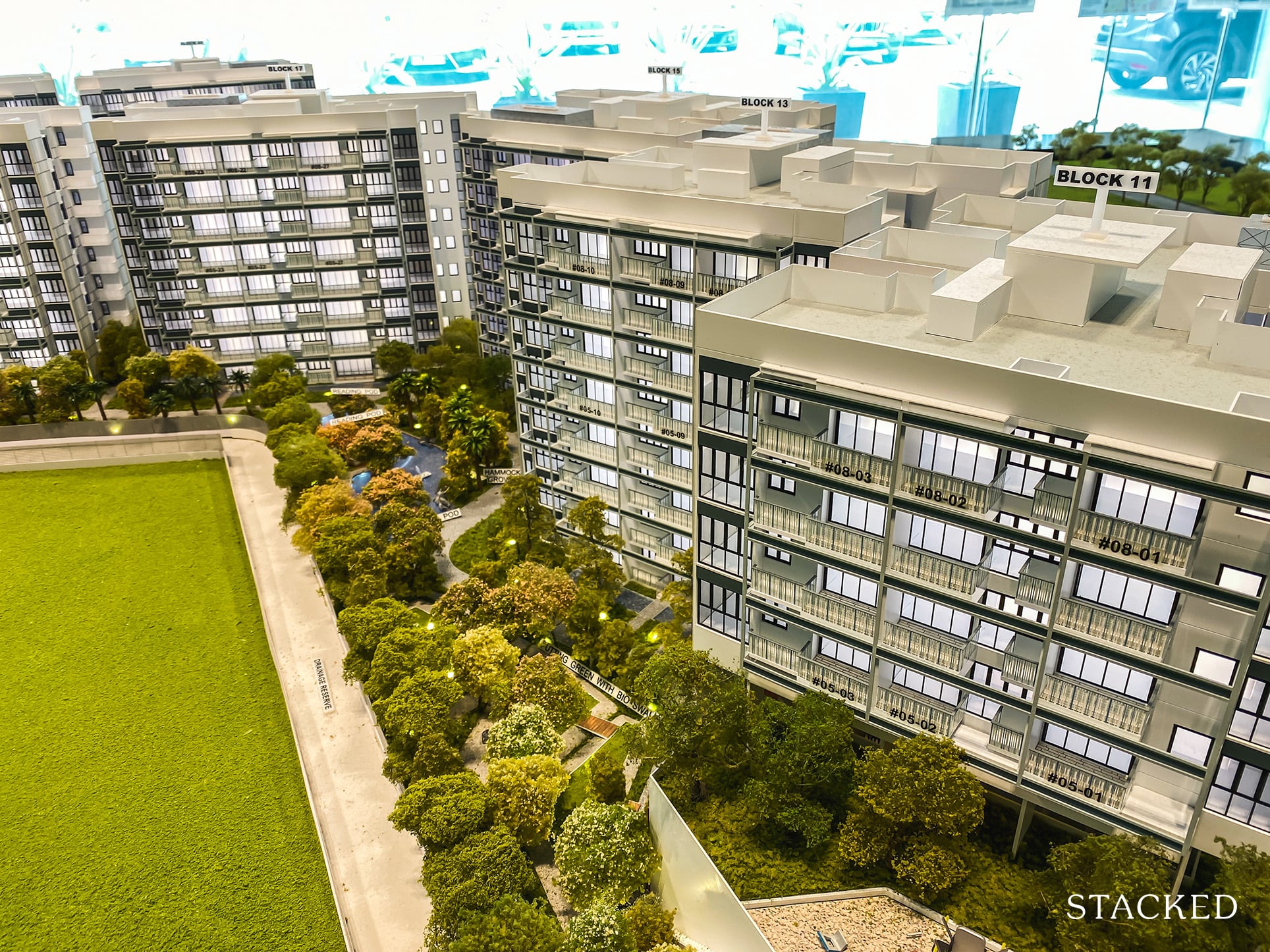 Unlike other developments like the Commonwealth Towers or Echelon, the exterior design is more traditional as it is still very much white-based (a plus point is that it certainly attracts less heat). It's safe, which is not a bad thing, but I just prefer the darker and sleeker look.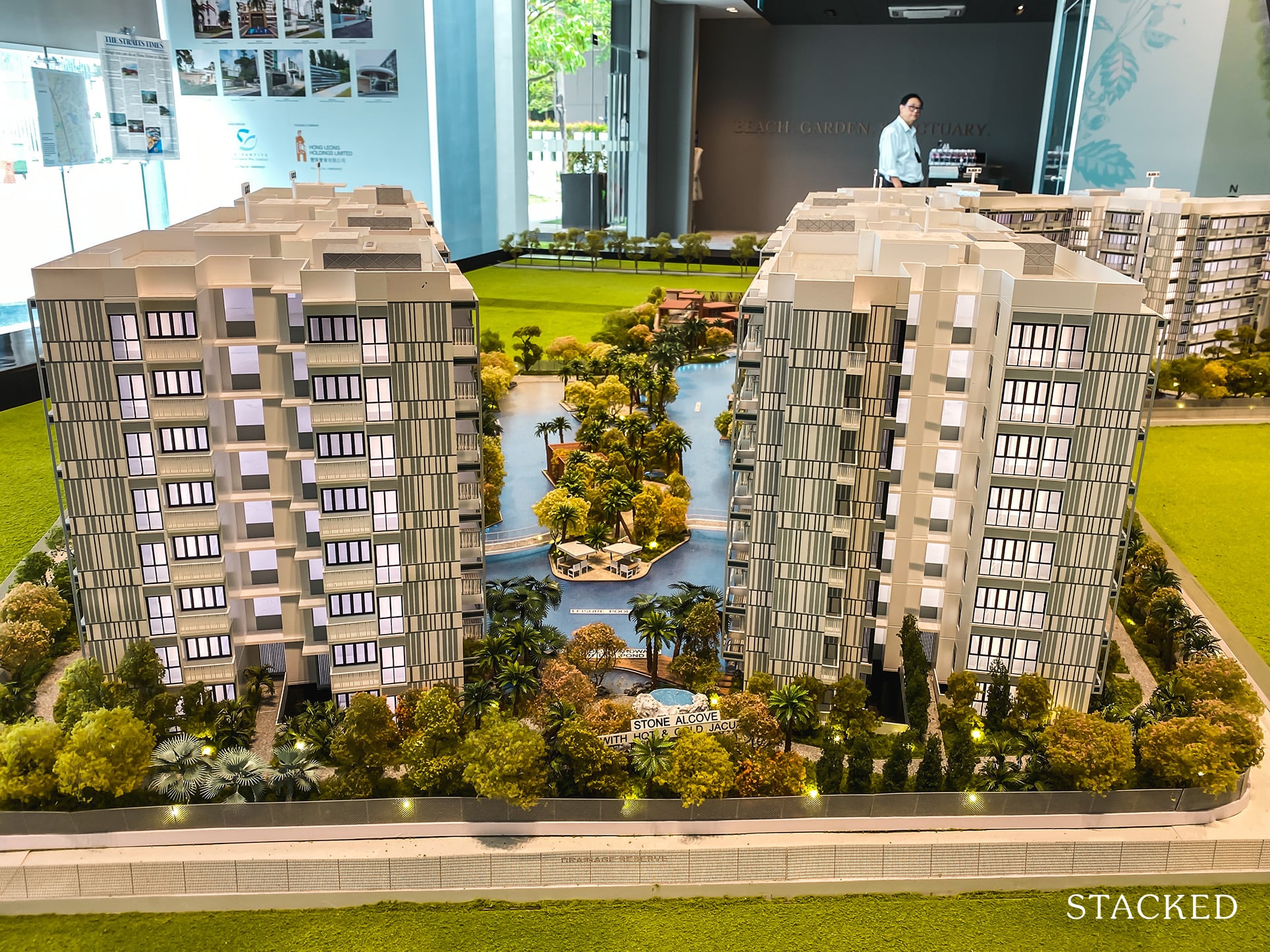 The irregular shape actually does add some character to the development, as the swimming pools run almost the length of the space. I like the lagoon concept, with the island as space in the middle which is almost reminiscent of Sentosa. Another great feature is the beach slope like entrance into the pool, something you don't see all too often. Some stacks will face each other, with a separation of 18 metres at the bare minimum, which is not too bad.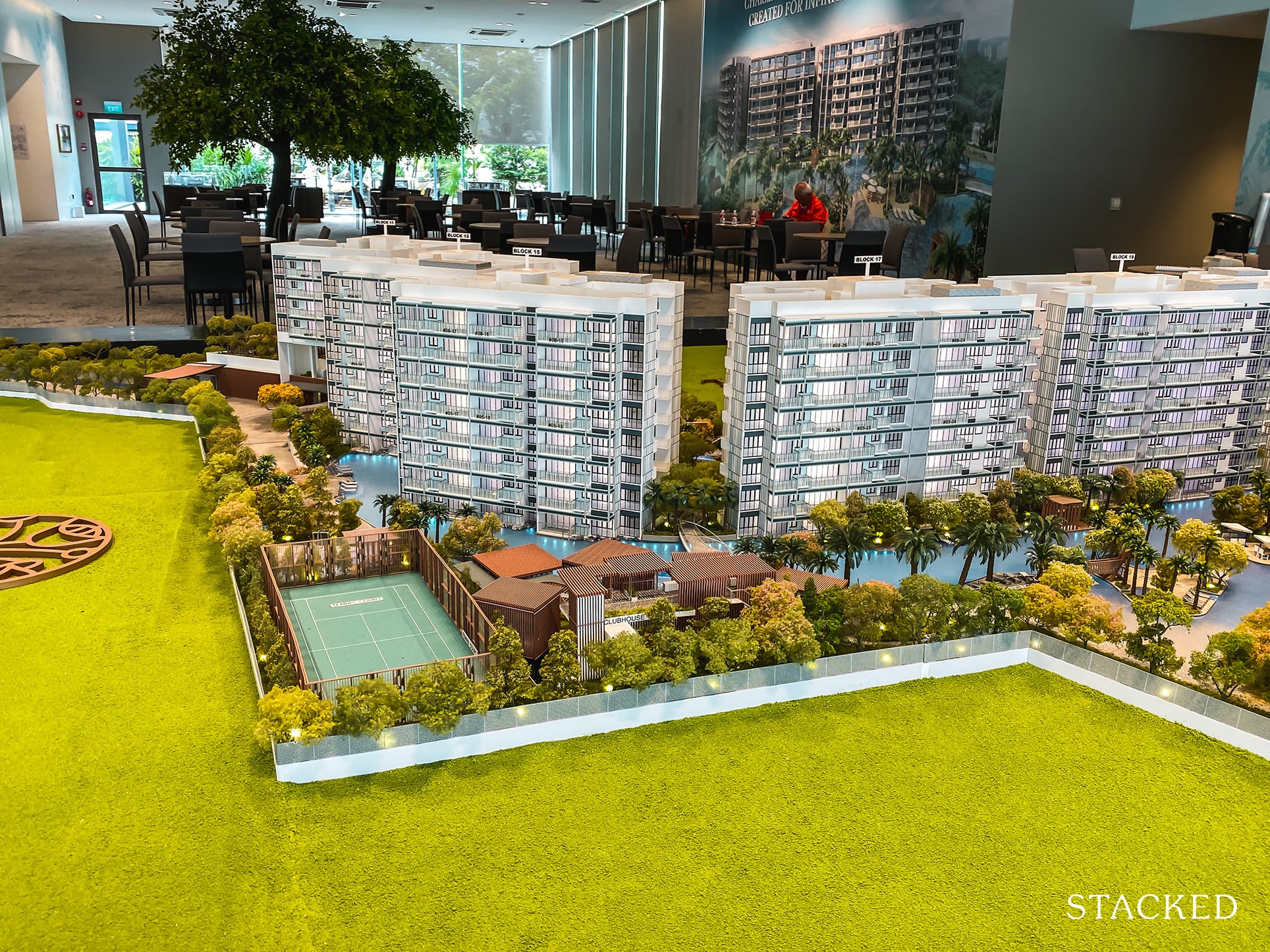 There is the one tennis court, which is to be expected for a development of this size.
The Jovell 2 Bedroom + Study Review
At 678 square feet, the 2-bedroom plus study unit at the Jovell is on the small side if you are coming from an older development. It is of average size if you were to compare to new launches nowadays though. Overall, the small space is really well planned and utilised, and there is very little wasted space with a small PES and no bay windows.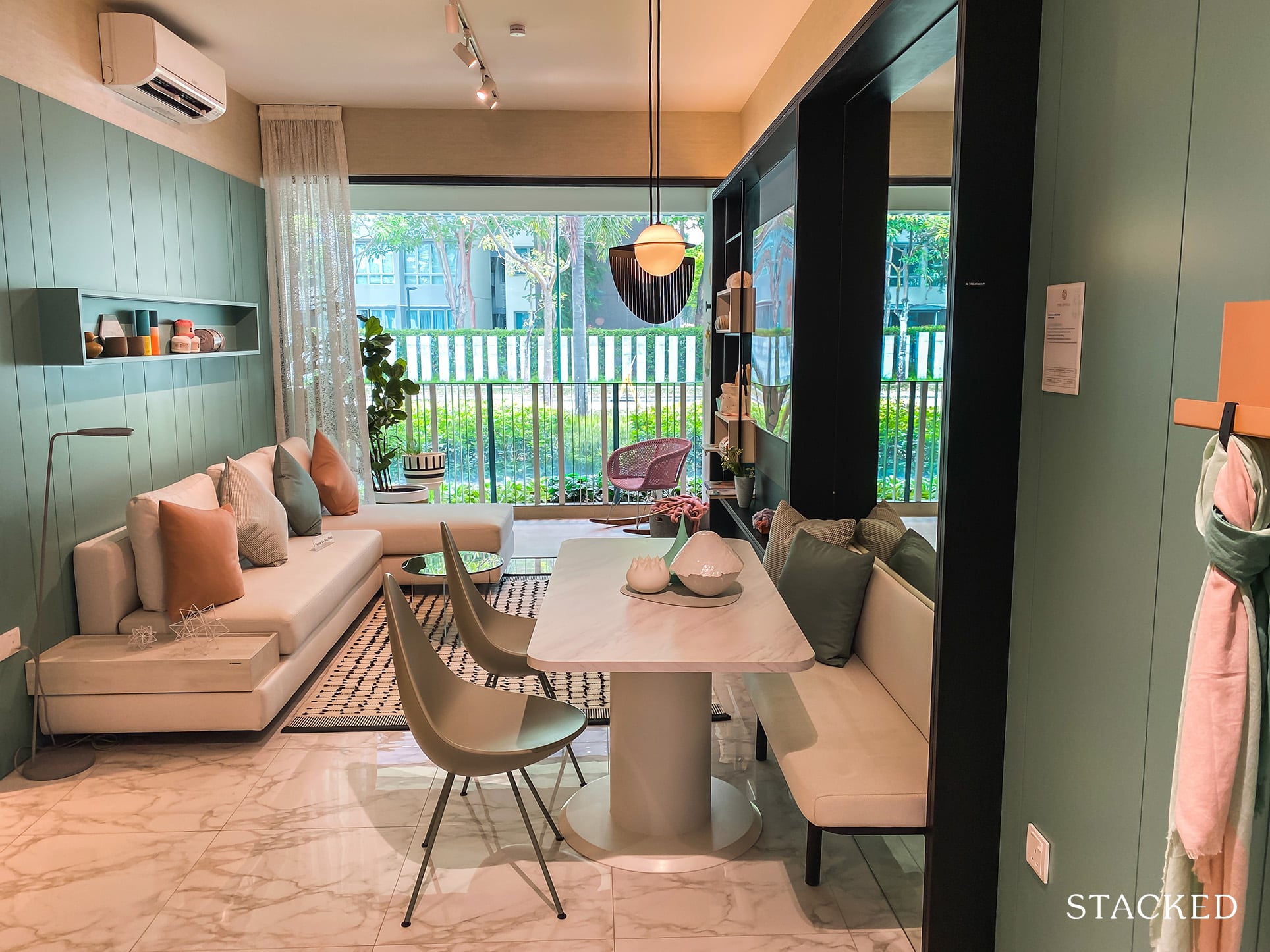 The living room is a good size, and because the unit opens straight up into the kitchen, there isn't any wasted space.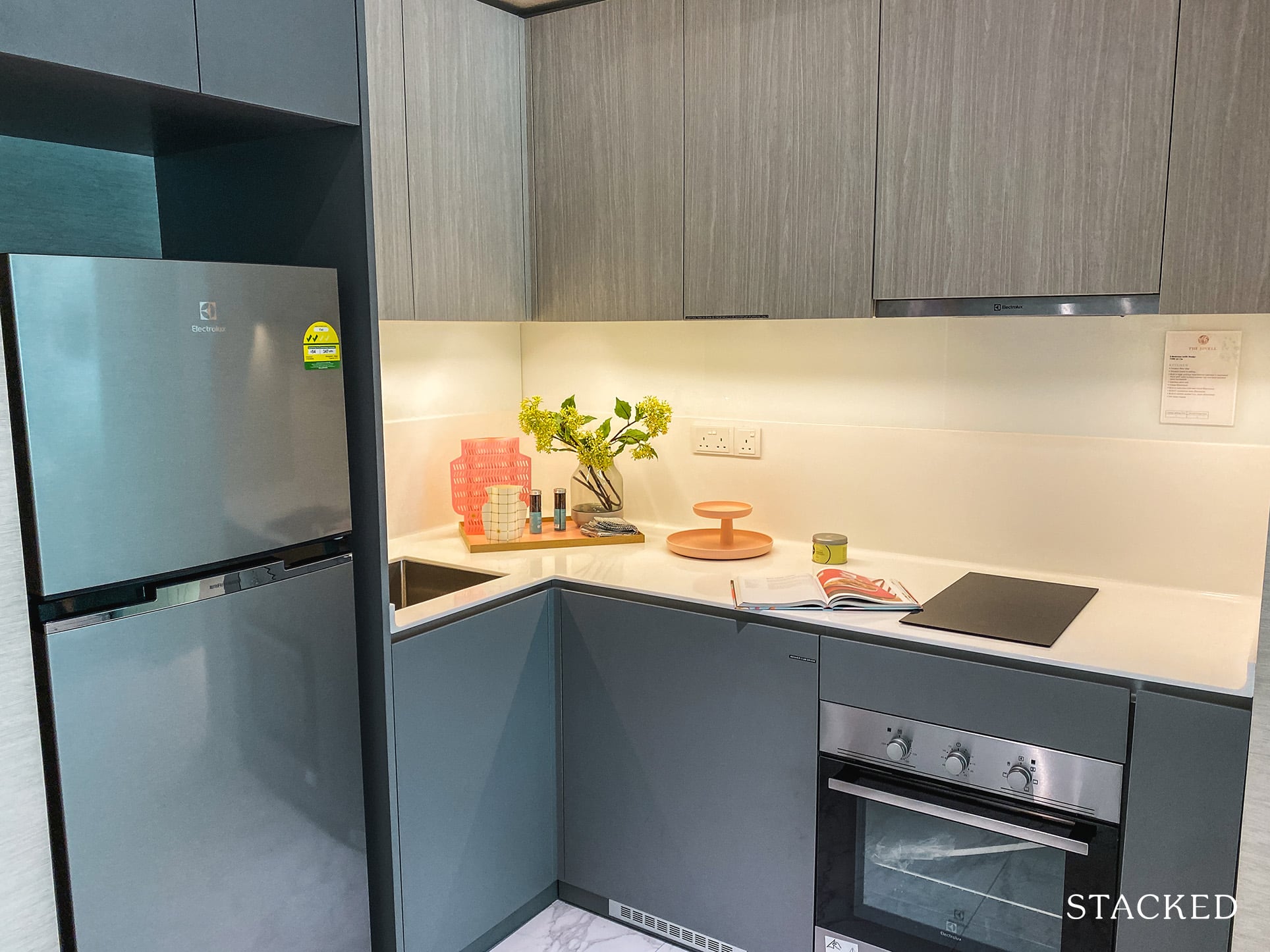 The kitchen is quite a big space for a 2 bedroom unit, but its mainly because it shares the space with the entrance. It's a lot more spacious but as with most 2 bedroom units, don't expect to do a lot of heavy cooking here unless you are fine with opening the main door for ventilation each time you cook.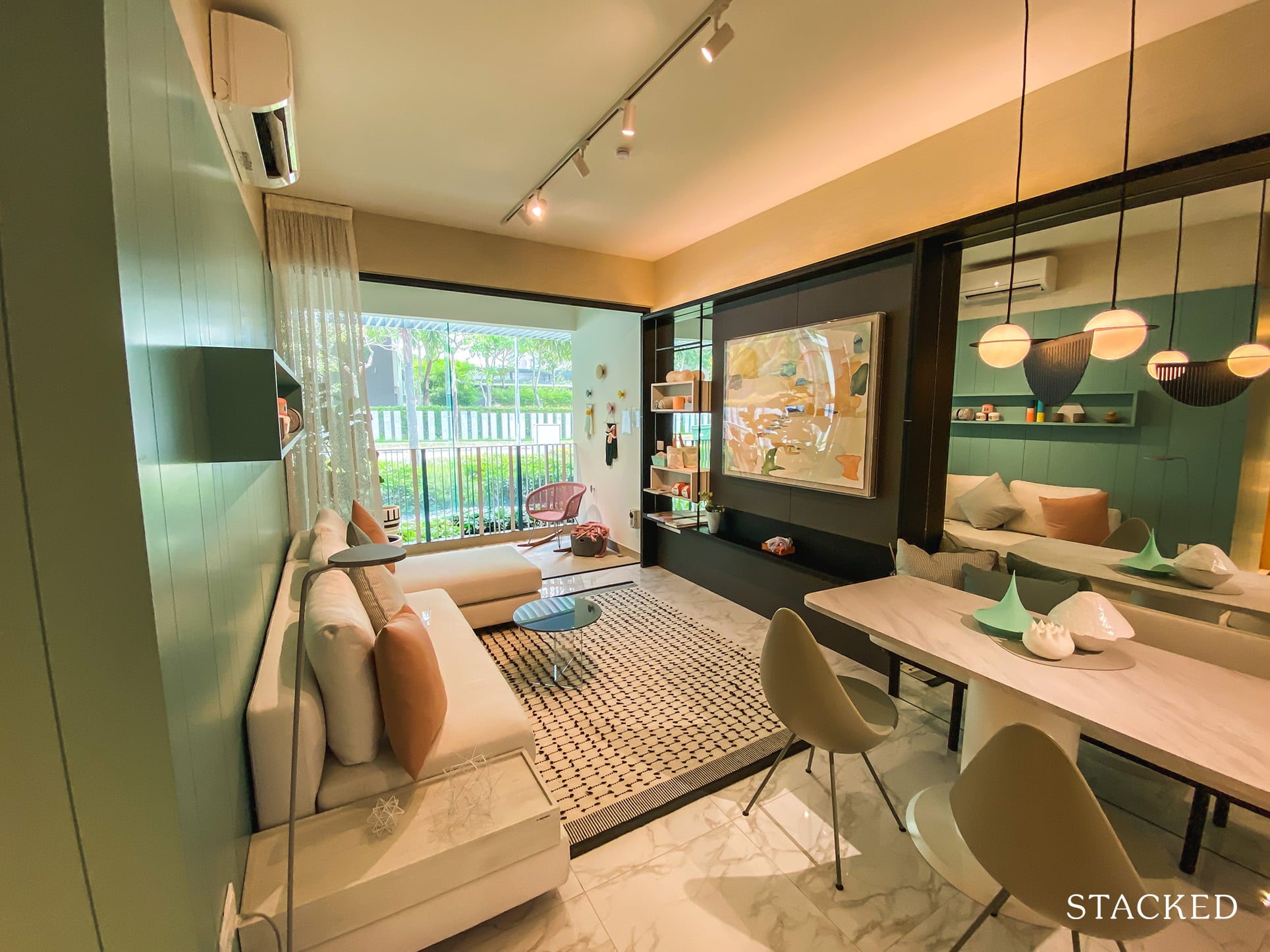 The dining room space isn't great, but they did manage to fit a space that can seat 4 people. Having the big mirror behind it really helps a lot to give a better illusion of space.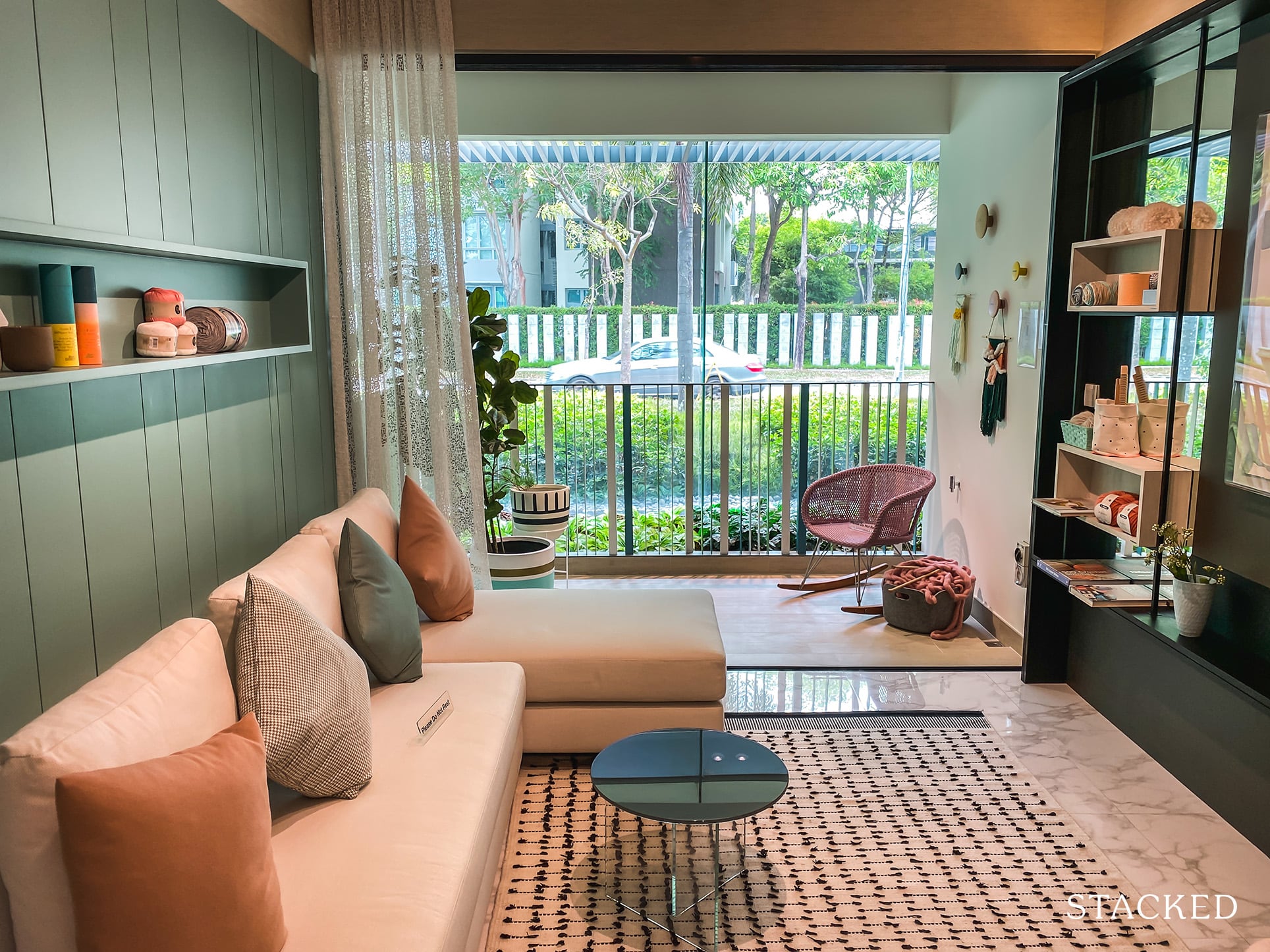 Looking closer at the living room, the width of the couch here does look smaller than normal and the coffee table too small to really be usable. It definitely helps in making the space look bigger, but this is at the expense of some usability.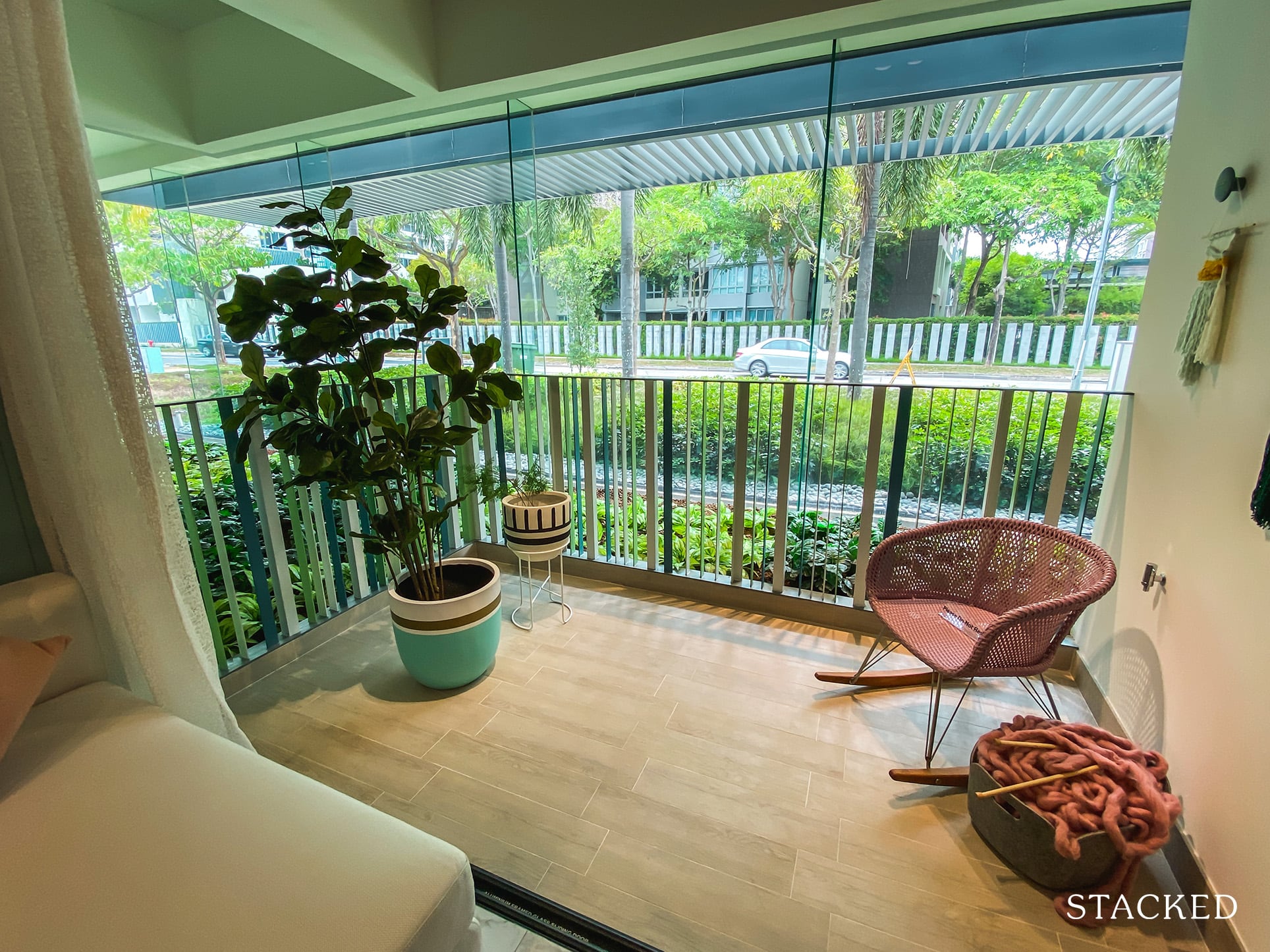 The balcony is on the small side, but there is still enough space for a chair or a lounger. For those who prefer more indoor living space, this would be ideal.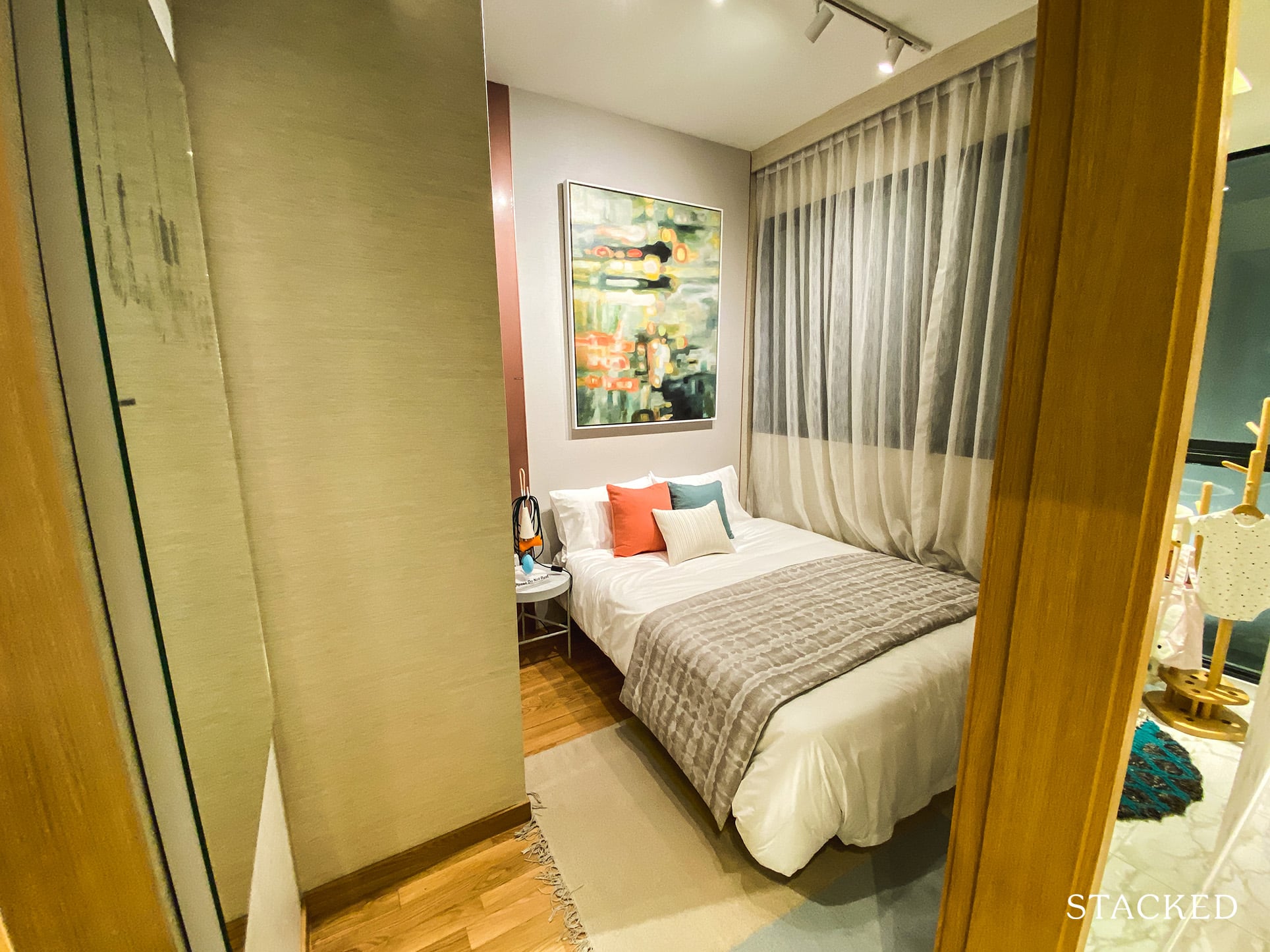 The common bedroom in the Jovell 2 bedroom unit is not a big space at all. It is sufficient for a single bed but even there there isn't a lot of space to move around.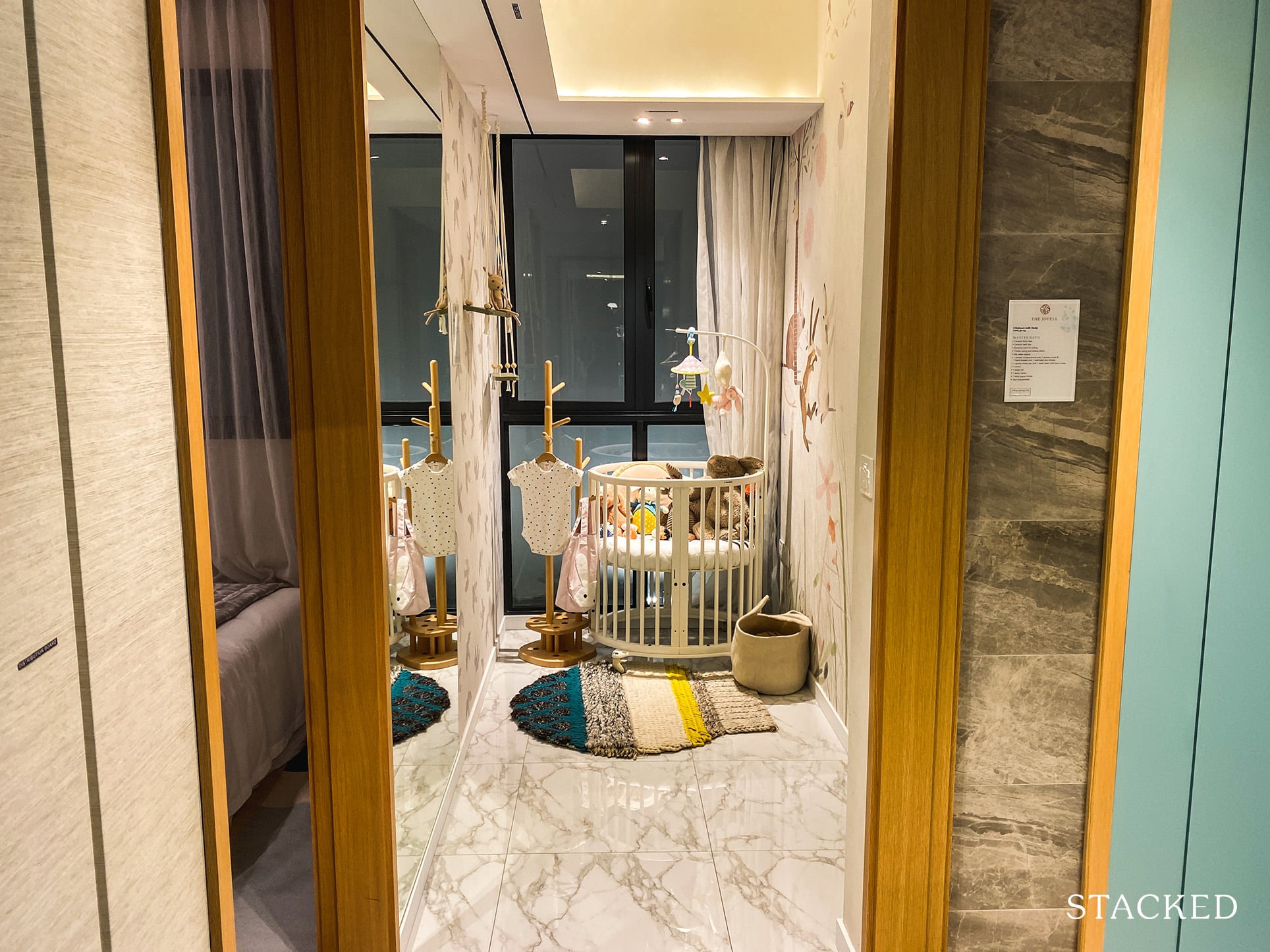 There is a space between both rooms, which they classify as the study area. It is decorated as a baby nursery here, but really, you are free to use the space however you like. This area actually takes up the space of what would usually be a bathroom. Hence, this is strictly a 2 bed and 1 bath unit.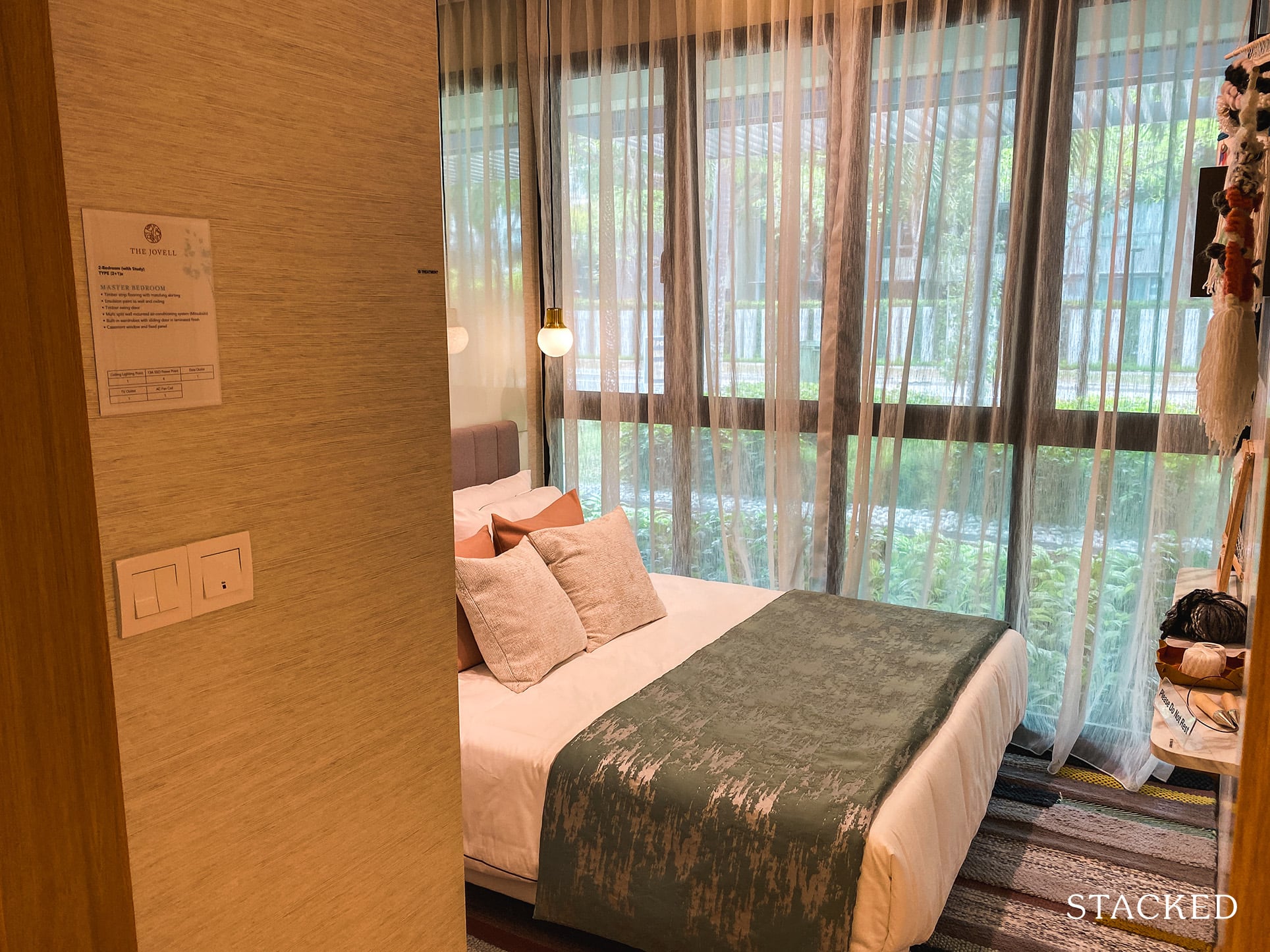 Similar to the rest of the unit, the master bedroom is not a big space. It certainly is able to fit a Queen-sized bed, but you will find it difficult to squeeze anything else like a study or dresser table inside.
There are two entrances to the bathroom here as it is the only bathroom in the house.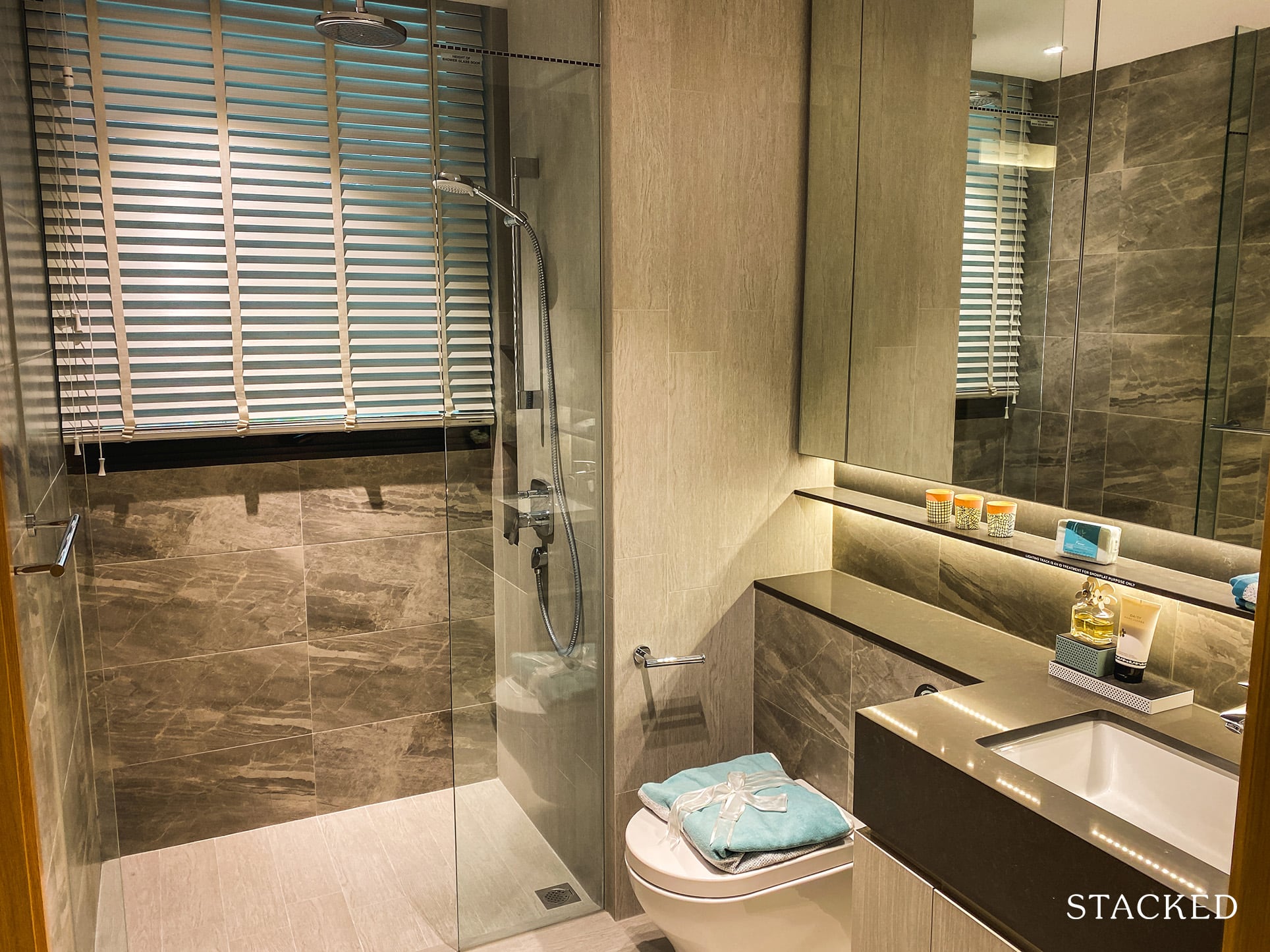 The bathroom is of average size, taking into consideration that it is the only one in the house.
The Jovell 1 Bedroom + Study Review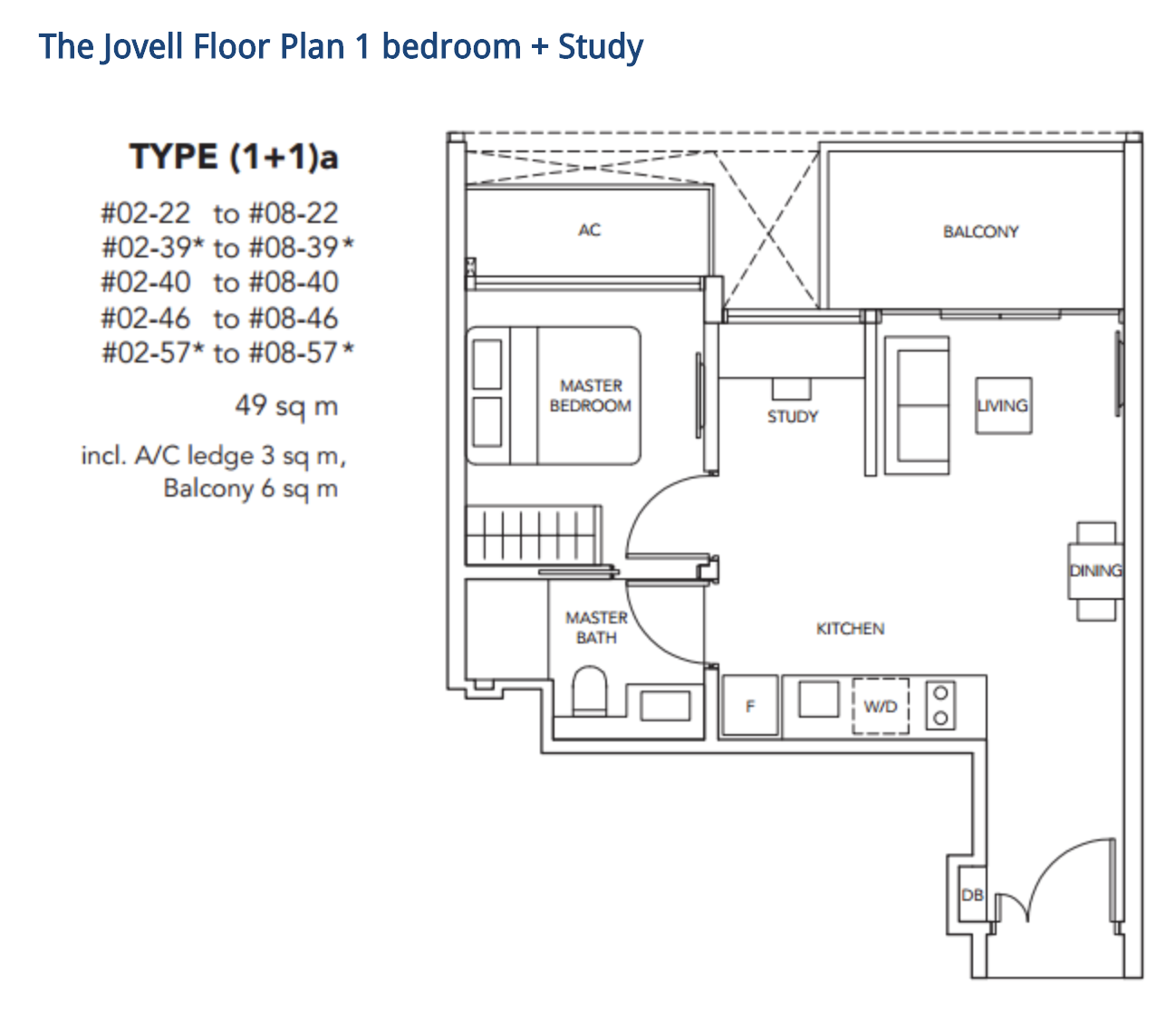 At 527 square feet in size, the 1 bedroom plus study unit at the Jovell is actually rather spacious. With that said, I don't think the layout is fantastic as there are some wasted spaces like a long entranceway. Unless you really require a separate study area, I think the space can be much better used.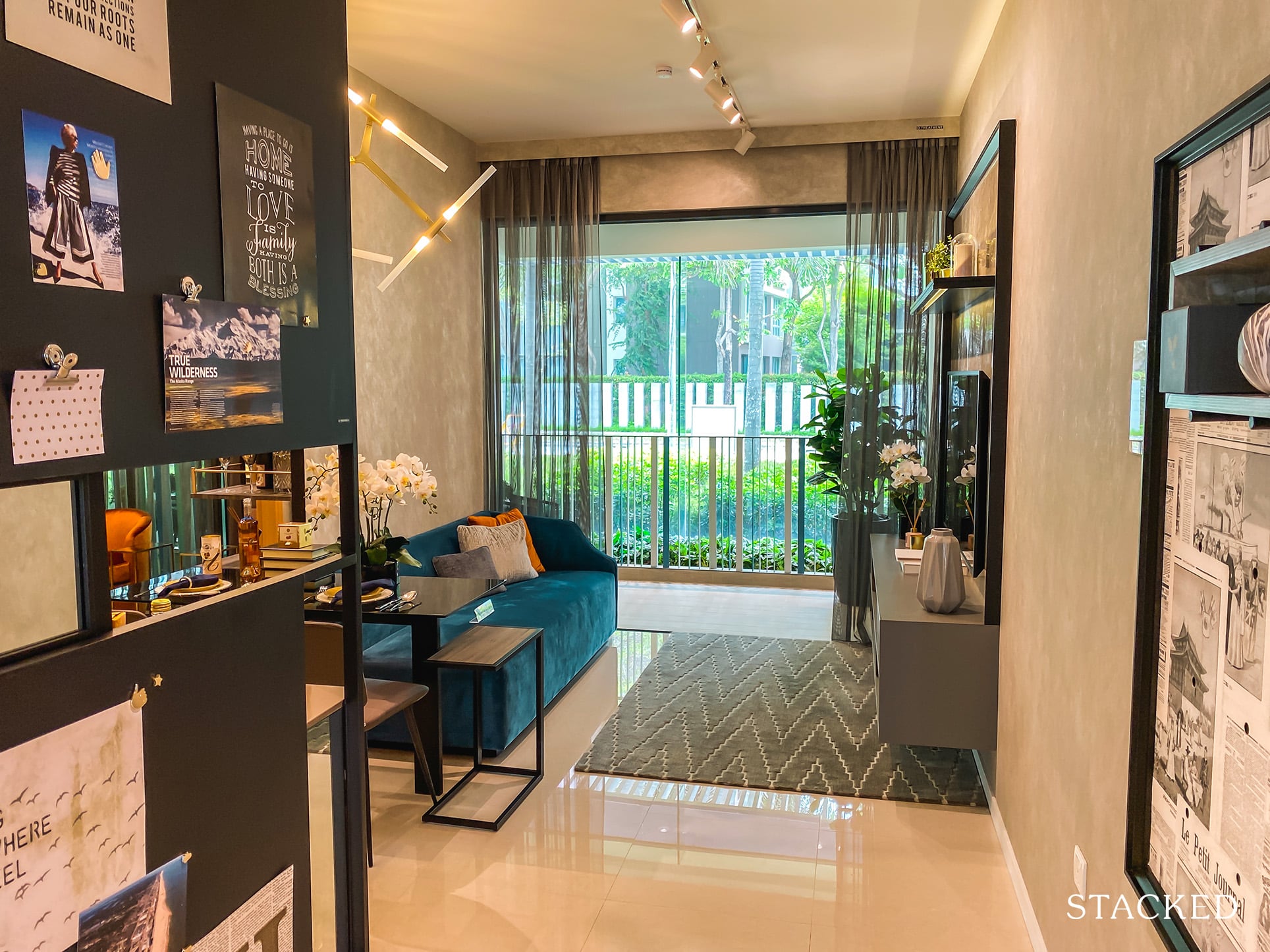 Some people do like a longer entranceway to have a grander welcome to the place. But I think for 1 bedroom units where space is already a constraint, it really isn't necessary at all.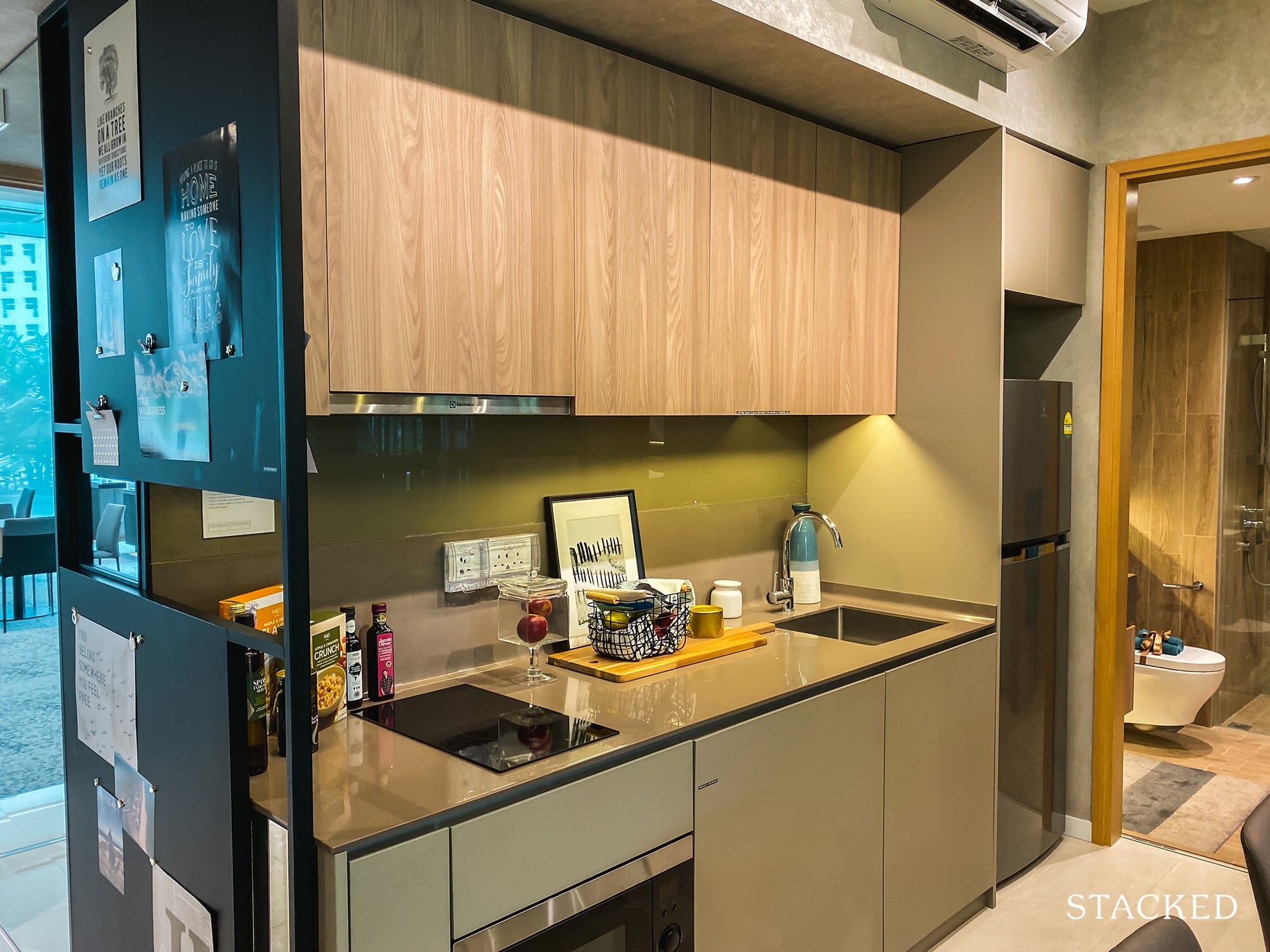 The kitchen has a good-sized counter length and is decently sized for a 1 bedroom unit. I did find it peculiar that the space carved out for the fridge featured one where it left a gap, which might seem like an oversight.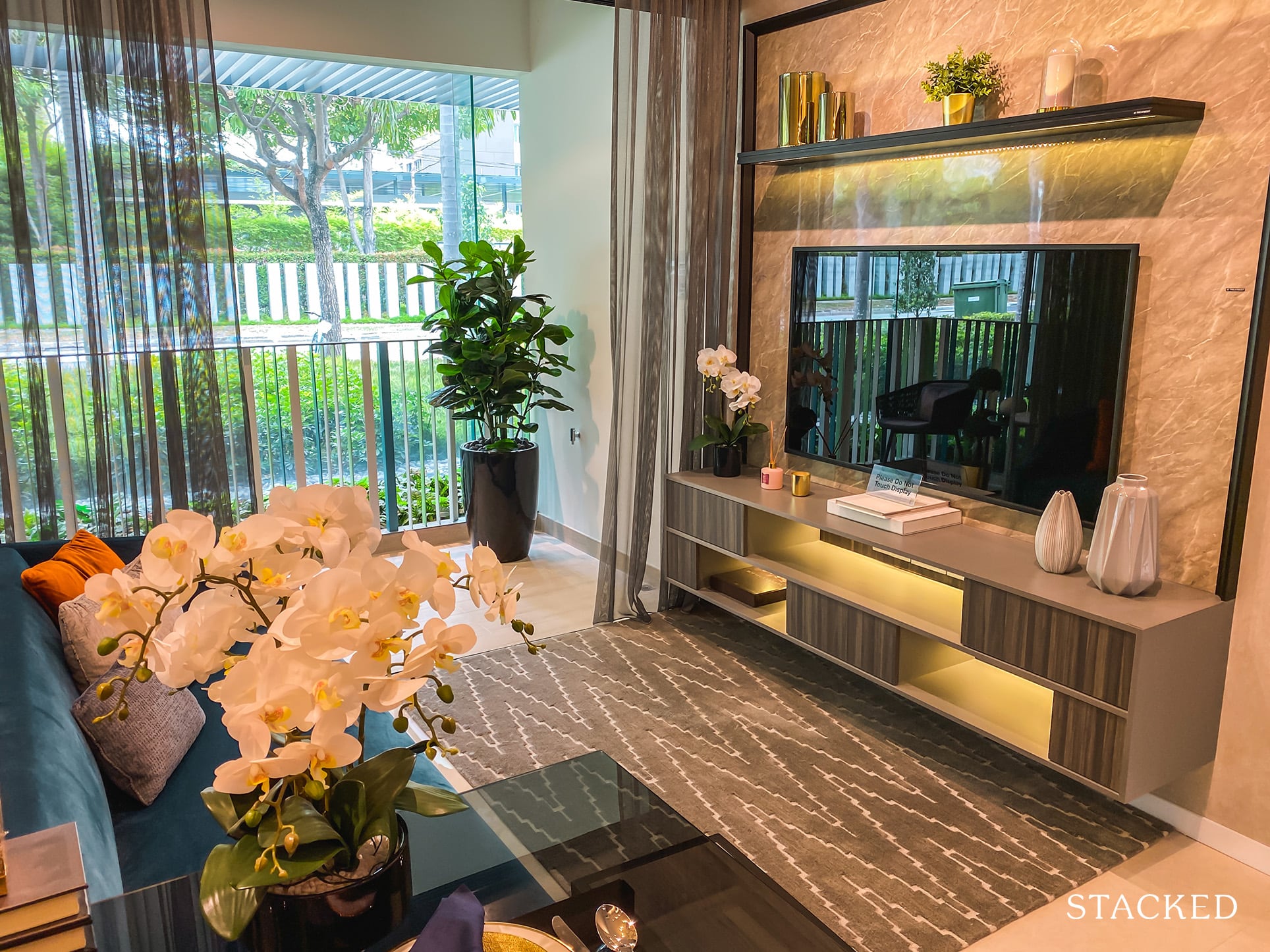 The living room is slightly on the smaller side, probably also because of the constraints of the study space next to it.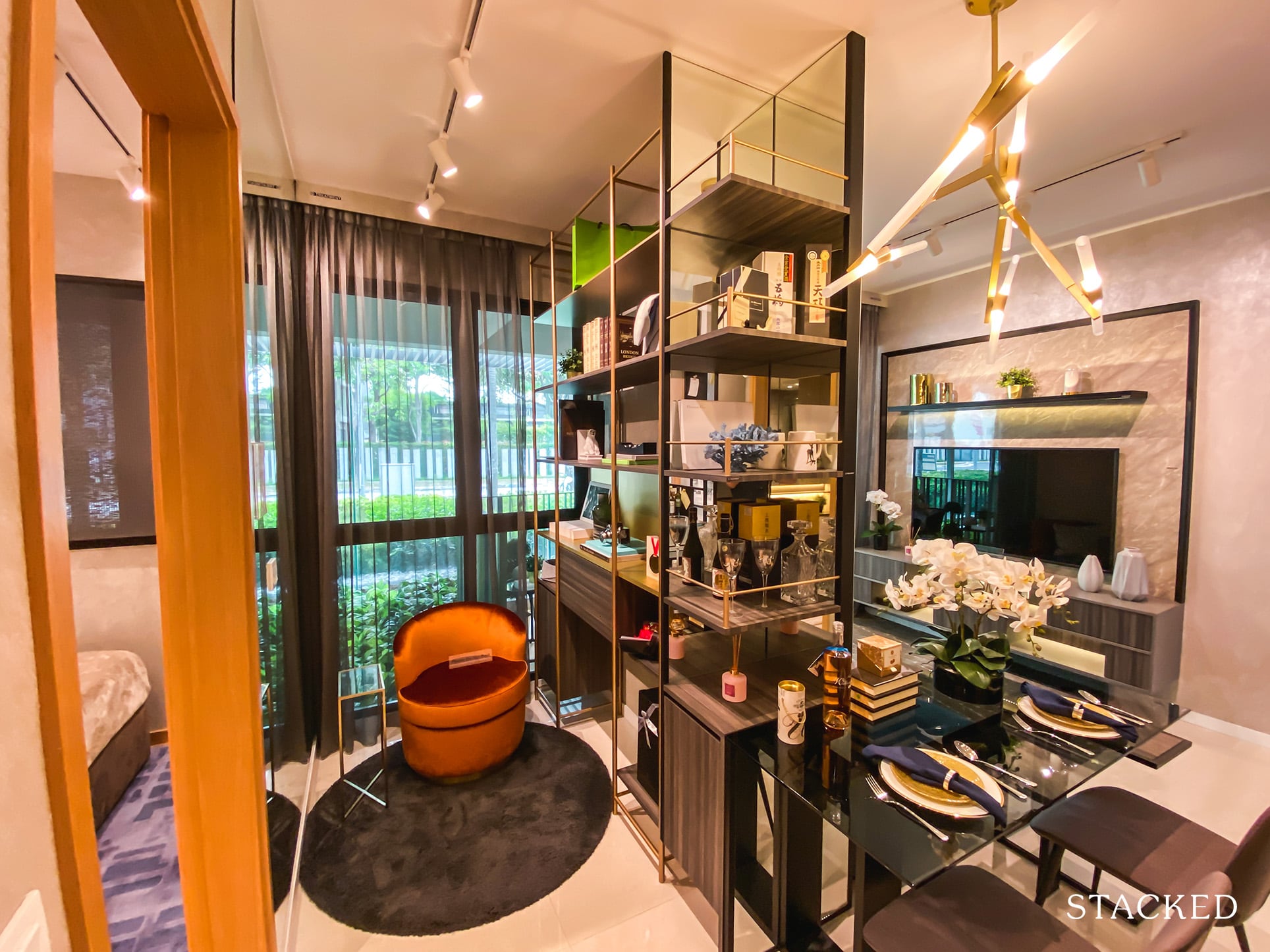 While it is nice to have a study area if you do a lot of work at home, I think the ID could have been executed a lot better. It would have been better to showcase a cosy study corner instead as it currently looks quite cluttered.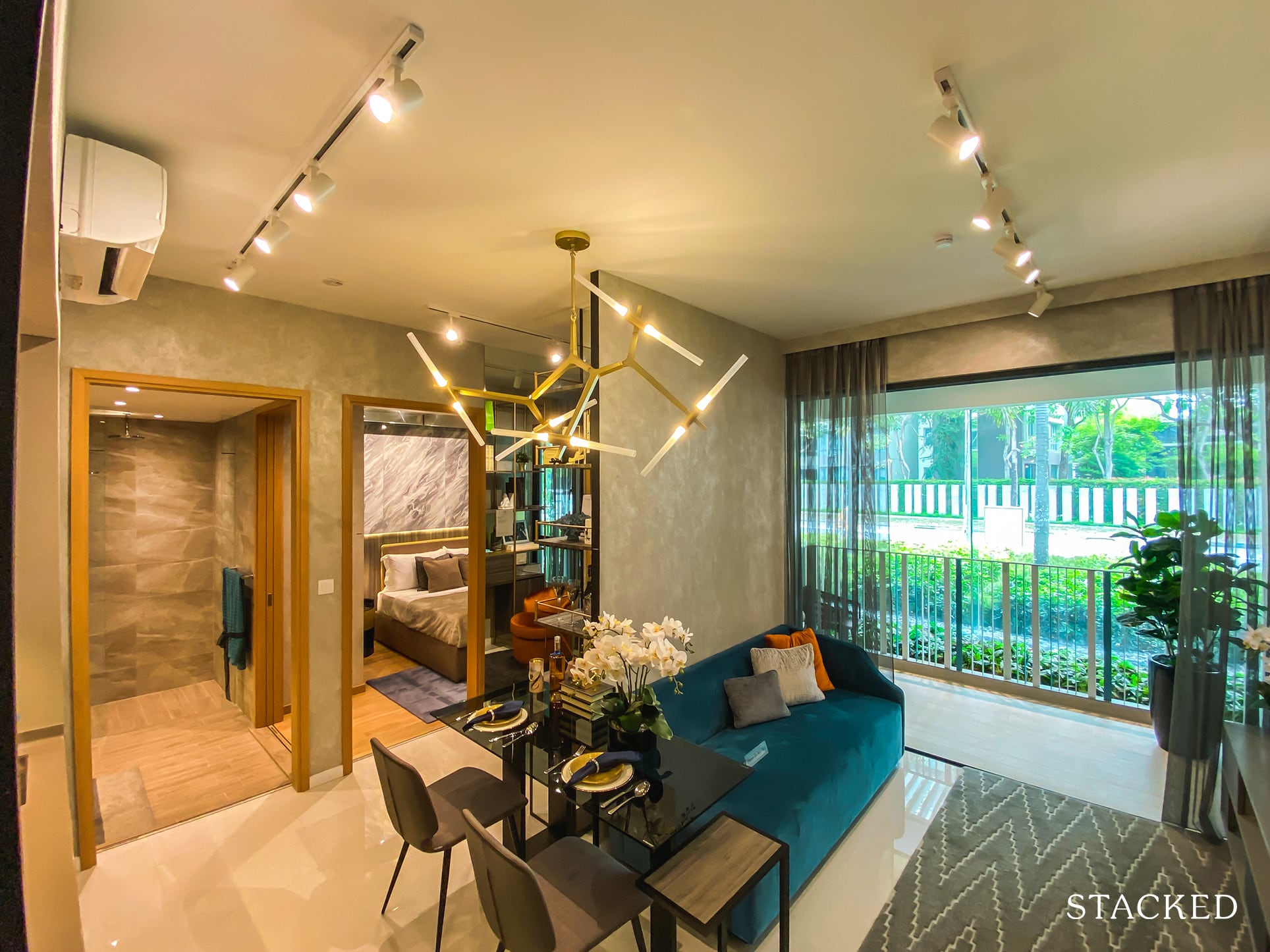 The dining area is on the small side. You can also use the balcony as an alternative space to have your meals.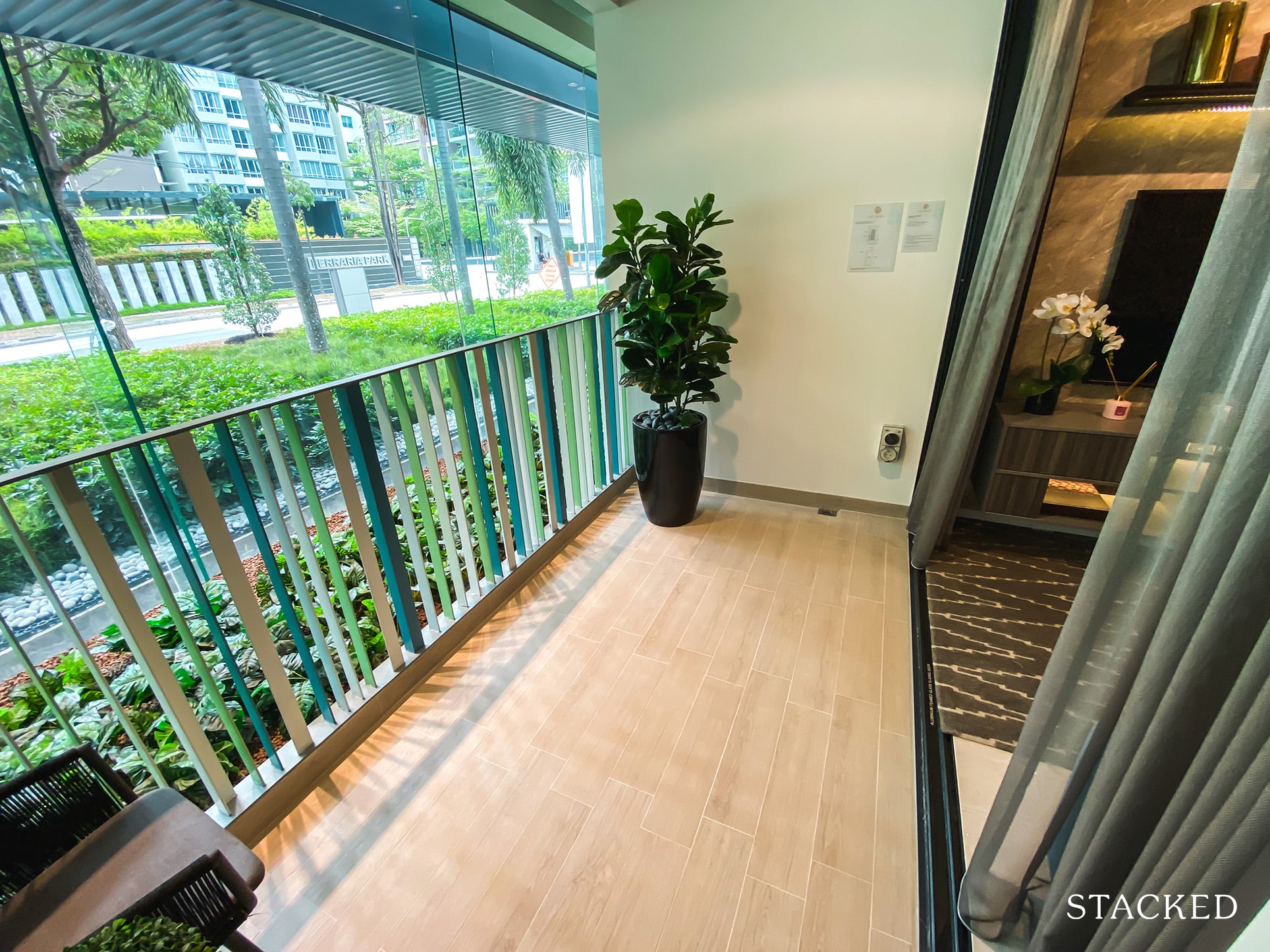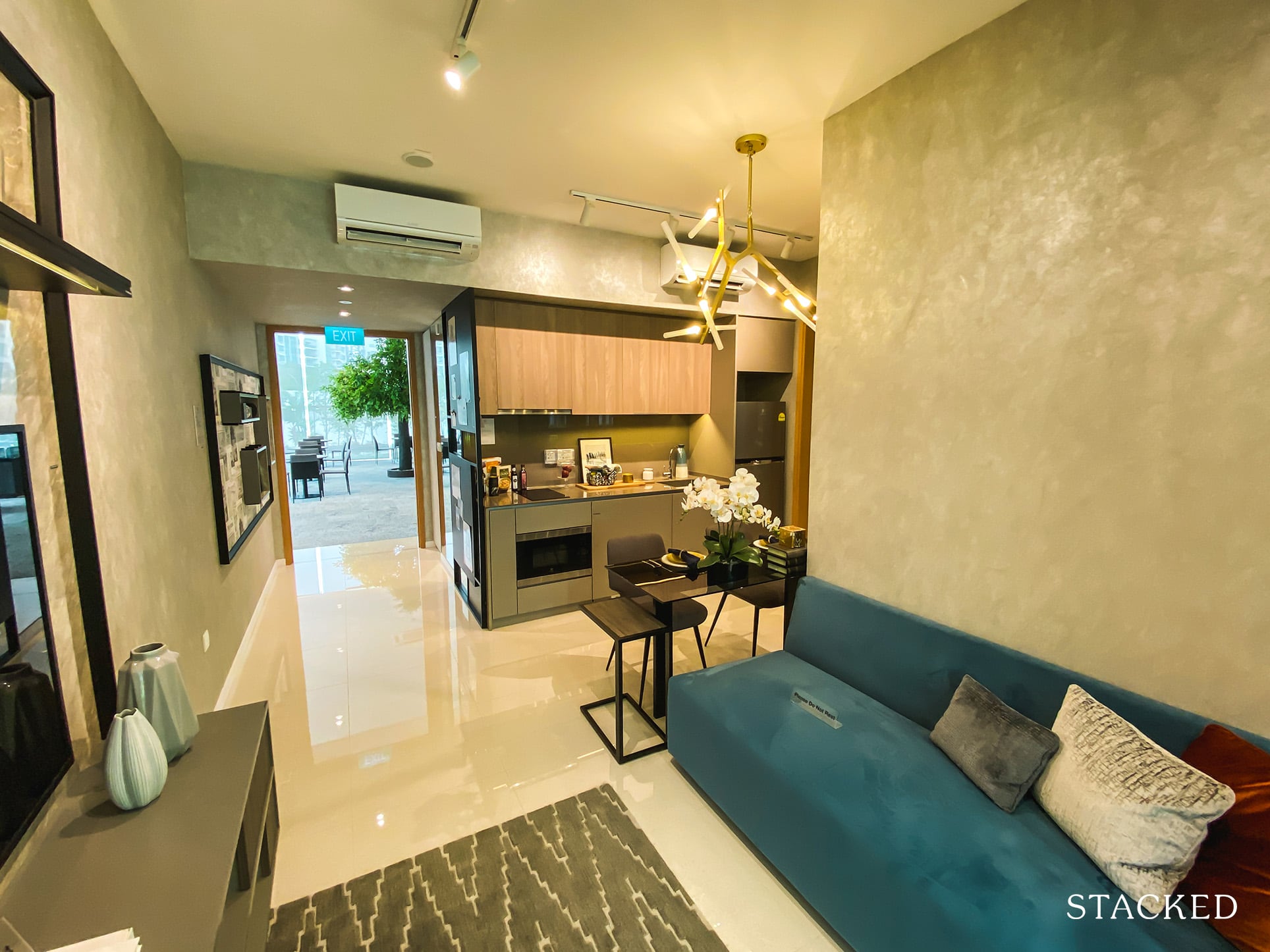 From here you can really see the inefficient use of space the long and wide entranceway takes up. On a positive note, because it is quite wide, you can possibly incorporate more storage spaces.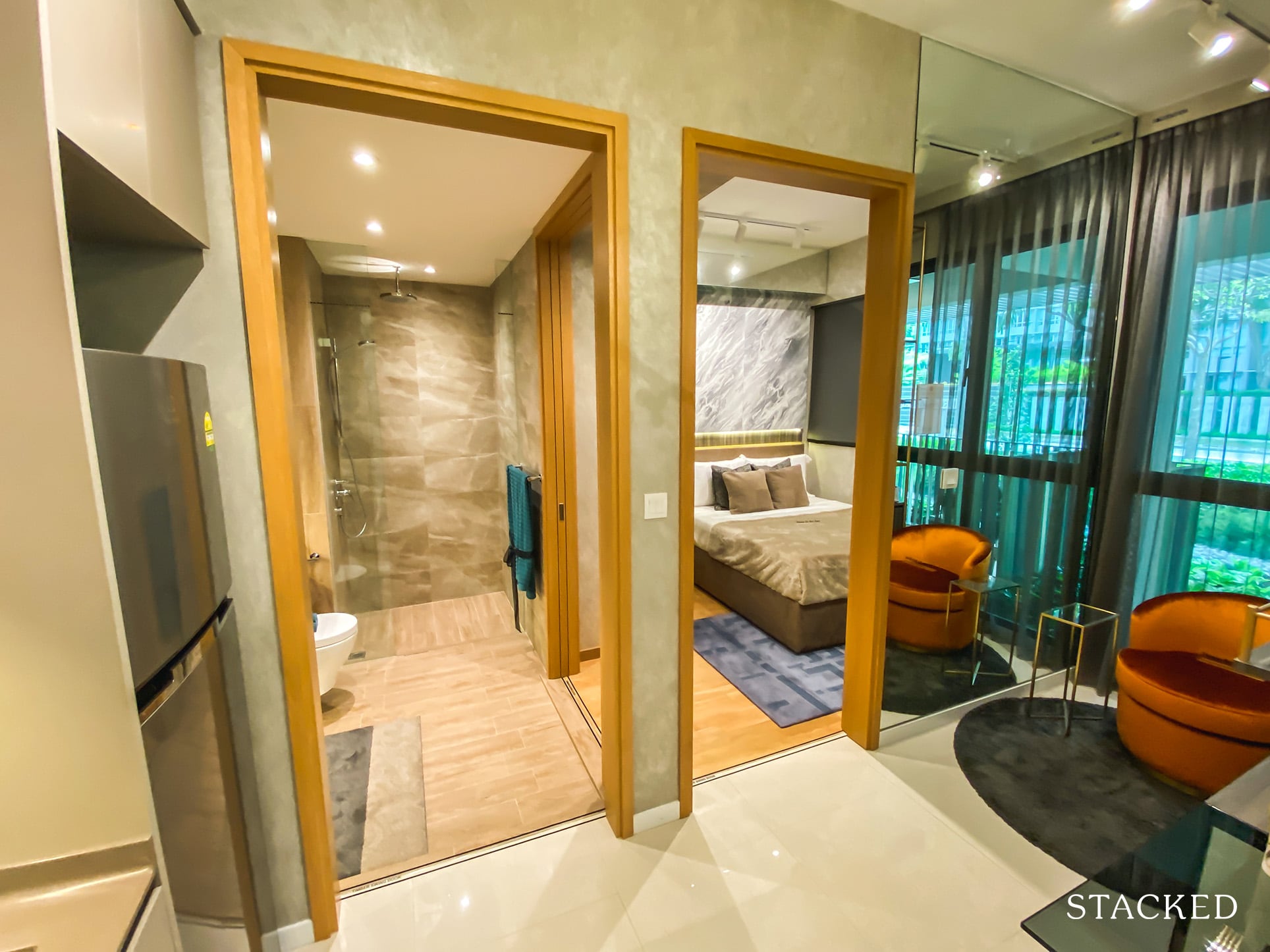 You can access the bathroom from both the bedroom and the living area in case of any guests that you might have over.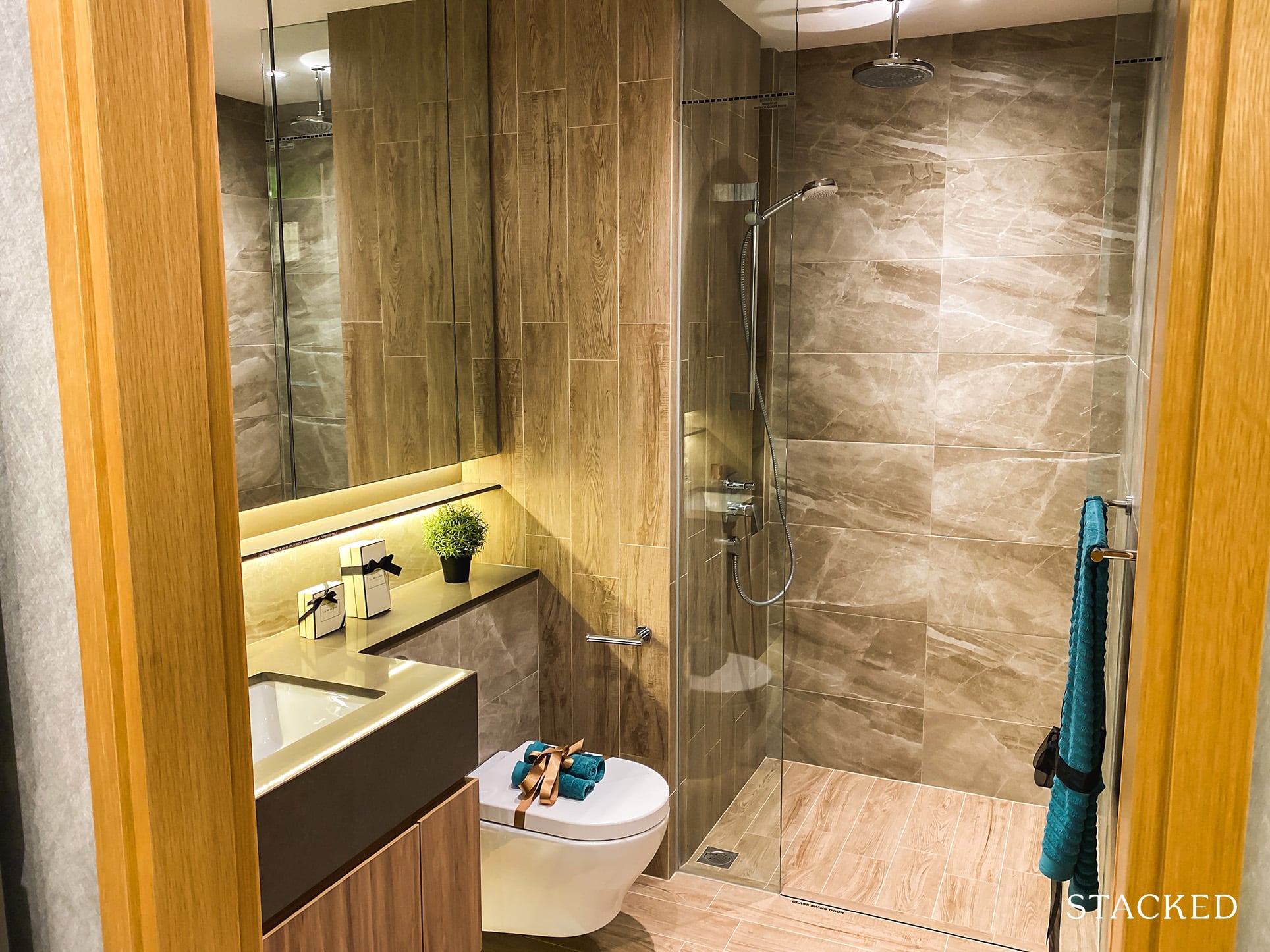 The bathroom is reasonably spacious for a 1 bedroom unit.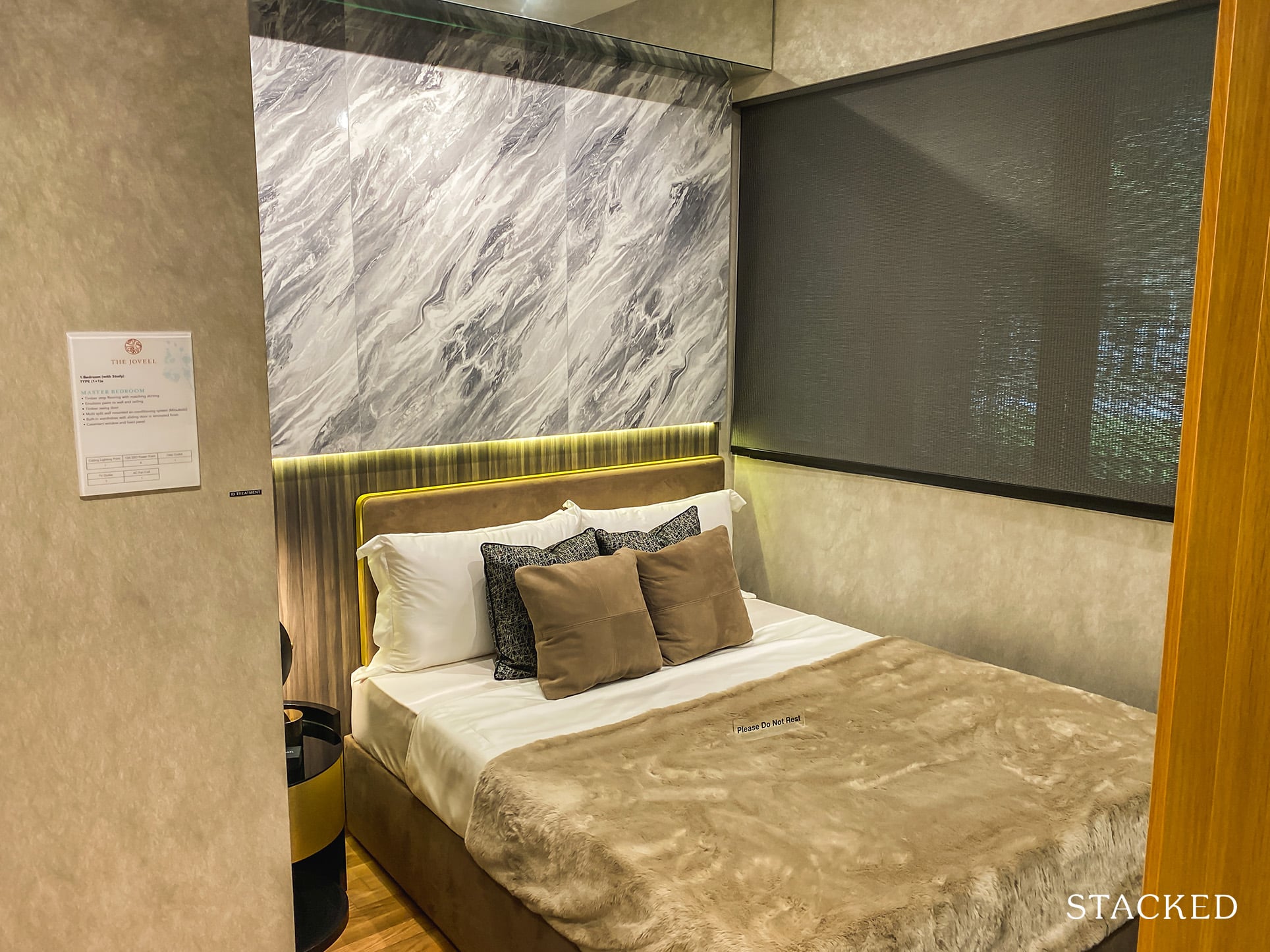 In a similar story to the 2 bedroom show flat unit, the master bedroom here is small and really only has sufficient space for a Queen-sized bed.
The Jovell 3 Bedroom Review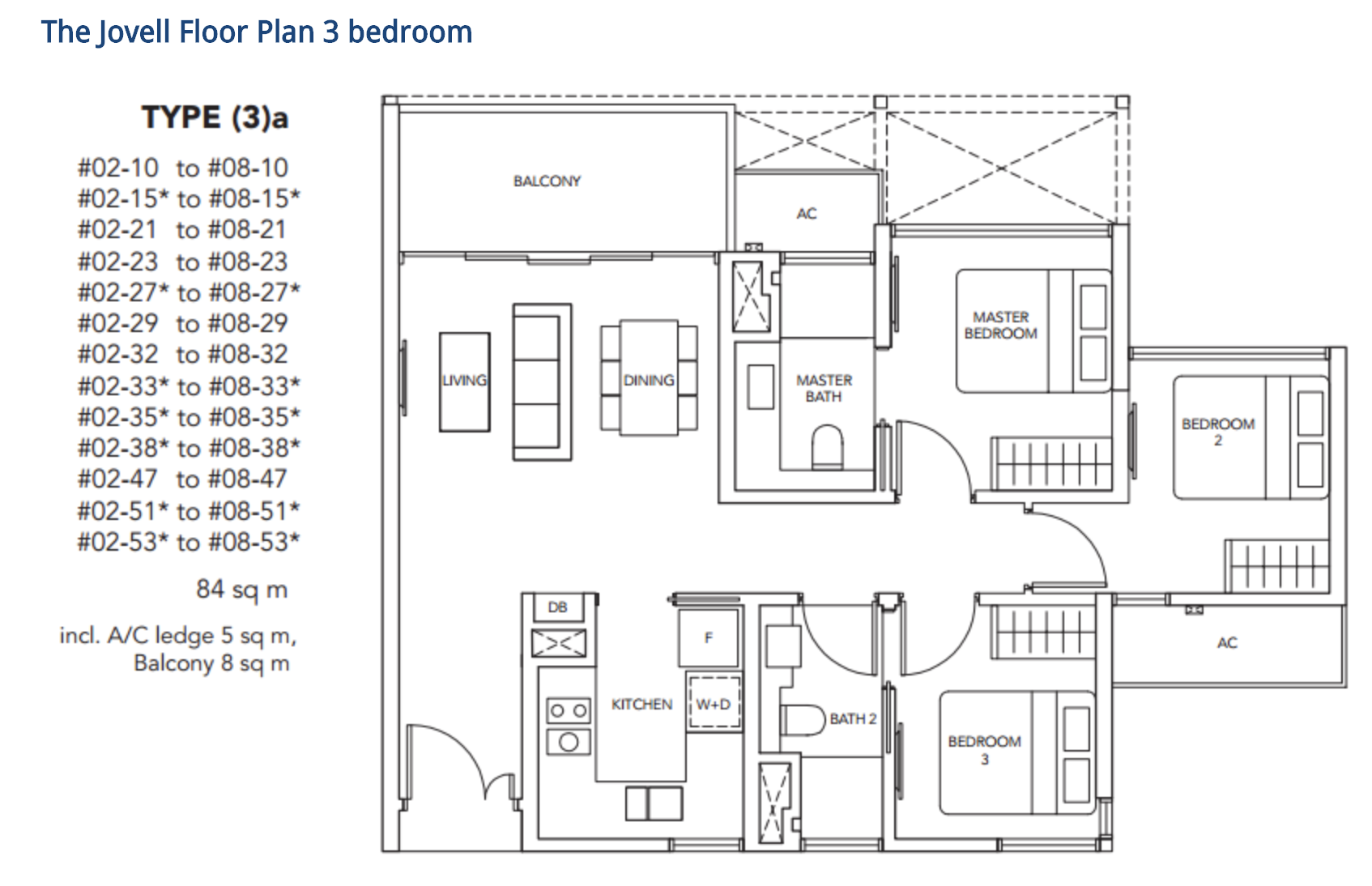 The 3 bedroom at the Jovell comes in at just 904 square feet, which is definitely on the smaller side. At first glance, the space looks quite well planned, with the constraint really being the size allocated to it.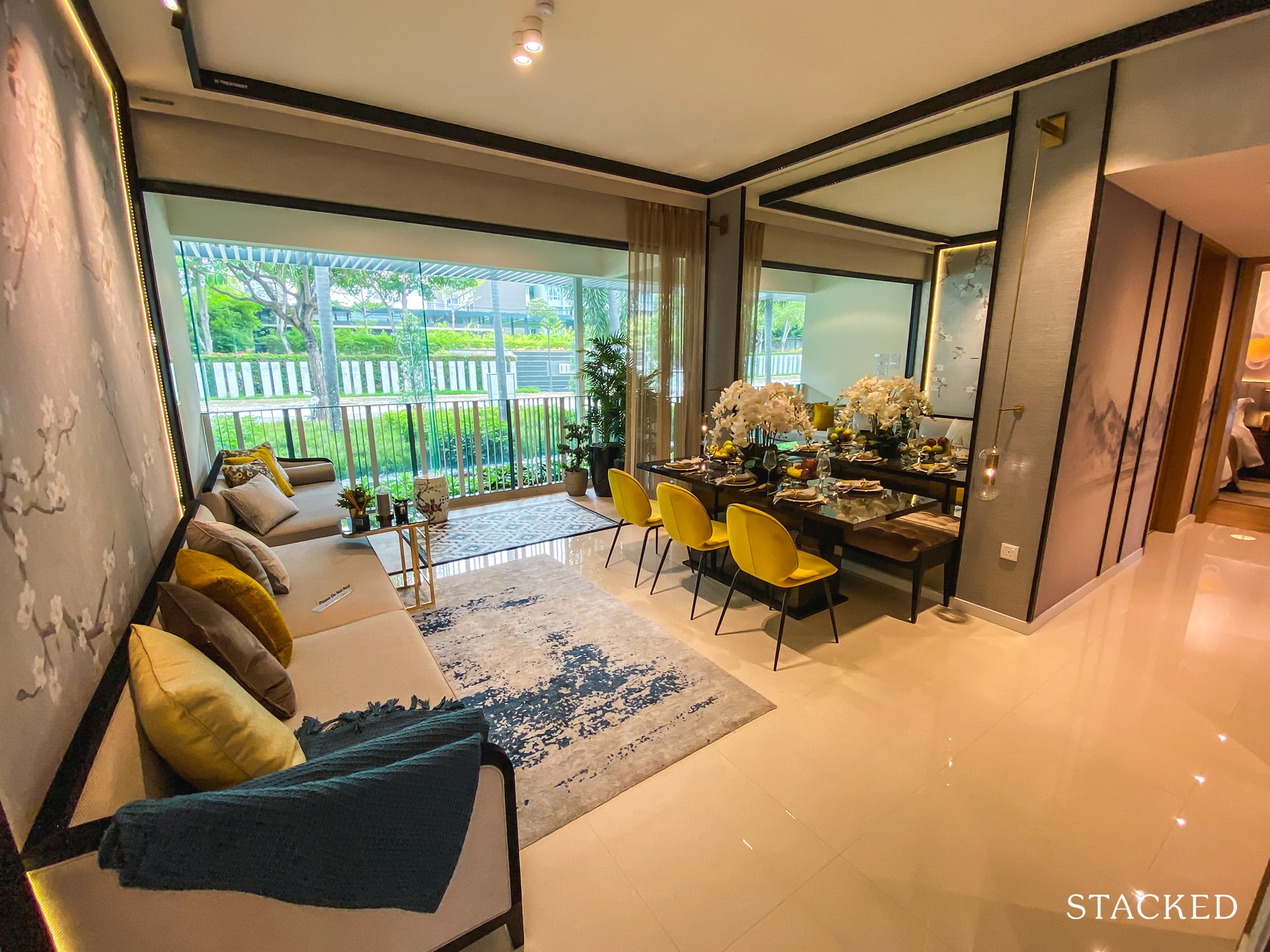 The entrance to the 3-bedroom is quite long too. Normally this would not be too much of an issue, but when the entire 3-bedroom unit is 904 square feet I would say it is quite a wasted space.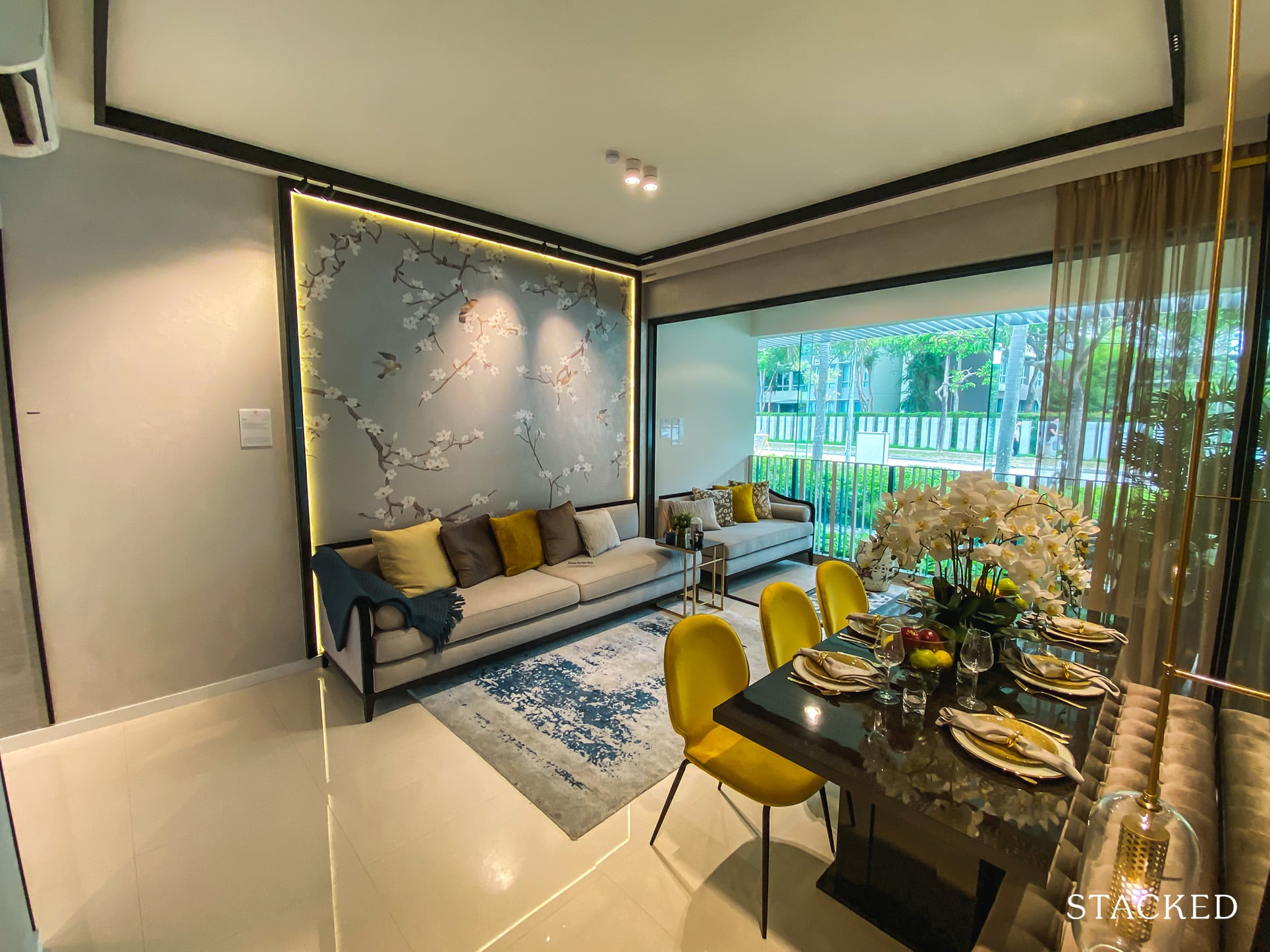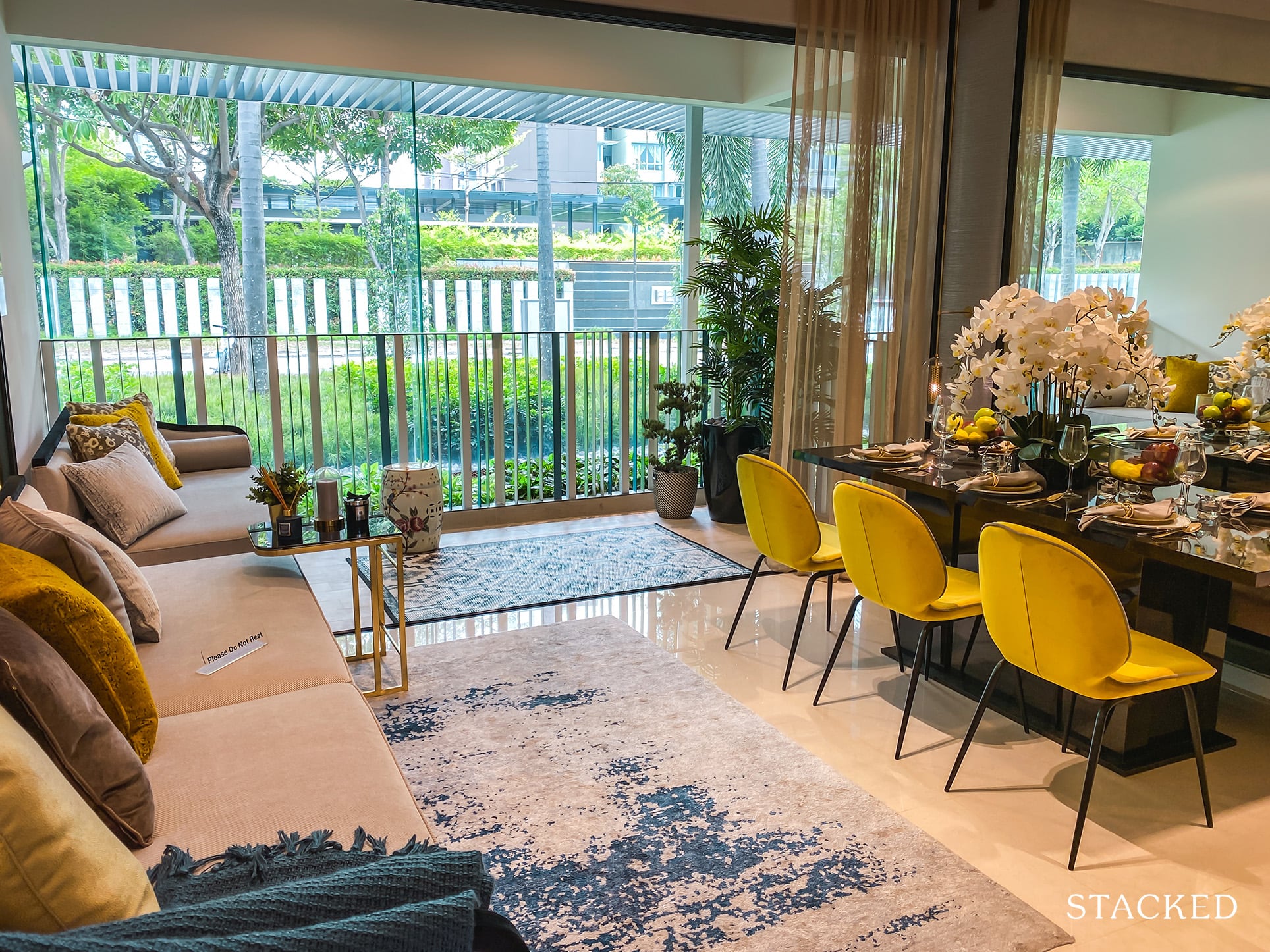 It does look like there is quite a bit of space, but this is where the ID has cleverly made the area look bigger than it is. Firstly, no provision here was made for a TV and TV console, plus the small side table (no coffee table) makes the space between the living and dining look bigger than it actually is. Next, the dining seats are flushed all the way against the wall, which is good if you like the bench seating style, but for most people that want something conventional, the space constraints here will be quite apparent.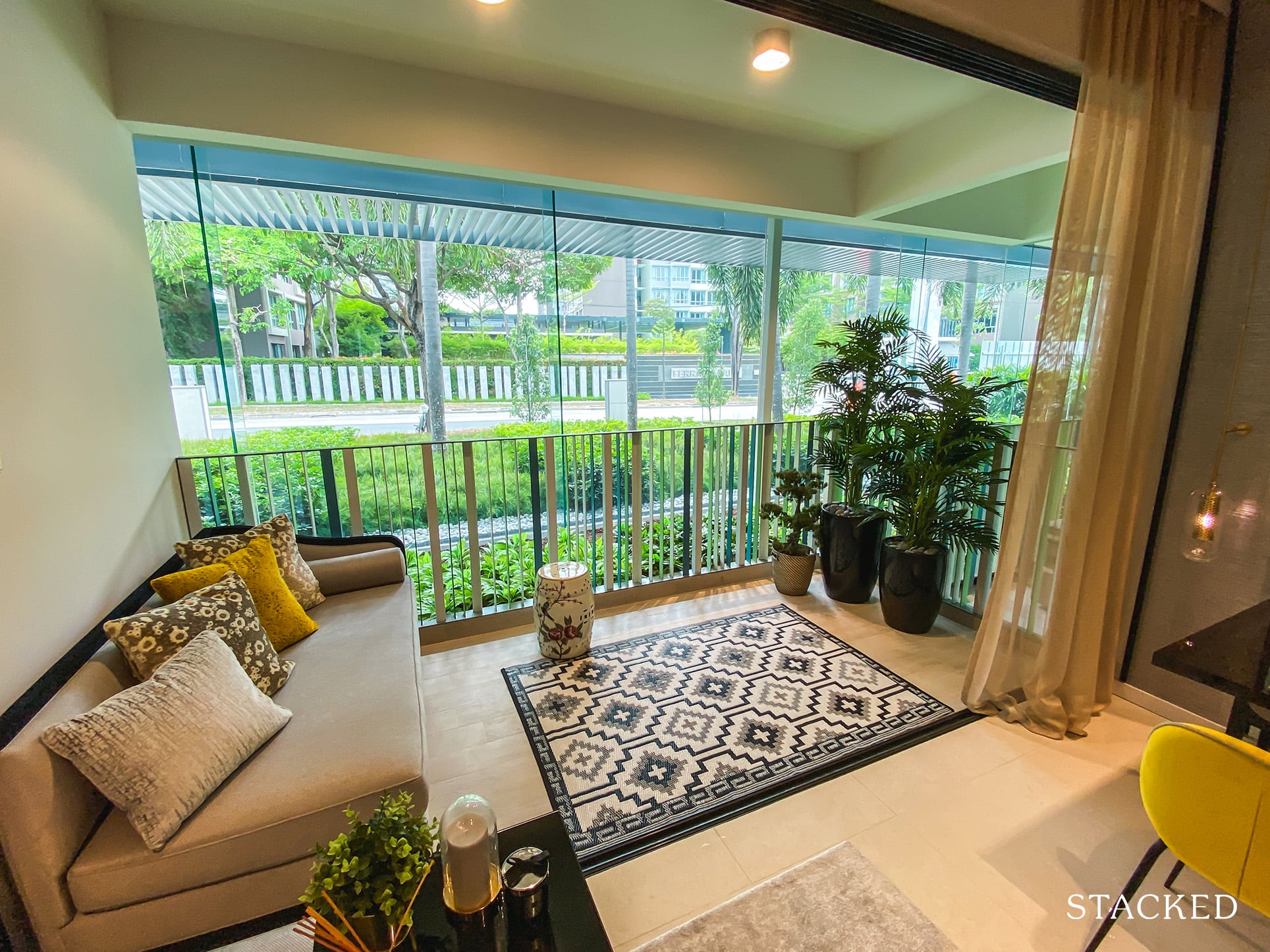 The balcony is usable for some seating, but it is on the smaller side which should please those of you out there that prefer bigger indoor living spaces.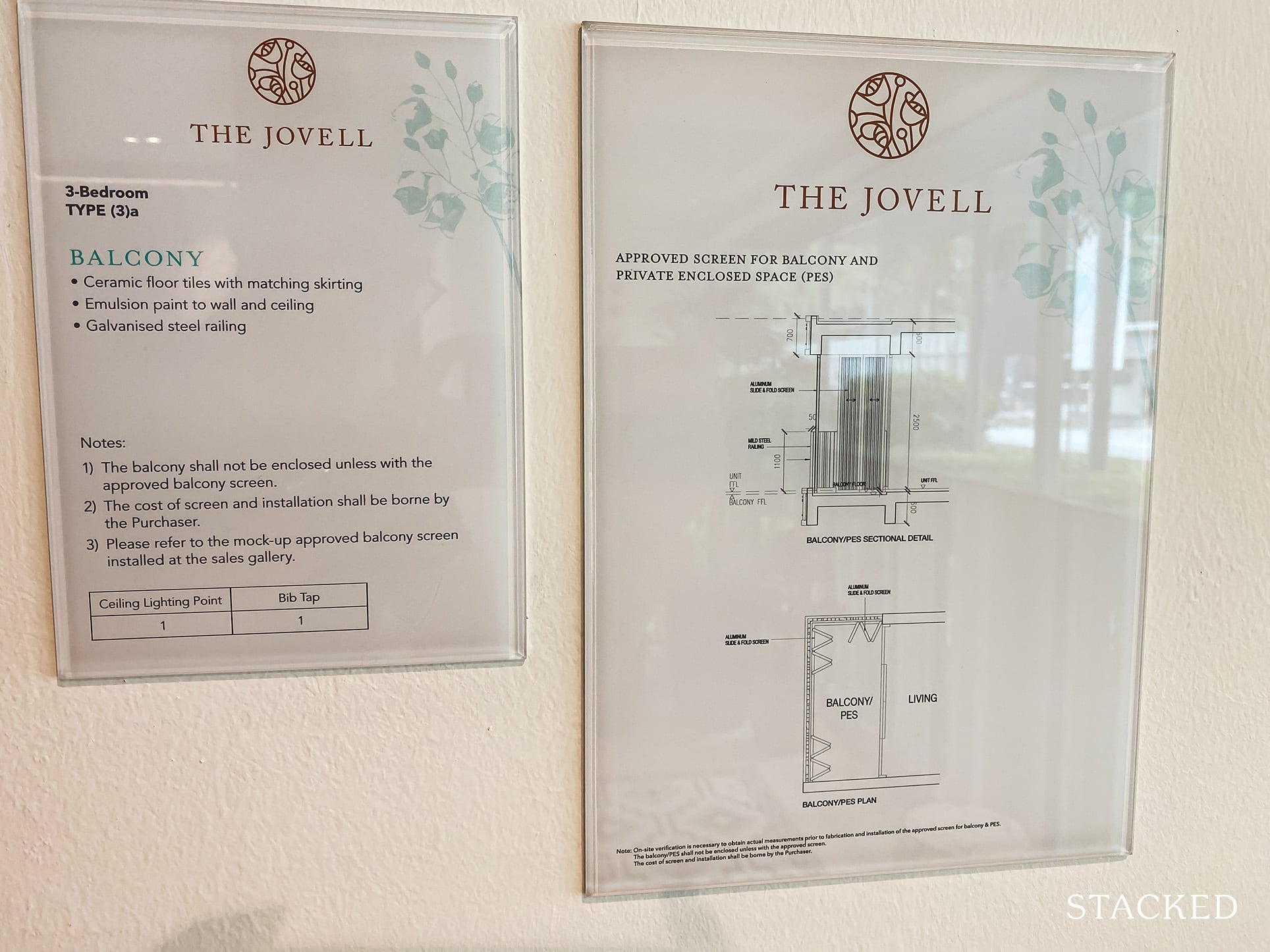 You do have the option for a balcony screen.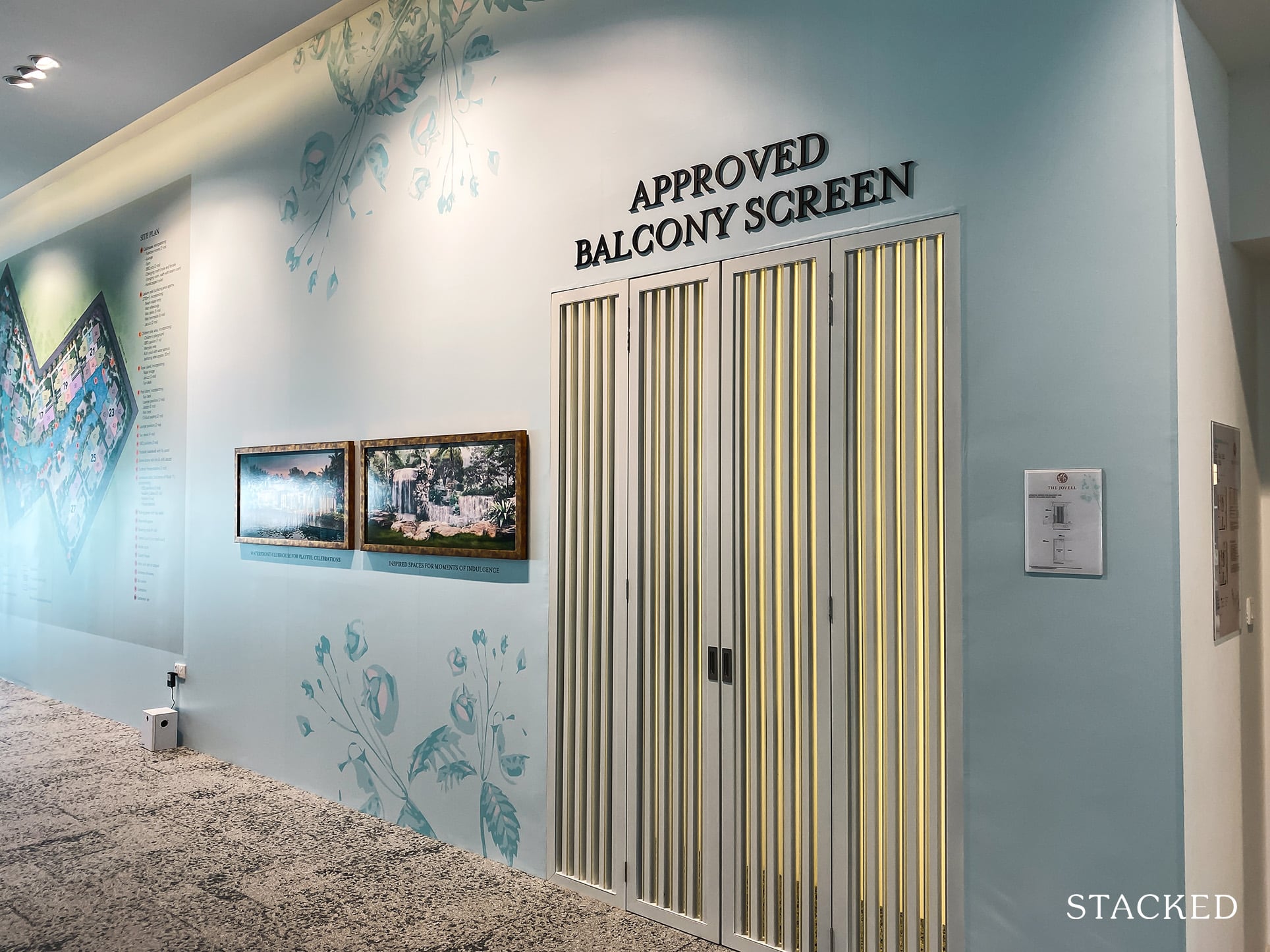 Of which this is the approved design!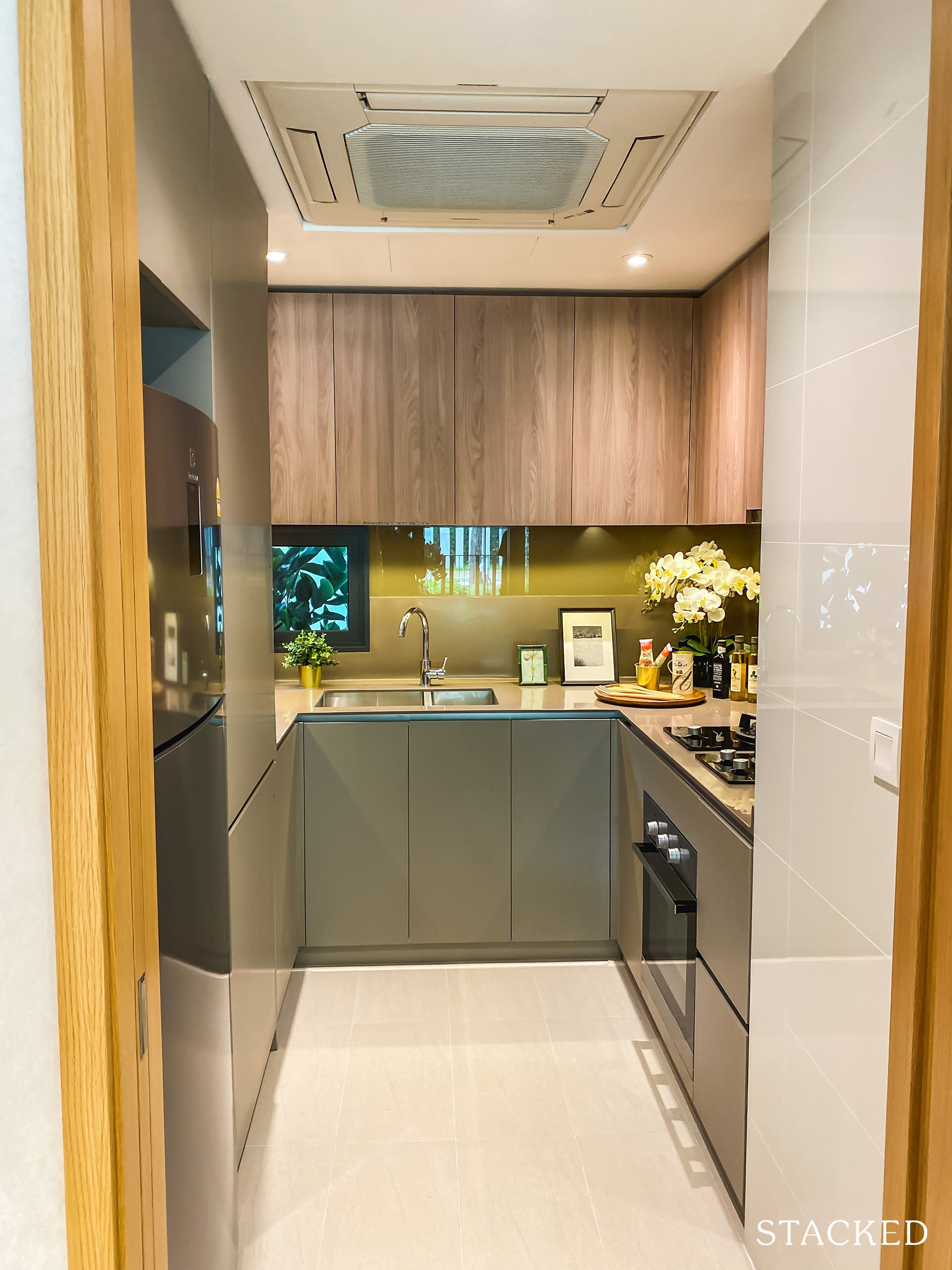 Moving on, here is the kitchen of the 3 bedroom unit.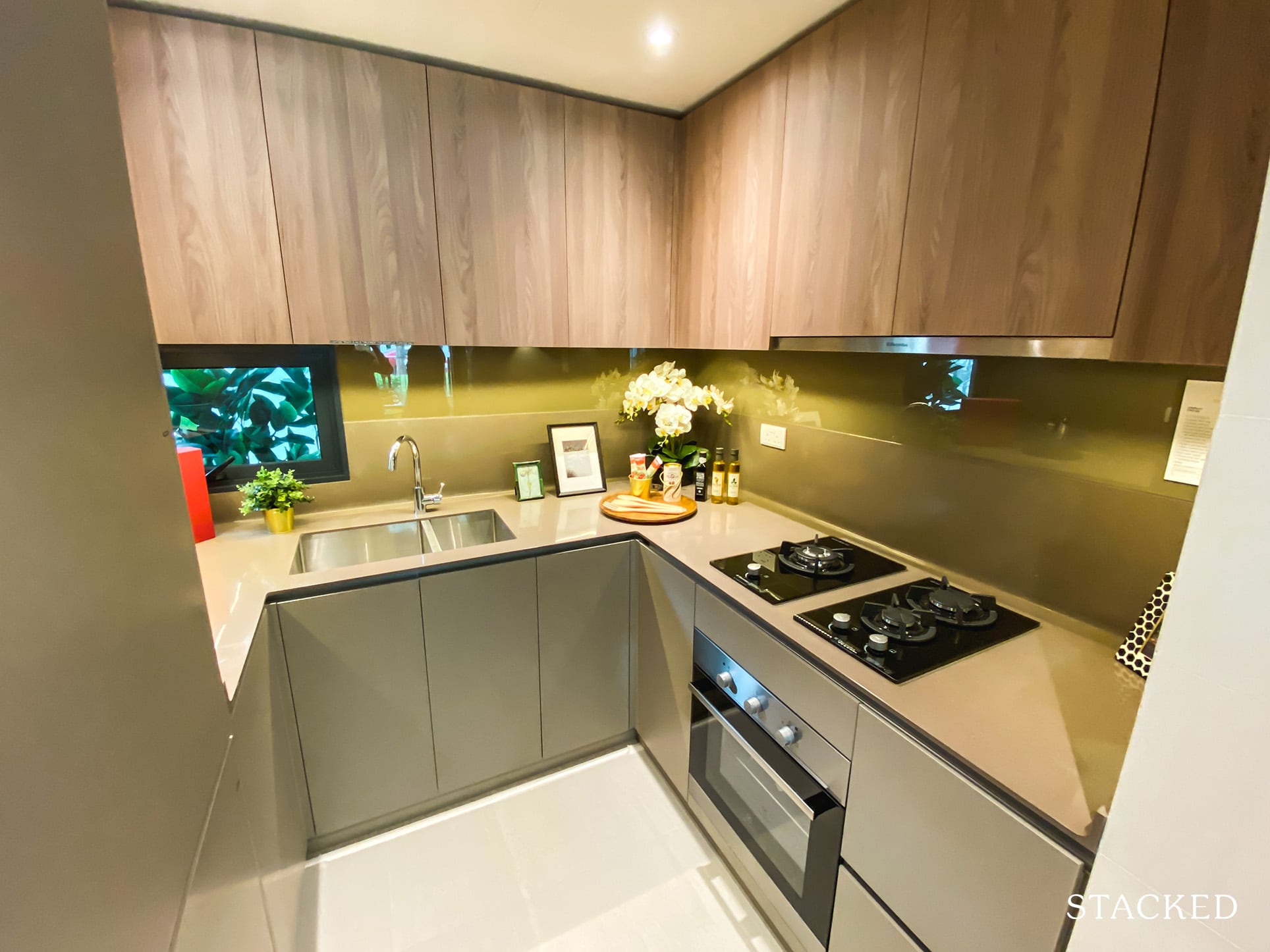 I like that it is an enclosed separate space, and there is more than enough countertop and storage cabinets and drawers.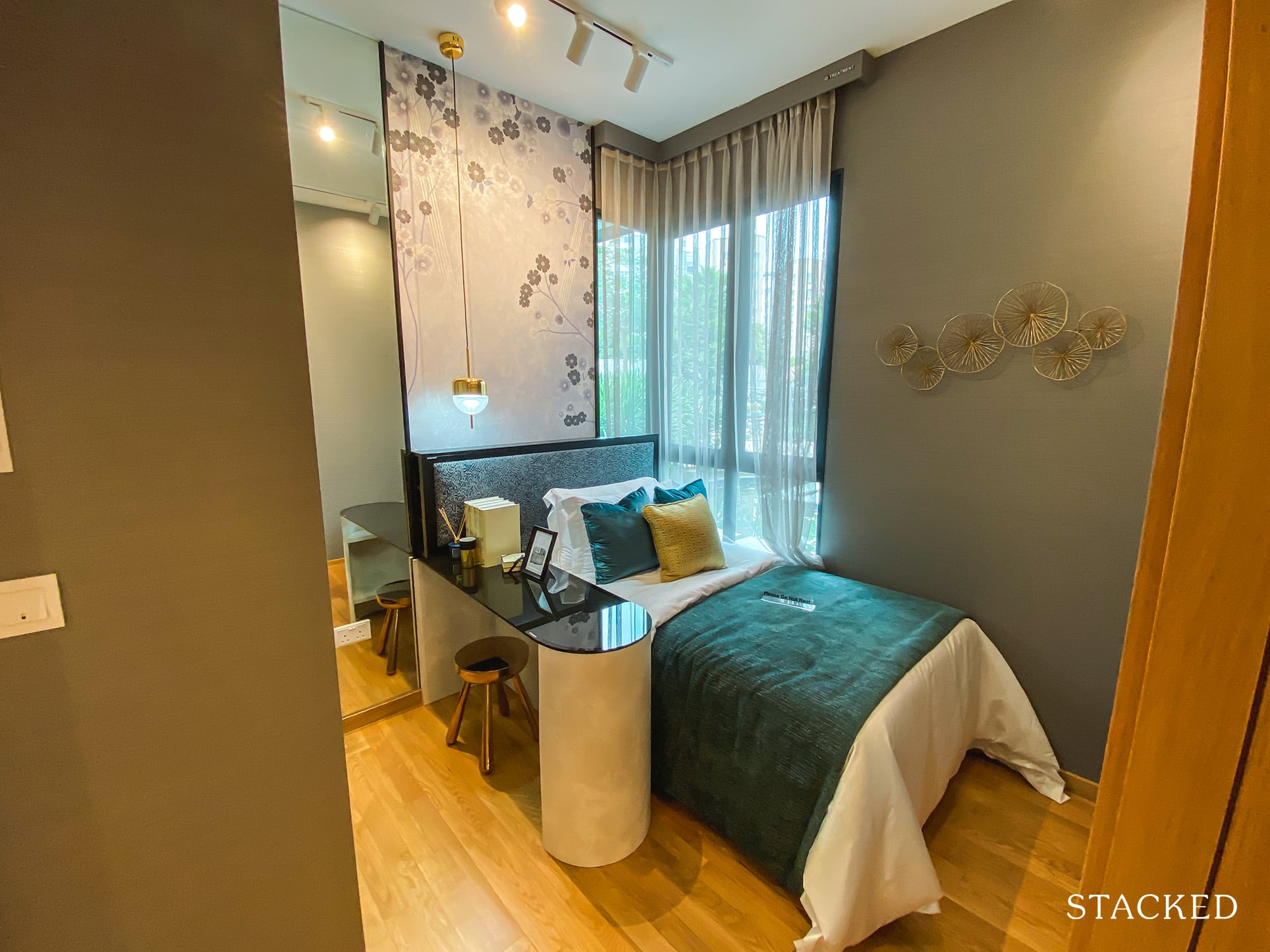 It's a similar story here, with all the bedrooms on the small side. I'm not a fan of the right-angled windows either, but that is really just a personal preference.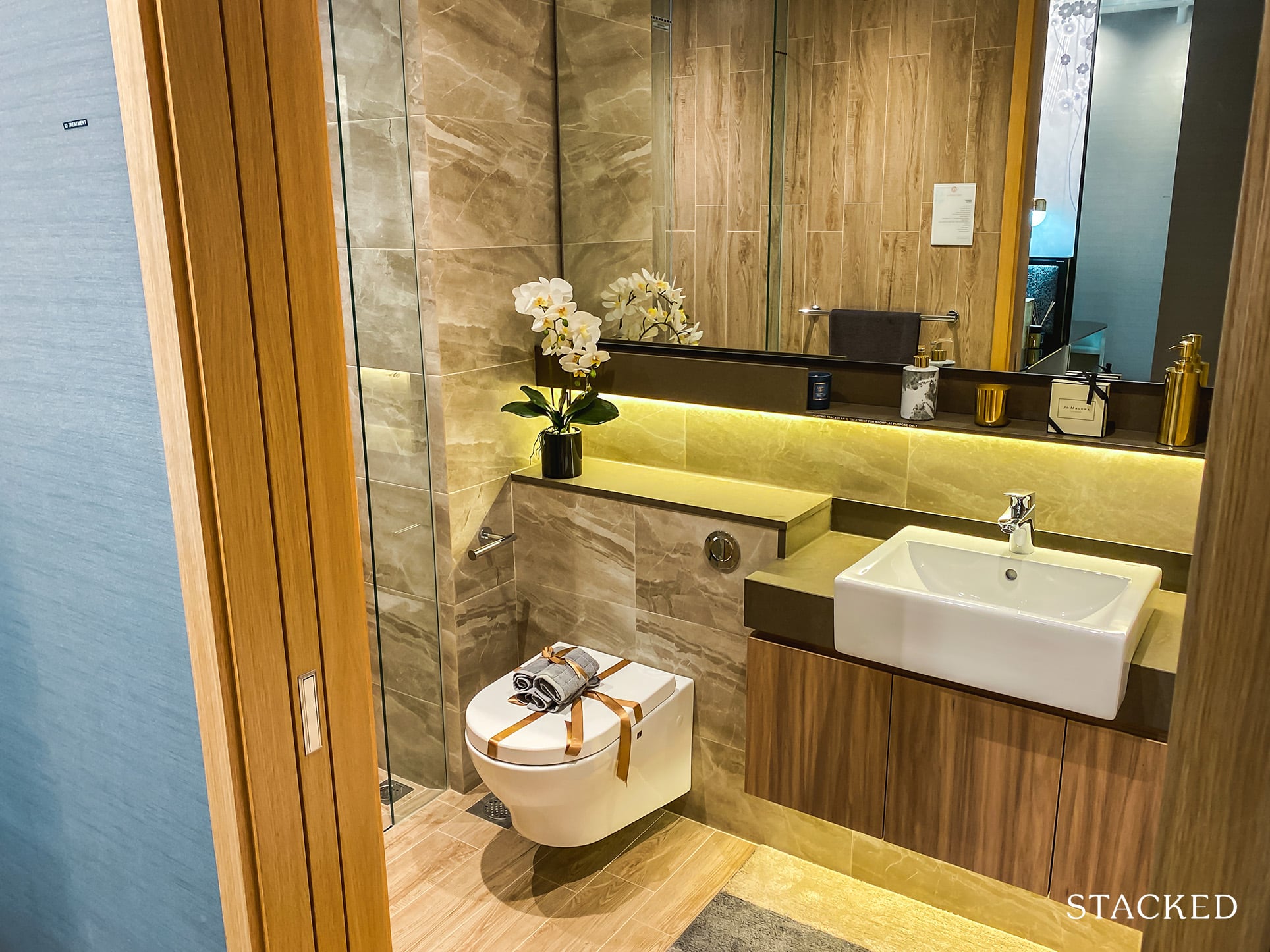 This is one of the two bathrooms in the 3-bedroom unit. You can access this bathroom both from the common bedroom that was shown earlier, and the living room too.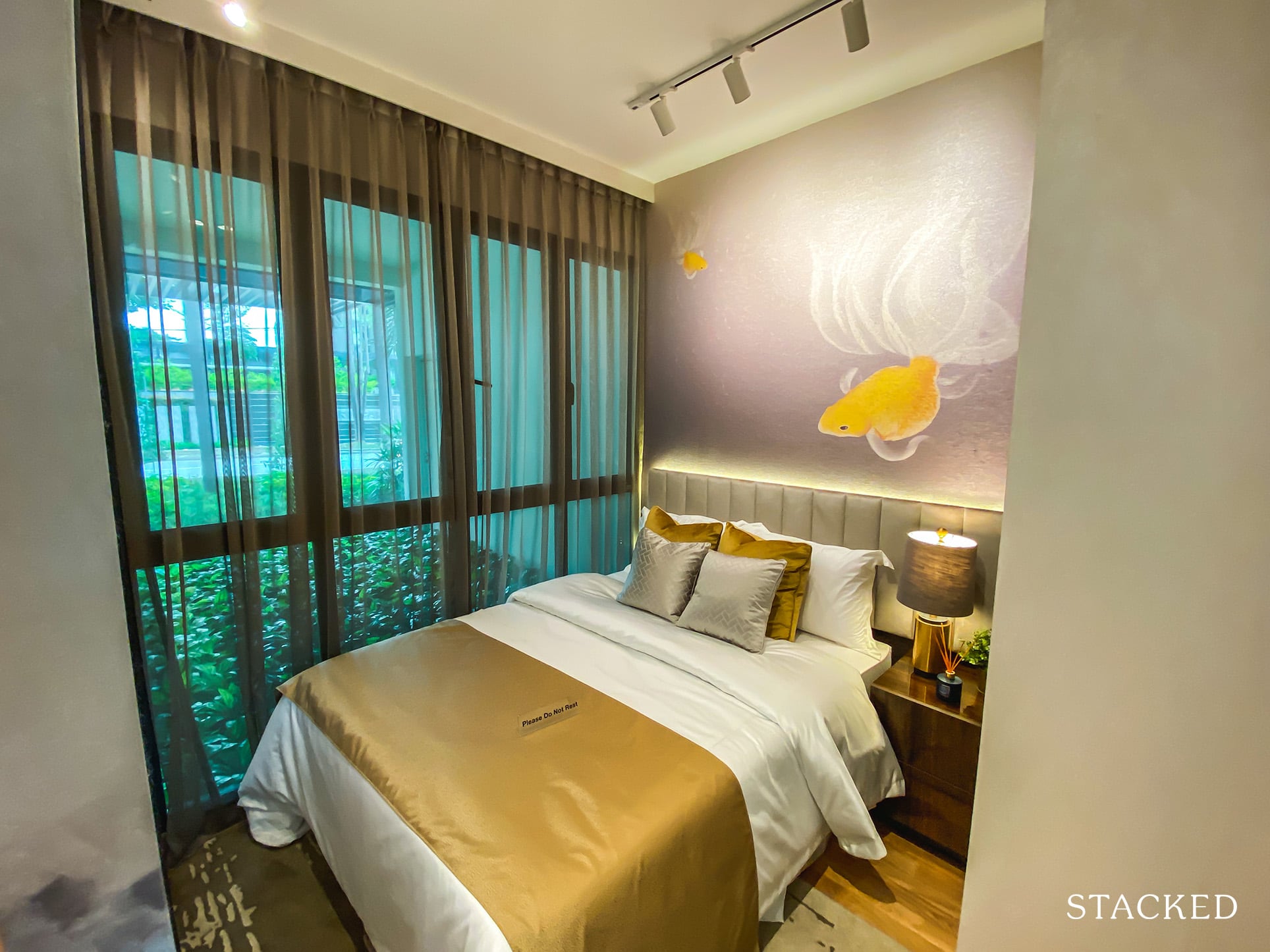 The second common room can just about fit a Queen-sized bed, but that's about it really. On a brighter note, I do like that the windows are almost floor to ceiling, and they span the length of the room.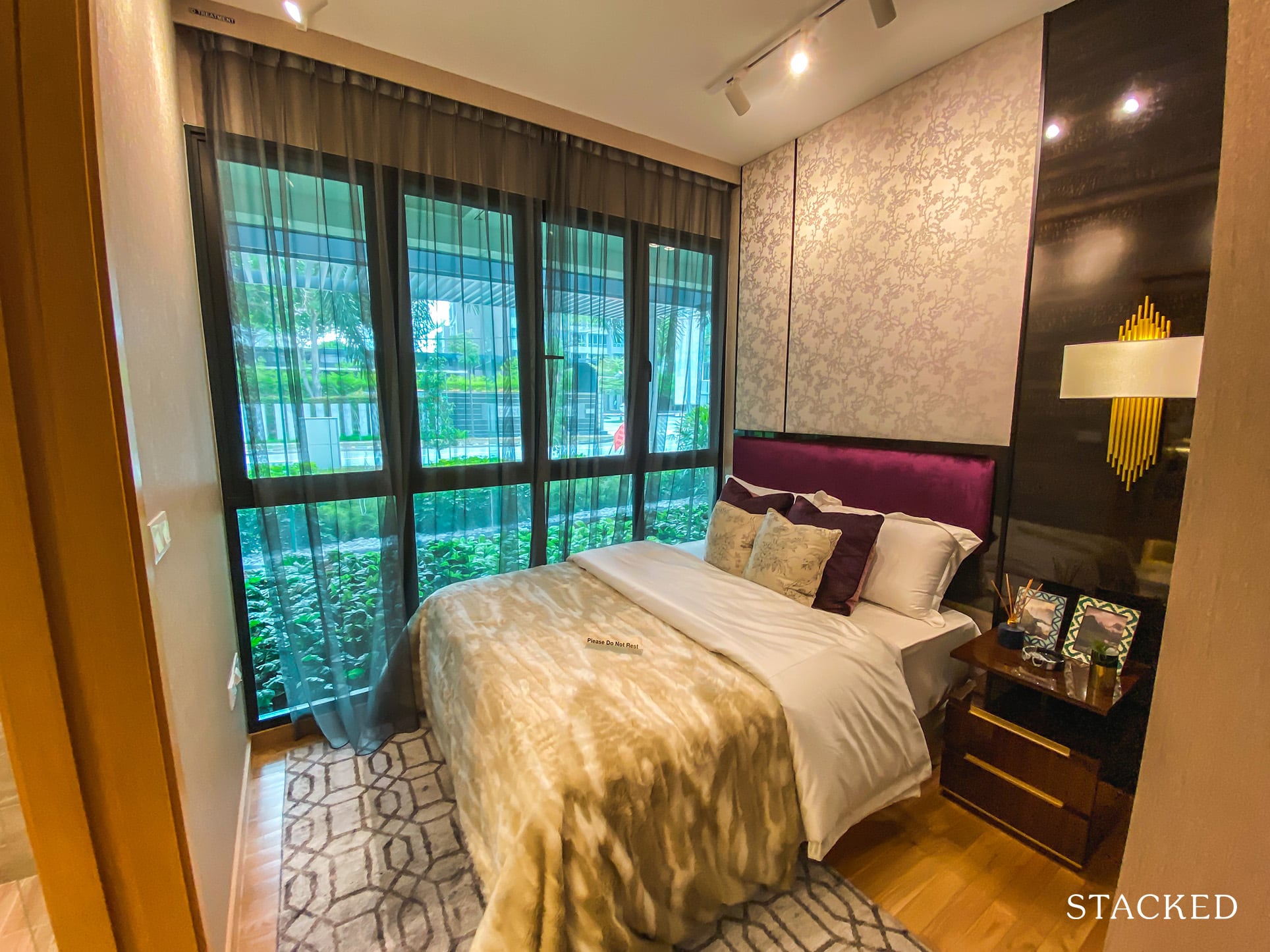 The master bedroom in this 3 bedroom unit is again on the small side as you wouldn't be able to fit a small study or dresser table here.
On the other hand, the master bathroom is actually quite a big space.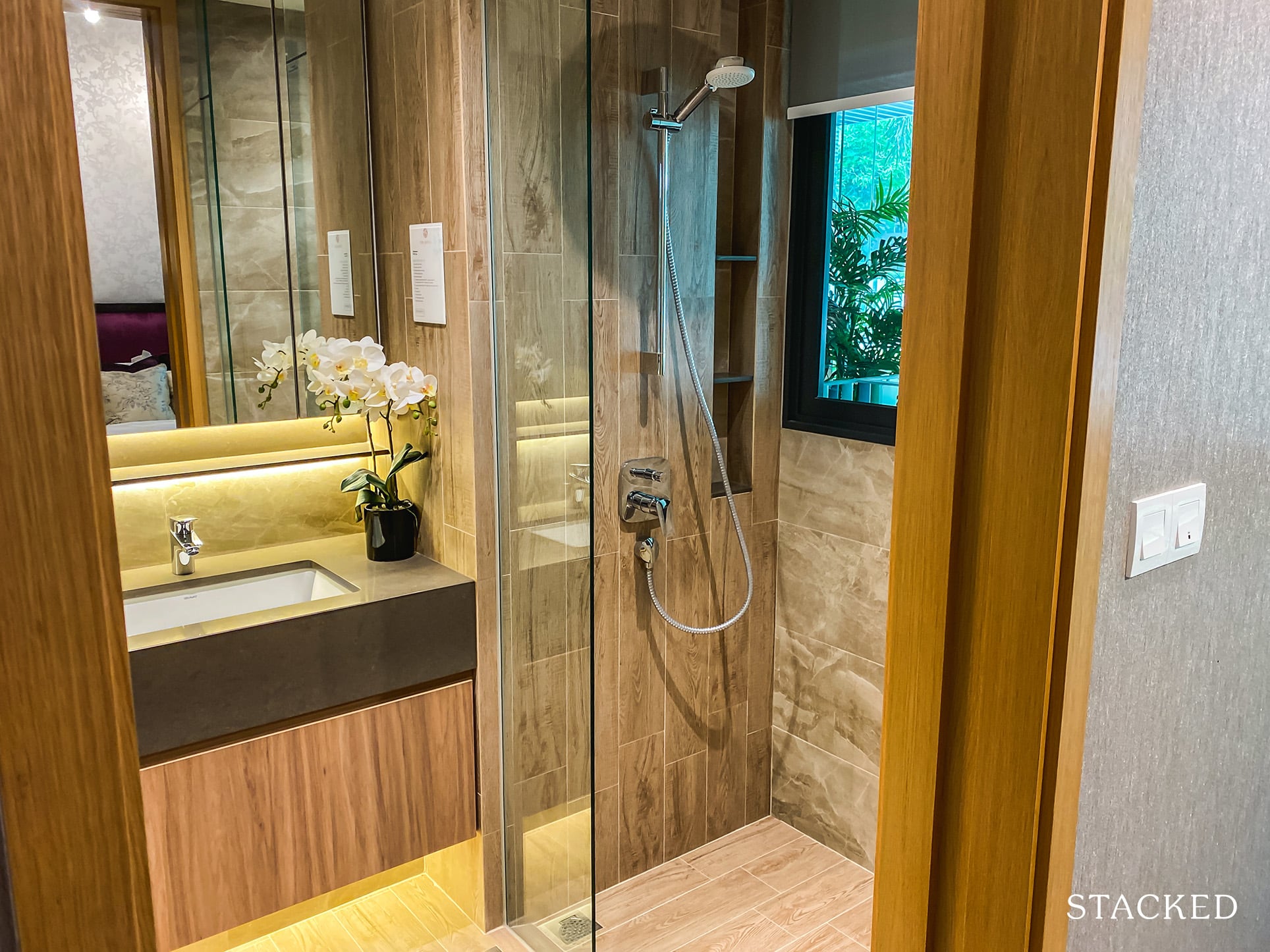 Sadly, there is no space for a bathtub. Then again, it is to be expected for one of the smaller 3 bedroom units around.
The Jovell Location Review
First things first, The Jovell is located an hour's walk away from its closest MRT.
(Yikes!)
Well, on Google maps at least (because it wants you to go on the safe route).
But if you are pretty sure of your way, it is actually about a 15-20 minute walk.
Thankfully, buses are still a thing in Singapore.
Granted, it will take you about 12 minutes to reach the Tampines East MRT station with some walking and the aid of bus 4, but that sure beats hitchhiking to the MRT.
Admittedly, it is still a hassle made slightly greater by the fact that Tampines East (as its name suggests) is snuggled deep into eastern Singapore. What that also means is that there are fewer buses that frequent this part of the island.
If you were to walk a couple of minutes from the condo in both directions, you will arrive at either the 'Carissa Pk' or 'Parc Olympia' bus stops. They service buses 4 and 5 respectively. Trudge on southwards, down through Flora Drive, and you will arrive at 'The Japanese School' bus stop along Upper Changi Road North. It services buses 2,5 and 37.
As for those who have the luxury of sitting behind a steering wheel, however, Loyang Avenue, as well as the TPE and PIE, are only a couple of minutes drive away.
Rest assured though, that this added convenience does not come at a cost – unlike The Clement Canopy (its plus points do eventually make up for this).
A plethora of shopping malls (and food courts) are also available to residents here provided they are willing to partake in drives averaging 10-minutes each.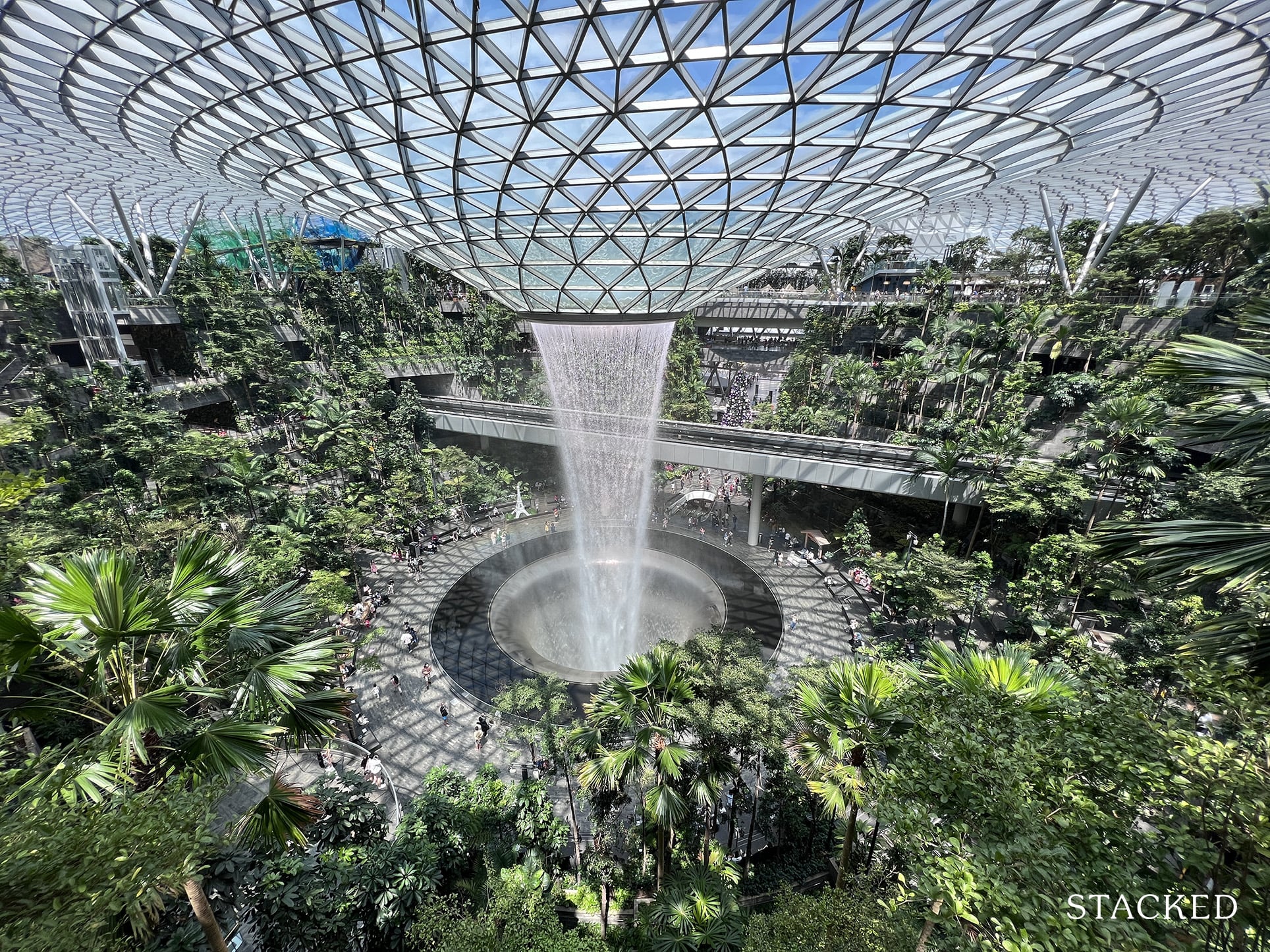 They include The Jewel, Downtown East, E!Hub @ Downtown East, White Sands Mall, Pasir Ris West Plaza, Tampines One, Tampines Mall, Century Square, Eastpoint Mall, Changi City Point, and even the Bedok Shopping Complex.
What a list!
With such a diversity of entertainment and food options available, it seems like residents at The Jovell will not need to travel further save mainly for work (you really shouldn't be living here if you work in the west) and social gatherings.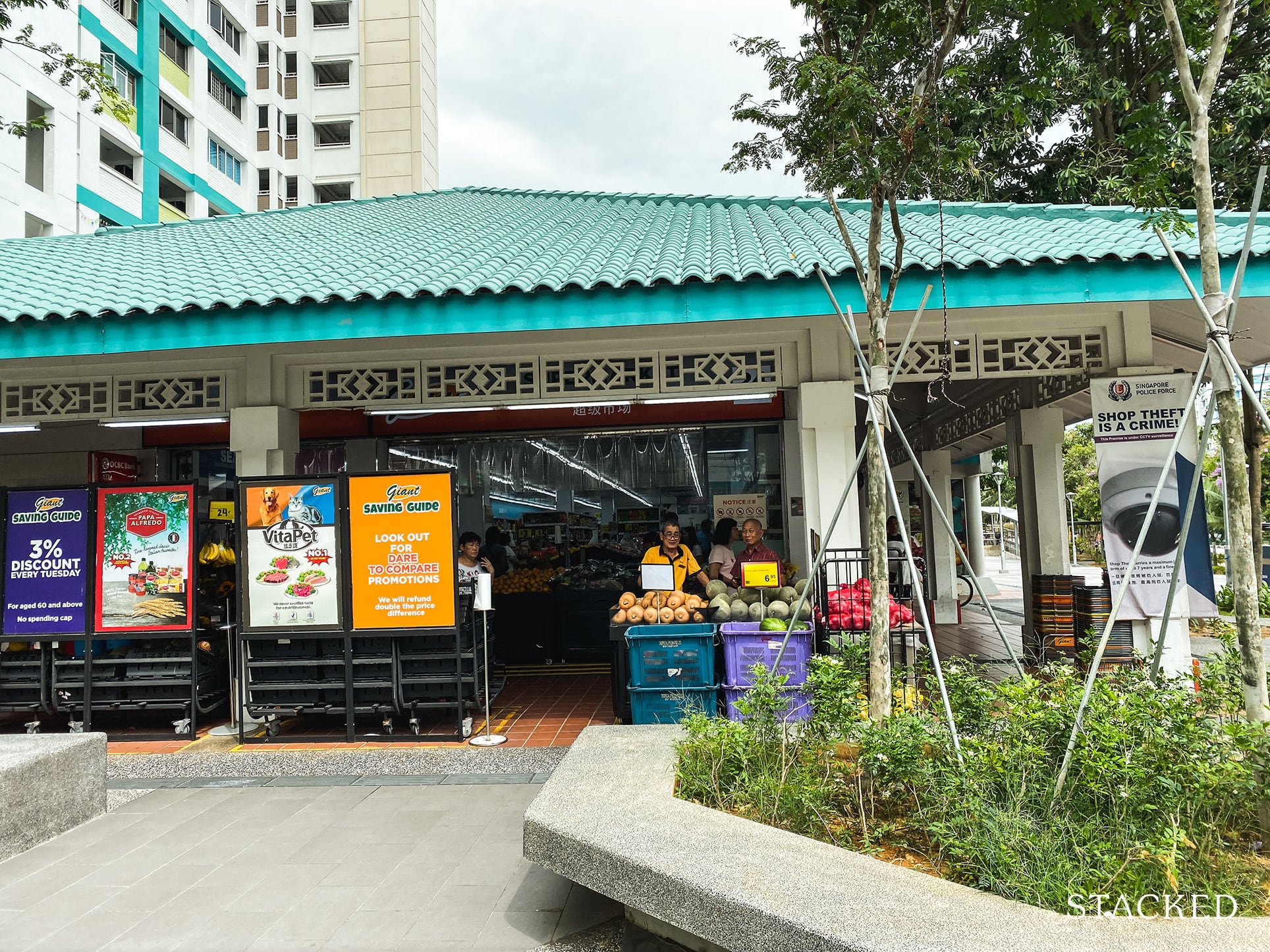 One would expect an abundance of grocery options here too. And rightly so. There is a sizeable Giant supermarket over at Pasir Ris Drive.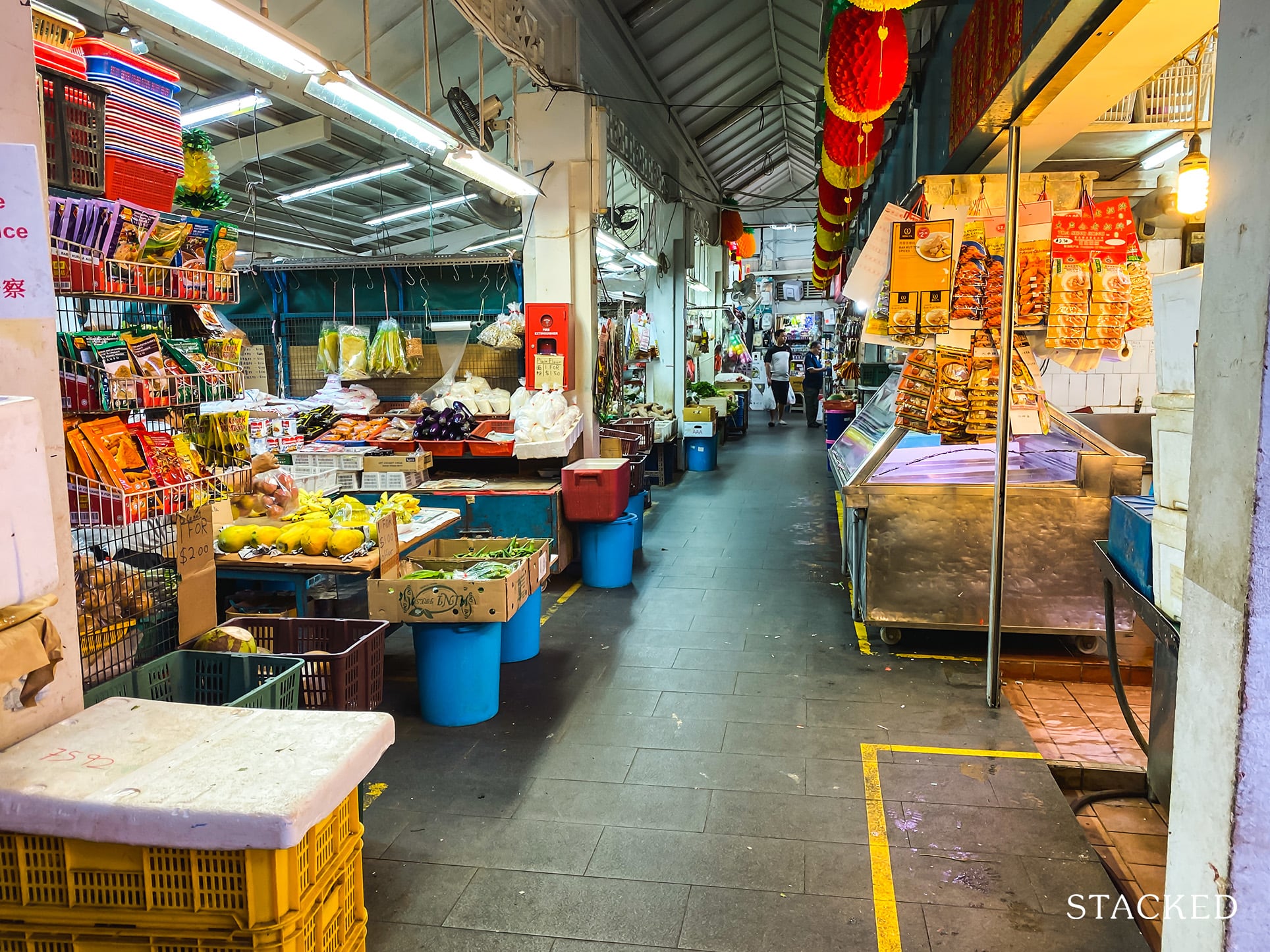 Plus a wet market in the same vicinity.
There are also over 10 NTUC chains close to the condo with the closest being the NTUC Express along Tampines Ave 7 – a mere 4-minute drive away.
Surprisingly, there are only 3 Cold Storages in the eastern region of Singapore. The closest Cold Storage is located at Tampines One – a 10-minute drive from The Jovell. The other two are Cold Storage East Village and Cold Storage Eastwood, both located 11 minutes away.
A couple of additional points to add before we have a look at the schools in the region.
Firstly, the relative proximity of the Changi General Hospital and EXPO to the condo will more often than not prove useful.
Secondly, frequent flyers will take delight in the immediacy of the airport from the condo – although it does potentially mean frequent plane-related disturbances in the area.
Thirdly, residences will have easy access to both the Changi Coastal area and East Coast Park to their north and south respectively. Not only will this provide recreational value, but the myriad of food stalls in those areas will surely not disappoint!
And lastly, avid golfers will take delight in knowing that the Tanah Merah Country Club is only a 10-minute drive away.
Regarding the topic of nearby schools, there seems to be an abundance of primary schools in the area with a substantial amount of diversity on the other levels.
Beginning as usual with preschools, we have Al-Amin Pre-school, Camberley Pre-School Loyang, Kinderland Preschool @ Loyang point, Sunflower Preschool @ Pasir Ris Drive 6 and PCF Sparkletots Preschool @ Tampines Avenue 9 – all located within a 10-minute drive radius.
As for primary schools, you will find East Spring, White Sands, Pasir Ris, Gong Shang, Casuarina, Tampines North, Chong Zheng, Yu Min, Elias Park and finally Park View Primary within the same radius.
Regarding secondary schools, look no further than Dunman High, Loyang View, East Spring, Ngee Ann, Pasir Ris Crest, and Pasir Ris Secondary.
Finishing with the tertiaries, there are Tampines Meridian Junior College, Temasek Polytechnic, Singapore University of Technology and Design as well as the Singapore Institute of Technology (located in the Temasek Poly campus).
The Jovell Development Site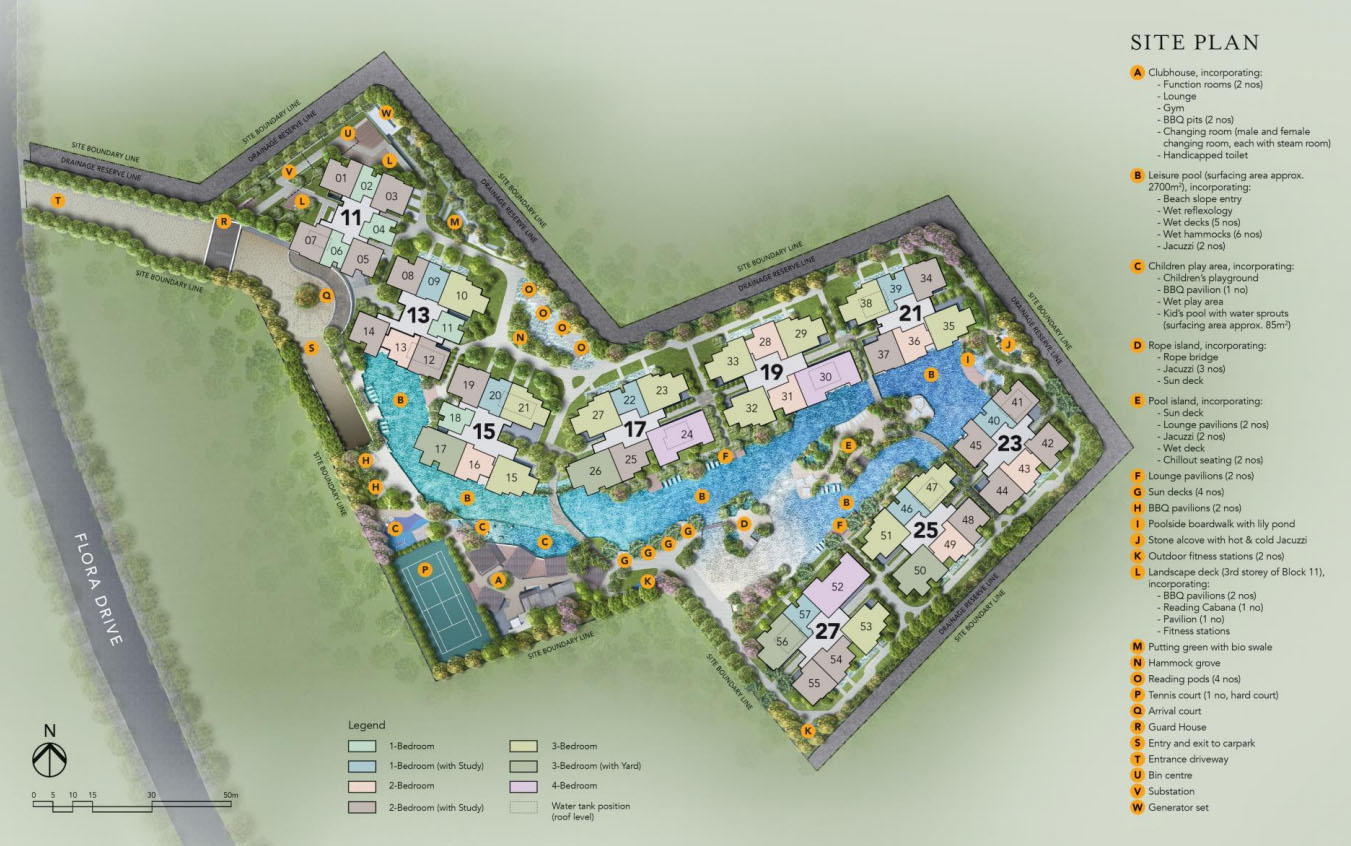 A worthwhile point to note is that The Jovell is actually the last of a long list of 14 condos in the area (not counting any potential en blocs) that is being developed by the Tripartite Developers (TID, CDL & Hong Leong).
With over 30+ years in the business, and having already built 9 other condos in this area, it is clear that they understand the resident mix and are aiming to cater to the highest demands to maximise revenue. More than that, you should expect the standards of facilities here to be top-notch.
The Jovell's low-rise apartments (a consequence of air traffic in the area) are also a welcome change to the numerous high-rise projects we see popping up around Singapore. What this also means is a much lower condo density – with the condo's plot ratio set at an incredible 1.4.
One final bonus to add is the seemingly lack of car access to the various blocks here. If you observe the area denoted 'S', you will realise that the road through the entrance immediately bleeds into an underground carpark that no doubt services the various blocks of The Jovell.
Not only does this maximise condo space (if you can't build upwards, build downwards right?), it also aids in reducing inter-condo traffic build-ups and noise/air pollution.
Let's move on to the unit mix:
Unit mix

| Unit Type | No. of Units | Size (sqft) |
| --- | --- | --- |
| 1-bedroom | 28 | 441 – 452 sqft |
| 1-bedroom + study | 56 | 527 sqft |
| 2-bedroom | 56 | 635 – 645 sqft |
| 2-bedroom + study | 72 | 645 – 678 sqft |
| 2-bedroom premium + Study | 56 | 721 sqft |
| 3-bedroom | 104 | 871 – 904 sqft |
| 3-bedroom premium + yard | 32 | 1,001 – 1,033 sqft |
| 4-bedroom | 24 | 1,227 – 1,270 sqft |
A couple of things to note about The Jovell's units.
Firstly, the 1-Bedroom + Study units are relatively bigger than most in Singapore, though the unit sizes gradually peter out as they get bigger. 1,227 sqft for a 4-bedroom unit on development this large is definitely below average – meaning that homeowners with bigger families could find this quite a squeeze.
Secondly, while there are a variety of units on offer here, the emphasis is mostly on the 2 and 3-bedroom units. With Changi Airport's touted expansion and the impending Paya Lebar Air Base relocation to the Changi area, it is easy to see why the developers are expecting an influx of working tenants here.
Finally, an important point for couples or residents of more than 1 pax expecting to stay here is that only the 2-Bedroom Premium units and above are fitted with 2 bathrooms. If privacy is valued, be sure to look into this.
Price Review
With 13 other condominiums in the area, we just couldn't leave anything out – someone had to do it.
Right from the get-go, you will observe that prices in the region are very reasonable – a great bonus for those who are looking to rent a room in this part of the island.
In fact, there seems to be little impact of tenure on the various price tags (for now). With the MRT proximity factor also out of the way, it looks like the fresher condos are currently fetching higher prices.
Unsurprisingly, The Jovell sits at the very top of this price list given its 'new-ness' as well as its promise of top-notch facilities.
Whether it will stay there is another issue altogether.
One other thing to highlight is the fact that there is still a small strip of land in the area that might still be snapped up for development in the coming months. That, and the potential en-bloc factor of some of the developments here. All these could contribute to some quick fluctuations with regards to The Jovell condo prices.
Maybe that is the reason why only 22% of units have been sold thus far – a combination of a 'specialised' location as well as a distinct lack of investor confidence.
Our Take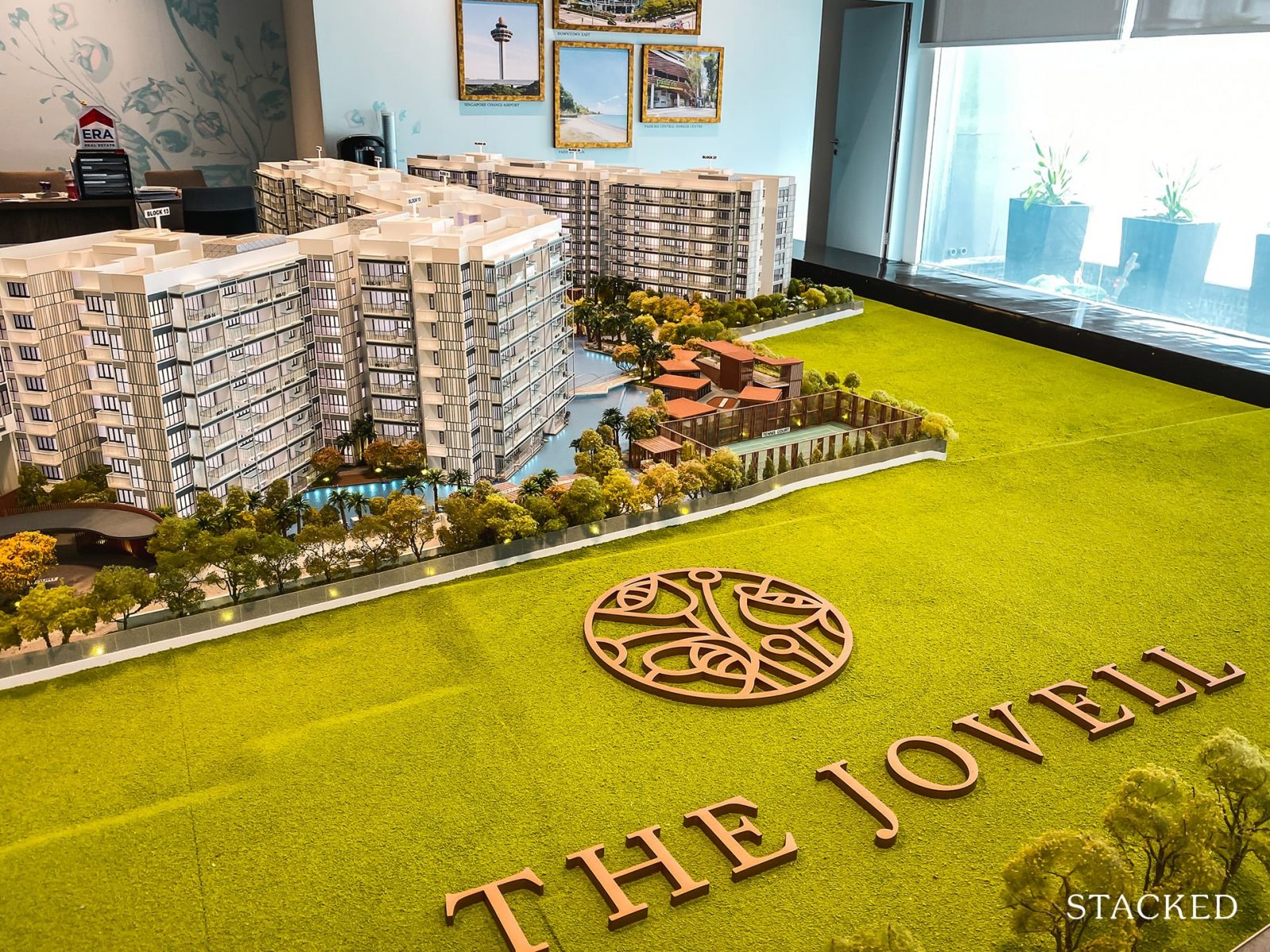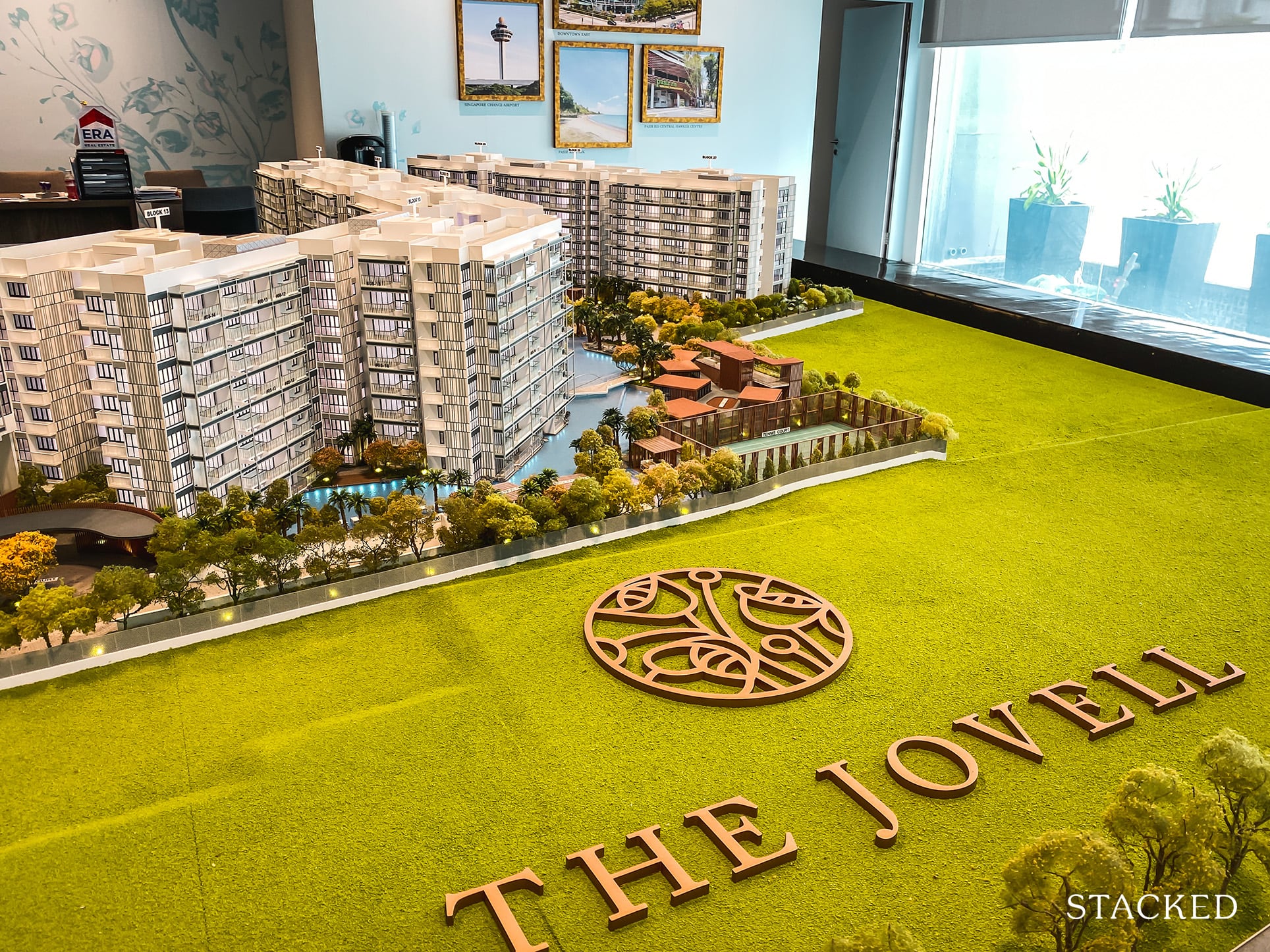 I can definitely see the benefits of purchasing a property here – quiet, lush spaces with brilliant facilities, a solid plot ratio and pretty solid access to necessary amenities for those who drive.
Yet I feel that it is the condo's location that garners the general crowd's disinterest. Given its 'extremity', it really is a case of 'either you like it or you don't'. For those who work outside the east, it generally makes little sense to lodge up here.
Perhaps one other flaw I can spot from the perspective of a family man who works from home (aka location doesn't usually matter) is the fact that the 3 and 4-bedroom units are relatively small in size – something that I'm personally not a huge fan of.
Yes, I would be incredibly sore to miss the opportunity of having a 'Little Sentosa' at my doorstep, but at this point in my life, unit sizes are the most important thing next to a spacious condo-front.
That being said, IF I was working close by (aviation industry) or simply still living the bachelor's life, (and I really like the beach facilities), I would consider a one/two-bedroom unit here at The Jovell.
You could also look at the Jovell as a "safe" investment option. Not really in terms of a huge capital appreciation for a potential buyer, as I see this more as low risk and slow return option. Most of the apartments in the vicinity are really own stay residents as many are much bigger units.
So rental yields at the Jovell could be a good option with the smaller units, as rental is easy to find due to the proximity to the airport and Changi Business Park. This means that the Jovell will be an attractive option to those in the airline industry, tech, IT, and banking sectors.
What this means for you
You might like The Jovell if:
• You work in the airline Industry:The proximity of both the SIA Training Centre and the Airport to the condo will prove extremely useful for both Cabin Crew and Ground Staff.
• You value peace above all else:With an abundance of greenery, an entire lagoon spanning 29,000+ square feet and little to no traffic/public attractions in the area, you'll be able to live the hermit life here.
You might not like The Jovell if:
• You work outside of the east:For those who have jobs in the West or even in the CBD, driving (let alone taking the public transport) to work every day is going to prove inconvenient.
• You greatly value the space factor in bigger units:Unit sizes here are generally small save for their 2-bedroom premium units.
End of Review