Our Verdict
The Continuum is the continuation of a legacy – one which involves a conserved bungalow combined with the modernity of a new condo. Its location makes it a popular choice amongst families and singles alike – within 1 km to 3 popular primary schools and walking distance to good food and malls. Its freehold tenure will certainly attract some to consider The Continuum seriously too (especially since its closest competitors are all leasehold). However, the existing road connecting Tanjong Katong Road and Haig Road has to be retained and some may take time to get used to having 2 separate sites in the same development.
78
min read
| | |
| --- | --- |
| Project: | The Continuum |
| District: | 15 |
| Address: | Thiam Siew Avenue |
| Tenure: | Freehold |
| No. of Units: | 816 |
| Site Area: | 269,995 sq ft |
| Developer: | JV between Hoi Hup Realty and Sunway Developments |
| TOP: | Est. 2026 |
Just as our names represent our parents' aspirations for us, a condo's name represents the developer's aspirations and what they hope the development can achieve in its existence. For The Continuum, it is obvious – it is set in the established Tanjong Katong neighbourhood, which used to front the sea and where wealthy Straits Chinese, Europeans, and Jewish used to build their beachfront bungalows. Even after the land reclamation, Tanjong Katong continues to be home to many successful professionals and businessmen today.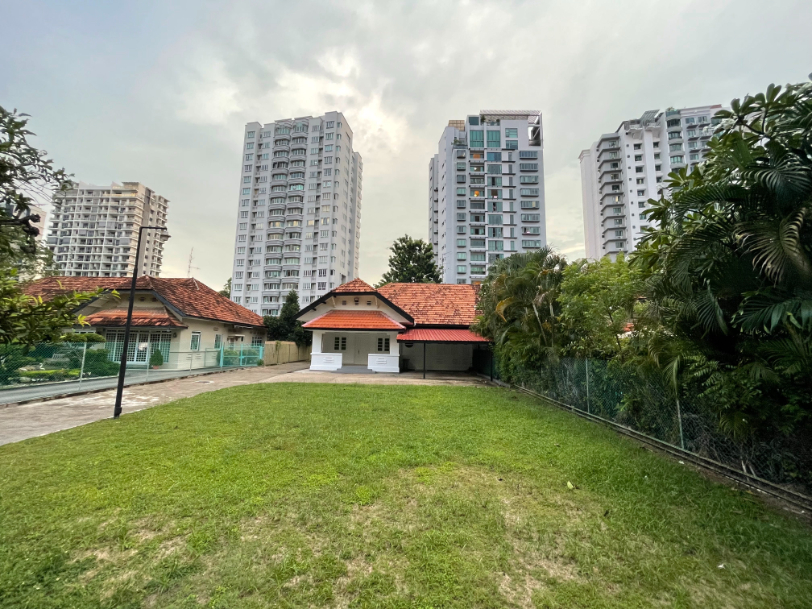 In the same way, Hoi Hup Sunway hopes to continue the legacy of the low-profile Wee family who had held its 22 semi-detached and detached houses along Thiam Siew Avenue (named after their patriarch Wee Thiam Siew) for 80 years before it was sold en-bloc for $815 million in 2021.
If you'd like to take a moment to appreciate the beautifully maintained houses which once stood here and the history of the man himself (Wee Thiam Siew), you can check out my walkabout here.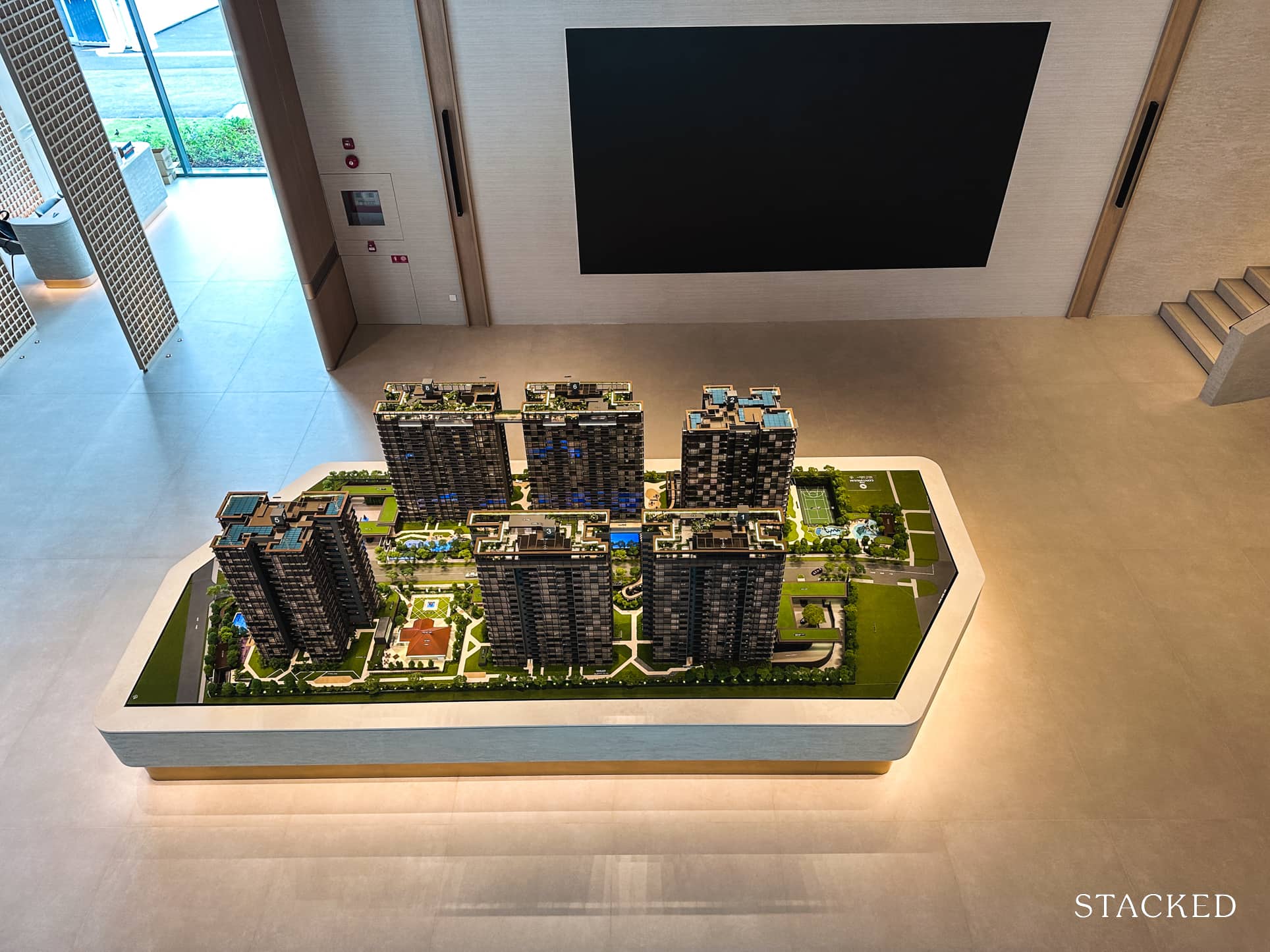 District 15 will see several new launches this year – The Continuum is being launched on the back of the success of Tembusu Grand (53% sold on launch weekend) and ahead of Grand Dunman's launch, which is expected to be D15's first mega development since Mandarin Gardens in 1986 (also the biggest new launch since Normanton Park). The Continuum stands out from these developments by being the only freehold project of the 3.
I'm sure you're excited to find out what makes The Continuum unique so let's go right to the Insider Tour!
The Continuum Insider Tour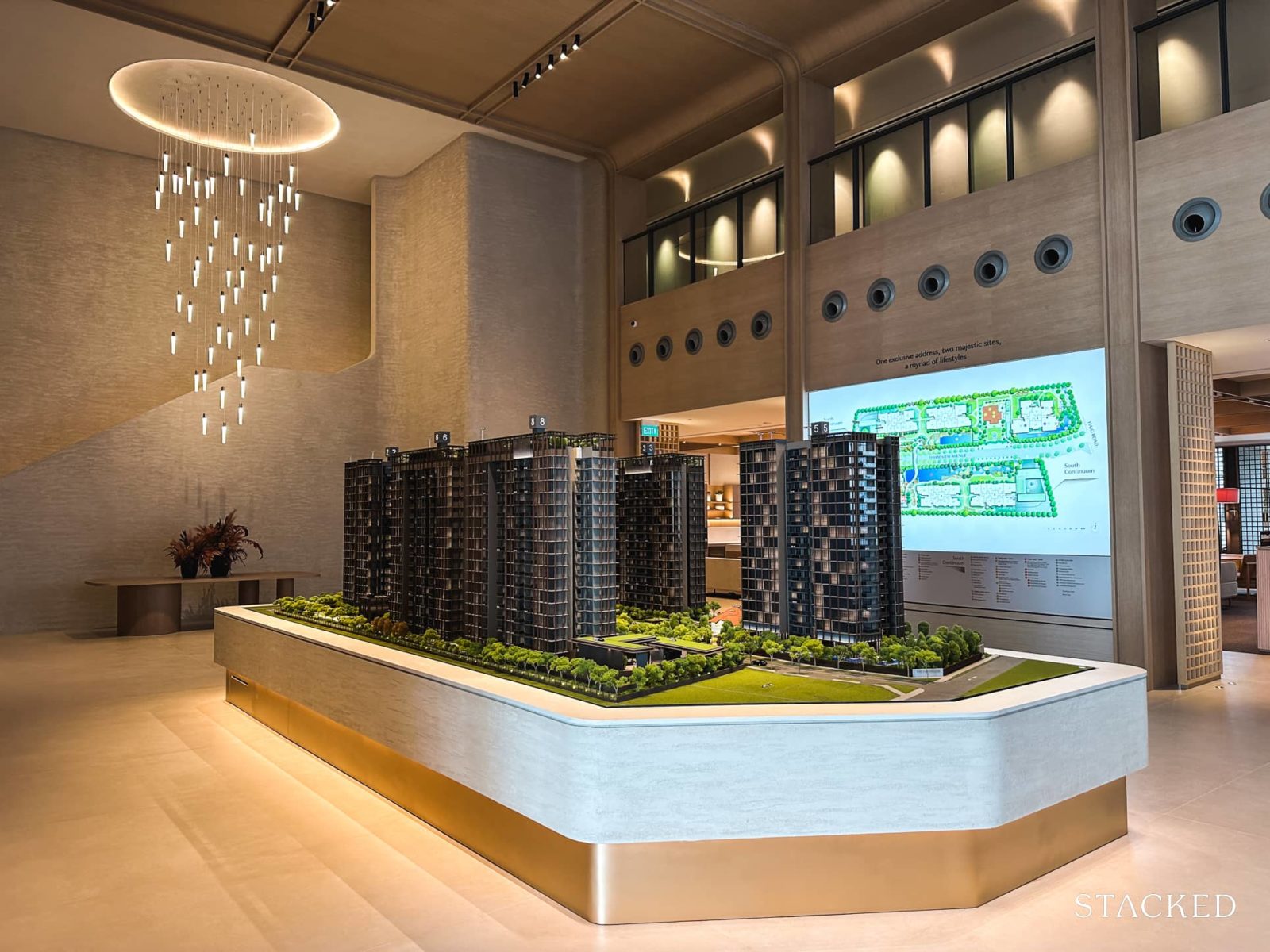 The Continuum has a land area of almost 270,000 square feet across six 17 and 18-storey blocks and comprises 816 units in total. There's a diverse range of unit types available – from 1 Bedroom to 5 Bedroom units. Designed by PTA Consultants, the development is perhaps the first and only condo in Singapore to be spread across 2 sites connected by an open-air overhead bridge, which sounds fascinating on paper.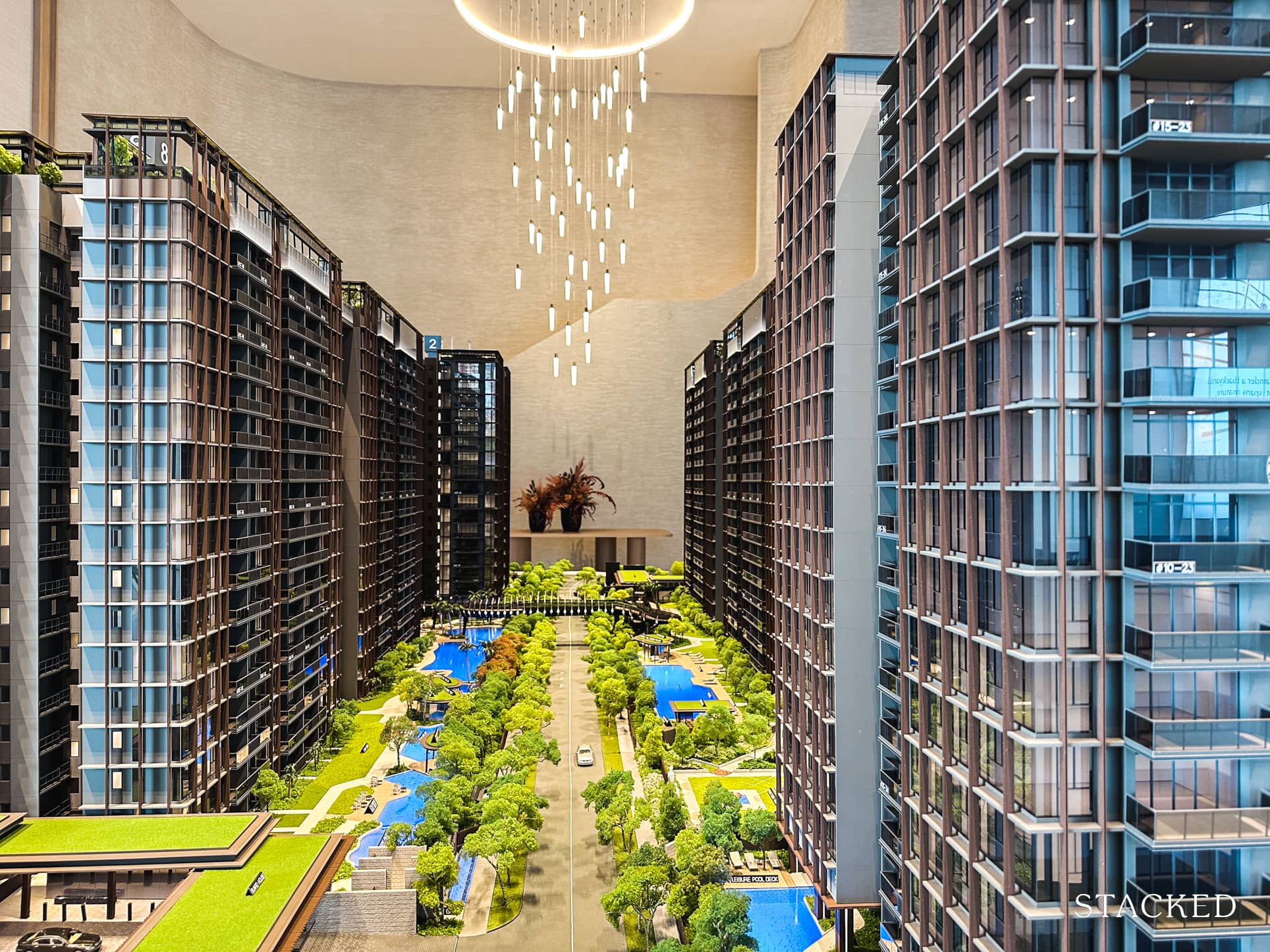 Of course, let's not romanticise this into a deliberate choice by the developers – it is really, a legacy construct due to the nature of the site. I've heard that there was an attempt to purchase the road as well, but this was turned down due to it being still quite well utilised by the public. Nevertheless, the overall effect is quite fascinating. And while I don't quite have numbers to back me up here, I do believe that big projects with unique differentiation tend to be easier to market when it comes to resale (as long as they weren't launched with stratospheric prices).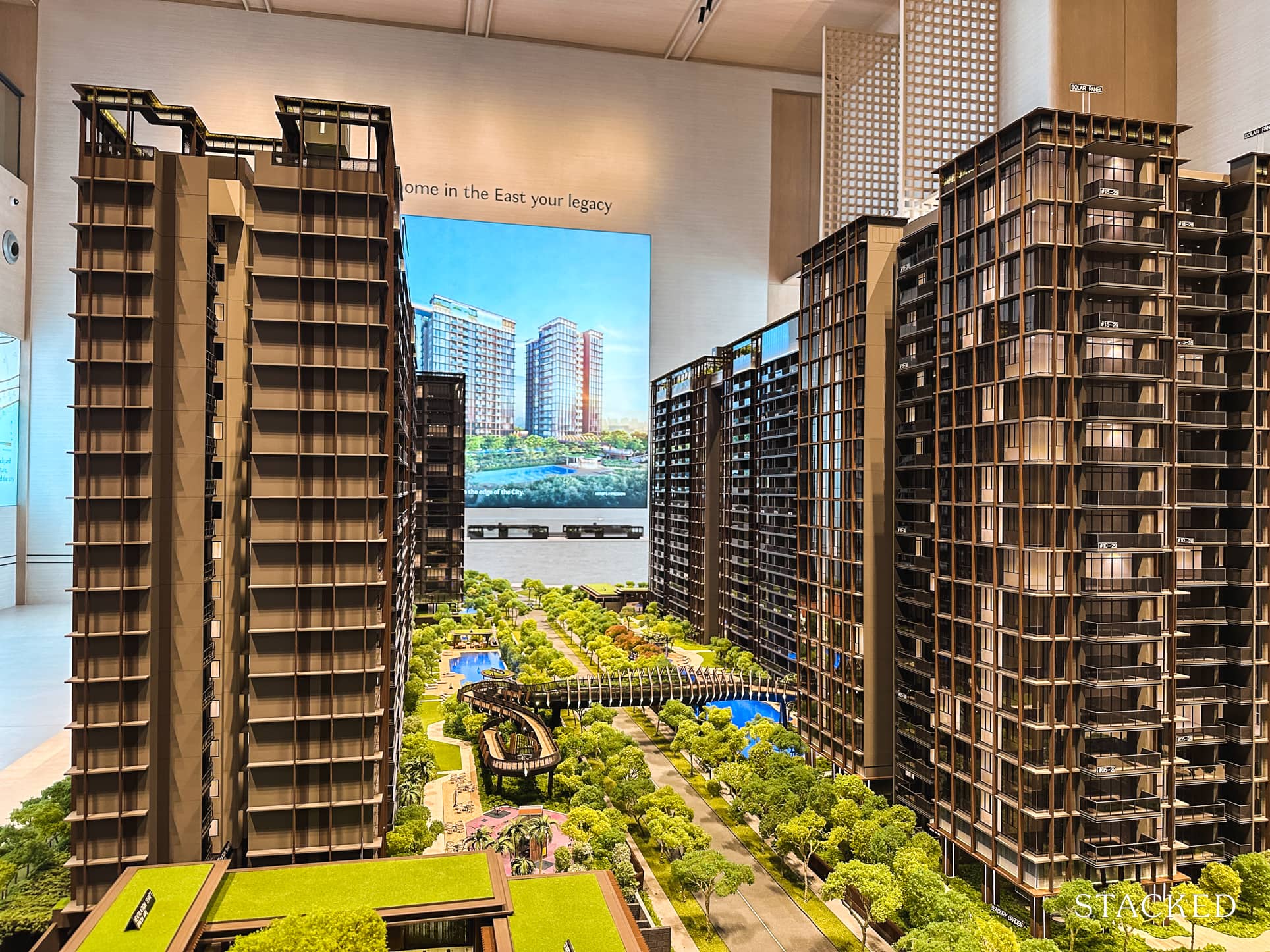 As you may know, The Continuum is the en bloc site of what used to be 22 semi-detached and detached houses separated by a 2-lane road which connects Tanjong Katong Road to Haig Road. I've actually used this road a number of times myself and as mentioned, this will be retained for public use. That said, it will be spruced up by the developers – with plans to widen the road, coupled with manicured landscaping and public seating pods that will be accessible to both buyers and passers-by.
It's a 'public service' trend that we are increasingly seeing among developers – for instance, UOL helped to give the Meyer Road Playground a new lease of life through an extensive upgrade during its development of the ultra-luxurious Meyerhouse project. I'd say that it's also in the developer's interest to ensure that their developments stay attractive in the long run, as it almost seems a part of the estate.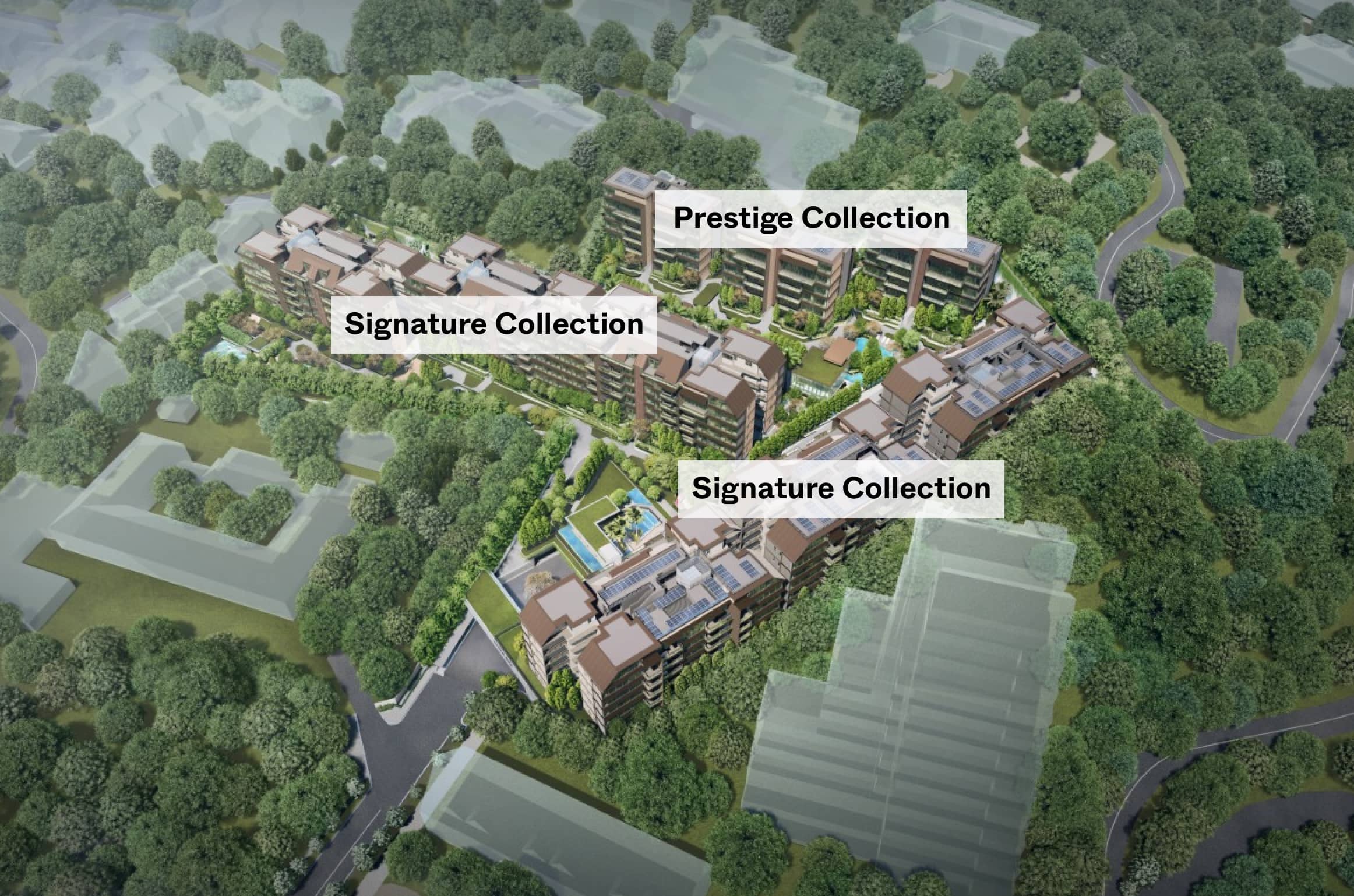 There are a number of similarities between The Continuum and Hoi Hup Sunway's other new launch Terra Hill. In this development, the blocks are also divided into the Signature Collection and the more premium Prestige Collection. For the latter, you will get more expensive materials such as marble for your floors and bathroom walls (selected units), and more exclusive features such as private lift access.
Secondly, in light of greater environmental consciousness, The Continuum is also striving to achieve the Green Mark Platinum. Some of the initiatives include 8 EV lots (probably the most I've seen so far!), solar panels that power the common areas, e-waste bins, and ceiling fans for every unit.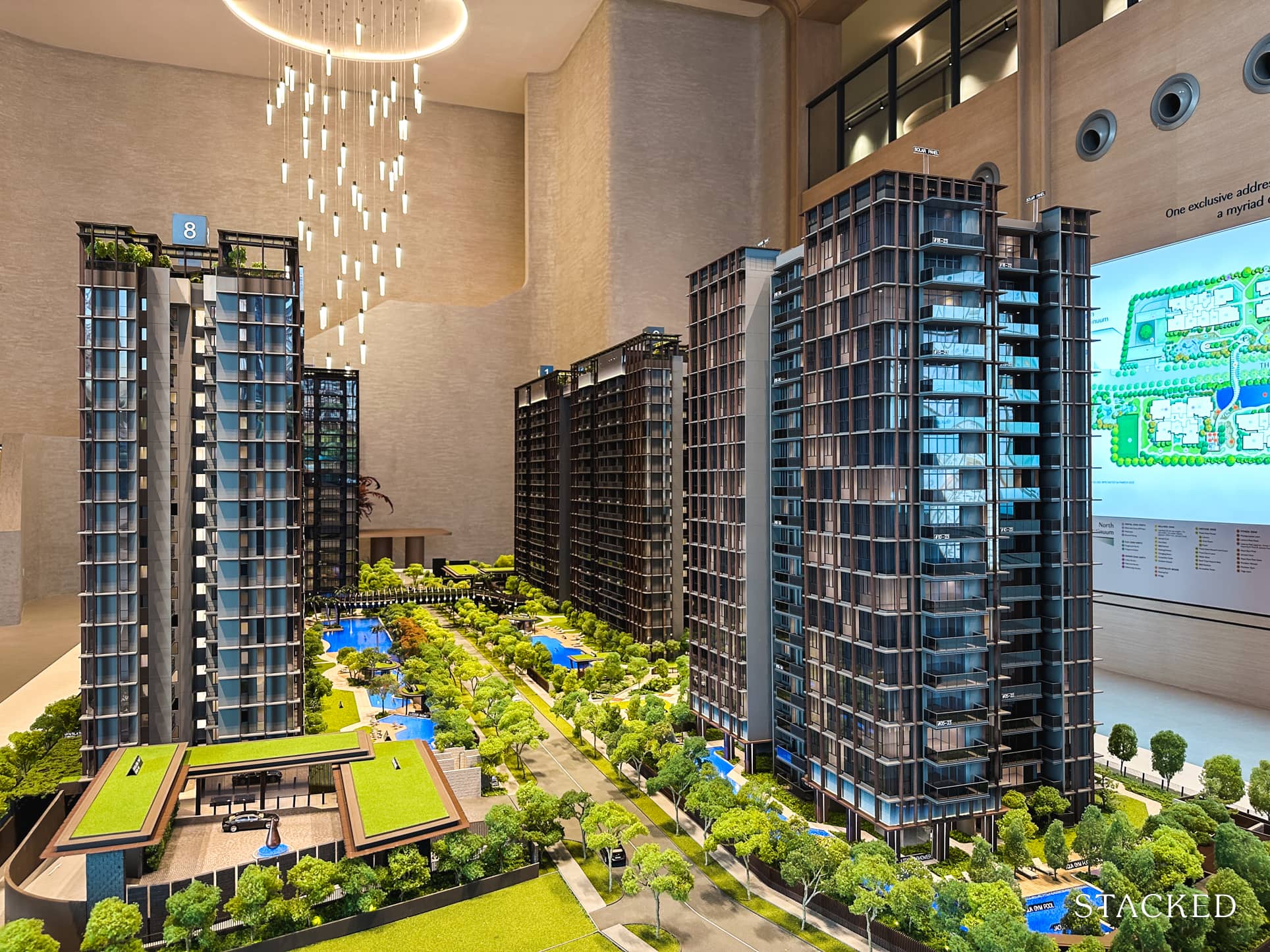 Design theme wise, it's more of a modern take with a touch of nostalgia, with 2 sky gardens that come in an elegant facade with full-height glass curtain wall and large picture frame windows. The Continuum's 2 clubhouses reflect the old and the new – 21 Thiam Siew Avenue, a bungalow that will be retained from the original site, and a contemporary glass house that will be built – more on those later.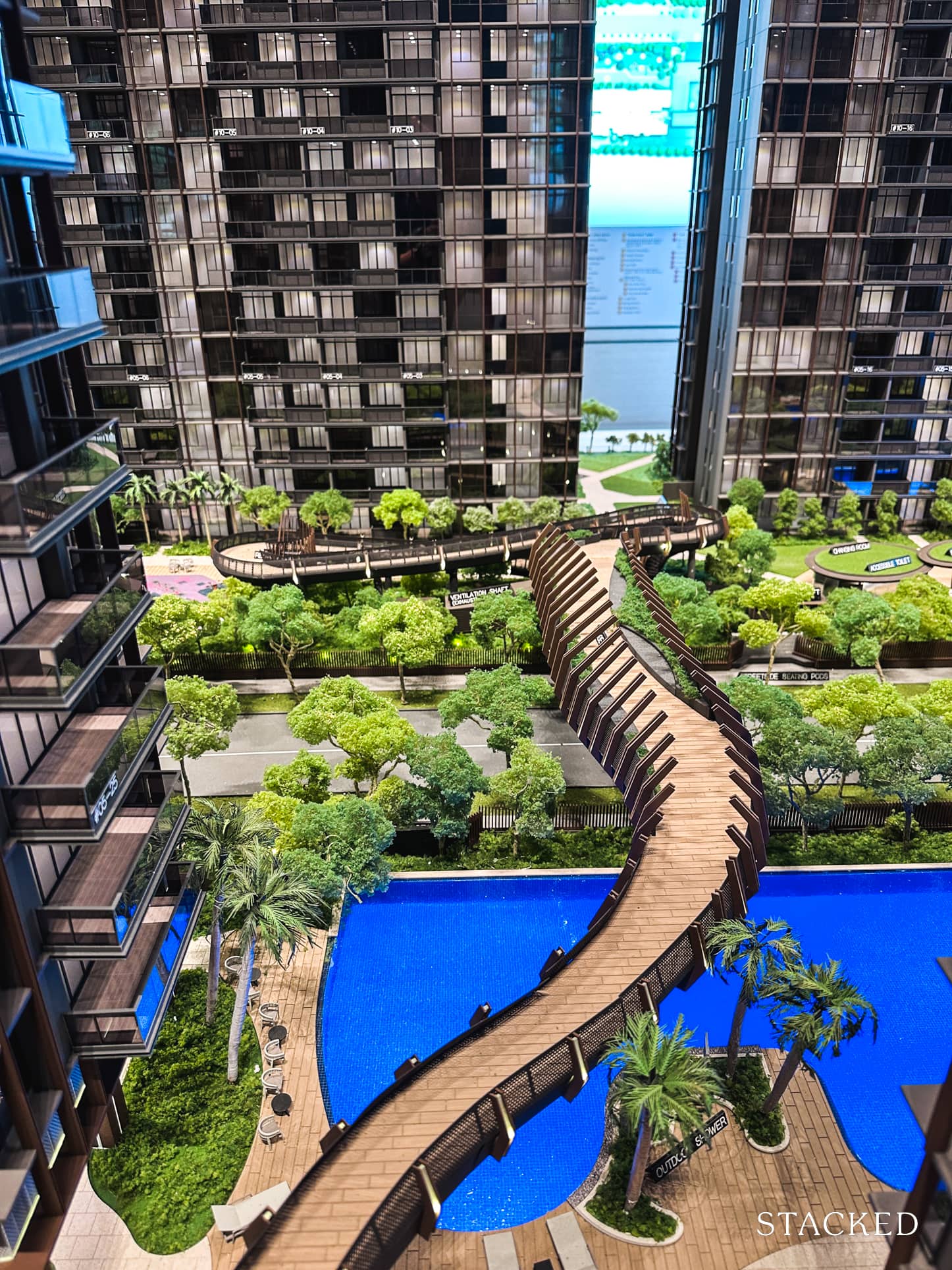 The Continuum is indeed a unique site and, in many ways, it can be seen as 2 "same same but different" condos that are connected by a link bridge. Its facilities on both sides are also largely similar, so you can be ensured that you are not 'losing out' no matter which stack you choose. For easier reference, Hoi Hup Sunway has named 1 side the North Continuum and the other, the South Continuum.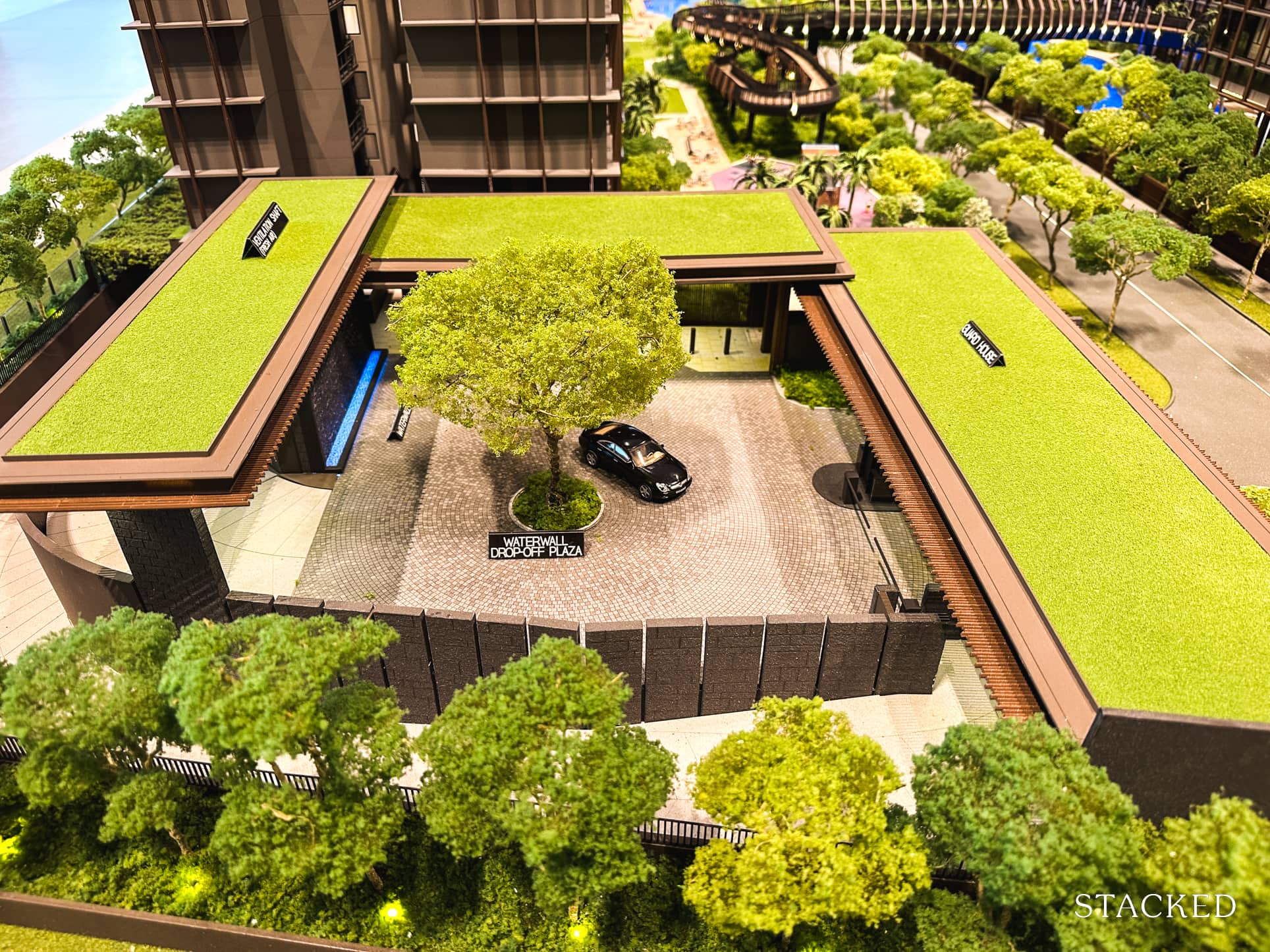 True to its distinctive nature, there is 1 entrance on each side of the road, with the North entrance located closer to Tanjong Katong Road and the South, closer to Haig Road. This was designed to keep congestion at bay and I think that's really clever. Moreover, the upside to keeping the existing through road is that owners have the option of coming home via Tanjong Katong Road or Haig Road. That said, you now have 816 units in place of just 22 landed houses here in the past, so I think a fair bit of congestion might be expected during rush hours.
For both entrances, there's a standard 2-lane ingress and a single lane egress which is sufficient since only half the units (408) will be using each of them. The one at the North has a Waterwall Dropoff while the South one has been described as a Droplet Dropoff instead – interesting terms. I will certainly be keen to find out how different they'd be when The Continuum TOPs.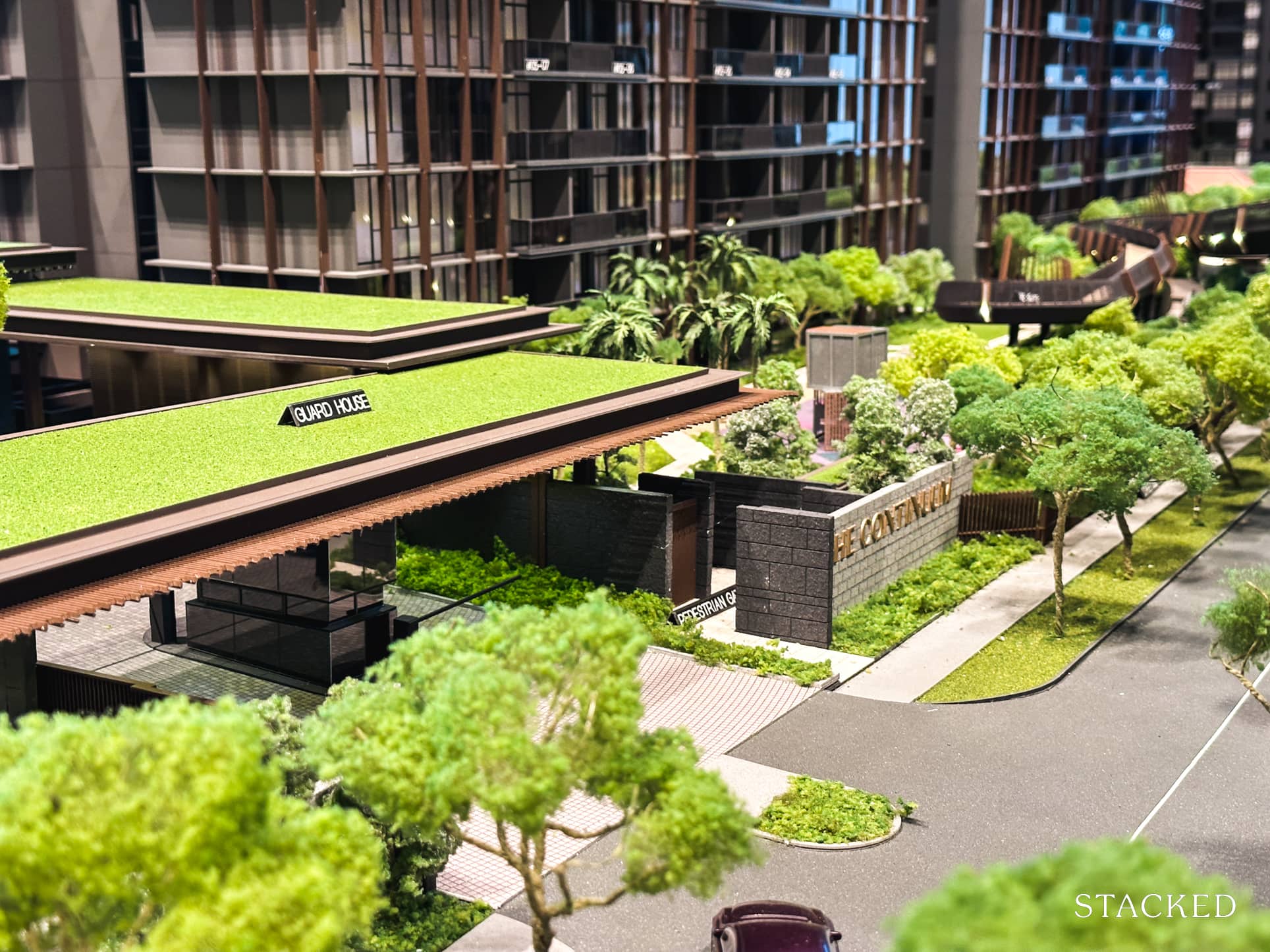 I'll start with the facilities on the North site first. The entrance is closest to Tanjong Katong Road and those familiar with the area will know that there's a Shell petrol kiosk right here. It was hence thoughtful that the car park entrance and drop off have been positioned here, providing further setback for the residential blocks.
You get 2 levels of basement car park each for the North and South with 1-to-1 parking lots for all the units here. However, do note that both car parks are not connected so I would expect many confused guests and delivery drivers to turn up at the wrong section on the first visit. It's definitely a bonus to get a 1-to-1 parking ratio here considering its rather convenient location, although it should be pointed out The Continuum is about a 9-minute walk to the closest MRT station (Dakota on the Circle Line).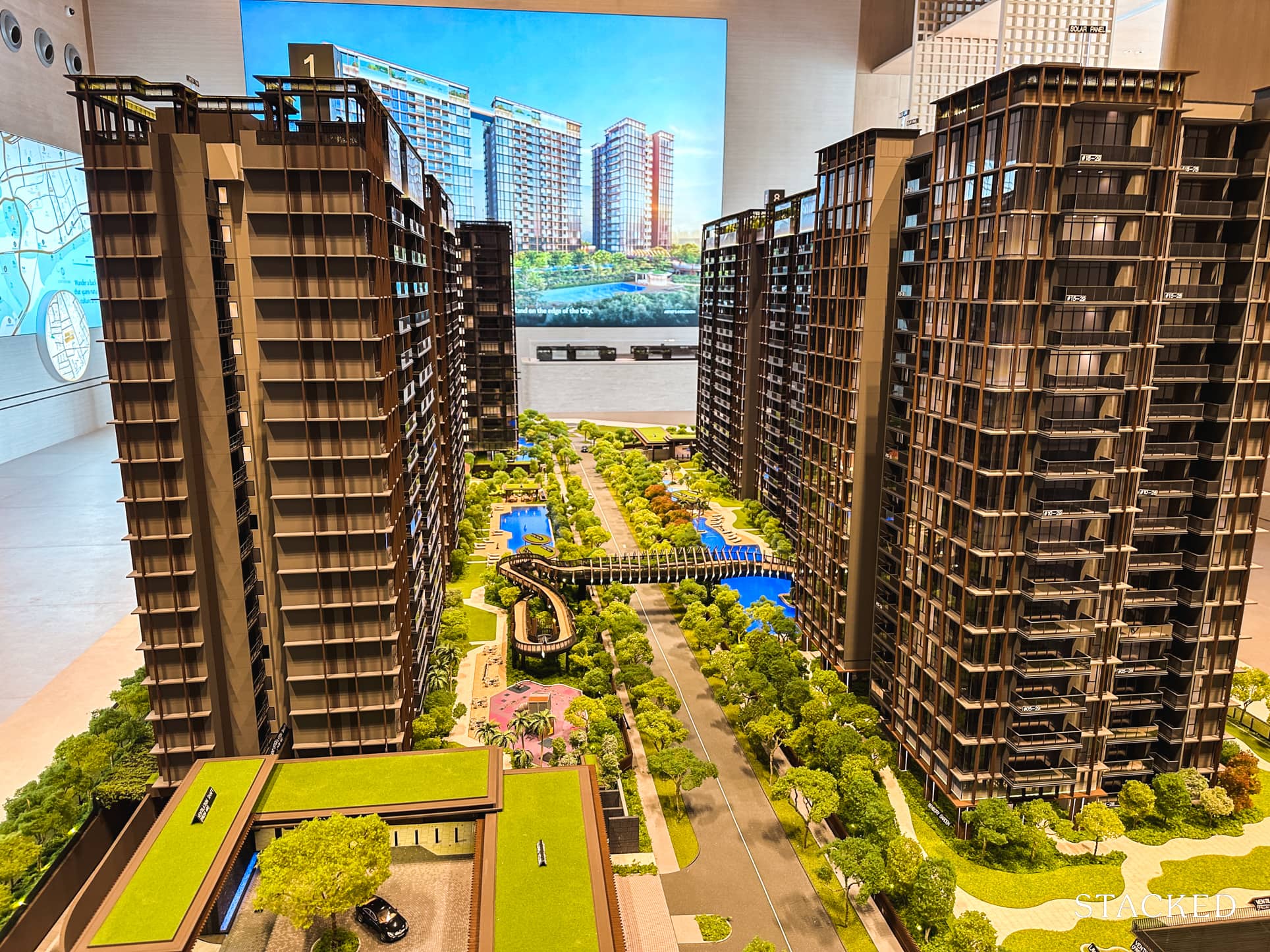 Close by to the entrance is where the Play Zone for the North is situated. There's a playground, complete with a number of tables and chairs by the side for parents and helpers who may be content sitting by to watch over them. Since there are 3 primary schools within the 1 km radius, all of which are popular schools, do expect to see a number of families calling The Continuum home.
This play zone is located beside the overhead bridge connecting the North and the South. The one here is shaped in an auspicious figure of 8. It has a practical element, which is the wheelchair accessibility aspect of it. I'll get to the bridge later.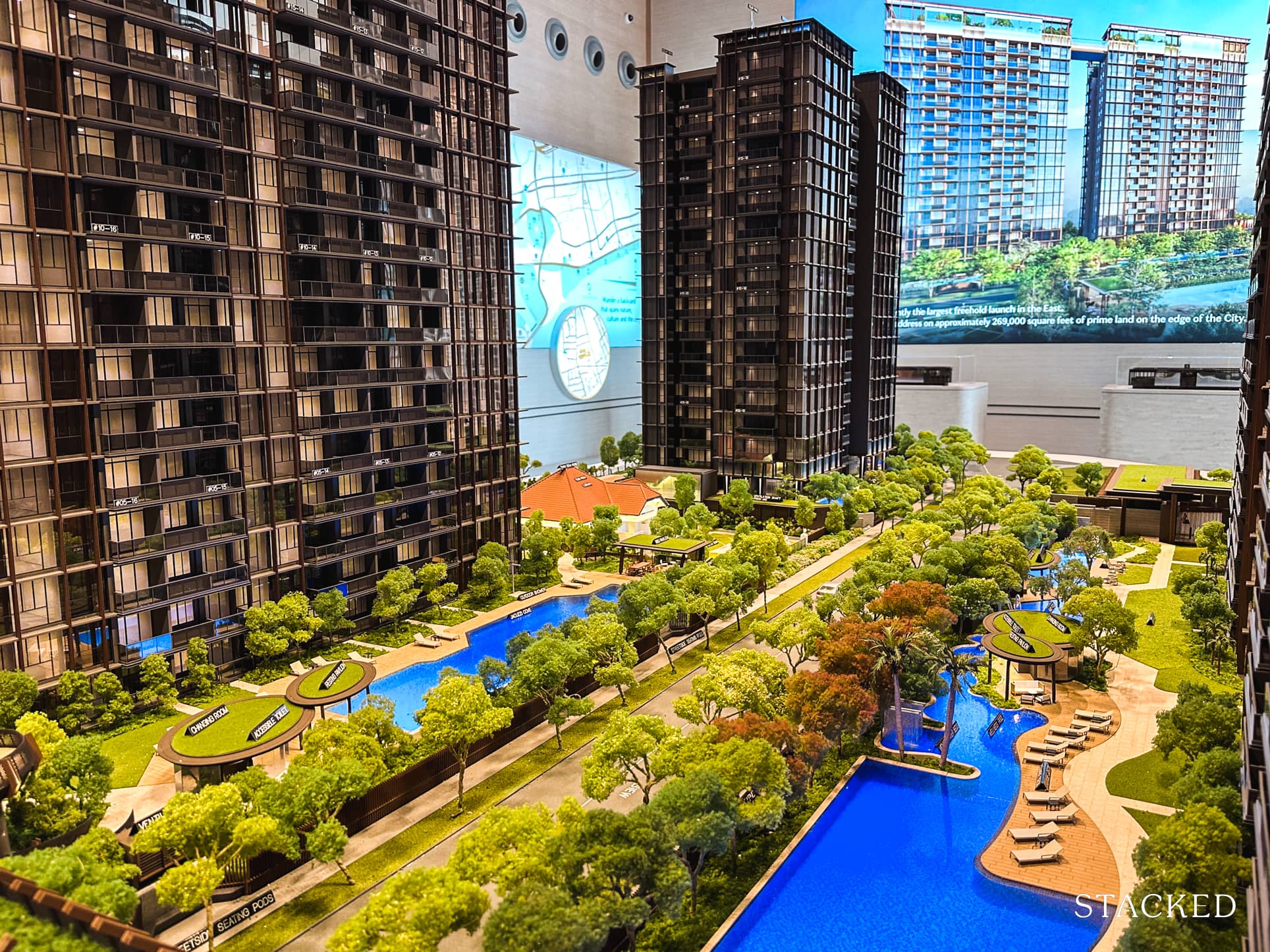 Moving further down is the Wellness Zone, which consists of a 33m lap pool that is about 7m in width, which roughly equates to a 3-lane pool. Rest assured that this is not the only lap pool in the development. There's a small area that's been carved out for the Jacuzzi Cove as well in case you prefer a lazier afternoon here. Similarly, you have the option of staying dry while the others swim by with the pool decks right here.
If you prefer to have a party by the pool, there is a sheltered BBQ pavilion where you can host your friends. While some can choose to feast, others are welcome to put in some laps to justify their calories thereafter.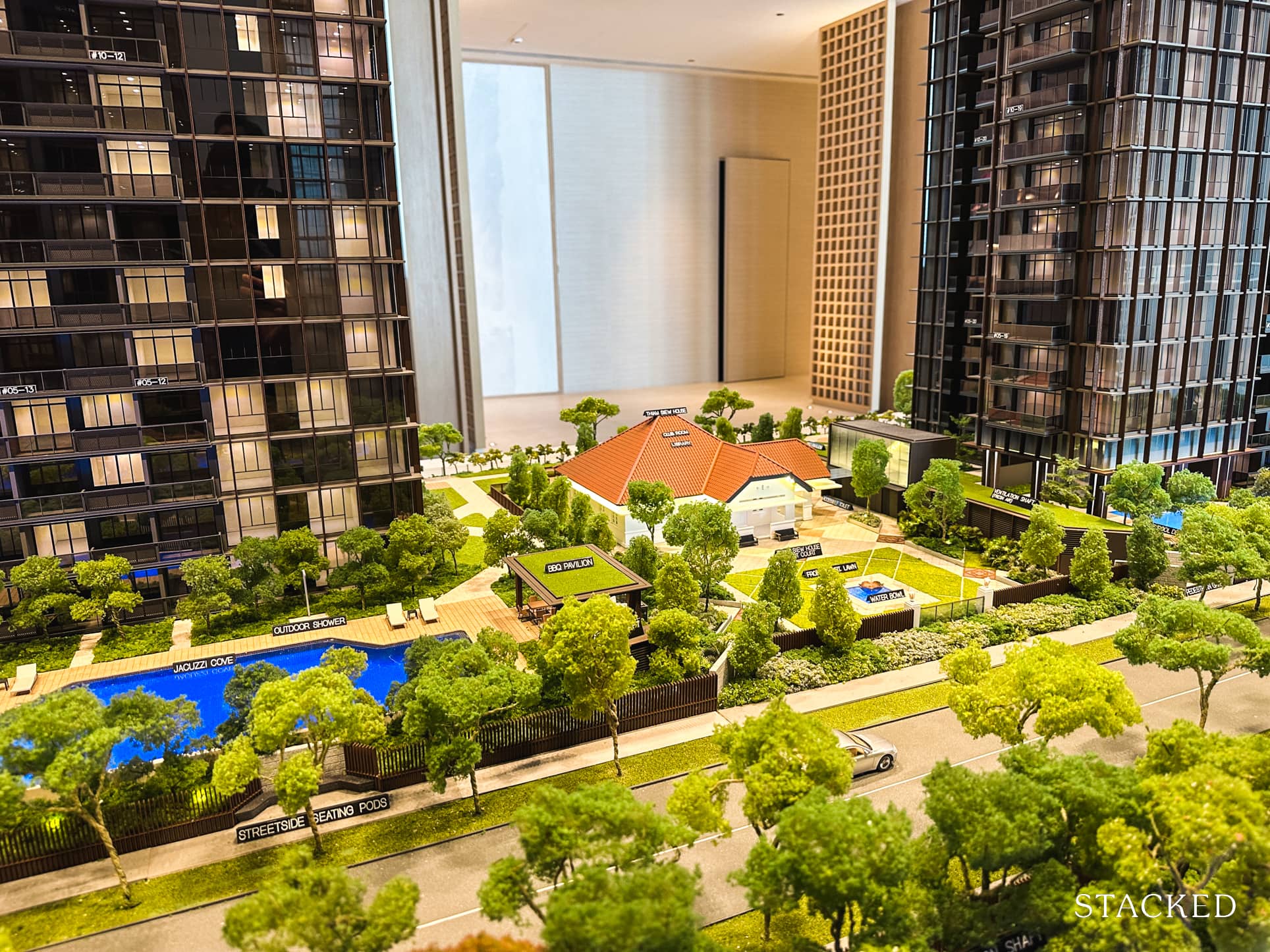 Between Blocks 3 and 4, is the former 21 Thiam Siew Avenue, a detached dwelling that will be retained for the purposes of being a clubhouse. While not as architecturally complex as the conserved structures in other condos, the original Marseille roof tiles, gate posts, and original wooden casement windows and doors will all be retained and bring an old-world charm to the development amidst the sea of modern buildings towering over it.
This also brings The Continuum into the hallowed league of condos with conserved buildings within them – I've previously written a piece about those within the CCR and will get to those in the RCR and OCR (hopefully sooner rather than later).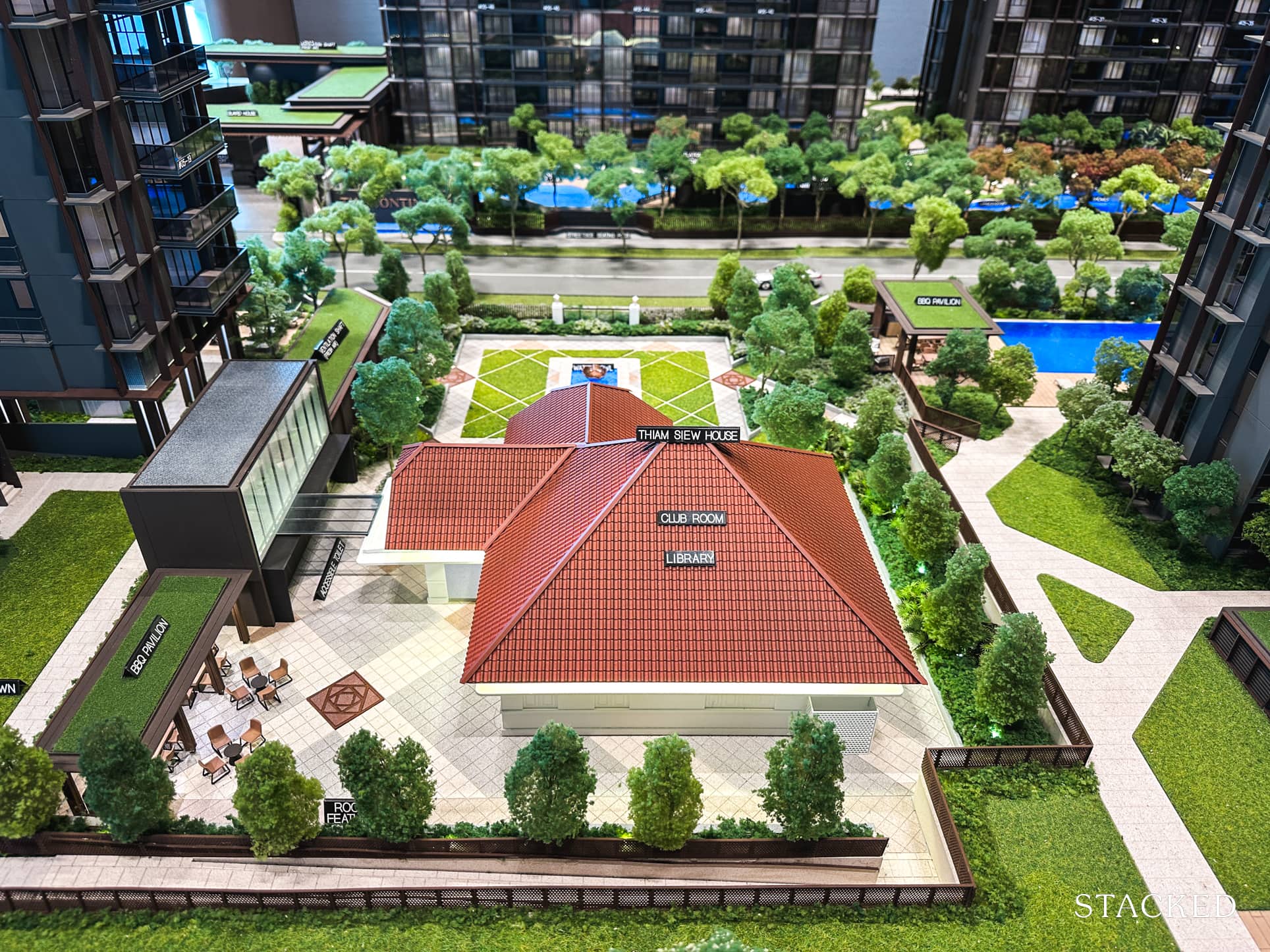 As the setback to the house was previously a decent amount of space, the developers have included a front court lawn and water bowl to make the area look more inviting. It will even include a Peranakan-tiles-inspired pattern at the front court. Affectionally called the Thiam Siew House, this conserved clubhouse from (what I think is) the 1940s will include a porch and veranda, both presumably outdoors, for extra seating spaces. Inside the clubhouse, there's an impressive dining room complete with a 10-seater round dining set, full cooking equipment, and couches by the side as well. Given the good homely vibes here, it looks fit for a private chef dining experience. (If you do eventually have one here, don't forget to invite me for it!)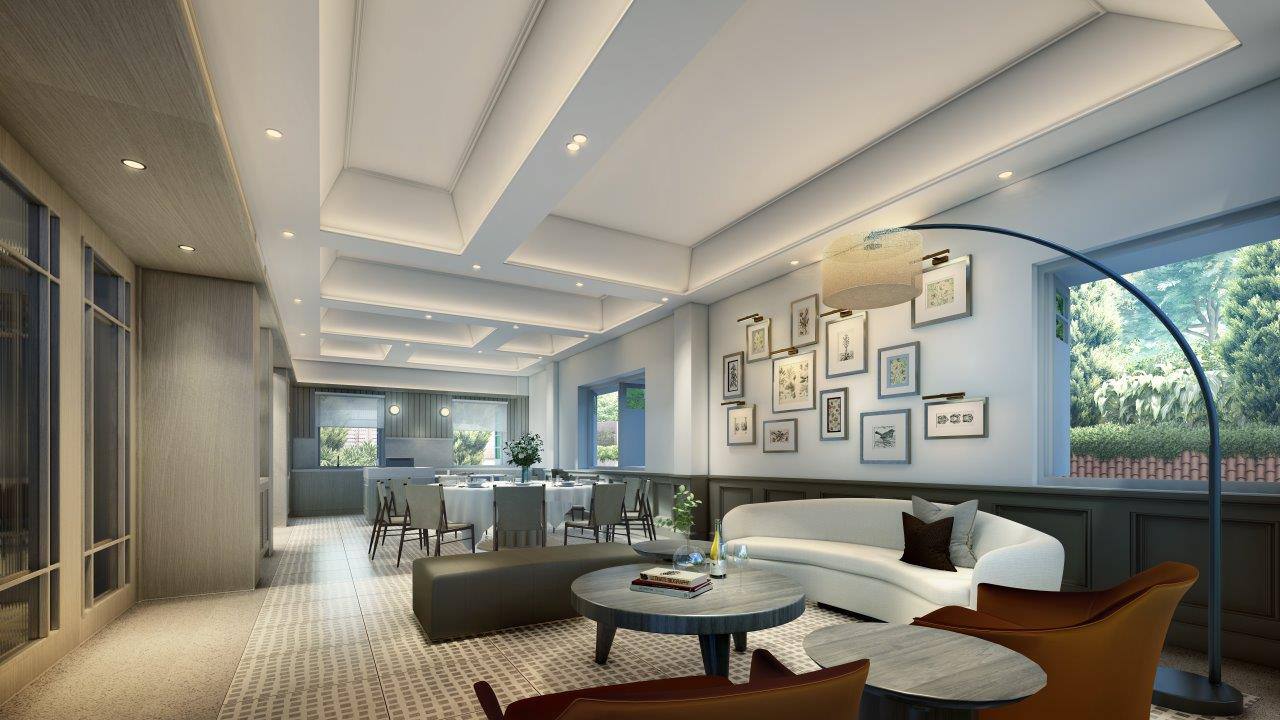 There's also a private library here, which is interestingly laid out in a long table format with bench seating by the ends as well. This would serve you well when you need some time away from work or even your own home for some quiet reading. I really do like the overall look and implementation of the conserved clubhouse – it adds a lot of character to the space, and even the split of facilities between both clubhouses is well-suited. I would definitely have expected a library here!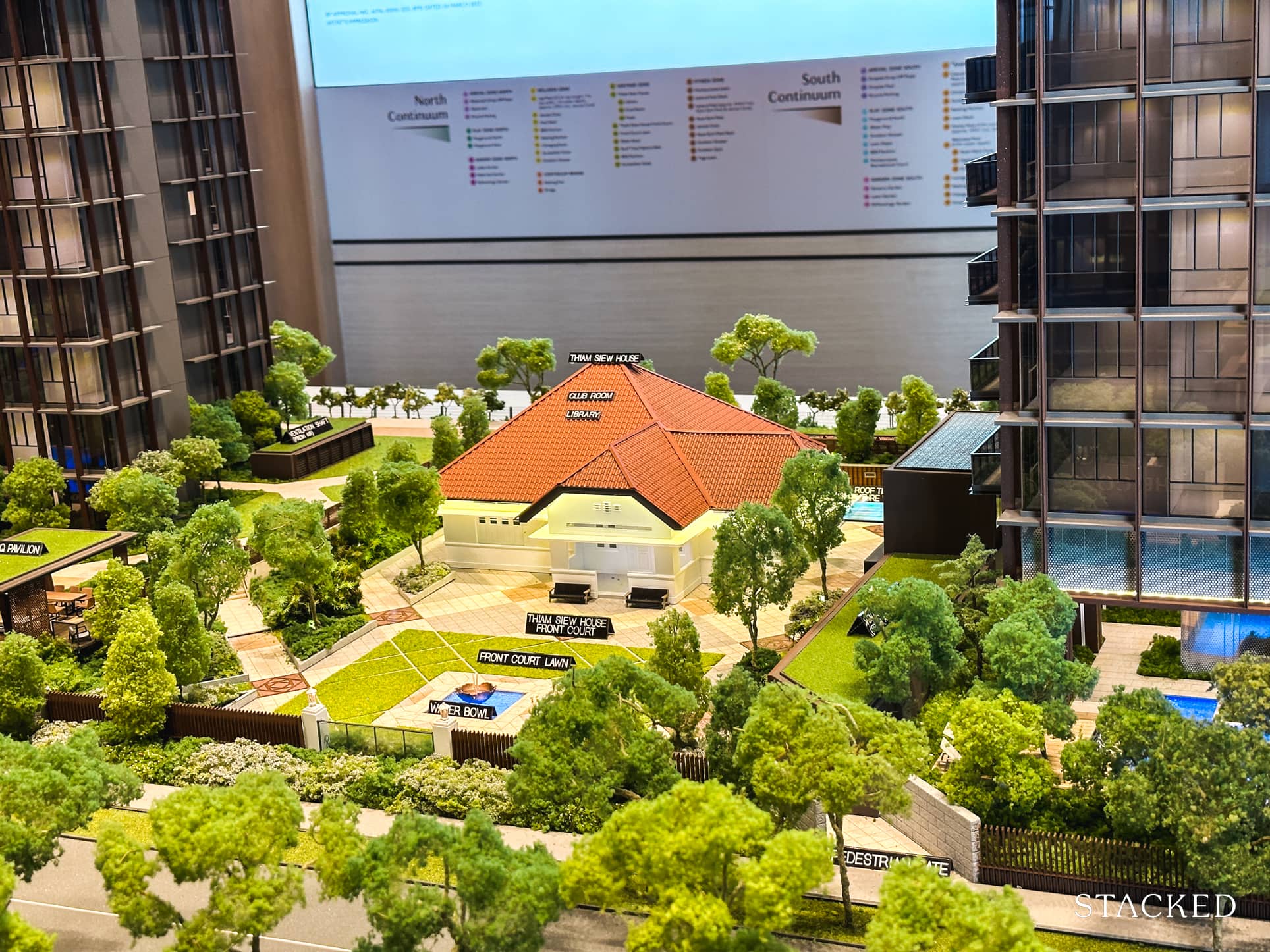 If you prefer some social gatherings outdoors instead, there's also a BBQ pavilion just outside the clubhouse. I can imagine it to be quite a nice place – kind of like having a BBQ in your own bungalow, with enough space for the young ones to runabout. For easy accessibility for your visitors, there's also a side gate that leads directly to this clubhouse and area.
Just in front of Block 5 is another Fitness Zone, which includes a number of water-related facilities including the Leisure Pool, which is connected to the Aqua Pool Gym and Jacuzzi Cove. There are also pool decks here for your enjoyment. An outdoor gym is also found here if you're looking to get sweaty.
As mentioned earlier, there are also 2 sky gardens for residents – 1 in the North and the other in the South. The sky gardens are linked to 2 of 3 blocks on each side and in this case, Blocks 1 and 3, which are both part of the Signature Collection. I've always been a fan of sky facilities, as they bring about 'equality' for all residents – you don't have to pay more for a high floor to enjoy the views.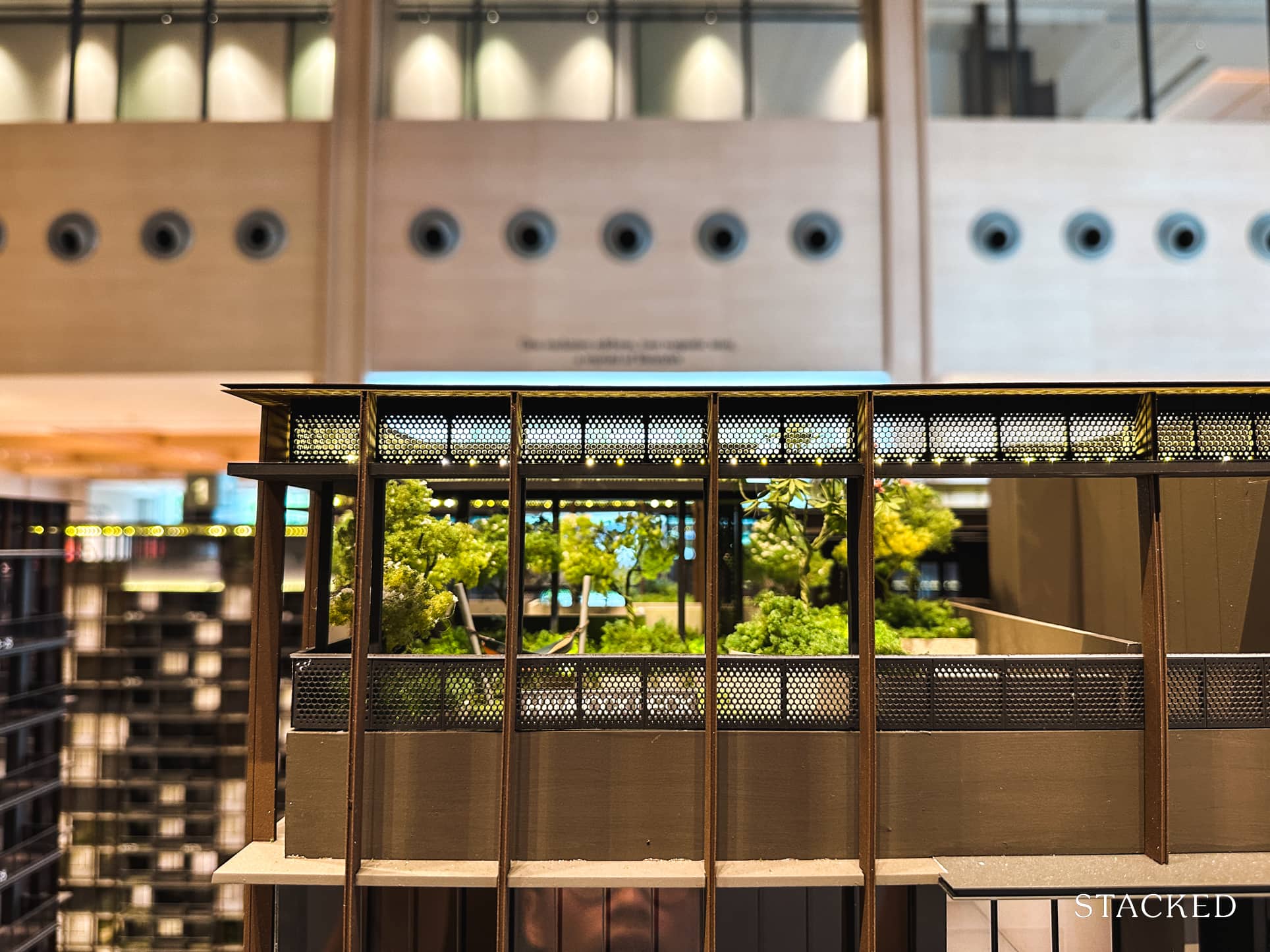 The sky garden here at the North site has a number of chill-out lounge areas, where you could just sit around and read a book, and even 2 mini jacuzzi areas if you're in the mood for it. There are even sheltered BBQ areas on both ends as well.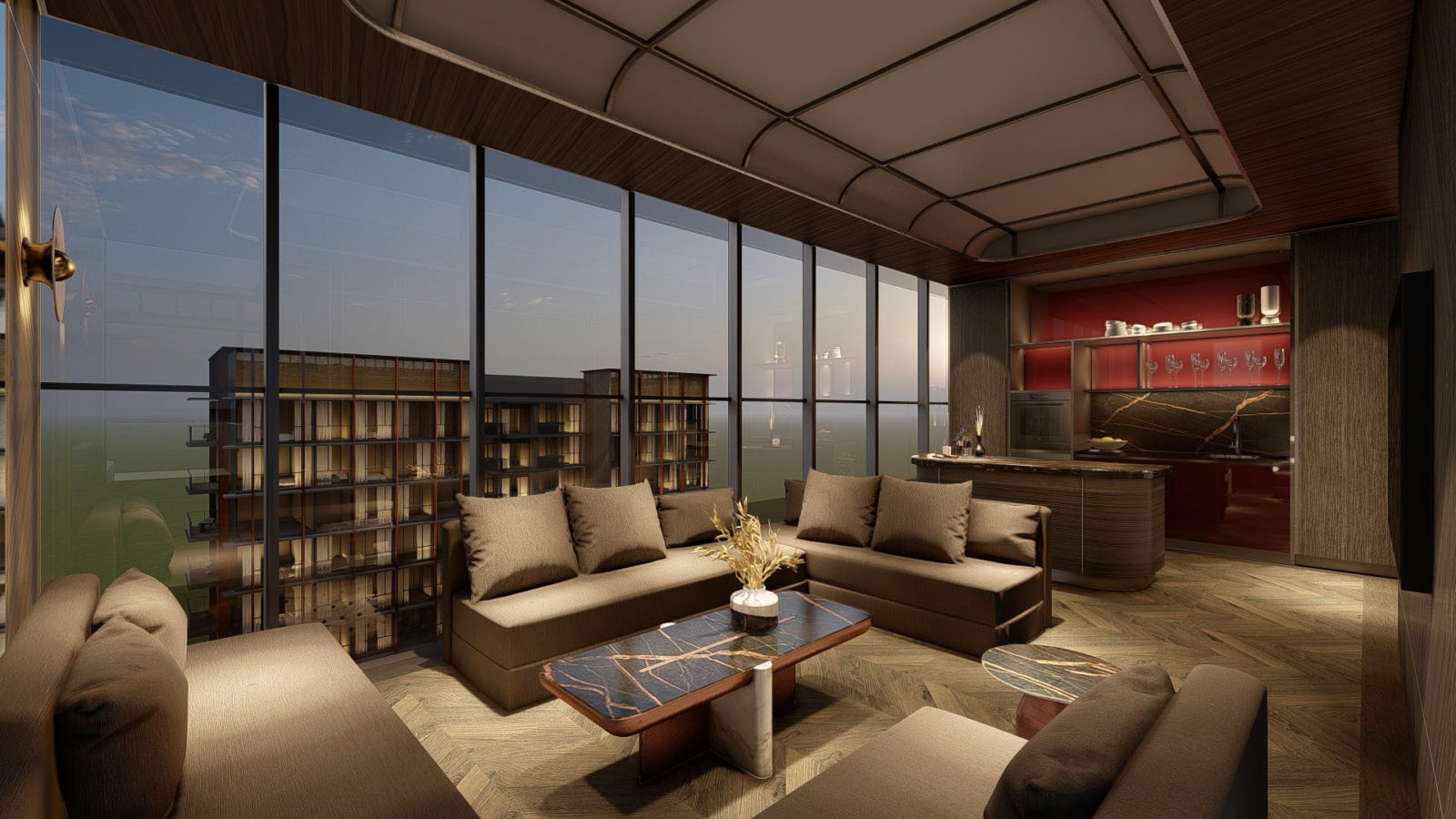 I'll just mention 3 of the more eye-catching features here – starting with the ~300 sq ft Roof Bar. It's a pretty cool concept and perhaps one of the only few in the market where you get this dark, modern bar vibe complete with a mixology table and wine chiller. Located on the top floor with full glass windows, the vibes do seem pretty perfect for a nice evening. No bartenders will be employed in case you are wondering, but you can always pick up some skills and show them off to your friends instead!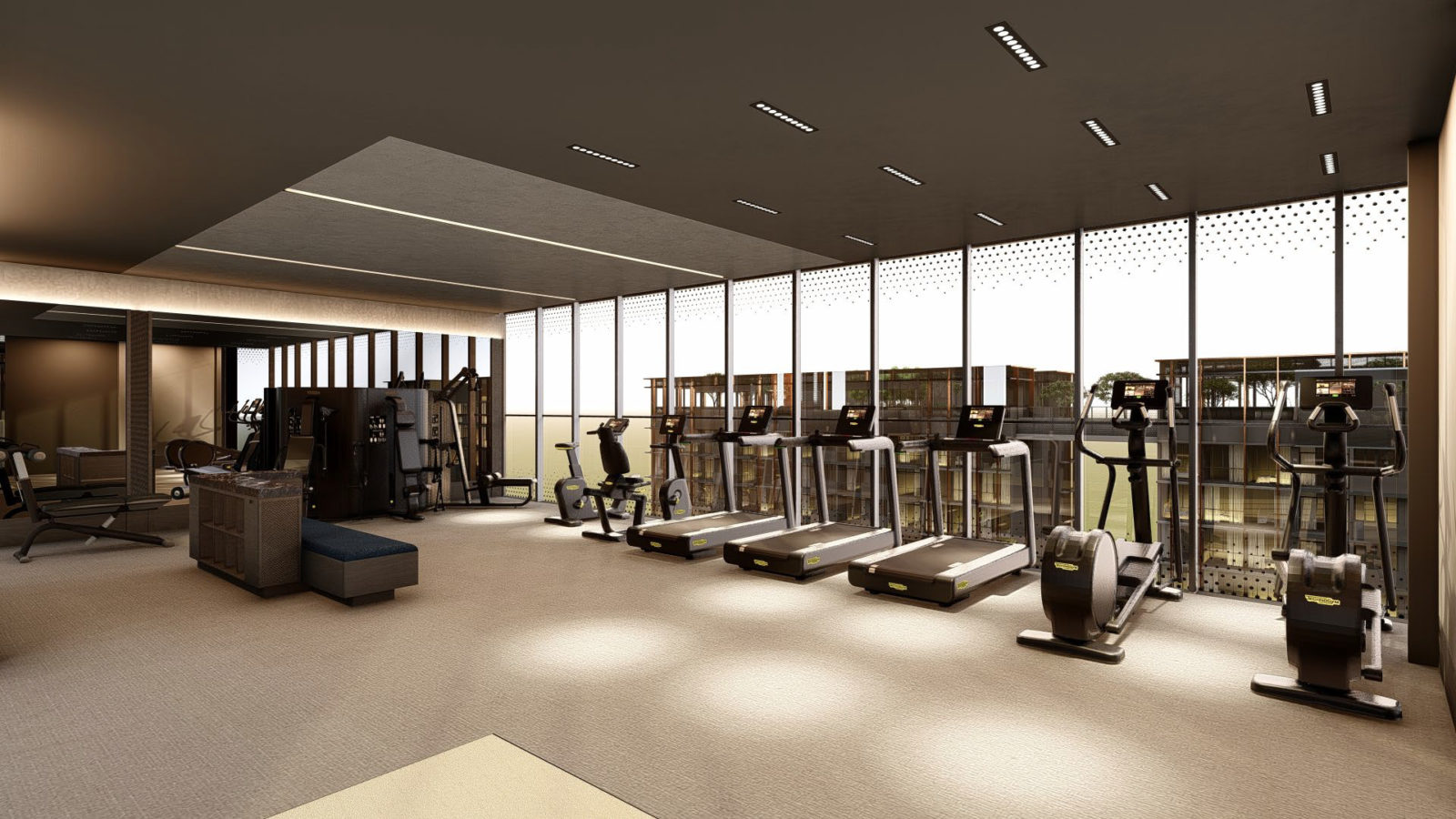 You also get a ~800 sq ft gym here at the sky garden. It comes equipped with your standard treadmills, cross trainers, exercise bikes, and a bench with free weights. Similar to what they have done at Terra Hill, the developers seem to be embracing this exercise cum social space concept, with a small dedicated drink counter and chill-out space. I also always prefer to have the gym at a higher vantage point for views, and it's great that you can varied areas for exercising here – which is a little added bonus for motivation.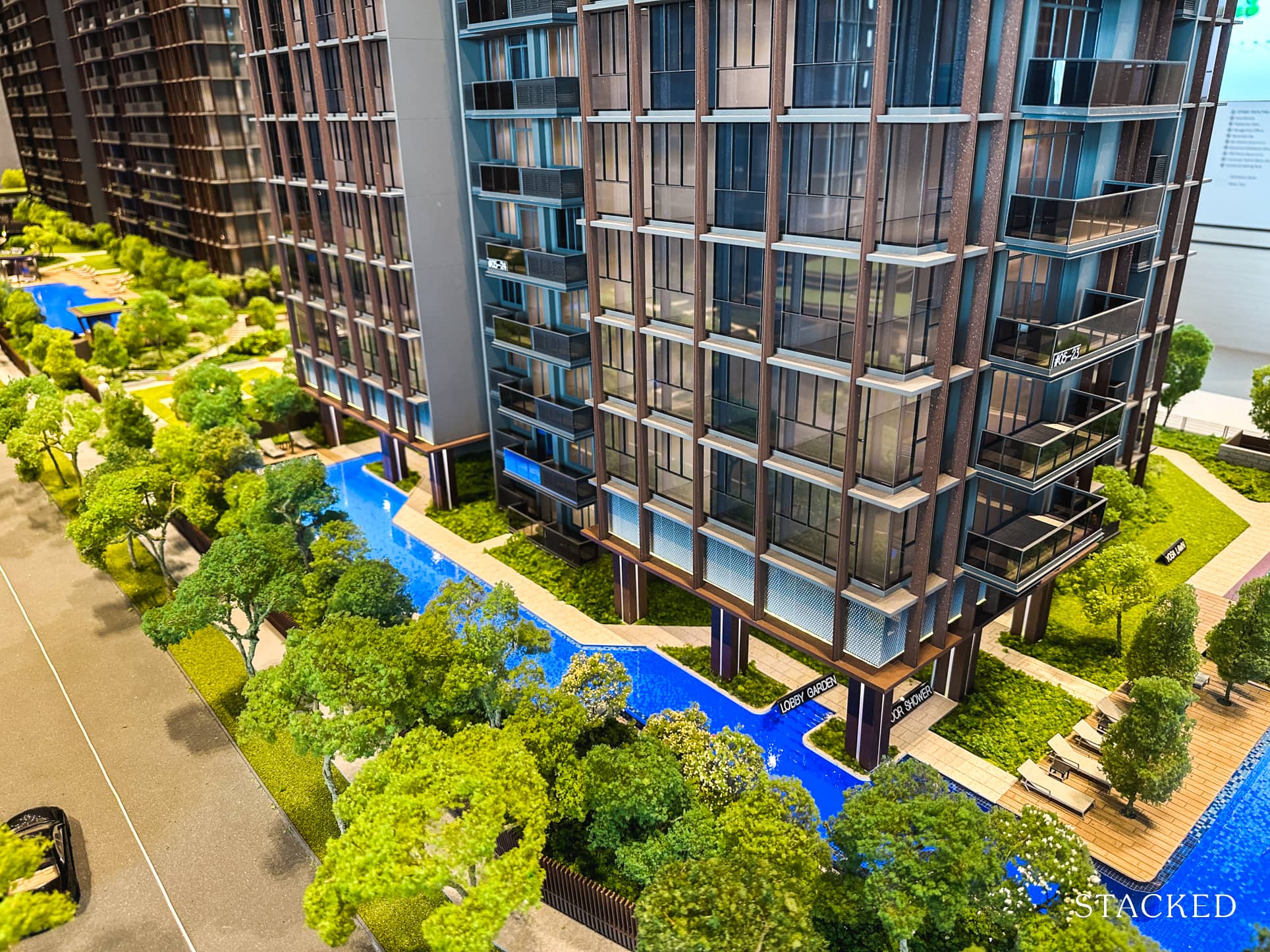 Lastly, you do have a stream of a pool just below Block 5, which forms a nice visual for the units above as well as an alternative place to swim if you are too lazy to walk.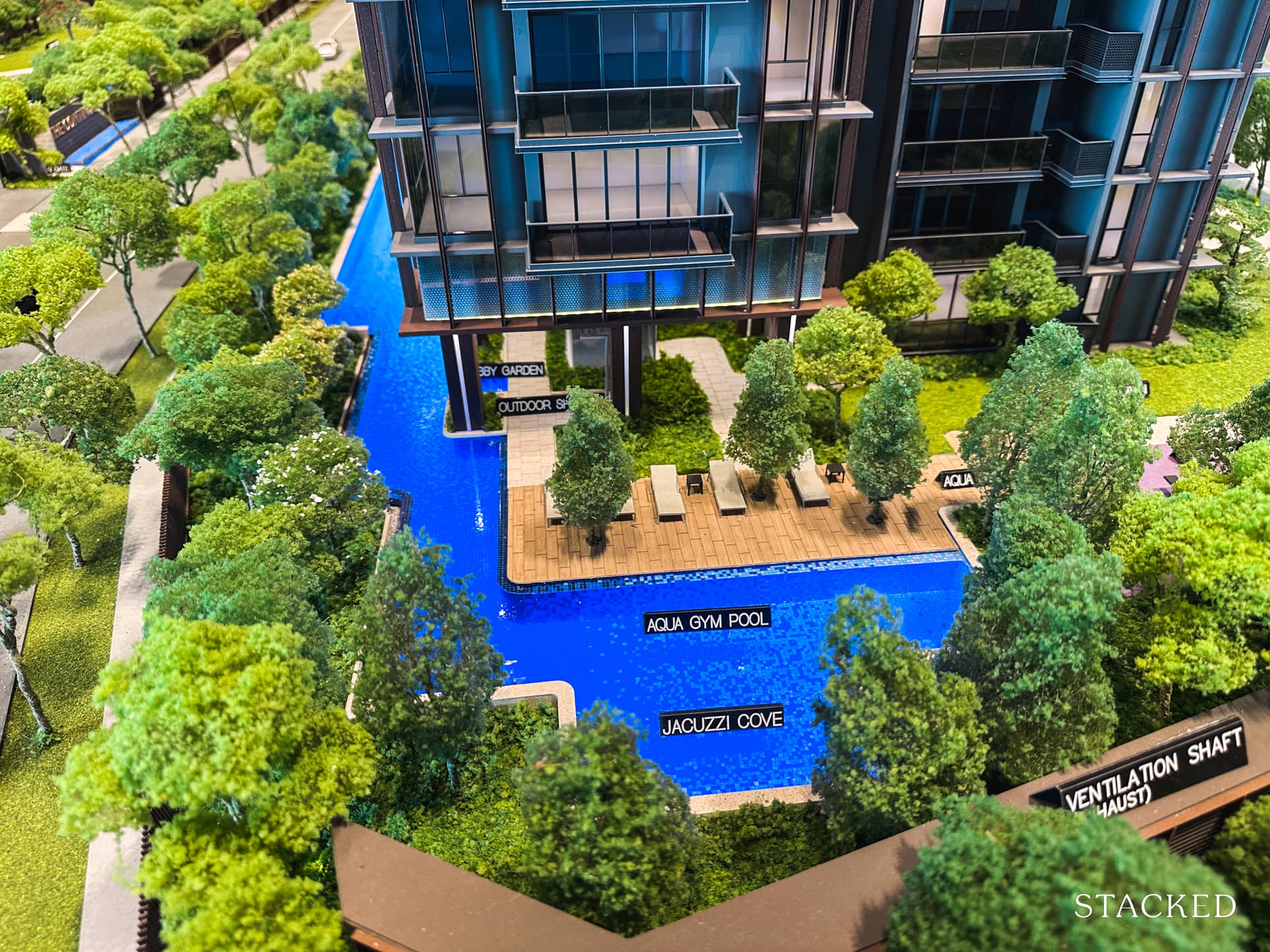 Here you'll find the aqua gym pool as well as a jacuzzi which is probably one of the more private areas of the estate.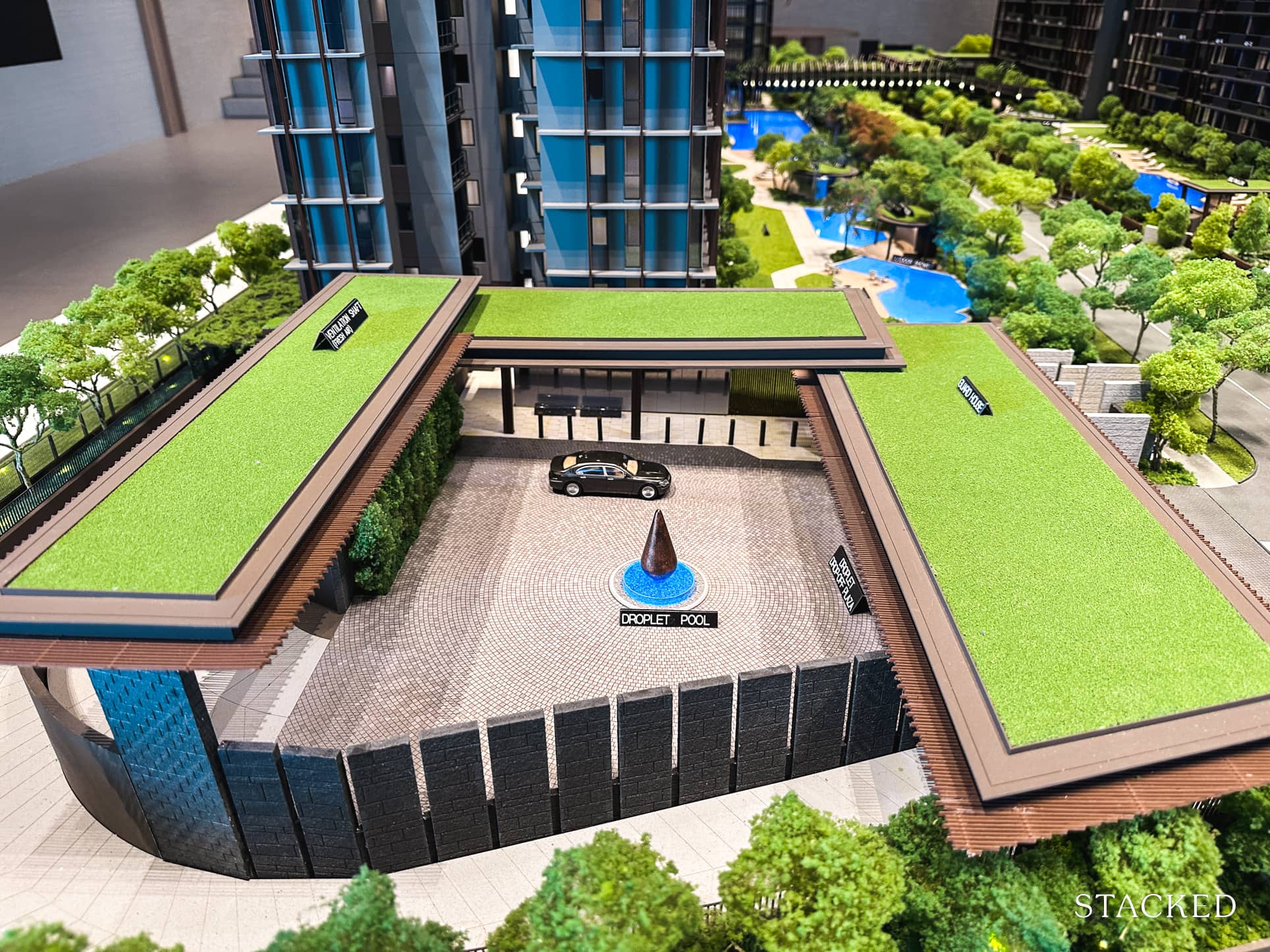 Moving on to the South Continuum and I'll start with the entrance, which is located closer to Haig Road. Again, if you're familiar with the area, you'd know that there is a row of terrace houses that did not belong to the Wee family when they sold the site to Hoi Hup Sunway. The entrance will be situated just beside these houses and will be relatively similar to the one at the North. I did find it interesting that the developers used a more subdued wording to describe the features here though – "droplet" instead of "waterfall" entrance features.
Close to the entrance and ahead of Block 8 are the numerous pools that almost seamlessly flow all the way to Block 6. They include those meant for the little ones – a Cascading Children's & Toddler's Pool with corresponding 0.5m and 0.3m water depth (for obvious reasons) and an accompanying children's pool deck close by as well.
Besides those for the kids, there are also a couple more relaxed pools in this area, which includes the Family Pool and Wellness Pool, which have features such as shower beds and hydrotherapy pockets. Of course, there will always be some of us who would prefer lazing on the pool decks instead and there will be a number of them here so rest assured that you won't be left out!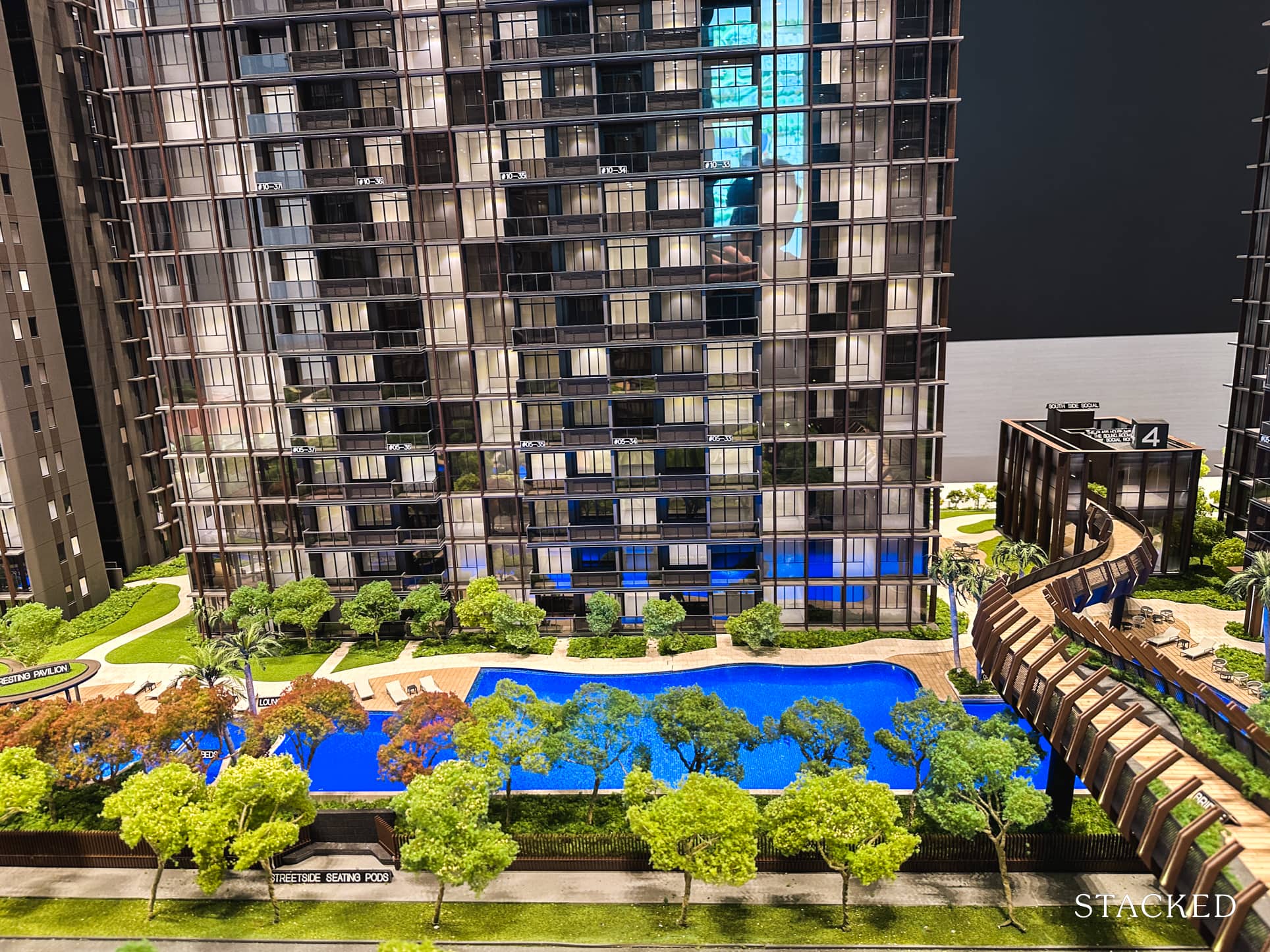 Most anticipated among the genuine swimmers among us will definitely be the 50m lap pool. This is the only 50m pool at The Continuum, with the other being a 33m one on the North site. I'm not sure if that's a good enough reason to pick the South stacks over the North, but it's always down to your priorities. This 50m lap pool is about 5.5m in width, allowing up to 3 to be swimming side by side. It also extends under the Continuum Bridge linking the North and South sites so those walking past on the bridge also get lovely views of the lap pool as well.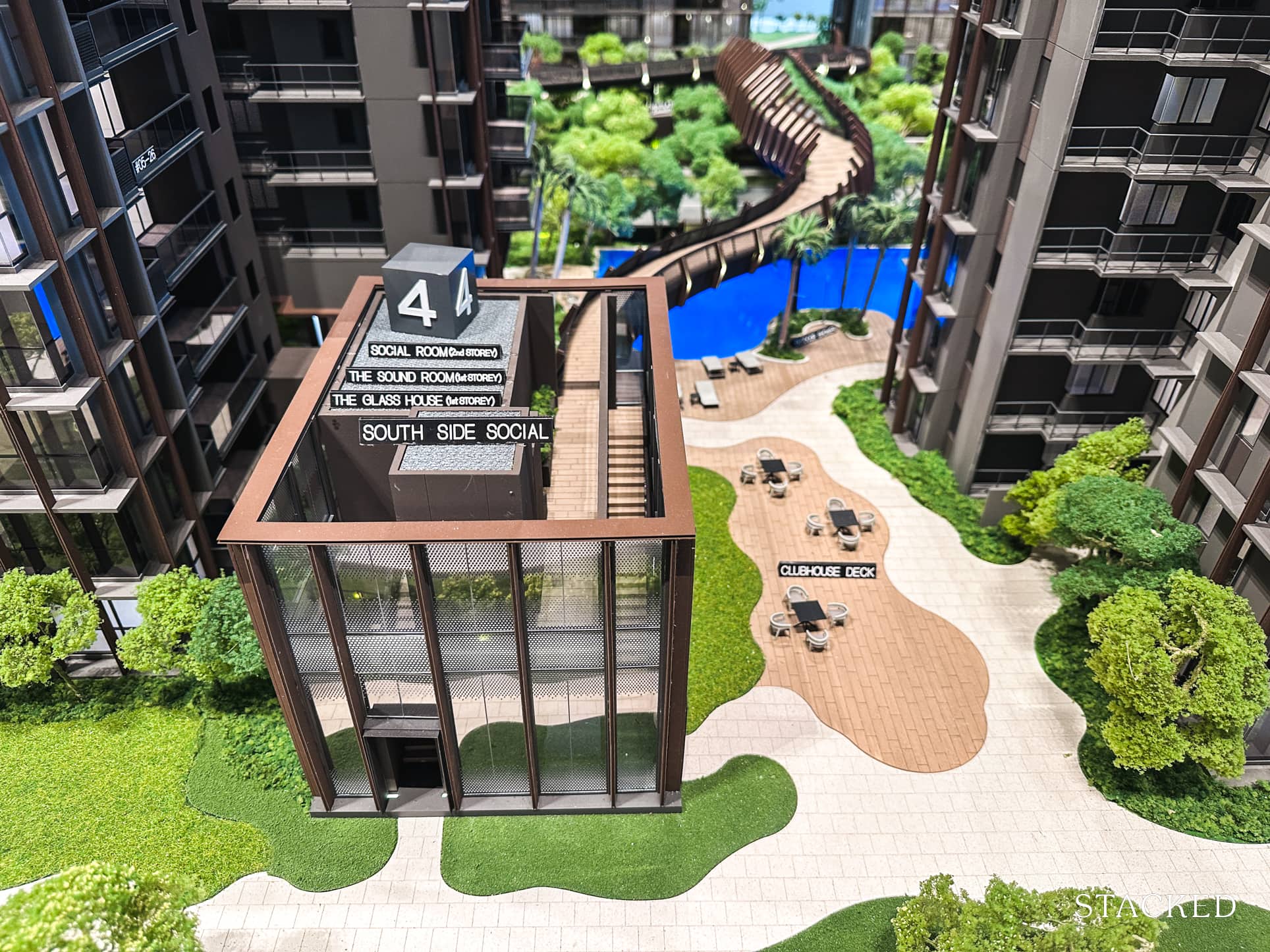 This is also close to where you will find the other clubhouse. It's a Glass House, which reflects the epitome of the old and new contrast at The Continuum. While the one at North is a conserved bungalow, the one here is a modern contemporary function room with access to the pool and within walking distance to the playground and tennis court – perfect for every family and social gathering.
Beyond that, the Glass House also contains a Sound Room, which is effectively a karaoke/movie room that you can enjoy with your friends and family. There's also a Social Room, a multi-purpose versatile space that you could use for an array of activities – from movie nights (it seems to contain a projector) to ballroom dancing.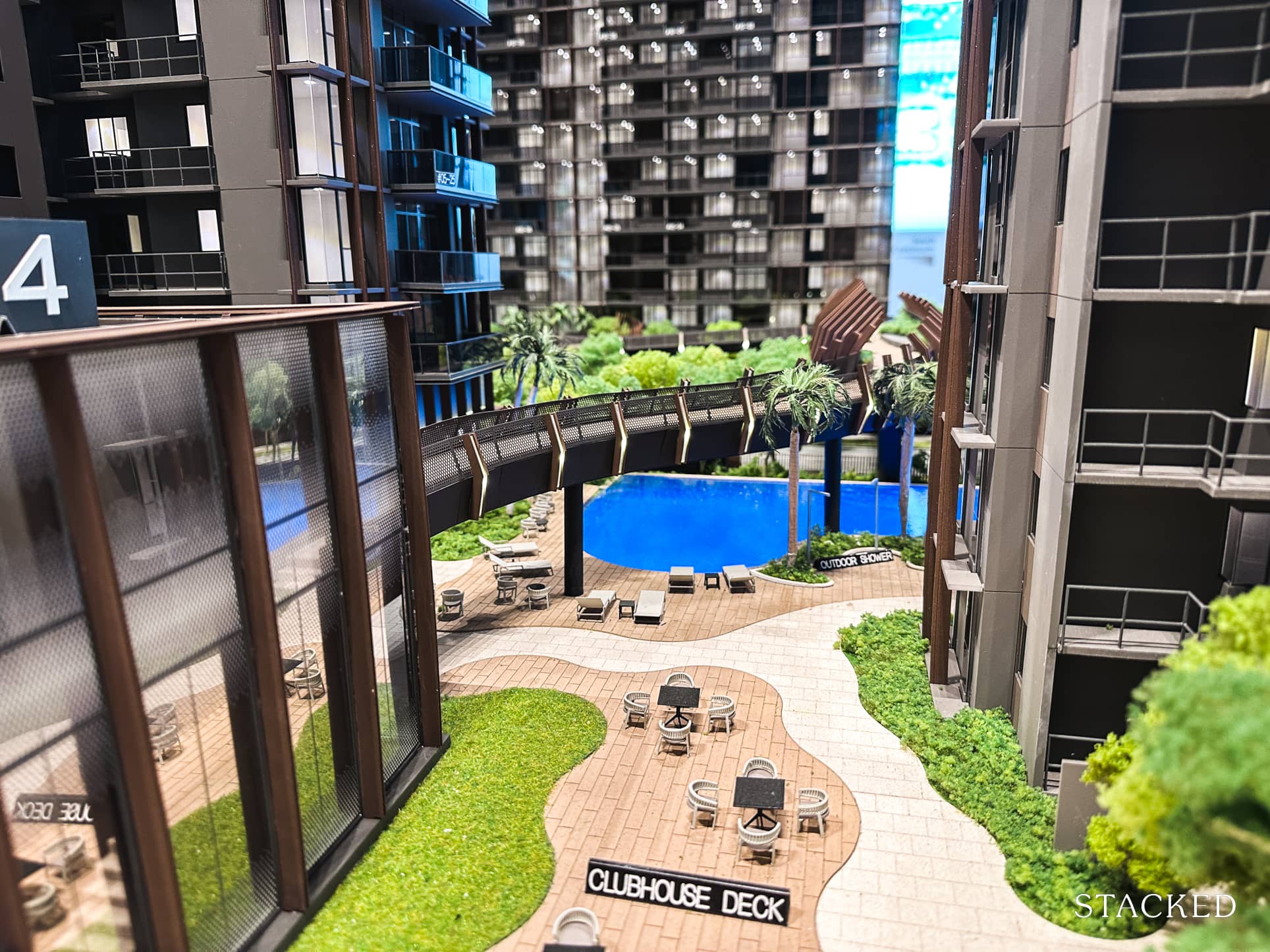 This Glass House connects you to the Continuum Bridge, which brings residents over to the North side of the development. You'd notice that most of the facilities are mostly similar for both sites so perhaps the most exciting feature you might be going over would be the conserved Thiam Siew House.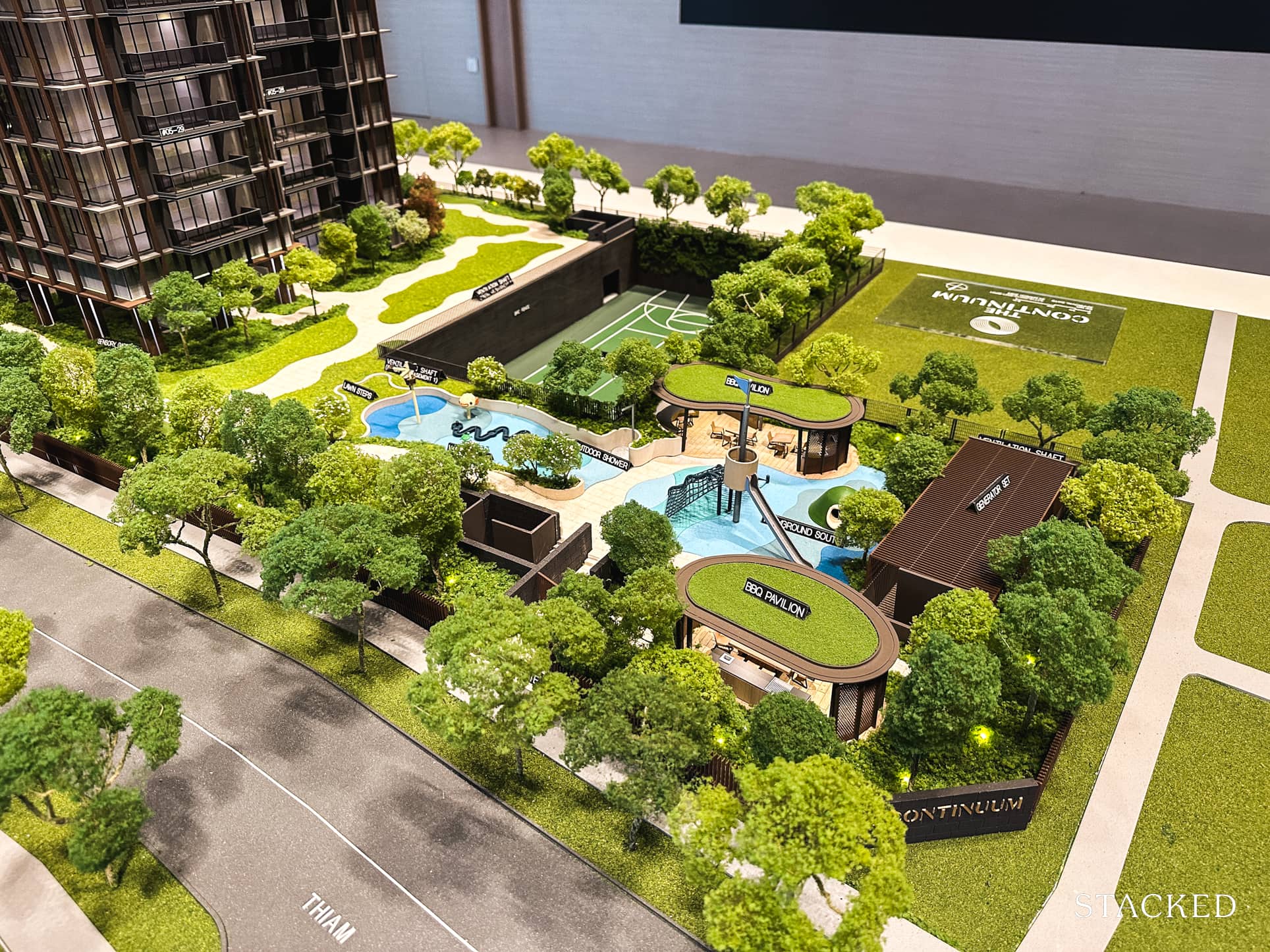 Towards the end of the South side of The Continuum closest to Tanjong Katong Road is the Playzone, which of course, is meant for the kids! With 3 popular primary schools in the vicinity, it comes as no surprise that the developers are making sure that there's a proper kid's play area for both sides. There's a small dedicated playground, water play area, and lawn steps. In case you're thinking of throwing a kid's (or kid at heart) party here, there is an accompanying BBQ pavilion for your use.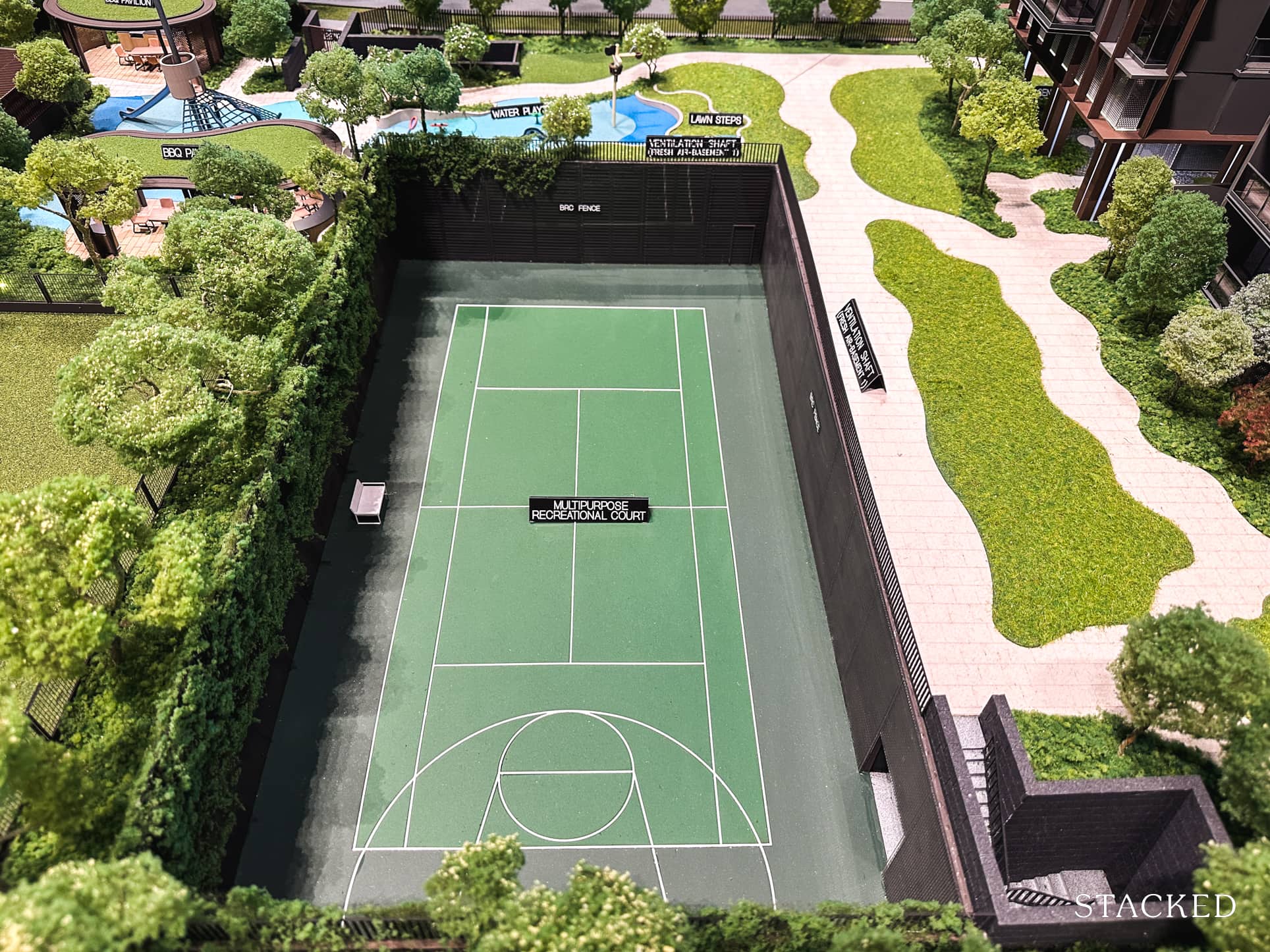 For the sporty-inclined people, there's also a multipurpose recreational court here – looks to be at least a tennis court and a half basketball court so kudos to the developments for attempting to include this in! But let's not kid ourselves – given how popular tennis is these days, it's definitely going to be booked out with 800+ units here. Can't actually recall the last time a new launch had 2 tennis courts…
Moving all the way up again to the 2nd of the sky gardens here at The Continuum, this time at the South side. Starting with the most impressive facility here – which is, without a doubt, the Sky Club at almost 600 sq ft of space. It's an elegant and impressive 16-seater fine dining space complete with a chef counter and living room corner. Whether you're engaging a private chef or doing it yourself (or maybe with the help of your helper), I do like the addition of this.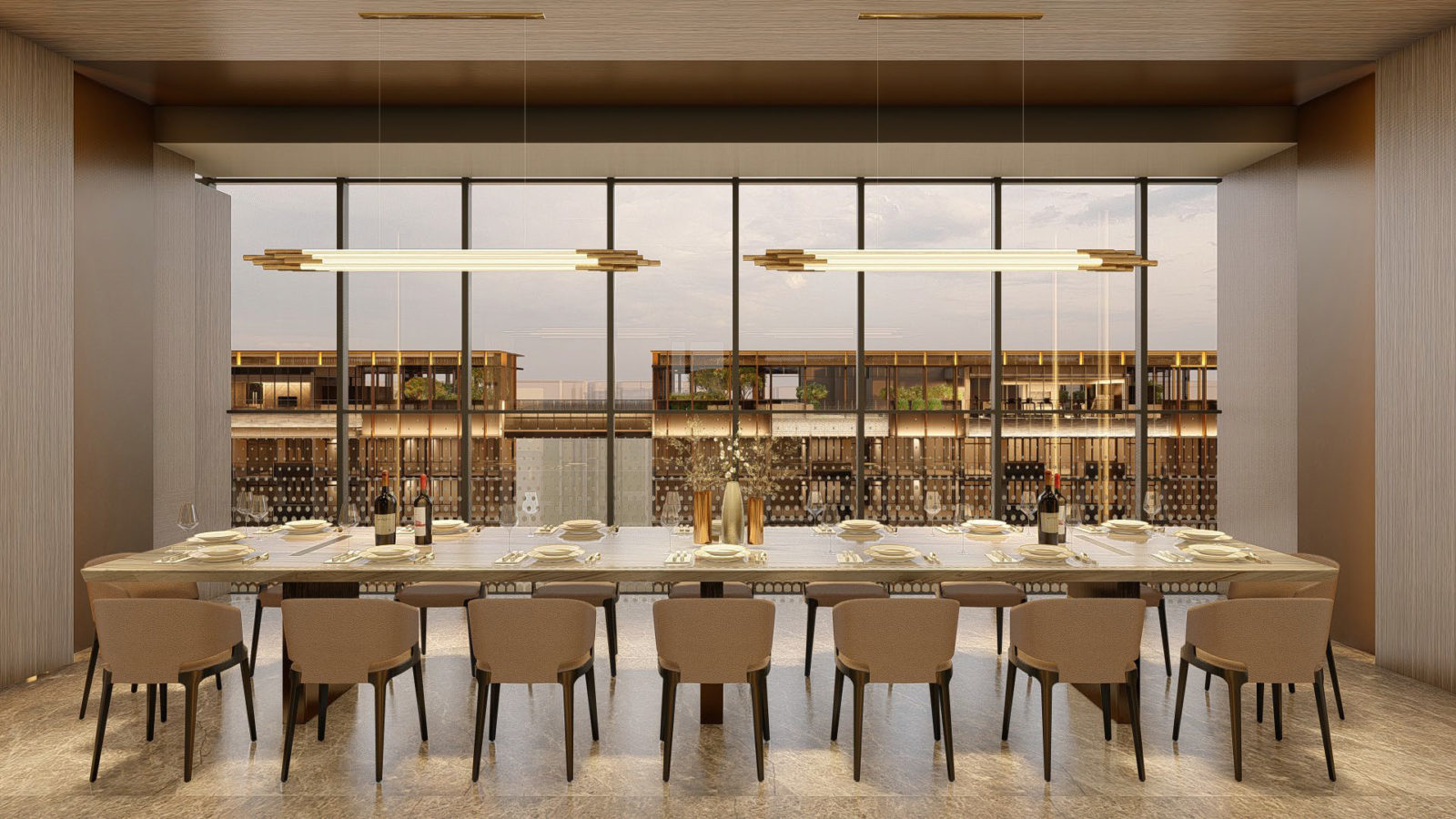 So there are a lot of varied dining spaces at The Continuum, and unlike a lot of other places where it's really just pavilion 1 and 2 – you can enjoy entertaining your guests in different settings.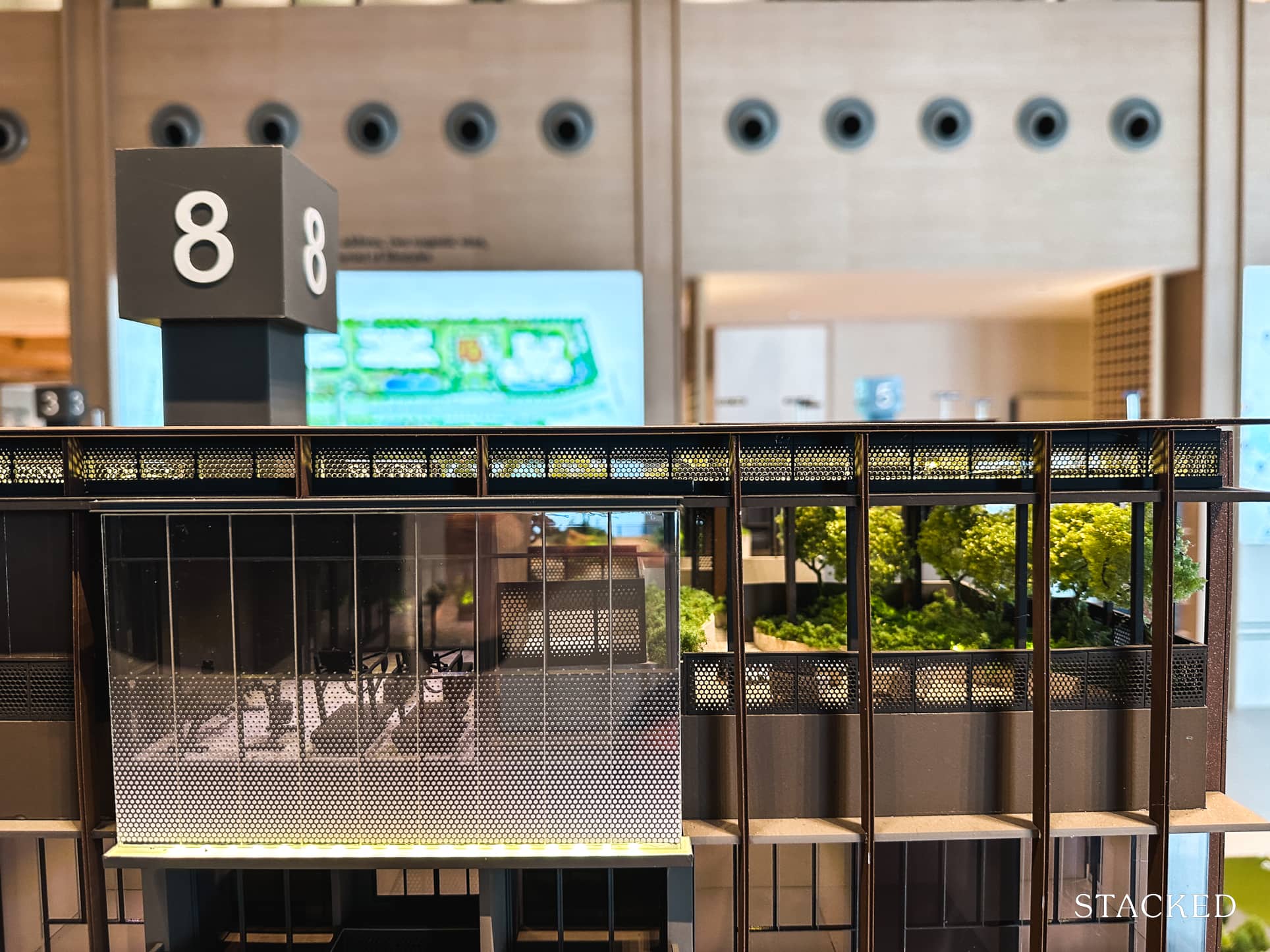 As with the North, you also have a gym here although this one is quite a bit smaller than the other. It's less than half the size of the North sky garden gym and hence will likely have less equipment than what you can find at the other.
Similar to the North, there is also a Grill Deck here where you host BBQ parties and a dedicated "aircon rest area" just beside. I thought this was really an interesting and great addition to the development. Besides that, there are also interesting facilities such as the sky jacuzzi and hot tub where you can choose to spend some time just lazing around and enjoying some of the high-rise views of the area.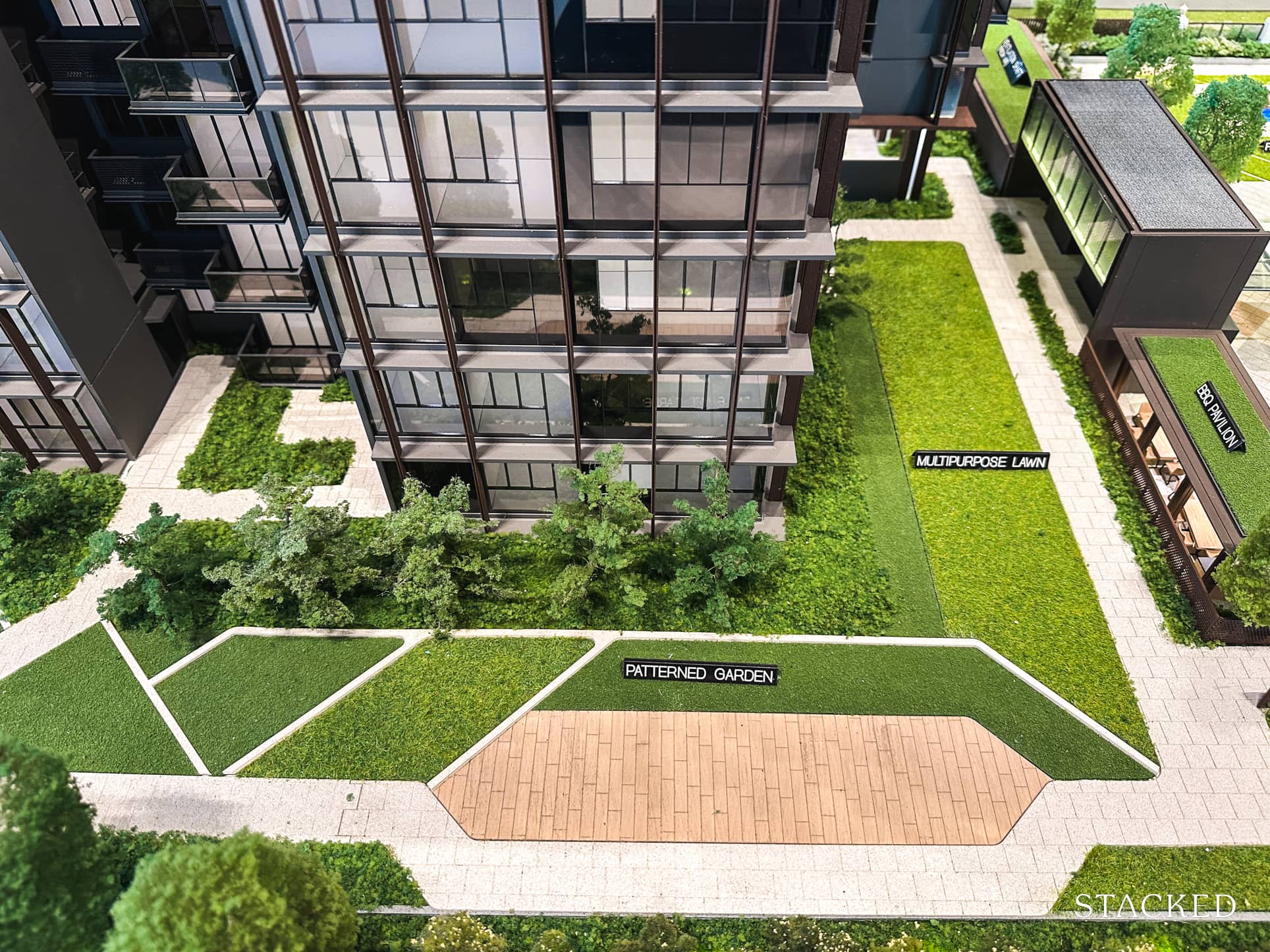 There are also other chill-out areas such as the patterned garden, multi-purpose lawn, hammock deck, swing deck, bridge deck, fitness deck, and the list goes on – but you get it, it's a bunch of small areas where you could spend some private moments by yourself or with a couple of loved ones.
With that, let's move to the show flat units!
The Continuum – 3 Bedroom Premier Type C5 (101 sqm/1,087 sq ft) Review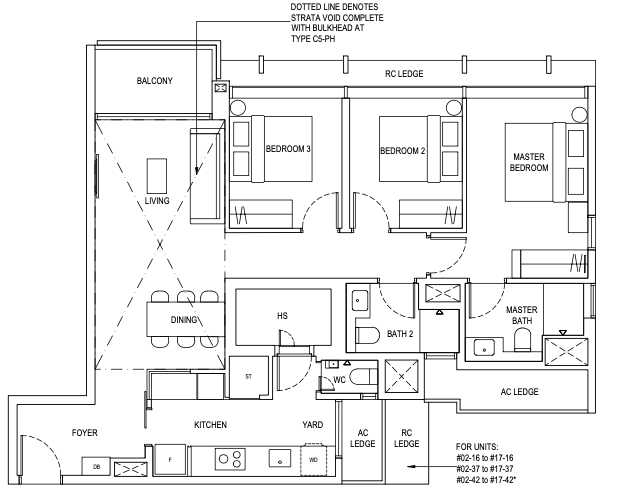 This show flat unit is the largest 3 Bedroom type in the Signature Collection as it belongs to the "Premier" unit type which has an additional yard, w/c, and household shelter. The smaller 3 Bedroom units range from 872 to 958 sq ft in size. There is also the premium "Prestige Collection" which comes with a private lift and their 3 Bedroom sizes range from 1,227 to 1,249 sq ft (which I will be reviewing the largest of the units in the next section). As standard, you will have 2.8m ceilings and large-format porcelain tiles for the common areas, and engineered timber for the bedrooms.
Another interesting point I want to highlight is the flexibility of these units. If you look closely at the walls of the floor plan, you can break them down to create bigger or different spaces if you wish. For example, you could knock down the walls of Bedroom 3 to create a bigger living or combine Bedroom 2 and the Master Bedroom to create a bigger room or an attached study space instead.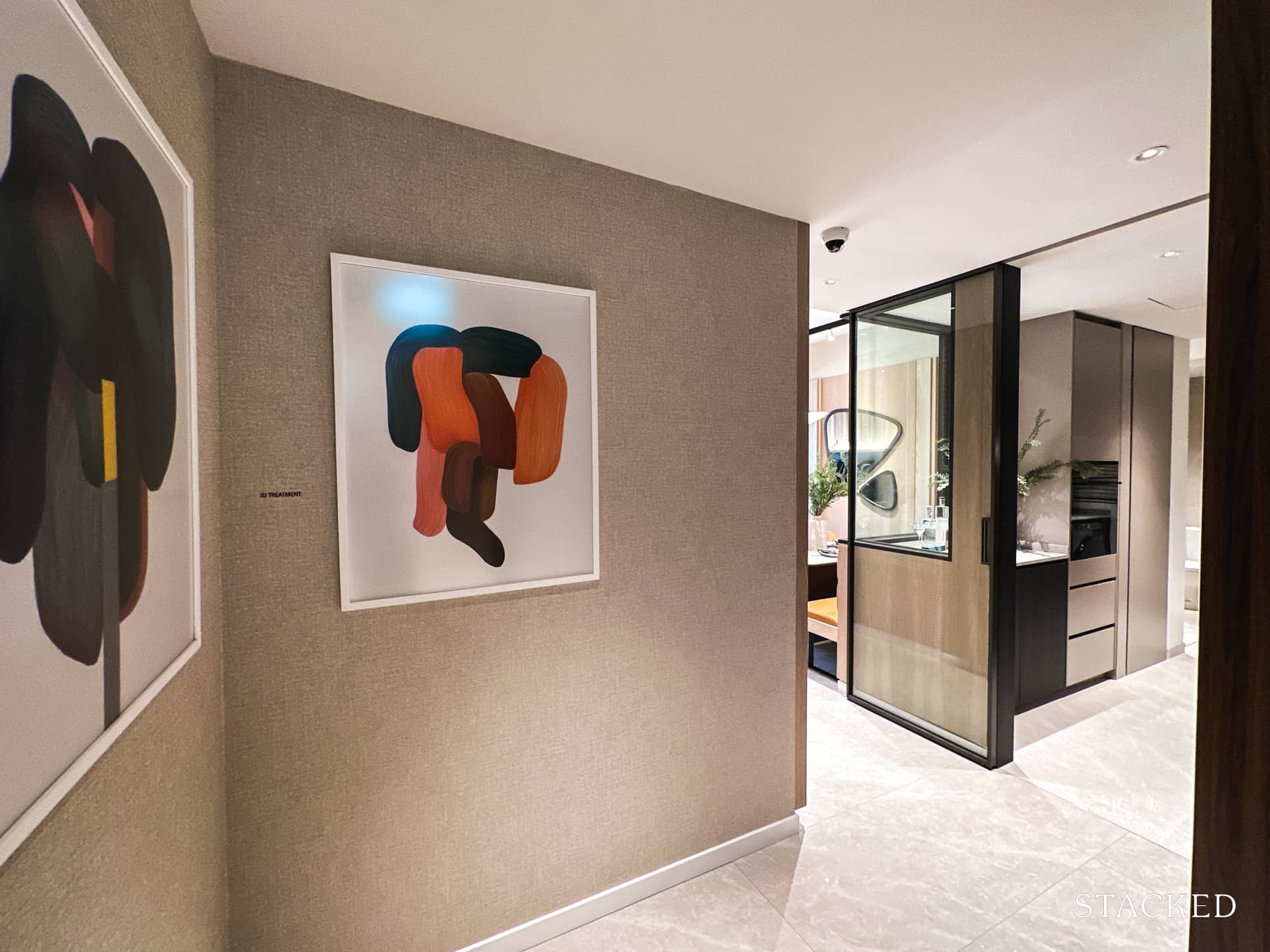 As you enter the unit, you are first greeted by a foyer that grants you more privacy as it shields curious eyes from looking into the rest of your house. I've been quite divided on this – on the one hand, it eats up valuable space in the house but on the other, I understand that some may appreciate the added privacy here. The advantage of this nook is a dedicated space where you can build full-height shoe cabinets. While you do get a few shelves with the built-in cabinet that houses your DB box on the right (provided by the developer), it may still not be sufficient for some people.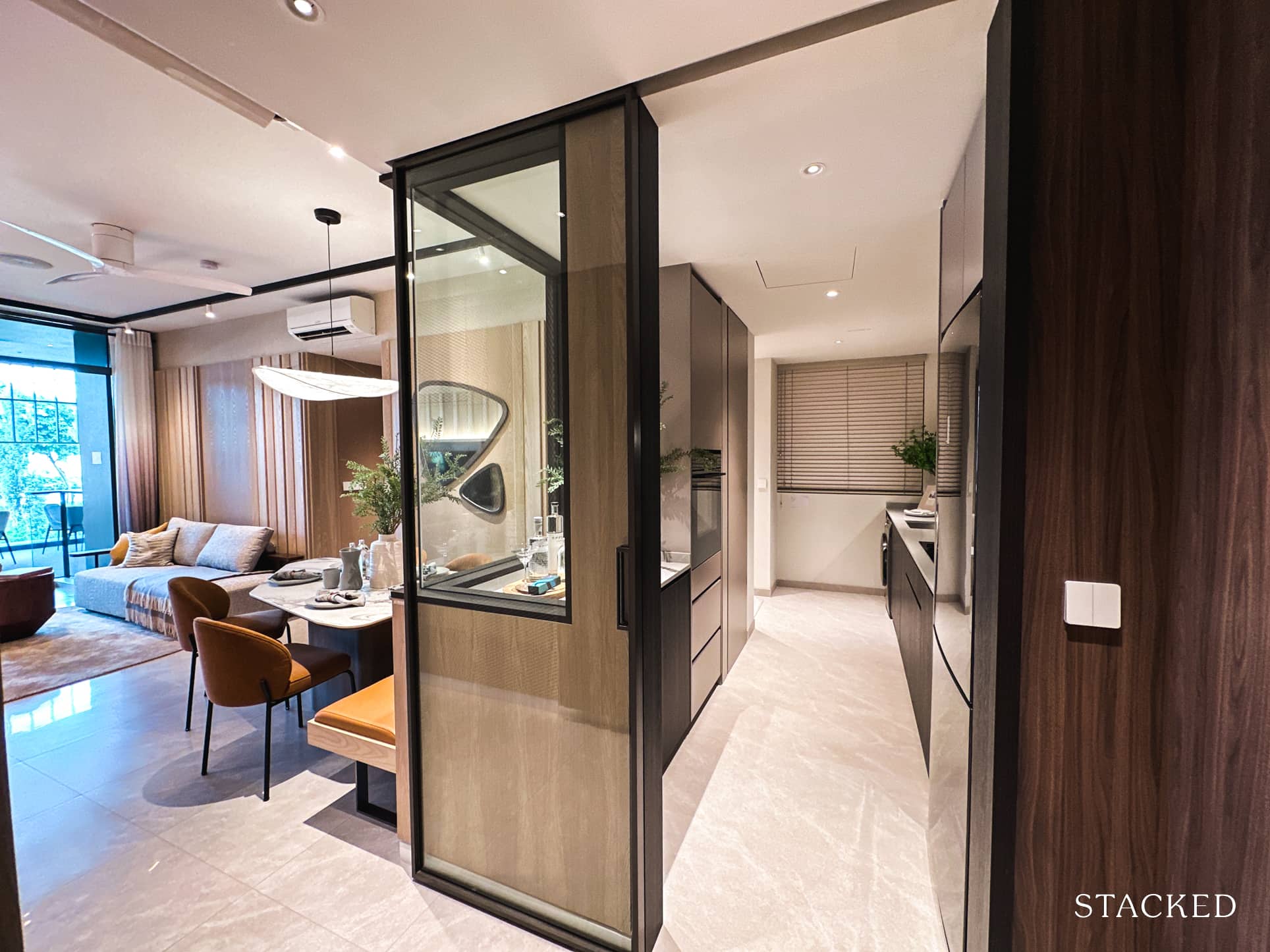 The enclosed kitchen is by the right of the entrance and has a fixed glass panel that looks out to the living and dining areas. I've always been a fan of this as it allows you to keep watch over your young children or even interact with your guests. More than that, I also feel that it helps to brighten up the kitchen and make it feel less claustrophobic. Not that you've got to worry about that here, as this is a pretty comfortably sized kitchen.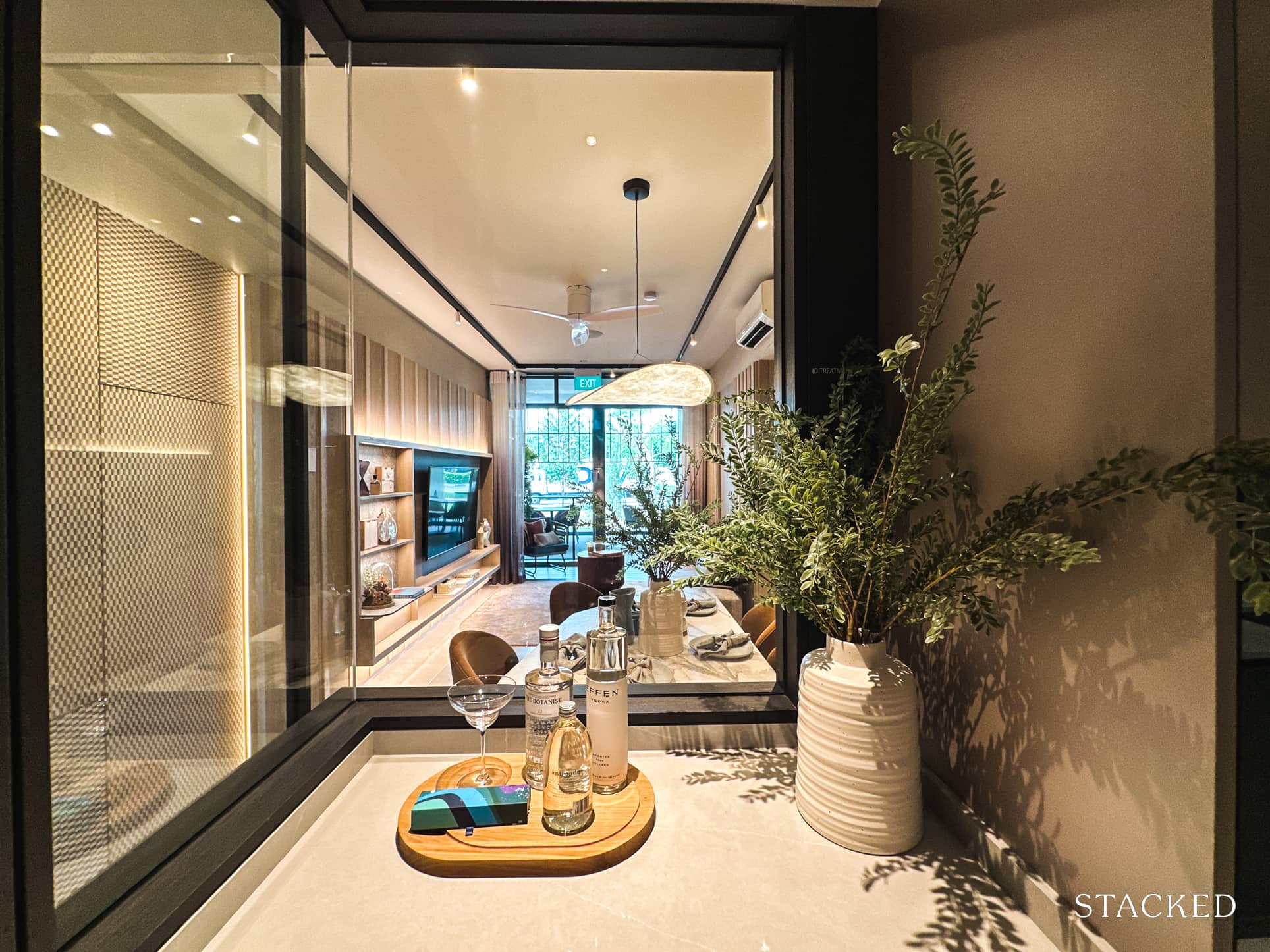 The side facing the living and dining area doesn't have much countertop space and can be seen as more of a 'pantry' of sorts but rest assured as the engineered stone countertop space of the other side spans almost the entire length of the kitchen.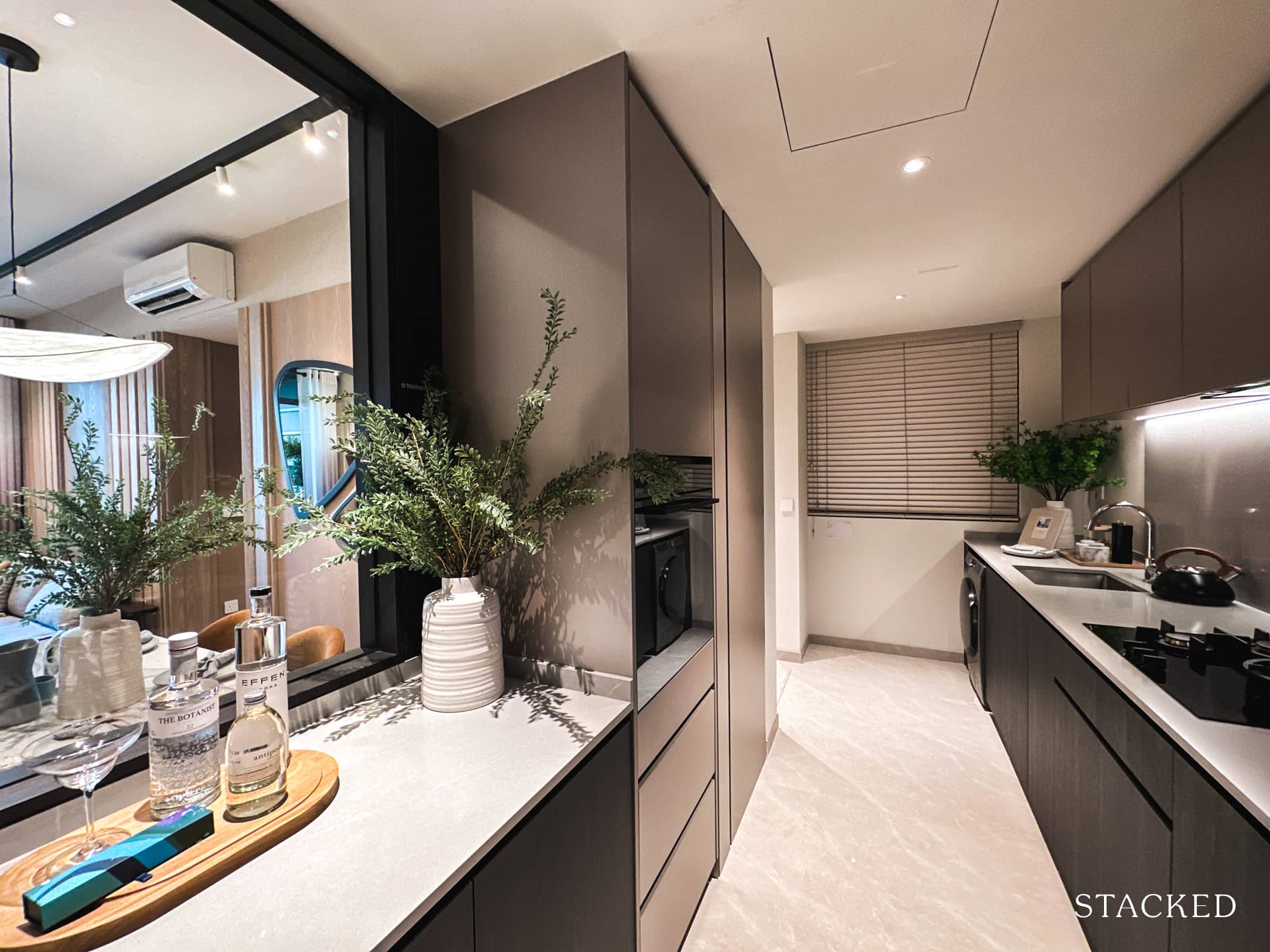 The developers will provide the white goods as standard, which include a Franke kitchen sink, Samsung free-standing fridge and washer/dryer as well as V-Zug cooker hob, induction hood, and built-in oven.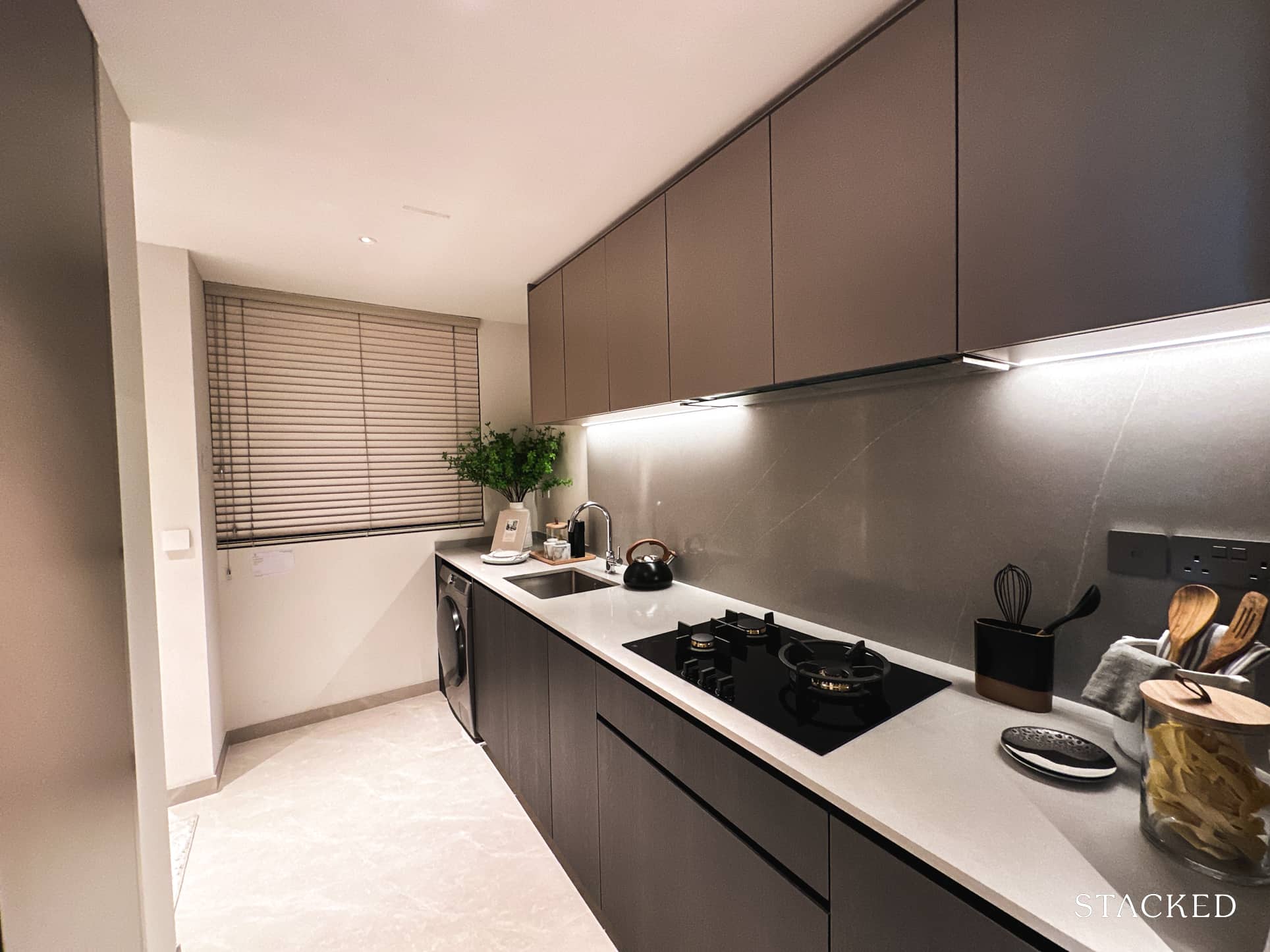 The cooker hob would definitely be a plus for serious chefs in the house but do bear in mind that these are only provided in units that are 3 Bedroom or larger. Another point to highlight is the use of V-Zug appliances (even for the 1 Bedroom units), which is arguably one of the most expensive mainstream European brands in Singapore. It highlights the developer's desire to pitch this as a luxury development.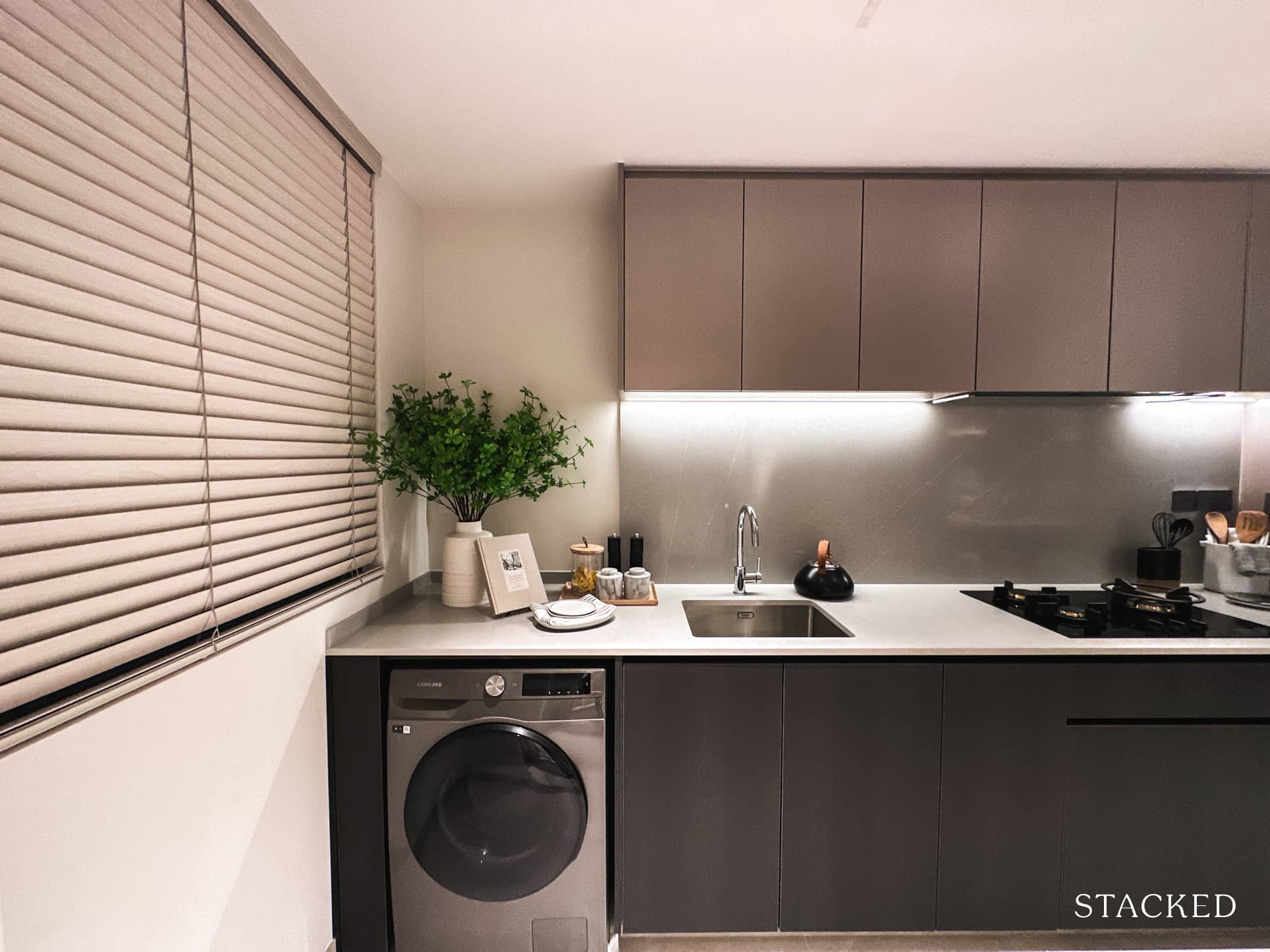 The windows are located at the back of the kitchen and where the yard has been designated to be. That makes total sense, especially for those who prefer to hang dry their clothes after washing. The Samsung washer cum dryer will also be conveniently located there as well.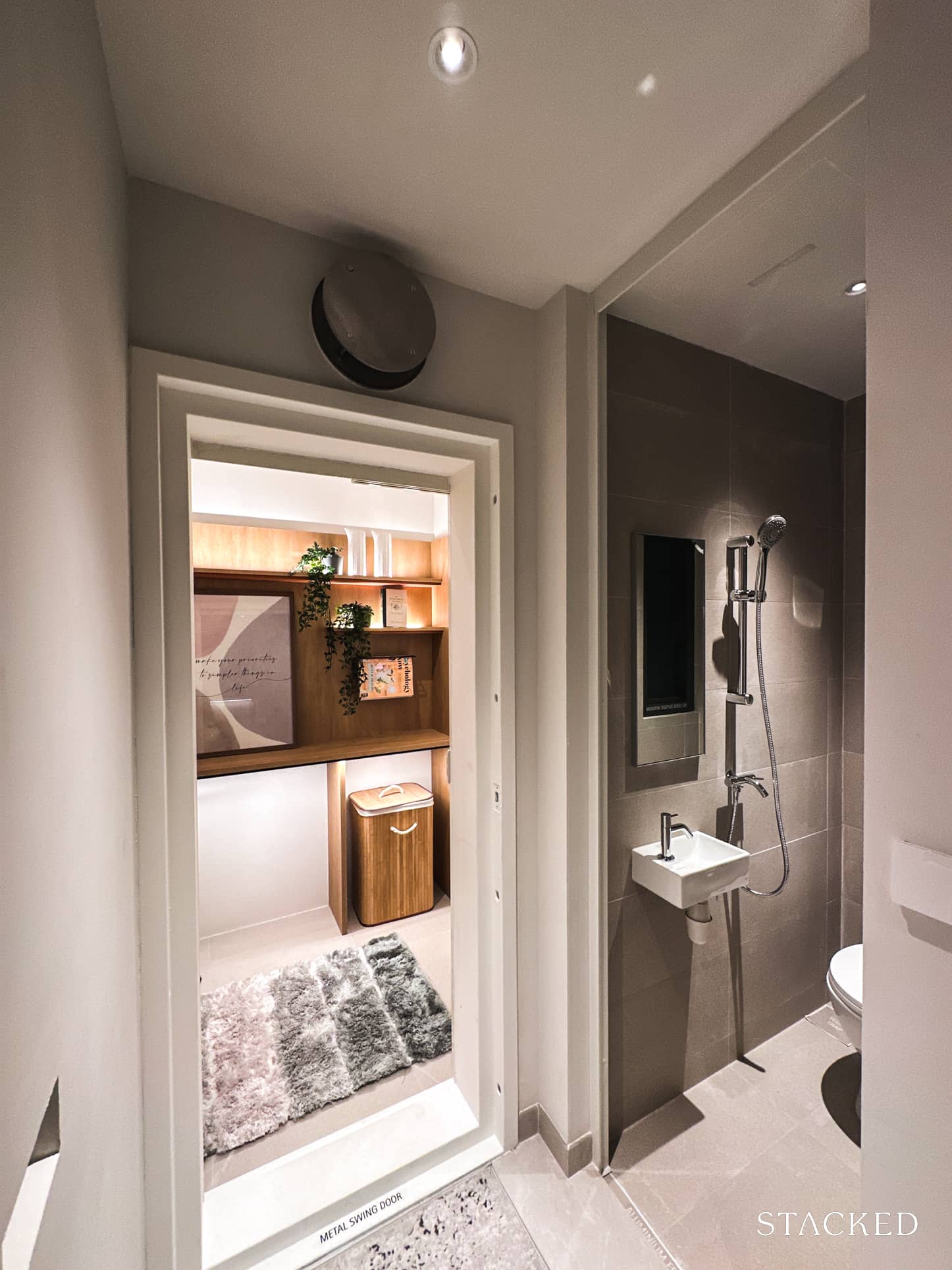 For those with helpers (or even for those without), you would appreciate the household shelter which some will either use as a storeroom or helper's room. For the latter, you also have the w/c here for her convenience.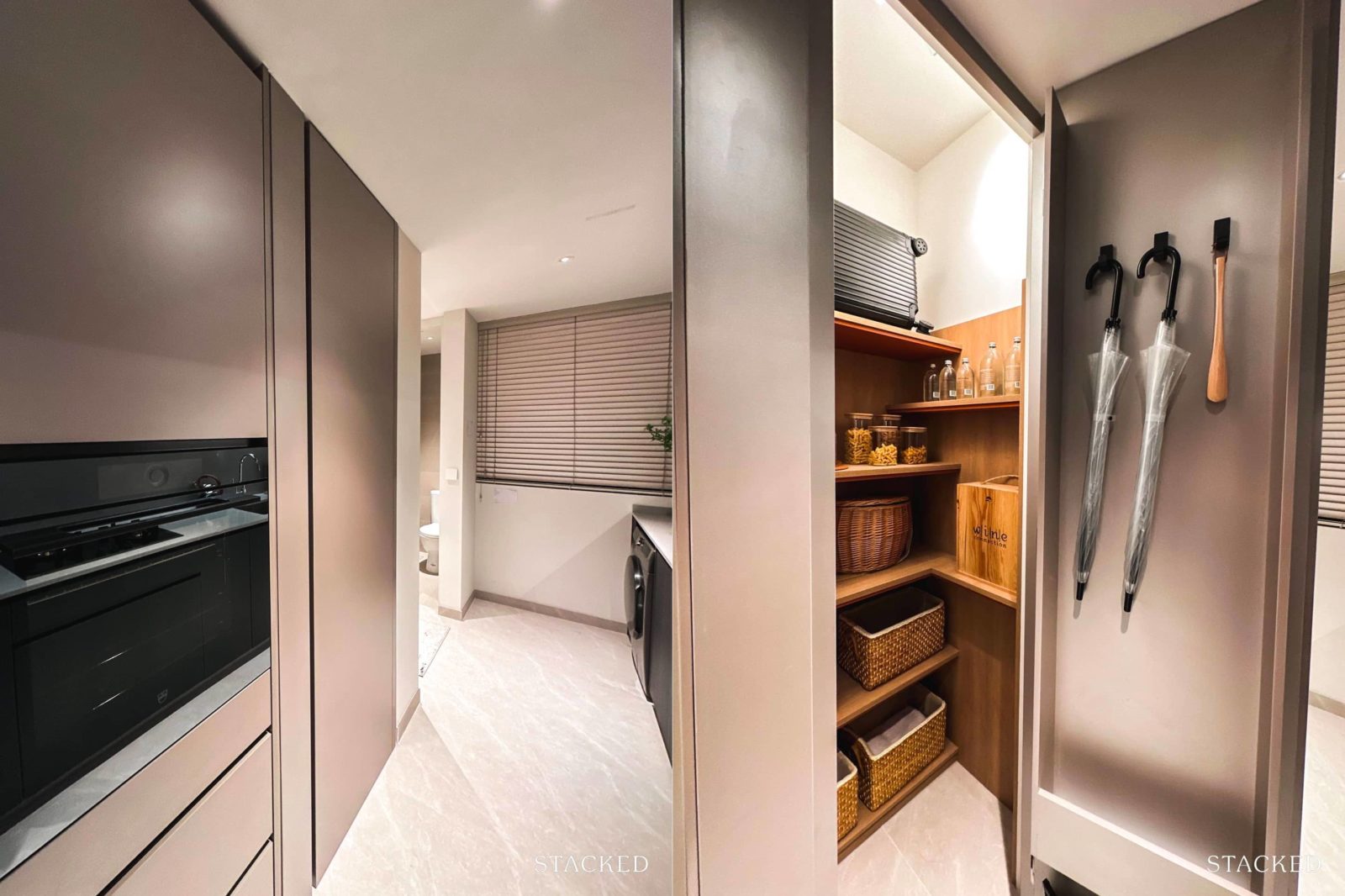 You might be concerned that if your helper occupies the household shelter, you would have no storeroom in the house. The developers have been really thoughtful about this – there's actually a dedicated store in each unit at The Continuum – not quite a new concept, but one that I would like to see every developer adopt (it's very seamless). It comes complete with shelving and racks, which are helpful in storing away your broom, mop, ironing board, and the like. It even comes with an electrical socket (very underrated, but super useful).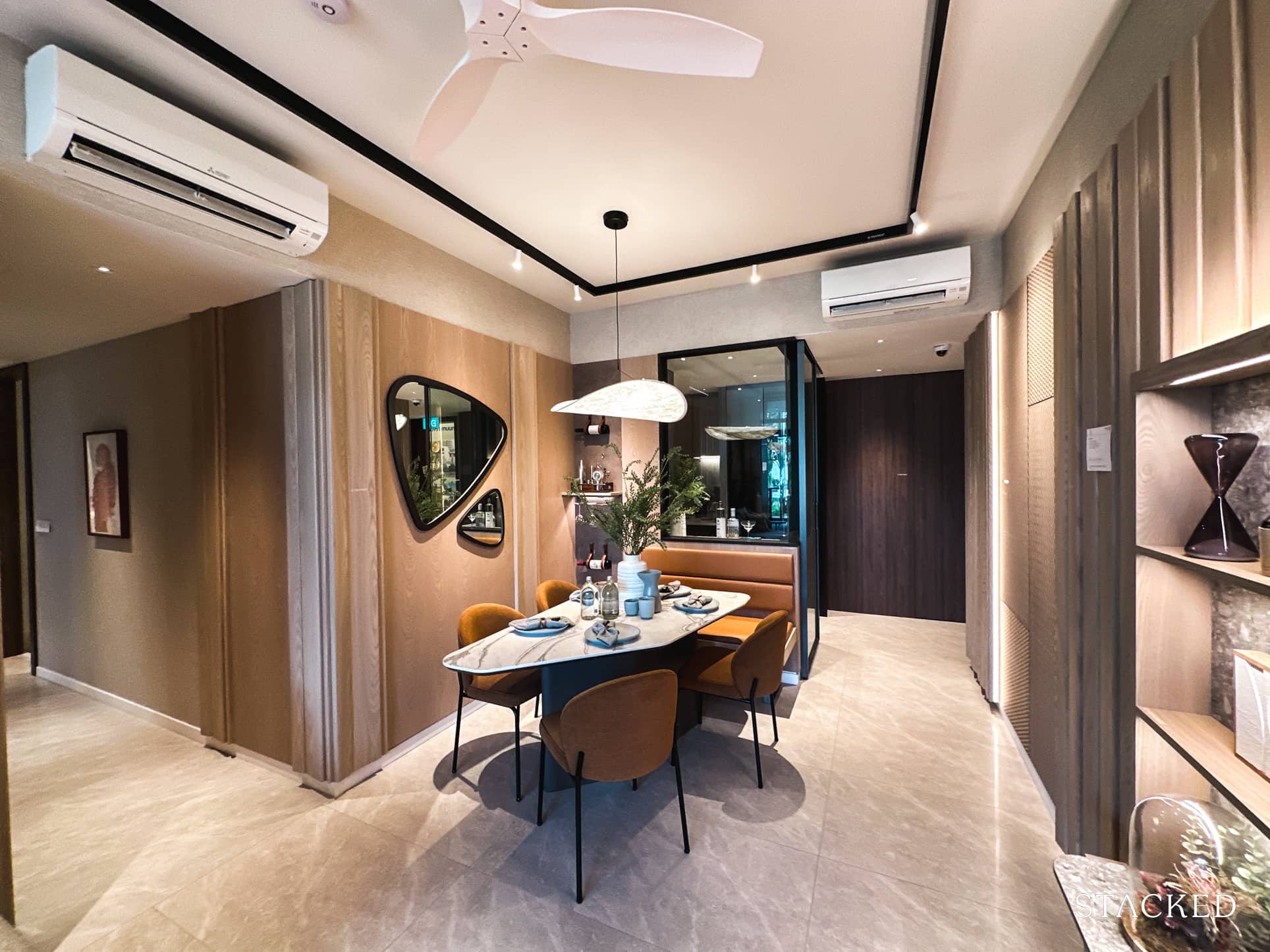 Heading back to the dining area and this space will fit a table of 6 snugly. While not class-leading in terms of its seating capacity, it is in line with market expectations. That said, if you host often, you can get an extendable table for 8 but that would likely mean that the table would infringe on the corridor to the bedrooms.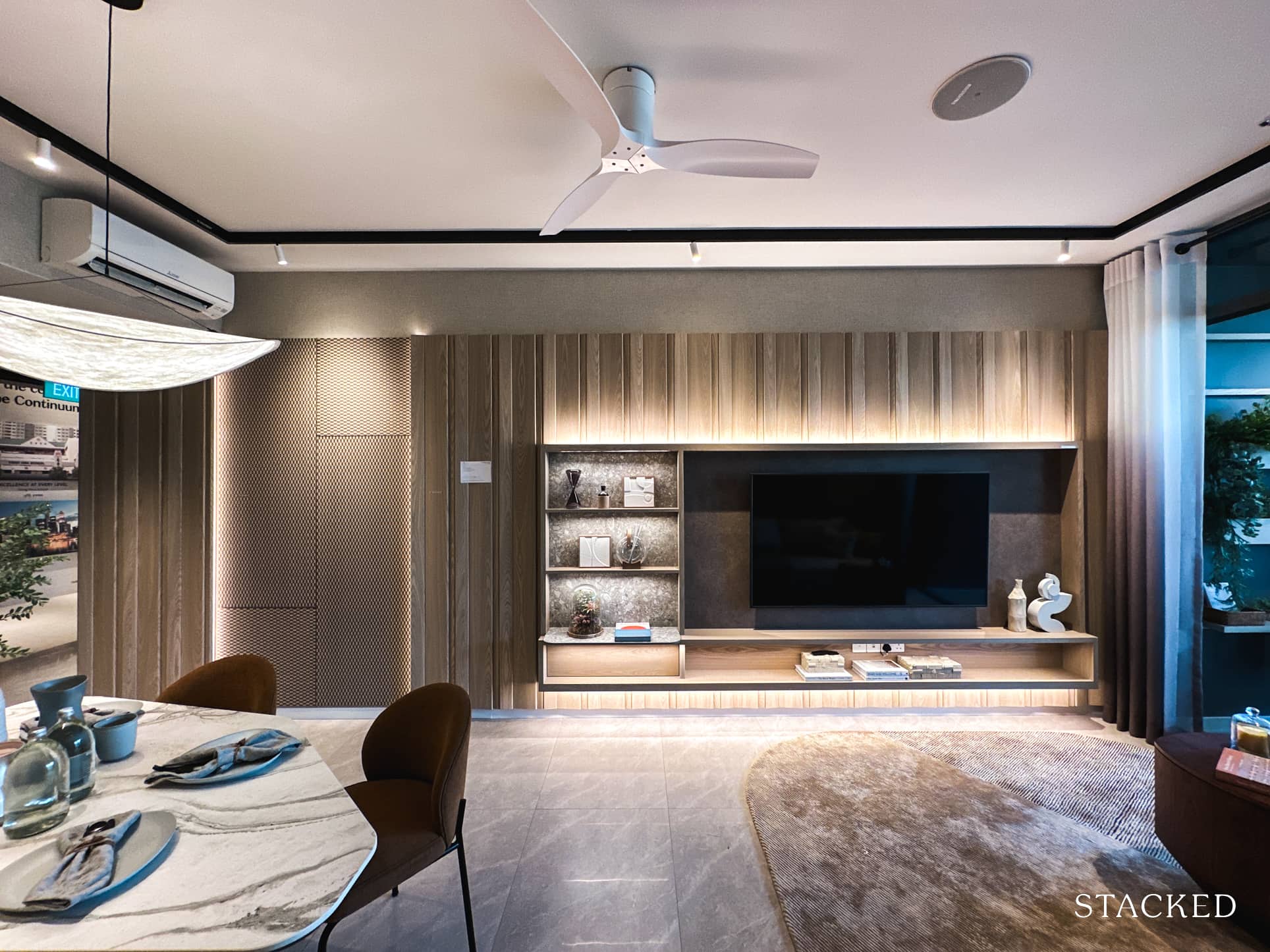 It's a similar story for the living room. The width and size are average compared to the rest of the new launches – where you can place a 3-4 seater sofa and a compact coffee table and TV console. (Although just like Terra Hill, it comes with the provision of a ceiling fan).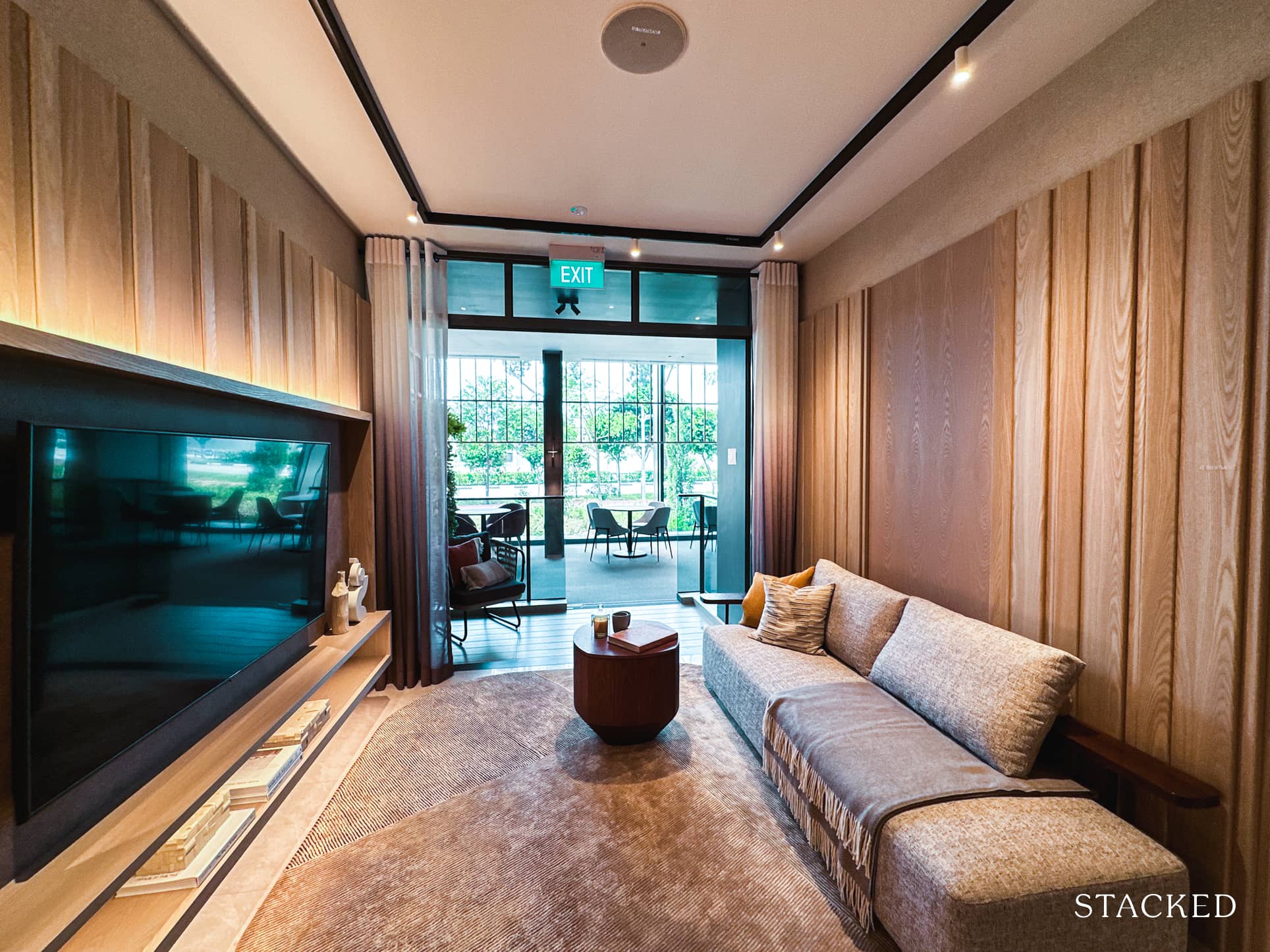 It's important to pick the right furniture, as the space may look smaller than it already is if your pieces are too bulky. Space definitely comes at a premium these days but if you find this area to be too compact, you have the option of either the larger units within the Signature Collection or 3 Bedroom units in the premium Prestige Collection.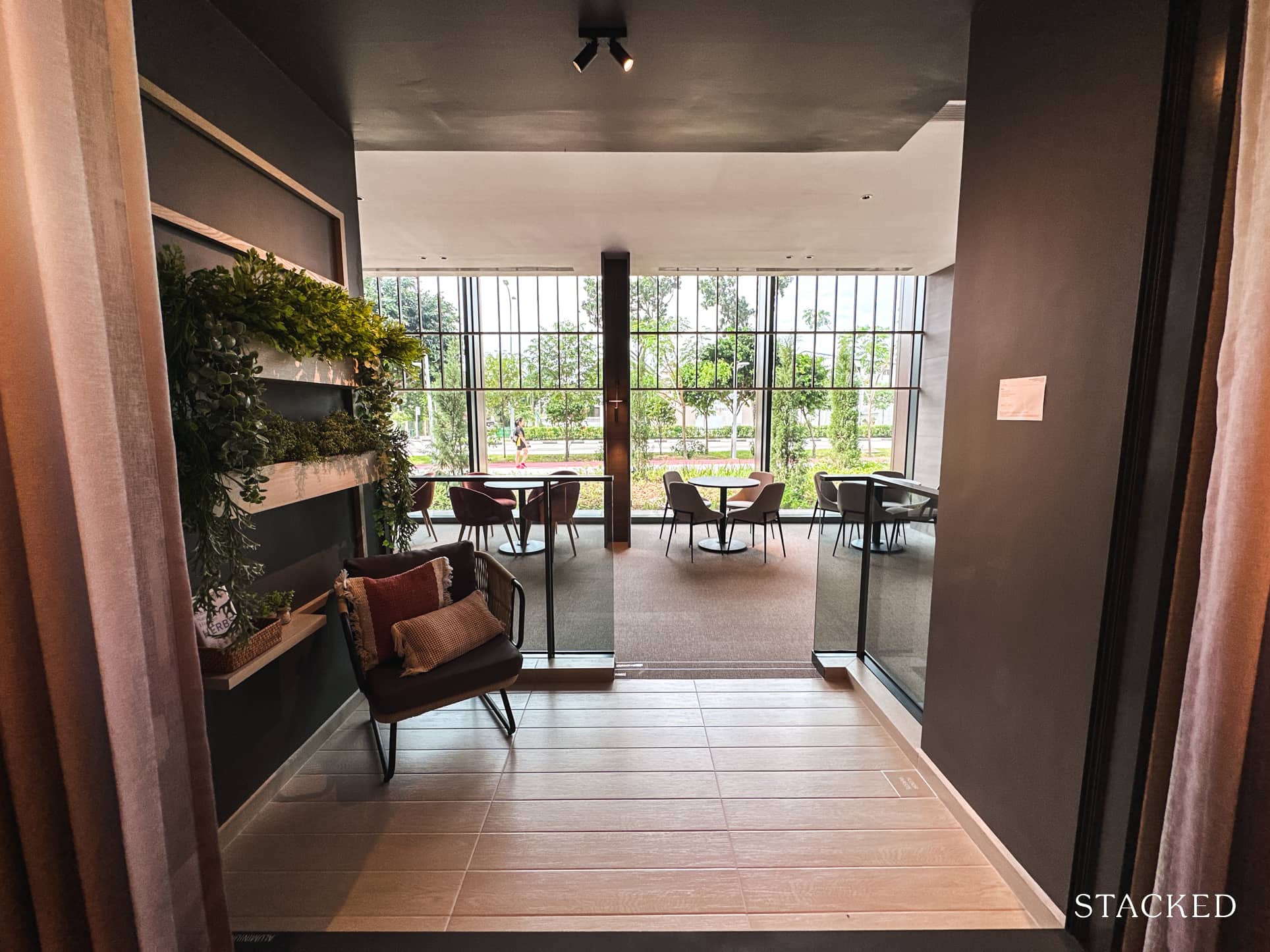 Adjacent to the living room is the 5 sqm balcony, which is of an acceptable size. Perhaps not quite large enough to move your dining table over but certainly enough if you just needed a chair or 2 to sip your morning cuppa. Or you could hone your green fingers just as the developers have envisioned here.
That said, something interesting to note is that the balcony is intentionally kept below the maximum allowable balcony size because they weren't intentionally trying to maximise the units size to sell. Instead, they were conscious in trying to redistribute the GFA to common areas where they felt it was more needed.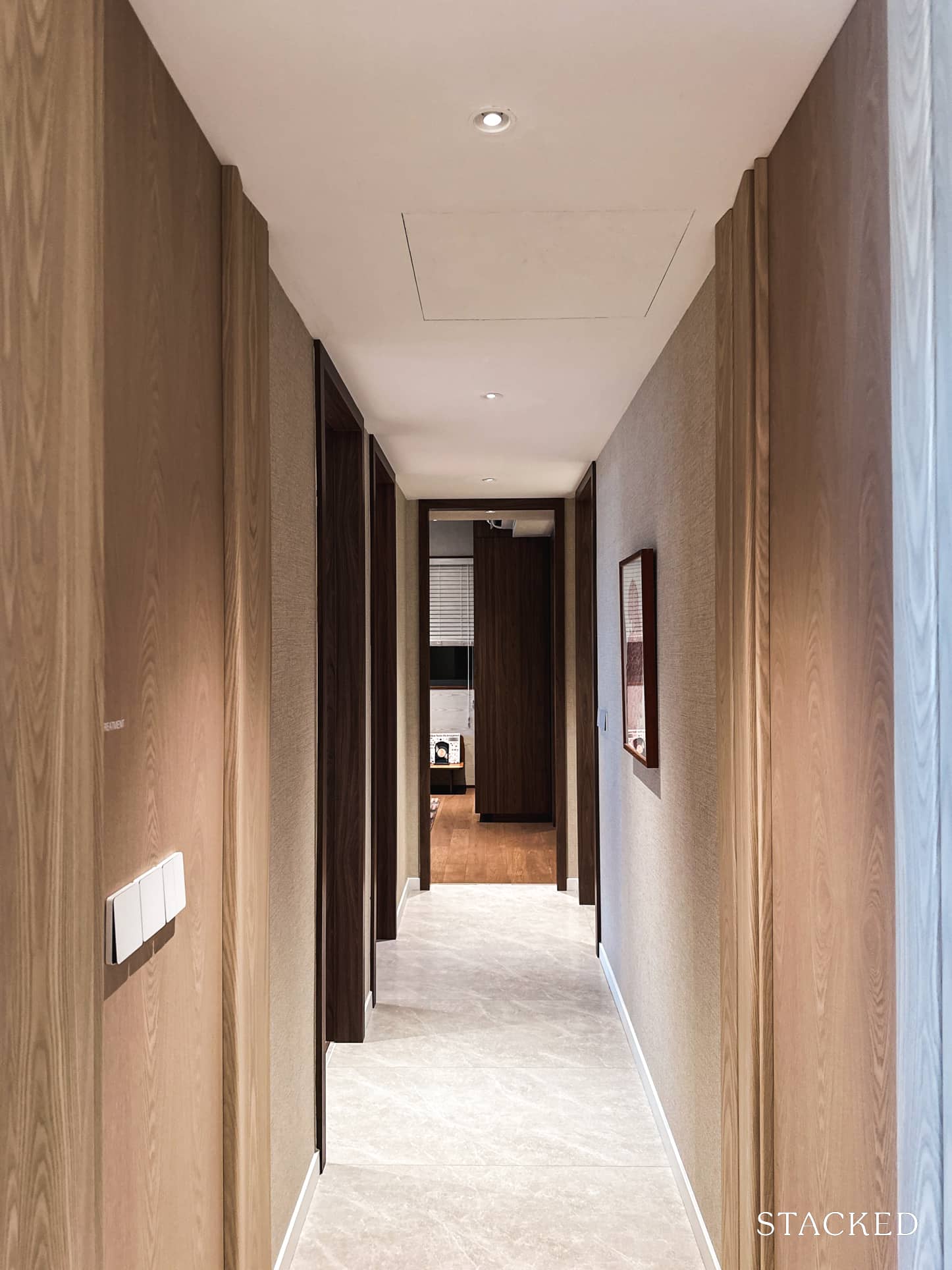 The bedrooms are laid out in the common corridor layout, with Bedroom 3 and Bedroom 2 being of largely similar sizes (9.1 sqm and 9 sqm).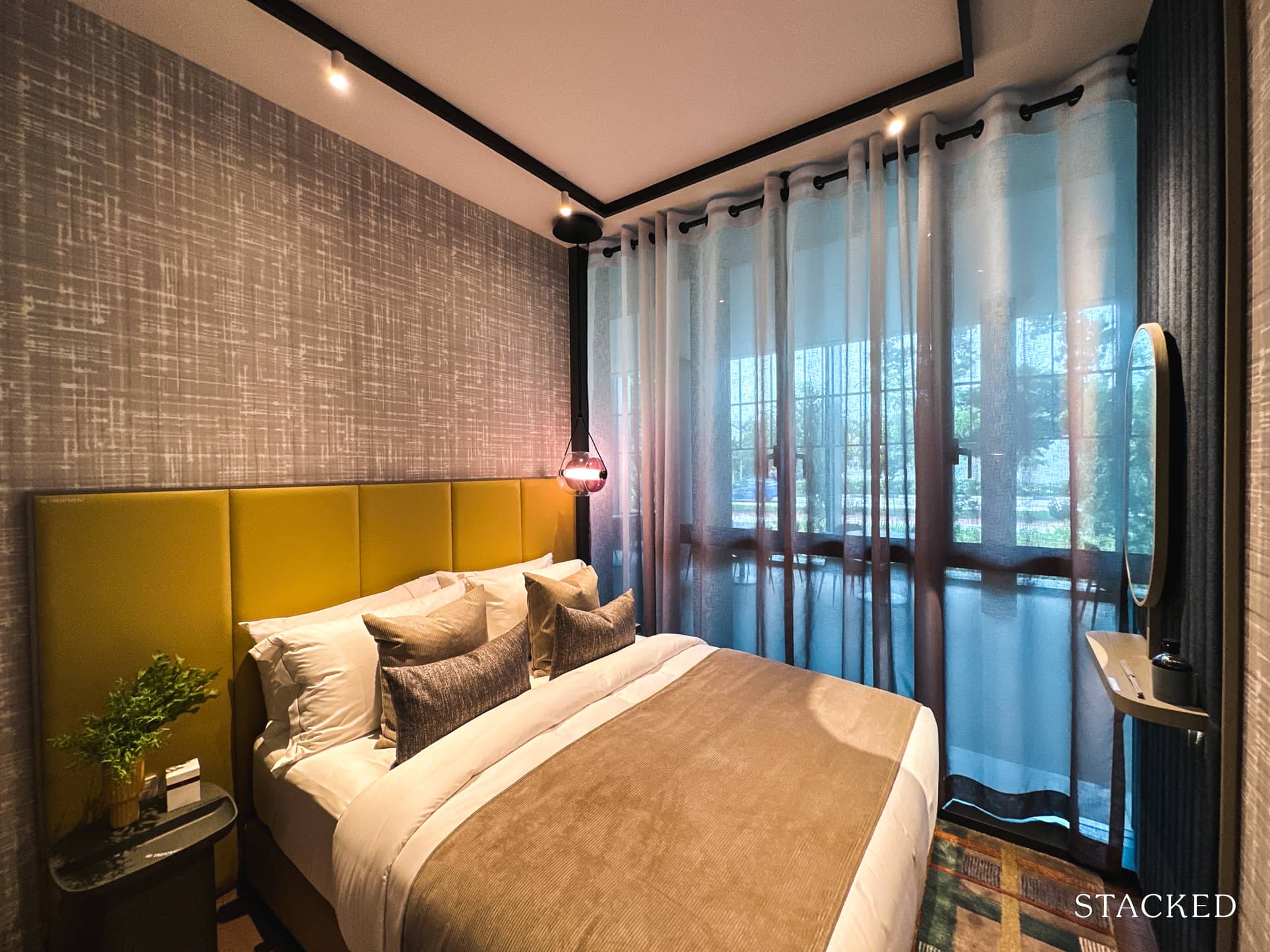 Starting first with Bedroom 3, it's been placed with a Queen bed with some room for a small bedside table. As standard, you get full-height windows and a built-in cabinet with sensor lighting, and an accessories drawer.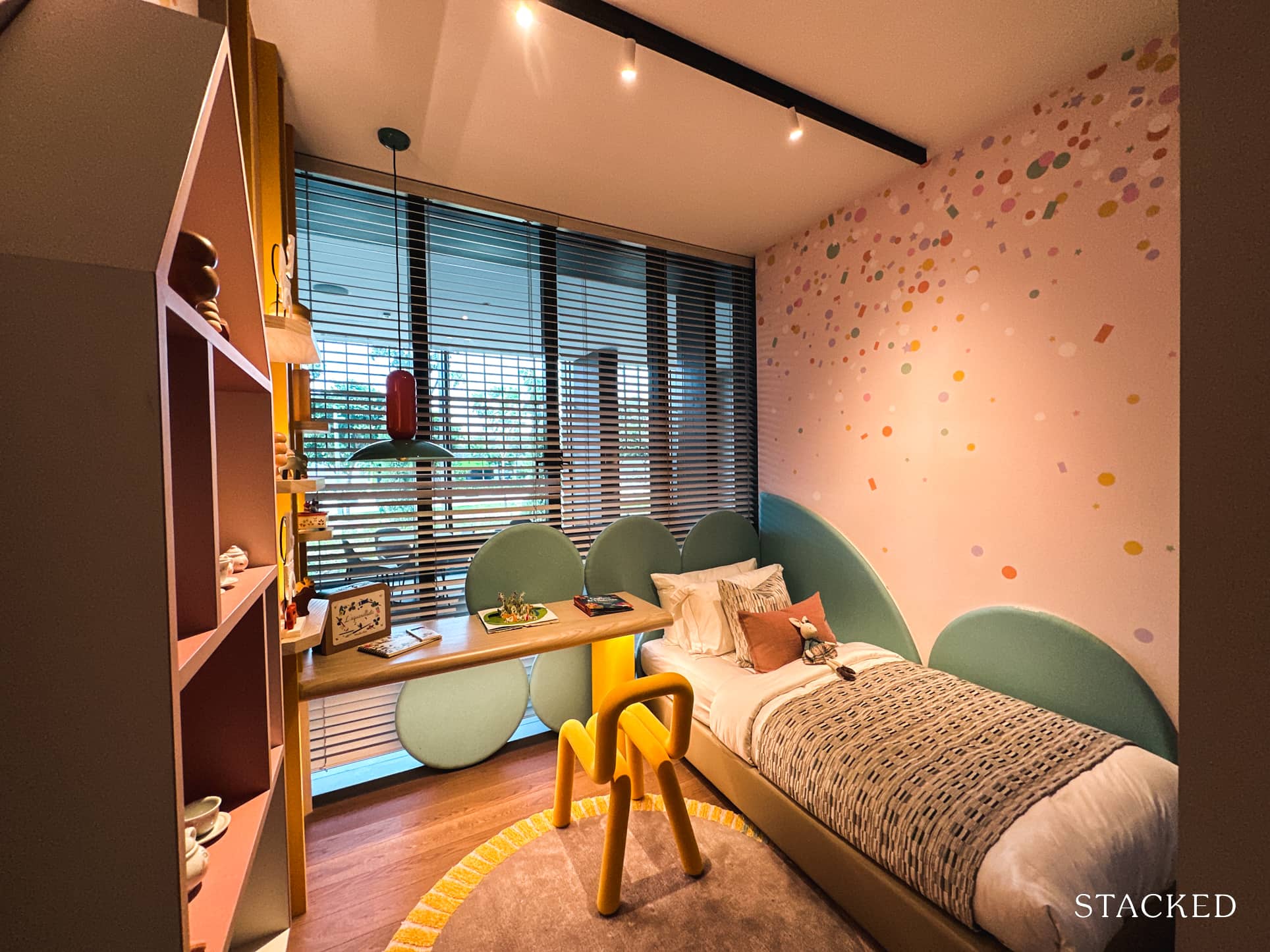 The built-in wardrobe will be the same for Bedroom 2. This bedroom has been done up differently to showcase the possibilities for the bedroom.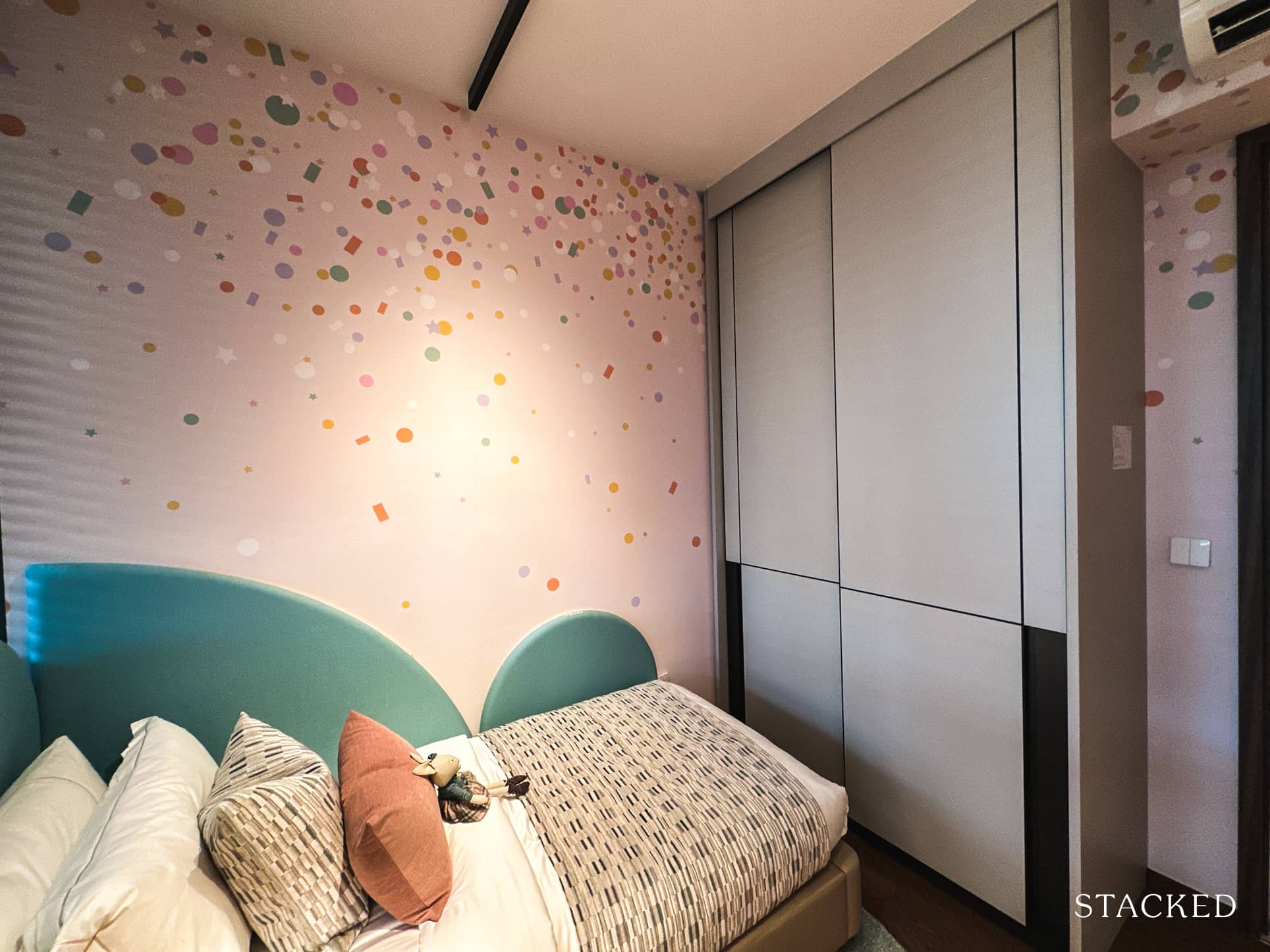 This is a kid's room instead, complete with a single bed and space for a small study table and chair. This is probably the more practical layout for everyday purposes, especially if you already have or are planning to have kids.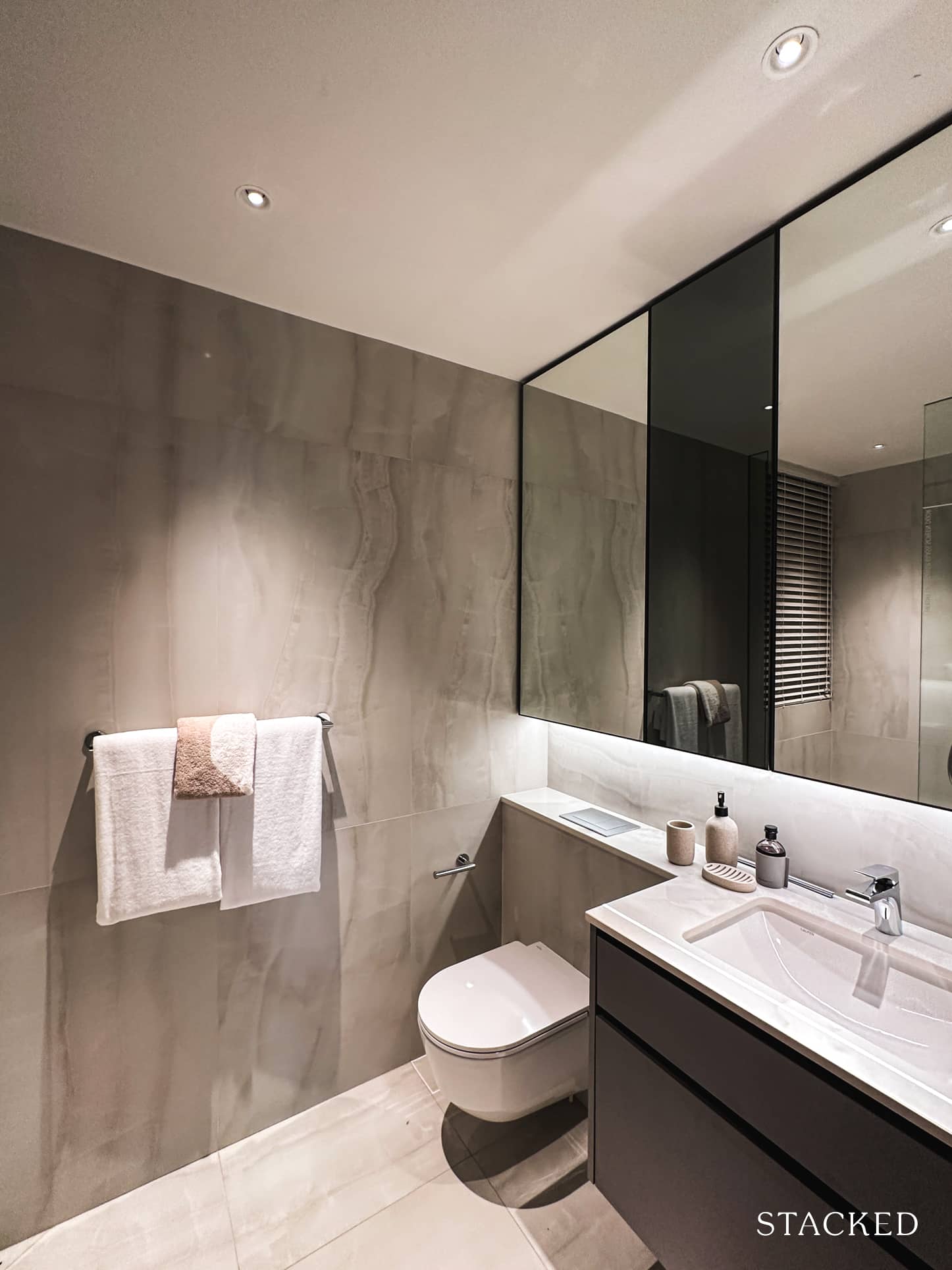 Both common bedrooms share Bath 2, which is averagely sized at 4.6 sqm. It's clean and simple, but it does look high-quality enough and comes complete with quality European fittings and fixtures.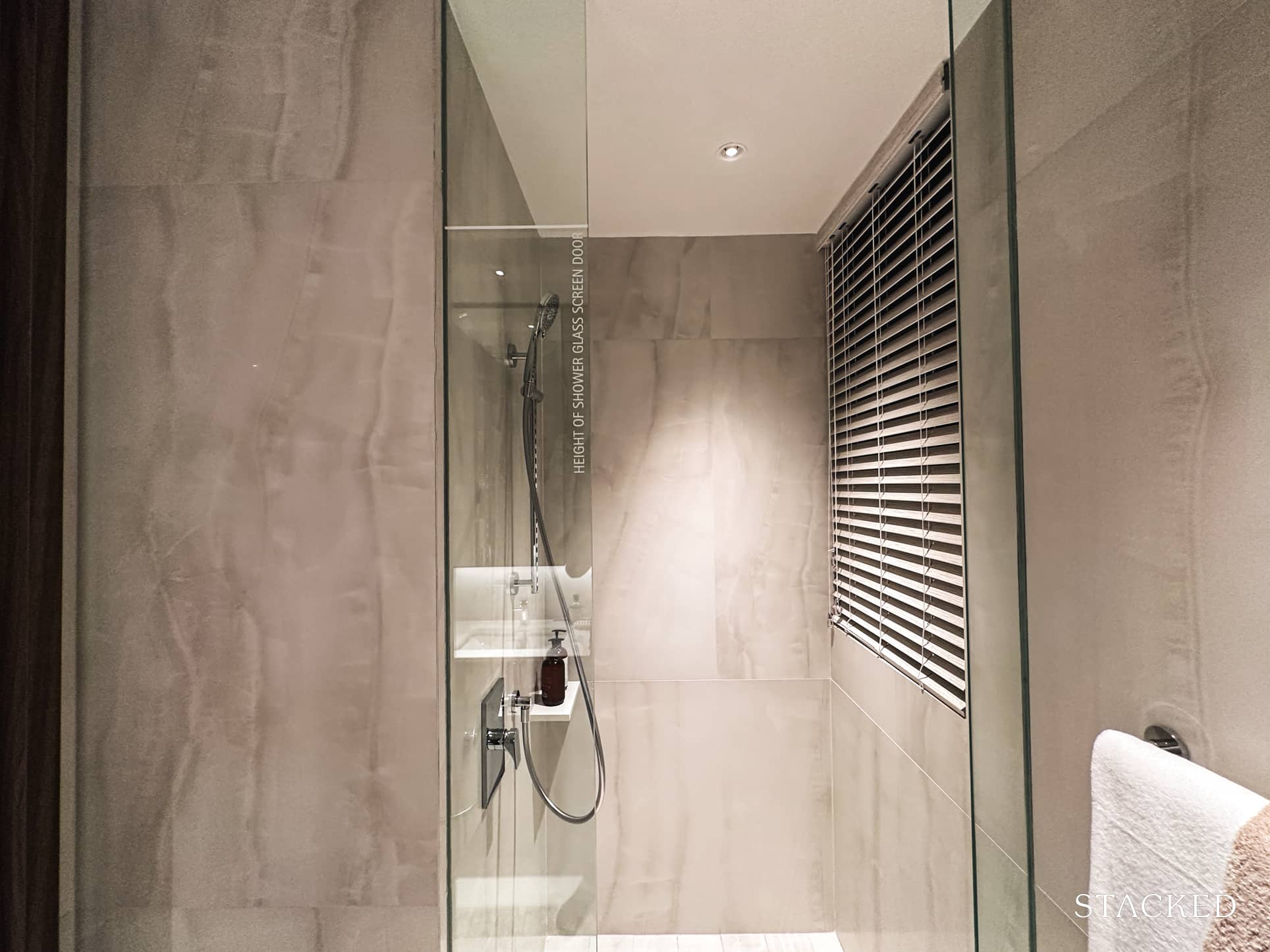 These include a Gessi tap, shower mixer, and hand shower as well as a Laufen wall-hung w/c and basin. There's even a window here for natural ventilation.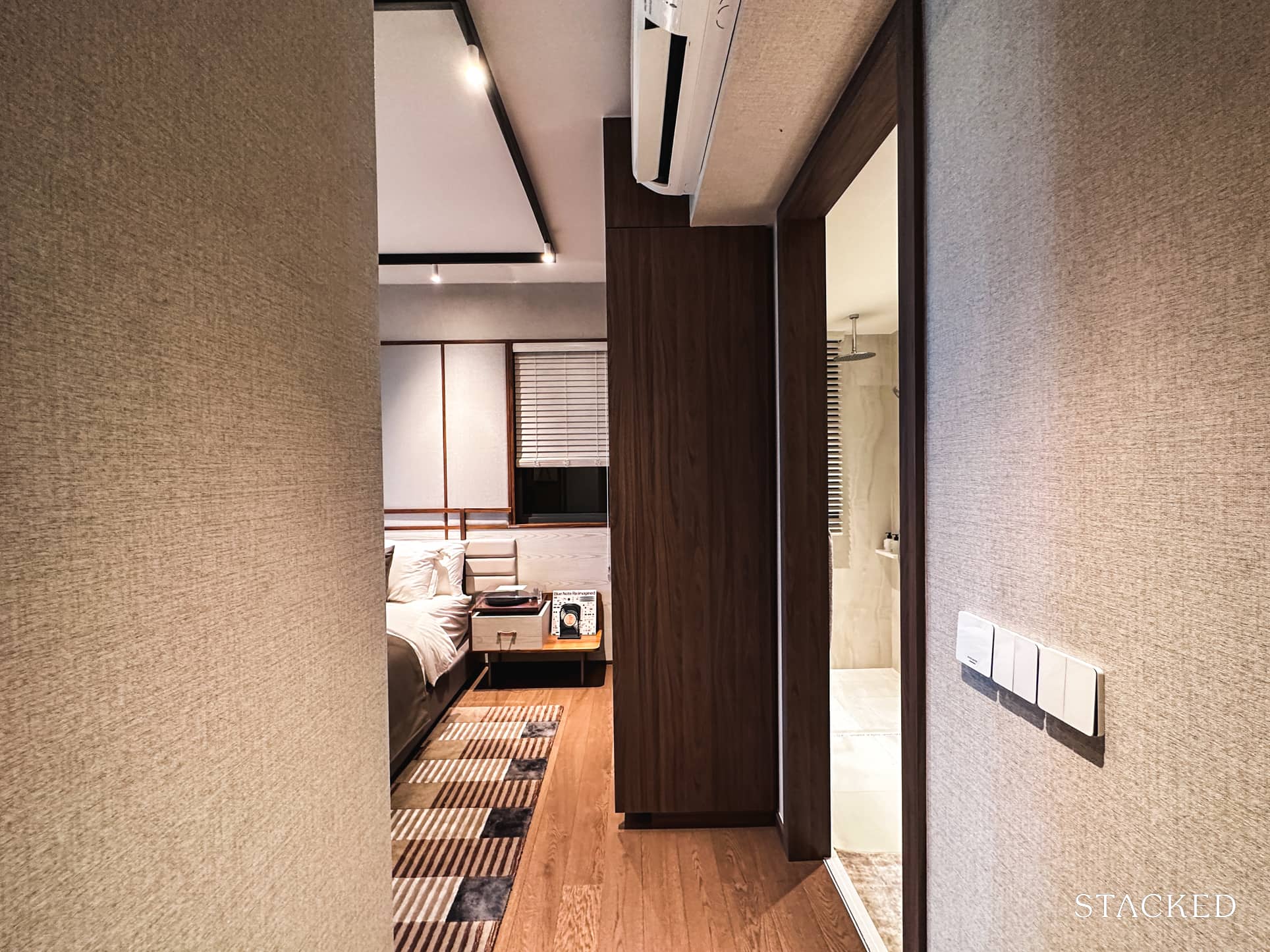 Moving to what is usually the most anticipated part of the house – the Master Bedroom.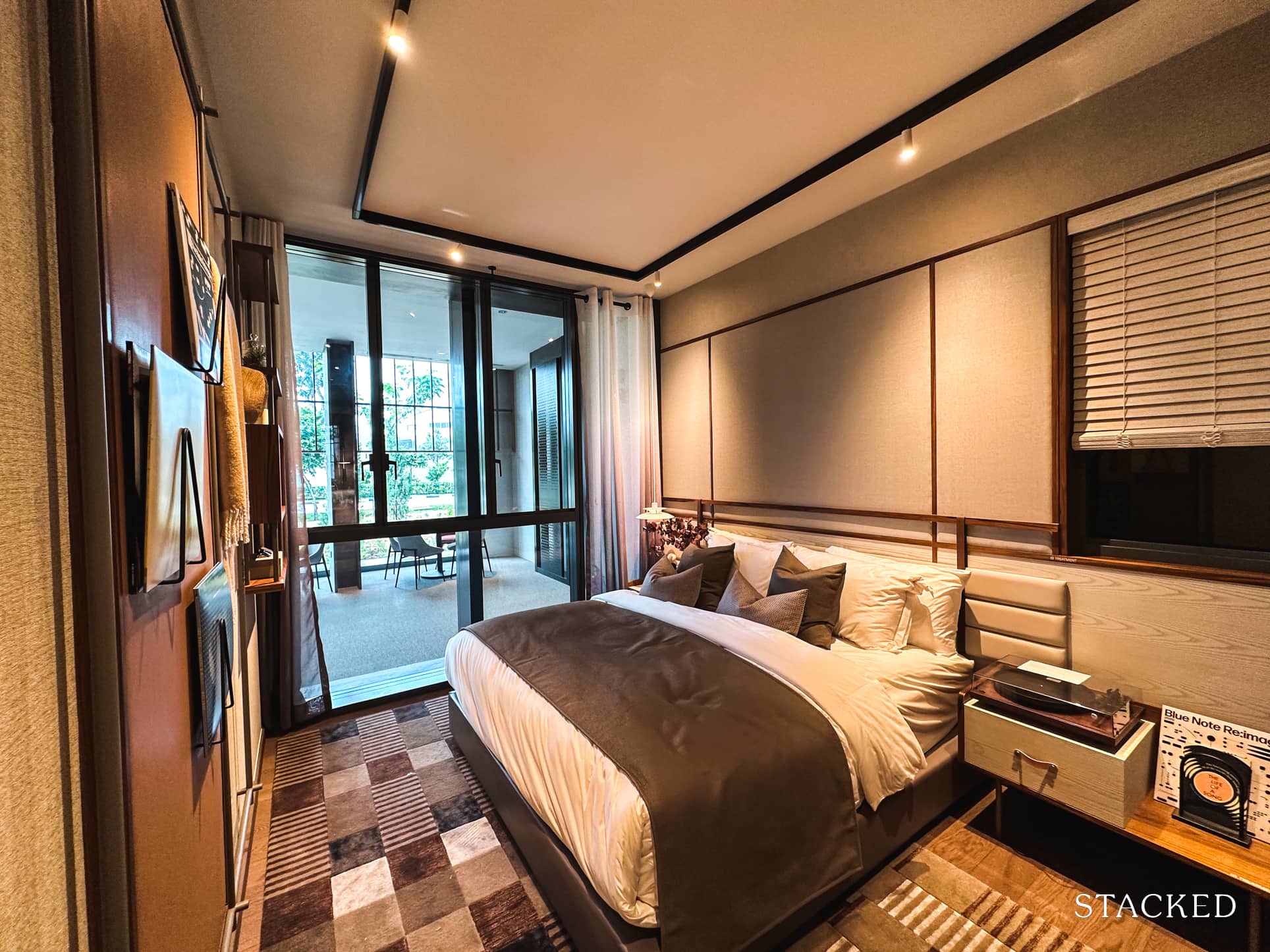 This is 14.1 sqm large and you do feel the difference if you compare it to the one found in the 2 Bedroom show flat. Unquestionably, there's more than enough room to place a King size bed here.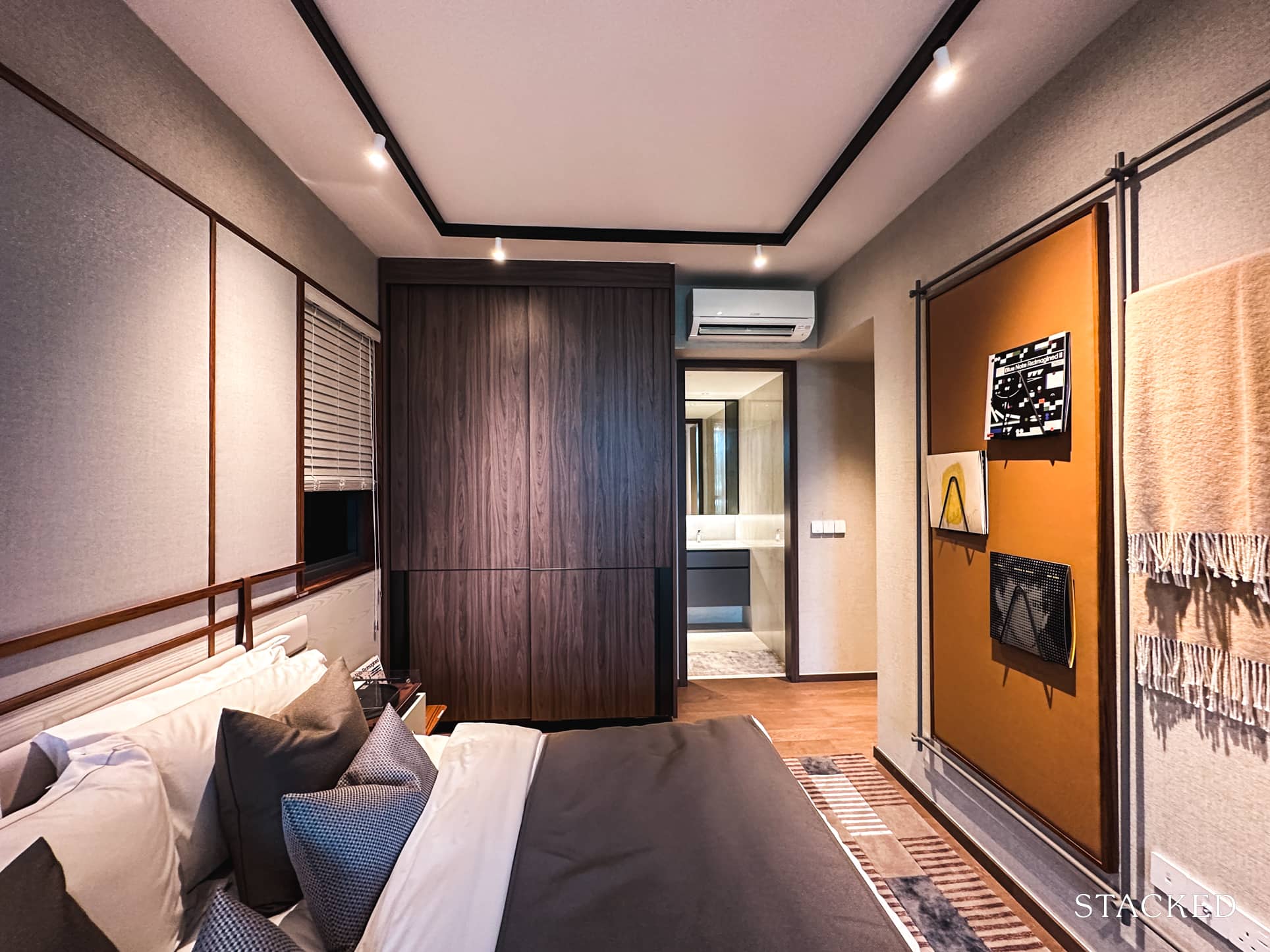 Even with that, you would still have room for bedside tables on either or both ends. You will also get a similarly sized built-in wardrobe here from the developers. This time, however, it's finished in a dark wooden laminate instead of the grey ones that you have seen in the common bedrooms.
(You do also have a panel by the side for accessories, which I missed out on a shot of! If you want to see how it looks like, check out the next unit).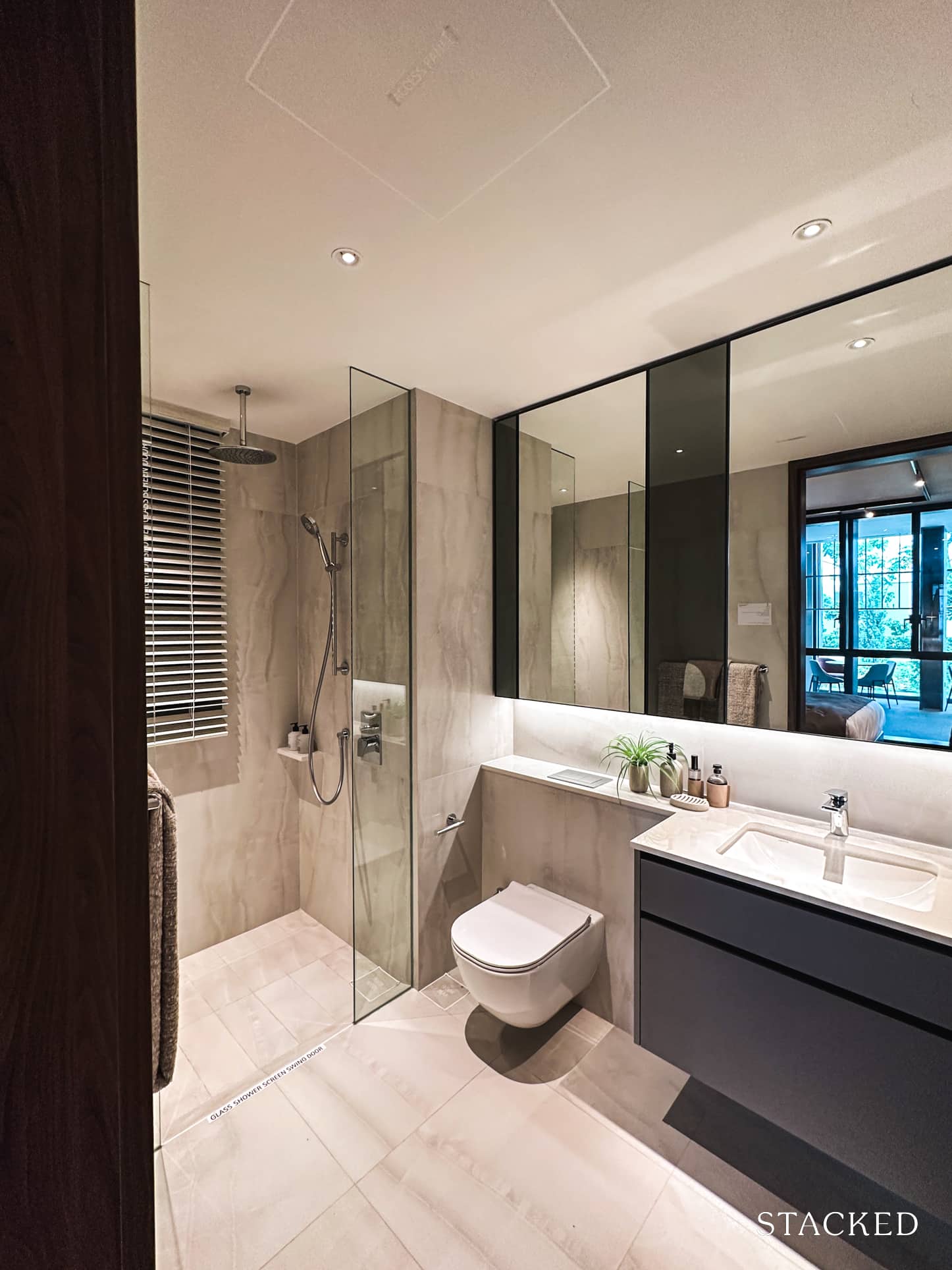 The Master Bath is marginally larger than the common bath at 5.3 sqm, and sports the same look.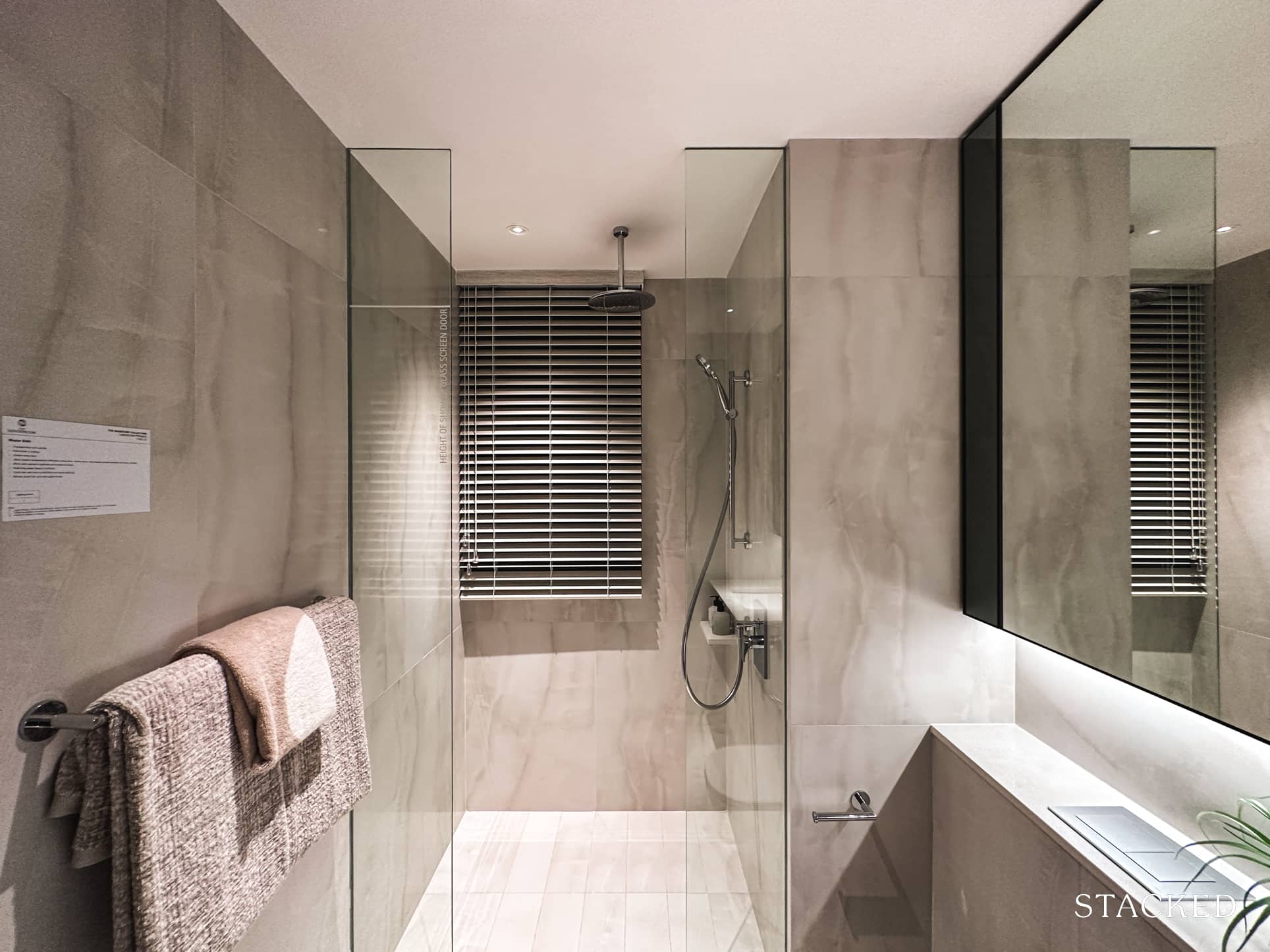 It comes with largely the same quality European fixtures, with the addition of a Gessi rain shower here. The other fittings include the tap and shower mixer from Gessi and the wall-hung w/c and basin from Laufen. The mirrors you see also come with additional storage spaces behind them.
The Continuum – 3 Bedroom + Study Type C9 (116 sqm/1,249 sq ft) Review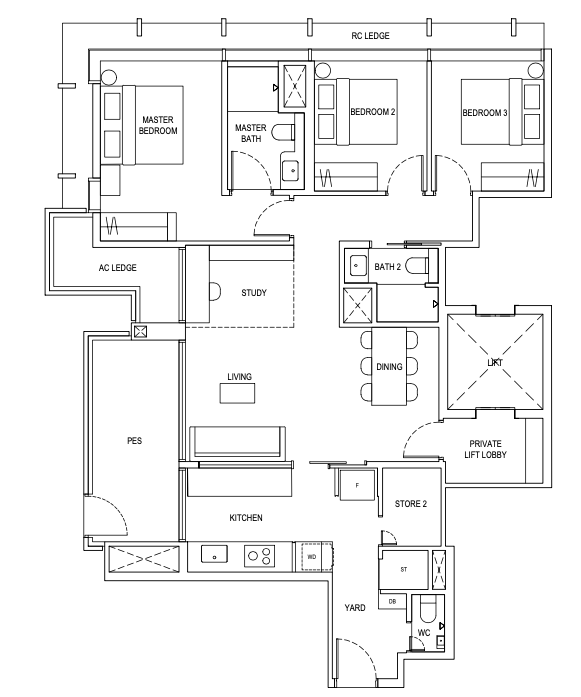 We earlier reviewed the largest 3 Bedroom unit in the Signature Collection and now visit one from the more exclusive Prestige Collection. Right off the bat, you will notice that the size is considerably larger at 1,249 sq ft, which is 43% larger than the smallest 3 Bedroom unit (872 sq ft) in The Continuum. I must say that 1,249 sq ft is very generous for a 3 Bedroom unit in today's context!
Beyond that, there are also a number of more premium features for the Prestige Collection, including private lift access and the use of marble tiles for the common areas. These features definitely help to elevate the living experience for the privileged few. Nevertheless, the Prestige and Signature Collection both do share some similarities – 2.8m ceiling height for the standard units and engineered timber floors for the bedrooms.
Overall though, I was really impressed with the layout of the unit. It's really efficient, and shows how much more space can be utilised without long hallway areas.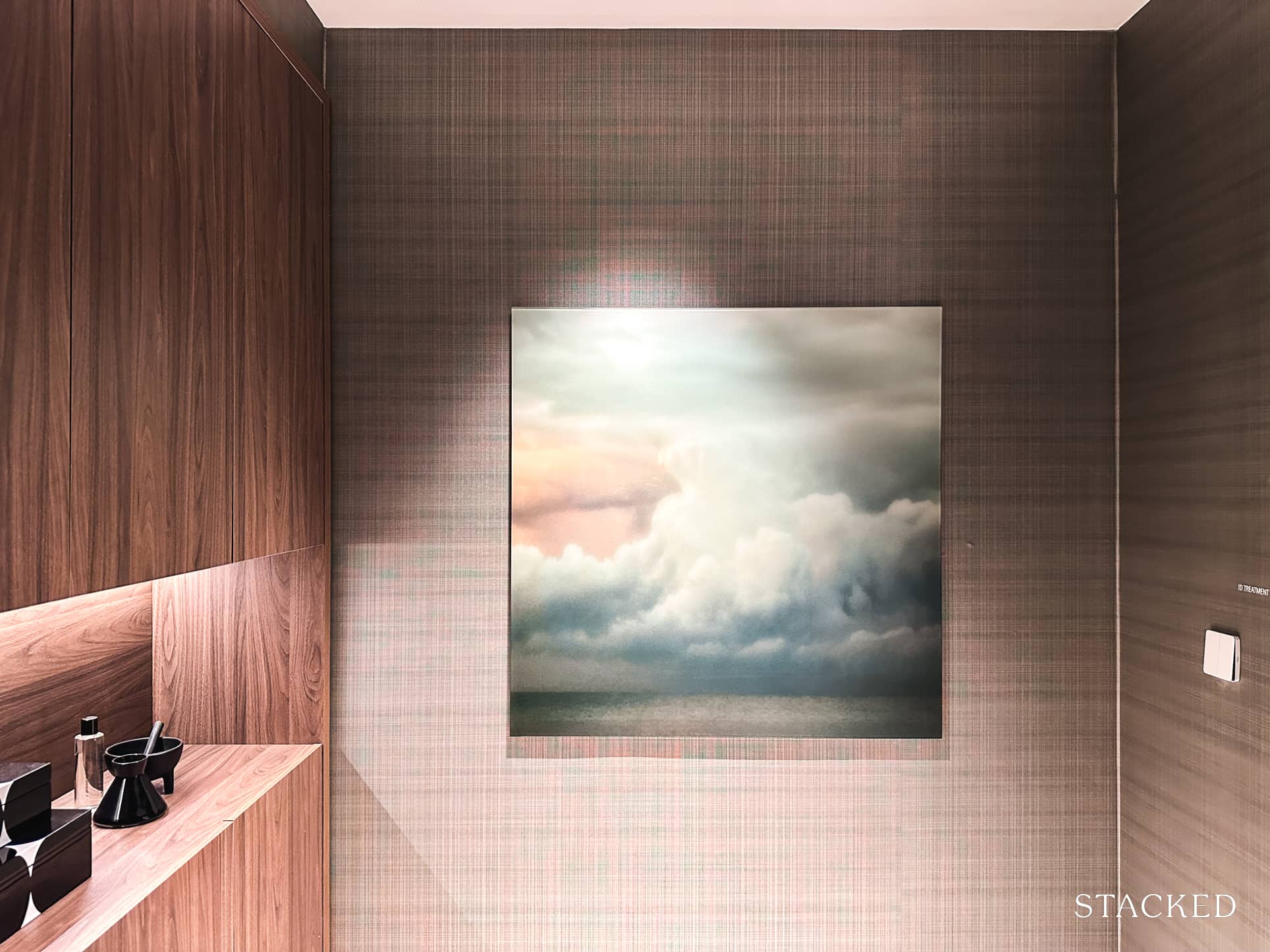 Coming out of the Private Lift, you are greeted by what is a rather spacious Private Lift Lobby. While I don't have its exact size, suffice to say that it won't be a squeeze at all. Built-in cabinets come provisioned by the left for your footwear and you could have a bench installed by the middle for greater convenience.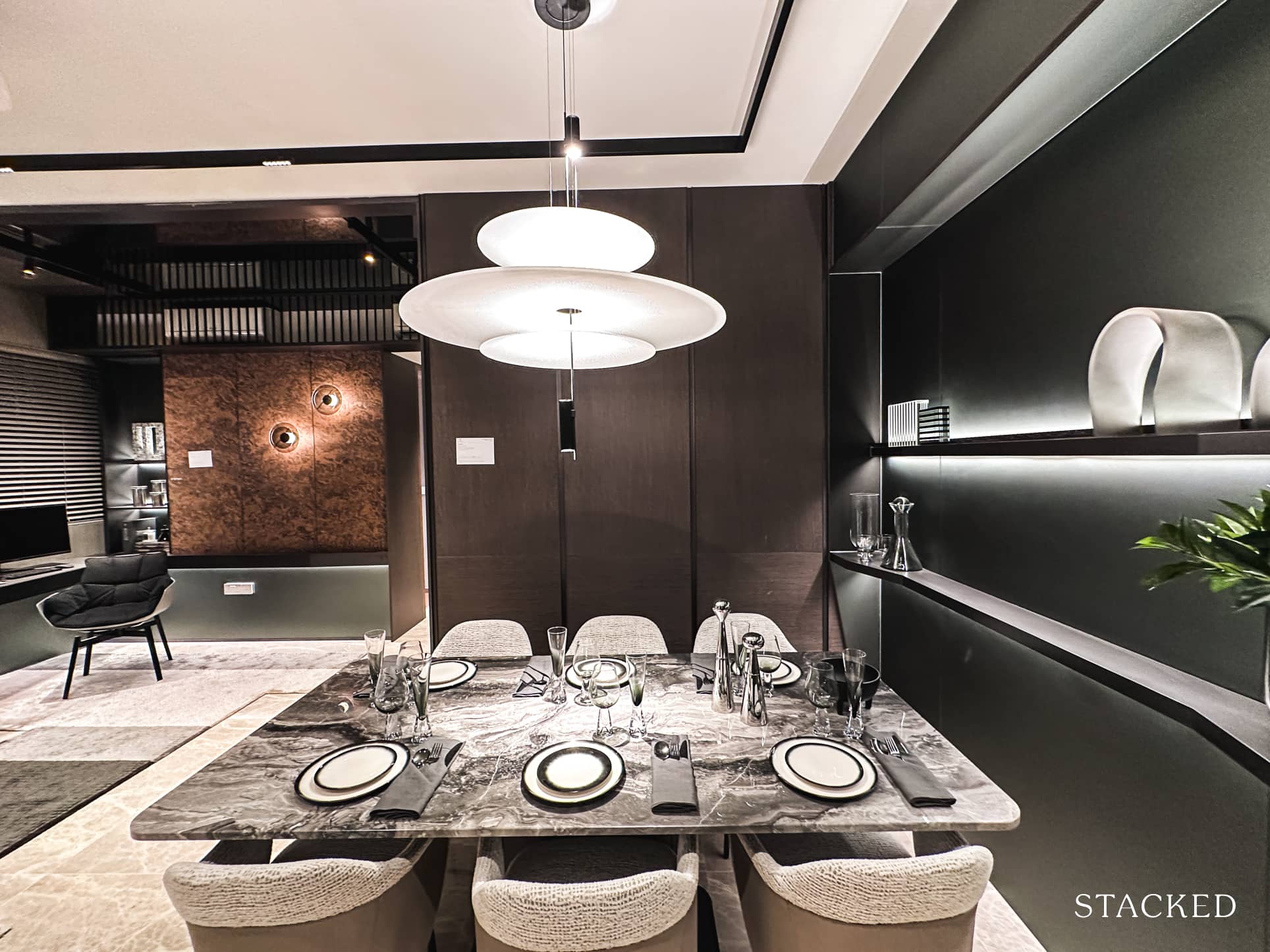 Taking a right from the Private Lift brings you straight to the Dining area of the unit. The developers have placed a 6-seater table here, which is just right length-wise but still has more room to play width-wise.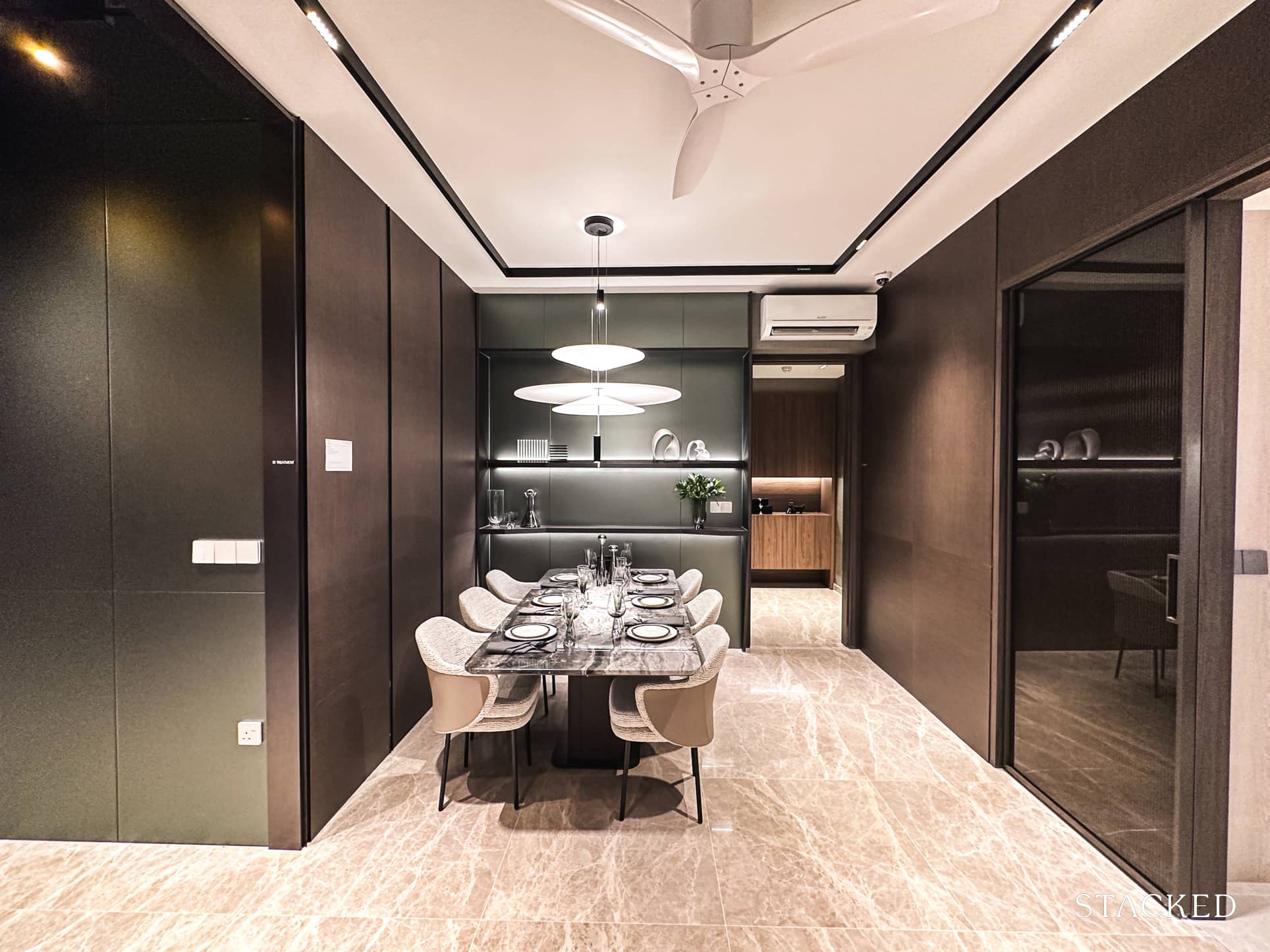 That's definitely a pleasant departure from the more cramped dining areas that we usually have in other 3 Bedroom units (the Signature Collection included). Of course, be prepared to pay a premium for these larger-sized units.
Just like its most recent new launch Terra Hill, Hoi Hup will be providing a modern-looking ceiling fan in between the Dining and Living areas, saving you the trouble of having to install one yourself.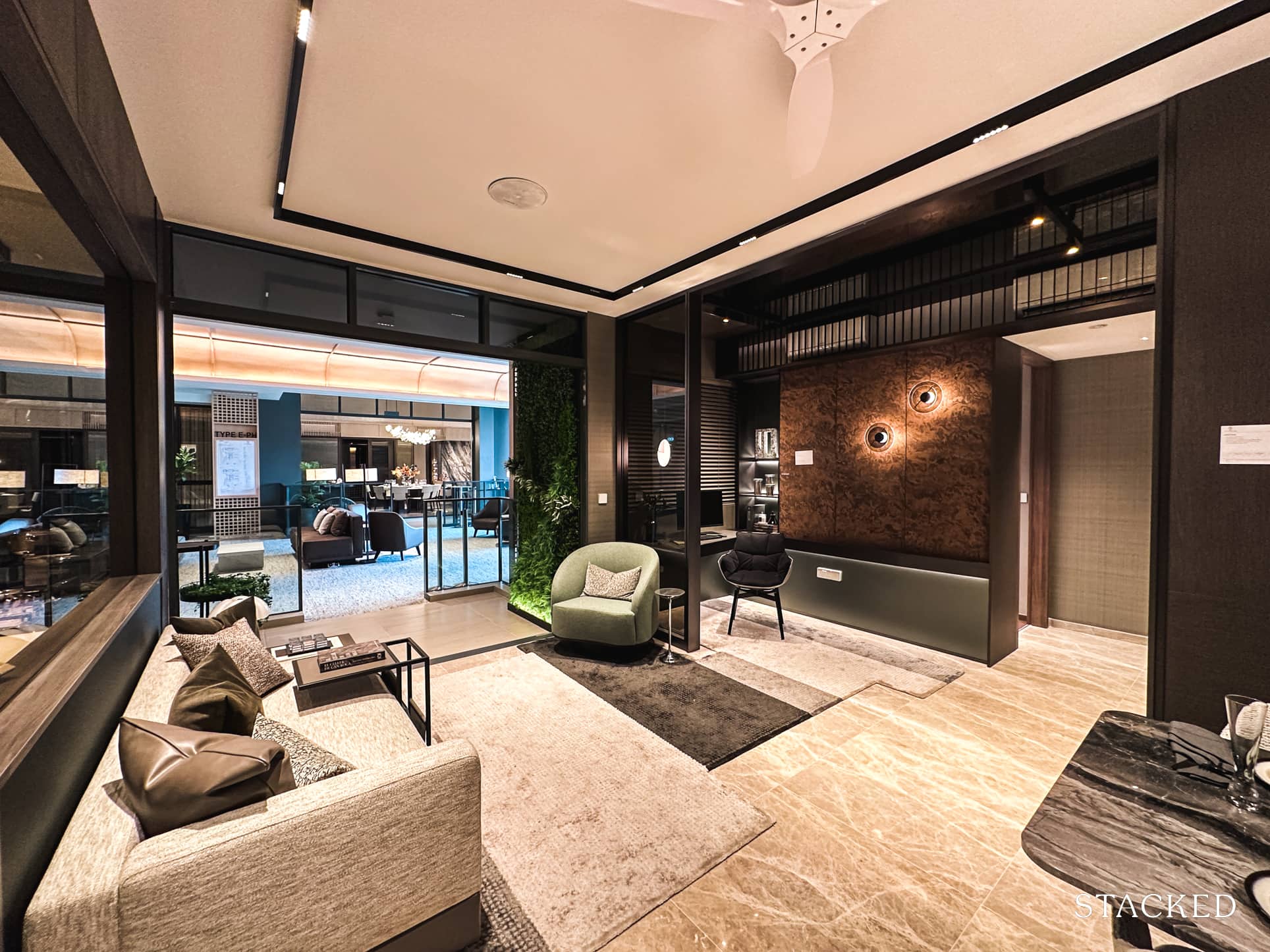 The adjacent Living area is more standard in size by comparison, where you can have a 3-seater couch without issues. And depending on whether or not you decide to go with a TV console, you should have room for a coffee table, albeit a more compact-sized one. That's rather typical of 3 Bedroom units, but the one here in the Prestige Collection offers a degree of flexibility that you may wish to consider.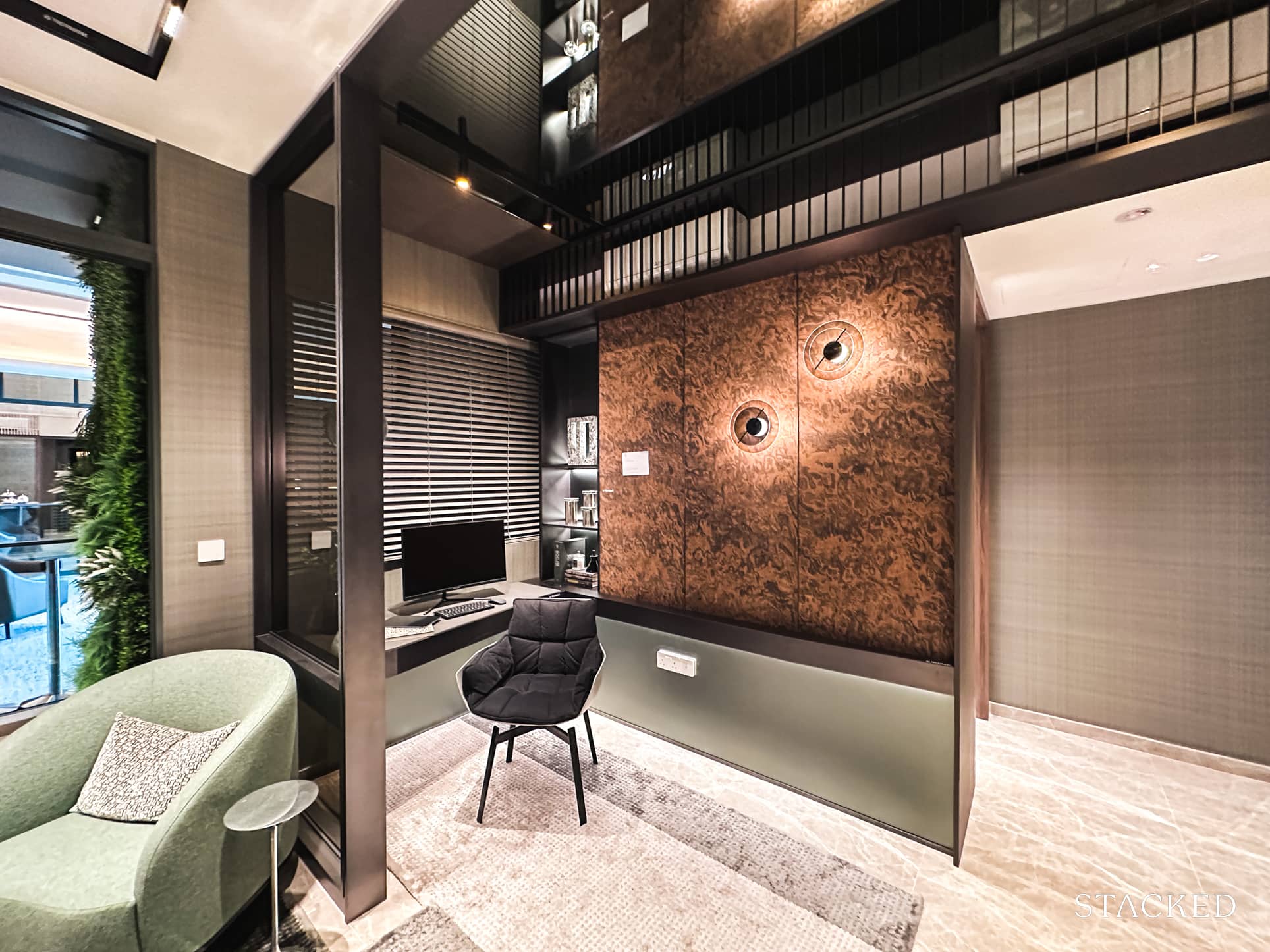 Whilst the adjoining Study has been designed as one (albeit with its walls taken down in the show flat), you have the option of enlarging the Living room altogether (an additional 1.8m in width) which gives you a more rectangular spaced space which would afford a better layout. Alternatively, the Study is also adjacent to the Master Bedroom and you could design it as a lovely walk-in wardrobe. Also, with an aircon dedicated to the Study, you have less to worry about regardless of how you decide to use the space!
I would say this open-study concept does go a long way in helping the communal areas feel more spacious, but naturally, that would come at the expense of some privacy.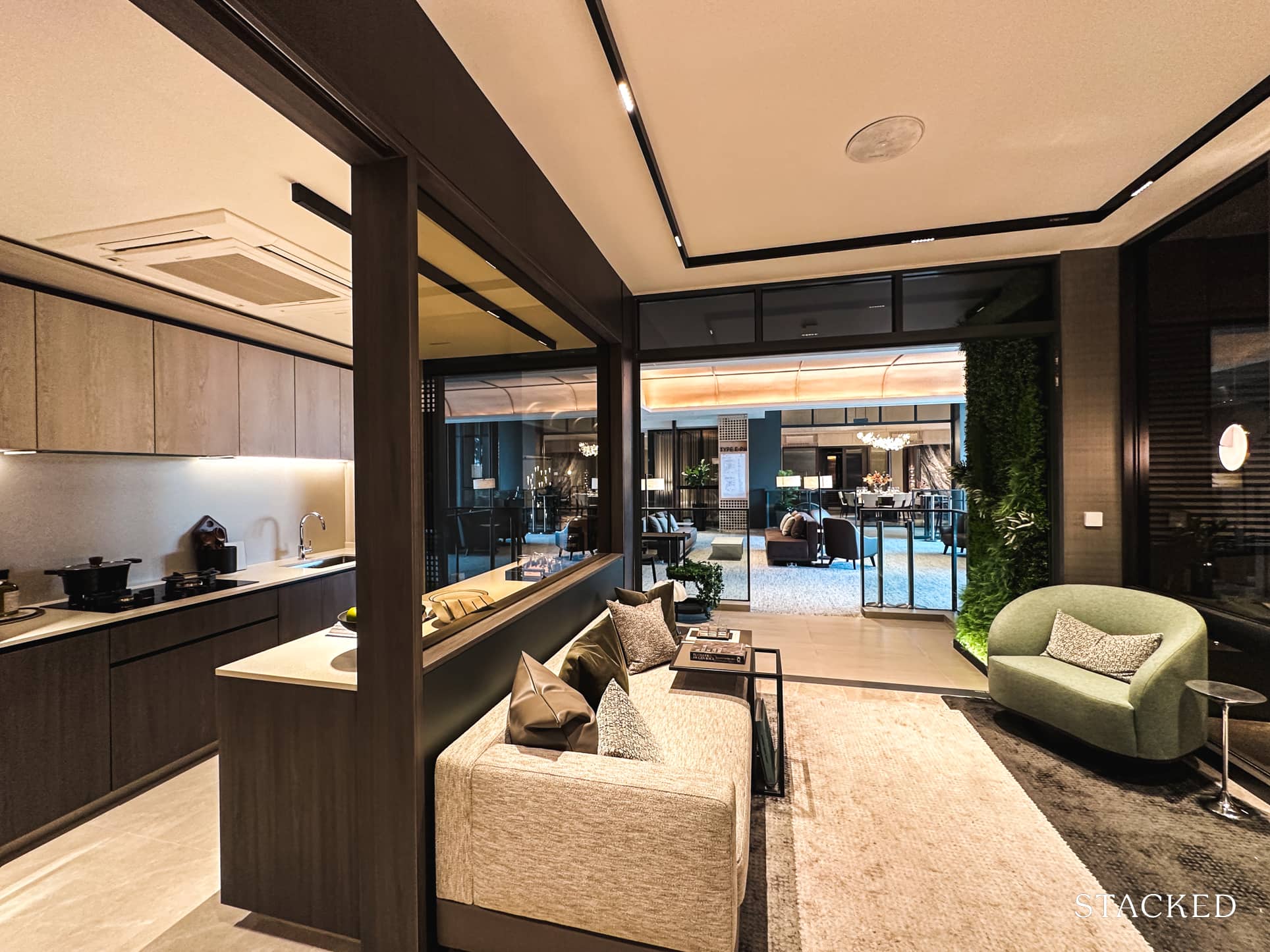 Heading now to the kitchen and if you thought this sight looks kind of familiar, you're probably not mistaken. The Continuum has adopted the same interesting kitchen layout and placement as Ki Residences, which unsurprisingly is built by the same developers of course.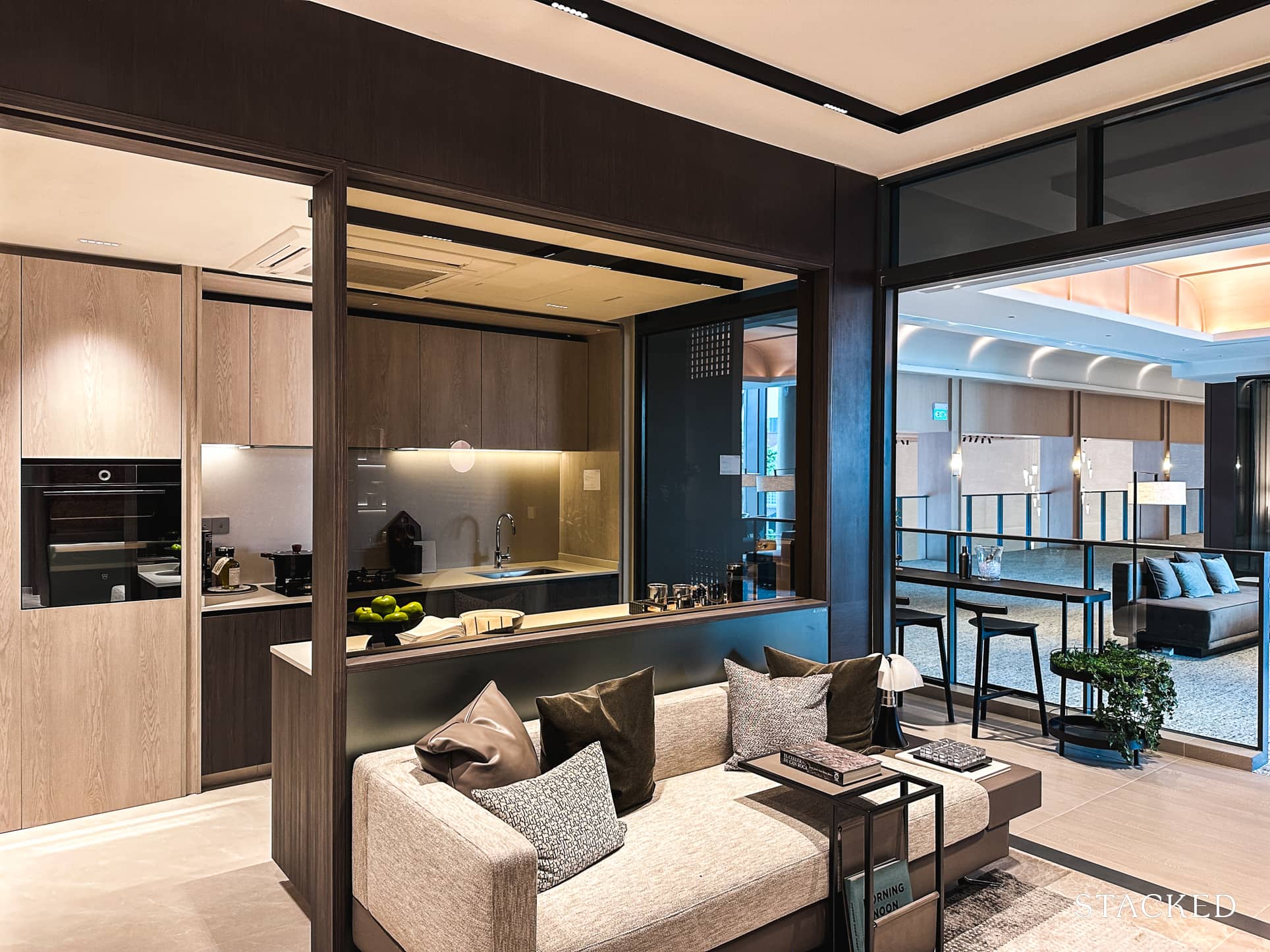 I'd be the first to admit that I like this kitchen layout a lot. Perhaps it is a bit part novelty but this kitchen is interesting for several reasons – first, its glass screen extends the entire width of the living room, giving both areas a 'seamless integration' and allowing more light into the space. Second, this has the added benefit of you watching over your kids playing or watching TV and even guests watching you demonstrate any 'live food preparation' in a Din Tai Fung-esque manner. Finally, the kitchen is directly connected to the balcony, which means that it gets plenty of natural ventilation here, although heavy food smells could then emanate into the living room.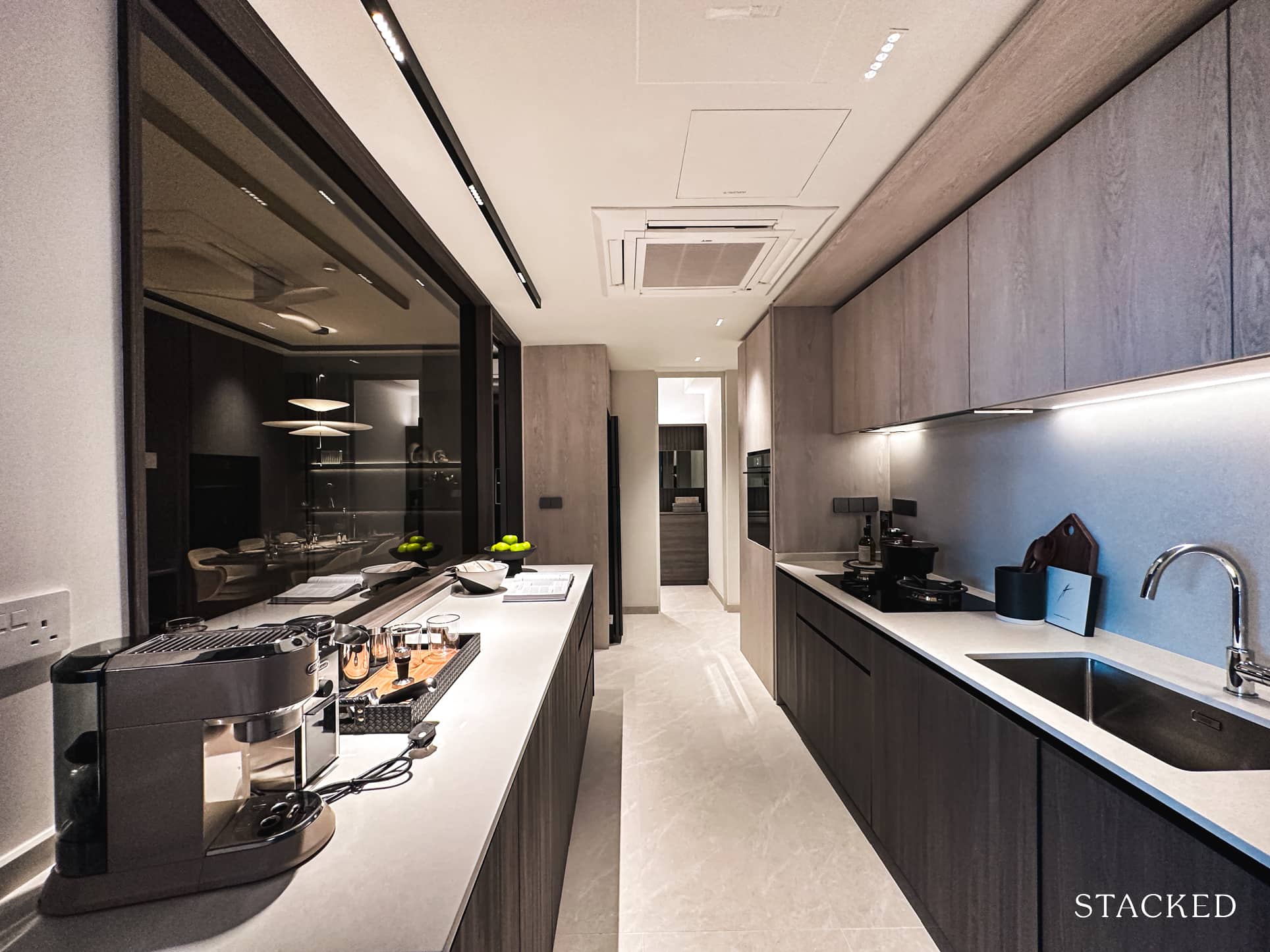 Regardless, what is undeniable is the plentiful engineered stone countertop space and top and bottom built-in cabinets on both sides of the kitchen. Those are provided by the developers by default and for a 3 Bedroom unit, this is definitely more than ideal. You also have a Franke kitchen sink, V-Zug cooker hood, gas hob, and built-in oven provided here. For the younger crowd, V-Zug is one of the most luxurious kitchen appliance brands you can get in the Singapore market so it's actually pretty impressive that they are providing it here even for the non-Prestige collection units.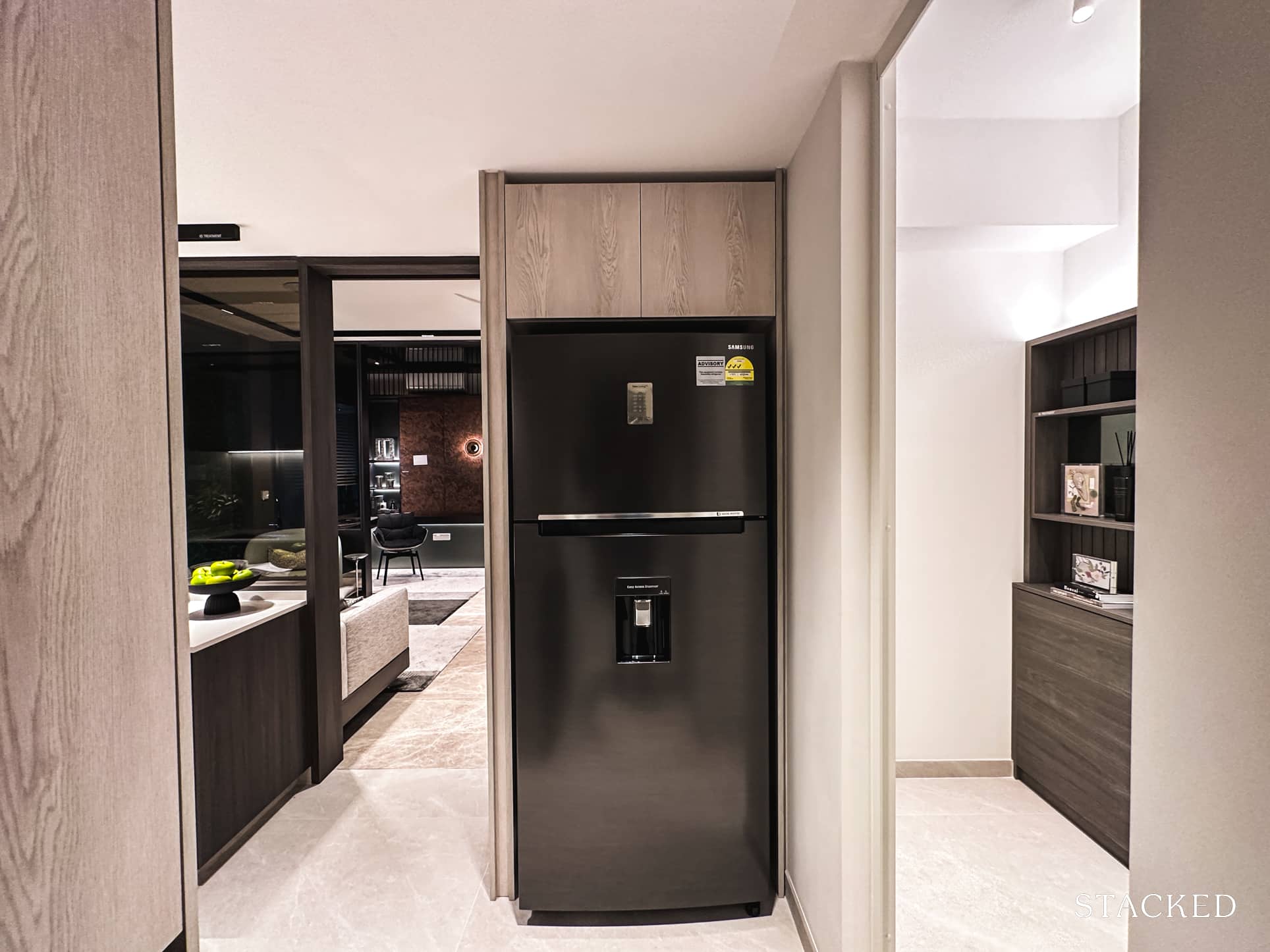 By the corner of the kitchen is where you will have a freestanding Samsung fridge and a Store, which is helpful for larger families.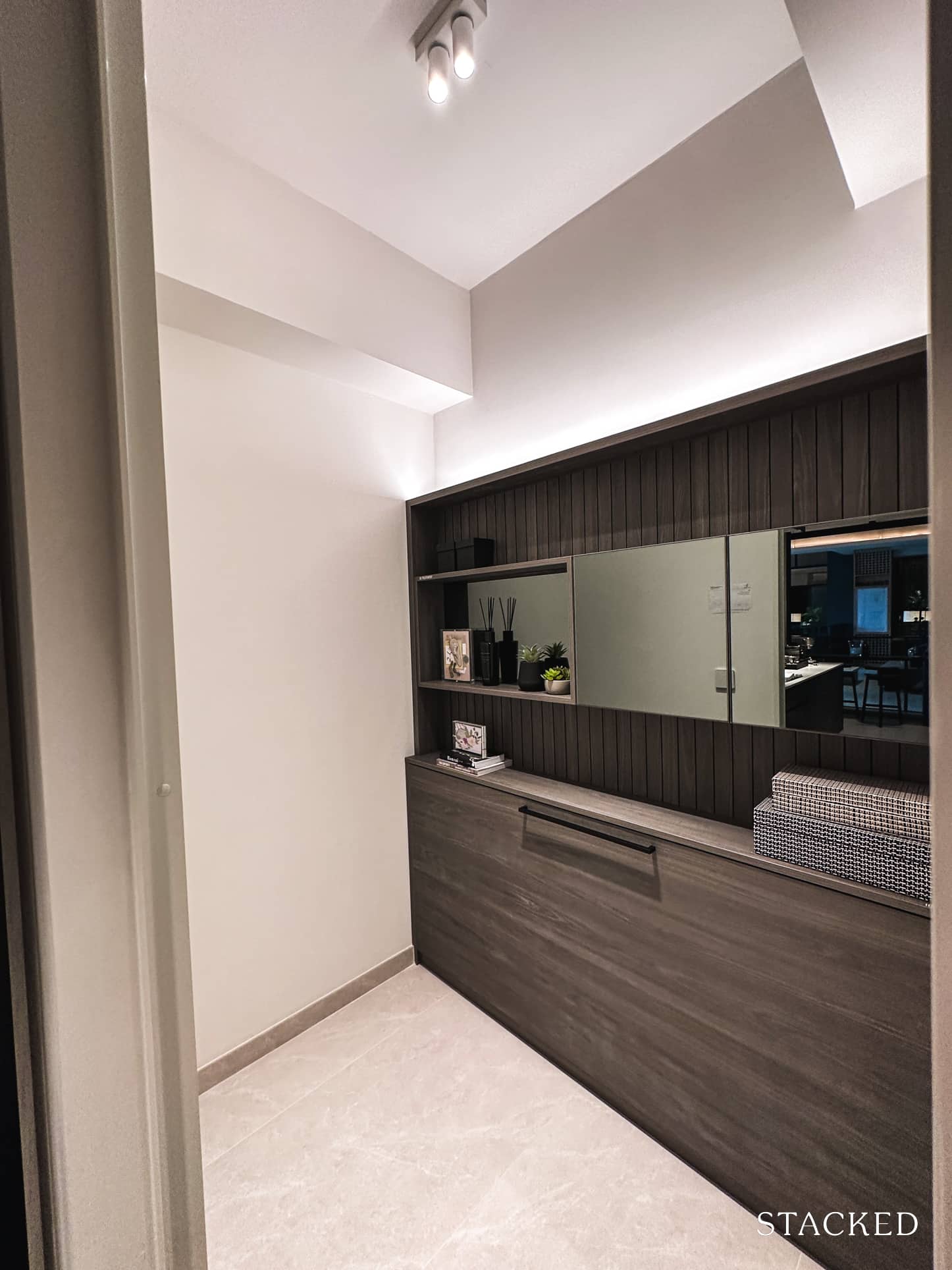 This Store is different from the adjacent store found in every unit of The Continuum (although their sizes do vary). I'll probably see it more of an utility room, where most families buying such a unit would be using it as a helper's room.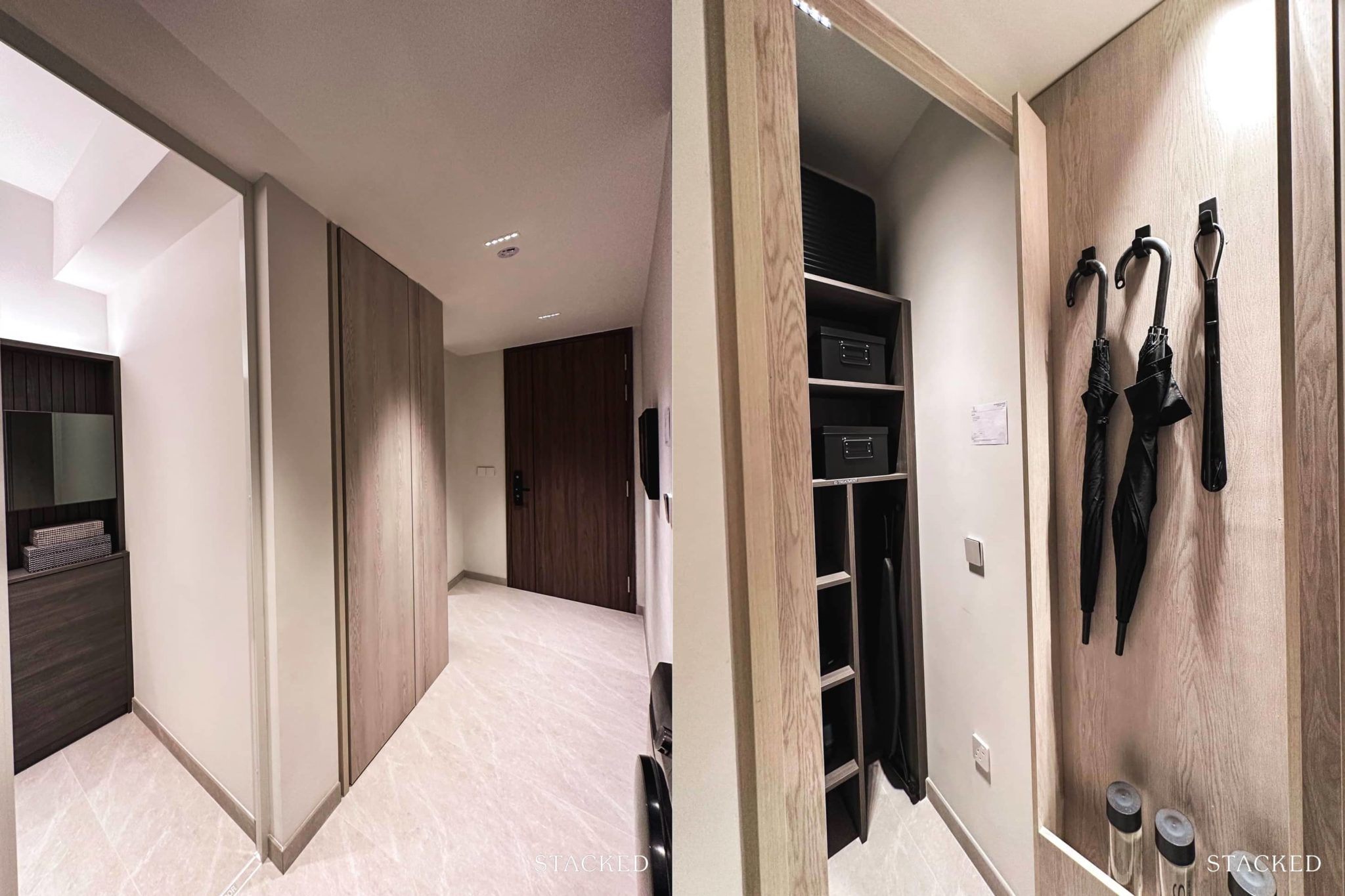 The adjacent store is a very practical space thoughtfully added by the developers, complete with racks and hooks for your ironing board, umbrellas, etc. There's even an electrical socket here in case it is required.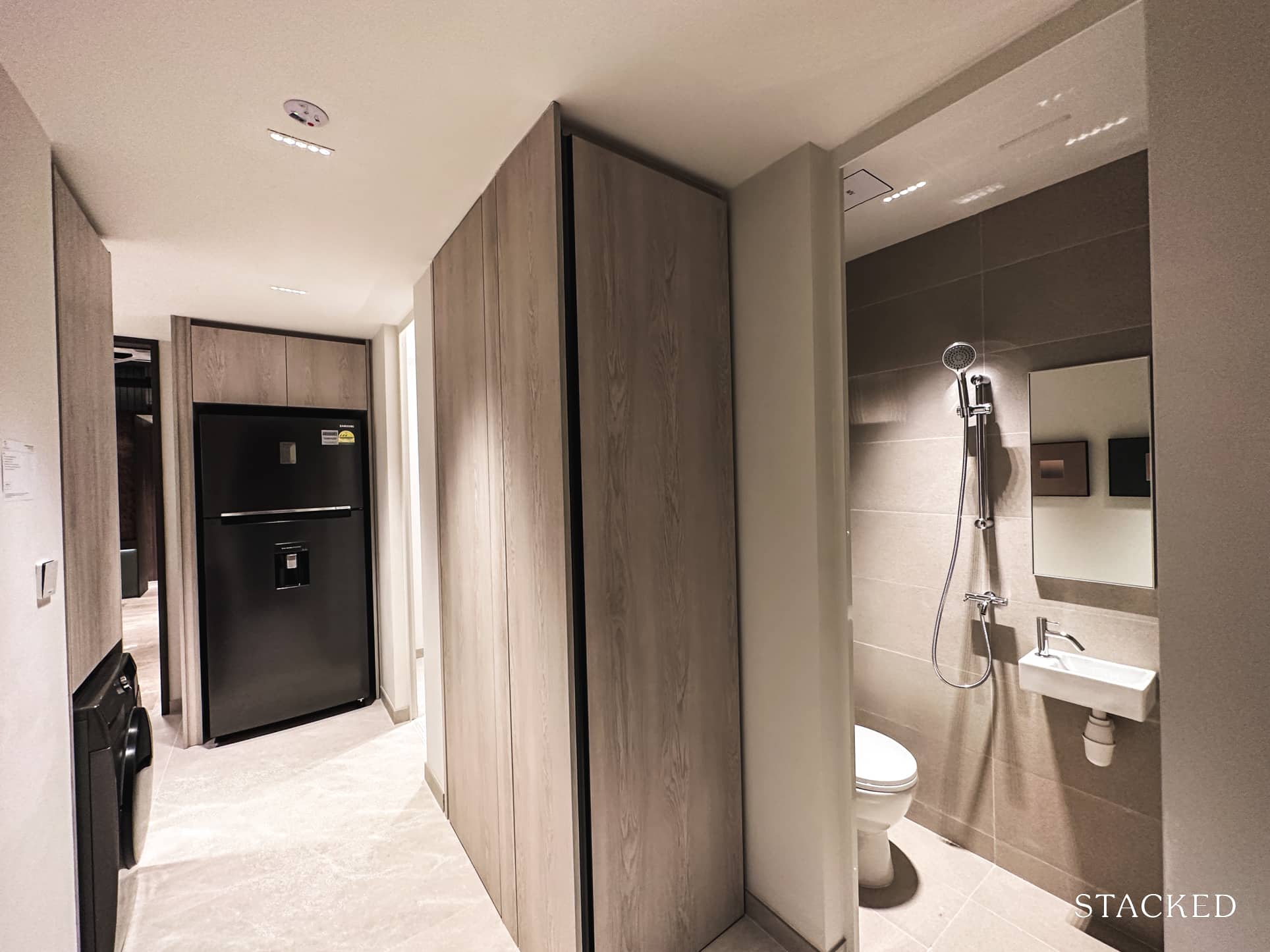 Towards the end of the kitchen is where you will find the W/C, Yard and another door that leads you to the common lift lobby (this is also where you will be receiving your deliveries). Something to note is that the Yard here doesn't enjoy any natural ventilation in the form of windows so it is more of an additional space rather than one where you could air-dry your clothes. The combined size of the Kitchen, Store, Yard and WC is 21.3 sqm.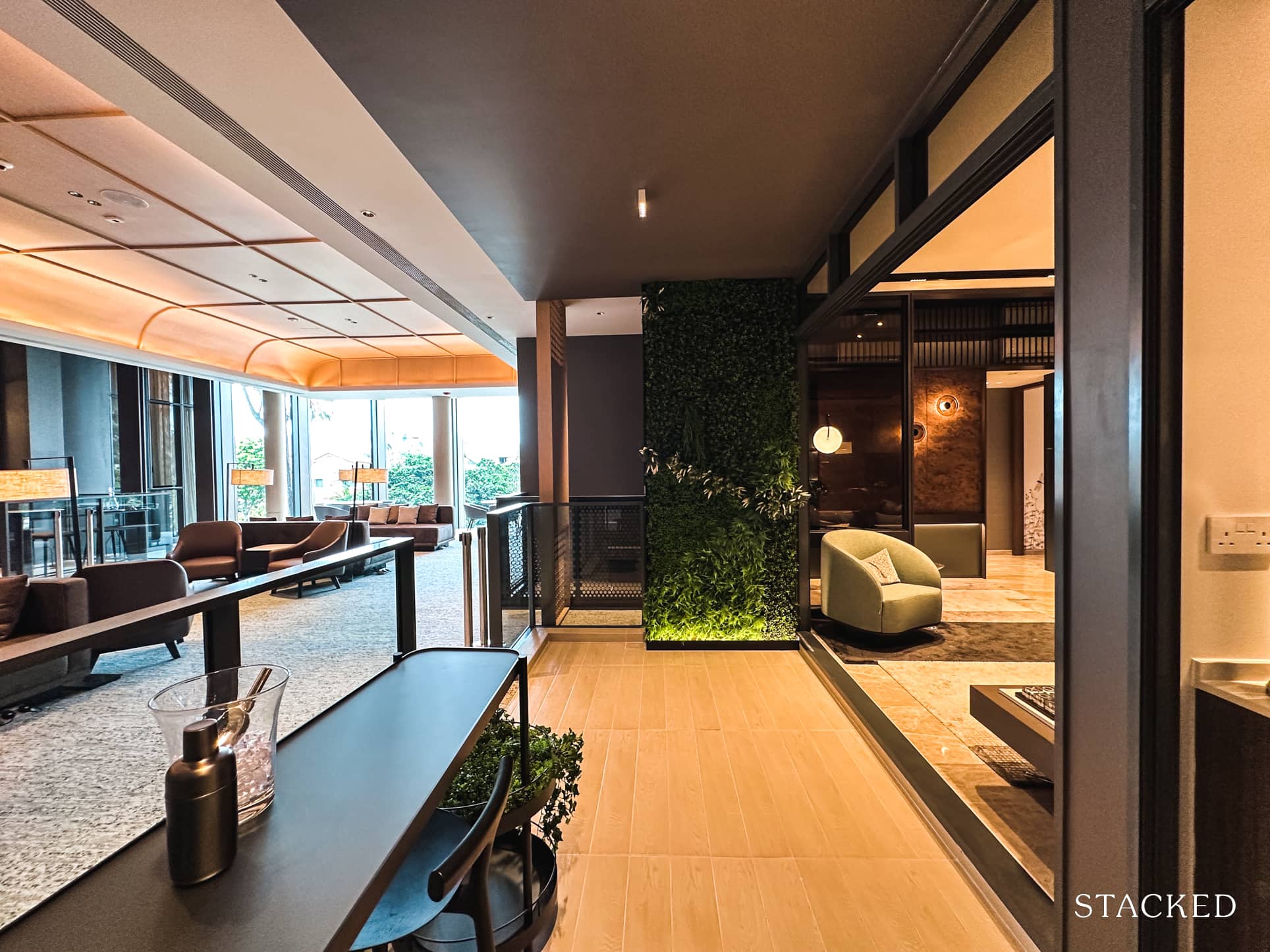 Moving on to the Balcony, which is large at 10.8 sqm. This extends from the kitchen to the living room and is definitely large enough for a long al-fresco dining experience. It's cool that you get direct access to the kitchen so I can imagine chef-owners getting really excited over this.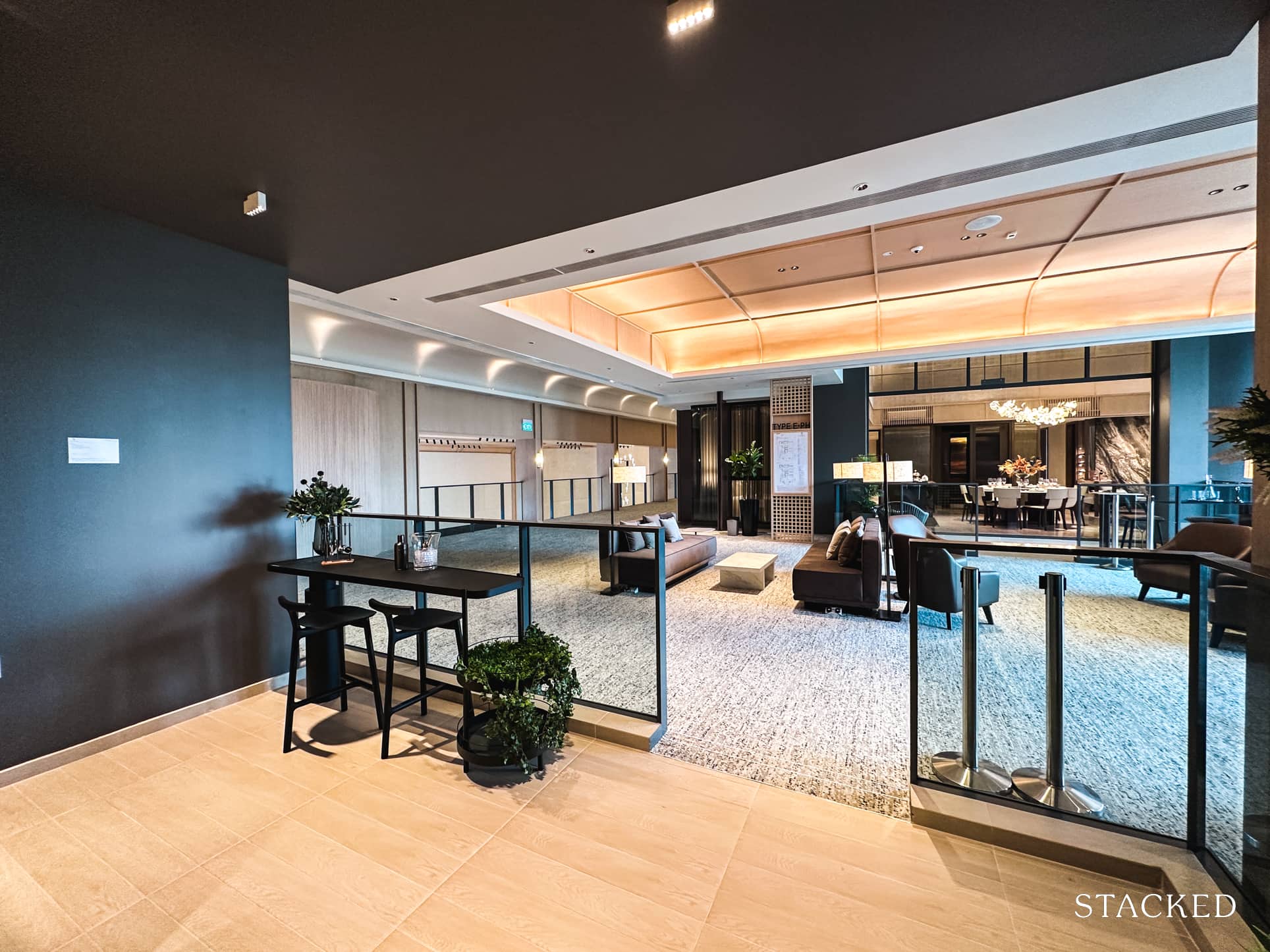 Even if you choose not to have an al-fresco dining area here, you still have an abundance of options – a bar counter and stool, coffee table, an outdoor garden or a simple outdoor gym – you can deck it out however you wish!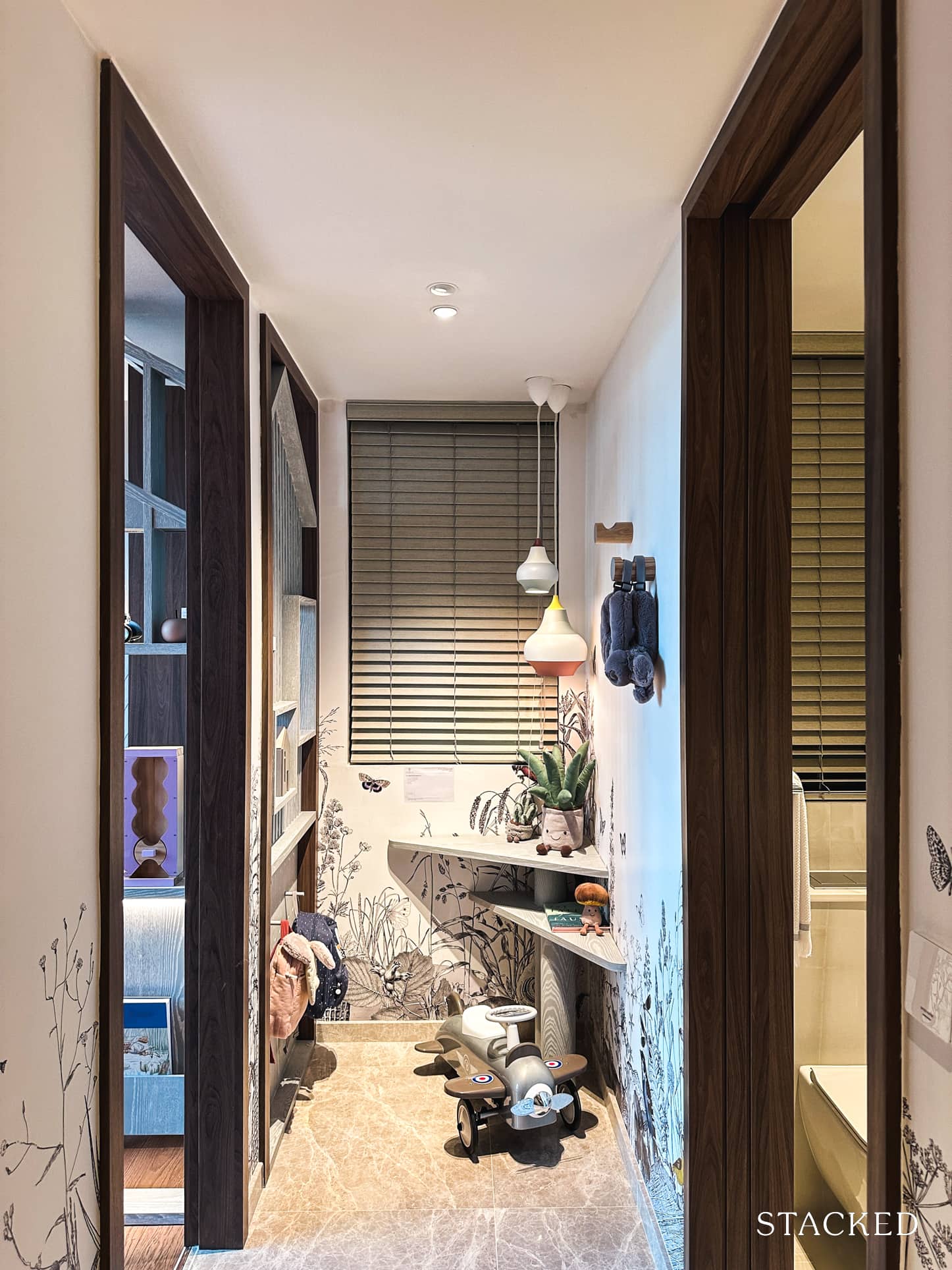 While you still have a corridor leading to the bedrooms, the one here is angled horizontally instead of the usual vertical manner (you will understand it when you get to showflat). Bedrooms 2 and 3 are by the right while the Master Bedroom is on the left.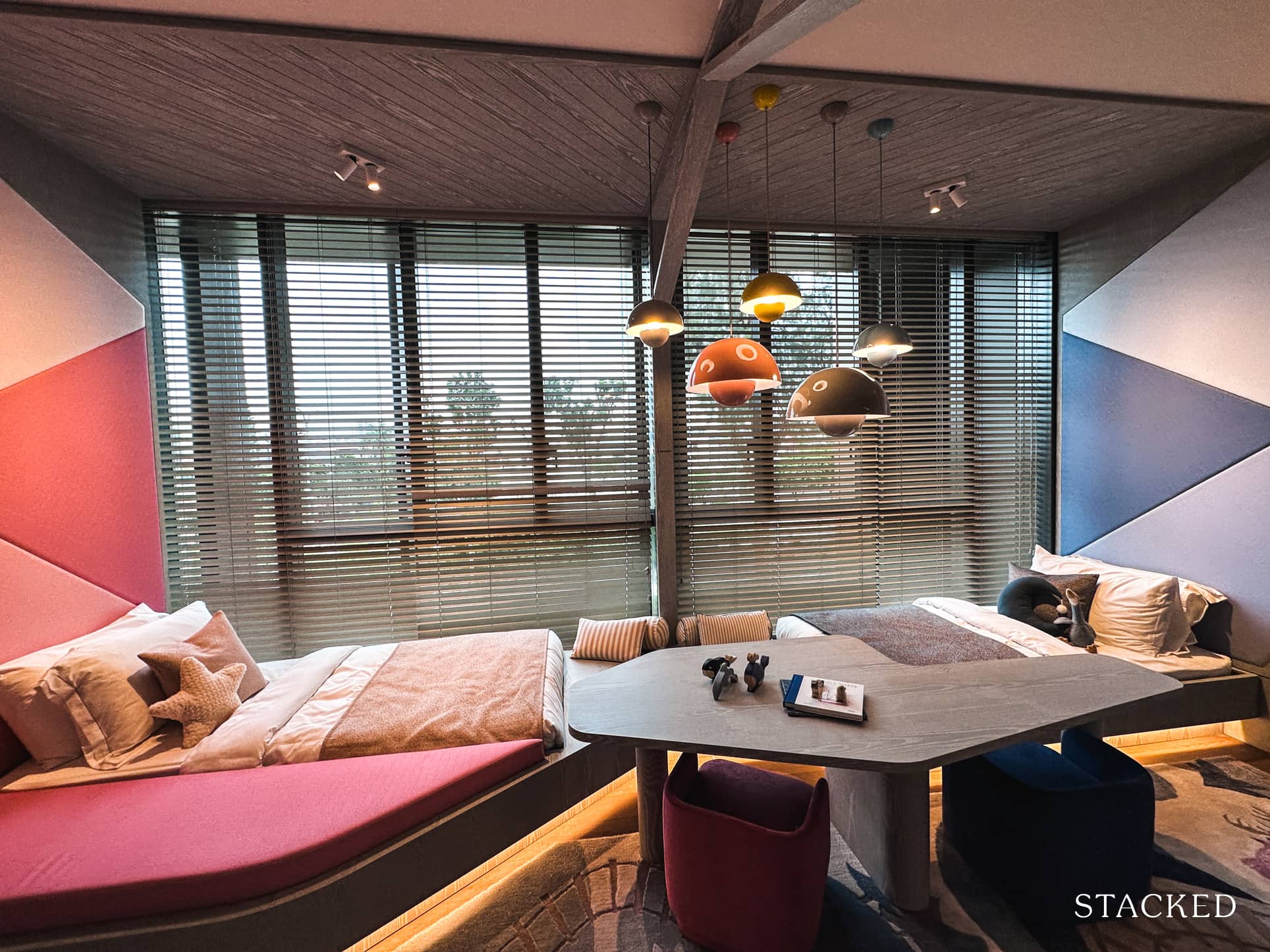 Bedroom 2 and 3 are identical in size at 9.1 sqm, which is average in the market. In this showflat, they have taken down the dividing wall to combine it into a larger bedroom (which can be hard to really judge each size of the bedroom, but the designer's have done a great job in creating a cosy space).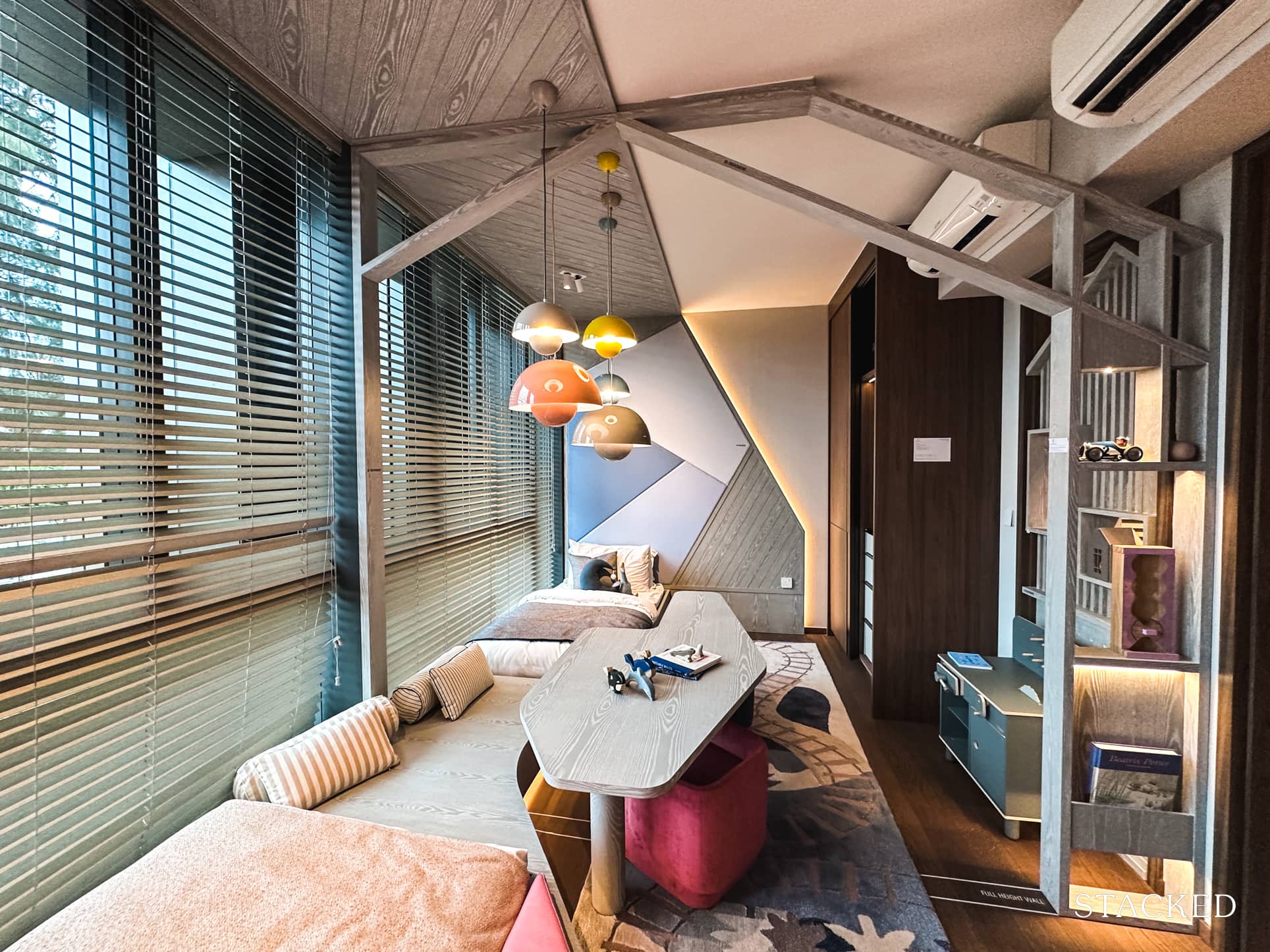 I can see the joys of this especially if you have 2 young kids – although they might have so much fun that they'll never go to sleep! That said, taking down the wall helps in making the space look roomier, and the ability to place a larger table could well work in favour for the parents.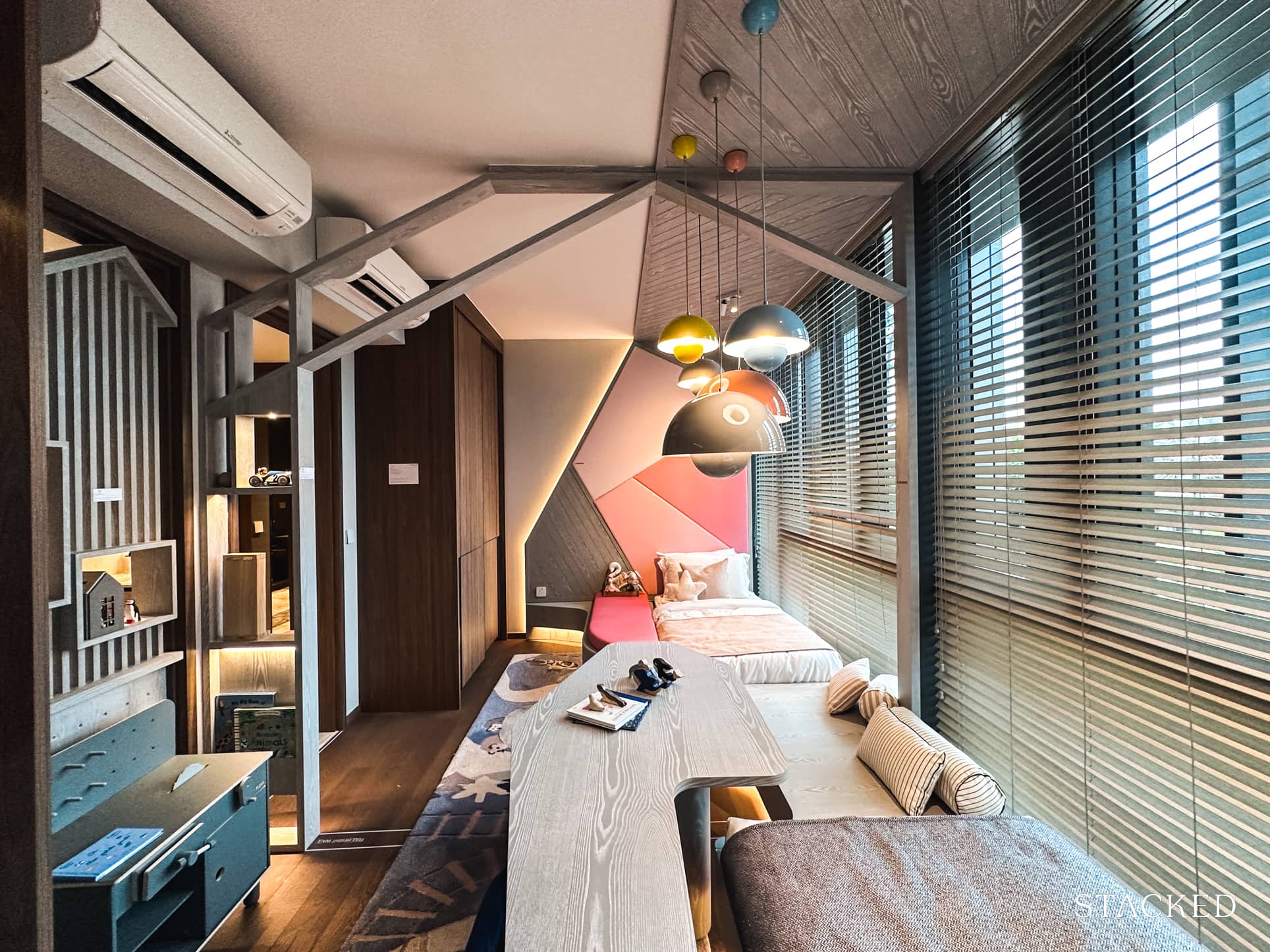 Nevertheless, in its original form, 9.1 sqm will afford you the space for a Single bed and a small table as well. As standard, you also get a built-in wardrobe and air-conditioning for both rooms.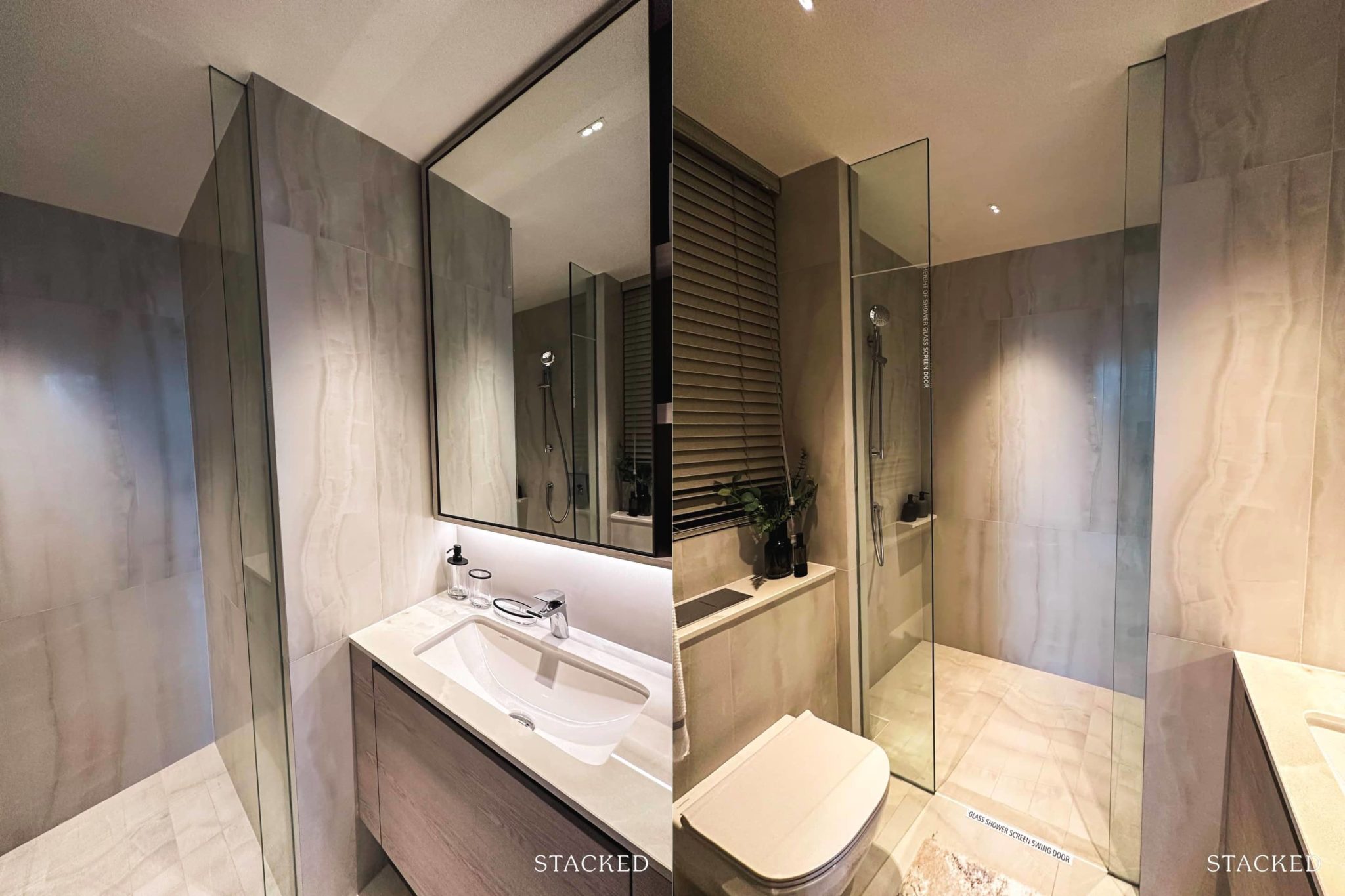 Both bedrooms and guests will share Bath 2, which is surprisingly smaller than average at 3.7 sqm. I'd say that you could feel that this is smaller than usual, but given that bathroom affairs are often utility in nature, maximising space in the rest of the house may not be a bad thing.
You get top quality wares and fittings from European brands Laufen and Gessi in the form of a wall-hung w/c, shower mixer and hand shower set. There's a window here for natural ventilation too, which is always good.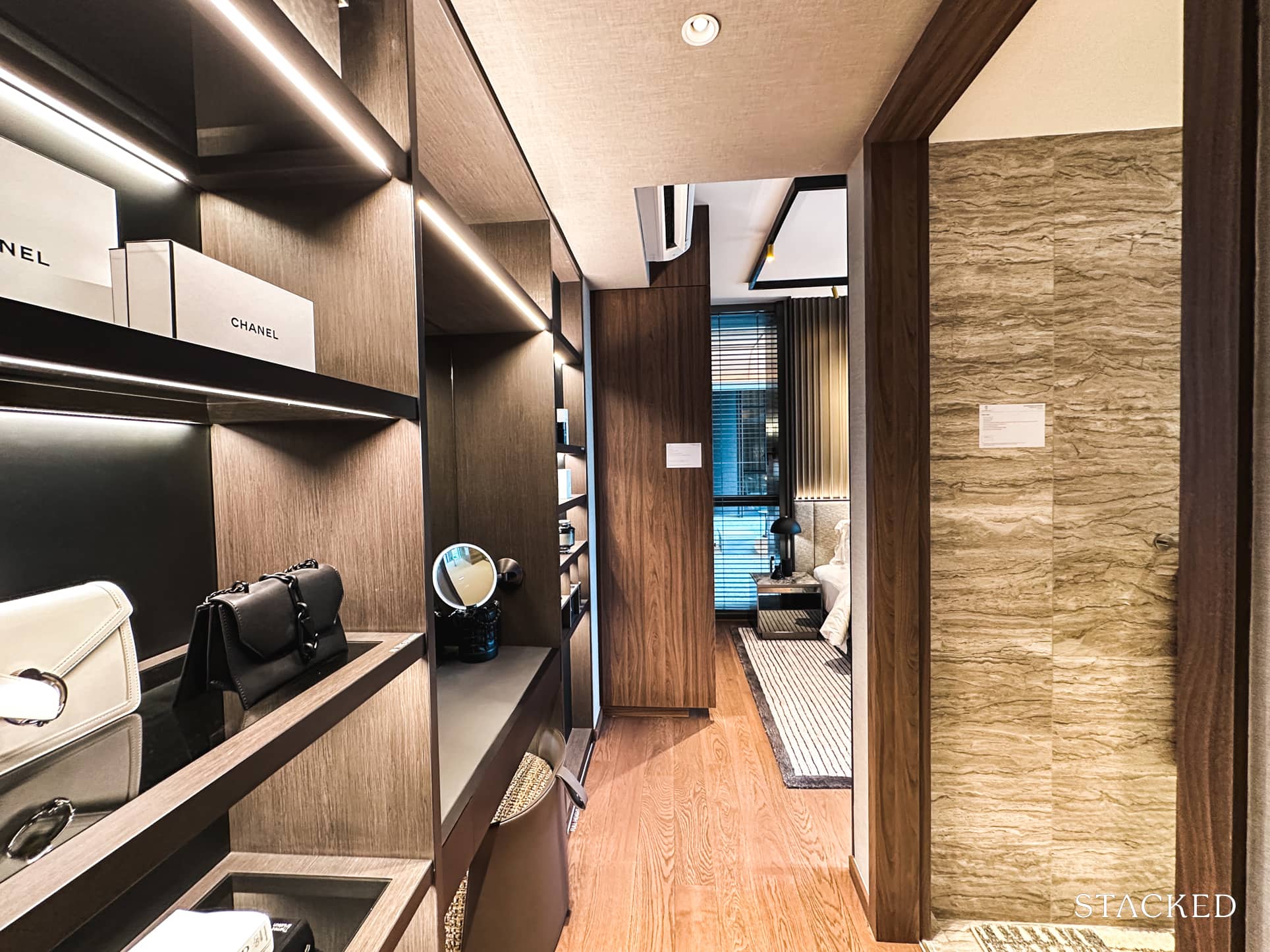 Moving to the Master Bedroom, which takes a bit more explaining with how they have modified the show flat layout. It stands at 15.2 sqm, more than 50% larger than the common bedrooms.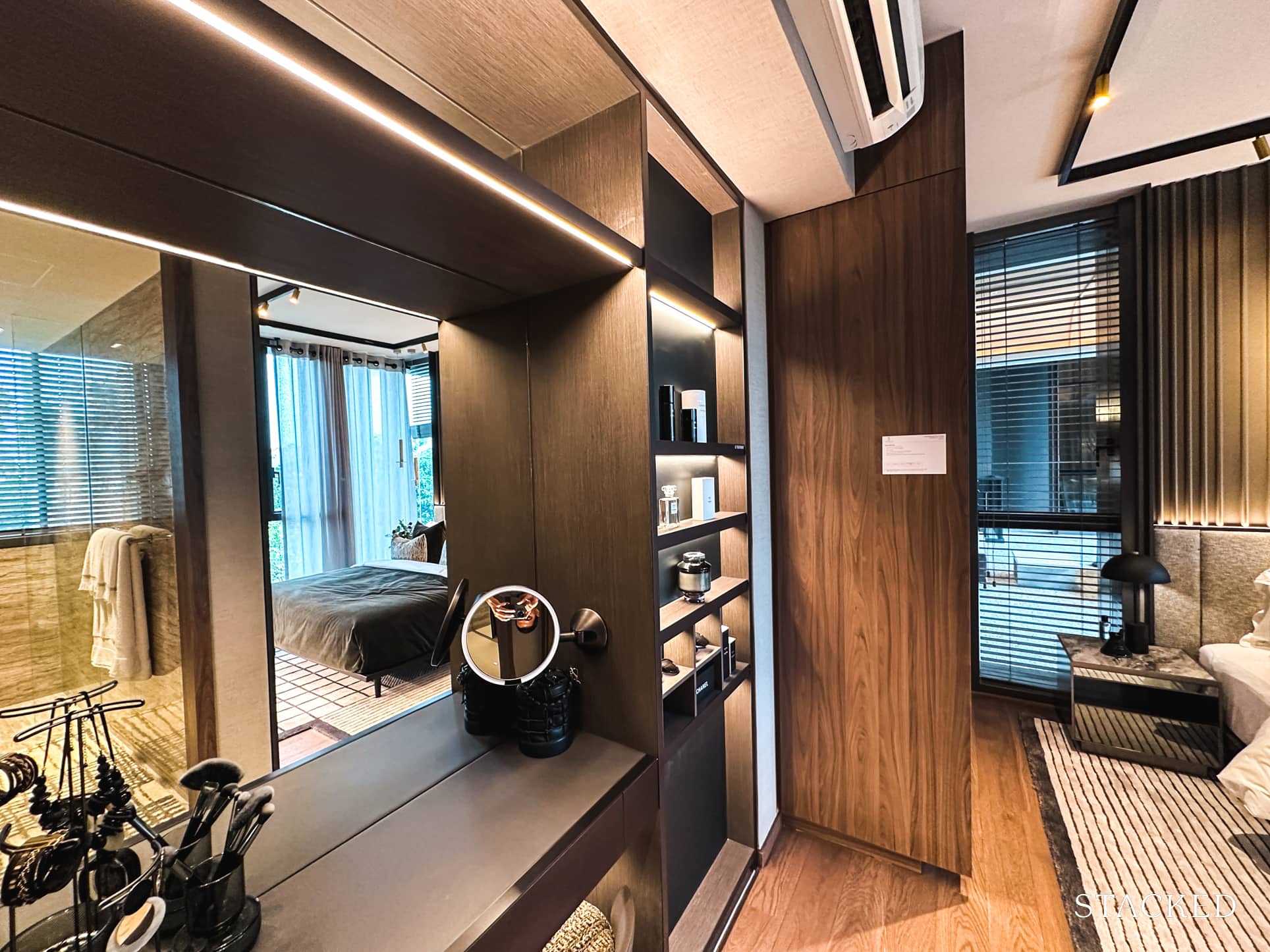 You may not have noticed this but the dresser that you see by your left as you enter is actually part of the Study which we highlighted earlier. The developers were brilliant to create dual usage by constructing a dresser while retaining the Study on the other side. Am pretty impressed by this I must say!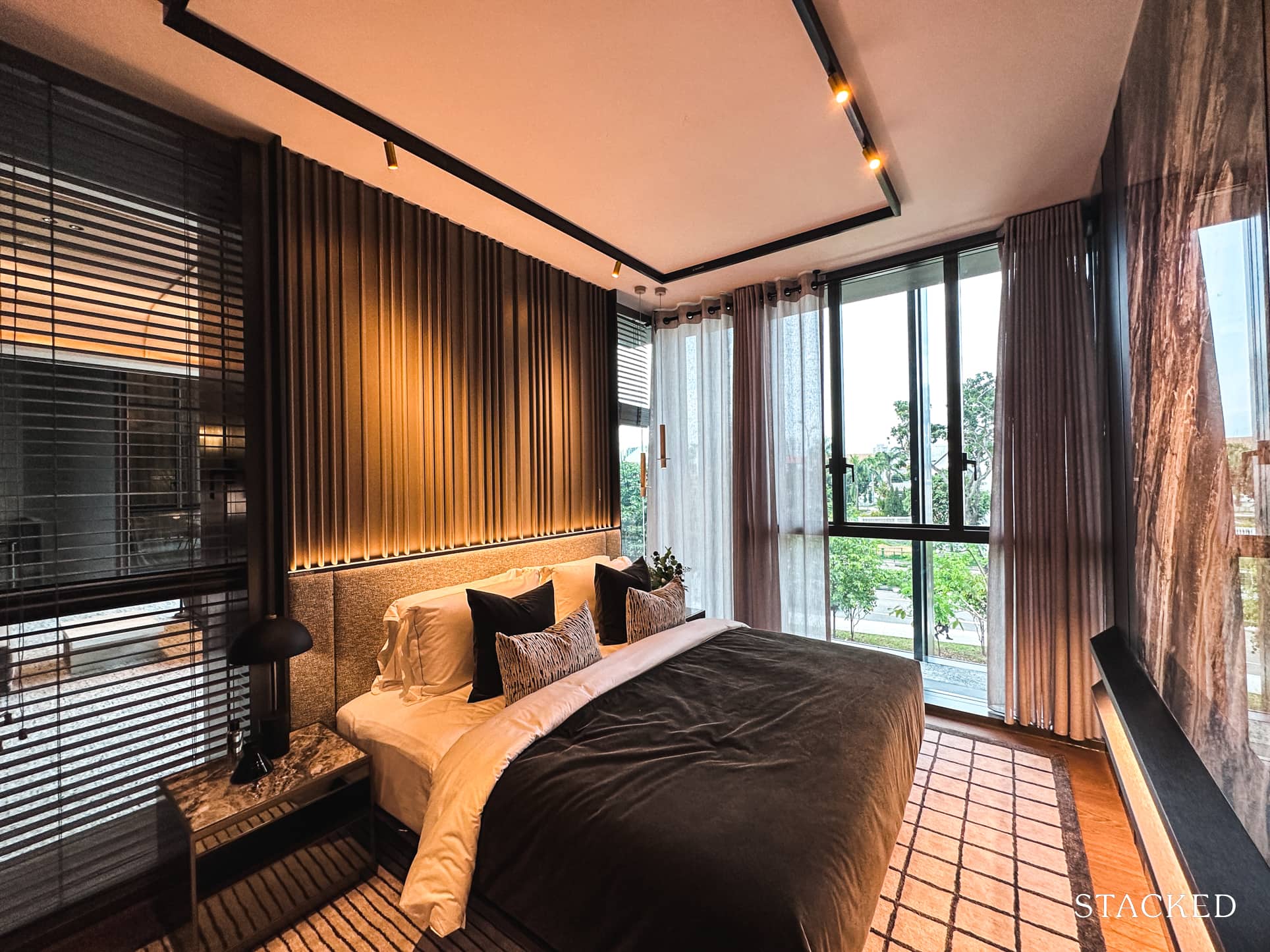 Otherwise, the room itself is squarish in shape and will fit a King bed without issues. As this is a corner stack unit, you get plenty of windows here to let in natural light, which is always a plus!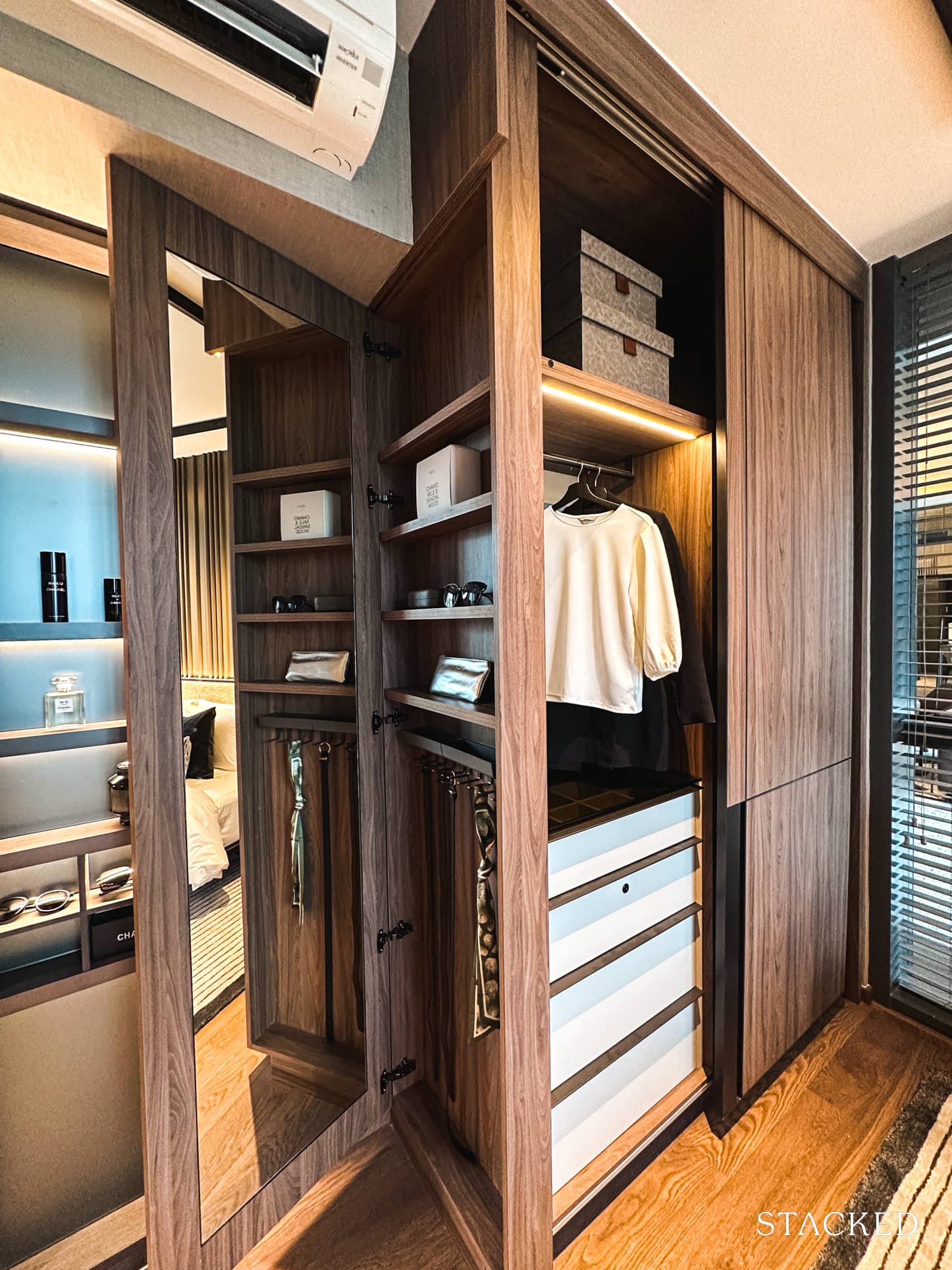 Like what you've seen in the other units, the wardrobe is differentiated with the dark wooden laminate – and it does also come with the usual accessories nook by the side.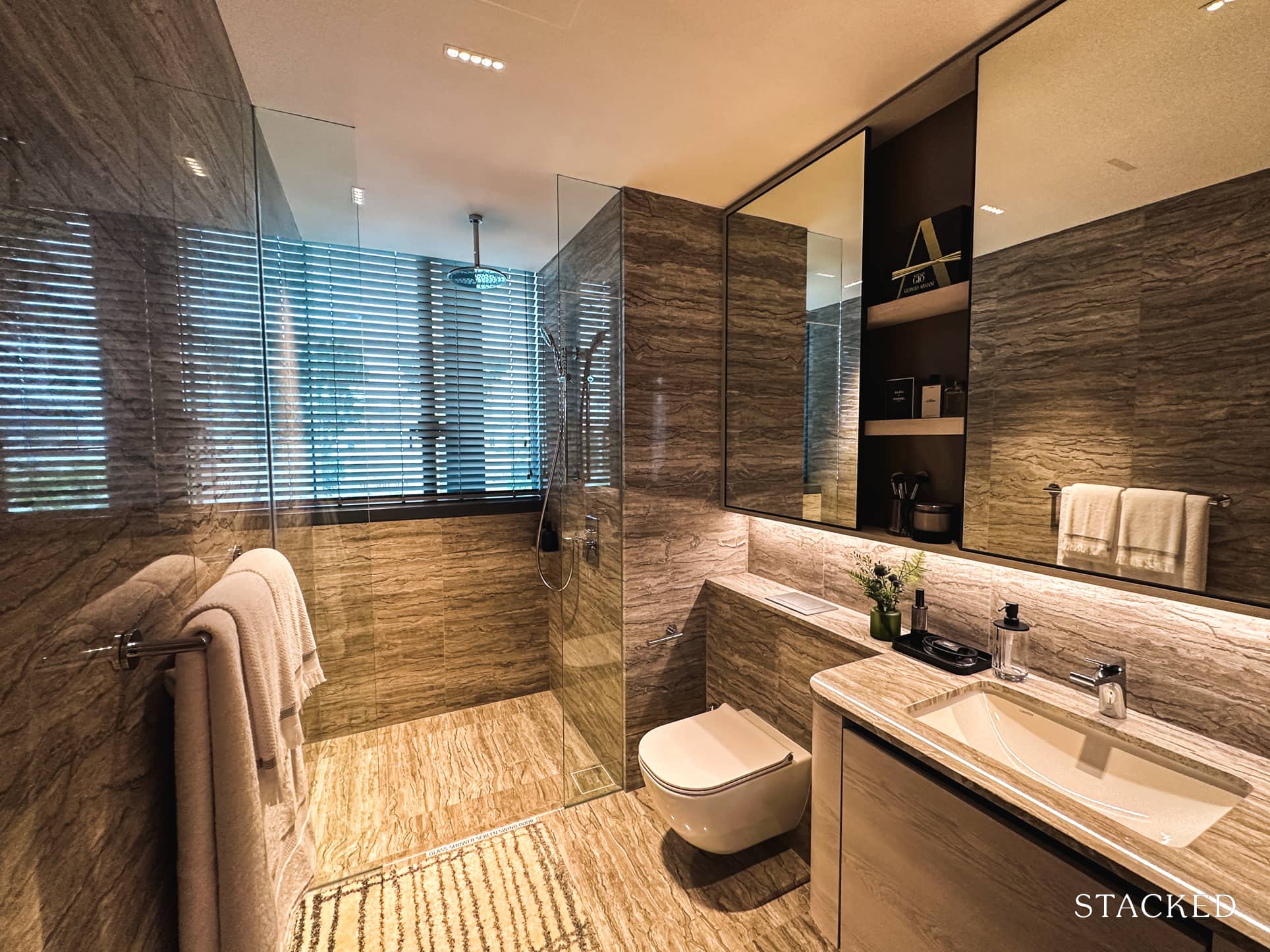 As for the Master Bath, it's at a comfortable 5.9 sqm, complete with a rain shower, handheld shower, mixer and tap from Gessi. The wall-hung w/c and basin are from Laufen. The main differences from Bath 2 are windows for natural ventilation and the Gessi rain shower you get here. It's also a considerably larger bathroom here I must say and one that is more comfortable.
The Continuum – 5 Bedroom Type E-PH (210 sqm/2,260 sqft) Review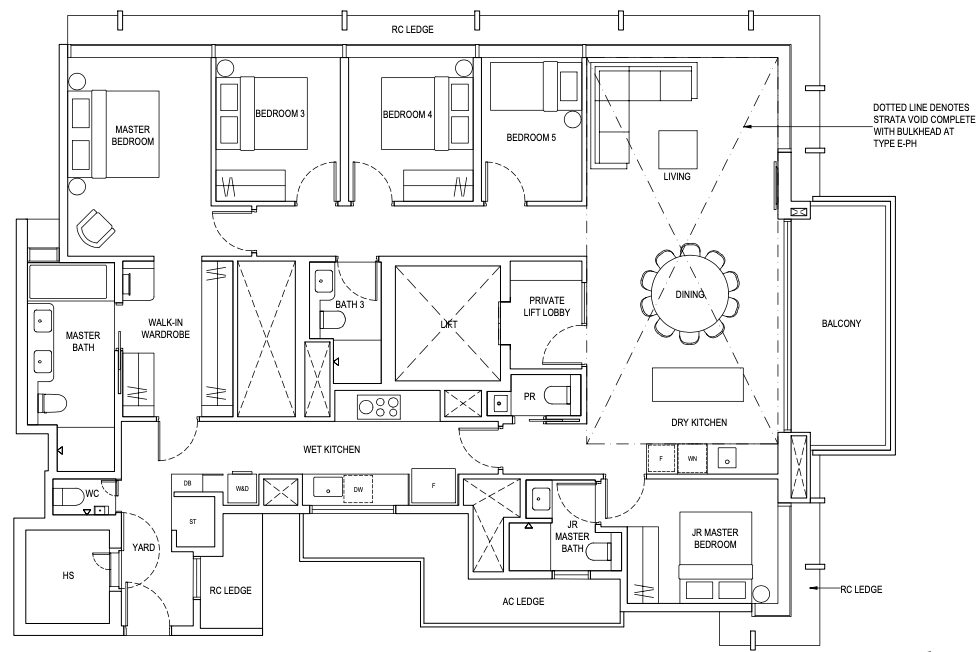 This is the largest and most luxurious unit at The Continuum and its only 5 Bedroom type. Testament to its exclusiveness, it occupies just 2 stacks in the entire development. The showflat unit is the Penthouse on the 18th floor and boasts of a higher ceiling height of 4.6m. The strata void space has been included in the size of this unit. Other floors are 1,905 sqft in size, which is one of the larger sizes around in today's market. As you can imagine, buyers in this category do have many options available and hence it is important to consider some of the selling points of this unit.
For starters, all 5 Bedroom units have private lifts and as much as you think this should be a given, many condos even in the same category do not have such generous provisions. The unit has also been luxuriously adorned with marble from the common areas and the powder room to the master bath and dry kitchen countertop. You'll see more of it as we go along.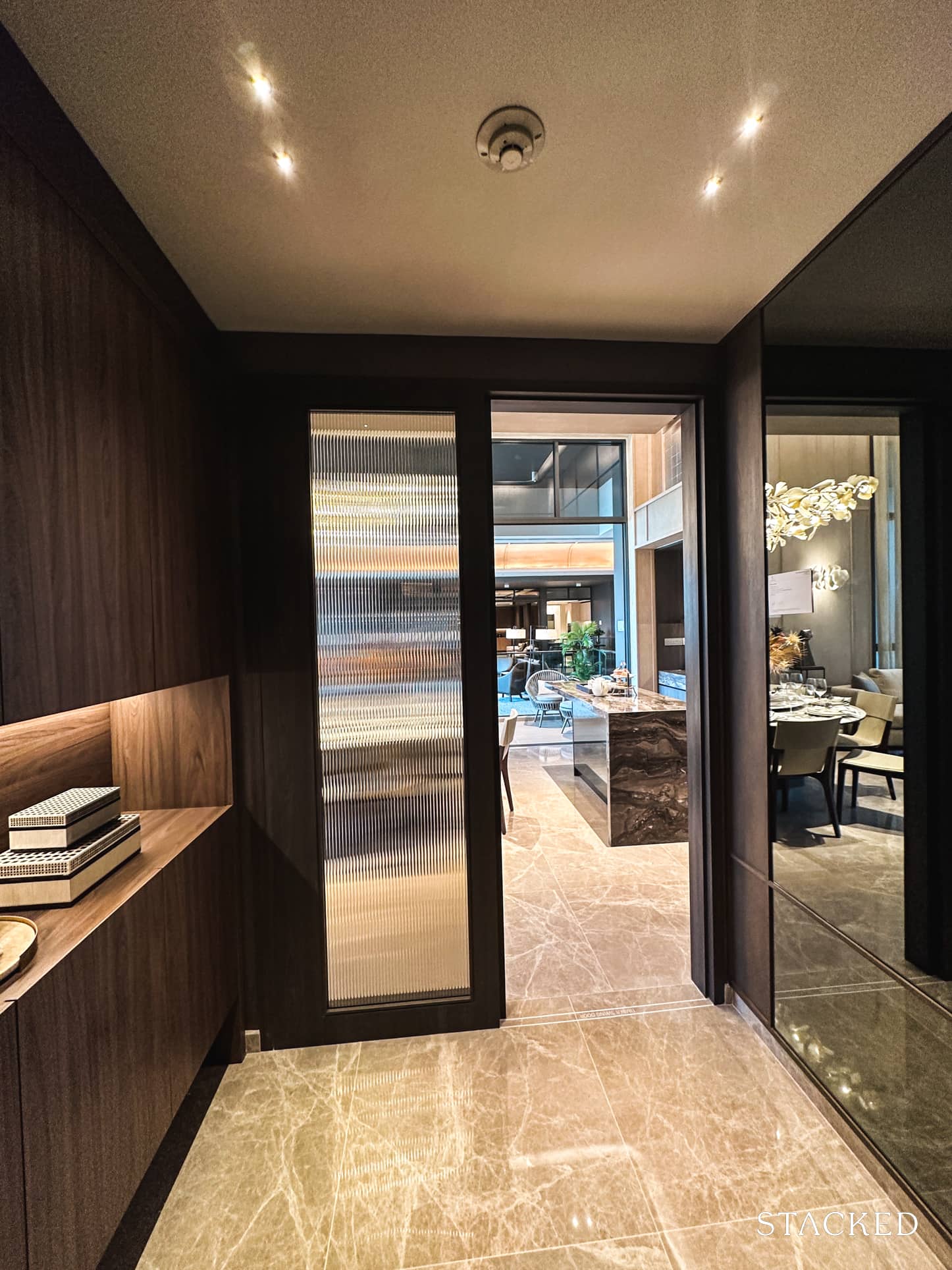 If I were a buyer in this category, the privacy of a private lift lobby is of importance to me and if you agree with me, you'd be glad to know that there's one right here. It's not a great deal of space, but one that comes with built-in cabinets by your left for your shoes and the main door straight ahead. As part of its design, there's also a euro bronze tinted reeded glass panel as part of your door.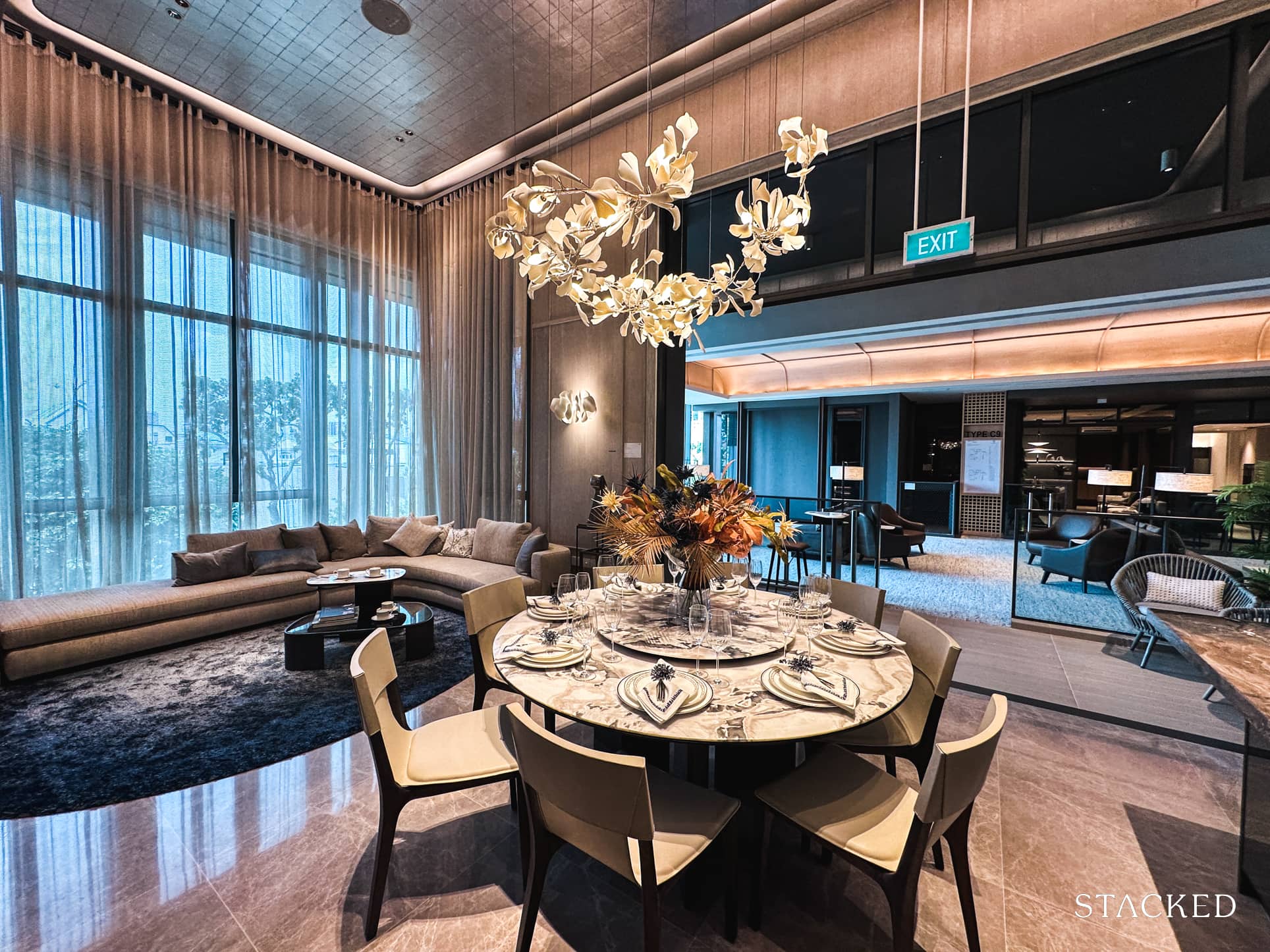 First impressions matter and if you have a 4.6m ceiling and a pretty massive house, you would probably be proud to flaunt it. A good layout definitely helps and as your guests enter through your main door, they will be greeted by the expansiveness of the high ceiling and a sizeable dining area and balcony. It's a gorgeous looking space, and one that is certainly a trophy unit even in a place such as this.
Whether you choose to go with a round or rectangular dining set, you will be able to fit at least 8 people. Perfect for larger families or those who intend to host often!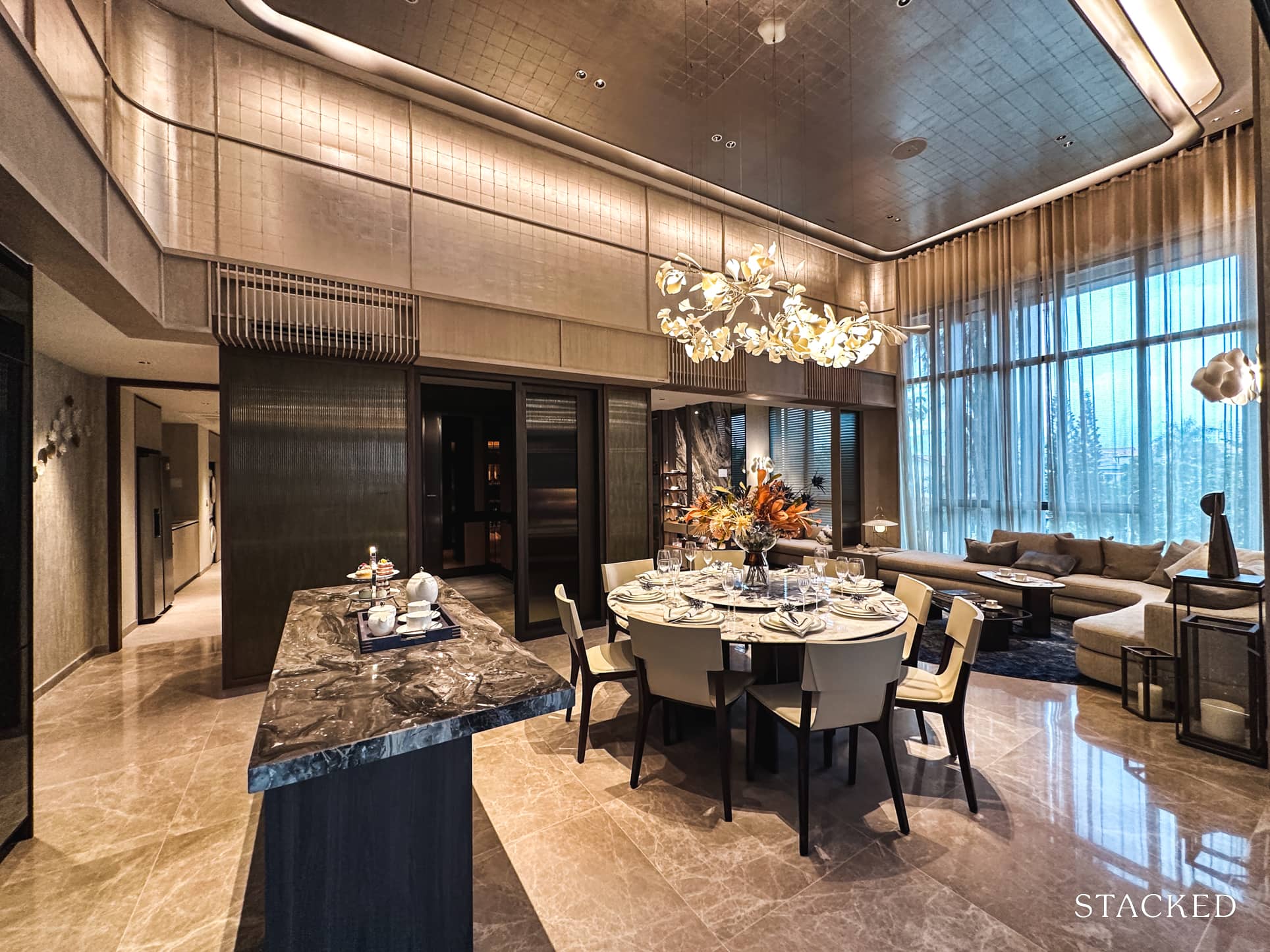 Perhaps it's because of the rarity of round tables in homes these days but the sight of one here at the showflat felt rather refreshing and certainly one that I'd opt for (if only I had a home this size).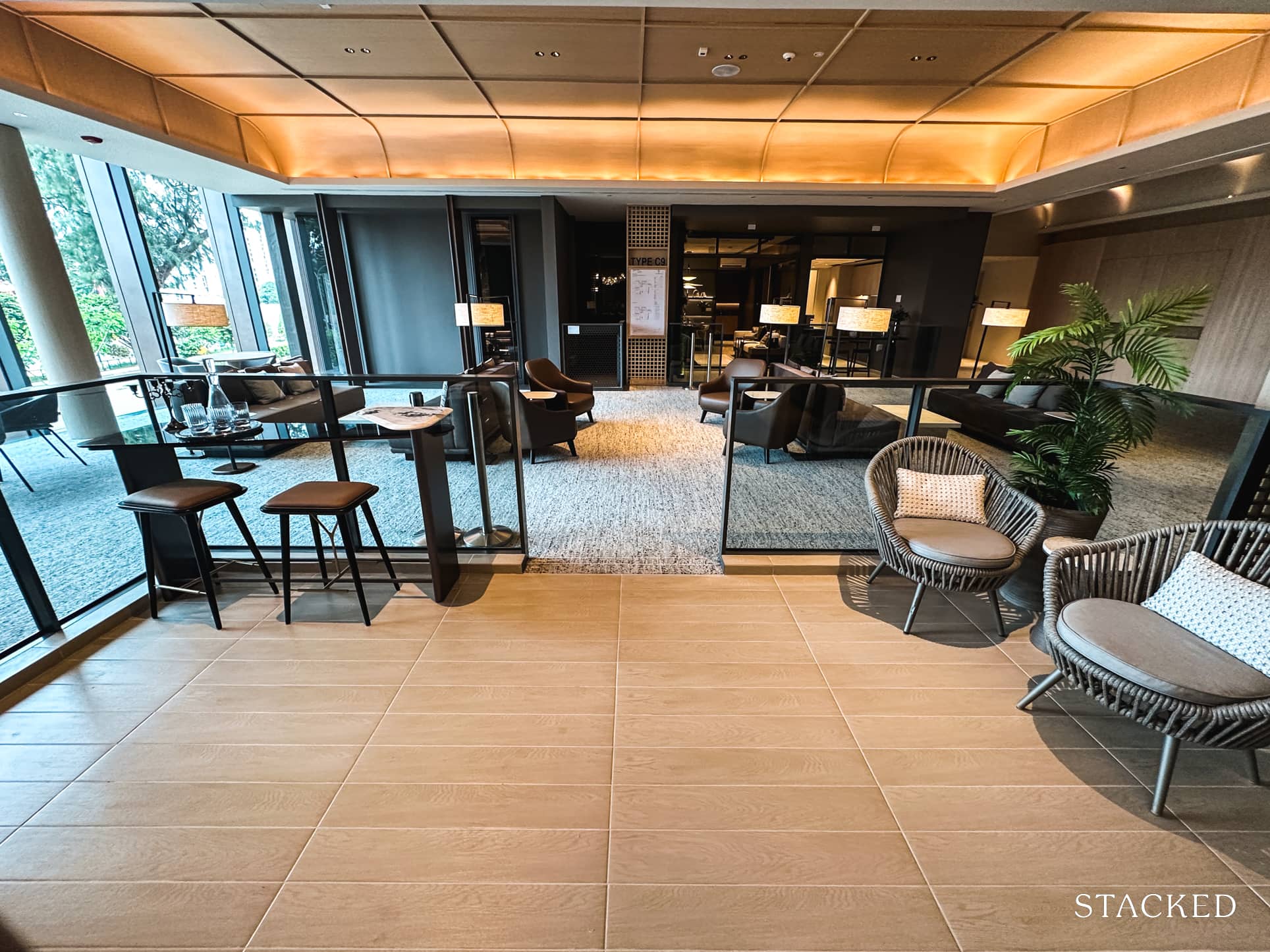 Just ahead of the dining area is the 11 sqm balcony. To put into context how huge this space is, 11 sqm is larger than the Junior Master Bedroom, the 2nd largest bedroom in this very unit. The width spans that of the dining and the dry kitchen combined, hence if you wished to have an outdoor dining set, either as a complementary piece to your indoor one or to replace it altogether, you could well do so. Of course, you need to have a rectangular table in this case.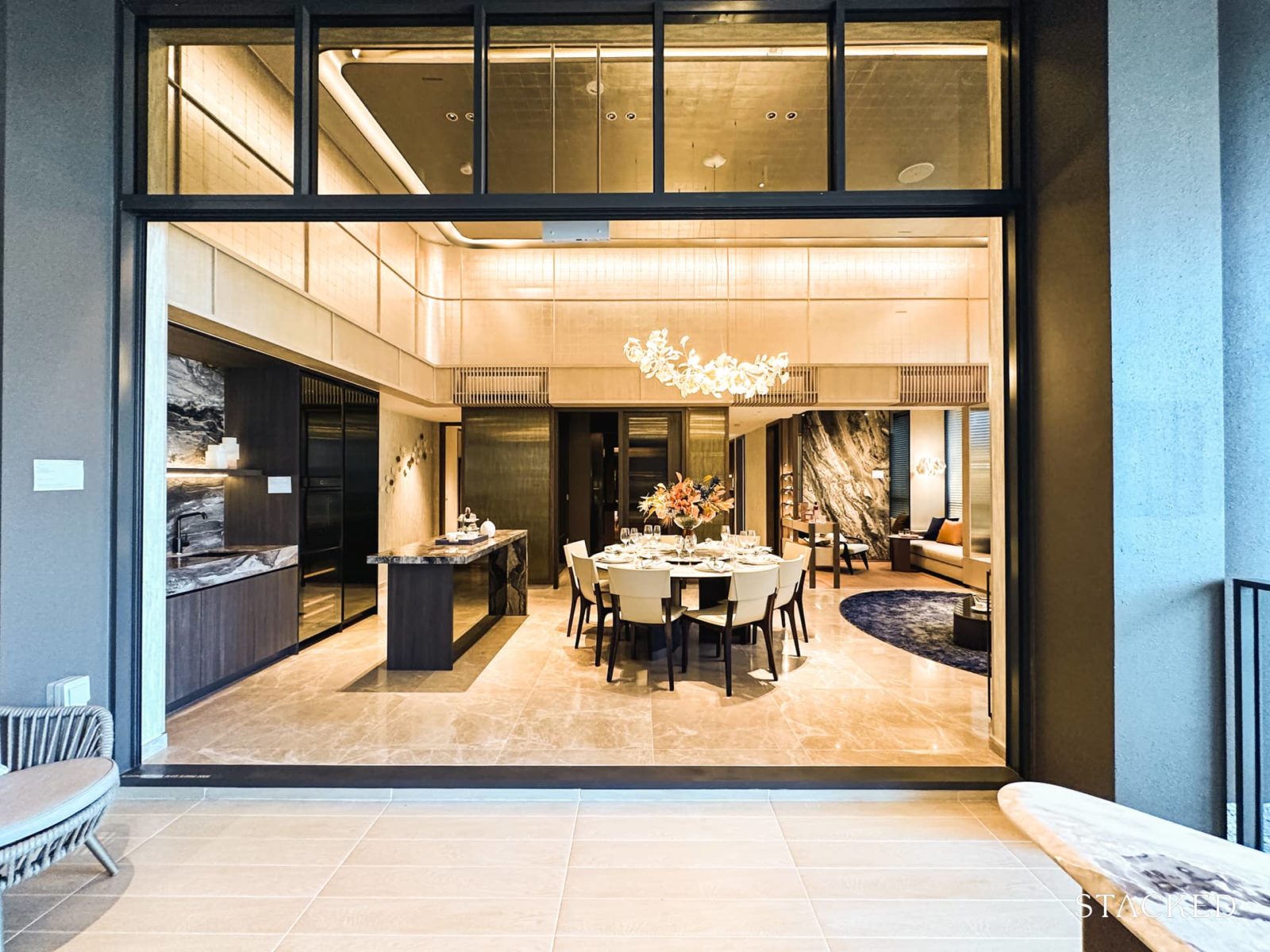 In any case, the view from your balcony towards the inside of the space is certainly a very grand sight.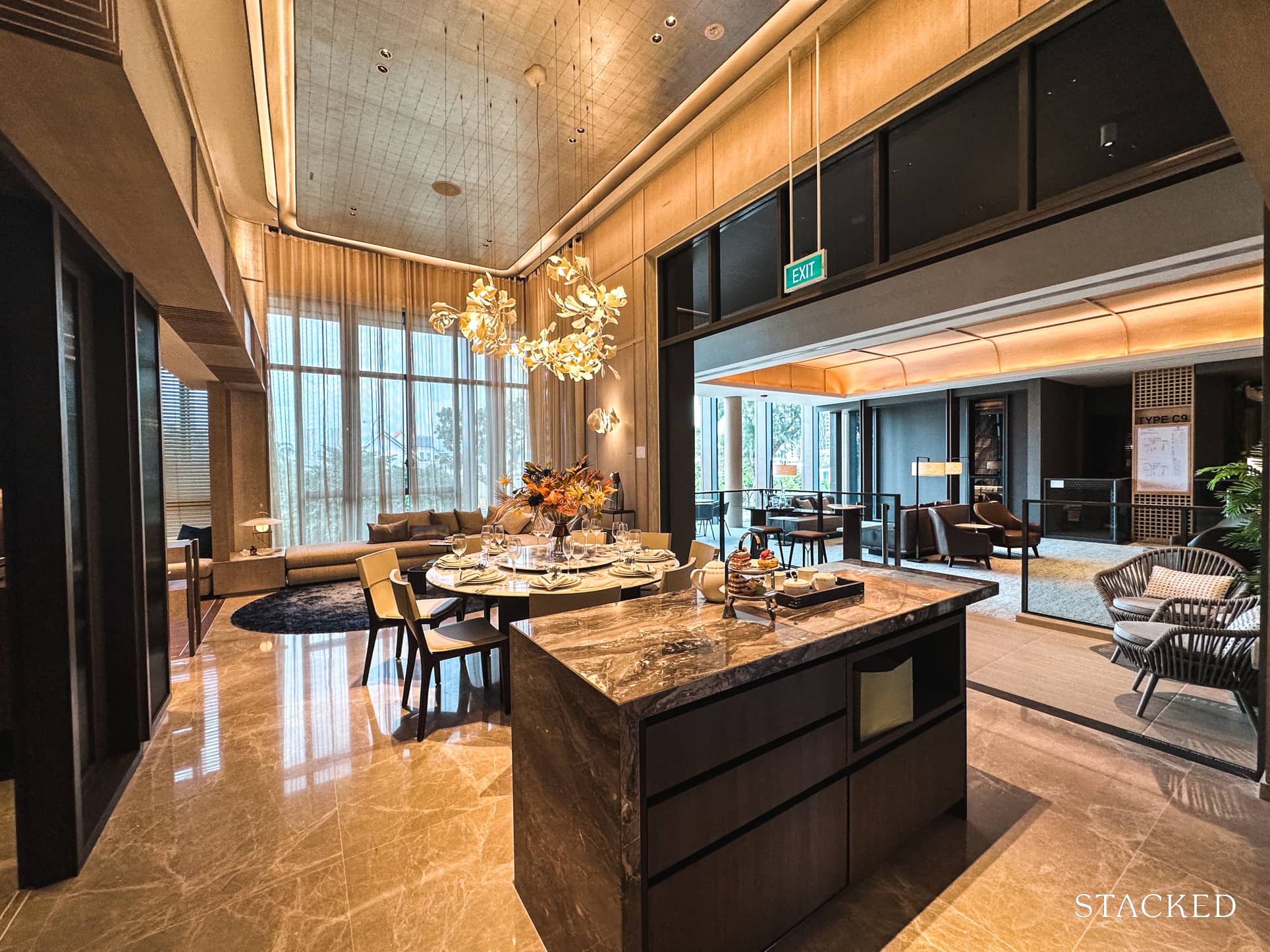 Moving to the dry kitchen area and it is an equally impressive space. Perhaps not so much in its size, but more on its fittings. There's a much sought after kitchen island complete with marble countertop and storage below. Just across the kitchen island is a pantry space which also comes with a marble countertop and backsplash.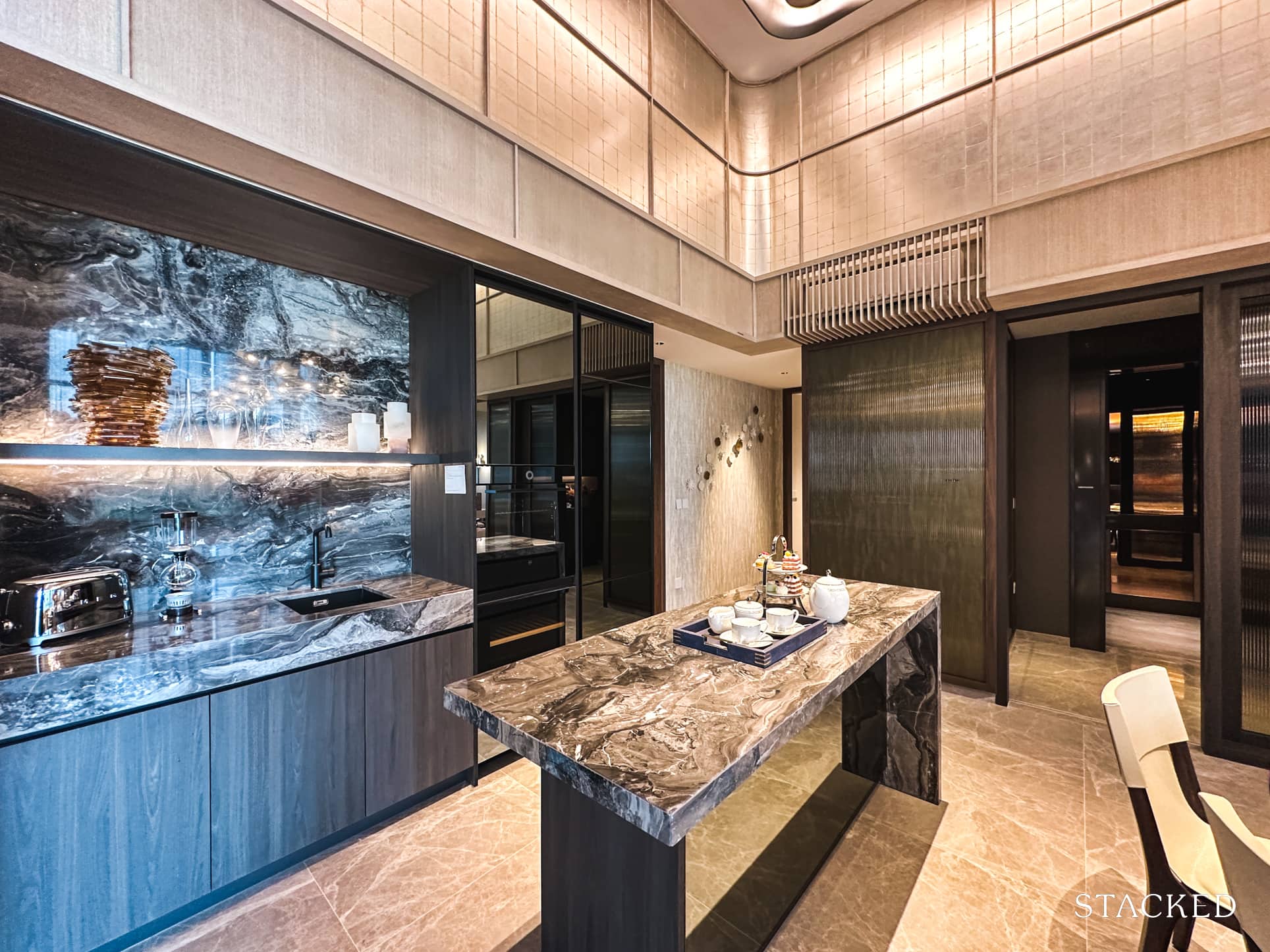 Opulence might be the more appropriate word for this. Beyond that, you will notice a few of the 'dark and reflective' appliances – well, if you have been in this market long enough, you'd know that these are from V-Zug, which includes a built-in oven, built-in fridge and wine chiller. It's a Swiss luxury brand and you can head down to their Ion Orchard showroom if you're interested to know more.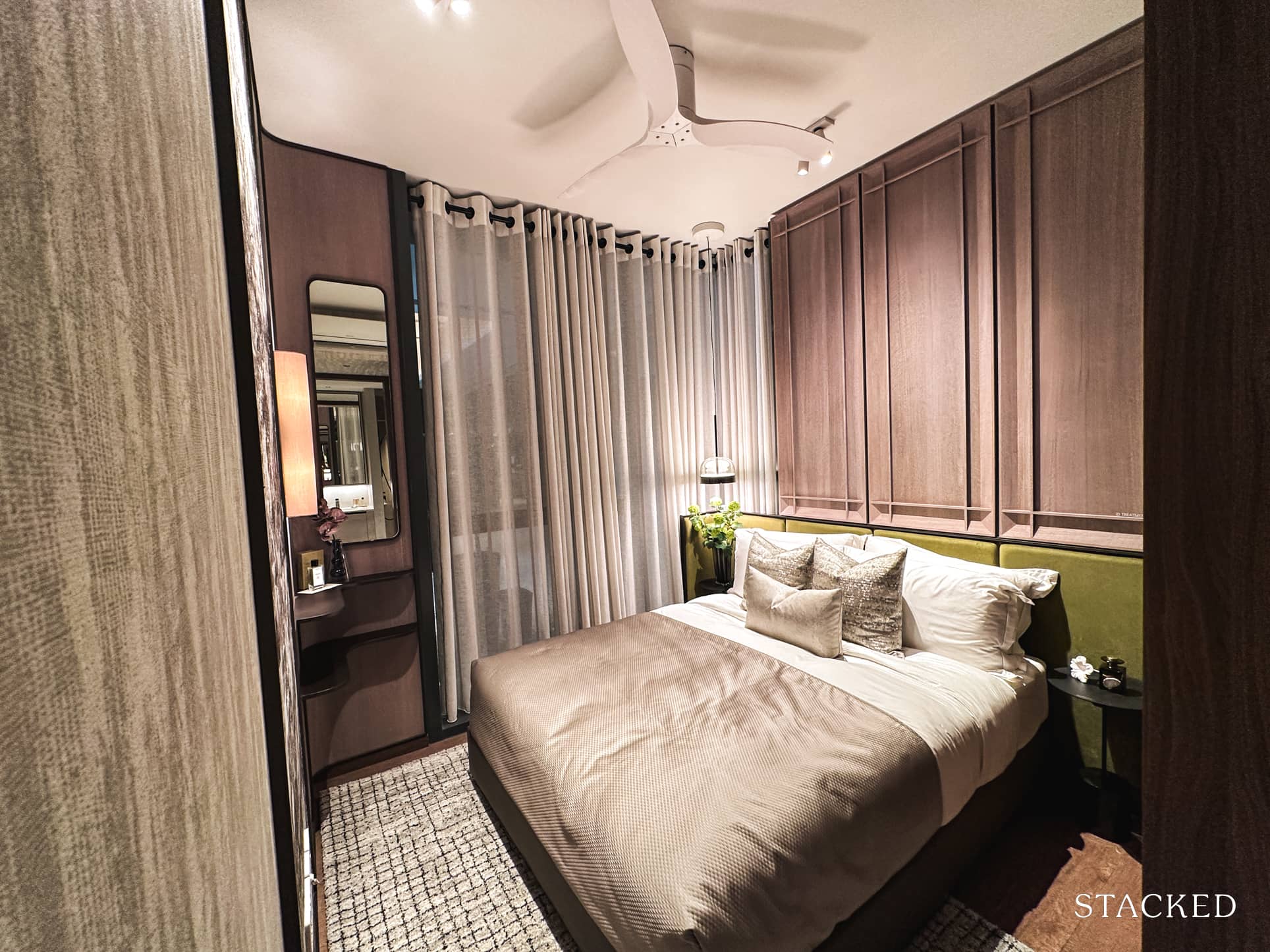 The Junior Master is located just beside the dry kitchen and away from the other 4 bedrooms. As standard, it comes with an ensuite bathroom. I think the location of this bedroom is great if you need a guest bedroom, or if you have a multigenerational family with aged parents or a newly married child.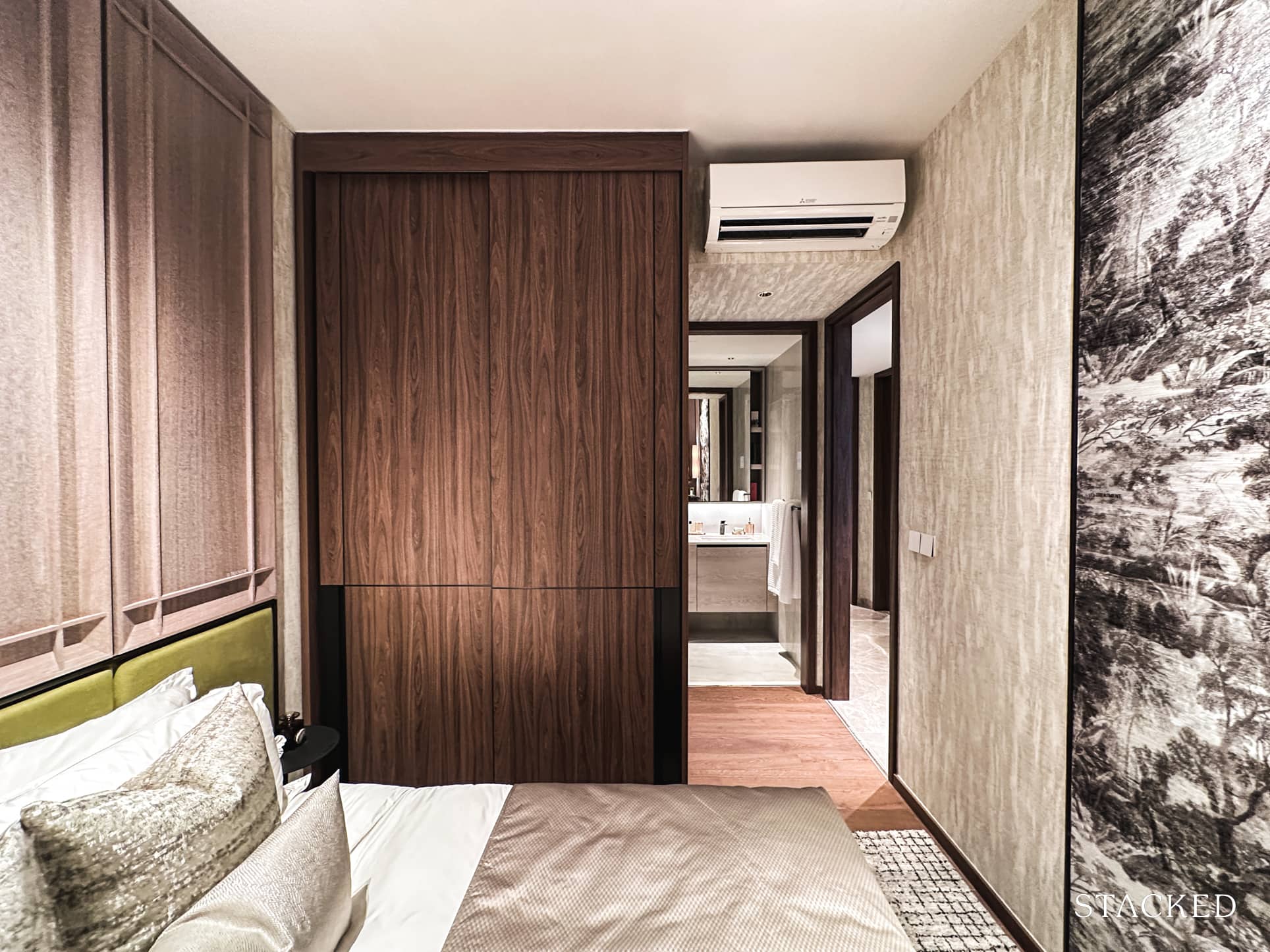 It's 10.1 sqm in size and given its squarish shape, can probably even squeeze a King size bed in. However, if you prefer to have bedside tables, a Queen would be more ideal.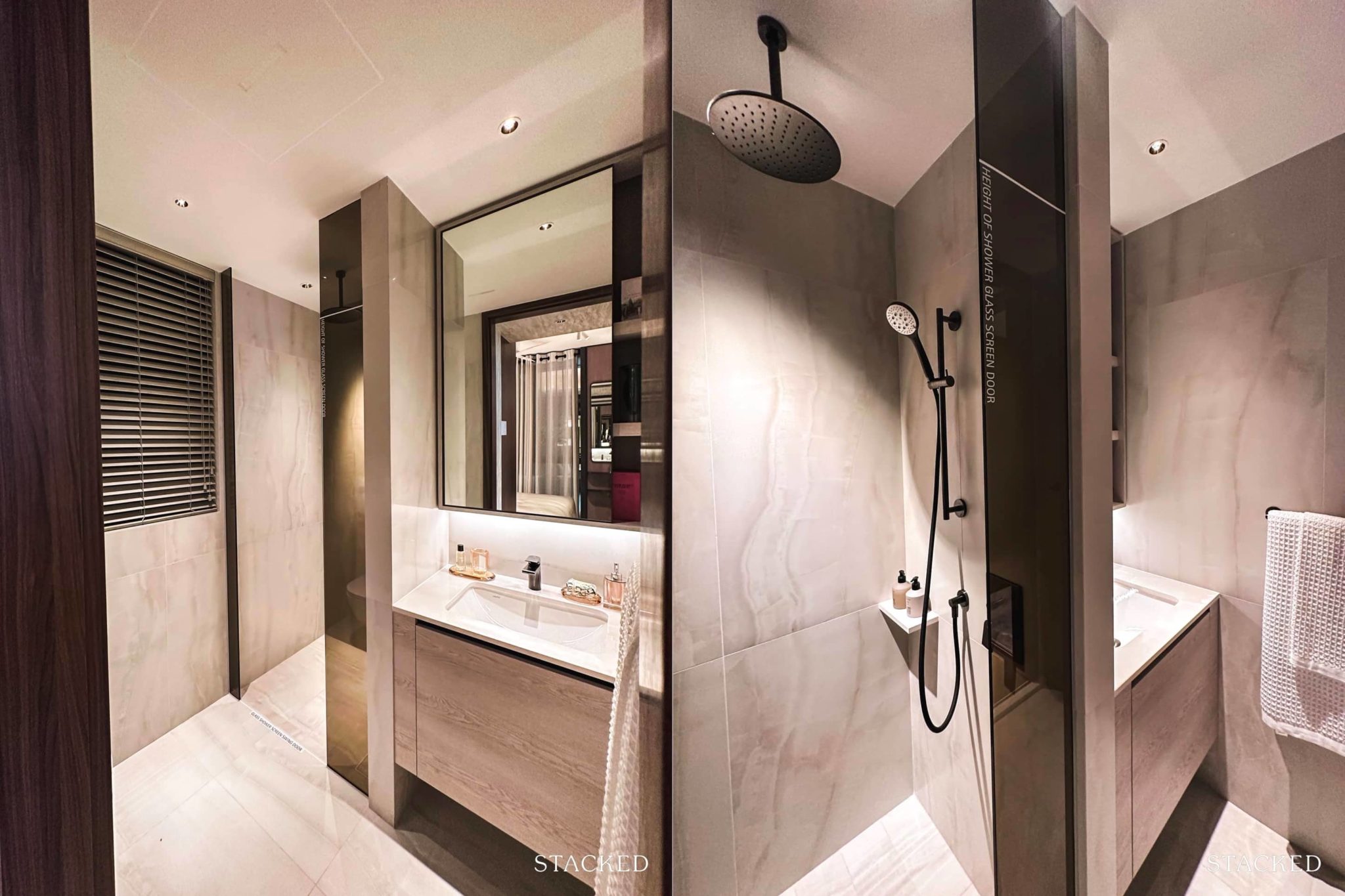 You also have the 4.3 sqm Junior Master Bath that comes ensuite, complete with a window for natural ventilation. Bathroom fixtures, fittings and wares are provided by the developer as standard and they are all from recognisable European brands Laufen, Gessi and Tece. This includes the sink, wall-hung w/c, tap, shower mixer and rain shower. To differentiate the 5 Bedroom unit from the others, the latter 3 fittings (and flush plate) are in black brushed finish to give it a more modern and sleek vibe.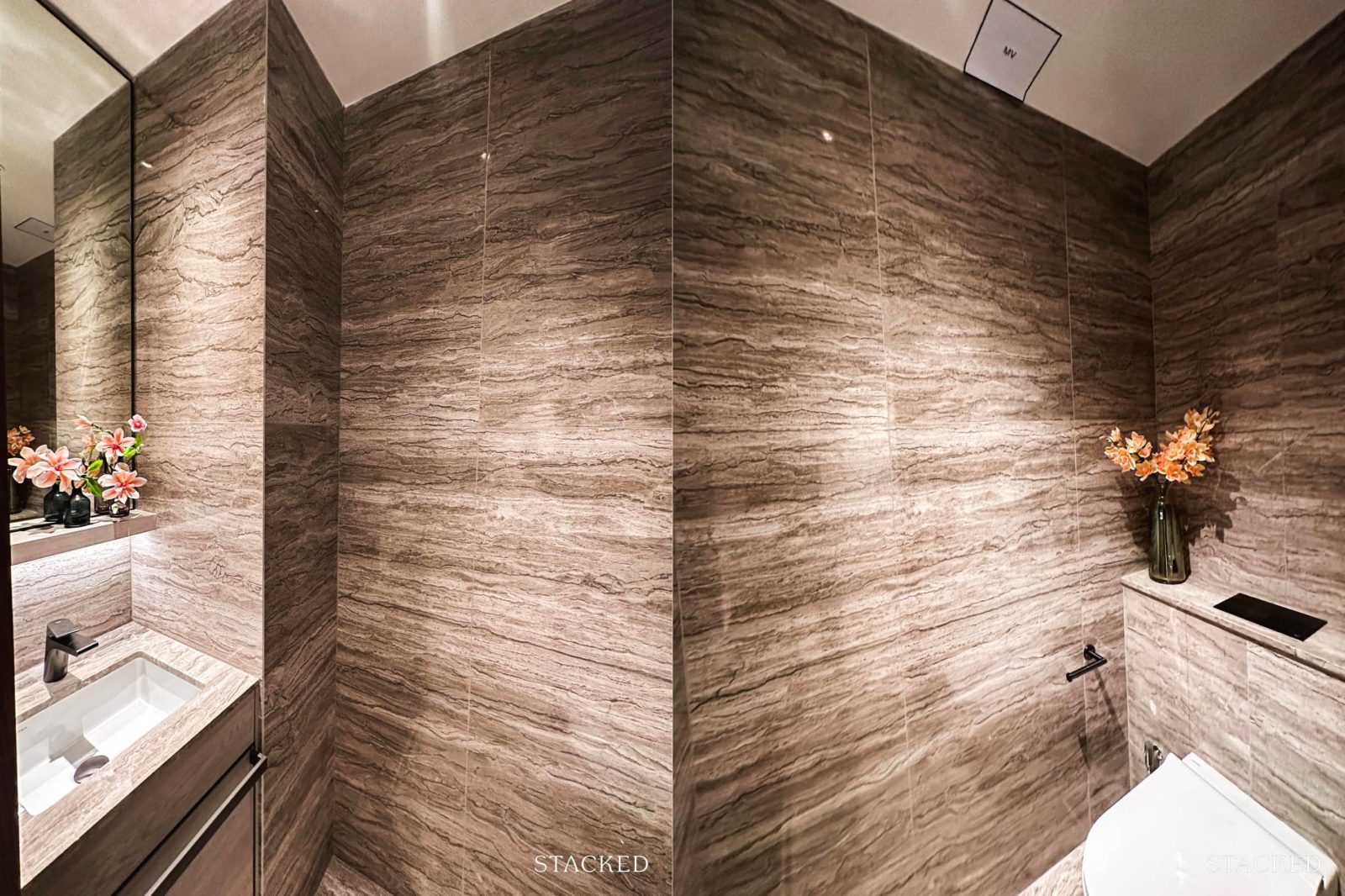 As you know, the Junior Master is beside the dry kitchen and the dining area, so if you are going to have it as a granny's room, you may need to rein in the late night parties at home. For guests visiting, instead of the usual common bathroom you head to, there is a dedicated powder just across the Junior Master.
Make no mistake, it's a tiny space as it doesn't have a shower but it's decked out in marble from top to toe. The floor, walls and vanity counter are all in luxurious marble and come with the same European fittings as your other bathrooms, – black brushed Gessi tap and Tece flush plate and Laufen wall-hung w/c and basin. It's sure to impress your guests when they come over!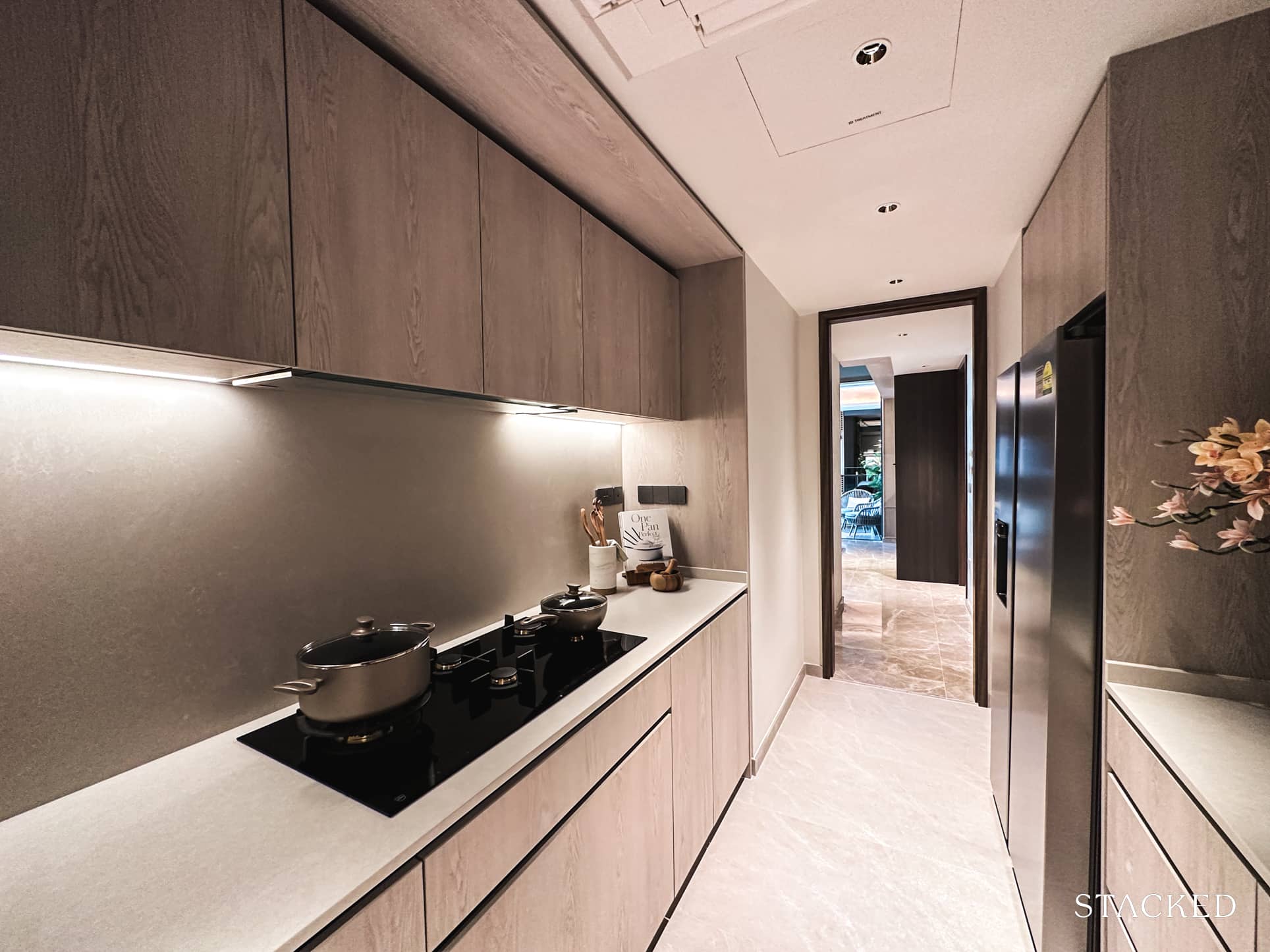 The wet kitchen is adjacent to the powder room and it's a long rectangular space. What I like most about this area is the number of window panels (3) you get here. In my other reviews, I talk about kitchens with windows but really, some only have 1 panel right at the end of it. This one here is good because it really maximises the natural ventilation of the space.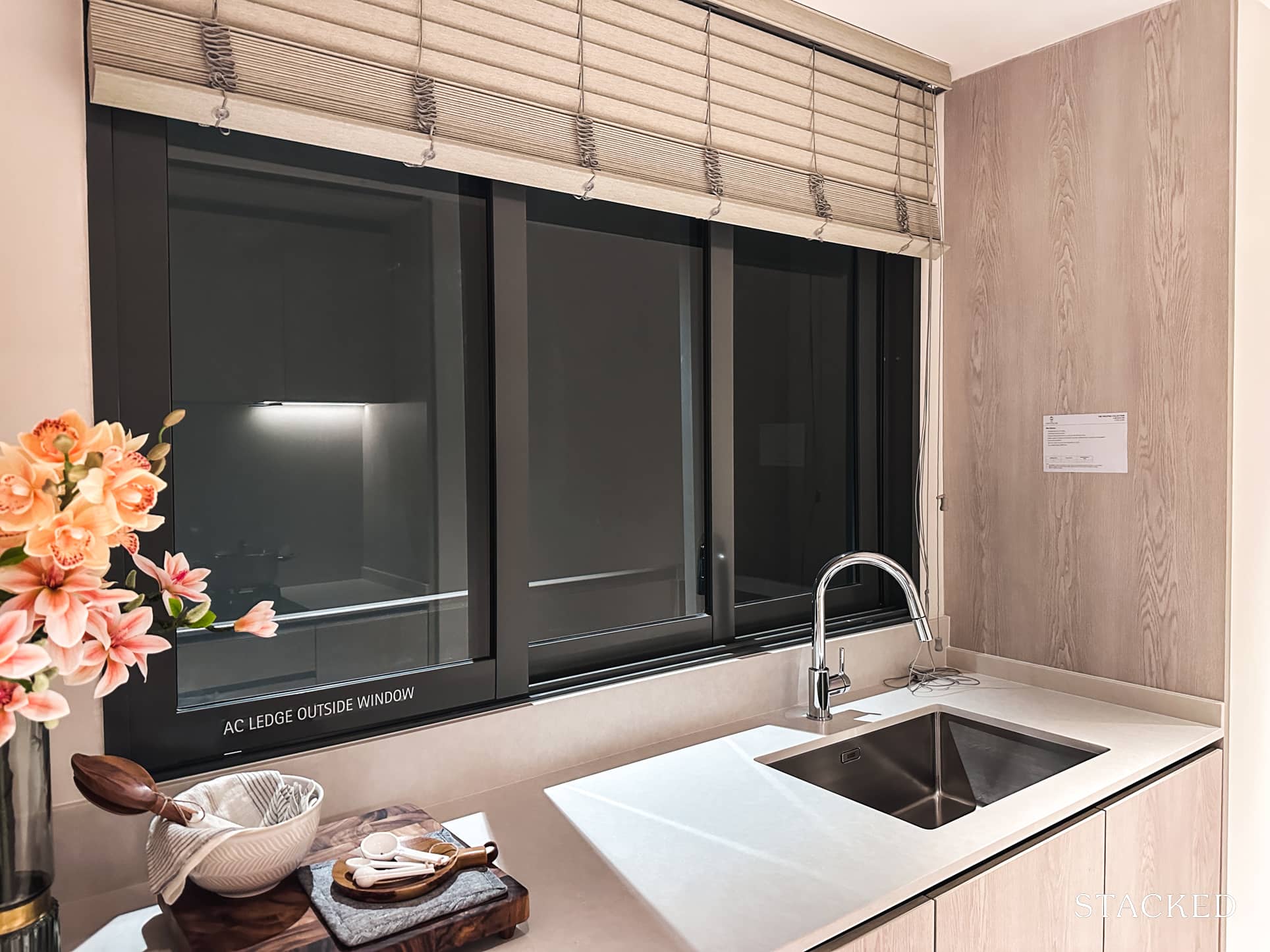 There's also a decent amount of countertop space, which is engineered stone in material. You also get plenty of top and bottom built-in cabinets, which is a really important feature especially for the larger families. Of note, there is a degree of flexibility because the top storage has adjustable shelves and there's also a pull-out sauce rack among the provisions.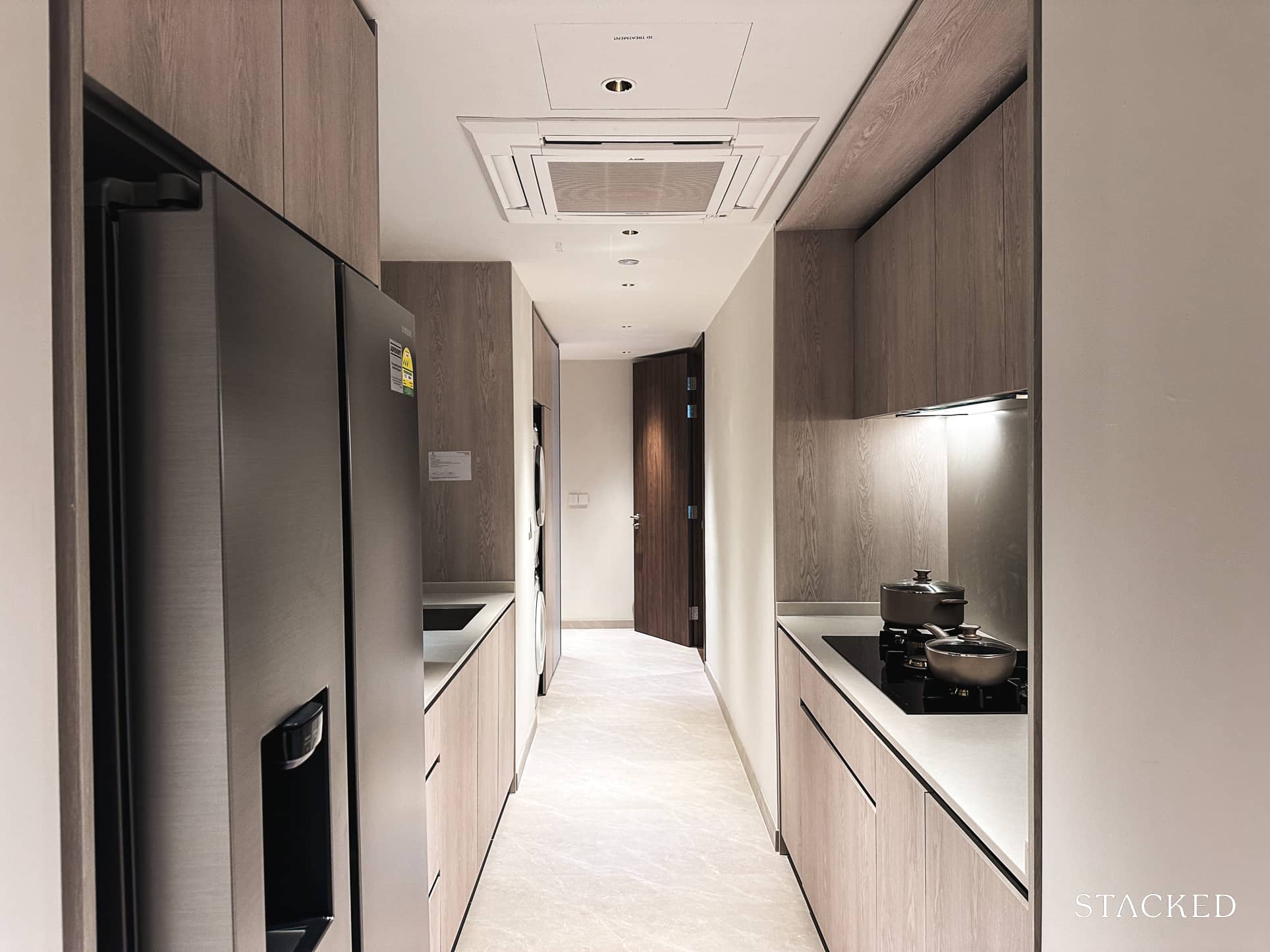 There's a 2-door freestanding Samsung fridge that complements the V-Zug built-in one that you have in the dry kitchen. Other appliances include the gas hob, cooker hood and built-in dishwasher all from V-Zug. If you know the brand, you will know how expensive these cost!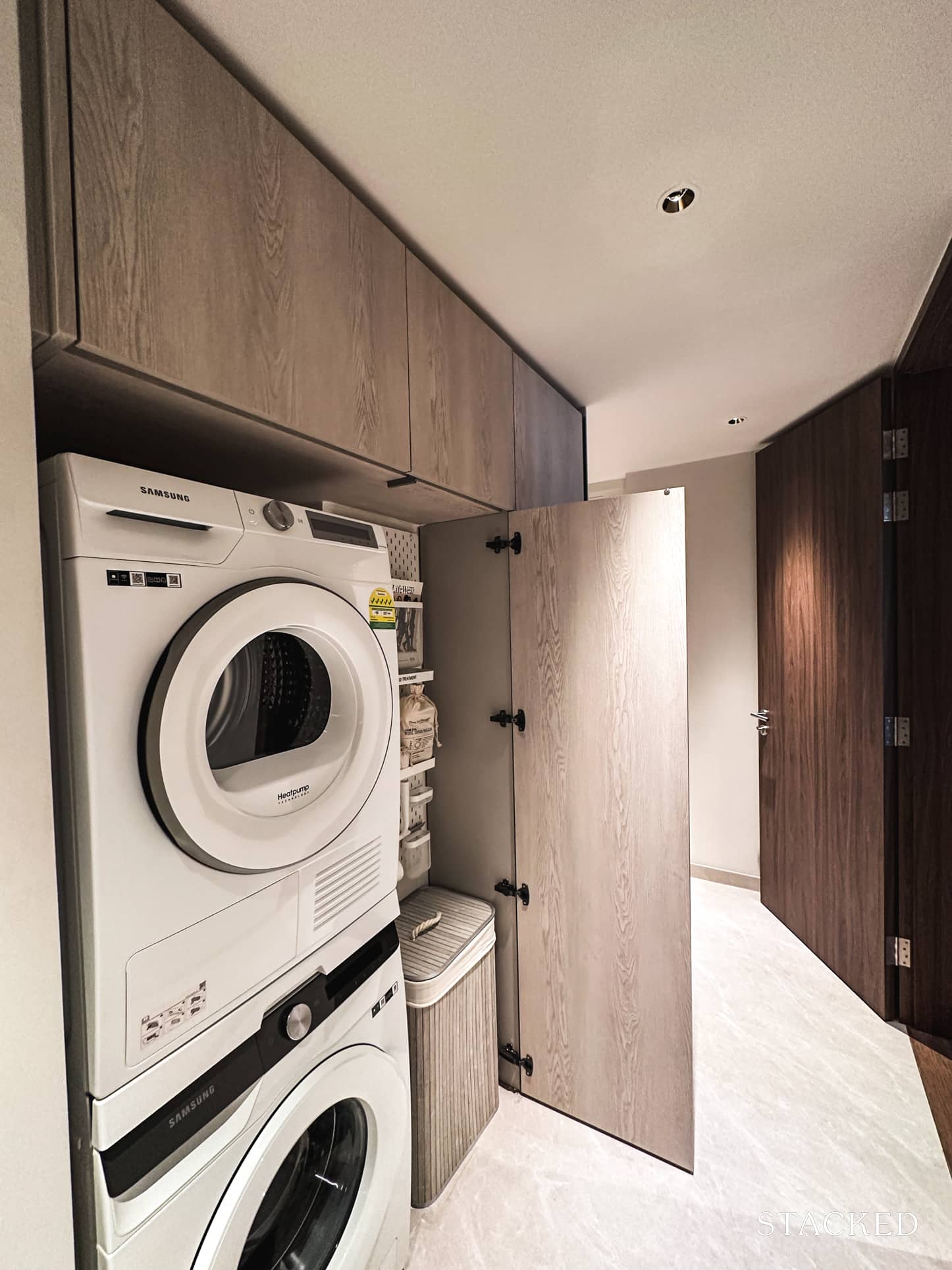 As you venture further into the kitchen, there's a separate washer and dryer by Samsung. This is also where you'll find the yard, household shelter, w/c and the store.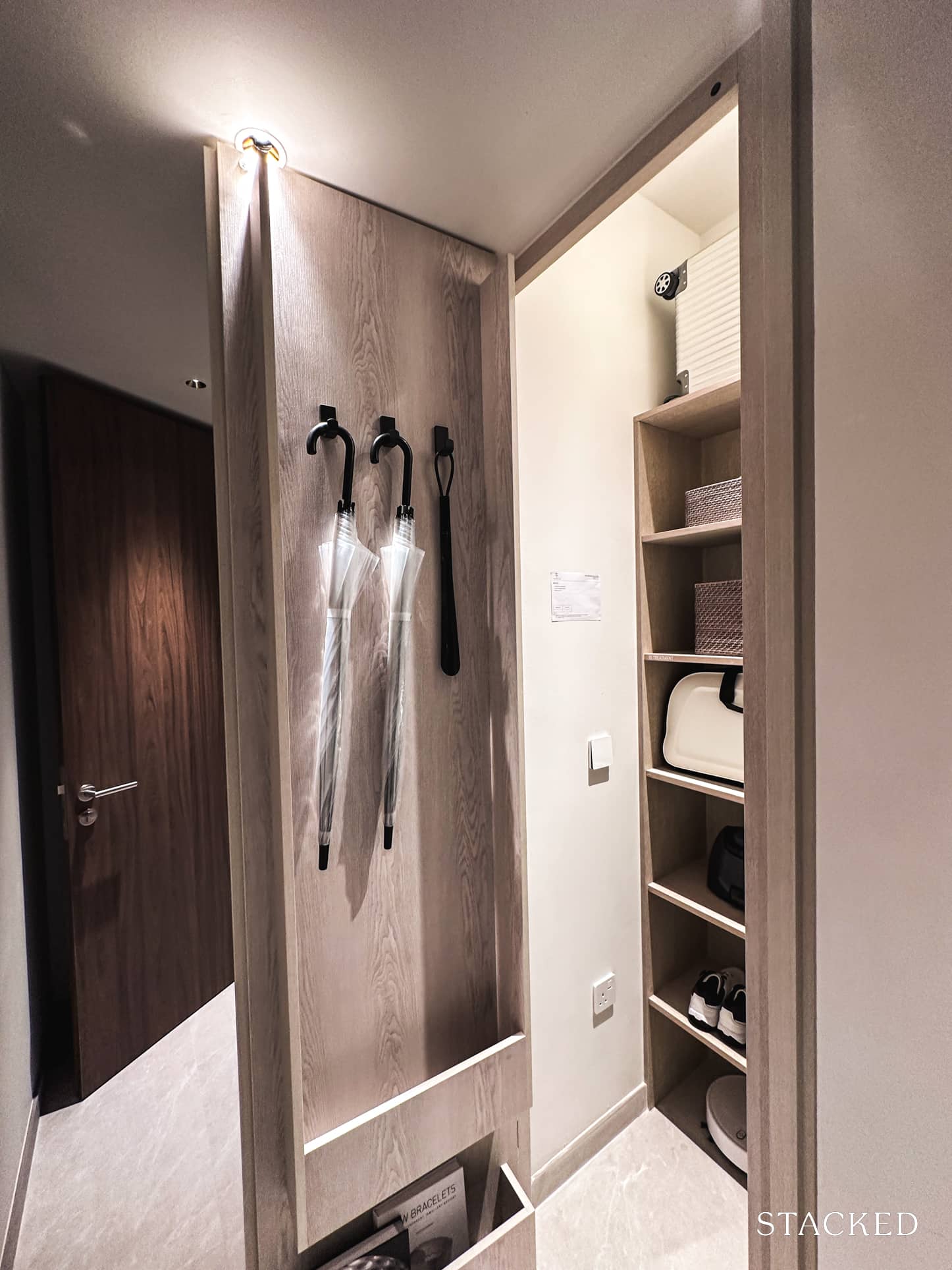 The 'store' is an extra 'accessories' room of sorts to store away your broom, vacuum cleaner etc and comes complete with an electrical socket too. This is present in all the units at The Continuum, and is a really nifty addition that I've really liked so far.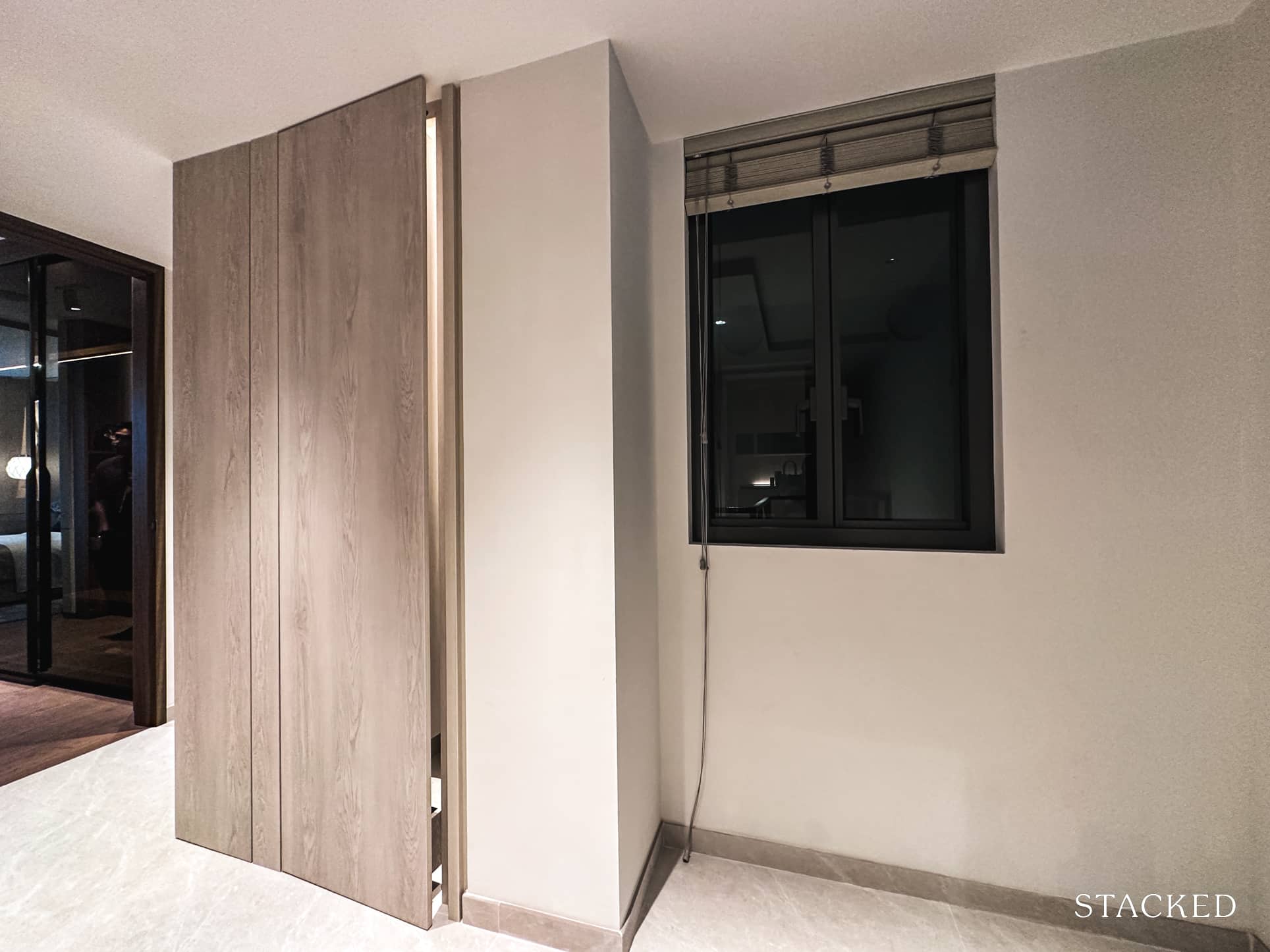 As for the yard, it's a decent enough corner for you to dry your clothes without relying on the dryer. You will also find the backdoor that leads to the common lift lobby at the back of the kitchen.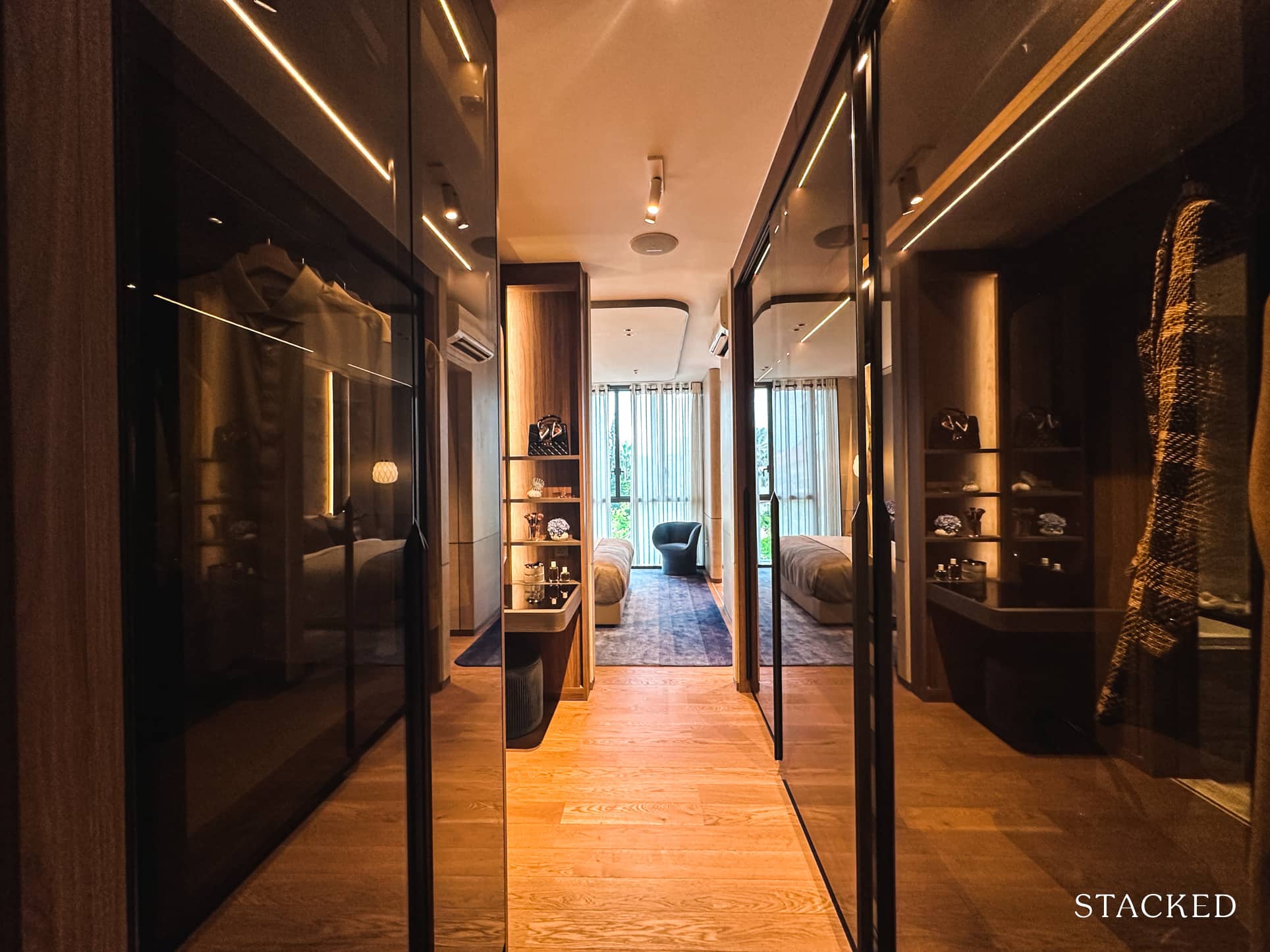 One interesting thing about this layout is that you will also find a 'secret' door that leads you straight to the Master Bedroom. Well, it's probably more the opposite, when you're craving that late night snack that you just put into the fridge earlier that day. In any case, you don't get this layout often (I last saw it at Riviere), but it is practical.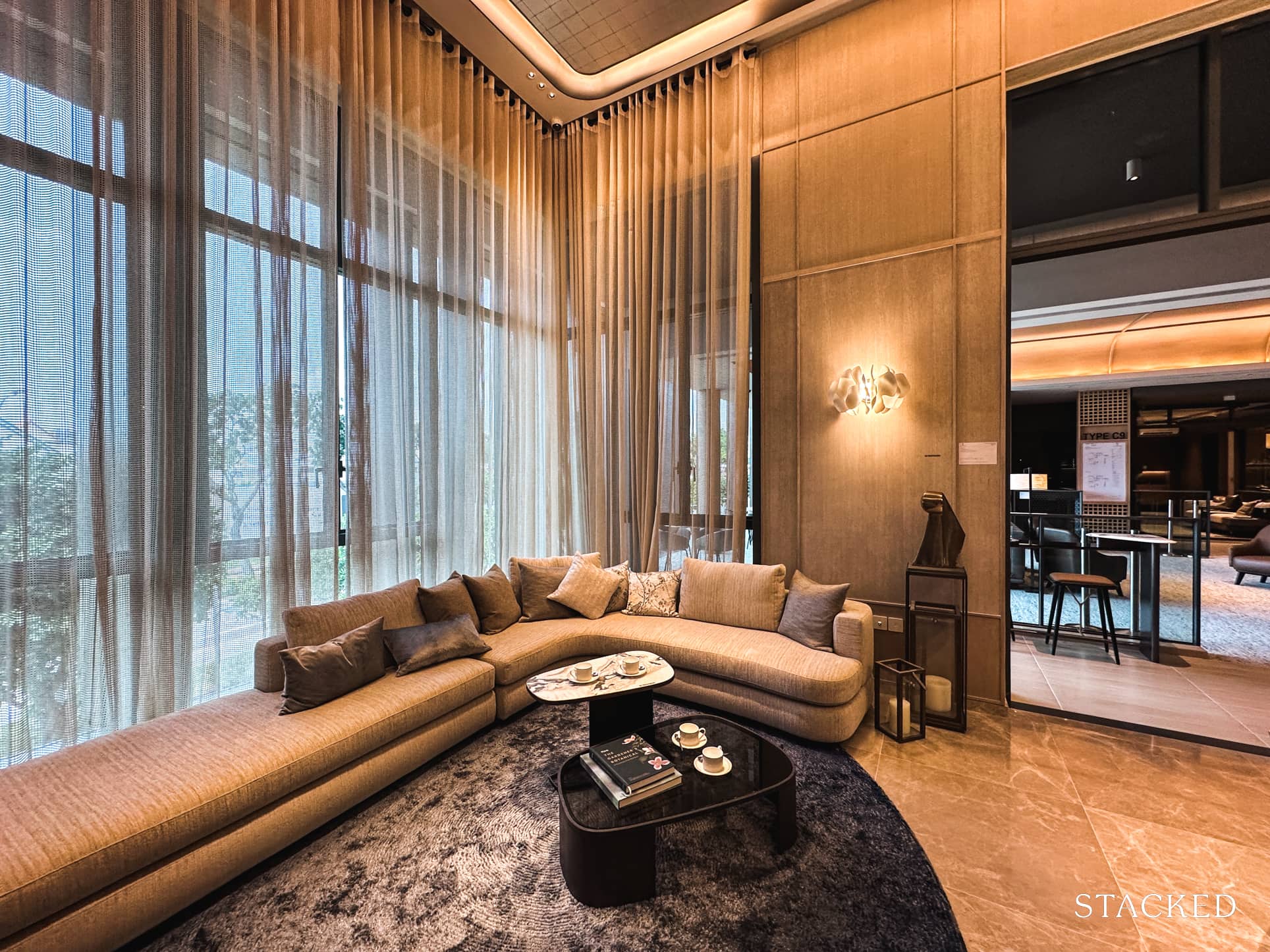 Let's reorientate ourselves all the way back to the dining area again and explore the other side of the house. Starting with the living area, which benefits from the 4.6m high ceiling and full length L-shaped windows.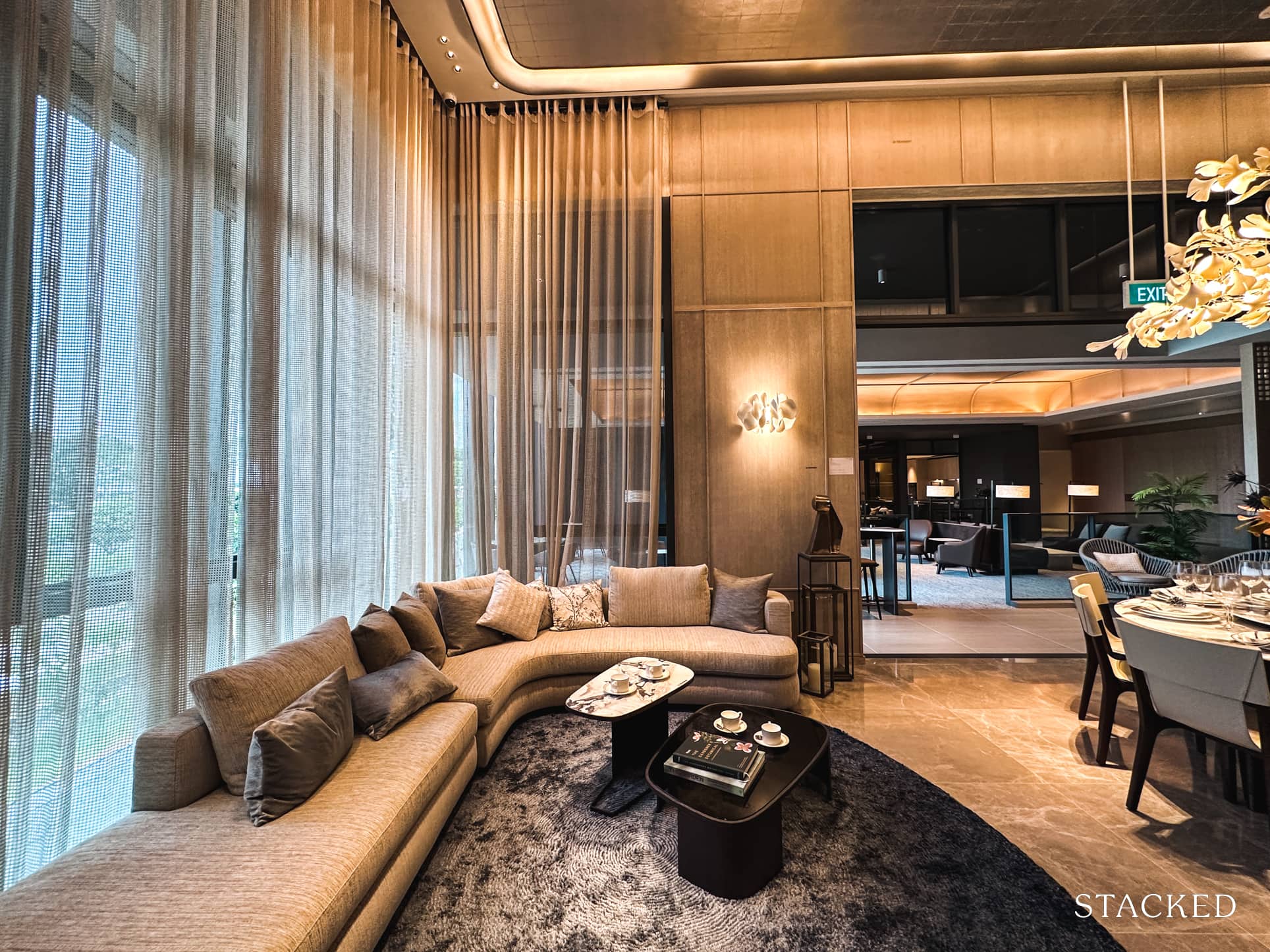 It's great in terms of letting in natural light, although customising curtains and maintaining them may be a slight headache. Given the spaciousness of the area, an L-shape couch that sits more than 10 people should not be an issue. If you prefer, you could of course choose to split up the seating into a combination of individual and 2 or 3-seater sofas. In short, it's very flexible.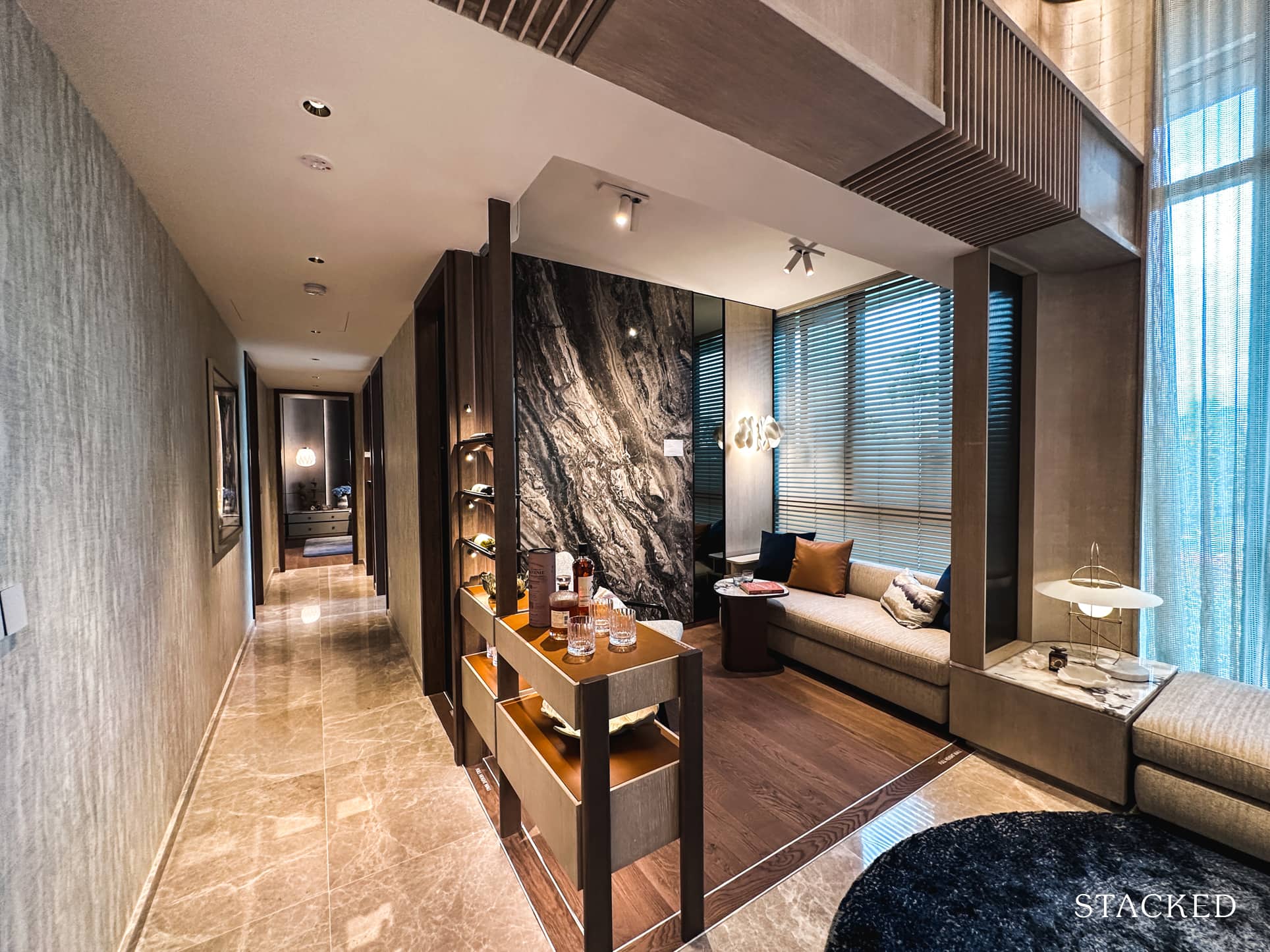 Adjacent to it is Bedroom 5, which is the smallest of the bedrooms at 7.4 sqm. Note that it also does not enjoy the 4.6m ceiling that the living, dining and dry kitchen have.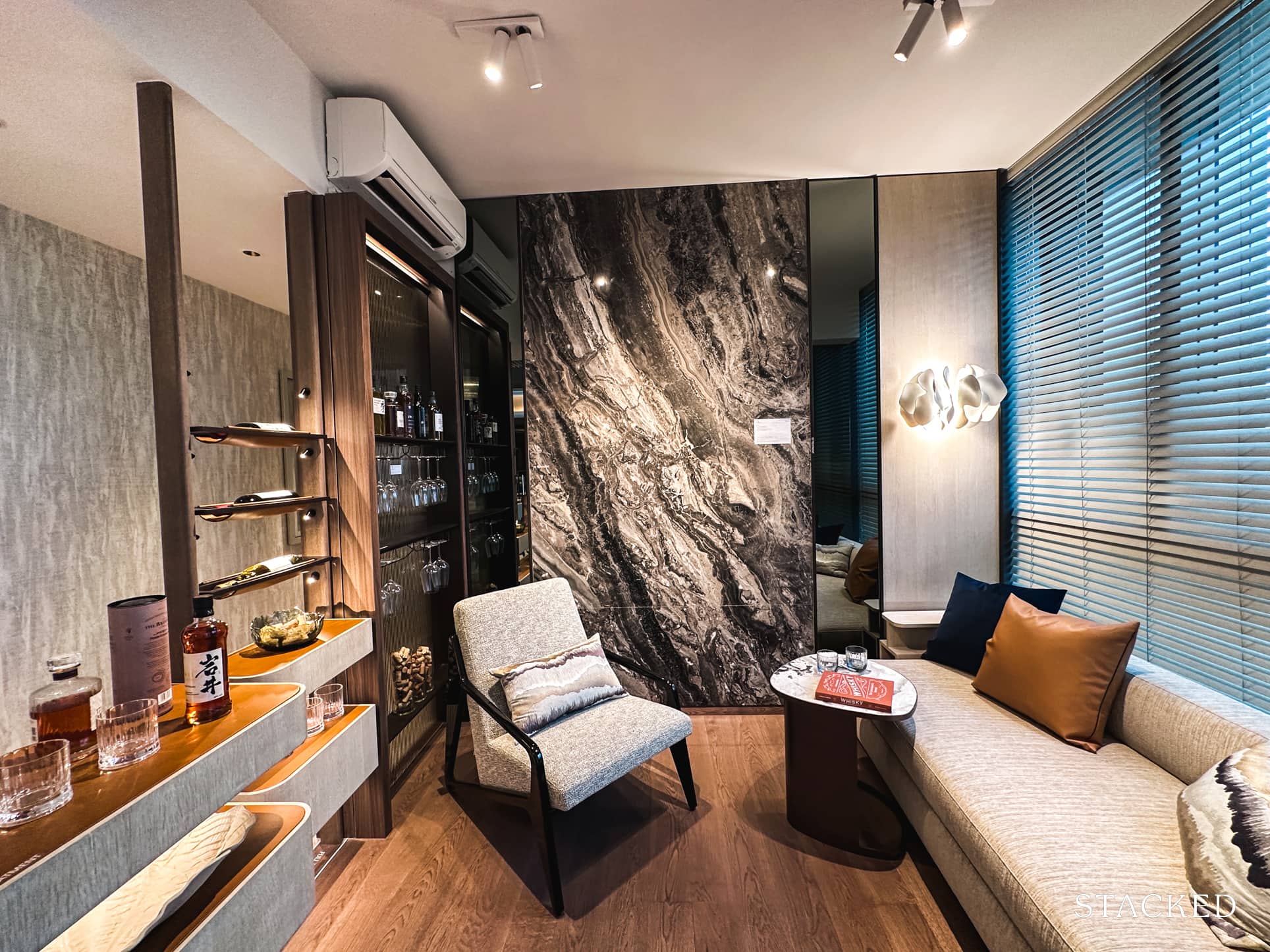 In this showflat, they have knocked the walls down and had it more as a lounge concept (just to show the flexibility of it). It's probably suitable if you have large groups of people over often but I'll probably go with this room as a Study instead.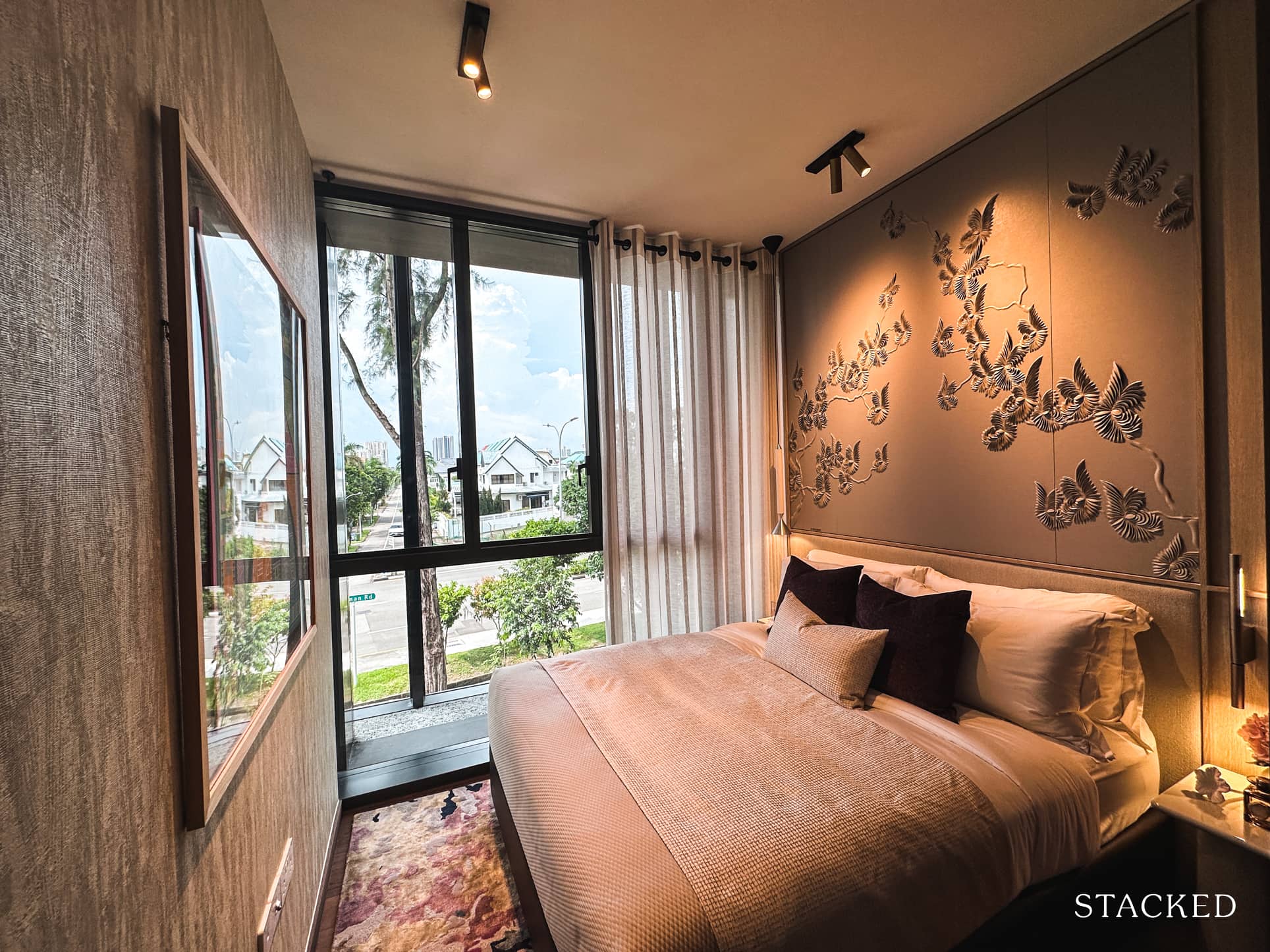 The bedroom beside is Bedroom 4 at 9.1 sqm, which is quite standard in size compared to the other new launches. Engineered timber floor comes standard, complete with a built-in wardrobe and full height windows.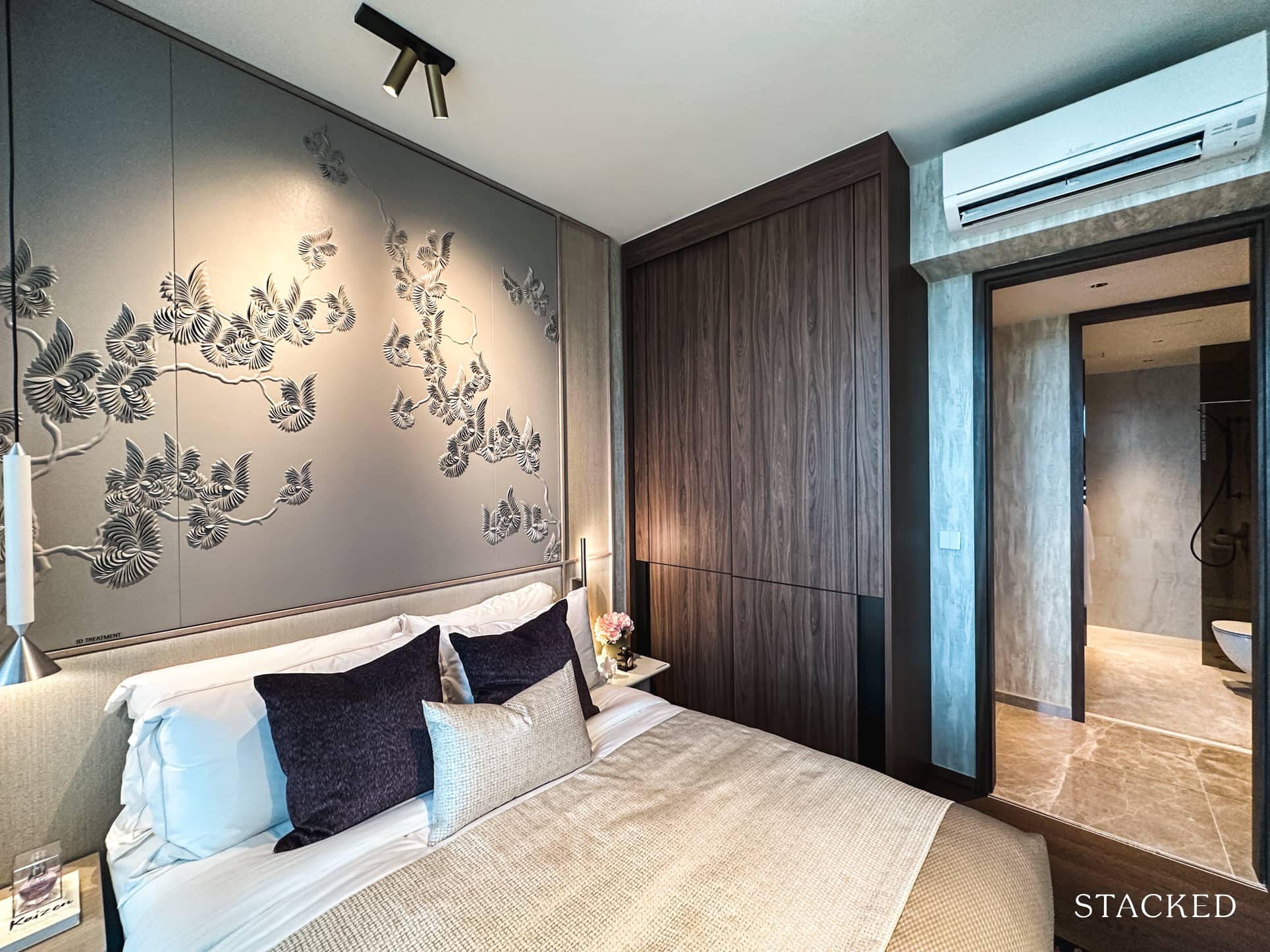 Every built-in wardrobe has in-built motion sensor lighting and a glass top accessories drawer. This size of this bedroom allows you to have either a Queen size bed (as shown here) or a Single bed with a study table. The preference will probably depend on who you ask – the parent or the child!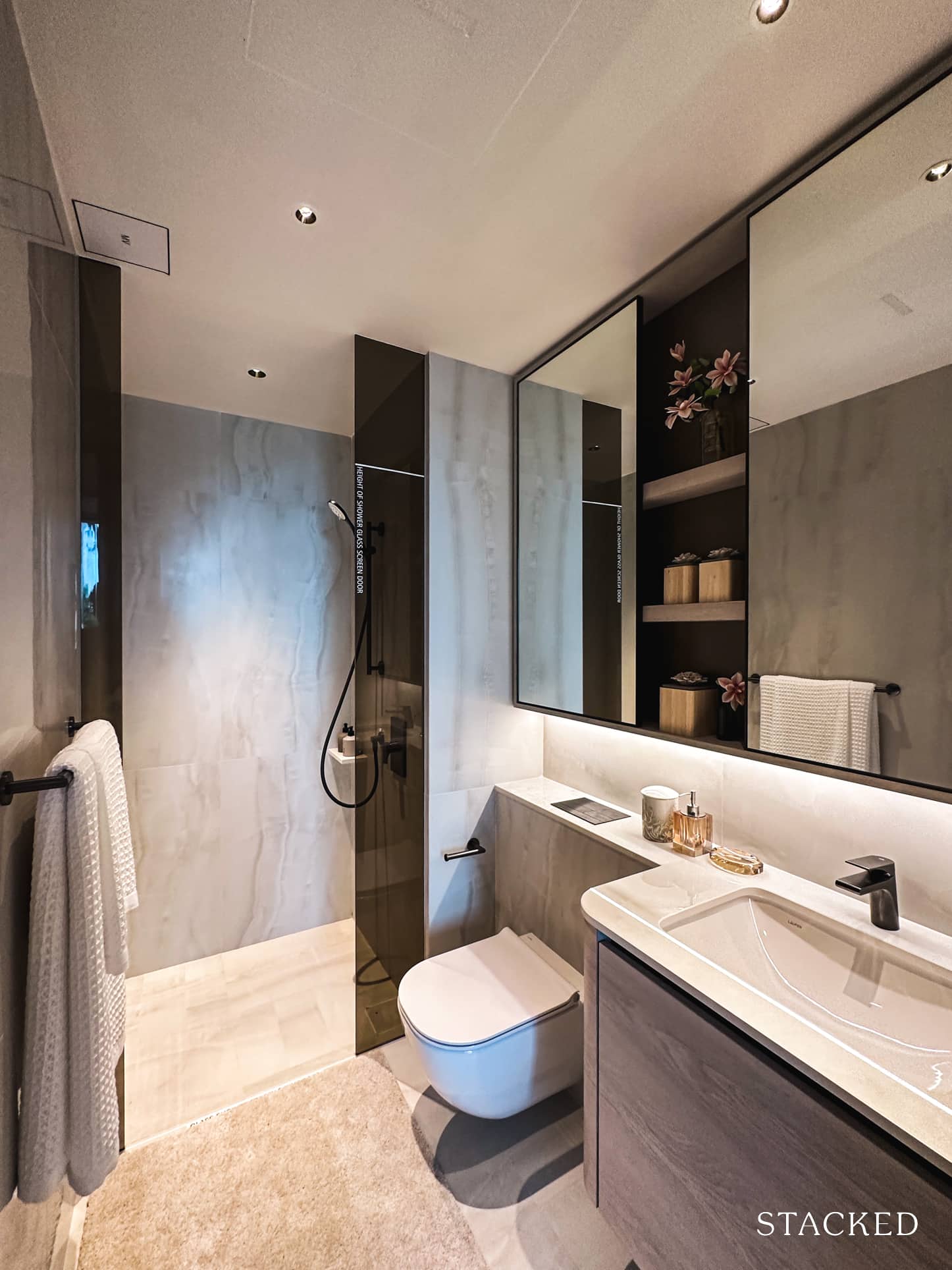 Bedrooms 3 and 4 will share Bath 3, which is average at 4.3 sqm in size. Once again, you have the same quality European bathroom fittings, wares and fixtures.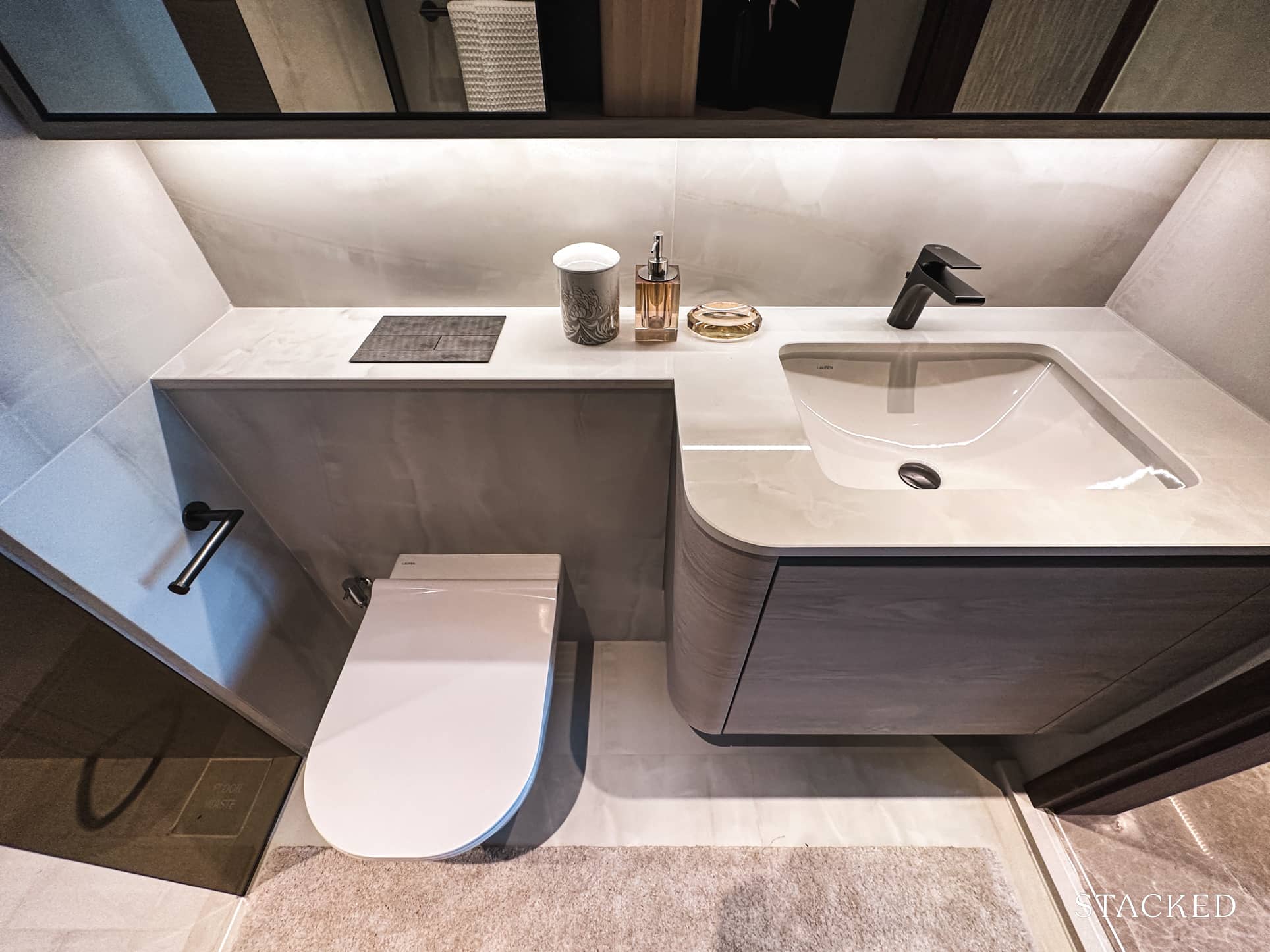 You get the modern looking black brushed Gessi tap, shower mixer and shower head and Laufen w/c and basin. Do note that it does not have any windows so this bathroom will rely on mechanical ventilation instead.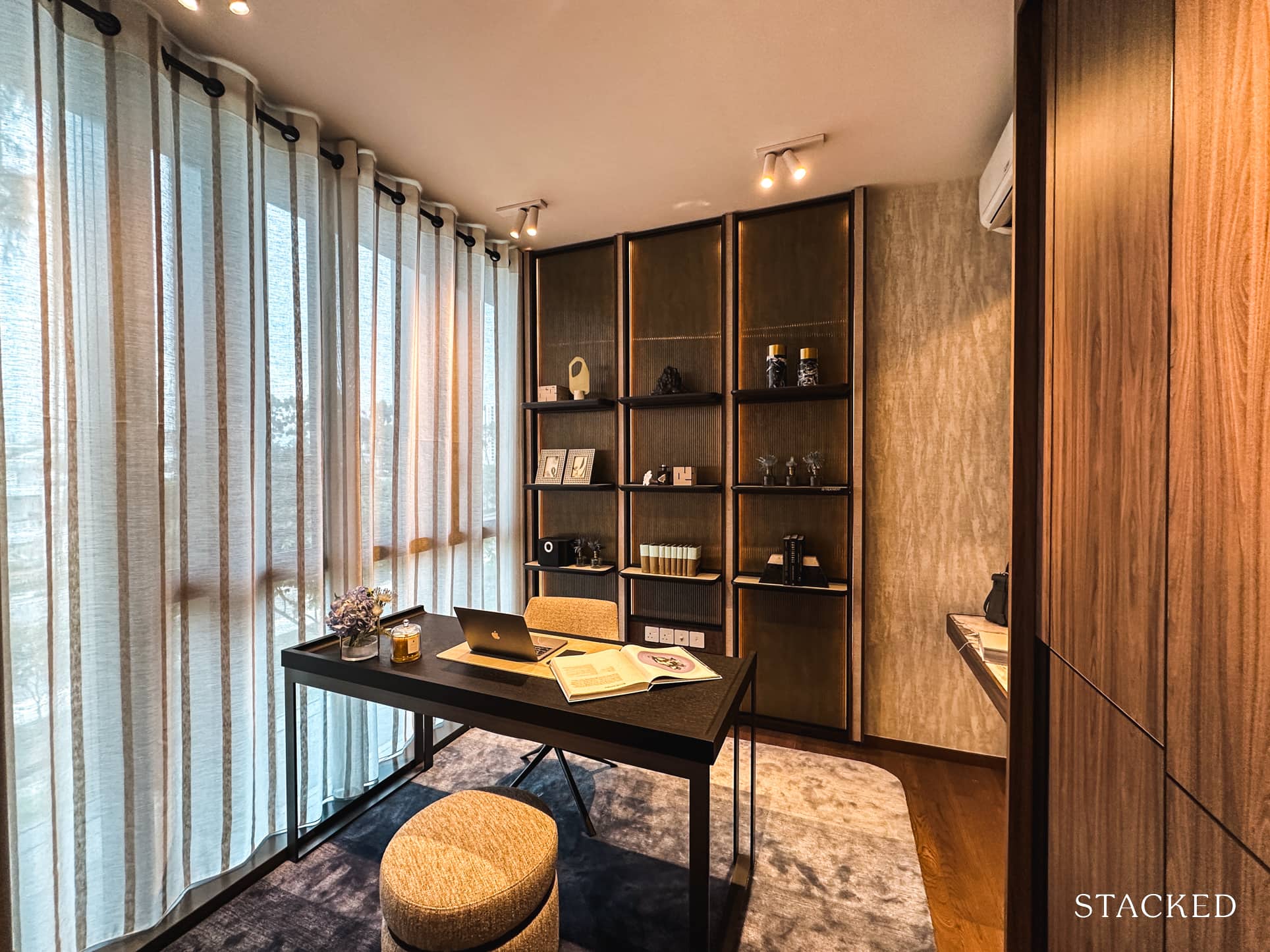 Bedroom 3 is 9 sqm in size, similar to that of Bedroom 4. However, this has been incorporated as part of the Master Bedroom. It's a good idea to do so if you don't need all 5 bedrooms, and want a larger space for your private living.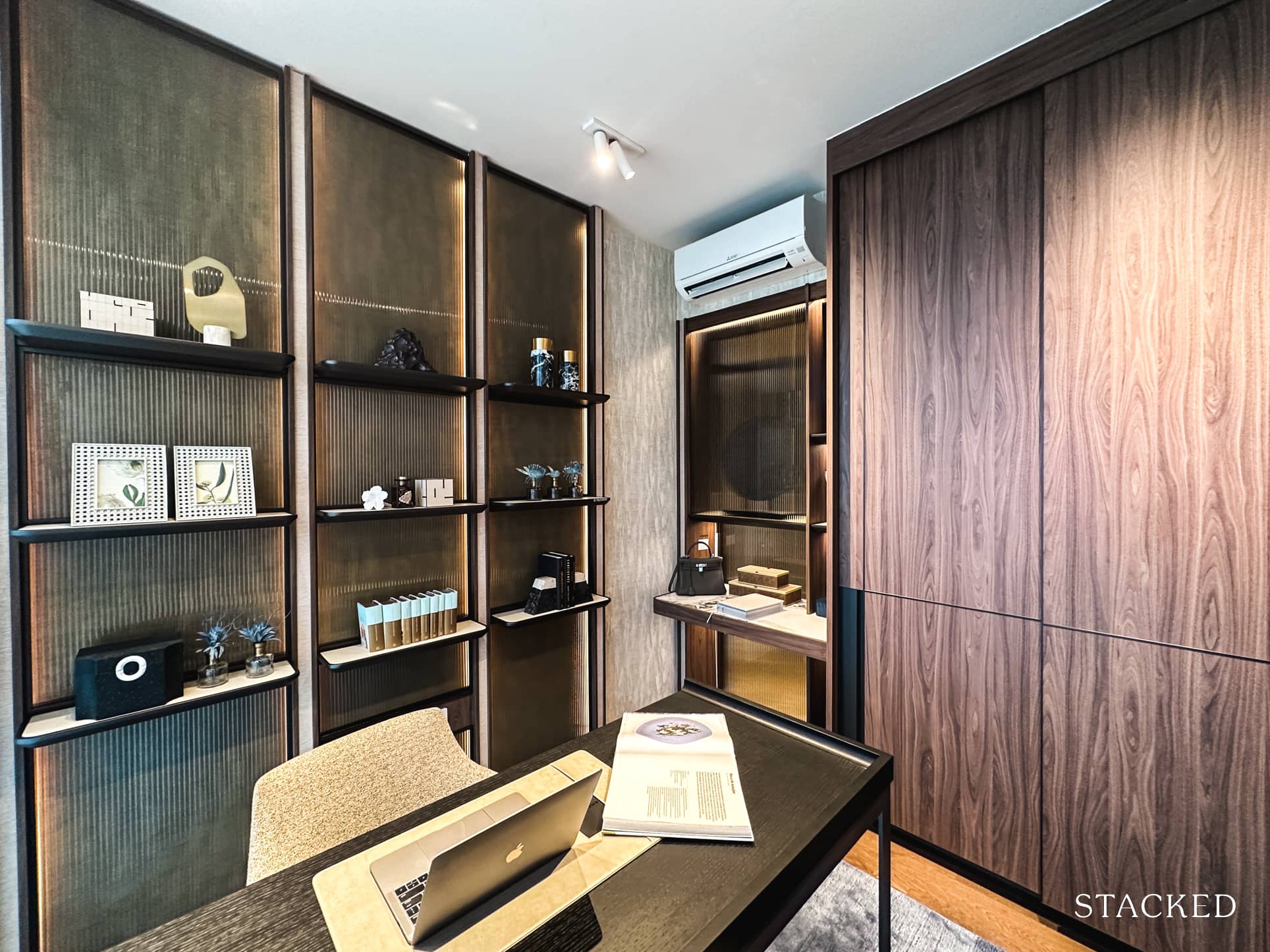 Instead, this room has been converted into a classy study, complete with bookshelves by 1 side and a smaller dresser by the other. They have kept the built-in wardrobe in case you prefer to envision a regular bedroom instead. This actually feels quite well appointed to me as the owners of the home may run a business or work in a professional role with the need for some private working space away from the bedroom.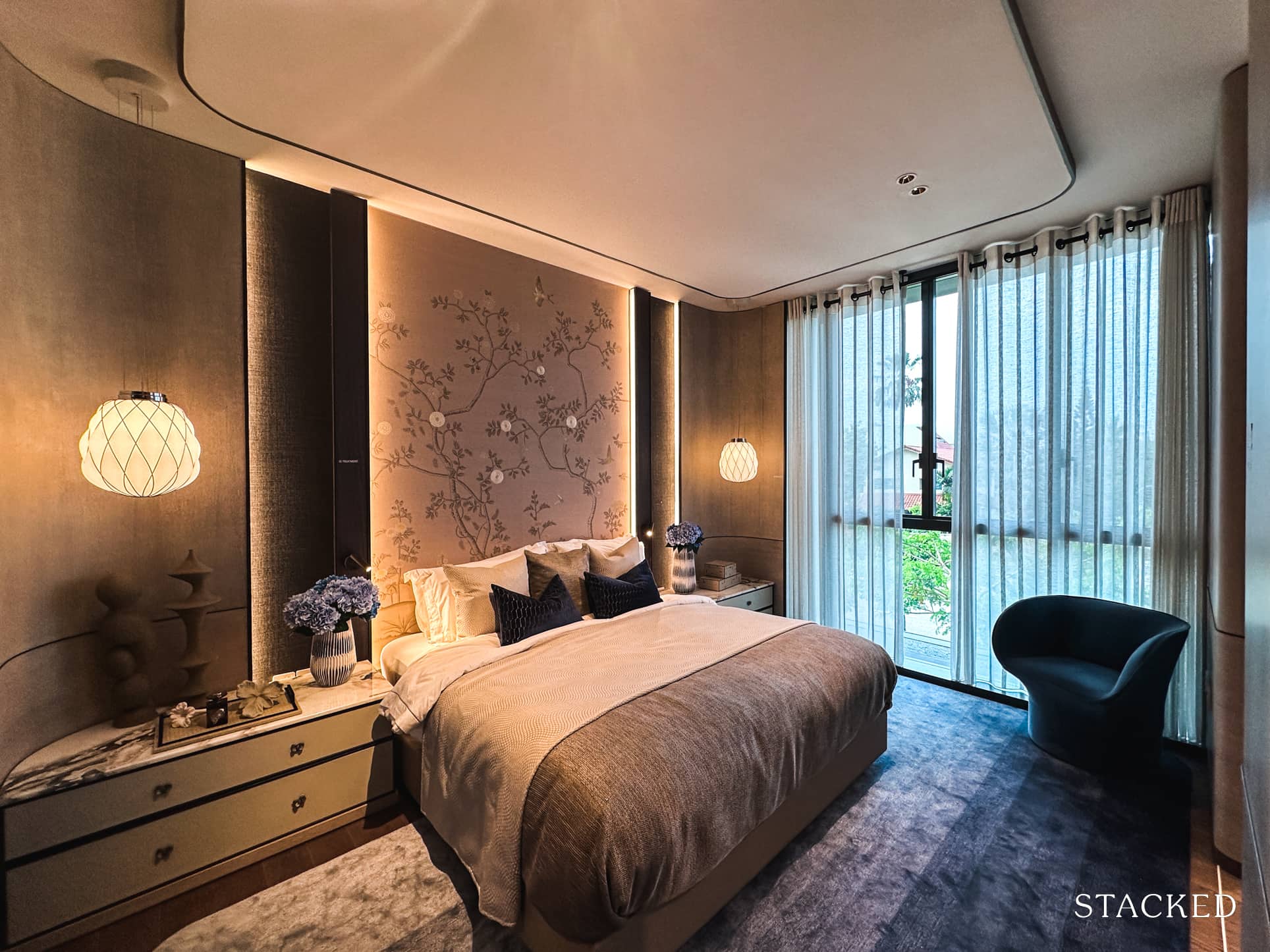 The Master Bedroom itself is 23.2 sqm in size and it is one jumbo room by today's standards. To scale things, this is more than 2 Junior Master Bedrooms combined.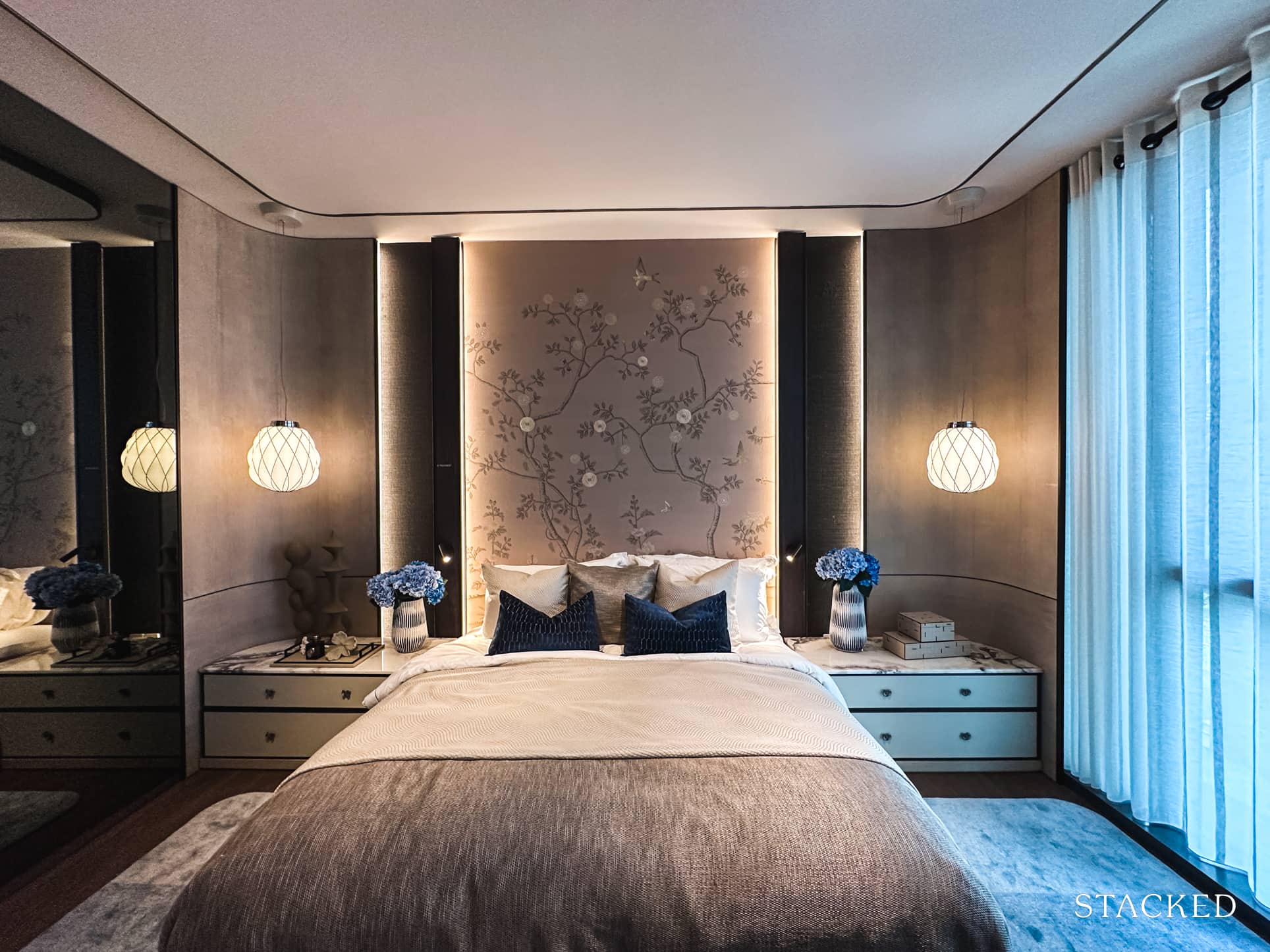 With a regular shape, you can definitely feel the difference, especially how wide it is. A King size bed should be the minimum here, with sufficient room for sizeable bedside tables as well.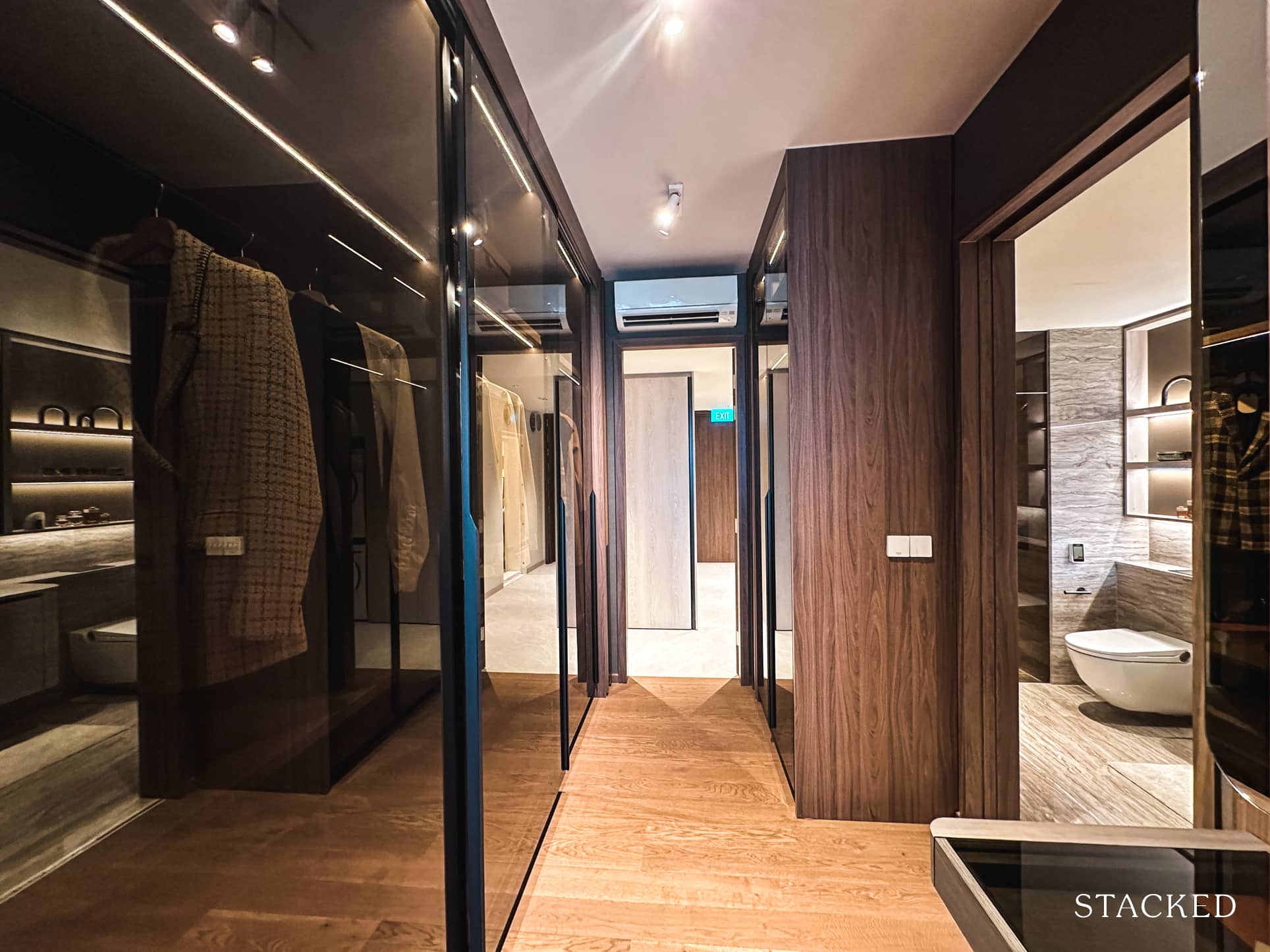 The room comes with its own walk-in wardrobe – this time, in reflective tinted glass, giving it a more modern and luxurious vibe. Of course, given its translucent nature, you should ideally try to keep it neater (also a reminder to myself).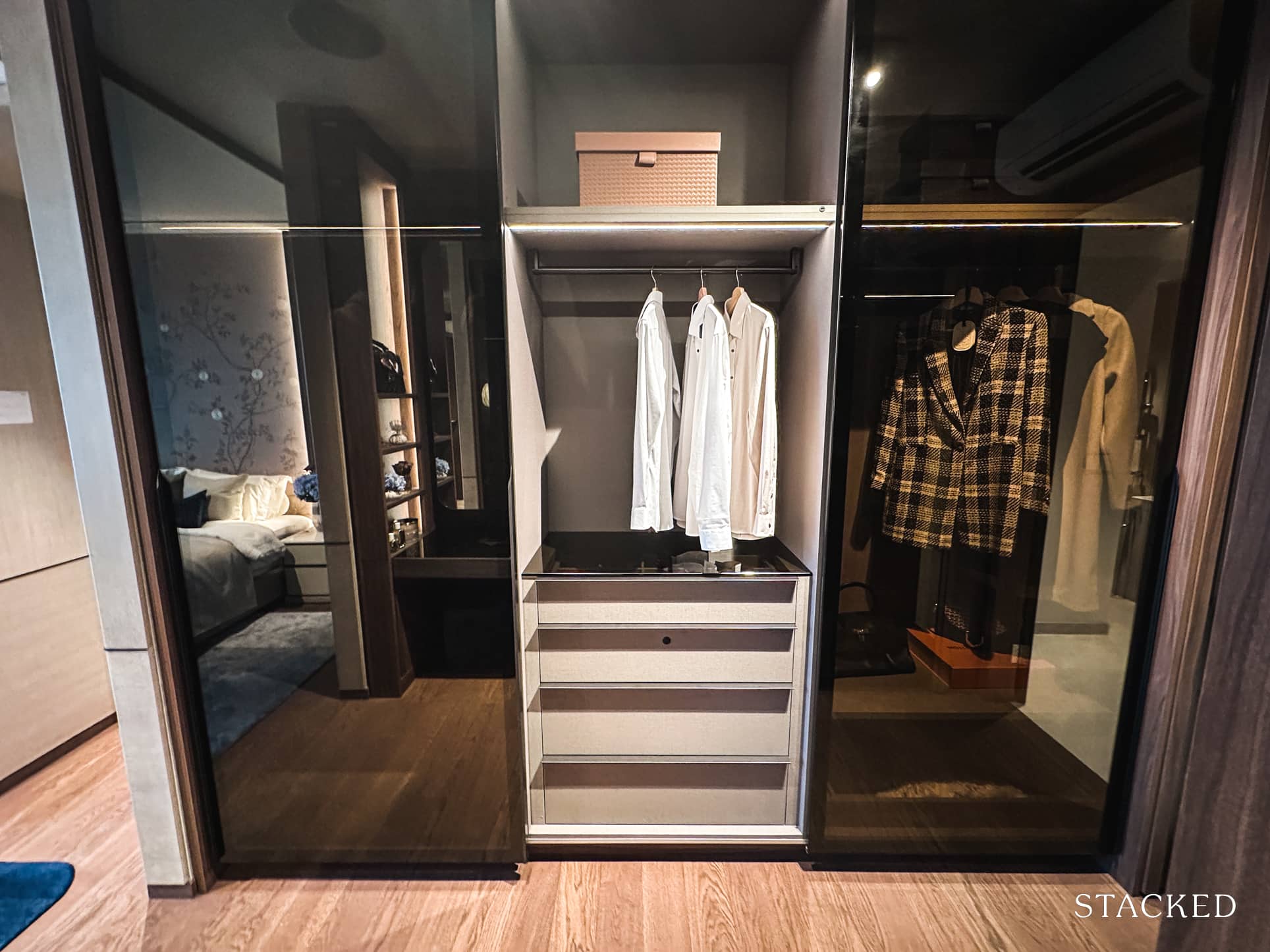 The wardrobe also comes with a built-in motion sensor light and a glass top accessories drawer. Without a doubt, this is a much larger wardrobe space than all the other units at The Continuum and one that the owners will certainly appreciate. On the other side, there's also a pull-out storage for accessories and a mirror which would come in daily when deciding on your outfit for the day.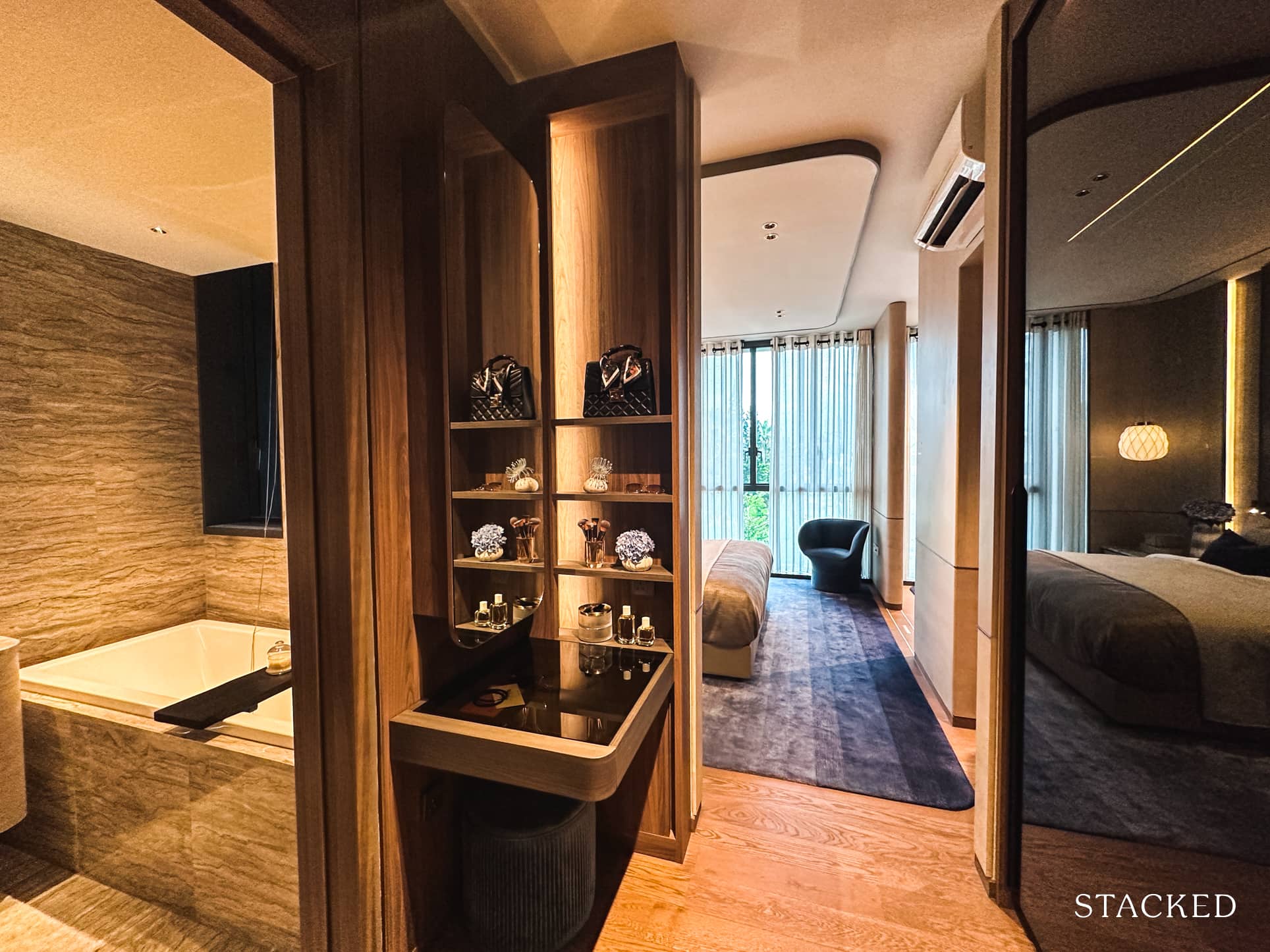 What I really appreciate is the thoughtfulness of the developer in having a dedicated dresser area. It has a dressing table with tinted glass top, a drawer, open shelving and a mirror cabinet – just about everything you need! It's also located strategically just outside of the bathroom.
Finally, the Master Bath is 8.9 sqm in size. While not the largest, it's big enough for you to feel pampered. The floor, wall and vanity top are all decked out in marble and come with a Laufen bathtub as well as his and hers basins.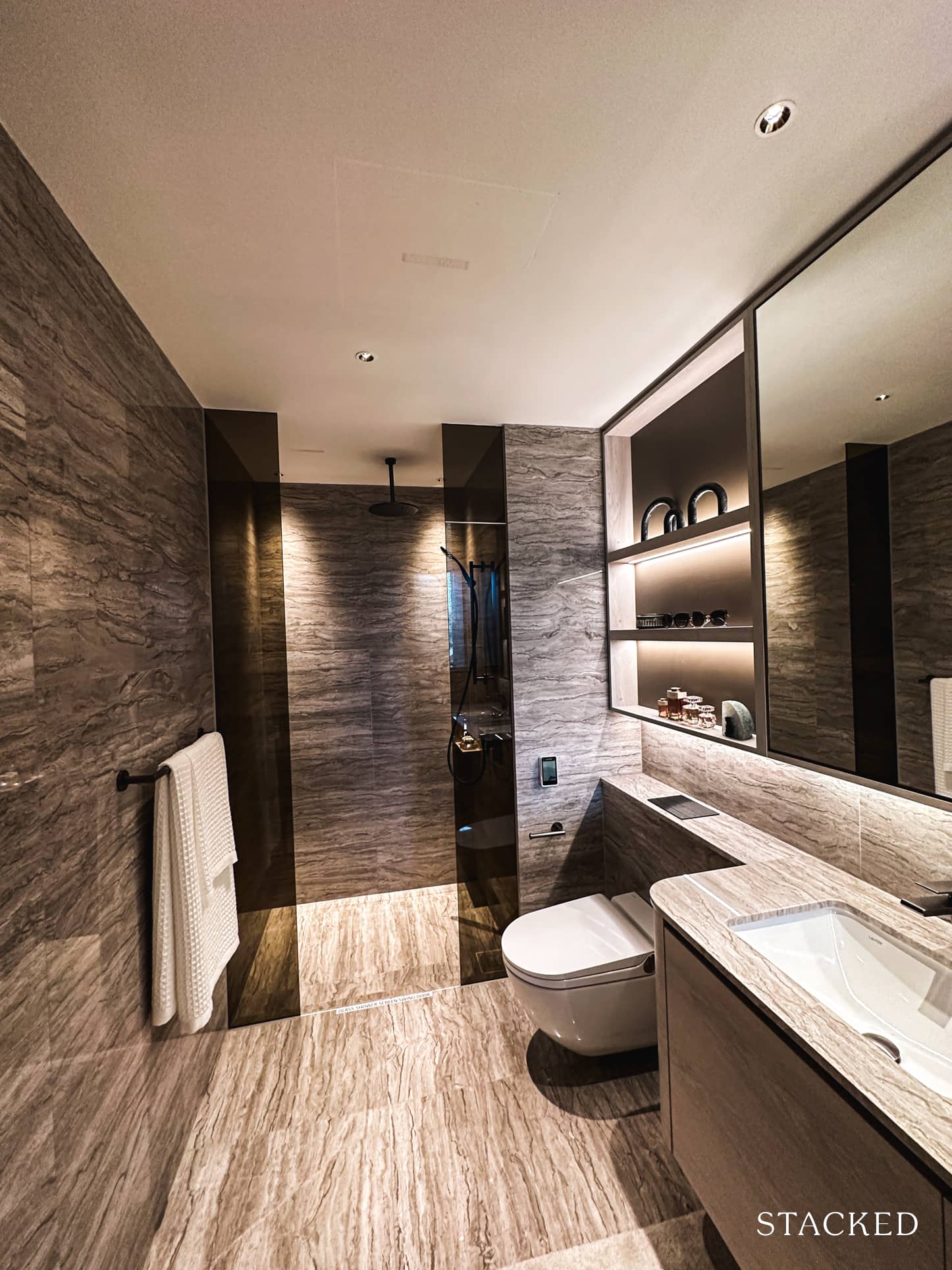 So while the size may not be class-leading, it definitely feels luxurious here. Other fixtures include the rain shower and fittings from Gessi in black brushed metal and a mixture of mirror cabinets and open shelving for practicality purposes.
The Continuum – 2 Bedroom + Study Type B4 (67 sqm / 721 sq ft) Review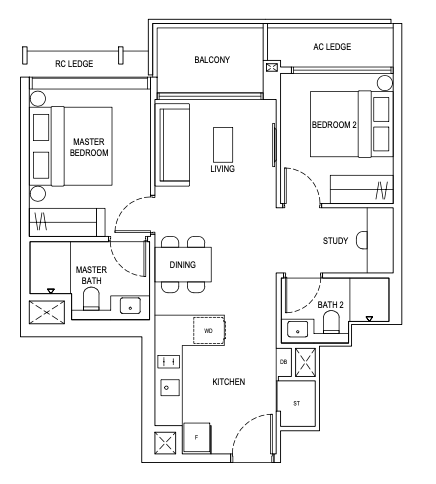 This 2 Bedroom + Study showflat is the largest 2 Bedroom unit on offer, with the smallest being just 646 sq ft. I'd say 721 sq ft is quite a decent size for a 2 Bedroom unit, considering that it is larger than some of the 3-Room BTOs (which also has 2 Bedrooms). All the 2 Bedroom units at The Continuum have a dumbbell layout, which essentially means that there is 1 bedroom on either side of the unit. That's definitely an efficient way to overcome the lack of space here. All units come with 2.8m ceiling height, porcelain tiles, and engineered timber as flooring for the common areas and bedrooms respectively.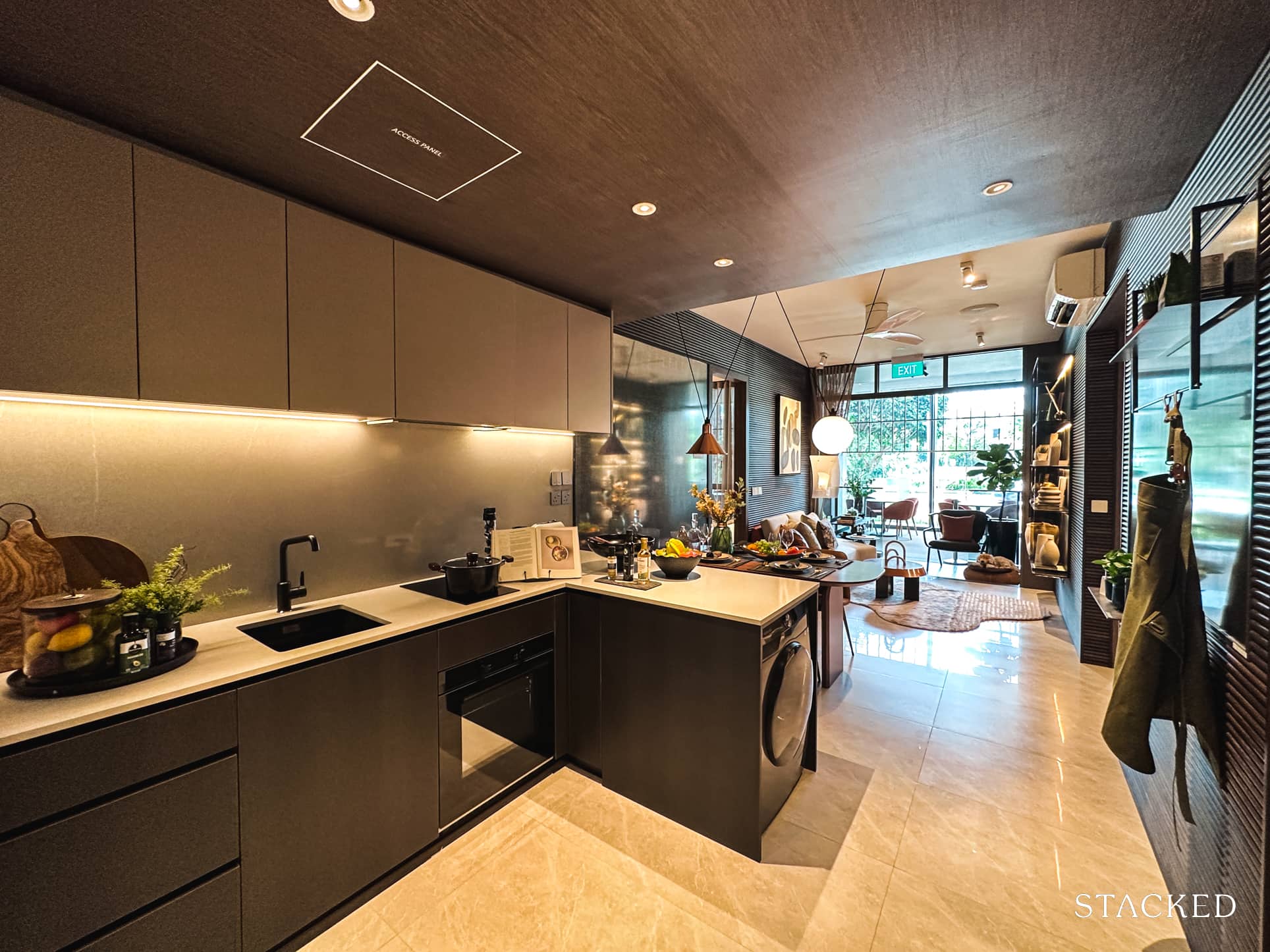 Coming into the unit, you will be immediately greeted by the open concept kitchen. I have seen a few of 721 sq ft units squeeze in an enclosed kitchen which is quite impressive but I also do agree that an open concept kitchen might help in making the space look more streamlined and appear bigger.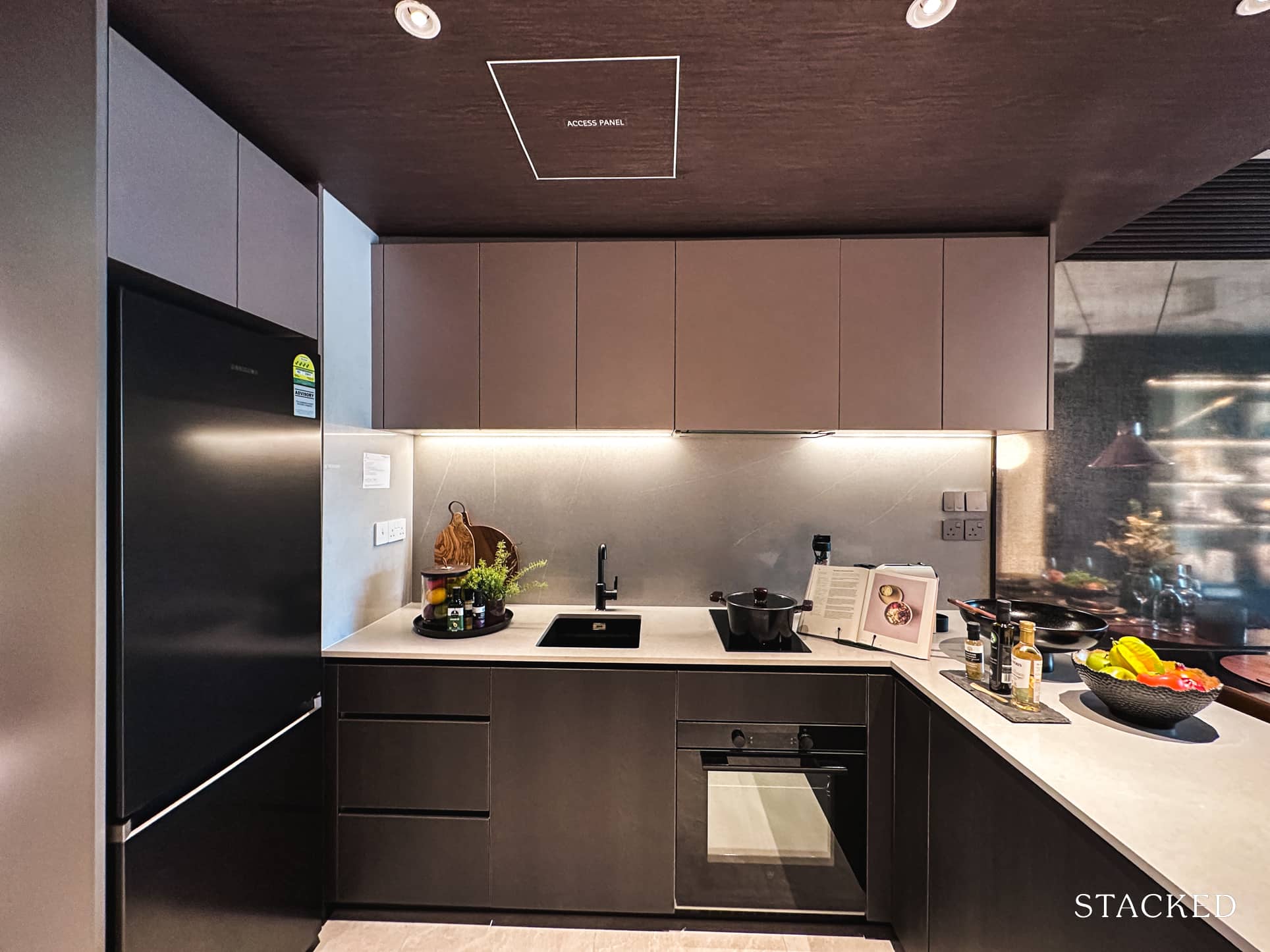 It's a nice L-shape engineered stone countertop, with the white goods from Swiss luxury brand V-Zug for the induction hob, cooker hood and built-in oven. The tap and sink are from Franke and the freestanding fridge from Samsung. As you can imagine, this is a compact unit and hence the washer dryer by Samsung will have to be hidden by the edge of the kitchen countertop. Thankfully, despite its size, the developers have maximised the amount of built-in cabinets for the kitchen and the buyers would be thankful for that when things start to pile up over the years.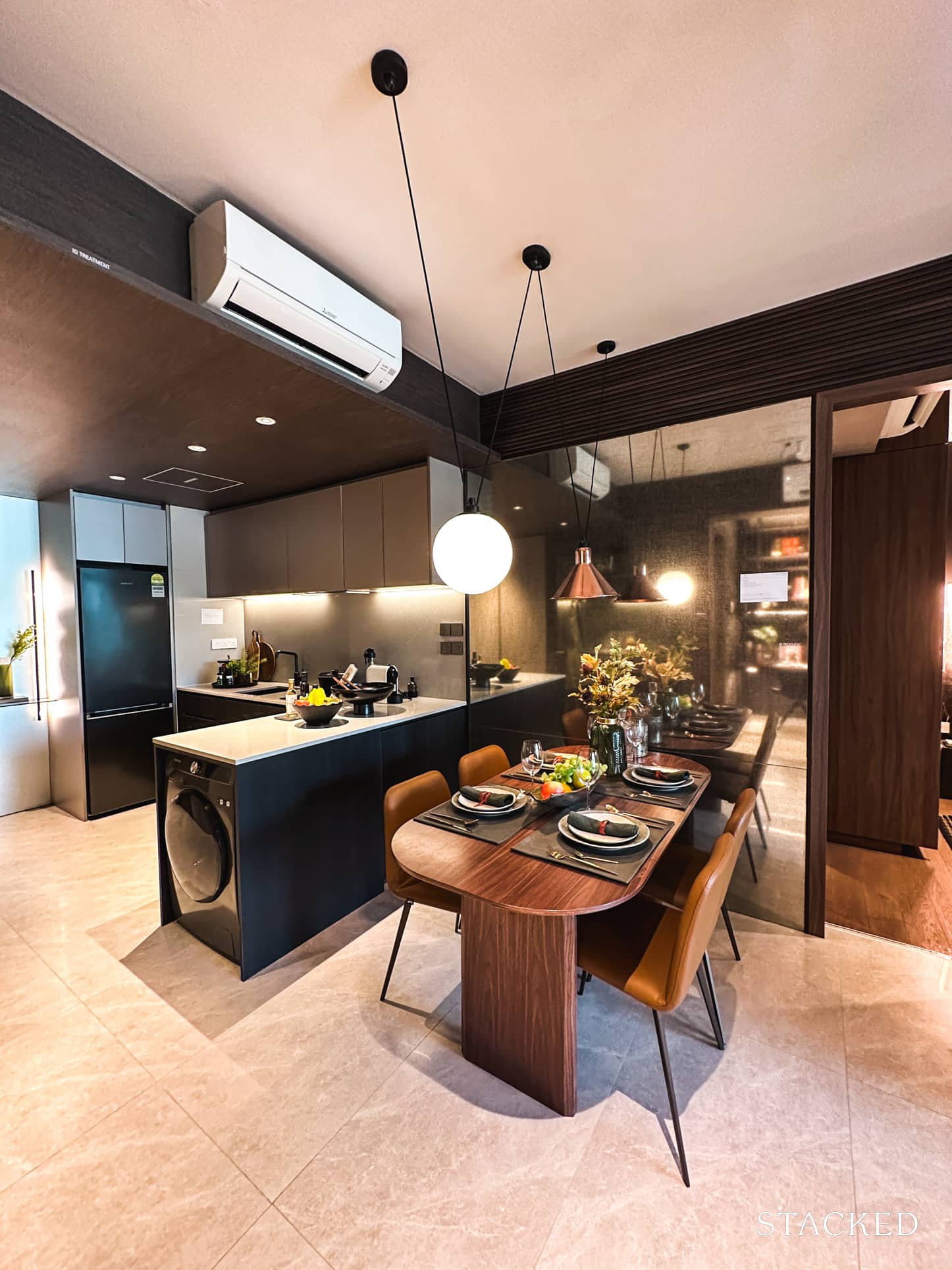 The countertop also serves as an 'island' of sorts as it is just adjacent to the dining area. That's quite nice because if you do have friends over, it may not always be in the sit-down format and you could leverage on the countertop to place your various dishes instead.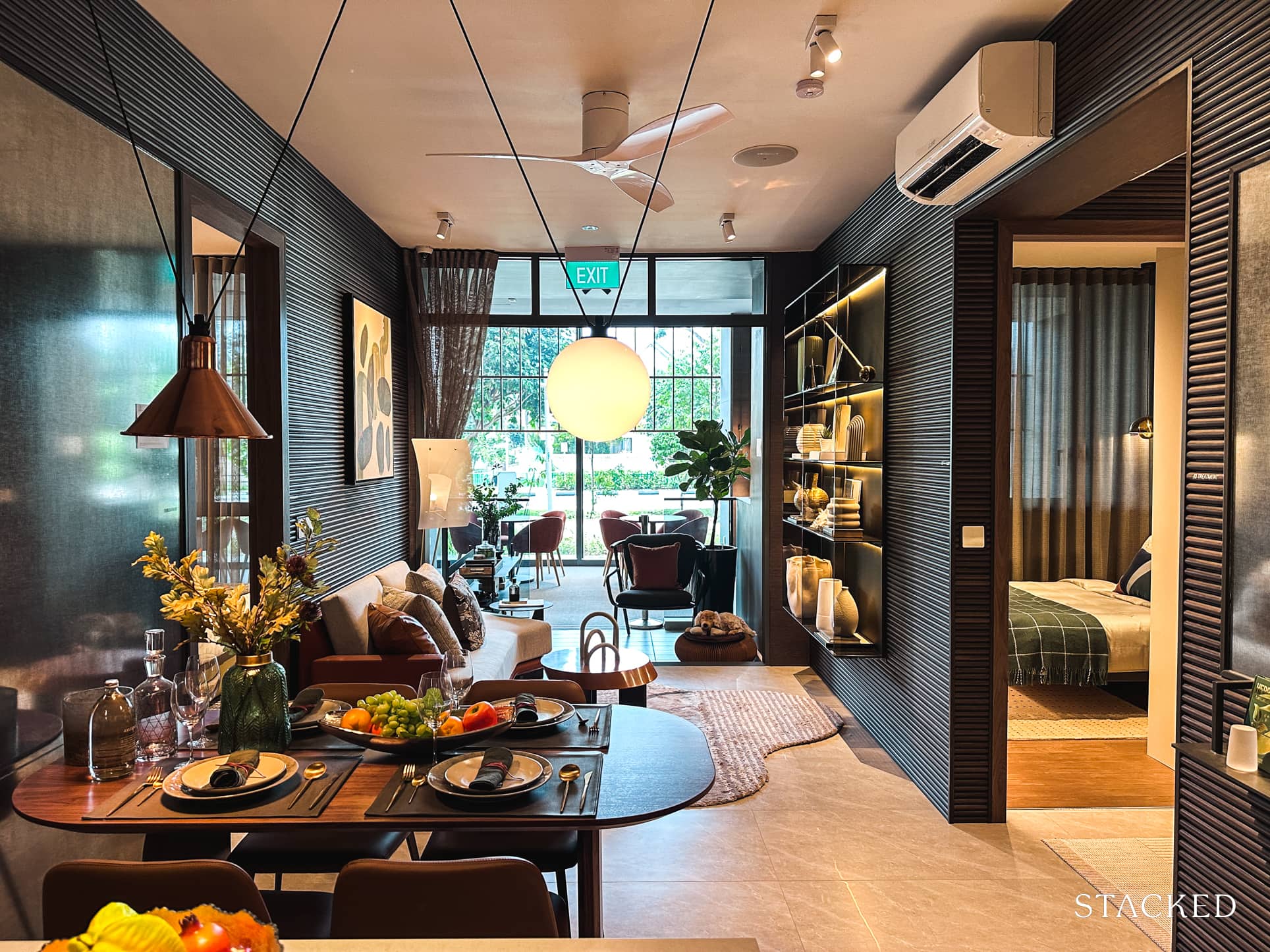 That said, you probably wouldn't be throwing too big a party given the size of this house. Fitting 4 people in this space feels rather comfortable and to have any more than that might be a bit of a tough ask.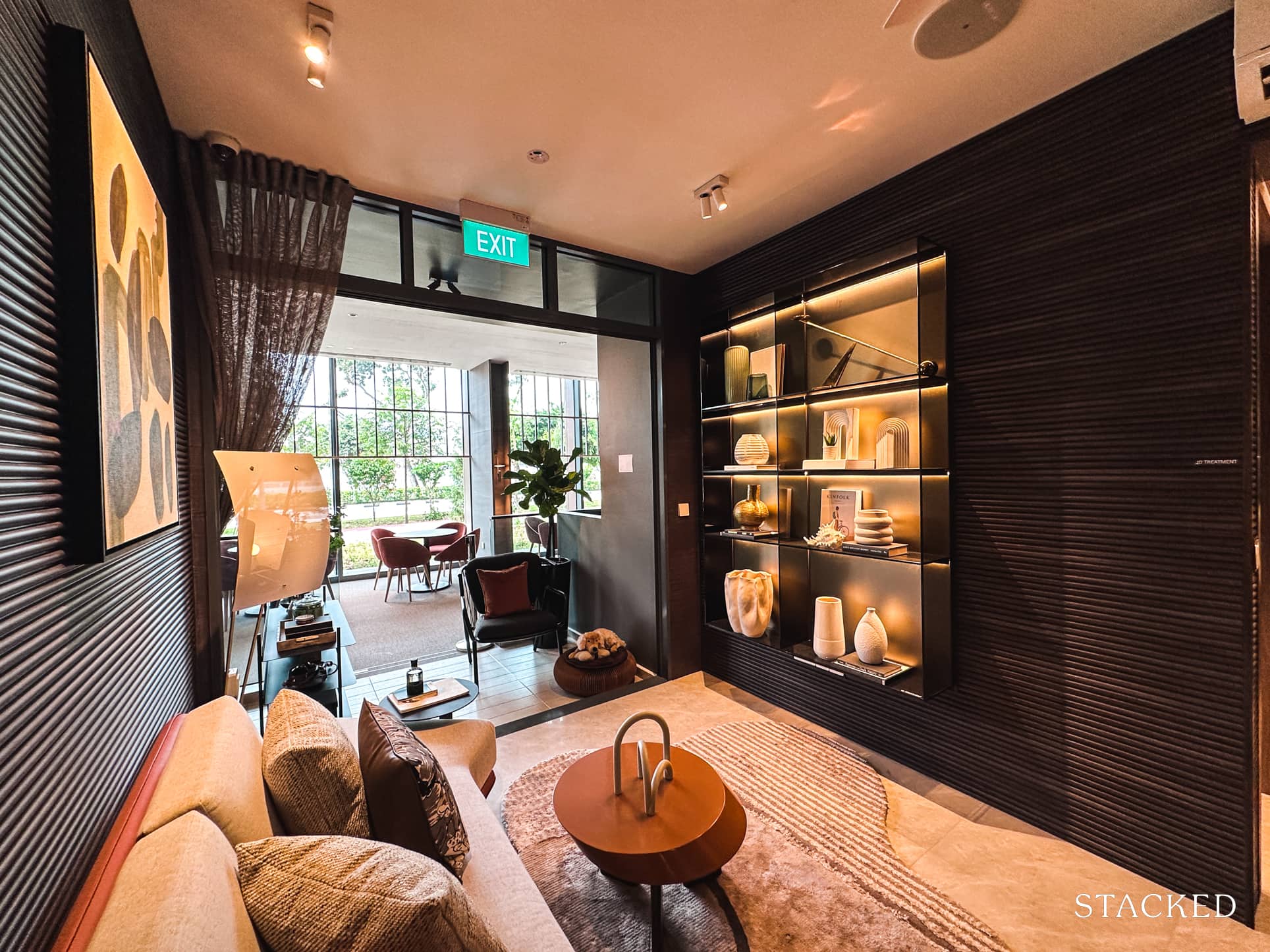 As for the living room, it feels more compact than the 3 Bedroom unit for sure. That said, you could still fit a 2-seater couch here and perhaps have 3 if they are of a smaller build.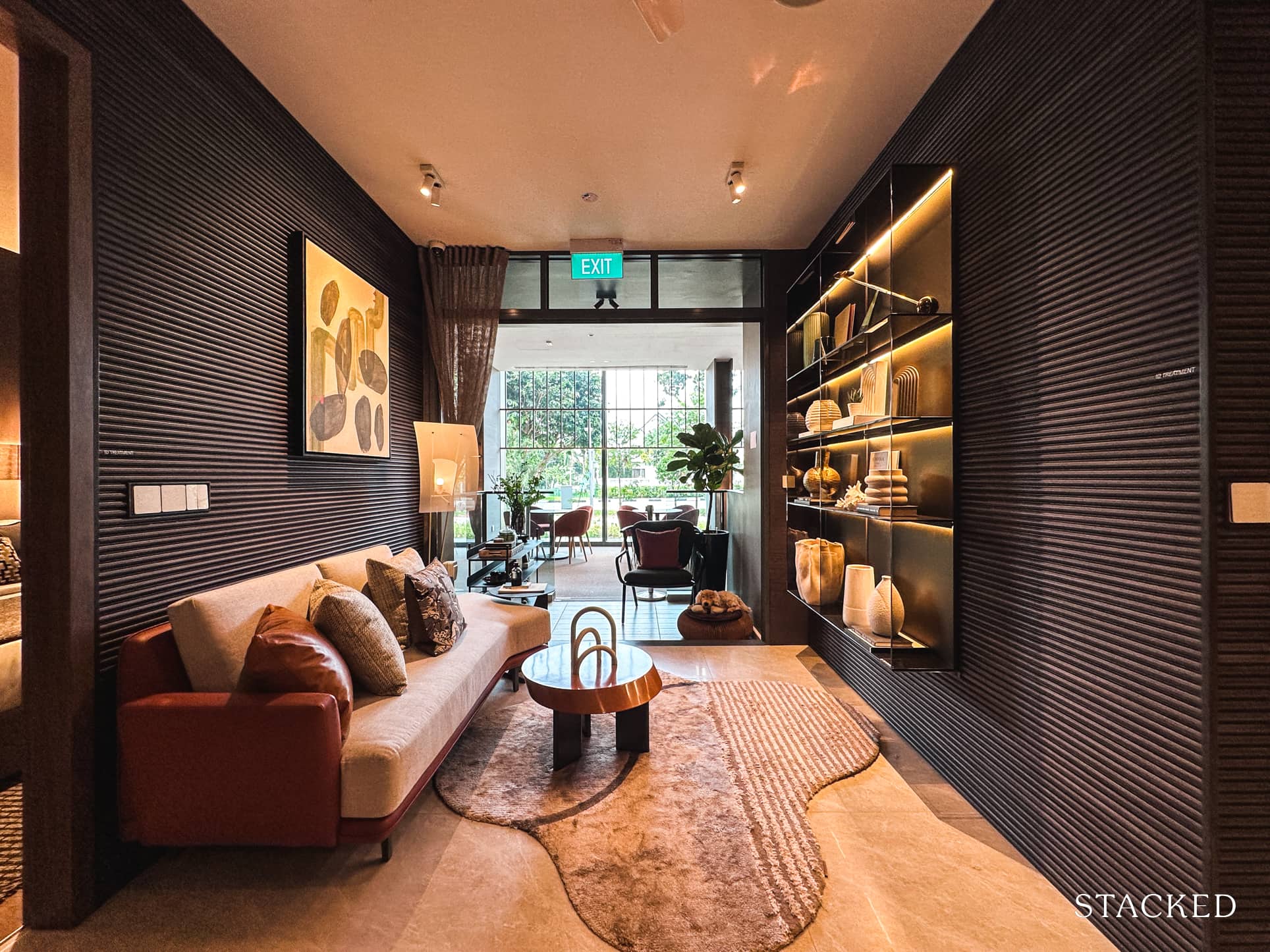 Distance from the wall continues to be quite tight and hence you should be mindful of your TV console and coffee table, if you even decide to proceed with them at all.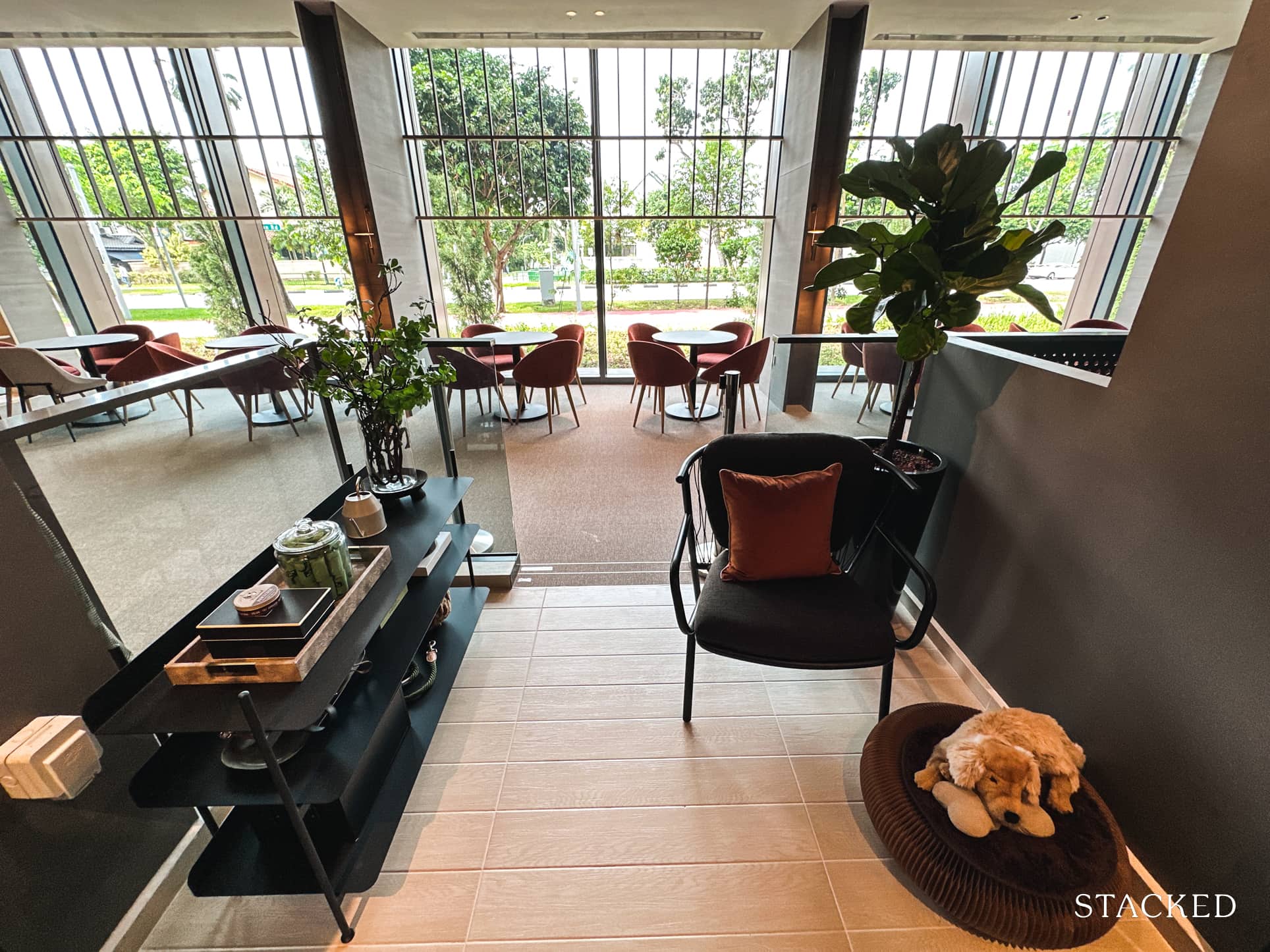 The balcony is adjacent to the living room and at 4.6 sqm, I'd say that this is just right for a unit of this size. You could place a couch or two, just as they have done here to soak in the evening glow on more restful days.

Remember how I mentioned above that there's a dedicated store for each unit here? While they do vary in terms of size, the one in this unit is just by the entrance to your right. It's very helpful especially in a unit that does not have a household shelter to act as your storeroom. It even comes with an electrical socket for your everyday needs.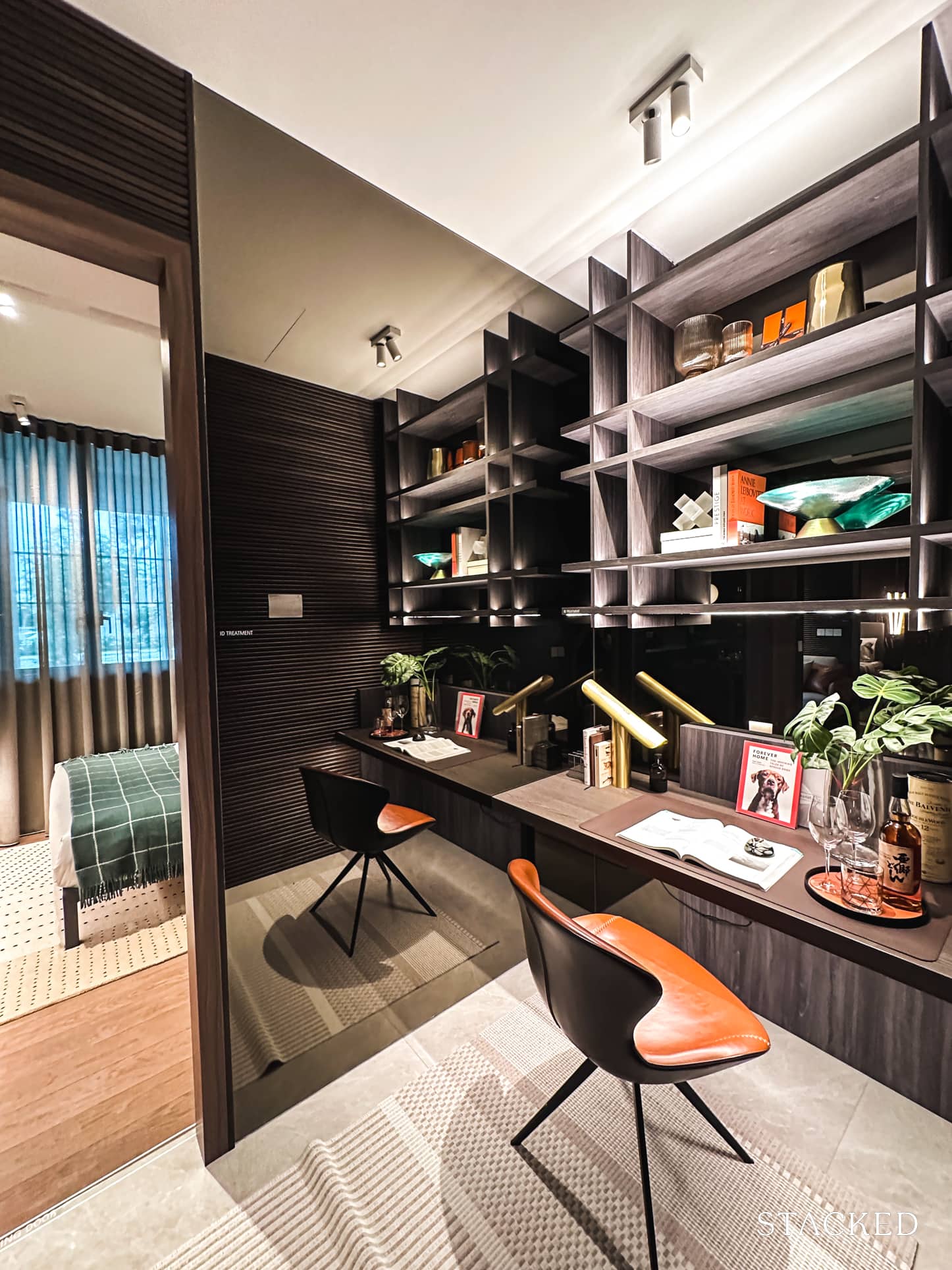 The Study to the house is situated between the common bath and common bedroom. Frankly, I always found this to be a slight inefficiency as the walkway between the room and the bathroom can't be blocked as a result. I would rather the study and common bedroom be placed on either side of the bathroom. Either way, it is what it is and the study now occupies a little cosy nook where you can build the shelving you require here. There's even an aircon unit here for your enjoyment.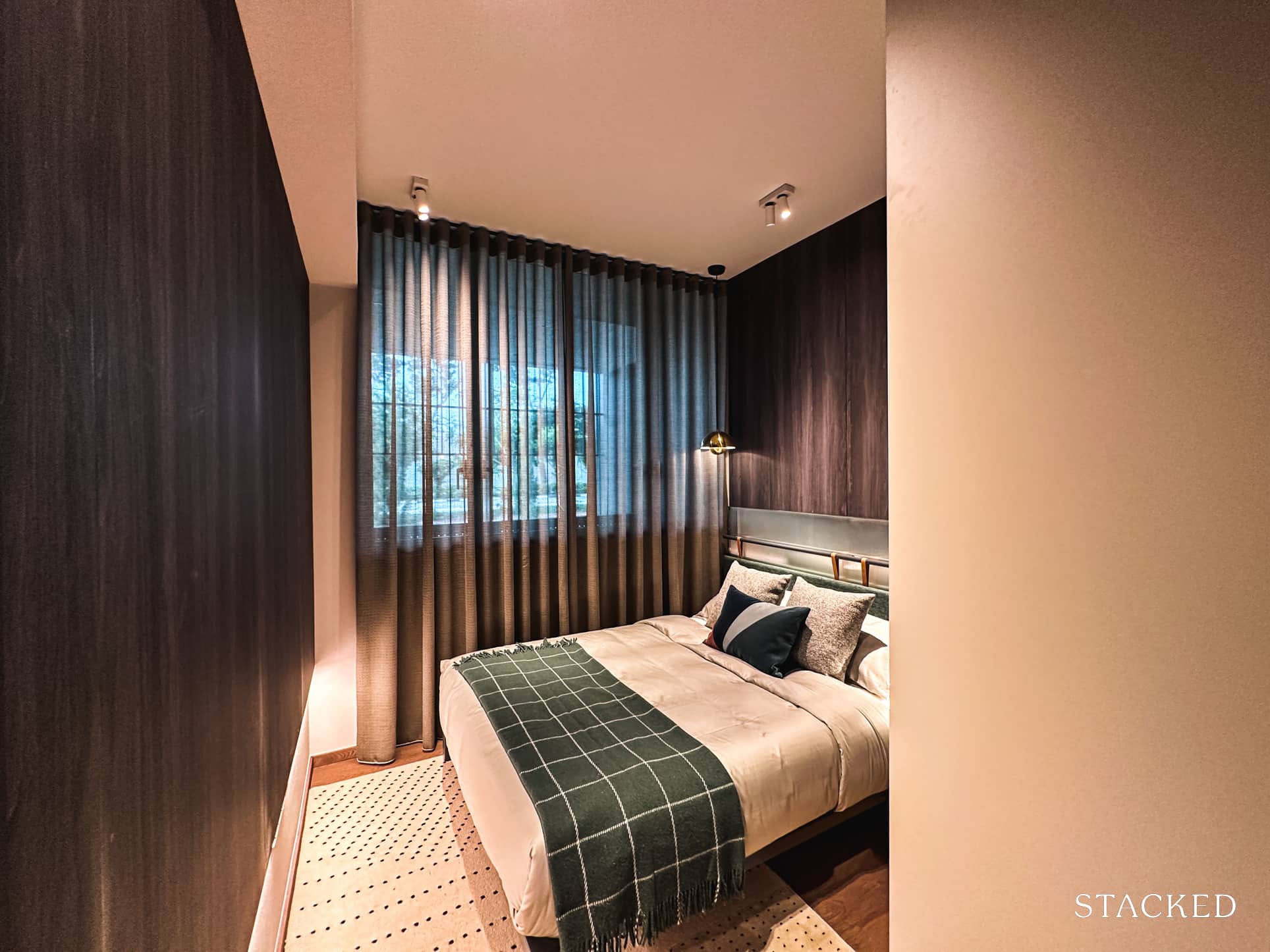 The common bedroom is 8.8 sqm in size, which is slightly smaller than the other common bedrooms we reviewed above. (I'd be surprised if you are even able to tell the difference between those common bedrooms).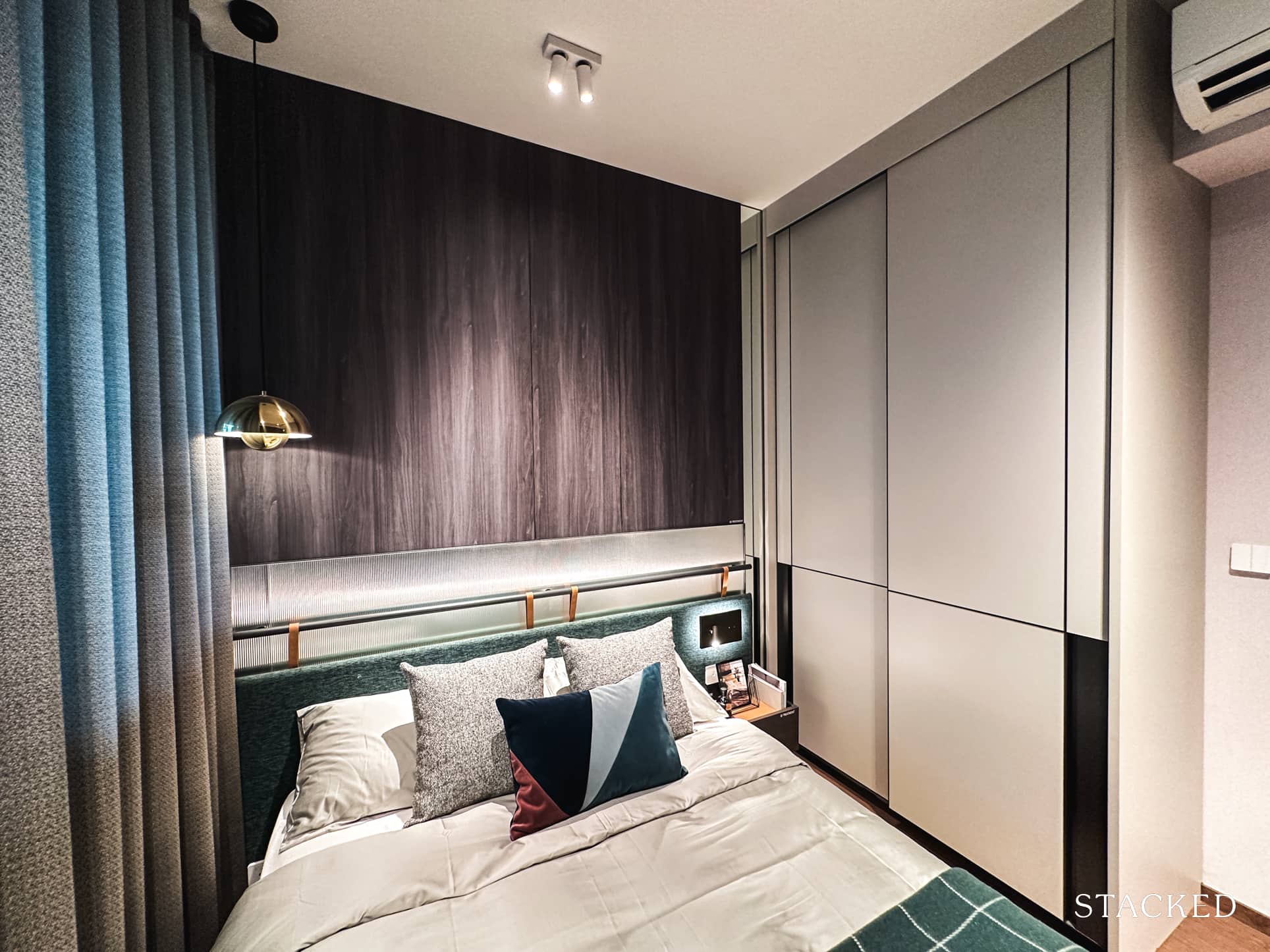 The utility of the rooms should be similar i.e. the ability to place a Queen size, as demonstrated here, alongside a bedside table. The only thing to note is that the a/c ledge is located just beside the room, hence the windows here are only half lengthed.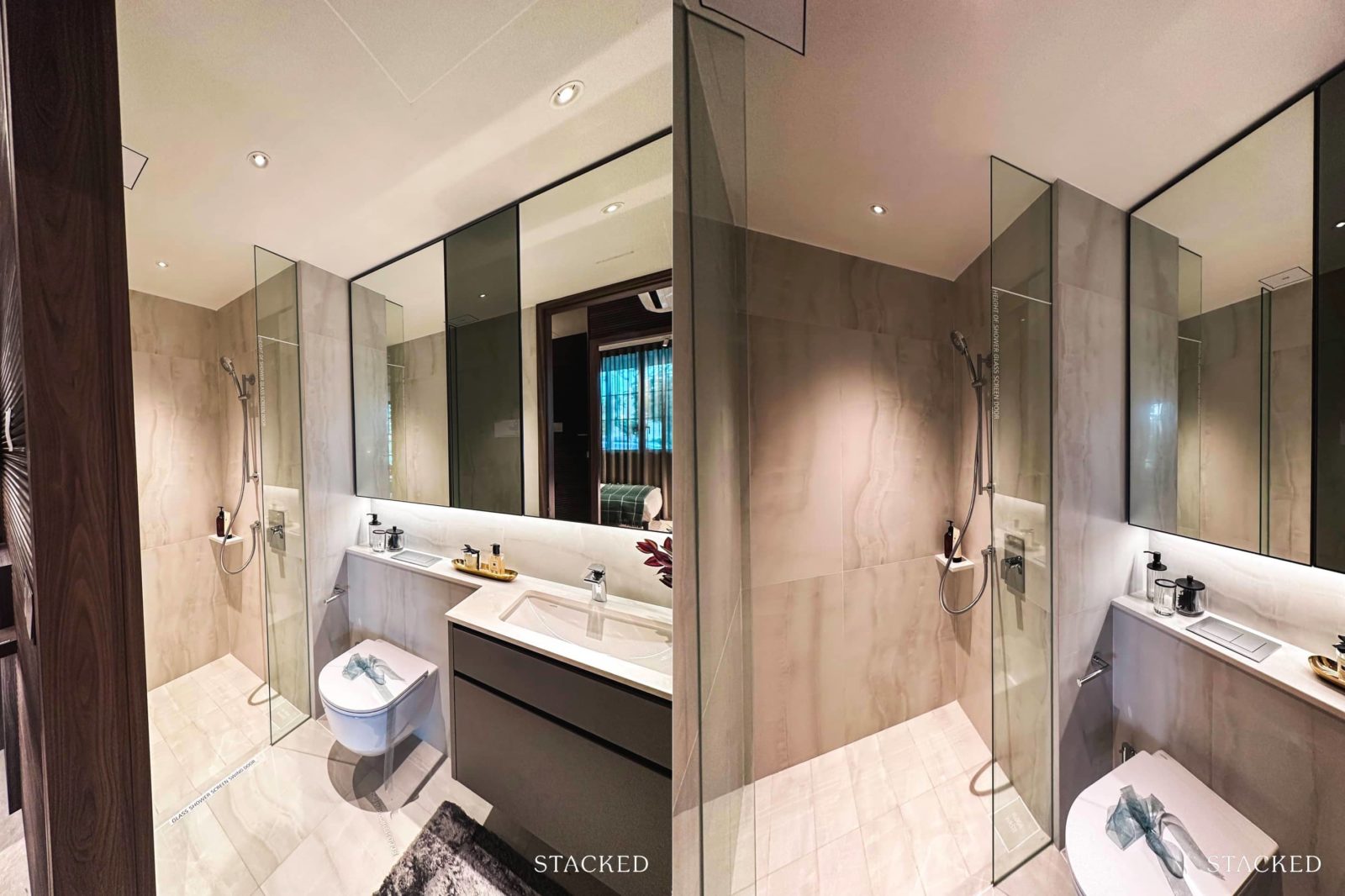 As for the common bath, this will be shared between the common bedroom occupant and guests who pop by. It's 3.9 sqm, which is on the smaller side. However, it does come with everything you need – there's a handheld shower and taps by Italian brand Gessi as well as Swiss brand Laufen for the wall-hung w/c and basin.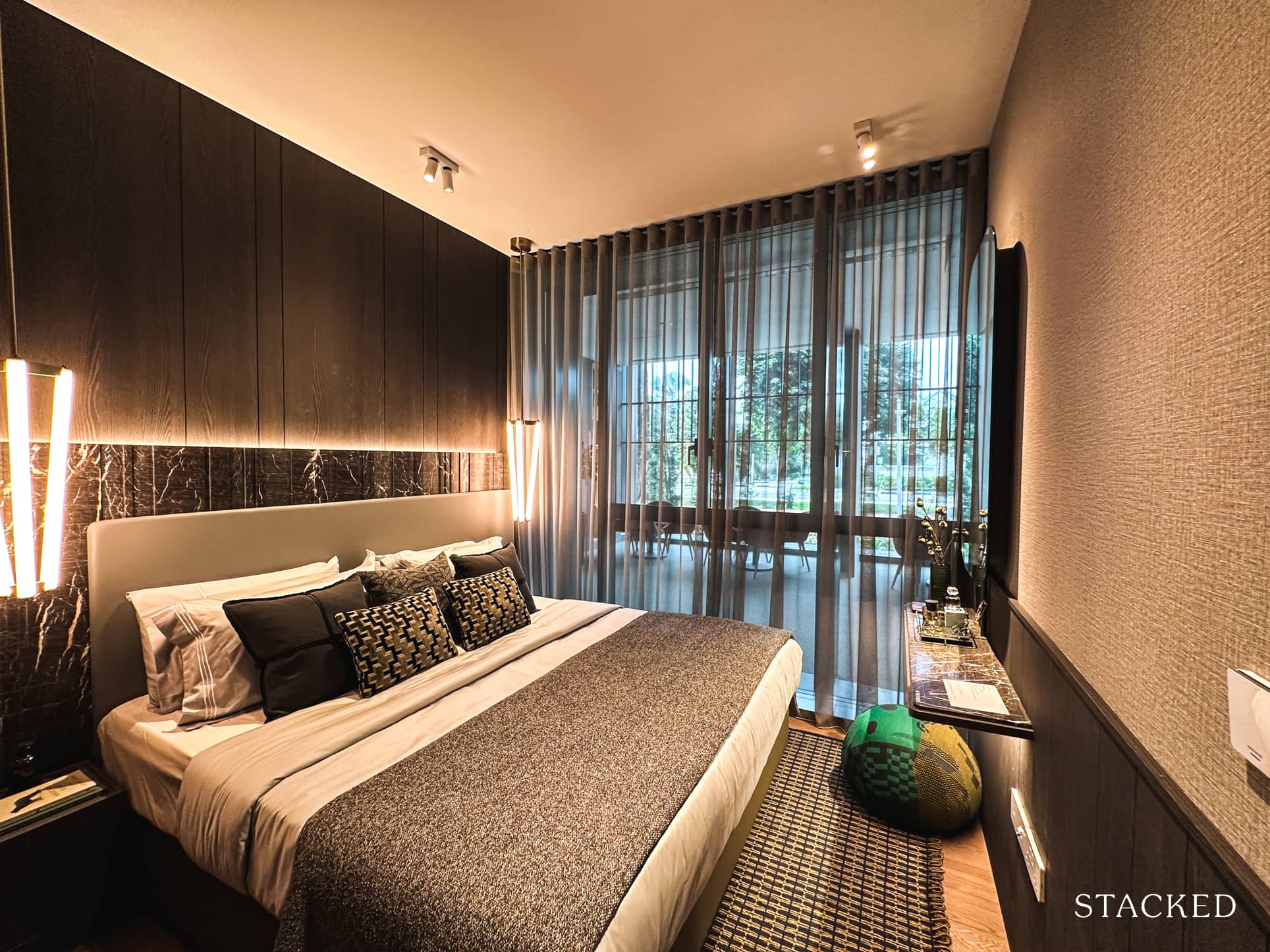 Moving to the Master Bedroom and this one here stands at 11 sqm. Perhaps it's hard to compare after we had reviewed so many luxuriously sized units at The Continuum, but I will say that 11 sqm is good for units of this size.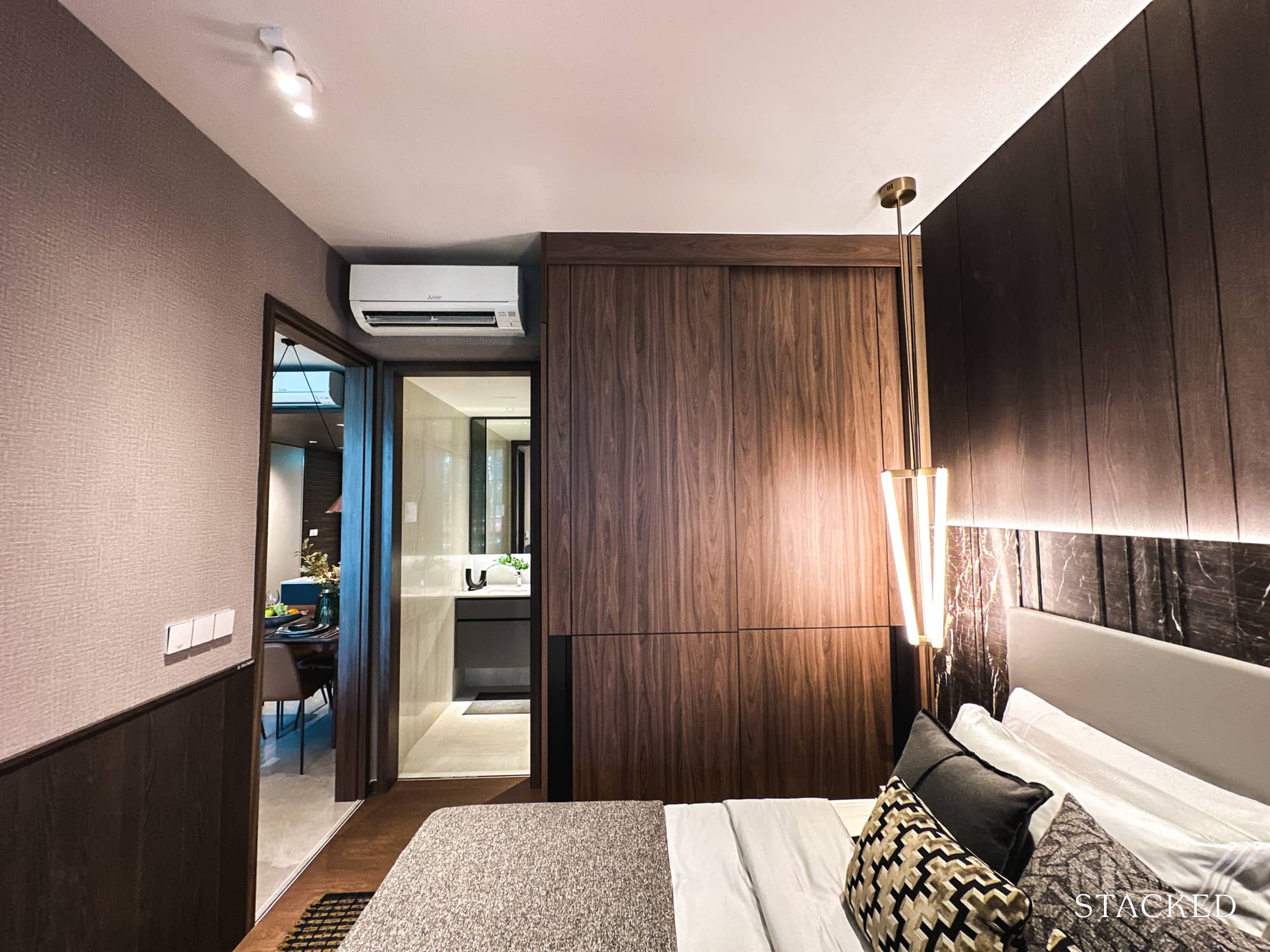 Having a Queen bed here would be most ideal, alongside a small dresser if you wish. The windows here are full length as the a/c ledge is over on the common bedroom's side. Likewise with what you've seen so far, the built-in wardrobe sports a dark wooden laminate instead.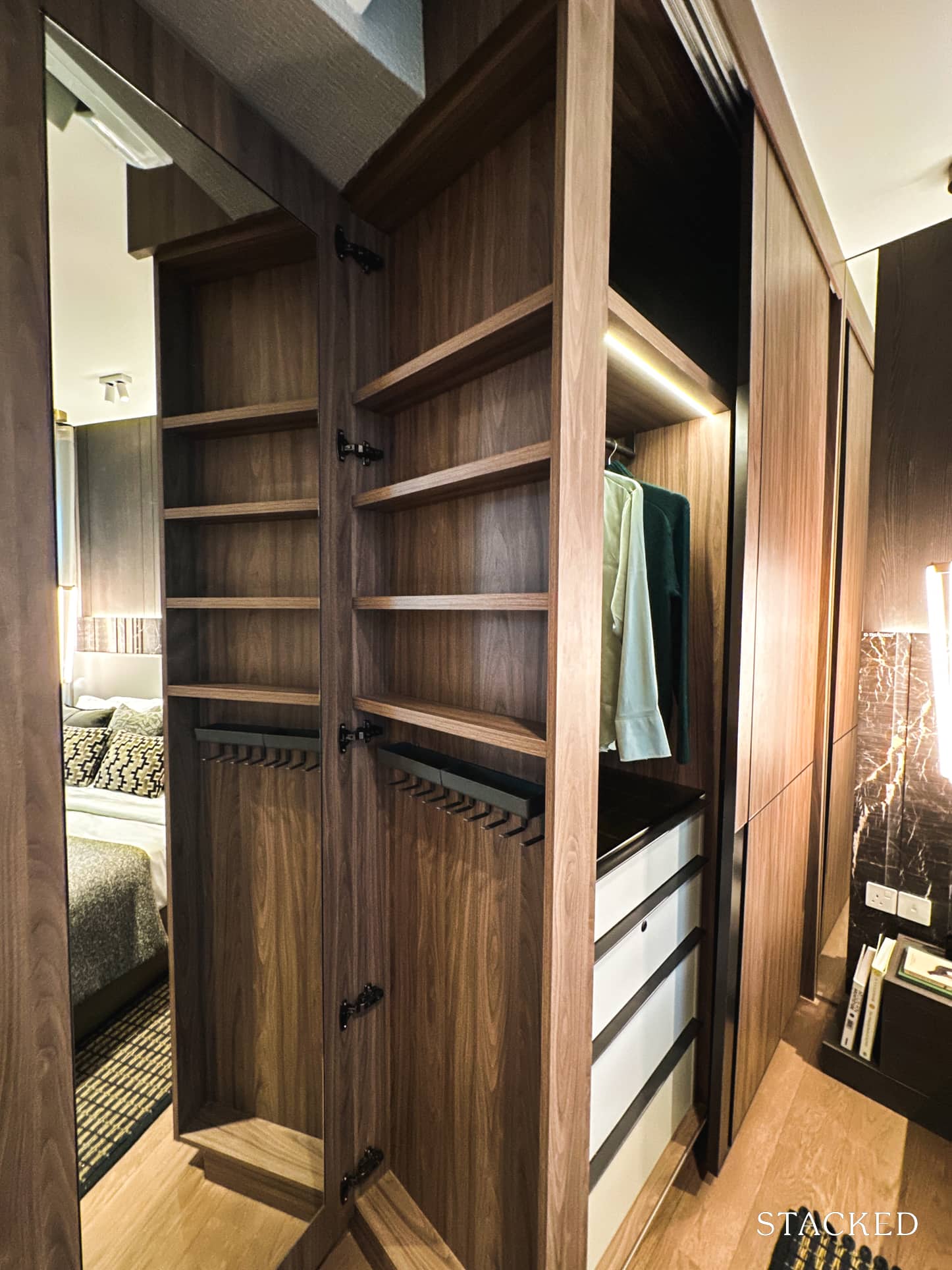 And, of course, it comes with the typical accessories nook by the side of the wardrobe.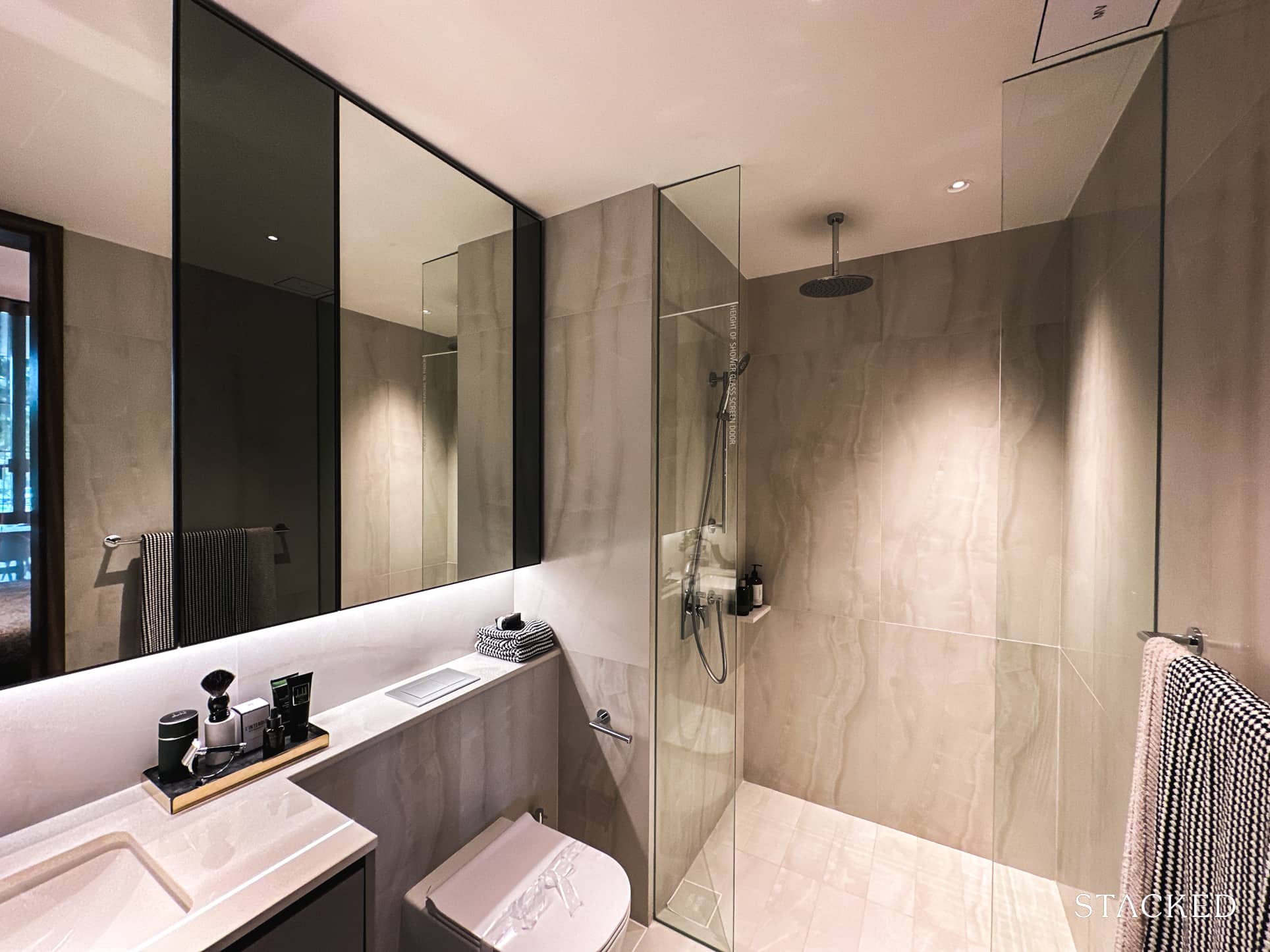 The Master Bath similarly, is averagely sized at 5.6 sqm. And like most new launch 2-bedroom units that you'd see on the market, it does not have windows as this is not a corner stack of the development. While most of the fittings are similar to the ones found in the common bath, the only addition you get here is the Gessi rain shower. Other fittings include a handheld shower and taps by Italian brand Gessi as well as Swiss brand Laufen for the wall-hung w/c and basin.
The Continuum Location Review
On paper, The Continuum does not seem the closest development to any MRT station. This is especially true (ironically) for those who live around the area. I'm guilty of that perception myself till I delved into the numbers myself. While it's definitely no short walk, a 9 mins walk to Dakota (Circle Line) and 12 mins to Paya Lebar (Circle and East-West Line) may not be that far for those younger at heart.
I've come to the gradual realisation that while being connected to/a minute's walk away from the MRT is perfect, purchasing such a property may not be so attainable (price-wise especially) these days. Hence, I'm starting to accept that a 10 mins walk might be acceptable to some. It's something really subjective so you should definitely take the walk yourself – and imagine doing so daily, up to twice or more times a day.
That's perhaps my biggest gripe about the location because otherwise, The Continuum sits in a historically rich district of Tanjong Katong, where the wealthy used to have their seaside bungalows and where many continue to call this home. People may point out that slight bias whenever I write about D15 developments but really, you can't blame me for that – I've lived in different parts of D15 all my life…
If you drive, getting to the key commercial nodes such as the CBD, Suntec, and VivoCity should take you less than 15 mins especially where's less traffic. Of course, let's not forget PLQ and its surrounding malls/offices (SingPost and Paya Lebar Square) which have been totally transformed into an area with Grade A offices and quality malls. These are just a 10 mins walk away or a 3 mins drive. Kinex (formerly known as OneKM) is your closest mall and is just 450m (6 mins walk) away and has everything you need – a supermarket (Eccellente by Hao Mart), Daiso, Beauty in the Pot, KFC, Burger King, Starbucks amongst many others.
If we are talking about primary schools, The Continuum is within 1km of Kong Hwa, Tanjong Katong Primary and Haig Girls, all of which are considered pretty reputable schools – although I would think that Kong Hwa should be the most popular of the trio.
Food-wise, this is actually a food haven. Besides the standard chain restaurants you can find at Kinex and the other Paya Lebar malls, you can find plenty more along Tanjong Katong Road, which you can reach in less than 5 mins (<300m depending on which restaurant you patronise). You have the famous Eng's Wanton Mee (both of them – you can find the debate here, Punggol Nasi Lemak, Supernova, and Little Italy among others. There's also a hawker centre option in the Haig Road Market (600m, 7 mins walk) where there are also famous stalls such as Lin Yu Mei Kolo Mee, V2 Claypot Corner, and Rosy & Nora amongst others.
You can tell where I stand in terms of the location of The Continuum – besides its distance from the MRT, I am pretty much impressed by it – food, accessibility and schools.
Nearest MRT: Dakota MRT (750m, 9 mins walk) and Paya Lebar MRT (950m, 12 mins walk)
| | | |
| --- | --- | --- |
| Bus Station | Buses Serviced | Distance From Condo (& Est. Walking Time) |
| Aft Ipoh LaneStop ID: 82089 | 30, 40, 43, 43e, 134, 135, 197, 853M | 10m, 1 min |
| Aft Dunman RdStop ID: 82081 | 30, 40, 43, 43e, 134, 135, 197, 853M | 150m, 2 mins |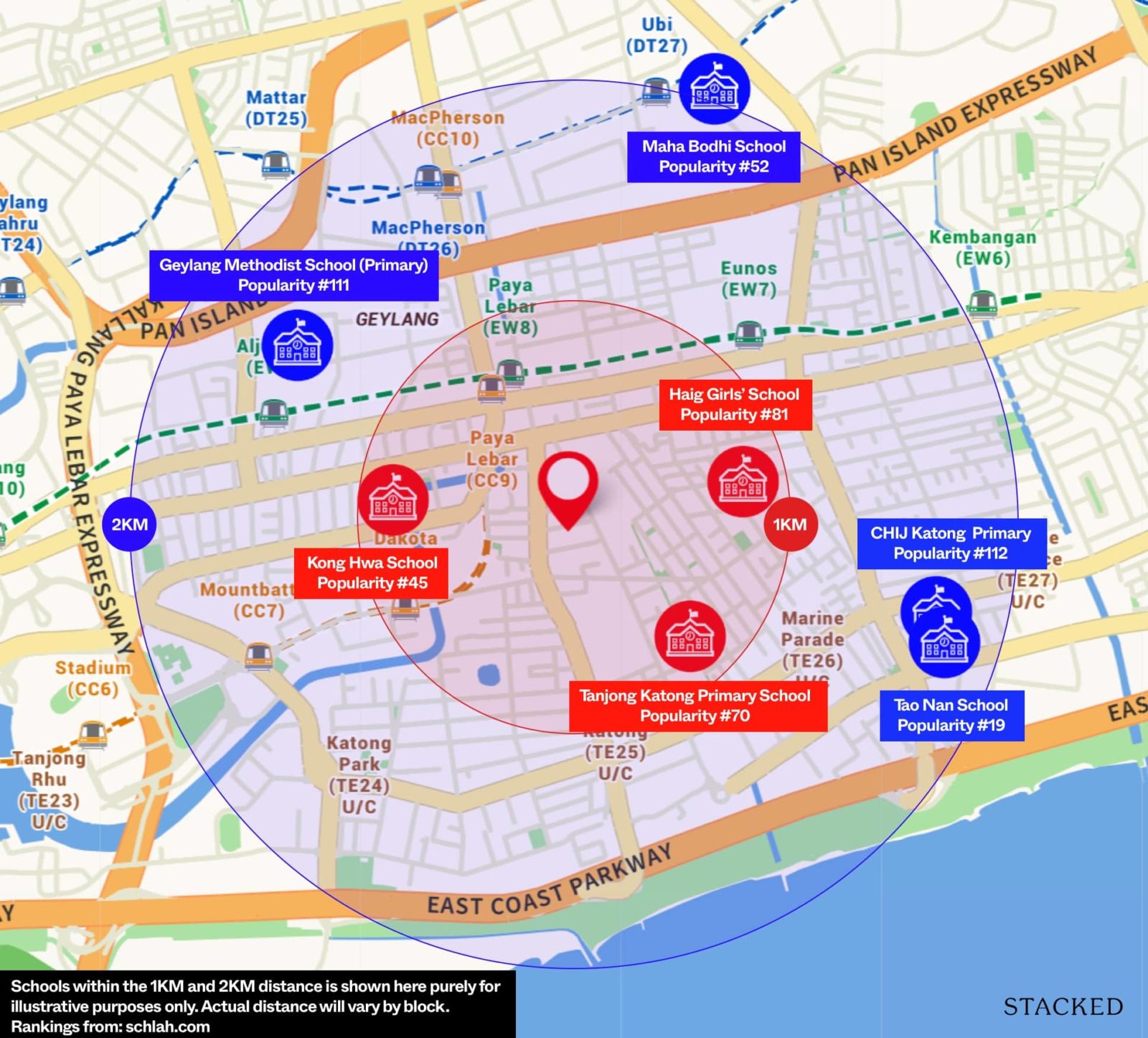 | | |
| --- | --- |
| School | Distance From Condo (& Est. Walking Time) |
| Kong Hwa School | <1km |
| Tanjong Katong Primary School | <1km |
| Haig Girls School | <1km |
| Tao Nan School | <2km |
| Maha Bodhi School | <2km |
| CHIJ Katong Convent (Primary) | <2km |
| Geylang Methodist (Primary) | <2km |
| Tanjong Katong Girls School | 400m, 5 mins |
| Tanjong Katong Secondary School | 600m, 8 mins |
| Chung Cheng High School (Main) | 1.1km, 13 mins |
| | |
| --- | --- |
| Destination | Distance From Condo (& Est. Driving Time) |
| Kinex Mall | 450m, 6 mins walk |
| Paya Lebar Quarters (PLQ, SingPost Centre, Paya Lebar Square) | 800m, 10 mins |
| | |
| --- | --- |
| Key Destinations | Distance From Condo (Fastest Time at Peak Hour [0830] Drive Time) |
| CBD (Raffles Place) | 7.5km, 12 mins |
| Orchard Road | 10.1km, 14 mins |
| Suntec City | 4.9km, 6 mins |
| Changi Airport | 12.8km, 10 mins |
| Tuas Port (By 2040) | 46.7km, 45 mins |
| Paya Lebar Quarters/Airbase (By 2030) | 1.1km, 3 mins |
| Mediapolis (and surroundings) | 17.5km, 20 mins |
| Mapletree Business City | 15.9km, 20 mins |
| Tuas Checkpoint | 36.1km, 35 mins |
| Woodlands Checkpoint | 25.5km, 24 mins |
| Jurong Cluster (JCube) | 21.7km 24 mins |
| Woodlands Cluster (Causeway Point) | 24.8km, 24 mins |
| HarbourFront Cluster (Vivo City) | 12.8km, 14 mins |
| Punggol Cluster (Waterway Point) | 16.8km, 18 mins |
Immediate Road Exits: 2 – onto Tanjong Katong Road or Haig Road, both of which can take you to the expressways in a short distance.
The Continuum Developer Review
Hoi Hup Realty and Sunway Developments have partnered with each other on several projects over the years, including Royal Square @ Novena, Sophia Hills, The Miltonia Residences and Sea Esta. In the process, they have also been recognised with several awards by BCA, FIABCI-Singapore and EdgeProp. Their existing projects are Ki Residences and Terra Hill, which we have both reviewed in the past.
Founded in 1983, Hoi Hup Realty is a reputable niche property developer from Singapore with an international footprint. They have developed everything from City View @ Boon Keng, a DBSS to prime District 9 and 10 properties such as Suites @ Cairnhill and The Ford @ Holland. Hoi Hup has developed over 7,300 homes since its establishment. They also have several prime commercial properties in the City of London.
Sunway Developments is part of a Malaysian property development company listed on Bursa Securities, Malaysia's stock exchange. In turn, Sunway Property is part of the Sunway conglomerate with businesses in 50 locations globally across 12 industries. Undoubtedly, Malaysian properties are their strong suit and they have ongoing developments in Johor, Penang, Ipoh and Klang Valley.
Unit Mix (by layout and any general points about it)
| | | |
| --- | --- | --- |
| Unit Type | Size | No. of Units |
| 1 Bedroom + Study | 560 sqft | 68 |
| 2 Bedroom | 646 – 807 sqft | 170 |
| 2 Bedroom + Study | 700 – 721 sqft | 136 |
| 3 Bedroom | 872 – 1,141 sqft | 102 |
| 3 Bedroom Premier | 1,066 – 1,302 sqft | 136 |
| 4 Bedroom | 1,270 – 1,518 sqft | 68 |
| 3 Bedroom + Study (Prestige Collection) | 1,227 – 1,464 sqft | 72 |
| 4 Bedroom Premier (Prestige Collection) | 1,690 – 2,067 sqft | 32 |
| 5 Bedroom (Prestige Collection) | 1,894 sqft | 32 |
Hoi Hup Sunway has done it again. As with Terra Hill, they have divided the development into the Signature and Prestige Collections, with the latter being the exclusive and premium selection. I think it's a good idea actually – to segment the market and create an aspirational product in the form of the Prestige Collection.
Units are generally of a decent size, especially since the 1 Bedroom is larger than average. The distinction really comes in for the 3 Bedroom and above units – where the Signature series have units starting from 872 sqft and the Prestige ones starting from 1,227 sqft. It's a clear distinction between the younger ones looking to get a foot in and those who may be slightly older who are more stable financially and looking to upgrade or downgrade from a landed property.
The Continuum Stack Analysis
Development Site Plan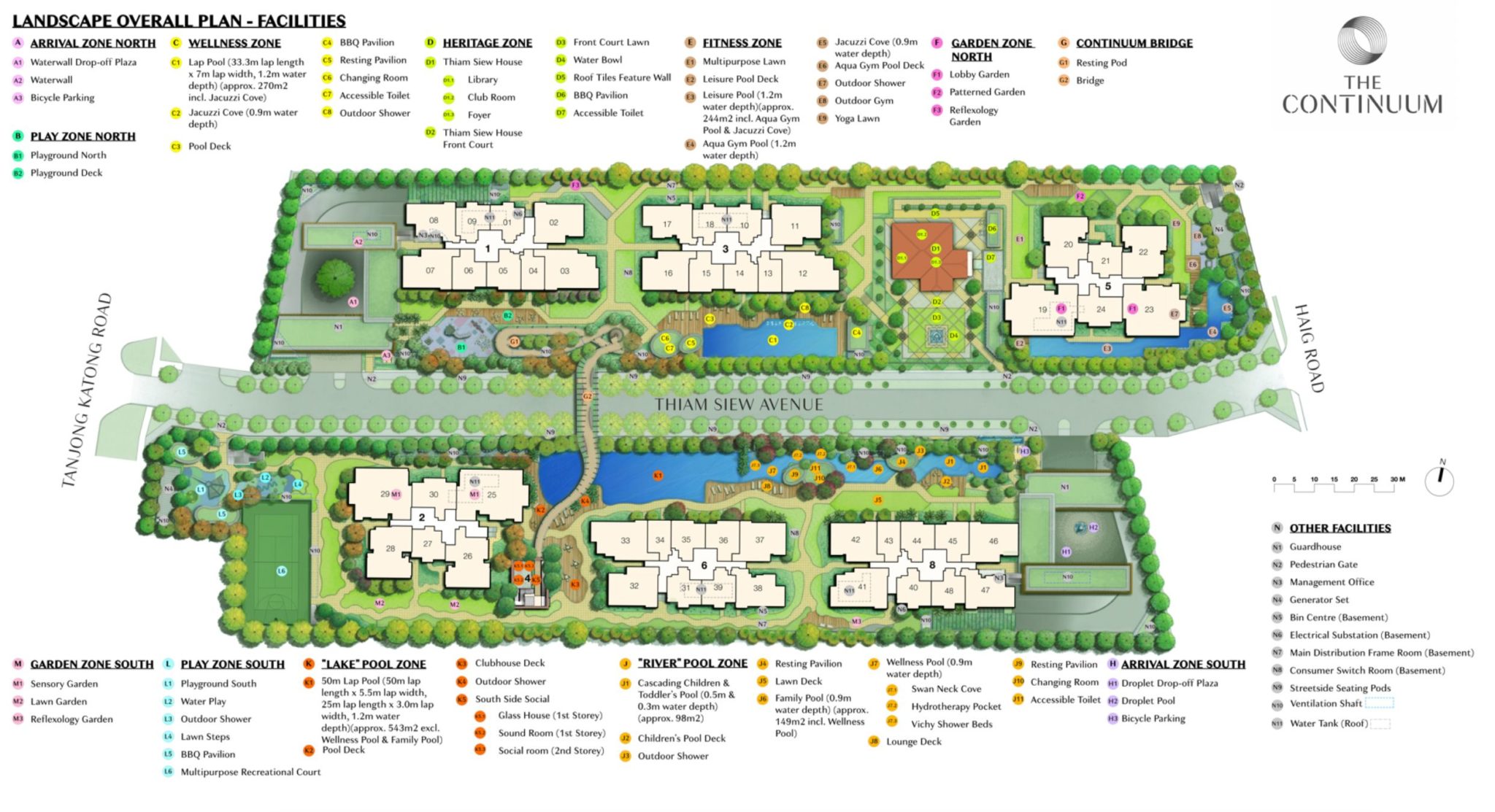 The Continuum is the only condo development in Singapore that sits on 2 separate pieces of land that have a through road running through it and are joined by a bridge. At a combined total of 269,995 square feet of land, it houses 816 units over 6 blocks.
This means that units facing internally will be set apart by a good distance, which makes neighbours peering into your unit less likely than most other developments. That said, the units facing out will generally be facing other developments such as Imperial Heights on the North side, and Dunman Place on the South side so there will be more deliberation needed as to your choice of facing.
Because the development is essentially split into 2, each side of the development will have its own facilities that you really don't have to ever walk over to the other side – save for 2 main ones, the tennis court and the different clubhouses.
The North side houses the conserved house, and the South side features a modern and sleek glass-filled one.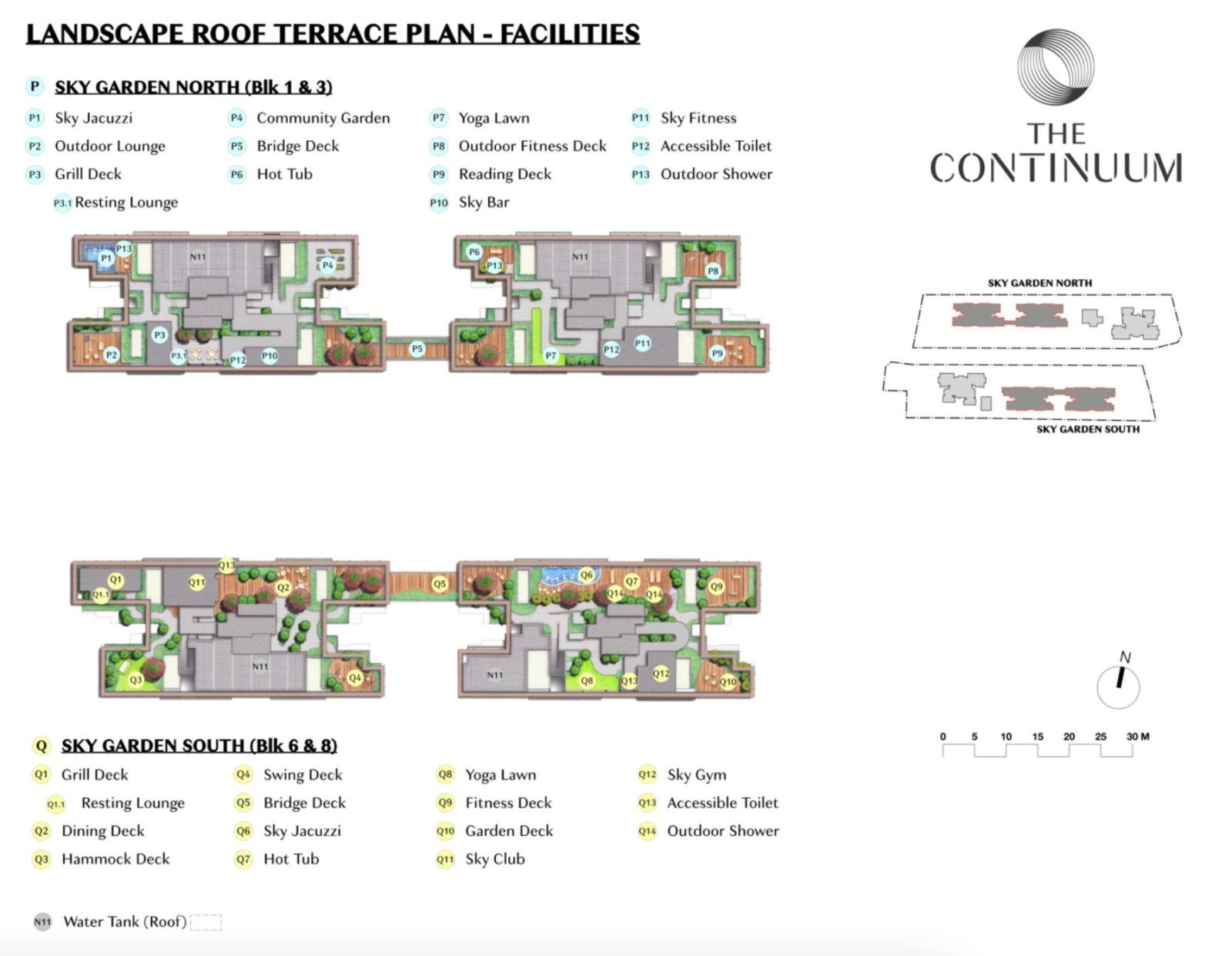 Both sides of the development will also feature a Sky Garden, which will be connected via a bridge for easy access. I've gone through most of it in the tour already so I won't be adding too much here, but this is always a great addition as it allows even the owners of the units on the lower floors to enjoy the best views.
Best stacks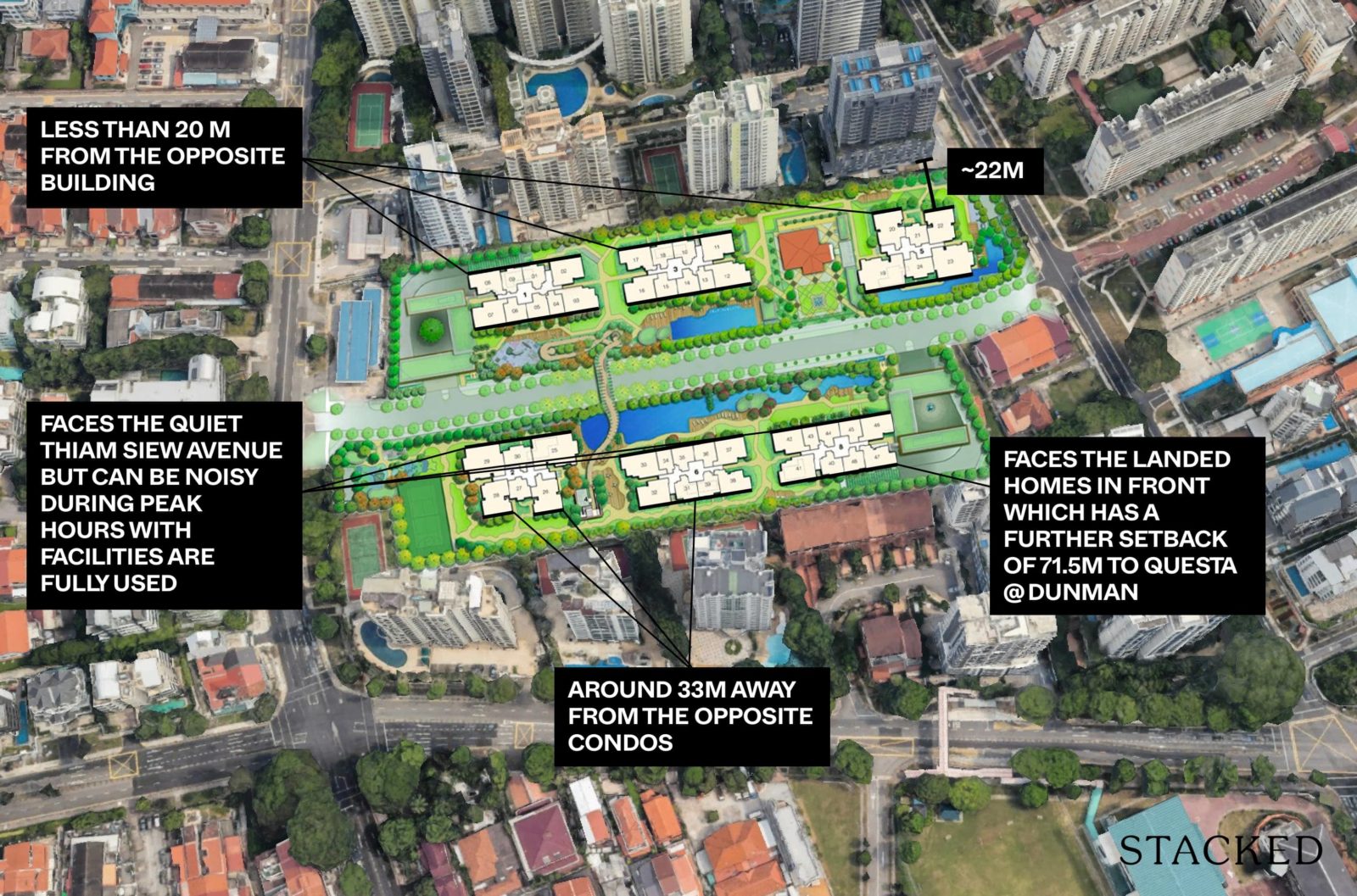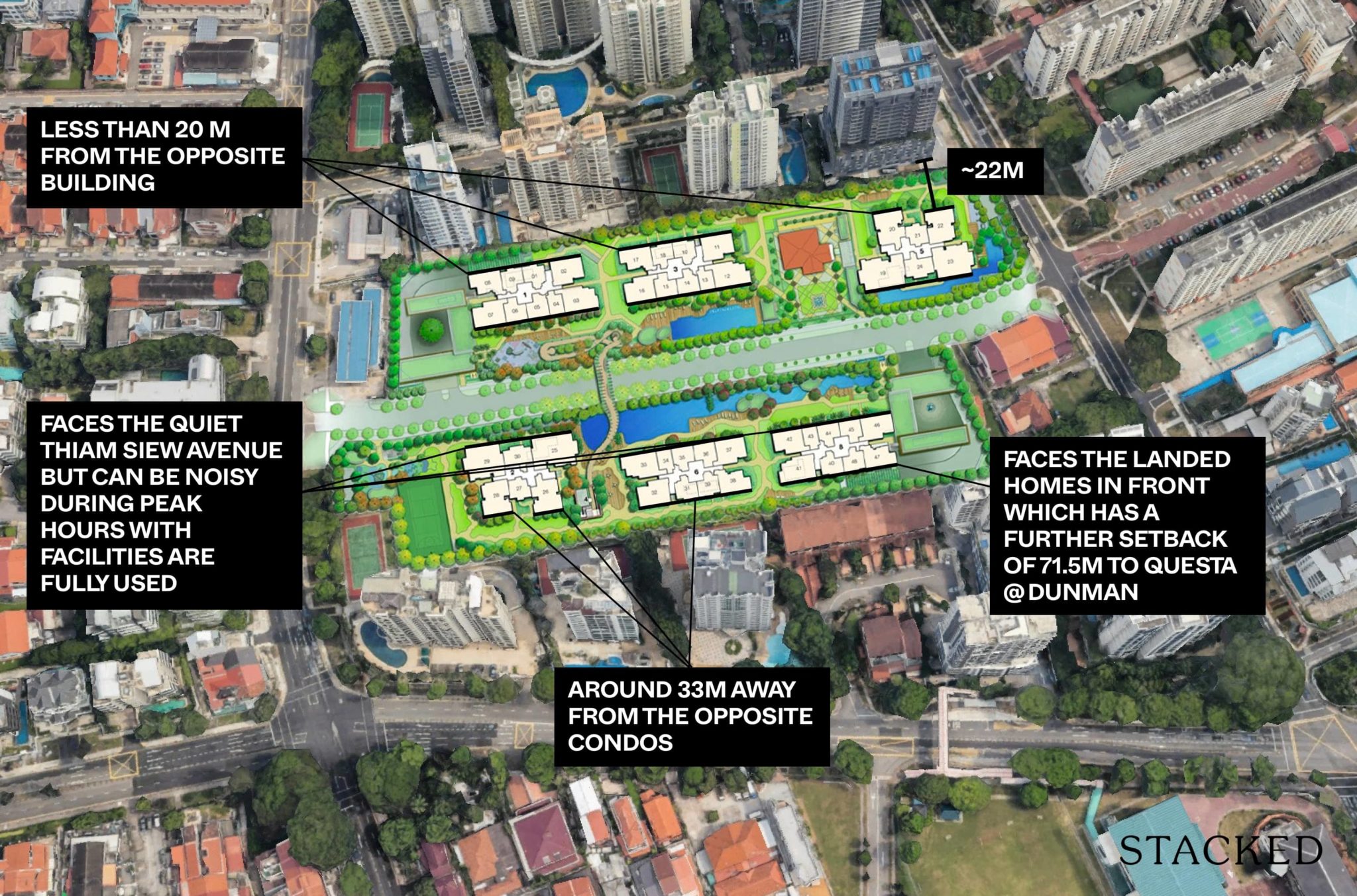 The Continuum was one of the last few landed plots left in its vicinity and hence it comes as no surprise that views, if any, might be partially blocked in some way or form.
Broadly speaking, you would already know that the development is divided into the North and South sites, with both having relatively similar facilities. Unless you have a strong preference for one (e.g. preferring to have a 50m pool – South or a larger sky gym – North), there are other considerations at play here. Of course, do remember that the North and South are linked so you are not denied a facility just because you are on 'the other side'. It's just more hassle, that's all.
From a directional perspective, The Continuum hits the sweet spot since it has a North-South facing for all units. So regardless of which unit you choose, you will avoid the afternoon sun which can get quite intense in Singapore.
Since there's a road cutting through the site, there are no inward-facing stacks per se, but I'd say that units facing Thiam Siew Avenue should be rather quiet even though they are the units facing a road. These units will also either get views of the pools or the kid's areas in general, which can be quiet in the late evenings but noisy during the peak periods such as weekends.
Amongst the 'outward' facing units, I'd say that I would much prefer those on the South end on paper. This is because of the distance from the next condo. In general, the North's outward-facing units have less than a 20m distance from the condo next door, which includes Imperial Heights, Emery Point and others. I find this to be rather close even for stacks within the same condo so these stacks are certainly not my favourite if given a choice. The closest stack to the Esso petrol kiosk is stack 7, which is about 37m away and a very decent setback I feel.
On the other hand, the South site's outward-facing units are 33m from the neighbouring condos Paradise Palms and Fortune Jade. This is a much more comfortable distance for me. What's best is that if you go for Stacks 40, 41, 47 or 48, you face landed houses along Dunman Road (likely built by Wee Thiam Siew) which gives a further 71.5m setback to Questa @ Dunman.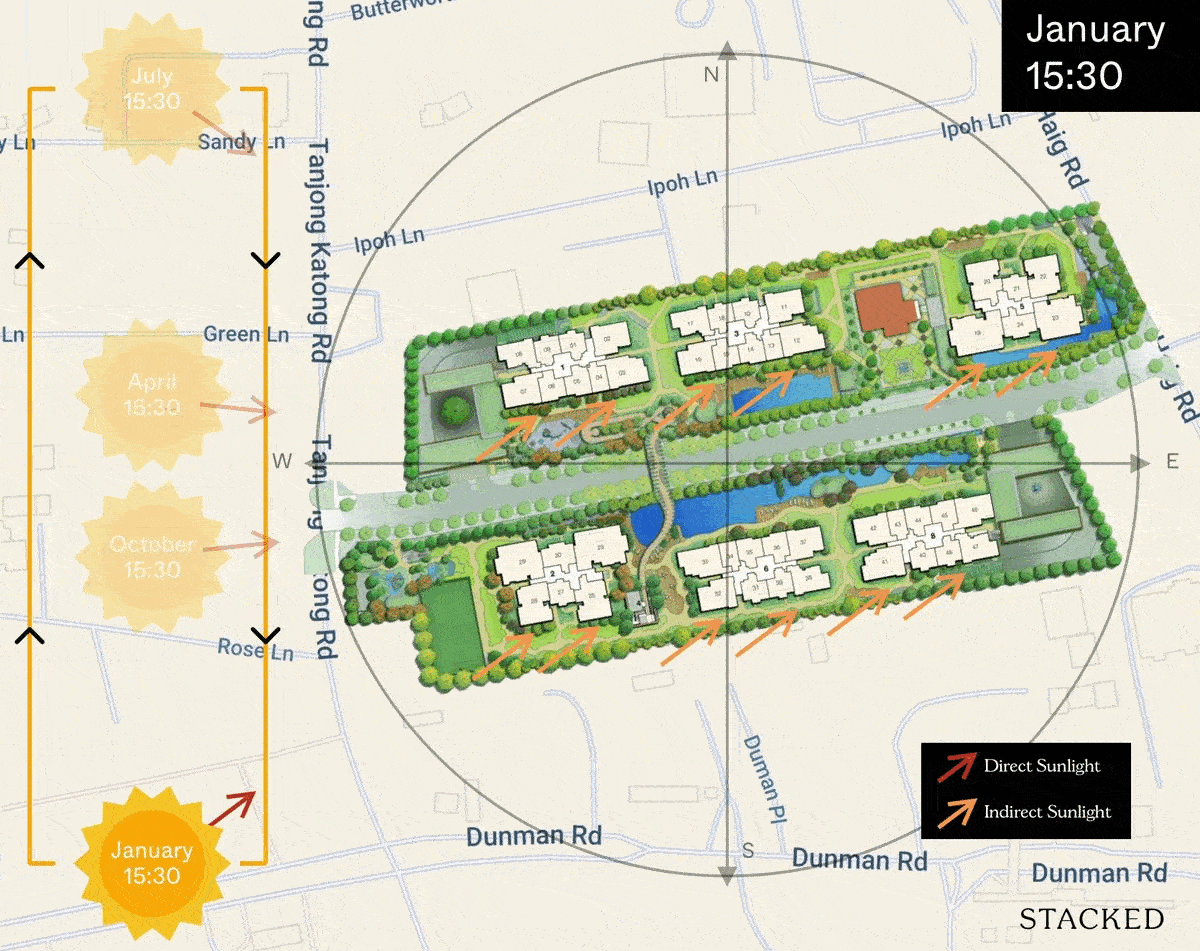 The Continuum is generally north-south facing, so most stacks do not face the afternoon sun for most of the time. However, the north-facing stacks do get a bit of afternoon sun during the middle of the year.
The Continuum Price Analysis
If you are considering The Continuum, you will undoubtedly compare it against its neighbouring developments. So here is how it stacks up!
| | | | | | |
| --- | --- | --- | --- | --- | --- |
| Development | Units | Psf | TOP | Tenure | Price Gap |
| The Continuum | 816 | $2,600 | 2026 | Freehold | |
| Tembusu Grand | 638 | $2,450 | 2026 | 99 Years | 6% |
| Haig Court | 360 | $1,839 | 2004 | Freehold | 41% |
| Butterworth 8 | 216 | $1,767 | 2004 | Freehold | 47% |
| Katong Regency | 244 | $1,928 | 2015 | Freehold | 35% |
| Park Place Residences | 429 | $2,117 | 2019 | 99 Years | 23% |
The price comparison excludes many of its closest developments as I feel that many of them are more boutique in nature and are not exactly an apple-to-apple comparison. That said, the fun fact is that many of these developments (Dunman Place, Fortune Jade, Paradise Palms) actually have 1 tennis court despite having less than 100 units. In any case, I've included larger-sized developments here for a better comparison.
The Continuum's average psf is an estimated figure and if we compare it to Tembusu Grand, its closest new launch rival, I expect it to be around 6% higher. Both developments are full-fledged condo developments with extensive facilities making them worthwhile comparisons. Tembusu Grand is slightly closer to an MRT station but is a 99 years project. If a Freehold development can truly be less than 10% more expensive compared to a 99-year one, I think it might really be an enticing prospect for many.
The considerations here would be if the walking distance to the MRT is bearable (if you're thinking of staying here yourself) and if you have a preference as to the areas. Both developments are just 800m away from each other and in the same district (D15) so there's really quite little to differentiate between them. If we really have to do it, I'd say that Tembusu Grand might be just a tad bit more 'Atas' because it's in an entirely private residential estate while The Continuum, despite being similarly surrounded by landed properties and private condos, has the Haig Road flats close by and being closer to D14 Paya Lebar. These are actually positives because you get the benefit of having a hawker centre and neighbourhood shops close by. Hence, on paper, if The Continuum is indeed launched at a premium of 10% or less compared to Tembusu Grand, it is worth some consideration.
On the other hand, compared to its nearby older resale condos in Haig Court (beside Tembusu Grand) and Butterworth 8 (one of the larger developments in the vicinity), the gap is far more significant at 40+%, making the older ones seem like a steal. That said, units are really far larger there – 2 Bedrooms are in excess of 1,000 sqft and 3 Bedrooms above 1,300 sqft. This means that while psf is lower, the overall quantum might still be relatively higher. That said if budget permits and there's a requirement, having a larger space for the same price doesn't seem too shabby.
The final comparison is with the newer developments closer to the Paya Lebar transformation. Katong Regency is a rare Freehold mixed development, with a decent mall in Kinex downstairs while Park Place Residences is of course an integrated development with PLQ and Paya Lebar MRT. Not quite in the same league as The Continuum given their convenience but if you're looking purely from a value perspective, The Continuum, being a new launch, does seem ok priced given the difference. That said, Katong Regency and Park Place are far more convenient locations from an MRT perspective, although The Continuum is located in an arguably more established neighbourhood.
With that said, let's take a look at the numbers in detail.
Starting indicative prices of The Continuum
| | | | |
| --- | --- | --- | --- |
| Bedroom | Size (From) | Starting Price (From) | $PSF |
| 1BR + S | 560 | $1,448,000 | $2,586 |
| 2BR | 646 | $1,671,000 | $2,587 |
| 2BR + S | 700 | $1,820,000 | $2,600 |
| 3BR | 872 | $2,300,000 | $2,638 |
| 3BR Premium | 1,066 | $2,759,000 | $2,588 |
| 4BR | 1,227 | $3,207,000 | $2,614 |
| 5BR | 1905 | $5,350,000 | $2,808 |
Before we look at The Continuum's pricing relative to its surrounding, let's first see how it ranks against existing new launches in the market. Do note that the prices here reflect the lowest $PSF of available units as this is a comparison to the starting indicative $PSF of The Continuum.
1-Bedroom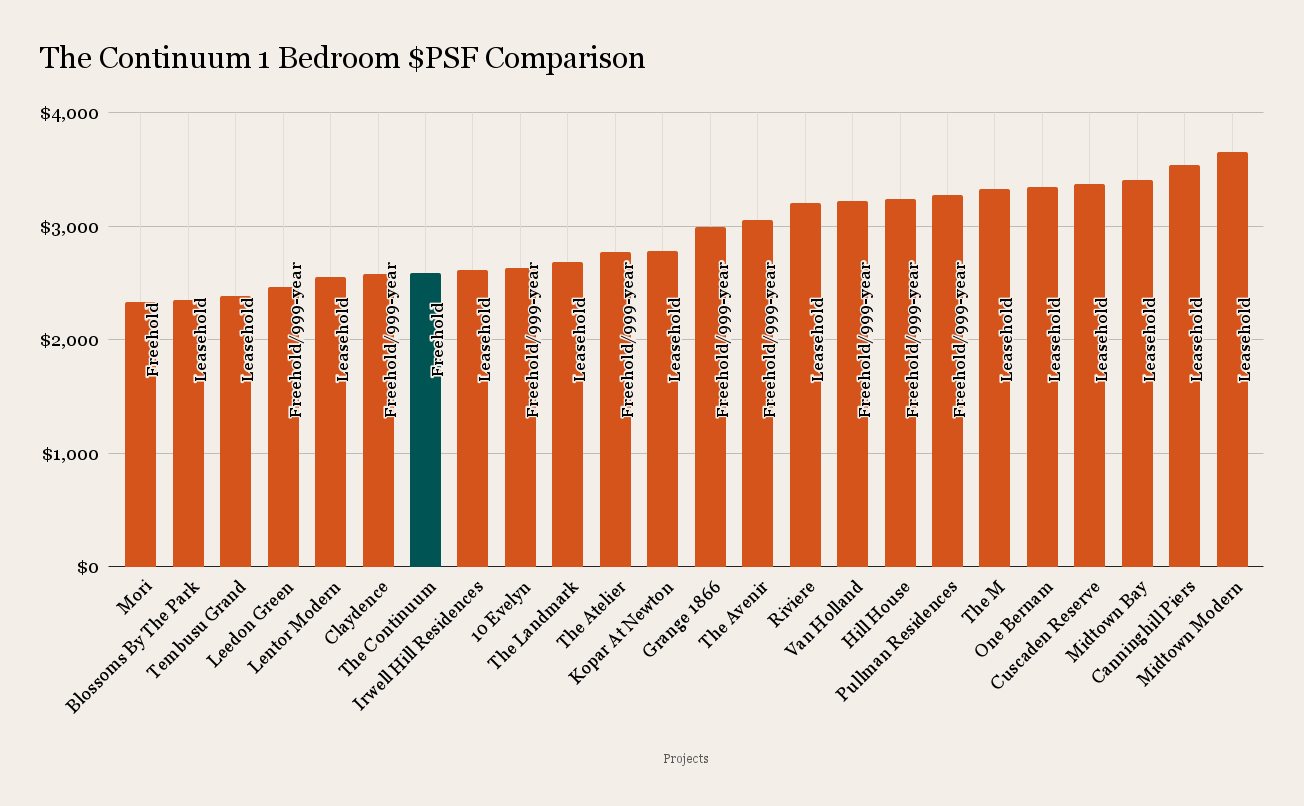 For a D15 freehold project, The Continuum is priced really well. Leedon Green is freehold and located in the CCR, however, the $PSF is lower as the 1-bedroom size is 603 sq ft. If we compare like for like, Leedon Green's 1+S starts from $1,608M (level 6) which is slightly less than the starting price of The Continuum's 2BR.
You'll also notice that it's just 1 position shy from Irwell Hill Residences. While Irwell Hill Residences has its strength by being close to Great World MRT and in the CCR, The Continuum does have its own plus points. Its freehold, is situated in a highly-sought after area, putting its relative positioning for the 1-bedder amongst existing new launches a quite attractive one.
2-Bedroom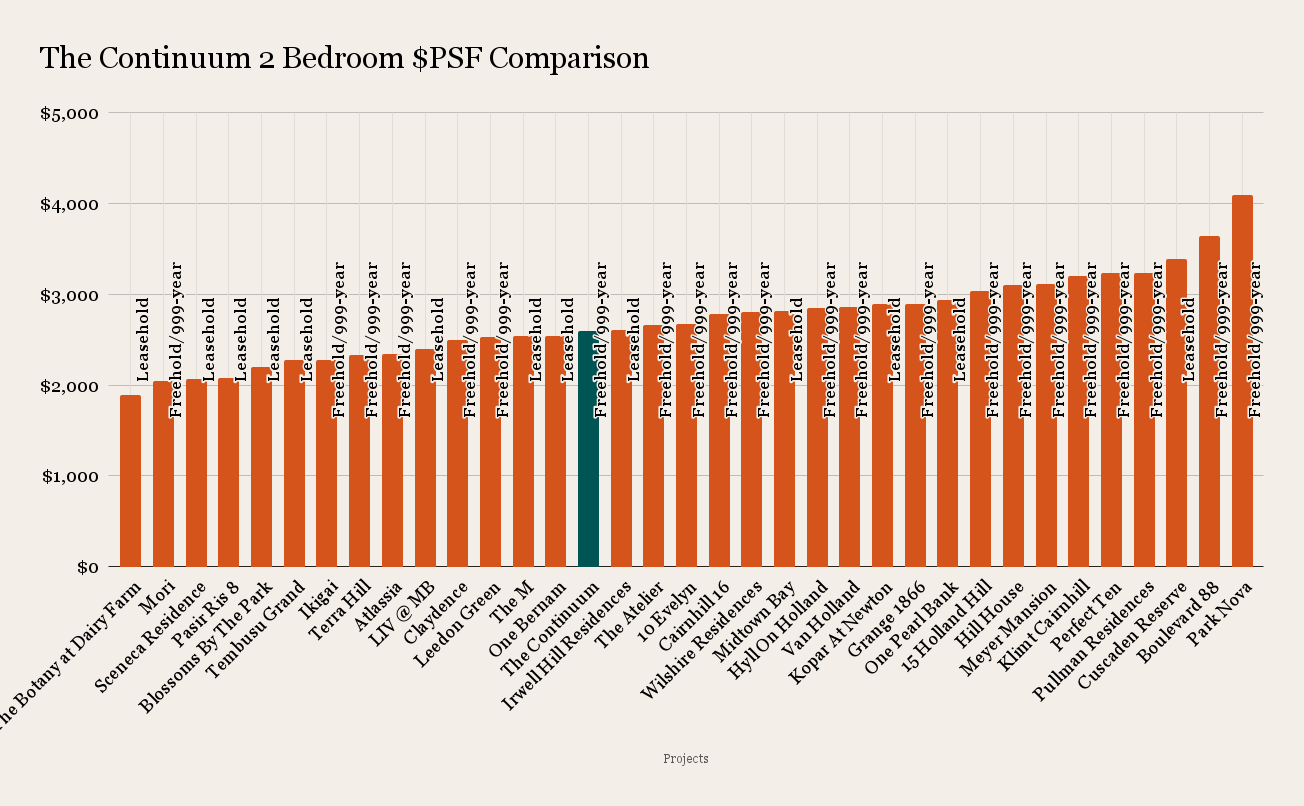 Similar to the 1-bedroom, The Continuum's 2-bedroom is also straddled between Leedon Green and Irwell Hill Residences. However, there are a lot more options now in the 2-bedroom market – particularly Tembusu Grand which starts at $2,280 psf compared to The Continuum's $2,586 psf. This is 12% cheaper and the unit is on the 20th floor. It's also 829 sq ft as it contains the strata void area, so it costs more at $1.89M.
The next cheapest in Tembusu Grand is the 2-bedroom + study which comes in at $1.92M for 743 sq ft, making it $2,584 psf for the 14th-floor unit.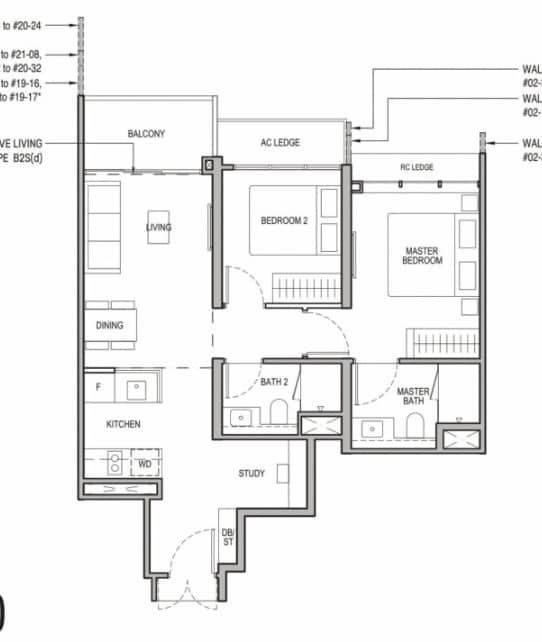 Now at this price, it's quite questionable whether or not it makes sense to purchase the 2-bedroom + study here when The Continuum's starting is already at $1.82M. It may be smaller (721 sq ft), but such a small difference shouldn't be felt especially since The Continuum has a dumbbell layout, unlike the one at Tembusu Grand.
3-Bedroom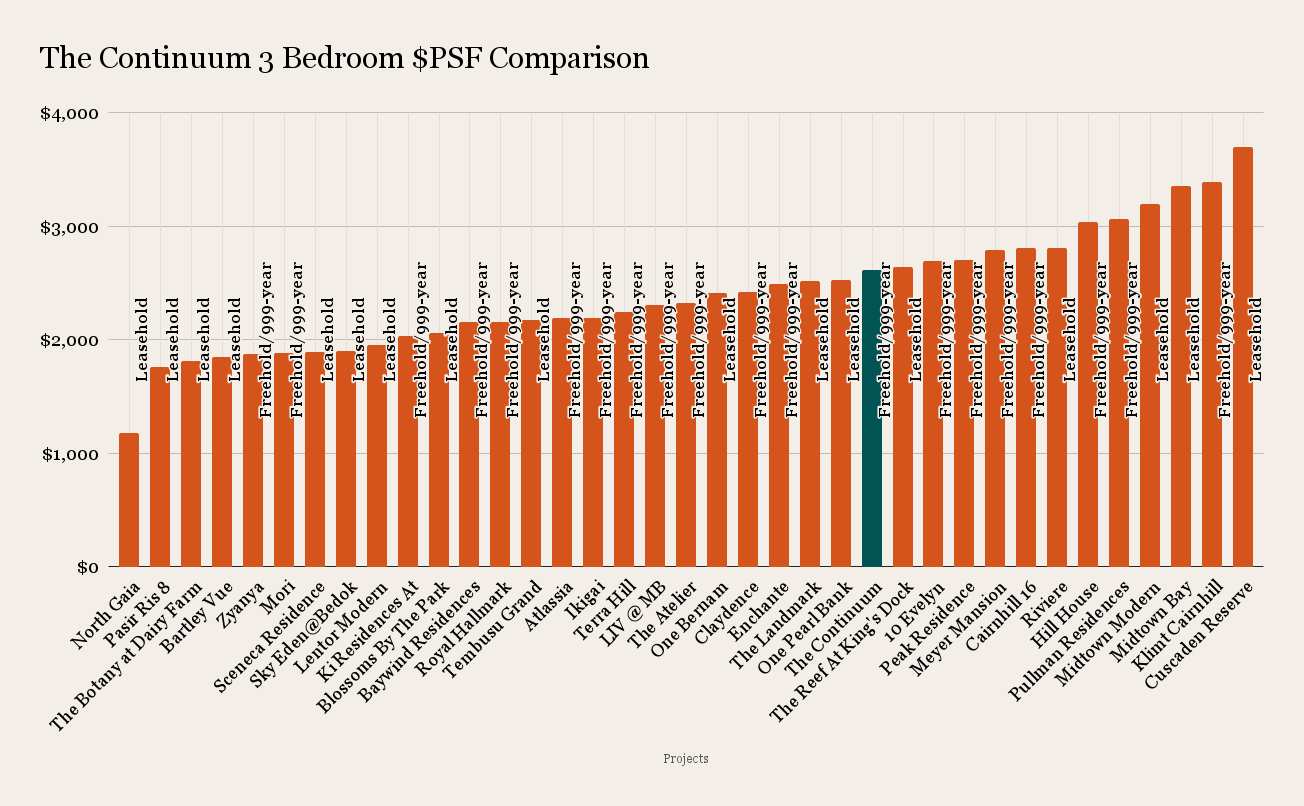 The positioning of the 3-bedroom $PSF is more in line with what we'd expect from a large, freehold D15 new launch project. Yet, it's still priced lower than some other projects like Peak Residence which so far hasn't fully sold (its first sale was in April 2021). The lowest-priced unit here is the 3-bedroom + study unit at 1,066 sq ft priced at $2,878,800 ($2,701 psf) which is more than the starting $PSF of the 3-bedroom premium here. It's also priced lower than boutique developments in the central area that does not have quite as many facility offerings such as Hill House and 10 Evelyn.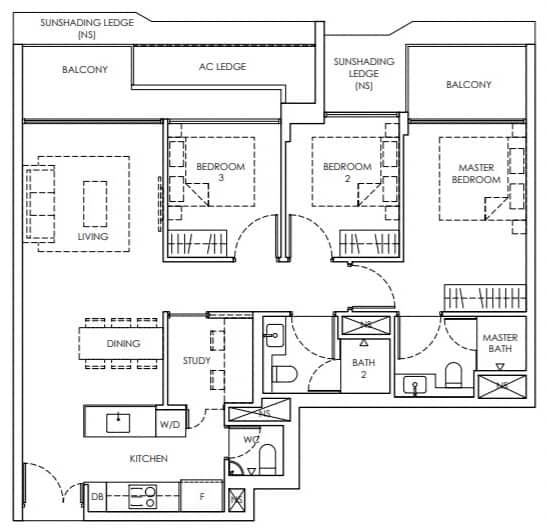 4-Bedroom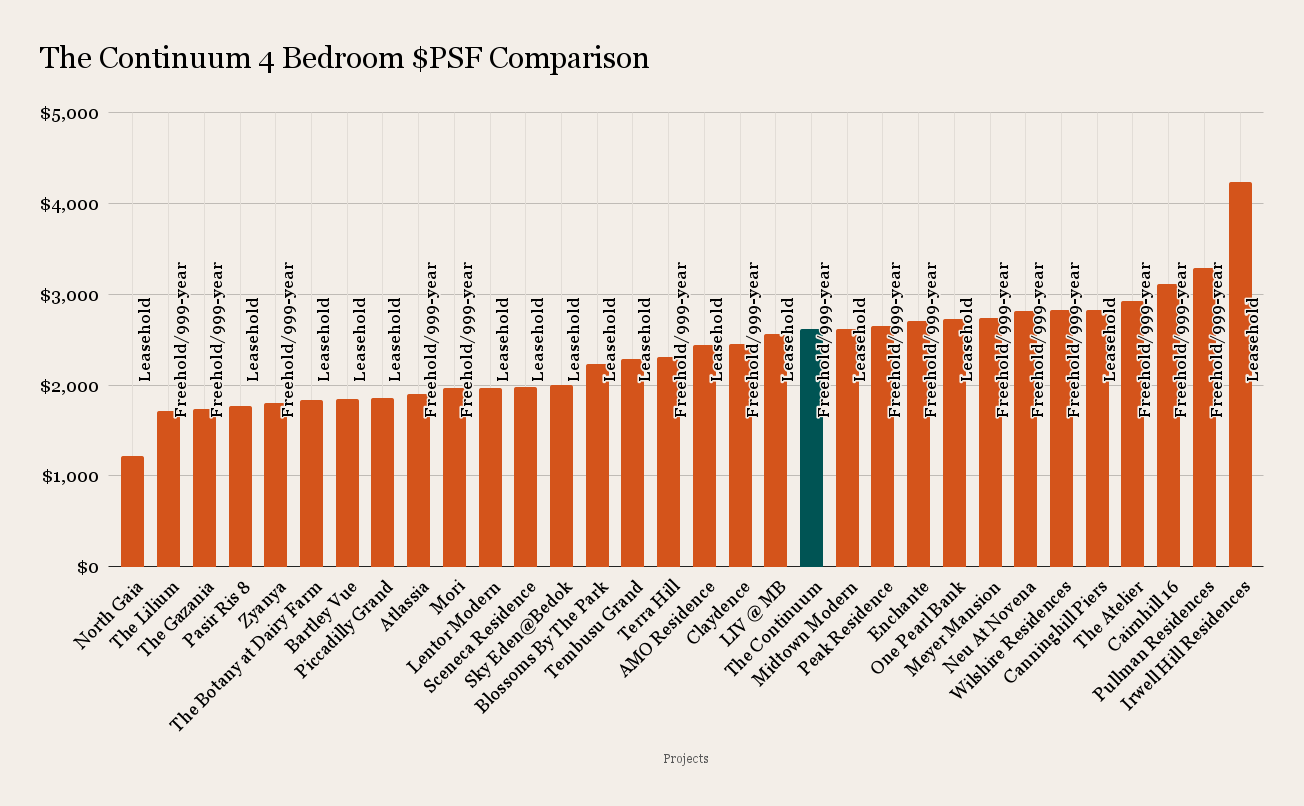 It's surprising to see Irwell Hill Residences being the most expensive 4-bedder considering it's a leasehold project, so I had to do a double-take again.
But it's true. To be fair though, the unit in question is the penthouse at 2,228 sq ft, so it isn't on equal footing as the rest. Even then, it's priced at $9.452M which makes it $4,242 psf.
Here, The Continuum continues to be placed where I'd expect it to be – not too high up, but certainly ranked higher than 50% of what's available considering what it has to offer.
You'll notice that it's priced slightly above LIV @ MB. LIV @ MB is a leasehold development with 298 units. When launched, the 4-bedroom 1,518 sq ft unit had 4 transactions. 3 were for $2,300+ psf and 1 for $2,500+ psf.

It's quite strange that 1 floor could make an over $200,000 difference here (see floor 17 vs floor 18).
Anyway, today it's priced at $2,567 at its minimum and this is for #15-16. That's a $300 psf difference for just 3 floors down over 1 year. At this $PSF, The Continuum does seem quite attractive given its freehold status.
5-Bedroom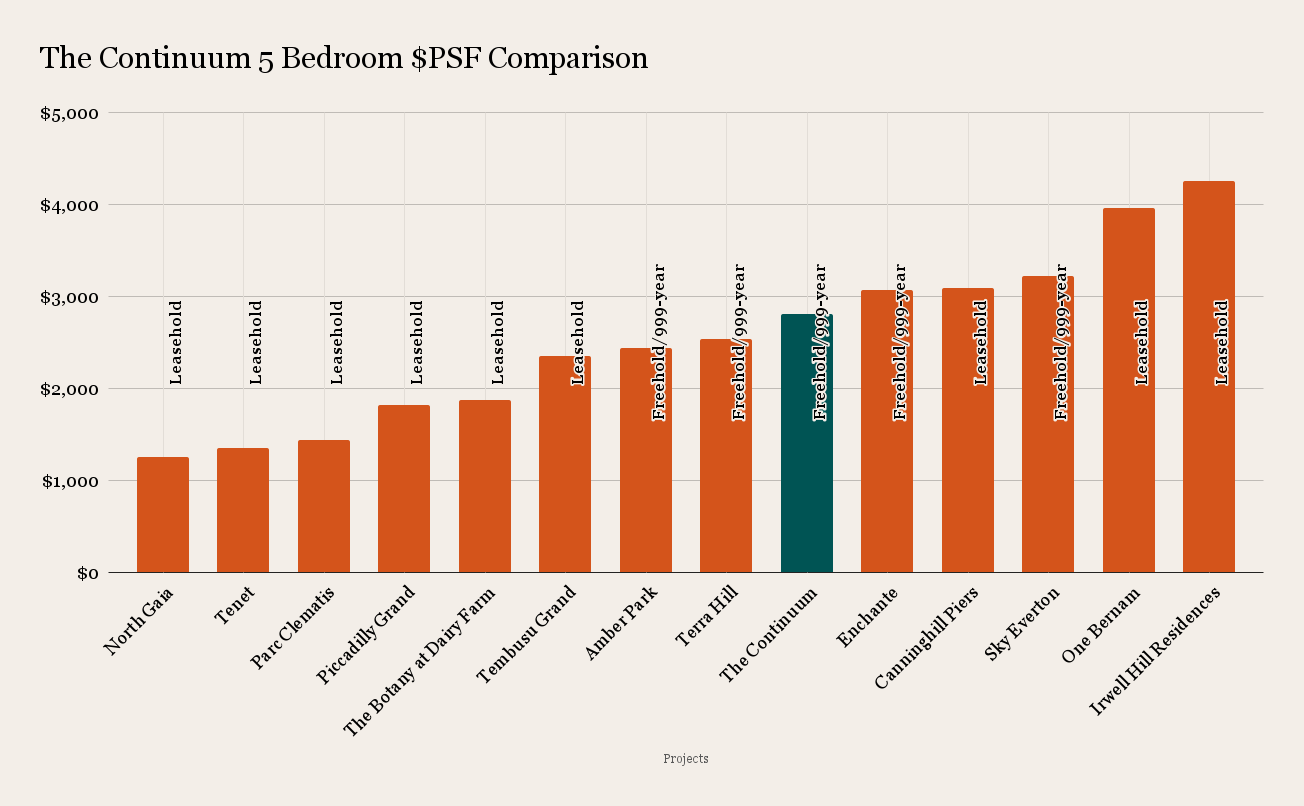 When looking at the 5-bedroom, Amber Park becomes an option. It's freehold, has full-fledged facilities and is actually cheaper than The Continuum on a $PSF basis. The unit in question is a $5,217M 5-bedroom unit that's 2,142 sq ft in size which makes it $2,436 psf. It's not the cheapest available (that would be the $5.082M unit), but it is on a $PSF basis.
Funnily enough, there are only three 5-bedroom units left at Amber Park and one is on the ground level, while two are on level 2. The Continuum 5-bedroom units start at level 3 and for people who can afford to pay $5 million dollars for a home, perhaps not having to stay on the ground level or level 2 which is less private would be nice (unless you have a thing for ground/very low floors). As such, while Amber Park is cheaper, you are definitely looking at the less choice units for the development.
Although of course, a big advantage would be the ability to move in much sooner.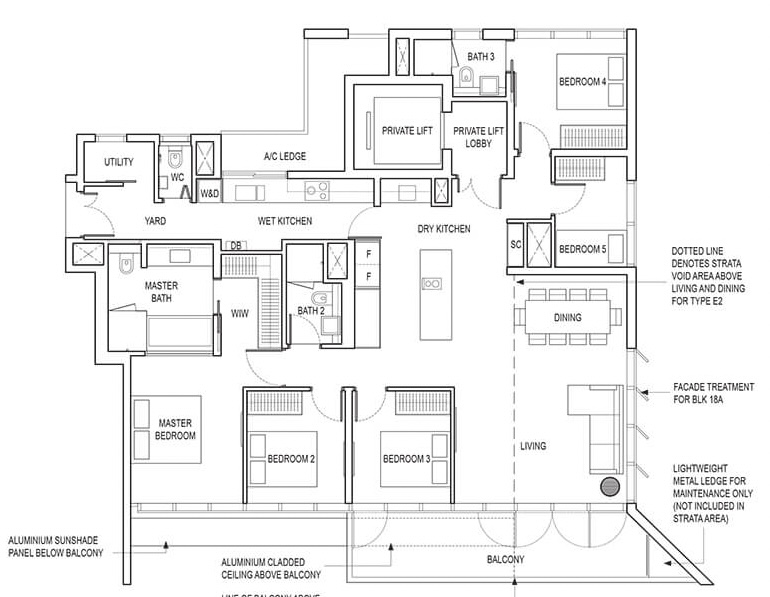 It's also less than Sky Everton, a freehold unit in the Tanjong Pagar area. Priced at $5.868M, the penthouse unit would cost 9.6% more than The Continuum – and that's comparing the penthouse to the cheapest in The Continuum. When put in this perspective, the unit at Sky Everton could make sense for some people in terms of pricing given it's right at the heart of the CBD (but both locations are very different) but still has its freehold status which is rare.
Now that we've seen how it ranks among other available new launches today, let's take a closer look at the area.
The way to look at whether The Continuum is priced fairly in the area would be to consider the relative pricing based on 3 things:
Breakeven $PSF for new plots around
What new launches have gone for in the past 3 years
What comparable resale projects are going for now
New plot
Given the sale of Tembusu Grand recently, the only new plot around that hasn't launched and has a successful tender is the Dunman Road plot (also known as Dunman Grand now):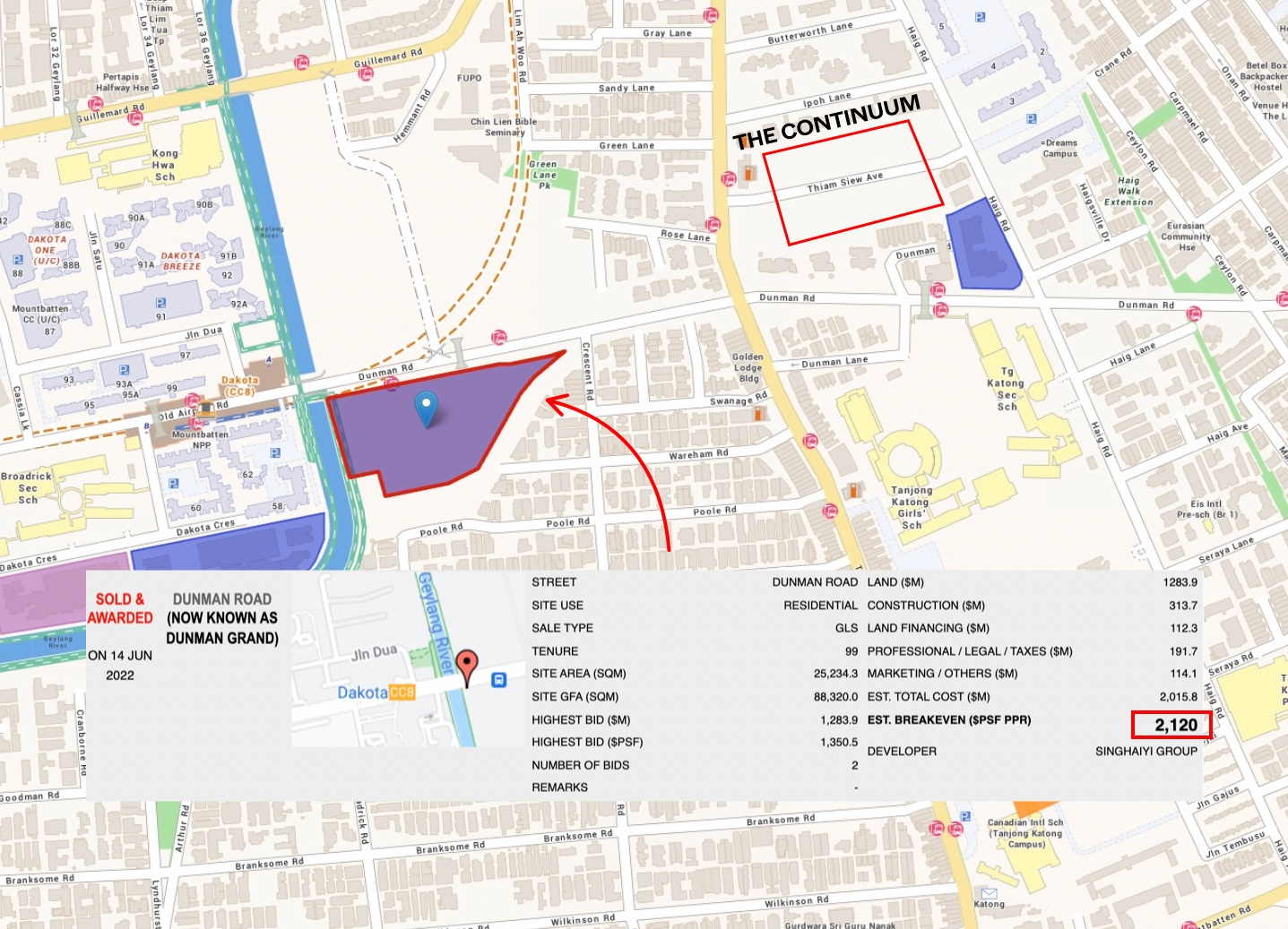 Dunman Grand has a site area of 25,234.3 sqm and was awarded to Sing-Haiyi for $1,283,888,998. According to Squarefoot Research, the estimated breakeven comes at $2,120 psf ppr. Now I know this is really rudimentary, but adding a simple 15% profit margin would mean prices would come to around $2,438 psf.
Here's what the premium between The Continuum looks like:
| | | | |
| --- | --- | --- | --- |
| Bedroom | The Continuum | Dunman Grand Est. Avg. $PSF | The Continuum Premium |
| 1BR + S | $2,586 | $2,438 | From 6.0% |
| 2BR | $2,587 | $2,438 | From 6.1% |
| 2BR + S | $2,600 | $2,438 | From 6.6% |
| 3BR | $2,638 | $2,438 | From 8.2% |
| 3BR Premium | $2,588 | $2,438 | From 6.2% |
| 4BR | $2,614 | $2,438 | From 7.2% |
| 5BR | 2808 | $2,438 | From 15.2% |
Note that because it's written "From" given these indicated prices are the lowest, so the premium could be higher.
If we consider these figures, The Continuum's pricing is still very much acceptable in the current market. Generally, freehold properties should trade at around a 15% premium over their leasehold peer of equivalent age. However, it is noted that Dunman Grand is much closer to the MRT.
Given how close the breakeven is, but that Dunman Grand has an edge of being closer to the MRT, I do think that The Continuum is priced fairly in this regard.
Do note that the gap for the 5-bedroom at The Continuum is expected since it falls under their "Prestige" collection, which is more luxurious than typical units.
Next, let's check out what new launches have gone for in the past 3 years here.
Transacted New Launch prices
Here's a look at the transacted prices for recent new launches over the past few years. Do note that the average $PSF here is across all of its sales, not just in recent times.
| | | | | | | | |
| --- | --- | --- | --- | --- | --- | --- | --- |
| Project Name | Tenure | Units Remaining | 1 | 2 | 3 | 4 | 5 |
| AMBER PARK | Freehold | 3 | $2,504 | $2,476 | $2,432 | $2,452 | $2,501 |
| COASTLINE RESIDENCES | Freehold | 0 | $2,516 | $2,545 | $2,482 | | $2,843 |
| LIV @ MB | 99 yrs from 23/11/2021 | 38 | $2,523 | $2,441 | $2,369 | $2,425 | |
| MEYER MANSION | Freehold | 4 | $2,985 | $2,875 | $2,620 | $2,616 | |
| NYON | Freehold | 0 | $2,367 | $2,265 | $2,188 | | |
| SEASIDE RESIDENCES | 99 yrs from 18/04/2016 | 0 | $1,966 | $1,970 | $1,849 | $2,048 | $2,064 |
| TEMBUSU GRAND | 99 years leasehold | 289 | $2,499 | $2,495 | $2,420 | $2,417 | $2,466 |
| The Continuum* | Freehold | | $2,586 | $2,593 | $2,613 | $2,614 | $2,808 |
* Starting indicative $PSF. 3 and 4-bedders starting $PSF were averaged out among the 2 unit types.
Considering these were mostly prices before 2023 (except for Tembusu Grand), The Continuum's starting $PSF of around $2,500+ to $2,600+ seems quite fair in the current context.
You can see that Amber Park traded for an average of $2,400+ PSF across all its unit types, and around $2,500 for its 1-bedroom units. Amber Park may not have as many units as The Continuum, but it's similarly freehold and is a full-fledged facility condominium which means it has a tennis court and the like.
While these prices are great retrospectively, they're also almost fully sold, with just 3 units in the 5-bedroom category left.
Coastline Residences is fully sold out and has traded for $2,400+ to $2,500+ too across its unit types. This is similar to Amber Park, although Coastline Residences have larger units. Judging by its $PSF, you can see why The Continuum's pricing does look fair even as it goes into the $2,600 range as there just aren't any units left in the development.
Meyer Mansion traded higher than the starting $PSF at The Continuum and it's currently asking for a similarly higher amount. For instance, the 2-bedroom premium unit is asking for $3,113 psf (as of 20 April 2023). Then again, Meyer Mansion does position itself as a luxury condominium with sea views so that would explain the price gap. However, if we simply consider its freehold status and location in D15, The Continuum will probably be priced lower.
Even if we compared it to LIV @ MB which is a leasehold development, the starting $PSF can be considered fair. You can see that the average 2-bedroom at LIV is $2,441 – this means that The Continuum is priced only 6% higher in terms of starting $PSF.
Next is NYON. This development's $PSF is interesting given its freehold status and actually traded lower than some leasehold developments. This is likely due to its early sales when it launched in 2019. 1-bedders back then could be sold for $2,100 $PSF.
The most recent transaction here is a 721 sq ft sub-sale unit that went for $2,385 PSF which is still more affordable than The Continuum, although the overall quantum could still be cheaper in The Continuum given the smaller 2-bedroom unit available. That said, NYON is also not directly comparable as it's a boutique development with just 92 units and has fewer facilities compared to The Continuum.
The most interesting would have to be Tembusu Grand. This is the only development that has relevant pricing compared to the others and also given the similar launch periods. Tembusu Grand is a 99-year leasehold development with 638 units, not quite as many as The Continuum, but still considered to be in the same category when it comes to sizing.
Here's what the premium gap looks like:
| | | | | | |
| --- | --- | --- | --- | --- | --- |
| Project | 1 | 2 | 3 | 4 | 5 |
| Termbusu Grand | $2,499 | $2,495 | $2,420 | $2,417 | $2,466 |
| The Continuum | $2,586 | $2,593 | $2,613 | $2,614 | $2,808 |
| Premium | 3.5% | 3.9% | 8.0% | 8.2% | 13.9% |
The premium gap will be higher than the figures above since we only have the starting prices. However, you can see that the gap isn't large at all – they're all under 10%. Buyers of The Continuum who are able to get in for close to the indicative would only pay a little bit more for a freehold status – not bad indeed.
Given how close prices are to the recent new launches in the area, I'd say that prices at The Continuum are quite fair and possibly attractive for what it offers. While it would've been great to have gotten in on freehold Amber Park at that price today, that ship has sailed, so we see The Continuum as the next best thing on the market.
Now that we've seen comparable new launches in the area, let's look at some comparable resale projects around. For this, we'll look at freehold developments in D15 above 300 units.
Comparable Resale Projects
| | | | |
| --- | --- | --- | --- |
| Projects | Built Year | Average of Unit Price ($ PSF) | Volume (Oct 22 – Apr 23) |
| OCEAN PARK | 1984 | $1,682 | 4 |
| EASTERN LAGOON | 1985 | $1,617 | 3 |
| THE WATERSIDE | 1992 | $1,797 | 6 |
| THE MAKENA | 1998 | $1,878 | 6 |
| HAIG COURT | 2004 | $1,791 | 2 |
| THE ESTA | 2008 | $2,090 | 4 |
| THE SEA VIEW | 2008 | $2,196 | 5 |
| ONE AMBER | 2010 | $2,116 | 6 |
| THE SEAFRONT ON MEYER | 2010 | $2,057 | 3 |
| FLAMINGO VALLEY | 2014 | $1,697 | 10 |
Over the past 6 months, these are the projects with at least 1 resale transaction and 300 units within the development.
The newest development ironically has one of the lower $PSF – Flamingo Valley. All 10 transactions were for floors 5 and below, and its location is not comparable to The Continuum given that it's not within walking distance to the MRT and sits on the northwest side of District 15. Regardless, it's got 10 transactions in the past 6 months – signalling a healthy volume. Considering it is freehold and its $PSF is quite attractive for a D15 project, Flamingo Valley is quite competitive here.
The next youngest projects are One Amber and The Seafront On Meyer. Both these projects are closer to The Continuum and would be about 17 years older than The Continuum when it TOPs!
If we average out The Continuum's lowest $PSF across all bedroom types, it comes up to $2,602. This is about a 23% premium over a development that's 17 years older. This is a pretty fair premium considering older developments come with their own set of issues such as maintenance costs, outdated facilities or layouts/sizes that may not be suitable.
Moreover, a closer look at their transactions reveals that most units are 1,259 sq ft to 1,701 sq ft. One of the transactions is for a 958 sq ft unit and its $PSF is already $2,390 (level 22) which is just around 8% shy of the lowest $PSF at The Continuum. This 2-bedroom unit went for $2.29M. By contrast, the smaller 2-bedder at The Continuum starts from $1.671M which puts The Continuum in a better light.
Next would be The Esta and The Sea View. Both would be 19 years older by the time The Continuum TOPs. They trade at a discount of around 20%. However, if you look at the transactions, you'll find that all of The Sea View's transactions were for units that are at least 1,410 sq ft in size. There is even one unit on the 13th floor that went for $2,320 ($3.82M) for a 1,647 sq ft unit. If we compare this to The Continuum's lowest 4-bedder $PSF of $2,613, it's just 11% cheaper.
Given these examples, we do see The Continuum to be quite fairly and attractively priced for a freehold condominium in D15. It's within 1KM of several popular schools in the east, is a large development with ample facilities, not too far from an MRT station and is priced fairly in today's context – especially when we compare it to existing new launches, the upcoming Dunman Grand, past new launch transactions and resale prices of comparable projects around.
To wrap up, at these prices and its freehold status, The Continuum is a fairly safe play for those looking at the medium to long-term horizon and is an attractive proposition for those looking at long-term growth/legacy planning while having a prized own stay freehold condo in D15. The large number of landed homes in the east would also see resale demand from those looking to move from their landed home to one that's smaller – but still, a safe asset to pass on to their children.
The Continuum Appreciation Analysis
Paya Lebar Central Commercial Centre
While The Continuum is located in D15, it is close to the boundary and near Paya Lebar in D14. This area has undergone significant transformation over the last decade. I recall studying in the McDonald's at the old SingPost centre while schooling, and that was the only mall here back then, which was sparse, to begin with. Now, there are 3 shopping centres and very significant Grade A office space available. Many MNCs have offices at PLQ, including Bayer, JLL, Roche and Great Eastern. The continued demand for office space at Paya Lebar will help to boost demand for housing in close vicinity, which may be helpful from both a rental yield and price support perspective.
Established D15 neighbourhood with MRT connectivity
You can't call yourself a Singaporean if you haven't heard of this phrase – "East side, best side". And you can feel free to disagree with me, but D15 is the crown jewel of the East. My friends who live here want to continue living here, and friends who don't live here want to live here. I'm partial to D15, having grown up and attended schools here. The combination of good schools, good food, proximity to the seaside, and the CBD in a culturally rich neighbourhood means the district's offering will remain attractive for some time to come. The upcoming Thomson East Coast Line will only help to cement D15's position, although you can argue that The Continuum is not exactly a beneficiary of this. While these are not appreciation factors per se, its established reputation among Singapore buyers means that it is unlikely to lose its shine in the coming years.
What we like
2 sky gardens, a conserved bungalow and plentiful facilities

Good schools, good food and good overall accessibility

Near many renowned institutions

Option of choosing between standard and premium units for 3 Bedrooms and above
What we don't like
–

Accessing facilities on "the other side" may be a hassle for some

–

Not the closest to the MRT with most parts of the walk unsheltered
Our Take
The Continuum seeks to continue a legacy (if you haven't got it yet, hence the name) – one that honours Wee Thiam Siew's family by retaining 1 of the existing bungalows and one that honours the heritage of the Tanjong Katong precinct. All of these would not truly be a legacy without its Freehold title, one that allows the property to be passed from generation to generation.
The Continuum is an interesting product and can be described somewhat as 2 separate condos which share common facilities, including 2 sky gardens, and swimming pools on both sides. So while 816 units may sound a lot to some, it would seem less crowded given you have enough facilities on either end so it's really more like living in a development with 400 units.
To me, the through road is a unique aspect that is more of an advantage than a disadvantage (it gets people talking and remembering the development), especially so given that both sides have been well catered for. Although, some people may find that it takes time to get used to, and it may be inconvenient getting from one side to the other in more temperamental weather.
There clearly has been good thought given to the facilities of the development. The little details such as the conservation of 21 Thiam Siew to be a clubhouse, having facilities that suit its nature (library, and private dining), to a more modern clubhouse that still caters to the younger crowd.
I also do like that there are varied dining facilities, which look to be of good quality and will be useful, especially for the smaller units.
Hoi Hup also has clearly used their earlier projects such as Ki Residences to good effect, and has taken what was good and worked well there to create the product at The Continuum.
Most floor plans were well-planned and efficient, and I do like the flexibility of being able to knock down certain walls to create a home that would be more well-suited for my lifestyle.
What I also appreciate is the condo's accessibility to good and affordable food, reputable schools and proximity to many parts of town. Of course, the latter point works best if you drive as the walking distance to either Dakota or Paya Lebar MRT is not the shortest and is unsheltered for the most part, which is probably its weakest point.
Ultimately, the pricing is still key here given the current environment, especially on the back of Tembusu Grand's launch and Grand Dunman's impending launch.
What this means for you
You might like The Continuum:
Enjoy the option of standard and premium units:

The Continuum gives you the choice of going for either 'entry level' or 'premium' units depending on your budget – in a relative sense, there's something for everyone

Appreciate sky gardens and conserved elements:

The Continuum is probably the only development in the vicinity to have a sky garden – it has 2 in fact, allowing all residents views of the neighbourhood. Additionally, you also have a conserved bungalow which is always a nice nostalgic touch.
You may not like The Continuum:
Can't get used to 2 separate sites in the same condo:

The truth is having a road cut through your development might take a little getting used to

Require a development that is close to the MRT:

It's around 10 mins to Dakota and 12 mins to Paya Lebar so this may not be the #1 choice for owner occupiers and tenants.
End of Review
Join our Telegram group for instant notifications
Join Now
Matt K