Condo Reviews

The Claymore Review: Big Units, Lavish Space In Orchard
Reuben
February 9, 2020

16

min read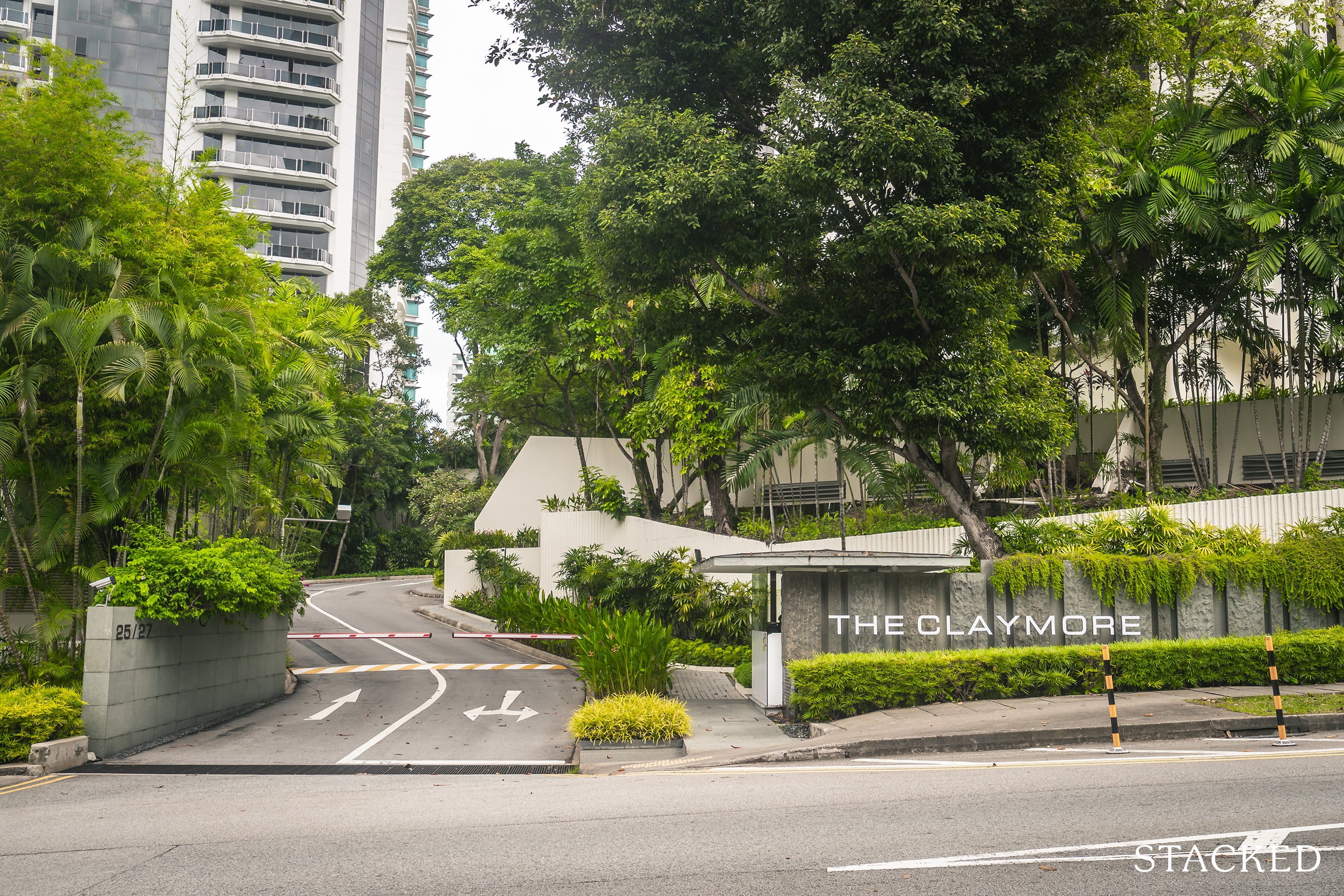 The Claymore represents a great opportunity to own a large condo unit in a very central location. However, with its large quantum comes a higher price for those who are seeking something more "affordable" in the area.
Reviewed by Reuben on February 09, 2020
What we like
Big land

Exclusive feel

Central but slightly private location

Well-maintained
16
min read
| | | | |
| --- | --- | --- | --- |
| Project | The Claymore | District | 09 |
| Address | Claymore Road | Tenure | Freehold |
| Site Area | 246,111 sqft | No. of Units | 146 |
| Developer | Tokyo Land Corporation Singapore Pte Ltd | TOP | 1985 |
The Claymore is probably one of the closest condos you will find (to date), situated right next to the glitzy Orchard Road Shopping Belt.
Perhaps more interestingly however, is the fact that it happens to be the oldest private residential development in its immediate vicinity.
And while we haven't made it a habit to review many of the older condos, The Claymore certainly packs a unique punch that seemingly gets stronger as it ages (much like fine wine if you will).
With just over a 100 units here spread across 200,000+ square feet of land, you'll soon understand why this is the case.
Yes, it might come off as a little 'aged' or possibly even outdated in design when compared to other New Launch central luxury abodes popping up in central Singapore.
But there has to be a reason why a 2,680 square foot unit that was bought here in 1995 for $1,380 psf is now going for nearly twice its price in 2020 (that's a 100% appreciation rate).
Economical/Property market inflation and Orchard Road revamps aside, the reason why this freehold extravaganza shows no sign of depreciating anytime is really due to its incredible location, which further adds to its redevelopment potential.
Now before we get too deep into that, let's put all that money talk aside for a second and take a brief, but nostalgic walk down memory's lane.
The Claymore Insider Tour
Facilities in The Claymore

| | | |
| --- | --- | --- |
| Barbeque Area | Basement car park | Gymnasium room |
| Playground | Putting Green | 24 hours security |
| Squash court | Swimming pool | Tennis courts |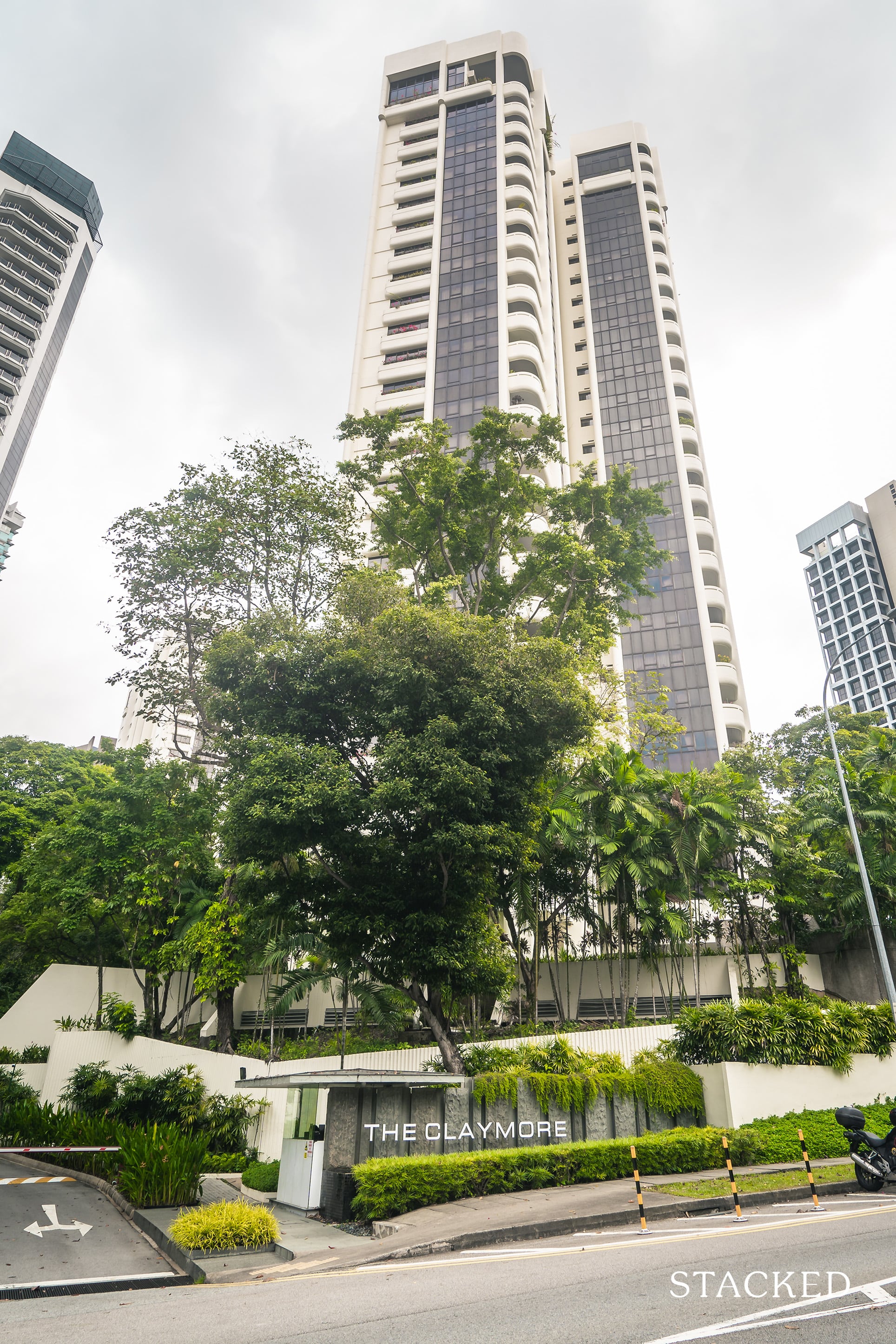 The entrance to the Claymore is what I would call understated luxury. I'm sure many people have walked by this road to Shaw not knowing what really lies behind it.
It does look quite modern, which is a bit of a mismatch from the actual blocks itself (it was actually built in 1985). On a less positive note, the guardhouse is next to the exiting road rather than the entrance road itself. This makes it very inconvenient for both visitors and the security as the guard has to cross the road every time there is a visitor – it's really perplexing.
There is also only one road in at this entrance, so residents might have to face a wait to get in during the usual security checks for visitors. Thankfully, there is another entrance along Draycott Drive to help.
It's a long winding drive into the two main blocks itself.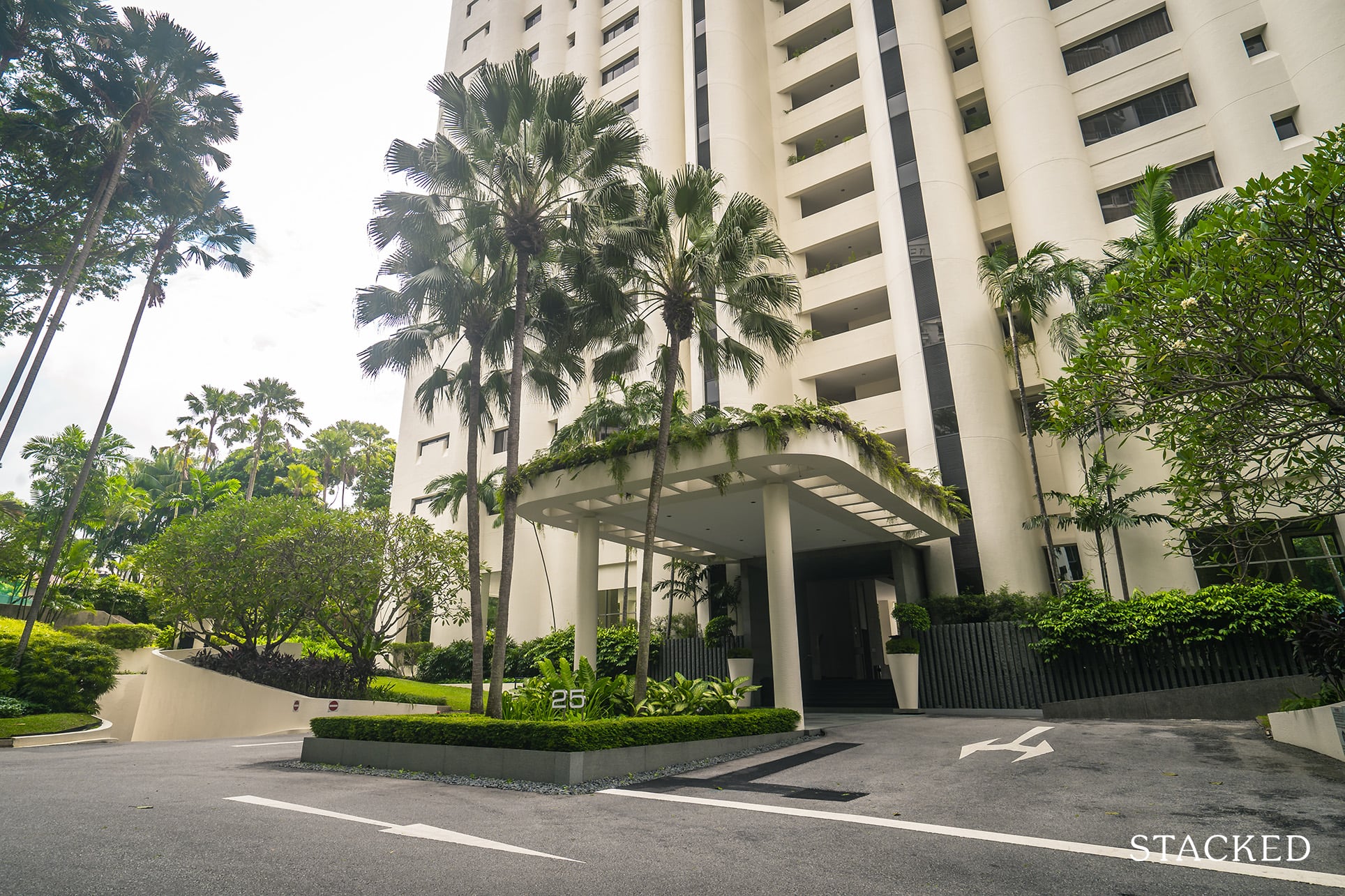 There are only two blocks at the Claymore, with a total of 145 units. The best part? They are faced really far apart so aside from your immediate neighbours (The Tate Residences, 7 Draycott), you will never face the issue of your neighbours being able to look into your apartment.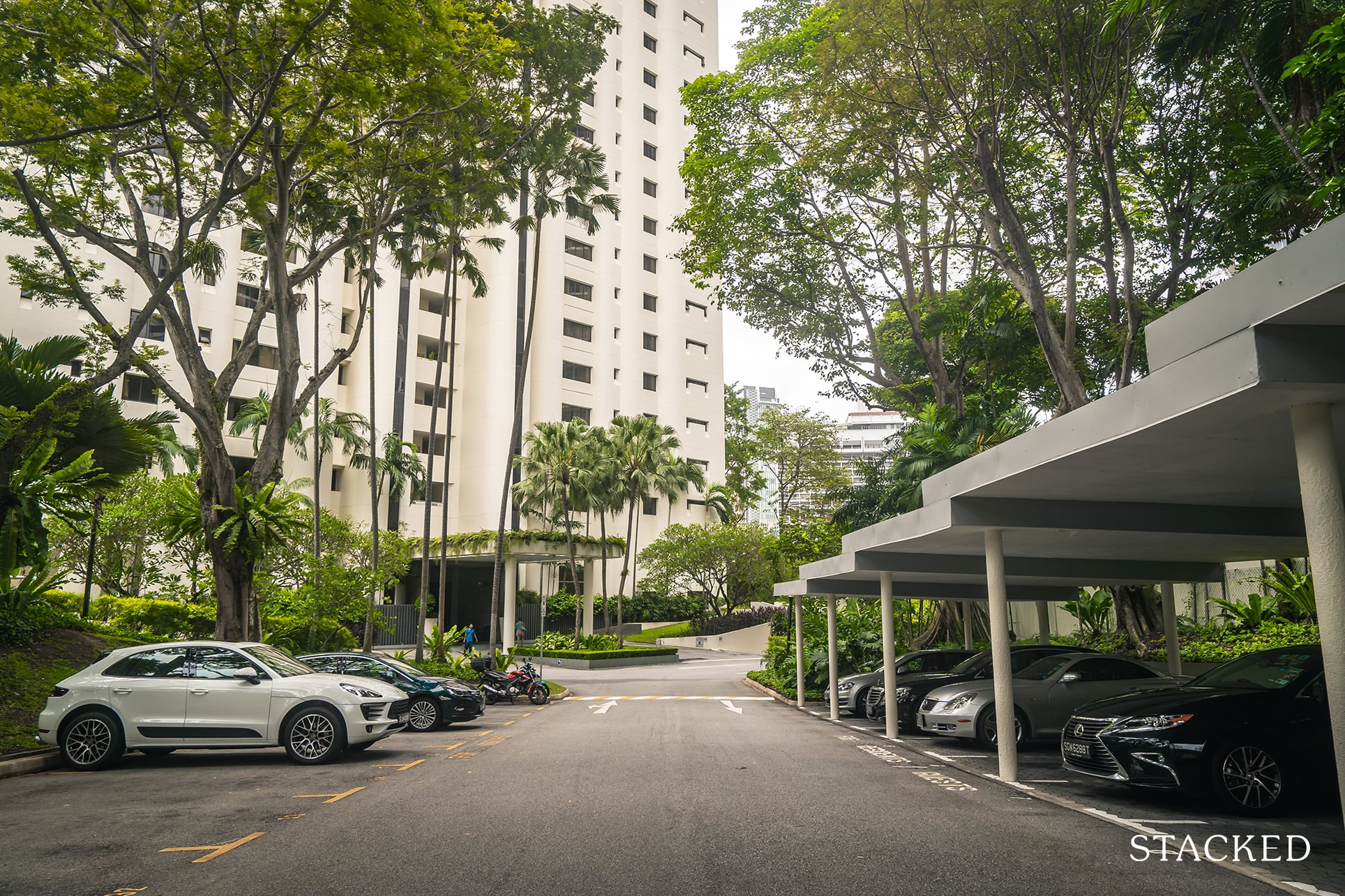 It's really only when you are right inside that you realise how big the land actually is. At 246,111 square feet, it is positively ginormous especially if you take into account it has only relatively few units. You might think that I am overemphasising on the land size here, but in a high-end spot in Orchard to have abundant land like this is something that is truly rare.
Even if I didn't reveal the completion date earlier, you'd be able to estimate its age based on these old school outdoor carpark lots. Thankfully, residents have a basement carpark at each of their respective blocks.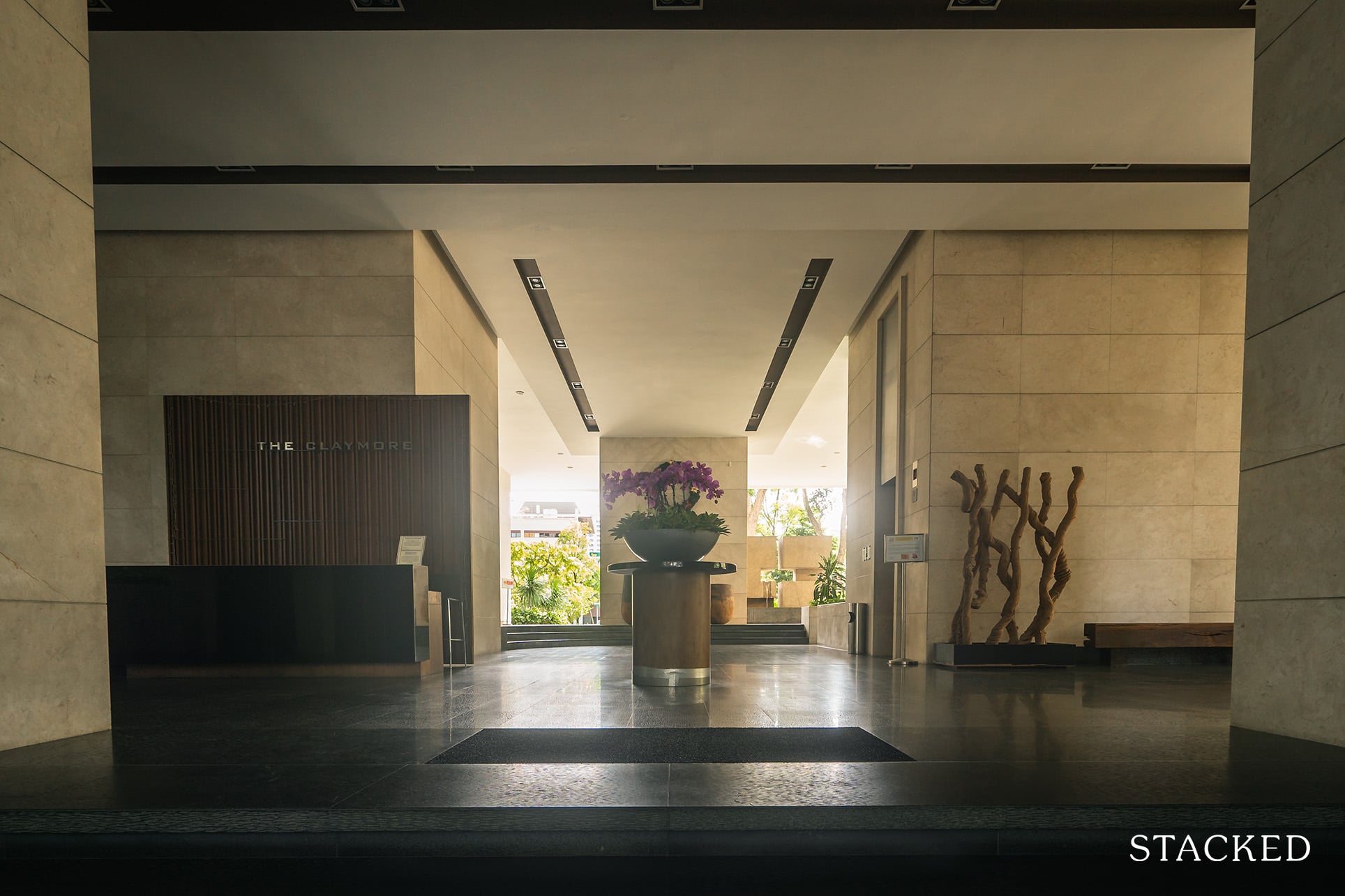 It's probably a stretch to say that the lobby area is a luxurious one. For those who are looking for something more current, with modern-day luxuries like air-conditioning will likely want to look elsewhere. That said, it is remarkably well maintained for a place that is now 35 years old.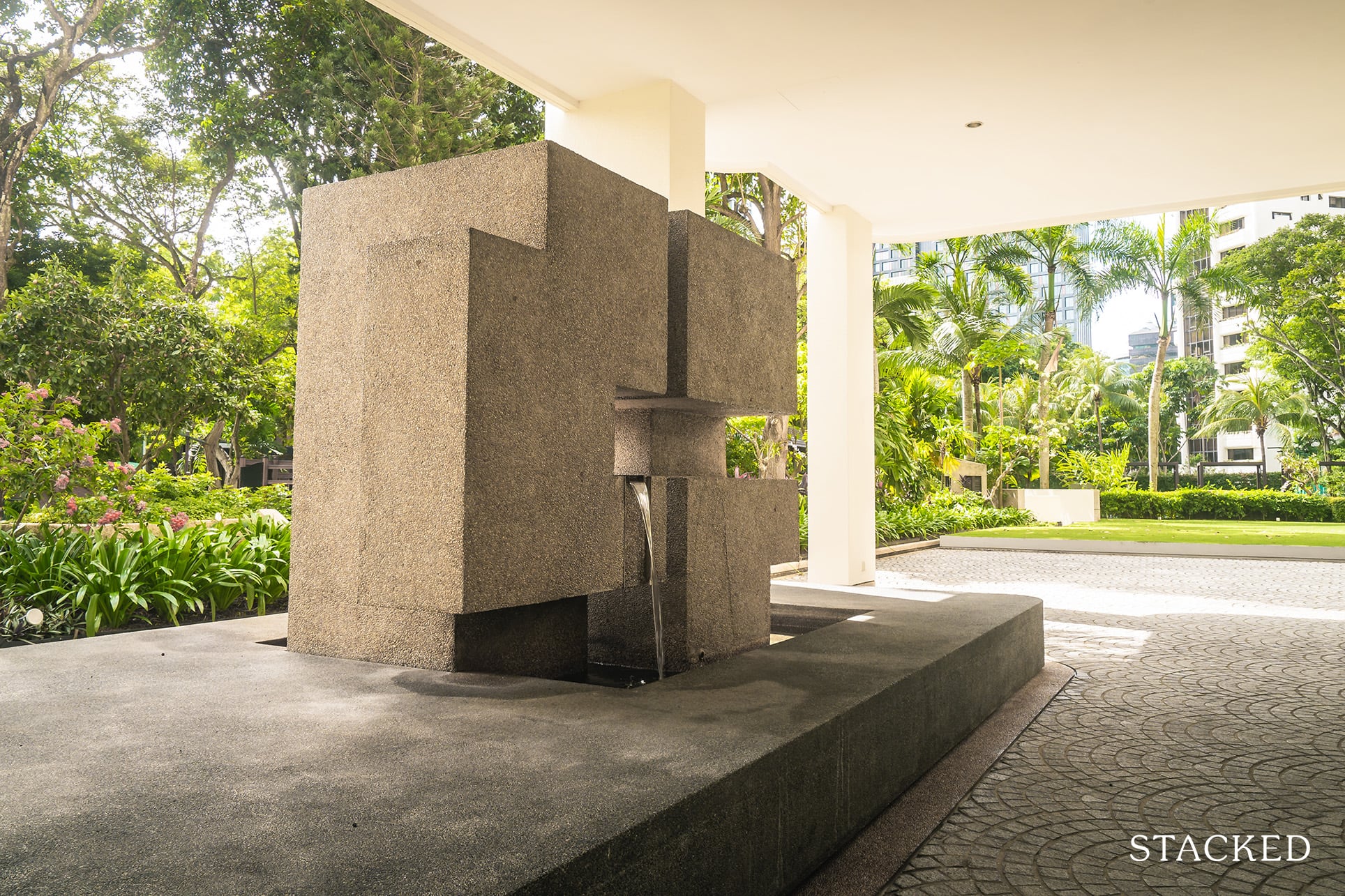 Amidst the lobby, you'll find a blocky looking water fountain – it's the kind of design that was probably popular back in the 80s, but I wouldn't say that it has stood the test of time well. Another hint would be the semi-circular tiles on the floor (remember the old Marina Square?). I'm not opposed to it by any means, but it is these small design details that give away the age of the place.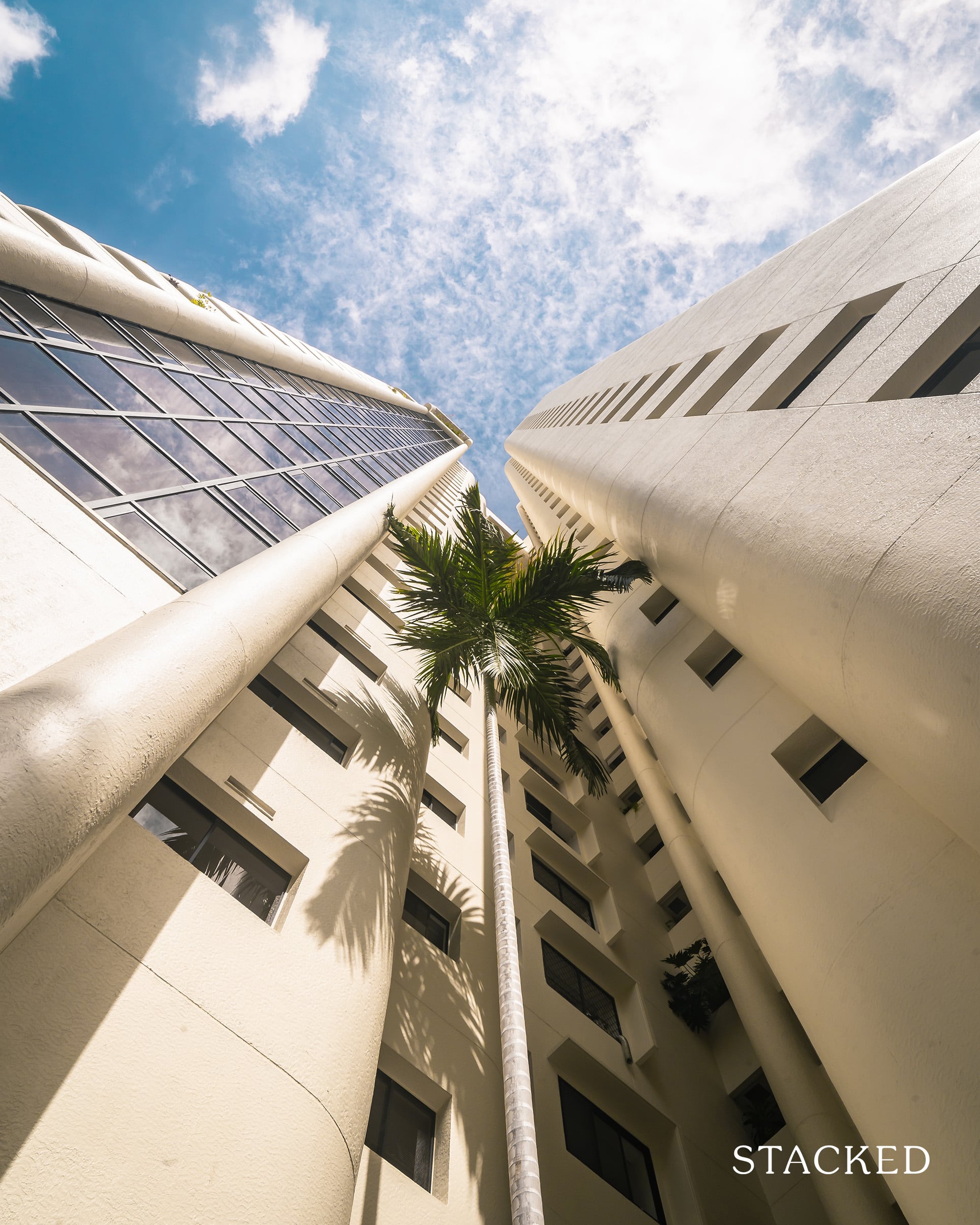 As a result, you'd find that this antiquated design will probably put off a lot of buyers (along with the price tag). Again, it's not totally a bad thing, it just limits the number of potential buyers. Make no mistake though, those in the know are well aware of the value of the land here. There's a reason why prices have been going up despite how old the development is. For those who prioritise modernity over everything else, the Claymore is very surely not for you.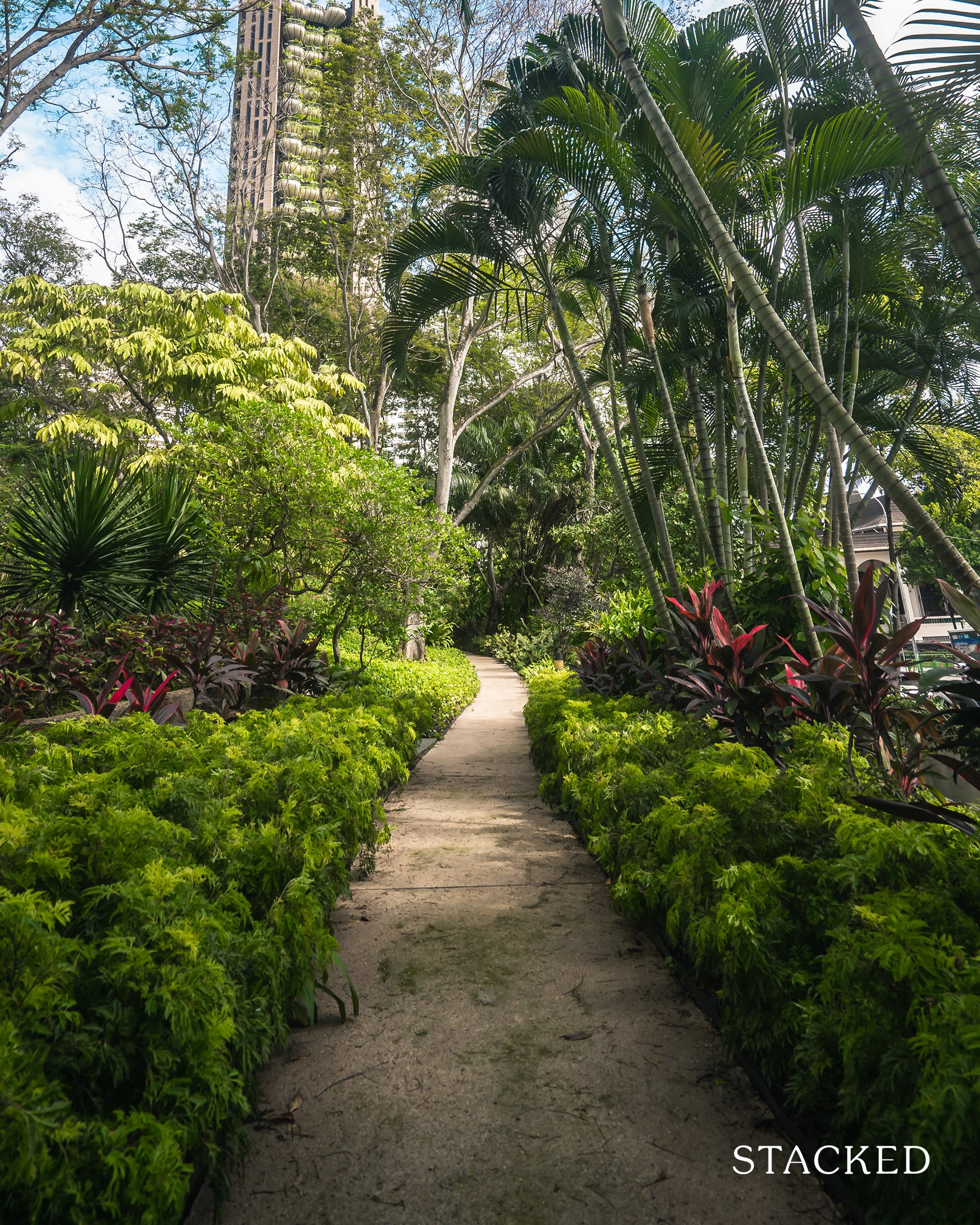 Let's move back along to the strongest suit of the Claymore – the land. Admittedly, this isn't the biggest piece of land in that area. That distinction actually belongs to the grand dame, Ardmore Park. I do prefer the location of the Claymore though, it's closer to amenities yet still retains its privacy well.
This pathway snakes around the back of the development and from here you can see how lush and thick the greenery is. It really provides quite a comprehensive cover from prying eyes on the outside.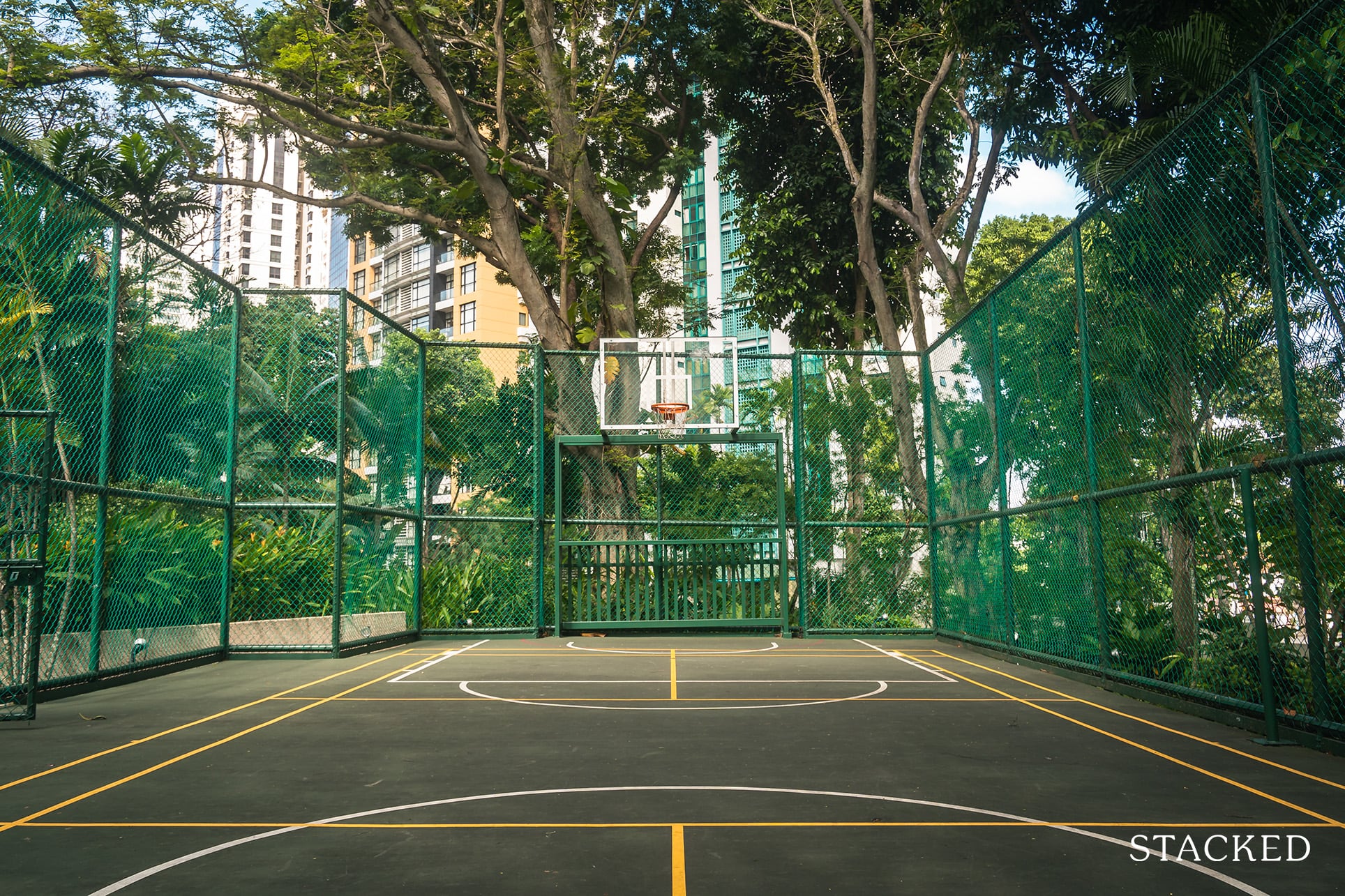 Close to the second entrance at the end is a multi-purpose court, which looks to be in immaculate condition. You get the best of both worlds here, with basketball hoops as well as goalposts.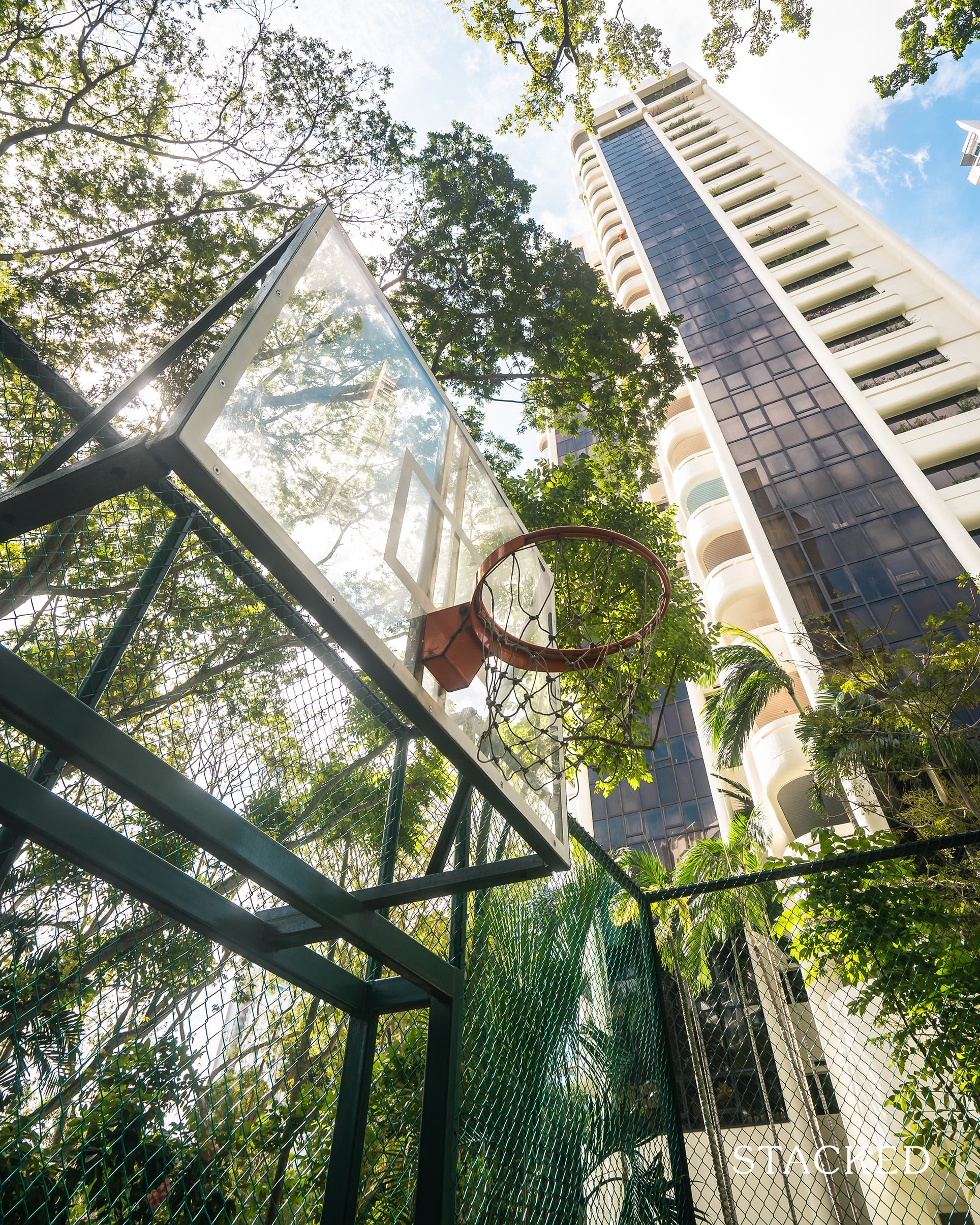 It's either the court is barely used, or everything at the Claymore is maintained to a very high standard. Judging from everything I've seen thus far, I'm inclined to believe it's the latter.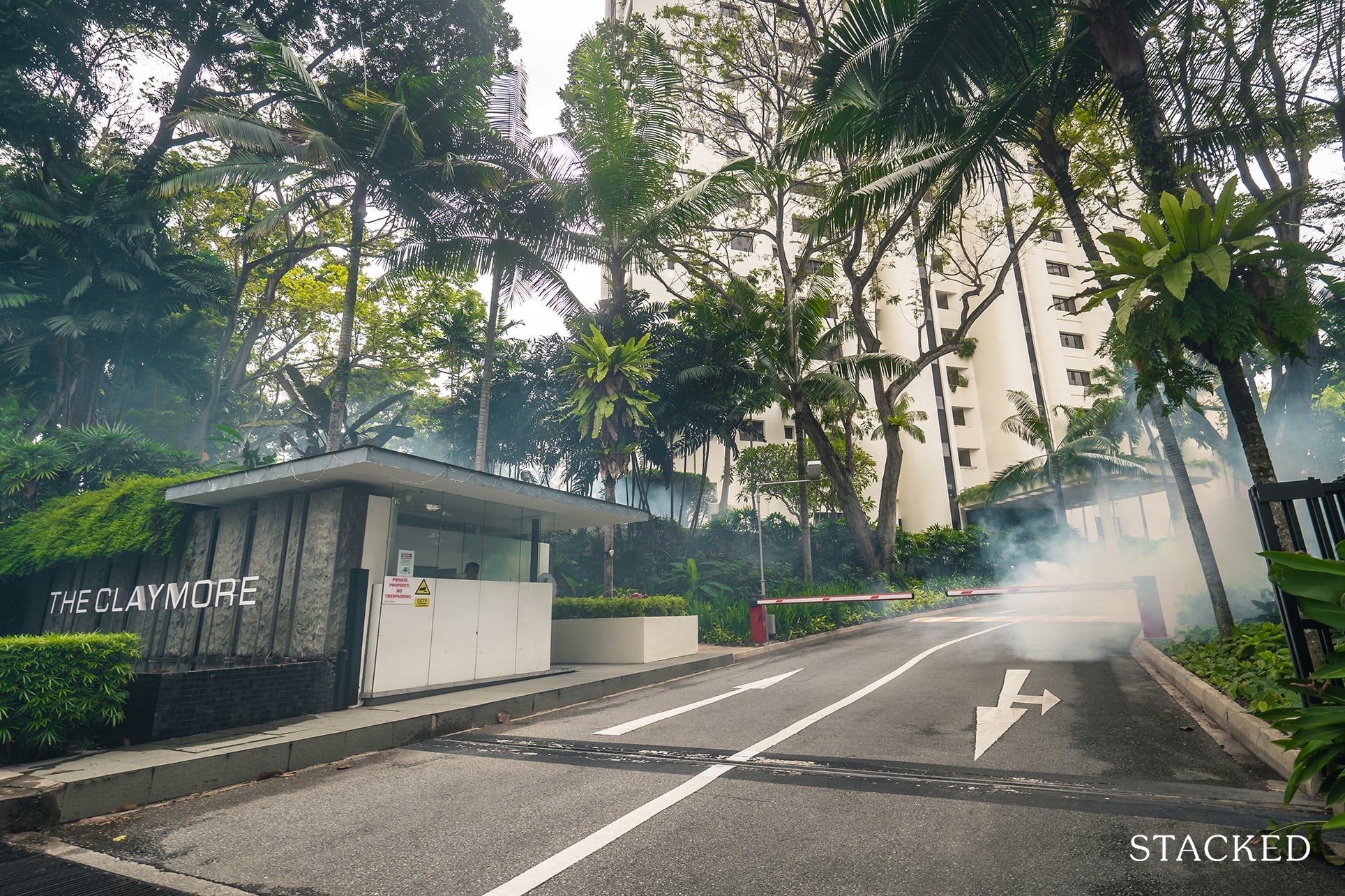 Close to Block 27 is the second entrance along Draycott Drive. You'll have to pardon the smoke, it just so happened to be fumigation day.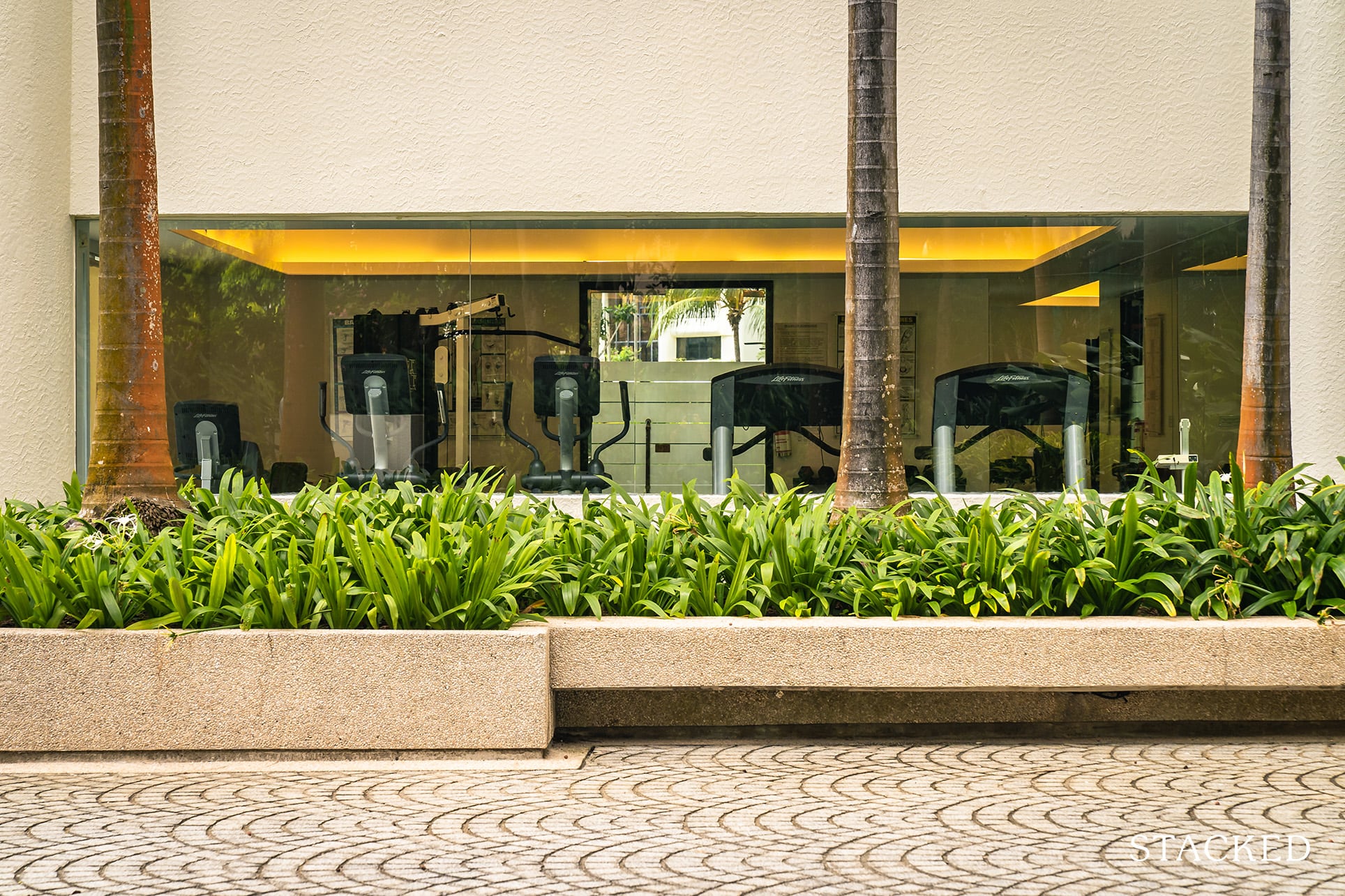 Block 27 also houses the gym – so those who live in the next block will have to make the trek over. It doesn't offer the greatest view either, so no inspiring views for you while you workout!
The gym is actually decently equipped for the number of units there are in the development. On the other hand, it's a pity that more real estate wasn't dedicated to it given the amount of space available. It's not a big deal at the end of the day because for serious gym-goers, there are plentiful options for a full-sized gym in the nearby vicinity.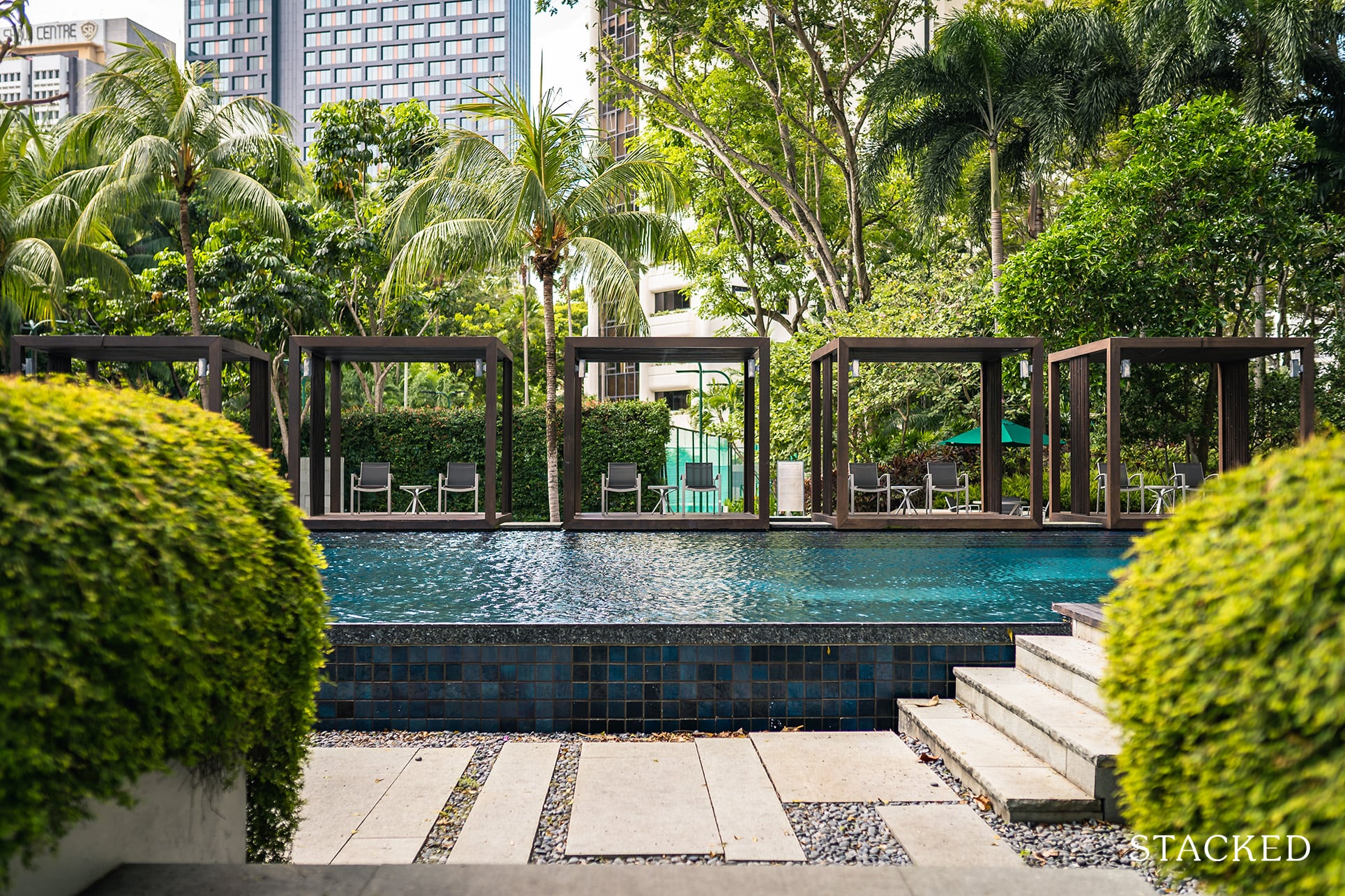 Let's move onto the pool, one of the real surprises of the Claymore.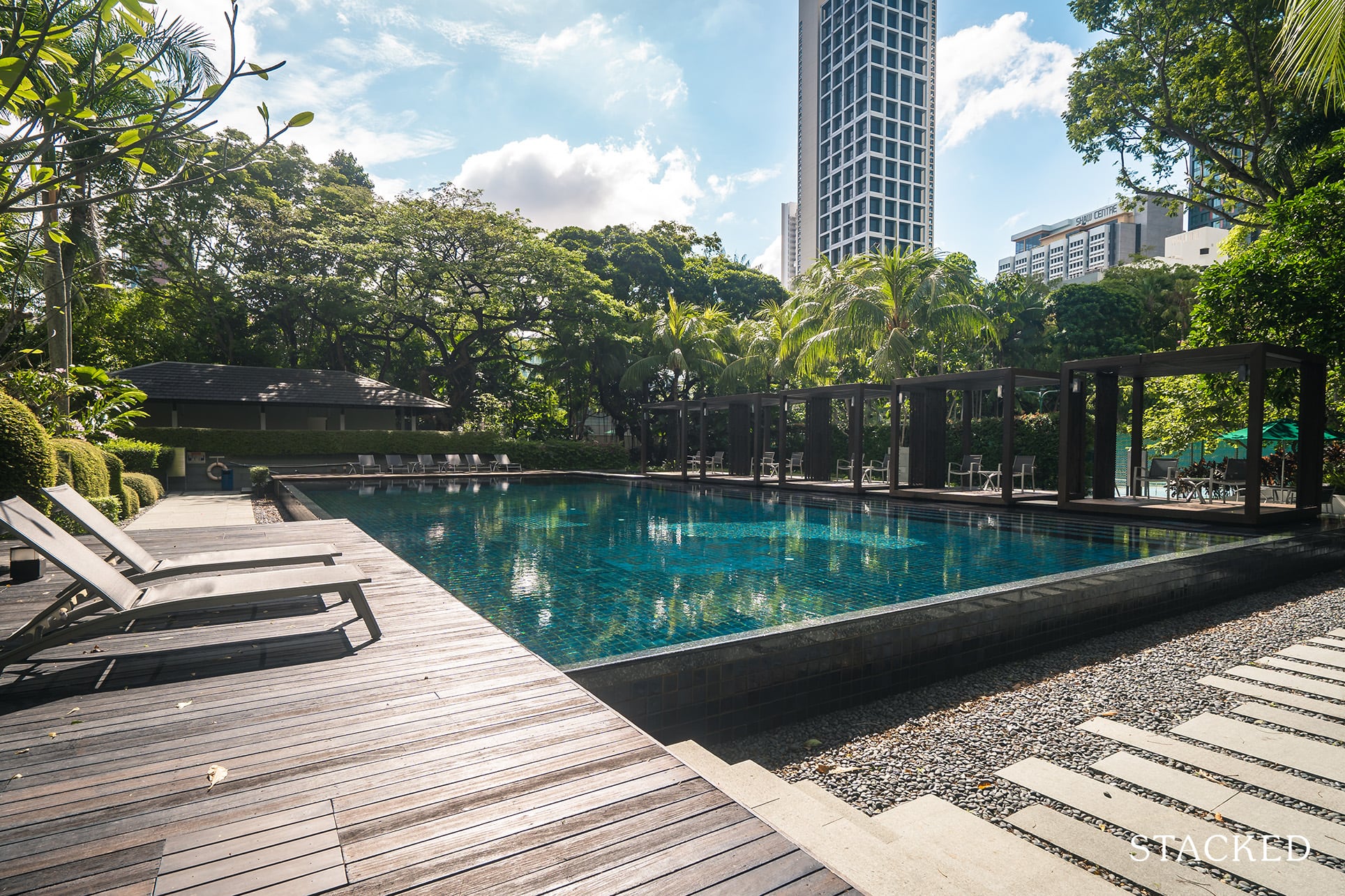 Given the out of fashion look of the main blocks, I'm sure most of you reading would not have high hopes of the swimming pool.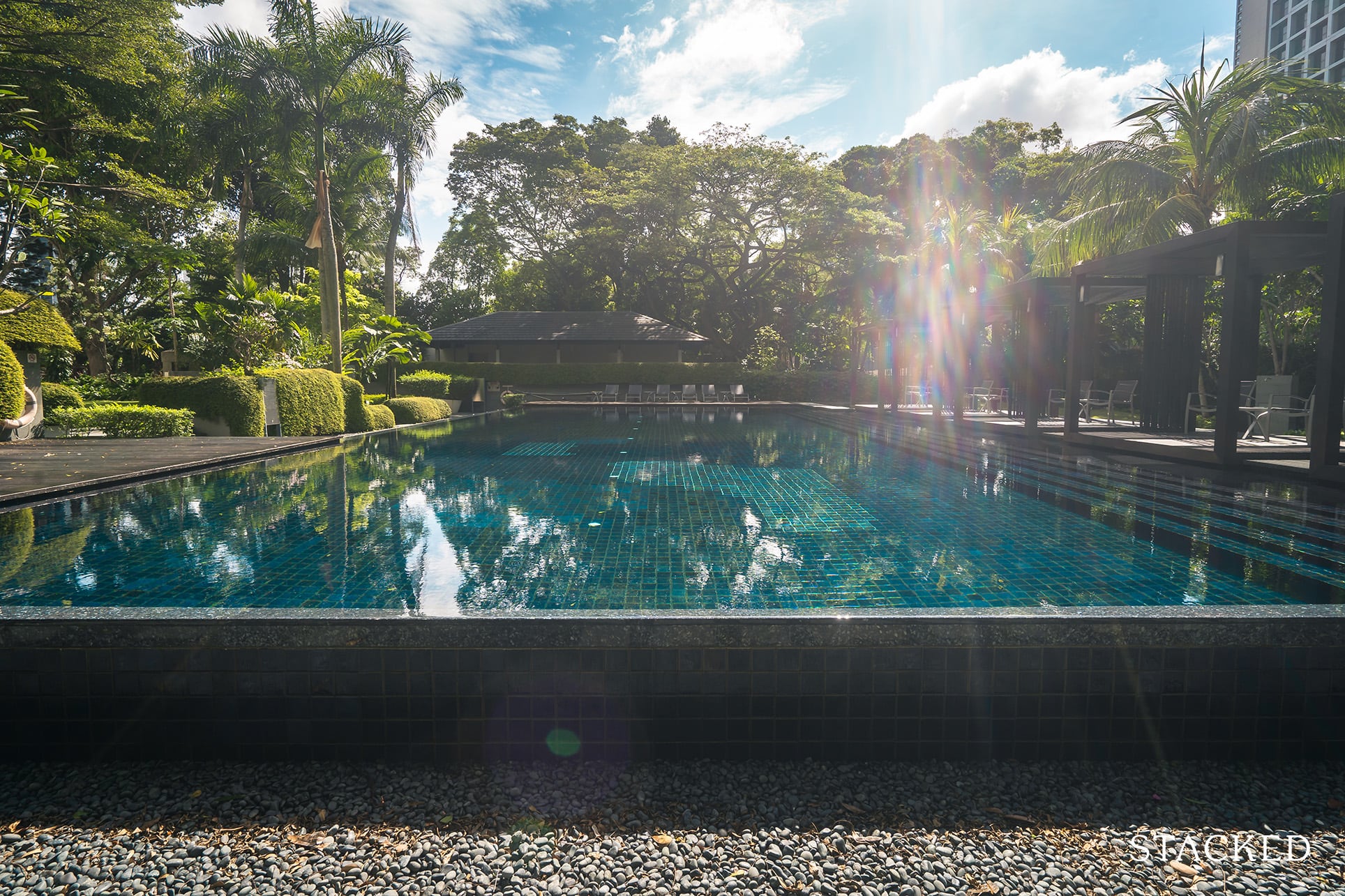 I'll be honest, I had the exact same reservations. But those thoughts were instantly put to rest when I first saw the pool. To say I was pleasantly surprised would be an understatement – the pool was modern, serene, and on a hot day such as this, looked extremely inviting.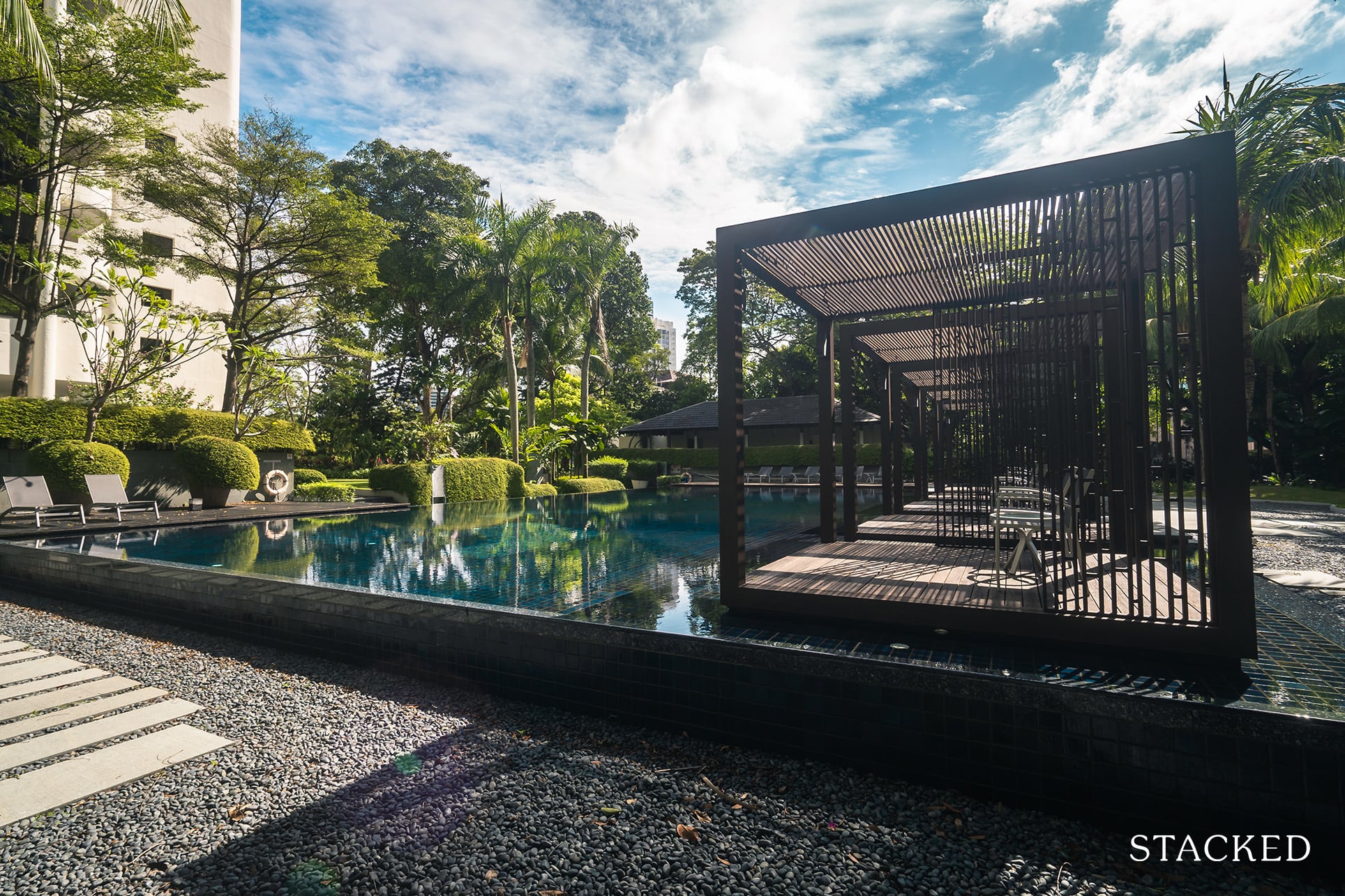 If I had to put forth a complaint, I would say that the pool itself isn't exactly very big. There also isn't a dedicated kids pool so you can expect to have some noise here on the weekends.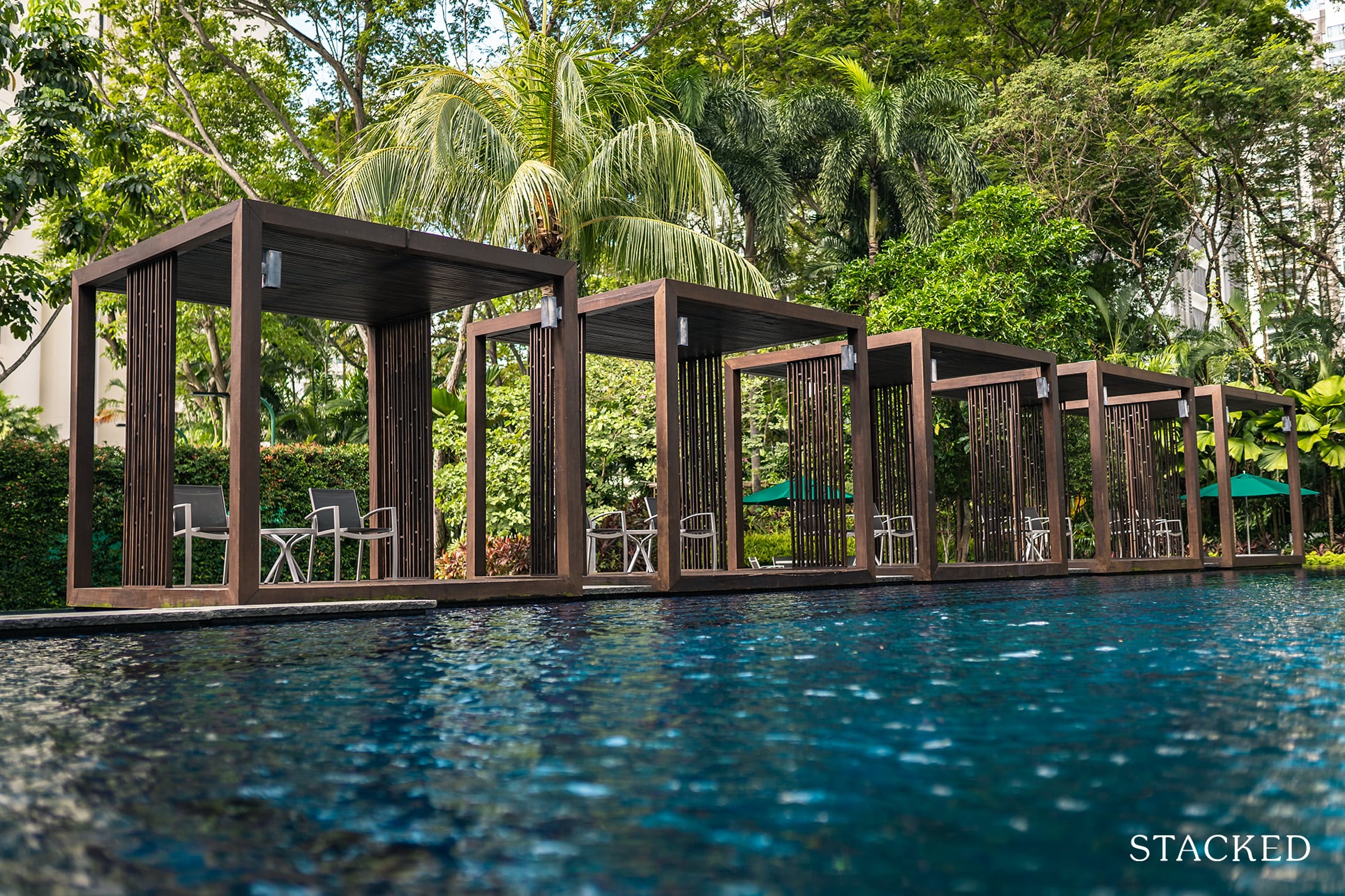 The wooden cabanas on the side are a really nice touch though – they really complete the calm ambiance of the place.
There is ample seating at the decks, but the comfy cabanas at Leedon Residence would have been much preferred here.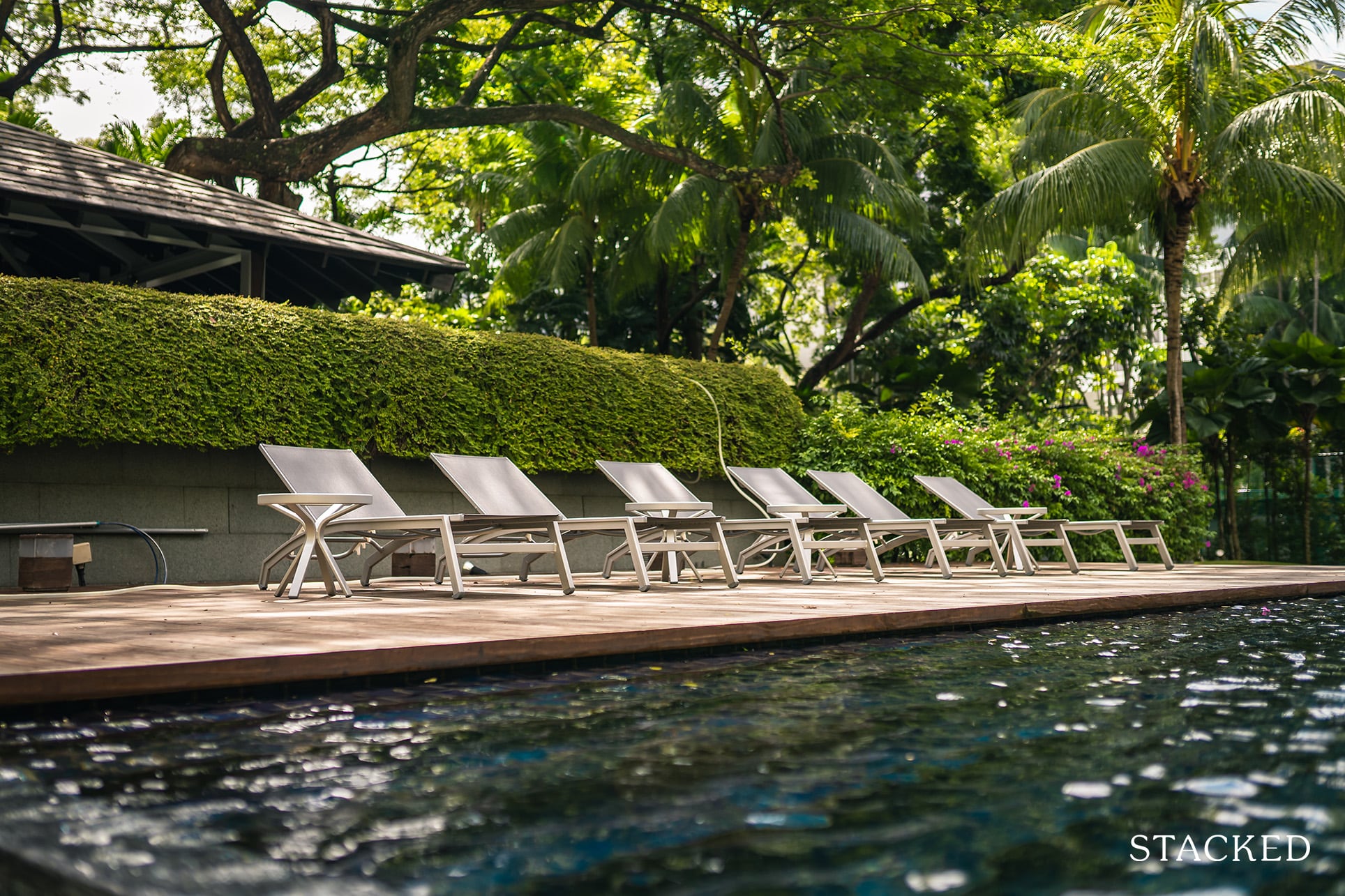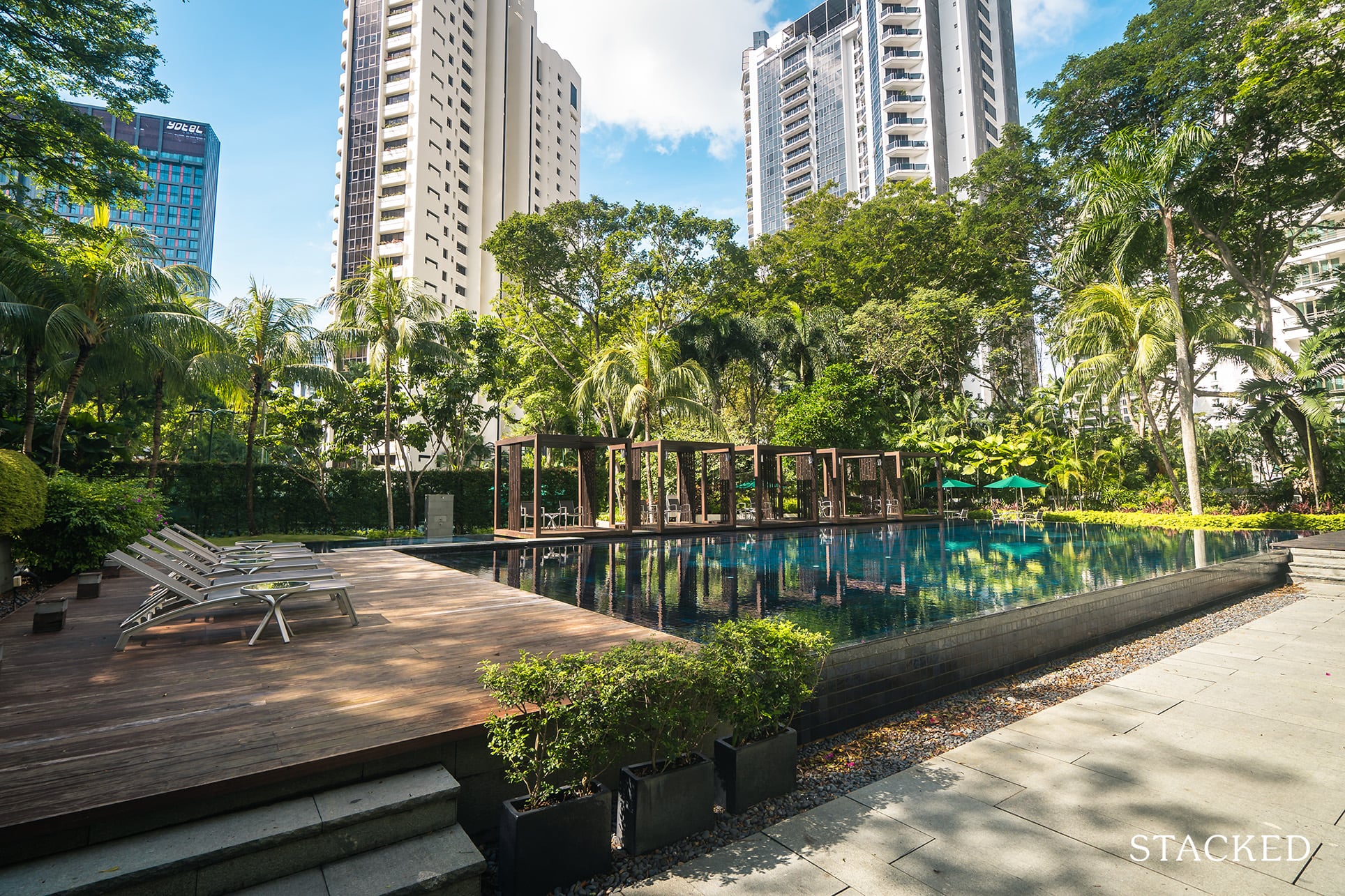 The surroundings are a real plus too, it's really open and quite the oasis in the middle of town.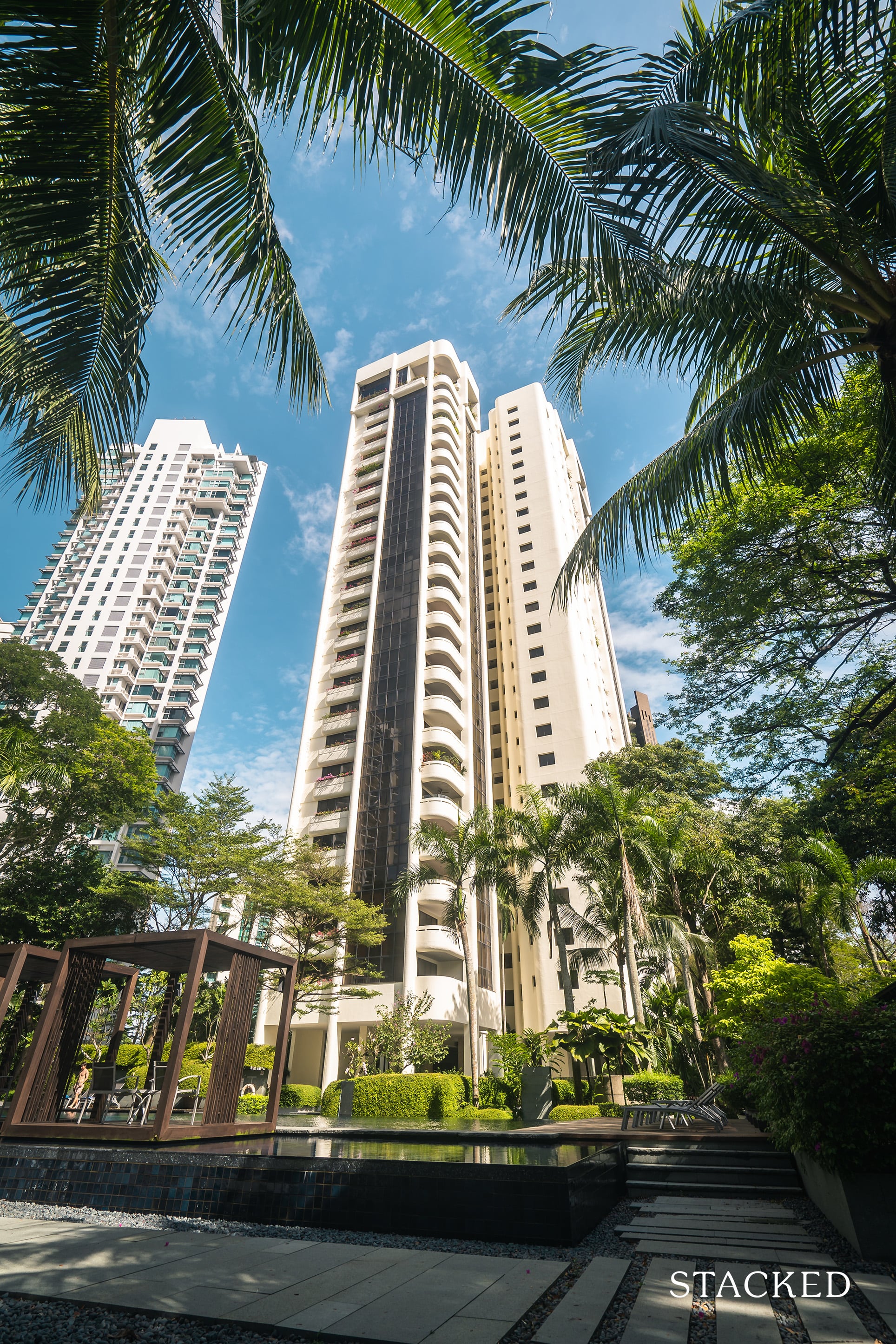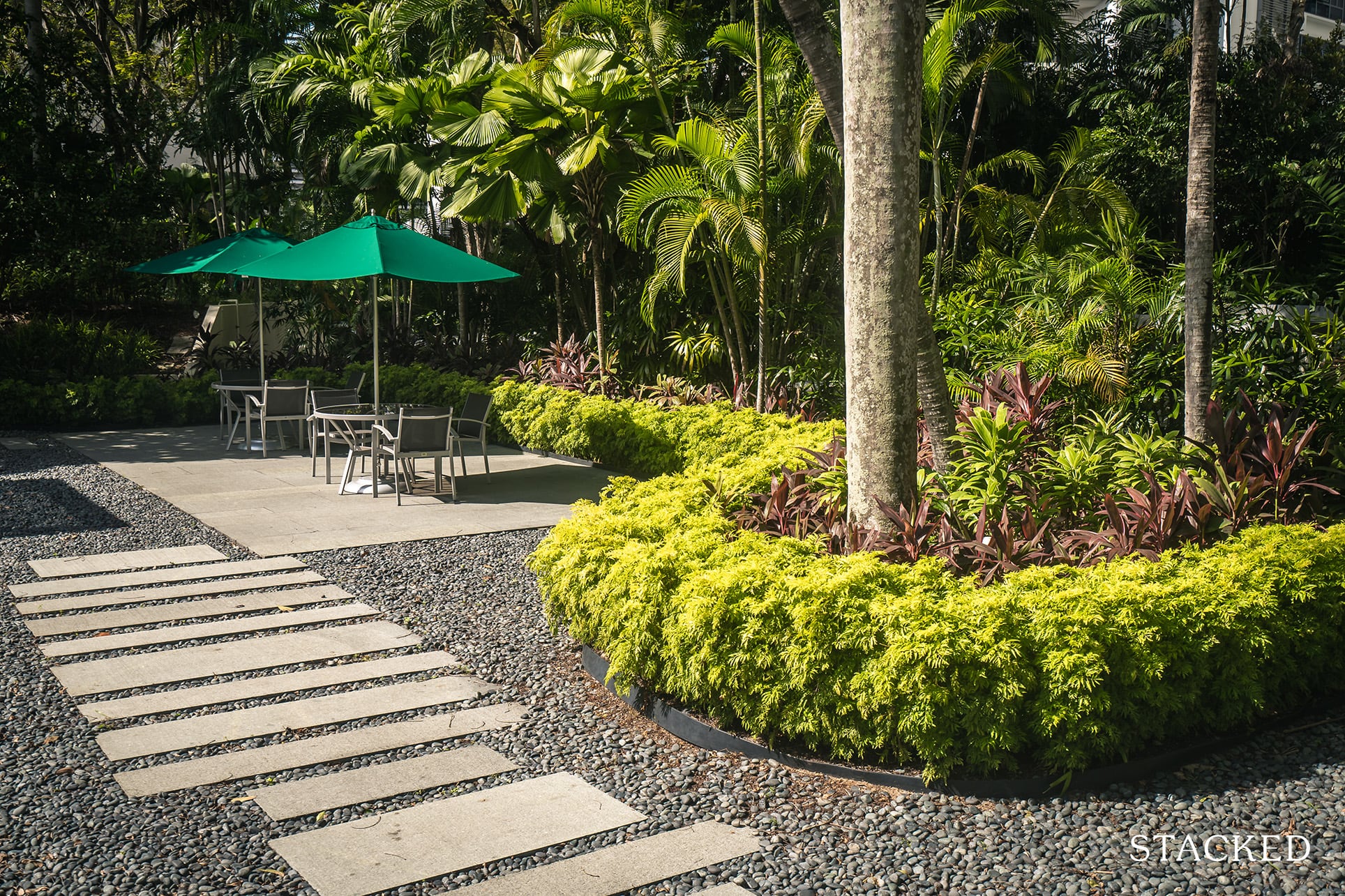 Not the most stylish umbrella seatings around, but at the very least there is abundant seating by the pool.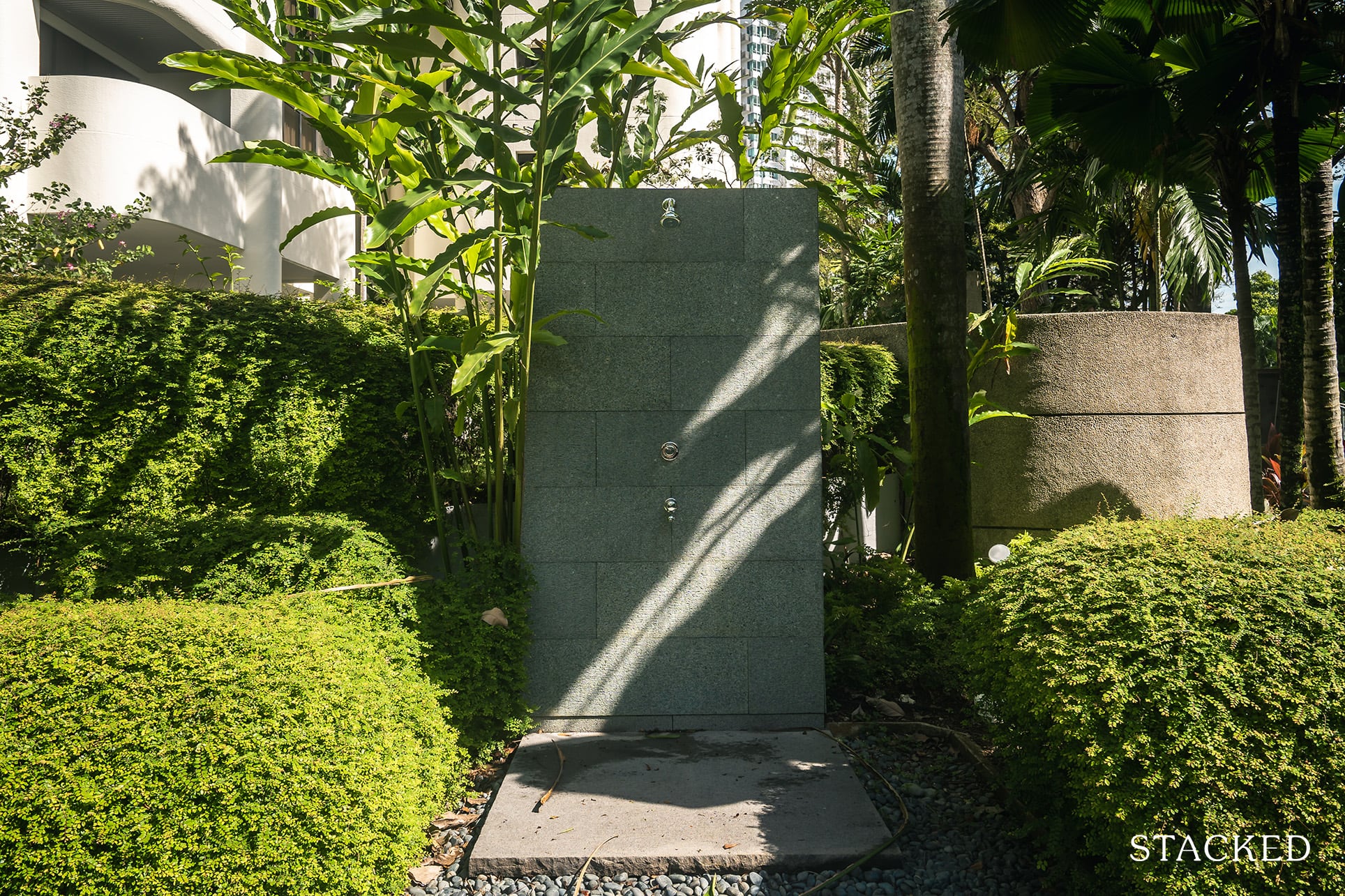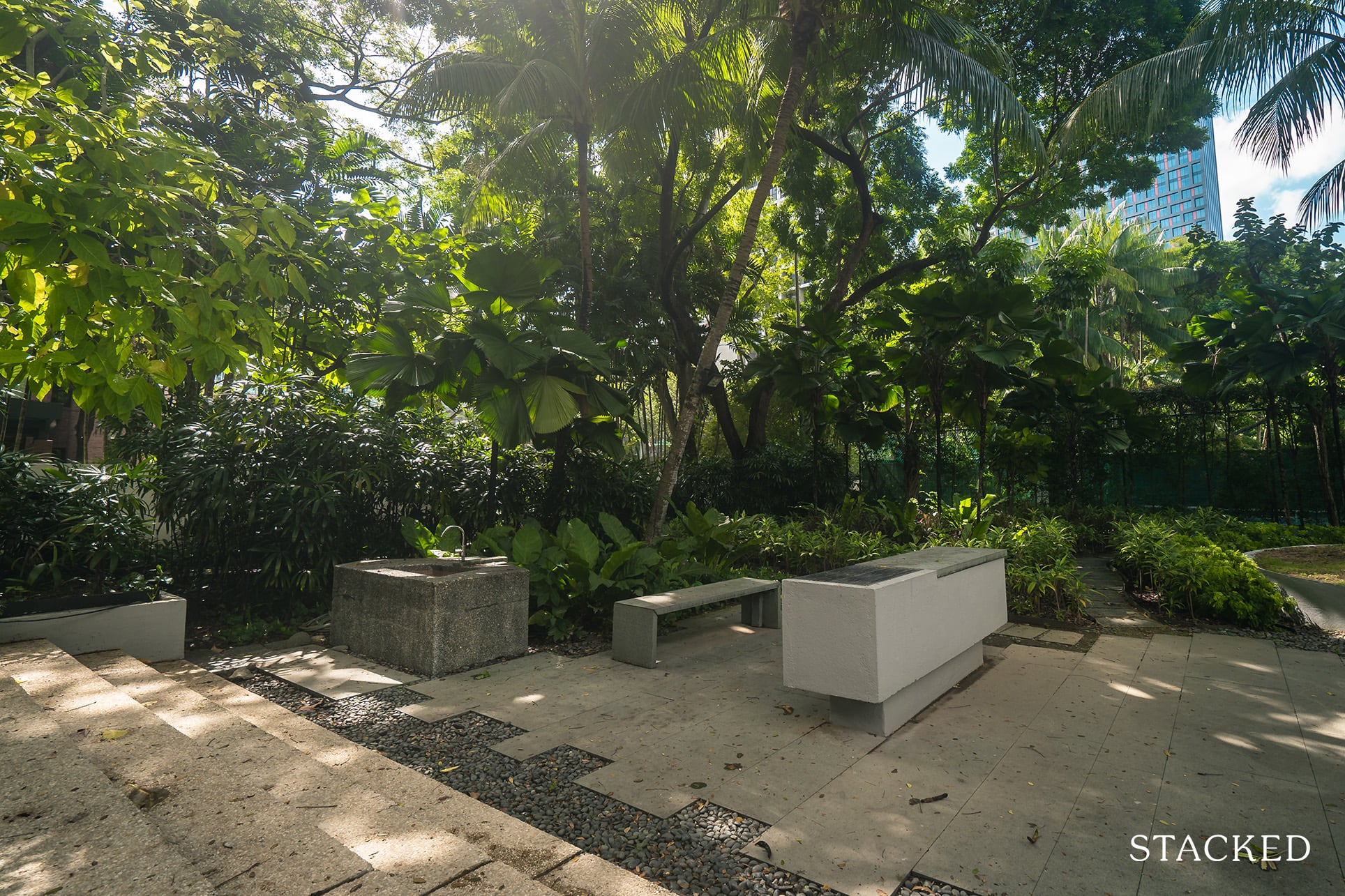 Close to the pool is the barbecue area. There isn't a physical shelter although the bountiful greenery does help provide some respite from the sun. On rainy days, however, you'll be completely left at the mercy of the elements. Not the best barbecue spot in town that's for sure.
You might have noticed the lack of seating here…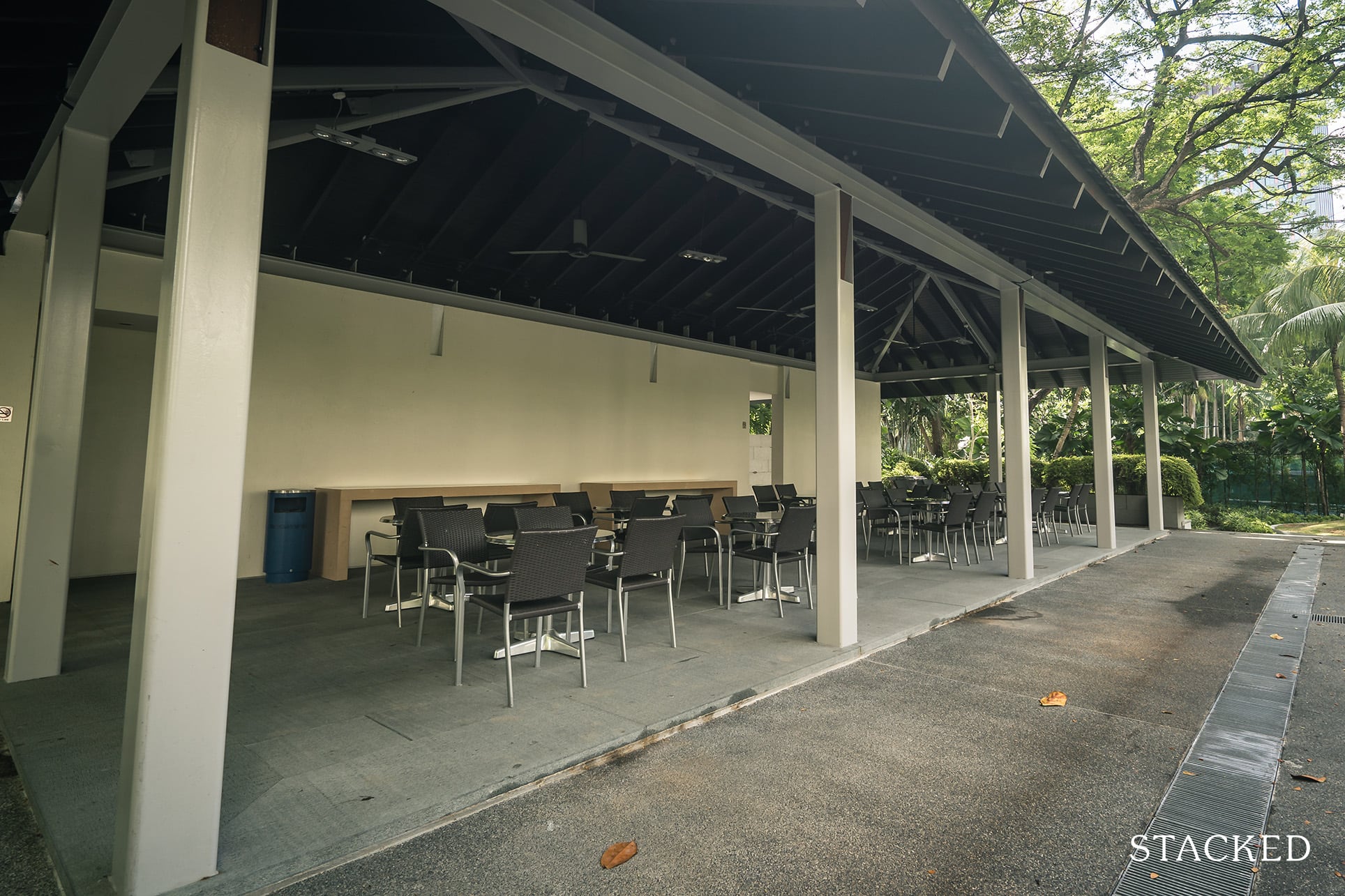 It's actually all concentrated at this open-aired structure. There is a lot of seating, but that is really where the positives end. To put it kindly, it's not the most appealing looking area and one of the few blemishes on what has been very promising so far.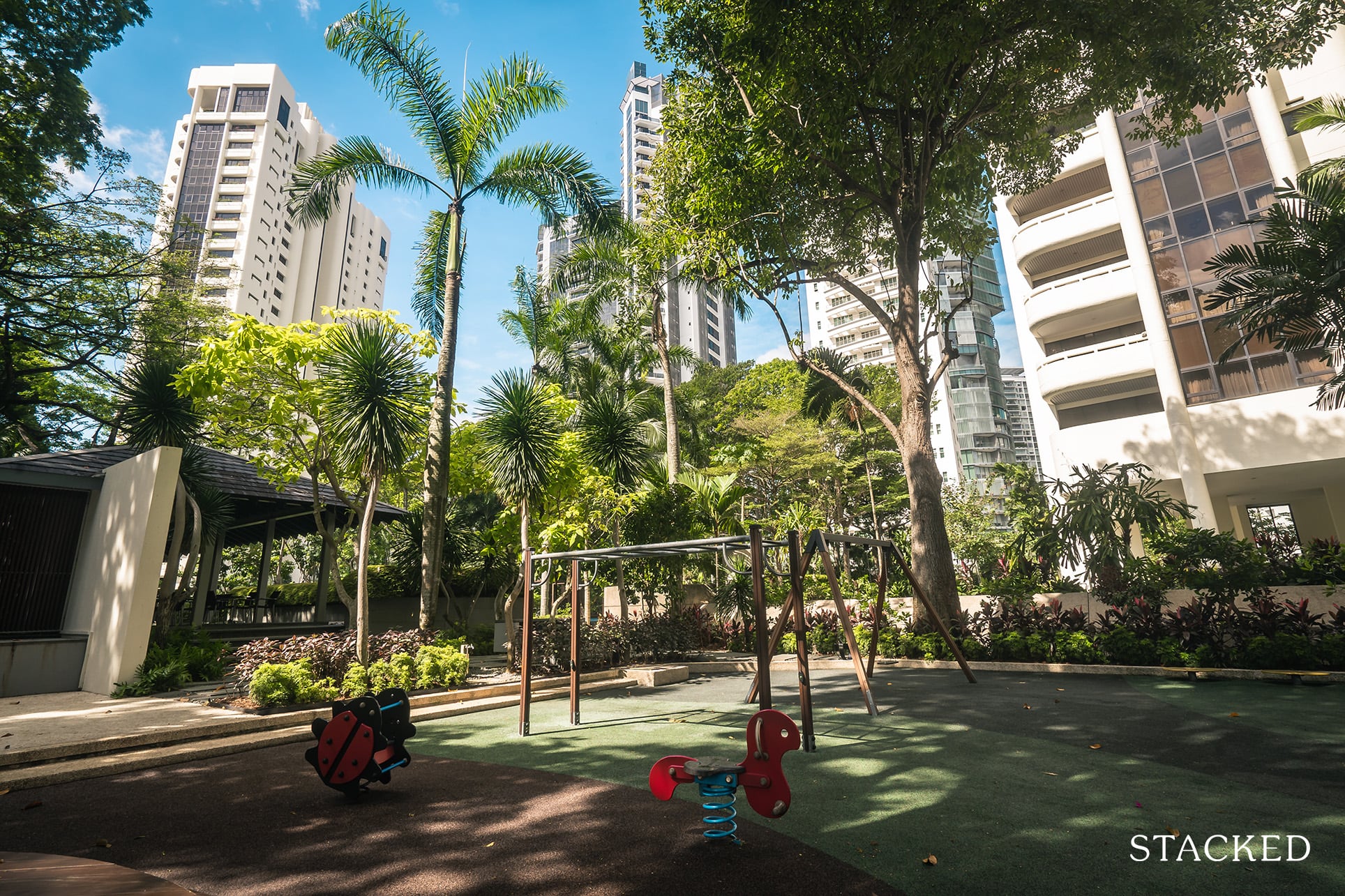 To make up for the lack of a kids pool, the children's playground at the Claymore is definitely bigger than average.
It has everything any kid could possibly want in a playground and the trees provide good shelter from the harsh sun.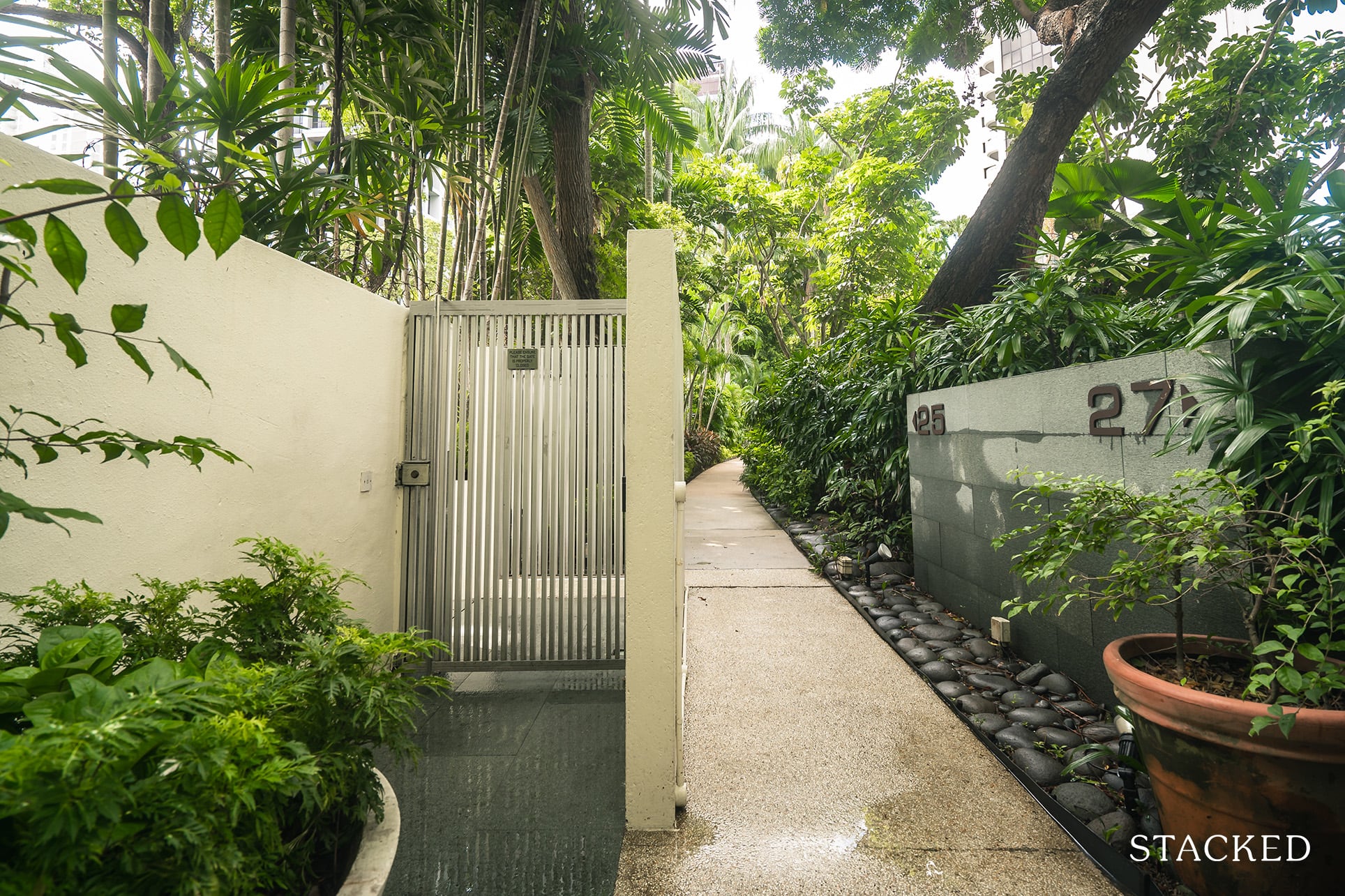 Moving on from the playground, the side gate is located just behind the pool area. This gives you direct access to places like the American Club/Tanglin Club/Shaw. Road noise is also quite apparent from here as Claymore Hill is quite a busy road.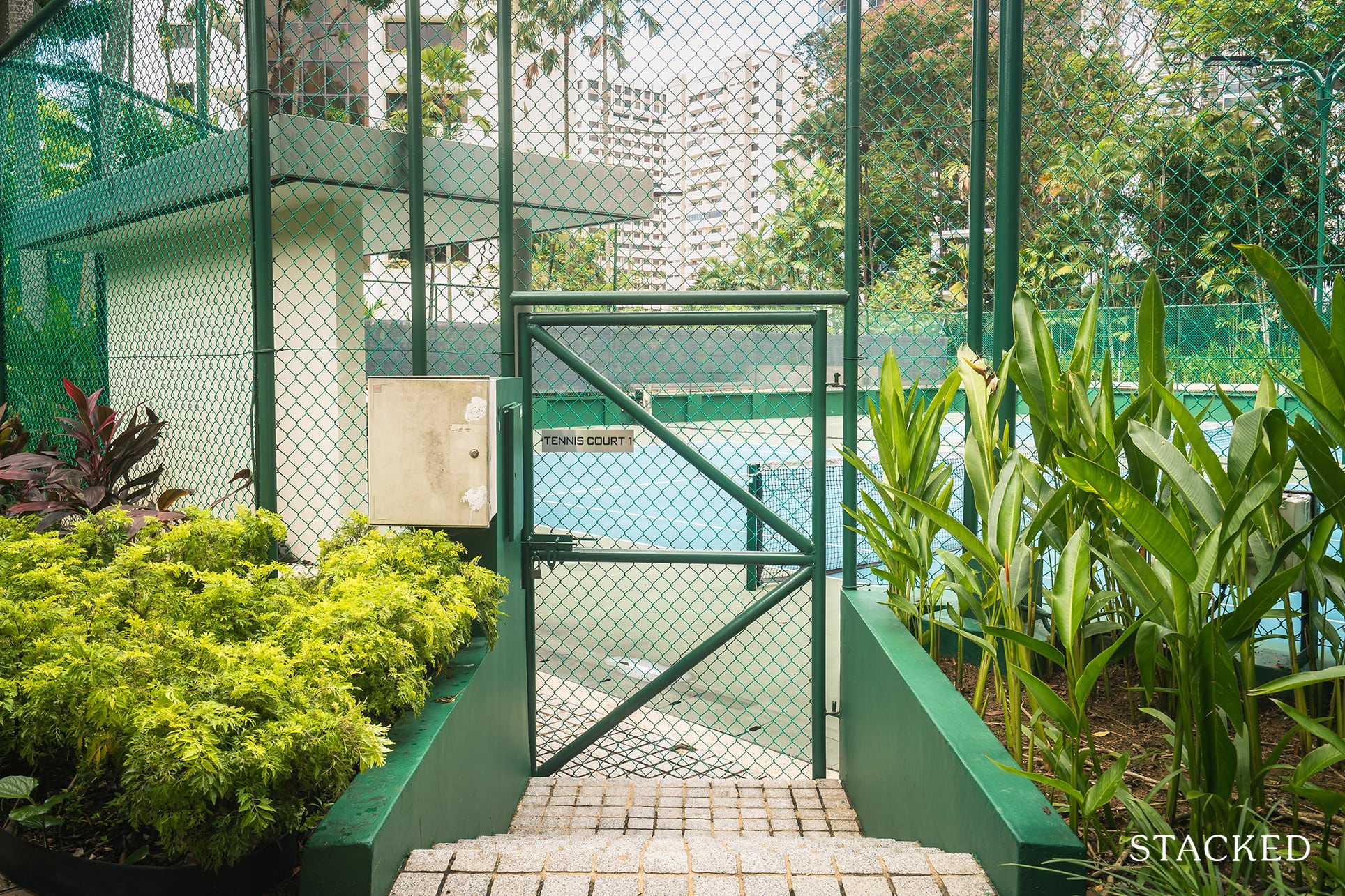 Further down, you'll find not one, but two tennis courts.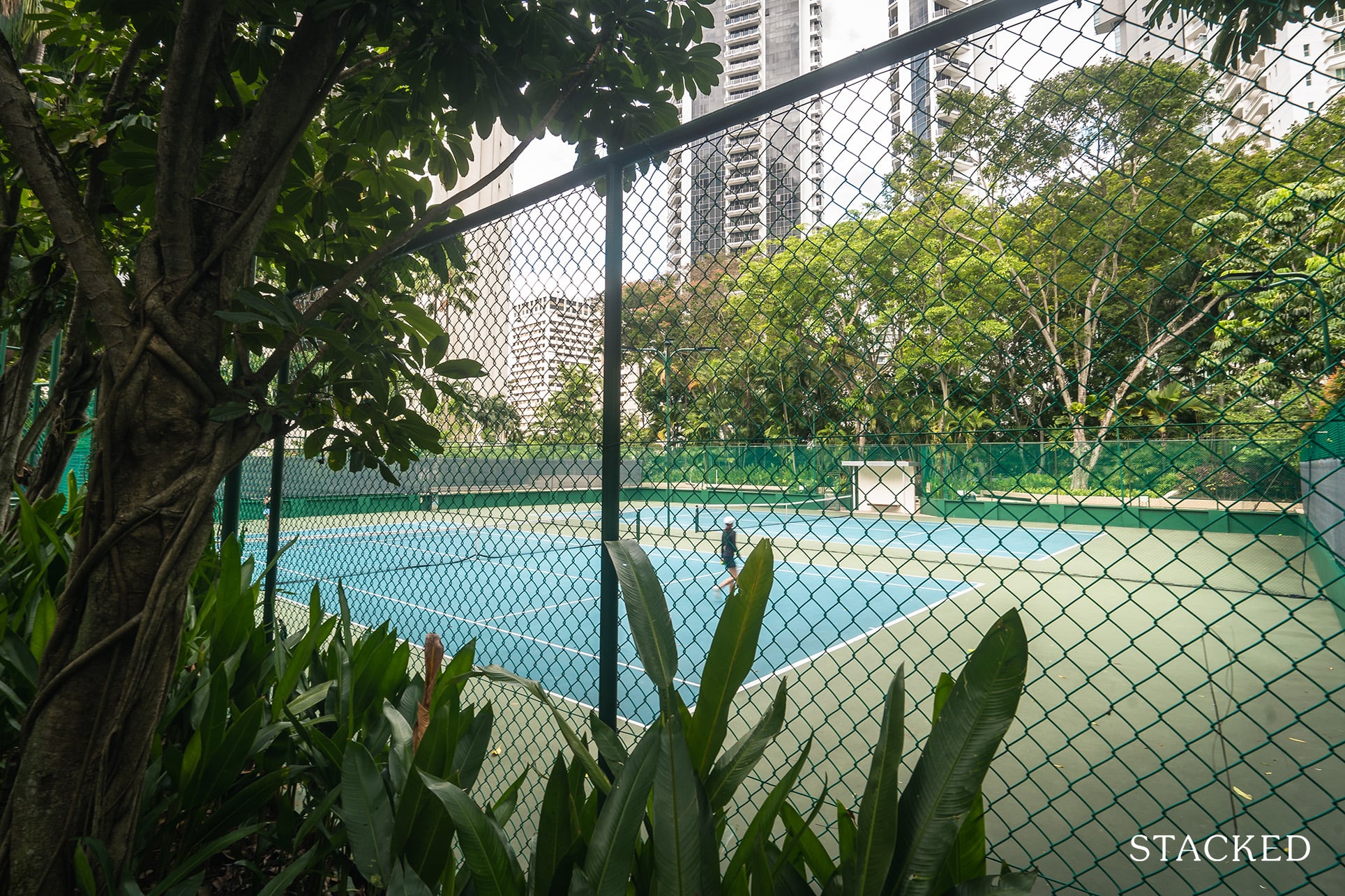 For a place with 145 units that is ultra generous. Like the multi-purpose court, it's well maintained too.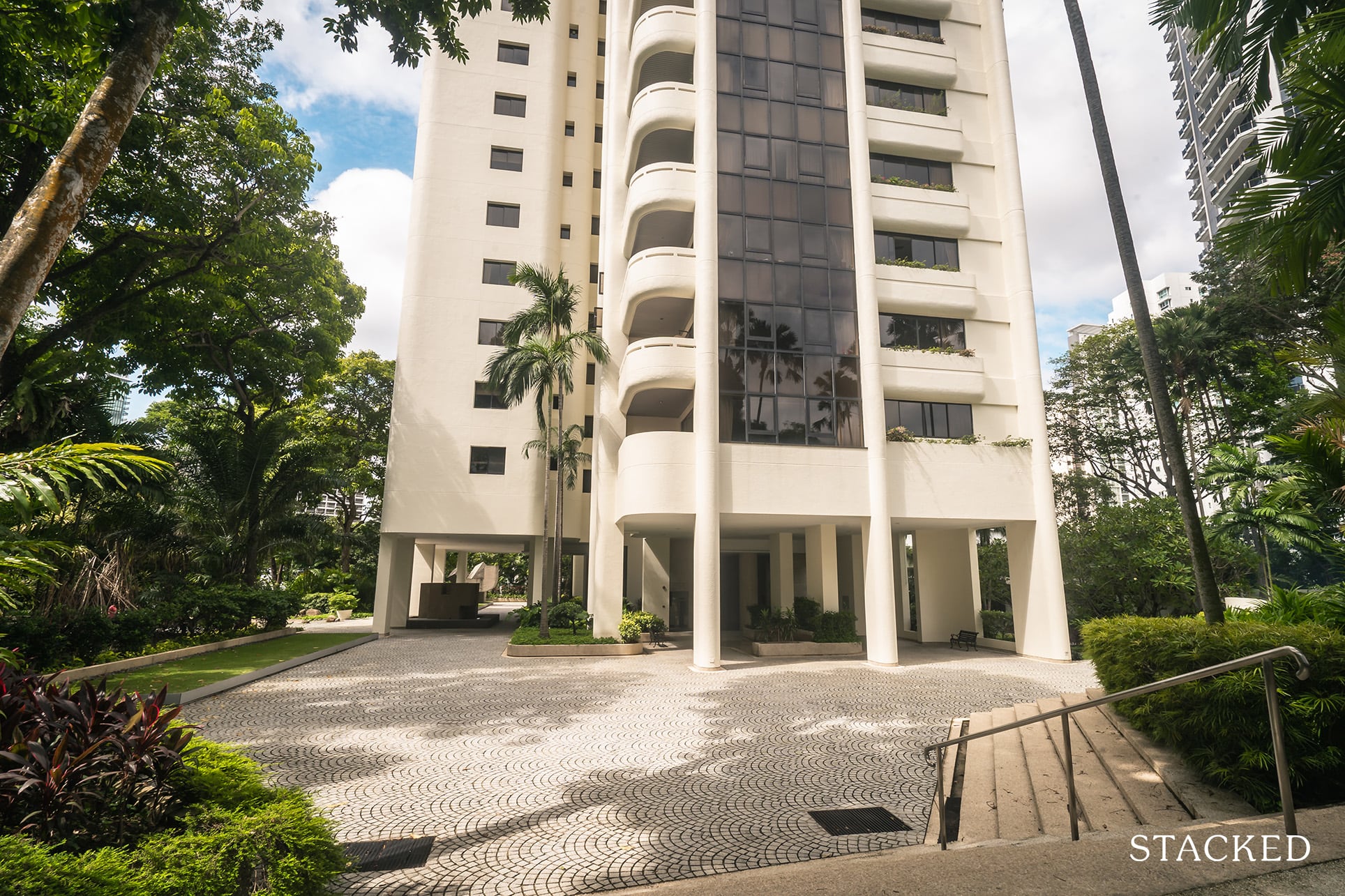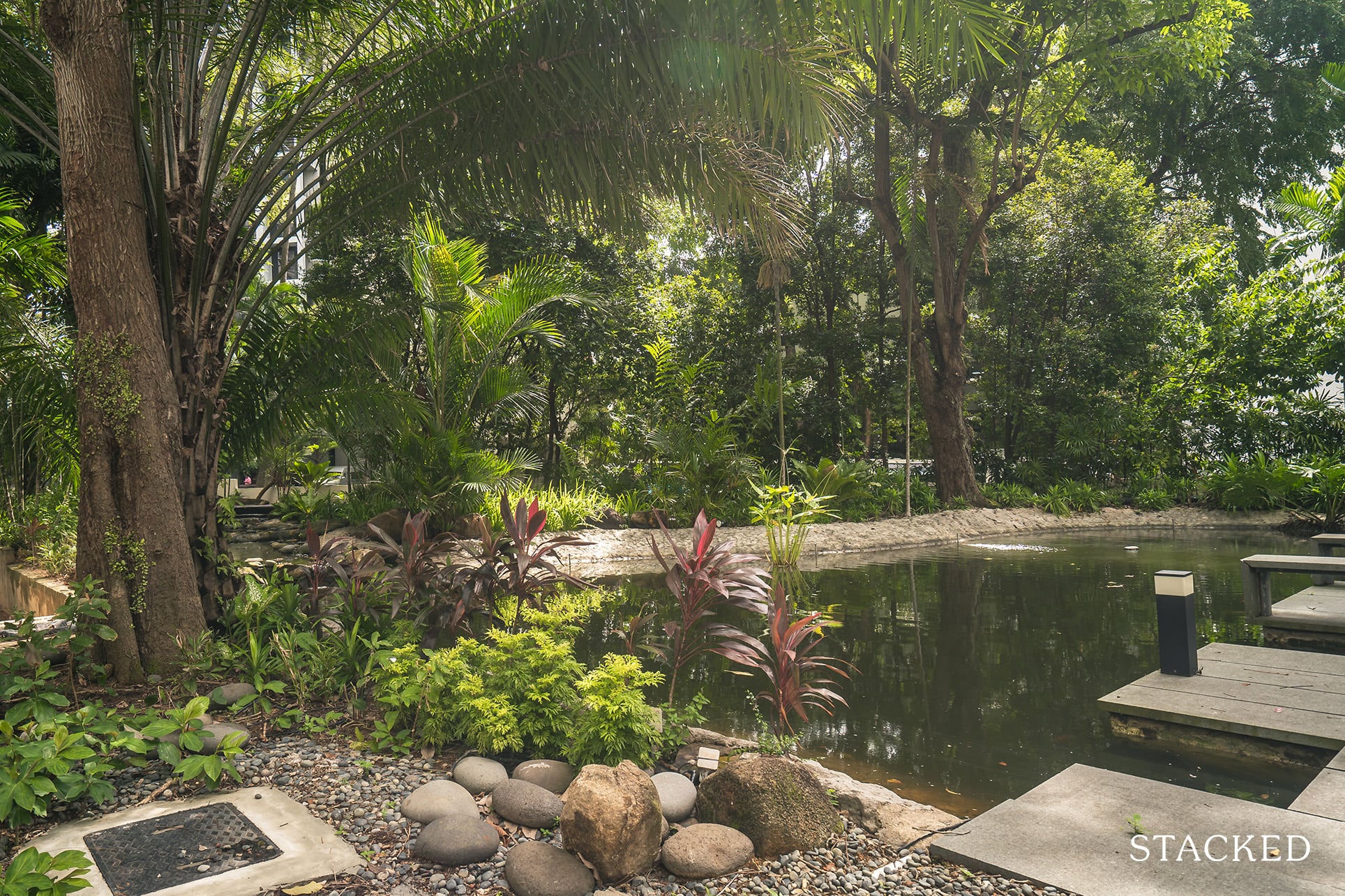 While the first block might not have the convenience of the gym, it does have a big pond right below.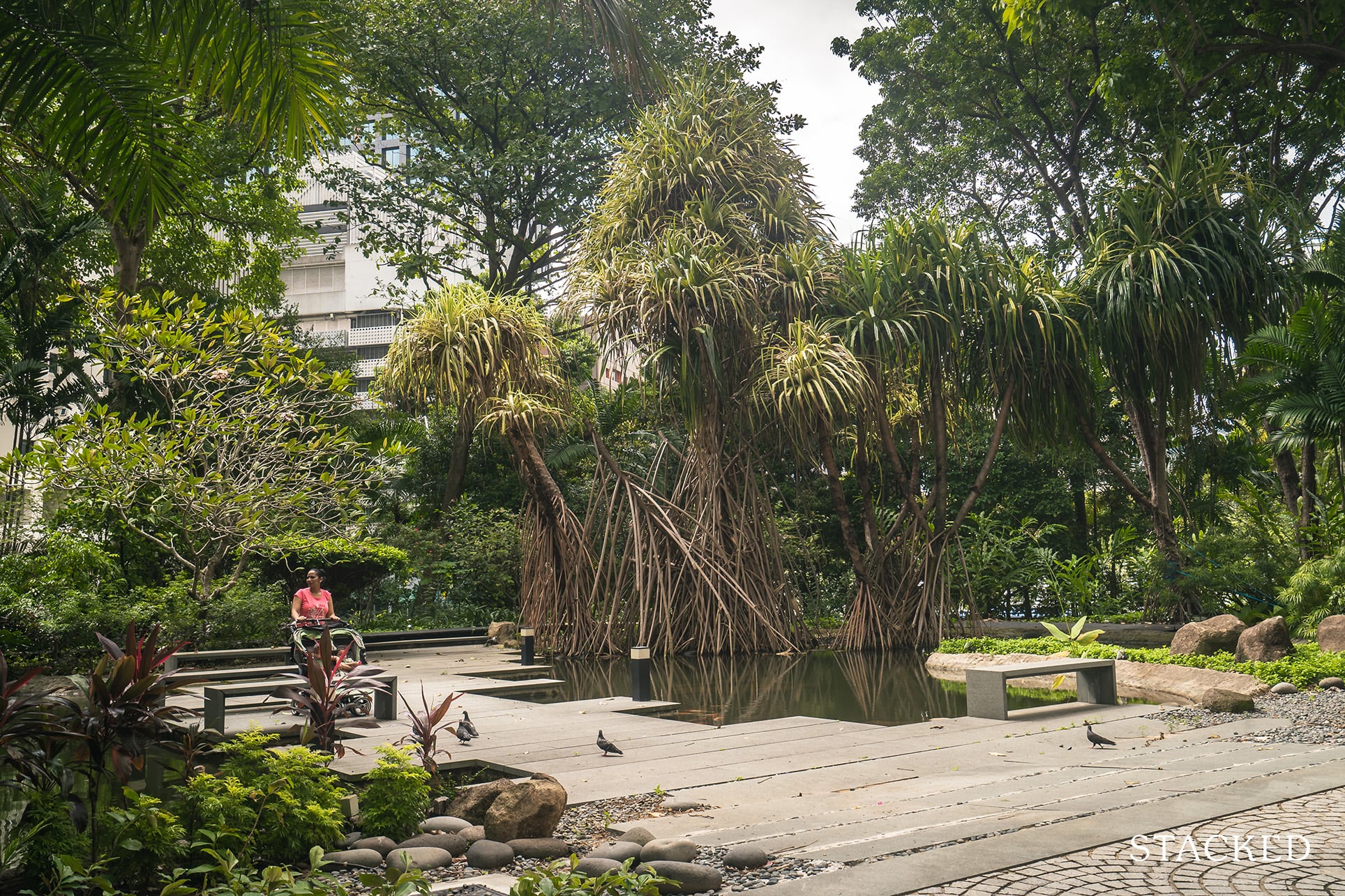 It is properly large, although I wouldn't say it is the most visually stimulating. Still, it's a nice enough space to bring young kids or a quiet spot to chat.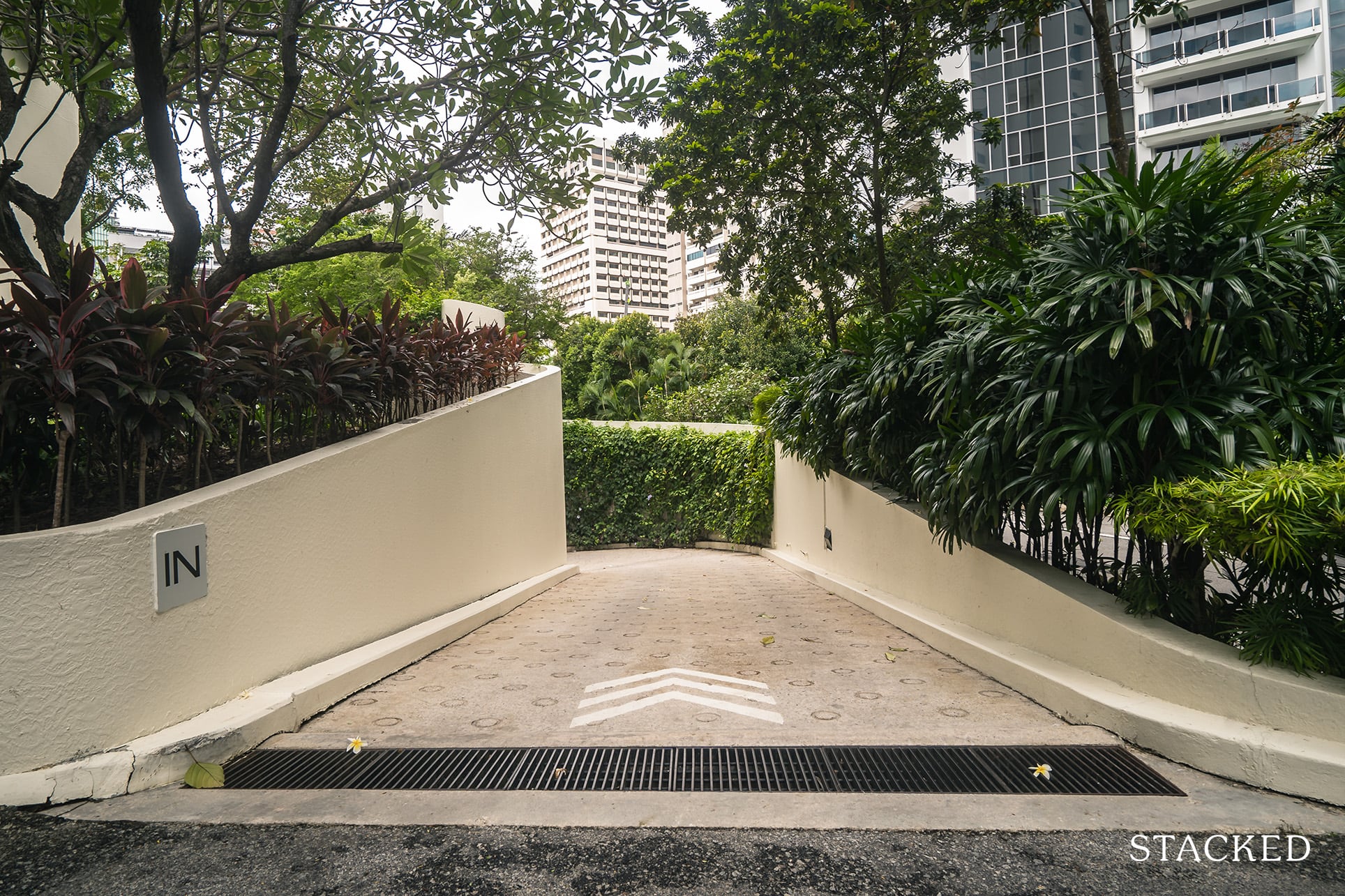 Lastly, the entrance to the carpark is really wide and easy to maneuver.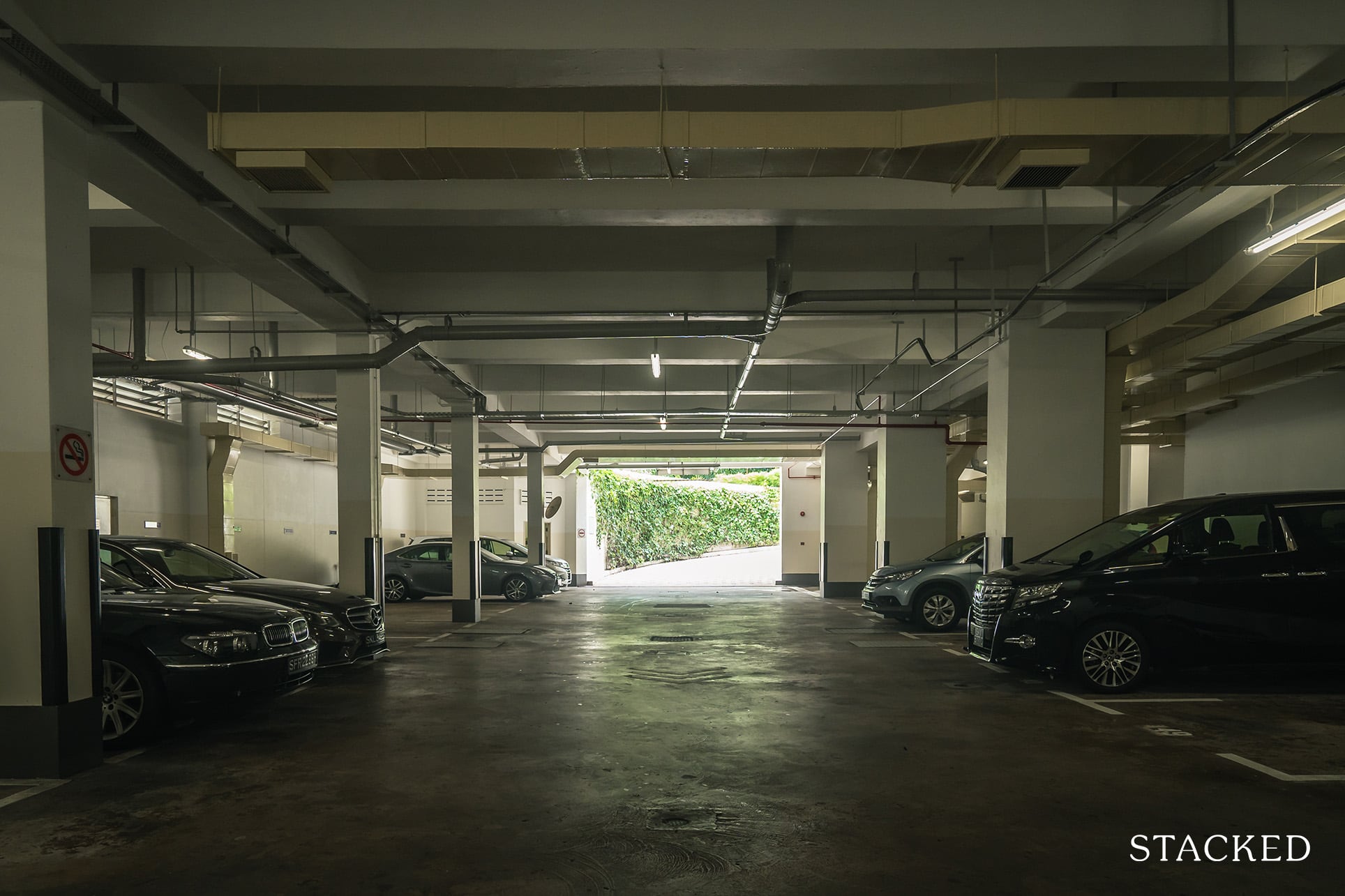 The carpark lots are generally very wide although it definitely looks its age. Each lot is registered to the owner, with your vehicle number placed above each lot.
The Claymore Location Review
As most of you would've guessed, The Claymore was named due to its snug, secluded locale just off the T-junction of Claymore Road onto Claymore Hill (no points for creativity there sadly).

Its neighbours include the Tate Residence as well as 7 Draycott Drive, while both its blocks share a common 'private' road with barriered entrances on either end.

More prominent are the range of shopping/entertainment centers (like Shaw Centre and Orchard Towers), which are less than a 5-minute walk away from the condo.

Its distinct seclusion and shrubbery cover means that there is surprisingly very little external noise disturbances to residents here.
Public Transport

| | | |
| --- | --- | --- |
| Bus Station | Buses Serviced | Distance From Condo (& Est. Walking Time) |
| 'Royal Plaza On Scotts' | 5, 54, 124, 128, 143, 162, 162M, 167, 167e, 171, 700, 700A, NR1, NR2, NR3 | 400m, 5-minute walk |
| 'Thong Teck Bldg' | 105, 132, 190, 971E, 972, NR2, NR3 | 500m, 6-min walk |
| 'Royal Thai Embassy' | 7, 7B, 36, 36B, 77, 105, 106, 111, 123, 132, 174, 174e, 502, 502A | 400m, 5-min walk |
Closest MRT: Orchard Road MRT – 900m, 11-min walk

You'd probably find fewer (non-interchange) places in Singapore with access to such a vast network of bus services as at The Claymore.

With a trio of night rider buses here, getting home by public transport from a late night's endeavour is guaranteed to be a tad easier. Also, note the express buses present that cut down on frequent stops.

Unfortunately, getting to the MRT station is slightly more inconvenient, though the pathway there is mostly shaded.

As far as MRT routes go, however, we all know about Orchard Road MRT's centrality. It is 4 stops from the CBD/Raffles Place MRT (7 minutes ride).

And also 1 stop from the Downtown Line (Newton MRT), 2 stops from the North-East & Circle Line (Dhoby Ghaut MRT) and finally 3 stops from the East-West Line (City Hall MRT).

Private Transport
| | |
| --- | --- |
| Key Destinations | Distance From Condo (& Est. Peak Hour Drive Time) |
| CBD (Raffles Place) | 4.8km, 16-min drive |
| Orchard Road | Immediate |
| Suntec City | 4.7km, 13-min drive |
| Changi Airport | 21.7km, 25-min drive |
| Tuas Port (By 2040) | 40.3km, 45-min drive |
| Paya Lebar Quarters/Airbase (By 2030) | 14.3km, 21-min drive |
| Mediapolis (and surroundings) | 7.1km, 17-min drive |
| Mapletree Business City | 6.9km, 16-min drive |
| Tuas Checkpoint | 29.6km, 35-min drive |
| Woodlands Checkpoint | 19km, 35-min drive |
| Jurong Cluster (JCube) | 15km, 20-min drive |
| Woodlands Cluster (Causeway Point) | 19.4km, 23-min drive |
| HarbourFront Cluster (Vivo City) | 6.2km, 15-min drive |
| Punggol Cluster (Waterway Point) | 20.5km, 25-min drive |
*Note that Drive Times are calculated during Peak Hours

Immediate Road Exit(s): 2 exits, courtesy of both its blocks – located at either end of the private road. One opens up onto Claymore Road, while the other leads to Draycott Drive.

Summary: Given that The Tate Residences & 7 Draycott Drive have separate exits of their own, and further considering that there are only 145 units here, we should rarely see traffic congestions of any kind along the one-laned (bi-directional) private road that residents use before exiting onto either Draycott Drive or Claymore Road. That said, The Claymore's very central location would mean having to pick daily routes carefully to avoid jams when entering/leaving the area.  

Groceries

| | |
| --- | --- |
| Name of Grocery Shop | Distance From Condo (& Est. Walk Time) |
| Cold Storage – Orchard Hotel | 300m, 3-min walk |
| FairPrice Finest – Scotts Road | 700m, 10-min walk |
Schools

| | |
| --- | --- |
| Educational Tier | Number of Institutes |
| Preschool (within 1km walk) | 6 |
| Primary (5km-drive) | 10 |
| Secondary (5km-drive) | 7 |
| International School (3km-drive) | 4 |
| Junior College (5km-drive) | 0 |
| University (5km-drive) | 8 |
| Polytechnic (10km-drive) | 2 |
Additional Pointers

Abundance of 'Earlier Education' Schools
The Claymore's position shouldn't be underestimated when it comes to educational options for varying early tiers. It is near to the Bukit Timah Education Belt while still being within close driving proximity to the River Valley cluster of primary and secondary schools.

An entire range of central preschools is also available here – mostly owing to the number of immediate malls. A number of central international school options like Chatsworth and Furen International also present themselves

Based on current statistics, just 46.3% of residents at The Claymore are Singaporeans. With a remaining 12.7% and 20.2% making the PR and Foreigner ownership sectors here respectively.

Given The Claymore's centrality, there are numerous embassies that surround it. The closest of which include the embassy of Thailand, Poland, Peru, Ireland, and the Netherlands.

Providing comfort in the event of emergencies and a range of other scenarios, having a home embassy at your doorstep naturally increases the attractiveness of this project for foreigners (and hence rental potential).

Myriad of Entertainment/Nightlife Opportunities
Orchard Road is famous for its numerous strip malls and eateries. It also provides a range of entertainment options from movies (Shaw Lido is just a stone's throw away) to hotel-hopping.

Nightlife here is also a massive attraction, more so when you consider that the infamous Orchard Towers is right next to the development. Of course, it might not be the first place for most residents here, but it just goes to show the range of options at your disposal when living in a place like The Claymore.

The Claymore Development Site Review

Sadly, we couldn't procure an actual development site for The Claymore (believe me, we tried). But thanks to Google Earth, we were able to include a relatively up-to-date aerial shot of the place.

You'll no doubt observe the two blocks at either end. Depending on your needs (and of course resale availability), there are varying reasons for residents here to pick either one.

For those who prefer to be 'closer to the action', the southern block is probably the better option, given its proximity to grocery points like Orchard Hotel and Scotts Road, as well as entertainment venues like Shaw Lido and not to mention the Orchard MRT station.

The northern block on the other hand is closer to the residential's timeless swimming pool and multi-purpose court.

It is also 'closer' to Tanglin Club and Newton MRT station – though the fact that Raffles Girls (formerly along Anderson Road) has since relocated to Braddell might have resulted in generally lower demand for units here.

Still, the location of either block wouldn't matter as much to those who drive – but for those who prefer more 'primitive' methods, it could be a game changer in the long run.
Unit Mix

| | | |
| --- | --- | --- |
| Unit Type | No. Of Units | Size of Units (sqft) |
| 3-Bedroom | 92 | 2,680 sqft |
| 4-Bedroom | 49 | 3,348 sqft |
| Penthouse | 4 | 4,919 sqft |
As you can see (and probably are not surprised by), the units here are massive.

From an era that prioritised space, The Claymore simply does wonderfully in the space-department, though it's now increased average PSF of $2,927 means that its smallest unit (3-bedder) will cost you upwards of $7.8 million.

It's a whopping sum, to say the least.

The lack of 1 and 2-bedders also means that the limited 145 units here have been catered mostly for wealthy families. Of course, that would also extend to numerous short and long-term expats looking for a sizable/extremely convenient abode in the area.

For those who are looking at renting the place, the current rental range here starts from $2.72 (for the larger units) – $4.15 PSF pm. If you manage to negotiate rental for a 3-bedder here to its average PSF pm of $3.21, that would set you back at approximately $8,602 per month on rental.

It really isn't the most affordable development (especially given its age – despite wonderful maintenance), but if you consider its once-in-a-lifetime location and current spatial offerings (both in and outside the unit), the premium seems justified.
Prices for The Claymore
Price Breakdown (1st Property)
3-Bedroom
4-Bedroom
Penthouse
Price
$6,799,160
$10,100,916
$17,000,064
25% Down Payment
$1,699,790
$2,525,229
$4,250,016
Additional Costs
Buyer Stamp Duty
$256,566
$388,637
$664,603
Legal Fees
$2,500
$2,500
$2,500
Valuation Fees
$300
$300
$300
Stamping Fees
$500
$500
$500
Total Price
$7,059,026
$10,492,853
$17,667,967
Initial Investment Amount
$1,959,656
$2,917,166
$4,917,919
Return on Investment
Expected Rental Price
$9,380
$15,066
$19,676
Rental Yield
1.59%
1.72%
1.34%
Price (2nd Property)
3-Bedroom
4-Bedroom
Penthouse
Cost Without ABSD
$7,059,026
$10,492,853
$17,667,967
Plus: ABSD (12%)
$815,899
$1,212,110
$2,040,008
Total Price After ABSD
$7,874,926
$11,704,963
$19,707,974
Initial Investment Amount
$2,775,556
$4,129,276
$6,957,926
Return on Investment
Expected Rental Price
$9,380
$15,066
$19,676
Rental Yield
1.43%
1.54%
1.20%
Best Stacks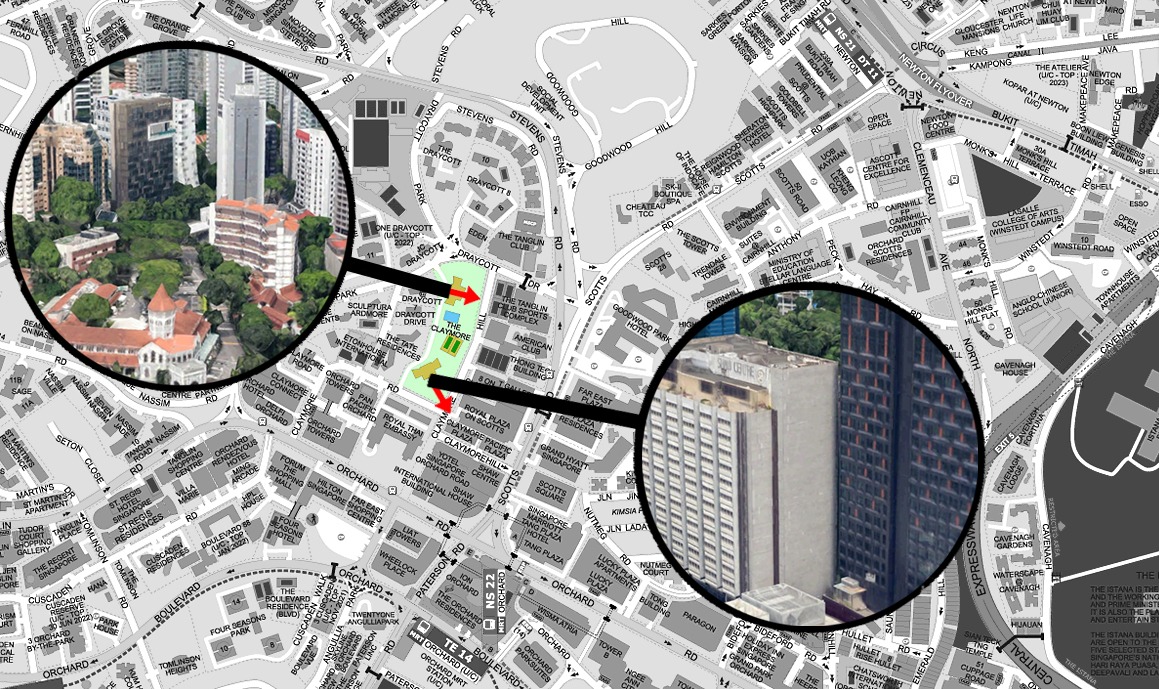 Since there are only two blocks here, choosing the best stack would be one of the easiest tasks we've had so far. It really boils down to what you prioritise, good views or convenience?
If good views are important to you, Block 27 would be the best choice. It features far better views but the downside is that you have to walk a little further to get to amenities. On the flipside, Block 25 faces Shaw so views are definitely more blocked but it is slightly easier in terms of accessibility.
Pricing / Competitors
| | | | | |
| --- | --- | --- | --- | --- |
| Project Name | Tenure | TOP | Average Price (PSF) | Comparison Point |
| The Claymore | Freehold | 1985 | $2,927 | |
| Elizabeth Heights | Freehold | 1983 | $1,712 | Age/Development Type/Locale |
| Four Seasons Park | Freehold | 1994 | $2,736 | Age/Development Type/Locale |
| Ardmore Park | Freehold | 2001 | $3,189 | Age/Development Type/Locale |
The Claymore isn't the newest condo by any means.

And based on that, it is a little tough to compare it with the newer launches – especially when you factor in the massive difference in value-offerings between both these developmental-types.

Naturally, newer condos would vibe more elegant and diverse facilities with increased price tags based on novelty, while The Claymore would base its USPs on massive inner-condo free space as well as incredible unit sizes (that would once again impact its average PSF and total unit cost).

As such, we've drawn up a list of the older condos in the area that match The Claymore in terms of relative locale, as well as age and 'housing type'.

From the get-go, we see that The Claymore ranks right up there in terms of PSF demand (this, despite its age).

If you were to observe and nitpick Elizabeth Heights' pros, you'll realise that it is just 890metres away from the city centre as compared to The Claymore's 1.29km differential.

Four Seasons Park is also a tad shorter from the city centre at 1.15km.

More importantly however, it is much closer to Orchard MRT station as well as the impending Orchard Boulevard and Orchard stations as part of the Thomson East Line. Note that it is also 9 years 'younger' than The Claymore.

Yet the fact that The Claymore ranges higher on the PSF scale when compared to these two condominiums as well as nearly matching the PSF of the 2001 completed Ardmore Park shows the value of its abundant premium land that allows it to command such a quantum.

More importantly, its outstanding premium also comes from its high enbloc potential that we've seen fulfilled in the neighbouring One Balmoral and Balmoral Gardens. 

(Individual comparisons will almost always differentiate based on varying buyer priorities. If you have specific needs/wants that you'd like to further clarify, feel free to drop us an email at hello@stackedhomes.com)

Appreciation Analysis
We've observed the general appreciation trends of most 'centrally-located' matured condominiums.

If they aren't snapped up by hungry developers on the en bloc scheme, their average PSFs tend to rise through the years based on a variety of reasons. Some of which can be attributed to the incredulous value of living next to the Orchard Road Shopping Belt, new Transport Links as well as Newer Condos popping up nearby alongside their very Central Public Transport Locale.

As mentioned on a couple of occasions earlier, what further sets The Claymore apart from the rest is both it's Land and Unit Size Offerings.

The limited units (not to mention the long-term 'endowment' effect) here also means that unit owners will tend to mark up their prices based on availability of units at that period.

If we were to observe its PSF averages of the project through the years, you'd realise that the development has seen a consistent price growth, just above that of the average District quantum polynomial (due mostly to the factors we just covered) with relatively few sales over the years.

With most of its price peaks (and stabilisation thereafter) happening at the end of the 21st century's first decade (between 2007 – 2012), and its already slightly higher 'price-tag' (when compared to its immediate competitors), it does seem like this extra factor of 'Land Space' has already been calculated into its current quantum demand.

Based on that, it would, therefore, be a surprise if we saw a second peak in prices here without a sudden boost in economy/district quantum sentiments.

That being said, the short to mid-term property market sentiment for District 9 does seem to harbour growth based on increased vitality (in both transport and social factors) set about by concrete governmental implementations. 

Together with the numerous New Launch developments that are set to rise in the district, we could very well see more attention given to The Claymore and hence gradual appreciation (if not, certainly increased asking prices) for owners of current units here. 

Our Take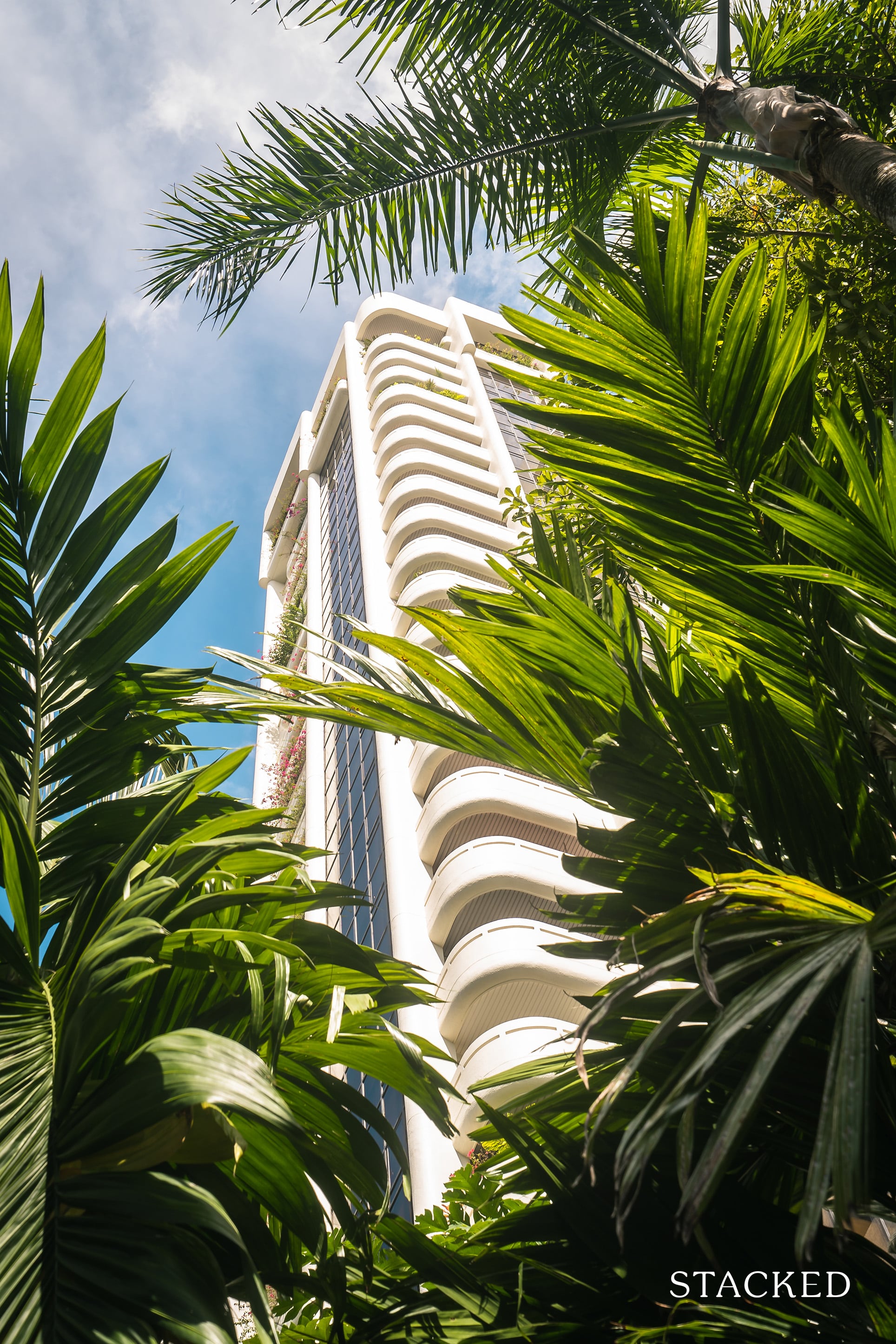 As with some matured condos we've reviewed in the past (Maplewoods pops to mind), The Claymore seems to have withstood the test of time.

It was evident in the tour, as well as in its constant PSF rise through the years.

The Claymore currently holds an extremely hefty resale and rental quantum at approximately $8.7 million and $8,602 per month for a 3-bedroom unit here (smallest tier).

Personally, the residence is one that excites with incredible lush spaces, unbridled privacy factors (distinctive block segregation) and an ultimate location.

If you are hunting around for at the Claymore for an en bloc situation in the future you'll have to realise that anyone currently living at The Claymore has either been staying there for a long time or has very deep pockets. The truth is that it is going to take a massive amount to move these people, so you'll have to factor in a long waiting period. 
That said, it will no doubt hold its value well and with brilliant seclusion/spacious land offering to unit ratio (despite its centrality), I must say that The Claymore is quite a specific fit for a well heeled family on the hunt for a rare central abode.
What this means for you
You might like The Claymore if you:
• Appreciate Rare Central Spatial Offerings: 2 blocks housing 145 units on either end of 246,111 square feet of land right next to Orchard Towers. You rarely get anything better than that in the central space department.
• Are an Expat Family with Kids: Numerous international schools (as well as top-tiered Primary and Secondary options) as well as a truckload of embassies in the area make it suitable for many expat.
You might not like The Claymore if you:
• Prefer Modern Facilities (and diversity): At 35 years old, the staff at The Claymore have done an incredible job of facility maintenance. However, it lacks newer and more diverse facilities present in other New Launch residentials.
• Are Looking for more 'Affordability': The Claymore ranks as one of the higher psf commanders for older developments with the prestigious D9 address. Its massive unit spaces also mean a generally high total unit cost.
End of Review