42
min read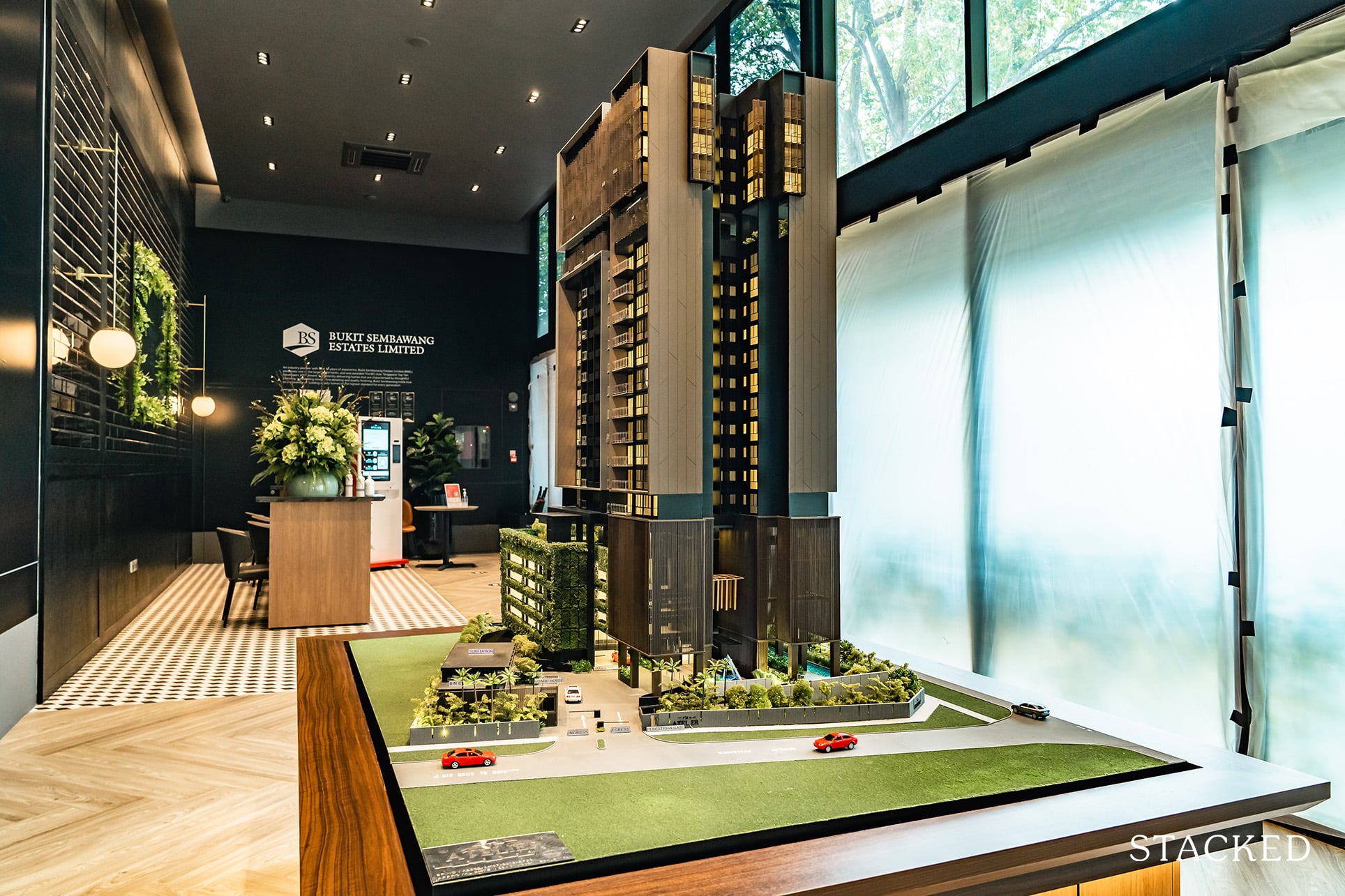 Convenience + luxury in district 09
The Atelier is suitable for families with kids as it has surprisingly good facilities for young children and a bigger than average unit size. But expect to pay the premium for it.
| | |
| --- | --- |
| Project: | The Atelier |
| District: | 09 |
| Address: | 2 Makeway Avenue |
| Tenure: | Freehold |
| No. of Units: | 120 |
| Site Area: | 41,582 sqft |
| Developer: | Bukit Sembawang |
| TOP: | 2024 |
What comes to mind when you see the word "Atelier"?
Parisian haute couture, bespoke, luxury.
I'm not sure about you, but those were the first few words that immediately popped into my head.
For the sake of the uninitiated, Atelier actually means "an artist or designer's studio/workshop".
Unsurprisingly, many brands use this as a means to associate feelings of opulence and grandeur to their brand. Google it and you'd see what I mean.
So, no prizes for guessing then, the type of development that Bukit Sembawang has envisioned The Atelier to be.
With just 120 units, The Atelier is definitely considered to be a small development especially when you take into account today's mega developments such as the recently launched 1,862 unit Normanton Park.
Just do the math. That's 15.5 times the size of The Atelier.
There's no doubt about it – it is just that much more exclusive.
Other than its exclusivity, it is located within 1km from both ACS (Junior) and ACS (Primary) as well as St Joseph Institution (Junior).
And yes, it is freehold as well.
The question is, will that be enough? As you might know, Newton is filled to the brim with small condo developments that all hold a claim on being a luxury development.
Let's find out, but first – our usual insider tour of The Atelier!
The Atelier Condo Insider Tour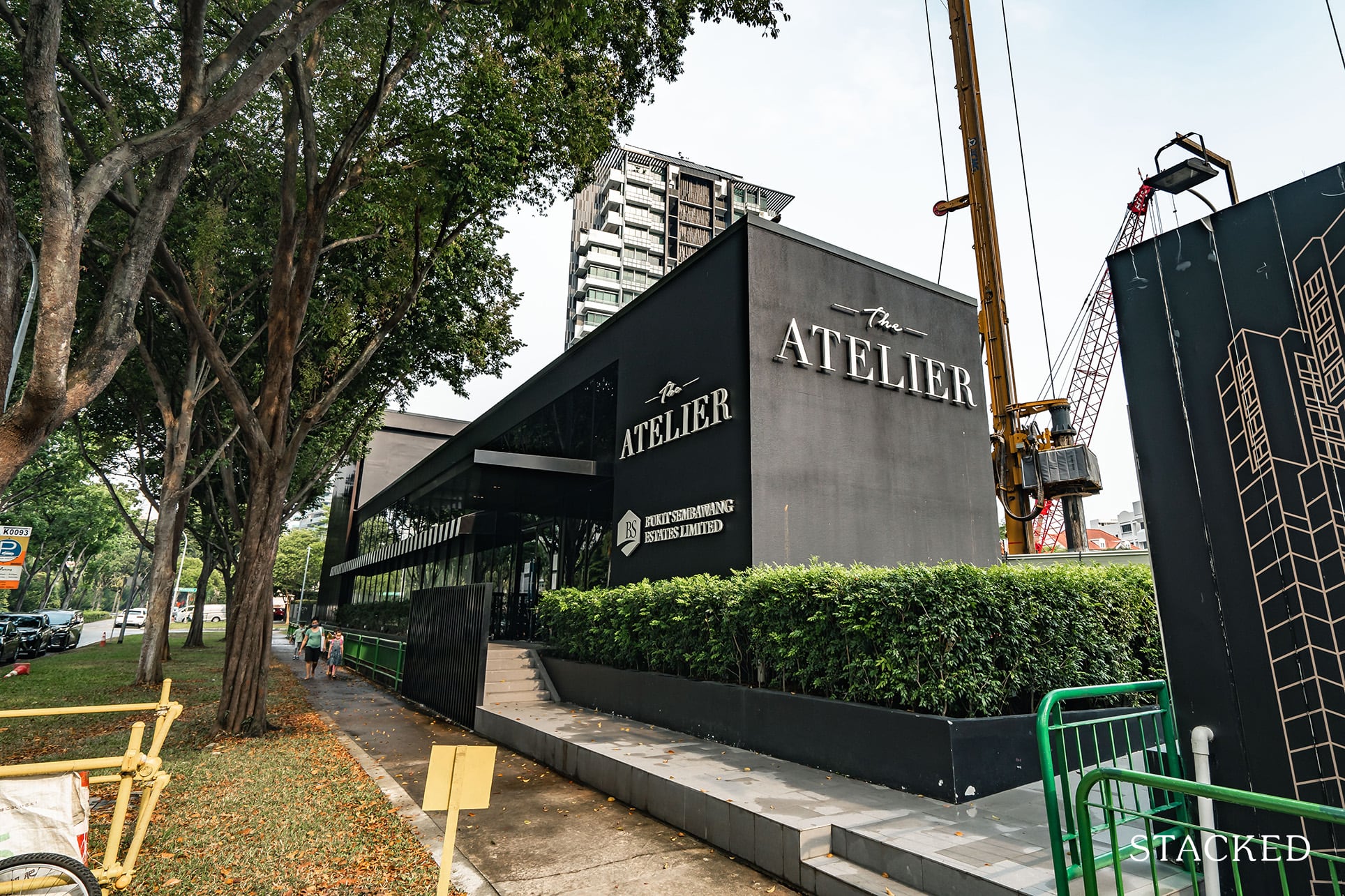 First, let me start with a bit on the origins of The Atelier. This used to be the freehold Makeway View that was built in the late 1980s. It had only 28 apartment units and 4 penthouses, so you can just imagine how big each unit must have been!
This was purchased by Bukit Sembawang for a cool $168 million on March 2018, which means each unit received between $3.86 million to $10.74 million (so you can understand why the owners chose to sell). At a land rate of $1,626 psf ppr, this would result in an estimated breakeven price of $2,251 psf.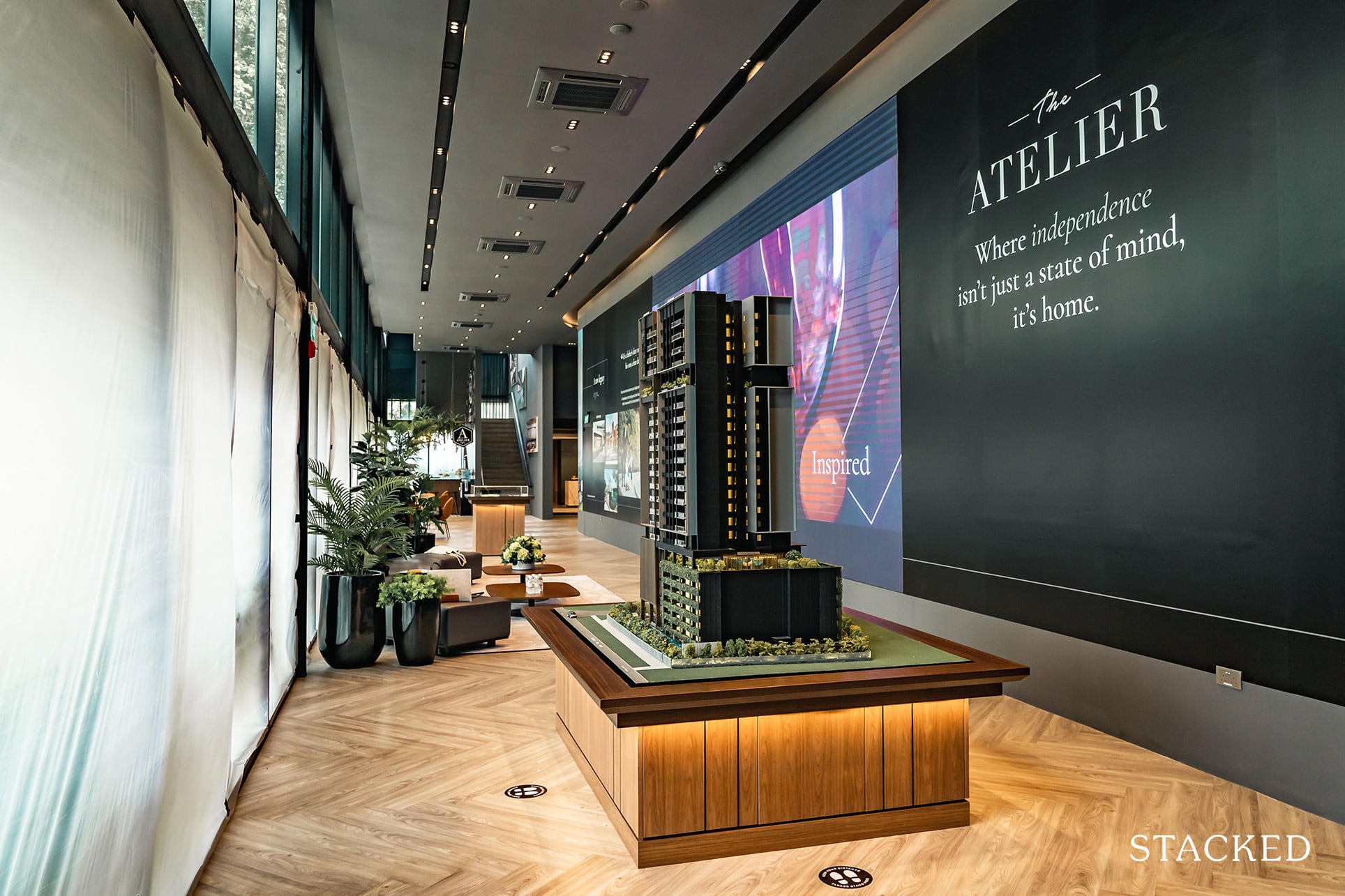 So yes, the price of the land already gives you some indication of the price band that The Atelier would be marketing itself at. And understandably so. After all, it is in premium District 9 and it is freehold, so it does have a very clear cut target market – as niche as it is at these price points.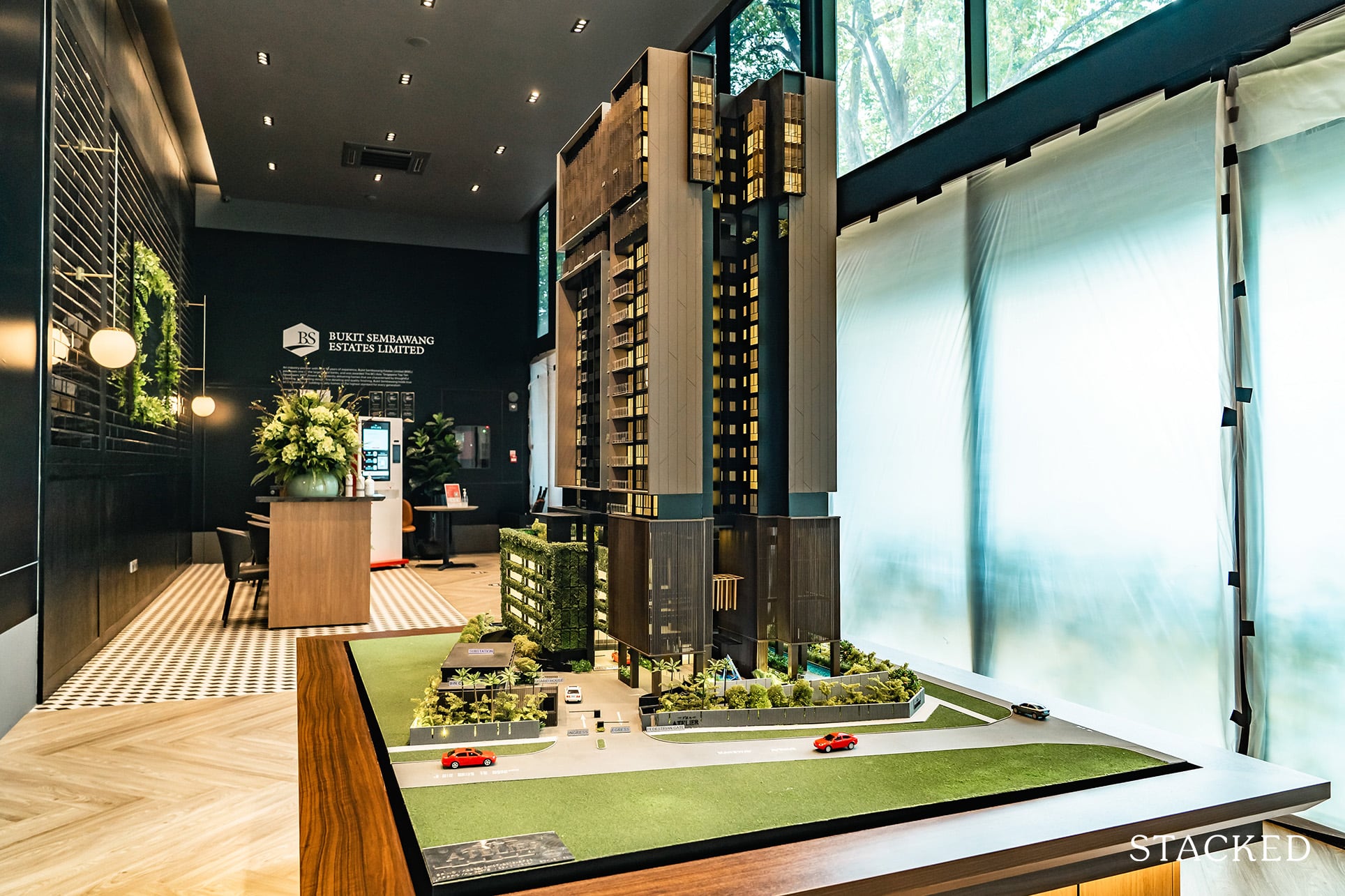 Make no mistake, at a land size of 41,582 square feet, The Atelier is sitting on a small land plot. This can be a boon or a bane depending on which side of the fence you are on. If you love to take a stroll within the development, enjoy a full suite of facilities, or soak in the expansive swimming pool, The Atelier is decidedly not for you.
But, if you value privacy and exclusivity within the estate, then a size like this would be up your alley. With just 120 units, it is one of those developments that seeing your neighbour in the lift would be a surprise – and some people like it that way.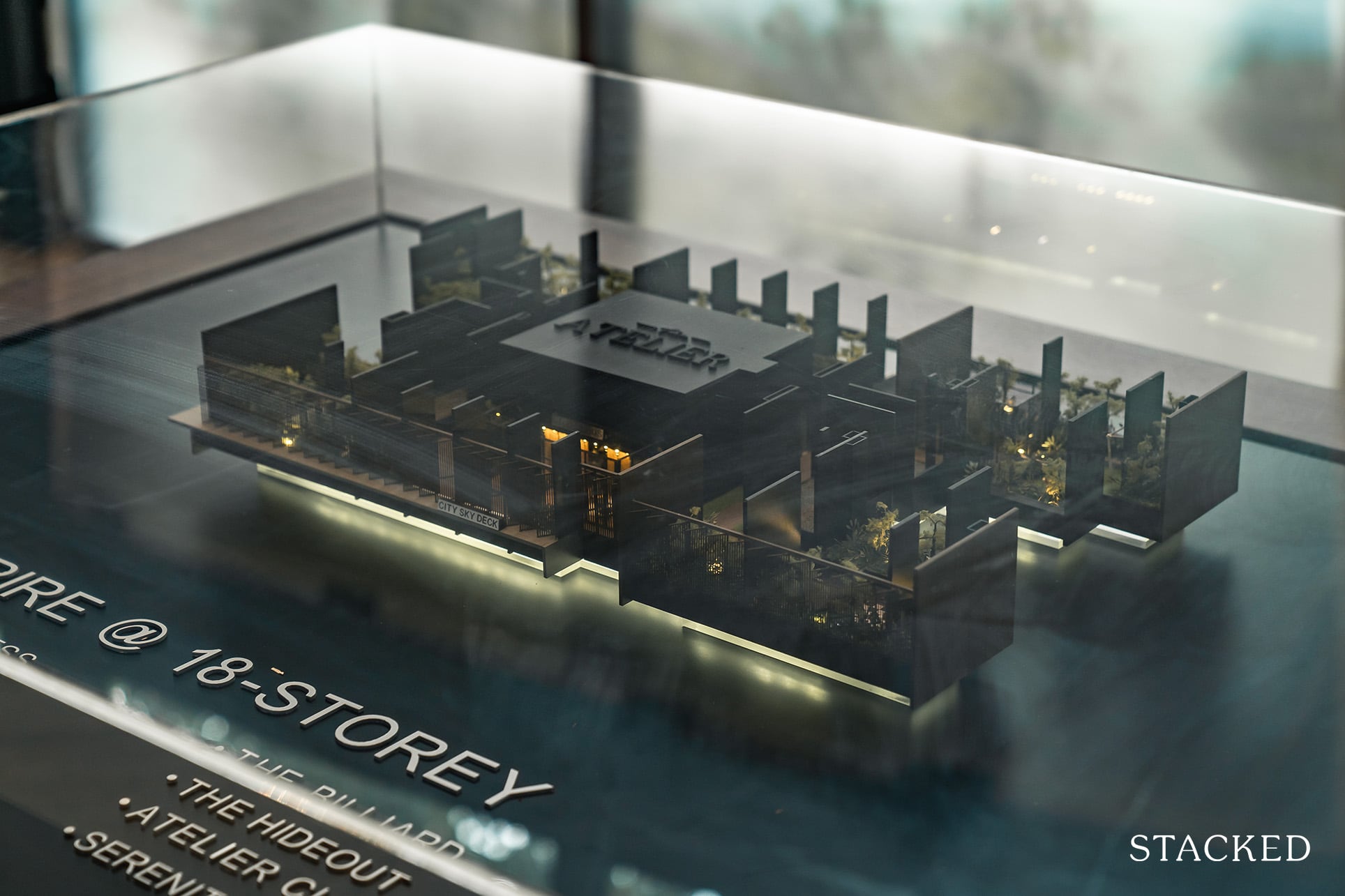 The next question is, does this land size mean that it might feel too constrained for your liking? To answer that, let's look at it in its simplest form. Land size per unit.
41,582 sqft/120 units = 347 sqft of land per unit.
Here's a comparison to a competing product like Pullman Residences:
95,443 sqft/350 units = 273 sqft of land per unit.
It certainly fares better than most mass market projects out there. But is it the best? Not by a long shot. But I would say given the concentration of condos in the Newton area, this will just be one of the characteristics of living here (save for Park Infinia @ Wee Nam).
The Atelier is located along Makeway Avenue, which is a one way road that is connected to the bigger Kampong Java Road. It is actually quite a quiet road despite the busy nature on the outside. But that will be set to change as you will be sharing this with the upcoming 378 unit Kopar at Newton and 104 unit Newton Edge.
So while I can imagine peak traffic to be a bit of a bummer here, 51% of the unit mix at Kopar at Newton is dedicated to 1 and 2 bedroom units so I suspect there would be a fair amount of tenanted units – thus traffic might not actually be as bad.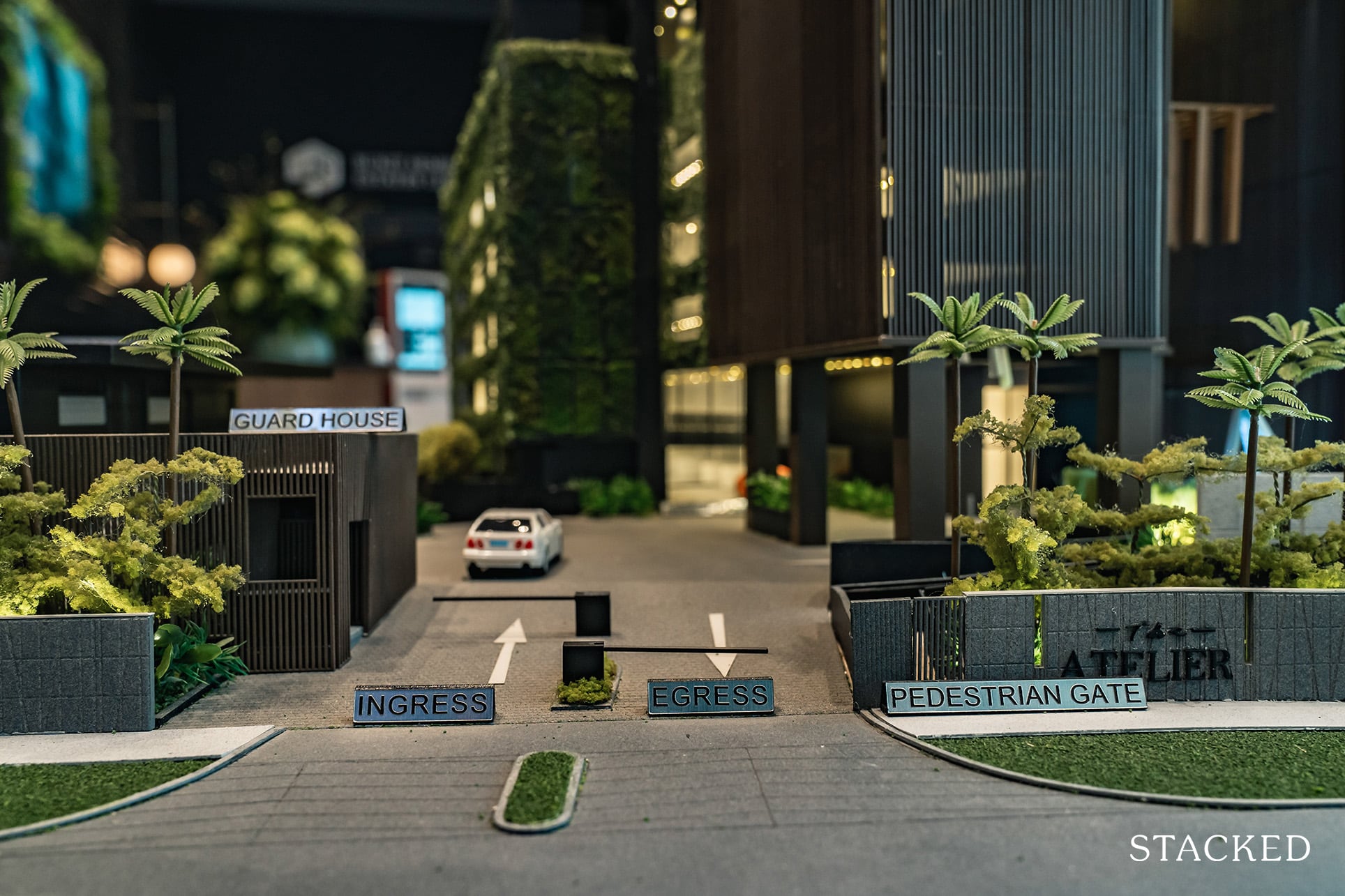 It does lead me to my next point – one of the highlights of living here is the proximity to Newton MRT. It is a 9 – 10 minute walk (not the closest) but as it is an interchange between the North South Line and Downtown Line it is double the convenience of a normal MRT station.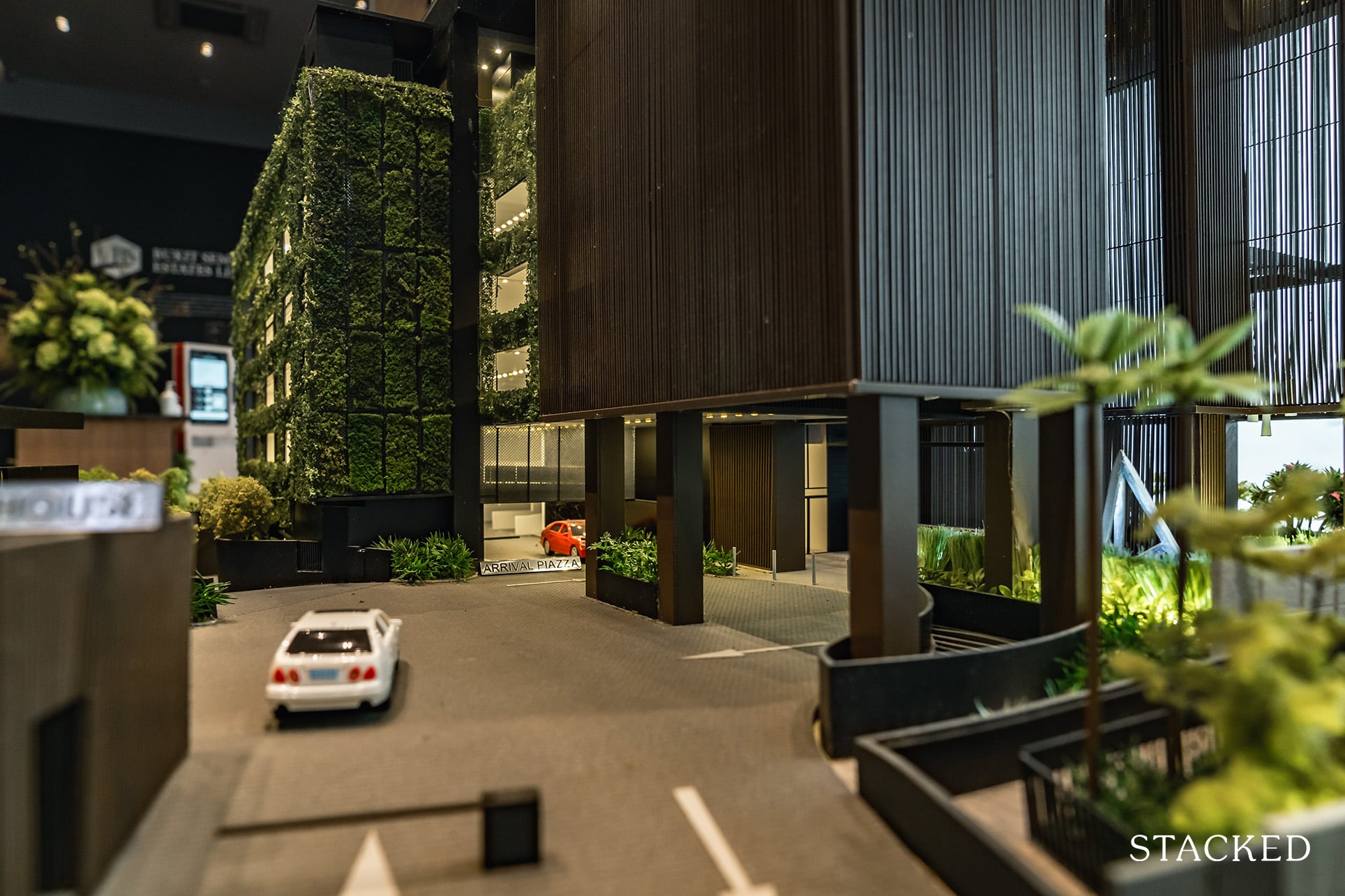 Driving into the development, you will be greeted by the sight of the Arrival Piazza and an art sculpture (I believe it's mimicking the shape of an A?).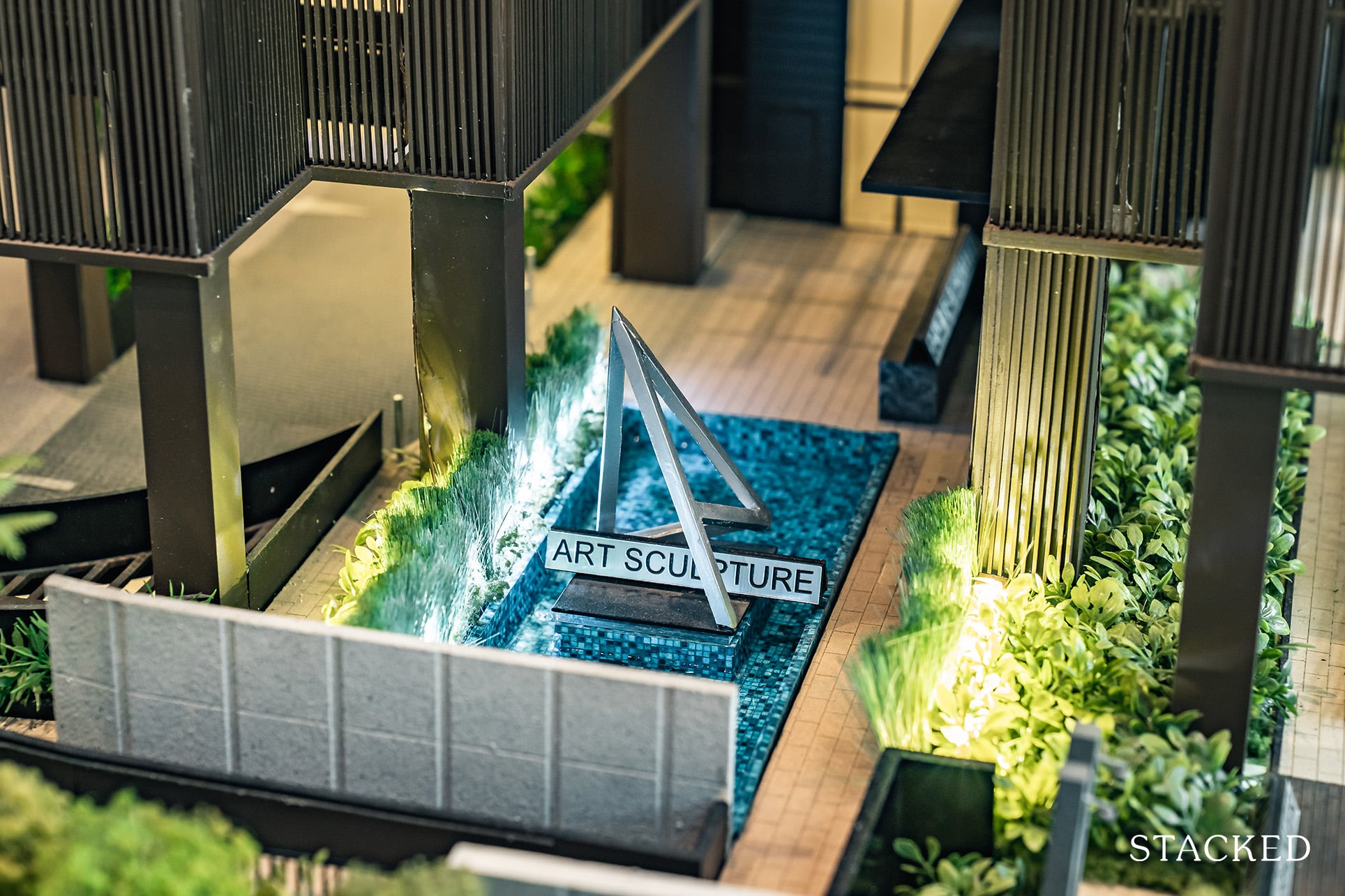 Truth be told, it doesn't look too awe-inspiring – but perhaps I have really high expectations given its boutique luxury aspirations. That said, it's a bit hard to tell from the showflat model too. The renders actually show that the high ceiling actually extends all the way up, so that does paint a better picture.
It is also here that the concierge would most likely be stationed at (this will be confirmed closer to TOP). You can expect services such as porter service, umbrella rental, welcome refreshments, E-bicycle rental, and the typical parcel and postal service. It does provide for a hotel-like experience, and is usually what sets a true luxury development apart from the rest.
Do note that this is a complimentary service for 24 months from TOP from the developer – anything beyond that will really depend on what is agreed from the AGM.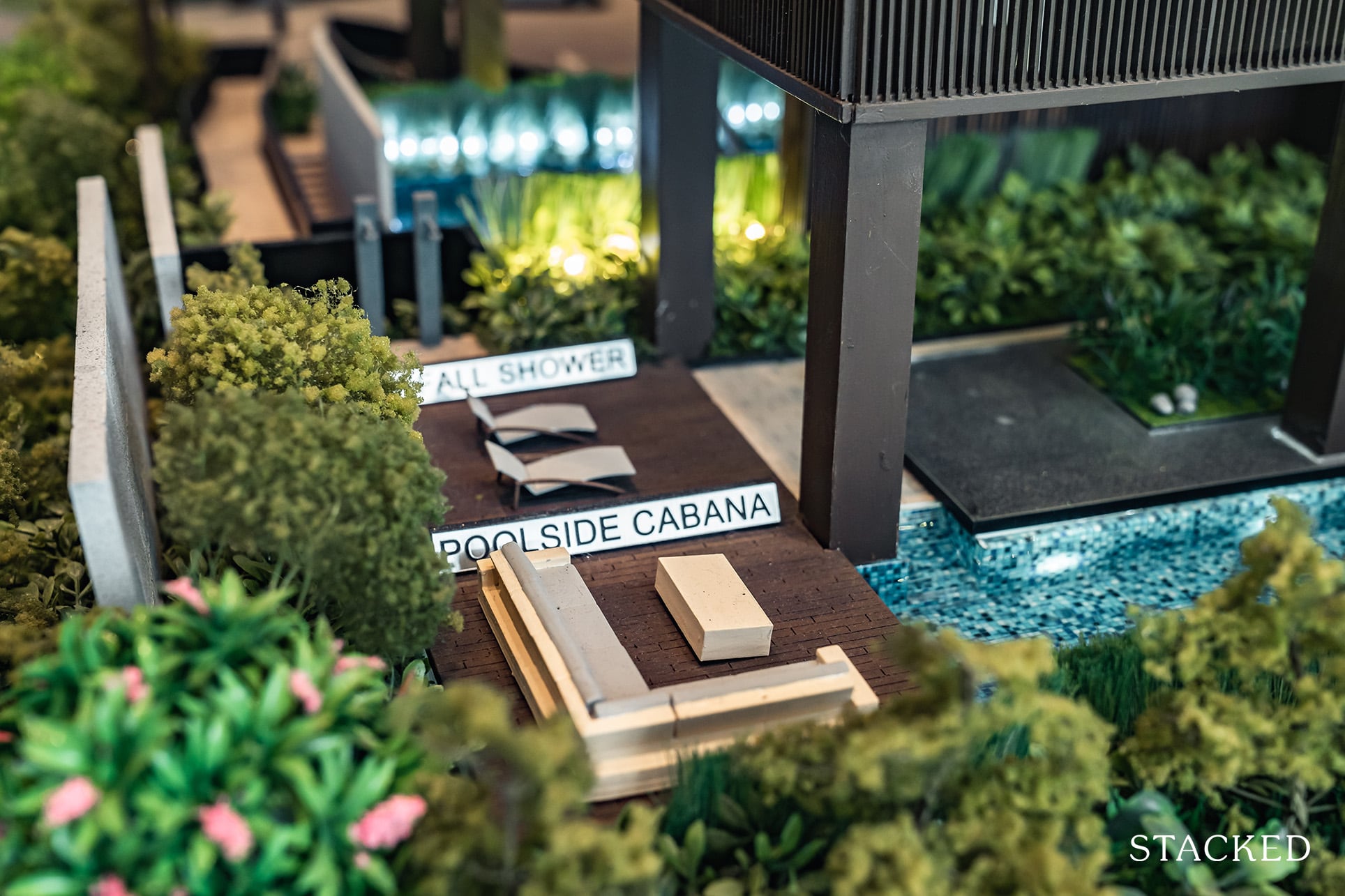 Next to the arrival area is the biggest pool of the development – the Aura Lap Pool. Due to the constraints of its land size, you aren't going to see the usual deck chairs by the side of the pool – these will be located at the front of the lap pool instead.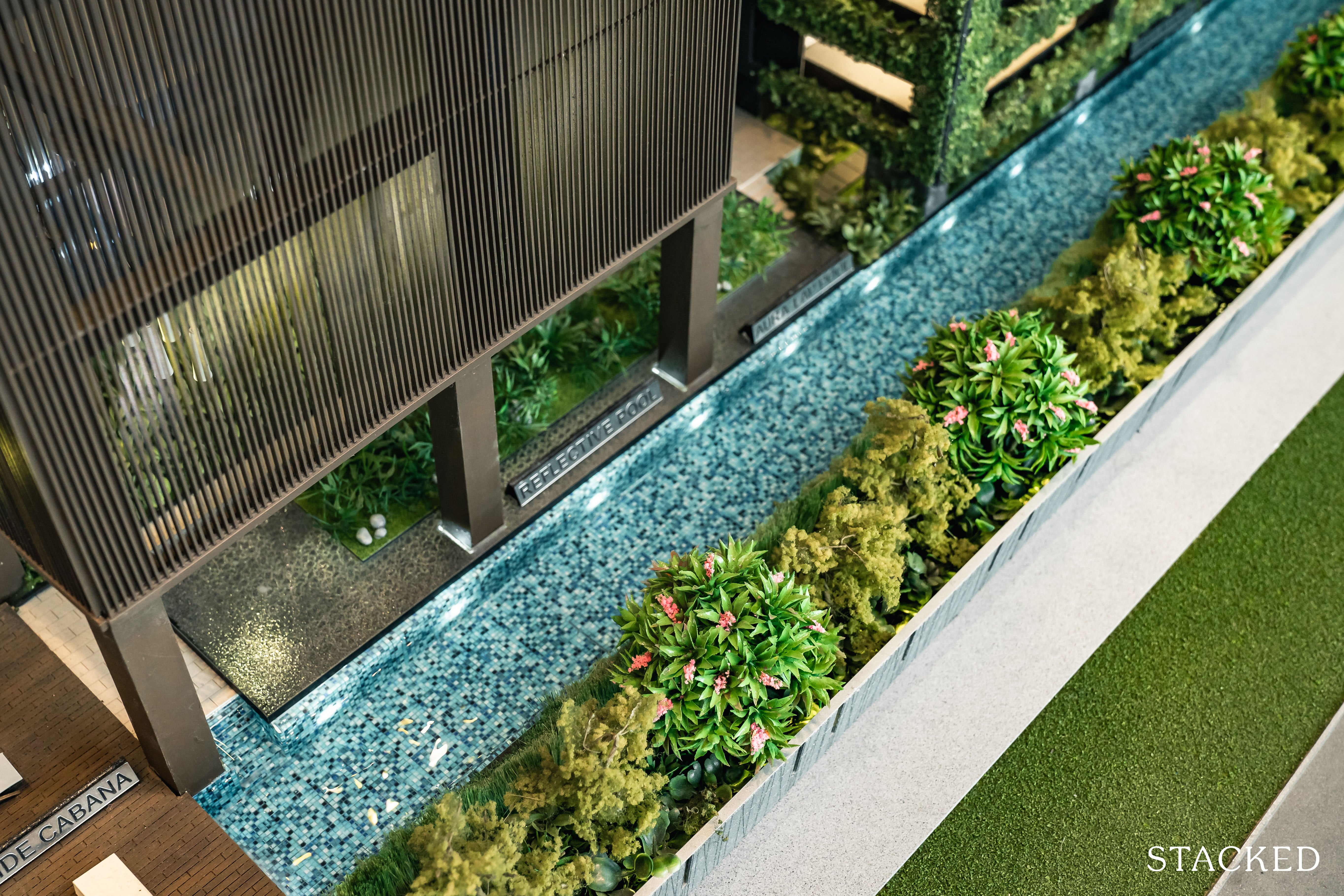 It is quite a long one, measuring 48.5 metres from end to end. While it doesn't measure up to the usual 50m, I hardly think anyone is going to be complaining about the length of it. You will be able to do proper laps here.
It's really the width that I can see some people taking issue with. At 3.3 metres wide, it is rather narrow. Going by the regular arm span (did you know the usual arm span of a person is equivalent to their height?) of a 1.7 metre tall person, it wouldn't be the most comfortable with 2 people swimming side by side.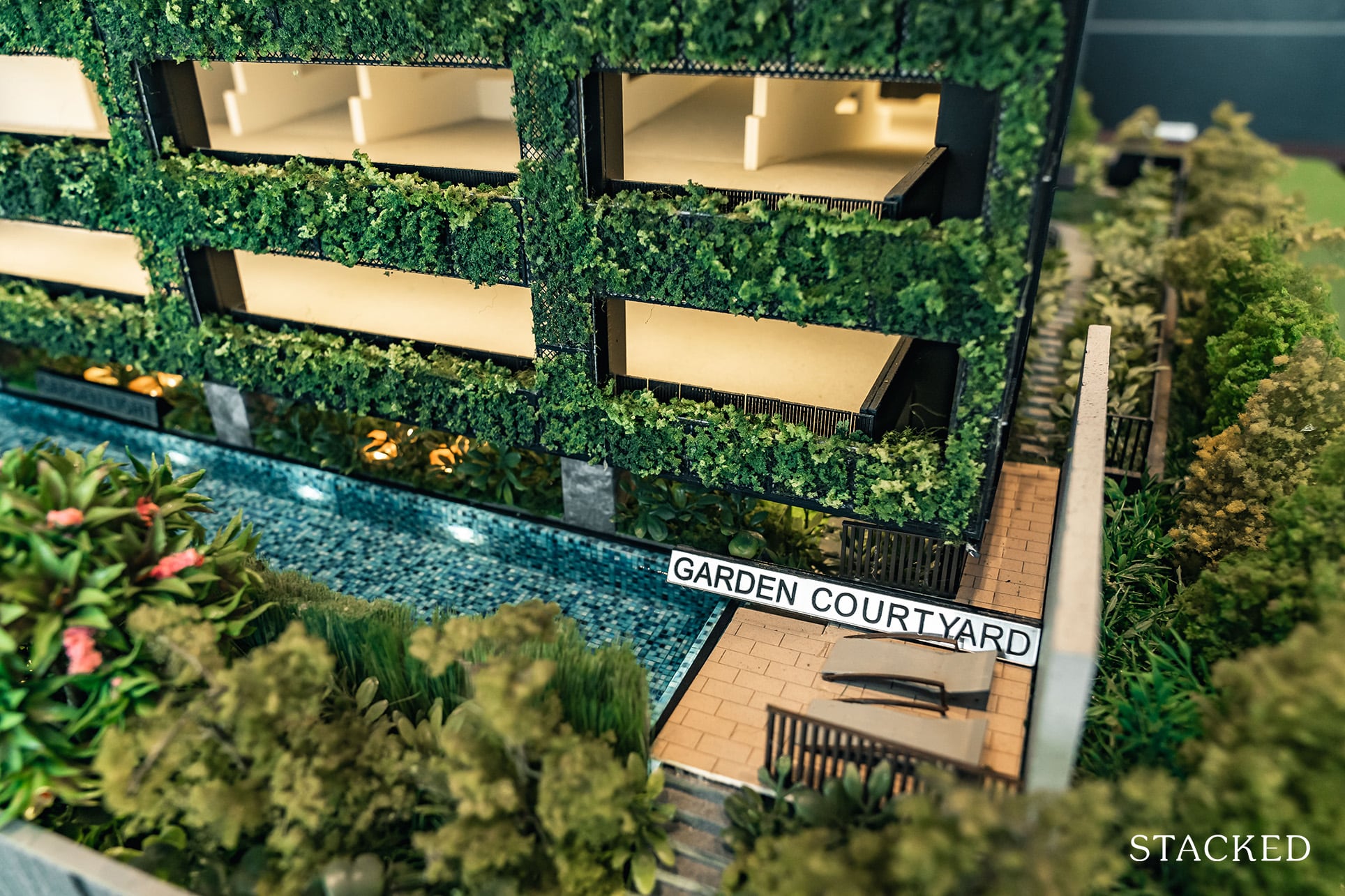 Width issues aside, there are a couple of other positive aspects of the swimming pool. For one, you do get a length of lush greenery lined alongside the pool, which does provide for a nicer ambience as you swim. Also because of the way the pool is positioned, you don't really get anyone looking in directly. Chui Huay Lim Club and Rochelle at Newton is some distance away (separated by the two roads and canal), while the residential blocks of Newton Edge isn't exactly positioned where the pool is either.
So yes, it is actually quite a private area.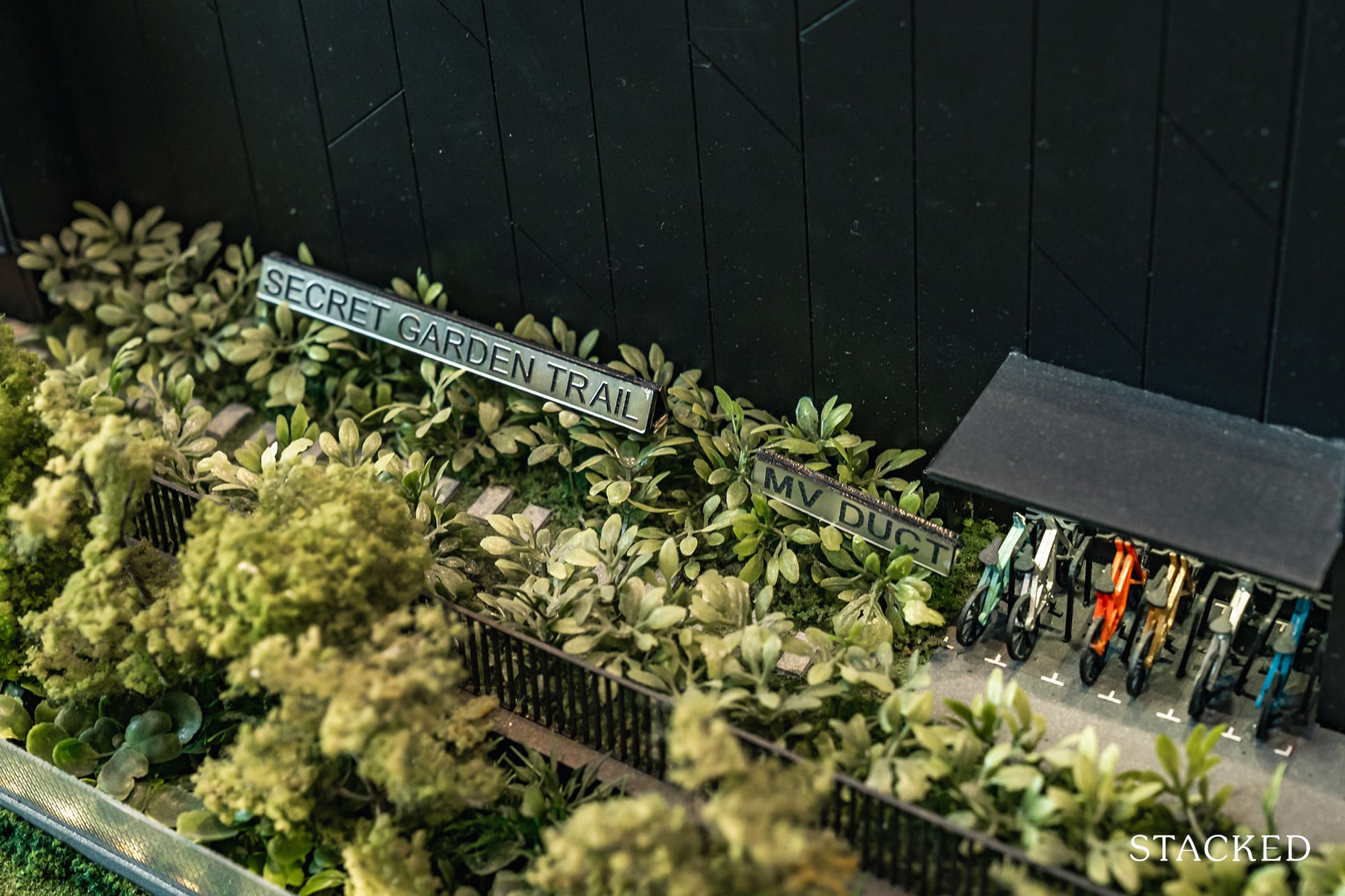 Around the corner is the secret garden trail, which is really just a cobbled pathway surrounded by verdant foliage. Perhaps more importantly, this is where you will get sheltered bicycle storage – something that is becoming increasingly popular in Singapore.
While it doesn't look like you can fit in a lot of bicycles here, fret not, as there is additional storage in the basement carpark as well.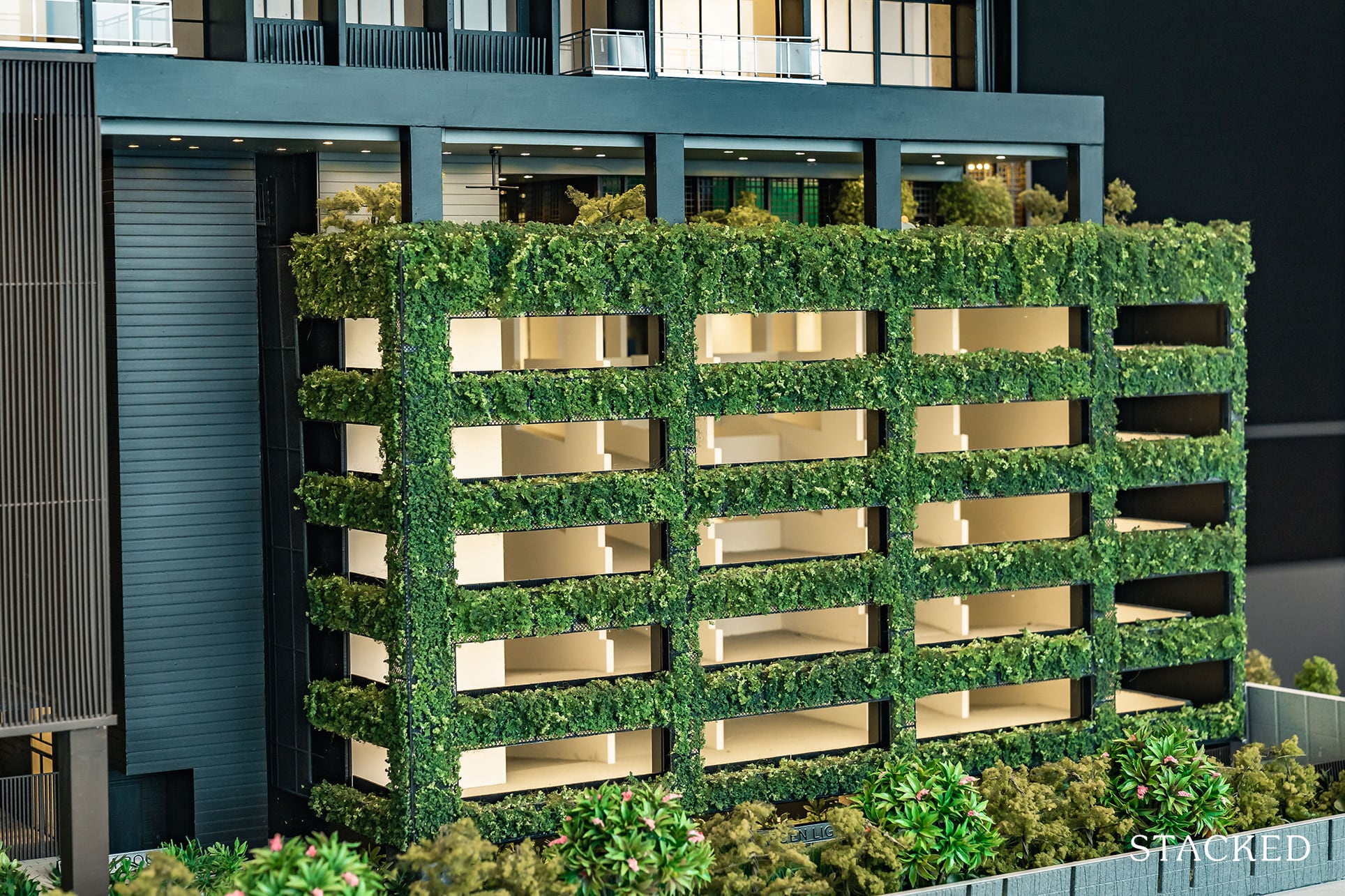 Speaking of which, The Atelier is quite unique in that it offers both a basement and a multi-storey carpark. There are 120 carpark lots provided, which is a 1:1 ratio so that's definitely a plus point here. The basement holds 35 carpark lots, just to give you a sense of the split between multi-storey and basement lots.
And given the Government's recent stance on electric cars, it's also great to see that there would be 2 electric car charging lots provided from the get-go. So while adoption rate of electric cars is still in its infancy in Singapore, its good to know that there is future proofing here as there are additional isolators for the MCST to install more chargers in the future.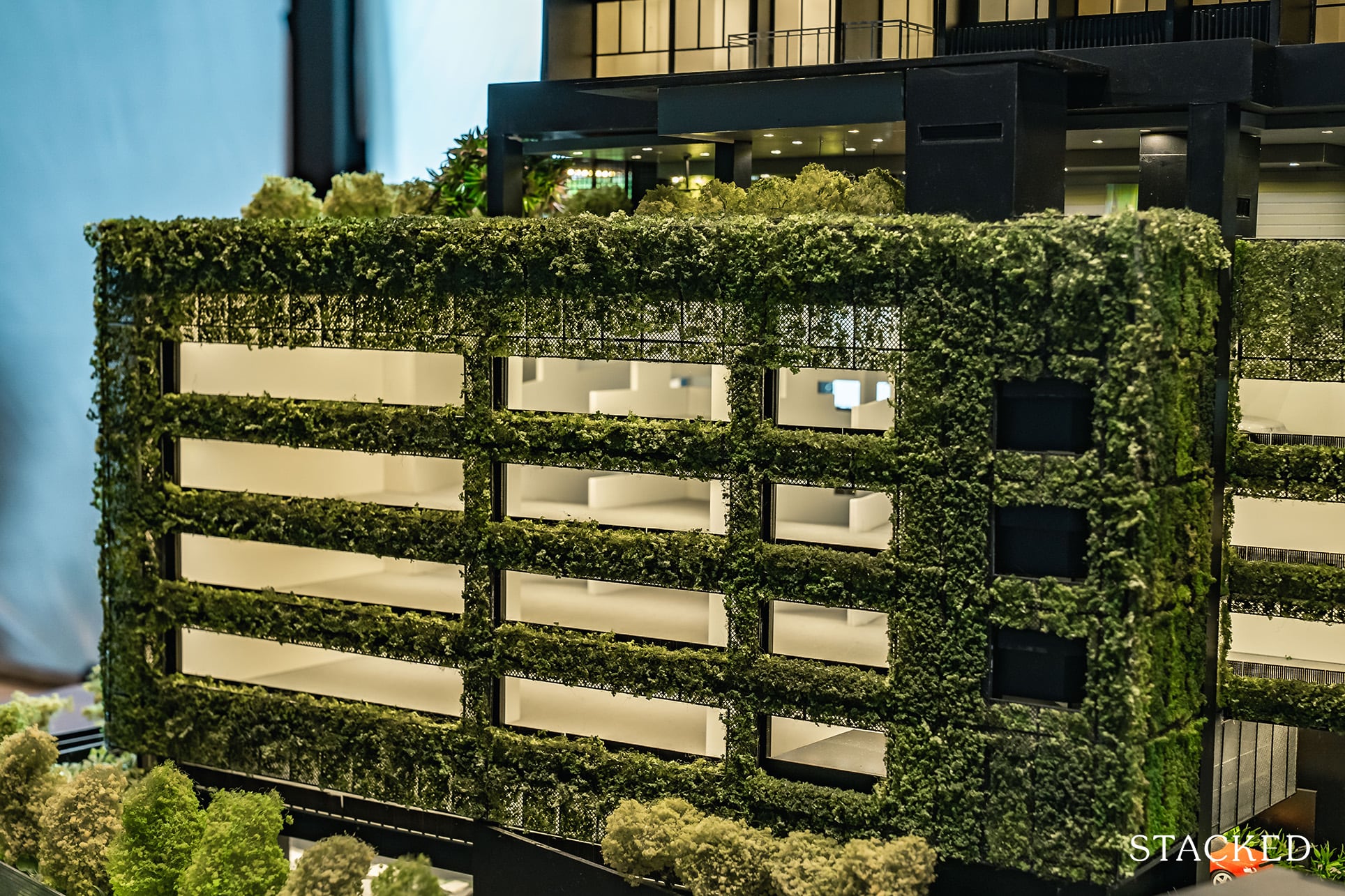 What I especially like here is how the entire facade of the multi-storey carpark has been shrouded in greenery. It provides a softer touch, which is unlike the concrete laden blocks that you'd usually see in most other carparks.
This provides two benefits: cleaner air, and cooler overall temperatures. What's not to like?
Now I know not everyone is too fond of multi-storey carparks, but the good side to this is that even the "ground-floor" unit here will start from the 7th floor. This means you'll be clear of the Newton flyover, and will enjoy some semblance of a view. But the downside here is that you will have to change lifts at level 6 to get home. It's not a dealbreaker by any means, but some might see this as a minor annoyance that needs to be pointed out.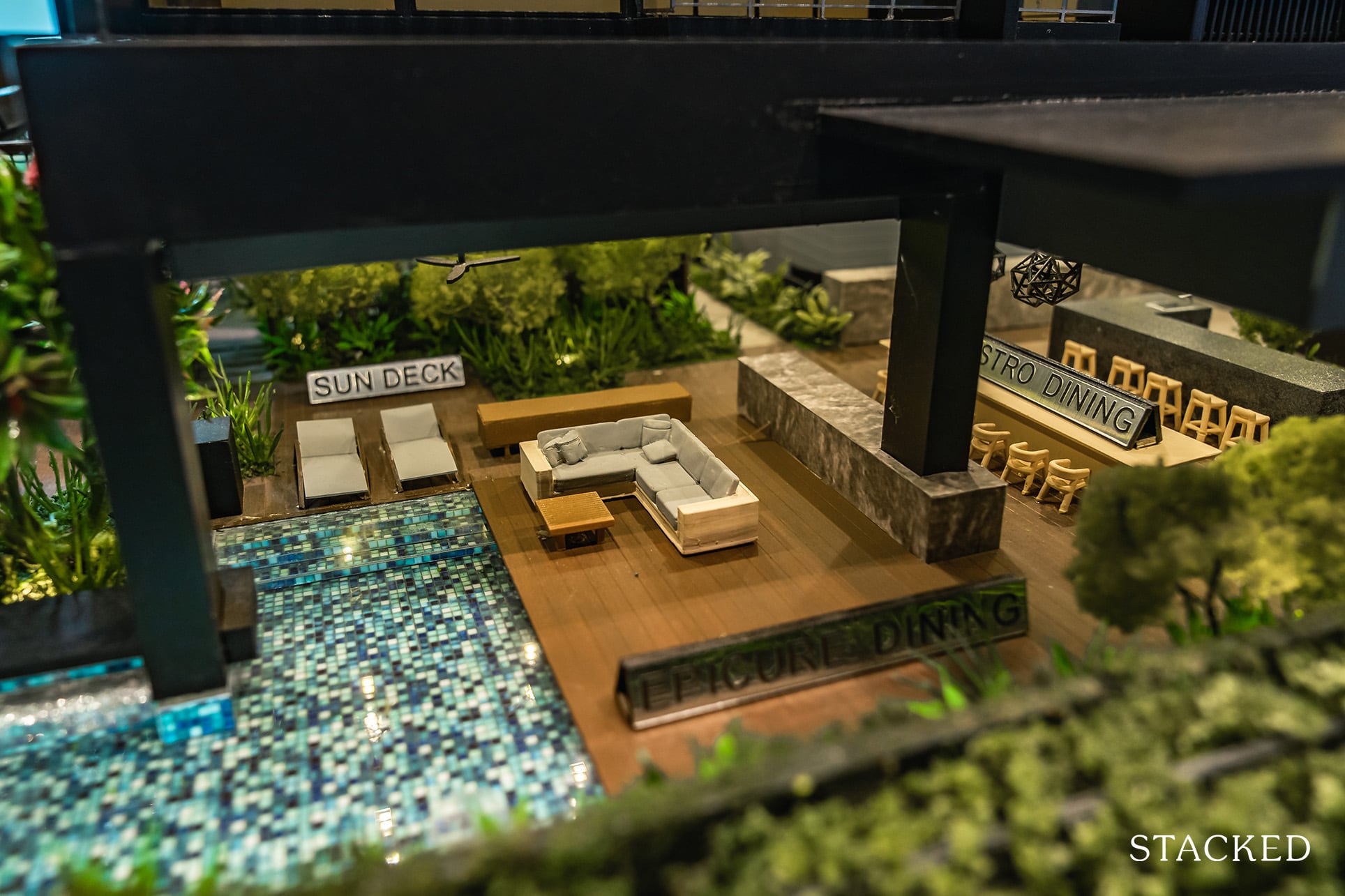 In view of the constraints of its land size, The Atelier's facilities have been split into 3 decks. Named Indulge @ 1st Storey, Immerse @ 6th Storey, and Inspire @ 18th Storey, it's a good way to take advantage of the elevated views.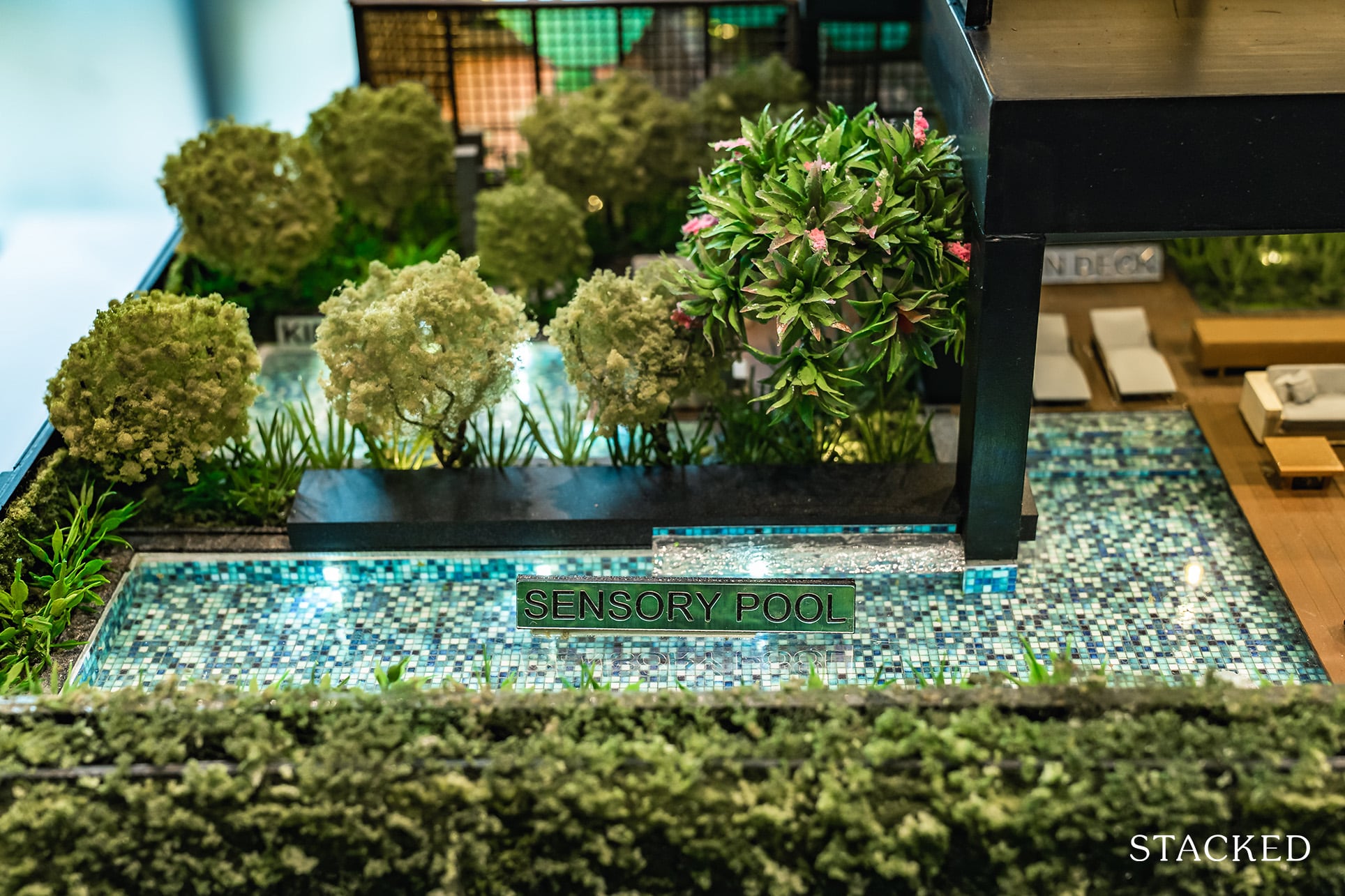 It's also here on level 6 that you'll find dining options – the bistro and epicure dining. It features a nice chill out space, long dining table and counter (comes with a coffee machine, fridge, and wine chiller) which overlooks the small swimming pool. For those eyeing the smaller units, having a bigger entertainment area would always come in useful so I'm glad to see the provision for it here.
It is a pity though, that your surrounding views would be blocked by the neighbouring Kopar.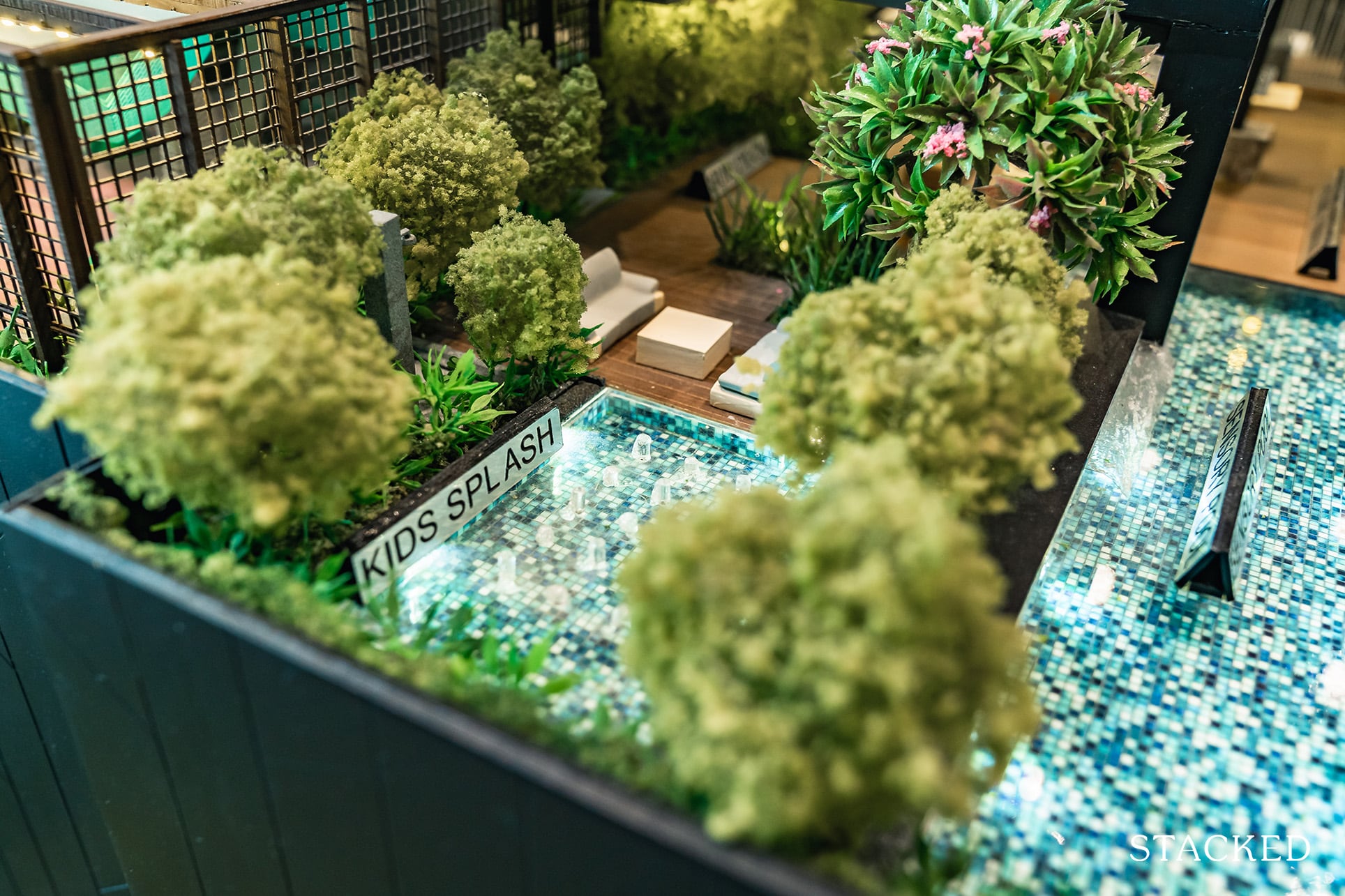 At the far corner, is the kids splash pool – which is a sensible location for it. You can hold dinner parties while the kids frolic about nearby.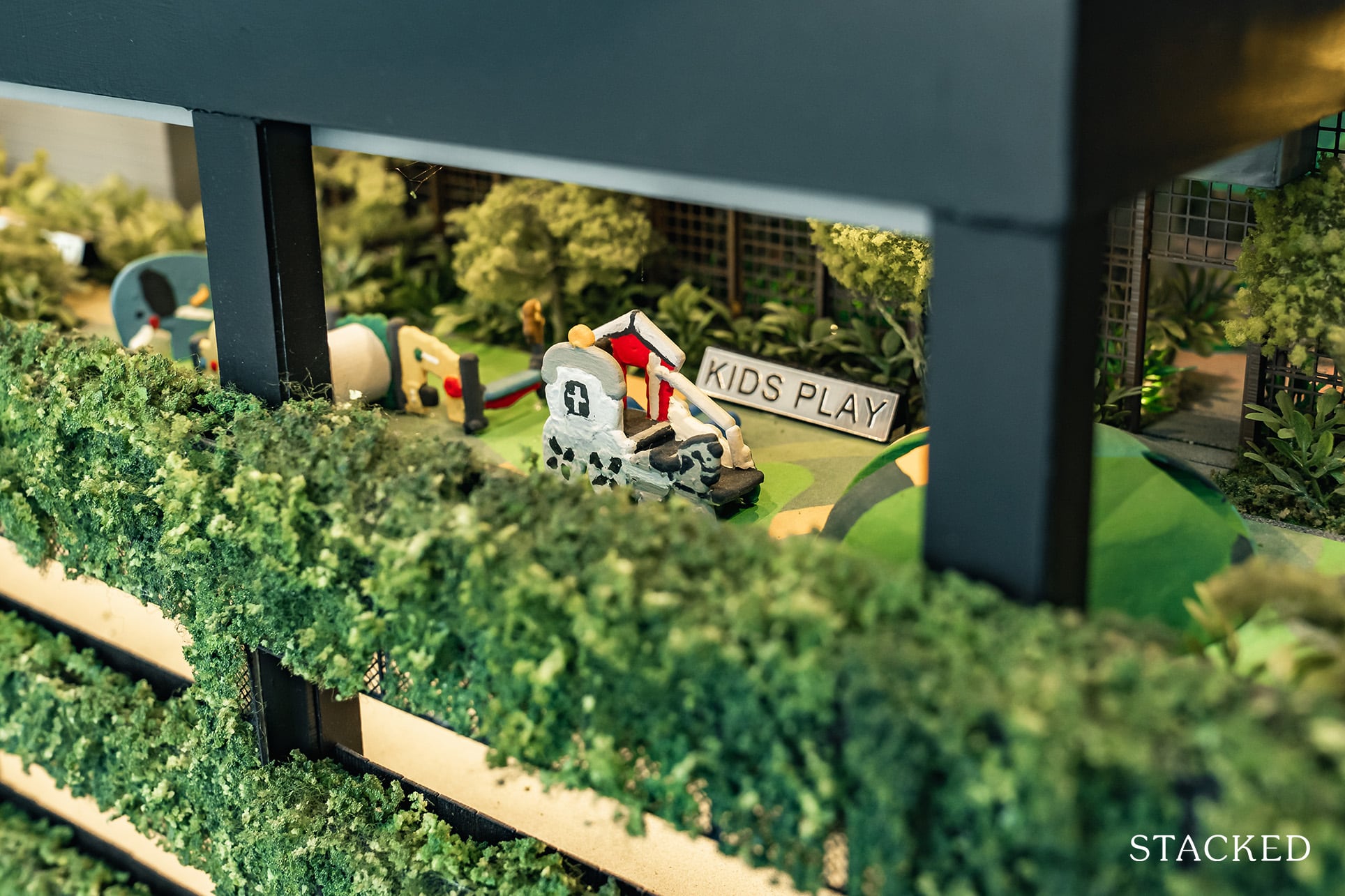 In fact, you could almost consider this section as the kids wonderland, as there is an entire kids playground located on the other side of the floor.
And not to mention, a very impressive play area in the middle named the Tree Top Adventure. Unlike some of the overly hyped marketing names for facilities, I would say this is one of the first that I've seen where it doesn't quite capture how dynamic it actually is.
For young couples who are planning to have kids, trust me when I say that having such a facility pays dividends in your kids early years. Having a space such as this is a godsend to expend your little one's energy. It's not just for your kid, the benefits for you are tremendous too – you can finally catch a breather.
It is also telling that they've paid so much focus to kid-related activities despite the small land size. I mean, it's smart, given the proximity to renowned schools like ACS and SJI.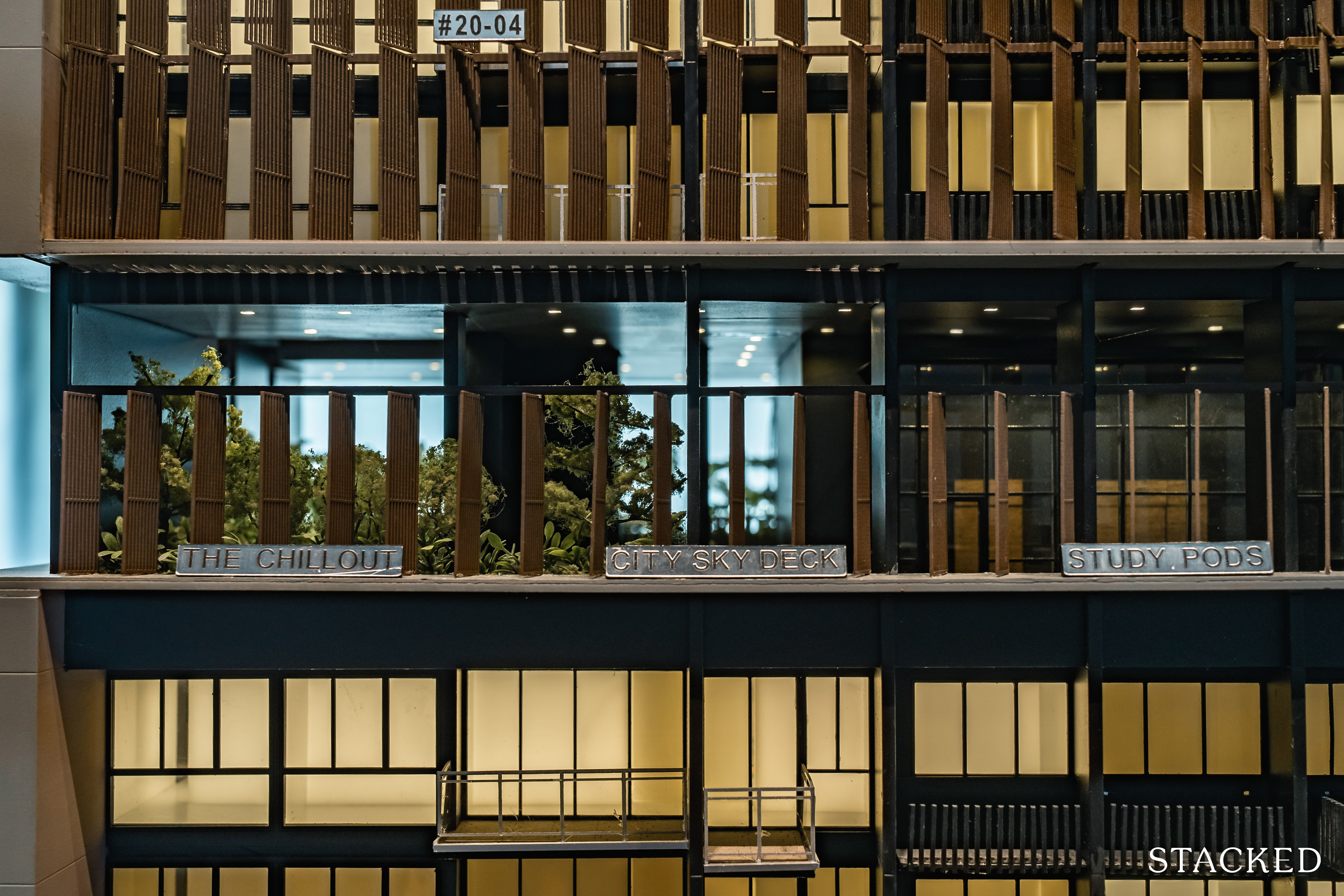 Last but not least, let's look at what is available on the 18th floor. This will be the highest deck of facilities, so naturally the view would be the best from here. It is after all only a 22-storey building, so this is as good as it gets.
It is also here that you'll find the clubhouse, a sleek and modern-designed space that doubles up as another entertainment area. Of course, there will be kitchen equipment provided here such as a hob, microwave, oven, and fridge.
In light of the current pandemic, Bukit Sembawang has also smartly incorporated a study pods area. From the renders it does look like quite a classy joint, so I'd reckon this could be an attractive draw to those who have to work from home. Being able to have a separate workspace is definitely an appealing one – as with having an alternative to just working from one spot.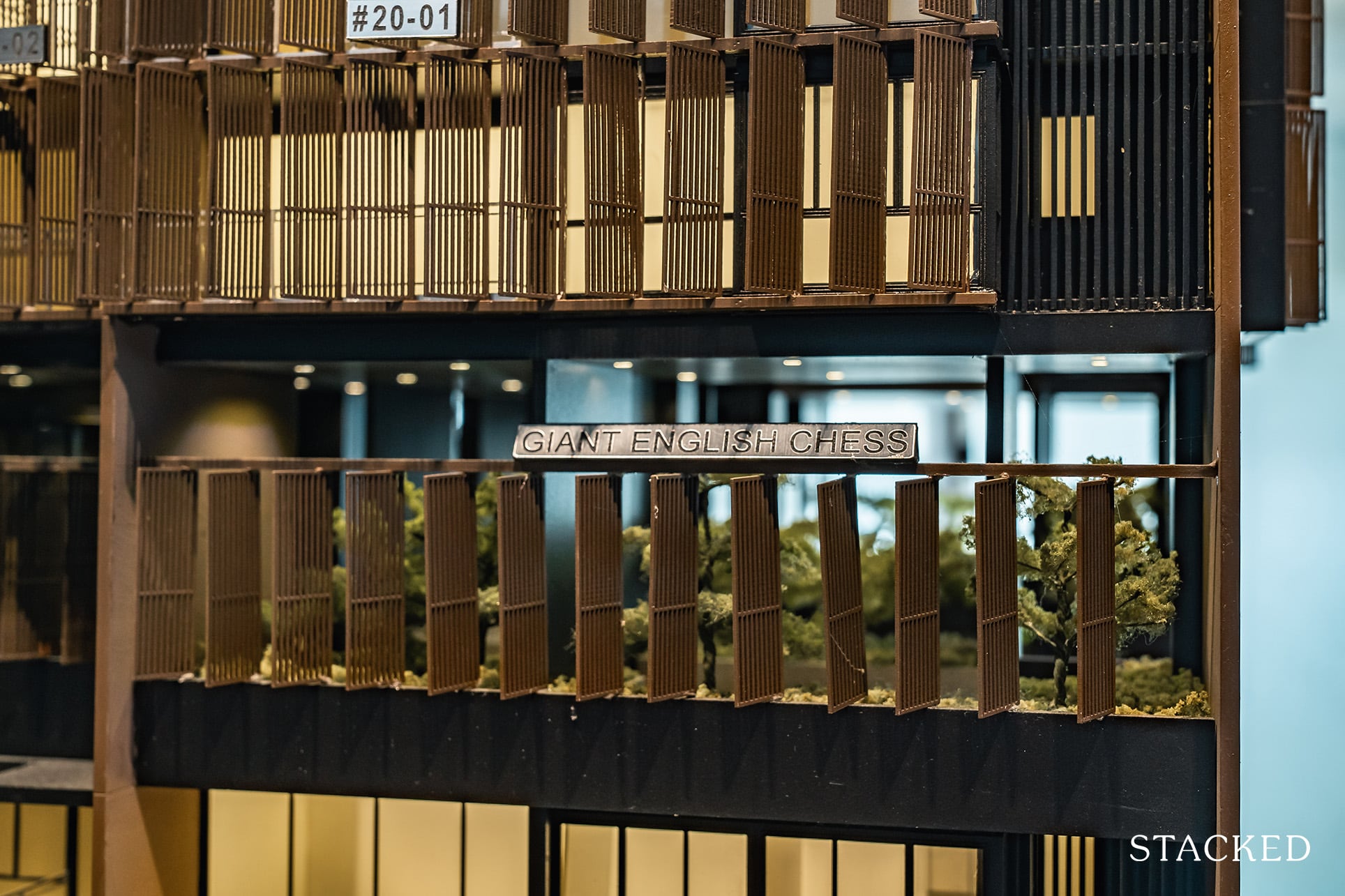 Of course, you have the usual gym and even an entertainment option in the form of a Billiard table. Strange as it may sound, there's a giant English chess set here too. Frankly, I've always been puzzled about its inclusion – are there that many people interested in giant chess sets? I mean, I can kind of understand for bigger developments, but in one as small as this one, it does seem that the space could be put to better use.
As an aside, you might have noticed here too that the units above have a unique angled fin design. This is because the south facing units are facing the Istana, and hence were required to be screened off.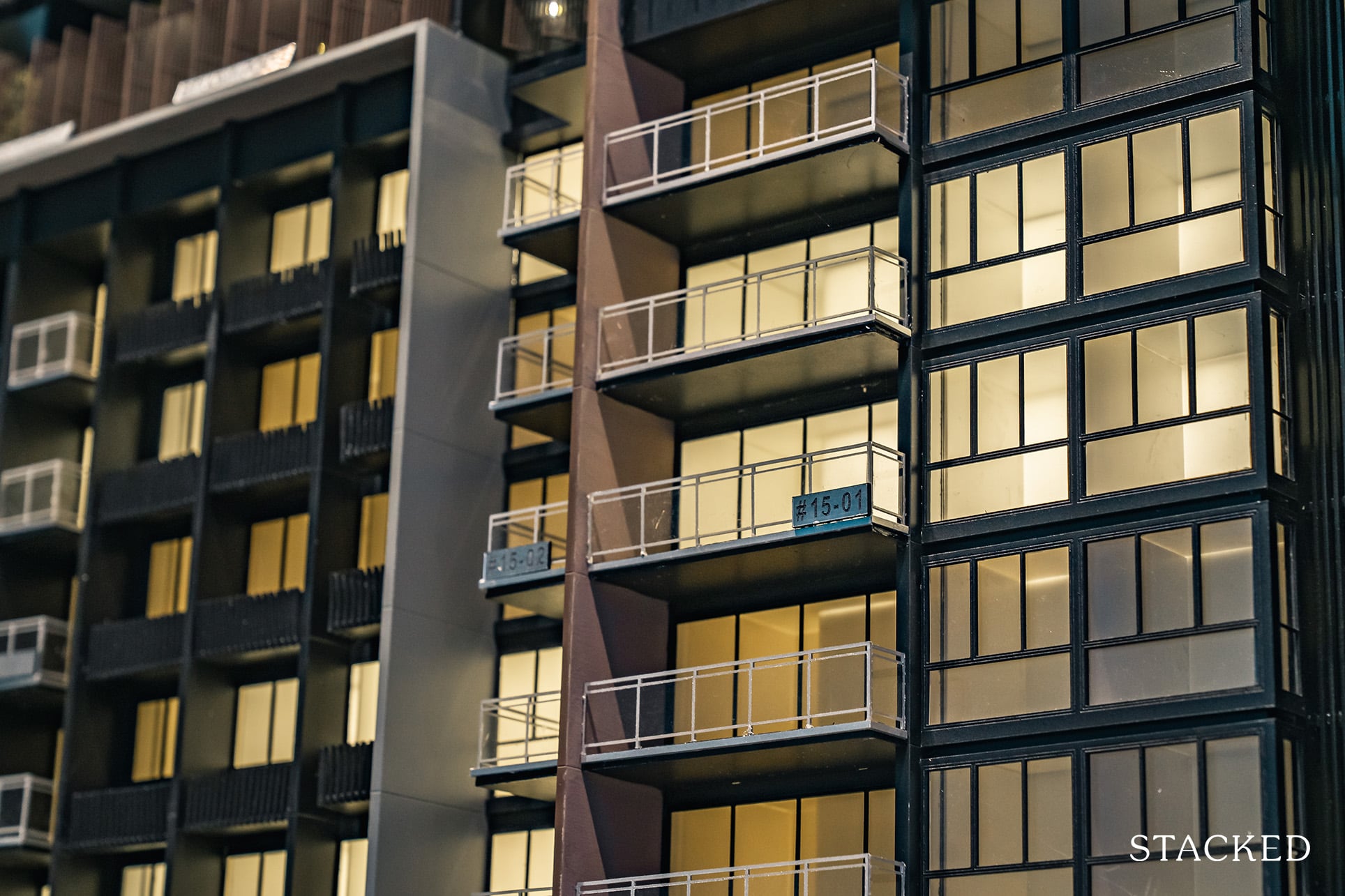 Otherwise, the overall design of The Atelier is about what you'd expect of a modern development today. Awash in a dark brown and greyish-toned colour scheme, it is very inline with the current trends. Ultimately, it is a safe choice – but if you are looking for something more cutting-edge, this probably isn't it.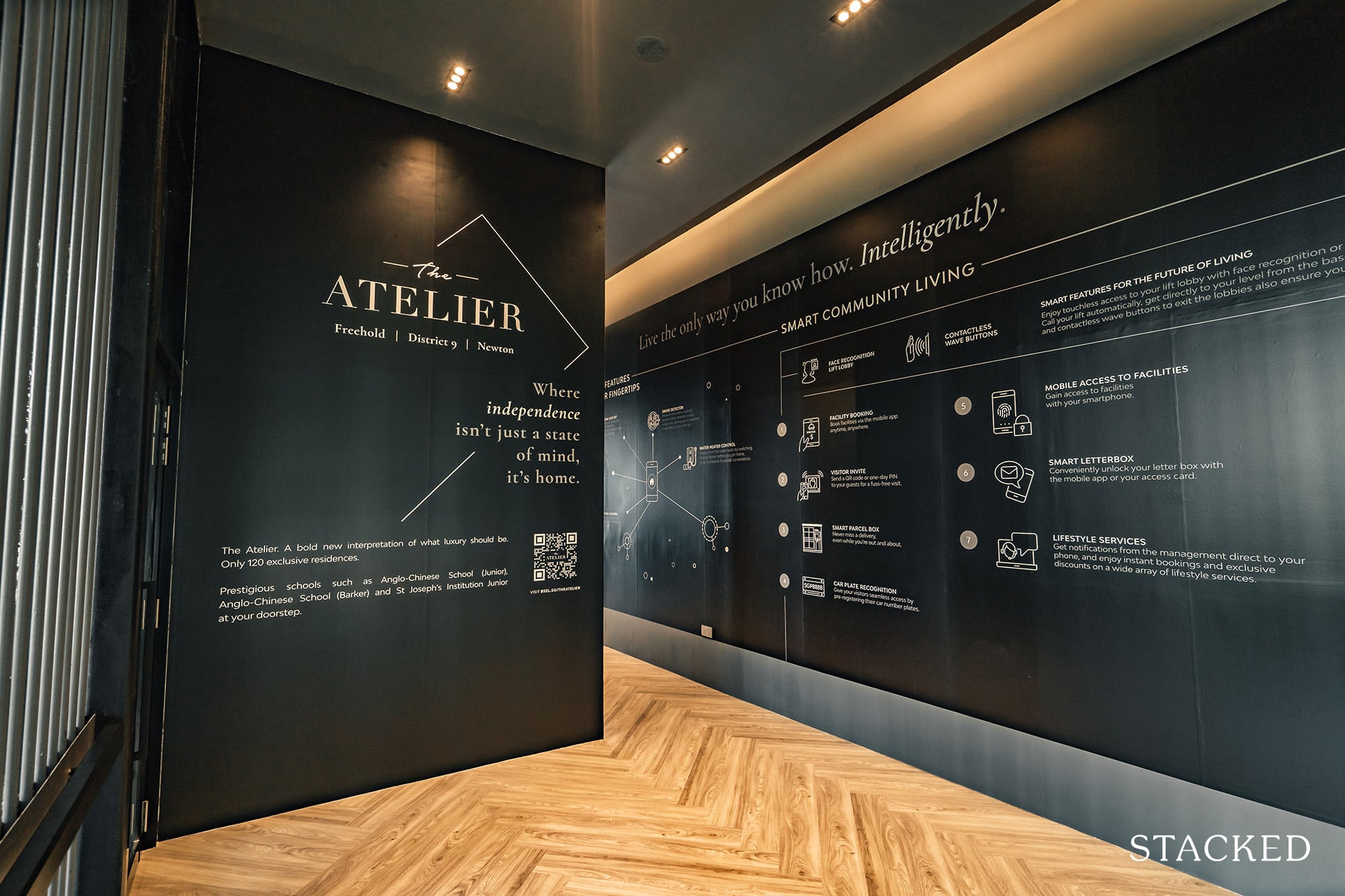 Lastly, a special mention to a few smart features that Bukit Sembawang has implemented in recognition of the current pandemic. There will be face recognition access to the lift lobby, or via your phone. Also included in the lift are contactless wave buttons – something that still feels futuristic every time you do it.
Read this next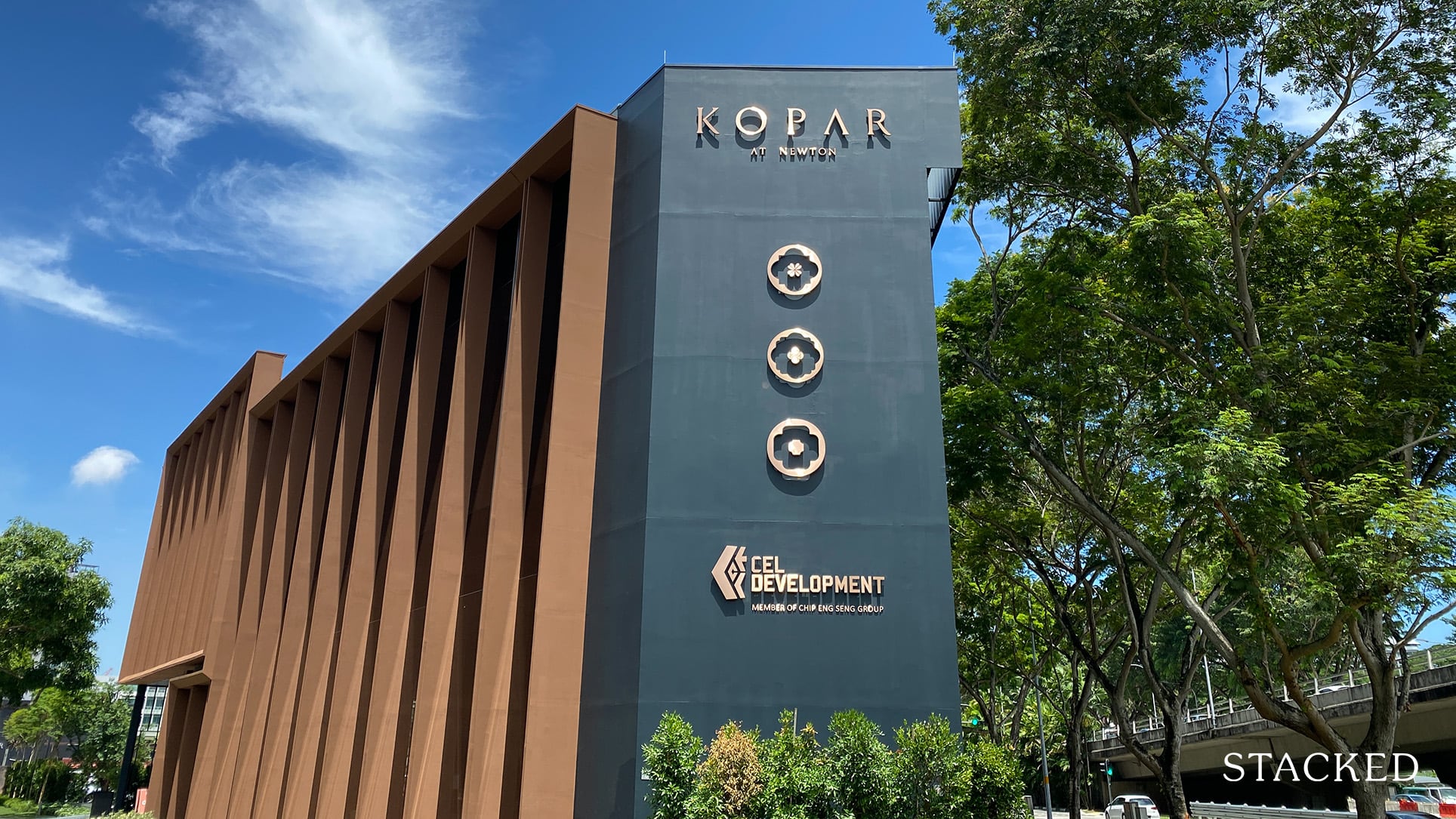 The Atelier 3 Bedroom Review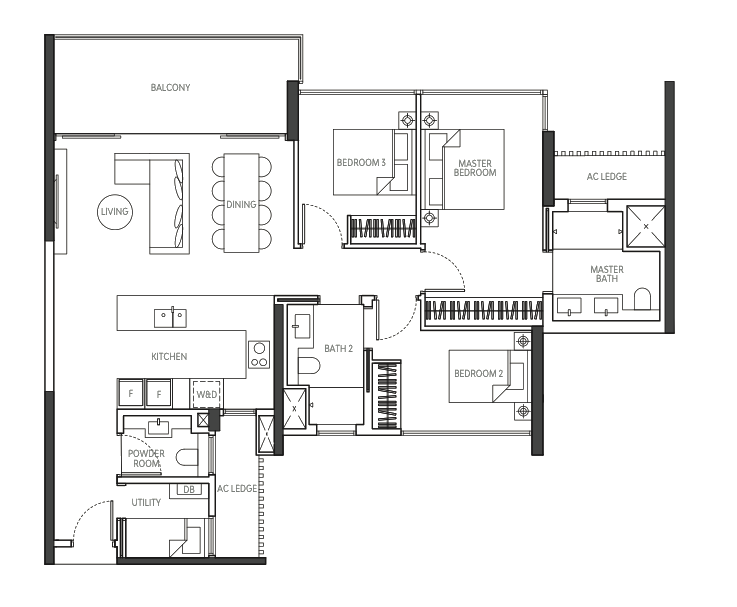 As far as 3 bedroom units go in today's new launch context, 1,281 square feet of space is definitely considered to be on the large side. It is a fairly regular layout, with the exception of how the "yard" and powder room is placed (I'll show you later).
On the whole, it is decently laid out – although there are a few quirks which depending on your family lifestyle you will definitely need to take note of.
There are no private lifts at all in this development, which is somewhat of a surprise given that it is a luxury one. Although with 3 lifts serving 120 units over 22-storeys seems more than adequate.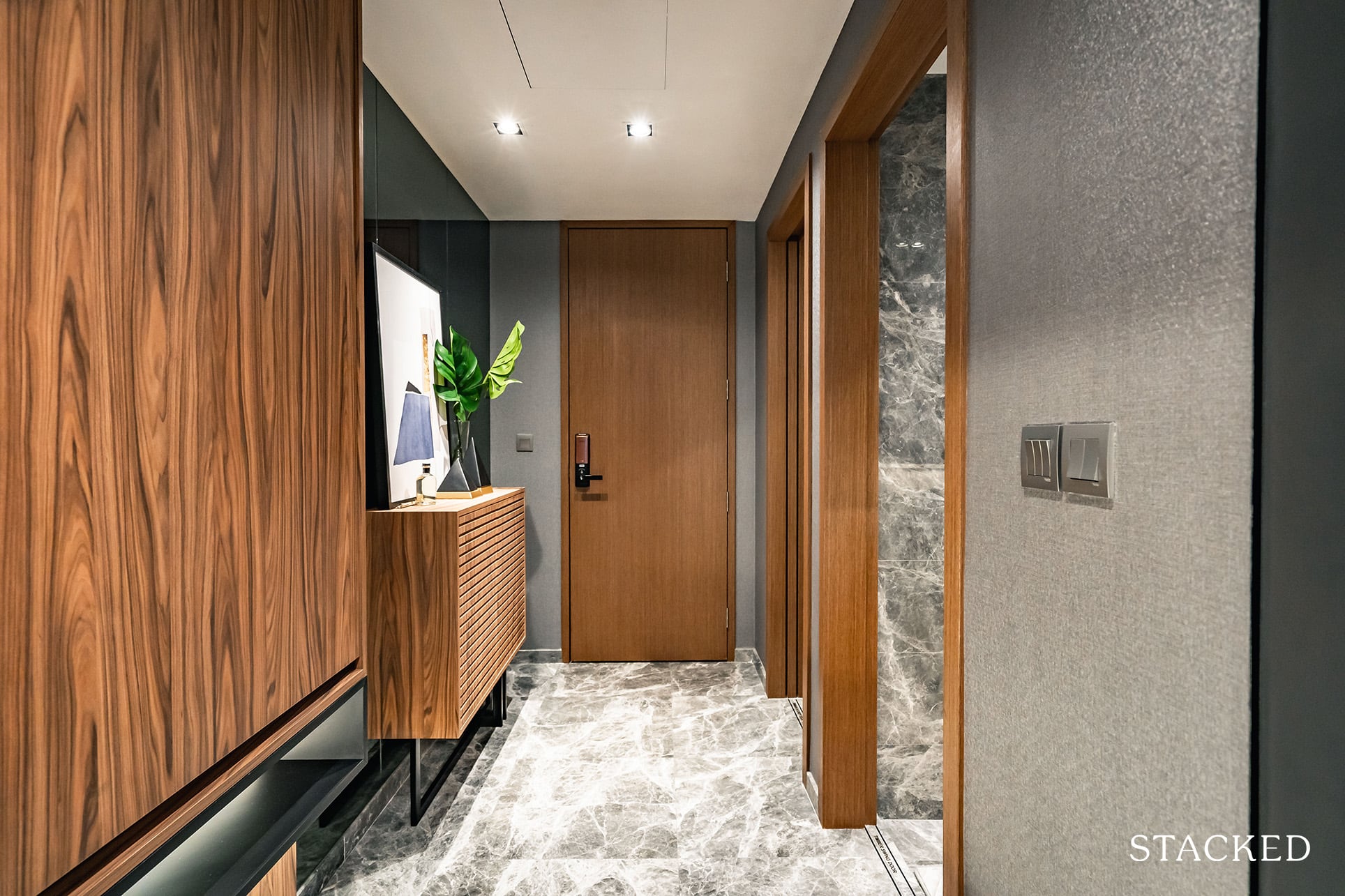 Coming into the unit for the first time, one of the first things you'd notice is the patterned marble on the floor. Personally, I am fond of the look, but I can also see how those into a more minimalist look might not take to it at first glance.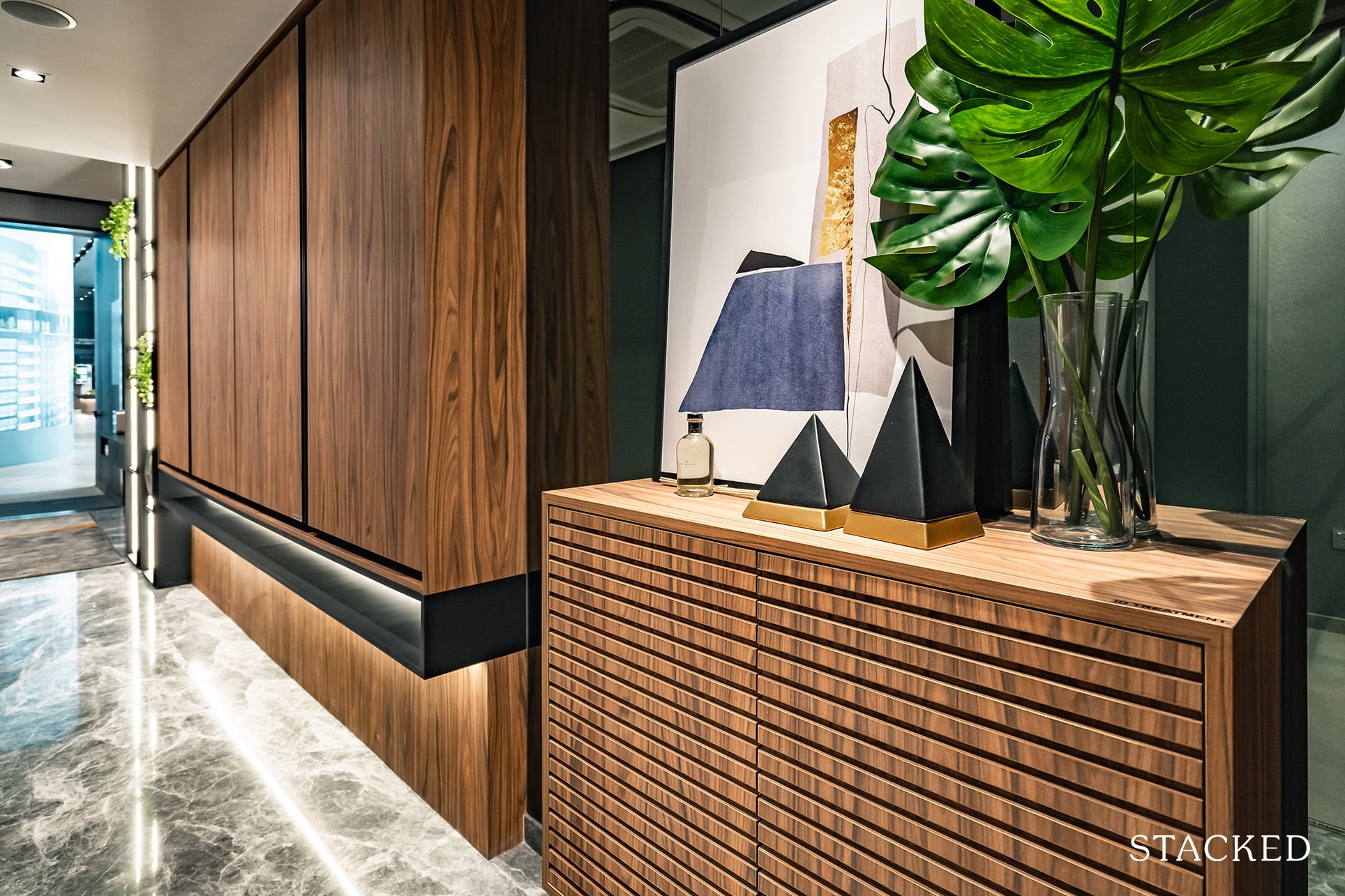 The entranceway is large enough to incorporate a console on the side, which is always useful to store your knick-knacks like car keys and such.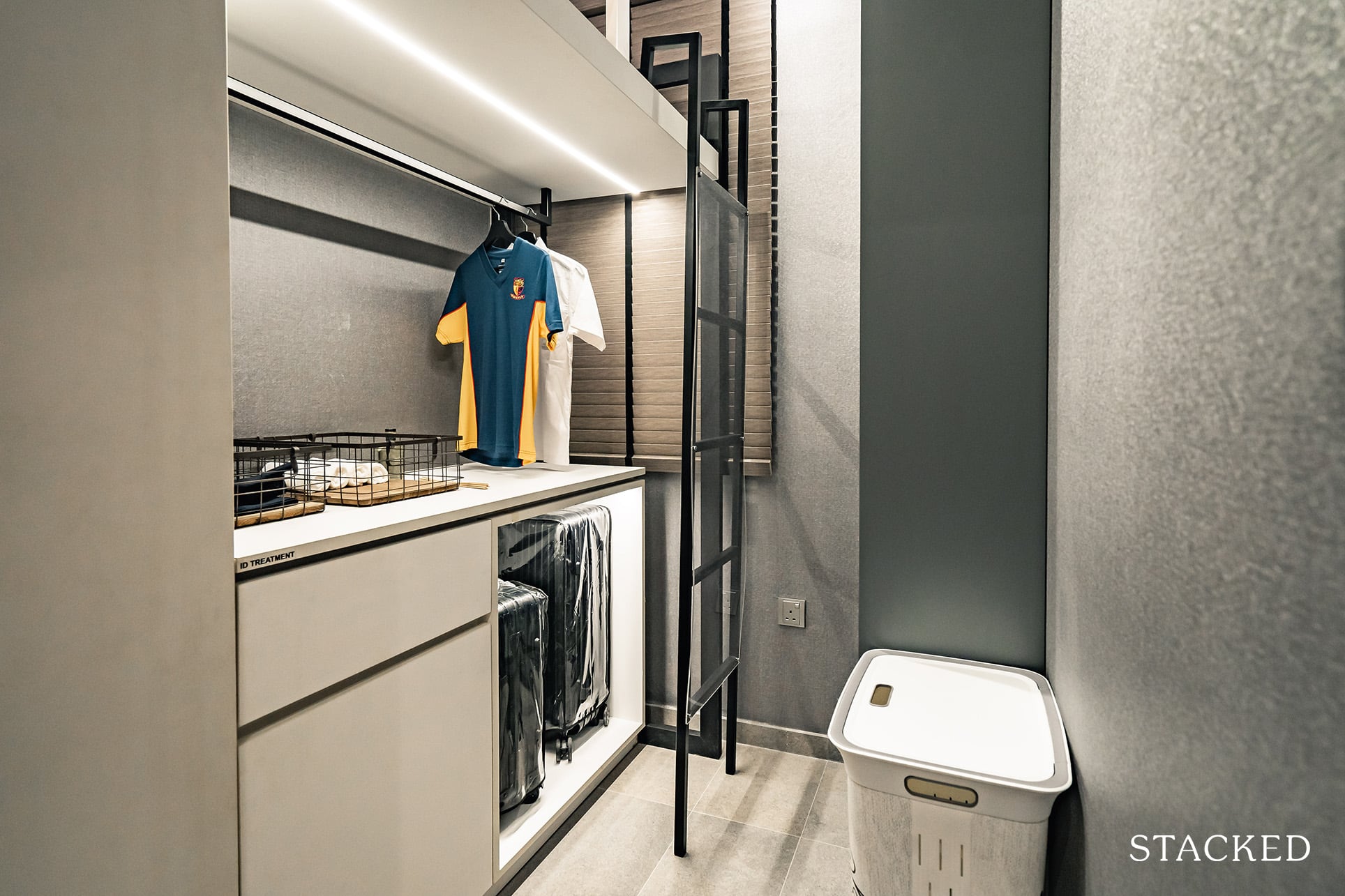 Immediately on your left is the utility room which can be used as a store or even a study room. Given the family focus for the bigger 3 and 4 bedroom units however, this would very likely be used as a helper's room instead. You do have a window here, which does wonders for natural air flow and light.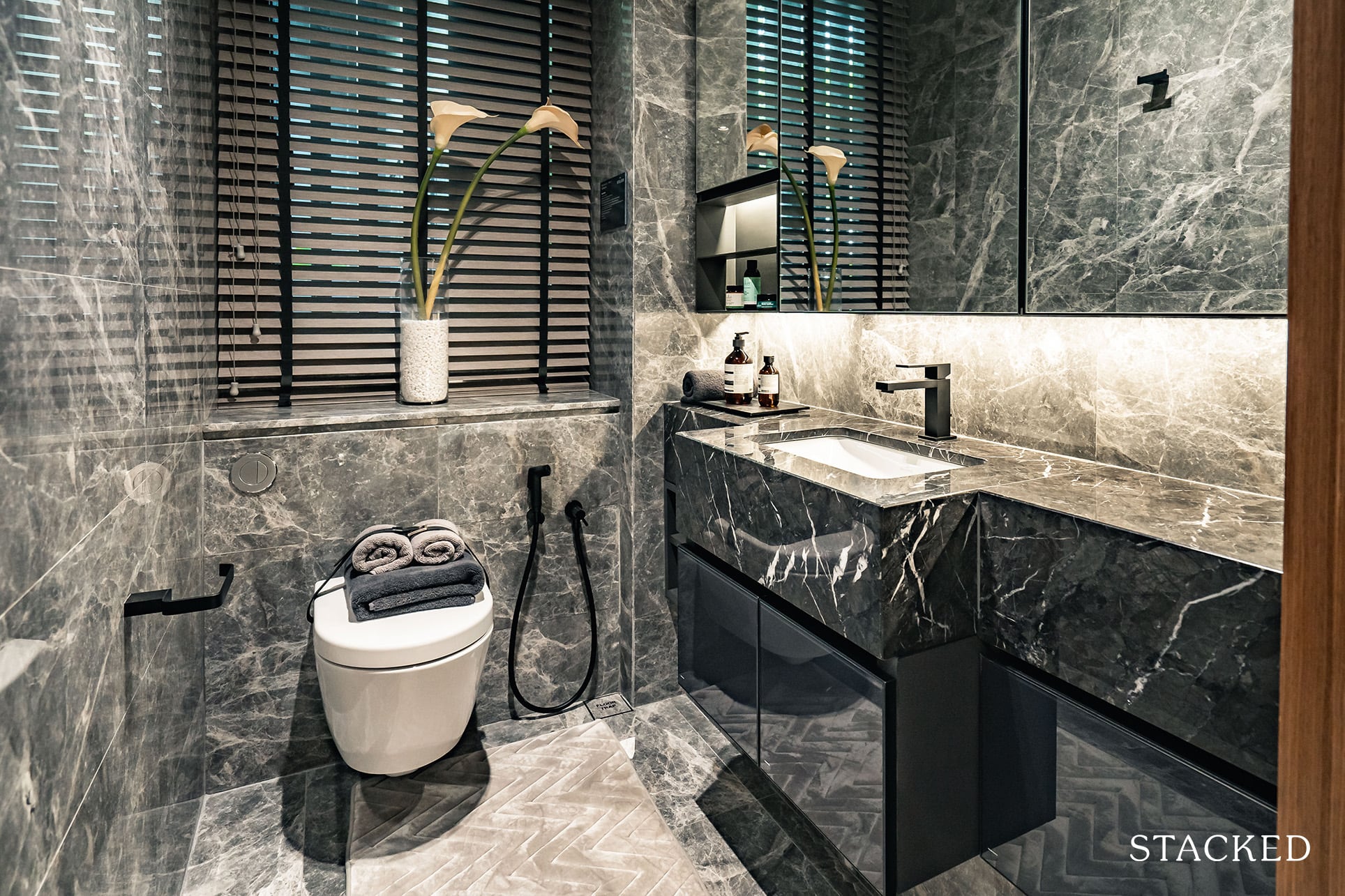 Next door is the powder room, which I have to say is an extremely luxurious touch as this is often reserved for the premium units. Perhaps what's even more impressive is the size of it – it is even bigger than some powder rooms that I've seen from 5 bedroom units. This one is pretty special too, with a marble flooring that you don't usually see included in bathrooms.
While I do applaud the move, given the relative size of the space, I would rather this be turned into a yard area (yes yes I know, boring old practical me). It is much more sensible though, especially for those families that don't really entertain a lot.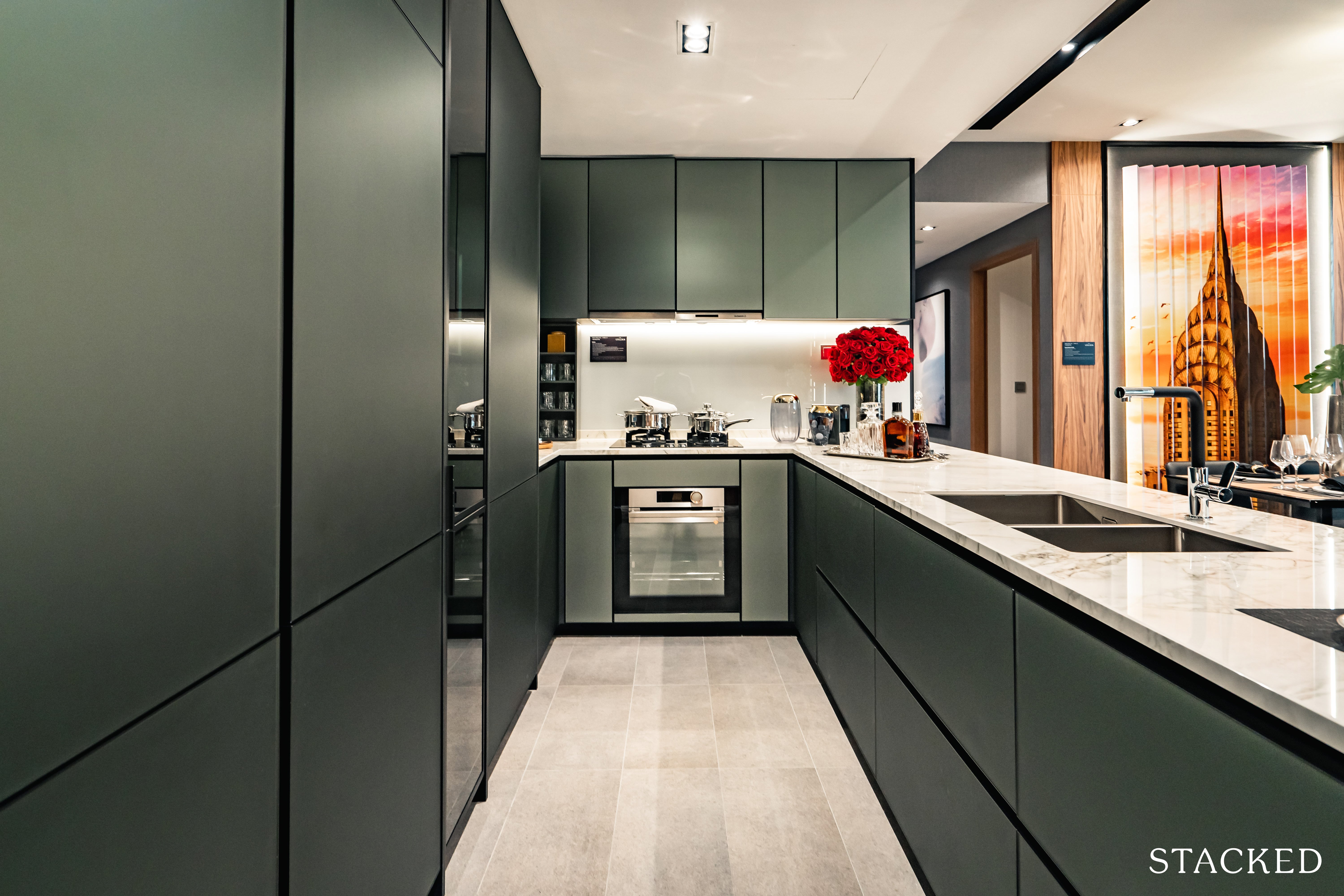 Moving further down brings you to the open concept kitchen. It's a stunner to look at. That dark and smooth satin glass finish is quite something as it looks and feels premium to the touch. It isn't the first I've seen of it though, with The Reef at King's Dock featuring it earlier this year.
It is worth noting however, that this dark coloured satin finish is sadly only available for the 3 and 4 bedroom units. For the 1 and 2 bedroom units, you'd have to make do with the lighter coloured option (of which you'd see later). I know colour is a very subjective thing, but this dark finish is definitely something that is very on trend now.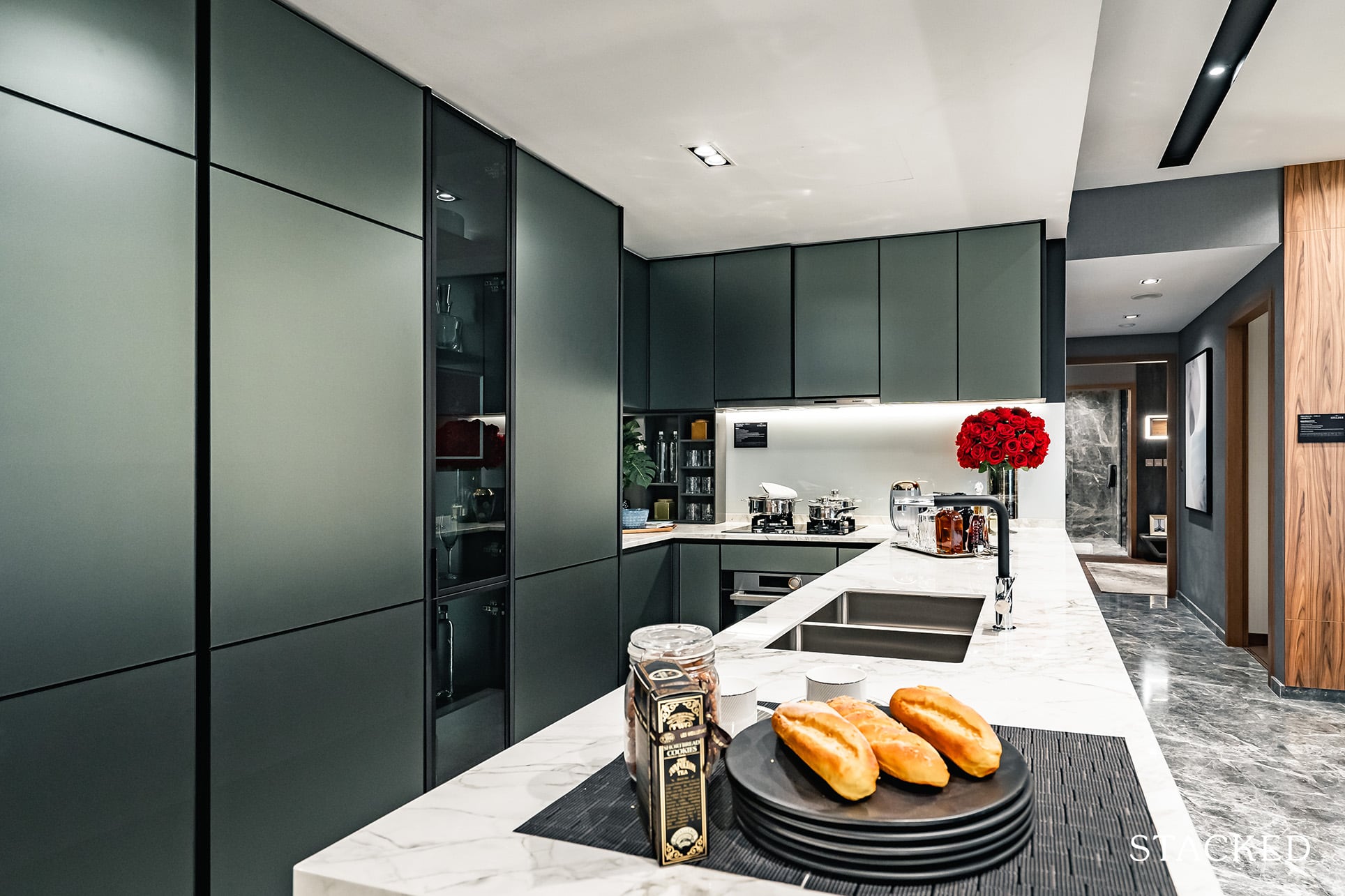 Size wise I can't say there's anything to complain about. That long nature of the countertop gives rise to lots of storage options, and of course you have all that countertop space for your meal preps. It can even double up as a quick dining spot, just a couple of sturdy stools here and it's done.
You do get a good range of premium equipment too. It's De Dietrich everything – gas hob and hood (which most serious cooks would welcome), fridge, washer/dryer, and oven.
Special shoutout to that dual-sided large sink though – it really comes in handy for doing the dishes.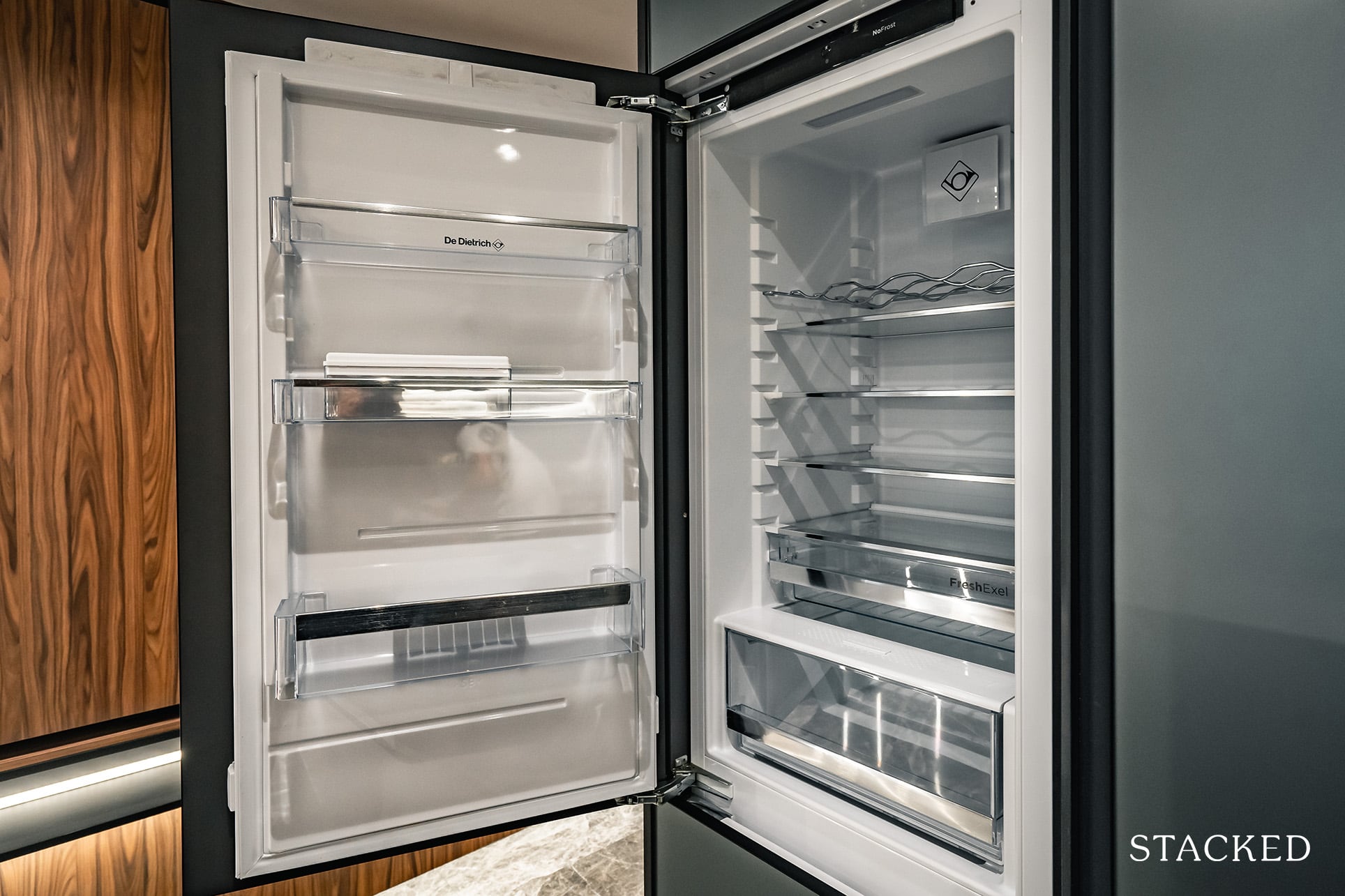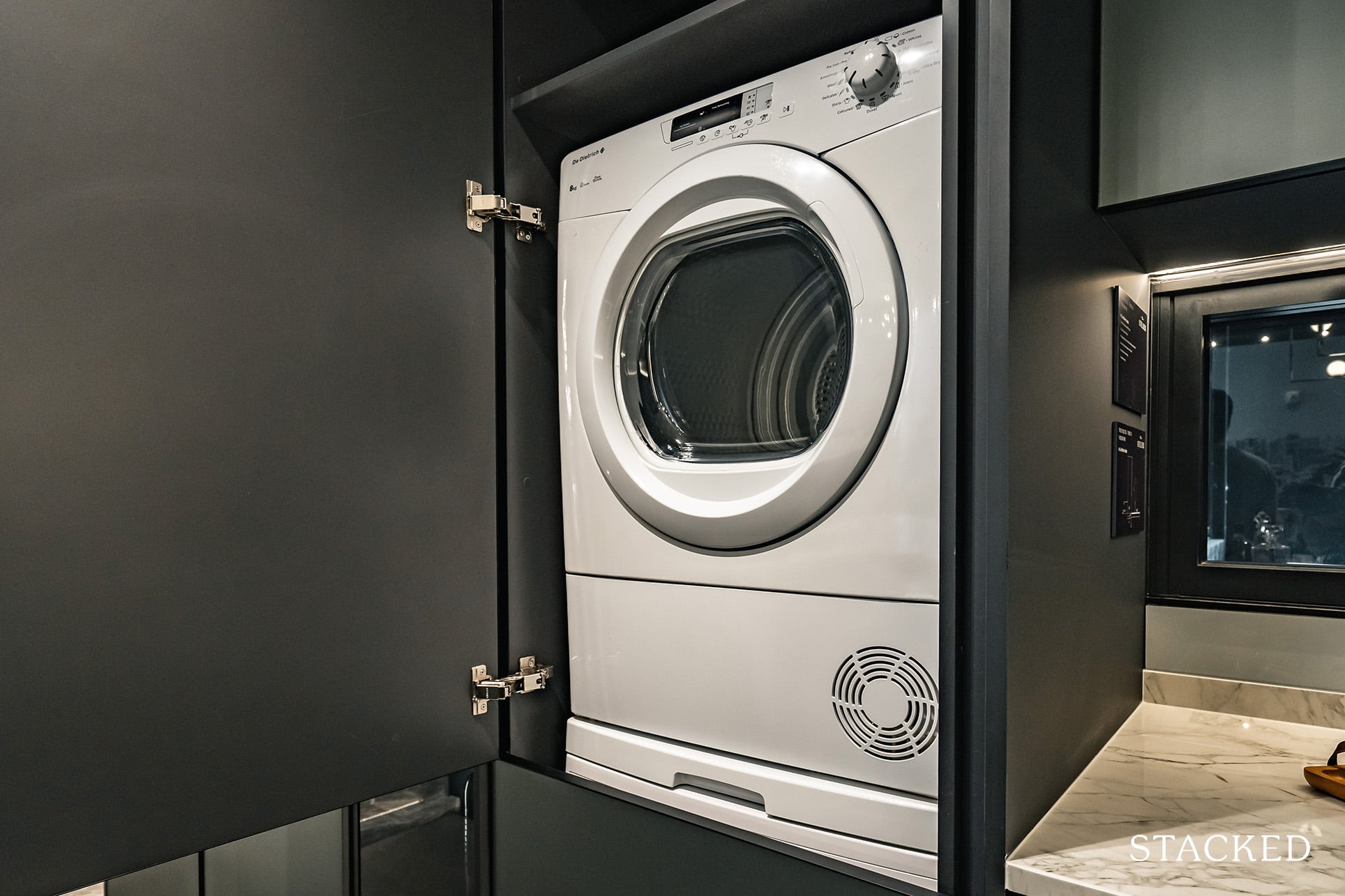 You do have a small window tucked away at the side here for better ventilation too.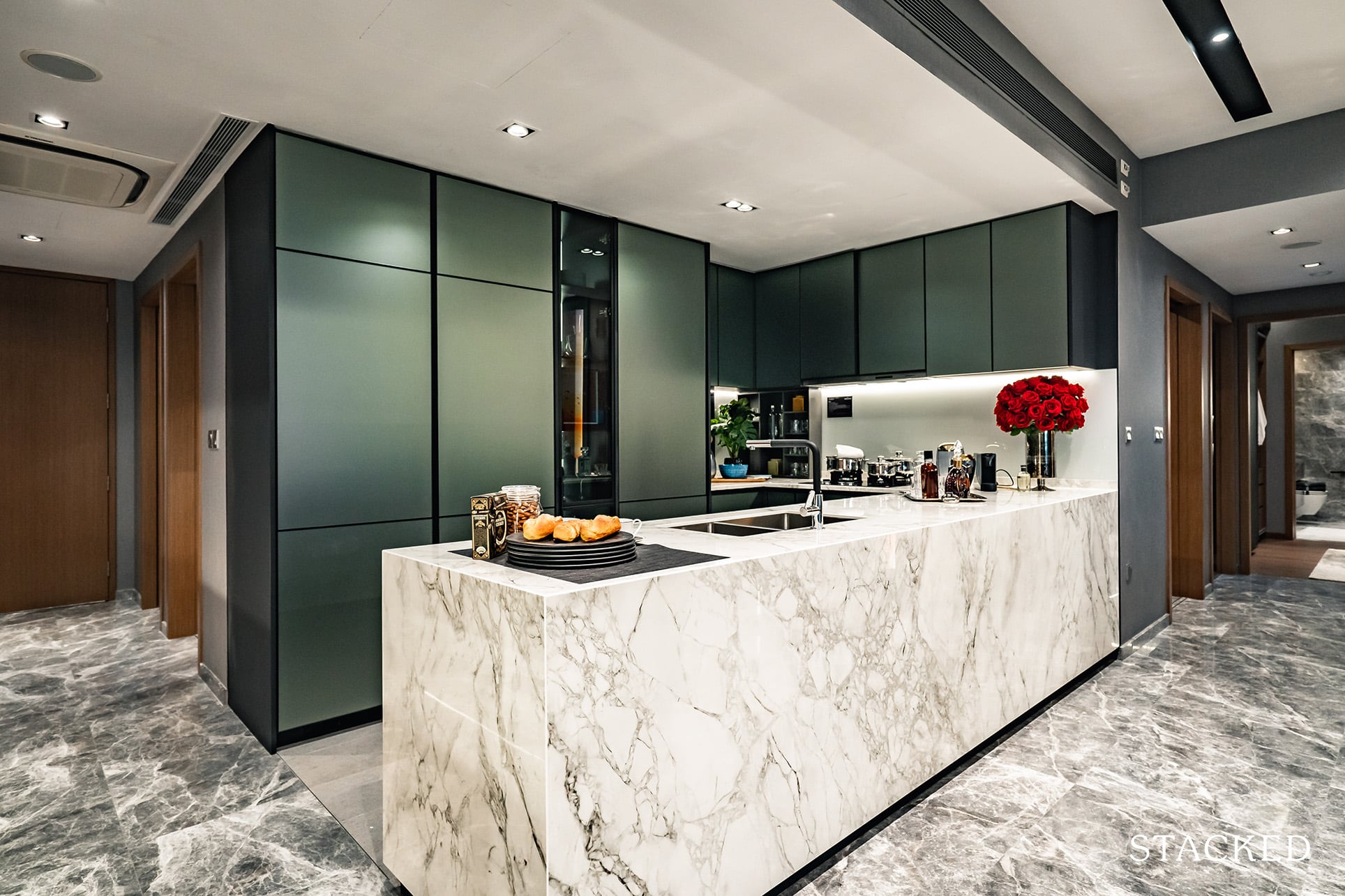 Overall, you can't deny that the kitchen looks class. But sometimes it isn't just about the looks, as that open concept is decidedly less practical as well. It works for some families, but for those who cook a lot, I'm sure that a closed one is much preferred.
Unfortunately, this isn't something that you can choose. You can, however, add in those glass panels and a sliding door to keep it fully enclosed if you wish – just know that would come at your own expense.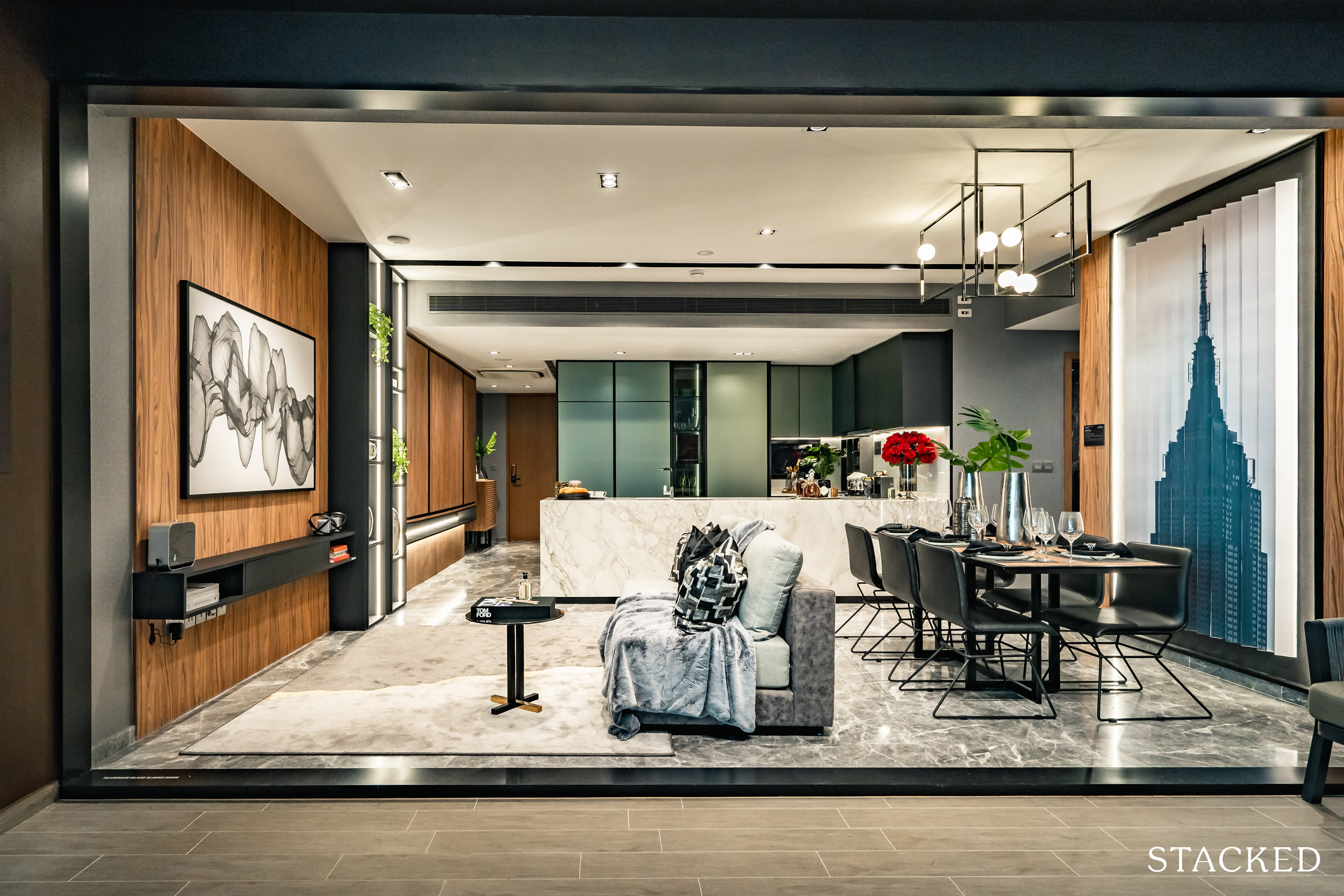 The living and dining areas are in a long seamless layout. So you do have the freedom to swap it around or even move the dining to the balcony to give allowance for a luxuriously sized living area.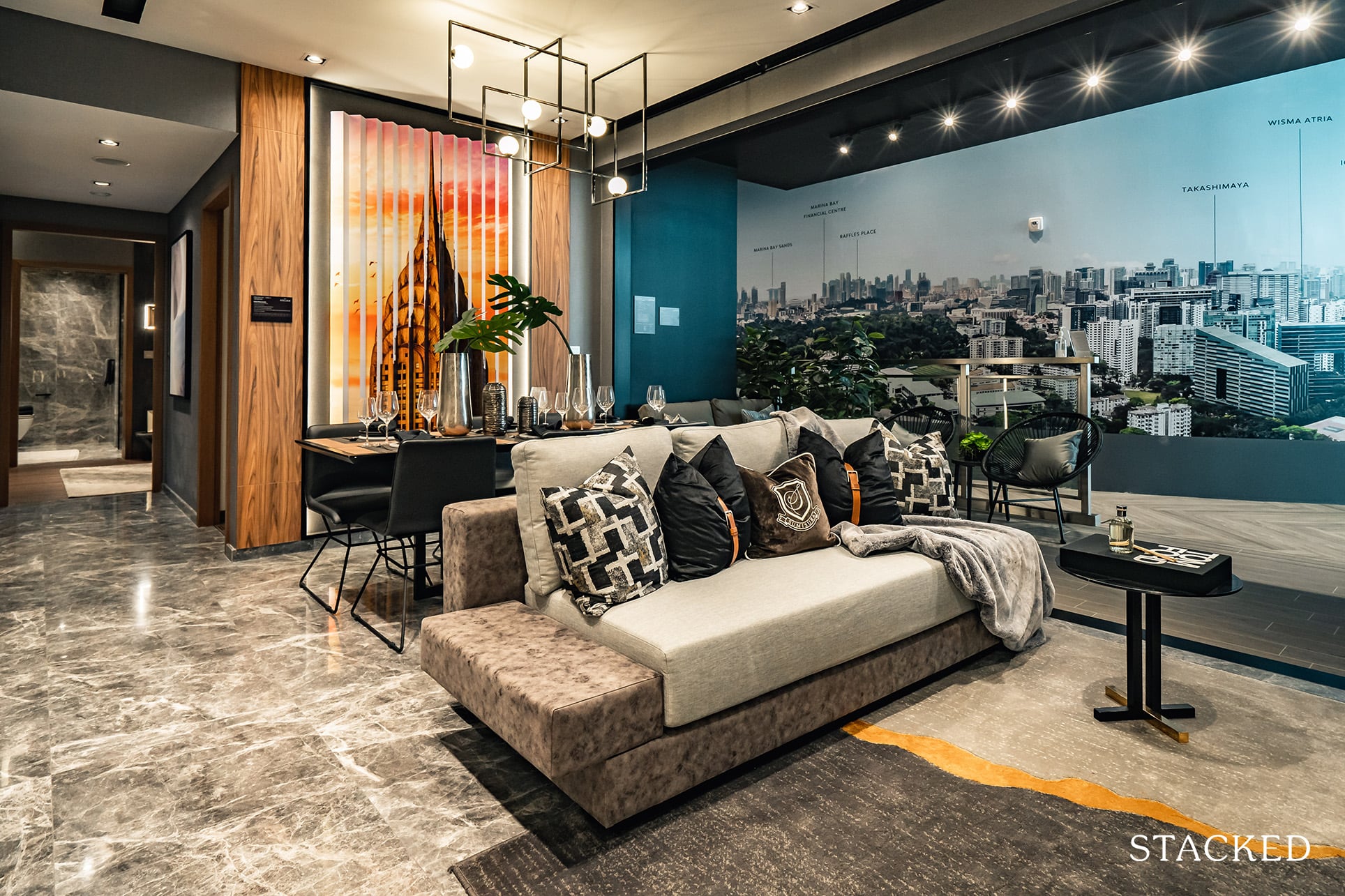 On its own, the living room is pretty decent in terms of sofa to TV console distance. Width wise is where you'd have to be careful though, depending on how much room you'd like to leave to the walkway.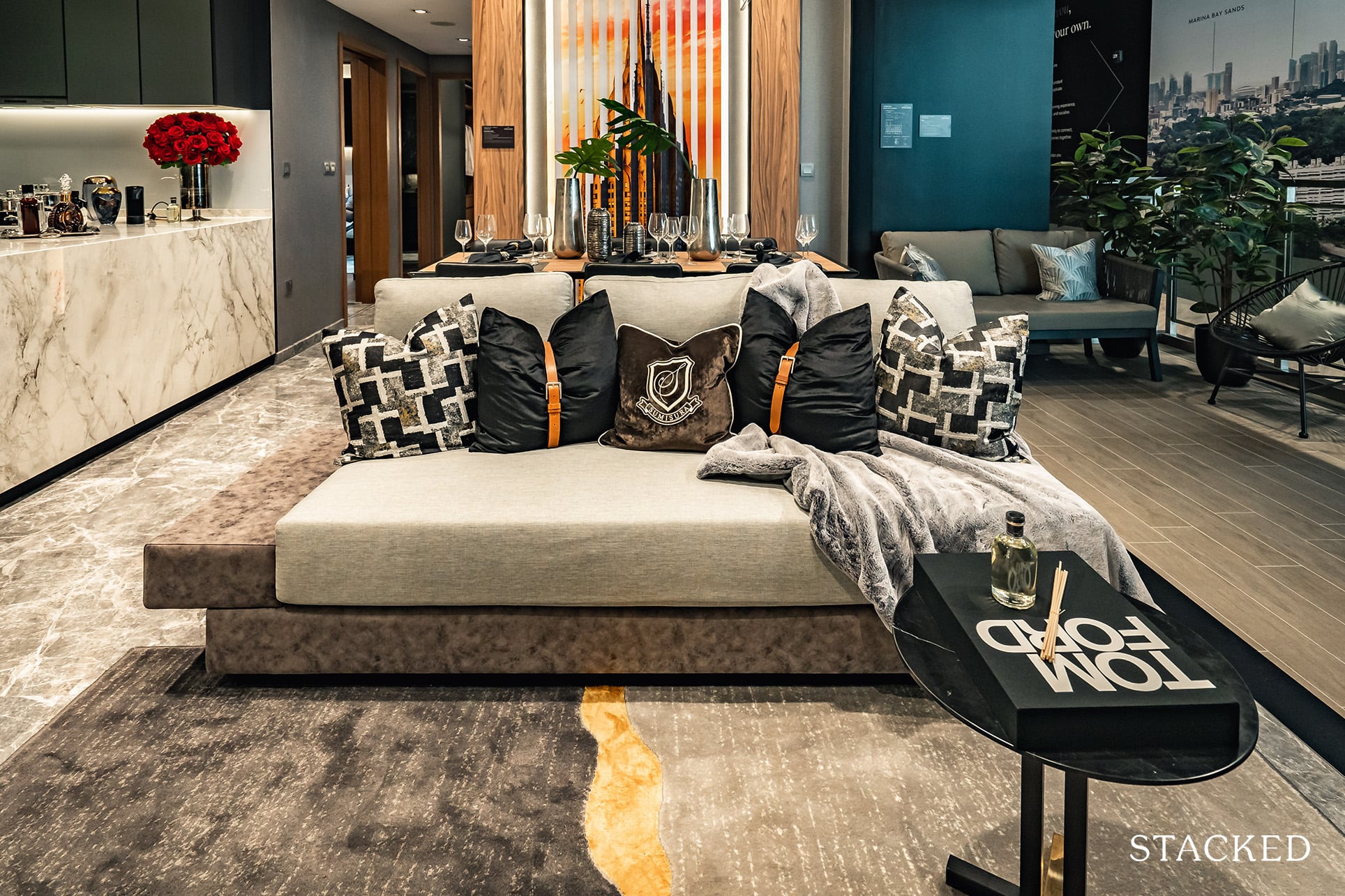 As you can see from here, this is a 3-seater sofa. So anything bigger and your walkway space will definitely be eaten into.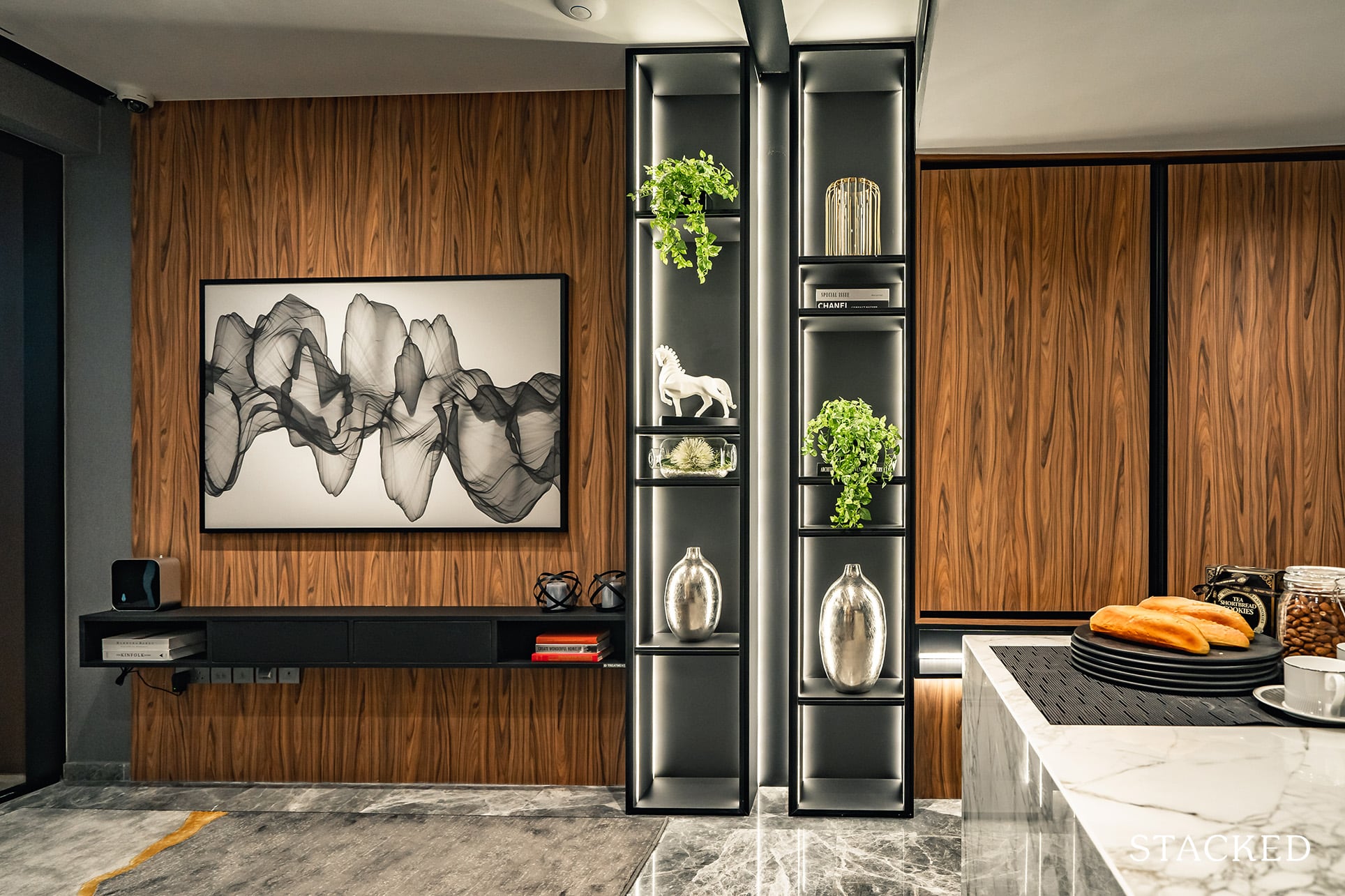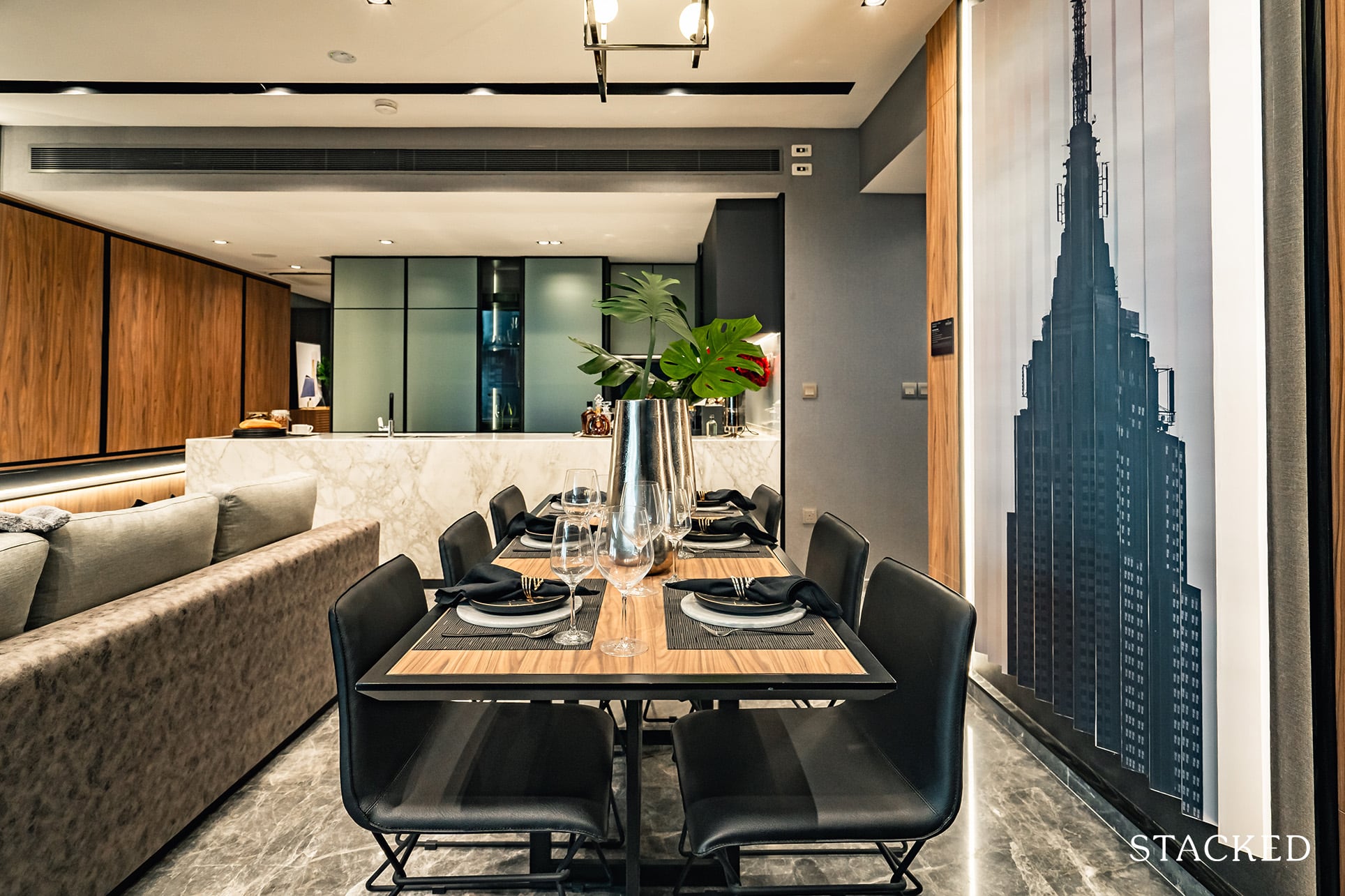 You do have adequate space for a 6-seater dining table to sit in reasonable comfort. I would suppose 8 would be possible at both ends of the table, but again this would mean your walkway space would be compromised.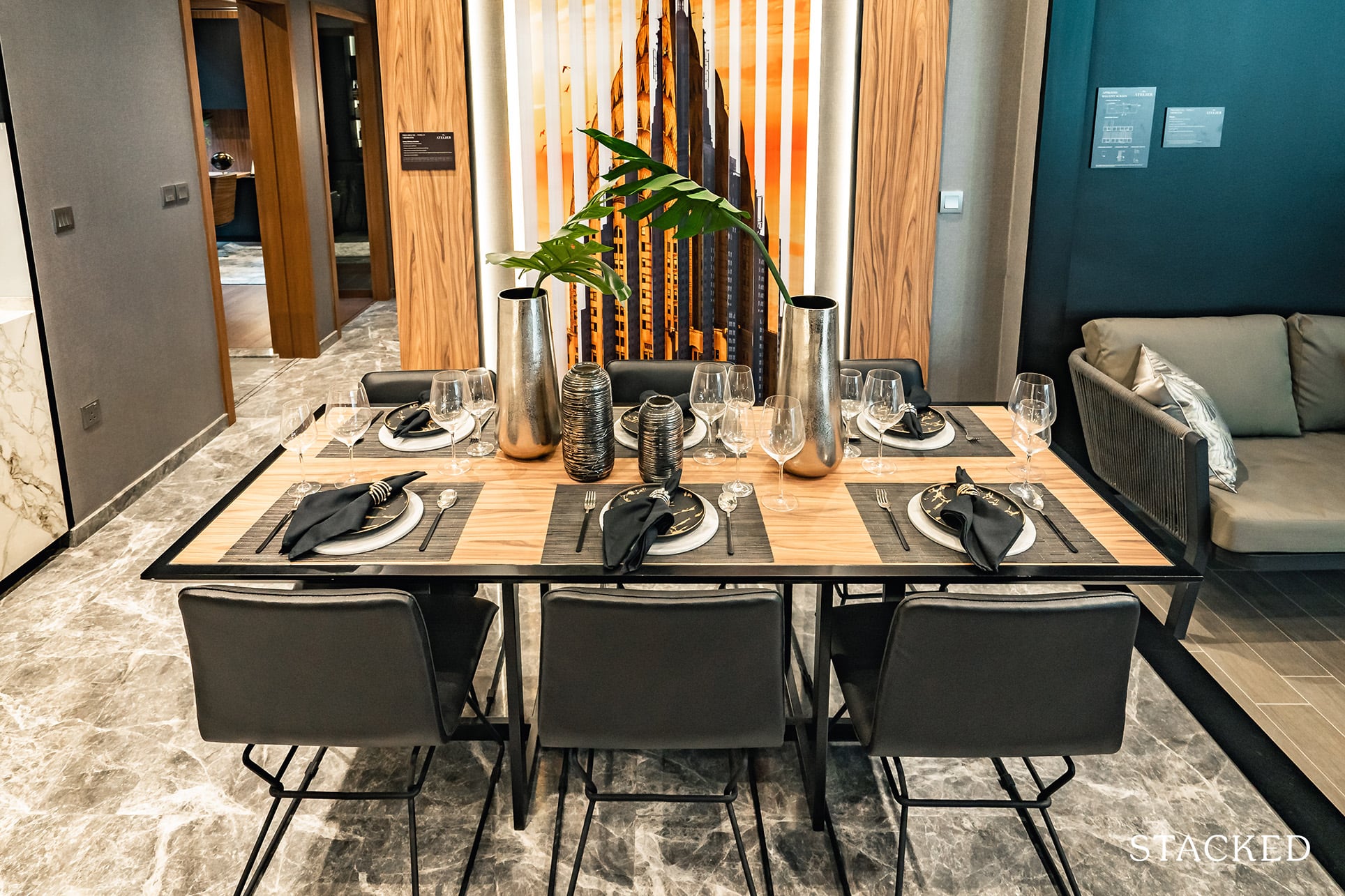 Still, I wouldn't worry too much if I had to host a bigger party given the amount of dining options at the level 6 and 18 facility decks. Unlike bigger developments with many units sharing the common facilities, you are very unlikely to face that issue at The Atelier. It's definitely one of the strong plus points of a development with just 120 units.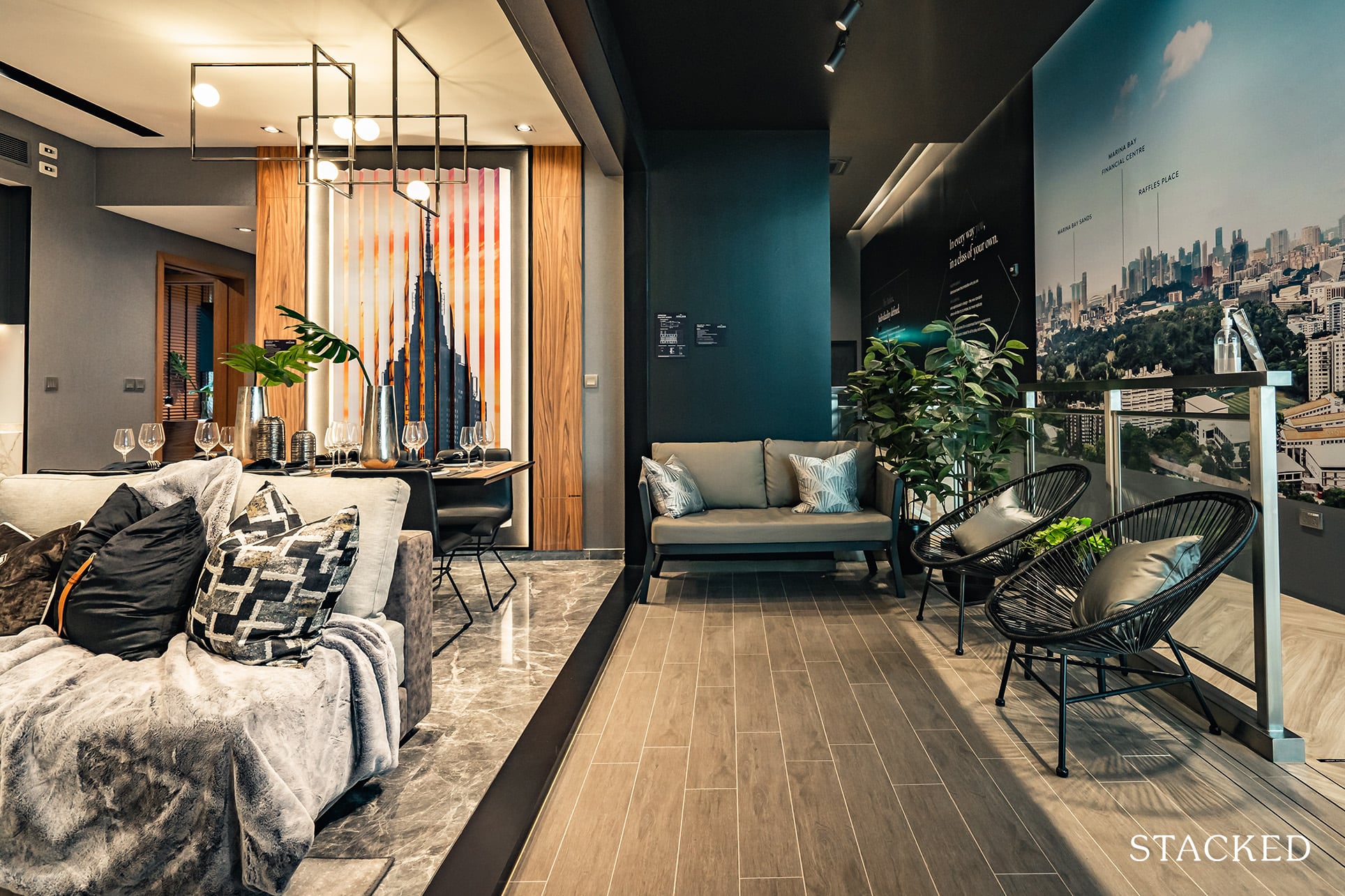 Like I said earlier, moving your dining area to the balcony isn't going to be much of an issue.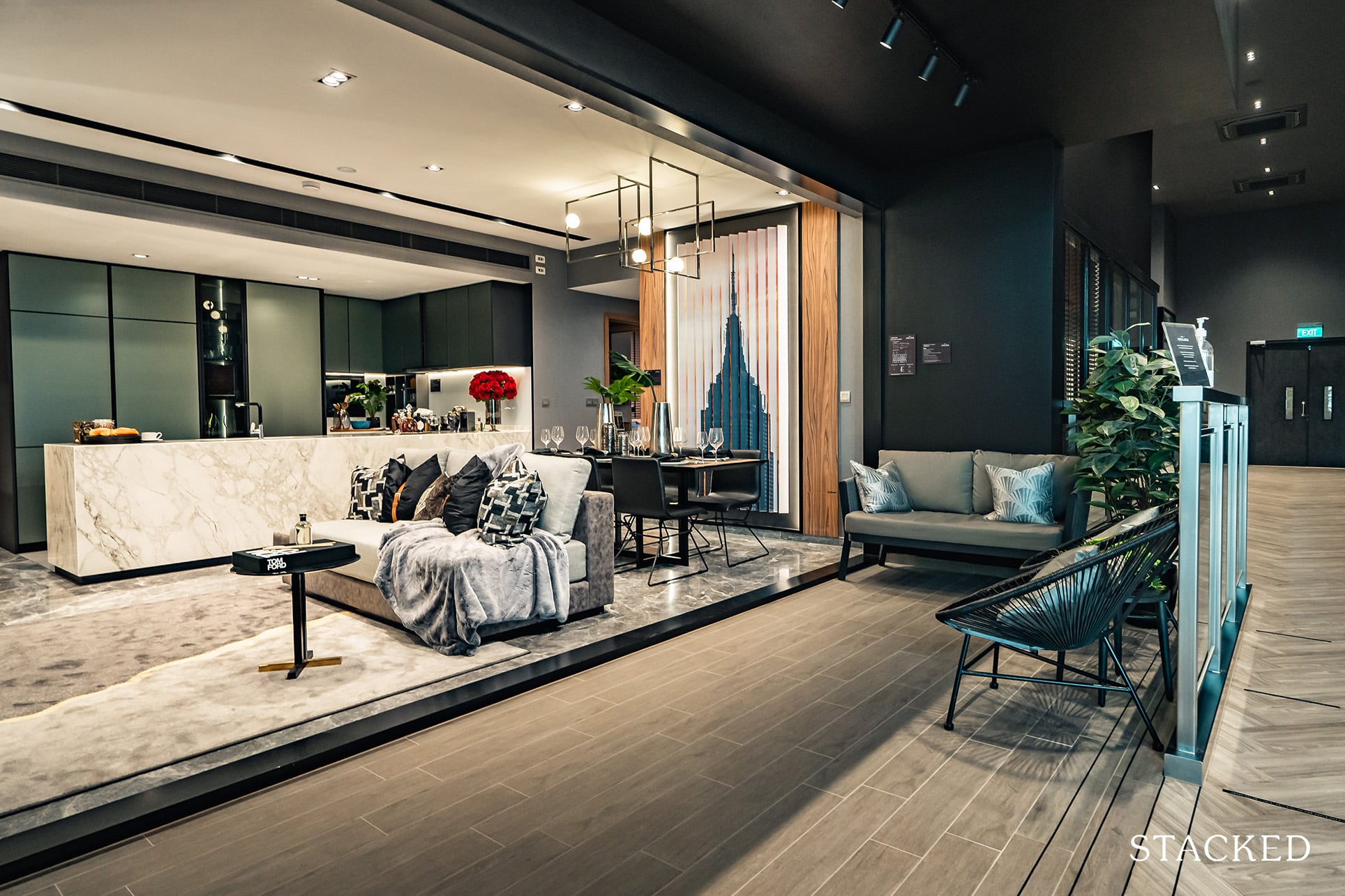 It spans the length of the living and dining areas, and is certainly wide enough for a proper dining set up.
It's also worth pointing out here that ducted air-con vents are provided here, which allows the space to retain its sleeker look.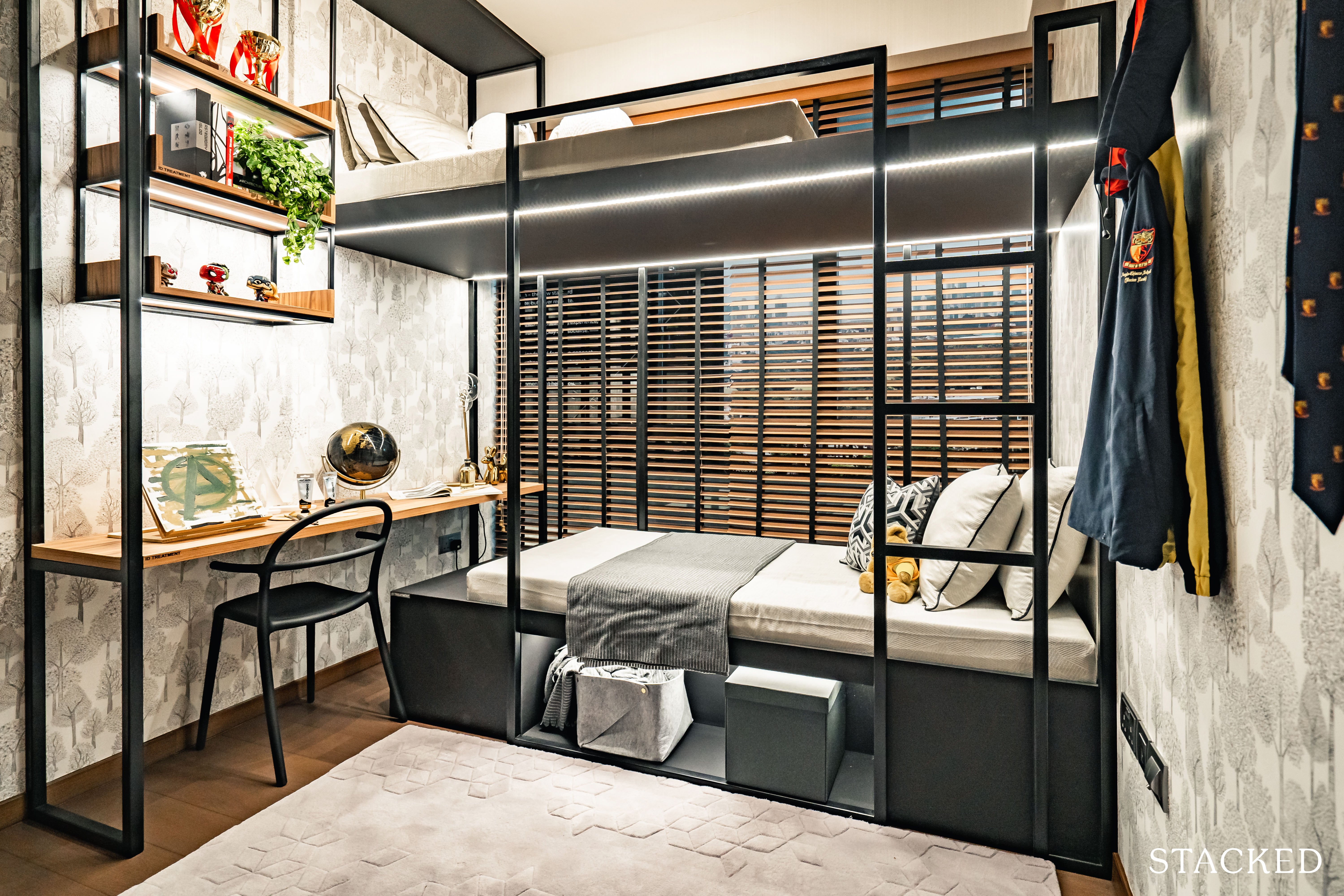 The first common bedroom is decently sized, and you do get the typical nearly floor to ceiling windows. As you can see with this single bed setup, you do get a good amount of space to move around.
Flooring is provided by means of the conventional engineered timber.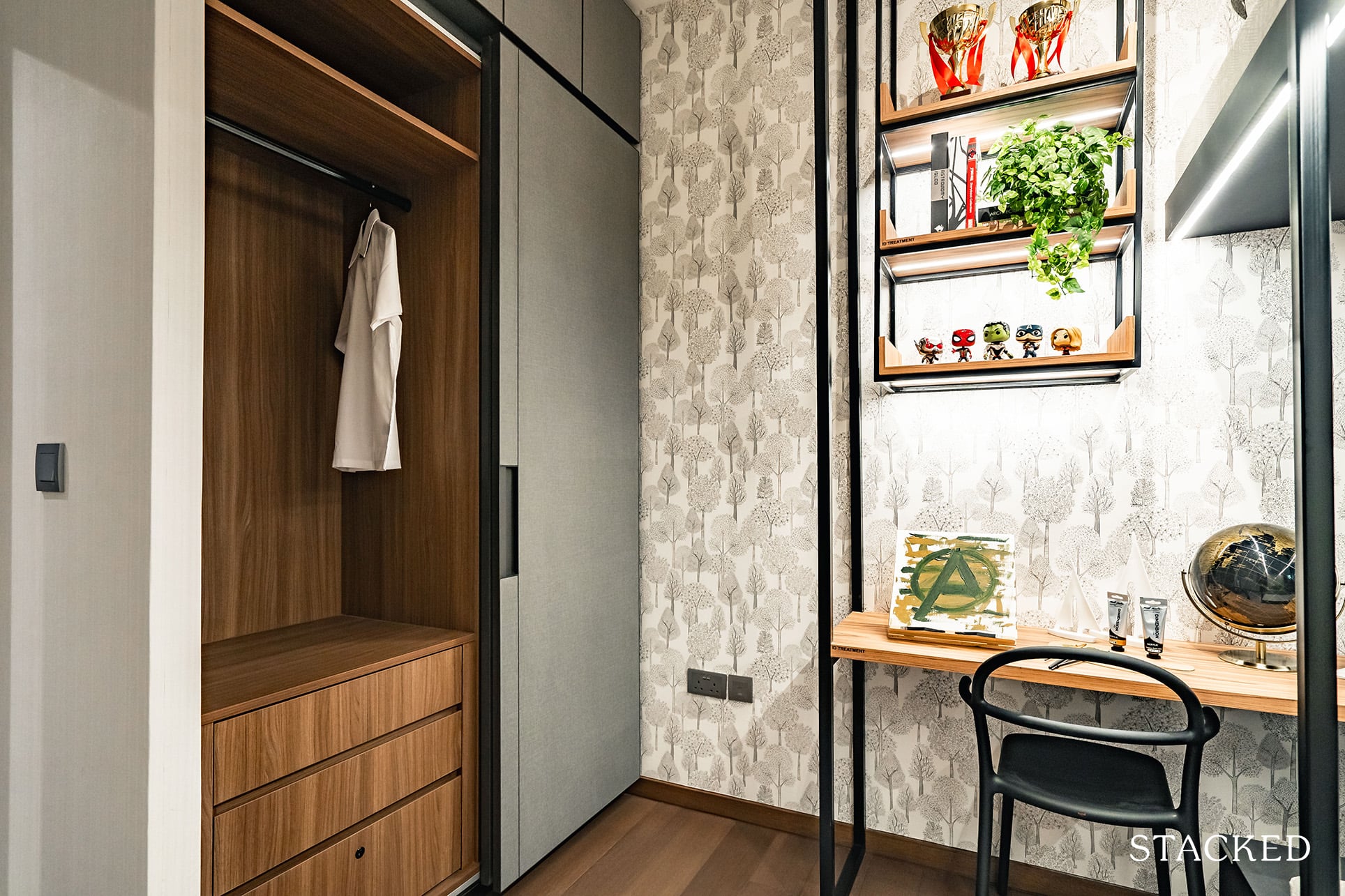 As for storage, it is supplied by the typical 2-panel wardrobe, although they have usefully eked out the top to be utilised as well (additional space, no matter how out of reach, is always good). Ceiling height is at 2.9 metres, which is just about typical.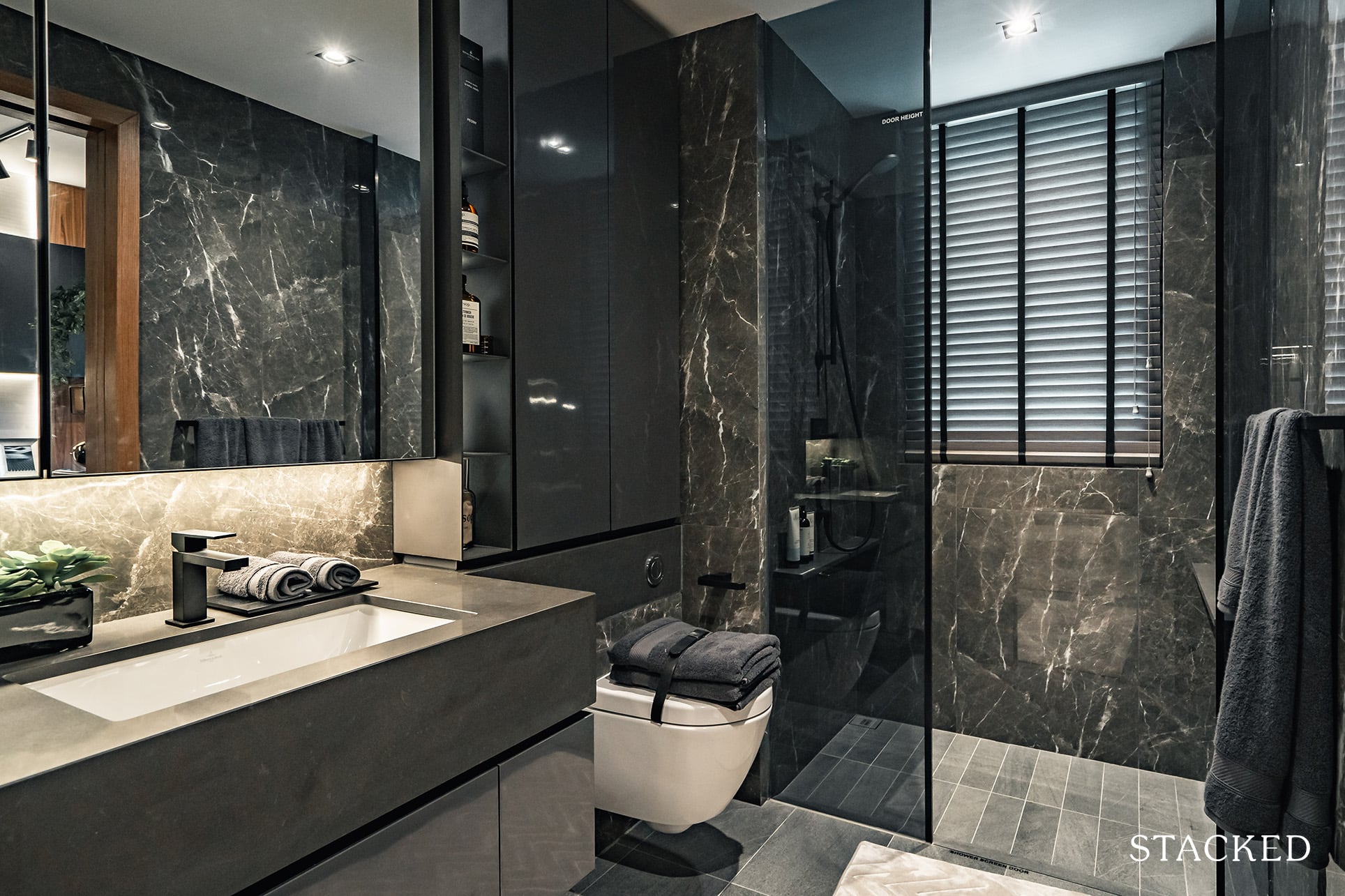 Next up is the common bathroom. Unlike the powder and master bathroom, the flooring here is the regular porcelain tiles. That overall dark look is still very sultry looking, and no doubt upscale.
The bathroom fittings are from the Gessi matt black series, which has always been my personal favourite for that sleek, masculine look. While the wash basin and wall-hung WC is from Villeroy & Boch. You even get a bidet too, which isn't as commonly provided as you might think.
For me, the best part is the window for natural ventilation. Perhaps the only miss here is the surprising lack of a rain shower.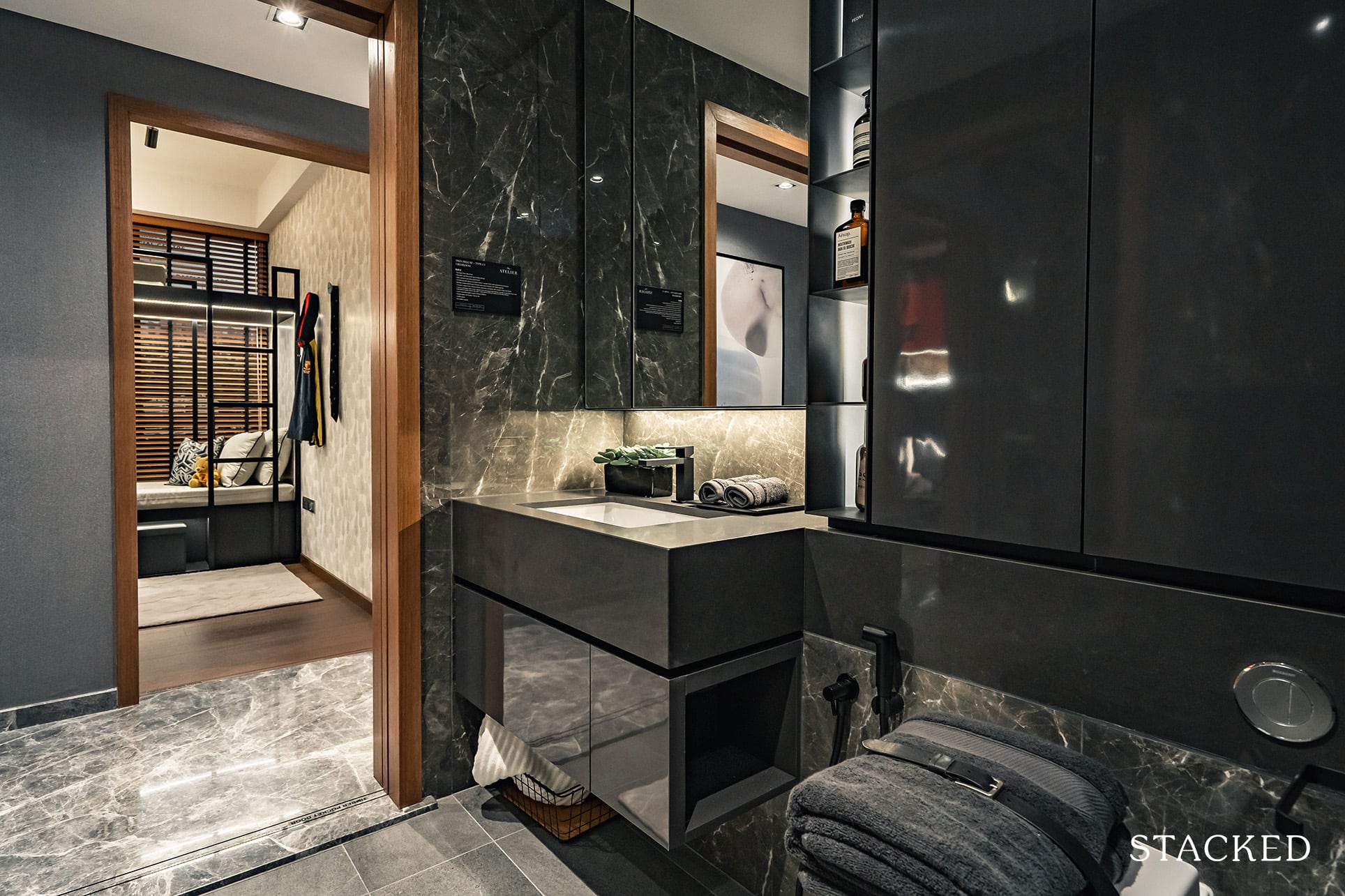 This is also a jack-and-jill layout. So you can access this from the main hallway as well as from the second common bedroom.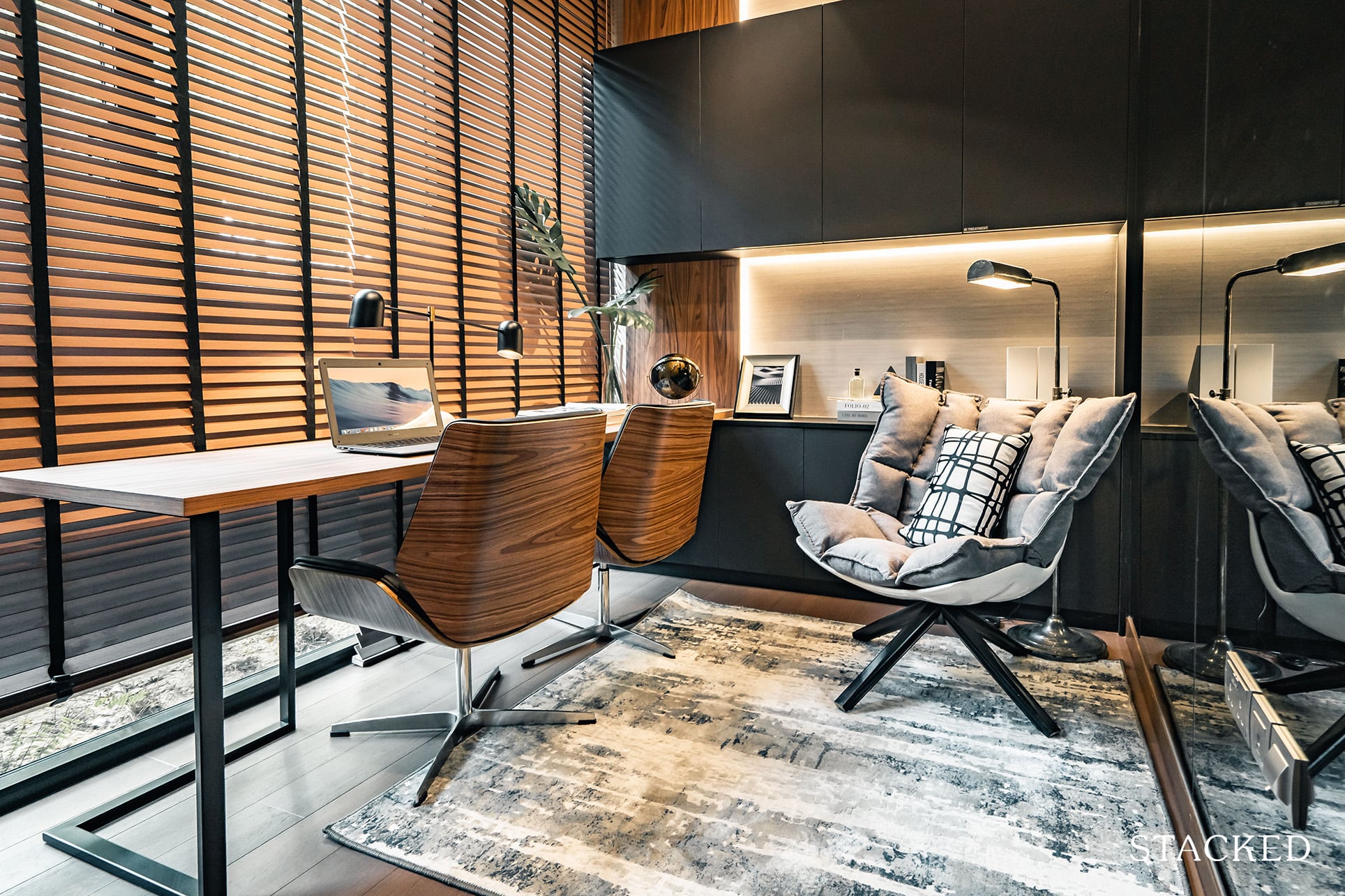 The second common bedroom is on the smaller side. For those new to showflats, a tell tale sign is usually the addition of a mirror and a study room set up instead of the usual bed.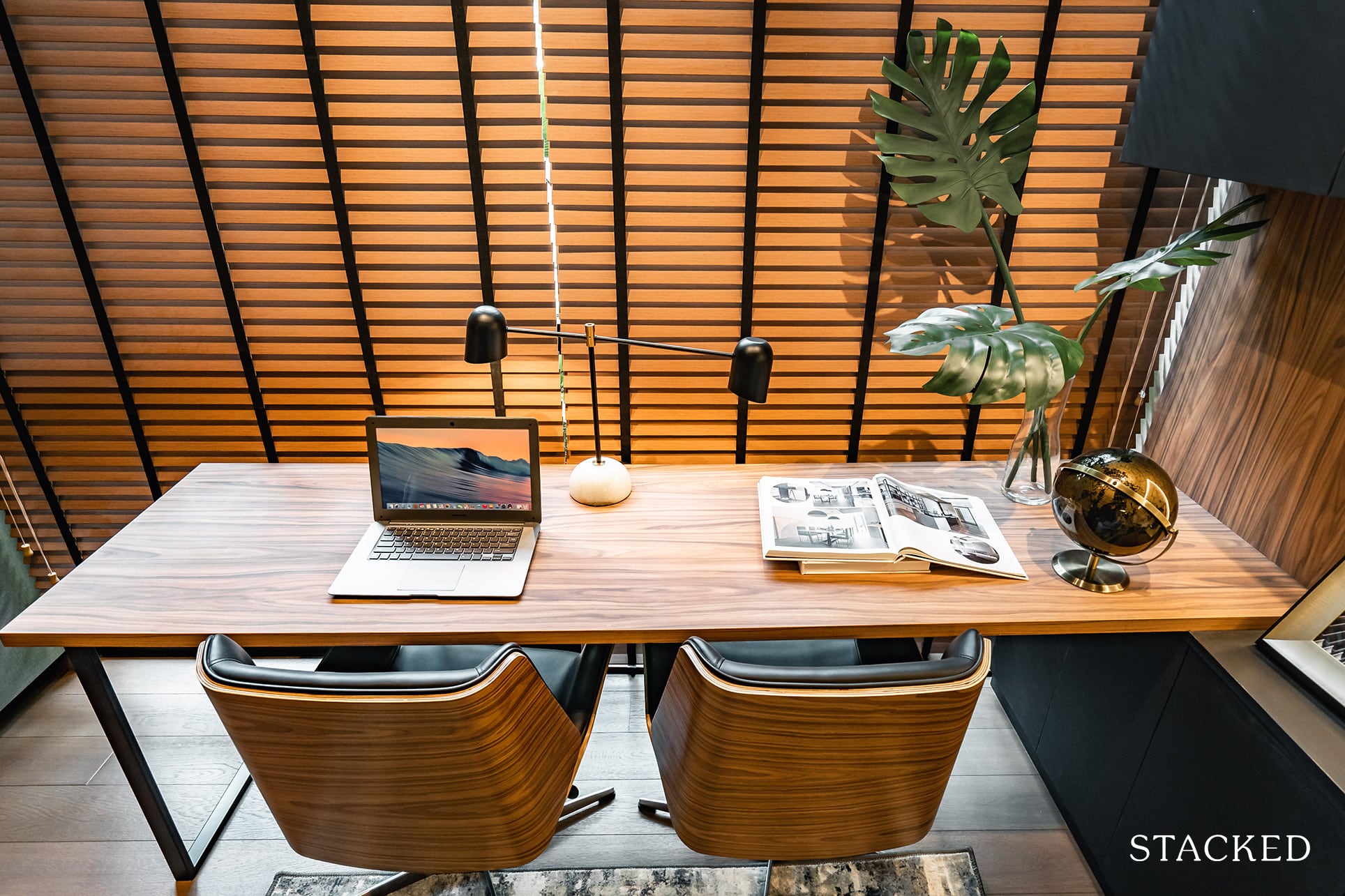 I'm not sure how many people would use this as a study or office, but as an interior design inspiration I'm certainly a fan. It looks professional but yet really warm and cosy at the same time.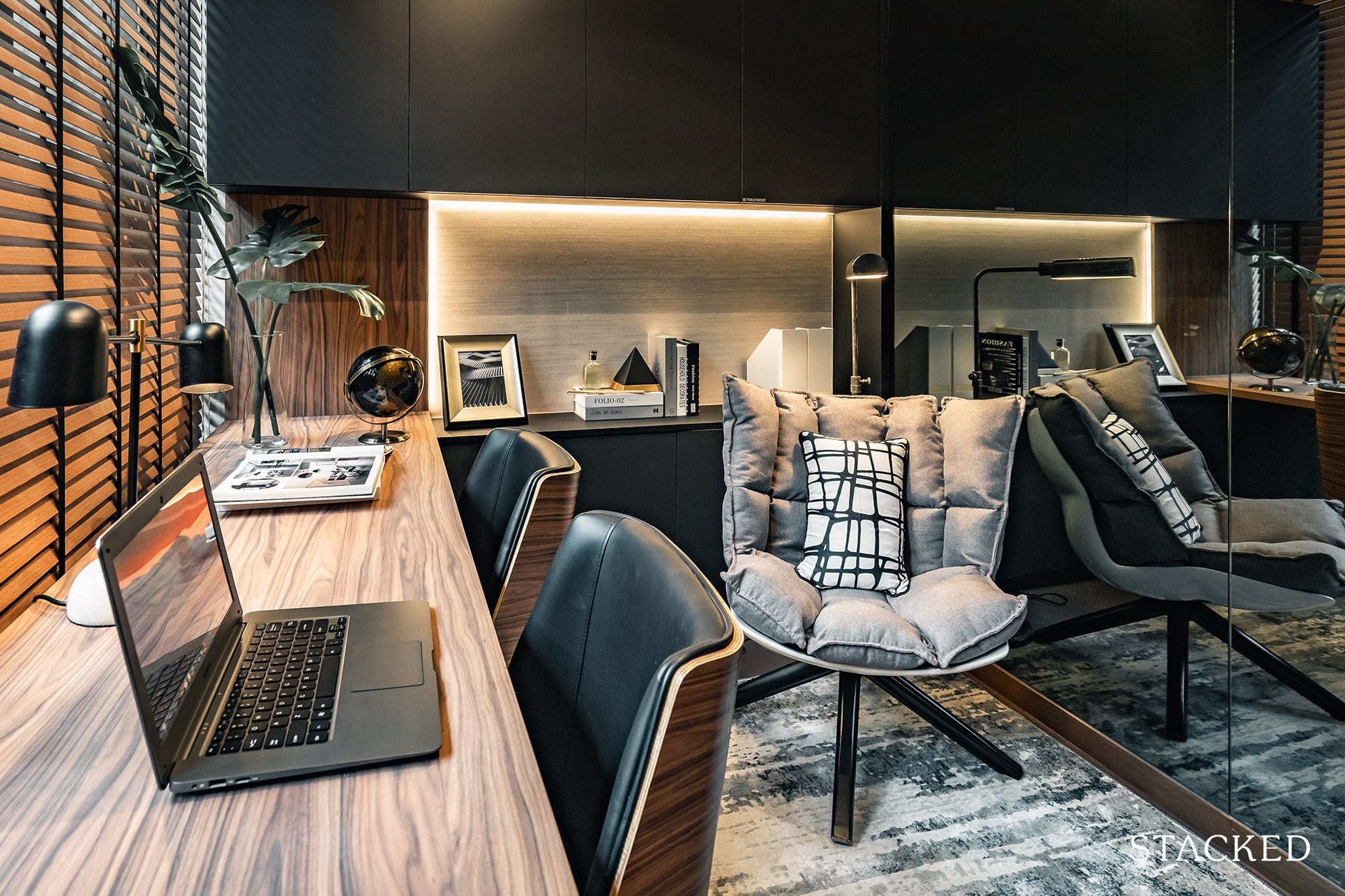 At the very least, you definitely would be able to fit in a single sized bed. Thankfully with how the AC ledges are situated too, you do get to enjoy nearly full length windows here.
And of course, this bedroom comes attached to the common bathroom.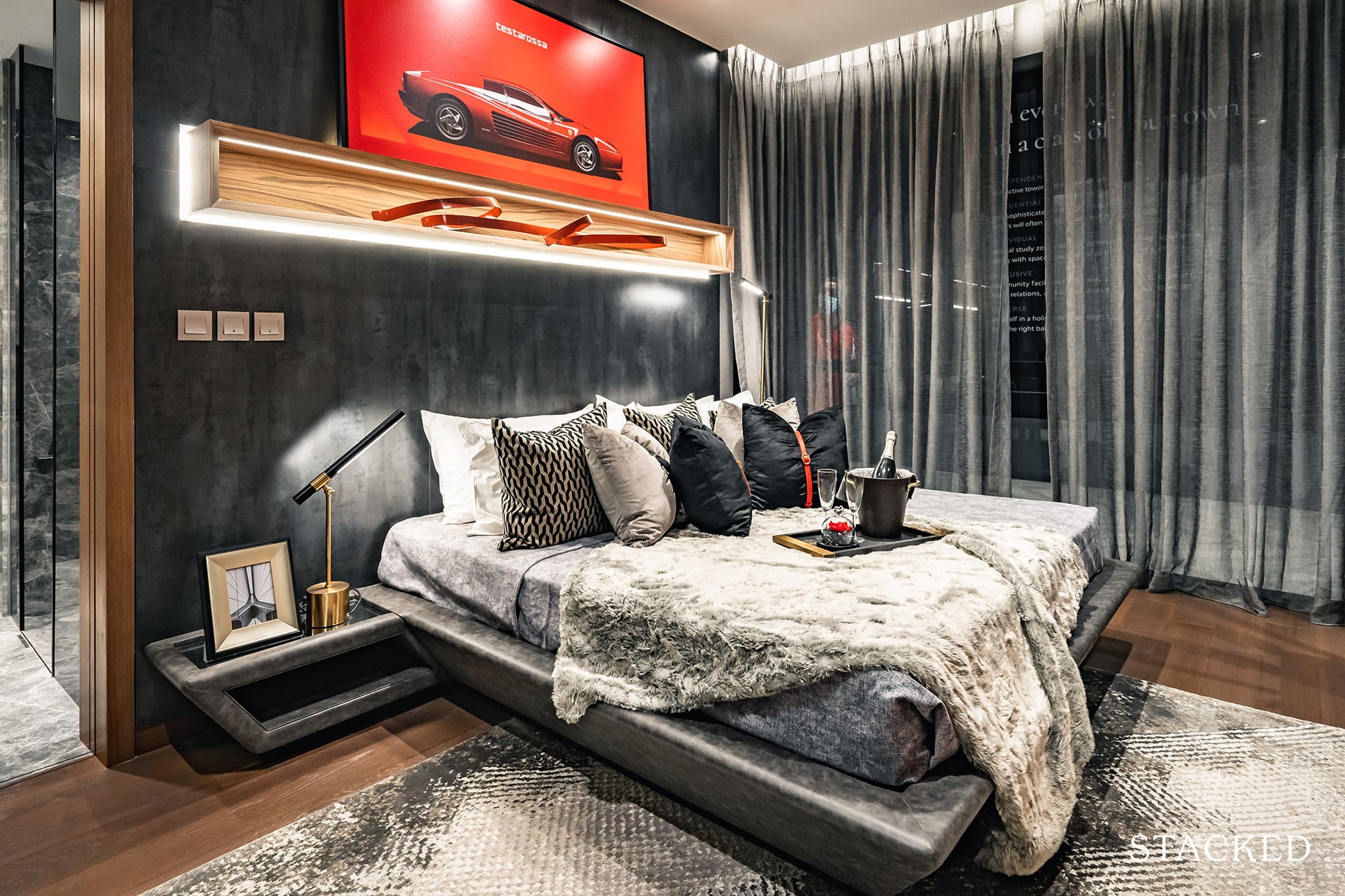 Coming to the last bedroom, the master bedroom, where all the bells and whistles of this unit is at. In contrast to the previous bedrooms, you can definitely feel the size difference in here. Even with the king sized bed, there is more than enough space to walk around comfortably.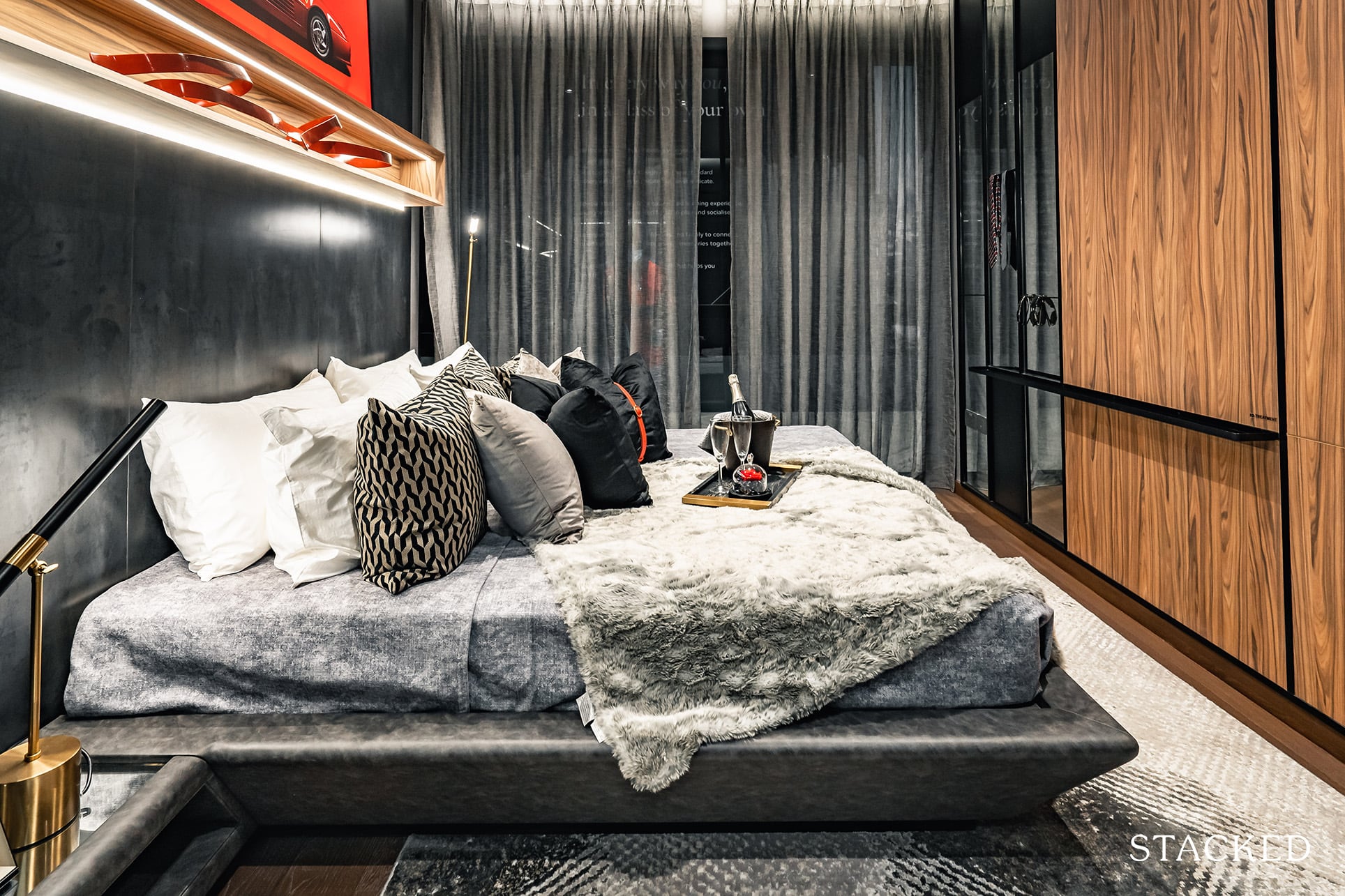 What's doubly cool here is also the L-shaped windows. For some, it may not be a big deal but it's always been a small but unique feature to have.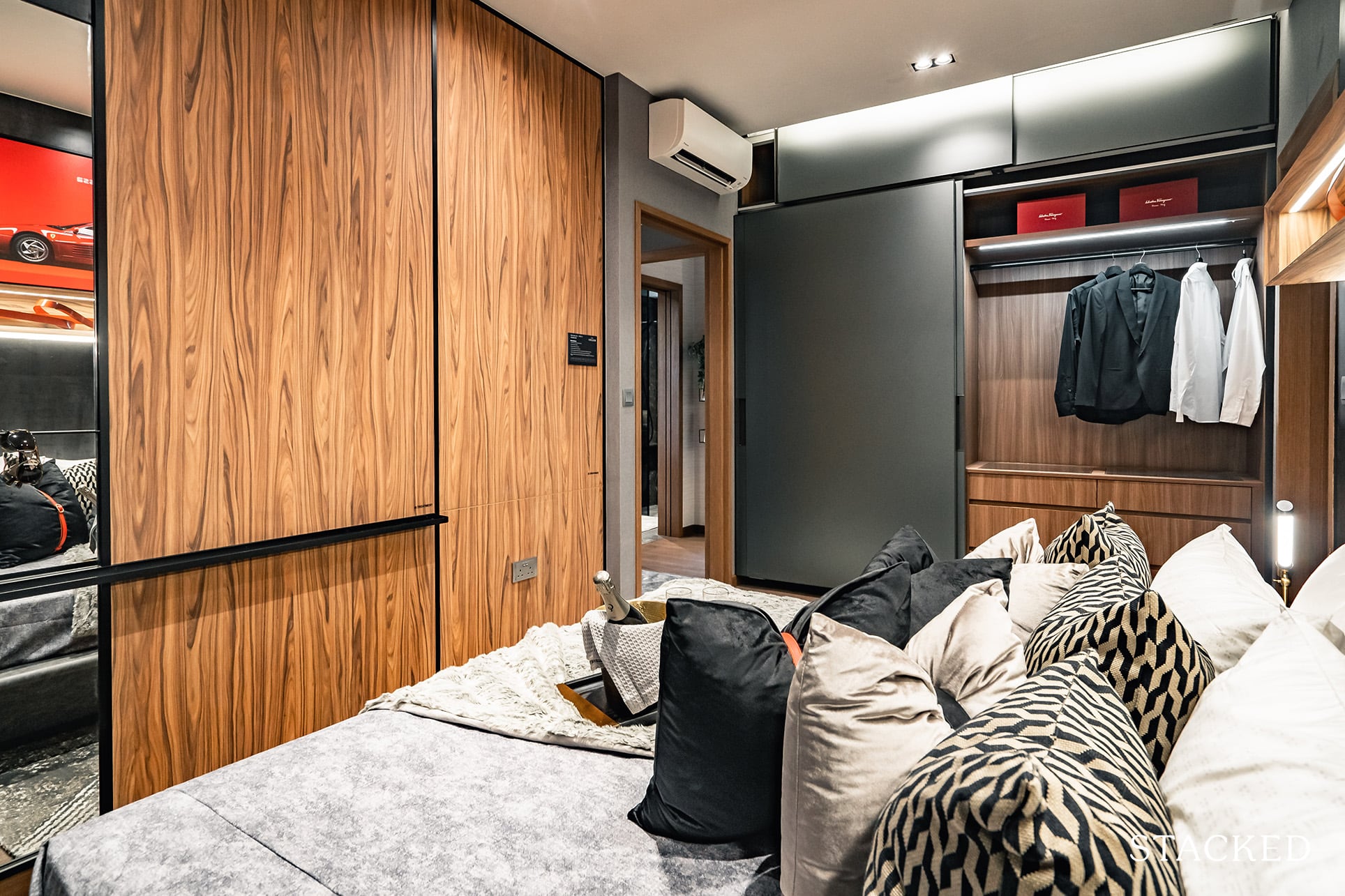 Storage wise is pretty good, with a slightly wider than usual wardrobe. What I especially like is the premium dark satin glass finish used here (the same one as the kitchen). Note you do have additional storage above as well.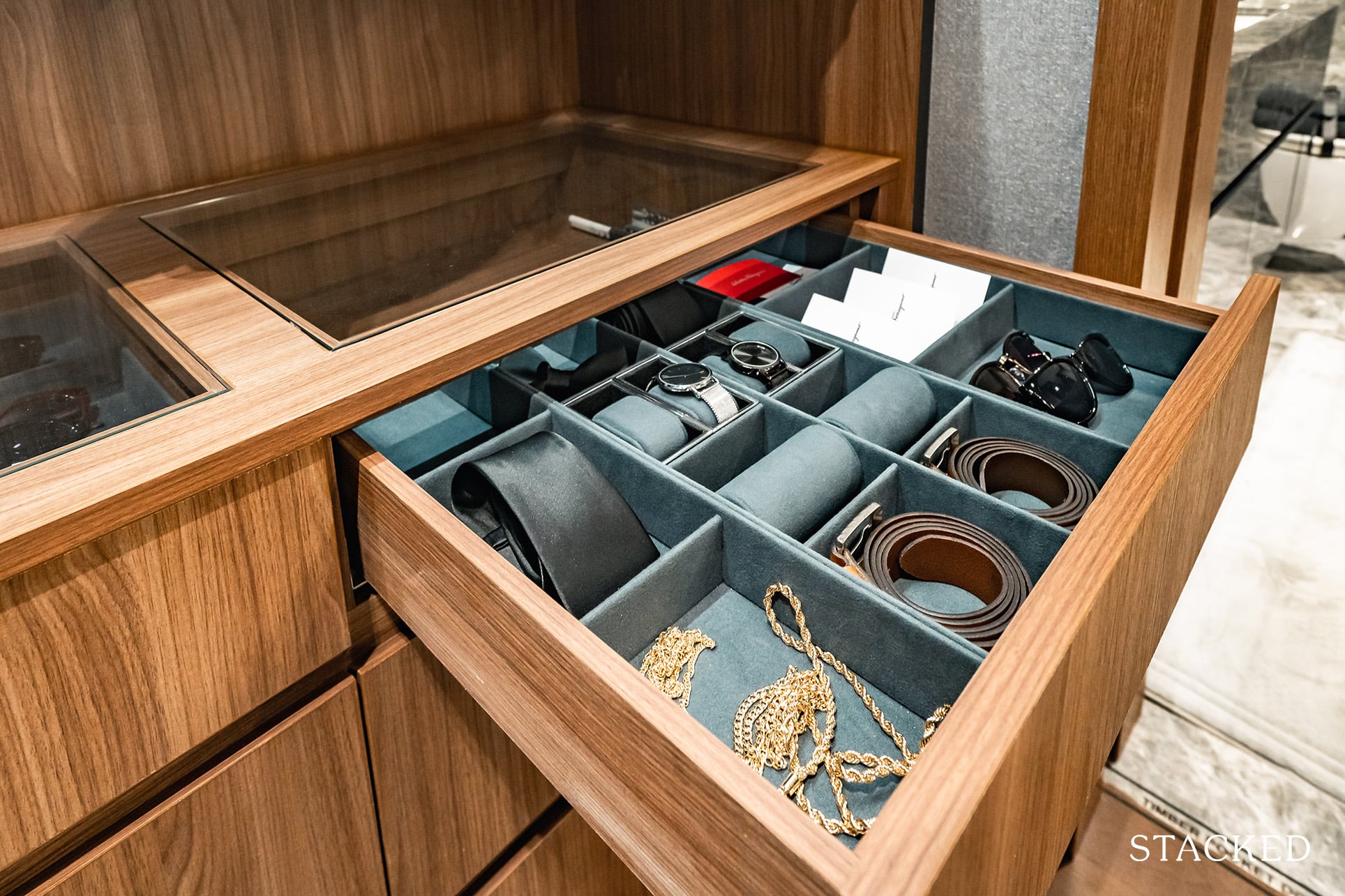 But wait, there's more! (at risk of sounding like a TV commercial). There are nifty storage compartments provided for all your usual accessories to be neatly kept.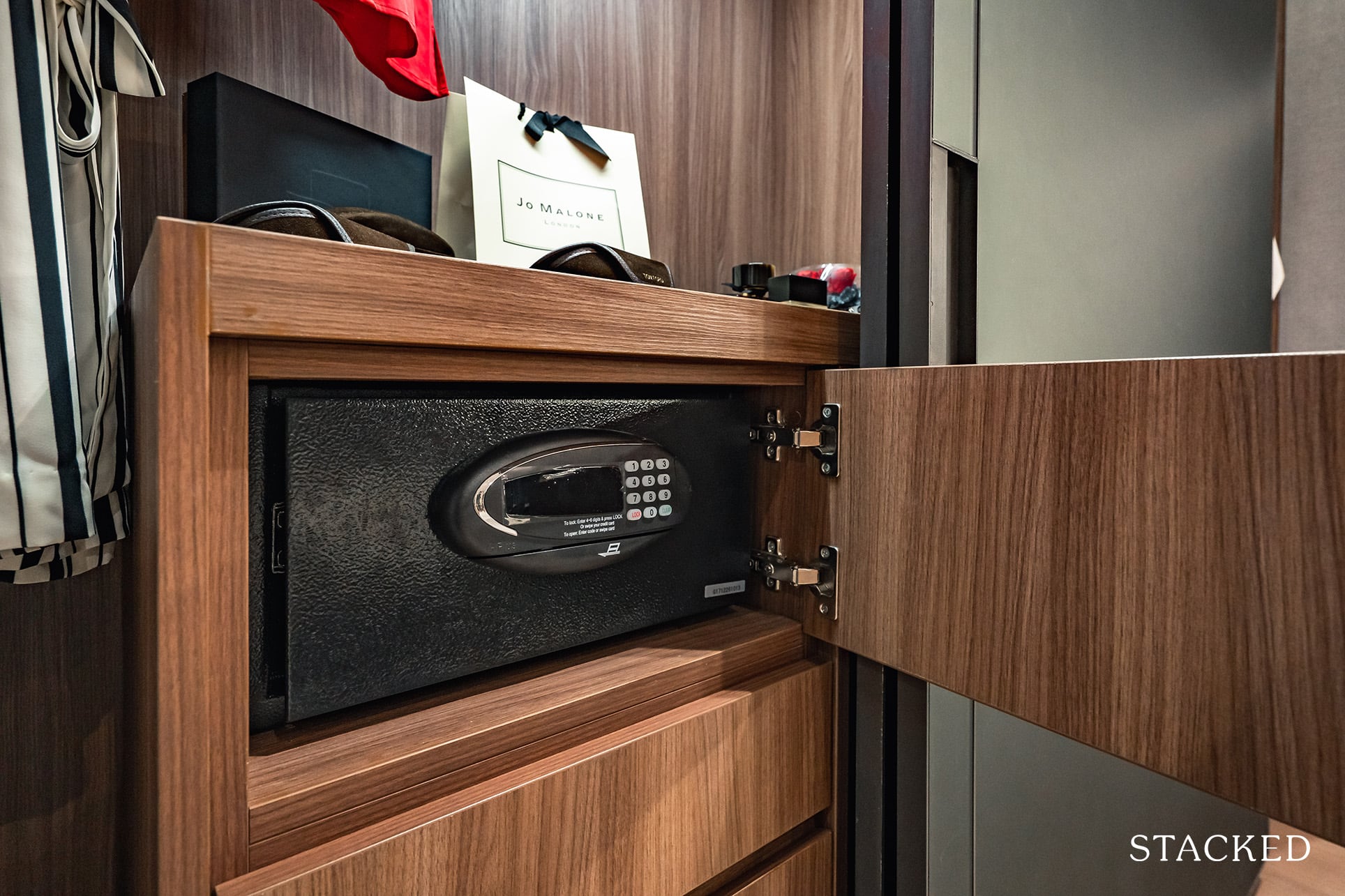 They've even included a built-in safe on the other side of the wardrobe, which is super handy. It's probably the number one thing you'd have to buy upon moving in, so it's great to see this being added in.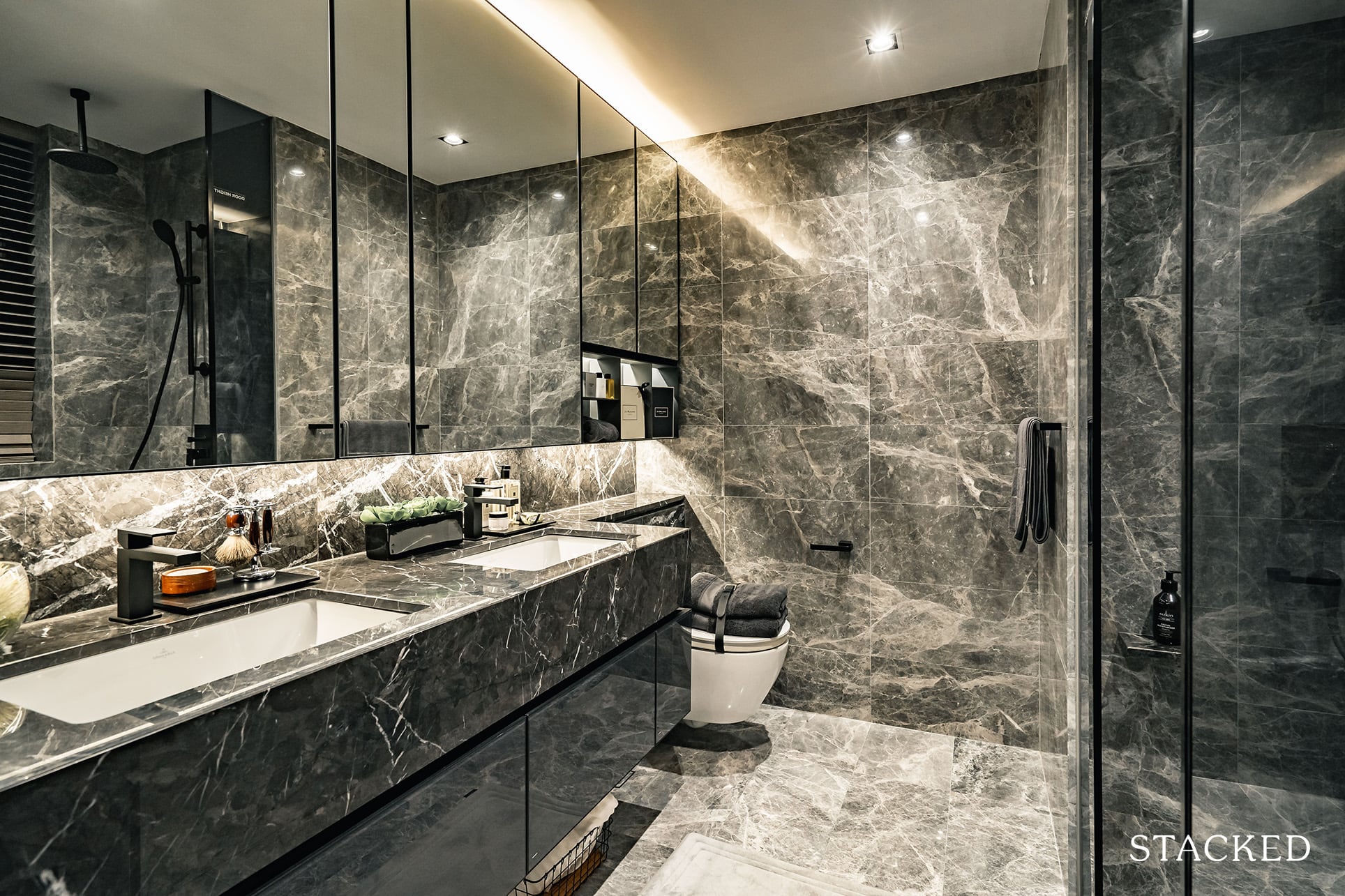 The master bathroom is a good size, with that length of mirrors overlaying the cabinets really accentuating the size of it.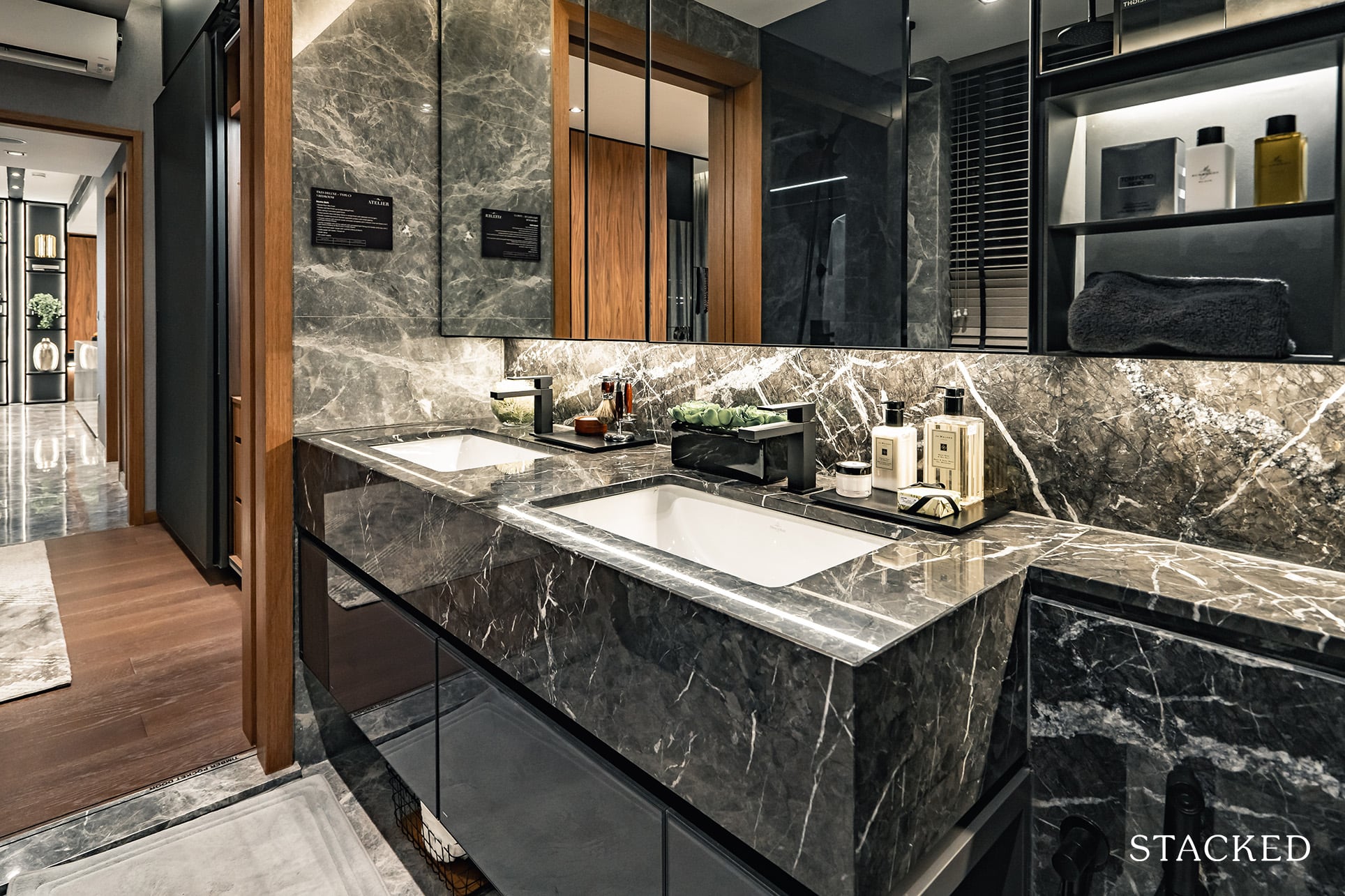 Like the powder room, the master bathroom comes luxuriously decked out in marble flooring (the vanity top is marble too). It also features his and hers sinks, with the same matt black bathroom taps from Gessi.
But here's the coolest part (to me, at least).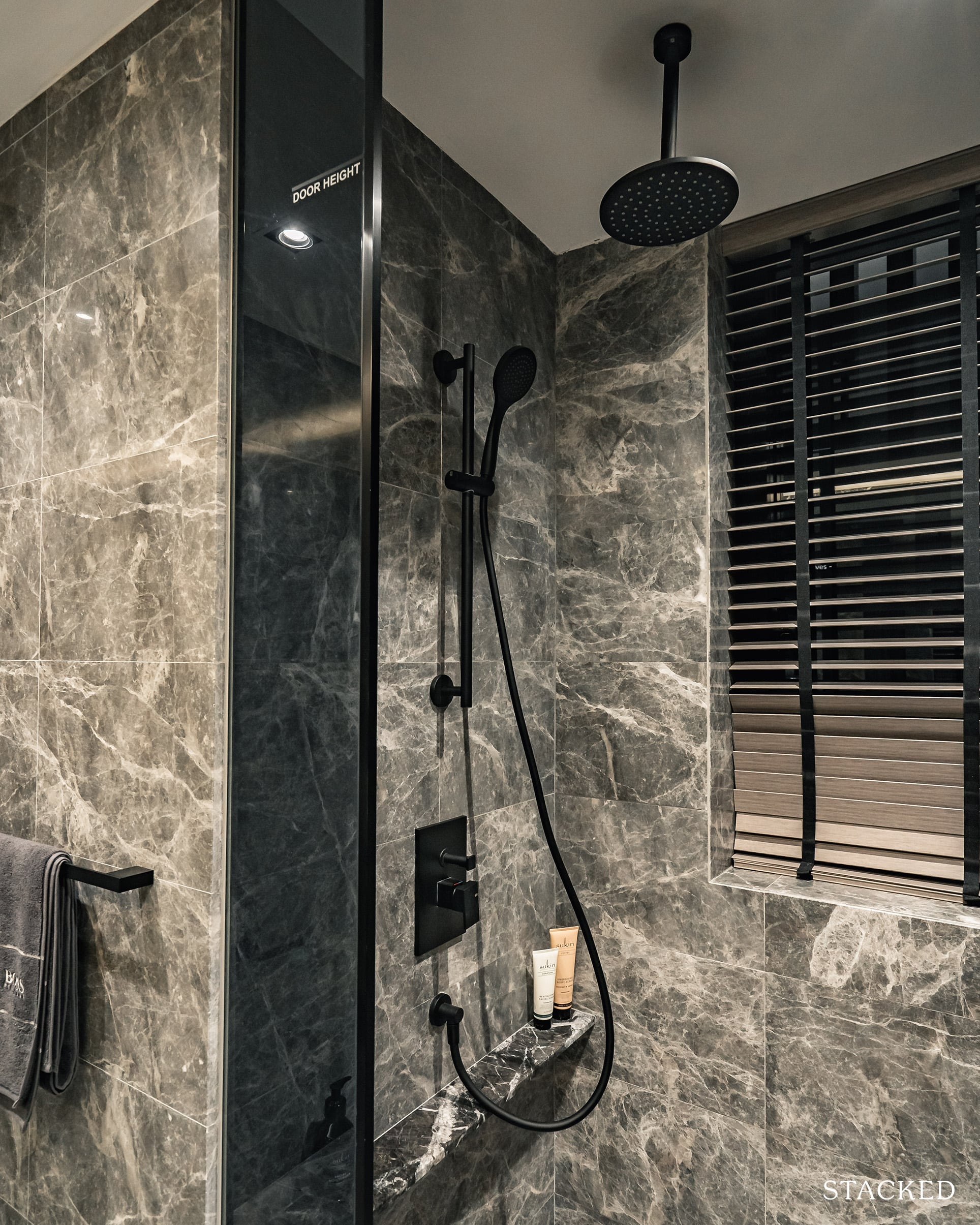 The master bedroom shower features not just one rain shower head..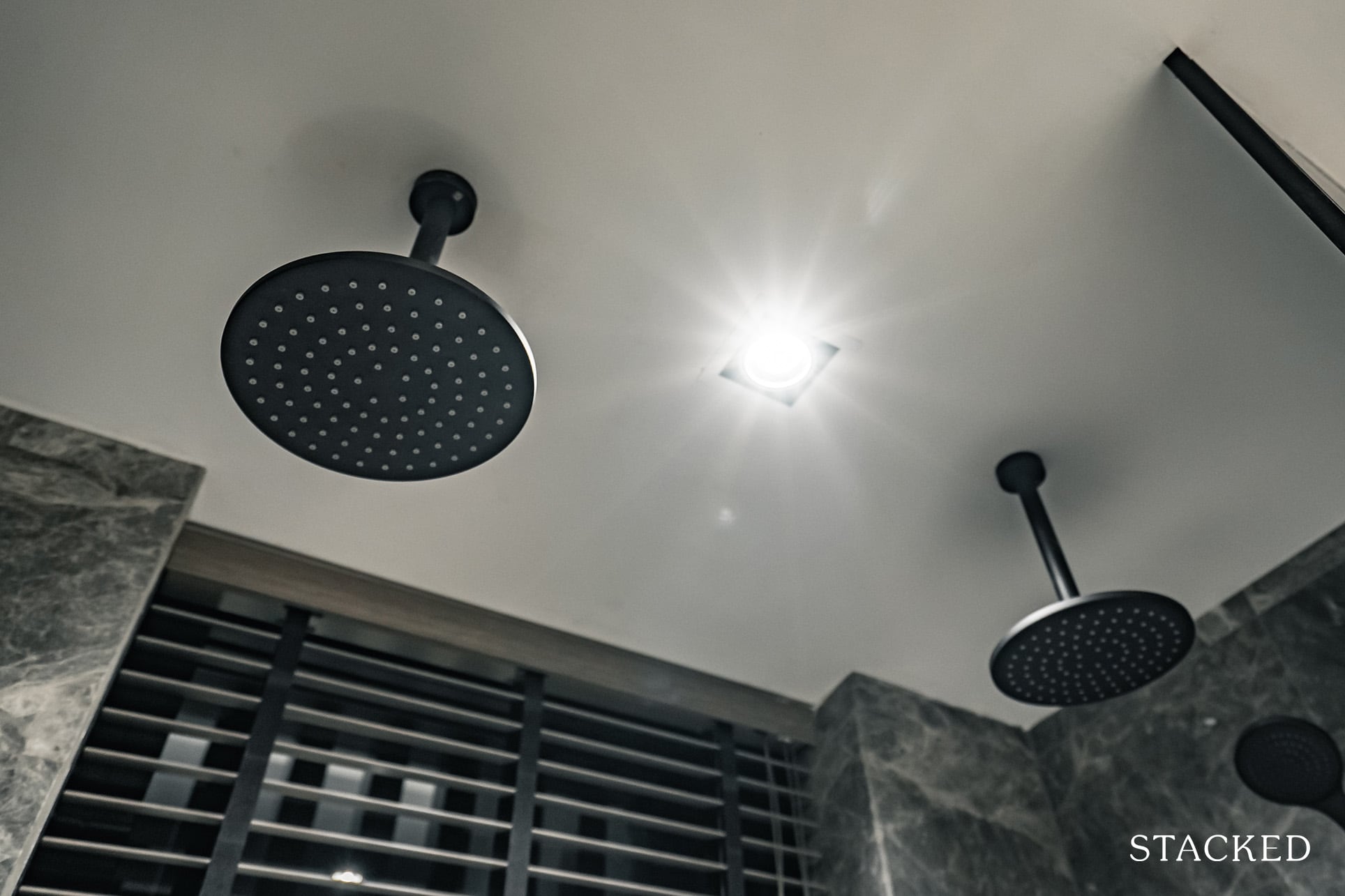 But two! So you have not just his and hers sinks, but his and hers rain showers too. There's a reason why this layout is something you'd usually see in a luxury suite in a hotel so I'm happy to see that it has made its way here.
Plus, it's almost a fact that women love to take scorching hot showers (guys out there, you'd know what I mean). So for couples that love to shower together, this would no doubt be the best arrangement possible – even better than having a bathtub in my opinion.
And of course, all the shower fittings that you see here are from the same matt black series by Gessi.
The Atelier 2 Bedroom Review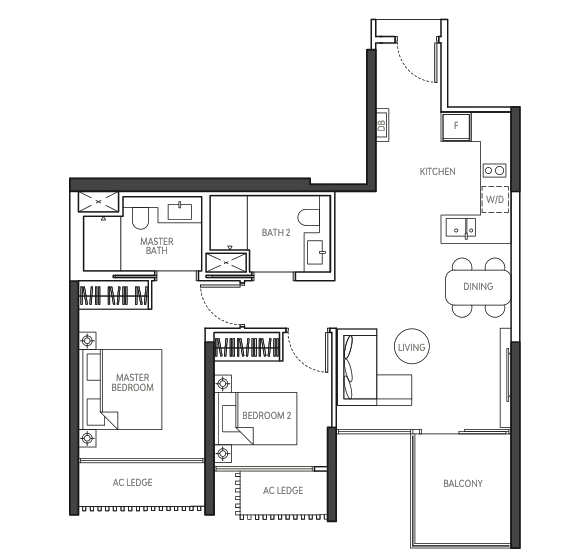 At 872 square feet, this 2 bedroom unit at The Atelier is unquestionably very spacious when you compare it to its new launch peers. Bear in mind too that this is the smallest 2 bedroom on offer, it actually goes up to a size of 915 square feet total.
Overall, it is a typical layout that you'll come to expect from a new launch development – with the exception of the smaller balcony and strange placement of the AC ledges.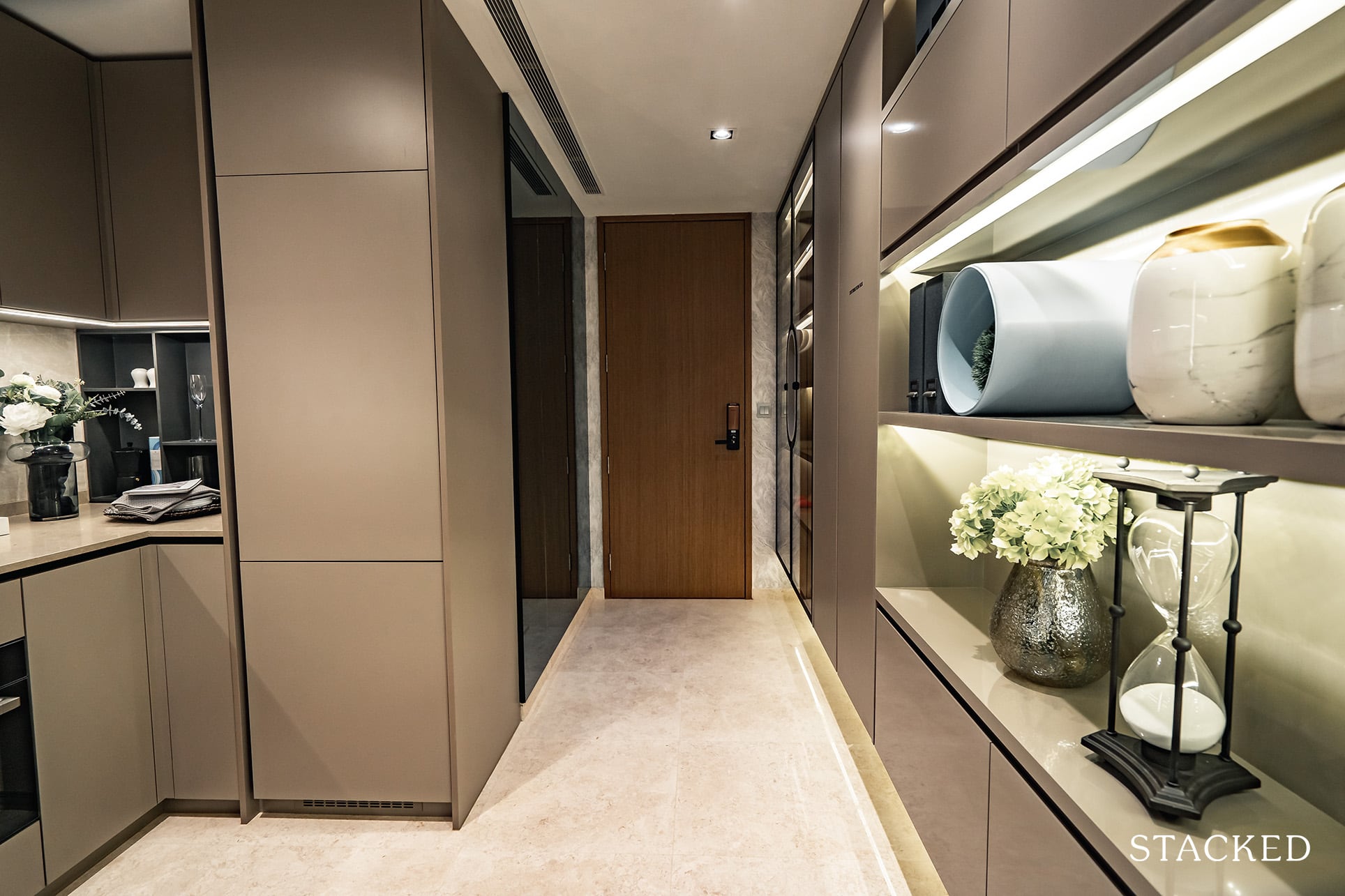 There's a small entranceway to this 2 bedroom unit, which isn't the most efficient usually – but there is enough space at the side to add more built-in storage (as shown above).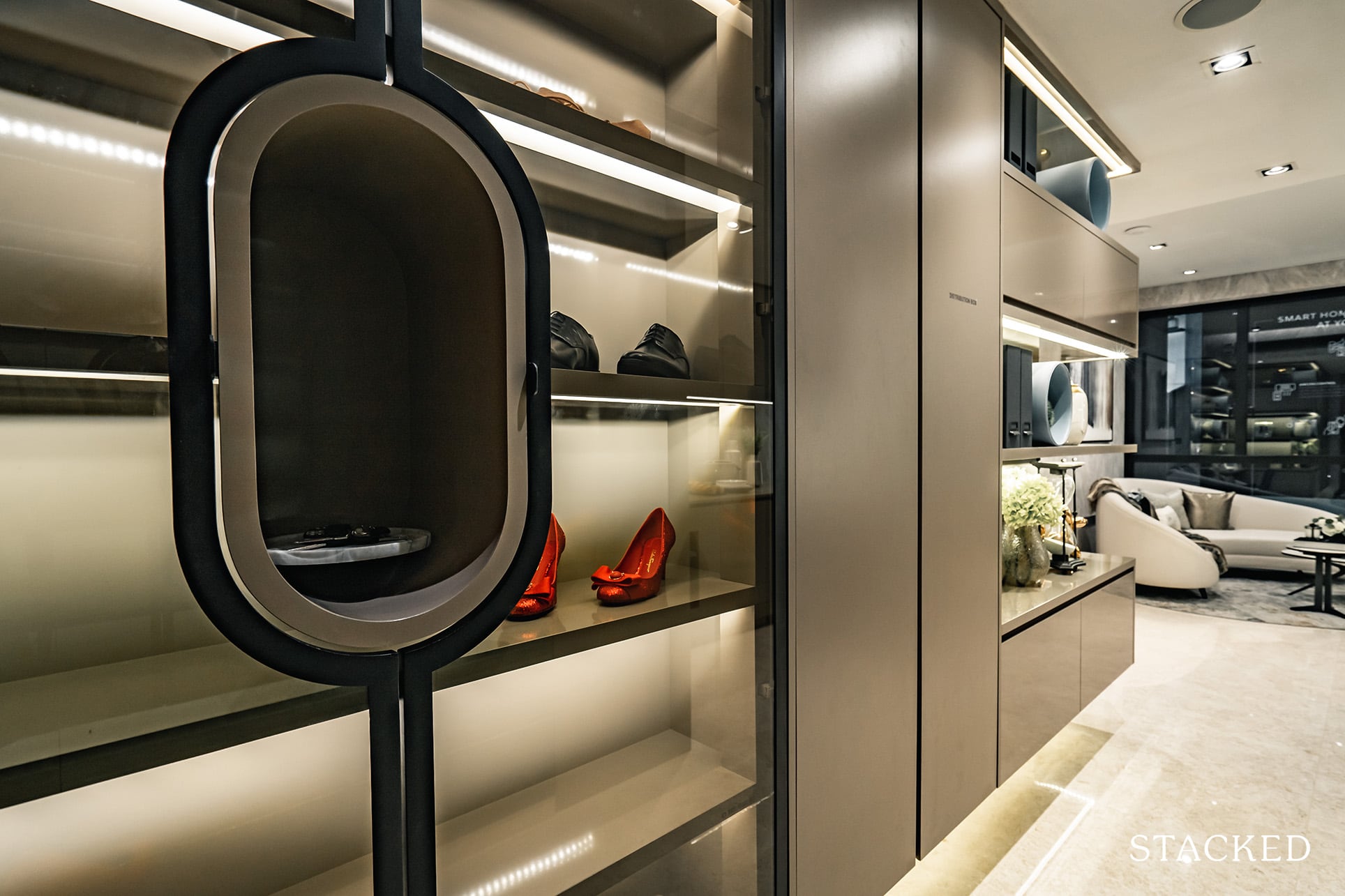 Note that other than the DB box the rest of the fixtures that you see on the right above are all ID treatment.
You might also notice that cream-coloured marble floor, and the overall lightness of the theme yet as compared to the 3 bedroom unit. Again, this is done purposefully by the developers to signify the more premium feel of those units. It does still feature marble flooring and the same 2.9 metre ceiling heigh, so not to worry in that regard.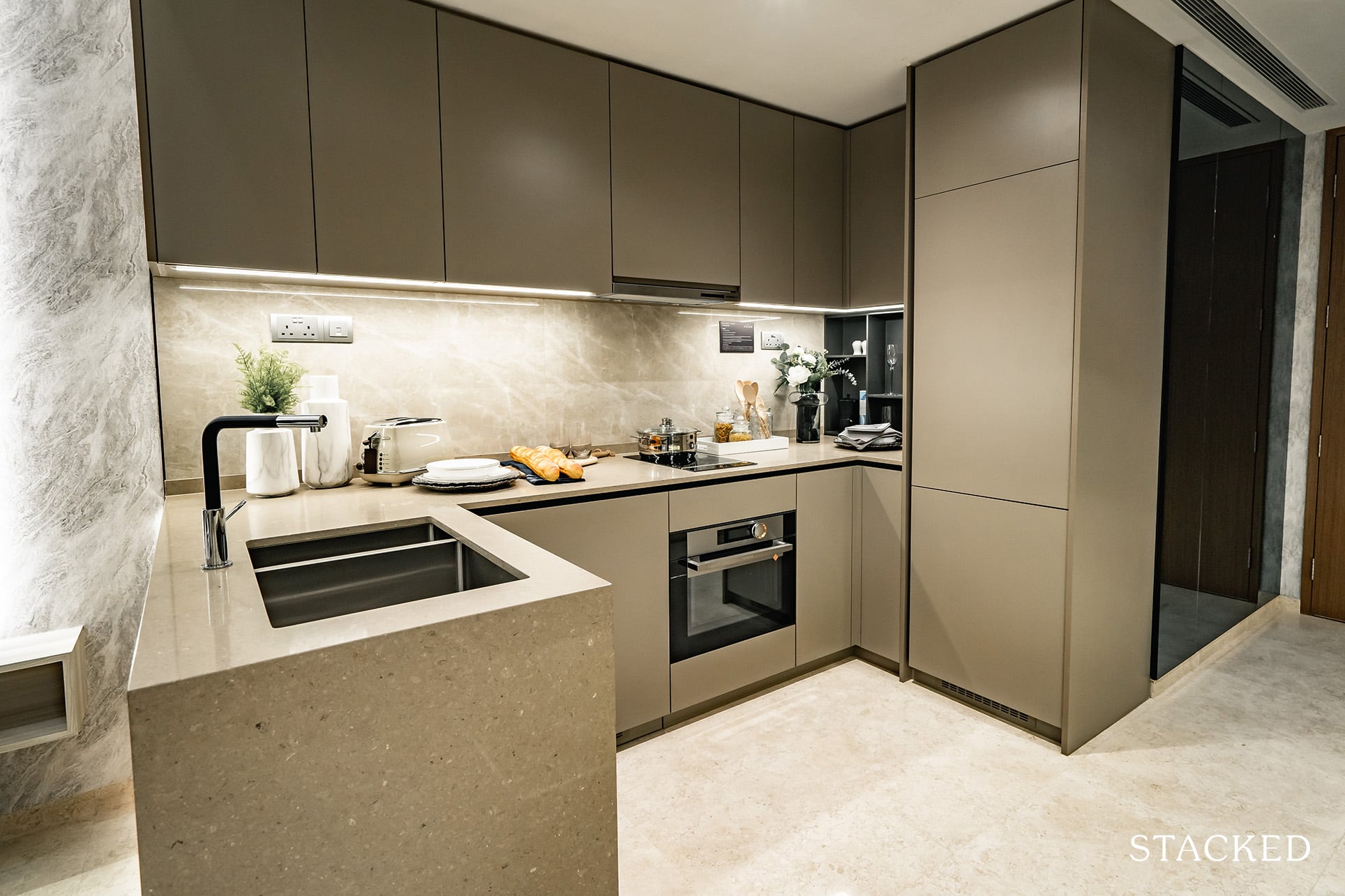 The kitchen here is an open concept one. You could possibly make it enclosed if you'd like (again, that onus is on you). But because there is a lack of a window in this layout, it does render it quite redundant to do so.
Other than that, because it shares the walkway space the kitchen is actually spacious even for 2 people to work in here at the same time.
It also features the same kitchen appliances by De Dietrich. But instead of a gas hob, it's an induction hob with hood. Along side that, you will have your usual fridge, washer/dryer and microwave oven.
Again special mention goes to that dual sided sink – which I'm glad to see included in even the smaller 2 bedroom unit.
It's also from here that you can really see the best aspect of this unit – the luxury of space. To most casual onlookers, they might even guess that this is a 3 bedroom unit instead.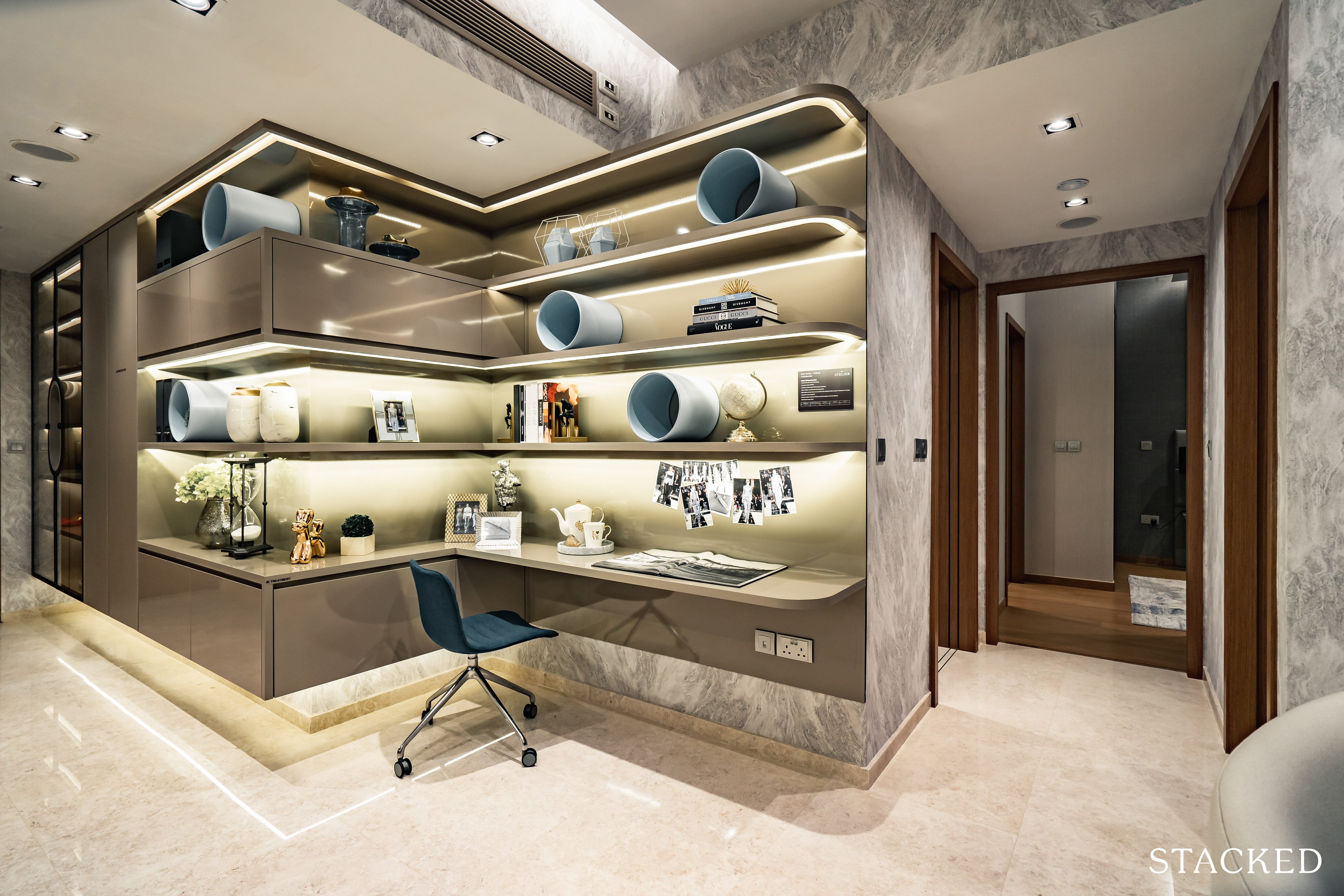 There is even space at the corner to incorporate a small study/office area. Remember, this whole section is ID treatment so take it away and the space would in actual fact feel even bigger.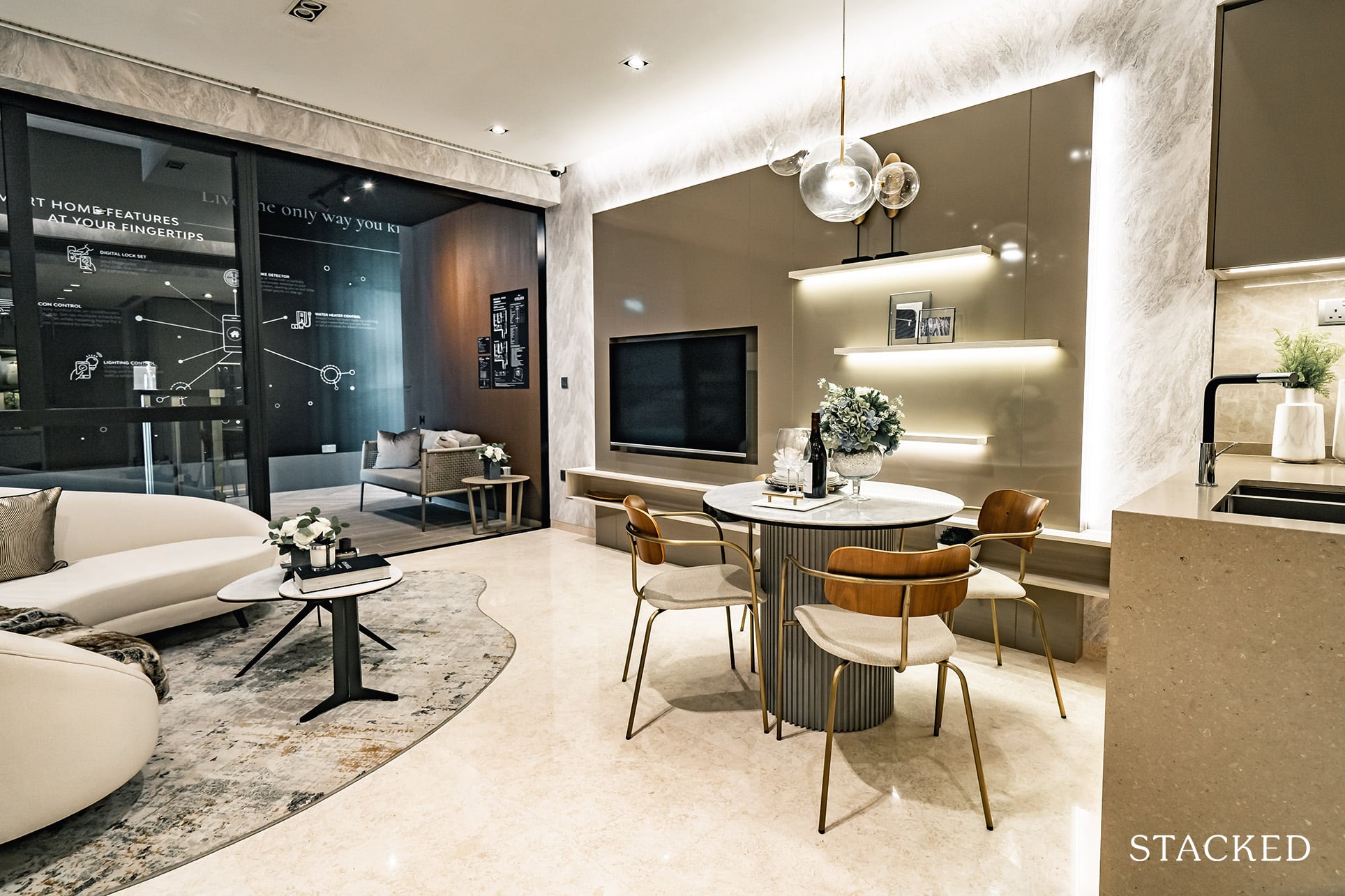 Just in front of the kitchen counter is where the supposed dining area would be placed. In the showflat example, they've opted for a round dining table with 4 chairs.
Practically speaking, this 4-seater table is definitely too small for regular dining purposes – it looks more suited for an afternoon tea perhaps?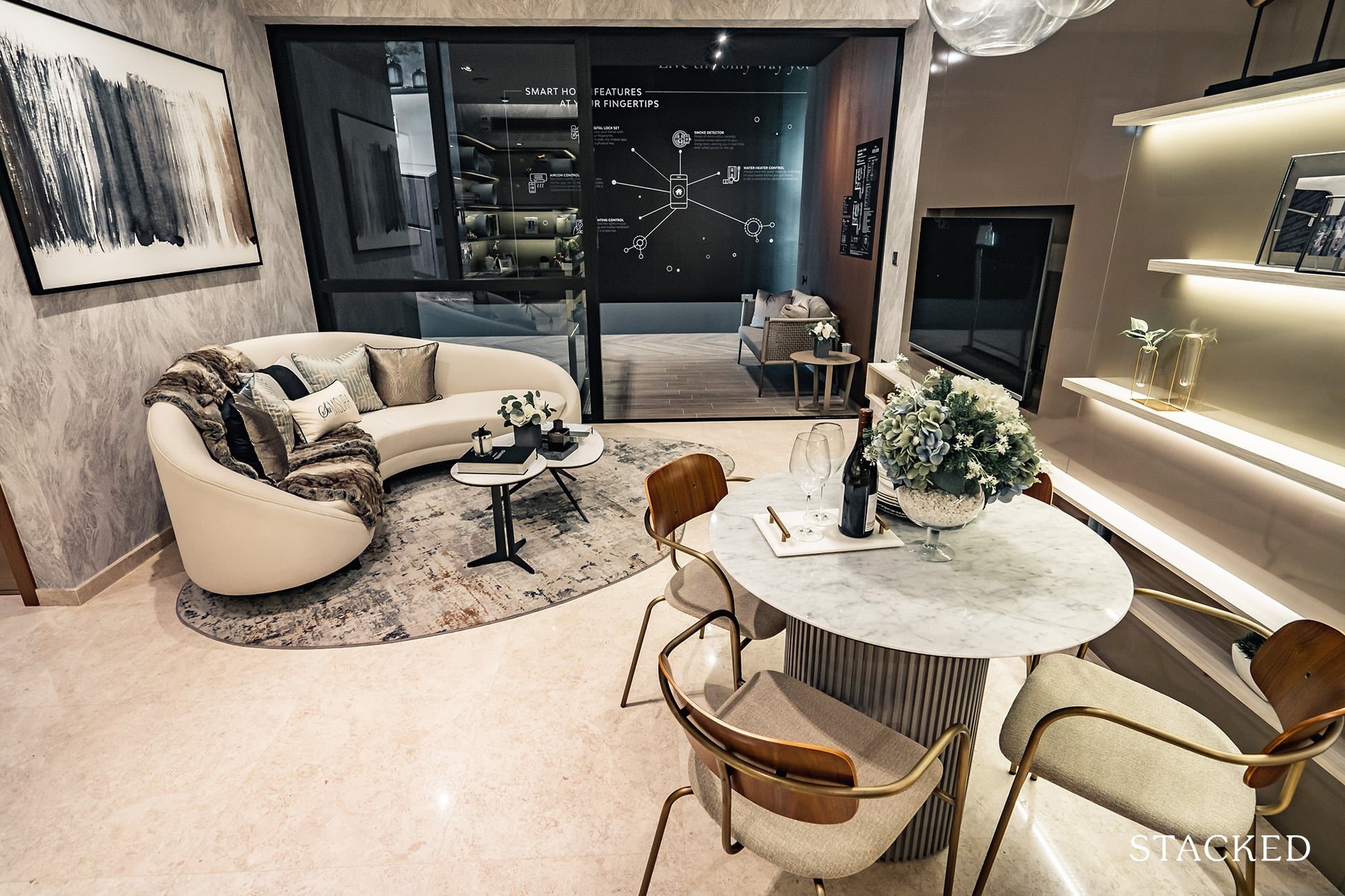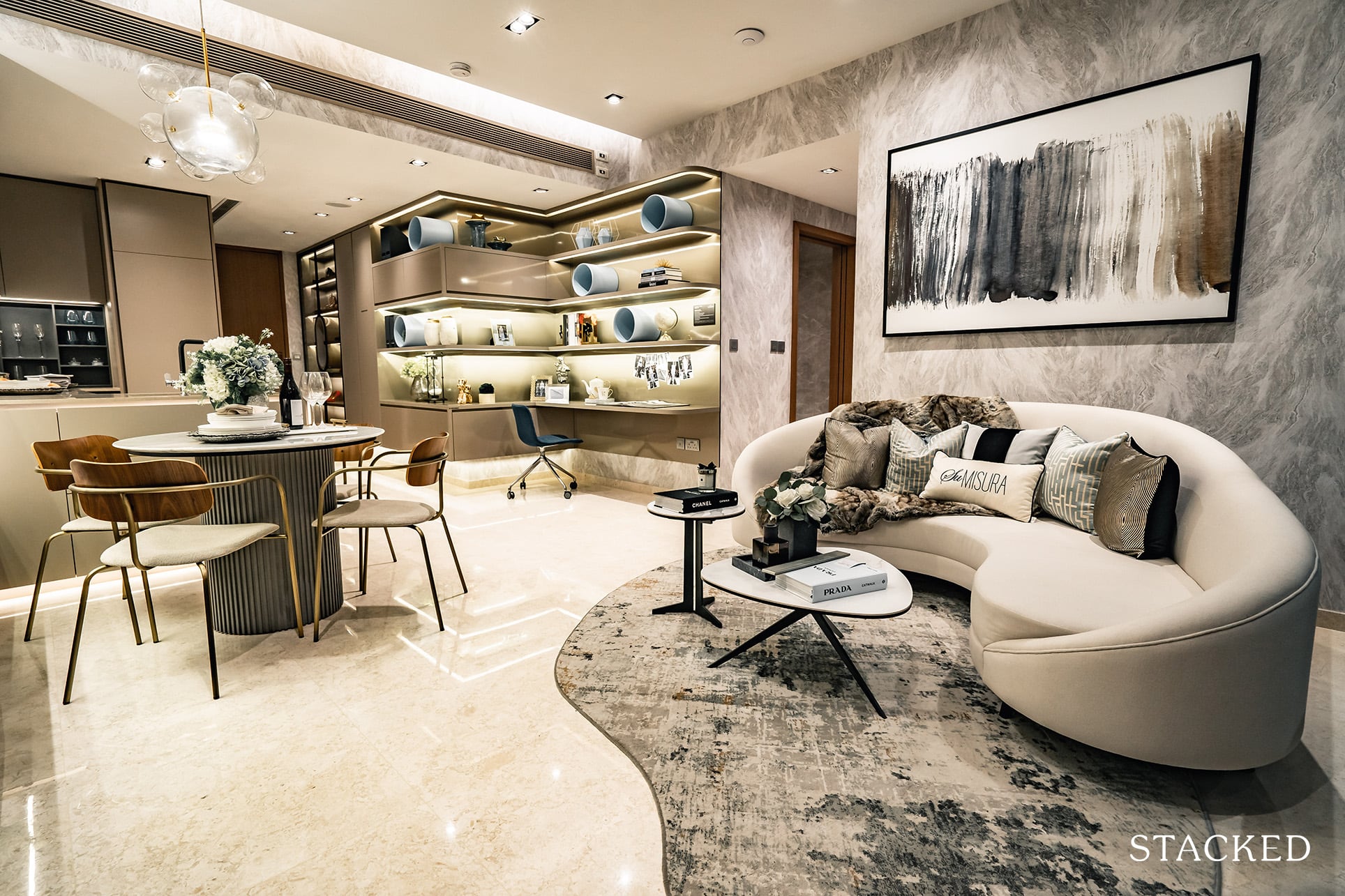 The living room, on the other hand, is positively very well-sized. (You can see from here too that even the 2 bedroom units have ducted air-con vents).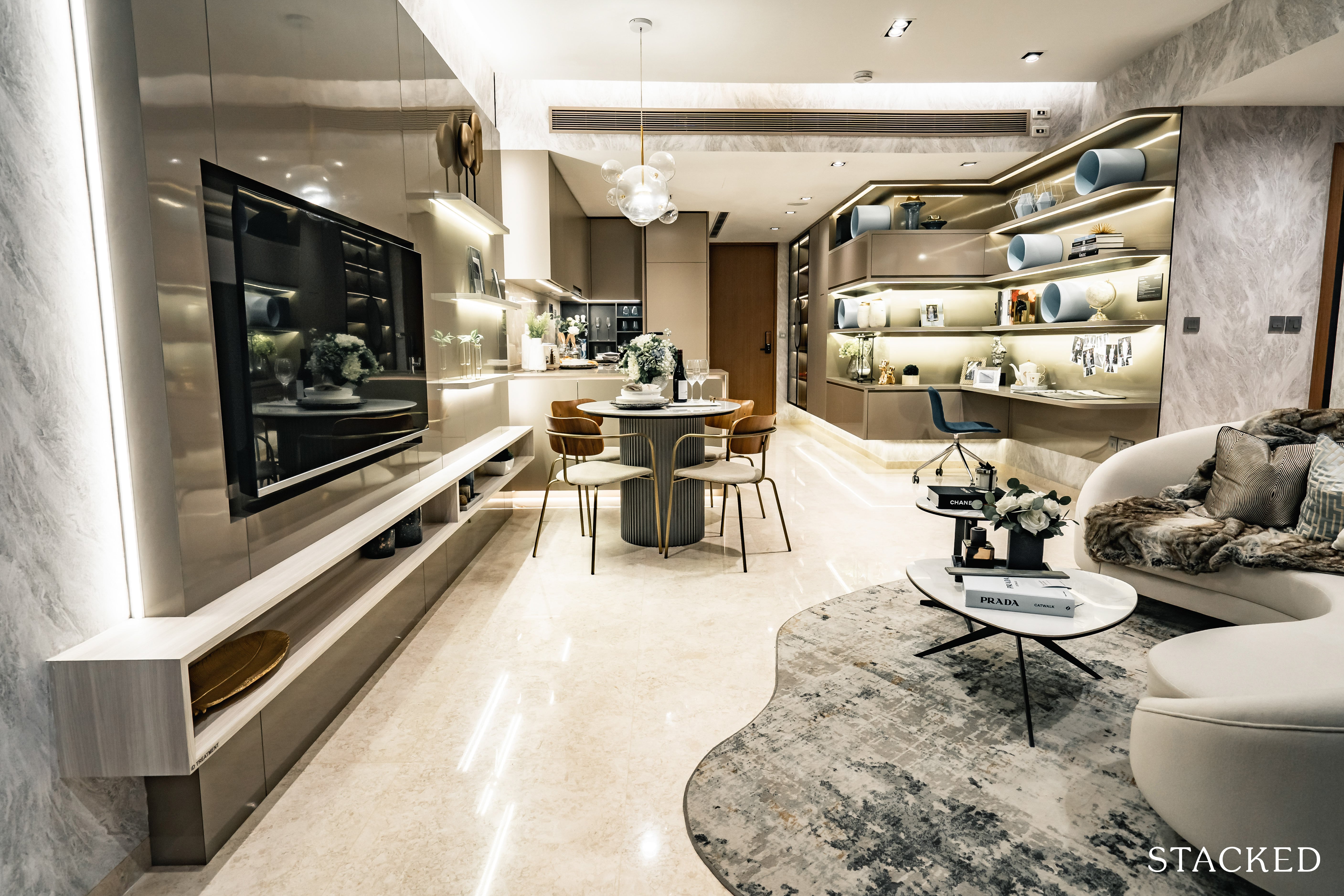 That length from the couch to the TV console is certainly exemplary. Even with that impractically curved couch, you can still see that amount of space afforded to you.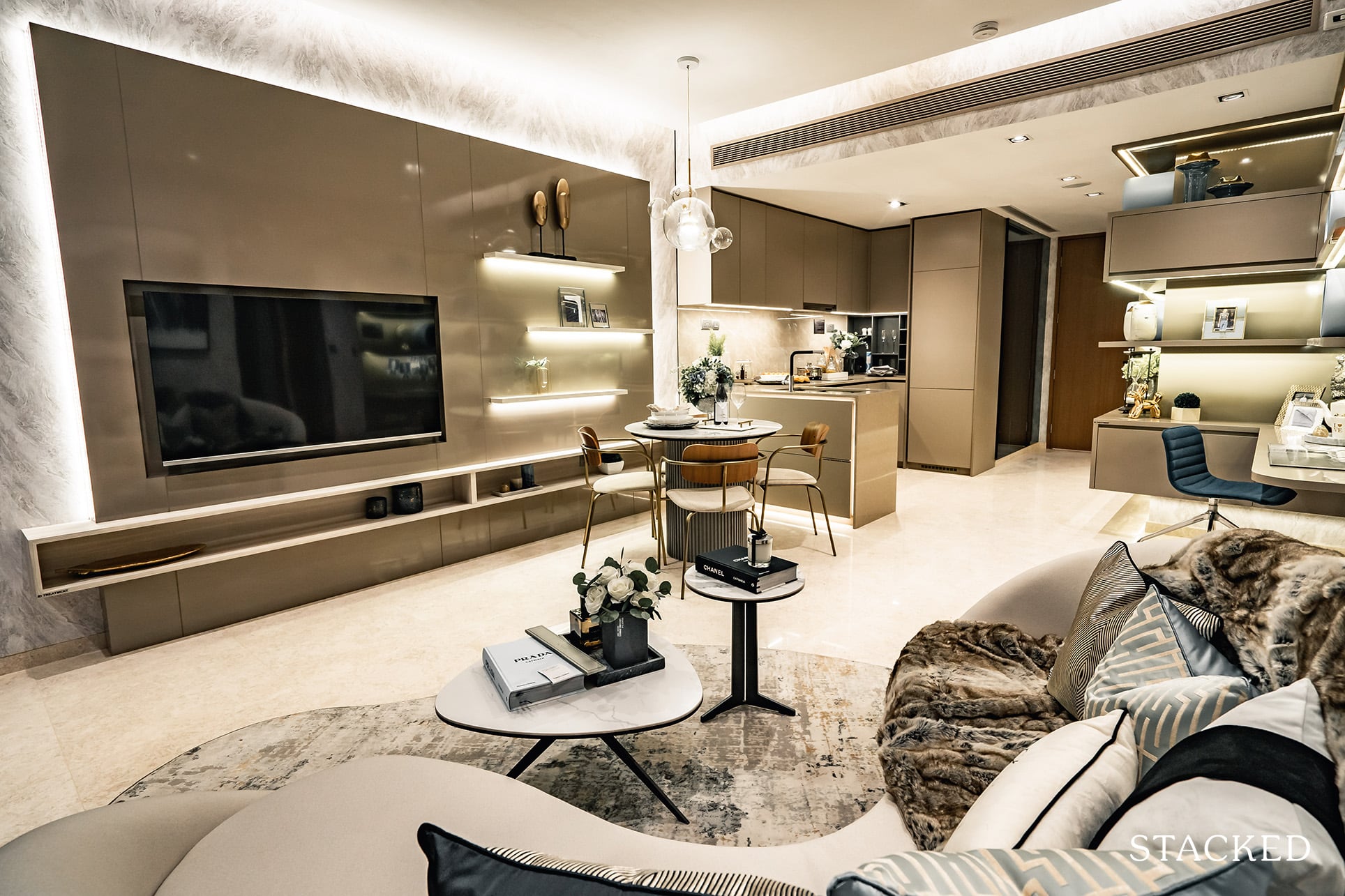 That said though, it does seem that the layout could be more practically laid out. Particularly if you have no use for a study corner but want a bigger dining area, it needs to have some creative thinking to make better use of the space.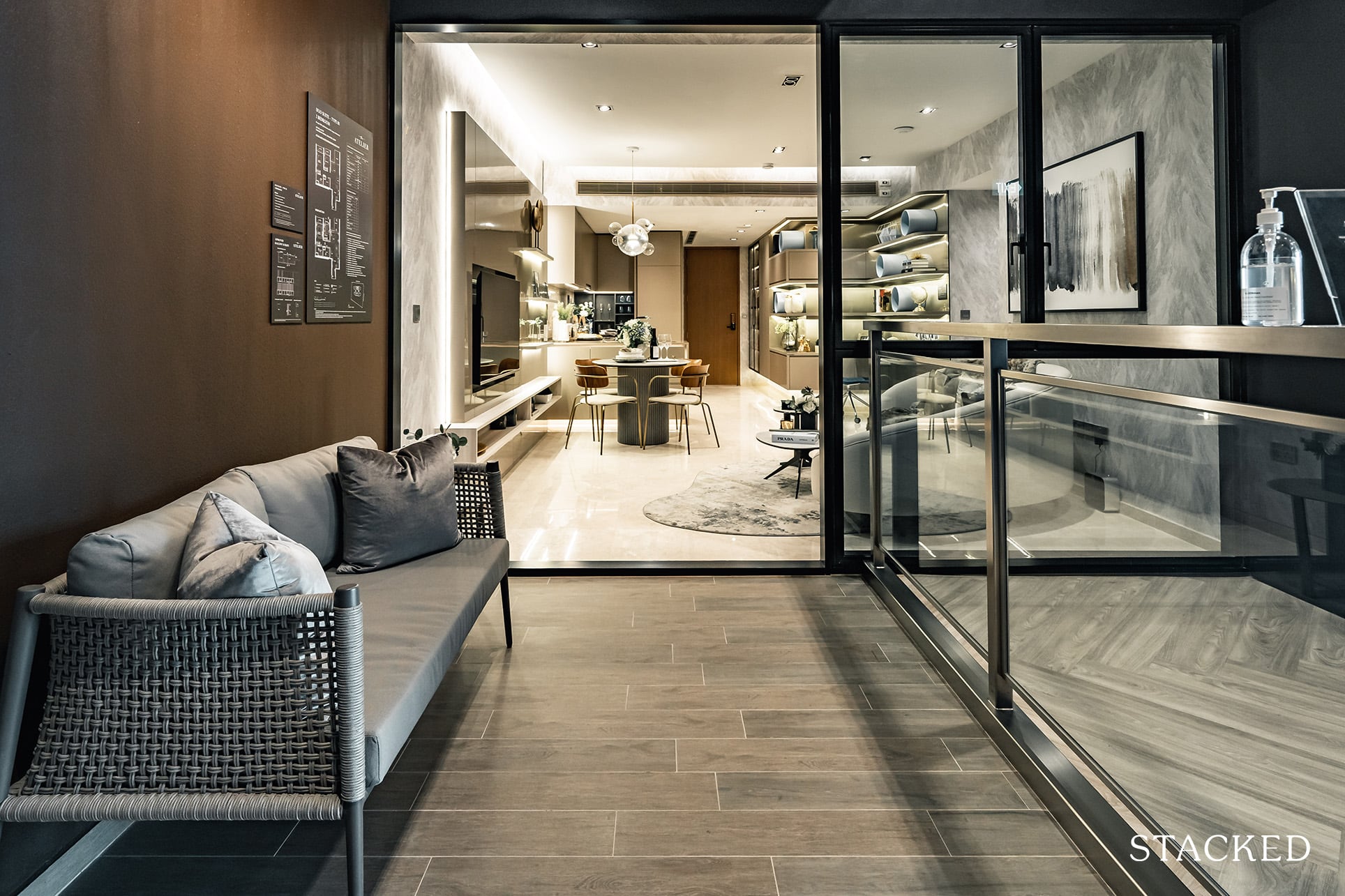 Instead of the balcony spanning the length of the living room, it cuts off about halfway – leaving it as a squarish shape. You'd still have decent space to fit in comfy seating though (as shown above).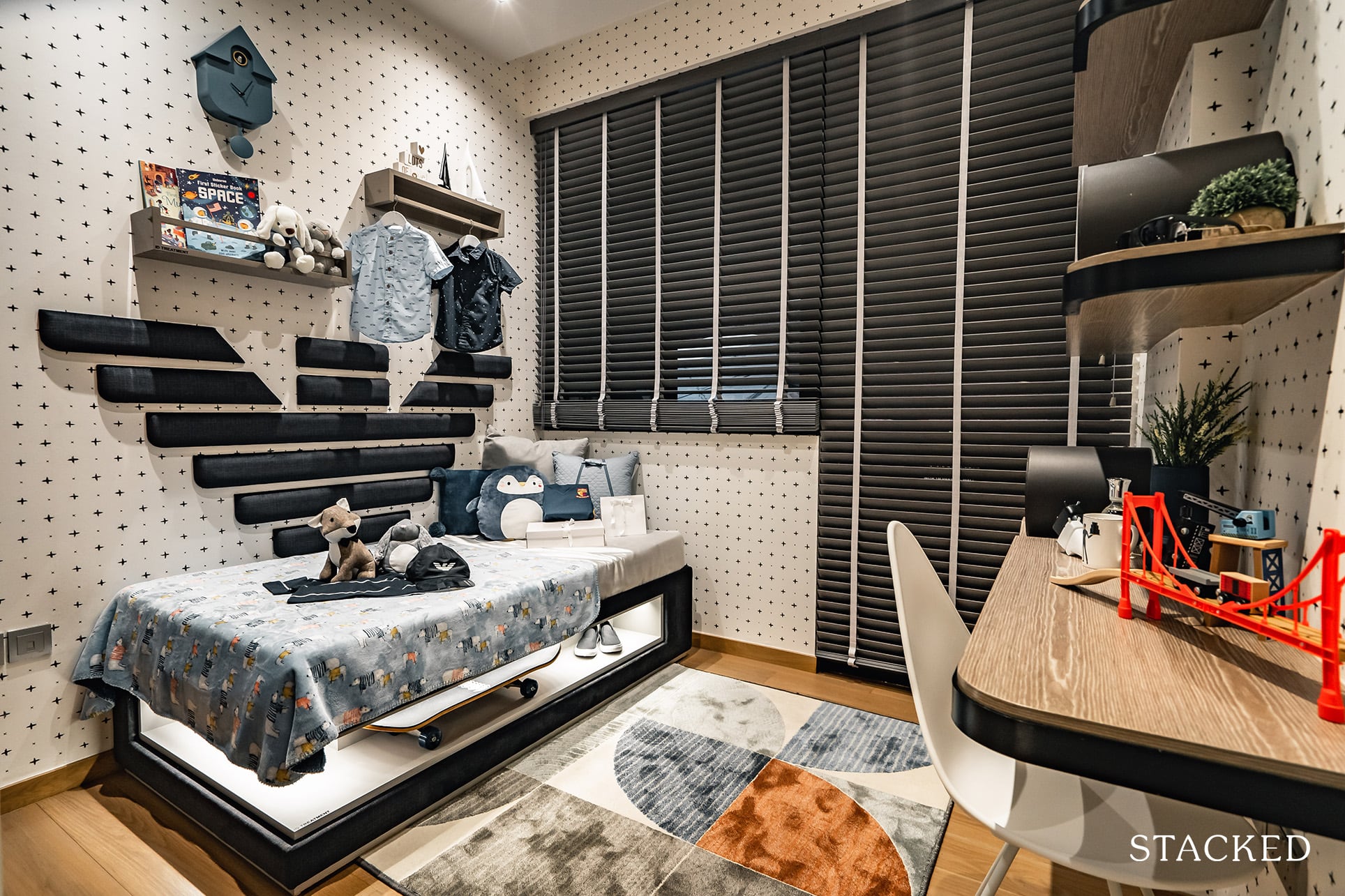 Next up is the common bedroom. Size wise, it is roughly what you might expect for a 2 bedroom unit. It isn't as impressive as the rest of the unit, but that's perfectly fine given how big the living space is.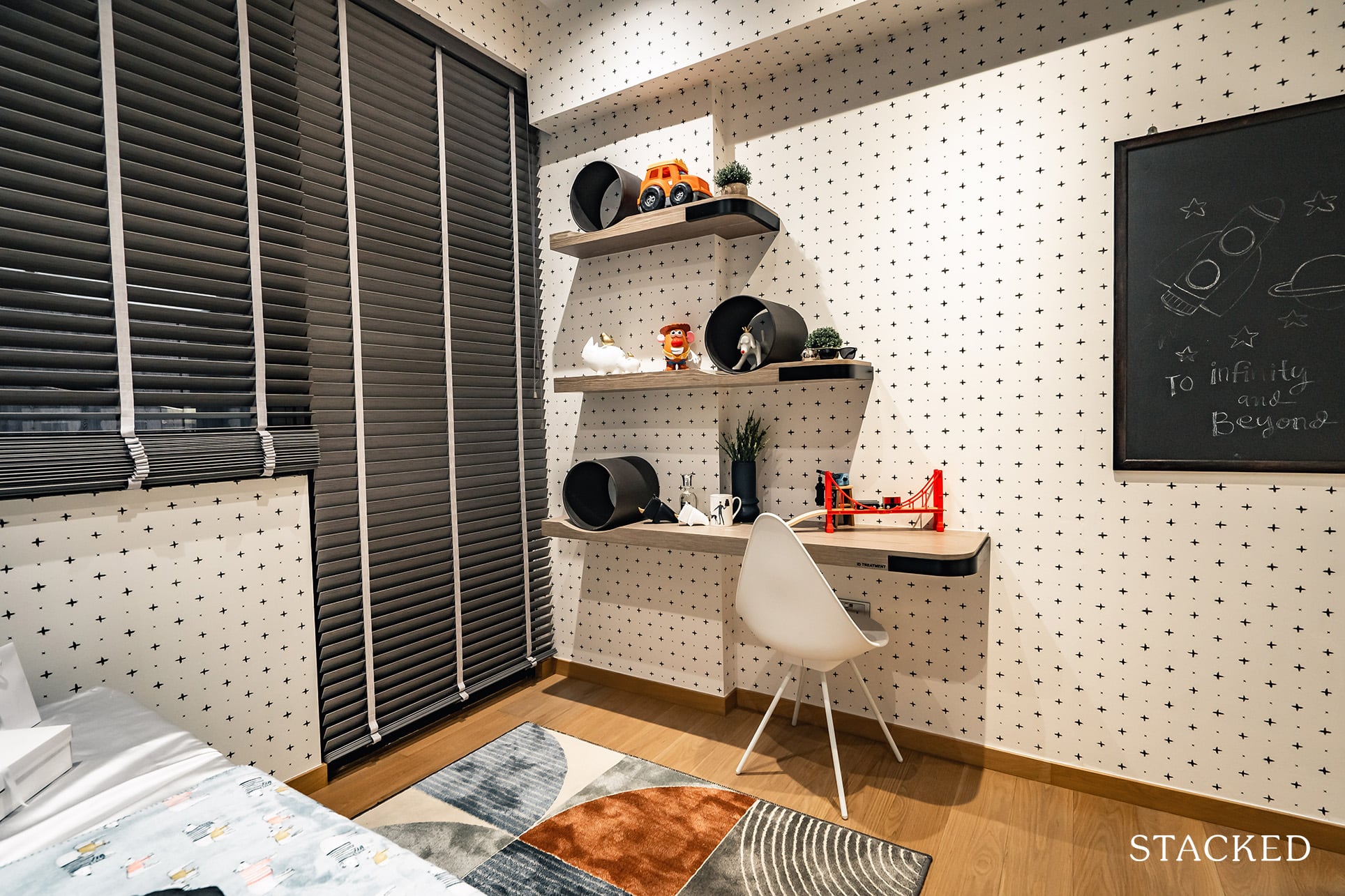 One minor point here is the location of the AC ledge on the outside, so you will be relegated to half-length windows instead.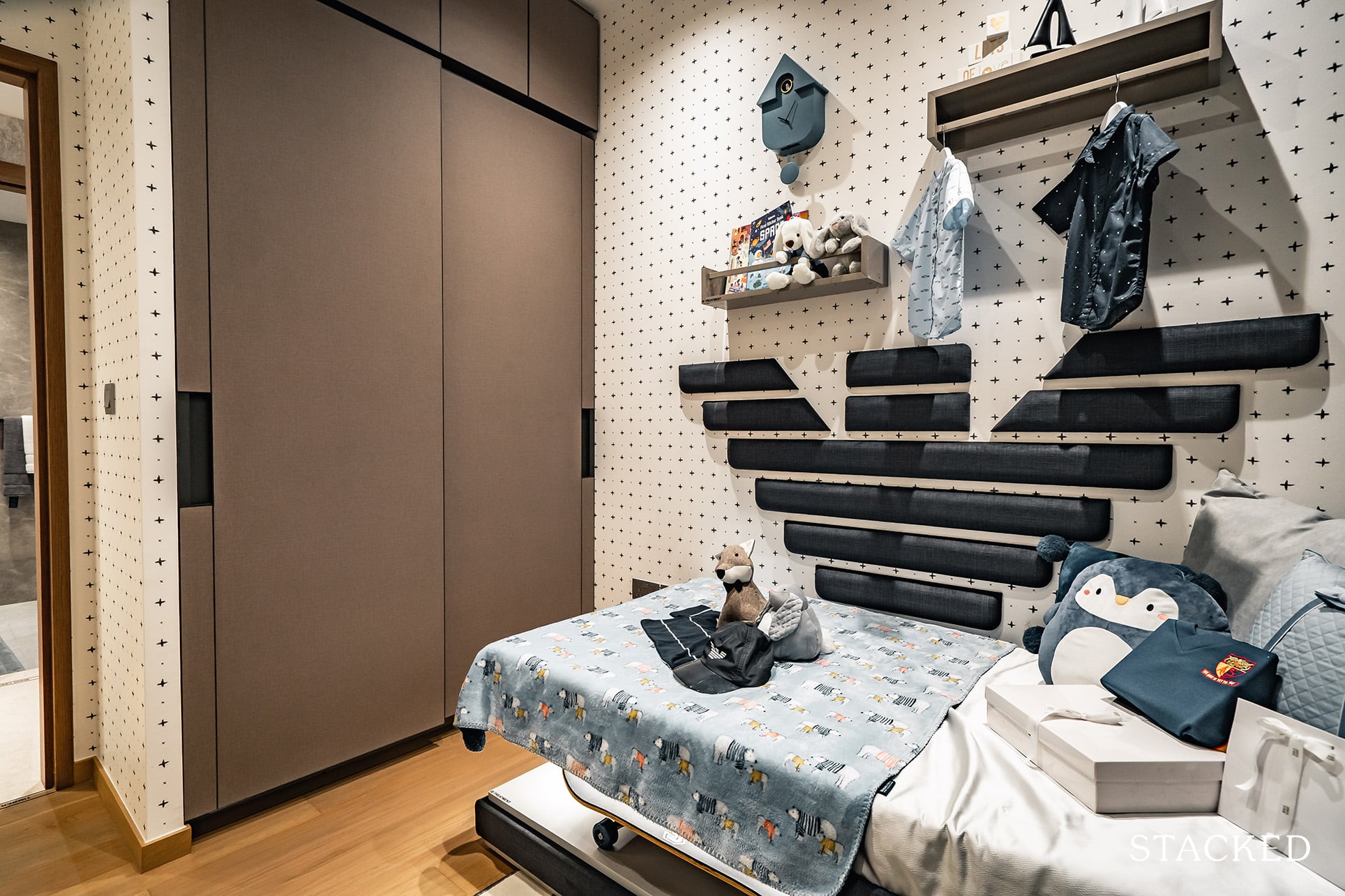 Storage space is provided by the typical 2-panel wardrobe. Like the 3 bedroom unit, you do get additional storage space right at the top as well.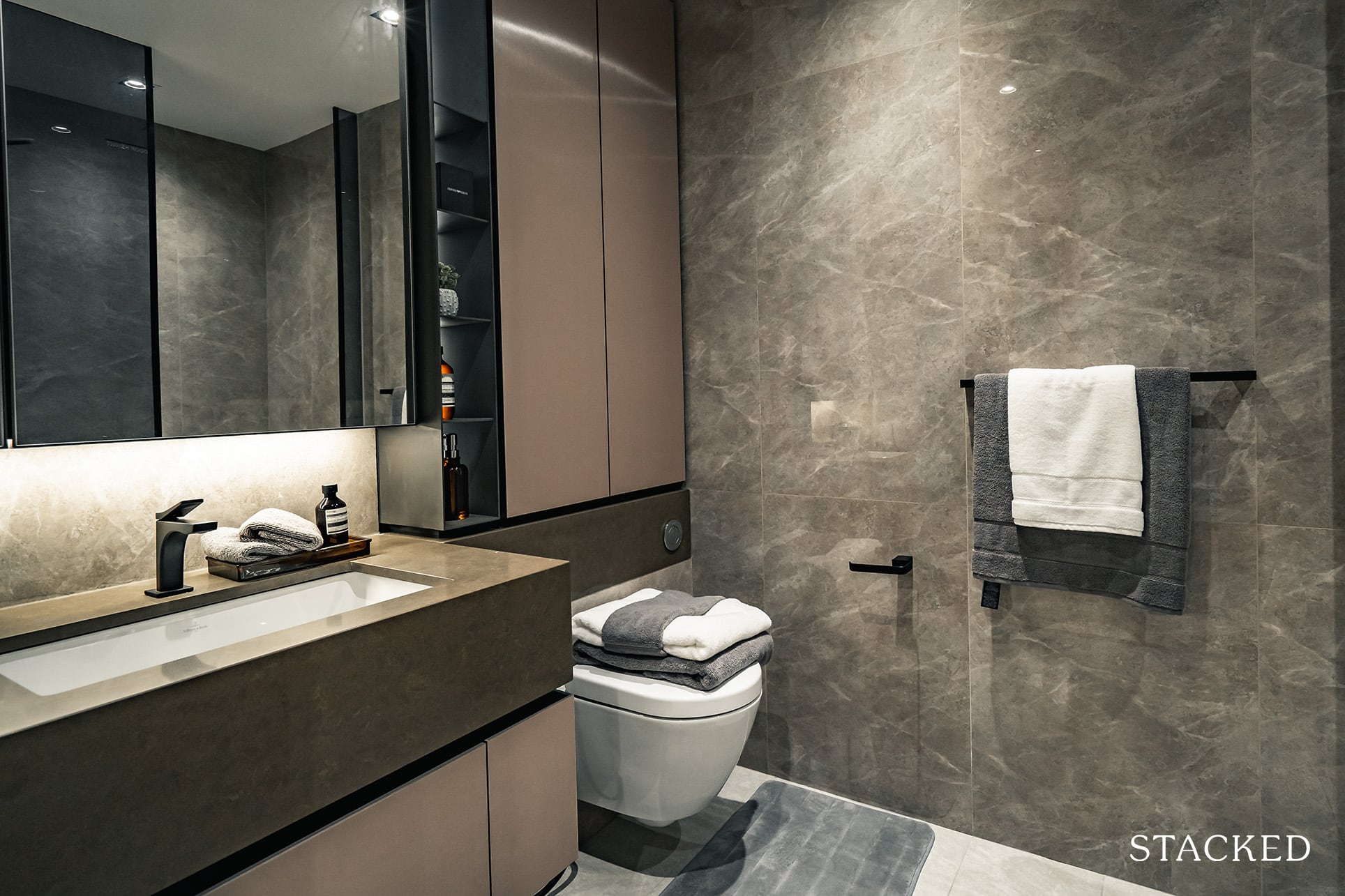 The common bathroom is a decent size, with porcelain tiles provided for the flooring.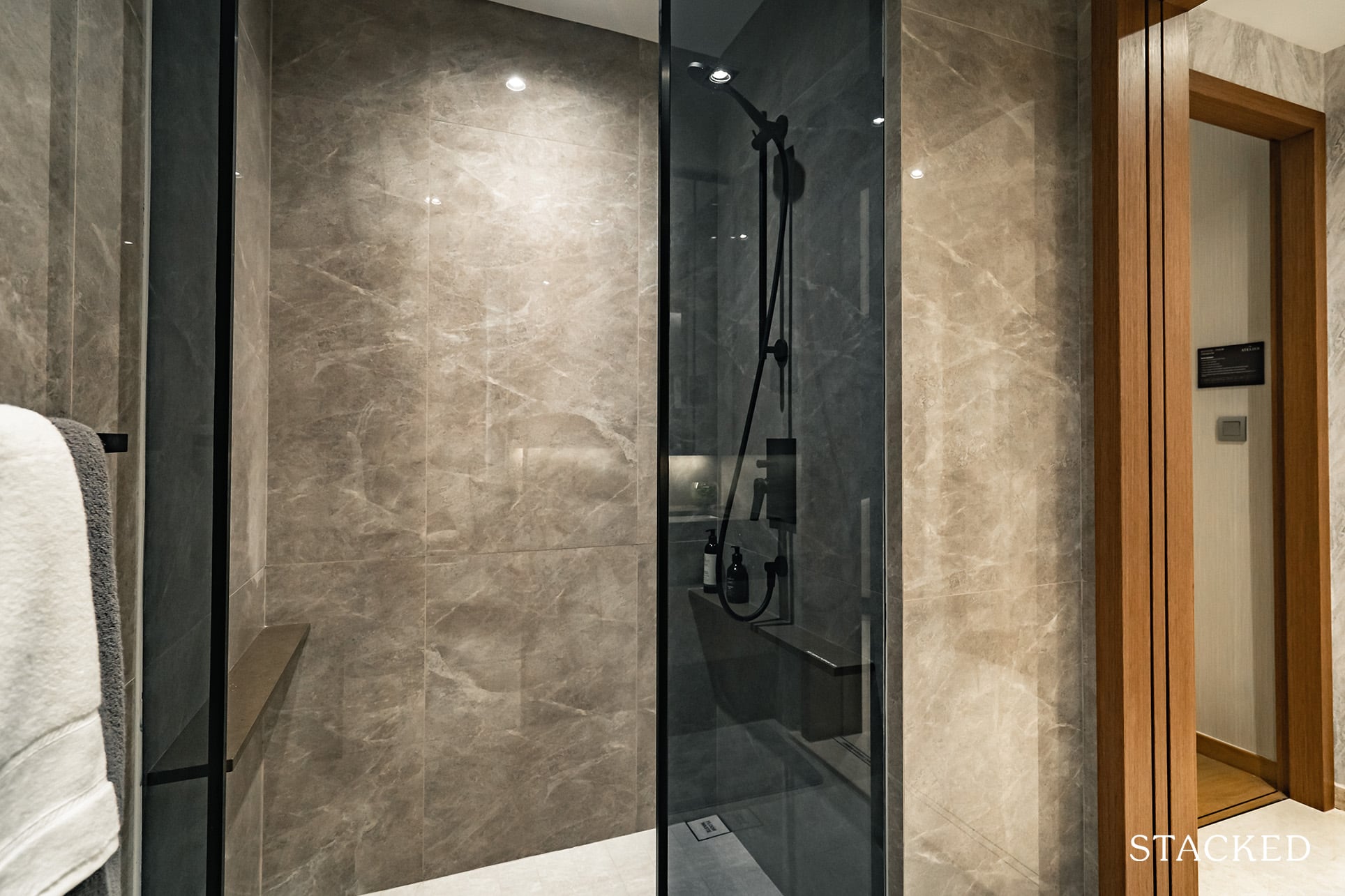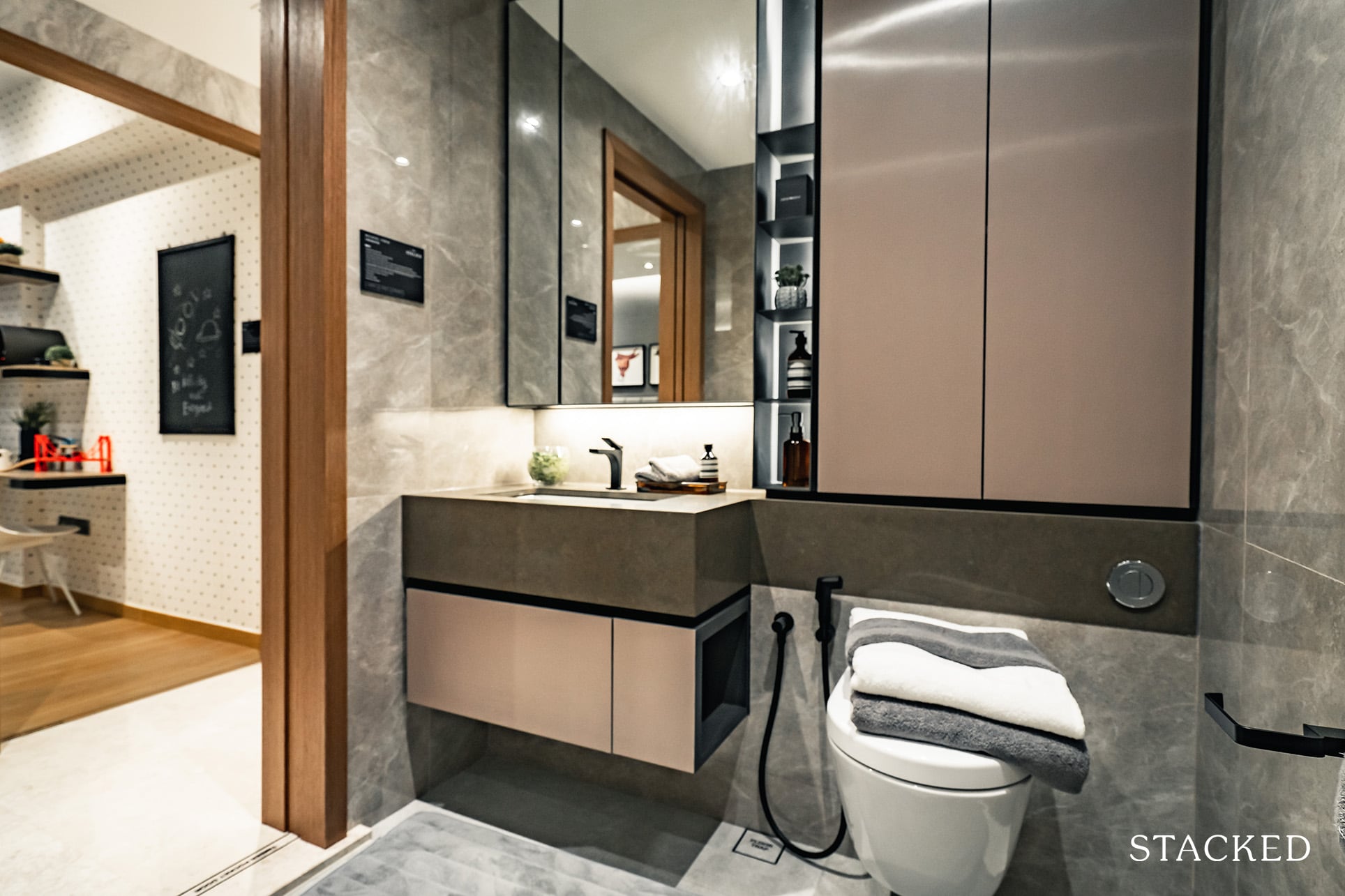 Bathroom fittings are from the matt black series by Gessi, with the wall-hung WC from Villeroy & Boch. Unfortunately, you don't get a rain shower here.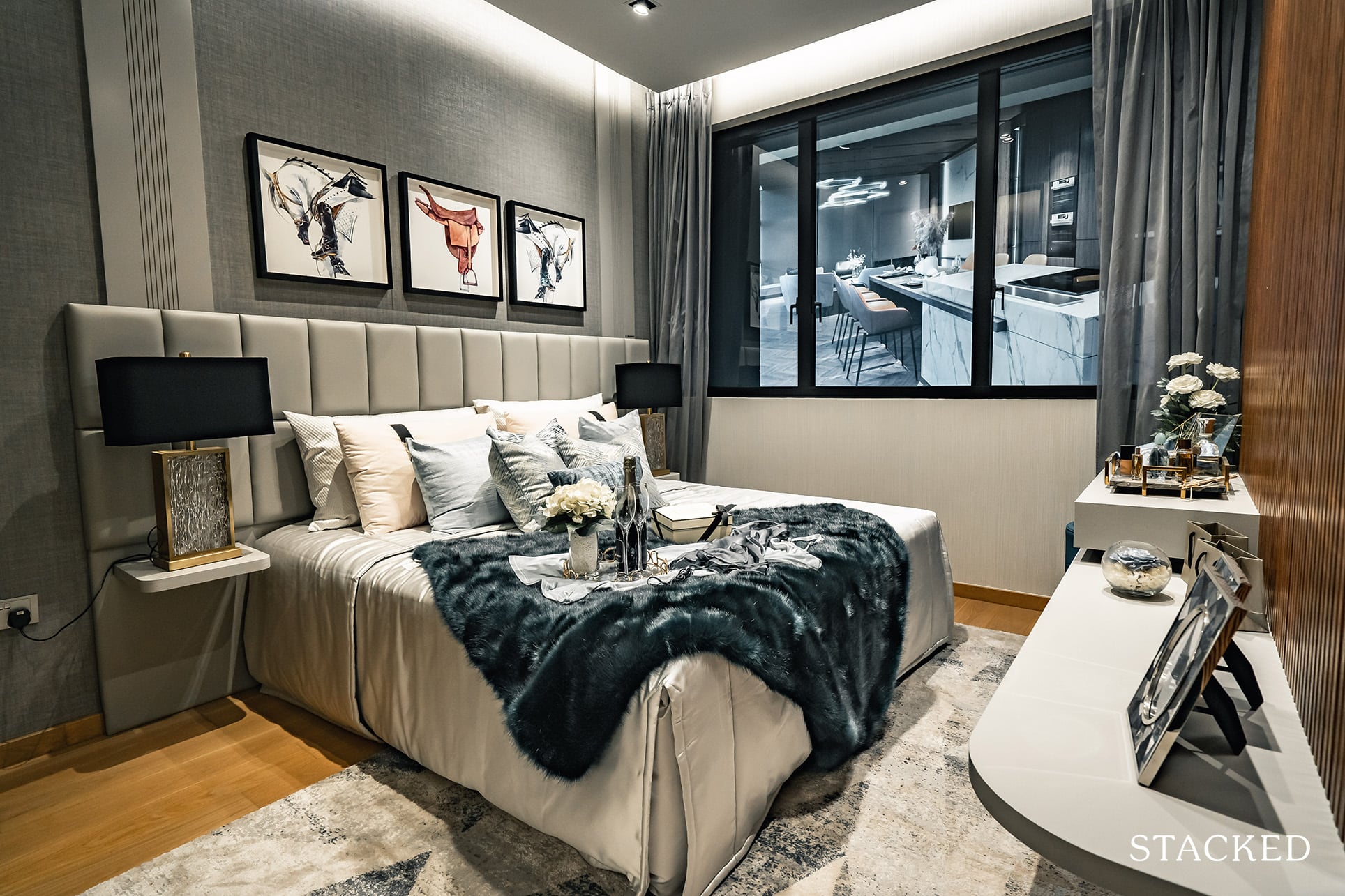 The master bedroom fares quite well in the size department. Even with those oddly chosen massive side lamps, you do still have more than adequate space to move around.
What I can't quite wrap my head around is the decision to include an AC ledge outside here as well. It's not something that you'd normally see, and it really hampers your view plus the natural light coming in. I would say it isn't a dealbreaker, but it is a blip in what has been an overall positive experience so far.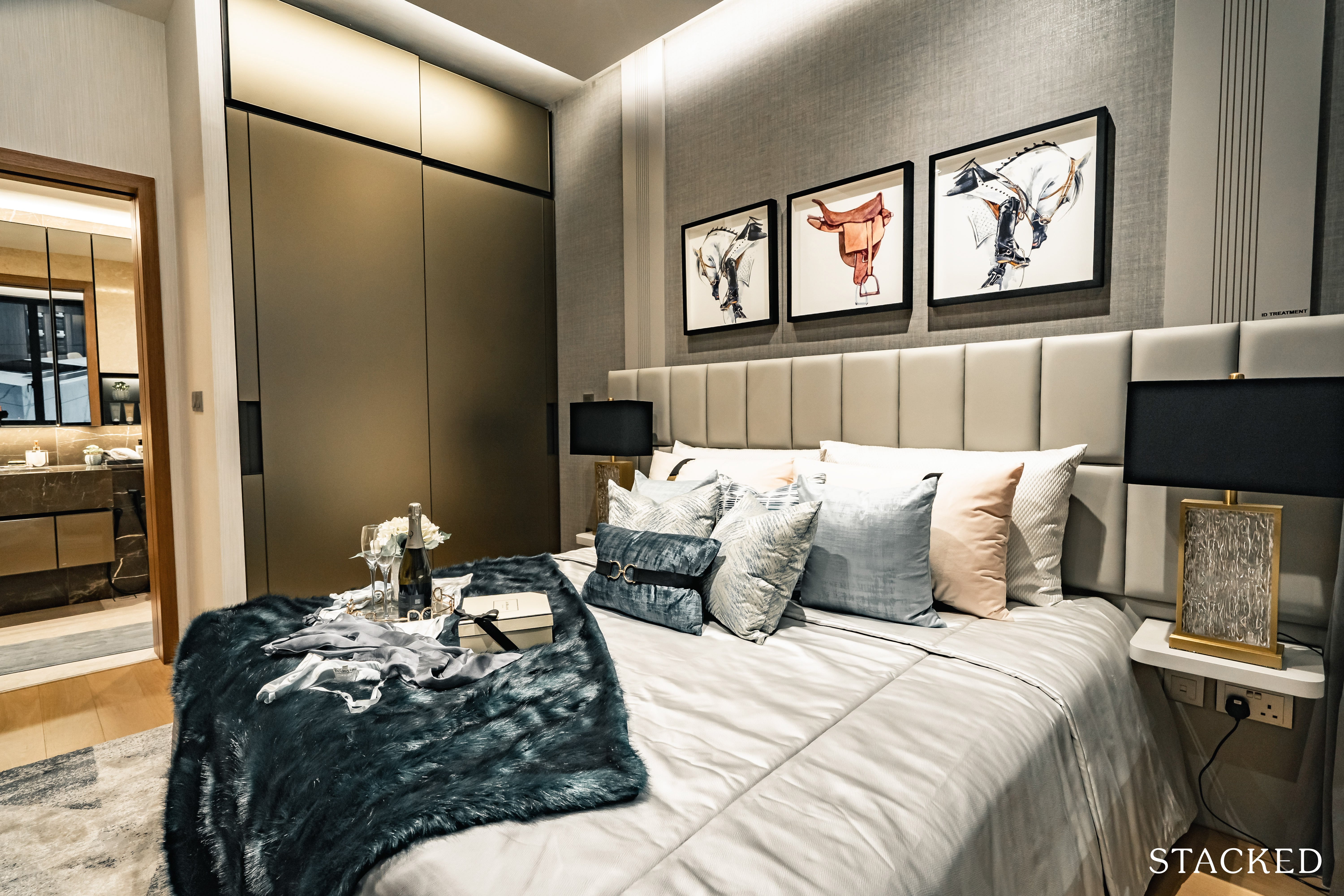 Wardrobe space is served by the standard 2-panel variety. It does feature that upmarket satin glass finish, which is nice.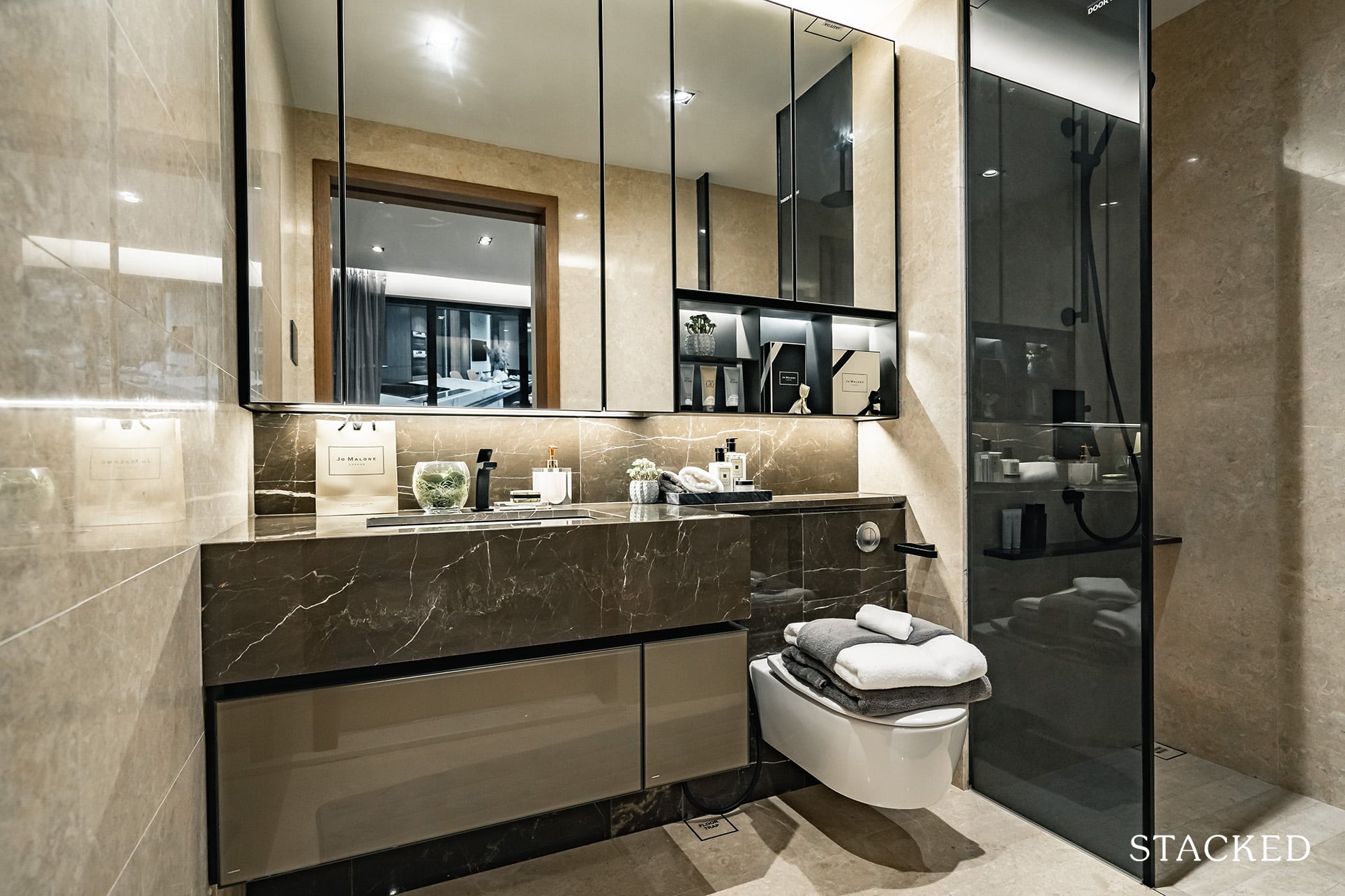 The master bathroom is quite routine too. It features all of the same fittings as what you've seen in the common bathroom, save for the inclusion of the rain shower here.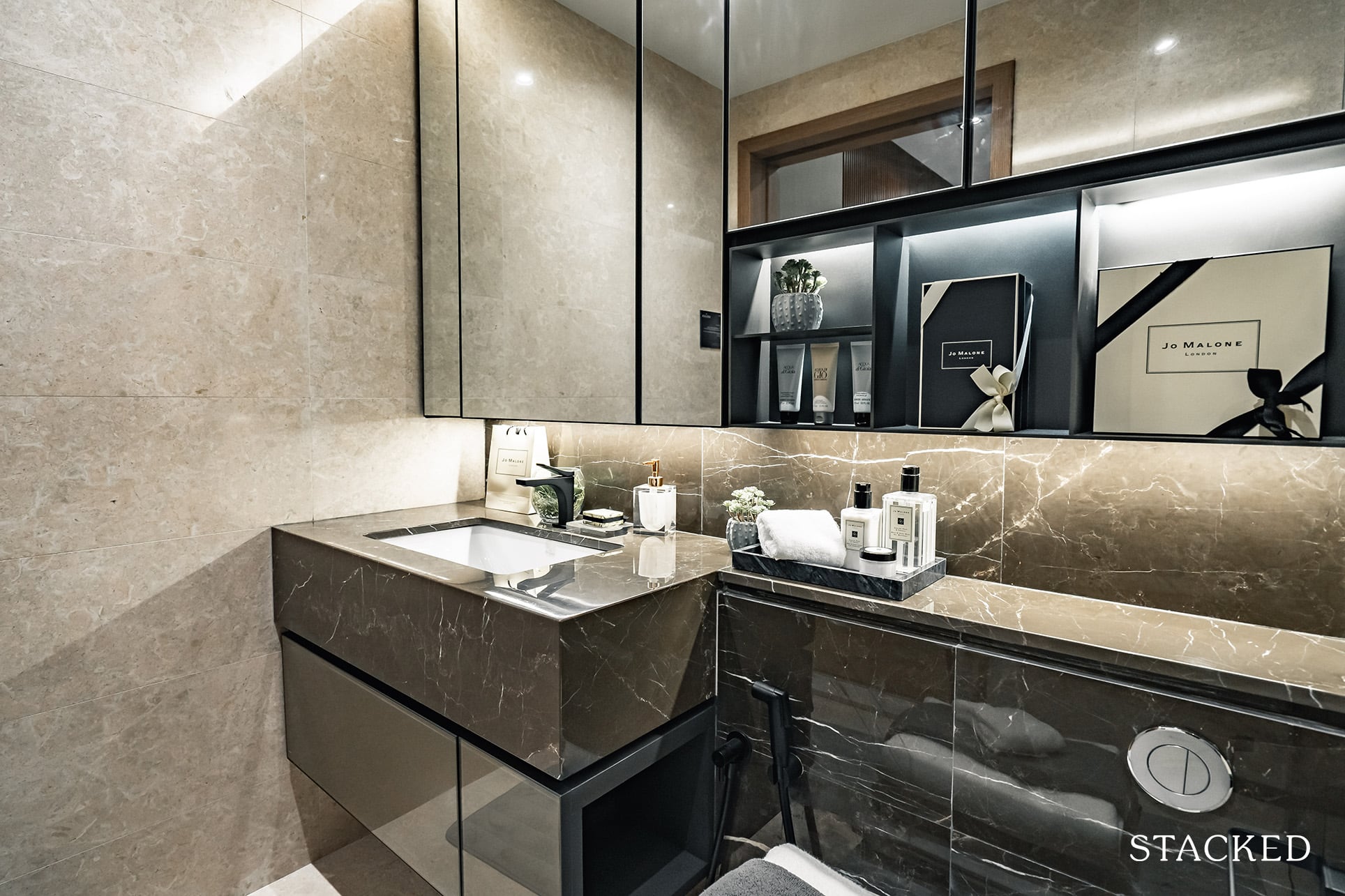 The Atelier Location Review
One of The Atelier's main selling points is its proximity to Newton MRT station. A roughly 10-minute walk will take you to the train station; and just across from there is the famous Newton Circus food centre.
This being a District 9 property, there's strong appeal to the CBD area workforce. The Atelier is just a 2.4-kilometre drive to Orchard, and only around 5.4 kilometres to Raffles Place. For residents who don't drive, Newton MRT is just one stop away from Orchard.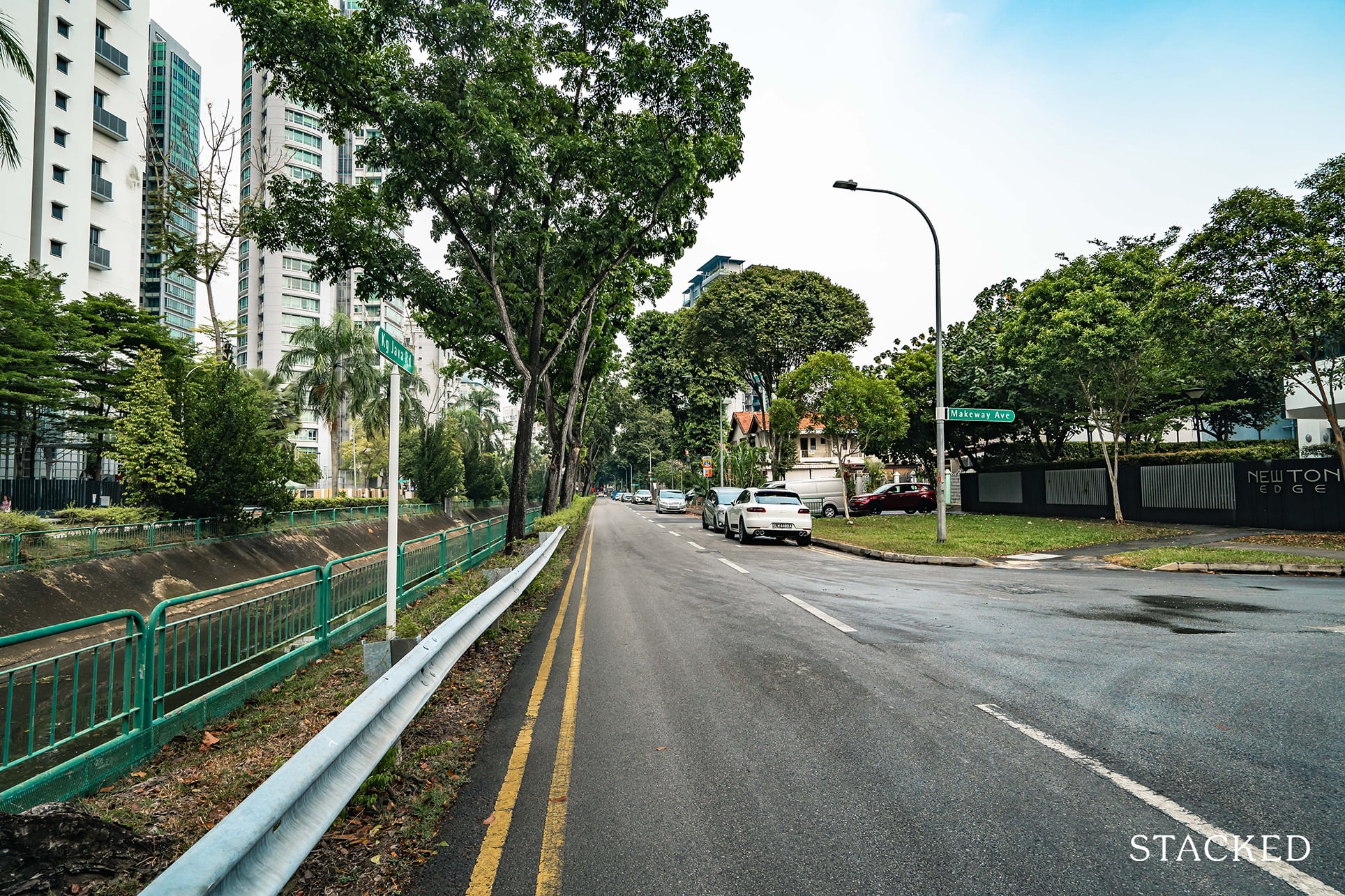 But as with most properties near Newton Circus, you should be prepared to deal with traffic noise and congestion; this has been a fact of the neighbourhood since 1933 (that's when the Newton Circus roundabout was originally built, to handle the eight roads converging here). While Kampong Java Road is not the noisiest, it still gets busy; and it's close to The Atelier. It's actually more of the Newton Flyover that could pose an issue traffic noise wise, but the location of Kopar would probably bear the brunt of it.
There isn't much in the way of parks or open spaces here, and there are tall buildings looming in most directions. And while the name "Rochor River" sounds nice, it's just a canal that doesn't make for a particularly special view. As such, condos here are for true urbanites; The Atelier is for those who prize food, shopping, and convenience over greenery.
Amenities
Groceries
| | |
| --- | --- |
| Name of Grocery Shop | Distance From Condo (& Est. Walk Time) |
| Cold Storage – Thomson Road  | 650m, 8-min walk |
| FairPrice – Square 2 | 2.6km, 6-min drive OR 1.6km, 18-min walk |
The closest supermarket would be the Cold Storage at United Square; this is about 465 metres away, or around an eight-minute walk.
If you want FairPrice instead, you'll have to go the one at Square 2, near the Novena MRT station; you can either take the train one stop from Newton MRT, or walk around 1.4 km (18 minutes). There's yet another Cold Storage at Novena.
Schools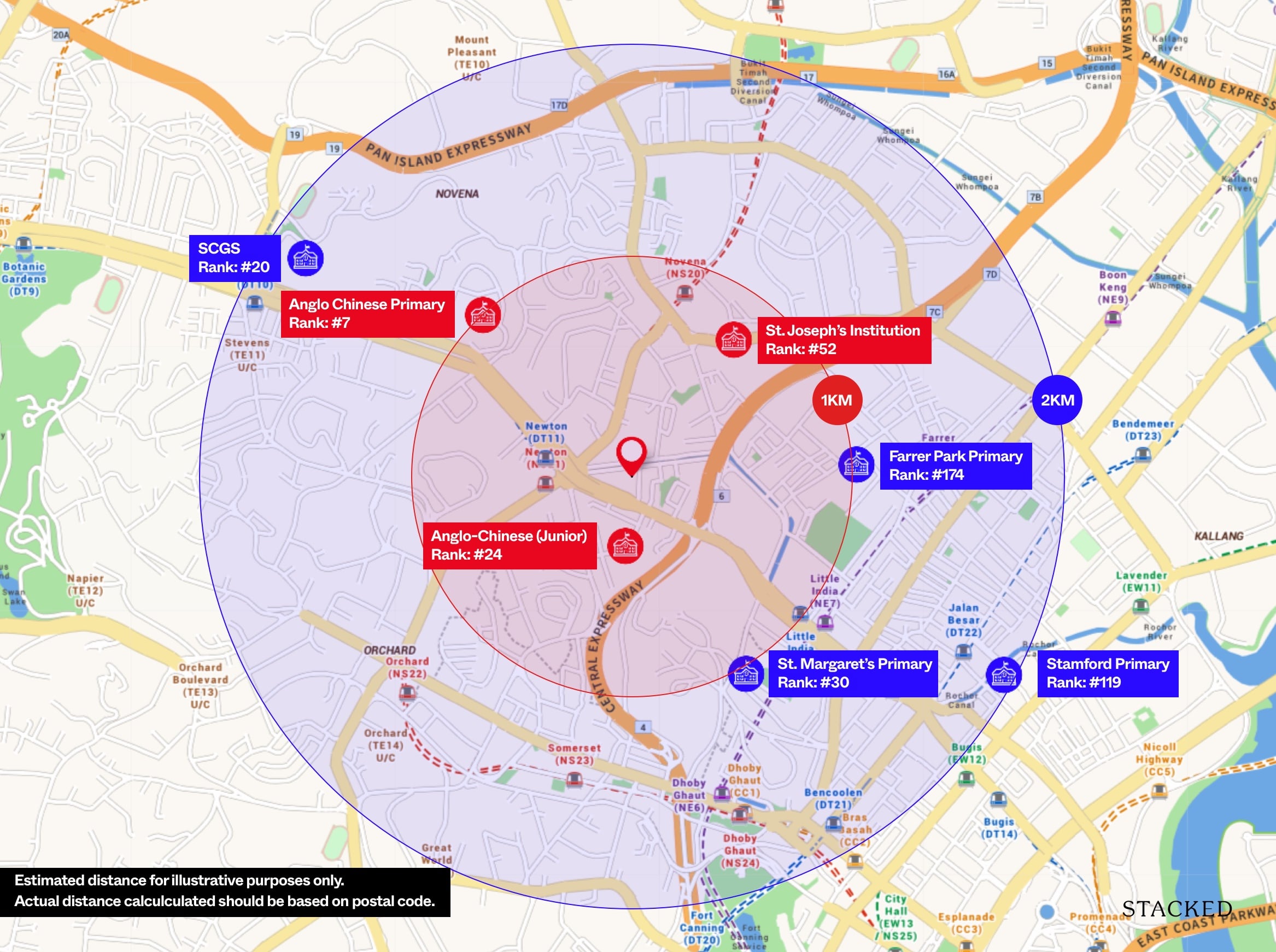 | | |
| --- | --- |
| Educational Tier | Number of Institutes |
| Preschool (within 1km walk) | 6 |
| Primary (3km-drive) | 5 |
| Secondary (3km-drive) | 0 |
| International School (3km-drive) | 5 |
| Junior College (5km-drive) | 1 |
| University (5km-drive) | 13 |
| Polytechnic (10km-drive) | 1 |
One of the key draws of staying at the location of The Atelier is the proximity to primary schools. You are within walking distance of Anglo Chinese School (Junior), Anglo Chinese School (Primary) and St Joseph's Institution – but more importantly, these 3 are within the desired 1 km radius. Singapore Chinese Girl's School, Farrer Park Primary, and St Margaret's Primary are further out at a 2 km radius, but still within a good range.
If you have younger children, Newton Kindergarten is just 500 metres away.
Public Transport
| | | |
| --- | --- | --- |
| Bus Station | Buses Serviced | Distance From Condo (& Est. Walking Time) |
| 'Opp Newton FC' | 48, 66, 66B, 67, 170, 960, 960e | 120m, 2-min walk |
| 'Newton Stn Exit B' | 5, 54, 124, 128, 143, 162, 162M, 167, 167e, 171, 518, 518A, 700, 700A | 450m, 6-min walk |
| 'Newton Life Ch' | 5, 54, 124, 143, 162, 162M, 167, 167e | 240, 3-min walk |
Nearest MRT: Newton MRT station is the closest, at a 10-minute walk. Note this is an interchange that services both the North South and Downtown MRT lines.
Novena MRT station is one train stop away from Newton MRT. It's also 838 metres, or around 11-minutes' walk, if you don't want to take the train.
Private Transport
| | |
| --- | --- |
| Key Destinations | Distance From Condo (& Est. Peak Hour Drive Time) |
| CBD (Raffles Place) | 8.8km, 20-min drive |
| Orchard Road | 3.7km, 10-min drive |
| Suntec City | 5.4km, 12-min drive |
| Changi Airport | 19.3km, 20-min drive |
| Tuas Port (By 2040) | 41.5km, 45-min drive |
| Paya Lebar Quarters/Airbase (By 2030) | 11.9km, 20-min drive |
| Mediapolis (and surroundings) | 14.2km, 20-min drive |
| Mapletree Business City | 18km, 30-min drive |
| Tuas Checkpoint | 30.7km, 35-min drive |
| Woodlands Checkpoint | 20.2km, 30-min drive |
| Jurong Cluster (JCube) | 16.1km, 25-min drive |
| Woodlands Cluster (Causeway Point) | 20.5km, 30-min drive |
| HarbourFront Cluster (Vivo City) | 11.4km, 20-min drive |
| Punggol Cluster (Waterway Point) | 17.7km, 20-min drive |
Immediate Road Exits:
There are two exits from Makeway Avenue out into Kampong Java Road. From here you can connect to either Newton Circus, from which you can take the Newton Flyover, or to Thomson Road. You can also turn out through Makepeace Road onto Bukit Timah Road towards the city for easier access if you work in the CBD areas.
Traffic can get heavy on Kampong Java Road and at Newton Circus, especially during the morning and evening rush. You may want to consider using the MRT to get into Orchard or the CBD; during peak periods, it could potentially be quicker than driving.
The Developer Team
Developer – Bukit Sembawang Estates Limited
Bukit Sembawang Estates Limited (BSEL) is one of Singapore's oldest home-grown residential developers. BSEL has been a listed local company since 1968; in earlier days BSEL was known for introducing efficient construction techniques, that allowed them to keep projects more affordable.
In the past decade however, BESL has become more closely associated with luxury and prime area developments. The most recent was 8 St. Thomas (2020), as well as the landed housing projects Luxus Hills and the Nim Collection. BESL has very recently moved into serviced apartments as well, opening Frasers Residence Orchard in 2019. 
Stack Analysis
Development Site Plan
Indulge @ 1st Storey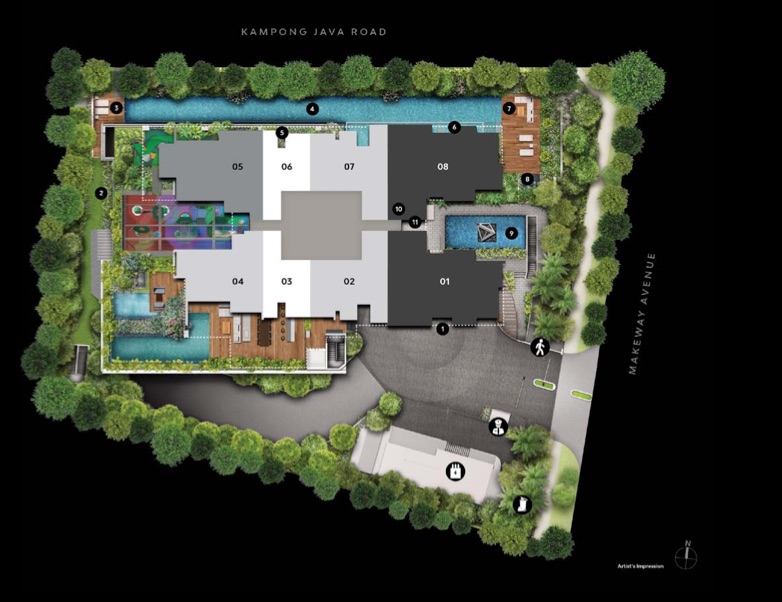 Immerse @ 6th Storey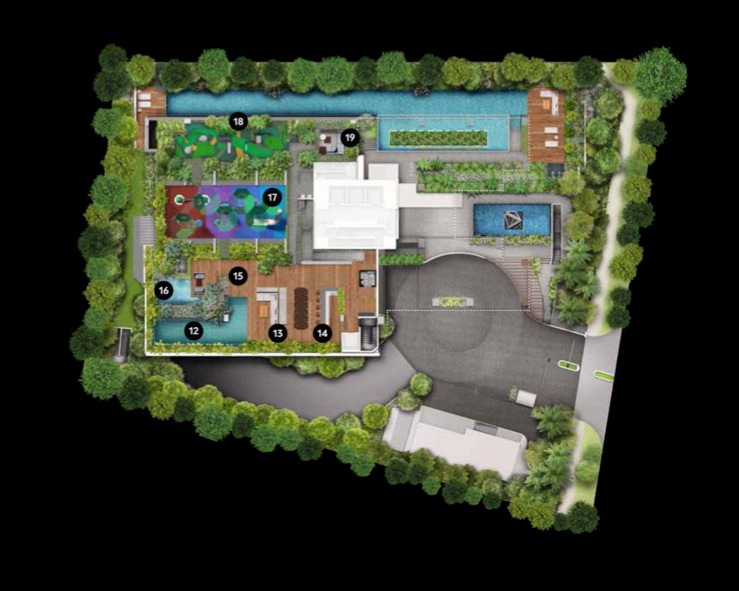 Inspire @ 18th Storey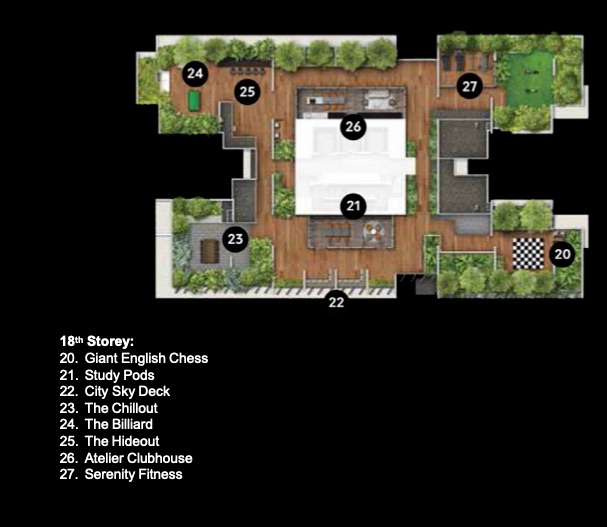 At just over 41,580 sq.ft., The Atelier is a small development. The 120 units are in eight stacks, rising up to 22 storeys; these are compacted into a generally rectangular layout.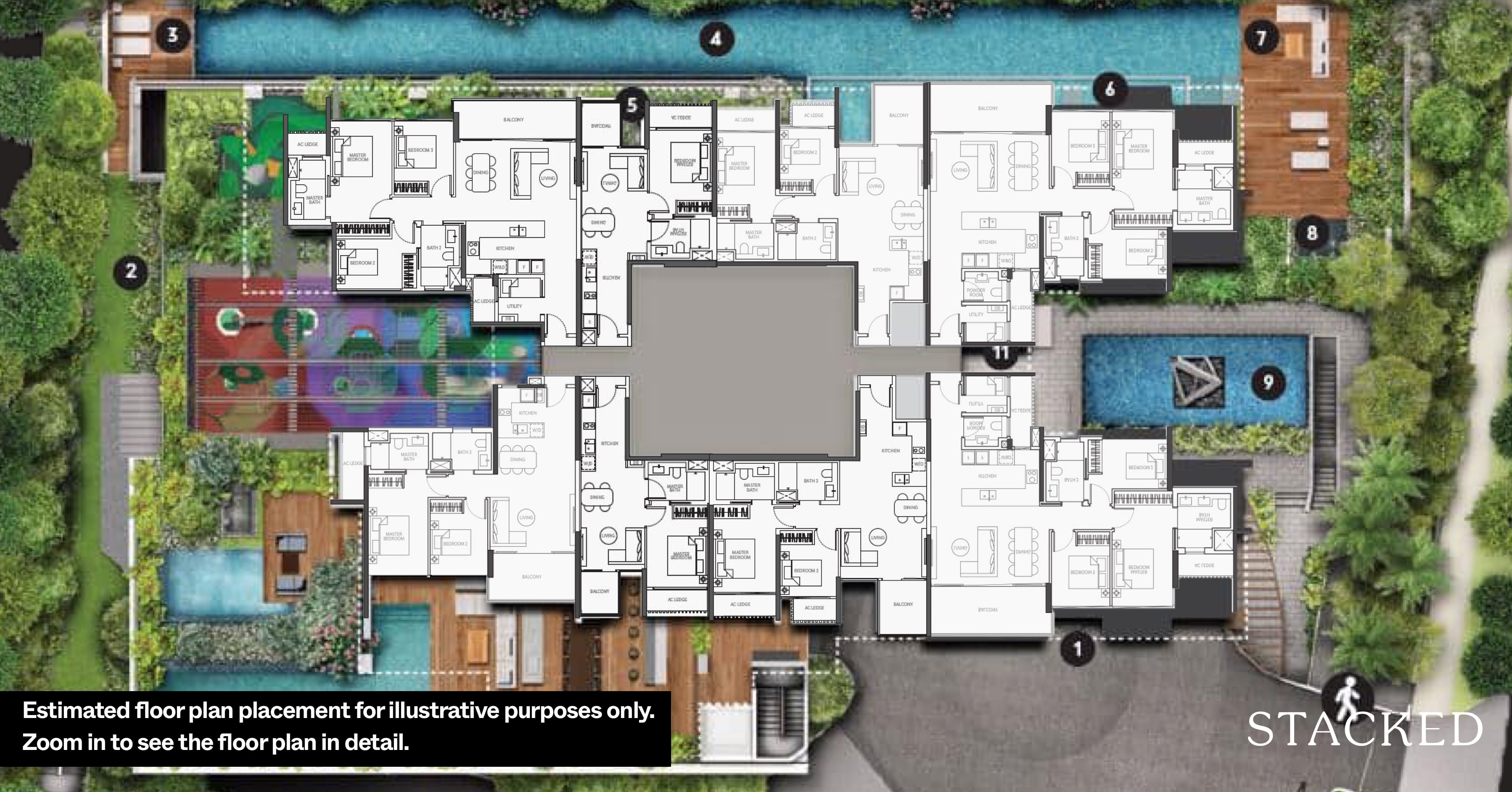 Rather than the conventional "pool in the middle" layout, the lap pool runs alongside the northern perimeter, next to stacks 05 to 08. These three stacks seem to have better proximity to the facilities: the poolside cabana, as well as a reflective pool, are also closest to stack 08 at the north-eastern end, but the garden courtyard is closest to stack 05.
Besides being closest to the poolside cabana, Stack 08 also has the Serenity Fitness area on the 18th floor; so residents who want quicker access to the pool and a workout are likely to eye this stack.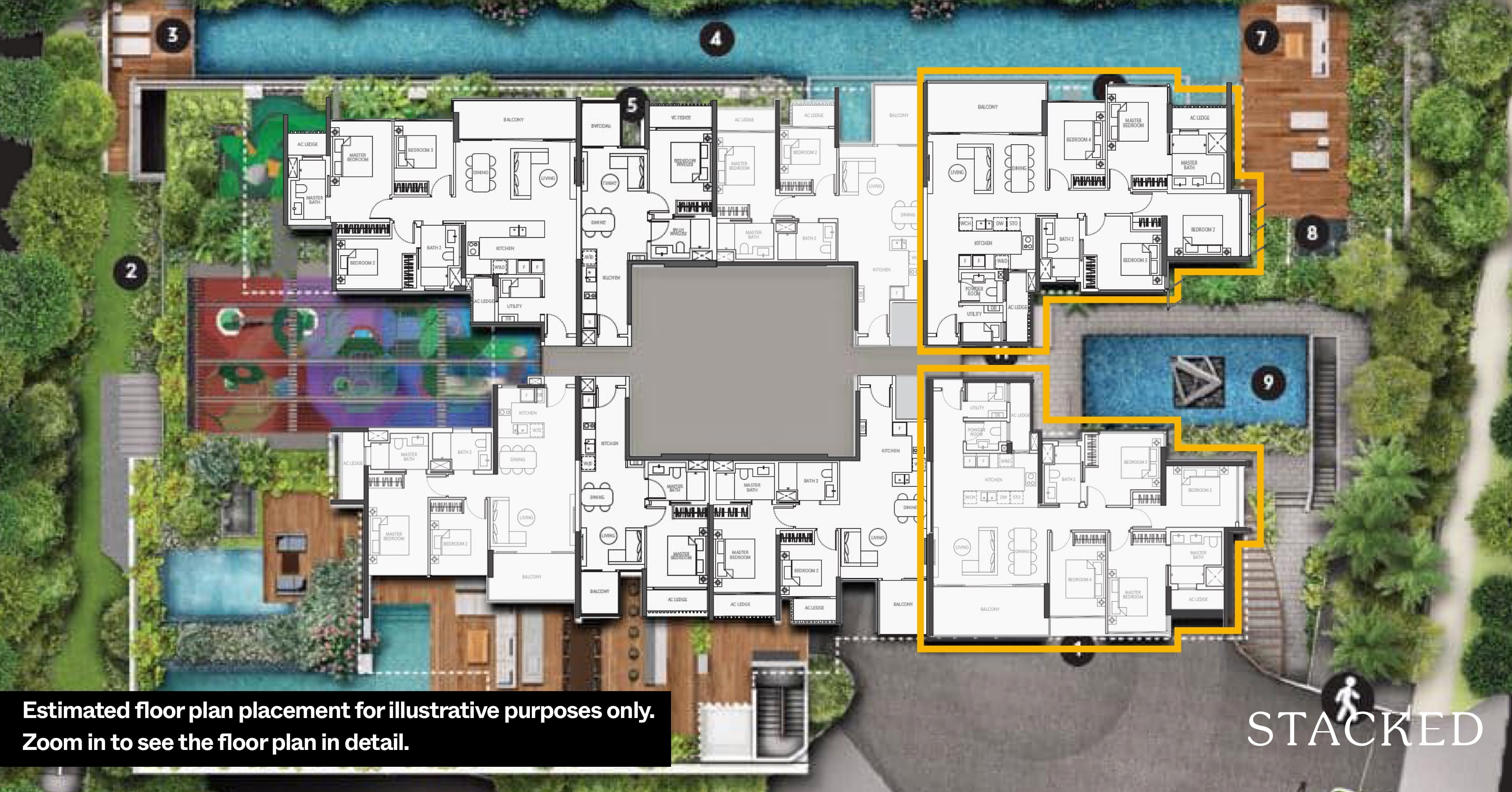 Stacks 02, 03, 06, and 07 constitute the middle, and all four surround The Atelier's clubhouse; but clubhouse access is not a big draw for most buyers.
Stack 04 has the closest access to the sensory pool and kids splash pool (these two facilities are on the 6th storey). Also on the 6th storey, The Treetop Adventure play area is between stacks 04 and 05, and the Kids Play area is closest to stacks 05 and 06. Families with children will probably want to look more closely at stacks 04 and 05. These two stacks are also tucked furthest away from the single entry / exit point, which should make them quieter.
The presence of only one entry and exit point, along with the small arrival area, could be a sticking point – it's a good thing there's only 120 units, as we suspect the area could quickly fill up (watch out on Christmas, New Year, or other times when a lot of visitors are likely).
Stacks 01 and 02 are closest to this entrance point; if you like the convenience of being near the only entry / exit, then you may like these stacks. If you want more privacy, pick a stack that's tucked further in.
Afternoon West Sun Analysis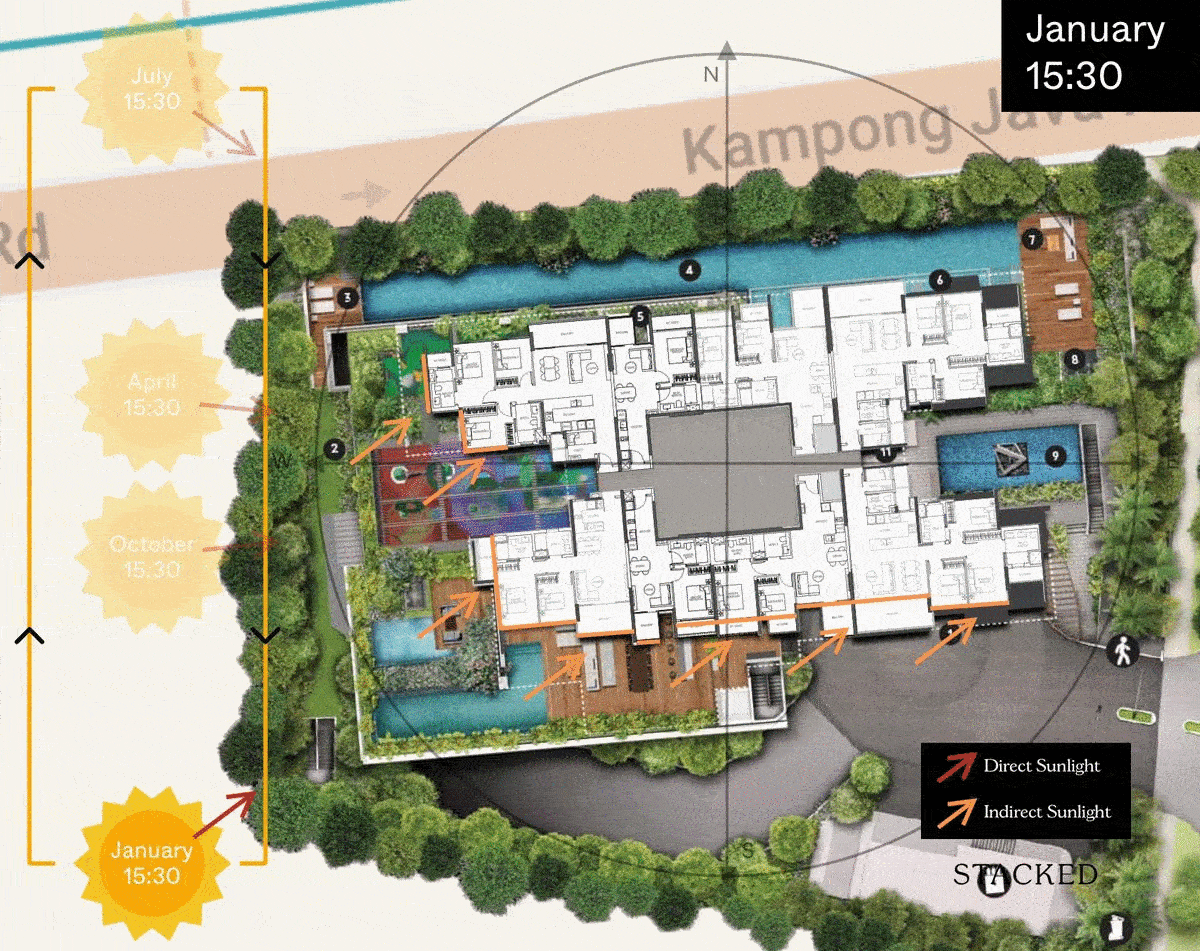 Not a big factor when it comes to The Atelier, thanks to good positioning of the windows.
Stacks 04 and 05 will technically get most of the west sun; but again, the windows are angled away from the full glare, so we don't think you'll feel it even if you pick these stacks. 
Stacks 01 and 08 are the furthest from the west sun.
Unit Mix
| | | | | |
| --- | --- | --- | --- | --- |
| Unit Type | Type | Area | No Of Units | Maintenance |
| Uno – 1 Bedroom | Type A | 549 sqft | 30 | $492 |
| Duo – 2 Bedroom | Type B1 | 872 sqft | 26 | $492 |
| | Type B2 | 883 sqft | 4 | $492 |
| | Type B3 | 915 sqft | 15 | $492 |
| Tres – 3 Bedroom | Type C1 | 1,173 sqft | 11 | $574 |
| | Type C2 | 1,184 sqft | 4 | $574 |
| | Type C3 | 1,281 sqft | 22 | $574 |
| Quad – 4 Bedroom | Type D1 | 1,496 sqft | 4 | $574 |
| | Type D2 | 1,496 sqft | 4 | $574 |
One and two-bedders make up the bulk of units at The Atelier. One bedders are 549 sq.ft., while two bedders range from 872 sq.ft. to 915 sq.ft. There are 30 one-bedders and 45 two-bedders in total.
The one-bedders are in an odd place; they're big compared to many shoebox units, but are still ultimately just one-room units. Some tenants may not like that, as it means higher rental rates for a single occupant, who still can't take on a room-mate (but prime area condos aren't targeted at very price-sensitive tenants anyway). 
Stacks 03 and 06 consist entirely of single-bedders.
There are 37 three-bedder units, ranging from 1,173 sq.ft. to 1,281 sq. ft. These three-bedders are likely to be considered the absolute minimum size for family buyers.
There are only eight four-bedders at 1,879 sq.ft. The four-bedders are found only on the top four floors of stacks 01 and 08.
Estimated maintenance fees for one and two-bedders are around $492 per month, while larger units are at around $574 per month. It is on the high side, but taking into account that it has only 120 units, it is actually quite reasonable for a luxury development.
Best Stacks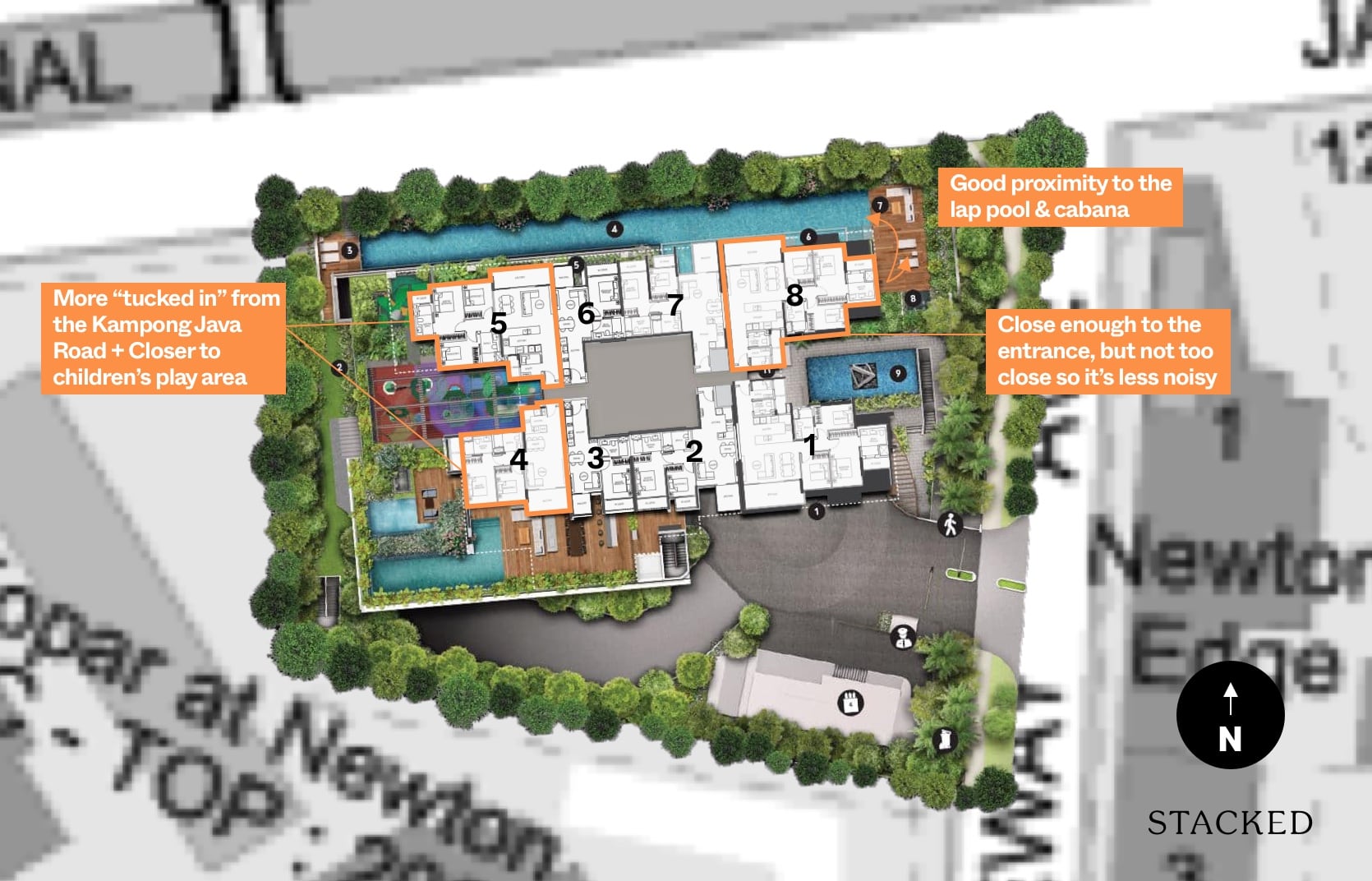 We're inclined toward Stack 08. It's near enough to the entrance to be convenient, but not directly at the arrival point where you'd get a lot of noise. It's also in the corner where you have good proximity to the lap pool and cabana, and you have more direct access to the fitness zone on the 18th floor.
Those who want to be "tucked in" all the way from Kampong Java Road however, or who want to be closer to the children's play areas, might consider stacks 04 and 05, as mentioned above.
The Atelier vs Kopar At Newton vs Pullman Residences Unit Comparisons: 1 Bedroom
The Atelier 1 Bedroom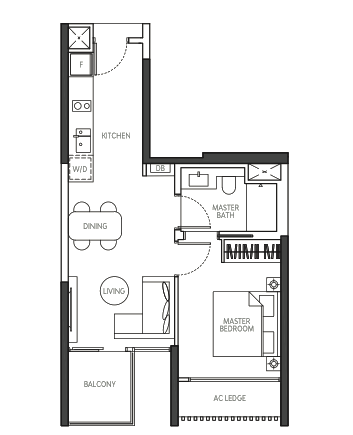 Pros:
Double kitchen sink
Living has a balcony and window
Bedroom can fit a king sized bed
Jack-and-jill bathroom configuration
4-seater dining
Cons:
No full length window due to AC ledge at bedroom
Kopar 1 Bedroom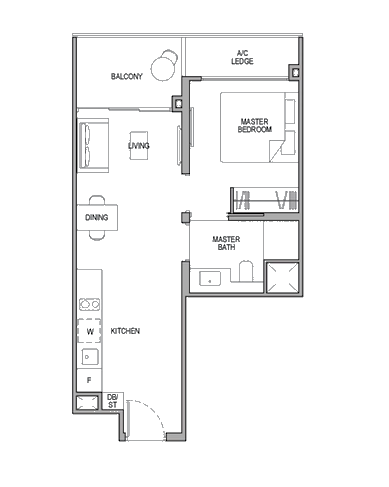 Pros:
Jack-and-jill bathroom layout
Cons:
No full length window due to AC ledge at bedroom
Pullman Residences 1 Bedroom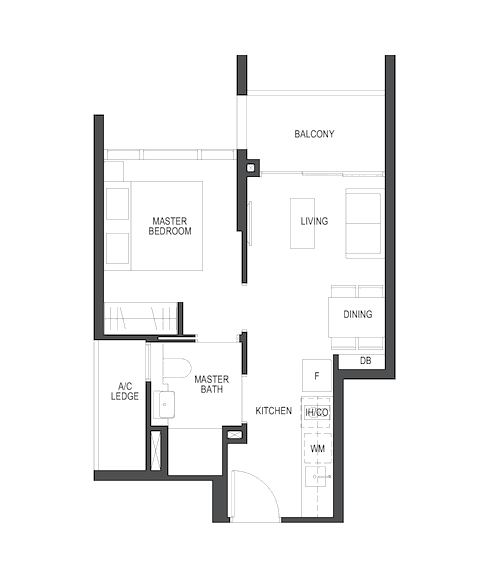 Pros:
Jack-and-jill bathroom layout
Toilet has a window (rare for 1 bedroom)
Efficient layout
Dining can seat 4 seater table
AC ledge located in the most ideal place
Cons:
Smallest size out of the 3
Price Review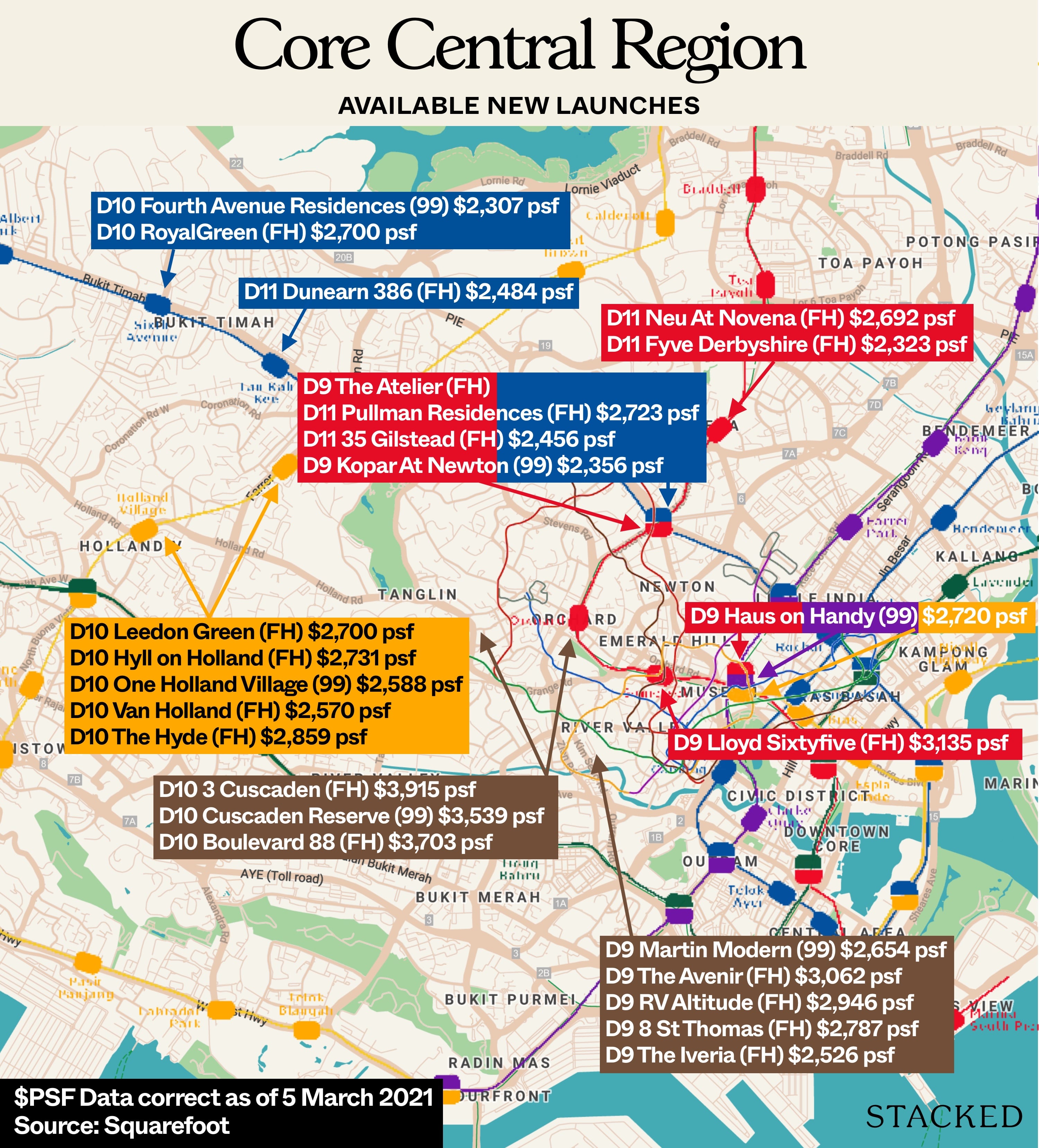 *Colour coded to the nearest MRT stations
For those looking at a new launch Core Central Region property, here are the closest alternatives as a point of reference for you. No official pricing as yet been announced for The Atelier, but based on an estimated range of $2,450 – $2,850 psf this will be your current benchmark to compare against the available new launches in the CCR.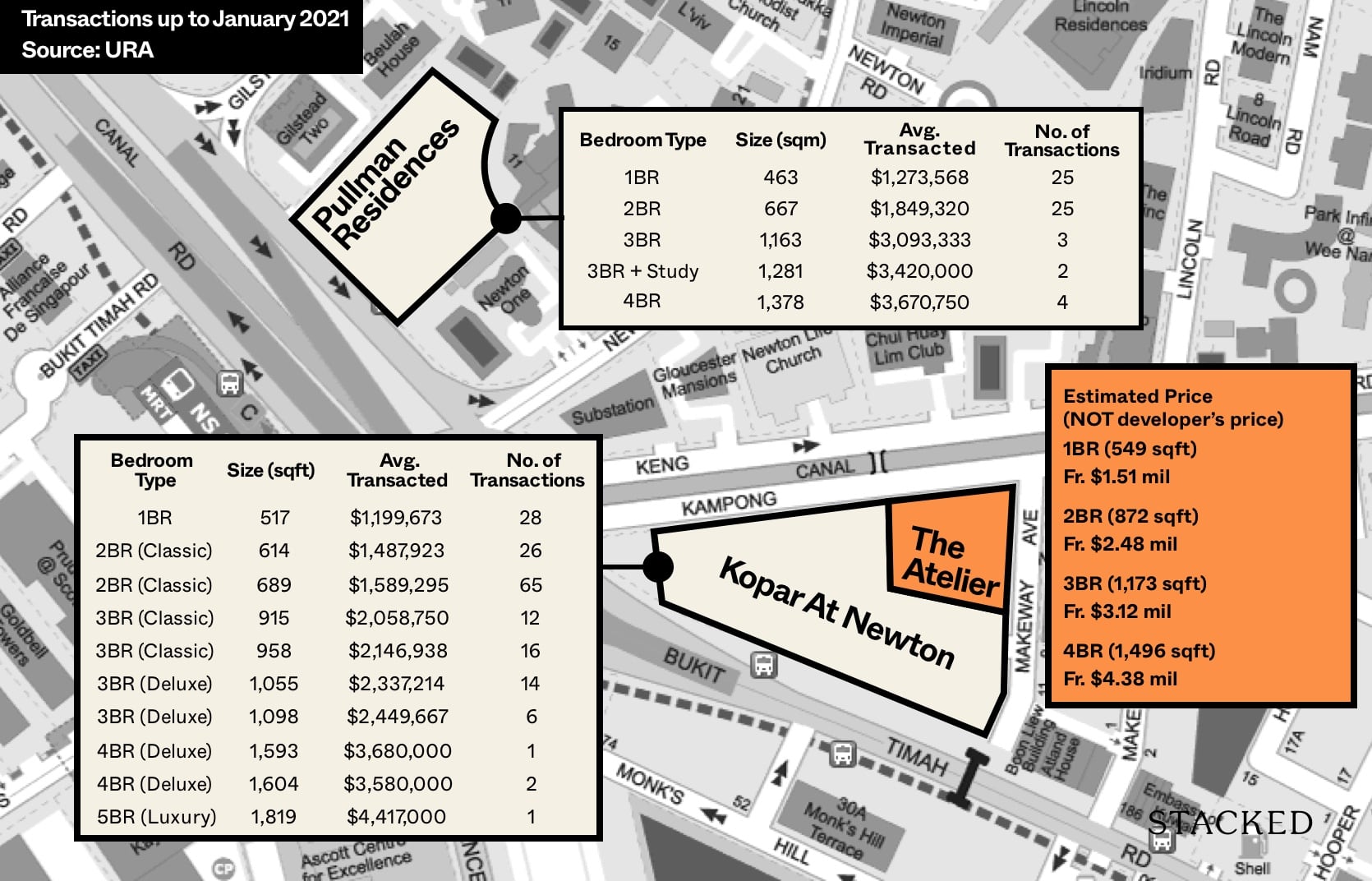 To provide a better comparison, here's a chart showing the relevant closest new launch comparisons.
Kopar at Newton is the closest competitor to The Atelier, from a proximity standpoint. The key differences are that Kopar at Newton is much larger, at 378 units; it's also a 99-year leasehold condo. 
Assuming The Atelier stays within the range of $2,450 to $2,850 psf, its price is neither high nor low compared to its counterparts.
Kopar at Newton tops out at around $2,585 psf, but we'd expect a freehold counterpart like The Atelier to be priced significantly higher. If we take the high estimate of $2,850 psf this is just over 10 per cent more than Kopar, which is fair for freehold status.
Based on a quantum basis, Kopar At Newton is definitely more affordable. But again, that is to be expected given the fact that it is leasehold and equivalent units are smaller in size as well.
So given those key differences, perhaps a better comparison would be to Pullman Residences (also because of their supposed luxury angle). It is freehold too, and on a larger plot of land. Their breakeven cost is also higher too, at an estimated $2,500 as compared to The Atelier at $2,250.
That being said, overall quantum is smaller given the obvious size differences between the units as well. So its really a toss up between how much you value for your unit sizes if you are bent on a new launch freehold unit in this area.
Resale comparisons

Development
Units
PSF
TOP
Lease
Quantum
Newton Edge
304
$1,650 to $1,749 psf, with an average of $1,700 psf
2011
Freehold
1 BR – $1.1m
2 BR – $1.26m
The Atelier
120
Est. $2,450 to $2,850 psf*
2024
Freehold
*1 BR – $1.39m – $1.56m
*2 BR – $2.13m – $2.4m
*3 BR – $2.87m – $3.3m
*4 BR – $3.6m – $4.26m
District 9 average (including new and resale)
$2,314 psf as of January 2021
*Prices are not from the developer they are just an estimated range only
The two most relevant points of comparison are Newton Edge, and Kopar at Newton – given the close proximity.
Newton Edge is right next The Atelier, and it is a similar size at 104 units. It is much older (it was completed in 2011); but like The Atelier, it's a freehold development. Being right next door, Newton Edge shares most of the same locational advantages, such as proximity to Newton MRT station and good schools.
Prices are naturally significantly higher for the 2 bedroom and up, but this is really due to the age gap (at TOP it will be 13 years apart) and the bigger sizes at The Atelier as well.
Newton Edge is of course cheaper at $1,700 psf, but this accounts for an age difference of more than a decade. That said, a certain group of buyers will point out that Newton Edge is also a freehold condo with locational benefits; for these buyers who don't care too much about the newest facilities, Newton Edge might actually be a stronger contender than Kopar.
Appreciation Analysis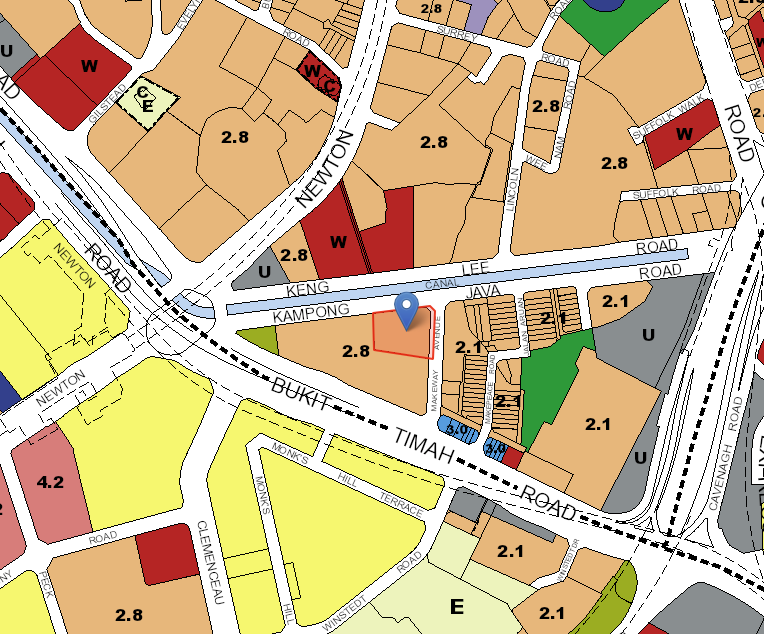 One key point for the future growth of this area is because of the Novena Health City. It is an integrated healthcare eco system that is slated to be fully completed by 2030 – still some ways to go, but it will be Singapore's biggest health-care complex when it is finished.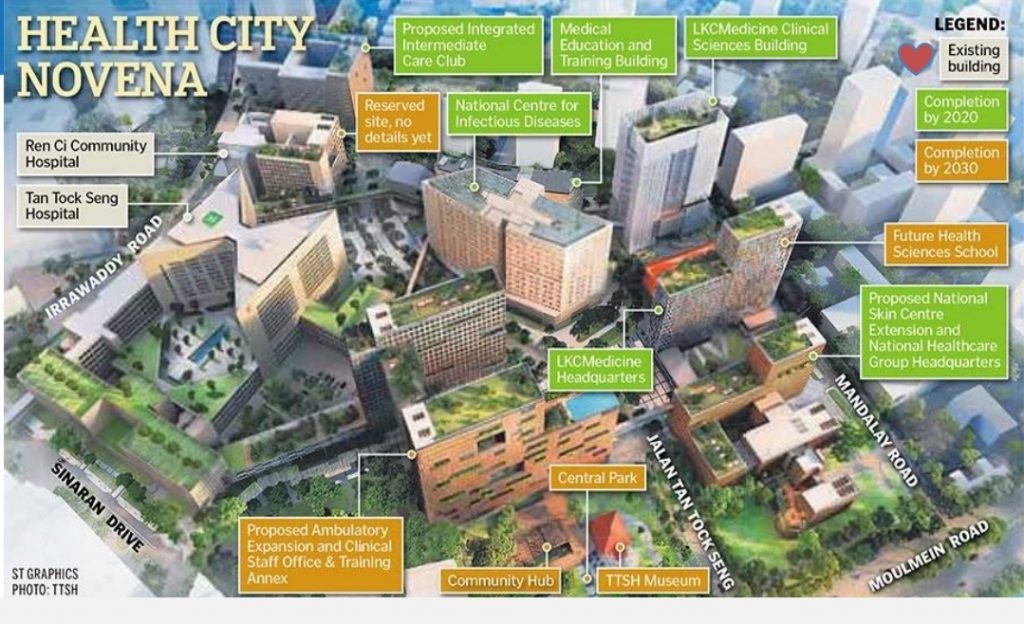 At a built-up area of 600,000 sqm – it is a massive site of about 85 football fields. This also means that the number of hospital beds provided will be more than 2,200. For context, Singapore General Hospital currently has about 1,500 – that is definitely very sizeable.
So you can definitely expect rentability, and even demand in the area to improve given the number of jobs that will be required to support such a big medical hub here.
While appreciation is not exactly the same as rent, we do need to talk about rental prospects here. District 9 attracts a greater portion of investors, compared to, say, fringe regions; chances are higher that, when you sell, your prospective buyers will be investors and not home-buyers.
That said, rentability will always be high for prime region condos near MRT stations; and The Atelier is a prime example of this. But rentability is not the same as rental yield – a maintenance fee of $492 to $574 per month (which is higher due to the low unit count) could cause landlords to turn their gaze to Newton Edge next door, or Kopar at Newton. And herein lies the biggest issue: there are two strong alternatives to The Atelier, both of which are too close for comfort, from an investment perspective. 
If your aim is a long-term investment of 20+ years (en-bloc chances are quite good, given the small size and freehold status), during which you want steady cashflow with few vacancies, The Atelier may be right for you. But if you're looking for high yields or a quicker return, you may want to pick a place with less competition.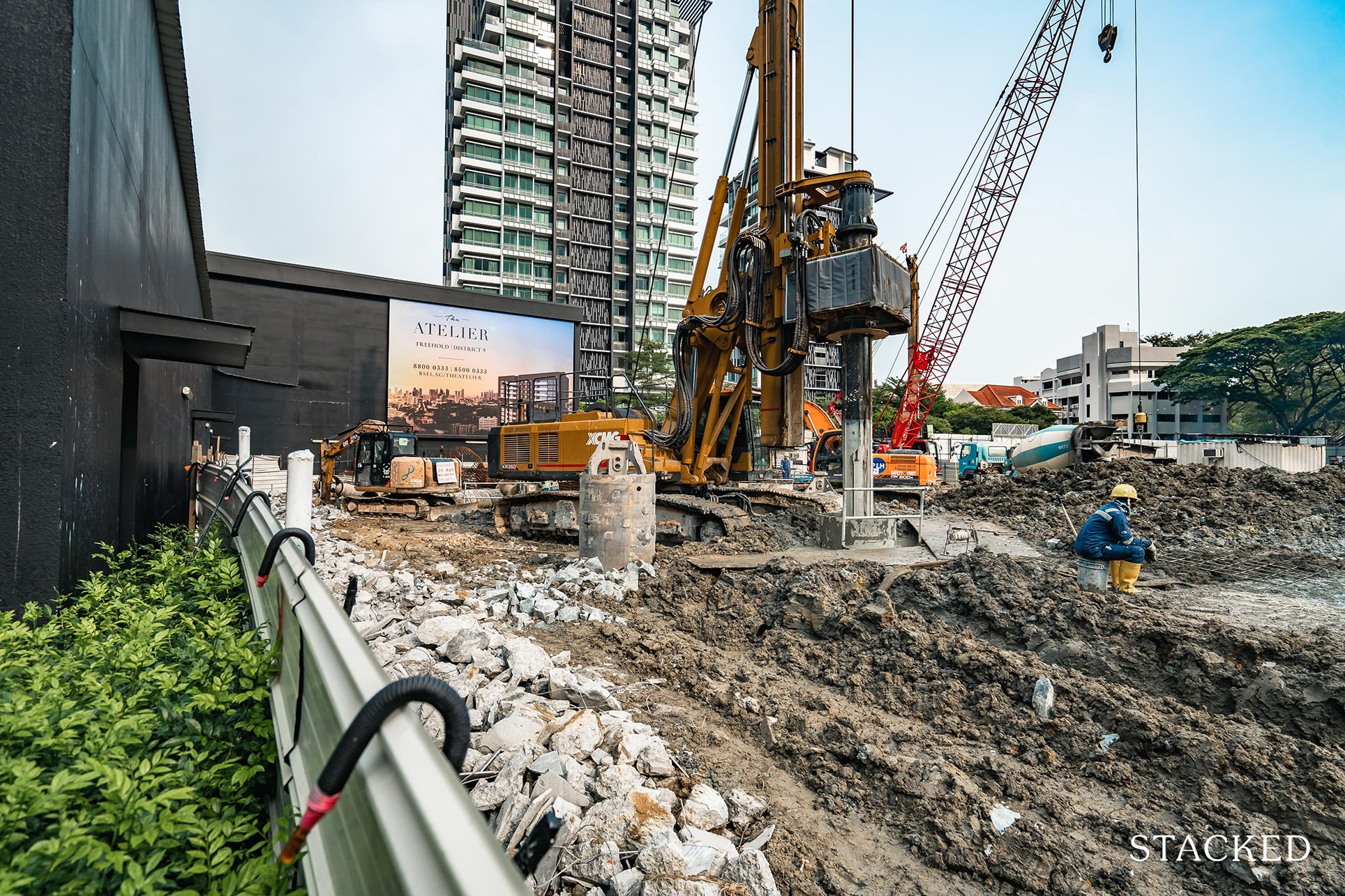 Our Take
What we like
Great kid-focused facilities

Exclusive number of units

Reasonable maintenance

Big units
What we don't like
–

Narrow width of swimming pool

–

No enclosed kitchen for 3 bedder
Personally for me, there are certain aspects that are missing here that would put The Atelier in the truly luxurious echelons – the lack of a private lift for the bigger units being one.
It is also in the units that it becomes a little subjective based on your lifestyle, not every family will be contented with the lack of a yard or an open concept kitchen.
That said, you can perhaps classify it is a luxury one based on the unit space it offers. Clearly, it is aimed at those who value bigger unit spaces, are willing to pay the premium for a freehold property, and want to be in close proximity to good schools for their children.
If anything, the focus on kid-related facilities is really impressive. Tree top adventure, kids playground, a kids pool, and even a billiard table plus study pods. Parents with young kids will know the value here.
At just 120 units only, prices will certainly be high – but then again it is a niche set of buyers that are being catered to here.
What this means for you
You might like The Atelier if you:
• Absolutely need convenience:

With Newton MRT interchange just a few minutes away by foot, as well as the famed Newton Hawker Centre, residents at The Atelier would find staying here quite convenient. It's also just 1 stop away from Orchard/Novena.

• Crave exclusivity and privacy:

Having a central, district 9 address in a small development (120 units) would be considered quite exclusive and private to some – and The Atelier fulfills this.
You might not like The Atelier if you:
• Are focused on rental investment:

It's hard to get a good yield here considering the high maintenance, as well as the premium of paying for freehold prices. Moreover, units from surrounding developments Newton Edge and Kopar at Newton presents more competition.

• Have a tight budget:

Even though luxury developments aren't cheap, the overall size (and hence quantum) for units here are much higher compared to its competitors Kopar at Newton and Pullman Residences.
End of Review
Join our Telegram group for instant notifications
Join Now
Reuben