HDB Reviews

Telok Blangah Parcview Review: Great Sea And Greenery Views But Not The Most Enjoyable Walk To MRT
Sean
June 9, 2022

34

min read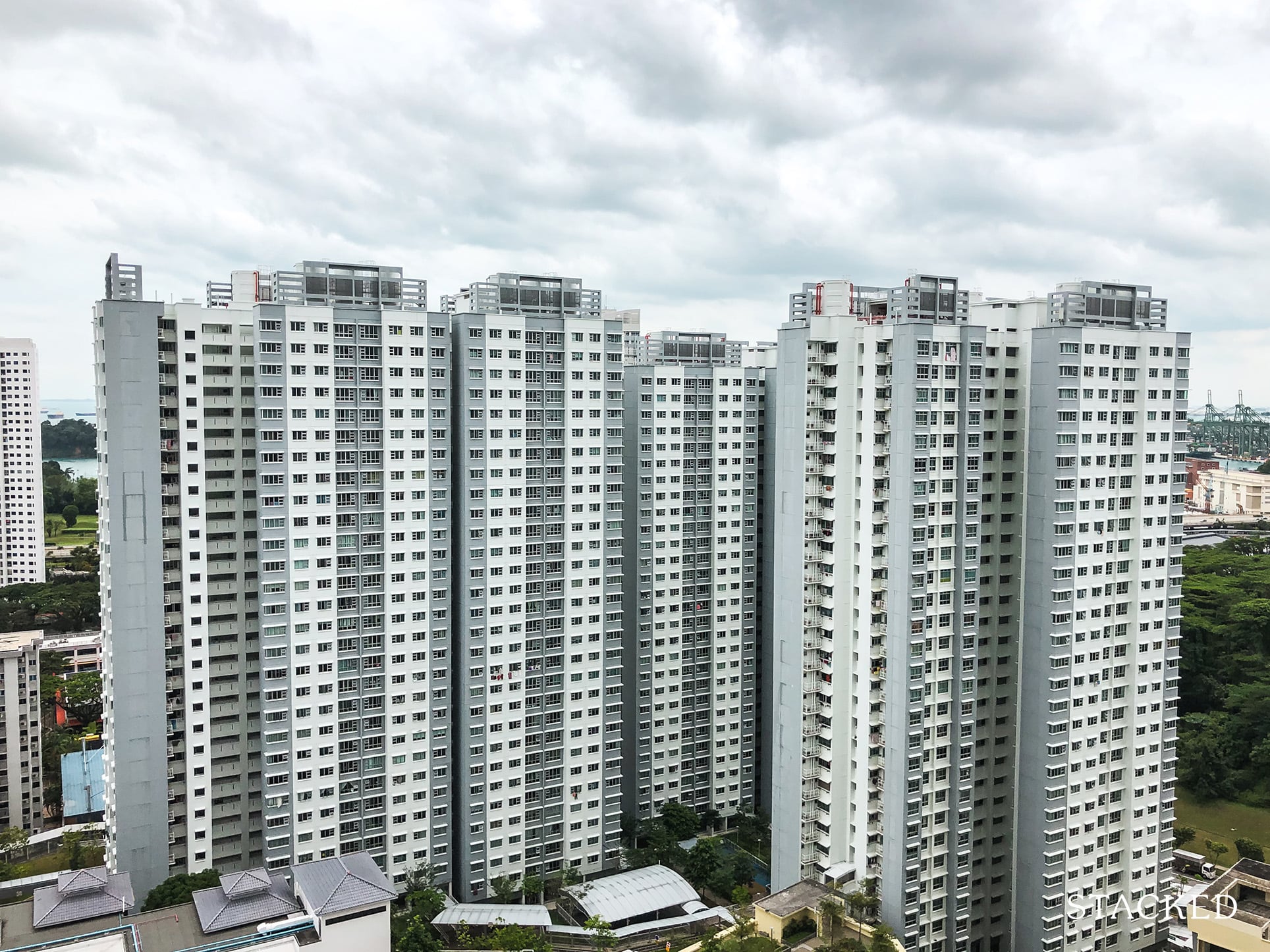 Reviewed by Sean on Jun 09, 2022
What we like
Serene and tranquil living close to nature

Has an eating house and supermarket

Close proximity to the CBD and future Greater Southern Waterfront

Great sea views (south-facing) and greenery views (north-facing)
What we don't like
—

Only one primary school within 1km

—

Not near to an MRT

—

Certain stacks face the carpark directly
| | |
| --- | --- |
| Project: | Telok Blangah Parcview |
| HDB Town | Bukit Merah |
| Address: | 90A, 90B, 91A, 92A, 92B, 93A, 93B Telok Blangah Street 31 |
| Lease Start Date: | Around 2017 |
| No. of Units: | 1,480 |
Telok Blangah Parcview was launched in the July 2013 BTO exercise alongside two projects in Yishun and one in Sengkang. Considering this was the only mature estate launch at that time, Telok Blangah Parcview naturally became the go-to option for many who wanted to stay in a mature estate.
Exactly a year before, Telok Blangah Ridgeview was launched with only 492 units, so those who did not manage to get this launch could try again with Parcview – and with better chances too, considering it has about 3 times the number of units than the former.
At the time of launch, the property market was at an all-time high (2013), and prices here went for around half a million for a 4-room flat.
| | |
| --- | --- |
| Unit type | Launch price  (July 2013) |
| Studio (Type 1 35 sqm) | $113,000-$128,000 |
| Studio (Type 2 45sqm) | $146,000 – $163,000 |
| 3-room (65sqm) | $304,000 – $368,000 |
| 4-room (90sqm) | $445,000-$561,000 |
This is not a surprise at all considering the same prices could be found for Telok Blangah Ridgeview the year before:

Today, Telok Blangah Ridgeview has been selling for about double what it cost residents here 10 years ago, and that looks to be the same story for residents of Telok Blangah Parcview. There's no question that a close to 100% return on a $500,000 flat is a lot compared to a 100% return on a cheaper 4-room flat like the ones in a non-mature estate. But as always, here's the real question – is it worth this amount of money? Let's find out in our usual HDB tour!
Telok Blangah Parcview Insider Tour
Telok Blangah Parcview is the biggest of the three new BTOs that came out in the Telok Blangah neighbourhood with a total of 1,480 units. For those trying to keep count, that is three times the number of units as Telok Blangah Ridgeview or Telok Blangah Towers. As such, the development runs along Telok Blangah Street 31 for quite a fair distance and that's where you'll find the two ingress and egress of the development which is about the right number for a development of this size.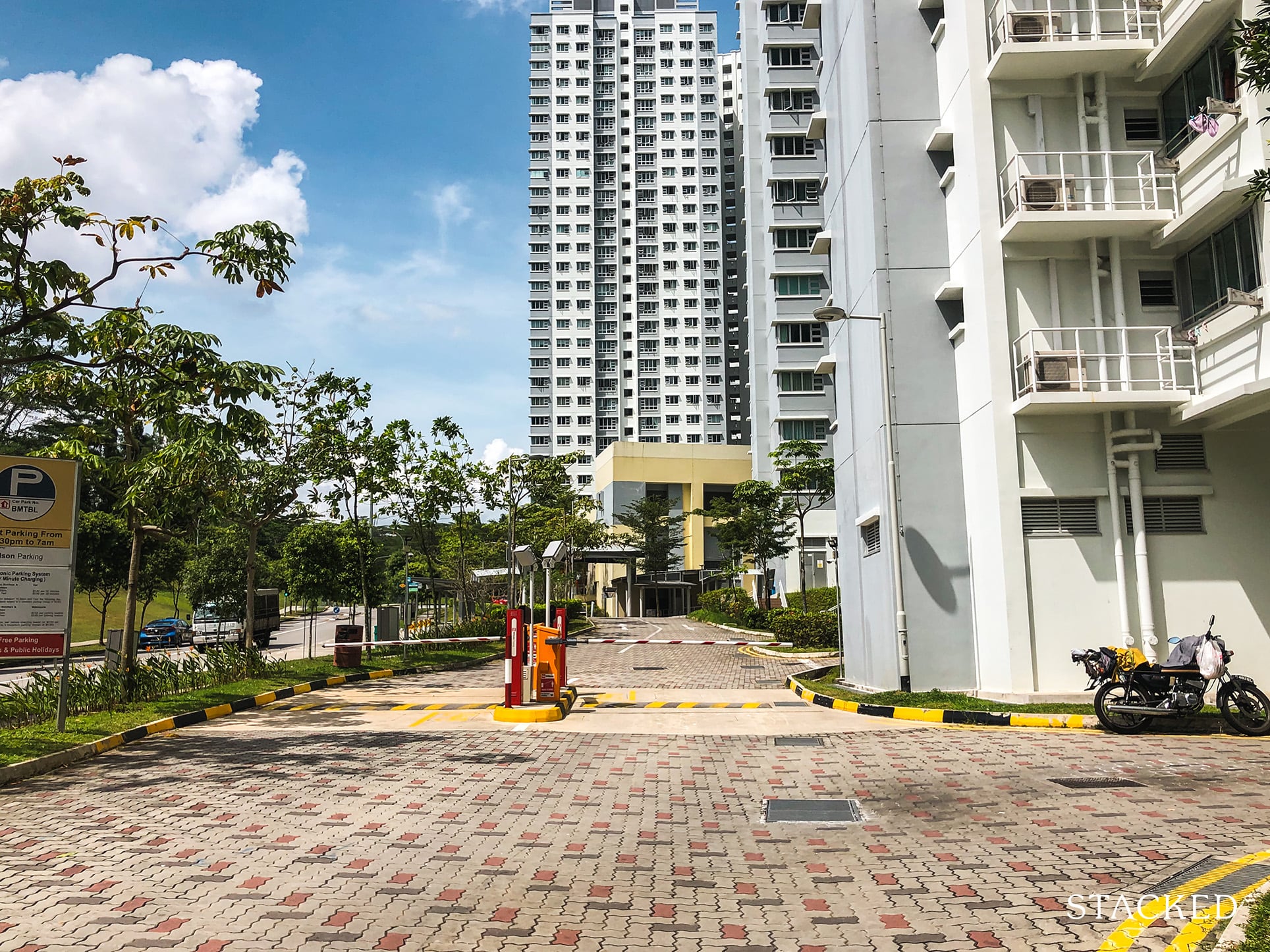 It's sheer size means that there's really no way you can miss this development. Apart from the quiet road and lack of any HDBs along Telok Blangah Street 31, the development also features a large sign further in the development (north side), while the other features it right outside (south side).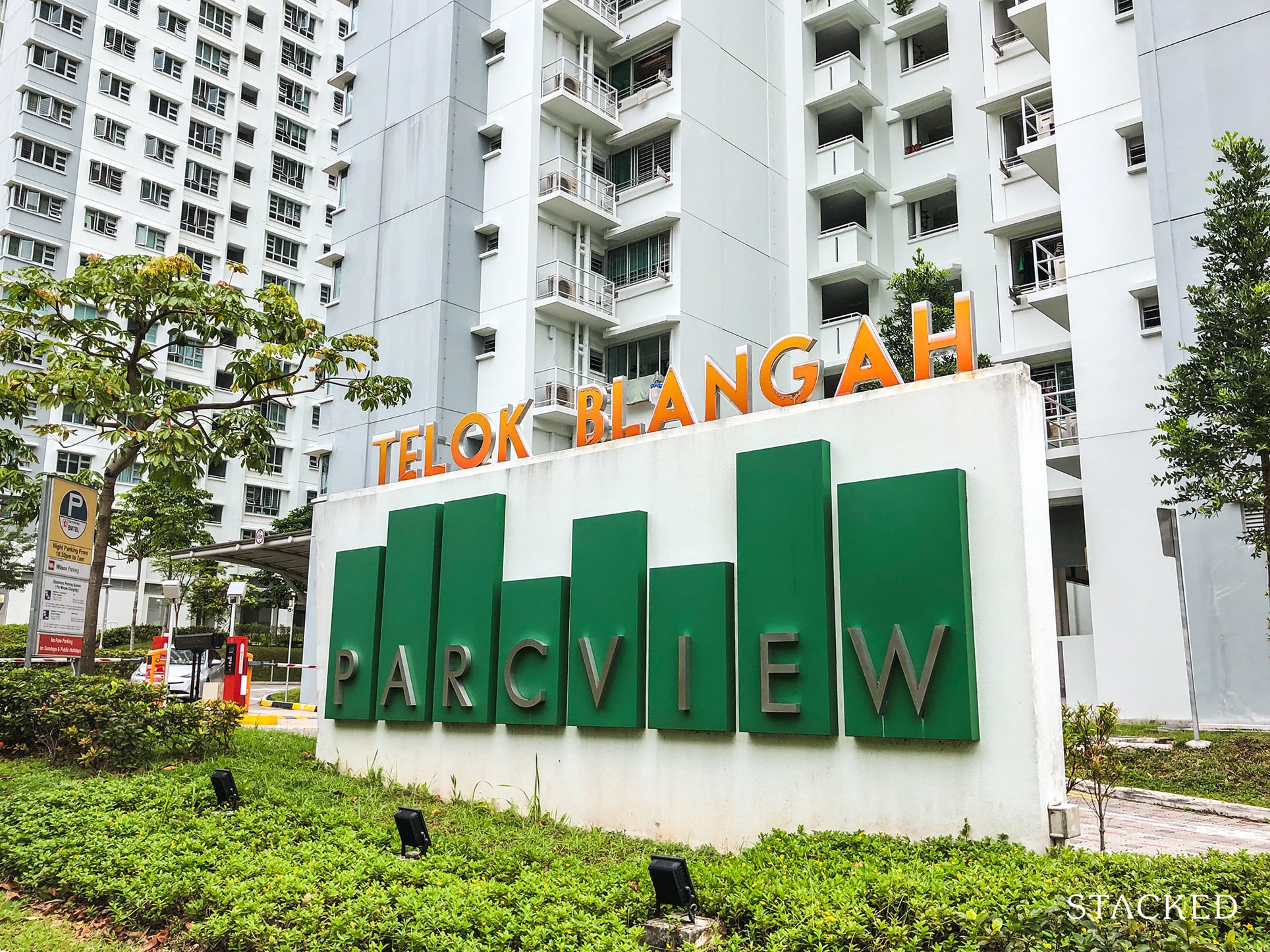 Upon turning into the development, you'll immediately see the drop-off point on the left: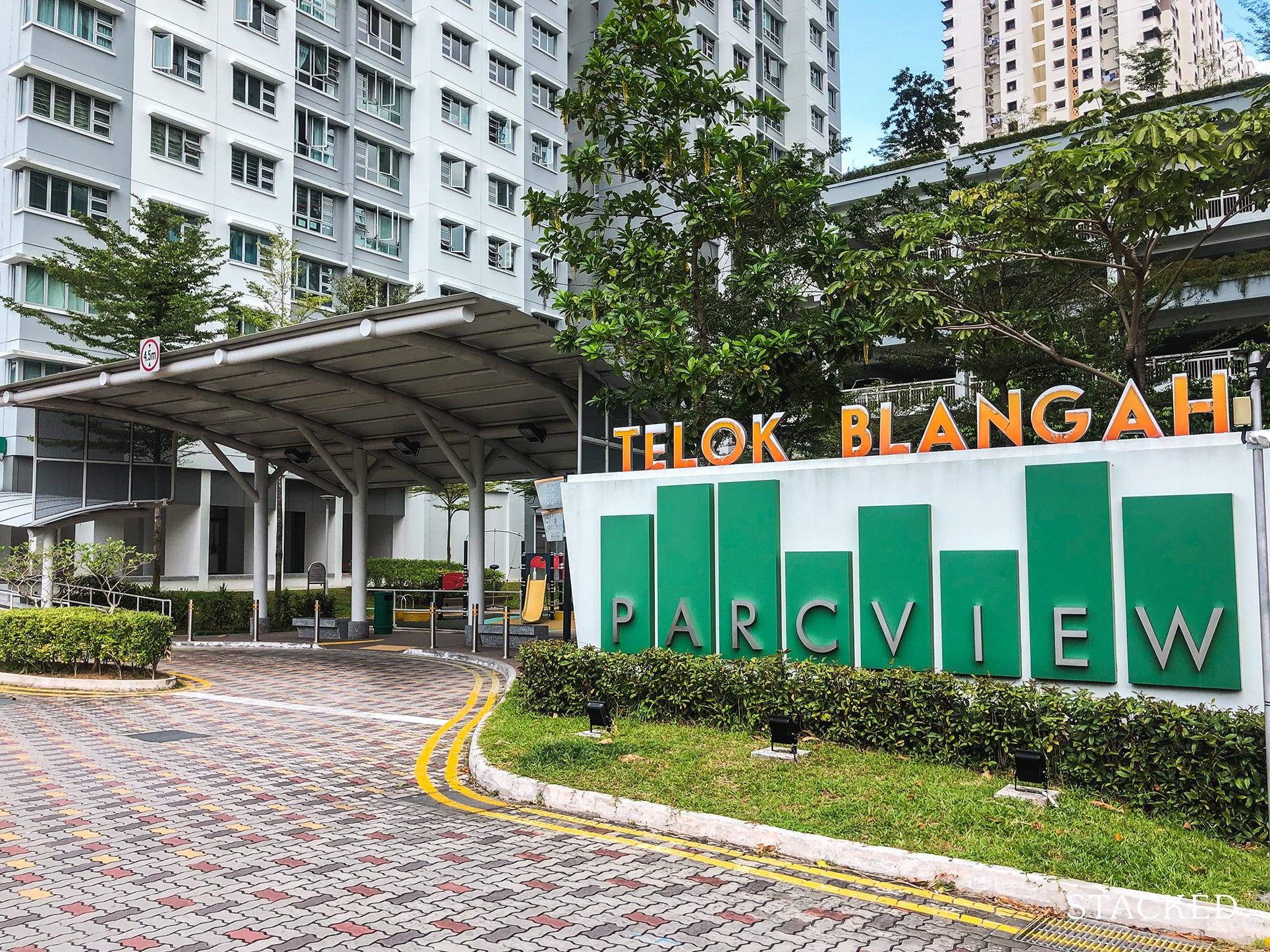 The drop-off here is fully-sheltered and has a good-sized porch. However, the shelter is really only able to fit one car at a time.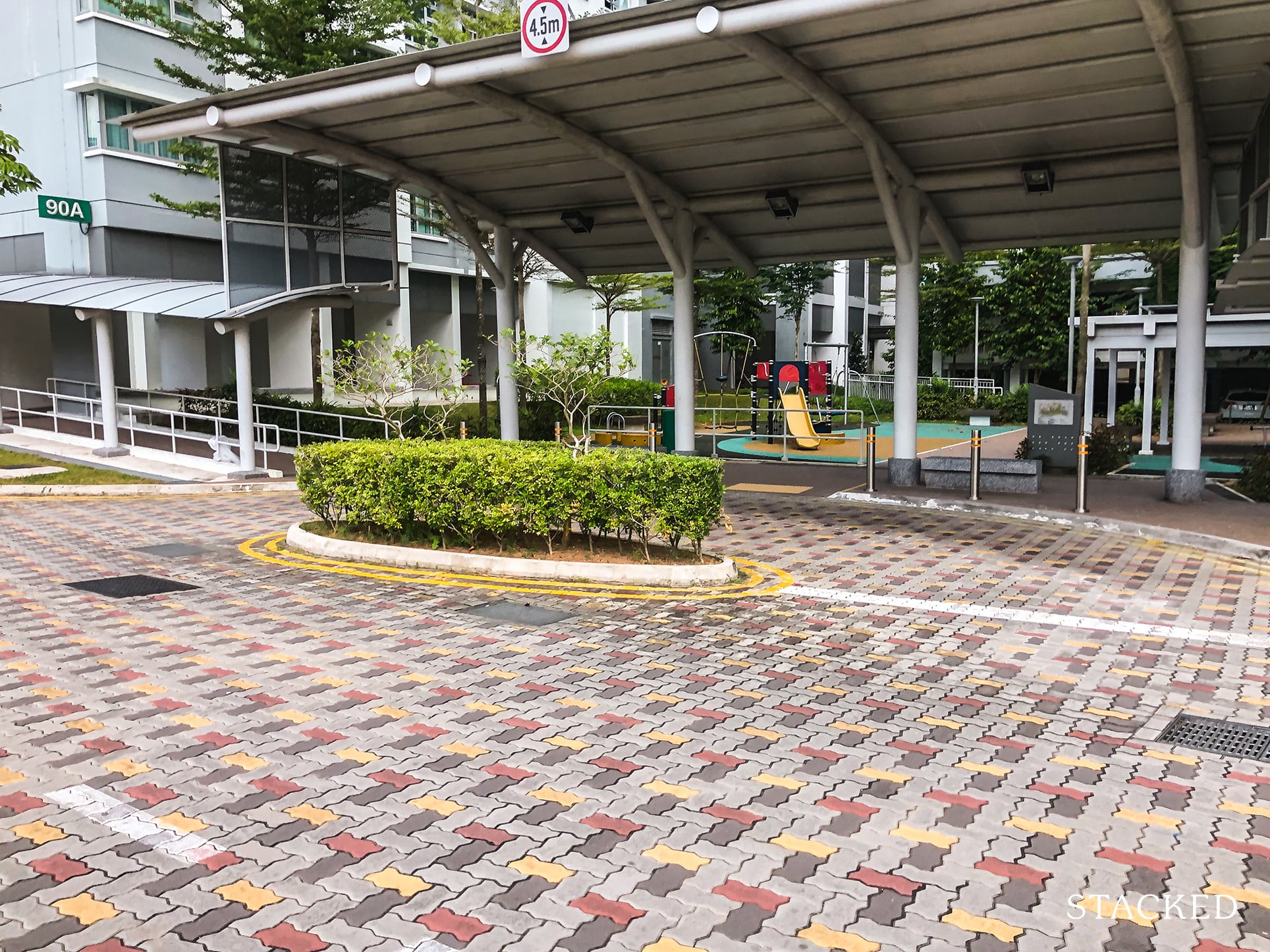 This is not a big deal at all because even though there are 1,480 units, there's a total of 4 drop-off points spread across the development which provides less congestion in one particular area, and added convenience to residents.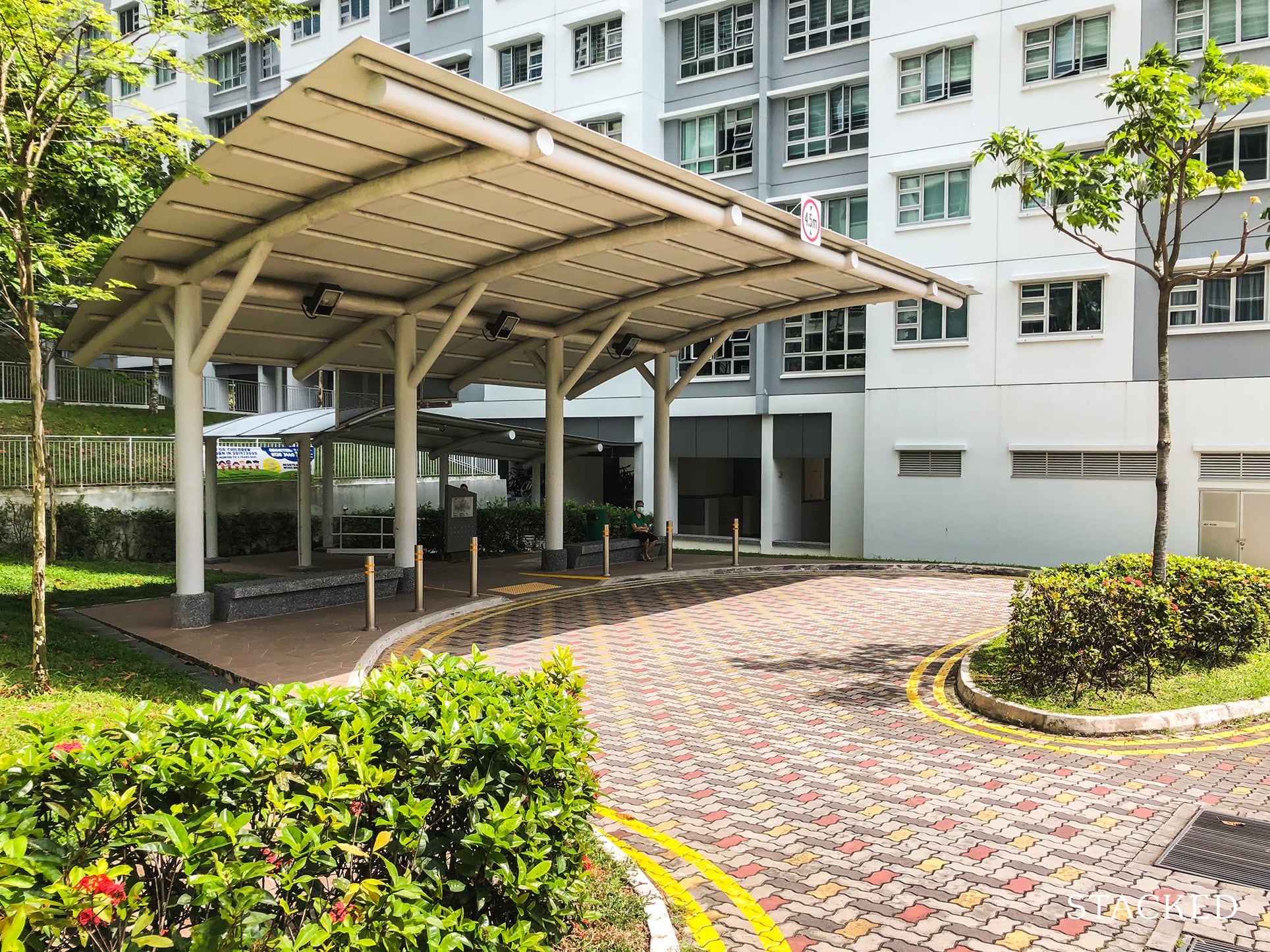 Drop-off points may sound pretty trivial, but when you're booking a taxi under heavy rain, you'd want them to drive straight to your drop-off point – an even more important point if your development is huge! Not every HDB has a sheltered drop-off too, so this is something to be positive about.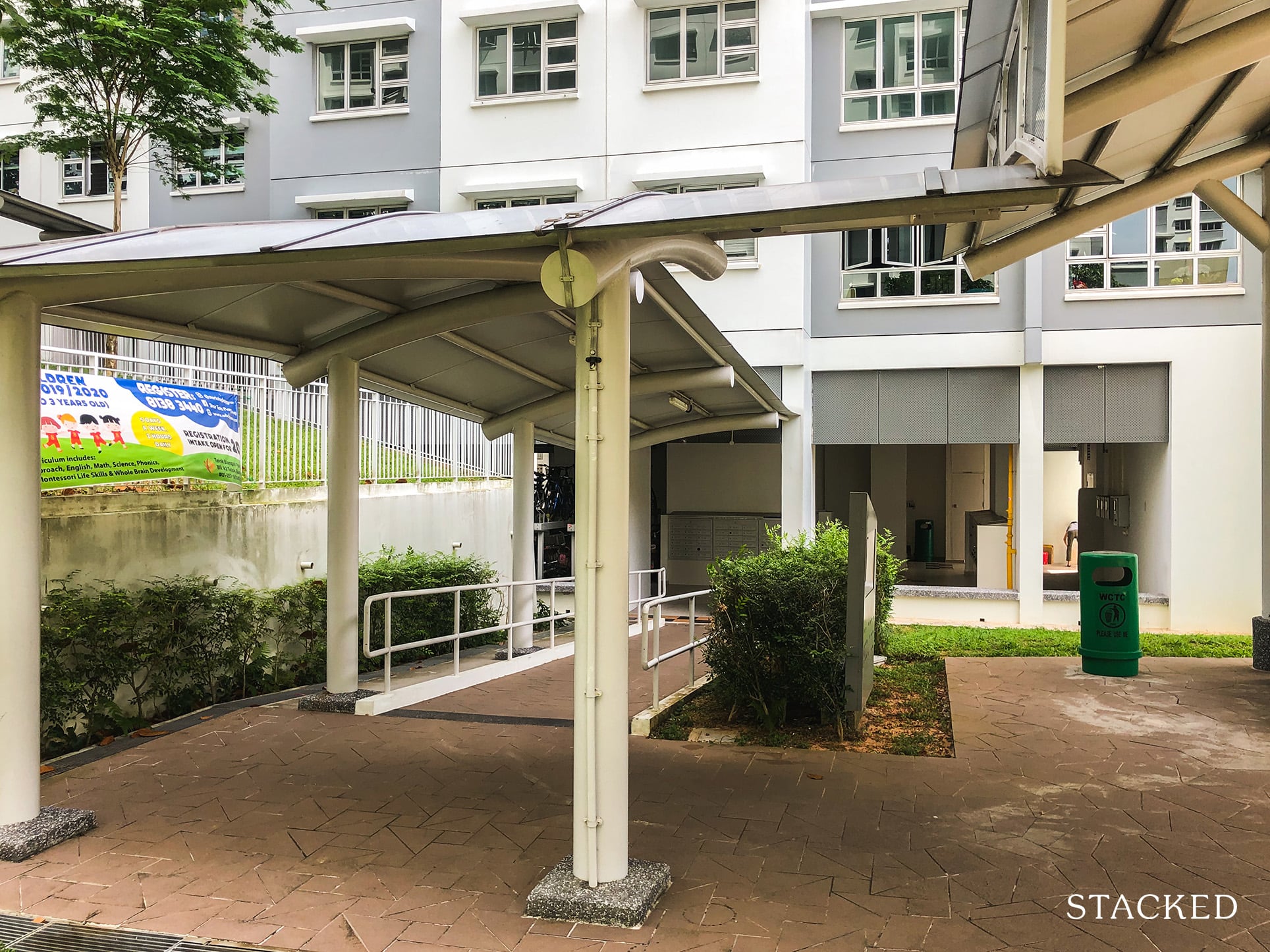 The drop-off point also features a fair amount of seating, though I prefer a more traditional bench style which is good to rest your back on.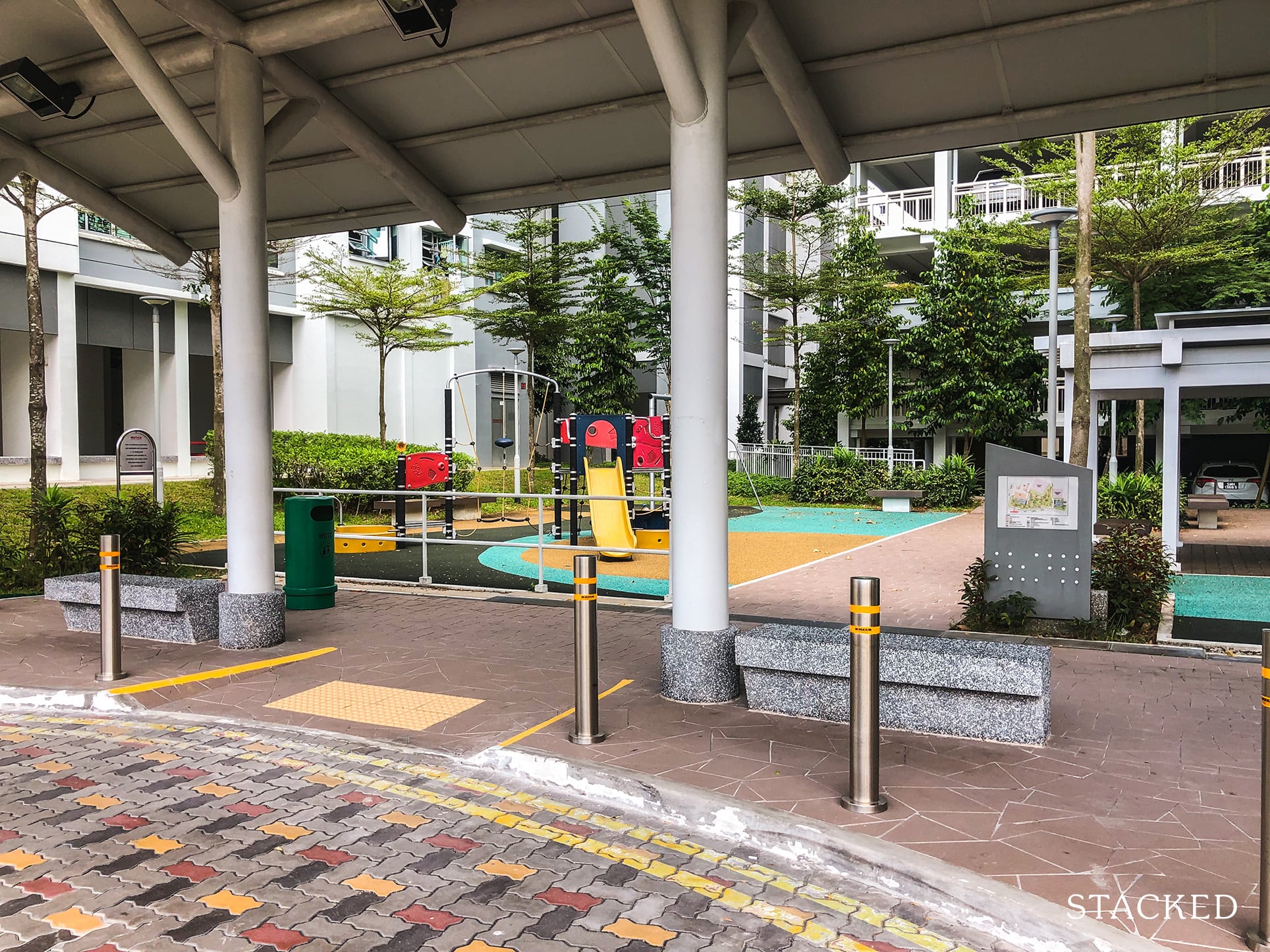 From here, residents can take the sheltered walkway directly to their block, which is really convenient! This is also the same story for all the other drop-off points as they're all connected via sheltered walkways, a minimum requirement by my fairly high standards.
Two of the drop-offs are not fashioned in the roundabout styles, but it's not really an issue given how wide the turning is so a three-point turn may not even be necessary.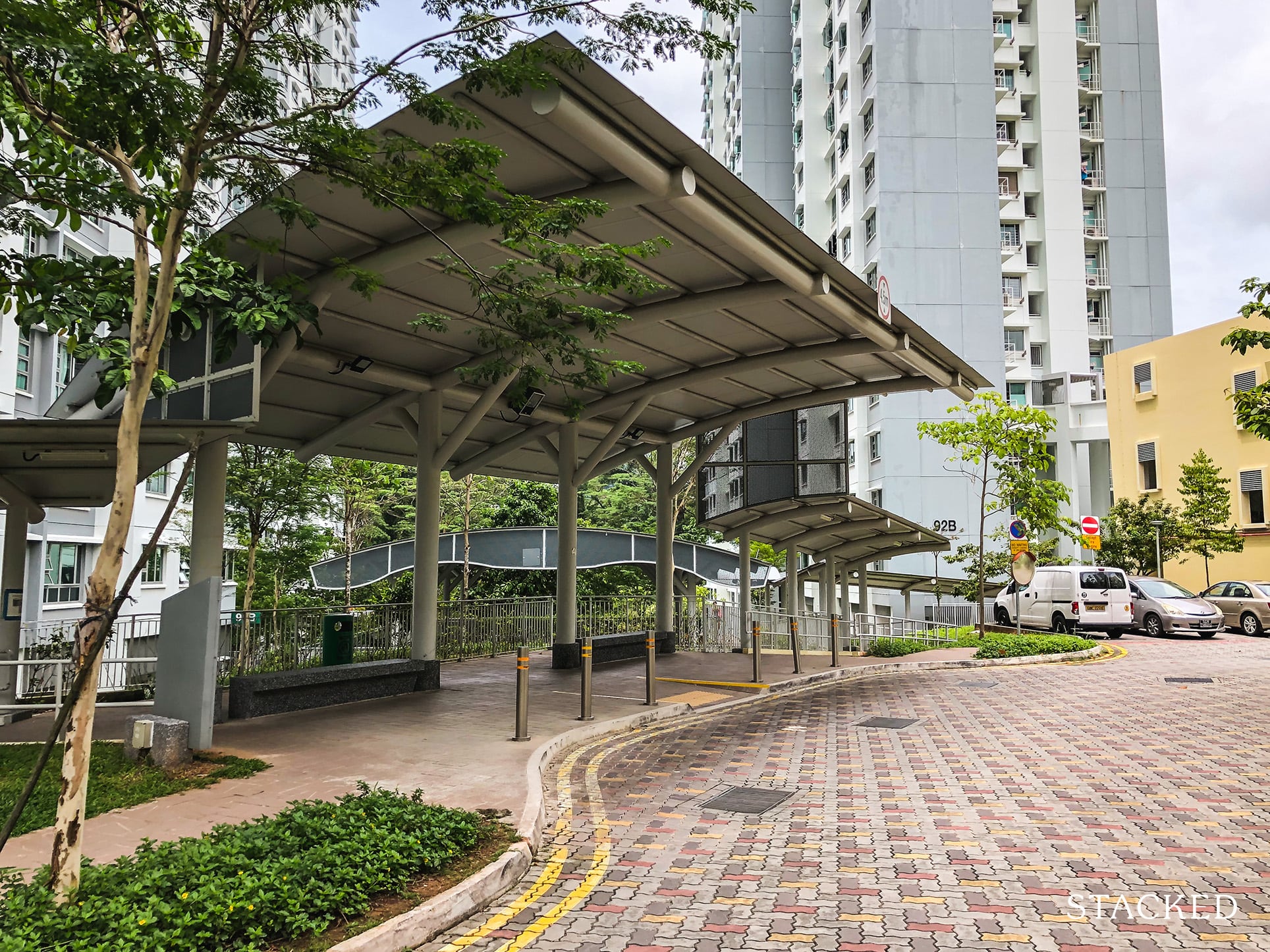 The real issue is this though (see below).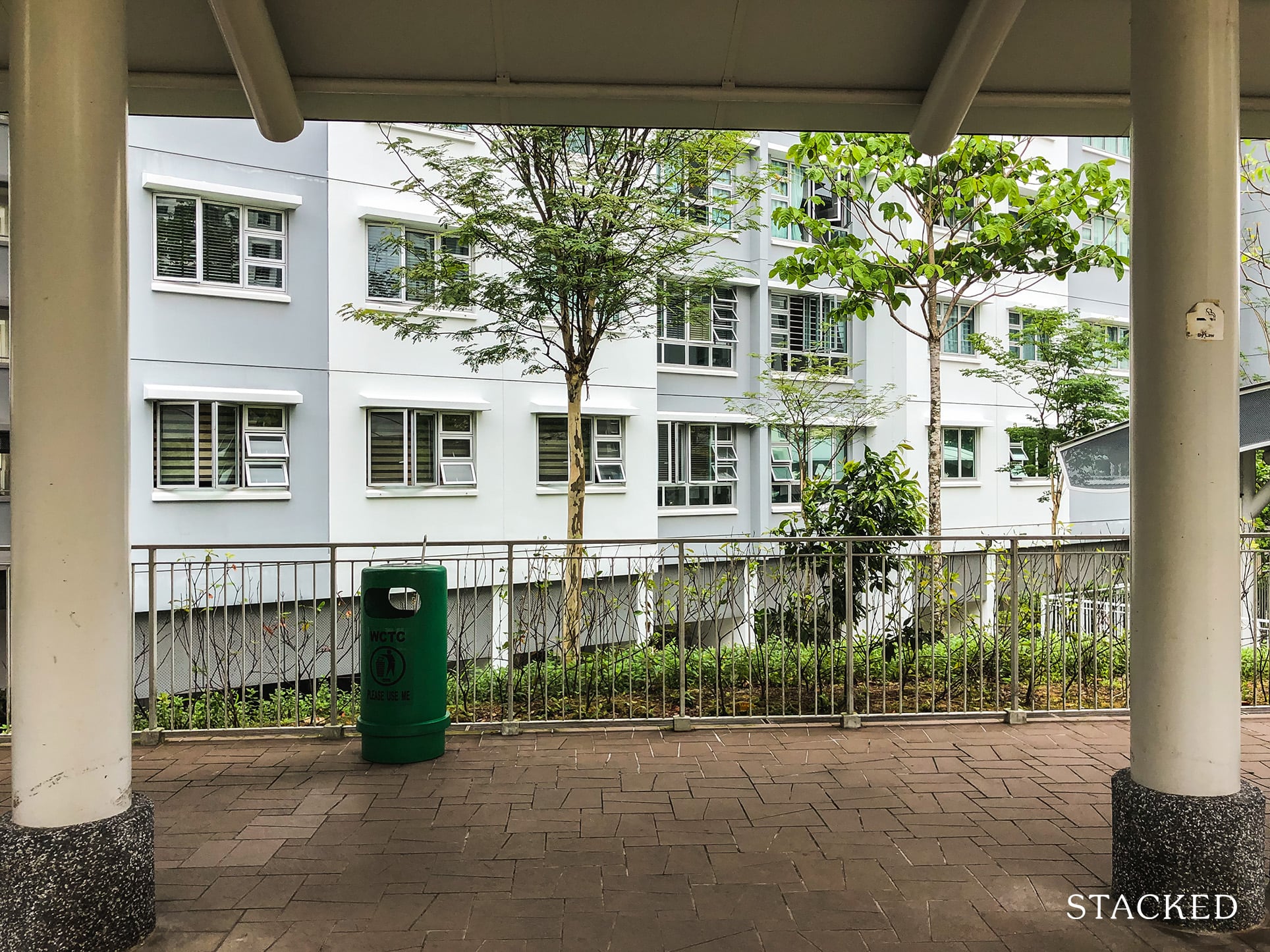 Just look at how close the stacks are to the drop-off. It also doesn't help that the drop-off is on the same level as some of the units here!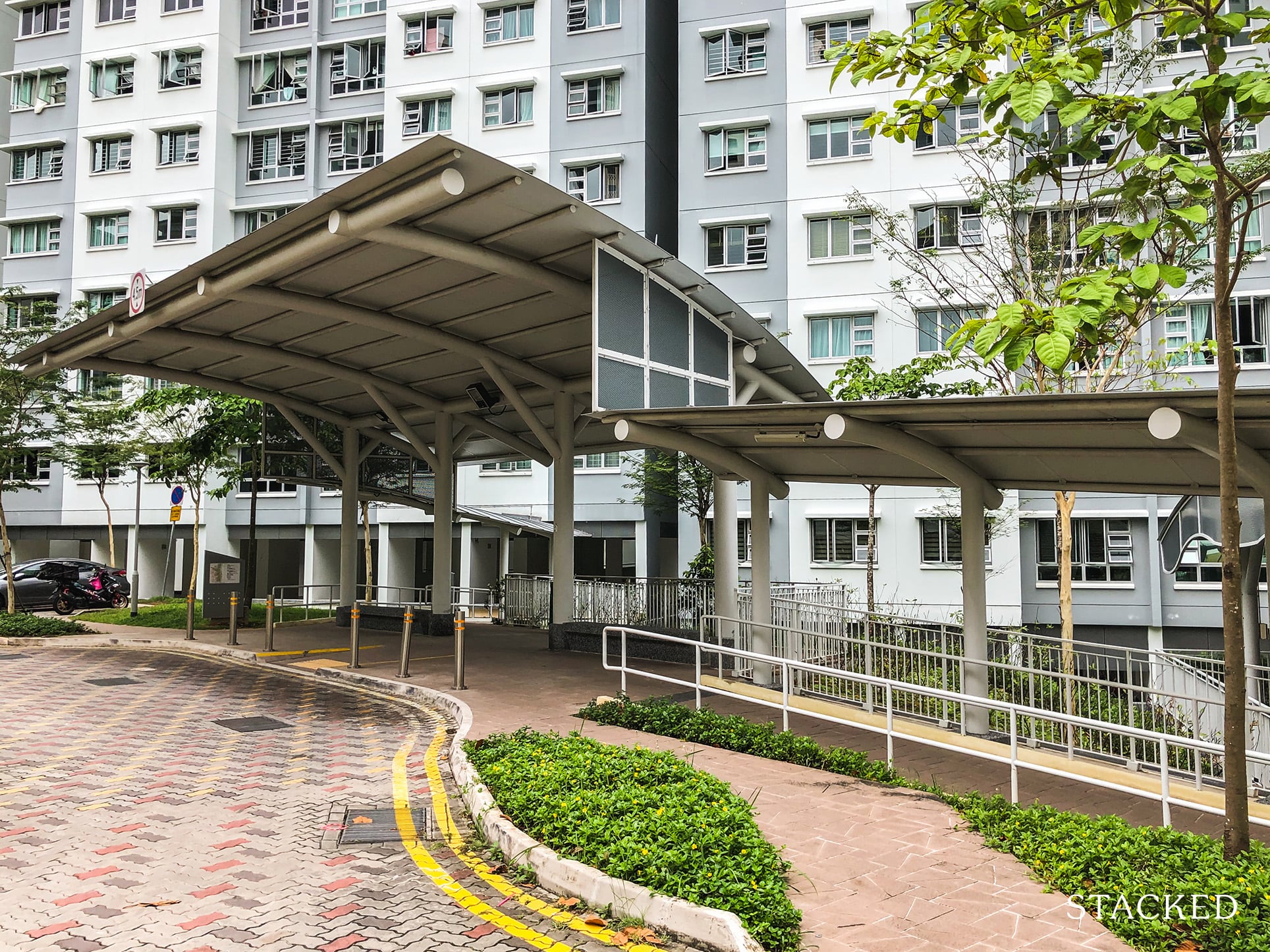 I suppose residents here would get used to it after a while, but I can imagine it to be difficult for sellers here to accept a much lower price compared to units on the 5 level onwards.
Next, let's talk about the parking situation at Telok Blangah Parcview. There are a total of 933 lots for 1,460 units, meaning 63 out of 100 units here can afford to find space for one car on average.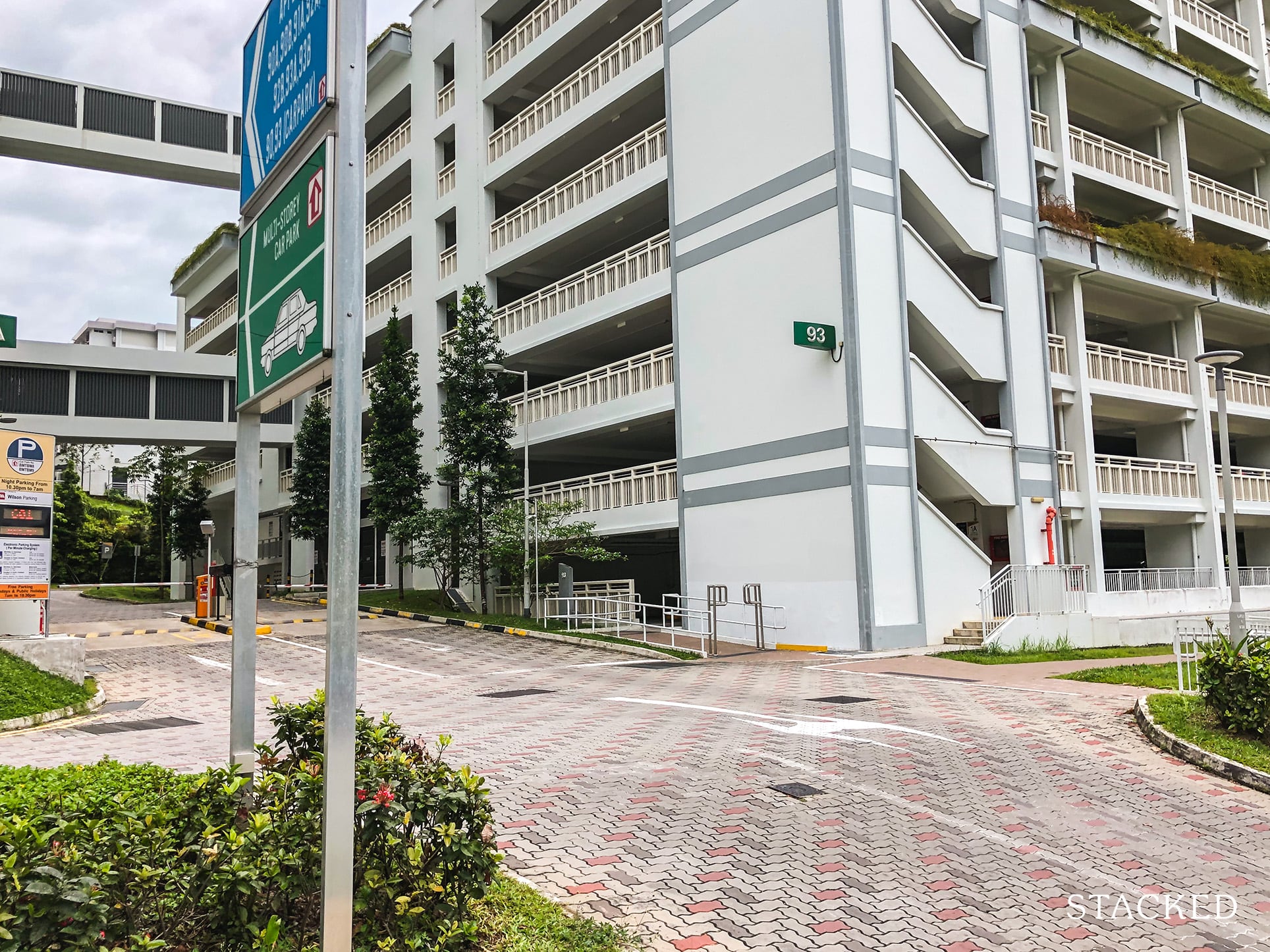 This may not sound like a lot, but a good gauge to see if you'll find problems here is the number of season parking tickets. In total, there are 208 season parking tickets available for sale as of June 2022, so I wouldn't be too concerned as a resident.
Now I know that most people would think that because it's a big development, you'd probably need to walk a fair distance to your block. This may be true for other places, but in the case of Telok Blangah Parcview, you'll be happy to hear that there are two separate multi-storey car park built here. One on the north and another on the south side. This deliberate planning helps to evenly spread out the traffic across the development and provides convenience to those who drive.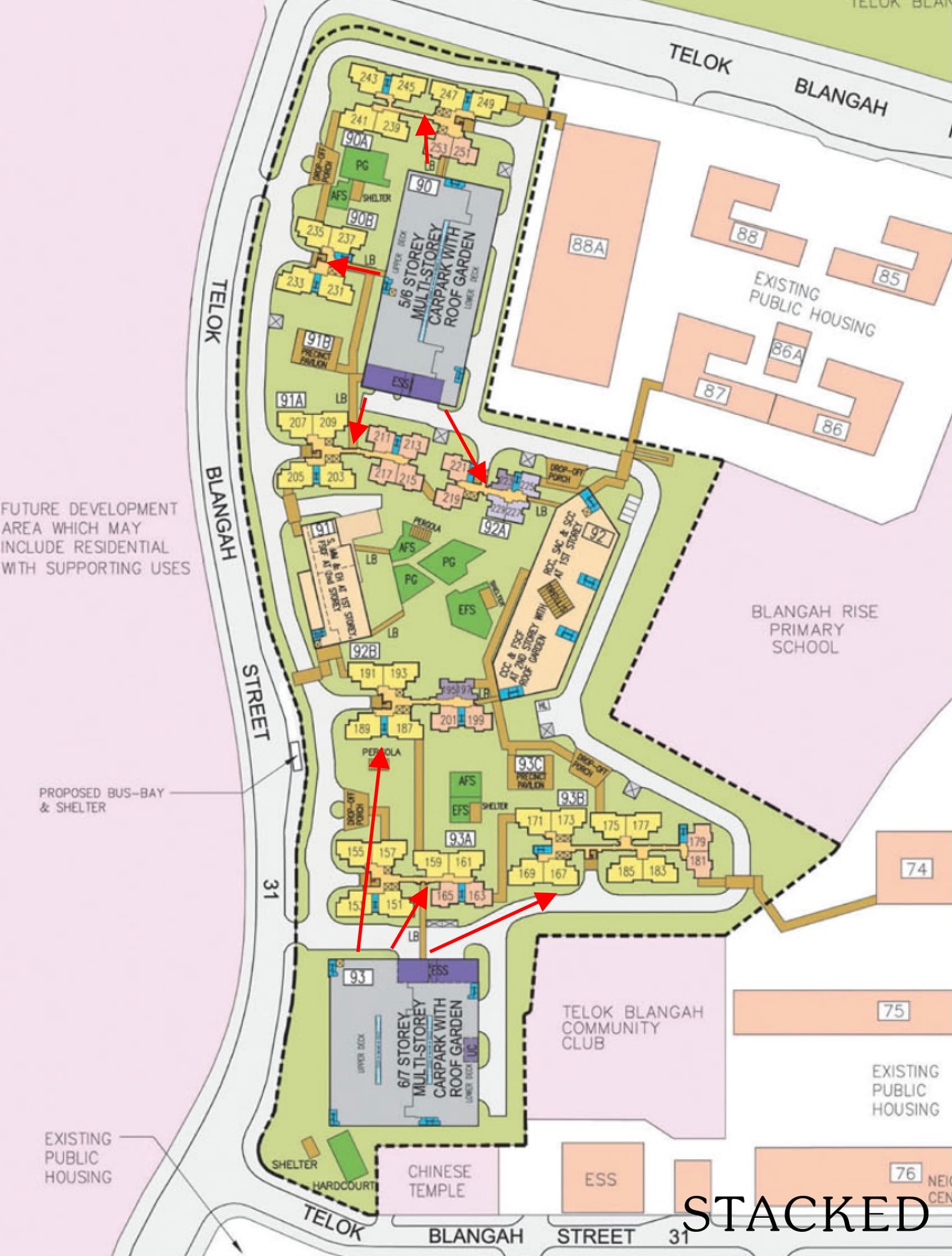 The car park exterior is pretty plain. You can spot some planters around, but not much. Perhaps I'm spoiled by now after reviewing many HDBs with good car park design, but this one here is just very average to me. Not a big deal, of course, unless you're facing one all day!
That being said, I do appreciate the decent colour palette here which is consistent with the overall design. It could look a lot worse, like having greenish metal covers vertically spread across the decks in Trivelis.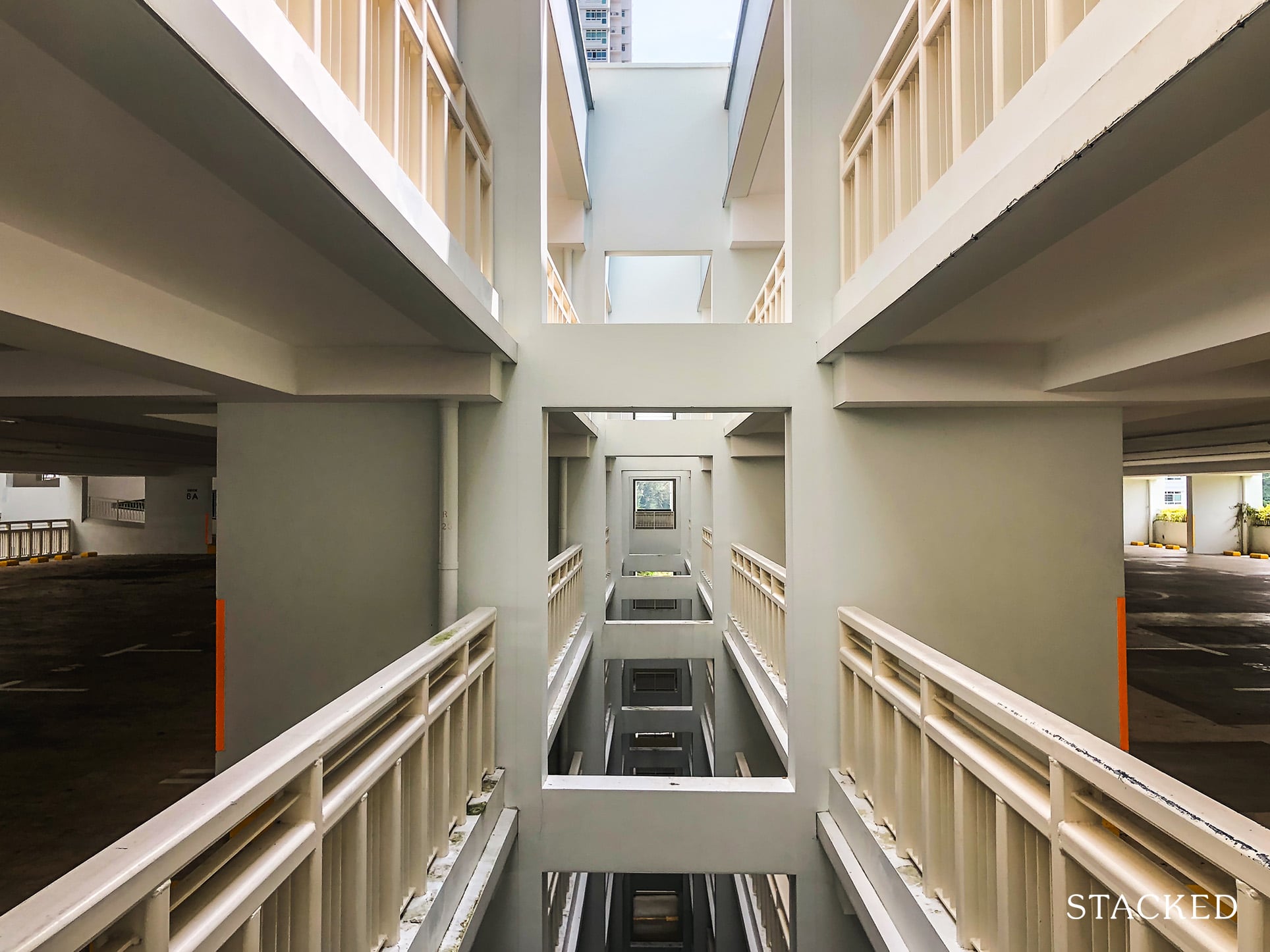 The car park here is 1-6 storeys high, and like many other multi-storey car park, it's bright and airy inside thanks to the air wells.
Overall, the car park looks to be quite well-maintained but I think it's fair to say it isn't long enough for it to face serious wear and tear issues.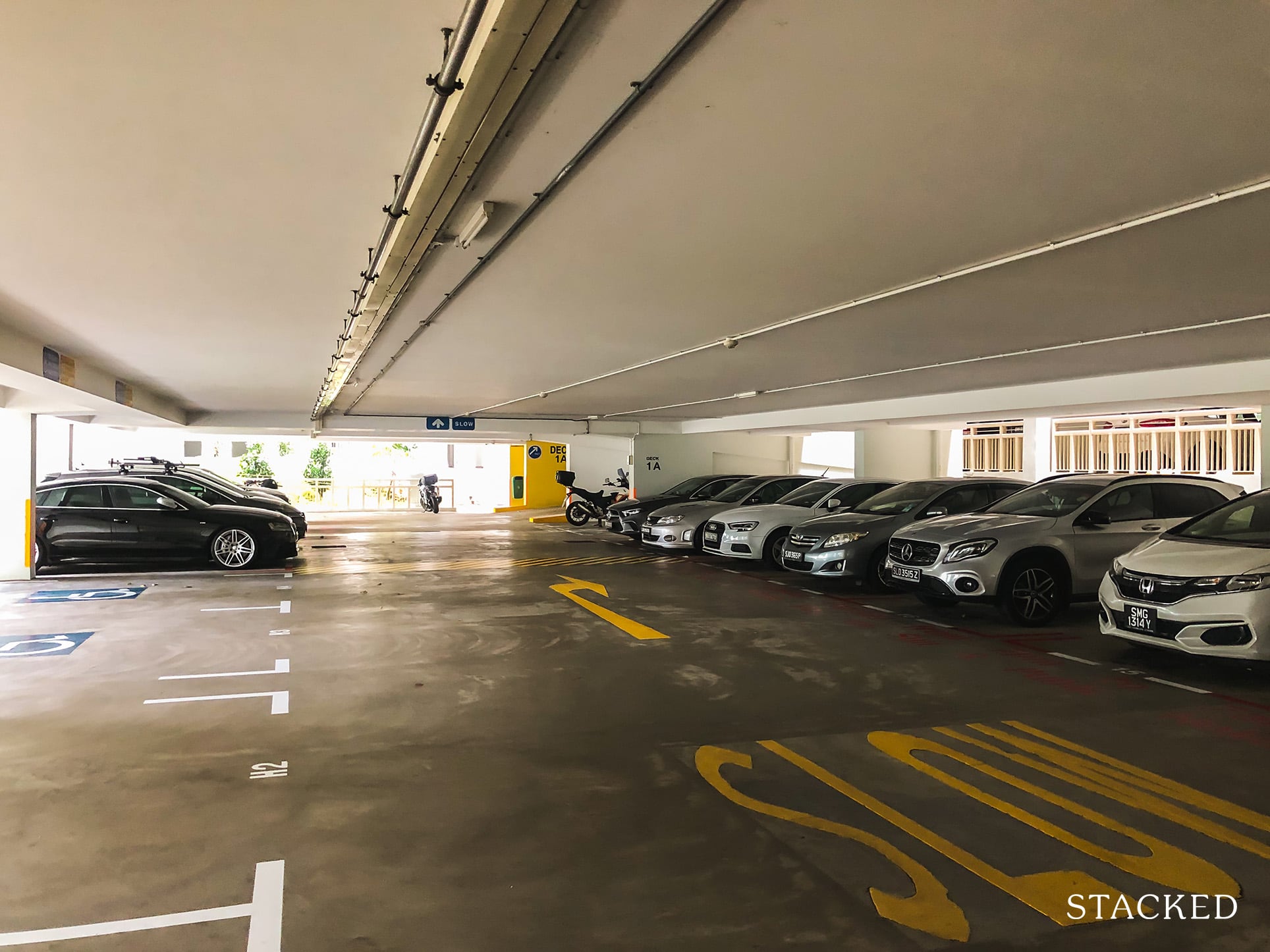 And like most multi-storey car park structures, you'll find that some units have a direct facing to them. For the car park at block 90 in particular, you'll find that two 3-room stacks are just a stone's throw away.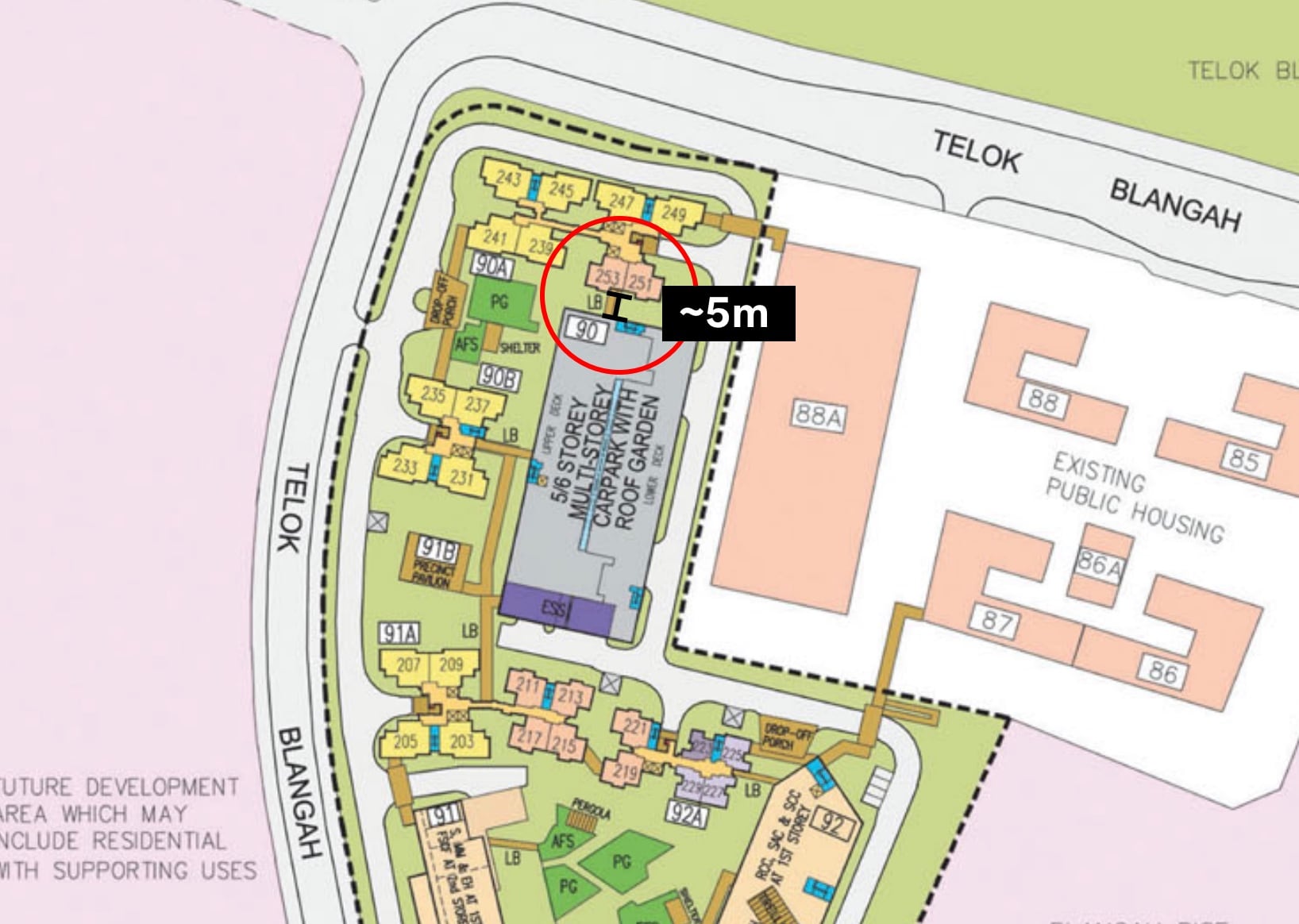 One positive attribute about the car park here is that it comes with link bridges on several floors.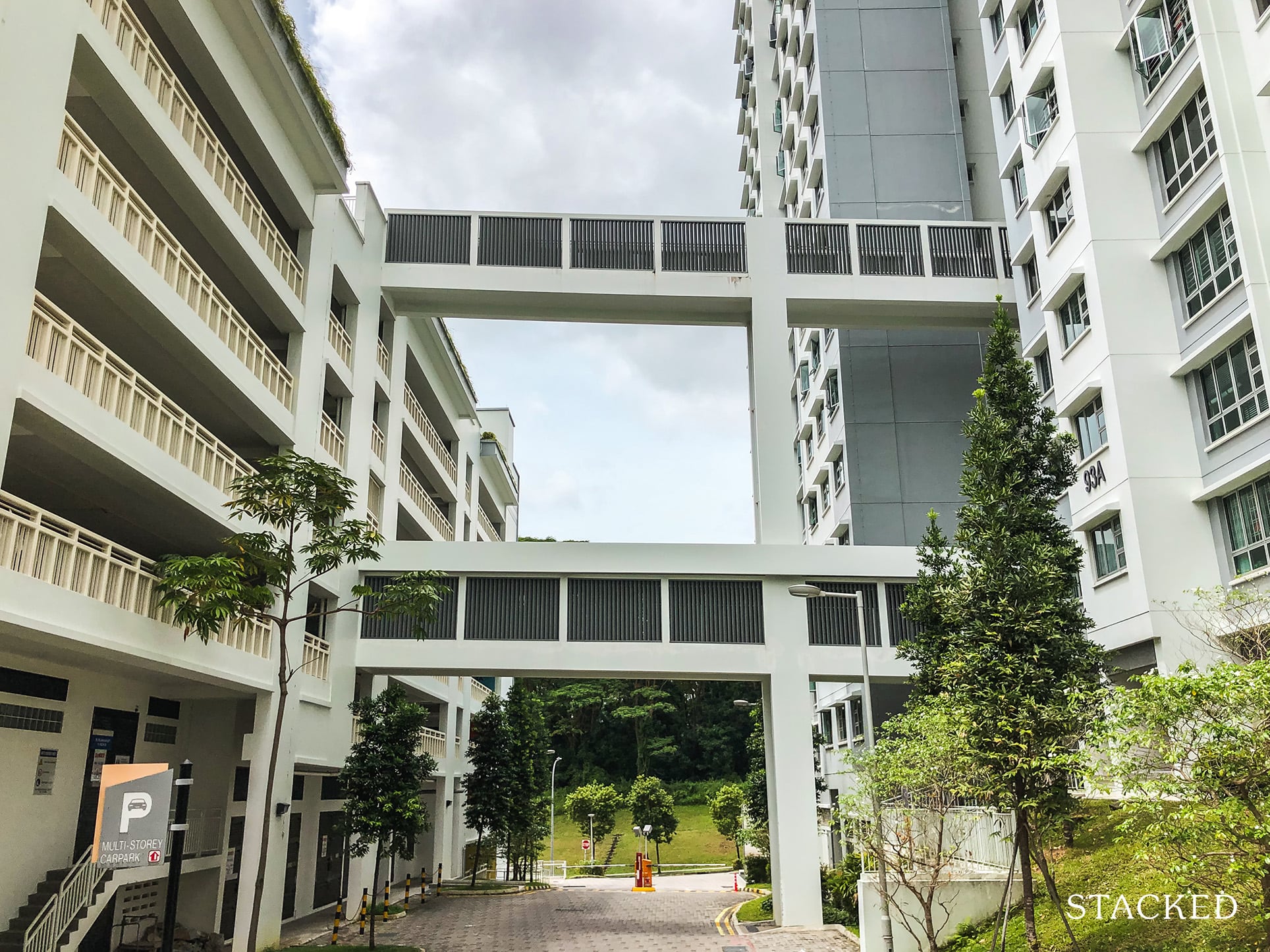 These provide access on higher floors directly to the adjacent blocks which are a lot more convenient than heading down first, only to walk over to your block. It may not seem like a big deal, but if you drive on a frequent basis, this added convenience is really nice to have!
Although you should note that not all link bridges are sheltered though.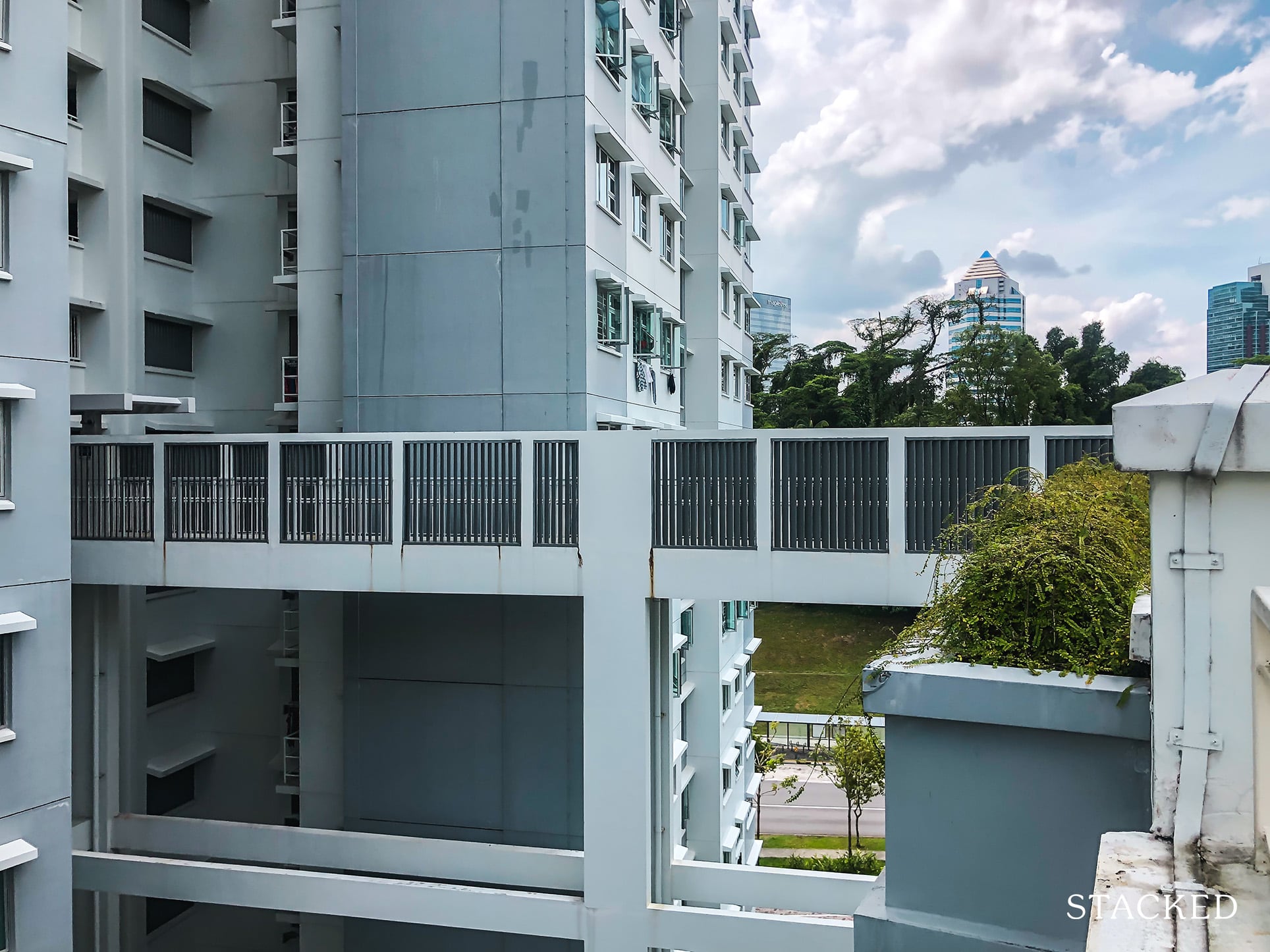 Now that we've seen the car park, let's check out what the car park rooftop garden has in store for us!
Located on level 7, the car park rooftop garden has quite a pleasant amount of greenery that's well-manicured.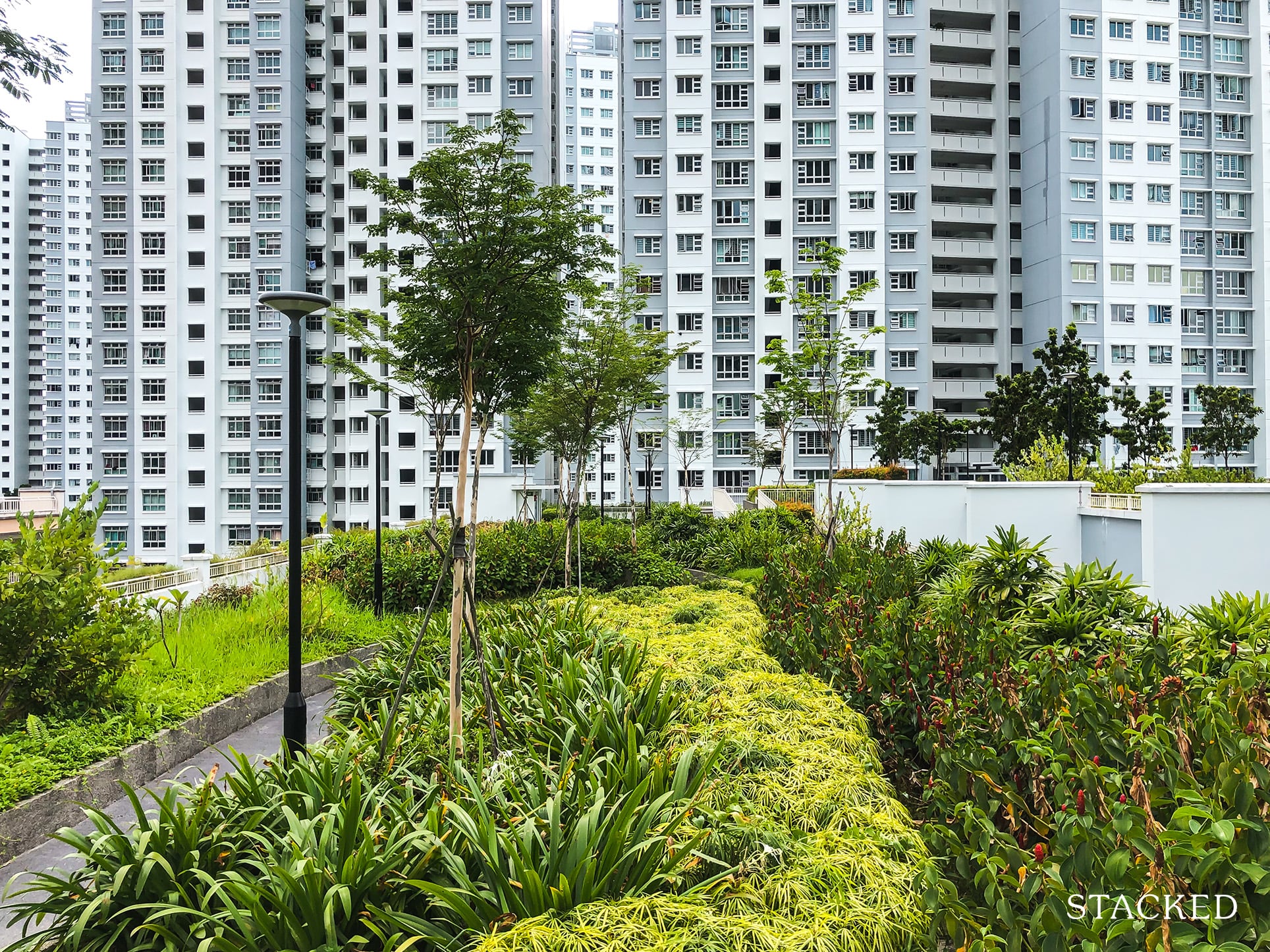 Here, you'll find pathways that are wide enough for a comfortable evening stroll/jog amidst the lush greenery.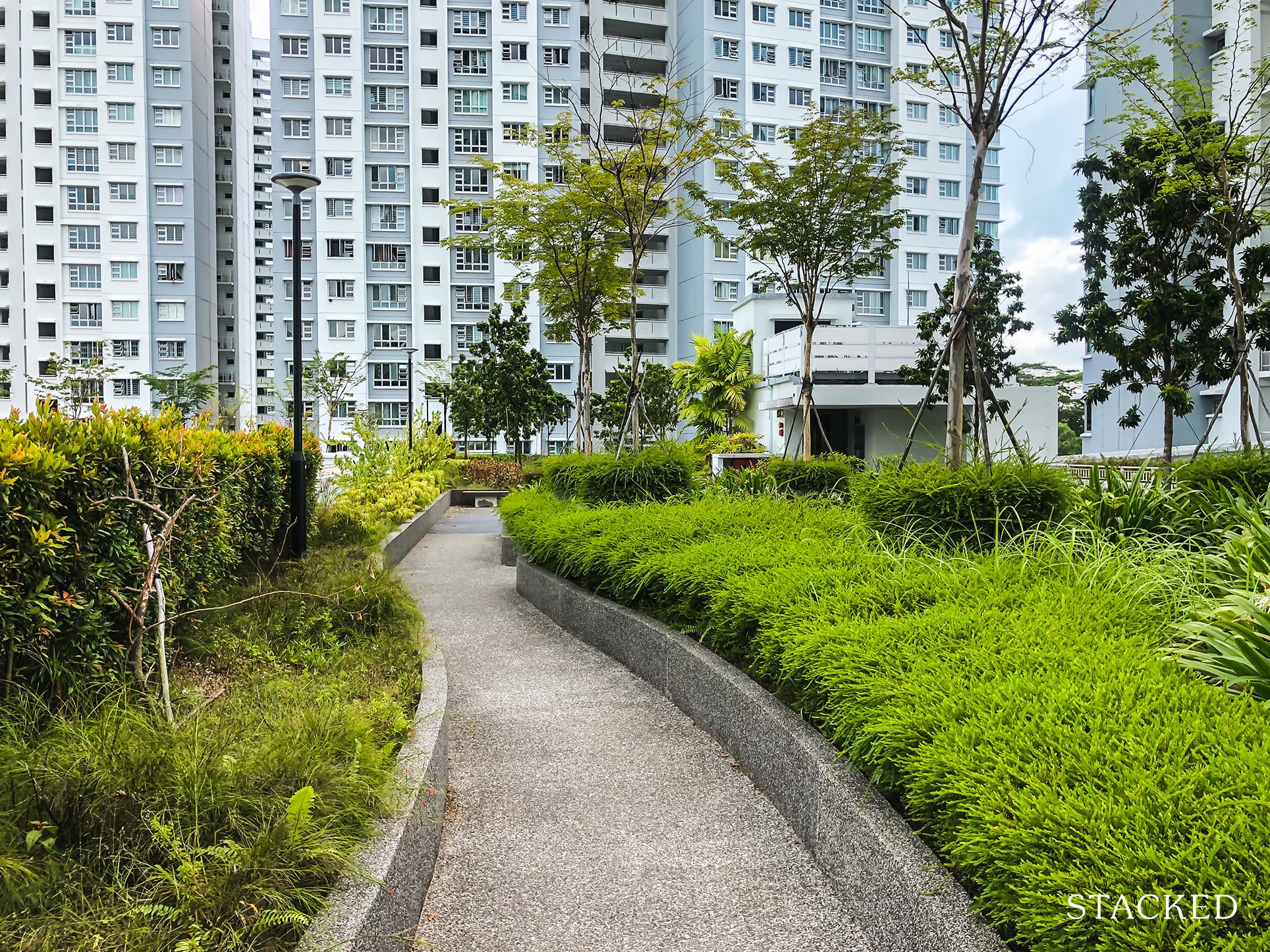 There's also an ample amount of seating space for those who just want an outdoor space to relax without having to stray too far from home!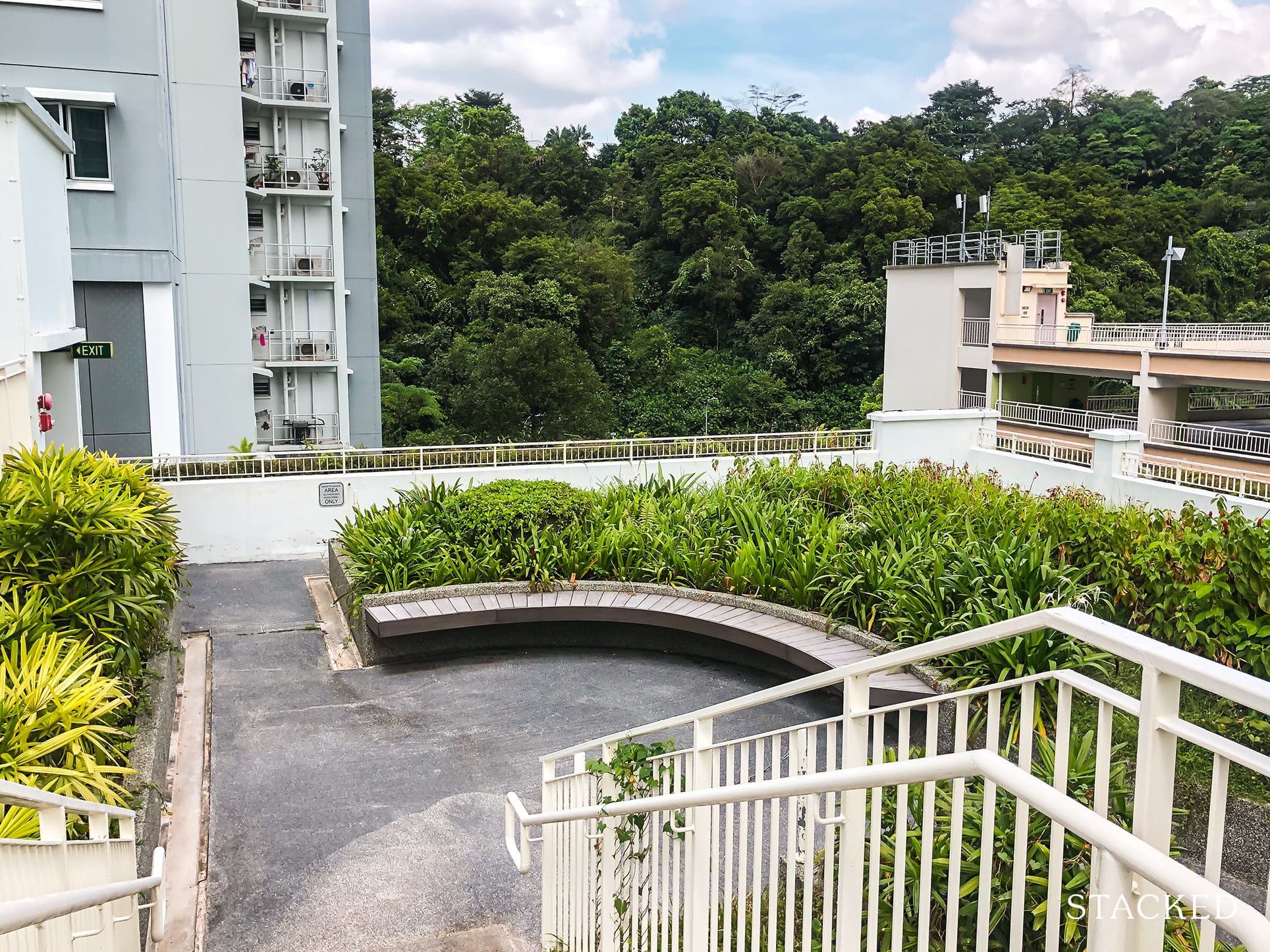 There are also several open spaces for you to do your workouts or stretches. It's common to see informal classes being held in such spaces here, but one concern is the lack of privacy.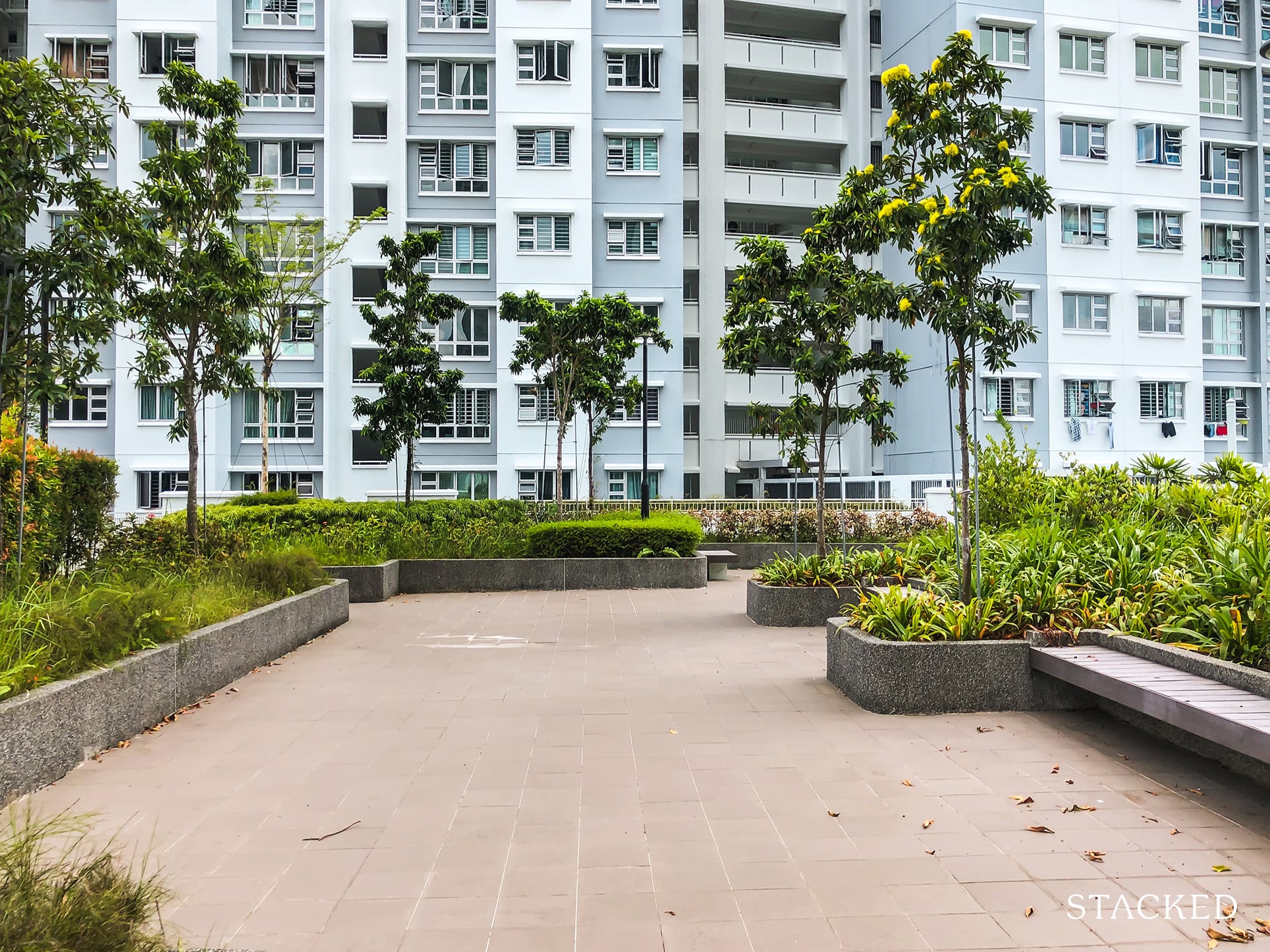 With multiple towers surrounding this area, residents using this space would be in full view of all the units around, a common occurrence for any rooftop garden in dense projects.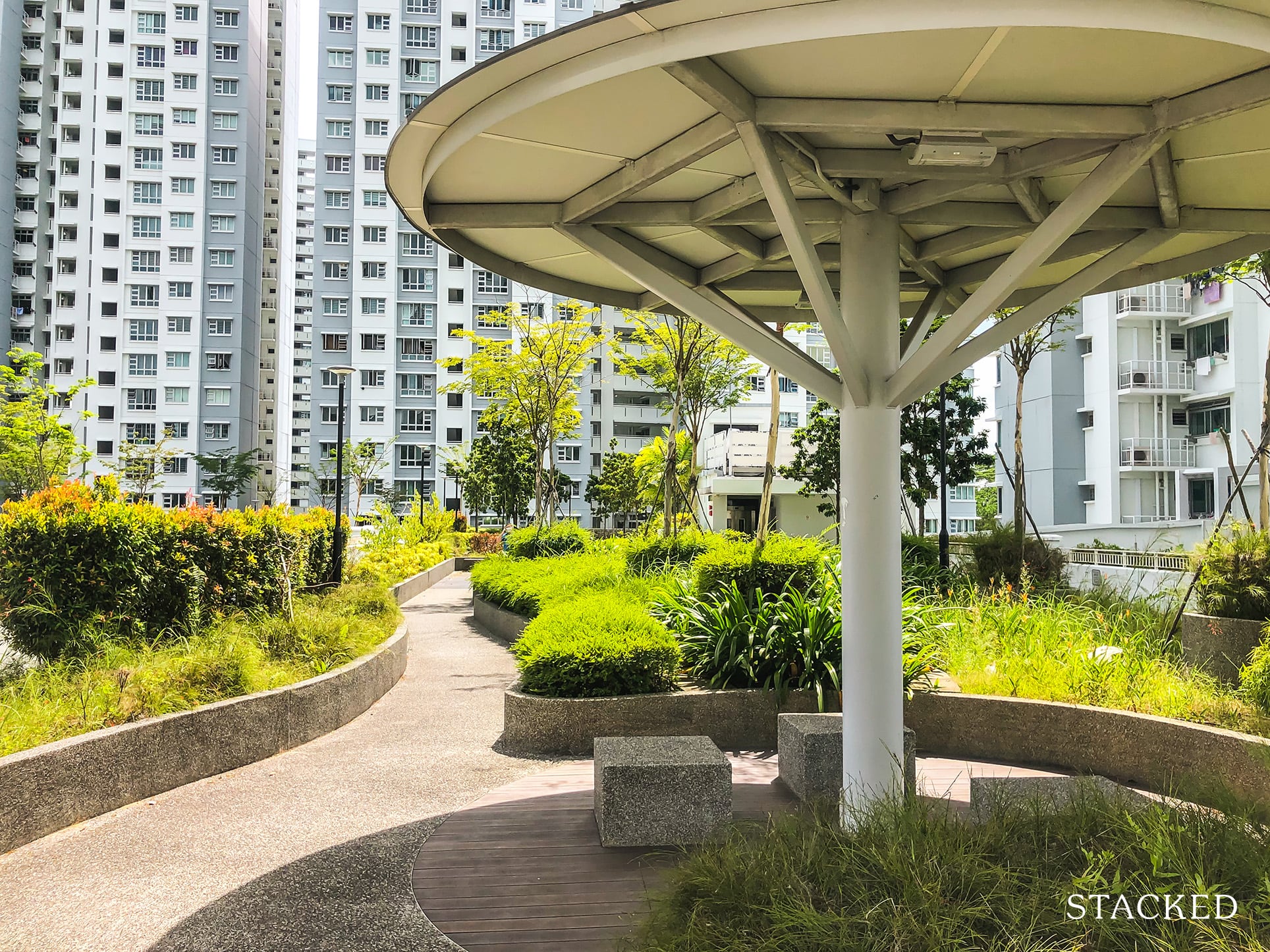 You'll also find that many stacks have the disadvantage of directly facing the rooftop garden, and it's not just the service yards this time!
Some are even right next to the link bridge which can pose some serious privacy issues. These are usually the flats that are hardest to sell (apart from car park-facing stacks)!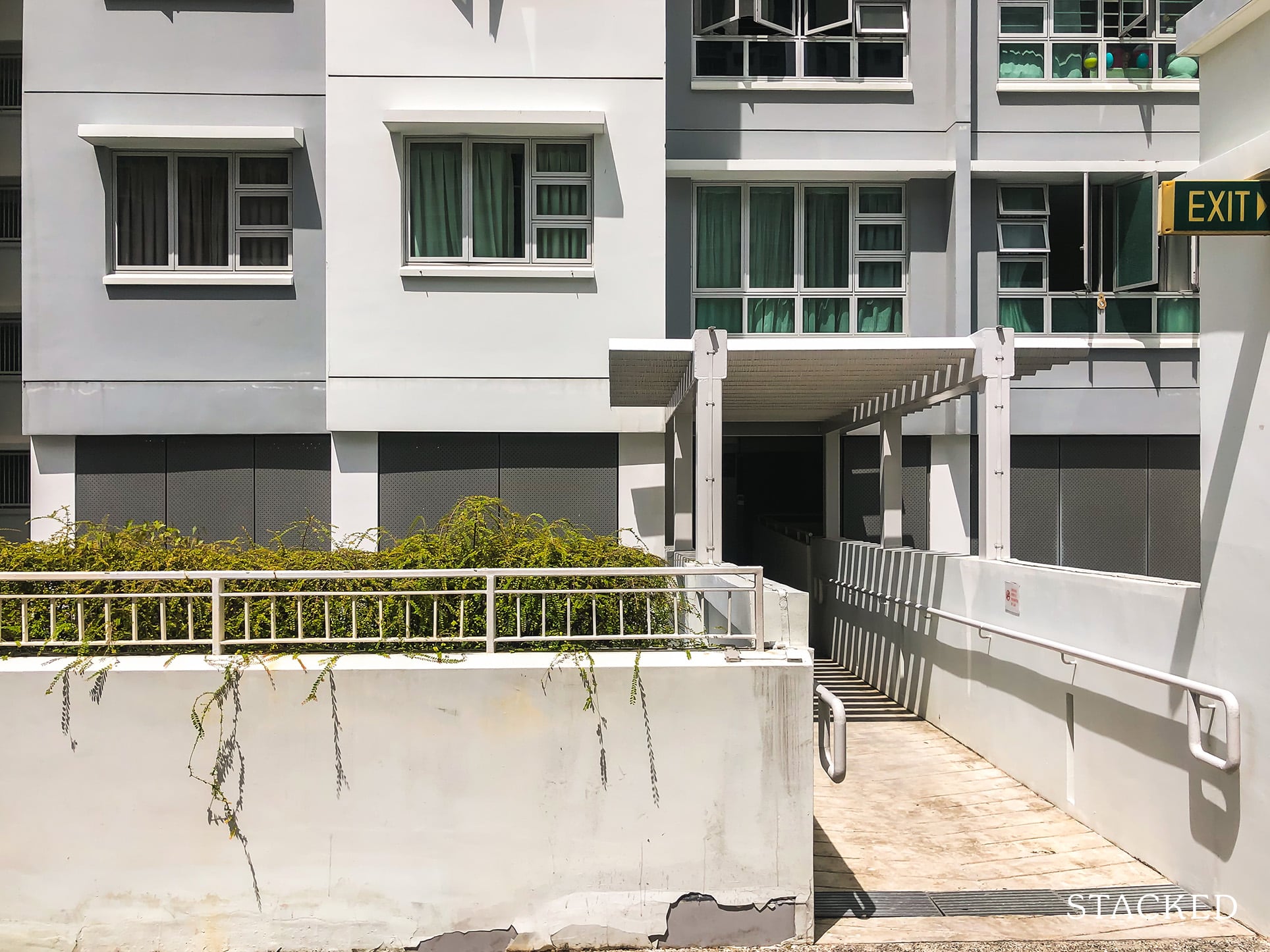 Overall, the rooftop garden is just a nice space to relax and unwind. There aren't any facilities here – these are all on the lower floor. I do like that there are open spaces and seats around, although it's quite clear that some areas are in need of maintenance which is concerning given the newness of the development.
The next multi-storey car park is located south, block 93. The car park is very similar to the one at block 90 and serves residents at blocks 92B, 93A and 93B.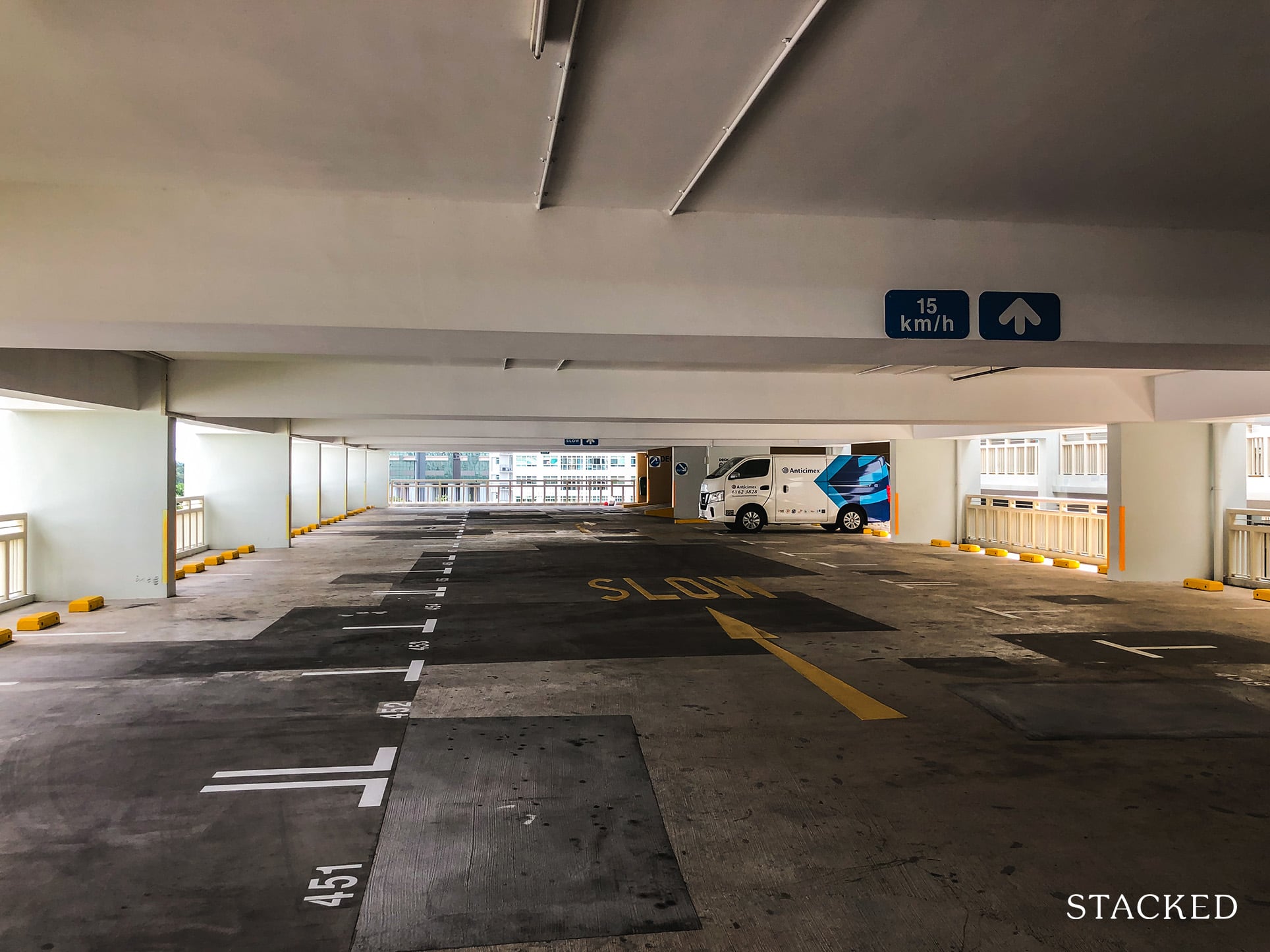 Just like the first car park, there are link bridges that connect the upper decks to the adjacent blocks directly which is really convenient for residents.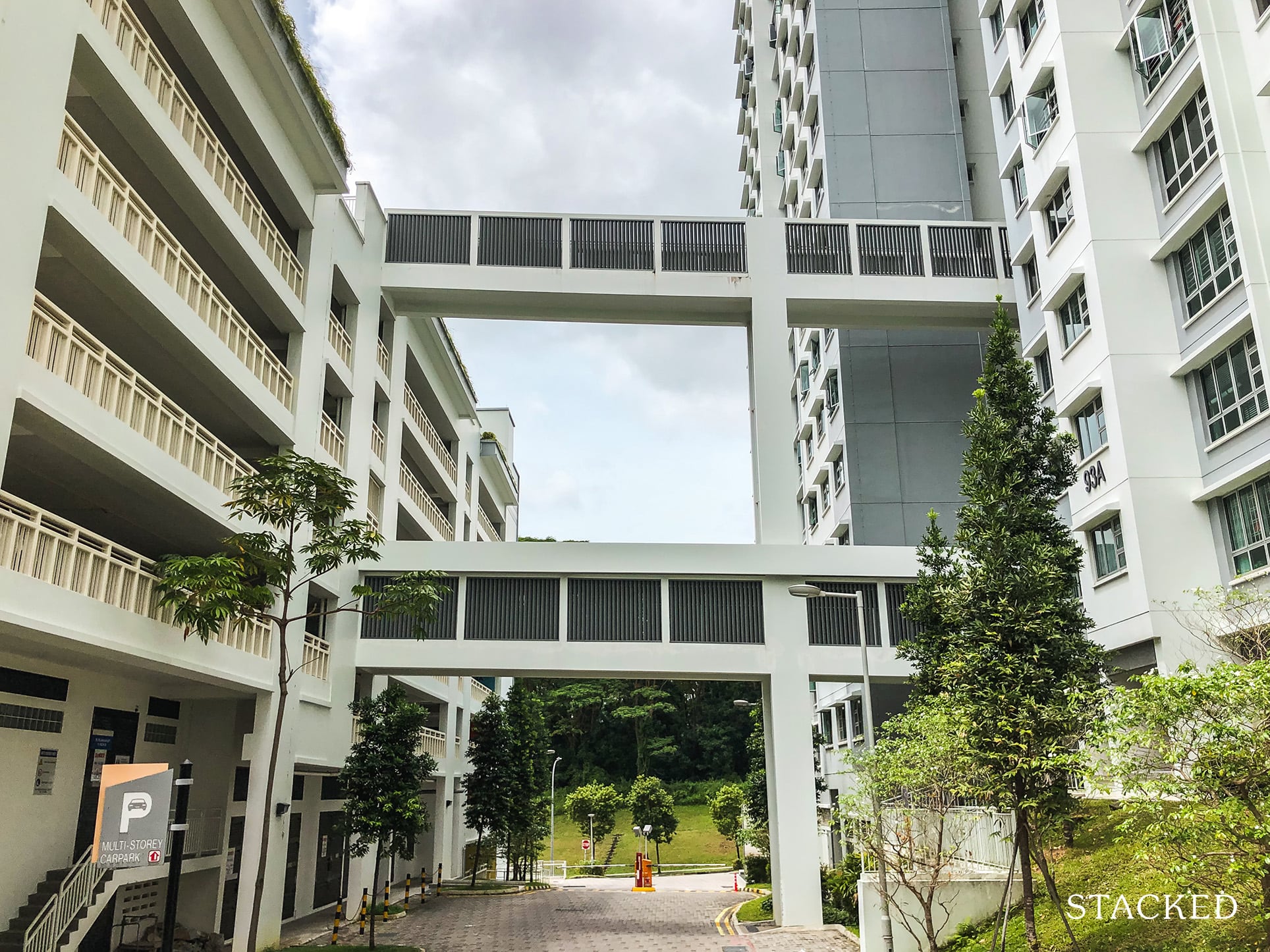 I am also pleased to find a rooftop garden here which is a much better treat for your eyes than just a blank concrete top for residents nearby: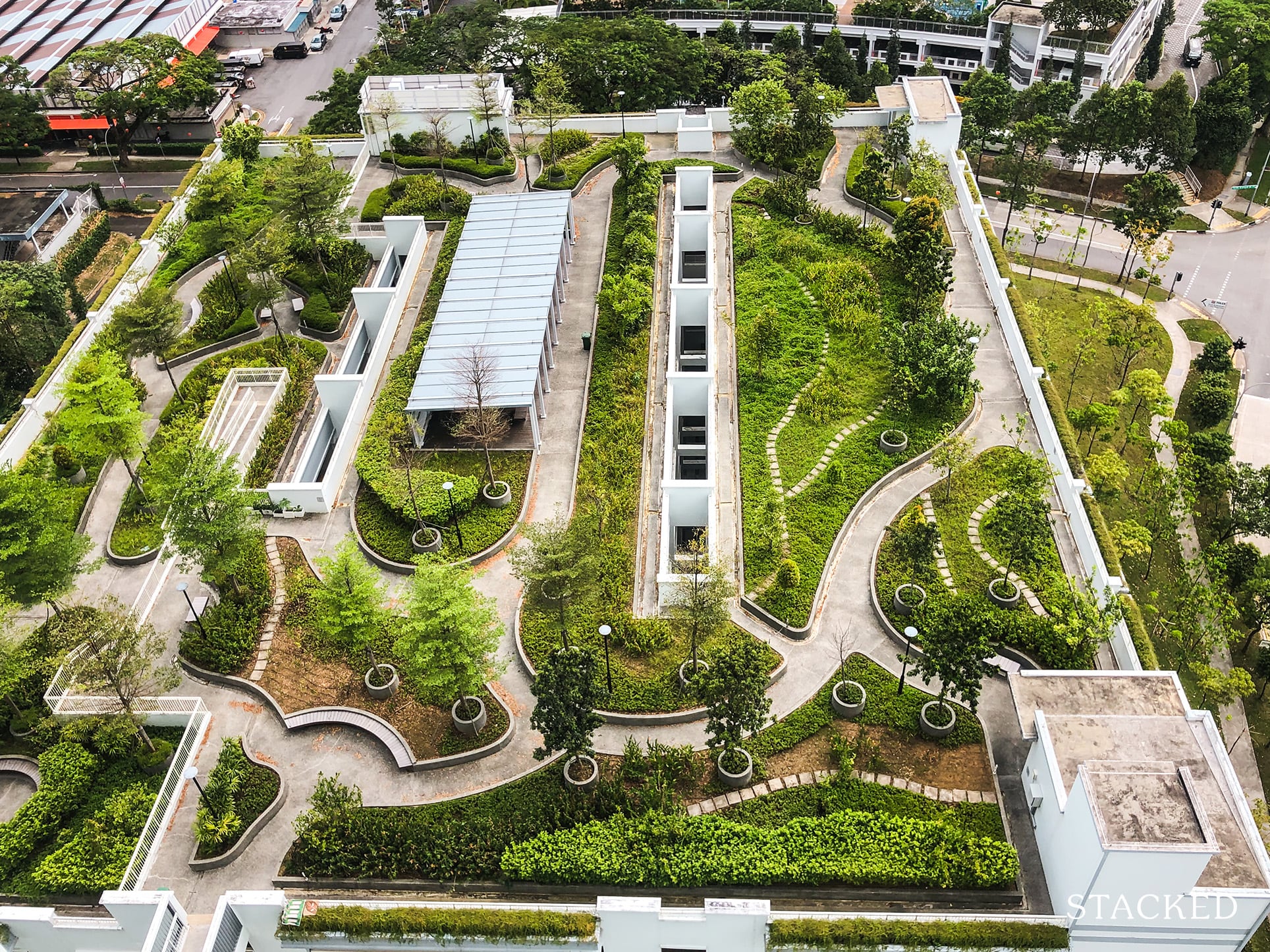 From this point, you'll notice that there's a huge sheltered seating area in the middle.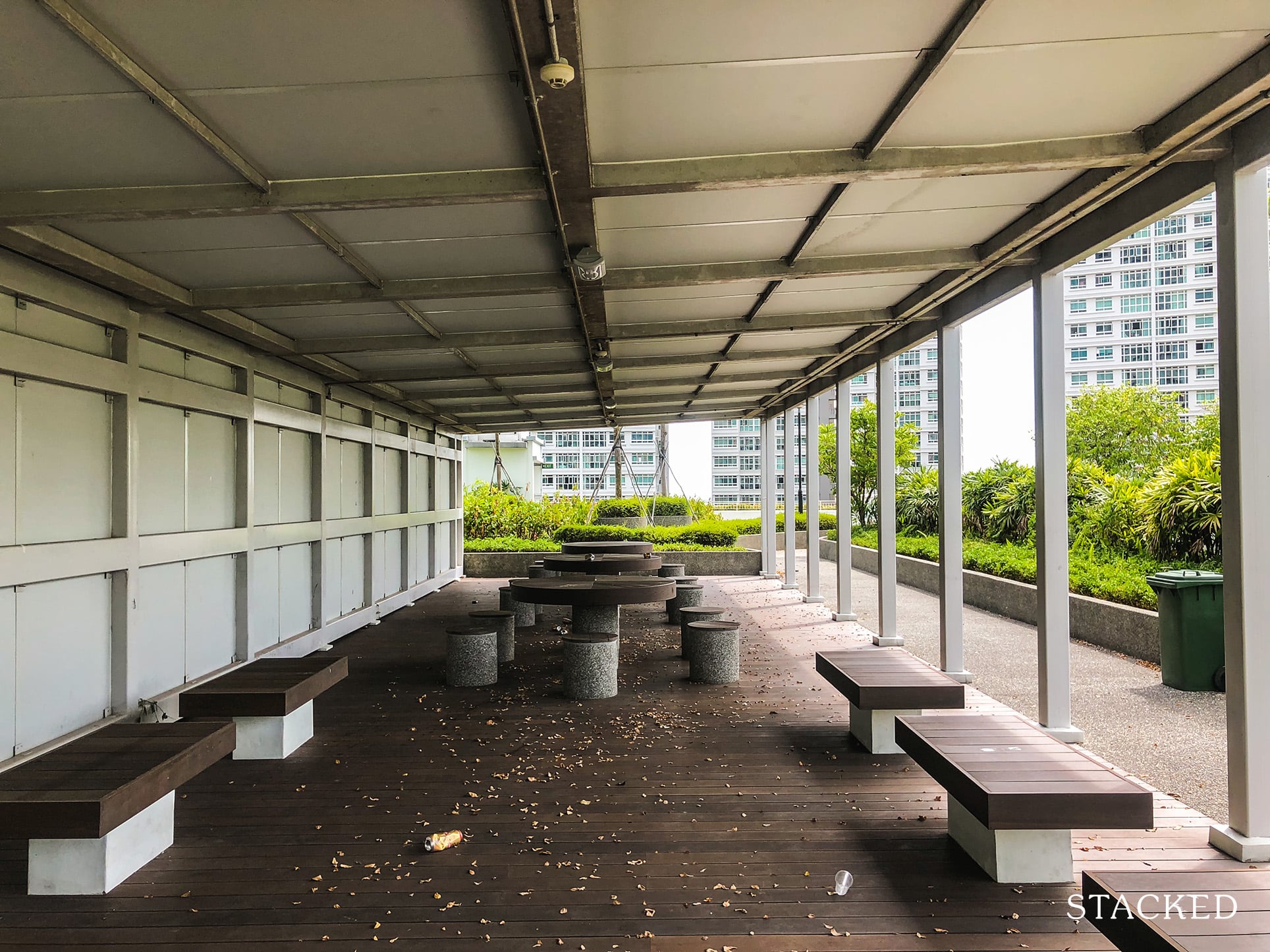 This is quite peculiar to me as a large sheltered area such as this is quite an uncommon sight in most developments that I've visited so far.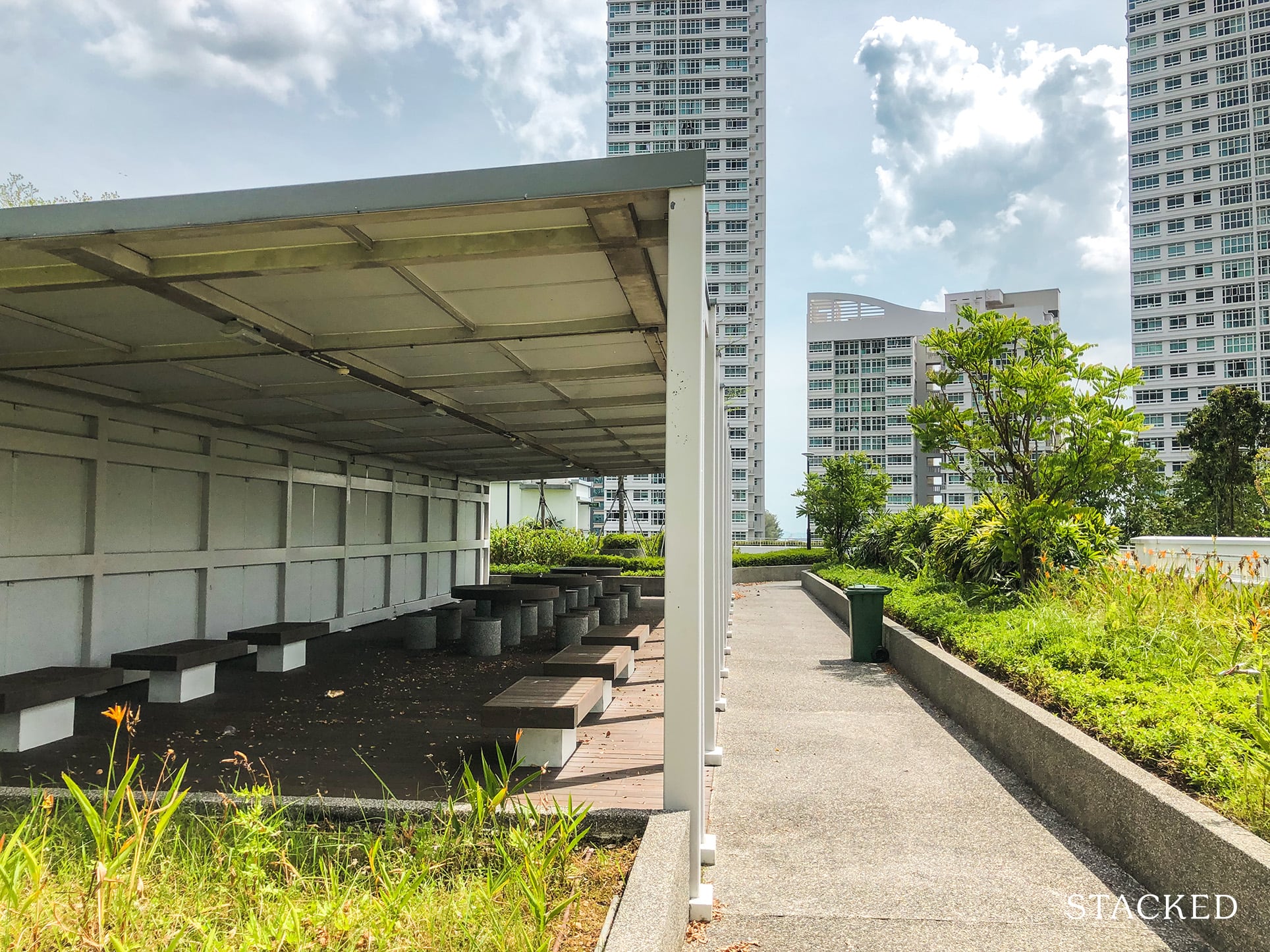 I could be wrong though, but from the site of litter – perhaps this place is used often. It's a shame to find litter in such a beautiful area, even more so in a residential development where people live. Is it that hard to just throw it away in the bin on the right?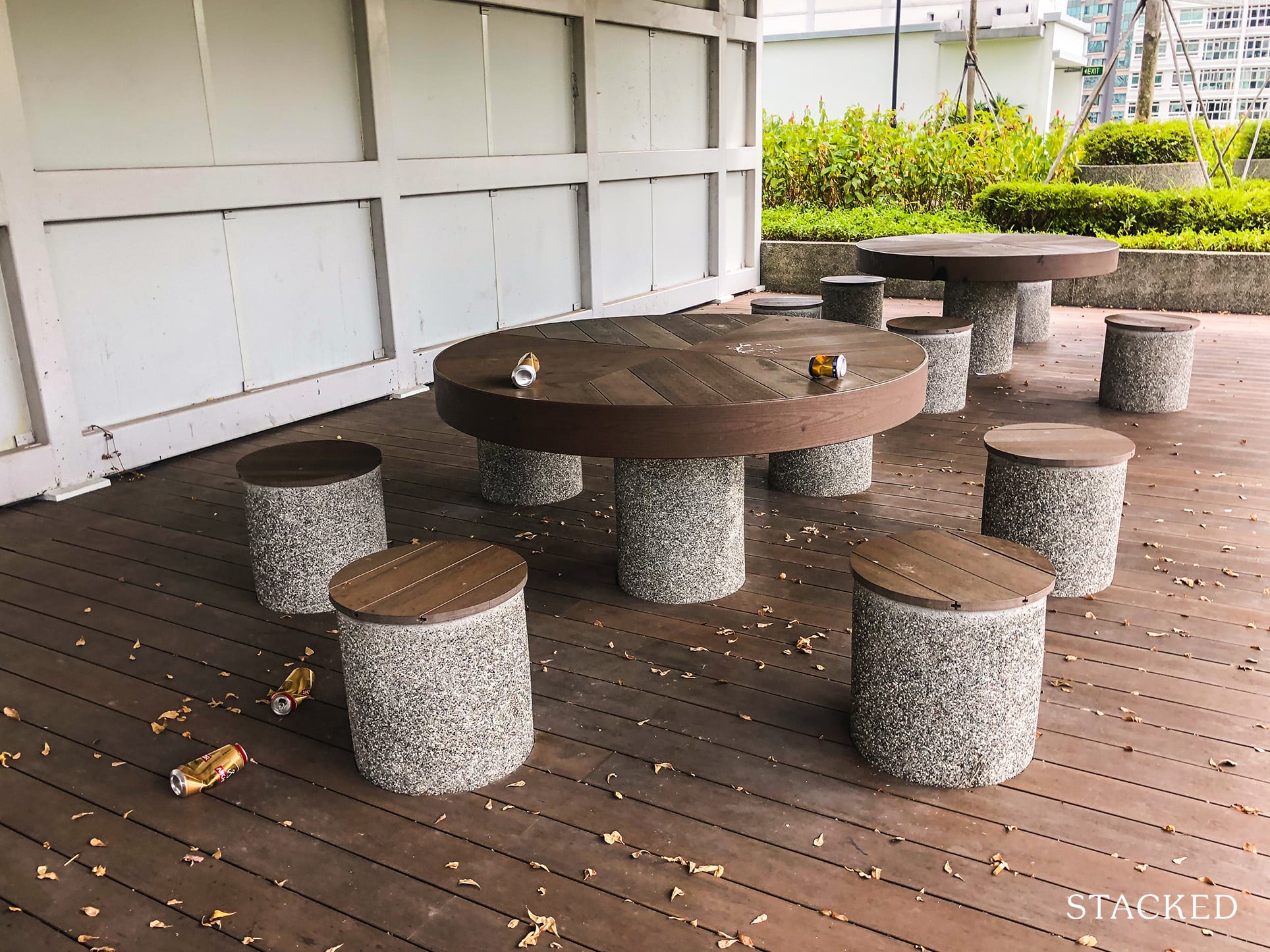 More litter can also be found here in the seating area (perhaps this is why they always say that people can't have nice things). Having a nice sheltered seating area promotes social activities that ultimately lead to trash being scattered around.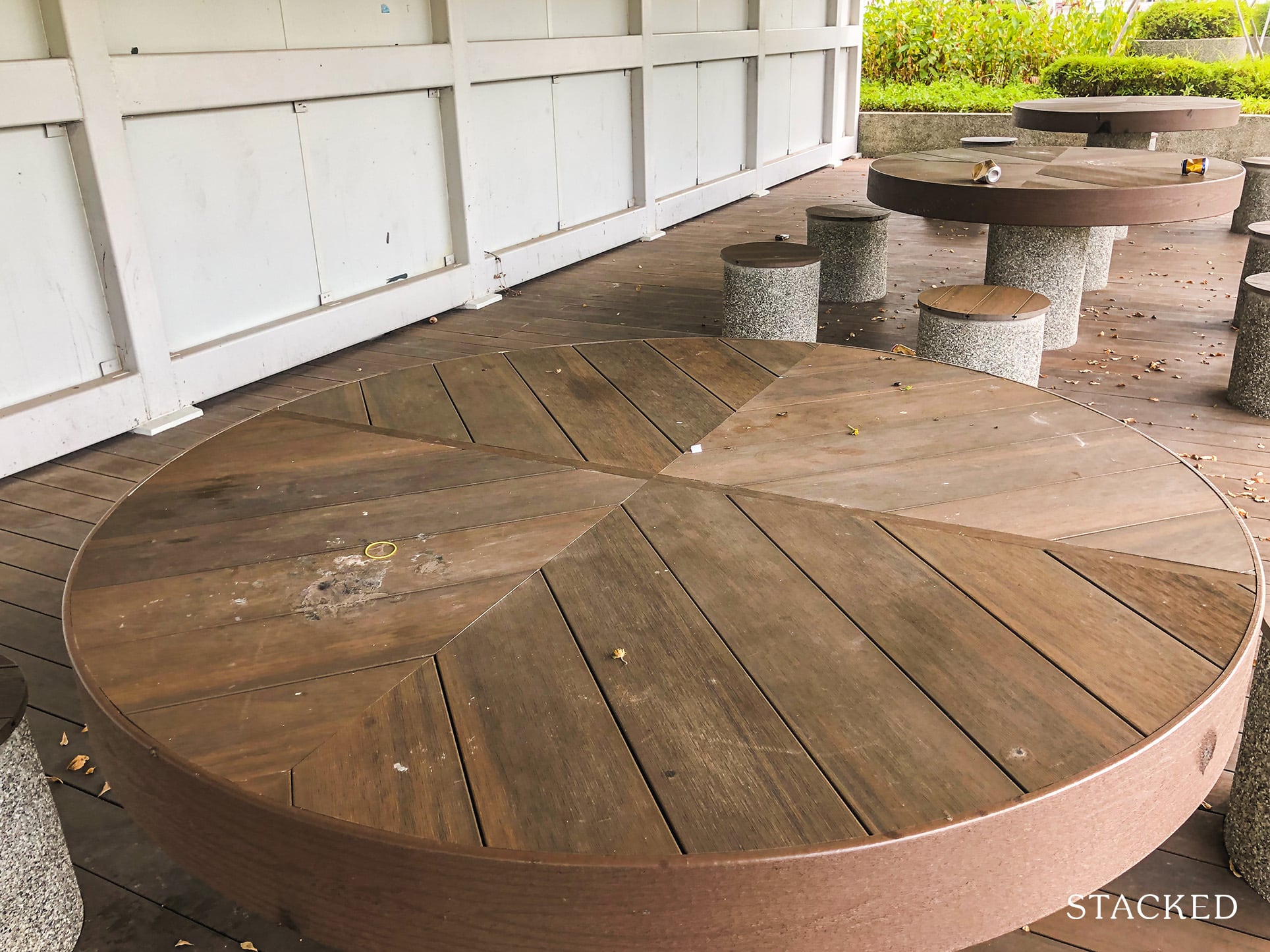 Overall, I do like the design of the seating area. It's got a nice wooden look which blends in very well with the place, although it does look a little uncomfortable. That's probably intentional though so people won't hang around for too long!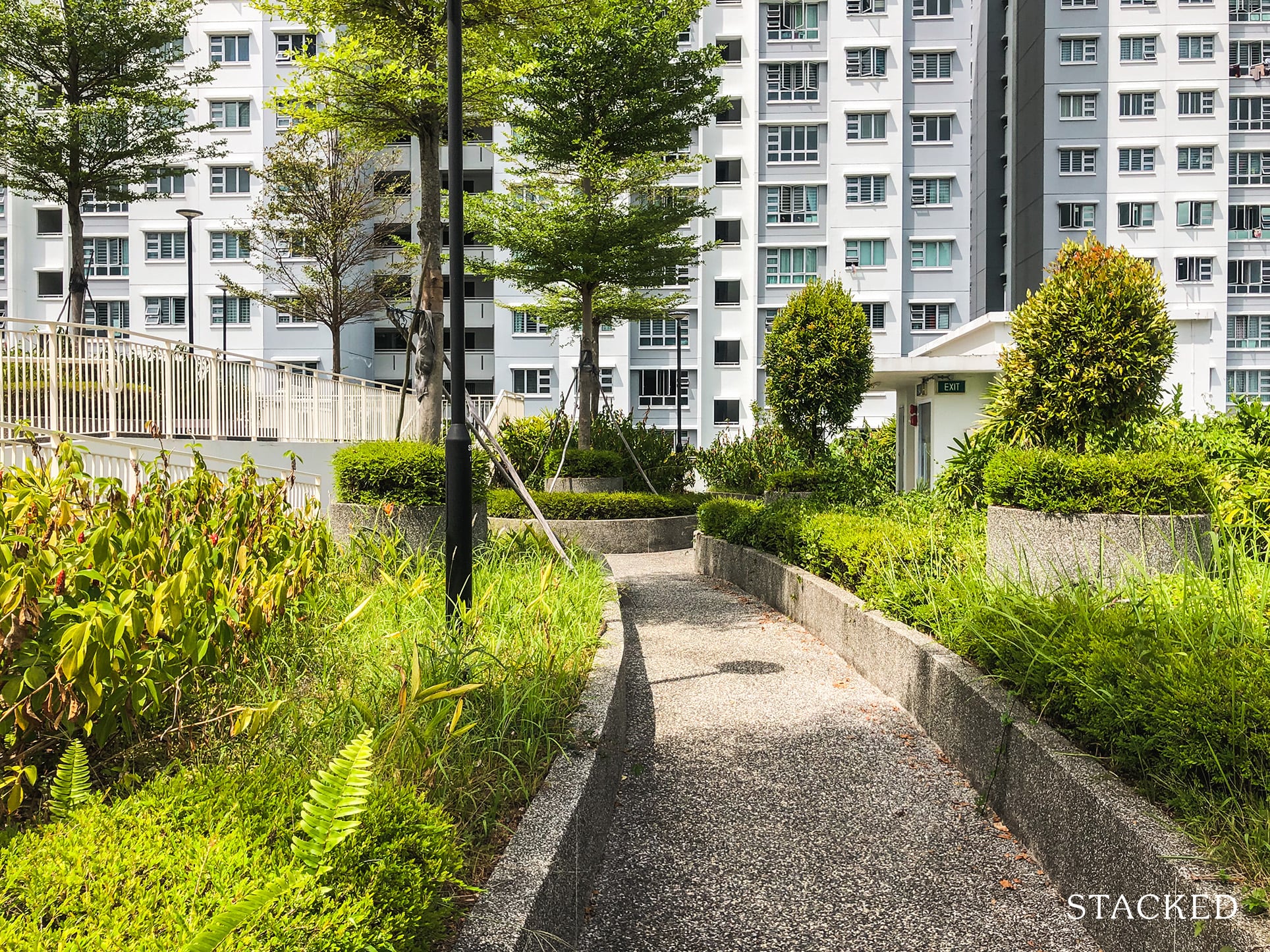 Walking around, you'll find that the place is very suitable for a cool evening walk/jog just like the first car park rooftop garden. It's nice to find a wide variety of shrubbery here!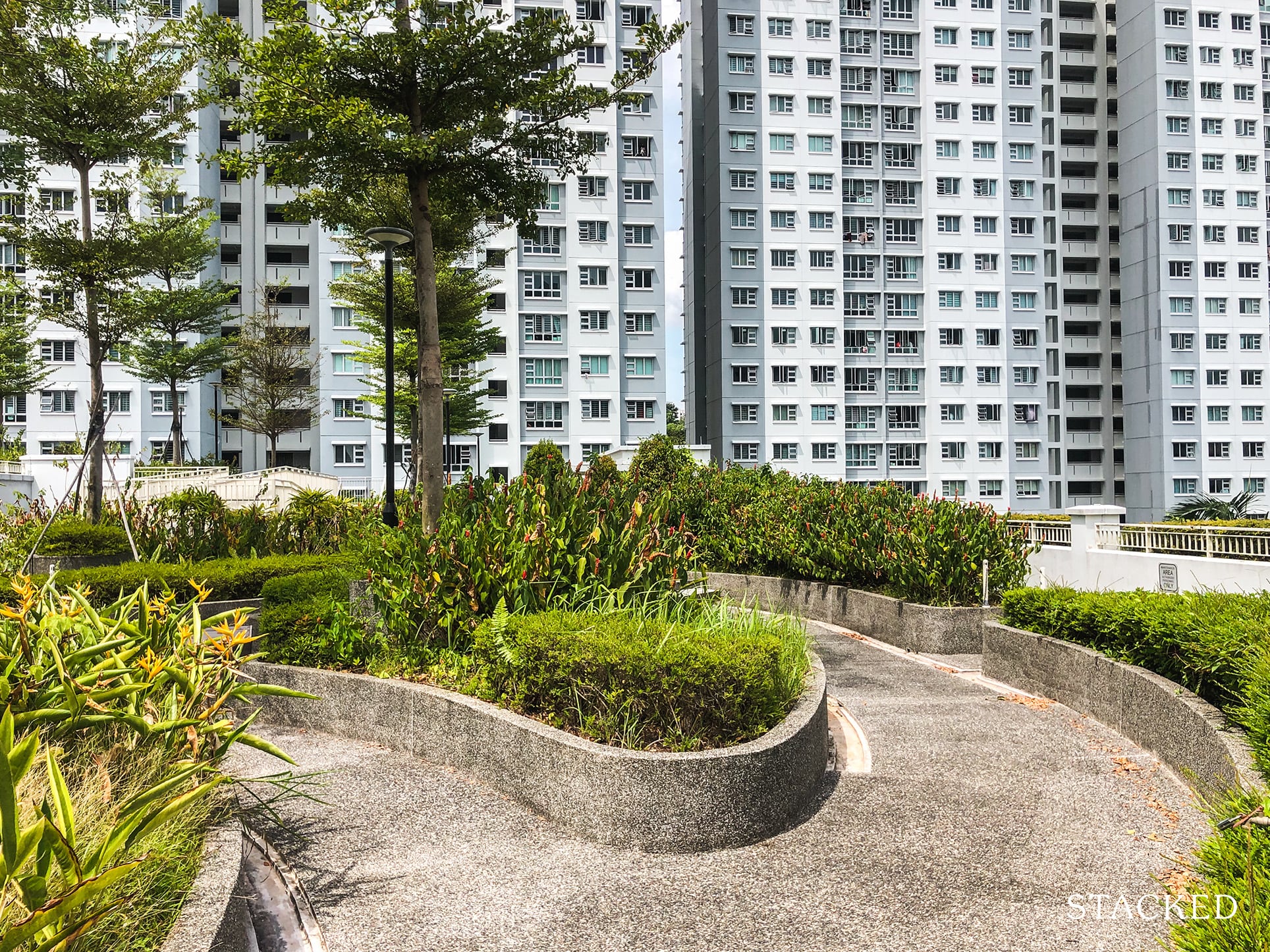 Now that we're done with the car park rooftop garden, let's head down to see what facilities the residents can enjoy here!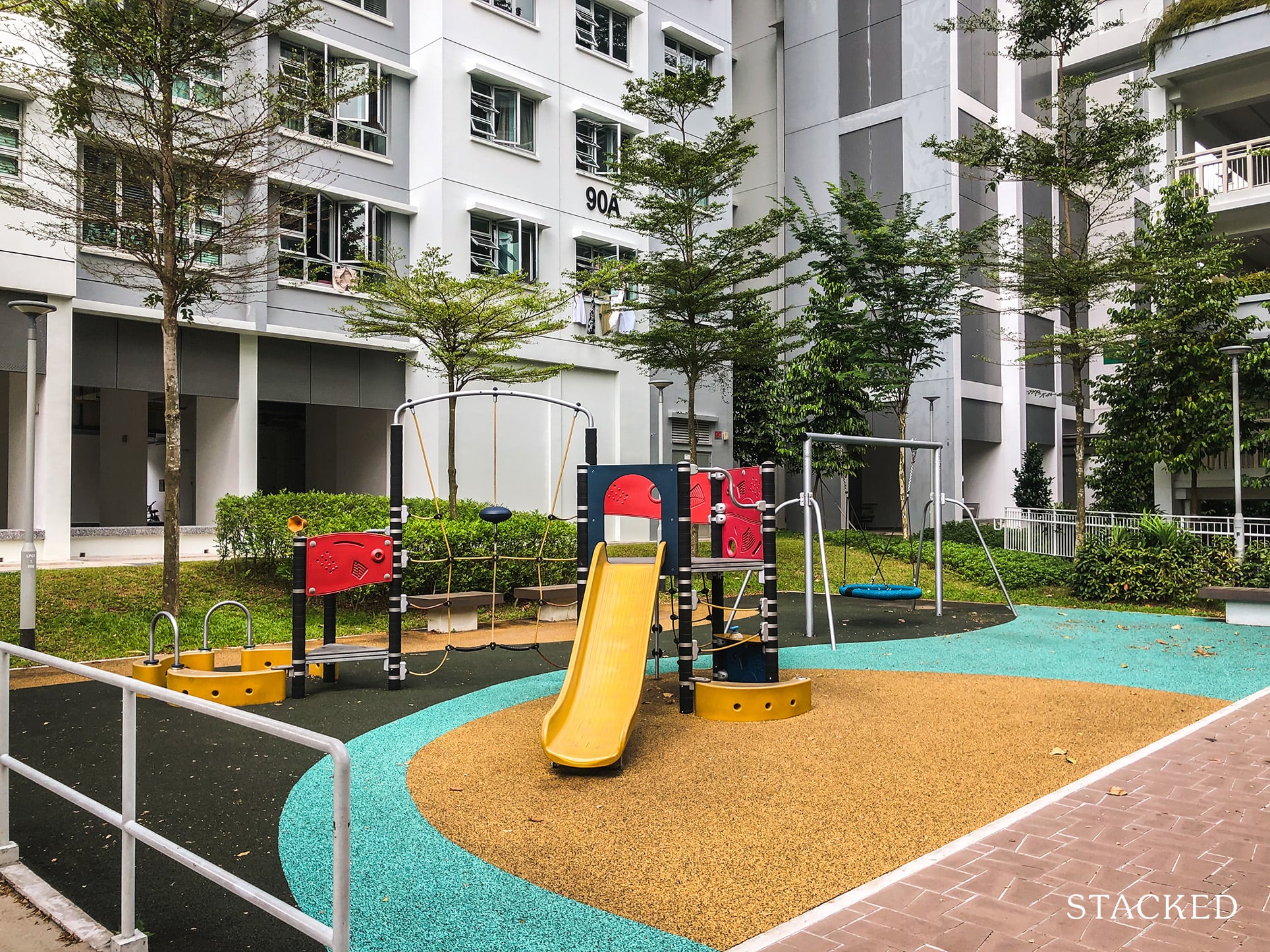 The facility area at Telok Blangah Parcview is spread across the development quite evenly – north, centre and south. Here, you'll find the usual mix of playgrounds and fitness corners.
The first playground is located right behind the drop-off point. It's not very big, but at least there's a variety of play styles here such as the slide, the climbing structure as well as the group swing.
Nearby, you'll find a sheltered seating area – always a good place for parents to rest while watching over their kids!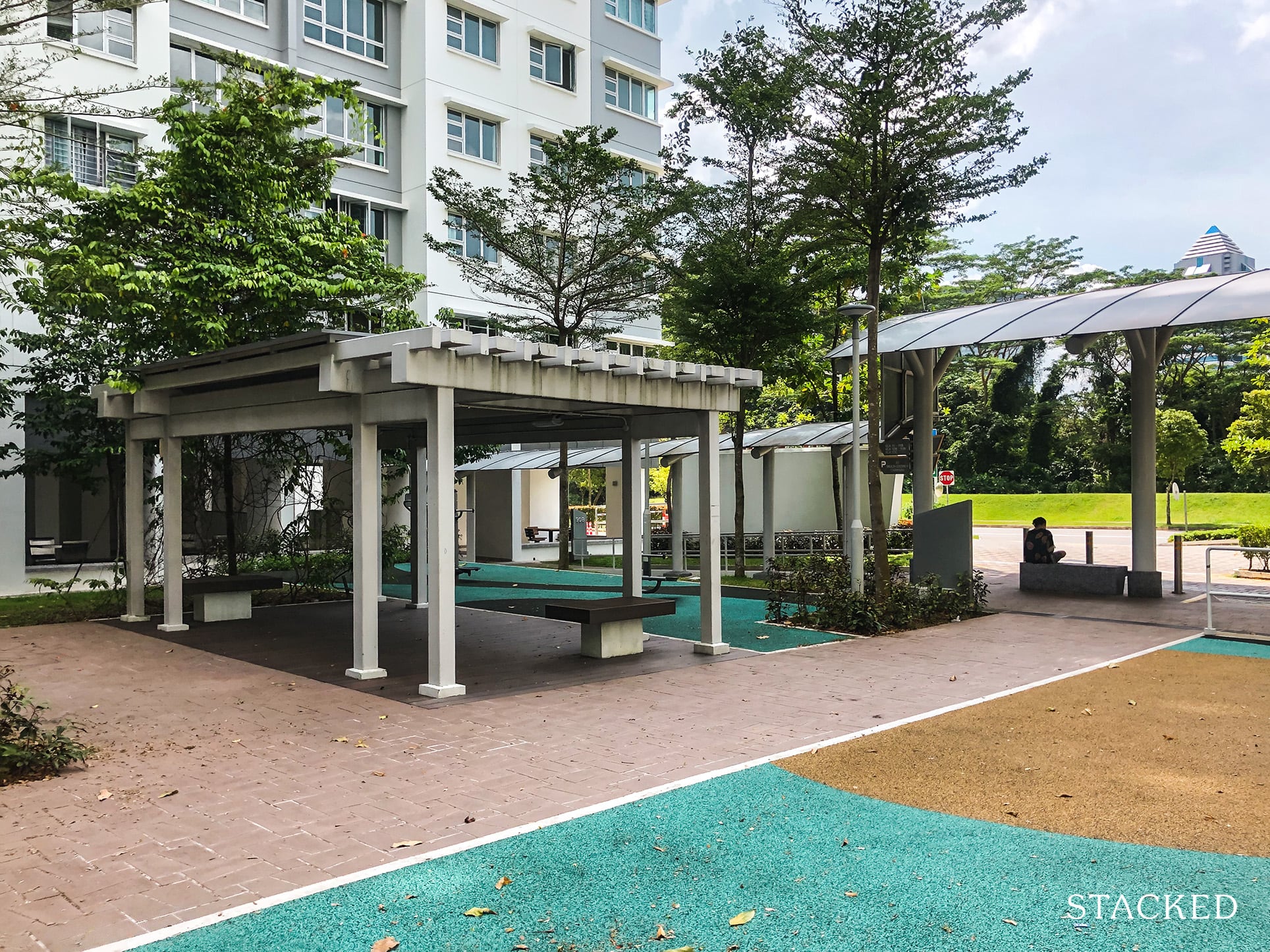 The second playground looks a lot more fun as it's a mix of an adventure style playground with the traditional tower. Here, children can climb and scale the structure, and run across this bridge that honestly looks a little scary given the lack of grills on the side! There's also a slide that's of a pretty decent height!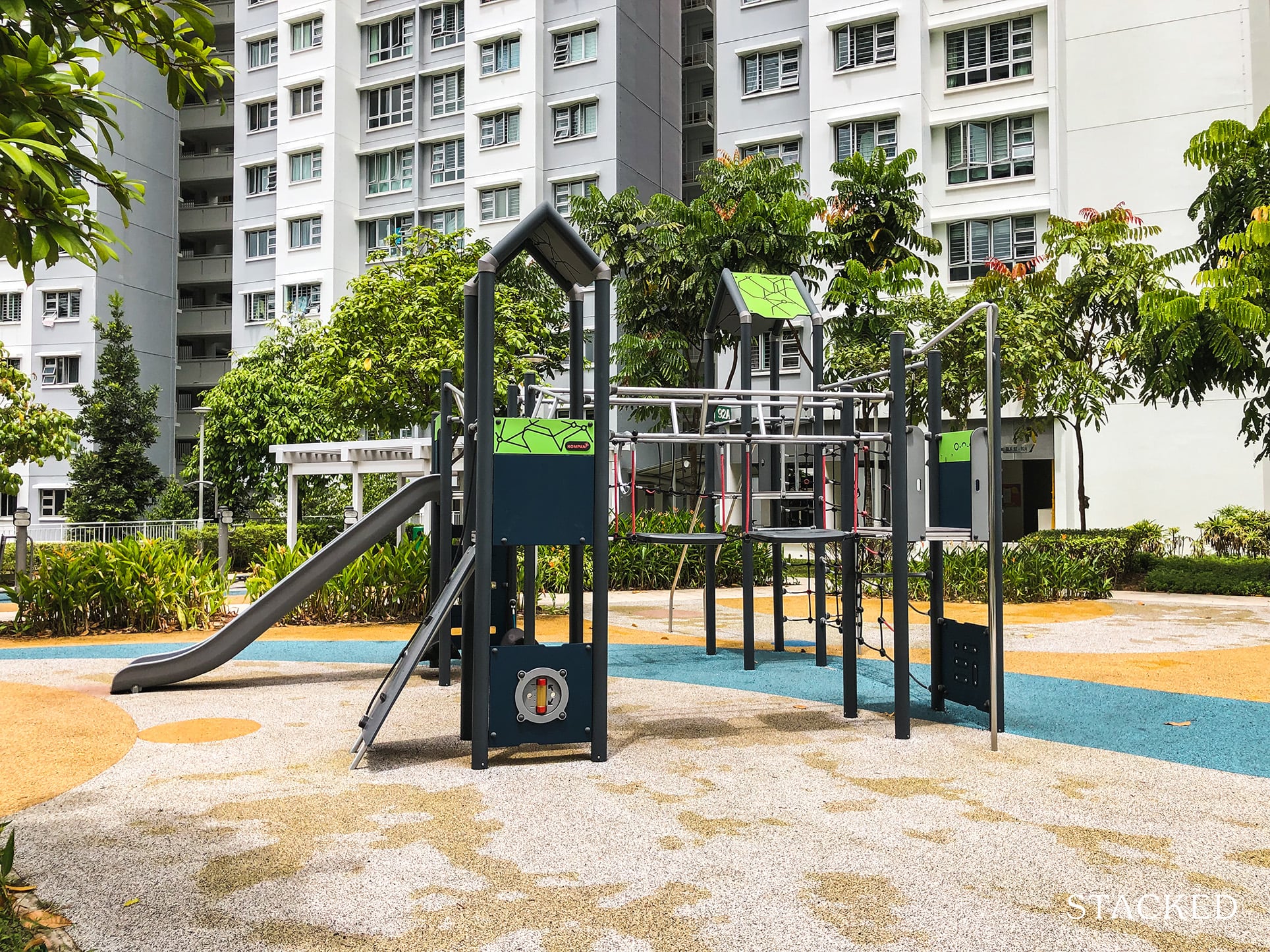 For parents with really young kids, you'll find the third playground to be very suitable.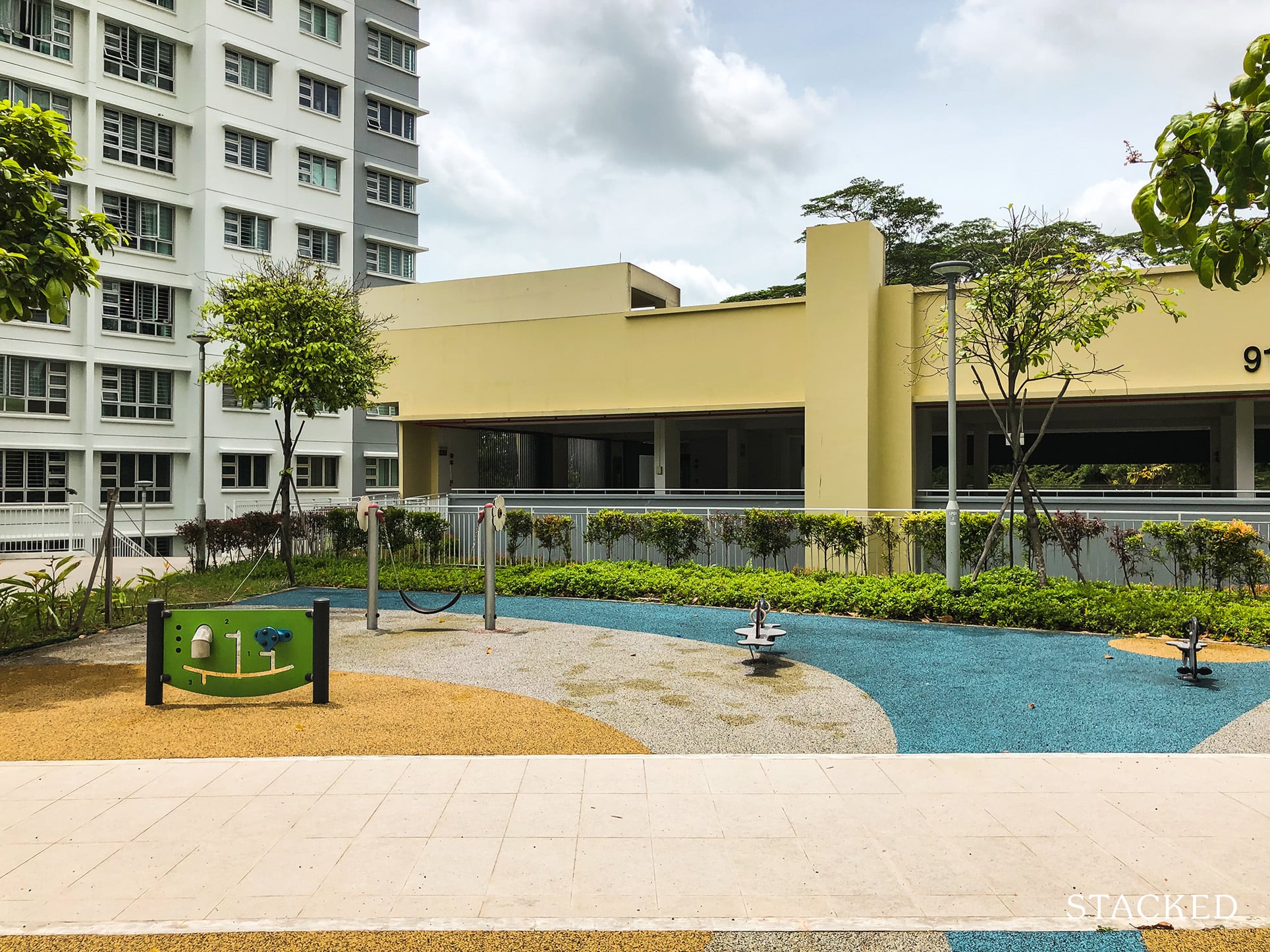 There's also a trellis seating (termed "pergola" in the site plan) that parents can use to rest, although I do wish that it was fully sheltered since this one doesn't fully protect you from the sun!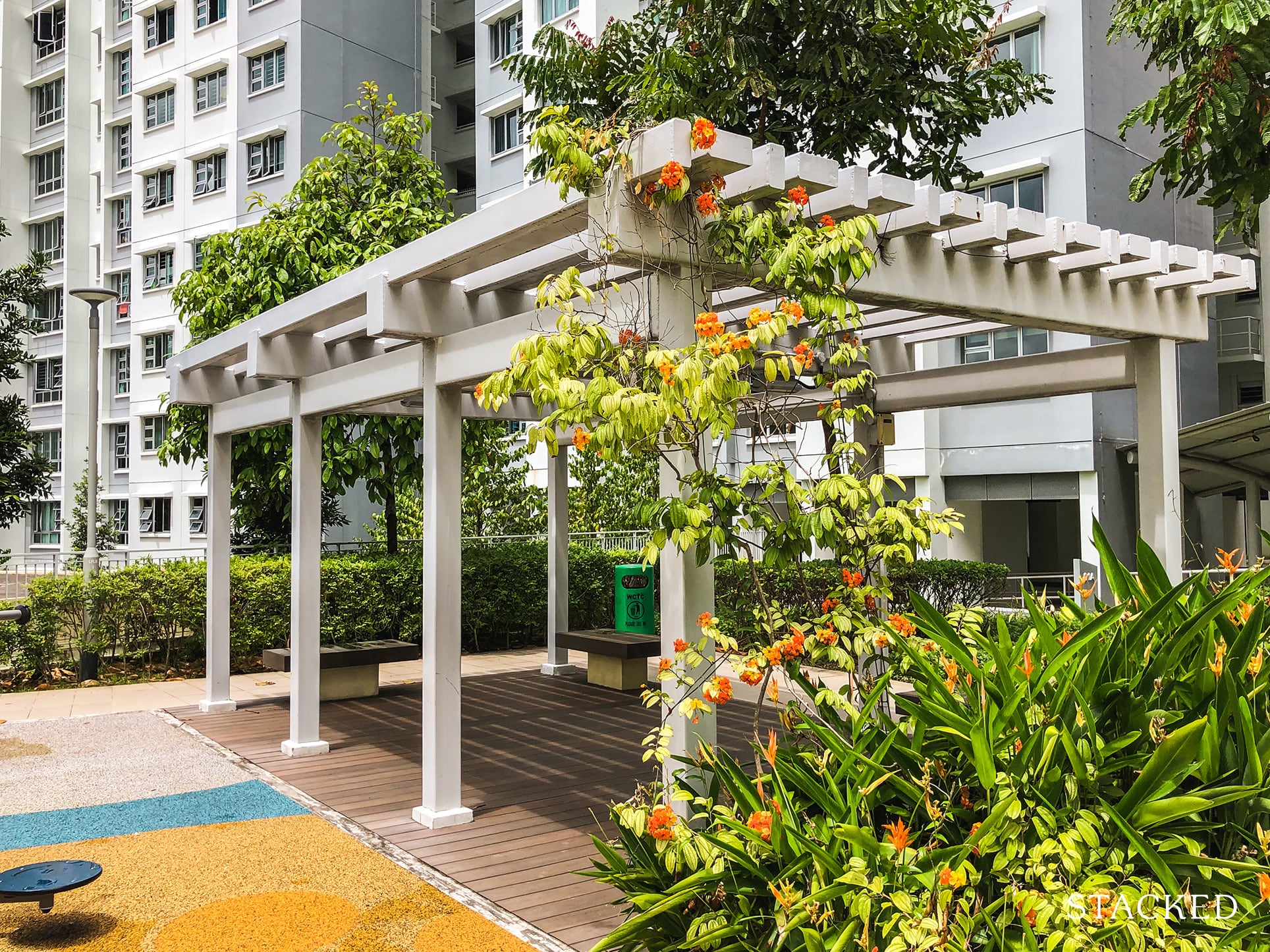 Next, let's look at the fitness equipment at Telok Blangah Parcview. The first one is located close to block 90A and is right next to the drop-off point where the first playground is at: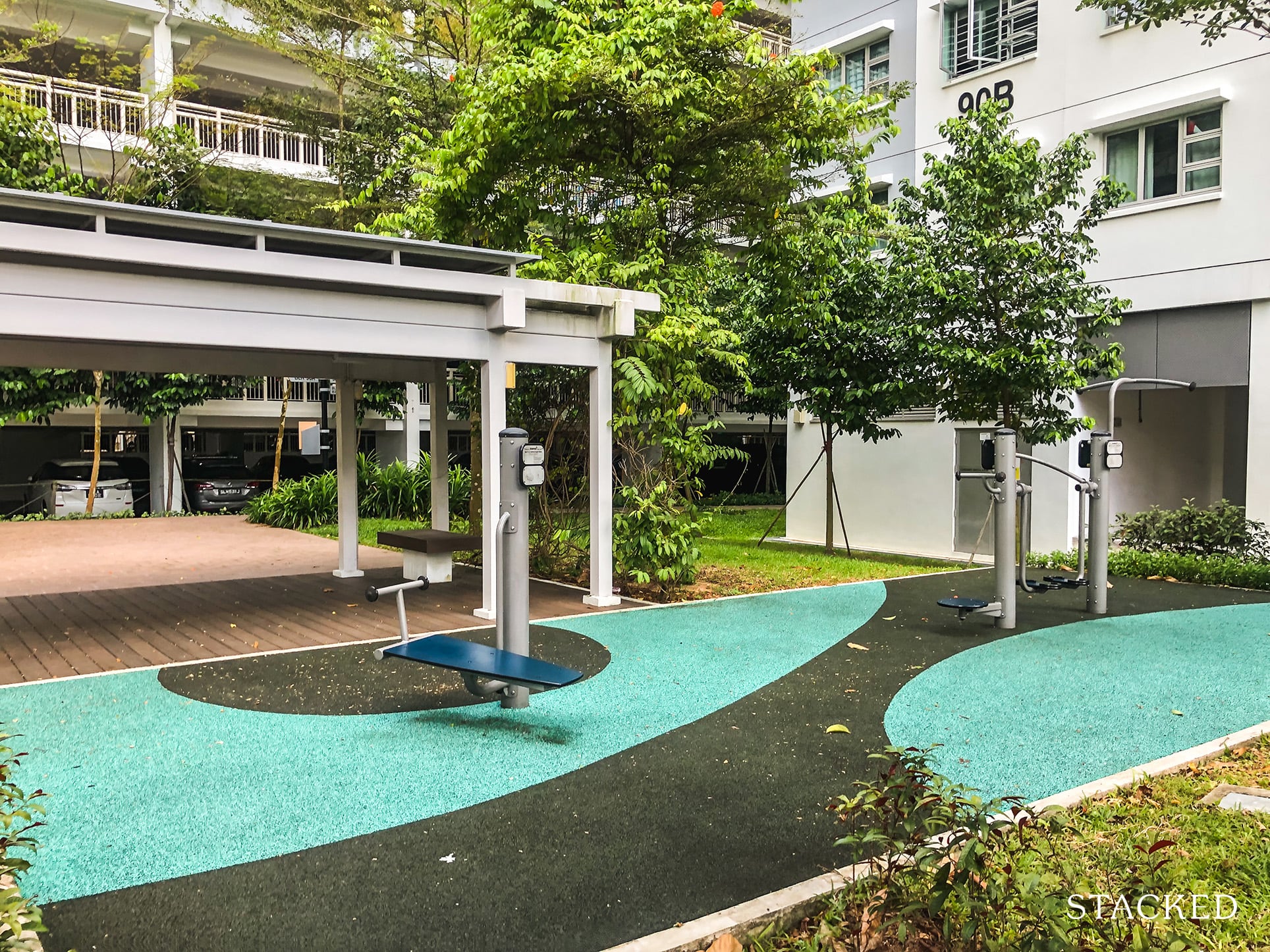 It's has a pretty standard design that new-ish projects have. I like that the equipment is simple to use and I find that these are the ones that are more utilised given their simplicity, unlike the more difficult looking ones that I saw at Alkaff Oasis. That being said, there's not a lot of variety to choose from here which is perhaps why those "creative" ones tend to be implemented since you can do a greater number of things with them while taking up the same amount or less space.
You'll also notice a partially-sheltered seating area behind which is nice to have when you need rest.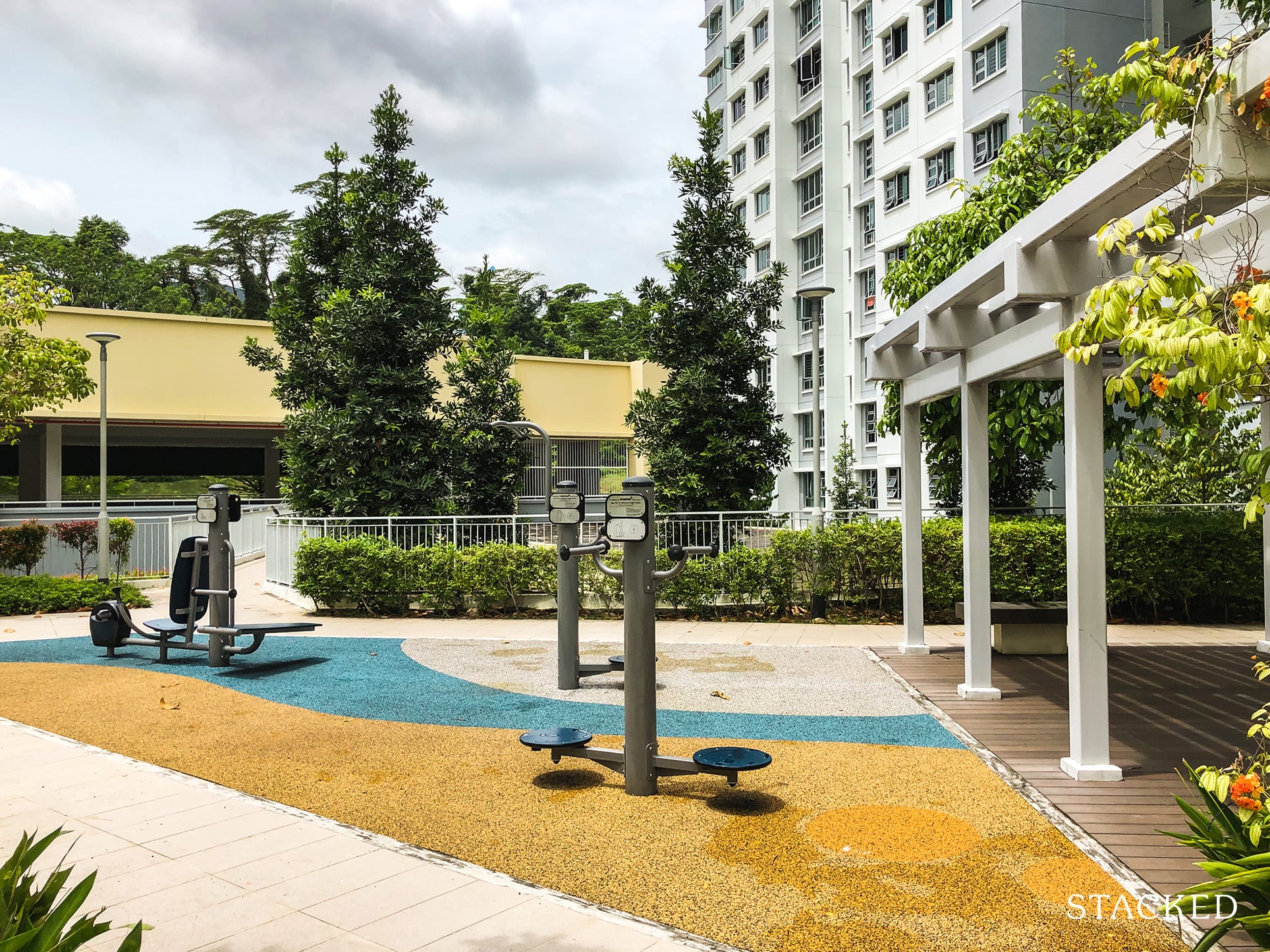 The second fitness corner is similar to the first – little equipment, although it has pretty good spacing between them! Just like the first fitness area, there's also a seating area – and this one is fully sheltered: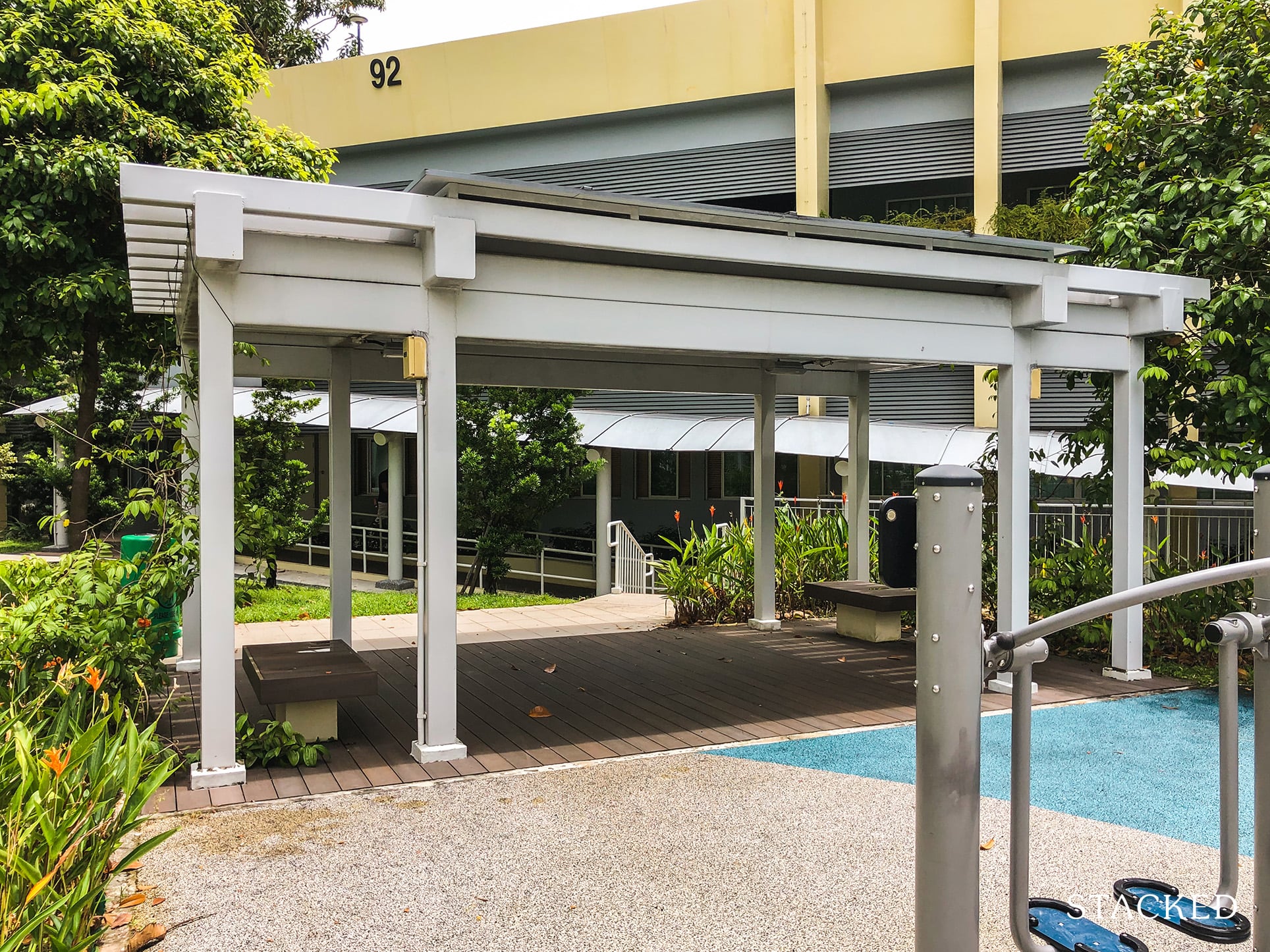 The third fitness corner is catered for elderly folks. A similar theme rings through the development – not a lot of variety at all which seems pretty wasted considering just how spacious the area here is.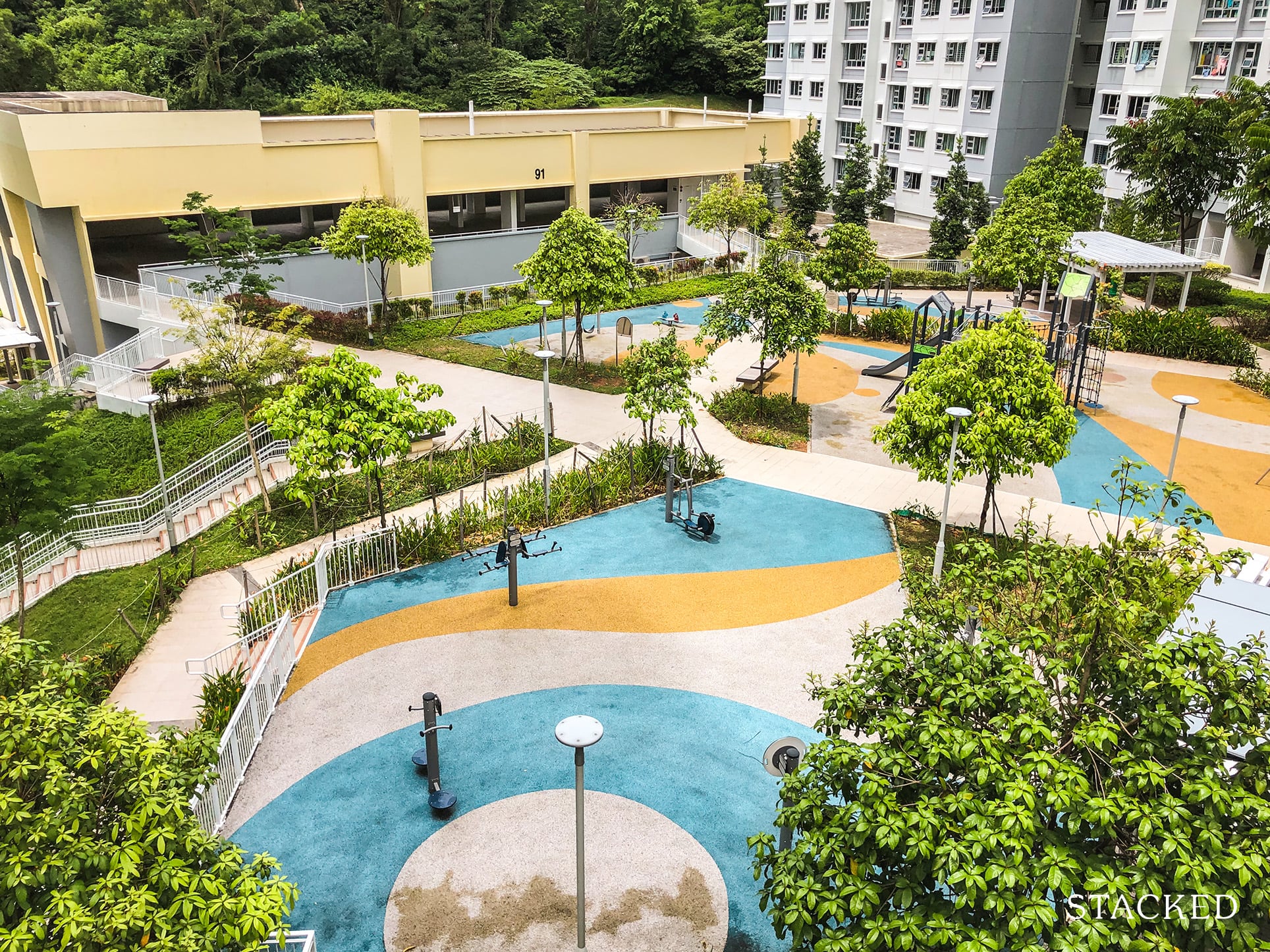 The last fitness area is a combination of both adult and elderly fitness equipment: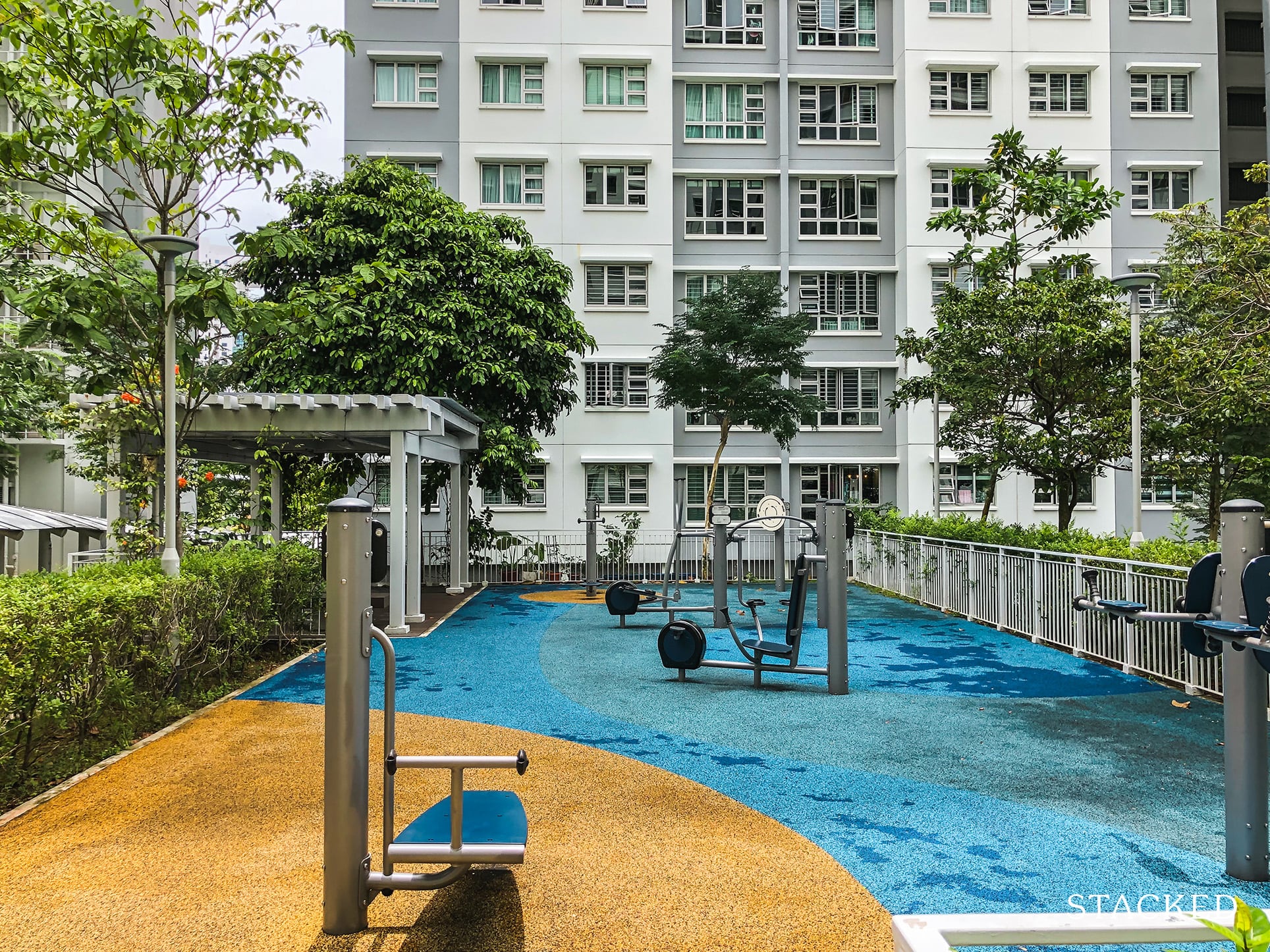 This one is better in terms of the equipment provided which is pretty standard fare again.
Overall, there isn't really anything special with the fitness areas here. The equipment provided is standard, nothing too exciting at all. I do wish that there was more variety though, considering the amount of space afforded to it!
Apart from the usual playgrounds and fitness areas, Telok Blangah Parcview also features a hardcourt: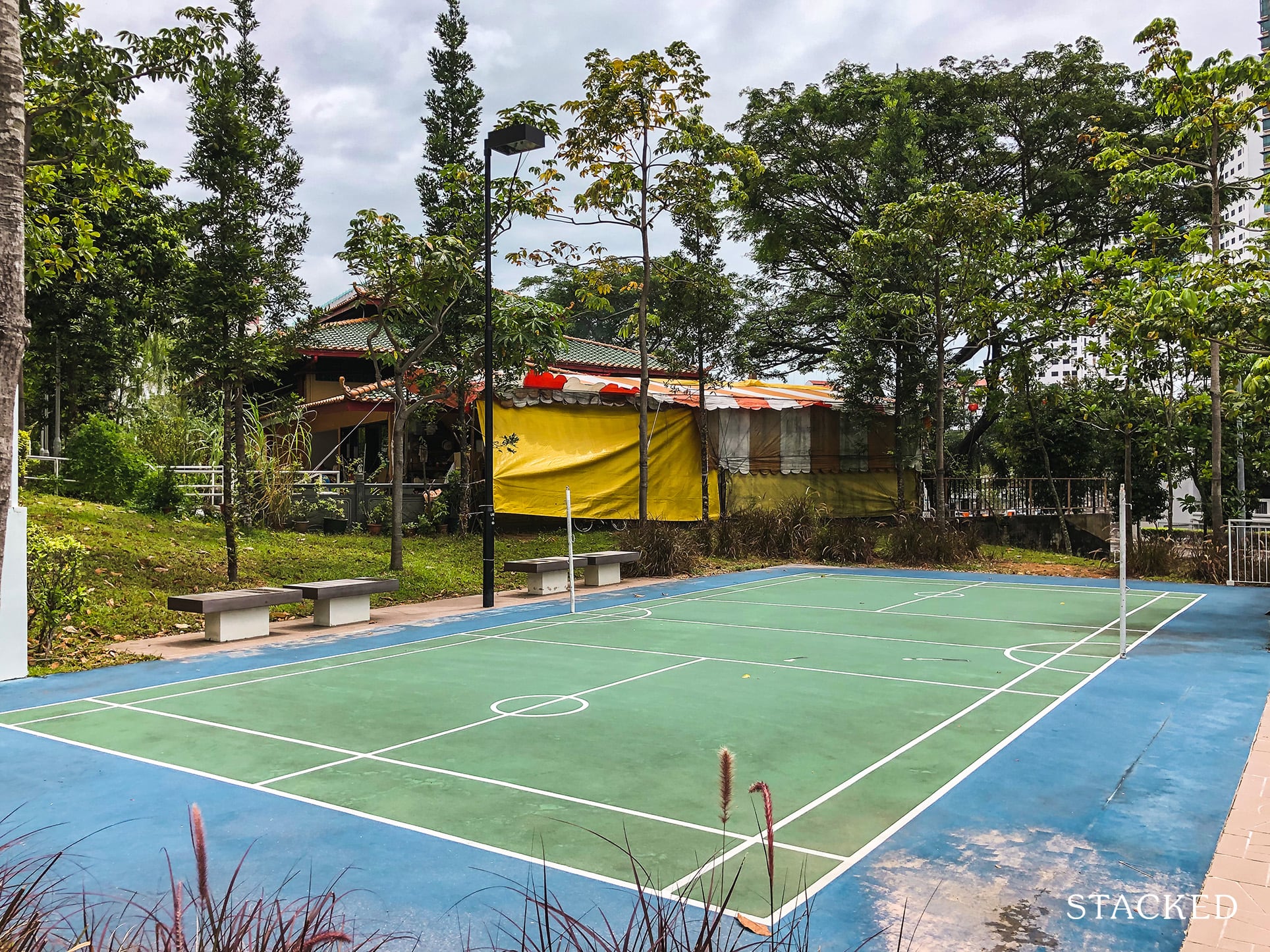 The location is really ideal as it's as far away as possible from any residential block in the development. In fact, it's located at the southern tip of the plot putting it right next to the Chinese Temple you can spot behind. As such, residents can make all the noise they want here without disturbing residents. The presence of the multi-storey carpark also helps to block any noise created from the space!
One thing to note here though is that the hardcourt looks like it's in need of some maintenance. For a development that's about 5 years old, I would say that it's regular wear and tear, so just a routine maintenance job every couple of years would do here. There's also no netting provided, so you'll need to bring your own to set up!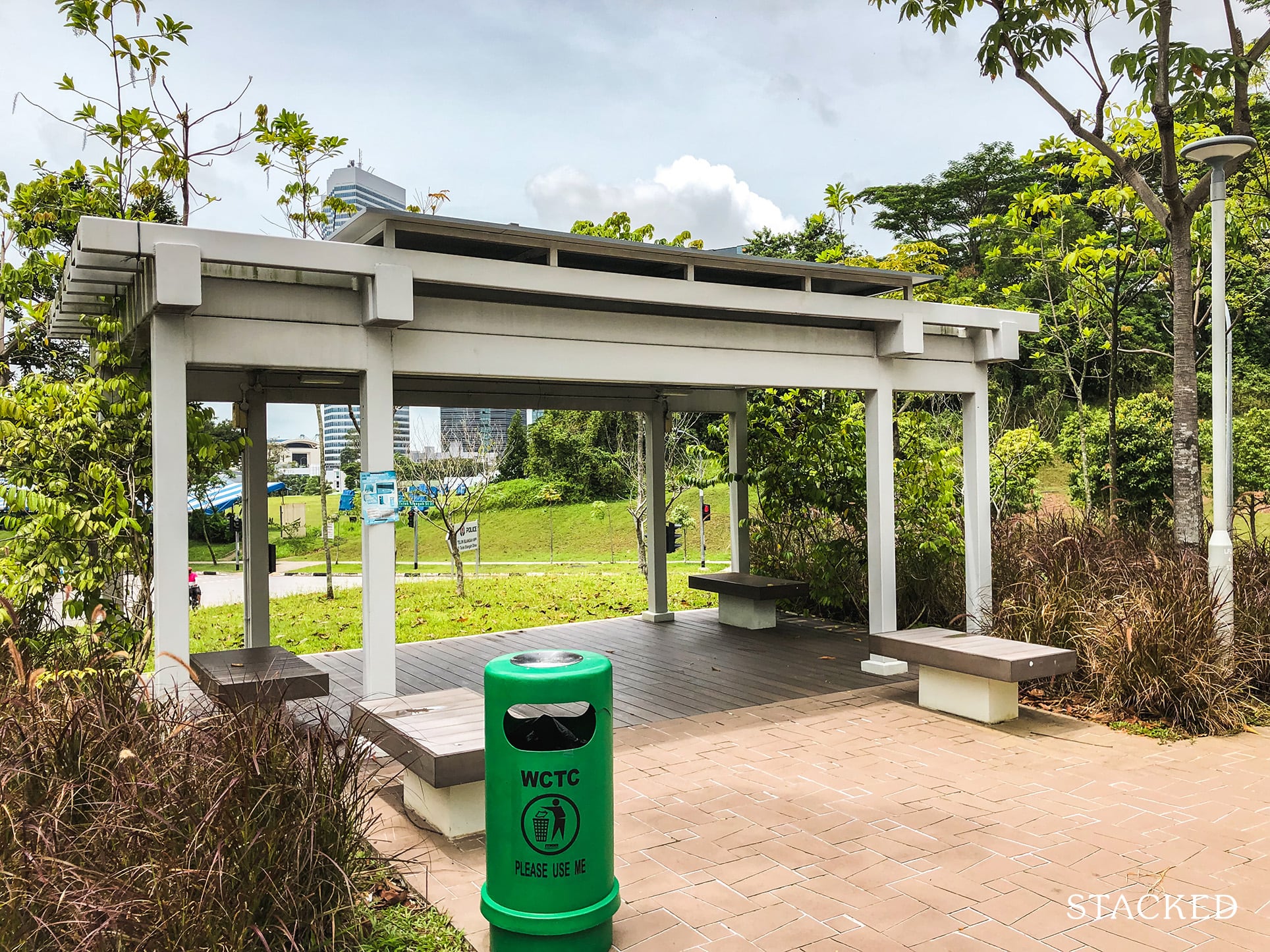 Those coming in groups would be glad to find seating by the side, as well as a sheltered seating area. Normally, I would find such social elements to be disruptive to the residential living experience, but in this case, it's truly ideal considering it's tucked neatly behind a multi-storey carpark away from residents.
From the looks of it though, it seems that maintenance is really due here!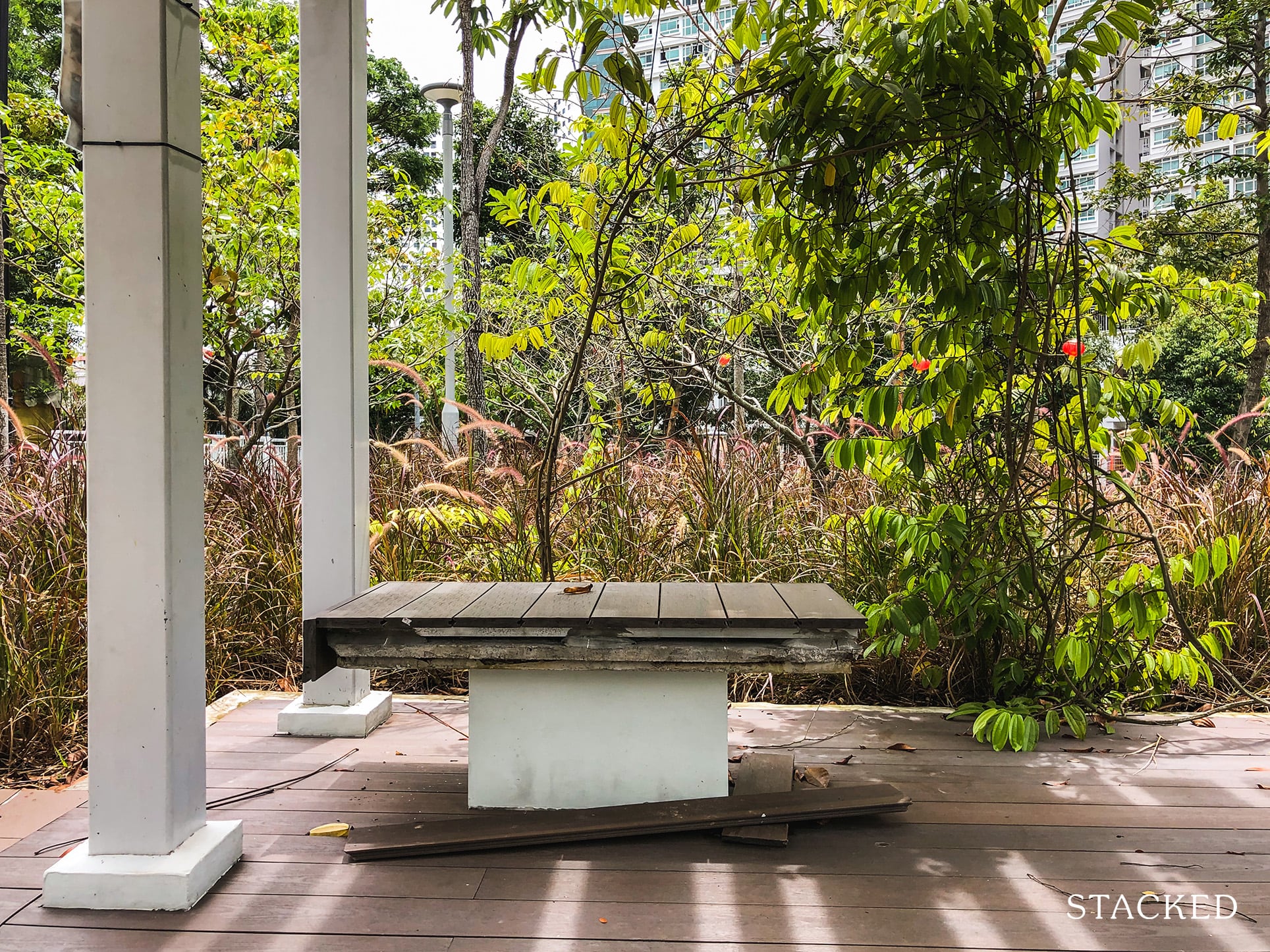 Finally, let's take a look at the final facilities here – the sheltered pavilion.
In total, there are two precinct shelters at Telok Blangah Parcview. This is just about average for a development this size. The first shelter is located at block 91B which is on the north side. It's located in a pretty open area and is decent in size.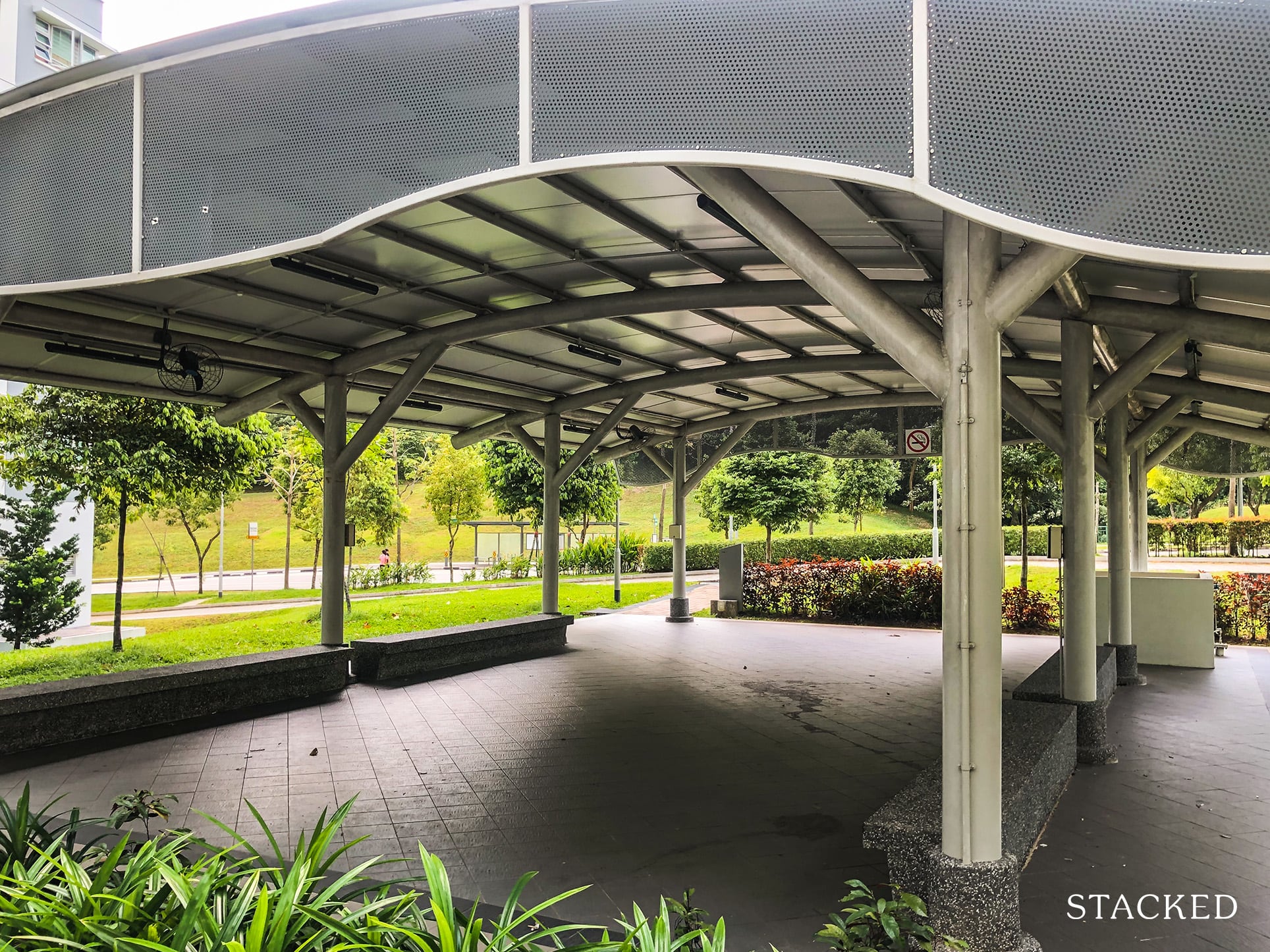 You'll also find that there are fans and electrical points provided. Fans are usually not the default, so it's nice to see them provided here. There are also seating areas on the side which is great since this still allows for flexible configurations while giving the option to residents on whether or not to cater for chairs, depending on their event size.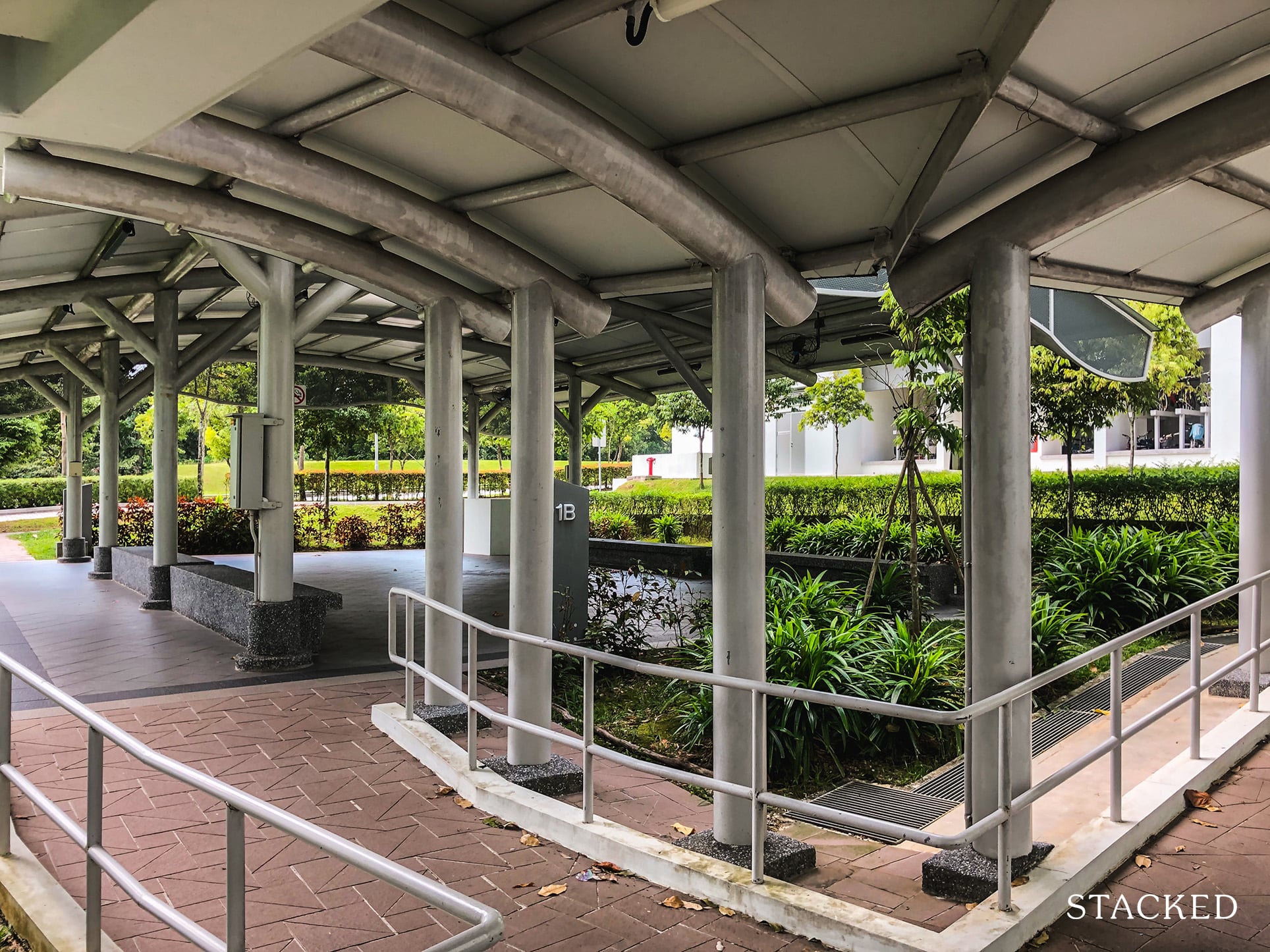 One downside to this shelter is that the residential blocks are adjacent to it, and at quite a close distance too! Some events tend to be pretty loud, so those purchasing a unit near a shelter should take note of this. Even at a distance of 50m, the sounds can be heard quite clearly.
The second shelter is next to block 93B. It's right next to the drop-off point so guests can easily walk over. This one is also spacious and like the first one, fans and electrical points are provided. I also like that there are seating options on the side.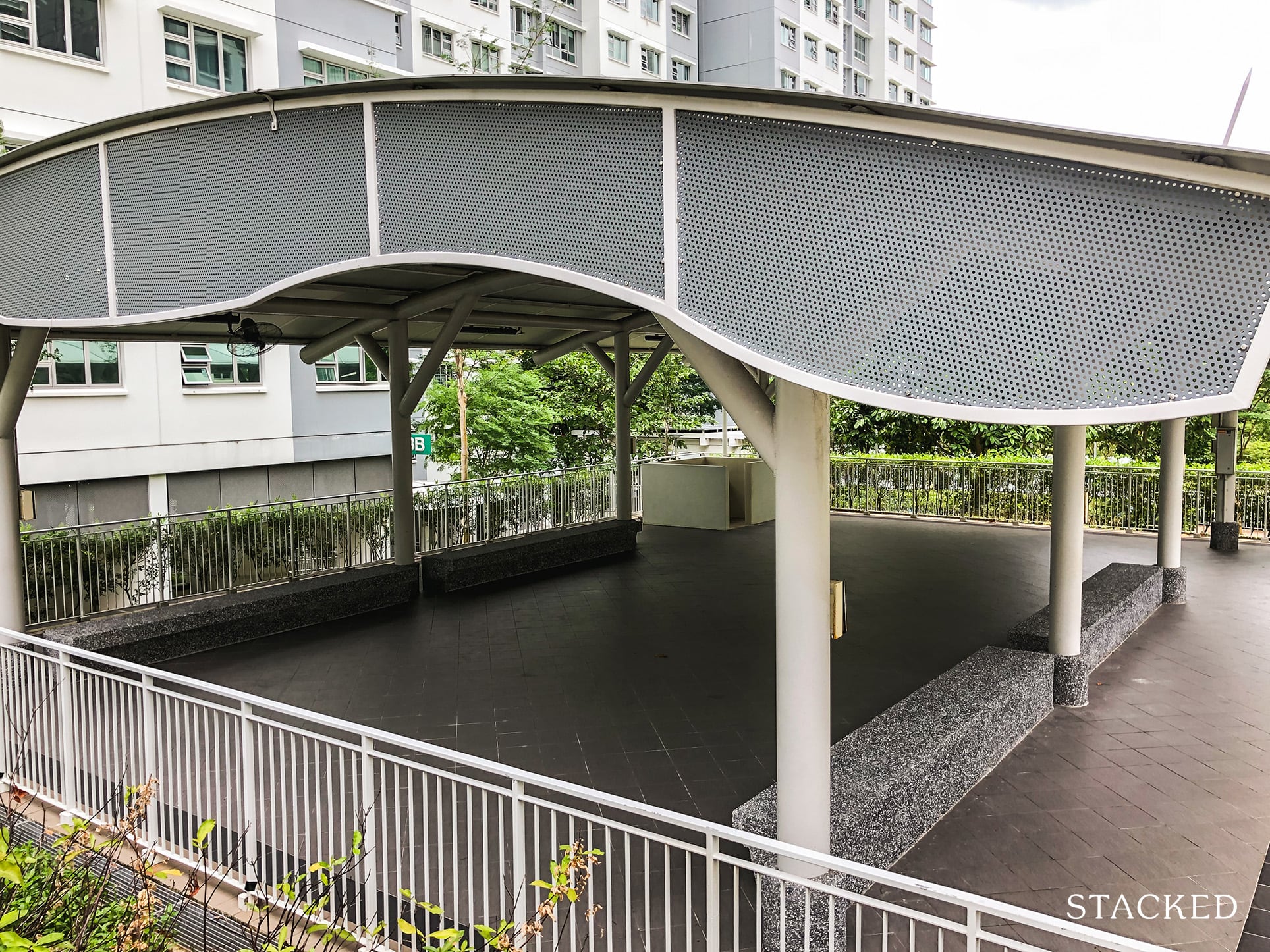 However, it's clear that this pavilion is too close to the adjacent block. From the picture, it's clear that residents are only several metres away from the event space, putting them at risk of having to deal with noise and privacy issues on a daily basis.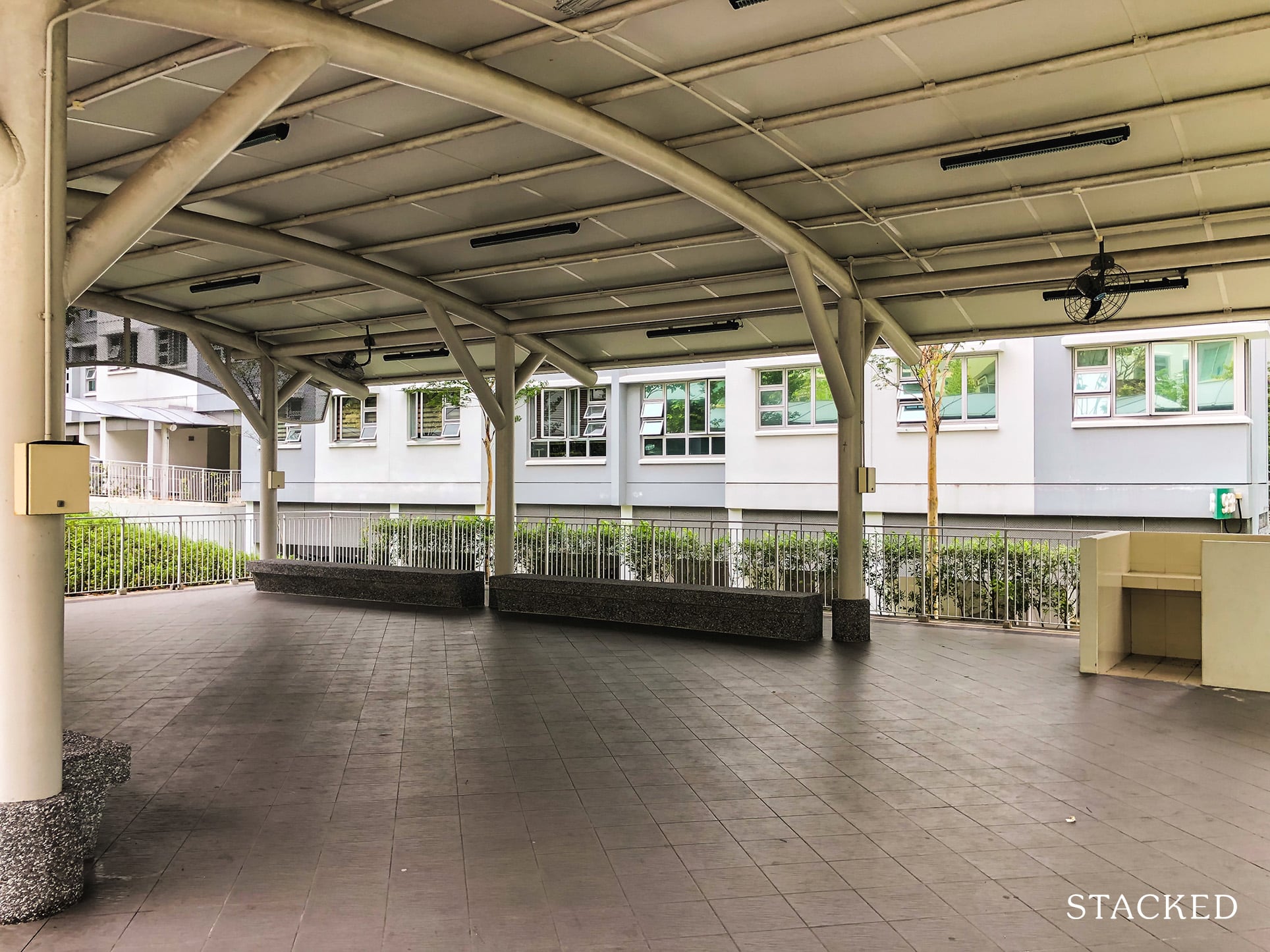 Now that we're done with the facilities on the ground, let's head into the block to check out the common corridors!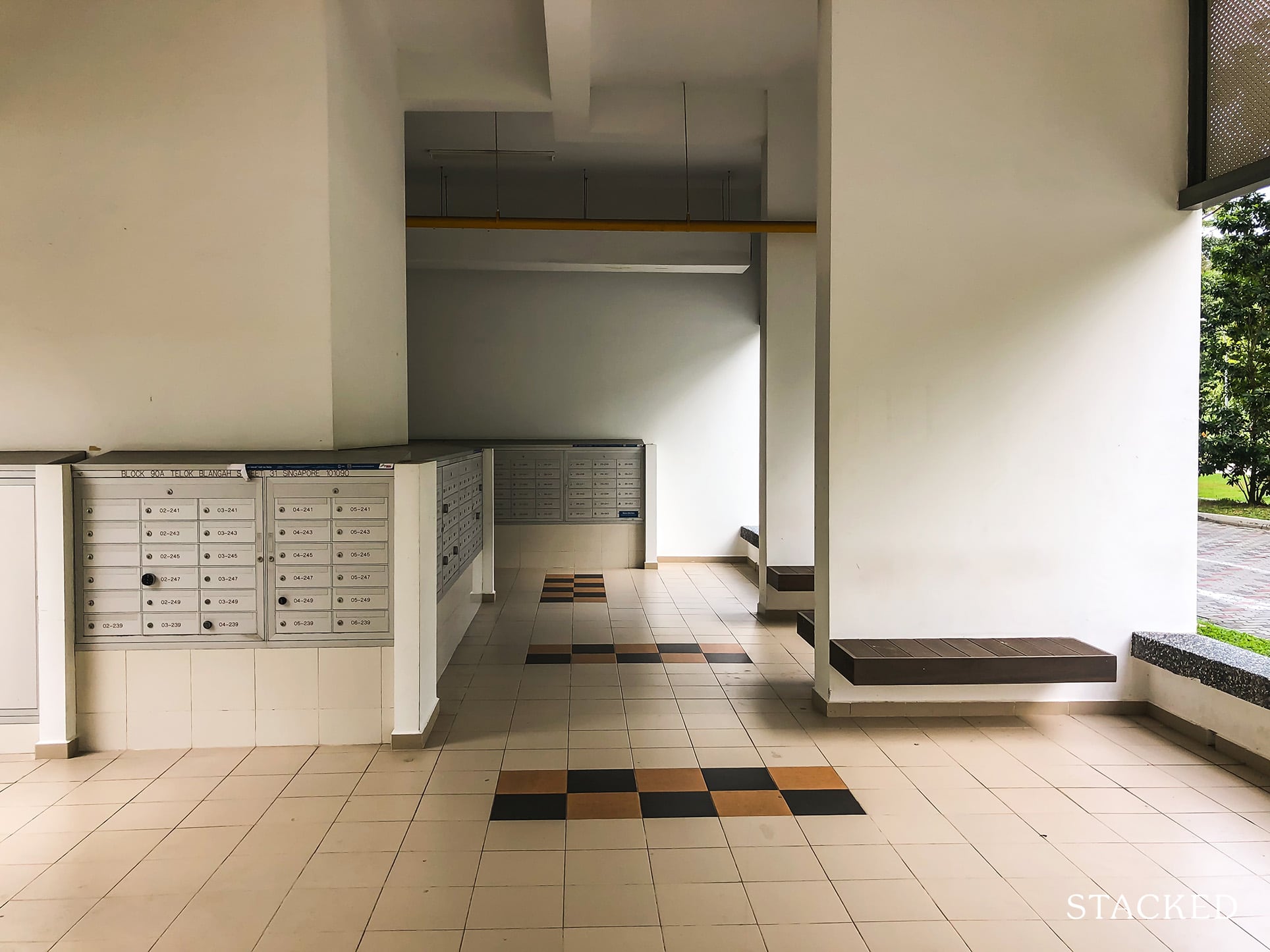 Heading in, you'll find that the void deck is nothing to shout about, but I do like that the floors are tiled rather than the usual bare concrete which has a really raw and unwelcoming look. The chairs with a very decent backrest are also a nice detail which allows you to rest on them for longer.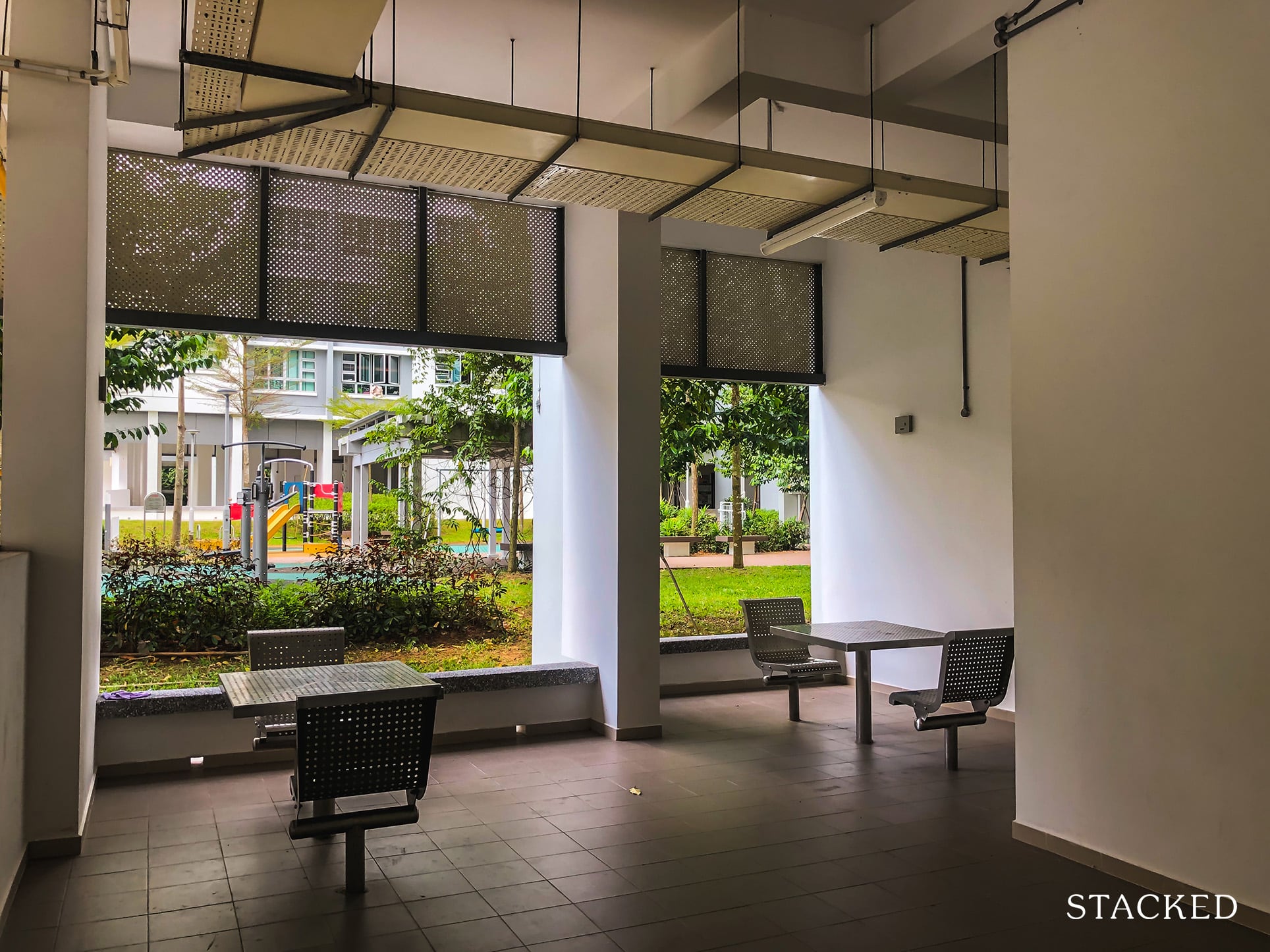 Further in is the lift lobby. Depending on the block, there are 2 to 4 lifts per lift lobby supporting between 4 to 10 units per level. These lifts are also quite modern looking as they sport a metallic look.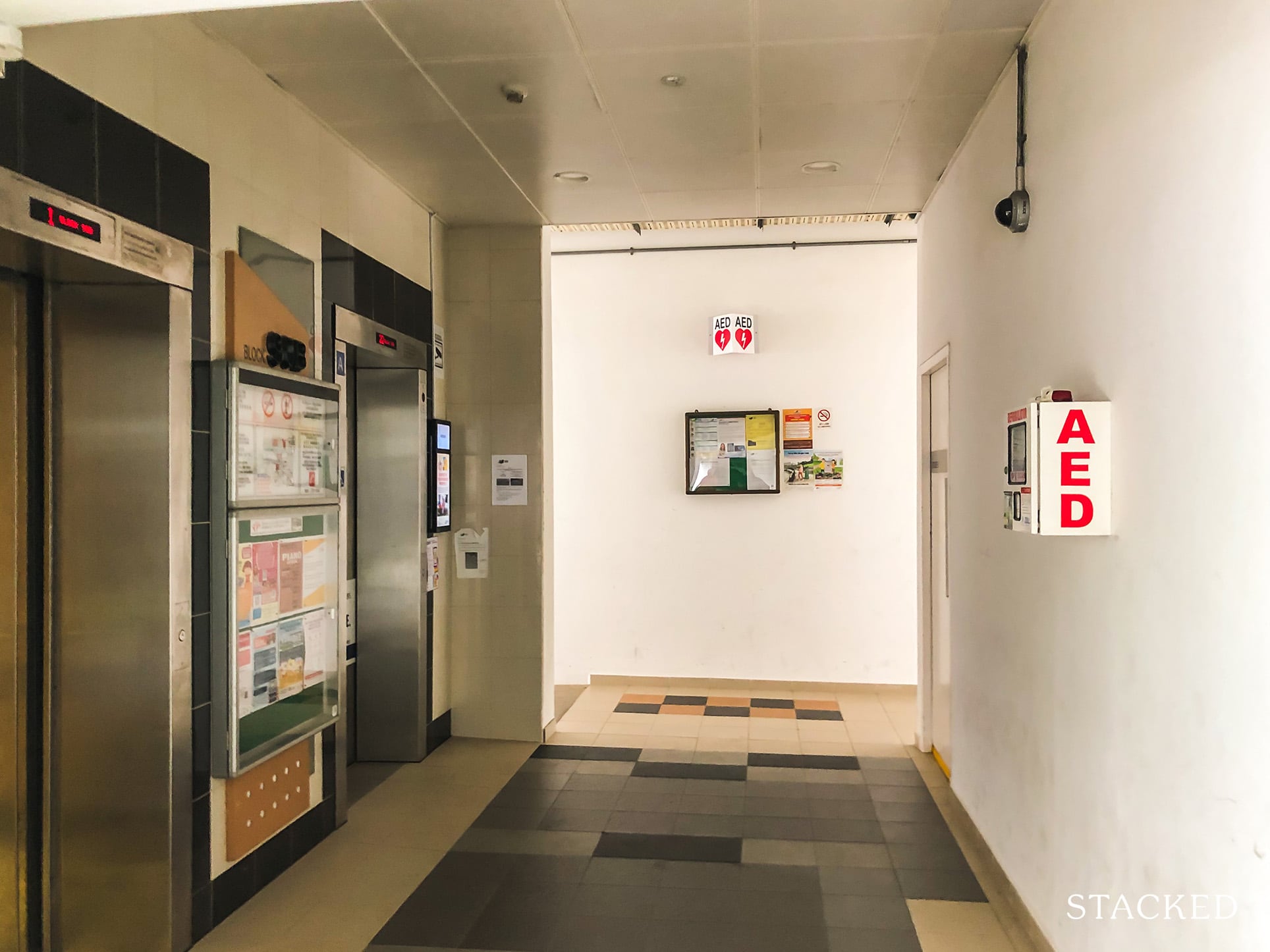 Heading up, you'll find the common corridor here to be sufficiently wide, allowing residents to put things like their shoe rack outside comfortably.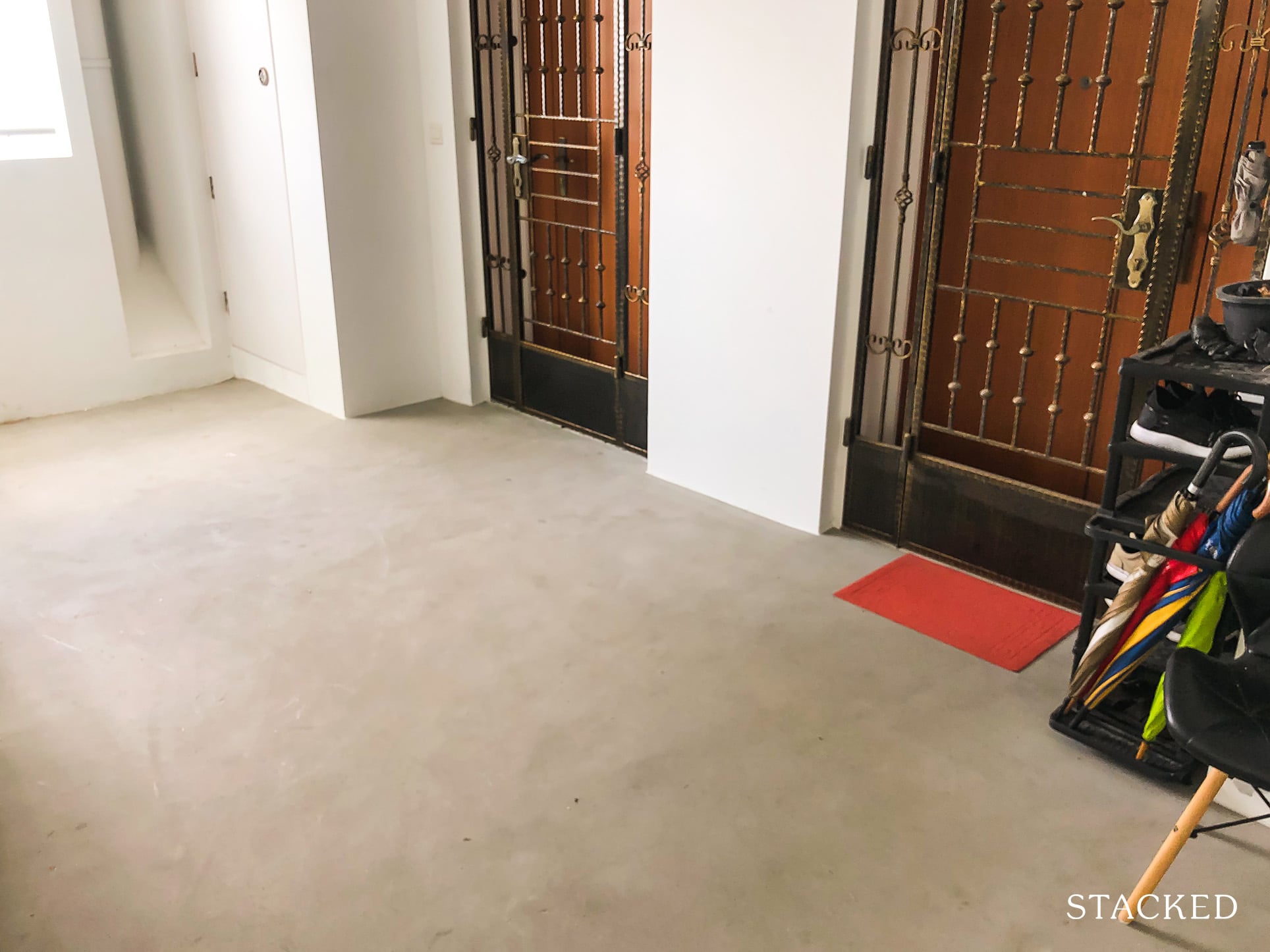 It also has a long corridor style that comes with the usual downside of certain quarters facing the corridor directly. In this case, it's the service yard which isn't too bad.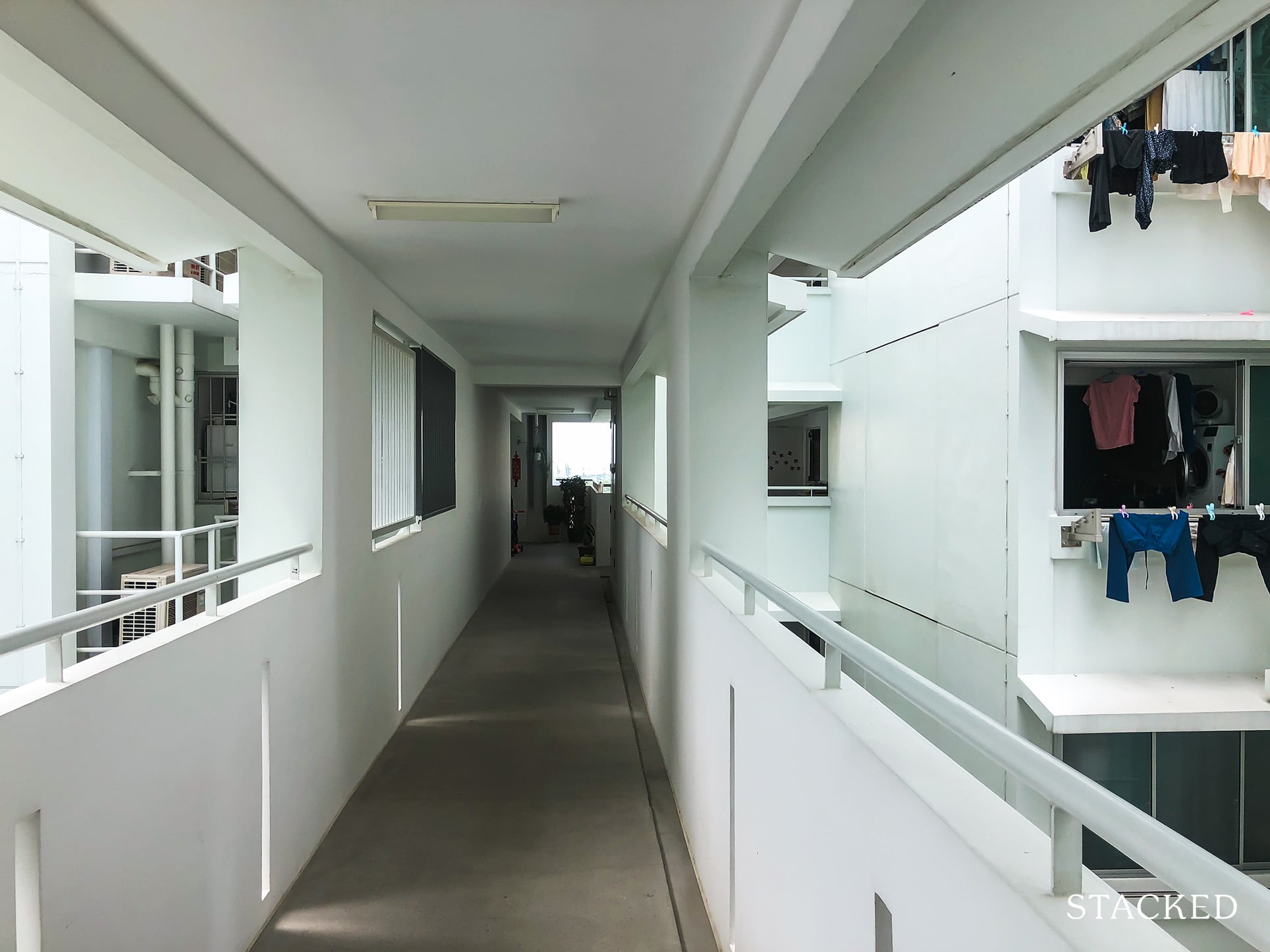 As a result of the layout, residents would find their main gates next to their neighbours but there's quite a good amount of space in between, meaning more privacy. For example, you can even find some with a staircase separating both units here:
It's great when units are side by side and not directly in front of each other as this reduces privacy. In the latter's case, your neighbour would be able to look into your home directly when they open the door while yours is open.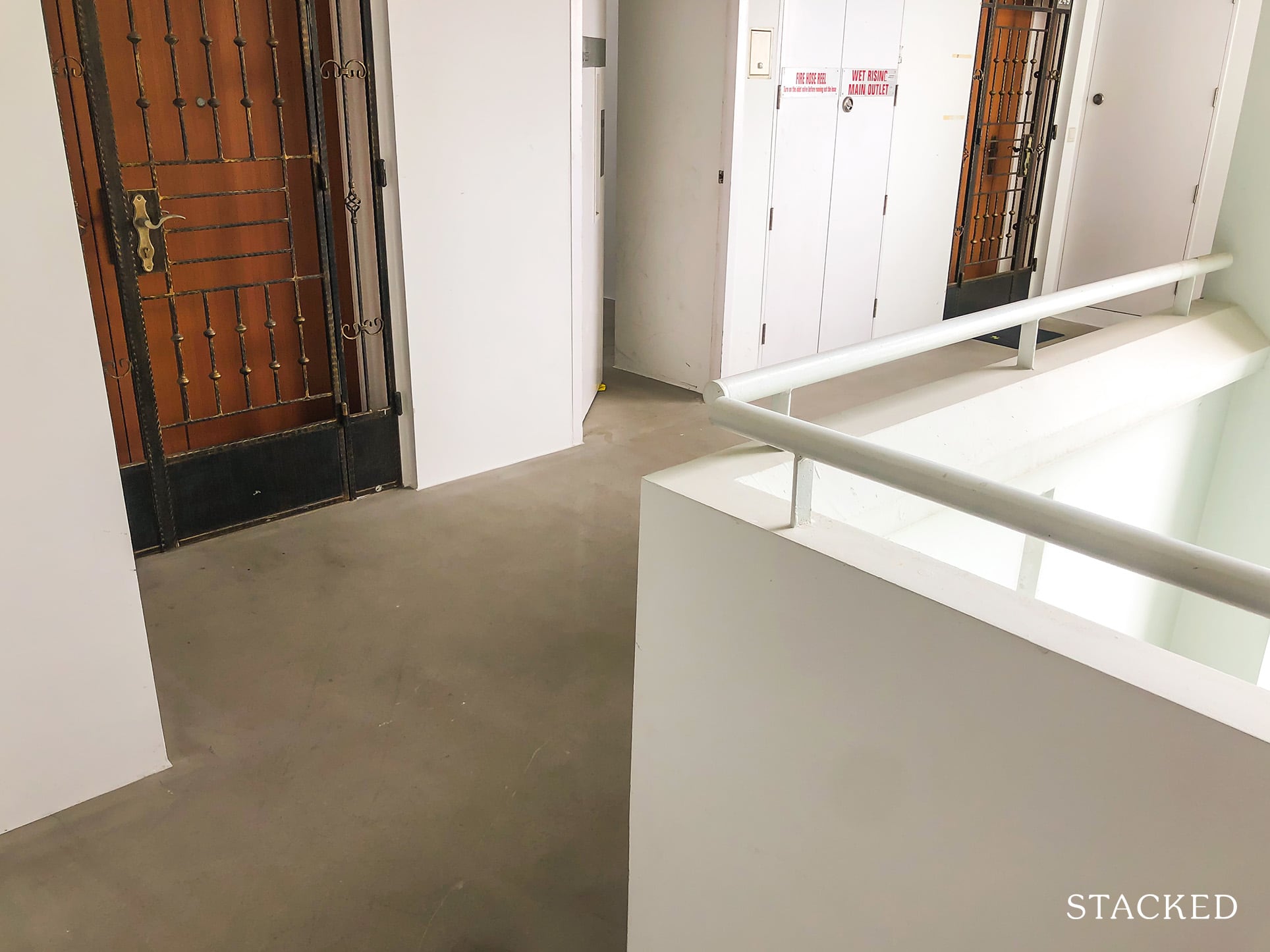 And with that, let's talk about one major highlight of Telok Blangah Parcview that I've not yet covered: the amenities.
Telok Blangah Parcview is blessed with two commercial blocks located in the centre of the development (blocks 91 and 92).
The first commercial block features a supermarket – Hao Mart, as well as an eating house. These are probably the two most essential shops you can have in any HDB. However, do note that the Hao Mart here is not big so it's not exactly your NTUC or Sheng Siong.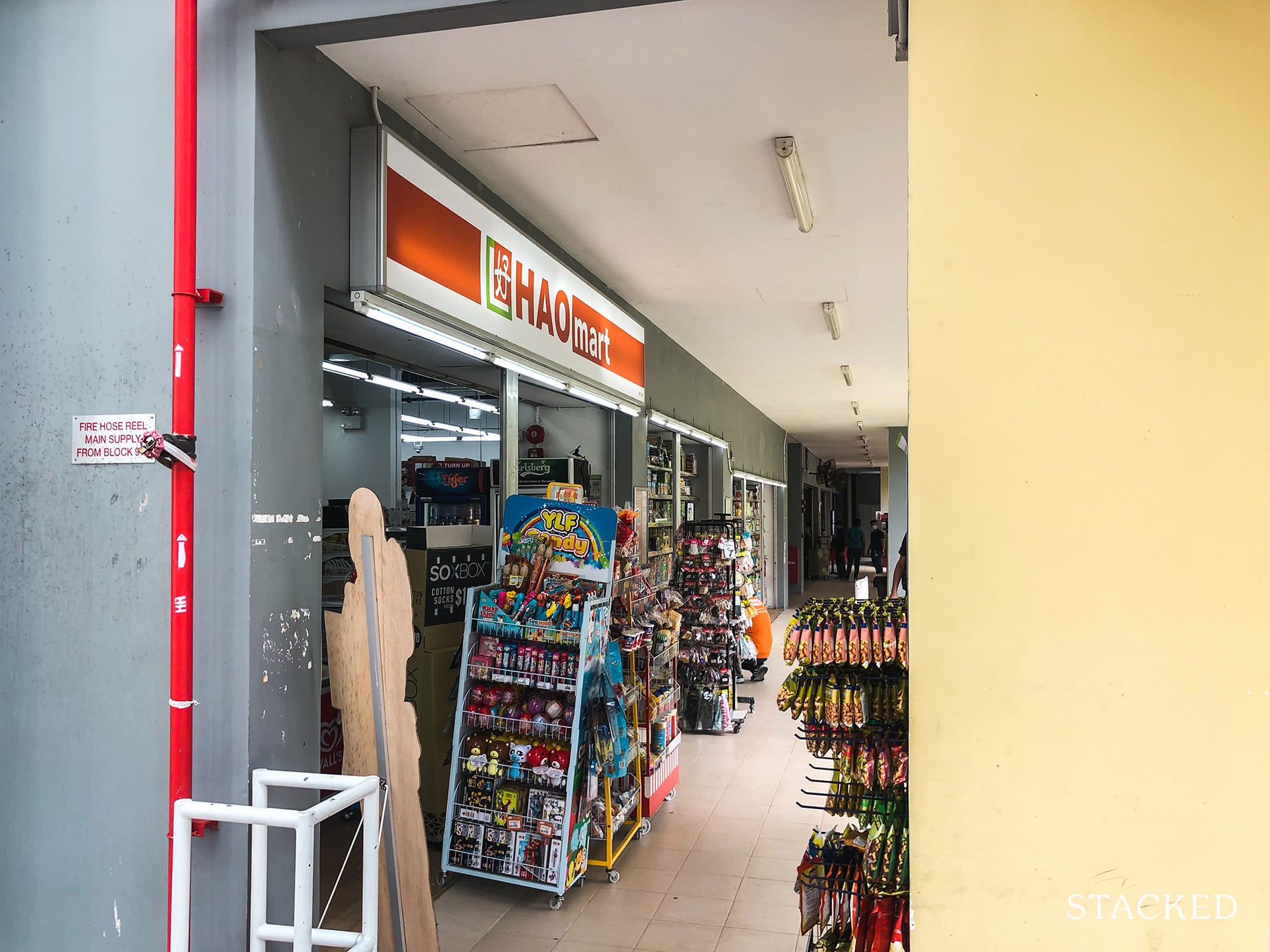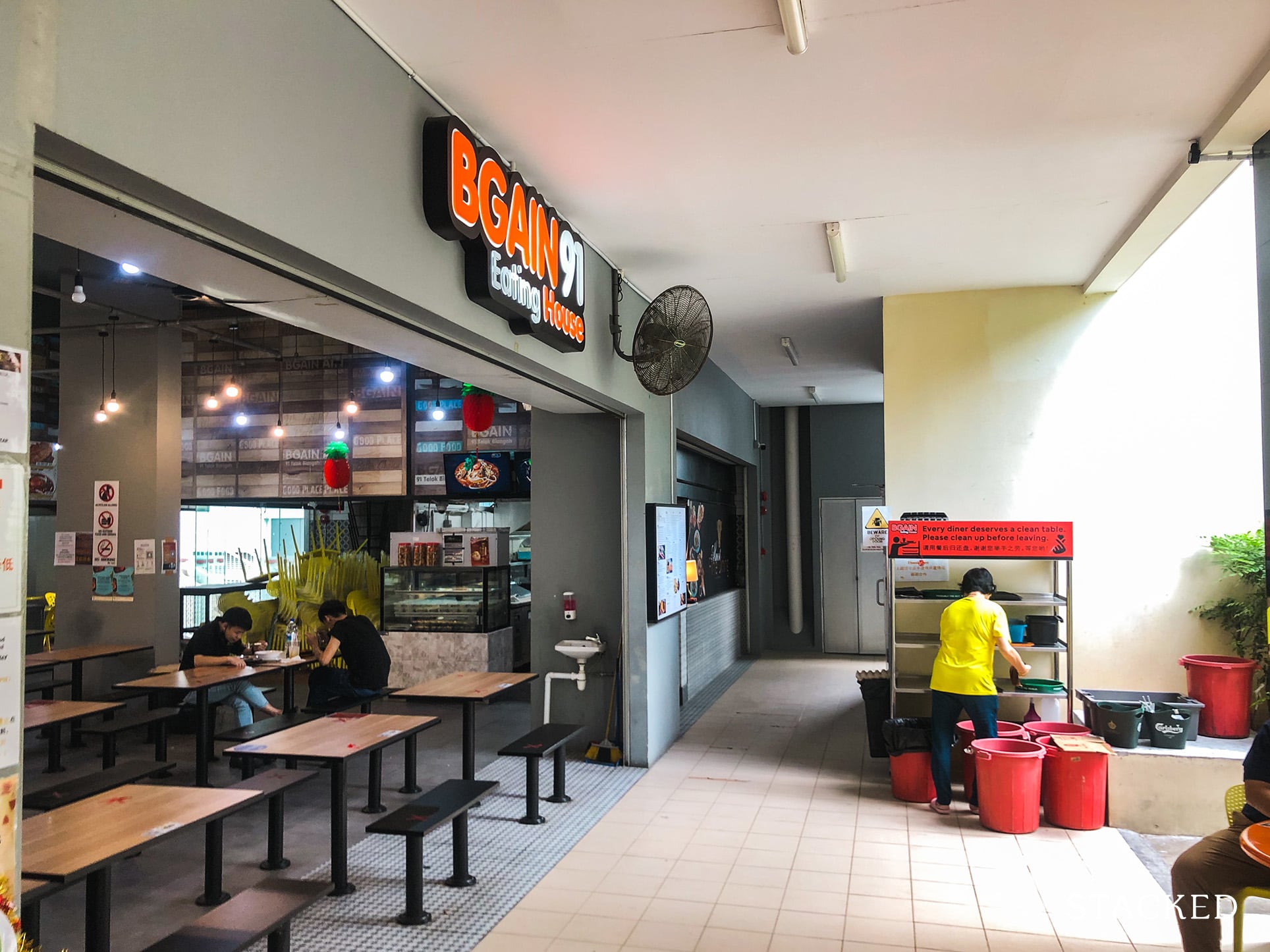 Unfortunately, that's about it in terms of daily amenities. There's no medical or dental clinic here which is something I'm accustomed to when there's a commercial block.
Rest assured though, there are even more commercial units at block 78A which is just a couple of minutes away by foot that comes with a dental and medical clinic. There's also an NTUC and several other F&B outlets there!
Curiously enough, there's a level two in the first commercial block: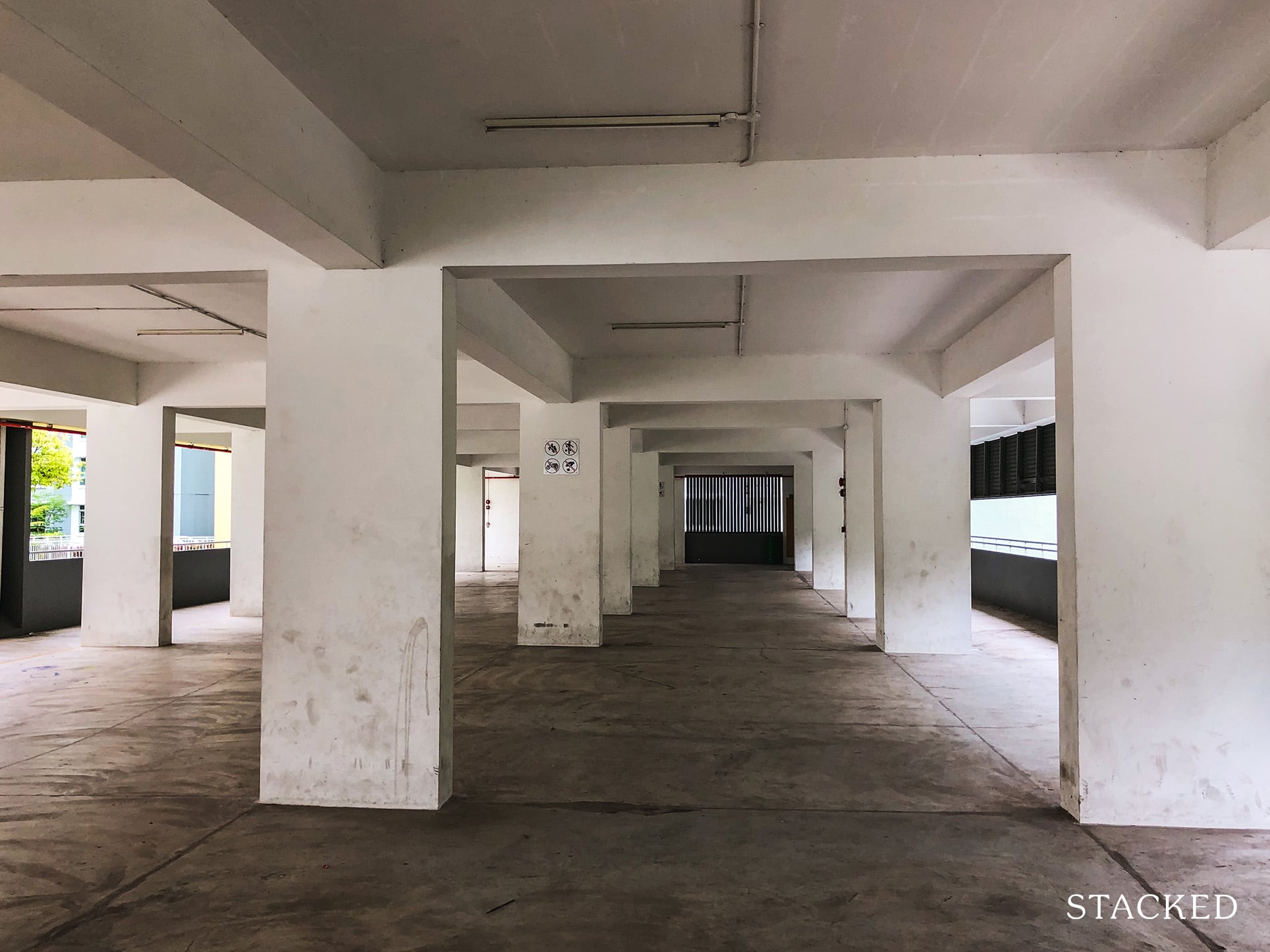 If you're wondering what this space is, you're not alone. This is actually classified as a Future Social Community Facilities (FSCF). You may be wondering, what exactly is this space for?
Well, the government sees void deck spaces as a common space for social use. So as the name suggests, certain spaces are built in preparation for such communal use should the need arise. In other words, this space was created as a safeguard for when a communal space is needed.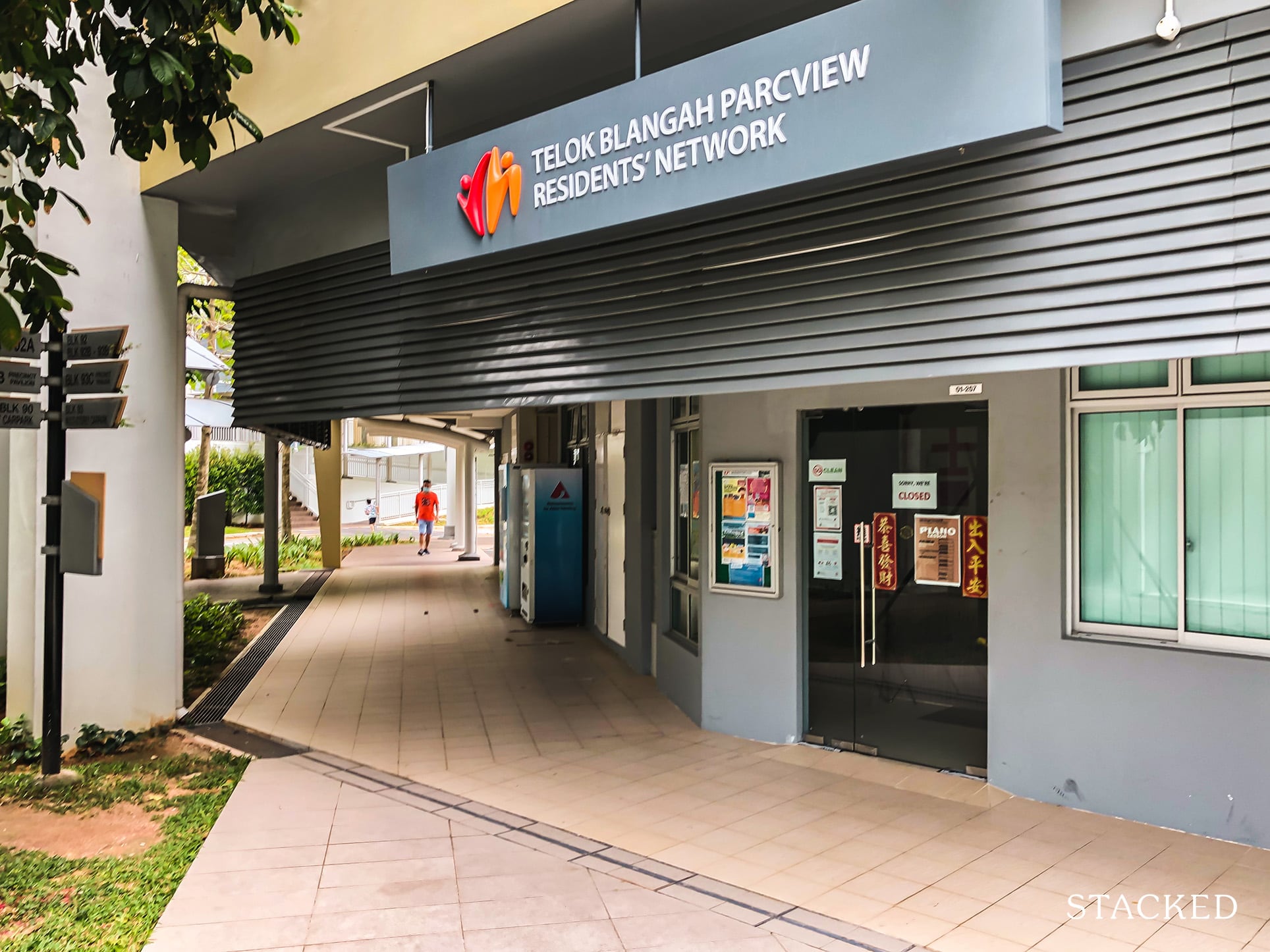 The second commercial block houses the Residents' Committee, Senior Activity Centre as well as the childcare centre.
The childcare centre is located on the 2nd floor, and is always good news for young/expecting parents. While slots for childcare centres are always tight, having one within your development gives you a chance of at least getting one within extremely convenient reach!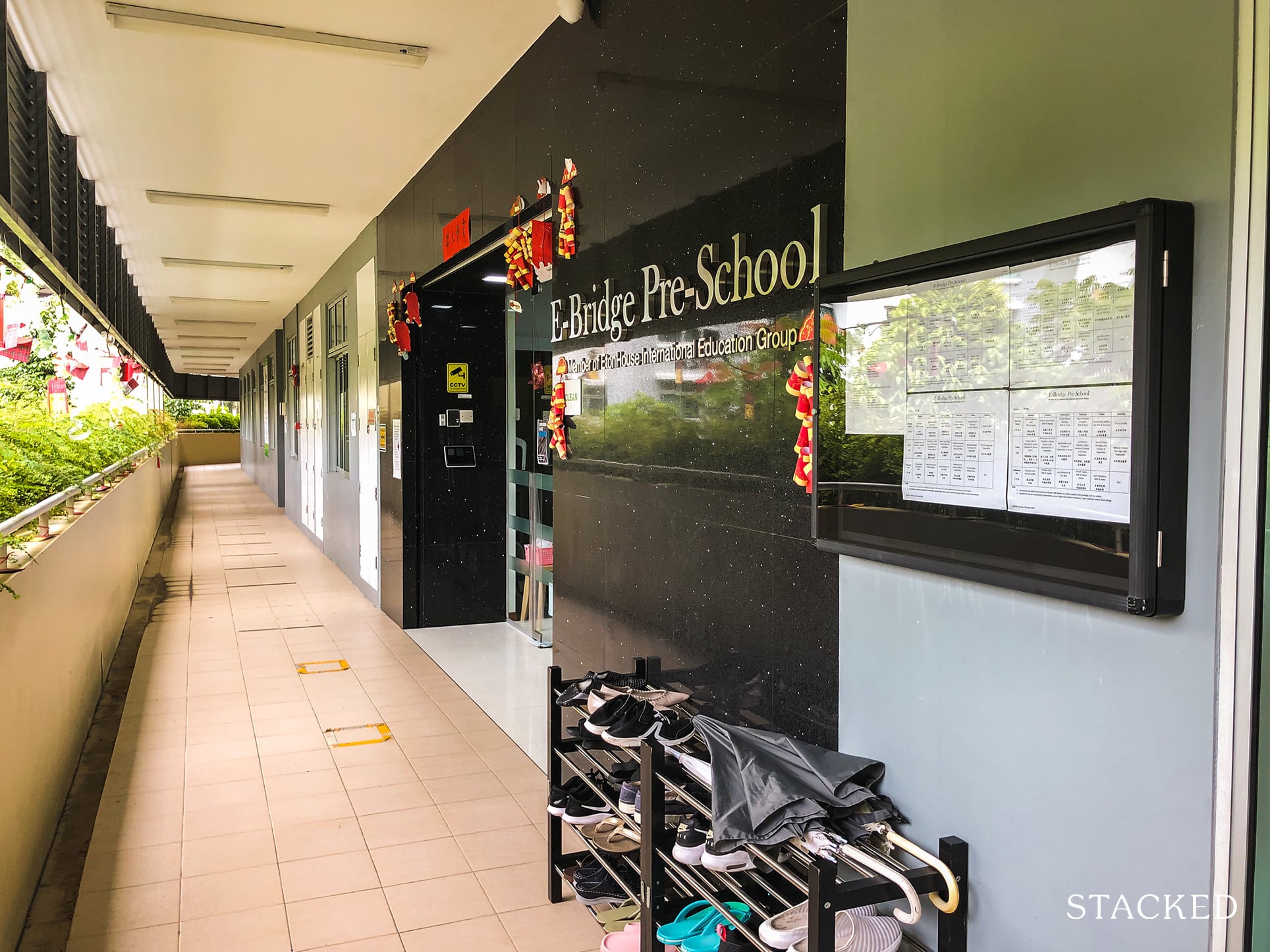 This one here is operated by E-Bridge which is a member of the Eton House International Group. Here, residents can send their children for programmes ranging from Infant care to K2! Do note that there is no priority for distance when it comes to preschool and availability is on a first come first serve basis, so even being a resident here is no guarantee you'll get a slot.
And just when you thought that's all there is to it, you'll find that this block also has a rooftop garden – much like the one above the car park!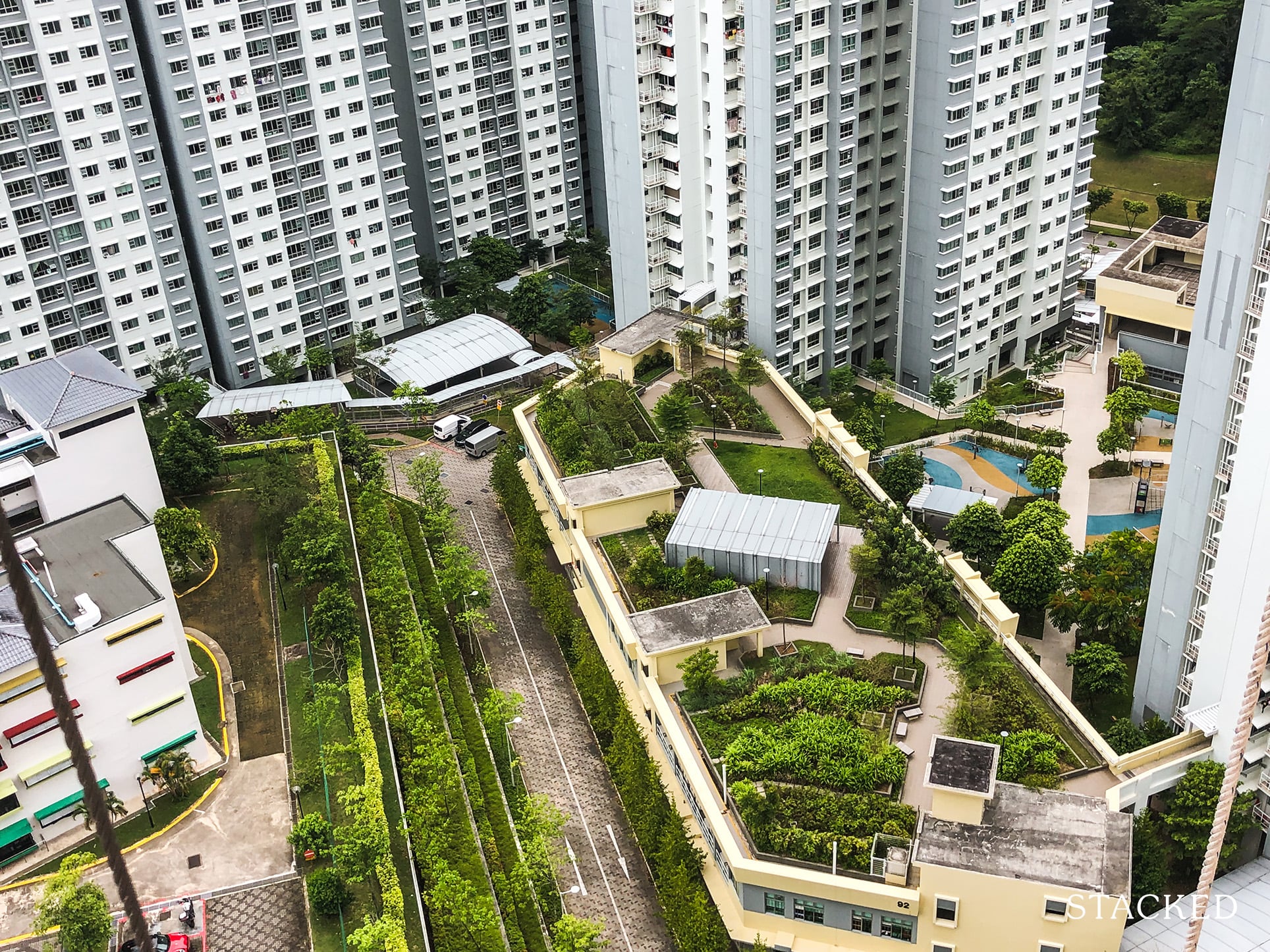 Similar to the other rooftop gardens, the garden here has lots of greeneries and is also a great space for residents to unwind.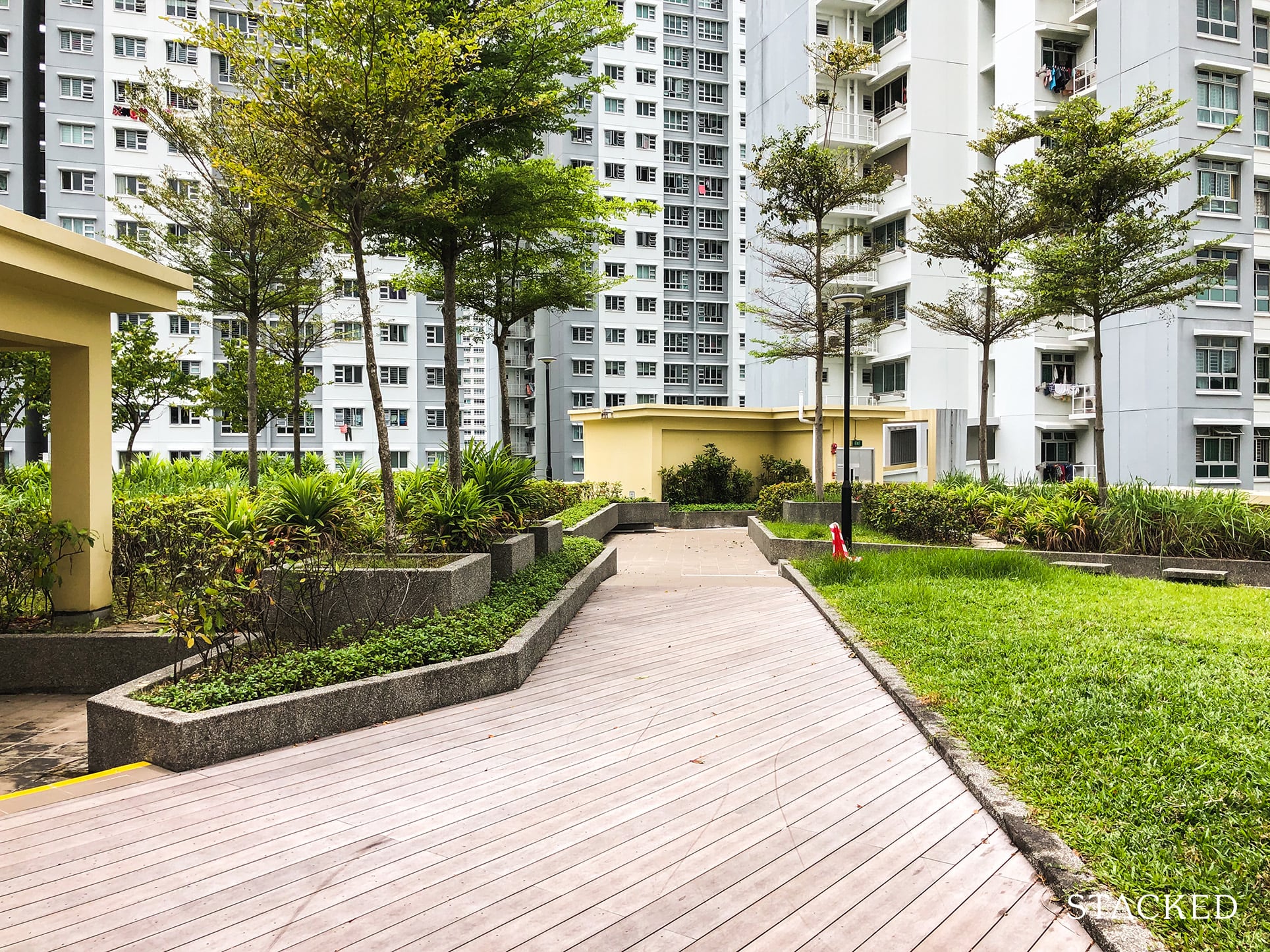 You'll also find a good number of seating here!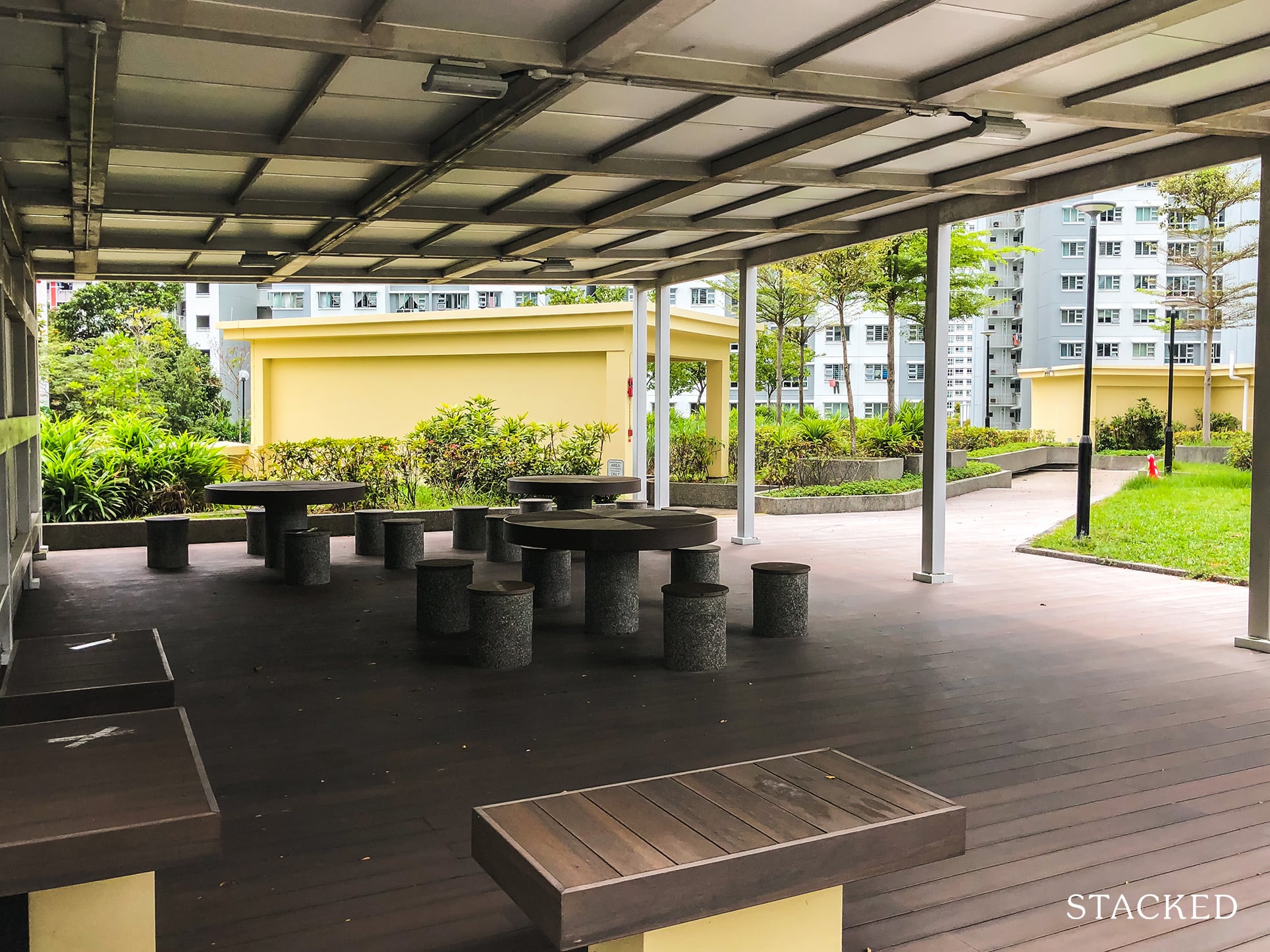 Similar to the southern car park rooftop garden, there is a large sheltered seating area here. And considering the two sheltered social spaces, I highly doubt there's even a need for the FSCF that we saw earlier.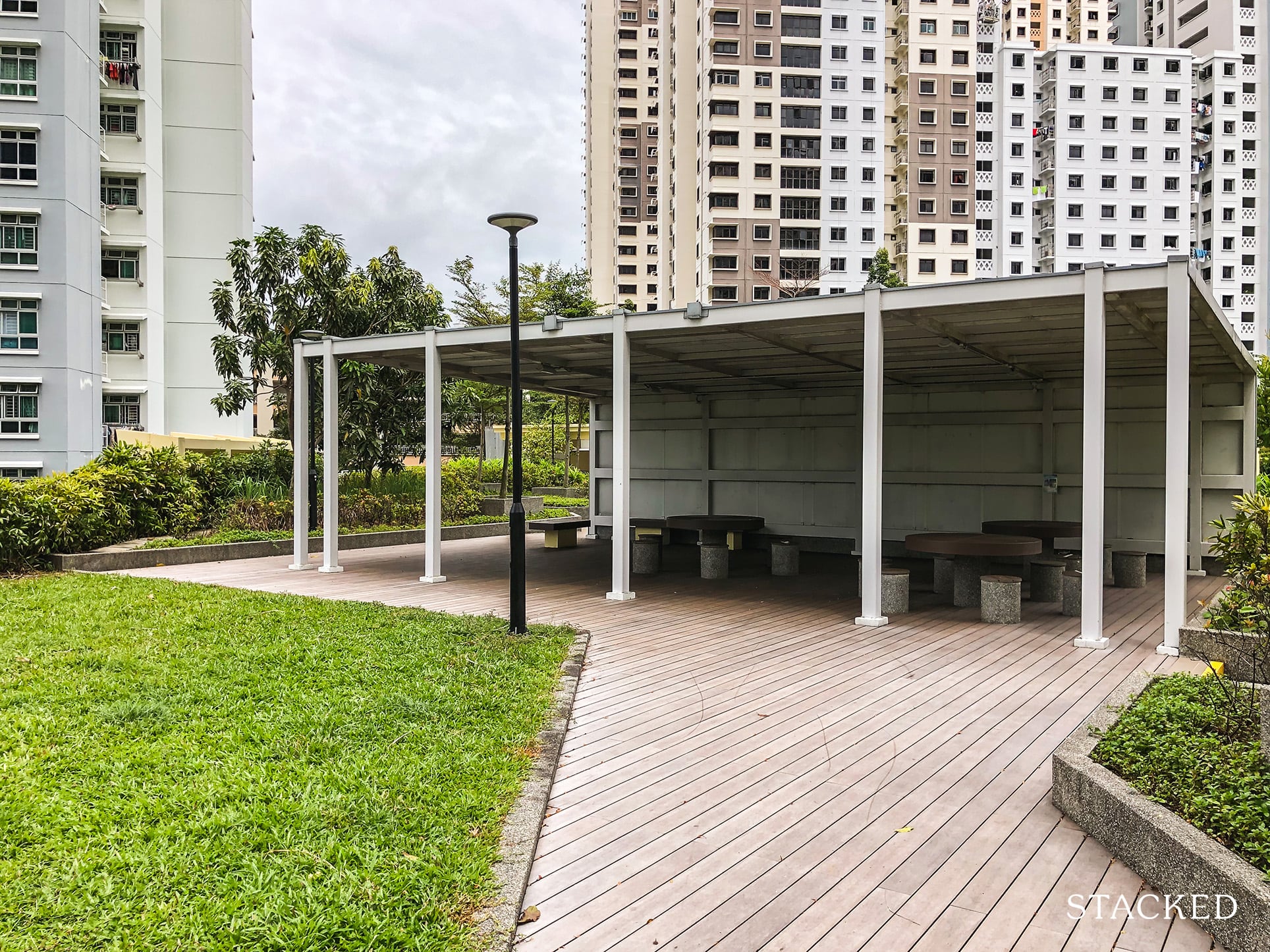 One upside to having this rooftop garden is that children going for their evening walks can have a safe space to run around. I'm not sure if that's really the case here, but it's a likely setting that's both safe and appropriate for children to take their walks!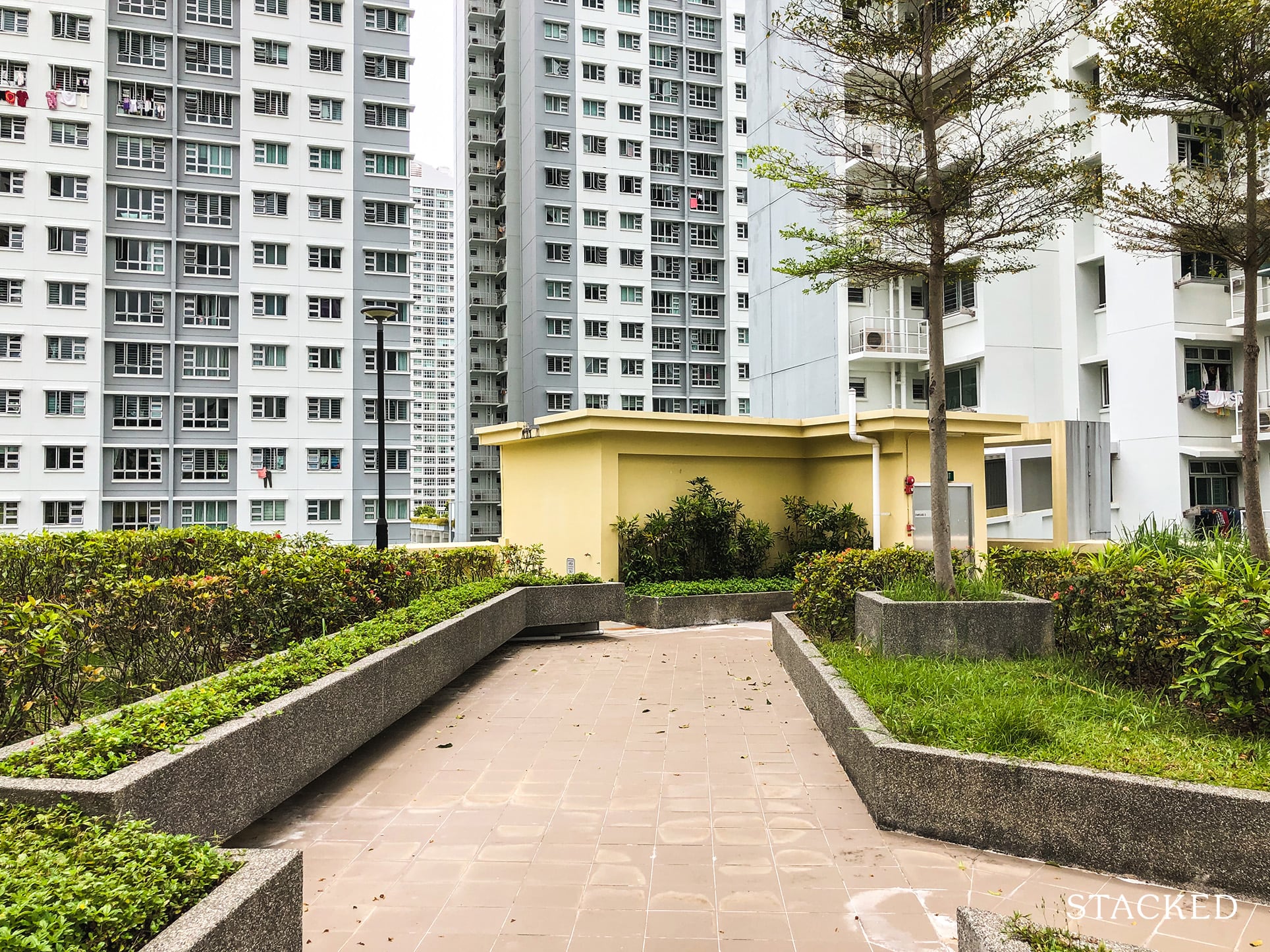 The only downside is the lack of facilities here. Considering the space, I like to think that having a playground here is appropriate considering the childcare centre below. What's even better is if the childcare centre had a playground right outside – a common occurrence for many HDBs where the childcare centre is on the ground level. Otherwise, Forfar Heights comes to mind with their childcare centre having a semi-private playground on the same level!
And with that, we come to the end of the development tour of Telok Blangah Parcview. So what else can residents expect to see from living in this location?
Telok Blangah Parcview Location Review
Telok Blangah Parcview faces an empty plot of land on the west side, and immediately north of it is Telok Blangah Hill Park. With that comes two advantages
Unblocked views – which we'll get to later
Peace and quiet in the surrounding areas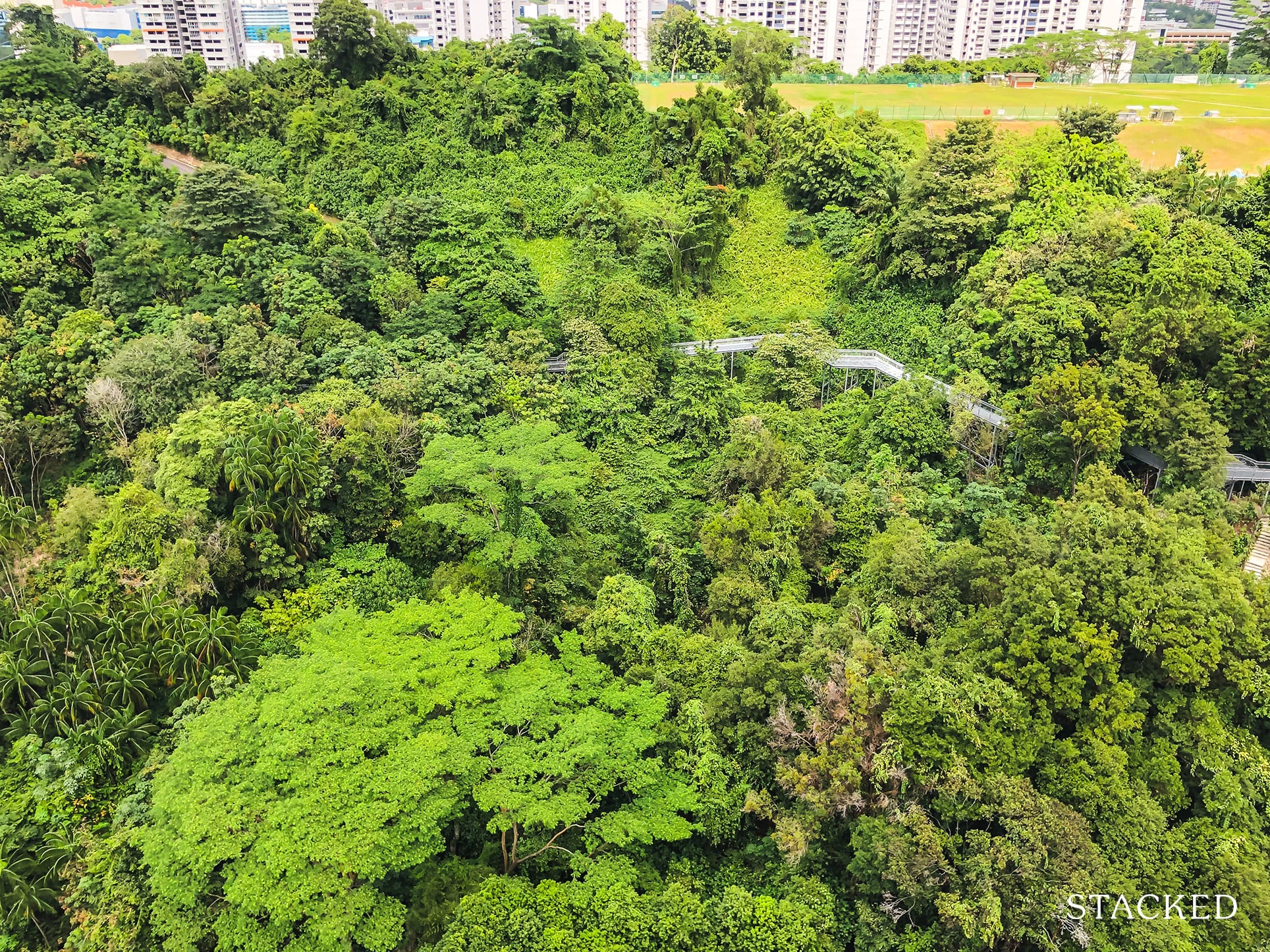 And that is exactly what the Telok Blangah precinct really offers since it's straddled between a massive park and the Keppel Golf Club (with the sea just south).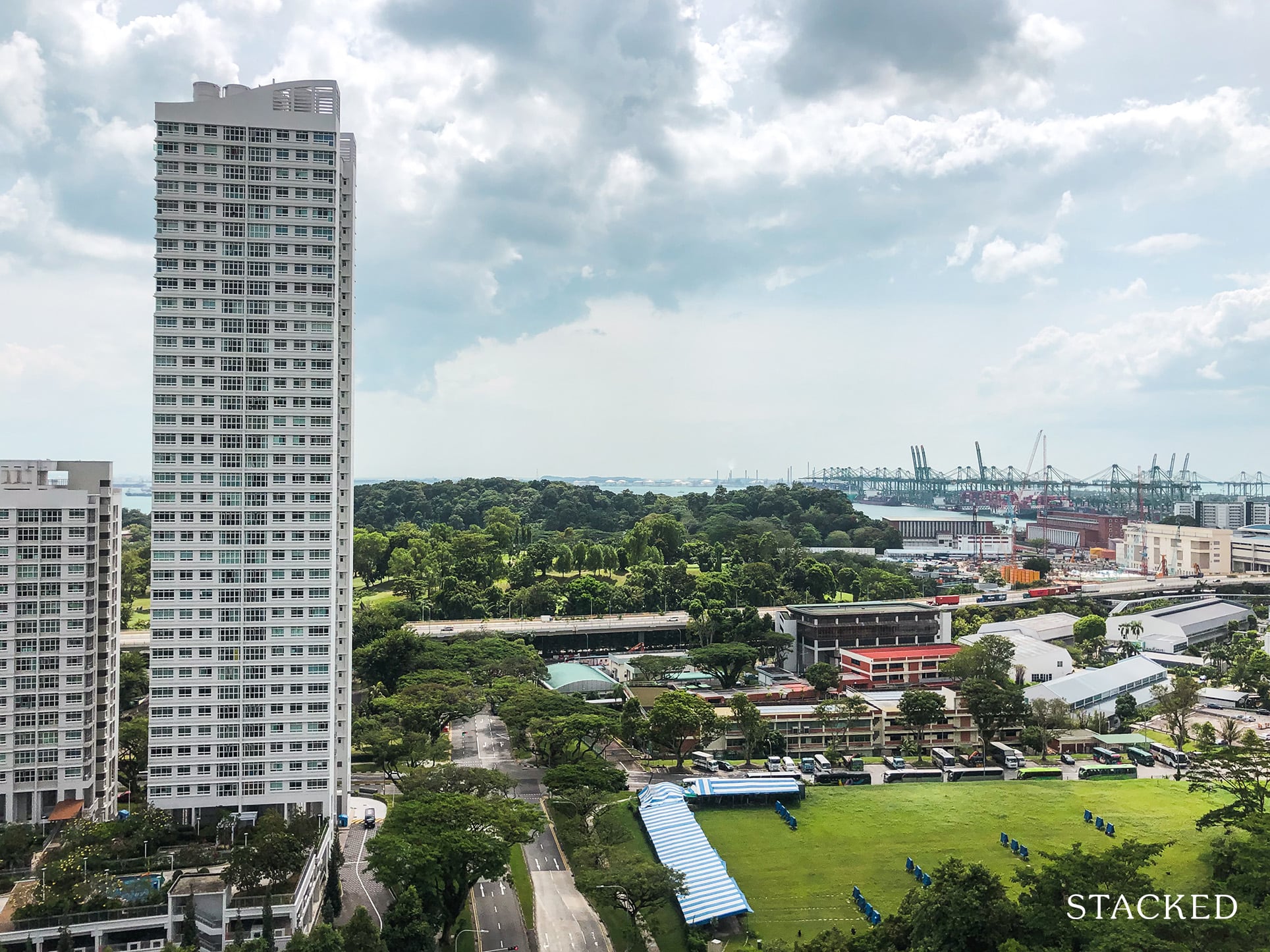 Of course, with the Greater Southern Waterfront transformation coming along, we can expect greater urbanisation of the area – but the truth is that it's still quite some distance away if liveability is concerned here. After all, it's still a good 500 metres away from the most southern residential block. Hence, construction noise should not affect the quality of life staying here for the next decade although it probably will impact your sea views!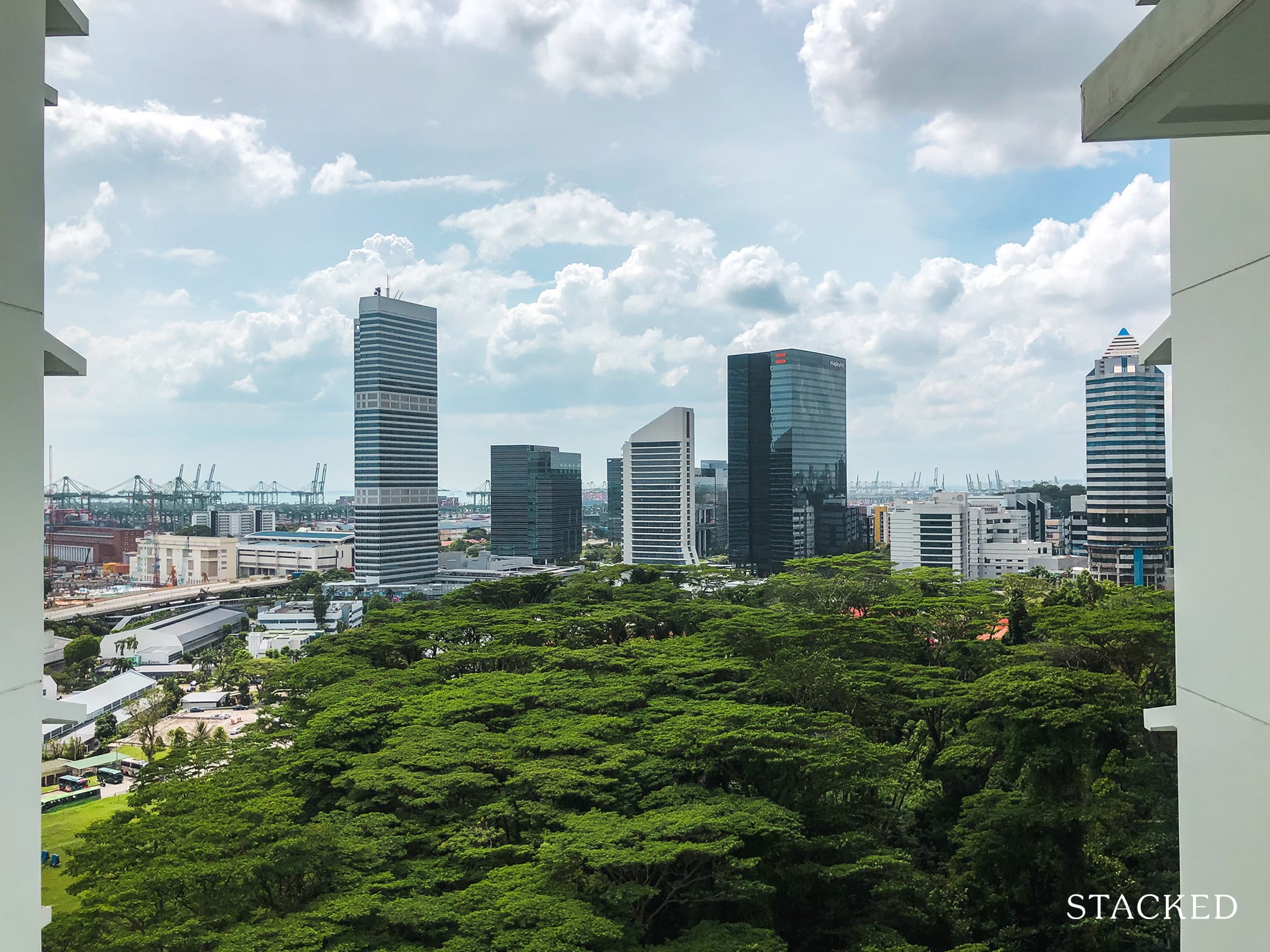 Currently, the west side is zoned as a "reserve" site based on the 2019 Master Plan which basically means no specific use has been allocated to it. Interestingly, this wasn't always the case as the plot was previously zoned residential with two Education sites back in 2003. This was subsequently changed in 2008 to a "reserve" site till today.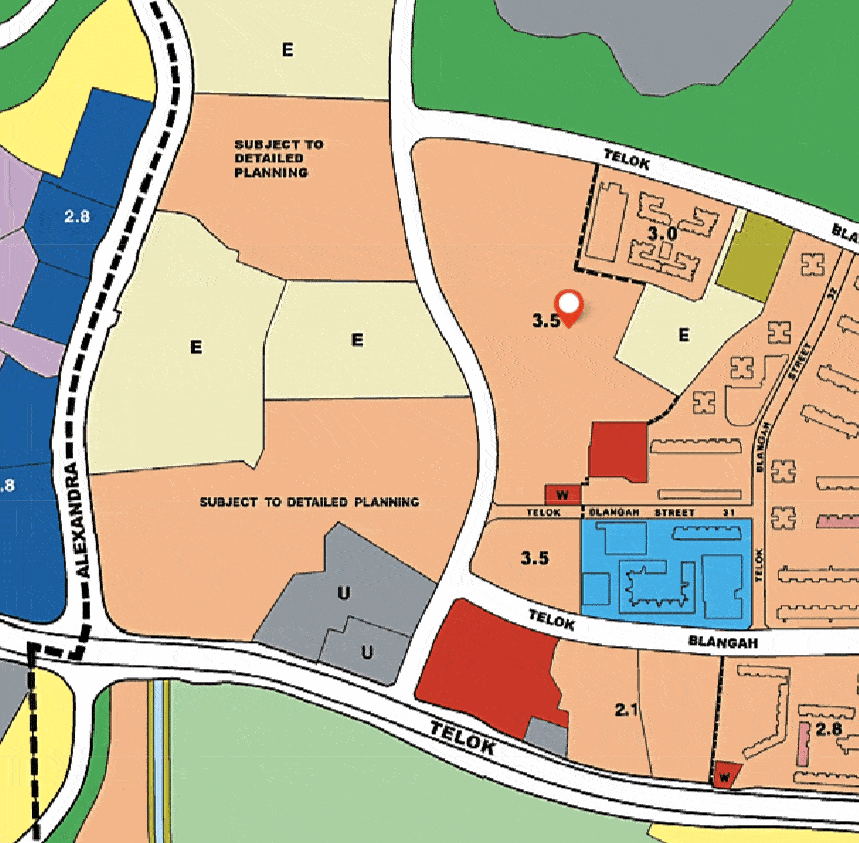 The HDB brochure did lend some more information with the site labelled as "Future development area which may include residential with supporting uses". Regardless, it's safe to say that this area could likely result in development works since it's not zoned as a park. It is tough to say when that would happen though!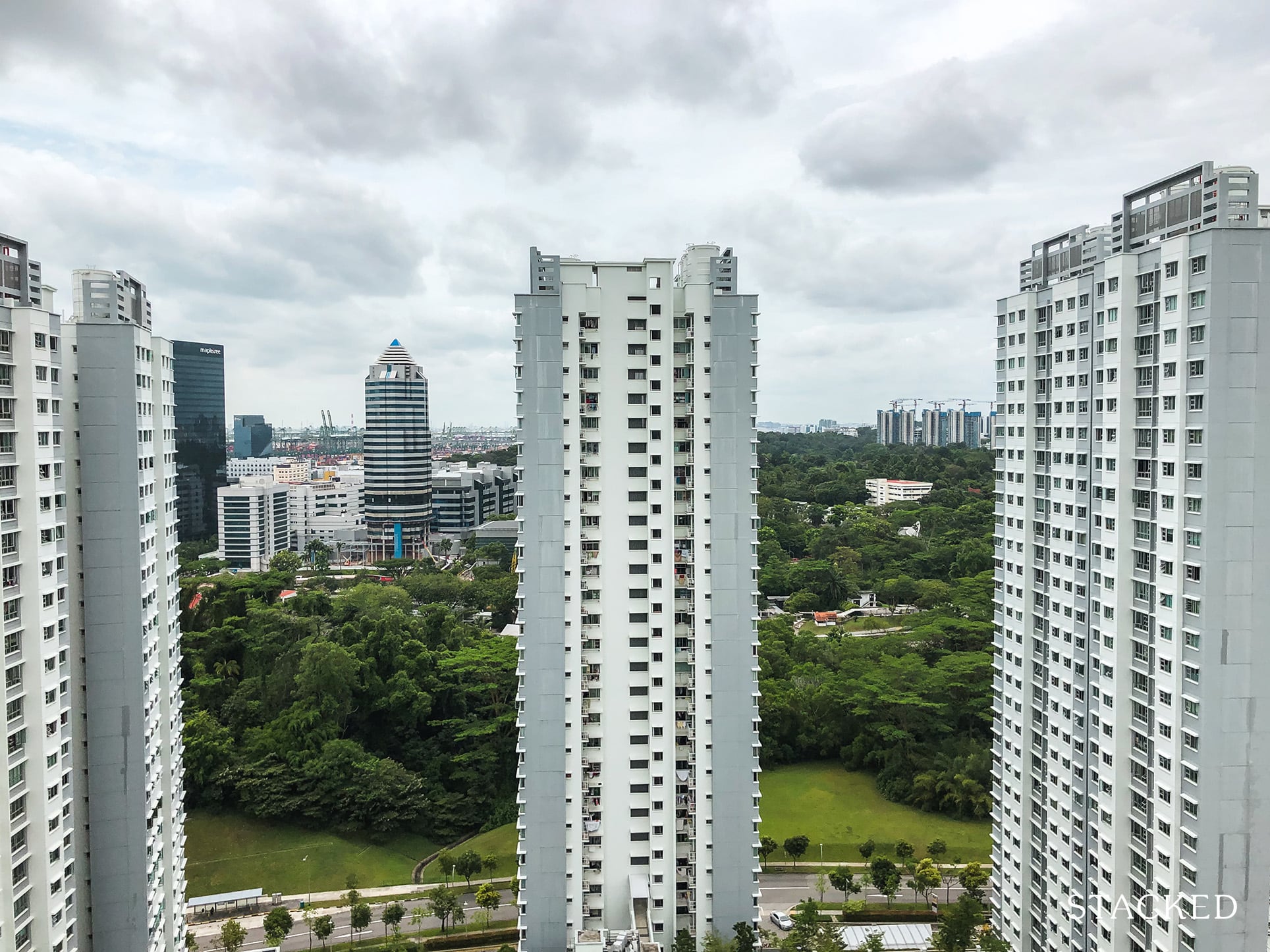 So what can residents living here look forward to? Well first, it's being just next door to Telok Blangah Hill Park: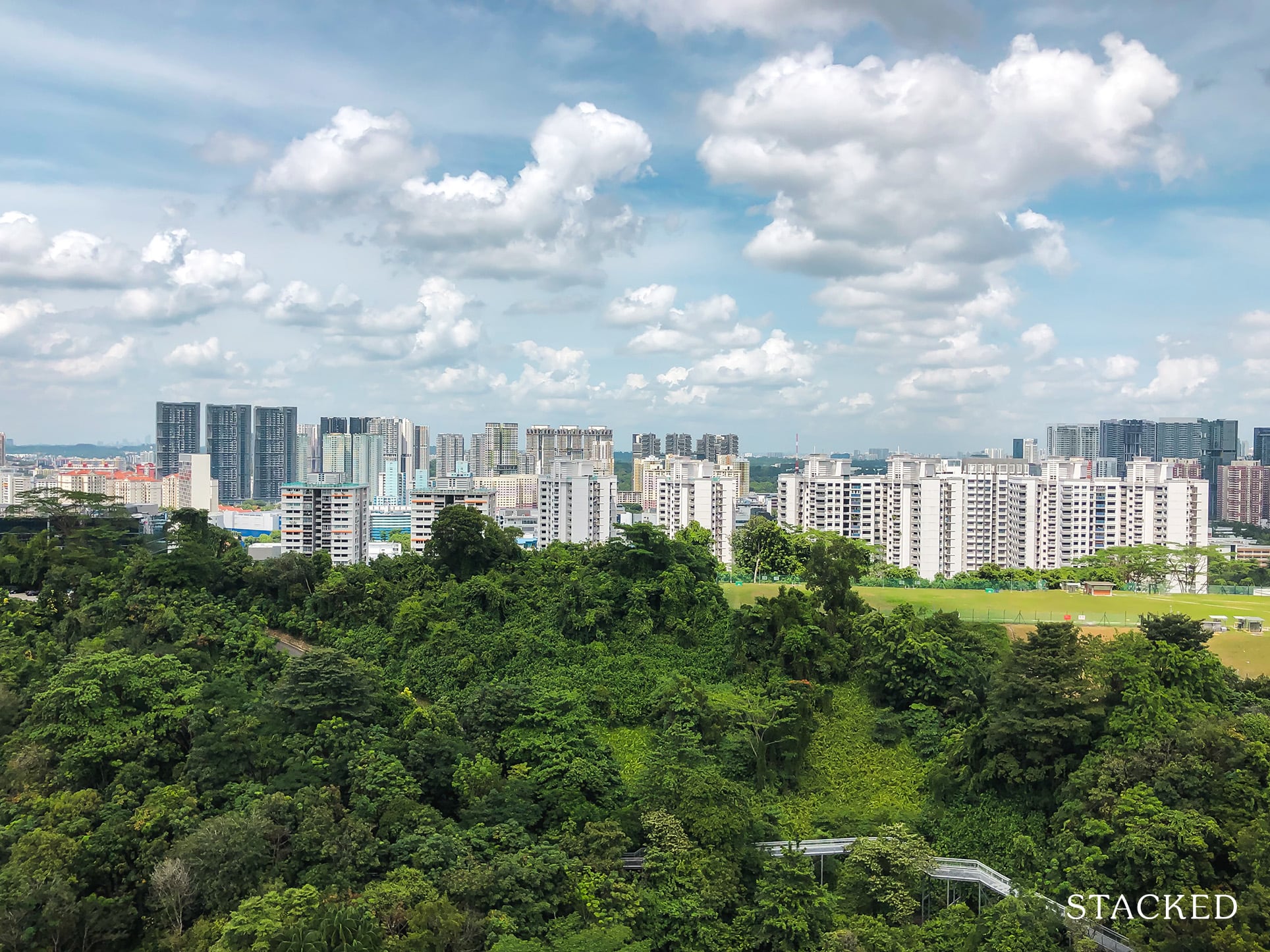 From here, residents can easily get to Mount Faber Park, Hort Park and Kent Ridge Park (it's quite a distance, I must add!).
And while Telok Blangah Parcview has an eating house, you'll undoubtedly get sick of it after a while, so the good news is that there are more eating options in the area such as the Telok Blangah Food Centre just a couple of minutes away by foot.
What about shopping options? Well, there are retail options at Telok Blangah Mall which is next to Telok Blangah Food Centre, but for an air-conditioned megamall experience, you'll likely take the MRT to Vivocity and Harbourfront instead (just 1 MRT stop!).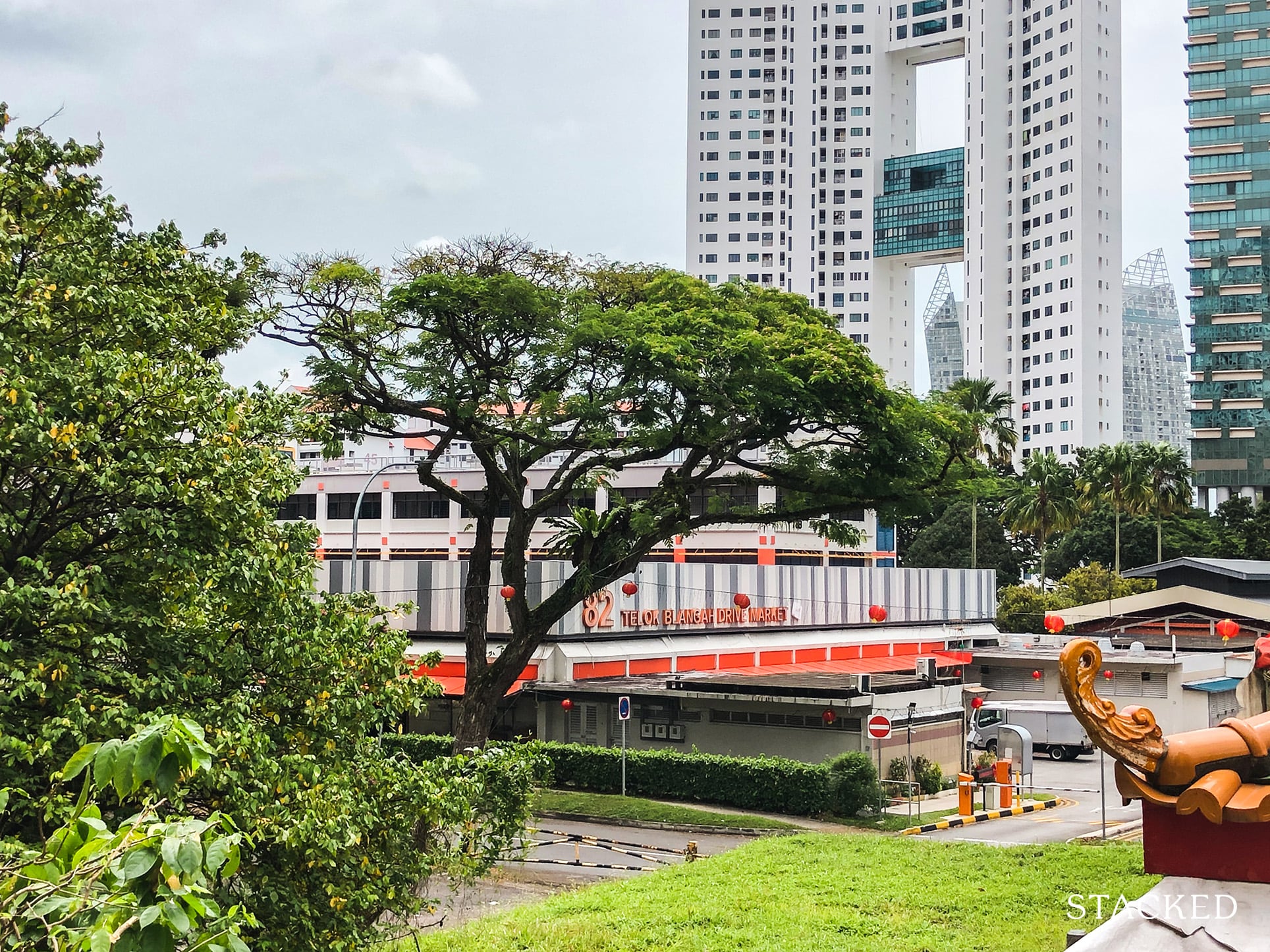 Finally a note about its proximity to the Park Connector. While it seems like it's close to nature and it is right next to the park, it's unfortunately not adjacent to any Park Connector. Residents will need to head out to Henderson Road or Alexandra Road to get there. The journey to Alexandra Road is longer and you'll need to take the major road along the West Coast Highway, so it's better to go to Henderson Road. The good thing is that the distance is relatively short though!
Public Transport
| | | |
| --- | --- | --- |
| Bus station | Buses Serviced | Distance From HDB (& Est. Walking Time) |
| 'BLK 92B (14509)' | 120 | 1-minute (50m) |
| 'OPP BLK 91A (14501)' | 120, 124 | 1-minute (50m) |
Closest MRT: Telok Blangah MRT, about an 11-minute walk.
While Telok Blangah is a central area, Telok Blangah Parcview itself is not quite a convenient place to stay in if you rely heavily on public transport. Not only is the walk a little more than 10 minutes, but it is also an upslope plus a mostly unsheltered walk from the MRT!
The problem with the uphill trek even made it to the National papers which forced the LTA to review feeder bus options here.
The good news is that shortly afterwards, bus service 120 was introduced which then connected residents directly to Telok Bangah MRT. The ride is just 6 minutes over 5 stops. However, even with the bus service, residents would still take around 12 minutes to get to the MRT door to door which is about the same time it takes to walk.
Of course, it's always good to have the bus as an option in event of wet weather or hot days. However, in this regard, I would say that Telok Blangah Ridgeview has the advantage considering it's two stops closer to the MRT.
Residents will be pleased to know that the walk to the bus stop outside is fully sheltered from block 92B and the commercial building at block 91.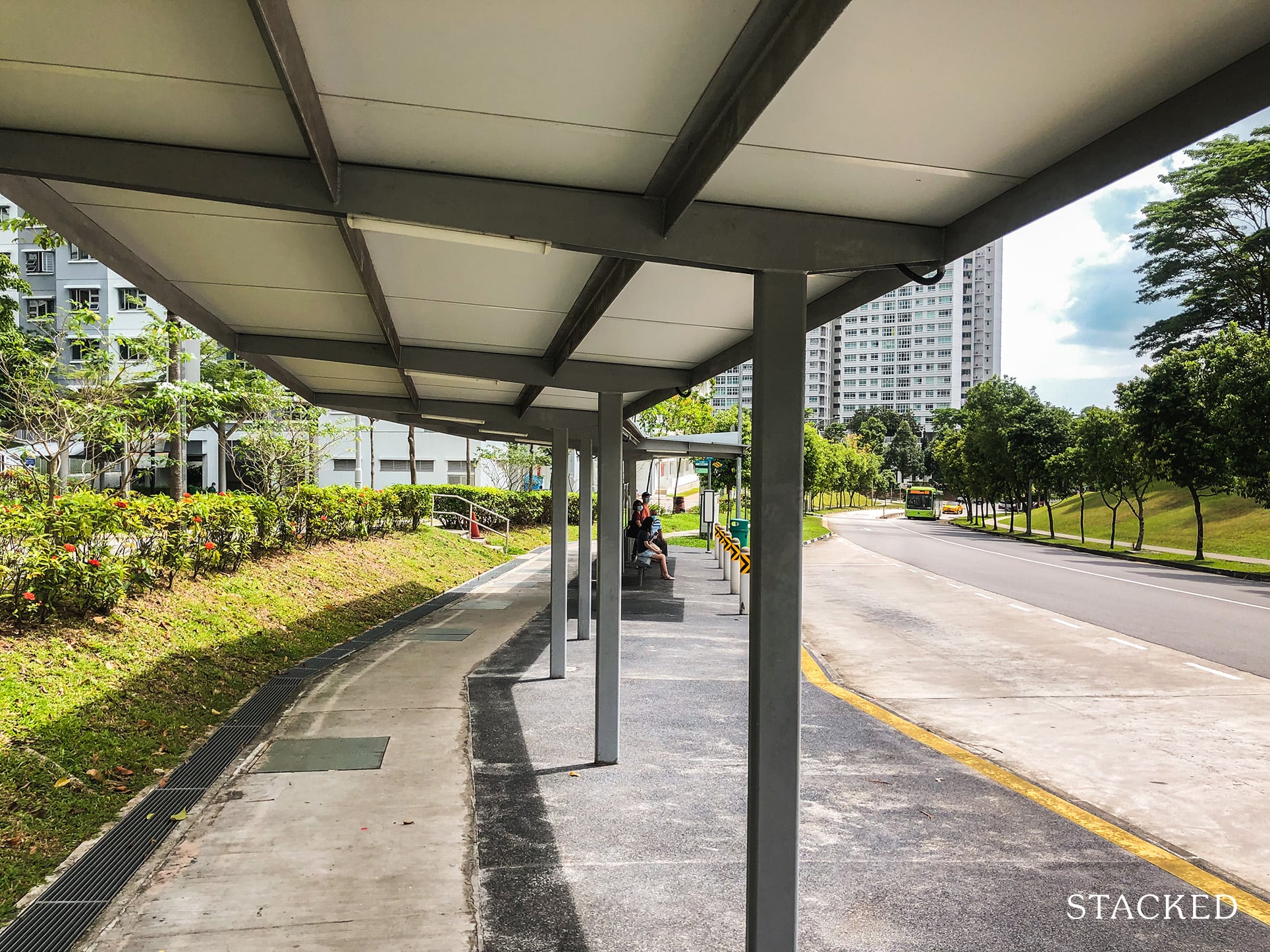 That's all good when it concerns the journey back home, but if you're heading out, then you'll need to cross to the opposite bus stop which is unsheltered at the crossing.
The overall bus network here is not very impressive too, but that is to be expected of this sort of sleepy neighbourhood. There are just 3 buses with the furthest going out to Whampoa. You'll likely need to change bus at Henderson Road to get more decent coverage.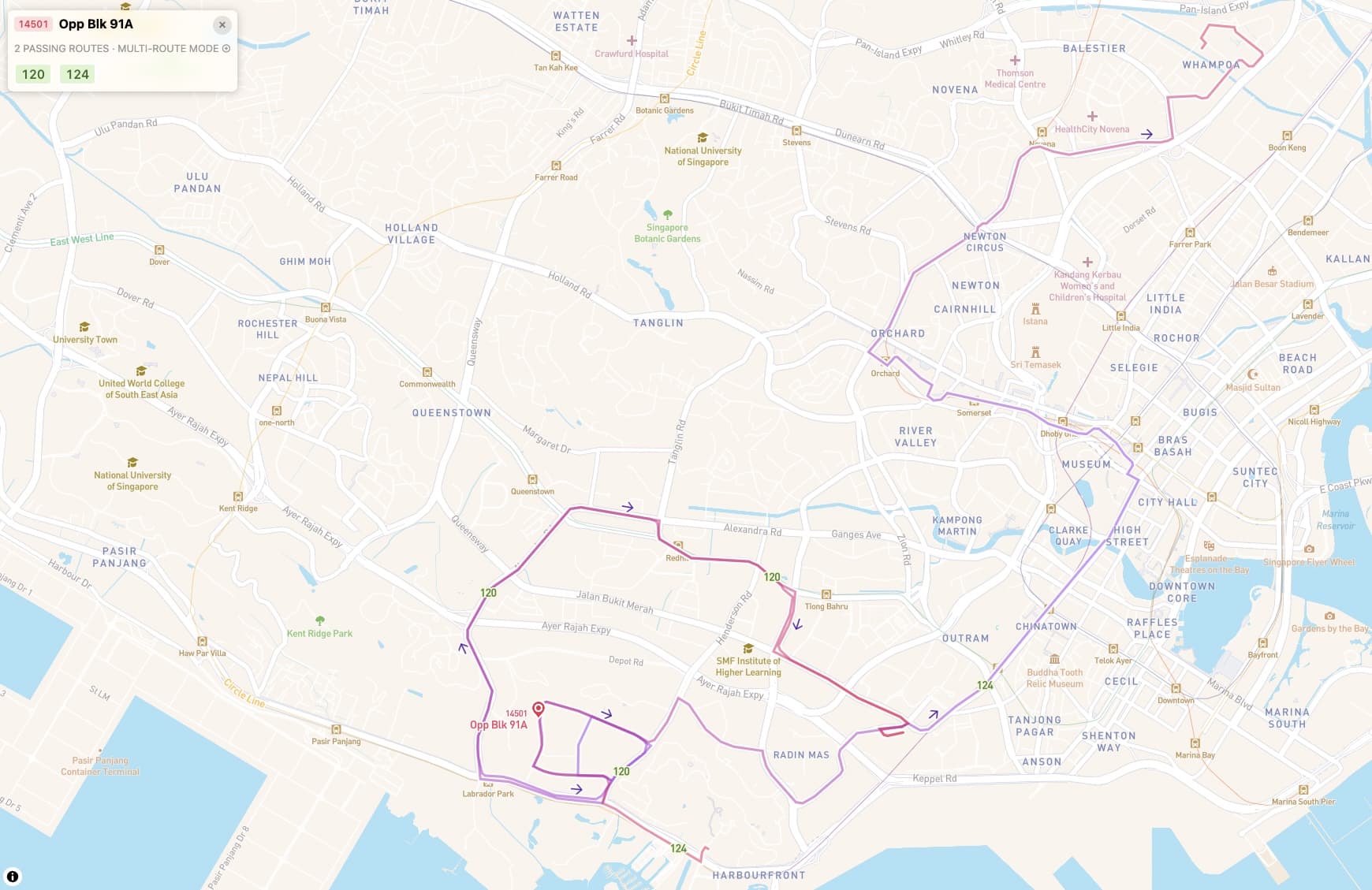 Private Transport
| | |
| --- | --- |
| Key Destinations | Distance From HDB (& Est. Peak Hour Drive Time) |
| Raffles Place | 6.7 km (13 mins drive) |
| Orchard Road | 6.2 km (12 mins drive) |
| Suntec City | 8.2 km (15 mins drive) |
| Changi Airport | 27.6 km (38 mins drive) |
| Tuas Port | 31.4 km (48 mins drive) |
| Paya Lebar Quarter | 12.5 km (23 mins drive) |
| Mediapolis | 4.3 km (9 mins drive) |
| Mapletree Business City | 1.8 km (6 mins drive) |
| Tuas Checkpoint | 27.8 km (40 mins drive) |
| Woodlands Checkpoint | 25.6 km (40 mins) |
| Harbourfront Cluster | 2.4 km (5 mins) |
| Punggol Cluster | 23.7 km (37 mins) |
Source: OneMap. Driving times are based on peak hour traffic.
Immediate road exit:
Telok Blangah Heights and Telok Blangah Street 32

Summary:
Being in the central area, drivers can quickly hop onto the CTE to get to the CBD in just 11 minutes. Otherwise, it's also close to the AYE and MCE/ECP allowing drivers to head west or eastwards quickly.
Groceries
| | |
| --- | --- |
| Name of Grocery Shop | Distance from HDB (& Est Time) |
| HAO Mart | Within the development |
| NTUC Fairprice | 400m (5-min walk) |
Schools
| | |
| --- | --- |
| Educational Tier | Number of Institutes |
| Preschool | 3 |
| Primary School (Within 1KM) | 1 |
| Secondary School | 3 |
| Junior College | 1 |
| Other Tertiary Institutes | 5 |
| | |
| --- | --- |
| E-Bridge Preschool | in the development |
| Workplayz Montessori | 100m (1 min walk) |
| Moe Kindergarten @ Blangah Rise | 500 m (5 mins walk) |
| Blangah Rise Primary School | 600m (7 mins walk) |
| CHIJ St. Theresa's Convent | 2.2 km (14 min via bus) |
| Bukit Merah Secondary School | 2.7 km (25 min via bus) |
| Gan Eng Seng School | 3.2 km (27 min via bus) |
| Anglo-Chinese Junior College | 6.2 km (29 min via bus) |
| Anglo Chinese School (Independent) | 6.4 km (28 min via bus) |
| Singapore Polytechnic | 7 km (33 min via bus) |
Telok Blangah Parcview Additional Pointers
Greater Southern Waterfront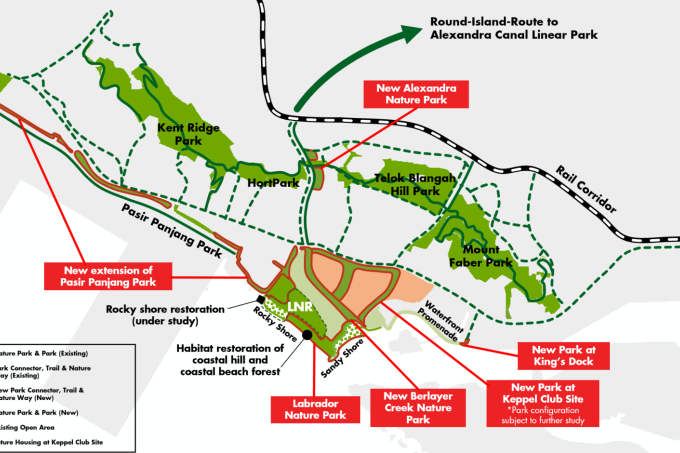 The announcement of the Greater Southern Waterfront, and more recently the 9,000 housing units to be built there is notable news to be wary about. First is that the supply of flats would go up, so those looking to stay in this area would have a lot more options.
Of course, the new flats would likely be under the Prime Location Public Housing model which could serve a more specific target audience, but it'll undoubtedly affect the competition for buyers. It's hard to say what the effects of the PLH model would be exactly, but it could also be entirely positive, as the restrictions could push resale HDB buyers to look at HDB developments just outside the radius of these PLH developments. Prices could thus be pushed up as well.
Next, many of the flats facing south would no longer have as nice of a sea view since the open golf course would be replaced with a more urban cityscape. While this is still some way to go, it's good to take note of this now as the view may no longer be as much of a selling point in the future. For those who don't value the sea view as much, perhaps the park view is a better option since that's likely to continue staying for a long time to come.
Only 1 primary school within 1 KM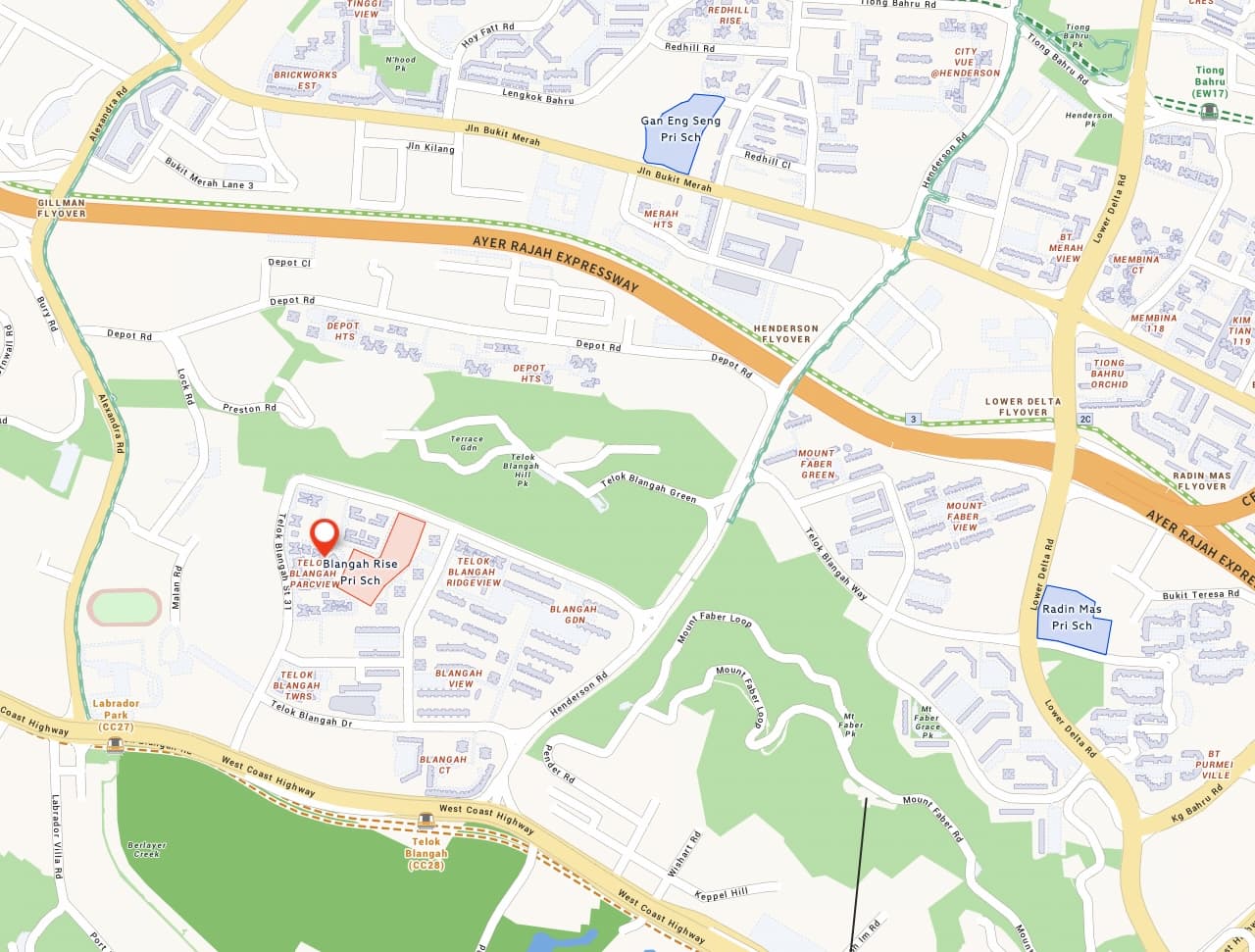 For families with young children, do take note that Telok Blangah Parcview has only 1 primary school within the 1 KM radius – Blangah Rise Primary School.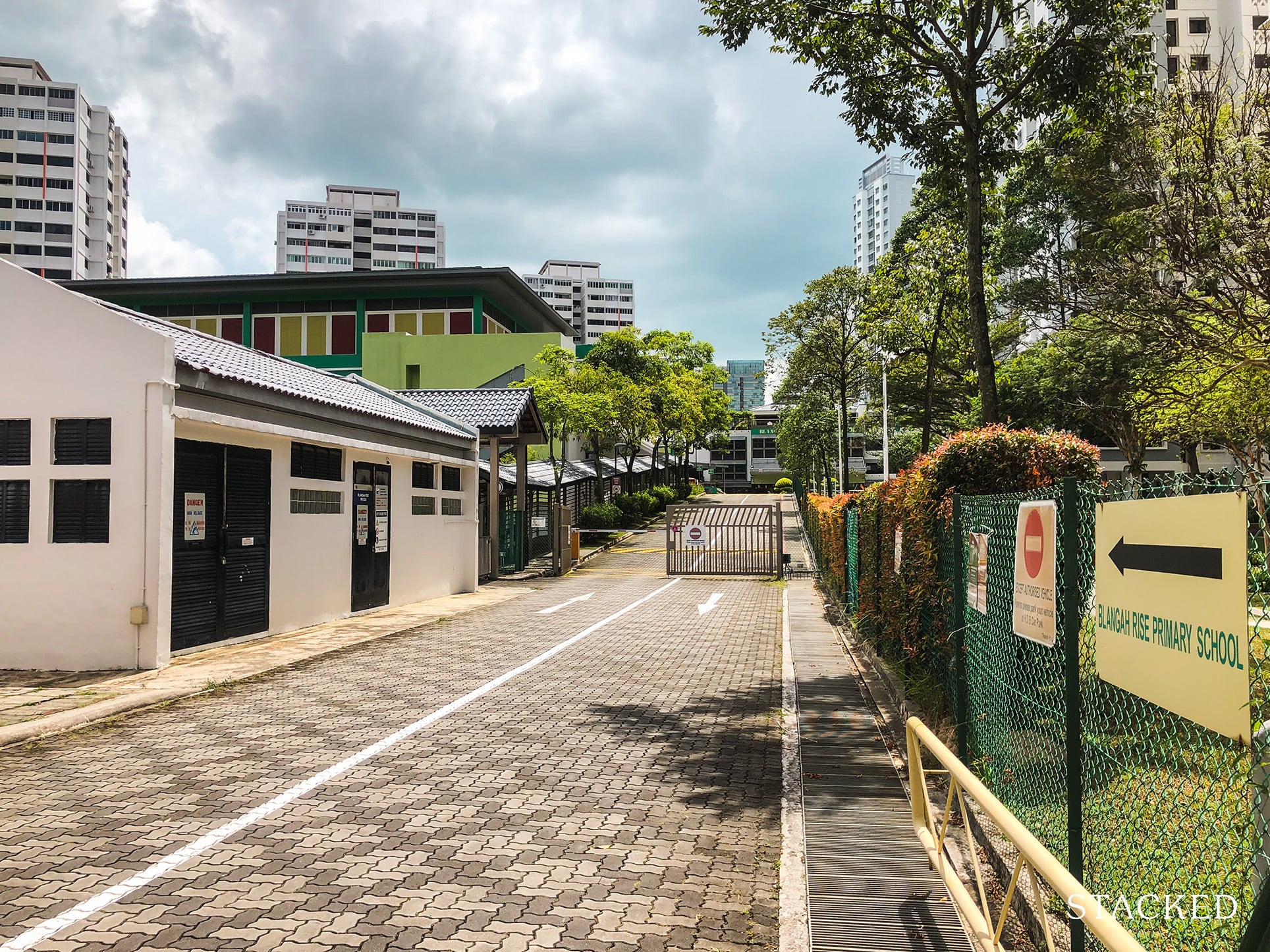 This is usually a cause of concern for most other HDBs. However, the area around Telok Blangah isn't very dense considering the parks surrounding it. Thus, competition would only take the form of residents around – of which there aren't that many at the moment.
Telok Blangah Parcview HDB Site Review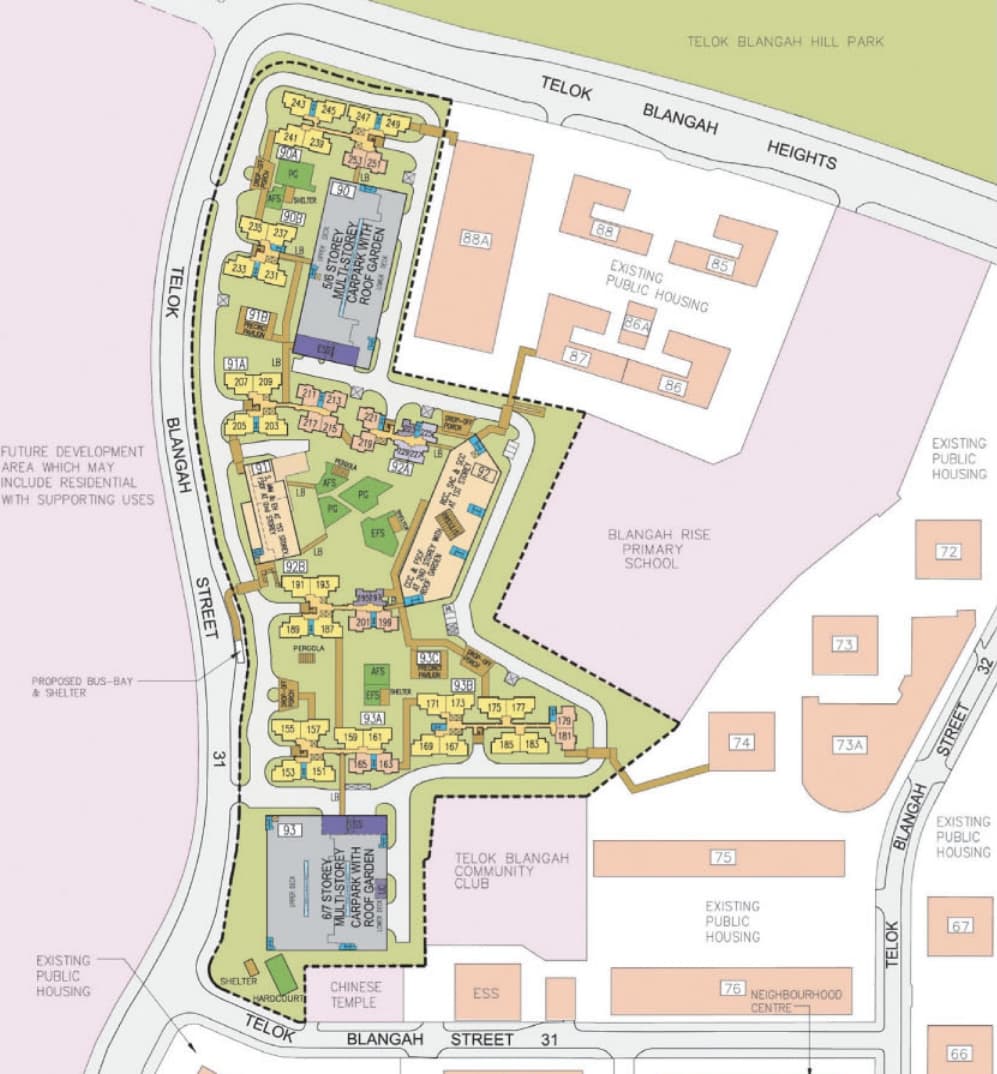 Telok Blangah Parcview houses 1,480 units spread across 7 blocks with 2-4 room flats provided for here. Every block stands 30 storeys high and sports a mostly white and grey exterior which gives it a clean and modern look.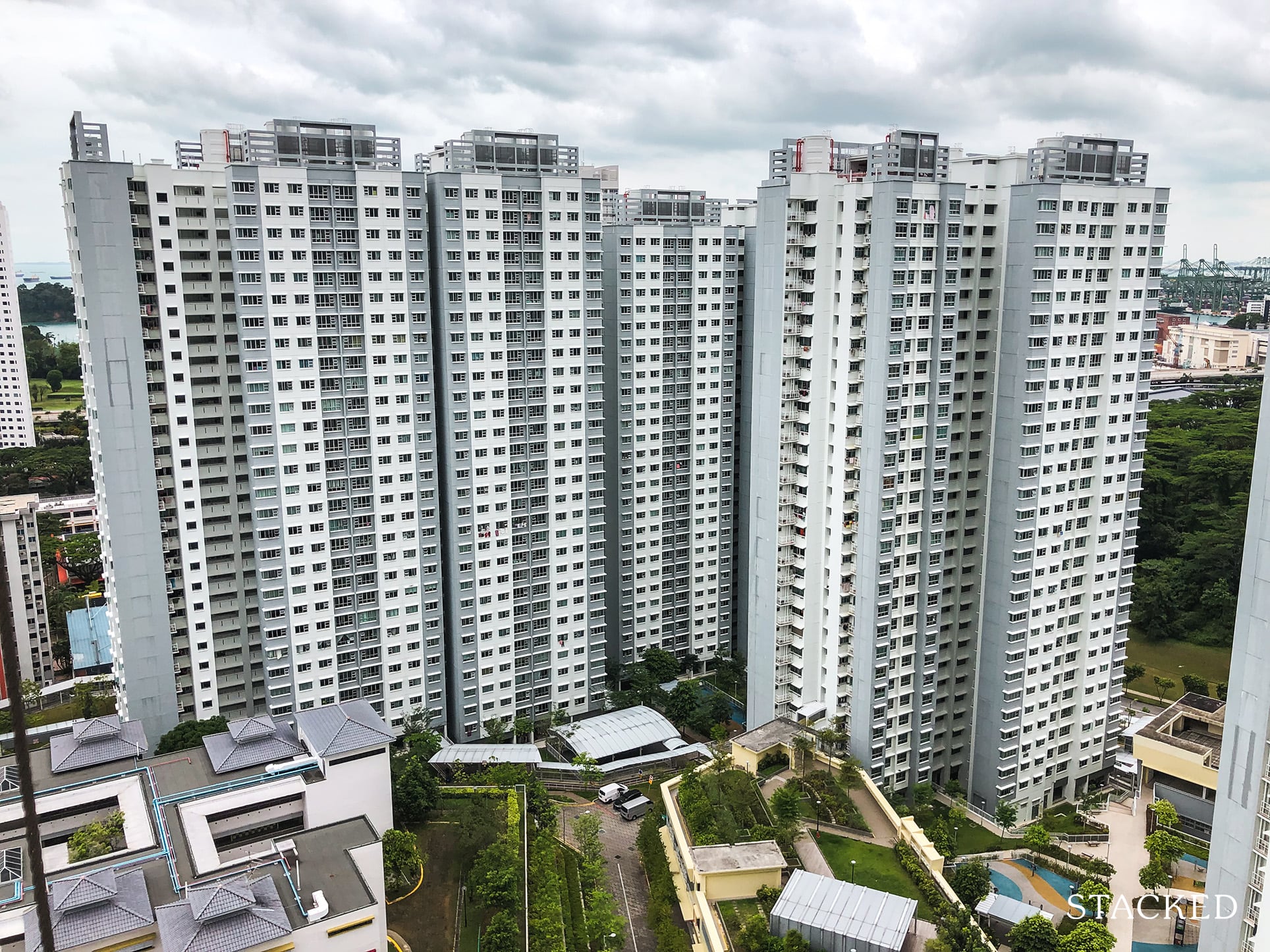 While the plot is quite big compared to the other Telok Blangah HDB developments here, it does have a lot of units too. As such, I wouldn't say that it's the most spacious of developments, but it's quite acceptable!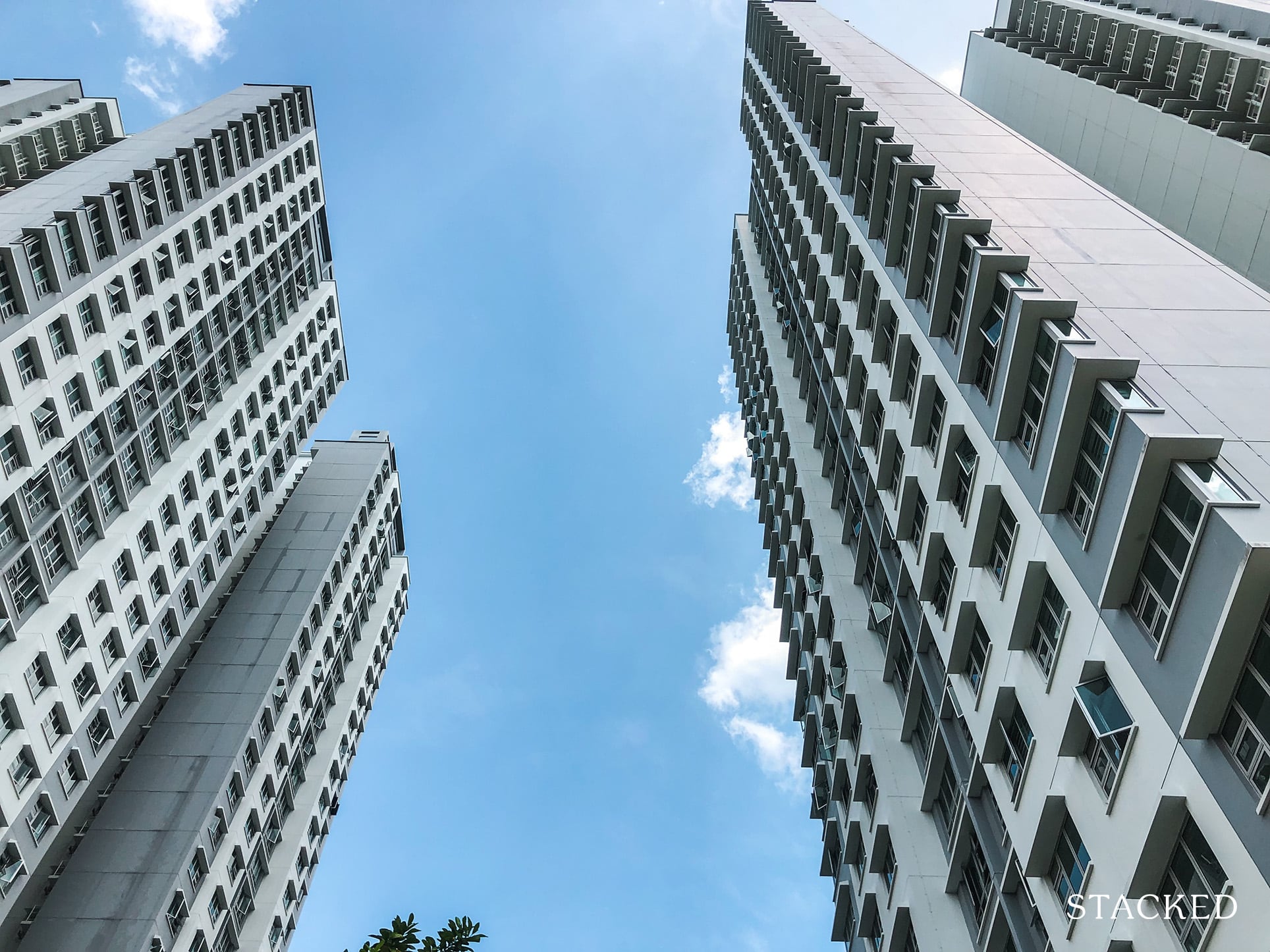 In fact, some inner-facing stacks are quite close to each other, so you do feel a little caved in at certain parts of the development. The closest block that I can find is between blocks 90A and 90B which is around 30 metres. The ranges for inner stacks go up to around 95m which is between 90A and 91A due to the MSCP between them.
The most spacious area would have to be in the centre where all the facilities are due to the distance between the blocks here (around 55 metres). From this angle, you can see how open it is: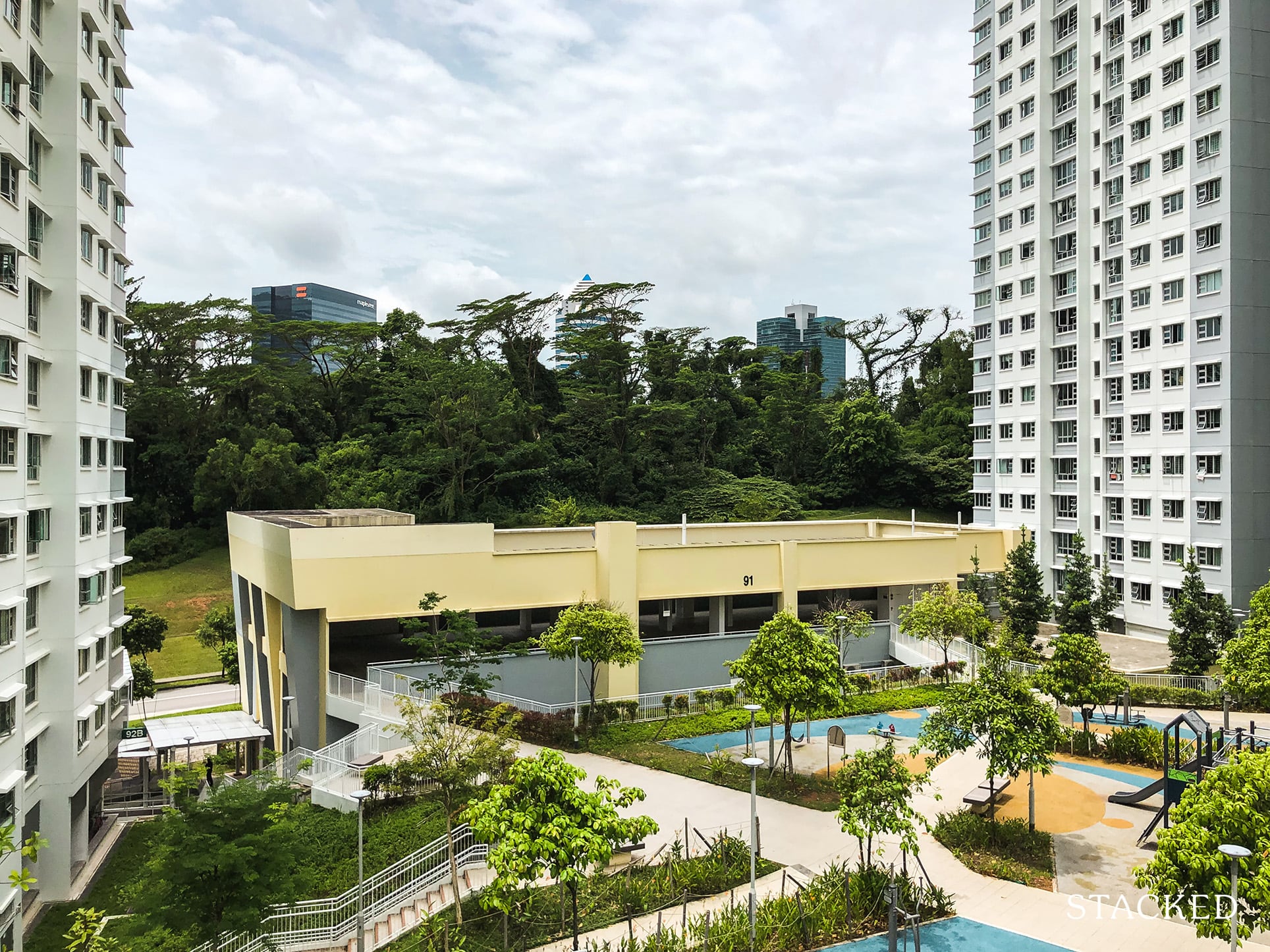 You'll also notice that there are steps on the left side of the picture. As mentioned, the Telok Blangah area is quite hilly and slopes up from the south to the north and you can really see how steep it can get from here. An interesting point to note is that while all blocks are 30 storeys high, the north-most block is actually the tallest since it's just an upslope!
I do like that there's lots of greenery on the ground level that helps make the place feel more welcoming so I'm certainly not complaining, but the landscaping here is nothing really spectacular. After all, there are multiple HDB and DBSS projects that feature better landscaping than the one here.
The rooftop gardens also helps create a more lively feel of the place. This is especially true for residents on mid to higher floors of the inner stacks since having some greenery is always a nice sight to see!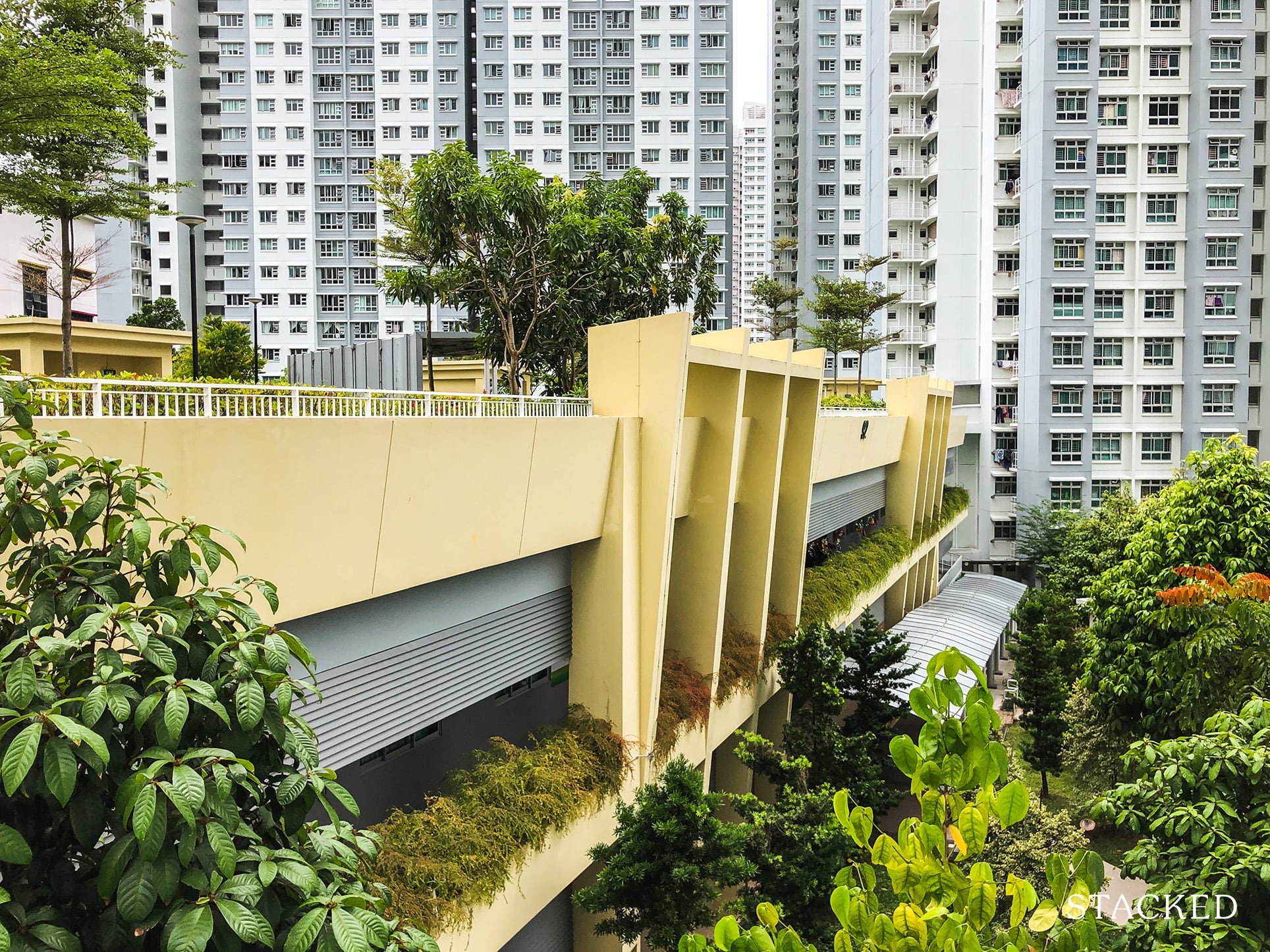 Unit Mix
| | | | | | |
| --- | --- | --- | --- | --- | --- |
| Block | Studio (Type A) | Studio (Type B) | 3 Room | 4 Room | Total |
| 90A | – | – | 48 | 174 | 222 |
| 90B | – | – | – | 116 | 116 |
| 91A | – | – | 112 | 116 | 228 |
| 92A | 29 | 87 | 58 | – | 174 |
| 92B | 56 | – | 56 | 116 | 228 |
| 93A | – | – | 56 | 172 | 228 |
| 93B | – | – | 56 | 228 | 284 |
| Total | 85 | 87 | 386 | 922 | 1480 |
Source: HDB
Telok Blangah Parcview Stack Analysis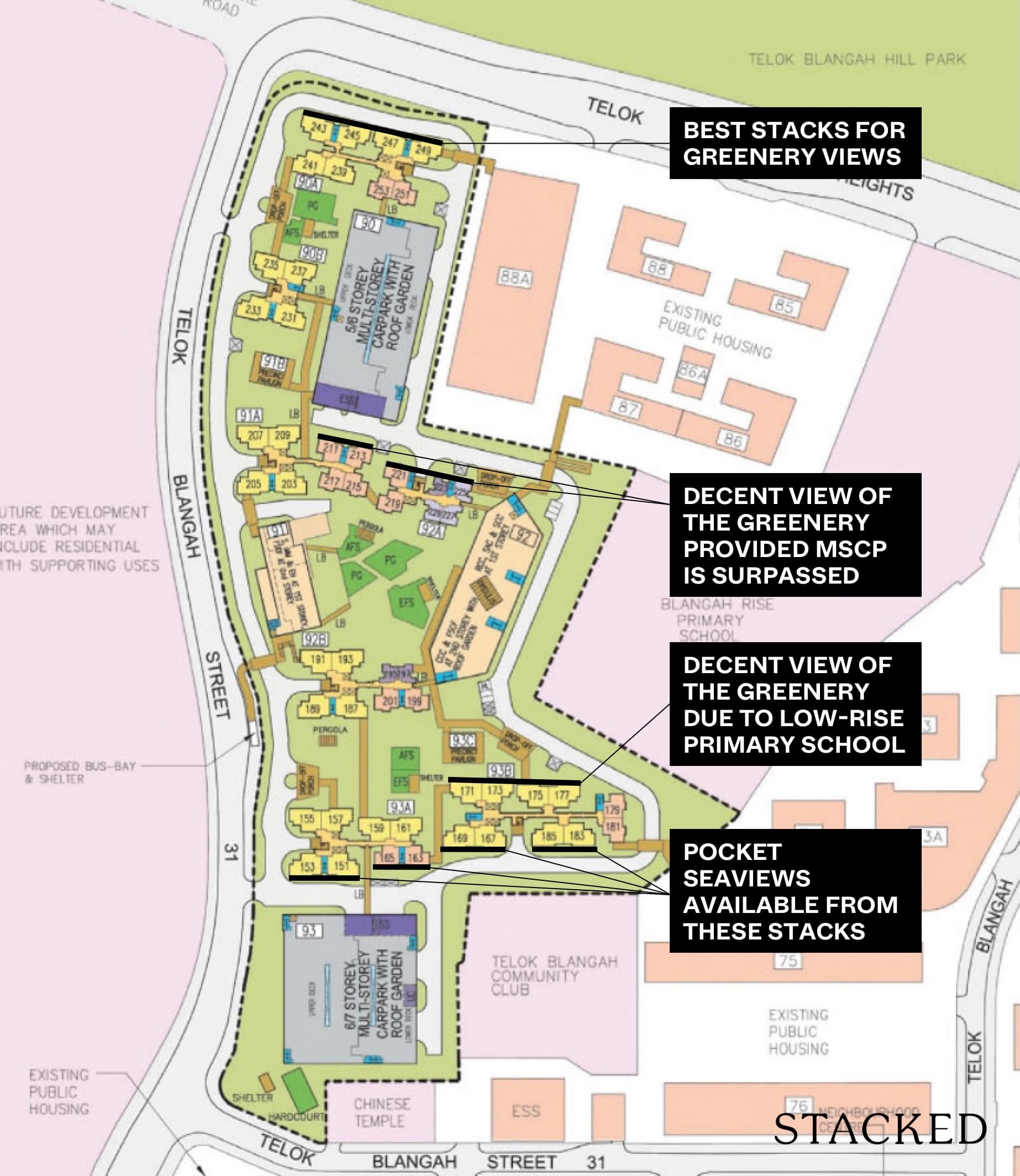 If you're on the hunt for an HDB in the Telok Blangah area, then it's obvious which stacks have the best facing.
All of the north-facing stacks that do not directly face the opposite block will have pretty good views of the vast greenery at Telok Blangah Hill Park: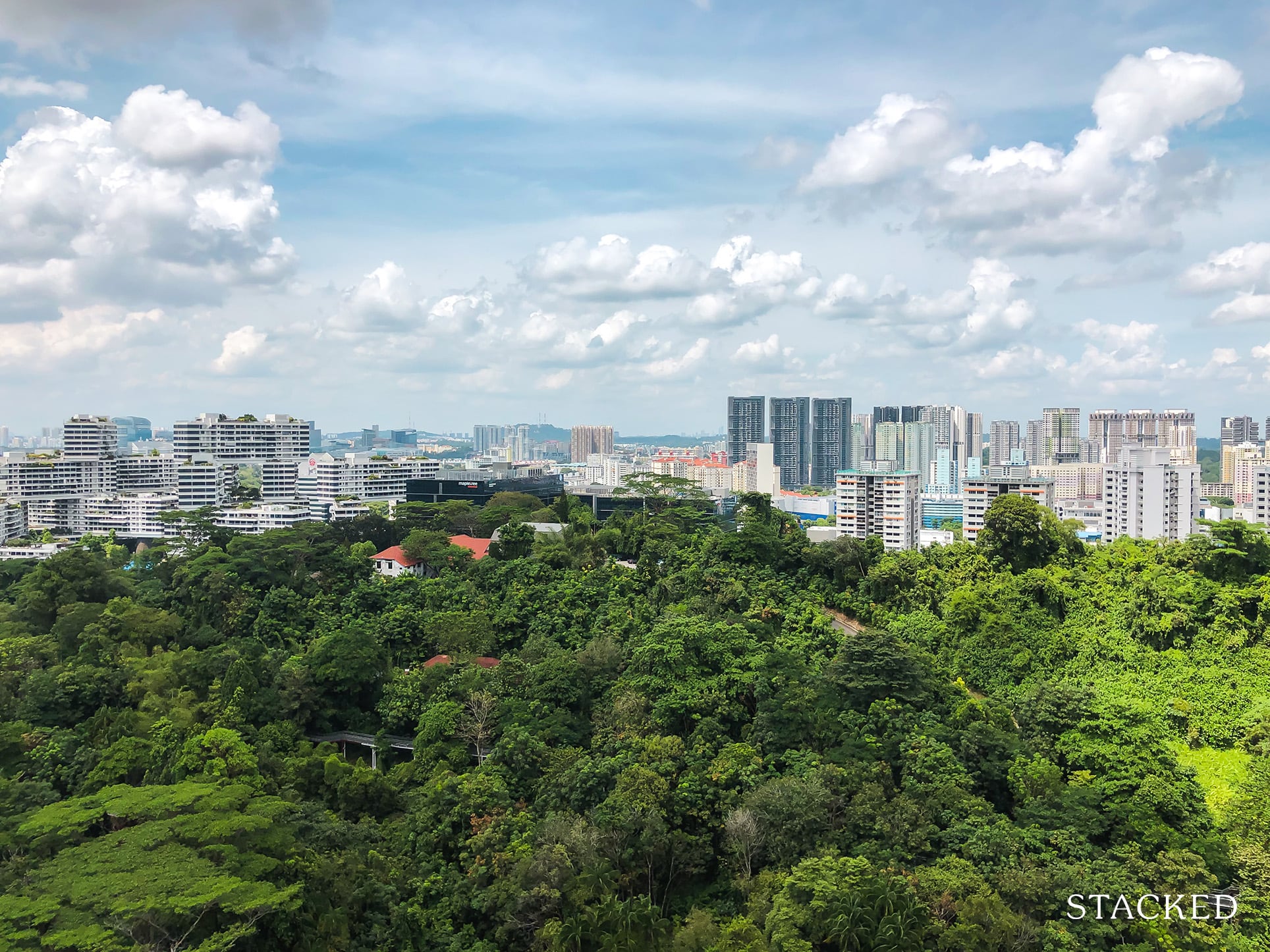 This view is superior to the south view considering the development of the Greater Southern Waterfront area, which will see its already pocket sea views likely diminishing further.
You don't have to be at the edge of the development to enjoy the greenery views too. Given the low-rise Blangah Rise primary school is just next door, residents on higher floors should be able to get a good view of the greenery too.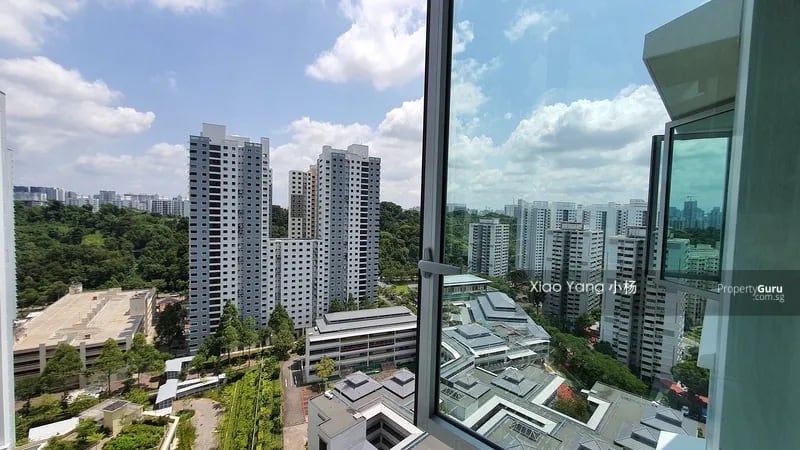 However, do note that the small HDB development at blocks 85 to 88 are 30 storeys high which does block some of the view as shown above.
There are only two east-facing stacks, and they're both 3-room flats. For these stacks, you do get really good views of the CBD and the greenery at Mount Faber assuming you surpass the opposite HDB blocks. These are around 12 – 15 storeys high so getting a unit from the 20th storey should offer pretty good views!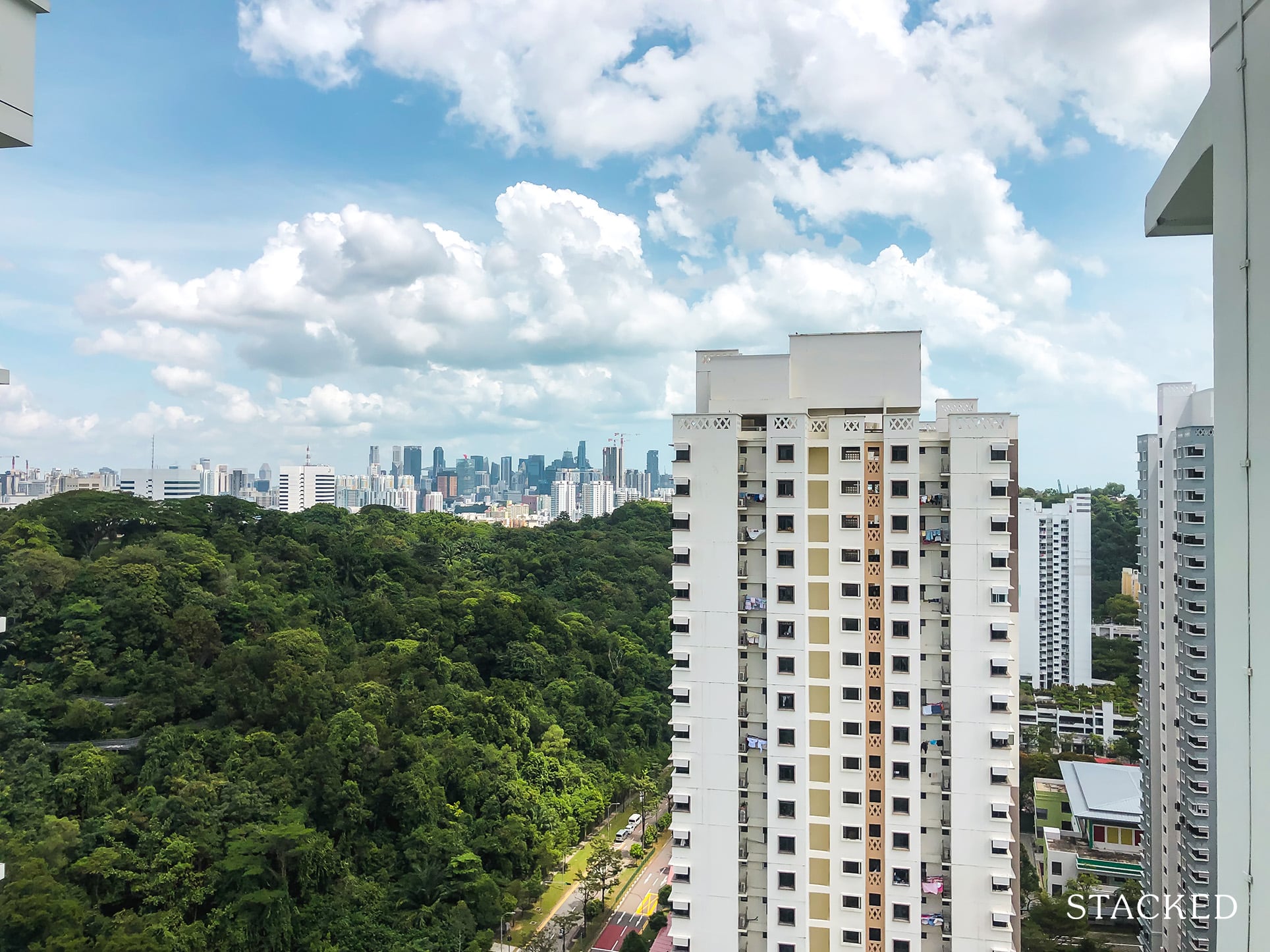 Layout Analysis
Studio (Type 1) 37 sqm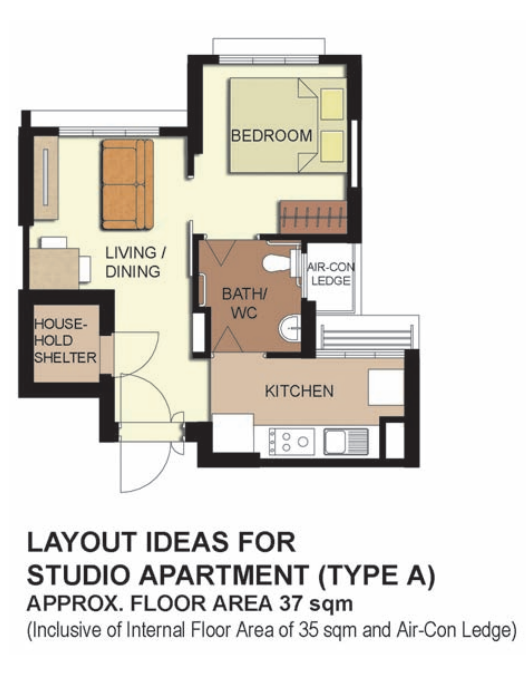 | | |
| --- | --- |
| Pros | Cons |
| Spacious kitchen area. | Tight living and dining area |
| Jack and Jill bathroom | Bathroom access up to living/dining area |
Telok Blangah Parcview Studio Type A Pros and Cons
Studio (Type 2) 47 sqm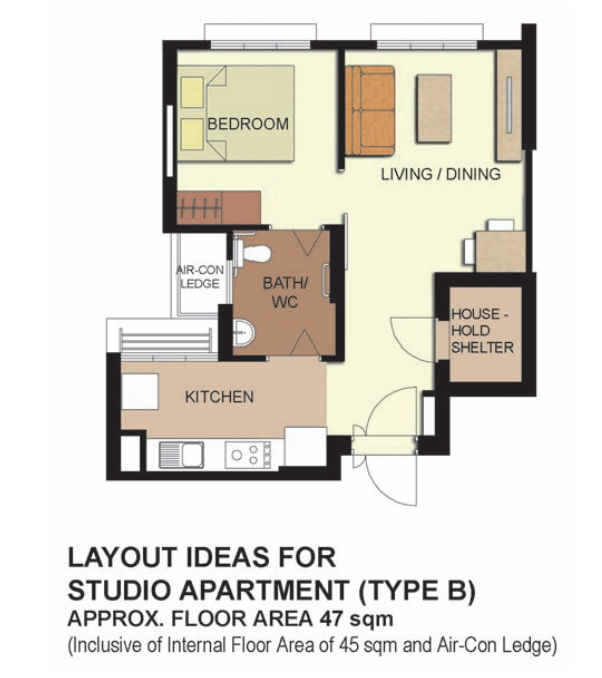 | | |
| --- | --- |
| Pros | Cons |
| Good size kitchen area. | The main door opens straight to the living and dining area, lacks privacy |
| Jack and Jill bathroom | |
Telok Blangah Studio (Type B) Pros and Cons
3-Room flat 68sqm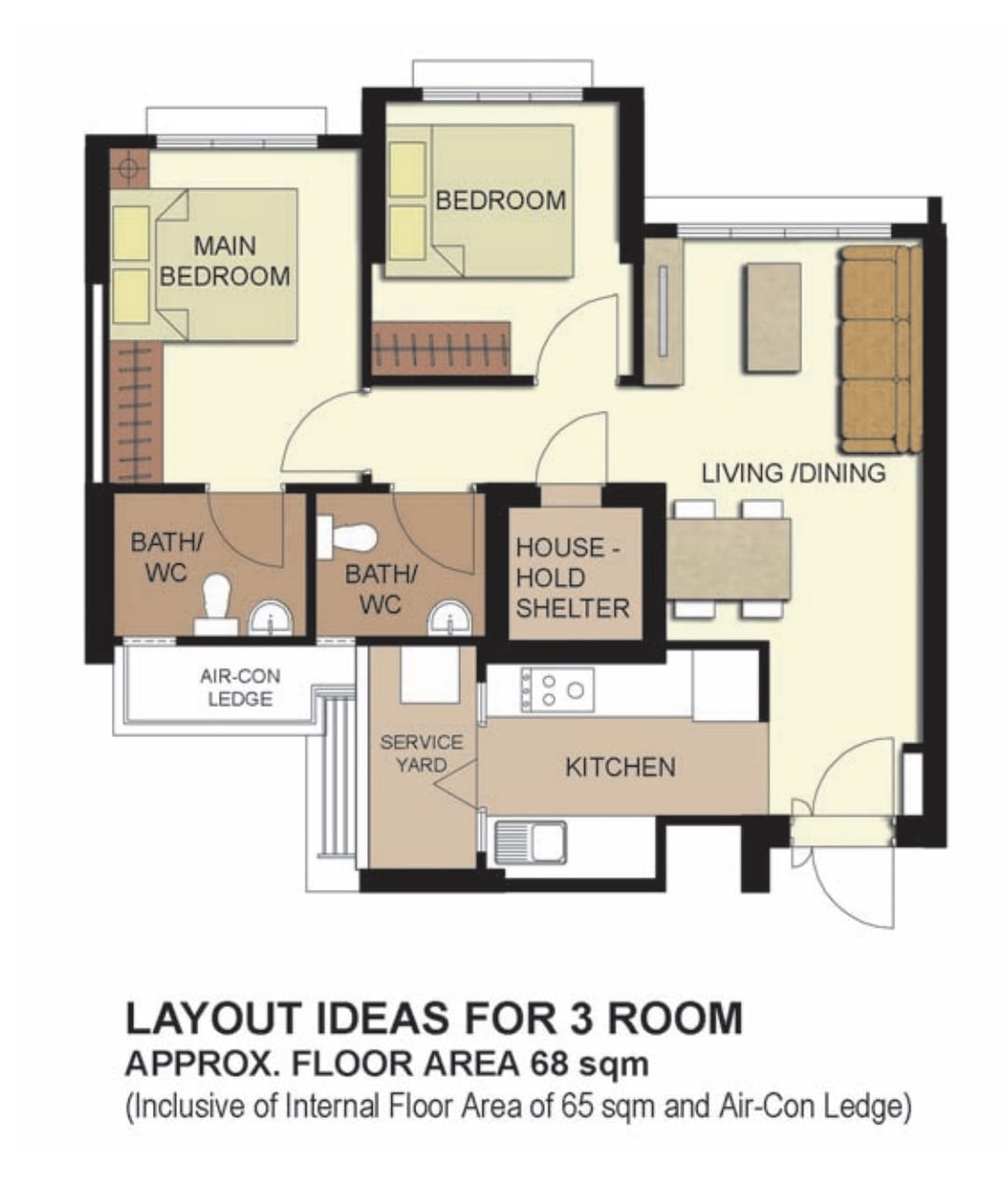 | | |
| --- | --- |
| Pros | Cons |
| Spacious kitchen area with ample countertop space and allows for cabinets to be built on both ends | Long bedroom walkway space |
| Good service yard layout allows for a washer and dryer on both ends | Tight living and dining area |
| | The main door opens up to the living area which reduces privacy |
| | Short bedroom wall reduces space for a TV console |
4-Room Flat 93 sqm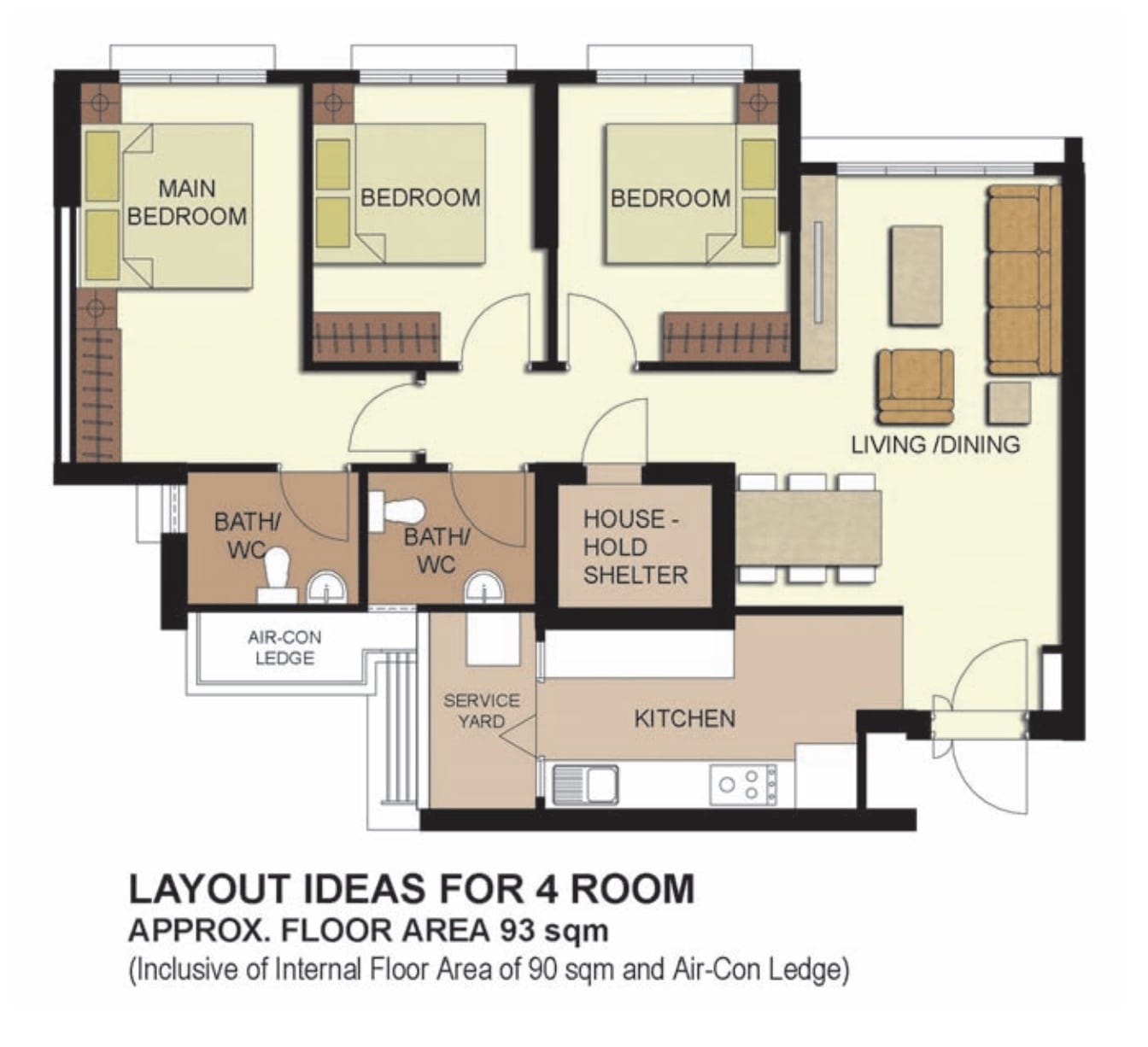 | | |
| --- | --- |
| Pros | Cons |
| Spacious kitchen area with ample countertop space and allows for cabinets to be built on both ends | Protruding column between bedrooms hence walls could not be hacked fully. |
| Good-sized dining area does not protrude to the entry walkway | Short bedroom wall reduces space for a TV console |
| Separate living and dining area | Long bedroom walkway space |
| Good service yard layout allows for a washer and dryer on both ends | The main door opens straight to the living area, lacks privacy |
Telok Blangah Parcview 4-Room Pros and Cons
Telok Blangah Parcview Pricing
There's no recorded transaction at Telok Blangah Parcview which is quite strange considering there would usually be a handful of early-MOP cases. That being said, this HDB development also looks set to reach its MOP this year, so it shouldn't be much longer before we can get transacted prices here.
Based on our Telok Blangah Ridgeview analysis, we should expect prices of 4-room flats here to be in the $800,000+ range while 3-room flats would be around $600,000+. It's a really good gauge due to the similar lease and location.
Naturally very high floor 4-room flats that face the greenery could even go into the $900,000+ range since Telok Blangah Ridgeview, which has a lease start date of 2017 saw a unit transacting at $895,000 for a unit between the 22nd to 24th floor:
| | | | | | | | |
| --- | --- | --- | --- | --- | --- | --- | --- |
| Flat Type | Model | Storey Range | Size (SQM) | Lease Start | Lease Remaining | Price | Month |
| 4R | Model A | 22 to 24 | 93.00 | 2017 | 94 years 3 months | $895,000.00 | Mar 2022 |
Source: HDB
As such, buyers waiting for this development to reach its MOP should expect to be paying the aforementioned range.
If you search property portals such as PropertyGuru today, you'll find that several owners are asking for $800,000+ to $900,000+ for a 4-room flat here already:
Of course, it doesn't mean they'll necessarily fetch that price. But it's quite a possibility considering Telok Blangah Ridgeview is at a similar level.
Overall, I think that paying $800,000 to $900,000 for a 4-room flat makes sense if I can get the greenery view on the north side. If this amount is to be paid for an inner-facing stack, I'd likely consider another fantastic HDB, perhaps not too far away that offers such a view (hint: Queenstown).
Our Take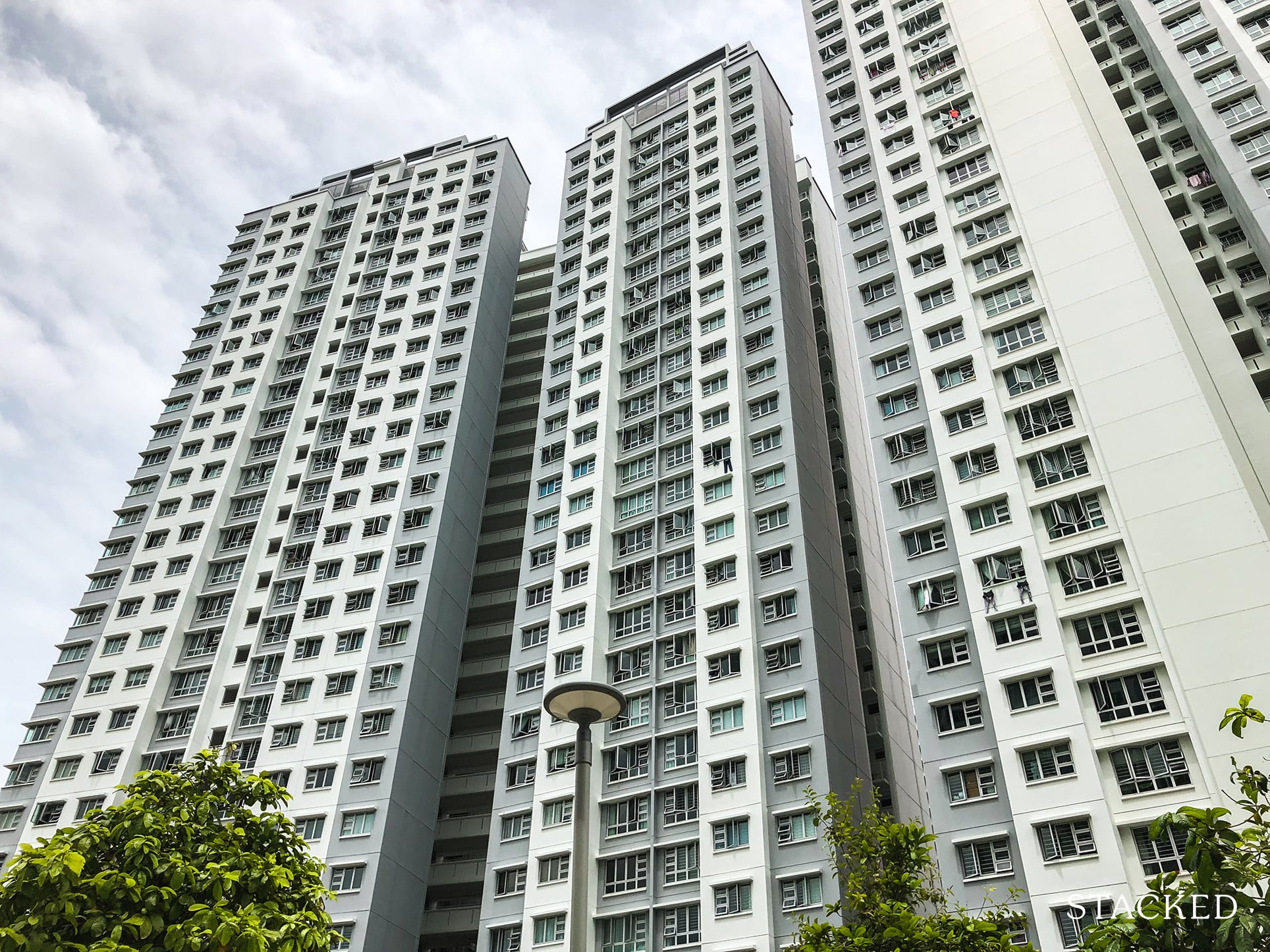 Similar to Telok Blangah Ridgeview, I do like what the location here has to offer – tranquillity along with its proximity to the CBD.
The views for most stacks are quite decent, with the greenery afforded on the north side being the best in my opinion. Furthermore, the plot located on the west side is empty, making the overall place feel less crowded and provides unblocked views to the west side.
The major downsides would be the upward sloping walk to the development as well as the walking time to the MRT considering it is on the furthest end from Telok Blangah MRT, just like Telok Blangah Ridgeview.
One added advantage this development has over Ridgeview is the eating house and supermarket, providing residents here with quick access to daily amenities. It's also only a few minutes walk to Telok Blangah Mall/Market, making it really convenient for residents here.
All in all, if you do not mind the public transport inconvenience and lack of schools in the area, Telok Blangah Parcview is a serious contender for anyone looking for that greenery view and proximity to the CBD.
I, for one, am a fan. The only problem here like in most dilemmas is the cost because it will definitely be within the most expensive HDB category. And for that, I would really need to have the amazing view!
What this means for you
You might like Telok Blangah Parcview if you:
• Want a greenery or sea view:Buyers can choose either the north-facing stack for greenery views, or south-facing ones for sea views though that may not last once the Greater Southern Waterfront development is completed.
• Want peace and quiet:Being in Telok Blangah means you are surrounded by nature. The lack of major roads running past the development also means little traffic noise.
You may not like Telok Blangah Parcview if you:
• Looking for more schooling options:With just one primary school within 1km, parents who want more options may want to look elsewhere. Otherwise, the distance to the primary school is very decent!
• Rely on public transport:The walk to the MRT is quite a distance for the price that you are paying. It's also an uphill walk from the MRT back home.
End of Review