HDB Reviews

Tampines GreenRidges Review: Unique Design, With Park-like Landscaping And Self Sufficient
Sean
June 2, 2022

33

min read
Reviewed by Sean on June 02, 2022
What we like
Self sustained development with a supermarket, eating house, childcare centre, shops and even clinic.

Good unit mix (3-, 4-, 5-room flats and 3-Gen)

Great facilities range including unique facilities
What we don't like
—

Development is pretty dense

—

Away from Dual-line Tampines MRT station, approx 15mins (Unsheltered walk)

—

Highly dependent on bus services to get around
33
min read
| | |
| --- | --- |
| Project: | Tampines GreenRidge |
| HDB Town | Tampines |
| Address: | 601A-D, 603A, 604A-B Tampines Avenue 9, 605A-D, 606A-D Tampines Street 61. |
| Lease Start Date: | Around 2019 |
| No. of Units: | 1,943 |
Tampines GreenRidges is one of those developments that you could brush off really quickly just looking at its name. After all, many of the new Tampines North HDBs have the prefix "Green" in them. But make no mistake, this award-winning development has certainly carved out a unique identity for itself given its architecture and design.
Designed by LAUD Architects and G8A Architecture & Urban Planning, Tampines GreenRidges (as the name suggests) consists of blocks with different heights and setbacks to maximise the views of the landscaping while the green strips are meant to mimic mountain ridges.
The 1,943 unit HDB was launched as part of the November 2014 BTO exercise alongside one other Tampines project (Tampines GreenEdge), two Yishun BTOs, one Sengkang BTO, and one Sembawang BTO.
It reached its TOP in 2019 and is the first housing parcel to be launched in the new Tampines North Neighbourhood.
Today, the development is known for its unique "condo-looking" architecture with some enthusiasts pointing it out in Google Reviews: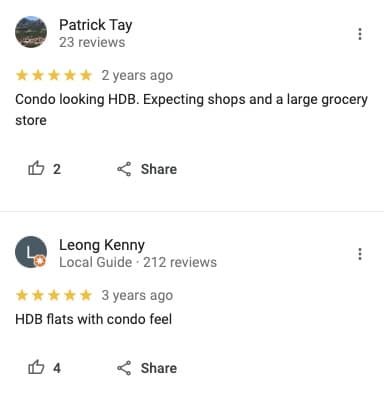 Of course, not everyone agrees with this since the design is pretty subjective – even though it's unique.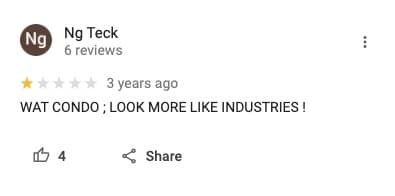 But housing isn't just about looks and identity – it's about liveability and how desirable it is to stay here, so without further ado, let's find out what Tampines GreenRidges is really like in our usual HDB tour!
Tampines GreenRidges Insider Tour
Tampines GreenRidges definitely make a strong impression on arrival. The main entrance is along Tampines Avenue 9 and just from the outside, you may possibly wonder if this is an HDB or condo (or to a certain extent, even a commercial building):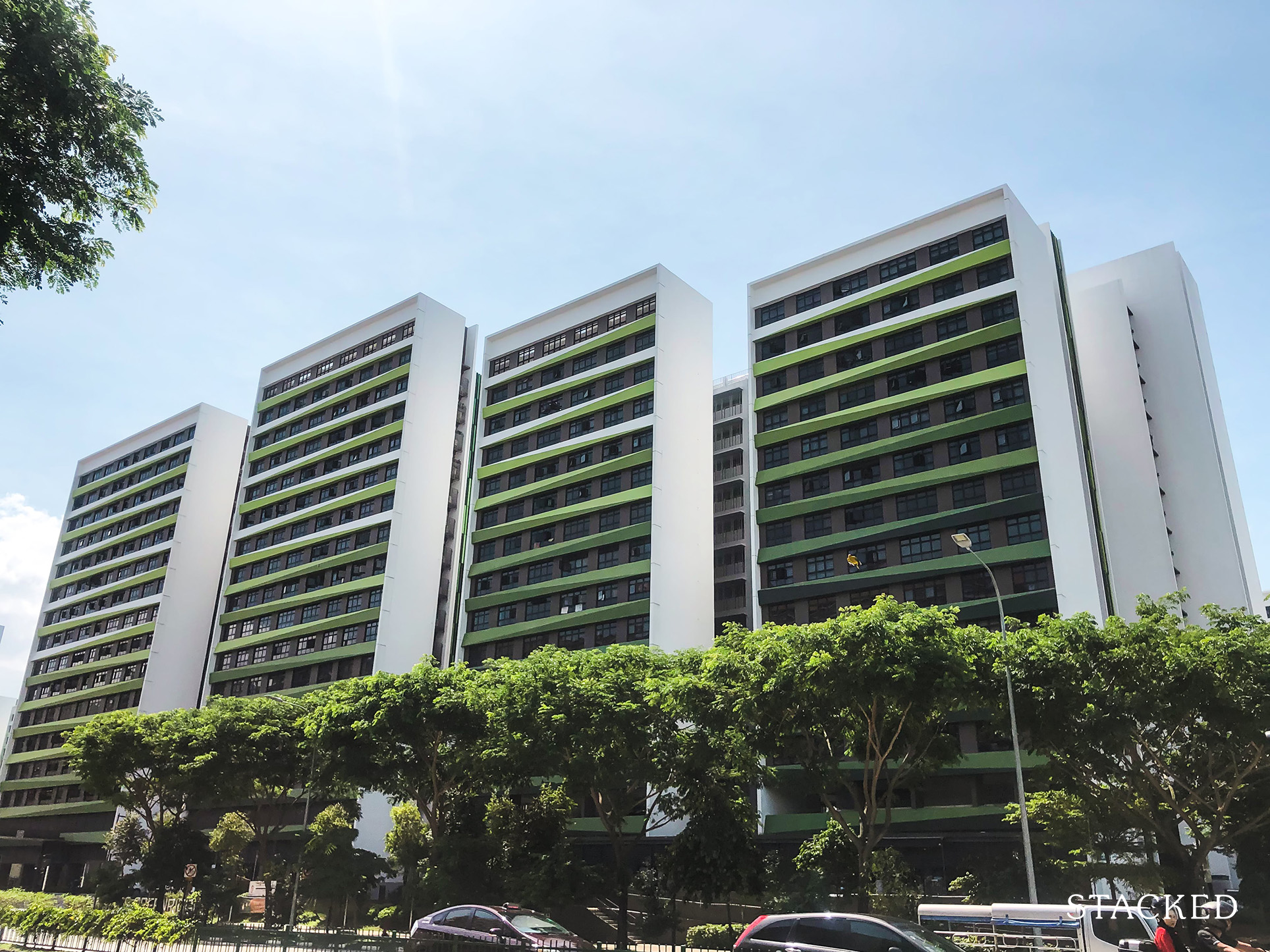 I've only encountered two other HDBs with a unique design to the point where we had to get a second take: SkyVille@Dawson and SkyTerrace@Dawson.
So when friends from abroad come to Singapore, I love showing them all the different types of HDBs in Singapore. And once they think they've got the differences between HDBs and condos down, I'll use the Dawson HDBs to throw them off. I suppose Tampines GreenRidges now adds to this list!
Even the development sign on the front makes a great impression. I love the bold, silver wording that runs across the front here. It's not tacky and is what I think to be a timeless design. So far, the development sets the tone for things to come, so let's explore more.
Turning right and heading into the development, you'll reach the main drop-off point at block 602A: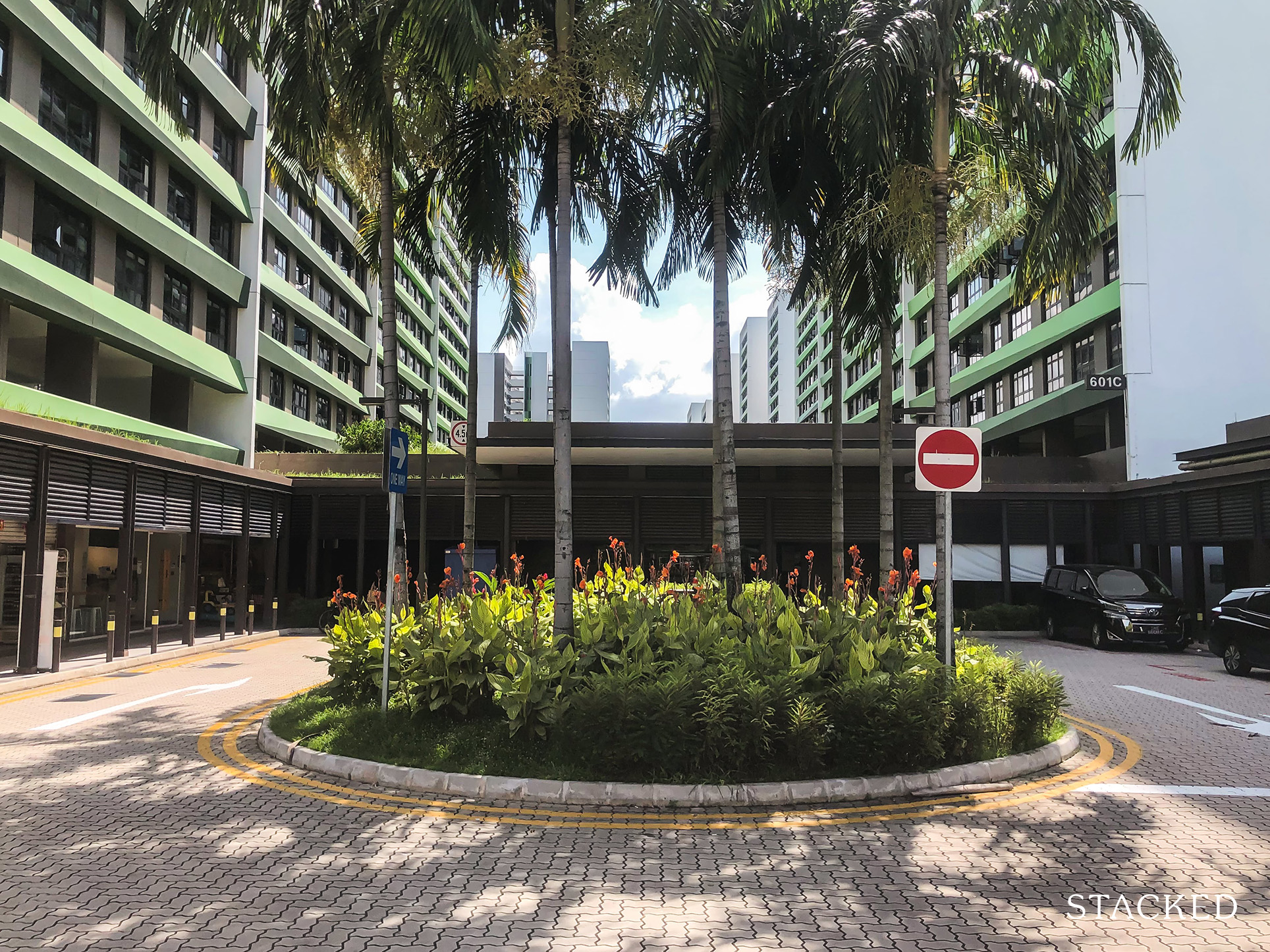 The drop-off here has a roundabout design which is probably the most optimal design for any drop-off in my opinion since drivers wouldn't need to do a 3-point turn.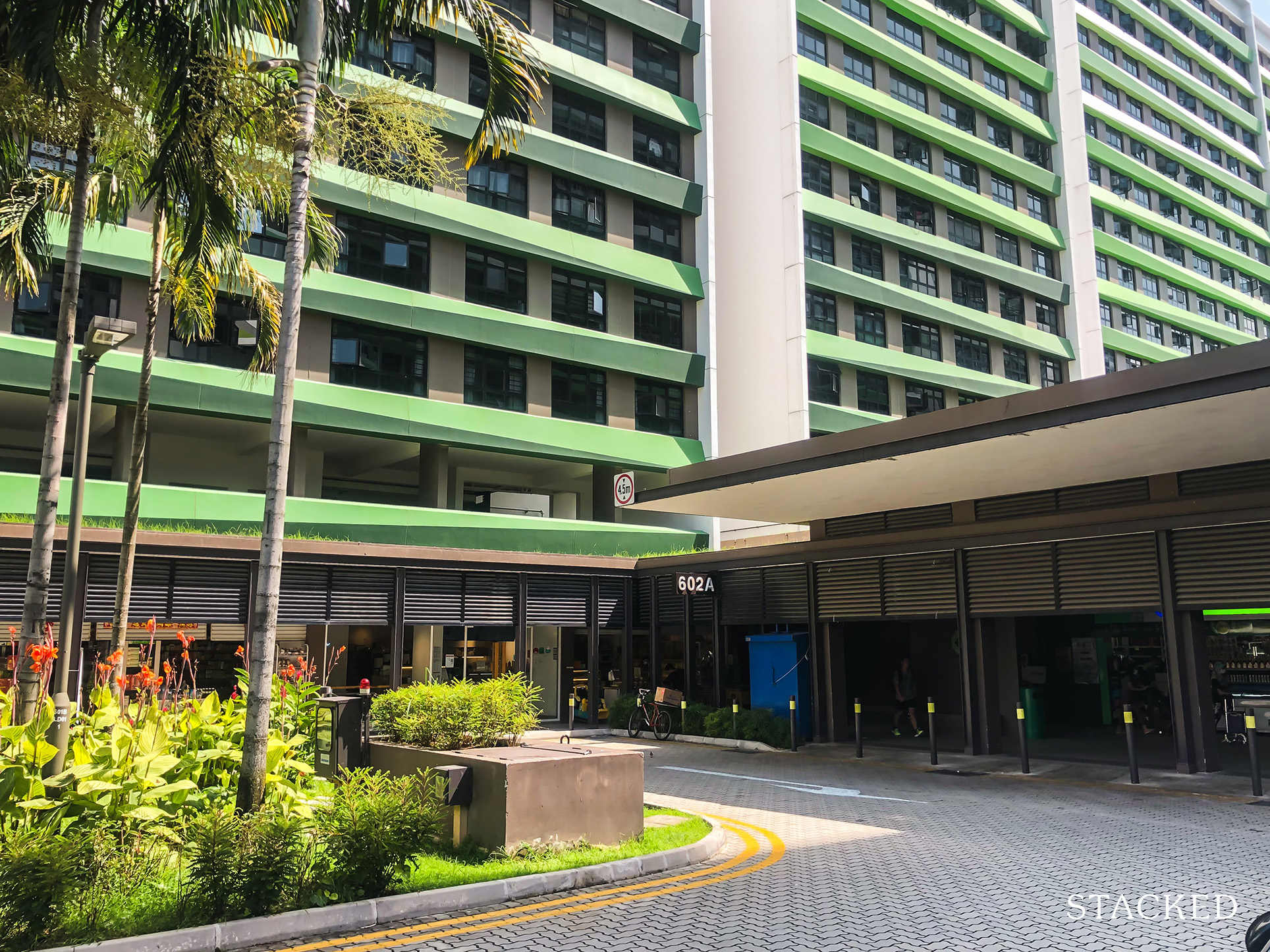 It's also sheltered and can accommodate up to two or three cars at any time. This is quite spacious by HDB standards as most drop-offs can only accommodate one. Moreover, every other drop-off point is similar in design – spacious, sheltered, and can accommodate two to three cars as well. This bodes really well for a development this size since there are a total of 4 spacious drop-off points!
In addition to that, you'll find a seating area here. Not particularly the best – just a concrete extension from the wall, but at least there are seats nearby and you can rest your back! If I had to nitpick, I'd say that it looks like a repainting job is needed. For a new development, that's not too good a sign to begin with.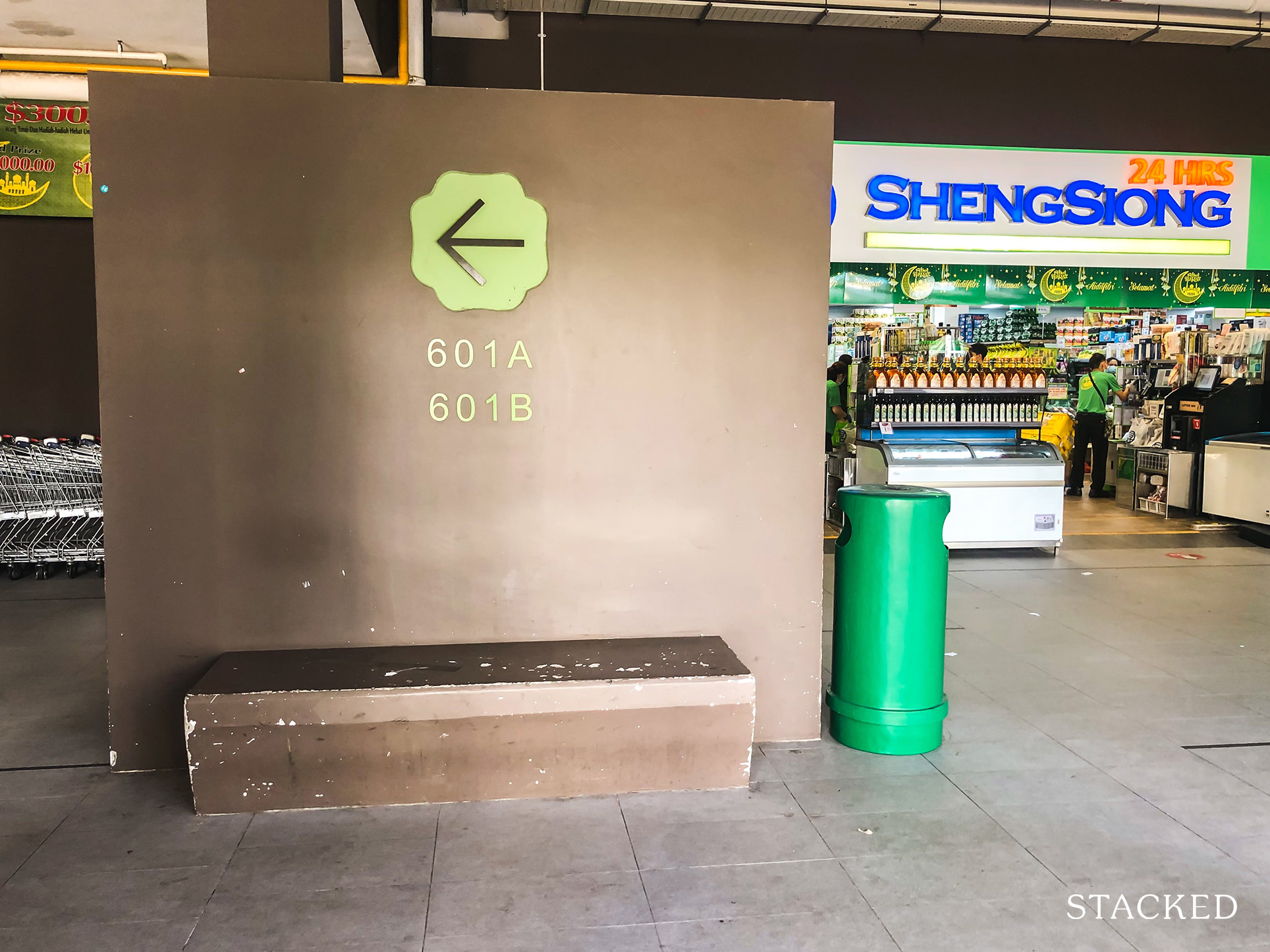 One thing to note is that there are stacks that directly face the drop-off point. Residents in these units will need to bear with noise and privacy issues, so do take this into consideration if you're viewing such a unit!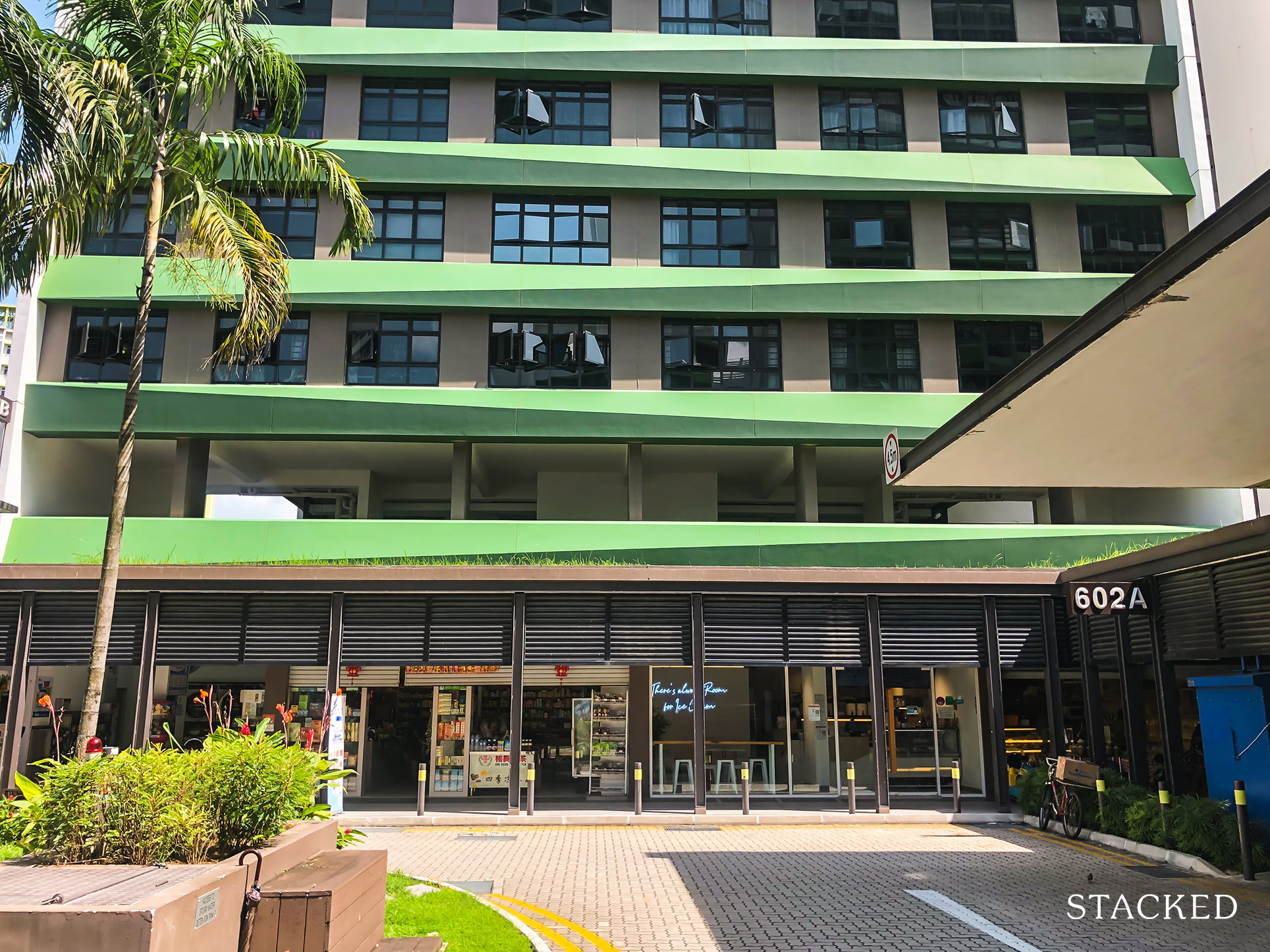 By now, you'll probably notice the 24-hour Sheng Siong Supermarket right at this drop-off. That's right, Tampines GreenRidges comes equipped with its very own commercial block!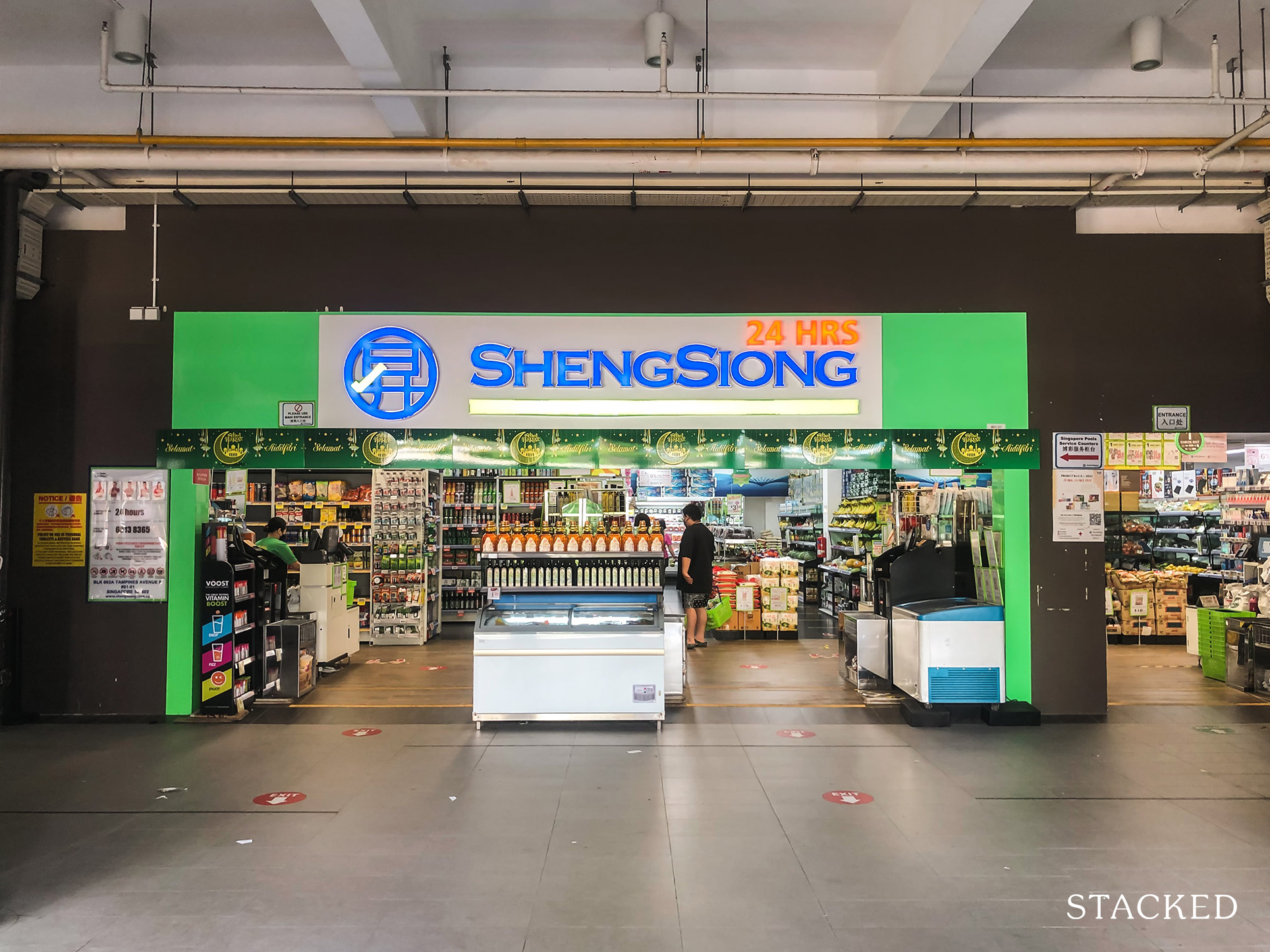 Having a major supermarket operator is great, but it's always amazing to have one that is open 24/7. I love having the freedom to take a jaunt down late at night if I'm feeling a little peckish, or being able to grocery shop without the crowds. Not many HDBs have this within or nearby their development, so this is definitely a draw for me. If you must know, the ones with 24-hour supermarkets that we've reviewed so far include Hougang Capeview and SkyPeak @ Bukit Batok.
Apart from the supermarket, you have the usual dental and medical clinic, shops, cafe, bakery, hairdresser, as well as an eating house (non-airconditioned).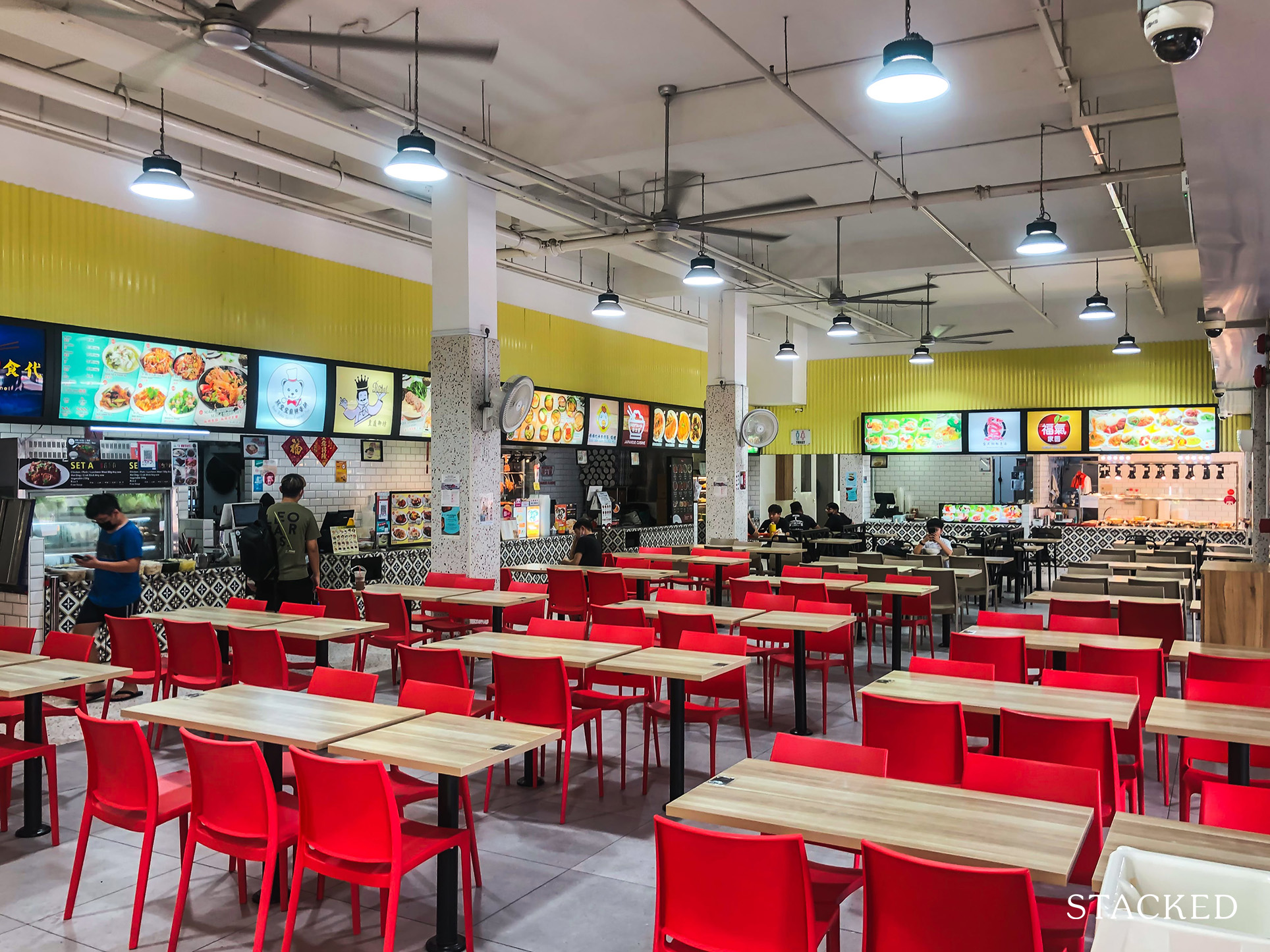 Next, let's see what the car park situation is like at Tampines GreenRidges.
There are two car parks at Tampines GreenRidges which are of the multi-storey variety. The car park has a very nice dark brown exterior which is consistent with the rest of the development. I never thought I'd be a fan of dark brown, but it does give off quite a premium feel here.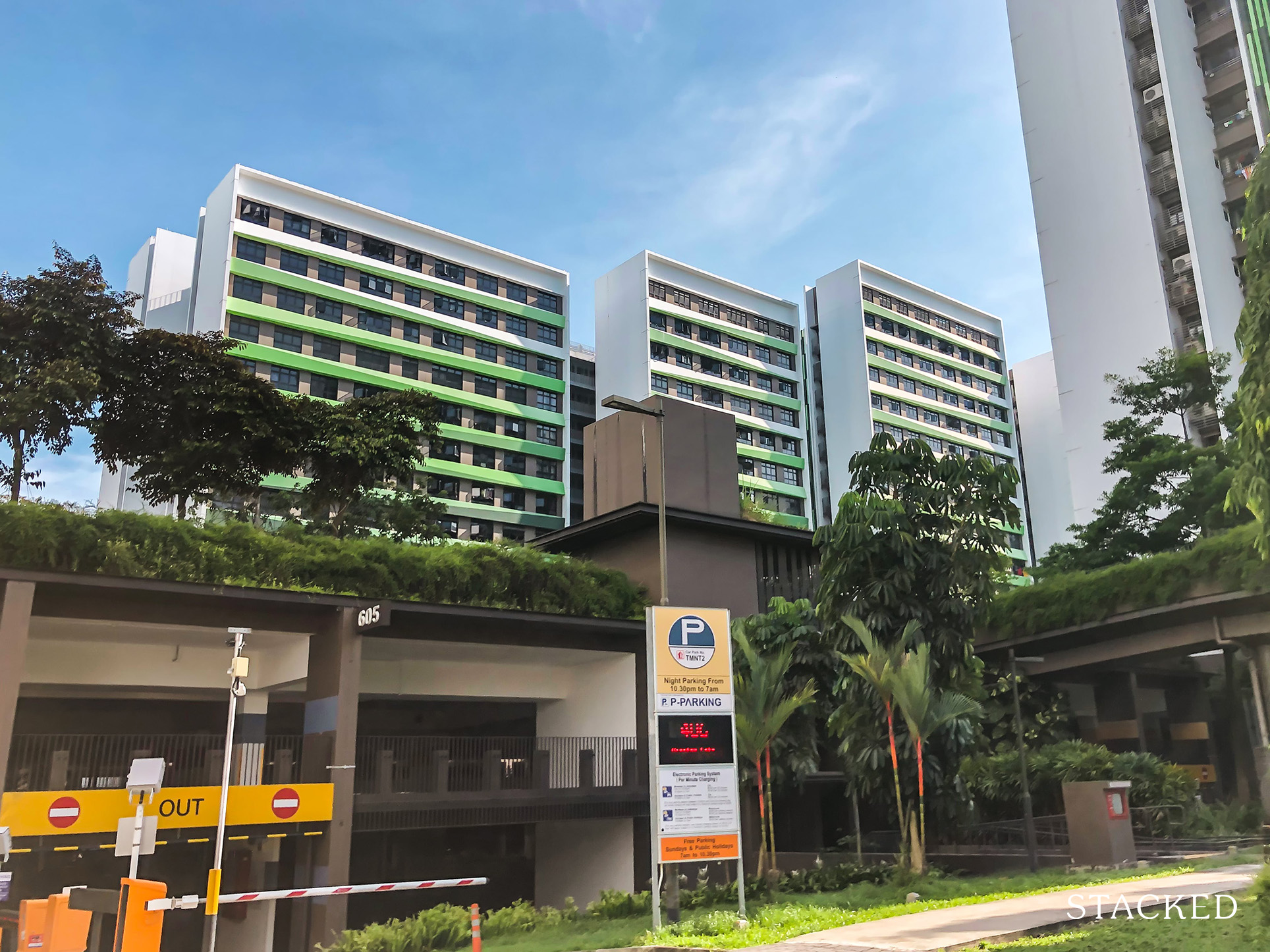 Each car park has two entrances and exits which is good, and the parking situation here seems to be decent:
| | | |
| --- | --- | --- |
| Carpark | Total Lots | Season Parking Lots |
| South carpark (NT1) | 463 | 151 |
| North carpark (NT2) | 594 | 245 |
| Total | 1,057 | 396 |
Carpark availability as of June 2022
With close to 400 season parking lots available here, residents can be assured that they would be able to secure a lot here.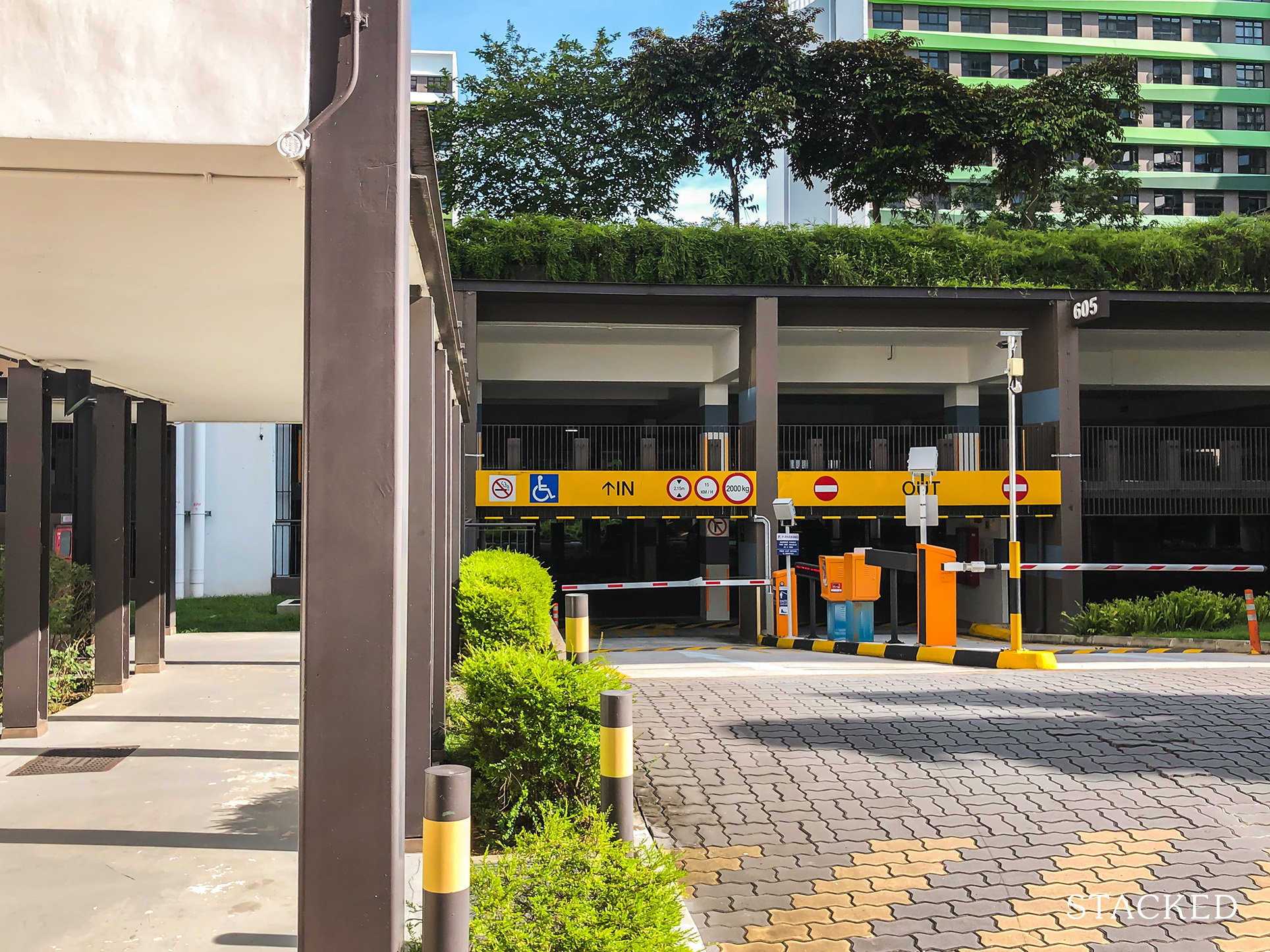 Heading inside, you'll also find that the car park is bright and airy, typical of any MSCP.
To help improve light and ventilation, you'll also find air wells here which are pretty standard.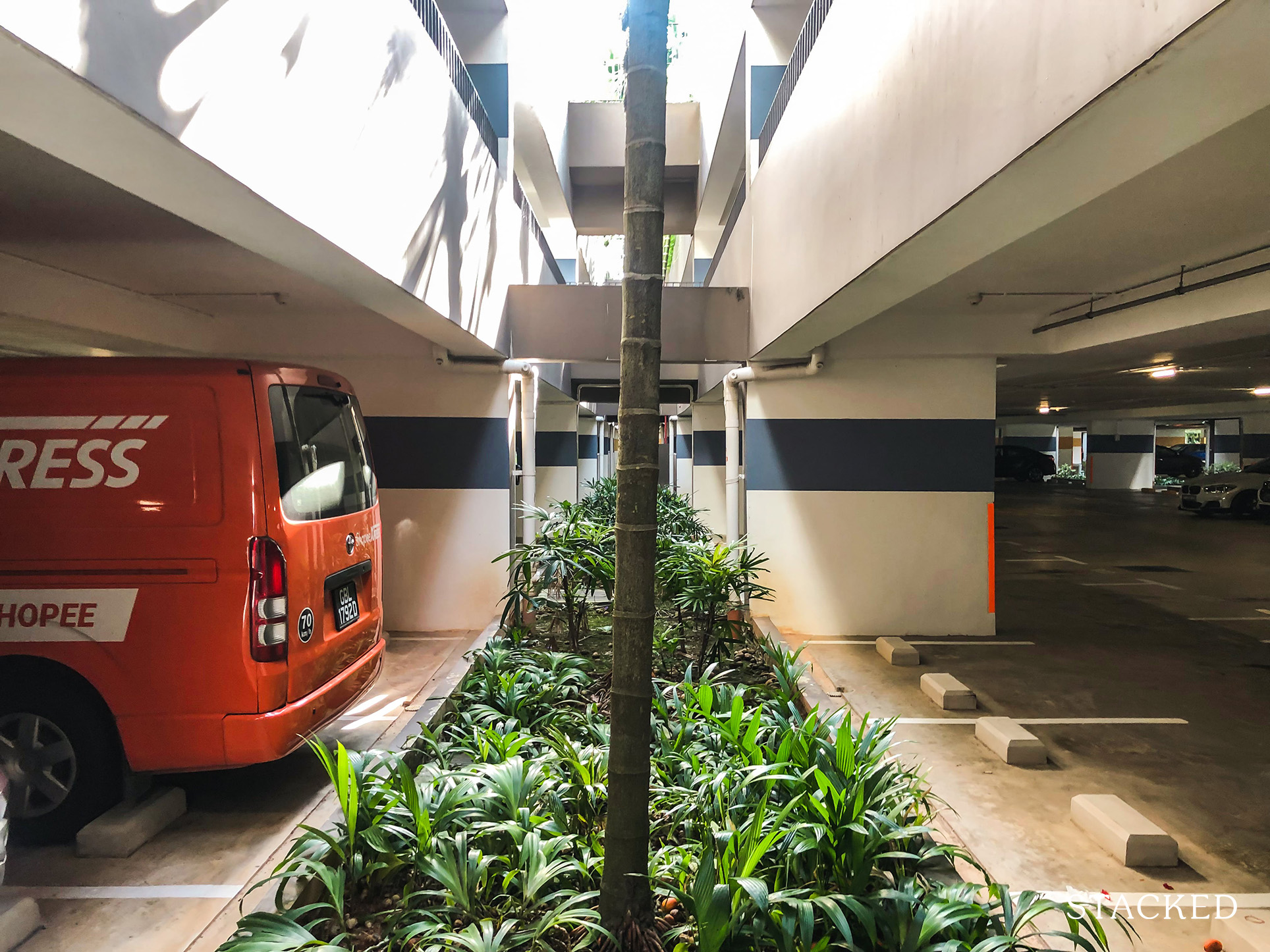 You'd be pleased to know that all of the blocks are directly connected to the car park too, and given how it spans across the development, you really wouldn't need to walk much to get to your block! Of course, this assumes you can find a desirable lot but that shouldn't be an issue here.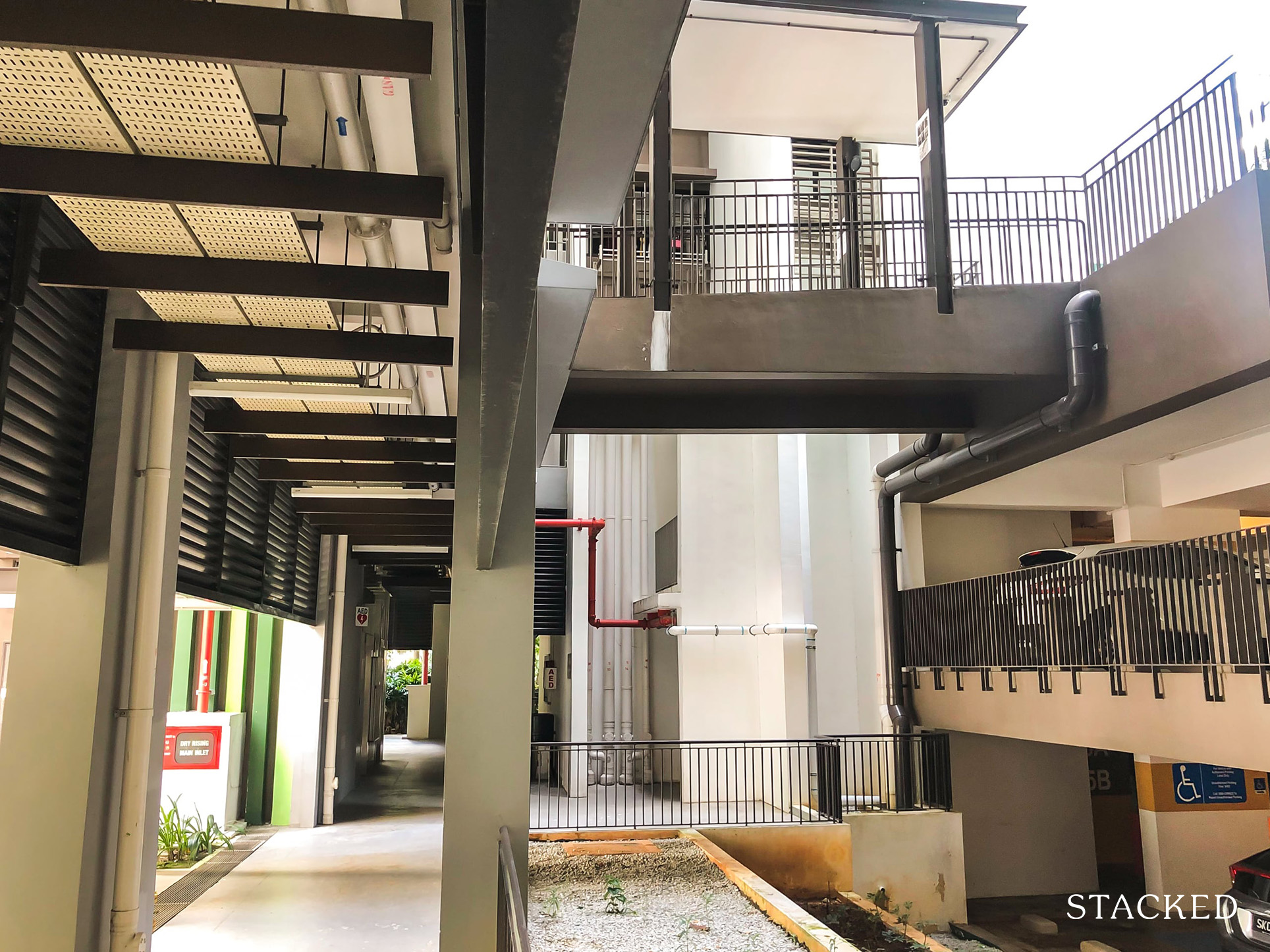 Now that we're done with the car park tour, let's head up to see one of the highlights of Tampines GreenRidges – the car park rooftop garden starting with the southern block.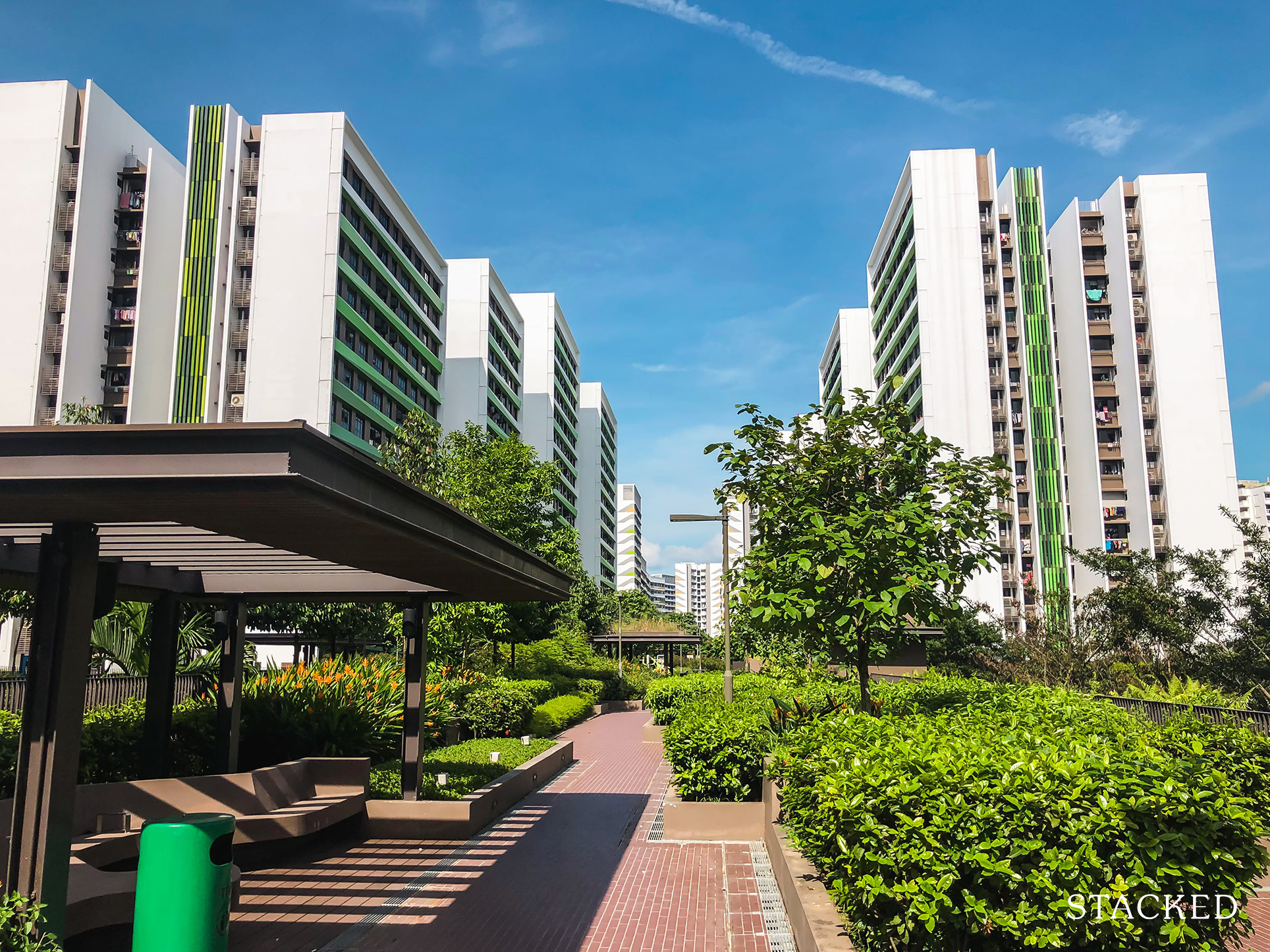 First, let's talk about the landscaping. It's clear that quite a lot of thought went into this as you can see the different types of trees and shrubbery being used to give the place a very exquisite look.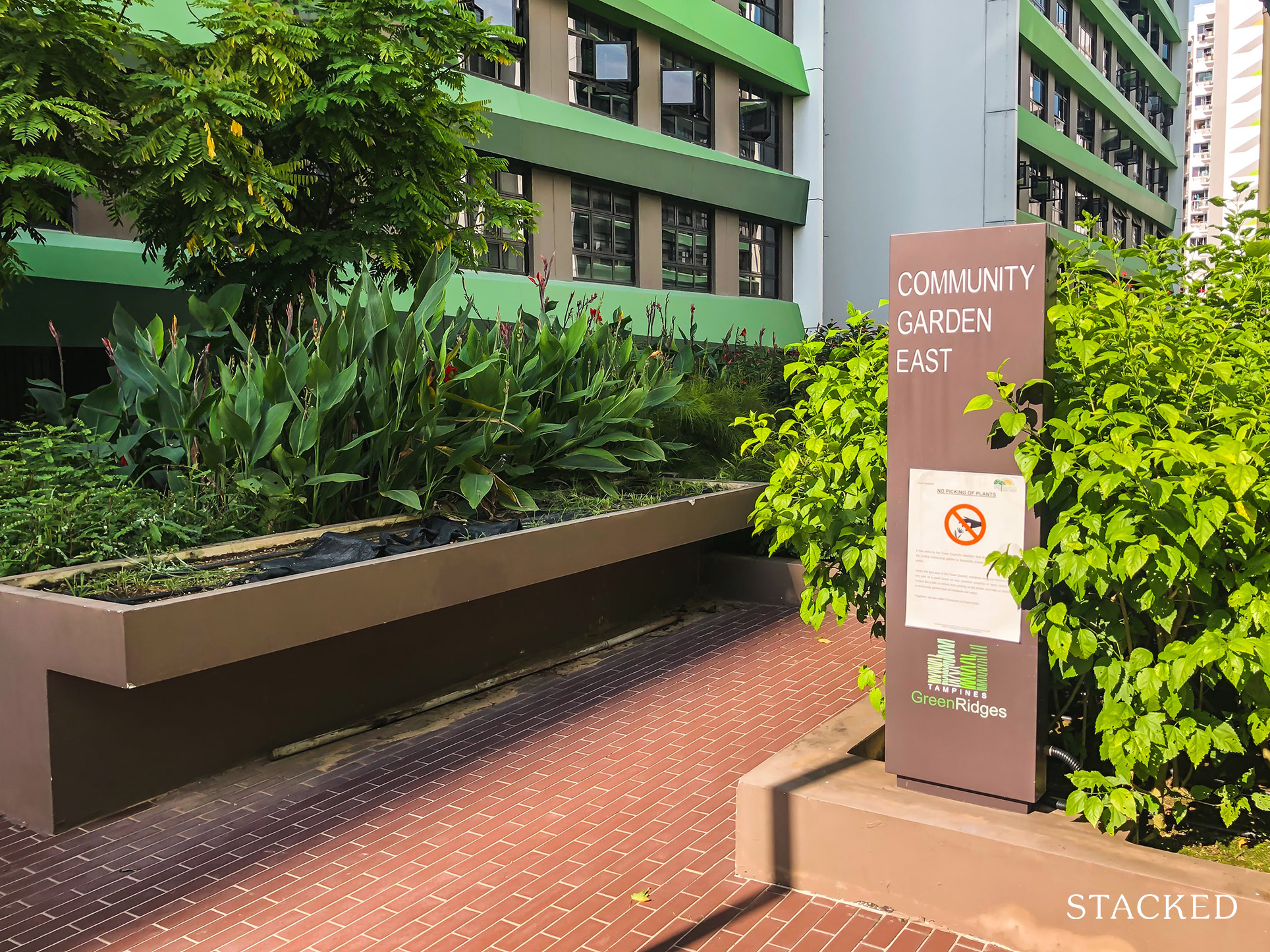 I've seen multiple rooftop gardens where the same shrubbery is plopped along the pathways which are kind of the bare minimum and really serve to reduce heat in the area rather than being a place to stroll (Hougang Capeview always comes to mind).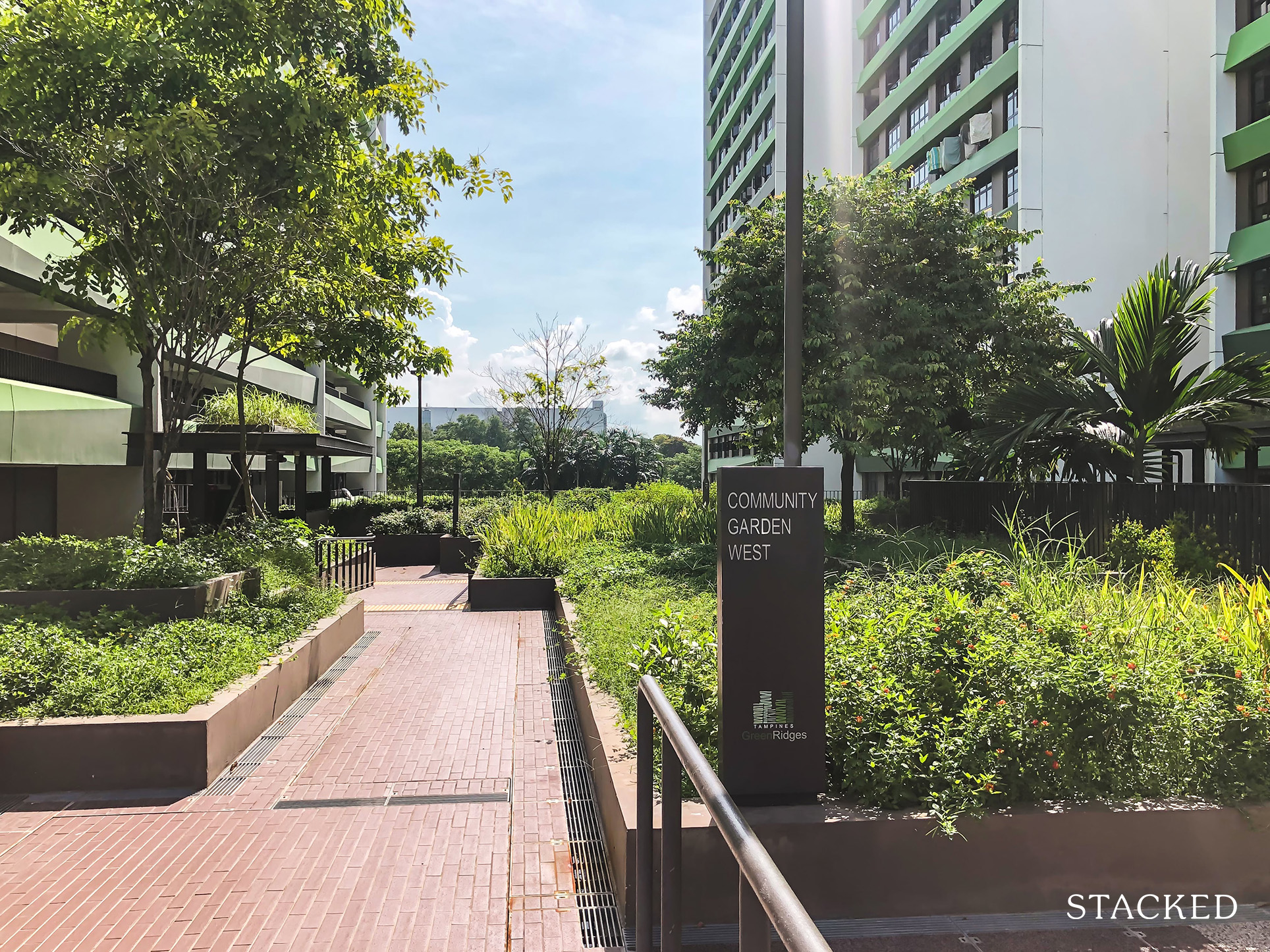 You'll also find overhanging plants on the sides that break the concrete mould of the place – always been a fan of this!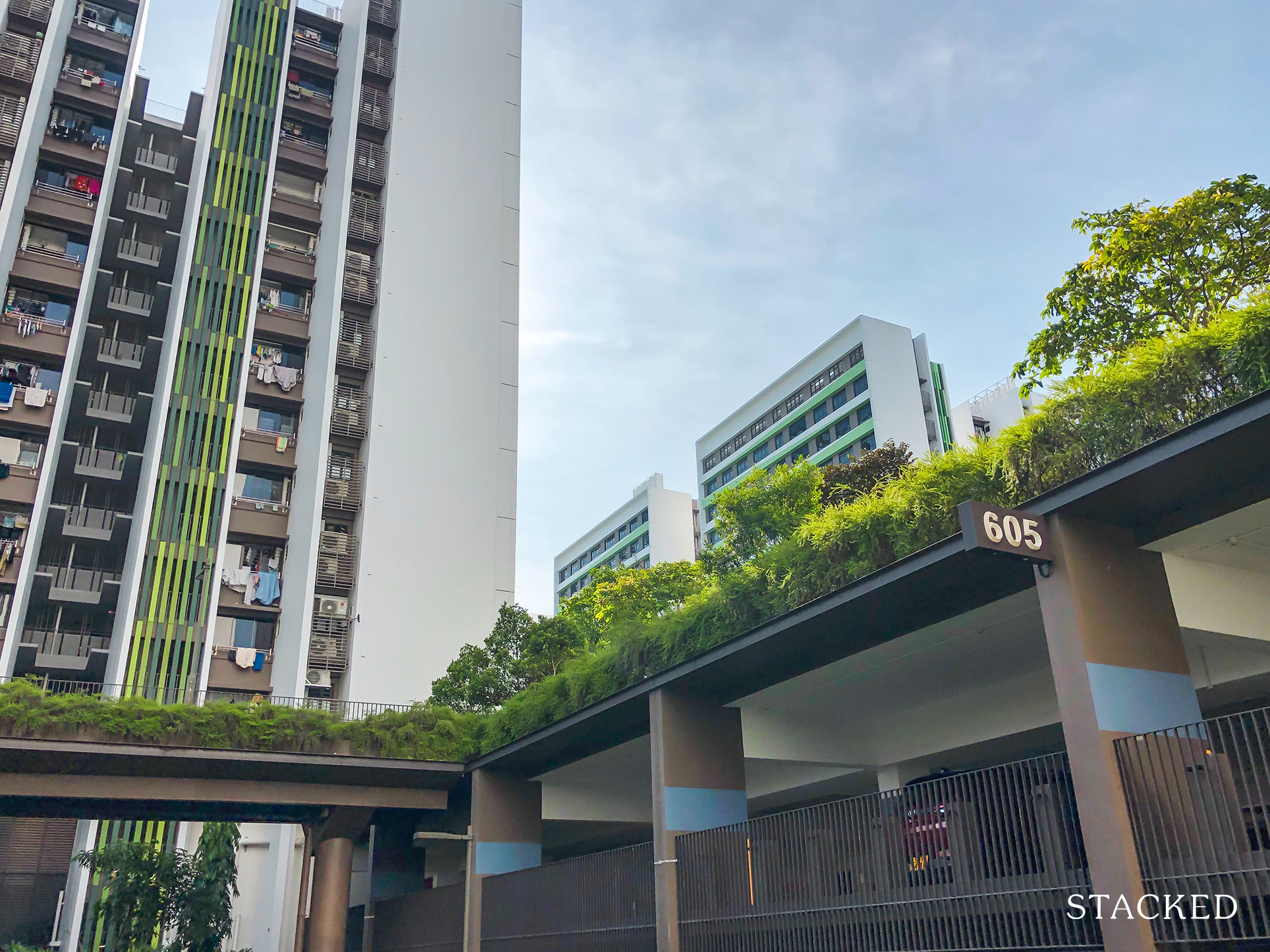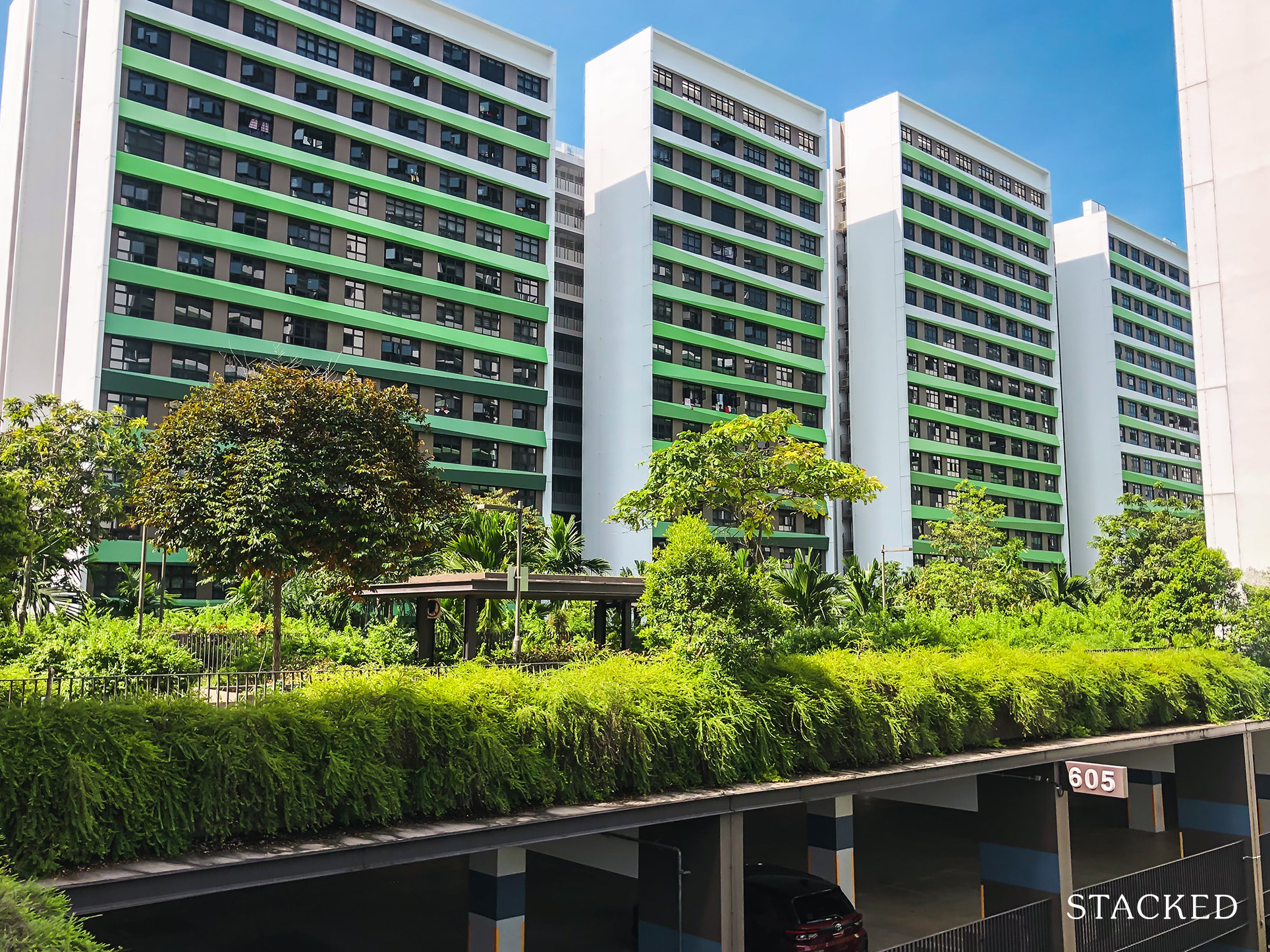 Next, I'd like to highlight something really unique about the car park rooftop garden at Tampines GreenRidge: This link bridge that connects to the sheltered overhead bridge and bus stop at Tampines Avenue 9/Tampines Street 61.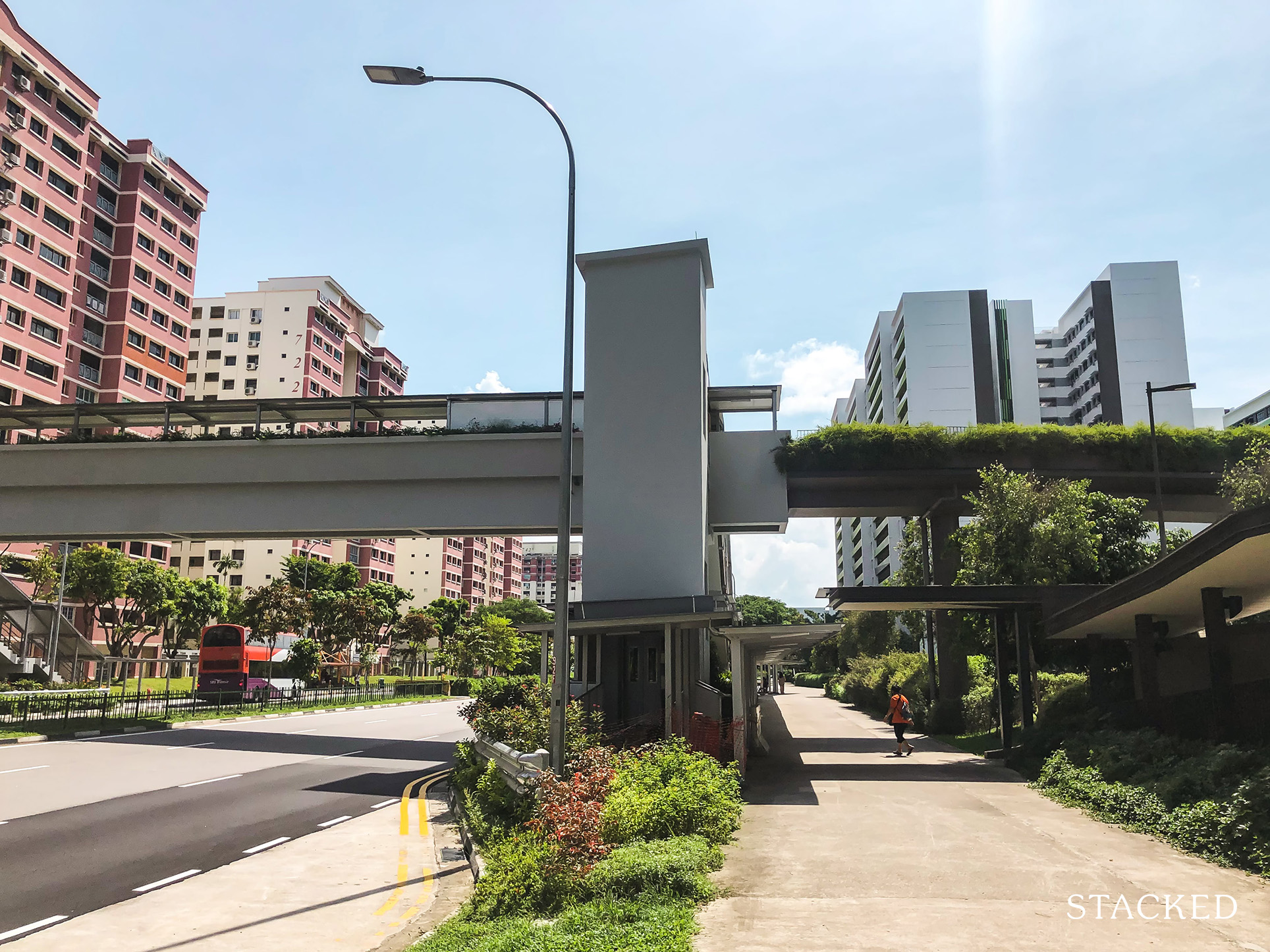 You may be wondering – why do you need a link bridge from the car park rooftop garden when you can just get there from level one? After all, there's little difference stopping on the rooftop level versus the ground floor.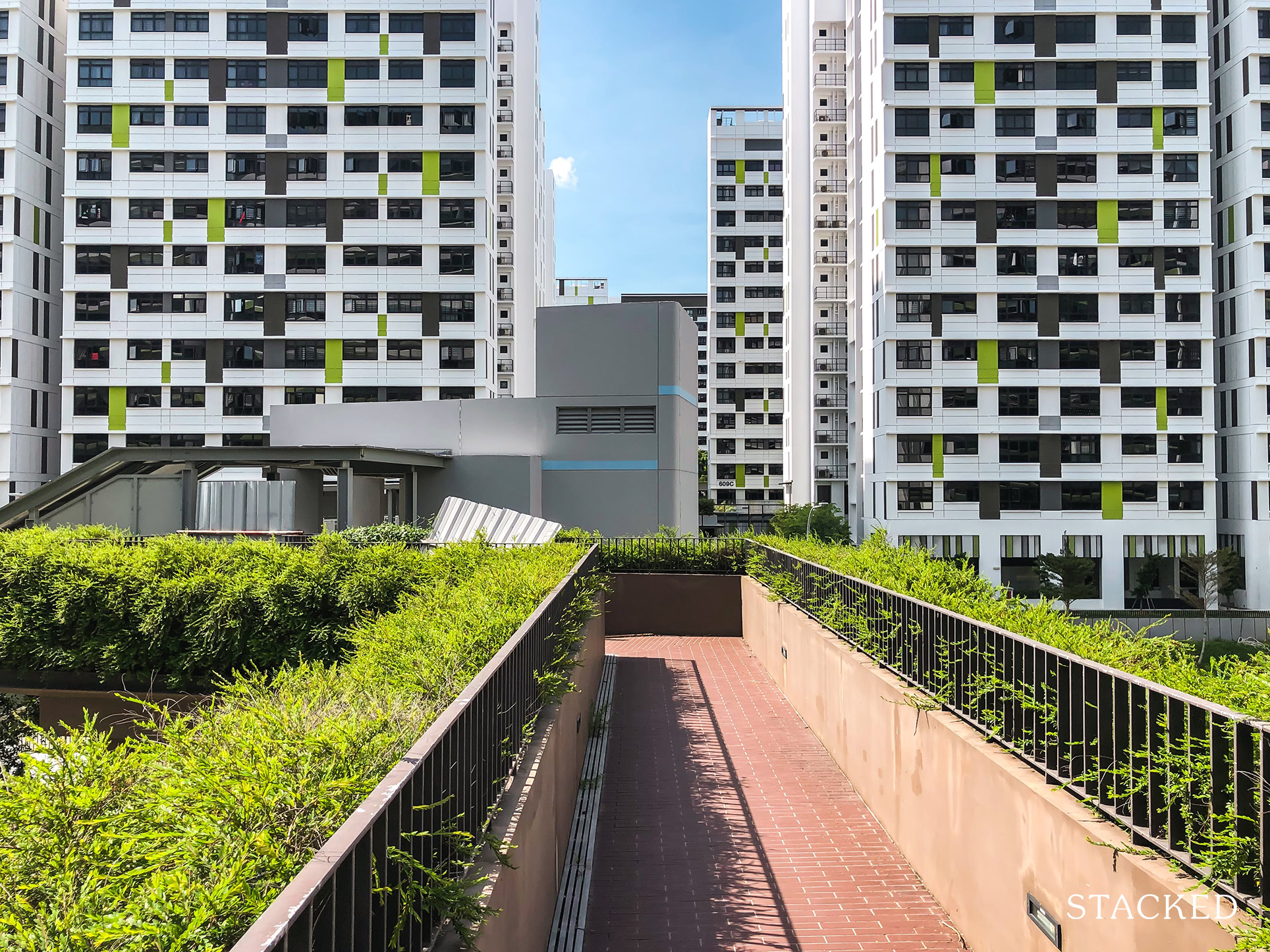 Well, the answer is that if you are taking the overhead bridge, you just wouldn't need to climb the stairs or take the lift to get up again. In other words, residents can simply stop at the rooftop garden level and cross over. Easy.
This added level of convenience is new to me since it's my first time seeing such a structure. I can't say that I'm totally convinced given the extra cost to build it as I am unaware of just how many people would benefit from it. It must not have been cheap, and yet they couldn't even make it fully sheltered all the way through!
Still, I shouldn't complain – any innovation that makes things more convenient for us should be lauded. What's important here is that the HDB has the intention to use such bridges to connect the new BTOs to each other seamlessly. This way, residents can easily reach the amenities that other BTOs have to offer – similar to how the Bidadari Greenway connects the new Bidadari projects to one another that we mentioned in our Alkaff Oasis review.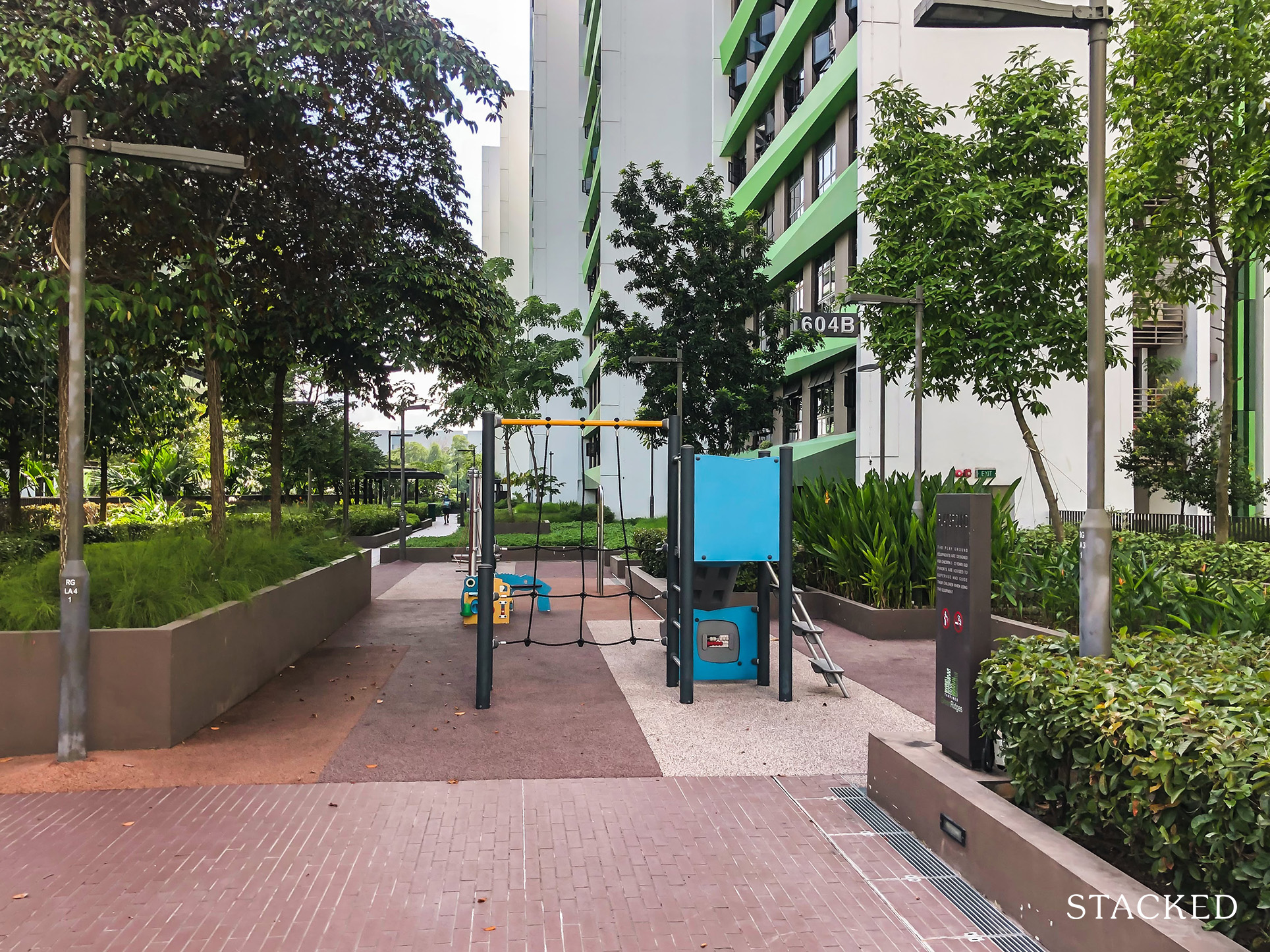 Let's head back in to look at the facilities here. On the south side, you'll find a playground and two fitness areas.
The playground here is frankly nothing to shout about. There's a climbing structure, a balancing bridge, a small slide, and a play area for toddlers. I do wish there was a bigger, more traditional playground here but I can see the limitations of space since the rooftop garden is split into two by an air well in the middle. That being said, it's great that the playground here caters to a wide age group.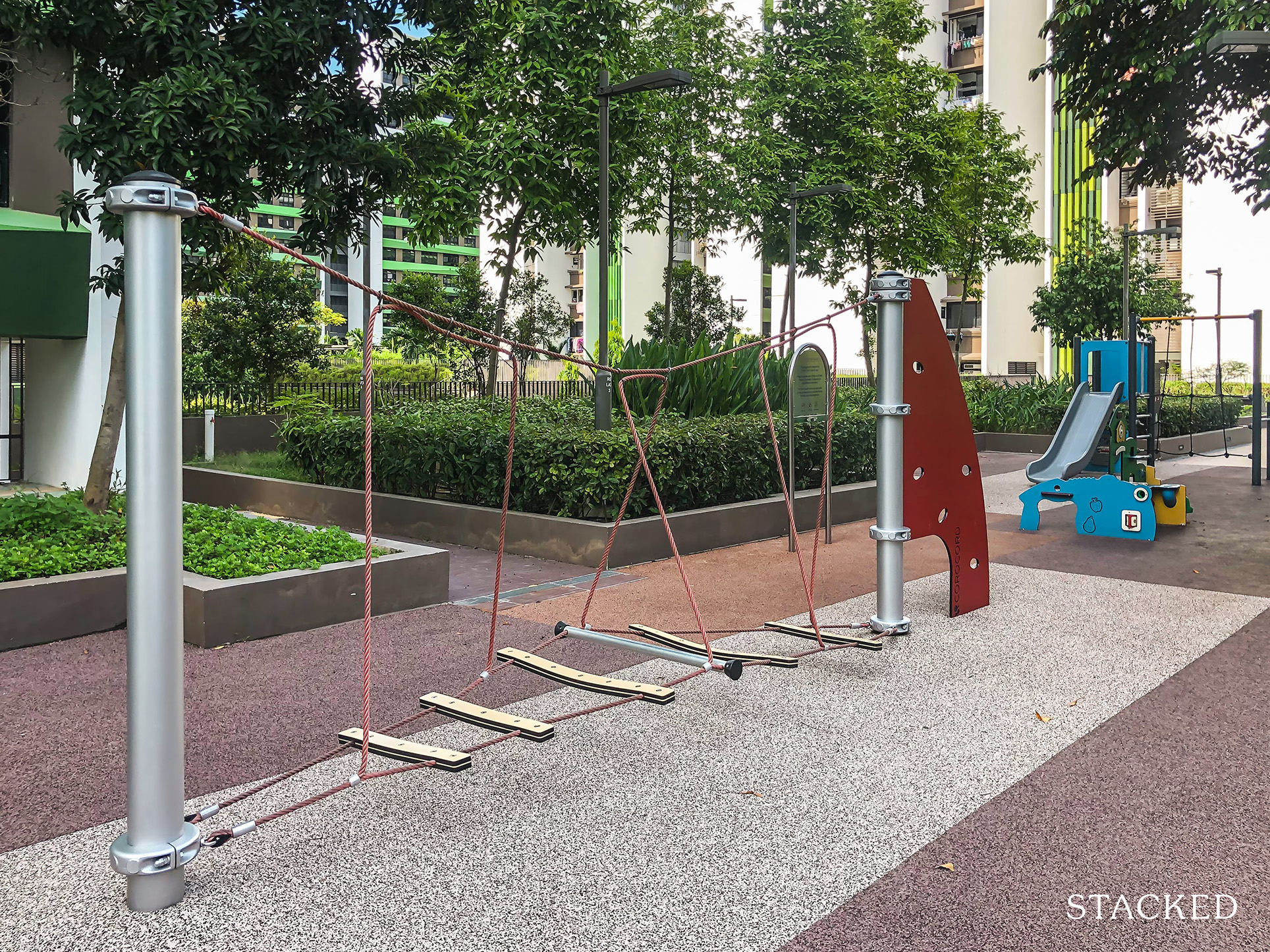 Nearby, you'll find two fitness areas that sport several modern types of equipment. It's not a wide variety at all, but at least they're straightforward to use.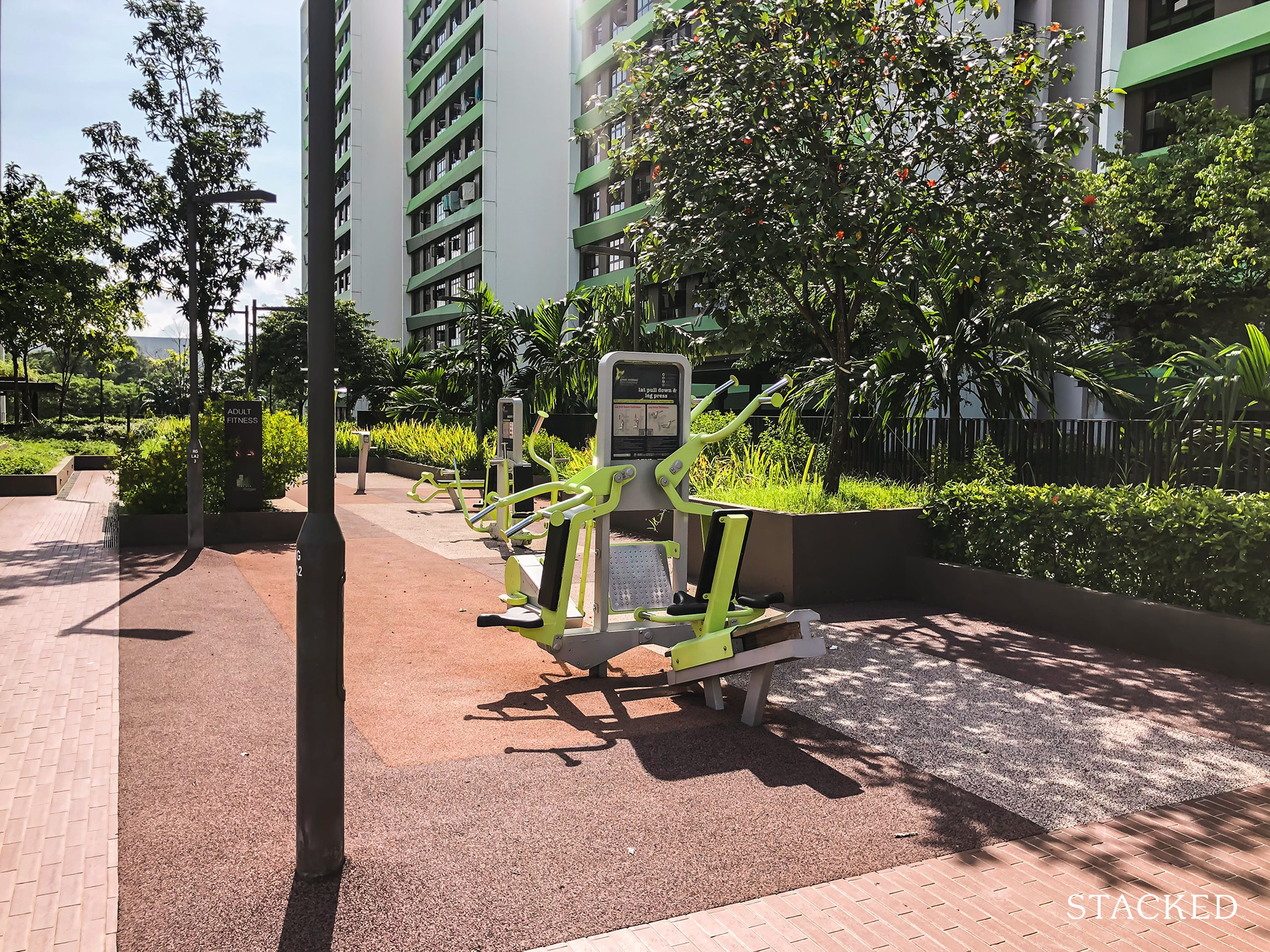 I've always been perplexed by these machines as I do wish there could be more resistance added to them so beyond just doing more repetitions, there is increasing resistance to my workout. I do get it is for the older folk, but still, it would certainly be more useful.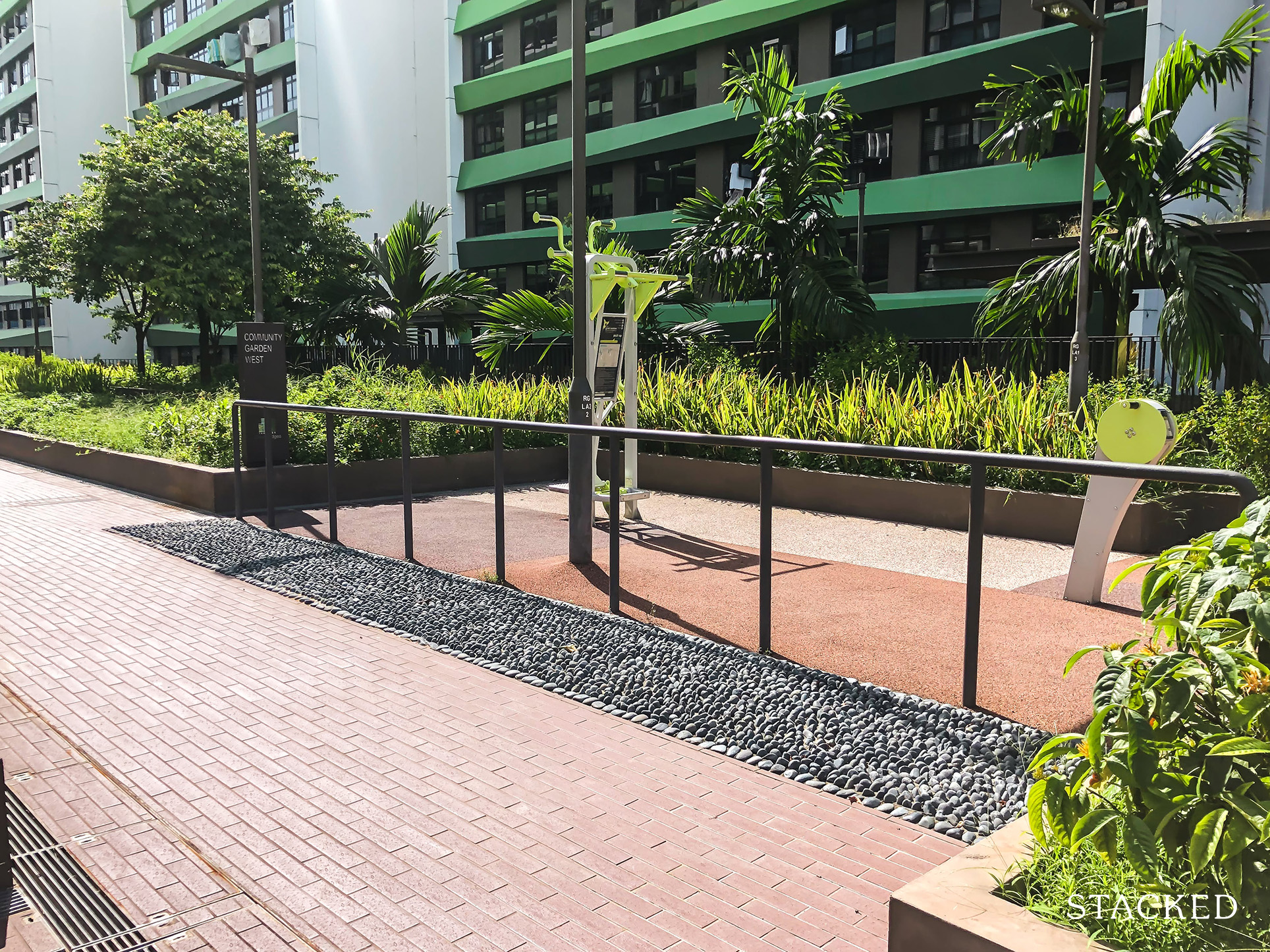 You'll also find five shelters scattered across the space. Some of them are fully-sheltered, while some are like those trellis shelters that provide some sun shading. The shelters are also very nicely designed and have a consistent theme with the overall development.
Next, let's check out what the north car park rooftop garden has in store for us! Unlike other HDB car parks, the south rooftop garden is connected to the north rooftop garden via a link bridge in the middle: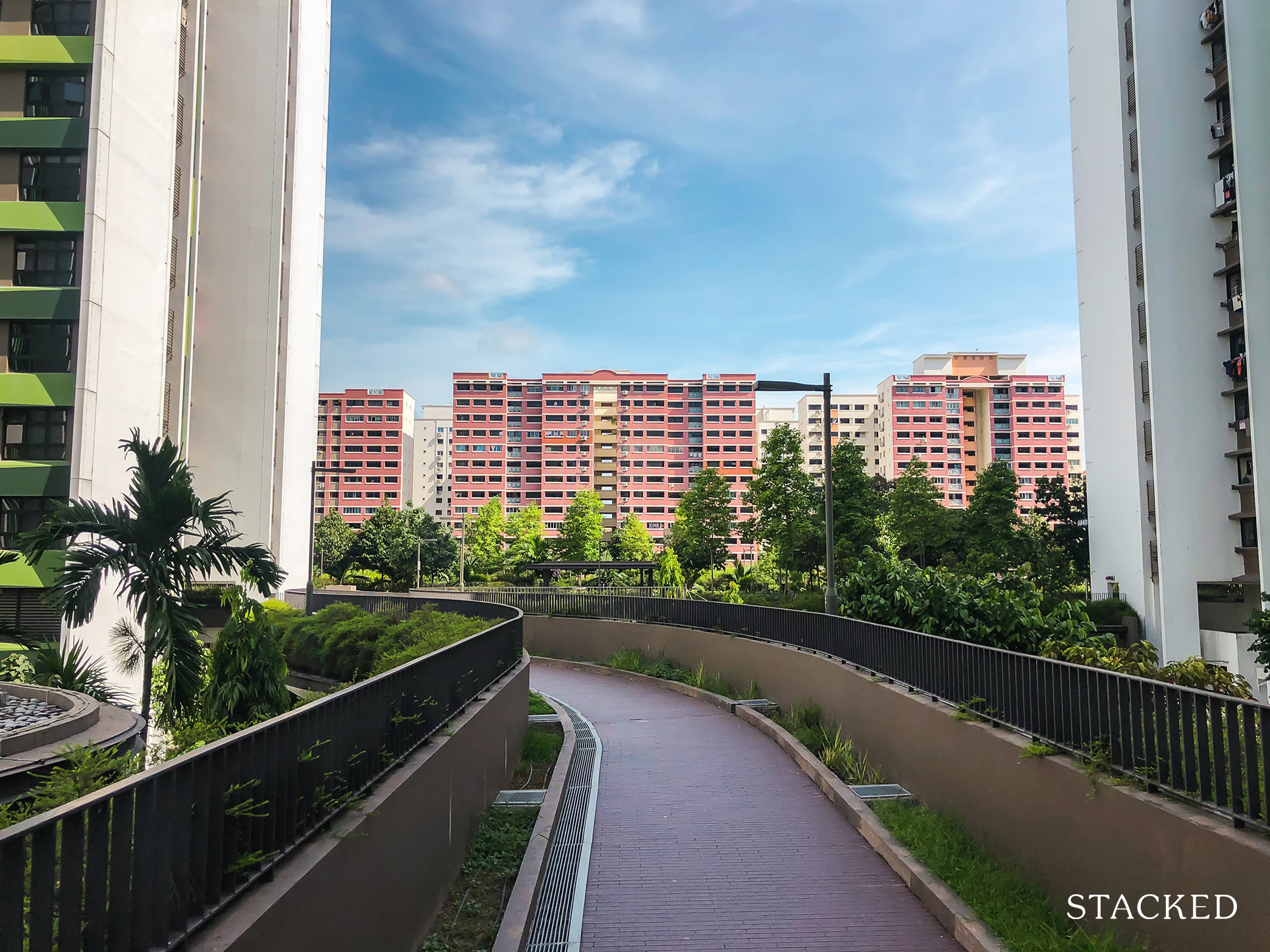 Considering how both sides are connected, I can imagine residents could even use the perimeters of both car park rooftop gardens as a running track too.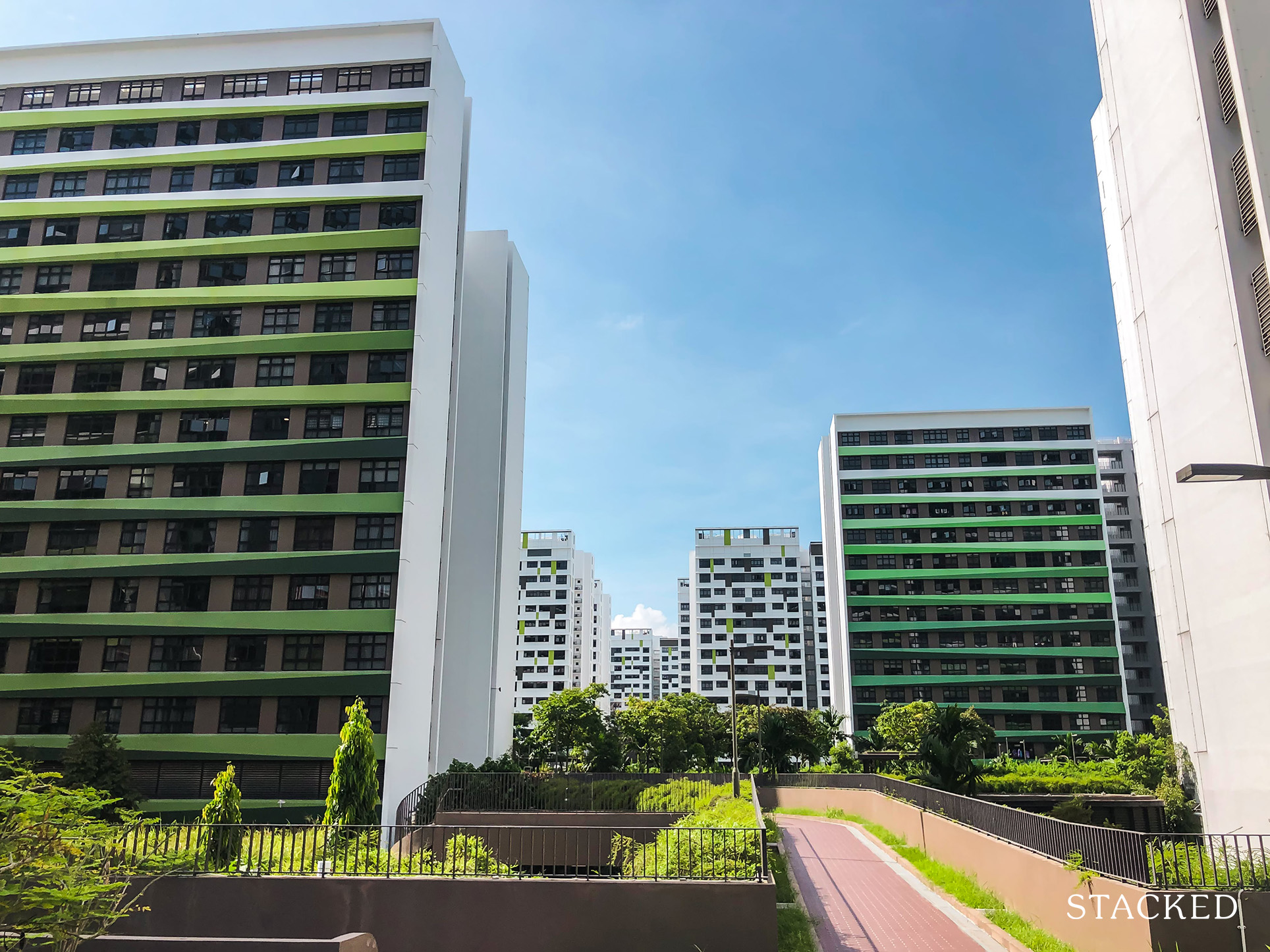 Just like the south side, there's just one playground and 2 fitness areas here.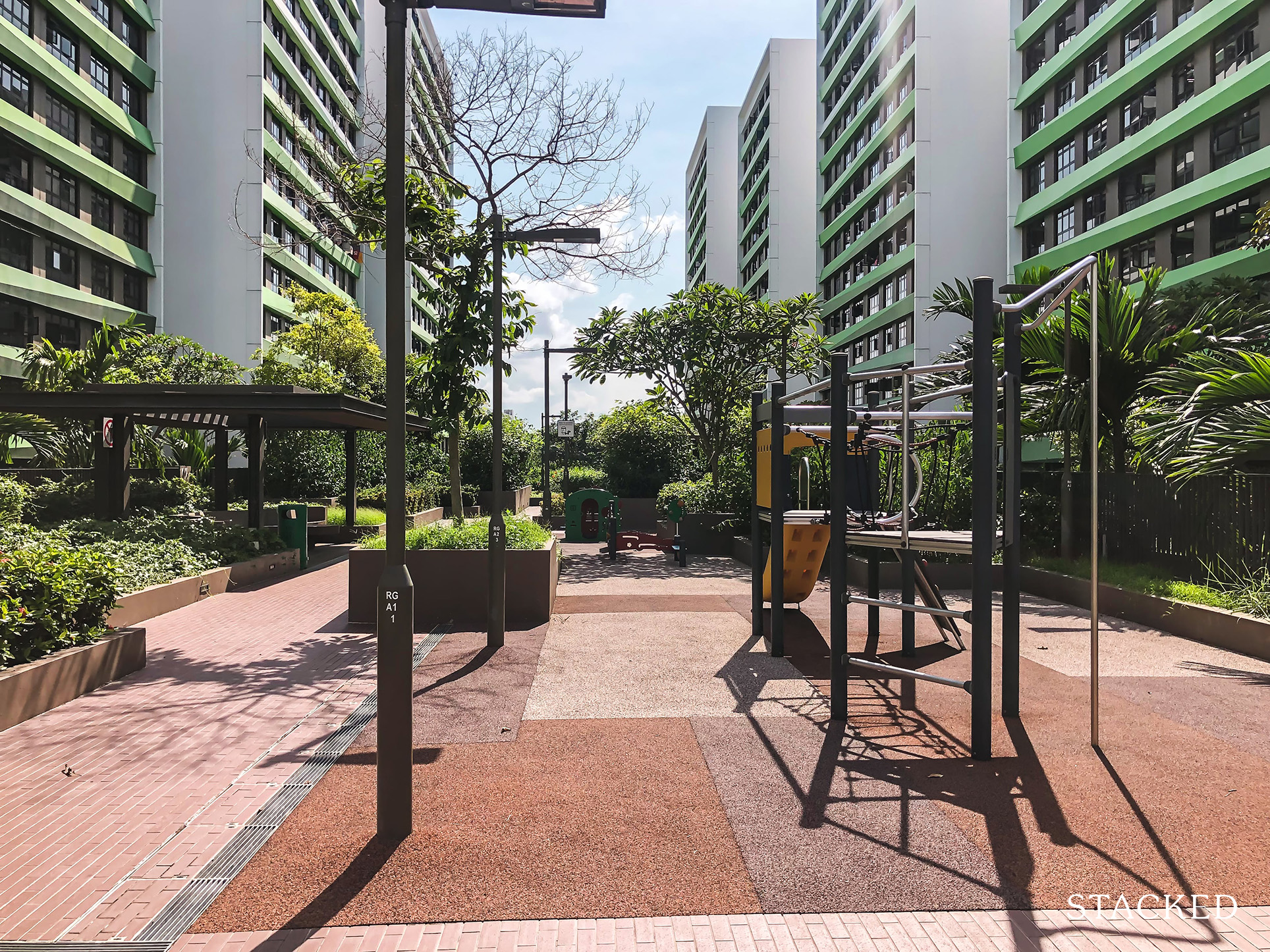 The playground is more or less the same story as with the south side – there's varied equipment for various ages, but nothing to get excited about. Again, this is likely due to the lack of space, but I like that there's a least some climbing equipment, a slide, and something for toddlers which keeps everyone happy.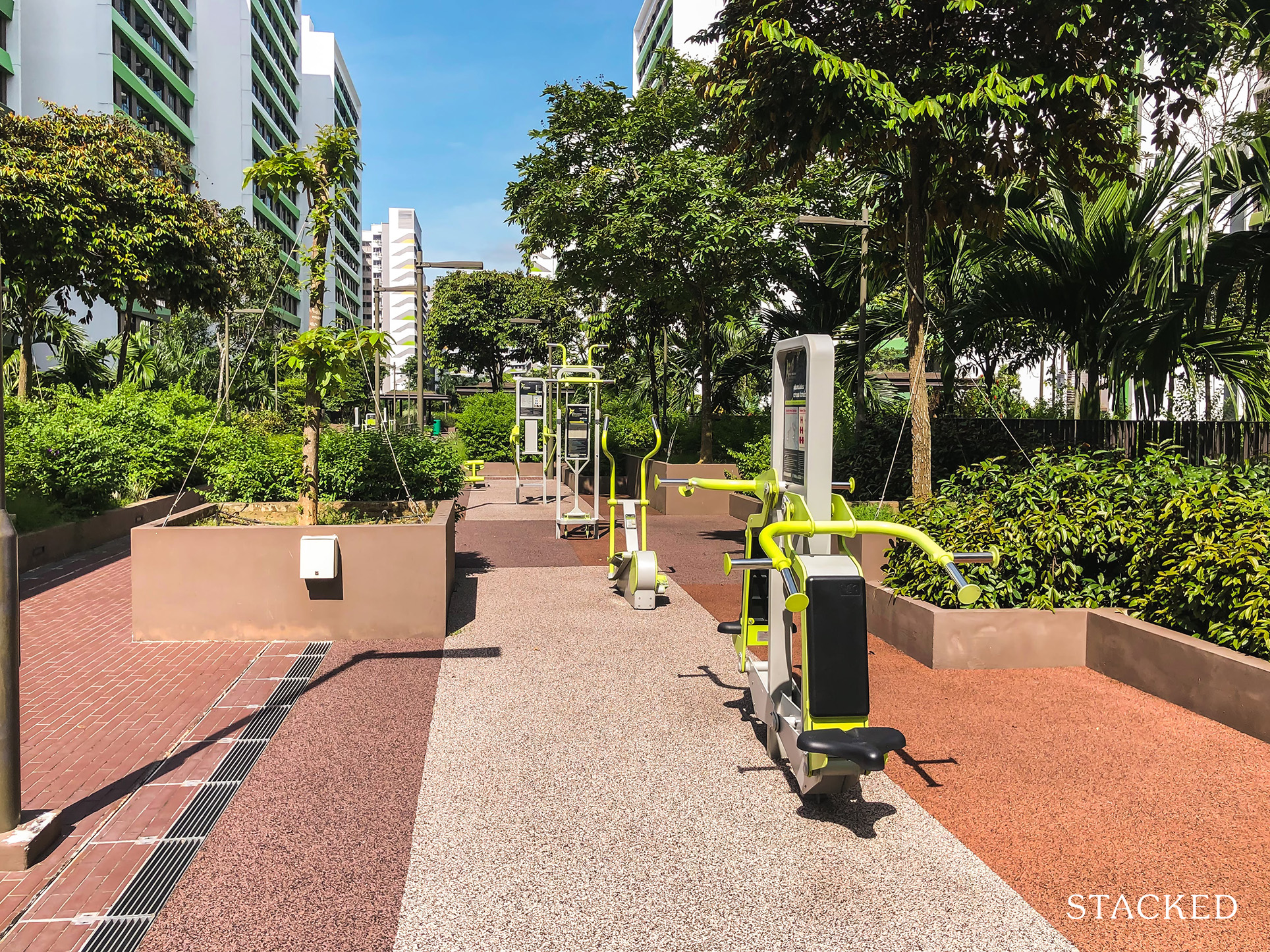 The two fitness areas are also pretty much the same as the one on the south side – these are the same striking green modern equipment that you see in newer HDB projects.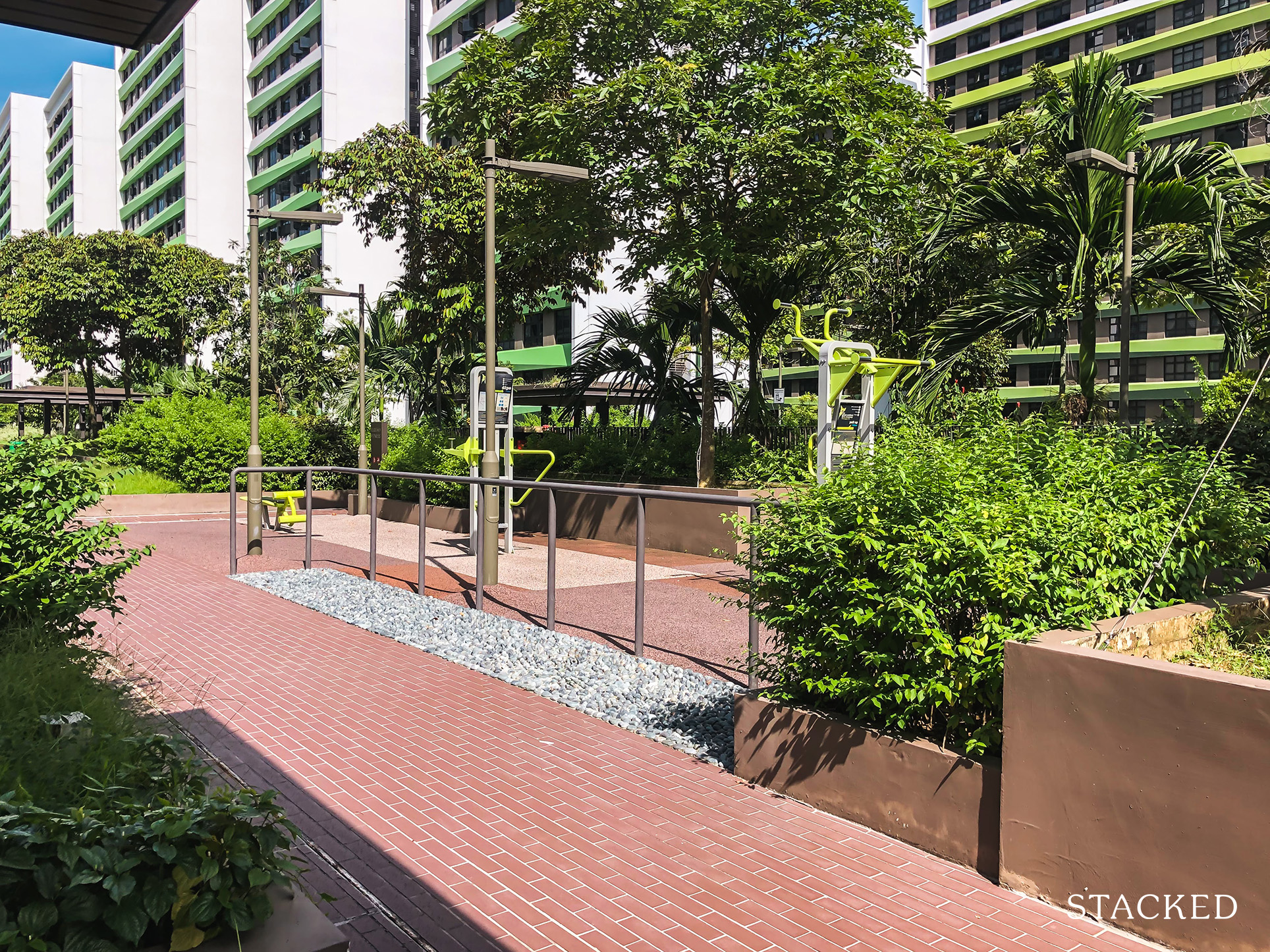 Much like the south side, you'll also find multiple seating areas here. Some are fully sheltered while others aren't. I like that there are multiple places for you to just rest under. I can imagine being out with family or friends and just chilling here for a breath of fresh air.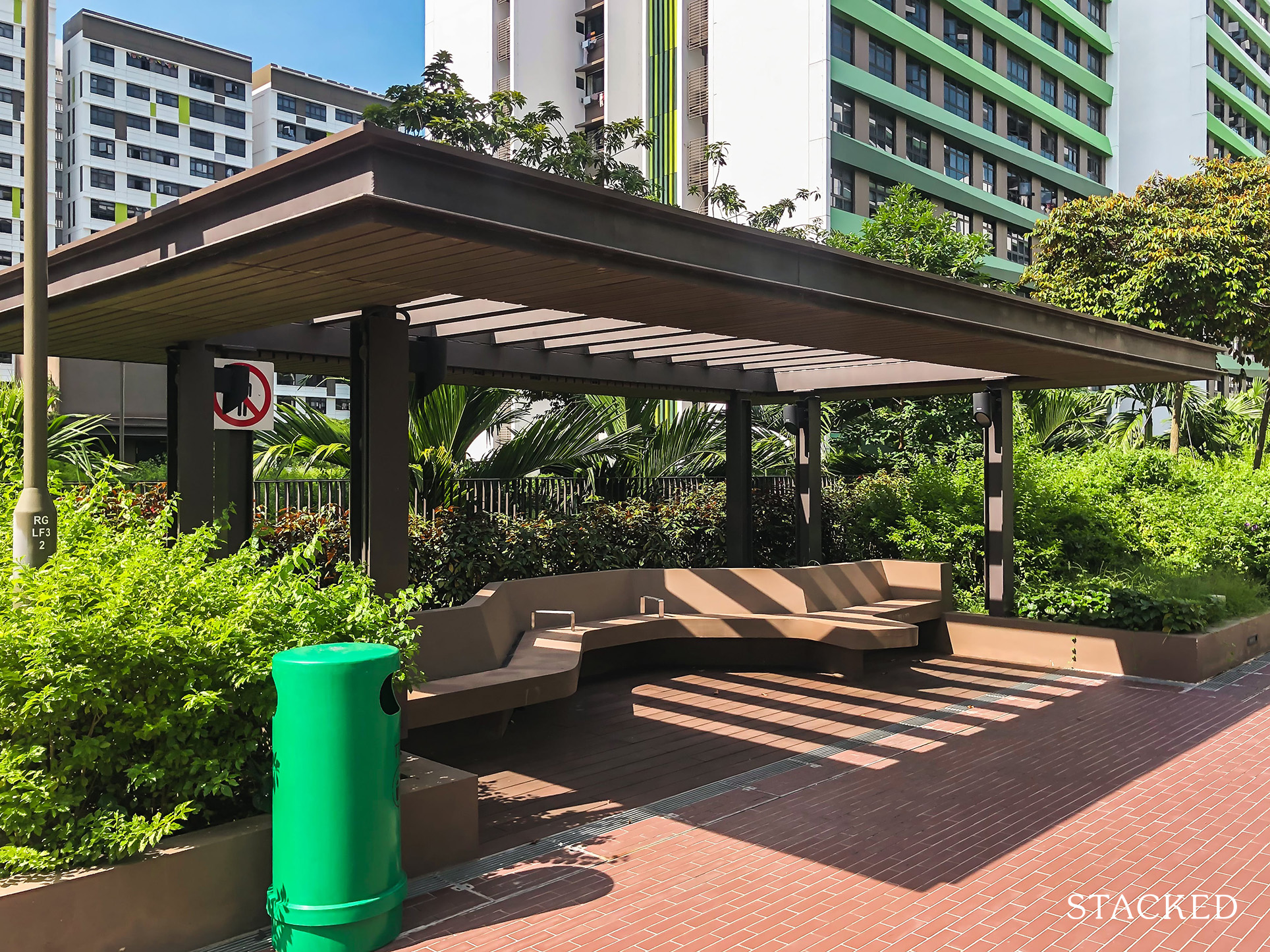 Before ending off the MSCP rooftop garden tour, I'd like to highlight one downside here: Some of the lower floor units can be really close by: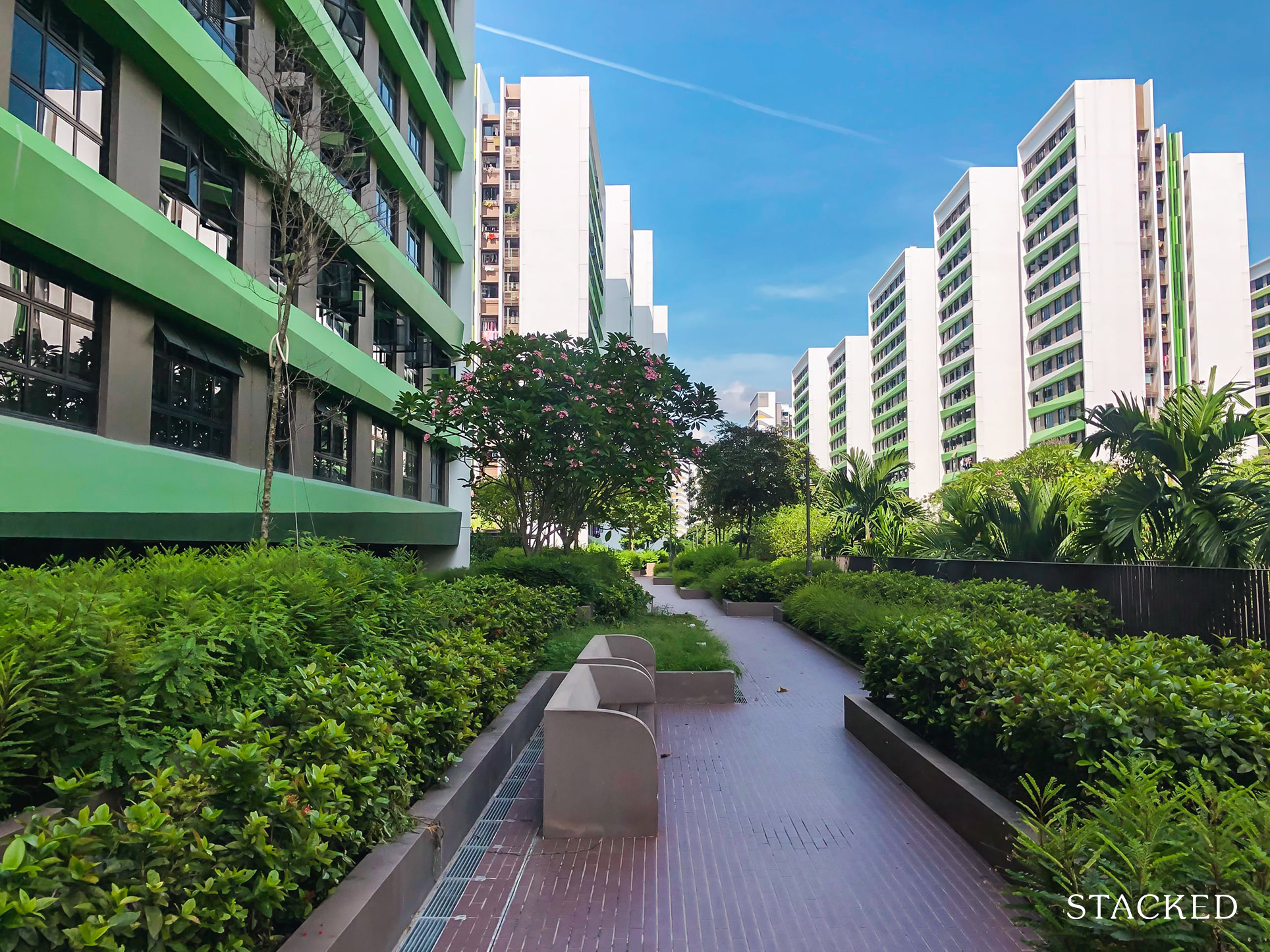 This can result in privacy issues as residents on the units next to the rooftop garden will inevitably have foot traffic passing by once in a while. It should be fairly obvious when you view such a unit here, so think really hard if this is something you're fine with before buying!
Before we head back down to see the ground-level facilities, let's take the link bridge and cross over to the residential blocks to check out the common corridors! After all, every single block here is connected to the car park rooftop garden which is a huge convenience!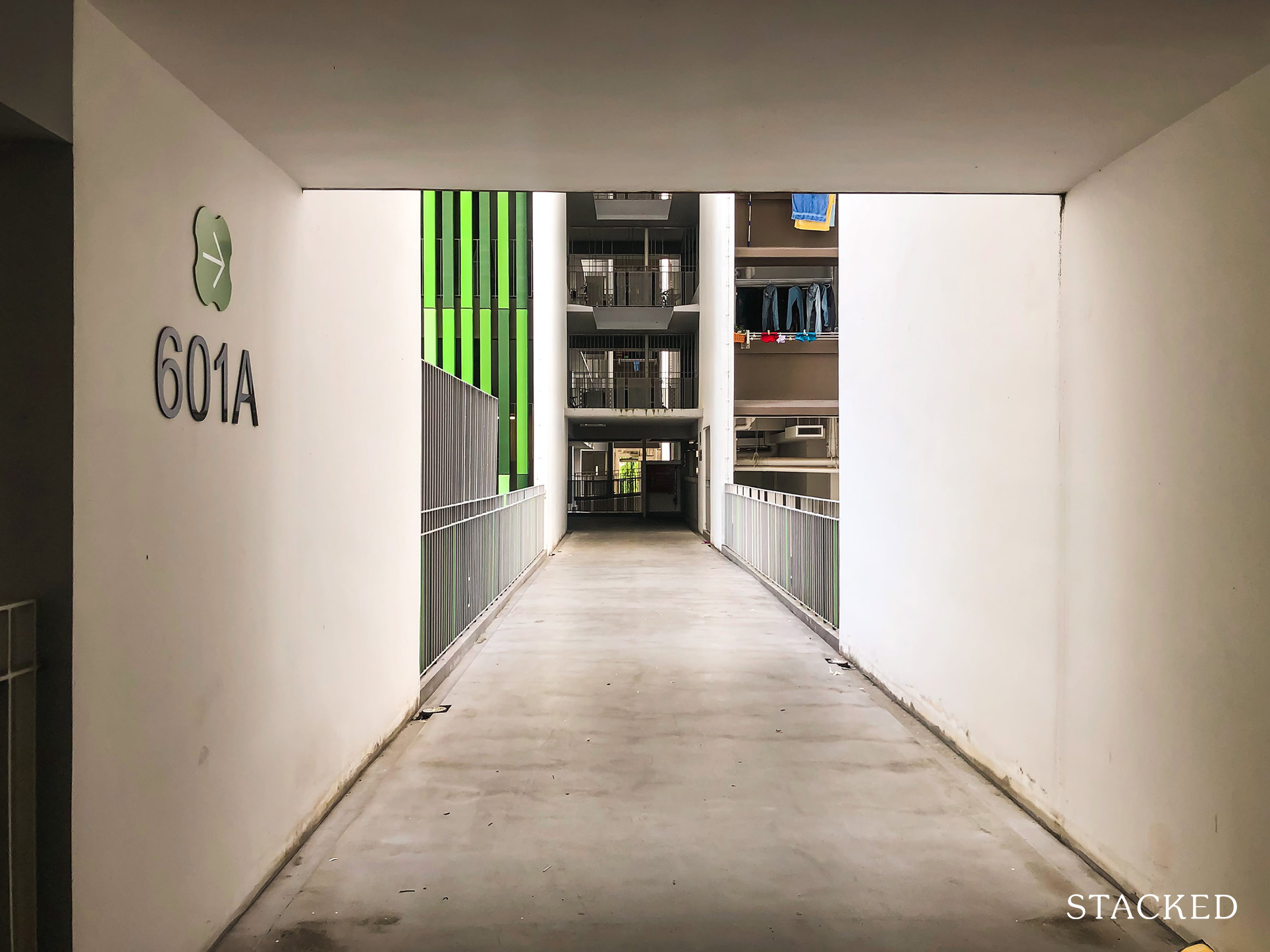 The common corridor here is a long one which comes with the usual issue of certain stacks having their service yards facing the common walkway.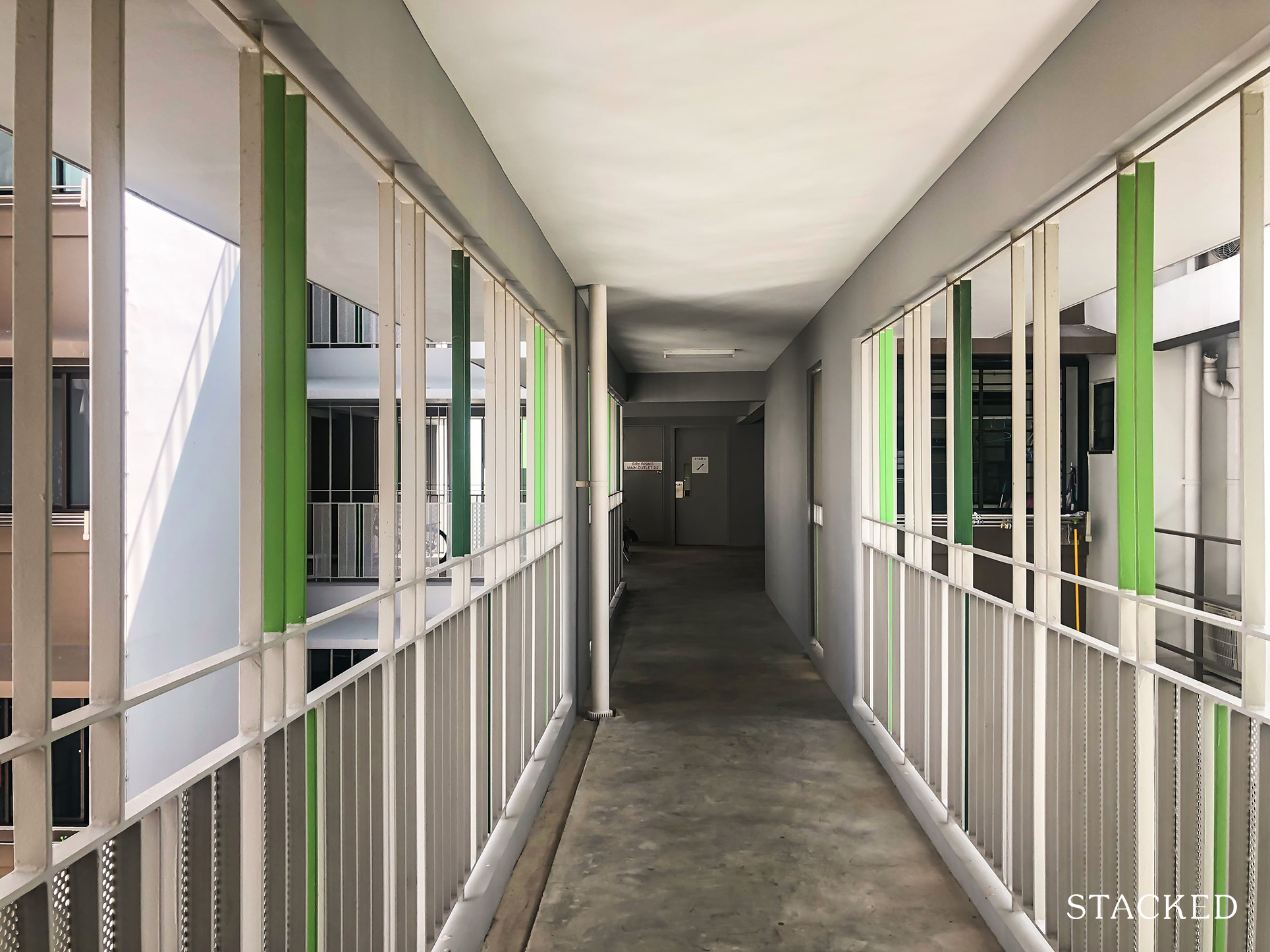 Apart from that, you'll find the corridor to be sufficiently wide and very well-lit due to the use of metal railings instead of concrete as a barrier. There're also metal meshes in between that serve as a barrier that lets wind through while also giving the place an interesting look.
Here's what it looks like from the outside: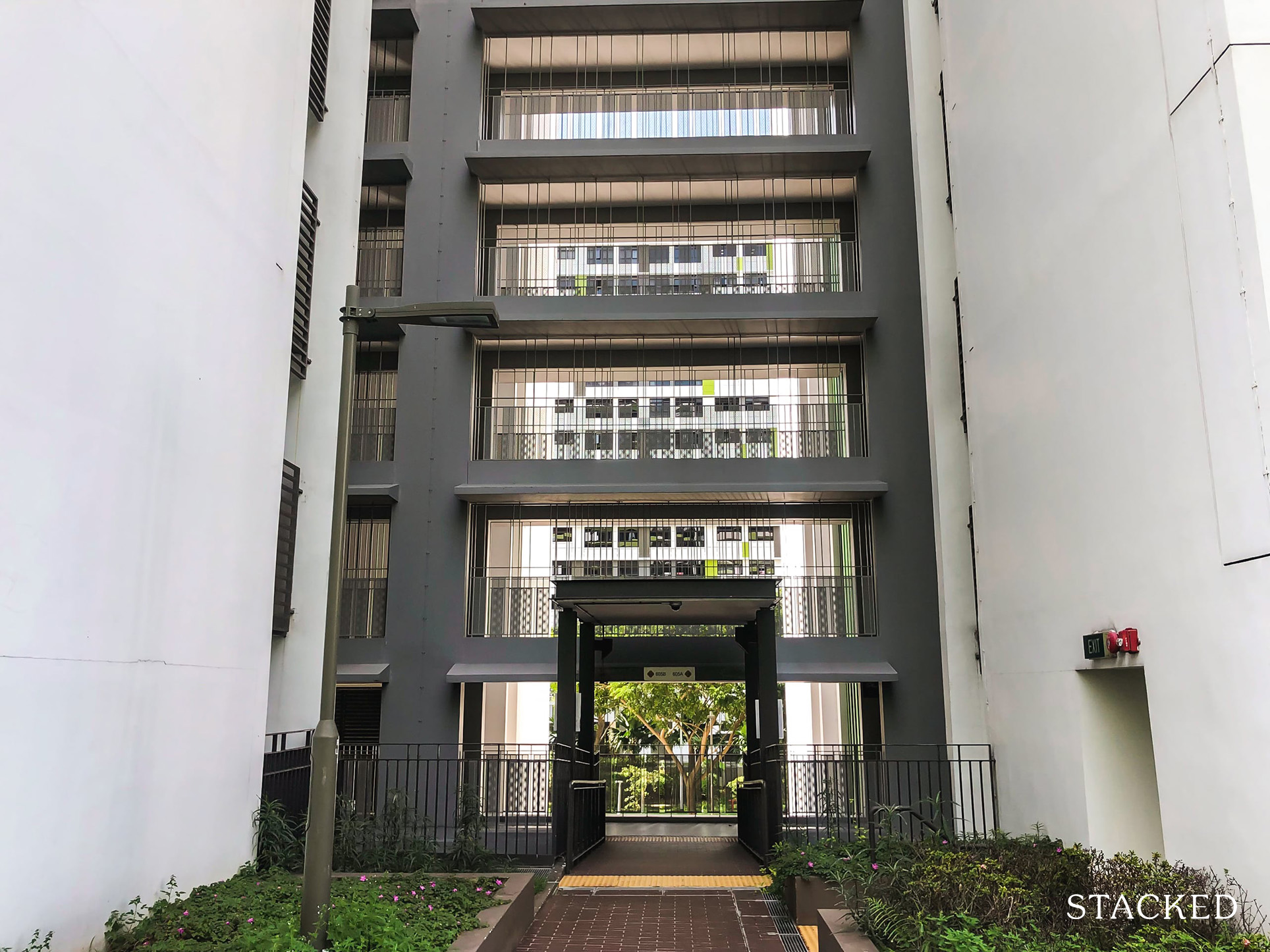 Another positive point about the corridors here is just how far apart the main doors are from each other: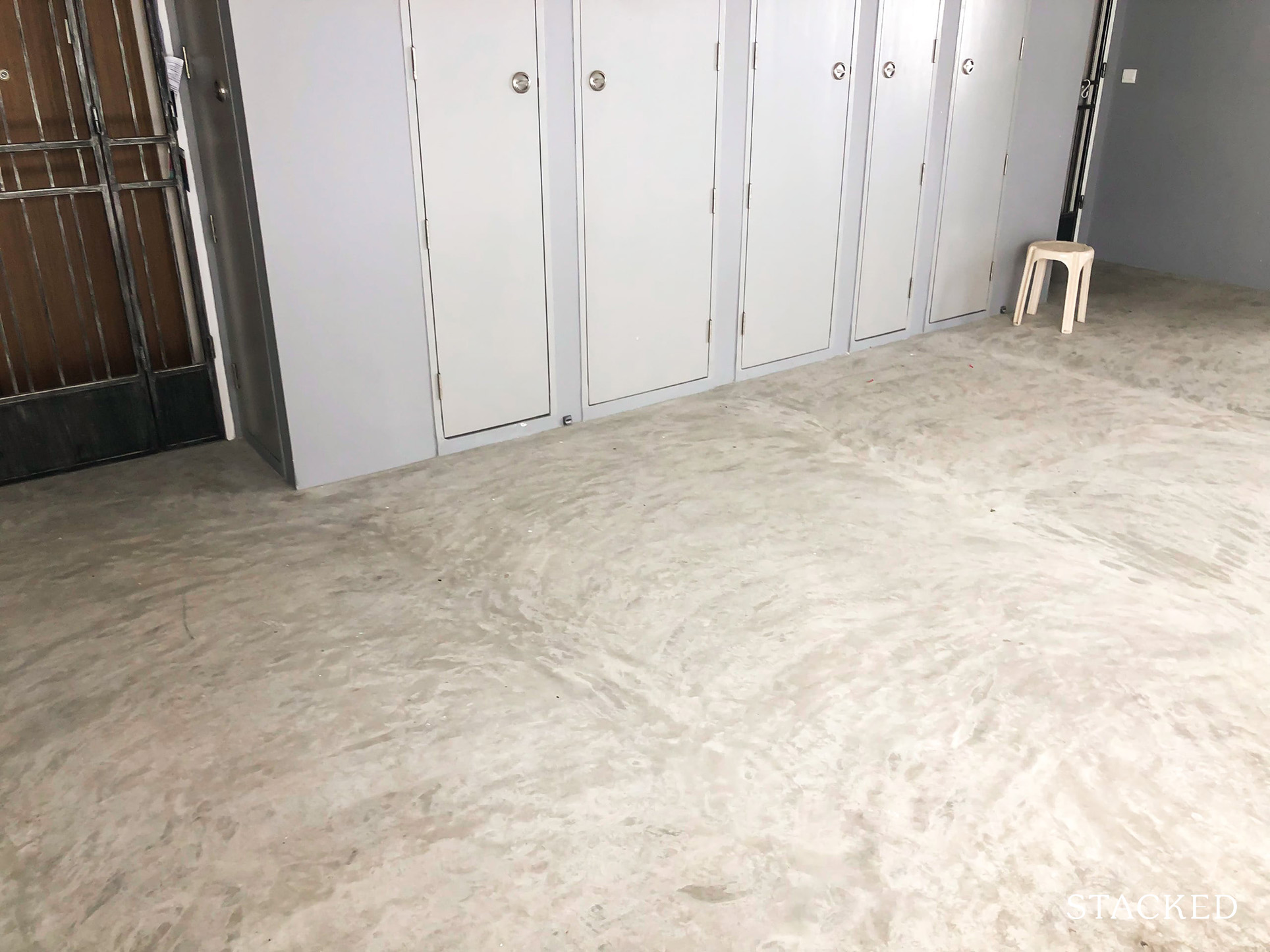 In this case, you can see that there's a lot of space between both units, allowing residents to put their usual shoe rack outside without any discomfort. Moreover, where the link bridge connects, there's really a whole lot of space: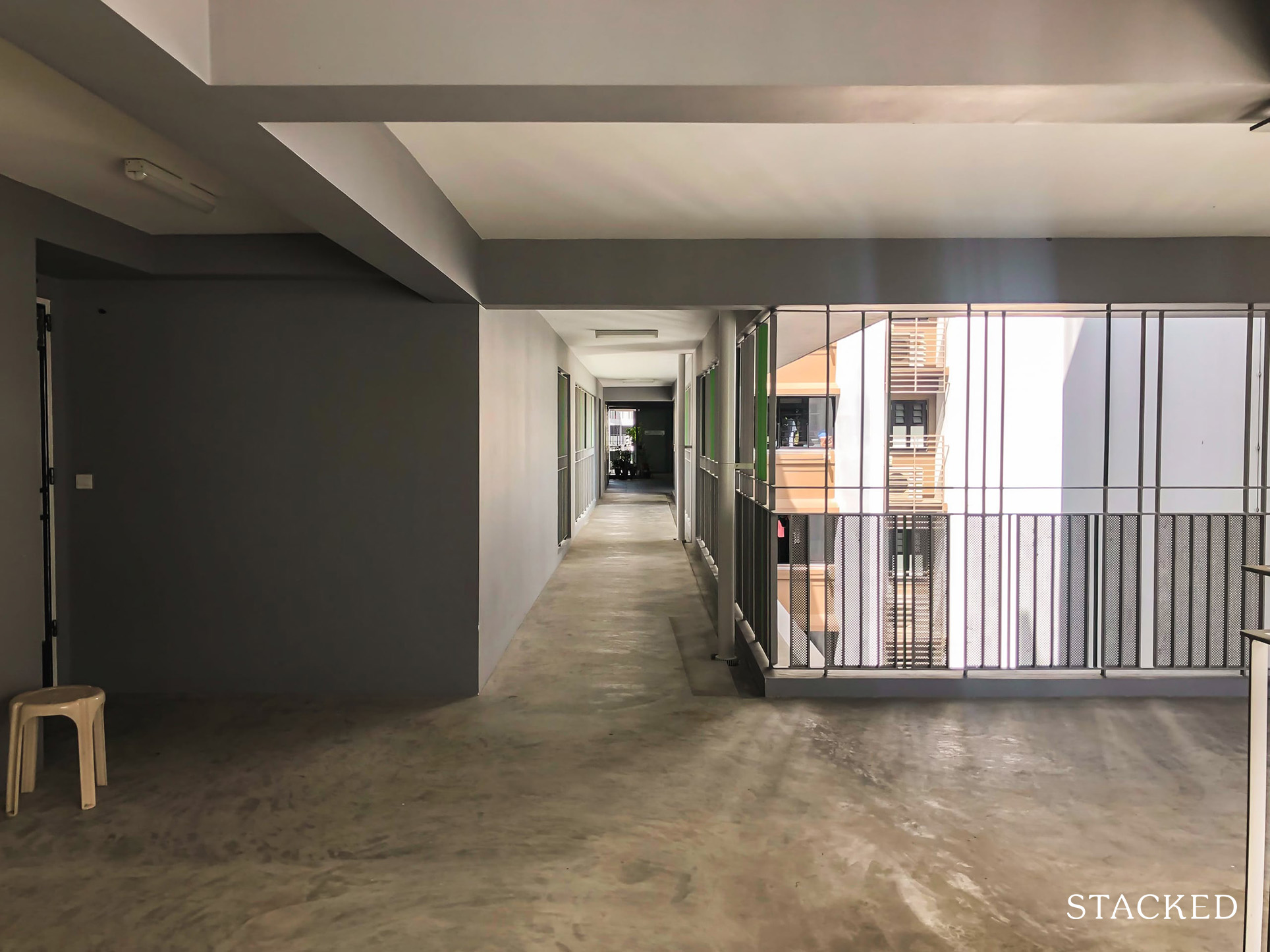 No stack over here faces each other at close range too. I know it sounds atrocious, but certain developments have these downsides. To show you what I mean, here's a look at the corridor layout: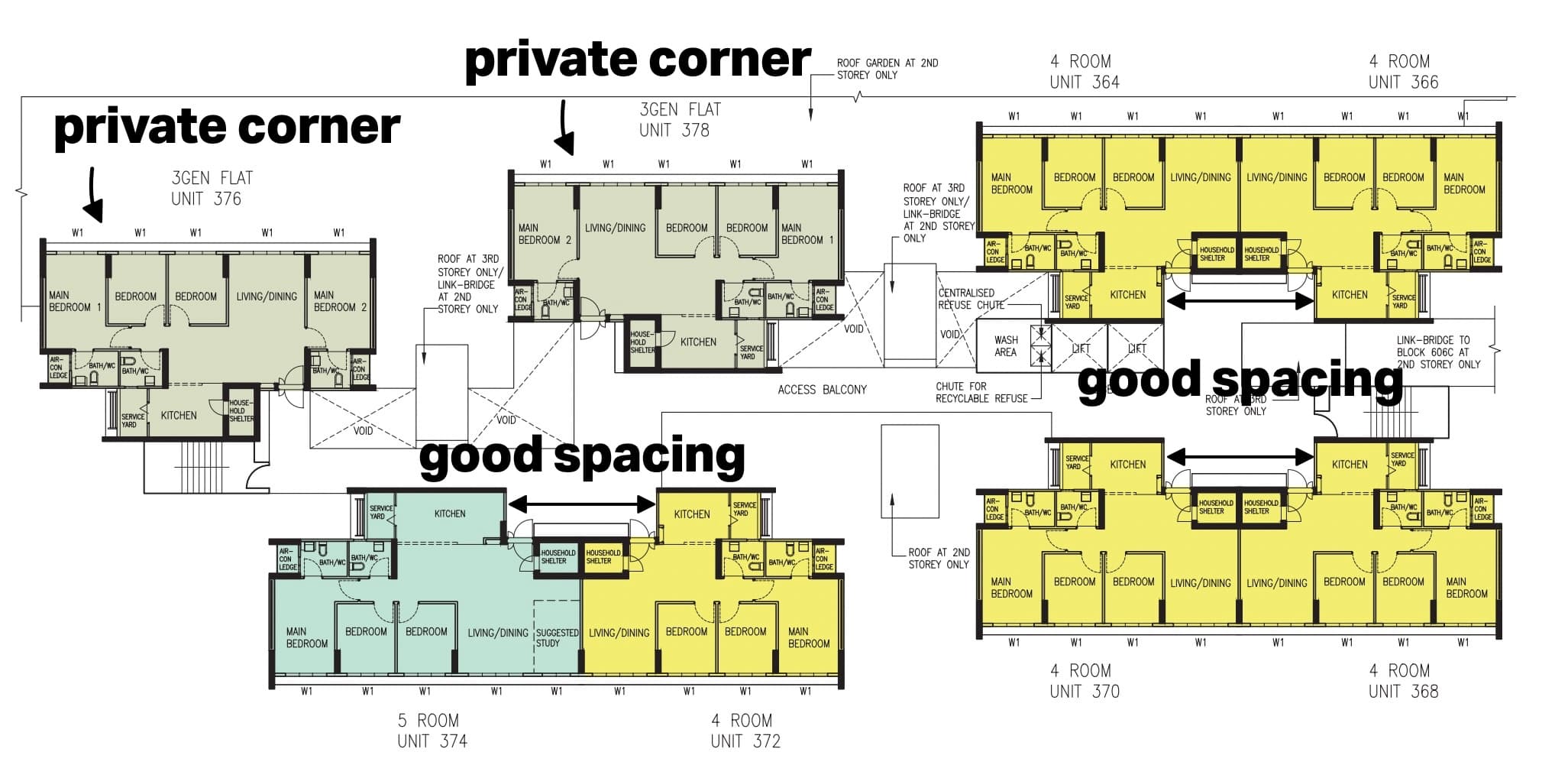 Not every corridor layout is the same, but all of them have the general principle of being well spaced out while having ample space outside to put outdoor items as well as ensuring a sufficient level of privacy.
You'll also find that the spacing between blocks here is quite acceptable, especially from one service yard to the opposite side. What this means is that more wind and light can penetrate into the yard area which is very important when drying clothes.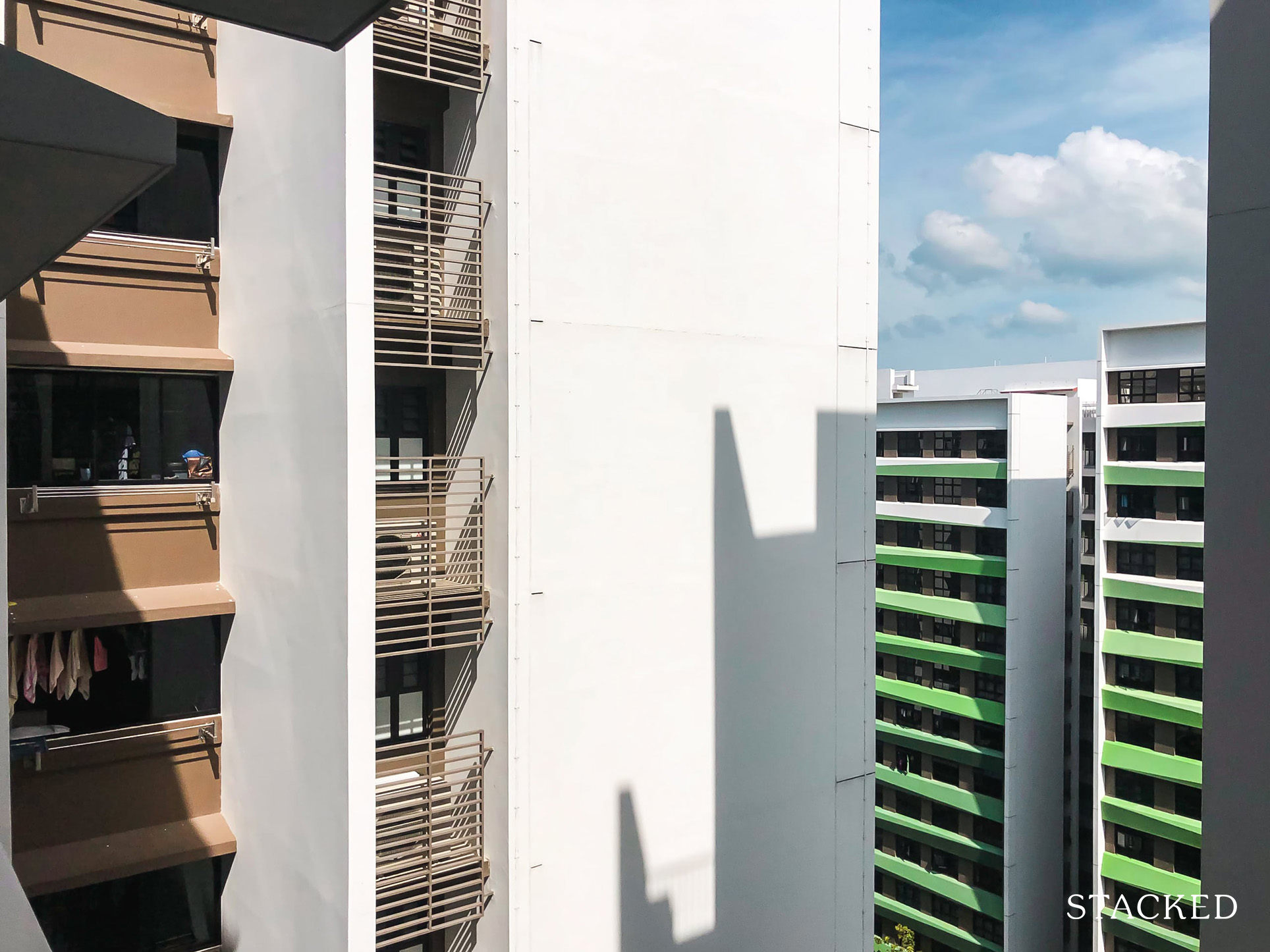 Next, let's head over to the lift lobby area. You'll find that it's very decent and modern looking, in line with new HDBs: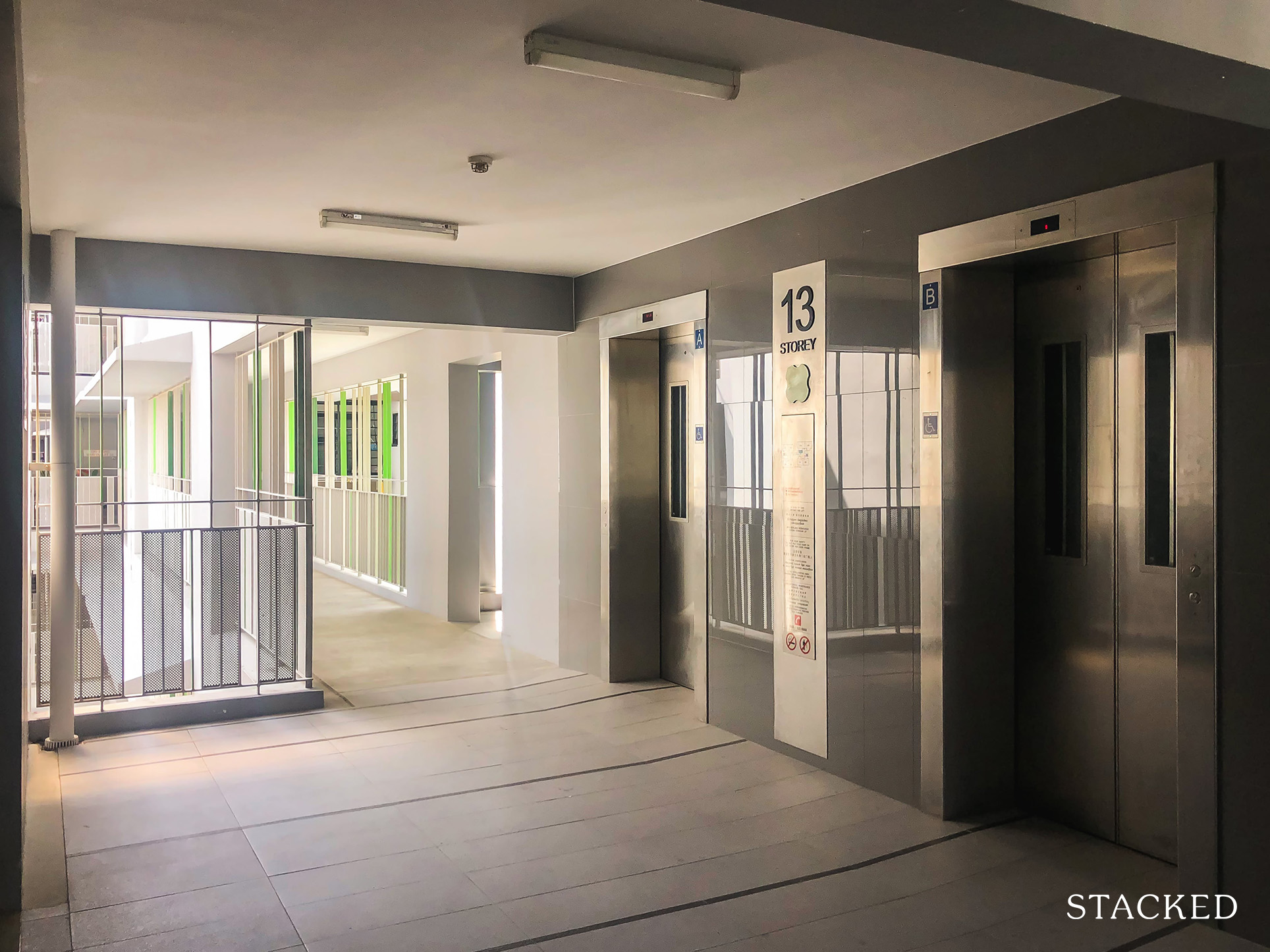 There are only two lifts that serve 4 to 8 units, depending on the block. This is relatively fine considering Tampines GreenRidges isn't a very tall development (14 – 16 storeys high).
The lift lobby on the ground level is quite bright too since the surrounding area is quite open. While it may not seem like a big deal, waiting around a spacious and bright lift lobby does make the journey home more welcoming!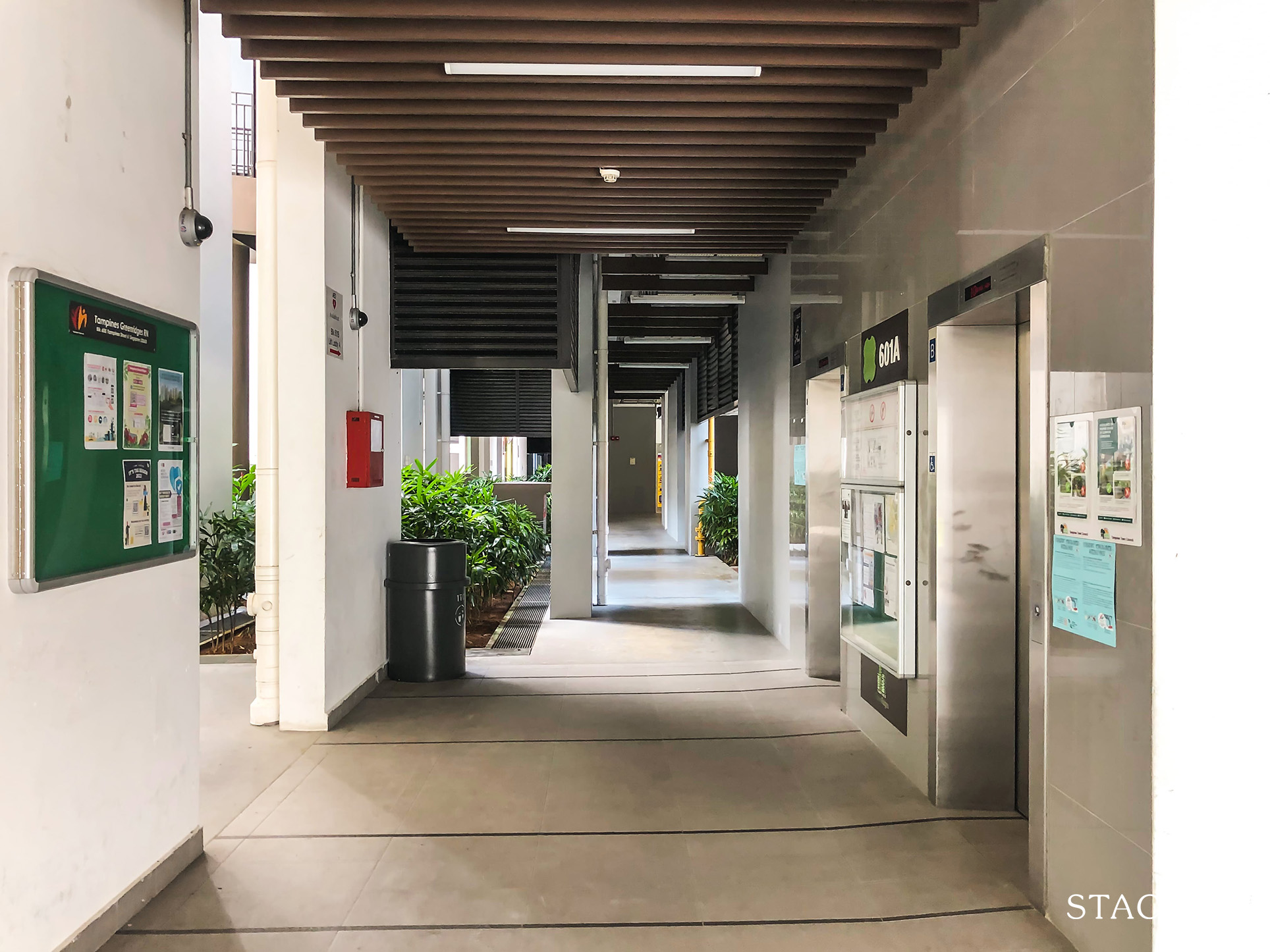 This is also consistent with the void deck:
Many void decks I've seen can have really awkward turns that somehow lead to dead ends, or perhaps passageways that are dim or just completely void such that it feels unwelcoming. I can safely say that this is not the case at Tampines GreenRidges.
You'll also find the usual checkerboard tables with bench seating. It may not look like the most comfortable of seats but at least it has a nice backrest!
By now, you may have realised the rooftop garden doesn't have the facilities to cater to the close to 2,000 units here, so thankfully the ground level features a few more playgrounds and fitness areas.
On the south end, there's a facility area that's within what is termed as a "park" on the BTO site plan. From the way the landscaping is done here, I think it is fair to say it does look like one. Fun fact: it's actually zoned a park on the 2019 Master Plan.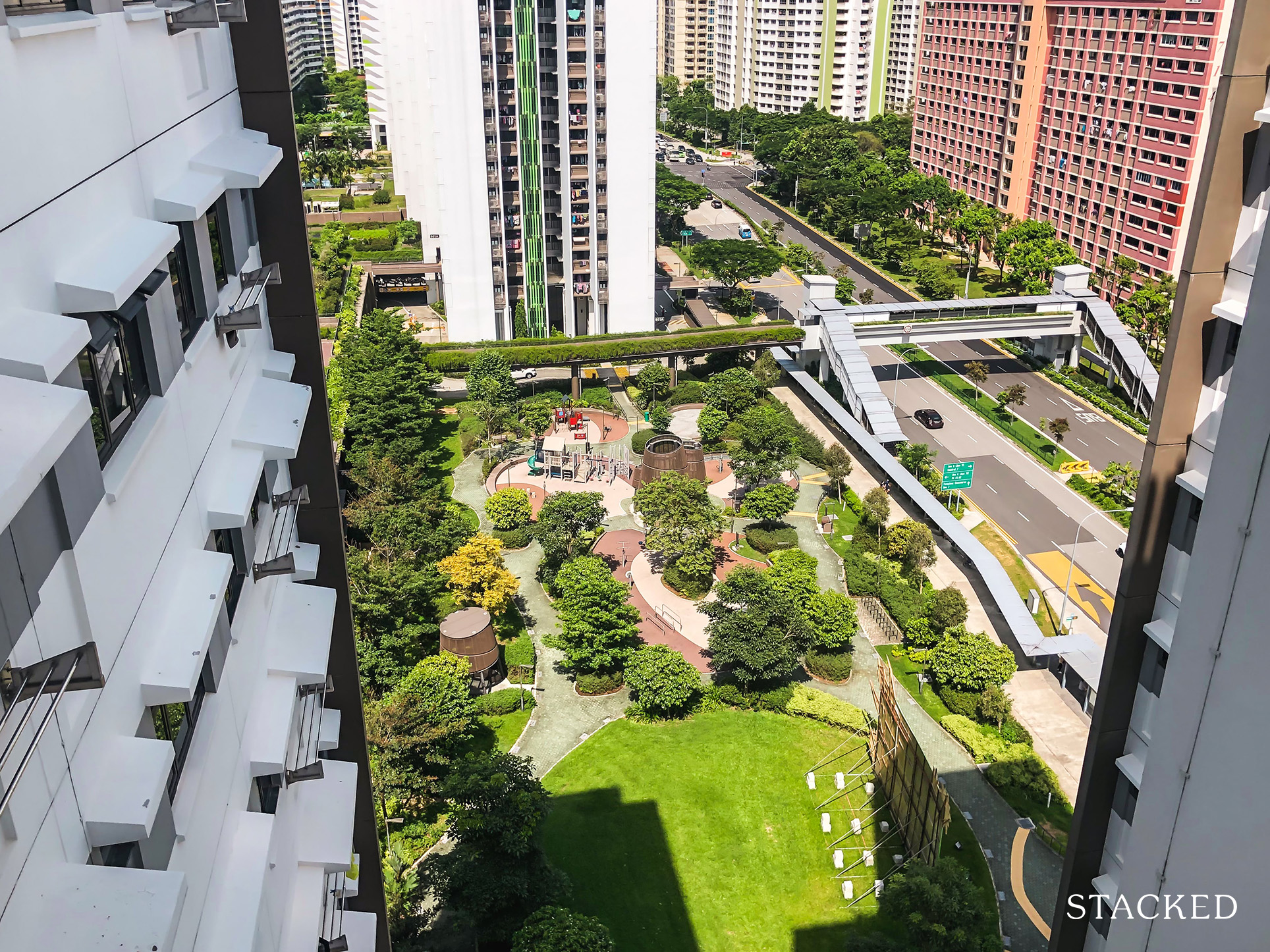 Before moving on to the facilities here, I'd like to point out the grass patch area in the picture above. This is termed the "Future Basketball Court" or FBC for short. I'm not sure if this would truly be implemented as anything with a "future" in it doesn't really come to fruition based on what I see, but it'll be neat to have such a facility here since not many HDBs provide that!
Moving on, you'll find two playgrounds on the south end here. The first looks like a traditional type of playground with a tower, bridge, and slides for younger children. There's also a spring rider and a play wall for toddlers – clearly, this is for the younger kids.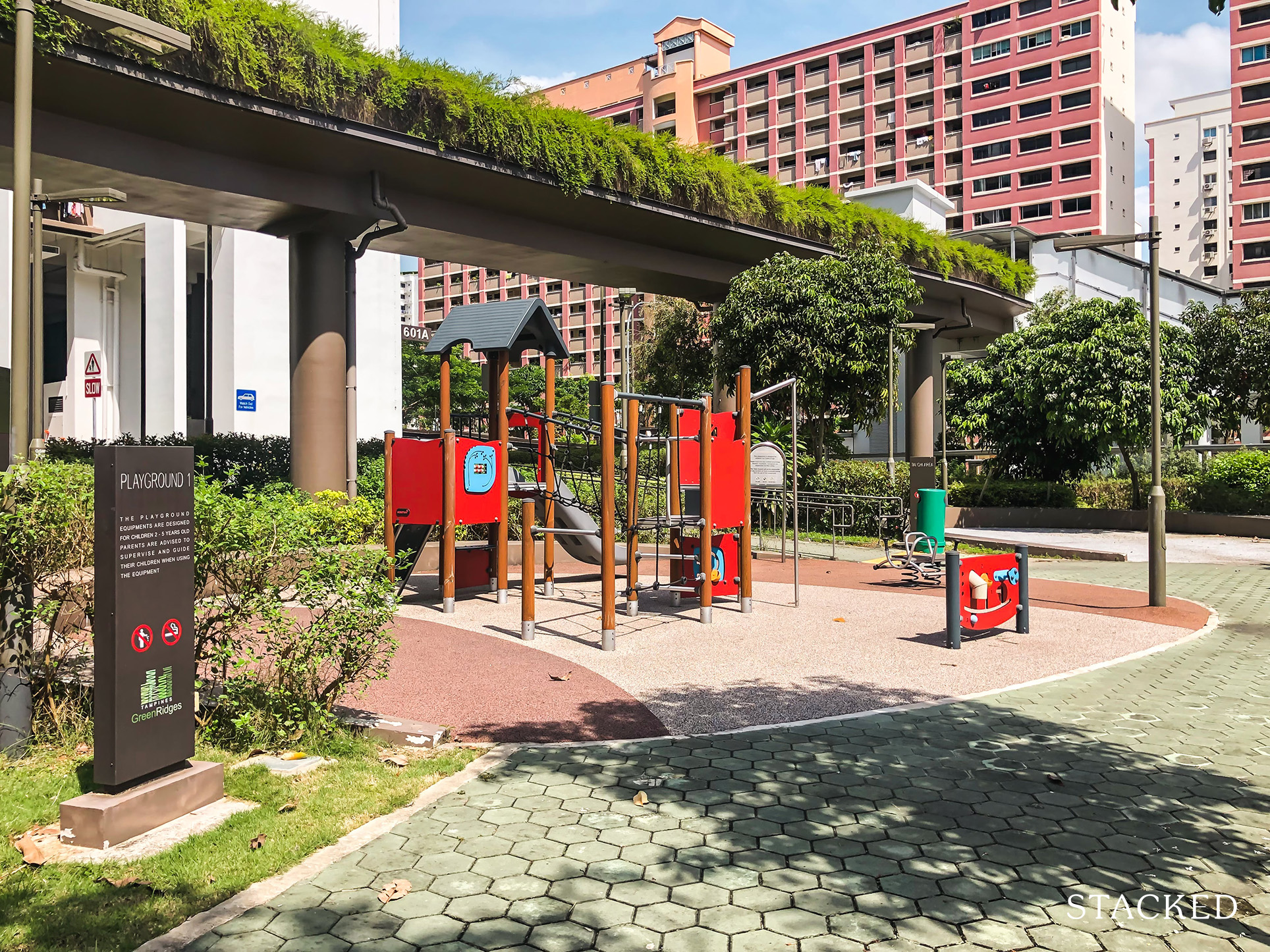 The next one appears to cater to older children and features a wall climbing sort of structure for those who are more adventurous!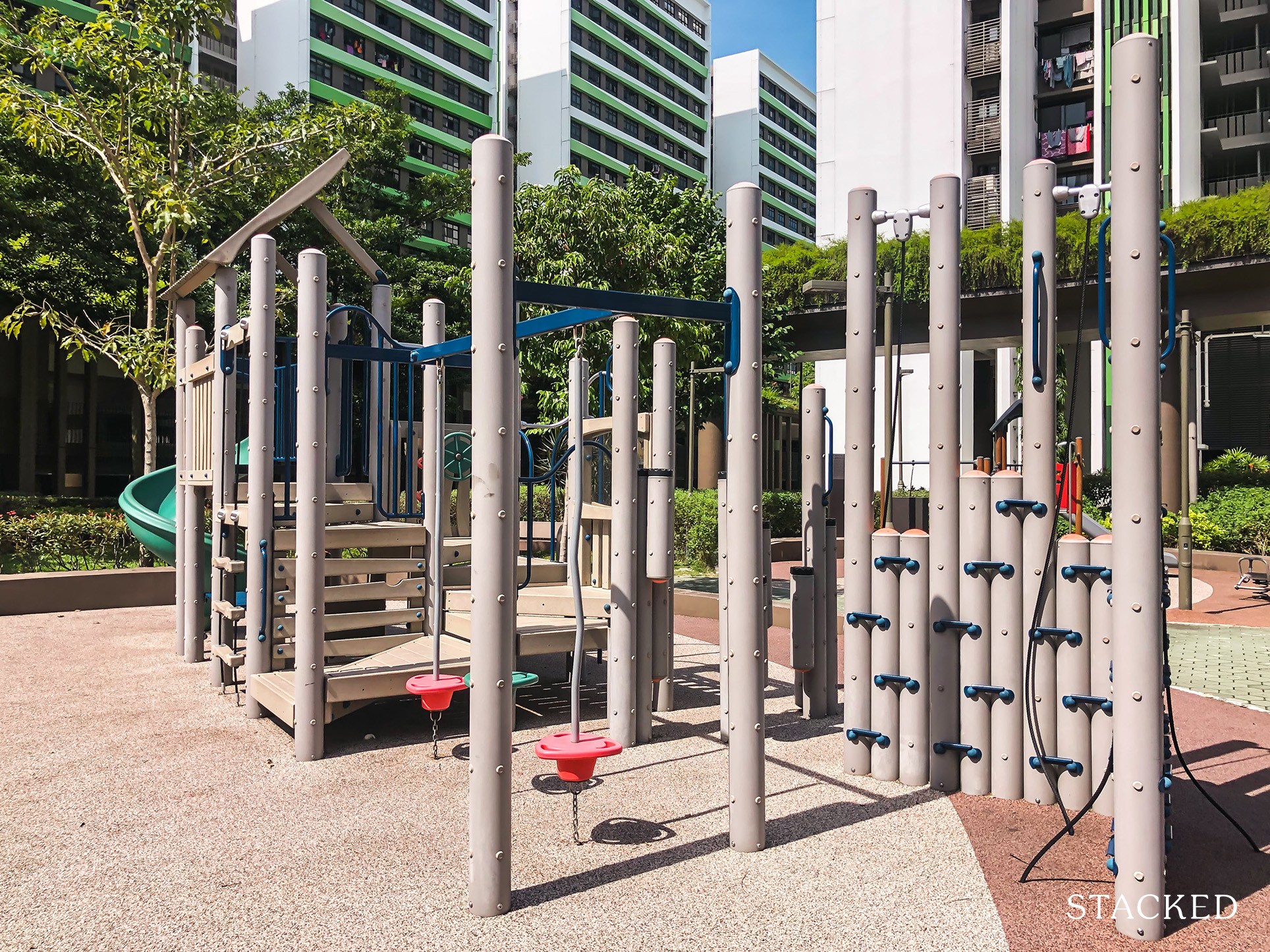 It's quite long and even has a nice spiral slide at the end making it nicer than the playgrounds that were on the rooftop garden.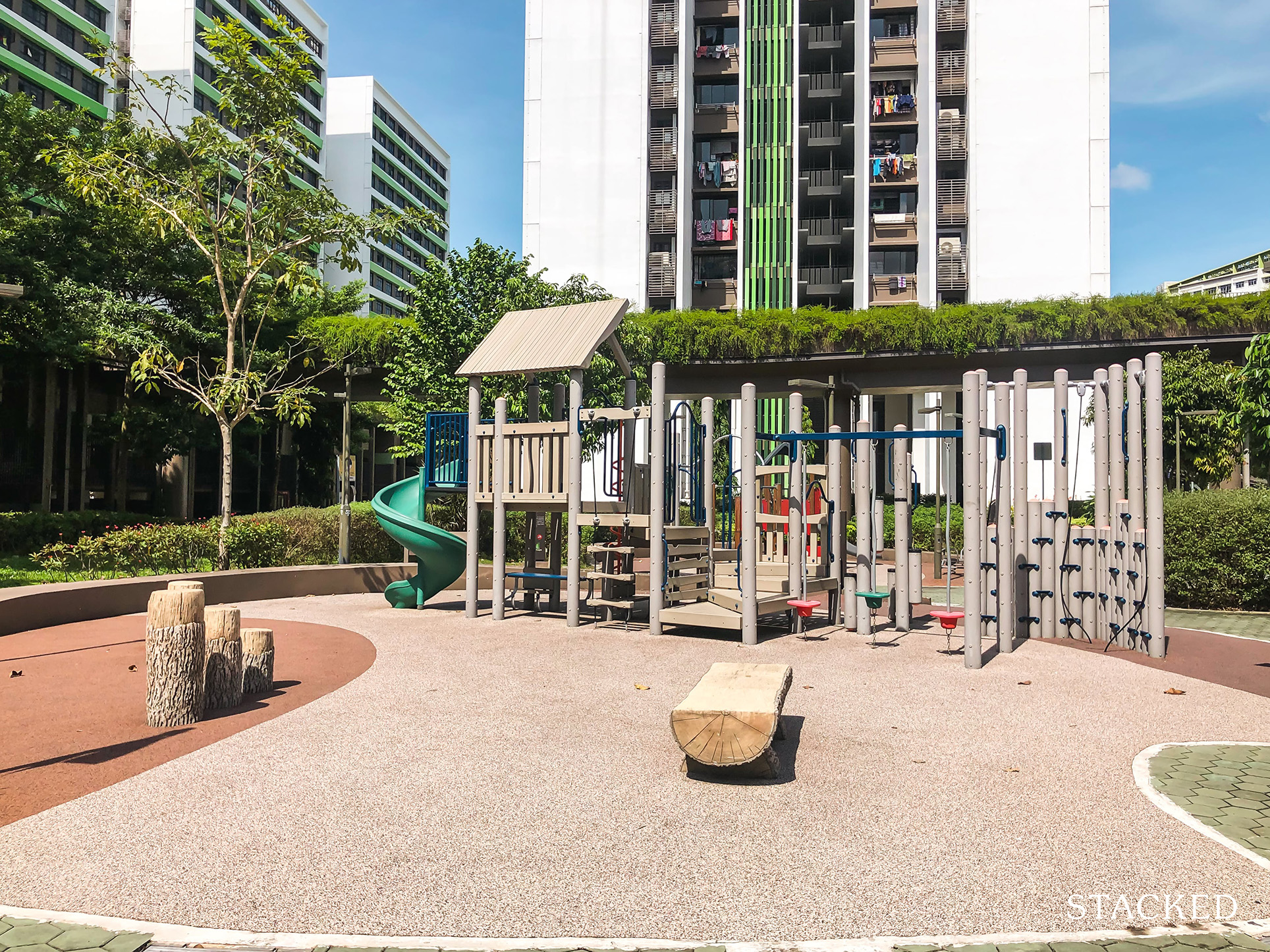 You should also know that this area is behind the MSCP – away from residential blocks. Hence, noise generated here would not directly affect residents nearby, and there's just more privacy here compared to the ones on the rooftop garden which is in good view of every unit around it.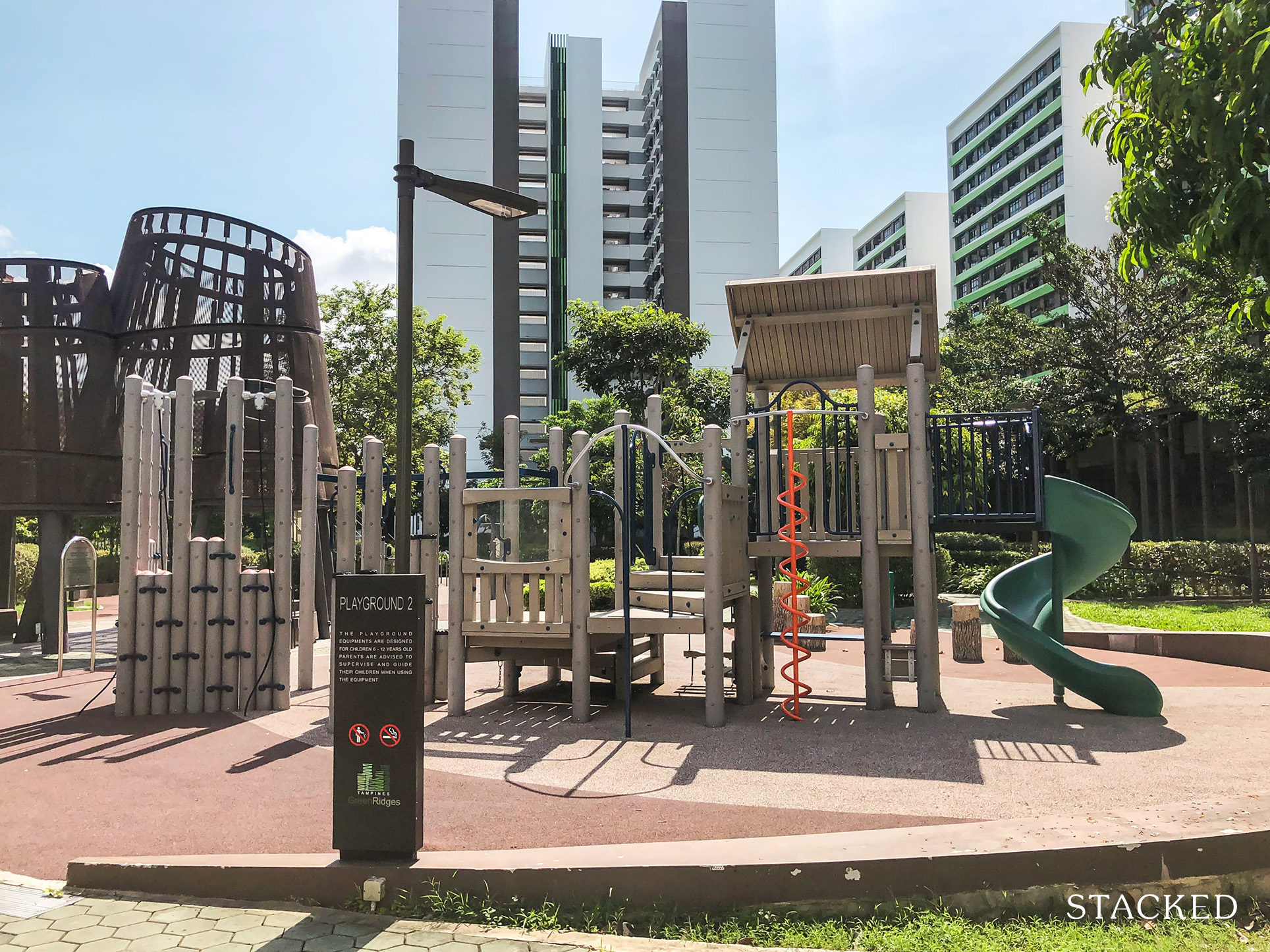 There's also a really nifty structure here by the side that serves as a shelter. This is definitely the most unique structure I've seen and yet another sign that Tampines GreenRidges clearly had a specific design language going on. Shelters are probably the most boring structures in any HDB, so the fact that this is pretty artistic means a lot and just brings up the feel of the place by a notch.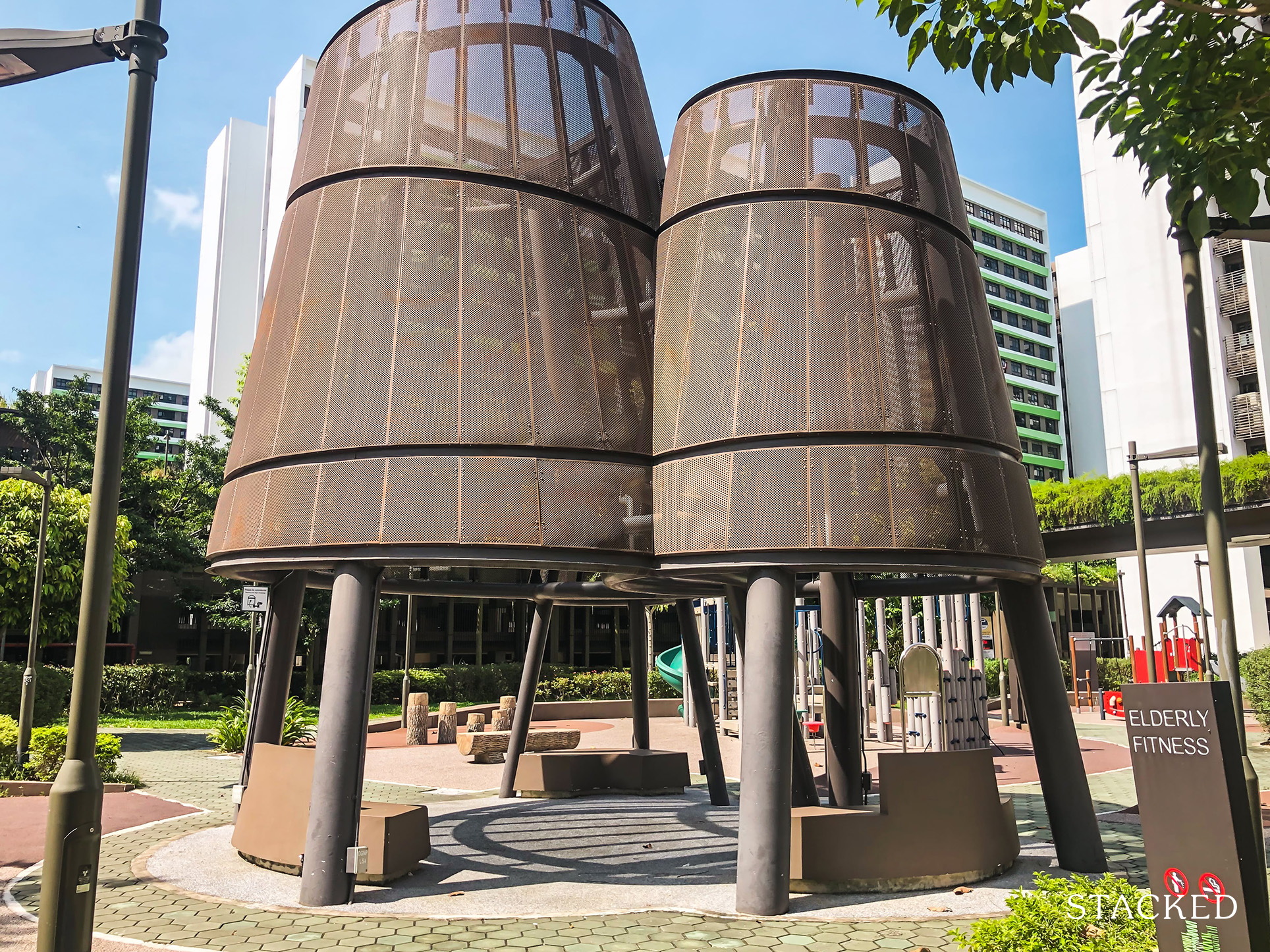 However, for something that looks nice and probably costs more, it's not actually sheltered. Personally, I'd rather have a plain-looking but fully-sheltered area to sit in than one that looks nice but can't fully shelter me from the sun.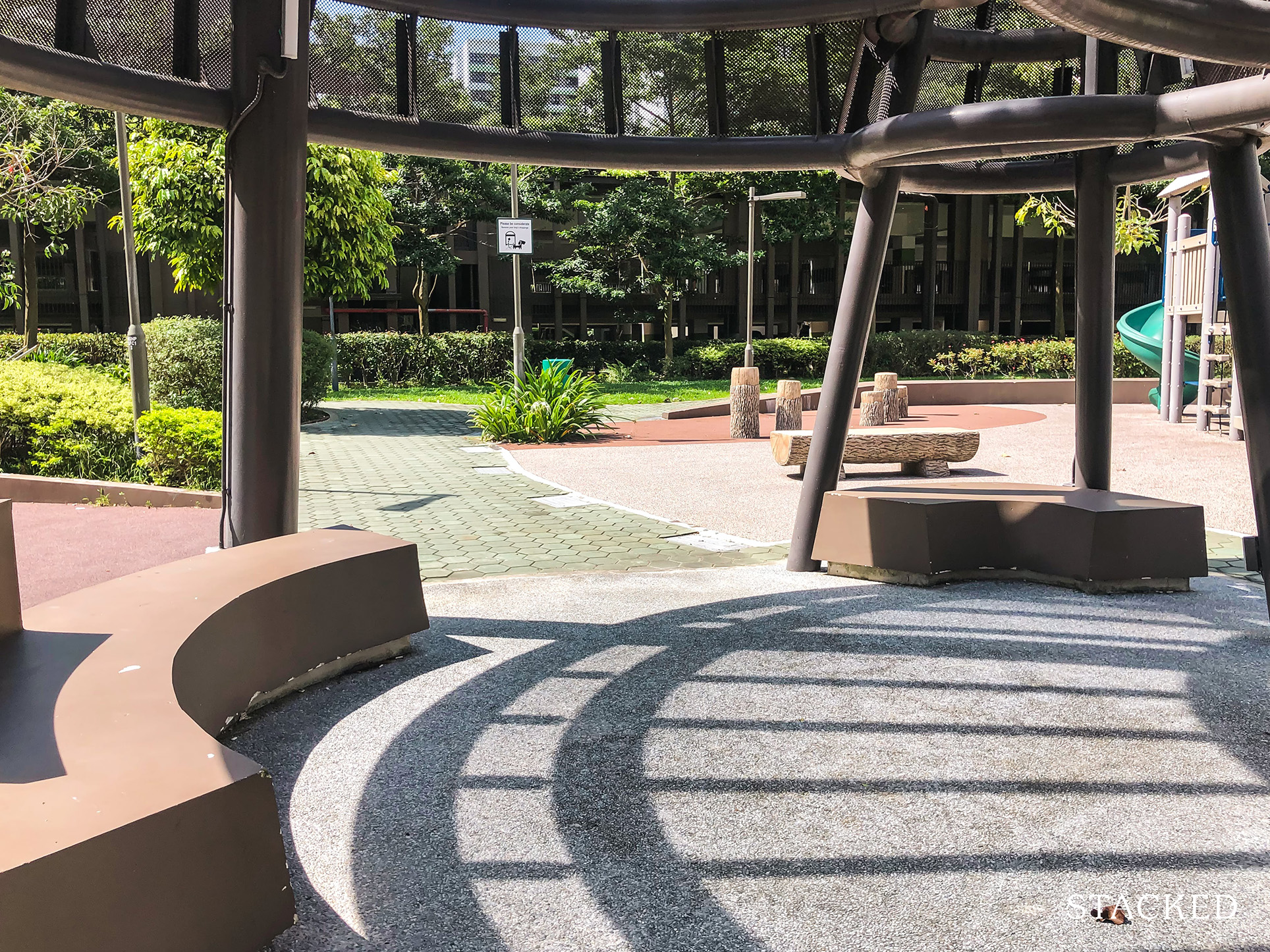 Nearby, you'll also find the usual fitness equipment. There's both an Elderly as well as an Adult Fitness Area: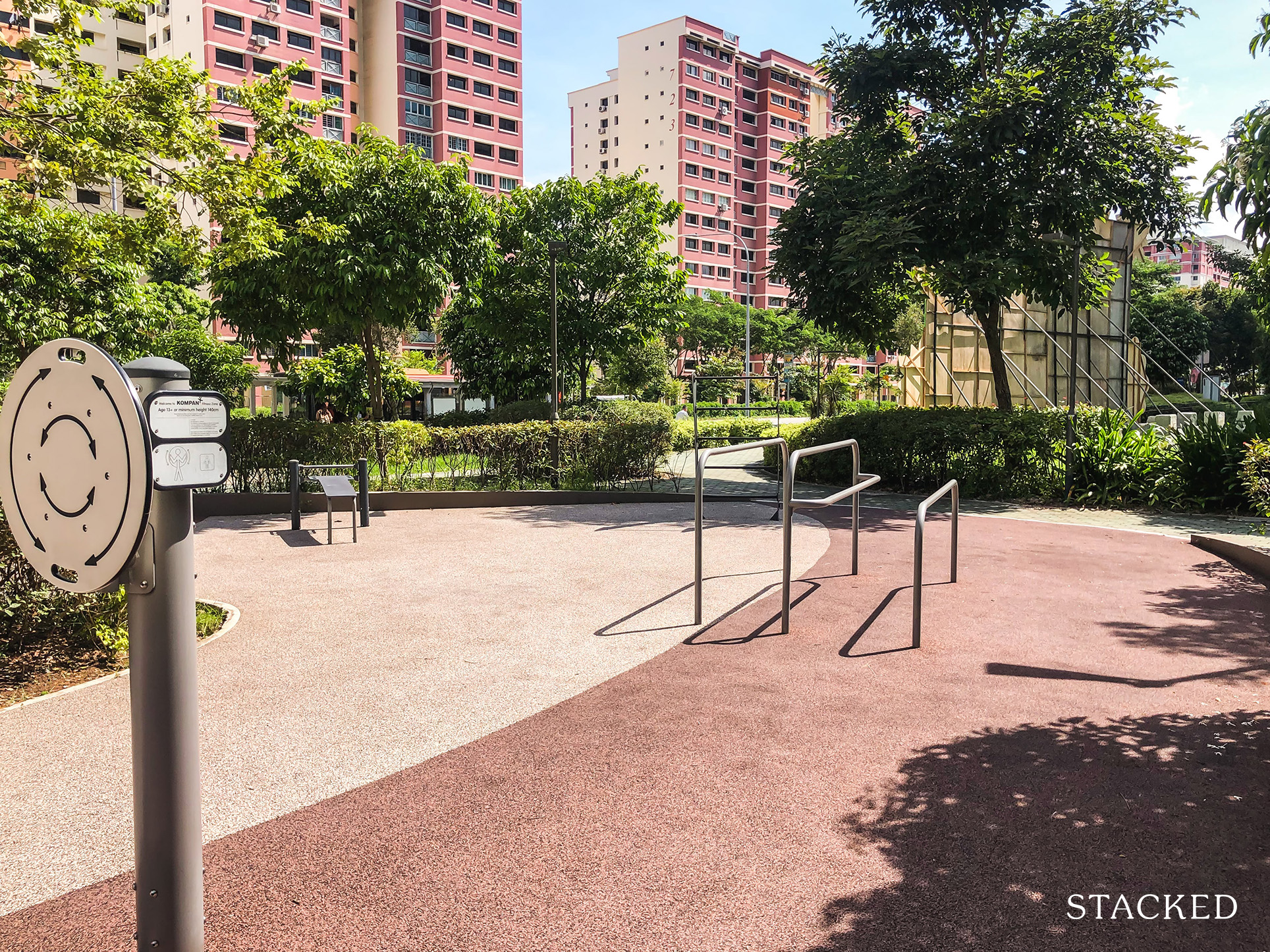 As you can see, there's quite a healthy amount of space here so that's good. I also like that the fitness area has equipment that is pretty straightforward and can really work a sweat!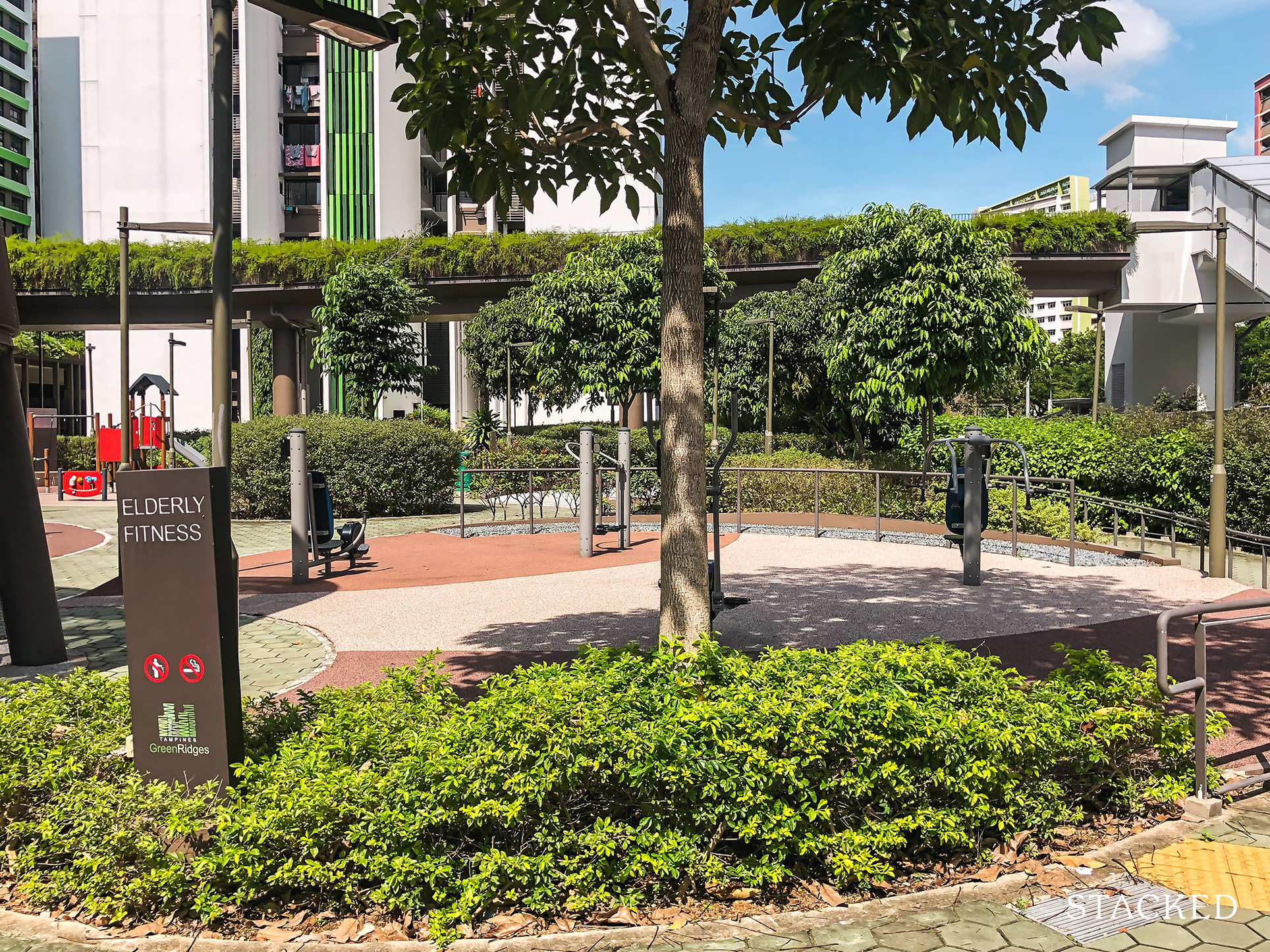 There's also an open area here that's designated as the "Tai Chi Area". It's really just an open space that a lot of other HDBs have, so this naming does seem a little restrictive since it's a public space that could be used for any group activity like Yoga as an example. Regardless, it's nice to see open spaces like this!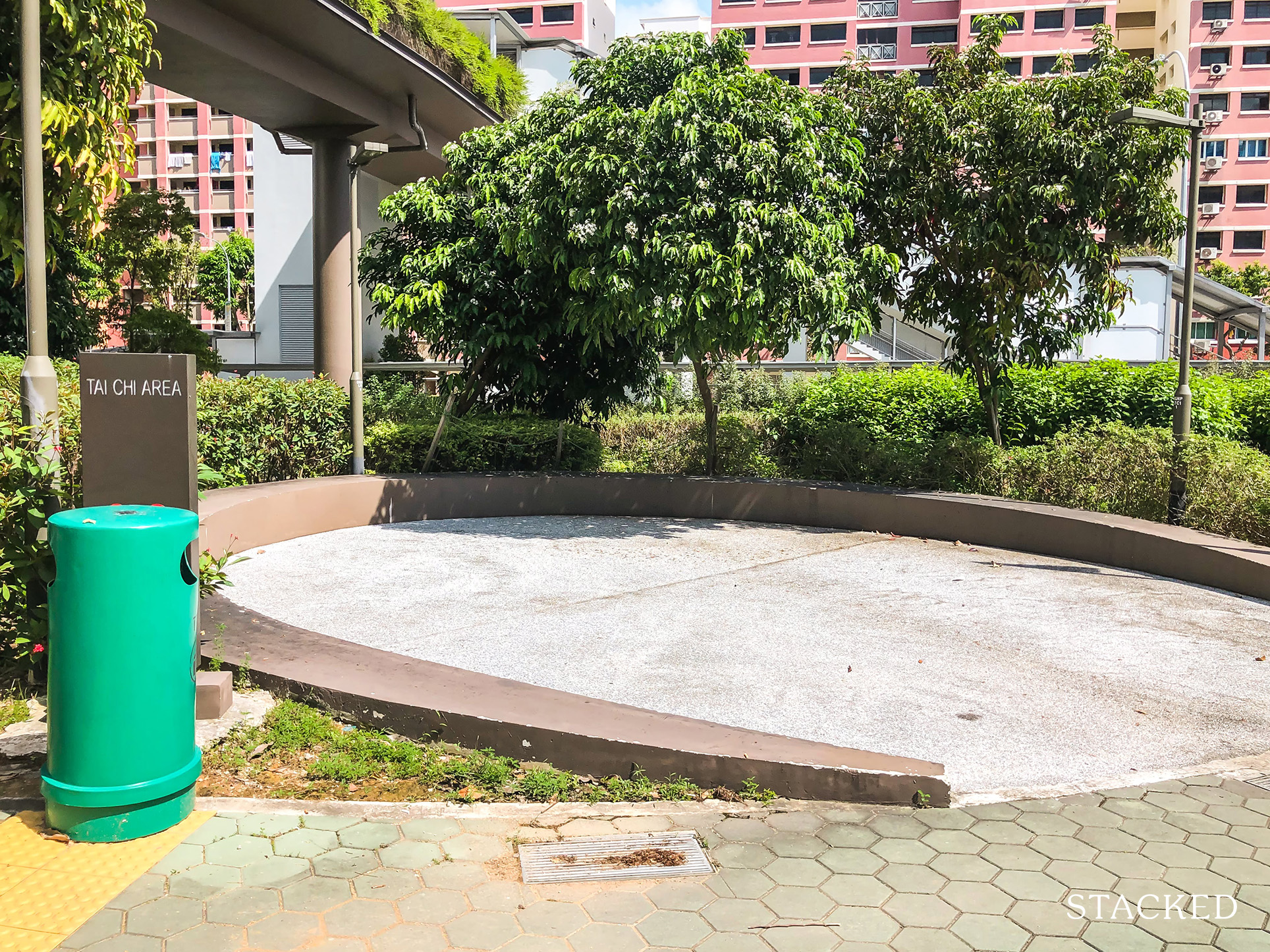 Next, let's move on to the east side of the development. Here, you'll find a playground as well as a Hard Court.
The playground here is pretty cool, it has this undulating slope where kids can crawl into and run up and down. There are also some play walls here too.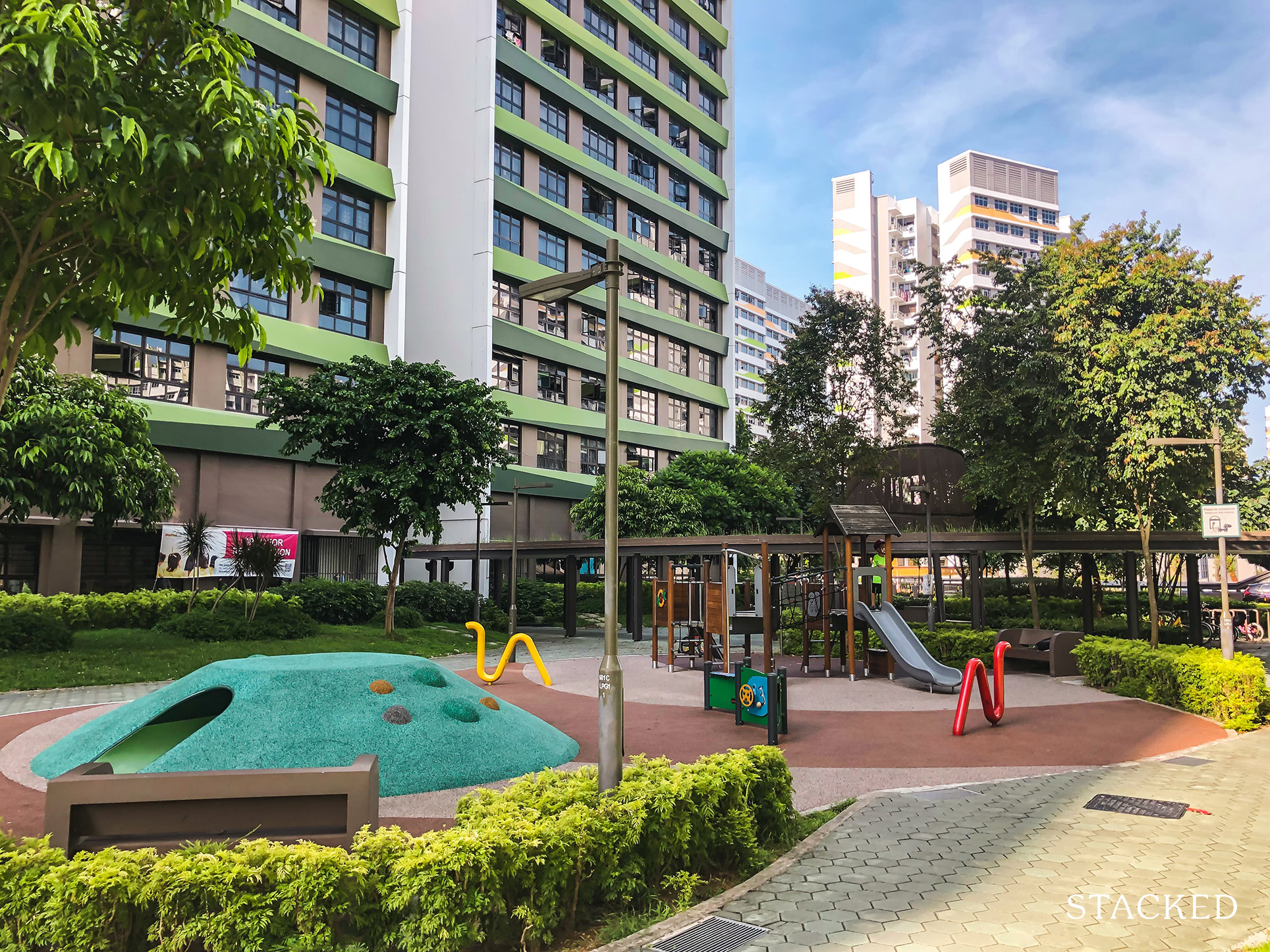 Behind that, you'll find another traditional playground with the usual climbing structure and slide.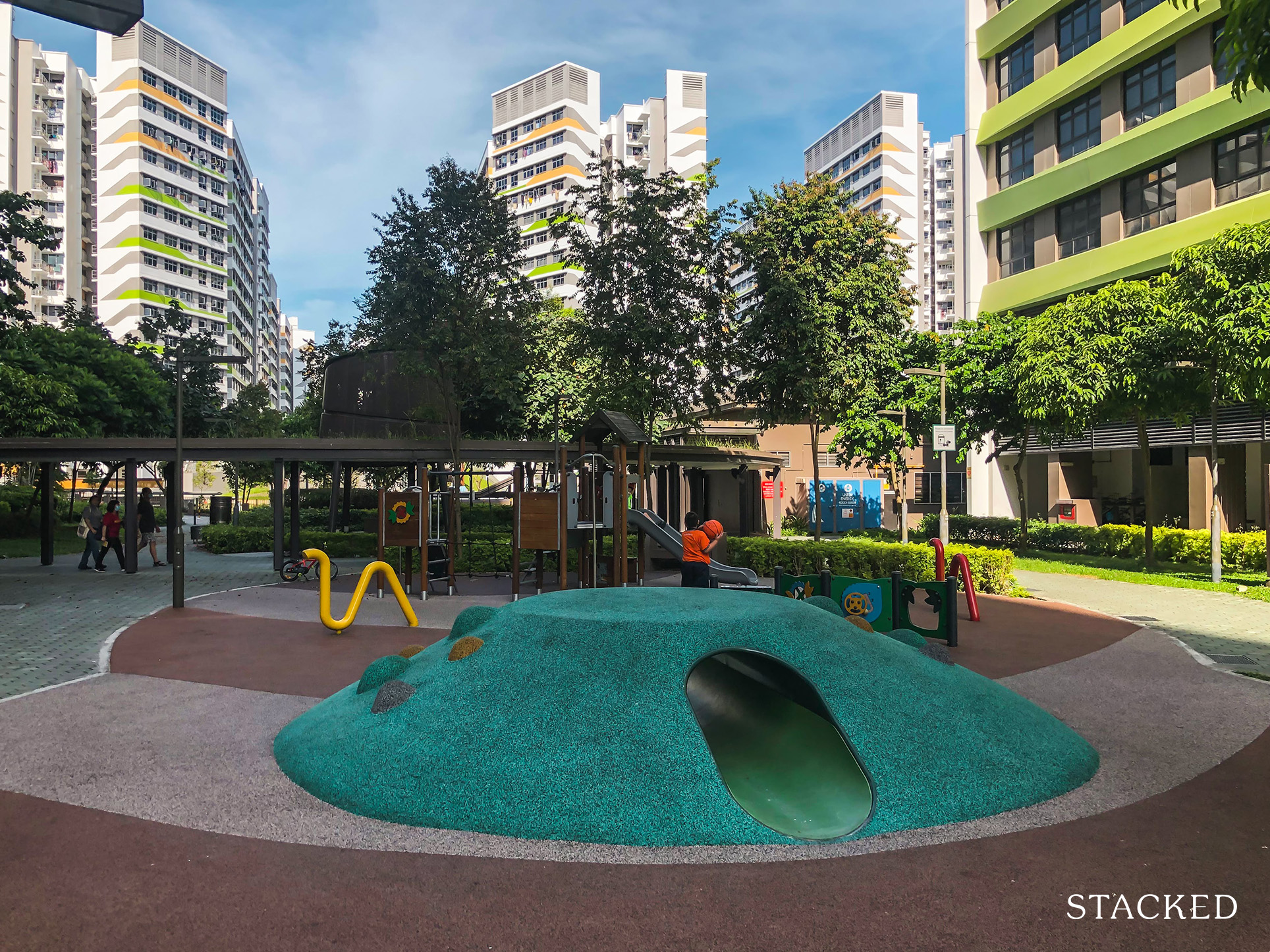 The Hard Court here allows residents to play sports like badminton and sepak takraw. It's nice to have for sure but do note it can be disruptive for residents nearby. This one, in particular, is quite close to the lower floor unit. Since these units aren't on the ground or second level, it's not too bad in terms of privacy.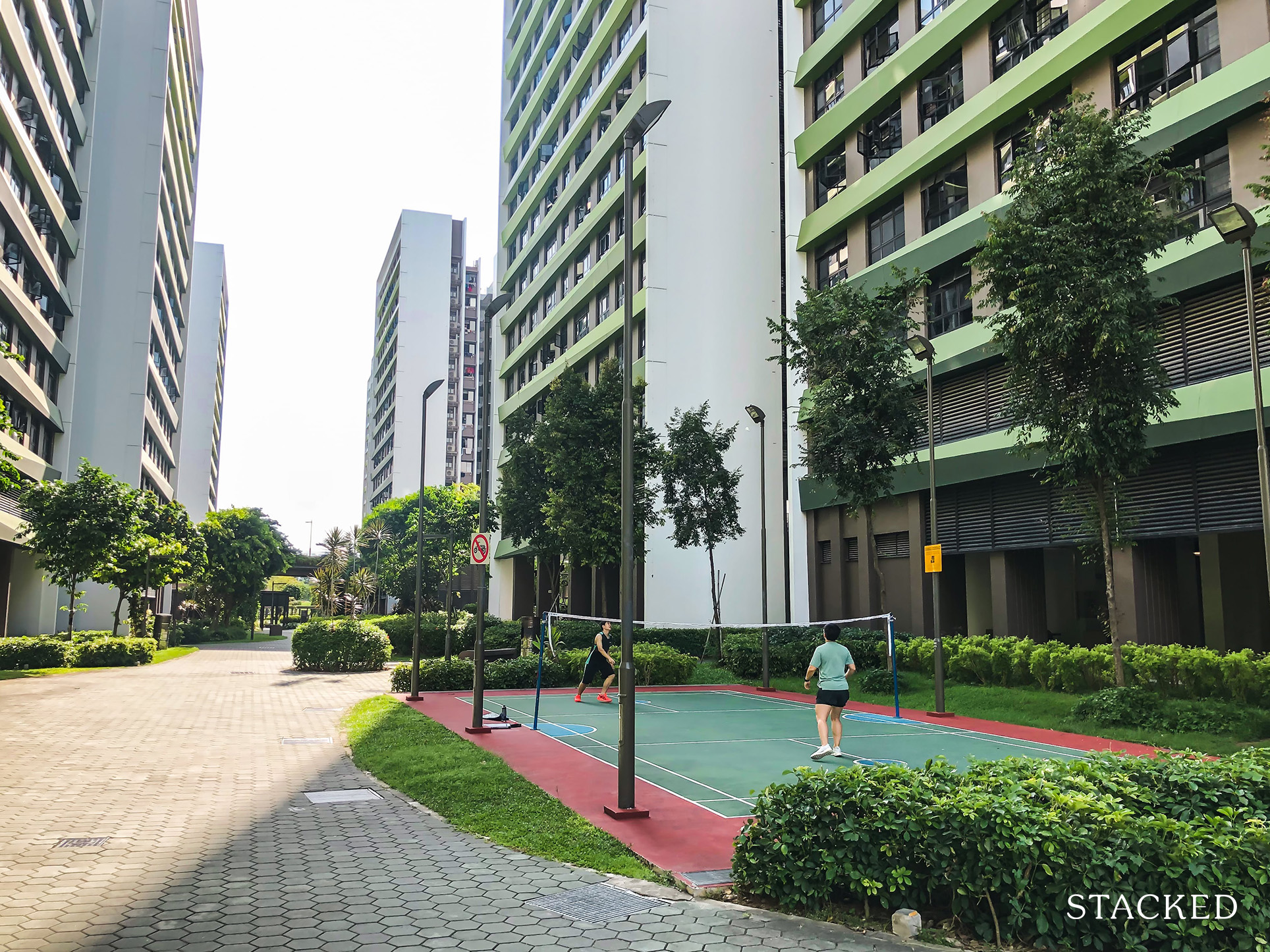 Moving across the development on the west side, you'll find another fitness area.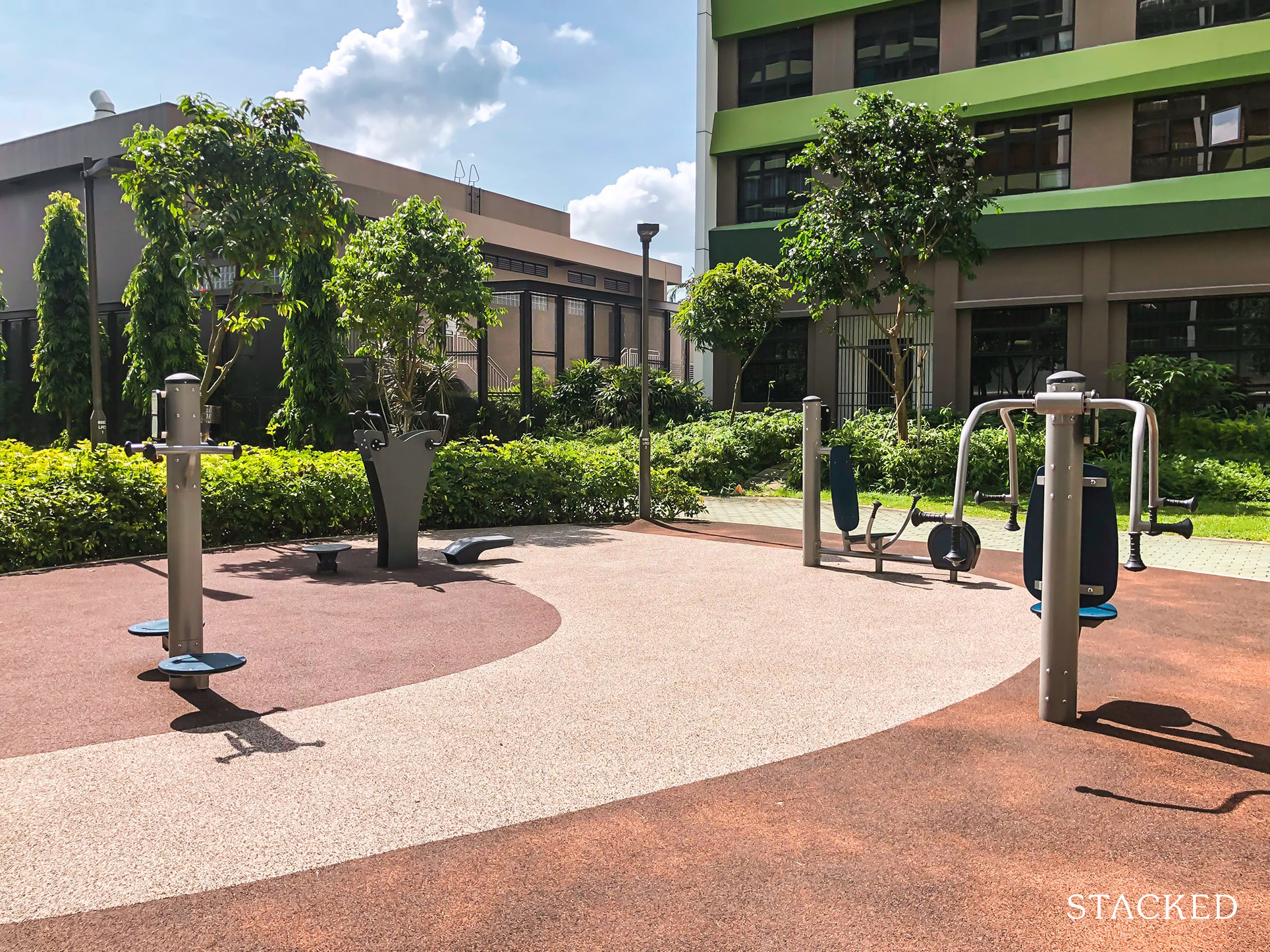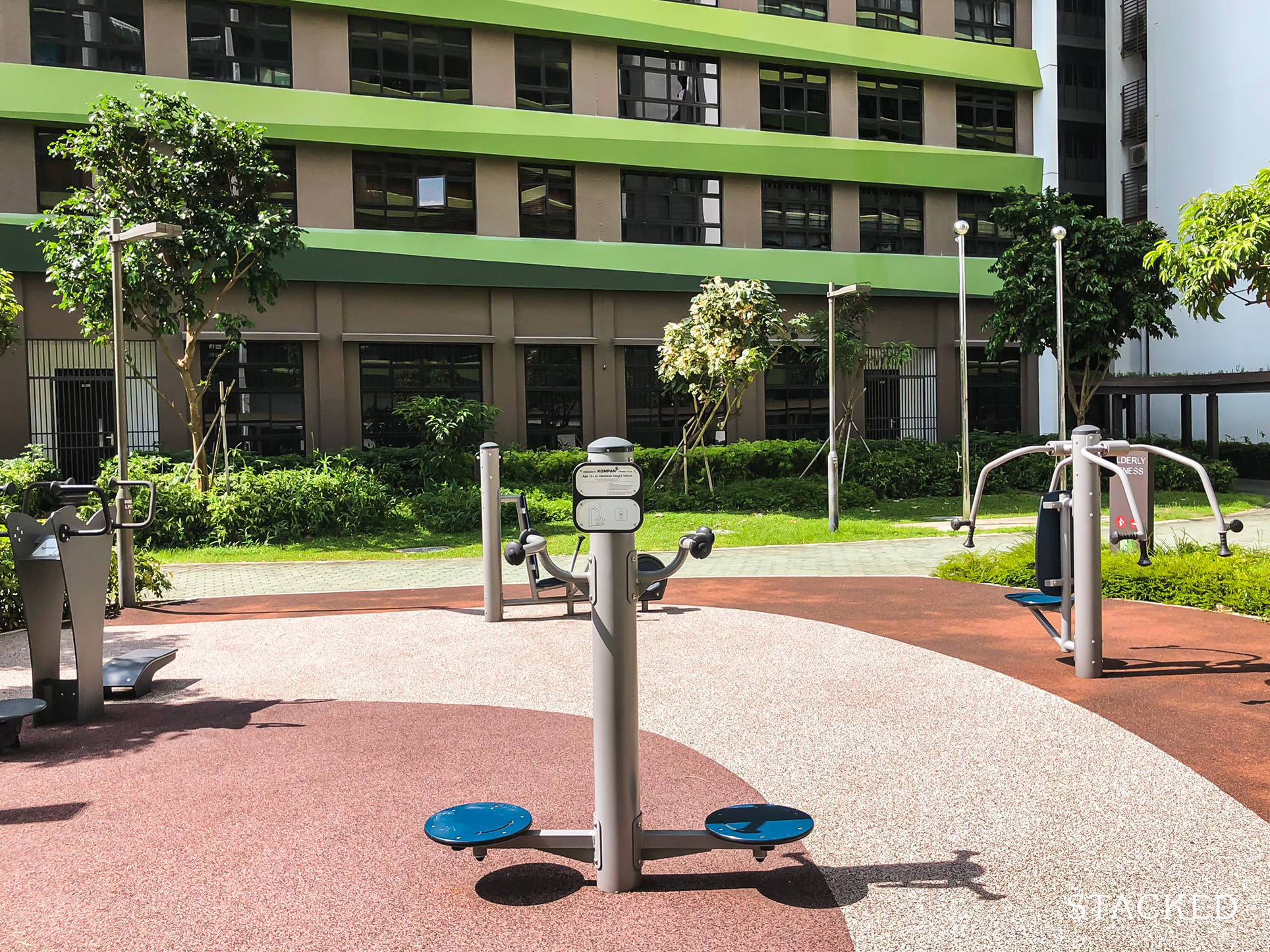 The equipment here is varied and quite well-spaced out too, so no complaints on my end! You'll also find a small sheltered seating area.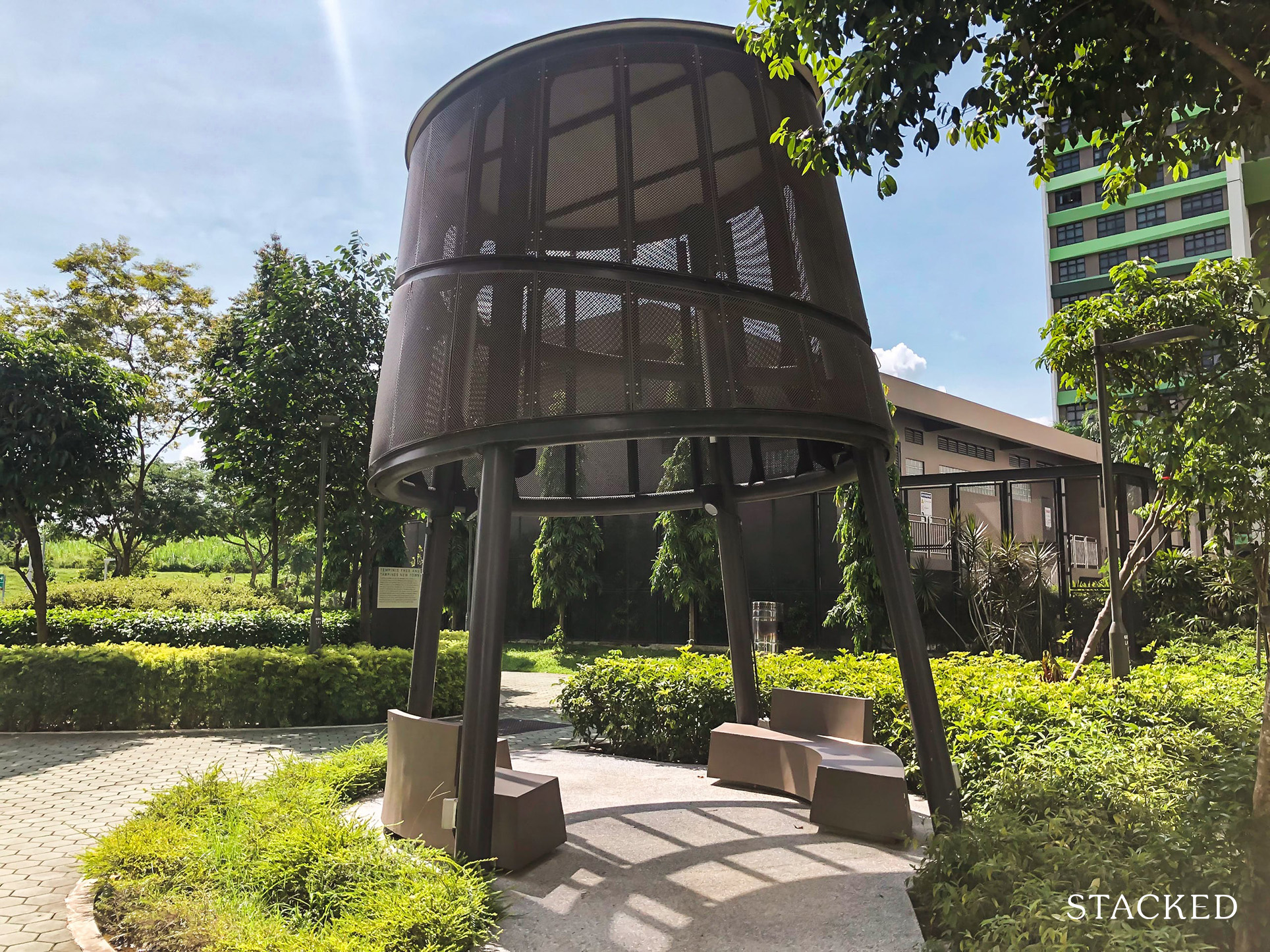 This one is actually fully-sheltered, which is great in my books. That being said, the height does reduce the functionality of providing shade.
The final facility I'd like to share about is the Precinct Pavilions. There are a total of three in this development, two located right behind the drop-off point which is always great since residents wouldn't have to find their way around, and one in the centre of the development.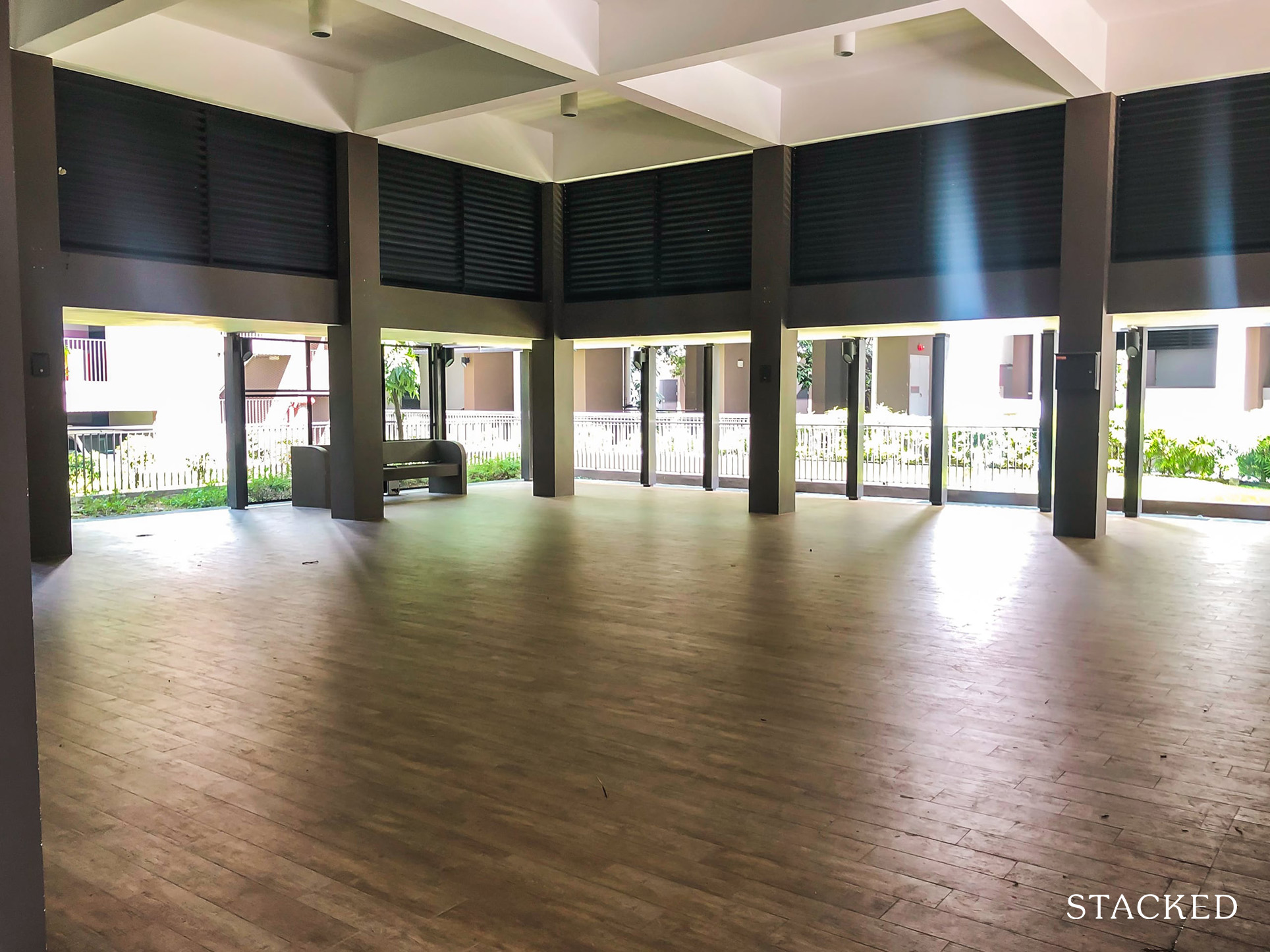 This is the one located on the west side right next to block 604A. It's got a nice rectangular shape that's spacious and ample seats (with backrest) are provided here too on the side which is great for flexible configuration. It's actually quite well-designed, I might add. Just take a look at the ceiling – it's not some raw concrete with lights plastered on it and really looks decent.
I also like that there are privacy screens which is beneficial to both residents living nearby as well as those using the pavilions. However, I must add that the area is quite closed in, so sounds produced here would echo and cause disruption to the residents nearby. Do note that there's a lack of fans here too.
The next pavilion is oval in shape and takes centre stage in the development. Again, I like the way the lights hang here. It's a small detail but yet another one that is in line with the design language of the development.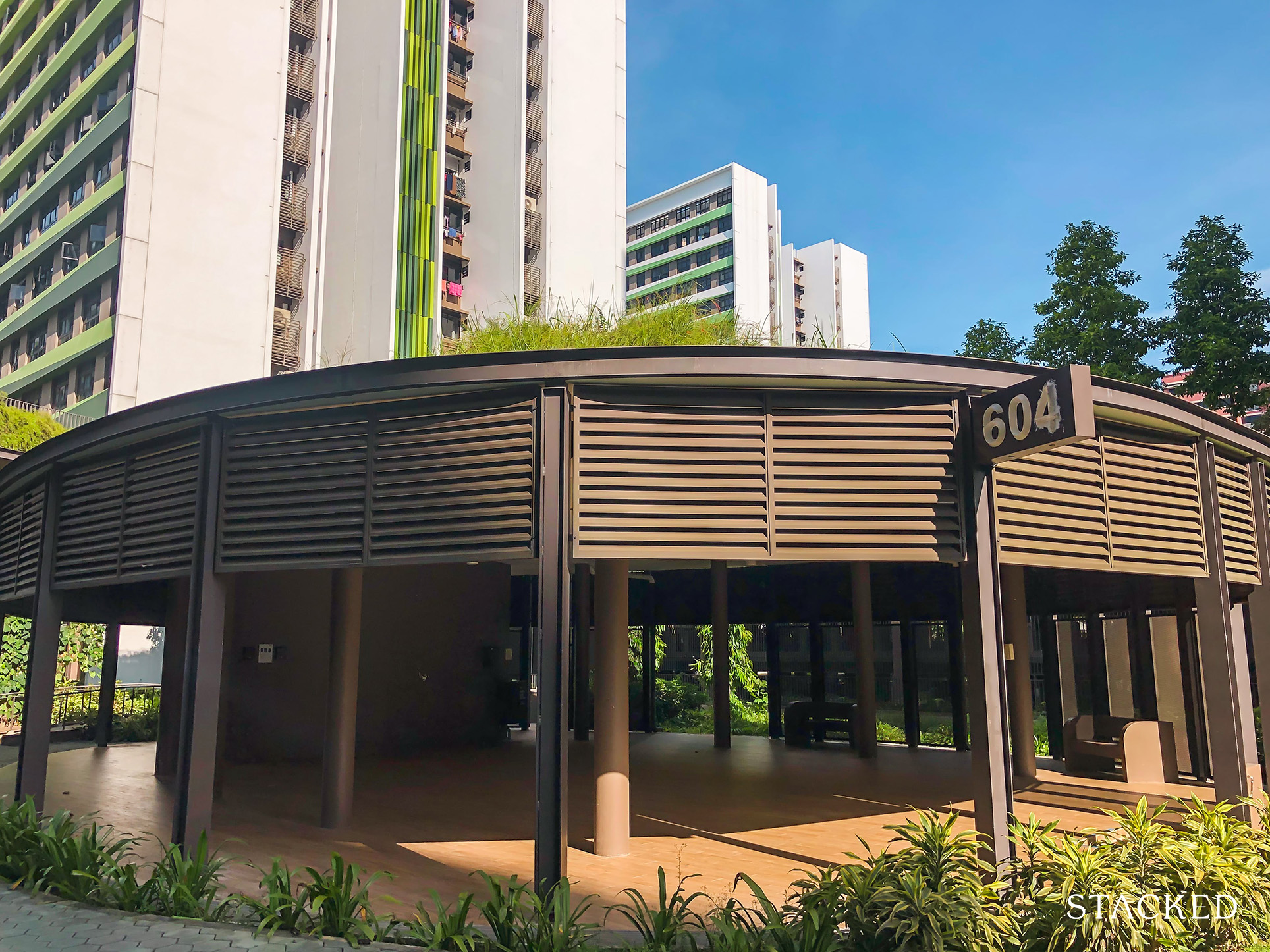 Like the first pavilion, this one is pretty spacious. There isn't much of a privacy issue here since it's sandwiched between two MSCP and there's also a privacy filter. That being said, any noise generated here will undoubtedly travel to the nearby blocks – there's no escaping that!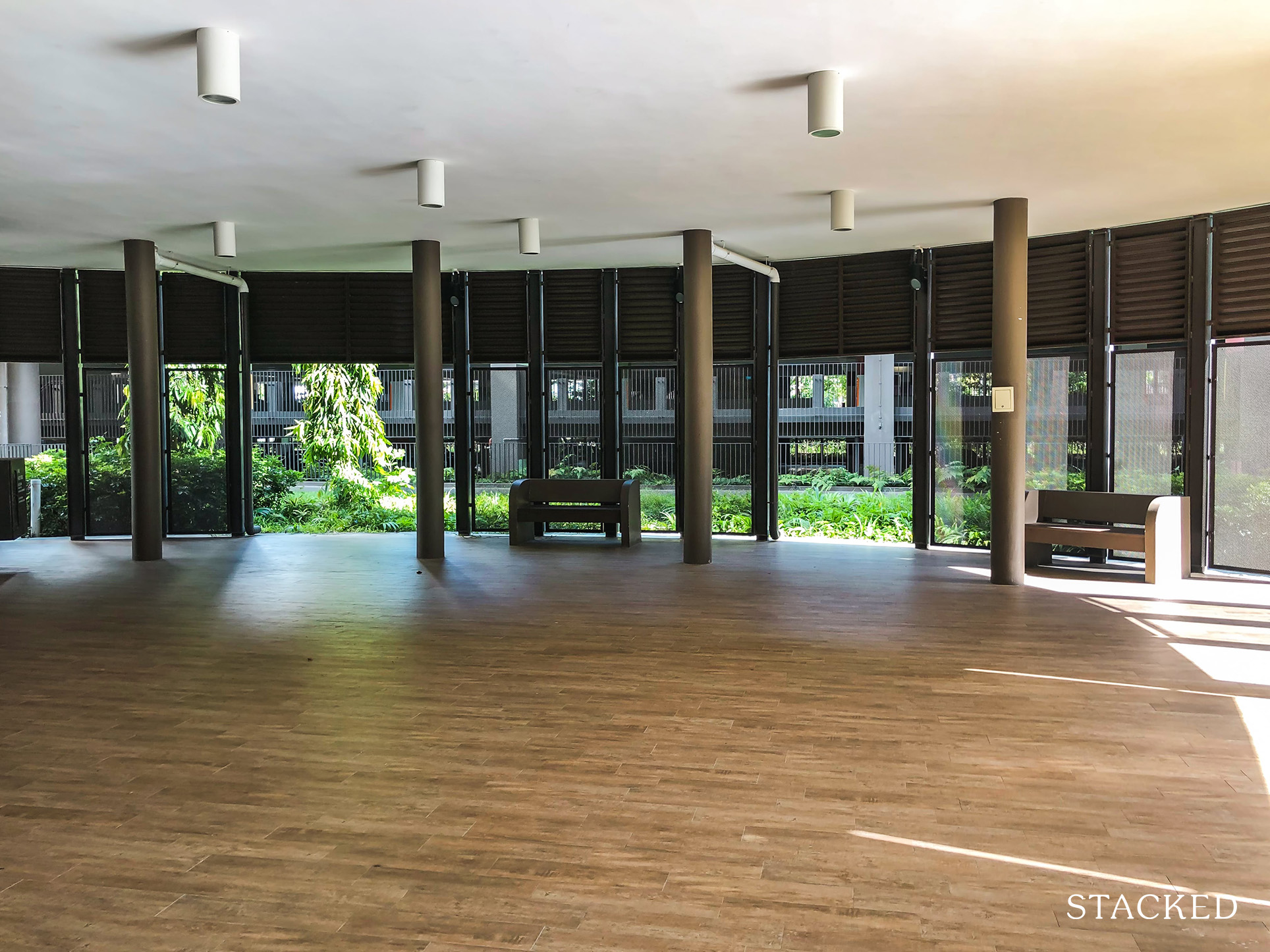 There's also a lack of fans here, a similar story to the first pavilion so there isn't much of an advantage to using this over others. Moreover, this is further from the drop-off point which could be less convenient for your guests.
The good thing about this pavilion is that it has a spiral staircase that connects to the MSCP rooftop garden very quickly, providing convenient access to your guests should they wish to sit somewhere else for some reason.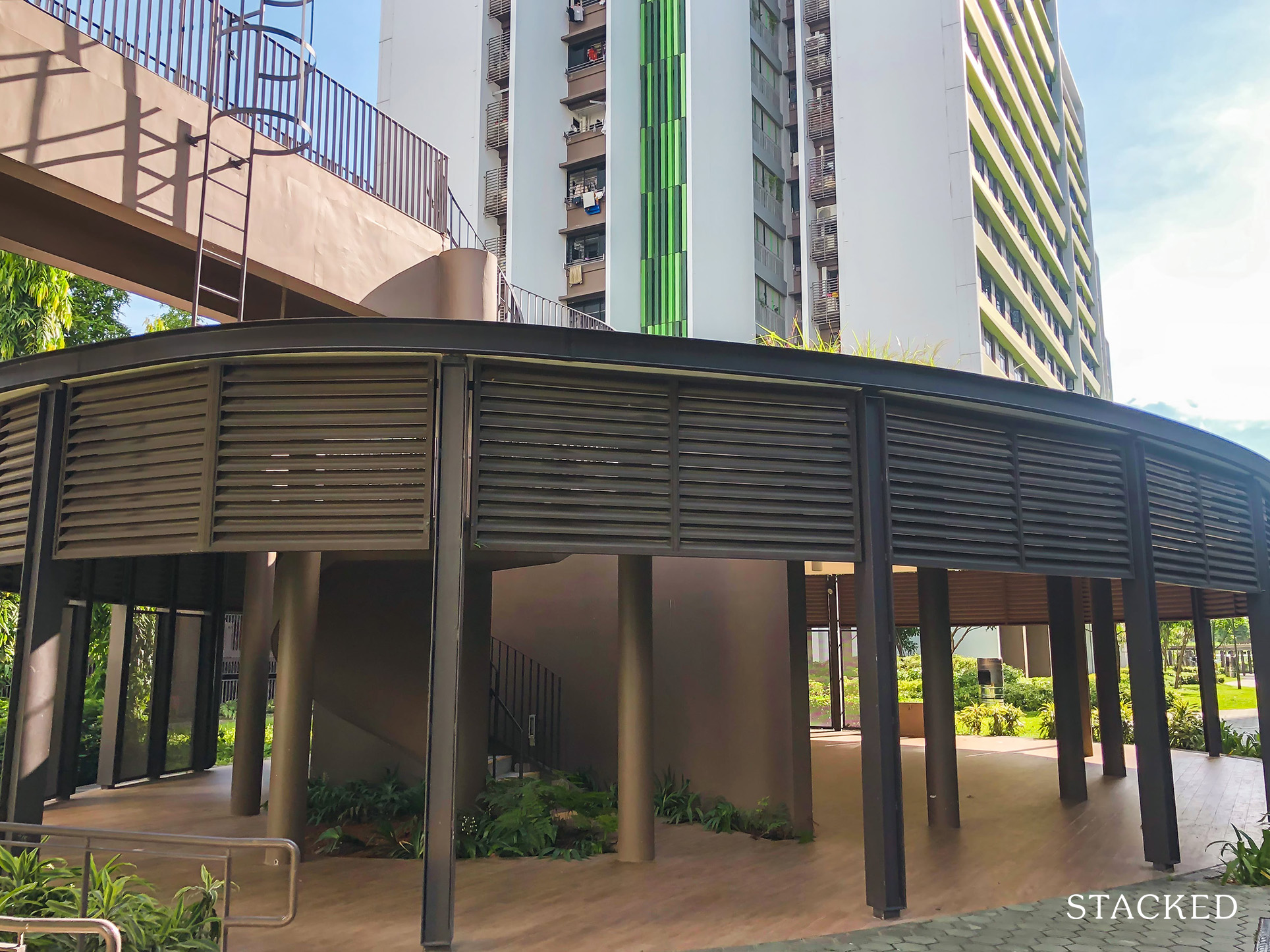 I wasn't able to get a good look at the last pavilion since there was an event going on, but it's very much similar to the first one. It sports a rectangular shape, is right next to the drop-off, decent in size, and lacks any fans but has some seating by the side. Overall, these three pavilions are just nice for a development of this size.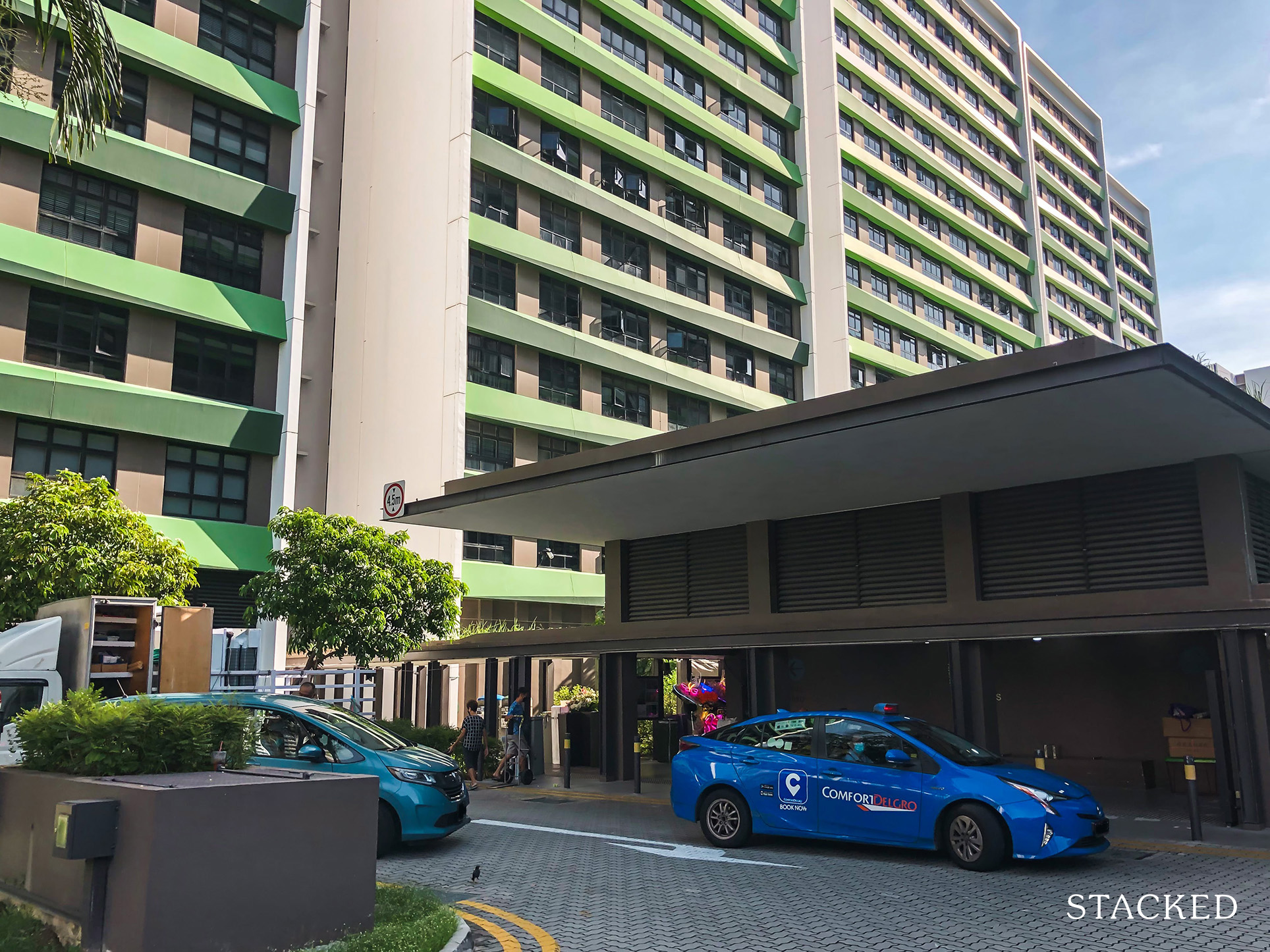 Now you may be wondering – is there a childcare centre here? After all, for close to 2,000 units, there must be significant demand for one. In this regard, residents will be pleased to know that there's one operator in Tampines GreenRidges – School4Kidz.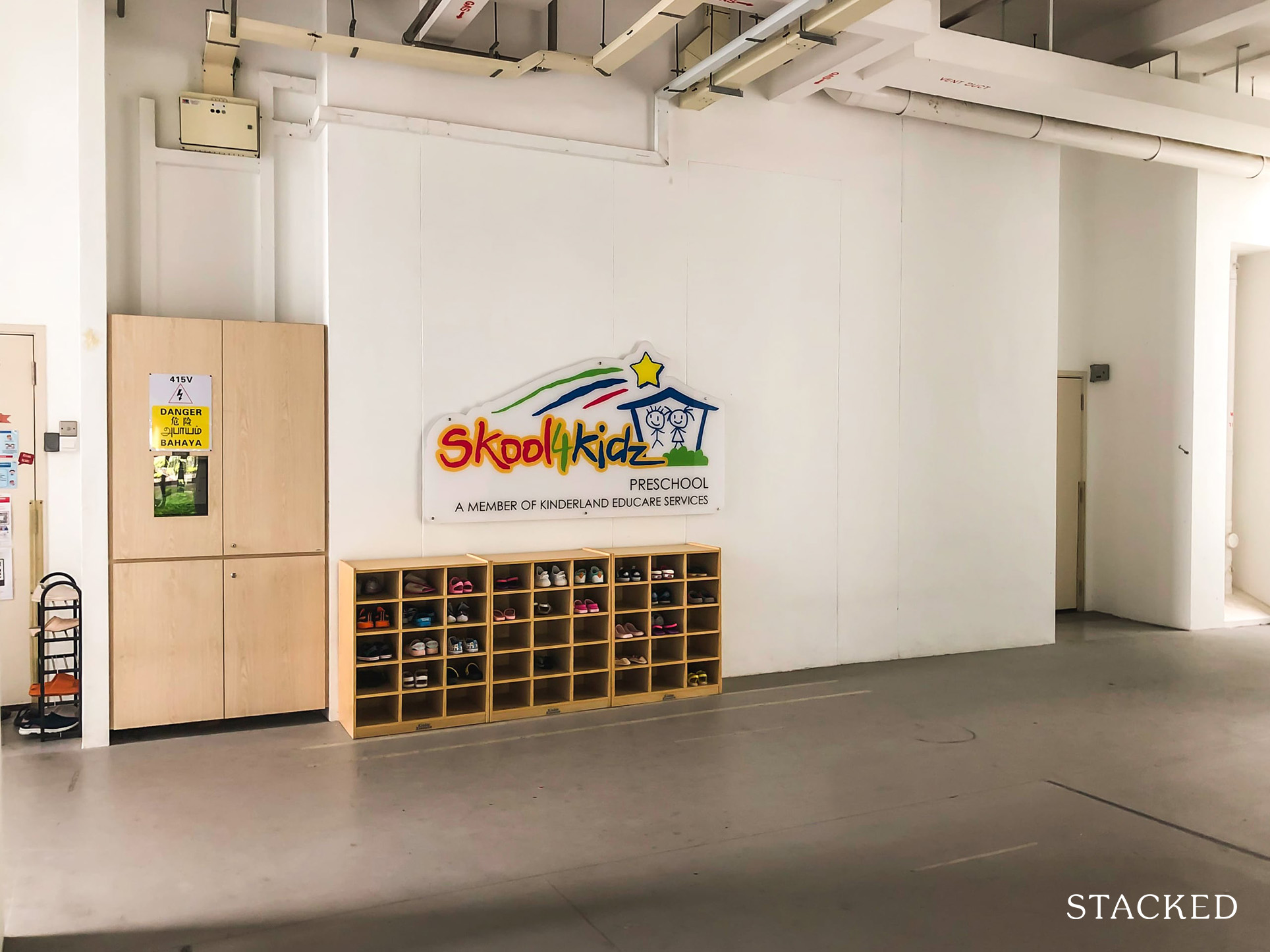 However, unlike other HDBs, the childcare centre here is not situated in one spot. In fact, it's spread across multiple blocks in this development.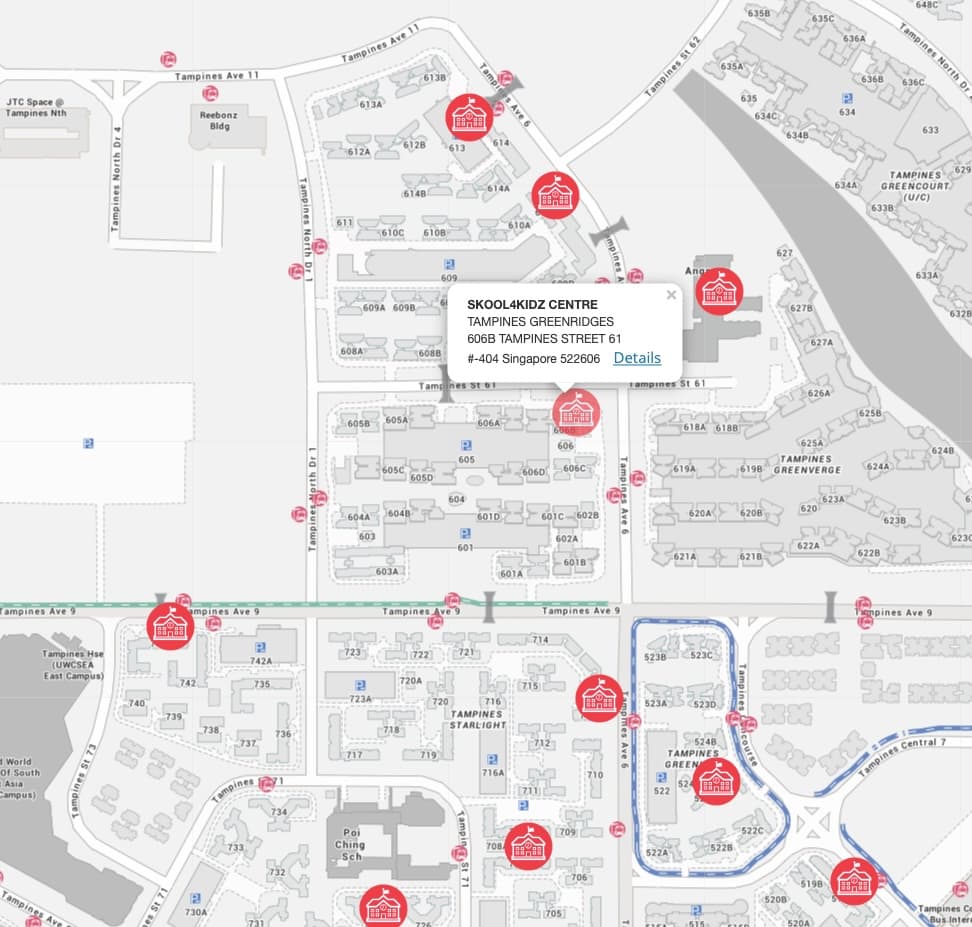 A quick search on ECDA also shows that there's just one operator. And even though there are multiple preschools here, the wait times are quite long, with multiple levels having a more than a year waiting period.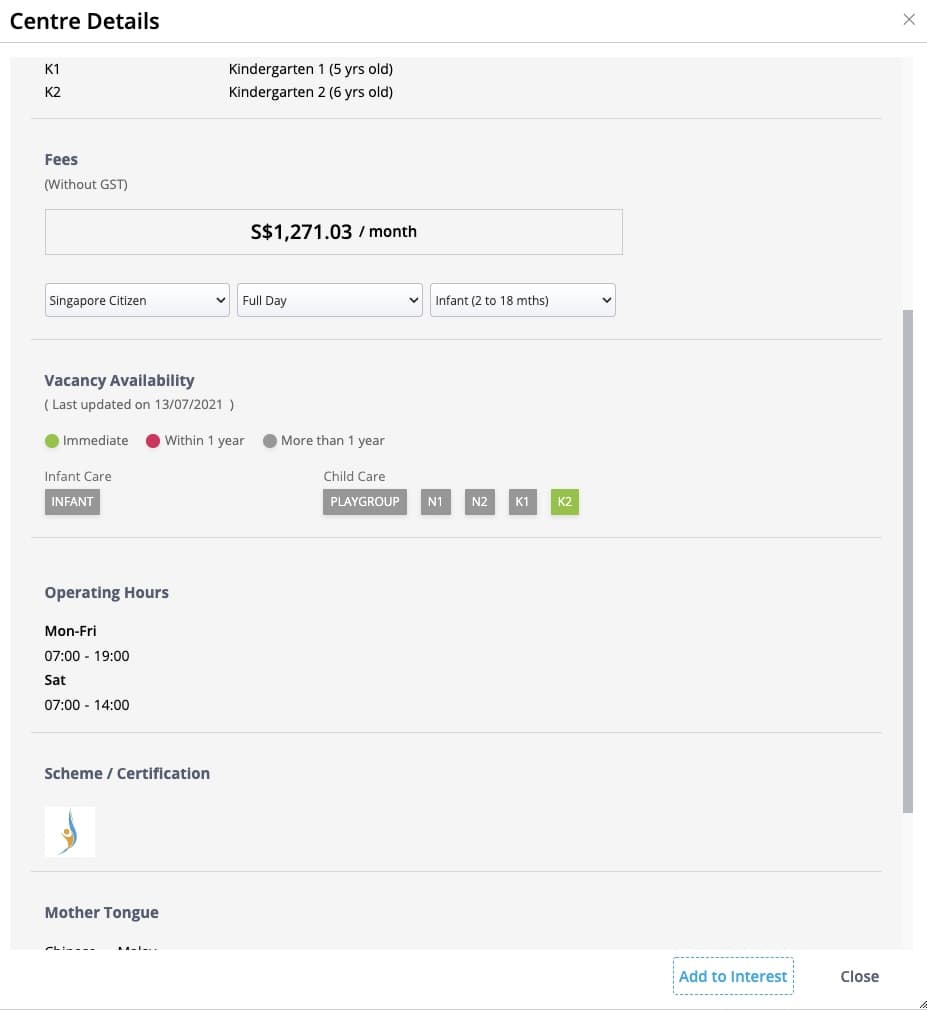 That said, it is like this in a lot of places, but at least here there's a chance you could have your kid enrolled close by!
With that, we've come to the end of the facility and amenity tour. Now let's find out what offerings there are outside of Tampines GreenRidges!
Tampines GreenRidges Location Review
As much as I've raved on and on about Tampines GreenRidges so far, there's no denying that its immediate location is the obvious downside to this development. In fact, it's probably why Tampines GreenRidges was designed to be a self-sustaining development. It's an obvious part of urban planning – hardly any amenities around? Then build it so that others around can benefit.
A quick look on Google Maps shows a lack of supermarkets around within walking distance which indicates how important the 24-hour Sheng Siong development is.
The west side is mainly industrial-zoned too:
These plots are mostly empty at the moment too.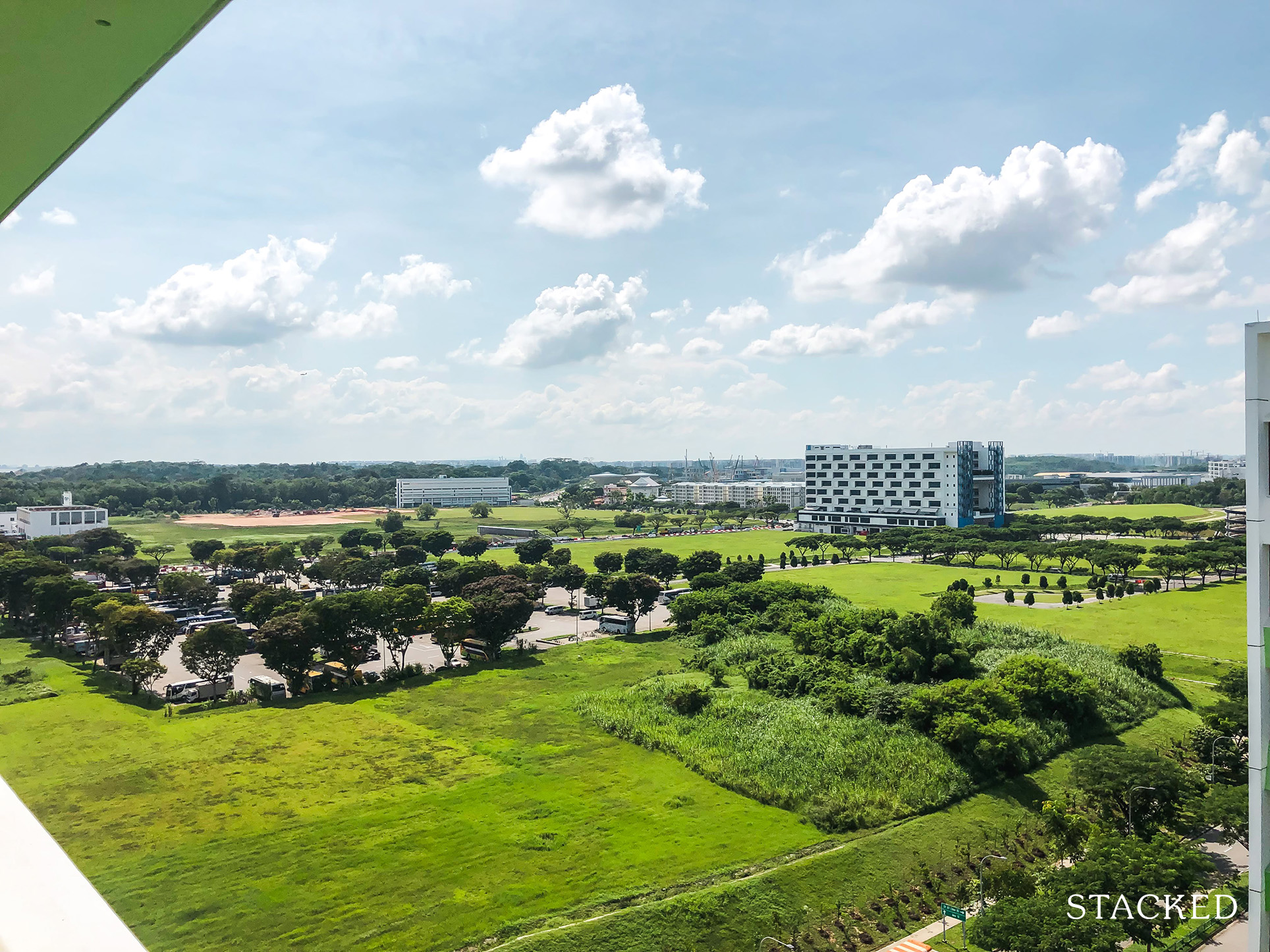 On top of that, the surrounding areas are just residential projects (HDBs) with Tampines GreenRidges having one of the better variety in terms of commercial outlets.
As such, residents looking for more options in the immediate vicinity might be a little disappointed. However, it is just a few minutes bus ride away from some really exciting amenities in the Tampines estate such as Tampines One, Century Square, Our Tampines Hub, Tampines Mall, and IKEA Tampines. There's also White Sands mall which is just a 7-minute drive away (or 25 minutes by public transport).
Our Tampines Hub, in particular, is actually around a 12-minute walk. It's not the nearest for sure, but you may not mind it especially since you can cycle there easily.
Speaking about cycling, you'll be pleased to know that Tampines GreenRidges is situated along the Park Connector. It's not updated on the map Park Connector map, but from the outside, you'll find the pathway to be wide and it connects directly to Tampines MRT where all the amenities are at.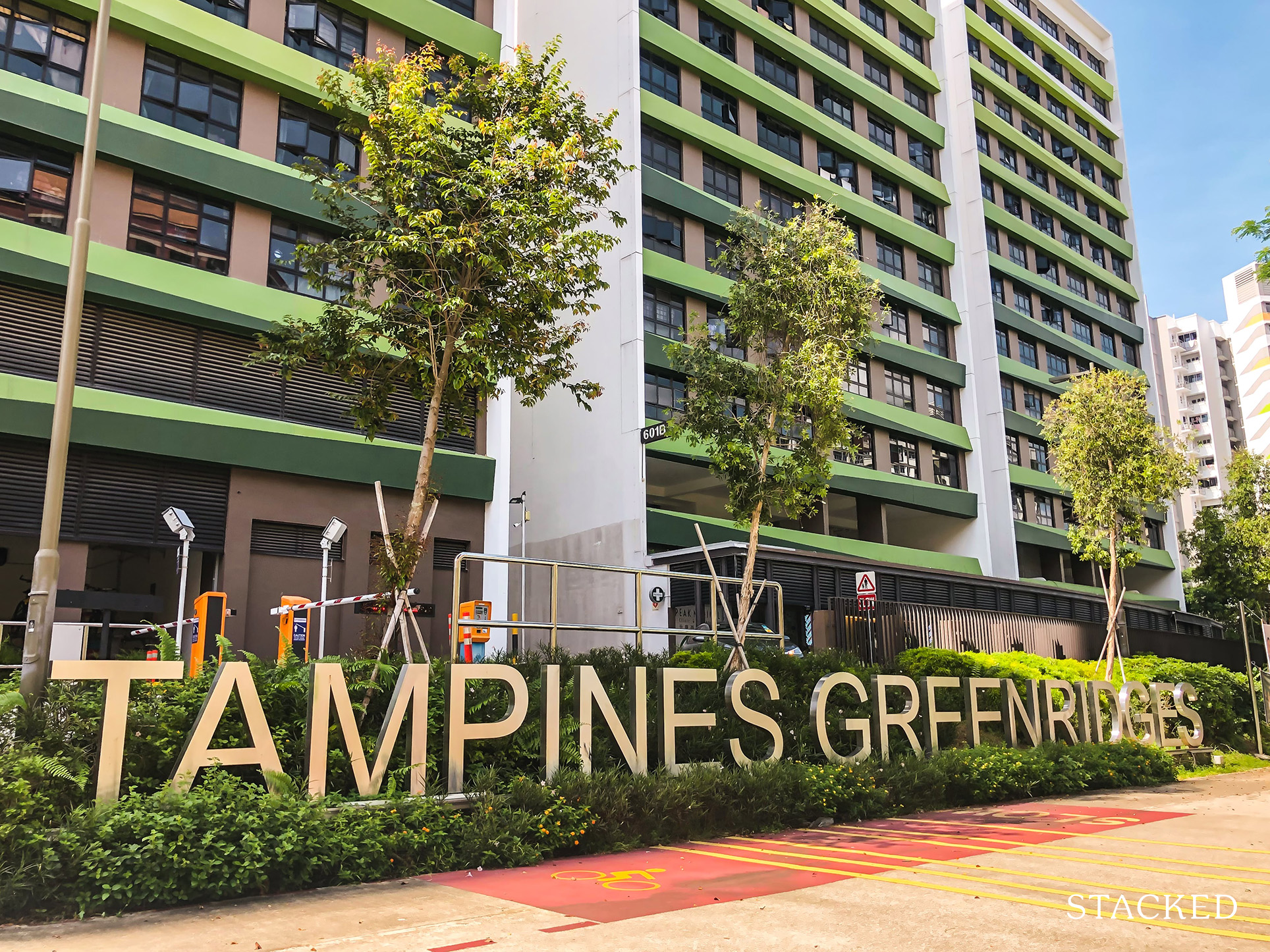 Overall, I would say that the location may not be immediately positive, but for residents who don't mind cycling or taking a long walk, all the amenities you need are at least within 15 minutes bus ride/walk away.
Public Transport
| | | |
| --- | --- | --- |
| Bus station | Buses Serviced | Distance From HDB (& Est. Walking Time) |
| 'OPP BLK 721 (75279)' | 27, 27A, 72, 127, 168 | 1-minute (50m) |
| 'BLK 604A (75501)' | 293, 293T | 1-minute (50m) |
| 'BLK 602B (75471)' | 68, 68B | 1-minute (50m) |
Closest MRT: Tampines MRT (Downtown Line and East-West Line) – about a 15-minute unsheltered walk, depending on the block you stay in.
It's the same story as my location commentary above. Considering that most of the amenities can be found near the MRT, Tampines GreenRidges suffers from not being within walking distance of the MRT. The 15-minute unsheltered walk is considered a lot by many.
By public transport, it's about 11 minutes by bus 72. Not many people would mind this though considering the bus stop is directly outside the development and there's hardly any walking in this case.
You do have the upcoming Tampines North MRT station on the Cross Island Line to look forward to that is supposed to come into operation in 2030, so there is some future upside here.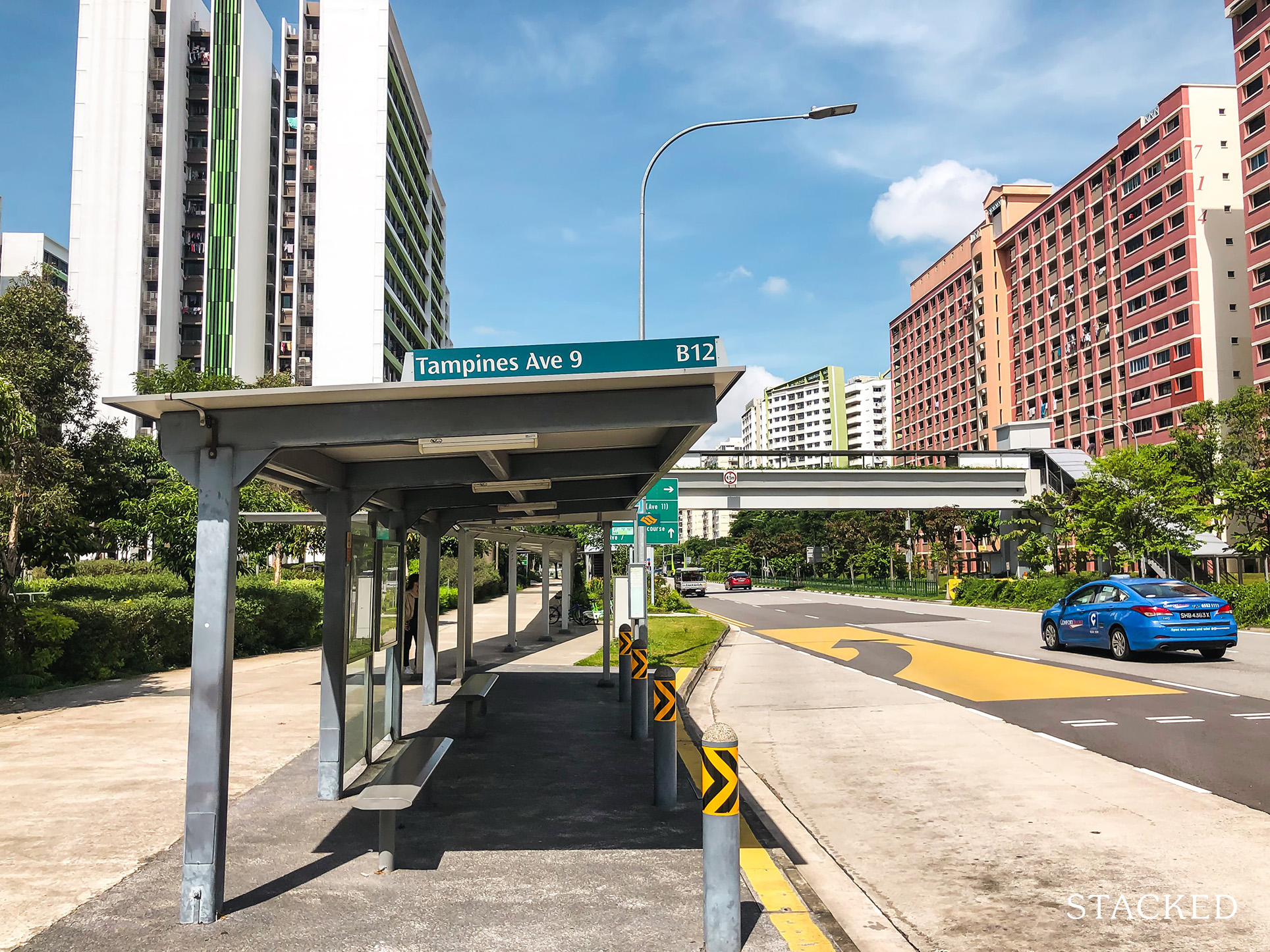 In terms of bus connectivity, residents of Tampines GreenRidges can take a direct bus all the way to Woodlands, Hougang, Punggol/Sengkang, Changi, and the Bedok area. Unfortunately, there is no direct bus connection to the CBD area. Thus, anyone working in the central area would need to take the MRT or change bus. The journey is about 45 minutes in total, door to door, if you take the bus to the MRT and take the MRT down the East-West Line to Raffles Place. Honestly, 45 minutes is not too bad considering Tampines is located quite far in the east of Singapore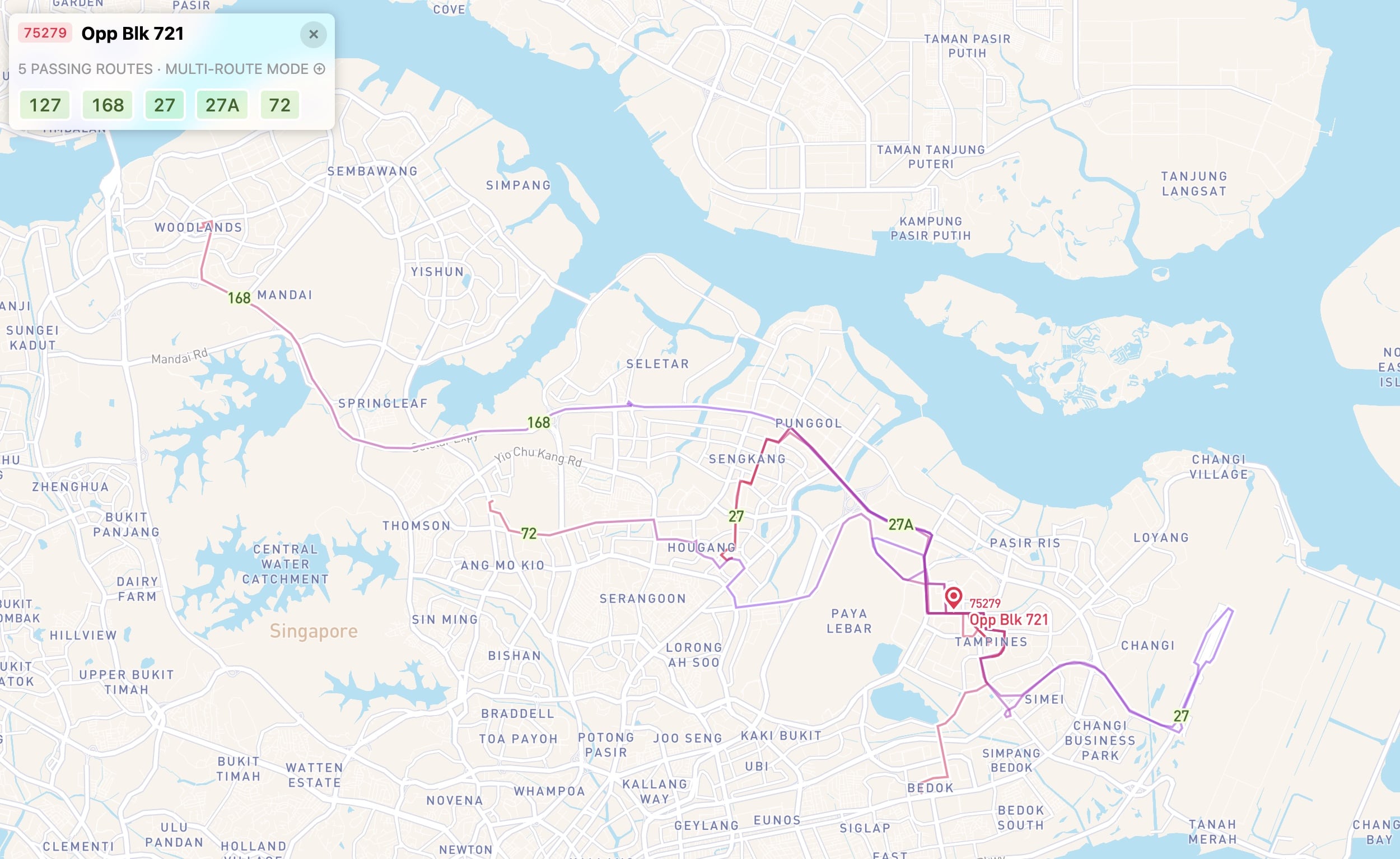 The journey to the bus stop is seamless since it's right outside the development. Moreover, there is a direct connection to the overhead bridge above the bus stop from the MSCP – a pretty unique feature of any HDB!
Private Transport
| | |
| --- | --- |
| Key Destinations | Distance From HDB (& Est. Peak Hour Drive Time) |
| Raffles Place | 15.7 km (28 mins drive) |
| Orchard Road | 17.76km (25 mins drive) |
| Suntec City | 15 km (25 mins drive) |
| Changi Airport | 9.8 km (18 mins drive) |
| Tuas Port | 51.5 km (1 hr and 9 mins drive) |
| Paya Lebar Quarter | 9.8 km (16 mins drive) |
| Mediapolis | 25.6 km (34 mins drive) |
| Mapletree Business City | 24.8 km (37 mins drive) |
| Tuas Checkpoint | 48 km (1 hr and 3 mins drive) |
| Woodlands Checkpoint | 27.9 km (37 mins) |
| Harbourfront Cluster | 21.1 km (31 mins) |
| Punggol Cluster | 6.7 km (11 mins) |
Source: OneMap. Based on driving times during peak hours.
Immediate road exit:
Tampines Avenue 9, Tampines Street 61.

Summary:
Drivers can easily connect to the TPE up north to head to the KPE and Nicoll Highway to get to the CBD area in around 28 minutes. The development is also close to the PIE, allowing drivers to reach the airport in around 10 minutes (off-peak) and around 18 minutes (peak hours).
Groceries
| | |
| --- | --- |
| Name of Grocery Shop | Distance from HDB (& Est Time) |
| 24-hour Sheng Siong | Within the development |
Schools
| | |
| --- | --- |
| Educational Tier | Number of Institutes |
| Preschool | 3 |
| Primary School (Within 1KM) | 2 |
| Secondary School | 3 |
| Junior College | 1 |
| Other Tertiary Institutes | 2 |
| | |
| --- | --- |
| School | Distance From Condo (& Est. Walking Time) |
| Skool4kidz Centre | Within the development |
| My World Preschool | 350 m (4 mins walk) |
| PCF Sparkletots Preschool @ Tampines | 350 m (4 mins walk) |
| Poi Ching School | 0.8 km (9 mins walk) |
| Angsana Primary School | 0.6 km (6 mins walk) |
| Jun Yuan Secondary School | 1.3 km (15 mins walk) |
| Saint Hilda's Secondary School | 1.8 km (21 mins walk) |
| Pasir Ris Secondary School | 2.1 km (24 mins walk) |
| Tampines Meridian Junior College | 3.3 km (18 mins via bus) |
| Temasek Polytechnic | 2.2 km (20 mins via bus) |
| ITE College East | 4.5 km (20 mins via bus) |
Tampines GreenRidges Site Review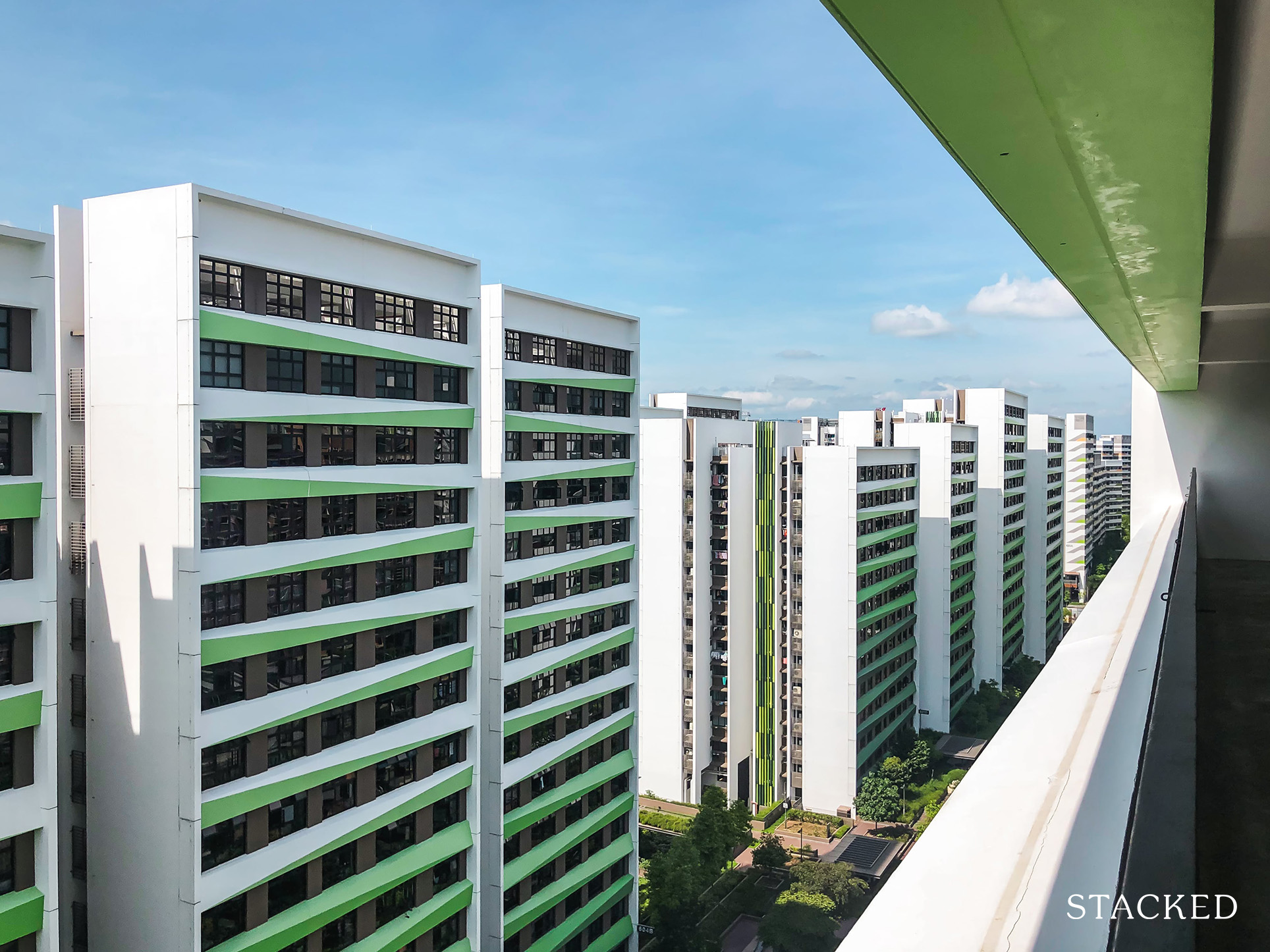 Tampines GreenRidges is made up of 15 blocks with a good range of units from 3, 4, 5-room and 3Gen flats. In total, there are 1,943 units of which 447 are rental units (cannot be sold).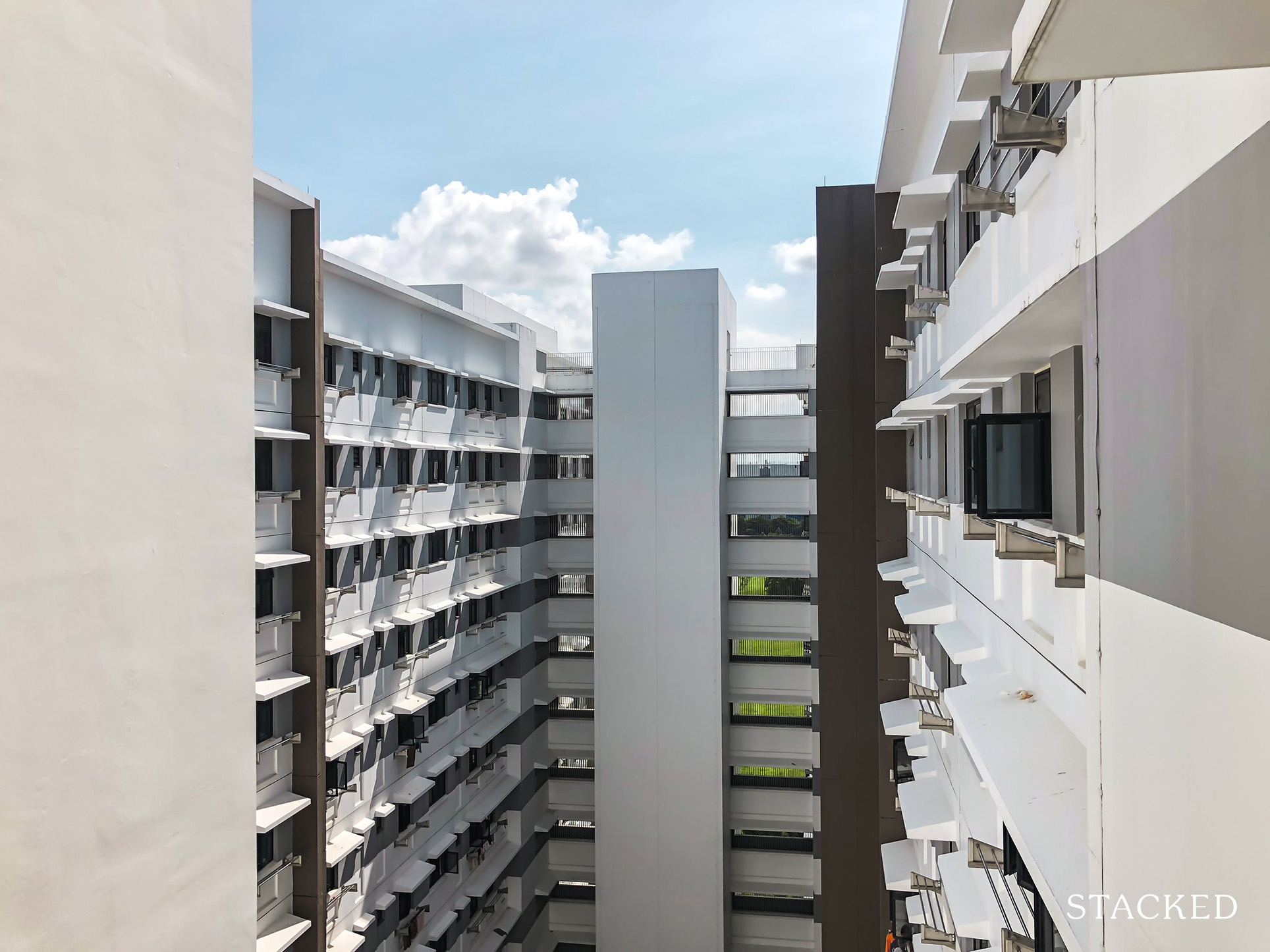 The development has a cascading structure with some blocks lower than others, ranging from 14 to 16 storeys. When I was there, the place was quite windy despite being surrounded by other HDBs. I can't say this is the experience most of the time though, so if this is important to you, do visit a couple of times to see if that's the case!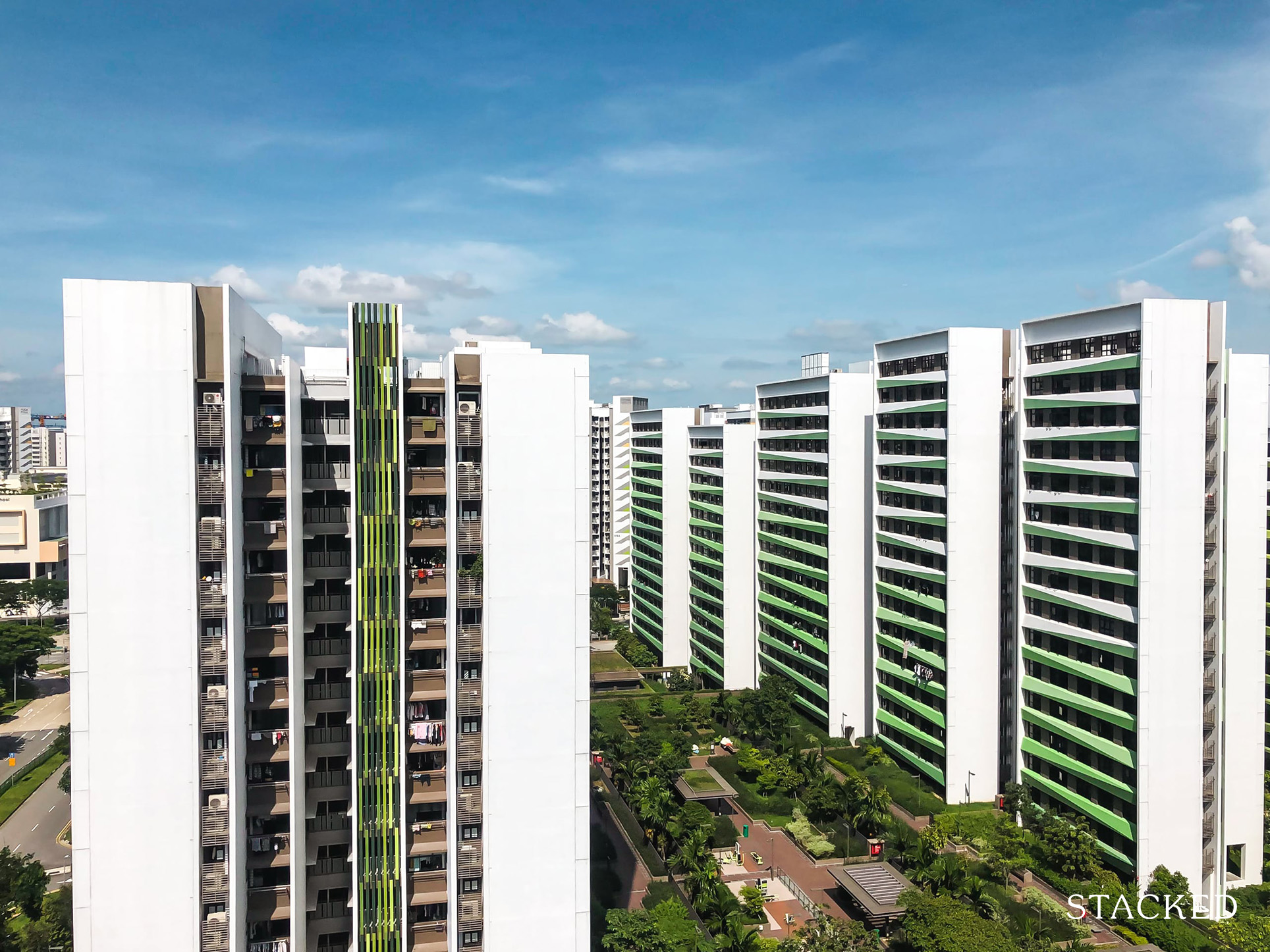 As mentioned, the design of the place is truly unique. It has a mix of green and brown, a very earthy tone and is certainly worthy of the "Green" series that we see in the new Tampines north cluster.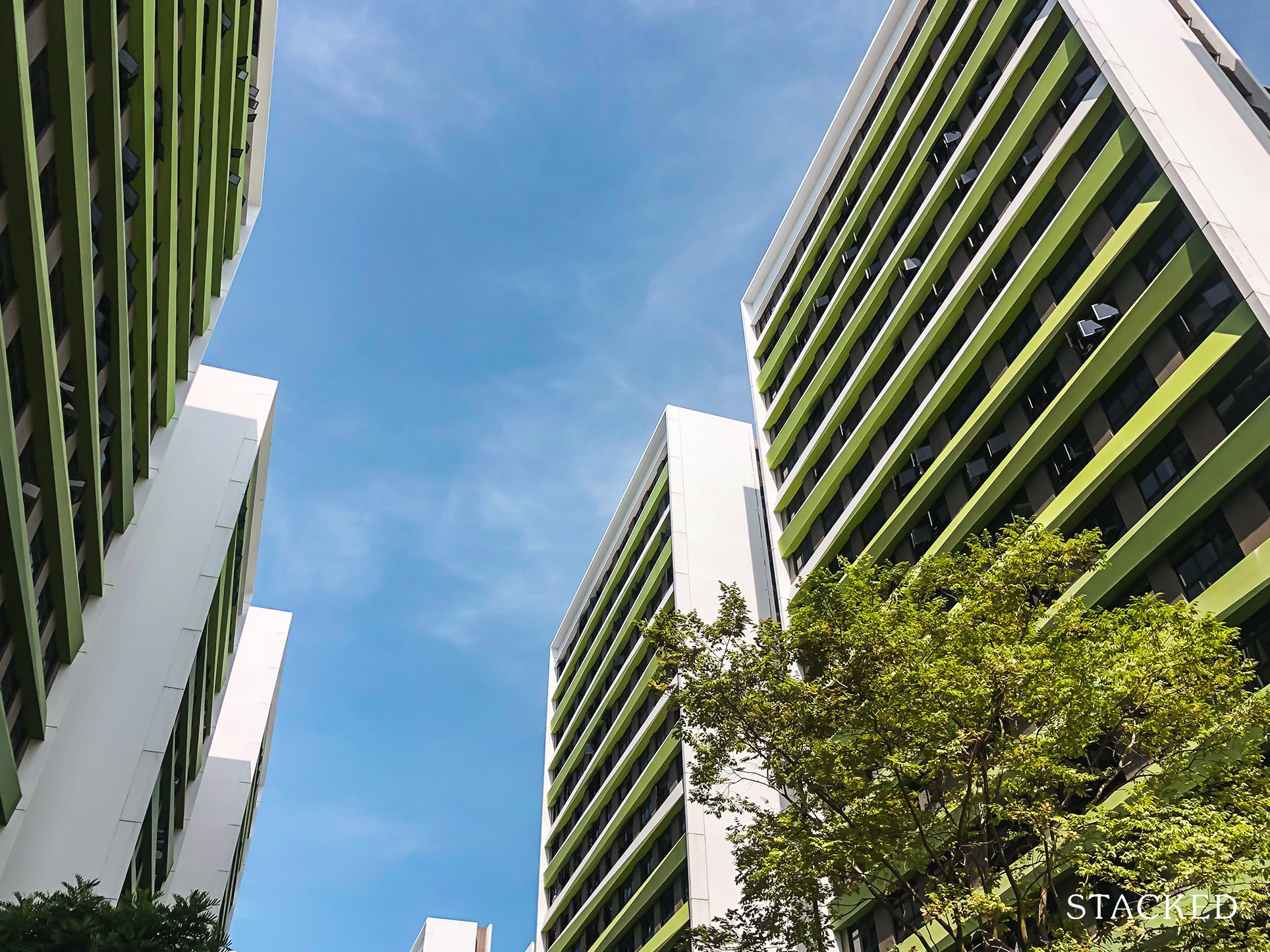 You'll also find certain parts of the development showcasing unique aspects of the development. Usually, the slightly more "special" HDBs have them such as Treelodge@Punggol and SkyVille@Dawson.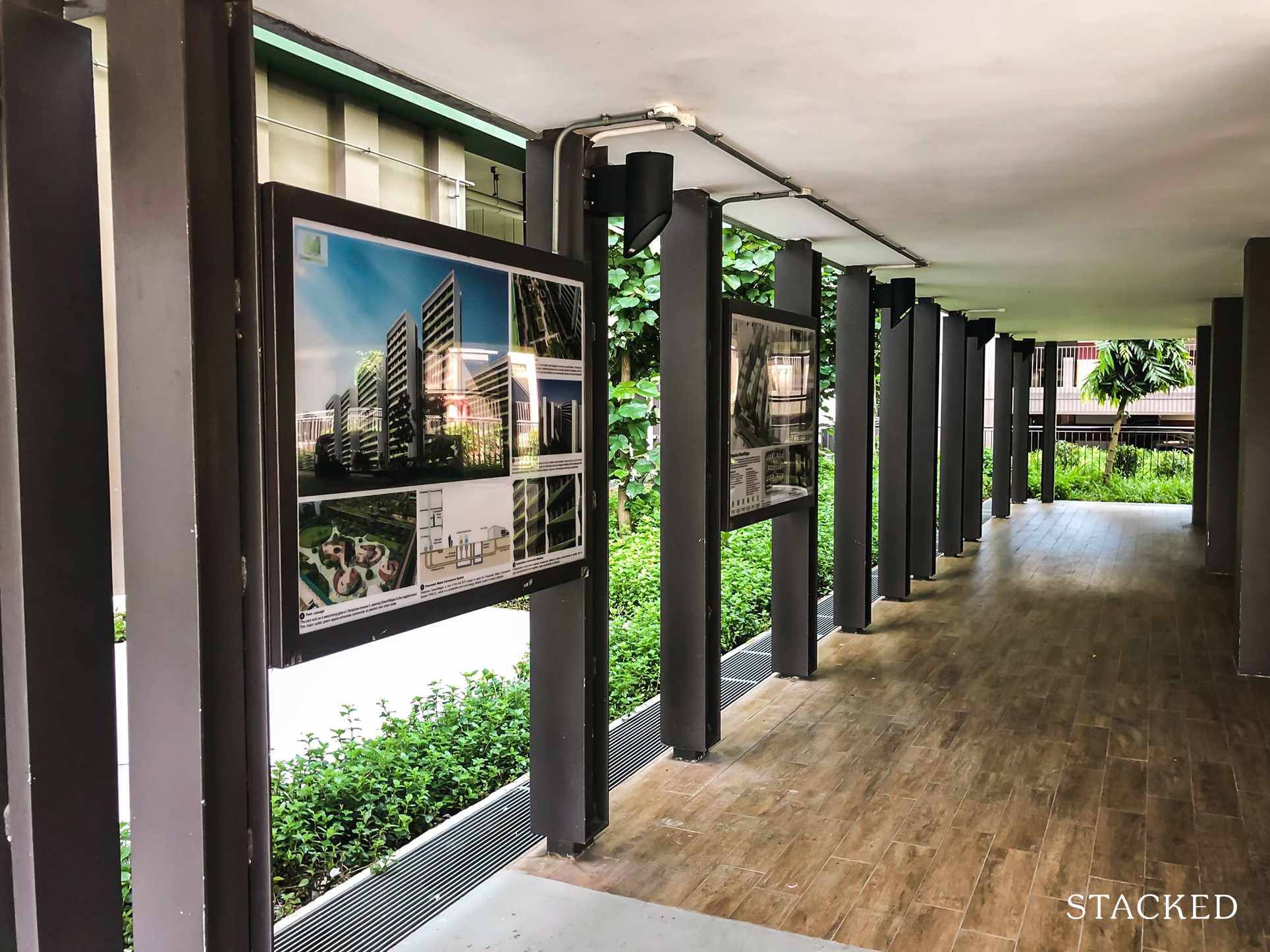 You might be wondering – for such a unique development, was there any special architect behind the design? Much like SkyVille and SkyTerrace, this development was indeed designed by two external architects – LAUD Architects, who were also responsible for residential projects like Peak @ Cairnhill and 8 Courtyards, as well as G8A Architecture & Urban Planning who also designed Punggol Waterway Terraces.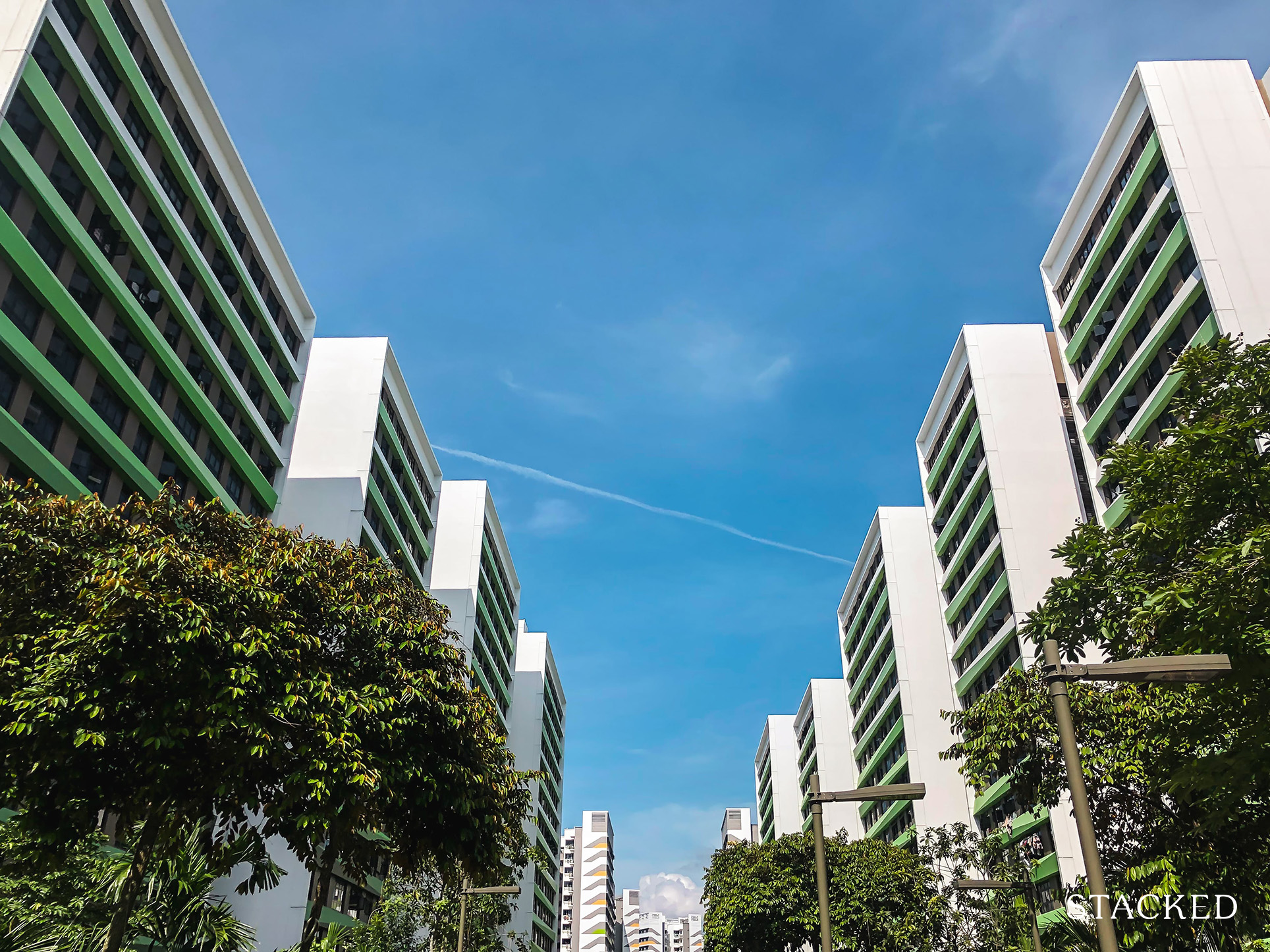 Walking around, you'll find that the development is somewhat spacious. Most inner-facing stacks have a decent amount of space in between, although some stacks are only 20 metres apart.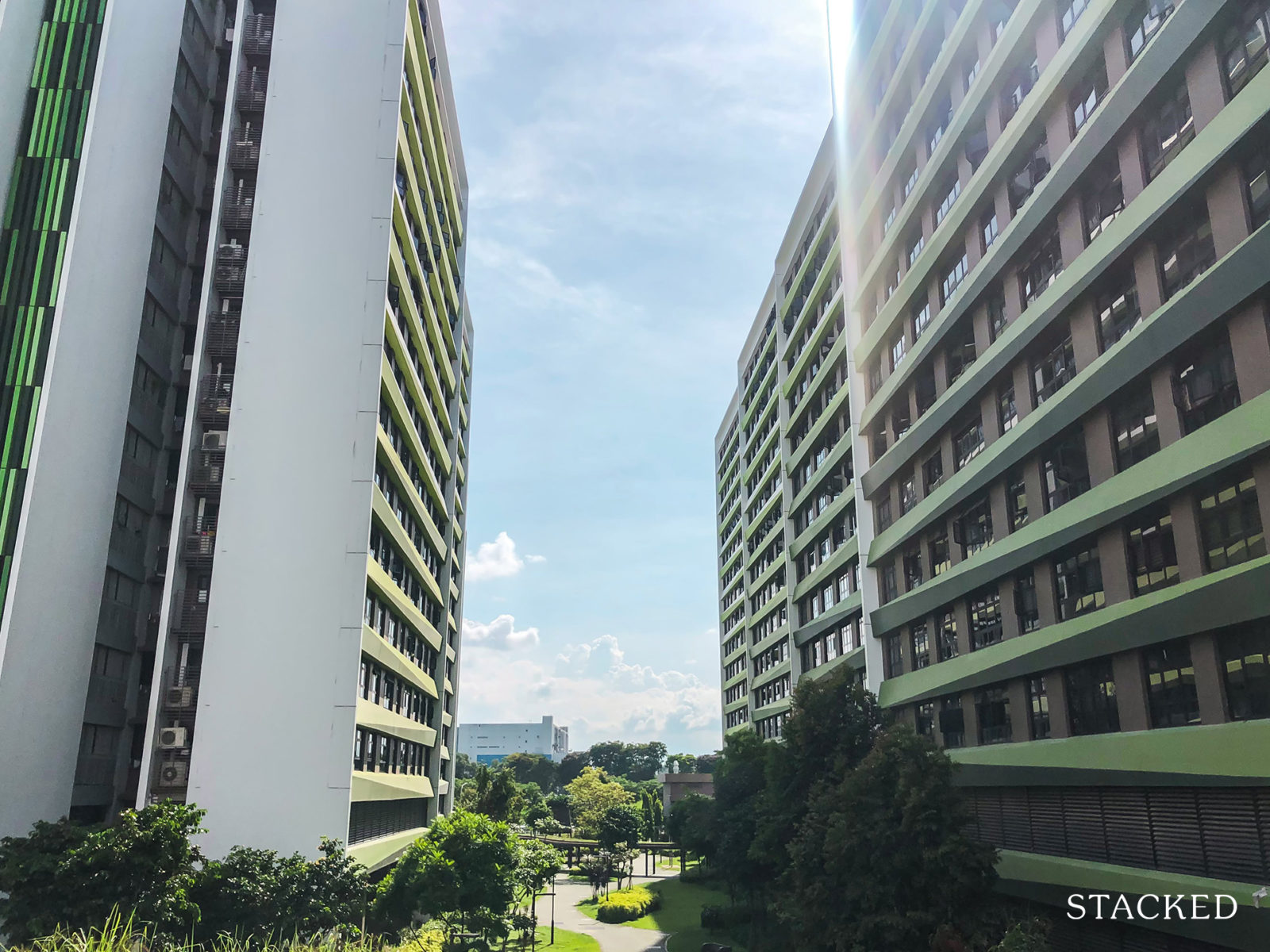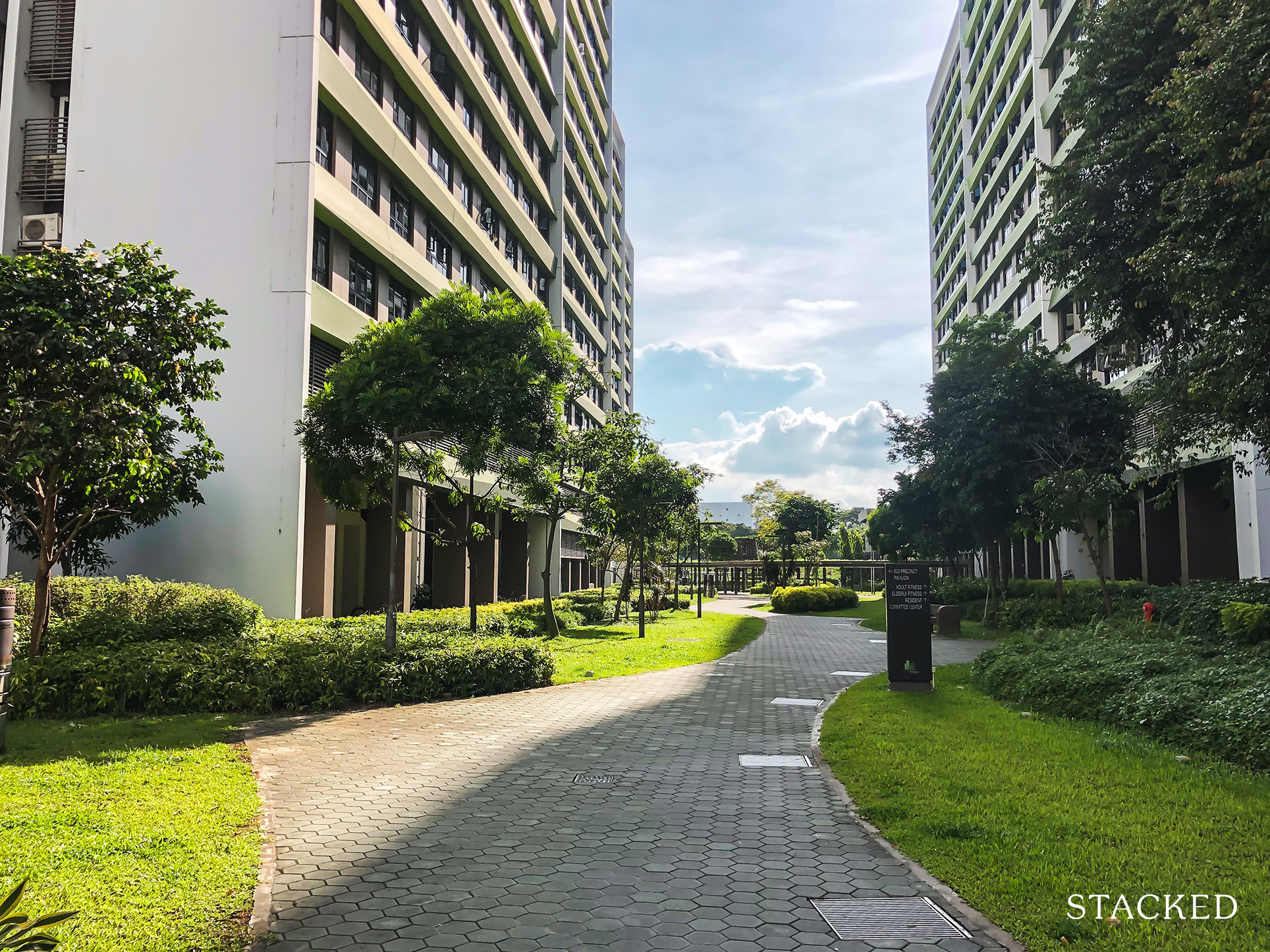 What's great here is that the blocks are very neatly organised, so there's a sense of order. This is not very common in other HDBs as the plots can take on an irregular shape and blocks are facing in different directions. In Tampines GreenRidges's case, the plot is very regular, so the development can have a perfect north-south facing orientation for every block.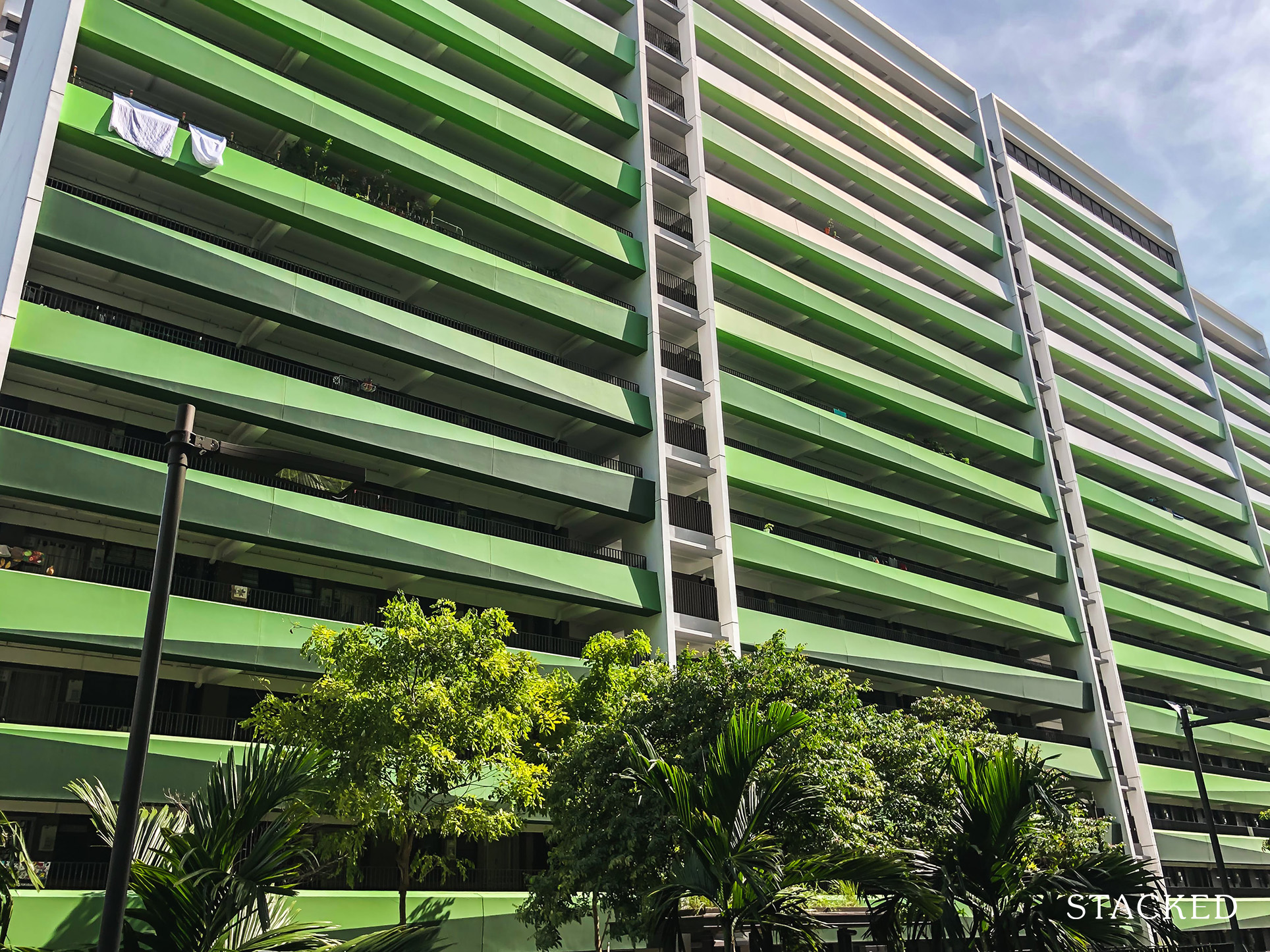 The pathway in the centre of the development is also lined with a nice variety of trees, a sign that the landscaping here was given much deliberation.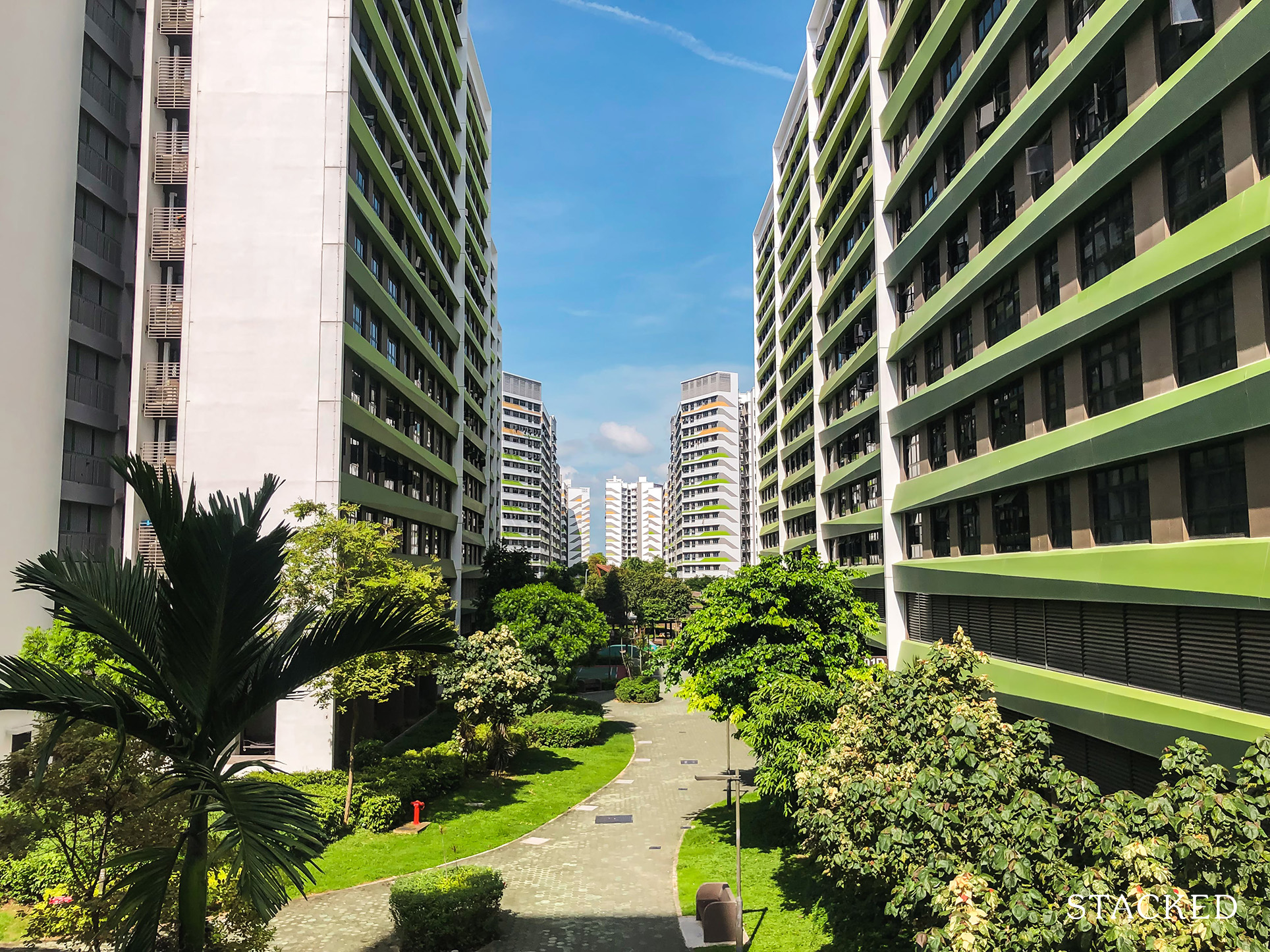 Even at the entrance, you can see trees of varying heights that give residents coming home a welcoming feel.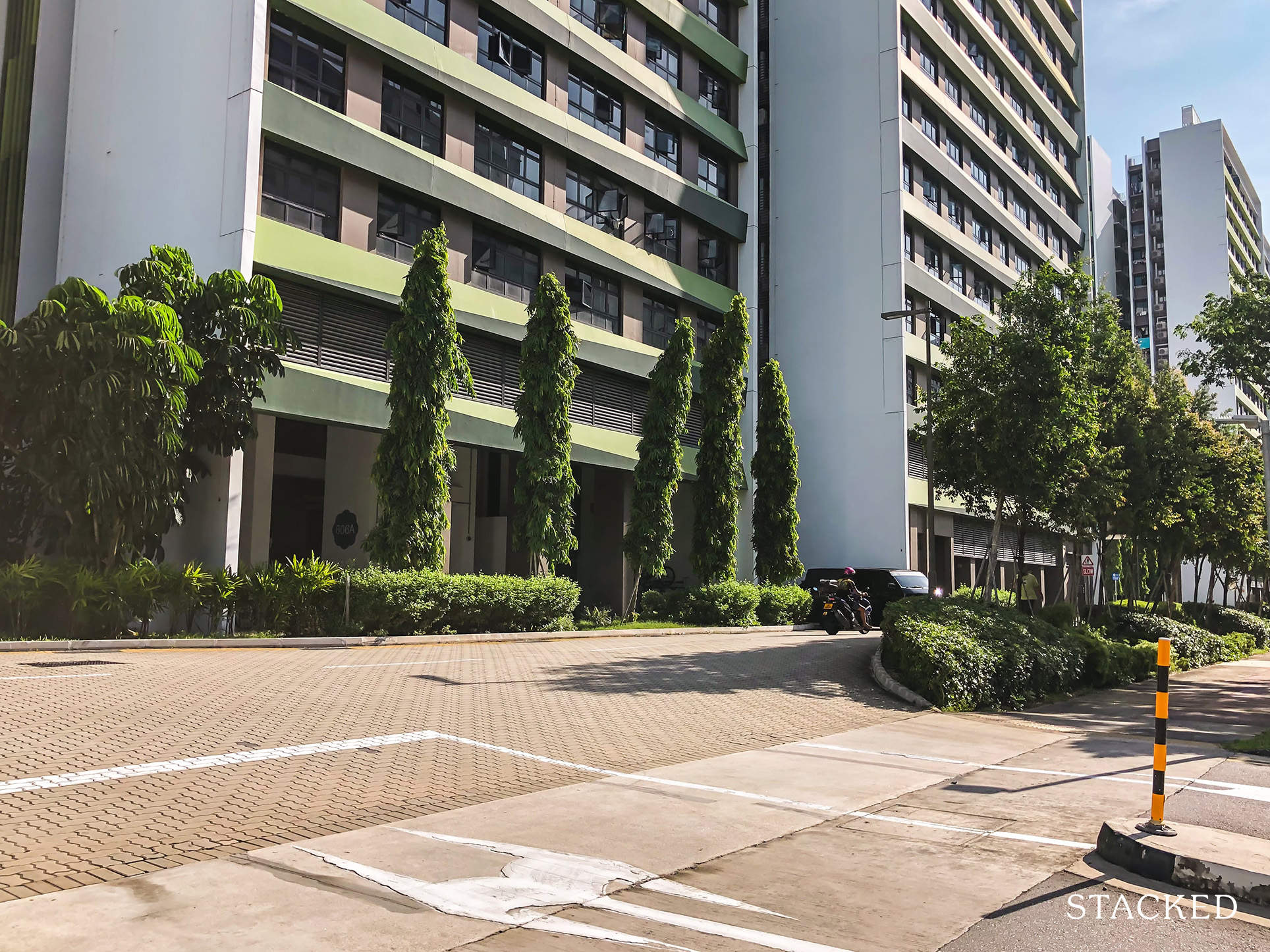 Open spaces can also be found around the site with bench seating available.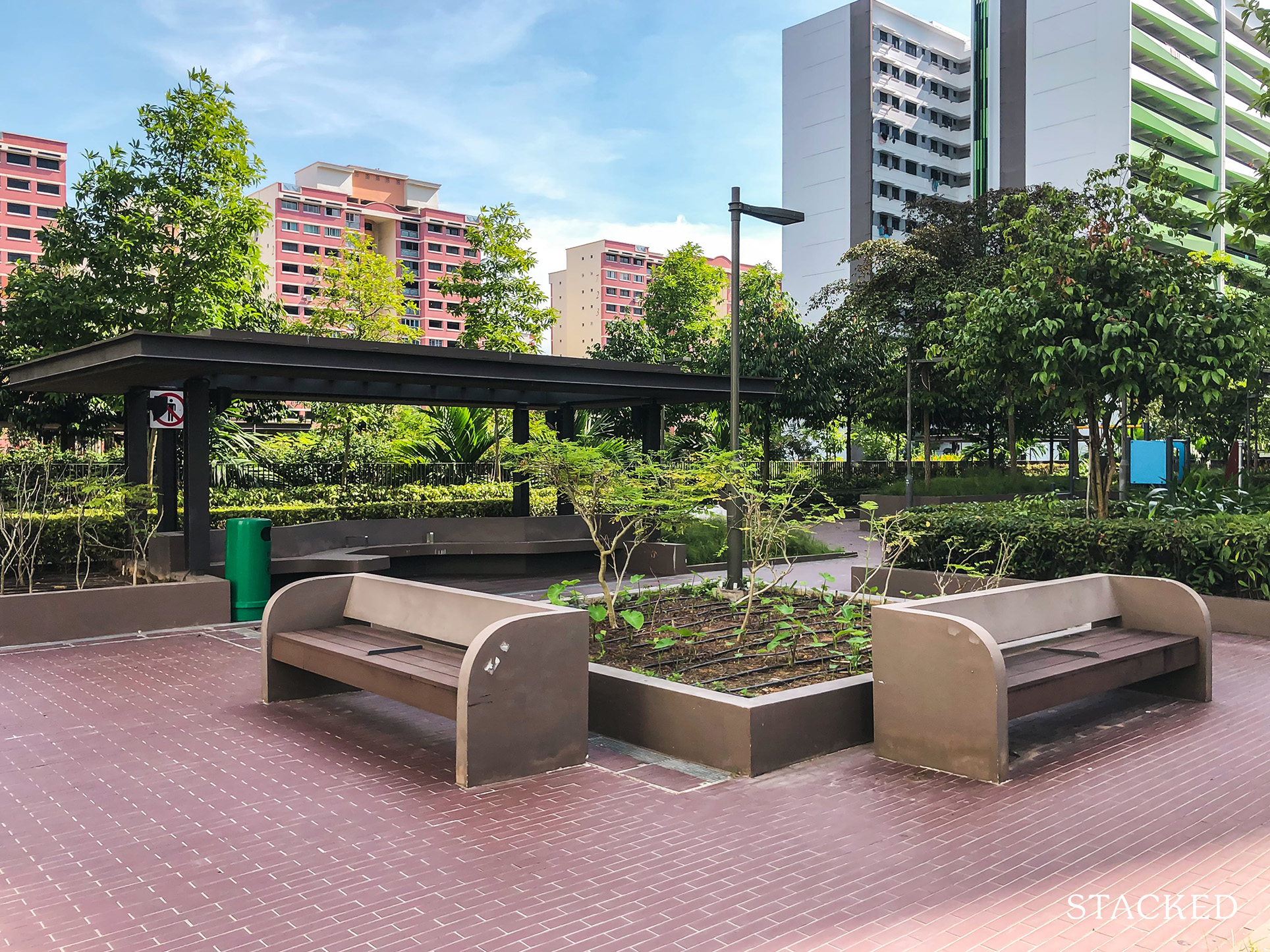 Finally, you'll also be pleased to know that Tampines GreenRidges also comes with sheltered walkways throughout the development, allowing residents to head home easily be it rain or shine.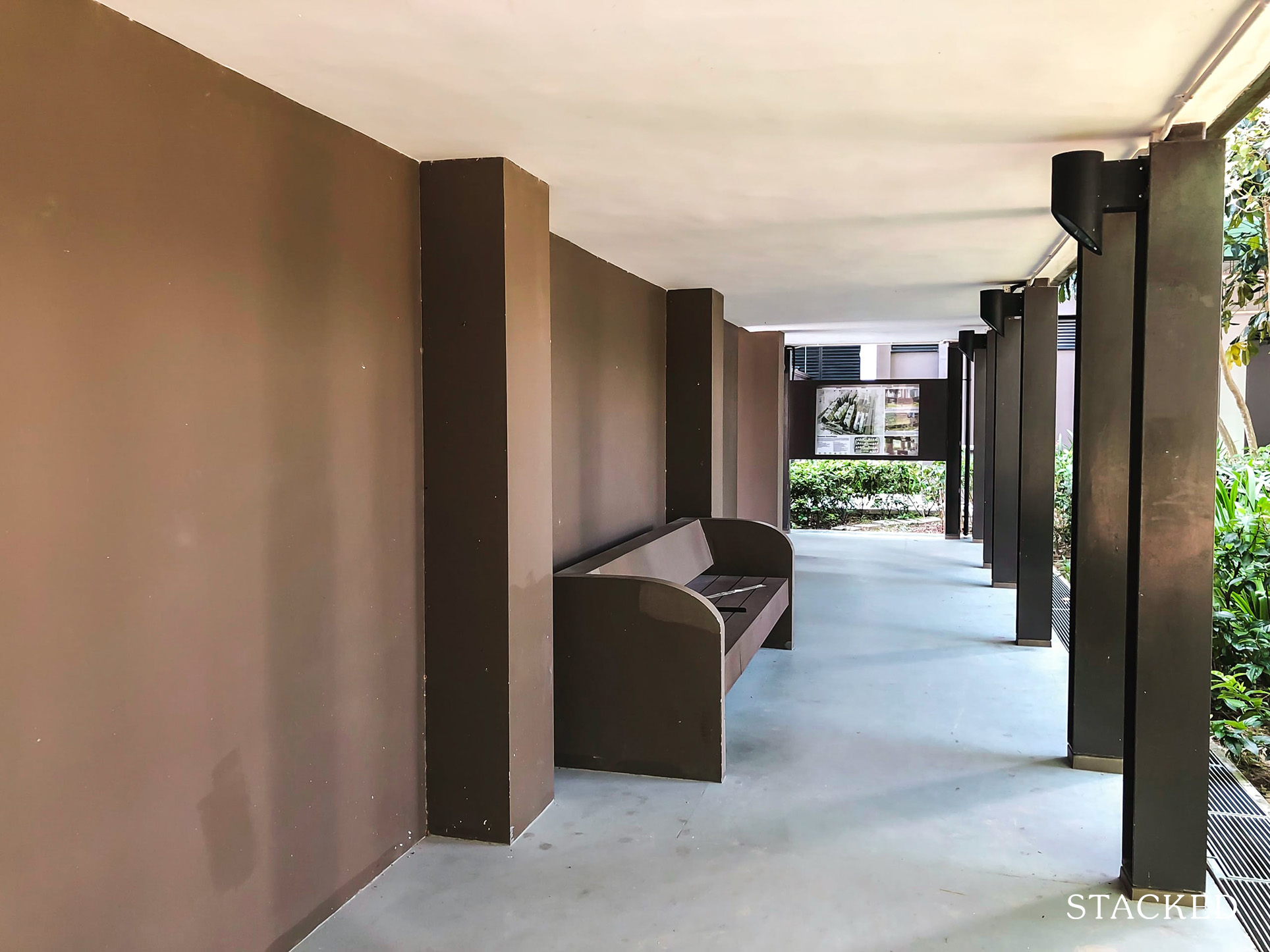 Unit Mix
| | | | | | | |
| --- | --- | --- | --- | --- | --- | --- |
| Block Number | No. of Storeys | 3-Room | 4-Room | 5-Room | 3Gen Flat | Total |
| 601A | 16 | | 84 | 28 | | 112 |
| 601B | 15 | 72 | 24 | | | 96 |
| 601C | 16 | | 84 | 28 | | 112 |
| 601D | 14 | 48 | 24 | 24 | | 96 |
| 604A | 14 | 78 | 26 | | | 104 |
| 604B | 16 | | 70 | 14 | 28 | 112 |
| 605A | 16 | | 84 | 28 | | 112 |
| 605B | 14 | 78 | 26 | | | 104 |
| 605C | 16 | | 86 | 30 | | 116 |
| 605D | 14 | 48 | 24 | 24 | | 96 |
| 606A | 15 | 52 | 26 | 26 | | 104 |
| 606B | 16 | | 86 | 30 | | 116 |
| 606C | 14 | 78 | 26 | | | 104 |
| 606D | 16 | | 70 | 14 | 28 | 112 |
| Total | | 454 | 740 | 246 | 56 | 1496 |
Tampines GreenRidges Unit Mix
In addition to the above unit mix, there are another 447 rental units found at block 603A.
Tampines GreenRidges Additional Pointers
Has 2 primary schools within 1KM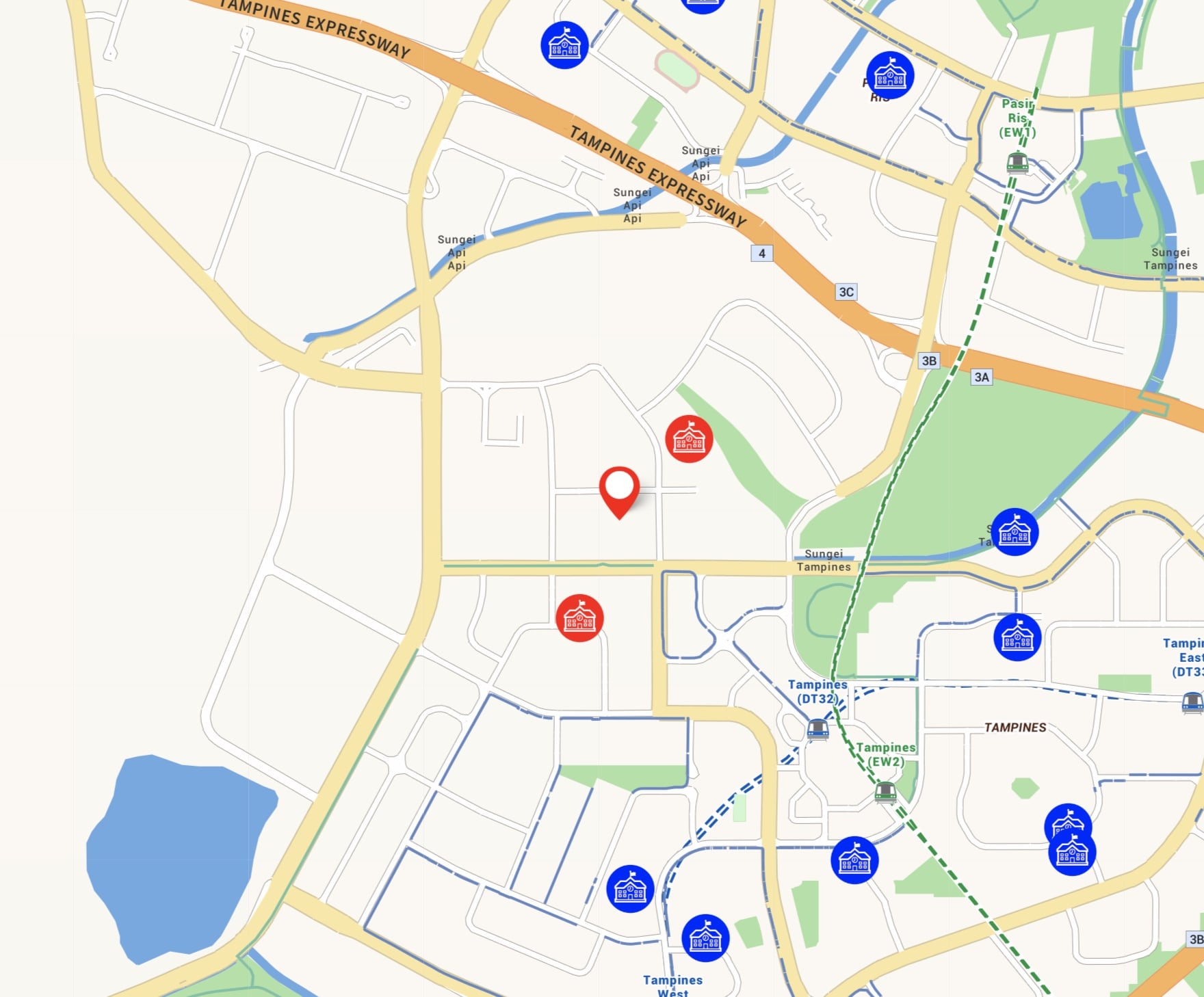 Previously, Tampines GreenRidges only had 1 primary school within 1KM, however, Angsana Primary School just moved in officially in June 2022. There is another Education site next to Angsana Primary, however, it has yet to be determined what this would be.
Upcoming Tampines North MRT (Cross Island Line)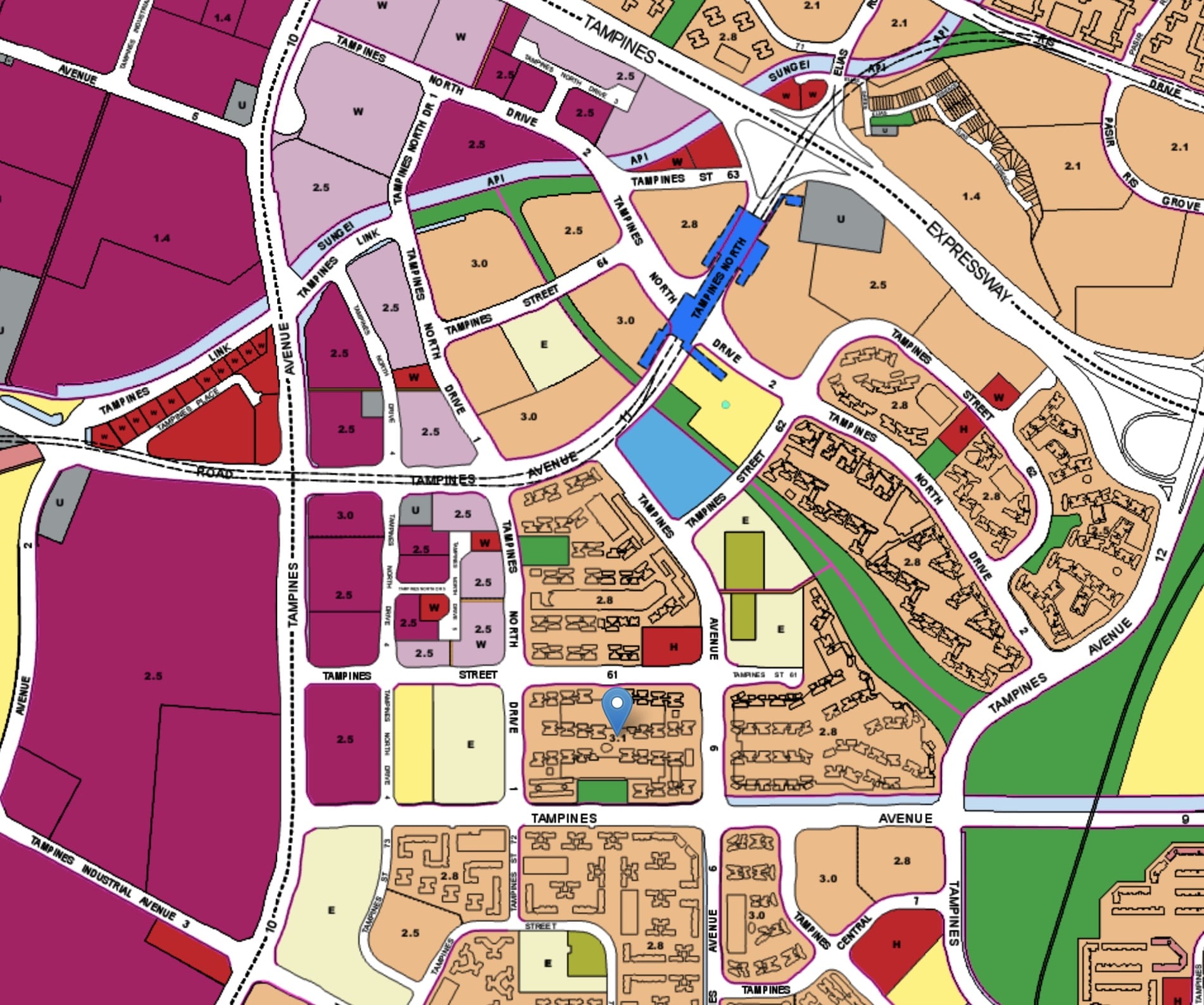 Residents can look forward to another MRT coming up – the Tampines North MRT which is slated to open in 2030. There is also a site zoned under "Commercial & Residential" which is currently empty, but could potentially be like a Pasir Ris 8 next time which is integrated with the MRT. That would bring a host of shops to the area and liven up the place, however, this is just speculation on our end.
Exciting changes coming up – including a new 13-hectare park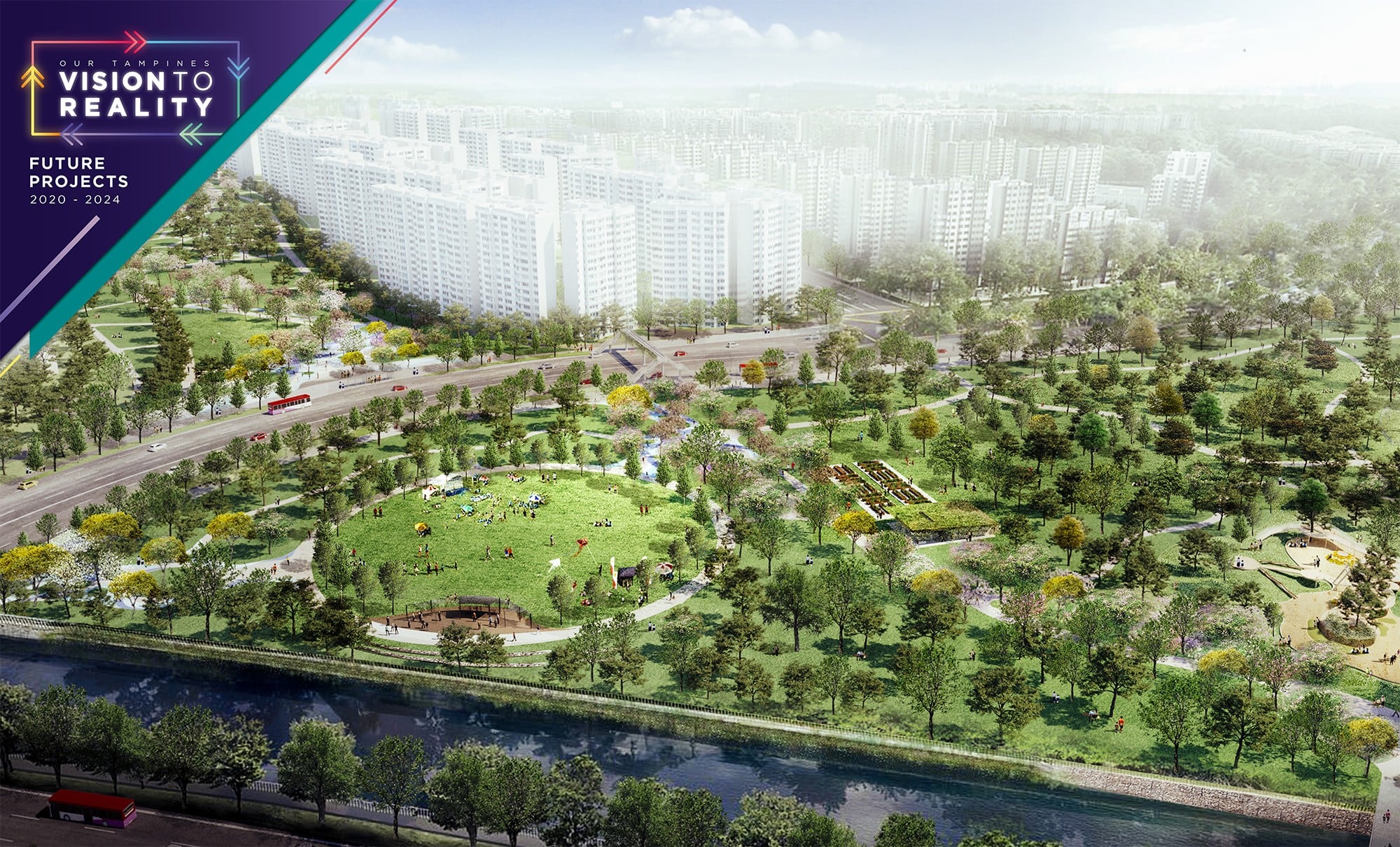 Tampines has quite a few exciting changes underway in its 5-year Master Plan. For one, there'll be a new 13-hectare park (Boulevard Park) slated to open this year that's 13 hectares big! This would connect with Tampines EcoGreen. The park will also feature fitness equipment open to the public, as such, nature lovers living here would have something to look forward to soon!
Tampines GreenRidges Stack Analysis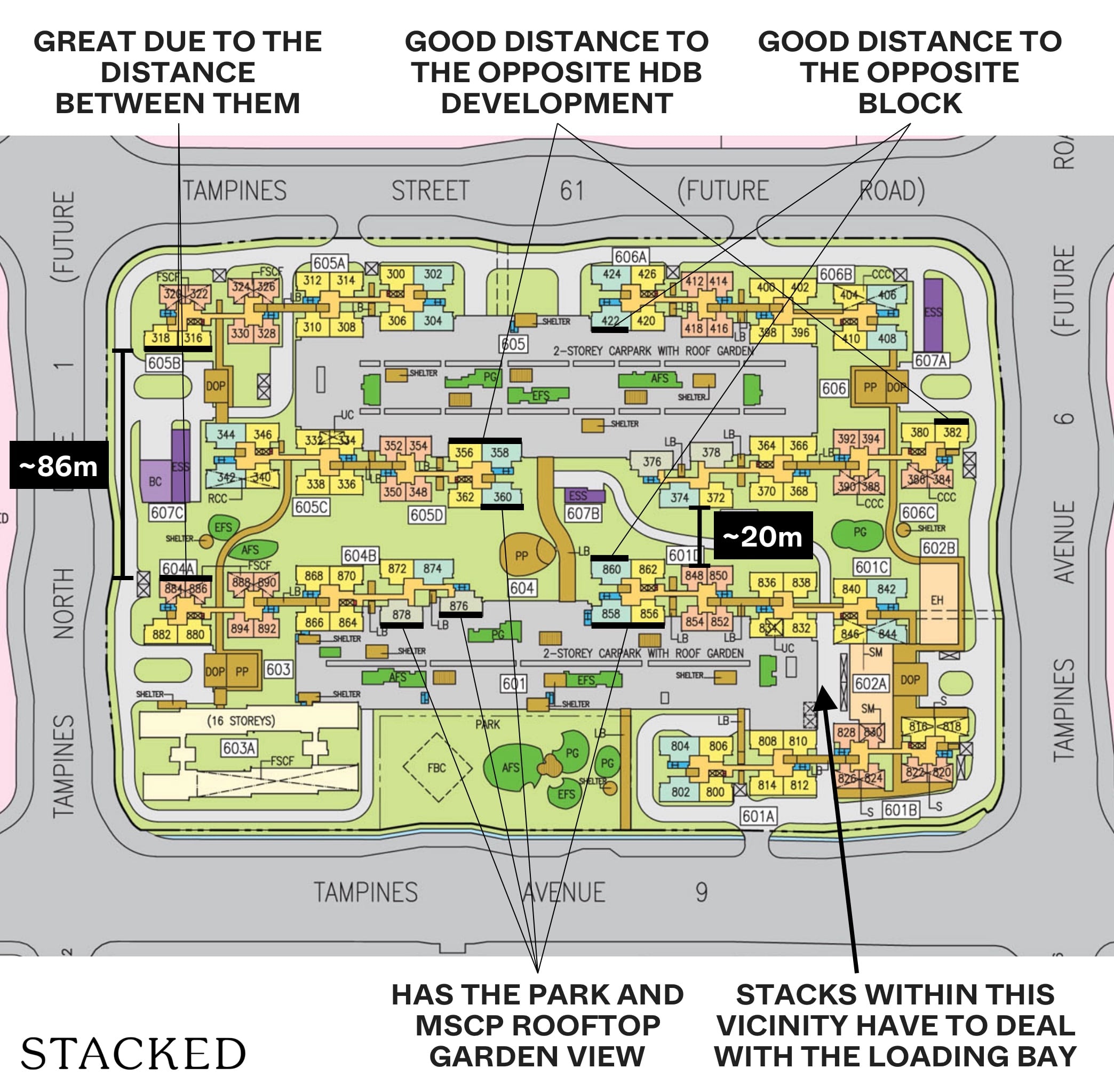 All of the stacks at Tampines GreenRidges are north-south facing, meaning residents here get the best cross-ventilation and the least amount of sun (in terms of both morning and afternoon sun).
Do note that not every stack is equal though. Most inner and outer-facing stacks face another unit, but some are a lot further than others. For example, inner-facing stacks 884, 886, 318, and 316 are a very generous 86 metres apart (approximately).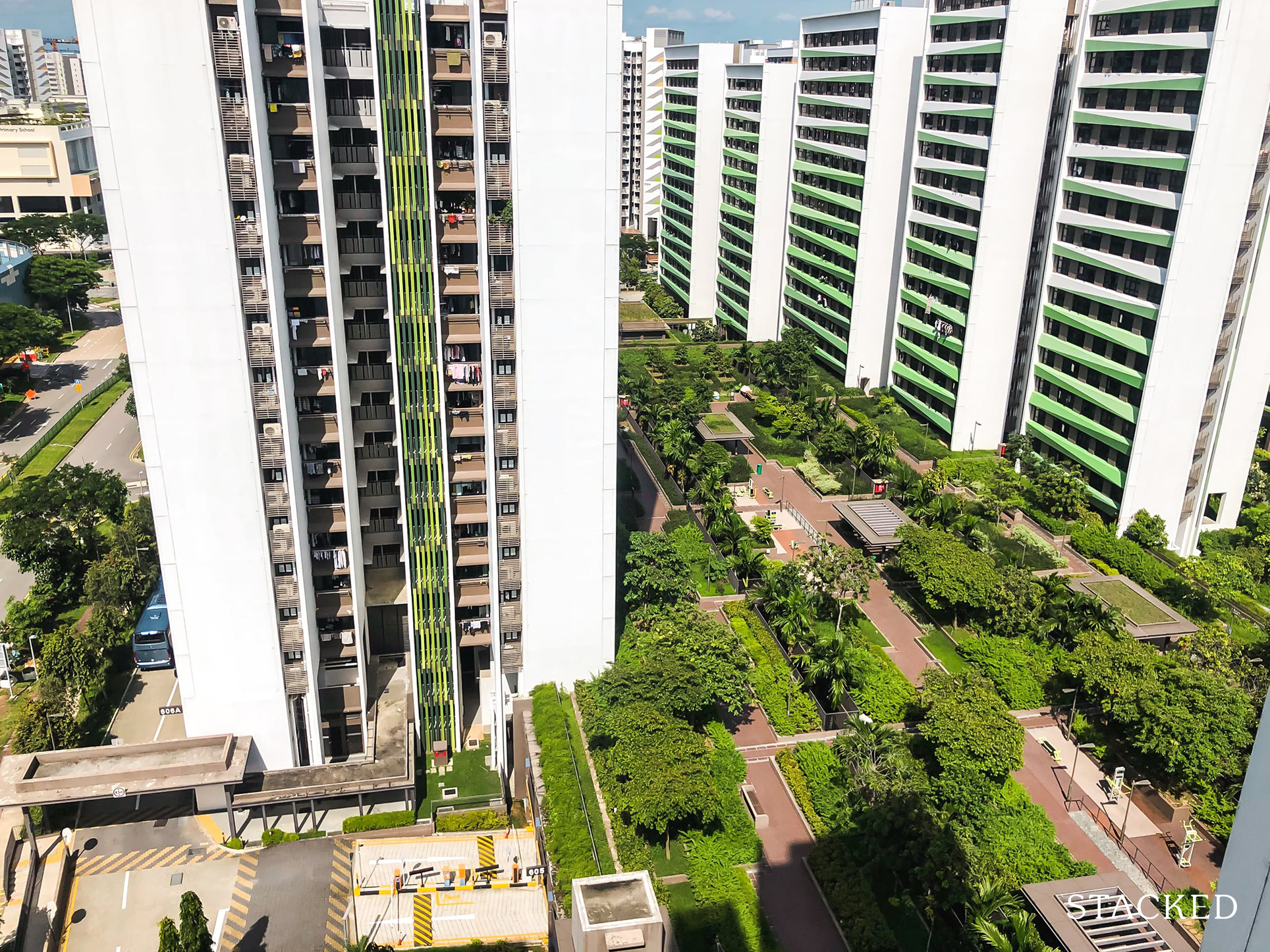 Some stacks in the middle do come really close though, at around 20 metres!
Outer-facing stacks on the south side that face the park include 360, 876, 878, 858, and 856. These not only have the park view and car park rooftop garden view, but are quite a generous distance away from the opposite HDB (over 100 metres apart).
Those that are looking to stay on the southeast part of the development should be wary of the commercial block due to the increased number of motorists and drivers loading and unloading there. It's observed that there's an increase in smokers congregating in the area, so those looking to stay on the low floor here should be wary of that.
Tampines GreenRidges Layout Analysis
3-Room Flat (68 sqm)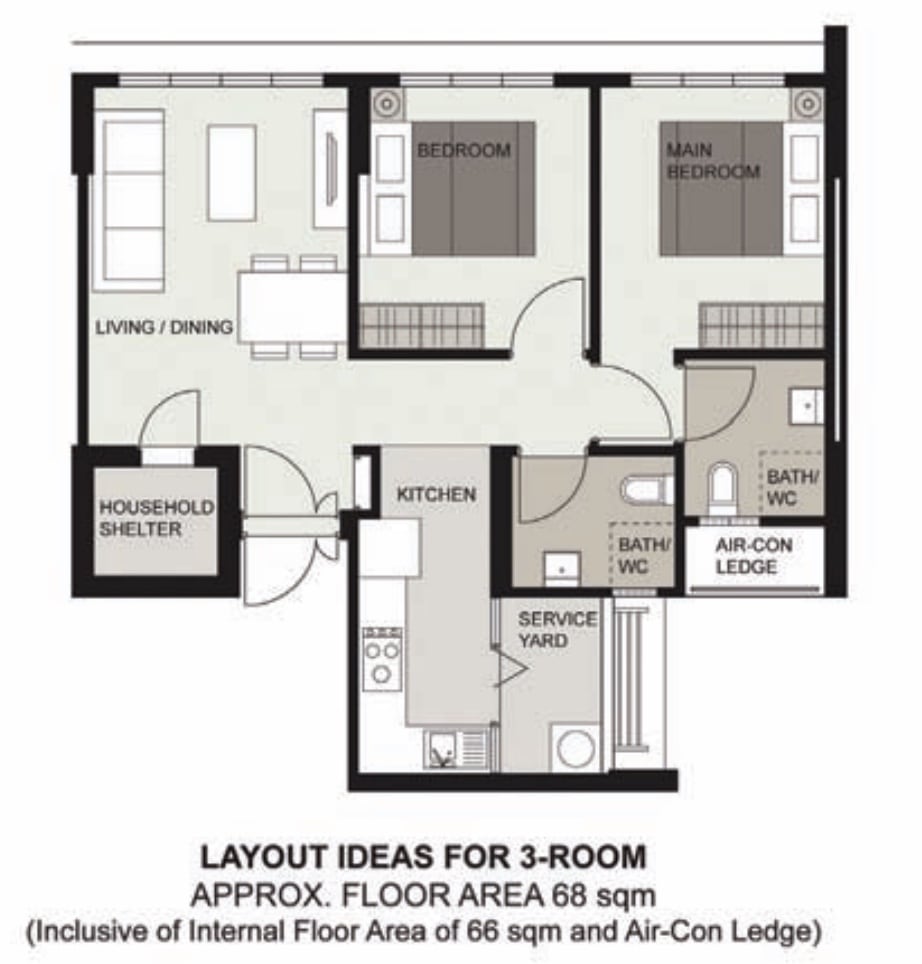 | | |
| --- | --- |
| Pros | Cons |
| Good size kitchen area | Tight living and dining area |
| Decent size bedrooms | |
Tampines GreenRidges 3 Room Pros & Cons
4-Room Flat (92 sqm)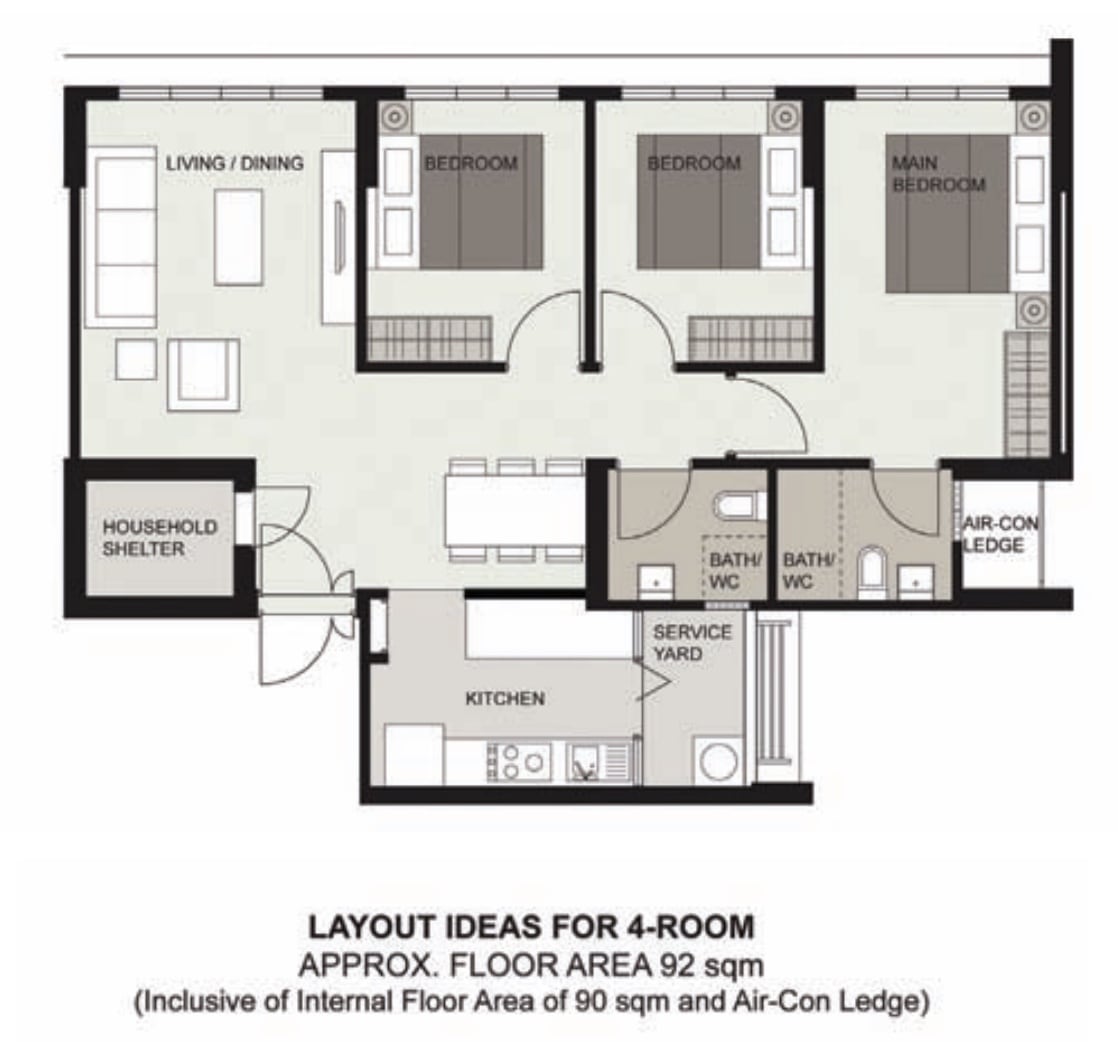 | | |
| --- | --- |
| Pros | Cons |
| Spacious living, Dining and kitchen area | Protruding column between bedrooms hence walls could not be hacked fully. |
| Separate Living and Dining area | The main door opens straight to the dining area, and lacks privacy. |
| No wasted bedroom walkway | |
Tampines GreenRidges 4 Room Pros & Cons
5-Room Flat (112 sqm)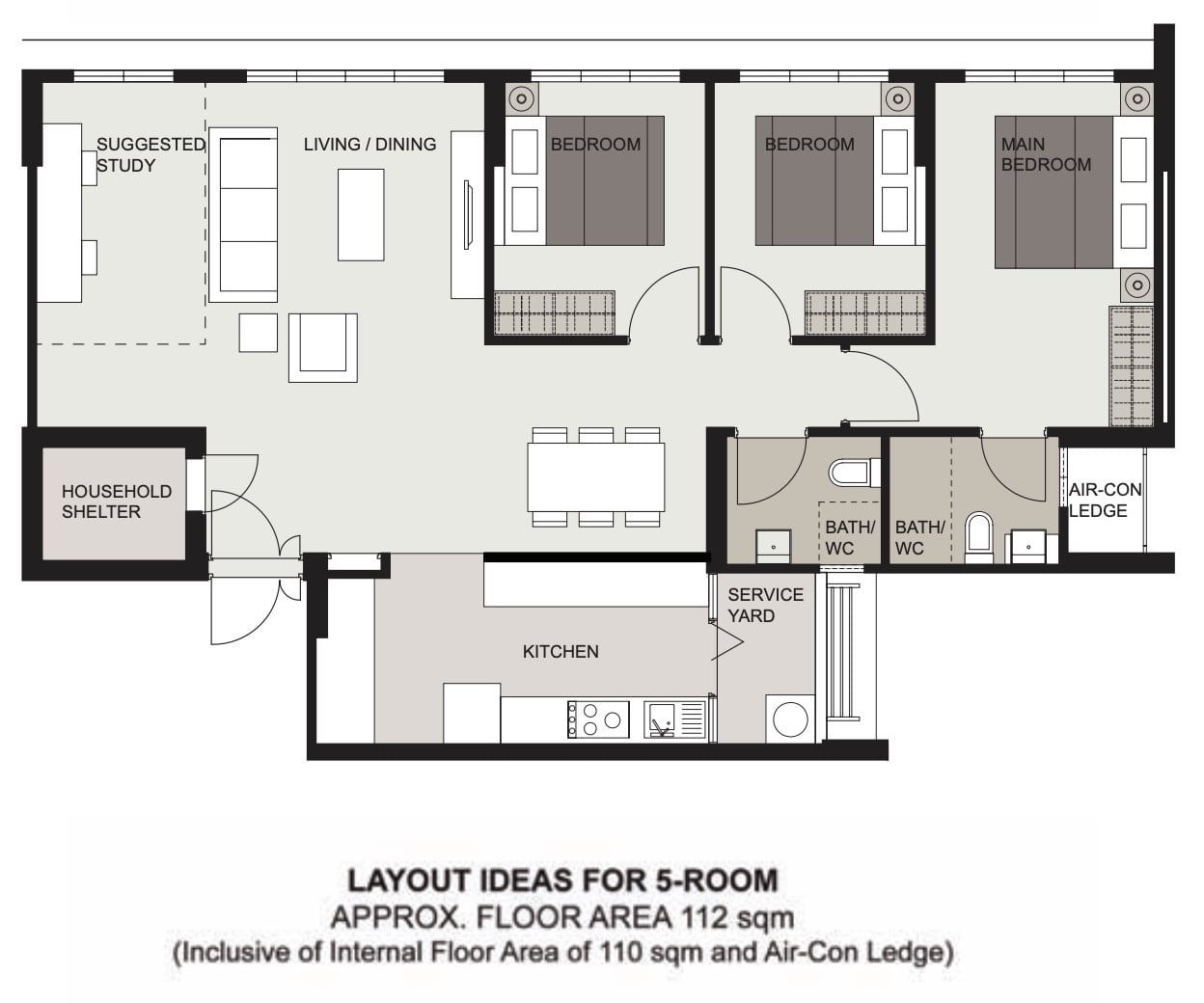 | | |
| --- | --- |
| Pros | Cons |
| Spacious living, dining and kitchen area | Protruding column between bedrooms hence walls could not be hacked fully. |
| Separate Living and Dining area | The main door opens straight to the dining area, and lacks privacy. |
| No wasted bedroom walkway | |
Tampines GreenRidges 5 Room Pros & Cons
3Gen Flat (120 sqm)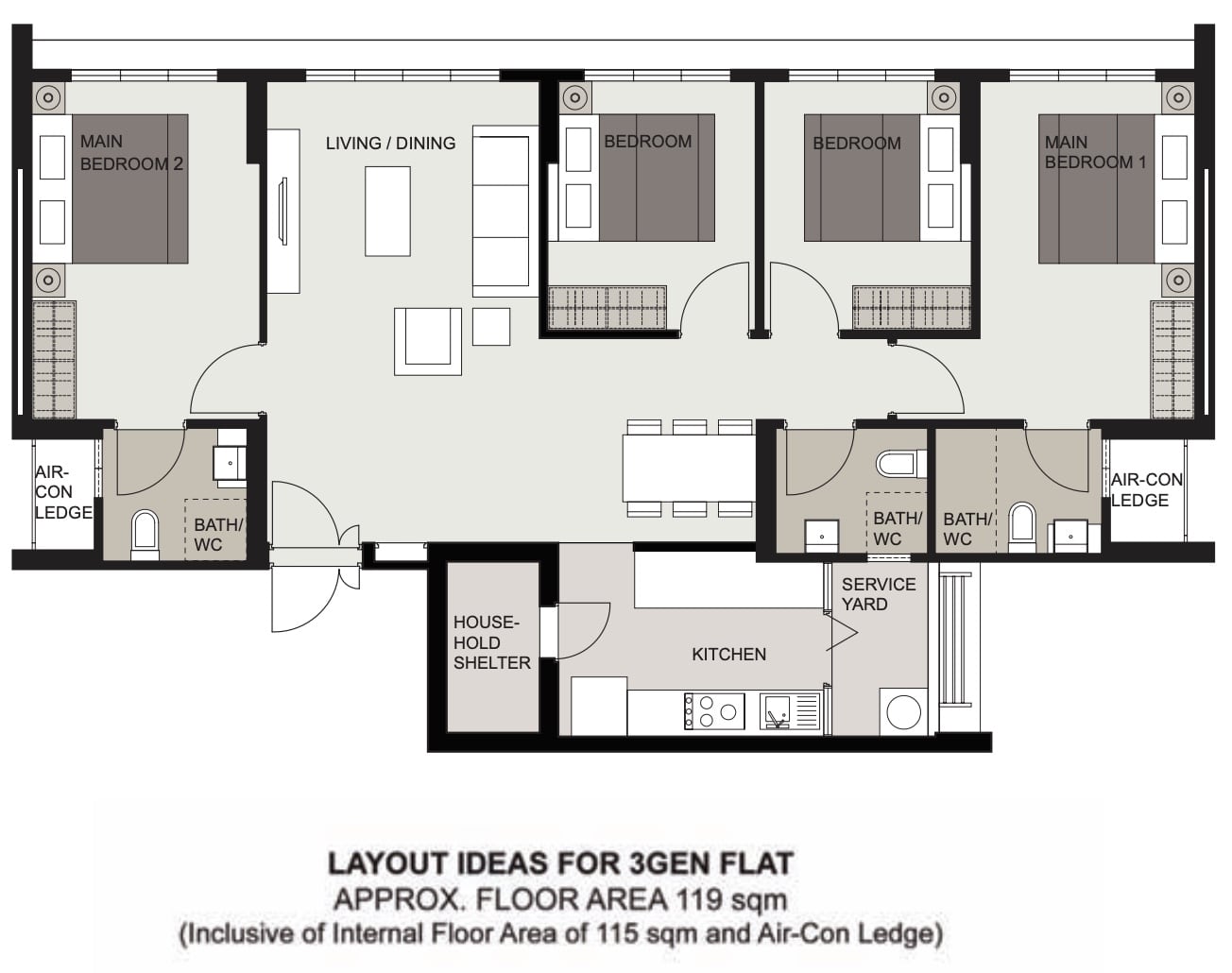 | | |
| --- | --- |
| Pros | Cons |
| Spacious living, Dining and kitchen area | Protruding column between bedrooms hence walls could not be hacked fully. |
| Separate Living and Dining area | The main door opens straight to the dining area, lacks privacy. |
| No wasted bedroom walkway | |
Tampines GreenRidges 3Gen Flat Pros & Cons
Our Take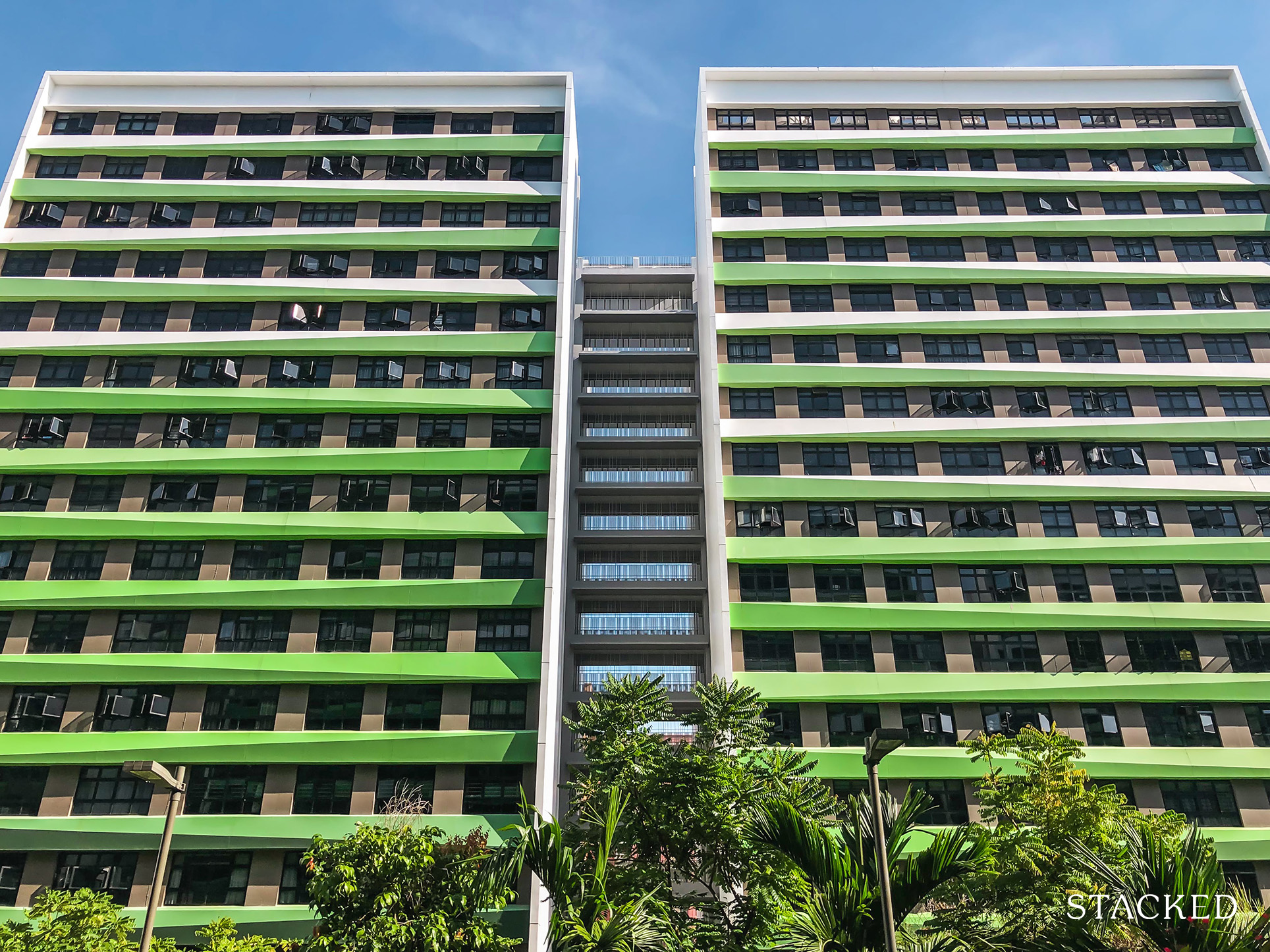 Tampines GreenRidges is again a reminder that HDB developments can truly differentiate themselves from others. The architecture done by LAUD Architects really brings out the whole "living in a park" kind of vibe, and the brown earthy tones mixed with the organic green lines distinguish the development from other HDBs – and in a great way.
The facilities here are sufficient for 1,943 units and it doesn't feel as packed despite being a dense development. The blocks are positioned very neatly and every unit either faces north or south – so residents need not worry about the afternoon sun.
And despite being far from the MRT and having few amenities around, Tampines GreenRidges boasts multiple retail options like a hairdresser, medical clinic, F&B options, and even a 24-hour Sheng Siong supermarket!
Moreover, residents can look forward to more transformation in the area such as the Tampines Boulevard Park under the 5-year Tampines Master Plan. There's also room for growth in the area with the upcoming Tampines North MRT (CRL).
Ultimately, I think that those who want to stay in a nice development somewhere in the east and aren't too bothered about being close to an MRT for the next few years can seriously consider Tampines GreenRidges.
The pricing may not be out yet, but given its fringe location in a mature estate, it does mean it'll be one of the more affordable new HDBs you can buy compared to other mature estates – and with room to grow too given the area's future transformation.
What this means for you
You might like Tampines GreenRidges if you:
• Want to live in a unique development:Tampines GreenRidges distinguishes itself as quite a unique development considering its architecture. Those looking for something special can consider this.
• Want to be near nature:With the upcoming Boulevard Park as well as the extended Park Connector, residents looking to stay near nature can look forward to it here!
You may not like Tampines GreenRidges if you:
• Want a wide variety of amenities:While it has its own commercial offerings, those looking for more variety within walking distance may find this project to be unsuitable.
• Want to be close to an MRT:While there is the upcoming Tampines North MRT that would materialise in 2030, that's still some ways to go. For now, it's a 15-minute unsheltered walk which is not considered to be within walking distance.
End of Review