New Launch Reviews

Parc Clematis Review: An Astounding 400,000 sqft of Facilities At Your Doorstep
Reuben
December 10, 2019

21

min read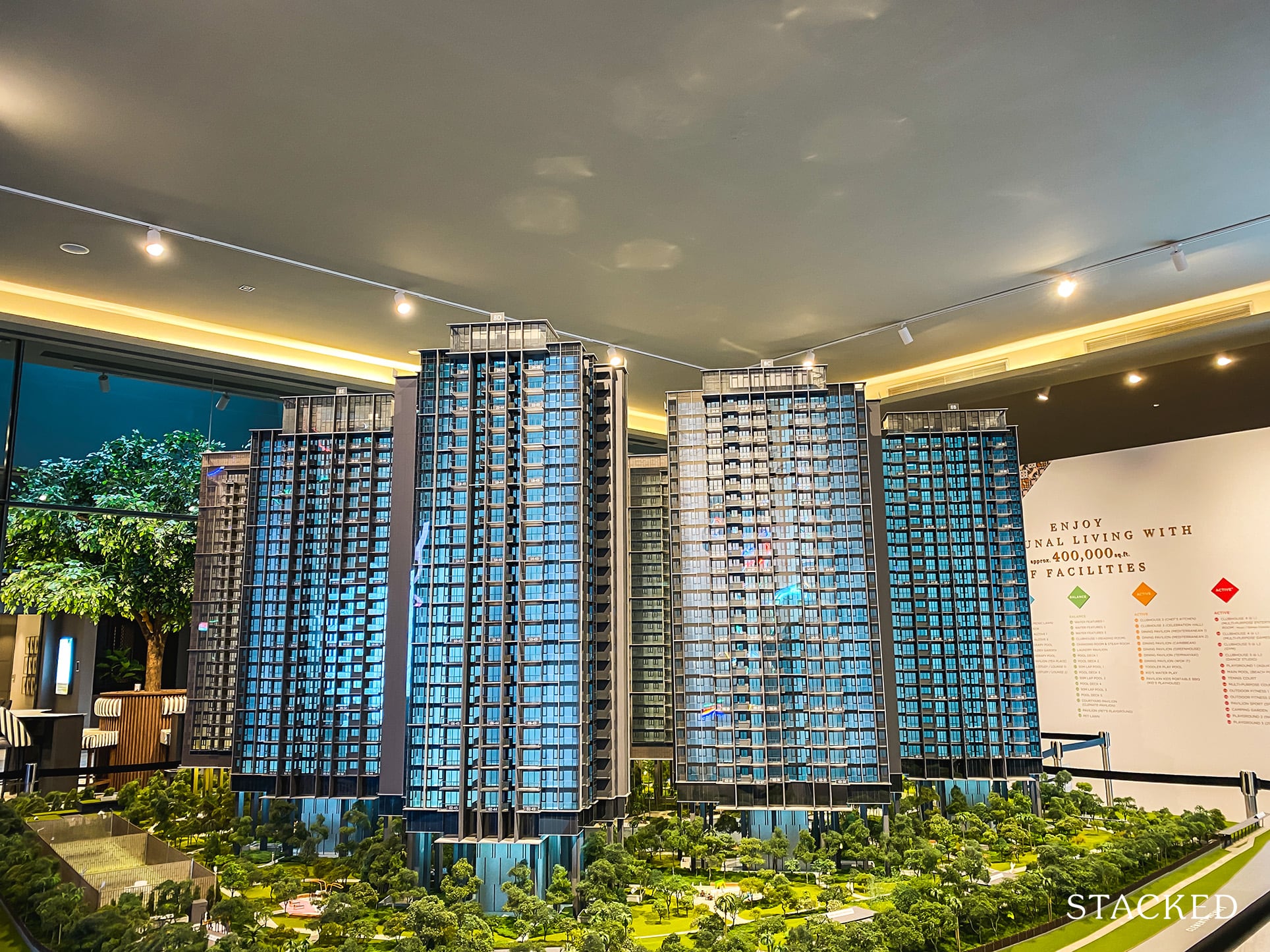 Parc Clematis is perfect for those with kids and / or work in the Jurong or One-North commercial district. However, its huge development size can result in more noise within the condo on average.
Reviewed by Reuben on 10 December 2019
What we like
Massive lagoon

Different themed blocks

Useful facilities

Can walk to MRT
What we don't like
—

Small units for location

—

Some units have unnecessary entranceway
21
min read
About this condo

| | | | |
| --- | --- | --- | --- |
| Project: | Parc Clematis | District: | 5 |
| Address: | Jalan Lempeng | Tenure: | 99 years |
| Site Area: | 633,644 sqft | No. of Units: | 1,468 |
| Developer: | Sing Haiyi Gold Pte. Ltd. | TOP: | 2023 |
When a condo sells 324 of its units on a single launch day, you know that something attractive is up on the market.
Now to most, having over 1,400 units in a single development might be quite a startler. What's more interesting, however, is how these massive number of units are to be positioned.
Spread across 3 distinct zones – all with their unique architectural characteristics (we'll go more in-depth during the tour), developers SingHaiyi have undoubtedly spent immense effort to set units here apart to ensure solid uptake.
Banking on the 'variety is key' theme, there will be strata bungalow and semi-detached units alongside a series of 24-storeyed towers and a whopping 400,000 square feet of space dedicated to facilities alone!
Yet despite all this, some might argue that the biggest draw of Parc Clematis is really its locale.
Touted as the 2nd CBD, Jurong has seen and (based on the fresh Masterplan 2019) will continue to see incredible growth in the commercial sector alongside One-North's astounding development on the media and research front.
Parc Clematis is situated smack in the middle of these two nodes.
Considering its relatively reasonable quantum, locale and facility offerings, it is really no wonder that demand is so high for key units here.
Let's see what the showflats have installed for us!
Parc Clematis Insider Tour
Facilities in Parc Clematis
| | | |
| --- | --- | --- |
| Car Park | Tennis Court | Game Room |
| Gym | Multi-Purpose Entertainment | Rain Spa Pavilion |
| Playground | 24 Hours Security | Reading Lawn |
| Rain Garden | Community Garden | Cabana |
| Stargazing Lawn | Sky Garden | Picnic Lawn |
| Jacuzzi | Aquatherapy Pool | Reflexology Garden |
| Hydrotherapy Pool | Dining Pavilion | 50m Lap Pool |
| Courtyard Pavilion | Pet Lawn | Pet's Playground |
| Toddler Play Pool | Kid's Water Play | Kid's Playhouse |
| Dance Studio | Multi-Purpose Games Room | Main Pool |
| Camping Garden | Sports Arena | Outdoor Fitness |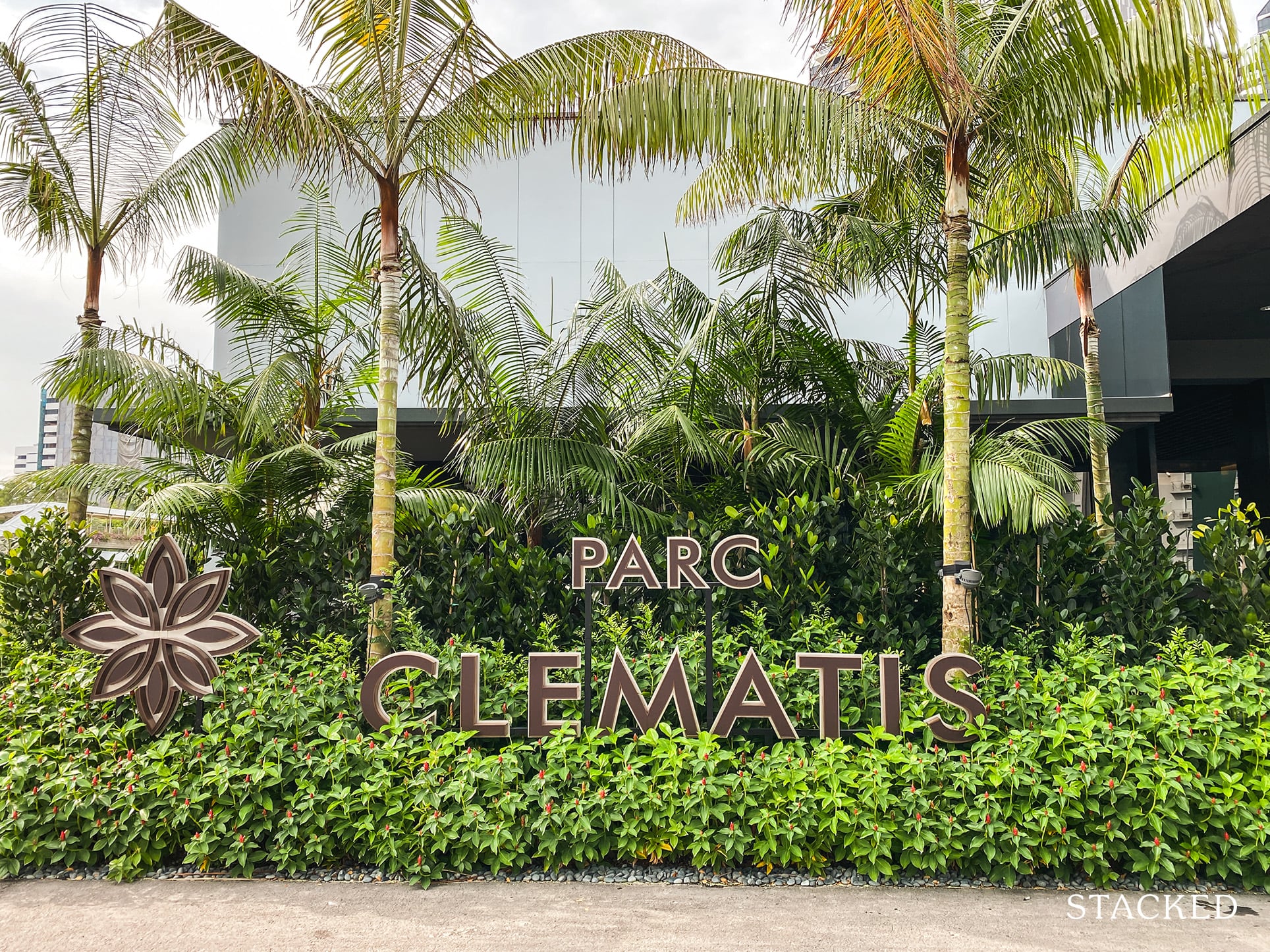 At 1,468 units and 633,644 square feet of land area, the Parc Clematis is a massive project and the biggest new launch that we've covered so far on Stacked Homes.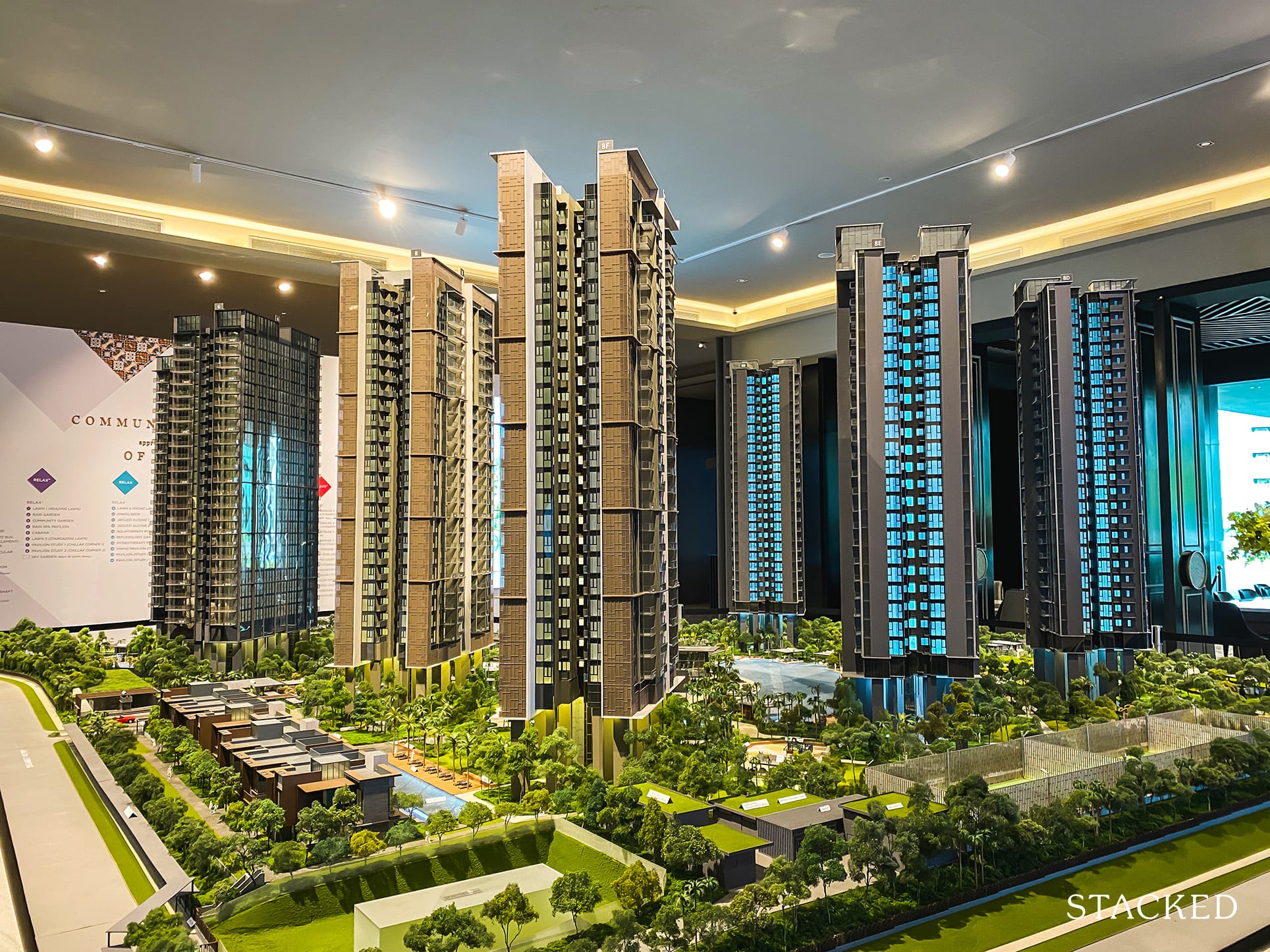 It's hard to imagine the scale of this project from the model alone, but for reference even though D'Leedon is bigger it does have somewhat similar characteristics. Where they've tried to be different is really through the design and zoning of the development. So 3 zones of products, with different blocks and unit layouts. 3 zones that have different landscape facilities and themes. And finally 3 zones of architectural design (for the blocks). I think that it is definitely a novel concept and it shows effort has been taken to really make full use of the land. In that sense, it is almost as if you get 3 different developments rolled into one at the Parc Clematis.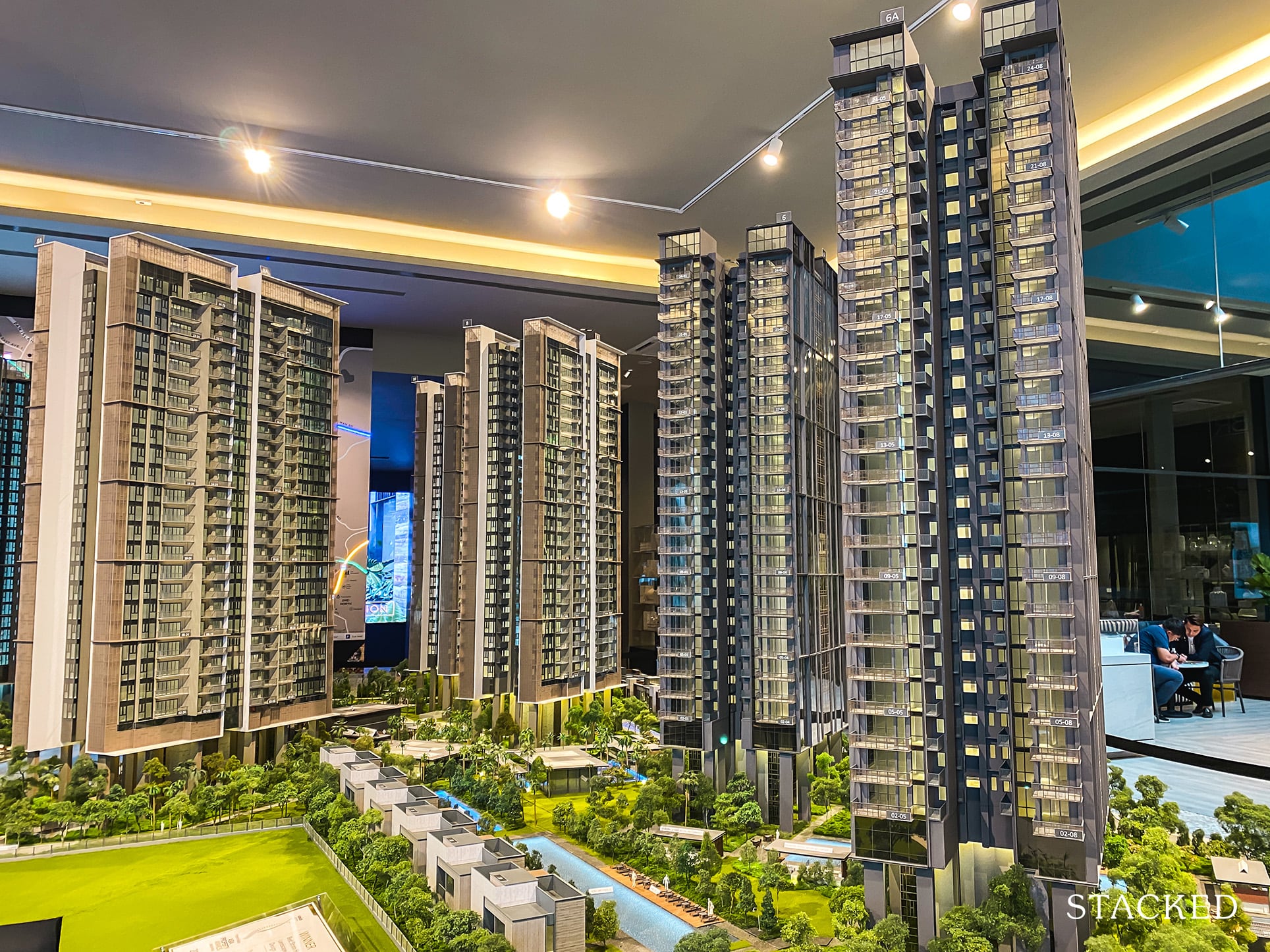 So if you look closely at the showflat model, you can see that there are three different styles here – Contemporary, Elegance, and Signature. In short, Contemporary is aimed at the younger generation, Elegance for families, and Signature for the luxury crowd. To be honest, from the showflat model it doesn't look like each design is super distinctive from each other. They are all modern looking and in keeping with the design trend of today.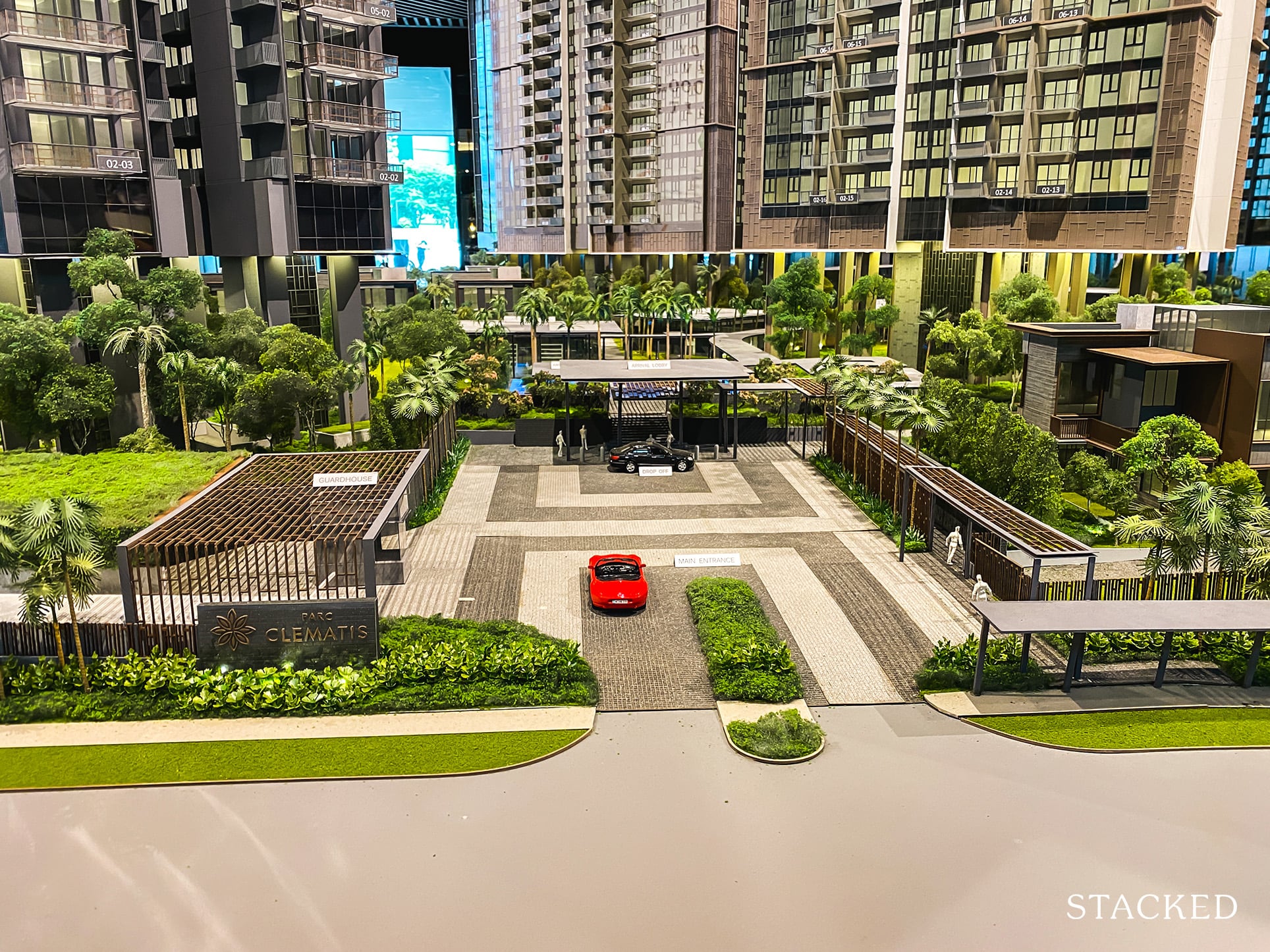 There are two entrances to the Parc Clematis, which is absolutely needed for a development of this size to prevent choking during peak hours. This one here is the main entrance – the other entrance is reserved solely for residents only. From here it's sheltered all the way to the bus stop too, which is a nice touch.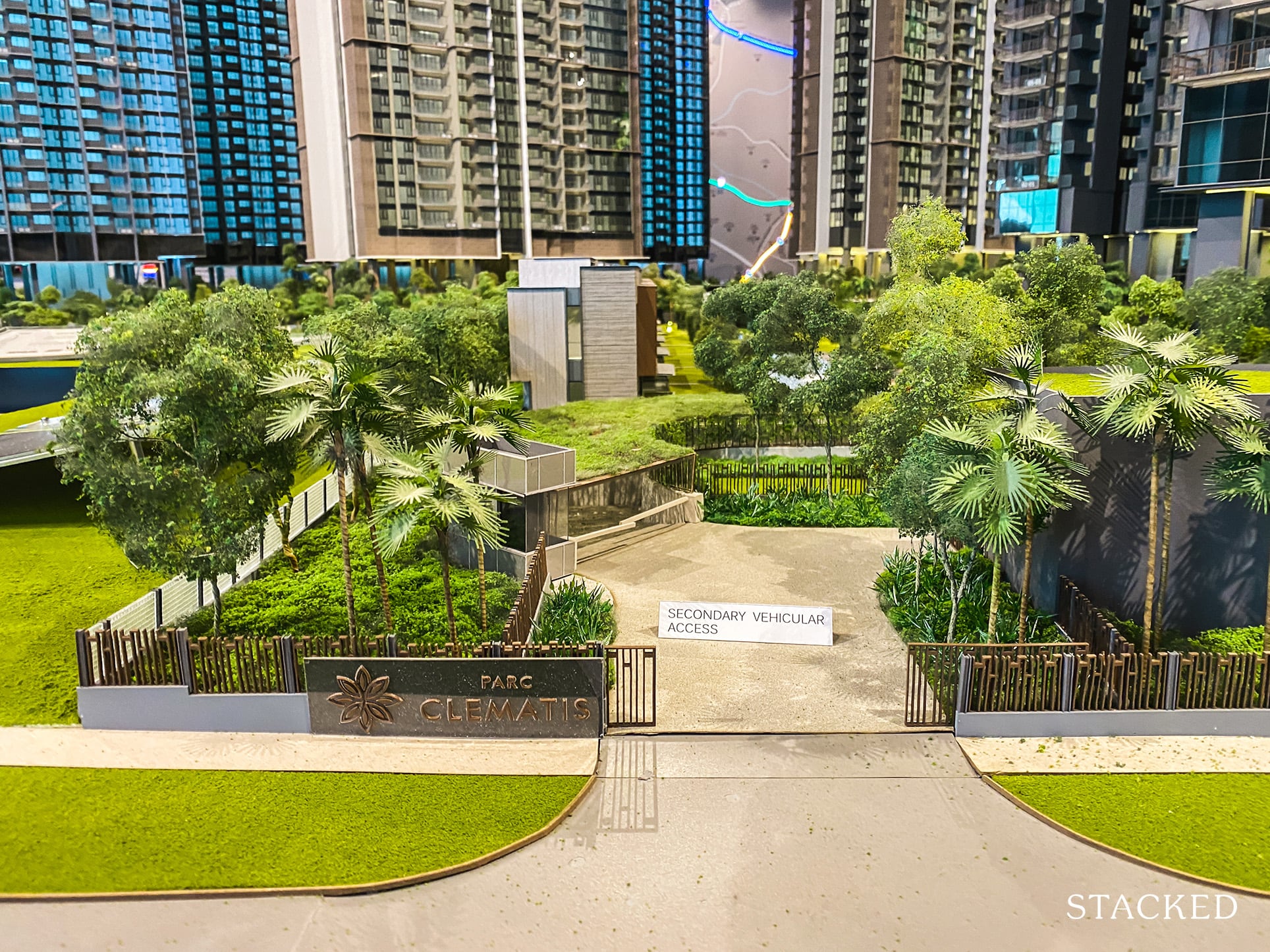 Because of how big the project is, residents who are staying in the blocks near the second entrance can only go in via this one. This is quite smart because it splits a load of cars coming in equally with both entrances, thus regulating the traffic flow efficiently. Car park zone 1 (main entrance) will serve Blocks 6, 8, 8D, 8E, 8F, and Terrace units. Car park zone 2 (secondary entrance) will be reserved for Blocks 6A, 8A, 8B, 8C, and Bungalow units.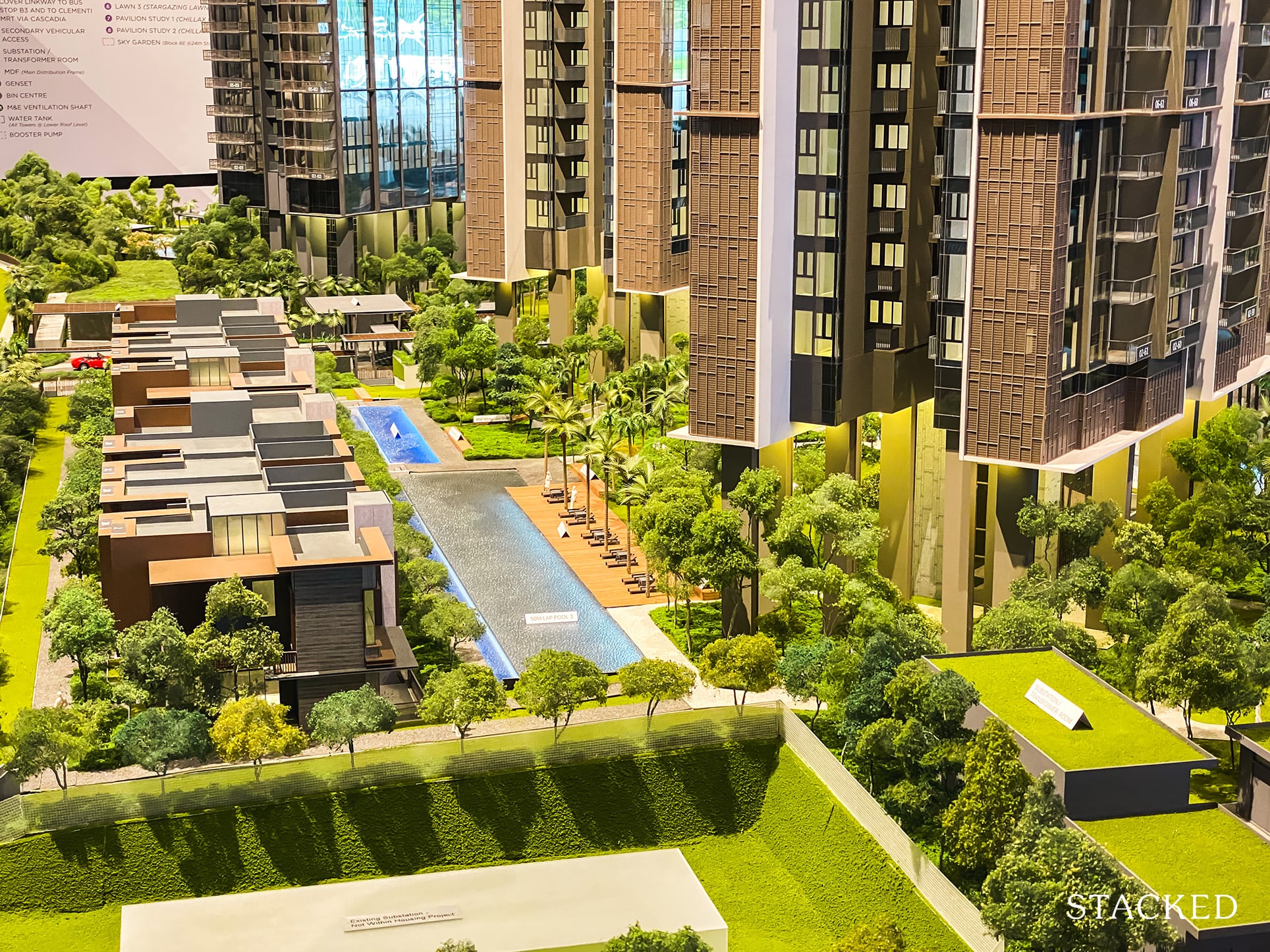 From the number of units and land size, you'd expect the Parc Clematis to have the facilities to match, and it mostly delivers on that front. With 3 50m lap pools, kid's pools and a giant (no exaggeration here) lagoon, you'll be almost spoiled for choice when it comes to swimming.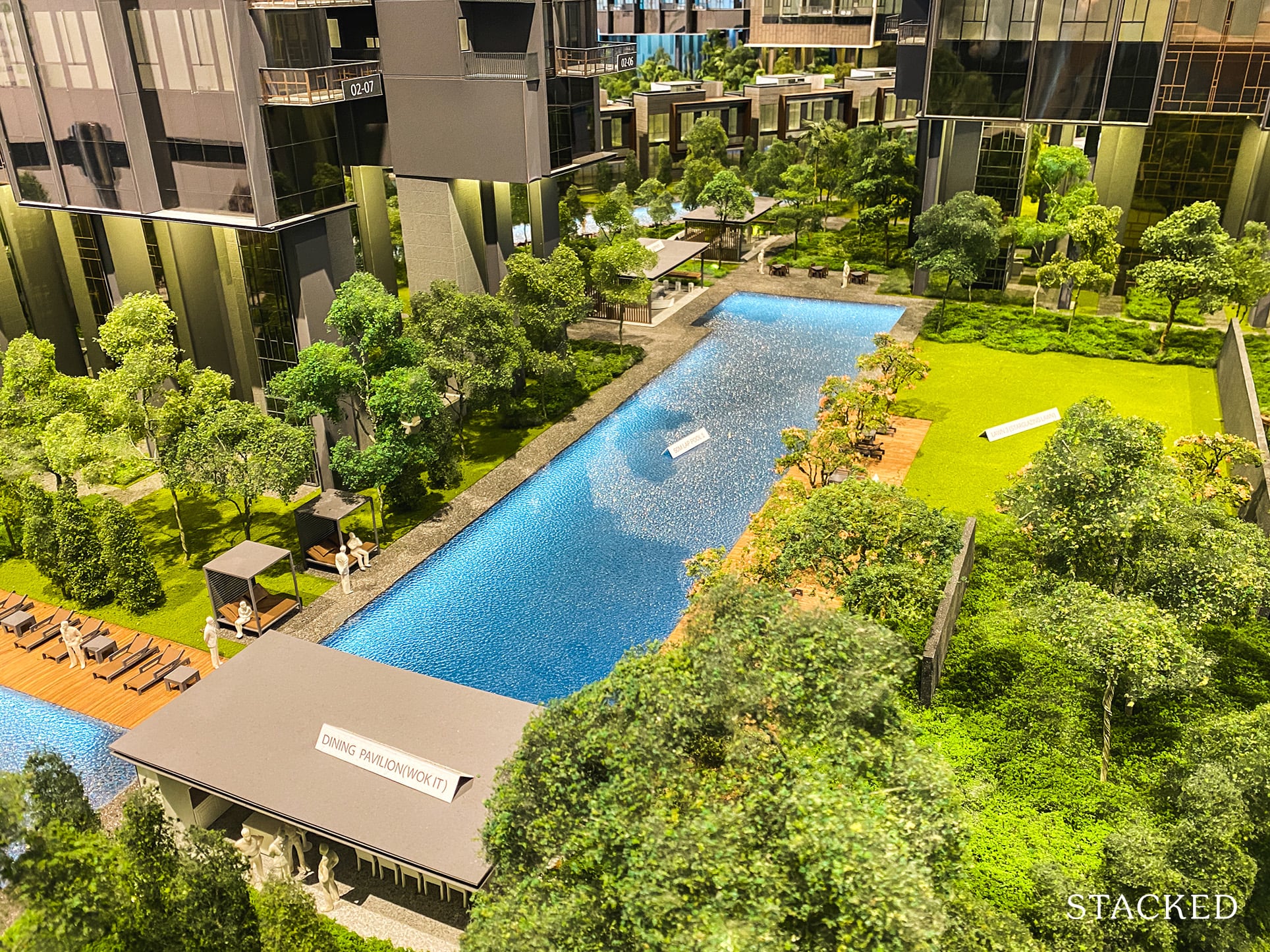 I think the expanse of the land is one of the bigger attractions of Parc Clematis. Yes, it might not be as spacious as older developments like the Maplewoods, but this is going to be the new normal in Singapore – small units and maximum use of land space. So the Parc Clematis actually bucks that trend, which is refreshing as even though the GFA actually allowed for more units, it was a conscious choice from the developer to give a good allowance between the blocks. This means that there is more than 60% of the land dedicated to open spaces and facilities.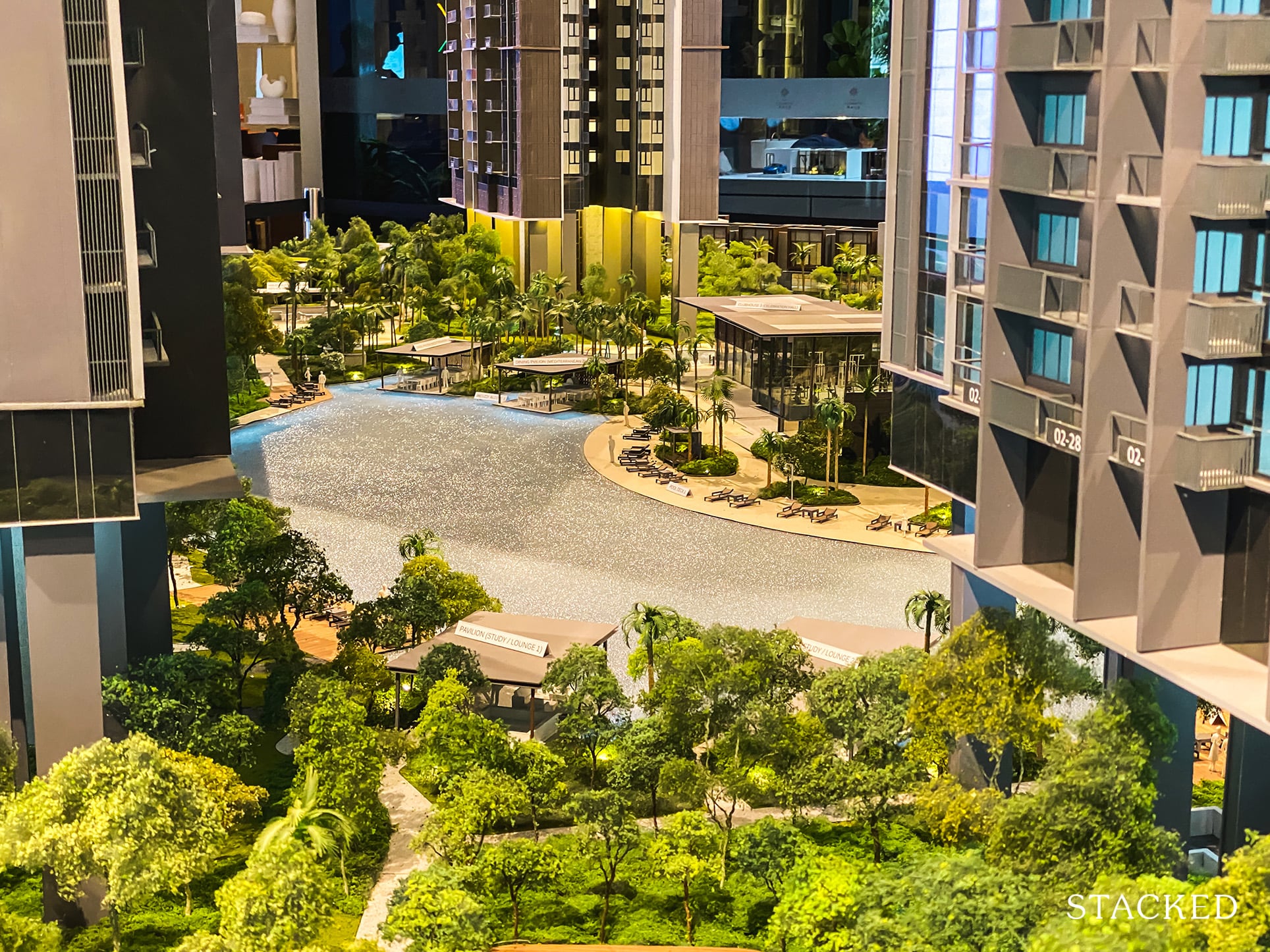 So because of the dedication to the landscape of the estate, the pièce de résistance is this stunning lagoon/beach like pool. It spans a huge expanse of 100m by 38m (certainly rivaling the one at the Jovell). It has a sloped entry into the pool, which is just like a real beach. This would be a totally awesome feature for kids!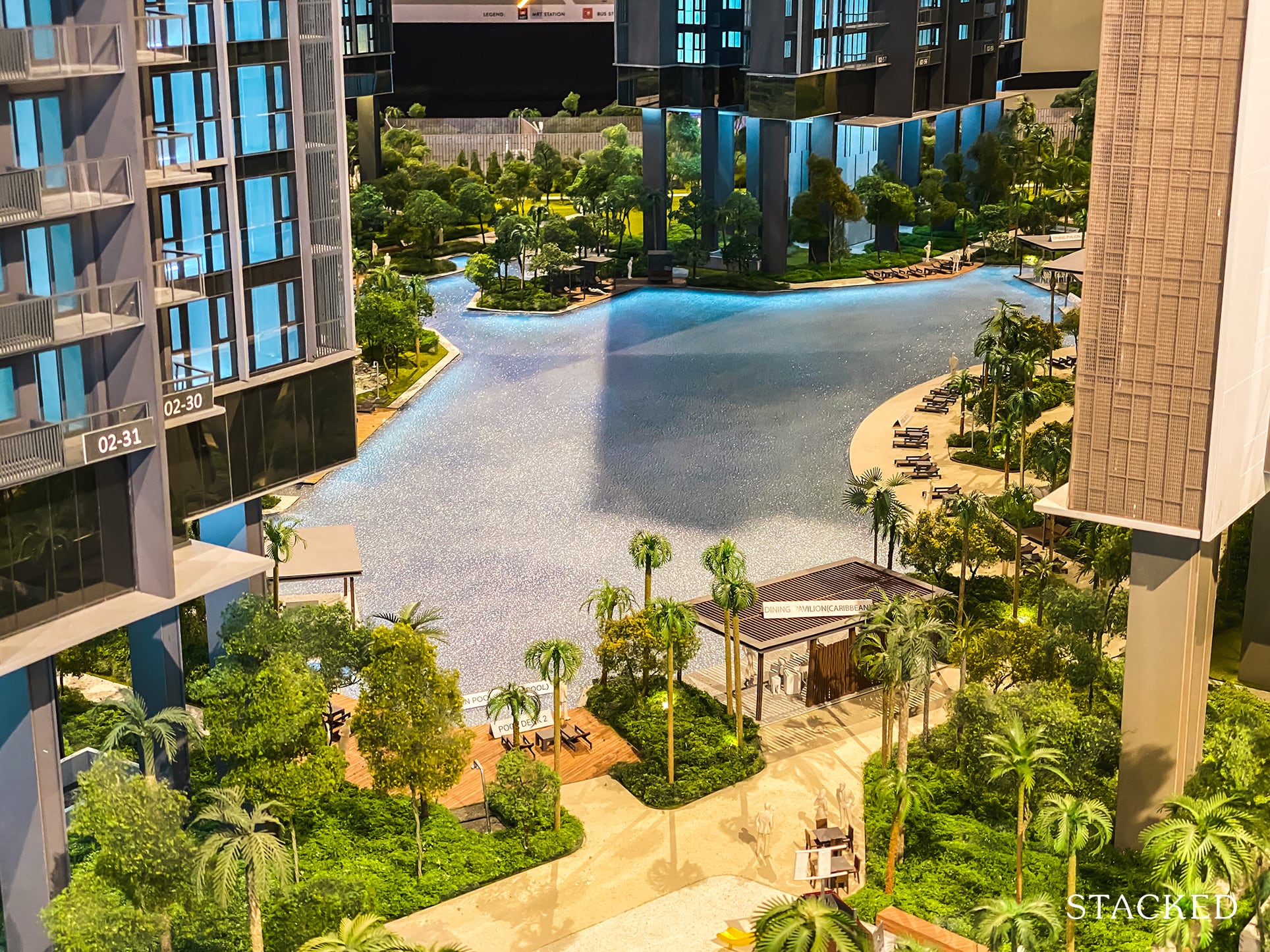 Another cool feature is the sand coloured tiles (which forms the sloped entry) that gradually blends into blue tiles, this will truly give off the beach-like feel and I think will be a huge hit once this is completed. One more thing you'll notice from here is the 15.5 to 16-metre elevation of the towers. This allows even the lowest level unit to have some sort of view. Not to mention, it also provides more privacy for the units (especially the bungalow units).
One more cool thing is the co-kitchens in the clubhouse space. The plan is to host 10 to 12 ovens, which residents can book to use. This is in line with current trends of people not cooking as much at home, but if need be, there are proper facilities in place for it!
Parc Clematis 1 Bedroom Review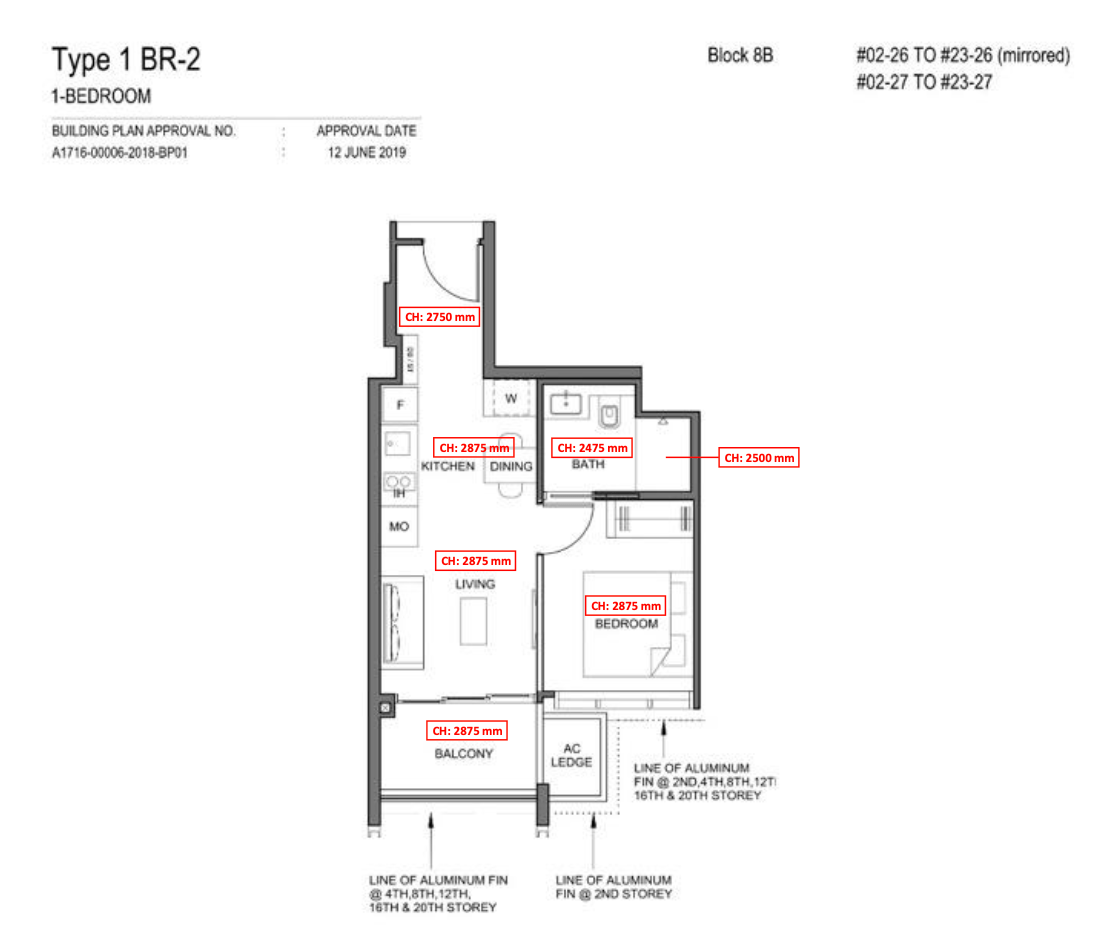 At 452 square feet, the 1 bedroom unit at the Parc Clematis is definitely on the small side, especially as it isn't even in the city centre. What makes things worse is that the unit does not make the most efficient use of space, which is frustrating to see.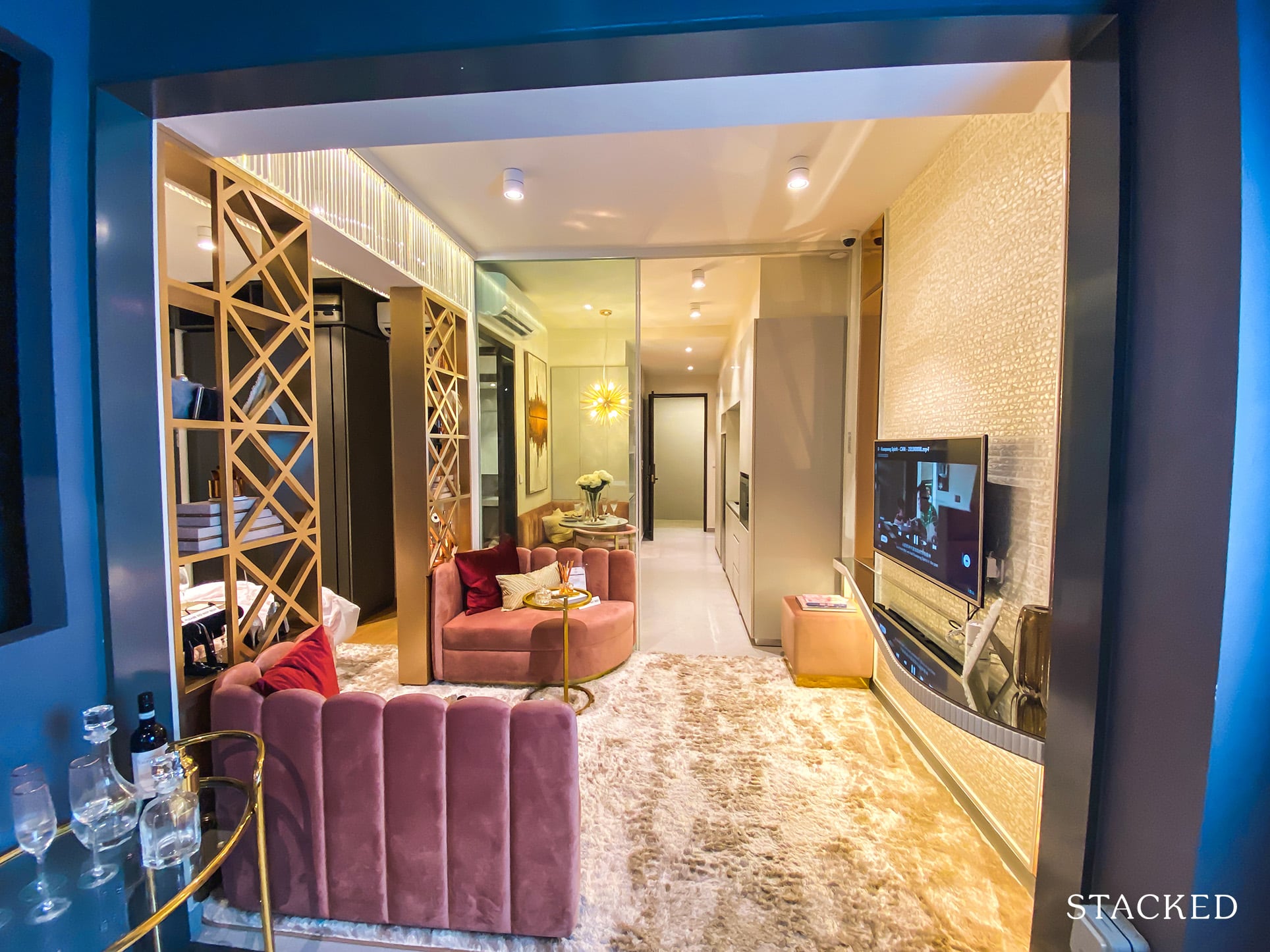 The living room is on the small side, so you should just about manage to fit a small sofa and coffee table. The ID of the space is not great, it looks quite gaudy (my opinion), and is over styled which makes the place look even smaller.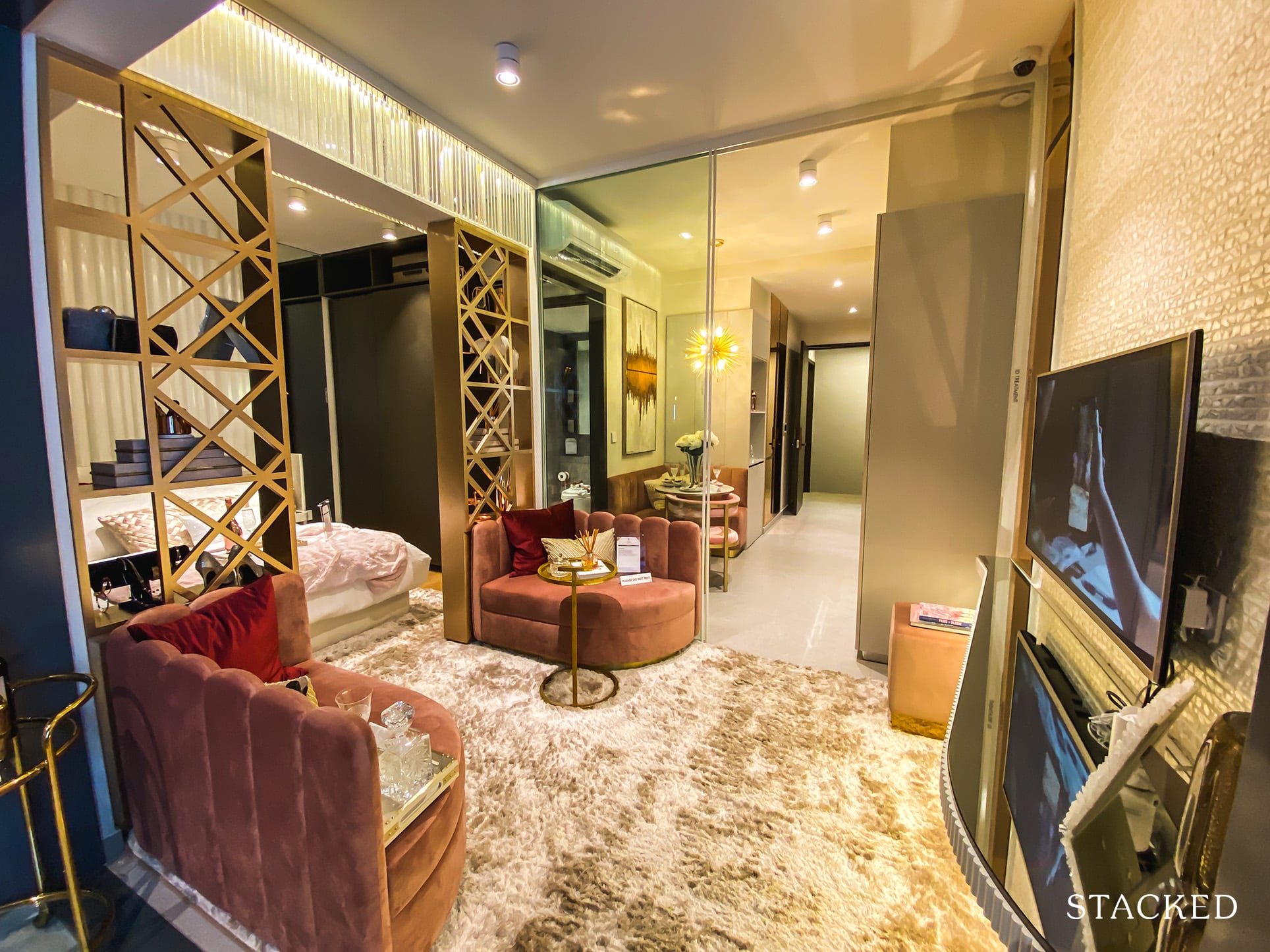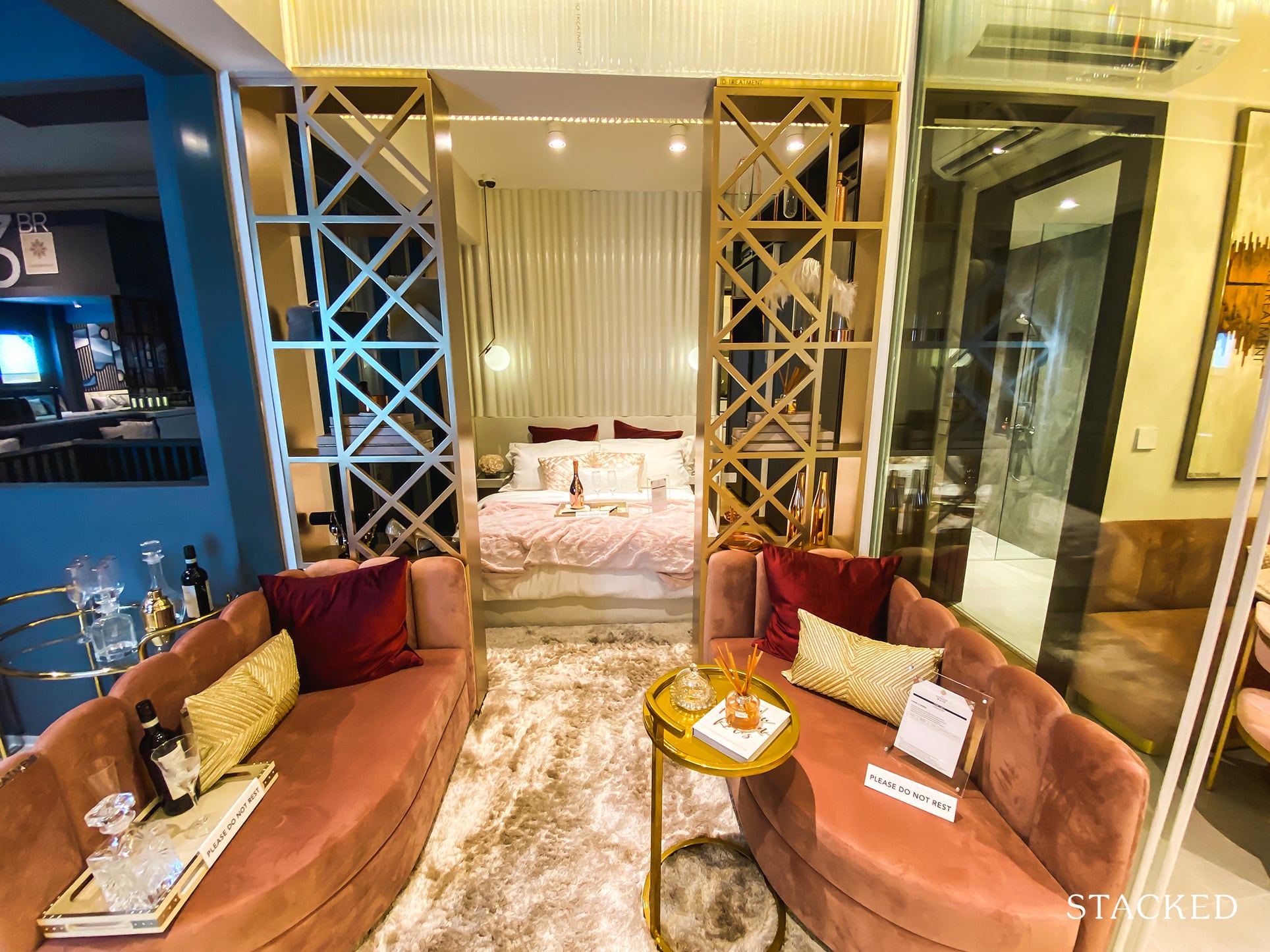 The two couches really make it look cluttered, and the gold shelving really doesn't help at all to make the space look bigger.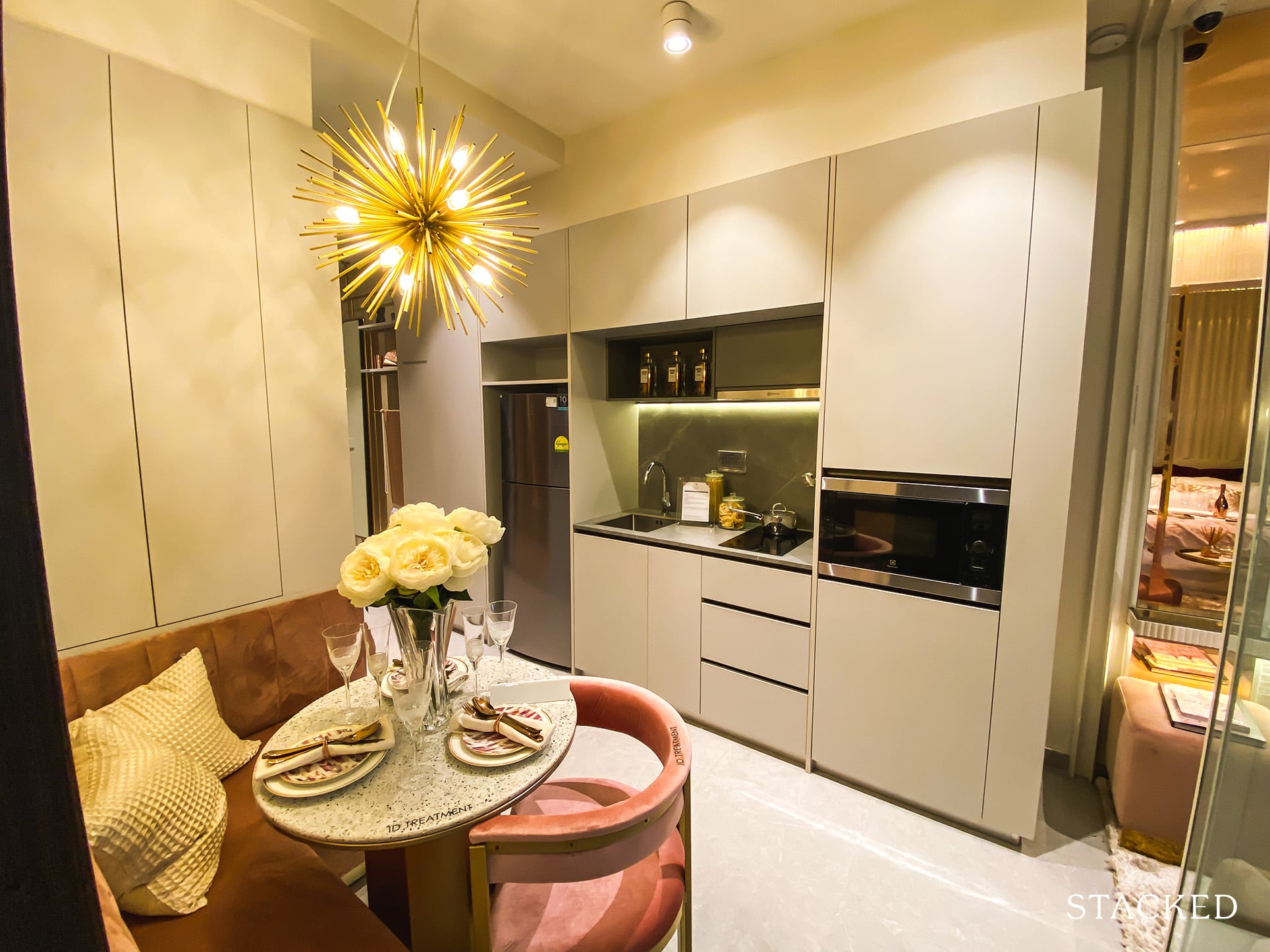 It's a similar story with the dining area, it's really small and you will have to be creative with the placement and size of the table to make full use of the space.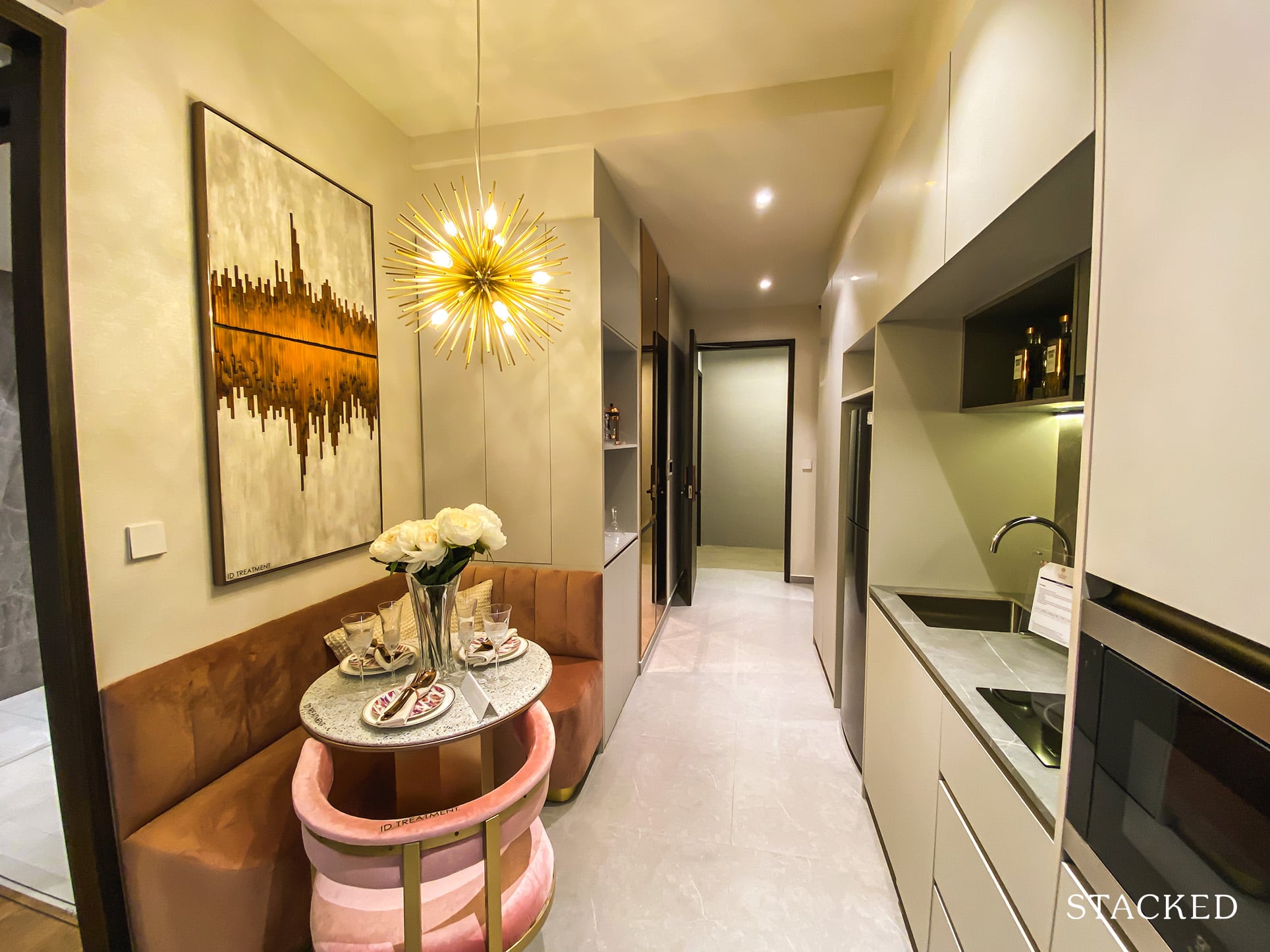 The kitchen is actually decent in terms of counter space, but it's location which eats into the dining area is just not ideal. The biggest problem with this layout is actually because of the entranceway, it's really big (for a 1 bedroom unit), and is such a wasted, inefficient space. This caused the kitchen to be pushed down, and thus squeezing into the dining space.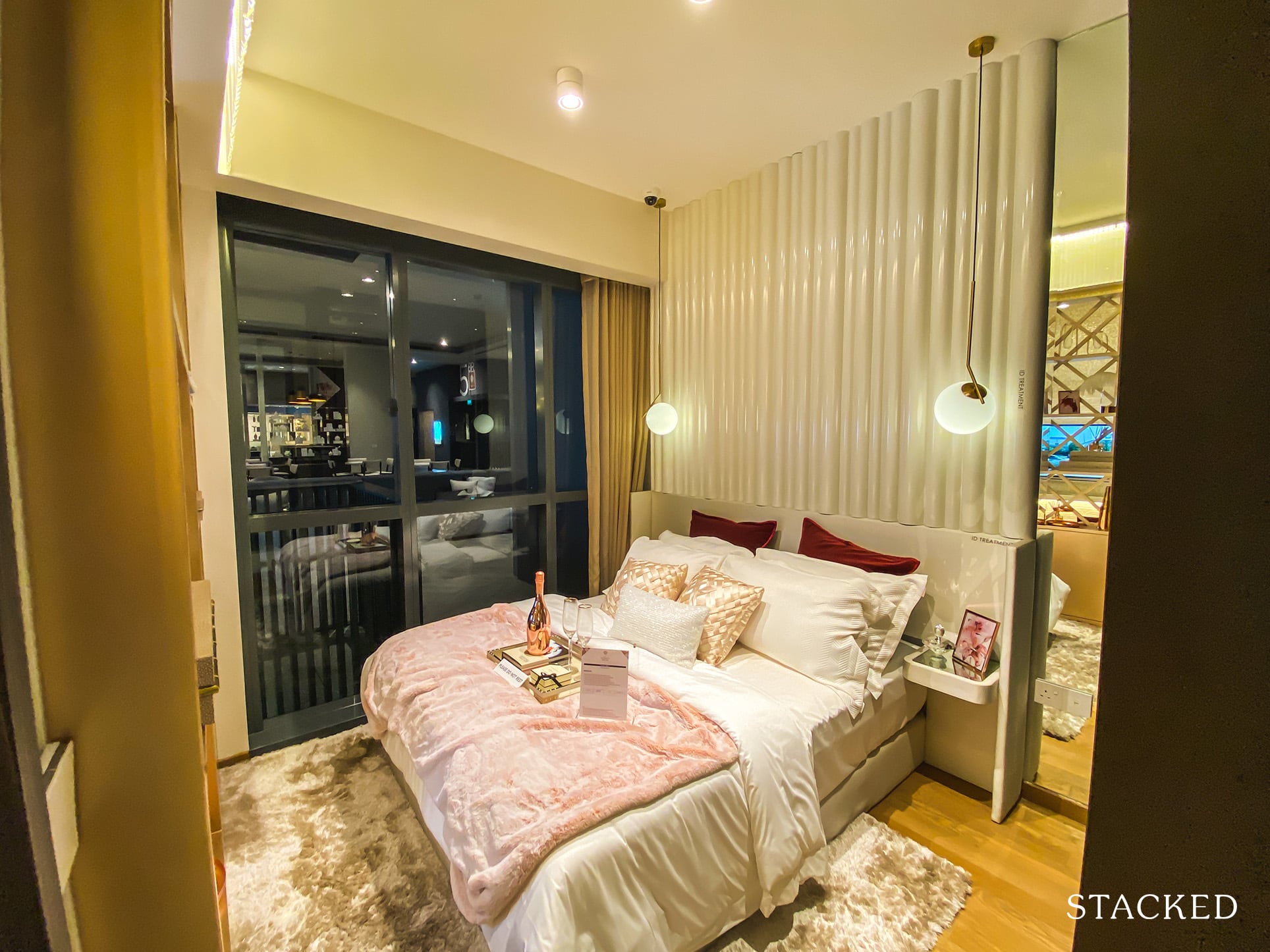 As with the rest of the house, the master bedroom is not big at all. Although the floor to ceiling windows certainly help to bring more light in and make the space look bigger.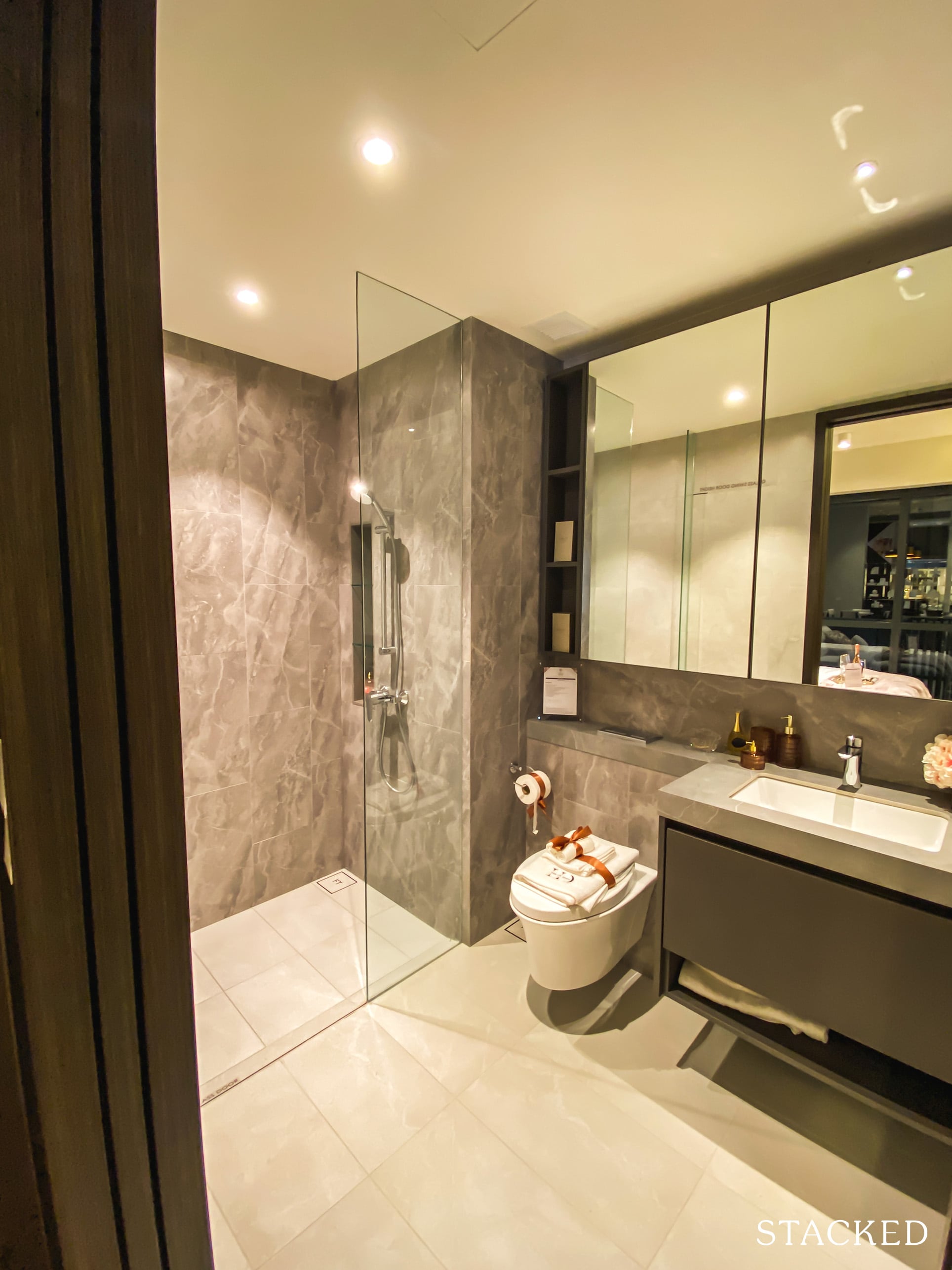 The bathroom is of average size, but in this ID unit, it is only accessible through the master bedroom. Which is a bit awkward for when you have guests over as they have to go through your room to use the bathroom.
Parc Clematis 2 Bedroom + Study Review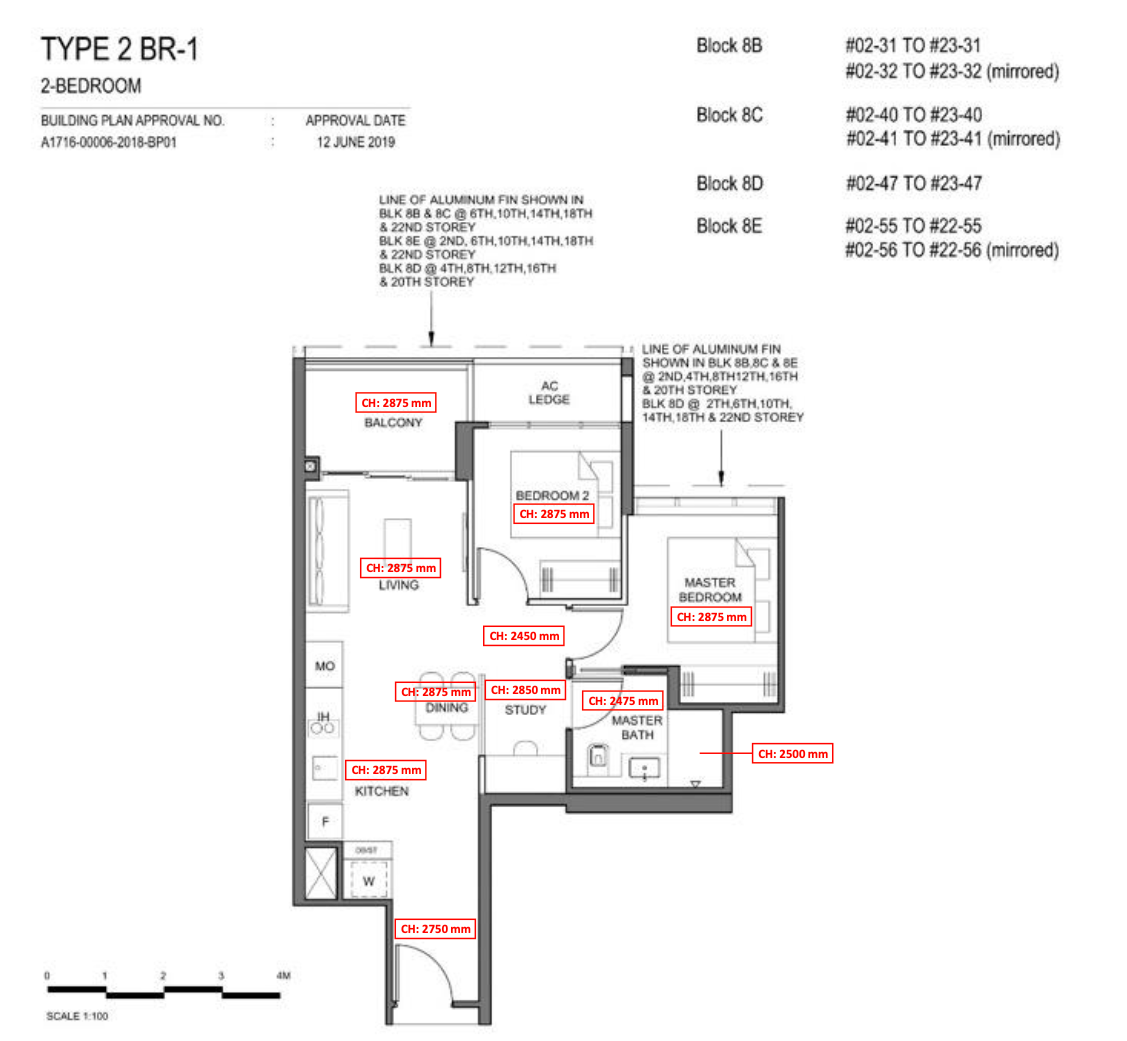 The 2 bedroom plus study unit at the Parc Clematis is slightly smaller than average at 689 square feet. Thankfully, the unit here is laid out more efficiently than the 1 bedroom. In the showflat example, the study area has been taken out to provide a larger living and dining space, which is not a bad idea if you require just 2 bedrooms.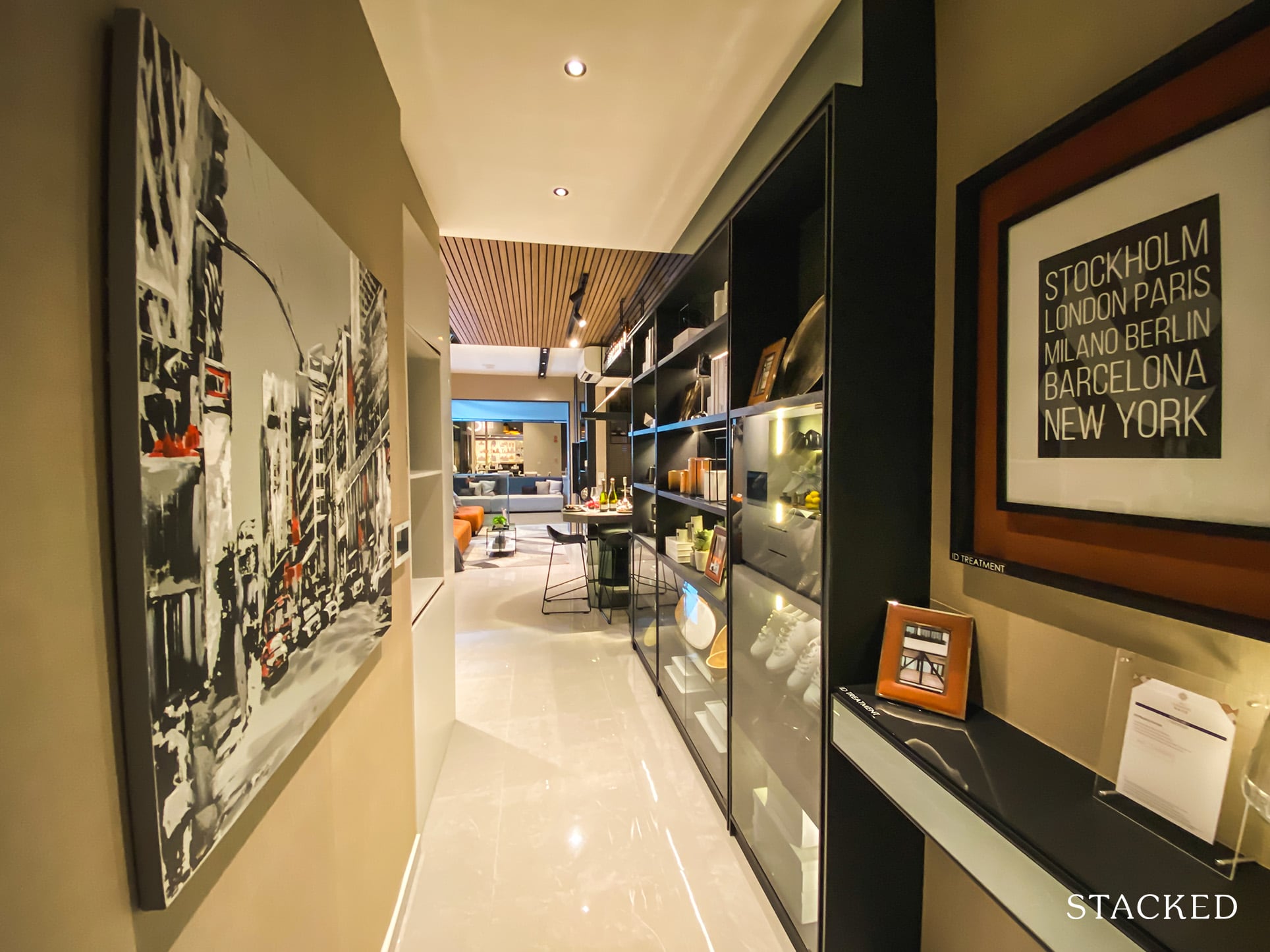 Similarly to the problem plaguing the 1 bedroom unit, the 2 bedroom has an entranceway which is totally unnecessary in my opinion.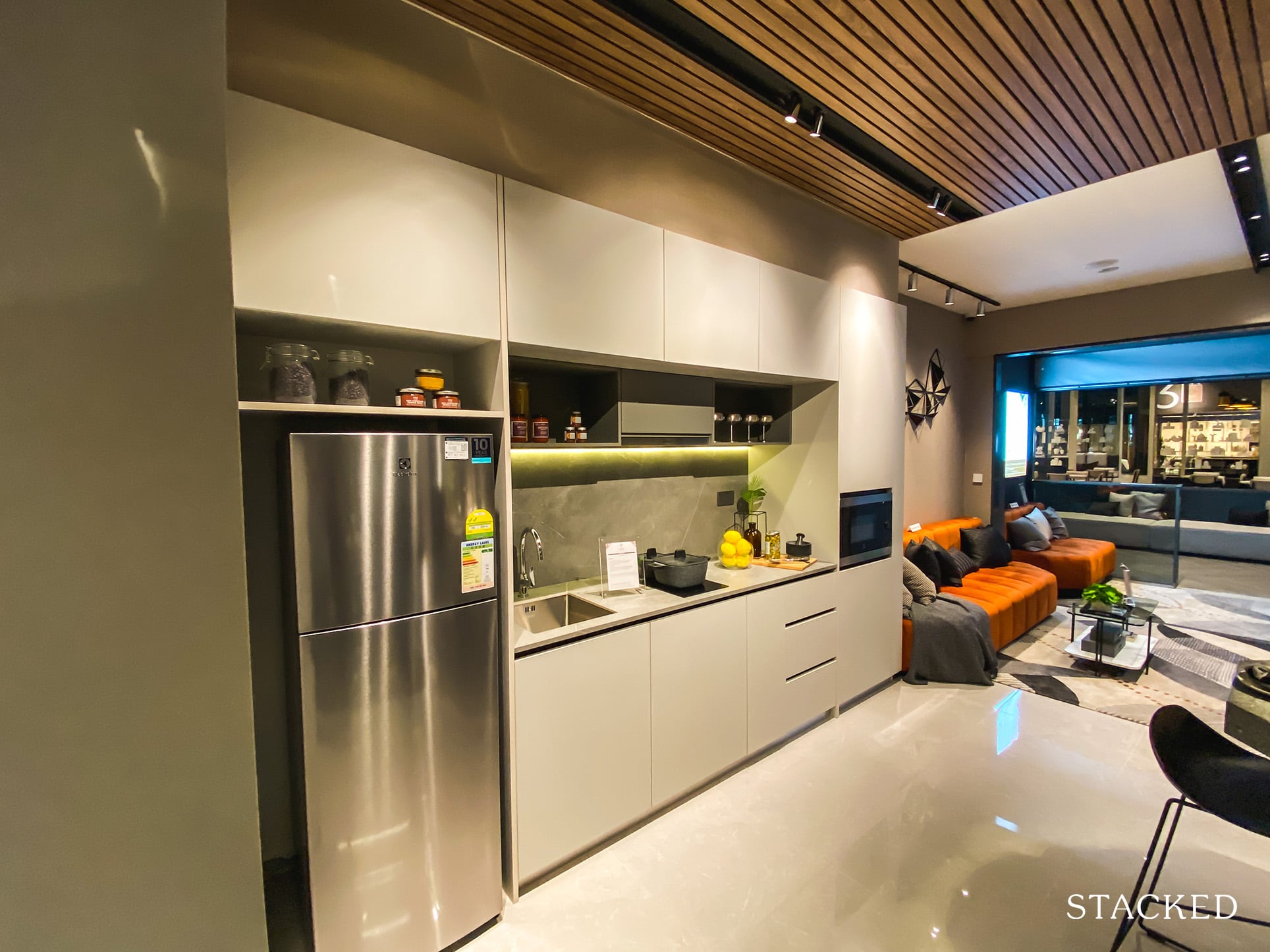 Putting all that negativity aside, the kitchen is easily the highlight of this unit. It's a big space, has a long counter which is useful for prep work and storing kitchen equipment.
If you need a study room, naturally this space is going to look a lot smaller. But if you take out the study, it gives space for a proper dining table and makes the unit feel loads more spacious. It also helps the design of this unit is so much cleaner and more minimalist compared to the 1 bedroom unit earlier.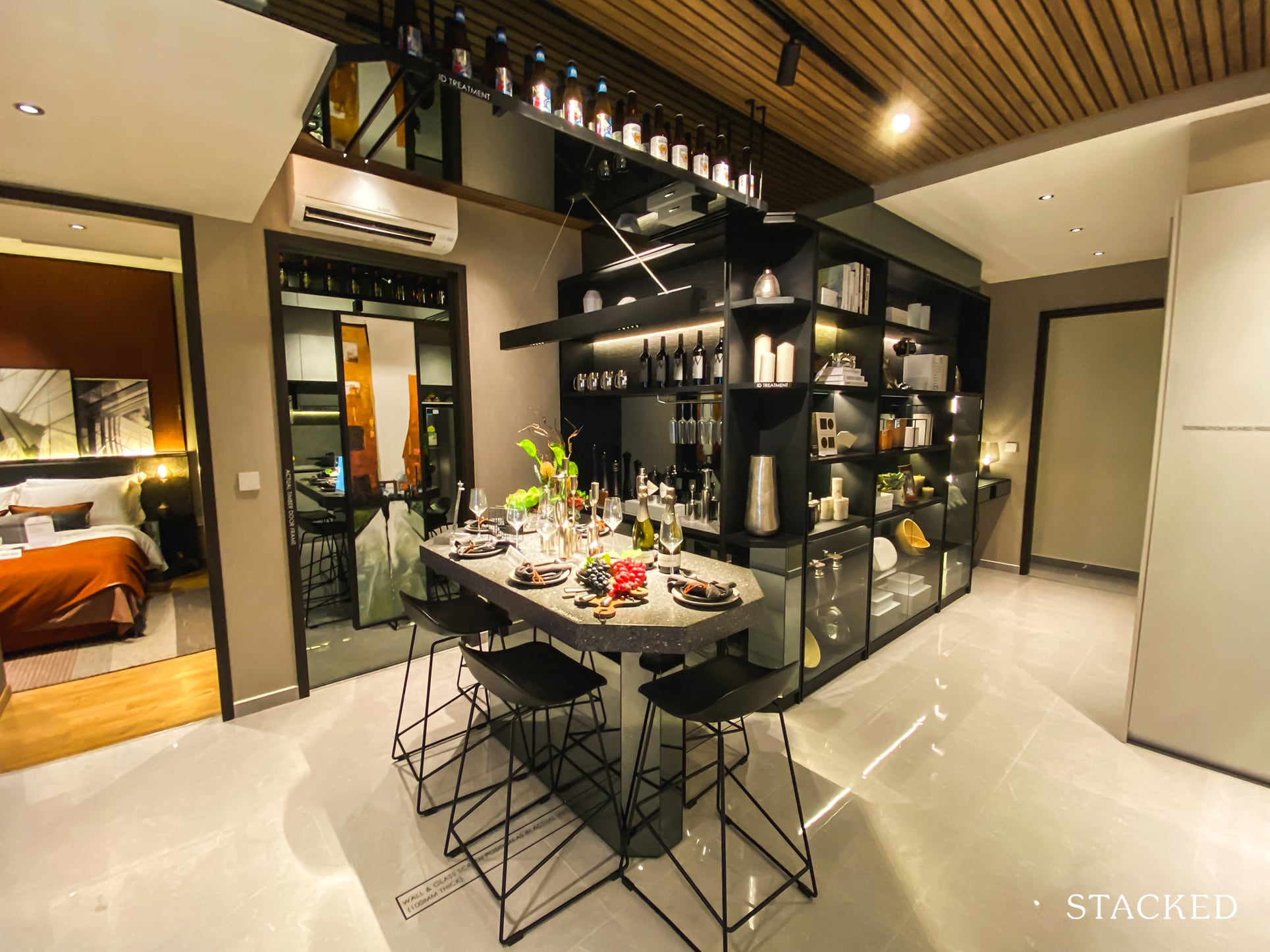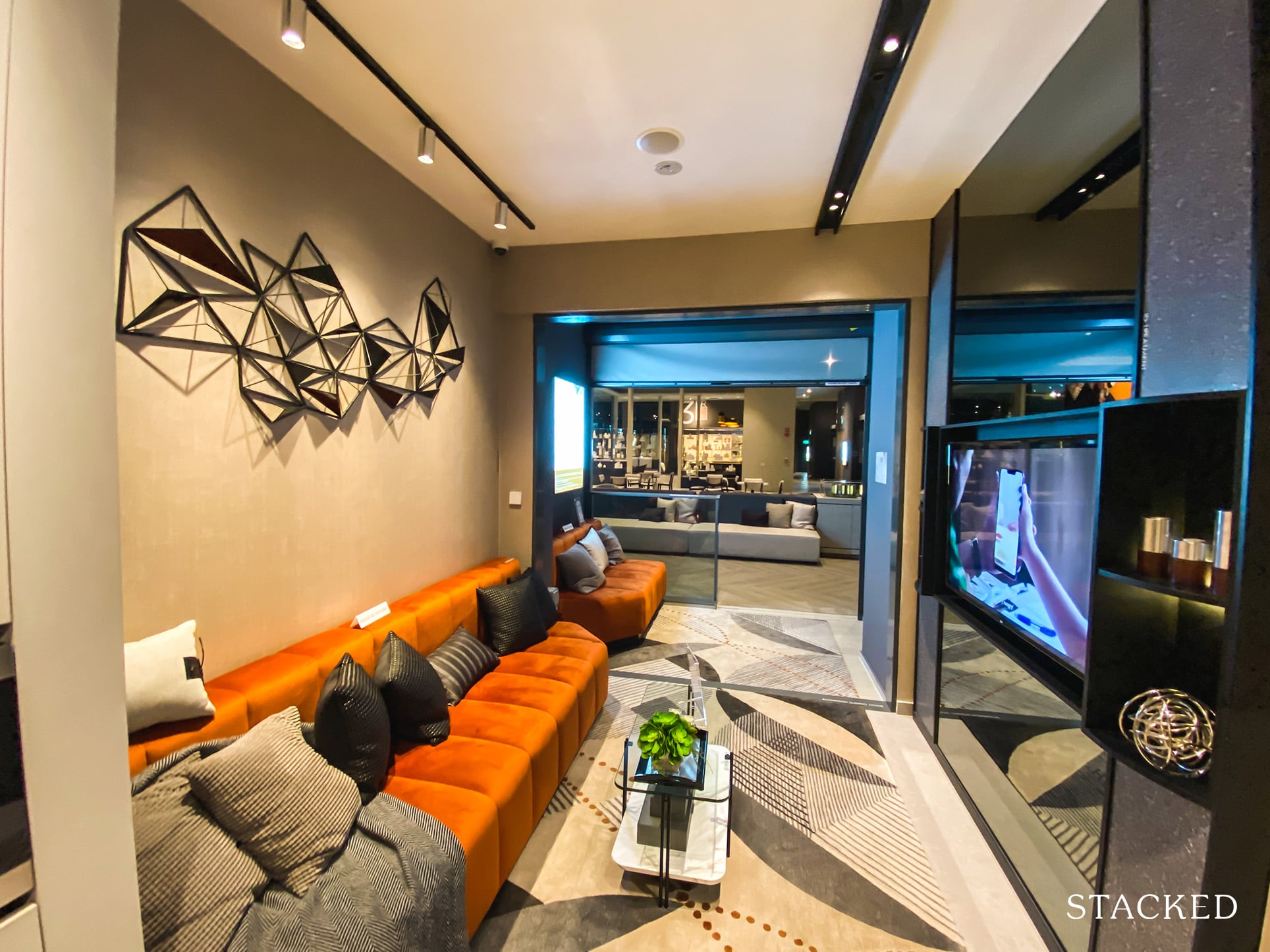 The living room is not big, and is quite narrow in size so you'll have to be very careful about your choice of furniture so as to accentuate the place.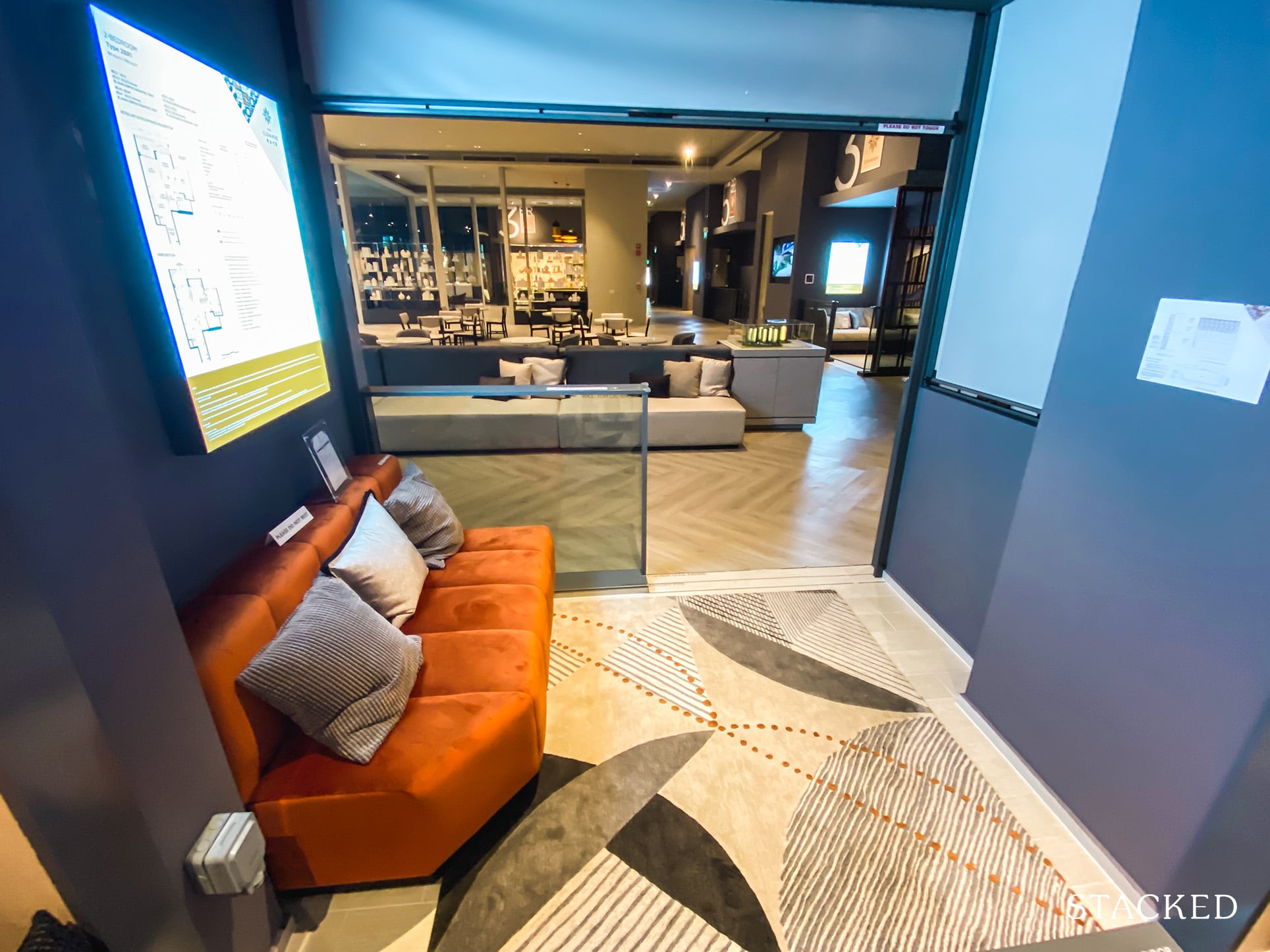 Thankfully, the balcony space here is kept to a minimum as the interior space is already quite tight. Still, it is enough for a small set up to enjoy some fresh air.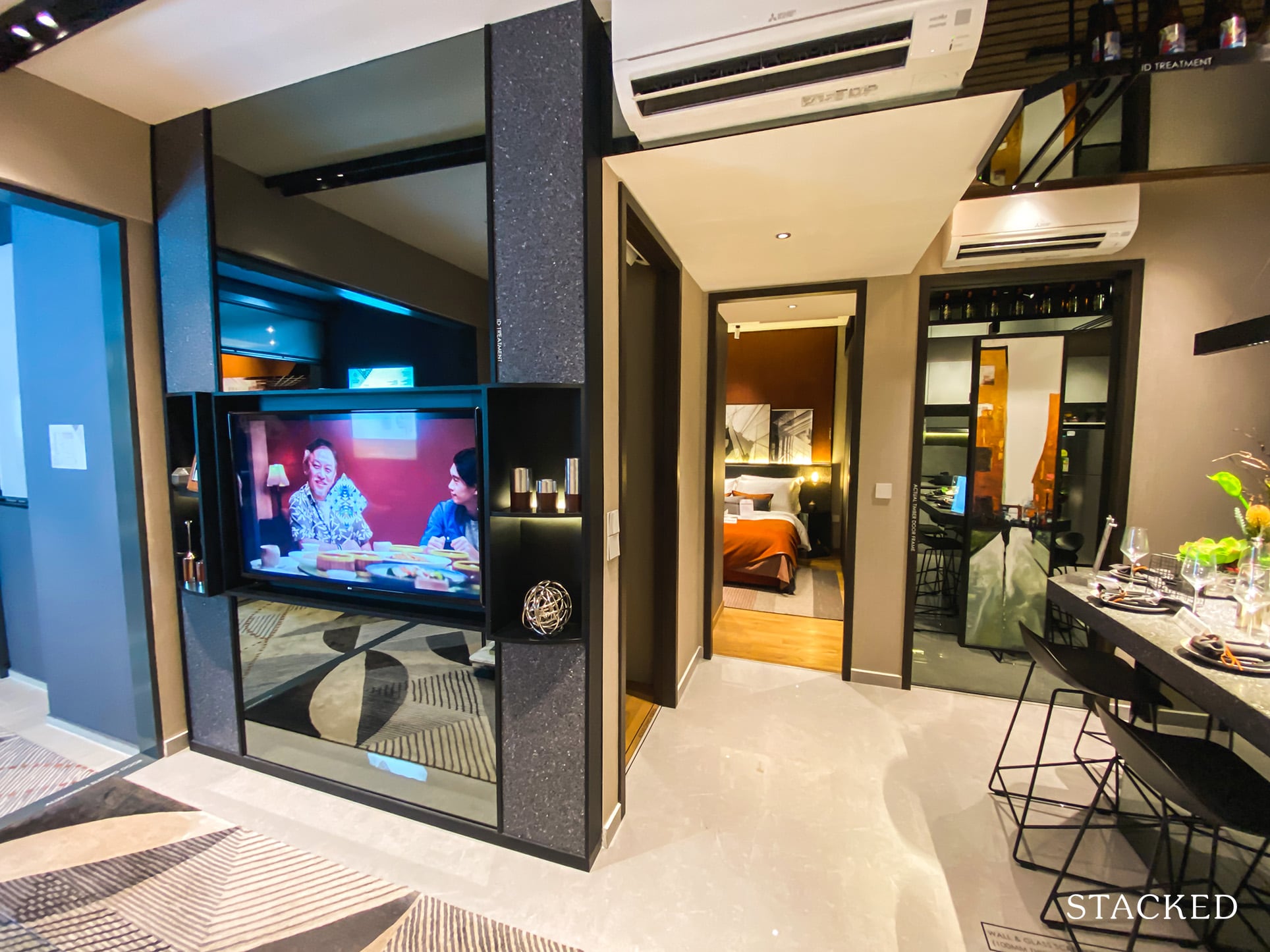 So as mentioned earlier, the study room was taken out in the showflat unit to make space for a bigger dining area. If you have a good imagination, the length of the white ceiling will be the actual size of the hallway. Also, in the showflat unit, the entrance to the bathroom is sealed up (the doorway under the air conditioning unit).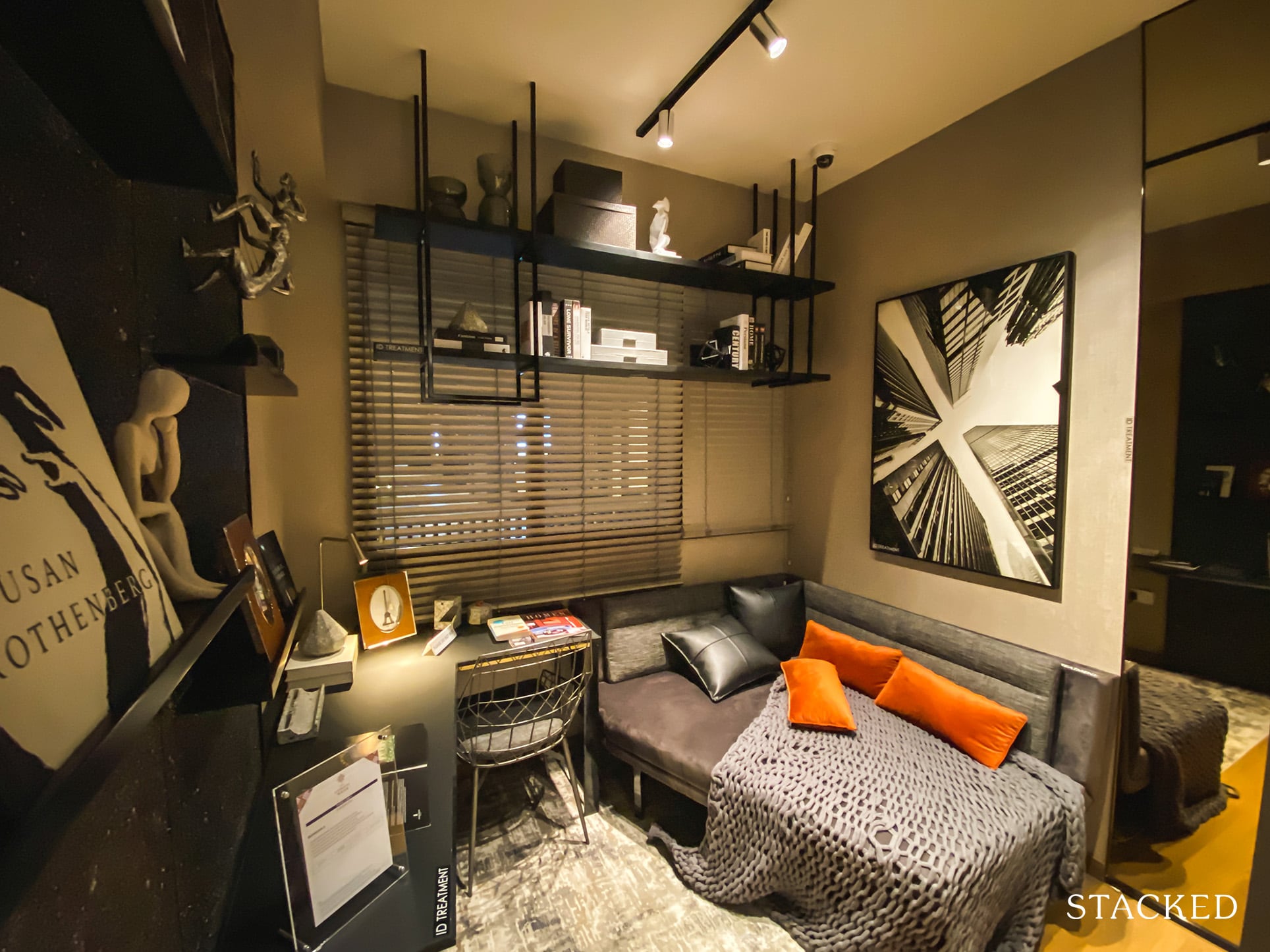 As you'd expect from the total size of the unit, the common bedroom is small and just enough for the bed (single) and a little study table.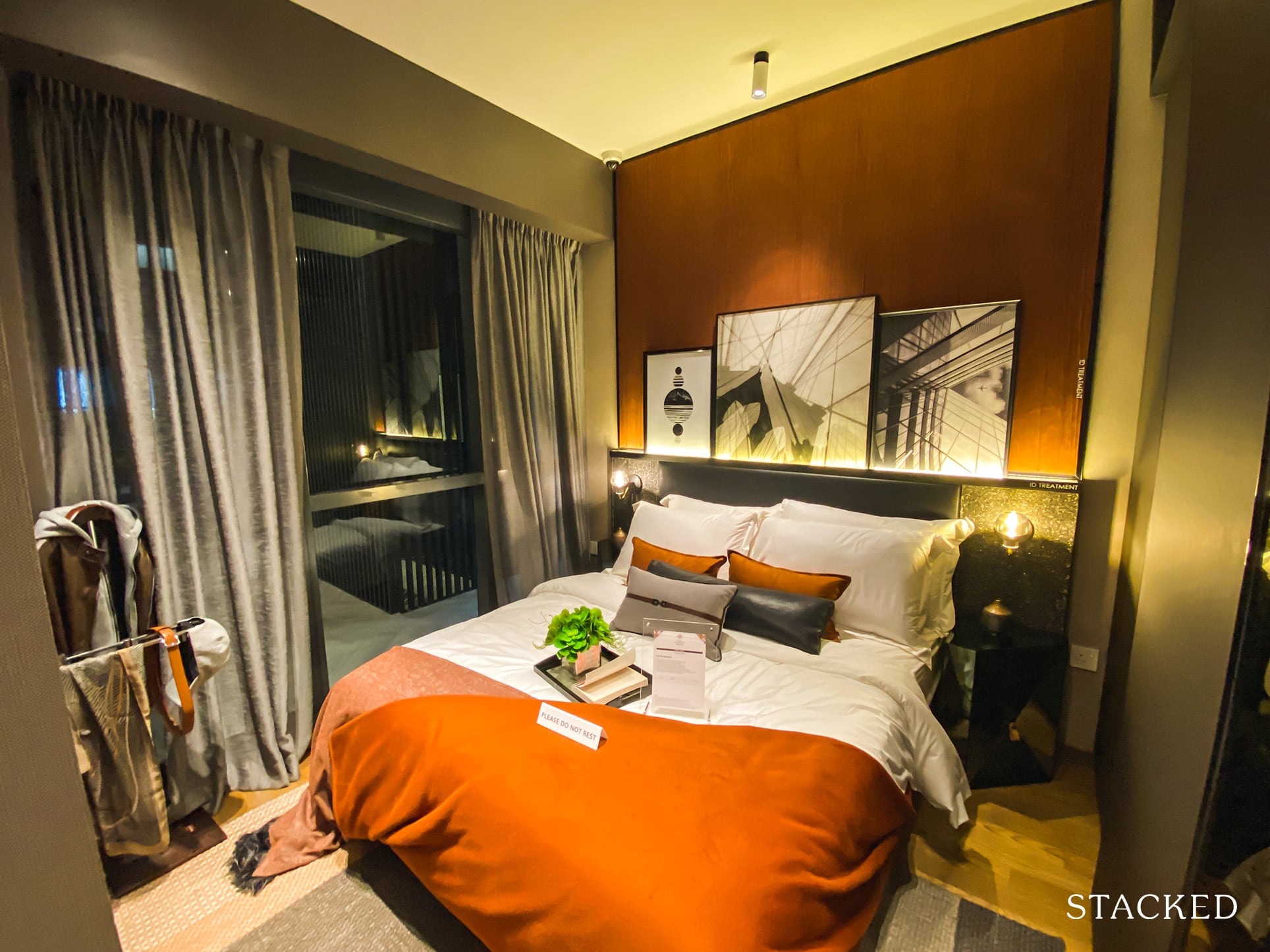 The master bedroom is smaller than average, but you really can't expect much of a 2 bedroom plus study unit that only occupies 689 square feet of space. Again, the floor to ceiling windows are a nice touch and really help to brighten up the place.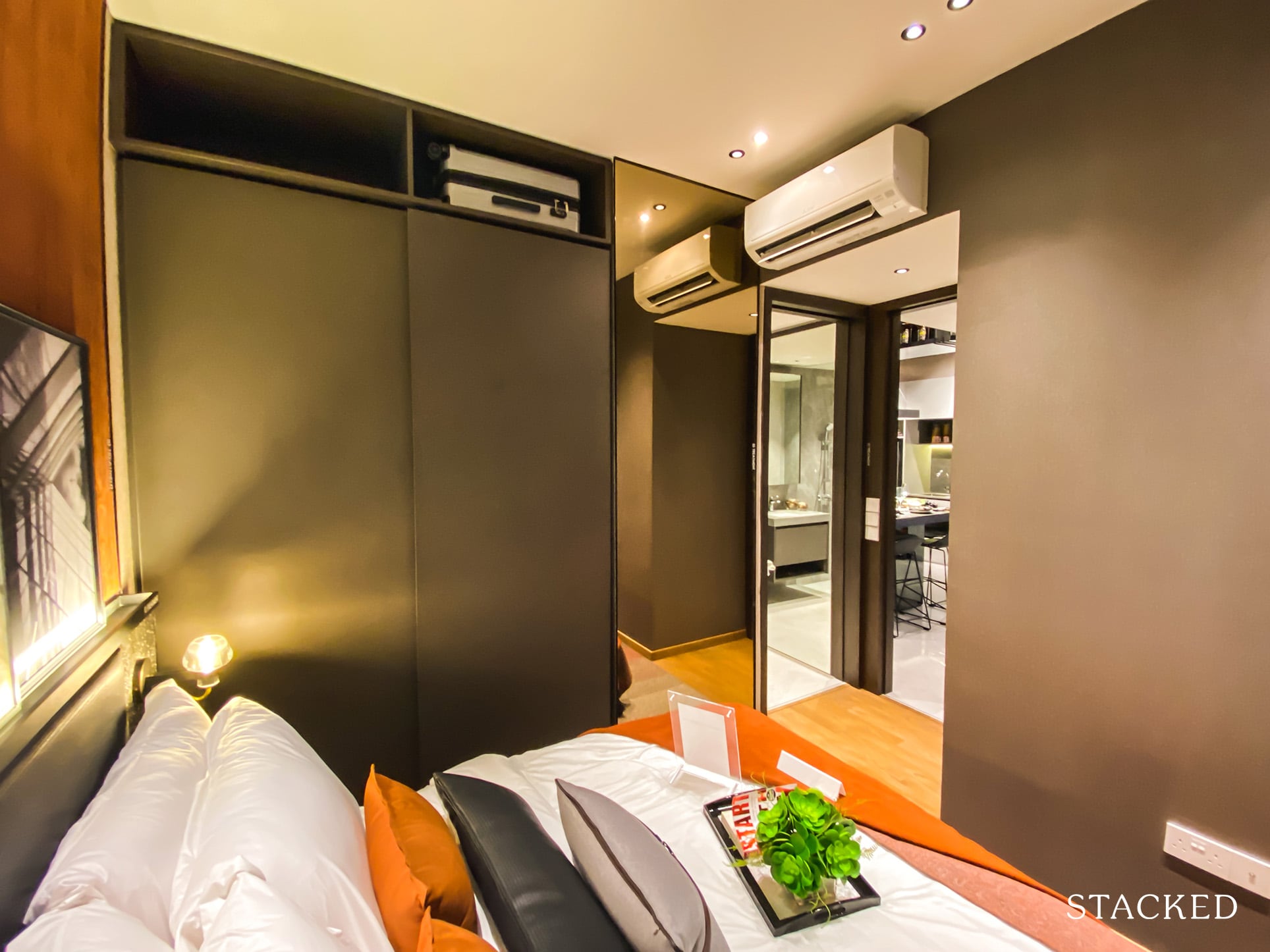 Just to highlight (if you haven't noticed already), there is only one bathroom in this layout.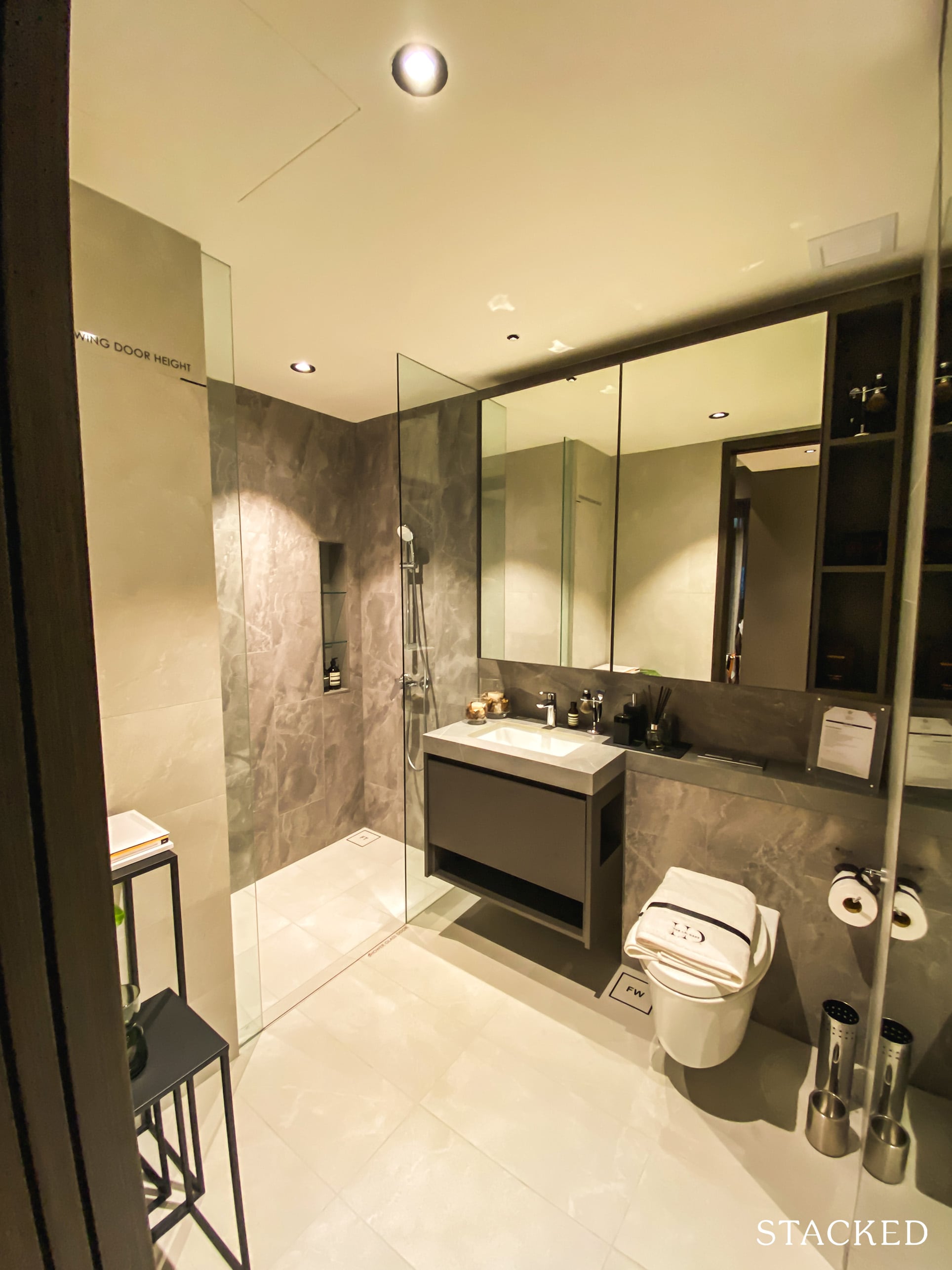 The master bathroom is fortunately bigger than average, which is handy because of the point mentioned above.
Parc Clematis 3 Bedroom Review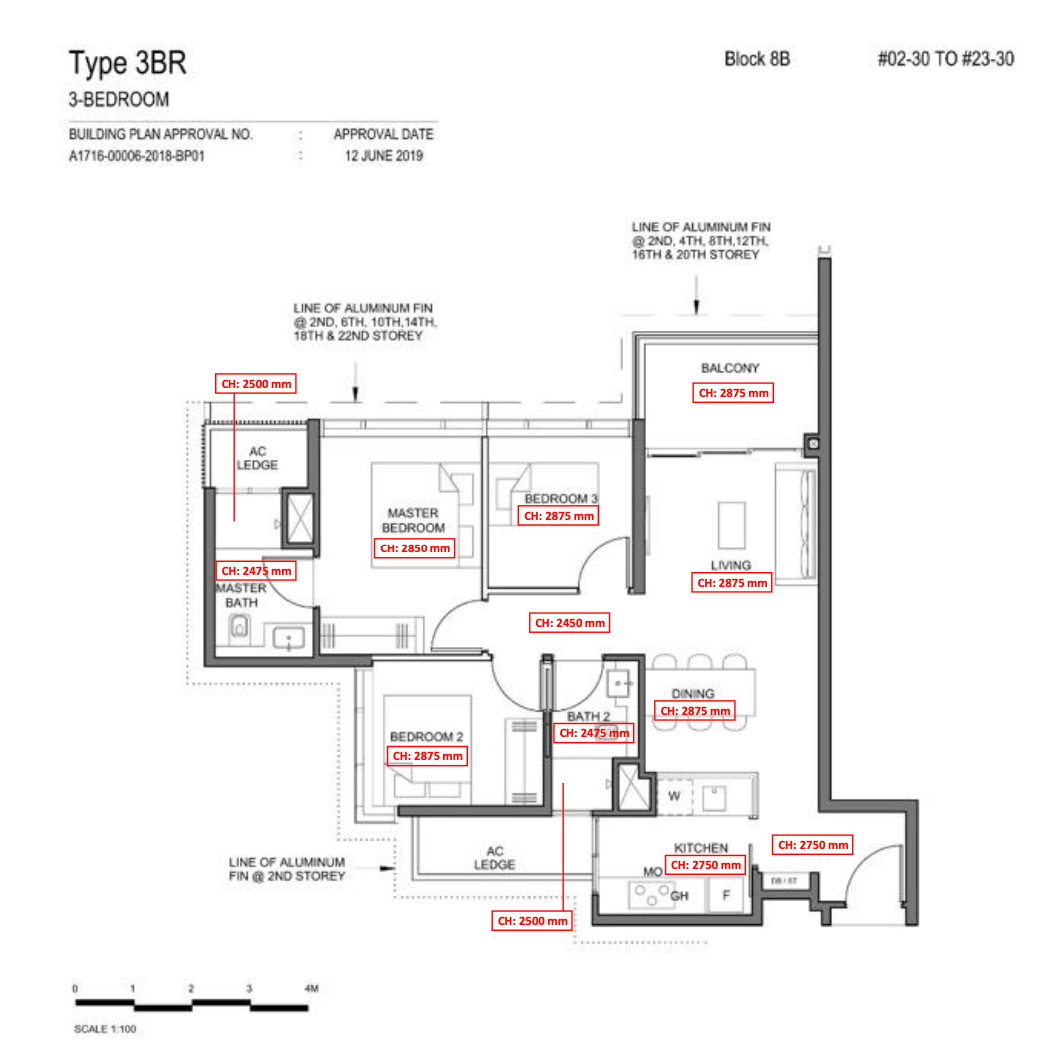 At 893 square feet of space, the 3 bedroom unit at the Parc Clematis is on the small side. As with the two earlier units, the entranceway is totally a wasted space.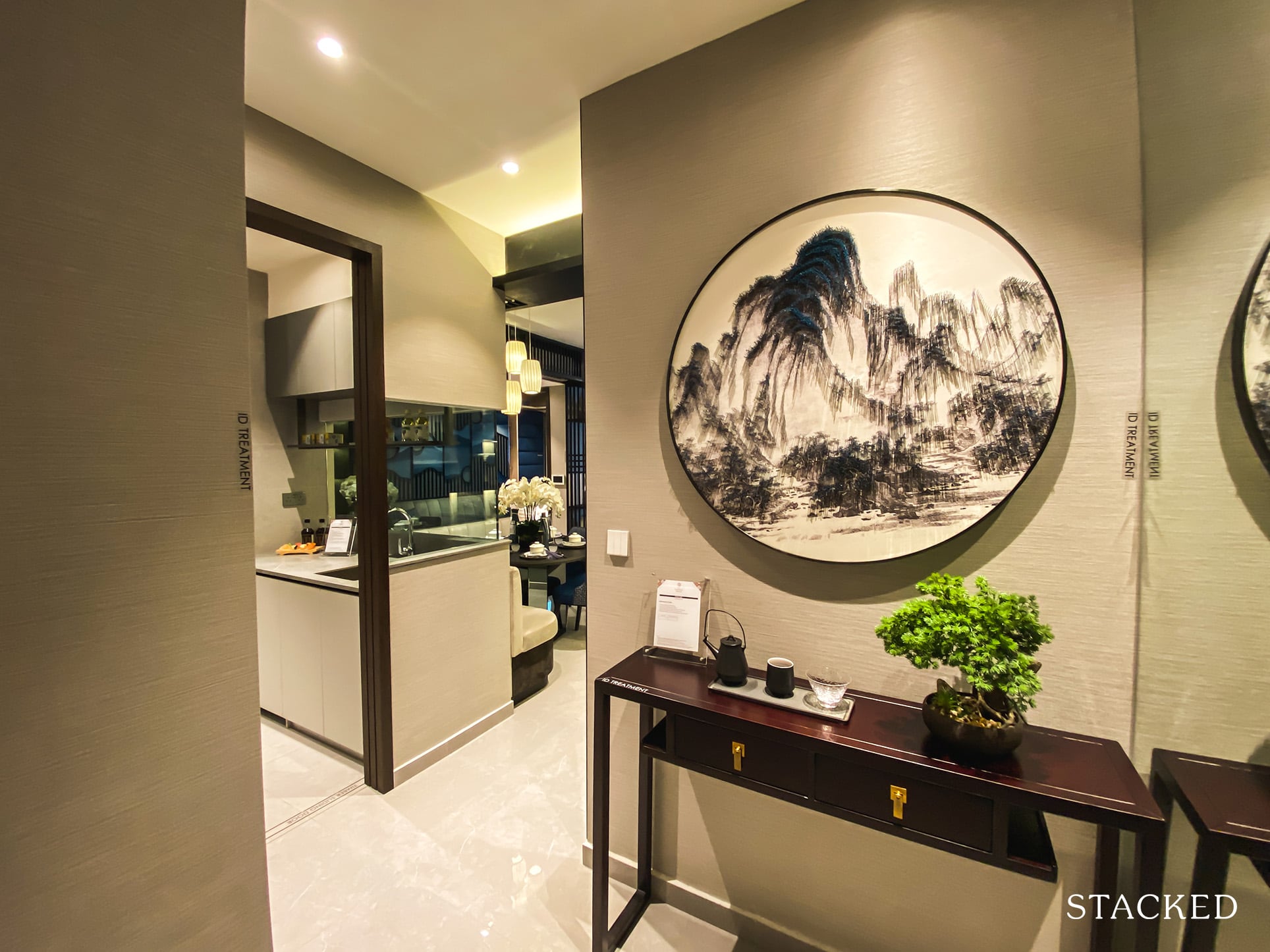 Like I've said in previous reviews, the entranceway has its place for bigger units. But for space-constrained units, it really is precious space that could be better utilised.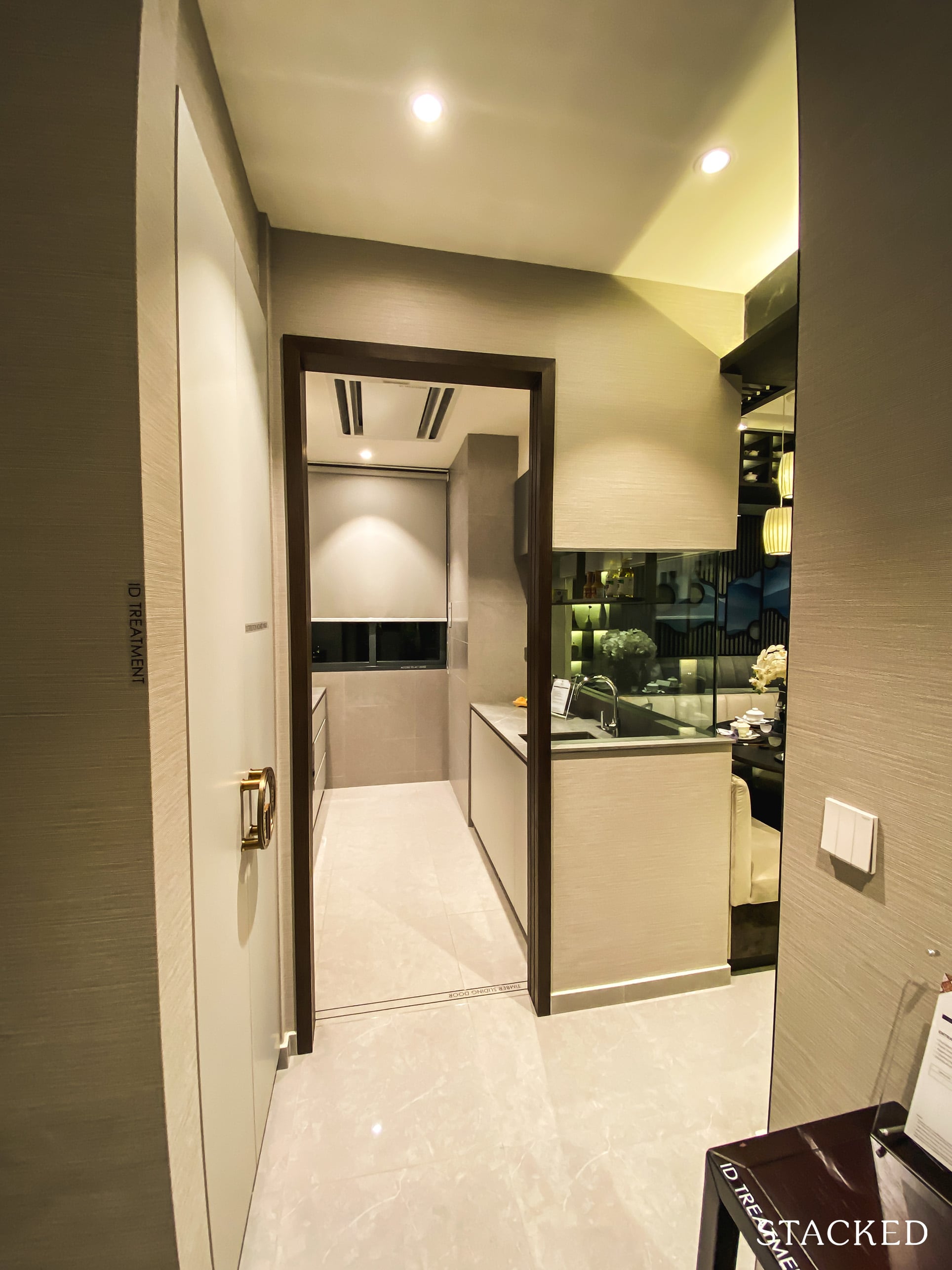 There is storage on the left which is always useful. It's good that it's an enclosed kitchen!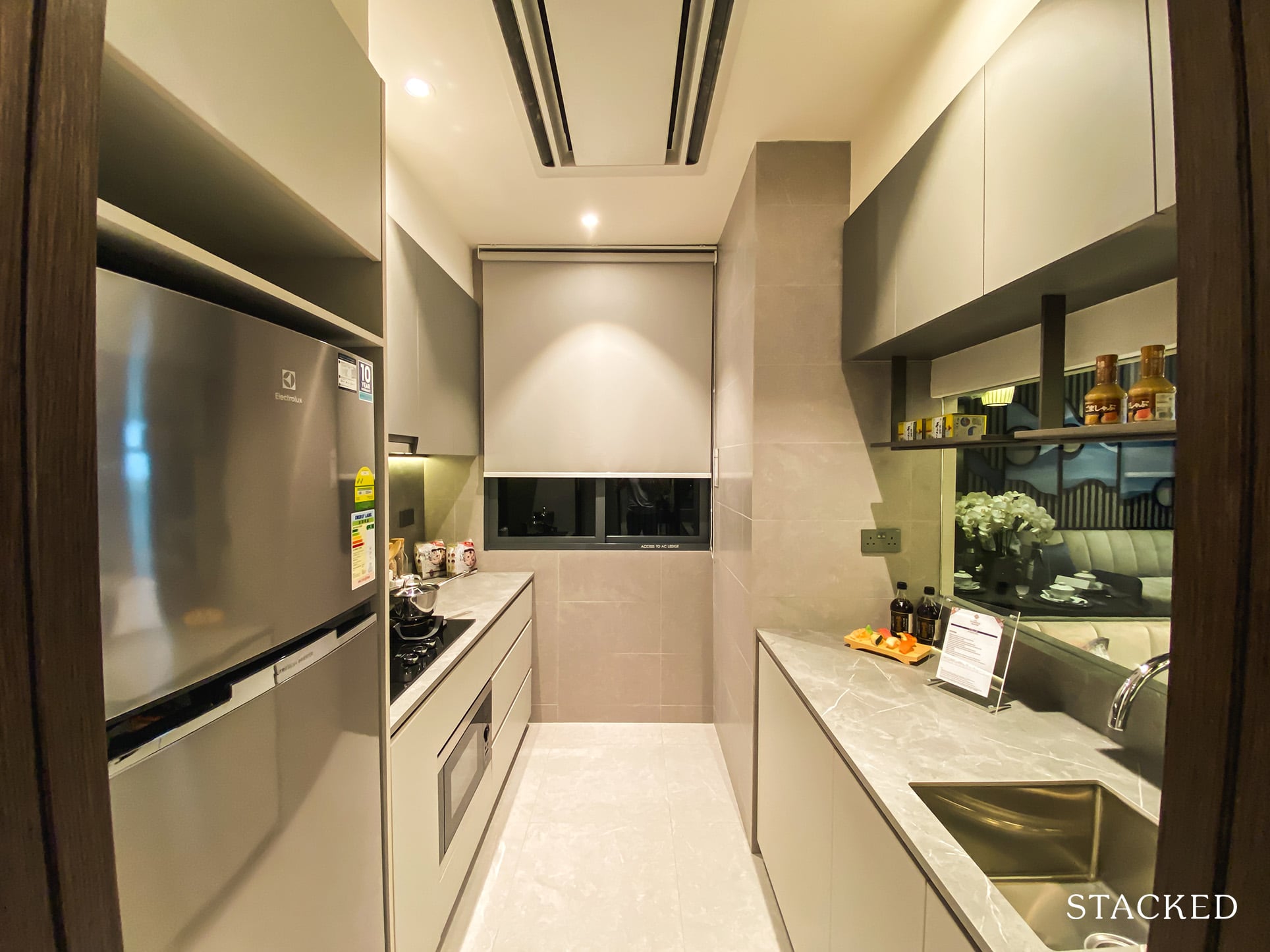 There's decent counter and storage space, although it can get quite cramped if 2 or more people are in here at once.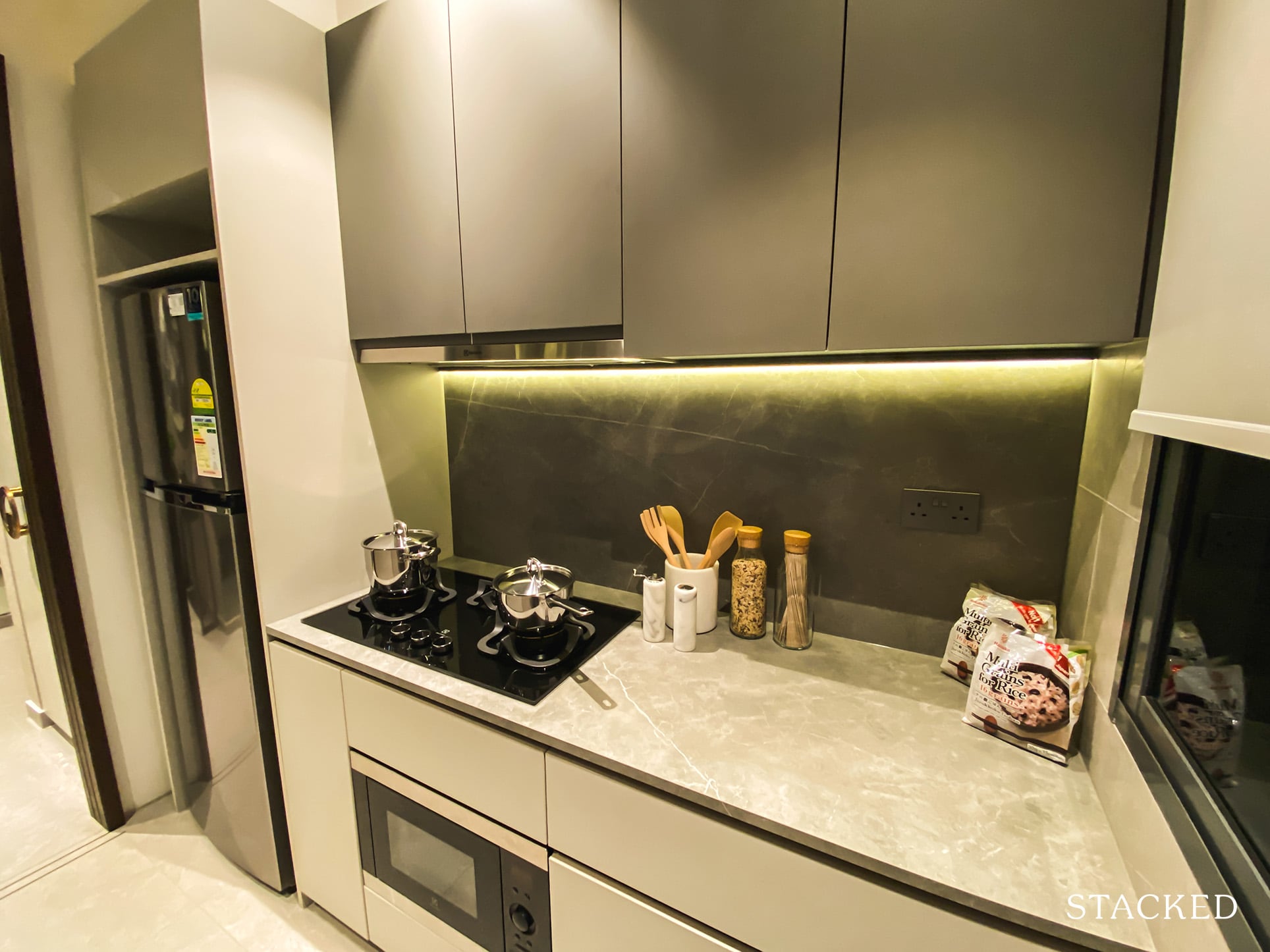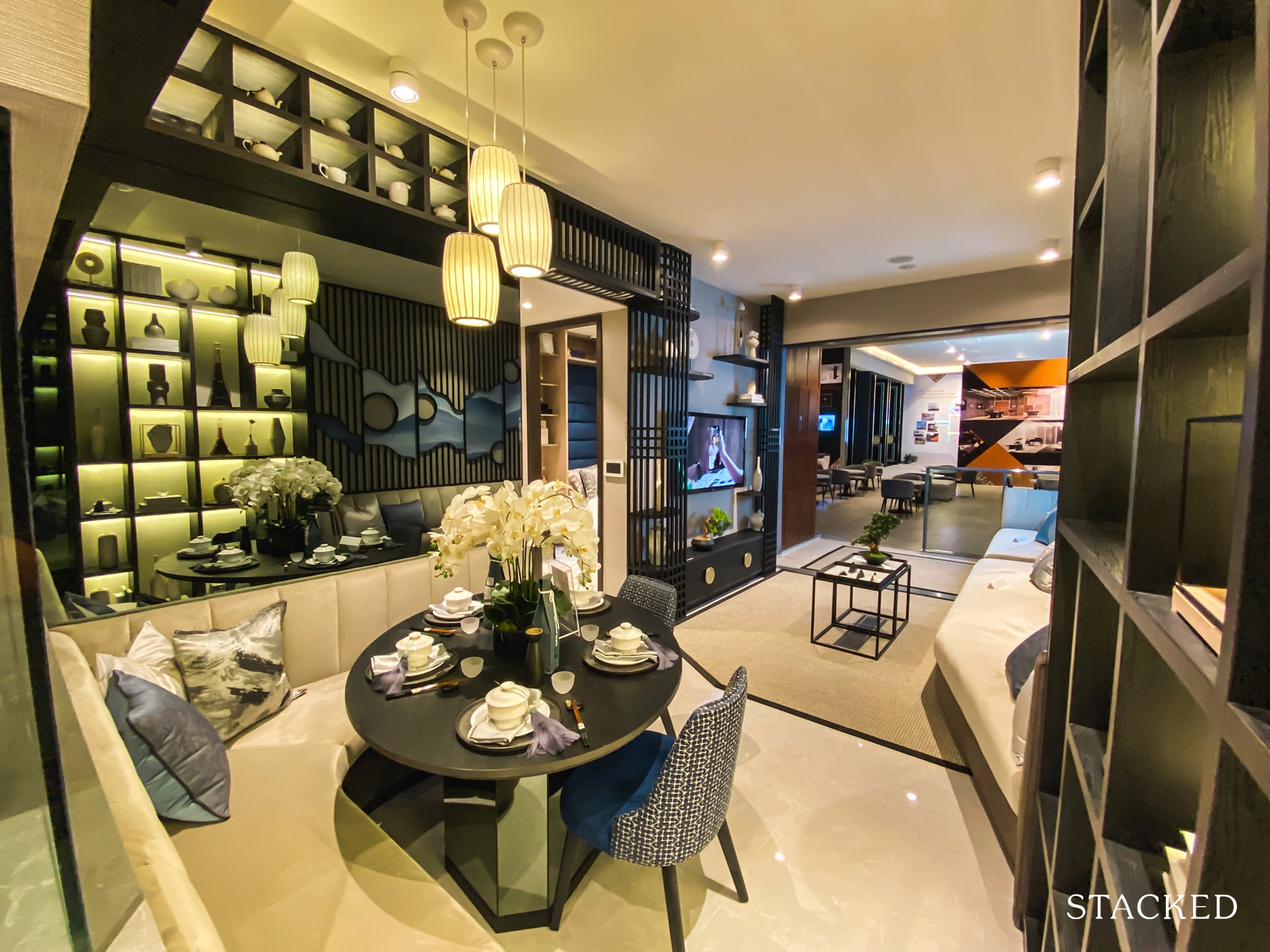 The dining room is small, so you can see that the designers had to resort to bench seating to allow for adequate space for you to walk through to the living area.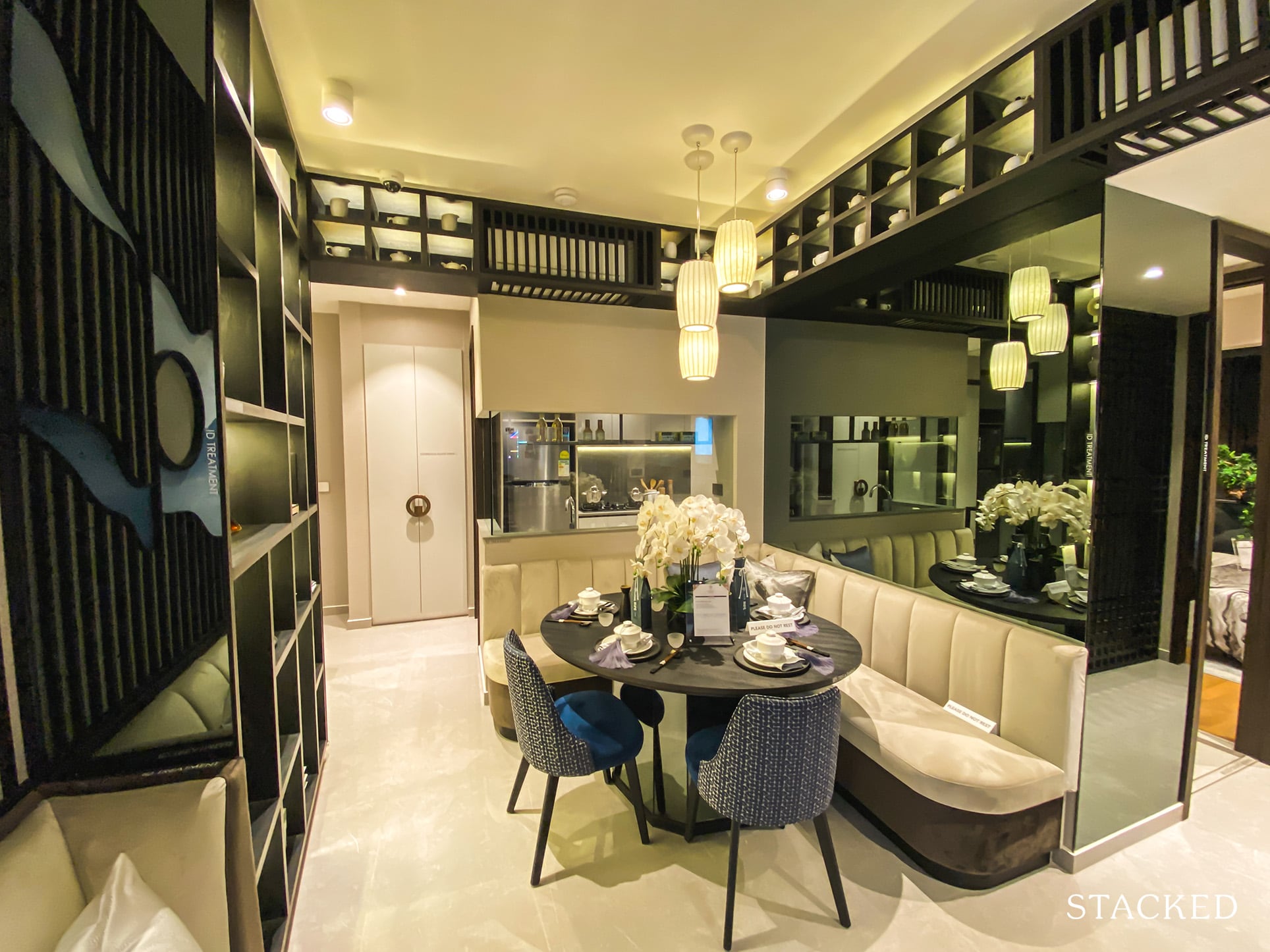 The darkened mirror does help enlarge the visual space more, but similarly to the 1 bedroom unit, the ID here doesn't help its case at all. The additional shelving that lines the top is really impractical and just makes the place look messy and cluttered.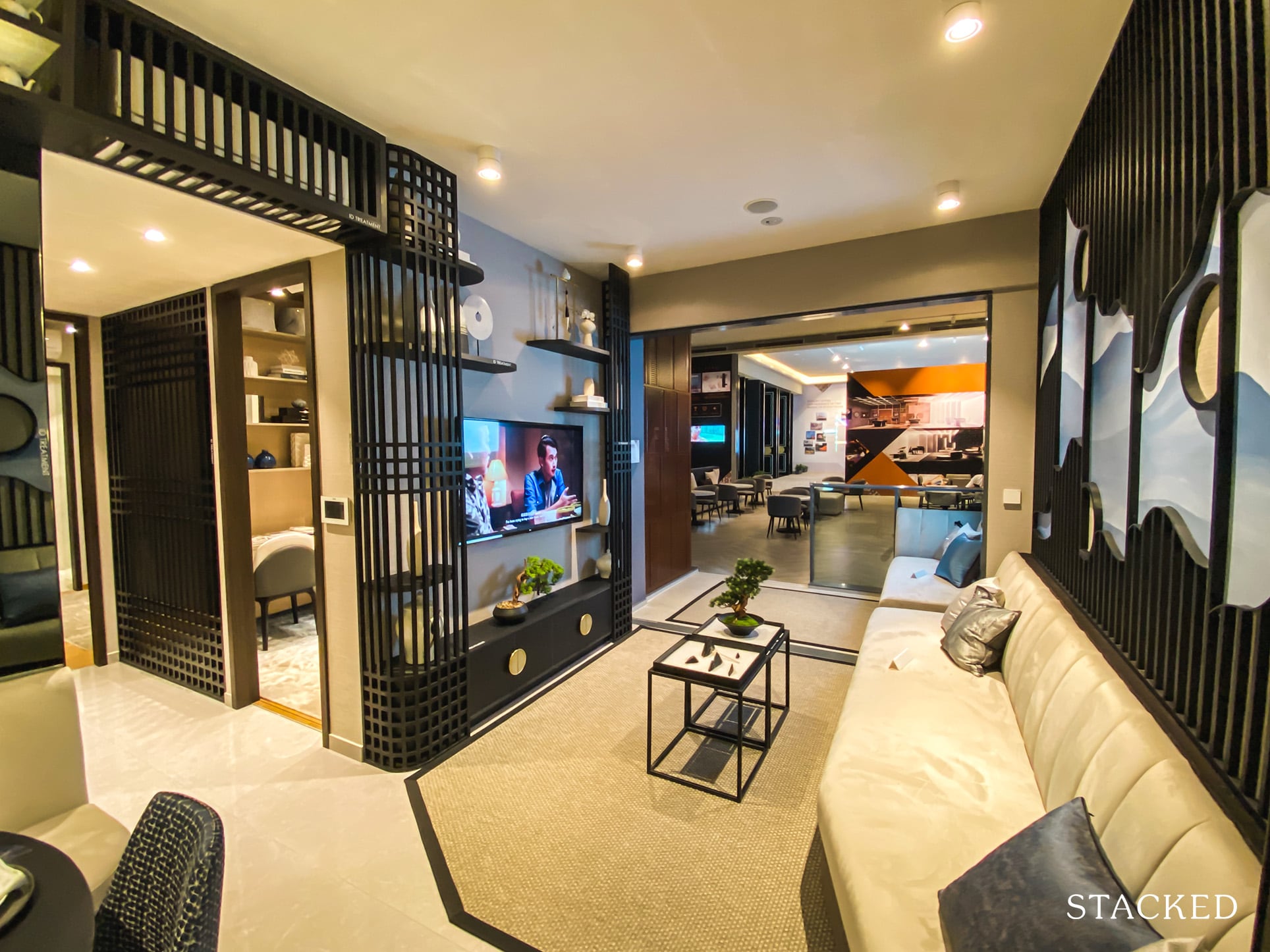 It's the same problem in the living room. The space already isn't big but the overly decorated wall behind the sofa and the lined shelf design really makes the area look extra cluttered.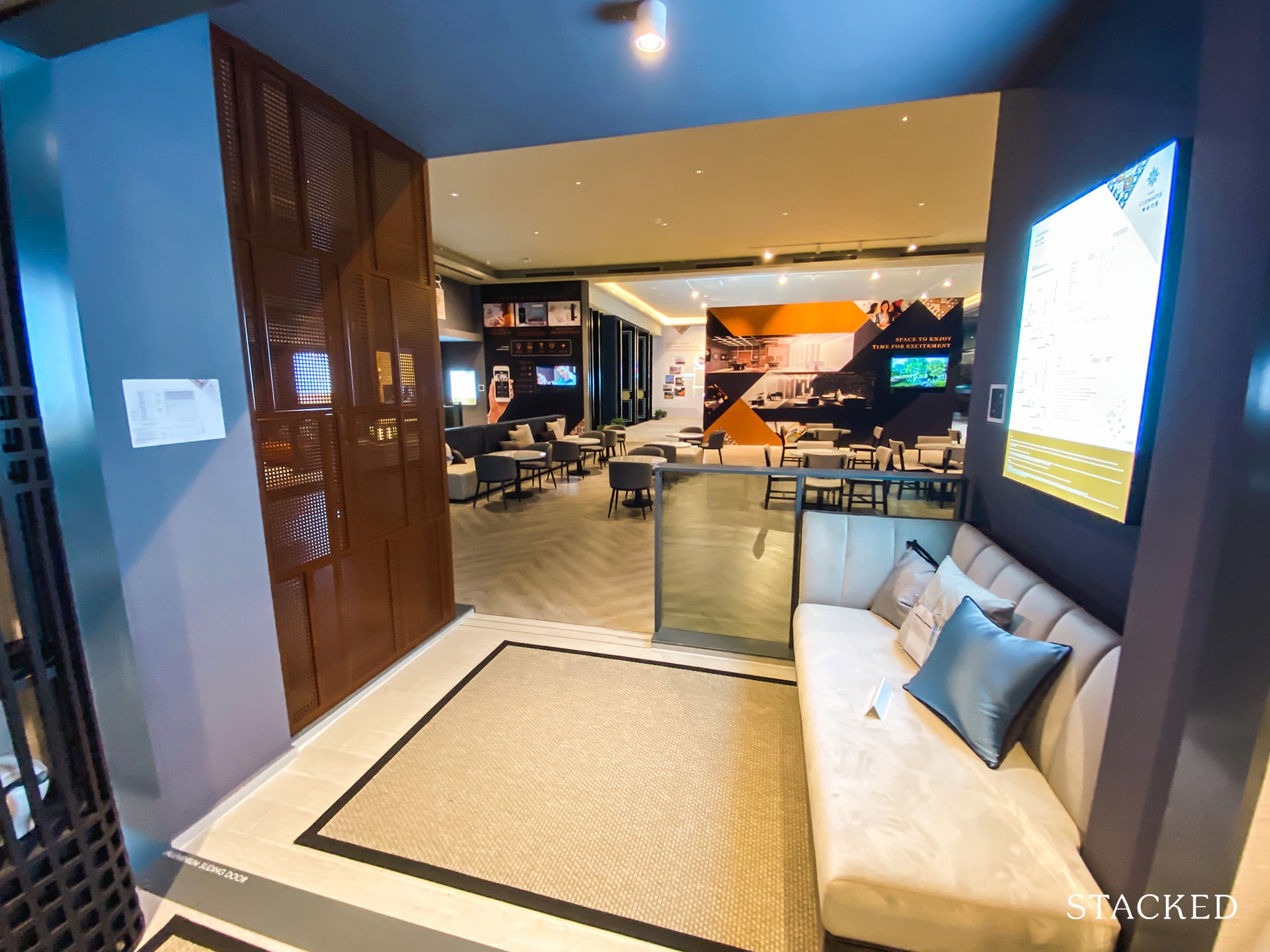 The balcony is not big too, which is great for those who favour indoor space more.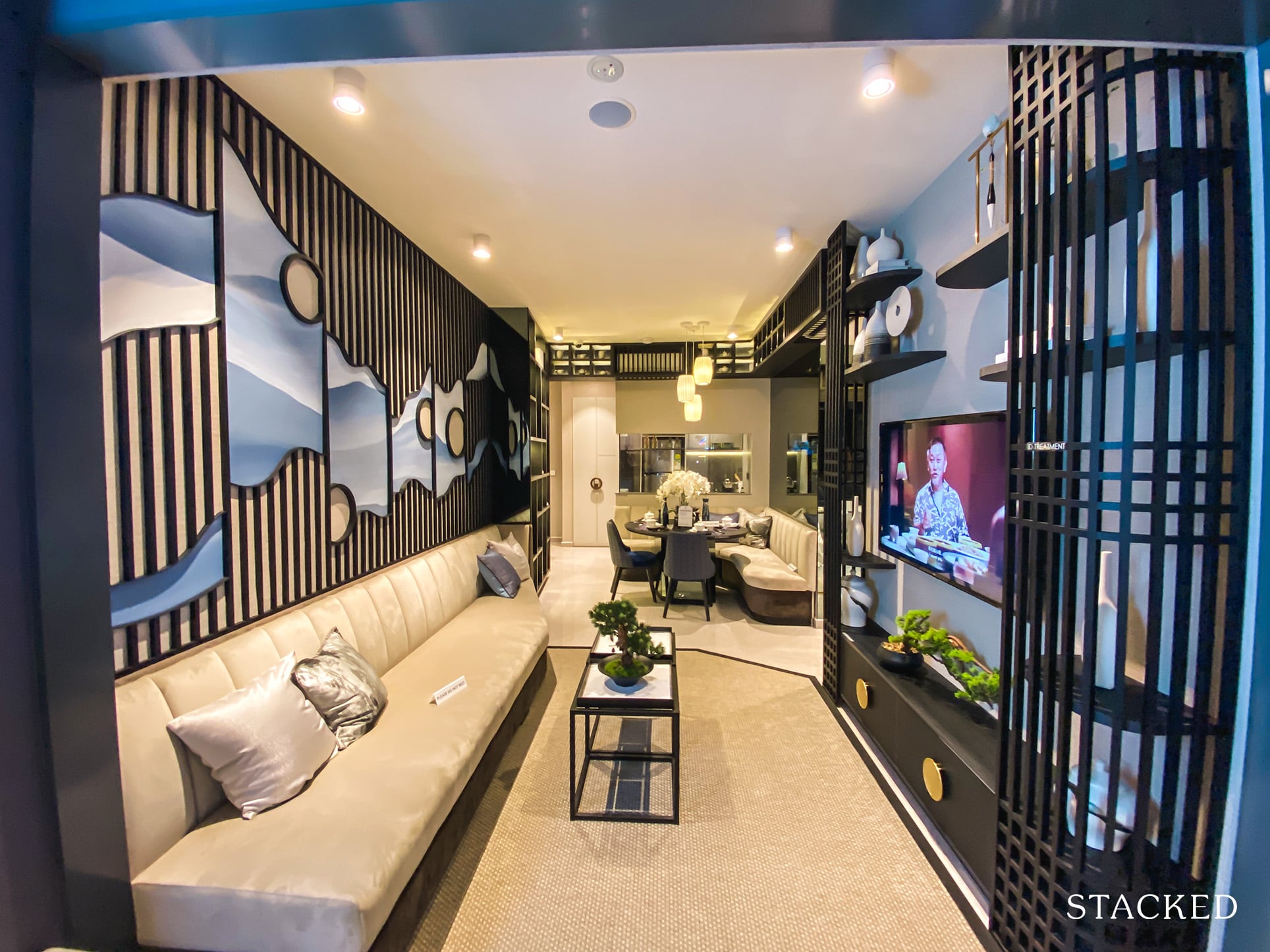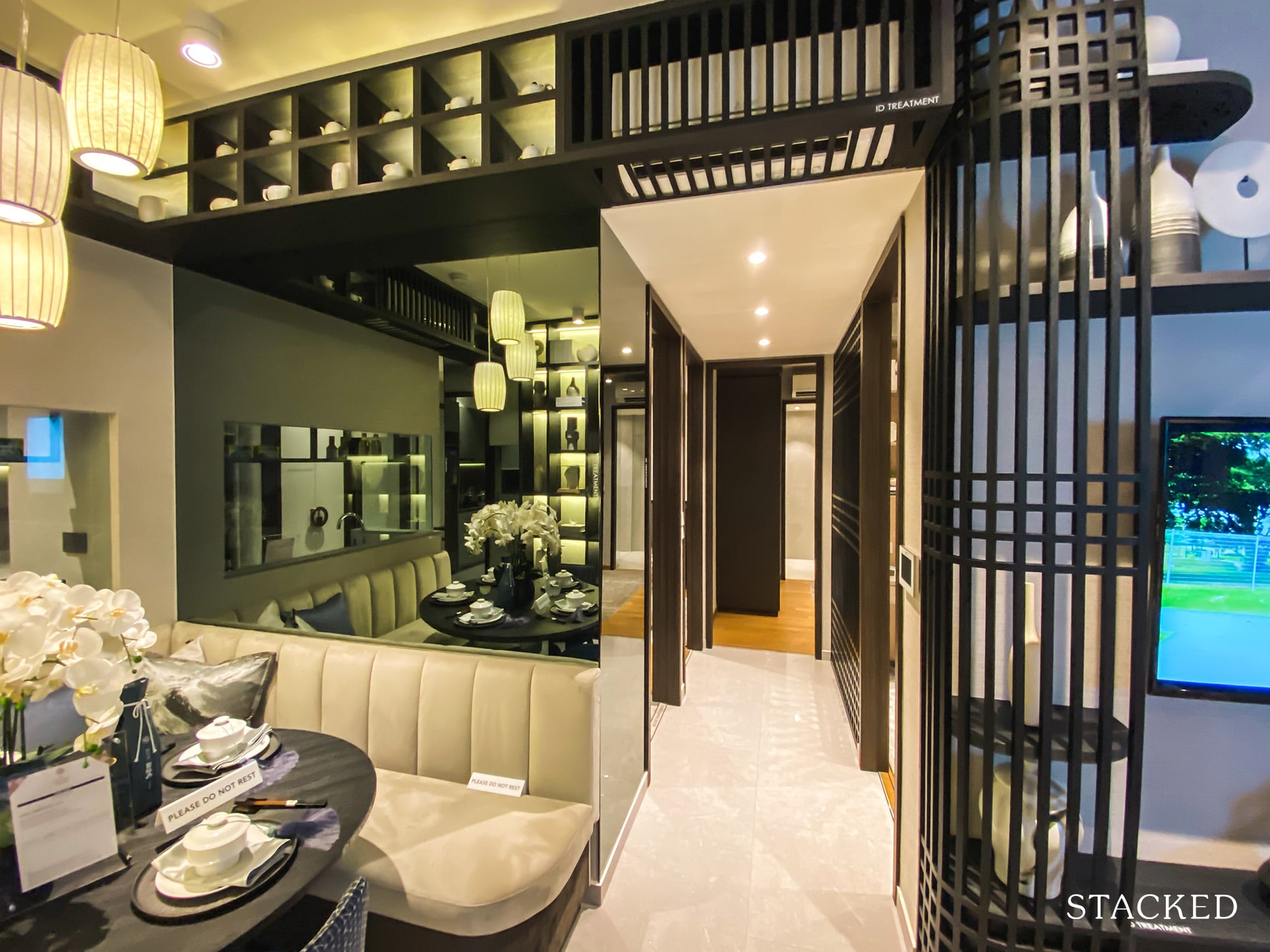 When you look at the hallway down this angle, it is really hard to understand why this was design was considered to be the best representation of the space.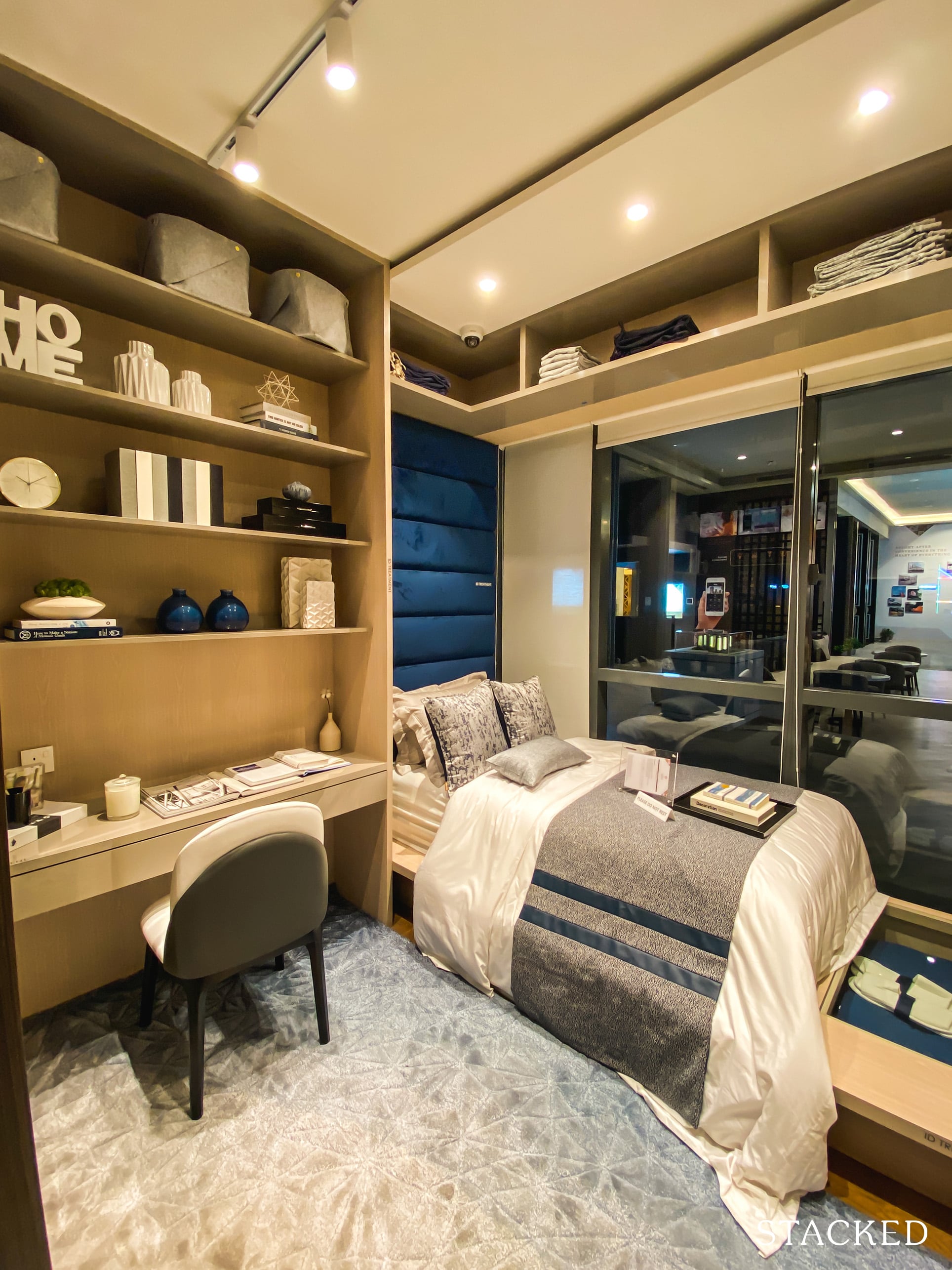 The common bedrooms here are small, with just about enough space for a single bed and a study table.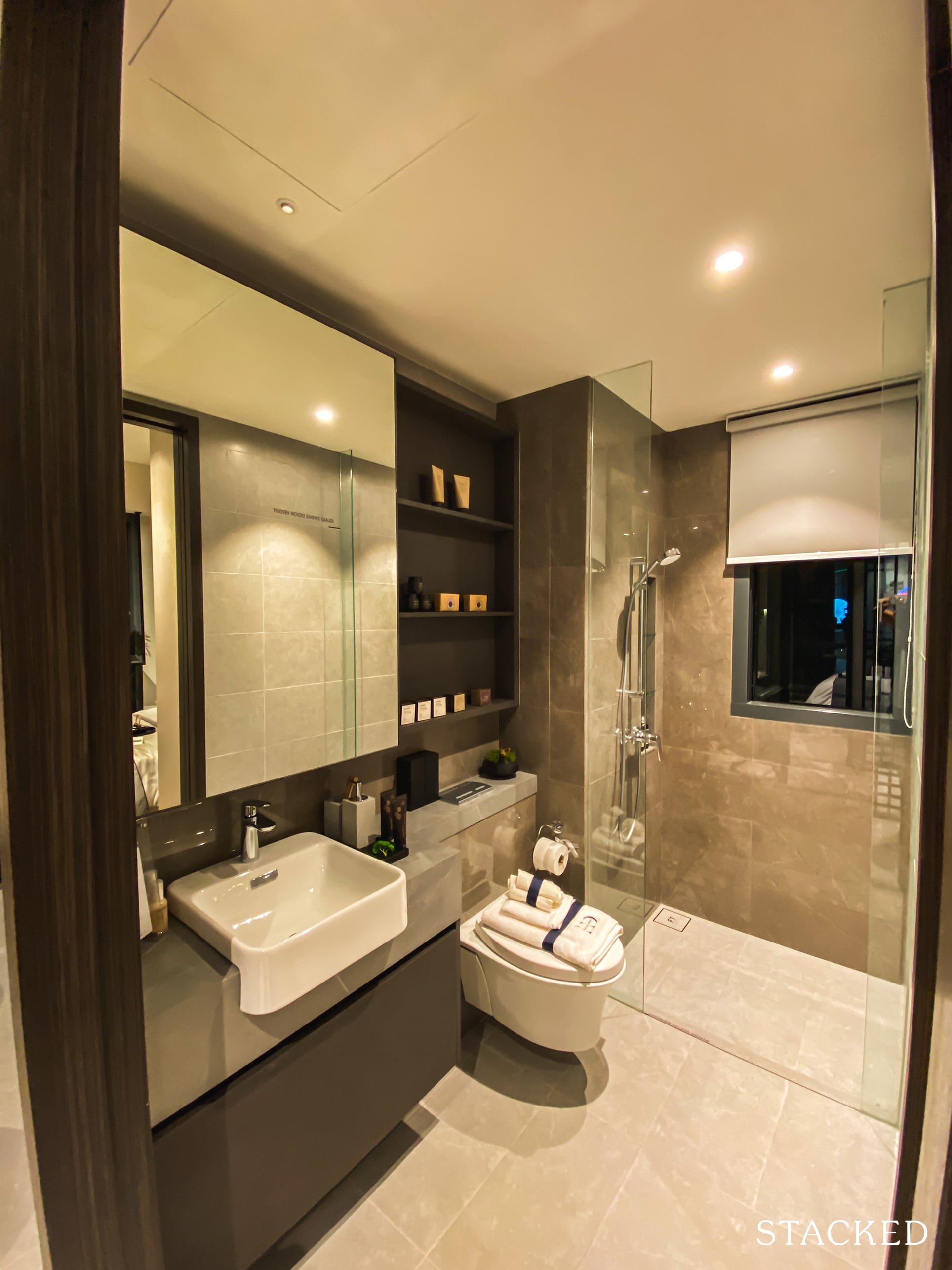 The common bathroom here is of an average size.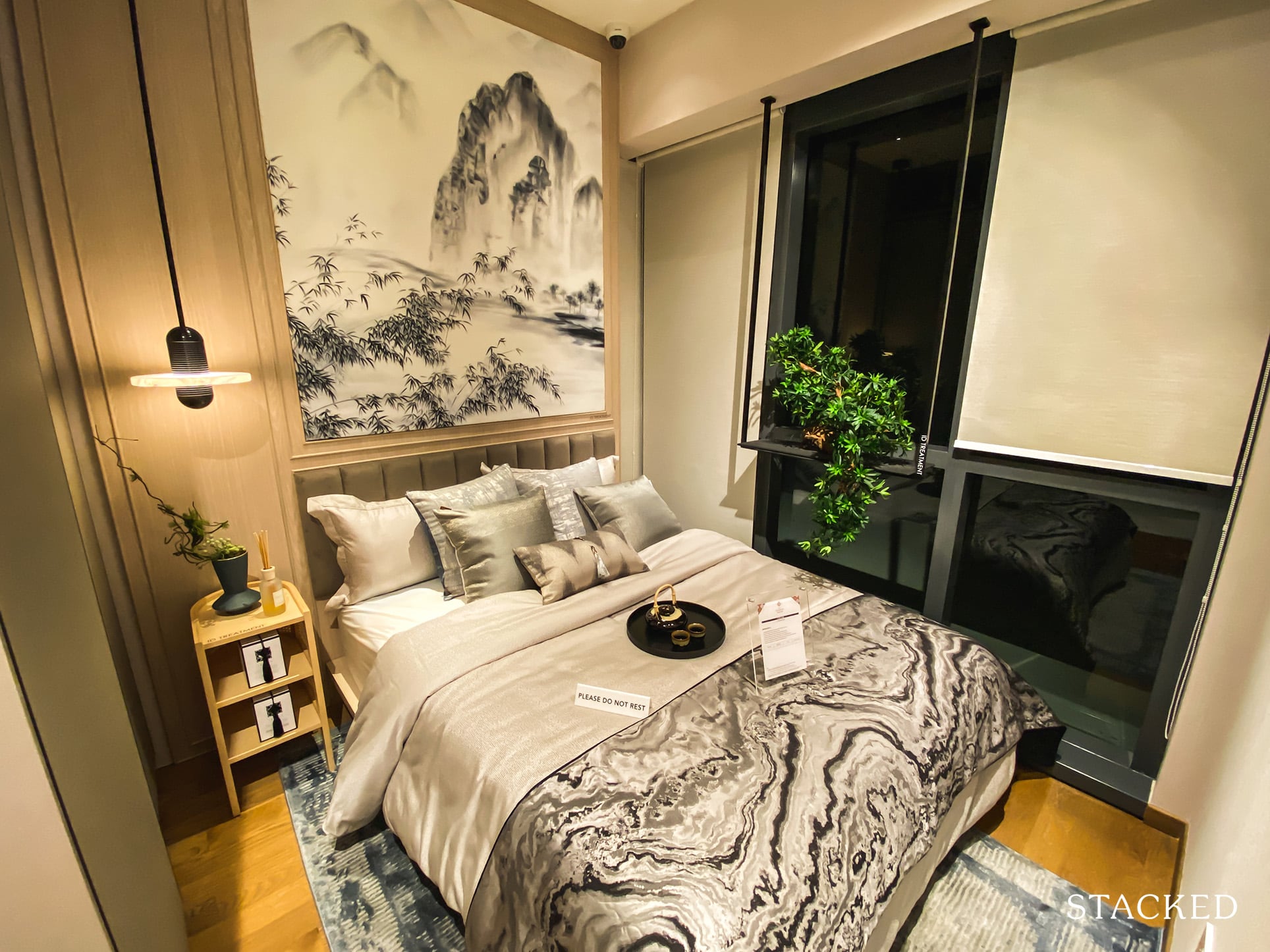 The second common bedroom is bigger, but not by much.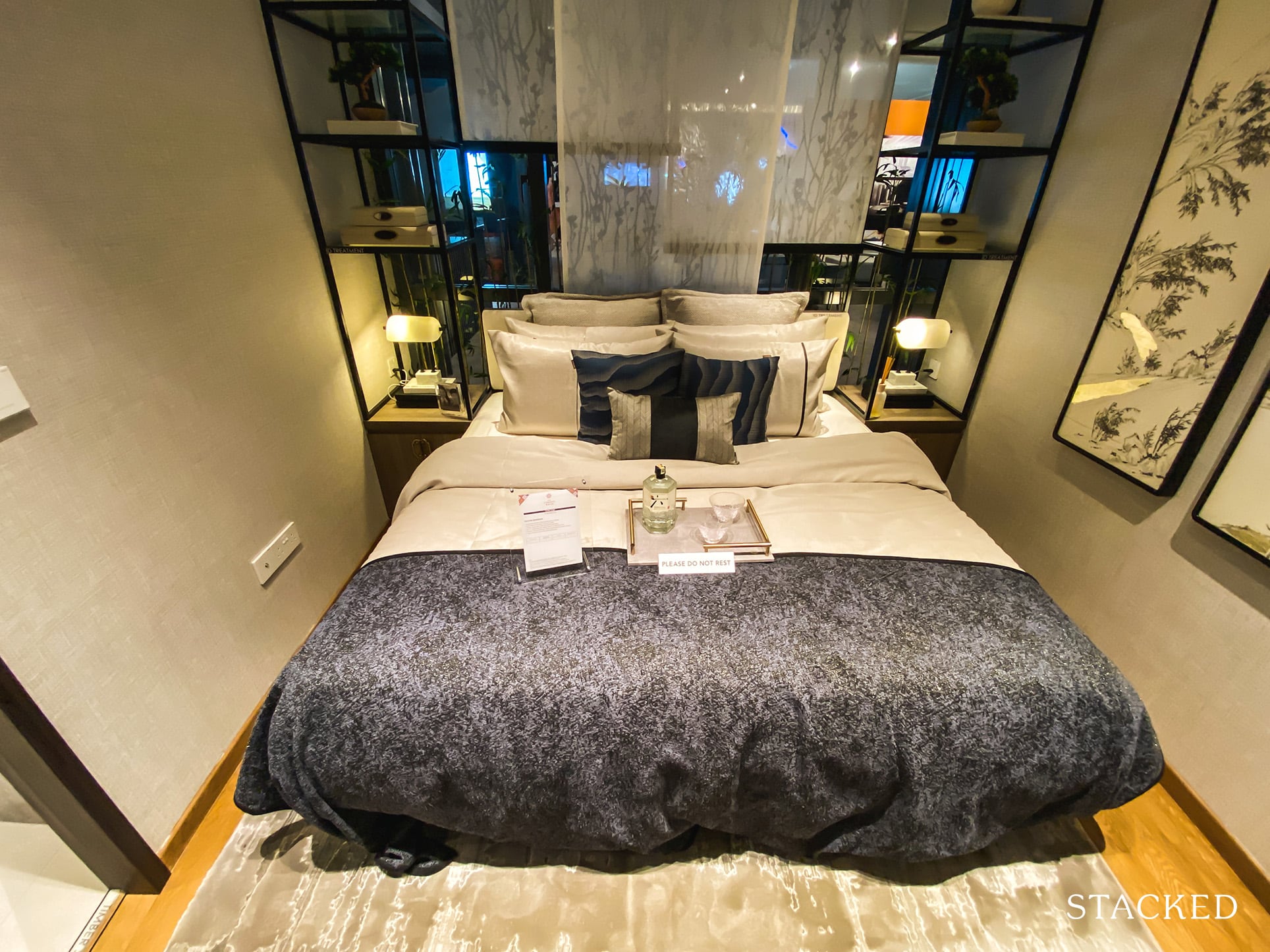 The master bedroom is quite narrow in size but is still able to accommodate a king-size bed.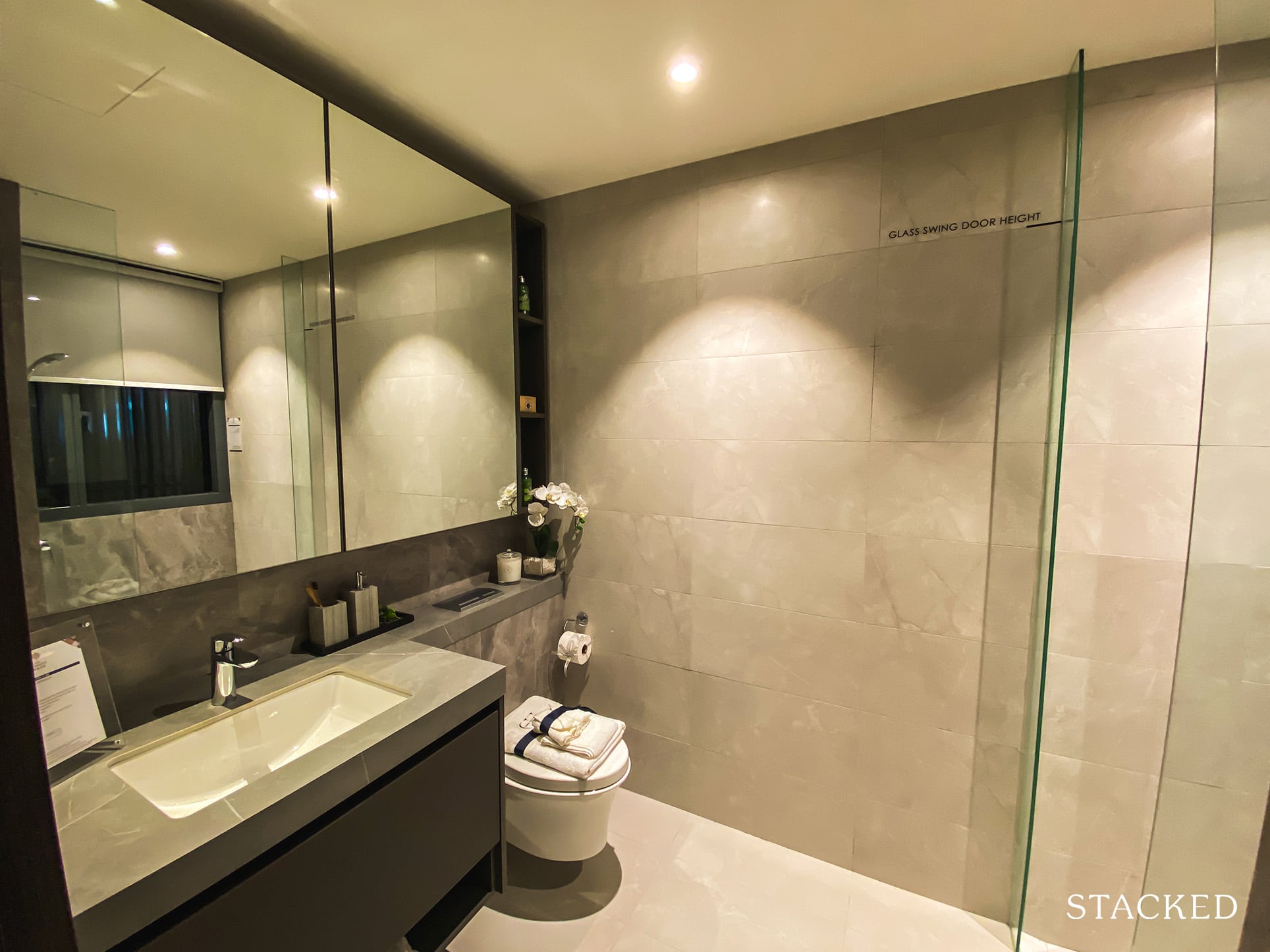 An average sized master bathroom.
Parc Clematis 3 Bedroom Elegance Review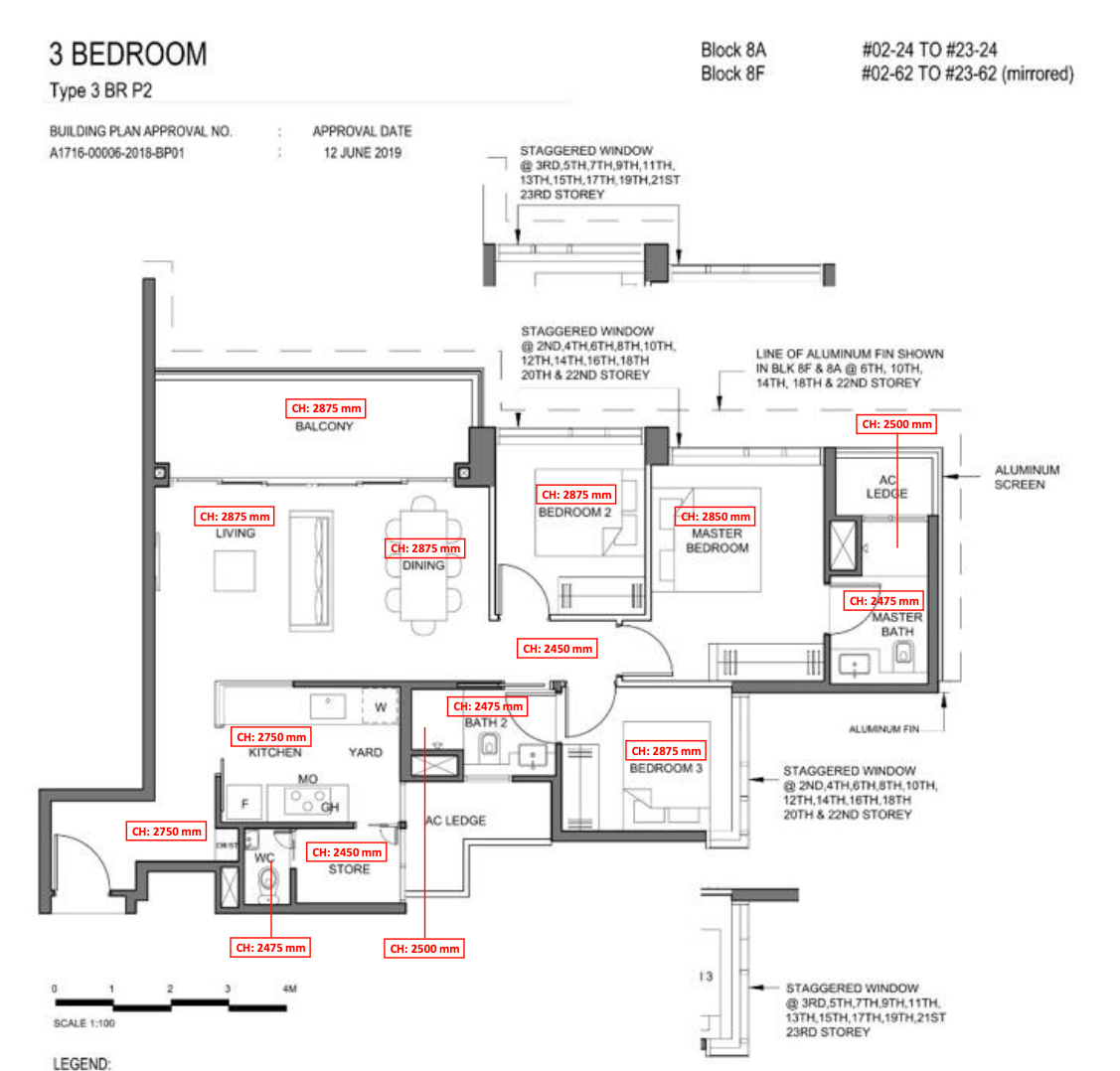 At 1,076 square feet of space, the 3 bedroom Elegance unit at the Parc Clematis is just about average in today's context. The layout is most efficient, with the same issue as having an unneeded entranceway.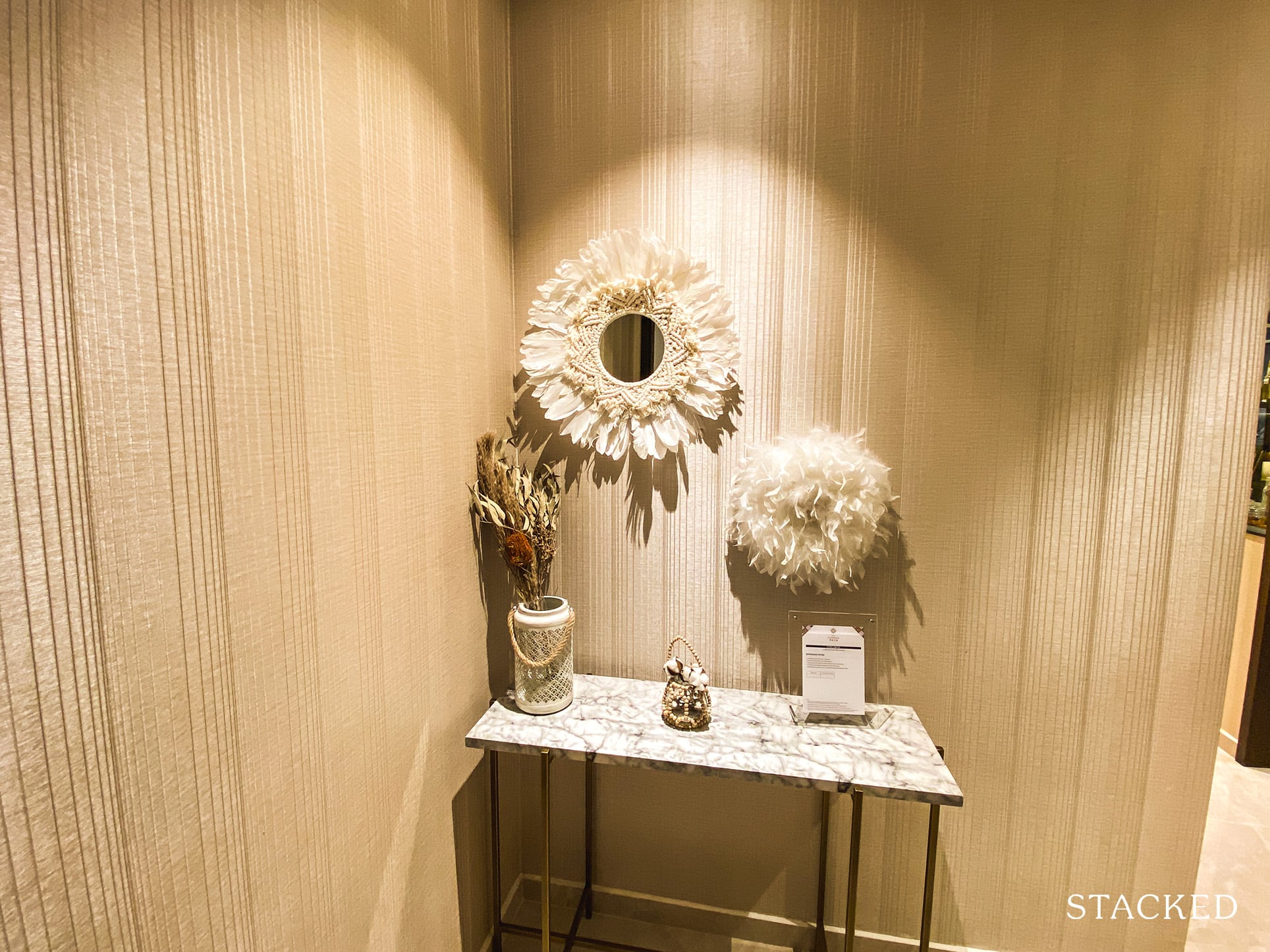 As with the other units that you've seen, the entrance to the 3 bedroom unit takes up quite a bit of space and is really just not needed in my opinion.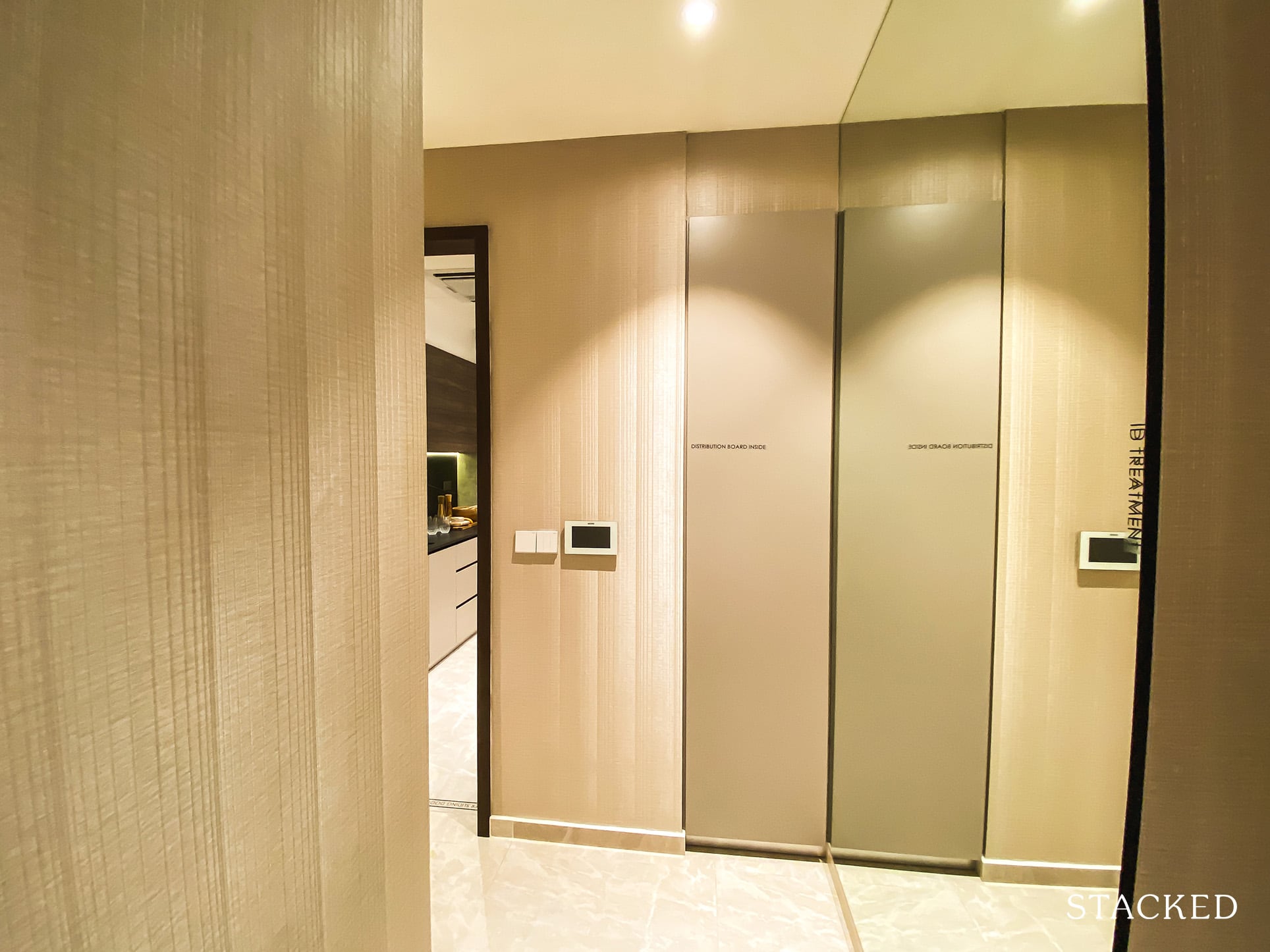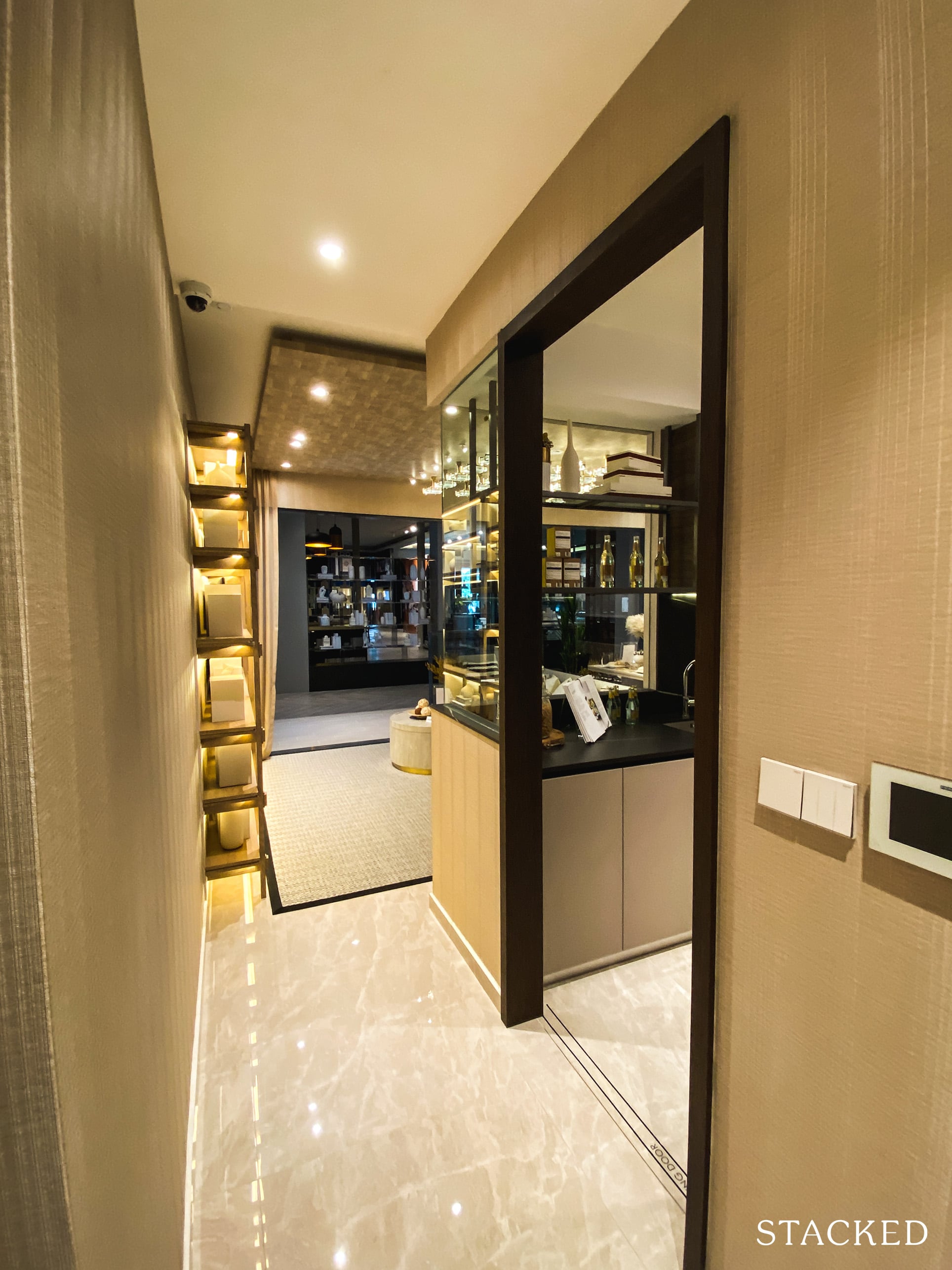 Once you turn in you are greeted by the sight of the kitchen and a partial view of the living room.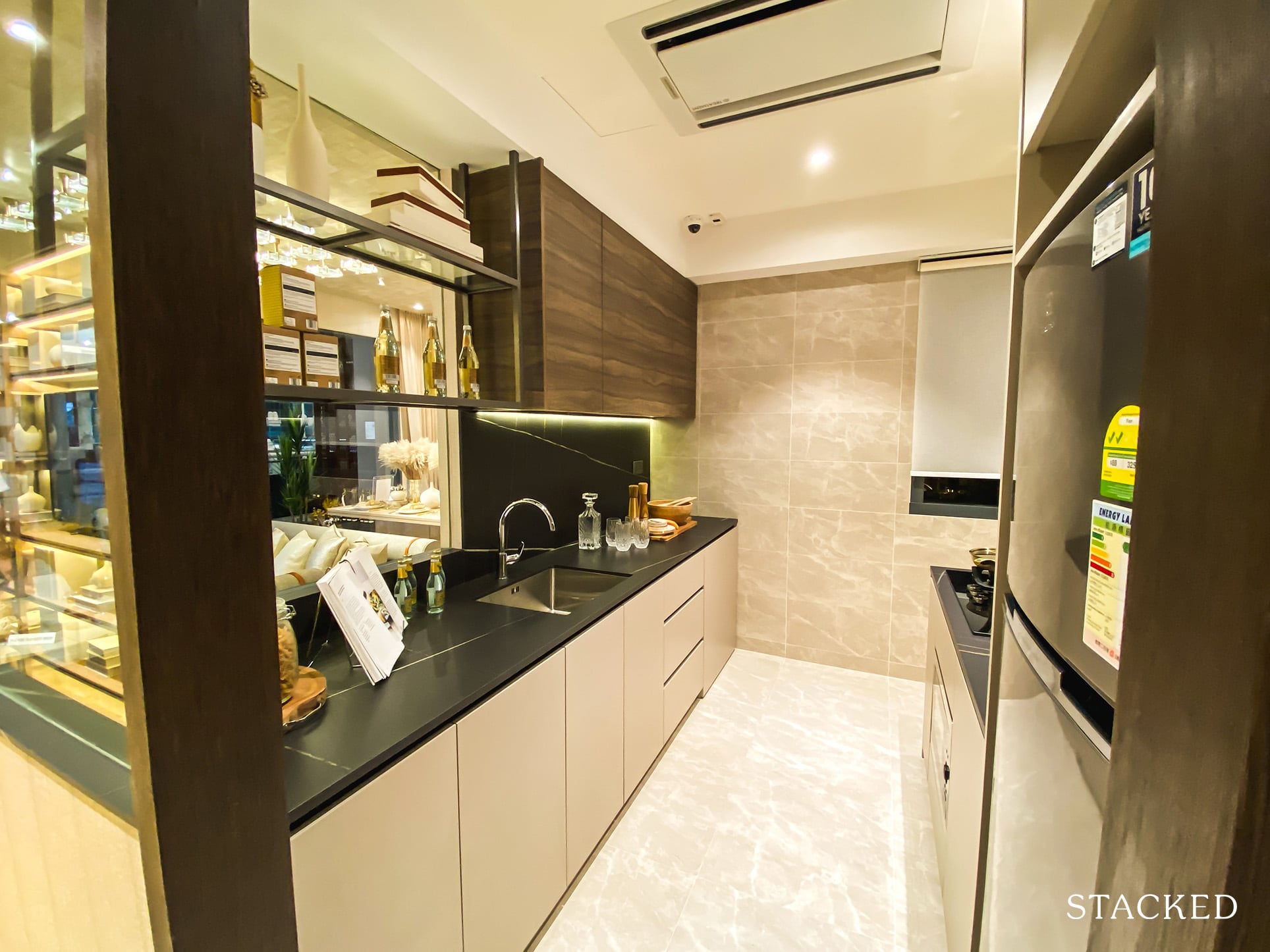 The kitchen in this 3 bedroom unit is a great size with long countertops and lots of storage. Plus it is enclosed which is always more convenient for proper cooking.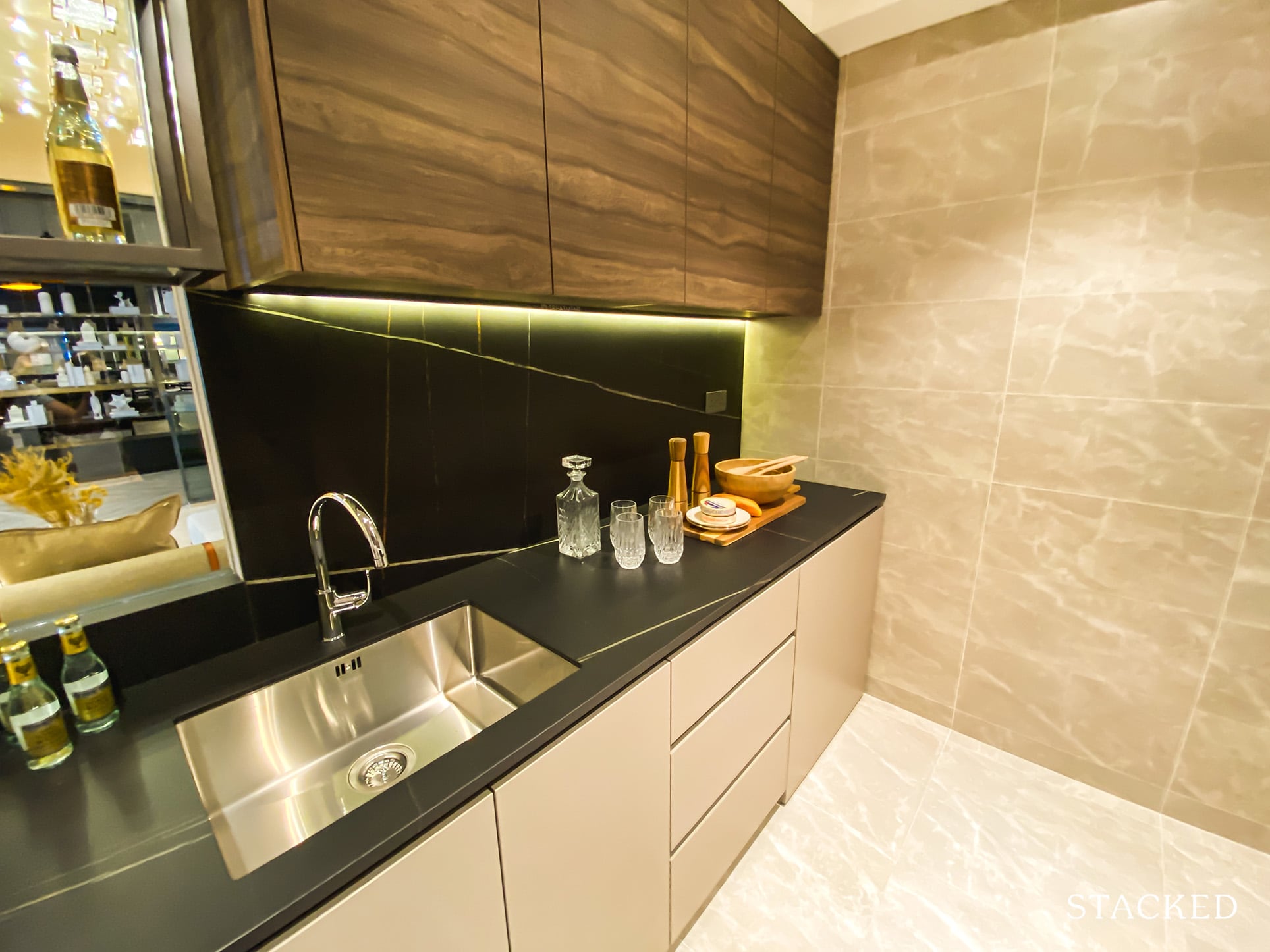 Because it's an Elegance unit, the kitchen counter gets special treatment with its smooth matte black finishing. The final effect is quite nice, it feels suitably premium and high quality to the touch.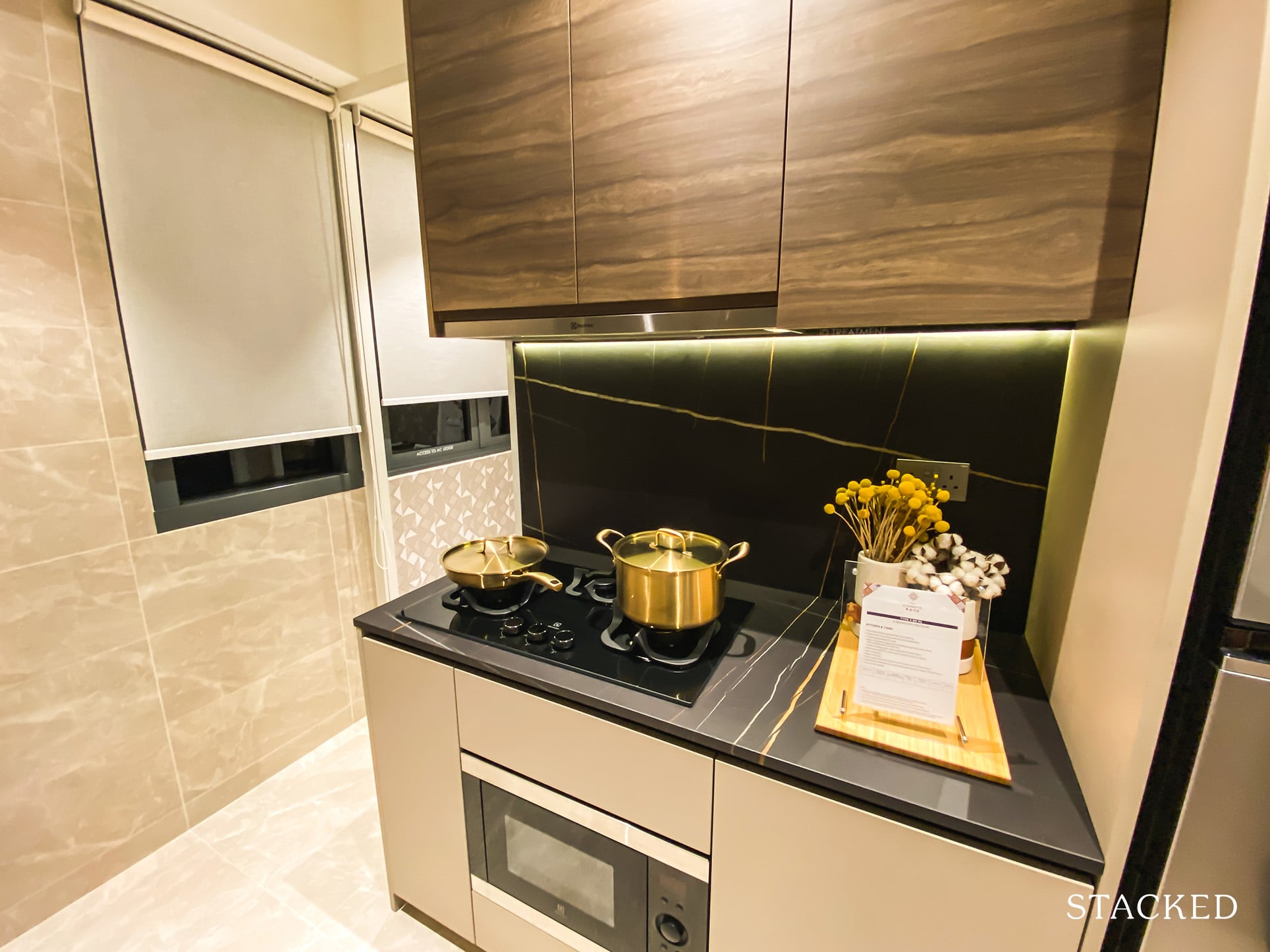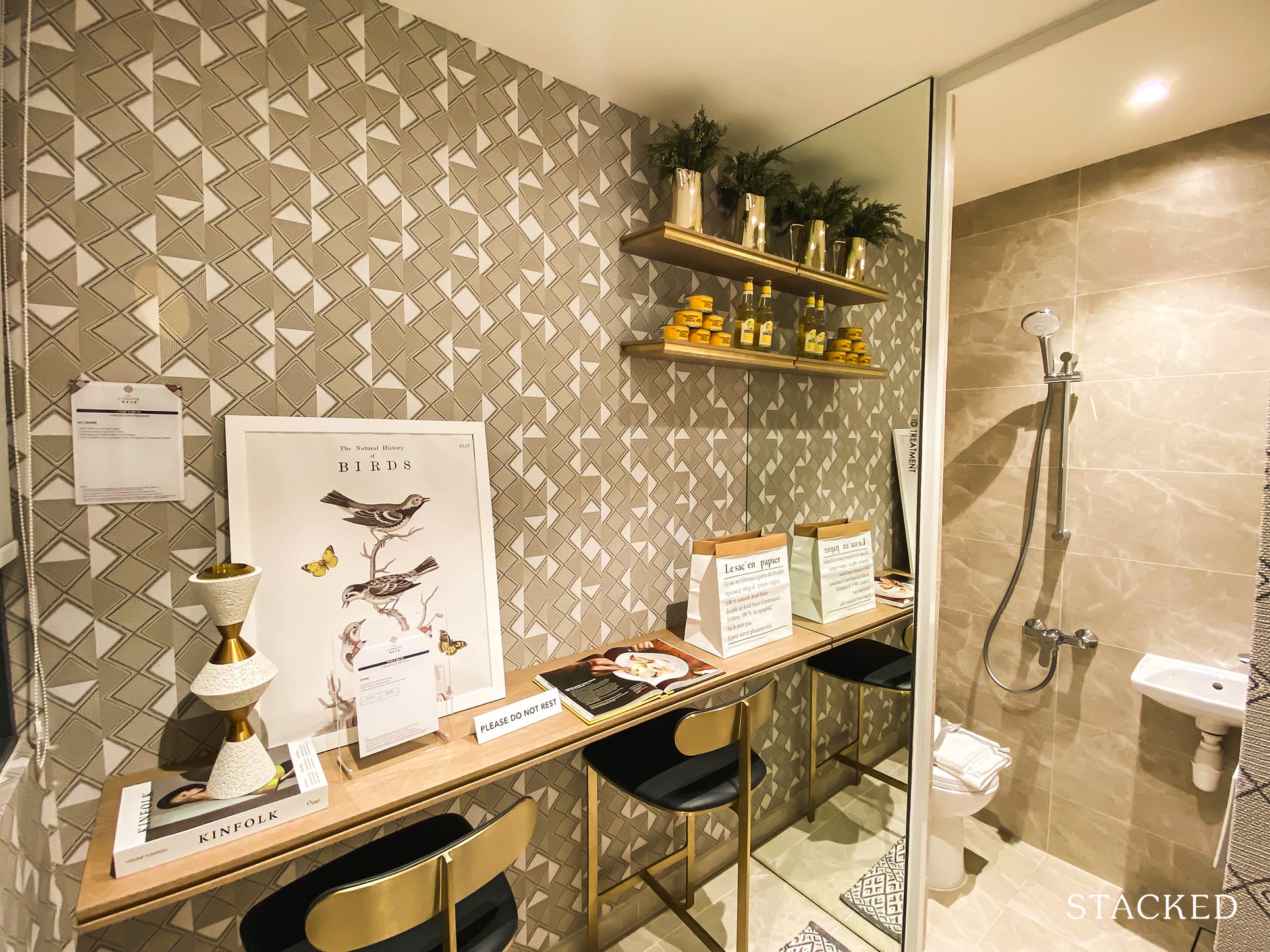 The back of the kitchen is a store/helper's room. You could also use it as a utility area, or in this case, a study room.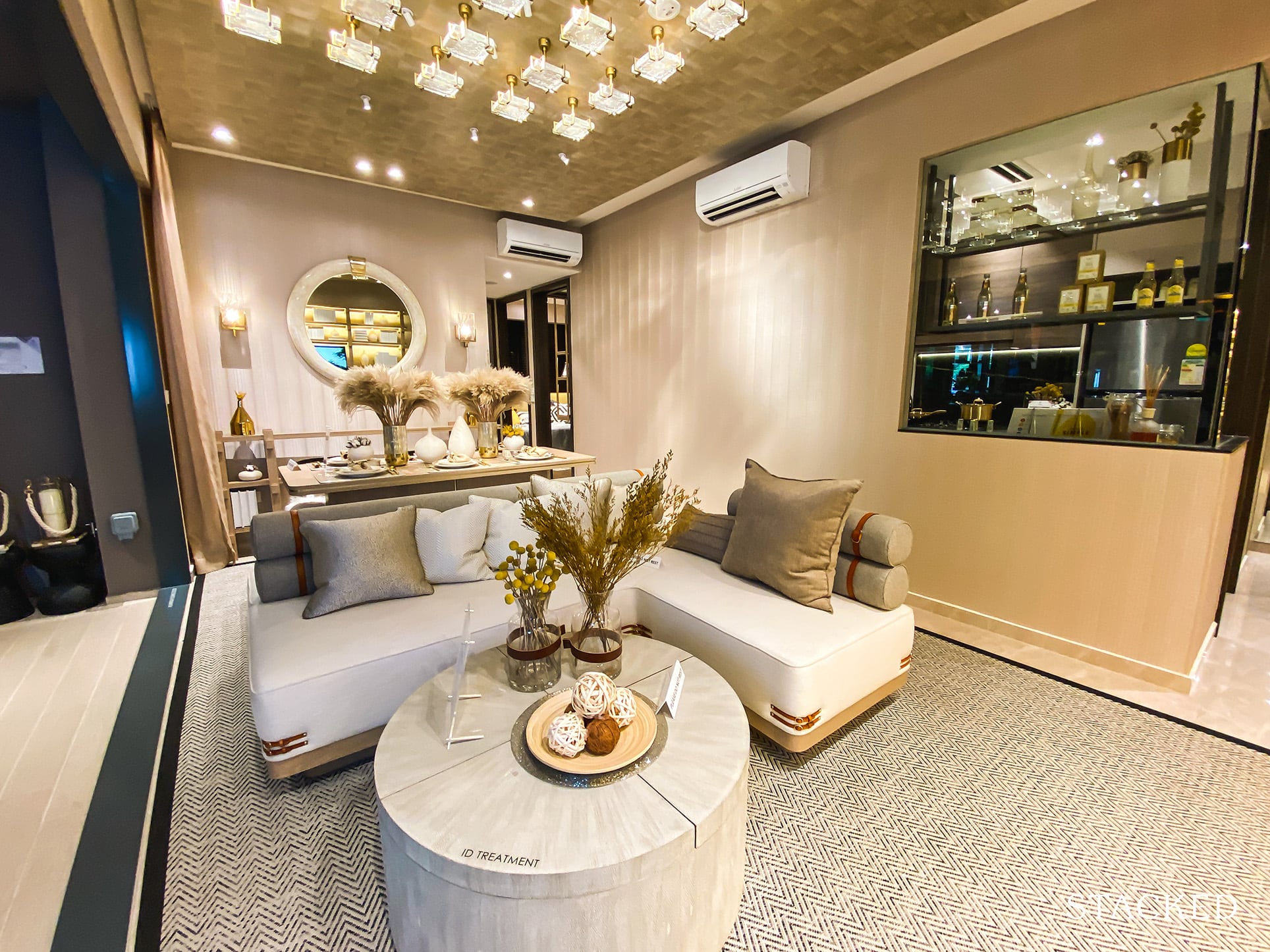 The living room in this 3 bedroom Elegance unit is actually very decently sized.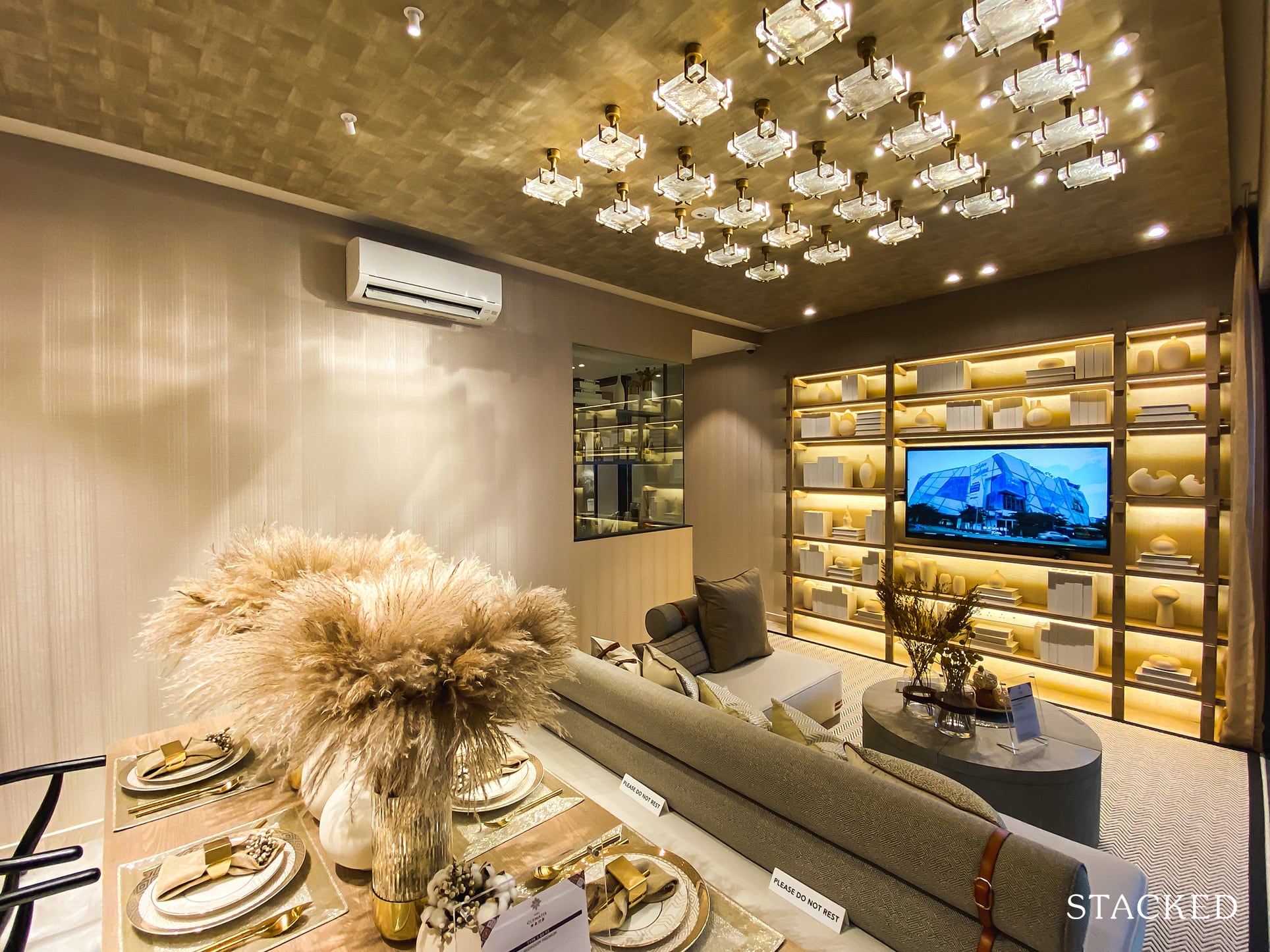 The design in this ID unit does live up to its "Elegant" billing. But personally, there is way too many decorative pieces that make the place look more cluttered than it has to be.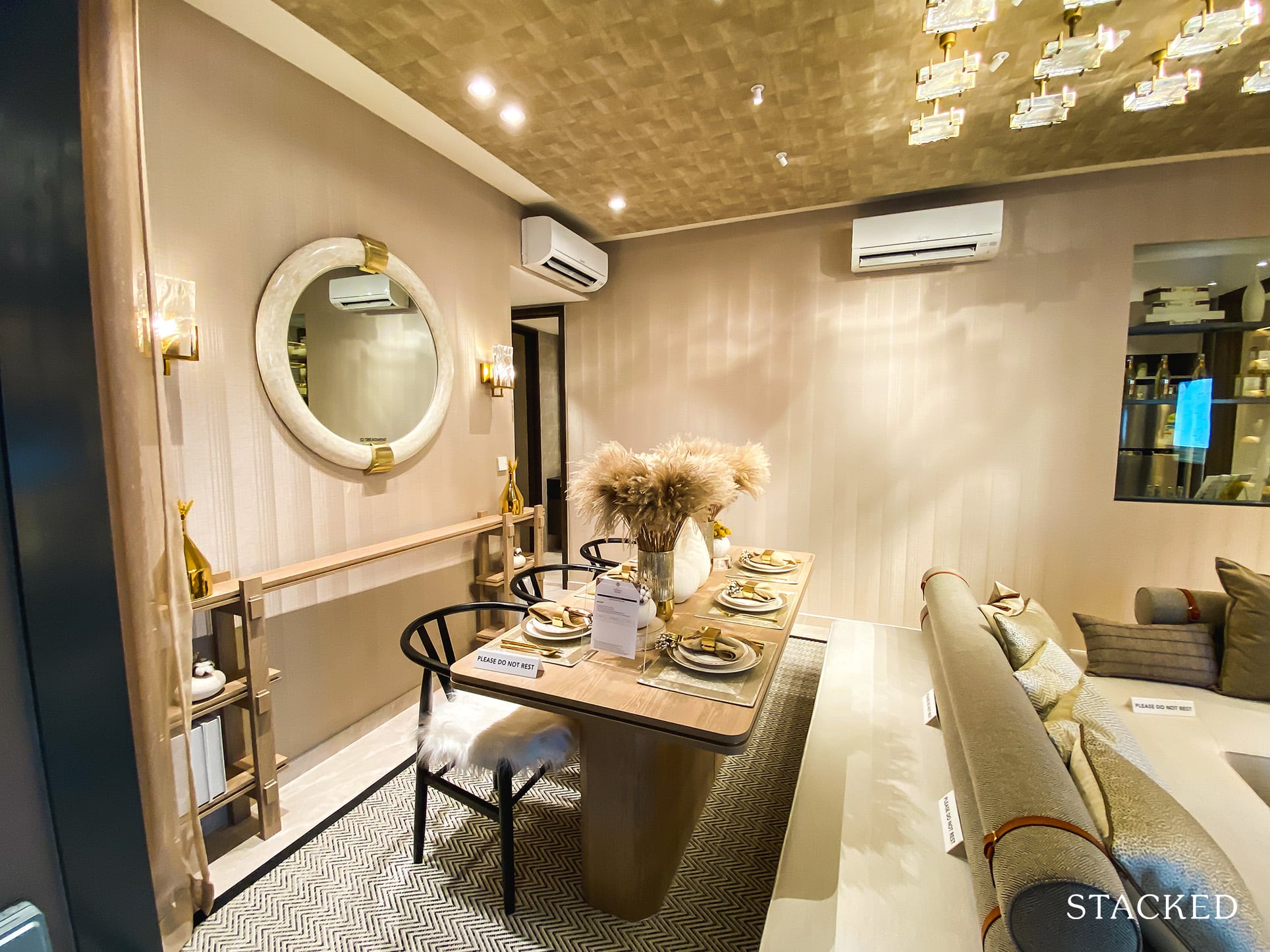 The dining room is not a bad size too. But in this case, they've decided to only show one side of the seating of the dining table to make the room look more spacious. You could also use the balcony as an alternate dining space, as it is quite big.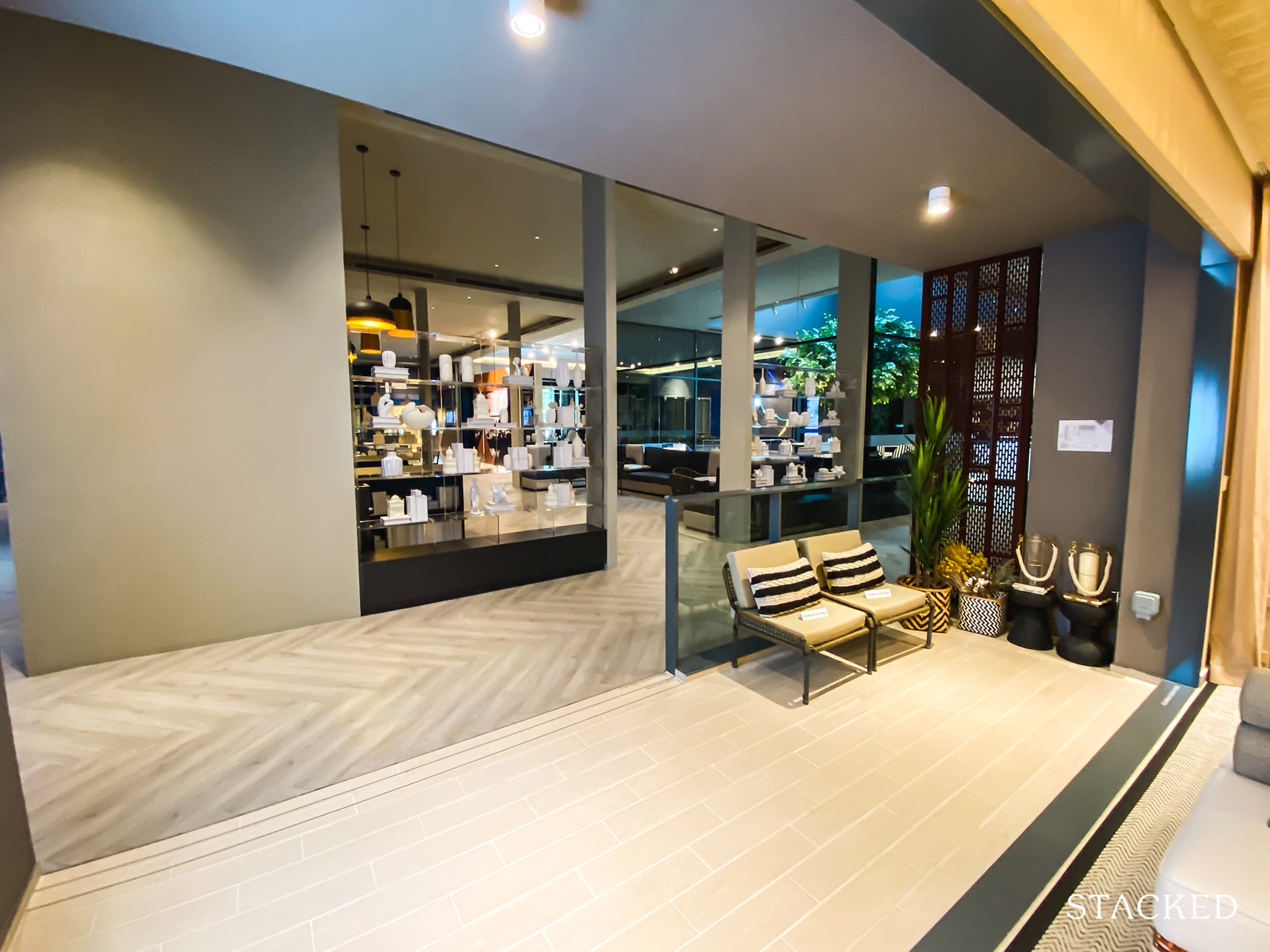 As you can see, the balcony is a big space. So using it as a dining room instead is not a bad idea at all, especially if you are on a high floor.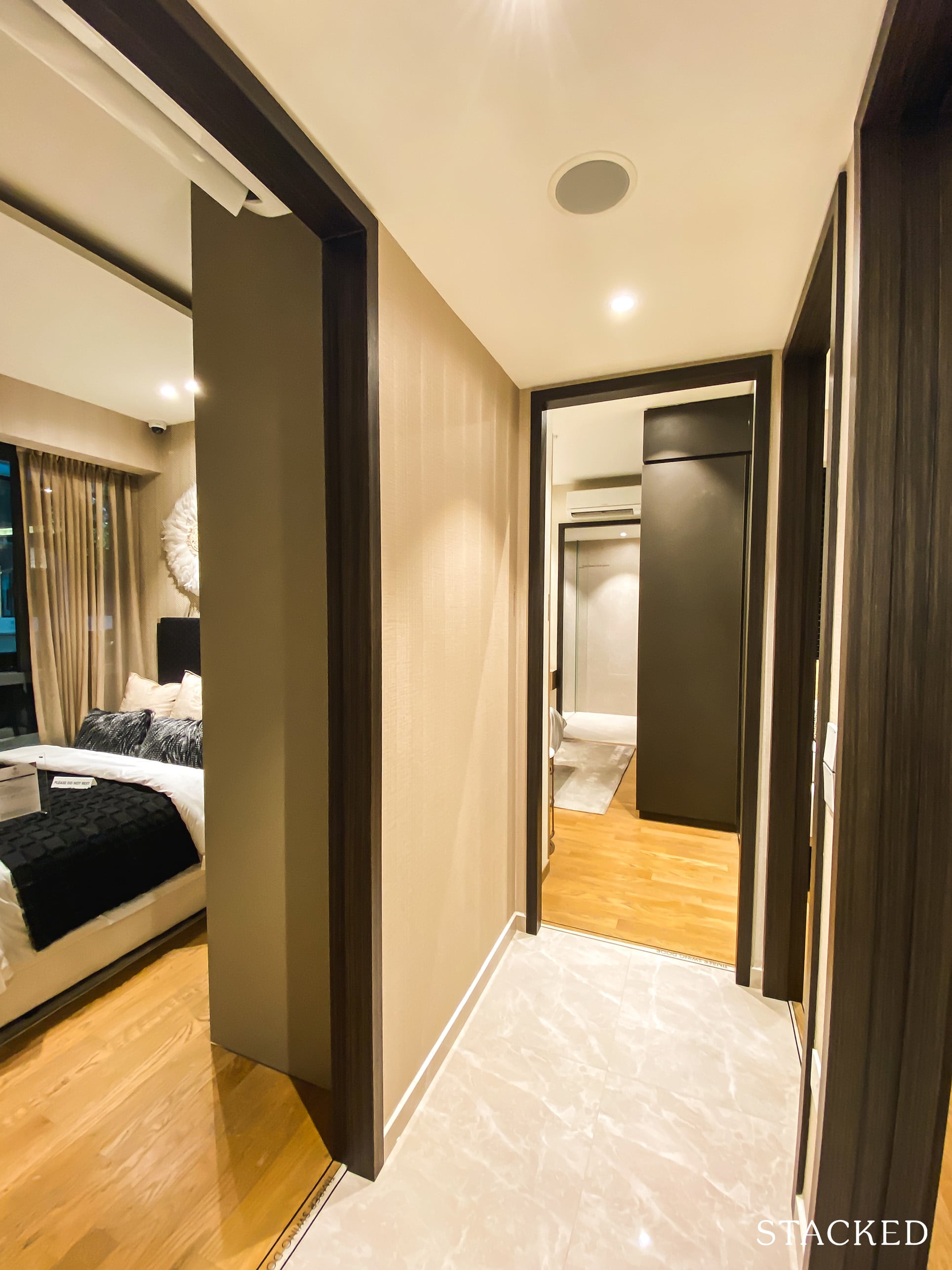 Now let's move on to the bedrooms.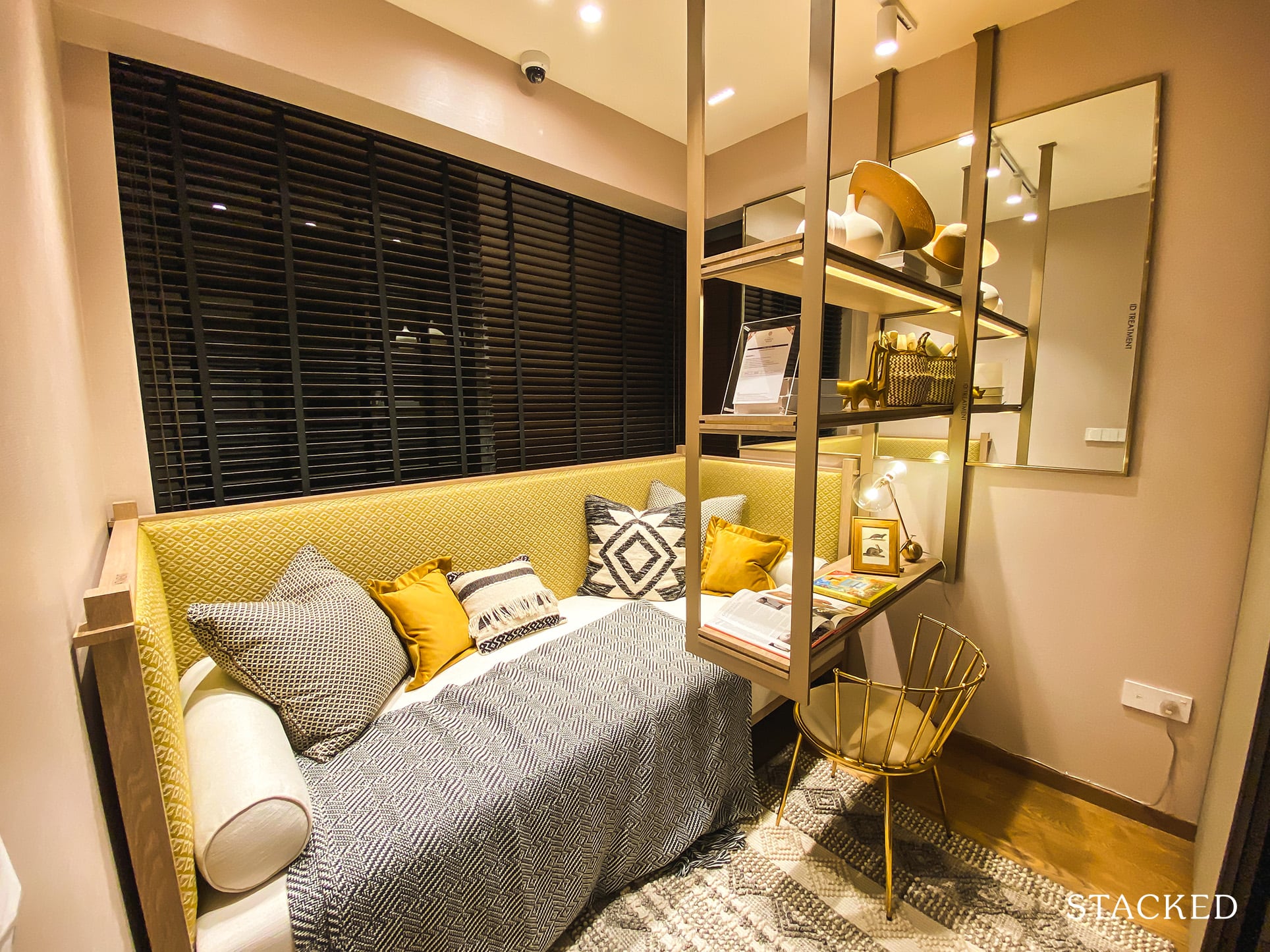 Both of the common bedrooms are quite similar in size. They are on the small side, to account for the more spacious common areas.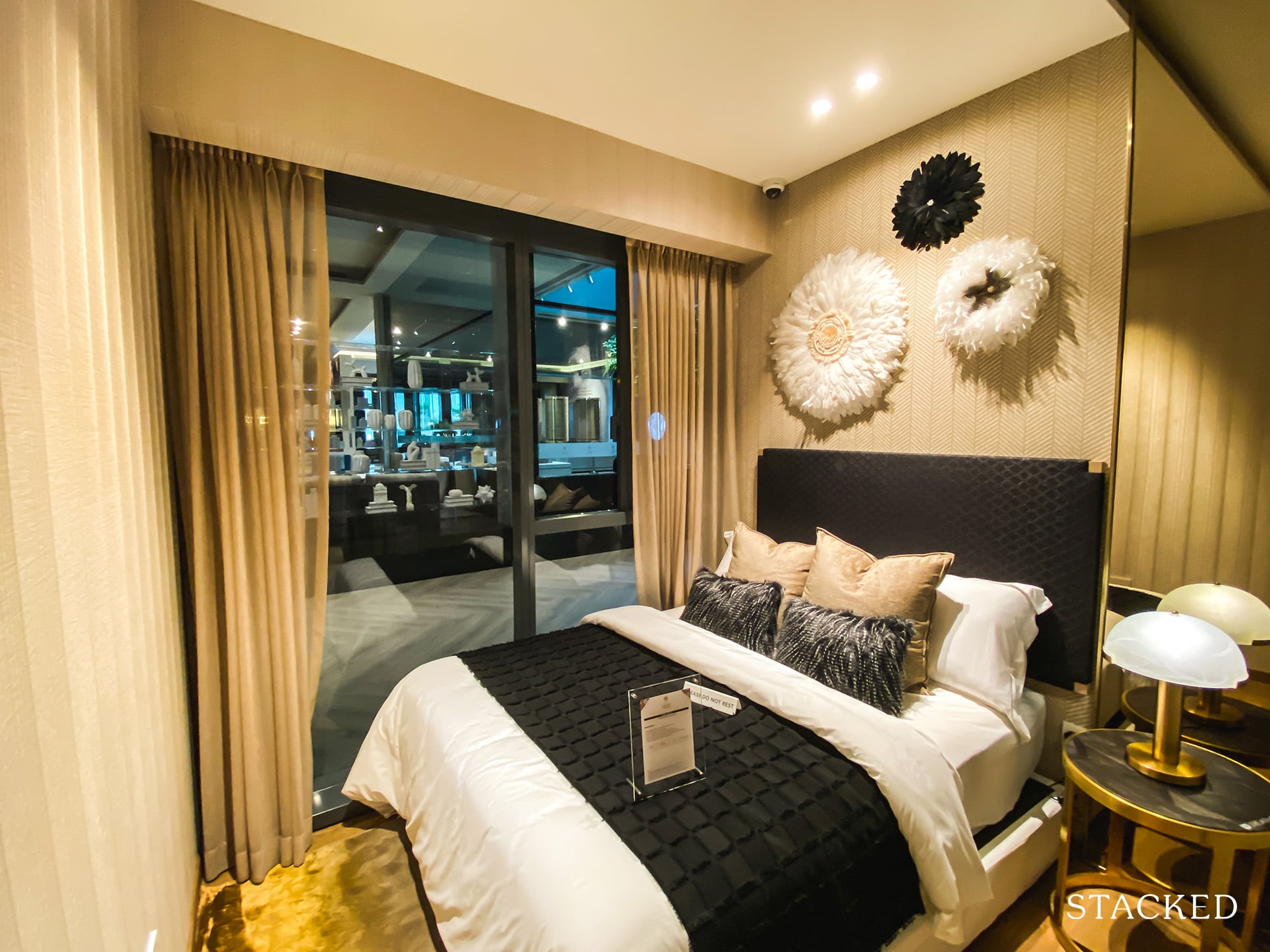 Depending on your lifestyle, the smaller bedrooms here could be an issue.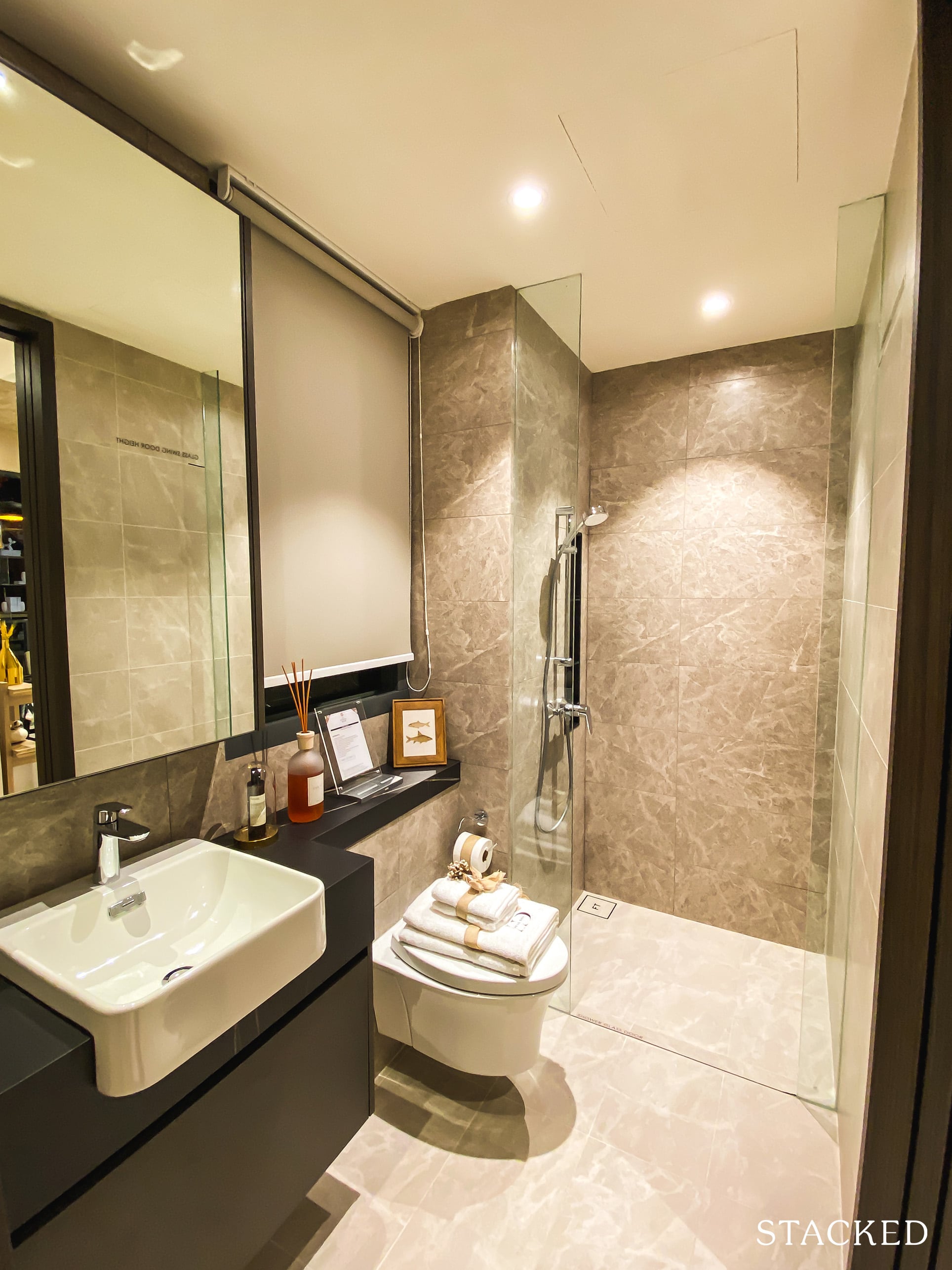 The common bathroom is of average size.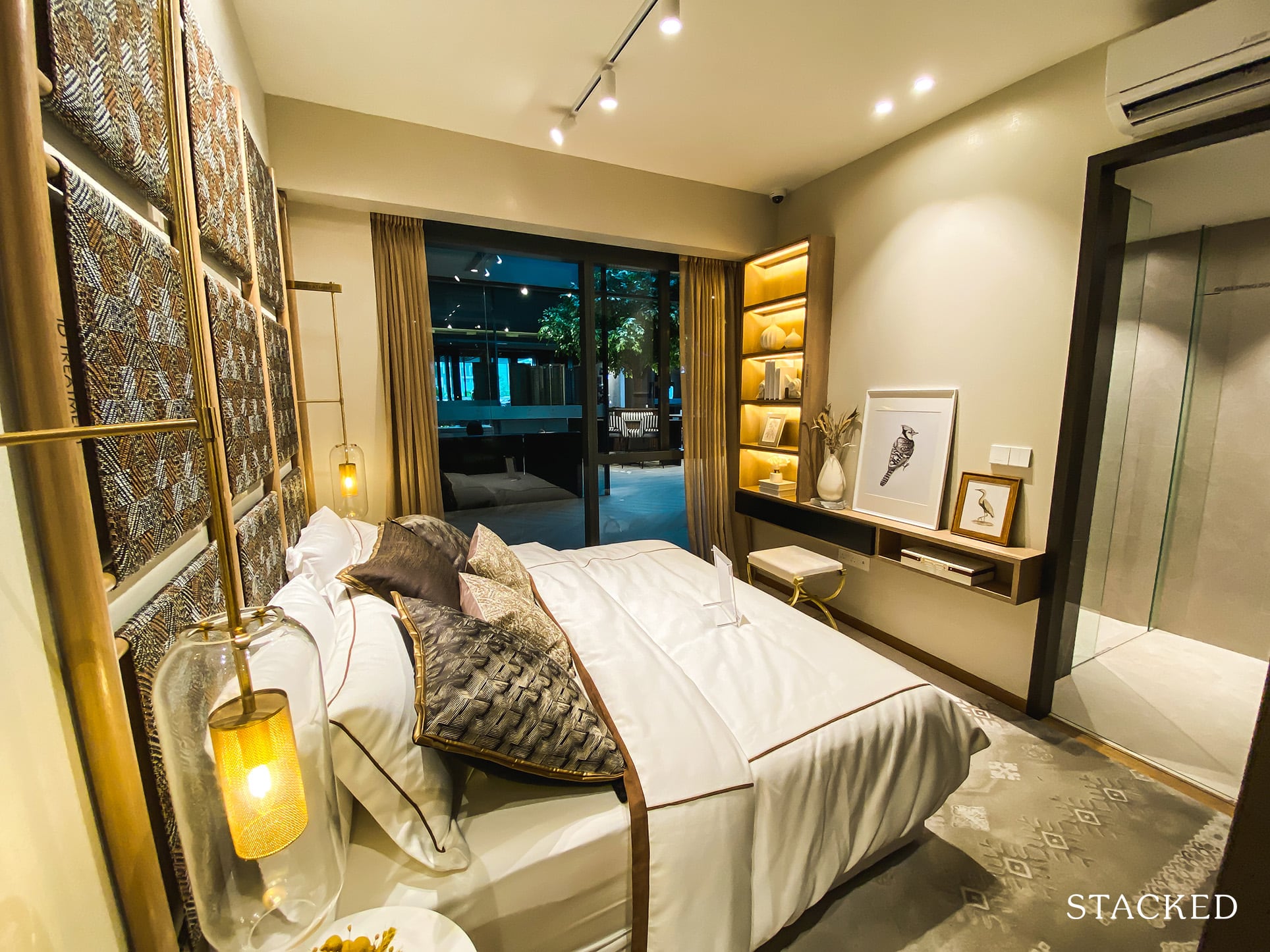 The master bedroom is just okay in size, with barely enough space for a study/dresser table. There are floor-to-ceiling windows too, but unfortunately, this doesn't stretch the whole width of the bedroom.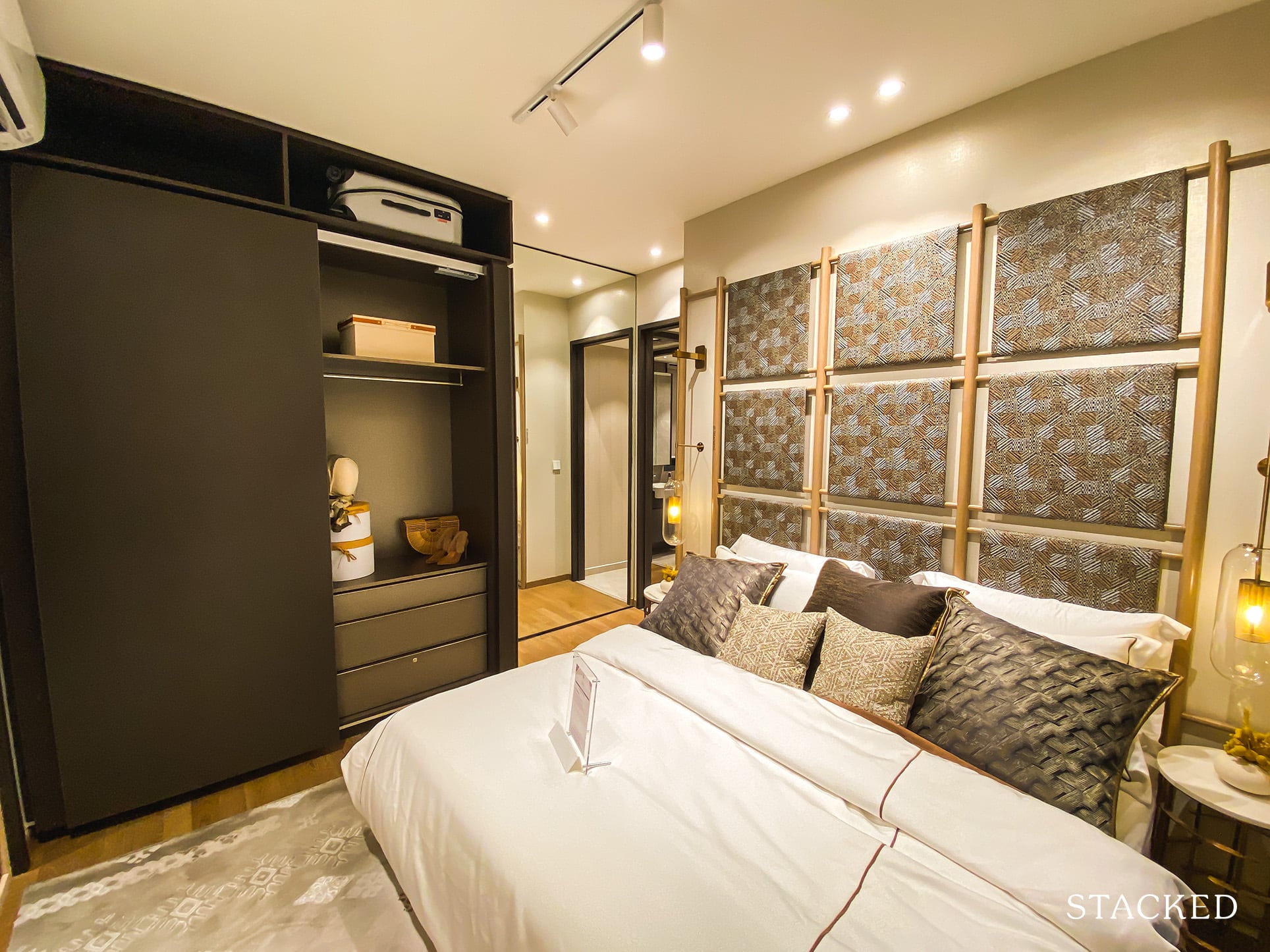 Storage is just adequate, but at the very least it extends all the way to the top.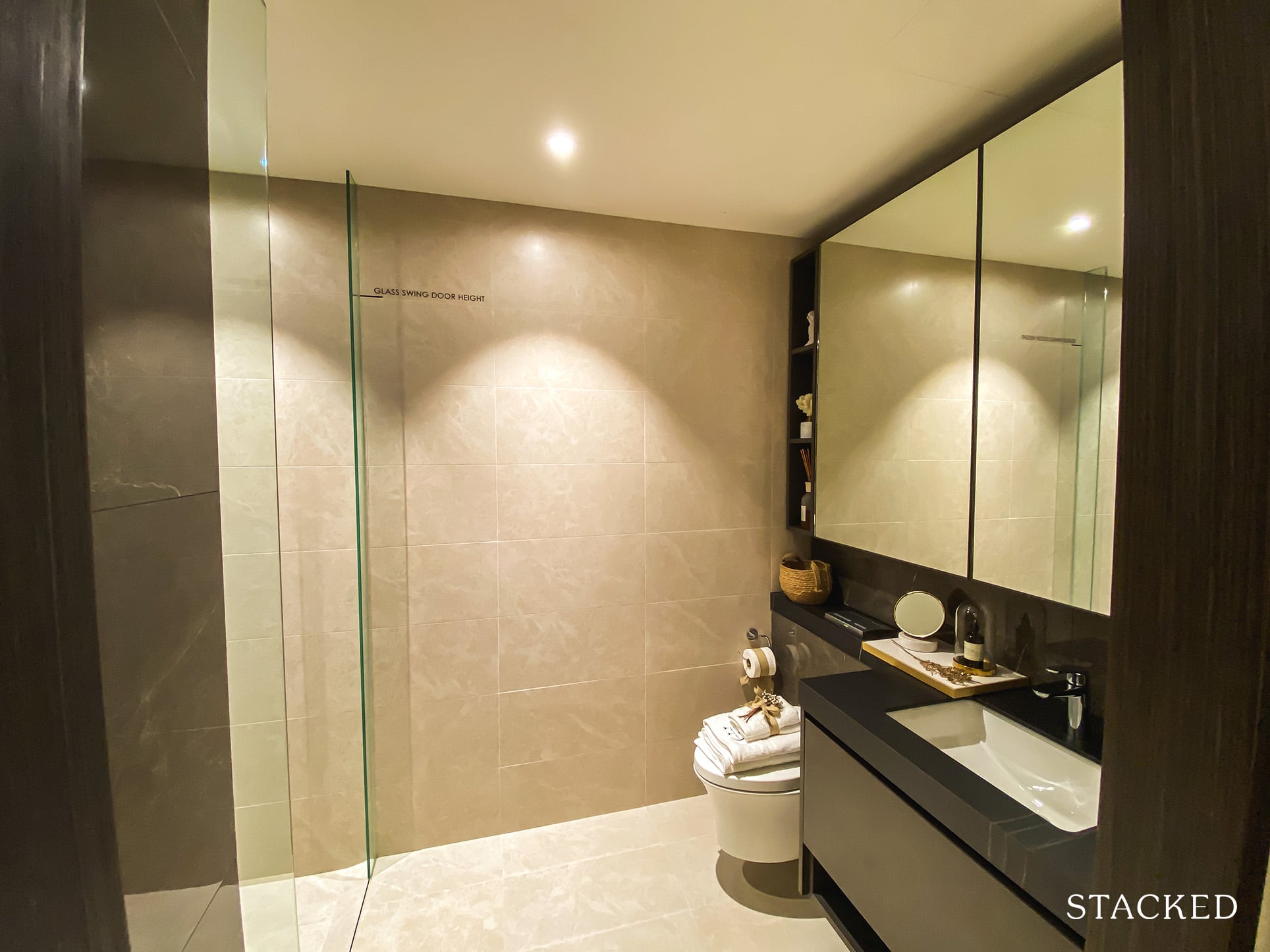 The master bathroom is just about what you'd expect for an apartment of this size too.
Location
Sandwiched between the AYE and Regent Park condo, you wouldn't go as far to say that Parc Clematis has incredible immediate surroundings. 
Still, given its size, the condo is pretty much an estate of its own. Without any in-condo shopping amenities, however, the closeby NEWest shopping mall is bound to receive an immense increase in human traffic.
Transport
| | | |
| --- | --- | --- |
| Bus Station | Buses Serviced | Distance From Condo (& Est. Walking Time) |
| 'Opp Newest' | 97, 154, 154B, 197, 198, 201 | 450m, 7-min walk |
| 'Regent Pk' | 154, 154B, 188, 196, 201, 963, 963R | 250m, 4-min walk |

Closest MRT: Clementi MRT, 1km, 14-min walk
Unfortunately, both walking and public transport times to the MRT seem the same. To save time on the walk, however, you might still be able to cut through the piece of land that is located right across Regent Park (on the same side of Clementi Town Secondary) when the project is completed.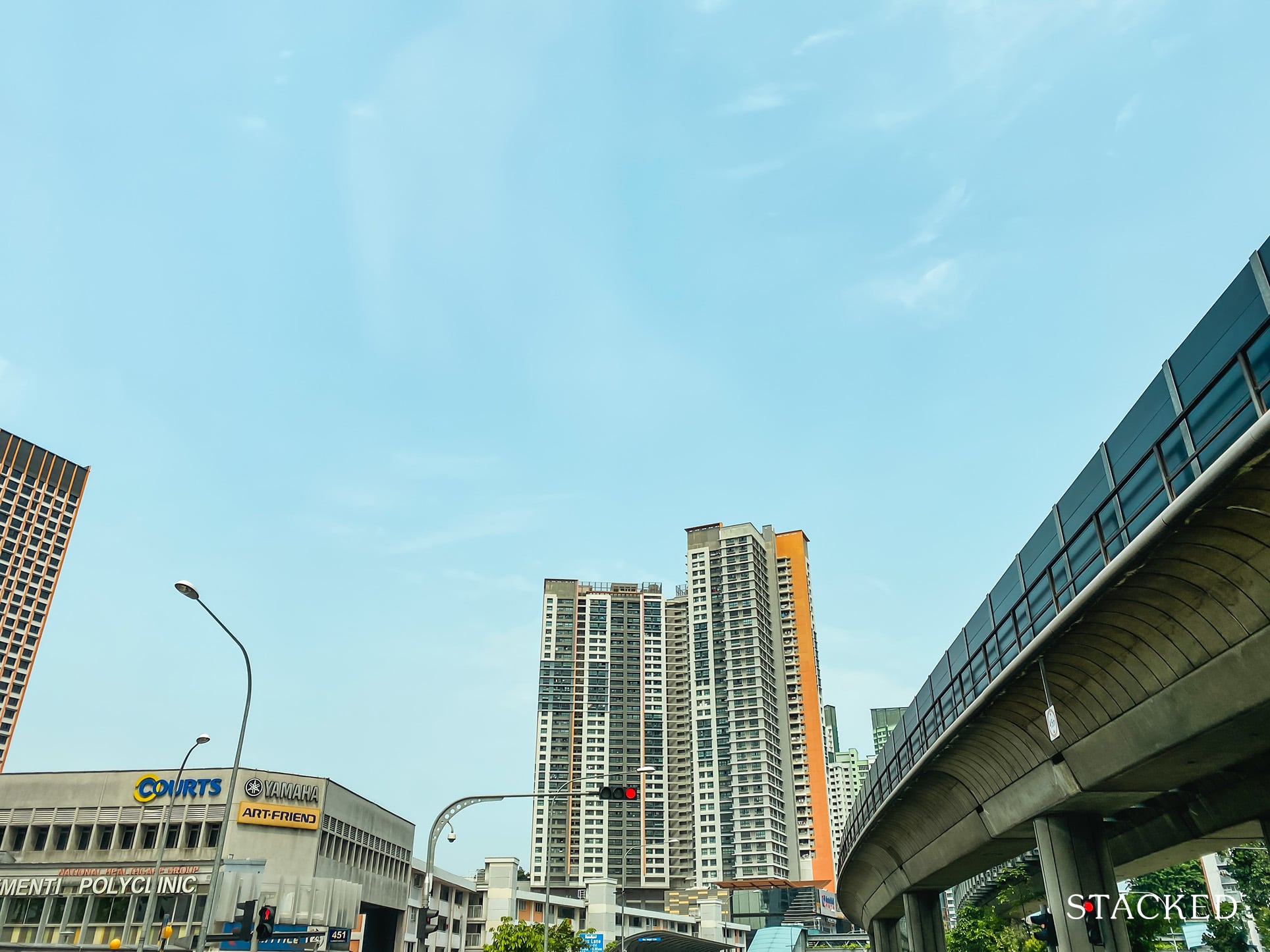 Yes, it will not be shaded, but it definitely helps if you are in a rush (we've all been there).
Also, do note that both bus stops listed here are on the same side as the condo. Be sure to factor in the overhead bridge crossing (over the expressway) time should you need to frequent the respective opposite bus stops.
| | |
| --- | --- |
| Highway/Major Road | Distance From Condo (& Est. Off-Peak Drive Time) |
| Clementi Ave 6 | 400m, 2-min drive |
| Commonwealth Avenue | 550m, 3-min drive |
| Clementi Road | 2km, 6-min drive |
| Jurong Town Hall Road | 3.1km, 6-min drive |
| Bukit Timah Road | 4.4km, 10-min drive |
| AYE | 1.2km, 4-min drive |
| PIE | 2.3km, 4-min drive |
| BKE | 6.2km, 7-min drive |
| CTE | 9.4km, 9-min drive |
| KJE | 11.3km, 10-min drive |
| KPE | 14km, 17-min drive |
| SLE | 14.9km, 14-min drive |
| ECP | 17.1km, 16-min drive |

Private transport accessibility: Very Good
Despite its immediate proximity to the AYE, drivers here will have to first undertake a U-turn at Clementi Ave 6 before entering the highway. Thankfully, this is a double right-turn lane so those heading onto Commonwealth Avenue will not be affected as much.
Still, it could spell some incredible jam times at peak hours given the number of developments already in the area.
All things considered, however, the AYE does provide a solid and swift avenue to the CBD for residents here.
Further considering the incredible number of amenities in the area, we highly doubt that most would need to frequently venture out of the west for daily necessities.
Groceries
| | |
| --- | --- |
| Name of Grocery Shop | Distance From Condo (& Est. Off-Peak Drive Time) |
| FairPrice Finest – The Clementi Mall | 1.4km, 6-min drive |
| FairPrice – Clementi Ave 3 | 2.2km, 9-min drive |
| Cold Storage – Clementi Arcade | 2.9km, 9-min drive |
| Cold Storage – West Coast Plaza | 2.9km, 9-min drive |

Another downside to the condo's locale is the lack of immediate grocery options. For those without a car, lengthy walks/public transport downtimes could prove tedious in the long run. Of course, there is always the option for grocery delivery – though there is nothing like picking your own fresh produce.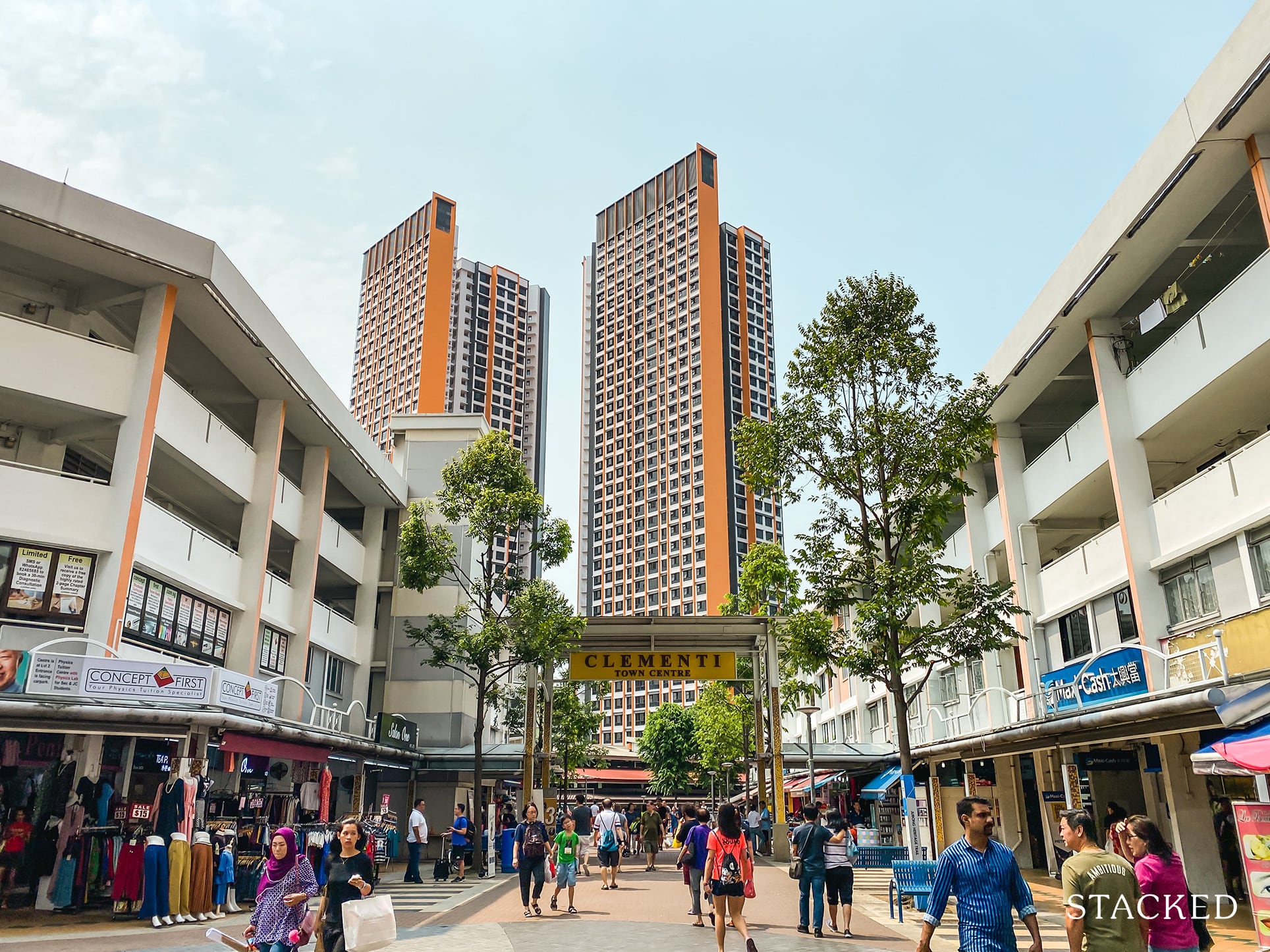 A very interesting fact however is that NEWest (the nearest mall to the condo) has only witnessed an approximate 20% total shop uptake thus far despite its 3-year lifespan – citing low crowds as the biggest reason for this. While we aren't promising anything, the injection of (massive) new life into the area could just be the spark that the mall has been looking for.
A spark that could potentially result in the surfacing of a new grocery outlet in the mall – fingers crossed.
Shopping Malls
| | |
| --- | --- |
| Name of Shopping Mall | Distance From Condo (& Est. Off-Peak Drive Time) |
| The Clementi Mall/Cityvibe Mall | 1.4km, 6-min drive |
| 321 Clementi | 2km, 8-min drive |
| NEWest | 2.2km, 6-min drive OR 600m, 8-min walk |
| West Coast Plaza | 2.9km, 9-min drive |
| IMM (Cluster) | 3.3km, 8-min drive |
| Beauty World Plaza (Cluster) | 4.8km, 11-min drive |

Surprisingly, despite NEWest being the 'closest' shopping mall in terms of pure distance, it requires a relatively long time to reach than some of the other surrounding malls given the presence of the 'AYE barrier' in between both developments.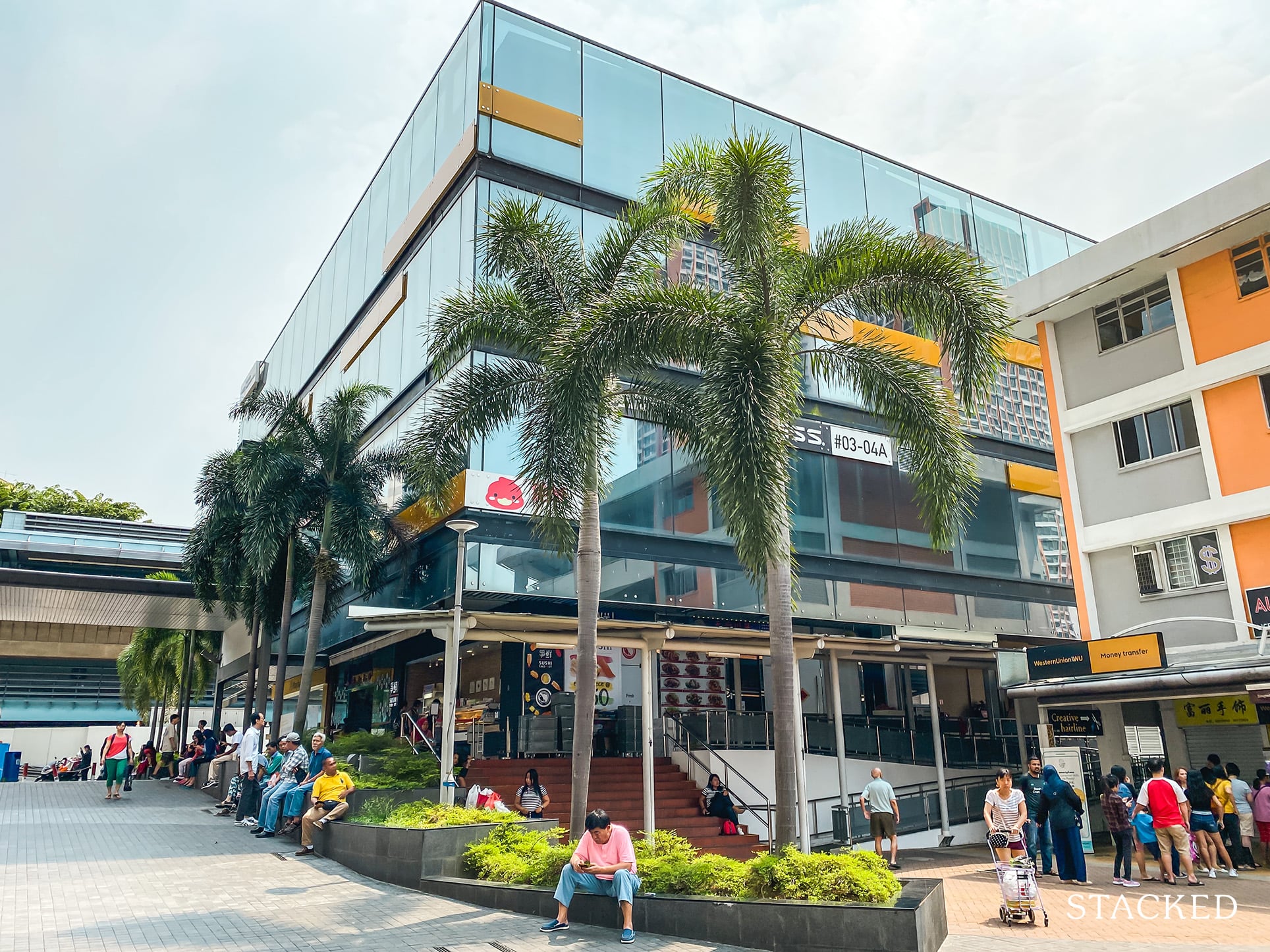 Still, there are quite a number of accessible malls and food joints in the area to add diversity to your perusals – all this assuming that you have a personal vehicle for easier transportation.

Schools
| | | |
| --- | --- | --- |
| Name of School | Education Level | Distance From Condo (Est. Off-Peak Drive Time) |
| Lorries N Berries Preschool (NEWest) | Preschool | 1.4km, 6-min drive |
| Sparkletots Preschool (Clementi Ave 6) | Preschool | 1.5km, 6-min drive |
| PCF Sparkletots Preschool (321 Clementi) | Preschool | 1.6km, 6-min drive |
| Maplebear West Coast Pre School (NEWest) | Preschool | 2.2km, 6-min drive OR 600m, 8-min walk |
| Big Foot Pre School (West Coast Road) | Preschool | 2.2km, 6-min drive OR 600m, 8-min walk |
| Nan Hua Primary | Primary | 500m, 2-min drive OR 550m, 7-min walk |
| Pei Tong Primary | Primary | 1.3km, 5-min drive |
| Qifa Primary | Primary | 2.7km, 7-min drive |
| Bukit Timah Primary | Primary | 3.9km, 10-min drive |
| Cambridge Primary | Primary | 4.5km, 9-min drive |
| Fairfield Methodist School | Primary | 5.2km, 8-min drive |
| Clementi Town Secondary | Secondary | 2.2km, 9-min drive OR 650m, 8-min walk |
| New Town Secondary | Secondary | 2.5km, 9-min drive |
| Shibuya Makuhari Senior High | Secondary | 2.6km, 6-min drive |
| NUS High School of Math and Science | Secondary | 3.3km, 7-min drive |
| Kent Ridge Secondary | Secondary | 3.4km, 10-min drive |
| Tanglin Secondary | Secondary | 3.5km, 8-min drive |
| Yusof Ishak Secondary | Secondary | 3.5km, 10-min drive |
| Commonwealth Secondary | Secondary | 4.1km, 8-min drive |
| Crest Secondary | Secondary | 4.7km, 7-min drive |
| Waseda Shibuya Senior High | Secondary | 4.8km, 10-min drive |
| Fairfield Methodist Secondary | Secondary | 5.4km, 9-min drive |
| Singapore Polytechnic | Tertiary | 3.3km, 11-min drive |
| Ngee Ann Polytechnic | Tertiary | 4.3km, 12-min drive |
| Eunoia Junior College | Tertiary | 4.4km, 12-min drive |
| Anglo Chinese Junior College | Tertiary | 5.7km, 10-min drive |
| German Institute of Science and Technology | Tertiary | 3.4km, 8-min drive |
| SUSS | Tertiary | 3.4km, 9-min drive |
| SIM | Tertiary | 3.7km, 10-min drive |
| SIT | Tertiary | 5.7km, 10-min drive |
| NUS | Tertiary | 6.5km, 13-min drive |

Given the proximity of the Kent Ridge Education Belt, it comes as little surprise that there are these many educational offerings in the area – especially on the secondary school tier.
Top universities like NUS, SIT, SUSS, and SIM are also within a 10-minute drive radius from Parc Clematis.
For parents looking to have their kids study in top mission schools, there is also the option of the Bukit Timah School belt further north-east from the condo – though be warned that peak hour jams in that area are often and uncompromising.
Parc Clematis Additional Pointers
Presence of Top-Notch Hospitals
For most of us, having some source of medical care close by is an important aspect when choosing a new home. In the case of Parc Clematis, it is surrounded by a string of them.

The closest would be both the Jurong Community and Ng Teng Fong General Hospital – a mere 9-min drive from the condo. Other nearby top-end medical offerings include the National University and Gleneagles Hospital.
Those who frequent the One North area will be familiar with the Mediapolis, Biopolis, and Fusionopolis – a three-tiered implementation that contributes to their respective fields in providing both employment and industrial/economic frontliners.
Located just an 11-min drive away, residents will have easy access to the area at most points of the day.
Parc Clematis' one-of-a-kind Tri Factor
Zoning in a little closer to home, developers SingHaiyi have increasingly emphasised variety and diversity – an important factor that has given the massive unit offerings here. One of its biggest implementations involve 'splitting' the condo into 3-themed areas for the various demographics:
Contemporary – For the young at heart, a modern and expressive feel steeped with international glamour and brighter colours. 4 towers (8B-8E) with a couple of dining pavilions, outdoor fitness stations, and easy access to sports facilities.
Elegance – For families, a welcoming yet warm feel that conveys a high-end Asian-themed home (think Shangri-La). 3 towers (8, 8A, and 8F) with a picnic lawn and children-based facilities like a toddler play pool and a kids' playhouse.
Signature – For the premium professionals, a dark/earthy wooden-themed enclave that emphasises class and serenity. 2 towers (6 and 6A) with duo pavilion studies as well as a community and rain garden for relaxation.
A brilliant initiative that the developers will no doubt hope to enhance like-minded community building.
Emphasis on Inter-condo Community Building
Speaking of community, large developments have always presented opportunities for new friendships (and even relationships) to blossom.
SingHaiyi has tapped on this and introduced co-living, co-kitchen, and even co-play spaces that will include music, game console, and even AV rooms for the movie-lovers.
As for their whereabouts, you'll find these facilities present in Clubhouses 2 and 4 respectively. Here, you'll encounter plenty of common spaces with various themes that will hopefully bring like-minded individuals together on a community level.
Development Site
Having already covered the floor area and entrance/exit situation in the tour, let's touch a little bit more on the facility offerings.
Divided into either 'active' or 'relax'-themed facilities, the equipment is further divided into their respectively coloured zones. With the variety and number of units here, it is nice to see that the developers have thought to cater to the various demographics on this end.
The number and separate distinctions of fun (for kids) and more professional (for adults) water features will also allow for separate aims/desires to be fulfilled and potentially even secluded water-based exercise spots away from the hustle and bustle that a 1,468 unit condo will naturally conjure.

Unit Mix
Parc Clematis Unit Mix

| | | |
| --- | --- | --- |
| Unit Type | No. Of Units | Size of Units (sqft) |
| 1-Bedroom | 136 | 452 – 624 sqft |
| 1-Bedroom + Study | 68 | 506 – 710 sqft |
| 2-Bedroom | 355 | 689 – 893 sqft |
| 2-Bedroom Dual Key | 46 | 700 – 861 sqft |
| 2-Bedroom + Study | 44 | 743 sqft |
| 3-Bedroom | 267 | 829 – 1,076 sqft |
| 3-Bedroom Dual Key | 46 | 969 – 1,216 sqft |
| 3-Bedroom Premium | 180 | 1,044 – 1,475 sqft |
| 4-Bedroom | 46 | 1,238 – 1,475 sqft |
| 4-Bedroom Premium | 157 | 1,292 – 1,765 sqft |
| 5-Bedroom | 28 | 1,636 – 1,970 sqft |
| 5-Bedroom Premium | 69 | 1,711- 1,981 sqft |
| Penthouse | 8 | 1,991 – 2,669 sqft |
| Corner Terrace | 4 | 3,466 sqft |
| Inter Terrace | 8 | 2,659 sqft |
| Bungalow | 6 | 3,832 sqft |

Given the number of units and diversity of layouts, we've decided to offer a more 'concise' outlook on the unit sizes and numbers in the table. Should you require the full-sized table (or any other information for that matter), do feel free to reach out to us at hello@stackedhomes.com.
Unit sizes here are definitely above average on all ends – though not massive to the extent that the Parc Clematis' units command a considerably heavier quantum as a result.
The presence of dual-key units alongside the incredibly favourable work-life locale has undoubtedly appealed to many investors who will now look to lease out units here in the near future – especially when the Jurong Innovation District pops up.
Sadly, however, SingHaiyi doesn't have the best reputation when it comes to engineering new developments. While most of its past Singaporean-based projects went off mostly without a hitch, its inaugural Pasir Ris One development suffered major outcry from the public on various fronts, a disaster-in-the-making that has been carefully mitigated through its responsive and favourable troubleshooting process.
Perhaps the biggest takeaway for us on this is the importance of garnering as much transparent information from credible sources on new projects as possible before making a purchase decision.
Best Stacks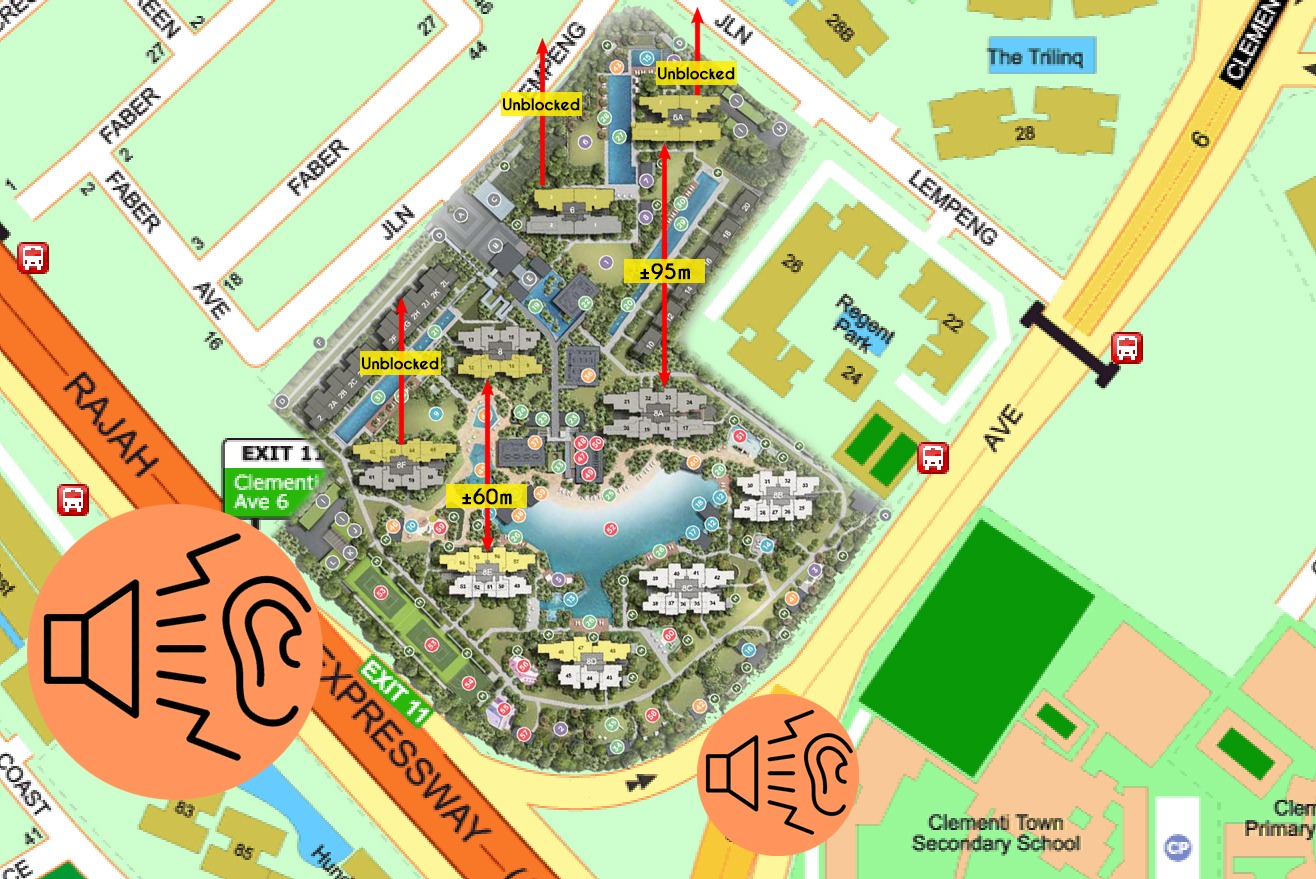 Here in this image, we have highlighted those that we think are deserving of the best stacks title. These are away from the expressway (less road noise) and feature either unblocked views or a good distance away from other blocks.
What's different about the Parc Clematis is actually how the blocks have been laid out. If you noticed, it's in a diamond shape which is really smart as this is an optimal layout for the best facing and space between blocks. So yes, although there are better stacks to go for still, the truth is that most units are quite well positioned.
Price Review
| | | | |
| --- | --- | --- | --- |
| Project Name | Tenure | TOP | Average Price (PSF) |
| Parc Clematis | 99-years | 2023 | $1,614 |
| Regent Park | 99-years | 1994 | $966 |
| The Trilinq | 99-years | 2018 | $1,322 |
| Clement Canopy | 99-years | 2019 | $1,551 |

Now before all pandemonium breaks loose, it is our duty to bring to light SingHaiyi's successful appeal and upgrade of Parc Clematis' leasehold (initially from March 1982). This, following its collective sale acquisition of the land here. 
Its 'new' 99-year period has since kicked off from 8th August 2019.
Also, due to the obvious impact that the AYE has on accessibility, we've chosen to keep the condo comparisons based on projects located on the same side of the highway as Parc Clematis. We've also included the recently launched Clement Canopy for novelty-factor quantum comparisons.
Unsurprisingly, Parc Clematis is at the top of the quantum range amongst the developments on its side of the AYE – no doubt due to its novelty and facility offerings.
When comparing the newer launches, however, one important highlight that we should not miss is that The Trilinq took over 4 years to sell a majority of its units while Clement Canopy only required 1.
Based on this trend and judging based on location alone (as well as the size of Parc Clematis), one would expect quite a bit of leftover units in the long run.
On the contrary, however, unit sizes of Clement Canopy and Parc Clematis are relatively similar, a factor that could boost uptake as opposed to The Trilinq's more spacious (and hence pricier) units. 
Our Take
While it remains to be seen how strong the uptake will be, developers SingHaiyi can take heart in knowing that a solid 22% of its massive unit offerings were snapped up on its first day of launch with 8% following in the two months.
Personally (and I'm sure a couple of you would agree with me on this), I've never been a big fan of high population developments.
This is why I am considerably impressed by the fact that SingHaiyi has taken this into account and opted to allocate its residents over 63% of the development's 633,644 square feet of land area for facilities and common space.
Of course, the diversity in units plays a huge role in allowing them to do so. But hey, unit diversity gives a development colour, and kudos to them for upholding the positive on both ends.
Perhaps the only thing I would be concerned about is potential traffic noises that lower units here would receive from the AYE. That, and the slight lack of immediate grocery options – though I'm sure the latter will soon be a worry of the past.
Given the condo's strategic locale on work and education fronts, I can see it as a popular investment development, though the massive amount of units present here will only serve to make lease prices more competitive.
This, unless demand is heavily increased as a result of high-end job placements/opportunities from the future Jurong Lake and Innovation Districts.
What this means for you
You might like Parc Clematis if you:
• Work in the closeby commercial nodes:The presence of the nearby Jurong and One-North districts will greatly cut down traveling time to and from work.
• Have kids:Large unit varieties, solid education options on various tiers as well as large spaces designed for the kids to enjoy and grow in makes the Parc Clematis a very family-friendly condo.
You might not like Parc Clematis if you:
• Are not a fan of massive developments:Larger projects can sometimes result in greater-than-average volumes of noise and traffic within the condo itself.
• Dislike living next to a major highway:Once again, noise (and air) pollution from the nearby AYE might be a turnoff to those looking for a unit here – even if the 'deeper'/higher units might remain unaffected.
End of Review
[optin-monster-shortcode id="gzivtlotizxfiuzqwtnx"]