Commentary
New Housing For Low-Income Singles: We Share What Some Older Singaporeans Think
Ryan J
April 14, 2023

4

min read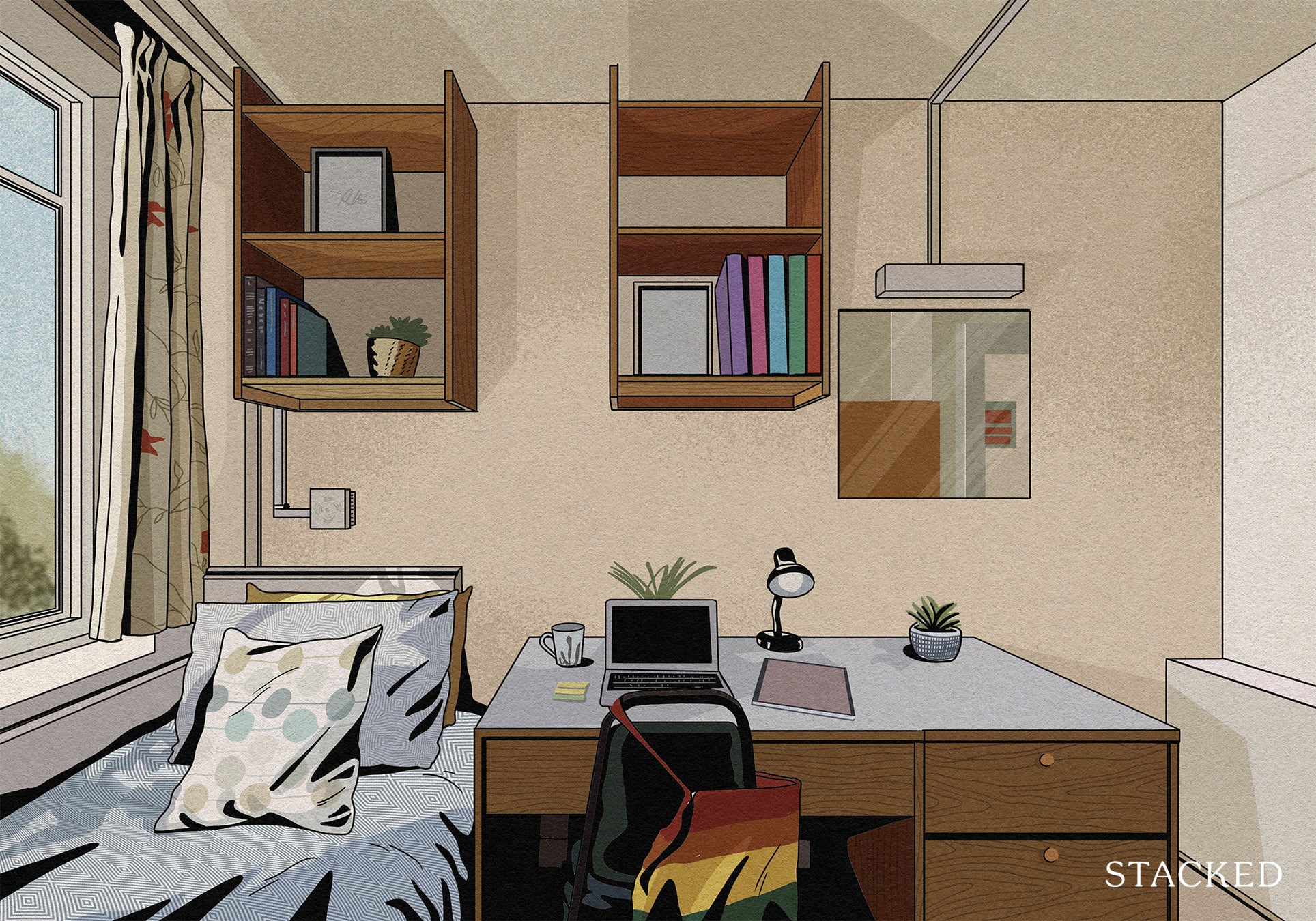 4
min read
We've had some time to think of HDB's new pilot rental housing scheme: the Single Room Shared Facilities units. While this is a new kind of flat, the concept is not entirely new – it's somewhat comparable to co-living. But is this arrangement better, worse, or mostly the same as the old 1-room rental flats? Here's a run-down on what's going on:
A new type of HDB flat for lower-income Singaporeans
The Single Room Shared Facilities scheme will be rolled out later in the year. This scheme is designed to provide accommodation for low-income Singaporeans. While we currently have 1-room rental flats, this scheme is different:
For flats under this scheme, there will be 24 tenants per floor, sharing common facilities – these include a kitchen (with five stoves), and two common bathrooms. Each bathroom will have three shower cubicles and three to four toilets. There will also be common laundry and activity rooms.
The individual rooms are around 97 sq. ft., with basic furnishings: a bed (residents will buy their own mattresses), a wardrobe, a table with a chair, wall shelves, and a mini-fridge.
The intended goal is to provide accommodation along with community living. The pilot project will be the repurposed Anderson Junior College hostel, along Ang Mo Kio Avenue 8 (the hostel was permanently closed back in 2019).
(A great location incidentally, as the former AJC hostel is just around a 3-minute walk to Yio Chu Kang MRT)
The repurposed hostel can reportedly hold up to 480 occupants.
Are these new types of flats a good idea?
To get a bit of insight, we spoke to two Singaporeans, who have experienced living in rental flats before.
One former resident was Loke YT, who doesn't speak English, but told us through his daughter-in-law that this arrangement was better for "certain types" of residents. YT says that living alone in a 1-room flat is lonely and depressing for some residents, especially those who have no other family or friends to visit. For these residents, the communal aspect of the new flats was better.
Loke's daughter-in-law also recounted a time when he was ill for two to three days, and no one knew until her husband's weekly visit. She says:
"In the rental flats most people don't talk to each other, and for older people maybe it's not so safe; even if they are sick or they fall down, there may not be anyone to help. So I think community living is better."
Conversely, Loke says there are certain types of residents that may not suit this style of living. He recalls that some neighbours, back in his old rental block, had been forced out of their former homes because of their behaviour. This includes some people who were too quarrelsome to live with others, hoarders, and those who simply disliked interacting with others.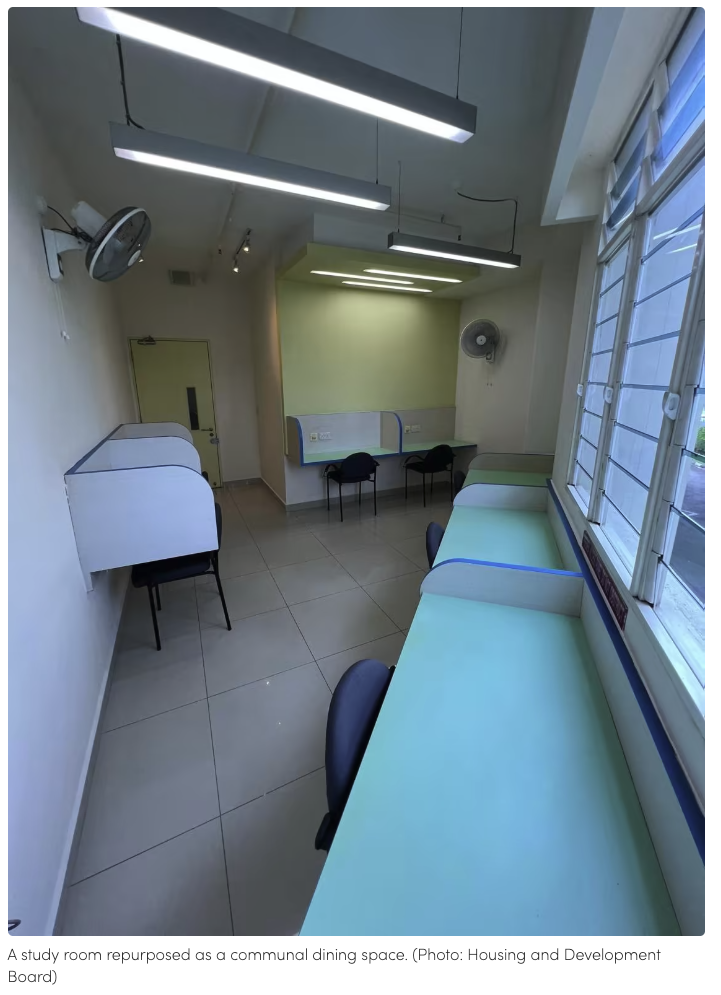 Another former rental flat resident, KC, feels that having the kitchen and toilets as common facilities – perhaps managed by a third party* – is an excellent move. As a senior citizen, KC had difficulty cleaning the toilet and kitchen because of having to squat, kneel, or bend lower to mop.
That's something younger homeowners tend to take for granted but it gets tough in, say, your late sixties.
"Cleaning the toilet is more dangerous for us older people," KC says, "The toilet floor is usually wet so we can slip. And the kitchen has a lot of appliances and dangerous things. And when there are stains and so on, it takes more strength to scrub and clean."
However, KC does feel that the rooms are a bit small and says he would be "a bit uncomfortable" using the three shower cubicles with strangers about.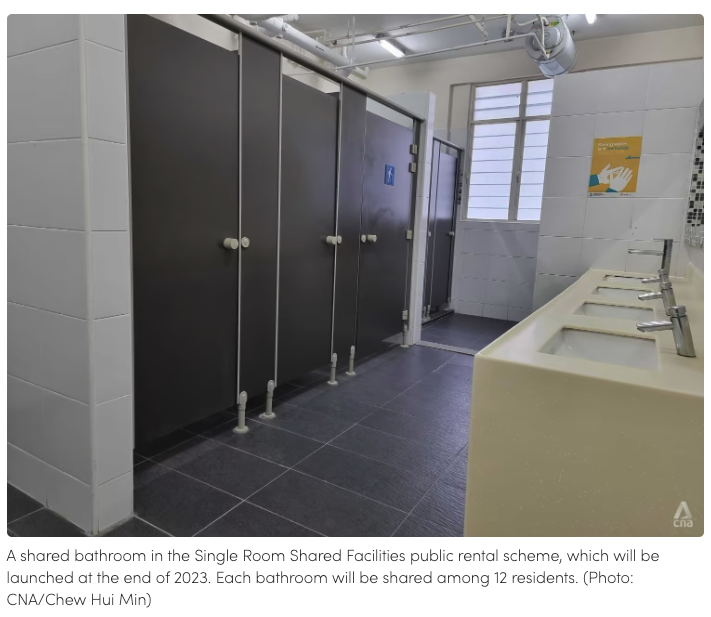 He also notes that some people have very early or late habits, and would hope the noise from common facilities doesn't wake those who are sleeping (e.g., what if some decide to talk loudly and eat in the shared kitchen at hours past midnight?)
*We don't yet know if this is the case, as we have no details on who manages the common facilities.
Cost-effective and clever, but hopefully not a total replacement of 1-room rental flats
Shared facilities are likely to lower costs, as compared to having each resident in a separate flat. And the overall scheme is clever, as the communal aspect adds a subtle – but significant – benefit to health and safety. We notice, for instance, that this sort of arrangement can discourage unhealthy behaviours such as hoarding.
(We don't mean it provides a fix for the mental condition, but simply that other residents will notice, and are more likely to intervene. Also, there's only so much one can hoard in a small room).
However, we'd hope this is a variation – and not a complete replacement – of the 1-room rental flats. Not everyone is inclined to this sort of communal living, and it's not a universally healthy or happy arrangement. For the more introverted among us, this sort of co-living is the very definition of a nightmare. 
One reader, for instance, opines that it's like "seeing my children while I'm in an old folk's home when they come to visit." This is from the inevitable feeling that ultimately, shared facilities imply a sort of institution rather than a home. 
Even if you're renting a 1-room flat, it still feels more like someone's visiting you at home than if that whole space is yours.
Do comment below or write to us, to let us know your thoughts on this new scheme. If you were to need a rental flat, would you rather a 1-room rental, or this new shared facilities approach?
In the meantime, follow us on Stacked, and we'll update you as there's more news. We'll also provide you with the latest news and updates in Singapore private property market.