New Launch Reviews

Meyer Mansion Review: Luxury Living in the East
Reuben
October 2, 2019

16

min read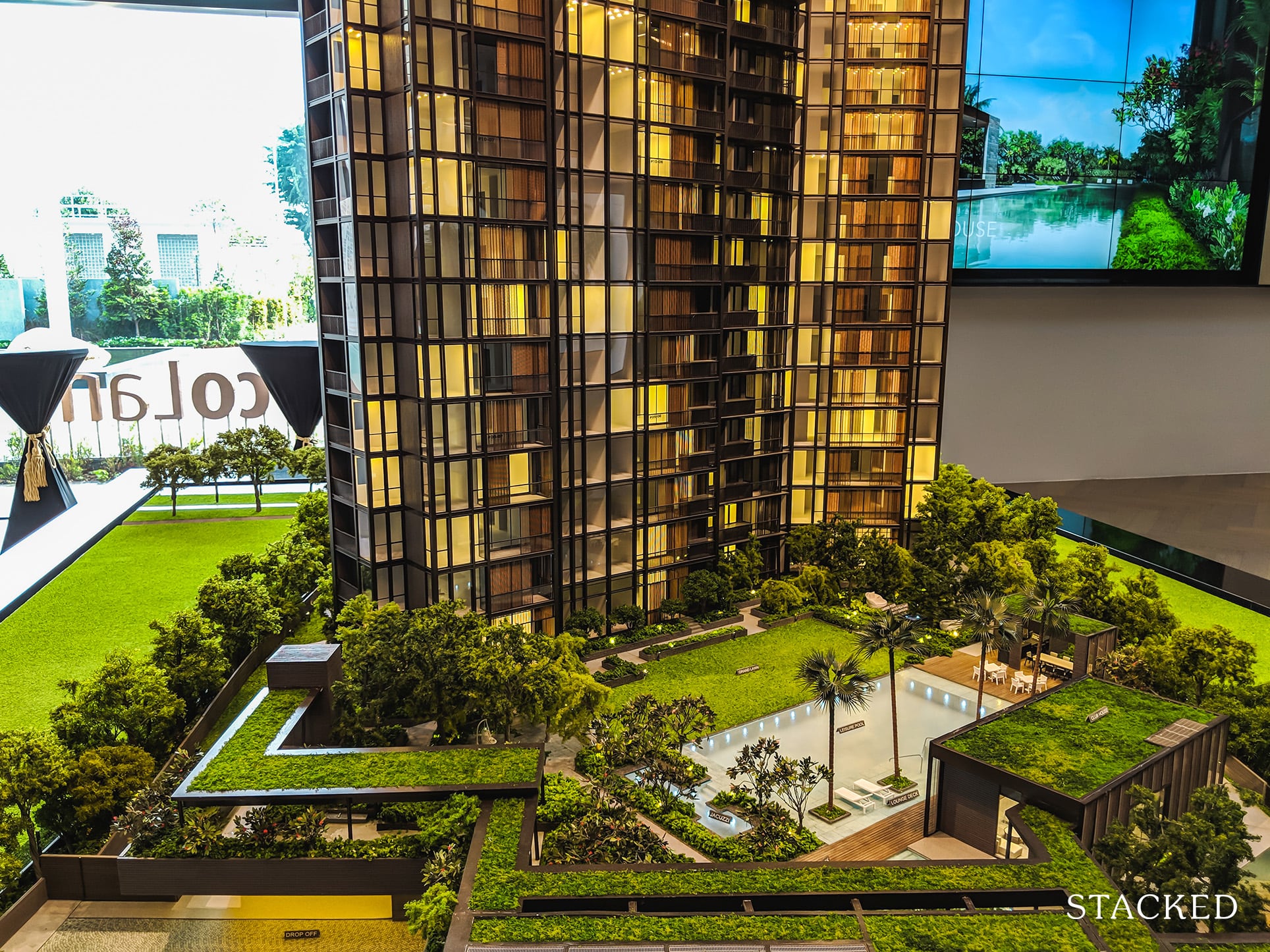 Meyer Mansion is perfect for nature lovers due to the variety of parks nearby as well as the East Coast Beach. It's also a great proposition for you if you are looking for a luxury freehold seaside residence. However, Meyer Mansion's smaller units may seem a bit small for even bachelors, and there's also not a large variety of facilities here.
Reviewed by Reuben on October 02, 2019
What we like
Sea View

Two swimming pools

Outdoor space
What we don't like
—

No tennis court

—

No facility that makes use of the high towers
16
min read
About this condo

| | | | |
| --- | --- | --- | --- |
| Project: | Meyer Mansion | District: | 15 |
| Address: | Meyer Road | Tenure: | Freehold |
| Site Area: | 85,249 sqft | No. of Units: | 200 |
| Developer: | Guocoland | TOP: | 2023 |
Decadent furnishings aligned with picturesque ocean views, a solid unit to land ratio and an elusive yet highly sought-after freehold status.
Welcome to luxury condo-in-the-making, Meyer Mansion.
A singular 25-storeyed copper-tinged tower is expected to rise above pristine, state-of-the-art facilities as part of this freehold seaside development by GuocoLand come 2023. With only 200 units up for grabs, it comes as no surprise that 26 units (mostly high-rise) of this D15 condo have already been snapped up following its launch on September 13.
Despite this, a host of upcoming surrounding developments (think Meyerhouse) not just along Meyer, but also Amber Road are bound to rival the condo's appeal to both homeowners and investors.
How will Meyer Mansion fare against the rest, and will its cosiness and luxury-factor triumph its incredible price tag? Here's our analysis.
Insider Tour
Facilities in Meyer Mansion

| | | |
| --- | --- | --- |
| Reception Lounge | Playground | Alfresco Dining |
| Jacuzzi | Swing Garden | Grand Lawn |
| 40m Lap Pool | Arrival Court | Clubhouse |
| Lounge Deck | BBQ Pavilion | Garden Pods |
| Coastal Walk | Beach House | Gym |
| Children's Pool | Leisure Pool | Outdoor Dining |
| Mist Garden | Courtyard | Coconut Grove |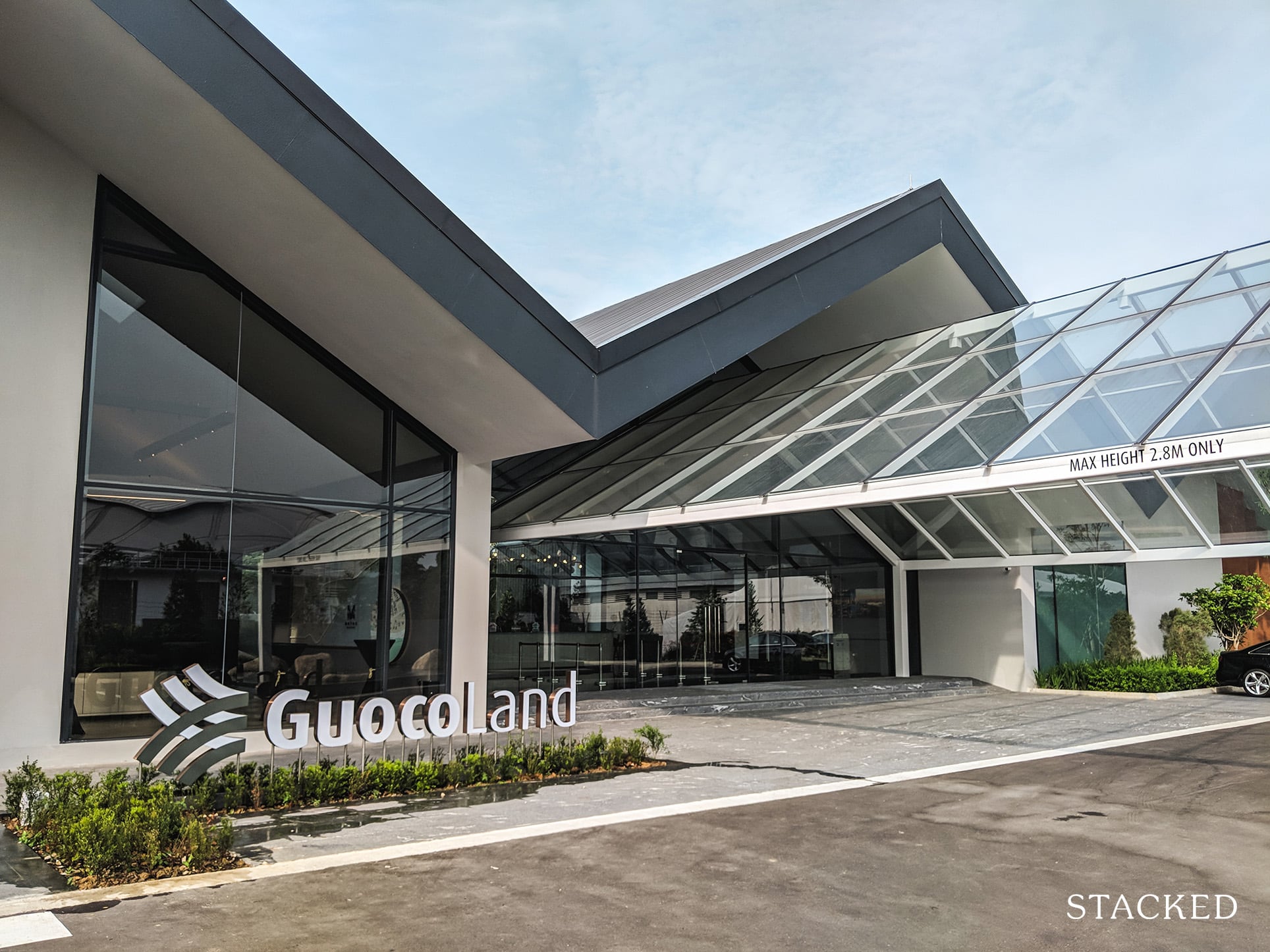 The entrance to the Meyer Mansion showflat is quite impressive, with its own glass-roofed drop off area.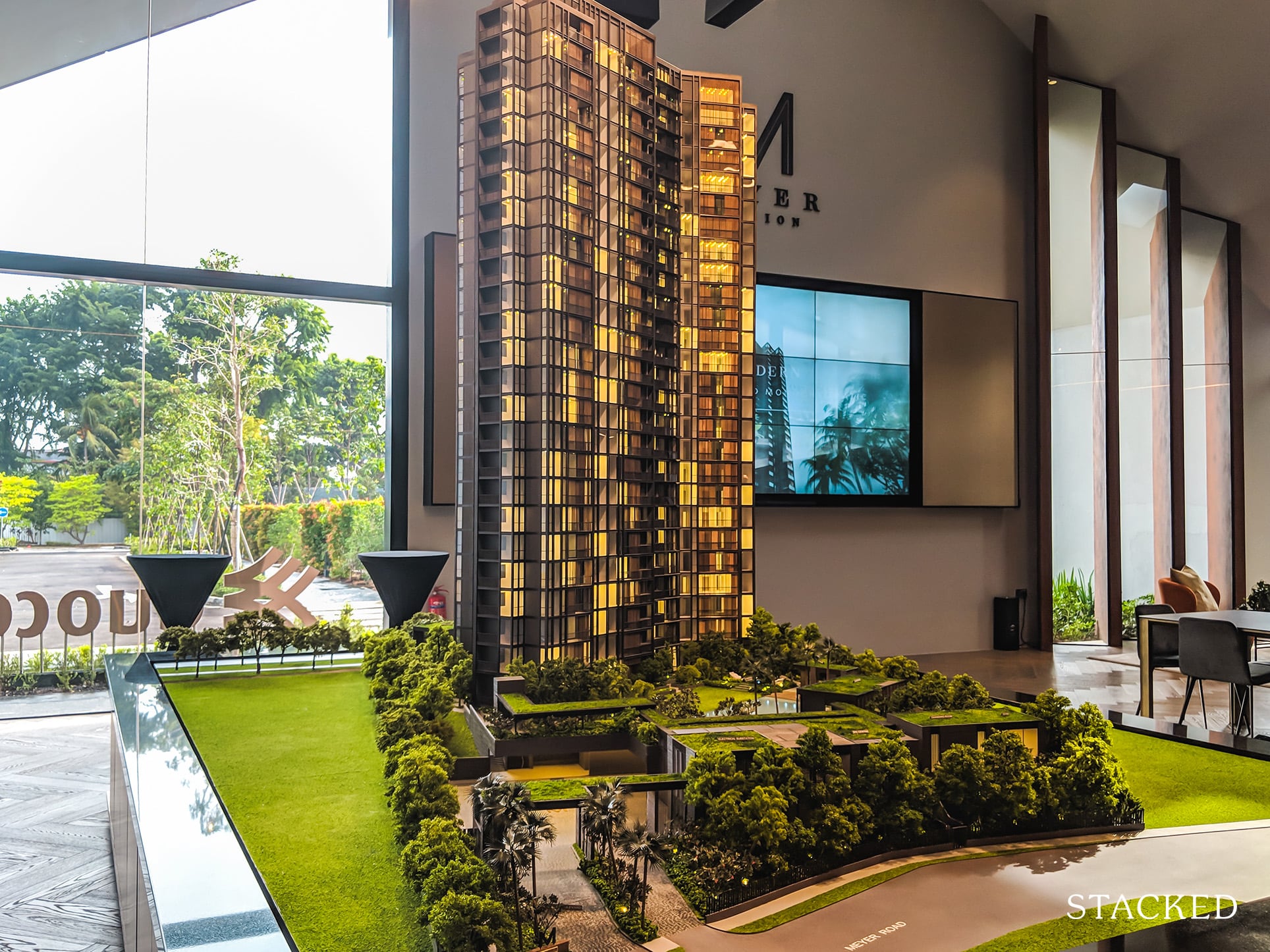 Meyer Mansion is a singular block that is sitting on a land size of 85,249 square feet. With only 200 units this definitely isn't your mass-market development.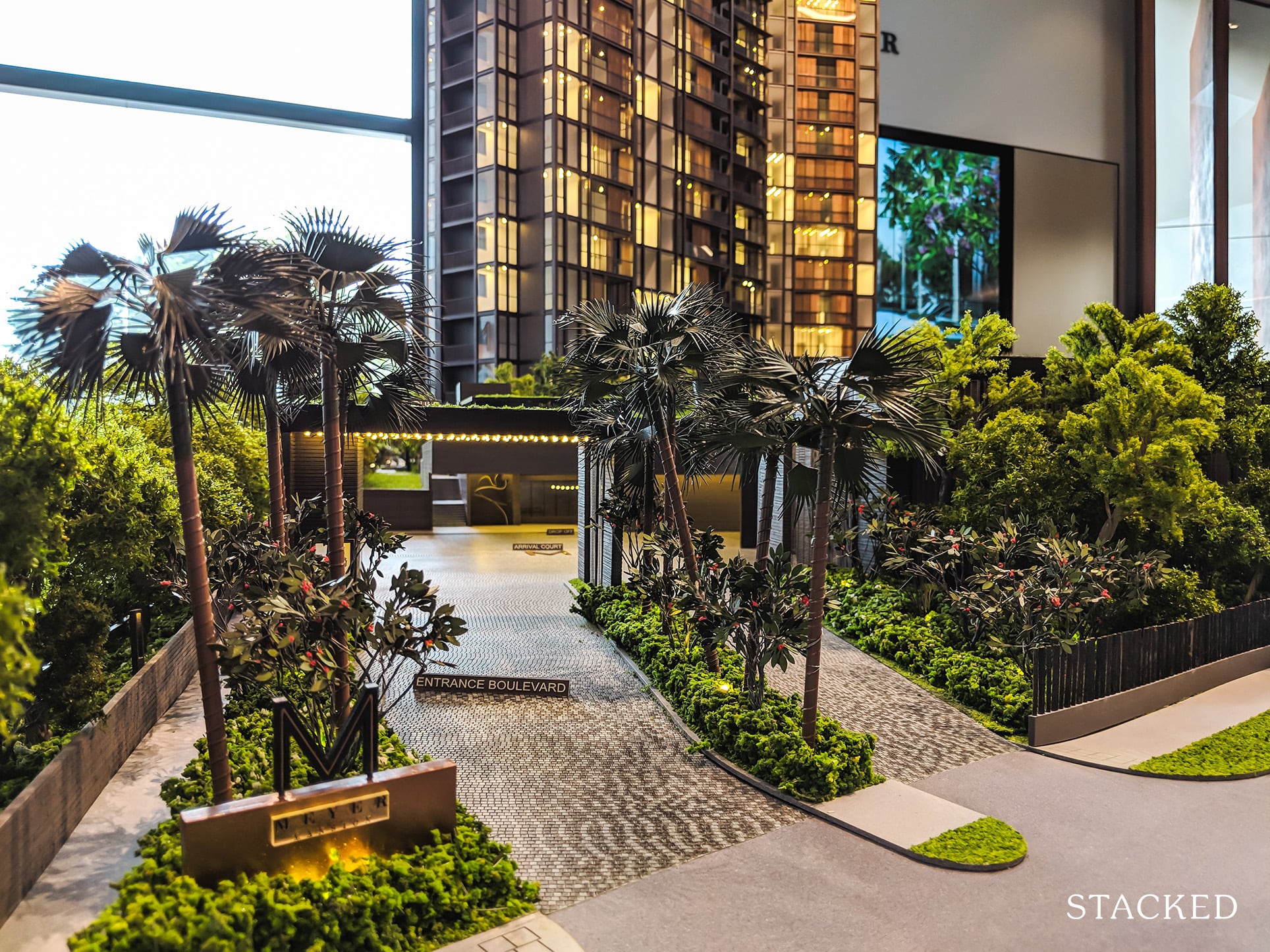 The entrance to Meyer Mansion is worth highlighting, mainly because of the long driveway and verdure landscaping alongside it. Some people don't believe in dedicating valuable land space to "non-essentials" like an arrival area. I do think first impressions are very important for luxury developments, and Meyer Mansion seems to be intent on delivering that perfectly.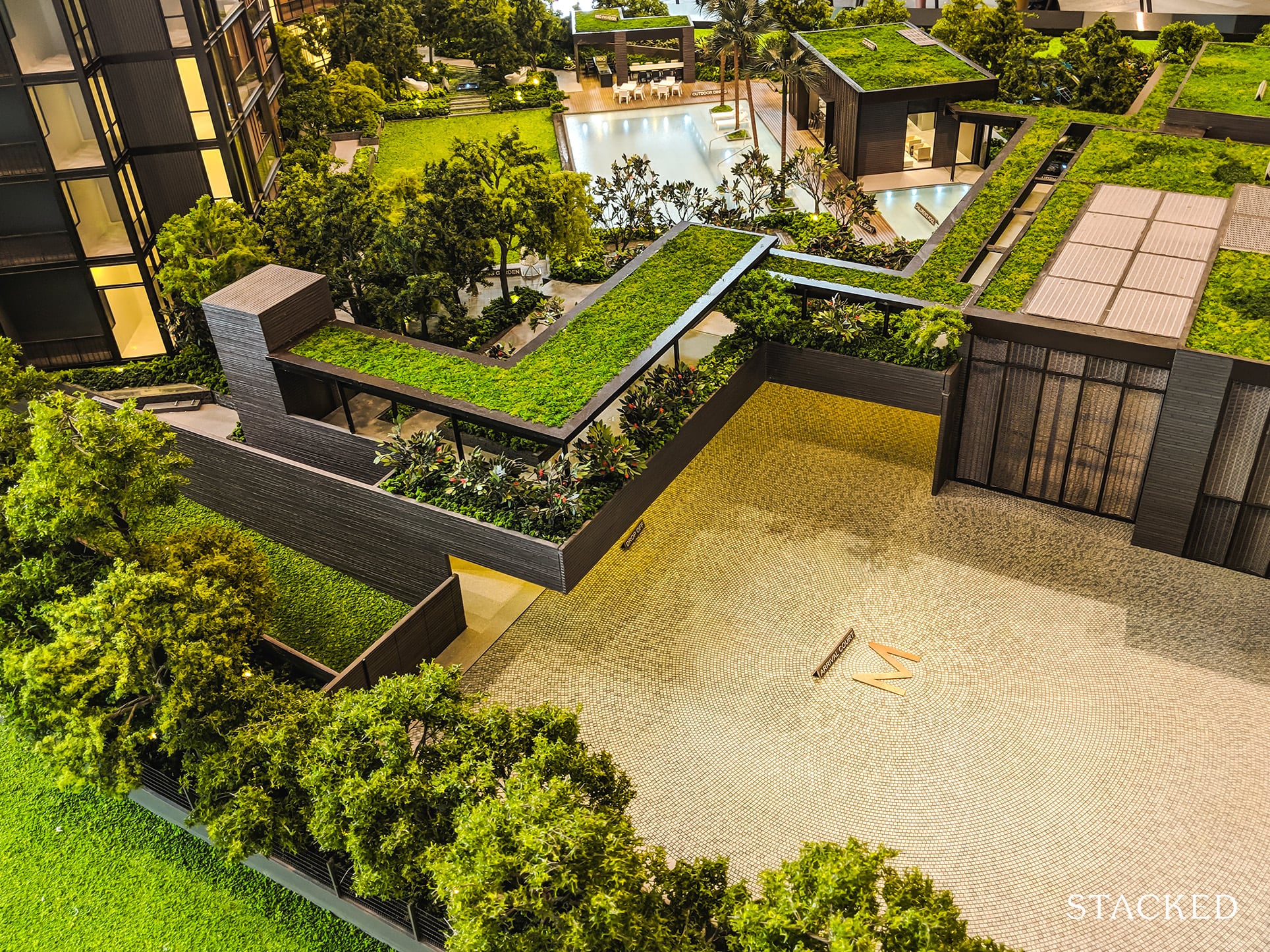 So that leads us to the huge arrival court. Inspiration was taken from the former bungalows set along Meyer Road, as many had driveways that were lined with tropical trees to welcome you home.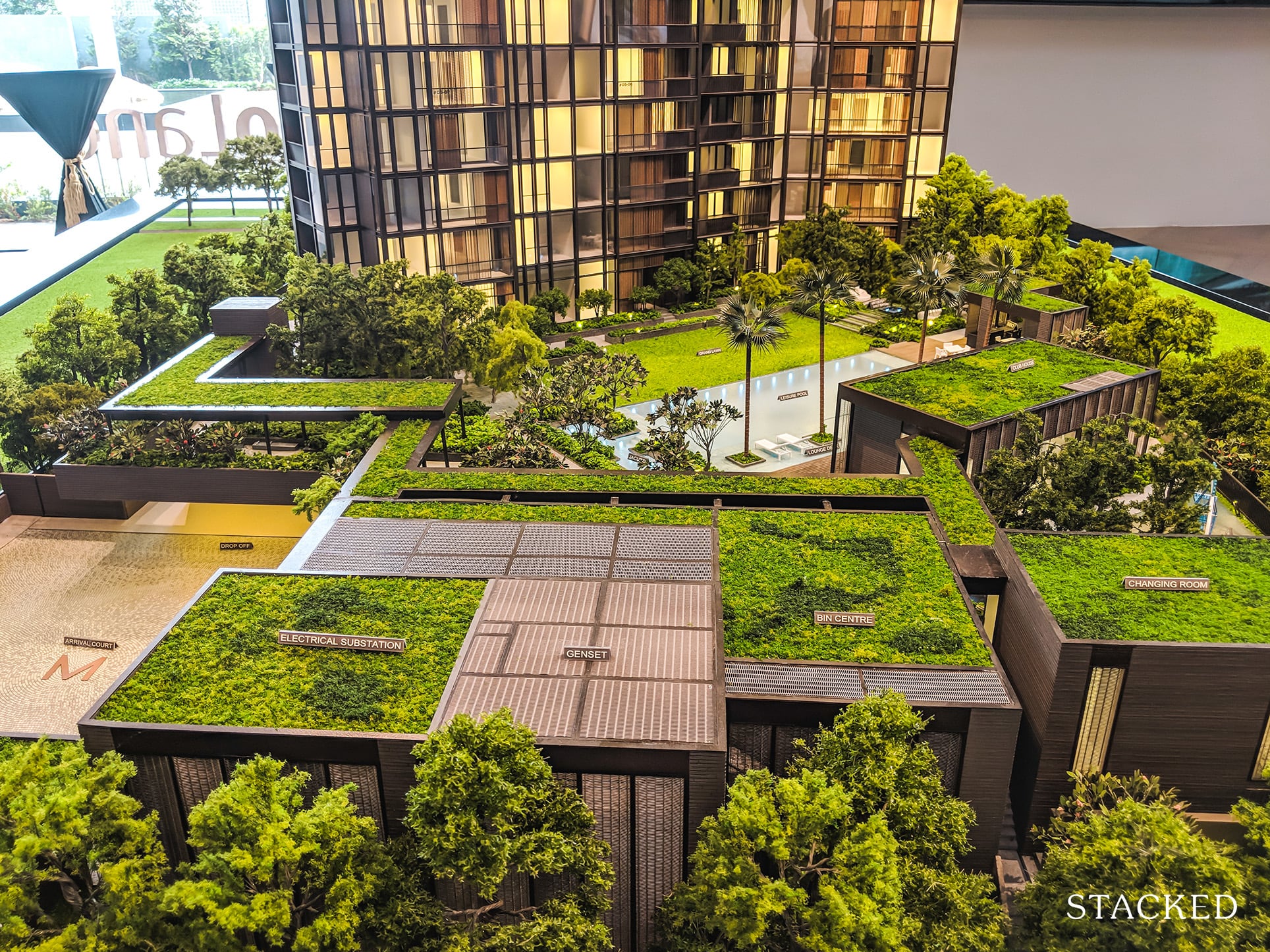 One of the key selling points of the Meyer Mansion is its 80/20 allocation of land space and units, similar to the Principal Garden. This means that 80 percent of the available land has been dedicated to landscaping and amenities, hence the reason why the 200 units have been relegated to just the one block.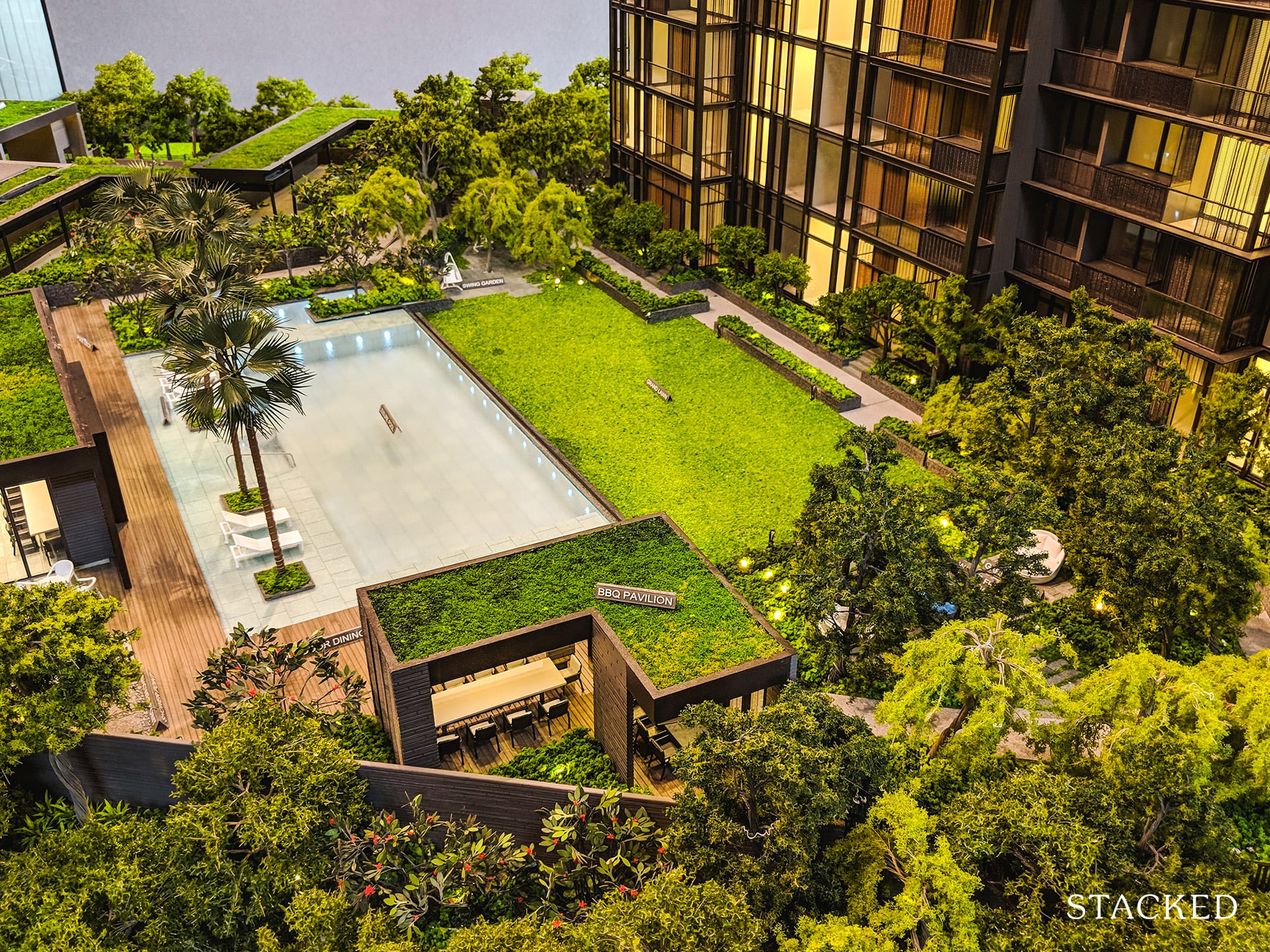 So again, with a nod to its previous heritage, the front of Meyer Mansion is a wide-open space that contains a sizeable leisure pool and a grand lawn. Taking a leaf out of the Apple marketing playbook, the grand lawn is actually just an oversized patch of green grass. But calling it the grand lawn does conjure up visions of a beautifully landscaped area that you can rest and relax in on weekends. I do think if they provide comfortable mats to use for a picnic, it could be quite a cool use of the space and something differentiated from other developments.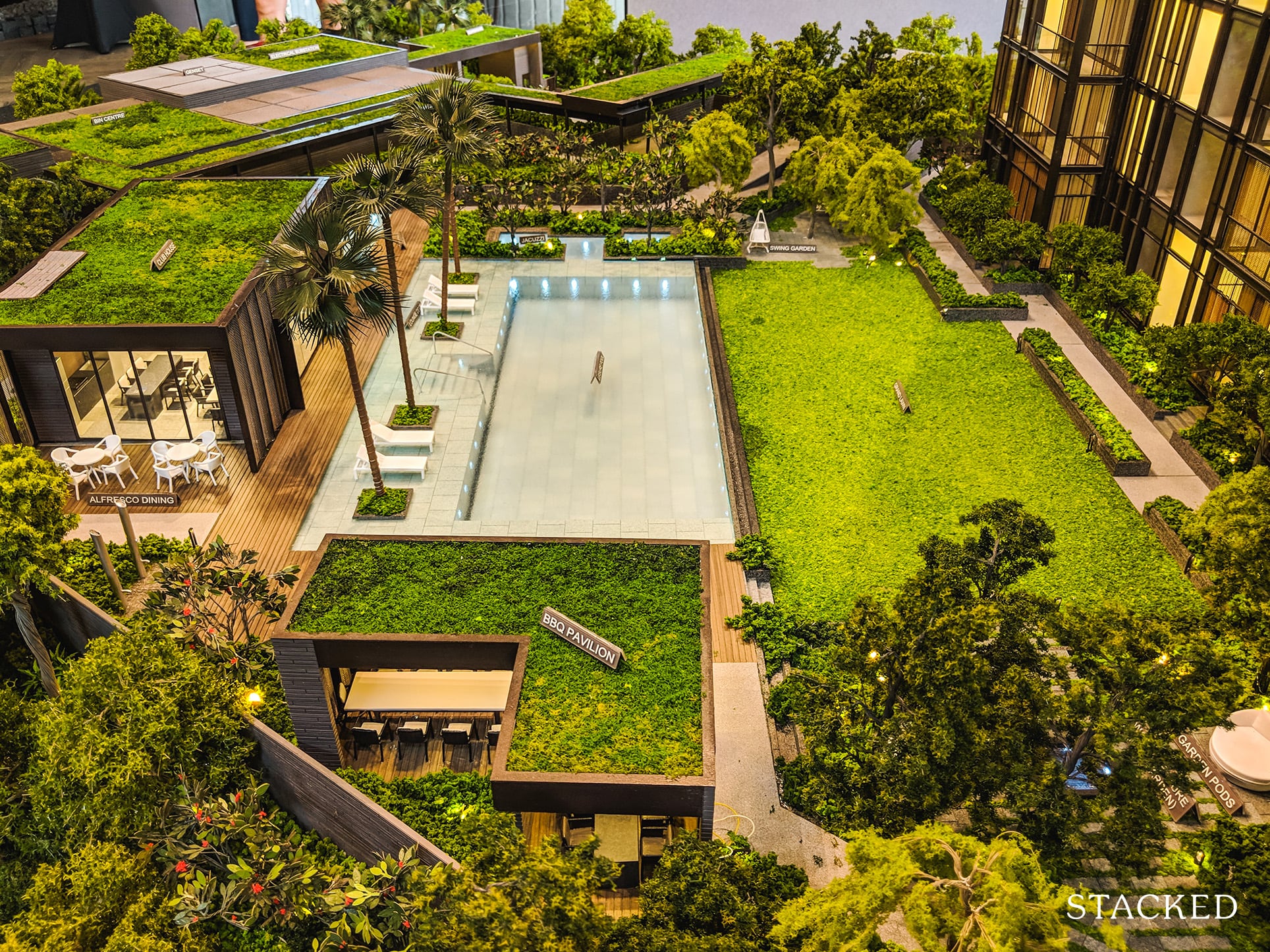 The swimming pool here is really more for you to just lazily float around and chill on the deck chairs by the side.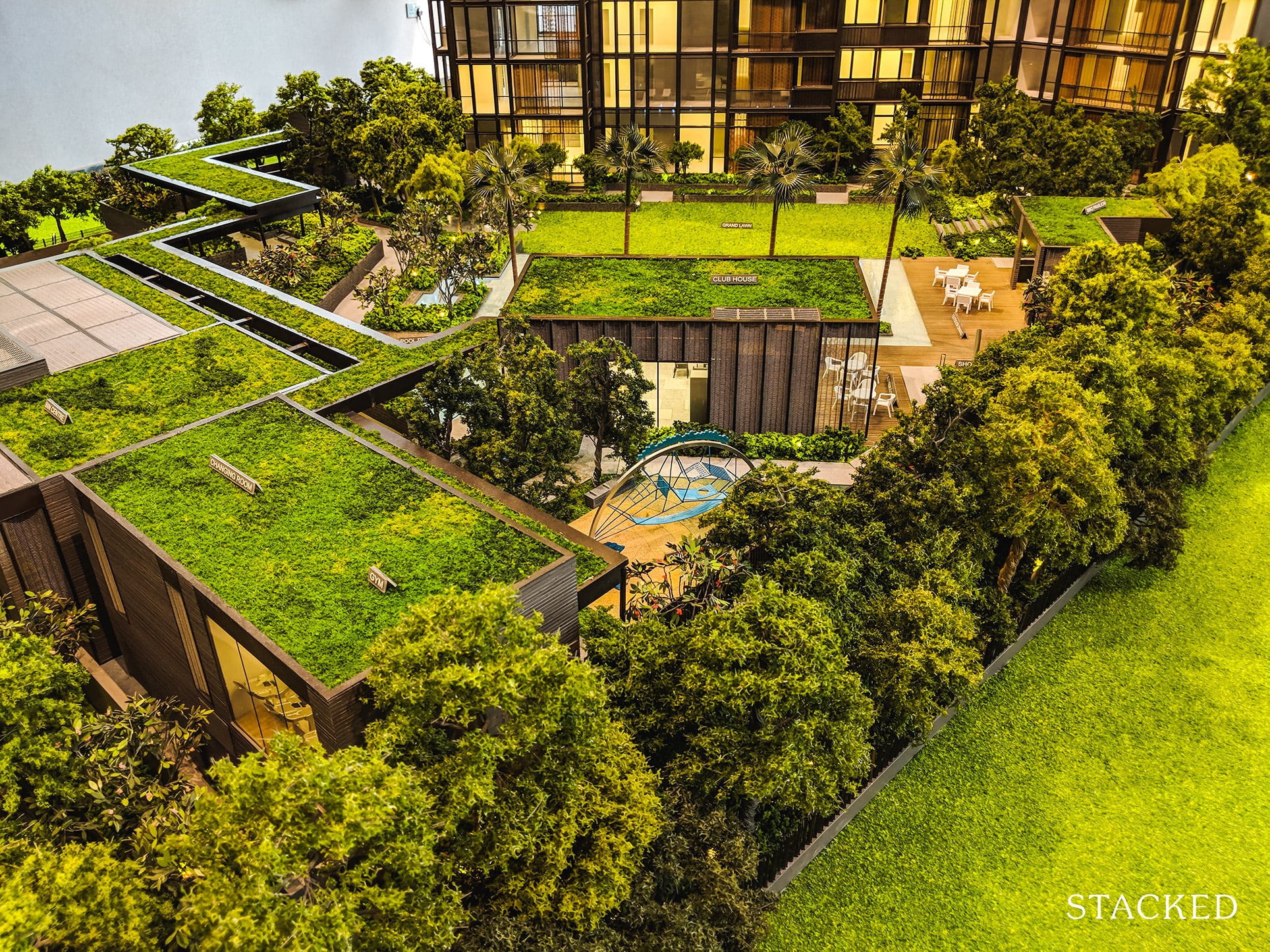 Surrounding the leisure pool are other facilities like the clubhouse, gym, outdoor dining, and barbeque pavilion. Again, because of the added focus on luxury here, there are actually two clubhouses and two swimming pools. So you can expect to have a certain level of privacy that you would not get from a mass-market condominium.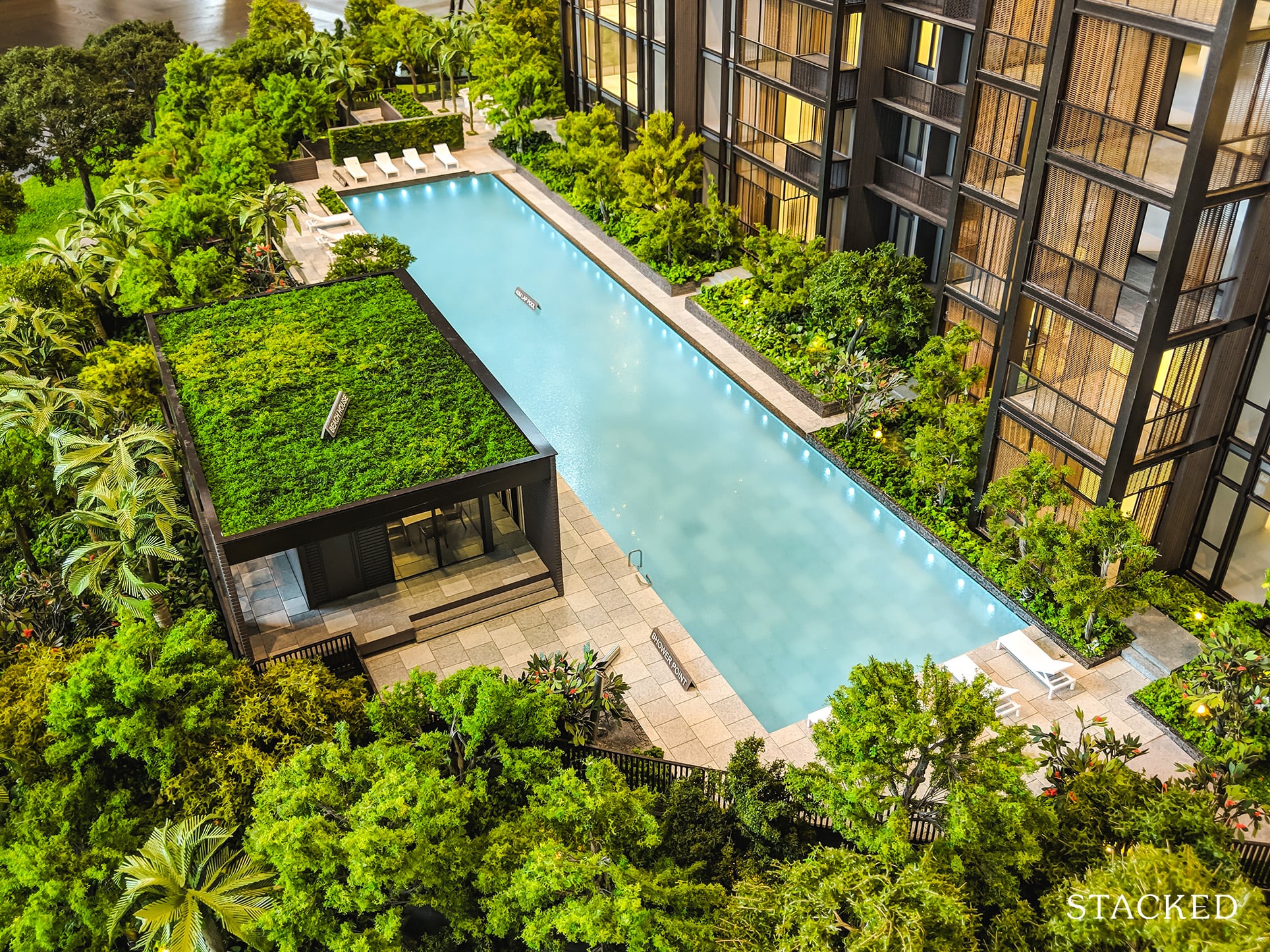 Round the back of the development is a 40m lap pool and the second clubhouse.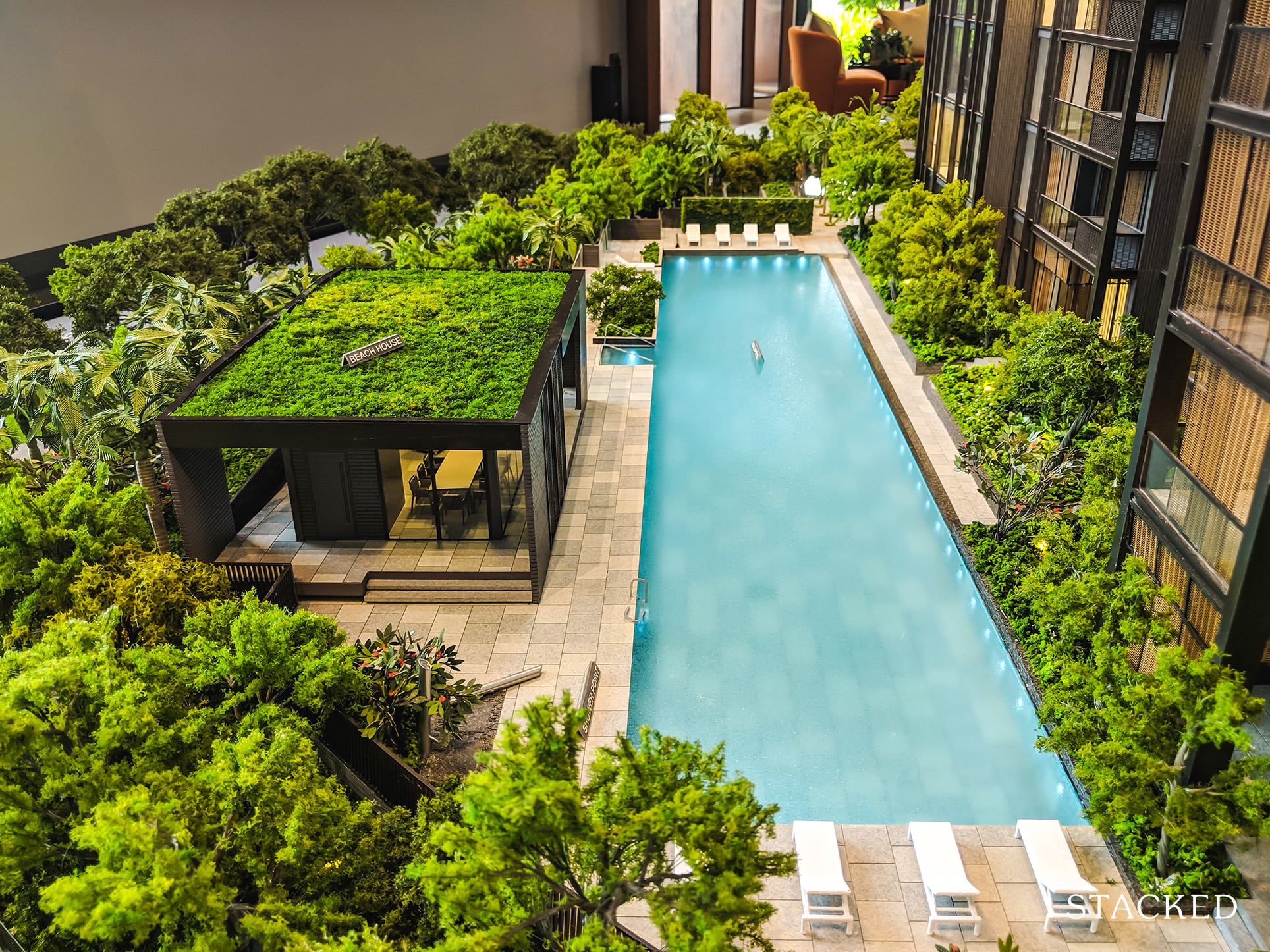 Nowadays for a development of 200 units to have a pool of this size is pretty decent, so to have two swimming pools that just takes the cake. The eagled eyed among you might have noticed, however, that this pool basically comes at the expense of a tennis court! So if you are a big tennis fan, unfortunately, this is probably not the place for you.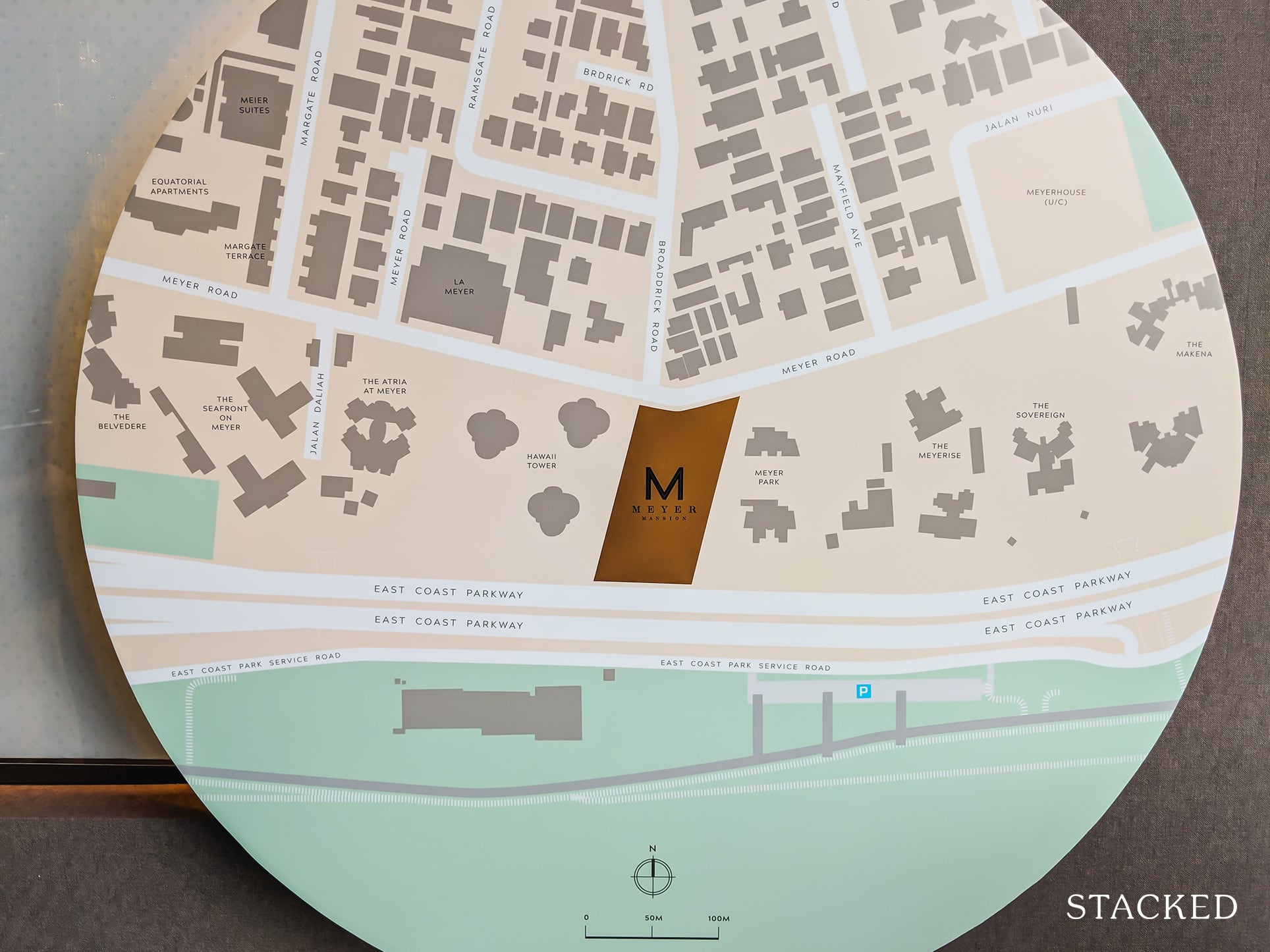 Just to give you an idea of the orientation, the lap pool faces East Coast Park, which is towards the sea. The front with the grand lawn and leisure pool faces Meyer Road.
One last thing to draw your attention to is the East Coastline, where you can see the whole length of all the developments. With its strong brown finishings and copper accents, the Meyer Mansion is bound to stand out amidst all the older white-based developments in the area. If a modern captivating exterior is important to you, this will be right up your alley.
Meyer Mansion Review 3 Bedroom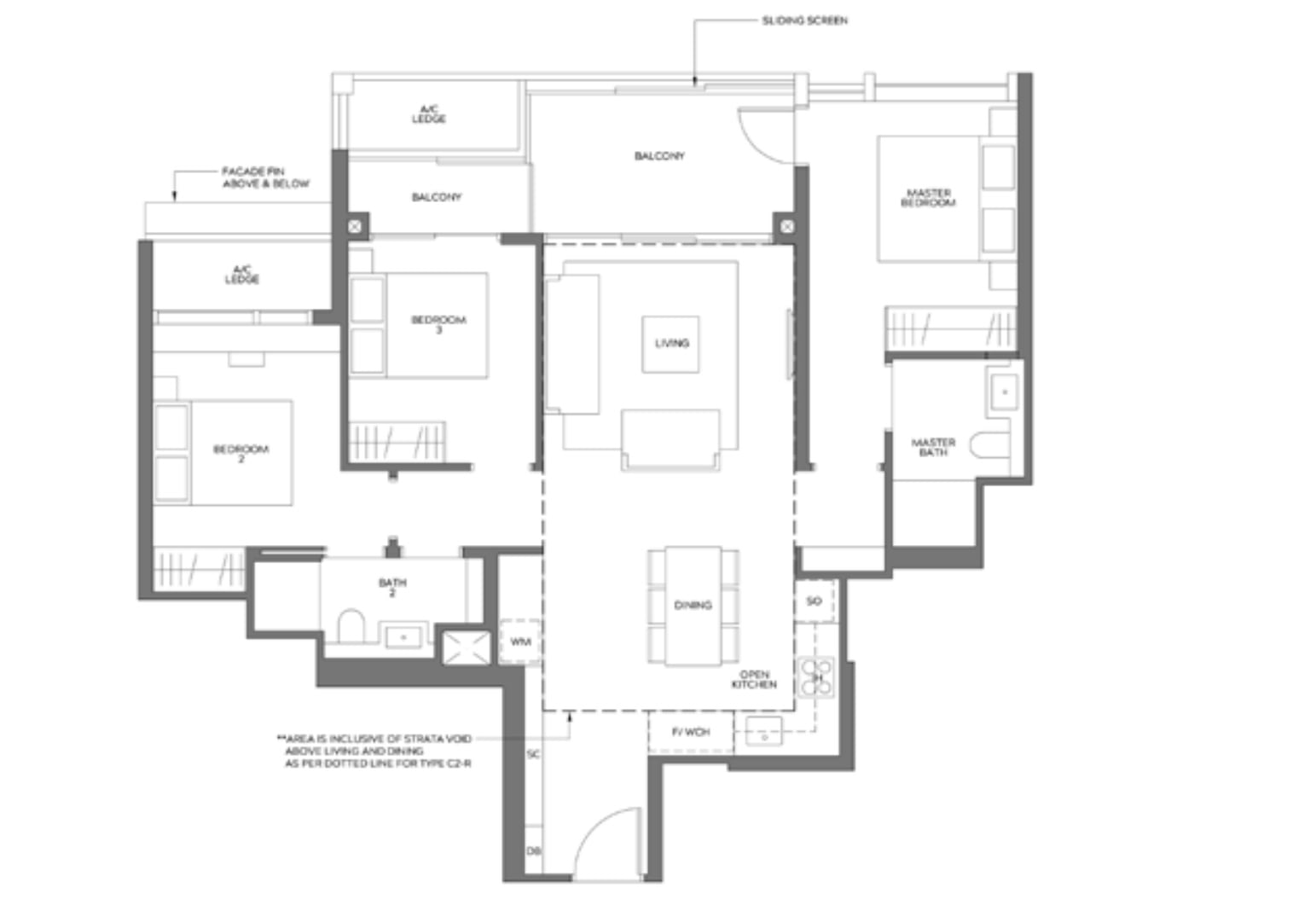 The 3 bedroom non-premium unit comes in at 1109 square feet, which is respectable but I would say for a luxury-focused development it isn't on the high side. On a brighter note, it is a dumbbell layout which affords you more privacy between the master bedroom and the other rooms.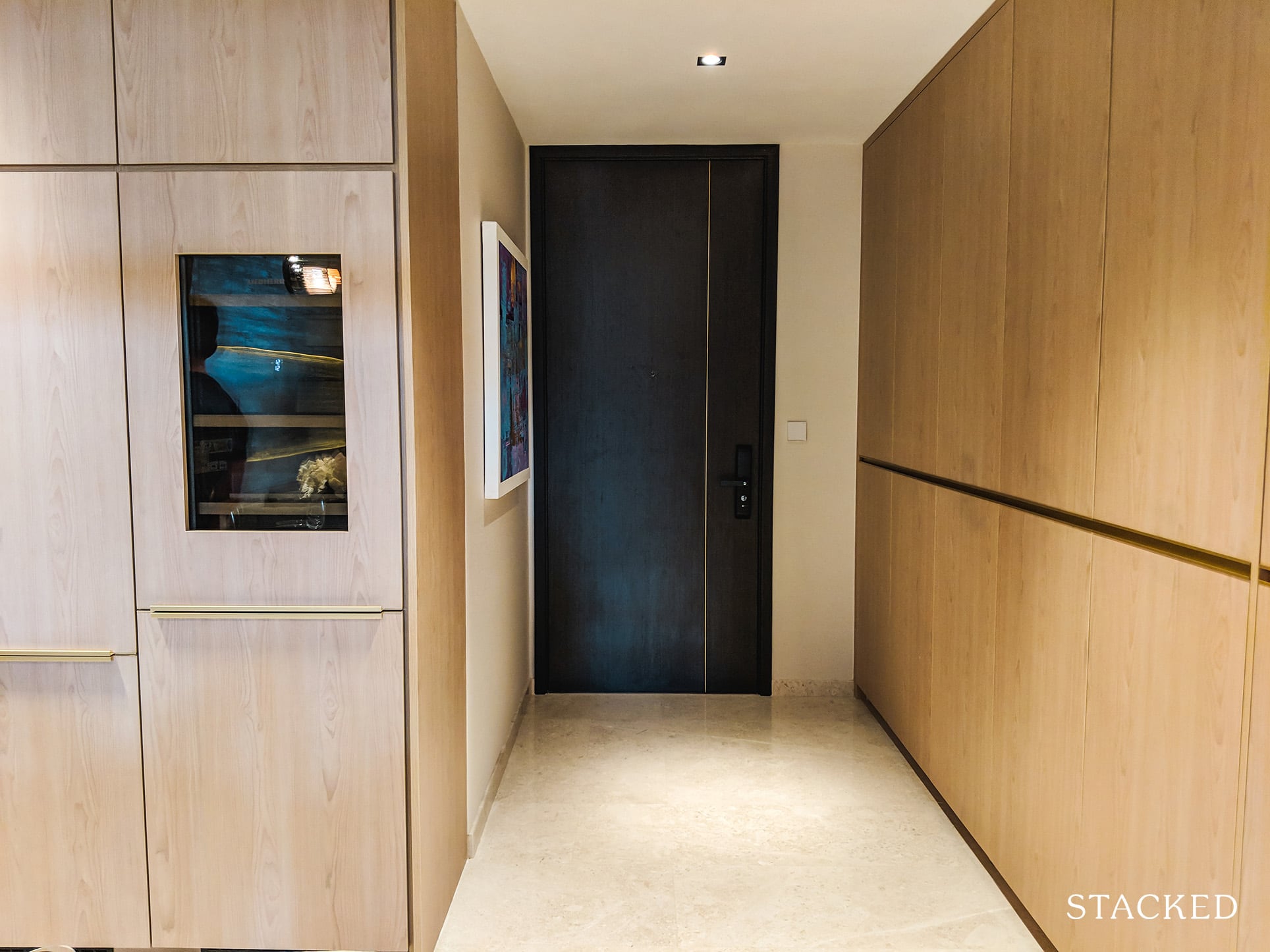 The entrance of the 3 bedroom unit is wide, and it comes with lots of useful inbuilt storage at the side. I do like the gold trim, it gives a touch of class and feels quality upon touch. As this is a non-premium unit, you will have to settle for a regular entrance without private lift access.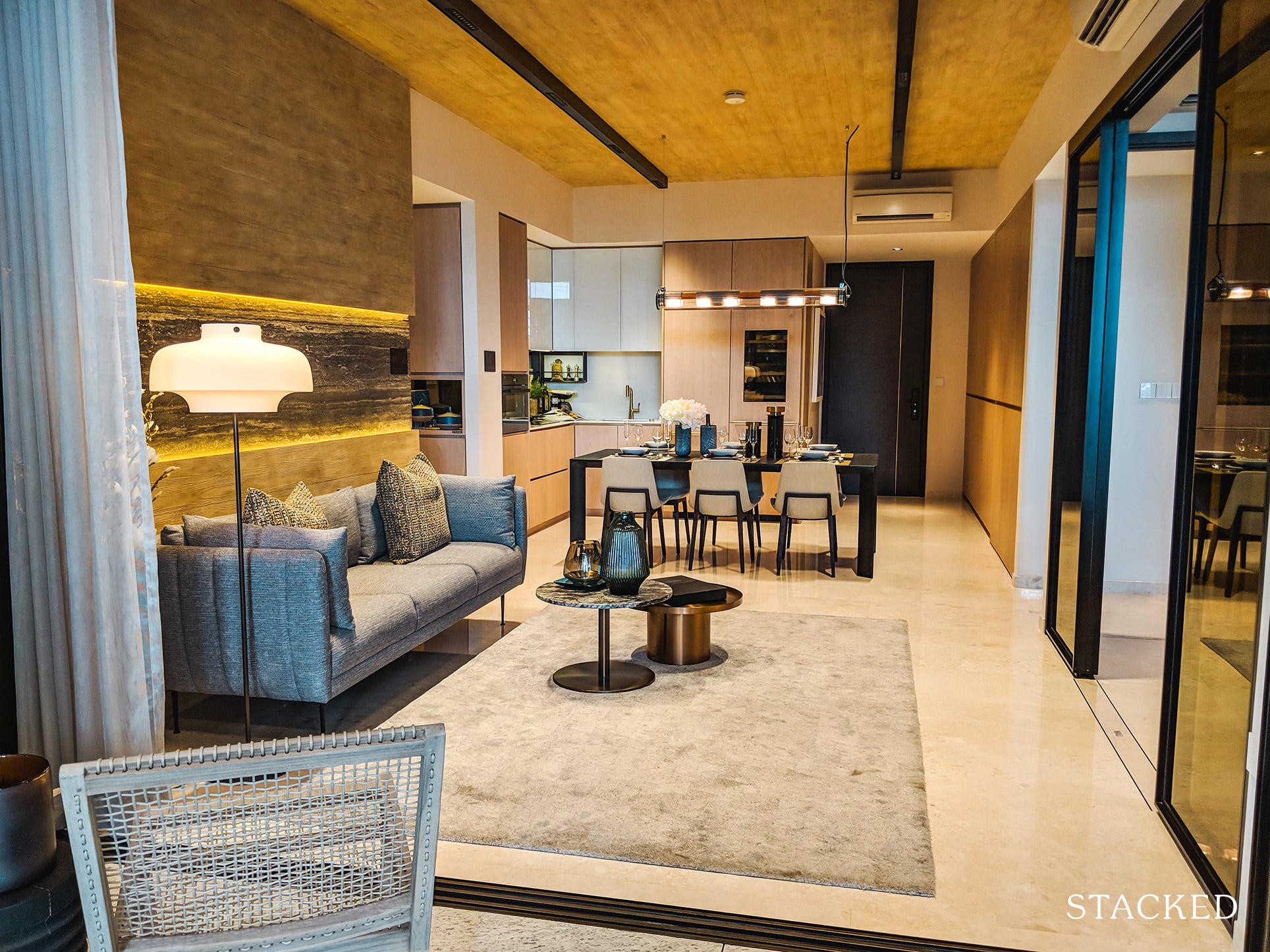 Even though this 3 bedroom unit isn't the biggest in size, it is a well-planned layout. From here you can see that the living room space is quite decent and there is a very open feeling once you step in from the entrance. It is a very usable layout too given the regular shape.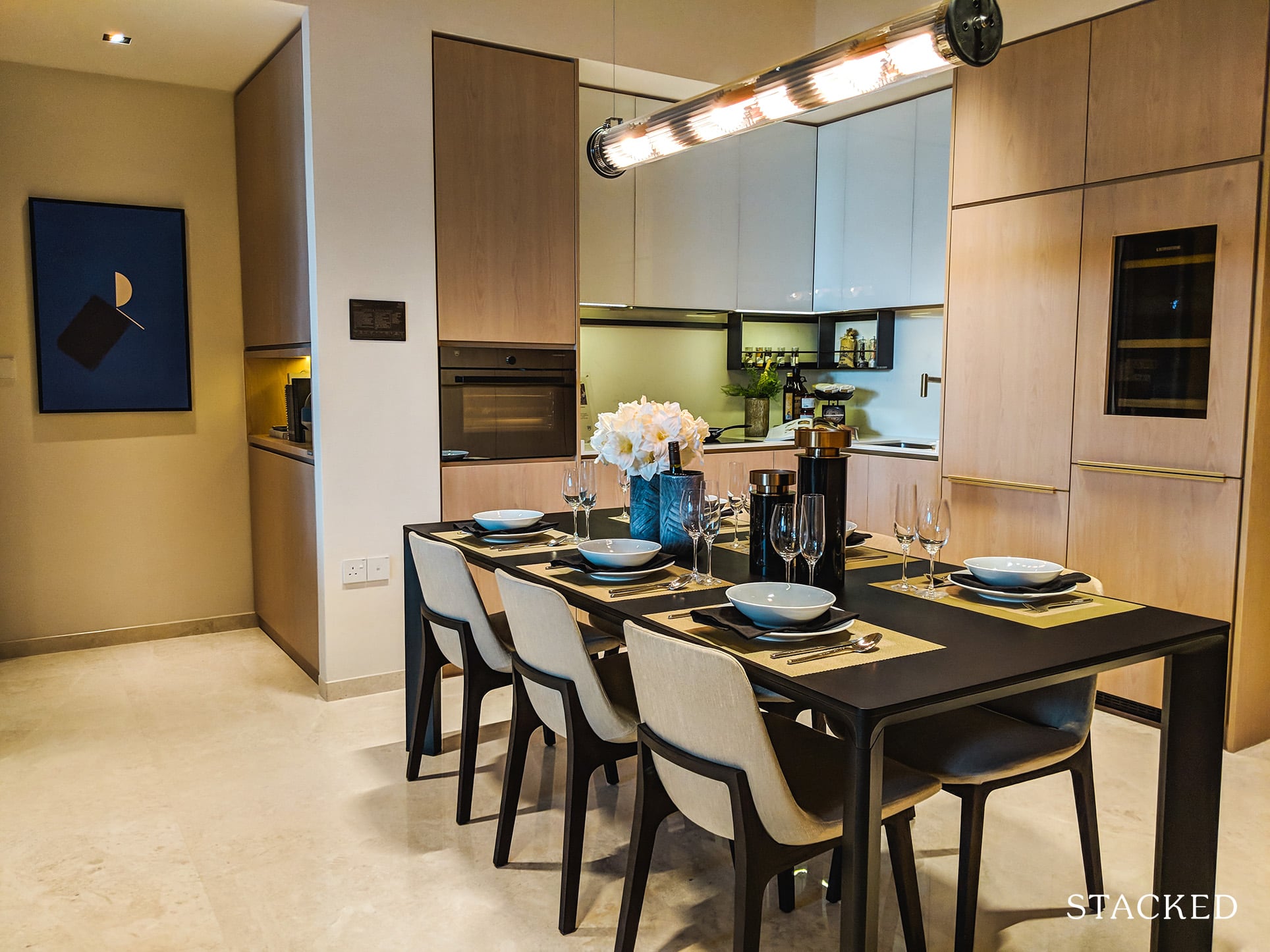 You can accommodate a proper sized dining table here. It does look like there is ample space, but it is a bit deceiving because it creeps into the kitchen space.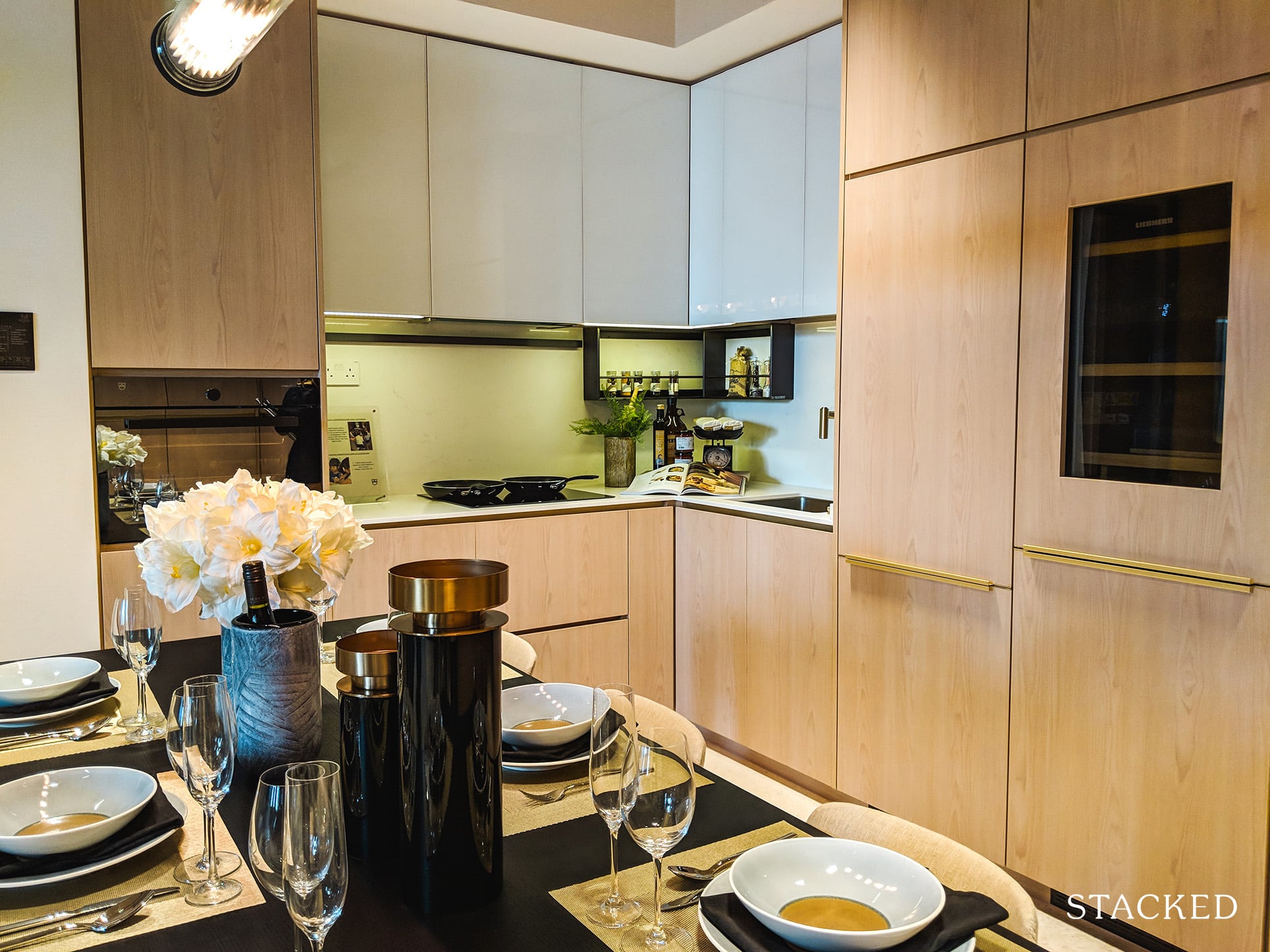 The kitchen in the 3 bedroom unit at Meyer Mansion has a lot of storage space, but to be frank, the countertop space isn't great. It is also an open kitchen concept, which if you are into more heavy duty cooking you would definitely not fancy as much.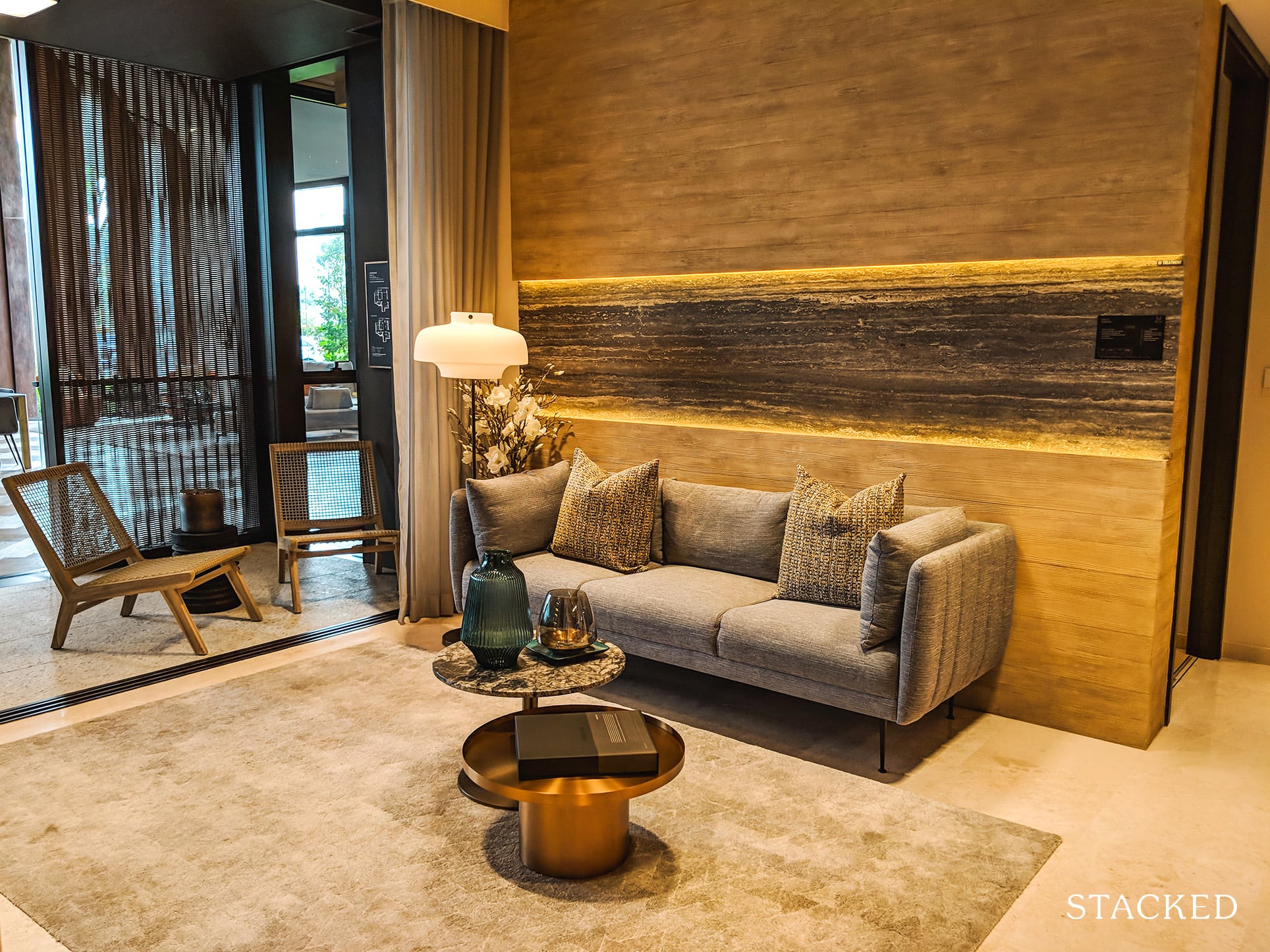 The living room is really a very competent size, even with a bigger couch and coffee table it still looks spacious.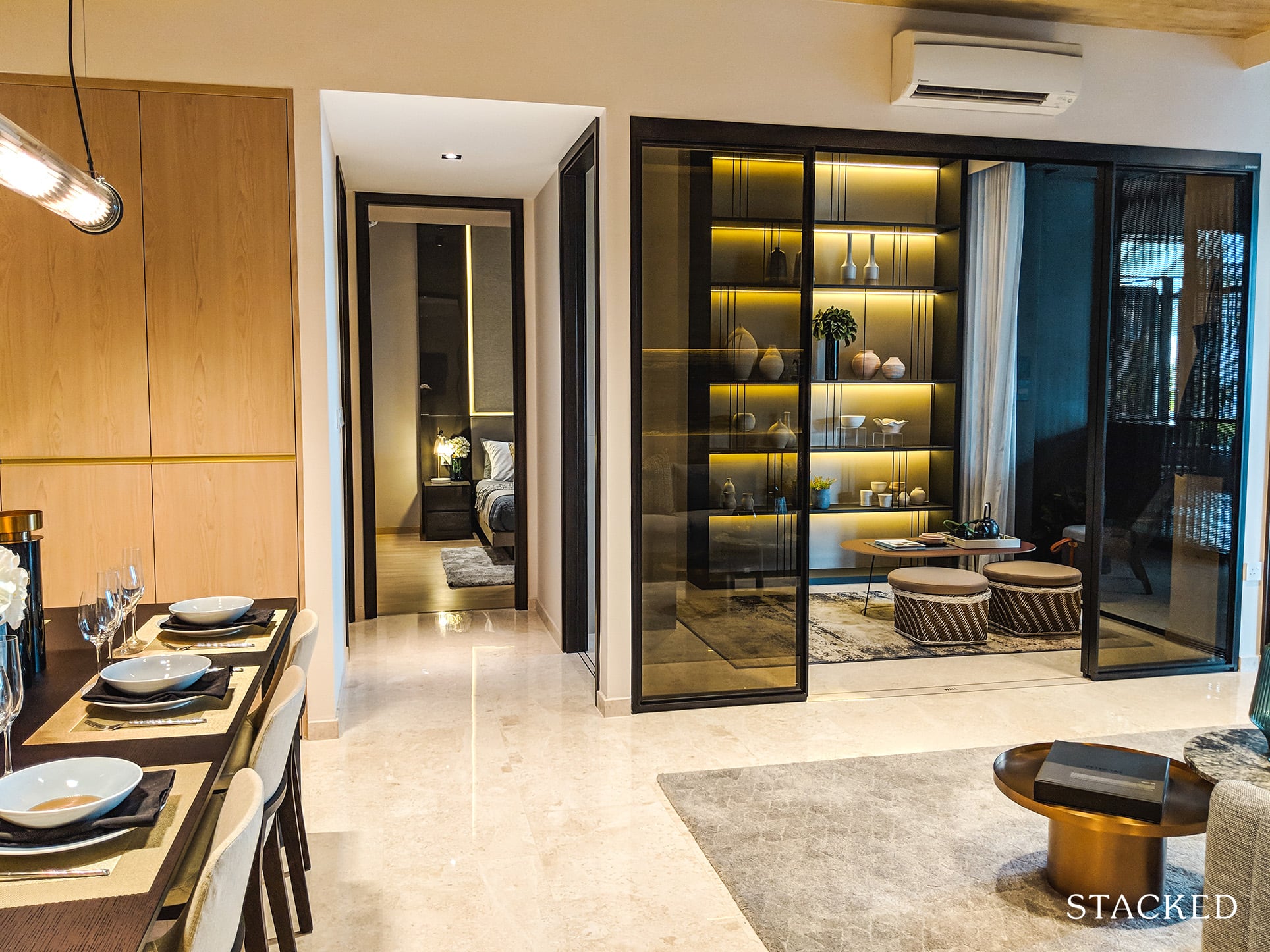 In the showflat example, the second common room is actually opened up. It will retain the marble flooring and you can essentially choose what you please to do with the room.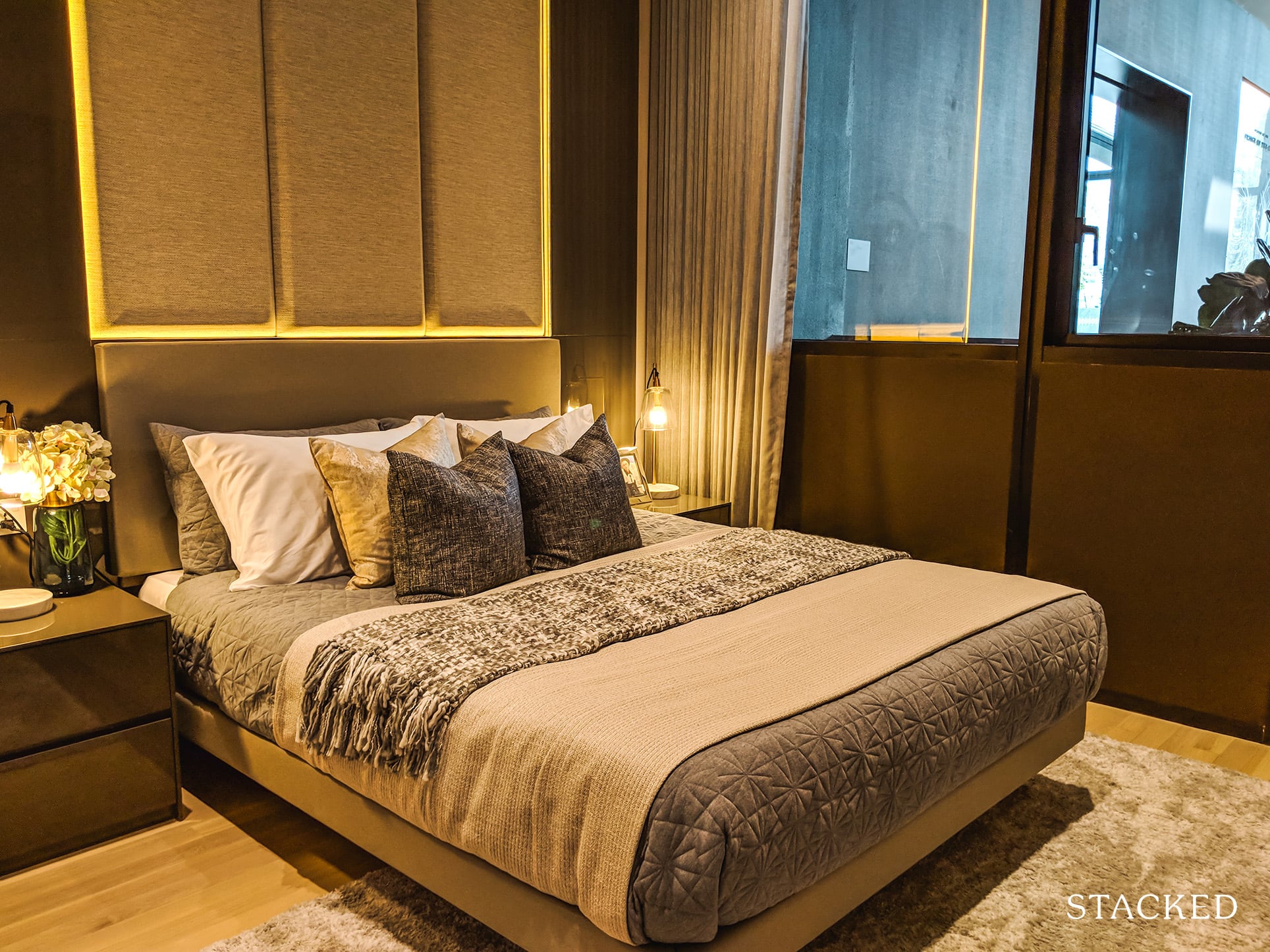 The other common room here is a very good size. Sadly, it does not get the floor to ceiling window of the master bedroom, as the AC ledge is right outside.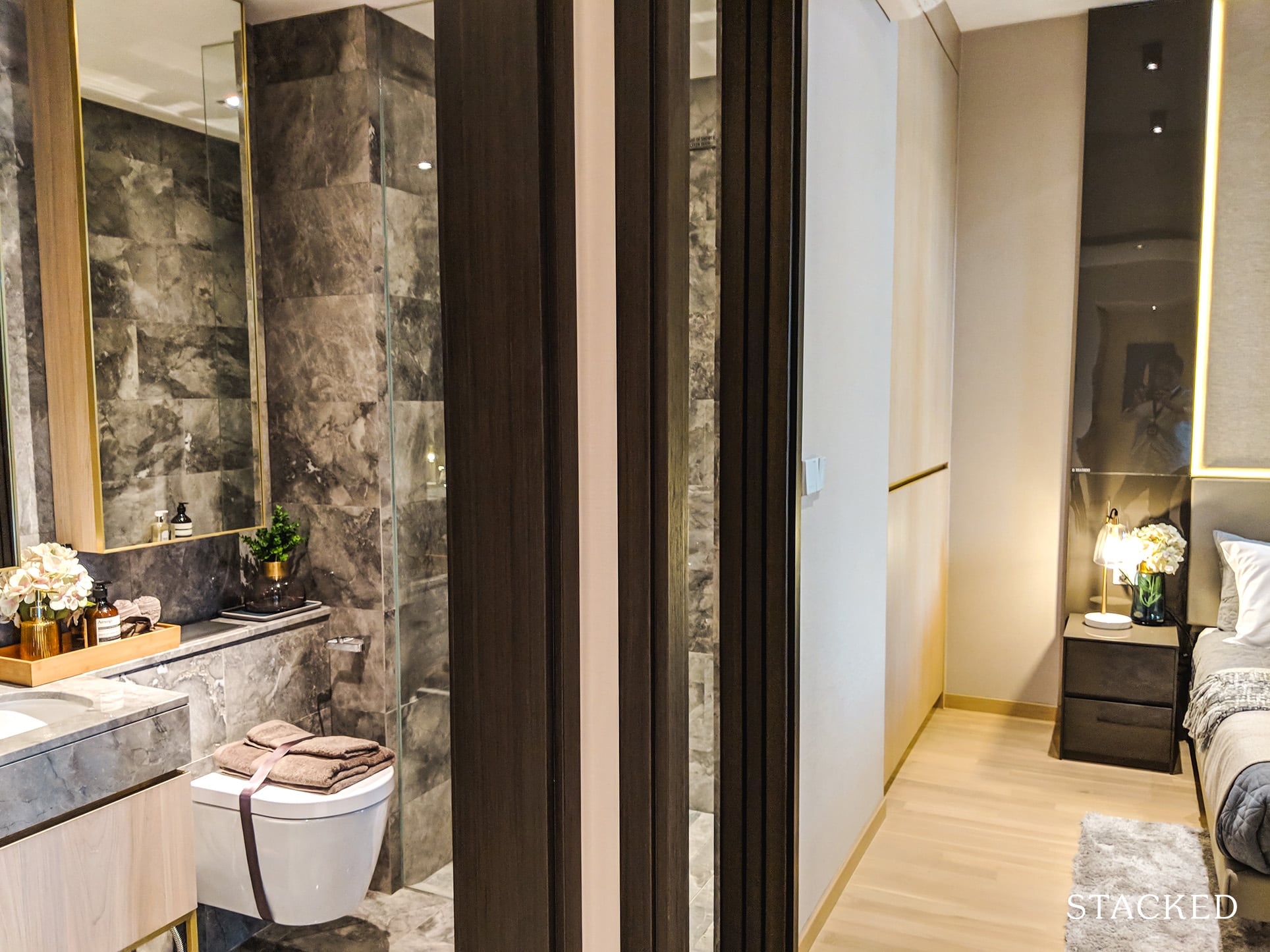 This common room is connected to the bathroom, which is accessible via another door too.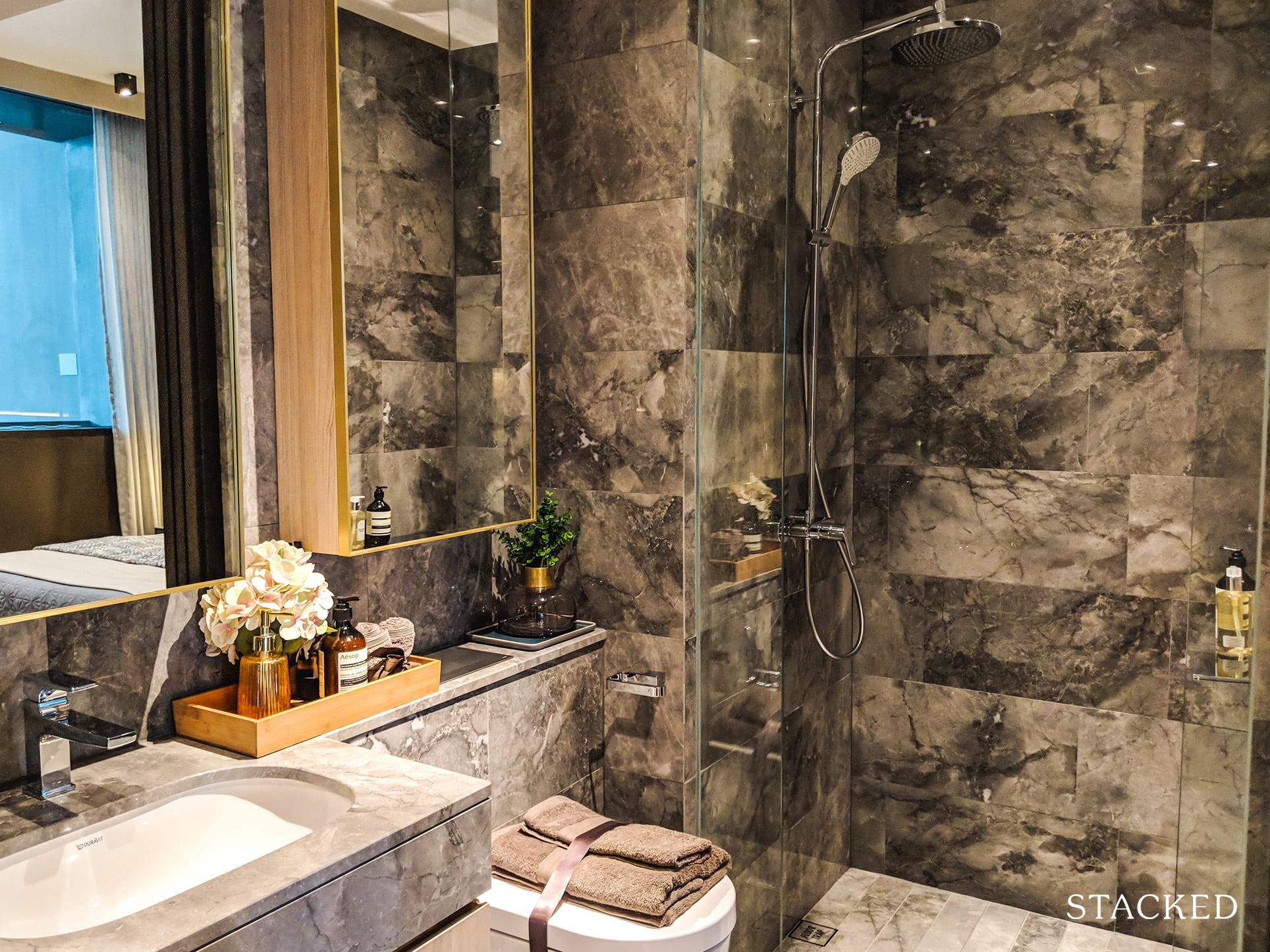 It's a good size, and again, the gold accents really give off a classy vibe.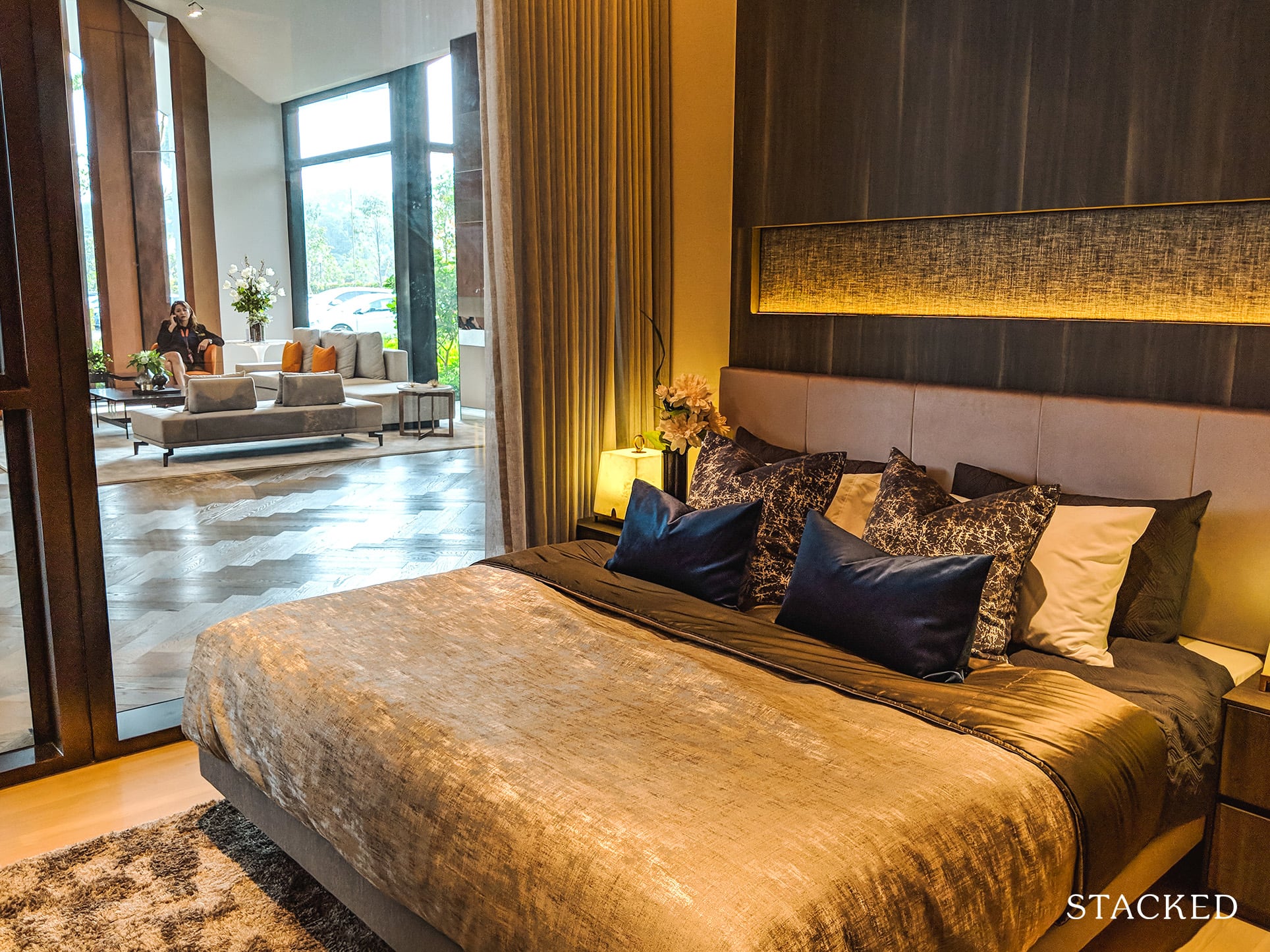 The master bedroom is gorgeous, in particular, because of the floor-to-ceiling windows that allows you to get a good view of the surroundings plus let a lot of light in. Not many developments offer this so it is definitely something quite unique.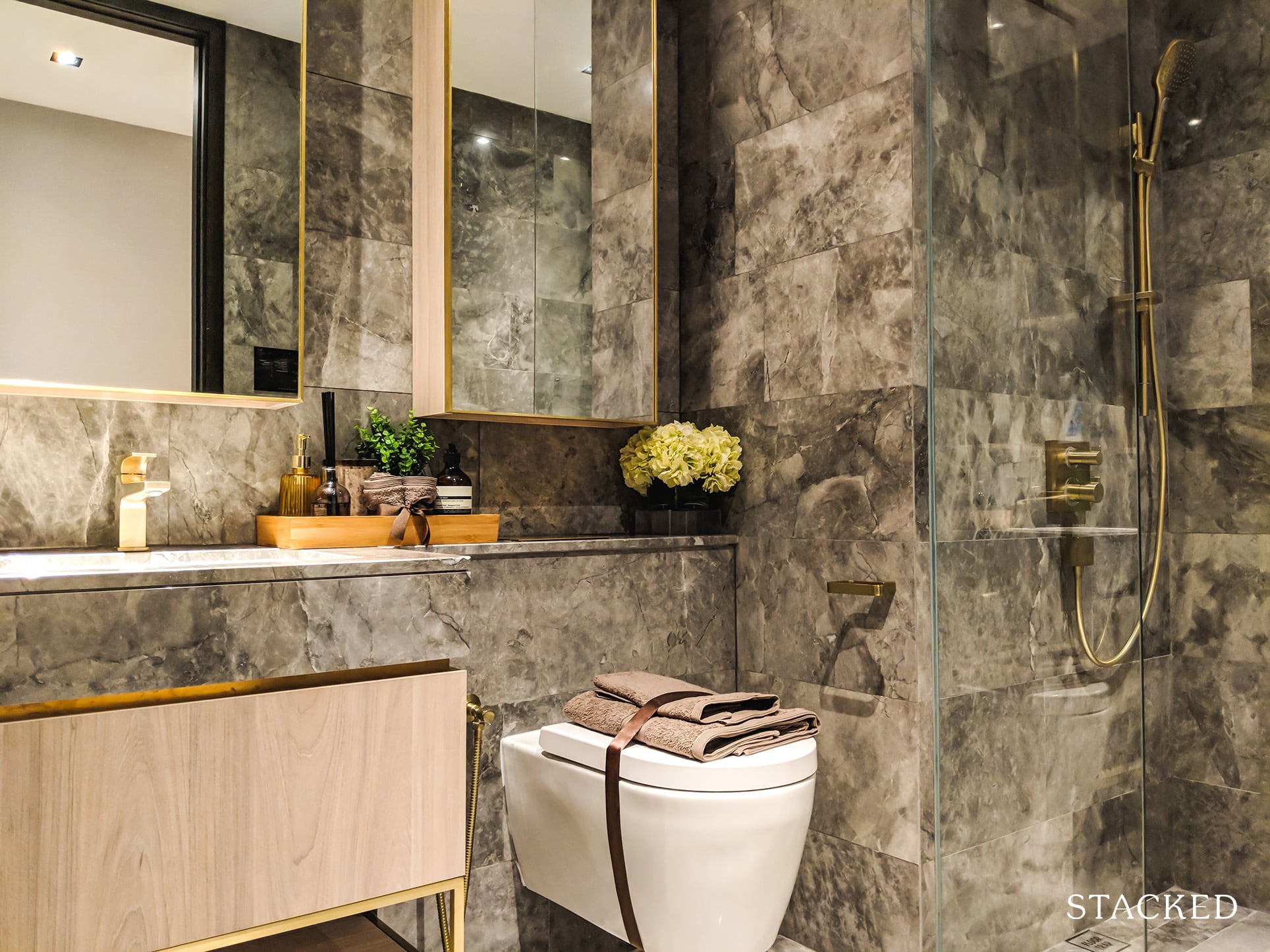 In comparison to the common bathroom, the master bathroom here gets even more gold accented hardware!
Meyer Mansion Review 4 Bedroom Premium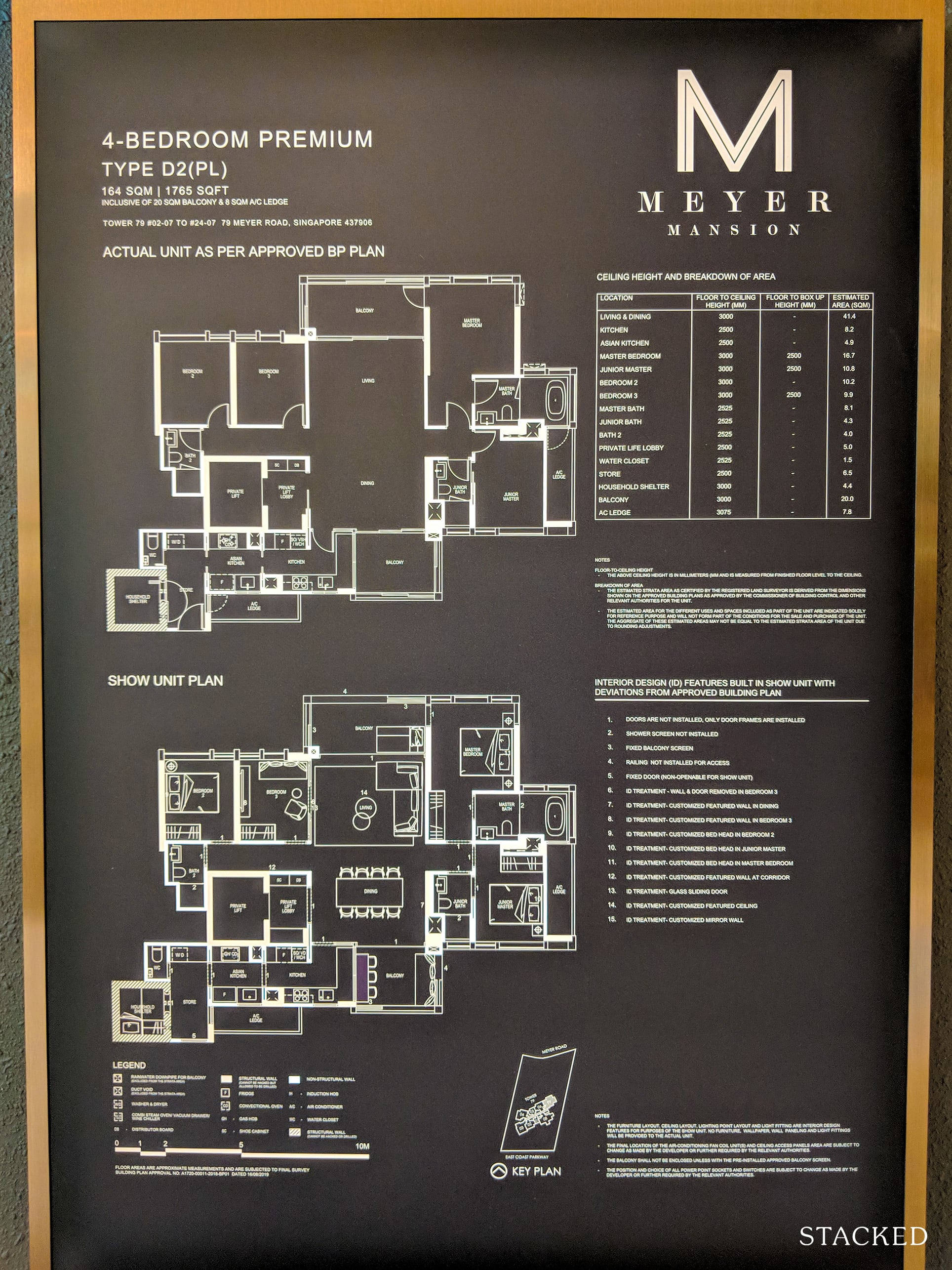 If you have the cash for it, the 4 bedroom premium is a really great comfortable layout for any family.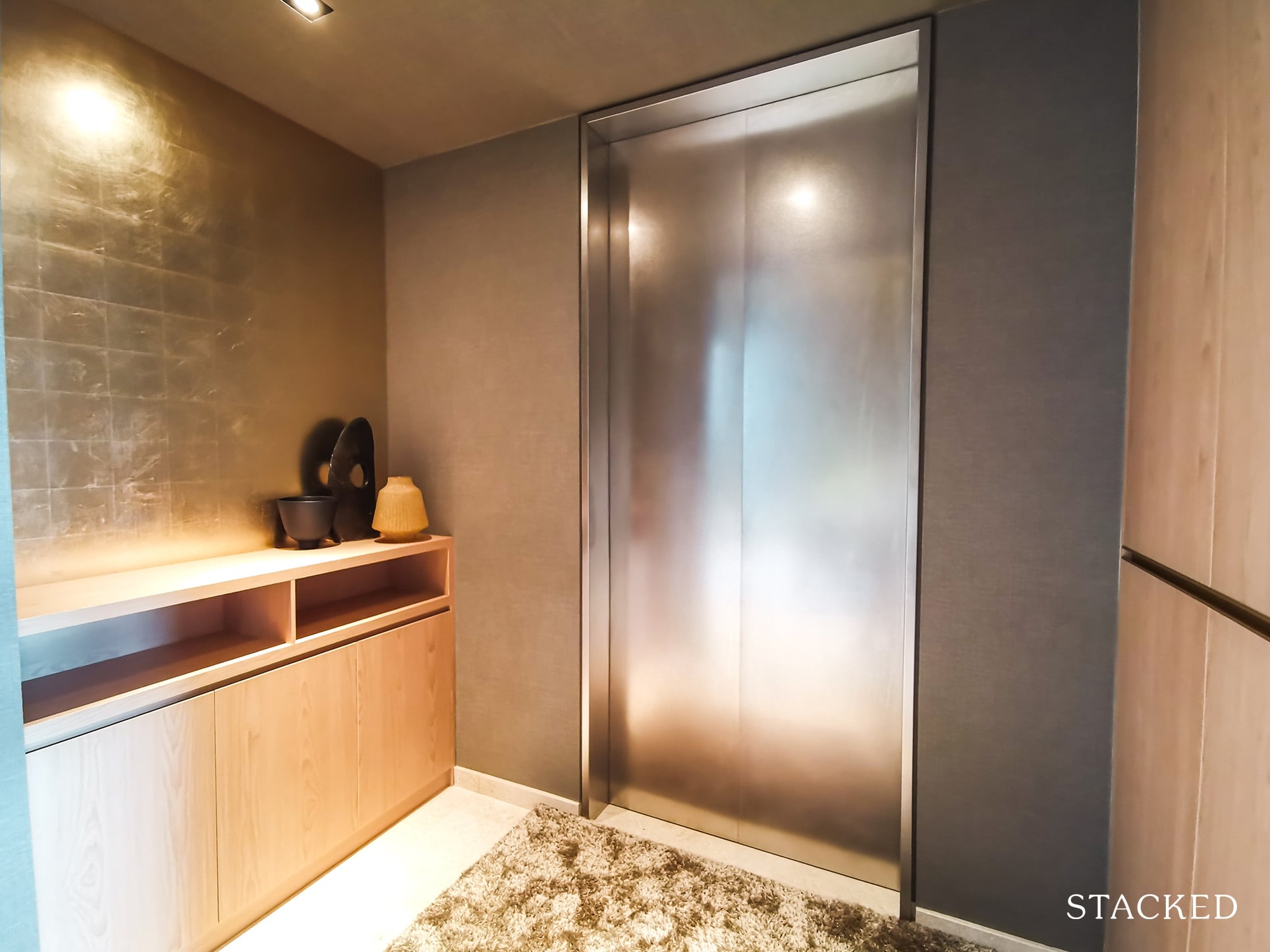 Naturally, with the word premium as part of its description, the entrance to the unit is via a private lift.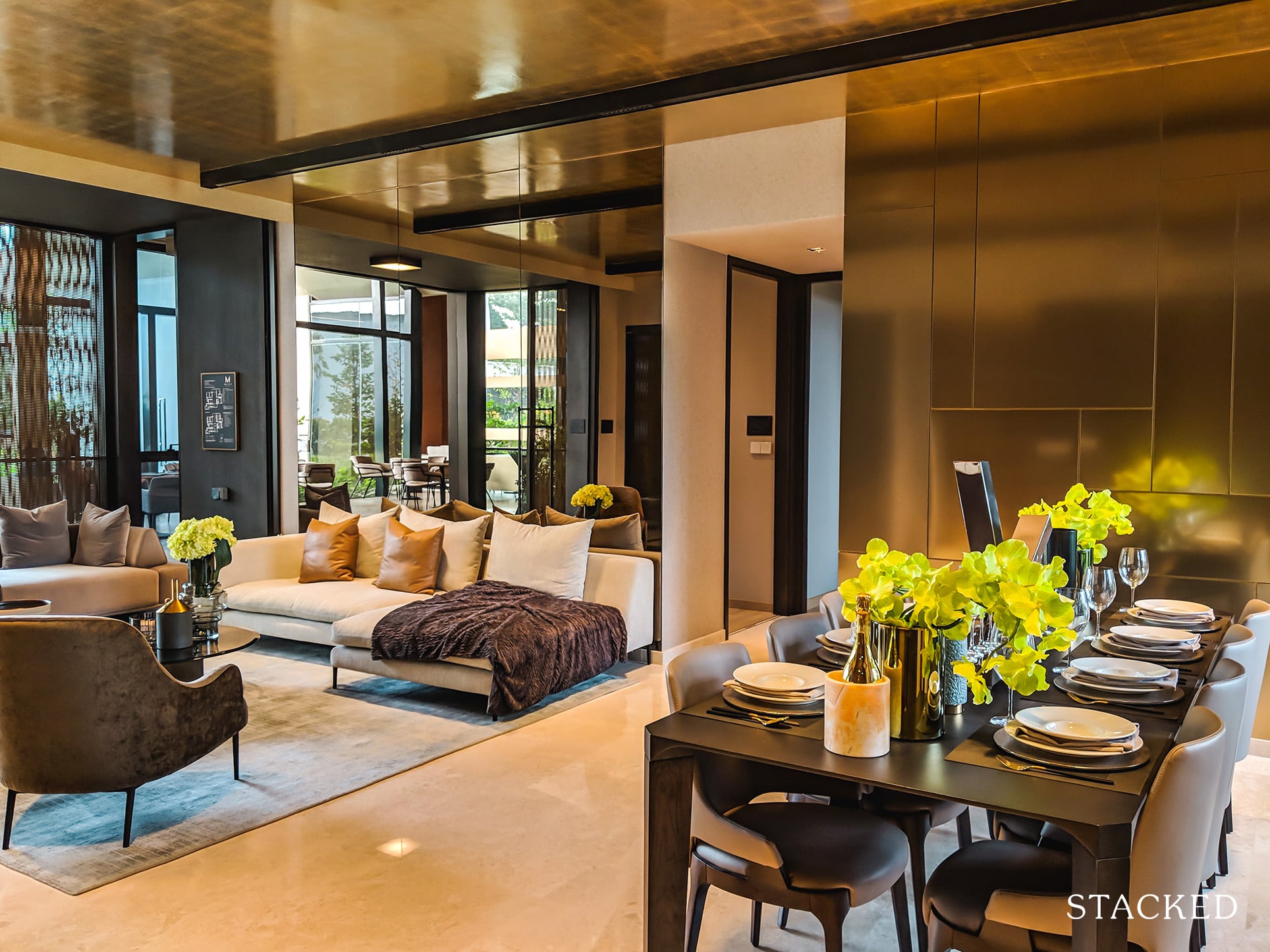 Once you step in, the extra size here over the 3 bedroom unit is evident. The space is more than sufficient for a large couch or two, and a proper sized dining table.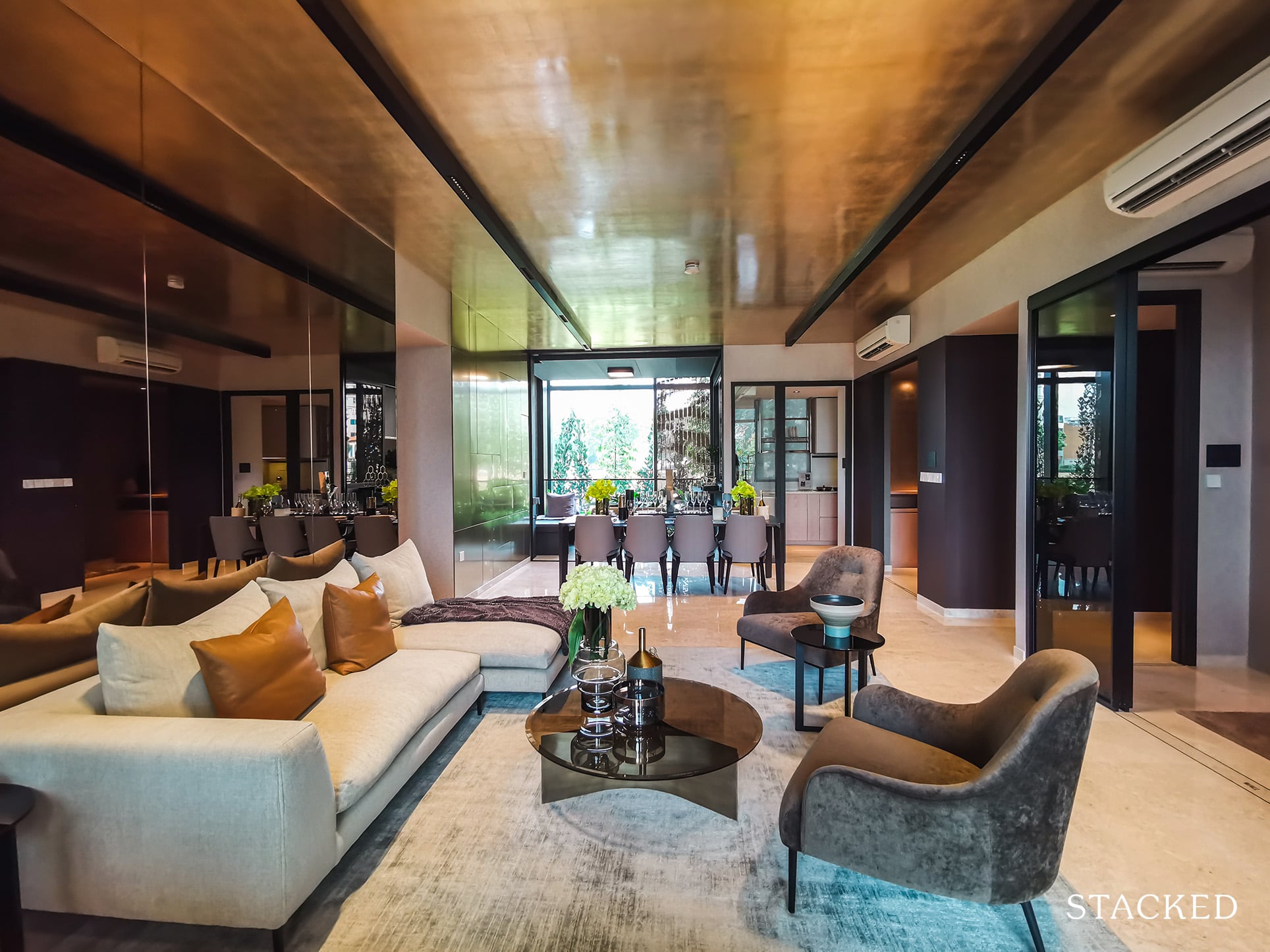 Again, it isn't the biggest in its class, but at 1,765 square feet the layout makes it feel bigger than it is. One particular feature that I really like is the two balconies on opposite ends. This lets lots of light into the space and when opened up, the airflow through would be awesome.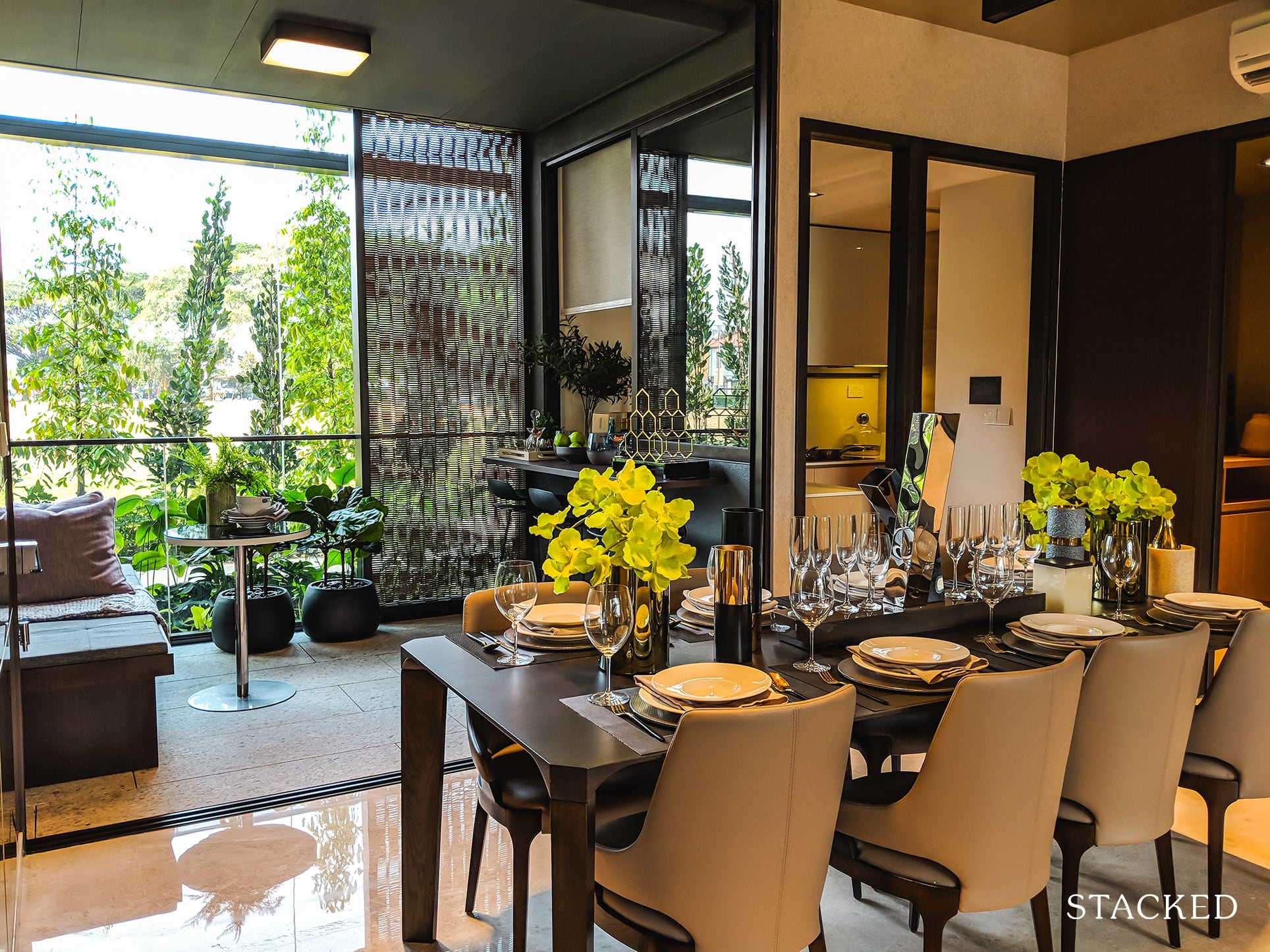 Both balconies are large enough to be useful.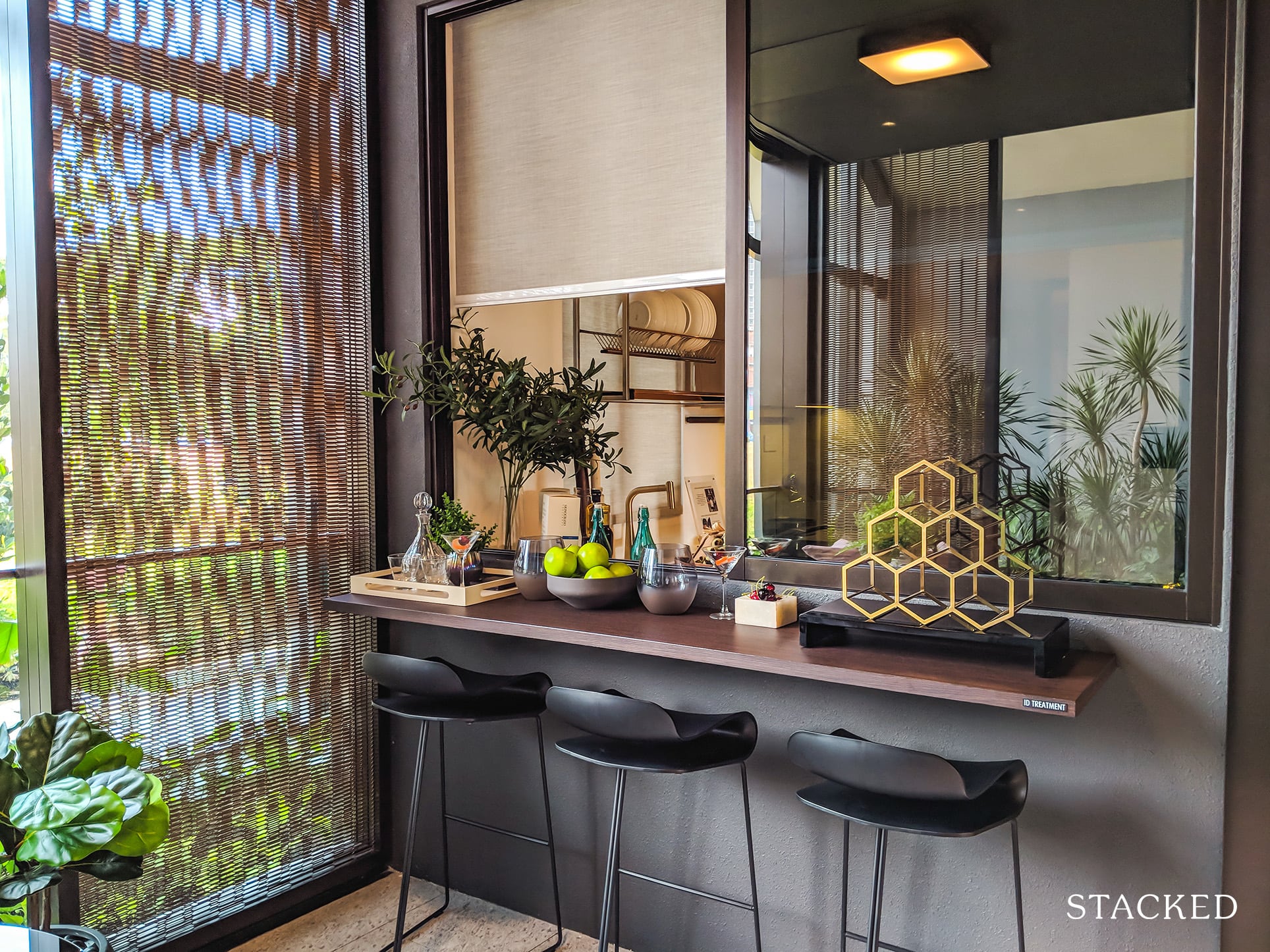 Because this balcony is right next to the kitchen, you have the option of installing a bar counter, which is convenient for a quick meal or breakfast in the mornings!
There is enough space for both a wet and dry kitchen in this layout.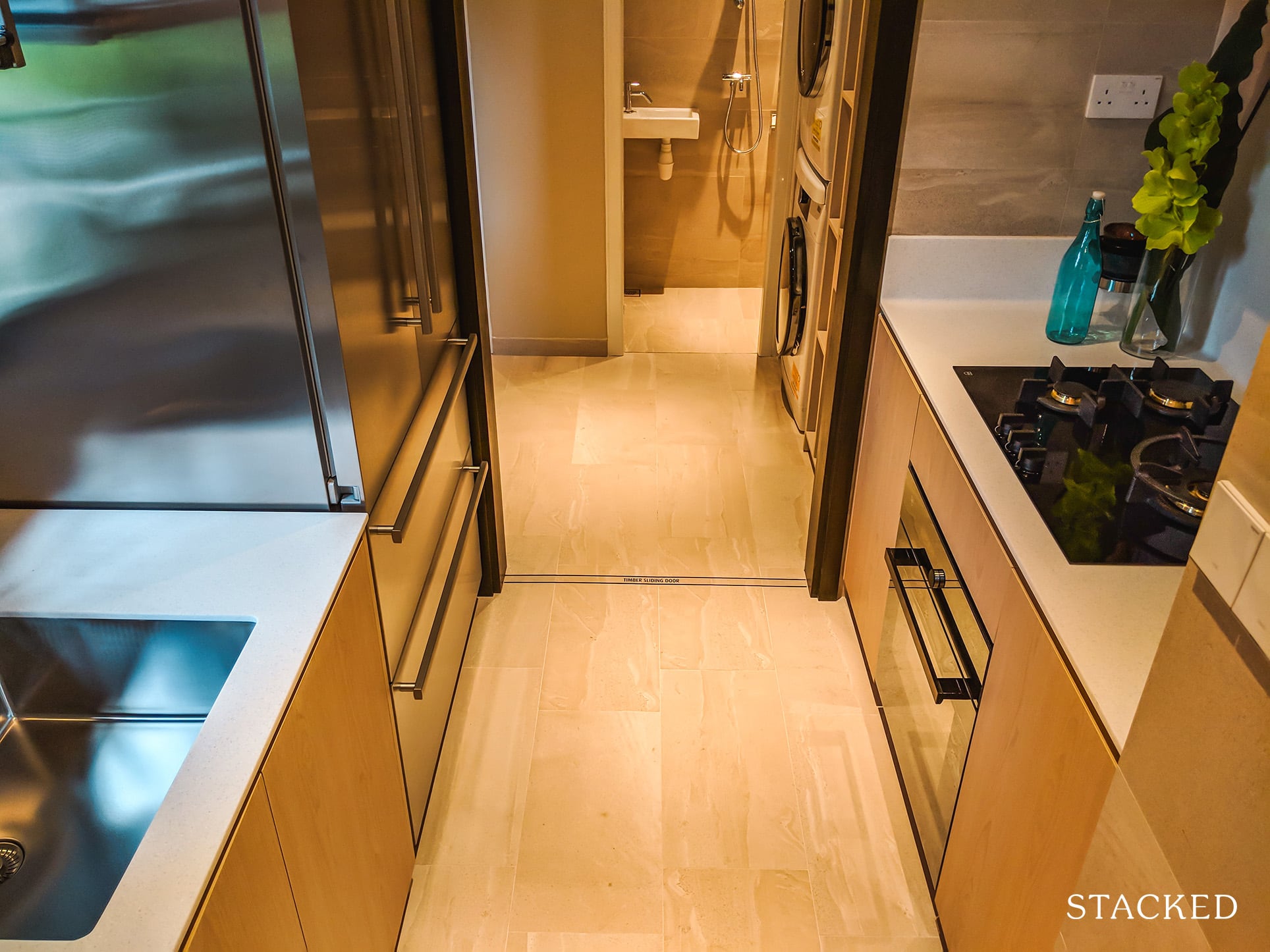 The kitchens here are chock full of premium appliances. The hood, hob, combi oven and vacuum sealing drawer (just wow), are from a high-end Swiss brand called V-Zug. The refrigerator is from Liebherr, with the example you are seeing here easily costing more than S$10k!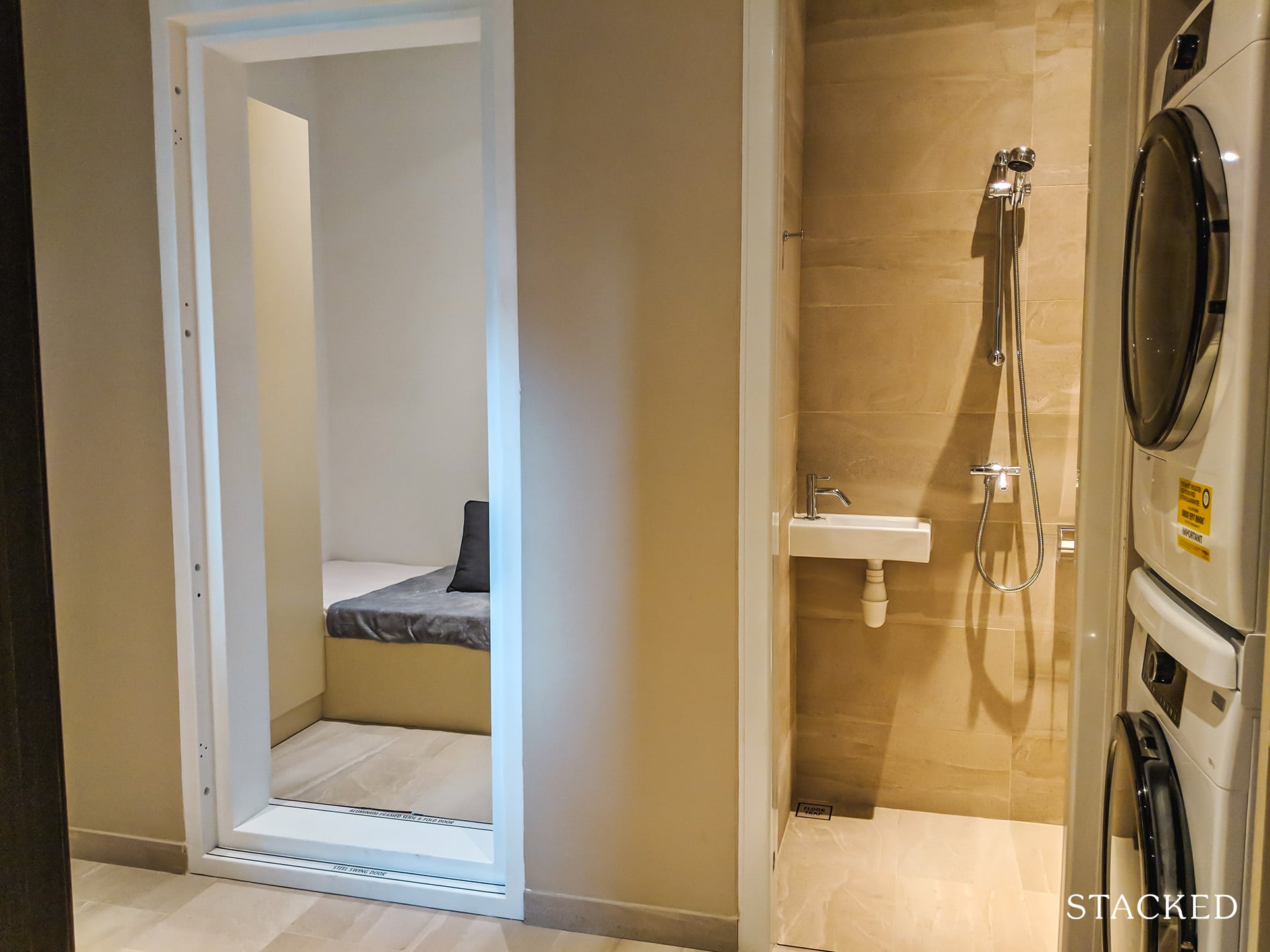 There is a strange addition of a bomb shelter at the back, but this can easily be used for a helpers room.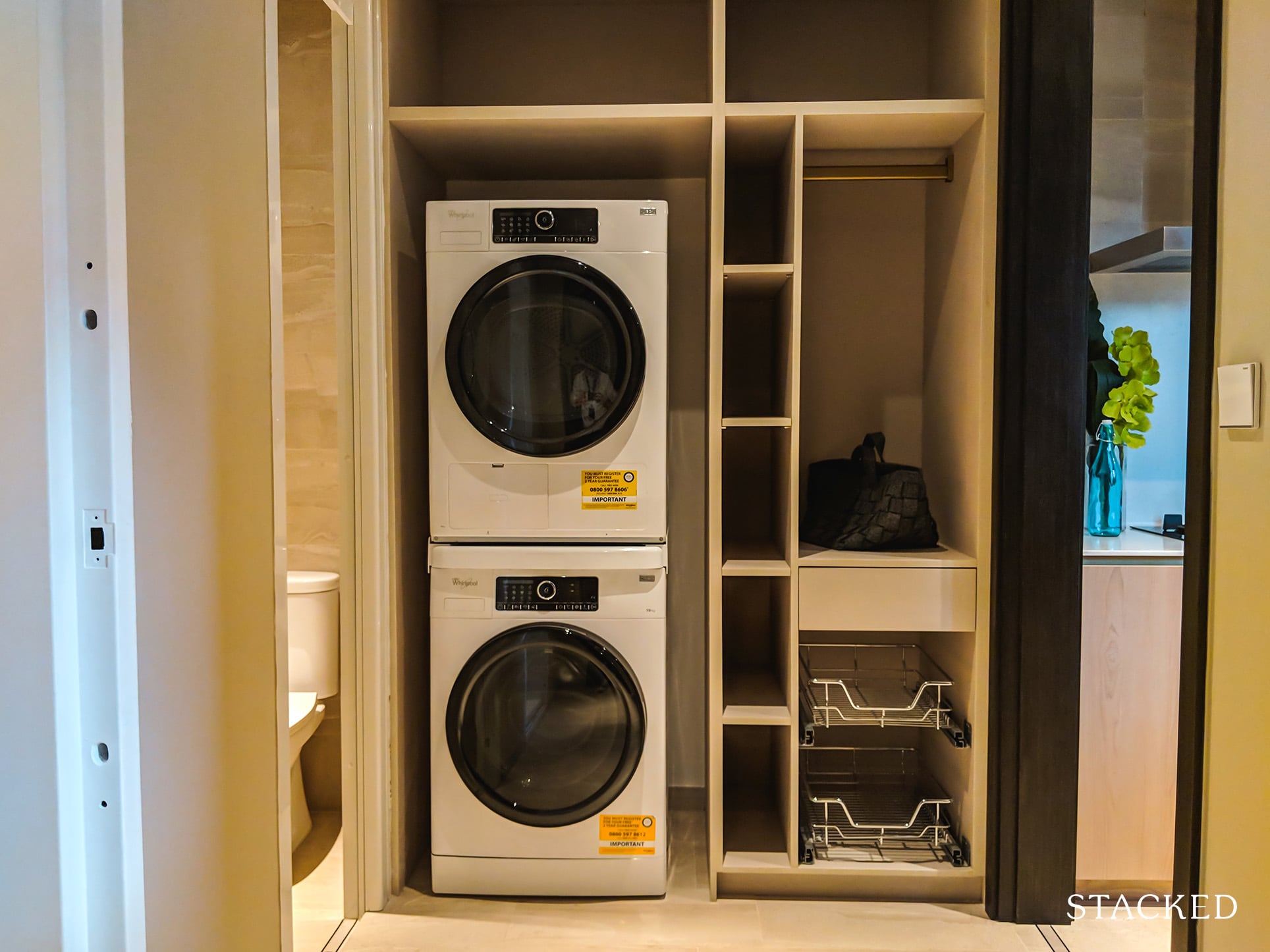 With more than enough space on the outside for your washing machine and dryer.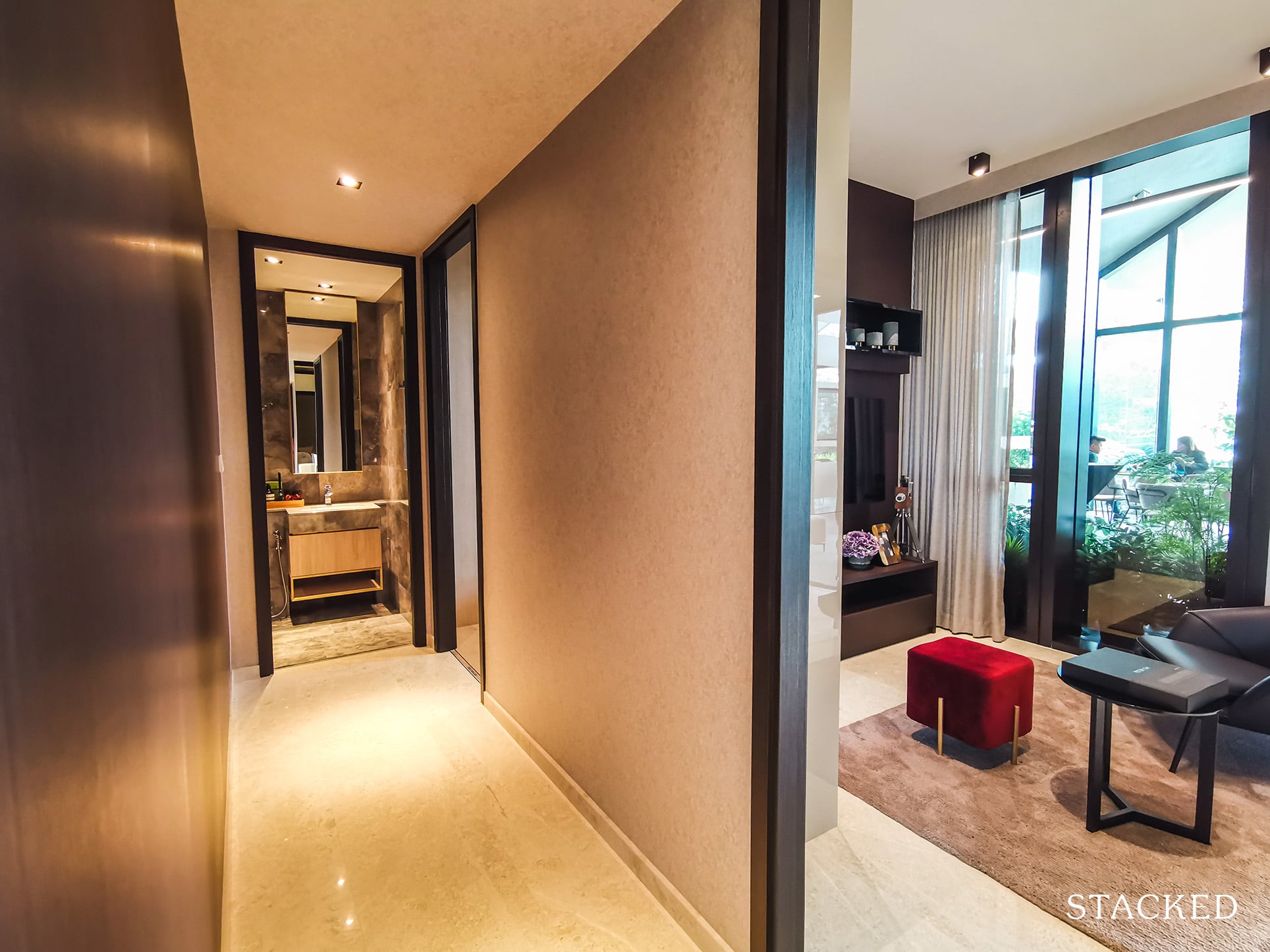 As with the previous 3 bedroom unit, one of the common rooms is shown in an open concept.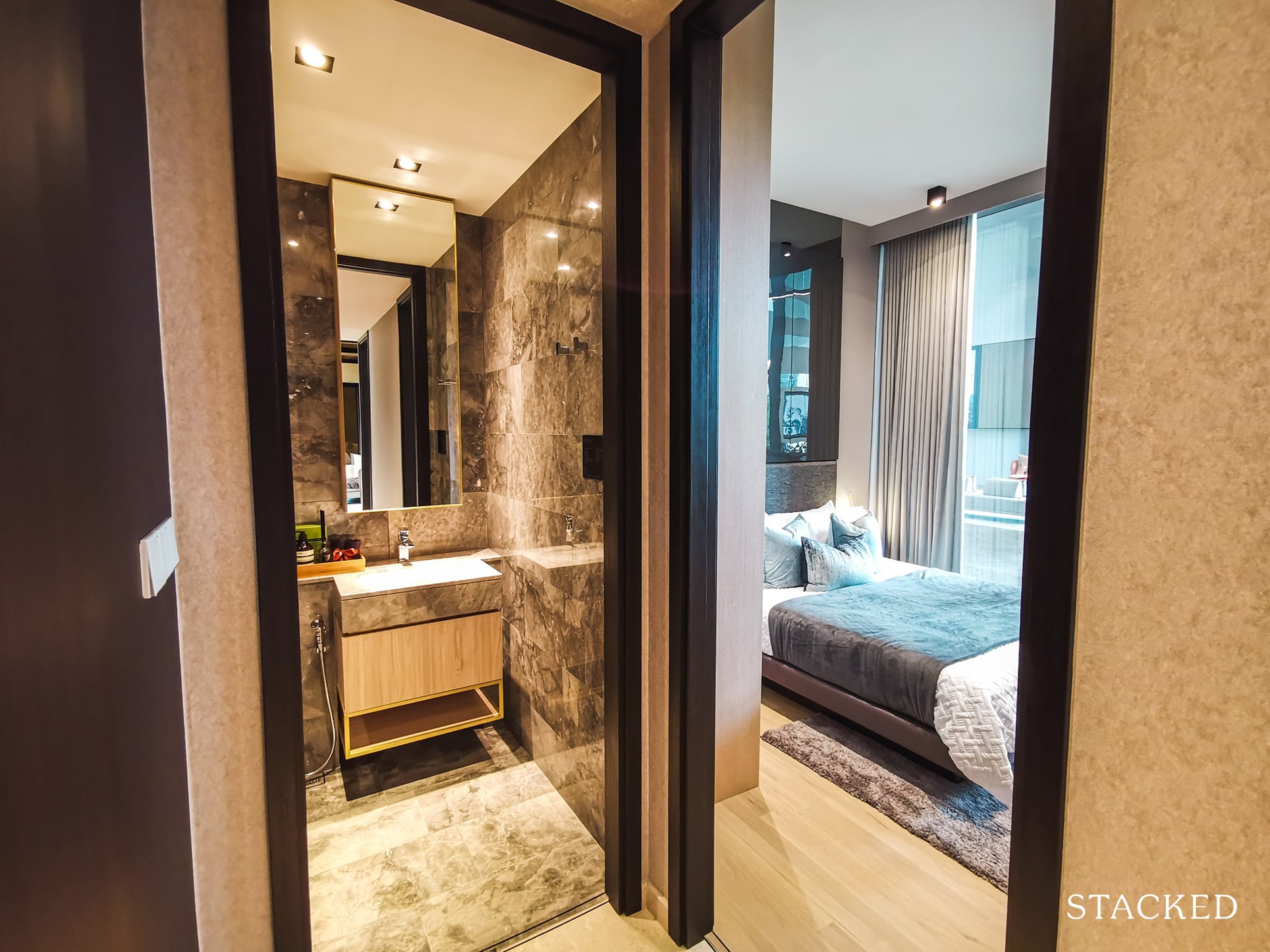 The common room at the back here has the perk of having floor to ceiling windows too!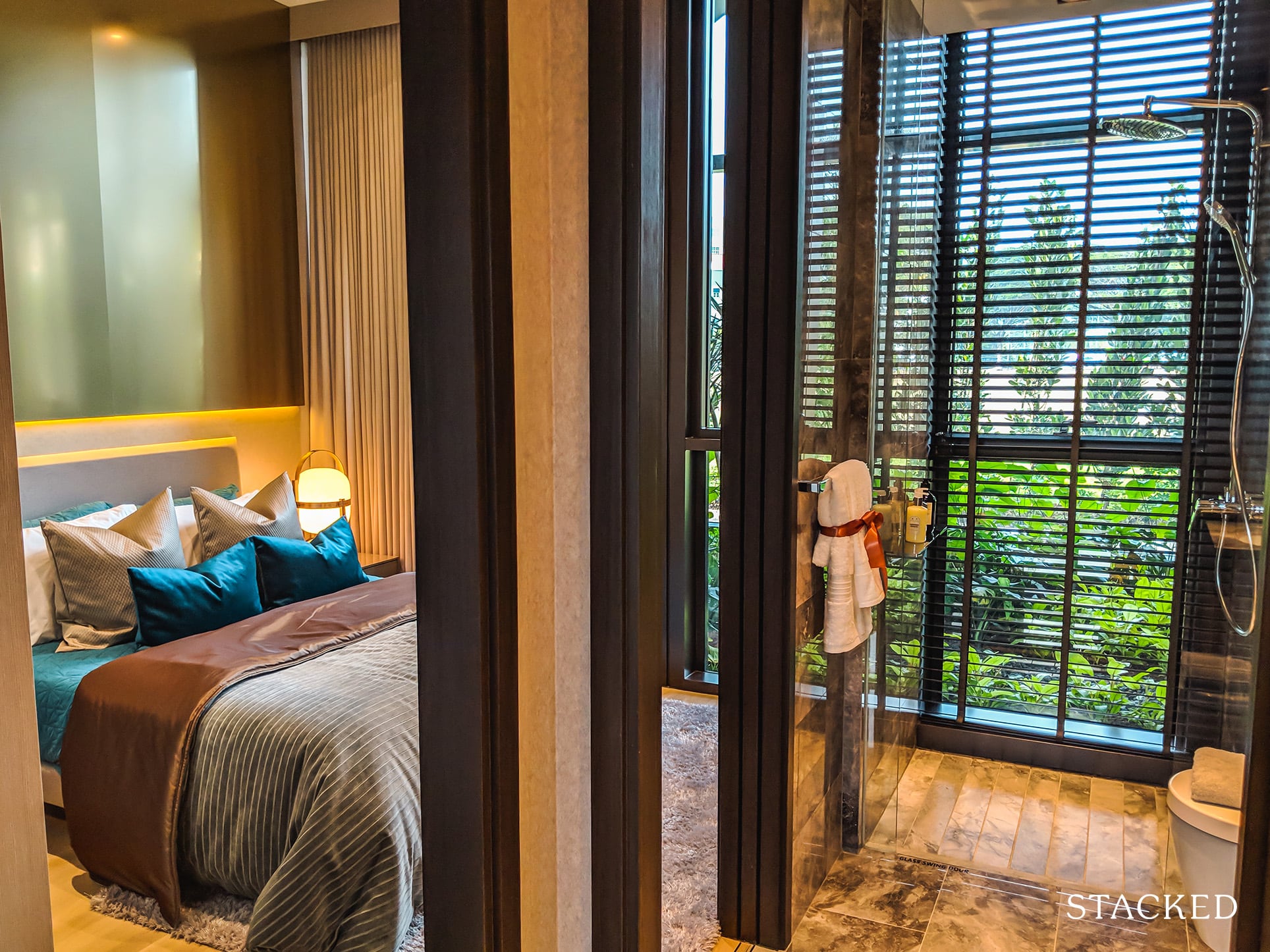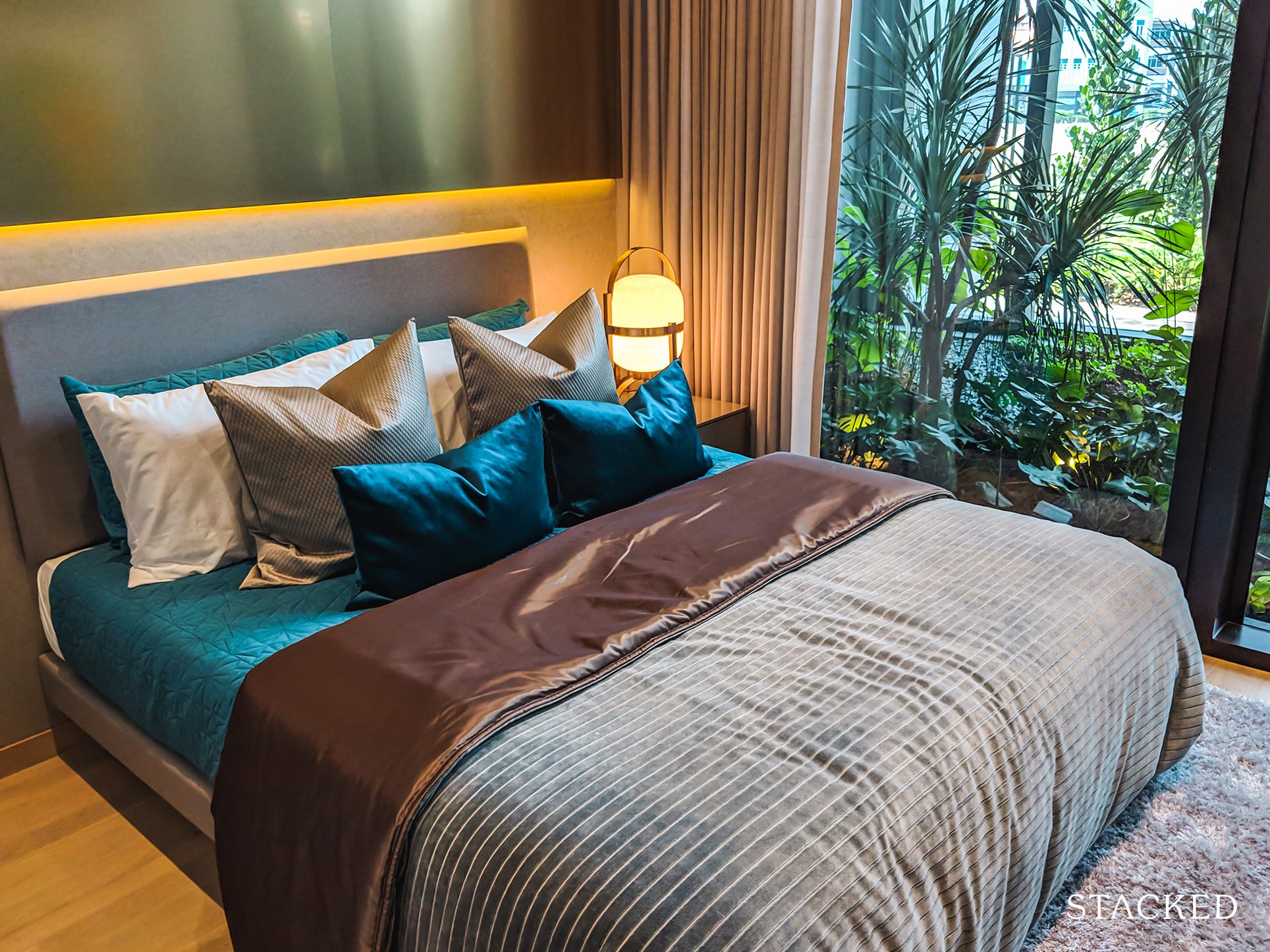 It is the same story with the junior master bedroom, the floor to ceiling windows allowing you to get a much better view of the surroundings. This is also connected to the bathroom, which has a dual entrance to let guests use it as well.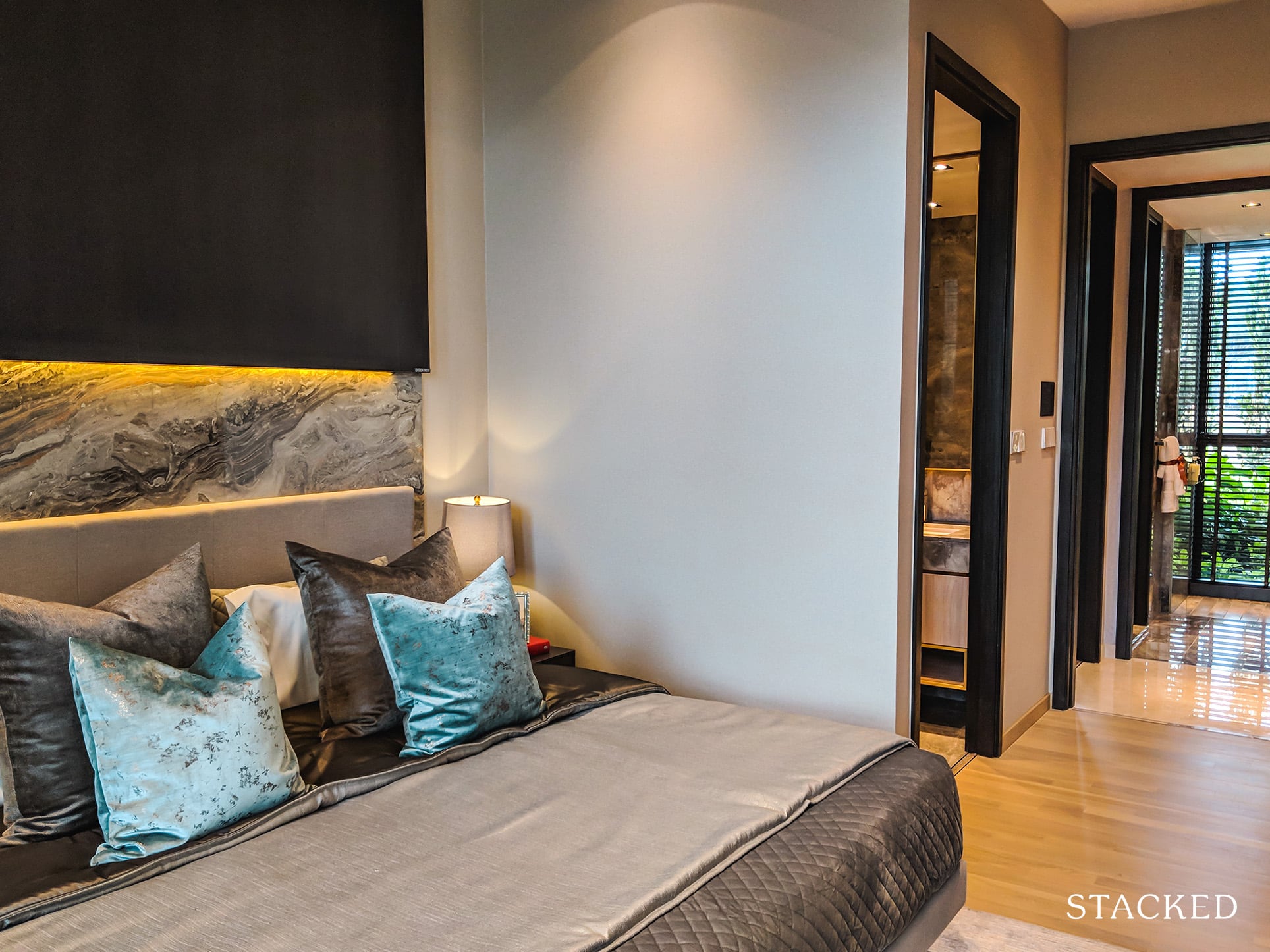 The master bedroom here is really spacious, with allowances for even a super king-sized bed. As you'd expect by now, this comes with the floor to ceiling windows too.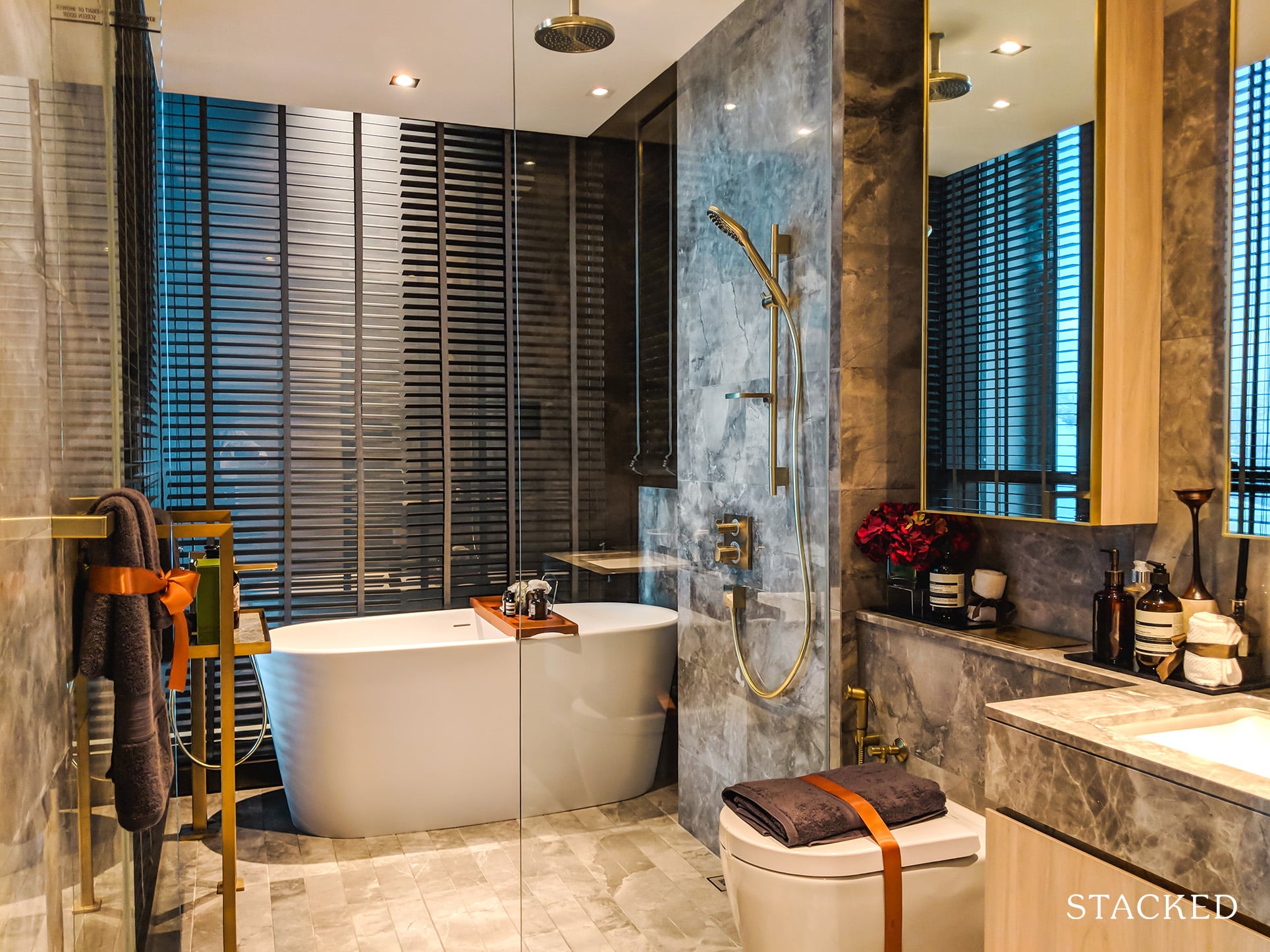 Finally, to set itself apart from the junior master, the master bathroom comes with its very own soaking tub.
Meyer Mansion Location Review
The future Meyer Mansion will reside on the same site of the former Casa Meyfort. A pity no doubt, given the estate's rich history.
But as is the flow and ebb of property in Singapore, so the winds of change we must ride.
Meyer Mansion's neighbours will include illustrious Meyerise and Seafront on Meyer amongst a host of other residential enclaves. With an estate this well populated, residents can expect ease of transport (more for cars) as well as a range of amenities.
For example, one of two places that you will most likely find yourself frequenting is the all-in-one mall stop – Parkway Parade (neighbouring malls include Katong Shopping Centre, 112 Katong, and Katong V).
Here you will find a variety of grocery stores and hypermarkets including Cold Storage, Giant, Isetan, and even Marks and Spencer. The mall also boasts a plethora of food, fashion, beauty and medical shops, as well as a Cathay Cineplex to boot.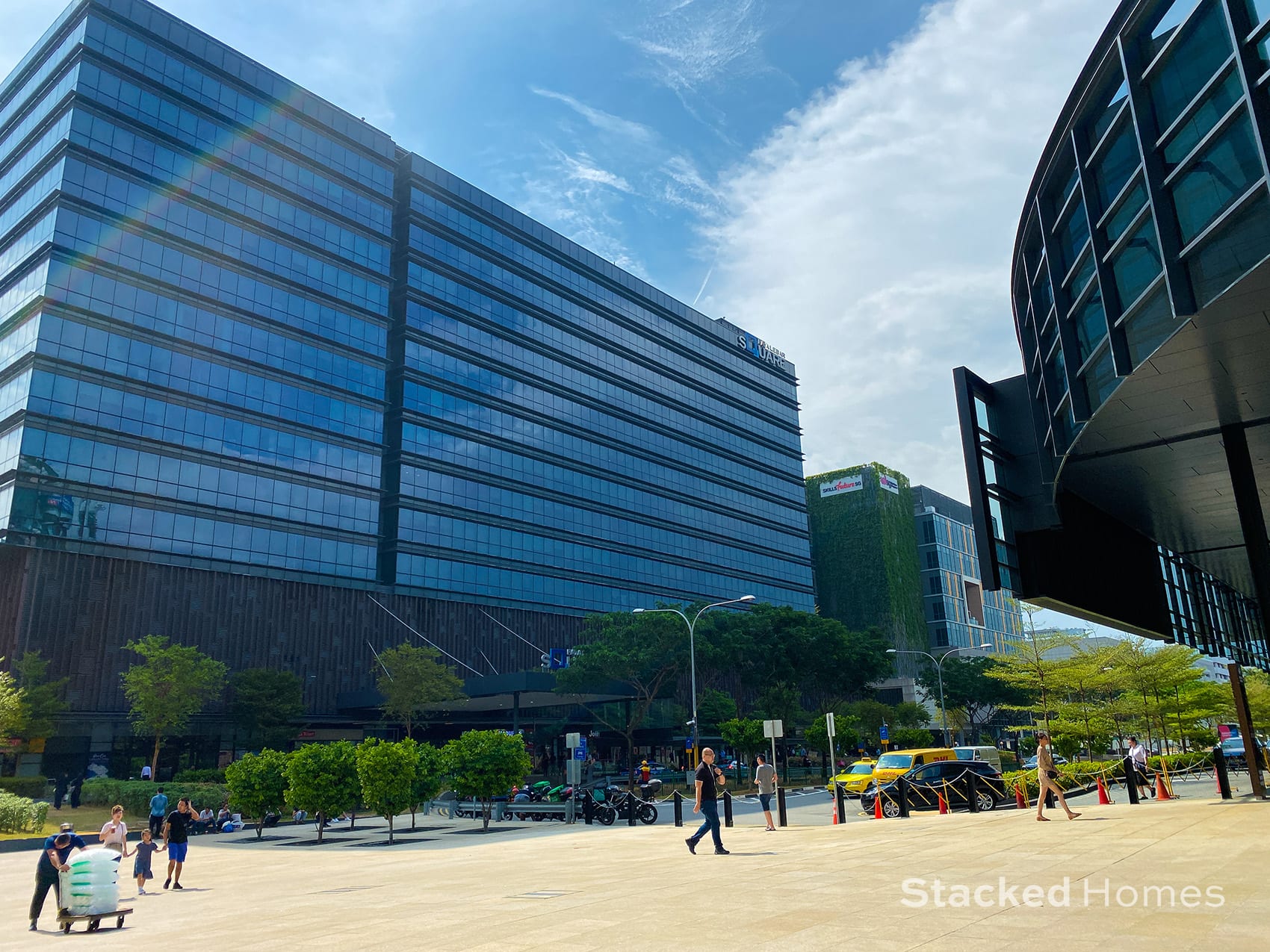 If you aren't familiar with the East, the recent addition of the Paya Lebar Quarters and mall is the next big thing to hit Singapore. As if the number of shops from Paya Lebar Square and Singpost isn't enough, there are a total of 200 shops, a gym and an IMAX theatre (and 12 cinema halls from Shaw) set to be added to the area. In other words, there is never a need to go to town ever again. Everything you would probably want is within very easy reach.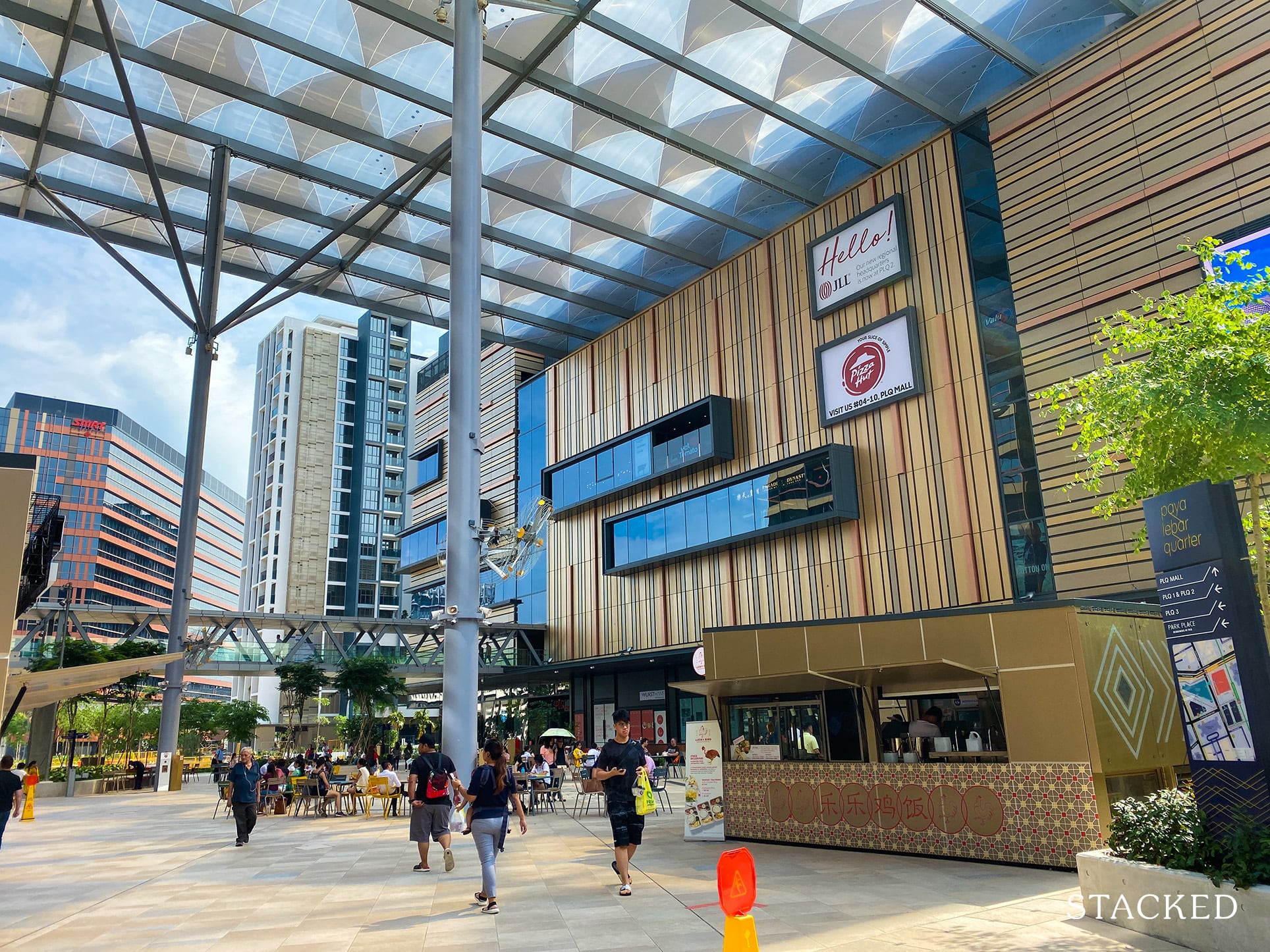 The other place of interest is, of course, East Coast Beach. Perfect for morning/evening strolls, picnics, bike-rides, seaside meals and a variety of other recreational activities, it is simply a stone's throw from Meyer Mansion.
Is there a downside to the condo's location then? Well, its unmatched adjacency to the ECP (save for some shrubbery) might be more of a bane than a boon to some.
With it comes an increased likelihood of noise and air pollution – especially amongst the lower units.
Yes, that does mean easy access to the ECP – though the fact that you'd have to drive over a kilometer to reach either side of an expressway (that's situated next to your house) might seem a tad upsetting at first glance.
The nice point in all this is that the KPE and PIE are easily accessed by vehicles from here. The CBD and Orchard Road areas are also an estimated 7-minute drive away.
What's more, Meyer Mansion will be situated 500m away from the upcoming Katong Park MRT Station as part of the Thomson East Coast Line come 2023.
Regarding current bus-stops, residents of the condo will find the closest in the Hawaii Tower stop (a minutes' walk away). The premium bus 566 stops here only twice in the mornings en route to the CBD. It's slightly higher fare of $4.50 (EZ-link) and $7 (cash) might not be the cheapest, but it does prove convenient.
There are also a couple of other bus stops in the vicinity below a 10-minute walking radius. These include the 'Bef. Walton Rd' stop – 12, 14, 14a and 196 as well as 'Tanjong Katong Rd Sth P/G' – 36, 36B, 48 and 'Opp Ford Gdns' – 30, 30e, 158, 158A and 401.
As for parents or those who are expecting, here are the list of schools within a 15-minute drive radius.
| Preschools | Primary Schools | Secondary Schools | Junior Colleges | Universities |
| --- | --- | --- | --- | --- |
| Konohana Kindergarten | Geylang Methodist | Dunman | Catholic JC | James Cook |
| MFC (Broadrick) Kindergarten | Kong Hwa | Chung Cheng | Victoria JC | SMU |
| Little Skittles International | Dunman | Maju | Temasek JC | Curtin Singapore |
| Blossom Glittering Campus | Tanjong Katong | Broadrick | | |
| | Haig Girls' | CHIJ Katong Convent | | |
| | Tao Nan | St. Patrick's | | |
| | | Whampoa | | |
| | | Tanjong Katong Girls' | | |
Lastly, do bear in mind that Meyer Mansion is expected to only be completed come 2023. A duration this long is bound to come with a variety of pop-ups and pull-downs (both literally and figuratively) in the area, so some things listed here might not be applicable come move-in day.
Meyer Mansion Development Site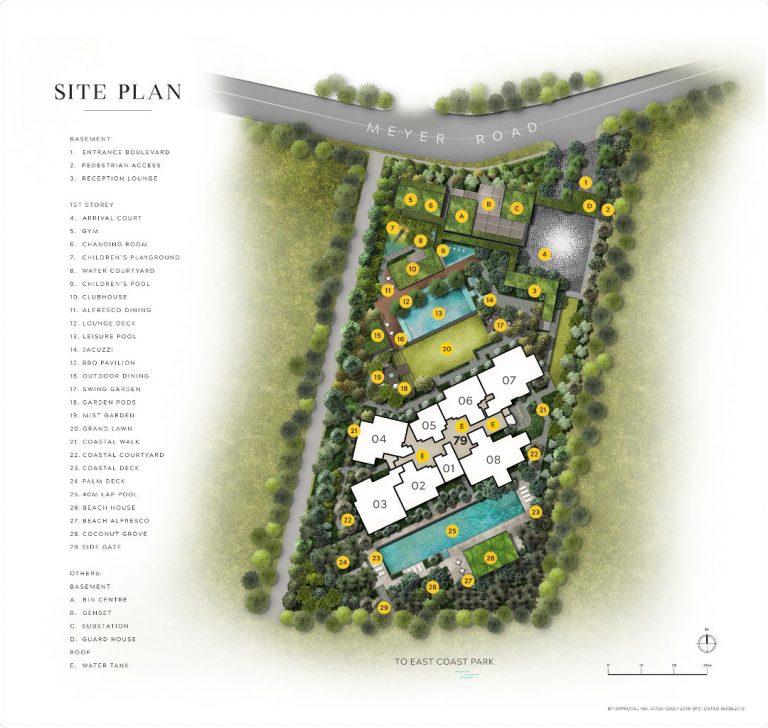 The luxury-esque factor of Meyer Mansion is probably more evident in its unit interiors, but there are glimpses of it from the layout of the condo.
The 80/20 allocation of land to unit space does go a long way in this – making for a good amount of common space (more so when you consider the 200 units here). The immense shrubbery bordering the area alongside wooden boardwalks and strategic wall placements (clubhouse, gym etc.) also helps to cosy in the free space – promising both privacy and tranquillity to its residents.
| Unit Type | No. of Units | Size (sqft) |
| --- | --- | --- |
| 1-bedroom | 25 Units | 484 sqft |
| 2-bedroom | 25 Units | 689 – 883 sqft |
| 3-bedroom | 50 Units | 1109 – 1389 sqft |
| 3-bedroom Premium | 50 Units | 1399 – 1830 sqft |
| 4-bedroom Premium | 50 Units | 1722 – 2142 sqft |
From the get-go, it is obvious that the GuocoLand has catered to most family sizes with greater emphasis on the bigger units.
While the 1, 2 and 3-bedroom units do seem a tad small (especially given the condo's luxury status), it is worth noting the 'dumbbell' layout of units here will serve to 'maximize' unit space.
Premium units are expectedly bigger in size, and it is also worth noting that they come fitted with private lift access.
Finally, the fact that GuocoLand has gone with a majority of bigger units shows their main target audience interest and potentially increased efforts in maximizing quality (furnishings, layouts etc.) in them.
Price Review
Surrounding developments

| Project Name | Tenure | TOP | Average Price (PSF) |
| --- | --- | --- | --- |
| Meyer Mansion | Freehold | 2023 | $2,791 |
| One Meyer | Freehold | 2023 | $2,659 |
| Meyerhouse | Freehold | 2021 | $2,614 |
| Amber Park | Freehold | 2022 | $2,483 |
| Amber 45 | Freehold | 2021 | $2,121 |
Right off the bat, readers will notice the hefty price range of developments in the area. In part, this is due to their D15 status, though it is mostly associated with the condos' freehold tenure.
It does seem, however, that Meyer Mansion is the priciest option if you are just taking the $PSF into consideration.
One reason for this is that its counterpart – Meyerhouse is being developed by UOL. A notoriously solid price competitor, it comes as no surprise that its project is the most 'affordable' amongst the 3, especially when you consider that it will only hold 56 large-sized units. So the quantum per unit is actually a lot larger in this instance.
The other upcoming Meyer Road development comes in One Meyer. As it will occupy the perimeters of the first en bloc sale in the Meyer Road area, its developer (SL Capital) naturally benefits from first-mover advantage and hence the ability to offer better prices.
When you further consider Meyer Mansion's exquisite furnishings and 80/20 land to unit space ratio as part of its luxury condo status, its higher premium comes as little surprise.
A final point worth noting is that condos in Meyer Road will naturally fetch higher prices (as seen here) than their Amber Road counterparts – which are located in a generally more traffic-congested area.
Our Take
The Meyer Mansion project is an interesting one for me.
I admire the developer's boldness in plopping down 2 pools as well as the expense they have gone through to provide premium appliances, solid unit layouts and top-class furnishings in line with the condo's luxury status. The expected sea views from the condo in tandem with its solid locale, diverse education options, and captivating exterior also greatly appeals to me.
While I do get the sense that common spaces here could get a tad overcrowded on extreme days, it is worth noting the rarity of 2 pools and clubhouses alongside this amount of land space in current (and upcoming) properties of similar sizes.
At the end of the day, I massively value the property's proximity to nature points. Coupled with its luxurious vibe and freehold status, it is a premium that I would be willing to fork out – though more as a homeowner than an investor (not that it has bad investment value or anything, there just seem to be better options out there – think GSW).
What this means for you
You might like Meyer Mansion if:
• You greatly enjoy nature:The condo is a stone's throw from a variety of parks as well as East Coast beach. It's also expected to be steeped in a diversity of vibrant greenery.
v• You are looking for a luxury freehold seaside residence:There are few upcoming developments in Singapore that tick these boxes.
You might not like Meyer Mansion if:
• You are a bachelor that greatly values your unit size:Meyer Mansion's smaller units (1 & 2 bedders) do seem a tad small even if its developers have done their best to maximize layouts.
• You enjoy a variety of facilities:Host to two swimming pools, 2 clubhouses and a 'Grand Lawn', there isn't really a massive variety of recreational condo facilities to choose from.
End of Review