Condo Reviews

Mandarin Gardens Review: Entry Level Priced Sea Views In District 15
Reuben
April 2, 2020

26

min read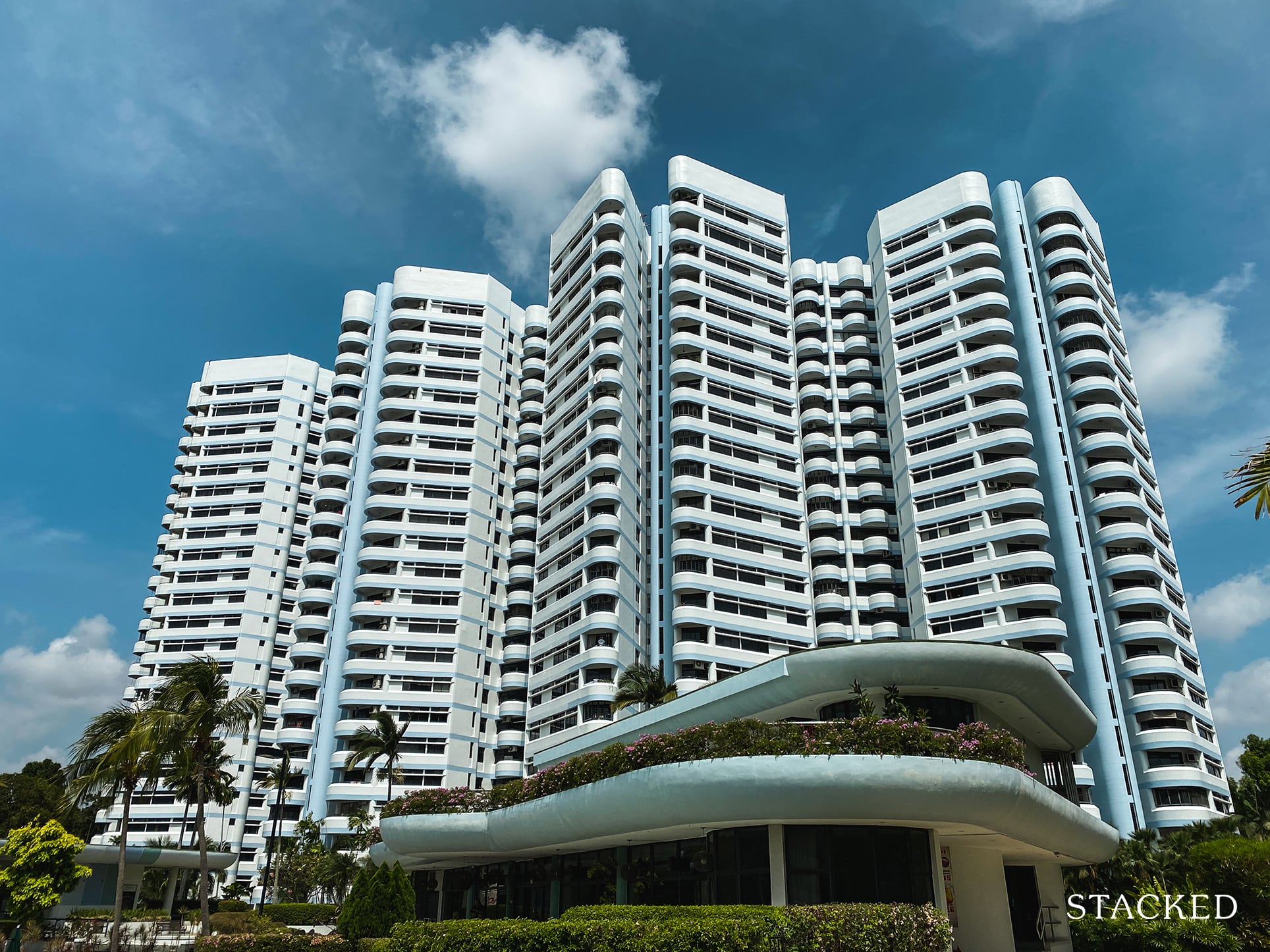 Mandarin Gardens is great for those who value recreational activities, with East Coast Park and other country clubs/organisations nearby. But while this condo is huge, the 1,000 units here is certainly not for someone who loves exclusivity.
Reviewed by Reuben on April 02, 2020
What we like
Sea views

Expansive space

Windy
What we don't like
—

Below par upkeep in places
26
min read
Facilities in Mandarin Gardens

| | | | |
| --- | --- | --- | --- |
| Project | Mandarin Gardens | District | 15 |
| Address | Siglap Road | Tenure | 99-year leasehold |
| Site Area | 1,000,000 sqft | No. of Units | 1,000 |
| Developer | Mandarin Gardens Pte Ltd | TOP | 1986 |
You could be forgiven for assuming that Mandarin Gardens shares its location with the distinguished Mandarin Oriental along Marina Square.
Yet surprisingly enough, the two have almost nothing in common.
Well, perhaps apart from that initial word we often use to describe those refreshing orbs of juicy joy.
Make no mistake though. You wouldn't exactly describe Mandarin Gardens as… juicy. Nor does it really have a single shade of orange.
No.
But what it does provide, is unbridled views of the East Coast's waters (for some), alongside a treasured string of fast disappearing facilities and… 1 million square feet of land.
Yup, you heard me right.
It's failed en bloc attempts twice now.
…And that's not because they couldn't find any buyers.
In the most recent case of 2019, a good number of residents refused to even give their consent for the collective sale!
Perhaps it was the doing of the beloved Thai Pan (condo's restaurant) that serves up those devilish Butter Squids and Chicken Wings (just ask the kids over at Victoria JC if you don't believe me).
Or maybe it was the endowment effect that spared many their blushes.
We'll never know. Nor do we dare ask.
Yet, we did recently find out the volume at which units are being transacted in District 15.
Which undoubtedly begs the question:
'Could this (in-demand) weathered warrior still have some more left in its appreciation potential locker?'
…Or has the more than 30-year old leasehold project seen the last of its prime?
Insider Tour
Facilities in Mandarin Gardens

| | | |
| --- | --- | --- |
| Barbeque Area | Basement car park | Fitness corner |
| Gymnasium room | Mini-Mart | Playground |
| Sauna | 24 hours security | Squash court |
| Swimming pool | Tennis courts | Wading pool |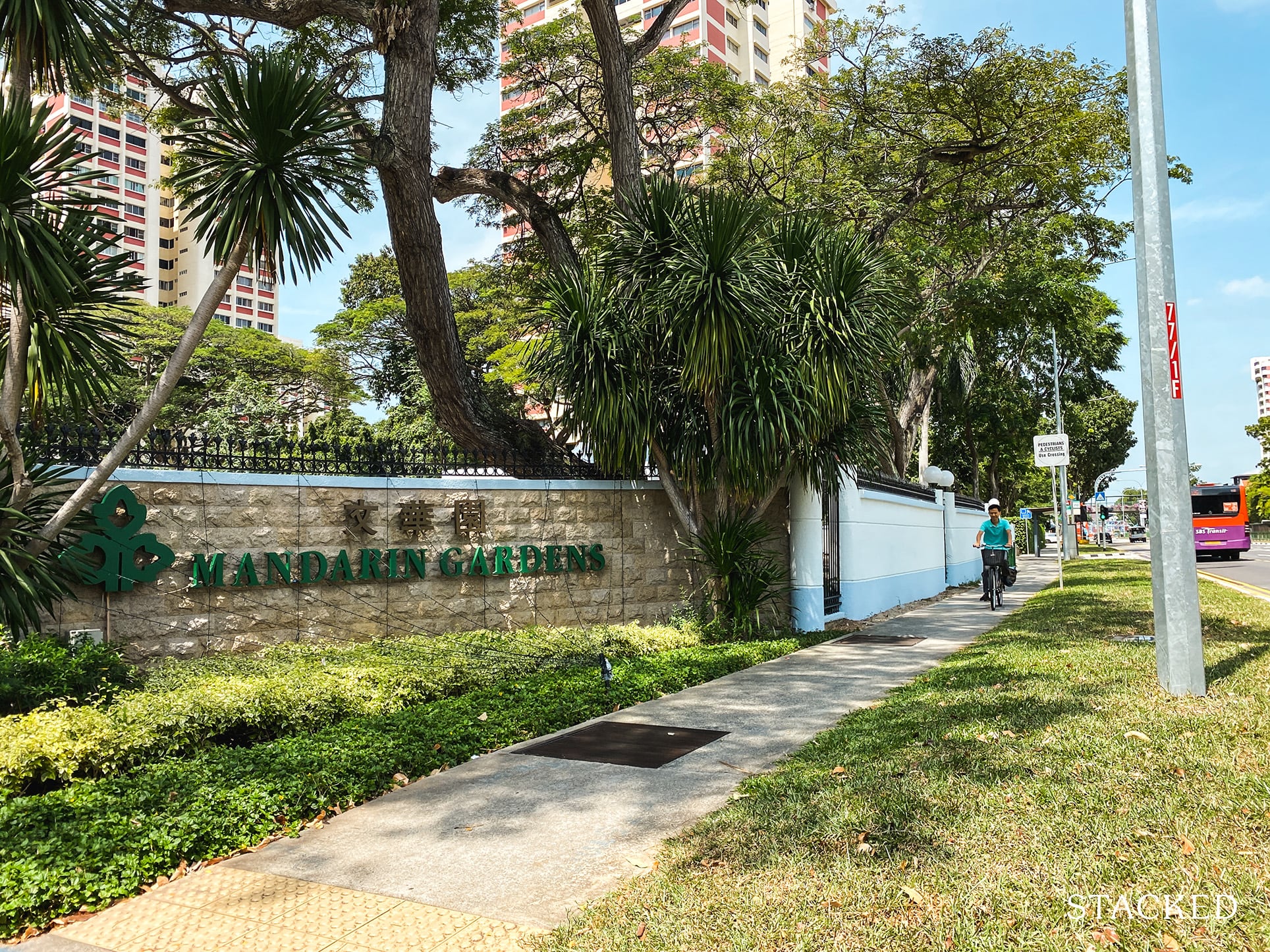 I've been to a fair few of these old mega-developments now (Pandan Valley, Bullion Park, Pine Grove), but this is the first one situated in the East for me. Even though I just reviewed Bullion Park recently (and that one is already a pretty large one in itself), nothing quite prepares you for how large Mandarin Gardens actually is.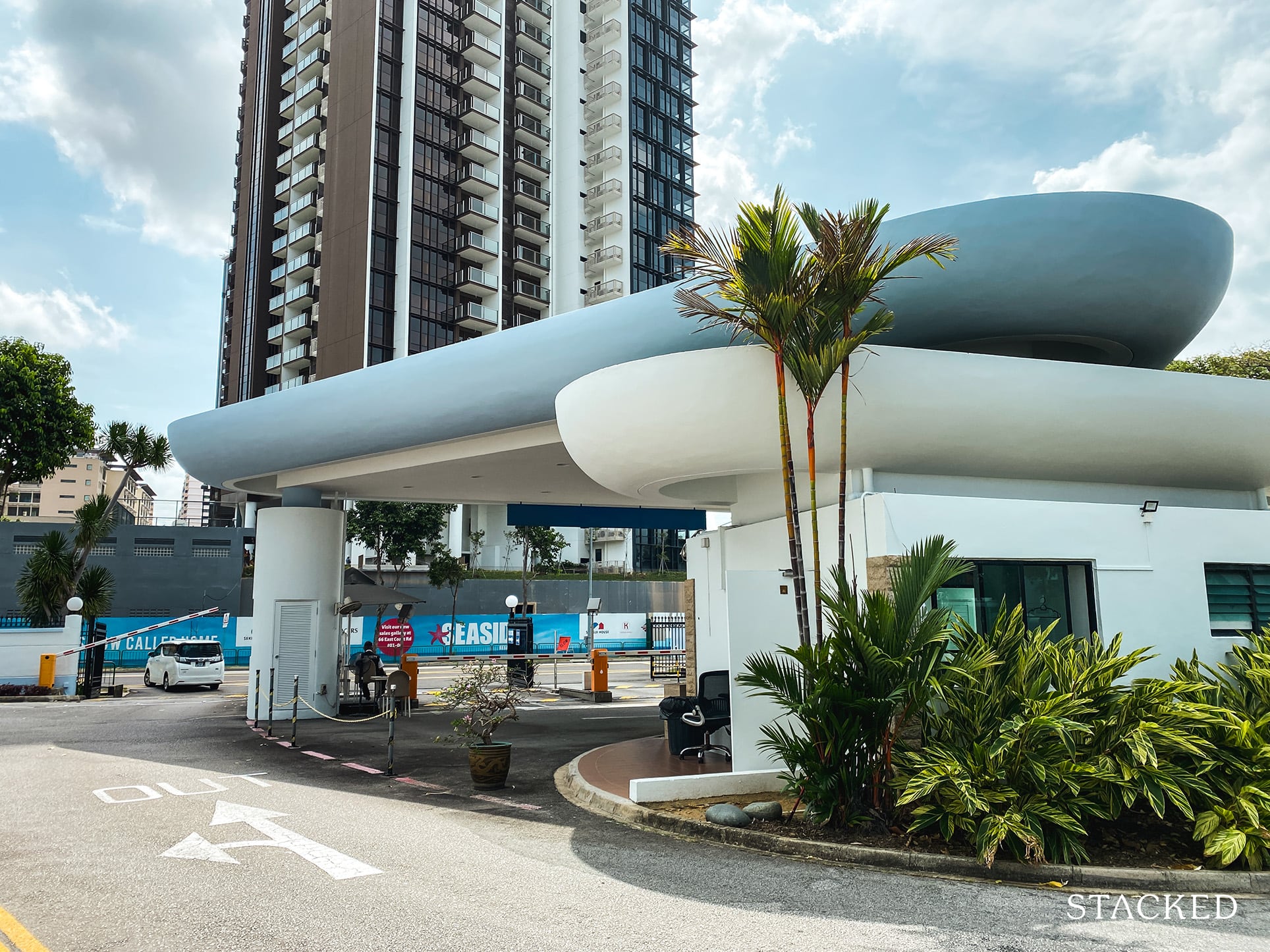 With a development this size, you'd expect there to be more than one entrance to it. Thankfully, there is one situated at Siglap Road and another at Marine Parade Road.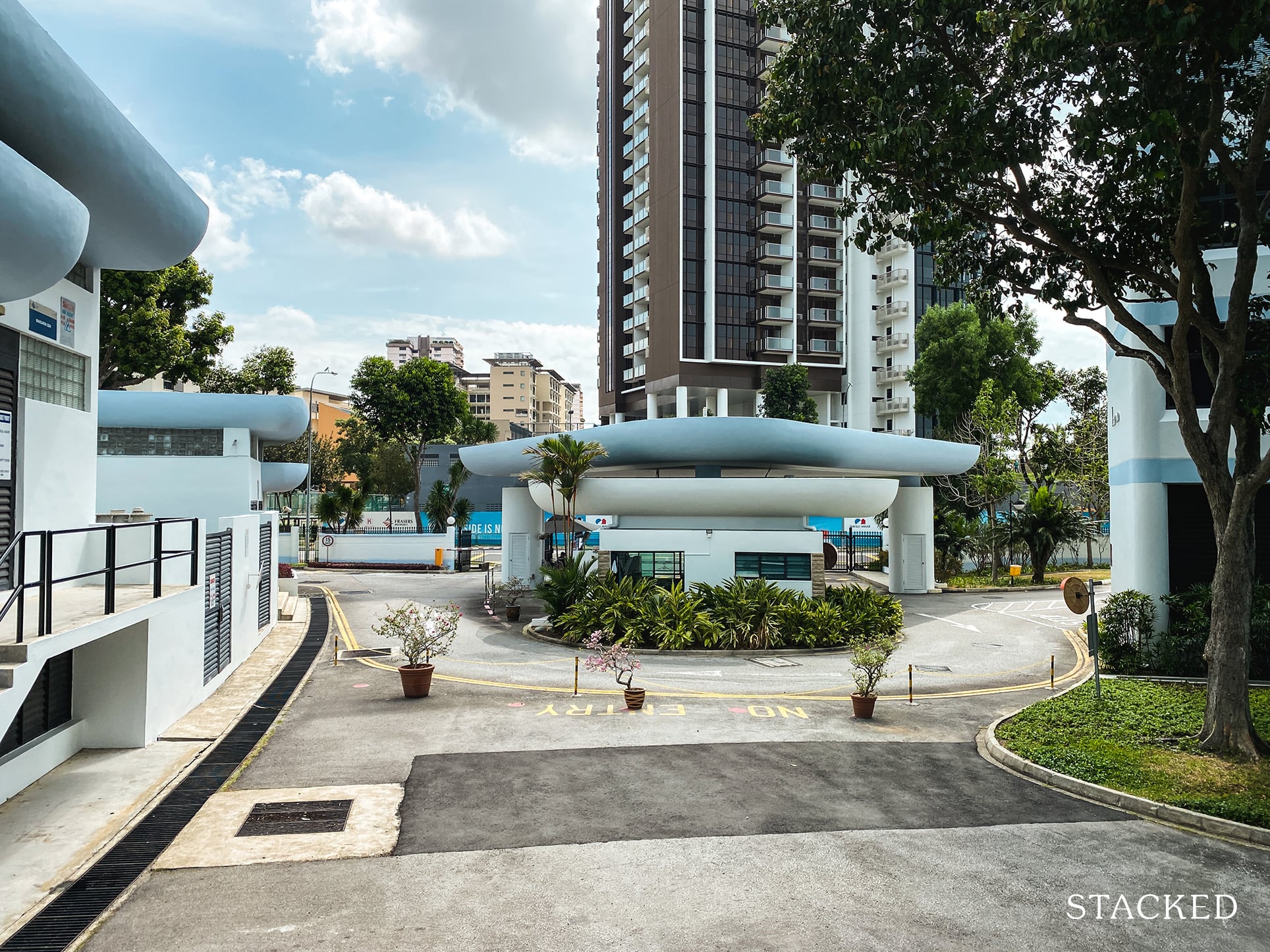 There are two inroads to the development, one for residents and the other for visitors.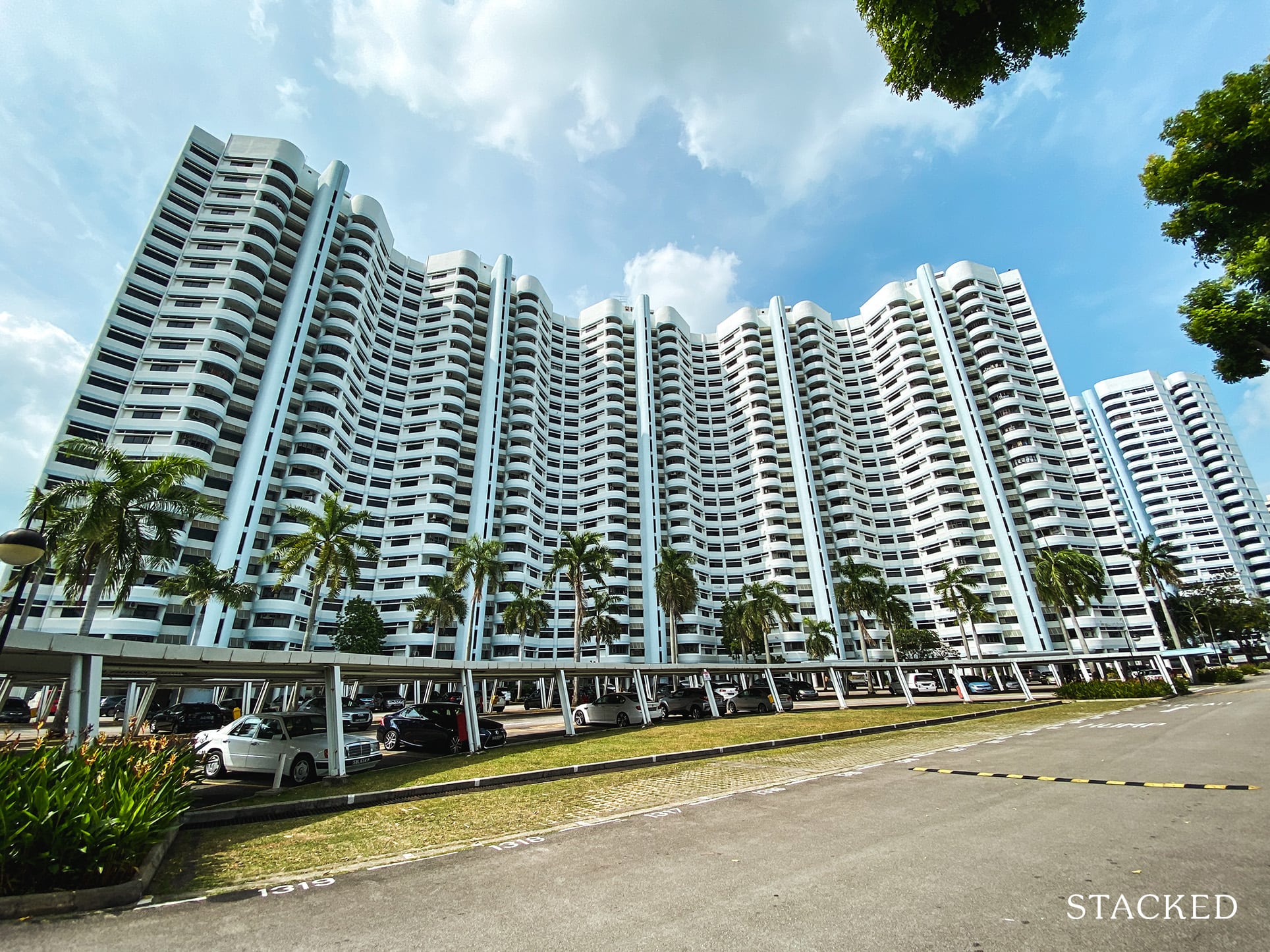 Once you turn in, you can immediately feel how tremendously sized the space actually is. I'd like to think I still have quite a good level of fitness, but if I had to run the circumference of this estate I would probably be in for a rough ride.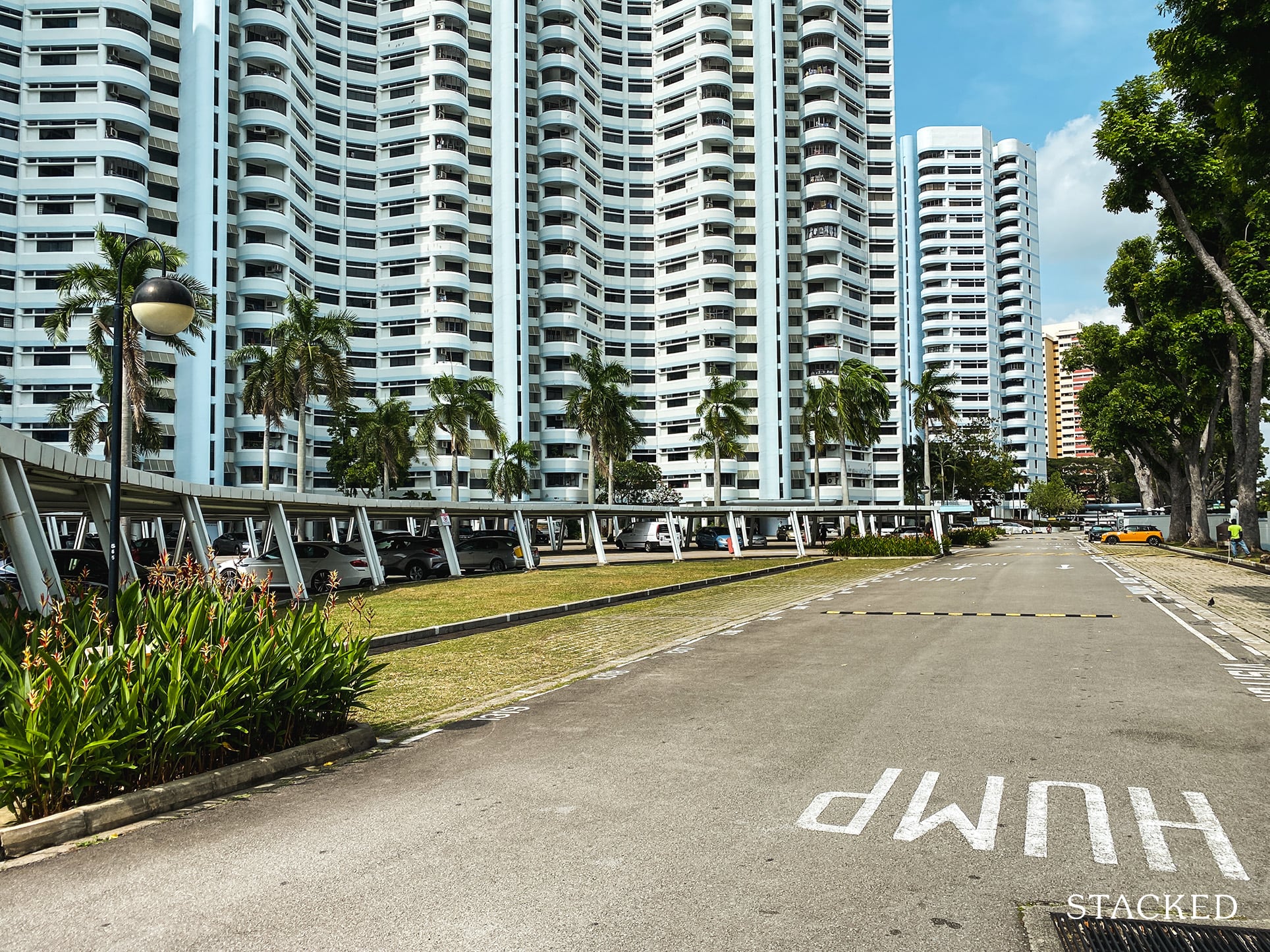 As with most other developments, the sheltered lots are reserved for residents. Visitors have to resort to the open-aired carpark.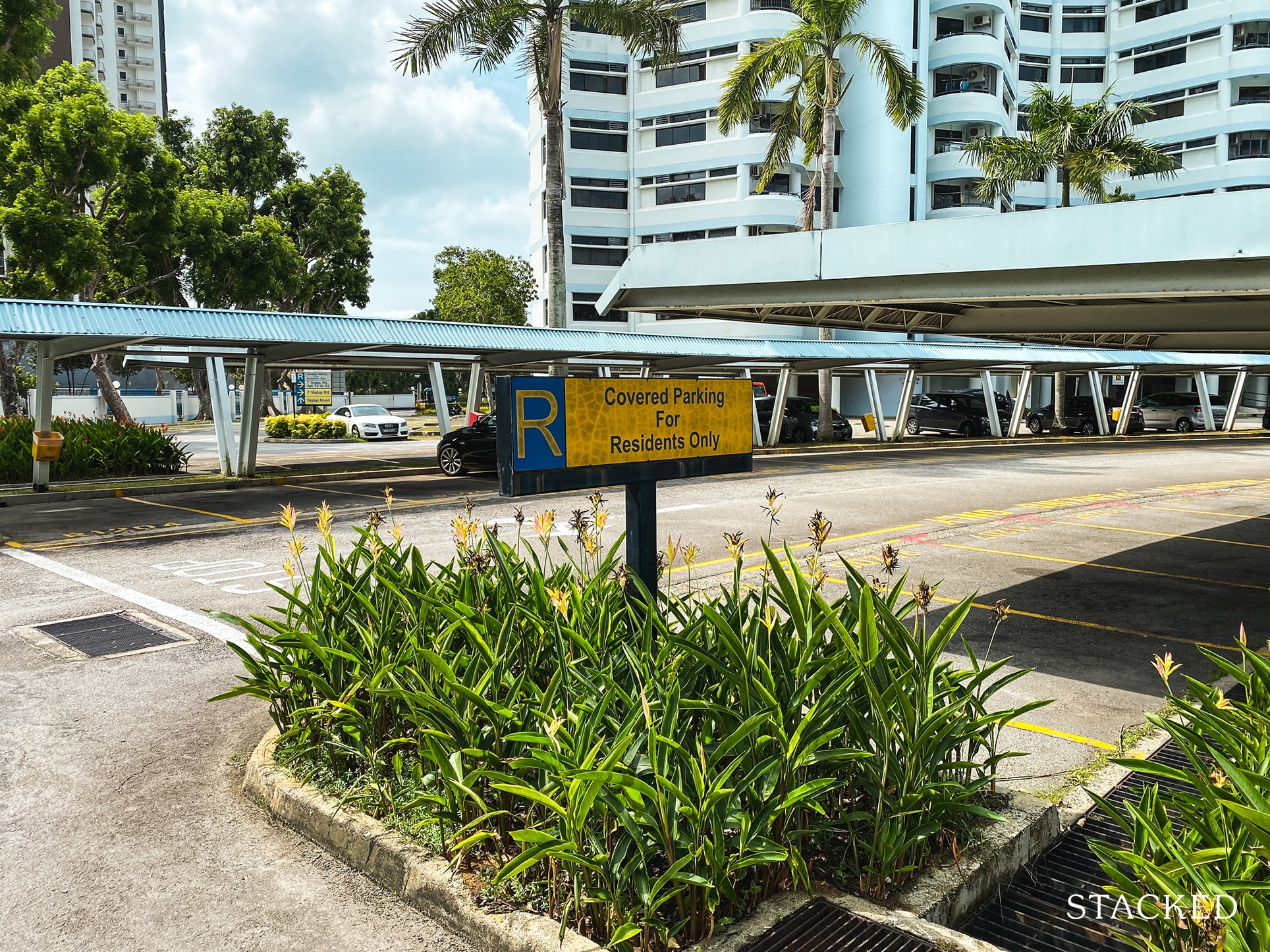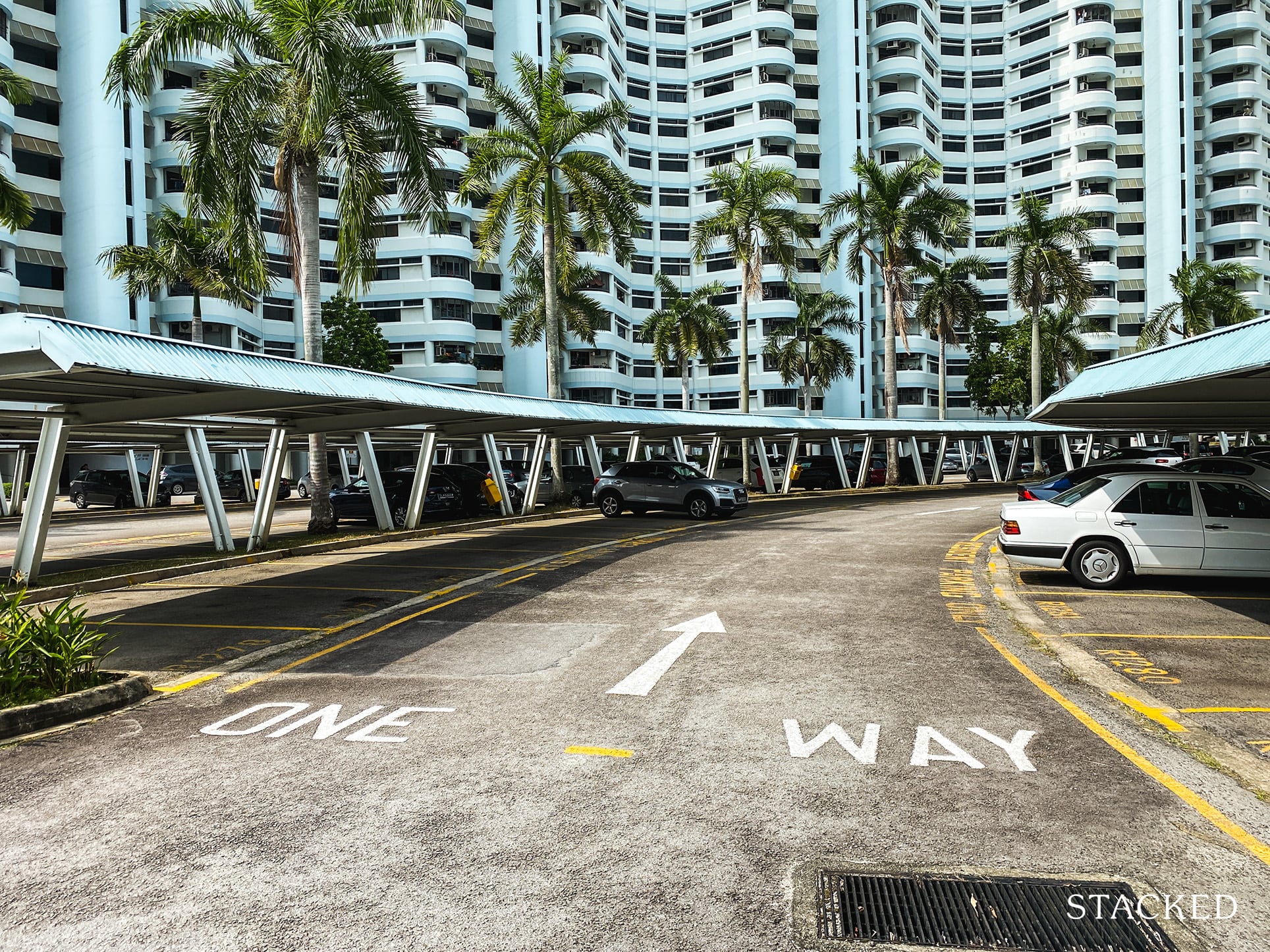 Like Bullion Park, the sheltered lots are useful for shielding against the sun and rain – but depending on the time of day you might not exactly get complete shelter. If you do happen to park at the furthermost row on a rainy day, it wouldn't be an enjoyable walk to your car – even if you had an umbrella.
That said, Mandarin Gardens does offer underground carpark too – something quite unusual when you compare it to its peers. I'll get to that in a bit.
Even with 1,000 units here, carpark lots are plentiful – as you can easily see from the empty surroundings.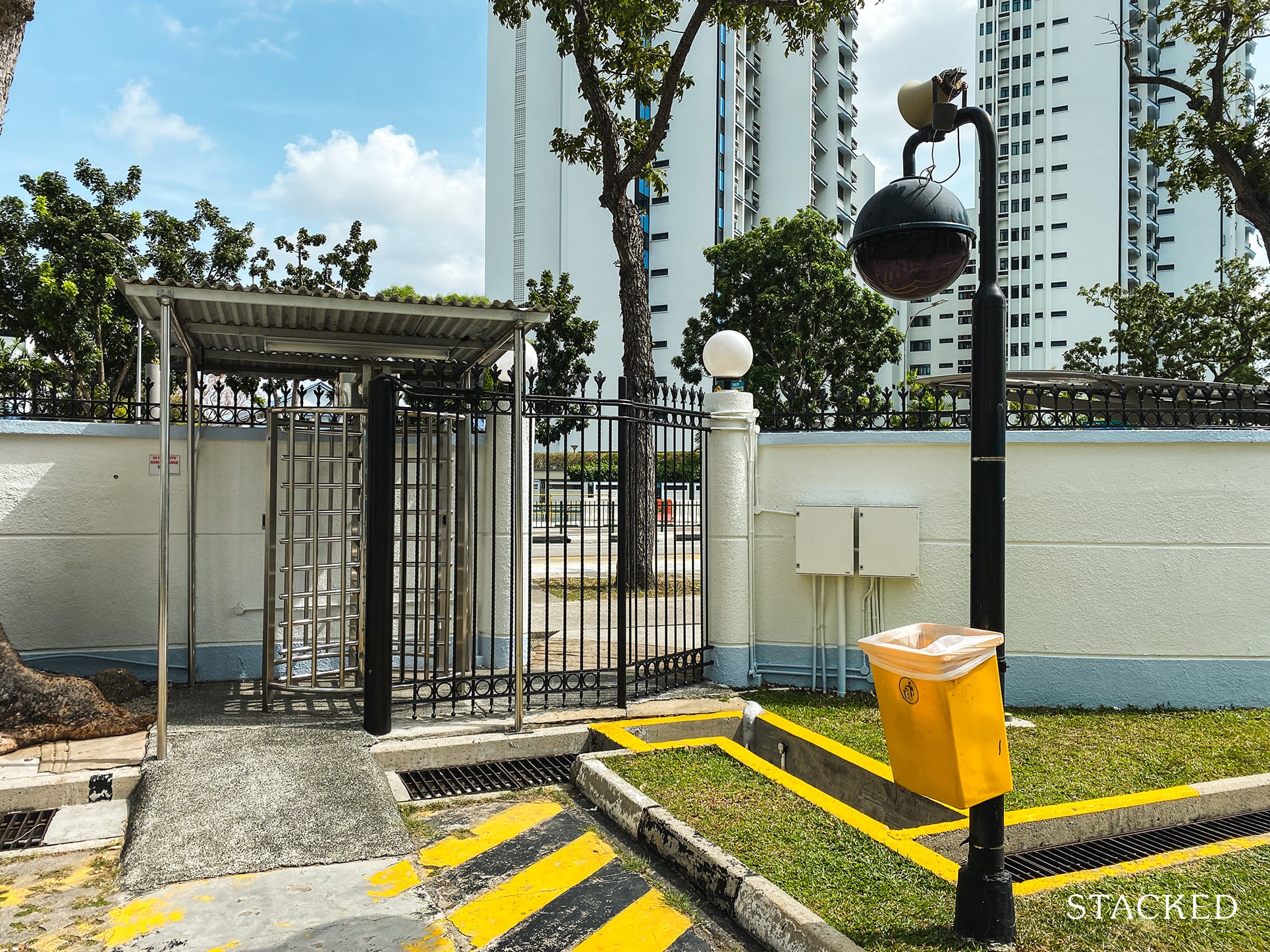 There's a side gate here that leads to Marine Parade Road. It's a turnstile gated look – something you don't really see used in residential developments. At risk of sounding overly harsh, it definitely doesn't give you that warm welcome home type feeling.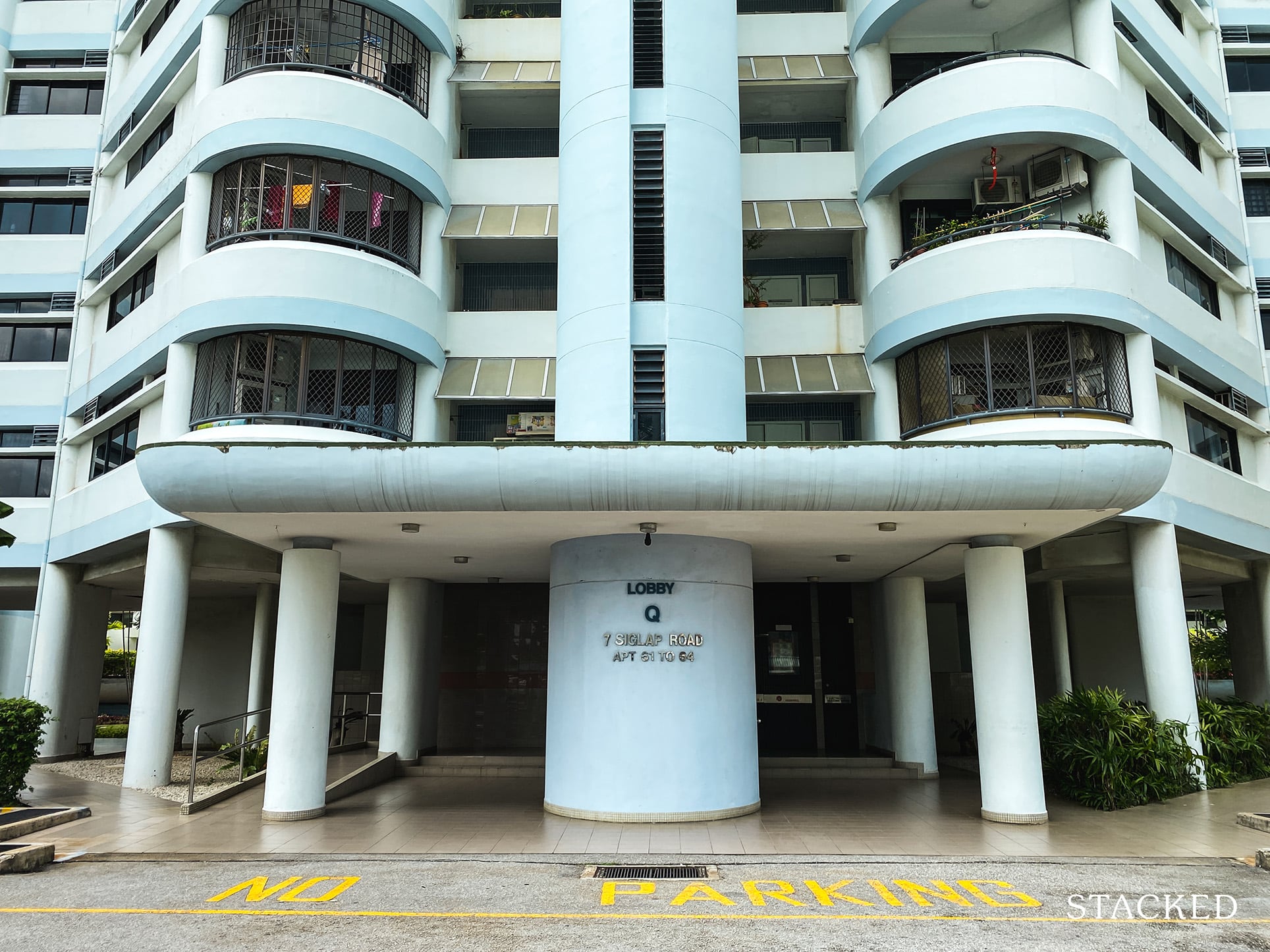 Not the first "barely there" shelter that I've seen in a condo recently – this one is too short, and I can't imagine that it would be very useful during a heavy rain shower. That said, at least there is the option of retreating to the basement carpark here.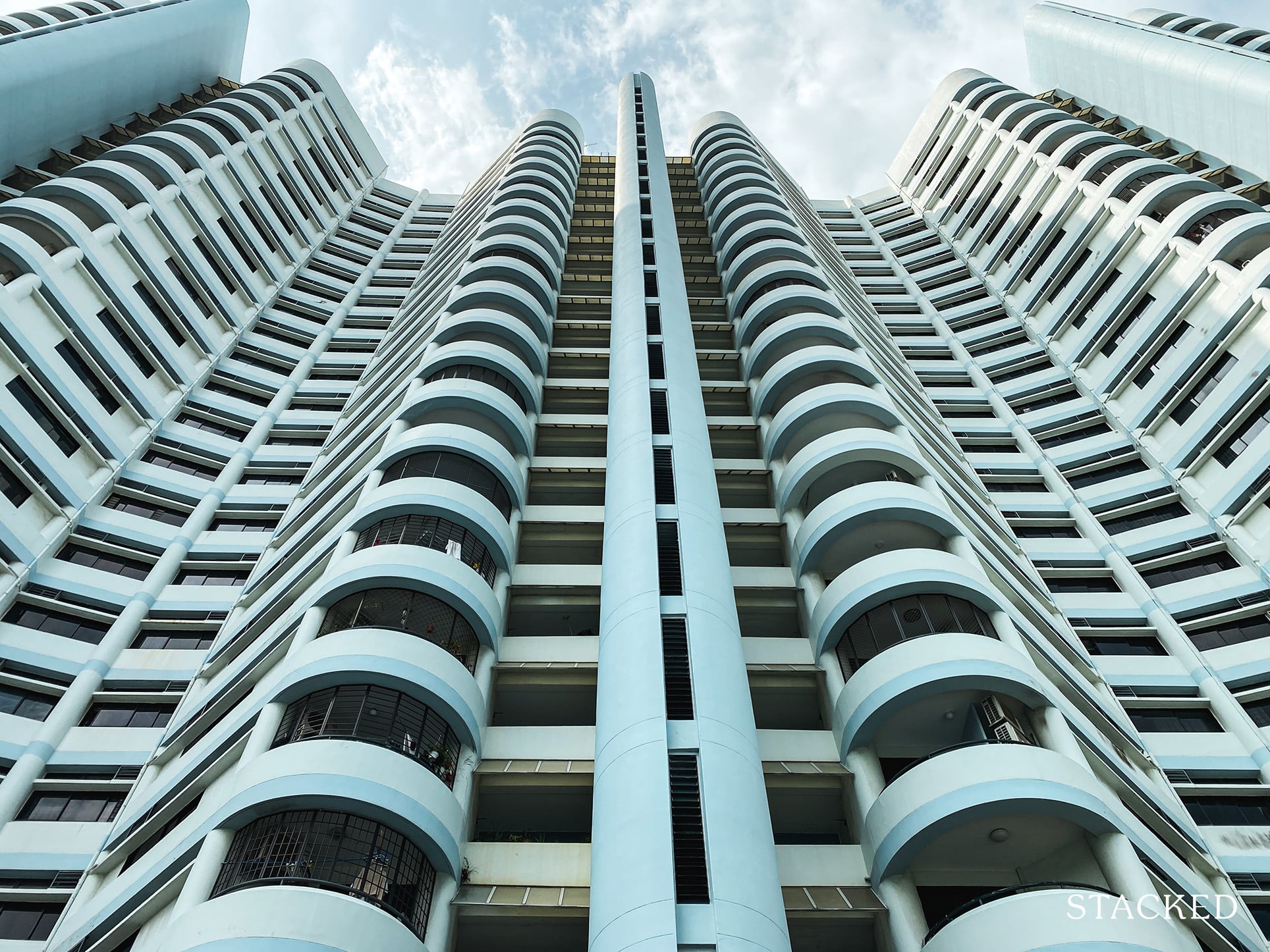 Like Pine Grove and Sommerville Park, Mandarin Gardens has a mix of high storied blocks and low floored blocks. Unless you have a fear of heights, the sea-facing units here are where the money's at – it's probably one of the main selling points of staying at District 15.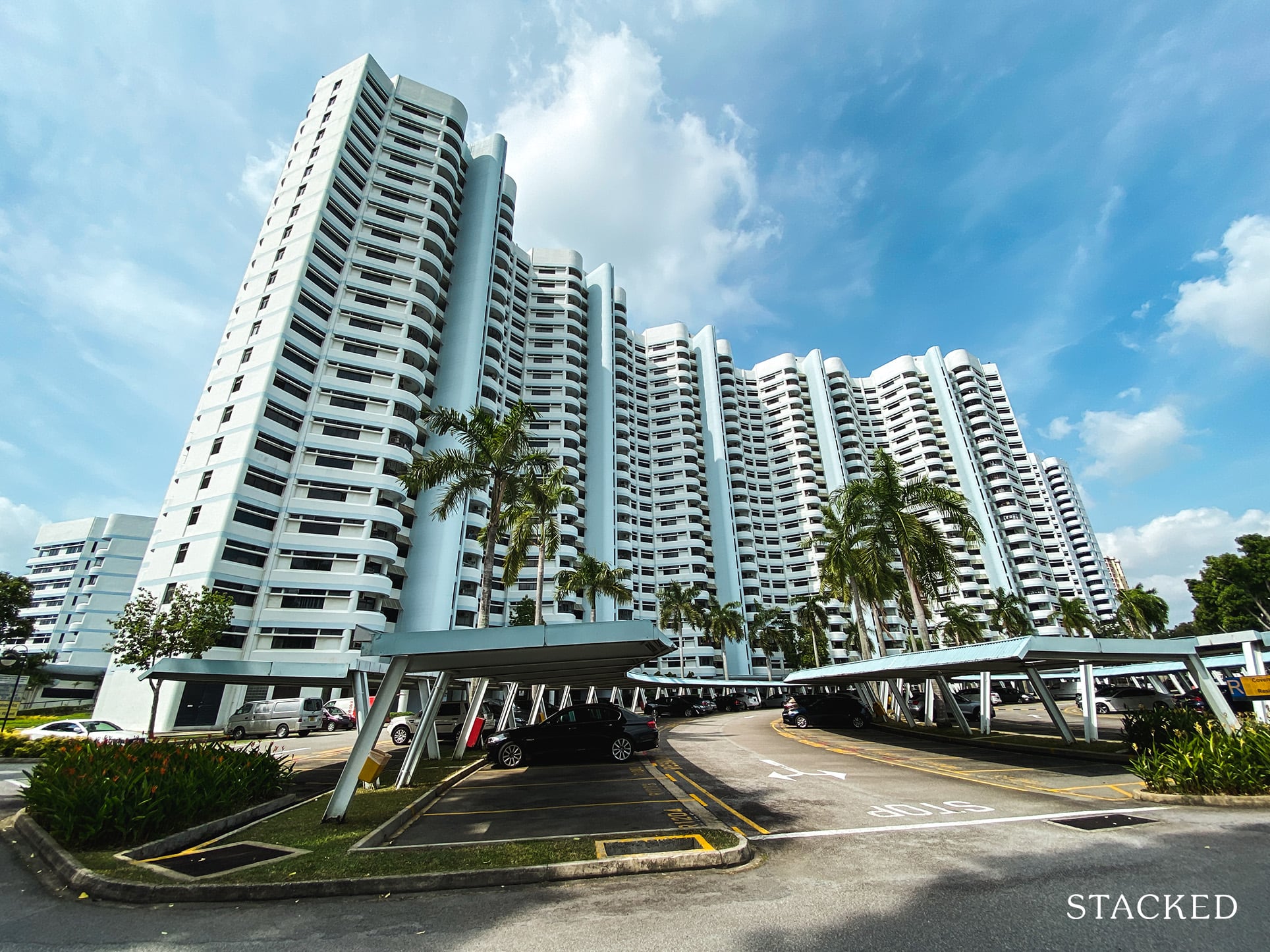 Because of the huge land size, another plus point is how the blocks are positioned – for most of the units, you barely have the issue of being too close to your neighbours. The blocks are deliberately positioned to avoid that plus the natural land space gives a big enough gap even when they do face each other.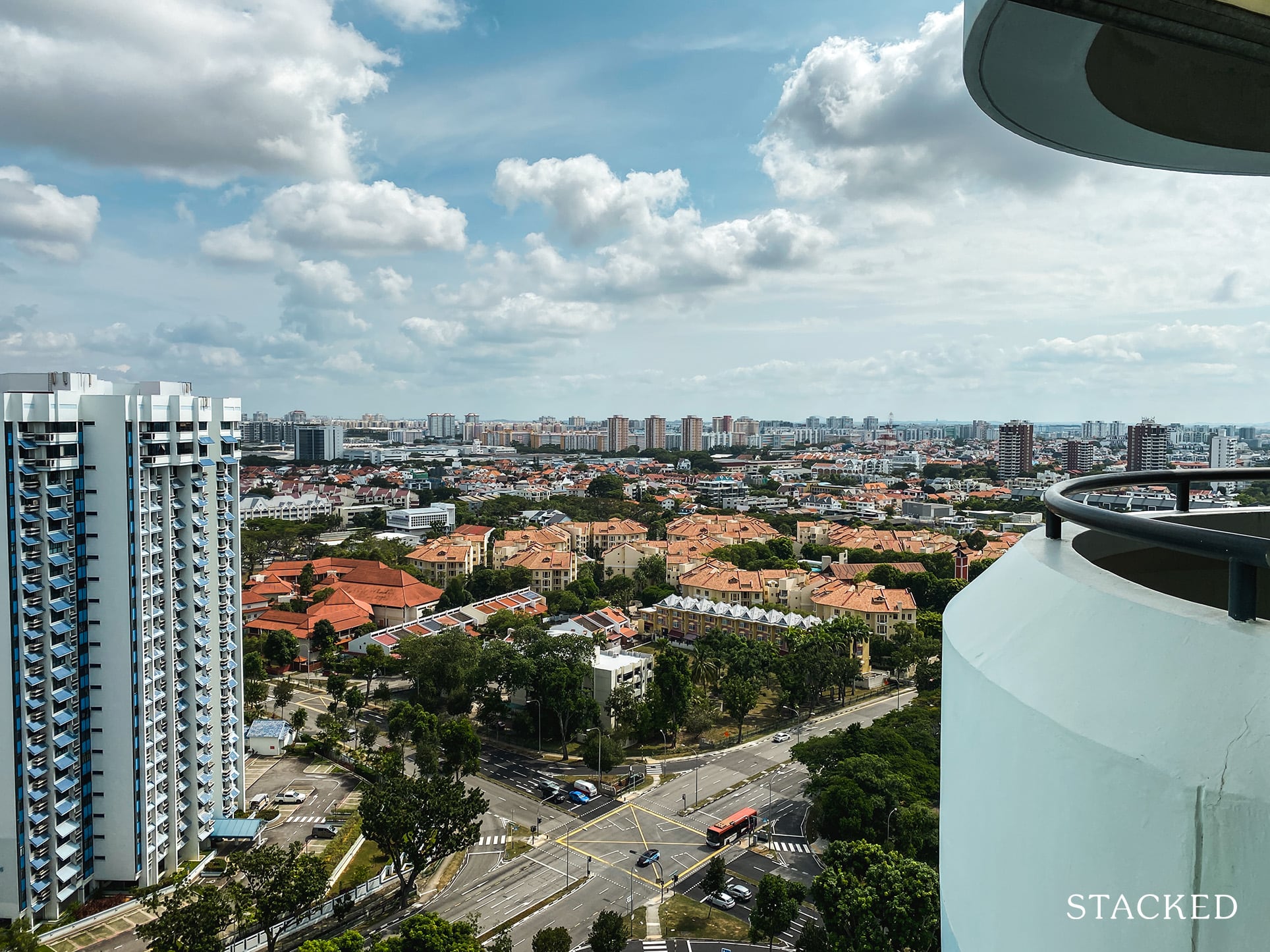 At a high enough floor, you do get a pretty view over the Siglap area. Even though it doesn't get super high here – a large portion of the surrounding area is low rise so views are generally unblocked.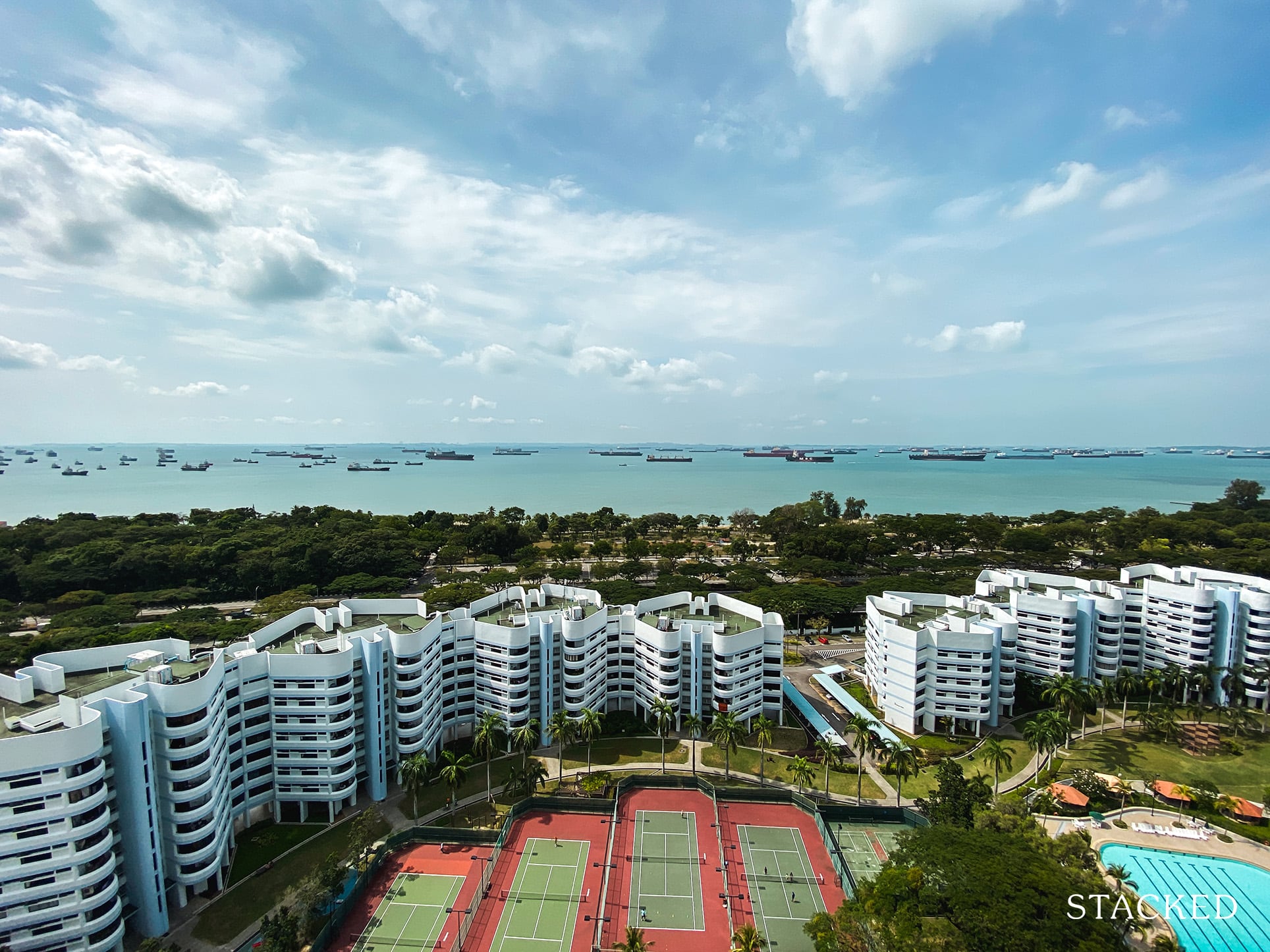 But like I mentioned earlier, the views facing East Coast Park and the sea is a beauty. It's certainly a view most people don't get to see often – let alone daily. If coming home to a sea view is high on your list of priorities, a unit at the Mandarin Gardens should be one of the cheaper entry points in the vicinity.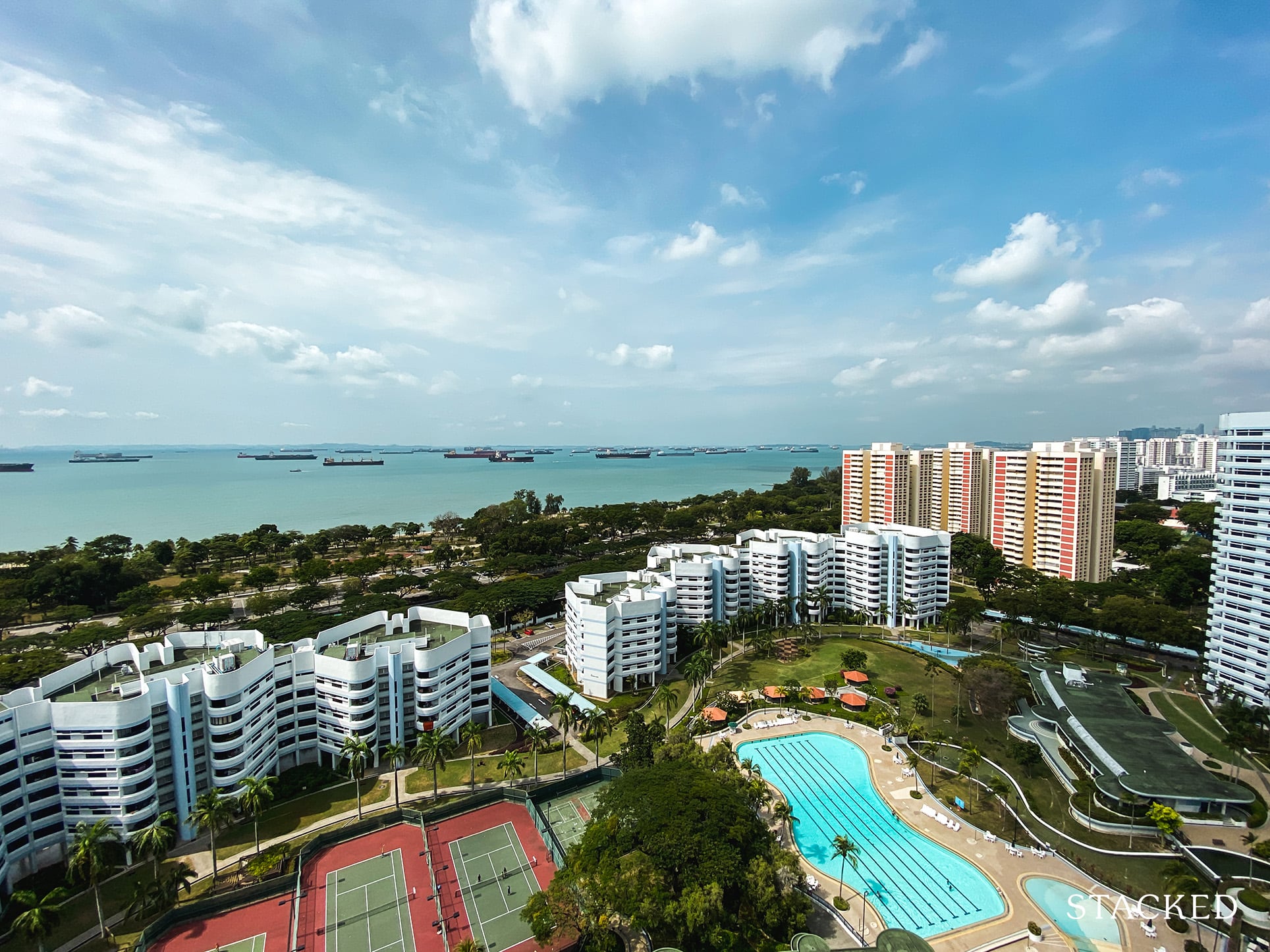 On a clear day like this, you can really see quite far out. It's easy to see why some people will pay top dollar for a sea view. It's relaxing, picturesque, scenic – the list goes on.
Here's another plus point to add to the list – it is wonderfully windy from up here.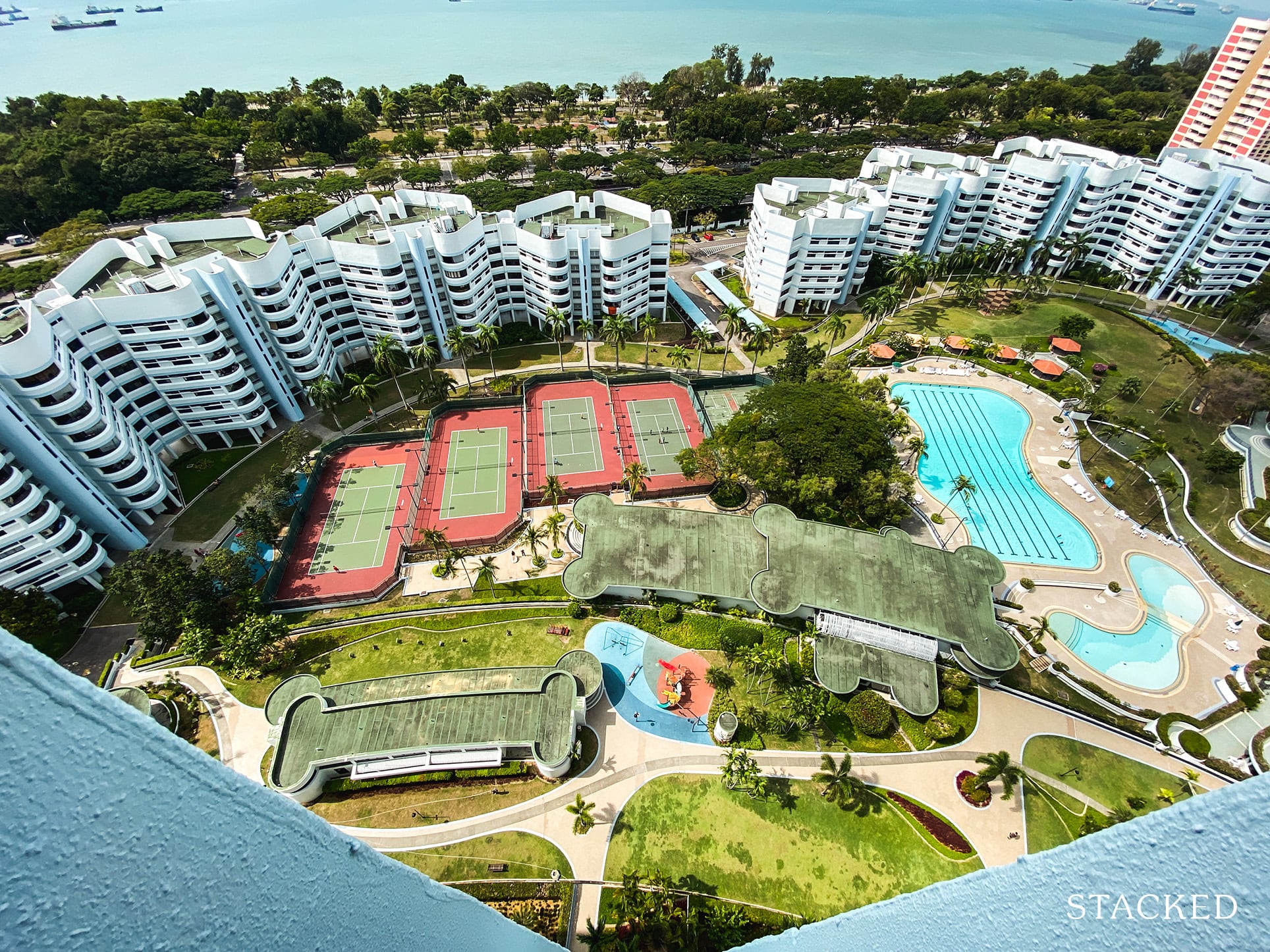 It's also a good spot to capture a bird's eye view of the facilities on offer at Mandarin Gardens. I'd definitely go into greater detail further down, but the one that immediately captures your attention – 4 tennis courts!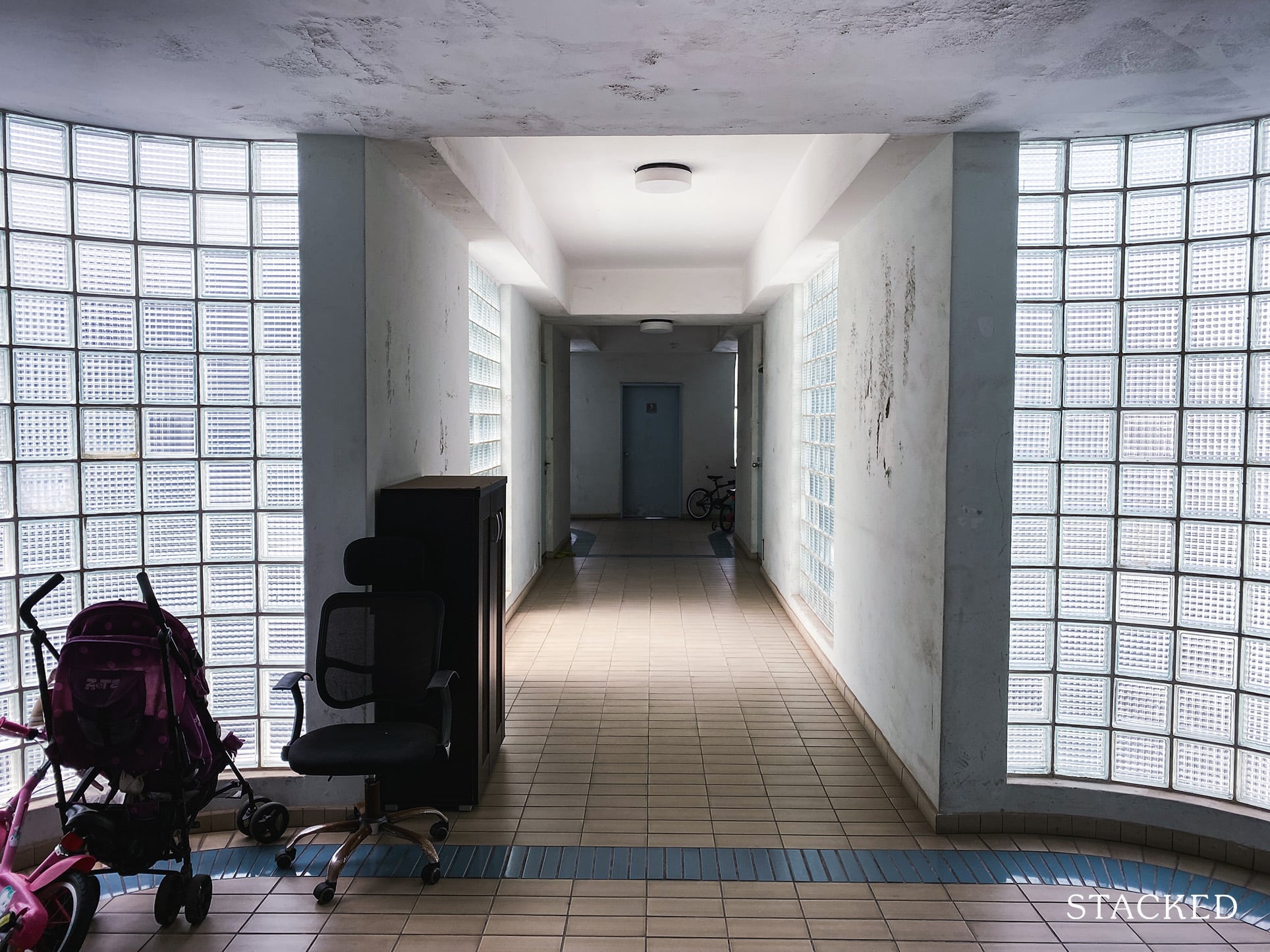 On a less positive note, the general corridor areas here are not very well maintained. That said, it is more than 30 years old at this point – and it is one of the consequences of such a big project.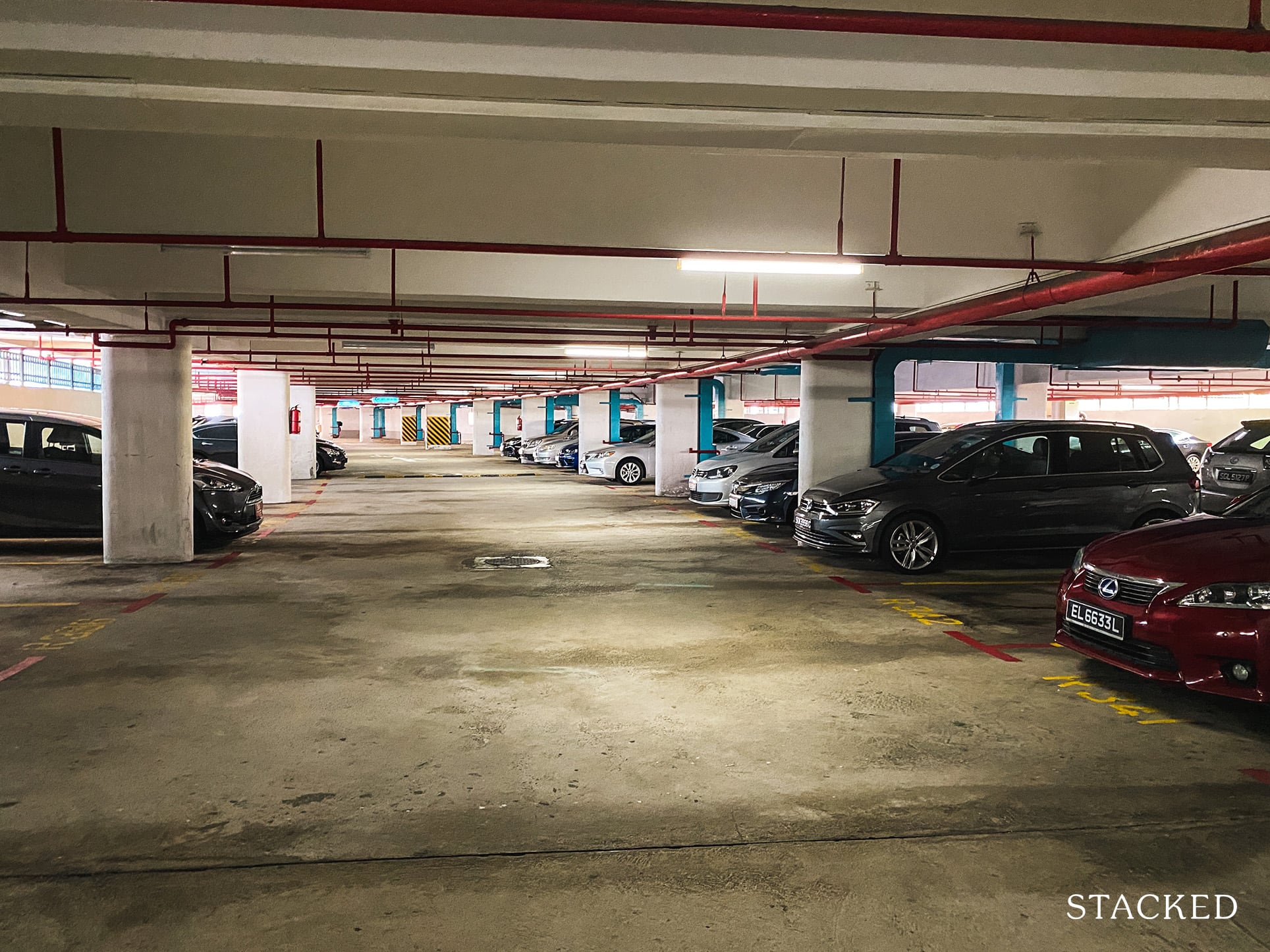 Anyone in their right mind would want their car to be protected from the elements, so a fully sheltered carpark will always be in demand. As you'd expect, lots here will be hotly contested.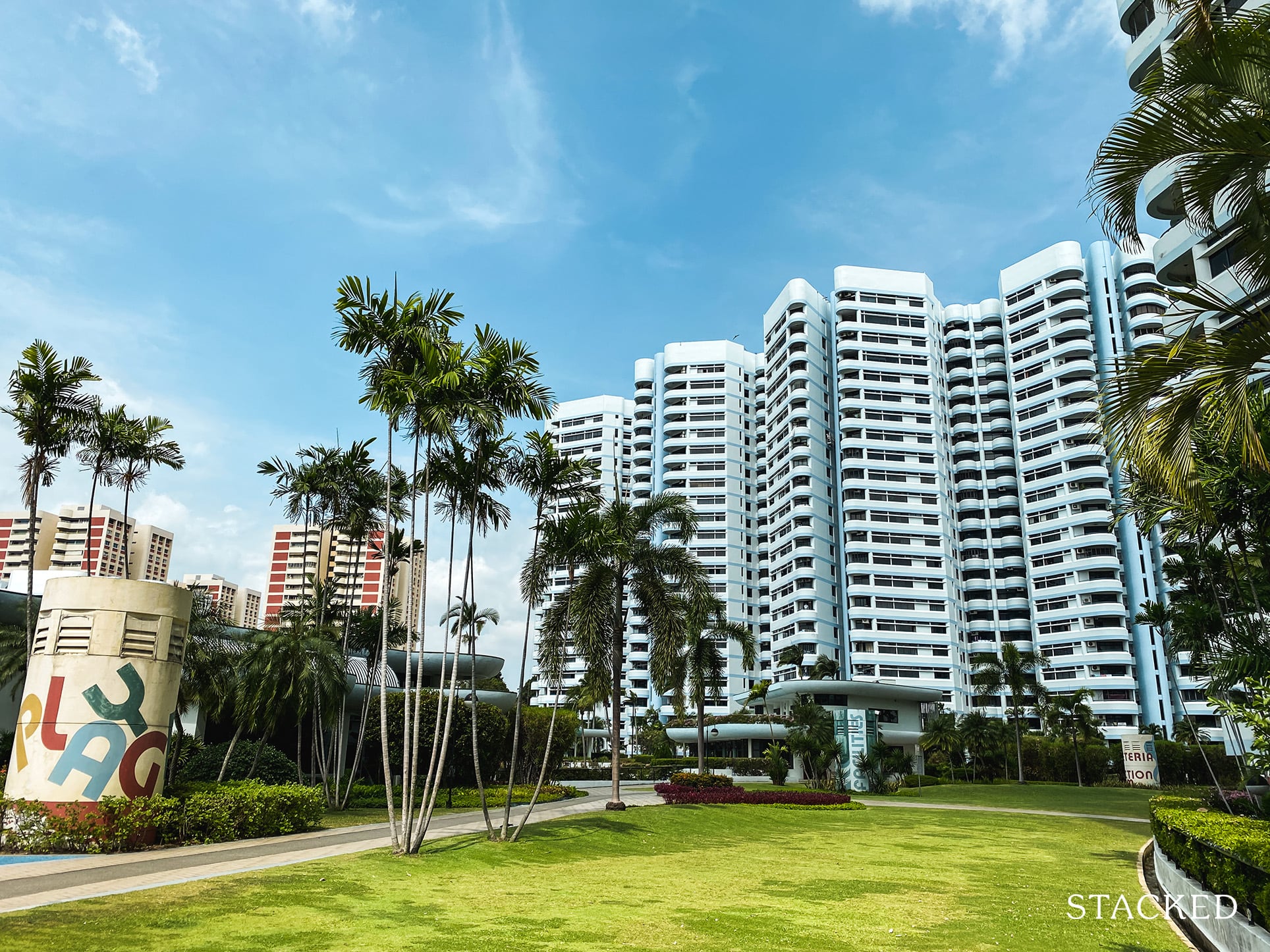 Once you step into the central portion of Mandarin Gardens, the availability of space is even more apparent. There is just a ton of green grass everywhere you look. Aside from the sea views, this expanse of space is another of its main selling points.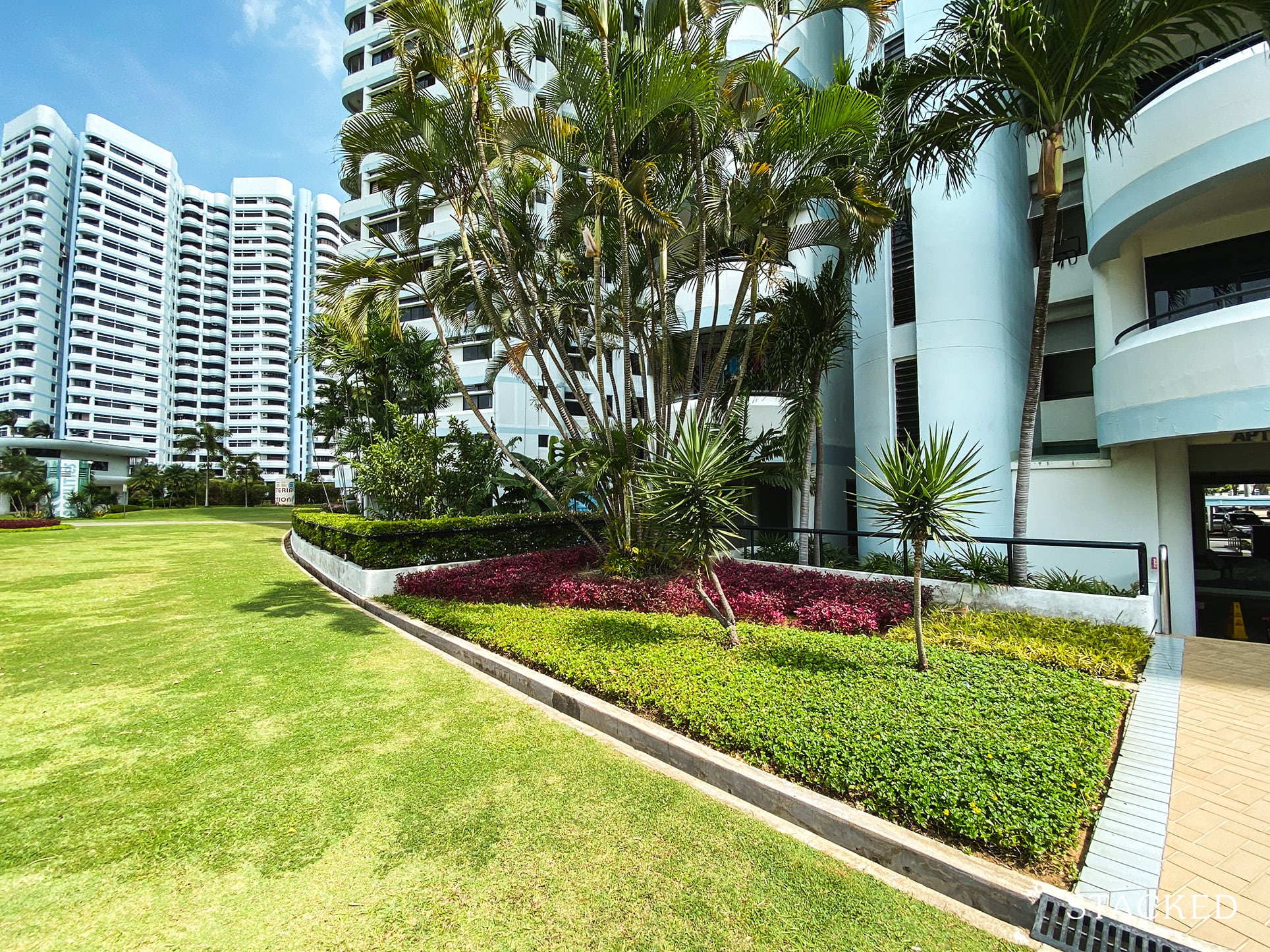 While the hedges and lawns are actually quite neatly spruced and maintained, landscaping here isn't a strong suit. It's decent, but you don't get that lush greenery feel here that you get from other big projects like the Maplewoods. At the same time, you can kinda understand why – the upkeep could be an issue given how much land there is.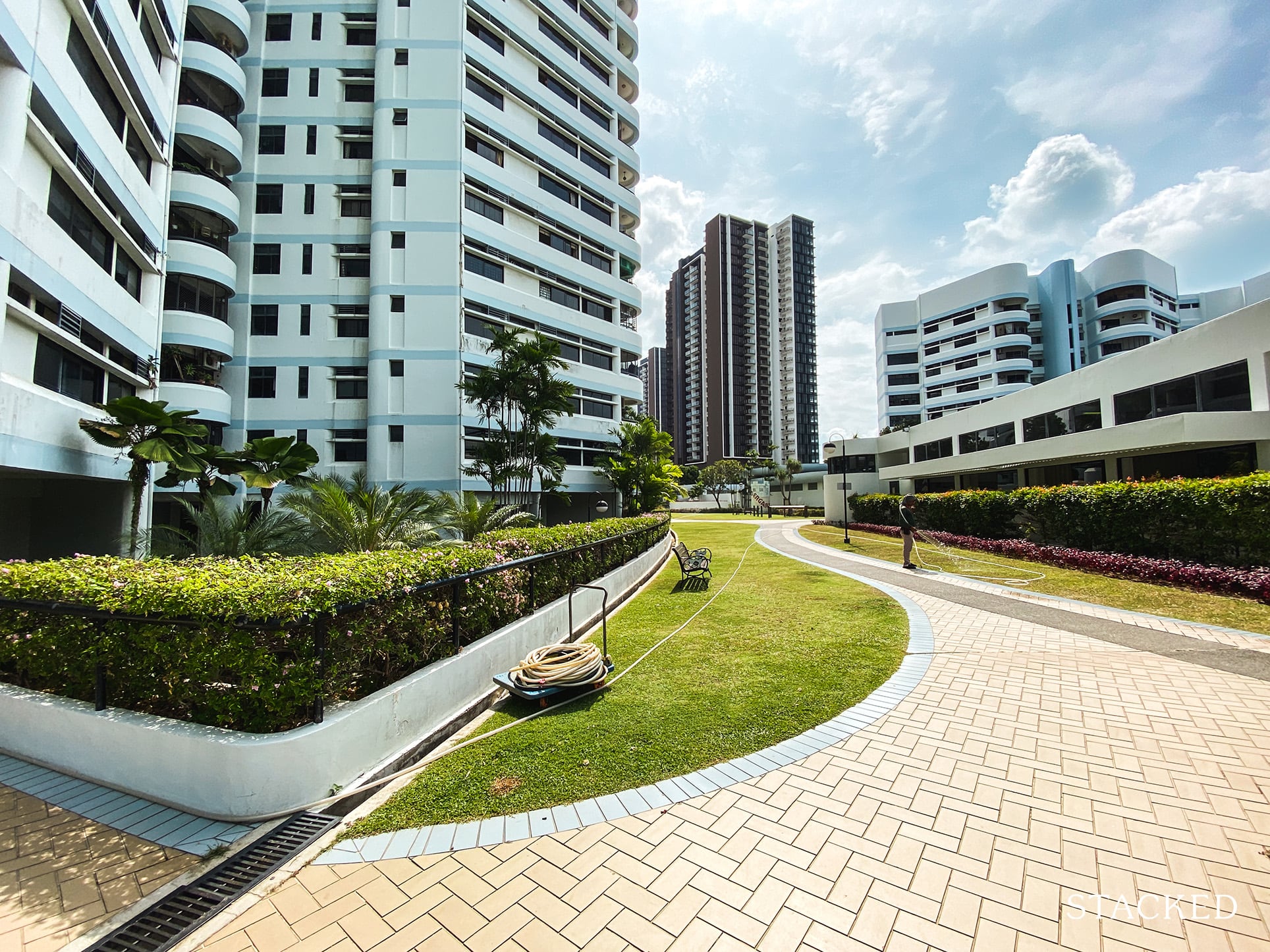 The walking path on the inside circles around all the facilities, which would still take you some time to complete. While it isn't the prettiest scenery around, you can still revel in all that expansive space.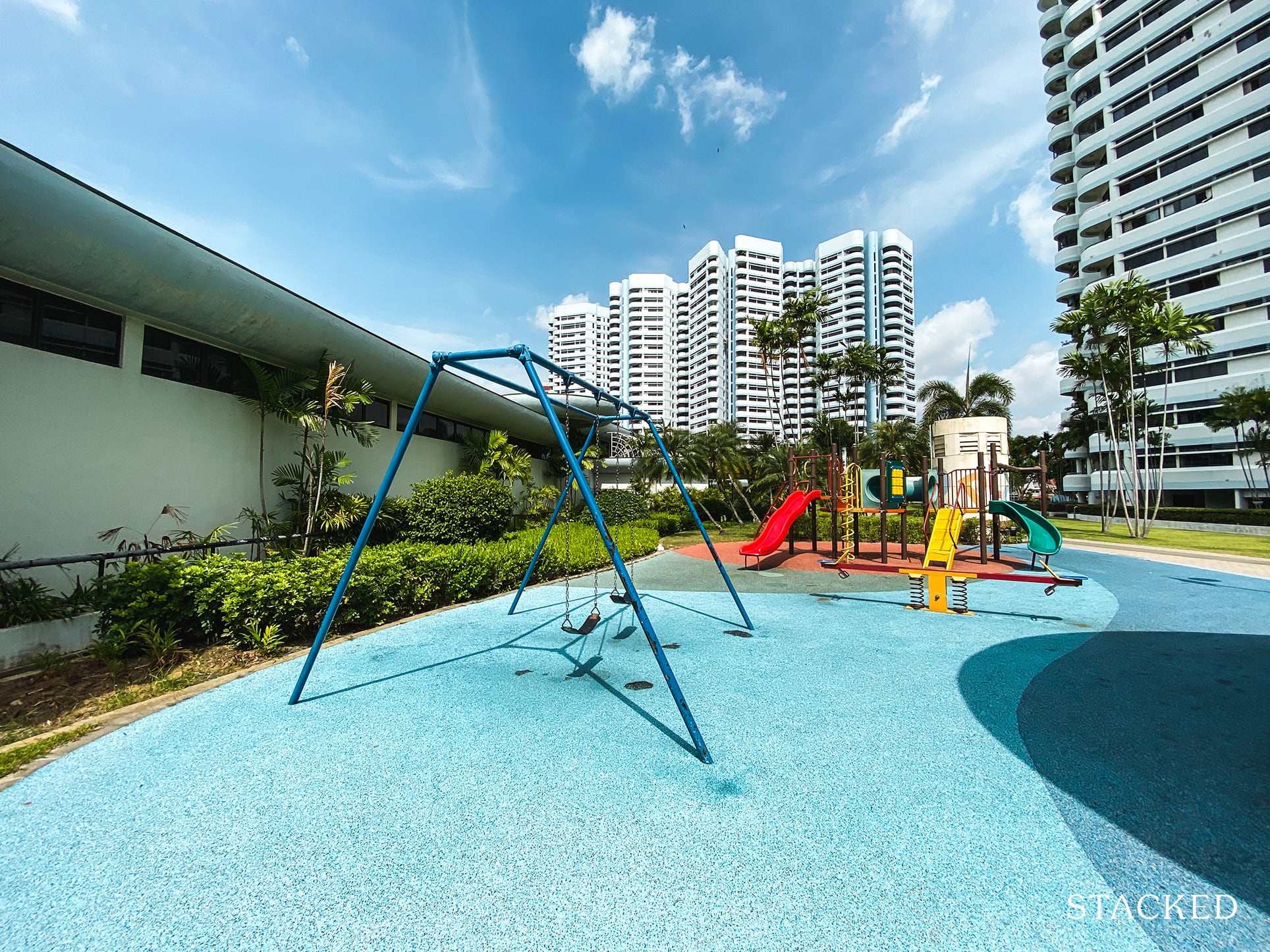 The kids playground does look like it has been updated recently, the colourful slides and swings still look rather vivid. For kids, Mandarin Gardens is quite the wonderland – with multiple playgrounds to pick from and huge open spaces to run about.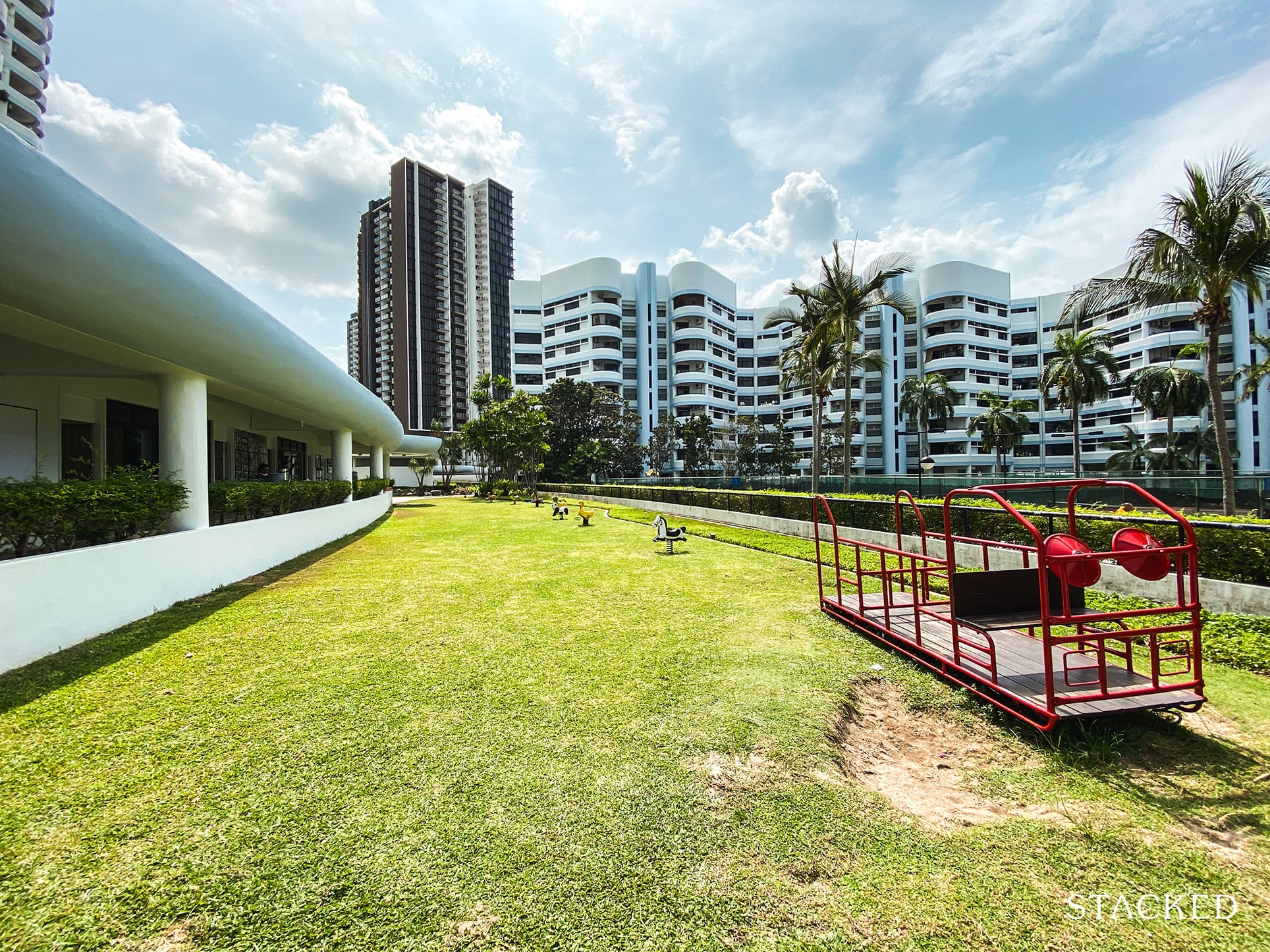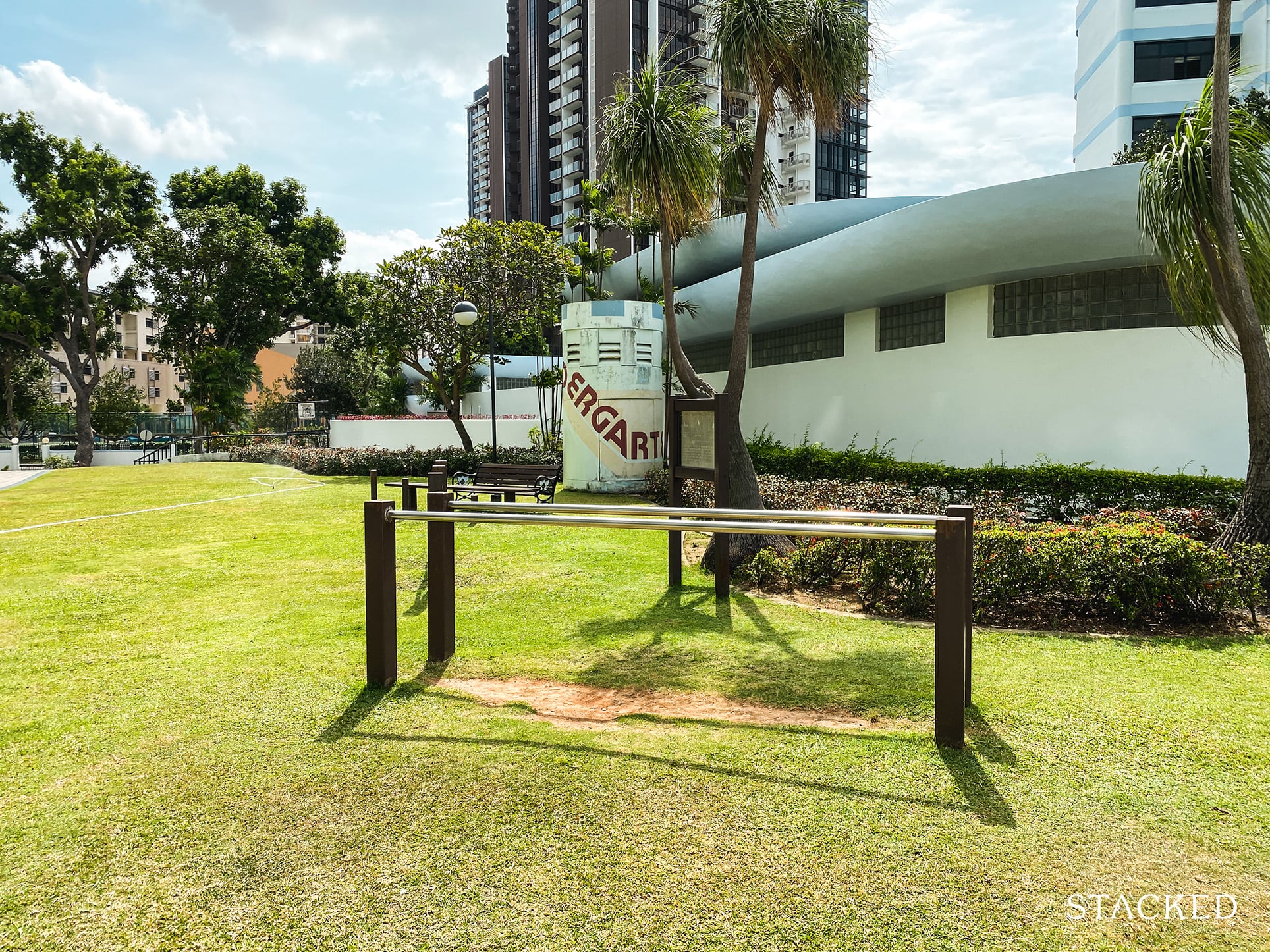 In a similar vein to the playgrounds, there are multiple outdoor fitness stations scattered around the area.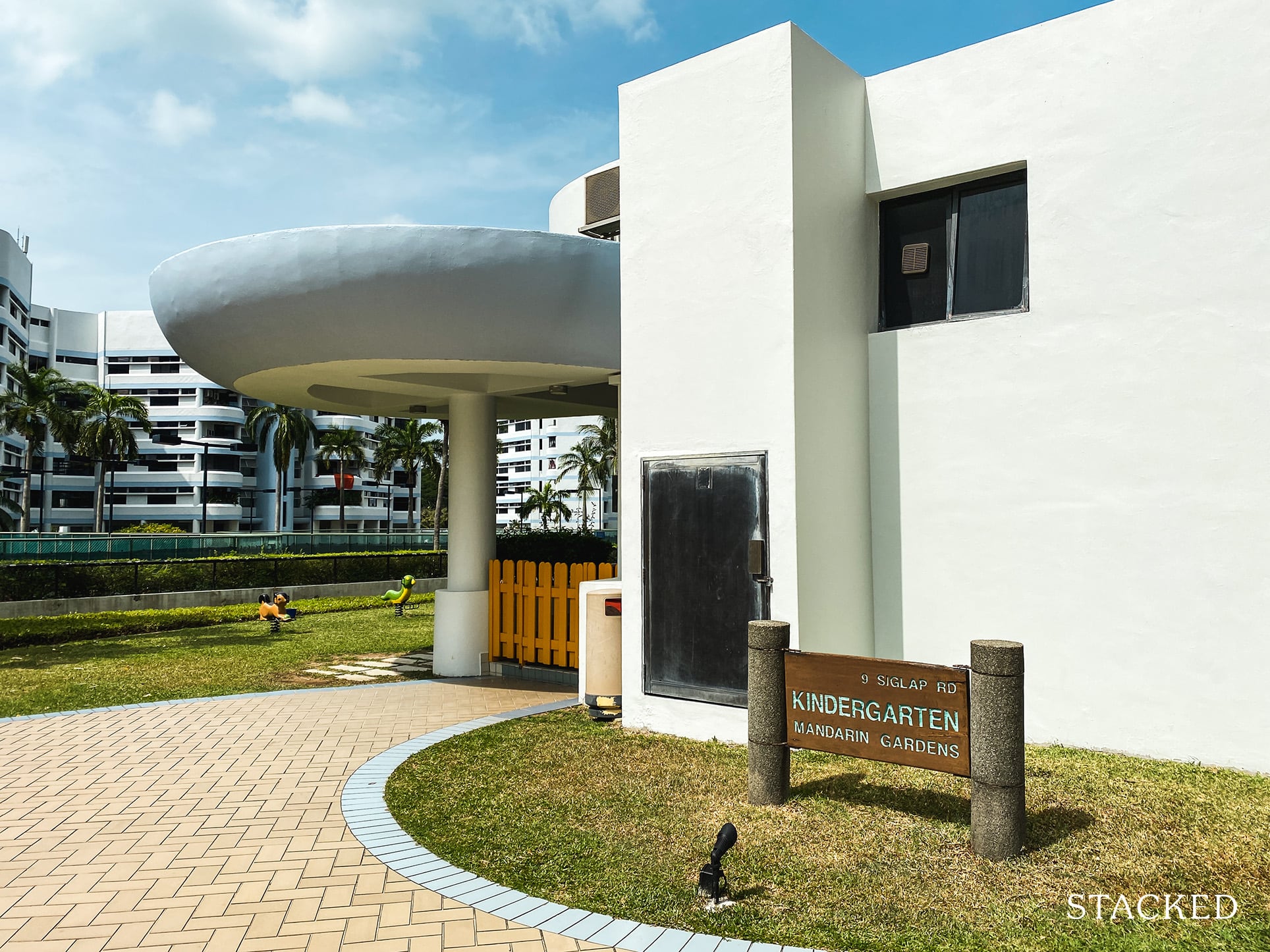 This has to be the biggest kindergarten facility I've come across in any development – there is actually an entire structure dedicated to it.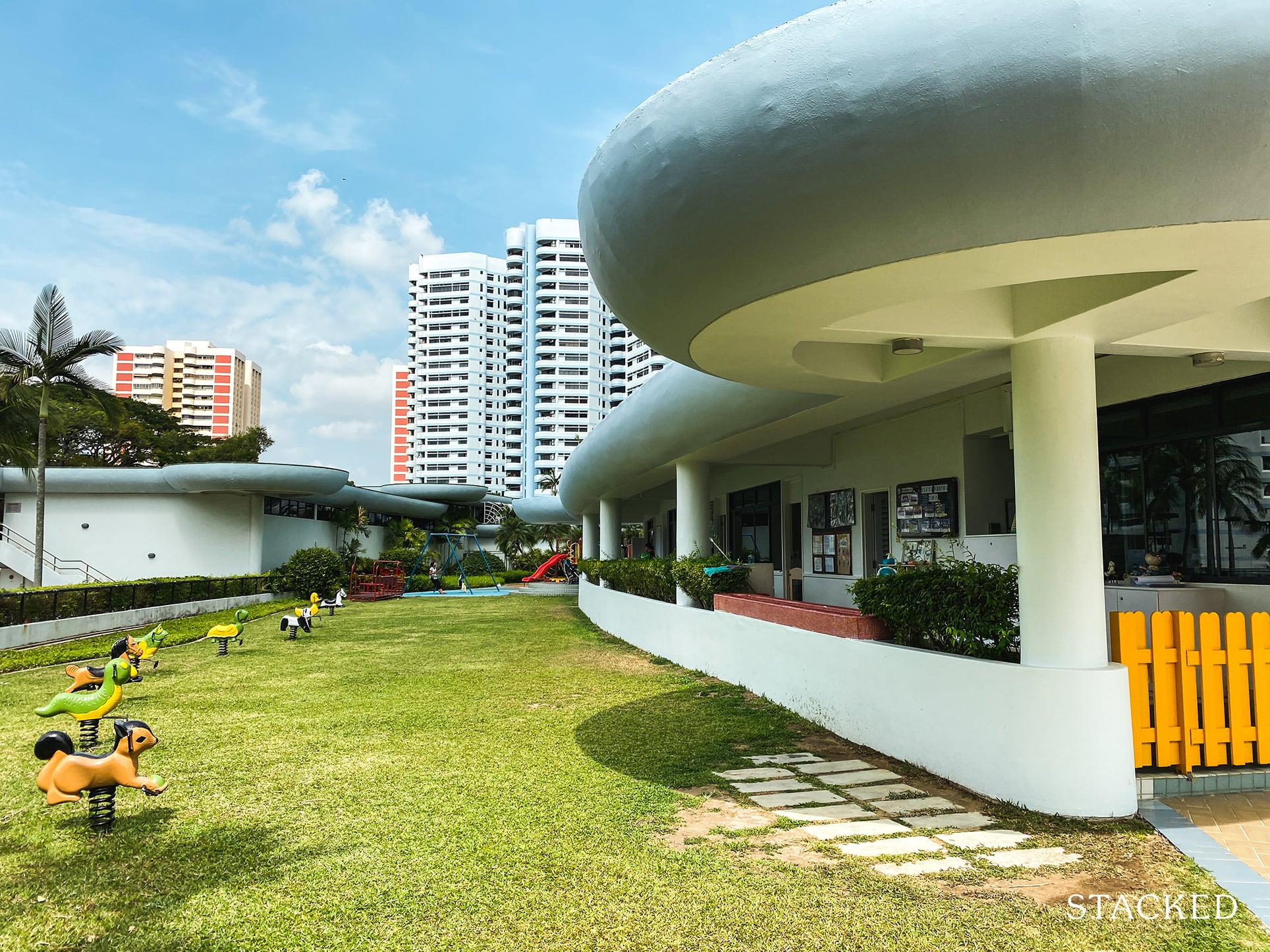 With a proper backyard plus the playground being close by, it is a fantastic environment for the kids. For busy parents, having this facility here must be a godsend.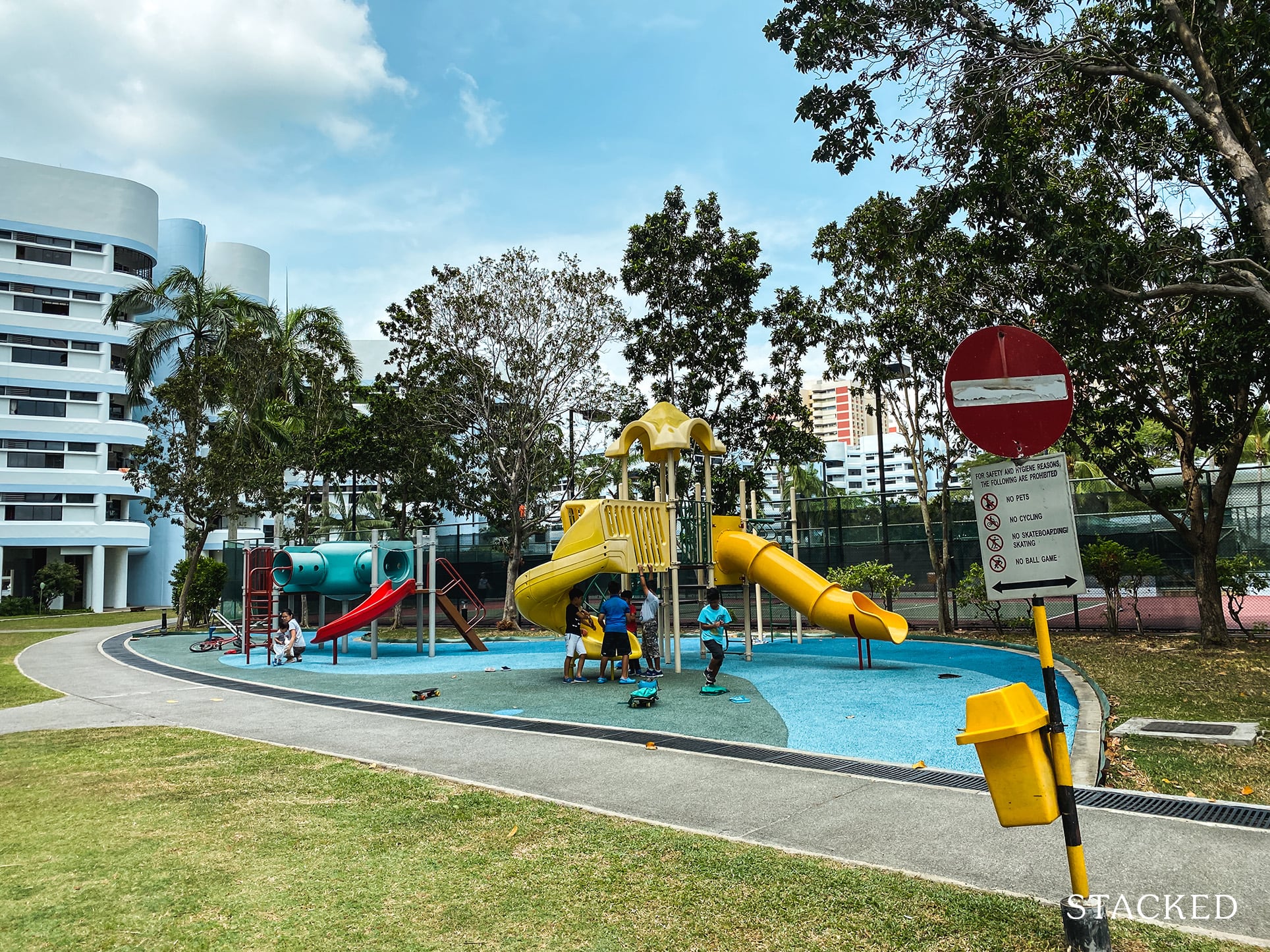 I wasn't exaggerating when I was talking about the number of playgrounds earlier – this isn't even the last of them.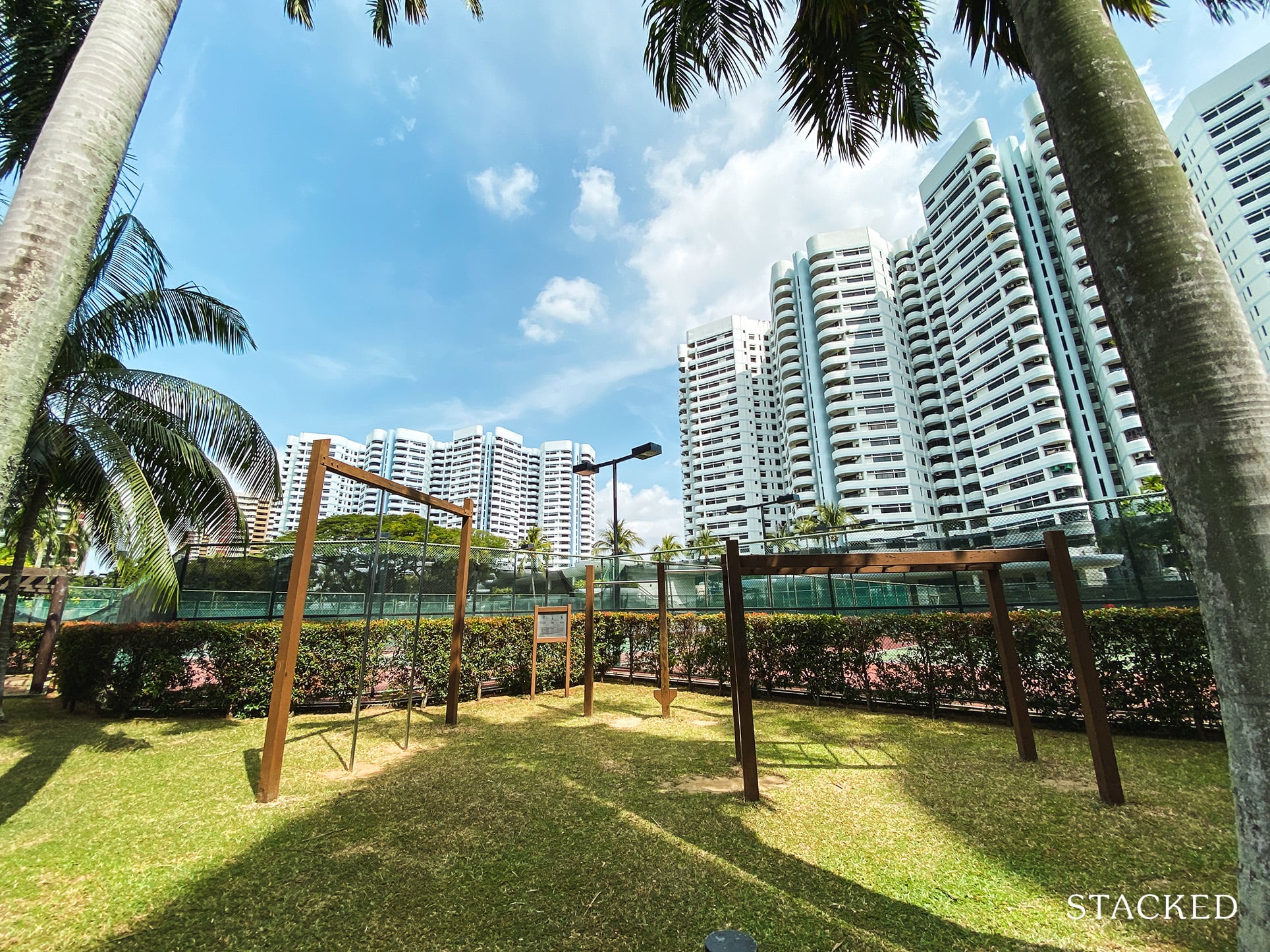 It's the same story when it comes to the outdoor fitness stations here – you can afford to be choosy about where you want to workout. For those that enjoy exercising outdoors, it will be refreshing to have a change of environment each time.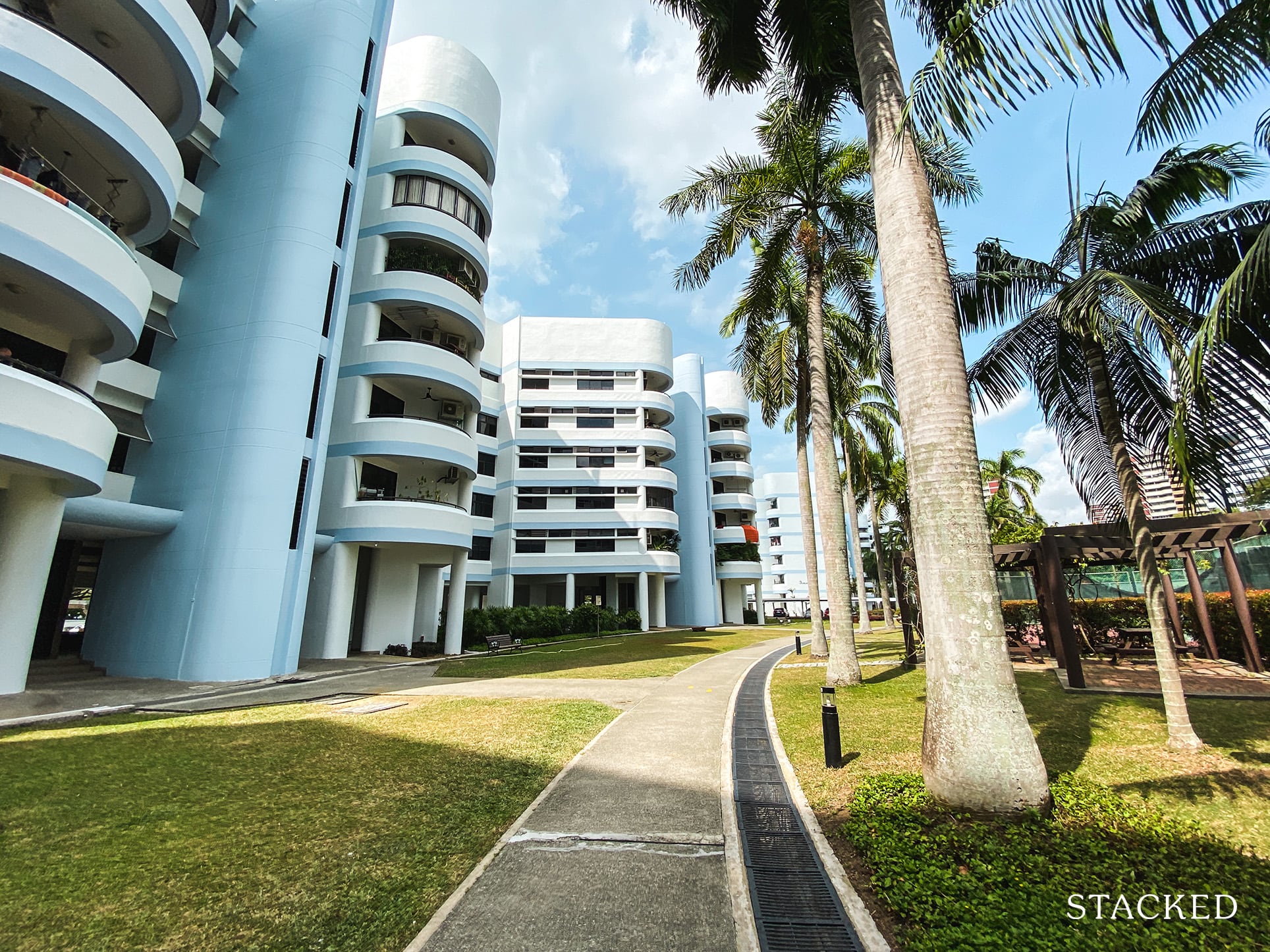 I'd say it again. It's always a luxury to be able to enjoy this much space in land-starved Singapore. Not everyone here would get to enjoy sea views from their home, but this generosity of space is something that all residents get to benefit from.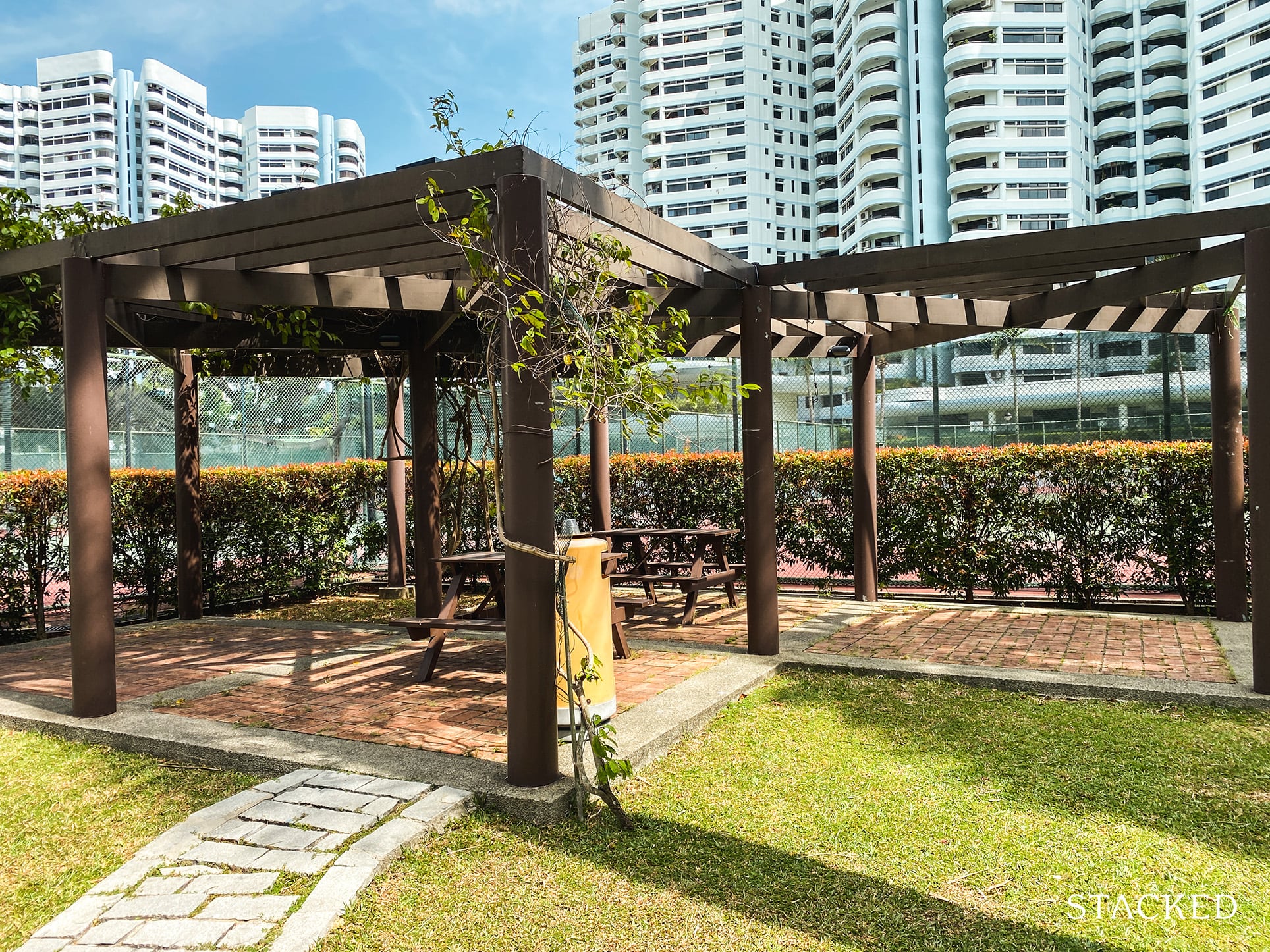 I never really understood seating areas without appropriate shelter. I would be more partial if the structure was pleasing to the eye, or perhaps even more creepers and plants that covered the top.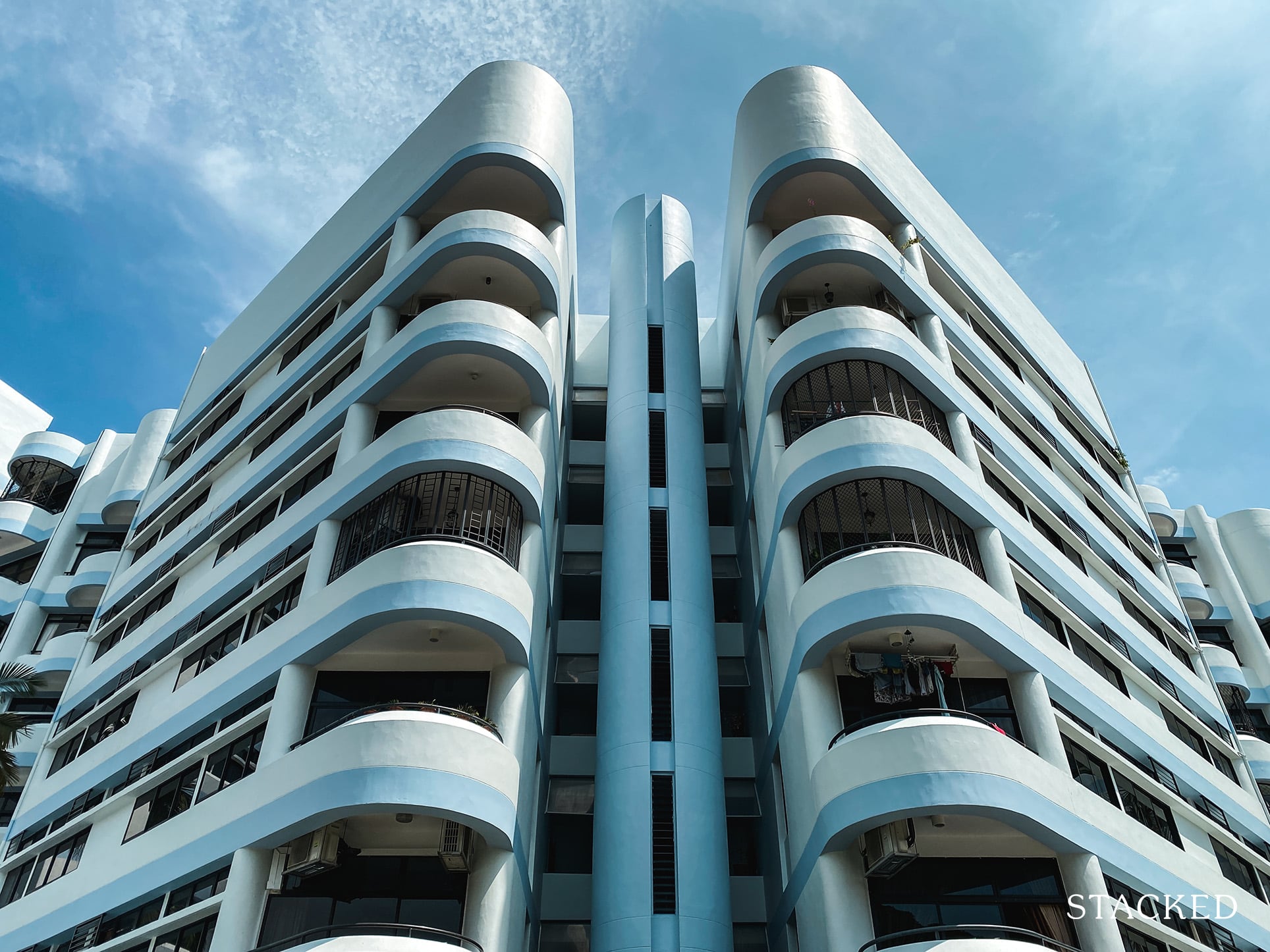 Let's take a closer look at the shorter blocks.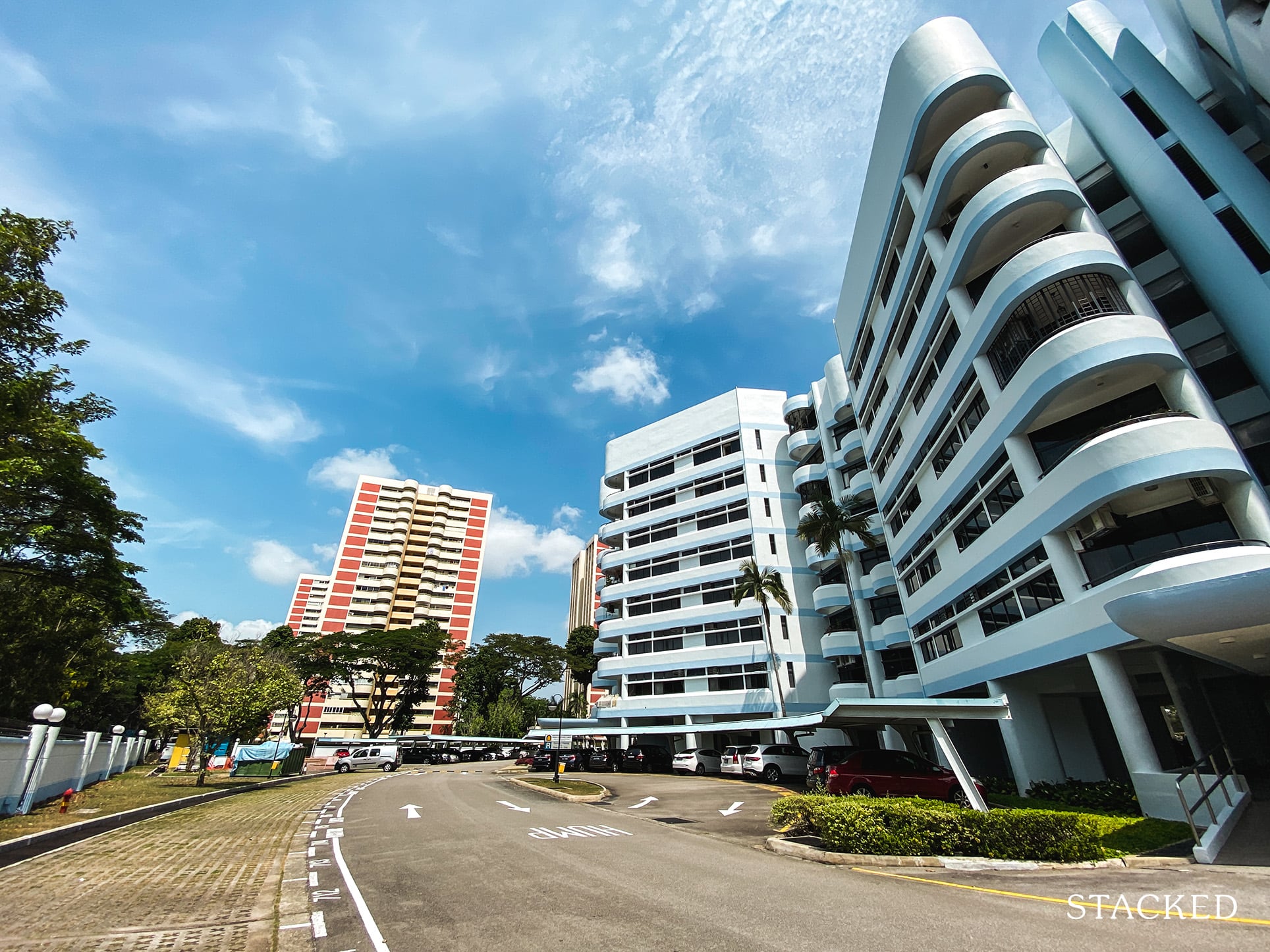 One thing you'd have to realise about these shorter blocks is that they only have sheltered parking at the ground level – you don't get direct access to the underground parking. At the very least, the sheltered parking is located right underneath these blocks.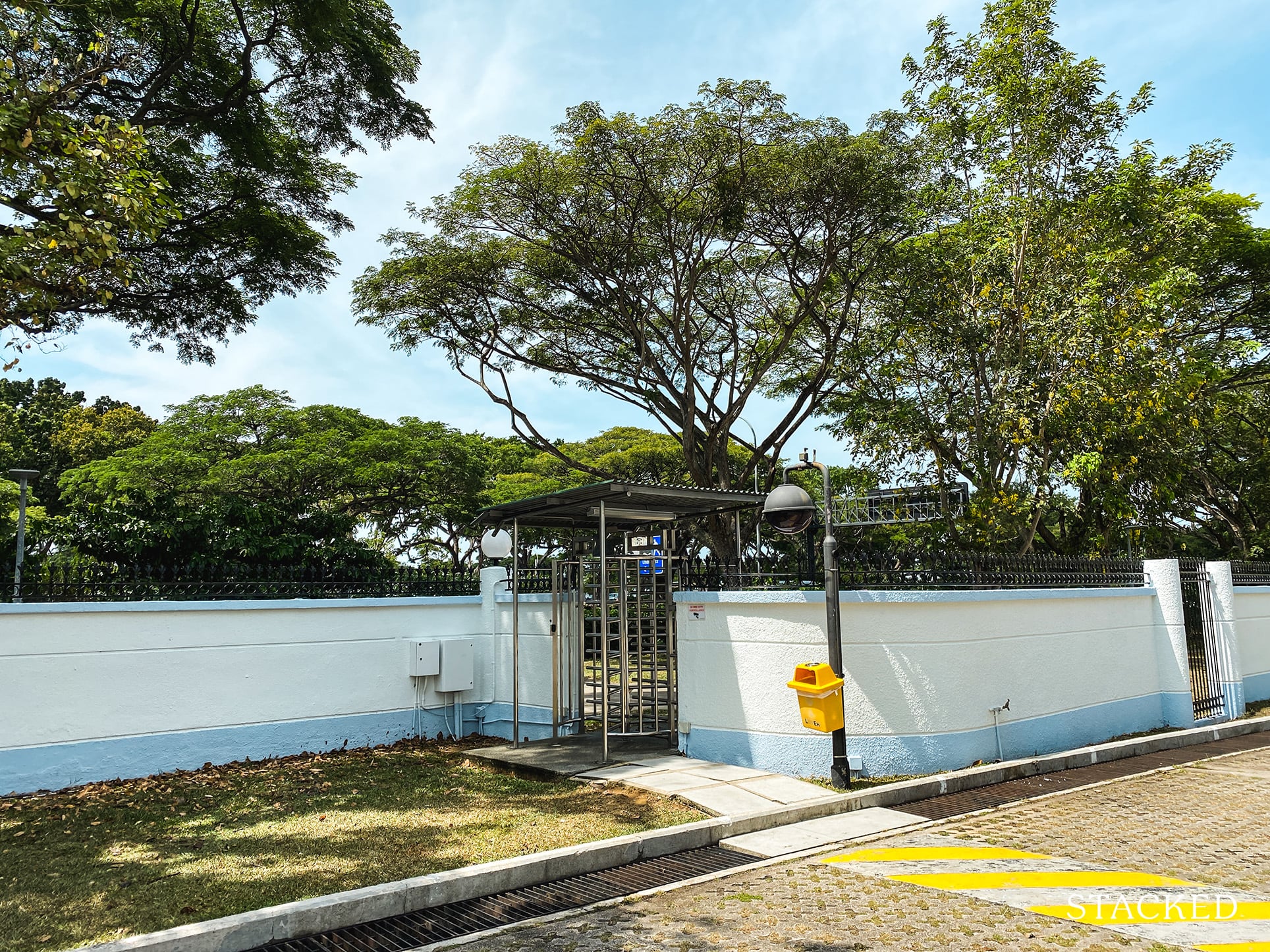 There is another side gate that runs parallel to the ECP. From here you can get to an underpass which leads you safely to East Coast Park. Sure, Mandarin Gardens is a massive space in itself – but there is nothing quite like being able to cycle and jog down by the sea still.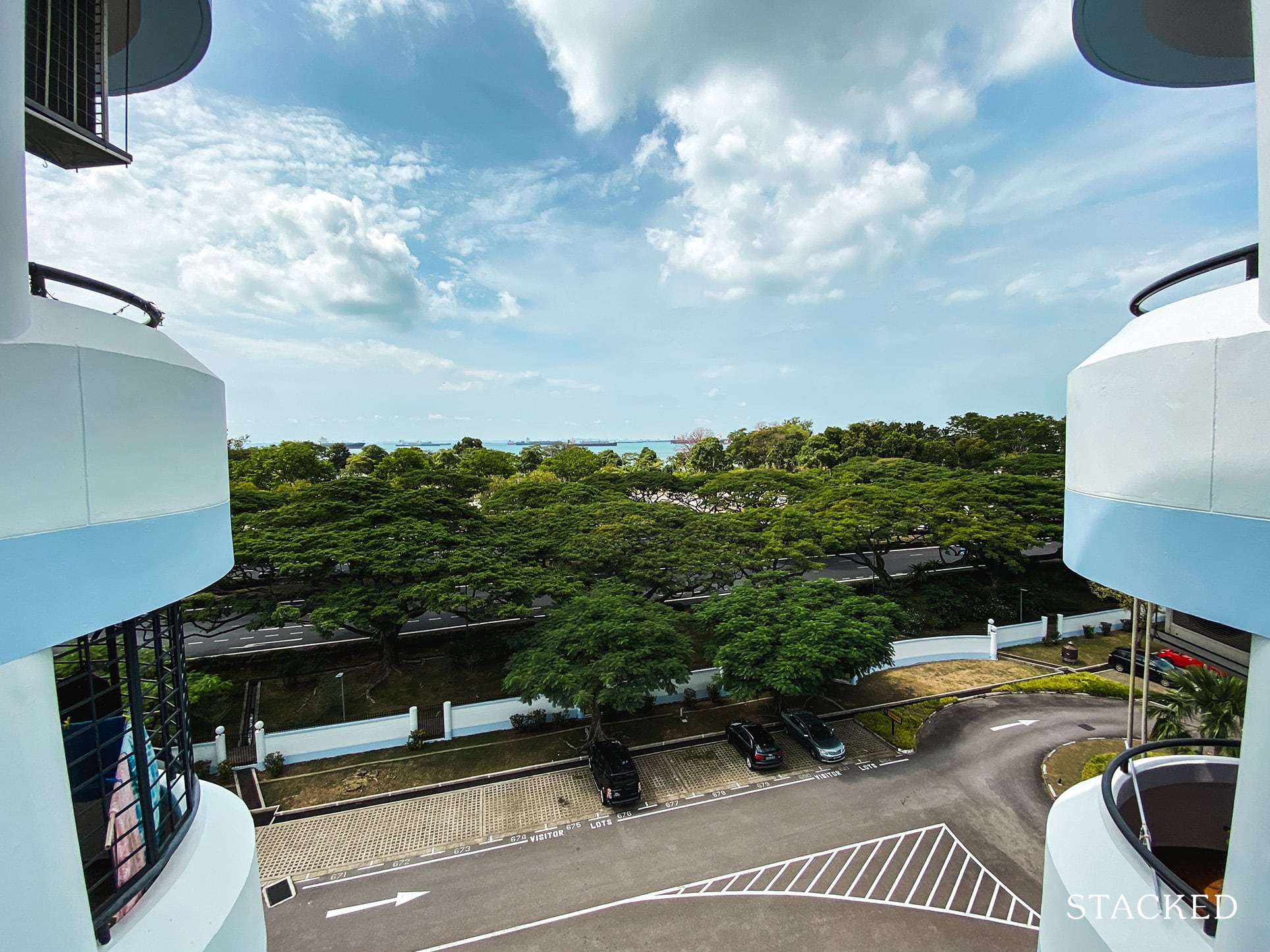 As you'd expect, even from the top floor, views of the sea here is quite restricted. Plus the traffic noise from the highway will be a cause of concern for those more sensitive.
On the other side of things, you do get a view of all 4 tennis courts from here – if that is any attraction to you at all.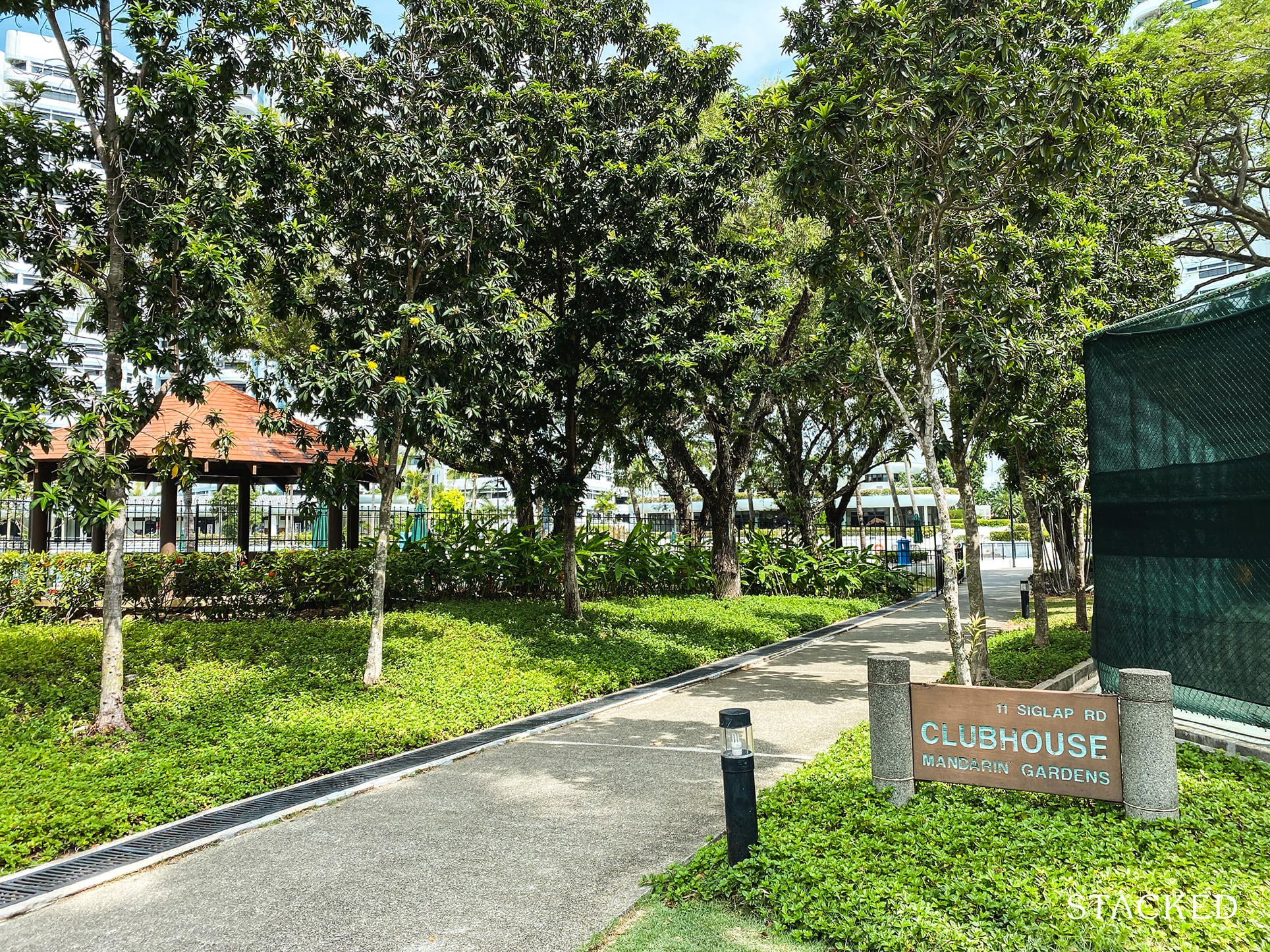 The clubhouse is just about in the middle of the estate, surrounded about the leafiest and most foliage heavy part of the development.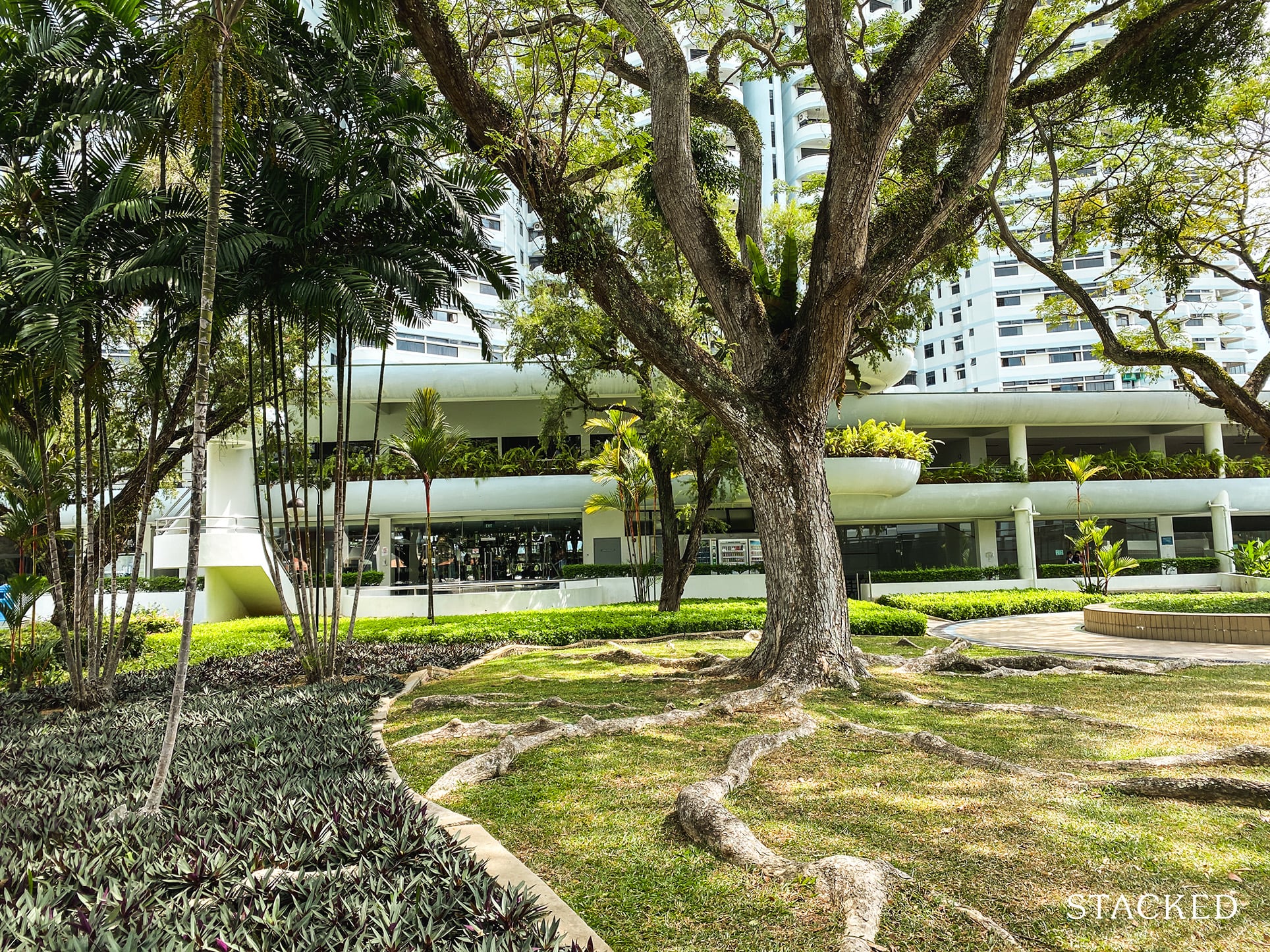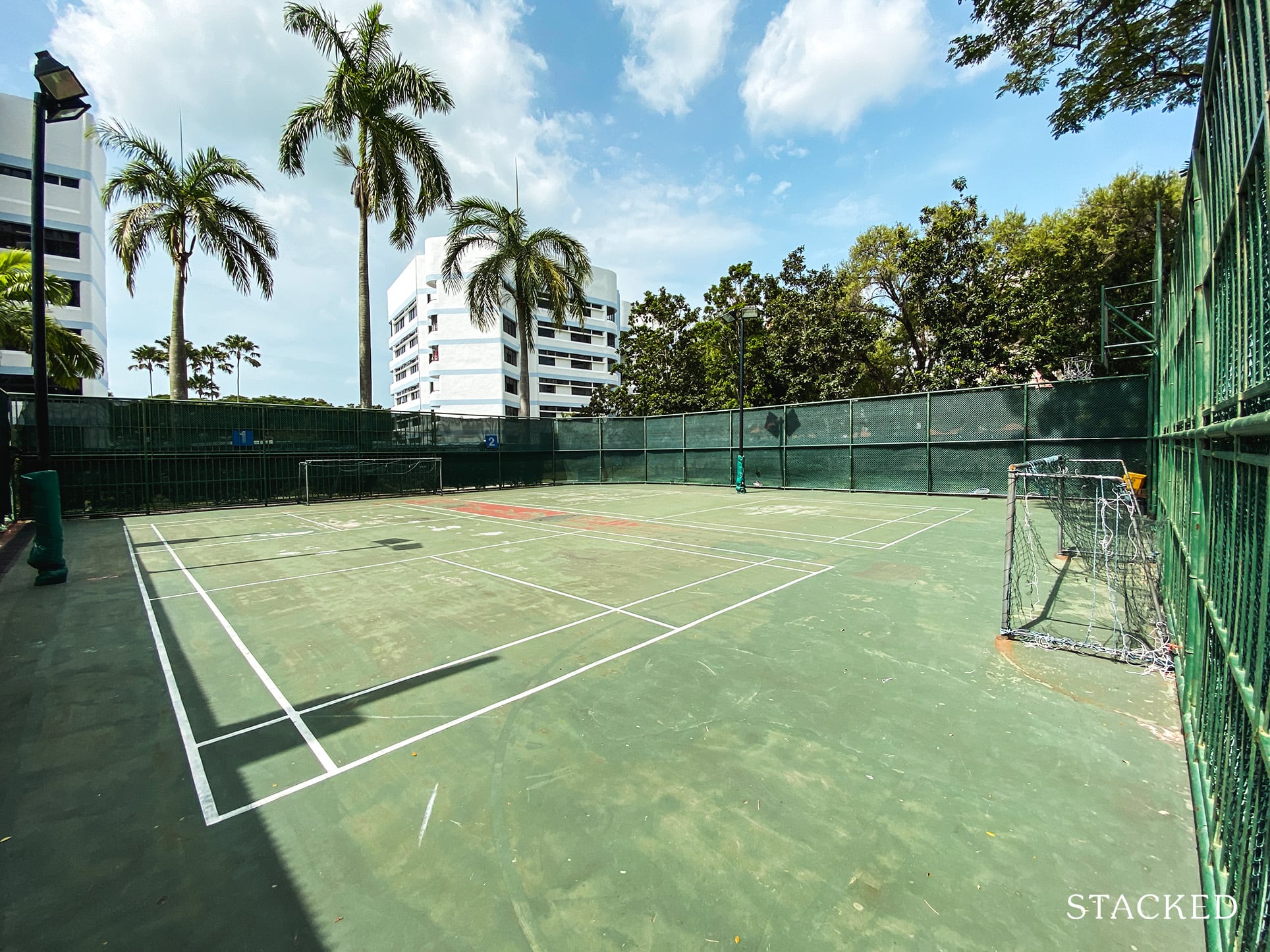 There is a multi-purpose court here – of which you have both basketball hoops and football goalposts. You can see the space is evidently well-utilised – with the scruff marks on the court and gaping holes in the nets.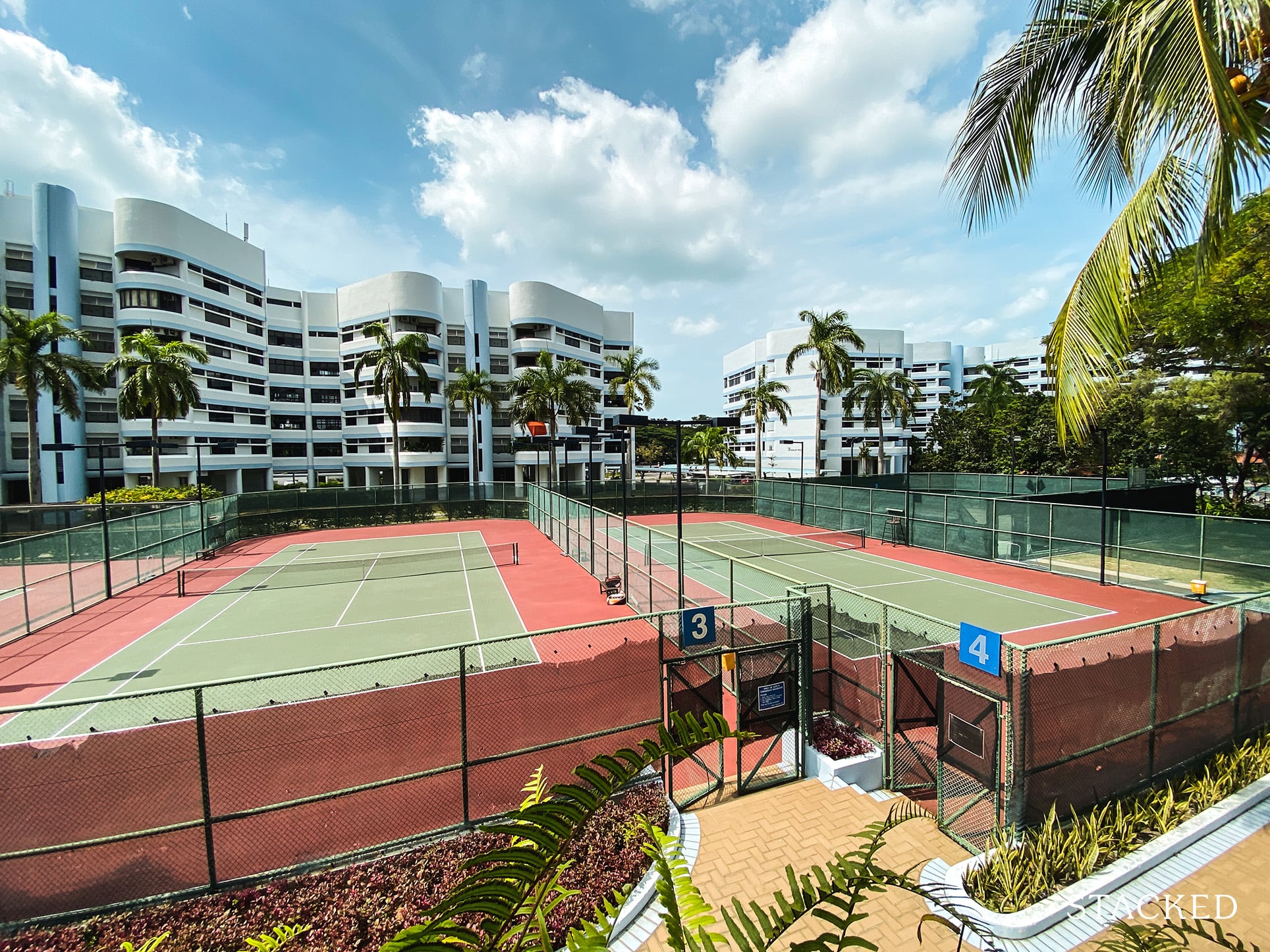 Let's do the math here: 4 tennis courts, 1,000 units which is equivalent to 1 tennis court per 250 units. It's a great ratio, you probably wouldn't ever have trouble finding a free slot for a game.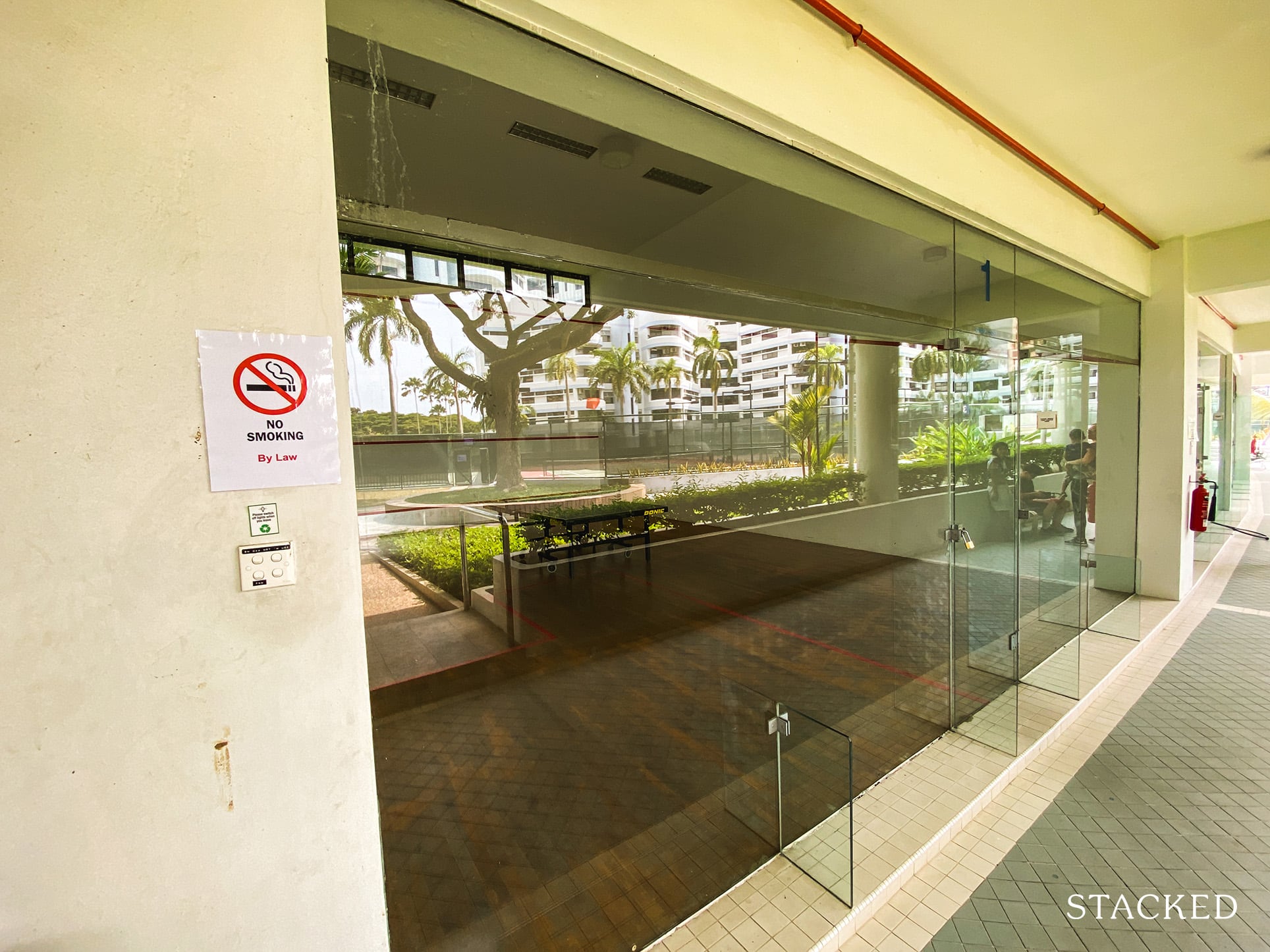 On the first level of the Clubhouse, you'll find two squash courts.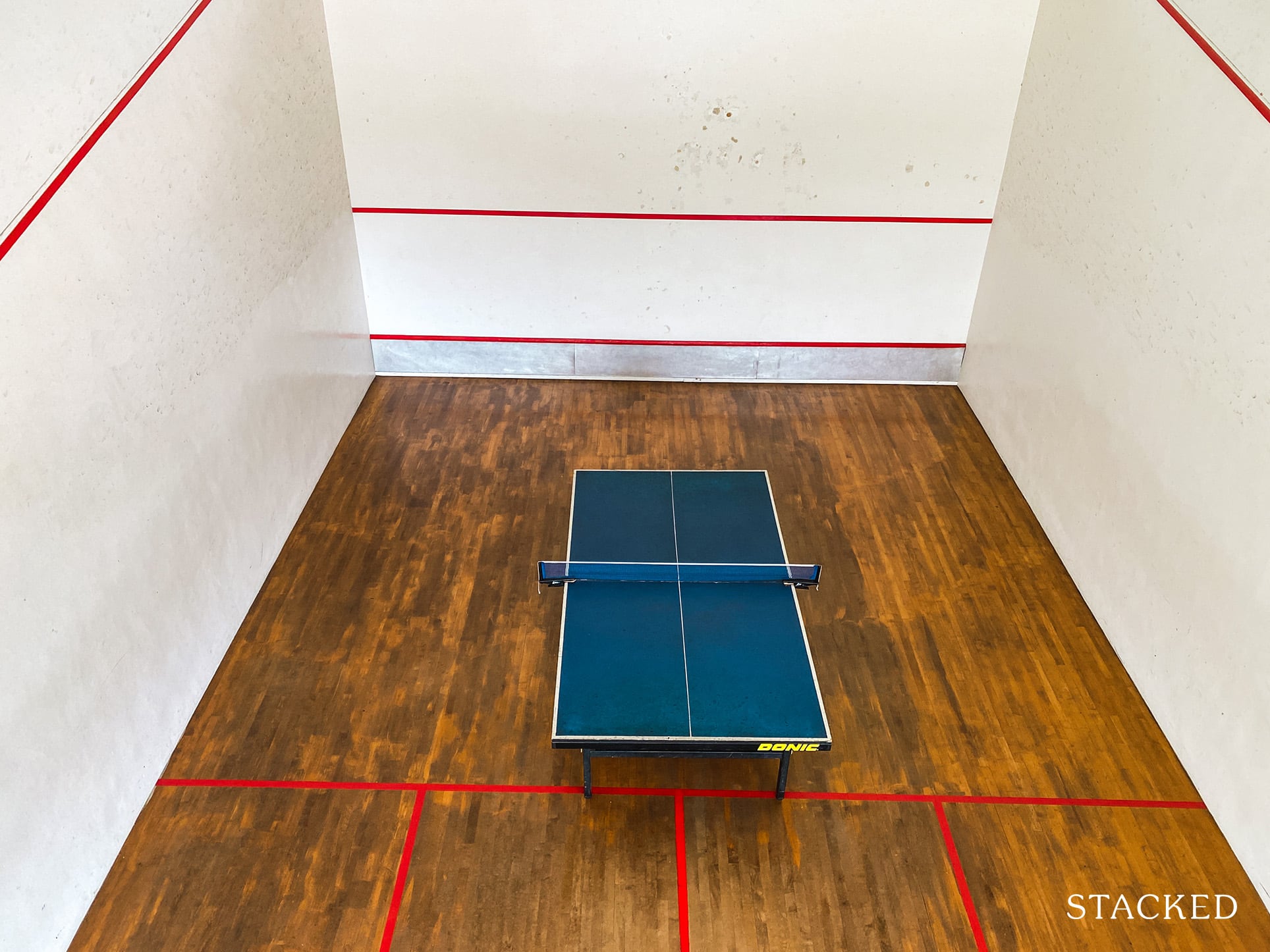 Of which one has been turned into a table tennis area instead.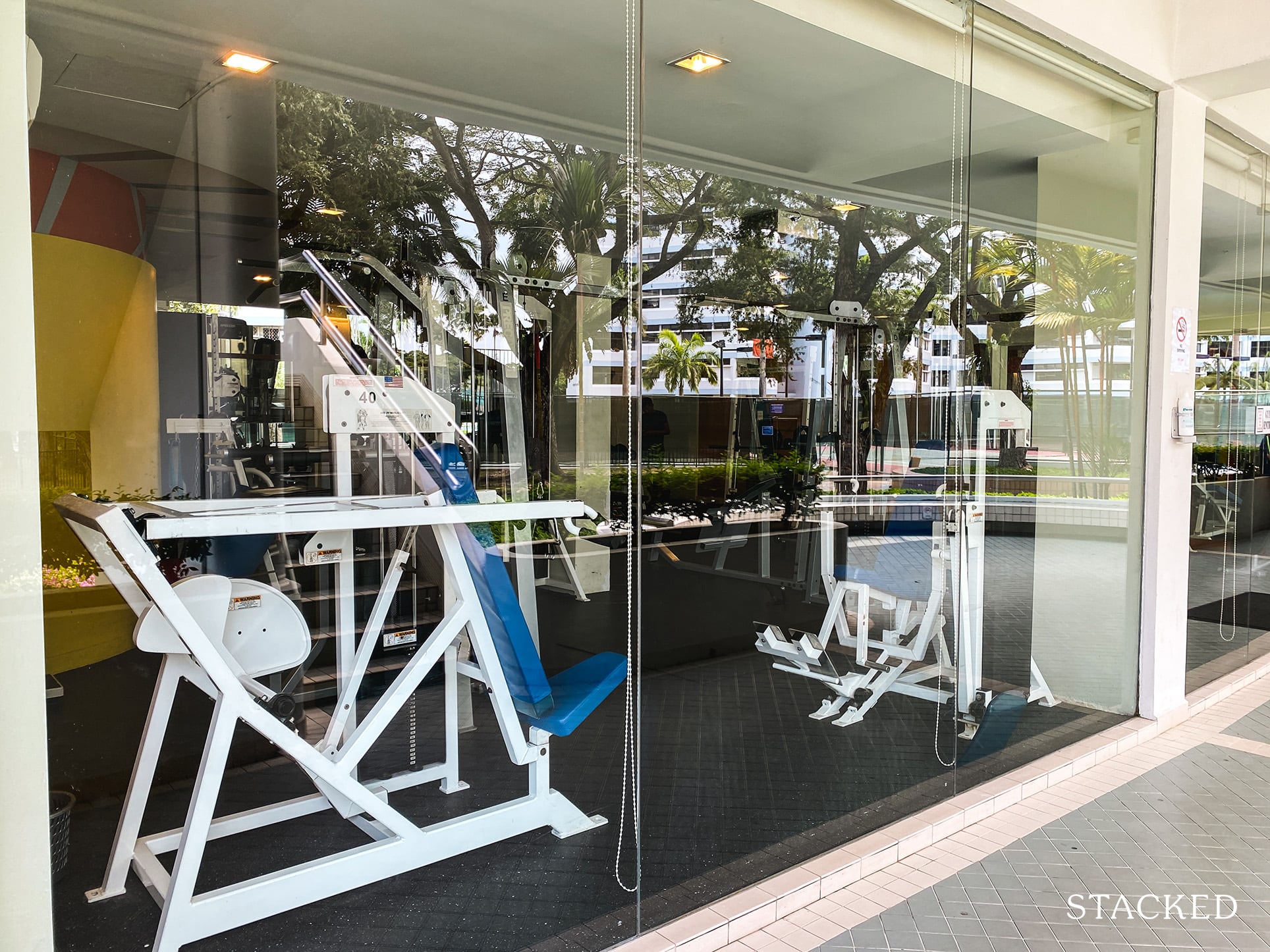 The gym is decent – there is quite a varied range of workout equipment. In most developments a gym this size would be fantastic, but when there are 1,000 units – you might face a squeeze during peak hours.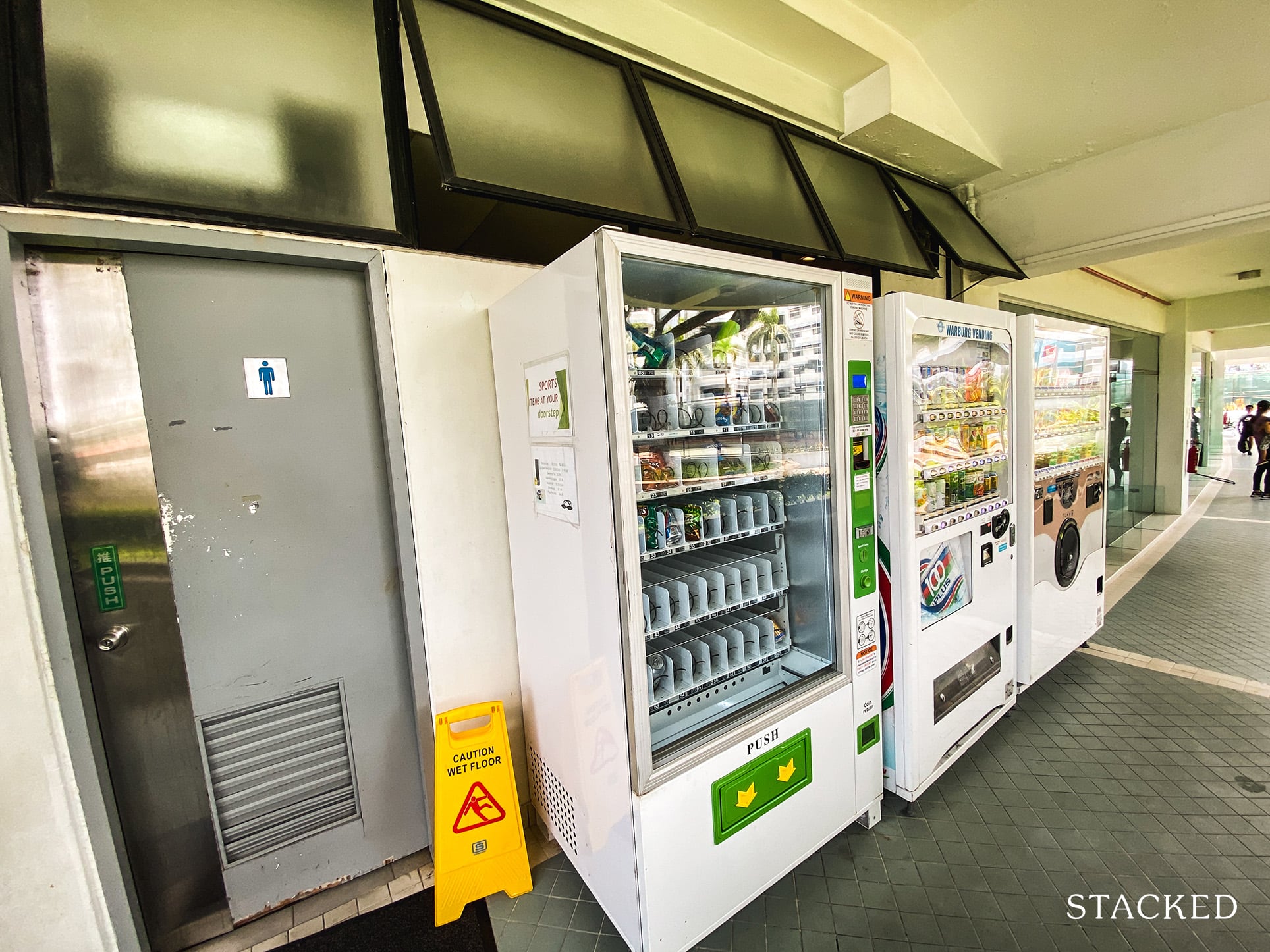 There are vending machines available on the first floor too. But given that there is a (sizeable) mini-mart here as well, I can't imagine that these would be used as much.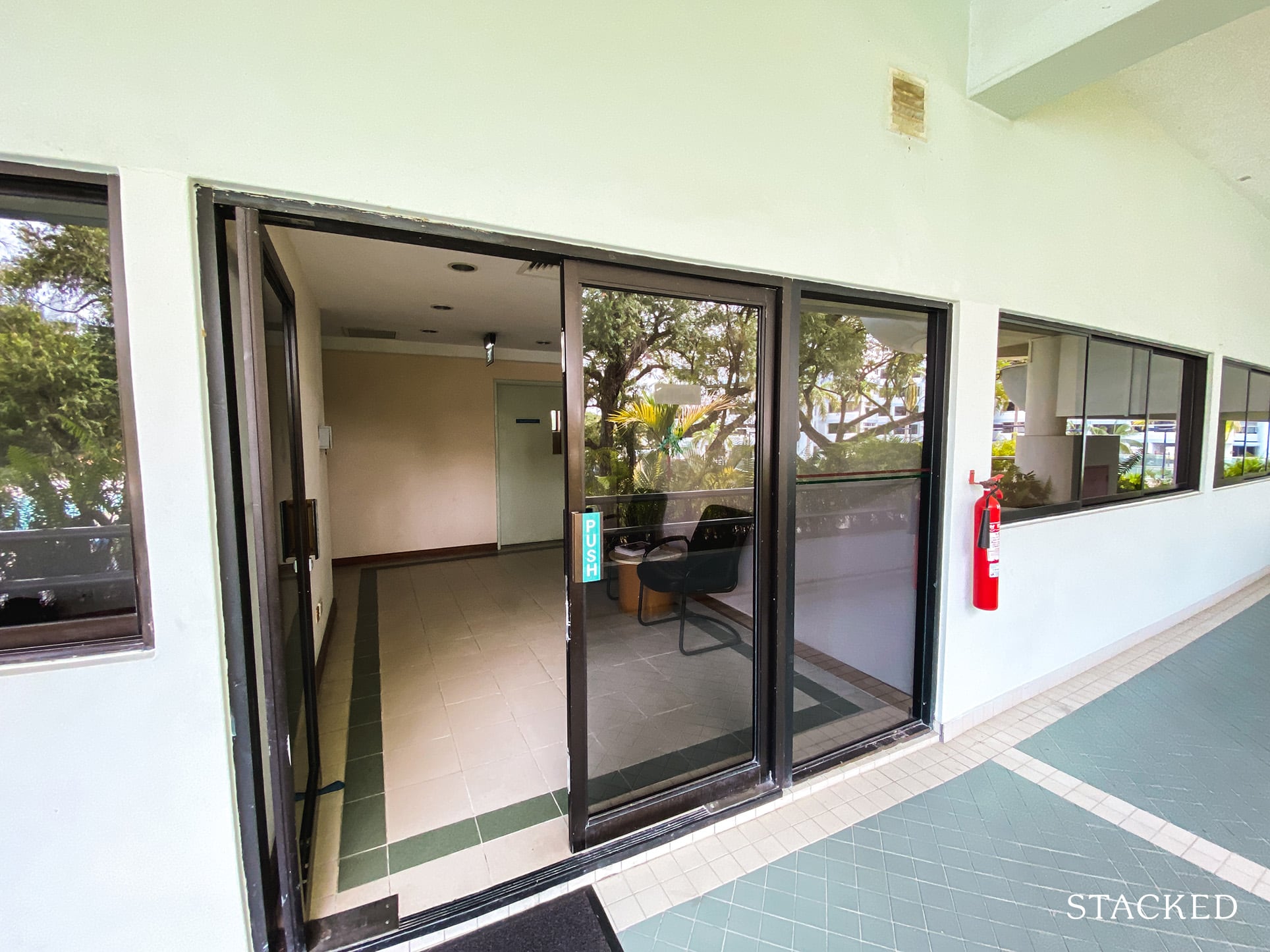 On the second level of the clubhouse, there are a couple of rooms that can be used for studying, meetings, or just playing mahjong. There's no doubting the usefulness of common spaces like these, but the upkeep, in general, does leave much to be desired.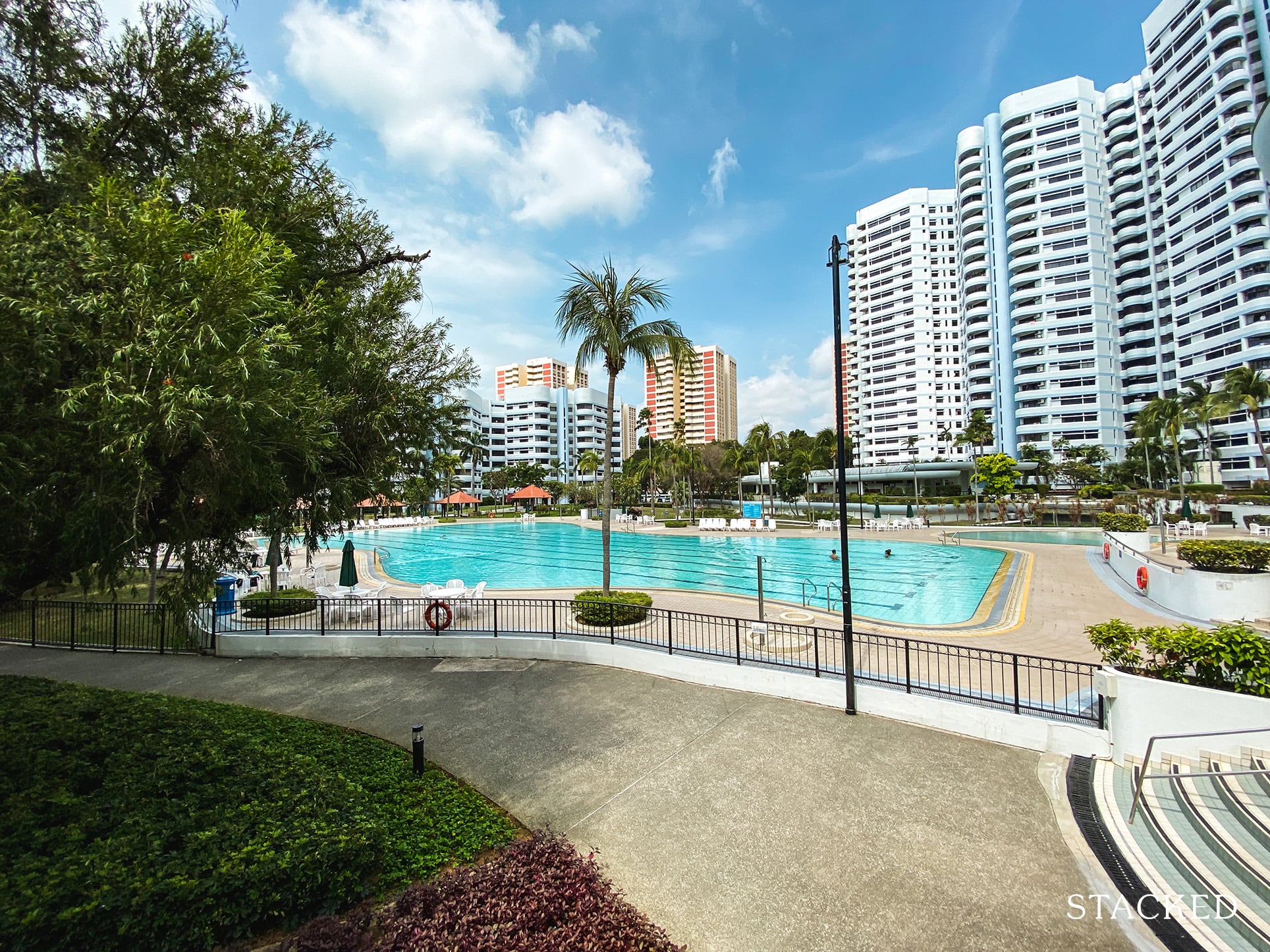 The swimming pools are just by the side of the clubhouse. These are actually gated – which is a good implementation considering that outsiders can come in to patronise the onsite restaurant. You'll need to scan to go in via the turnstiles at the entrance.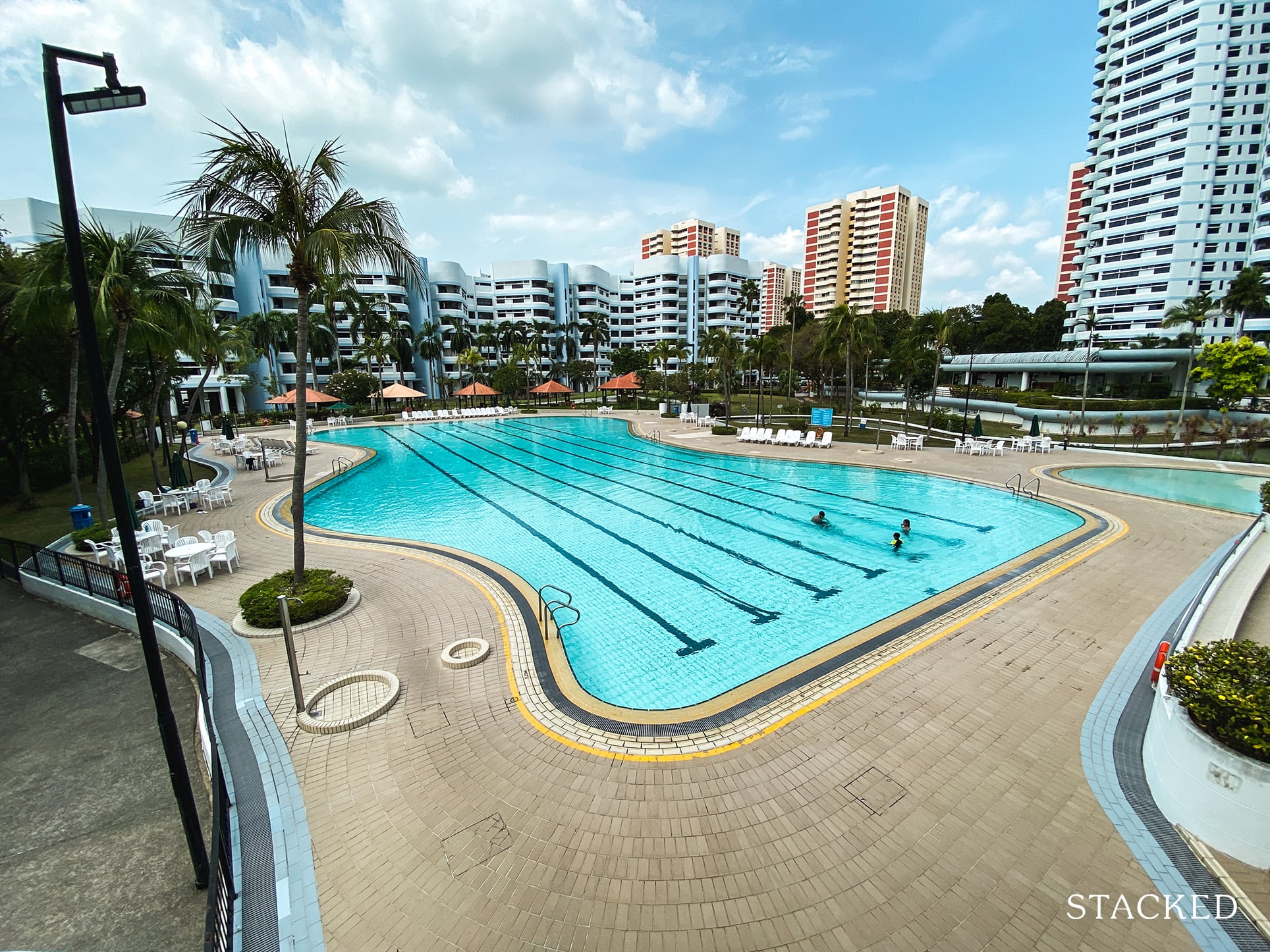 There is a swimming lap pool here, which even comes complete with the lane markings on the floor tiles. It isn't shaped like the traditional rectangular ones, with a figure that I would describe more as guitar-shaped.
Given the amount of space available, however, I would have expected a bigger swimming pool – perhaps even two.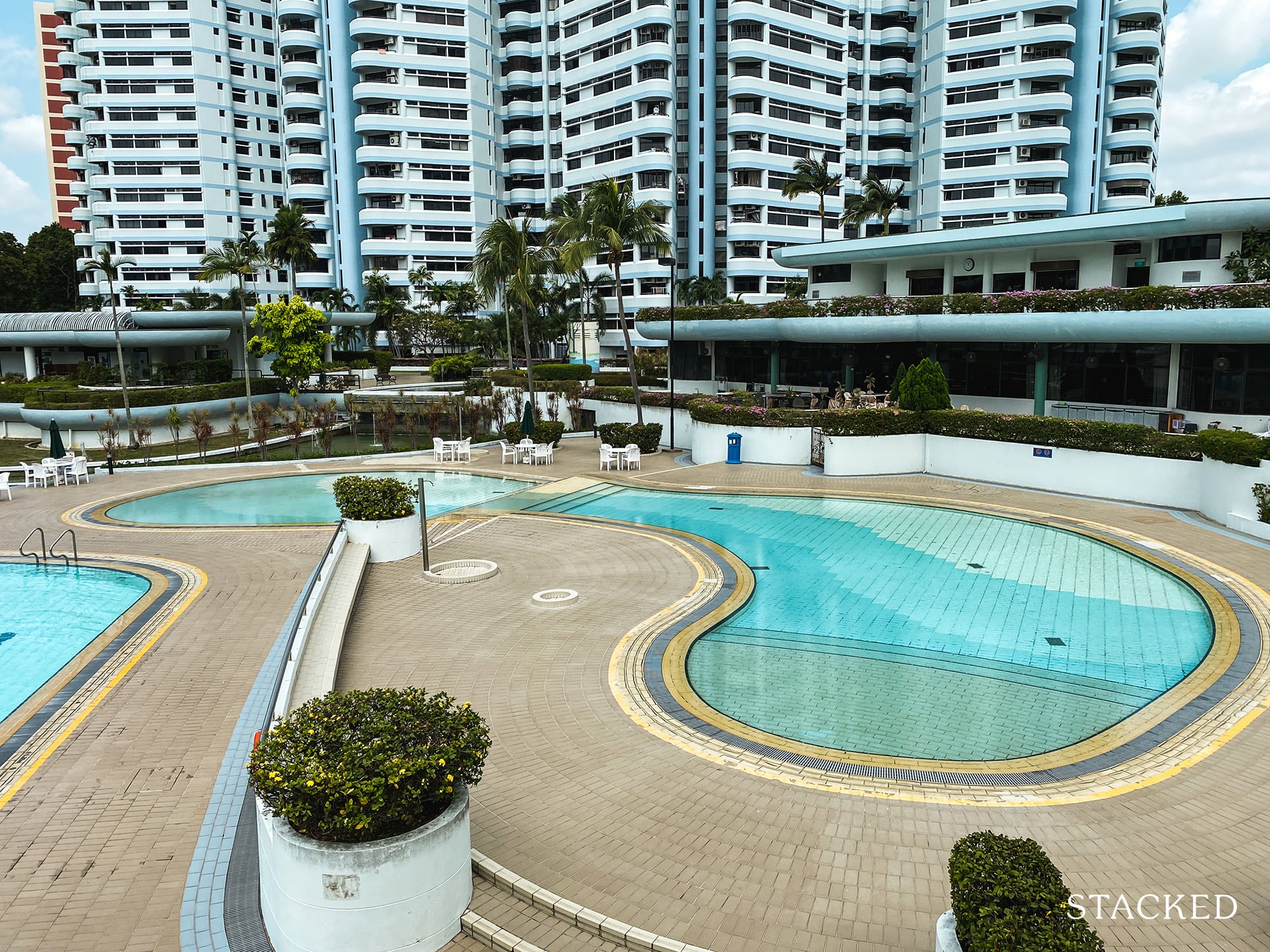 Besides the main pool, there are also two more shallow pools at the corner that would be more ideal for young kids. This was taken from a distance – when you are close up it actually is rather wide.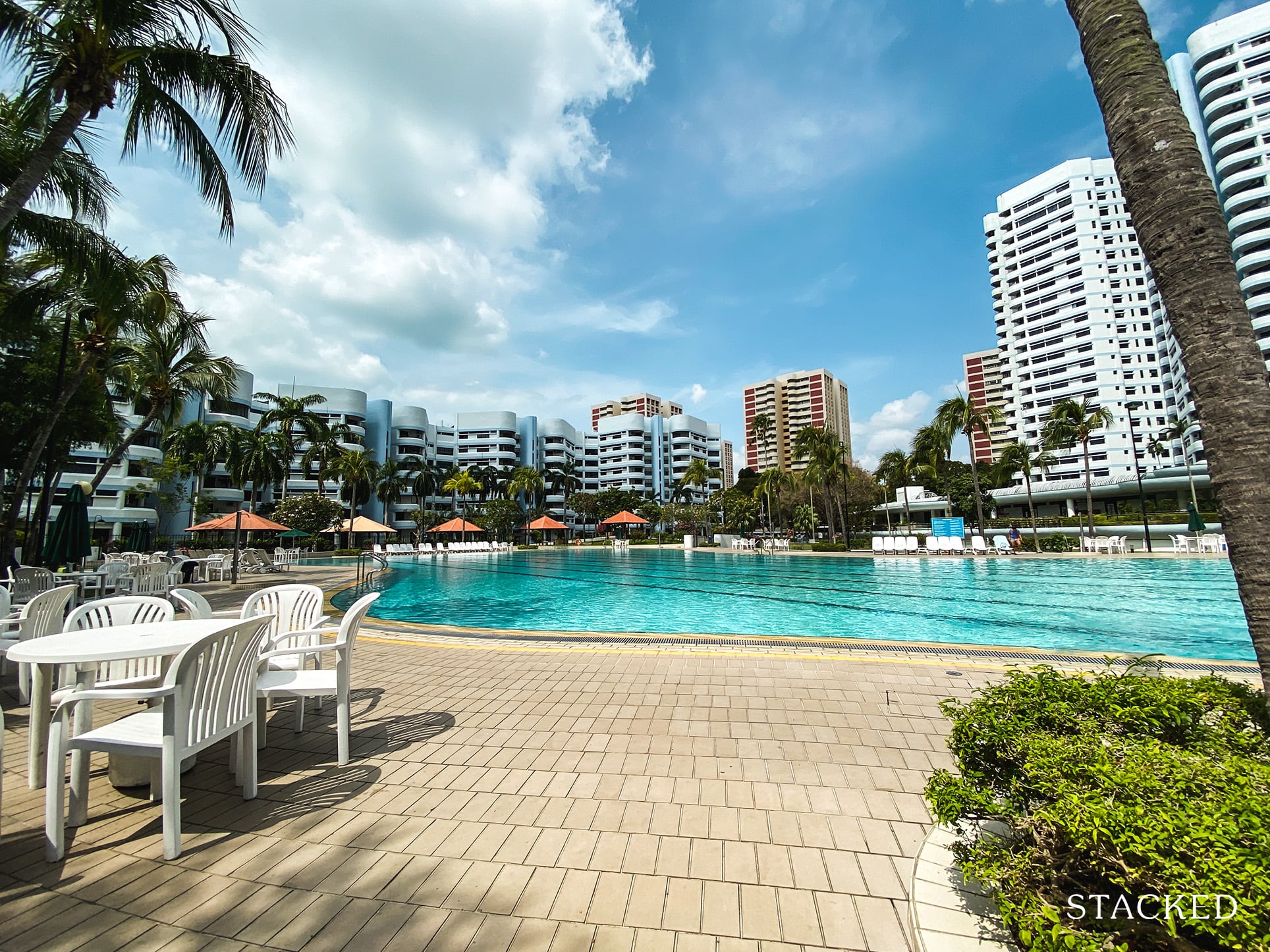 There is a lot of poolside seating here, with the tables and chairs clad in the old-school white plastic. It certainly adds to the ambience here – the vibe is reminiscent of old country clubs in the 80s/90s.
It's no luxury cabana resort type of place. What you get here is good old fashioned, down to earth family fun.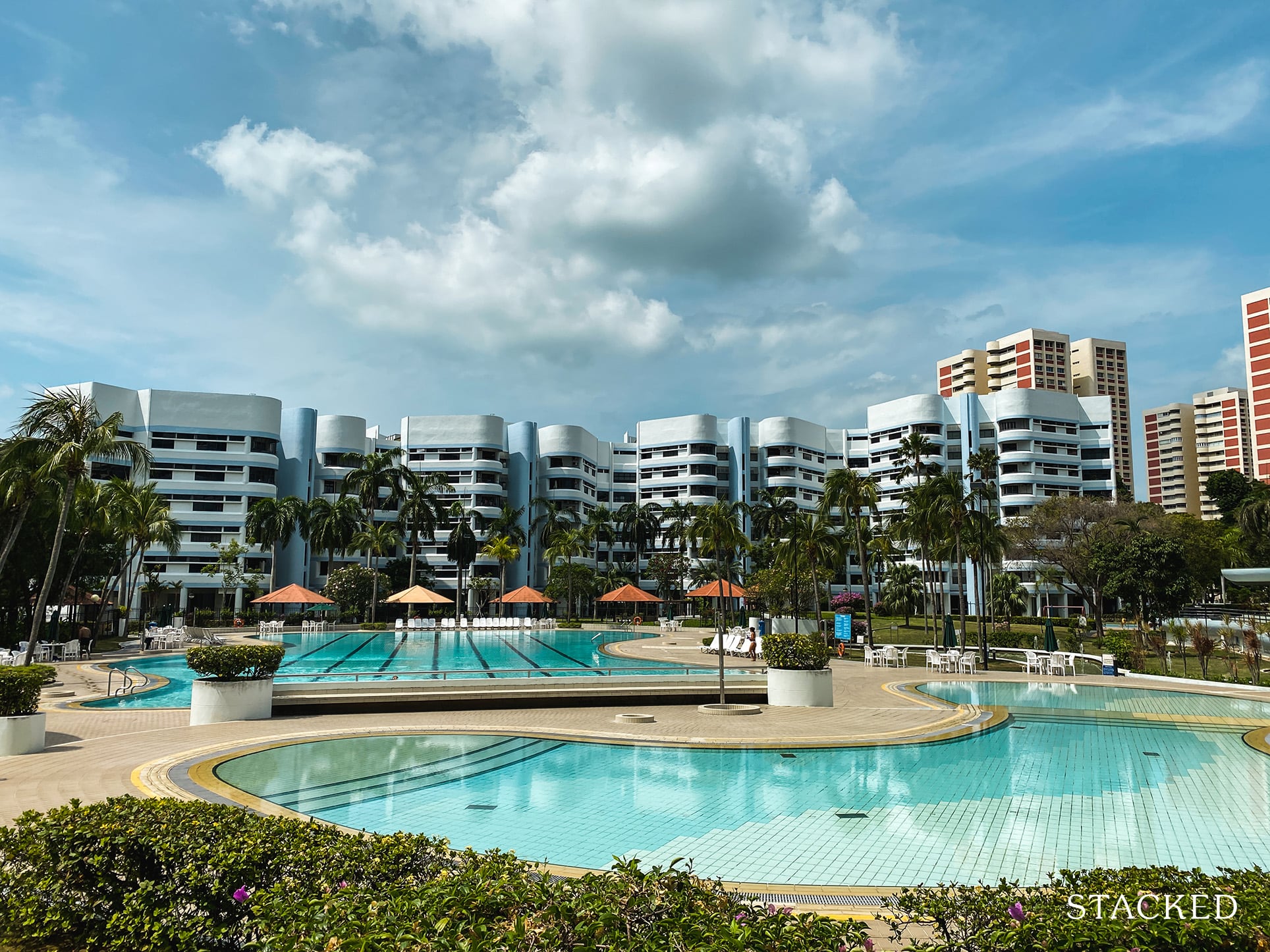 Moving on from the pools!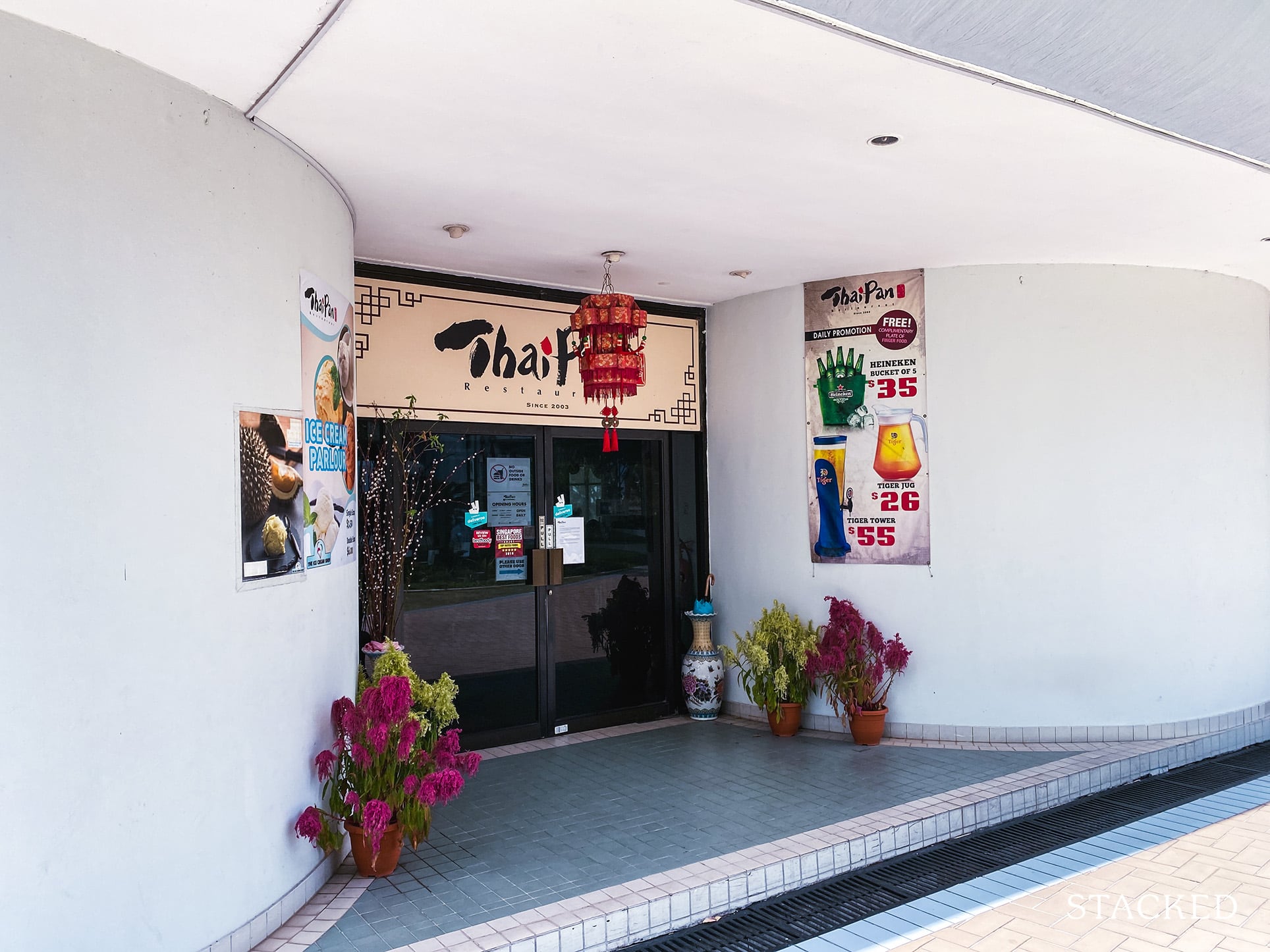 For those who don't live in the East, this might be a new name to you – Thai Pan restaurant. Famed for their butter squid, they were actually supposed to close down in 2018, but that clearly seems to have been rescinded.
It is open to the public, which is why the gated access to the pool is a useful presence. Some people might not like the "intrusion" of privacy but my opinion is that it is a necessary evil – it is always awesome to be able to go down for a quick bite when you feel like it.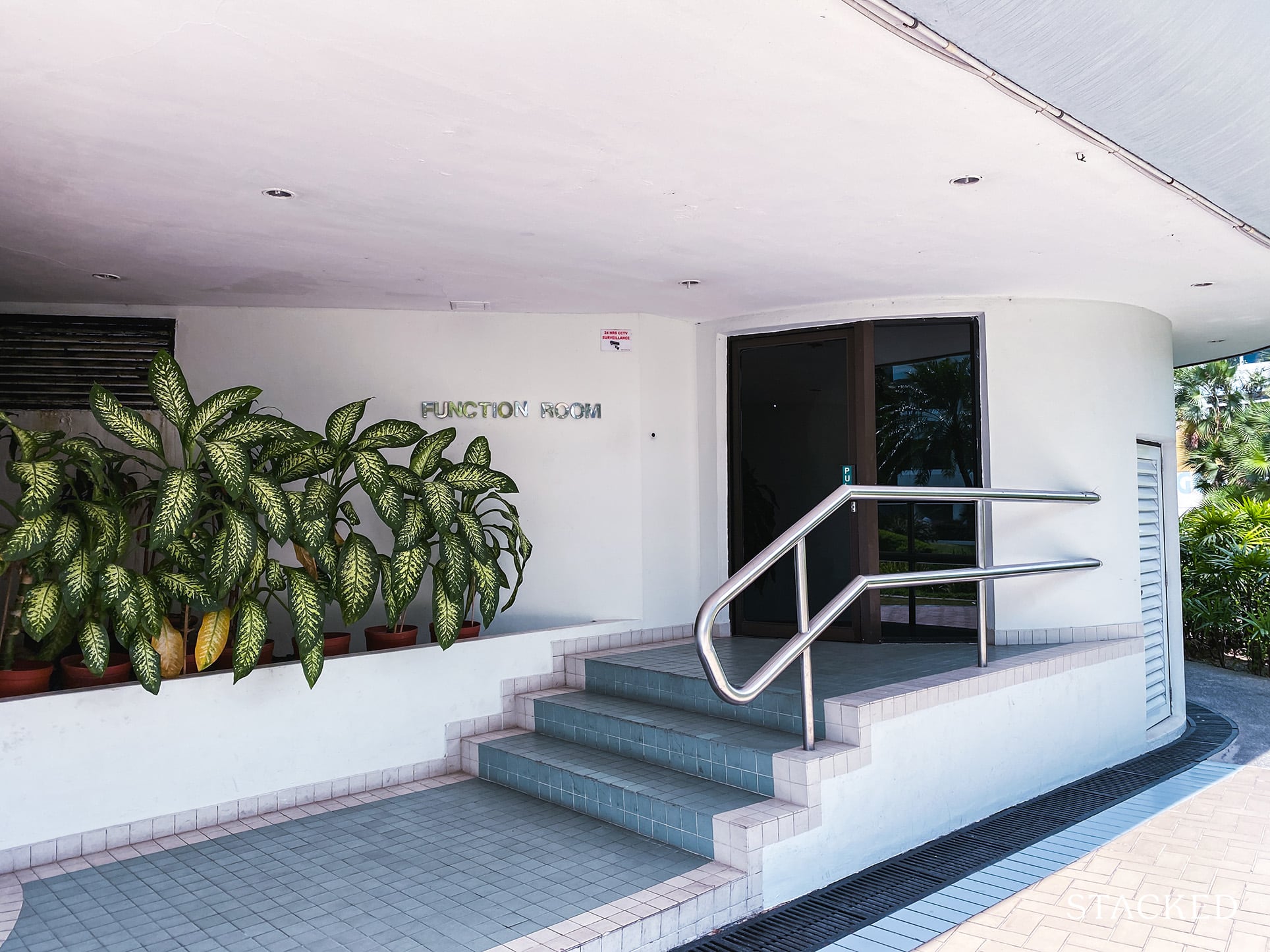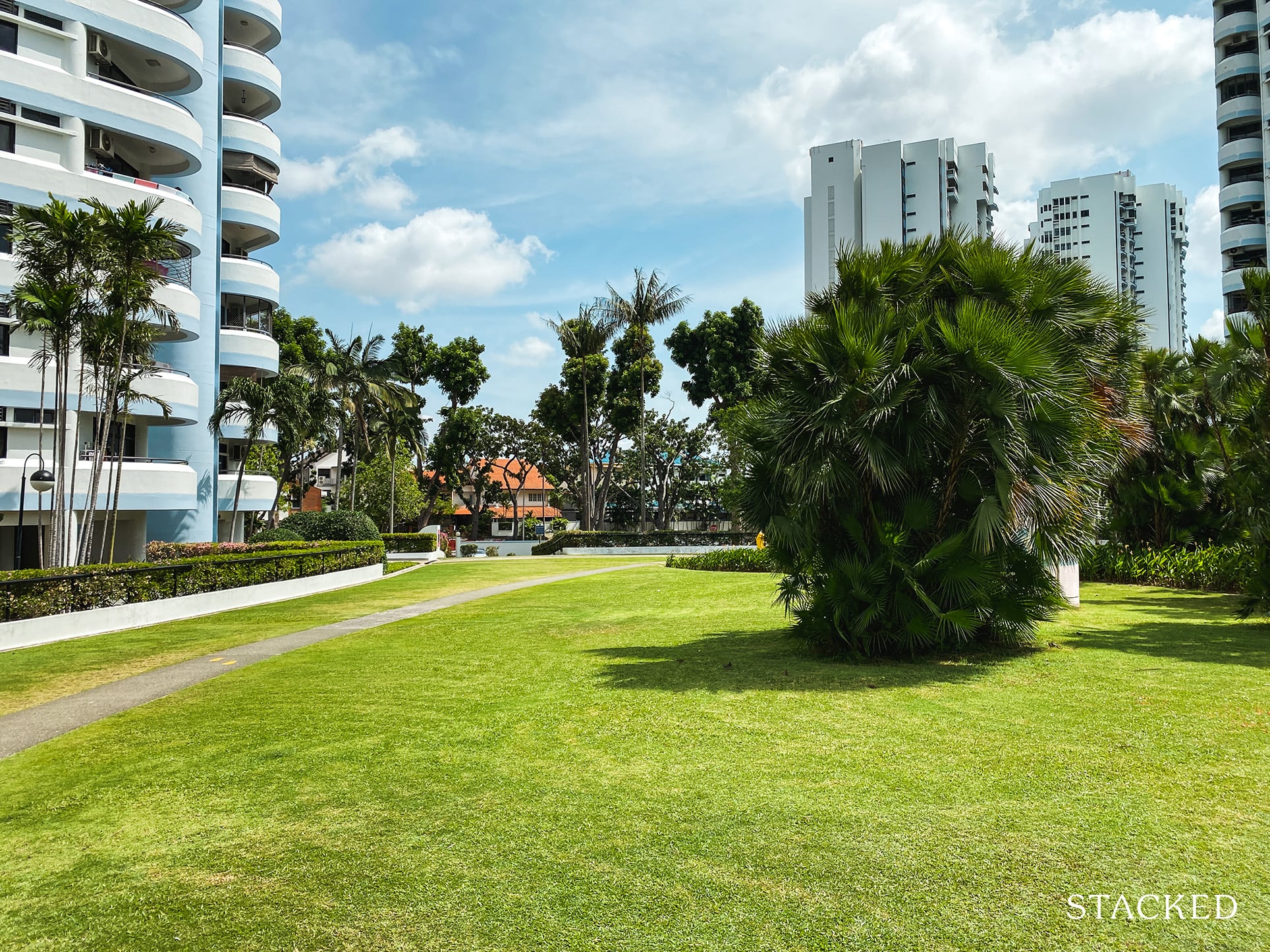 Even walking from building to building, it's just open space all around.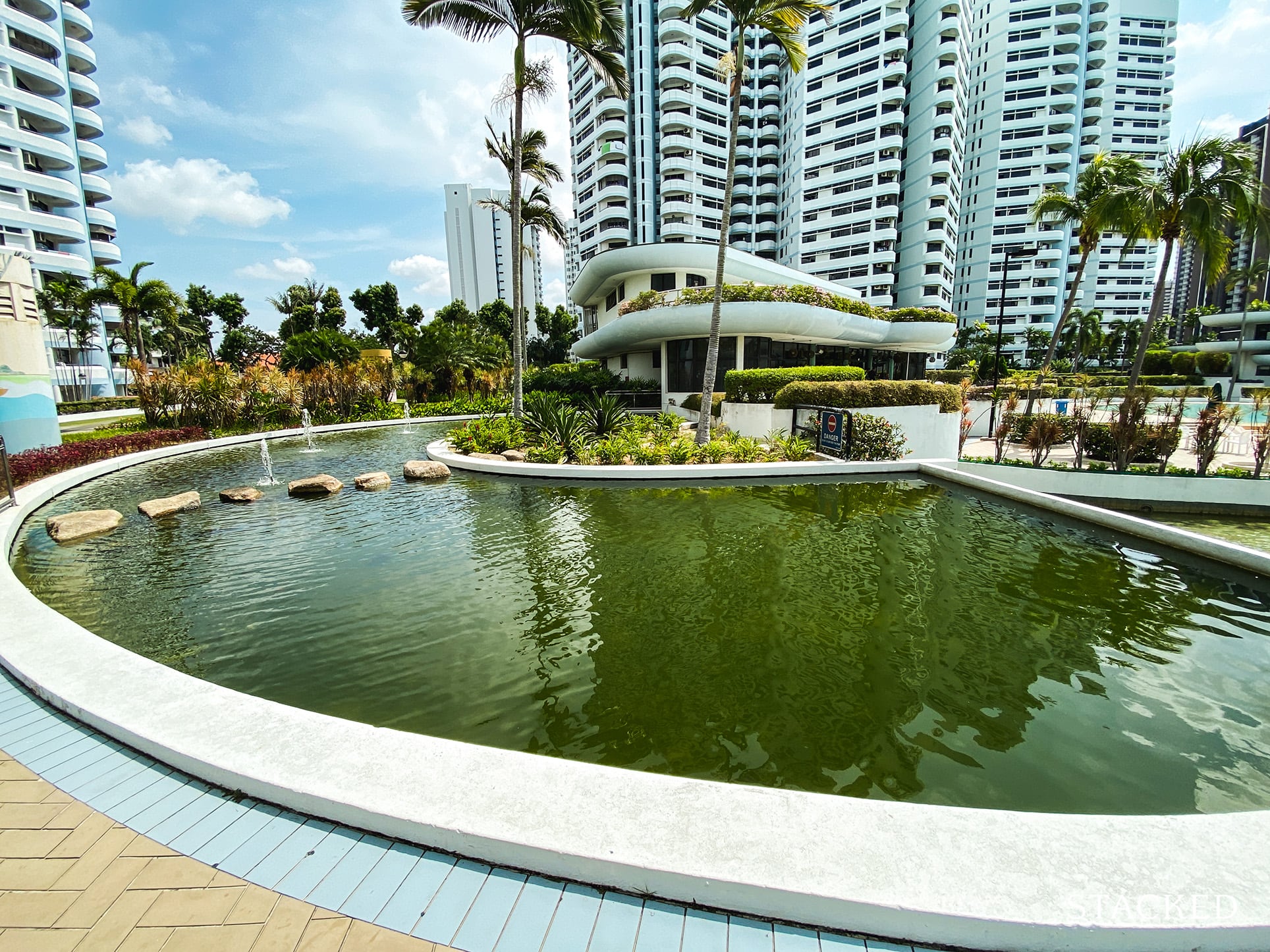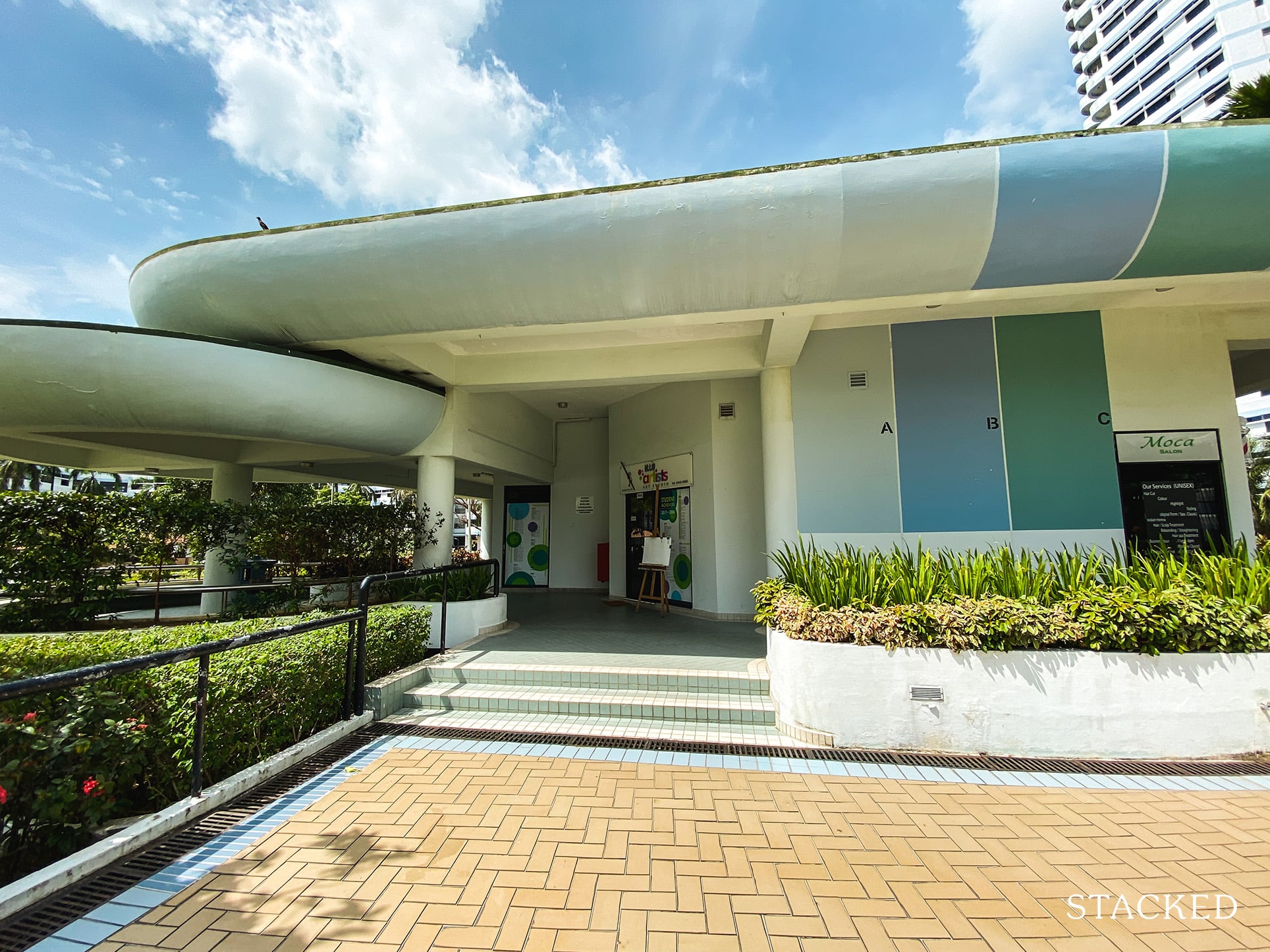 The next building houses a number of shops – a tuition centre, dental clinic, pet grooming, art shops, nail salon, and mini mart.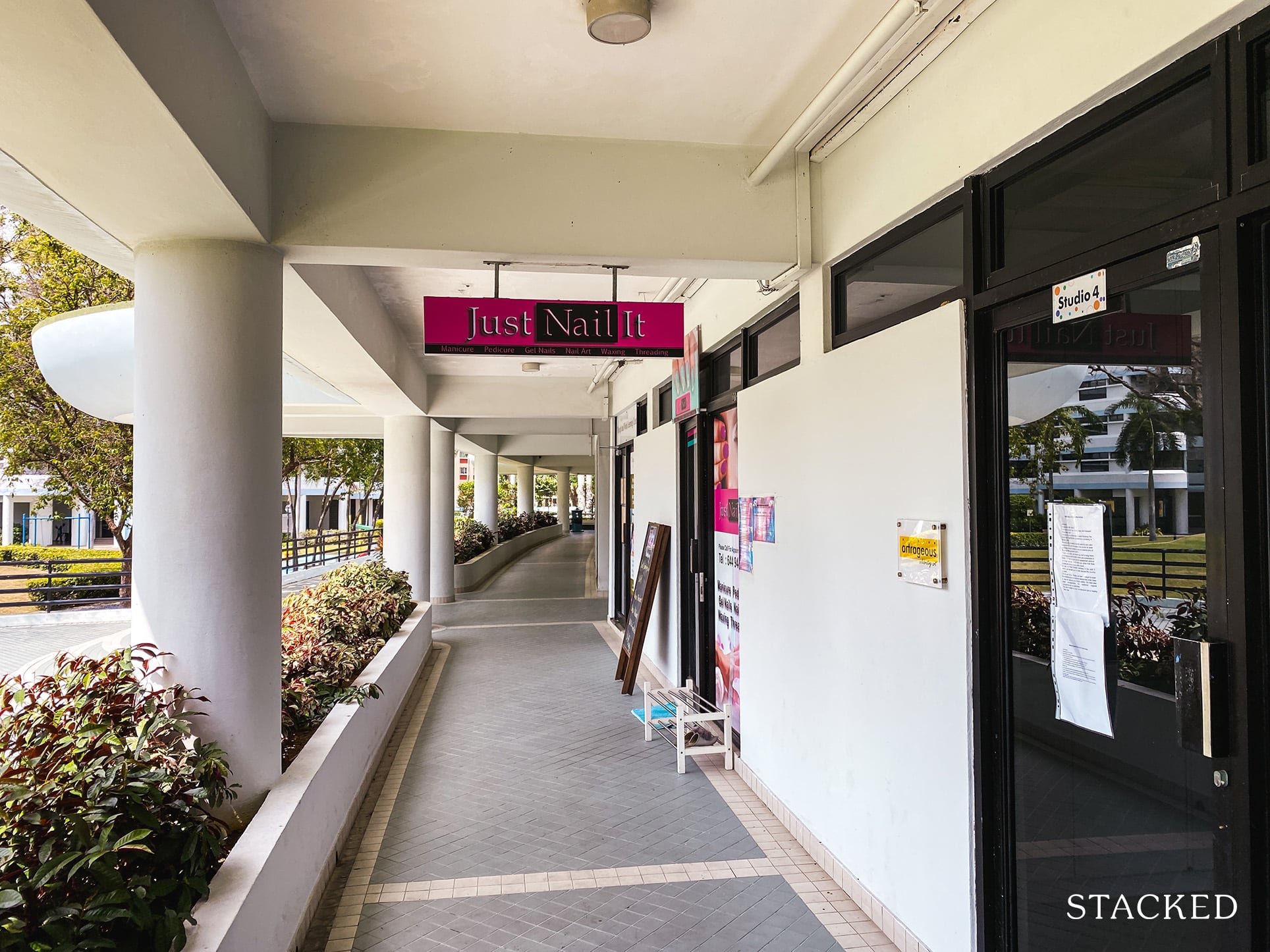 While I can't speak for the quality of the shops here, its really all about the convenience factor here.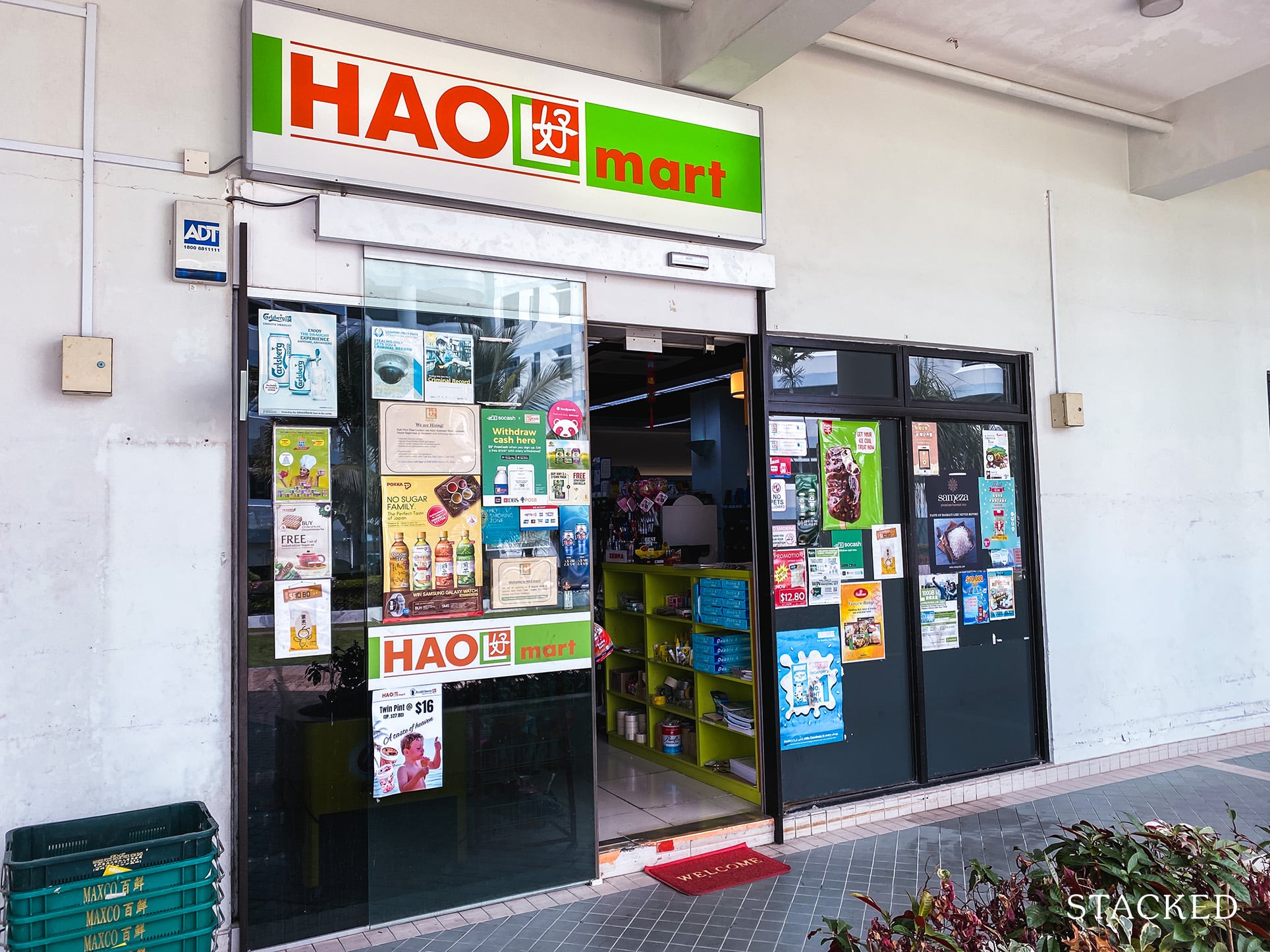 The mini-mart here is very impressive, I was expecting something small but most of your grocery needs should be covered.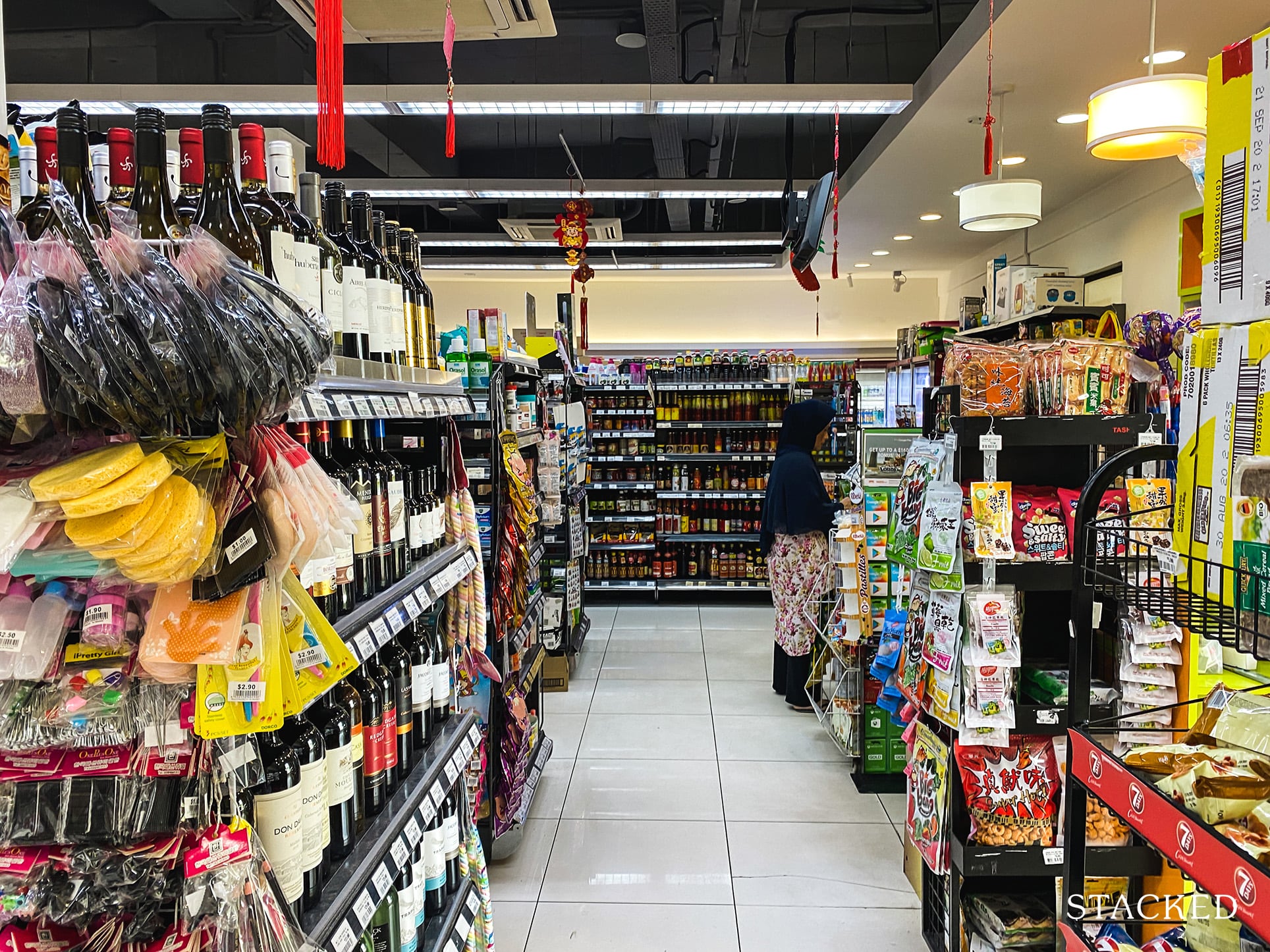 The size of the entrance is not a good representation for the actual size of it – plus it is absolutely crammed full of products.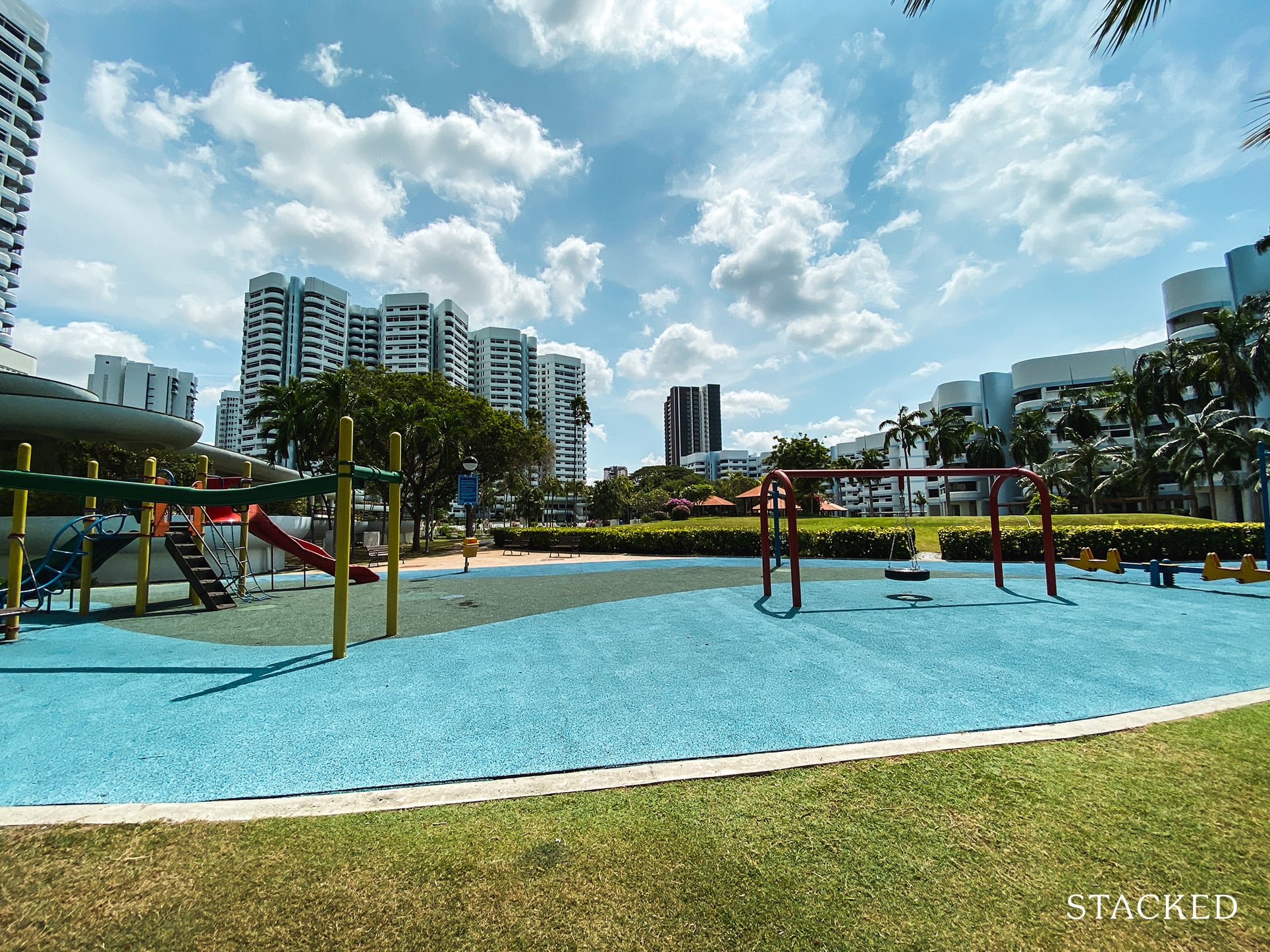 Beyond the shops, you'll find the last playground that Mandarin Gardens has to offer.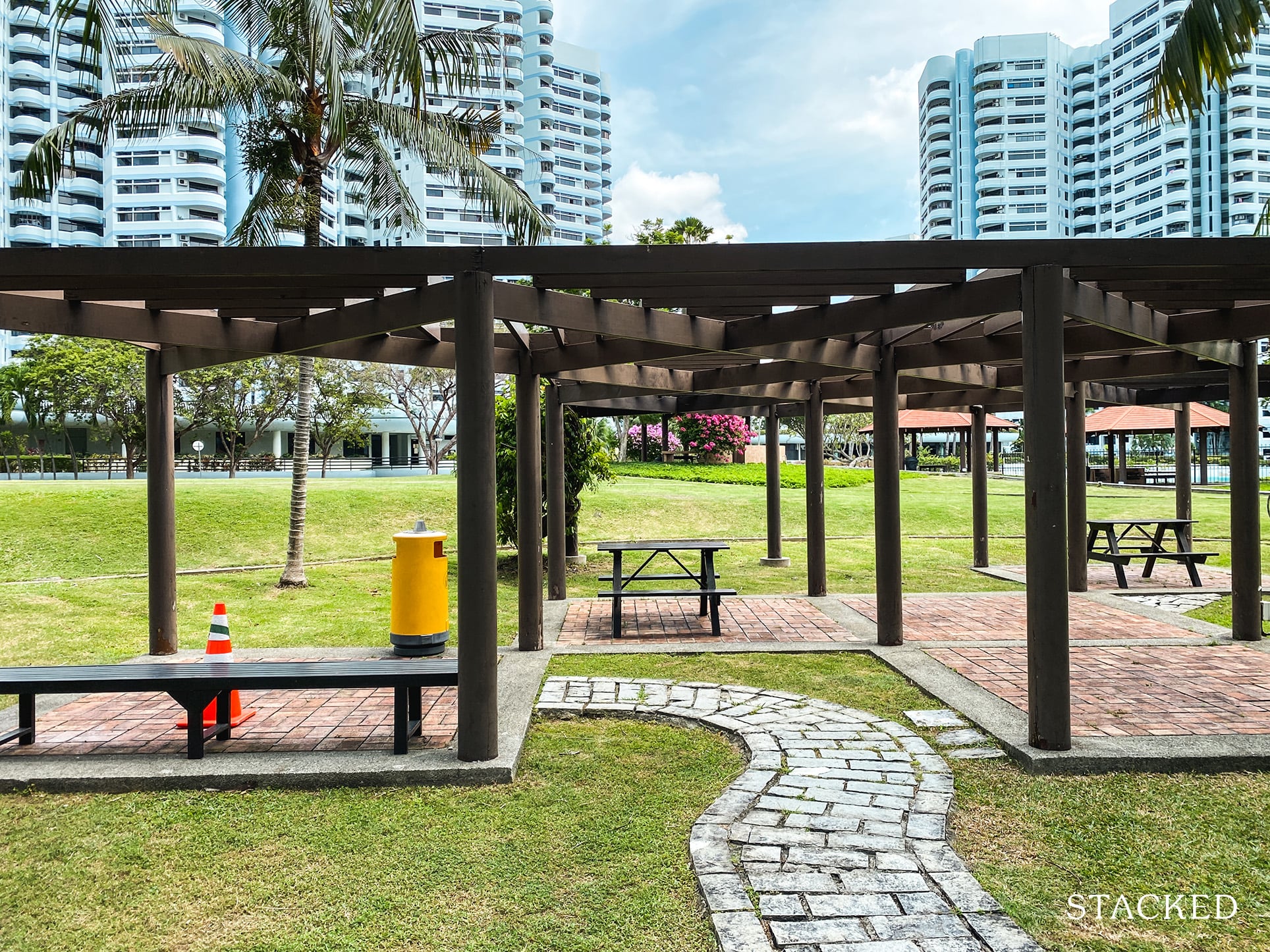 More seating areas.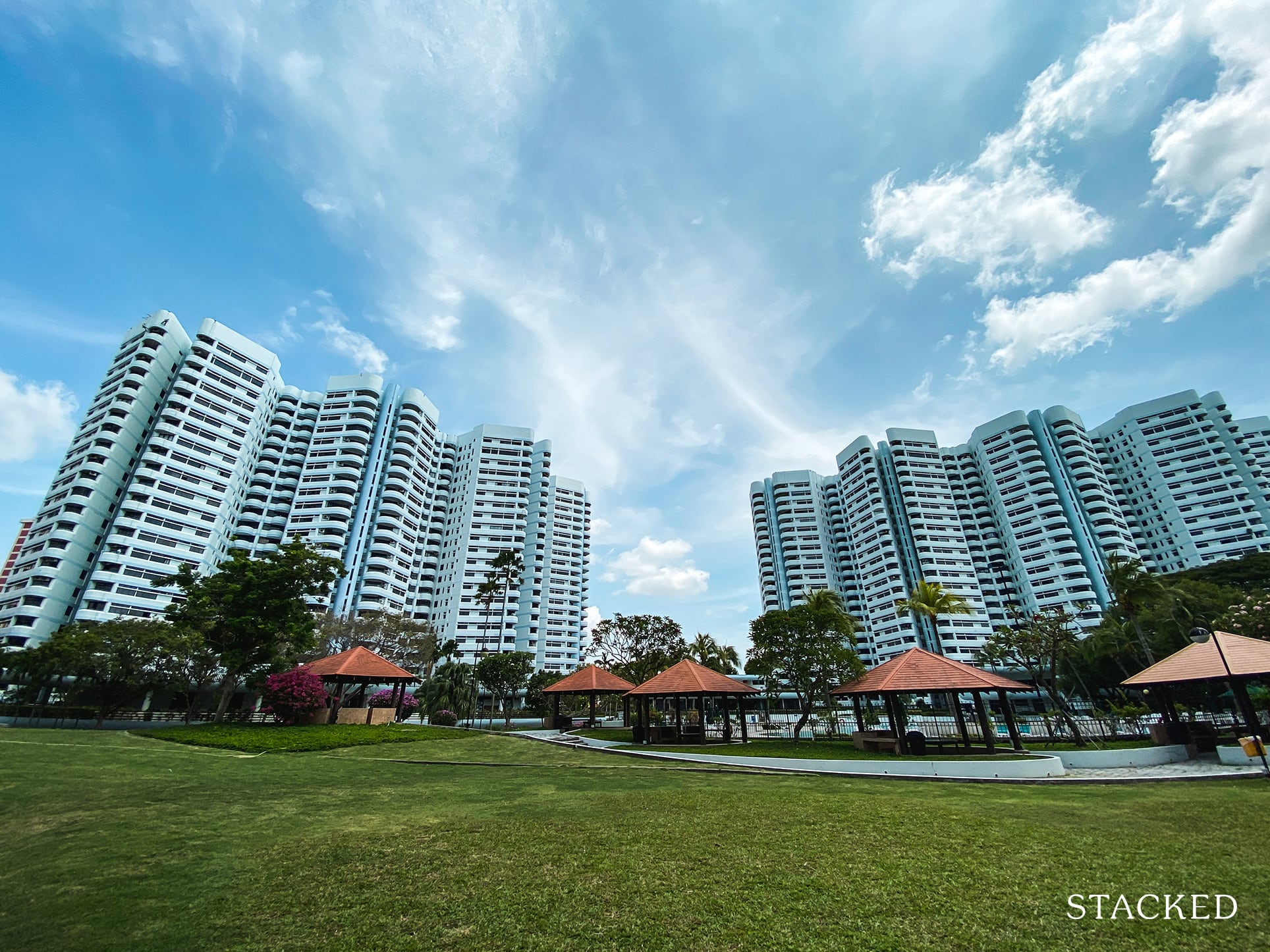 Last but not least, there's a significant space dedicated to barbecue huts.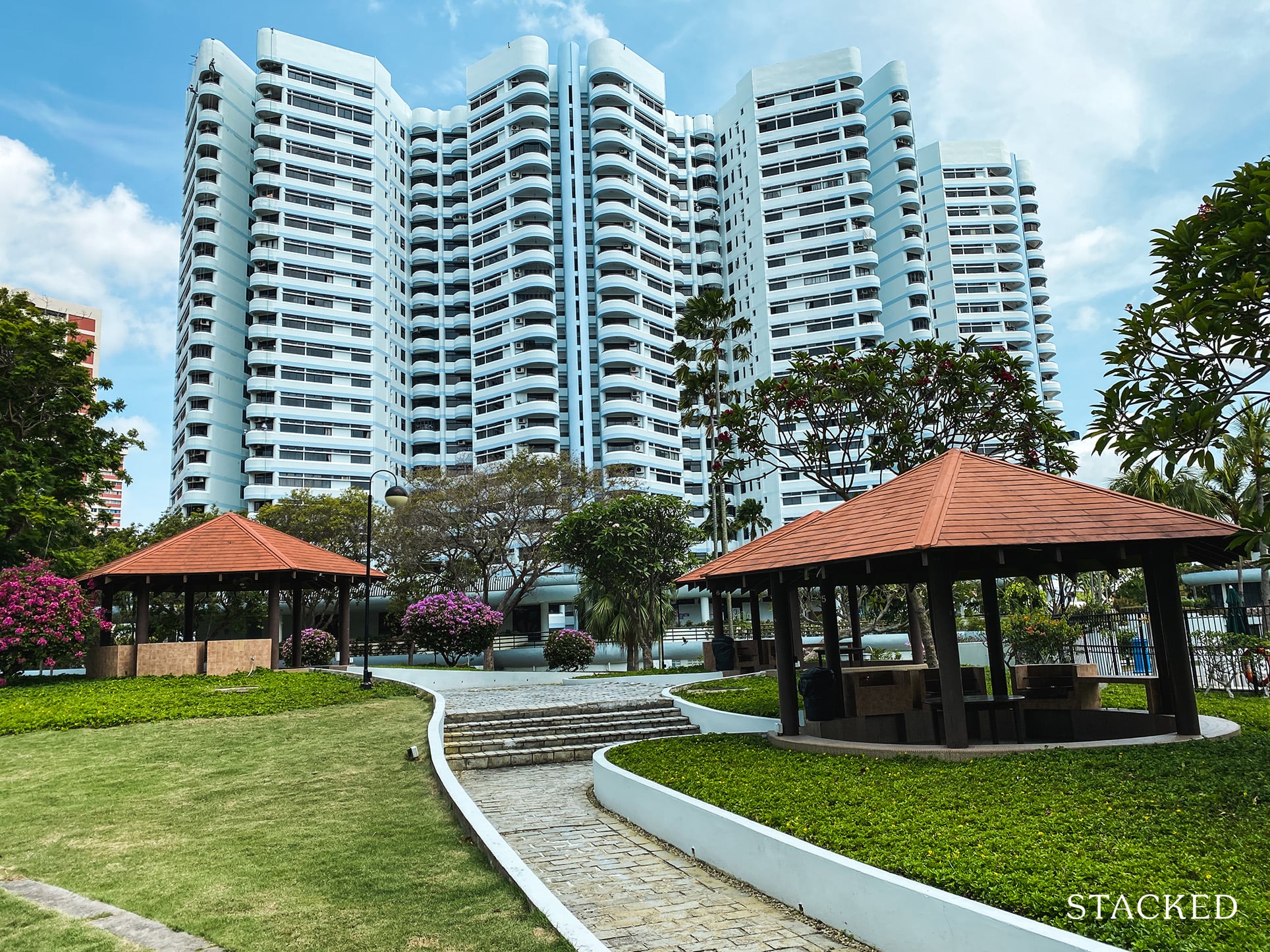 Each has quite a good distance from each other, so it is rather private.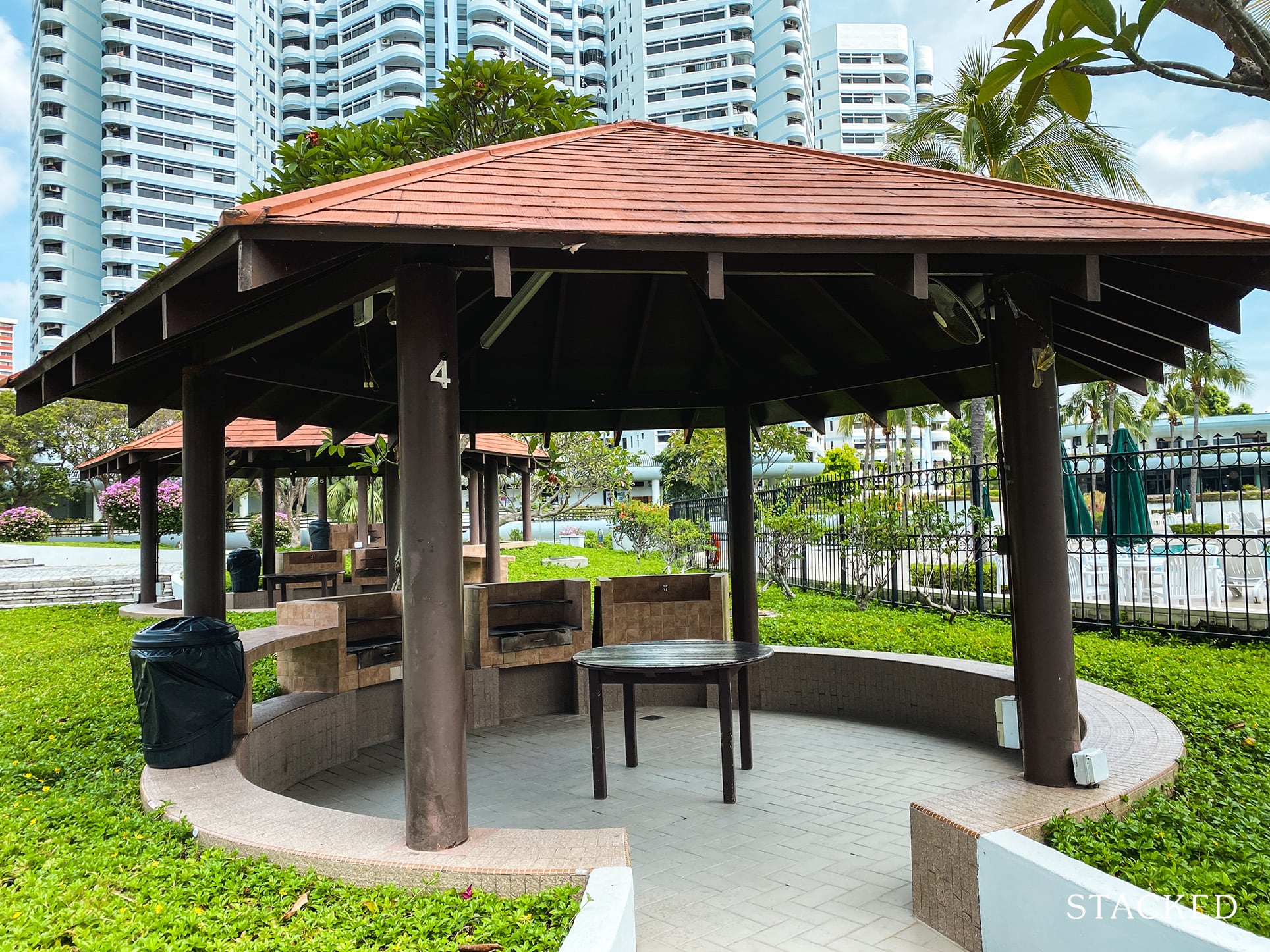 The best word I can muster about the look of the place is that it is rustic. At the very least, you do have shelter in the case of rain.
Mandarin Gardens Location Review
Mandarin Gardens is neighboured by the prestigious Victoria Junior College to its West, and the similarly revered Victoria Secondary to its East.

Some lucky residents will go on to speak of unopposed sea views to its South, while many others will attest to the ever convenient, not to mention, well-equipped Marine Parade Road adjacent to its North.
Public Transport

| | | |
| --- | --- | --- |
| Bus Station | Buses Serviced | Distance From Condo (& Est. Walking Time) |
| 'Mandarin Gdns' | 13, 16, 16M, 31, 36, 36A, 36B, 43, 47, 48, 55, 135, 196, 196e, 197, 853M, Premium 763 | 270m, 4-min walk |
| 'CP D3' | 401 | 750m, 11-min walk |
Closest MRT: Kembangan MRT – 2.3km, 30-min walk

Now a 30-minute walk to the MRT isn't something that many Singaporeans will even come close to undertaking in their lifetimes.

And I am sure you will share in my scepticism when I tell you that there are no bus options to nearby MRT stations that cut down that 30-minute commute considerably.

Still, I have two pieces of good news.

The first, though lesser, is the number of buses at the disposal of residents here.

Of course, the lack of MRT accessibility will smart (for now), but with buses to the north, east, west and more importantly, the CBD, occupants need to worry about a complete lack of public transport availability.

Secondly, and as most of you might have guessed, residents at Mandarin Gardens will be getting their very own MRT station… or stations after nearly 20 years of waiting.

Thanks to the Thomson East Line, both the Siglap and Marine Terrace MRT stations will sprout up just less than 10-minutes' walk from the condo in either direction.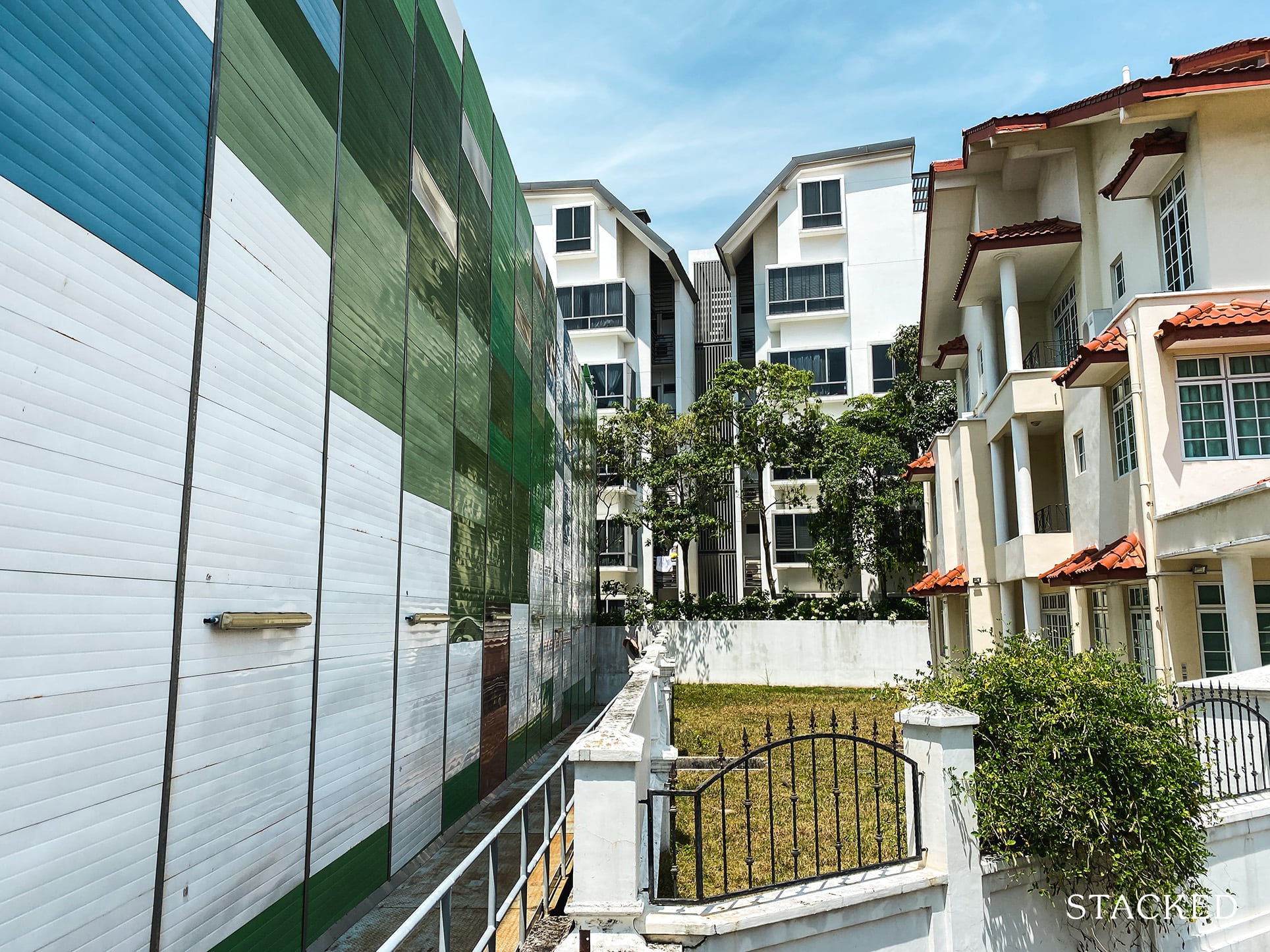 All this, come 2023.

Private Transport
| | |
| --- | --- |
| Key Destinations | Distance From Condo (& Est. Peak Hour Drive Time) |
| CBD (Raffles Place) | 11.5km, 30-min drive |
| Orchard Road | 15.9km, 25-min drive |
| Suntec City | 8.6km, 15-min drive |
| Changi Airport | 9.5km, 10-min drive |
| Tuas Port (By 2040) | 48.9km, 50-min drive |
| Paya Lebar Quarters/Airbase (By 2030) | 7km, 30-min drive |
| Mediapolis (and surroundings) | 19.2km, 30-min drive |
| Mapletree Business City | 17.8km, 30-min drive |
| Tuas Checkpoint | 38.1km, 45-min drive |
| Woodlands Checkpoint | 31.9km, 45-min drive |
| Jurong Cluster (JCube) | 26.2km, 35-min drive |
| Woodlands Cluster (Causeway Point) | 31.3km, 40-min drive |
| HarbourFront Cluster (Vivo City) | 14.6km, 20-min drive |
| Punggol Cluster (Waterway Point) | 22.1km, 25-min drive |
*Note that Drive Times are calculated during Peak Hours

Immediate Road Exit(s): 2 Exits. One along Marine Parade Road, the other along Siglap Road.

Summary: Marine Parade Exit leads to a 2 (formerly, and soon to be 3) laned road just prior to a traffic light. Presence of which could cause slight congestion upon exit/entry during peak hours, though this stretch of road isn't exactly notorious for jams. Siglap Road Exit is a minute or two's drive from both the ECP and East Coast Road.

Groceries

| | |
| --- | --- |
| Name of Grocery Shop | Distance From Condo (& Est. Walk Time) |
| Cold Storage – Siglap V | 1.4km, 6-min drive OR 1km, 14-min walk |
| FairPrice – Siglap New Market | 1.5m, 6-min drive OR 1.1km, 15-min walk |
| Giant Express – Marine Terrace | 1.6km, 15-min drive |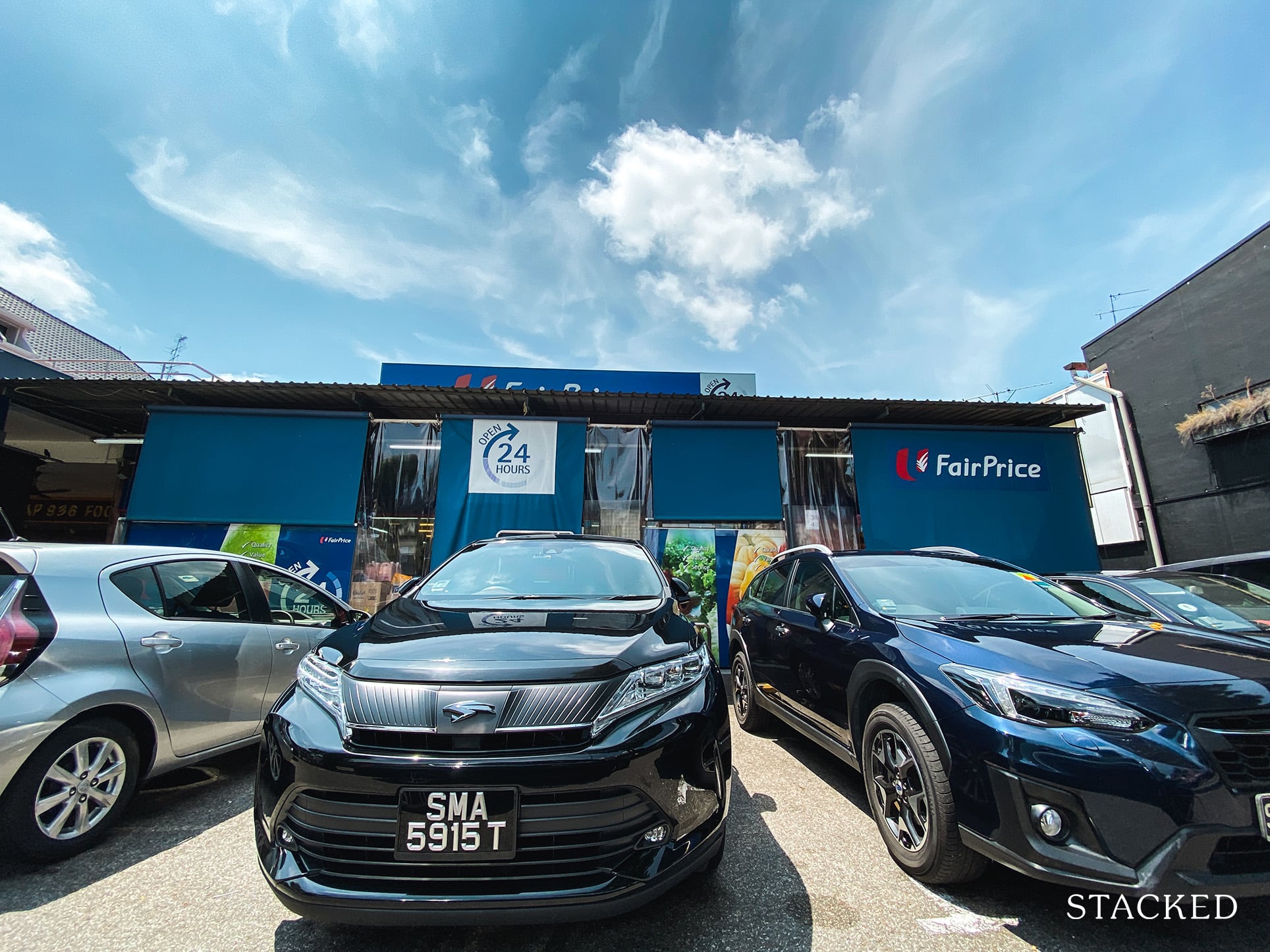 Schools

| | |
| --- | --- |
| Educational Tier | Number of Institutes |
| Preschool (within 1km walk) | 0 |
| Primary (3km-drive) | 4 |
| Secondary (3km-drive) | 4 |
| International School (3km-drive) | 3 |
| Junior College (5km-drive) | 3 |
| University (5km-drive) | 2 |
| Polytechnic (10km-drive) | 0 |
Additional Pointers

A host of Recreational Activities
Living a few minute's walk from East Coast Park does have its perks.

From tamer activities like fishing, jogging or simply taking a stroll to activities of a more 'upbeat' kind like wakeboarding, kayaking or no-nonsense food hunts, this seaside park seems to offer a myriad of activities that most hobbyists will find hard to refuse.

Add in a couple of public country clubs in the close vicinity – Laguna National, Tanah Merah Country Club, as well as the more private ones like the SIA Sports Club for example, and it seems that residents here wouldn't need much of an imagination to enjoy a nice weekend out.

Ease of Private Transport Access
Home-work commutes are often one of the biggest factors that are considered when choosing a development for own stay purposes.

Now public transport here isn't extremely convincing (yet), but the CBD is a mere 10-15 minute drive away from the condo – courtesy of the ECP, which is at the doorstep of Mandarin Gardens.

Residents who drive (or prefer ride-hails) will also appreciate the proximity of the KPE and PIE to their home.

Say what you may about HDB flat clusters in 'matured' estates reducing the 'exclusivity' of the place. 

I for one will attest to all the often convenient (and affordable) amenity points that pop up alongside these clusters.

The Marine Parade/Siglap area is no different.

In fact, more than just a myriad of outstanding food outlets in the area, we also observe the welcome presence of good medical, education, shopping and entertainment outlets in close proximity to Mandarin Gardens.

Mandarin Gardens Development Site Review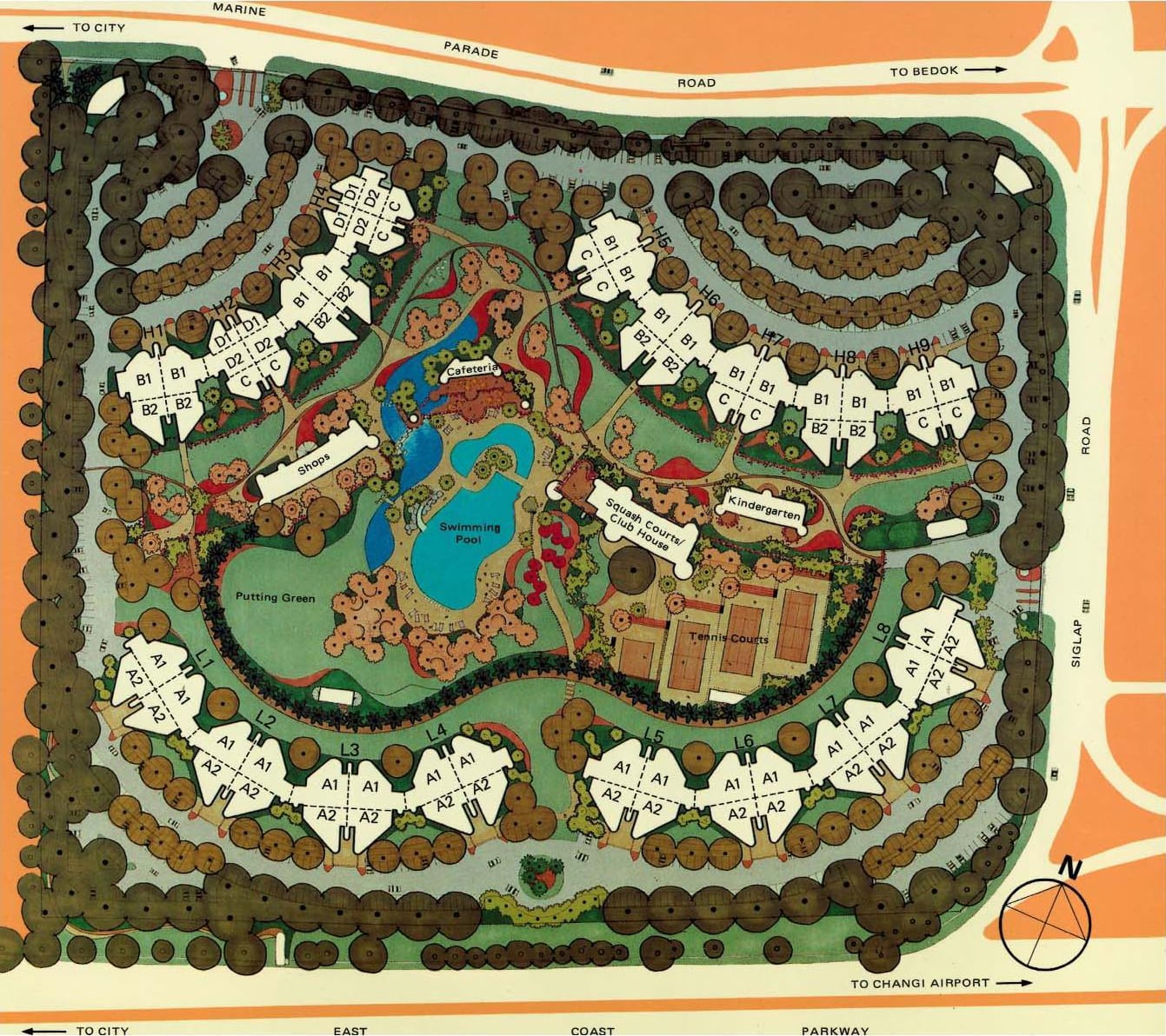 What would you have done if you had over a million square feet of land to develop at the start of the 21st century?


Lucky for you, our lovely Mandarin Garden developers have already answered that for us.

The 1,000 units here have been spread across a series of no less than 17 blocks that rise up to 23-storeys. And as you can see, they act as a sort of 'border' to ensure that whatever little noise that is generated from the usage of those facilities will not reach outside ears, and vice-versa (though the same cannot be said for residents of lower units here).

This placement also ensures that the valued privacy of residents here remains intact for the most part.

Now the more you examine the site map, the more you'd begin to think of Mandarin Gardens as a little village of its own. And really, you're not far off.

With a kindergarten, 4 tennis courts, a putting green, and a number of shops, as well as a very sizable squash court/club house-ish space and swimming pool, it's hard to imagine that residents here suffer very much from a lack of facility offerings.

I will now make a point that I'm sure many a Mandarin Garden resident who has been reading this review is no doubt eagerly awaiting.

Thai Pan restaurant.

Now on most occasions, a simple cafeteria/eatery in a new development (let alone an older one) is often regarded as an 'emergency depot' – provided of course that it is even open on a daily basis. 

In the case of Mandarin Gardens, however, it is said that this 'cafeteria' is actually a Chinese Restaurant that serves up some pretty incredible (and reasonable) fare.

– Scrumptious Thai Food, mouth-watering Butter Squids and tear-inducing Chicken Wings included.

Best Stacks

Unit Mix

| | |
| --- | --- |
| Unit Type | Size of Units (sqft) |
| Studio | 732 – 861 sqft |
| 2-Bedroom | 1,001 sqft |
| 3-Bedroom | 1,528 – 2,099 sqft |
| Penthouse | 3,068 – 3,800 sqft |
Now it was admittedly hard to discern the actual number of units across the tiers, but if anything is clear, it is that the units here are massive.

That said, you would expect a development that hosts 1,000 units atop 1 million square feet to at least offer a larger variety in its unit types.

Granted, there was a general lack of emphasis on diversity nearly 20 years ago, and in that sense, you could say that the developers have been let off the hook. But could you imagine just how many more people those added diversified specifications would cater to?

Especially for those looking into the 2-bedder variety!

Not surprisingly, you will not see any private lifts here (given the development's age), though the general rule of thumb for pricing does apply. Smaller resale units here tend to go at nearly $100psf more than units in higher tiers.

Best Stacks
For Mandarin Gardens, it's hard to go wrong with most of the units as they are well spread out and even if you do face your neighbours it is at such a wide distance it is almost as if they are a development away.
That said, we've highlighted in green those stacks that are incrementally better because of the sea views as well as the views overlooking the landed area of Siglap.
Price Review
| | | | | |
| --- | --- | --- | --- | --- |
| Project Name | Tenure | TOP | Average Price (PSF) | Comparison Point |
| Mandarin Gardens | 99-year leasehold | 1986 | $993 | |
| Neptune Court | 99-year leasehold | 1975 | $906 | Age/Tenure/Immediate Proximity |
| Villa Marina | 99-year leasehold | 1995 | $963 | Age/Tenure/Immediate Proximity |
| Fernwood Towers | Freehold | 1994 | $1,105 | Age/Immediate Proximity |
| Finland Gardens | Freehold | 1984 | $1,388 | Age/Immediate Proximity |
| Seaside Residences | 99-year leasehold | 2021 | $1,889 | Tenure/Immediate Proximity |
When it comes to price comparisons, it's often a stand-off between developments of varying tenure and age. The more expensive developments are often judged/justified for value, while the more affordable ones are there to provide a sobering benchmark/'worst-case' alternative for most of us who are constrained by our leather wallets. 

Put these two developments side by side and their quantum figures serve as pricing scales of their particular locale.

Neptune Court and Villa Marina both set the lower end of the scale at $906 and $963 average psf respectively. The former commands 2.4% average rental yield and the latter a 3% rental yield. The disparity it seems, mostly owing to their age difference.

Mandarin Gardens sits just above that at $993 average psf and 3% rental yield. While it isn't the youngest of the trio, it is the biggest and has the better views of the three.

Moving on to the two freeholders in Fernwood Towers and Finland Gardens, the value of tenure amongst ageing developments in a district with the aforementioned perks becomes clear.

As does the proximity to nearby amenities (including closer MRT stations and main connecting roads) – allowing Finland Gardens a near $300 psf advantage over Fernwood Towers.

Finally, Seaside Residences shows how much a breath of fresh air in an estate filled with aged developments is valued. Nealy $800 psf more to be exact.

That said, the value that its impending presence adds to neighbouring residential developments (Mandarin Gardens included) should not go understated.

Appreciation Analysis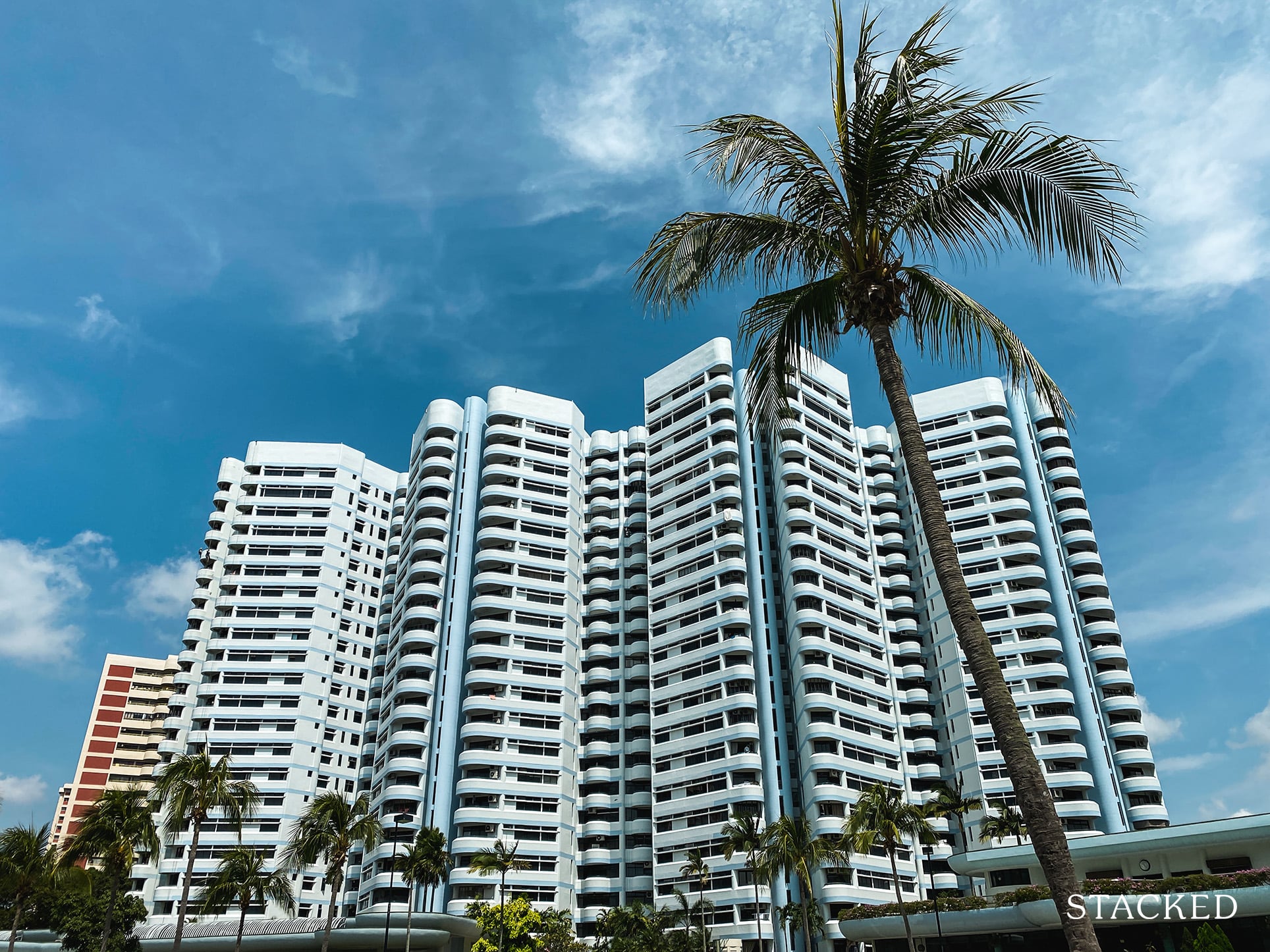 Aged appearance and neglected maintenance aside, Mandarin Gardens does have a couple of things going well for it in the potential appreciation department.

Firstly, the arrival of Seaside Residences.

The new condo's presence will provide a much-needed revitalisation of the area, while undoubtedly pointing a number of eyes and possibly, suitors in the way of Mandarin Gardens.

Both of which, would help raise the value of the condo – or at least combat its unavoidable tenure-related depreciation/wear and tear through the years.

Next, the installation of the Thomson East Line.

As mentioned earlier, the good people of Mandarin Gardens and the surrounding developments have not had immediate access to an MRT station for over 2 decades now.

And while buses and private vehicles/hires have sufficed to an extent, having an immediate option (which leads straight to the CBD and beyond) will unarguably boost the value of any and all residentials within use of these stations.

Now, what's to say that the condo will not be sold as an en-bloc piece before that MRT pops up?

More pressingly, could the addition of these MRT stations finally help the residents at Mandarin Gardens achieve what it has failed twice over to achieve?

Or in other words, a successful collective sale, in line with a better economy of that period, which would officially make the condo the highest valued collective-sale parcel to date?

Well, it would firstly depend on the speed at which both the economy and property market pick up following this current Covid-19 situation.

And in the event that the winds are favourable, could we be looking at a peak that would then result in new additional housing measures?

It is honestly a little too early to predict any of those outcomes coming to fruition. But they are possibilities that should be accounted for, nonetheless.

Either way, be sure to bear in mind that a number of new launches from the en bloc craze of 17/18 are still entering the market at this point, and will naturally provide 'competition' to any possible en bloc sales (especially of this scale).

This, based on the fact that a majority of developers are, at the moment, still very much focused on selling off their current assets to avoid any imposing levies – as opposed to acquiring new ones.

Last but not least, just in its immediate vicinity, Mandarin Gardens has many competitors vying to en bloc should the next cycle come round. Neptune Court, Laguna Park, and Lagoon View are just some of the closer ones that spring to mind. While most people see the land space as a huge boon, it could be a bane when it comes to selling as the bigger the land the bigger the risk that a developer has to take.
Our Take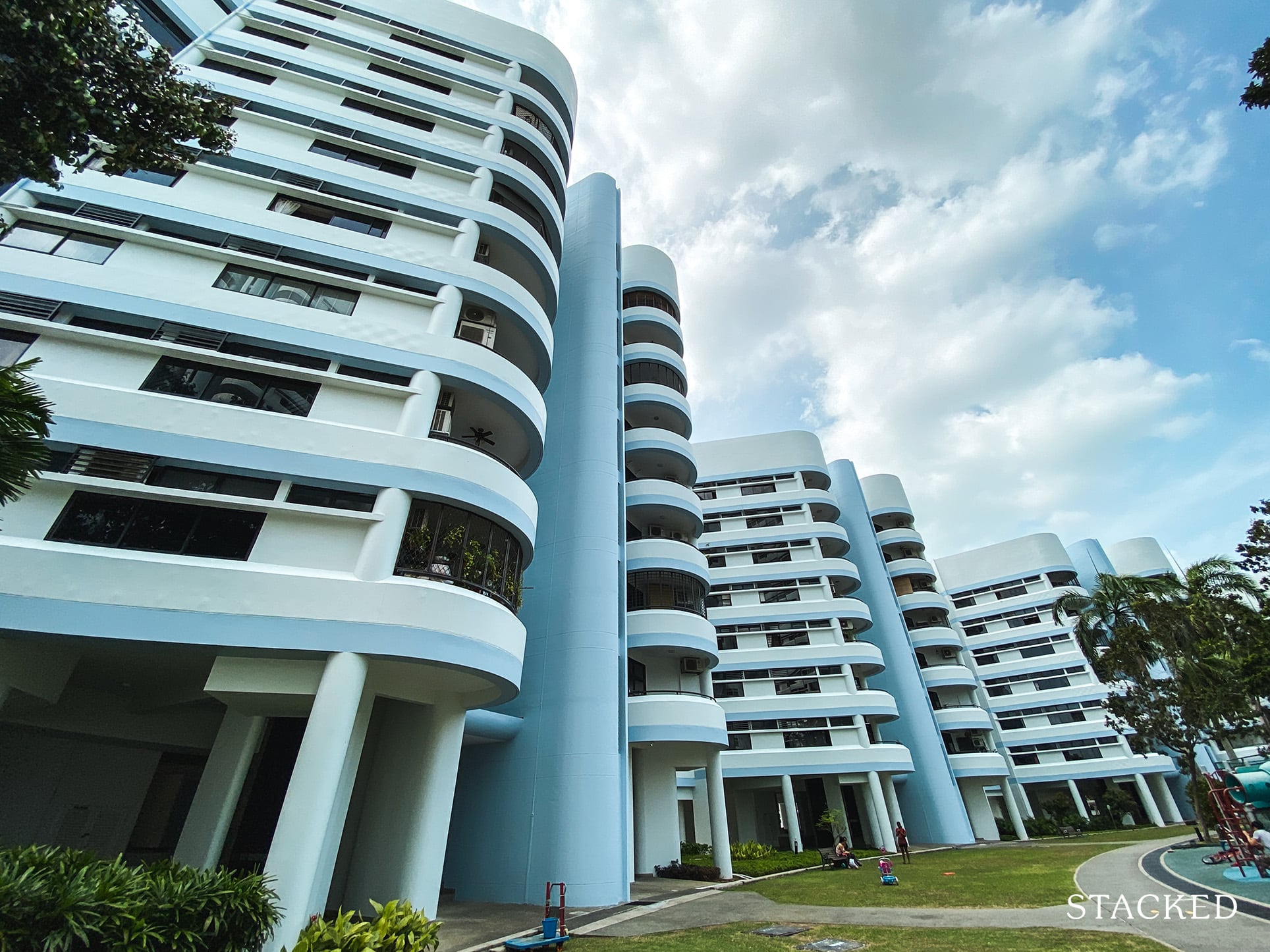 The biggest perks of Mandarin Gardens for me are its sea views, proximity to CBD/Town and its space/facility offerings.

On the other hand, its biggest con is really just its age/lack of solid maintenance through the years, and in some cases, its lack of real exclusivity (dull interior/lack of privacy etc.).

(Not to mention the fact that it's already run down more than 30 years of its 99-year leasehold.)

Still, given its rather affordable price tag (don't forget about its D15 address now), and the fact that a new major convenience factor in the Thomson East Line is to be delivered in the coming years, I would conclude our initial thought about whether this weathered warrior does have room in its locker by saying that it definitely does have a couple more surprises and even bonuses coming out way.

…Also, let's not forget that tremendous Butter Squid downstairs shall we?
What this means for you
You might like Mandarin Gardens if you:
Value Recreational Opportunities:A host of activities await at the nearby East Coast Park alongside numerous country clubs/organisations that occupy the area and beyond.
Are Cash-Tied:$900+ psf isn't the cheapest option in our list of condos, especially when you consider the larger unit spaces here. But it is surely one of the more affordable options for a condo that comes with rare perks such as these.
You might not like Mandarin Gardens if you:
Prefer Newer Developments:34 years old is almost a lifetime for some residentials abroad. And in the case of a Singaporean condominium, it is relatively old. So trust me when I say there will be newer finds in most other places.
Appreciate Exclusivity:Not everyone's a fan of 1,000 unit condos, even if it means getting to stay in a '1-million square foot condo'. Personal space and beautiful designs/architecture are valued commodities that will most likely not be found here.
End of Review