Analysis
Is The CCR Really Undervalued Right Now? Here's What The Price Gap Between The CCR And RCR/OCR Look Like
Ryan J
May 17, 2023

6

min read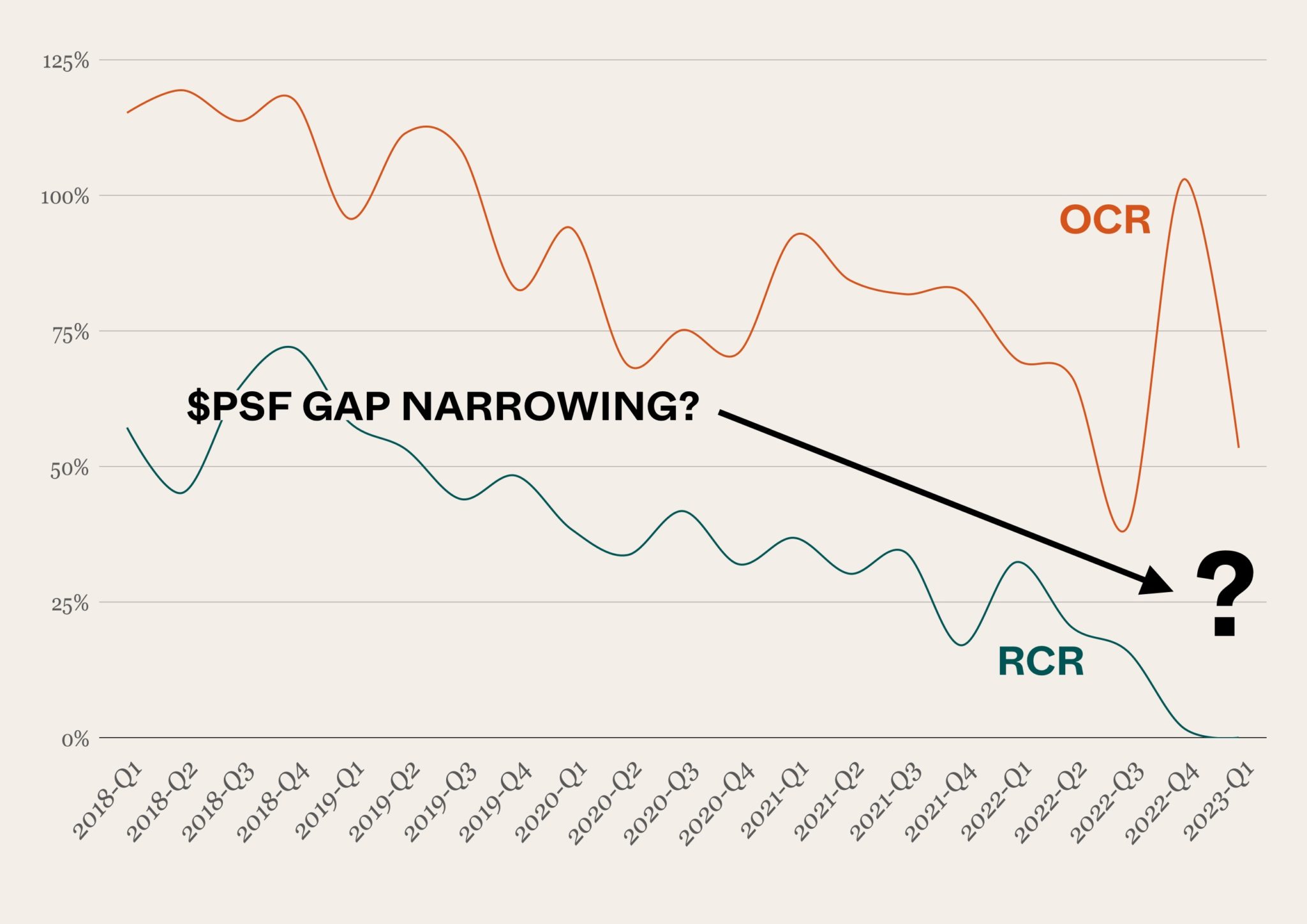 6
min read
One of the recent questions we've been asked pertains to Core Central Region (CCR) condos. A trending sales pitch is to claim prices in the Outside of Central Region (OCR) and the Rest of Central Region (RCR) are not too far from the CCR. If so, this would suggest some CCR properties may even be undervalued. But how true is this, and does that suggest now is a good time to buy prime region properties? Here's what we uncovered:
Recent views on the CCR
New launches in 2023 have managed to fetch prices of over $2,000 psf, even in non-central regions. Sceneca Residence, for instance, managed to reach this price point even in Tanah Merah.
Coupled with news reports like this one, (and the narrative that some agents are pushing) buyers are starting to ask if they may as well buy CCR condos. This is further compounded by URA's high-profile attempts at decentralisation (e.g., creating different hubs in Jurong, Woodlands, Tampines, and so forth) – today there are market watchers who believe these fringe "hubs" will eventually match or maybe even surpass the CCR districts.
To put everything into perspective, we've put together a longer-term picture of prices in the OCR, RCR, and CCR. From 2004 to the present, this is what it looks like:
The changing price gap in the CCR, RCR, and OCR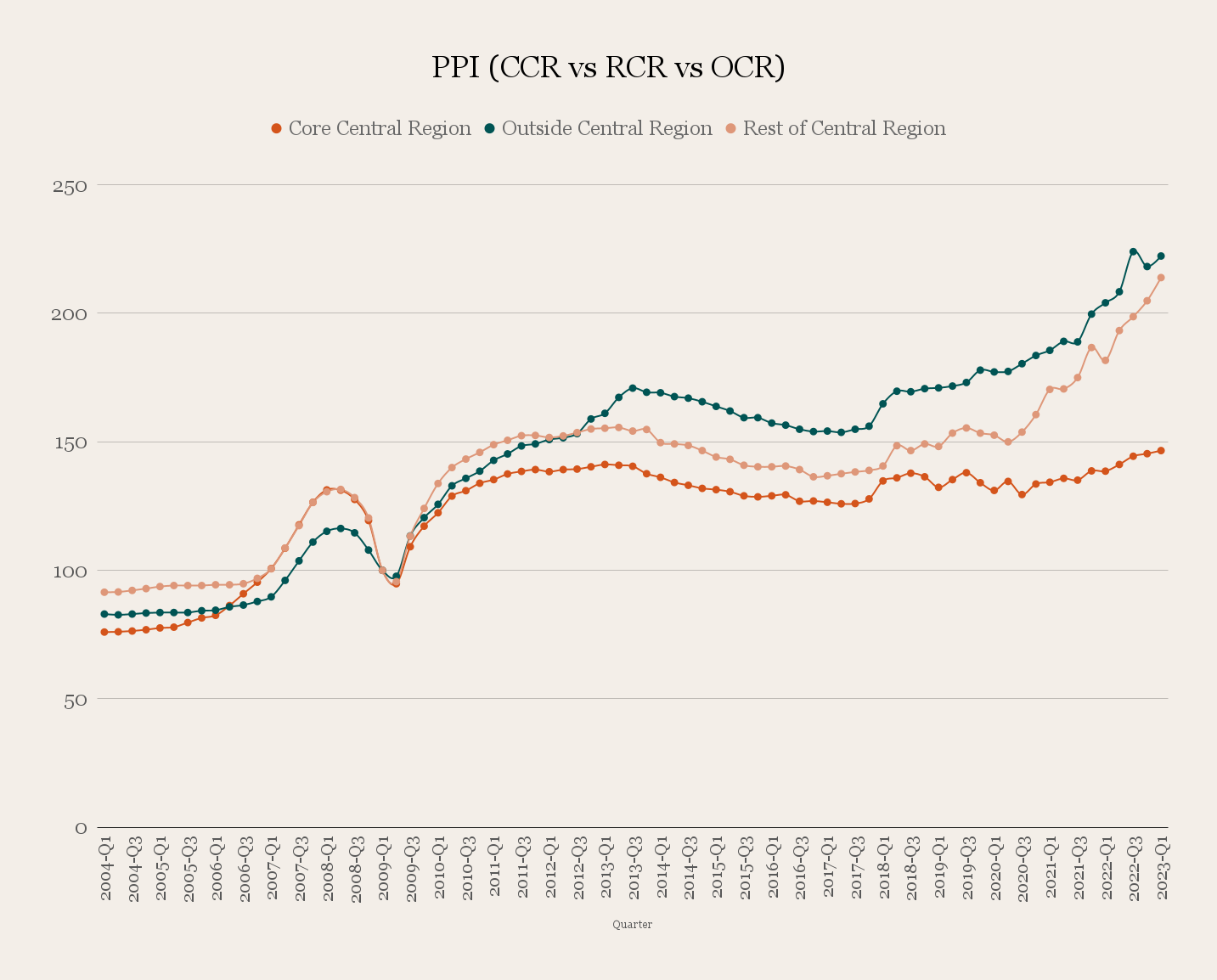 Since 2004, prices have increased substantially in the RCR and OCR; more so than the CCR. This is expected to some degree, as the already high prices in prime districts can leave less room for appreciation.
One thing to note is that, since the last property peak back in 2013, the OCR has come into prominence. During many periods before 2013, it was the RCR that often outpaced both the OCR and CCR.
This is partly due to URA's vehement attempts at decentralisation over the past two decades; many neighbourhood malls and other "fringe" amenities can now match CCR districts. This was already apparent in 2009, when a brand like Uniqlo chose its first store to be in an OCR neighbourhood (Tampines), rather than following the tradition of opening in District 9 or 10. It was a small but important start to the trend, as the succession of malls like JEM or Westgate, to Northpoint drew crowds away from the Orchard areas.
Things to note about the price gap
If we simply compare overall prices (new and resale alike), the supposedly "narrowing" price gap isn't evident. In fact, it looks like the price gap has widened between the CCR and other regions. This could be because many of the older condos in the CCR, where you can find bigger units, have been transacting at new highs and are in demand since the pandemic.
However, the picture changes when we focus on new properties.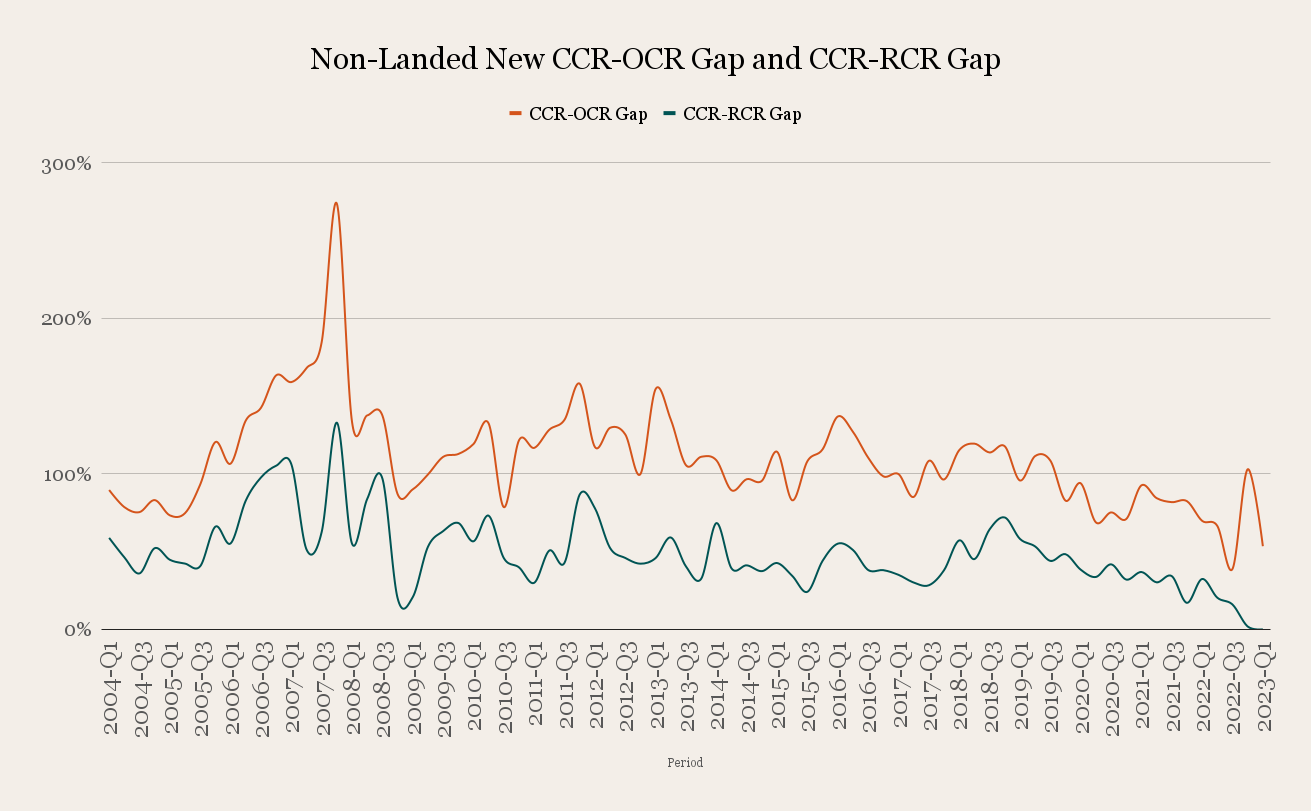 From the data shown above, we can see the other region closing the price gap with the CCR, when it comes to new launch properties. This is especially evident in the past two or three years, where new launch prices have reached over $2,100 psf even in OCR neighbourhoods like Tanah Merah (we're looking at you, Sceneca Residence). This is also apparent even in newer areas like Lentor, where Lentor Modern has sold at an average of $2,076 so far.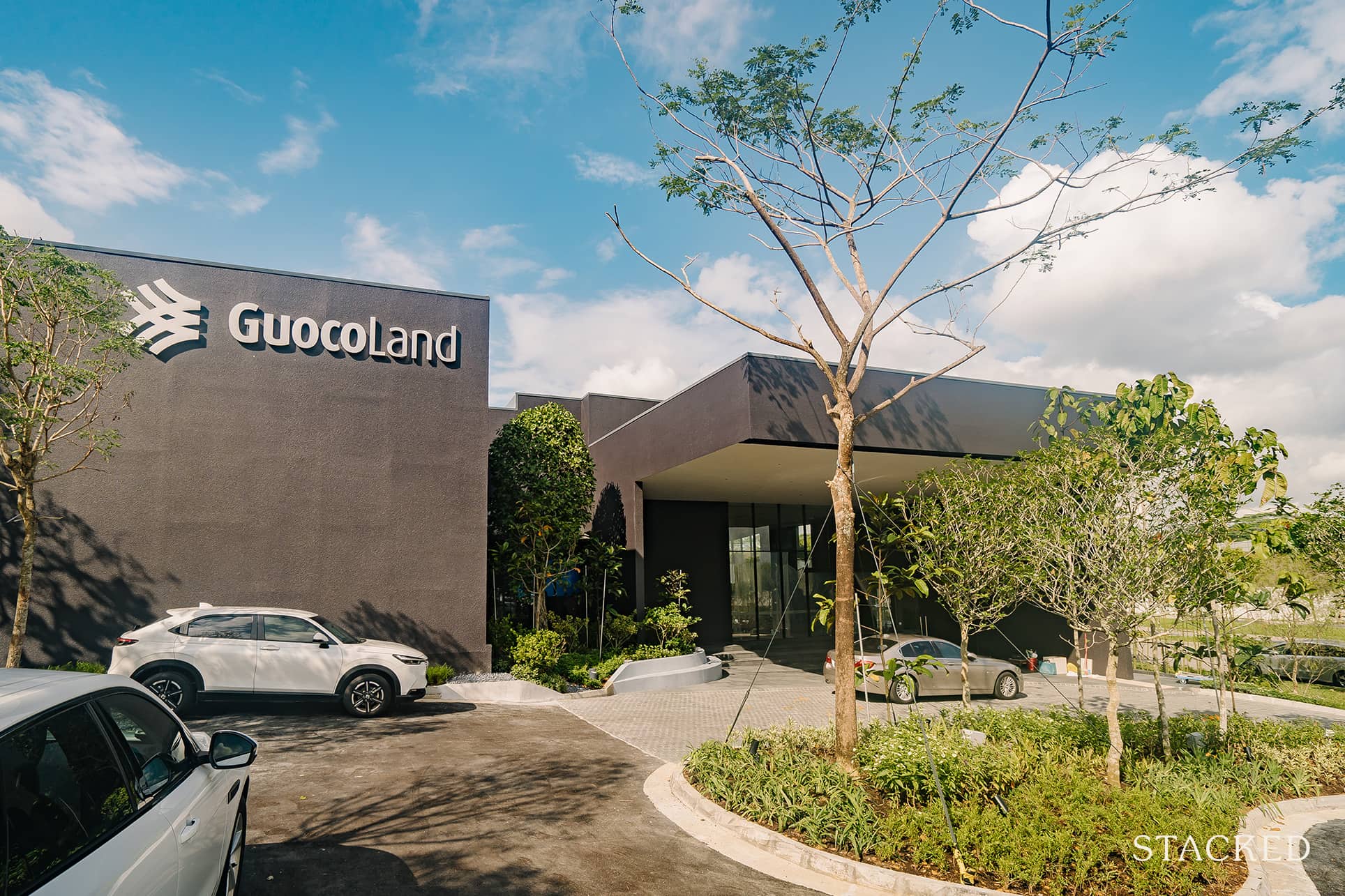 As for the very obvious closure of the gap between CCR and RCR in Q1 2023, that will probably be attributed to the sales of Riviere as there were many transactions that went above the $3,000 psf mark, due to the higher floors being snapped up. Most people would assume that Riviere is in the CCR given its location, so that's quite a fine line there.
For buyers looking at new properties, the CCR may in fact seem like a better purchase in comparison.
If you're going to end up with a quantum of $2.1 million for a new OCR condo, for example, it might be tempting to pick a prime location like Tanglin or Bukit Timah instead. You may only get a small CCR unit for that price – but all things being equal, a CCR address carries more prestige, may have better rentability, and is a proven area for amenities.
When it comes to properties in general however (i.e., we mix in resale units), the price gap between the CCR and other regions remains quite significant.
The narrowing price gap may be due to a surge of upgraders
As many analysts have already explained, one major reason that can be attributed to the narrowing price gap is the dominant group of buyers – HDB upgraders. As one realtor explained:
"Upgraders tend to target lower-quantum units in the OCR, less so CCR, where you find more investors. These upgraders have provided continued demand for OCR properties, and even some RCR properties, over a period of several years; so it's not surprising that prices here have risen so much.
Also in recent events, we see the CCR was more affected by Covid-19, higher interest rates, and cooling measures, so investors are cautious about the luxury market.
But at the same time, HDB upgraders saw a strong rise in resale flat prices and more could afford OCR or even in some cases RCR properties.
So for my two cents, the reason for the narrowing price gap is HDB upgraders aggressively moving into the OCR and sometimes even the RCR, whereas investors still seem cautious about luxury properties."
The latest cooling measures might further reign in CCR prices
Most realtors felt the price gap with the CCR will narrow further, at least for the coming year or two. This is on the back of recent cooling measures, which raised the Additional Buyers Stamp Duty (ABSD) to 60 per cent for foreigners and entities. This has already prompted developments like Newport Residences to hold off its launch and adopt a wait-and-see approach.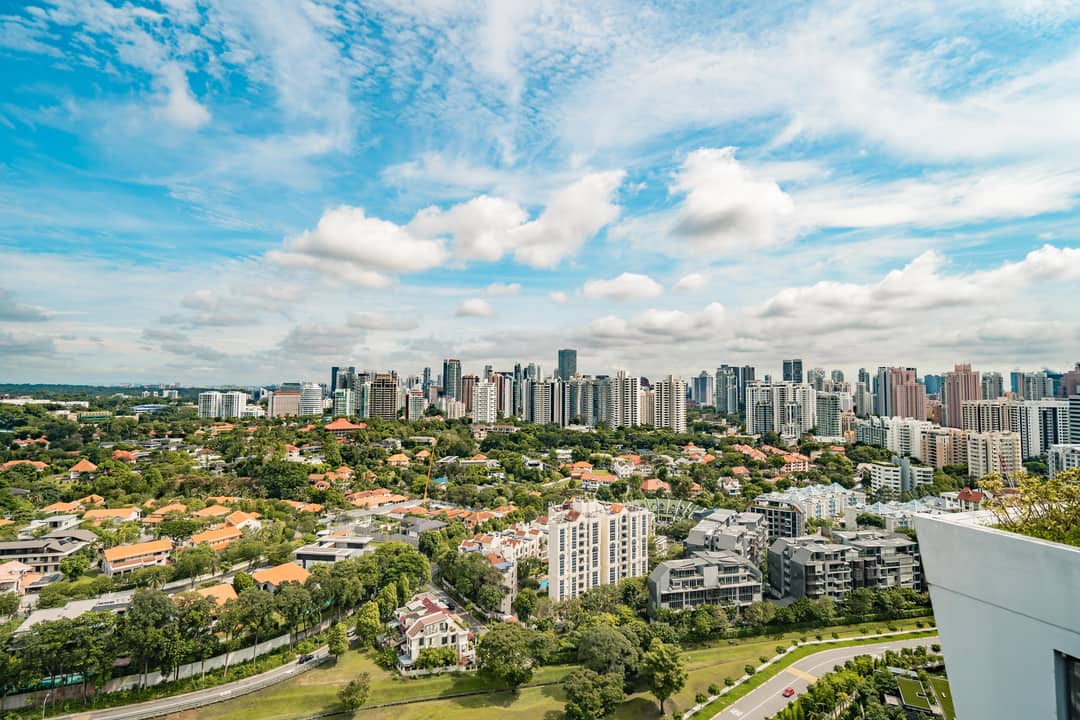 As foreigners and investors make up a bigger portion of buyers in the CCR, this region is expected to bear the brunt of the measures. But the OCR, which typically attracts upgraders who don't pay ABSD anyway, is expected to remain unscathed.
Newport Residences (Anson Road) and Skywater Residences (Shenton Way) will likely be seen as the bellwether for how the CCR fares; and we expect initial sales of these two launches to be closely watched. Given how The Continuum has fared (where there were expectations to attract some foreign purchases), there definitely will have to be some adjustments to launch prices to get a good sales momentum going.
For more on the situation as it unfolds, follow us on Stacked. We'll also provide you with in-depth reviews of new and resale properties alike.