Buying
How To Use The URA Master Plan To Do Your Own Research
Ryan J
October 4, 2020

8

min read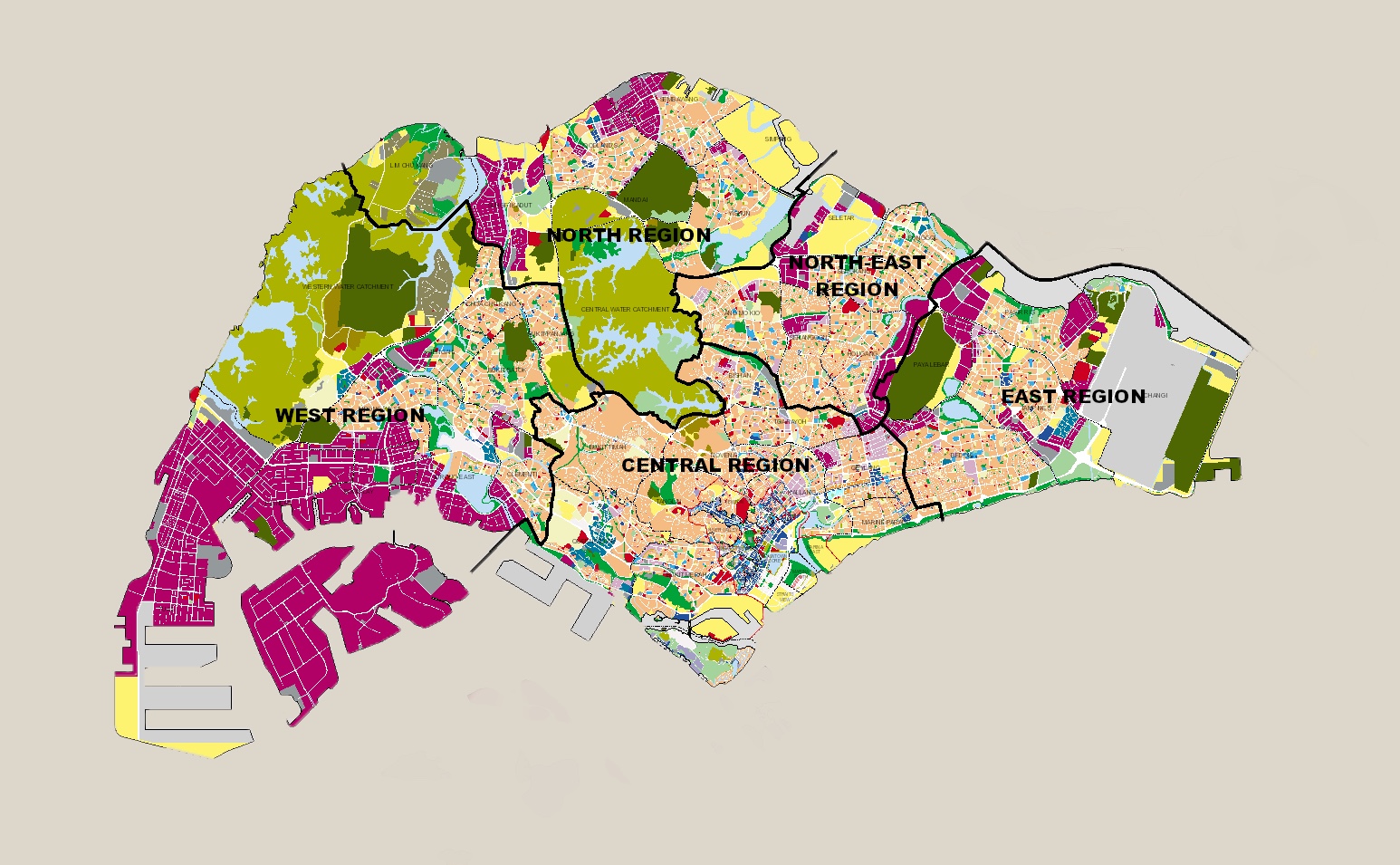 8
min read
You've just read the dozenth article, guide, blog post, etc. telling you to "check the URA Master Plan". We even do that here on Stacked, as it's good advice. But as you navigate to the URA home page, you may end up looking at the coloured map and wondering: "What is all this and what am I doing here?"

Fair enough – the Master Plan is loaded with a lot of information, some of which just isn't relevant to you. So for simplicity's sake, we're going to highlight the main things to search for when choosing a property development. Out of all the data available, here's what home owners or investors should pay the most attention to, and why:

The basics of using the URA Master Plan
The URA Master Plan shows the medium-term plans (10 to 15 years), on how authorities intend for Singapore to develop. The plan is reviewed on a five-year basis; the public can view the plan for free, and also give feedback.

On a practical basis, property buyers should pay attention to the zoning within a one-kilometre radius of their chosen property. This is what will have the largest impact on your home / investment. It's important to do this in addition to knowing the current amenities, as that may change over the course of the next few years.

Here are the factors to consider when comparing properties:
Nearby residential units and plot ratios
Transport facilities
Future or current schools
Distance from commercial zones
Proximity to industrial zones
Places of worship and hospitals
White sites
1. Nearby residential units and plot ratios
Residential zones have a beige-like colour, and the number within them indicates the Gross Plot Ratio (GPR). This is one of the first aspects that a homeowner or landlord should look up.

In general, having fewer residential zones around you – or having zones with a lower plot ratio – is favourable. The fewer units surround yours, the less potential competition for buyers or tenants.

It's also because the plot ratio indicates the height and density of future residences. As a guideline:
GPR of 1.4 or under: Low density, such as areas with mostly landed housing enclaves. This is preferable to most buyers, and is sometimes viewed as being exclusive. Future developments are capped at five storeys.

GPR of up to 2.1: Medium-density; you're likely to see other condos spring up in future. Future developments are capped at 24 storeys, which may suffice to block your view (check that your block isn't facing this plot).

GPR of 2.8 or higher: High-density, and you should consider the future impact on resale and rental; you could face noticeable competition when a large development appears next door. There's likely to be a lot more noise and traffic; they can be 36 storeys (GPR of 2.8) or higher if it goes beyond that. You had better pick the right facing and height, to avoid losing your view in future.

2. Transport facilities
This gets a bit tricky, and MRT stations can be hard to spot on the URA Master Plan. Some of them disappear into the blue (commercial) zones, when they're part of a shopping mall or other integrated development.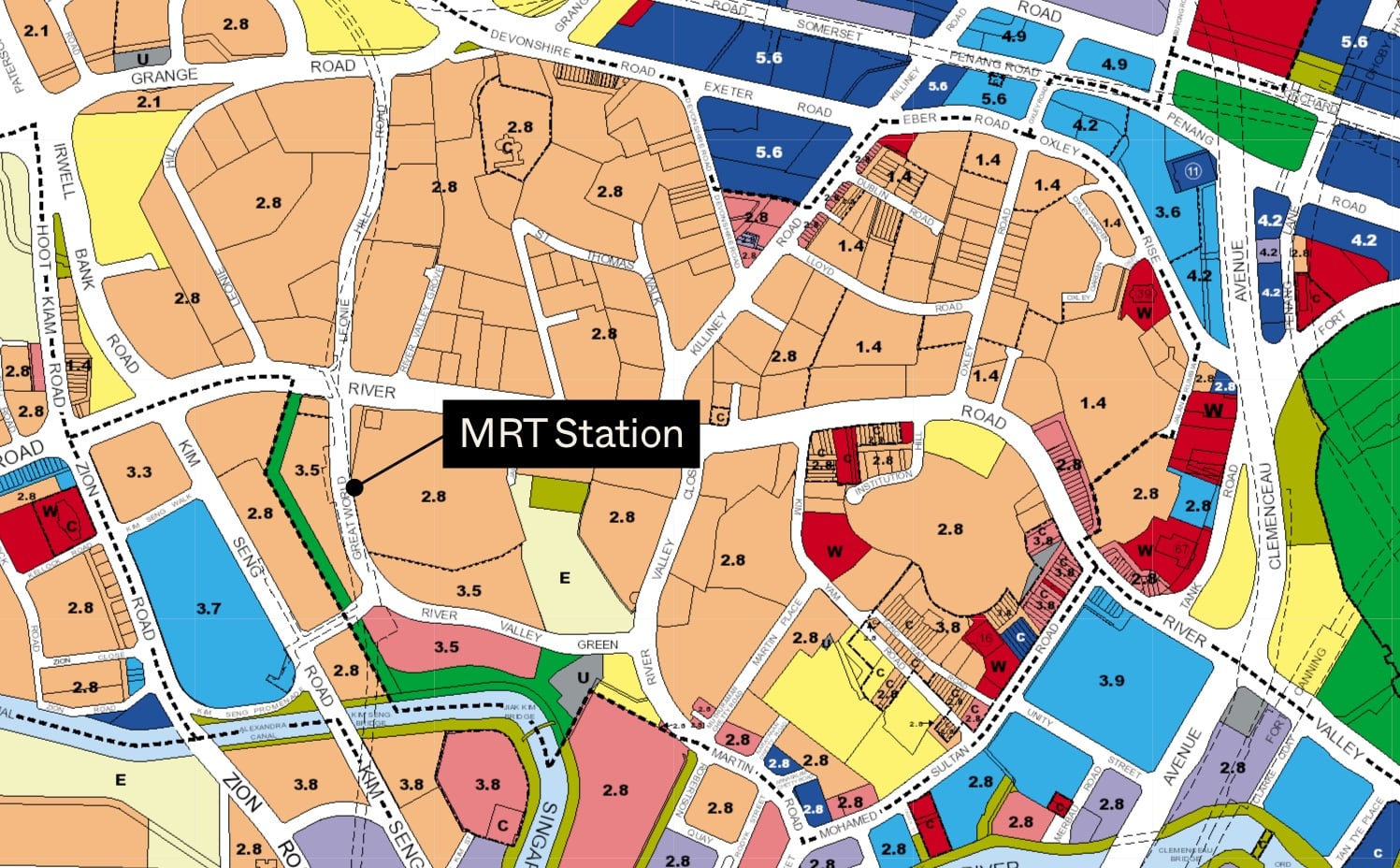 Also, transport facilities are only indicated by grey boxes of this colour, and you may not be able to tell if it's an MRT station or bus station. As such, you should cross-reference the area with the Land Transport Authority (LTA) website.

Note that, while having a future MRT station nearby is great, you should consider a block that's not too near it. Elevated tracks can cause noise pollution, if the train passes by at window level.

For landlords, you may want to check the likely date of completion. An under-construction station can impact rentability: it's noisy and provides no amenity to tenants; this may be the case for a few years until it's finished.

Between two properties that have MRT stations close by, many landlords tilt toward the one with an already completed (or almost finished) station.

3. Future or current schools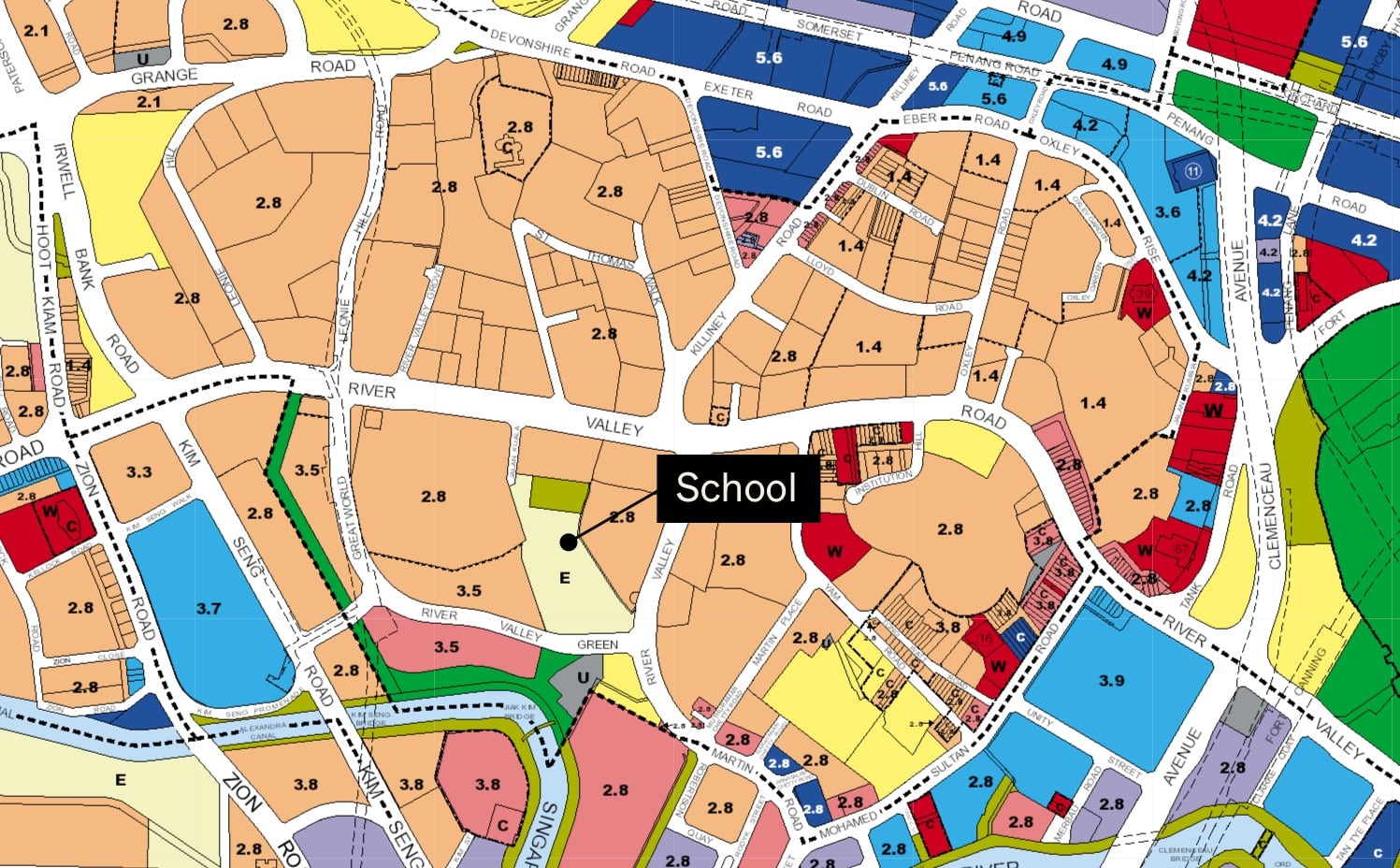 Educational institutions are marked with an E, within a yellowish box. Having multiple schools within a one-kilometre radius improves rentability and saleability (note: that's not the same as rental yield or capital gains. It just means it's quicker to find a tenant or buyer or in future).

For homeowners, being within one-kilometre makes it more likely for your children to get into the relevant school (visit the Ministry of Education website to see the enrolment details).

An old rule of thumb is to try and be within one-kilometre of a school, but about 300 metres away. This is believed to keep you free of the noise and traffic that schools create*

*But we have never seen any in-depth study that proves this!

Read this next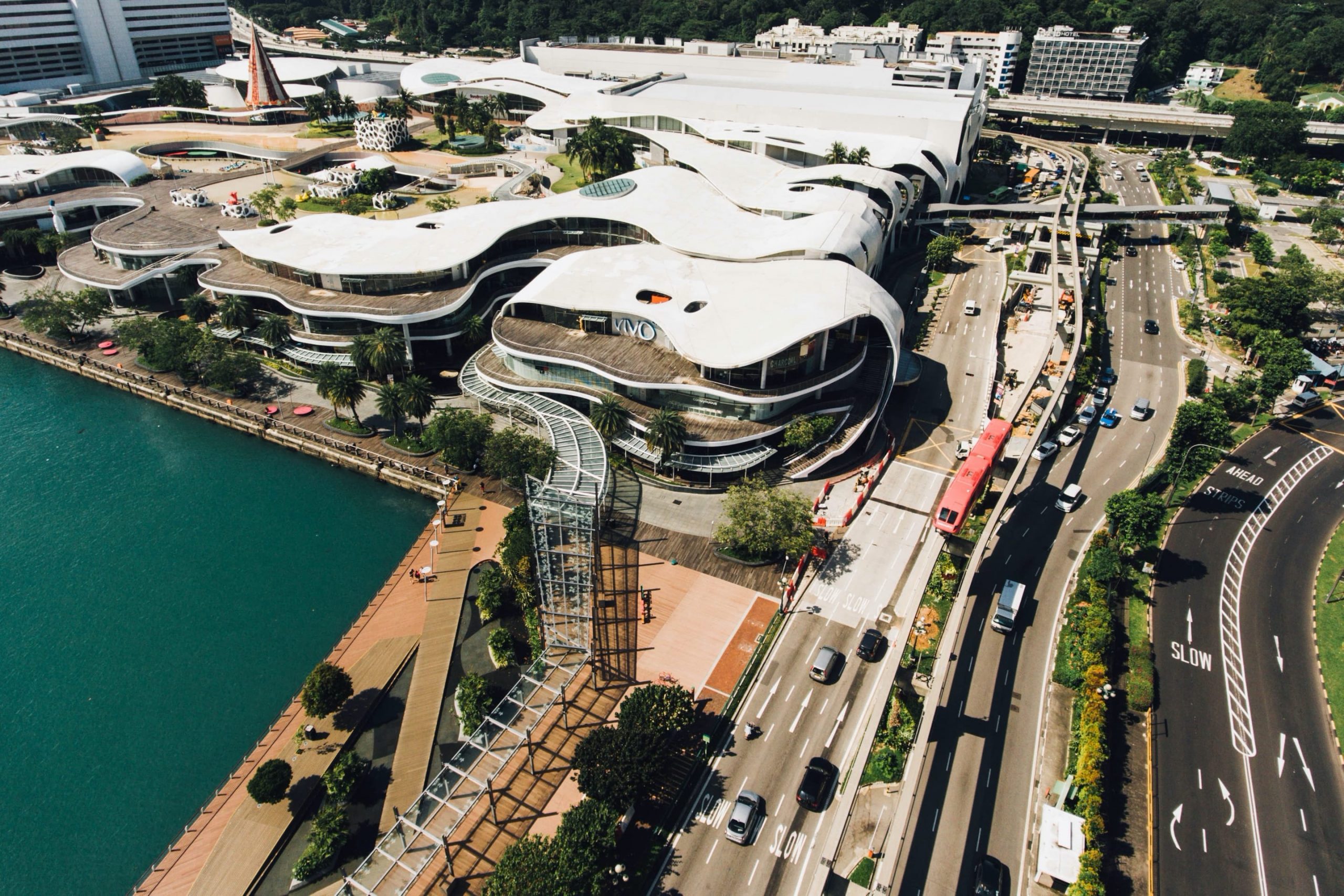 4. Distance from commercial zones
There are mixed commercial and residential zones that are teal coloured, or dense commercial zones in dark blue.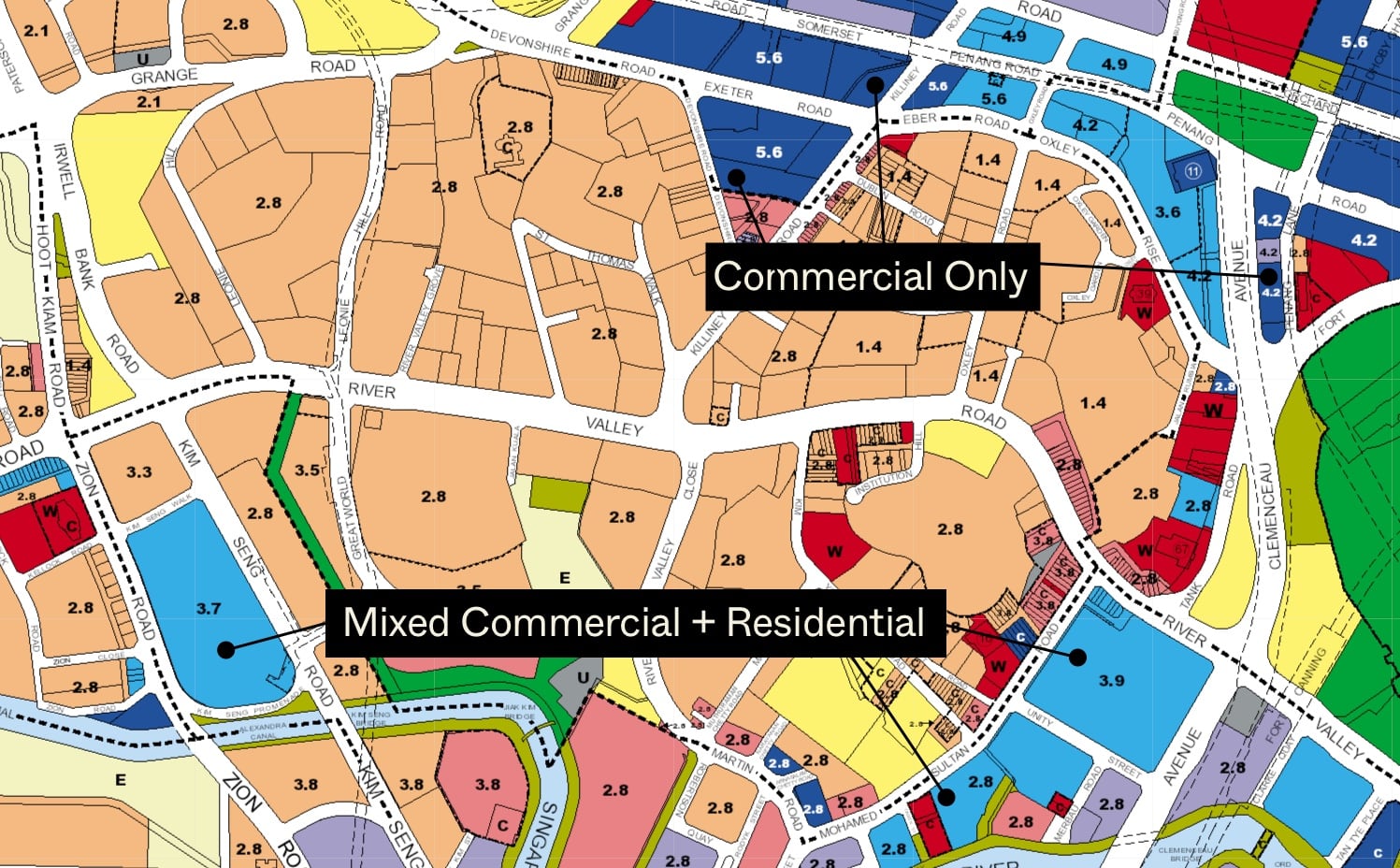 Many – but not all – homeowners prefer being within a 600-metre distance to commercial zones. This is far enough to be unaffected by the noise and crowds, but still just within a five to six-minute walk of the retail stores and eateries.

Alternatively, home owners who like living right next to a mall, or on top of one, may want to be closer to dense commercial areas.

Barring purposely exclusive areas – like landed housing enclaves – future commercial developments are considered favourable. These bring amenities like shops, restaurants, and others.

A development that looks dull right now could get more interesting in the coming years (such as Parc Komo and its surrounding areas); so do consider commercial zone proximity when comparing condos.

5. Proximity to industrial zones
The magenta coloured plots can be Business 1 (light industry) or Business 2 (heavier industry), as their number indicates.

Home owners will typically prefer the development that's further away from these. Landlords, however, may see them as an opportunity. The workers in these areas can provide a potential source of tenants.

Note that, in any case, these will never be extremely polluting or noisy industries like oil and gas, power stations, etc. The government will always locate these far away from residential areas; hence the existence of places like Jurong Island.

6. Red W's and H's
These are marked in red boxes.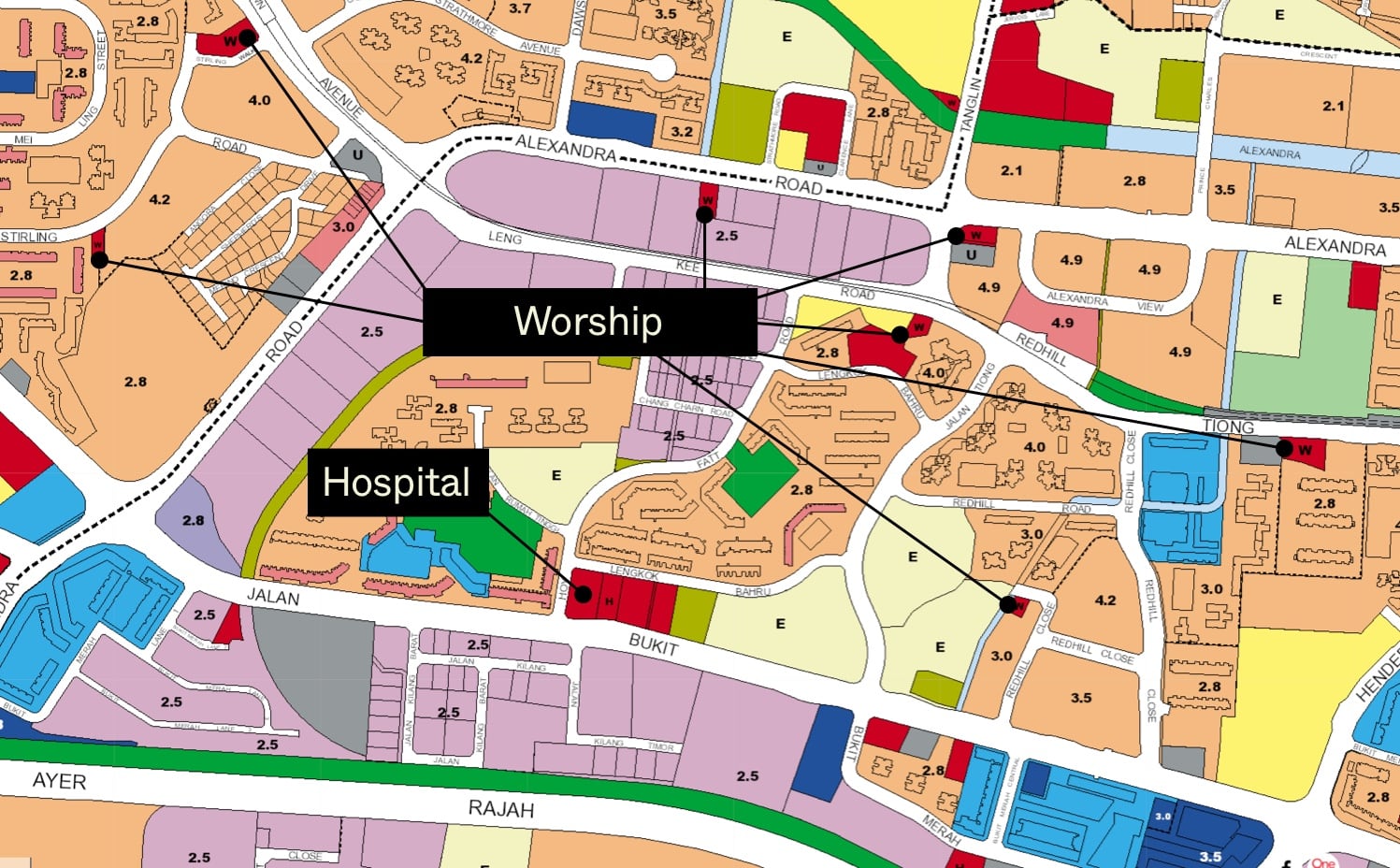 Without intending any disrespect, most property buyers will avoid developments near current or future places of worship. This is just for practical reasons – apart from the noise, traffic issues can be severe.

A typical example of this would be some of the landed homes in the Siglap Hills area. Due to the presence of places of worship, there have been cases where residents were unable to even drive out of their own homes. There are even traffic wardens now, just to direct the flow of traffic during some days of worship.

So look out for the W in the red box, when picking your property.

The red boxes marked with an H are hospitals. This can be useful to some homeowners; but for the most part the issues are the same as with places of worship. Hospitals can result in heavier traffic, and ambulance sirens blaring into the night.

7. White sites
White sites are areas designated for certain concepts. An example would be the 100 hectare white site designated for the Woodlands Regional Centre. URA selects the developer of these white sites based on how well their concepts fit the brief given by URA.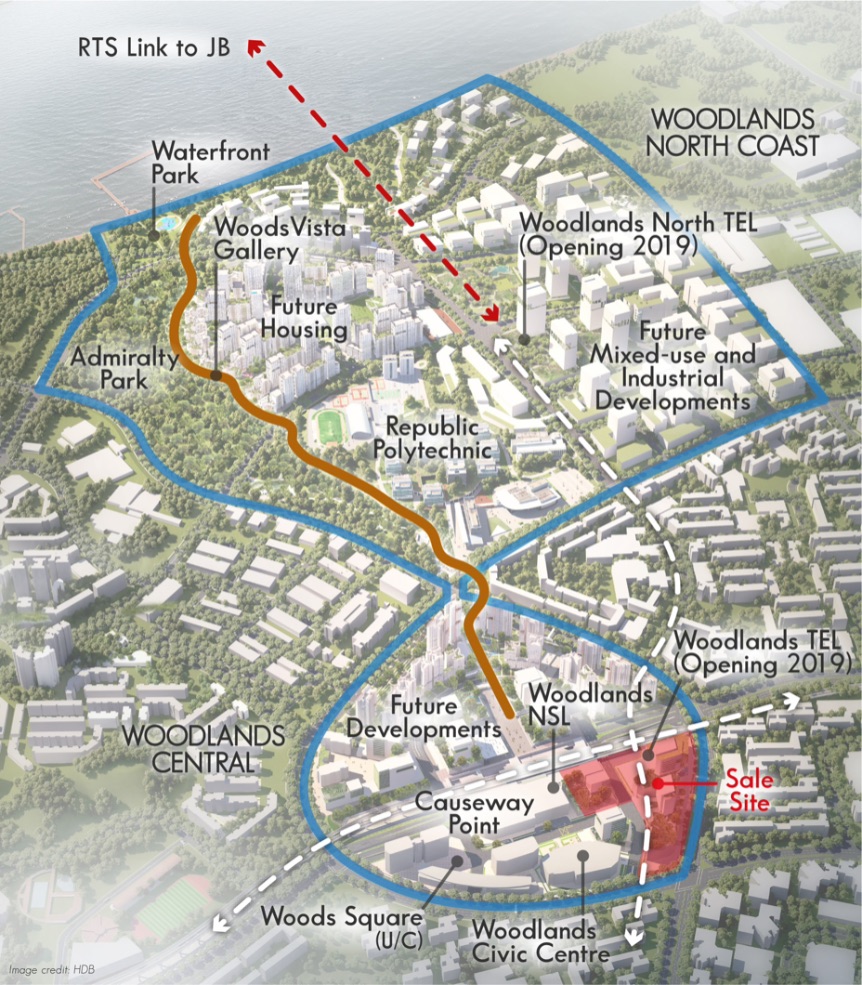 In short, these sites can be any combination of anything – commercial, residential, hotels, etc., just so long as it fits what URA has in mind. In practice though, most property buyers see these as a positive.

If a new live-work-play hub with offices, restaurants ,and recreational areas springs up near your property, for instance, it's probably great for resale gains or rental; and so far, most of the URA white sites – like Woodlands Regional Centre – have provided a positive boost to properties nearby.

At the time of writing, the most watched white site is the Kampung Bugis plot in Kallang.

Look where the area is headed, not at how it is now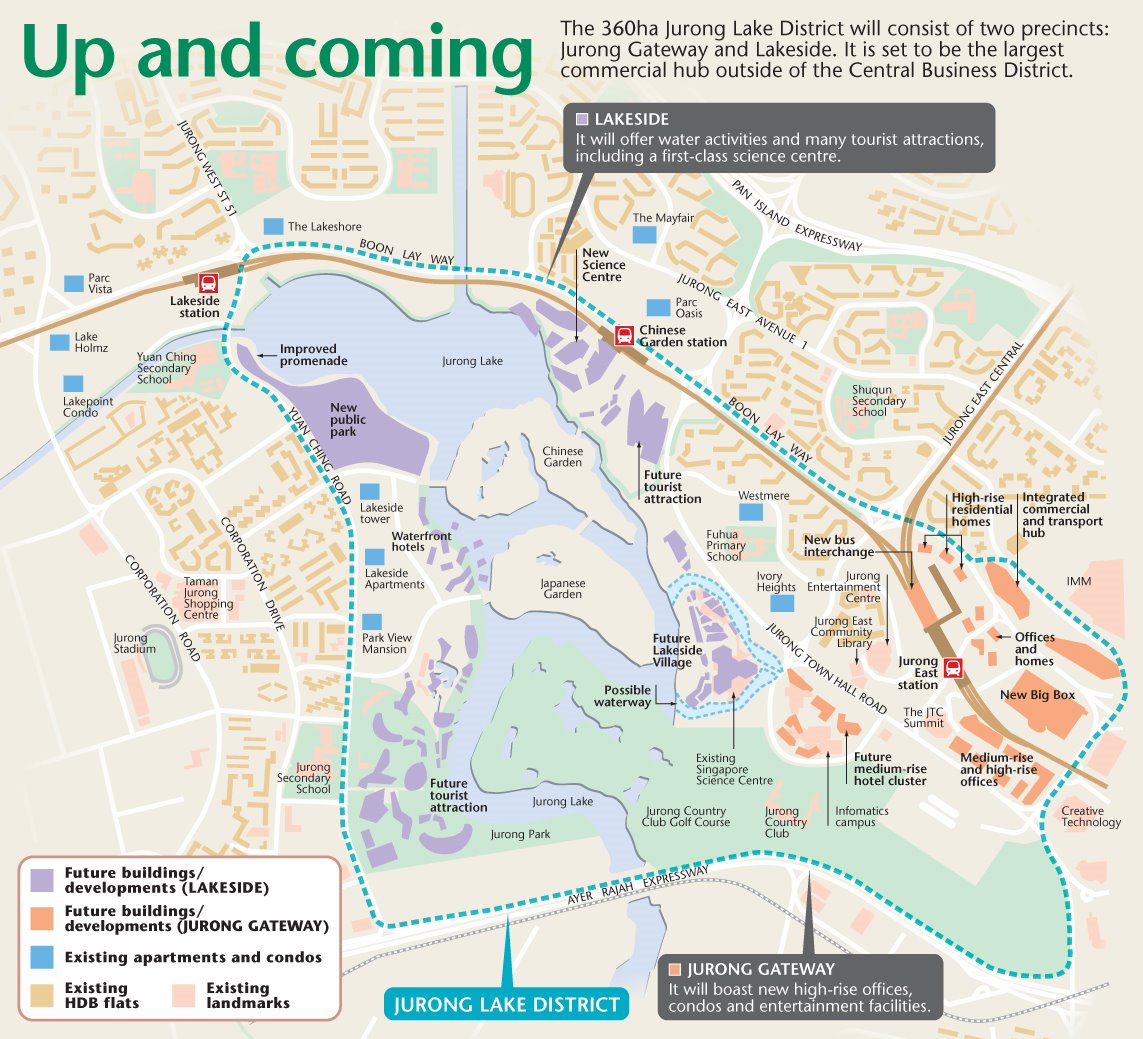 Singapore's landscape is dynamic, because space is scarce; even condos seldom make it past the 40-year mark without being replaced. As such, don't just look at the current surroundings when you compare amenities; take note of what's likely to appear in the next few years from the URA Master Plan.

You can also read in-depth reviews of properties, with such wider considerations, on Stacked. If you have any questions while comparing your properties, you can also contact us on Facebook for help.