Commentary

How I'd Invest $12 Million On 4 Properties: My Toto Hongbao Draw Winning Plans
Ryan J
February 1, 2023

12

min read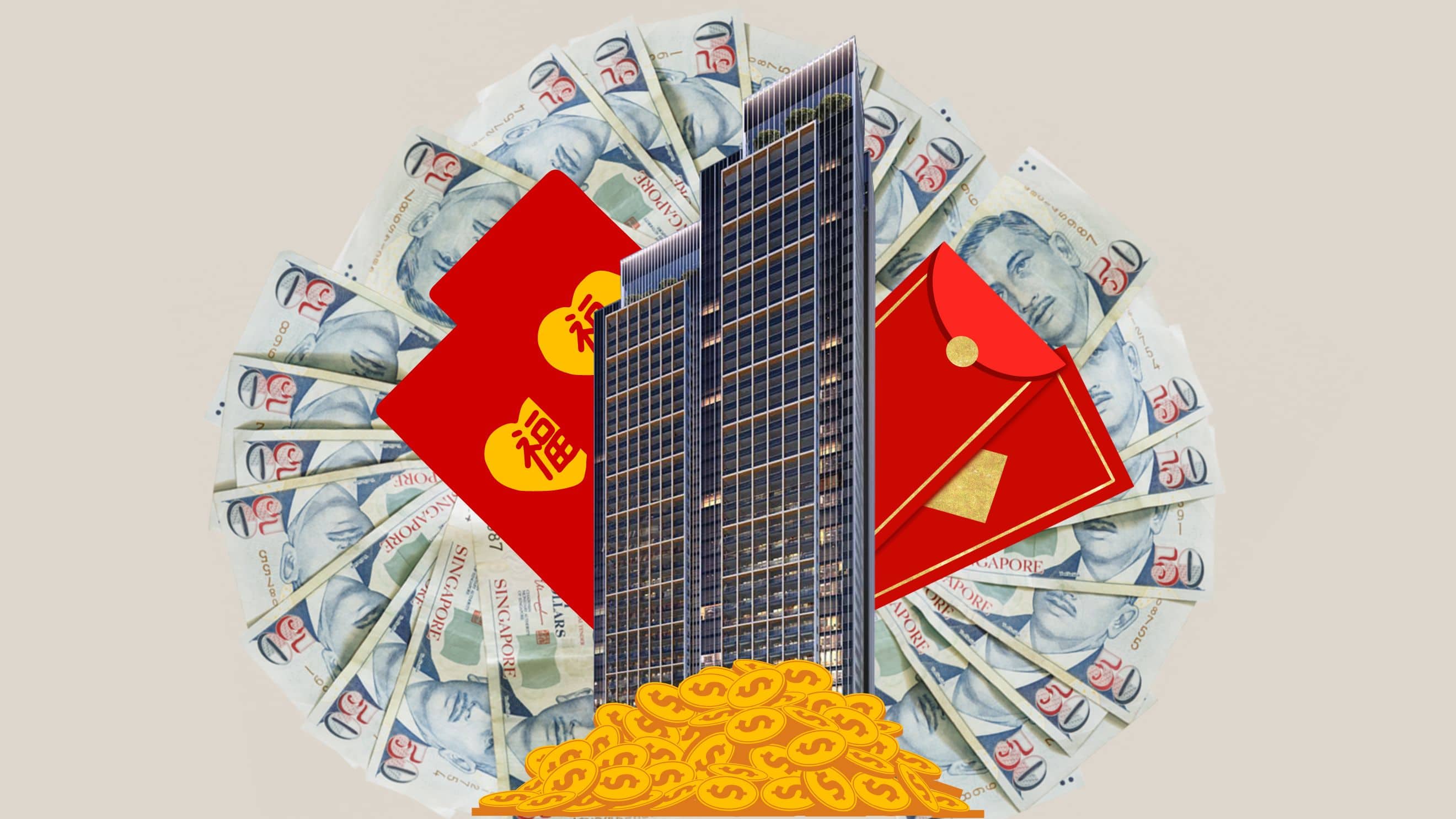 12
min read
Ever wondered what are your chances of having identical quadruplets?
1 in 13 million.
Winning the yearly Toto Hong Bao draw?
1 in 14 million.
When put in such a perspective, it's much easier to see just how insanely fortunate you'd have to be to strike it rich. And yet with such crazy odds stacked against you, it doesn't stop tons of people from buying the Toto Hong Bao draw every Chinese New Year.
But contrary to what most people might think, lottery winners don't always have it good. From winning $16.2 million to being in $1 million in debt within the year, blowing all the winnings on drugs and prostitutes, to getting murdered by her own husband for squandering the money – it's all sad stories of how people can be terribly irresponsible with handling such a huge windfall at once.
That's not going to be me though.
If I do win, I will be terribly boring with how I spend (invest) the money.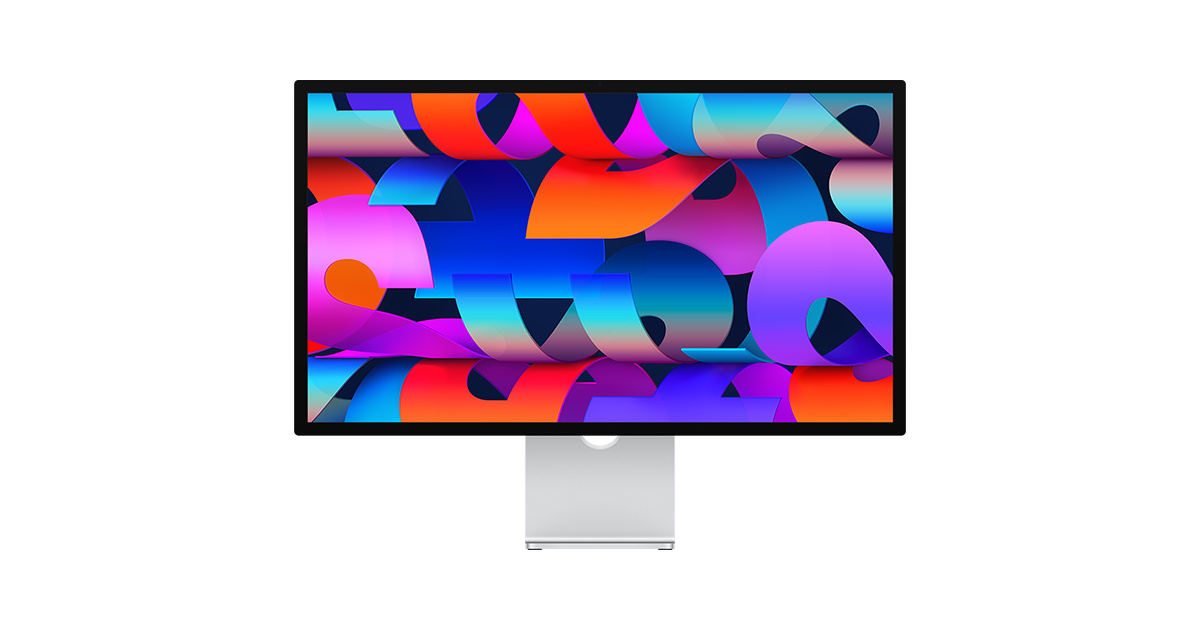 Aside from perhaps indulging in a $2,320 Apple Studio Display (looks cool, but I could never bring myself to pay that amount in real life), I would definitely dump the entire amount into a property portfolio.
And so in light of the $12 million Toto Hong Bao draw; I'm quite curious how you property-mad people would spend such a windfall too. Would you opt for luxury properties? Mass market rentals? Or even look abroad? Here's my personal take:
A few quick notes:
For simplicity's sake, and to prevent the article from being too convoluted, I will assume:
Overseas properties are not included
Only residential properties are chosen (although in reality, with a portfolio of $12 million, I'd probably branch out a little into commercial, REITs, and other non-residential projects to be even more boring)
I will purchase the property without a loan (in practice I might still consider loans, due to the benefits of leverage and to avoid liquidity risks; but to keep the article simple, let's assume no loans* are used).
I'm not getting any super-special discounts from developers (in reality, someone with $12 million and able to buy multiple units in the same launch will likely be given a better discount)
I'm assuming at least one of the properties will be used for owner-occupancy
ABSD rates apply for Singapore Citizens
*The maximum loan quantum will also decrease with each outstanding loan, so there won't be much financing available for properties beyond the first two anyway. After two outstanding home loans, the maximum financing is a measly 15 per cent for subsequent properties.
That said, here's a general look at what I'd consider picking, with some of the principles behind it. Note, this is really just a personal take. I'm not claiming that this would be the biggest money-maker over the next few years, it's part aspirational as well.
Riviere (RCR)
The M (RCR)
Gallop Gables (CCR)
Marine Blue (OCR)
Some general explanations for the choices
I've avoided concentrating all the properties in a single region, to avoid the entire portfolio being affected by a downturn in one area. You will note, however, that I have one CCR property – this is on the basis that in recent years, prices in the CCR have risen slower than in the RCR and OCR:
This may be due to the surge of HDB upgraders in the past two to three years, who typically move to RCR and OCR condos; but the momentum won't carry on forever. Bear in mind there was a bumper crop of flats reaching MOP in 20/21.
Coupled with the return of more affluent foreigners after Covid, I do feel the central area is a more attractive prospect right now. It's a good buy for those who can handle the high quantum area (luckily, I have $12 million in this hypothetical scenario). 
On the projects and the general principles:
Here's a quick rundown of why I like these, although you can also find a more in-depth breakdown for some of the condos in our reviews. For obvious tax reasons, I'll be buying the most expensive property first and going down the list in descending price. Besides talking about the specific projects, I've highlighted similar principles I'd look for in others:
1. Riviere 3 Bedroom (Owner Occupied)
Note: This will be the condo unit that I live in and don't rent out; so I am hinging purely on resale gains for any profits.
| | |
| --- | --- |
| Riviere Info | Description |
| Location | 1 Jiak Kim Street (District 3) |
| TOP | Just completed (2023) |
| Lease/Tenure | 99-years |
| Developer | Frasers Property Quayside Pte. Ltd. |
| No. of Units | 455 |
| | |
| --- | --- |
| Riviere (1st Property) | Amount |
| Purchase Price | $3,800,000 |
| Buyer Stamp Duty | $136,600 |
| Additional Buyer Stamp Duty | $NA (1st property) |
| Legal Fees | $3,780 |
| Total | $3,940,380 |
I do think this is one of the better-located central condos to date, being around a seven-minute walk from Havelock or Great World MRT station (TEL), which has just very recently opened. The area around Great World MRT is already well known for the revamped Great World City Mall, (which has been a fantastic upgrade) and the project itself is in the proven lifestyle location of Robertson Quay (Riviere is the former location of Zouk, by the way, you can read our full review here).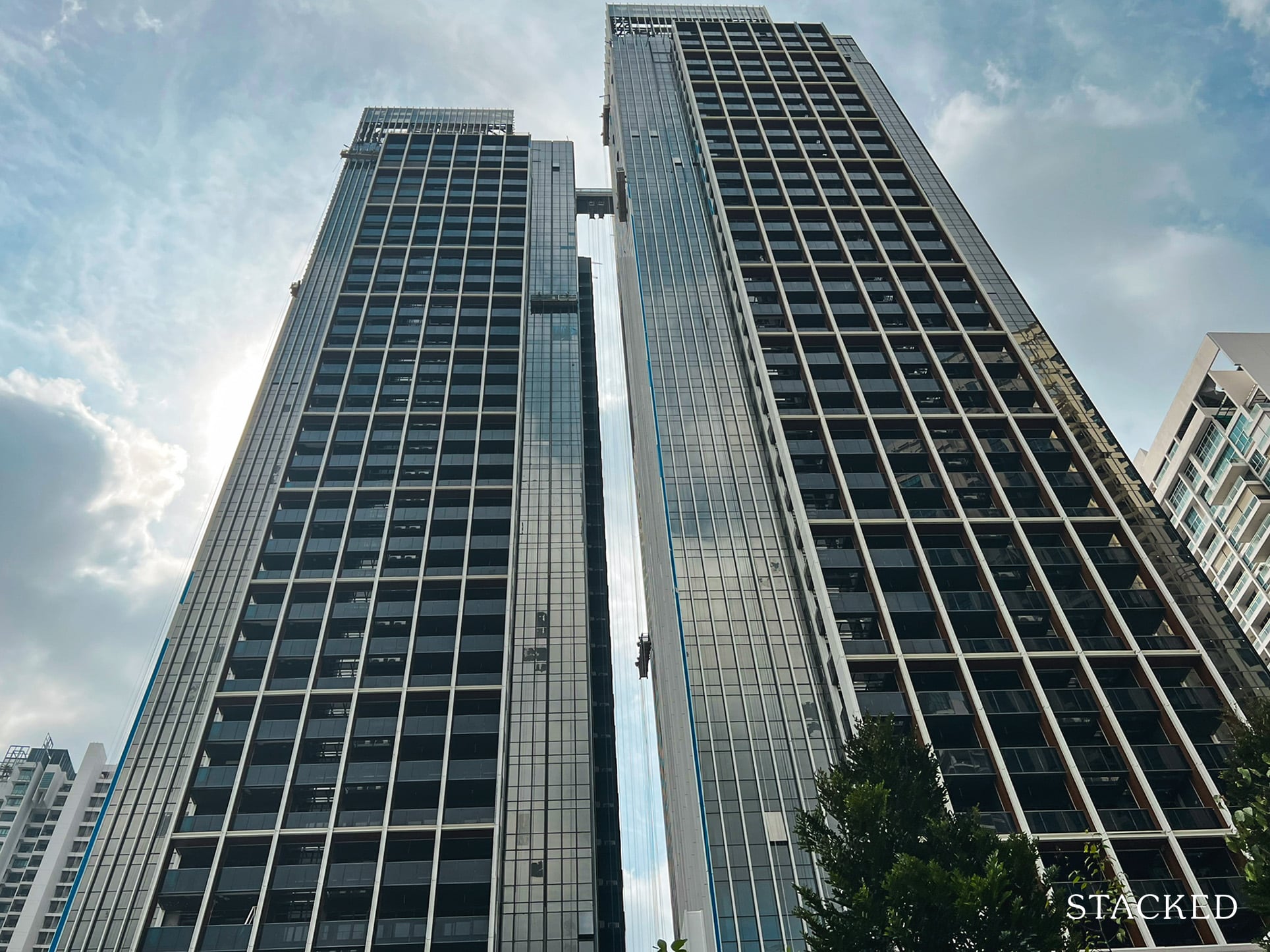 The reason I picked this for owner-occupancy is the unit mix, which is geared toward larger homes; Riviere's three-bedder units range from 1,141 sq. ft. to 1,711 sq. ft., with my chosen unit being 1,249 sq. ft. The most recent available unit I've seen is a 34th-floor unit at $3.8 million, which isn't the most ideal price to buy in – but the views of the surrounding area will surely make up for it.
Smaller one or two-bedders tend to be better for yields, so I prefer those if the main function is collecting rent. As Riviere is our owner-occupied unit, however, I would definitely want a larger size.
This is because the bulk of home buyers are family units, who will not fit one or two-bedder units; going larger gives us a better prospective pool of future buyers. Also, given that the surrounding developments are older and bigger freehold units, my price point under $4 million is actually still quite comparable despite being much newer.
The other reason I like Riviere is due to its surrounding plots in the master plan. This is likely the last slot of residential space available near the Singapore river. This lowers the risk of future developments blocking the waterfront view and lowering its value.
The main drawback for Riviere is that it's a leasehold condo located in District 3 (rather than 9 as most people might expect), among primarily freehold counterparts. However, this is balanced out by being much newer than the surrounding properties, and by close proximity to the train station.
Also, given that it's just been completed, I would love to be able to move in right away. I've also heard early reports saying that the finished product has turned out better than expected (which from experience with other SCDA-designed projects like Leedon Residence, is likely to be true).
2. Gallop Gables (2 Bedroom)
| | |
| --- | --- |
| Gallop Gables Info | Description |
| Location | Farrer Road (District 10) |
| TOP | 1997 |
| Lease/Tenure | Freehold |
| Developer | Straits Developments Pte Ltd |
| No. of Units | 140 |
| | |
| --- | --- |
| Gallop Gables (2nd property) | Amount |
| Purchase Price | $2,160,000 |
| Buyer Stamp Duty | $71,000 |
| Additional Buyer Stamp Duty | $540,000 |
| Legal Fees | $2,700 |
| Total | $2,773,700 |
With 2 new projects and 1 newer resale, I would look toward getting an old freehold project for value retention, and as a view toward a possible collective sale in the future.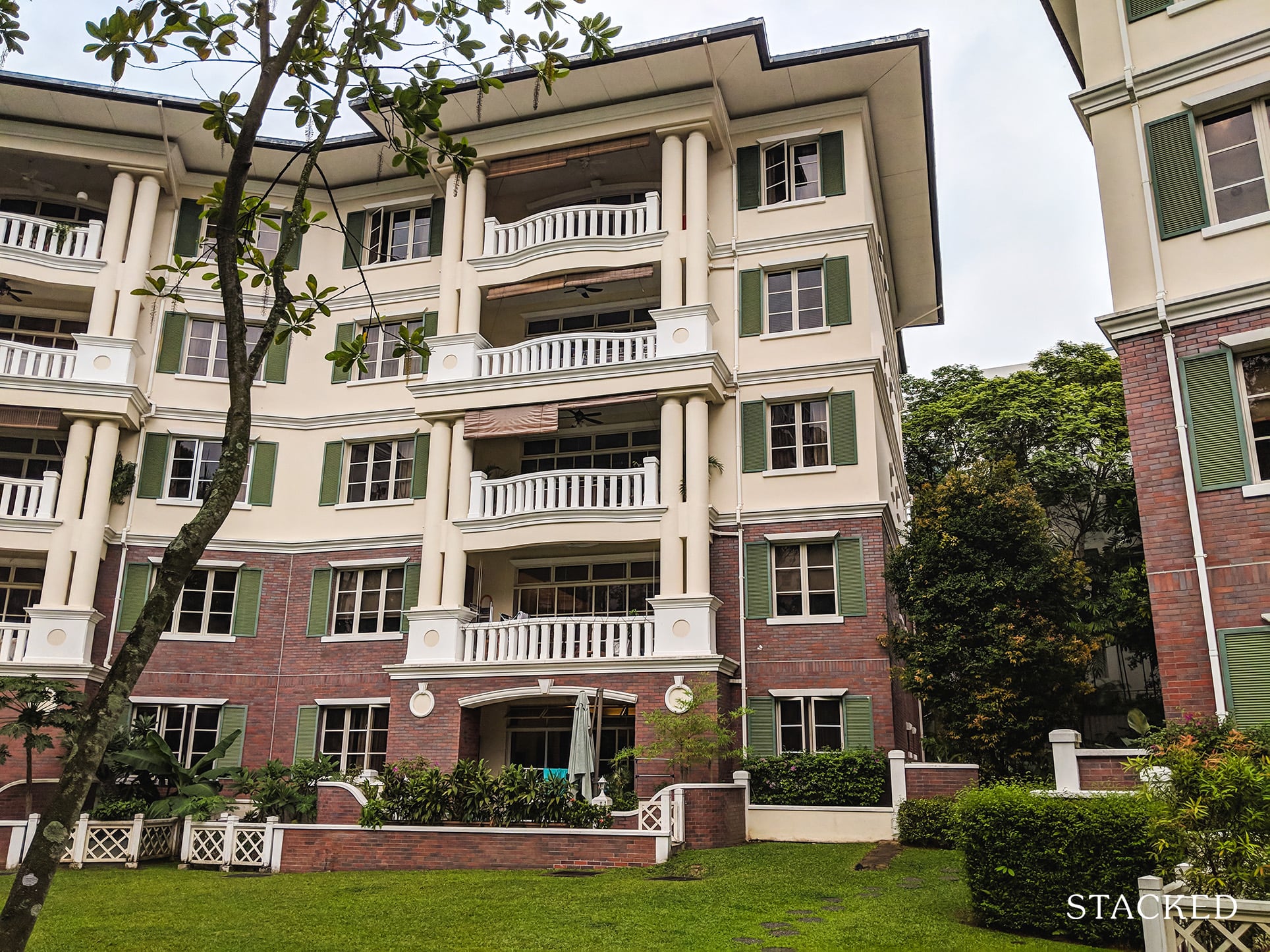 I usually favour larger developments, as smaller projects can get a bit pricier with maintenance fees (and may be more volatile with pricing). But I've always liked Gallop Gables as a project.
What's not to like?
It's freehold, with just 140 units sitting on 250,000 square feet of land (to give you some perspective, Stirling Residences has 1,259 units on a smaller 227,221 square feet plot). In the area, it is one of, if not the closest condo to Farrer Road MRT station. It currently has a plot ratio of 1.4, and with just any slight upward revision to that will definitely see its potential increase.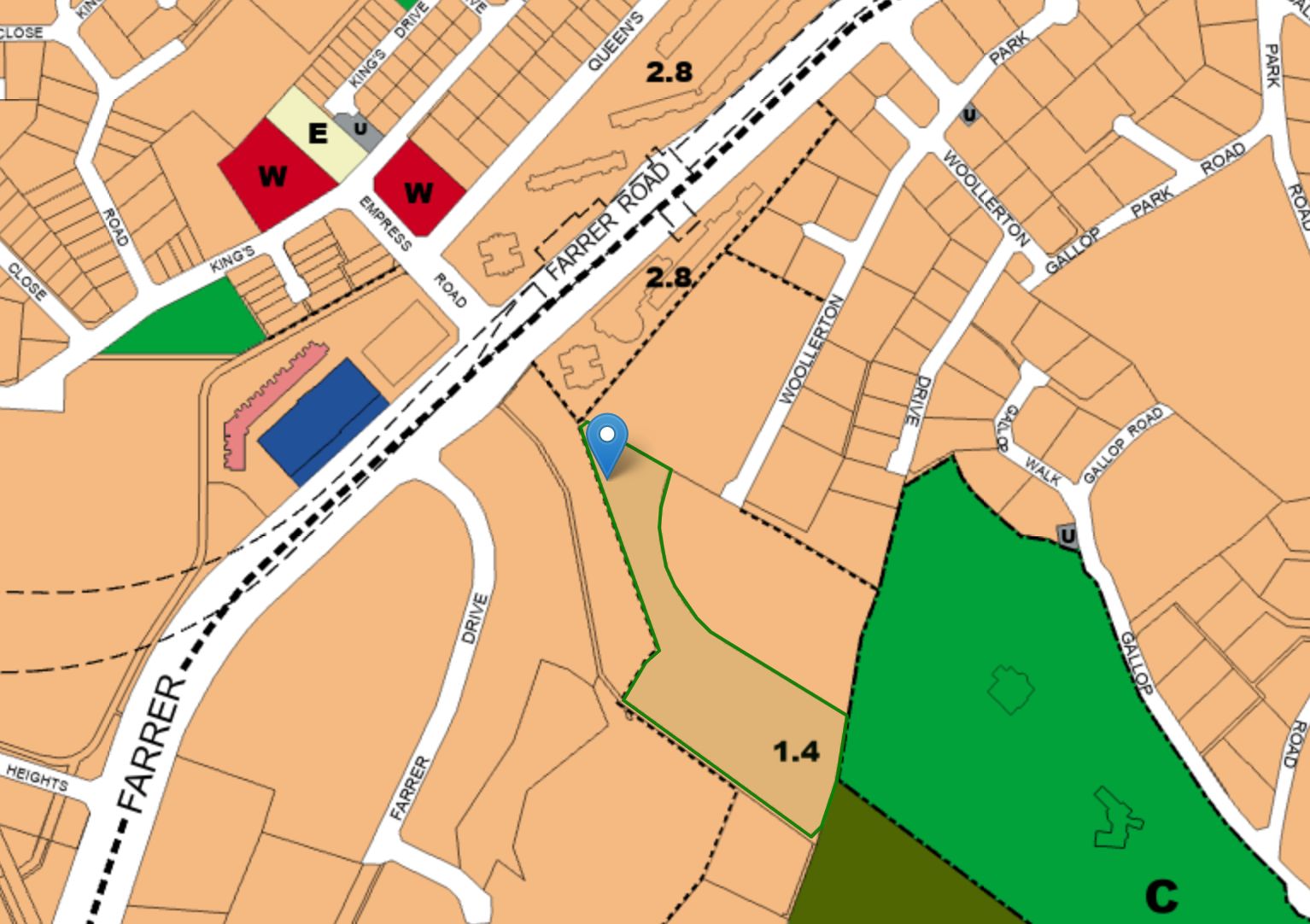 And while the District 10 Holland enclave definitely faced challenges with sales due to the glut of new developments, sales have been slowly but surely moving and most are now in their last phases as they work toward completion. The revamp of Holland Village with One Holland Village Residences will also represent further upgrades to the area very soon.
There are challenges to note too. For one, there are many older condos in the area, Spanish Village (which has attempted a collective sale 3 times), Sommerville Park, Sommerville Grandeur, Woollerton Park Apartments, Sutton Place, and Villa Delle Rose all represent competition when it comes to a collective sale in the future.
Secondly, while the land is certainly not fully optimised currently, the long and slightly awkward nature of the plot (with a narrow entrance) does represent some challenges when it comes to a rebuild in the future.
To wrap up, the units are all pretty big here, and for my purposes, I am looking at a 2,863 sq. ft. unit. The lower unit count, plus being in an attractive residential area, makes this a good rental prospect for expats. With Covid at its tail end, and these expats returning, it does mean better demand for rental.
For some demographics, small unit counts are a draw. They provide greater exclusivity and privacy. This can be a big differentiating feature from other nearby condos; but you need to be sure your chosen tenant demographic is the sort who appreciates such qualities.
3. The M (2 Bedroom)
| | |
| --- | --- |
| The M Info | Description |
| Location | 30 Middle Road (District 7) |
| TOP | Est. 2023 |
| Lease/Tenure | 99-years |
| Developer | Wing Tai Holdings |
| No. of Units | 522 |
| | |
| --- | --- |
| The M (3rd Property) | Amount |
| Purchase Price | $1,928,000 |
| Buyer Stamp Duty | $61,720 |
| Additional Buyer Stamp Duty | $482,000 |
| Legal Fees | $2,700 |
| Total | $2,474,420 |
Ever since its launch near the height of the pandemic (a rather gutsy move by Wing Tai), we've highlighted The M as a solid city-fringe investment. Of course, I'm buying at probably the worst time, given how prices have been staged since it was launched in early 2020.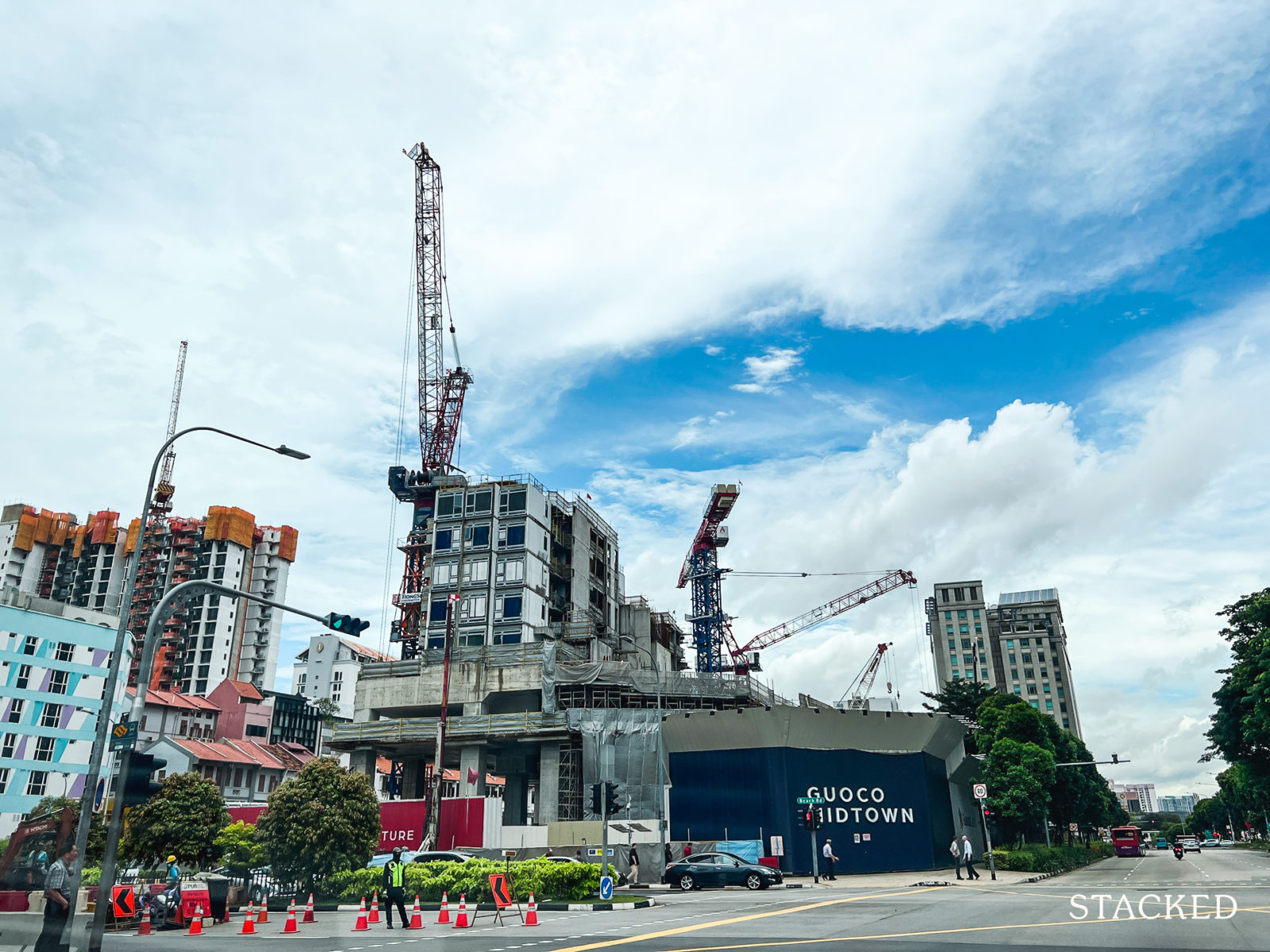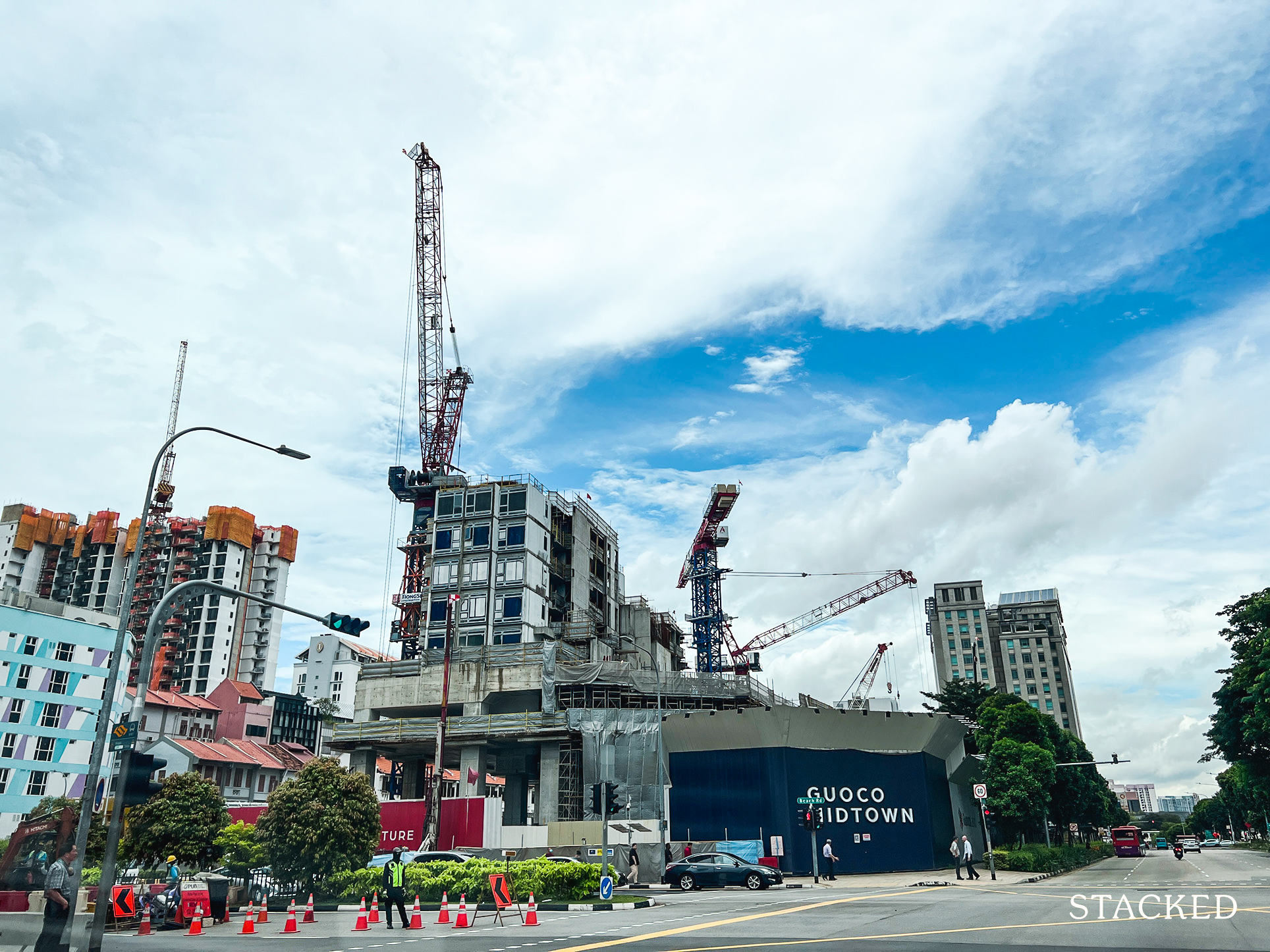 The main reason is that I do believe the District 7 area still has some legs, especially once the Guoco Midtown precinct is fully completed. With a ton more new office space, and being in a much more liveable area, more attention would be driven here as a true work/play/live space, as compared to the traditional CBD. As such, I'm not opposed to selling Riviere in the future to move to a smaller place if need be, and this is another area that I would be happy to live in.
This condo along Middle Road shares the same benefits as its ritzier neighbours Midtown Bay and Midtown Modern – but at a potentially more manageable price tag. It's about a four-minute walk from Bugis MRT (which means walking access to Bugis Junction and Bugis + malls).
This condo is two stops from the CBD and four stops from Orchard, making it highly rentable. The pricing I have here reflects a 592 sq. ft. unit.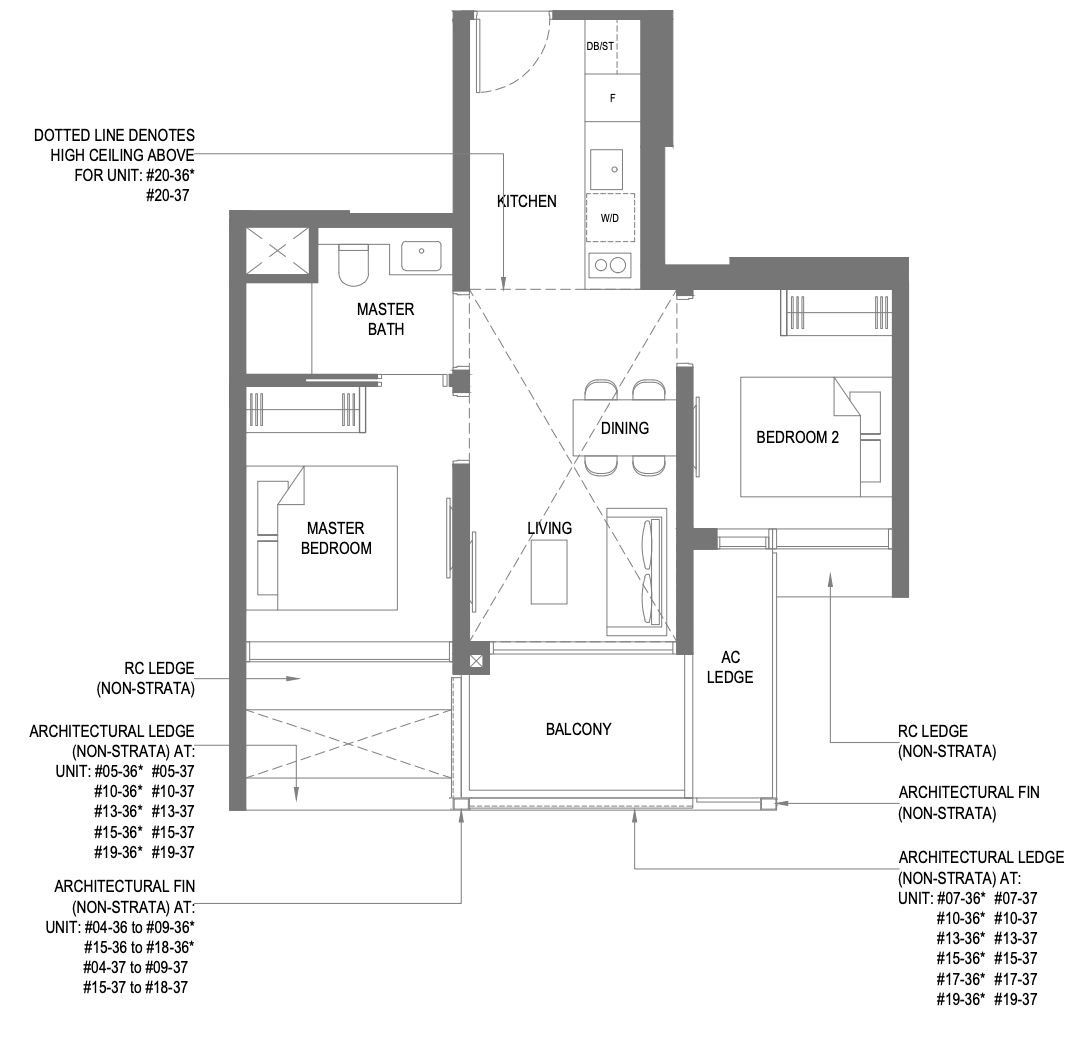 This particular layout is a dumbbell unit too, so although it is a 2 bed 1 bath unit, the layout does give tenants more privacy.
Note that I could go smaller; and at launch, the one-bedders sometimes had a quantum below $1 million. But generally, two-bedders are an ideal choice for landlords, if you have the budget. Sometimes a two-bedder is more affordable to tenants, as they can take on a roommate to split the rent. Also, I find that it's usually easier to convince a tenant to pay a bit more for extra space, than to rent a unit they consider too small.
4. Marine Blue (1+S Duplex)
| | |
| --- | --- |
| Marine Blu Info | Description |
| Location | 81 Marine Parade Road (District 15) |
| TOP | 2016 |
| Lease/Tenure | Freehold |
| Developer | Ladyhill Pte. Ltd. |
| No. of Units | 124 |
| | |
| --- | --- |
| Marine Blue (4th Property) | Amount |
| Purchase Price | $1,900,000 |
| Buyer Stamp Duty | $60,600 |
| Additional Buyer Stamp Duty | $475,000 |
| Legal Fees | $2,700 |
| Total | $2,438,300 |
I'm well aware this is another small project, but my roots have always been in the East area, and I do want to keep a unit here if I do want to reside back here in the future.
Sure the price point may seem quite high for what is essentially just a 1 bedroom + study unit (I know some people market this as a 2 bedroom). But fair warning: the transactions here are very limited, and the last one dates all the way back to June 2022; so like many small condos the prices are a bit volatile.
It's a 1,270 square feet unit (you are paying for a lot of air space here), but again, this is meant to be an indulgent purchase should I want to move back in the future.
Marine Blue is ideal for those looking to tap into the East Coast Road expatriate enclave. This condo is just across the road from Parkway Parade Mall, where Marine Parade MRT is due to open by the end of this year. On the other side of Marine Blue, you'll find i12 Katong, and the heart of the Katong lifestyle area. Also nearby is Katong V, with its FairPrice Finest.
(That's four grocery stores that residents are minutes away from: Cold Storage and Giant at Parkway, Cold Storage Fresh at i12 Katong, and NTUC FairPrice at Katong V).
While there are many boutique condos along the East Coast Road stretch, few are as conveniently located as this one. Marine Blue is also right smack within a concentrated area of enrichment schools, from Roxy next door to Parkway Centre across the road (a whole building with apparently nothing but tuition, enrichment, and McDonald's).
In total, I'd have spent roughly $11,454,000 million:
| | | |
| --- | --- | --- |
| Property Count | Property | Total Cash Outlay |
| 1 | Riviere | $3,940,380 |
| 2 | Gallop Gables | $2,600,900 |
| 3 | The M | $2,474,420 |
| 4 | Marine Blue | $2,438,300 |
| Total | | $11,454,000 |
As all the units are paid in full, the three rental condos should be providing constant cash flow, even after covering property taxes and maintenance fees. It may not be as indulgent as buying a few supercars or $50,000 handbags, but it's an income stream that can last a lifetime (or possibly two or three).
A lot of my picks are based on personal observation, but I am curious as to how our readers would spend the $12 million. If you had that much allocated for property, what would you buy? Comment below and let us know – and if you want to browse for options, check out the in-depth condo reviews on Stacked!