Property Stories
How I Picked My Co-Living Apartment: My Experience Booking Hmlet, Figment, & Coliwoo
TJ
May 21, 2023

9

min read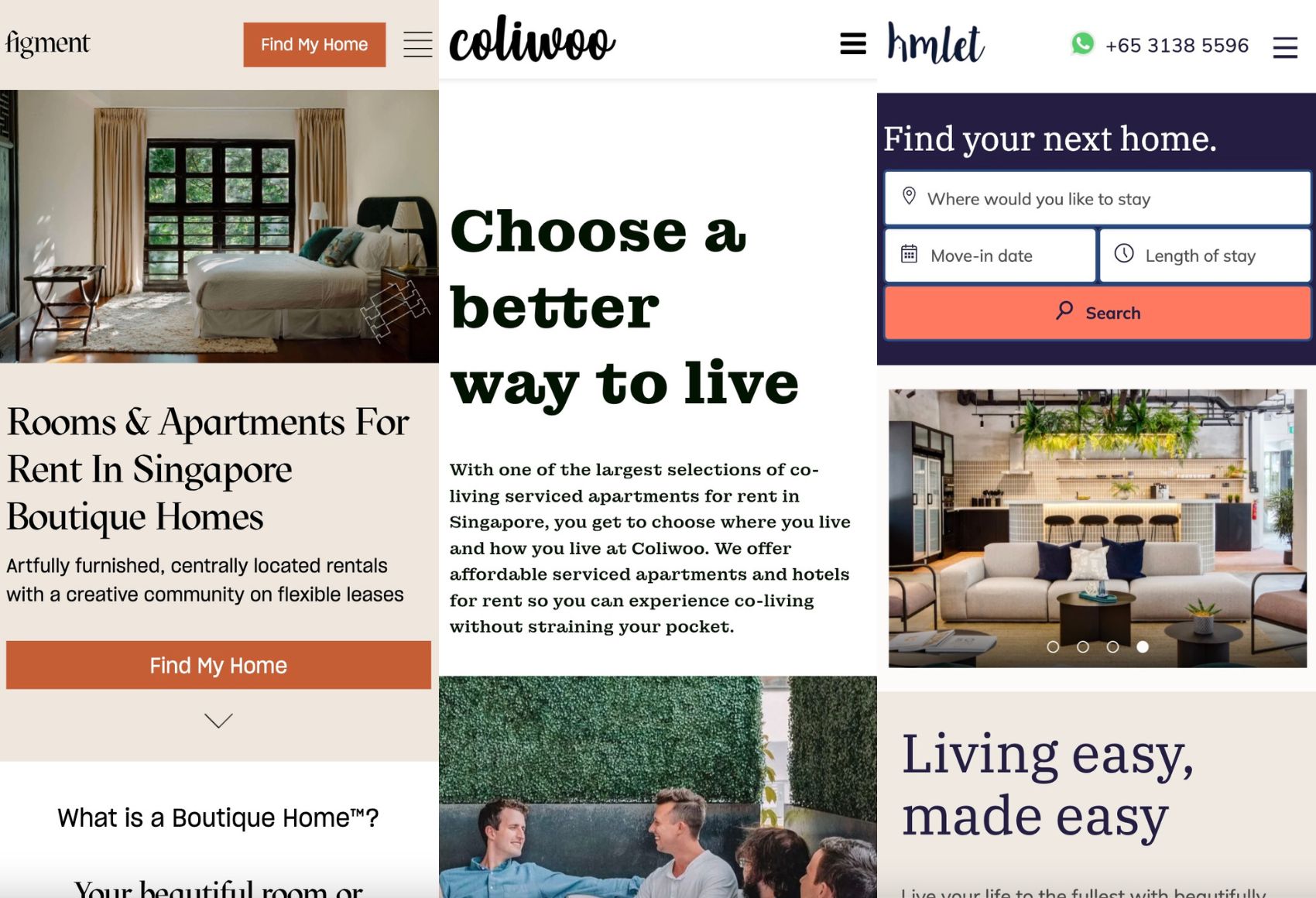 9
min read
Hello again! Last week, in the first unvarnished and objective article documenting the experience of co-living/moving out in Singapore, I compared renting and co-living and found that co-living made more financial sense for me.
This week, we're looking at the various options available to people interested in co-living in Singapore. Co-living has taken off in Singapore over the last few years so there are quite a few choices in the market! As mentioned last week, I'm looking for co-living in either a landed house or a large adult "dorm" style building (and not simply sharing an apartment.) Moreover, since it's co-living, a residence that has community events is obviously preferable!
With that criterion in mind, these are the companies that made my shortlist.
Option 1: FIGMENT
My first choice was Figment Homes because I've always, always wanted to live in a Peranakan shophouse. Since working as a creative means it's unlikely that I can ever afford to buy one, this seems like the easiest way for me to "live the dream."
Moreover, in the event that I do win the lottery one day, it's also a good way for me to research the experience before committing the big $$$ to it. If you've read my articles on buying a London property, you'll realise that it ended up being one of the worst investments I have ever made, so I'm all for researching the c- – p out of property now!
And, indeed I do think that co-living is a great way to find out more about a particular location or type of property before buying. (Perhaps you're wondering what possible cons there could be living in a Peranakan house: One of my besties used to live in one and has warned me about everything from the terrible soundproofing, pest problems, parking issues etc etc etc. And she loves Peranakan houses!)
Last but not least, I like how, on their webpage, they describe themselves as "shared living for grown-ups." I have to agree with that – they have hands-down the most stylish properties across all the co-living companies (in Singapore) I've checked out. (When you get older, interiors start becoming more important to you! According to the website, at the time of writing, the majority of tenants are in their 30s but can go up to their 60s, so the age of the tenants worked well for me too.)
Note: co-living at Figment comes with a Class Pass membership and some properties even have a pool!
So off I went to try to book a room.
Unfortunately, this is when problems started arising. The process was a bit troublesome as, when I reached out, they didn't have a straightforward search system.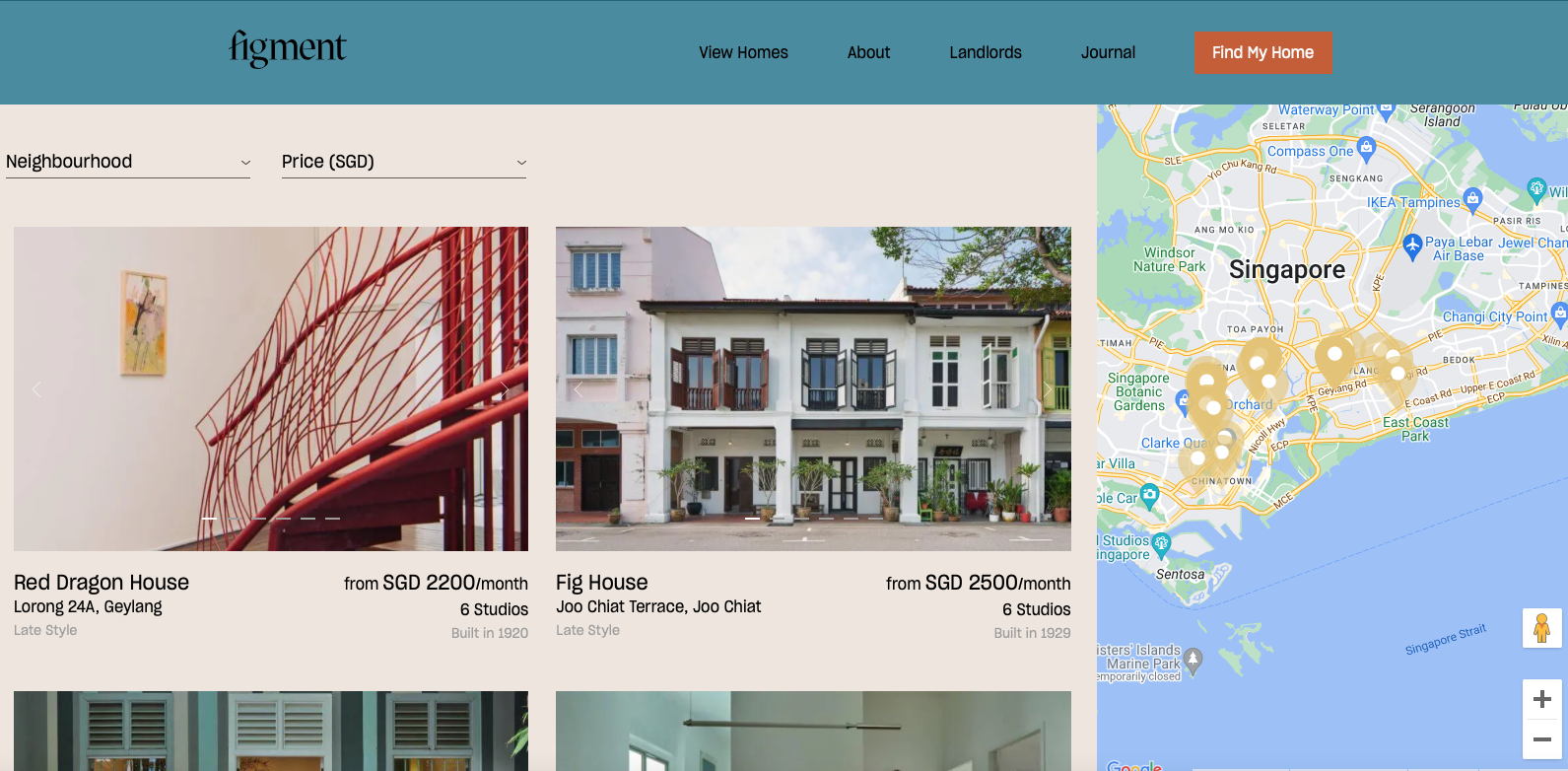 You can filter based on neighbourhood and price but I think that shows you all the options that fit your criteria and not just the available ones. Moreover, you are not able to search based on the room features that you want.
For example, a private bathroom or balcony, which I believe are things many people would be very keen on, especially with/post-COVID. I had to manually scroll through ALL the listings to find the ones that suited me and that took ages! (If you're not very sure about your booking dates, you'll need to keep checking with the company instead of just doing a search, the way you do on a hotel website.)
After shortlisting the rooms that I was keen on, I clicked "Find my Home" (orange button on the top right) which brought me to a short survey. Shortly after, I was sent a message through WhatsApp. This was when the whole exercise became a real-time waster.
I was asked for more details such as the move/check-in date, duration of stay, number of people, budget and preference. No problem, I sent those in.
After that, I was sent another message saying we had to do a call. Honestly, at this point, I really just wanted to know whether the rooms I was interested in were available or to view available rooms. However, since this is their process, I duly scheduled a call. After the call, the lady I spoke to said she would send me the available options and get back to me regarding my request to view a specific property.
I never heard back from her despite sending a WhatsApp message after the call. Maybe they had decided I was not right for their tenant mix? But honestly, it would be much more professional to get back to me (as promised) instead of just ghosting me! (See below for a Google review by someone who had a similar experience.)
Anyway, I didn't bother chasing again as, honestly, if the company is so not-on-the-ball BEFORE they take my money, I really don't want to know what they'll be like after they've taken my money! (In case any issues such as maintenance work etc crop up!)
Note: at the time of the enquiry, they didn't allow pets and the minimum stay was 3 months, plus a 1.5 months deposit. The minimum rental on the website was $2,200, so this would work out to be $9,900. (However, I believe they have revised the minimum rental upwards.)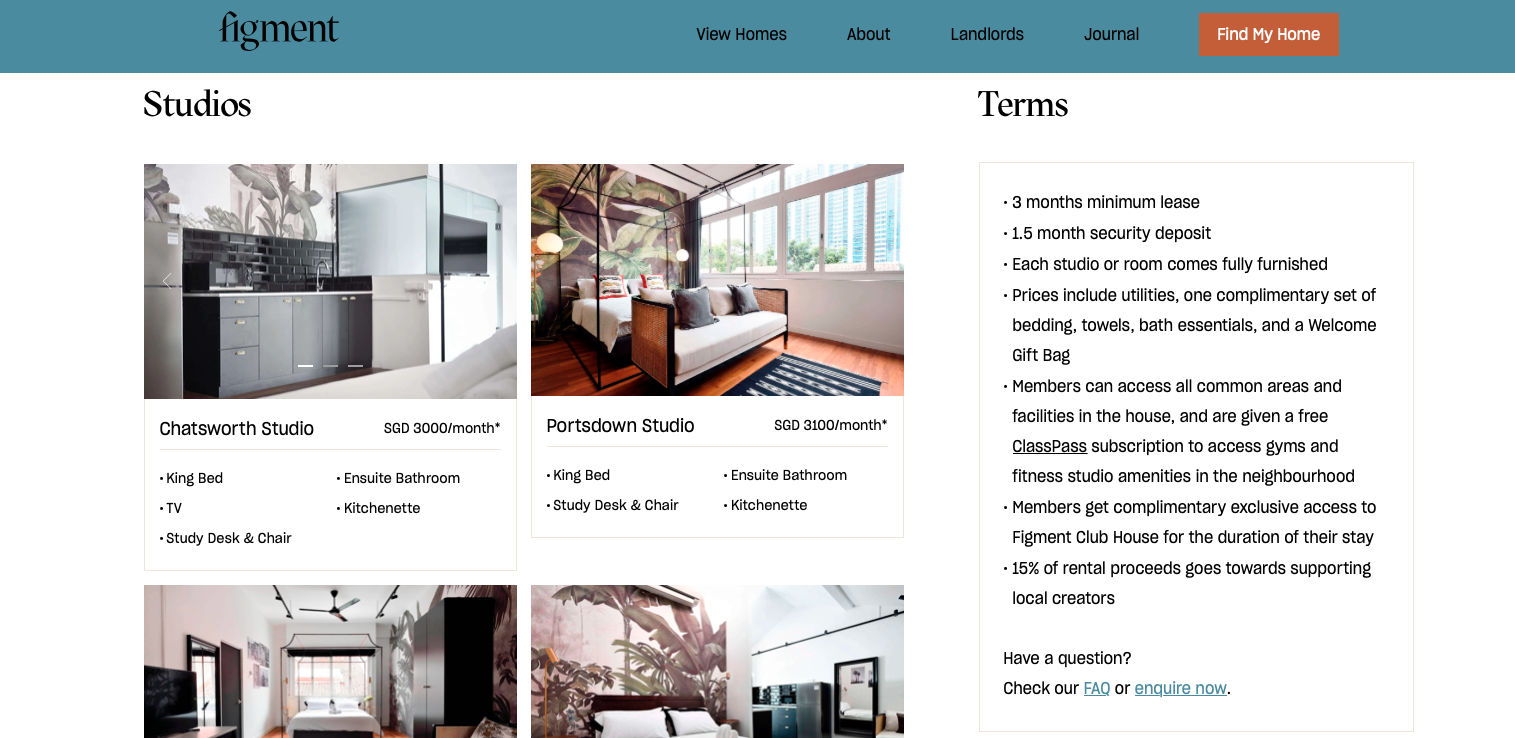 Thus, in the end, I chose not to go with Figment!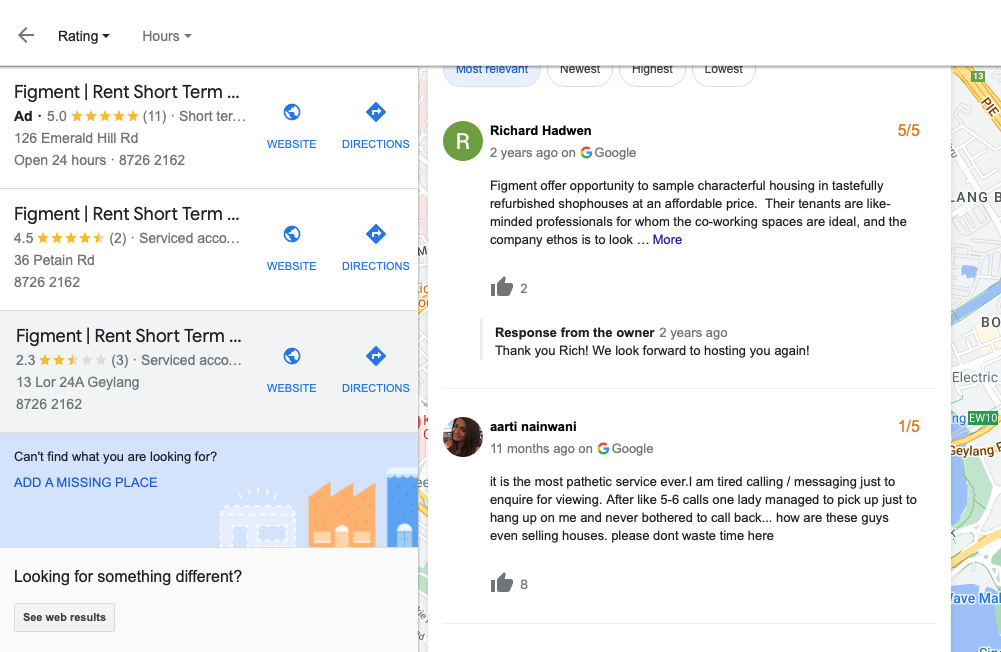 Things to note: if you check Google reviews, Coliving companies seem to be rated individually, per property, and not as a company as a whole. Figment Geylang has a low rating – 2.3 stars due to 2 reviewers giving them 1 star for never getting back to them, but other properties have better ratings. Do note that there were only 16 reviews across all their properties (at the time of writing.)
Option 2: COLIWOO
Then I tried Coliwoo, which has several larger buildings like Coliwoo Keppel and Coliwoo Balestier. I imagine it to be like University dorms, but for adults!
As I've mentioned, I'm a fan of research, so I checked out their Google reviews.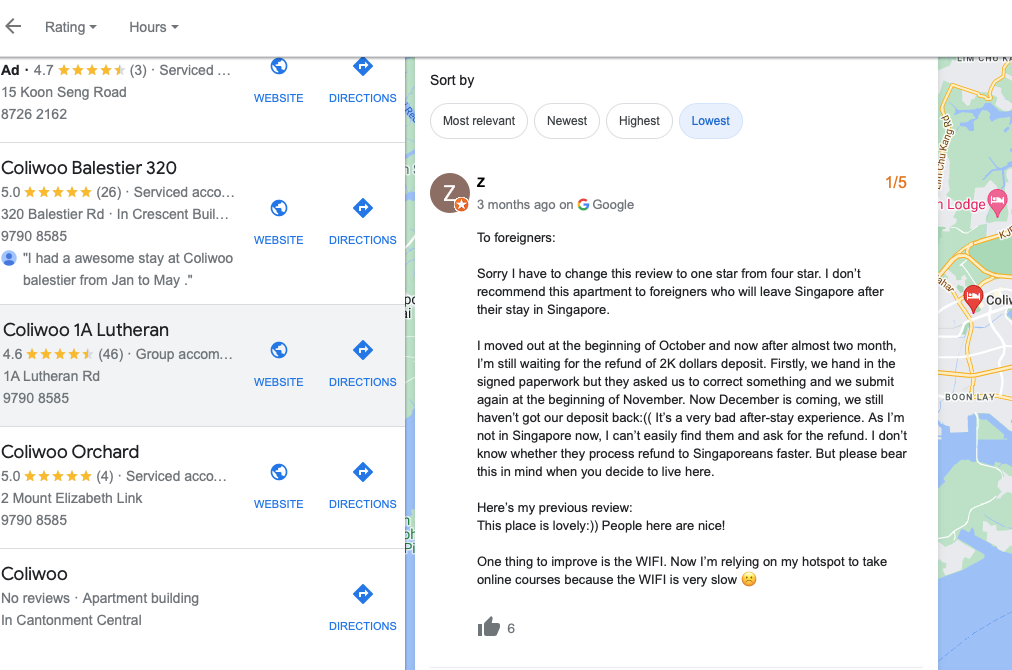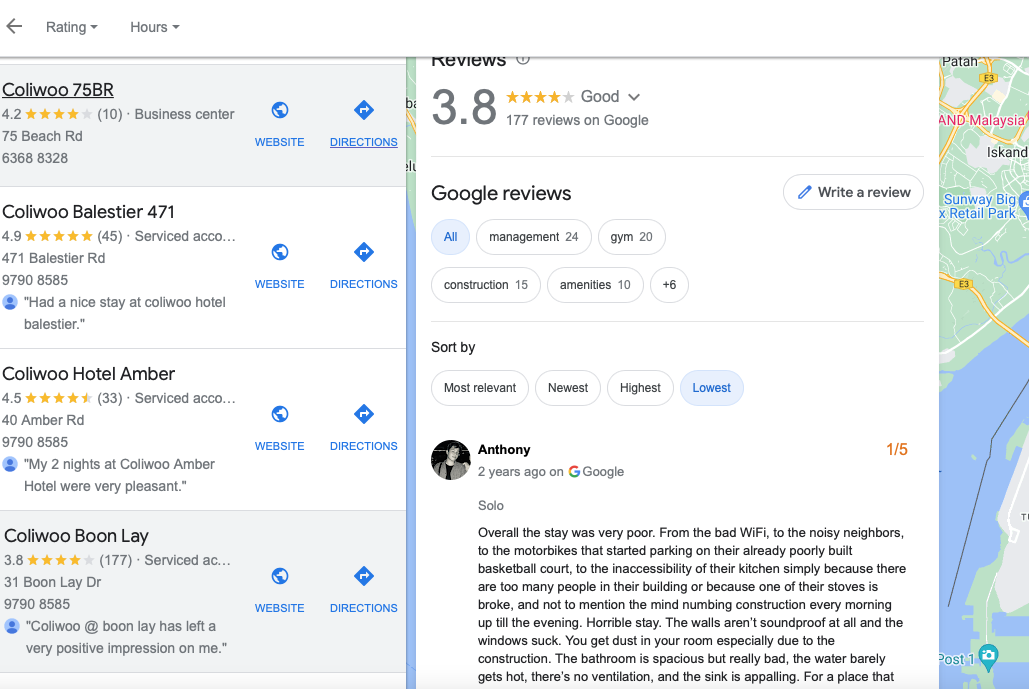 Note: To be fair, Coliwoo Balestier and Coliwoo Orchard had good reviews but Coliwoo Orchard only just launched (so only 4 reviews so far. One mentioned that it was booked as her house was being renovated, which I do think is a great benefit of co-living!)
Next, I watched a couple of Coliwoo videos on Youtube and that was the nail in the coffin for me. The garden looked beautiful in the photos. However, the video on Coliwoo Keppel showed that it was perched right under Keppel Viaduct, so would likely be very noisy living there. I enjoy spending time outside as well as having my windows open, and it didn't seem possible to live next to such busy roads (as I am noise-sensitive.)
Moreover, after watching this Coliwoo "tenant review" Youtube video, I wasn't sure if I would suit the tenant profile as it included University students and I preferred to co-live with working adults!
So, it was a no to Coliwoo too but let me recap some of its positives before I move on:
– The website is quite informative. (Frankly, in comparison to Coliwoo and Figment, the Hmlet Cantonment website is quite bad! Hmlet is the last company I'll be covering.) For example, Coliwoo has a page dedicated to the events it's organised here. Admittedly these are retrospective but at least you have a sense of what to expect.
All rooms at Coliwoo Balestier and Coliwoo Keppel have kitchenettes and en-suite bathrooms, which is a huge bonus in my opinion. Co-living is only a joy when you have a space to retreat from time to time! (For shorter stays of under 1 month, there's only Coliwoo Keppel, which is actually located very close to Hmlet Cantonment which I eventually chose.)
Some properties have free-access gyms whilst others are paid. (For example, at Cantonment you have to sign up for Anytime Fitness.)
Semi-responsive: I WhatsApp-ed them and got a reply within 20 minutes (close to knock-off time too, around 530 pm) We had to have several exchanges as they had several properties and they were great about replying. However, after I narrowed down my choice to Coliwoo Keppel, I asked for a tour and was told they would get back to me. Like Figment (and The Assembly Place, which I had also contacted), they never did… Maybe, co-living is booming in Singapore so all the companies don't need to respond to potential customers.
Note: the pricing is not transparent for Coliwoo as you need to contact them to get the rates (but as mentioned, they reply quickly.) To save some time for you, I'll share the rates they sent me in Jan.) Basically at Coliwoo Keppel, room sizes range from 180 to 260 sq ft, with daily rates ranging from $180 to $250 and monthly rates ranging from $3,500 – $4,500 (for 1 month's stay), $3,300 – $4,100 (for 2-6 month's stay), $3,100 – $2,900 (6-12 month's stay) and $3,000 – $3,700 (12 month's stay.) On top of that, there's an admin fee of $192.60 per agreement and utility fees of $160.50 per month.
That left me with only one choice, Hmlet. I was able to book my stay via their website without much hassle so I decided to go with them!
Join me again next week as I share more about my experience with Hmlet!