Buying
Grand Dunman vs The Continuum vs Tembusu Grand: How To Choose Between The 3 New Launch Condos In District 15
Ryan J
July 7, 2023

10

min read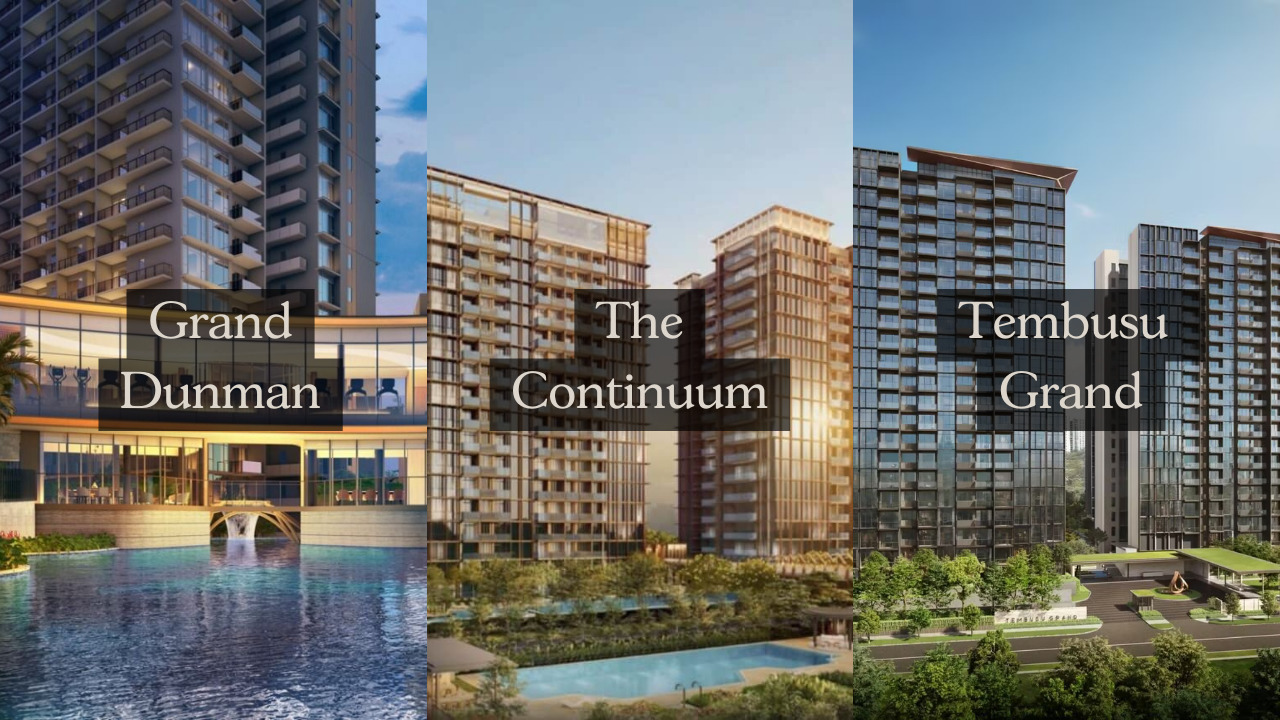 10
min read
It's been some time since we had a concentrated launch of condos in one area (the last was the glut of 7 new launches at Holland), and the three names above are the headline projects in the East right now. Being in such relative proximity, home buyers are inevitably going to compare the three. While we have the usual bigger in-depth reviews on Stacked, here's a quick rundown on the key points of difference:
| | | | |
| --- | --- | --- | --- |
| | Grand Dunman | The Continuum | Tembusu Grand |
| Developer | SingHaiYi Group | Hoi Hup & Sunway | MCL Land & CDL |
| Lease | 99-years | Freehold | 99-years |
| Land size | 25,234.3 sqm | 24,507 sqm | 19,567.4 sqm |
| Distance to MRT | 3 minutes to Dakota MRT | Approx. 9 minutes to Dakota MRT | 700m to Tanjong Katong MRT |
| Number of units | 1,008 | 816 | 638 |
Grand Dunman forms the grand finale to District 15's 2023 new launch trilogy. With its close proximity to the MRT and CBD, accessibility is a notable strong point of this residential haven. Besides, it's a foodie's paradise with the Old Airport Road Food Centre just around the corner.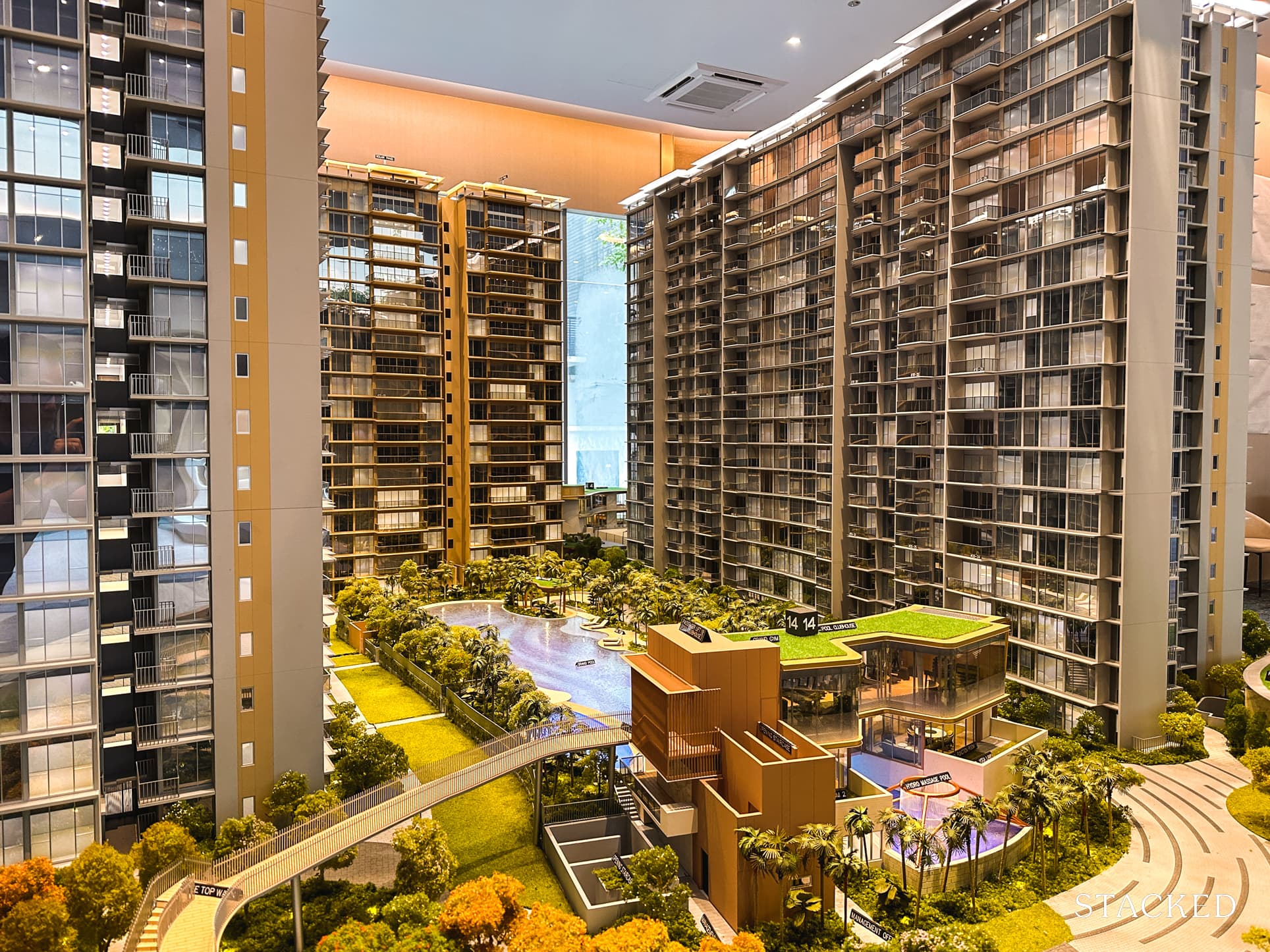 This development is the most high-density out of the 3, housing 1,008 units across a 272,000 sq ft land plot. While this density might be a concern for some, the biggest hook is that it's a rare mega development (in 2023 at least) boasting 1:1 car park lots and superior MRT connectivity.
The Continuum stands out from the 3 contenders in terms of its freehold title. Besides that, it's likely the only development in Singapore that has a public road running through it. As such, the development is split into two sections, each with its own set of amenities. So while it may house 816 units, the distribution of facilities makes it feel less congested.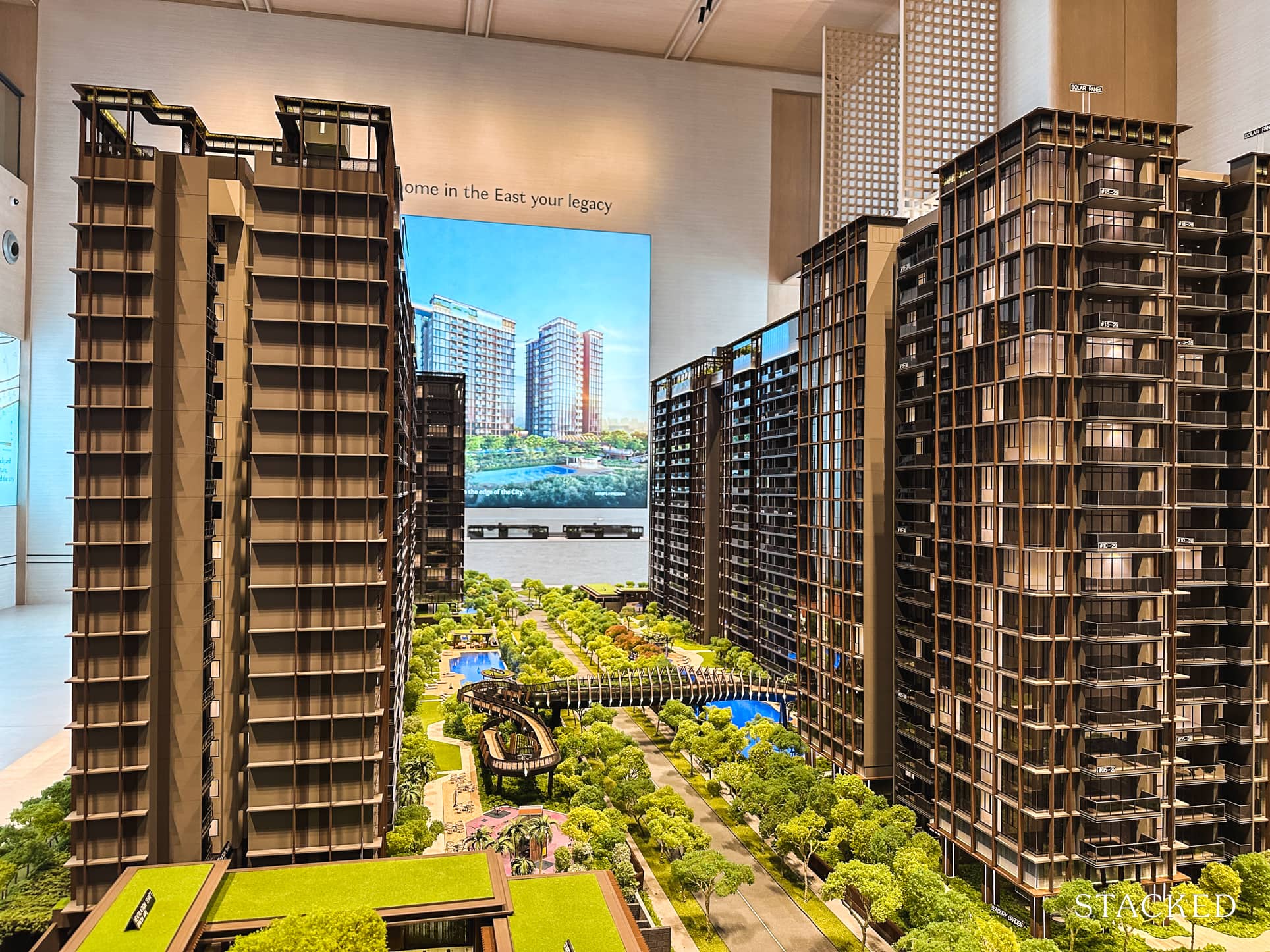 There are also 2 clubhouses here to choose from, with the heritage-filled Thiam Siew clubhouse, modern dining facilities, and well-planned floor layouts adding value. Despite the downside of an unsheltered walk to the nearest MRT stations, The Continuum brings an appealing blend of heritage and contemporary living, particularly if you own a car.
Finally, we land on the greens of Tembusu Grand. This residential development stands tall on a plot of nearly 211,000 sq ft, with a total of 638 units spread across four blocks. In today's context, that's an ideal blend of facilities, as well as reasonable maintenance fees.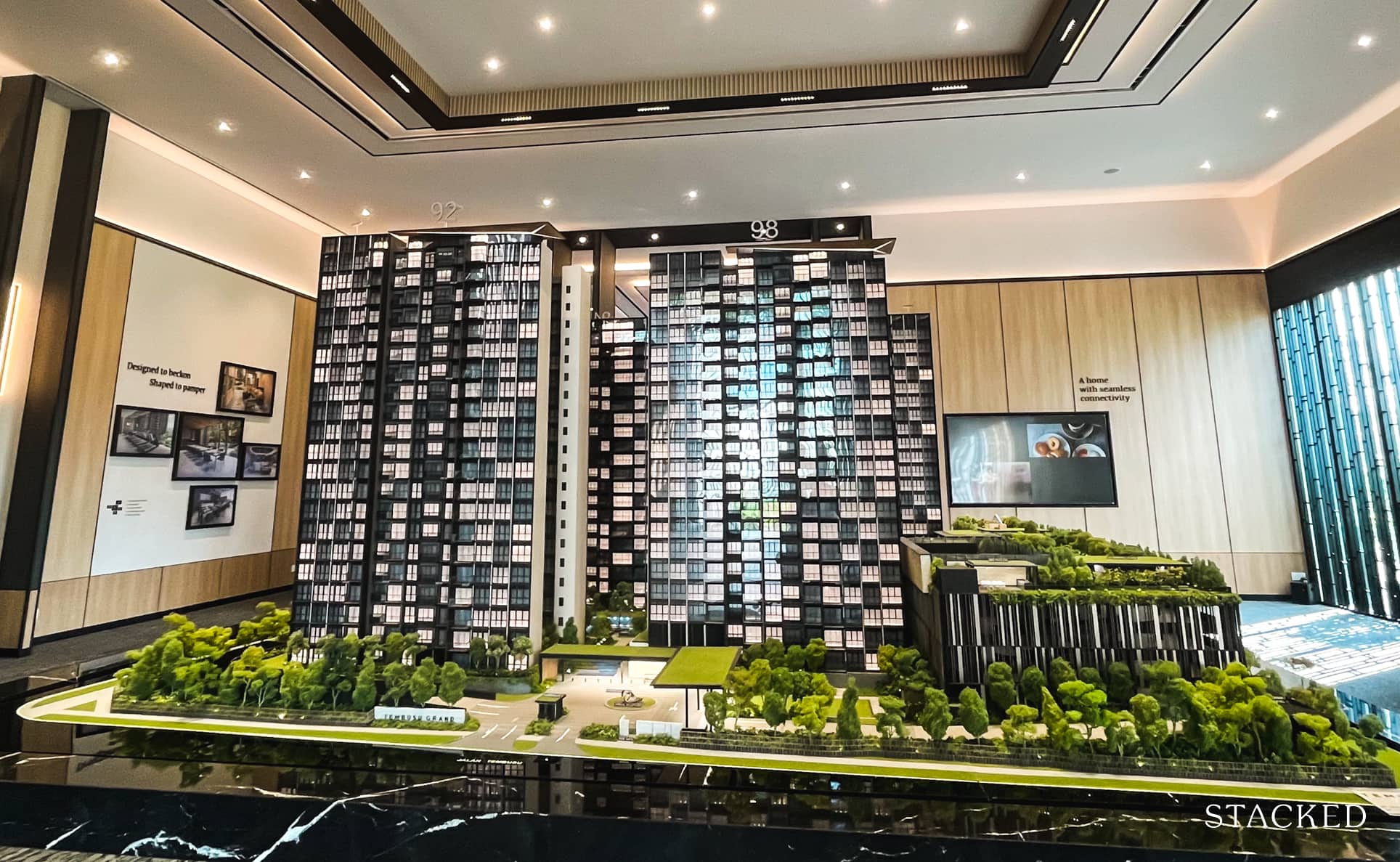 Despite having fewer units and a slightly smaller site, Tembusu Grand boasts 41 facilities catering to diverse resident demographics. The child-focused facilities are a particular highlight here, and the development offers 516 parking lots (81% of the total number of units), with 71 lots located in the basement car park and the rest found within the multi-storey component.
Price comparisons:
Project
Tenure
Completion
Type
Average ($)
Average ($PSF)
Tembusu Grand
99-year
Est. 2027
1 Bedroom + Study
$1,321,108
$2,505
2 Bedroom
$1,667,864
$2,472
2 Bedroom + Study
$1,865,101
$2,511
3 Bedroom
$2,395,591
$2,419
3 Bedroom + Study
$2,853,958
$2,433
4 Bedroom
$3,475,778
$2,413
5 Bedroom
$4,220,000
$2,466
The Continuum
Freehold
Est. 2027
1 Bedroom + Study
$1,533,667
$2,740
2 Bedroom
$1,777,373
$2,679
2 Bedroom + Study
$1,976,360
$2,743
3 Bedroom
$2,785,783
$2,740
3 Bedroom + Study
$3,520,593
$2,844
4 Bedroom
$3,624,833
$2,753
Grand Dunman
99-year
Est. 2027
1 Bedroom
$1,132,260
$2,505
1 Bedroom + Study
$1,375,245
$2,505
2 Bedroom
$1,648,824
$2,472
2 Bedroom Dual Key
$1,782,312
$2,472
2 Bedroom + Study
$1,915,800
$2,472
3 Bedroom
$2,317,402
$2,419
3 Bedroom Dual Key
$2,525,436
$2,419
3 Bedroom Flex
$2,656,062
$2,419
3 Bedroom + Study (Luxury)
$2,706,861
$2,419
4 Bedroom
$3,117,596
$2,413
4 Bedroom (Luxury)
$3,455,416
$2,413
5 Bedroom (Luxury)
$4,167,540
$2,466
3 Bedroom (Grand)
$3,568,025
$2,419
4 Bedroom (Grand)
$4,312,031
$2,413
5 Bedroom (Grand)
$5,255,046
$2,466
Main points of difference:
1. Grand Dunman is a mega-development, and one of the largest projects of the year
Mega-developments usually have a wider range of facilities. This isn't just on account of land size; it's also made viable but a larger number of households to share the cost.
With regard to these facilities, we give credit to the developers for not fudging the details. Past mega-developments had marketing that stretched the limits, claiming to have over a hundred facilities by listing every little pavilion or landscaped area as a separate feature. Grand Dunman has focused on quality instead. For example, there's only one gym, but 1.1 per cent of the total Gross Floor Area is given to it.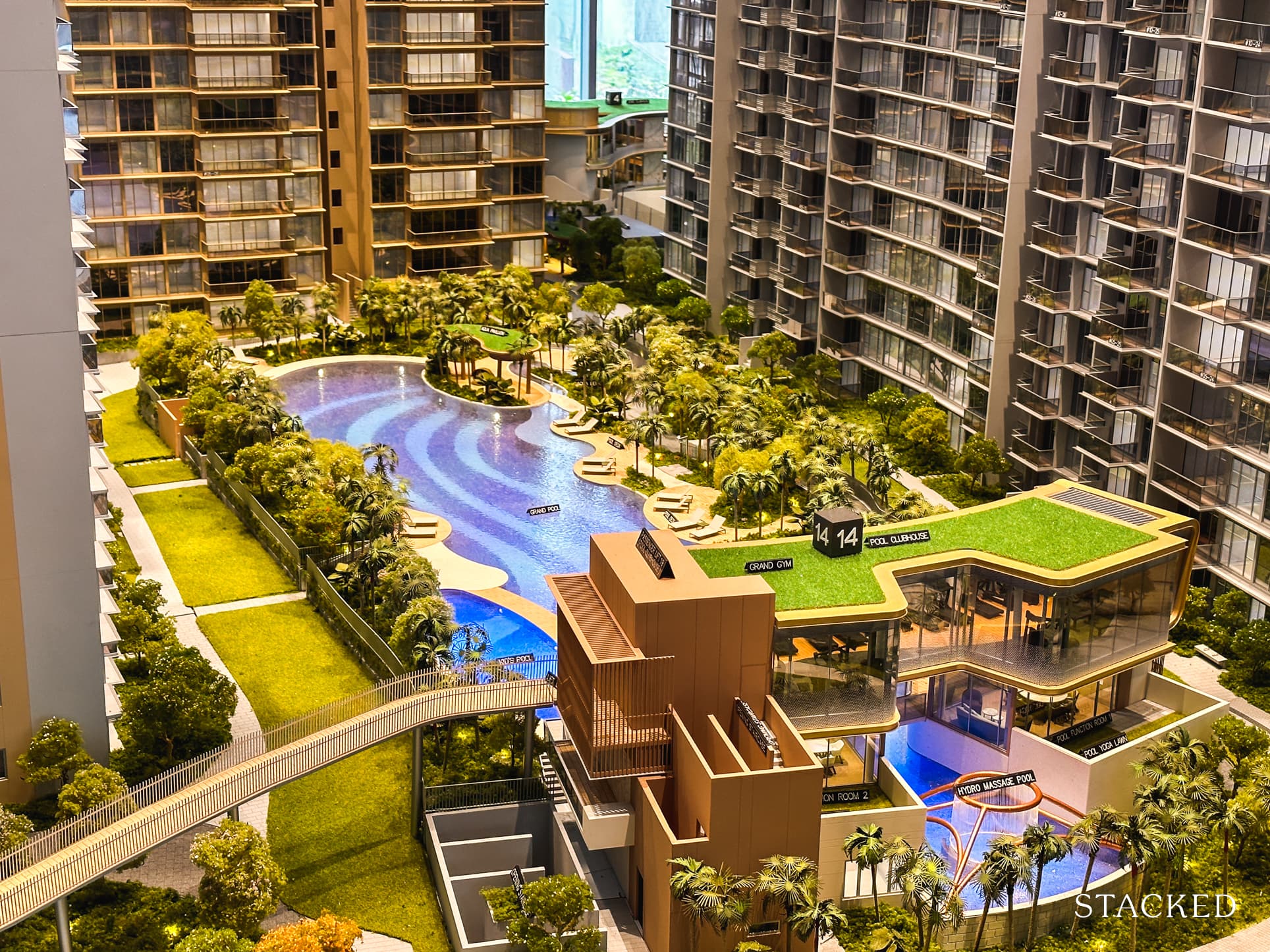 You can check out the full list of facilities in our main review.
Ongoing maintenance is also likely lower, again because of the larger number of households sharing the cost.
The downside of being a mega-development is the loss of exclusivity, as you're sharing the common areas with a larger crowd of people. Homeowners who like privacy tend to be turned off by this.
Investors may also worry about competition for tenants, or for buyers when it's time to resell. The high unit count raises the risk that other owners are competing for the same tenants or buyers.
That said, Grand Dunman has an edge over The Continuum regarding unit count. Continuum is also very big at 816 units, so it shares the same issues of lower privacy and risk of competition. And between the two, buyers may decide that a difference of 192 units is no big deal; especially if Grand Dunman is also priced lower.
Those who want more privacy will gravitate toward Tembusu Grand, which can still be called mid-sized at 638 units.
One of the main selling points is its 1:1 car park ratio, which it still offers despite it being the closest located to an MRT station out of the 3.
2. Grand Dunman is the most conveniently located, in terms of public transport
If we had to give a win for convenience, it's an easy winner in the form of Grand Dunman. The walking distance to the MRT, and to the Old Airport Road food centre, is the shortest. It's also the closest to Tanjong Katong Girls' School and Chung Cheng, among the three projects.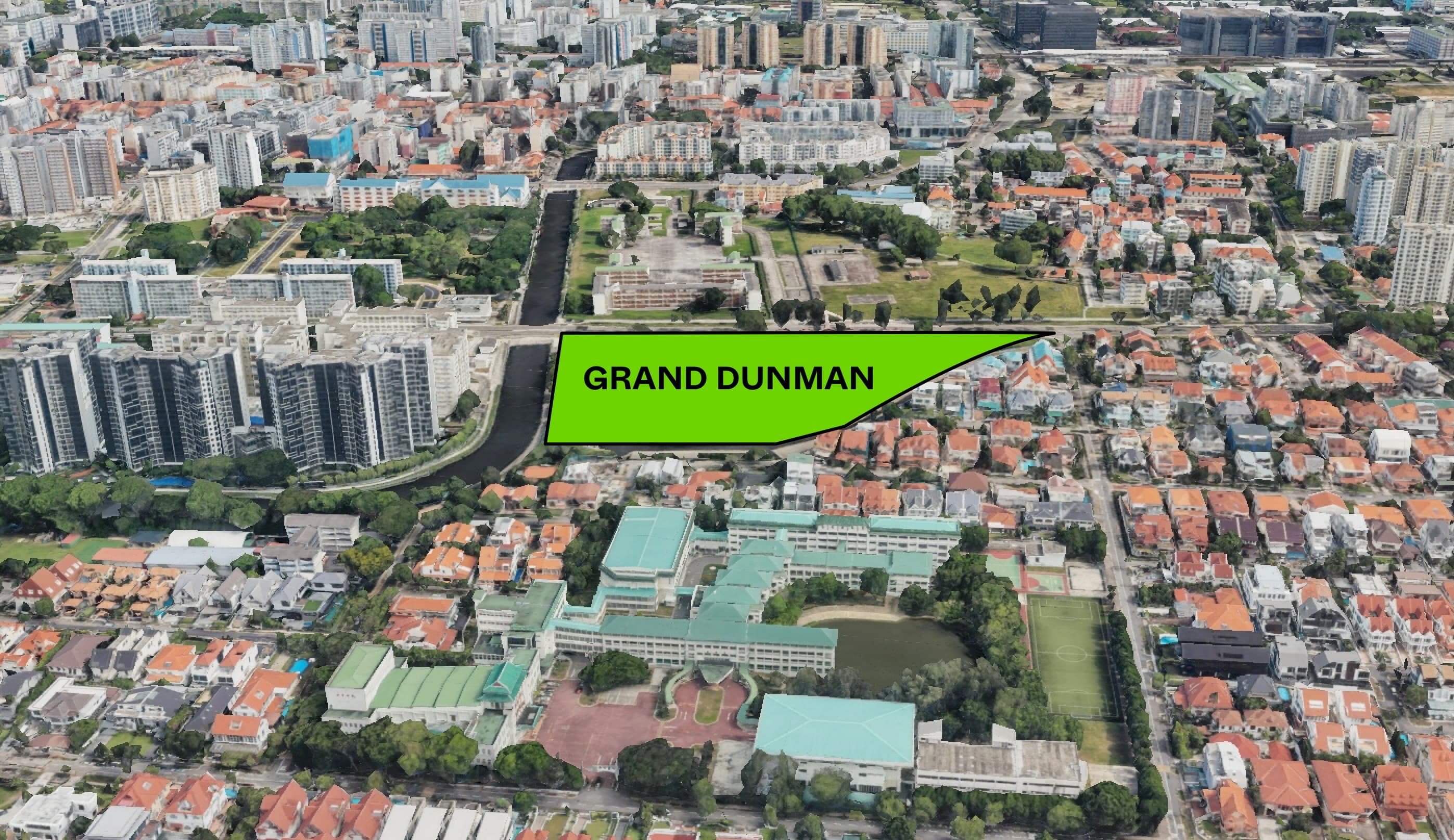 The Continuum and Grand Dunman are so closely located, we don't think it will make a huge difference to most home buyers. Likewise, Tembusu Grand is located near the Katong lifestyle stretch, which many would consider a pound-for-pound match with Old Airport Road.
Simply put, if you prefer the Katong/Joo Chiat area, Tembusu Grand is better for you. If you like Paya Lebar Quarter, then Continuum or Grand Dunman are preferable (they're not in Paya Lebar per se, but Paya Lebar MRT is the next stop after Dakota).
But with all of them in such relative proximity, Grand Dunman's location is more of a tie-breaker than a deal-maker as long as public transport isn't your main concern.
3. The Continuum is the only freehold project of the three
Unfortunately, this isn't as big of an advantage as it seems. The reason boils down to the surrounding properties: this part of the east is chock full of freehold condos, especially as you drift toward the Joo Chiat area.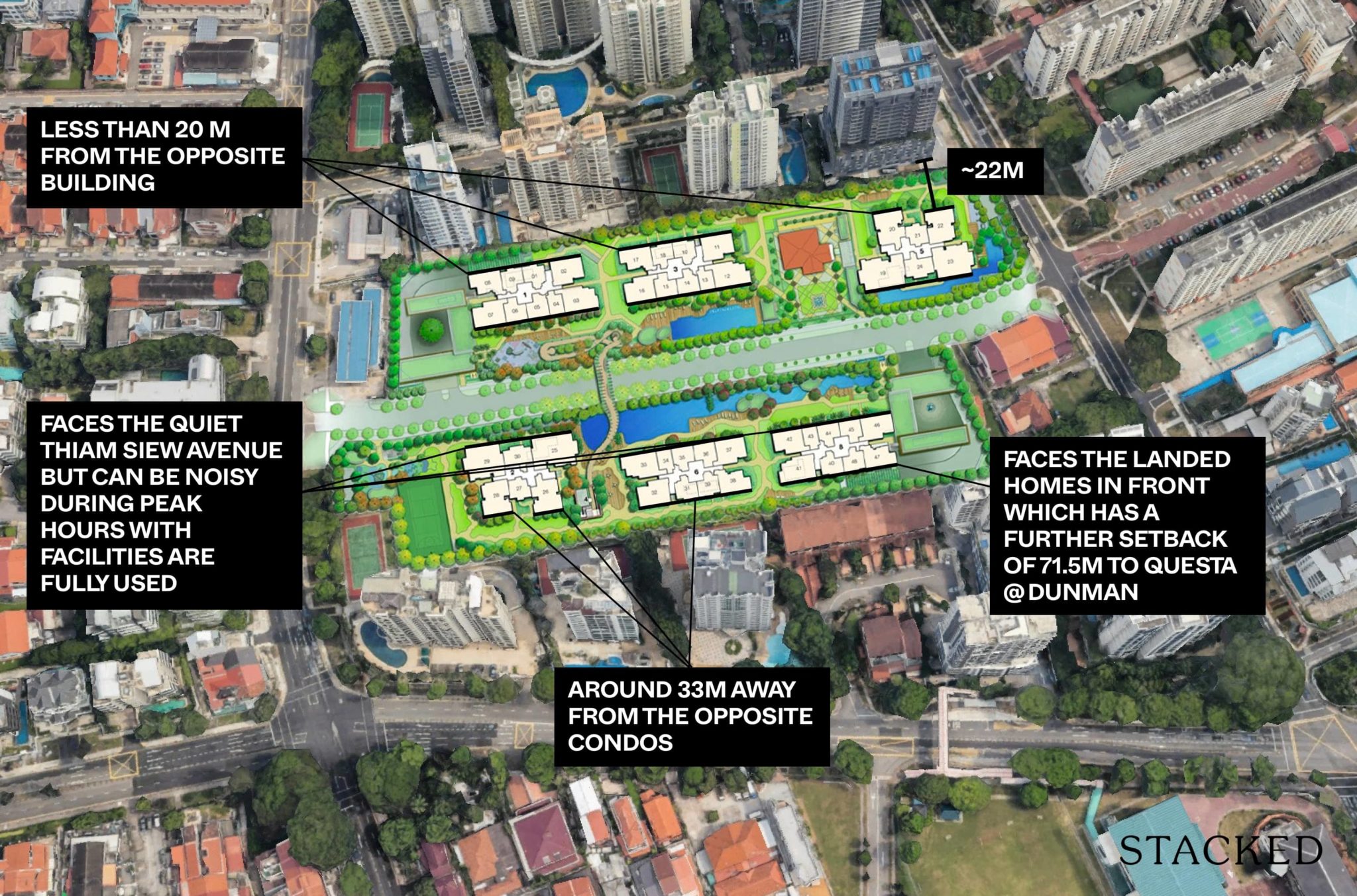 Whilst freehold status helps The Continuum to stand out among these three projects, it's not a particularly rare trait in the wider neighbourhood.
What will stand out, in the context of the surroundings, are larger developments. This is because most existing condos in the area of the boutique variety, with limited room for facilities. However, this is a trait shared by all three projects.
Nonetheless, those who are planning to hold for a very long time (e.g., you see your children inheriting this property from you) might still defer to Continuum's freehold status.
Conversely, a pure investor might strike Continuum from the shortlist precisely because of its freehold status. If your goal is to rent out to foreign workers in PLQ or the Katong enclave, then you probably don't want to pay a premium for freehold; you just want the lowest cost for the highest yield.
You can see from the above that, on a price psf basis, The Continuum is more expensive than the other two options.
4. In terms of layout, Continuum might have the edge so far
You can see the full review of The Continuum here, for more on the layout. The higher-end (Prestige Collection) three-bedders from Continuum is particularly impressive: squarish rooms that are versatile for renovation, and a size of 1,249 sq.ft., which is one of the larger units we've seen in a new condo.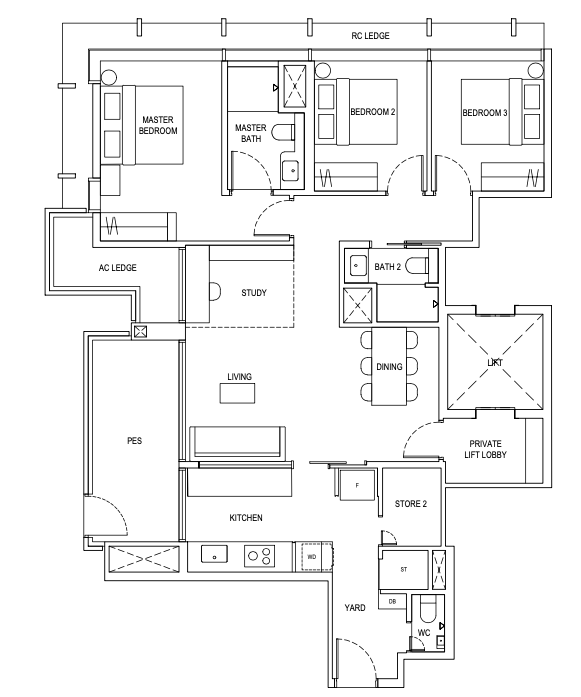 There's also a private lift, minimal use of hallways or long corridors for efficiency, and more than enough room for a six-seater dining table.
Grand Dunman also has efficient squarish layouts, but the dining areas of equivalent-sized units are more compact. There's also the issue of ceiling fans; environmentally friendly if you use them over air-conditioners, but some may dislike the aesthetic and the cleaning involved. We also foresee a group of people who might dislike the balcony space (some people view it as hard to maintain, and a waste of square footage).
For Tembusu Grand, the three-bedders do appear to be nicely squarish, but somewhat less efficient. The type C1 three-bedders seem to have a long hallway running from the living room, past the two bedrooms to the master bedroom. However, we do like that there is both a wet and dry kitchen.
Nevertheless, here's how the 3 developments match up for the smallest 3 bedroom units on offer:
(We aren't doing comparisons for all but the 3 bedders as that's likely the most popular unit type)
Tembusu Grand 3-bedroom unit (990 sq ft)
The smallest 3-bedroom unit is sized at a compact 990 sq ft. So far, the cheapest unit in terms of price has gone for $2,288,000 ($2,310) on level 02 which is decent for a D15 3 bedroom new launch. Here's what it looks like: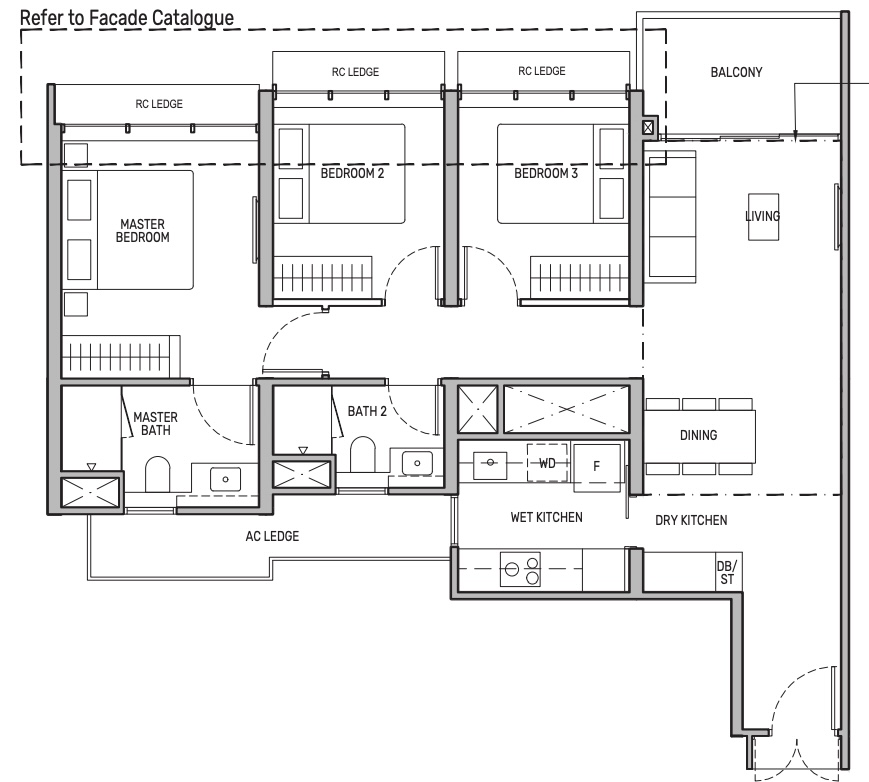 Stepping into the unit, you're first greeted by an extended entryway. We don't normally prefer this for compact 3 bedders, as a right-angled foyer would have added more privacy, but this linear one offers a direct view into the living space anyway.
Venturing further into the unit, the space is partitioned into a dry and wet kitchen. There's no service yard or utility room, a typical characteristic of a more compact 3-bedroom unit. The dining area, although snug, is quite in line with the unit's overall size.
A notable point is the substantial size of the AC ledge, which stretches across two bathrooms. Apart from this, the rest of the layout follows a traditional pattern of a corridor leading to the three bedrooms.
A key highlight of this layout is the ventilation of both bathrooms – a feature rarely found, especially in smaller 3-bedroom units, making it a pleasant surprise. Moreover, the kitchen also benefits from natural ventilation, a significant advantage for those who enjoy heavy cooking.
The Continuum 3-bedroom unit (872 sq ft)
The Continuum has made an aggressive play in the market with their compact 3-bedroom unit, which comes in at a tidy 872 sq ft. The lowest-priced unit in this configuration was sold for $2,306,000 (equating to $2,645 per sq ft) for a third-floor unit. Interestingly, this price is a mere 0.7% higher than the smallest 3-bedroom option at the 99-year leasehold Tembusu Grand. This comparison underscores how The Continuum's smaller size has given it a competitive edge in pricing.
Here's what the unit looks like: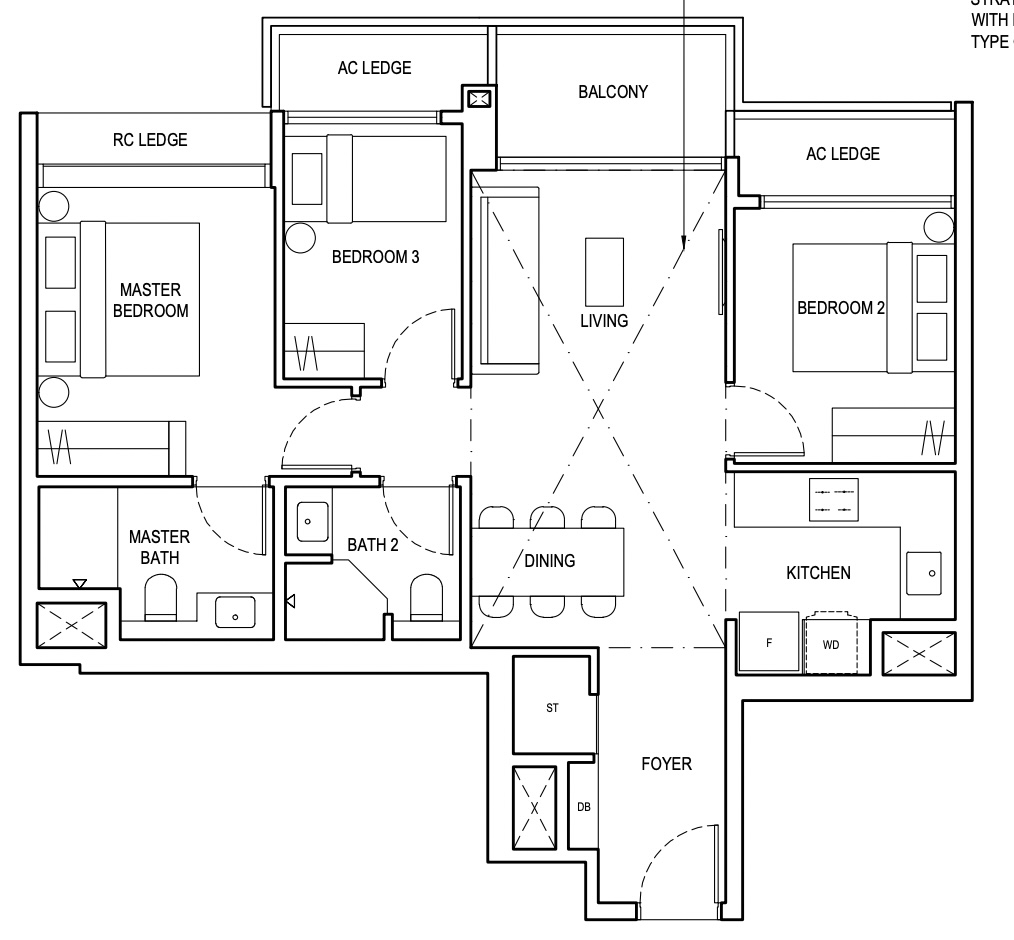 Despite its compact size, this unit at The Continuum still has quite a large foyer, which isn't the most ideal. And unlike its Tembusu Grand competitor, it doesn't feature a kitchen with natural ventilation, which might be a point of consideration for some. Furthermore, it's worth noting the absence of natural ventilation in both the bathroom and kitchen. One of the bedrooms also proves to be rather compact, just about fitting a single bed with not much room to spare.
On the brighter side, this unit is equipped with a storage area – a feature that always comes in handy. Considering the overall size, it holds up rather well. It presents an opportunity for small families to own a freehold property in District 15, with a price point that is quite close to a new 99-year leasehold development.
Grand Dunman 3-bedroom unit (958 sq ft)
The three-bedroom configuration at Grand Dunman holds a comfortable middle ground between Tembusu Grand and The Continuum's smallest three-bedroom offerings. If we were to calculate using Tembusu Grand's lowest $PSF, the unit at Grand Dunman would be priced at around $2,212,980 ($2,310 psf).
Here's an overview of what it looks like: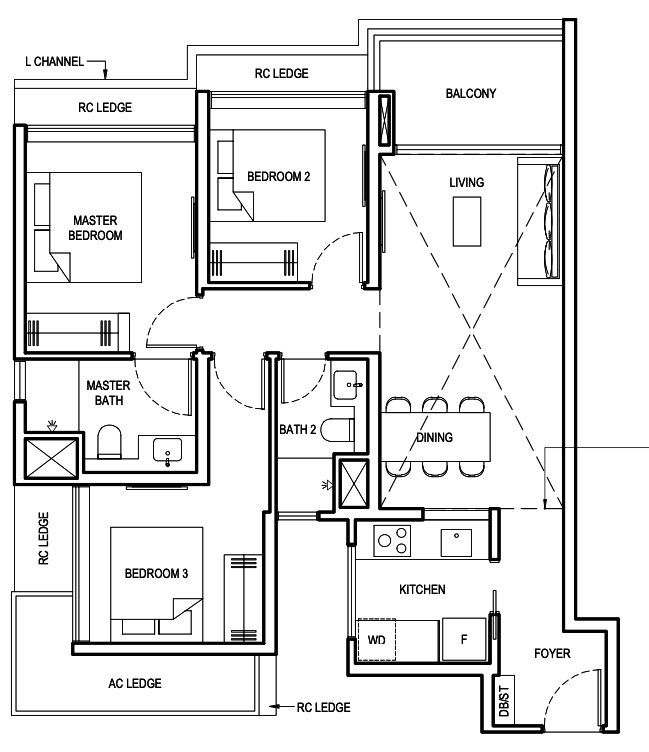 The Type C1 layout of Grand Dunman presents a long, angled entryway which is a bonus for privacy, though it might eat into the unit's overall space efficiency. There is also a long walkway through to the third bedroom, again enhancing privacy but possibly at the expense of valuable floor area, especially for a unit of this size.
However, Grand Dunman strikes a compelling balance by offering decently-sized bedrooms – a point where The Continuum falls short – along with bathrooms and a kitchen that feature natural ventilation. The dining area is satisfactory, and it's conceivable that budget-conscious families who wish to live near an MRT might lean towards Grand Dunman's three-bedroom unit, particularly given its relatively smaller footprint and, consequently, a more manageable price point.
In comparing the three layouts, The Continuum might be less appealing to some buyers. While its compact nature is an impressive feat, the absence of natural ventilation in the bathrooms and kitchen could be a downside. Moreover, the dumbbell layout, while efficient in space utilization, implies certain privacy compromises. For instance, occupants of the second bedroom would have to cross the communal living area to access the bathroom. Despite the space optimization the dumbbell design offers, the third bedroom remains quite small. Therefore, The Continuum might be best suited for those with more budgetary constraints yet determined to secure a freehold property in District 15. From this perspective, Grand Dunman appears to offer a more habitable alternative, with the added benefit of being adjacent to an MRT station.
As for Tembusu Grand, it's challenging to definitively ascertain whether it's superior or not based solely on its layout. Other factors such as price, location, density, among others, would come into play, making it difficult to form a firm conclusion solely based on spatial design.
Do follow us on Stacked for an in-depth review of Tembusu Grand, to accompany the existing ones for Continuum and Grand Dunman. In the meantime, we'd suggest viewing some of the resale properties in the same area as well; while older, many of these are quite underrated – especially since developments in nearby Paya Lebar have made them much more appealing today. You can reach out to us for direct help and consultation in finding your next home.