Investment
From Man U Footballer To Real Estate Developer: We Took A Look At Gary Neville's £400 Million St. Michael's Project
Ryan J
November 15, 2023

7

min read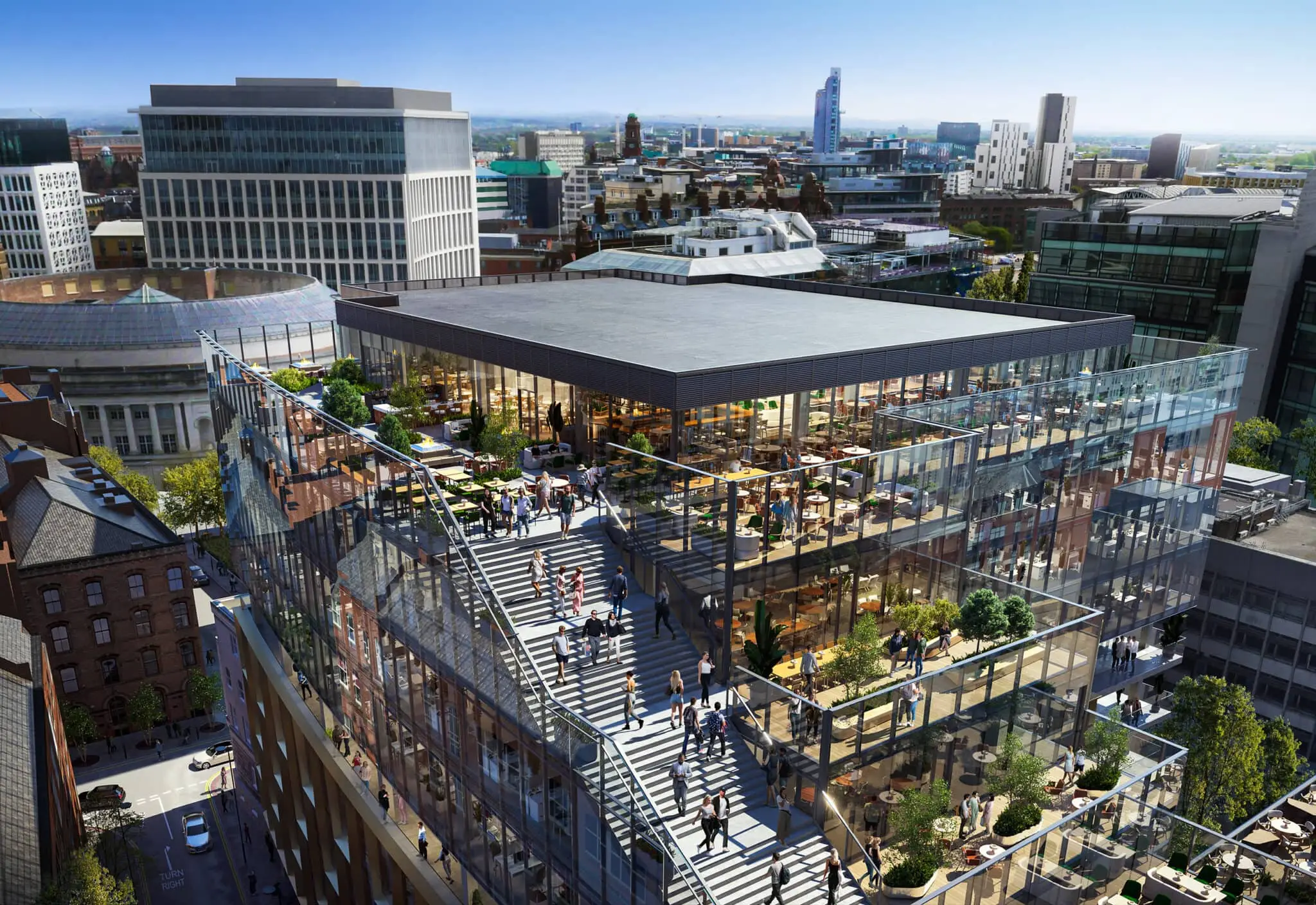 7
min read
If the name Gary Neville sounds familiar, it's because he's a former player for Manchester United and England; and quite recently, his name's been making the rounds for a different reason: along with UK-based developer Salboy Ltd., he's been marketing W Residences: a Manchester based serviced residence. We dropped in to the event at Mondrian Singapore to have a look at what he's developing: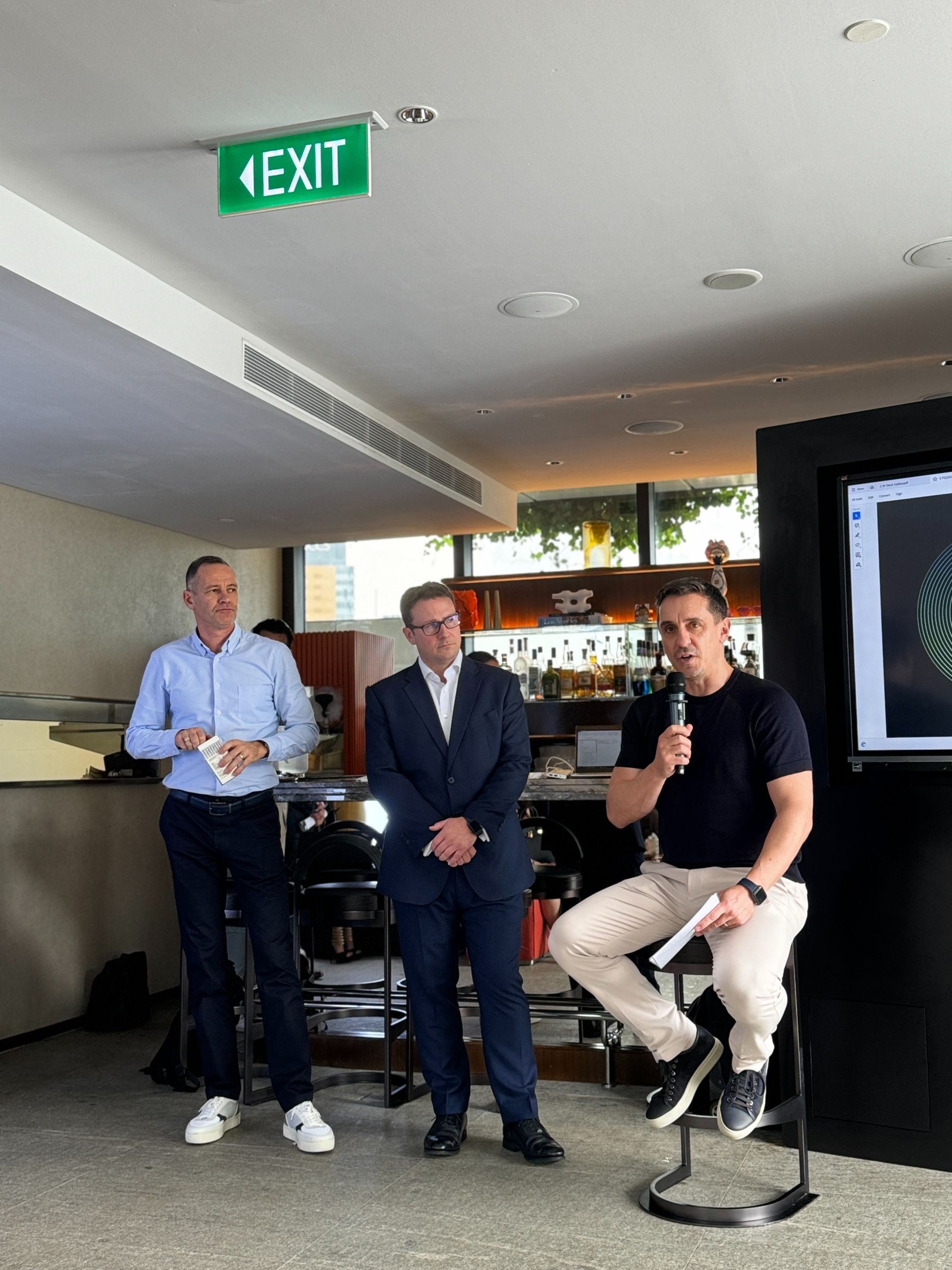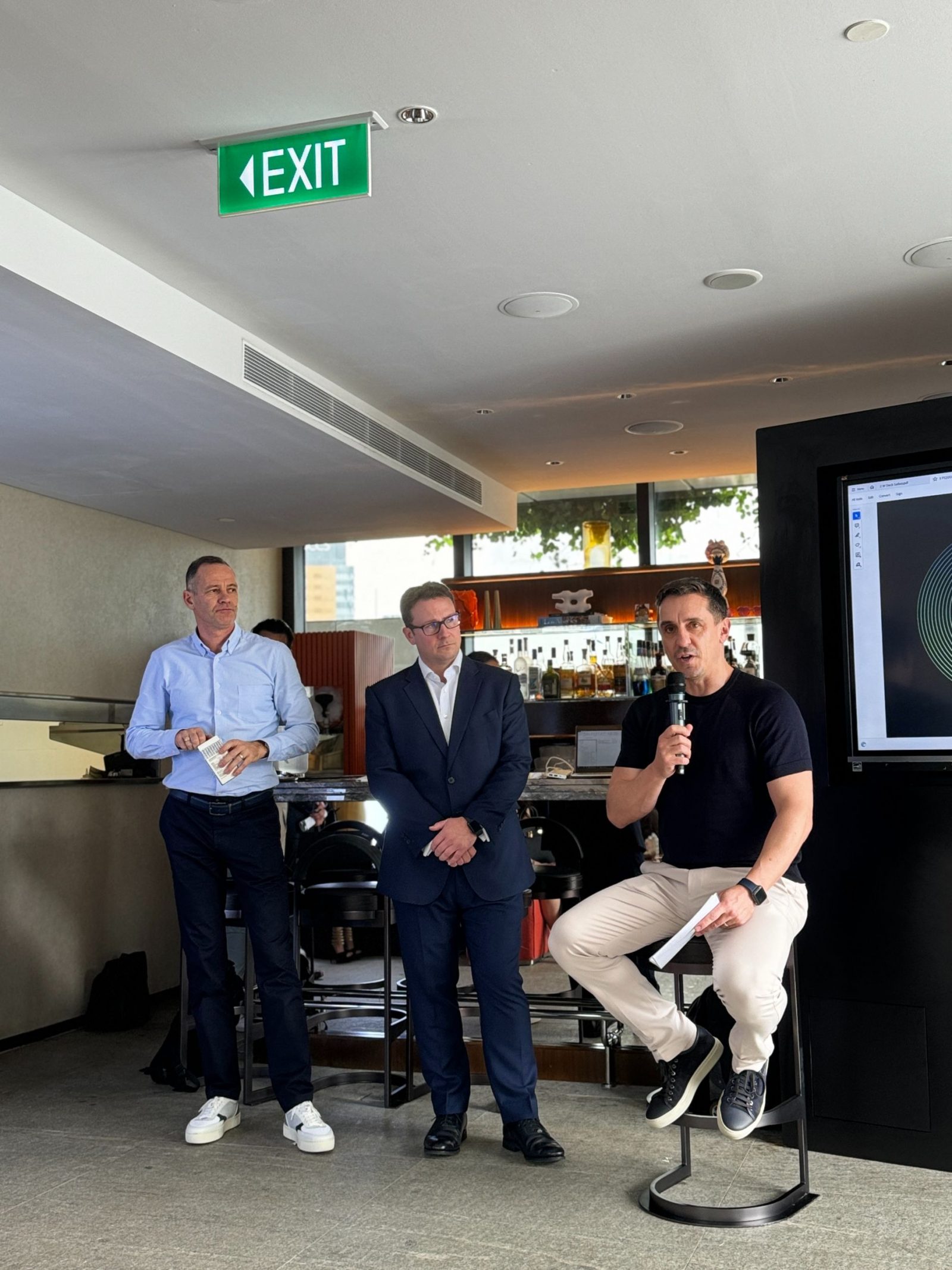 Note: This is not an endorsement of W Residences, its developer, or any other related business. We are not involved with the project, and we cannot verify or authenticate any claims made regarding the property.
An international brand development
W Residences already exists in London, but the one promoted by Neville – located in Manchester – is the first outside of London. This is within a wider commercial redevelopment, St. Michael's, which was helmed by Neville's development firm, Relentless Developments. The St. Michael's project, valued at £400 million, is a testament to Neville's growing influence in property development. With key stakeholders like US investment giant KKR, Salboy, and the Manchester City Council involved, the project is expected to bring £120 million in investment to the city and create over 3,000 jobs.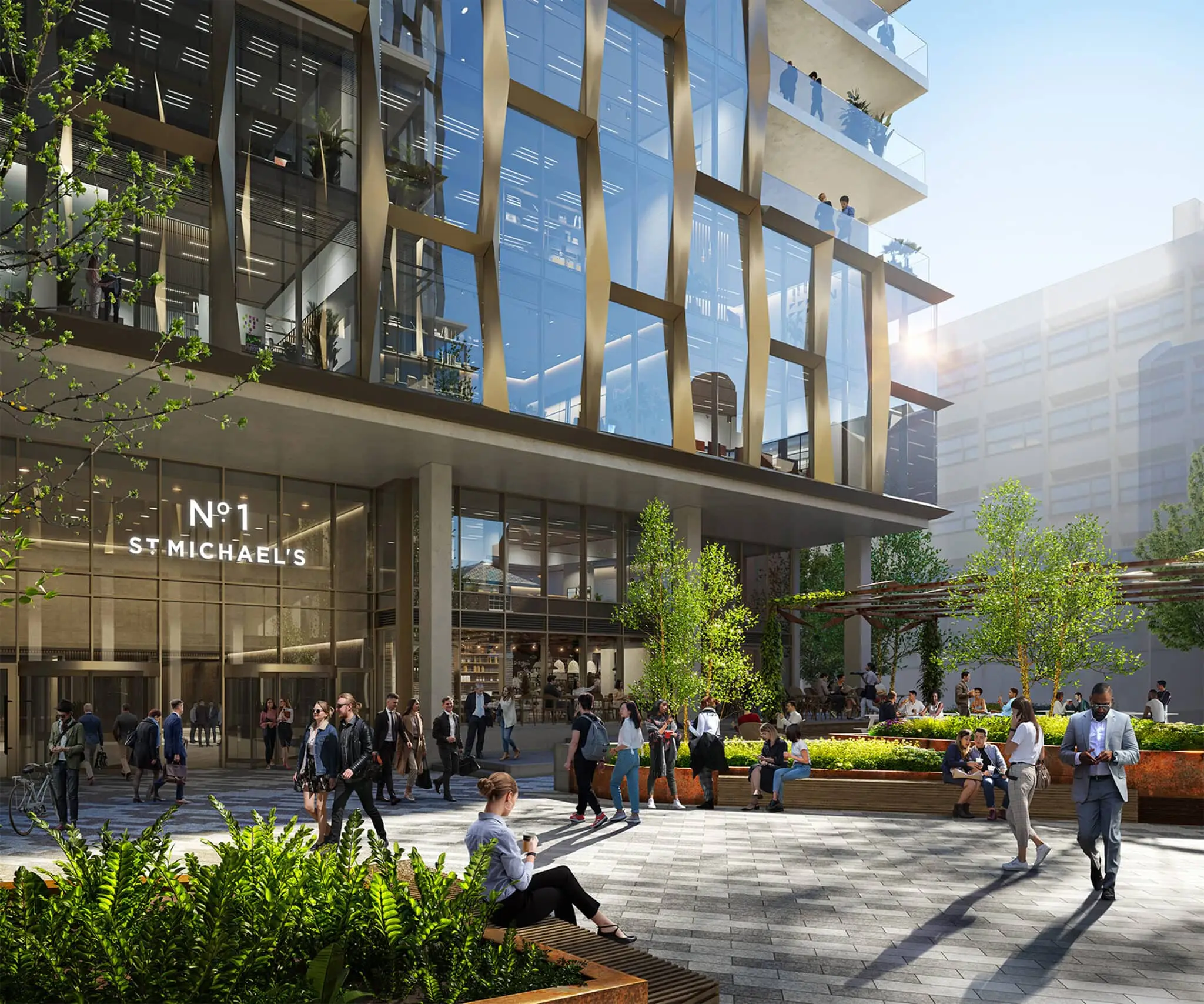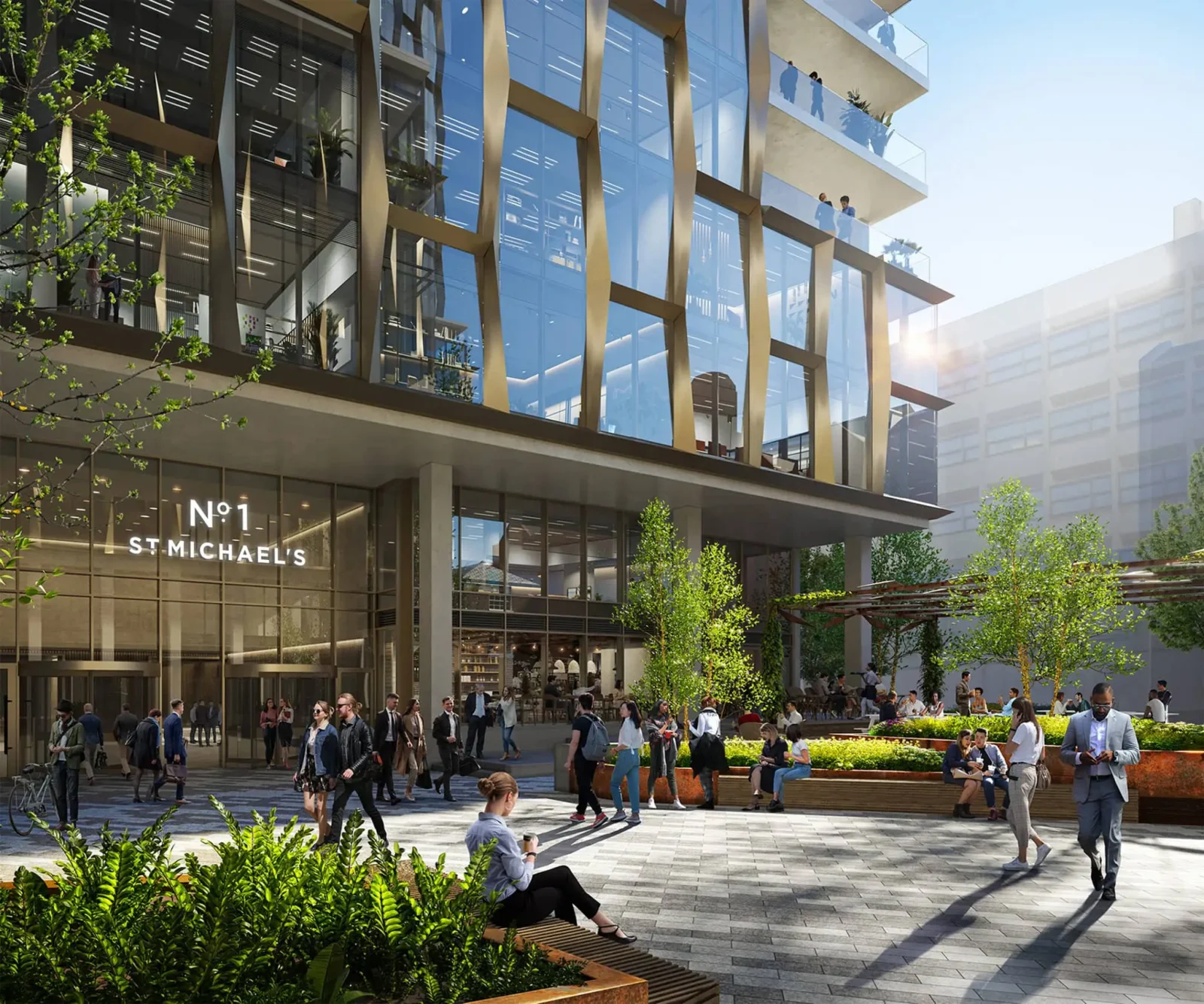 For those of you who are more familiar with his bombing down on the right flanks of the football field with Man U, Gary Neville has been quietly building a parallel career in real estate investment for quite some time. His journey began with building his first house at 22, followed by several barn conversions. His ventures have not always been smooth; for example, some of his businesses like Cafe Football faced challenges and had to close down (for the die-hard United fans, you'd probably remember there used to be one in Singapore). However, his continuous involvement in ambitious projects like Hotel Football and the refurbishment of a Grade II-listed building in the Stock Exchange demonstrates his perseverance and evolution in this field.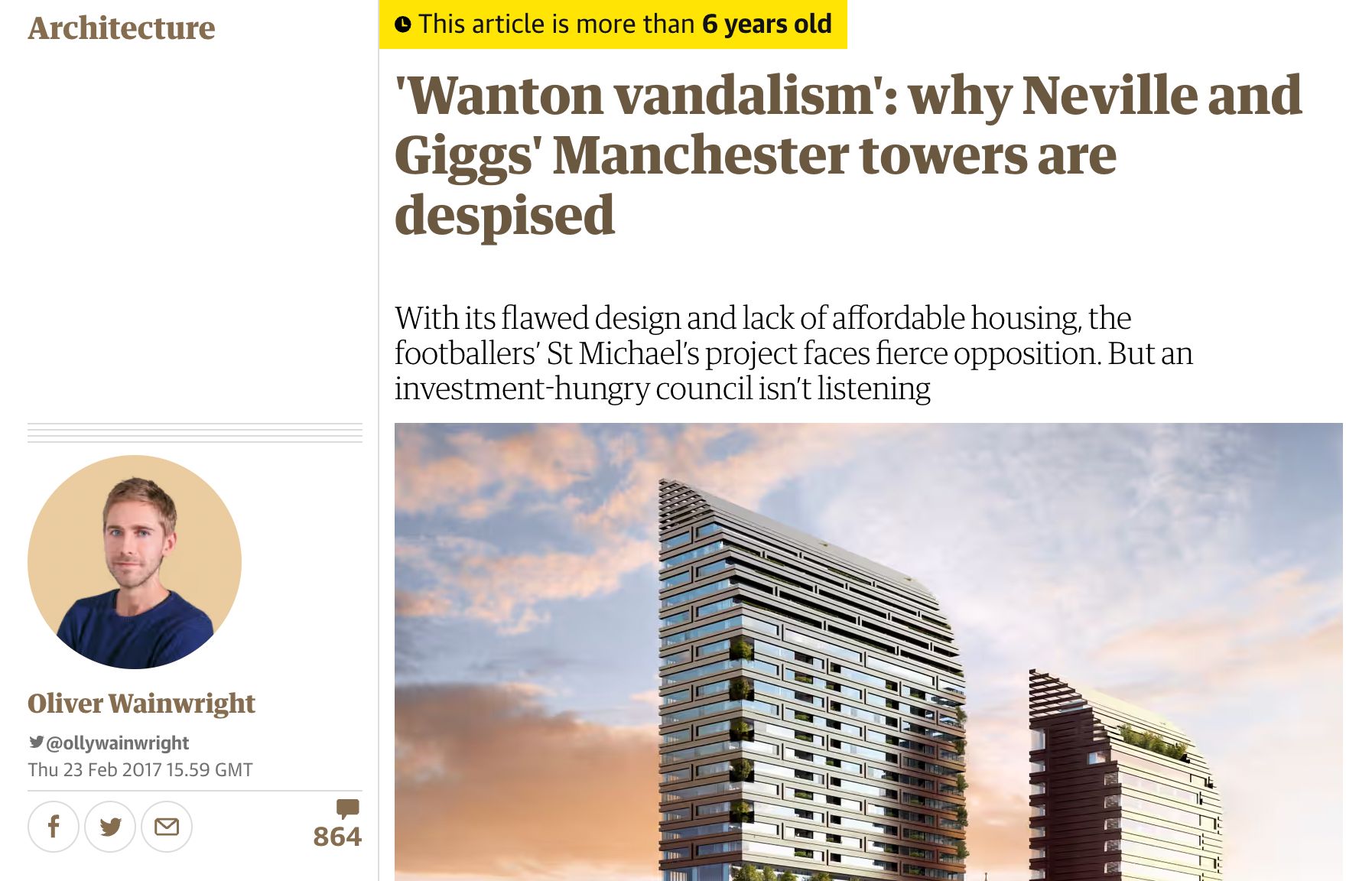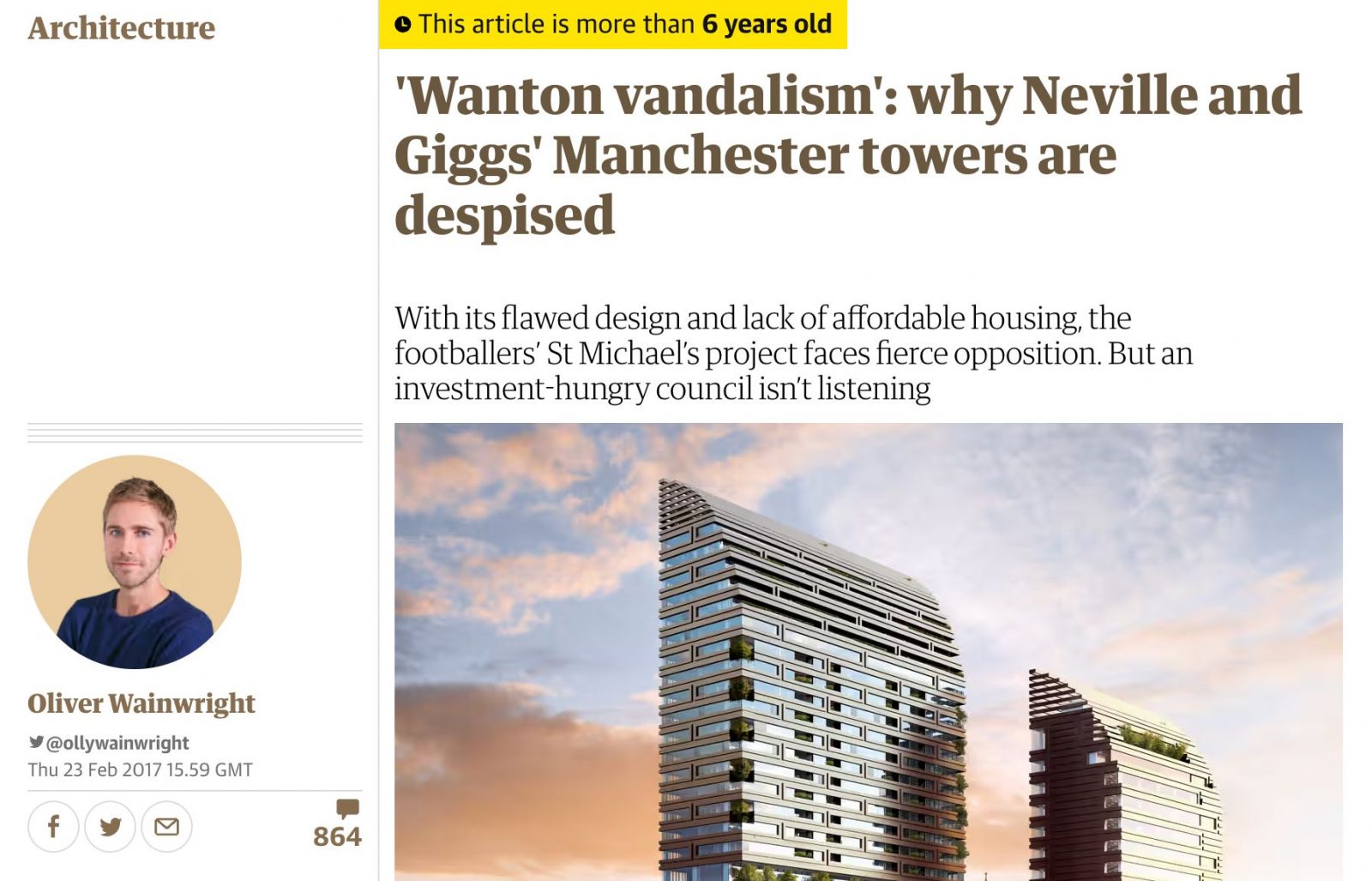 We understand there was initial opposition on the grounds of loss of historical assets, but we assume these have since been overcome (on the grounds of the authorities' approval; we're unfamiliar with the situation on the ground.)
The residential component of the commercial hub – W Residences – has been described as a "phase two" for St. Michael's. W Residences is related to W (a hotel brand that's owned by Marriott), and the apartments will include hotel-class amenities like 24-hour concierge services, dining facilities, laundry, a pool and spa, etc.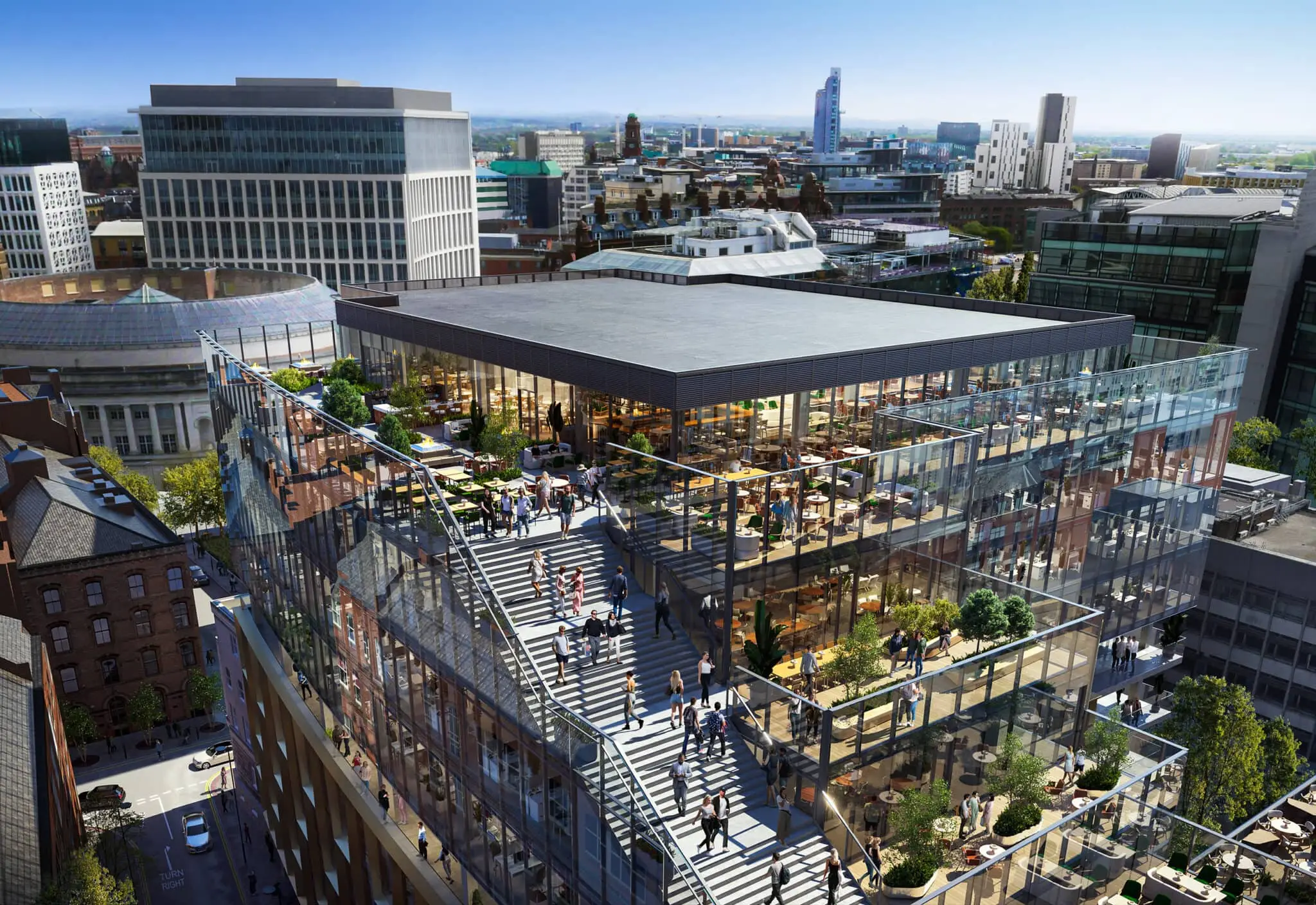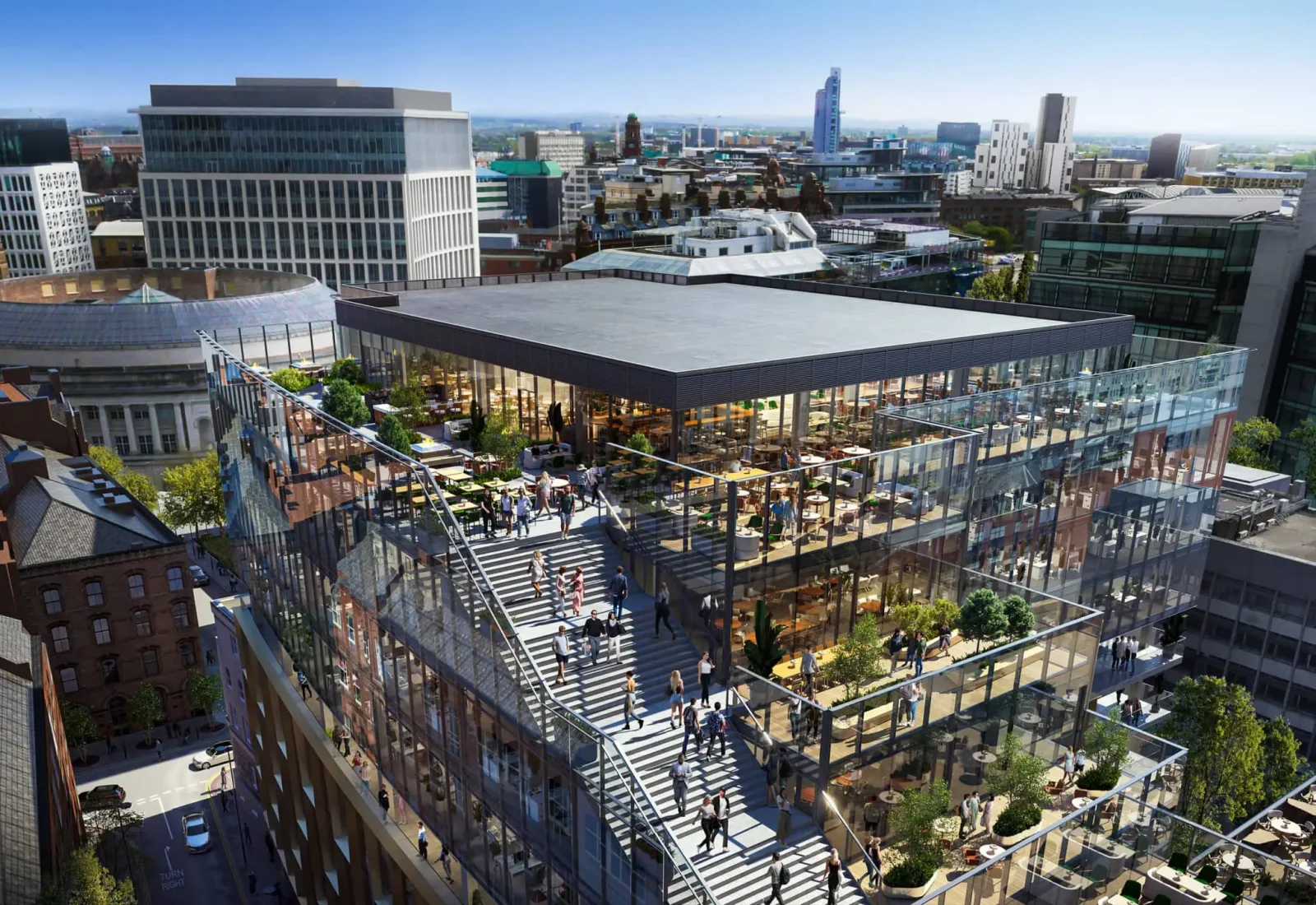 Neville shared an interest in hospitality regarding this, noting his experiences with accommodations as a traveler. However, his home of Manchester, he felt, had been trailing in this regard; hence the desire for world-class accommodation as part of St. Michael's. His vision for the project was inspired by his global travels with Manchester United, where he experienced first-rate hospitality in major cities and felt a compelling need to bring similar standards to Manchester.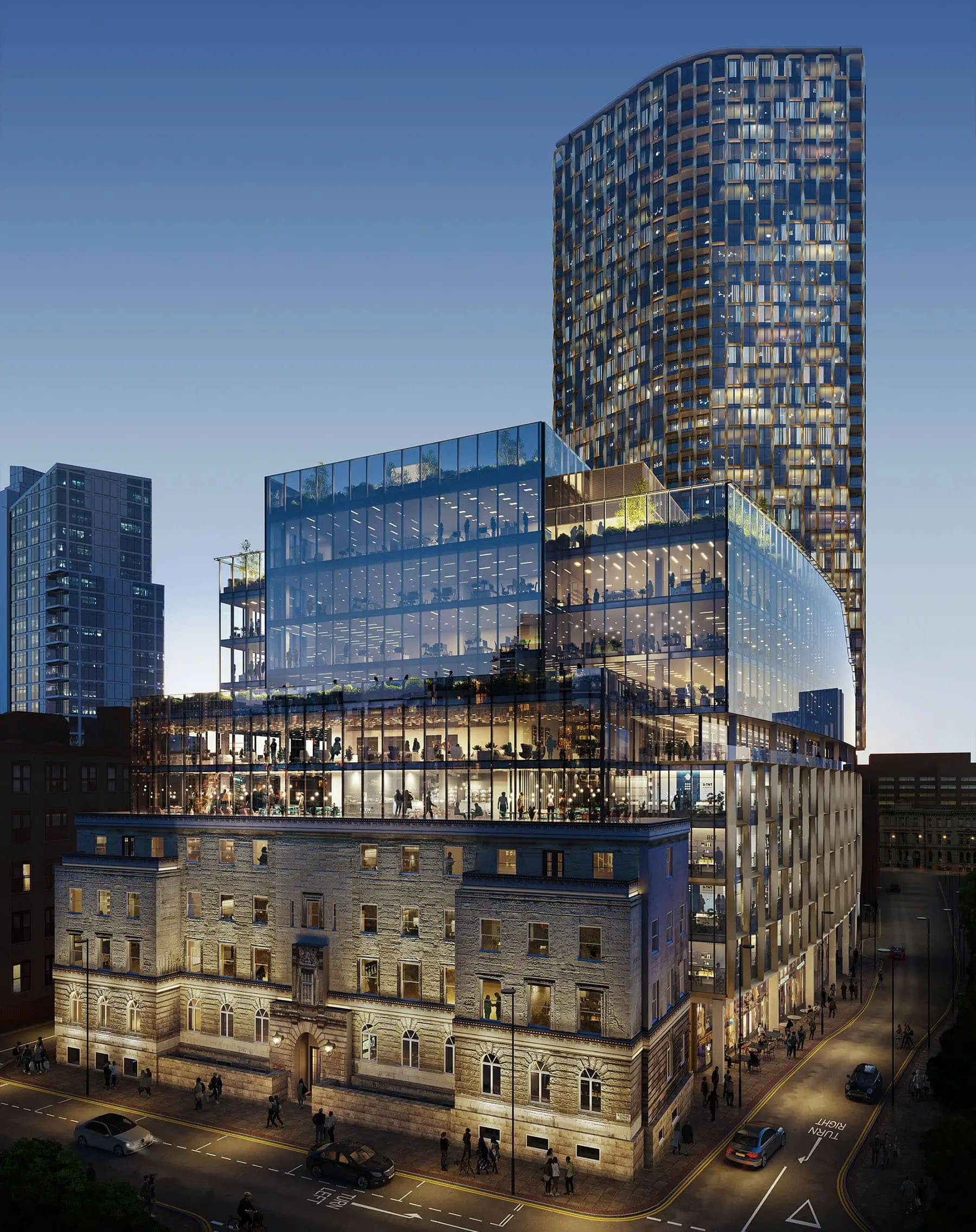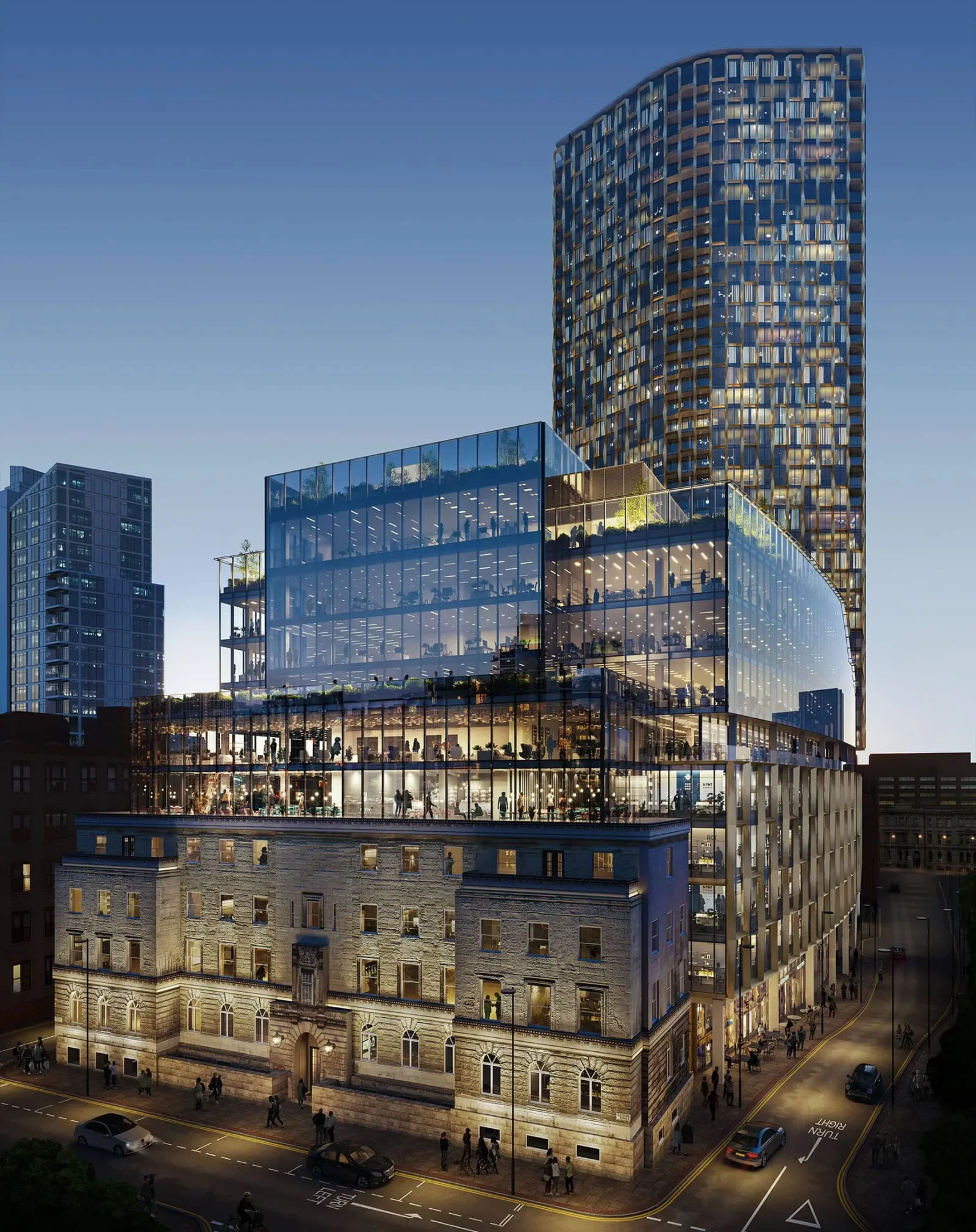 W Residences is in a 41-storey tower (No.2 St. Michael's) which also includes the 162-room W hotel, set to open in Q1 2027. A check on local (Manchester) news sites claimed that the most expensive unit is £6 million (around S$10 million), with the cheapest units at £350,000 (around $585,000).

No specific reason was given as to why the launch is in Singapore (they were in Hong Kong before this); but we did find reports that Singapore-based Rowsley Ltd. has a sizeable stake in the project. If true, this would make it natural for the initial launch to be here; if for no reason other than a local firm reading the winds, and responding to rising ABSD rates for local properties. Manchester also is known to be a decently attractive place for Singaporean students, and there could be interest from locals who are familiar with the city.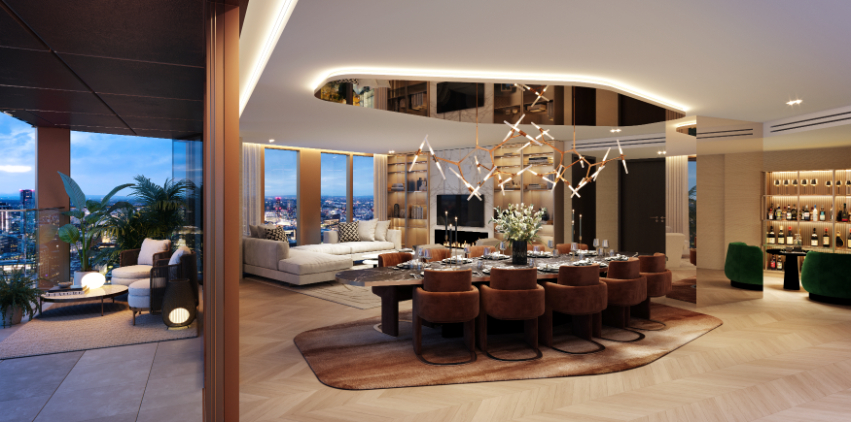 The price point may also be attractive for Singaporean property investors, as local new launch condos are seldom below $800,000 even for one-bedders.
Marketing the location in Manchester
A part of the presentation was focused on Manchester itself, and the reasons for property ownership there. St. Michael's, in particular, was described as being in a historic area, and being a connecting point between Spinningfields and Chinatown.
Spinningfields is a major business district that's been compared to London's Canary Wharf, with offices belonging to MNCs like DeLoitte, HSBC, PWC, and others. Meanwhile, Manchester's Chinatown is the second-largest in the UK, and is a major cultural and lifestyle hub. Being a bridge between the two would mean investment and rental prospects, for those looking beyond own-stay use.
Neville noted that the hotel scene has picked up in Manchester, with the opening of lifestyle amenities, restaurants, etc. seeing an uptick. He also mentioned that Manchester is a young city that's just coming into prominence, with "hundreds of thousands" of apartments being built every single year, and a booming university population of around 50,000 students.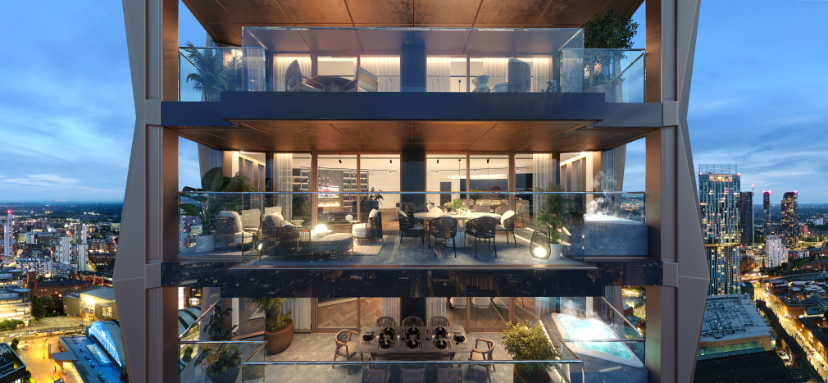 If true, this might appeal to investors looking for first-mover advantage, given W Residences' positioning as a new standard of living (also described in some material as "super prime".) It was also remarked that units are relatively few in the development: 217 in total. This would imply scarcity value; and 217 is certainly small by Singapore's standards.
From what we know, Manchester certainly has developed a lot from the early 2000s, with projects like the NOMA regeneration project, the £1.5bn Spinningfields project, and the £1bn regeneration scheme at Ancoats and New Islington. That and the more recent additions of Co-op Live (UK's largest indoor arena), a £4bn urban regeneration project in the north of Victoria Station, aiming to build 15,000 new homes, and the opening of Manchester's first new park in over 100 years at Mayfield Development (to name a few).
This said, we're not experts on Manchester and its city centre, so we'd suggest a direct visit to gauge for yourself.
Should you consider buying a property in Manchester?   
We aren't going to do a deep dive into this, but for those who are interested, here's an overview of what you need to know about properties in Manchester at this point:
As of May 2023, the average house price in Manchester is £231,656. Compared to other UK cities like London, Glasgow, and Edinburgh, Manchester's property prices are relatively affordable​.
Experts predict significant growth in Manchester's house prices, with an expected rise throughout 2023. Savills forecasts an 11.7% increase in average property prices in the North West region by 2027. JLL predicts that annual house price growth should rise to 5% in 2023 and forecasts a five-year house price growth of 19.3% through 2027.
Manchester is expected to experience the highest economic growth among UK cities over the next five years, with a growth rate of 16.4%.
The 20 per cent ABSD (for Singapore citizens) certainly makes overseas properties look more attractive these days; and the prices we've seen look low compared to some of our new launches. However, we'd probably check on the relevant taxes with an expert, especially since other governments tend to be less generous than ours – we may not have a capital gains tax, for example, but it does look like there is one in the UK.
(If you want to read more about someone who has invested in UK property before, you can read TJ's experience in investing in London here.)
We'd also check with a mortgage broker on financing options. Singapore banks don't always provide mortgages for properties outside of certain areas (some restrict loans to areas in London), and getting a mortgage from an overseas bank could be difficult. If you have limited leverage, a high cash outlay may add to the risk of this investment.
As we consider the allure and prestige of W Residences, prospective investors should also weigh certain inherent risks associated with luxury real estate. One such risk is the potential for these properties to be quickly overshadowed by newer, more modern luxury developments. The rapid pace of urban development means that what is luxurious and cutting-edge today may seem dated in a few years, potentially impacting the long-term value and appeal of the investment.

Another factor to consider is the cost of ground rents, a common term in the UK for payments made by leaseholders to the freeholder or landlord of a property. Given the extensive range of facilities and amenities in developments like W Residences, these ground rents and associated service charges can be substantial. This adds an ongoing cost to the investment, which should be factored into any financial calculations.
Lastly, the investment dynamics in city centres like Manchester may parallel trends observed in areas like the Central Business District (CBD) in Singapore. While city centre properties often appeal to foreign investors and offer high-end amenities, their appreciation rates may not always match those of outer city areas. In many markets, including the UK, there is a strong preference among local buyers for landed homes over apartments, especially in suburban or rural areas. This preference can influence market dynamics, potentially making city centre apartments more reliant on foreign investment and subject to fluctuations in international demand.
There's never any harm in taking a look, but don't feel rushed even if there's a low unit count. There's no easy "undo" option, once you commit to an overseas property. Follow us on Stacked for more events and news in the local property market, as well as project reviews.