New Launch Reviews

Fourth Avenue Residences Review – Rare Bukit Timah New Launch
Stanley
February 28, 2019

11

min read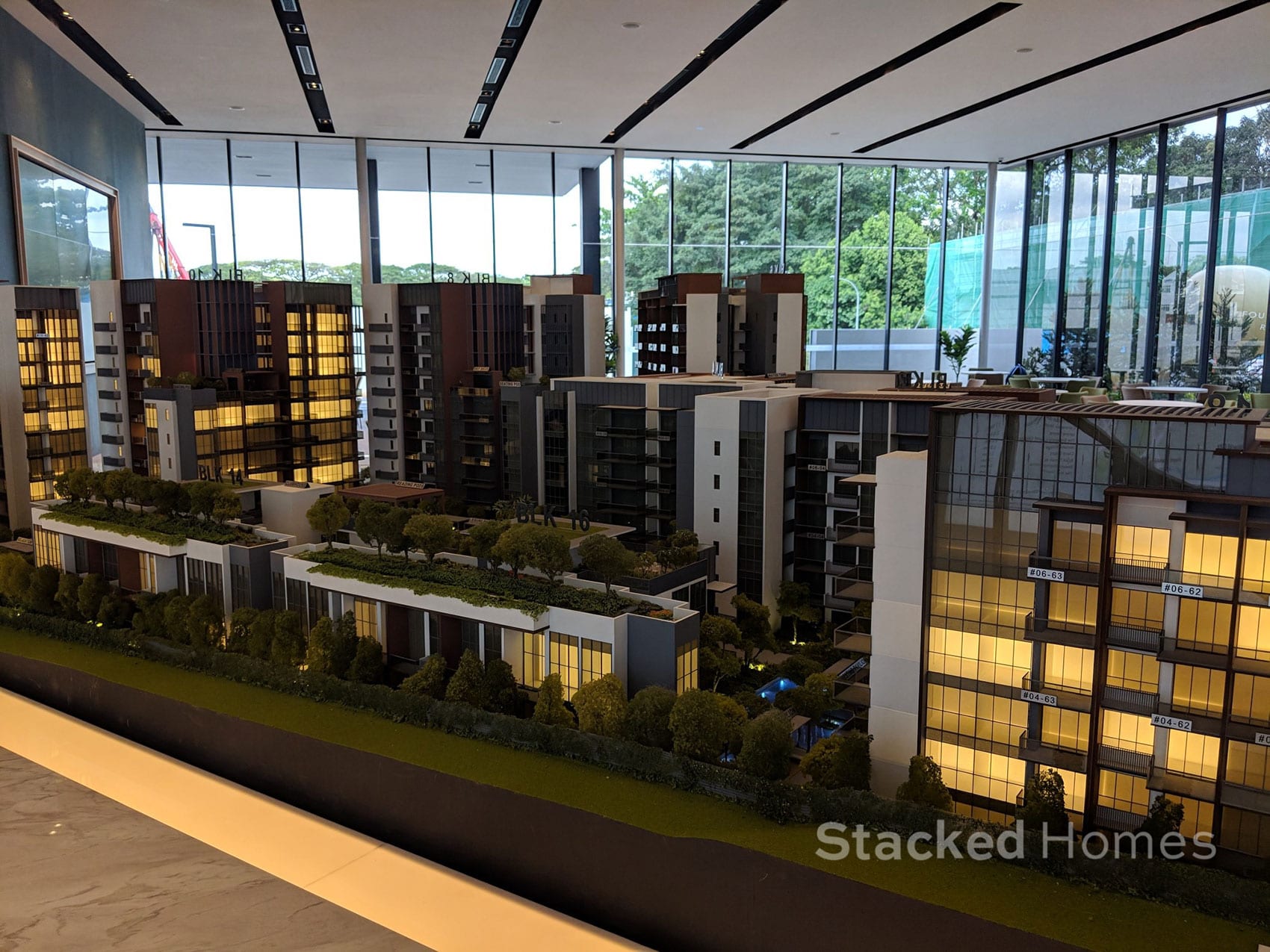 Location cannot be beat if you are looking for a new condo along Bukit Timah, if the PSF was slightly lower this would be a good buy in our books.
Reviewed by Stanley on February 28, 2019
What we like
Great location

Prestigious address

Near good schools

Close to food and amenities

MRT right at doorstep

Quality finishes
What we don't like
—

Price point is a little high

—

Only one entry point into the development

—

Carpark capacity is not guaranteed
11
min read
About this condo

| | | | |
| --- | --- | --- | --- |
| Project | Fourth Avenue Residences | District | 10 |
| Address | Fourth Avenue | Tenure | 99 years leasehold |
| Site Area | 199,478 sqft | No. of Units | 476 units |
| Developer | Allgreen Properties Ltd | Expected T.O.P | 8 Dec 2022 |
| Expected Legal completion | 8 Dec 2025 | | |
Fourth Avenue Residences is one of the three sites that developer Allgreen Properties purchased during the en bloc spree. Except that this was the only one that was a Government Land Sale (GLS) site that they won with a bid of $553 million or $1,540 psf ppr. Traditionally, if you know your properties well in Singapore, Fourth Avenue is one of the upper end of housing estates in Singapore, with all of it being landed properties. So having a property address that has the words Fourth Avenue in it is quite the attraction to many well-heeled buyers.
Fourth Avenue Residences Review – Location
Given the prestigious location, you can be sure that the main selling point of Fourth Avenue Residences is really the location. If you are looking to stay along the Bukit Timah area, it really does not get much more prime than this (other than the Cluny area, in our opinion). The best part is, it is literally situated right outside Sixth Avenue MRT station along the Downtown Line. So when you read the developers brochure and you see that it says "MRT at your doorsteps" you can take our word for it that it is really just outside the development. 
Bukit Timah is also well known for being close to nature and prestigious schools. Driving up Bukit Timah road, you can see that the whole drive is covered in trees and greenery. If having big open spaces is your thing, it is located just opposite Turf City, and Botanic Gardens is also just a short drive away.
Most buyers considering Fourth Avenue Residences will probably be doing so because of the proximity to good schools in the area. So schools within the exclusive 1 to 2 km radius include Nanyang Girls High School, Raffles Girls Primary School, Methodist Girls School, Hwa Chong Institution, National Junior College and Nanyang Primary School. 
We also especially like that access to food here is super easy.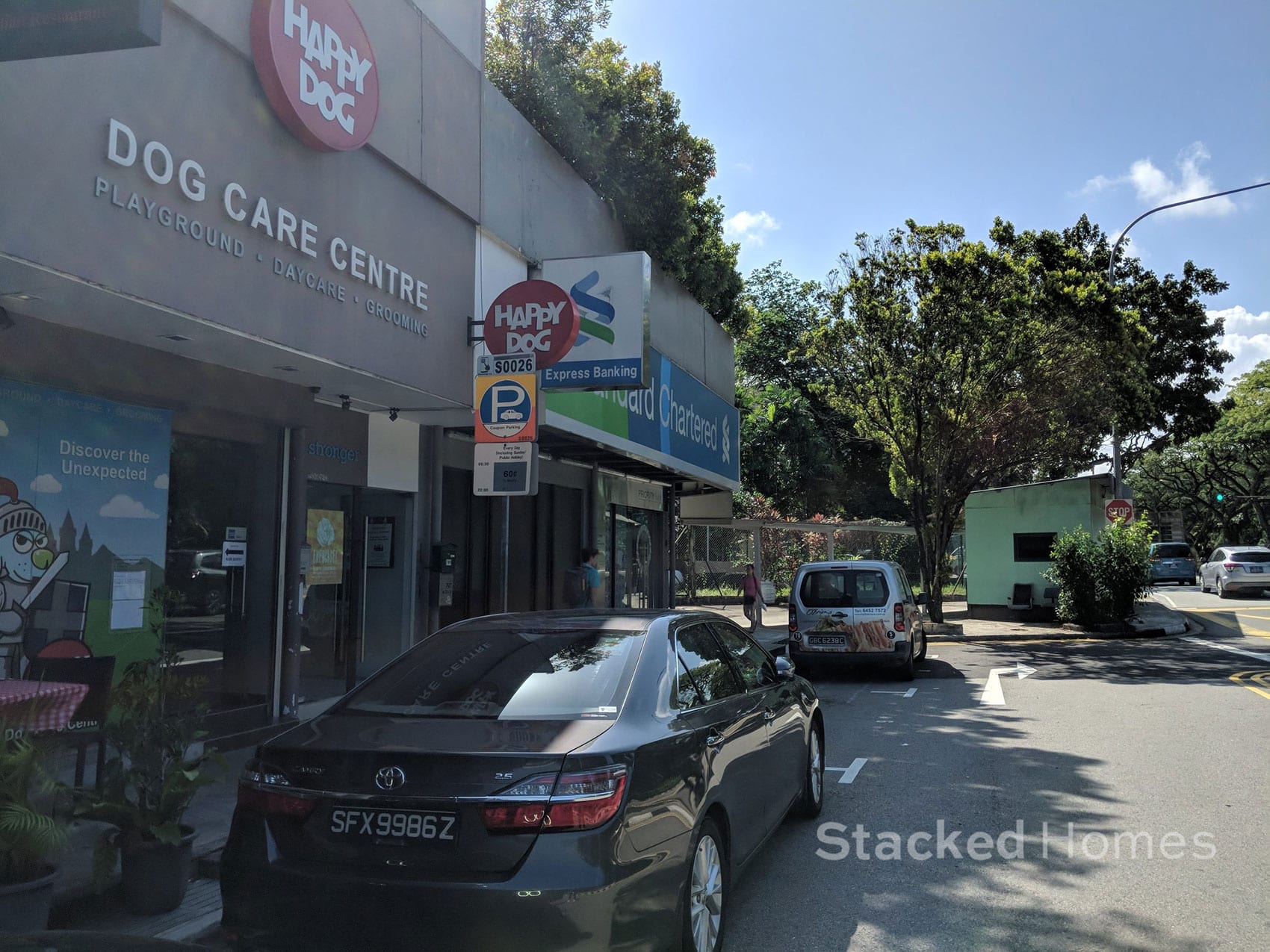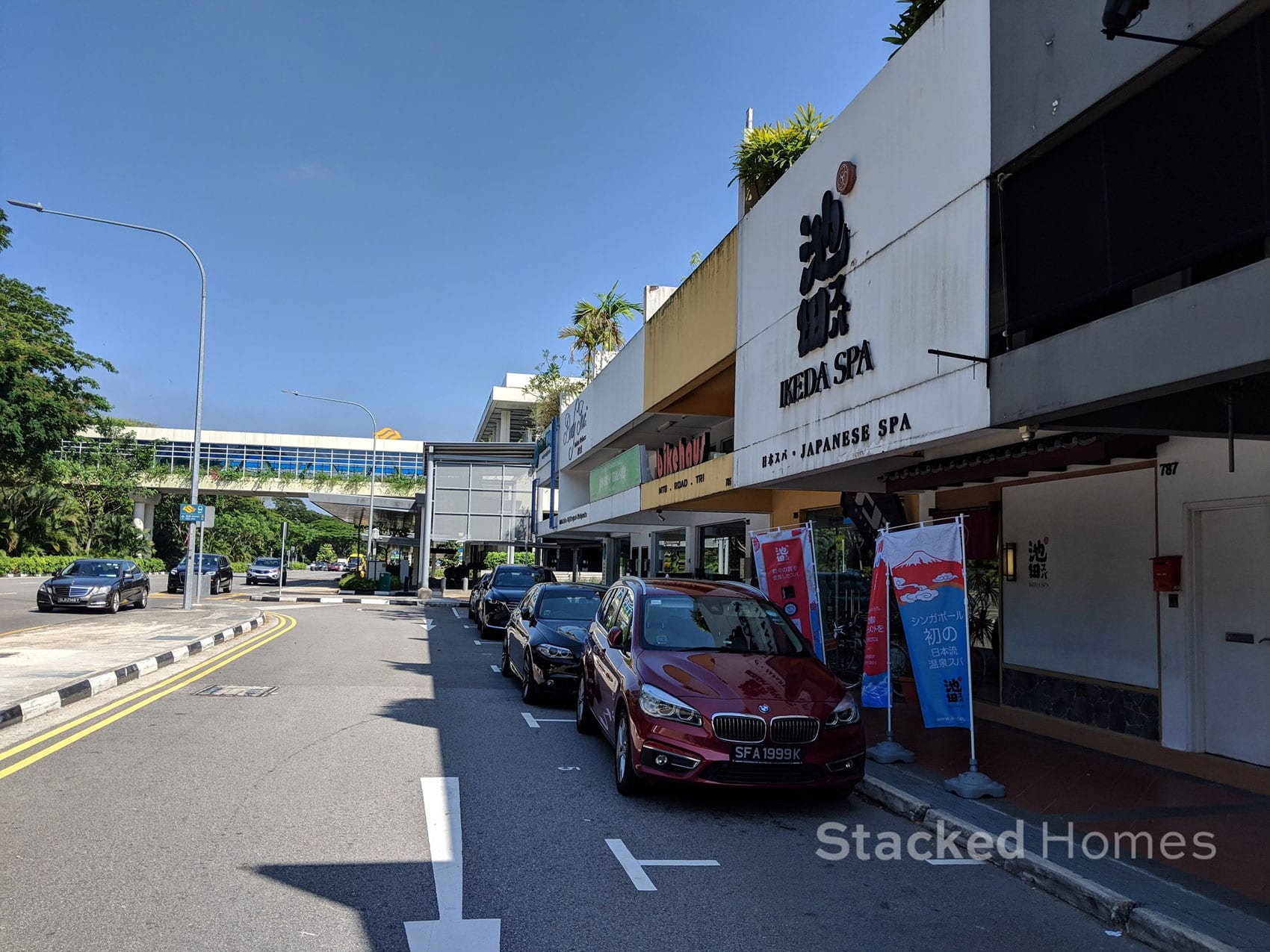 Unless you have a helper at home or you are a loyal Grab/Deliveroo/Food Panda patron, having food places right at your doorstep is really super convenient.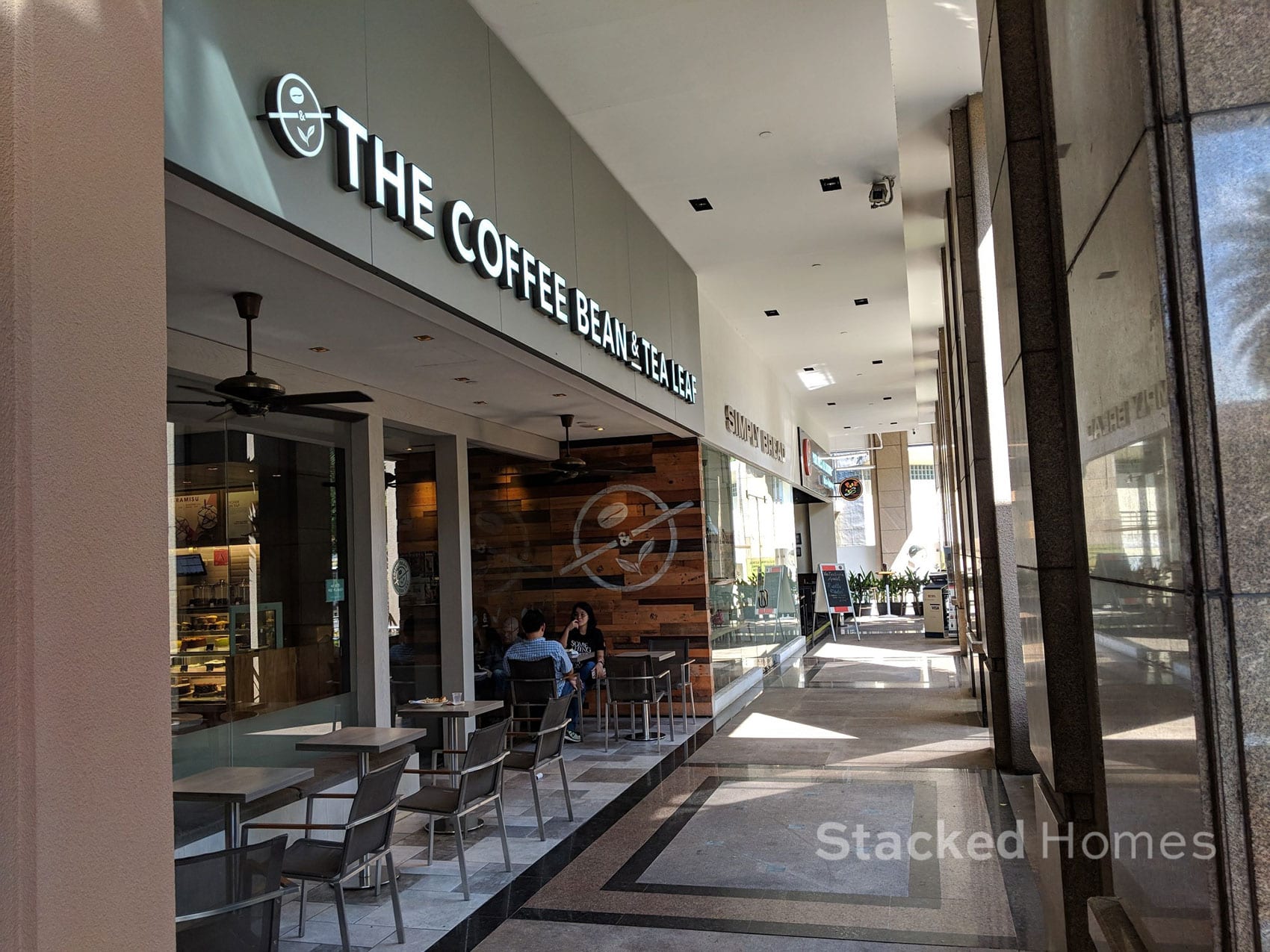 You can also get your quick coffee fix at Guthrie House.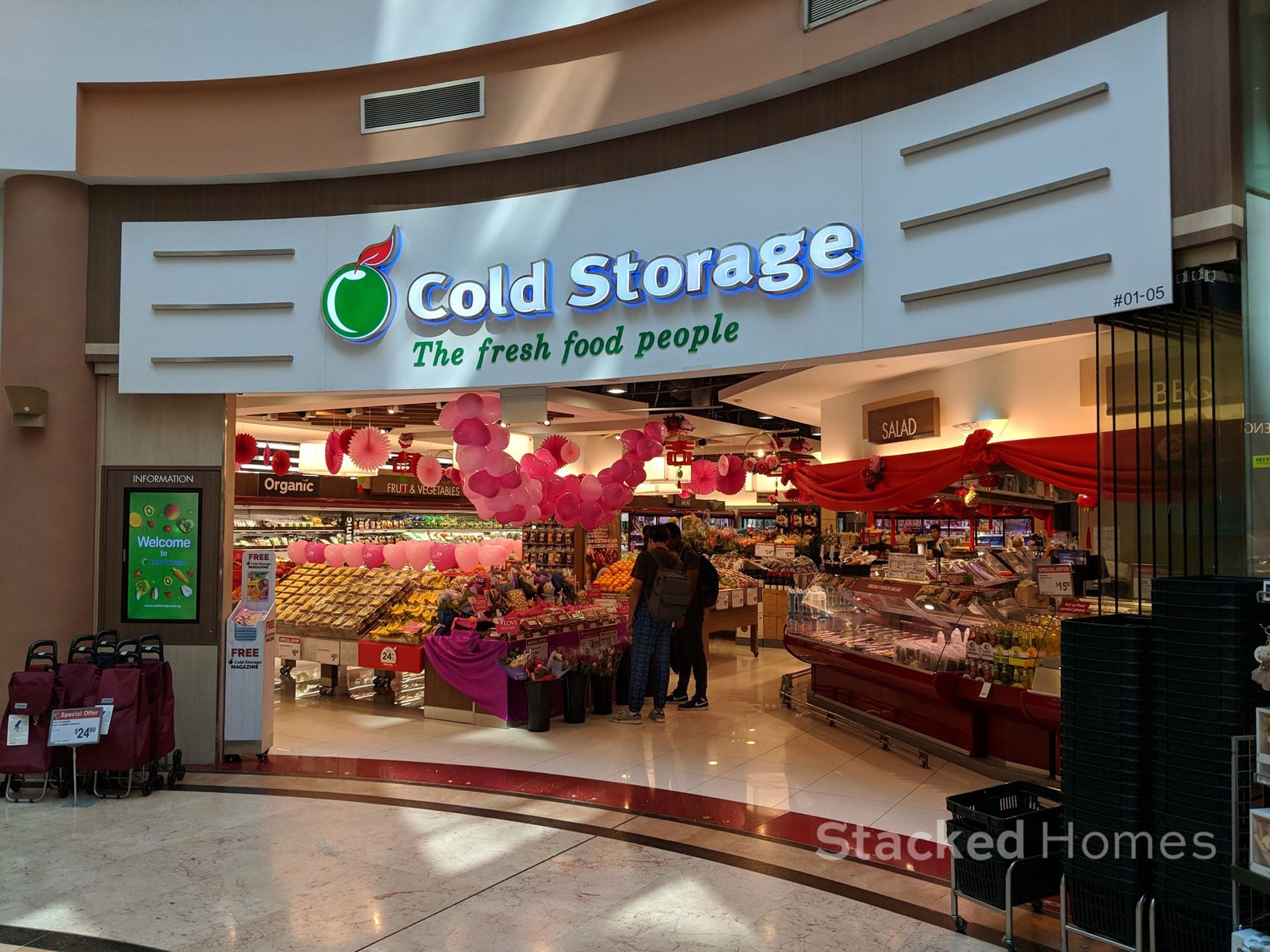 The best part of Guthrie House is the Cold Storage. Having grocery delivery services is no doubt amazing, but there is nothing quite like realising you need a certain ingredient for your dinner party and just being able to nip out quickly to get it!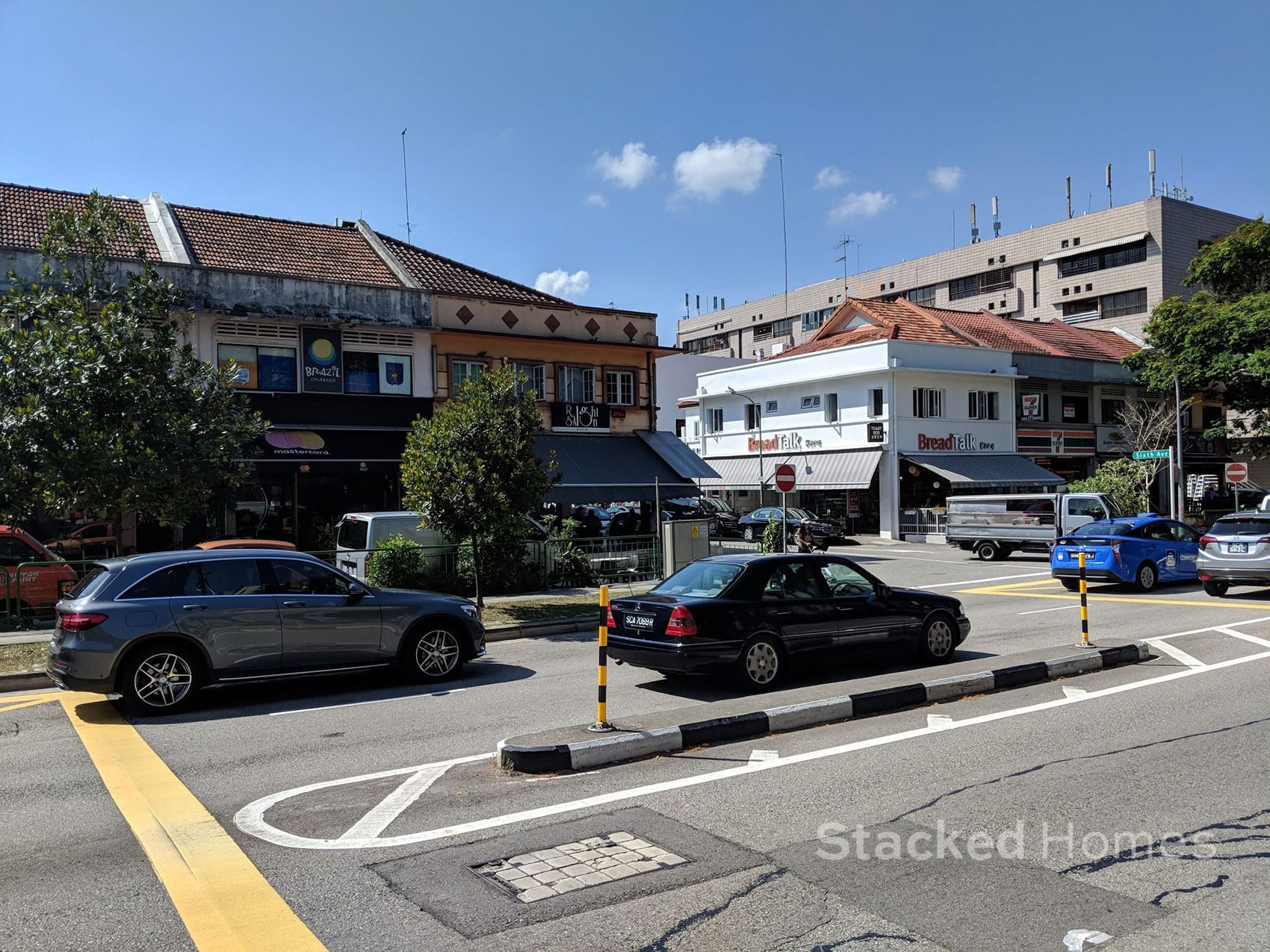 Not forgetting opposite the development, where you can get local food from the coffeeshop and even a zhi char stall. And a newly opened Bread Talk.
The accessibility to the development is pretty good as well. Although we do not quite like that despite the size of the plot of land, there is only one entrance from Fourth Avenue. That being said, all the houses located along Fourth Avenue are big landed properties, so in terms of road traffic coming in and out, it should be manageable. You can get quick access to the PIE via Eng Neo Avenue and Bukit Timah can get you to town and the city in one straight road. Although you do have to look out for traffic during peak hours as it can get quite heavy.
With Sixth Avenue MRT station right at your doorstep however, we do think that there is much less of a need to drive if you were to stay here. In anticipation of that and the possibility of strong rental demand due to the location, the developers have actually planned for fewer carpark lots than there are units. However, at the price you are paying it would be nice to be guaranteed at least a lot per unit.
Fourth Avenue Residences Review – Development Site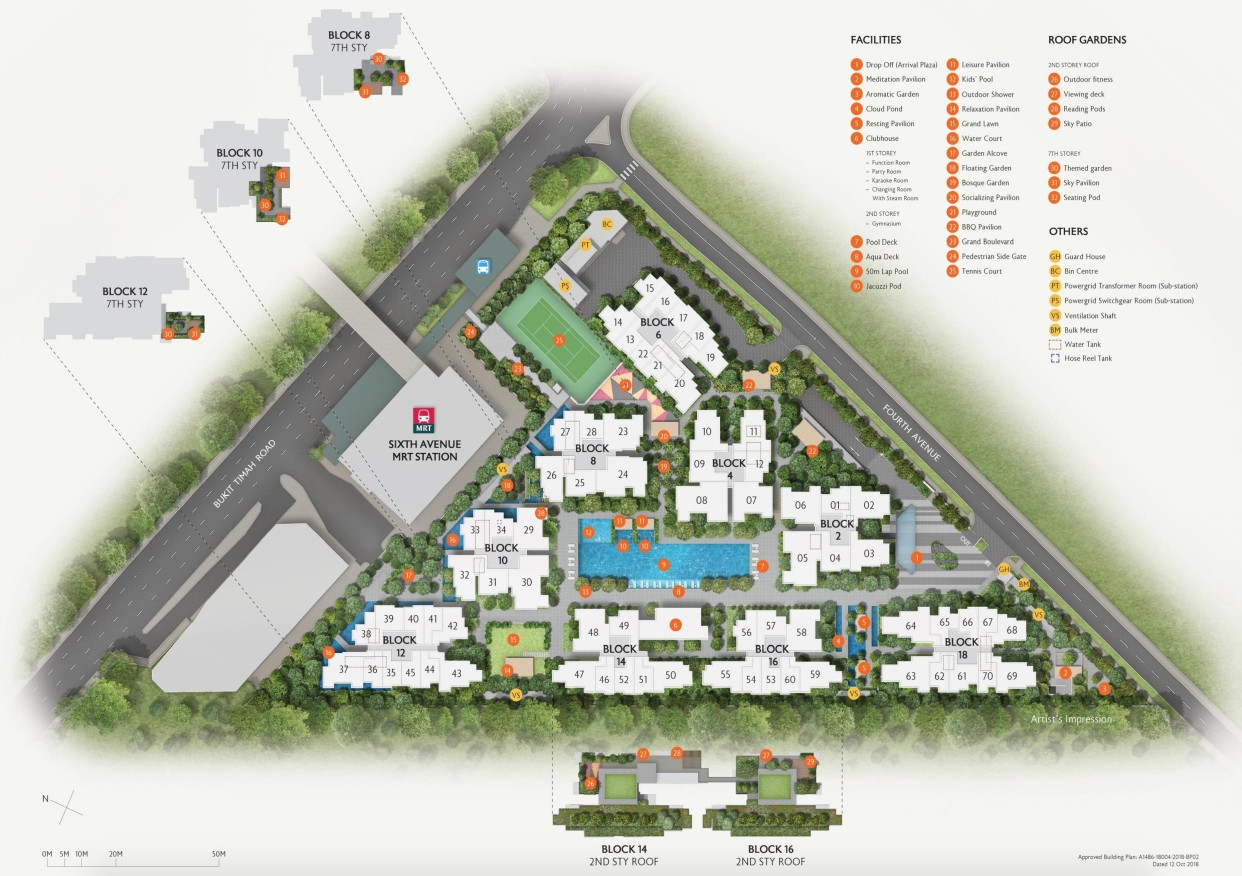 Fourth Avenue Residences sits on a nice triangular-shaped plot of land. Again, we do wish that there was some way to fashion an entrance from Bukit Timah road directly in, but the developers were probably limited by the presence of the MRT station. Do also note that for Block 6, certain high units have a blocked view as this is due to the security of certain VIPs that live in the landed areas before the development.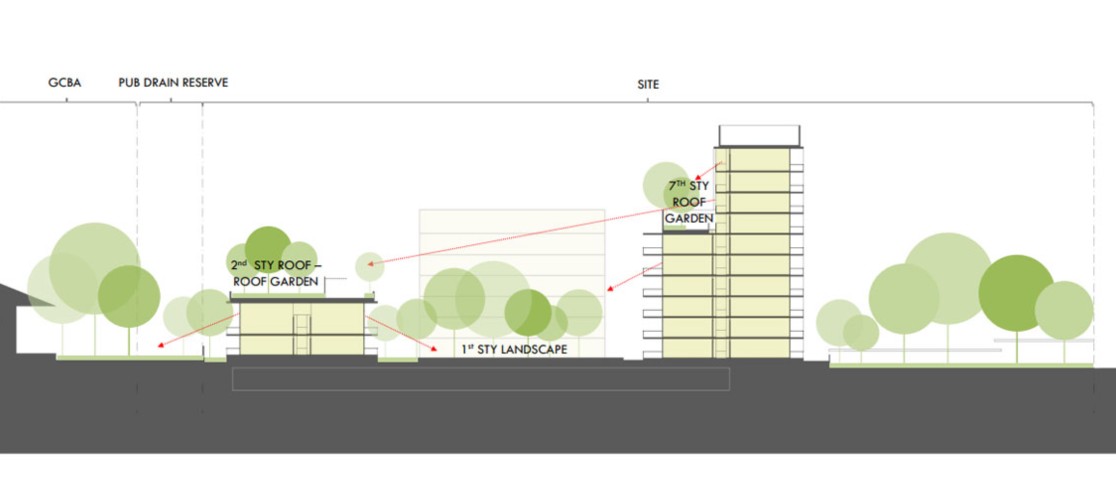 Here you can see the viewpoints for the different units.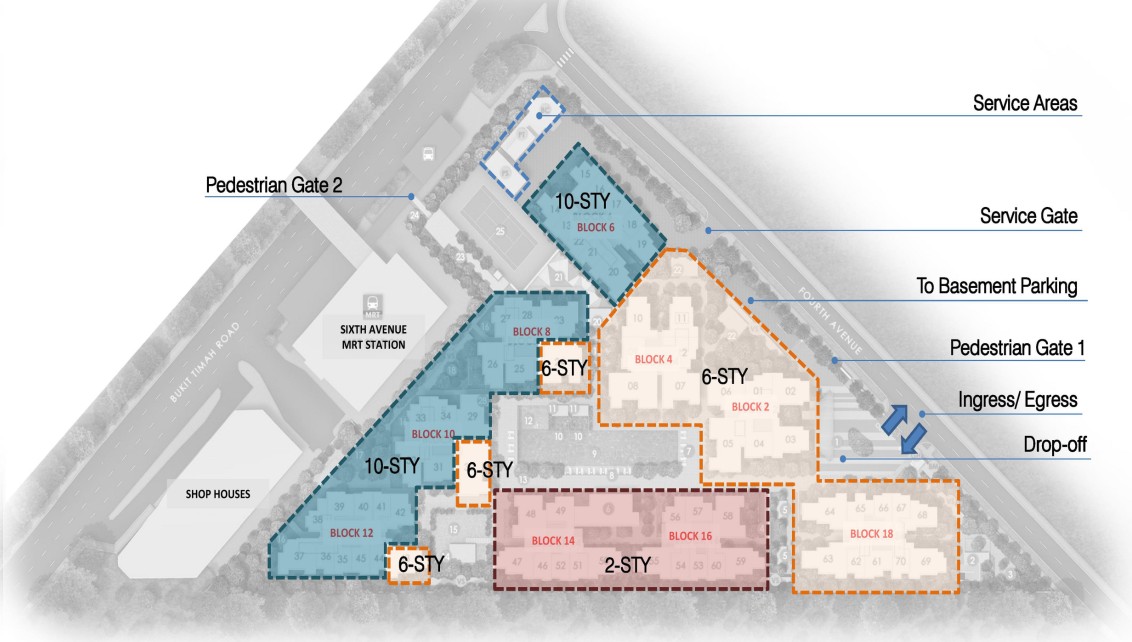 There are two pedestrian gates, one to access the MRT station, the other would be to access Fourth Avenue itself.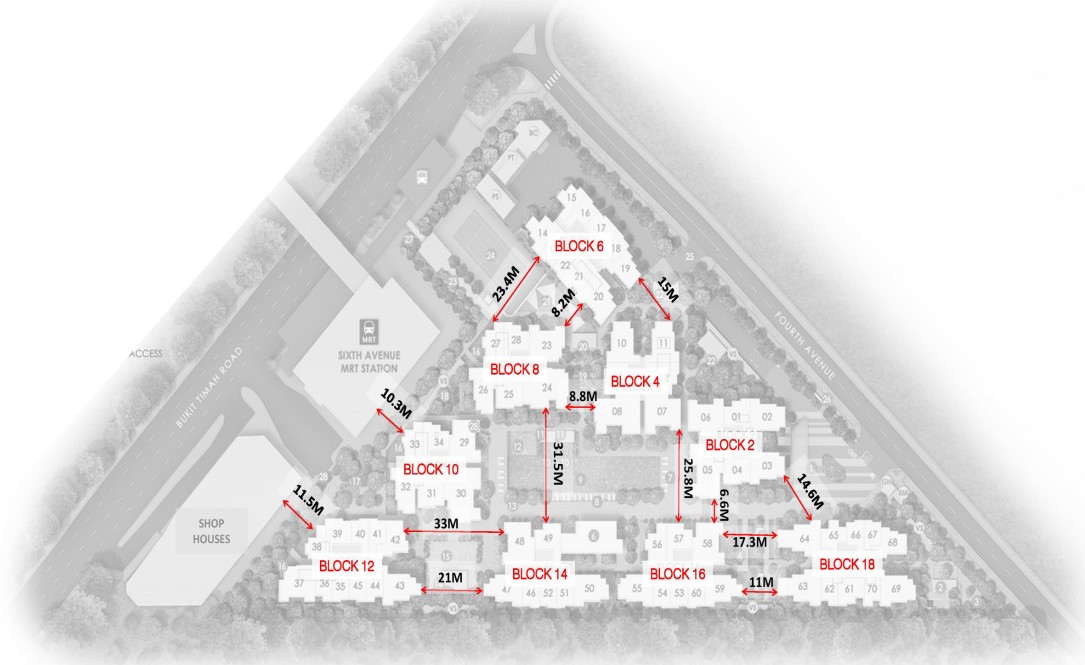 Lastly, this is to show the width between the blocks and the outside of the development. The plot of land is really quite sizeable so you should expect a sense of openness in the development.
Insider Tour
Facilities in Fourth Avenue Residences

| | | |
| --- | --- | --- |
| Meditation Pavilion | Aromatic Garden | Resting Pavilion |
| Clubhouse | Function Room | Party Room |
| Karaoke Room | Steam Room | Gymnasium |
| 50m Swimming Pool | Jacuzzi | Kid's Pool |
| Grand Lawn | Floating Garden | Playground |
| BBQ Pavilion | Tennis Court | Outdoor Fitness |
| Viewing Deck | Reading Pods | Sky Patio |
The facilities in Fourth Avenue Residences are as you would expect for a high-end development. Certain standouts here are the karaoke room and party room that is not as commonly seen in other developments. The 50m swimming pool is a great addition but the tennis court might be a little overcrowded considering the number of units.
Fourth Avenue Residences Review – 1 Bedroom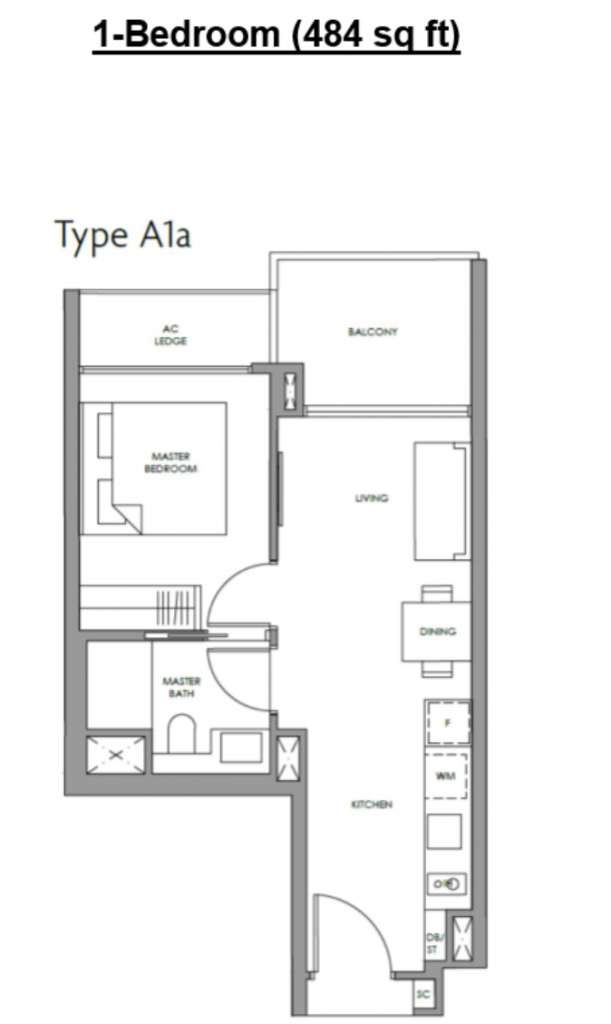 Now let us have a look at the 1 bedroom showroom unit at the Fourth Avenue Residences.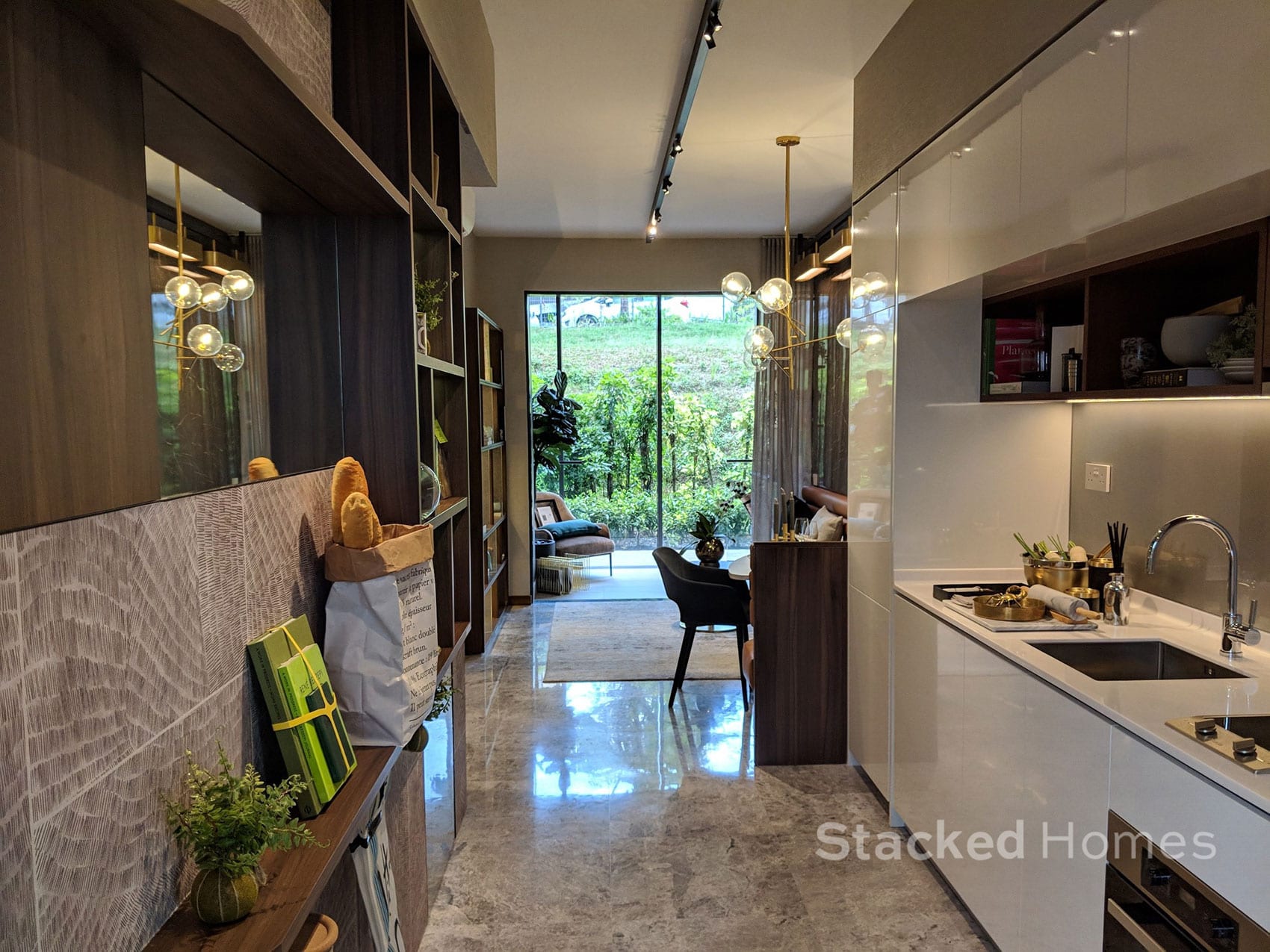 The ID has a great warm yet luxurious design and really shows off the unit well. We like the wide entranceway to the unit, and the large frame of the balcony will allow more light to be drawn into the apartment, making it appear more spacious.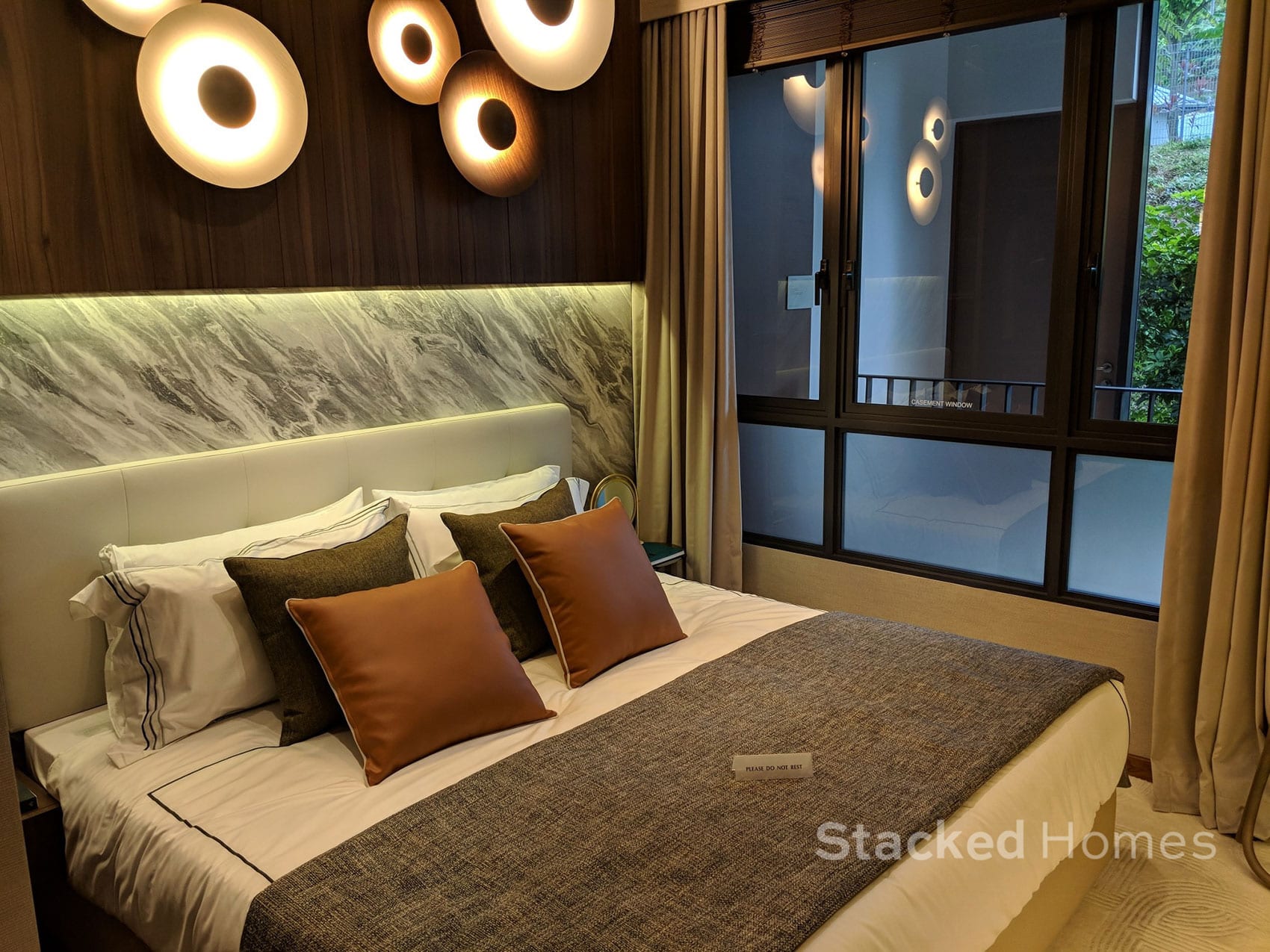 The master bedroom is averaged sized, very in keeping with the trends of apartments nowadays. Once you have a queen/king bed you will not have much room to move around. Since it's a one-bedroom apartment, the toilet is accessible from both the master bedroom and the living area.
With the living room size, you cannot really expect to have a full-sized couch and dining set. As we said earlier, the one-bedroom size and layout is what you will expect from a modern development in Singapore, so no real surprises here.
Fourth Avenue Residences Review – 2 Bedroom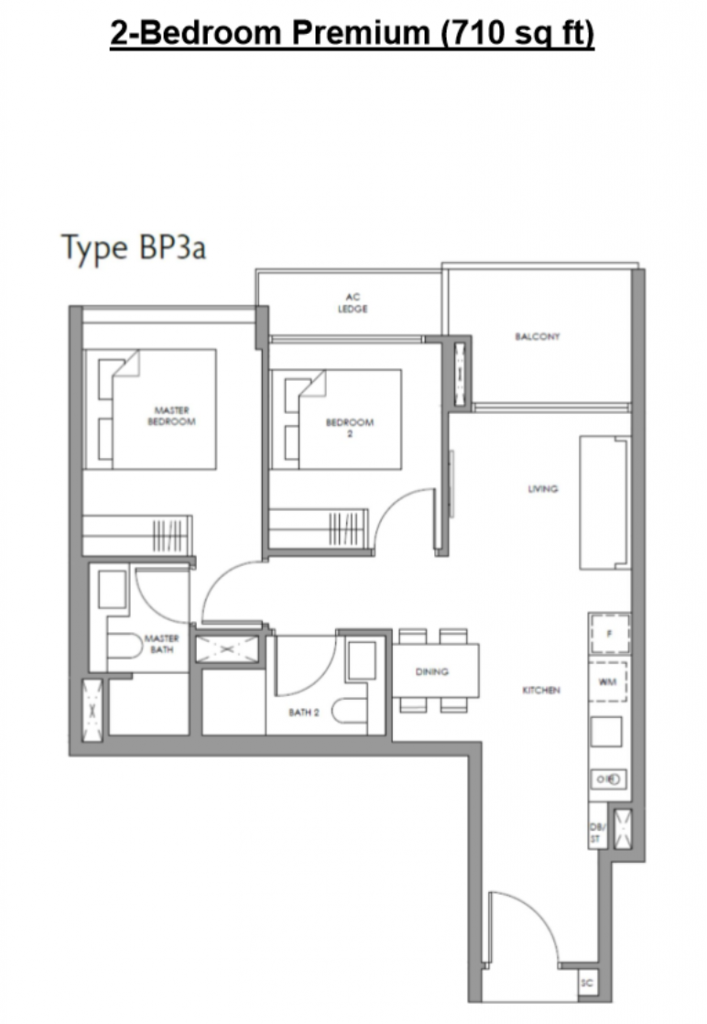 Again, the 2 bedroom layout and size of the Fourth Avenue Residences is very standard fare.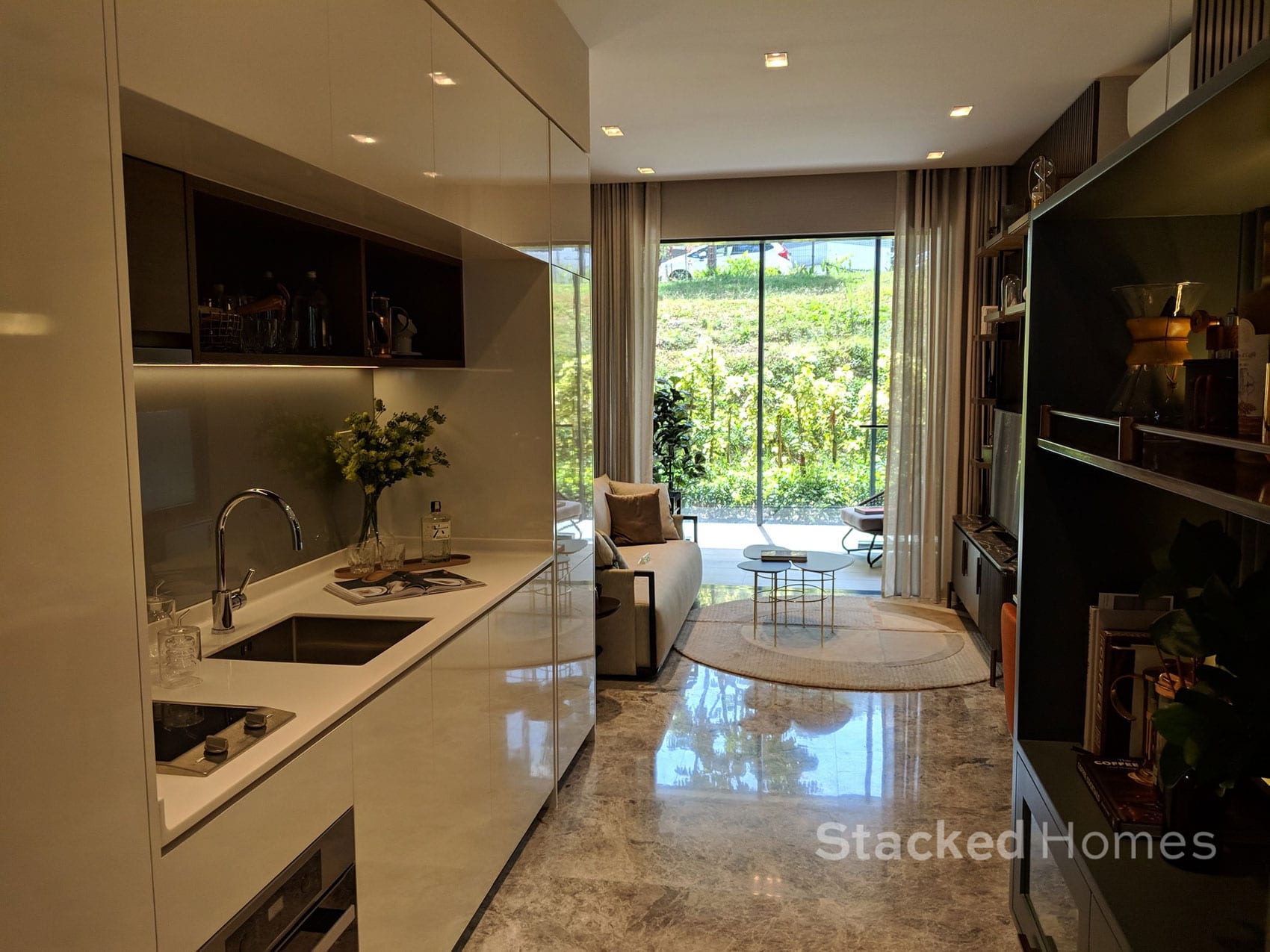 We really like the ID here, it is really modern and premium looking. The glossy white cabinets of the kitchen will come with the development, our only concern is that it might stain or get yellowish in the long run.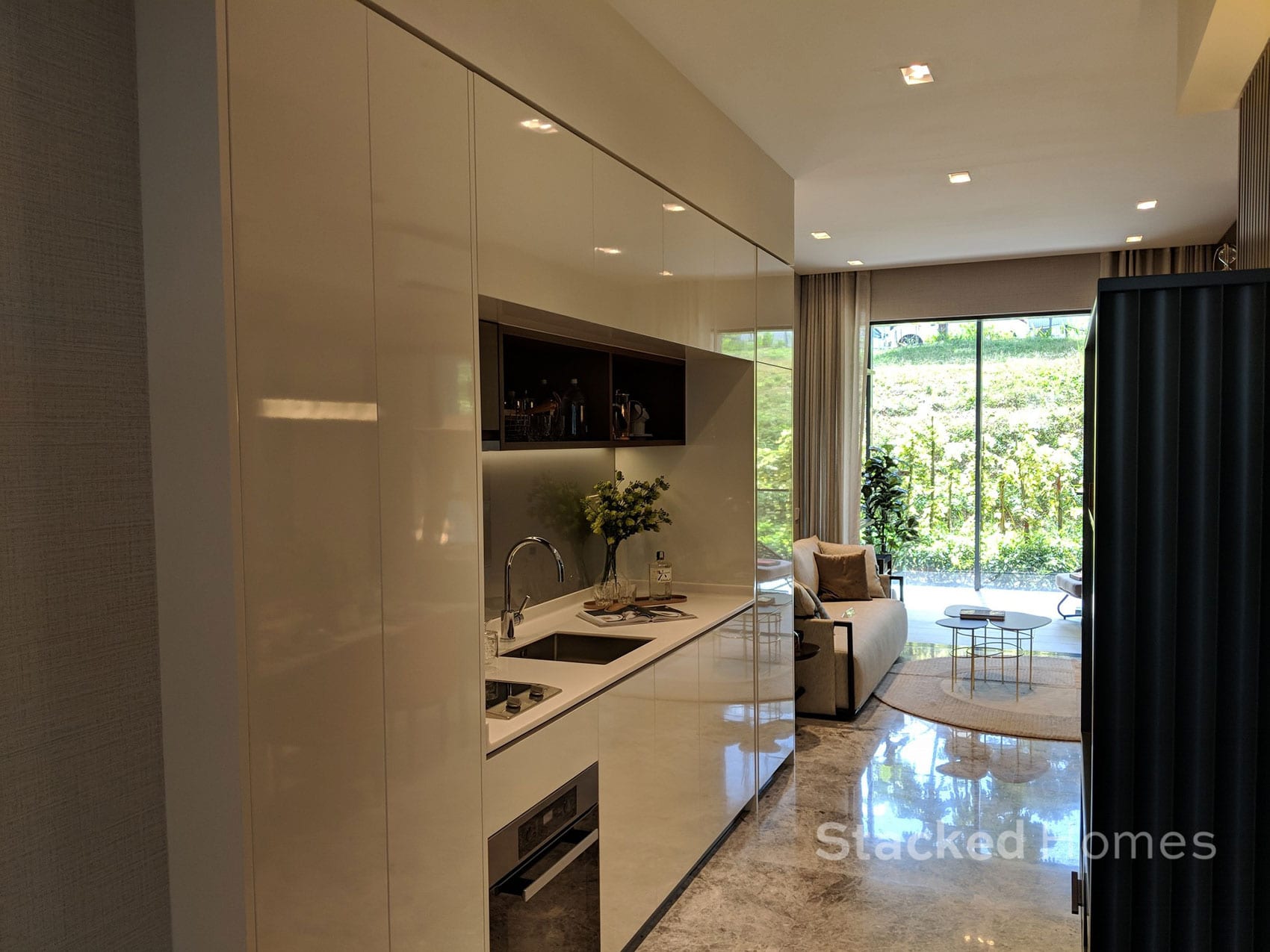 With the open kitchen in the 2 bedrooms, don't expect to do much heavy-duty cooking. If you do have to deep fry stuff, you can always open the door and balcony to let the air flow through.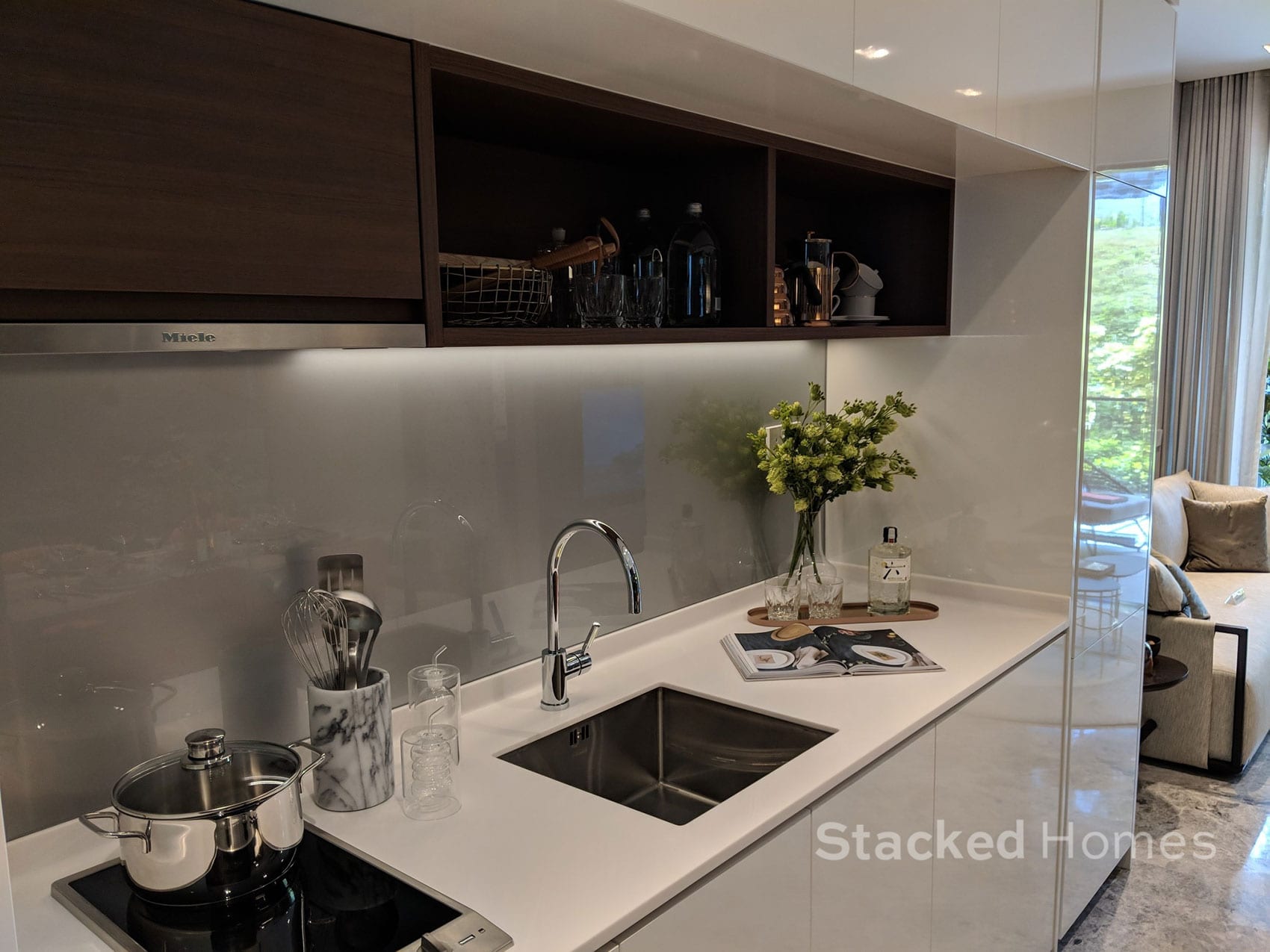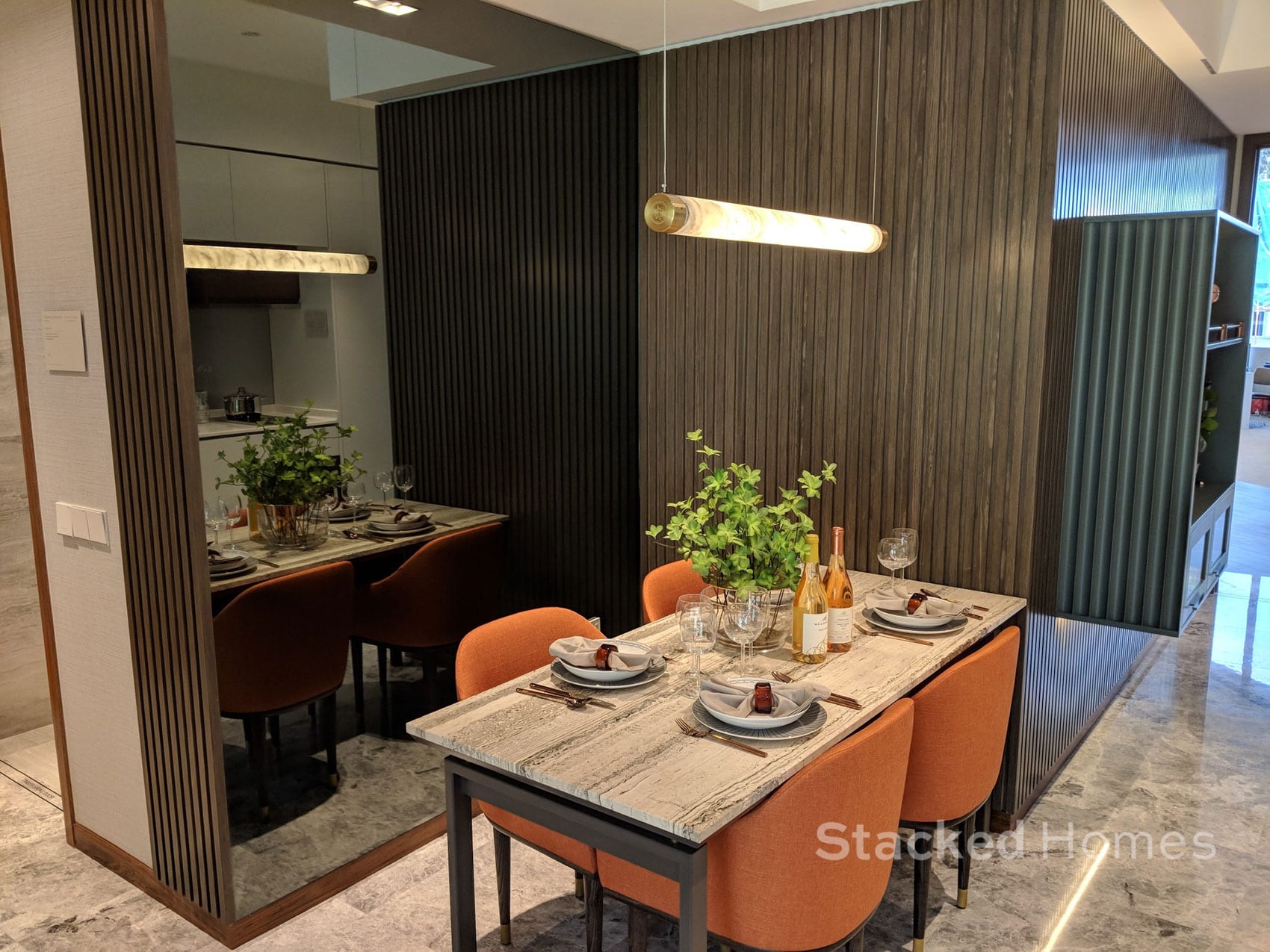 Unlike the 1 bedroom, there is space for a 4 seater dining table.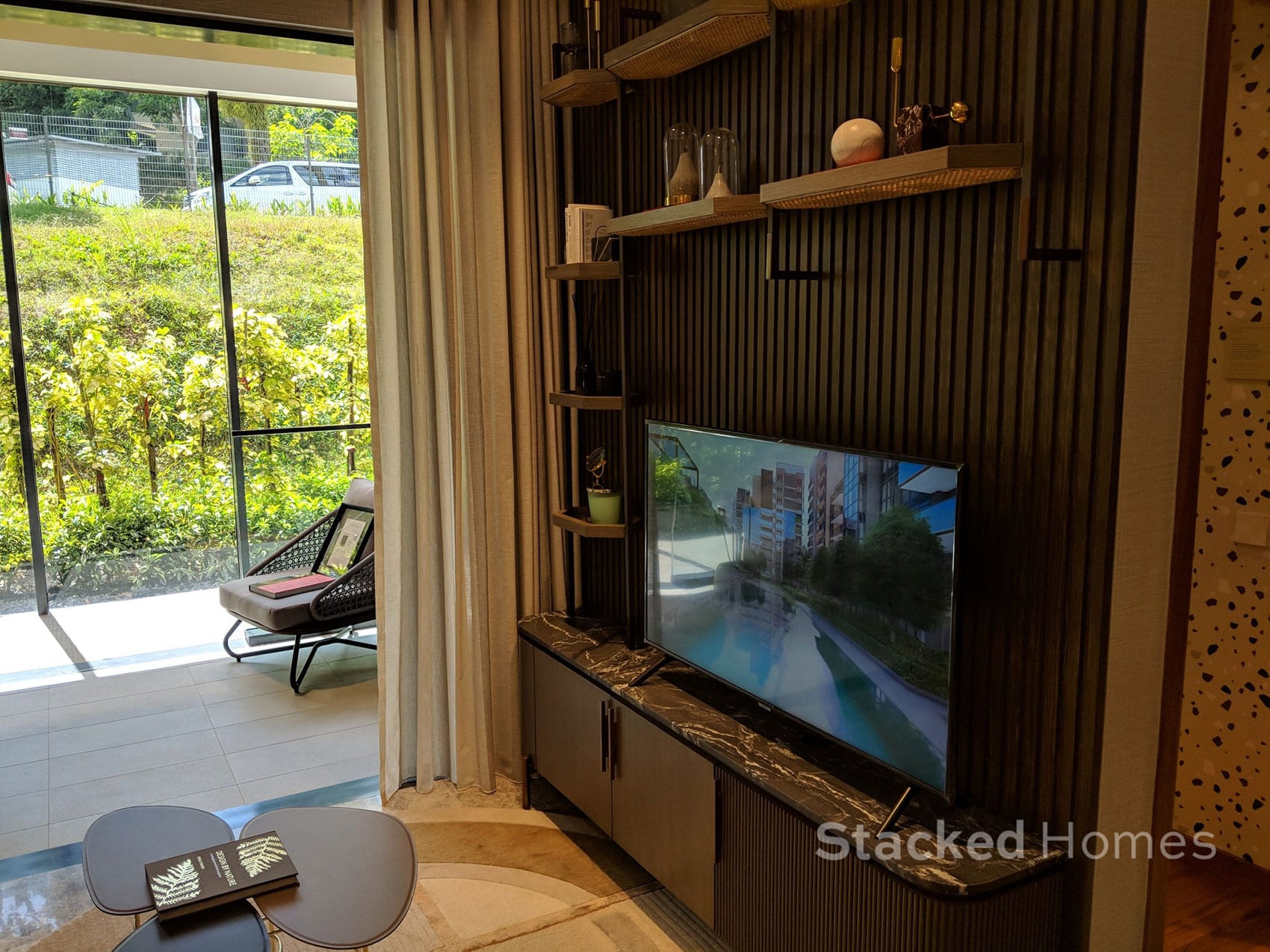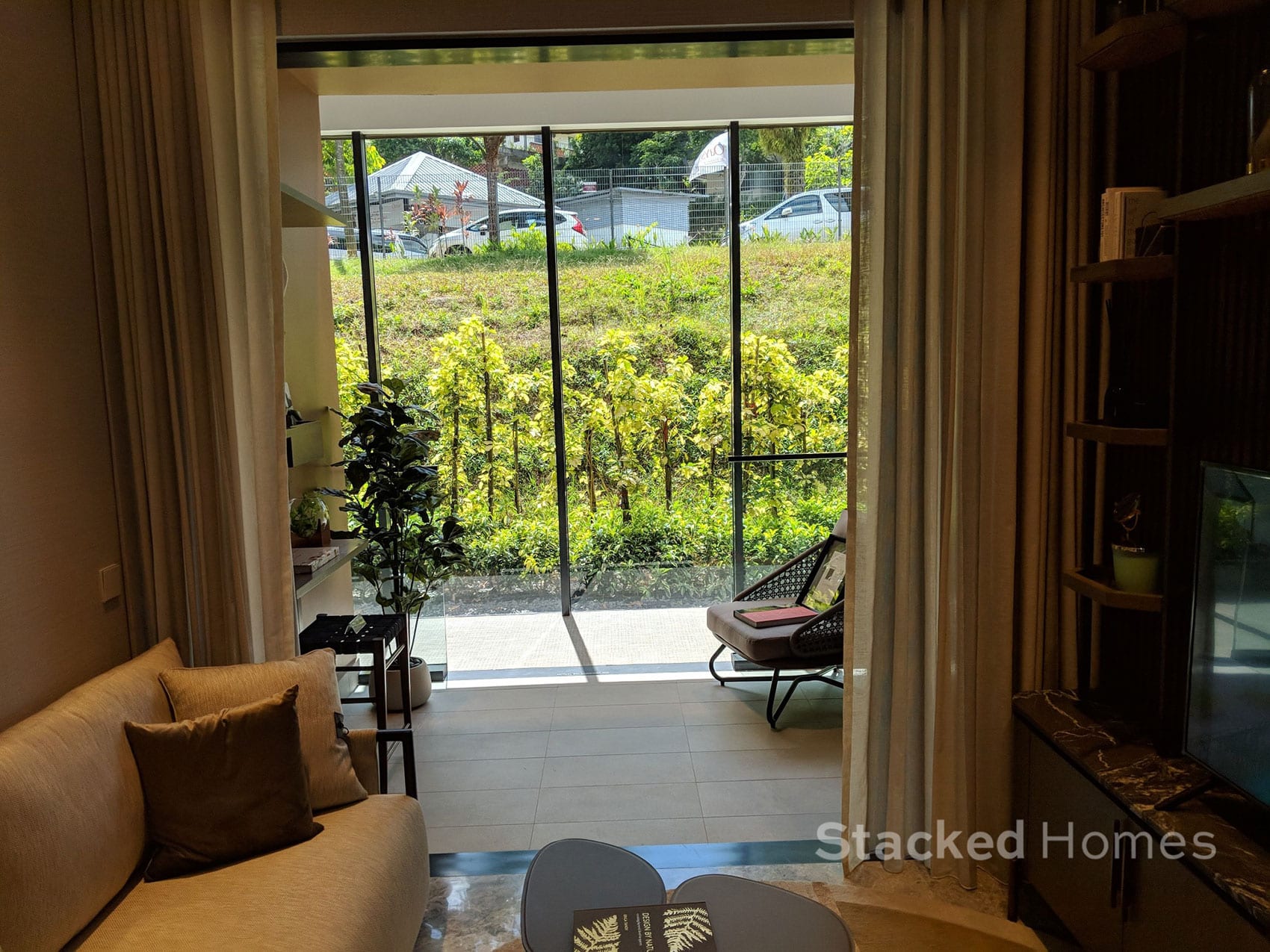 The living area is decent, and you do get a nice sized balcony for some lounge chairs to relax.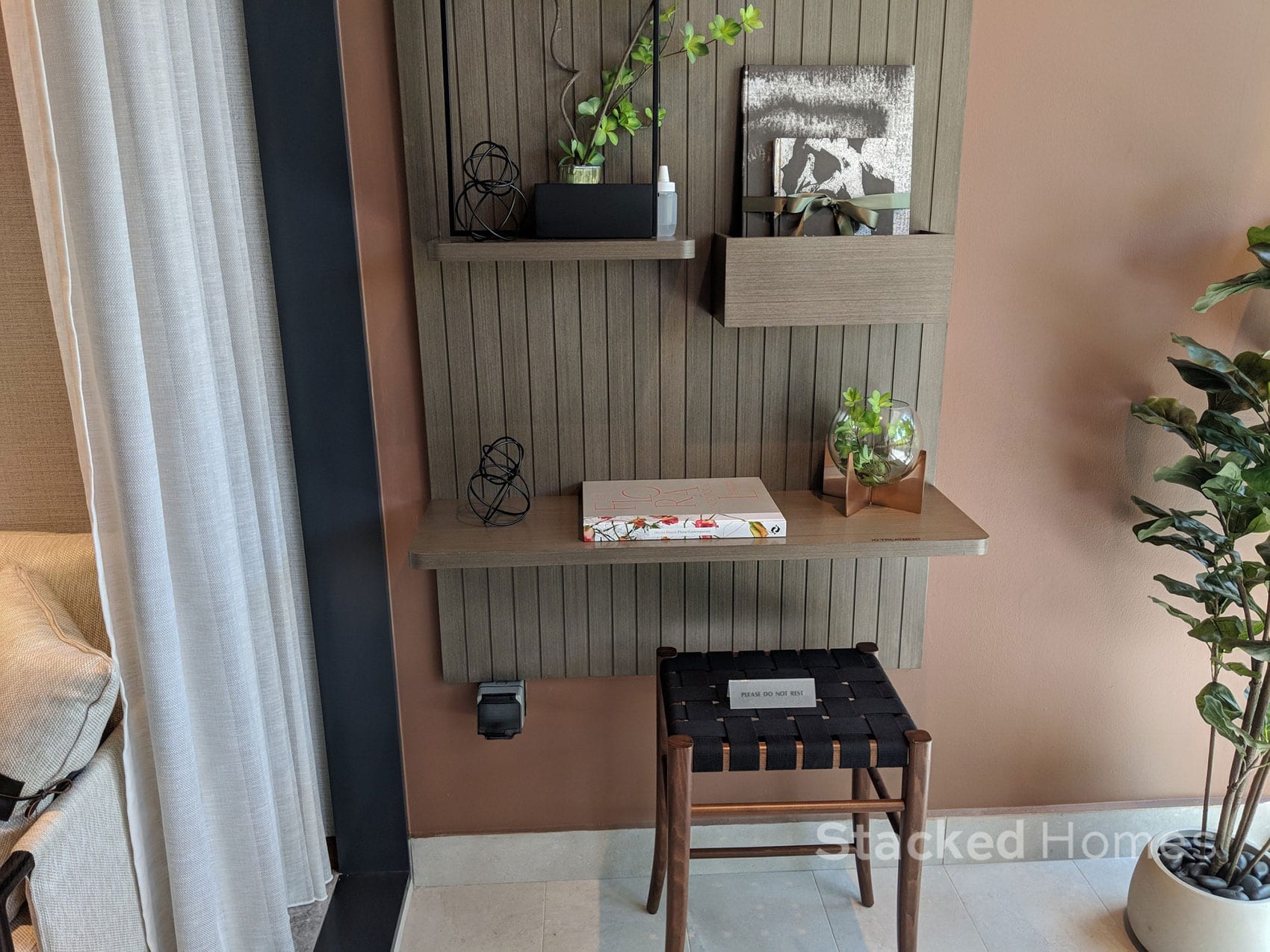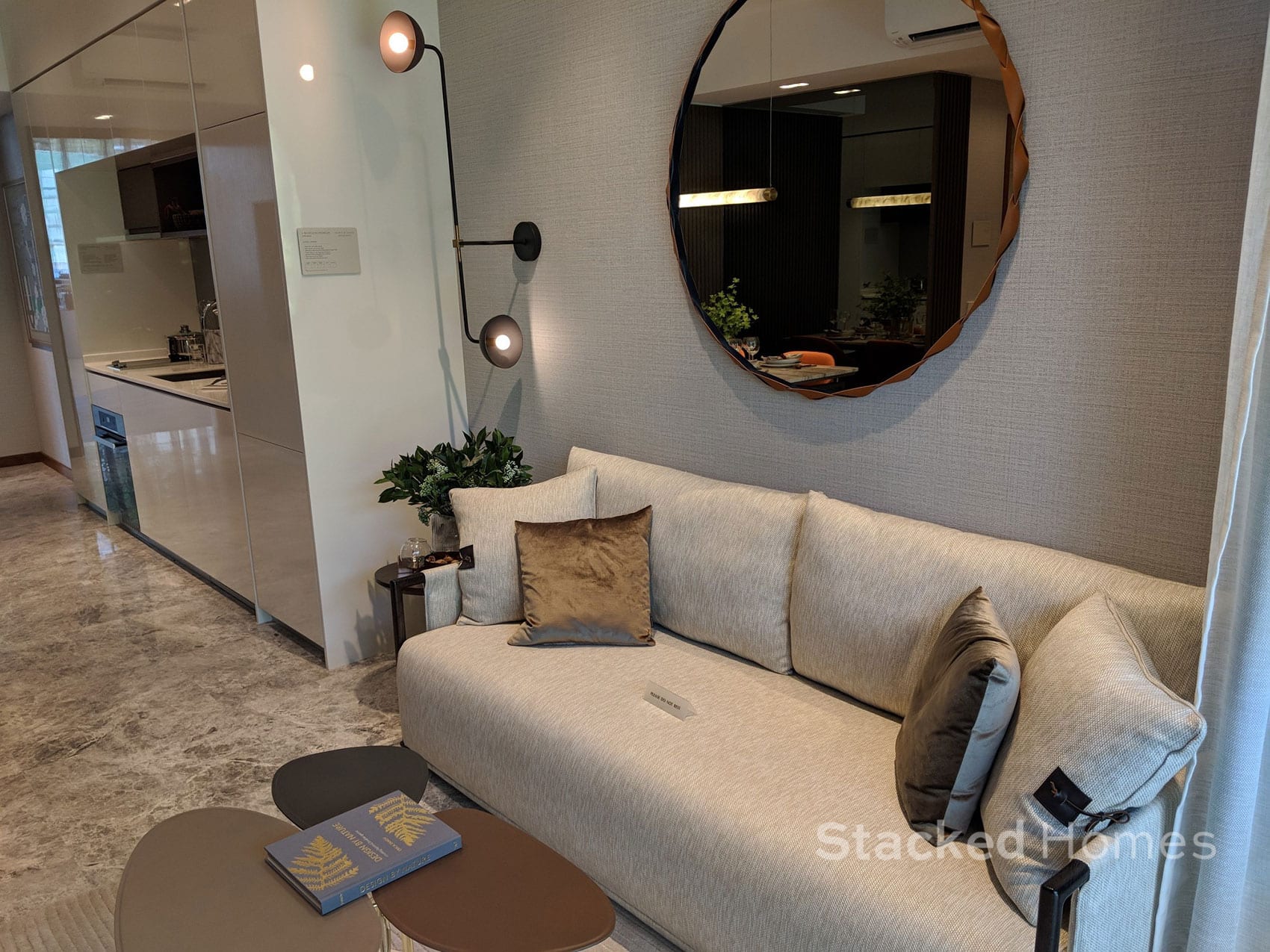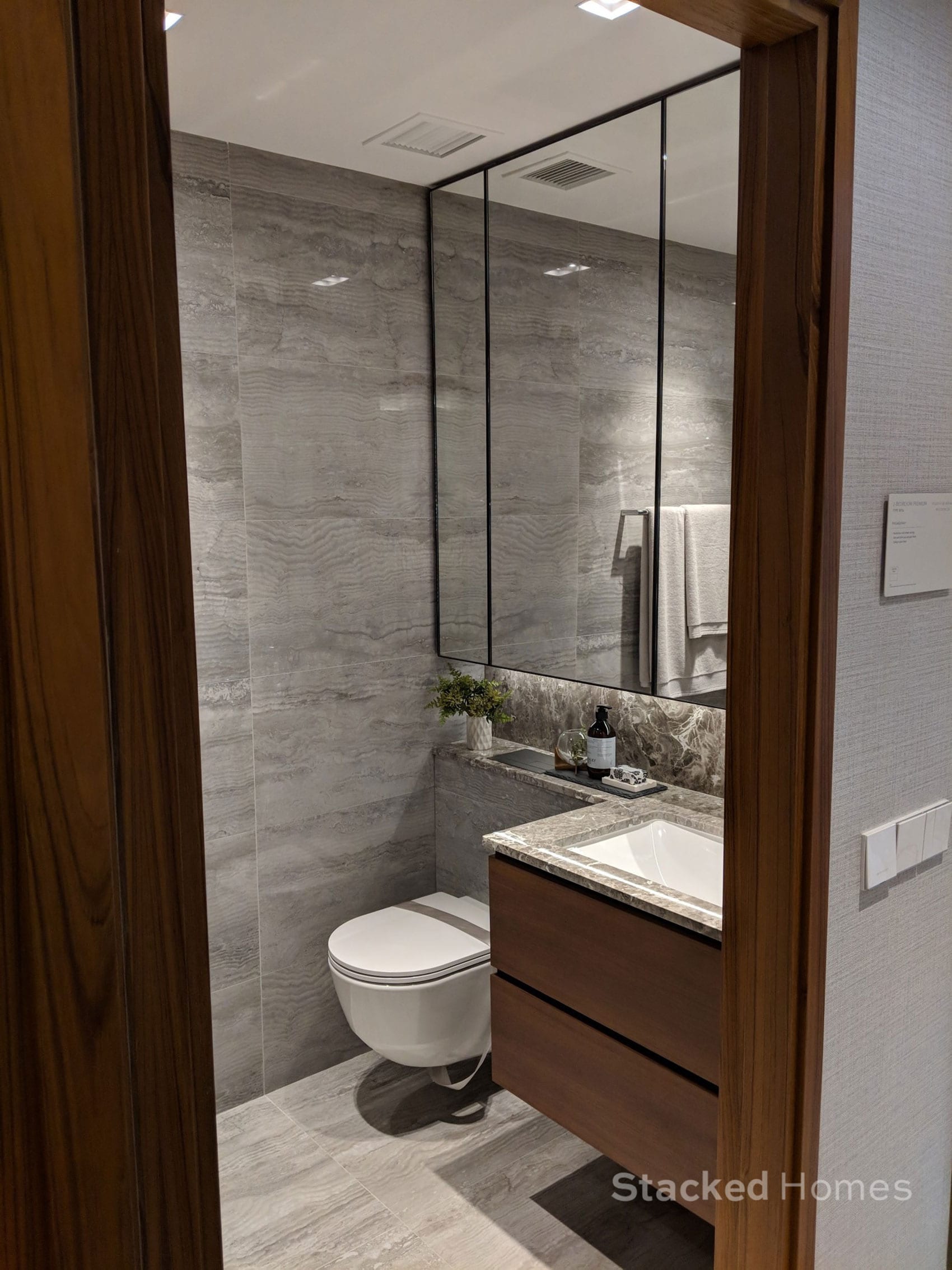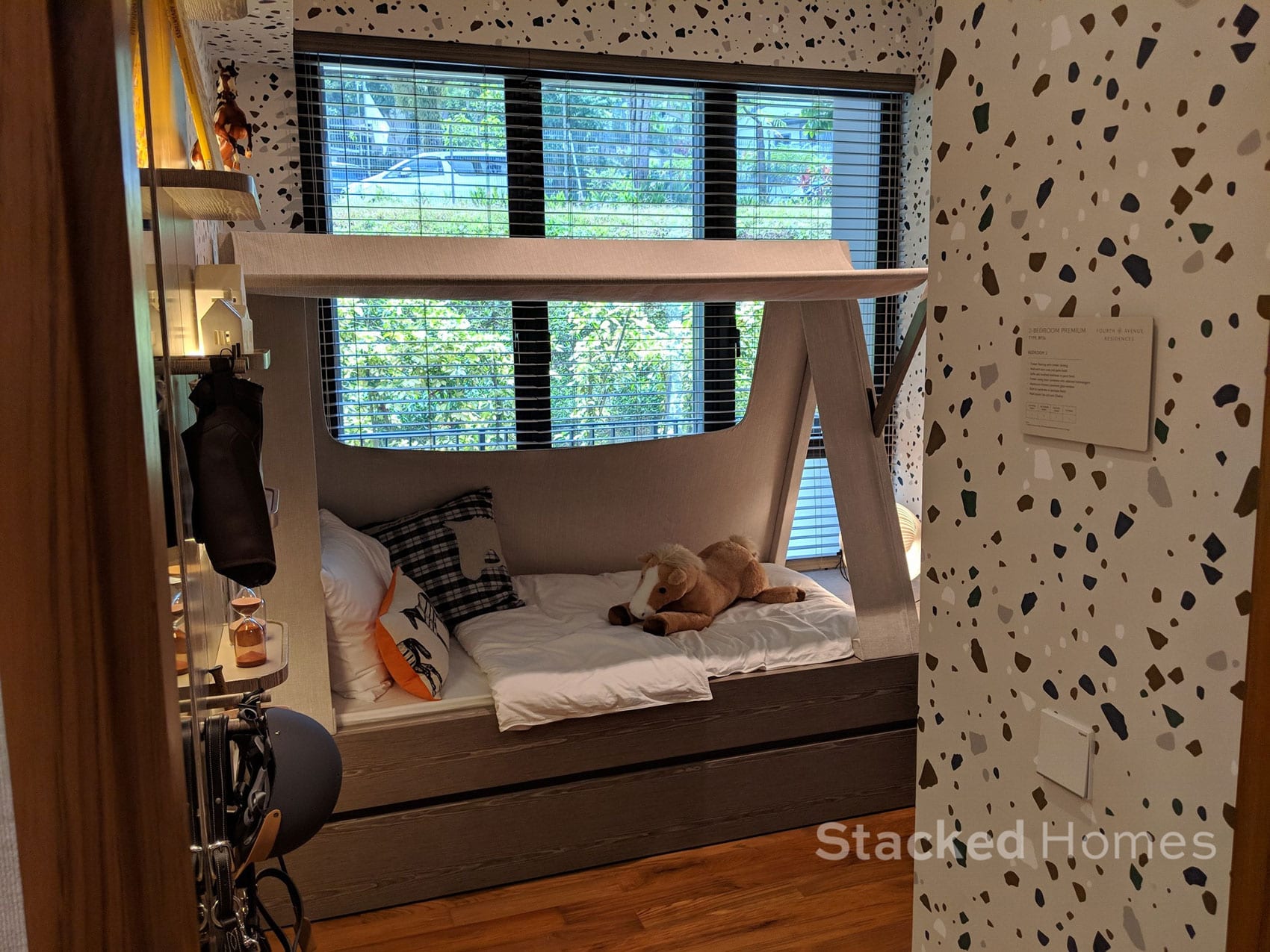 You can put in a normal-sized bed here, this was done up to illustrate how a room for your child would be like.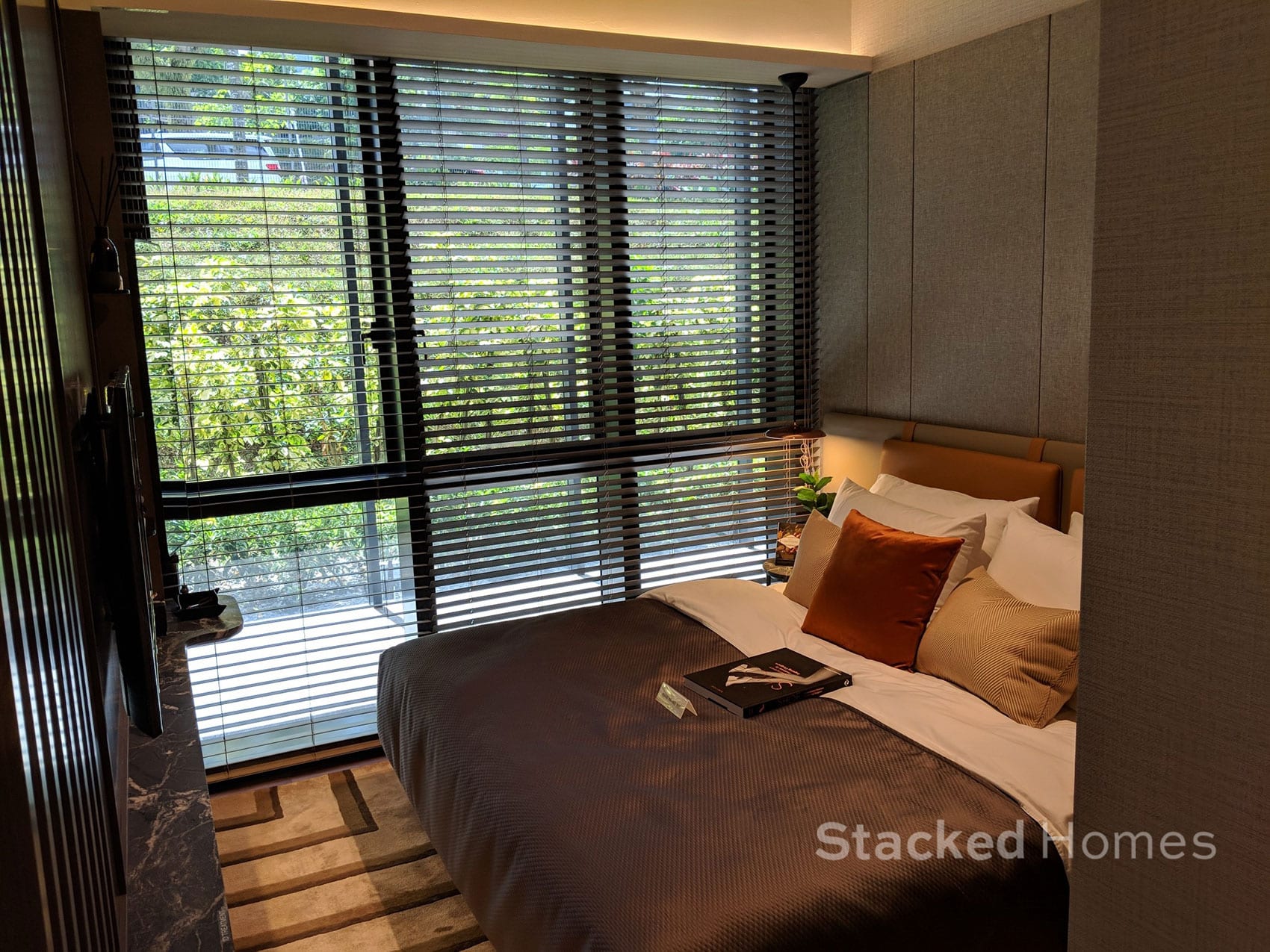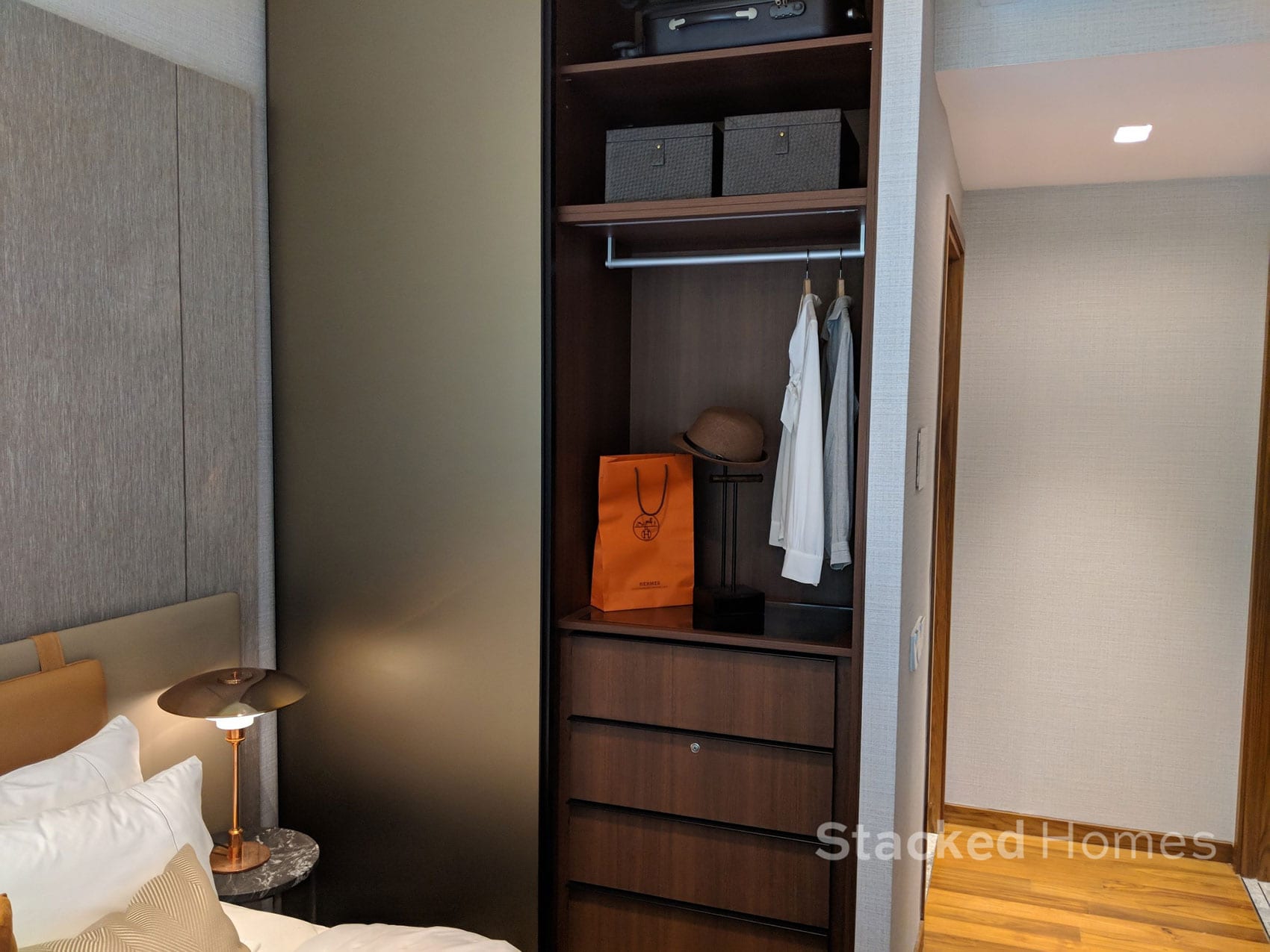 The master bedroom is just okay sized, there is definitely no space for a study or dresser table. We like the cupboards, the materials used look expensive and feel great.
Fourth Avenue Residences Review – 3 Bedroom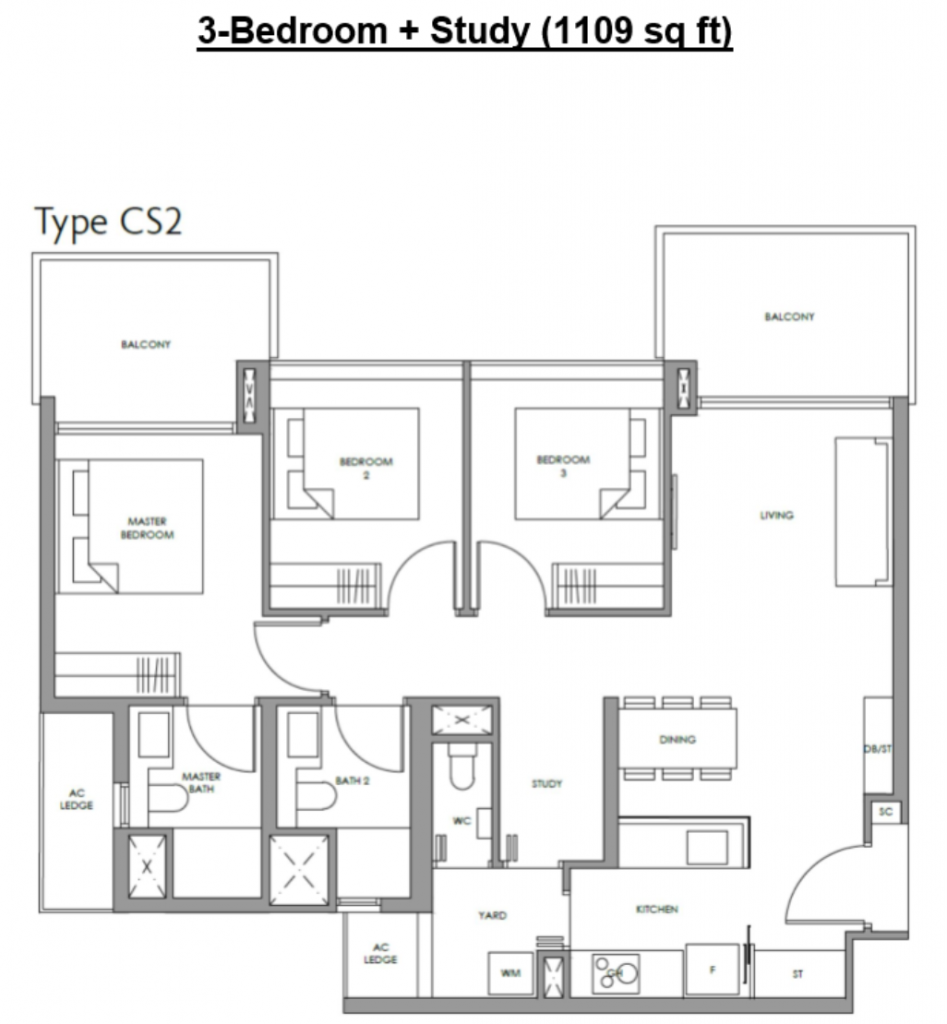 The last showroom unit available at the Fourth Avenue Residences is the 3 bedroom + study.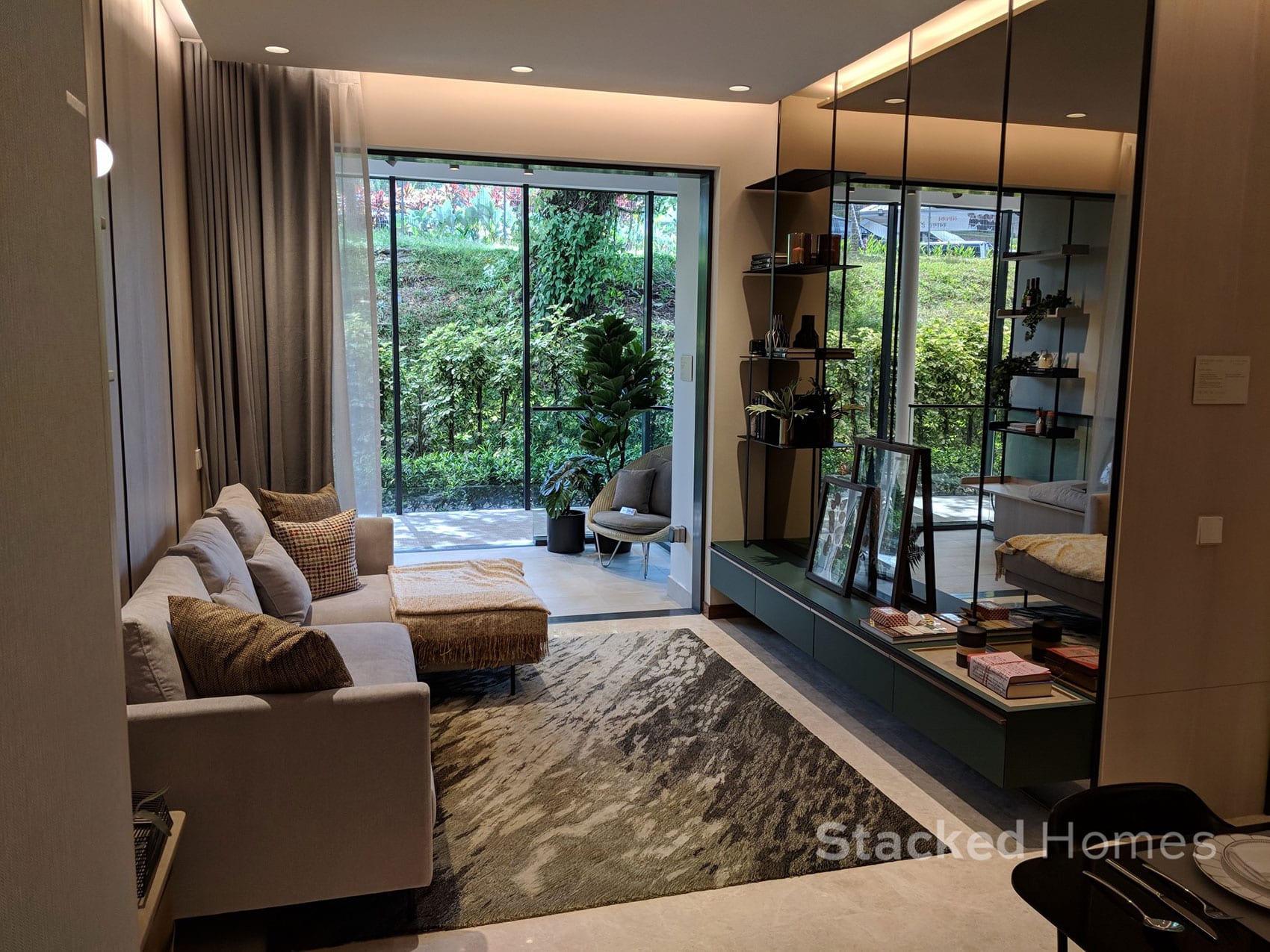 Of course, the living space for the 3 bedroom feels much more spacious.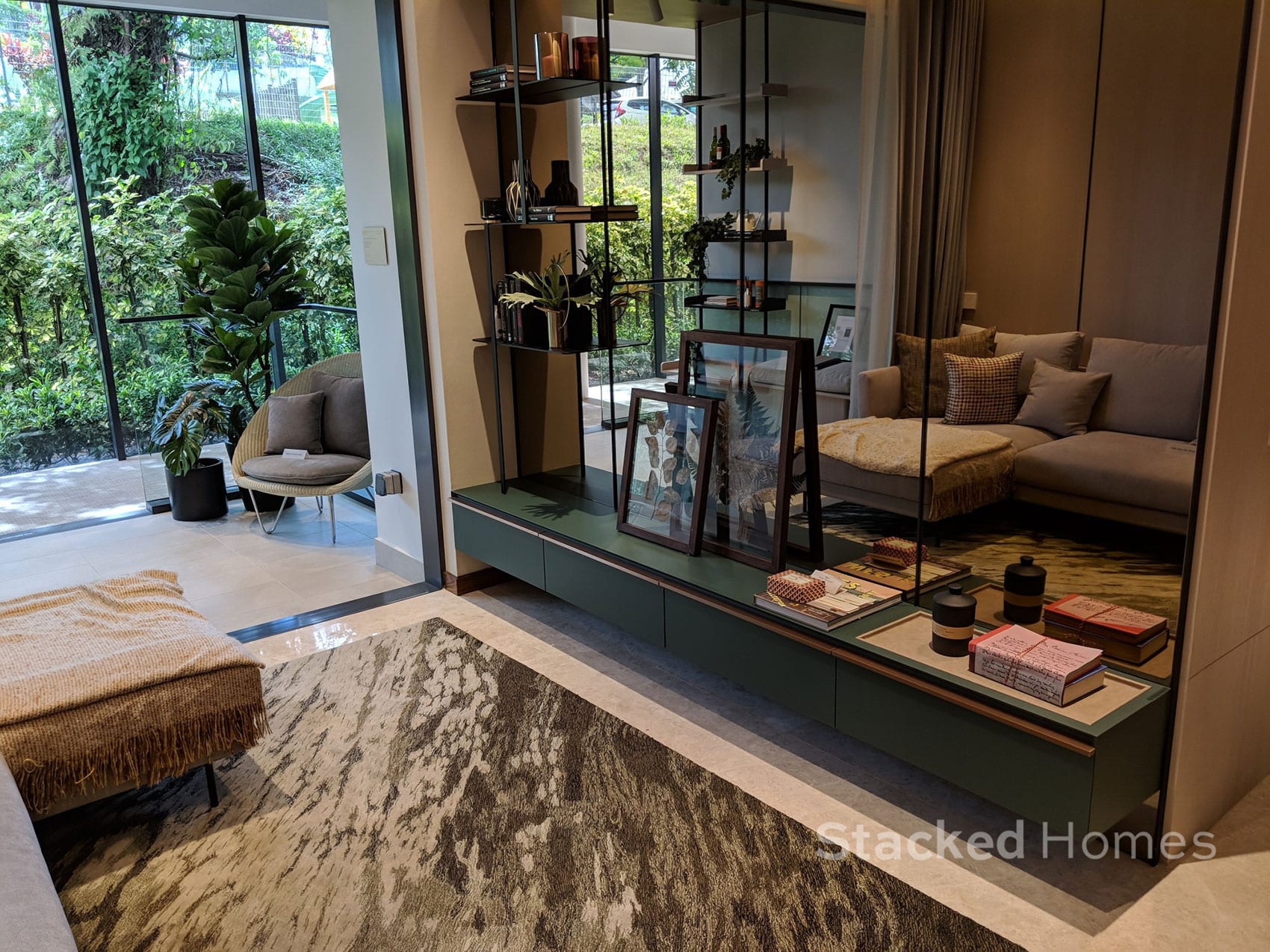 Mirrors always help to make the place look bigger.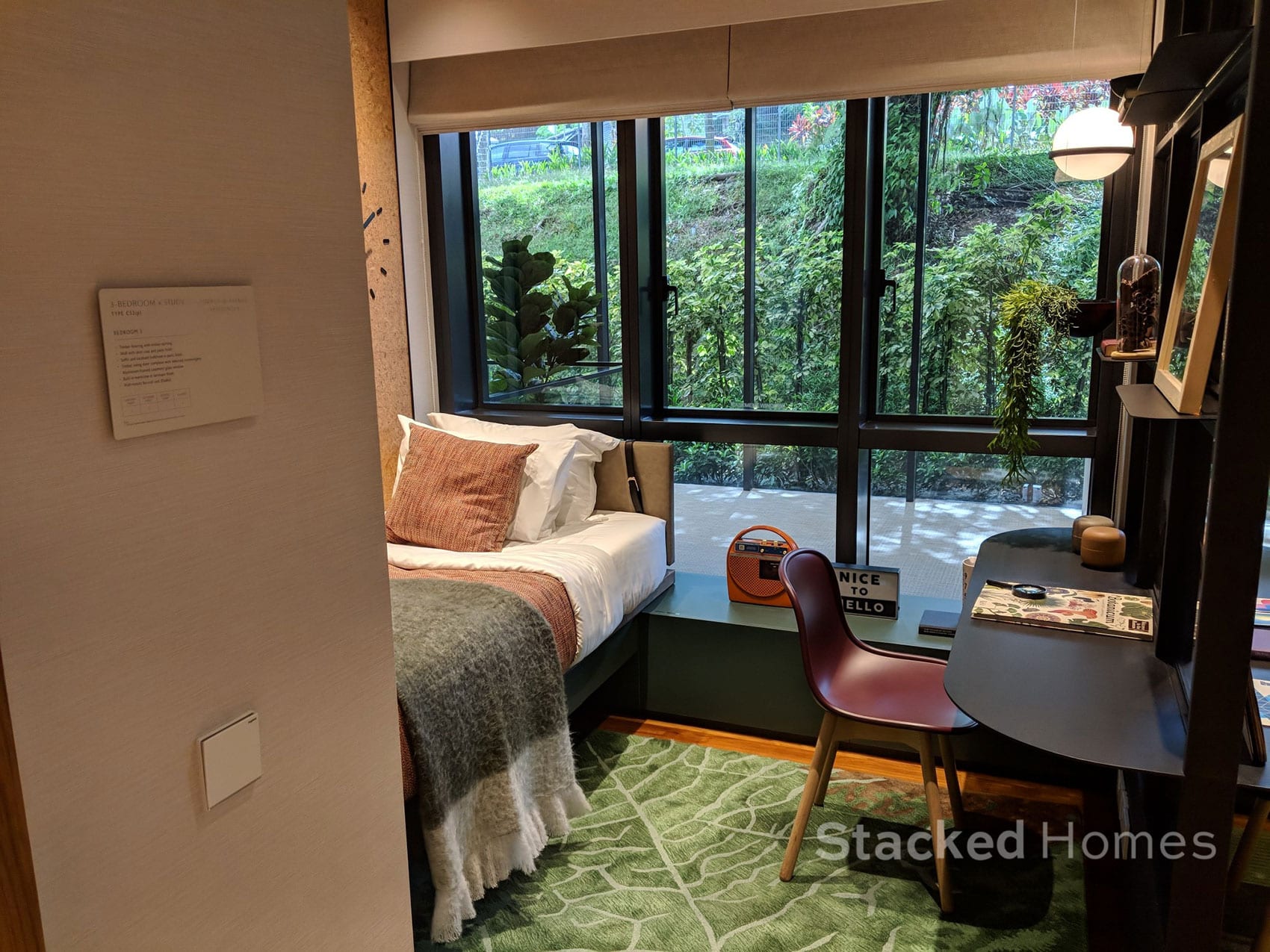 We like that the windows are long and big, it certainly makes the room look brighter and bigger.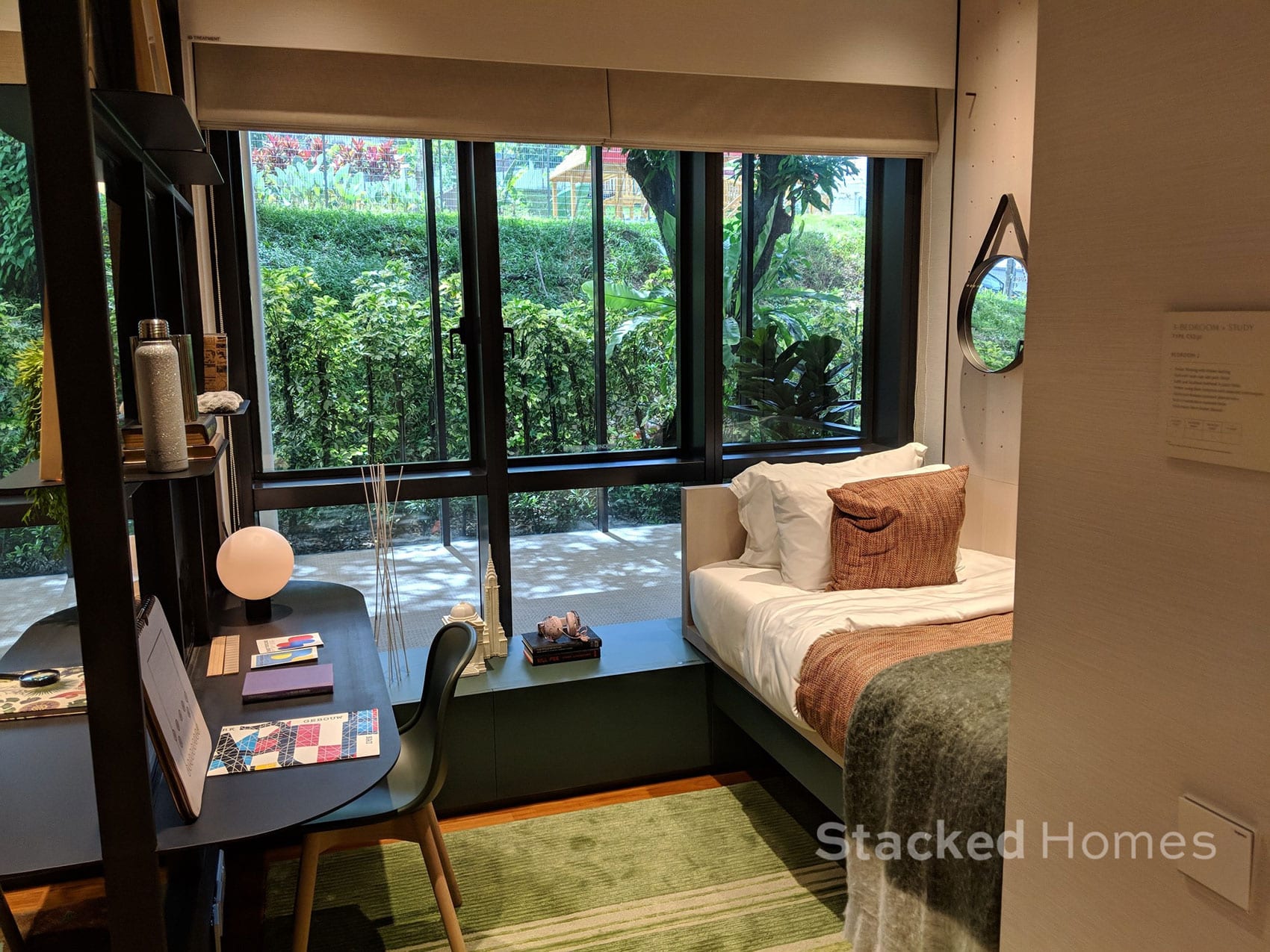 With a single bed in the common bedrooms, there is enough space for a study table and to move about.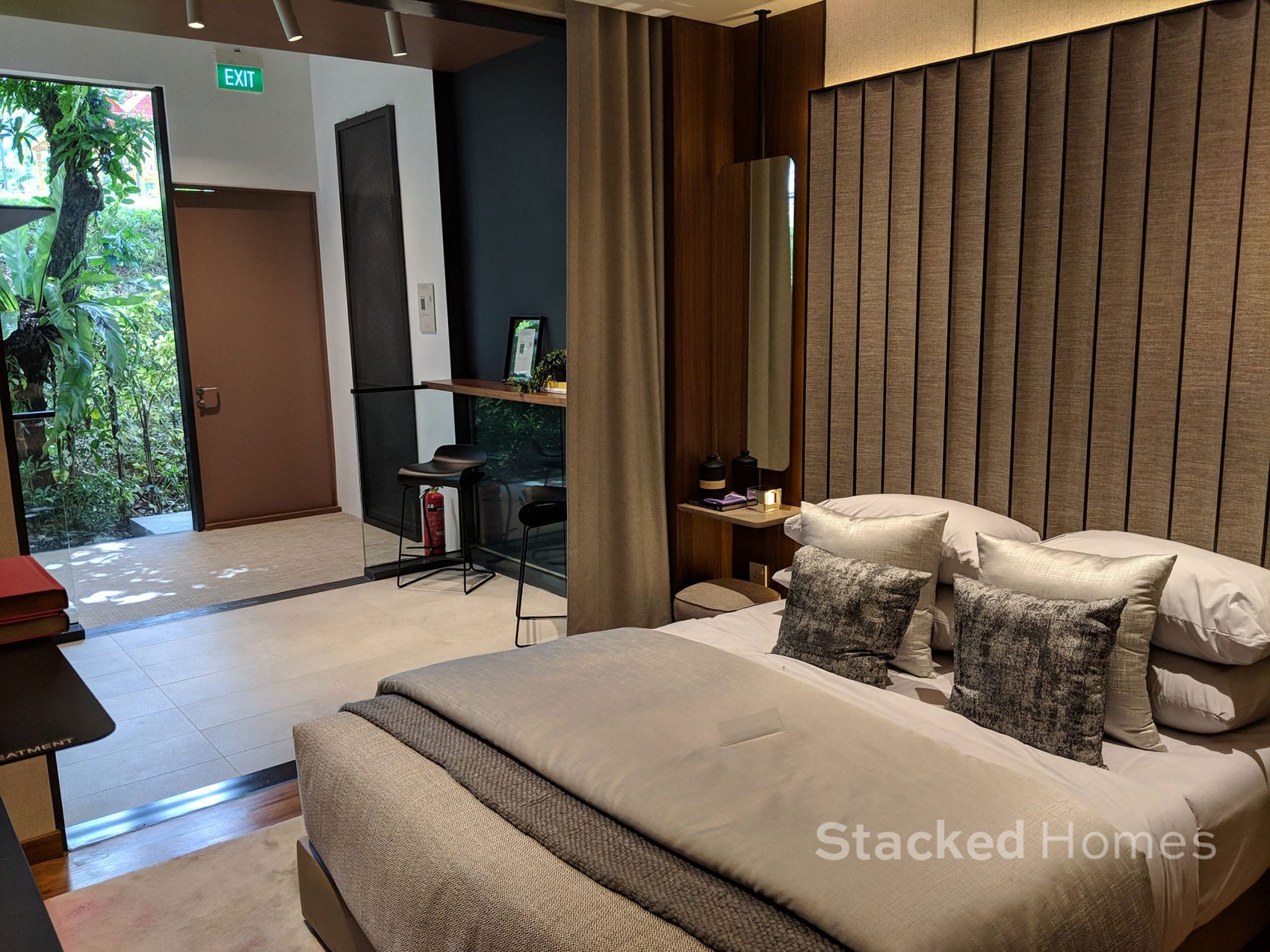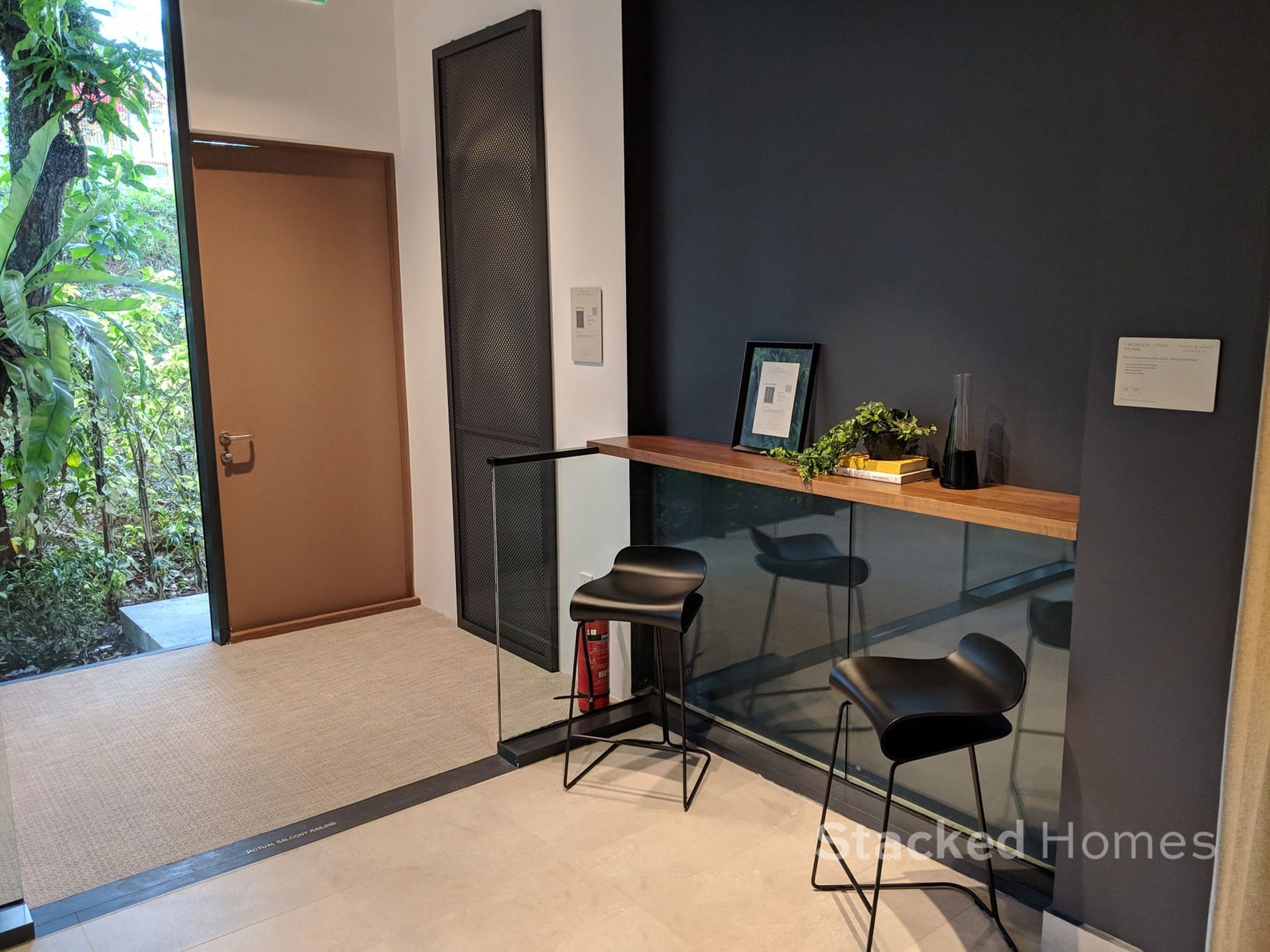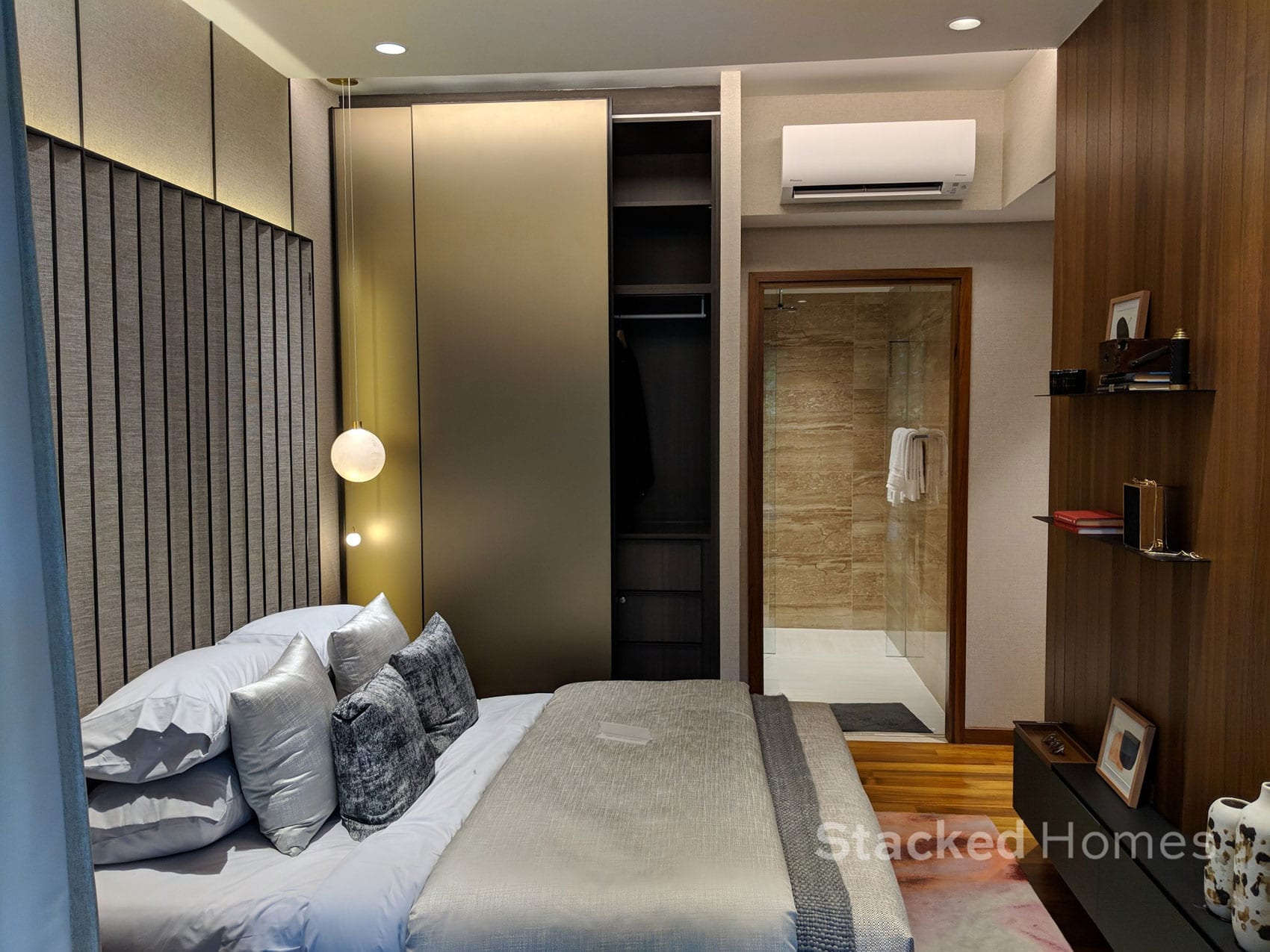 The master bedroom here seems slightly bigger, it also has its own private balcony which has a good amount of space for one or two chairs and a small coffee table.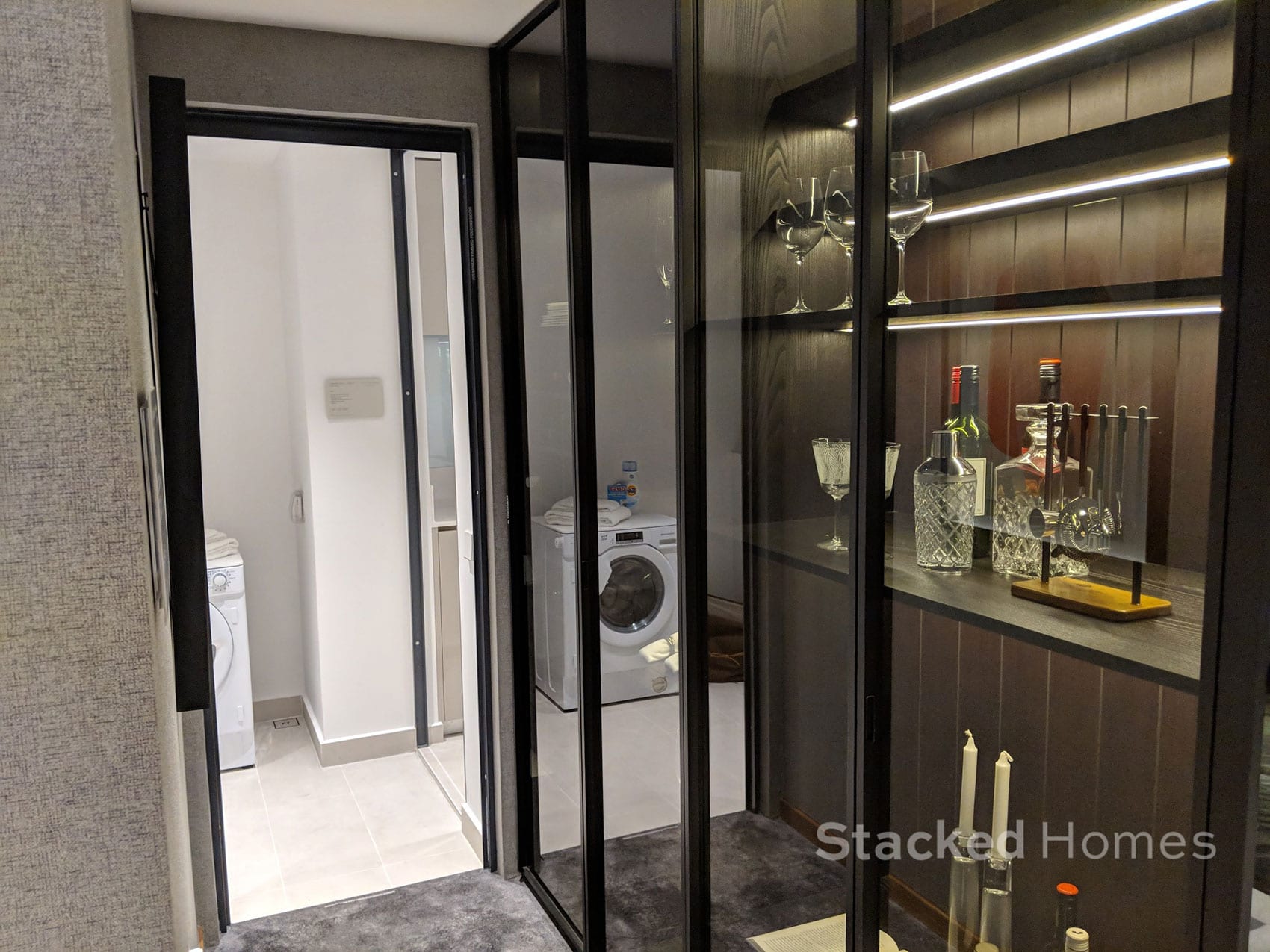 This area is supposed to be the study room, it could be a small bedroom as well, depending on how much you value living space.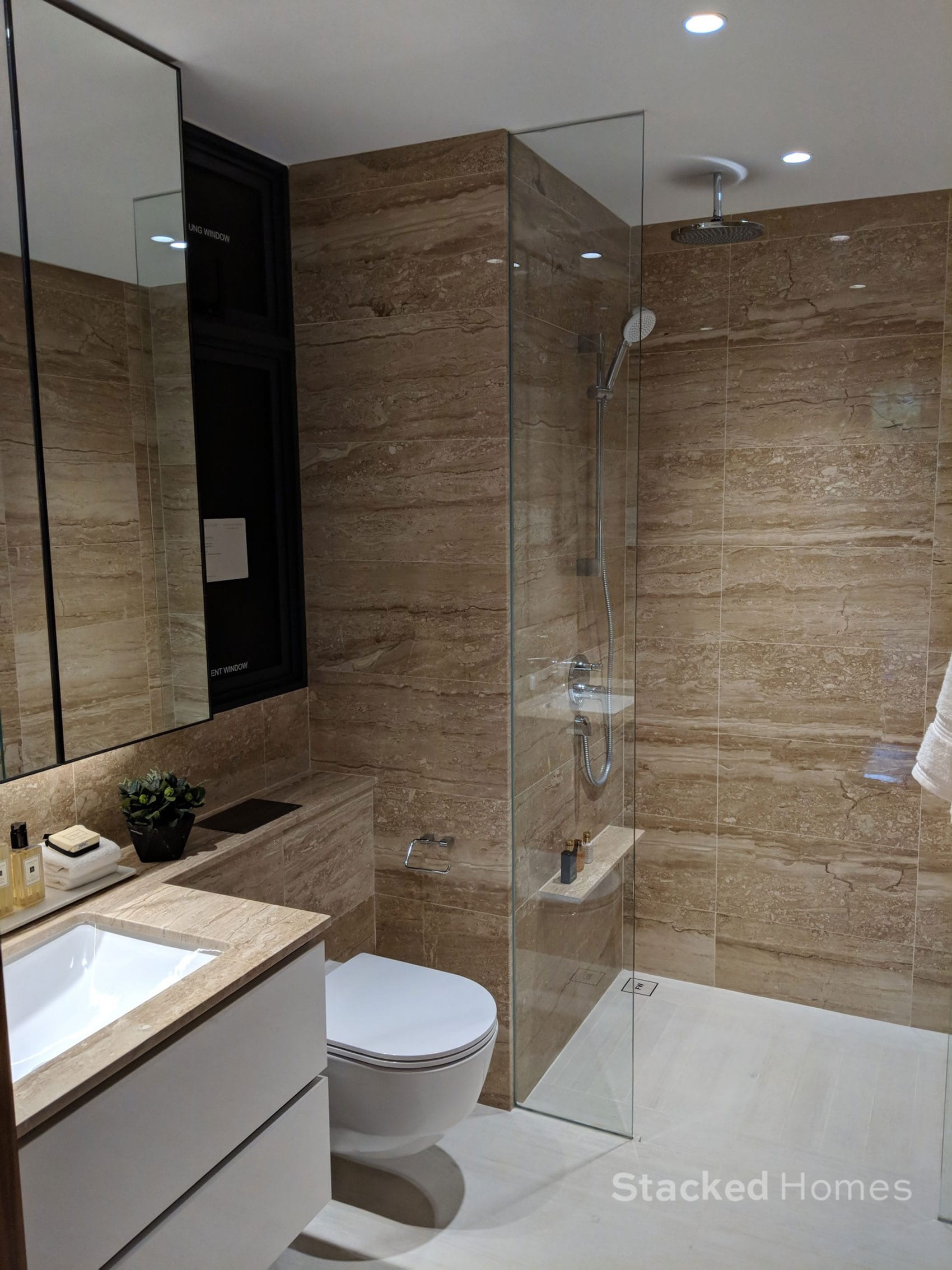 Fourth Avenue Residences Review – Prices
Fourth Avenue Residences has launched with prices around the $2300-2400 PSF. This means that the average 1 bedroom apartment is going for about $1.1 million, the 2-bedroom at about $1.7 million and the 3-bedroom at about $2.6 million. This is all, of course, subject to the level and facing of the units.
Now if you are looking at the Sixth Avenue/Bukit Timah area what other developments are available to you?
Fifth Avenue Condo
The Fifth Avenue condo is the closest but not a direct competitor because it is freehold and a much older condominium.

The units here are much bigger, with an equivalent 2 bedroom unit at the Fifth Avenue condo coming in at 1,346 sqft. This is about double those at the Fourth Avenue Residences! So looking at the last 2 bedroom transaction in April 2018, you will be paying about $600,000 less for a 2 bedroom with half the size but a brand new development with full condo facilities, slightly nearer to the MRT but the biggest disadvantage being that it is a 99-year leasehold development.
Sixth Avenue Residences
Another potential development in the vicinity that could be of interest is the Sixth Avenue Residences.

Again, as the Sixth Avenue Residences received its TOP in 2010, the unit sizes here are much more spacious as well. The development is much further along away from Sixth Avenue MRT station, but it is still within acceptable walking distance. A plus point for this is the freehold status, but another downside would be that it is only accessible via Sixth Avenue, which can get quite blocked up with traffic during peak hours. An equivalent unit to look at there would be the 3 bedroom unit at 1,313 sqft. It was sold in June 2018 at $1.83 million and $1,394 PSF. So the 3 bedroom here is bigger and freehold as well.
Our take
At first glance, there's a lot to like about the development even though it is uncompleted. With a reputable developer like Allgreen, you can be sure that there will be certain standards to the development. We think that Fourth Avenue Residences will be attractive to young couples that want to be near to good schools (for children in the future) as well as to be close by the MRT. There could also be some uptake from landed owners nearby that want to downgrade to a smaller place that has all the facilities with less hassle, so this could be a feasible option as well. Perhaps the only thing here would be the asking price, but if that is something you can stomach then Fourth Avenue Residences definitely ticks all the right boxes here.
End of Review