Commentary
Fab Or Fail: We Rate These 7 New Condo Trends Of The Past Decade
Ryan J
March 30, 2022

11

min read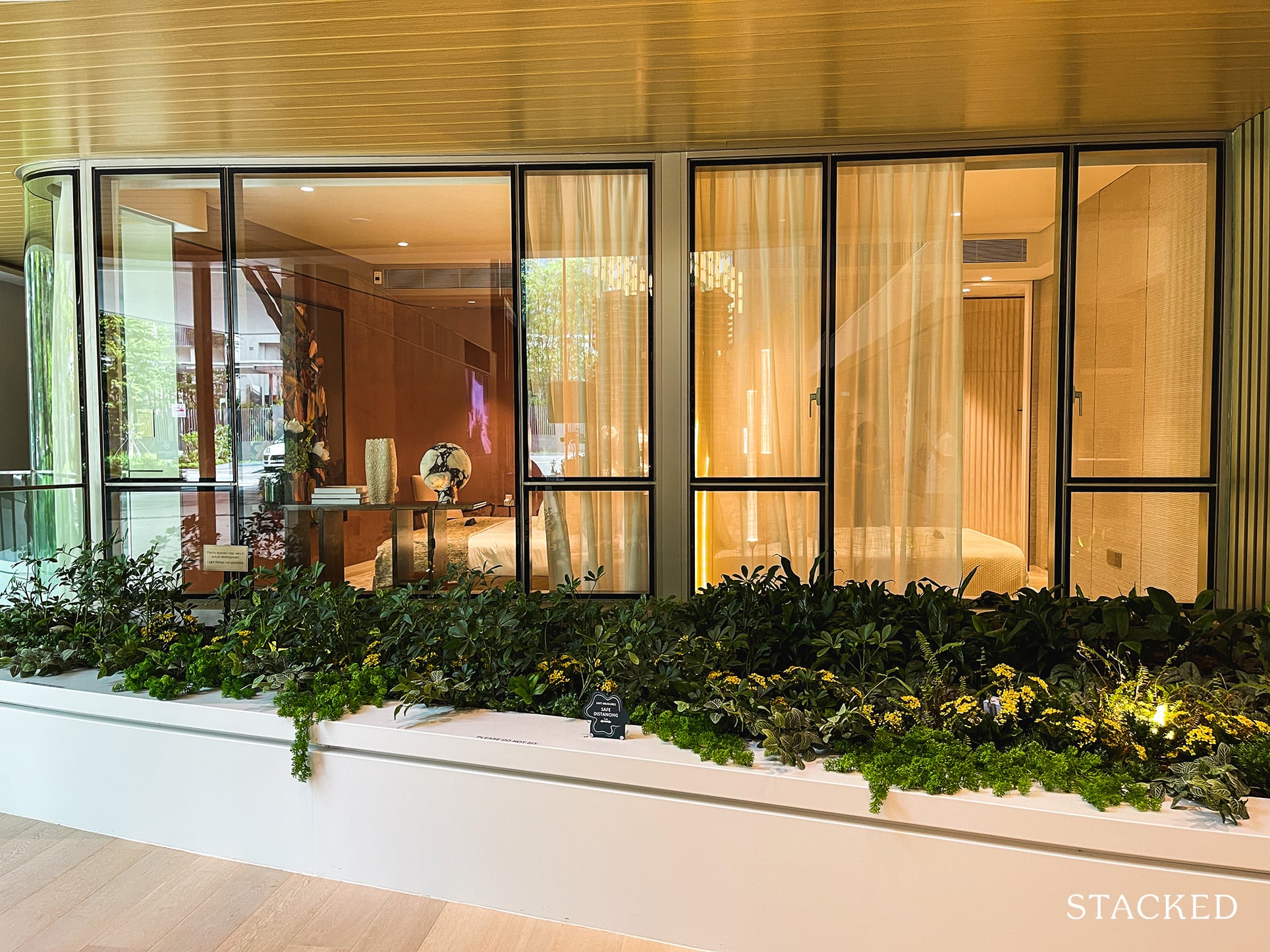 11
min read
Every now and then, a developer tries something new that takes off – then before you know it, every other developer is following suit, and you have the makings of a trend. But how practical are these? Will they go the way of squash courts from the '80s, or will they add to demand even in 20 to 30 years? Let's find out:
1. Study rooms
A common question from new home buyers is "What is the +1?"
That's a reference to unit descriptions like 1+1 bedder, or 2+1 bedder. The "+1" typically refers to a study room. To put it bluntly, this is a space that's somewhat big enough to turn into a bedroom, but not quite.
Here's an example of a 1+1 unit from The M: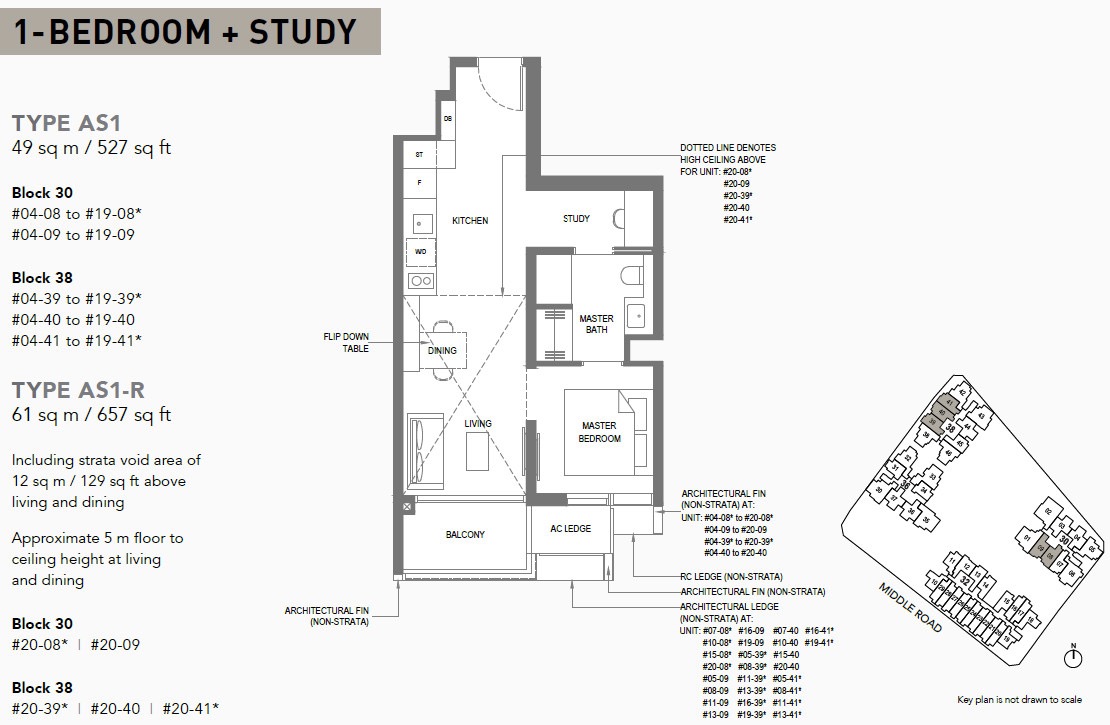 The study area is the small nook between the kitchen and the master bathroom. It's big enough to fit a desk a chair for sure – but as to whether it can be a whole other bedroom, that's up to the buyer.
It could be one, but the space might be a little too cramped to be comfortable. There also may not be much natural light, as the "study room" spot might not have a window.
Although there are also standout options like the one in 1953, where the study can nearly be a whole bedroom.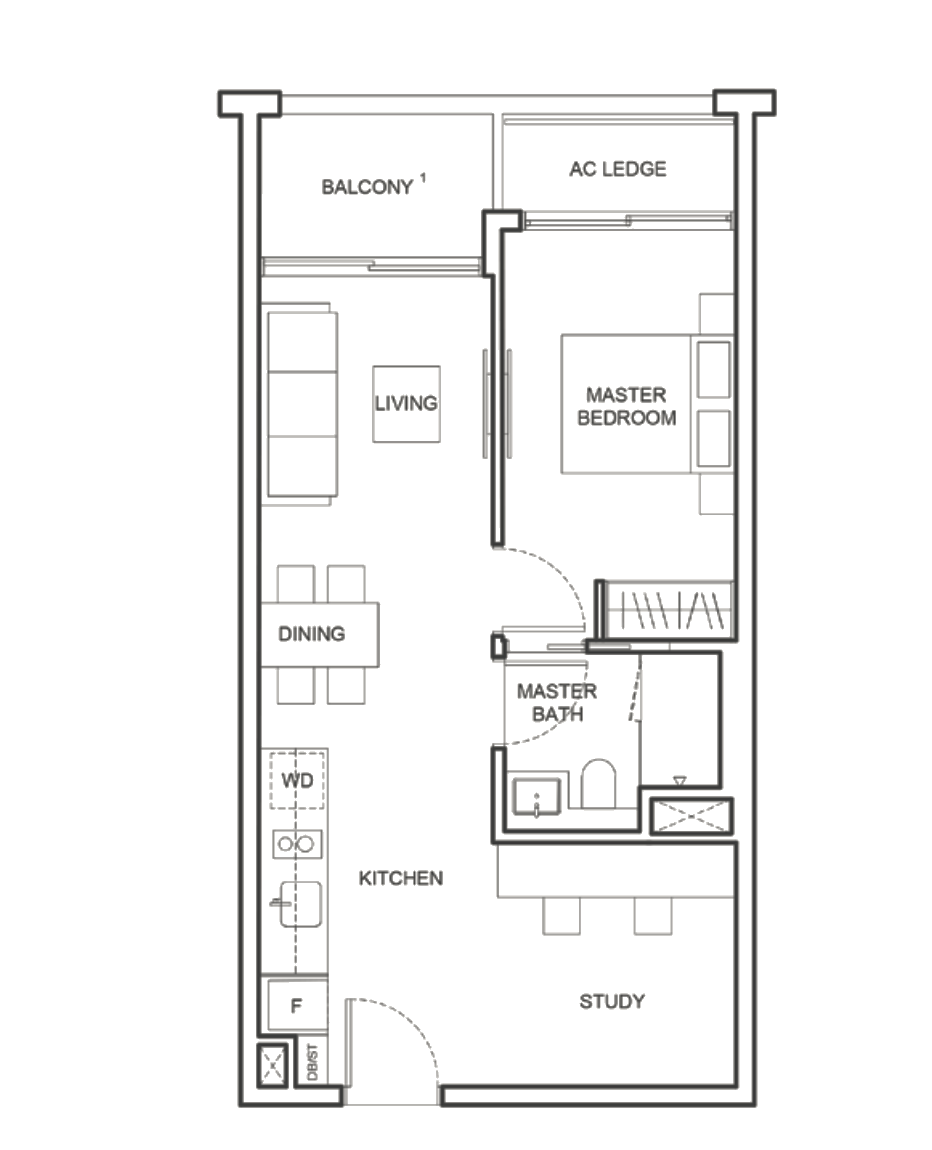 Another example is the one at One-North Eden, where the study in the 2 bedroom + study is big enough to be a room, has functional windows, and even a dedicated air-conditioner unit.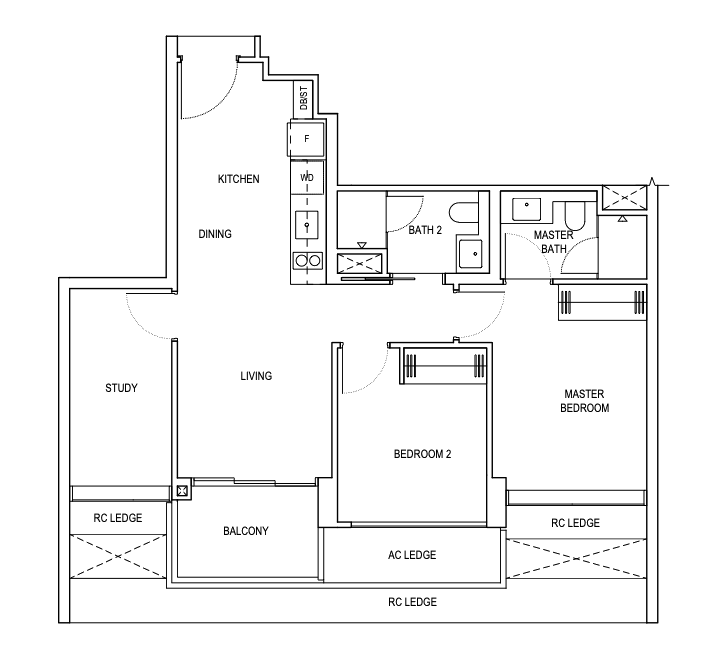 As developers work to max out space, it's increasingly popular to see spaces like this advertised as a +1, or called a study.
Trend rating: 2.5/5
This can be a way to gloss over problems such as impractical nooks or corners, or inefficient layouts.
Although it's not universally true, such spaces are often uncomfortable as both bedrooms and study rooms. Be especially wary of those with no windows, as the lack of light and ventilation can make for some dreary spaces.
When done right, it does give you the possibility of adding another room; there is at least some flexibility in the layout.
2. Fewer and fewer parking lots
Condos in Zone 1 and Zone 2 areas, as designated by LTA, are allowed to build fewer parking lots. Loosely speaking, Zone 1 refers to the city centre and Marina Bay, while Zone 2 refers to areas within 400 metres of an MRT station.
Aside from this, however, developers in recent years have a shown marked penchant for reducing the number of parking spaces.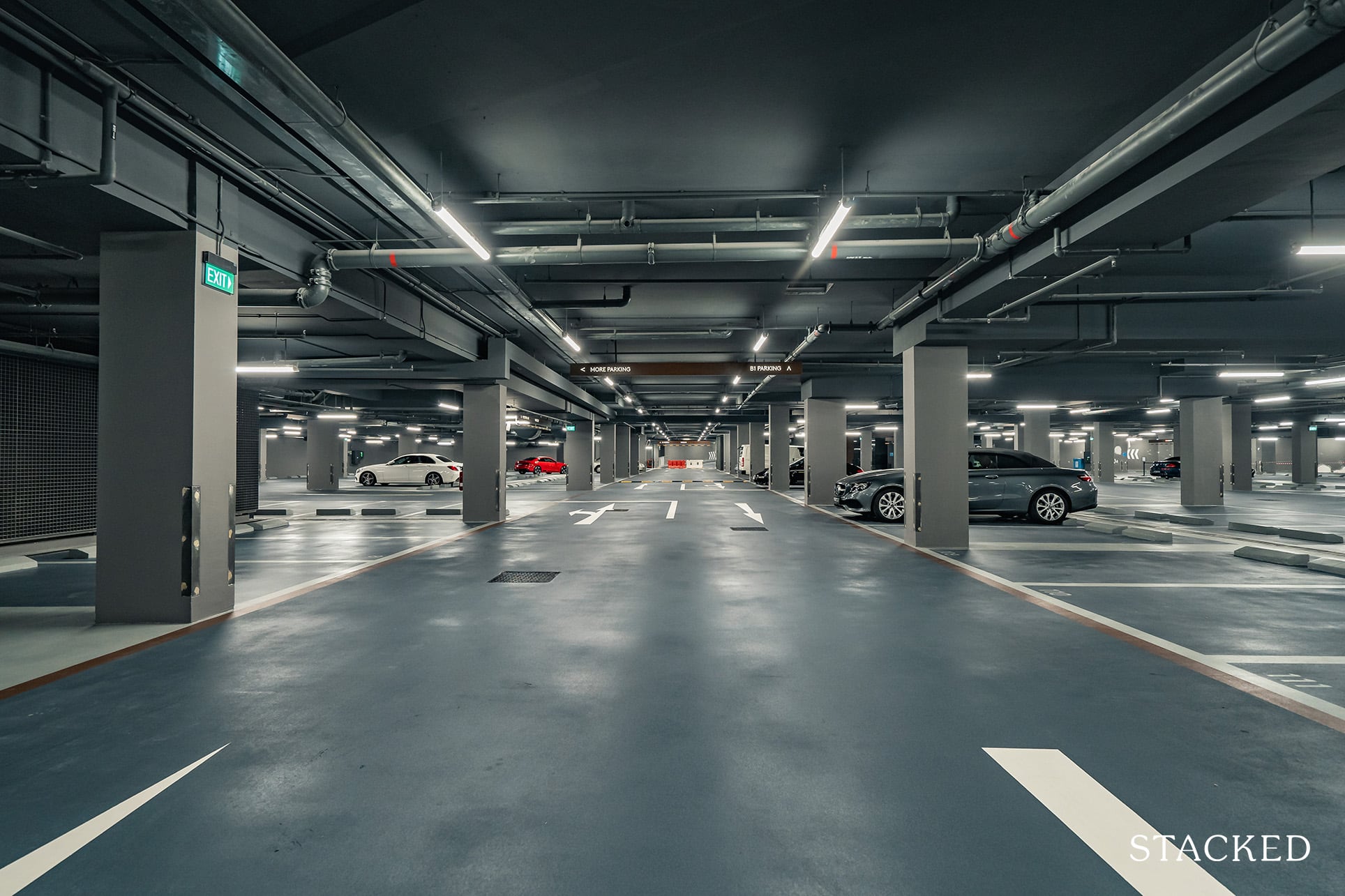 Some condos even have fewer than one lot per unit. 16 @ Amber Road, for example, has 40 lots for 46 units.
Limited parking means that disputes become more common, and condos become much more sensitive about where non-residents park.
A few years ago, for example, Casafina saw a bit of controversy, when residents had to apply in advance for visitors parking there overnight. It's also led to some pretty heated arguments over parking, as seen in the viral incident at Eight Riversuites. 
That said, it may pay to take a big-picture view here. Parking lots really aren't the most efficient use of space; and as some buyers point out, space used for parking is better used for bigger common facilities. If there's an MRT station within three minute's walk of the condo, is there really a need to have two parking lots per unit?
Trend rating: 3/5
While there may be some inconvenience to owners of multiple vehicles, it is nice if developers can use the space for something besides parking.
It helps with broader environmental concerns, when we support a car-lite infrastructure.
It does get a bit irritating during festive seasons, when relatives who visit may have to park far away – and it can get pricey for those visitors too (especially in the city centre, if they have to use a commercial car park somewhere).
3. Biophilic design
Singapore has been a Biophilic Cities member since 2013. The aim of the movement/organisation is better integration between the built and natural environment. The idea is that condos and other buildings should blend in and contribute to the surrounding ecology, rather than uproot and replace it.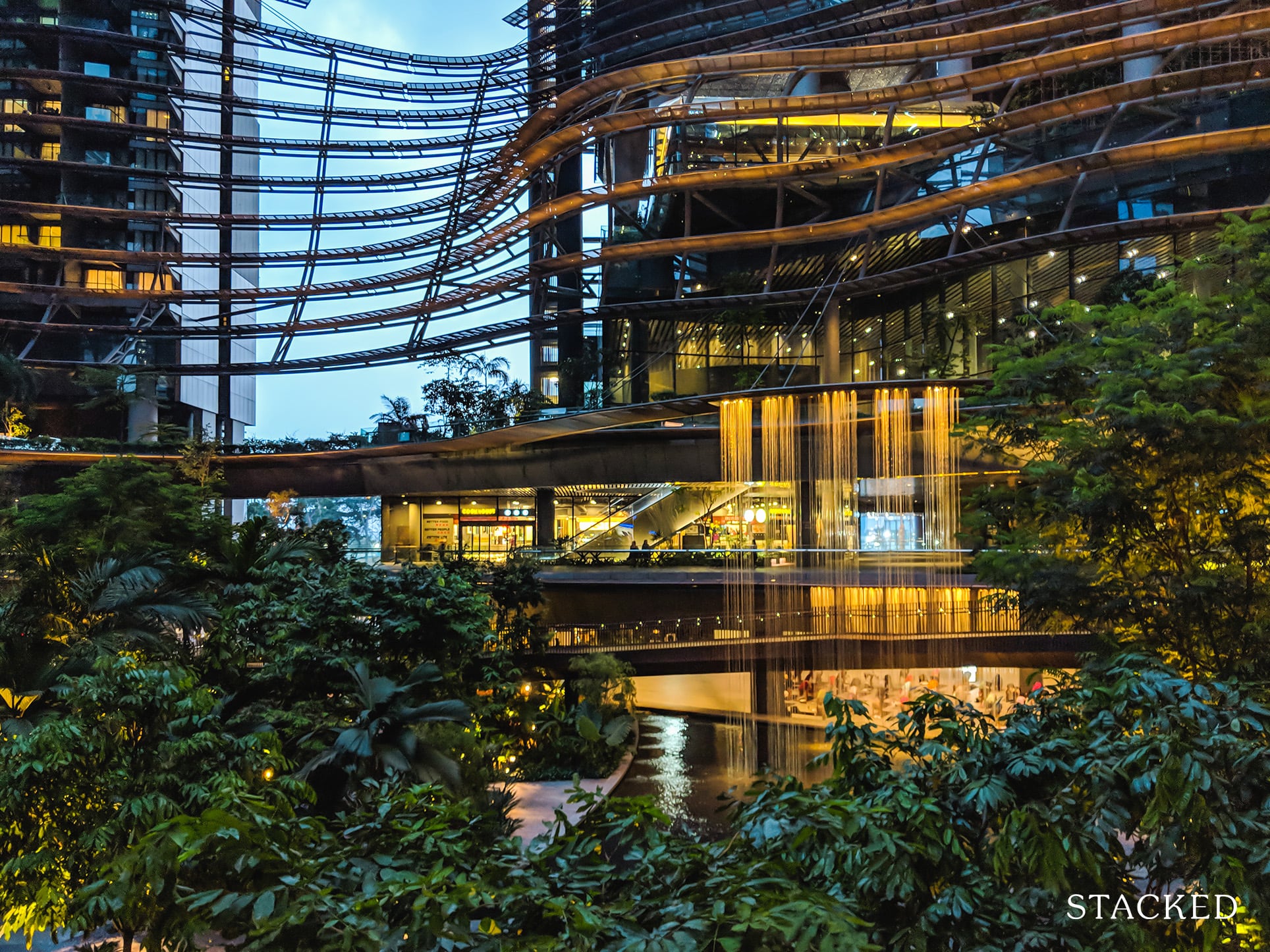 Marina One is probably the most famous example of this in recent years, with its "Green Heart". The next best known biophilic condo is probably Tree House, which holds the record for the world's largest vertical garden (the green façade also helps to conserve water and reduce energy costs for cooling).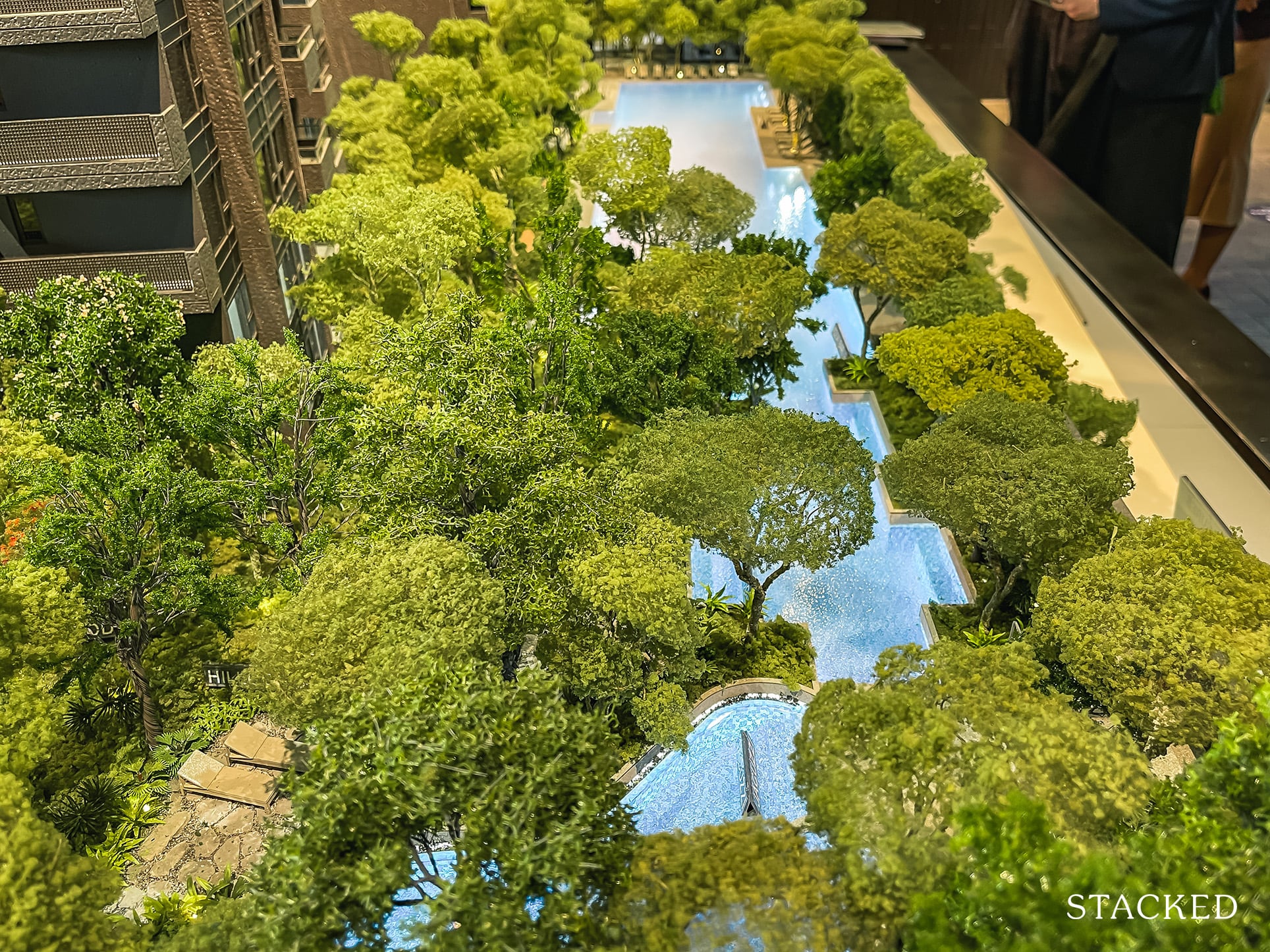 Most recently, Midtown Modern also took this approach; probably to combat the urban density in the Bugis area. Some homebuyers don't like being hemmed in by concrete on all sides, so the extensive landscaped areas might make up for that.
Read this next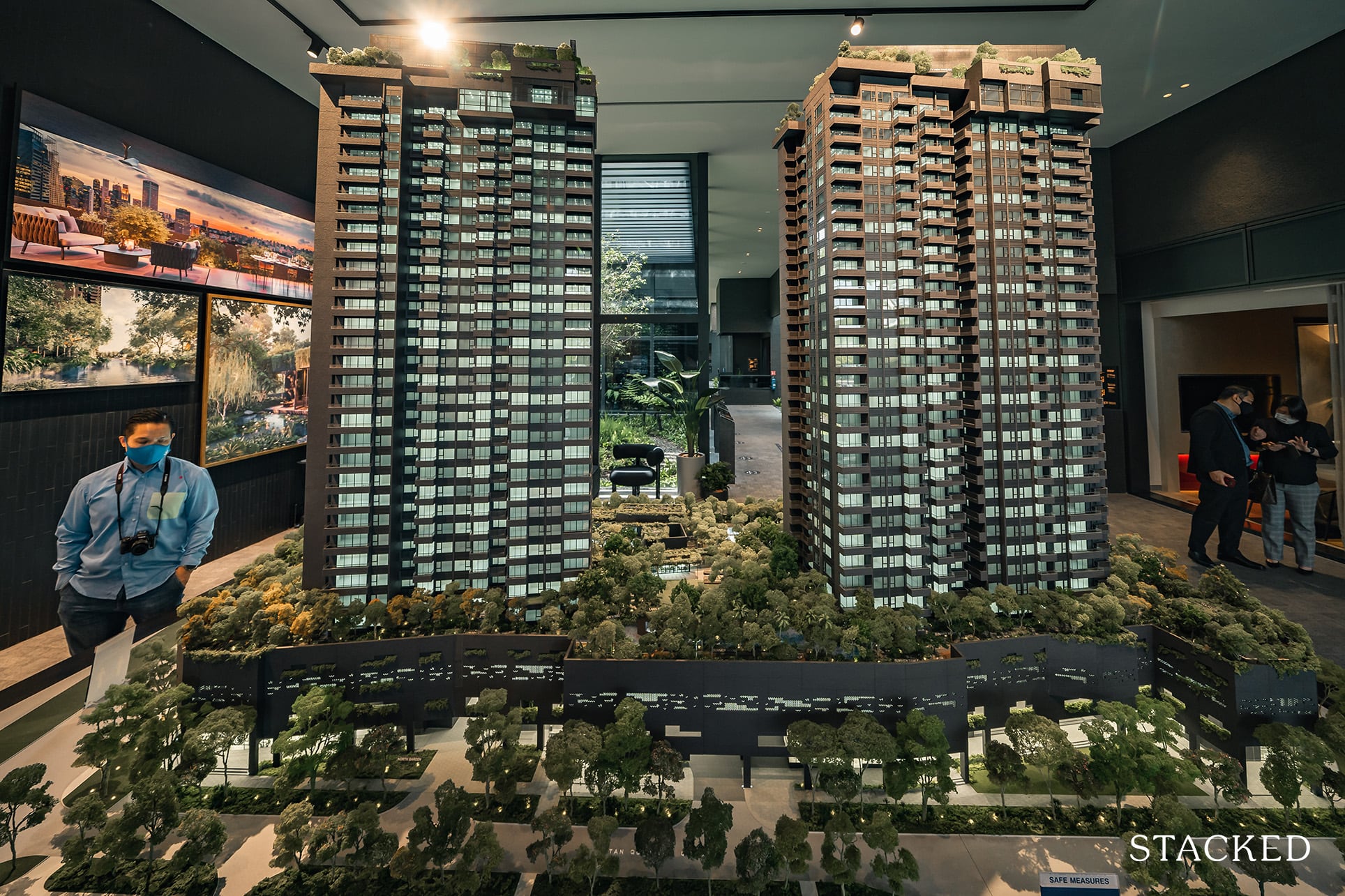 Trend rating: 4/5
One of the longstanding issues in the Singapore real estate market is that, if you want greenery, you tend to be further away from amenities. You would also expect to pay more for just a view of the greenery (we covered this in an earlier article). It's nice that we incorporate more of nature even in central region condos, or condos that are not priced at Bukit Timah levels.
The term "biophilic" is bandied about quite loosely, and it's in danger of becoming a hollow buzzword. A bunch of planter boxes and palm trees is not "biophilic design", and whoever's advertising that way needs to stop.
Biophilic design stops your condo's overall appearance from looking dated. If you don't know what we mean, compare a condo from the 1980's, to a condo built in the past decade: one of the key differentiators is the emphasis on greenery.
4. Jack-and-Jill bathrooms
These are bathrooms with two openings, that can connect two bedrooms. The more luxurious versions may also come with two different sinks and vanities, but these are uncommon outside of the largest units.
This is quite space-efficient, as opposed to having two separate bathrooms; and it allows two bedrooms to effectively have an en-suite (usually, only the master bedroom gets an attached bathroom).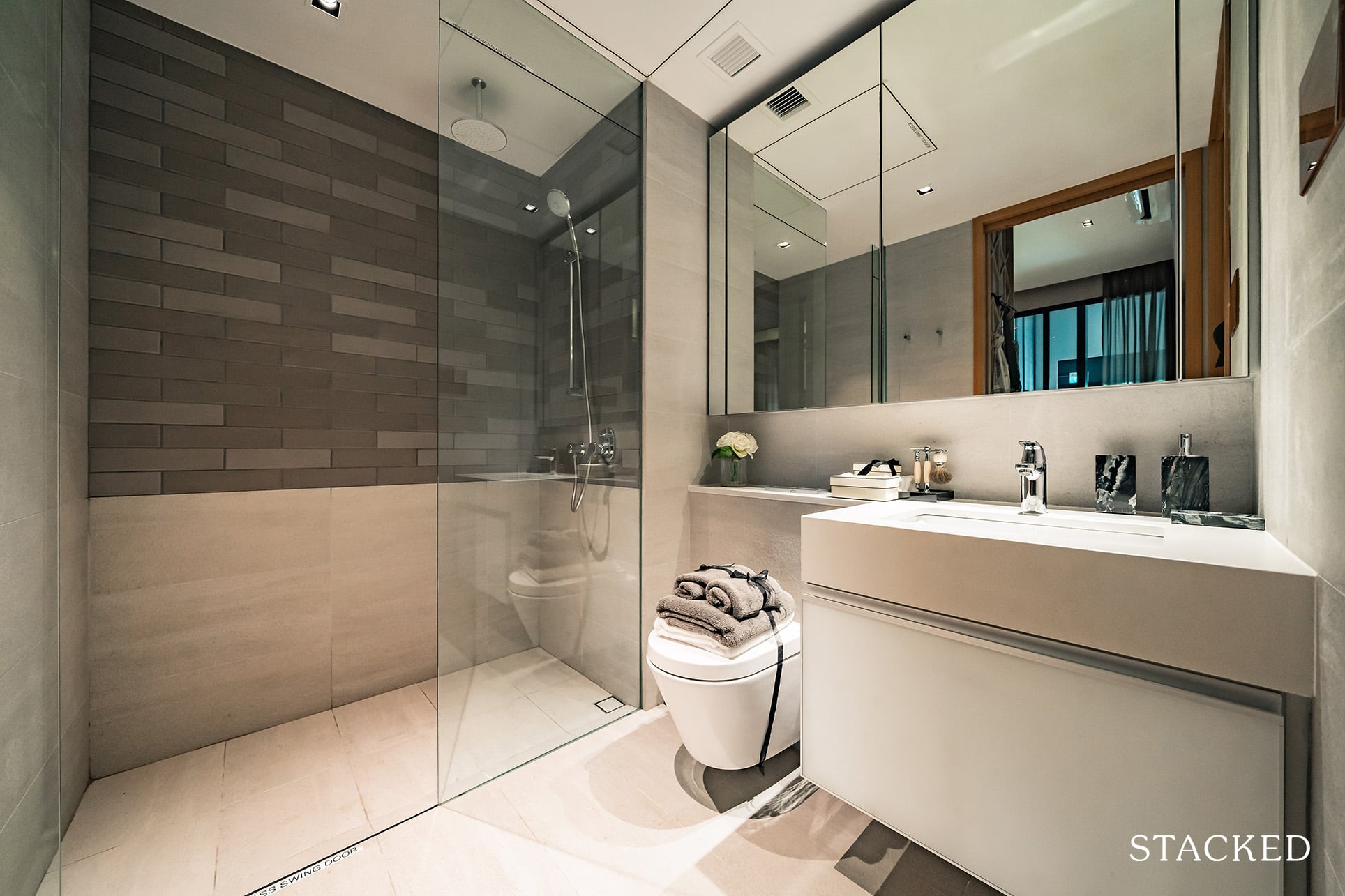 We recently reviewed Clavon, which we highlighted for effective layouts – Jack-and-Jill bathrooms were included in some of the units.
Note that the concept of Jack-and-Jill bathrooms is far from new, and you'll find many examples from long before this decade. But as condo units get smaller, this will definitely become more of a norm as space needs to be better utilised.
Trend rating: 4/5
It's very convenient for two different bedrooms to have an en-suite; especially for parents with young children, who need to be accompanied to the toilet.
Less utility space often means more living space.
Some homeowners find a Jack-and-Jill has less privacy, especially if the person in the other connecting room is a tenant instead of a family member.
On the rare occasion when there's a bad leak or flooding in the toilet, both connected bedrooms might be affected.
5. Open kitchen layouts
As of 2018, even HDB has made open kitchen layouts the default for flats. This style of kitchen is now so popular, we've begun to see it even in smaller units.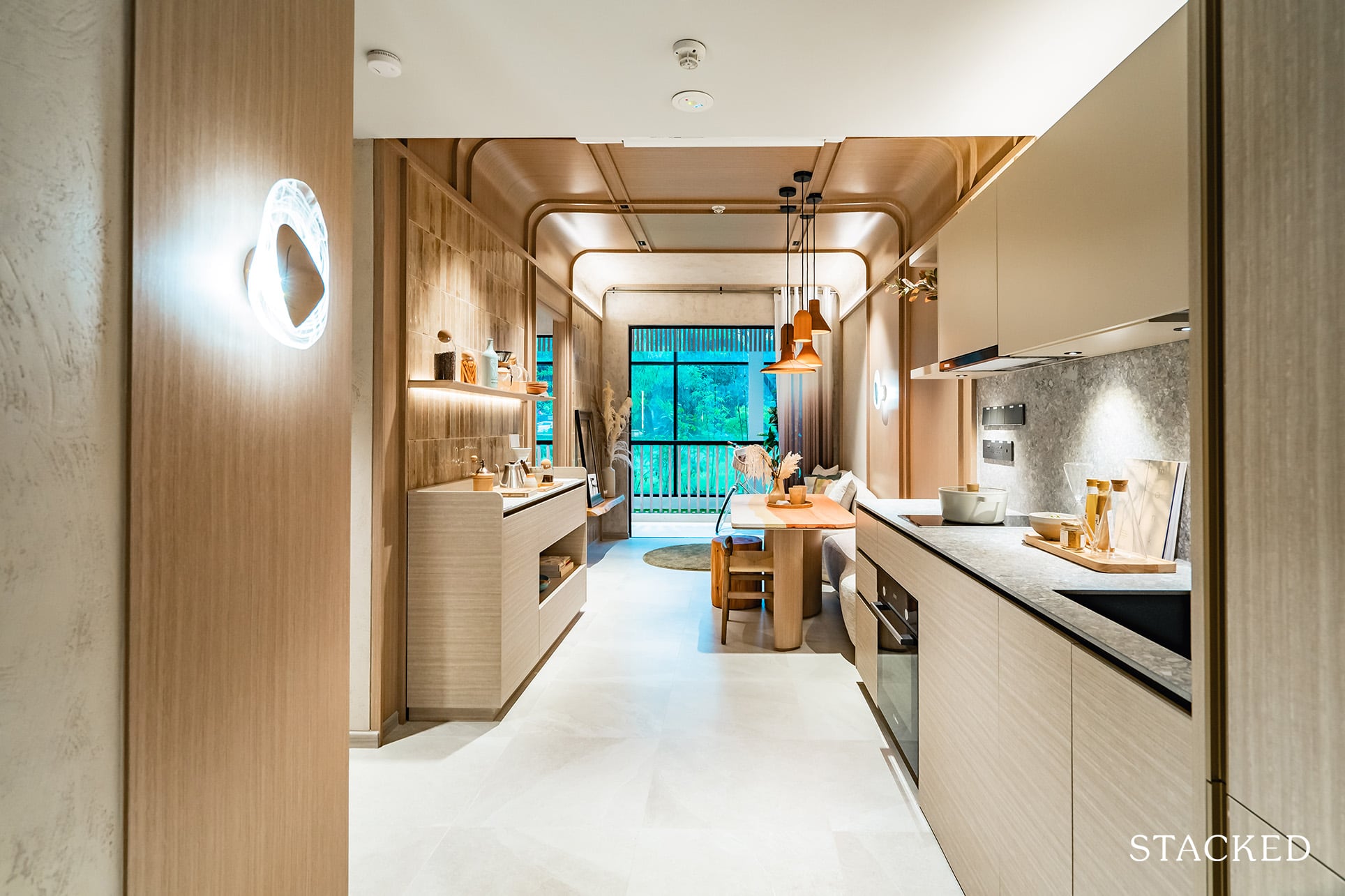 An open kitchen – as opposed to the old school enclosed kitchen – doesn't fully partition off the kitchen. For example, there may be no wall between the kitchen and living room.
The chief advantage is better ventilation (although this can also be a drawback, as we'll explain in a moment), and more natural light. Most people also find it makes it easier to move about, such as when carrying food and plates around during dinner parties.
The downside is that smells and heat radiate freely out into the dining or living room area. Without a partition, it's also likely that all the noise from the kitchen – such as blenders or the clattering of plates in the sink – will be heard throughout the common areas.
Trend rating: 3/5
Some homeowners swear by open kitchen concepts, others absolutely hate it. Traditionalists will tell you open kitchens are bad for "serious cooking", as the oil from frying gets everywhere – even onto the flooring of the living room.
Singaporeans like to use the kitchen for more than cooking (especially if you have a kitchen island). Other favourite activities include tuition and doing homework; so some parents like open kitchens as it allows for easy observation.
If you're not sure what you want, pick a layout with flexibility. Some layouts allow you to easily build a partition later on, if you prefer.
6. Additional built-in storage spaces
We aren't entirely sure when this trend started, or who was the first to do so. But like the jack-and-jill bathrooms, it's definitely been brought about by the need to be more efficient and space-saving.
As a result, many new launches today will incorporate some sort of cabinetry work to store your smaller knick-knacks like jewellery pieces or accessories.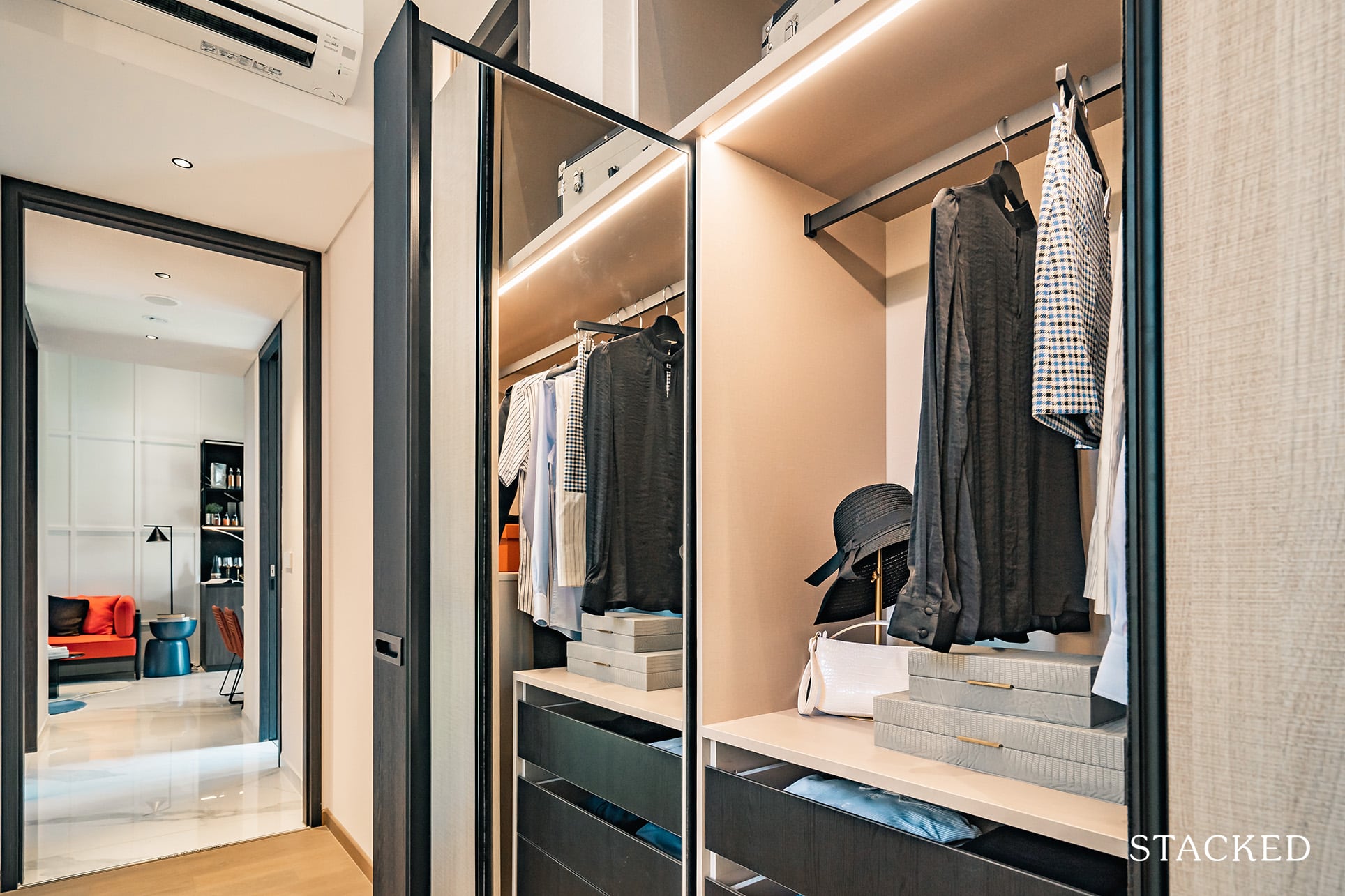 Some may even include special touches like a pull-out mirror or drawers with allocated spaces for ties and watches.
Typically, these are only found in the master bedroom, to emphasise that it is more special. But as we've seen in some launches recently like Jervois Mansion, these are also starting to be included even in the common bedrooms.
Trend rating: 3/5
While it is welcome in smaller spaces, some homeowners may not like the inflexibility of where these items are stored and may prefer to have the option to choose where to place them instead.
Also, some homeowners may not even have the need to place such small items, and may just want to have more storage space instead.
7. Smart home products
There's no question that smart home products have become increasingly popular over the past few years. Whether it is an integration of a voice assistant to manage all the smart products at home (air-con, lights, etc), digital locks at the door, cameras that let you monitor your home remotely, or an app to manage monthly maintenance payments, and the booking of facilities.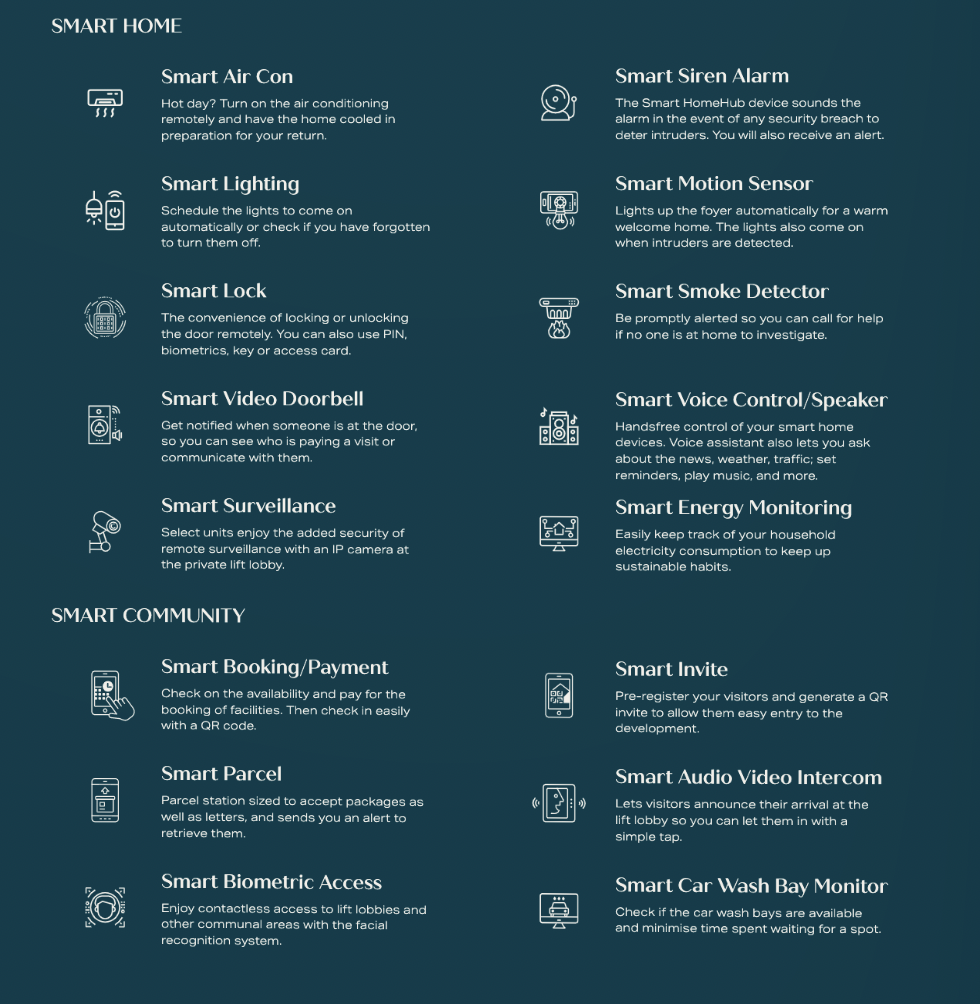 There are also a lot of advantages here to making things energy-saving and efficient. If you are out, lights will automatically be switched off, and energy-efficient aircon systems that can recycle heat for hot water to help you reduce wastage and to save electricity costs too.
Trend rating: 4.5/5
Some of these may seem gimmicky, but in the future when devices can all talk to each other, it can definitely have a stark improvement in making your life easier and more convenient. We don't want to get too geeky about it here, but having a fridge that can automatically sense that you are low on beer and order it online sounds like a dream for the lazy bachelor.
There are things to note, such as the risk of digital security. With the number of smart products used, there is a rising threat that these can be loopholes to exploit. And without the necessary security, they can be hacked into.
There's also a potential over-reliance on such smart products. If these fail, are there enough precautions that your life would not be disrupted? Would there be a need to replace the entire system in a couple of years as the technology progresses?
While all of these trends may have their roots in novelty, that won't be the sole reason they're in vogue. Quite often, changing trends will also reflect on changing family structures, or homeowner behaviour.
For example, buyers' increasing tolerance toward reduced parking may reflect on the growing tendency of Work From Home arrangements; and open kitchen layouts may reflect on the changing role of the kitchen. In most Singaporean households, the kitchen has long replaced the dining room, thus prompting a preference for bigger kitchens.
To find out more about different condo layouts, and a detailed look at floor plans, check our in-depth reviews on Stacked. We provide information on both new and resale condos alike, in the Singapore private property market.