Condo Reviews

Duo Residences Review – All you need to know
Druce
February 22, 2018

10

min read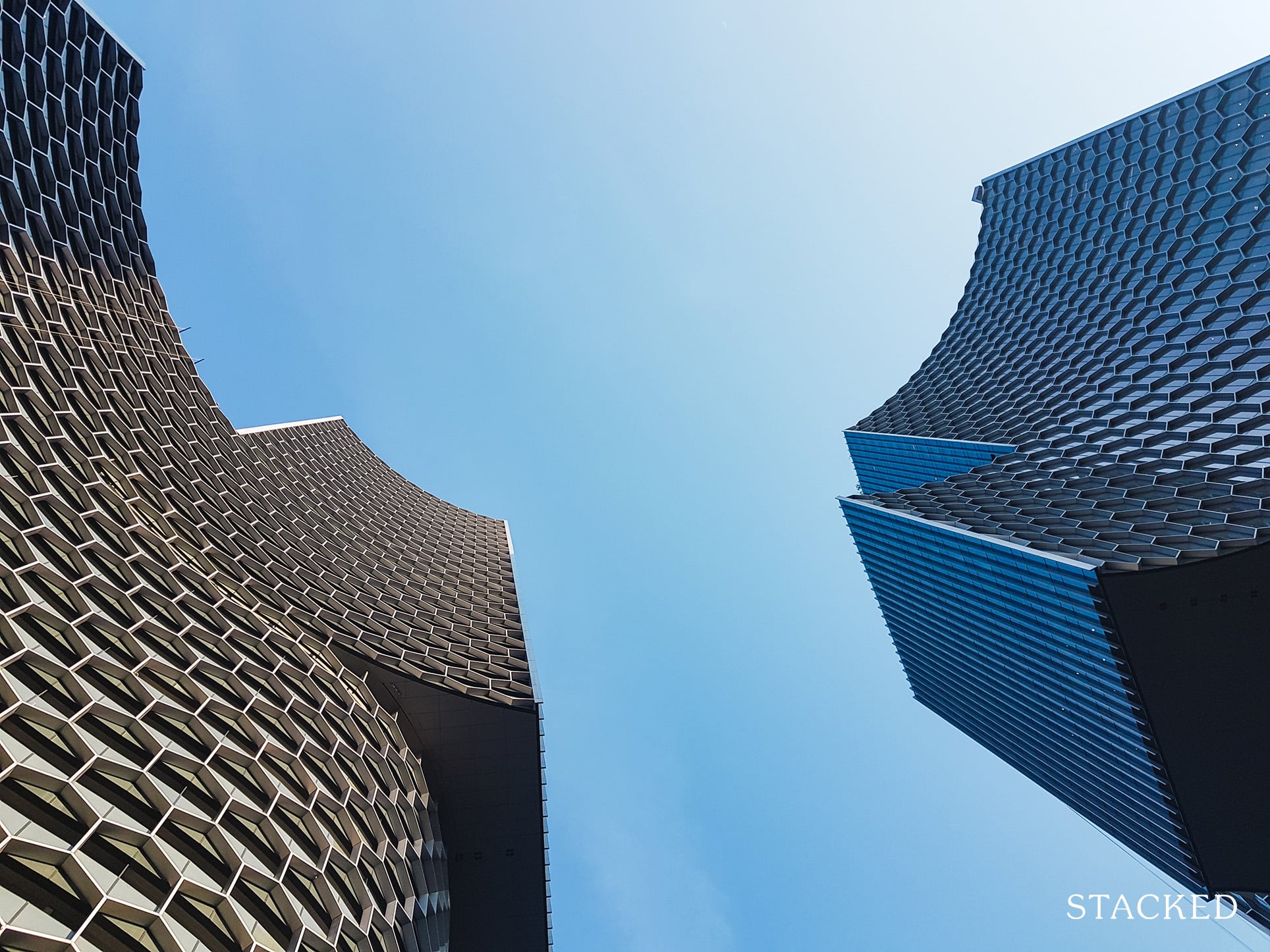 It is very clear the type of buyers that Duo Residences is geared towards, and in that respect the developer has done a great job of catering to the needs of such a buyer. The development is super convenient, and you will really have no lack of options when it comes to food and shopping in the vicinity. If you work in the CBD areas and are looking for a home, Duo Residences is a clear choice and has to be one of the top picks in your shortlist.
Reviewed by Druce on February 22, 2018
What we like
Iconic building

Rooftop pool with great views

Another pool on the ground

Bugis MRT

Near lots of amenities
What we don't like
—

Traffic surrounding development during peak hours
10
min read
About this condo

| | | | |
| --- | --- | --- | --- |
| Project | Duo Residences | District | 07 |
| Region | Core Central Region (CCR) | Address | 1 Fraser Street |
| Tenure | 99-year Leasehold | Site Area | 1.73 million sqft |
| No. of Units | 660 units with retail gallery of 56,000 sqft | Developer | M+S |
Duo Residences was one of the most highly anticipated launches when it was announced. It is an integrated development by M+S Pte Ltd, which is a joint venture between Temasek Holdings and Malaysian investment firm Khazanah Nasional (M+S Pte Ltd is also the developer behind Marina One Residences). When it launched back in 2013, the development managed to sell 87% of its units in three days, with the average selling price about $2,000 PSF. Duo Residences is certainly an eye catching development, having been designed by German-born architect Ole Scheeren.
Duo Residences Location
Duo Residences is located in the Bugis area and if you are an individual that enjoys the bustling city life, this location absolutely cannot be beat. It is right smack in the middle of many shops and eateries and is situated close by to the Central Business District (CBD), which makes commuting to work a breeze.
As the development stands at 49 stories tall, it affords a picturesque view of Singapore and an even nicer sea view depending on which direction you are facing. Bugis is known as Singapore's civic and cultural District, and is considered one of the key shopping destinations in Singapore.
Unlike the more modern Orchard Road, Bugis is a blend of new and old. On one hand there are modern shopping centres such as Bugis Junction and Bugis+, and on the other Haji Lane and Bugis Street is chock full of eclectic shops that have a diverse range of offerings.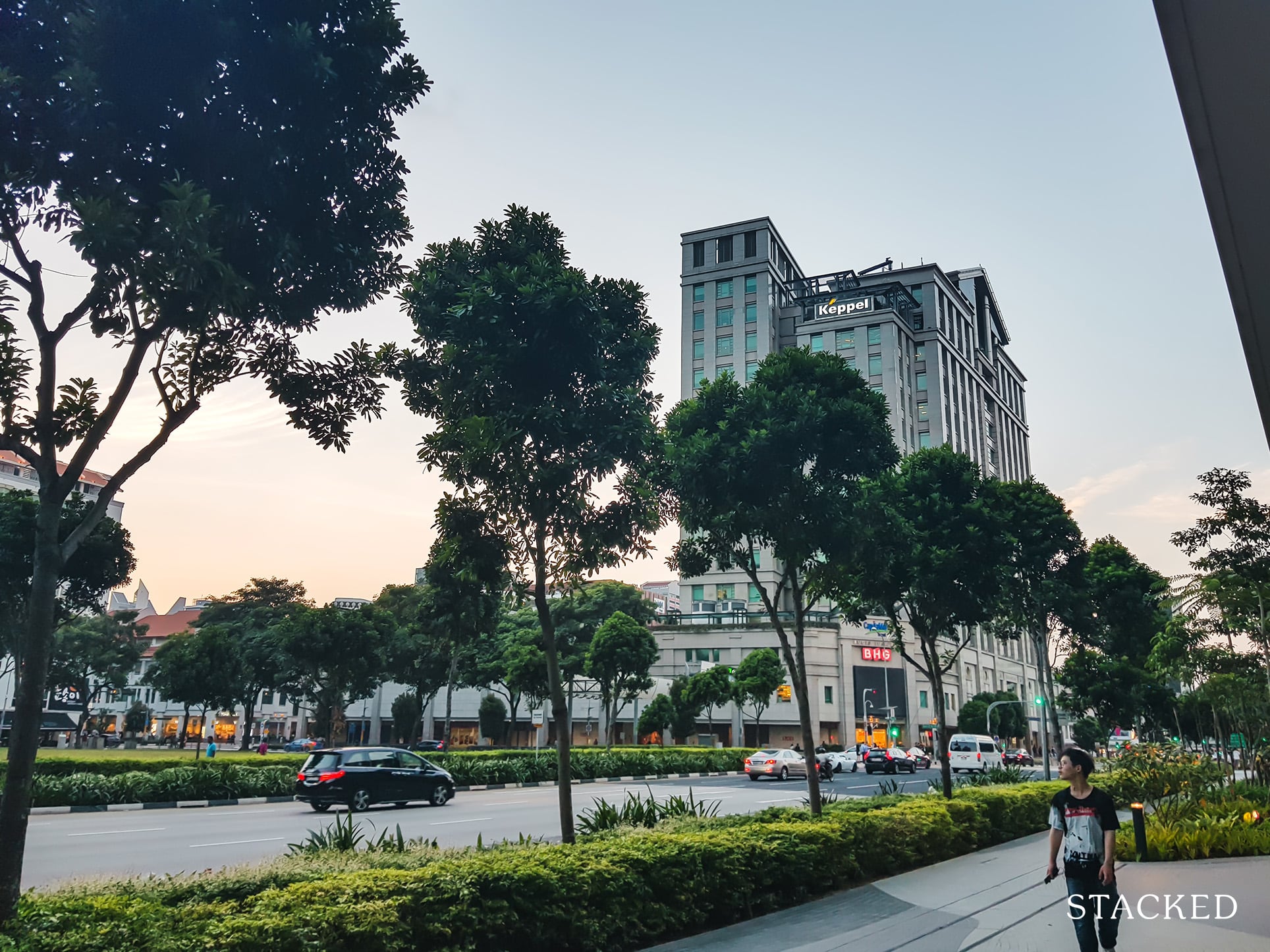 Not to mention, there is a huge variety of food options in the area. Haji Lane is well known for its middle eastern cuisine as well as many pubs and bars. So if you are into any sort of nightlife scene, you would not have to wander very far. Tan Quee Lan Street is also well known to have many small shops of Asian cuisine and dessert options for the sweet-toothed.
If you take a short stroll, you will reach the Suntec area where there are even more shopping options and malls to explore (of which we would not go in depth into here). If you would like to know more about food options in Bugis, check out the Burpple guide for a comprehensive overview and you will be spoilt for choice!
Last but not least, the development even has a retail gallery of about 56,000 sqft of space and already has multiple tenants that have moved in, one of which is the famous Man Man Unagi. Although smaller than the first outlet, how many developments in Singapore can boast about having live eel cooked on the spot at your doorstep!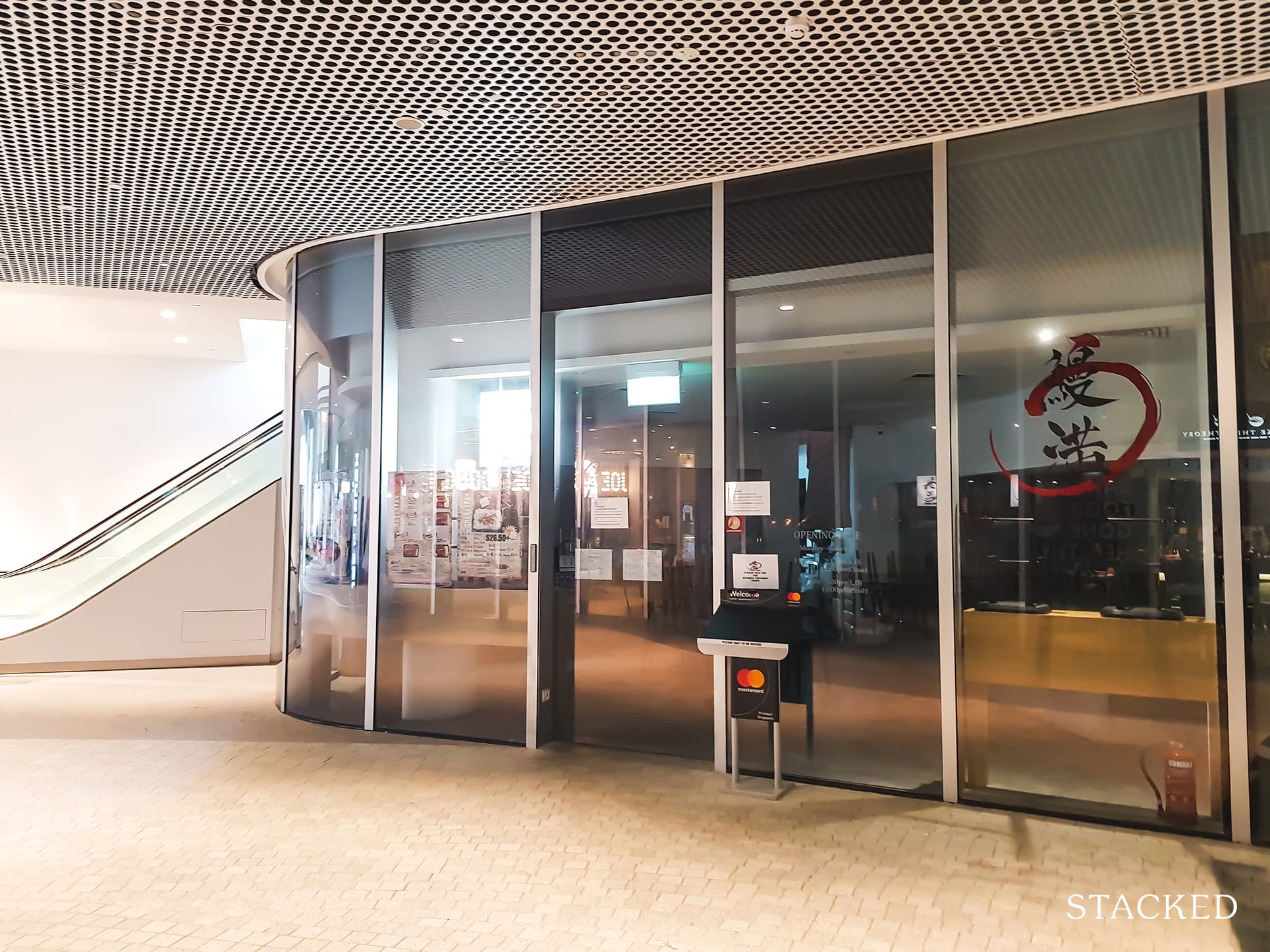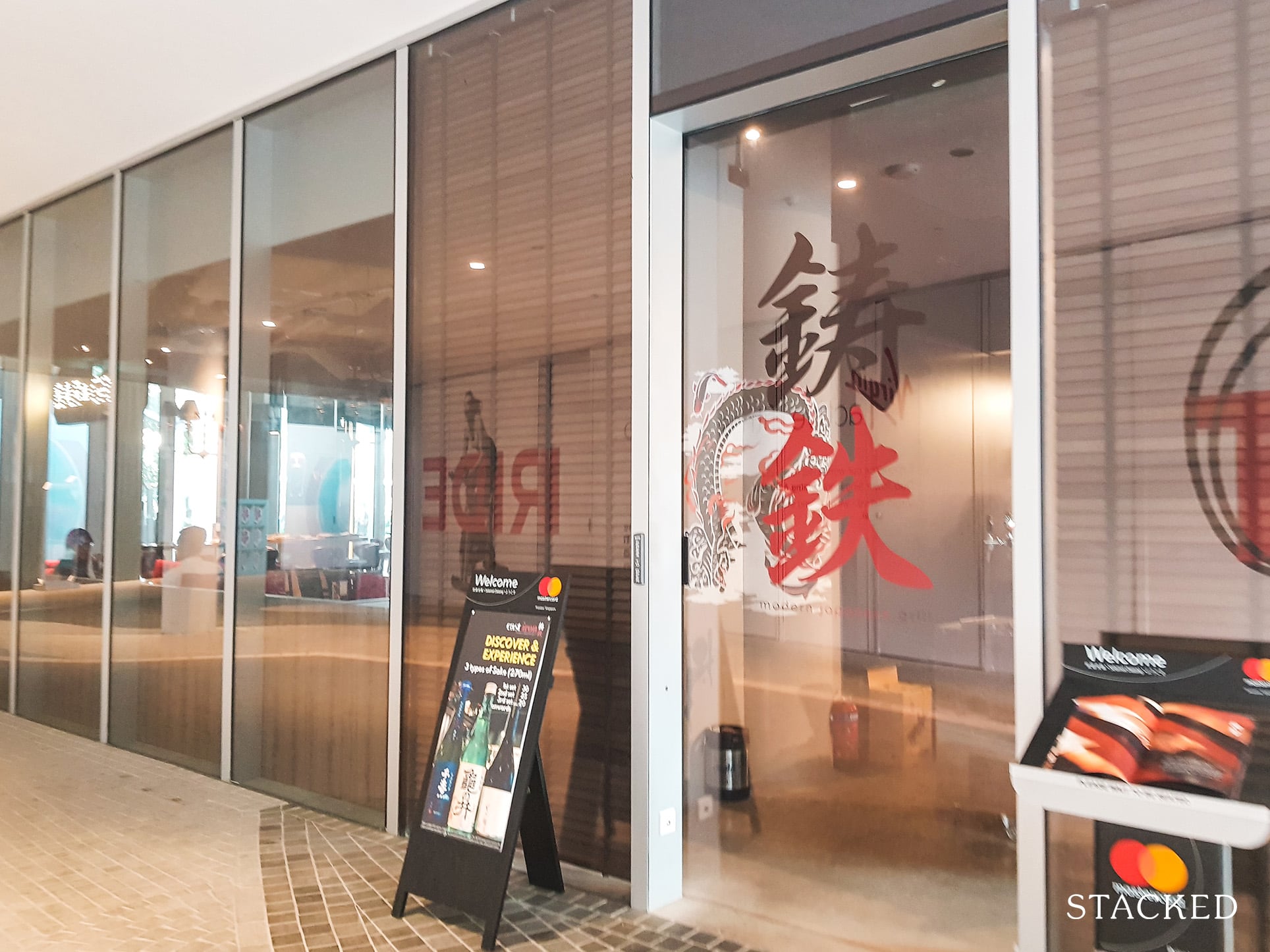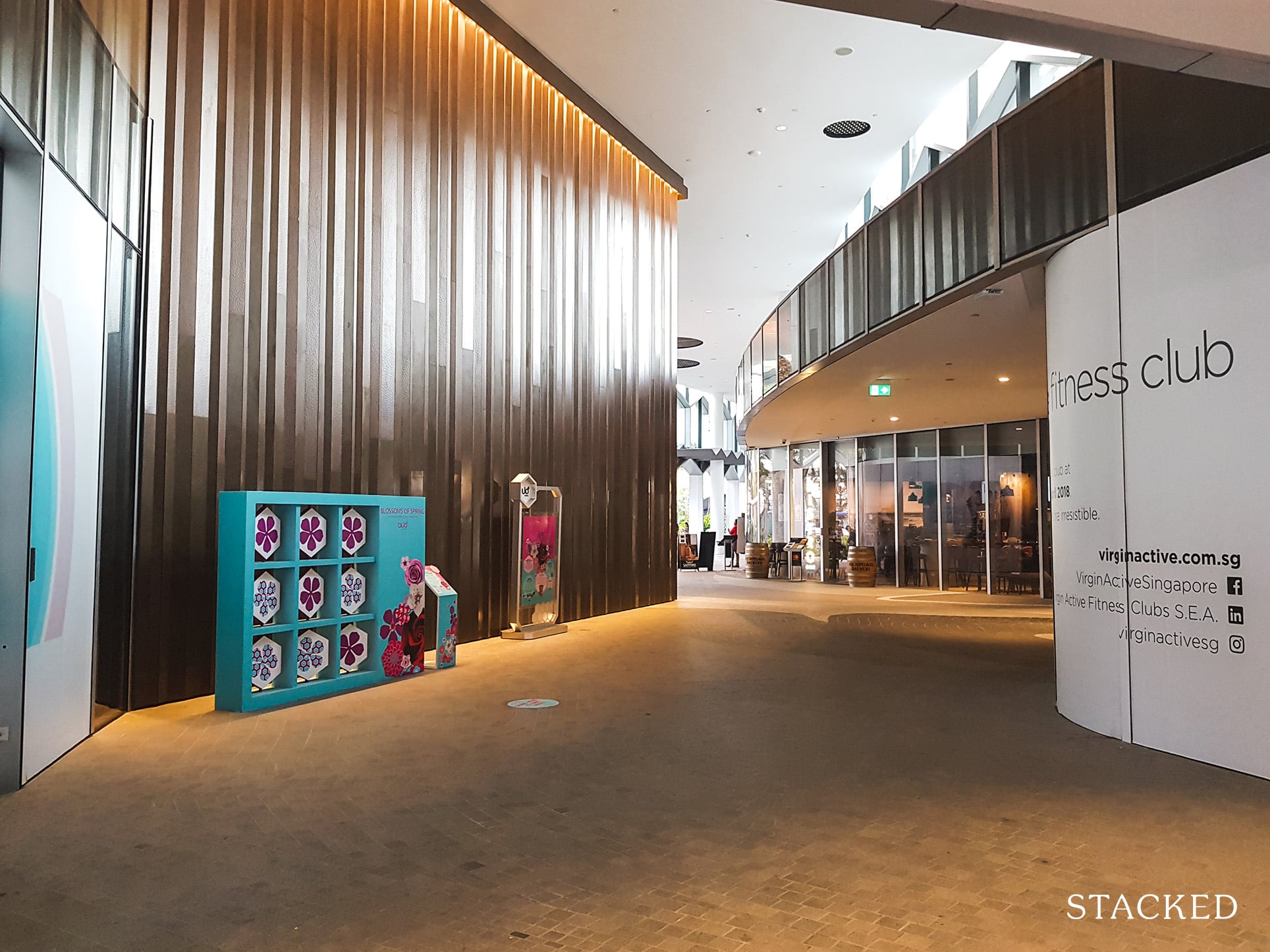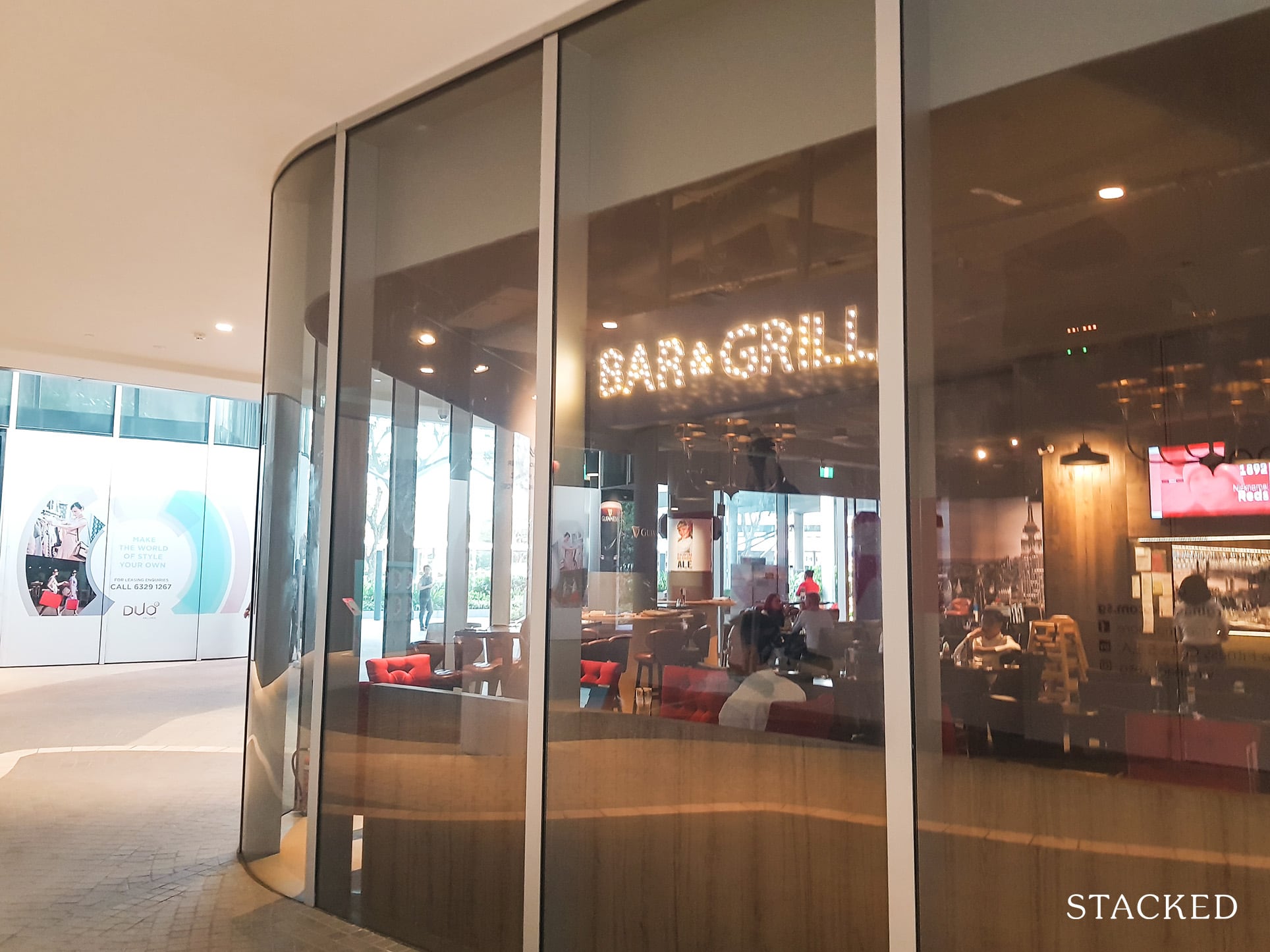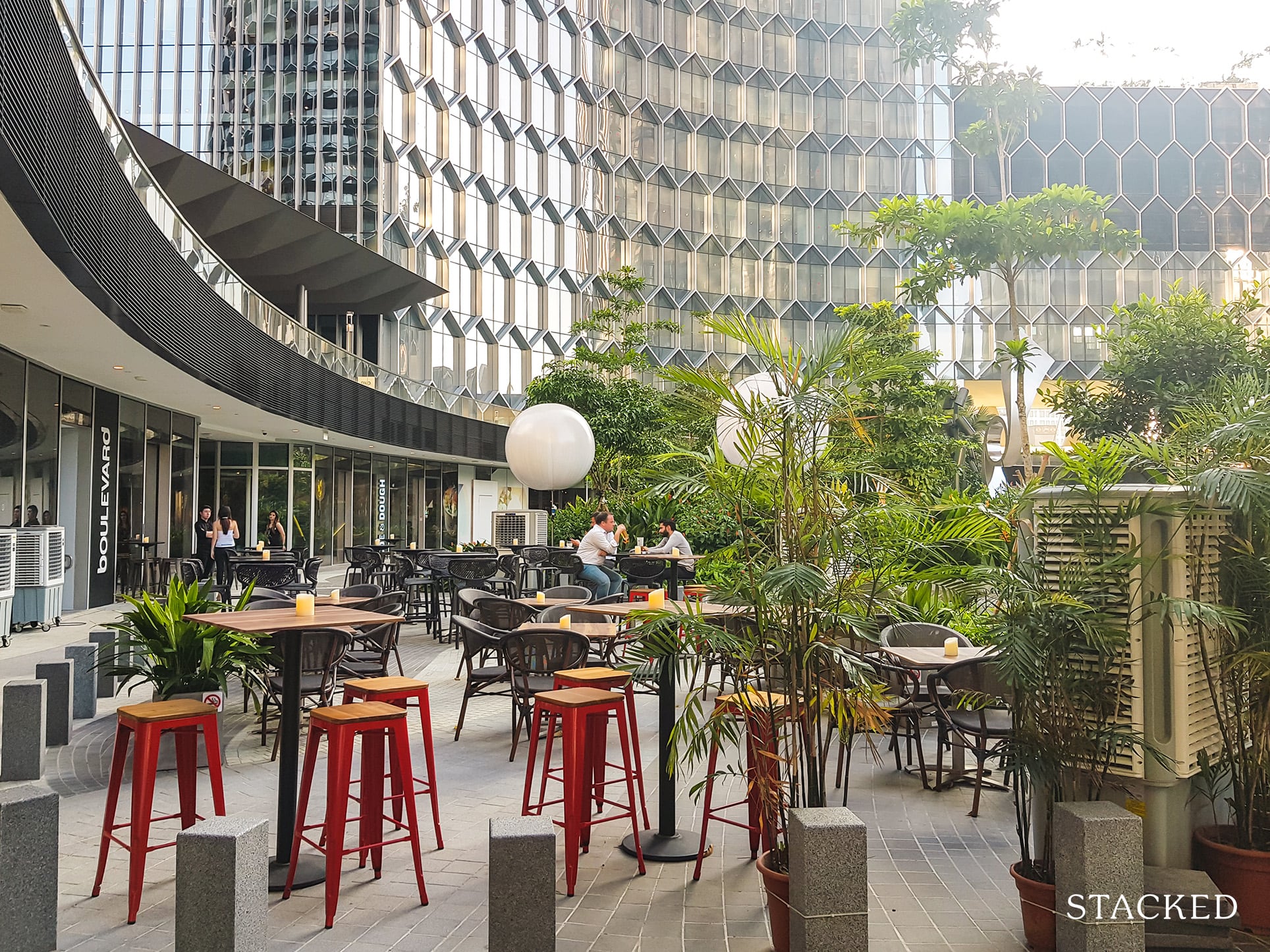 There is even a small Let's Eat option should you feel lazy but require some local grub. If you like to know more about the other stores you can do so here.
In terms of other amenities, Raffles Hospital is located just opposite the development. The National Library is also really close by should you fancy a book or two and there are multiple supermarkets (Cold Storage, Giant and NTUC) dotted around the area so getting groceries should never be a concern. In short, the location is a perfect offering in terms of any food and amenities so its a thumbs up from us! That being said, in terms of schools Duo Residences is not the best placed for that as this development is really positioned towards expatriates and working adults. So if you are a young family looking for a place to call home, this might not be the best option. However, if you have working children and enjoy city life this definitely has to rank high in your shortlist!
East West Line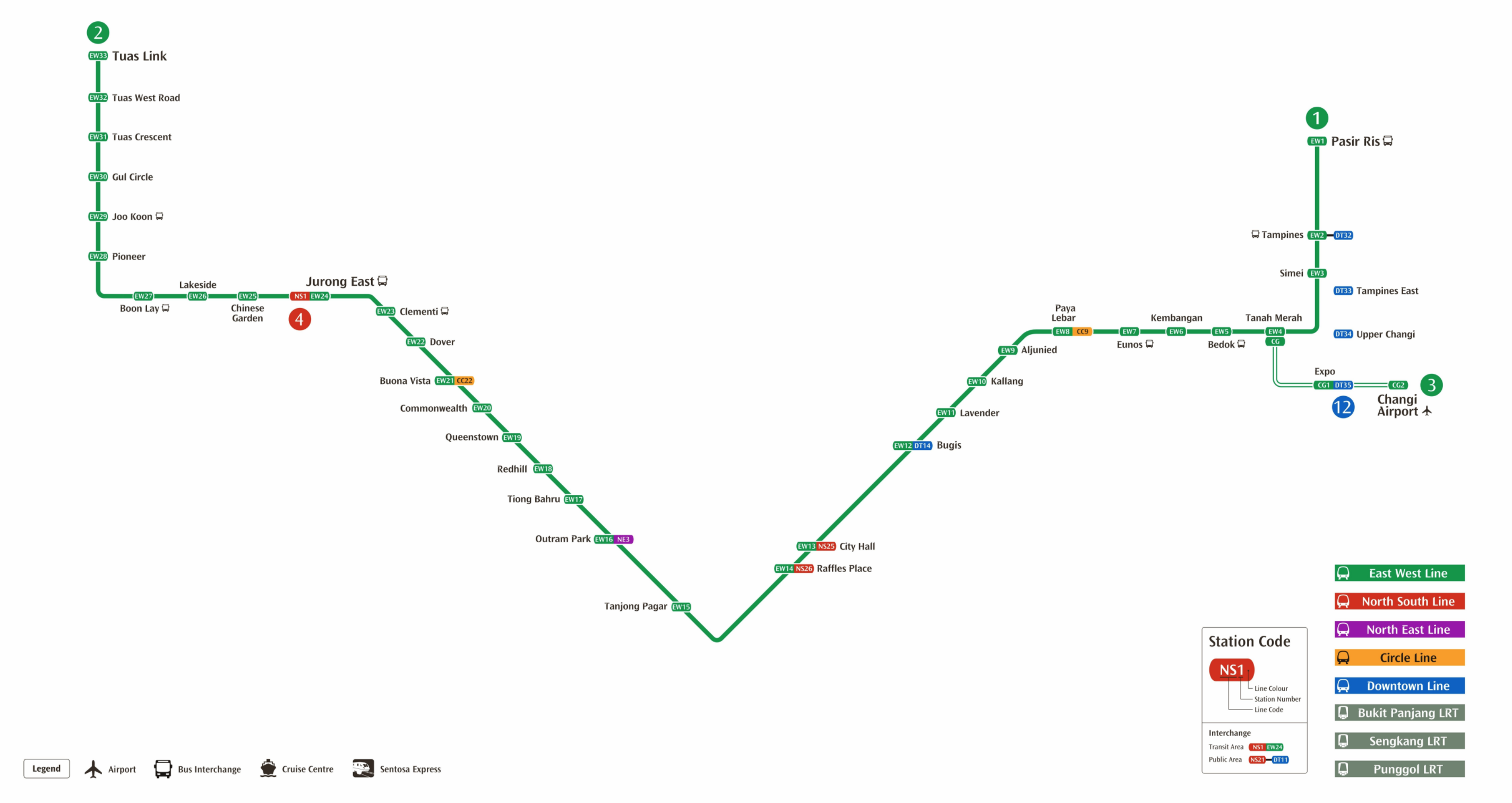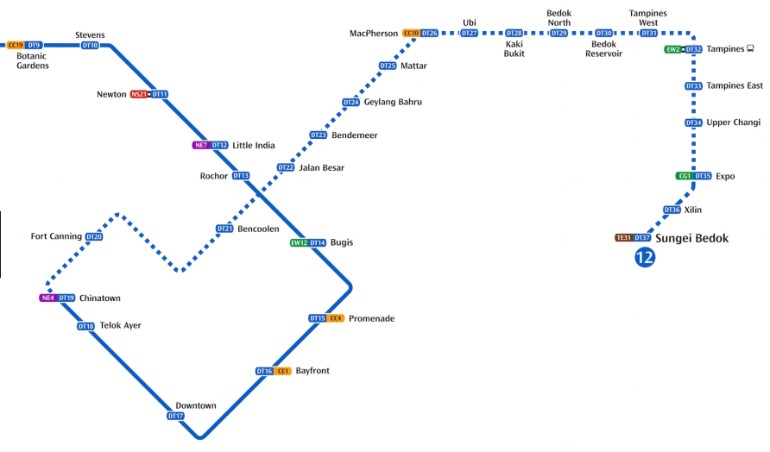 Duo Residences is also directly connected to the Downtown and East-West lines from Bugis MRT station. The entrance to the station is literally just below the development, making it extremely convenient to move about Singapore even if you do not have a car. With the East-West Line, the CBD is just one stop away which is no doubt a major attraction for most people that would be looking at this development.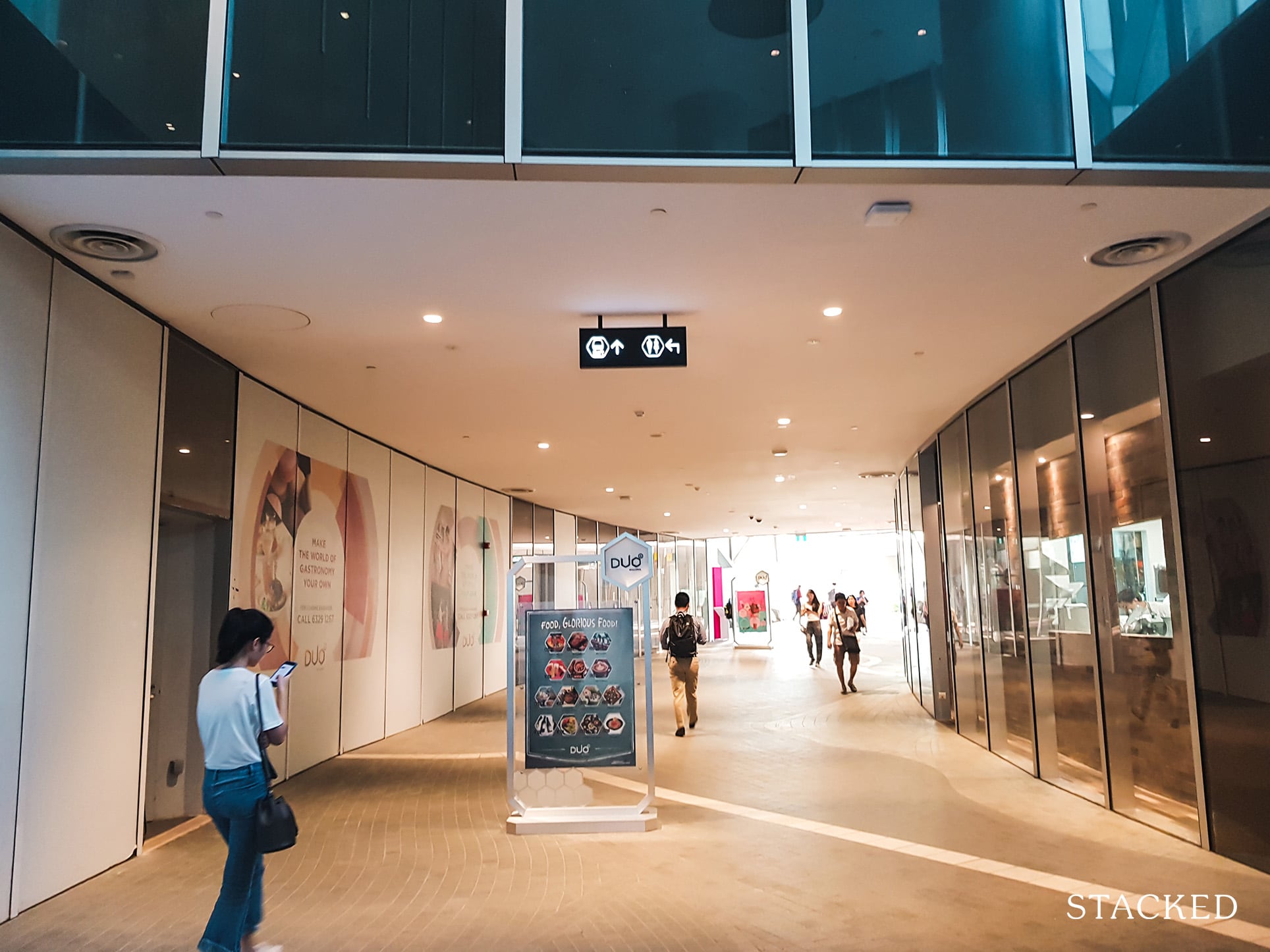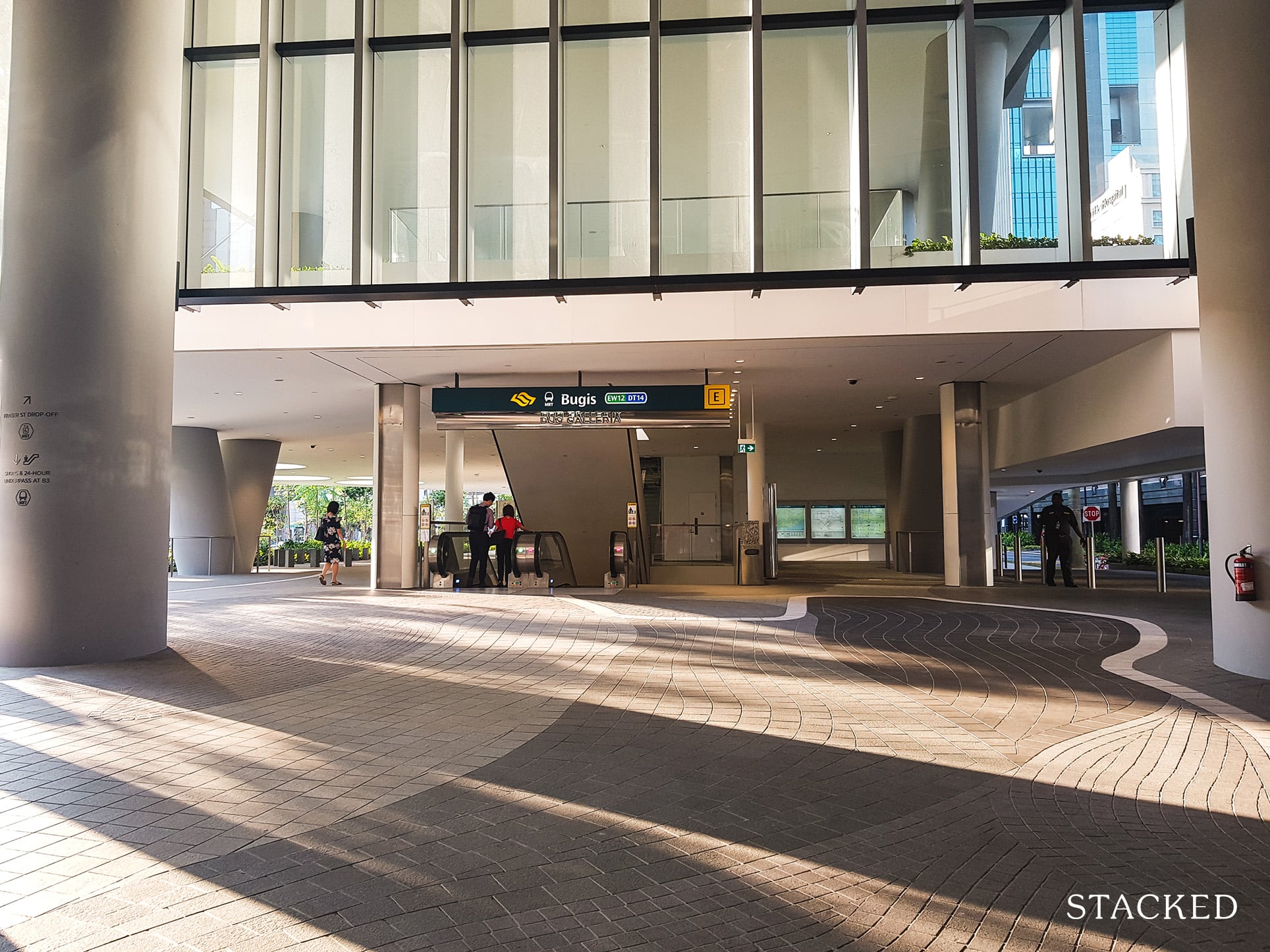 Development Site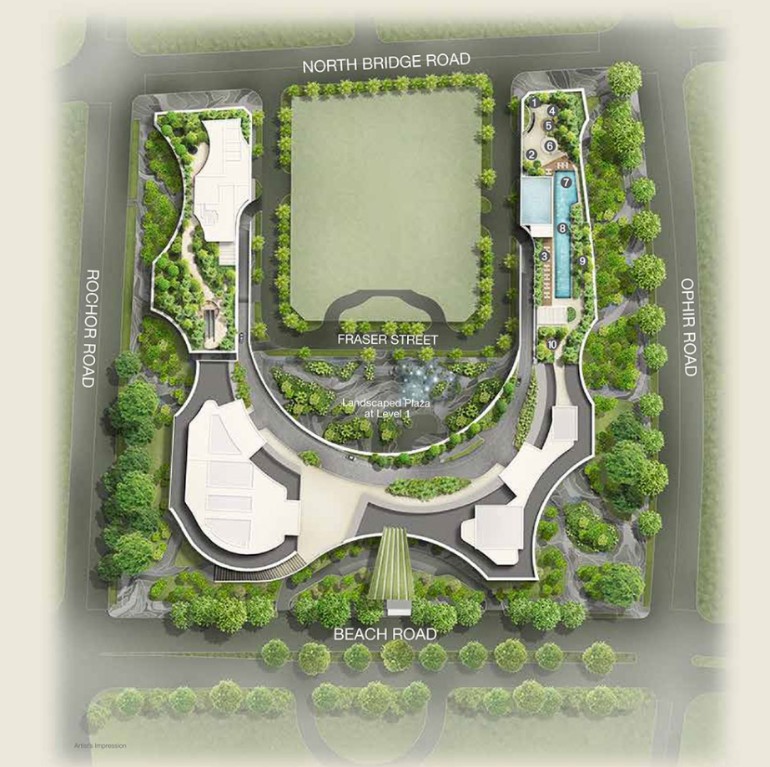 Source: Duo
Duo Residences sits on a nice rectangular piece of land which is flanked by different roads. One thing to note is despite the eye-catching towering architecture, because the development is so new and the turn into the development can be rather inconspicuous, the Uber driver dropping you off might completely miss it. Other than that, there can be no complaints about the location whatsoever. For people who drive it might be more of an issue due to the ERP gantries located right outside on North Bridge Road once you turn out. Honestly speaking, there is really no need to own a car if you do purchase a unit here, the location is really that convenient!
Taking a closer look at the unit mix, Duo Residences offers a quite wide range of units.
Unit mix

| No. of Units | Unit Type | Size of Units (sqft) |
| --- | --- | --- |
| 54 | Studio Apartments | 420 to 527 sqft |
| 289 | 1-bedroom, 1-bedroom + study | 538 – 743 sqft, 689 – 721 sqft |
| 218 | 2-bedroom, 2-bedroom + study | 818 – 1,023 sqft, 947 – 1,184 sqft |
| 59 | 3-bedroom | 1,432 – 1,722 sqft |
| 34 | 4-bedroom | 1,841 – 1,927 sqft |
| 6 | Penthouse | 2,390 – 4,392 sqft |
As you can see, the majority of the units here are 2-bedroom and below. These smaller units will appeal mostly to investors who are looking for units that can provide a strong rental income.
Insider Tour
For a residential development in town, there are quite a fair number of facilities on offer. These include:
Facilities in Duo Residences
Teppanyaki Pavilion
Outdoor Cook-out Deck
Spa Pool
Grill Terrace
Party Pavilion
Seating Lounge
50m Lap Pool
Pool Deck
Sauna Rooms
Shower Room
Landscape Decks
Water Court
Recreation Terraces
Sky Pool
Outdoor Fitness Corner
Jacuzzi
Kid's Pool
Aqua Gym
Gym
Multi-function room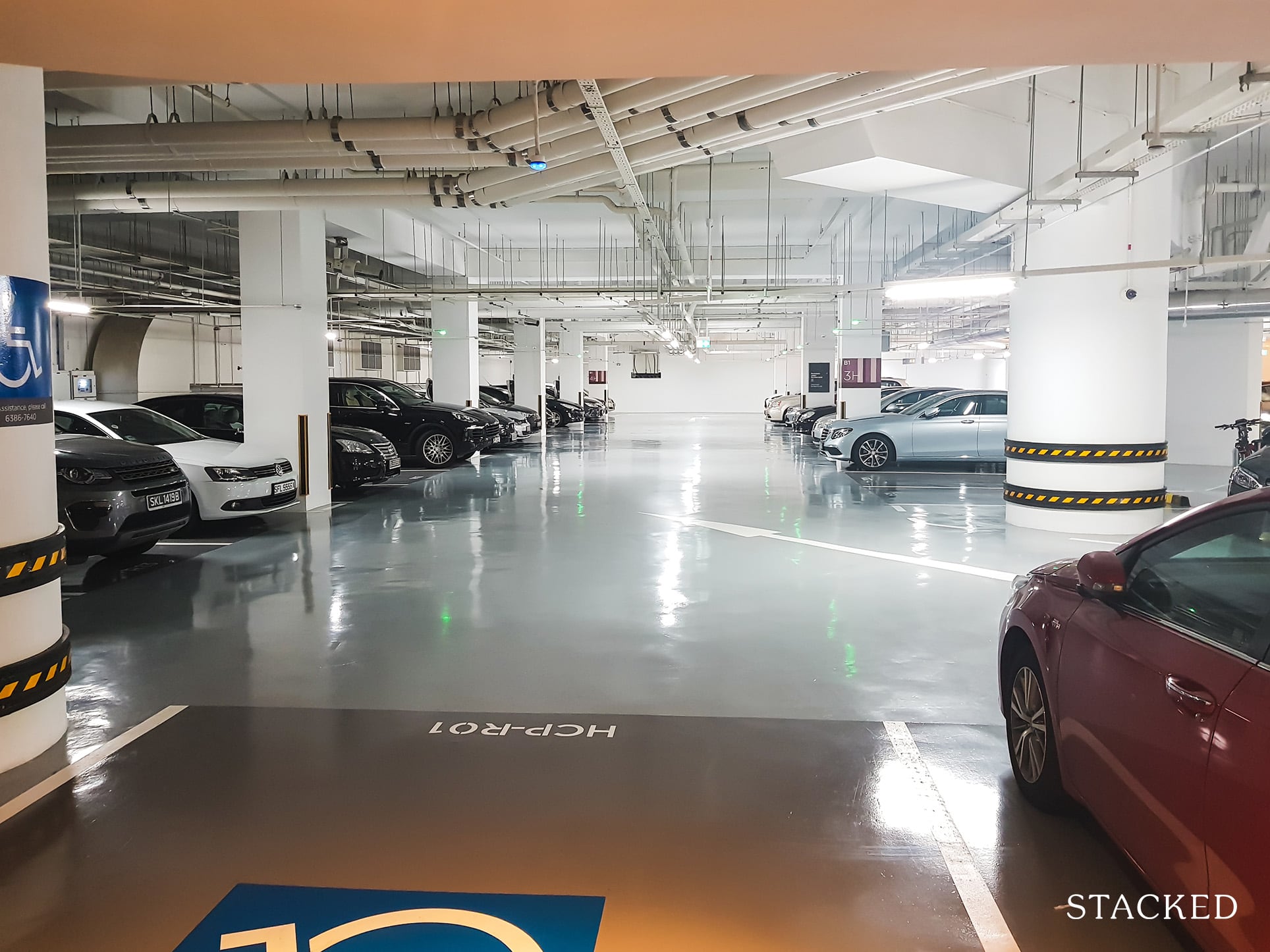 The carpark is very premium built and airy, lots are spacious as well.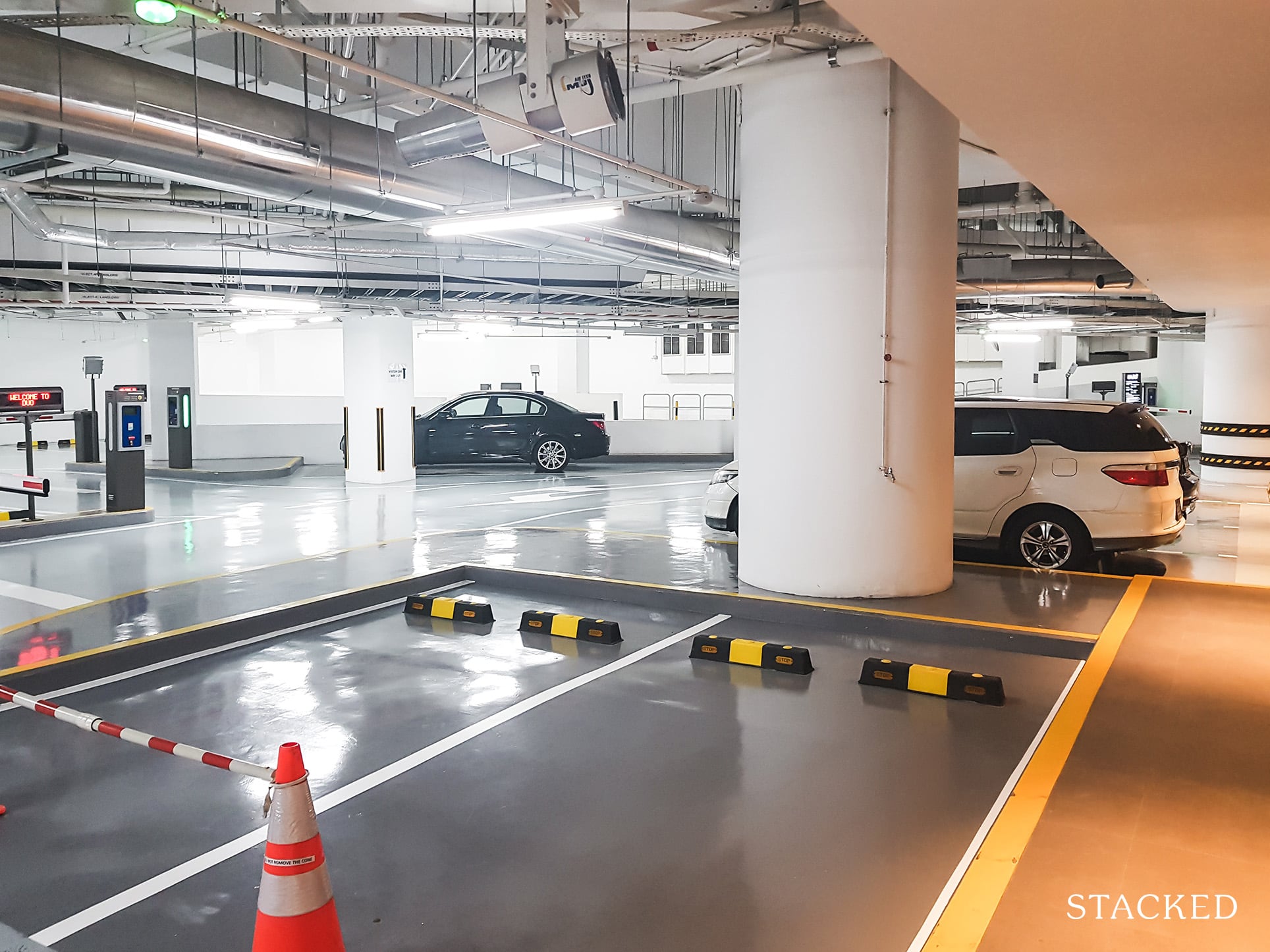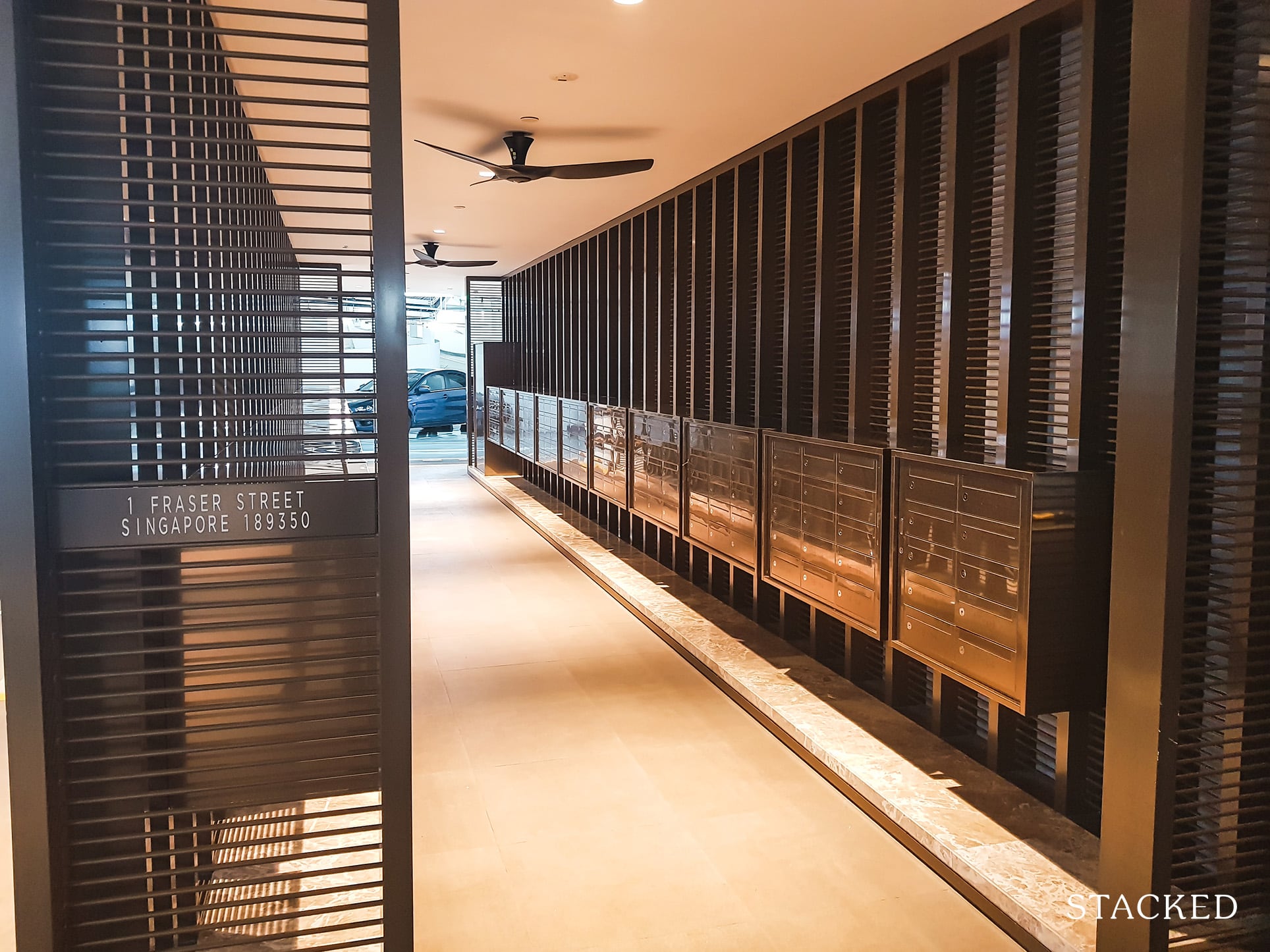 The mailbox area has to be one of the classiest ones in Singapore right now, there are even fans built to cool you down.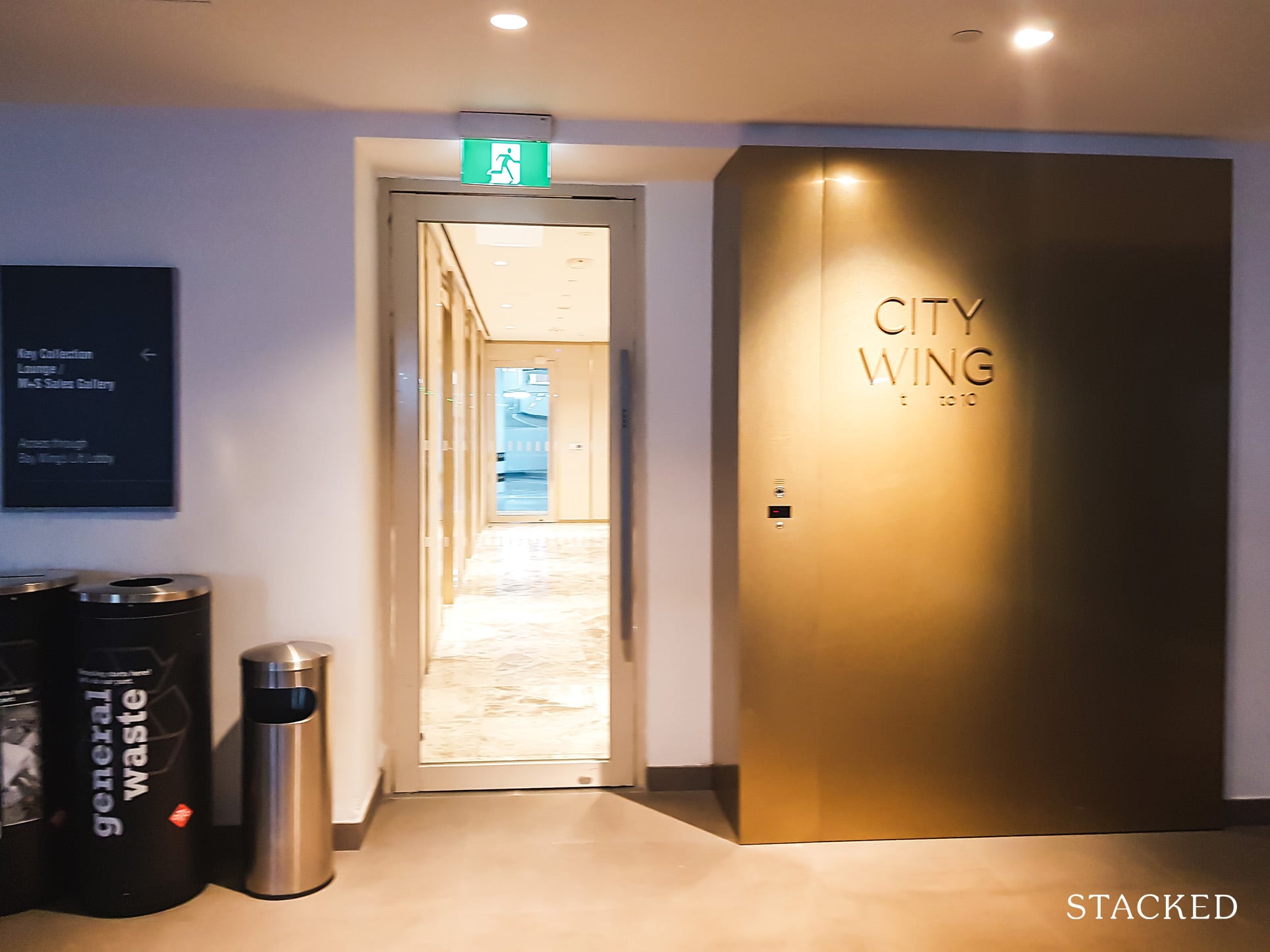 The entrances to the residential areas are very secure, they all require card access.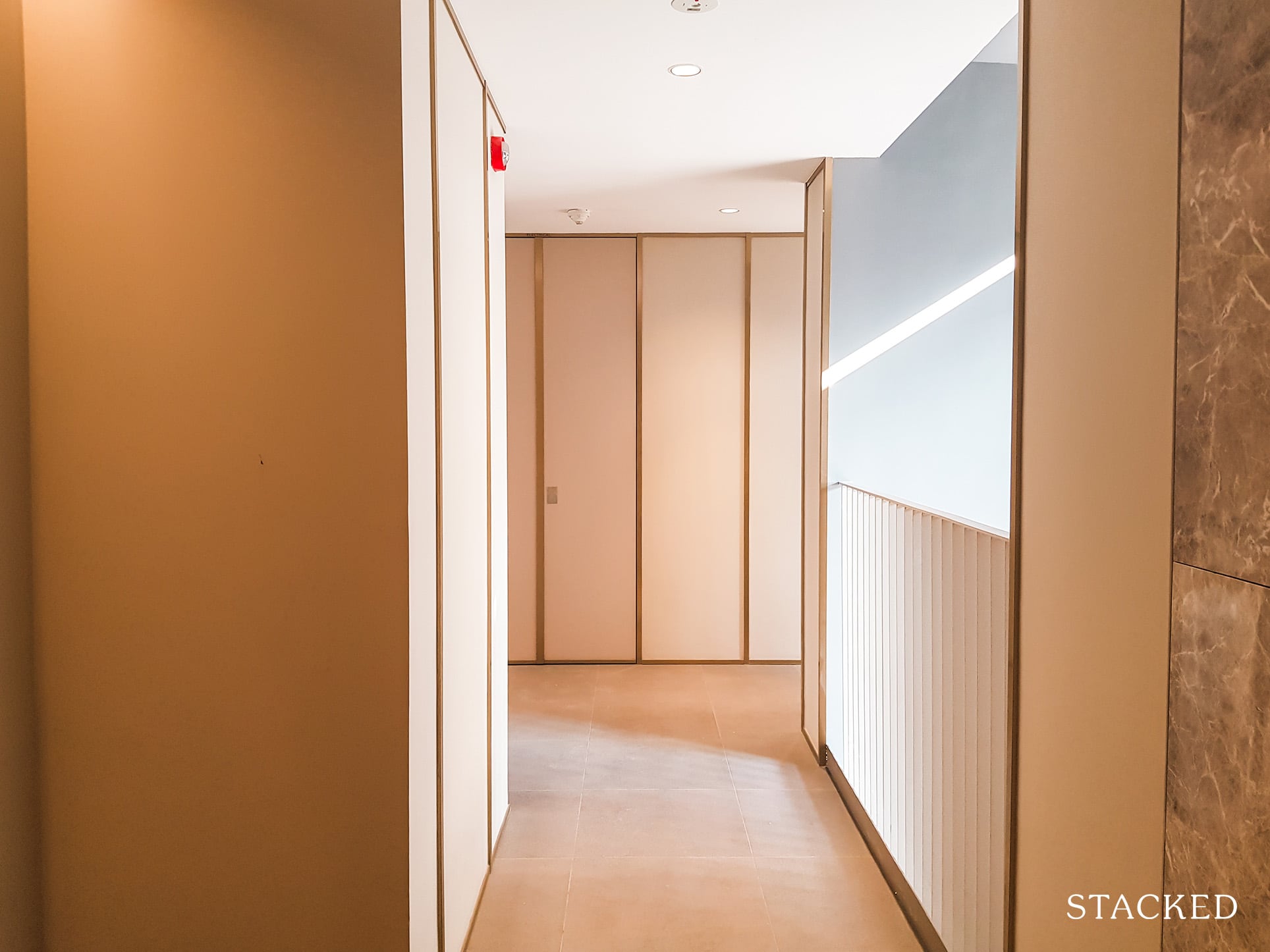 The corridor areas have this panel design, which contributes to the classy feel of the property. The development incorporates environmental strategies through passive and active energy-efficient design and naturally ventilated spaces. So despite it being outdoor, these areas are still windy and cool as the building orientation was planned to optimise the wind flows.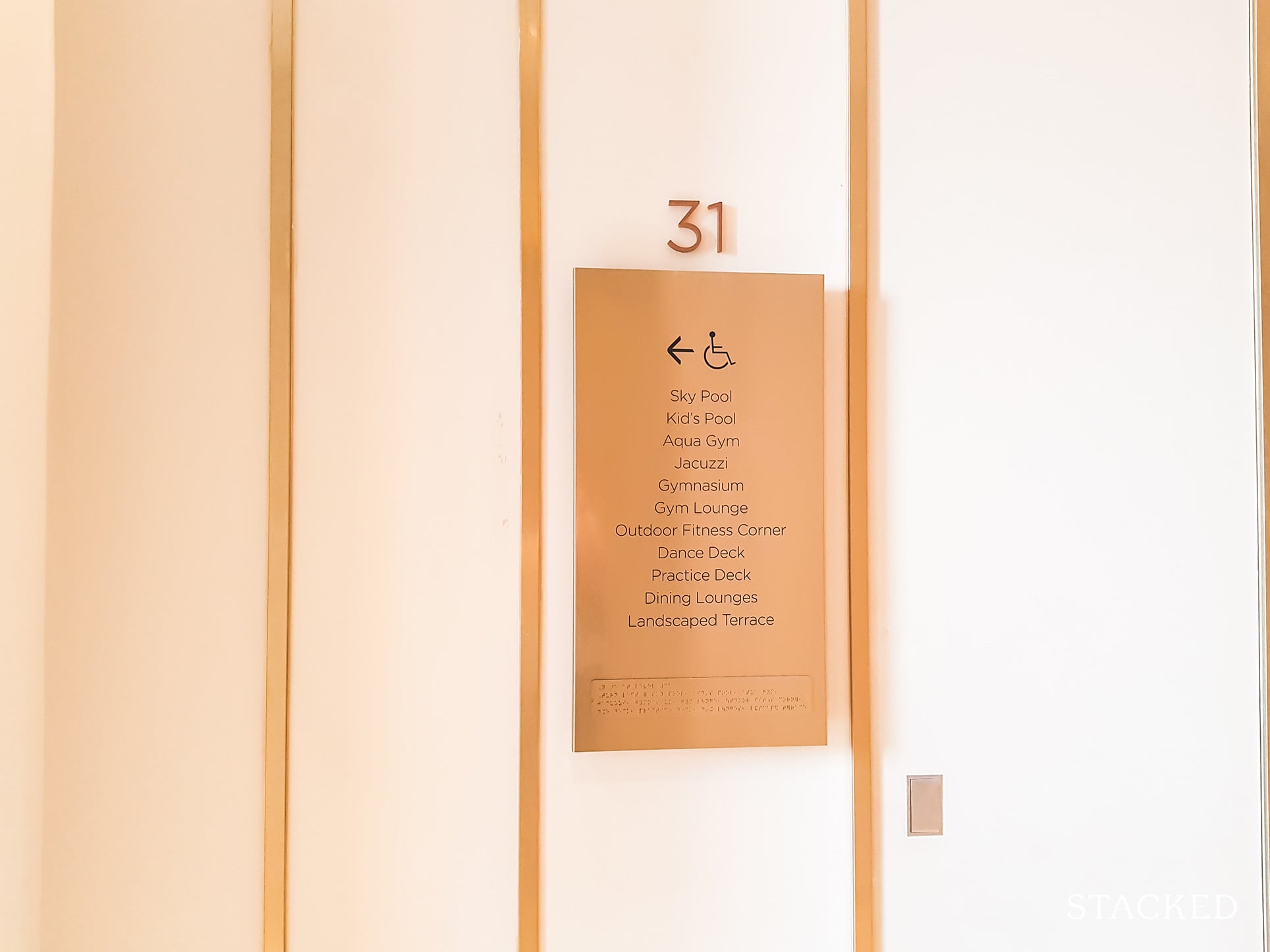 The sign that greets you at the 31st floor. This area houses most of the facilities in the development.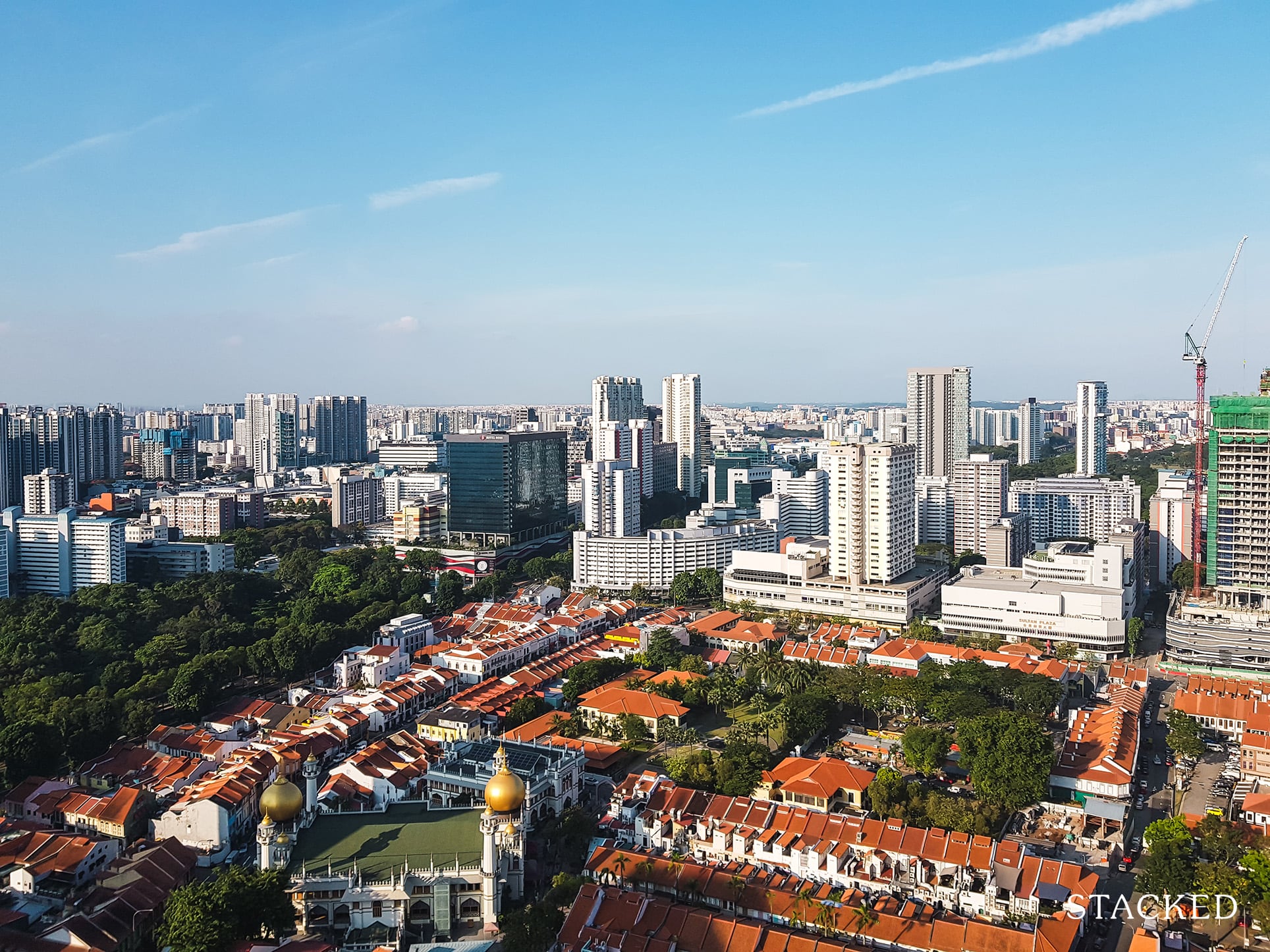 Amazing views all around.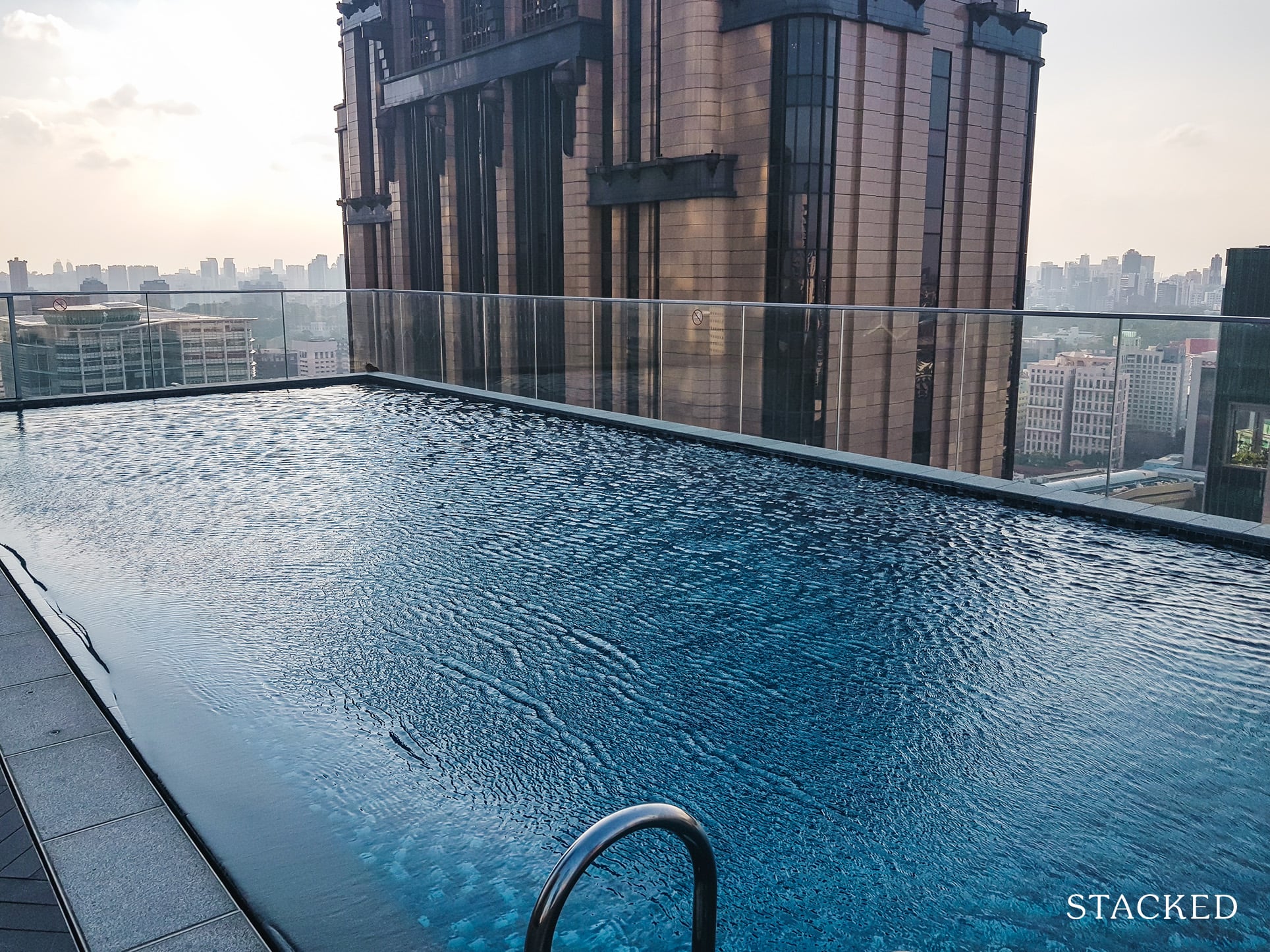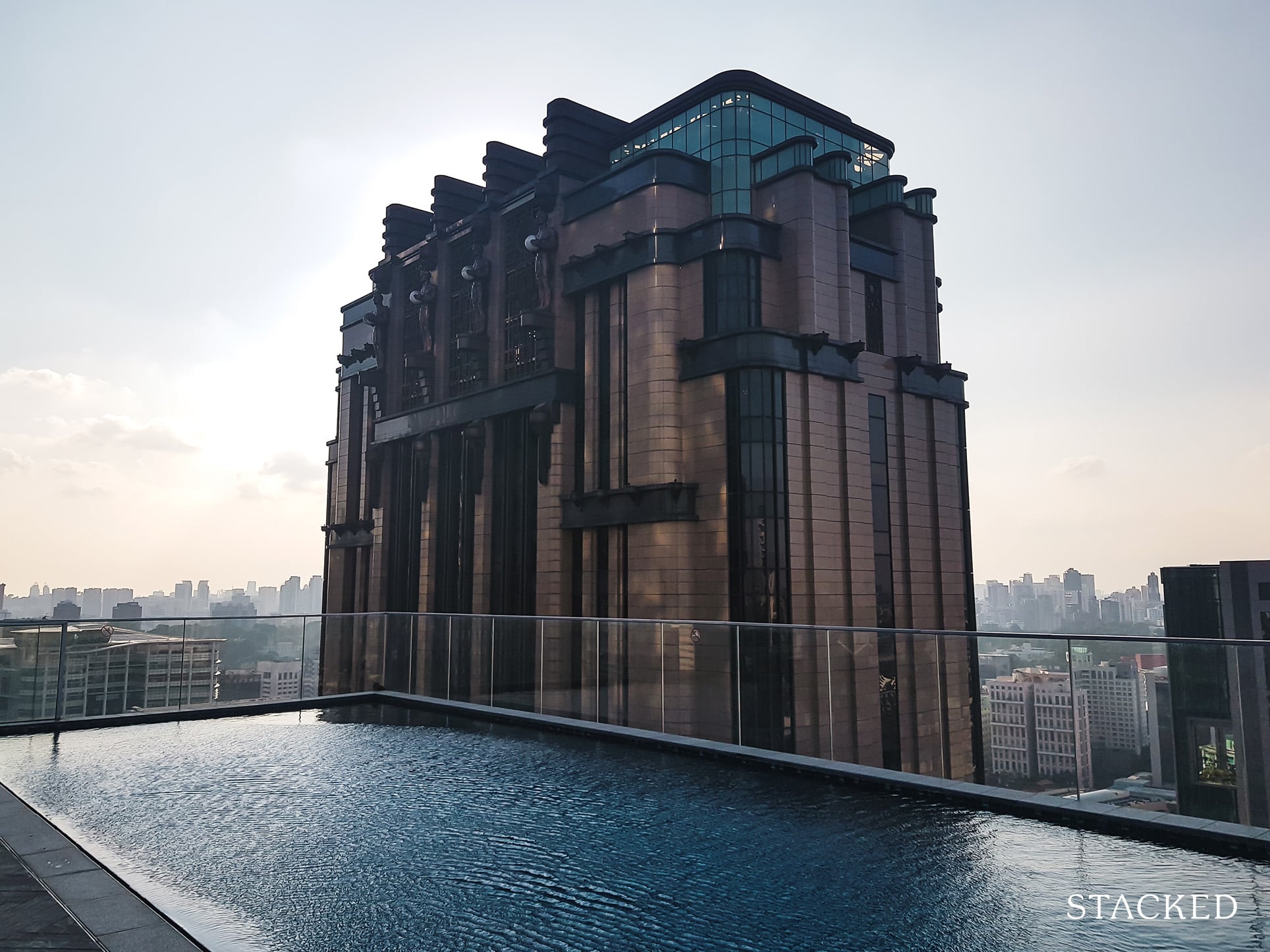 It was not the sunniest of days, but the Sky Pool still looked fantastic.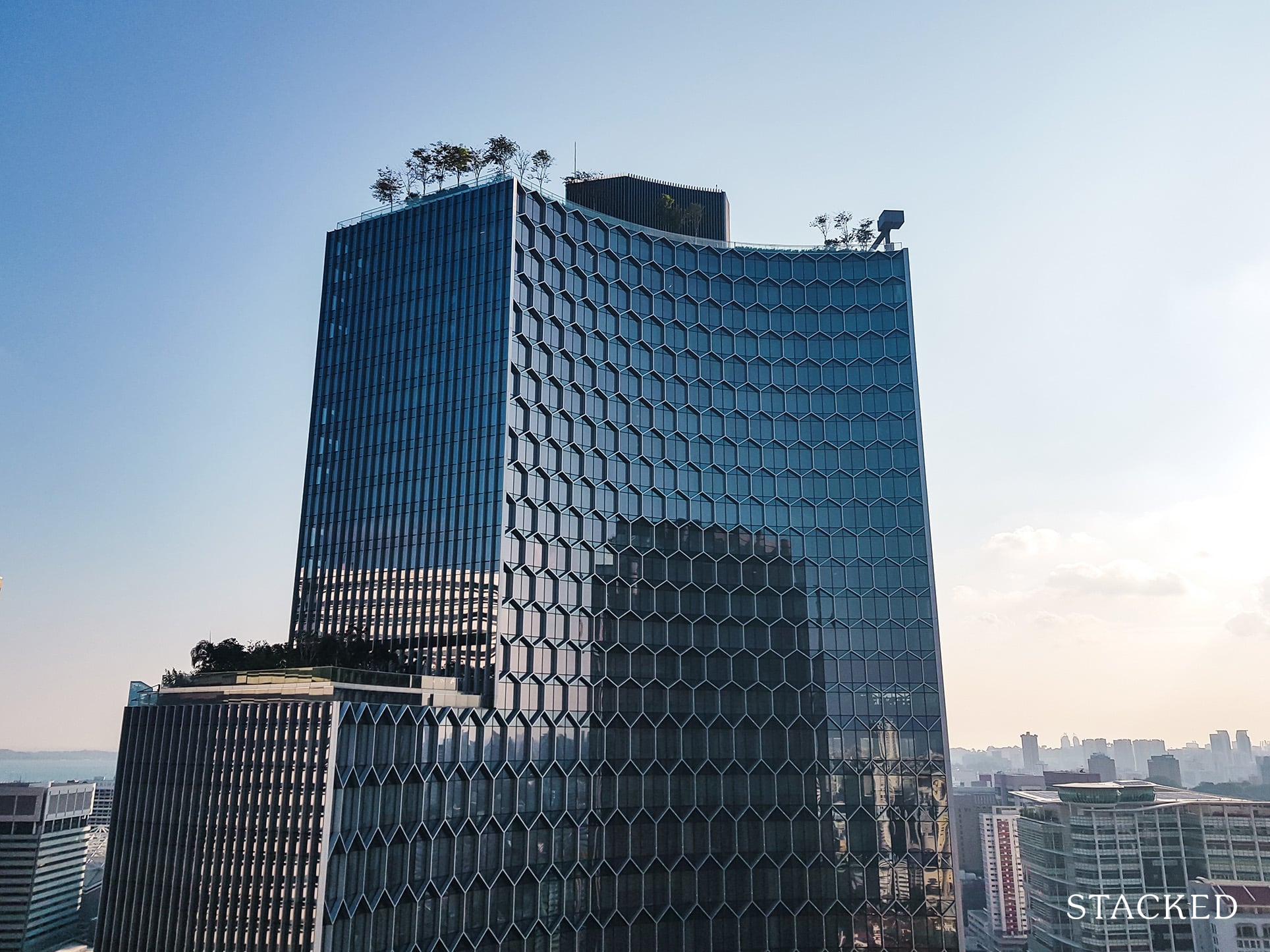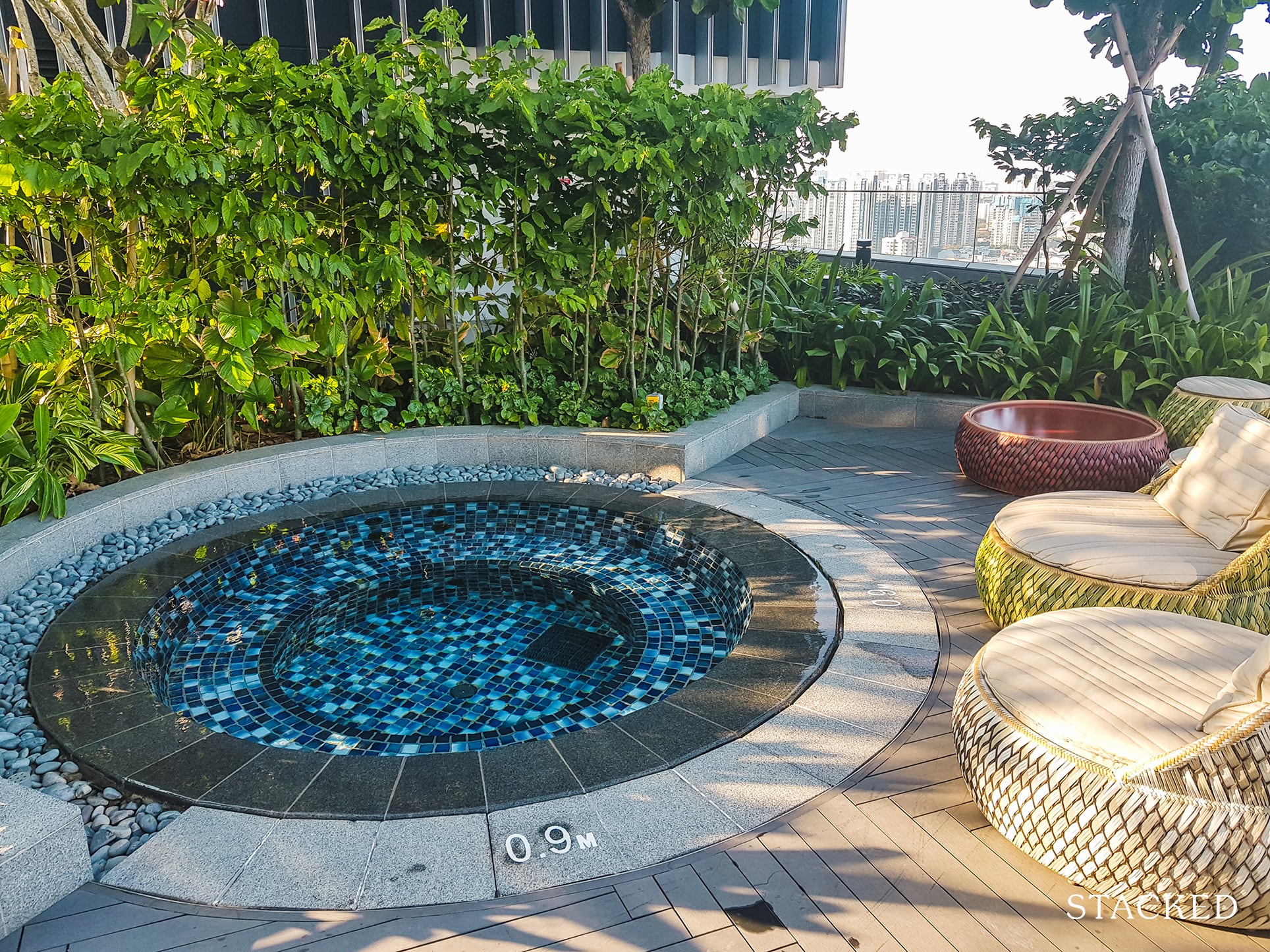 The small Jacuzzi area is well shaded by greenery so it affords the place some privacy.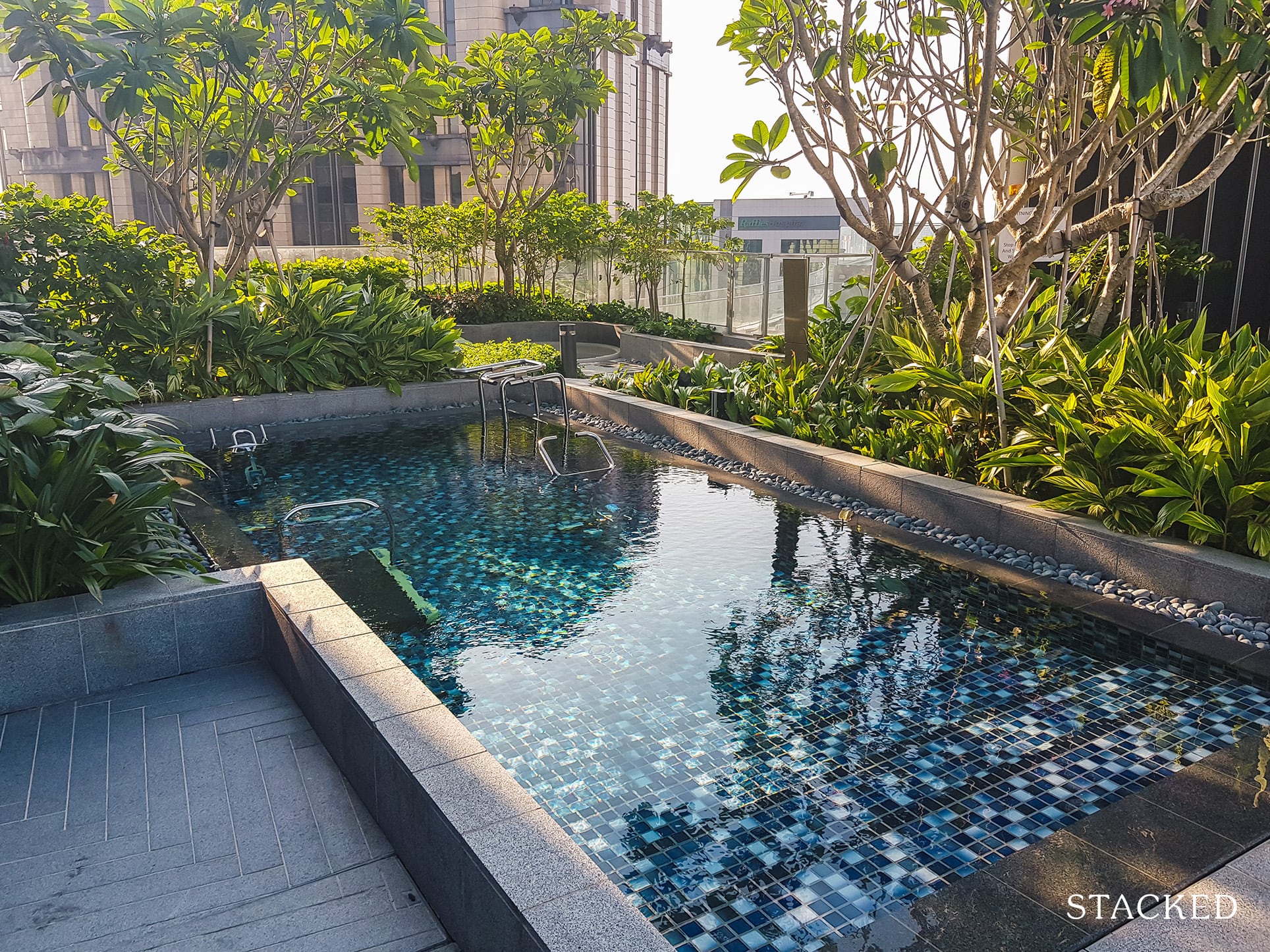 Aqua Gym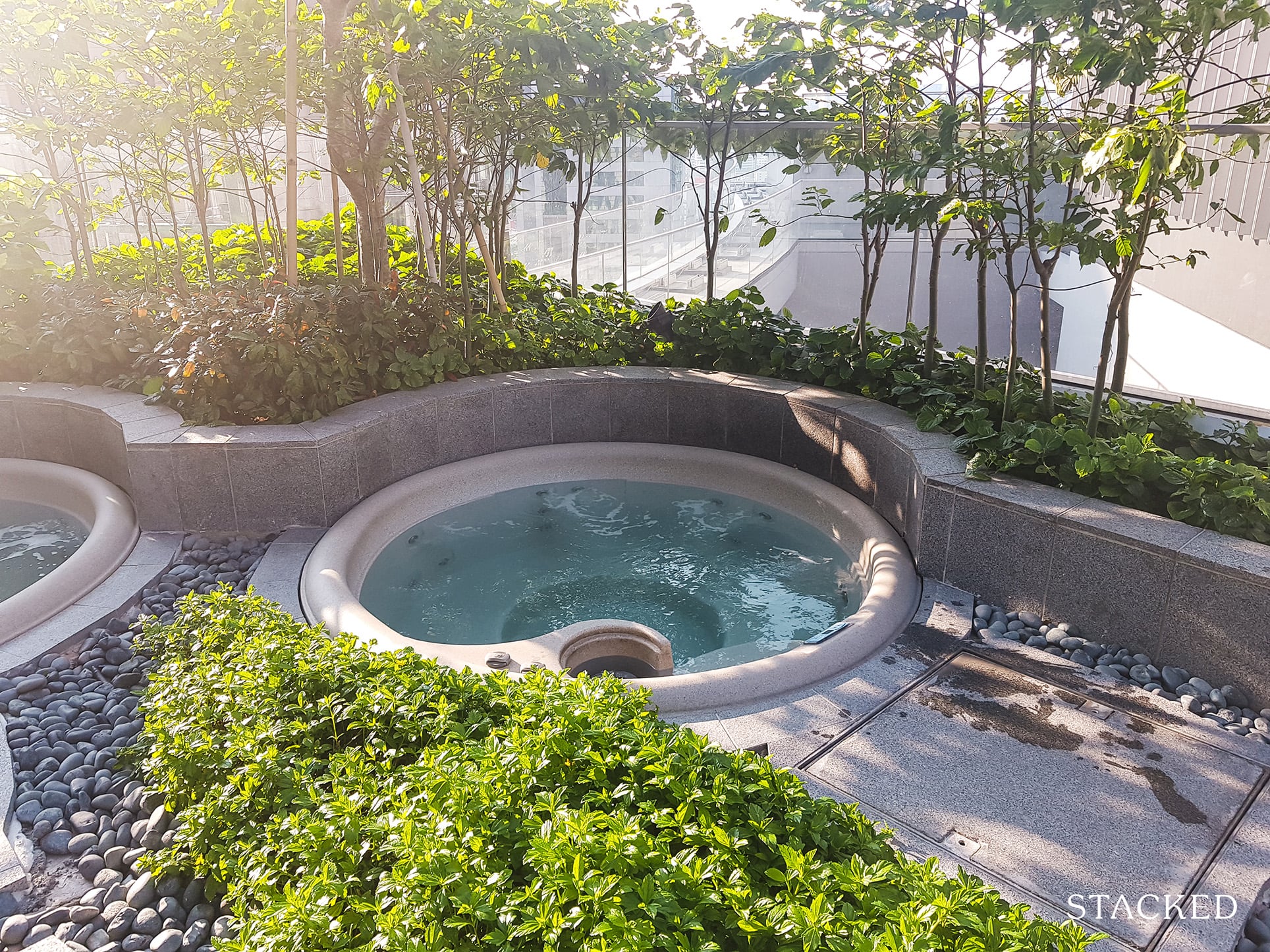 Spa pools, three of them are clustered together.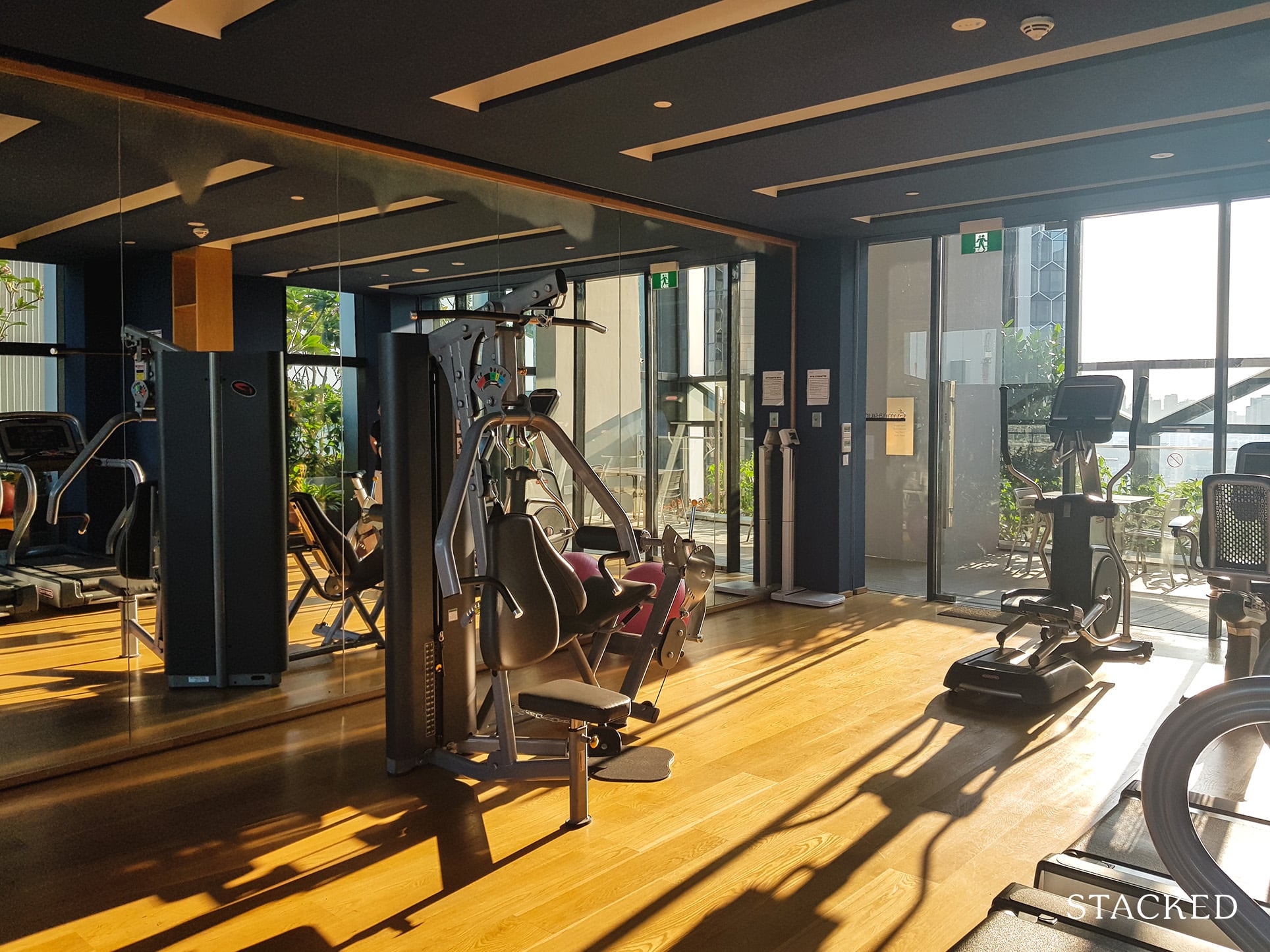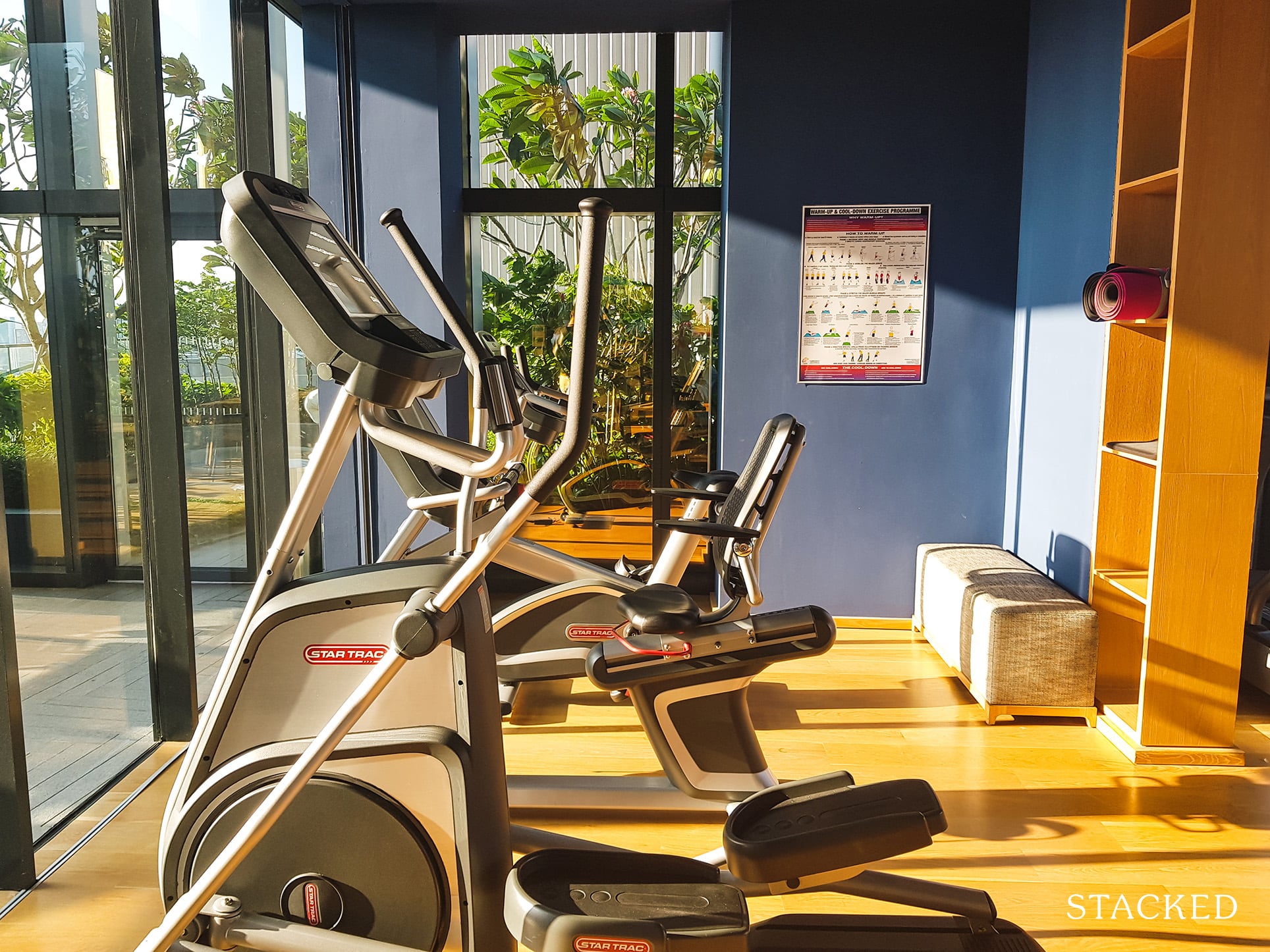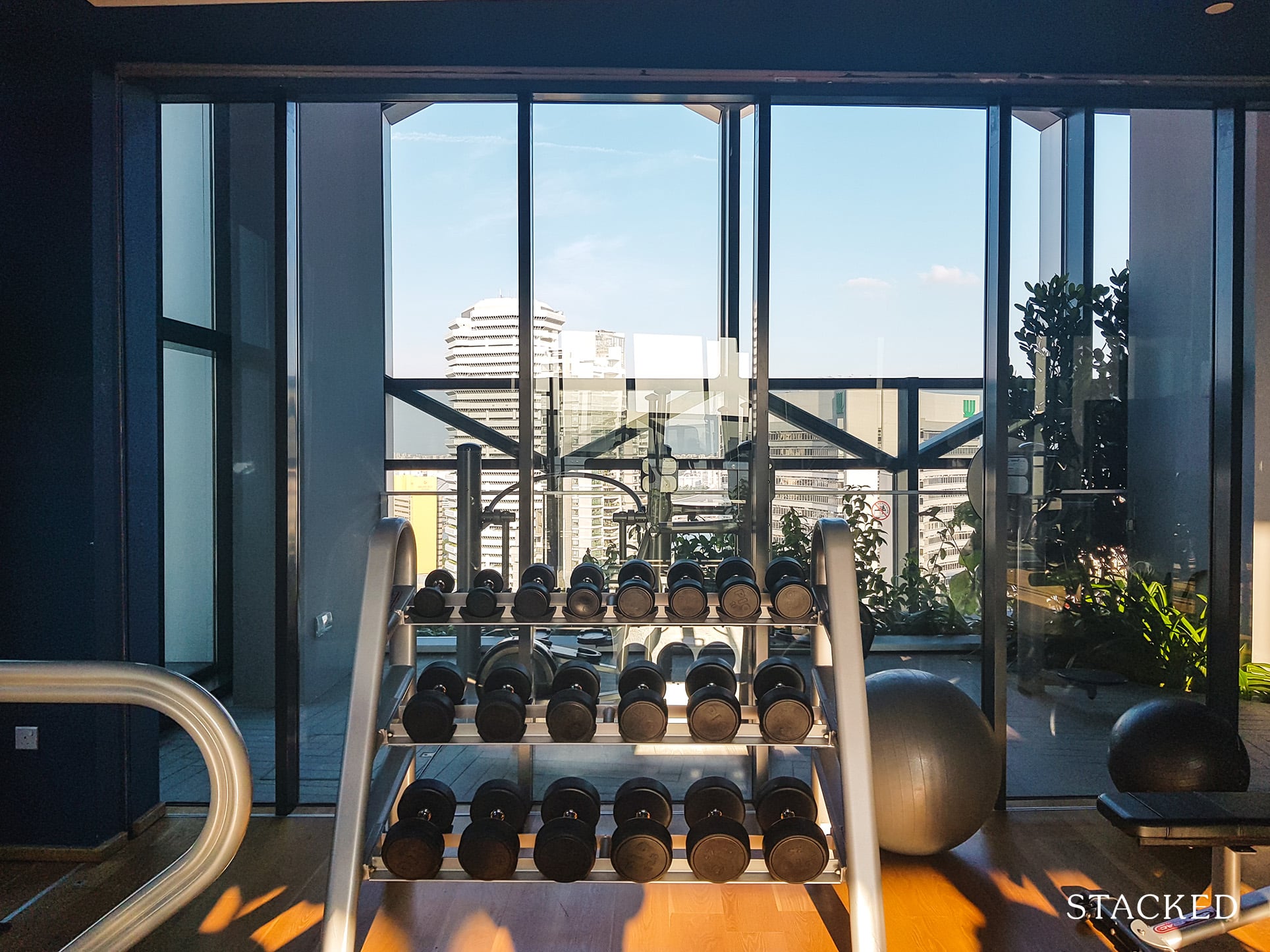 The gym is not the biggest, but more than adequate. The cardio machines provide a great view of the city, so some viewing porn while you exercise!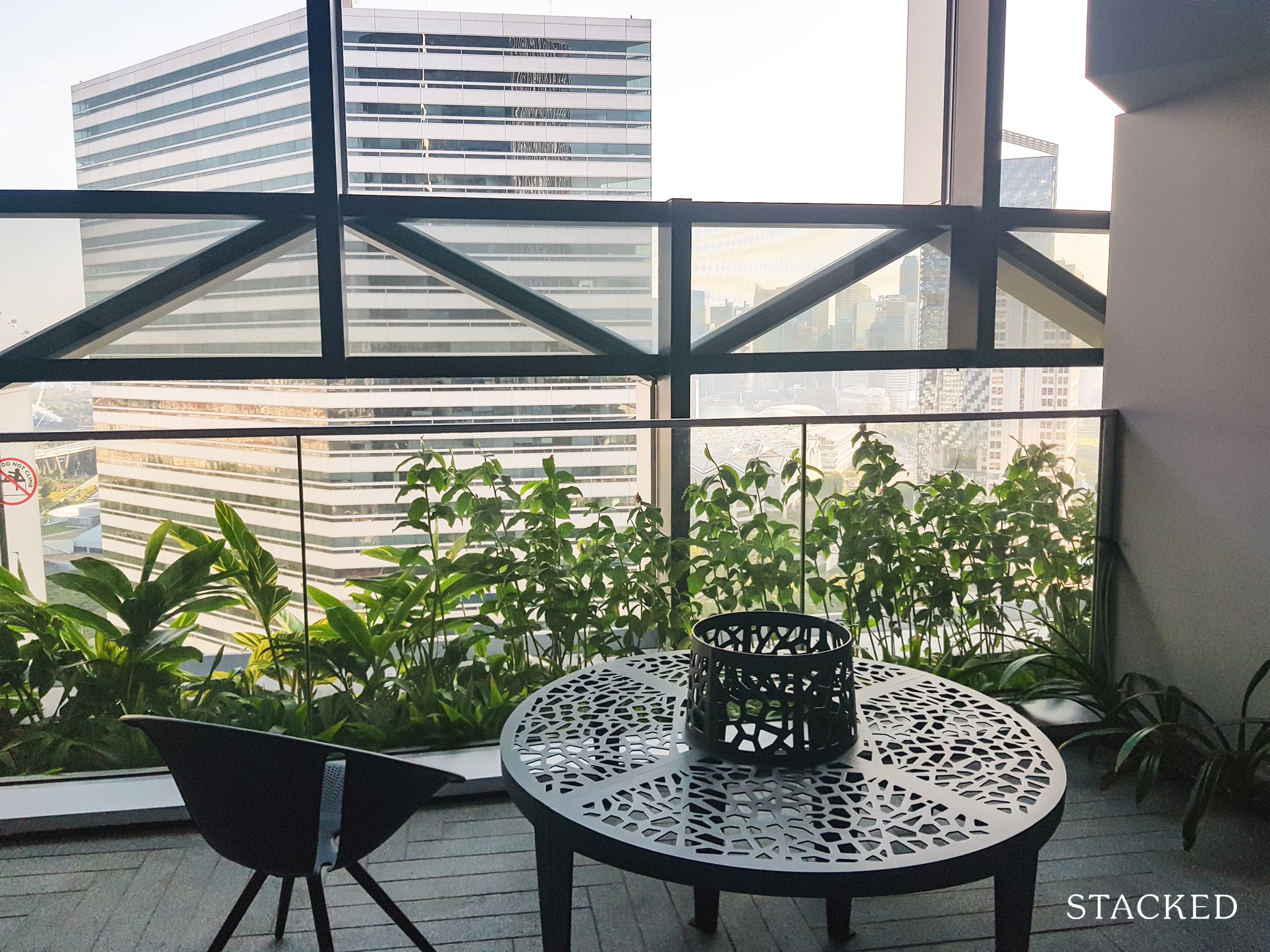 There are lots of seating areas dotted around the top deck, so you can enjoy the views and the cool breeze.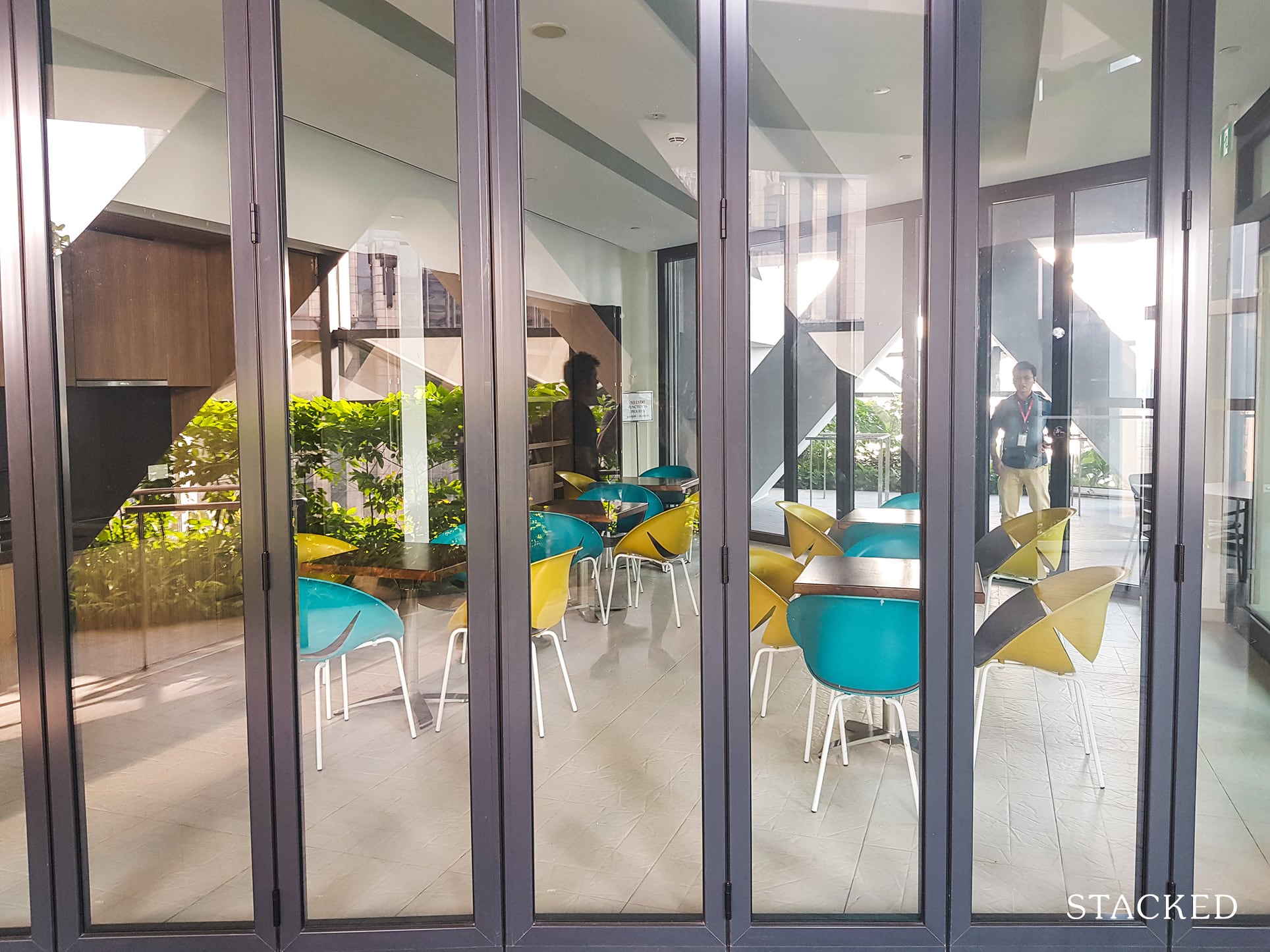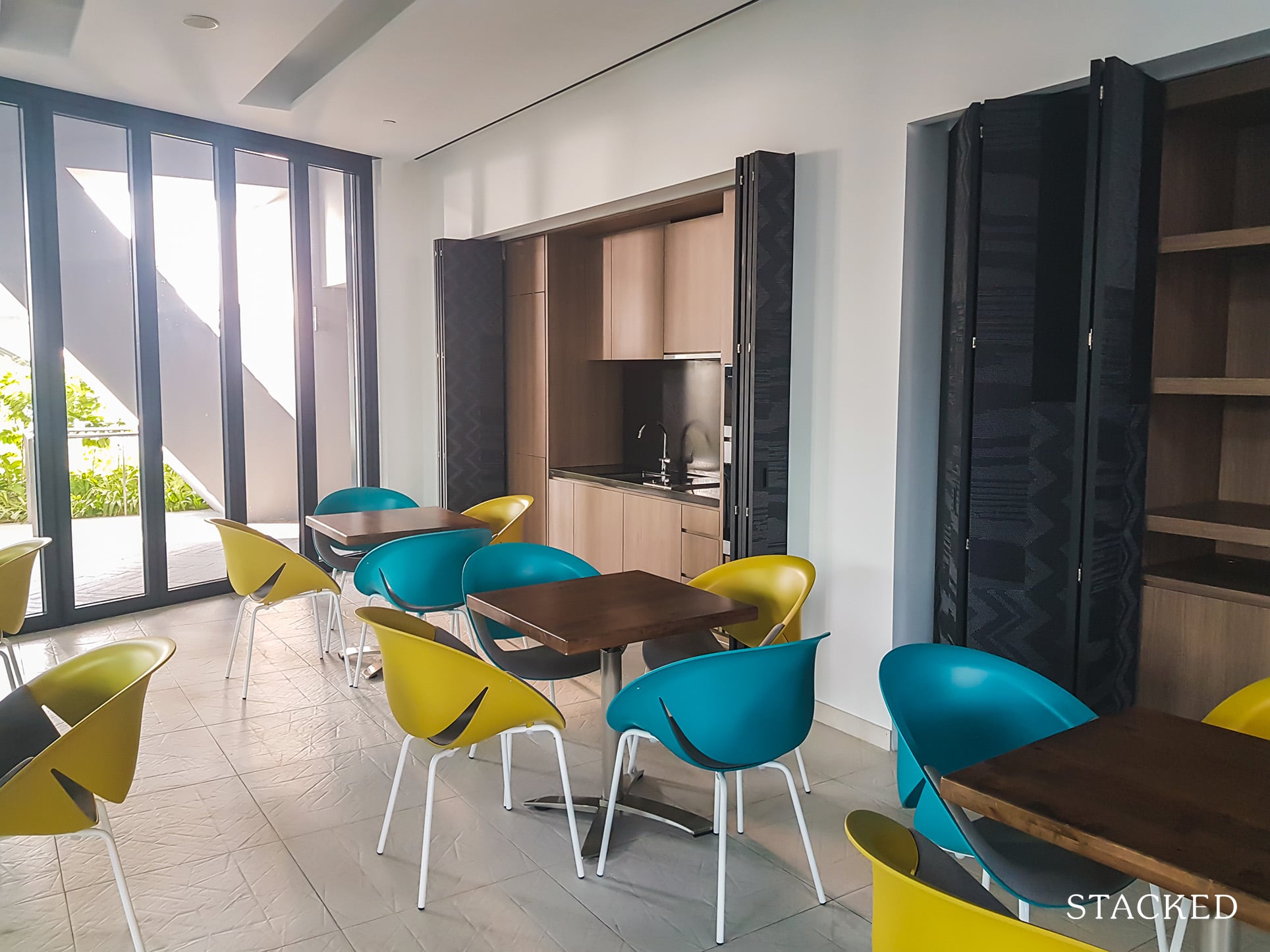 The function room is of a decent size, and has a little kitchenette as well.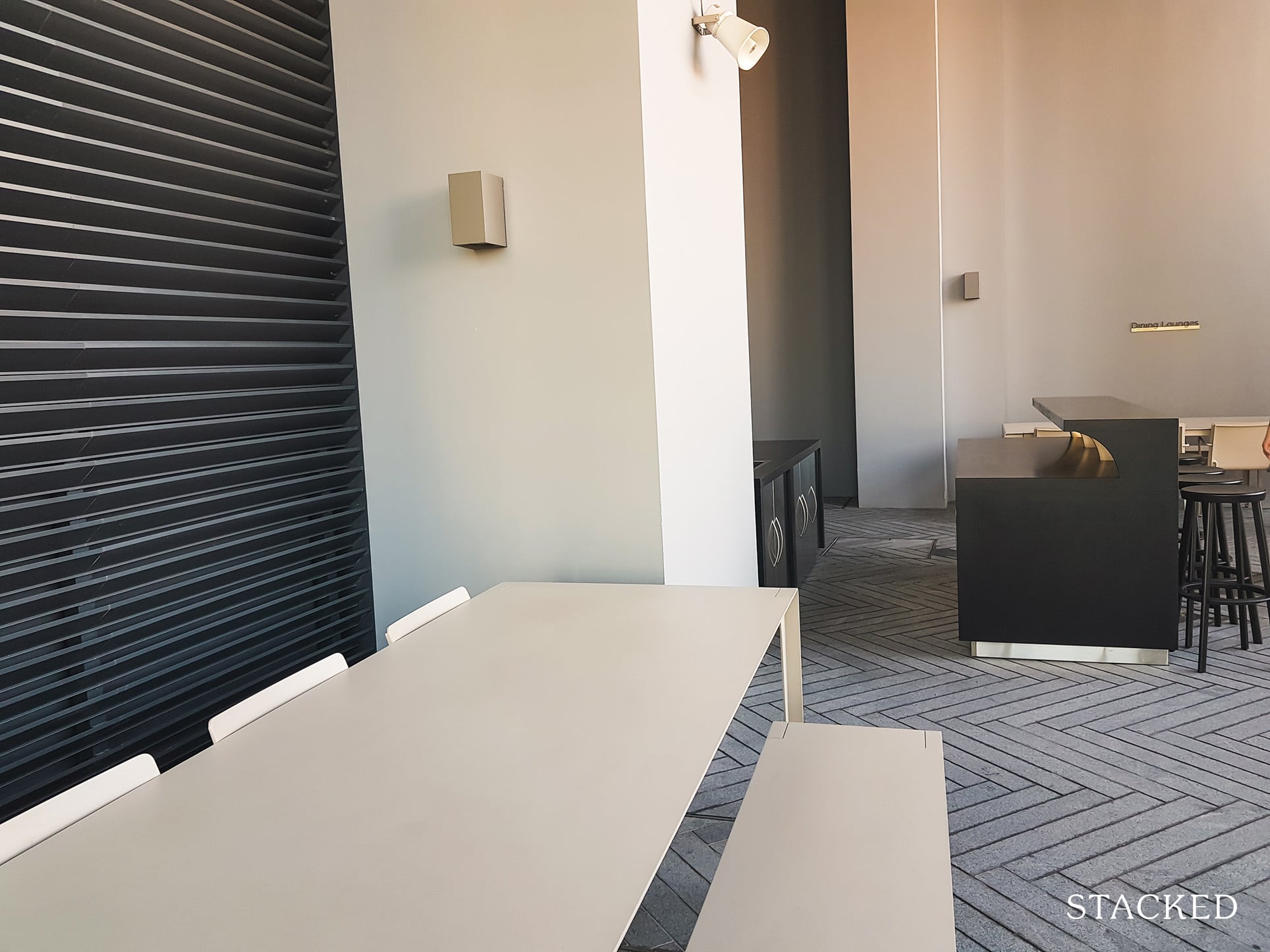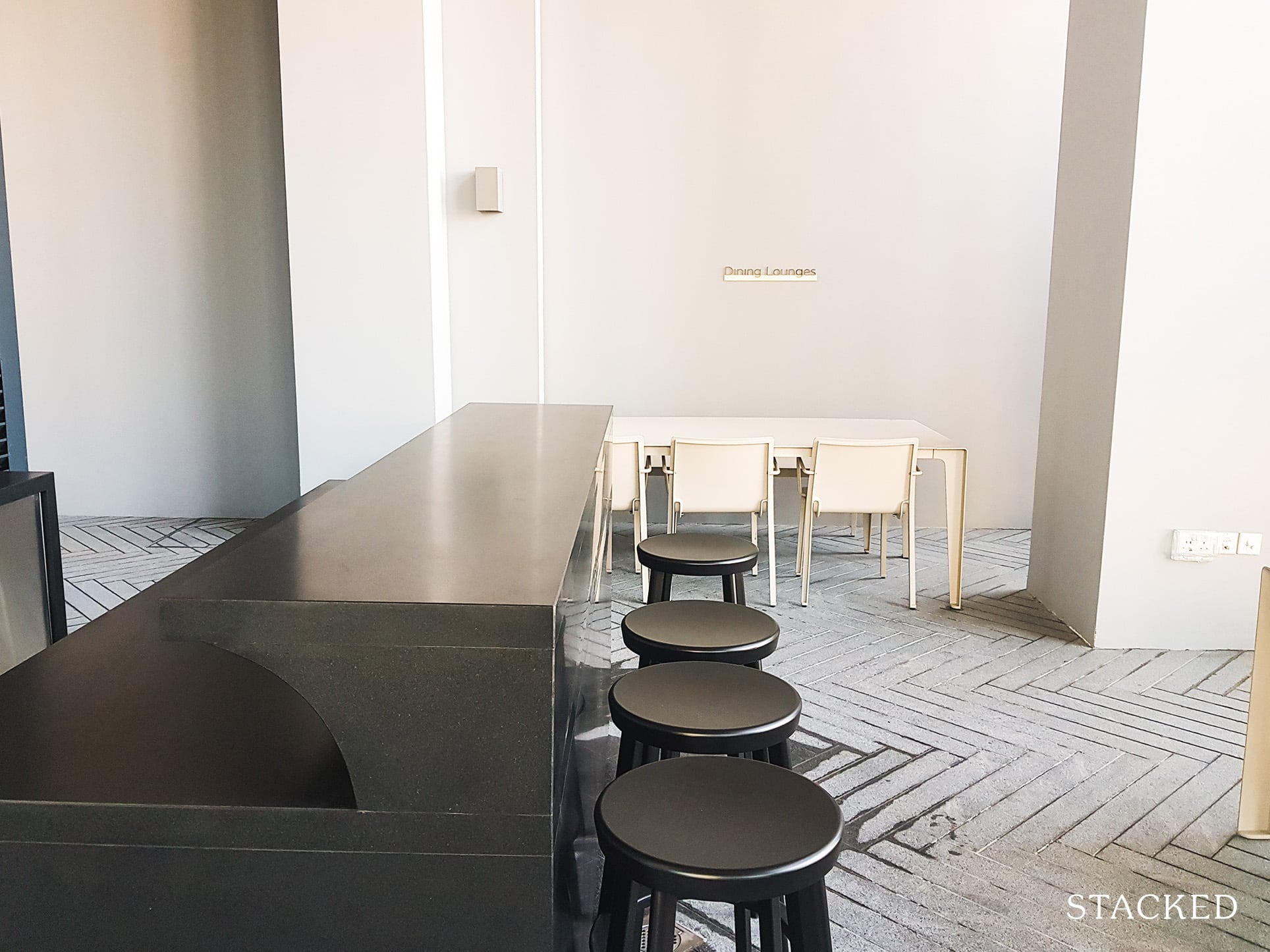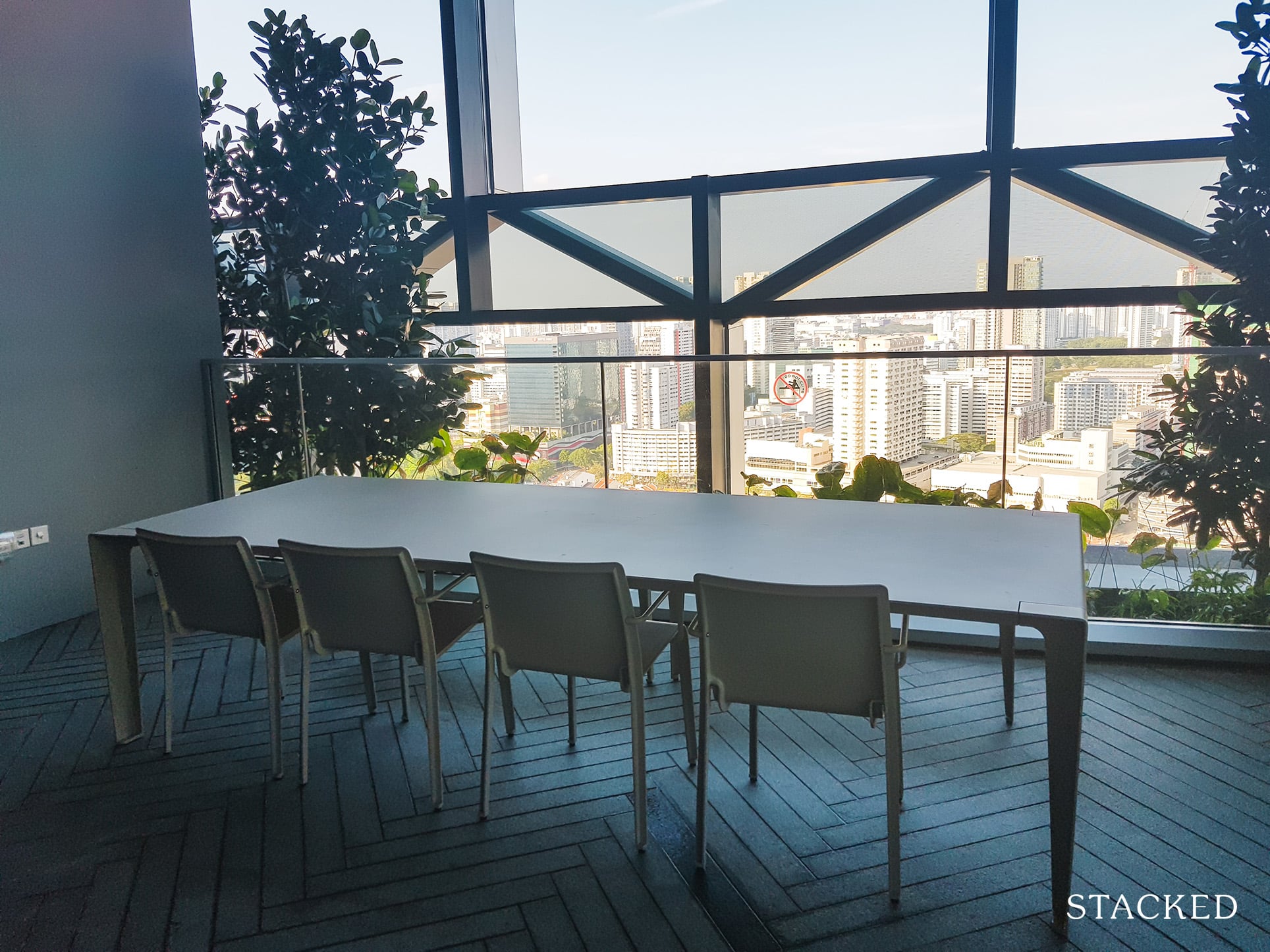 There is a dining lounge here as well, with more than enough seating for you to entertain your guests.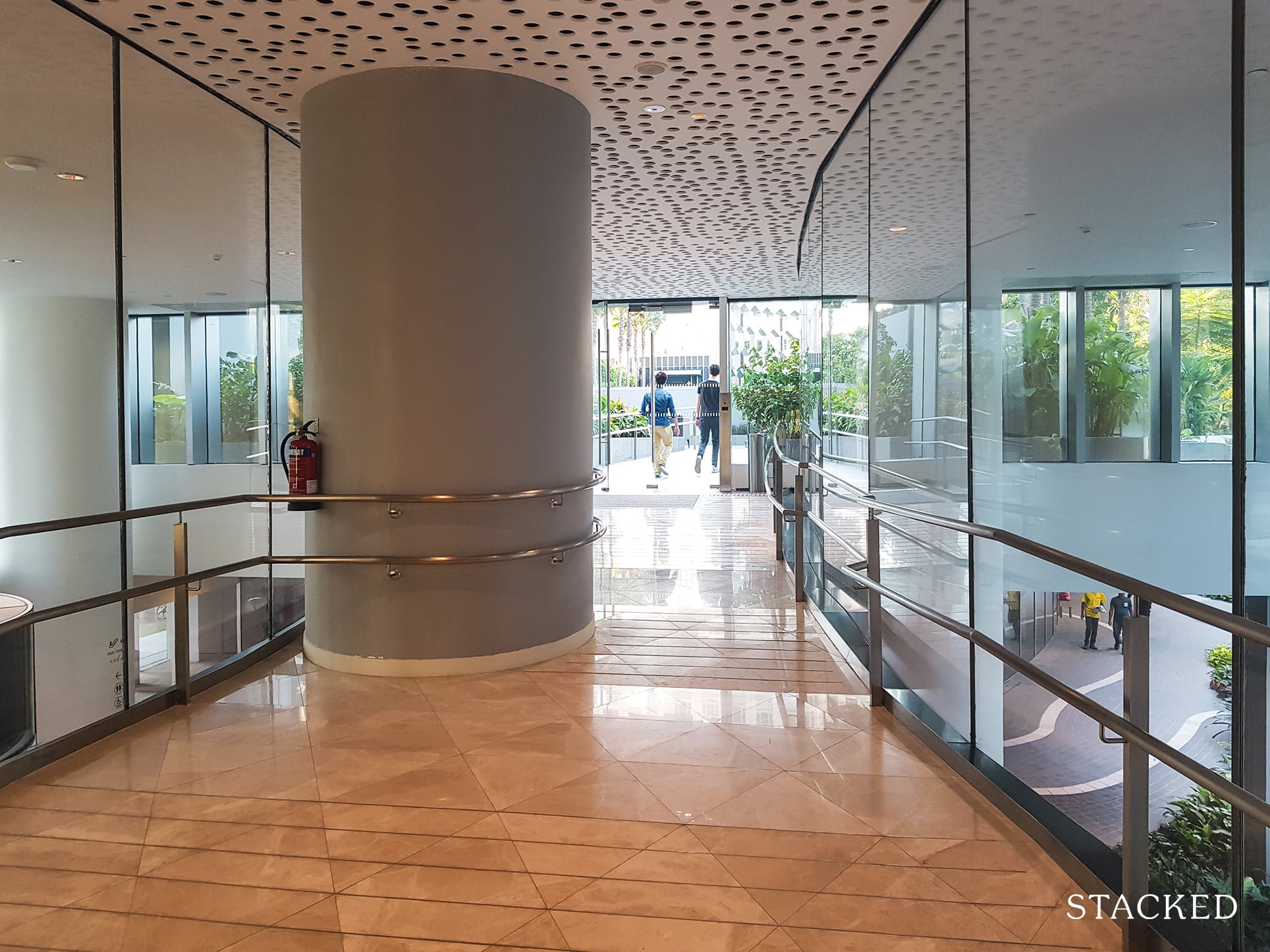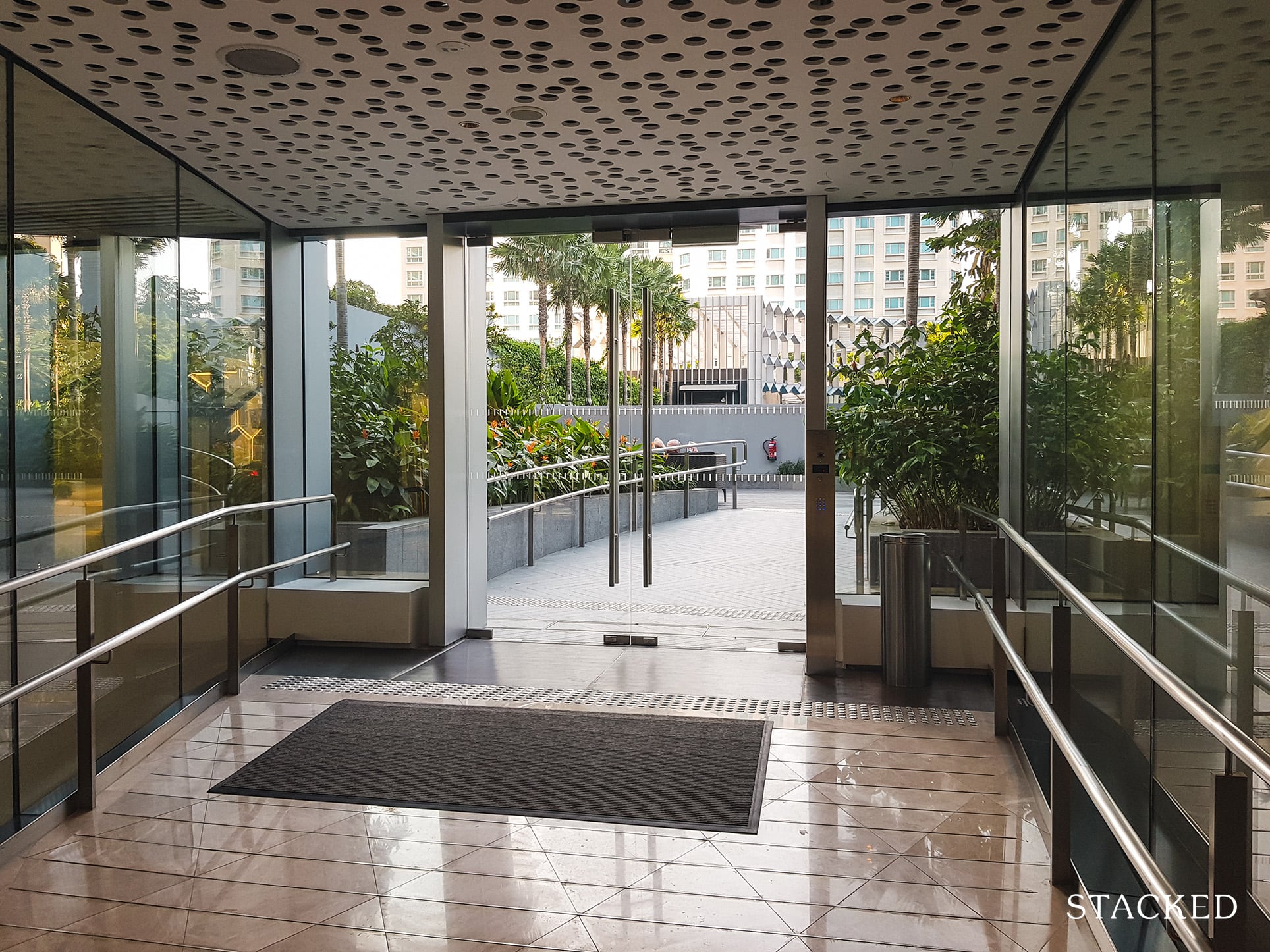 Now we move to the 2nd level of the development, where the main swimming pool is at. Again, the key card is required to access the pool.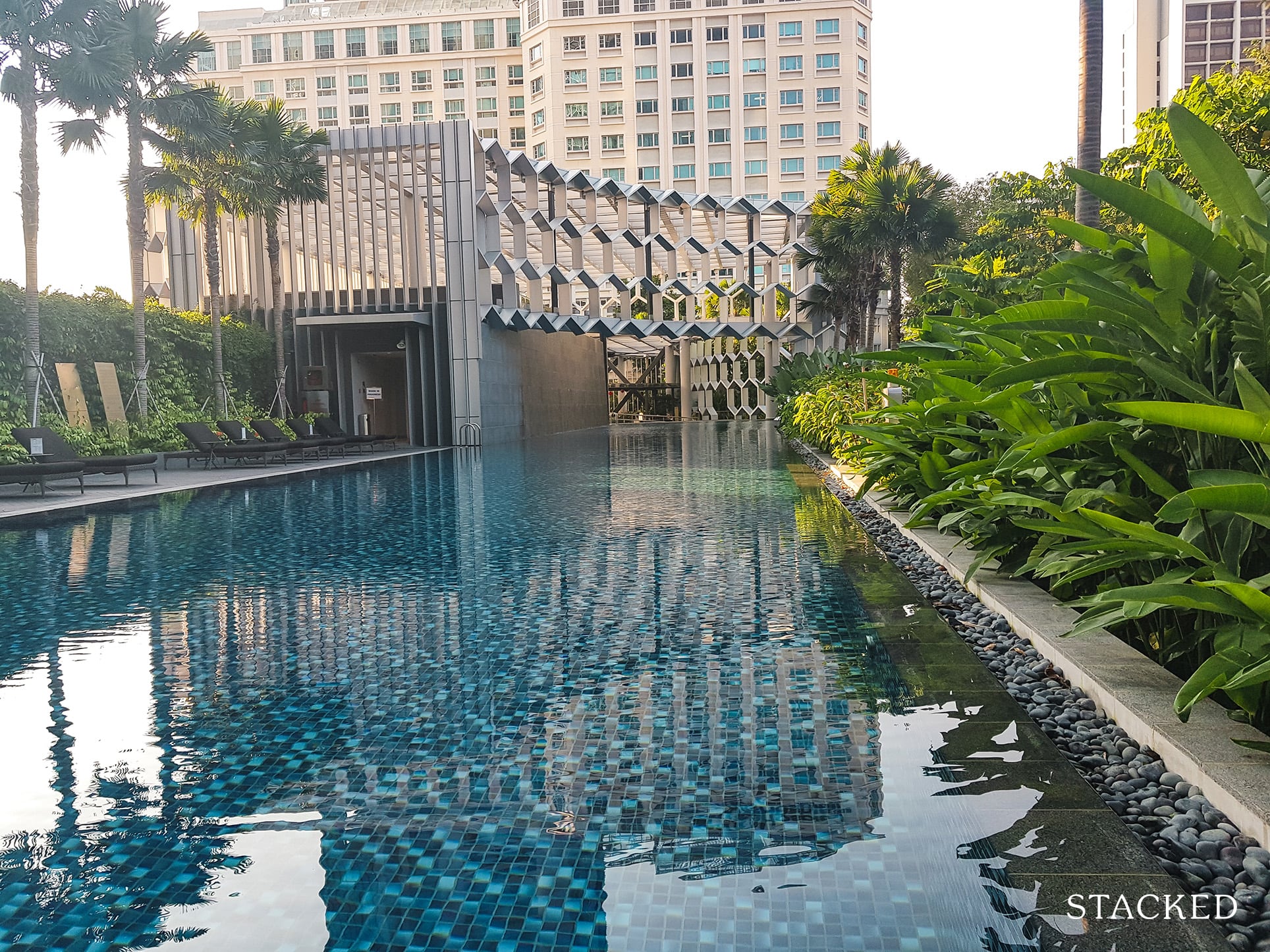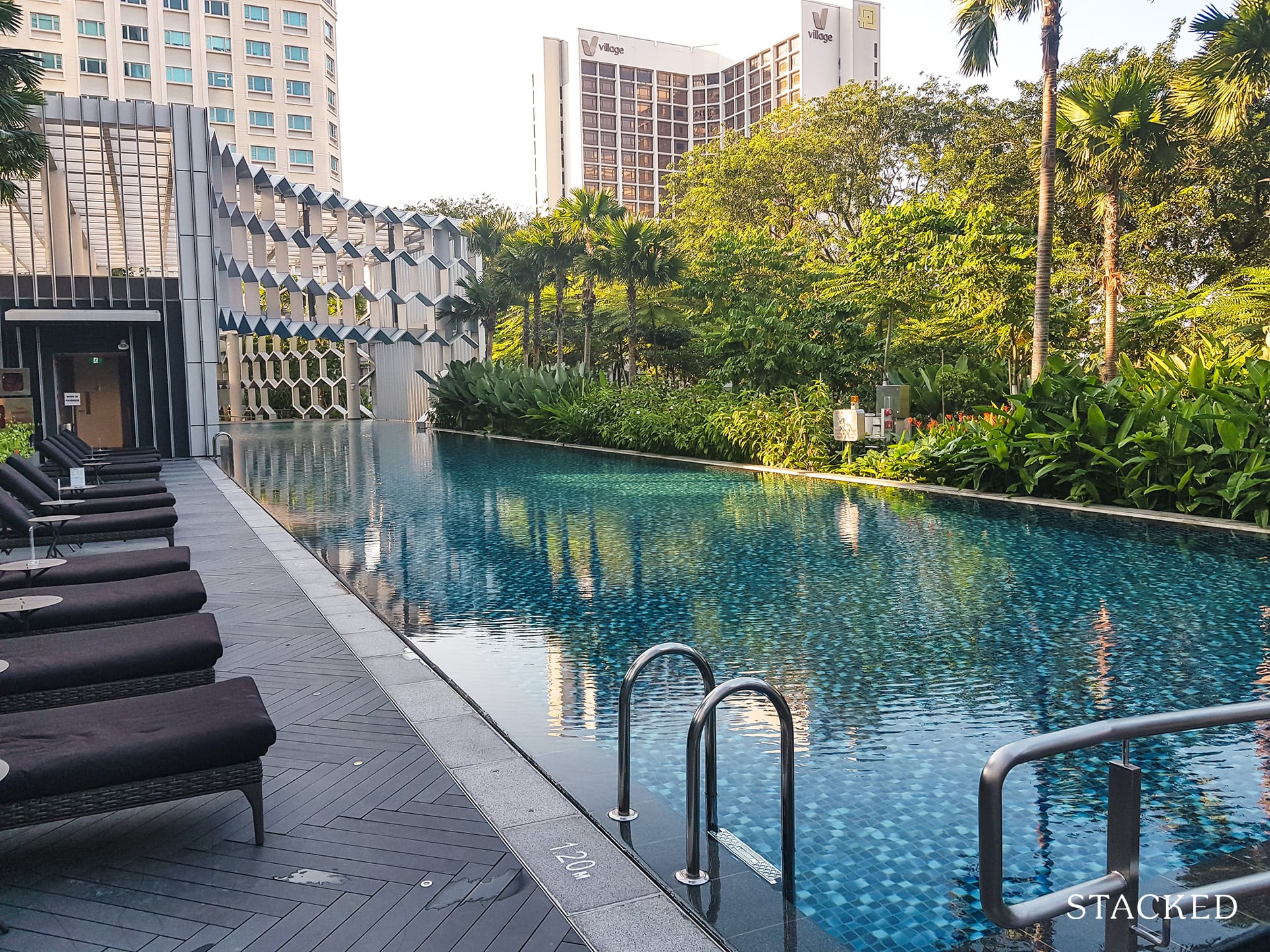 The main pool is much bigger of course. It is a really nice area to relax amidst the bustling sounds of the city on the outside. It easily rivals most of the nice hotel pools in our opinion.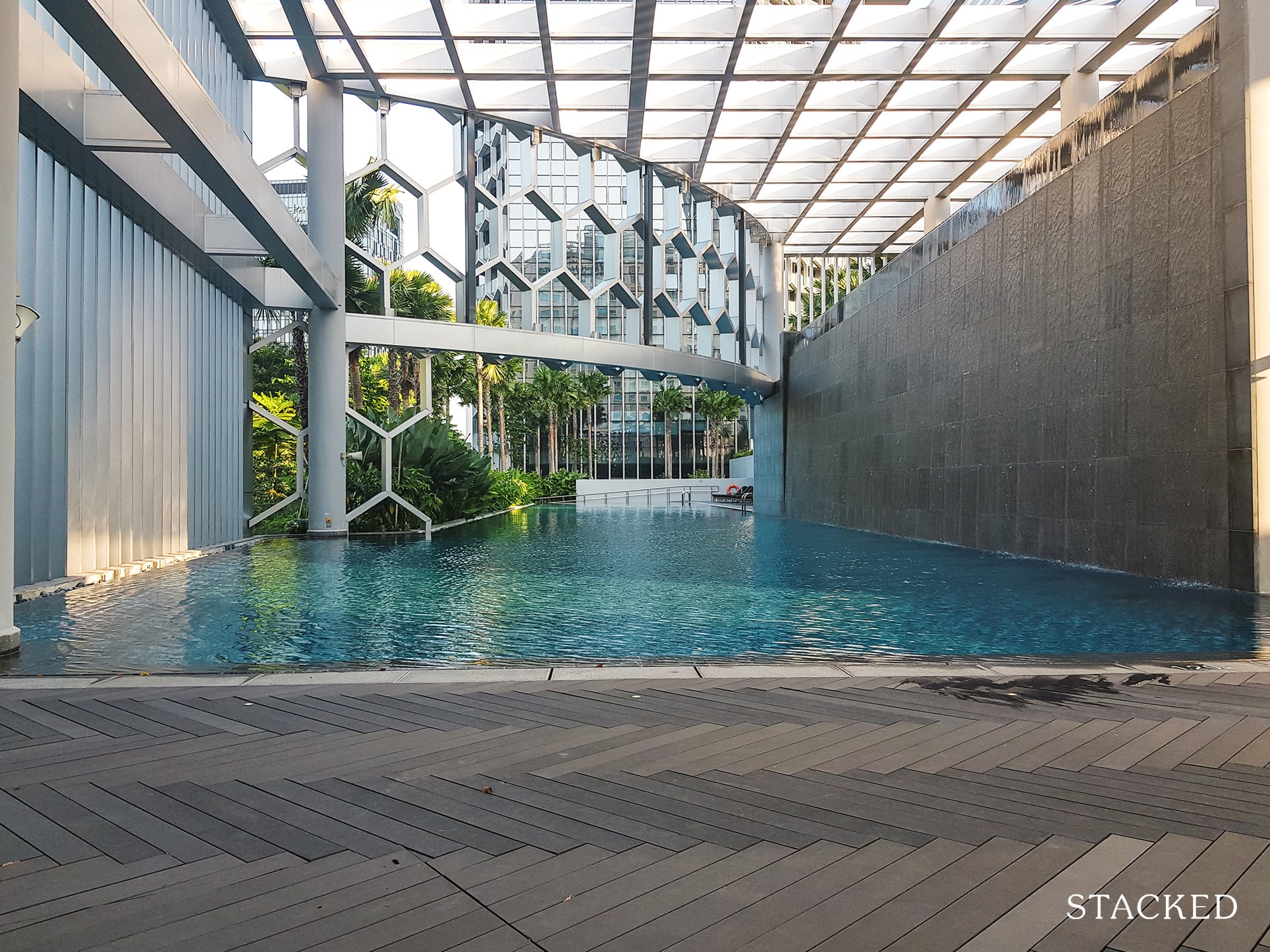 The teppanyaki pavilion is located just beside the main pool.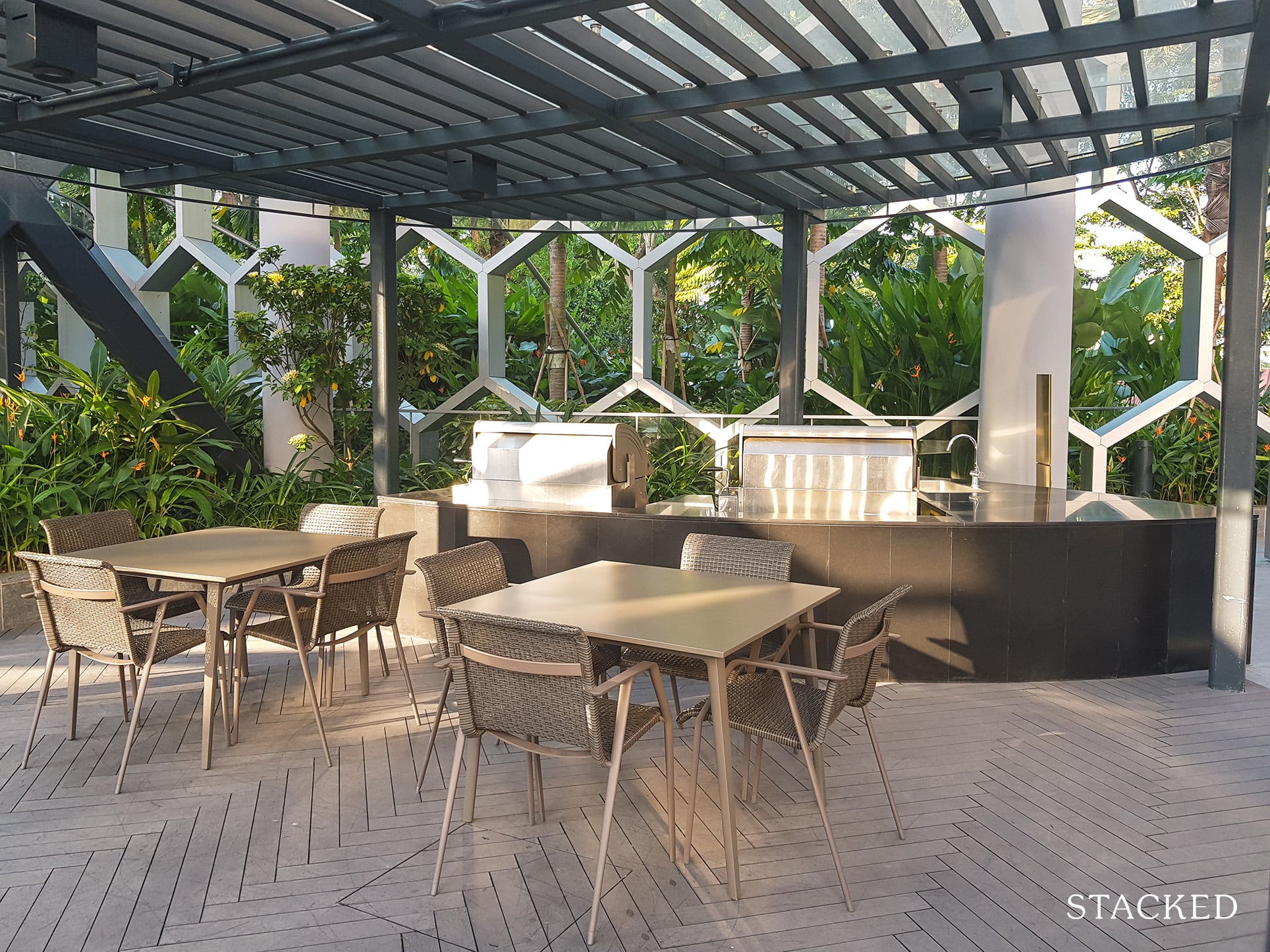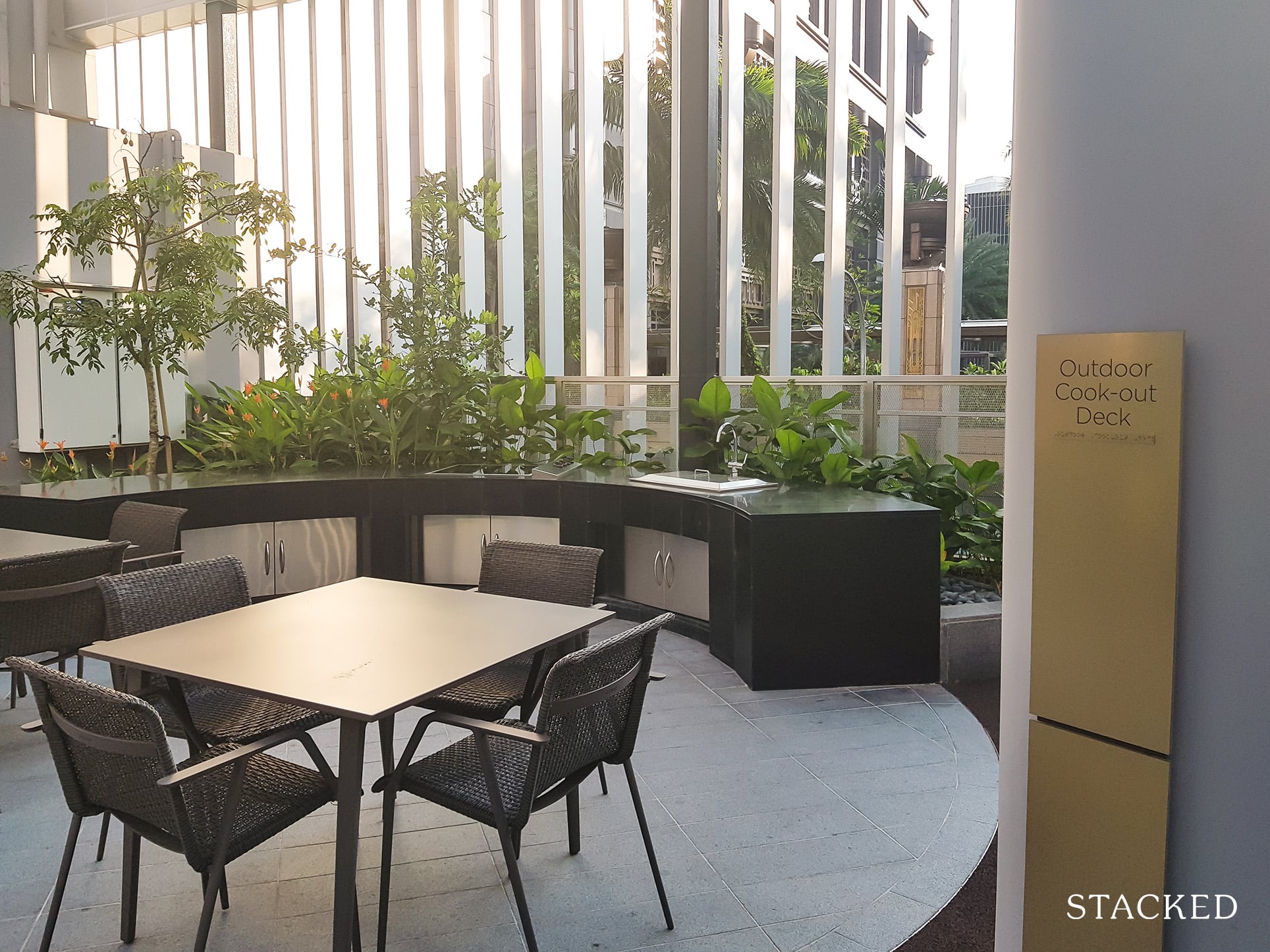 There is an outdoor cook-out deck as well.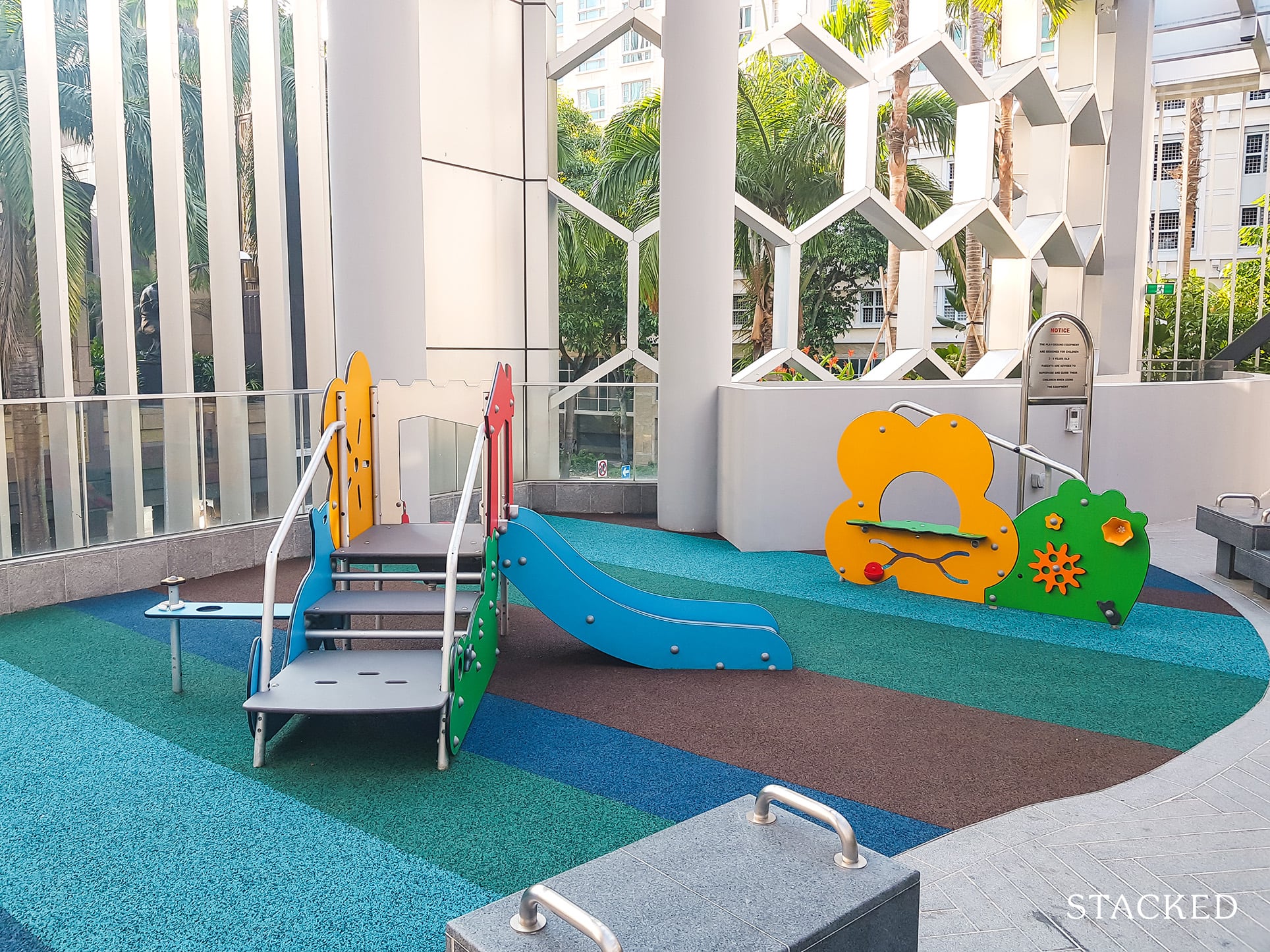 Small playground to entertain the kids.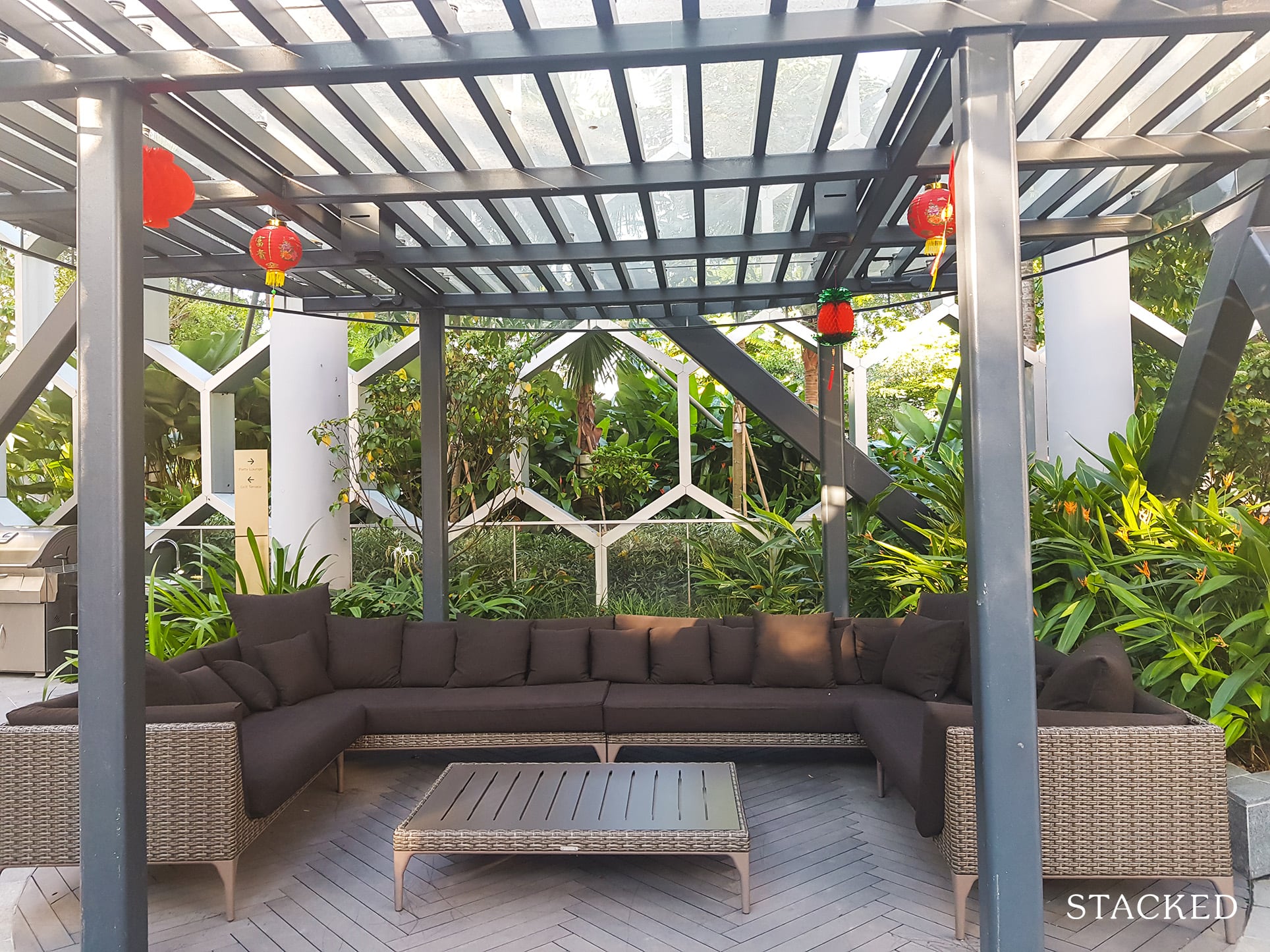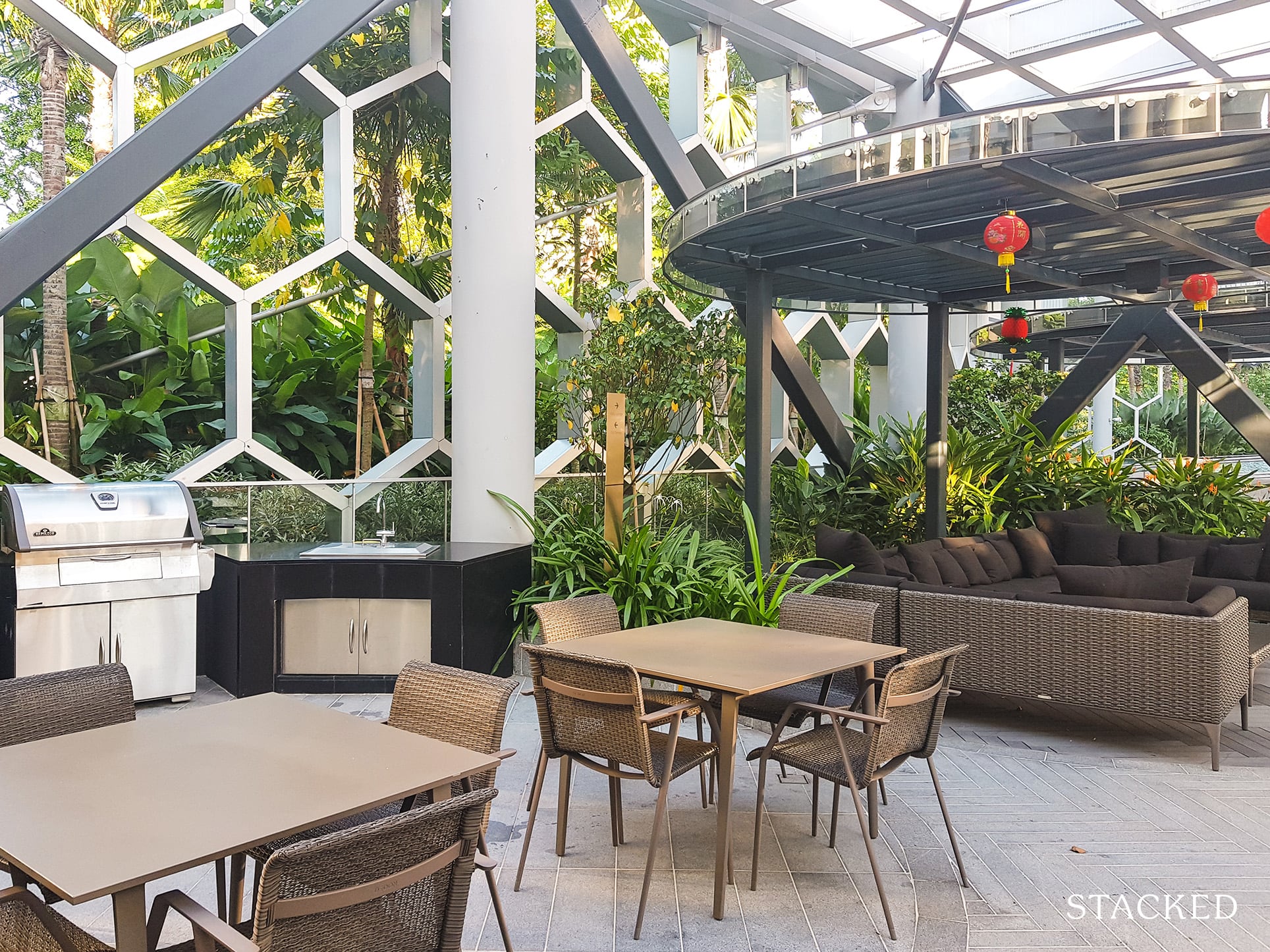 Lots of nice seating areas to lounge around in. If anything, Duo Residences has really not held back on the amount of outdoor seating.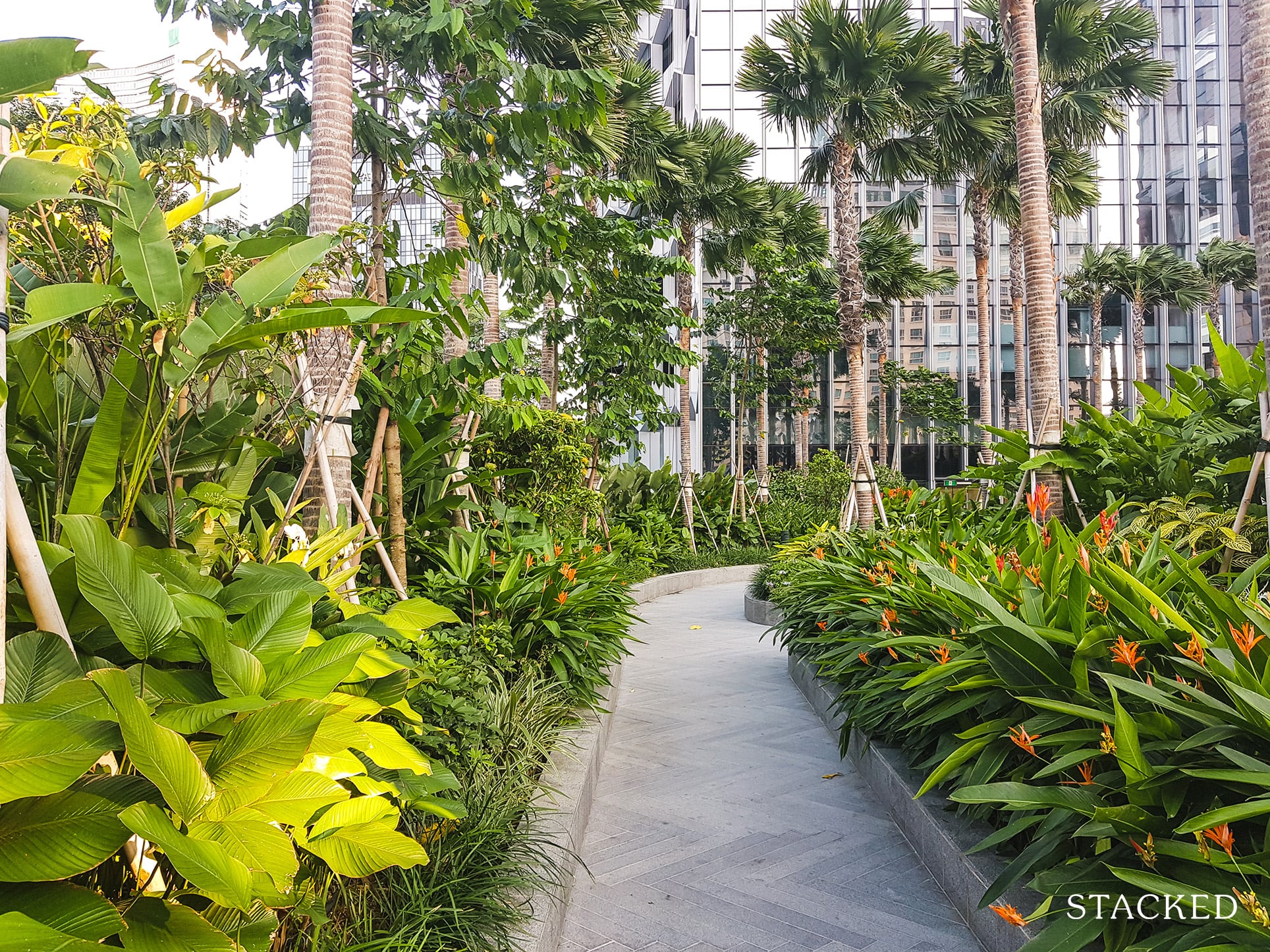 Well landscaped throughout the development.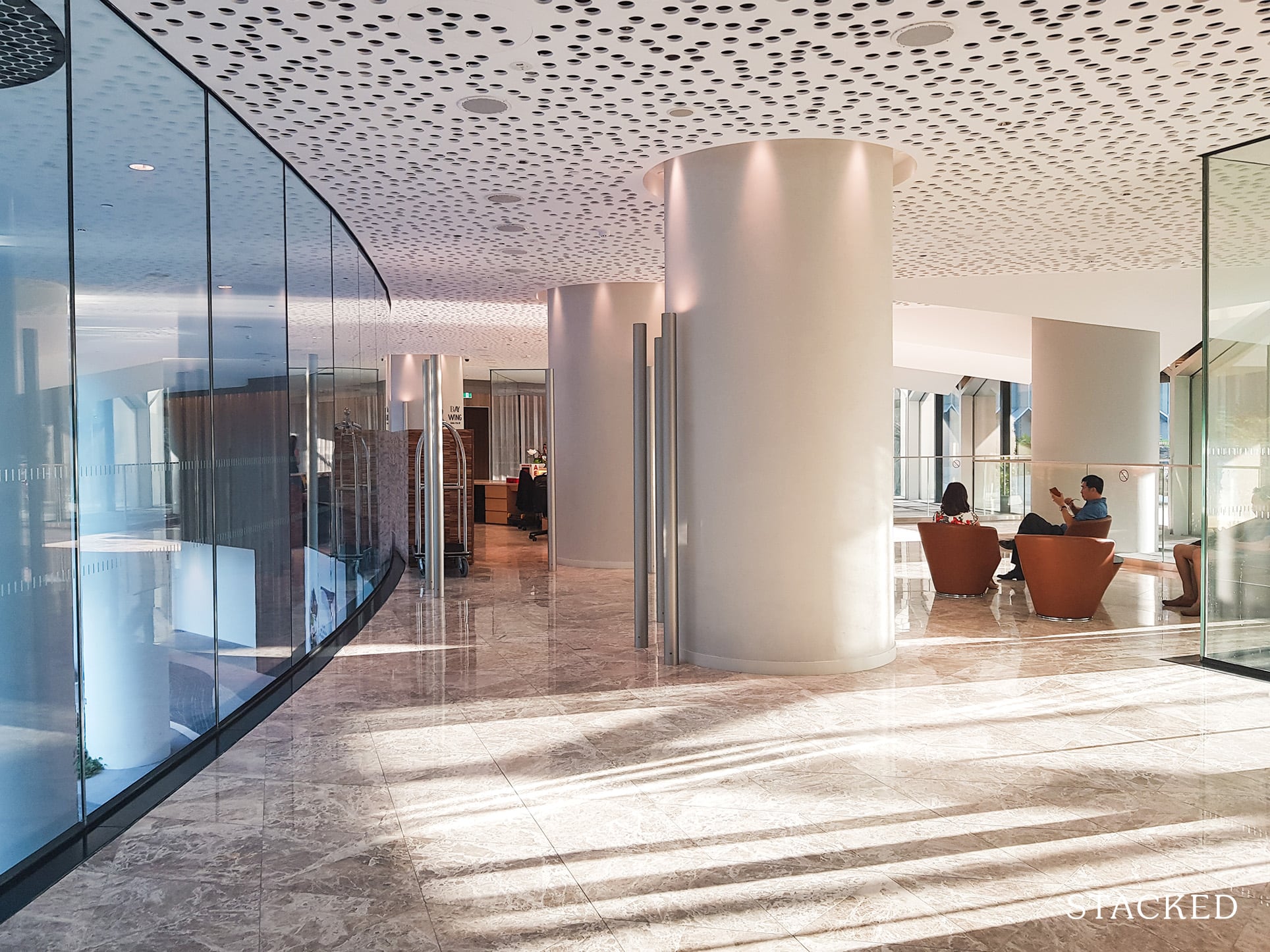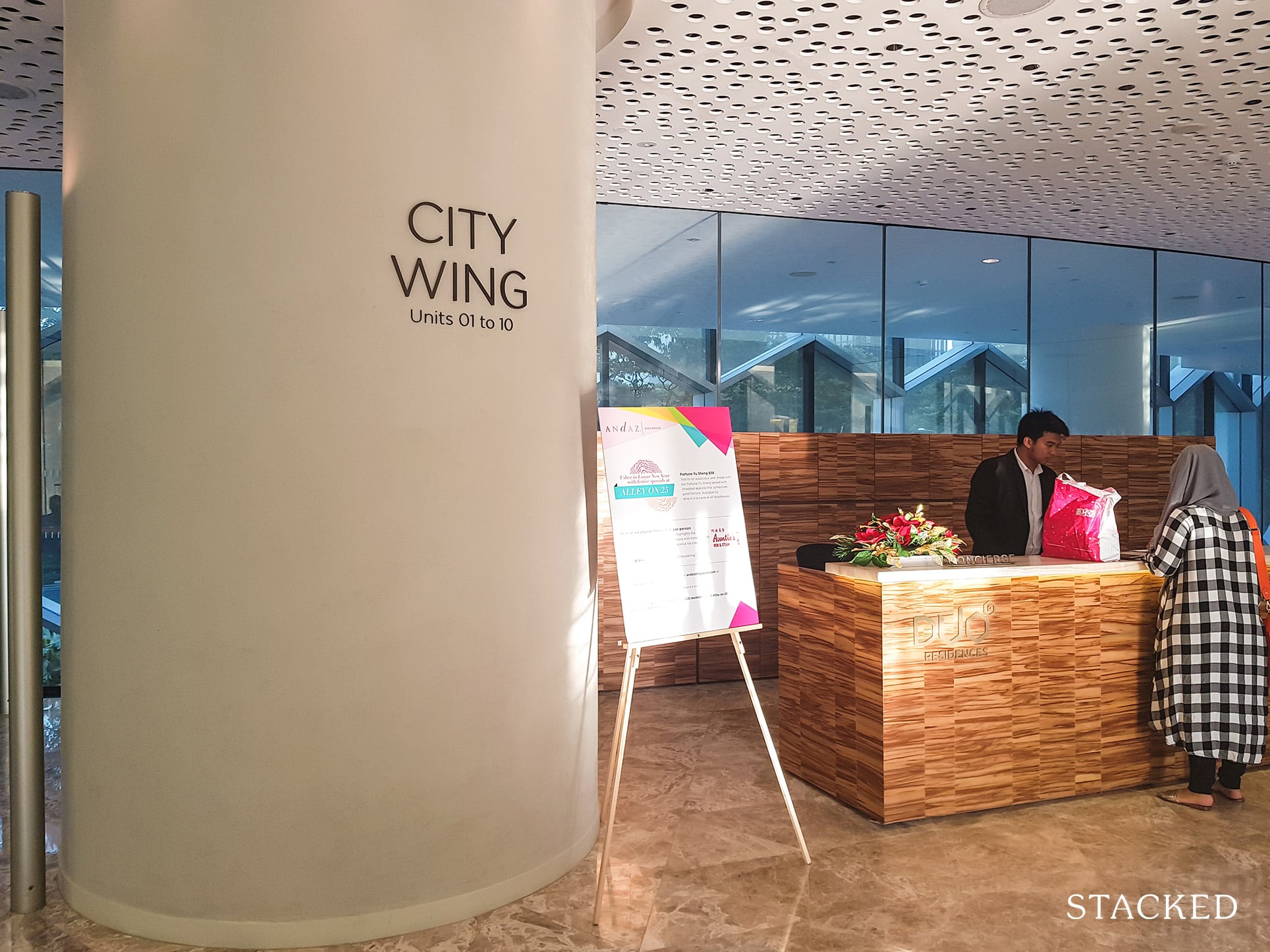 Air conditioned lobby area, where the concierge is located as well. The fragrance that is piped through smells great, it really adds to the premium feel of the place. It really reminds you of being in a high-end hotel.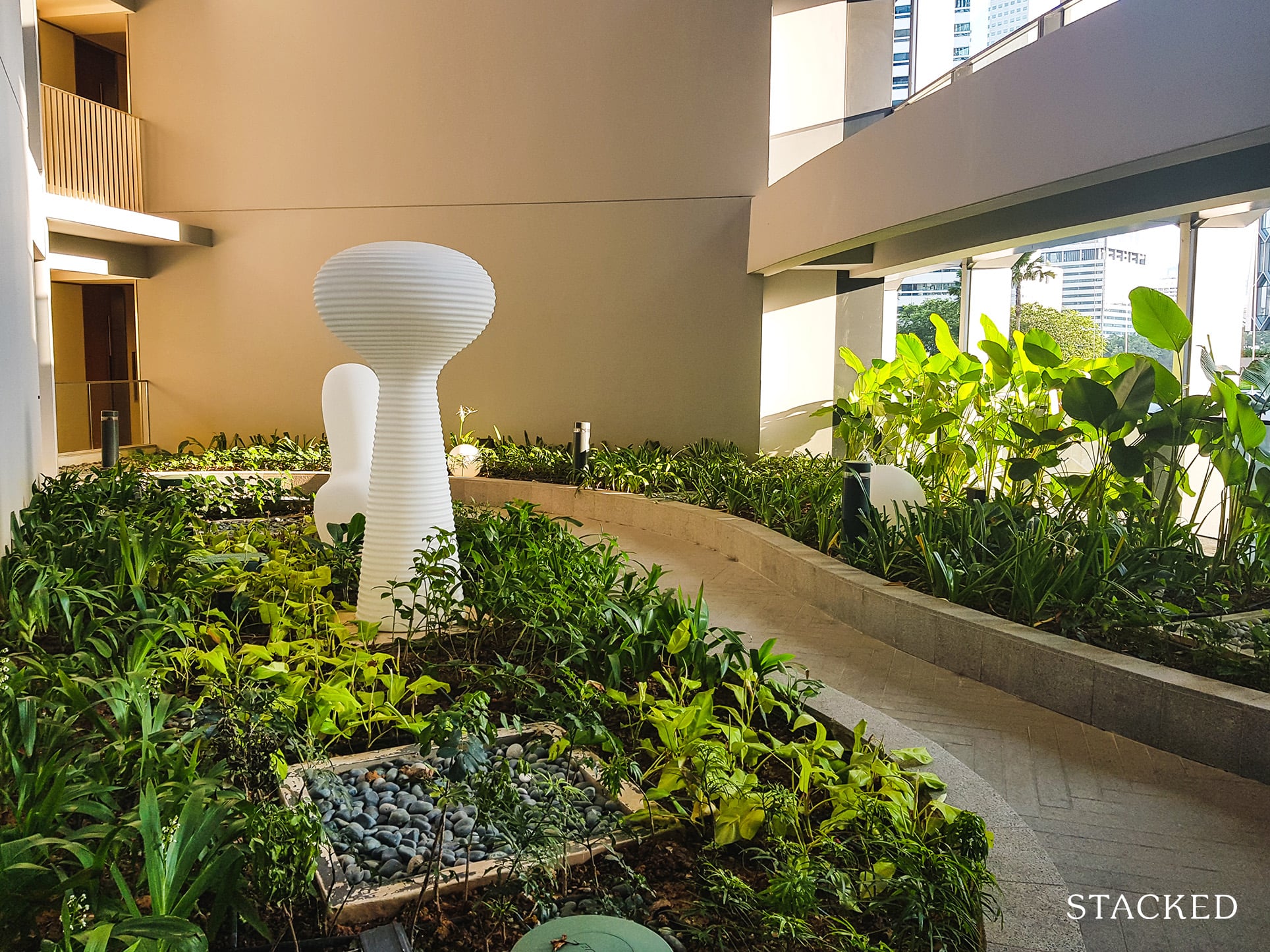 Outdoor garden area.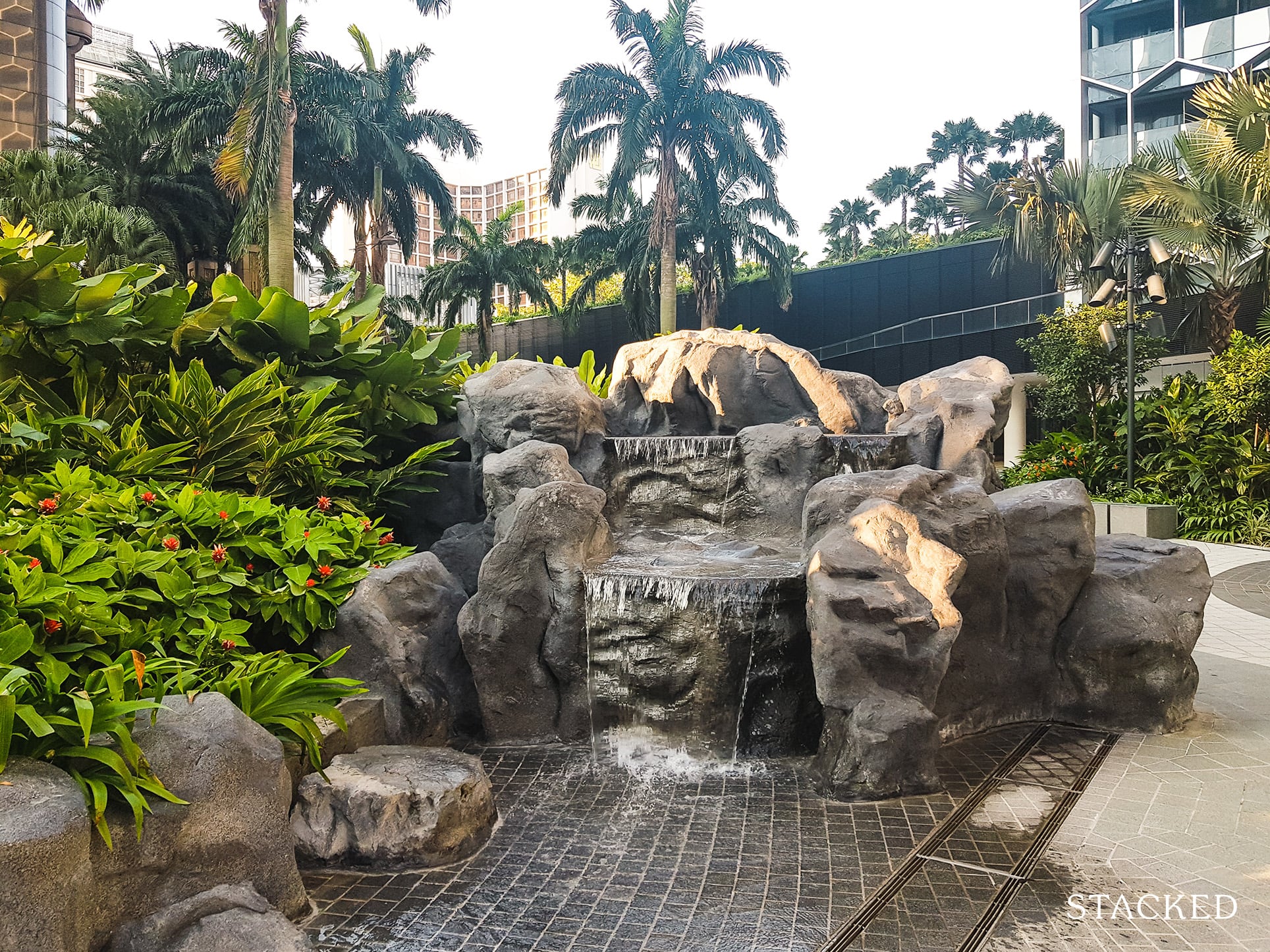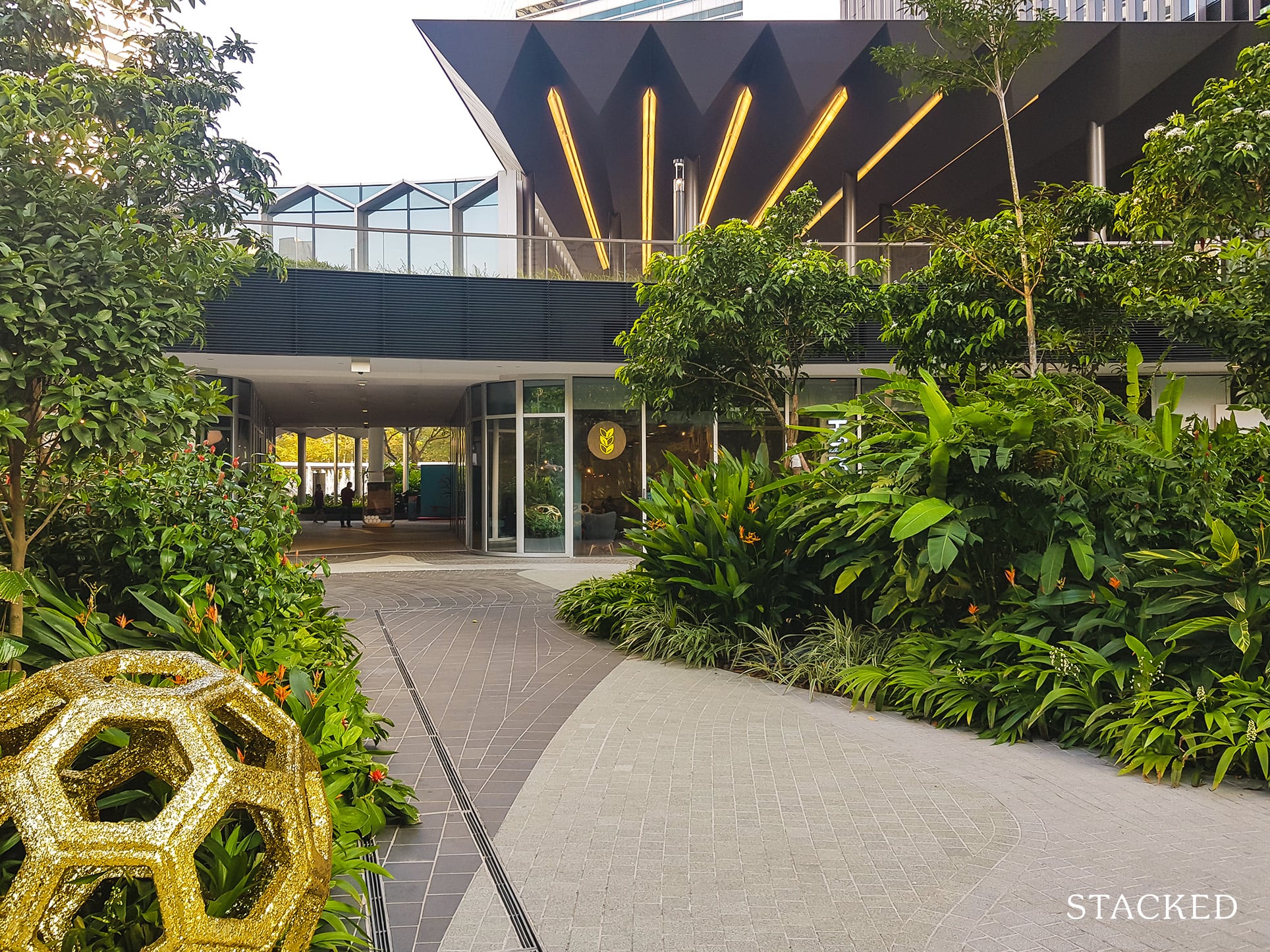 This theme continues even on the outside of the development. In general, Duo Residences offers a lot in terms of facilities and they all have a high quality feel to them. The main pool and sky pool are the real draws here, there aren't many residential properties in Singapore that can offer such a fantastic view of the city.
Duo Residences Pricing Review
Judging from the recent sales, a 1,927 sqft unit was transacted at $2,143 PSF in Feb 2018. The price has definitely increased since its launch in 2013, when a unit went for $1,513 PSF.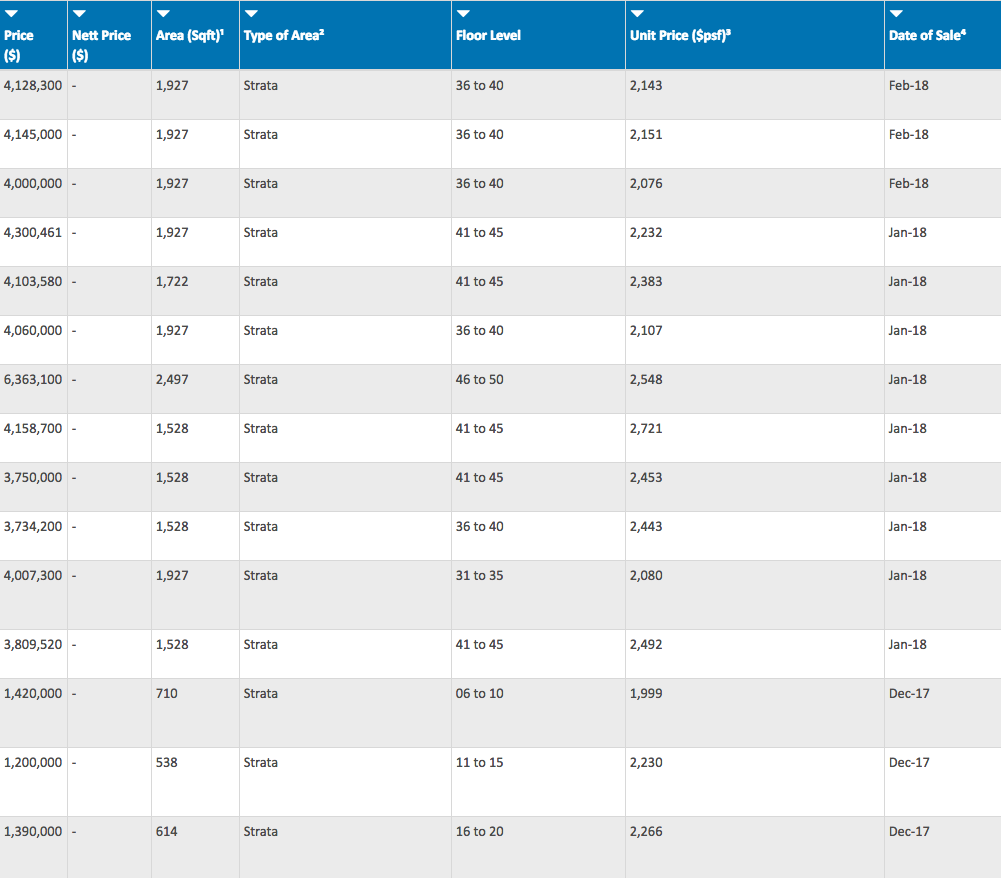 In terms of rentals, here you can see a list of recent rental contracts.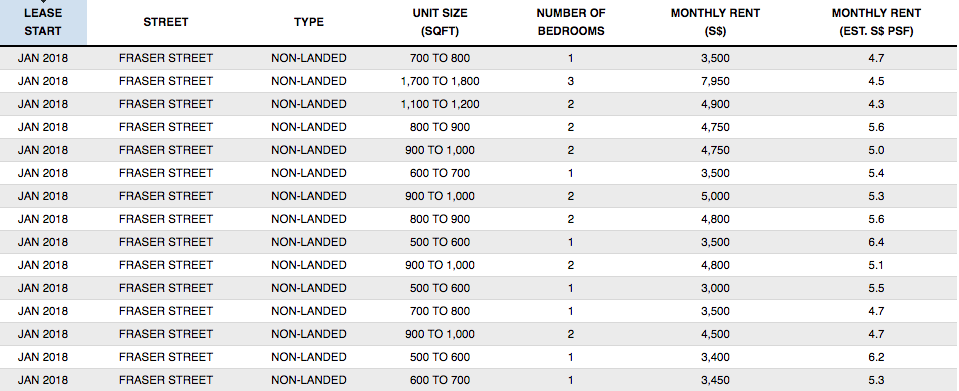 Source: Squarefoot
Final Conclusions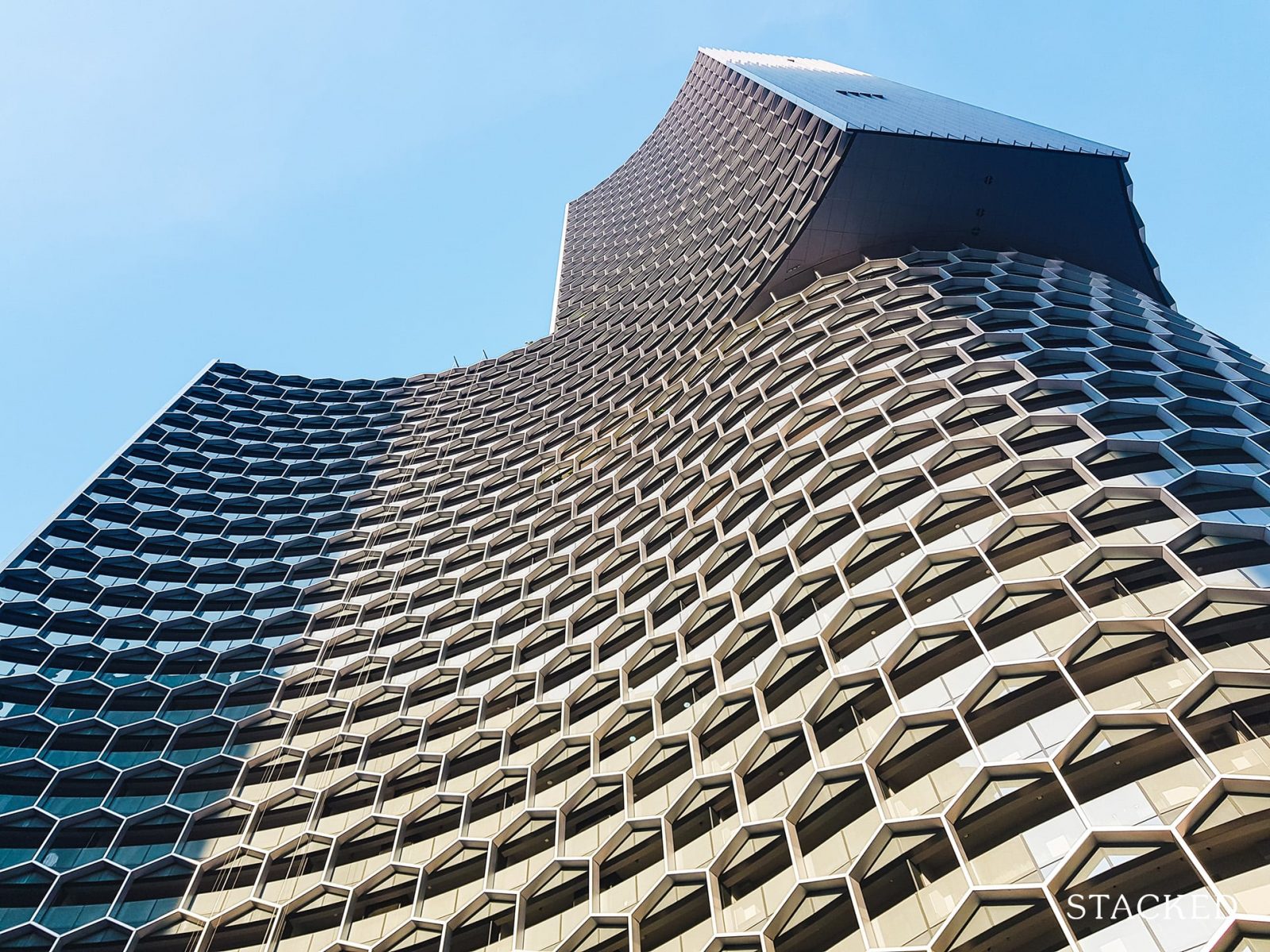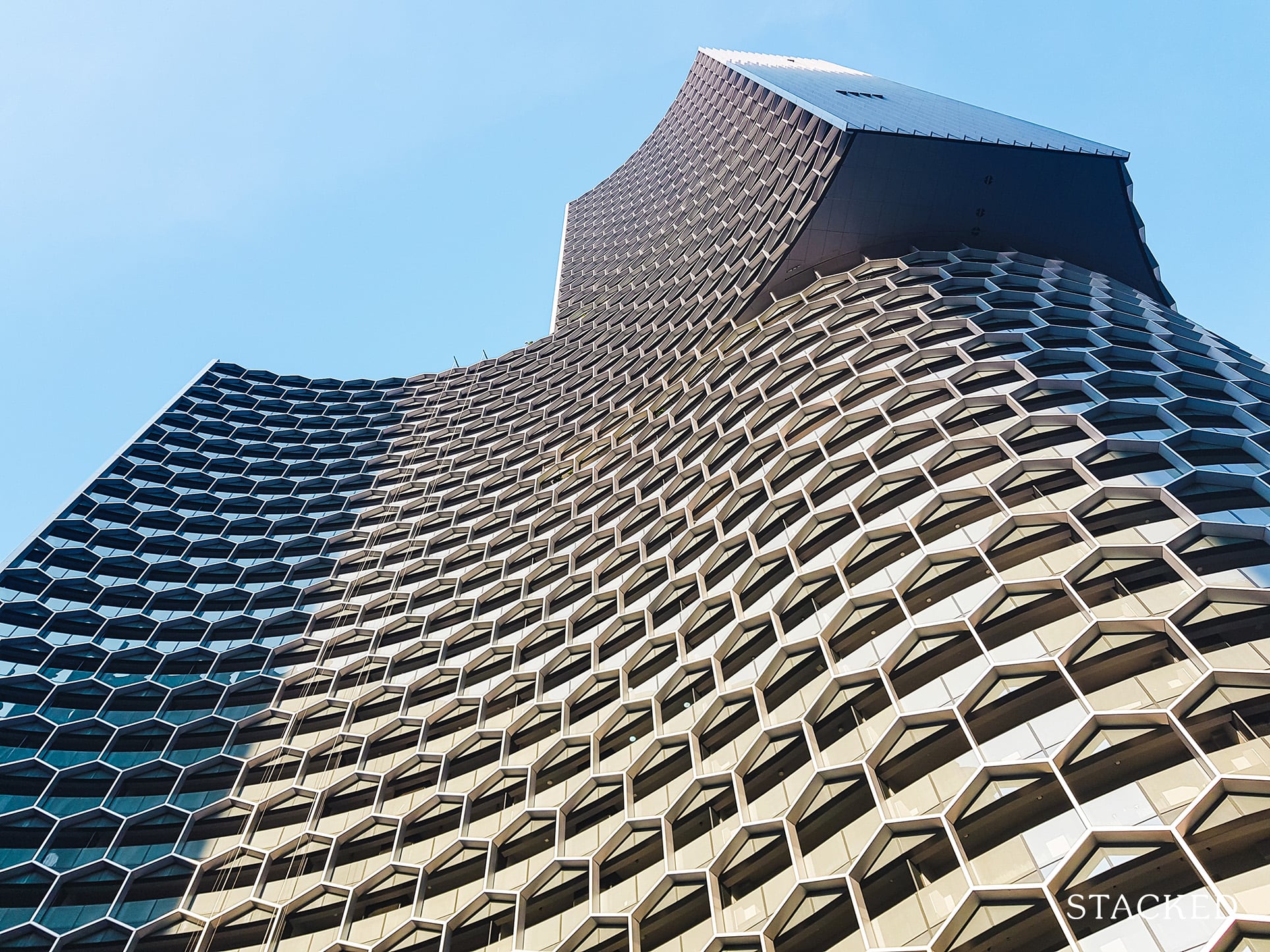 Duo Residences is a really well thought out development and once you step in you can immediately sense that a lot of careful planning was put into it. From the structural planning to support more wind flow to the abundance of outdoor seating areas. It is very clear the type of buyers that Duo Residences is geared towards, and in that respect, the developer has done a great job of catering to the needs of such a buyer. The development is super convenient, and you will really have no lack of options when it comes to food and shopping in the vicinity. If you work in the CBD areas and are looking for a home, Duo Residences is a clear choice and has to be one of the top picks in your shortlist.
End of Review